New Age Islam News Bureau
27 Feb 2018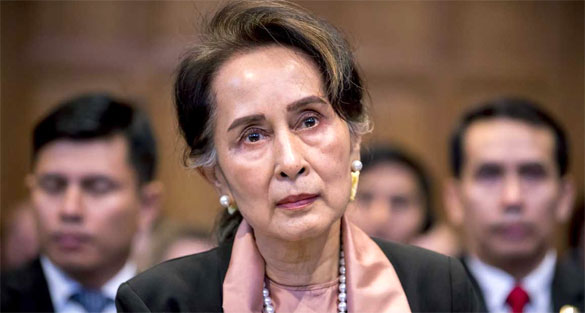 Three Nobel Peace Prize winners Monday urged fellow laureate Aung San Suu Kyi to speak out about violence against the Rohingya minority,
----
• Secret Al-Qaeda Memo: We Must Recruit and Manipulate 'Ignorant' Muslims
• Respecting Diversity Is Key to World Peace: Muslim World League Chief
• 'Wake Up' and Stop Rohingya Abuses, Nobel Laureates to Suu Kyi
• Zakir Naik Promoting Extremism under Guise of Charity, Says UK Report
• Evicted AIMPLB Leader to Float Inter-religious 'Manav Kalyan Manch' to Solve Babri Dispute
• Islamic State Re-emerges in Al-Qaeda Stronghold in Yemen
Pakistan
• Secret Al-Qaeda Memo: We Must Recruit and Manipulate 'Ignorant' Muslims
• Pakistan to 'Devise Strategy' To Stay Off Terror Financing List
• IHC Seeks Nadra's Detailed Report on Qadianis
• Influential Religious Scholars Vying For CII Membership
• US responsible for extremism in Muslim countries: Rabbani
• Time to right the wrong done to society by dictators: Asif Zardari
• Stylish beards are un-Islamic, so ban it: Pakistan province
• Christian Blasphemy Suspect in Pakistan Jumps from Building
--------
Arab World
• Respecting Diversity Is Key to World Peace: Muslim World League Chief
• Strikes on East Syria's Last ISIS Pocket Kill 25 Civilians
• Iraqi president calls for strong Saudi ties
• So-called ceasefire in Syria has barely led to a lull
• Syrian Army Seizes Israel-Made Weapons from Terrorists in Deir Ezzur
• Russia calls daily truce in battered Syria enclave
• Iran Dismisses Bahraini Minister's Terrorism Allegations as "Worthless"
• No document or evidence indicate Imam Musa al-Sadr's death: Daughter
--------
South Asia
• 'Wake Up' and Stop Rohingya Abuses, Nobel Laureates to Suu Kyi
• EU Agrees To Prepare Sanctions on Myanmar Generals
• ISIS attack repulsed in North of Afghanistan, 9 militants killed, 13 wounded
• Drone strike kill 3 militants, injures 3 more in Laghman province
• 3 militants killed, vehicle destroyed in Paktika airstrike: MoI
--------
Southeast Asia
• Zakir Naik Promoting Extremism under Guise of Charity, Says UK Report
• Concerns Rise over Attacks on Religious Leaders in Indonesia
• Federal Court to decide tomorrow on Muslim apostasy case
• Militants to Apologize To Victims of Indonesia Attacks
• Jakarta's Christian ex-governor challenges blasphemy conviction
• Ahok's Lawyers File Case Review Petition Against Blasphemy Conviction
--------
India
• Evicted AIMPLB Leader to Float Inter-religious 'Manav Kalyan Manch' to Solve Babri Dispute
• India's Pluralism Not Suited for and Prepared to Accept Uniform Civil Code: Top Divorce Lawyer
• HuMterrorist Killed In Escape Bid As Grenade Misses Mark
• Jordanian King Abdullah II to Deliver Talk on Islamic Heritage, Moderation during India Visit
• Muslim Youth Group, AMU Students at Loggerheads over President Kovind's Visit
• Muslims in India descendants of Lord Ram: Union minister
• J&K: Islamic State claims responsibility for killing cop
--------
Mideast
• Islamic State Re-emerges in Al-Qaeda Stronghold in Yemen
• 'Arab Complicity' To Blame For US Embassy Move: Hezbollah
• UAE launches 'Operation Decisive Sword' targeting al-Qaeda in Yemen
• Israel sentences Jewish convert to Islam over IS ties
• Iran blames Yemen war on British, US arms exports
• Houthi shelling damages historical mosque in Taiz
• Friendly Saudi airstrike kills 20 Riyadh-backed forces in Yemen: Military source
--------
Europe
• Islamophobic Hate Crimes Increased By 40 Percent in London Last Year
• Russia Nixes UN Resolution Citing Iran for Yemen Arms
• British police say four killed in Leicester explosion
• Putin orders daily five-hour ceasefire in Syria's Eastern Ghouta
• France says Turkey must observe Syria ceasefire in Afrin
• 2 more Syrian regime officials on EU sanctions list
--------
Africa
• Isis and Al-Qaeda Terrorists Increase Attacks on Western Targets in Africa, Report Reveals
• Uganda, Somalia trade blame over deadly Mogadishu shoot-out
• Nigeria: Unconfirmed Number of Persons Killed in Kaduna Muslim-Christian Clash
• How Nigerian govt, Boko Haram negotiated ceasefire, release of militants
--------
North America
• Muslim Student Association brings Islamic Awareness Week to U of M
• Canada calls for immediate ceasefire in Syria
Compiled by New Age Islam News Bureau
URL: https://www.newageislam.com/islamic-world-news/secret-al-qaeda-memo-recruit/d/114432
--------
Secret Al-Qaeda Memo: We Must Recruit and Manipulate 'Ignorant' Muslims
27 February 2018
In the series of Abbottabad files, discovered in Osama bin Laden's house which was raided by the US military in Abbottabad, northern Pakistan in 2011, one document has exposed particularly sensitive information.
It reveals that al-Qaeda targeted "common" and "ignorant" recruits worldwide, as stated by the group's Libyan military commander Abu Yahya al-Libi.
Abu Yahya was al-Qaeda's second-in-command after Ayman al-Zawahri and was killed in a US drone attack in the North Waziristan region of Pakistan.
The document dated Monday, 29 March, 2010 was an internal bulletin sent to al-Qaeda members. It read: "Warning: To be published among the media, but not for public publication, a special message to the brothers of the jihadist media."
Recruiting and inciting 'common people'
Terms of the group's recruitment were defined by Abu Yahya, who wrote: "Concentrate on your speeches and publications on the Muslim common people, do not to indulge in discussions with the so-called 'elites,' they are the most beneficial to the jihad, because they are mostly pure and full of goodness, even they have failed in some sins. However, their thoughts are not contaminated with corruption and do not have the complex ignorance [of common Muslims]."
Abu Yahya added: "As you know, most of the common people do not realize the truth of the scientific discussions and political analysis, but they are incited by emotions."
Previously released documents show the strains of managing al-Qaeda's external networks, including identifying capable leaders and finding resources to fund operations abroad.
https://english.alarabiya.net/en/features/2018/02/27/EXPOSED-How-al-Qaeda-only-targeted-ignorant-recruits-avoided-the-elite.html
--------
Respecting diversity is key to world peace: Muslim World League chief
27 February 2018
JEDDAH: Intolerance toward others and the wrong thinking which does not believe in diversity or freedom of choice is responsible for global conflicts, a conference of religious and cultural leaders in Vienna heard on Monday.
The event was organized by the King Abdullah bin Abdul Aziz Center for Interreligious and Intercultural Dialogue.
Speaking at the opening session of the conference, the secretary-general of the Muslim World League (MWL), Mohammed bin Abdul Karim Al-Issa, stressed the importance of respecting cultural and religious diversity to ensure peace in the world. The MWL chief said: "The religious and cultural conflict is due to a wrong thinking which does not believe, to start with, in the Creator's way of diversity or the right of choice.
"The values of justice and ethics are not subject to certain theories or contexts and they have many factors in common. In the context of our present diversity, we call for preserving the values of our common humanity, which do not reflect any specific religious, intellectual or cultural characteristic."
The MWL official said: "The origin of religions has nothing to do with unjust wars and persecutions practiced in their name which have hindered the march of knowledge and enlightenment in the East and West."
He said: "Islam (and we are speaking here on behalf of the Muslim peoples belonging to the MWL) preserved the dignity of human beings, guaranteed their freedom of choice, and guided them to morality."
He also noted: "We don't assume that all people should follow one religion, ideology or philosophy. Islam teaches us that it is impossible, and logic confirms this.
"We call for the preservation of our common human values which do not just articulate a religious, intellectual or cultural property; rather, it expresses our humanity."
Al-Issa concluded his speech by saying that "only 10 percent of our common principles are sufficient to bring peace and harmony to our world."
The MWL chief later told reporters: "We have found in this conference ­— which includes high-level followers of various religions and cultures and a number of prominent intellectuals, politicians and media — international praise for the King Salman Center for Global Peace. Participants noted its importance in establishing peace criteria through moderation."
Other participants included Sheikh Dr. Saleh bin Abdullah bin Humaid, imam of the Grand Mosque.
http://www.arabnews.com/node/1255036/saudi-arabia
--------
'Wake up' and stop Rohingya abuses, Nobel laureates to Suu Kyi
February 27, 2018
COX'S BAZAR/BRUSSELS - Three Nobel Peace Prize winners Monday urged fellow laureate Aung San Suu Kyi to speak out about violence against the Rohingya minority, warning she otherwise risks prosecution for "genocide".
The trio - Tawakkol Karman, Shirin Ebadi and Mairead Maguire - implored the embattled Myanmar leader to "wake up" to the atrocities after visiting squalid camps in Bangladesh home to nearly one million Rohingya refugees. "This is clearly, clearly, clearly genocide that is going on by the Burmese government and military against the Rohingya people," Maguire said Monday, using another name for Myanmar. "We refuse this genocide policy of the Burmese government. They will be taken to the ICC (International Criminal Court) and those who are committing genocide will be held responsible."
The UN has described the systematic violence by Myanmar against Rohingya Muslims in Rakhine state as possible genocide and ethnic cleansing, but has stopped short of outright accusing the army of war crimes. Suu Kyi, once a global rights icon, has witnessed her reputation among the international community crumble over her handling of the Rohingya crisis.
Critics have called for the Nobel prize she won under house arrest in 1991 to be revoked. Her fellow three female laureates issued a personal appeal to the beleaguered leader as they toured the overcrowded camps in Cox's Bazar district on Sunday and Monday, hearing firsthand stories of rape and murder against the Muslim minority. Karman, a Yemeni rights activist, warned Suu Kyi that she risked being hauled to the ICC if she did not intervene. "If she will continue her silence, she will be one of them," said Karman, fighting back tears, after meeting Rohingya refugees. "It's an appeal to our sister Aung San Suu Kyi to wake up, otherwise she will be betrayed (as) one of the perpetrators of this crime."
Myanmar has staunchly denied the charges and blocked UN investigators from the conflict zone in Rakhine state, souring relations with a host of western allies. Nearly 700,000 Rohingya have sought sanctuary in Cox's Bazar after fleeing a Myanmar army crackdown launched last August, sparking a humanitarian emergency in the Bangladesh border district.
Critics have accused Suu Kyi of adopting a siege mentality as global condemnation has mounted.
Myanmar considers the Rohingya illegal "Bengali" immigrants but has signed an agreement with Bangladesh to repatriate some 750,000 refugees back across the border. The process has stalled, as the UN warns any returns must be voluntary and rights groups warn Rohingya could be forced into ghettoes once in Myanmar.
EU seeks sanctions on Myanmar
military over Rohingya crisis
EU countries on Monday demanded sanctions against senior Myanmar military officers over "serious and systematic" rights abuses against the country's beleaguered Rohingya Muslim minority.
A crackdown by security forces in Myanmar's northern Rakhine state has driven some 700,000 Rohingyas across the border into Bangladesh since last August, leading the UN to accuse the government of an ethnic cleansing campaign against the group, who face acute discrimination in the mainly Buddhist nation.
EU foreign ministers meeting in Brussels said the situation in Myanmar was "extremely serious", pointing to widespread abuses by the military, "including rape and killings".
The ministers tasked the bloc's diplomatic chief Federica Mogherini with making "proposals for targeted restrictive measures against senior military officers of the Myanmar armed forces responsible for serious and systematic human rights violations without delay".
They also called for an extension to the EU's embargo on weapons and equipment that can be used for political repression, imposed in the 1990s.
Blacklisting senior military officers - freezing their EU assets and stopping them travelling to the bloc - would be the toughest step taken so far by Brussels in its efforts to halt the Rohingya crisis and hold the perpetrators accountable.
https://nation.com.pk/27-Feb-2018/wake-up-and-stop-rohingya-abuses-nobel-laureates-to-suu-kyi
--------
Zakir Naik promoting extremism under guise of charity, says UK report
27 Feb 2018
THE Henry Jackson Society has named Indian Muslim preacher Zakir Naik as among the extremists who have exploited UK charities to spread their message and raise funds for "radical agendas"
In a report on Islamist exploitation of the UK charitable sector, the London-based think tank said such charities had received more than £6 million (RM32 million) from British taxpayers.
Zakir was one of many Muslim figures who used these charities as platforms to spread their extremist message, it said.
UK-based charity Islamic Dawah Centre International (IDCI) was one of the entities that supported Zakir, said the report entitled Wolves in Sheep's Clothing: How Islamist Extremists Exploit the UK Charitable Sector.
"(They) invite extremists with platforms to spread message through literature and lectures. In June 2010, IDC invited Zakir Naik to speak at a large event in Birmingham," the report said.
The Henry Jackson Society noted that while there was no evidence of Zakir's direct involvement in terrorism, "there are concerns about the radicalisation potential" of his lectures.
It noted that Zakir had been barred from the UK over his extremist comments in 2010 by then Home Secretary Theresa May. It and a cited some of the inciteful remarks the preacher had said, such as his refusal to condemn Al-Qaeda leader Osama bin Laden and support for Muslims who waged jihad against America.
The report also noted that Zakir benefited as adviser to another UK charity, the Islamic Education and Research Academy (IERA).
The report stated, erroneously, that Zakir's sermons are banned in Malaysia.
Malaysia granted Zakir permanent residency five years ago and the preacher is believed to be hiding here or in Saudi Arabia, where he has citizenship.
Zakir is on the run from India's National Investigation Agency (NIA), which has filed a charge sheet against him for allegedly inciting youths to carry out terror activities. He is also wanted in his home country for alleged terrorism and money laundering. His Islamic Research Foundation has been outlawed in India.
India has revoked his passport and reportedly filed an extradition request to Malaysia, but Deputy Prime Minister Ahmad Zahid Hamidi last November said there had been no such request.
Zakir has denied all charges levelled at him, saying he was targeted in India because he was Muslim.
The Henry Jackson Society in its report urged extra powers for the UK's Charity Commission to deal with problematic charity organisations, including by de-registeration.
It also recommended that crowd-funding and event platforms do more to prevent extremist charities from raising funds and promoting themselves on their websites. – February 27, 2018.
https://www.themalaysianinsight.com/s/40066/
--------
Evicted AIMPLB Leader to Float Inter-religious 'Manav Kalyan Manch' to Solve Babri Dispute
February 26, 2018
Lucknow: Maulana Salman Nadwi, who was earlier ousted from the All India Muslim Personal Law Board (AIMPLB), is all set to float an inter-religious platform with an aim to resolve the Babri Masjid dispute. The platform that would be known as 'Manav Kalyan Manch', is expected to be supported by Art of Living founder, Sri Sri Ravi Shankar.
Nadwi plans to address a formal press conference on March 1, which will be attended by Sri Sri.
According to Nadwi, one of the three key agendas of the 'Manav Kalyan Manch' will be to punish the people who had demolished the Babri Masjid. Secondly, the board will work to get a piece of land bigger than the disputed land for Masjid-e-Islam and an Islamic University and lastly, ensure that no such claims are made again on any other mosque, madarsa, mazar or kabristan.
Nadwi has said in a statement that all those who agree with the agenda are welcome to join him "as this is the only way to settle the Babri Masjid dispute in Ayodhya". Also, he has welcomed people from all walks of life, irrespective of their caste or religion, to form the 'Manav Kalyan Manch'.
AIMPLB had unanimously decided to expel Salman Nadwi after he refused to set aside his "out of court settlement" suggestion to solve the Ram Janmabhoomi-Babri Masjid dispute. The Board had even made their decision public on their official Twitter handle and a disciplinary committee was formed to look into the matter.
Speaking to News18, Nadwi said, "The Board is acting in a dictatorial fashion. I was only putting out my view. How is it wrong to pray for unity and harmony in the country? After the Board expressed its views on Friday, I myself said that I wouldn't want to be part of such a platform. I will continue my efforts and will go to Ayodhya."
https://www.news18.com/news/india/evicted-aimplb-leader-to-float-inter-religious-manav-kalyan-manch-to-solve-babri-dispute-1673097.html
--------
Islamic State Re-emerges in Al-Qaeda Stronghold in Yemen
26 Feb 2018
The Islamic State (ISIS/ISIL) has claimed responsibility for two attacks, killing at least 14 people and wounding an estimated 40 others when suicide bombers and gunmen attempted to storm the headquarters of a counter-terrorism unit in the southern port city of Aden in Yemen, once considered a stronghold of its rival al-Qaeda.
"All the … terrorists were liquidated immediately before they could reach the outer gate of the anti-terrorism headquarters," the Aden police said in a statement, reports Reuters, noting that the attack took place Saturday.
"Security sources and medics said three security men, a woman, and two children died in the attack, while 40 other people, many of them civilians, were wounded," notes the news outlets.
In a statement disseminated by ISIS's Amaq news agency, the jihadist organization said it carried out two "martyrdom operations" targeting the military camp in southwestern Aden.
Months after ISIS declared the establishment of its now annihilated caliphate in Iraq and Syria, the group announced its presence in Yemen.
However, the Yemen-based al-Qaeda in the Arabian Peninsula (AQAP) remains the most prominent of the two Sunni terrorist groups in the country where a Saudi Arabia-led coalition has been combating Iran-allied Shiite Houthi (or Huthi) rebels since March 2015.
In late December, the U.S. military revealed that it had "conducted multiple ground operations and more than 120 strikes in 2017" to cripple AQAP and ISIS in Yemen.
Now, Reuters reports ISIS has claimed responsibility for the recent deadly assaults, noting:
The attack was the first of its kind in southern Yemen since gun battles erupted in January between southern separatists and President Abd-Rabbu Mansour Hadi's government over control of the city. Aden is the temporary capital of Yemen's internationally recognized Hadi government, which is now operating out of Saudi Arabia.
The Saudi-led coalition has been fighting the Houthi rebels to restore President Hadi to power.
"The war in Yemen is likely to continue for the foreseeable future because the Iranian-backed Huthis and the Saudi-led coalition remain far apart on terms for ending the conflict," notes the American intelligence community in its most recent Worldwide Threat Assessment. "The death of former Yemeni President Ali Abdallah Salih is only likely to further complicate the conflict as the Huthis and others scramble to win over those who previously backed Salih."
"We assess that the Huthis will continue to pursue their goals militarily and that, as a result, US allies and interests on the Arabian Peninsula will remain at risk of Huthi missile attacks until the conflict is resolved," it adds.
http://www.breitbart.com/national-security/2018/02/26/islamic-state-reemerges-al-qaeda-yemen/
--------
Pakistan
Pakistan to 'devise strategy' to stay off terror financing list
Feb 27, 2018
ISLAMABAD: Pakistan will develop a strategy to avoid being put on a global terror financing watchlist, the finance minister said Monday, after China and Saudi Arabia deserted Islamabad over the issue at a recent meeting in Paris.
Members of the Financial Action Task Force (FATF), an anti money-laundering watchdog based in the French capital, voted last week to place Pakistan on its grey list of nations which are not doing enough to combat terror financing in June, a diplomatic source said.
That gives Pakistan three months to make enough changes to avoid being listed, which could hamper some foreign investment and further strain relations with Washington, where officials have put increasing pressure on Pakistan over its alleged support for militant safe havens.
"We will start meeting on the issue of FATF after March 1 to see what can we do on this and what strategy we can devise," Finance Minister Rana Afzal Khan said, adding that Pakistan has not yet received a list of actions it needs to implement.
Observers are doubtful that Pakistan can meet the requirements in time, however.
The move, which was not announced in FATF's statement at the close of the six-day meeting, came after members had initially been unable to reach a consensus, with Turkey, China and Saudi Arabia holding out, the diplomatic source said.
That saw Foreign Minister Khawaja Asif confidently tweet last week that Pakistan had avoided being grey-listed.
But amid a flurry of diplomatic activity a second vote was held, with the US convincing Riyadh to change its vote and Beijing staying silent, the source said.
The decision is a diplomatic blow to Islamabad's relationship with its "all-weather" friend China, which has invested billions in the country's infrastructure, and Saudi Arabia, to which Pakistan sent some 1,000 troops earlier this month.
"It shows that the people who are concerned about terror financing are pretty broad," the diplomatic source said.
Pakistan was previously on the list from 2012 until 2015.
Two diplomatic sources in Islamabad said it was targeted again this year over its lack of action against Hafiz Saeed, the alleged mastermind of the 2008 Mumbai attacks, and his charity Jamaat-ud-Dawa (JuD).
This month Pakistan began seizing JuD assets and quietly amended its anti-terror laws to bring them in line with the UN, a move observers said was in anticipation of the FATF decision.
Rumours of the move have rattled officials and businesses across Pakistan. But there should be "no major impact" to the economy, said Yaseen Anwar, the former central bank governor who help get the country off the list three years ago.
FATF is an inter-governmental body established in 1989 to help combat money-laundering and financing for militants.
https://www.pakistantoday.com.pk/2018/02/26/pakistan-to-devise-strategy-to-stay-off-terror-financing-list/
--------
IHC seeks Nadra's detailed report on Qadianis
February 27, 2018
ISLAMABAD: An Islamabad High Court (IHC) bench Monday directed the National Database Registration Authority (Nadra) to furnish with it a comprehensive report on 10,205 Qadianis who had changed their religious status from Muslim to Qadiani in their identity cards.
The bench was hearing a petition of Maulana Allah Wasaya who has challenged amendment to the oath of Khatm-e-Nabuwwat in Election Act, 2017.
The Nadra on February 22 provided details about the total number of Qadianis in Pakistan and also how many had changed their religious status.
The bench, comprising Justice Shaukat Aziz Siddiqui, directed the Nadra to provide name, father's name, age and details of foreign trips of those persons in a sealed envelope to the court.
Amicus curiae Professor Dr Hafiz Hassan Madni of the Institute of Islamic Studies, University of Punjab, Lahore told the court that a person who converted from Islam to another faith was an 'apostate' and deserved a penalty prescribed for this.
"Qadianis are more dangerous than the non-believers. They are neither Muslims nor Christians and in fact they have covered themselves under Islam," he said.
The bench was hearing the petition of Maulana Allah Wasaya who had challenged an amendment to the oath of Khatm-e-Nabuwwat (SAW) in the Election Act, 2017 and consequential repeal of other election laws.
Justice Siddiqui asked Professor Madni what was Islamic injunction about a person who changed his religion for a seat of the Punjab Assembly.
At this, he replied that Islam had prescribed penalty for an apostate. He said Qadianis were more dangerous than the non-believers (pagans-Kafirs) because they took certain things from Islam and distorted the religion.
"They use an abusive language against the Muslims in their books and declare them non-believers," he said.
Professor Madni said Khatam-e-Nabuwwat (SAW) was an essential part of oath for the president and prime minister.
He said the oath should also be duly included in the amended laws and it should also be included in the oath of federal ministers, chairman Senate and other officials.
Justice Siddiqui asked if there was no condition for a judge to be a Muslim. Since Pakistan is an Islamic state, what Islam says about this aspect," he asked.
Professor Madni said Prophet Muhammad (SAW) had said that a judge should be a learned person both in terms of religion and worldly affairs.
A recommendation can be made for a non-Muslim not to become a judge, he said.
It is to mention here that the IHC bench on Feb 22 was told by Nadra officials that over 1, 67,000 Qadianis were registered in Pakistan while 10,205 had changed their status from Muslim to Qadiani.
IHC bench issued these directions after a counsel told the court that several Qadianis had joined the civil services introducing them as Muslims and after superannuation they changed their faith to Qadiani.
Last hearing Justice Siddiqui had remarked that this was the biggest fraud that Qadianis got jobs introducing themselves as Muslims and reverted to their original faith after retirement.
Previously, Justice Siddiqui had appointed four religious scholars as amici curiae including Professor Dr Hafiz Hassan Madni of Institute of Islamic Studies, University of Punjab Lahore; Dr Mohsin Naqvi, ex member Council of Islamic Ideology (CII); Professor Dr Sahibzada Sajid ur Rehman, member CII; and Mufti Muhammad Hussain Khalil Khel from Karachi.
Full report at:
https://www.thenews.com.pk/print/286106-ihc-seeks-nadra-s-detailed-report-on-qadianis
--------
Influential religious scholars vying for CII membership
By Obaid Abbasi
Feb 27, 2018
ISLAMABAD: Influential religious scholars and government functionaries from across the country are vying for the membership of Council of Islamic Ideology (CII) as nine members are going to retire next month, Pakistan Today has learnt.
Upon completing their term of three years, nine members from different schools of thought will retire on March 1. However, influential religious scholars have started lobbying to get CII's membership.
According to sources, nine members, including Dr Noor Ahmed Shahtaaz, Sahibzada Zahid Mehmood Qasmi, Muhammad Abdullah, Justice (r) Raza Khan, Maulana Imdad Ullah, Justice (r) Manzoor Hussain Gillani, Allama Syed Iftikhar Hussain Naqvi, Allama Arif Hussain Wahidi and Ali Muhammad Abu Turab will retire next month.
Since the membership offers a lucrative salary package along with perks and privileges, many scholars have started lobbying, including Pakistan Ulema Council Chairman Allama Tahir Ashrafi, Wifaqul Madaris al-Arabi Secretary General Qari Hanif Jalandhri, renowned scholar Dr Javed Ahmed Ghamidi and renowned female scholar Dr Farhat Hashmi.
It is worth mentioning that Allama Tahir Ashrafi was a member of the council from 2008-2013. However, he had a difference with the then chairman Maulana Muhammad Sherani. Allama Tahir Ashrafi, however, claimed that he was not interested in becoming a member of the council.
Similarly, Qari Hanif Jalandhri claimed that he never approached anyone to get the lucrative membership.
"I will think when I receive an offer," he said.
The sources said that membership of Dr Sameeha Raheel Qazi could be extended as the current chairman wanted the presence of a female in CII's affairs.
It is worth mentioning that Sameeha Raheel Qazi is the daughter of late JI leader Qazi Hussain Ahmed and she was appointed as a member of the council when Maulana Sherani was the chairman.
The council is a constitutional body, which offers non-binding recommendations to the parliament on the compatibility of laws with Sharia. However, the CII slots had been used to accommodate political appointees.
The government recently appointed new members, including Maulana Muhammad Raghib Hussain Naeemi, Dr Khurshid Nadeem, Pir Roohul Husnain Mueen and former Dawah Academy director Professor Sajidur Rehman, who is the brother-in-law of Leader of House in Senate Raja Zafarul Haq.
Dr Hashmi is the head of Al-Huda International Foundation and has a good reputation in the religious circles.
It should be noted that Prime Minister Shahid Khaqan Abbasi will give a final nod after Ministry of Law and Justice sends a summary of candidates. Sources said that Ministry of Law and Justice secretary will finalise the list next month and will send it to PM Abbasi who is the competent authority on the matter.
Full report at:
https://www.pakistantoday.com.pk/2018/02/26/influential-religious-scholars-vying-for-cii-membership/
--------
US responsible for extremism in Muslim countries: Rabbani
Feb 26 2018
ISLAMABAD: Senate Chairman Raza Rabbani on Monday said that the US has been responsible for extremism in Muslim countries.
"The US has supported terrorist movements in the past and it is responsible for the instability in the South Asian region after it attacked Afghanistan," he told journalists in Islamabad.
The Senate chairman further stated that the west should stop holding Muslims responsible for its own doings, adding that western countries must address reservations of the Muslim world.
"Extremism will increase if instability in the country doesn't end," Rabbani said.
"Only democracy can end terrorism and extremism."
Full report at:
https://www.geo.tv/latest/183758-us-responsible-for-extremism-in-muslim-countries-rabbani
--------
Time to right the wrong done to society by dictators: Asif Zardari
Feb 27, 2018
ISLAMABAD: Pakistan People's Party (PPP) Co-Chairman Asif Ali Zardari said Monday that the time has come to right the wrong done to the society by dictators and their mindset.
Addressing the PPP office bearers and workers from Gujjar Khan, who called on him at Zardari House here, Asif Ali Zardari said that PPP always cherished its workers and the party had awarded a brave son of Gujjar Khan by elevating him to the post of prime minister during their tenure. He said that workers should remain ready to take more responsibilities.
Further, Zardari paid rich tributes to slain party chairperson Benazir Bhutto and said that she had struggled all her life to ensure fairness and justice in Pakistan, adding that narrow-minded people always opposed her in her mission.
He said that the youth would prosper when they have numerous opportunities of employment, while adding that peace would return to Pakistan when the education institutions start teaching the lesson of humanity to students.
He also said that PPP did not believe in politics of revenge. He said Nawaz Sharif was reaping what he had been sowing for decades, adding that the former prime minister had made the lives of the poor and downtrodden people in the country miserable.
Moreover, Zardari said that PPP had offered a young and able leadership to the country. PPP Chairman Bilawal Bhutto-Zardari recently demonstrated his leadership qualities in front of the world and pleaded Pakistan's case successfully in front of the west, he added.
Full report at:
https://www.pakistantoday.com.pk/2018/02/26/time-to-right-the-wrongs-done-to-society-by-dictators-asif-zardari/
--------
Stylish beards are un-Islamic, so ban it: Pakistan province
Feb 26, 2018
DERA GHAZI KHAN: The District Council of Dera Ghazi Khan district in Pakistan's Punjab province has passed a resolution demanding a ban on shaping beards in fashionable styles.
Asif Khosa, who tabled the resolution, said, "Youngsters make different designs of beard in the name of fashion that was against the teachings of Islam," reported The Express Tribune.
The resolution demanded that Dera Ghazi Khan Deputy Commissioner should be directed to impose the ban on the trend that was popular among the Pakistani youth.
It also called for strict action against those "who make fun of beards" by styling them.
Full report at:
http://zeenews.india.com/asia/stylish-beards-are-un-islamic-so-ban-it-pakistan-province-2084659.html
--------
Christian Blasphemy Suspect in Pakistan Jumps from Building
February 26, 2018
ISLAMABAD —
Authorities in Pakistan are investigating reports that a Christian blasphemy suspect jumped from a four-story building and suffered serious injures. The man claims he jumped to escape torture in custody.
Officials and doctors say Sajid Masih is recovering from his "fractured legs and jaw" in a hospital in Lahore where the incident took place on Friday.
Masih and one of his cousins were taken into custody for allegedly posting anti-Islam content on Facebook. They were being probed by cyber crime experts of the Federal Investigation Agency, or FIA, at its main office in the eastern Pakistani city when Masih jumped from the fourth floor of the building.
FIA officials denied charges the man was being tortured or abused, saying "no one had even touched" him. They insisted Masih panicked after "he was asked to unlock his cell phone" for screening.
In a video message circulated and shared via social media, Masih has accused several FIA officers of "severely" torturing him and snatching his cell phone in the process. He alleged the officers were coercing him and his cousin into sexually assaulting one another before he decided to jump from the window.
Dozens of Pakistani human rights groups and activists strongly condemned the incident in a joint statement Monday. They raised serious concerns over persistent misuse of Pakistan's harsh blasphemy laws, specifically against Christian and other religious minorities.
"The law enforcement authorities have not only failed in their duty to protect minorities, but have actively participated in violence against them," the statement said.
The groups called for an independent inquiry into the incident, rejecting the FIA's ongoing internal probe as unacceptable.
They also demanded that area police withdraw the case of attempted suicide against Masih. Activists say they suspect the police case was meant to cover up and protect FIA officers who made the Christian community member jump off the building.
Insulting Islam and its Prophet Mohammad are extremely sensitive issues in Pakistan and can carry the death penalty, although no one has been executed under the blasphemy laws. Right groups say the laws are often misused or exploited to settle personal disputes.
In Monday's joint statement, activists have also demanded authorities take immediate steps for safety and protection of Masih and his relatives. Mere allegations of blasphemy have provoked mob lynchings of suspects or their targeted killings in Pakistan.
Last year,23-year-olduniversity student Mashal Khan was beaten to death byfellow students and others at the campus, accusing him of sharing blasphemous content on social media, charges investigations later determined were false. The incident happened in the northwestern city of Mardan, provoking a nationwide outcry against Khan's brutal killing.
Full report at:
https://www.voanews.com/a/christian-blasphemy-suspect-in-pakistan-jumps-from-building-to-escape-torture/4270915.html
--------
Arab World
Strikes on east Syria's last ISIS pocket kill 25 civilians
26 February 2018
Air strikes on the last pocket of ISIS jihadists in eastern Syria have killed at least 25 civilians, including seven children, a monitor said on Monday.
The strikes were conducted on Sunday on and around the village of al-Shaafah, north of the former ISIS bastion of Albu Kamal near the border with Iraq, the Syrian Observatory for Human Rights said.
The head of the Britain-based Observatory, Rami Abdel Rahman, said the air strikes were carried out by the US-led coalition.
"Twenty-five civilians, including seven children, were killed in the village of al-Shaafah and in surrounding desert areas in coalition strikes all through Sunday," he said.
"This village is in the last pocket controlled by IS in the east of Syria," he said of al-Shaafah referring to ISIS, which lies on the eastern bank of the Euphrates River.
Air strikes against jihadists forces holding out in remote areas of Deir Ezzor province have killed dozens of civilians in recent weeks, many of them relatives of the fighters.
Coalition-backed Kurdish-led forces have been trying to flush out ISIS from the east bank of the Euphrates, while Russian-backed regime and allied forces are stationed west of the river.
Abdel Rahman could not say how many ISIS combatants were taken out by the latest wave of air strikes.
"IS now holds less than three percent of Syrian territory," he said using another acronym for ISIS.
The self-styled "caliphate" ISIS proclaimed over swathes of Syria and Iraq in 2014 effectively died when anti-jihadist forces retook its de facto capital Raqa and other strongholds such as Albu Kamal late last year.
However, the US-led coalition has continued to carry out strikes against small pockets of ISIS fighters hunkering down in and around small villages in Deir Ezzor province.
Small groups of ISIS-affiliated fighters are also still active in other parts of Syria.
https://english.alarabiya.net/en/News/middle-east/2018/02/26/Strikes-on-east-Syria-s-last-ISIS-pocket-kill-25-civilians-.html
--------
Iraqi president calls for strong Saudi ties
Feb 27, 2018
BAGHDAD – Iraqi President Fuad Masum has emphasized the strong brotherly relations between Saudi Arabia and his country. "The Saudi-Iraqi relations are based on a strong foundation," he said while commending the Kingdom's important position in the Islamic World.
The president also noted Iraq's cultural and historical importance and stressed his country's desire to strengthen bilateral relations in various fields. "We are making speedy steps toward bolstering Saudi relations," he said while receiving the Saudi media delegation on Sunday.
Saudi Ambassador to Iraq Abdul Aziz Al-Shammari attended the meeting.
"My first foreign visit after becoming the president was to Saudi Arabia and this reflects our strong relations," he told Saudi editors-in-chief and senior reporters.
Masum said Iraq would play an active role to resolve conflicts. "We'll not become a party of regional conflicts," he said and rejected foreign intervention in the affairs of the region's countries.
He said Baghdad would work to bring viewpoints closer toward solving regional conflicts.
"Iraq always wanted to work for strengthening peaceful ties and cooperation between brotherly and friendly countries and promoting security, stability and progress in the region," he added.
Masum commended Saudi Arabia's positive stances on regional issues and its continuous support for Iraq and its people. "We'll never forget this support," he added.
The president also praised Kuwait for its support during the conference it hosted to reconstruct Iraqi cities liberated from Daesh (the so-called IS) terror group. "The Iraqis will not forget this noble Kuwaiti stand."
Masum also spoke about the Iraqi economy and investment opportunities in his country.
"Iraq is well prepared to welcome investment companies and capital funds to reconstruct the country after defeating the terrorist group and restoring the country's security and stability.
"The Iraqi government has enacted a number of rules and regulations to protect and encourage investment and capital funds," the president said.
He also highlighted the important role of public media and urged media organizations to carry out their mission with professionalism and trust. "We want the media to play its role with freedom and responsibility to reduce tension and bolster security in the region," he said.
Meanwhile, the Saudi media delegation visited the Iraqi Journalists Syndicate where Moaid Allami, president of the organization, briefed the Saudi side on the organization's activities and programs and its effective role in promoting professionalism.
"Being the fourth estate our organization plays an influential role in various fields," Allami said. The syndicate keeps records of Iraqi journalists including those who were martyred while on duty. It also uses modern information technology for recording and filing.
Khaled Al-Malik, president of the Saudi Journalists' Association, thanked the syndicate for the warm welcome it accorded to his delegation. "Our visit is significant as it aims to know how Iraq emerged as a secure and stable country after obliterating Daesh terrorists."
He appreciated the Iraqi leaders' strong desire to strengthen Saudi relations. He commended the Iraqi journalists' professionalism and their efforts to promote peace and combat terrorism.
The Saudi delegation met with the Iraqi Labor and Industry Minister Mohammed Shia Al-Sudani and discussed investment incentives offered by Iraq and prospects of expanding industrial and economic cooperation between the two countries.
Full report at:
http://saudigazette.com.sa/article/529292/SAUDI-ARABIA/Iraqi-president-calls-for-strong-Saudi-ties
--------
So-called ceasefire in Syria has barely led to a lull
26 Feb 2018
When a UN-backed Syrian ceasefire was announced on Saturday, residents of Ghouta again took cover, fearing that what would come next would be anything but peace.
Nearly two days later, with more bodies dug from the ruins, more slain children wrapped in burial shrouds, Russian and Syrian warplanes still menacing the skies and claims of another chlorine attack, it's clear the so-called ceasefire has barely led to a lull.
As has been the case throughout the war, the UN again failed to prevent the suffering of Syria, or even to slow it down. In Homs and Aleppo, Zabadani and Madaya, Idlib and now Ghouta, international will has been trampled by the protagonists of a war without restraint. The unchecked savagery of Syria's disintegration has become so routine that those trying to prevent it have effectively become its underwriters.
Russia, a party to the UN security council resolution, breached its intent within hours, sending its warplanes to drop more bombs as Syrian and Iranian-backed troops launched ground incursions into the opposition enclave. And this to a binding resolution – not a gentle nudge.
On Monday, Vladimir Putin announced a five hour pause in the bombing, purportedly to allow in aid. The move, if honoured, sidelines the UN as a decision maker – as the Russian leader has tried to do throughout the crisis – setting up him and his military as ultimate arbiters of who gets fed, or killed.
The pretext for the ongoing assault was in the resolution's wording, which was debated for days before being passed and ended up allowing continued strikes on armed groups deemed to be terrorists.
In Ghouta, that meant a cell of several hundred members of the al-Qaida-aligned group known by the initials HTS. It runs an area on the outskirts of the enclave – a large outer neighbourhood of Damascus that was central to the uprising against president Bashar al-Assad in its early days and has remained an opposition stronghold in the eight years since.
Resentment towards HTS inside Ghouta is almost as strong as the rage against the UN. Residents and members of the two main opposition groups, Jaish al-Islam and Faylaq al-Rahman, say the jihadists among them do not hold sway, and have no direct links to their heartland in Idlib province, much of which is run by al-Qaida. Both groups had been parties to earlier ceasefires signed with Russia during de-escalation talks in Astana. Neither are designated as terrorist organisations.
"HTS consists of barely 300 fighters here in eastern Ghouta," said local resident Mohammad Bakr. "They are outcasts and not wanted – they cannot pressure us in any way even if they tried. Two years ago when they had power over us it was suffocating – they would tax the farmers, confiscate their lands and take over the houses of civilians who have left. They did nothing but wreak havoc and burdened us Syrians and our revolution."
"They consist of about 240 men here," said Mohannad Mahmoud Qassem, 33, another resident. "Although they are trying to implement the same scenario as in Idlib, the chaos and the Islamisation, they have no power or choice in Ghouta. Faylaq al-Rahman are the ones with the upper hand here."
Over the past six months, attempts to expel HTS and their families have failed because a passage out of the besieged area has been unable to be negotiated with regime forces that surround it. Such deals have been made elsewhere in Syria, along the border with Lebanon, and in Aleppo as forces supporting the Assad regime were storming the opposition-held east of the city in late 2016.
They have often involved population shifts – fighters leave first, and then communities have been moved en masse where they have been forced to blend in with the jihadists. Soon there will be no distinction. For the regime and its backers, in whose eyes the uprising was all about global jihad in the first place, things will have come full circle.
Aleppo marked a seminal shift in battlefield momentum away from the loose array of opposition groups that had until late 2015 been prevailing in northern Syria. As Russia and Iran doubled down on Assad to prevent his fall, the civilian toll increased, as did the exodus. Then, as now, the UN could do little to stop the country's collapse. Blocked by Russia and China at every attempt to denounce Assad's actions and stymied repeatedly when they attempted to deliver aid, UN officials have been forced to beg for mercy.
"While there is zero deterrence and total impunity, there will be no mercy coming, I can assure you," said a senior western official. "The global order is shifting. There is no longer a price tag on bad behaviour. And the messaging – this is important – from Trump is that the US doesn't care. That's a soundtrack for tyranny everywhere."
As bombs fell throughout Monday in Ghouta, resident Mayada Sobhe said: "Nothing can stop our tragedy. Why would we have faith in the world coming to save us? Those who kill us know that no one will criticise them."
Full report at:
https://www.theguardian.com/world/2018/feb/26/so-called-ceasefire-in-syria-has-barely-led-to-a-lull
--------
Syrian Army Seizes Israel-Made Weapons from Terrorists in Deir Ezzur
Feb 26, 2018
The Syrian army units conducted mop-up operations in al-Sayyal, Hasarat, al-Davir and Sabikhan on the outskirts of al-Mayadeen and Albu Kamal cities in Eastern Deir Ezzur.
The Syrian army confiscated a large cache of arms and munitions from the terrorists' hideouts.
A field source, meantime, announced that the Syrian troops found a Grad missile launchpad, different types of bombs and missiles, anti-aircraft rockets and mortal shells made in Israel as well as modern communications and satellite equipment.
The military source also said that the army troops found suicide belts in small sizes and also equipment for protection against chemical substances.
The Syrian Army continued combing through Deir Ezzur province and uncovered a large network of ISIL-dug tunnels that once were used by commanders of the terrorist group.
In a relevant development earlier in February, the army men carried out mop-up operations in Sabikhan region in Southeastern Deir Ezzur, discovering a long network of tunnels that ISIL dug under residential neighborhoods.
One of the tunnels that is located under Mount al-Shareh in Tishrin region is as large as 200 sq/m and 100 meters in depth.
The tunnel in Tishrin has 16 rooms that were once the ISIL commanders' hideout.
The army men also found a large volume of arms and ammunition in the tunnels.
Field sources reported last week that the Syrian Army sent a large number of fresh forces and a large volume of military hardware to Eastern Deir Ezzur after its positions in the region were pounded by the US fighter jets a couple of days ago.
The sources said that the army dispatched a large number of forces and a large volume of military equipment to the Eastern bank of the Euphrates River in Eastern Deir Ezzur.
Full report at:
http://en.farsnews.com/newstext.aspx?nn=13961207000351
--------
Russia calls daily truce in battered Syria enclave
February 27, 2018
DOUMA, Syria - Russia called a daily "humanitarian pause" in Syria's Eastern Ghouta, bowing to international pressure to halt the carnage in the rebel-held enclave where fresh strikes claimed more civilian lives on Monday.
A UN Security Council resolution for a 30-day truce had remained a dead letter since it was passed on Saturday, and Moscow, the Syrian regime's main backer, ended up setting its own terms to stem one of the worst episodes of bloodletting in Syria's seven-year-old conflict.
The United Nations, France and Germany had made pressing appeals for Russian President Vladimir Putin to demand its Damascus ally enforce a ceasefire, including in Eastern Ghouta where more than 500 civilians were killed last week.
He eventually agreed to a five-hour daily window that would allow residents of the battered enclave east of the capital to come out of the underground shelters they have been cowering in.
"On the instructions of the Russian president, with the goal of avoiding civilian casualties in Eastern Ghouta, from February 27 - tomorrow - from 9:00 to 14:00 there will be a humanitarian pause," Defence Minister Sergei Shoigu said.
According to a statement sent to AFP, he said there should be similar pauses in the southern Al-Tanf border region and Rukban, near the Jordanian border.
Shoigu said "humanitarian corridors" would be opened to allow civilians to leave, adding that their locations would soon be divulged.
Turkey has sent special forces into the Syrian region of Afrin in anticipation of a "new fight" in urban areas in its operation against a Kurdish militia, Ankara said on Monday.
Turkey on January 20 started an offensive supporting Syrian rebels against the US-backed People's Protection Units (YPG) militia in the western enclave of Afrin.
"Deploying special forces is part of the preparation for a new fight that is approaching," Deputy Prime Minister Bekir Bozdag, also government spokesman, said. An unknown number of gendarmerie and police special forces entered the region on Sunday night, state news agency Anadolu said. UN chief Antonio Guterres had expressed frustration with the lack of results the resolution yielded and stressed Monday in Geneva: "Eastern Ghouta cannot wait. It is high time to stop this hell on earth."
The intensity of the bombardment on Eastern Ghouta had eased somewhat over the weekend but deadly strikes and shelling never stopped. Among the latest victims were nine members of the same family killed when their home in Douma, the main town in the enclave, collapsed on their heads on Monday.
"Nine civilians from the same family were killed in regime air strikes in Douma, after midnight," said Rami Abdel Rahman, the head of the Britain-based Syrian Observatory for Human Rights monitoring organisation. "Some of the bodies are still stuck in the rubble," he said.
An AFP correspondent in Douma said the bombardment had been very heavy overnight and impeded rescuers in their work. A total of 22 civilians, including seven children, were killed on Monday, the Observatory said.
The regime intensified its air campaign against Eastern Ghouta, which has been outside government control since 2012, at the beginning of the month. On February 18, the Syrian government further turned up the heat on the territory controlled by Islamist and militant groups.
More than 550 civilians, almost a quarter of them children, have since been killed and extensive destruction wrought on the enclave's towns.
The hospitals and clinics that were not destroyed by strikes have struggled to process the more than 2,000 people wounded over the same period.
The UN said in a statement Monday that a staggering 76 percent of private housing in Eastern Ghouta was damaged.
Residents trapped in the wreckage of their own homes have bled to death as rescuers were targeted even as they tried to save lives.
Much of the nearly 400,000-strong population of Eastern Ghouta has moved underground, with families pitching tents in basements and venturing out only to assess damage to their property and buy food.
On Sunday, a child died and 13 others suffered breathing difficulties and showed symptoms consistent with a chlorine attack after a regime air raid struck the town of Al-Shifuniyah, the Observatory and a medic said.
Russia dismissed reports of a chemical attack as "bogus stories".
The regime has reinforced its deployment around the enclave over the past month, raising fears of a ground offensive that aid groups have warned could cause even worse suffering.
With the Islamic State group's once sprawling "caliphate" now wiped off the map, the regime has looked bent on completing its reconquest and Eastern Ghouta is a key target.
The militants only control an estimated three percent of Syria territory, small pockets which various anti-IS forces continue to flush out.
The Observatory reported that at least 25 civilians were killed in a wave of air strikes on holdout IS fighters in eastern Syria on Sunday.
It said the strikes were carried out by the US-led coalition but a US military spokesman said "there were no reported coalition strikes conducted in Syria" that day.
Another flashpoint in Syria has been the northern region of Afrin, where Kurdish forces have come under attack from neighbouring Turkey since January 20.
Turkey has warned it did not consider that the UN ceasefire resolution, which is not limited to Eastern Ghouta but whose wording excludes operations against terror groups, should affect its offensive on Afrin.
Macron on Monday called Turkish President Recep Tayyip Erdogan, who considers the Syrian Kurdish militia to be "terrorist", to stress the truce should apply there too.
During a telephone call between the two leaders, Macron said the 30-day ceasefire "involved all Syrian territory, including in Afrin, and must be put into effect everywhere and by everyone without delay", the French presidency said.
Full report at:
https://nation.com.pk/27-Feb-2018/russia-calls-daily-truce-in-battered-syria-enclave
--------
Iran Dismisses Bahraini Minister's Terrorism Allegations as "Worthless"
Feb 26, 2018
"It is a lie and it would be wrong to spend time to respond to it," Qassemi told reporters in his weekly press conference in Tehran on Monday.
He added that the Bahraini officials are puppets of certain foreign governments and raise such allegations against Iran at their order.
Qassemi downplayed the Bahraini officials' remarks, and said Manama has a long history of uttering irrelevant words.
His remarks came after the Bahraini minister raised terrorism allegations against Iran.
The allegations have been raised as the Amnesty International has earlier this month warned against the executions and expulsions of anti-regime activists in Bahrain, saying Manama is using the sentences as a tool to crush all forms of opposition.
In two separate reports, the international rights group has provided details about the expulsion of four Bahrainis to Iraq and the death sentence given to an activist following a trial which relied on "confessions" extracted under torture.
Brothers Ismail and Ibrahim Darwish were expelled to Iraq, followed by Adnan Kamal and Habib Darwish, Amnesty said.
Four other people - Mohammed Ali, Abdul Amir, Abdulnabi Almosawi and his wife Maryam Redha - have also been told they will be expelled to Iraq. The four had had their Bahraini citizenship revoked in 2012.
The four expelled men are part of a group of 31 Bahrainis who were stripped of their nationality in 2012 over allegations of causing "damage to state security."
Full report at:
http://en.farsnews.com/newstext.aspx?nn=13961207001493
--------
No document or evidence indicate Imam Musa al-Sadr's death: Daughter
Feb 26, 2018
The daughter of Lebanon's prominent Shia leader Imam Musa al-Sadr, who went missing with two companions nearly 40 years ago in Libya, says she strongly believes that her father alive and being kept in prison.
"The documents and evidence show that he is alive and imprisoned as there is no proof to the otherwise," Houra al-Sadr said on Sunday.
She added that concerted efforts are underway to shed light on the fate of the cleric.
"He is still alive and kept incarcerated. Nevertheless, he has not yet been found and reunited with us," she pointed out.
On October 13, 2017, Lebanese investigative Judge Zaher Hamadeh issued an arrest warrant for former Libyan Prime Minister Abdessalam Jalloud over the disappearance of Imam Mousa Sadr.
Hamadeh found Jalloud guilty and tried him in absentia for the cleric's abduction.
Jalloud was the prime minister of Libya between 1972 and 1977, and operated alongside slain dictator Muammar Gaddafi as second-in-command. He disappeared from public view in 1995. He is the last surviving leader of Libya's 1969 September Revolution.
The Lebanese parliament speaker says he strongly believes that Sadr is still alive, calling for collective efforts to find out about the fate of the cleric and his companions.
Speaking at a ceremony marking the 39th anniversary of Sadr's disappearance in Beirut, Nabih Berri called on Lebanese media outlets to follow up on the clergyman's fate, stressing that Lebanese judicial officials were also looking into the case.
The fact-finding mission formed to inquire about the case has however been unable to visit Libya due to violence and political instability in the North African country, the top Lebanese legislator argued.
Imam Musa al-Sadr was a highly revered Shia cleric of Iranian descent, who founded the Lebanese Amal (Hope) Movement in 1974. He came to Lebanon in 1959 to work for the rights of Shia Muslims in the port city of Tyre, located about 80 kilometers (50 miles) south of Beirut.
The prominent Shia cleric (pictured below) disappeared on August 31, 1978, during an official visit to the Libyan capital Tripoli.
He was accompanied by Sheikh Mohammad Yaqoub and journalist Abbas Badreddine.
Lebanon still holds former Libyan officials responsible for the disappearance of the trio.
Since Gaddafi was deposed and killed in 2011, Lebanon and Iran have repeatedly called on the Libyan government to launch an investigation into Sadr's disappearance.
Hannibal Gaddafi, the son of the Libyan dictator, is currently in custody in Lebanon, facing charges of withholding information regarding Sadr's case.
Full report at:
http://www.presstv.com/Detail/2018/02/26/553694/No-document-or-evidence-indicate-Imam-Musa-alSadrs-death
--------
South Asia
EU agrees to prepare sanctions on Myanmar generals
February 26, 2018
European Union foreign ministers agreed on Monday to prepare sanctions against Myanmar generals over the killings of Rohingya Muslims and to strengthen the EU arms embargo, accusing state security forces of grave human rights abuses.
As reported by Reuters last week, foreign ministers meeting in Brussels asked the EU's foreign policy chief, Federica Mogherini, to draw up a list of names to be hit with EU travel bans and asset freezes.
In a statement, ministers called for "targeted restrictive measures against senior military officers of the Myanmar armed forces responsible for serious and systematic human rights violations without delay".
The measures would be the EU's toughest yet to try to hold the Myanmar military accountable for the abuses, likely joining US and Canadian sanctions already in place.
Foreign ministers also want to strengthen the bloc's 1990s-era arms embargo on the Southeast Asian country that remains in place, although they did not give details.
Reuters investigations have highlighted the killing of Rohingya Muslim men who were buried in a mass grave in Rakhine state after being hacked to death or shot by ethnic Rakhine Buddhist neighbours and soldiers.
No names of generals to be targeted for sanctions have been yet discussed, two diplomats said, but the United States said in December it was sanctioning Major General Maung Maung Soe, who is accused of a crackdown on the Rohingya minority in Rakhine.
One EU diplomat said the EU's list was likely to include more than just one senior military officer.
The EU's decision to consider sanctions reflects resistance to such measures in the UN Security Council, where veto-wielding powers Russia and China said this month they believe the situation in Rakhine was stable and under control.
The United States, as well as United Nations, have described the military crackdown in Myanmar as "ethnic cleansing". More than 680,000 people, mostly Rohingya, have fled Rakhine for shelter over the border in Bangladesh, the EU said.
Myanmar has denied most allegations of abuses and asked for more evidence of abuses, while denying independent journalists, human rights monitors and UN-appointed investigators access to the conflict zone.
http://www.thedailystar.net/rohingya-crisis/eu-agrees-prepare-sanctions-myanmar-generals-1540450
--------
ISIS attack repulsed in North of Afghanistan, 9 militants killed, 13 wounded
Feb 27 2018
A major attack by the militants affiliated with the Islamic State of Iraq and Syria /ISIS) terrorist group was repulsed in northern Jawzjan province of Afghanistan, leaving several militants dead or wounded.
The 209th Shaheen Corps of the Afghan National Arnmy in thr North said a large group of ISIS militants launched a large scale attack in Darzad district but their attack was repulsed by the security forces.
The source further added that nine militants were killed and thirteen others were wounded after the Afghan forces responded to the militants attack.
According to Shaheen Corps, the attack was launched on security posts of the Afghan National defense and security forces but did not elaborate further if the Afghan forces suffered any casualty or not.
The anti-government armed militant and terrorist groups have not commented regarding the report so far.
Jawzjan is among the relatively volatile provinces in the North where the anti-government armed militant groups including the Taliban insurgents are actively operating in some of its districts.
At least fourteen militants affiliated with the terror group were killed during the airstrikes conducted in this province earlier this month.
The 209th Shaheen Corps of the Afghan Military in the North said at least two foreign nationals hailing from Uzbekistan were also among those killed.
Full report at:
https://www.khaama.com/isis-attack-repulsed-in-north-of-afghanistan-9-militants-killed-13-wounded-04552
--------
Drone strike kill 3 militants, injures 3 more in Laghman province
Feb 26 2018
At least three militants were killed in a US airstrike in eastern Laghman province of Afghanistan.
The 20st Silab Corps of the Afghan Military in the East said the latest airstrike was carried out in the vicinity of Alingar district.
The source further added that a local commander of the militants was also wounded in the airstrike that eliminated a hideout of a terror group in Noor Lam Sahib valley.
The airstrike did not incur any casualties to the ordinary civilians as well as the militants involved in the operations, the Silab Corps added.
Laghman has been among the relatively calm provinces in the East since the fall of the Taliban regime but the anti-government armed militants have been attempting increase insurgency activities in this province.
Laghman is located close to Nangarharhar province where both the Taliban and militants loyal Islamic State are actively operating in some of its remote districts.
Full report at:
https://www.khaama.com/drone-strike-kill-3-militants-injures-3-more-in-laghman-province-04550
--------
3 militants killed, vehicle destroyed in Paktika airstrike: MoI
Feb 26 2018
At least three militants were killed and their vehicle was destroyed in an airstrike in southeastern Paktia province of Afghanistan.
The Ministry of Interior (MoI) said the airstrike was carried out in the vicinity of Gomal district.
A statement by MoI said the militants were traveling in Shoranki area when they were spotted by the security forces and were eliminated an airstrike.
According to MoI, the local residents in the area have not suffered any casualty in the air raid.
The anti-government armed militant groups including the Taliban insurgents have not commented regarding the report so far.
Paktika is located in Southeastern parts of the country close to the Durand Line with Pakistan.
The province is home to the Taliban insurgents as well as militants affiliated with the Al-Qaeda terrorist network and other insurgent and terrorist networks including the notorious Haqqani terrorist network.
Full report at:
https://www.khaama.com/3-militants-killed-vehicle-destroyed-in-paktika-airstrike-moi-04549
--------
Southeast Asia
Concerns rise over attacks on religious leaders in Indonesia
26 February 2018
JAKARTA: Indonesia's National Police chief Gen. Tito Karnavian has announced the formation of special units to investigate a recent rise in attacks on religious leaders and places of worship across the country, as the Indonesian Ulema Council (MUI) demanded answers on what appears to be a coordinated series of events.
"The special teams are conducting thorough investigations into the underlying cause of the series of attacks against ulema and religious figures," National Police spokesman Brig. Gen. Mohammed Iqbal told Arab News.
The MUI has urged police to come up with a better answer to the attackers' motives after they originally dismissed the assaults as being the work of people suffering from mental disorders.
Between December and February, the authorities recorded 21 assaults against Muslim clerics, priests, monks and places of worship, and claimed 15 of them were carried out by "lunatics."
Most of the cases took place in Indonesia's most-populous island, Java, where three provinces will elect new governors in June.
MUI Secretary-General Anwar Abbas told Arab News the police had assured him they would have an explanation for the assaults within two weeks, following a meeting on Feb. 21 among the MUI Advisory Board, the National Police's Criminal Investigation Unit and the National Counterterrorism Agency.
"We demanded that the police explain how people with mental disorders could carry out attacks almost simultaneously aiming for similar targets — ulemas and religious leaders," he said, adding that the MUI did not want the issue to be "open to wild interpretations."
"We want the hubbub around the attacks to end soon, especially since we are approaching the election years," Anwar said, referring to regional elections this year and presidential polls next year.
Din Syamsuddin, chairman of the MUI Advisory Board, expressed concern that the attacks seemed to be orchestrated.
"It seems that from December until now is the season for lunatics to appear," he said.
On Feb. 18, a statue in a Hindu temple in Lumajang, East Java, was vandalized by an unidentified perpetrator, while on the same day in Lamongan, also in East Java, a man attacked a cleric who heads an Islamic boarding school managed by Muhammaddiyah, Indonesia's second-largest Muslim organization.
A man tried to vandalize a mosque in Tuban, East Java, on Feb. 13, and two days earlier a sword-wielding attacker injured a German priest, a policeman and two churchgoers as the priest was leading Sunday mass at St. Lidwina church in Yogyakarta.
Two similar attacks also took place in West Java where a Muslim cleric died after he was attacked in his house in early February. Another cleric affiliated with Indonesia's largest Muslim organization, Nahdlatul Ulama, was attacked after morning prayers in late January this year.
During the MUI meeting, chief detective Commander Gen. Ari Dono Sukmanto dismissed the idea that the attacks were orchestrated or religiously motivated, calling them "purely criminal." But he did acknowledge that police had been premature in labeling some of the perpetrators as mentally disturbed.
"It triggered public confusion, and on behalf of our institution I apologize that some of us jumped the gun," he said, adding that police are now investigating five suspects for allegedly spreading fake news about the incidents.
http://www.arabnews.com/node/1254776/world
--------
Federal Court to decide tomorrow on Muslim apostasy case
BY SULOK TAWIE
February 26, 2018
KUCHING, Feb 26 — The Federal Court will rule tomorrow if the Sarawak Shariah Court has jurisdiction over apostasy in the case of four Sarawakians — a Malay-Muslim and three Muslim converts — who want to convert to Christianity.
"We don't want to rush into making a decision," Court of Appeal president Tan Sri Zulkefli Ahmad Makinudin said after hearing submissions from lawyers representing the appellants and the respondents.
Baru Bian, who represented the appellants — Malay-born Sharifah Nooraffyzza Wan Hosen; and Muslim converts Jenny Peter alias Nur Mudzdhalifah Abdullah, Mohd Syafiq Abdullah alias Tiong Choo Ting and Selina Jau alias Selina Jau Abdullah — said that the appeals from his four clients were similar in facts and issues.
With the exception of Sharifah Nooraffyzza, he said the three other appellants have received written letters from the Sarawak Shariah Court stating that it has no jurisdiction concerning their applications to convert out of Islam.
"That is the crux of the matter that the Federal Court has to decide," he said.
He wanted the apex court to rule on Shariah Court Ordinance 2001 itself, and not on matters outside.
Baru contented that the present four cases are similar to the Indira Gandhi case — a Hindu woman who fought the conversion of her three children to Islam by her Muslim convert ex-husband without her consent — in so far as conversion is concerned.
But Justice Zulkefli asserted that they were not the same as the Indira Gandhi case involved a conversion of minors to Islam, whereas appellants in the current case wanted to convert out of Islam.
Baru said that the Sarawak Shariah Court Ordinance 2001 has no express provision on converting either into or out of Islam.
"Therefore, there cannot be blank," he said, adding that the Ordinance must have expressed provision.
"We cannot imply that there is a provision when there is nothing to imply from," he said.
State Deputy Attorney-General Saferi Ali disagreed with Baru's contention, saying that there are provisions in the Majlis Agama Islam Sarawak (MAIS) Ordinance 2001 for the Shariah Court to rely on.
He said Sections 68, 69 and 70 of the MAIS Ordinance touch on the conversion to Islam and by implication, the sections also deal with conversion out of Islam.
Saferi said it was not correct for the Shariah Court to say that it had no jurisdiction over conversion out of Islam when it wrote letters to Jenny, Tiong and Selina.
He agreed with Justice Tan Sri Jeffrey Tan, another judge on the Federal Court panel, that the advice given to the three was not a correct opinion.
When asked by reporters later, Saferi clarified that even if there was no express provision in the Shariah Court Ordinance, the position was that by way of the implication, the Shariah Court had jurisdiction to hear cases of apostasy from Islam.
"Even in the Lina Joy case, the position is very similar to the case of Sharifah Nooraffyzza," he said.
Like Sharifah Nooraffyzza, Lina, a Malay-Muslim, wanted to embrace Christianity to marry her boyfriend, but the NRD insisted she produce a certificate from the shariah court, which she did not possess.
"In other words, the civil court had consistently applied that the position of the Shariah Court, the position of the conversion out of Islam is within the Shariah Court," he said.
The four Sarawakian appellants are suing the Sarawak Islamic Religious Department, the Islamic Affairs Council, the National Registration Department (NRD) and the state government as respondents.
Sharifah Nooraffyzza wants to convert out of Islam and into Christianity, taking the name of Vanessa Elizabeth after marrying a Christian man.
In the case of Jenny, Tiong and Selina, they are asking the court for an order to compel the NRD director-general to change their Muslim names to their original names and their religion from Islam to Christianity in their official records.
The High Court, in 2015, had ruled that it had no jurisdiction to hear apostasy cases.
Last August 2016, the Court of Appeal rejected their application for a judicial review to compel the four respondents to issue a letter of release to them as they are no longer practising Muslims.
Sitting with Justice Zulkefli are Chief Judge of Malaya Tan Sri Ahmad Maarop and Federal Court judges Tan Sri Hassan Lah, Tan Sri Ramly Ali and Tan.
The four appellants are represented by Baru Bian, Joshua Baru and Clarice Chan while the respondents are represented by Saferi, State Legal Officer Hishamuddin Roslan and Senior Federal Counsels Shamsul Bolhassan and Leo Saga.
Lawyers Leonard Shim and Libat Langub act as friends for the Association of Churches of Sarawak while Chua Kuan Ching is holding a watching brief for the Sarawak Dayak Iban Association, Cindy Chow Li Teen for the Methodist Church of Malaysia and Raymond Noel for the Sarawak Ministers Fellowship and Sarawak Evangelical Churches Association.
Today's hearing on the appeal attracted both Christian and Muslim leaders.
Among the Christian leaders who attended the hearing were ACS President Datuk Justin Wan, Anglican Archbishop of Kuching Danald Jute, Roman Catholic Bishop Datuk John Ha, ACS secretary general Ambrose Labang, Pastor Lau Wee Ming of the Methodist Church and Darren Tan of the Sarawak Christian Ministers Fellowship.
Meanwhile, human rights activist Peter John Jaban said that the decision of the Federal Court on four persons will set precedents for similar cases in Sarawak.
He said there are countless number of Sarawakian natives who wish to have their conversion out of Islam be legally recognised, but face legal hurdles when they want to go back to their original religions.
"I hope that the Federal Court will properly recognise the freedom of religion accorded to the citizens of Sarawak as part of the Malaysia Agreement 1963," he said in a statement handed to reporters at the Kuching High Court complex.
Jaban cited some of the cases of natives who are still waiting for the authorities to issue them letters of release from Islam and for official records on their faith reverted to the original status.
"In particular, are the cases of Nur Hidayatul'Asyiqin @ Tracy anak Umar, and Nurul Annisha binti Abdullah, born Cecilia anak Nyalin who has waited 21 years for a closure to her predicament and she is still waiting," he said.
Full report at:
http://www.themalaymailonline.com/malaysia/article/federal-court-to-decide-tomorrow-on-muslim-apostasy-case#mZaxKeBZaGVGeFK0.97
--------
Militants to apologize to victims of Indonesia attacks
February 26, 2018
The Indonesian government is bringing together dozens of convicted Islamic militants and survivors of attacks in what it hopes will be an important step in combating radicalism and fostering reconciliation.
About 120 reformed militants will apologize to dozens of victims including survivors of the 2002 Bali bombings and the 2004 bombing of the Australian Embassy in Jakarta, according to Irfan Idris, director of de-radicalization at Indonesia's counter-terrorism agency.
The three days of meetings at a Jakarta hotel that began Monday aren't open to the media except for an event on the final day. "Many militant convicts have changed and are taking the right course with us by drawing on their experience to prevent others from taking up violence," Idris told The Associated Press. "These facts have inspired us to reconcile them with their victims."
Indonesia, the world's most populous Muslim nation and third-biggest democracy, has imprisoned hundreds of Islamic militants in the years since the Bali bombings that killed more than 200 people, mostly foreigners. But its efforts at convincing imprisoned militants to renounce violence have had mixed results. In overcrowded and understaffed prisons, militants have been able to convert other prisoners to radicalism and communicate with supporters on the outside to encourage new attacks that they believe will advance their cause of transforming Indonesia into an Islamic state.
At least 18 former militant prisoners have been involved in attacks in Indonesia since 2010, including a January 2016 suicide bombing and gun attack in downtown Jakarta that killed eight people, including the attackers. Febby Firmansyah Isran, who suffered burns to 45 percent of his body from the 2003 bombing of the J.W. Marriot hotel in Jakarta, said to begin with he was so overwhelmed with anger that it worsened his health.
At the urging of his fiance, now his wife, Isran, who is attending the meetings, said he accepted what happened to him as an act of God. "I have forgiven them and it has even improved my recovery process and calmed me down," said Isran, who founded a support group for bombing victims. It now has 570 members, about 60 of whom suffer from total physical disability. However, many victims have refused to participate in the government event because they can't forgive the attackers or are still traumatized and are afraid to meet with convicted radicals, he said. "We cannot force the victims to come as there are also some militants who are not willing to come," Isran said.
Idris, the counterterrorism agency official, said families of those killed in attacks endure psychological scars and economic hardship and survivors are often left with debilitating physical disabilities. But he said the government-sponsored event wants to encourage support for militants who reject violence and try to become part of mainstream society after being released from prison. After release, they are often ostracized, unable to find work and their children are stigmatized, which contributes to some of them returning to their radical networks, he said.
Masykur Abdul Kadir, who in 2003 was sentenced to 15 years prison for his involvement in the Bali bombing, said he believes the event will have an impact on both sides. "We can hear their suffering and see directly the impact of what we did in the past to the innocent people," said Masykur, who was known as "local boy" in the Bali bombing for his role in reconnaissance and guiding militants who came to Bali from other parts of Indonesia.
Full report at:
http://indianexpress.com/article/world/militants-to-apologize-to-victims-of-indonesia-attacks-5078649/
--------
Jakarta's Christian ex-governor challenges blasphemy conviction
February 26, 2018
While on a work trip in 2016, Purnama said political rivals were deceiving people by using a verse in the Koran to say Muslims should not be led by a non-Muslim
Jakarta's former governor, a Christian convicted of insulting Islam, sought a judicial review of his case on Monday, as several hundred of his supporters and hardline Islamist protesters gathered outside a court in the Indonesian capital.
The ethnic Chinese Basuki Tjahaja Purnama, popularly known as "Ahok," was jailed for two years for blasphemy in 2017, provoking international condemnation amid concerns of political motivation after Islamist-led rallies demanded his imprisonment.
Purnama's request for a judicial review will be passed on to the Supreme Court, a judge at a lower court hearing said.
"We have completed the examination and the dossiers will be sent to the Supreme Court," said Judge Mulyadi, one of a panel of judges at the North Jakarta court.
While on a work trip in 2016, Purnama said political rivals were deceiving people by using a verse in the Koran to say Muslims should not be led by a non-Muslim.
An incorrectly subtitled video of his comments later went viral, helping spark huge Islamist-led demonstrations that ultimately led to his being brought to trial while he campaigned in city elections.
Purnama lost his bid for re-election to a Muslim rival, Anies Baswedan, in an April run-off last year, following the most divisive and religiously charged election in years.
Purnama's lawyer, Josefina Syukur, said the case was being challenged because they believed judges had made errors and also to allow the court to consider the subsequent conviction of a lecturer for doctoring the video of Purnama.
Another lawyer, Fify Lety Indra, who is also Purnama's sister, said her brother had dropped plans to appeal immediately after his detention, because "He was not willing to risk that his supporters and those who hate him might clash."
Purnama remains a popular figure among many in Jakarta, on account of his track record for clean and efficient governance.
But his conviction could prevent him from holding some public posts under Indonesian law, because the offence carried a maximum penalty of five years.
Asked if Purnama intended to re-enter politics, Indra said: "We just pray…I do not know."
Some Muslim opponents felt Purnama should remain in jail.
Full report at:
https://www.dhakatribune.com/world/asia/2018/02/26/jakartas-christian-ex-governor-challenges-blasphemy-conviction/
--------
Ahok's Lawyers File Case Review Petition Against Blasphemy Conviction
February 26, 2018
Jakarta. Former Jakarta Governor Basuki "Ahok" Tjahaja Purnama officially challenged his blasphemy conviction through a case review petition to the Supreme Court on Monday (26/02).
About 100 anti-Ahok protestors rallied in front of the North Jakarta District Court during the hearing to demand a rejection of the petition, Jakarta Police spokesman Chief Comr. Argo Yuwono said.
Mulyadi, who leads the judicial panel, said prosecutors are expected to respond to the petition within two or three days, at the latest.
He was quoted as saying by state-run news agency Antara that the judicial panel hopes to hand the case review petition over to the Supreme Court by March 5.
"We do not have the authority to grant a case review petition; we only have the authority to examine the administrative requirements. I hope we will be able to send the petition to the Supreme Court next week," Mulyadi said.
Ahok was found guilty of blasphemy and sentenced to two years' imprisonment in May last year, following several mass rallies by hardline Muslim groups that insisted he had insulted Islam.
Fifi Lety Indra, Ahok's lawyer and sister, told reporters after the hearing that the North Jakarta District Court made a mistake in finding him guilty of blasphemy, BeritaSatu.com reported.
She reportedly said that they would challenge six or seven points, including alleged mistakes by judges in the case.
"We saw a lot of oversight by the judges. This includes the fact that Ahok was immediately imprisoned after the guilty verdict, despite us already having lodged an appeal, although we later dropped it to avoid unrest," Fifi said.
Josevina Agatha Syukur, another lawyer for Ahok, added that the former governor's appeal was partly based on the verdict against Buni Yani, a communications lecturer found guilty of tampering with video footage of a speech by the former governor that was used as evidence to lodge the blasphemy allegations against him.
Full report at:
http://jakartaglobe.id/news/ahoks-lawyers-file-case-review-petition-blasphemy-conviction/
--------
India
India's pluralism not suited for and prepared to accept Uniform Civil Code: Top divorce lawyer
Mohammed Wajihuddin
Feb 27, 2018
MUMBAI: Perhaps 'iwespeak', a forum to start conversations for informed choices, could not have invited a better speaker than leading divorce lawyer Malavika Rajkotia for its inaugural Clovelley (a UK- based platform to initiate dialogue) lecture in India. A feminist who believes all religions practice patriarchy and therefore have not given equal rights to women, Rajkotia exposed the "duplicity" of Uniform Civil Code (UCC).
Speaking at a relaxed setting—terrace of an old building at Kala Ghoda—before a select group of citizens from the society's upper crust, Rajkotia passionately argued why reforms in Personal Laws from "within the communities" should be preferred to any move to impose one size fits all UCC which would in all probability be a Hindu law.
Though the topic for the evening was 'The state of Indian marriage and whether India needs a Uniform Civil Code', the speaker devoted more time on how India's unique pluralism and inclusiveness is not suited and yet prepared to accept UCC.
In a talk punctuated with references to Rigveda, Mauryan kings Chandragupta and Ashoka, Buddha's opposition to women becoming monks and the British Raj's efforts to set up commercial courts while leaving the indigenous communities to follow their Personal Laws, Rajkotia passionately argued that the majoritarian itch of the current dispensation would not give a just UCC and it would be disaster if a UCC was imposed.
"UCC is a marvelous idea. It sounds good that there will be one law to decide inheritance, property rights but it is not the right time to bring in such a law. Hindu marriage is sacred while Muslim marriage is a contract. At a time when homogeneity and majoritarian views are imposed, the fear is that UCC will be nothing but a Hindu Code," she said.
Rajkotia who has handled divorce cases of several high profile people, including former J&K CM Omar Abdullah, has penned a semi-academic book "Intimacy Undone: Law of Marriage, Divorce and Family in India". She surprised many in the audience by saying that "Islamic laws give more to women than a woman gets under the Hindu laws."
"Under Muslim laws a woman get share in the property of parents as well as in the husband's property while more often than not a Hindu woman has little right on the streedhan she receives from her parents," she said. She also opposed the criminalization of triple talaq under the bill passed by the Lok Sabha and stalled in the Rajya Sabha. Sparks flew in the question-answer session with many saying that Rajkotia sounded anti-women.
"I don't want to look like I am here to throw women before a bus," she quipped, arguing that she is for women's rights.
Leading lawyer Javed Gaya summed up the discussion saying that Rajkotia's thought-provoking talk encompassed history, customs, Hindu and Islamic laws.
https://timesofindia.indiatimes.com/city/mumbai/indias-pluralism-not-suited-for-and-prepared-to-accept-uniform-civil-code-top-divorce-lawyer/articleshow/63088017.cms
--------
HuMterrorist Killed In Escape Bid As Grenade Misses Mark
Feb 27, 2018
SRINAGAR: A Hizbul Mujahideen terrorist was killed in a grenade attack while trying to escape from the custody of Tral police in Pulwama district of Jammu and Kashmir on Monday. The grenade was thrown at the police by Hizbul terrorists in an attempt to free him. A policeman was injured in the blast.
The slain terrorist has been identified by cops as 24-year-old Mushtaq Chopan.
The police drew flak for the "lapse" as Chopan had reportedly tried to flee in a burqa from the Tral police station. "We are investigating how the burqa was brought inside the police station and how Chopan escaped from the toilet. It is a lapse on part of the Tral police," Awantipora SP Zahid Ahmad told TOI. "Chopan was arrested in Sopore last year for killing an SPO in Tral. He was brought to Tral for questioning," he added.
The state government ordered a magisterial inquiry into the "lapse", said a police spokesman.
On February 6, Pakistani LeT terrorist Naveed Jati alias Abu Hanzullah escaped from the police custody when he had been brought to Srinagar's SMHS hospital for a medical check-up. Two cops were killed in the attack.
Around 12.30pm, Chopan sneaked out of the toilet in a burqa and was going towards the main gate when his aide, identified by cops as Omar Fayaz alias Hamad Khan, threw a grenade at the police station to help him escape, the police said. However, the grenade missed the target, and instead killed Chopan and injured a policeman, said the police. The injured cop, identified as Mehrajuddin, was rushed to the hospital.
Full report at:
https://timesofindia.indiatimes.com/india/hizb-terrorist-killed-during-escape-attempt-in-tral/articleshow/63084670.cms
--------
Jordanian King Abdullah II To Deliver Talk On Islamic Heritage, Moderation During India Visit
February 26, 2018
NEW DELHI: A special address on Islamic heritage and promoting moderation will be a highlight of Jordanian King Abdullah II's three-day visit beginning tomorrow.
The king is known for his global initiative to fight deradicalisation and terrorism and is also custodian of the Al-Aqsa mosque, the third holiest site in Islam, located in the Old City of Jerusalem.
India considers Jordan an "oasis of stability and harmony" in conflict-ridden West Asia, official sources said.
During the King's visit, both sides will aim to further boost ties in several key areas and look to finalise a framework for defence and security cooperation, they said.
The Palestinian issue, ways to deal with terrorism radicalisation and extremism are likely to figure, apart from key bilateral and regional matters, in talks between the king and Prime Minister Narendra Modi on Thursday, the sources said.
PM Modi, several senior dignitaries and representatives from leading Islamic institutions from across the country are expected to attend the special address by the Jordanian king at Vigyan Bhavan on Thursday.
The topic -- 'Islamic heritage; Promoting Understanding and Moderation' -- has been selected by the king himself, the sources said.
A translation of a book "A Thinking Person's Guide to Islam -- the Essence of Islam in 12 versus from the Quran" will also be released at the event, being organised by the India Islamic Cultural Centre.
The influential leader's India visit comes nearly three weeks after the Prime Minister visited Jordan as part of his recent trip to West Asia, including to Palestine. PM Modi's visit to Jordan was the first bilateral trip by an Indian Prime Minister in three decades.
"We attach great importance to our ties with Jordan as it is an oasis of stability and harmony in an area of conflict," said a source, reflecting on the significance of the Jordan king's visit.
The sources said both sides are expected to ink a number of agreements to expand cooperation in several key sectors including health care, IT and will look to firm a framework pact for defence and security cooperation.
In their talks, PM Modi and the king are also likely to explore ways of deepening trade ties. Twenty textile industries from India have invested around USD 300 million in Jordan.
Giving an example of the warmth in ties between the two countries, the sources said the king was traveling abroad and came back to Amman to receive PM Modi. He received PM Modi at his residence despite it being a holiday in Jordan.
He had appreciated PM Modi for undertaking a "stand alone" visit to Palestine through Amman and also for India's strong support to the Palestinian cause.
Jordan's royal helicopters had flown PM Modi and his delegation from Amman to Ramallah and back during the visit.
The Jordanian king, who will be accompanied by a high-level business delegation, will also call on President Ram Nath Kovind on Thursday and he will host a banquet for the visiting leader.
Full report at:
https://www.ndtv.com/india-news/jordanian-king-abdullah-ii-to-deliver-talk-on-islamic-heritage-moderation-during-india-visit-1817283
--------
Muslim youth group, AMU students at loggerheads over President Kovind's visit
Anuja Jaiswal
Feb 26, 2018
AGRA: Muslim youth association, an organisation in Aligarh claiming to be the "followers" of RSS ideology, has announced that 11,000 youths from the community will welcome President of India, Ramnath Kovind, at forthcoming convocation of AMU, with saffron flag, if authorities fail to take action against students who had threatened to show black flags to him.
Even Former Vice President, Hamid Ansari's wife, Salma Ansari, has joined issues with the former AMUSU vice president, Nadeem Ansari, who called for a black flag welcome to the President, and said that his call for showing black flags was "Insulting to the office of the President of India". She went on to say that the "insult to the president is an insult to all of us".
In a letter to AMU vice chancellor, Tariq Mansoor, president of the Muslim association, Mohd Aamir Rashid, said that the entry of students who threatened to show black flags to the president should be banned in the campus.
Talking to TOI, Rashid said that certain students are spoiling the international image of Aligarh Muslim University and the association wants strict action against them. "We will not tolerate anything against the President of India," he said.
Meanwhile, Salma Ansari also criticized the Aligarh Muslim University Students Union for objecting to invitation being sent to people with "RSS ideology". She said that it is unacceptable that an institute like AMU will allow anyone to do something like this.
She said, "What is Sanghi thoughts. Sangh is just an organization and whether you agree with their ideology or not, it is one's personal view". No one should have an objection on who will accompany the President of India, if he is visiting to the institute.
Meanwhile, certain student groups took out a unity march just to send the message that they are whole heartedly welcoming the President of India and people accompanying him as per protocol. "This is the proud moment for the university that after 32 years the president of India will attend the AMU convocation", they said.
Full report at:
https://timesofindia.indiatimes.com/india/muslim-youth-group-amu-students-at-loggerheads-over-president-kovinds-visit/articleshow/63083785.cms
--------
Muslims in India descendants of Lord Ram: Union minister
Anuja Jaiswal
Feb 26, 2018
AGRA: Union minister of state (independent charge) for micro, small and medium enterprises Giriraj Singh has sparked off a fresh controversy by stating that Muslims in India are the descendants of Lord Ram.
Singh, who was in Mathura on Sunday, said that all Muslims should come together and work with Hindus for the construction of 'Ram Mandir' as Lord Ram was "their ancestor too". Singh further said that Ram Mandir can only be constructed here and not in Pakistan.
"Muslims in India are neither descendants of Babur nor are they foreigners. They are the descendants of Lord Ram. We all have one ancestor, although our rituals of worship are different. But, the ghost of Muhammad Ali Jinnah has entered into the hearts of people like Owaisi and therefore, they want to break his country. They will go to Mecca-Medina but where will we go? Will a Ram Temple be built in Pakistan?" he asked.
His remarks were in retaliation to Owaisi statement that the Babri Masjid will be once again built in Ayodhya and the Supreme Court will give the decision in favour of Muslims. Speaking at an event in Delhi, Asaduddin Owaisi had said, "Our Masjid will remain there and we will reconstruct it once again as Supreme Court will give the decision in our favour."
Owaisi further averred that the Muslims will never leave that space. "The people who threaten Muslims to leave the Babri Masjid land and speak against our 'shariat'. I would like to tell them that we will never leave that space," Owaisi added.
Reacting to Giriraj's statement Zafaryab Jilani, convenor of Babri Masjid Action Committee said, "this is unacceptable" and the minister should have refrained from making such comments. "We are ready to accept that we are descendants of Aadam and that's what Quran says but calling us descendants of Ram is absolutely wrong".
Full report at:
https://timesofindia.indiatimes.com/india/muslims-in-india-descendants-of-lord-ram-union-minister/articleshow/63084478.cms
--------
J&K: Islamic State claims responsibility for killing cop
by Bashaarat Masood
February 27, 2018
While the police have in the past ruled out the presence of the Islamic State (IS) in Kashmir, the global terror outfit's mouthpiece has claimed responsibility for Sunday's attack in which a policeman guarding the residence of Hurriyat leader Fazal Haq Qureshi was killed.
The incident took place in Soura area of Srinagar, and militants escaped with the slain policeman's rifle.
"Assassinated an element of police in firing near city of Srinagar in Kashmir yesterday," Al Amaq News Agency of the IS has claimed.
This is the second time in three months that the IS has claimed responsibility for an attack on policemen in Srinagar.
Sources in J&K Police said eyewitness accounts hint towards the role of a recent militant recruit, Esa Fazili. "There were apprehensions that Esa may have links with the Islamic State," a senior police officer privy to probe details said. "Yesterday's incident, and the IS claim, has given credence to such reports."
Sources said responsibility for the attack was first taken by the IS on a Telegram channel 'Kashmir Villayah'.
The Indian Express had earlier reported that the state police had found a few closed Telegram channels of the IS in Kashmir.
A resident of Soura, Esa Fazili was studying engineering at Baba Ghulam Shah Badshah (BGSB) University in Rajouri before joining the militant ranks in August last year, sources said. They said Fazili had initially joined the Zakir Musa-led group of militants but when Zakir announced setting up Ansar Ghazwatul Hind, an Al Qaeda affiliate, in Kashmir, Fazili had differences, as he was more inclined towards the Islamic State.
Full report at:
http://indianexpress.com/article/india/jk-islamic-state-claims-responsibility-for-killing-cop-5079424/
--------
Mideast
'Arab complicity' to blame for US embassy move: Hezbollah
Feb 26, 2018
The Lebanese resistance movement of Hezbollah says Washington's decision to set the date for moving its embassy from Tel Aviv to occupied Jerusalem al-Quds is the result of "complicity" among Arab nations and a step towards eradicating the Palestinian cause.
"It is certain that this Arab complicity encouraged the US administration to speedily implement its decision to move its embassy to al-Quds," Hezbollah said in a statement issued on Monday.
The projected embassy opening on May 17 would coincide with the 70th anniversary of Nakba Day (Day of Catastrophe), which marks the forcible eviction of hundreds of thousands of Palestinians from their homeland by Israelis in 1948.
The Lebanese resistance movement said the US decision proved disregard for the Arab world and all Muslims as well as the international community, and called for firm response to the controversial move.
"The resistance and intifada (uprising) are the fruitful way to regain the occupied territories and all the sanctities," Hezbollah noted.
US President Donald Trump on December 6, 2017 defied global warnings and said Washington formally recognized Jerusalem al-Quds as the capital of Israel and would begin the process of moving its embassy to the occupied city, breaking with decades of American policy.
His decision infuriated Palestinians, who declared that Washington could no longer play a role as lead mediator in the Middle East peace process. It also sparked outrage across the Muslim world and even Washington's Arab allies.
The United Nations General Assembly on December 21, 2017 overwhelmingly voted in favor of a resolution that calls on the US to withdraw its controversial recognition of Jerusalem al-Quds as the Israeli capital.
The 193-nation assembly adopted the resolution by a decisive vote of 128 to 9, with 35 abstentions.
The scheduled opening of the US embassy in May appears to represent an earlier time frame than what had been expected.
During an address to the Israeli Knesset (parliament) on January 22, US Vice President Mike Pence said Washington was planning to relocate the country's embassy in Israel from Tel Aviv to Jerusalem al-Quds "by the end" of 2019.
Israel lays claim to the entirety of Jerusalem al-Quds as its "capital" while Palestinians want its eastern part as the capital of a future state for themselves.
Palestinian leaders have warned that the potential relocation would fuel strong reaction in the region and deliver a death blow to any prospect of resolving the Israeli-Palestinian conflict.
http://www.presstv.com/Detail/2018/02/26/553713/Lebanon-Hezbollah-US-embassy-Arab-complicity
--------
UAE launches 'Operation Decisive Sword' targeting al-Qaeda in Yemen
26 February 2018
The United Arab Emirates announced on Monday the launch of "Operation Decisive Sword" targeting al-Qaeda operatives in Yemen.
A statement from the official news agency WAM said the operation "began early morning against a stronghold of terrorism in the Upper Directorate of Shabwa, with the objective of expelling elements of the al-Qaeda organization."
It added: "The operation is being carried out by the Shabwan Elite Forces, backed by the UAE, under the leadership of the Saudi-led Arab Coalition The organisation recently suffered significant losses in Wadi Al Masini in the province of Hadramaut."
https://english.alarabiya.net/en/News/gulf/2018/02/26/Palestinian-faction-Fatah-slams-Qatari-envoy-s-divisive-remarks-.html
--------
Israel sentences Jewish convert to Islam over IS ties
February 27, 2018
JERUSALEM: An Israeli court on Monday sentenced a Jewish convert to Islam to 38 months in prison for seeking to join the Islamic State jihadist group in Syria.
Valentin Mazlevski, 40, a Belorussian immigrant who moved to Israel in 1996, was the first Jewish-born Israeli to be charged for having IS ties, according to the Shin Bet domestic security service.
He was arrested in Feb 2017, a few weeks after a failed attempt to fly from Israel to Turkey, from where he allegedly planned to cross into Syria to join IS forces.
The Nazareth district court said in its ruling that Mazlevski had "one goal: to join the organisation".
He acted "out of identification with the organisation's ideology," in the process "violating the law and endangering the state's security," it said.
In 2000, while performing compulsory service in the Israeli military, Mazlevski converted to Islam after meeting the Israeli Arab Muslim woman who would become his wife and mother of his five children.
Mazlevski, who became interested in IS and frequently viewed its online content in recent years, joined the jihadist group's internet forums, Israeli authorities said.
In July 2016, Israeli security forces warned him against taking part in IS activities, the sentencing read, but Mazlevski paid no heed and contacted jihadists in bids to join IS fighters in Syria and later in Sinai.
Both plans failed.
Shin Bet also revealed Monday it had arrested three Arab Israelis for allegedly planning to carry out shooting attacks at the Al-Aqsa mosque compound in east Jerusalem or against Jewish or Christian prayer sites.
"Two cell members support the murderous ideology of the Islamic State terrorist organisation and sought to perpetrate attacks in the context of this support," the Shin Bet said in a statement.
Full report at:
https://www.nst.com.my/world/2018/02/339391/israel-sentences-jewish-convert-islam-over-ties
--------
Iran blames Yemen war on British, US arms exports
February 27, 2018
TEHRAN - Iran on Monday rejected Western claims that it was arming Huthi rebels in Yemen, saying the conflict was instead the result of British and US arm supplies to Saudi Arabia.
"The Islamic republic of Iran wants an end to the aggression in Yemen by Saudi Arabia," said foreign ministry spokesman Bahram Ghasemi in comments carried by Iran 's Al-Alam news site. "What is happening in Yemen is the result of the export of British and American weapons to Saudi Arabia and such behaviour is unacceptable," he added.
A Saudi-led coalition has been bombing Yemen almost daily since 2015 as it attempts to dislodge Huthi rebels who seized control of the capital, in a conflict that has triggered the world's worst humanitarian crisis according to the United Nations. A UN report last month said Tehran had breached an arms embargo by failing to stop weapons reaching the Huthis. It said a missile fired into Saudi Arabia last year by the Huthis was made in Iran , though it was unable to definitively identify the supplier. A UN resolution drafted by Britain called for "additional measures" against Iran over the report.
"This resolution, if adopted, would provide support to the aggressor," said Ghasemi, referring to Saudi Arabia.
"Such resolutions do not help the situation in Yemen and are an effort by the British government to use international mechanisms to create a supportive climate for the aggressor."
Russia, which is allied with Iran in the Syria war, maintains that the UN report's findings are not conclusive enough to justify action against Iran .
Full report at:
https://nation.com.pk/27-Feb-2018/iran-blames-yemen-war-on-british-us-arms-exports
--------
Houthi shelling damages historical mosque in Taiz
26 February 2018
Houthi militias have shelled the Ashrafiya Mosque in Taiz on Sunday using a Howitzer artillery further damaging the historical relic which they shelled twice before.
Locals said Houthis were targeting a house near the mosque when they seriously damaged the latter's minaret.
Citizens have called for saving this mosque and accused the Houthis of intentionally damaging the country's historical ruins and of not respecting the mosque's sanctity.
The Ashrafiya Mosque, which was built by Sultan Ashraf Ismail bin Abbas in 800 hijri, is one of the most famous relics in Taiz given its beautiful design.
The government finished restoration works in the mosque in July 2014, few months before the Houthis staged its coup against legitimacy.
Full report at:
https://english.alarabiya.net/en/News/gulf/2018/02/26/Houthi-shelling-damages-historical-mosque-in-Taiz.html
--------
Friendly Saudi airstrike kills 20 Riyadh-backed forces in Yemen: Military source
Feb 26, 2018
A friendly airstrike by the Saudi-led coalition ravaging Yemen has killed at least 20 pro-Riyadh mercenaries in the impoverished country, reports say.
The mercenaries, including three senior commanders, were killed on Monday in an airstrike on their base some 50 kilometers east of the Yemeni capital of Sana'a, a military source told AFP.
This as a second military source based in Ma'rib said six pro-Riyadh mercenaries had been killed in the attack in the mountainous region of Nihm.
"An erroneous strike by coalition warplanes killed six troops - one officer and five soldiers," said the source on condition of anonymity.
He added that another 15 mercenaries were also injured in the attack.
The Saudi-led coalition has made no immediate comment on the issue.
Since March 2015, the Saudi regime, together with a coalition of its allies, has been heavily bombarding Yemen as part of a brutal campaign against its impoverished southern neighbor. It has been attempting unsuccessfully to reinstall Yemen's former president Abd Rabbuh Mansur Hadi, a staunch ally of Riyadh.
The Saudi campaign has killed at least 13,600 people since its onset. Furthermore, much of the country's infrastructure, including hospitals, schools, and factories, has been reduced to rubble in the Saudi war.
Full report at:
http://www.presstv.com/Detail/2018/02/26/553699/Marib-Yemen-Saudi-Arabia-Nihm-Saada
--------
Europe
Islamophobic hate crimes increased by 40 percent in London last year
26 February 2018
LONDON: Islamophobic hate crimes rose by almost 40 percent in London in 2017, new figures have revealed.
According to figures released by the UK capital's Mayor's Office for Policing and Crime, there were 1,678 anti-Muslim hate crimes reported in the year up to January 2018, up from 1,205 from the year before.
Scotland Yard has warned that the numbers do not show the "full scale of hugely under-reported hate crimes" in the city.
London's mayor, Sadiq Khan, said those committing the crimes would face arrest and prosecution under a "zero tolerance" approach.
"London is a place where we celebrate, cherish and embrace diversity," he said. "I'm calling on all Londoners to pull together, and send a clear message around the world that our city will never be divided by individuals who seek to harm us and destroy our way of life."
Muslim community leaders and senior police figures said the rise can be linked to the terror attacks on London Bridge and the Manchester Arena last year.
Speaking to London's Evening Standard, Iman Atta, director of campaign group Tell Mama which aims to combat Islamophobia, said the rise of anti-Muslim hate crime had "created a heightened sense of tension in Muslim communities."
"These attacks had ripple effects, triggering Islamophobic attacks and the large increment rise you have seen," he added.
In the days immediately after eight people were killed in the London Bridge attack in June, figures showed a 40 percent increase on the daily average number of reported Islamophobic attacks in the capital.
Chief Superintendent Dave Stringer, Scotland Yard's head of community engagement said: "The Met has seen a steady increase in the reporting of all hate crime, particularly racist and religious hate crime.
"Despite this rise, hate crime is hugely under-reported and no one should suffer in silence."
He added: "London is such a diverse and tolerant city, but too many still feel marginalized, or worse intimidated to go about their daily lives due to their race, faith, sexual orientation, gender or disability."
According to the police, hate crimes include physical attacks, damage to property, bullying and abuse.
http://www.arabnews.com/node/1254906/world
--------
Russia nixes UN resolution citing Iran for Yemen arms
27 February 2018
Russia vetoed a draft UN Security Council resolution Monday that would have censured Iran for failing to prevent its arms from reaching Yemen in violation of a UN-imposed arms embargo, drawing a stern rebuke from the U.S.
In all, 11 nations voted in support of the U.K.-sponsored resolution, with China and Kazakhstan abstaining. Only Bolivia voted against it before Russia used its veto to stop it from moving forward. An earlier draft condemning Iran was watered down after Moscow sought revisions.
"Russia has repeatedly stopped the Security Council from acting against the barbaric Assad regime in Syria. Today, Russia protected the terrorist-sponsoring regime in Iran," the U.S.'s UN envoy, Nikki Haley, said in a statement.
"If Russia is going to use its veto to block action against Iran's dangerous and destabilizing conduct, then the United States and our partners will need to take actions against Iran that the Russians cannot block," she said in an ominous warning.
For its part, Russia insisted it could not consent to a draft resolution that it said "will inevitably escalate regional tensions".
"The situation in Yemen is far more complicated than frequently we are made to believe," said Russian Ambassador to the UN Vassily Nebenzia. "The wording in the British draft is dangerous and destabilizing."
Washington has charged Iran with supplying Yemen's Houthi rebels with arms including surface-to-surface missiles that have been used against countries supporting a Saudi-backed offensive against the militants.
The Security Council's Panel of Experts earlier determined that Iranian-origin weapons had been introduced into Yemen after the UN-embargo went into effect and that Tehran has failed to take the necessary measures to prevent the transfer of ballistic missiles, other military equipment and unmanned aerial vehicles to the country.
Full report at:
http://www.worldbulletin.net/europe/199237/russia-nixes-un-resolution-citing-iran-for-yemen-arms
--------
British police say four killed in Leicester explosion
26 February 2018
British police said on Sunday there was no immediate indication that an explosion that killed four people in the central English city of Leicester was linked to terrorism.
"Incident will be the subject of a joint investigation with the fire service," the local police force said on Twitter. "At this stage there is no indication this is terrorist related."
Ambulance officials said they took four patients to hospital after the explosion destroyed a convenience store and a home.
"We have taken four patients to the Leicester Royal Infirmary at this stage," the ambulance service had said on Twitter. "Drs remain on scene."
https://english.alarabiya.net/en/News/world/2018/02/26/Philippines-police-in-pursuit-of-murdered-Filipina-worker-s-recruiters.html
--------
Putin orders daily five-hour ceasefire in Syria's Eastern Ghouta
Feb 26, 2018
Russian President Vladimir Putin has ordered the implementation of a daily ceasefire in Syria's Damascus suburb of Eastern Ghouta from Tuesday and the creation of a "humanitarian corridor" through which civilians can leave the militant-held area.
"On the instructions of the Russian president, with the goal of avoiding civilian casualties in Eastern Ghouta, from February 27 -- tomorrow -- from 9.00 to 14.00 local time there will be a humanitarian pause," Russian Defense Minister Sergei Shoigu said at a ministry meeting in the capital Moscow on Monday.
Putin was also quoted as saying that there should be similar pauses in the southeastern Syrian town of al-Tanf in Homs province and in Rukban, near the Jordanian border "so that civilians can return to their homes unhindered and begin to rebuild their civilian lives."
The announcement came two days after the United Nations Security Council unanimously voted in favor of a resolution demanding a 30-day truce in Syria "without delay" to allow aid access and medical evacuations.
The resolution was adopted by 15 votes to none, after several delays and a flurry of last-minute negotiations.
Eastern Ghouta, a besieged area on the outskirts of Damascus which is home to some 400,000 people, has witnessed deadly violence over the past few days, with foreign-sponsored terrorists launching mortar attacks on the Syrian capital in the face of an imminent humiliating defeat. Western powers, however, blame the Syrian government and Russia for the crisis.
In the meantime, a suspected new chemical attack has reportedly hit Eastern Ghouta just after Russia warned that militants were planning a gas attack there to pin it on the Syrian government.
Militant sources were quoted as saying that several people suffered symptoms consistent with exposure to chlorine gas in al-Shayfouniyah area on Sunday, and one child was killed.
The Syrian army launched a ground operation later in the day against al-Nusra Front and other terrorist groups in the Eastern Ghouta region, wresting control over some areas.
The UN-brokered truce does not apply to operations against the Daesh, al-Qaeda and al-Nusra Front along with "individuals, groups, undertakings and entities" associated with the terrorist groups.
Full report at:
http://www.presstv.com/Detail/2018/02/26/553695/Vladimir-Putin-Syria-ceasefire-Eastern-Ghouta
--------
France says Turkey must observe Syria ceasefire in Afrin
Feb 26, 2018
French President Emmanuel Macron says Turkey must observe a United Nations Security Council resolution on a month-long ceasefire in Syria including its northwestern region of Afrin where Ankara is waging an offensive against the Kurdish People's Protection Units (YPG).
In a telephone call on Monday, Macron told Turkish President Recep Tayyip Erdogan that the ceasefire "involved all Syrian territory, including in Afrin, and must be put into effect everywhere and by everyone without delay", the French presidency said.
The UN Security Council on Saturday unanimously voted in favor of a resolution demanding a 30-day truce in Syria 'without delay' to allow aid delivery and medical evacuations.
The resolution was adopted by 15 votes to none, after several delays and a flurry of last-minute negotiations amid growing concerns about the humanitarian situation in Eastern Ghouta near the Syrian capital of Damascus.
Turkey on Sunday welcomed the Security Council resolution, but said it would have no effect on Ankara's ongoing cross-border offensive in Afrin.
"We welcome the resolution adopted by the UN Security Council in response to the worsening humanitarian situation all across Syria, in particular in Eastern Ghouta," Turkey's Foreign Ministry said in a statement.
Turkey launched the so-called Operation Olive Branch in Syria's Afrin on January 20 in a bid to eliminate the YPG, which Ankara views as a terror organization and the Syrian branch of the outlawed Kurdistan Workers' Party (PKK).
Turkey has warned that the Afrin offensive could expand to the nearby Syrian city of Manbij.
During the phone conversation, the French president expressed concern over the ongoing military offensive in Eastern Ghouta.
Macron told Erdogan that he was "deeply worried" about the bombardments of Eastern Ghouta, saying France would remain "vigilant" concerning humanitarian aid to the area and any use of chemical weapons.
Eastern Ghouta has witnessed renewed violence in the past few days, where terrorists have mounted repeated mortar attacks on the Syrian capital in the face of an imminent rout. Western powers, however, blame the Syrian government and Russia for the crisis.
A suspected new chemical attack has reportedly hit Eastern Ghouta just after Russia warned that militants were planning a gas attack there to pin it on the Syrian government.
Militant sources were quoted as saying that several people suffered symptoms consistent with exposure to chlorine gas in the al-Shayfouniya area on Sunday, and one child was killed.
Late in February, Russia warned that militants in Eastern Ghouta were preparing to launch a chemical attack.
"The data at our disposal indicates the leaders of militant units are preparing a provocation that will involve the utilization of chemical weapons in order to accuse the government forces of deploying chemical weapons against peaceful civilians," said a report released by the Russian Reconciliation Center for Syria.
Operation Olive Branch has heightened tensions with the United States, which works closely with the YPG in fighting against Daesh terrorists in Syria.
In a statement on Sunday, the Kremlin said the Russian, French and German leaders agreed to speed up their "exchange of information" on Syria.
It added that Russian President Vladimir Putin discussed the Syrian crisis with French and German leaders, Emmanuel Macron and Angela Merkel, respectively.
Full report at:
http://www.presstv.com/Detail/2018/02/26/553676/Erdogan-Macron-Afrin-ceasefire-Security-Council
--------
2 more Syrian regime officials on EU sanctions list
26 February 2018
The European Union's political decision-making body on Monday slammed two more senior Syrian officials with sanctions against Bashar al-Assad's regime.
"The Council added the Minister of Industry [Mohamed Mazen Ali Yousef] and the Minister of Information [Imad Abdullah Sara] of the government of Syria to the list of those targeted by EU restrictive measures against the Syrian regime in view of the gravity of the situation in the country," the European Council said in a statement.
The regime appointed both Yousef and Sara in a cabinet reshuffle in January 2018.
"Today's decision brings to 257 persons the total number of persons targeted by a travel ban and an assets freeze for being responsible for the violent repression against the civilian population in Syria, benefiting from or supporting the regime, and/or being associated with such persons," it added.
The council also said a total of 67 entities were targeted by an assets freeze.
The measures were last extended on May 29, in 2017, and will be in place until June 1, 2018.
Full report at:
http://www.worldbulletin.net/europe/199231/merkel-vows-party-renewal-in-bid-to-quell-rebellion
--------
Africa
Isis And Al-Qaeda Terrorists Increase Attacks On Western Targets In Africa, Report Reveals
By Cristina Maza
2/26/18
The threat to Western interests from jihadists groups and transnational terrorists operating in Africa has grown steadily over the past decade. The attacks are transforming the continent into one of the most important frontiers for the war on terror, according to a report published Monday by the non-partisan policy institute Foundation for Defense of Democracies.
Groups operating in North Africa, the Sahel, West Africa and the Horn of Africa have sharpened their abilities and increased the number of terrorist acts. Between 2007 and 2011, jihadists conducted 132 attacks against Western interests in Africa, according to the report. But this number tripled to 358 attacks between 2012 and 2017.
"While the 490 total attacks against Western interests in Africa recorded in this study have varied in target type and tactics, jihadist operations have generally become more sophisticated. In some cases, jihadist organizations developed new tactics for penetrating well-guarded facilities," the report read.
"For example, the Somali militant group al-Shabaab has increased its use of vehicle-borne improvised explosive devices, often supplementing such attacks with armed assaults," the document added.
The report was issued just three days after the al-Shabab militant group launched an attack in Somalia's capital Mogadishu that followed this model. The group rammed two car bombs into government-affiliated buildings, and then it launched an armed attack on a building close to the presidential palace. The group claimed 80 casualties in the attack.
Jihadists in Africa have increased their attacks on infrastructure for the production of energy and mineral resources—particularly under-protected gas pipelines—and on buildings such as embassies, consulates and United Nations compounds. The targeted kidnappings of aid workers and tourists have also increased.
"The overall threat level there is much greater against other targets than Western targets," the report's lead author, Daveed Gartenstein-Ross, told Newsweek.
The report also claimed that the aviation industry in Africa is one of the most vulnerable because groups like al-Shabab are able to bribe staff members to obtain uniforms or identification cards and thwart security measures.
"Aviation will likely remain a target for African jihadist groups because the industry is difficult to protect," Gartenstein-Ross said. "The aviation industry represents a significant component of the international economy, and Africa can serve as a 'laboratory' for these groups' parent organizations."
The report's authors define jihadism as "militant Sunni groups that advocate the overthrow of local regimes, seeking to replace them with [a] government ruled by a strict form of sharia." Attacks by groups like al-Shabaab, Boko Haram, Jama'at Nusrat al-Islam wal Muslimeen and the Movement for Unity and Jihad in West Africa were all included in the report, among others.
Groups like al-Shabab and Boko Haram are loosely affiliated with al-Qaeda. But the Islamic State terrorist group, which emerged originally in Iraq and Syria, has been developing a strong presence in Africa in recent years as leaders from Boko Haram and al-Shabab shift allegiances, experts say.
"The West Africa region has seen an increasingly dangerous cocktail of jihadist movements. The region has seen rivalries manifest since Boko Haram leader Abu Bakr Shekau's March 2015 pledge to ISIS," Rita Katz, a terrorism analyst and founder of the SITE Intelligence Group, told Newsweek.
"ISIS eventually abandoned [Abubakar] Shekau to embrace former Boko Haram official Abu Musab al-Barnawi as its 'governor.' Meanwhile, Boko Haram relaunched its activity under Shekau's leadership, and ISIS West Africa continues with its activities as well, leading to a dangerous competition between the two," Katz continued, adding that competition between terrorist groups often spurs their growth.
In October, ISIS supporters shared online videos of fighters in the Congo and Central Africa, calling for Muslims to go "to the land of Jihad" in Africa.
http://www.newsweek.com/isis-and-al-qaeda-terrorists-increase-attacks-western-targets-jihadist-war-820280
--------
Uganda, Somalia trade blame over deadly Mogadishu shoot-out
26 February 2018
KAMPALA: The Ugandan army said Monday its troops had shot dead three Somali soldiers in Mogadishu, accusing them of opening fire on a military convoy carrying Uganda's peacekeeping commander.
Uganda's army said Somali troops opened fire on the convoy of Brig. Paul Lokech, who heads the Ugandan contingent of the African Union Mission in Somalia (AMISOM), during a lockdown on the capital after two bomb blasts on Friday killed dozens of people.
Ugandan military spokesman Brig. Richard Karemire said his country's soldiers had retaliated in self-defense.
"There is absolutely no reason why the AMISOM forces in their designated sector of responsibility should have been blocked and fired at en route back to the base after providing critical support and with some victims of the attack being quickly evacuated for urgent medical attention," he said.
"As the incident is being investigated, let it be clear that AMISOM rules of engagement provide for self-defense and anyone who fires at these forces becomes a target," he added.
However Somali security official, Mohamed Ali, blamed the AMISOM convoy for the bloodshed.
"There were about nine AMISOM military trucks involved in the incident, they were stopped by the officers at the checkpoint who were following instructions to stop all trucks due to lockdown but the AMISOM convoy commander ordered his juniors to forcefully pass by the checkpoint and opened fire on the soldiers," he told AFP.
AMISOM on Saturday had said some of its troops "transporting injured civilians... were involved in an incident" at a National Intelligence and Security Agency (NISA) checkpoint near Kilometer-4, the city's main junction.
"The incident is under investigation by both the federal government of Somalia and AMISOM," it said in a statement.
Friday's first bombing was at an entrance to the hilltop presidential palace complex while a second explosion hit a hotel close to the NISA headquarters, the presumed target.
Full report at:
http://www.arabnews.com/node/1254911/world
--------
Nigeria: Unconfirmed Number of Persons Killed in Kaduna Muslim-Christian Clash
27 FEBRUARY 2018
By John Shiklam and George Okoh
An unconfirmed number of people were reportedly killed and several houses set ablaze in Kasuwan Magani village, Kajuru Local Government Area of Kaduna State Monday, following a violent clash between Muslims and Christian youths in the community.
Another unspecified number of people were also said to have sustained injuries as the youth engaged each other with dangerous weapons.
There was no official confirmation on the casualties but unconfirmed reports said about 12 persons died during the clash, which was said to have occurred at about 10.30 a.m. Monday.
There were conflicting reasons for the cause of the outbreak in violence, with one version claiming that some Christian men went about beating Christian girls who were dating Muslim boys.
Another version claimed that a Christian girl was abducted and converted to Islam and taken to the residence of the Sarkin (Chief of) Kasuwan Magani.
In a phone interview with THISDAY, a resident of the area, Abubakar Aliyu, alleged that Christians don't want Hausa (Muslim) boys to date their girls.
But a Christian youth also resident in the area who did not want his name in print, alleged that the Muslims were abducting Christian girls and converting them to Islam.
Sources said the problem has been a long-standing one in the community.
A source disclosed that recently a Christian girl was beaten by Christian boys, forcing her mother to report the matter to the police, but the police were chased away by other youths who were invited by the culprits.
Many residents, especially women and children, were said to have fled their homes Monday to safe areas as a result of the clash.
The community, which is about 31 kilometres away from Kaduna city, is located along the highway connecting Plateau, Nasarawa and Benue States, as well as the southern part of Kaduna State.
Commuters plying that route were stranded for several hours following the incident.
Residents alleged that security personnel did not arrive until around 2 p.m. when a combined team of soldiers and police were deployed to tackle the situation.
As of press time, the spokesman of the Kaduna State Police Command, Aliyu Mukhtar, told THISDAY on the phone that the situation had been brought under control.
Aliyu said the Assistant Commissioner of Police in charge of operations had relocated to the area.
"We got a distress call in the morning that there was tension in Kasuwan Magani. The Assistant Commissioner of Police is already there as I am talking to you with his men.
"Mobile policemen have been deployed to the place. So the situation has been brought under control.
"I cannot give details about the cause of the problem now until investigations are concluded.
"We are yet to obtain the number of casualties but we are on top of the situation," Mukhtar said.
Also moving to arrest the situation, the Kaduna State Government Monday directed the security agencies to fish out the perpetrators of the violence and bring them to justice.
The government, in a statement by Samuel Aruwan, spokesman for Governor Nasir el-Rufai, condemned the wanton destruction of lives and property.
"The Kaduna State governor, Malam Nasir Ahmad El-Rufai has directed the prosecution of all persons responsible for the Monday mayhem that occurred in Kasuwan Magani in Kajuru Local Government Area," the statement said.
Aruwan added that the security agencies must investigate the unfortunate incident, arrest and make available for prosecution the perpetrators.
He said: "The government condemns the violence, and regrets the wanton shattering of lives," adding that government conveyed its sympathy to the victims and their families.
He said the State Emergency Management Agency (SEMA) was directed to take an inventory of the damage and provide relief materials to those affected with immediate effect.
Aruwan said security forces were deployed to contain the situation, protect lives and properties and to prevent any further breakdown of law and order.
The statement called on all citizens and communities to reject violence and divisions and uphold their neighbours in peace and harmony.
Meanwhile, Governor Samuel Ortom of Benue State has again raised concern over renewed attacks by cattle herders in his state, saying there has been an influx of over one million cows into Benue after the launch of Operation Cat Race, known as the Ayem Akpatuma military exercise.
He spoke Monday at the funeral site in Makurdi of the 73 victims of herdsmen attacks who were killed on new year day, where he had taken the senior pastor of Dunamis International Gospel Centre, Dr. Paul Enenche, and his wife, Becky.
The governor appealed to the military to flush out the invaders so that the over 160,000 displaced persons in eight camps could return to their homes.
He alleged that well over 60 people had also been killed by armed herdsmen since the mass burial held on January 11 for the 73 victims, with three of the latest victims killed last week in Guma Local Government Area.
Enenche, who anointed the land, prayed for God's justice and judgment against the killers and their sponsors throughout the country and prayed for the earth to rise up against them.
Threat of Retaliation
Ortom's appeal came just as a group known as the Tiv Youth Organisation (TYO) warned that if the federal government fails to protect the people of Benue State, Tiv youths may be forced to find an alternative means of defending the people, even as it called for the overhaul of the security architecture in the country to accommodate other nationalities in Nigeria.
The National President of TYO, Mr. Timothy Hembaor, at a press conference held Monday at the Nigerian Union of Journalists (NUJ) secretariat in Makurdi, the Benue State capital, said President Muhammadu Buhari had failed to ensure the security and welfare of Nigerian citizens.
He stressed that the immediate overhaul of the security infrastructure and hierarchy will give room for true intelligence gathering in the country.
He also urged the federal government to, without delay, direct the troops deployed in Benue State to strictly adhere to professional conduct and put an immediate stop to the daily attacks, wanton killings and maiming of innocent, harmless, defenceless and law-abiding Tiv people of Benue, Nasarawa and Taraba States.
The group upbraided the federal government over its failure to arrest and prosecute the leaders of the Miyetti Allah Kautal Hore and their sponsors whom they alleged had openly boasted about their plans to carry out the new year day massacre of women, children and aged persons in Tiv land.
"It is preposterous that the Fulani are laying claim to being the original inhabitants of the Benue valley," the group said, also pointing out that the narrative has not been supported by any historical account.
"The Tiv people are entitled to the statutory rights over the lands of the Benue trough where they have lawfully dwelt and earned a living for the past three centuries and have been so recognised by law.
"We will resist with all means at our disposal, the confiscation of our land and transmutation of same into grazing areas for the Fulani and their cattle. In essence, the Tiv people are saying, 'No to grazing areas of whatever sort in Tiv land'.
"We, therefore, call on President Buhari to respect his oath of office and the Constitution of the Federal Republic of Nigeria, both in content and spirit, and sincerely intervene now and halt the killings of the Tiv people of Nigeria by his kinsmen.
"Failure to do so, the Tiv people are capable of defending themselves against any occupation of our ancestral dwellings," the group added.
Full report at:
http://allafrica.com/stories/201802270028.html
--------
How Nigerian govt, Boko Haram negotiated ceasefire, release of militants
February 26, 2018
The Director-General of the State Security Service (SSS), Lawal Daura, has given rare details of how the Nigerian government negotiated with Boko Haram for the release of abducted oil explorers and policewomen.
The police officers were abducted in June 20, 2017 while travelling from Maiduguri, the capital city of Borno State, to Askira Uba local government area to attend a burial.
The lecturers were part of a team of geophysicists searching for oil in the Lake Chad Basin, on behalf of the Nigerian National Petroleum Corporation, NNPC.
The abductees were released on February 10. They were received by President Muhammadu Buhari on Monday.
Addressing the president and the abductees, the SSS boss, Mr. Daura, identified Jummai Ibrahim as the victim who was serving as a youth corps member at the time of her abduction.
He said she could have passed out at the end of the last batch in 2017.
Other female abductees are Esther Kwasina, Amina Gomdiya, Gloria Bulus, Paulina Amos and Tani Audu, a final year student at the University of Maiduguri.
He later gave details of how the negotiation happened. It is however unclear what terms were finally agreed upon for the kidnapped officials to be released.
"Mr. President, the search and negotiations for the rescue of the victims commenced in earnest following your directives to the effect that all abducted persons must be found and rescued alive," Mr. Daura said.
"However, we chose the path of negotiation because it was considered as the safest because any forceful attempt to rescue the victims could endanger their lives.
"These negotiations took several months and the Department of State Services with support of the external elements of the group in diaspora and support from friendly countries and liaising with International Committee of the Red Cross, made the rescue possible," he said.
Mr. Daura also said the process of the rescue slowed due to the problem of dealing with two different groups based in different locations at the same time.
"In addition, the negotiations took place mostly outside the country, though subsequently finalised in the theatre of operations.
"The negotiations were mainly centered on an attempt at conflict mitigation which include the fate of arrested members of the insurgent groups especially, accepting to free by government those found not to be culpable in any criminal action.
"Also, possible cessation of hostilities especially the attacks with IEDs on innocent civilians, worship centres, schools and other public places in return for temporary stoppage of air strikes by helicopter gunships.
"Lastly, the negotiation was also centered on the possibility of granting amnesty to those willing to surrender and ready to lay down their arms by the federal government," he said.
A geophysics lecturer, Solomon Yusuf, spoke at the event on behalf of the released abductees.
"While we were in captivity and we said with 180 million or more Nigerians, will Nigeria ever come to rescue us? We lost hope! Sir, you surprised us. After seven months for us in the university and eight months for the 10 ladies, Nigeria rescued us. This shows that the life of every Nigerian is important and is worth rescuing.
"Sir, we are grateful. You gave us hope when there was no hope And we are excited, we thank you Sir, Mr. Yusuf said.
"We also want to appreciate the DSS, the Nigerian armed forces, and the entire team that worked together to make sure we regained our freedom. We appreciate the labour of love they have shown to us.
"We also want to appreciate Nigerians for praying. We were informed that the entire nation was praying for us and we were excited and we said, 'Oh God what is this?' This is love. Sir, we are grateful.
"Sir, from the university, it is a golden opportunity for us to see you and to share our fears and concern because we were abducted while working for the nation. And right now going back home to us is still a nightmare because of our experiences.
Full report at:
https://www.premiumtimesng.com/news/headlines/259906-nigerian-govt-boko-haram-negotiated-ceasefire-release-militants.html
--------
North America
Muslim Student Association brings Islamic Awareness Week to U of M
Feb 26, 2018
The Muslim Student Association (MSA) at the University of Memphis is hosting week-long events leading up to an open mosque event, where anyone is invited to a mosque to learn about Islam.
Robyn Pennella, co-president of MSA, said this week is about showing the community what "real Islam" is and how Muslims portrayed in the media are different from what they actually are.
"We aim to strengthen our own faith while teaching the campus and greater community more about Islam and to present it in a positive light," Pennella said. "Tons and tons of people have misconceptions on Muslims."
Pennella said people do not know what Islam is really about, and some of the media tends to discredit what the truth of the religion holds.
"This week is important because I want my campus community, my friends, to understand my religion," Pennella said. "I don't want them to think it's some foreign concept, and I don't want them to be afraid of us. People just don't know about us, and they get their information from inaccurate sources, so we're here to help the community."
Ata Amro, co-president of MSA, said the association is here to better the society and offer services to those who need it.
"Basically, we try to be something good for the community, especially the youth," Amro said. "We try to provide prayer access in rooms. We try to provide events on and off campus, like Islamic Awareness Week."
Amro said he hopes for this week to go well, and he wants people to gain one thing from the events.
"Islam means to me peace and one god," Amro said. "Islam revolves around God, where everything we do is for the sake of God and for the wellness of us and others."
Tasneem Hassouneh, a student volunteer in MSA, said this week is important to her because it is about conveying the mission of Islam, and some media do not do it well.
"I feel like it's our duty to tell people what Islam is about because it's being butchered in the media," Hassouneh said. "MSA is helping put faces to the religion. It's beneficial for non-Muslims to know that we are here, and we are a part of your community, and we're not what you see in the media. We are constantly having to defend ourselves."
Islamic Awareness Week begins with Muslim students explaining to others what Islam is, and the next four days consist of discussions, a hijab and henna workshop and a fast-a-thon, where anyone is welcome to fast that day and break their fast in the University Center with food from MSA. Throughout the week, MSA is also hosting a canned good drive, where people can bring in canned foods to the MSA office to give to those in need.
Fatema Habib, a freshman in MSA, said she will be working the henna table Wednesday and is excited for it.
"I get to do henna for people, and I love getting to meet new people and tell them about Islam," Habib said. "I'm going to be able to do these things with people I love for a good cause."
Adil Abdurahaman, secretary of MSA, said he ran the Da'wah table, which invited people to ask questions about Islam, and thinks it would be helpful to the community.
"Islamic Awareness Week is about letting people know more about Islam," Abdurahaman said. "There are a lot of misconceptions in the world and in the United States, so we're just trying to clear up those misconceptions and misunderstandings that people have."
http://www.dailyhelmsman.com/news/muslim-student-association-brings-islamic-awareness-week-to-u-of/article_be7b94a4-1b32-11e8-924a-bb9e9dd6b5c3.html
--------
Canada calls for immediate ceasefire in Syria
26 February, 2018
Ottawa is calling for the regime in Damascus and its allies in Moscow and Tehran to stop "the massacre of civilians and allow the delivery of humanitarian supplies" as mandated by a recent UN Security Council resolution calling for an immediate humanitarian ceasefire in Syria.
In a unanimous vote on Saturday supported by Russia, the Security Council adopted a resolution demanding parties to Syria's seven-year-long civil war to cease hostilities without delay for at least 30 consecutive days to ensure a "durable humanitarian pause," enabling weekly humanitarian aid deliveries and medical evacuations of the critically sick and wounded.
In a statement released on Monday, Foreign Affairs Minister Chrystia Freeland said she is very concerned by reports that the ceasefire has been violated less than 48 hours after it being agreed upon.
"It is vital that all parties respect the ceasefire unconditionally to stop the massacre of civilians and allow the delivery of humanitarian supplies," Freeland said.
"Canada condemns the approach of the Assad regime and its allies, Russia and Iran. The regime has targeted civilians and public services, such as schools and hospitals, and has used siege and starvation tactics, chemical weapons, and barrel bombs."
Canada has also been providing funding to groups working as first responders in eastern Ghouta, including the White Helmets, Freeland added.
"We hail the courage of those working to save lives," she said. "The protection of civilians is an obligation under international humanitarian law."
Russian Defence Minister Sergey Shoygu announced Monday during a meeting of high-level Russian military officials that he has been ordered by President Vladimir Putin to implement a daily humanitarian pause in the eastern Damascus suburb of Ghouta as of Tuesday and to open humanitarian corridors for civilians willing to leave the rebel stronghold.
Over the past week the Syrian army, backed up by its Russian and Iranian allies has subjected the rebel-held enclave to one of the heaviest bombardments of the seven-year war, killing hundreds.
On Sunday health authorities there said several people had suffered symptoms consistent with chlorine gas exposure and on Monday rescue workers and a war monitor said seven small children were killed by air and artillery strikes in one town.
During their daily briefing on the situation in Syria, Russian defence officials laid the blame for the worsening humanitarian situation on rebel groups, including the Saudi-backed Jaish al-Islam and Ahrar al-Sham and the rival al-Nusra Front, an al-Qaeda offshoot.
They accused the rebels of holding thousands of civilians as human shields and preventing them from leaving the area. Russian officials also claimed that in the past week alone the rebels launched over 238 mortars and shells into the Syrian capital, killing four people and wounding over 50, including 16 children.
Russian officials said the Security Council Resolution 2401 does not apply to terrorist groups such as ISIS and al-Nusra Front and their forces will continue to target them.
Full report at:
http://www.rcinet.ca/en/2018/02/26/canada-ceasefire-syria-eastern-ghouta/
--------
URL: https://www.newageislam.com/islamic-world-news/secret-al-qaeda-memo-recruit/d/114432
New Age Islam, Islam Online, Islamic Website, African Muslim News, Arab World News, South Asia News, Indian Muslim News, World Muslim News, Women in Islam, Islamic Feminism, Arab Women, Women In Arab, Islamophobia in America, Muslim Women in West, Islam Women and Feminism