New Age Islam News Bureau
18 Jul 2014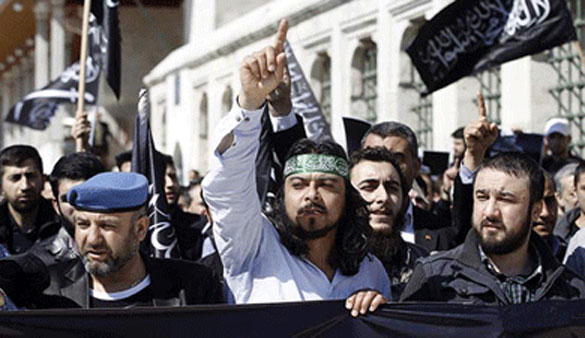 Pro-Islamist protesters shout slogans against the Russian government during a demonstration following the death of Doku UmarovMarch 21, 2014. (Photo by REUTERS/Osman Orsal)
------------
Arab World
• Scores Killed After ISIS Seize Syria Gas Field
• Islamic State Uses Turkish Consulate in Mosul as Headquarters
• Hamas could have saved dozens of lives with truce: Egypt
• Saudi Twittersphere on fire with #GazaUnderAttack
• ASIO fears Australians fighting jihad overseas may return home to plan terror attacks
• Saudi king granted doctorate from Egypt's Al-Azhar
• ISIS in Iraq burn cigarettes, Shisha tobacco
• Al Arabiya condemns website block in Iraq
'• Expats' pay went up 25% under Nitaqat'
• Kingdom reinforces border with Iraq
Africa
• Tunisian Islamists Reject Caliphate
• Over 60 killed as S. Sudan rivals clash in N. Bahr el Ghazal
• Female lawmaker assassinated in Libya
• Thousands of Moroccan jihadists in Syria, Iraq
• Algeria asks imams to stress moderation
• Libya warring militias agree truce at main airport
Europe
• Muslim Groups Slam New Call for UK Burqa Ban
• Islamic State Gains Victory for Chechen Jihadists
• World should help 'generous' Kurdistan: U.N. refugee chief
• Ukraine president says "terrorist act" downed Malaysian plane
• Ukrainian daily publishes transcript of rebels discussing MH17
• UNHCR gets UAE aid for Syrian refugees in Jordan
India
• No Proof against Hafiz Saeed, Can't Put Him in Jail to Please Anyone: Pak Envoy
• Committed To Peaceful, Friendly Ties with Pakistan: India
• Setback for Gujarat govt, SC acquits all accused in 1993 Surat blast cases
• Terror recruiters target Indians on internet
Mideast
• Israeli soldier, 11 Palestinians killed in Gaza ground offensive
• Gaza death toll hits 260 as Israel invades
• Public outraged over Gaza, but Arab governments stay silent
• Erdogan: It's 'systematic genocide' of Palestinians
• Israel Okays Draft Of 18,000 More Reservists: Army
• Iranian commanders on front line of Iraq's fight
• Islamic Jihad: Fighting in Gaza will continue until demands met
Pakistan
• PM assures army of all help in terror war
• Pakistan wants no strings attached to Kashmir talks
• Militants kill eight Pakistani paramilitary members
• Eight soldiers killed in attack on Jamrud check post
• Bajaur tribesmen raise Lashkar to stop infiltration
• Afghanistan should stop attacks on Pakistan from its soil: FO
• Armed forces fighting for country's survival: Shahbaz
• Pakistan to join UN mission for Central Africa
South Asia
• Bangladeshis stand with Gazans
• War-torn Iraq: Govt takes maiden initiative to bring back Bangladeshis
• War crimes trial for freeing nation from stigma: Anisul Huq
North America
• Malaysian Jet Shot Down by Surface-to-Air Missile: US
• US: Israel must do more to protect Gaza civilians
• CAIR Condemns Vandalism of Mass Synagogue with Pro-Palestinian Graffiti
• Jimmy Carter to Speak at Brotherhood-Linked Conference
• CAIR Applauds D.C. Council Resolution against Anti-Islam Bus Ads
• Canadians watch Gaza violence with disbelief and pain
• Kerry calls for ´precise´ Israeli operation in Gaza
Southeast Asia
• ISIS Presence in Indonesia Raises Concern
• Deep shock over MH17 crash: Malaysia PM
• Tech-savvy Indonesians monitor vote count in disputed poll
• Activist Kassim Ahmad fails to stay Shariah proceeding
Compiled by New Age Islam News Bureau
URL: https://www.newageislam.com/islamic-world-news/new-age-islam-news-bureau/scores-killed-after-isis-seize-syria-gas-field/d/98181
-----------
Arab World
Scores killed after ISIS seize Syria gas field
18 July 2014
A Syrian monitoring group said Friday more than 90 people have been killed after fighters belonging to the Islamic State of Iraq and Syria seized a gas field in central Syria.
ISIS fighters on Thursday morning attacked the Shaar gas field, east of the ancient site of Palmyra.
According to the Syrian Observatory for Human Rights, 23 guards were killed by ISIS as of Thursday.
More causalities were reported on Friday.
"The fate of 340 National Defence Force (paramilitary) members, guards, engineers and employees who were in the field, is unknown, as they were either taken prisoner, wounded or captured during the operation," said Observatory director Rami Abdel Rahman, as quoted by Agence France-Presse.
The operation, he added, was ISIS' "most important so far against the government" of Syria's President Bashar al-Assad.
Abu Bilal, an activist linked to ISIS in Homs province, also reported the attack.
Twelve members of ISIS had been slain in the fighting, he said, adding that "dozens" were killed on the government side.
"There was a martyrdom (suicide) attack, and we took eight checkpoints before taking over the gas field," Abu Bilal said via the Internet.
Homs governor Talal Barazi also confirmed the attack.
"Armed men took control on Wednesday evening of the gas field, and we have lost contact with three technicians who were on the site," Barazi told AFP.
"The armed men were present in the area beforehand, but they have now expanded their area of control with this new operation," he said.
"The army is trying to take it back. There is fighting in the area and government air strikes."
ISIS, which proclaimed a "caliphate" straddling Syria and Iraq last month, has in recent weeks taken over the entire countryside of oil-rich Deir Ezzor province.
Deir Ezzor borders Homs province as well as Iraq, where the jihadist group has spearheaded a major Sunni militant offensive that has seen large swathes of territory fall out of the Iraqi government's control.
http://english.alarabiya.net/en/News/middle-east/2014/07/18/Scores-killed-after-ISIS-seize-Syria-gas-field-.html
-----------
Islamic State uses Turkish Consulate in Mosul as headquarters
Jul 18, 2014
When Abu Bakr al-Baghdadi, the enigmatic leader of the al-Qaeda-inspired Islamic State (IS, formerly the Islamic State of Iraq and al-Sham, or ISIS), appeared on a video posted online in early July addressing a congregation of faithful at a mosque in Mosul, pundits oozed commentary about his words and his attire. Was the self-declared caliph's watch a Rolex? If so, how did this sit with the teachings of Islam? they mused.
But a no less significant detail escaped unnoticed. After his fiery speech, Baghdadi was whisked away to the Islamic State's new headquarters — the Turkish Consulate in Mosul. "It is absolutely true that IS has been using the Turkish Consulate as its main headquarters and that Baghdadi spent several hours there," confirmed Atheel al-Nujaifi, the governor of Mosul, in a telephone interview with Al-Monitor. "It is their office."
Not that the Turkish public would ever know. Soon after IS stormed the Turkish Consulate on June 10, taking all 49 there hostage — including Consul General Ozturk Yilmaz — Turkey's Justice and Development Party (AKP) government passed a law that effectively bans all public debate and reporting of the crisis. The rationale for this crude display of censorship, which has become a trademark of AKP rule, is that discussing the fate of the hostages might put their lives at risk. While there is some merit to this argument, it is also true that the Mosul affair is a huge embarrassment for the AKP government, not least because of glaring lapses in security. Nujaifi had, along with Turkey's national spy agency MIT, advised that the consulate be evacuated days before the IS raid only to be vetoed by Turkish Foreign Minister Ahmet Davutoglu, according to media reports. In a characteristic fit of hubris, Davutoglu is alleged to have argued that "the Turkish flag must continue to fly."
Not only did IS attack the Turkish Consulate — it is occupying it. Yet, fearful of provoking the jihadists, Turkey's often bombastic prime minister, Recep Tayyip Erdogan, has not uttered a peep. To the contrary, Erdogan has lashed out at those he claims want him to "provoke" IS. And he has warned the United States against any airstrikes against IS in Iraq.
More recently, he referred to IS, which is officially designated as a terrorist group by Turkey, as "an organization," with no qualifiers added. Speaking at an iftar dinner, he implored that IS free all its Turkish captives. "A Muslim would not inflict this cruelty on another Muslim brother," Erdogan said. This prompted critics to claim that Erdogan was calling IS "brothers."
Syrian and Turkish Kurds, meanwhile, continue to accuse Erdogan of letting IS use Turkey as a logistical base to pursue its campaign against the Syrian Kurdish militia known as the People's Protection Units (YPG). Clashes between the jihadists and the Kurds have escalated around the town of Kobani, which lies opposite the Turkish township of Suruc. IS views Kobani as a strategic prize.
At least 800 Turkish Kurds are believed to have crossed the border in recent days to take up arms alongside the YPG. About a thousand more Kurds are expected to join them on July 19, which marks the second anniversary of the "liberation" of Kobani from Syrian regime forces. "Kobani has become the new rallying point for the Kurds," Ahmet Sumbul, a veteran Kurdish journalist based in Diyarbakir, told Al-Monitor. "And most believe that Turkey is helping [IS]," he added. All of this imperils the peace negotiations between Turkey and the outlawed Kurdistan Workers Party (PKK), the Turkish rebel group that is closely linked to the Democratic Union Party (PYD) and the YPG.
Nujaifi declined to comment on possible collusion between Turkey and IS in Syria. "I am unaware of what is happening in Syria," he said.
And what of the Turkish hostages? "[IS] said they would release them 'soon,' but that was many weeks ago," Nujaifi said. It is more likely that IS will hold on to them "for a while because IS wants to keep Turkey out of Iraq," Nujaifi explained. Senior Western officials who are closely monitoring the situation agree that IS has no incentive to release the Turks, as this is their best way of ensuring that Turkey does not carry out any kind of military action against the jihadists. "Turkey apparently believed that it had some kind of entente cordiale with them," said one. "Whether it did or not, after Mosul it has been forced into one," the official concluded.
As for Turkey's flag, Nujaifi noted that it no longer flew over the consulate building, but he added that IS had not yet raised its own colors.
http://www.al-monitor.com/pulse/originals/2014/07/zaman-isis-turkeys-mosul-consulate-headquarter-iraq.html
----------
Hamas could have saved dozens of lives with truce: Egypt
AFP | Jul 18, 2014
CAIRO: Egypt sharply criticised Hamas on Thursday as Israel widened a 10-day offensive in Gaza, saying they could have saved dozens of lives had they accepted a Cairo-mediated truce.
Foreign minister Sameh Shoukri's comments came as Israel launched a ground operation and as Cairo hosted Palestinian and Israeli officials for indirect talks on ending the conflict, which has killed 240 Palestinians in air strikes and shelling.
Hamas, the Islamist rulers of the besieged enclave, had rejected the ceasefire intended to start on Tuesday and continued firing rockets at Israeli cities.
"Had Hamas accepted the Egyptian proposal, it could have saved the lives of at least 40 Palestinians," Shoukri said, quoted by state news agency MENA.
He accused Hamas of plotting with Qatar and Turkey to "frustrate Egypt's regional role".
http://timesofindia.indiatimes.com/world/middle-east/Hamas-could-have-saved-dozens-of-lives-with-truce-Egypt/articleshow/38570374.cms
-----------
Saudi Twittersphere on fire with #GazaUnderAttack
18 July 2014
Away from the daily news bites, analyses and debates from known Saudi writers and media personalities about the current round of violence on Gaza, the Saudi youth have taken advantage of Twitter to either connect directly with people living in Gaza who still have access to Internet, or use this social media to awaken the world's conscience.
They are doing this by insightful tweets in their newly-created hashtags or joining other trending tweets, and also by retweeting many real-time pictures and news from other sites and hashtags to show death and rubble in real time as the battle for the world's hearts and minds rage alongside the nine-day relentless bombardment of Gaza by Israel.
The hashtags that are trending are: #GazaUnderFire; #FreeGaza; #GazaUnderAttack; #PrayForGaza; #MarytrsOfGaza and many others.
Fatima Abdul Wahab, a high school student, said she has been regularly following the pathetic condition in Gaza only by following people of her generation living in Gaza. "We have become one family and if I don't see their tweets for some time I start to panic thinking something wrong has happened to them," said the Madinah resident.
Fatima, who primarily joined Facebook a few years ago, has shifted her interest to Twitter as she believes she can "express her passion for poetry and love for Arabic literature directly with known authors."
"This time, however, it is exceptional that almost all tweets are reserved for prayer for the delivery of the people of Gaza from the Israeli genocide and support for Gaza victims."
Saudis of all ages and views have been active on different hashtags —both in Arabic and English — to address the "War on Gaza" during the last week. Tweets topping the list are those carrying prayers, empathy and courage. More trending pictures are those showing the sorrow of the family and injuries of kids, mothers, and elderly people.
Initially, several cartoons lampooning Israel were circulated, but they were replaced by gruesome photographs of death and injury as increasing number of victims are being reported following relentless Israeli shelling.
A top trending hashtag among Saudis is one that created furious debates about who started the war. Is it Hamas? While some in this hashtag believe that Israelis are being aggressive toward Palestinians and violating human rights others believe Hamas started the war.
Abdullah Bin Ahmed, who graduated this year from an engineering college, said: "I don't care who thinks what! We have humanitarian cases and a party that is clearly violating all morals and rights. We have nothing in hand except to watch closely what is being done and pray for our brothers and sisters during this holy month."
Some other Saudis were seen addressing Israeli officials directly on Twitter, confronting them with pictures of Gaza children who fell victim to this war.
The trending social media, however, is not for everyone. Suhair Al-Ahmedi said: "I have seen the war on Gaza in 2008 and I remember I was unable to sleep for days."
People, she said, tend to circulate "heart rending photographs" which has kept her away from social media in general.
"I prefer to get the news from different TV channels as they give us a warning before airing photos or videos stating that weak persons should not watch those segments.
"However this does not happen in social media. People actually look for the most horrifying images and then they spread them, the shots keep appearing in your timeline over and over again, making you unable to live a normal life, especially if you are sensitive. We hope this will end soon and people in Palestine enjoy peace."
http://www.saudigazette.com.sa/index.cfm?method=home.regcon&contentid=20140718211933
-----------
ASIO fears Australians fighting jihad overseas may return home to plan terror attacks
18 July 2014
MORE than a score of Australians who have fought in Syria and Iraq are already back on home soil, fuelling fears of terrorist conspiracies such as the foiled bid to attack the AFL Grand Final.
The director-general of ASIO, David Irvine, said "tens" of the returned fighters had already returned home.
The Federal Government fears they'll follow the path of jihadists who trained with the Taliban in Afghanistan.
Attorney-General Senator George Brandis on Thursday warned the returned fighters posed a "significant threat".
Full report at:
http://www.theaustralian.com.au/news/asio-fears-australians-fighting-jihad-overseas-may-return-home-to-plan-terror-attacks/story-e6frg6n6-1226992686683
-----------
Saudi king granted doctorate from Egypt's Al-Azhar
18 July 2014
Saudi King Abdullah bin Abdulaziz has been granted an honorary doctorate from Egypt's Al-Azhar University for efforts in serving Islam and Egypt.
The university is considered the world's leading center for Arabic literature and Islamic learning.
Egypt's official Middle East News Agency (MENA) reported Wednesday that the university's council granted the king the honorary doctorate for "his loyal efforts at serving Muslims and Islam, and for his brave and patriotic stances towards Egypt and its people."
The university's principal, Dr Osama al-Abd, told the pan-Arab Asharq al-Awsat newspaper Thursday that the award was "the least" that could be done in appreciation.
Abd said the council had reached the decision unanimously, and had mandated him to travel to Saudi Arabia in the next few days to deliver the doctorate to the monarch.
King Abdullah visited Egypt in June to show support for newly-elected President Abdel-Fattah al-Sisi.
The visit was his first to Cairo since the 2011 ouster of former President Hosni Mubarak.
http://english.alarabiya.net/en/News/middle-east/2014/07/17/Saudi-king-granted-doctorate-from-Egypt-s-Al-Azhar.html
-----------
ISIS in Iraq burn cigarettes, shisha tobacco
18 July 2014
Militants from the Islamic State of Iraq and Syria (ISIS) have burnt huge amounts of cigarettes and mu'assel (shisha tobacco mix) in Mosul saying the items are religiously prohibited, photos published on an ISIS Twitter account showed.
The photos showed so-called ISIS security forces in Nineveh province burning huge amounts of cigarettes and mu'assel.
The images also showed that cigarettes were confiscated in Mosul and then filled up in pick-up trucks.
Another photo showed a banner reading "transfer of prohibited material for destruction, while another image allegedly showed the location of where the cigarettes and mu'assel were gathered.
Full report at:
http://english.alarabiya.net/en/variety/2014/07/16/Up-in-smoke-ISIS-in-Iraq-burn-cigarettes-shisha-tobacco.html
-----------
Al Arabiya condemns website block in Iraq
18 July 2014
Al Arabiya News Channel on Thursday denounced a decision by the Iraqi government of embattled Prime Minister Nuri al-Maliki to block its Arabic website www.alarabiya.net.
Al Arabiya News said Maliki's decision to block its website aims to restrict media freedom and is an attempt to block information from Iraqi citizens following the government successive failures to maintain stability in the country.
Maliki's government did not explain the reason behind the ban, but the prime minister, whose mandate in office has expired, had previously threatened to close the offices of Al Arabiya News Channel and ban correspondents and ban its correspondents from porting in the country.
Full report at:
http://english.alarabiya.net/en/media/2014/07/18/Al-Arabiya-News-denounces-blocking-of-its-website-in-Iraq.html
-----------
'Expats' pay went up 25% under Nitaqat'
18 July 2014
The salaries of expatriates in the private sector rose by 25 percent while those of Saudis declined by 1 percent during 2013, according to a report published by Al-Eqtisadiah business daily on Thursday, quoting figures released by the Labor Ministry and the Saudi Arabian Monetary Agency (SAMA).
"The salaries of expats during the year rose by 25 percent or SR236 from an average salary of SR1,341 in 2012 to SR1,808 in 2013," the report said. The average salary received by Saudis in the sector fell by one percent from SR4,801 in 2012 to SR4,748 in 2013.
Speaking with Arab News, Ibrahim Badawood, managing director of Abdul Latif Jameel Community Services, voiced his doubts about the accuracy of the salary hikes for expatriates. However, he said that if this was the case, it might be due to three reasons.
"First, it is very difficult to get visas to recruit foreign workers. Second, red-category firms have to increase salaries if they want to keep their foreign workers. Third, Saudis are not ready to do certain jobs and those expats doing these jobs may be asking for higher salaries," he said.
Full report at:
http://www.arabnews.com/news/603741
-----------
Kingdom reinforces border with Iraq
18 July 2014
Saudi Arabia has deployed thousands of troops and set up extra barricades, infrared cameras and radar systems along its 850-km border with Iraq to counter the threat from the Islamic State (IS) and Shiite militias, according to recent local reports.
This comes in the wake of the IS or its Arabic acronym Daish, taking control of several towns on the Iraqi-Syrian border last month. The group's leader, Abu Bakr Al-Baghdadi, later announced himself a caliph.
Since the IS attacks, Riyadh has sent thousands of troops to the area, to further beef up the already fortified border with walls and barricades. The closed area extends 10 km into Saudi territory. There is 24-hour surveillance of the area with radar and infrared cameras.
Over 1,000 soldiers, 1,000 border guards, and three units of helicopters have been deployed to reinforce the area near Arar since the advancement of the IS, according to Gen. Faleh Al-Subaie, commander of the Saudi Border Guard in the area.
Full report at:
http://www.arabnews.com/news/603736
-----------
Africa
Tunisian Islamists reject caliphate
18 July 2014
Tunisia's Islamist parties have rejected the Islamic State of Iraq and the Levant (ISIS) chief Abu Bakr al-Baghdadi's announcement about the establishment of a caliphate.
Ridha Belhadj, spokesman for the radical Islamist group Hizb ut-Tahrir, told Magharebia that "The caliphate state is not a chaotic structure. When the Prophet (PBUH) established the state in Medina, all people were waiting for him and sang the famous song 'Tala' al-Badru 'Alaina.' He neither entered by force nor imposed the status quo."
"However, those in ISIS didn't speak with anyone; rather, the so-called caliph imposed himself on the people," Belhadj continued.
"I think that some people are trying to confuse and disfigure the image of Islam; the caliphate state which was announced in Iraq has no structure, and there is no security to provide to the people. In addition, there is no clear programme.
The Hizb ut-Tahrir spokesman added: "I myself feel ashamed to describe it as the caliphate state. Moreover, top scholars have rejected it."
Full report at:
http://magharebia.com/en_GB/articles/awi/features/2014/07/17/feature-01
-----------
Over 60 killed as S. Sudan rivals clash in N. Bahr el Ghazal
18 July 2014
Clashes between South Sudanese rival forces in Northern Bahr el Ghazal left over 60 people dead, several legislators and state officials told Sudan Tribune.
Garang Kuach Ariath, the Aweil West county commissioner said his territory witnessed heavy clashes on Thursday when army defectors attempting to escape to the border with neighbouring Sudan clashed with pro-government soldiers.
"The situation at the moment is relatively quiet. Generally, there was no problem until when the defectors came from western Bahr el Ghazal and wanted to use the area as exit route to the Sudanese border. They started harassing and killing people as they try to find way out. They attacked and loot civilian properties. They killed," Ariath said by phone.
Some government soldiers disguised as home guards, he said, were also killed.
"Four of our gallant forces were wounded and were taken to Aweil Civil Hospital. Our people should be scarred. The wounds are not those big wounds. They are just bruises, very small injuries. From their side more than 29 bodies were found, including one Brigadier General and one colonel. The rest are men," said the Aweil West commissioner.
Full report at:
http://www.sudantribune.com/spip.php?article51726
-----------
Female lawmaker assassinated in Libya
18 July 2014
CAIRO — A Libyan security official says a female lawmaker in the outgoing parliament has been killed in a restive eastern city known as a stronghold of extremists. The official says unknown assailants sprayed bullets at Fareha Al-Barqawi near a gas station in the eastern city of Darna. Al-Barqawi was a member of a liberal-leaning political bloc in Libya's outgoing parliament. Her husband was a longtime political prisoner under deposed leader Muammar Gaddafi. The official didn't provide further details and spoke on condition of anonymity for fear for his own safety.
http://www.saudigazette.com.sa/index.cfm?method=home.regcon&contentid=20140718211942
-----------
Thousands of Moroccan jihadists in Syria, Iraq
18 July 2014
As many as 3,000 jihadists of Moroccan origin could be fighting in Syria and Iraq, Interior Minister Mohamed Hassad told MPs.
"A total of 1,122 Moroccans are affiliated with terrorist organisations in Iraq and Syria, alongside other European nationals of Moroccan origin whose number is estimated at 2, 000," the interior minister said.
Of the 1,122 jihadists, 200 have died, including 20 in suicide attacks. The 128 who returned to Morocco have been arrested and interrogated.
This is because the security services suspect them of planning terrorist attacks back home. According to the interior minister, several Moroccan terror leaders in Syria have said that they intended to carry out an attack against the kingdom.
Full report at:
http://magharebia.com/en_GB/articles/awi/features/2014/07/16/feature-02
-----------
Algeria asks imams to stress moderation
18 July 2014
As Algerians flock to mosques during Ramadan, the religious affairs ministry is determined to protect citizens and places of worship from extremist ideology.
Minister for Religious Affairs and Waqfs Mohamed Aissa met with religious leaders just before the start of the holy month. He asked them to focus on "the secular commitment of Algerians to the middle course in Islam".
Mosques must "reach out to society by delivering balanced religious sermons that address the real concerns of Algerians, on the basis of our Sunni doctrine", Aissa said.
The minister called on imams to shoulder their responsibilities and abide by Algerian customs and Sunni doctrine, by fighting against movements that certain preachers try to introduce into the mosques.
"In our mosques, we are seeing the emergence of movements which are alien to our values." Imam Mohcen El Djazairi confirmed.
Full report at:
http://magharebia.com/en_GB/articles/awi/features/2014/07/16/feature-04
-----------
Libya warring militias agree truce at main airport
18 July 2014
TRIPOLI: Powerful militias battling for the Libyan capital's airport have agreed a cease-fire, Tripoli said Friday, after the government sought U.N. help to stop the country from becoming a "failed state."
Foreign Minister Mohamed Abdelaziz asked the U.N. Security Council to dispatch experts to train Libya's defense and police forces to ensure they can protect oil fields, airports and other vital sites.
The call came amid a surge of violence in the country with clashes between rival militias sparking fears of all-out civil war.
Tripoli's mayor and leaders of battling militia said overnight that a truce had been agreed and that control of the international airport would be handed over to neutral forces.
The airport has been closed since fighting erupted Sunday, when Islamist gunmen from the city of Misrata launched an attack on the facility, which has for the past three years been held by liberal, anti-Islamist fighters from Zintan, southwest of the capital.
Full report at:
http://www.dailystar.com.lb/News/Middle-East/2014/Jul-18/264295-libya-warring-militias-agree-truce-at-main-airport.ashx#ixzz37klgQlDx
-----------
Europe
Muslim groups slam new call for UK Burqa ban
18 July 2014
Muslim groups across the UK have hit out against a campaign to ban Burqas, saying the "dangerous" move would fuel Islamophobia at a time of increasing racial tensions in Britain.
Dr Taj Hargey, an imam and head of the Muslim Educational Centre of Oxford on Thursday launched a campaign to ban full face coverings, including the niqab, from being worn in public.
"We want to make a Burqa-free Britain," he told Al Arabiya News. "We should follow what France and Belgium have done."
The European Court of Human Rights this month upheld a ban on full face veils in France. Following the ruling, Austria, Norway and Denmark may also ban the Burqa. Belgium adopted a ban in 2011, as has the Spanish city of Barcelona, and the autonomous Catalonia region plans a similar move.
Groups such as the Muslim Council of Britain (MCB) – and even the UK's Secular Society – today criticised Hargey's call for a ban in Britain.
"Firstly, he is a man. He should not really be articulating a view on what women should or should not do," said Talha Ahmad, chair of the membership committee at the MCB.
Full report at:
http://english.alarabiya.net/en/perspective/2014/07/18/Muslim-groups-slam-new-call-for-UK-Burqa-ban.html
-----------
Islamic State gains victory for Chechen jihadists
Jul 18, 2014
In Russia, the alarming success of the Islamic State (IS), formerly the Islamic State of Iraq and al-Sham (ISIS), was lamented by many analysts and policy-makers as, by and large, an indication of a short sighted US policy under President George W. Bush leading to a virtual breakup of Iraq. In the current context of perpetual Washington-Moscow browbeating, this narrative finds Moscow supporters in the Middle East and elsewhere. However, Russians have enough to worry about for themselves as the Islamic State not only has significantly influenced regional geopolitics, but has served as inspiration for extremist sympathizers in other parts of the world, breathing new life into their activities, such as for the Caucasus Emirate (CE) operating in the Russian North Caucasus.
Currently, North Caucasus mujahedeen are split in their support for various Islamist groups operating in the greater Middle East — partly over personal loyalties to groups' leaders and emirs, partly over ideological imperatives, interpretation of the "global jihad" idea and its tactical implementation. In the spat between Jabhat al-Nusra and ISIS, the emirate signaled its support for the latter, further solidifying channels linking the two extremist groups. As Thomas De Waal of the Carnegie Endowment for International Peace argues, "Many of the leading jihadists of ISIS come from the Caucasus, including Omar al-Shishani, (an ethnic Chechen) who comes from Georgia's Pankisi Gorge. If even a fraction of the vast amounts of money ISIS is said to have seized in Iraq makes a way back to the North Caucasus, it could boost the militants there."
Full report at:
http://www.al-monitor.com/pulse/originals/2014/07/islamic-state-chechen-caucasus-emirate.html
-----------
World should help 'generous' Kurdistan: U.N. refugee chief
18 July 2014
AL-KHAZAR CAMP, Iraq: The head of the U.N.'s refugee agency praised Iraq's autonomous region of Kurdistan for welcoming hundreds of thousands of displaced people and urged the world to offer it "massive" support.
Antonio Guterres told reporters during a visit to the Al-Khazar camp for displaced Iraqis that he was "humbled by the generosity and the solidarity of the government and of the people of Kurdistan in this very difficult moment."
People forced from their homes in Iraq's Ninevah governorate since a jihadist-led offensive that started on June 9 have fled en masse to neighboring Kurdistan, which has remained largely stable.
Full report at:
http://www.dailystar.com.lb/News/Middle-East/2014/Jul-18/264277-world-should-help-generous-kurdistan-un-refugee-chief.ashx#ixzz37kn2ZTQH
-----------
Ukraine president says "terrorist act" downed Malaysian plane
18 July 2014
KIEV: Ukrainian President Petro Poroshenko believes a "terrorist act" was the cause of a Malaysian airlines passenger plane crashing on Thursday, his press secretary said.
"Poroshenko thinks this of the plane that was brought down: it is not an incident, not a catastrophe, but a terrorist act," Svatoslav Tsegolko said.
http://www.dailystar.com.lb/News/World/2014/Jul-17/264218-ukraine-president-says-terrorist-act-downed-malaysian-plane.ashx#ixzz37kmyIf6z
-----------
Ukrainian daily publishes transcript of rebels discussing MH17
18 July 2014
A Ukrainian daily has published what it said was recordings of phone conversations, firstly between Russian intelligence officers and secondly between separatist commanders, about a downed passenger jet believed to be the crashed flight MH17.
Malaysia Airlines flight MH17 carrying 298 people on board from Amsterdam to Kuala Lumpur had crashed in a war-zone in Ukraine yesterday, 50km from Russian border.
US intelligence officials say a missile struck the Boeing 777 jet but no one has claimed responsibility in the area where pro-Russian rebels are fighting Ukrainian forces.
The recordings have not been independently verified, The Daily Mail reported on its online portal.
Full report at:
http://www.themalaysianinsider.com/malaysia/article/ukrainian-daily-publishes-transcript-of-rebels-discussing-crashed-jetliner#sthash.fbIKL96X.dpuf
--------
UNHCR gets UAE aid for Syrian refugees in Jordan
18 July 2014
ABU DHABI: The United Arab Emirates has granted AED 18.4 million (US$5 million) to the United Nations High Commissioner for Refugees (UNHCR) to help refugees in Al Zaatari and Al Azraq Refugee Camps in Jordan.
The UAE will also grant the United Nations Children Fund (UNICEF) AED 25.7 million (US$7 million) to provide feeding and health care programs for children below five years of age, pregnant and breastfeeding women inside Syria.
During a signing ceremony, Sheikha Lubna bint Khalid Al Qasimi, head of the National Committee for the Coordination of Foreign Aid, said the amount for the UNHCR is part of the second commitment announced by the UAE during the Kuwait Second International Pledging Conference for Syria earlier this year.
Full report at:
http://www.arabnews.com/news/603376
-----------
India
No proof against Hafiz Saeed, can't put him in jail to please anyone: Pak envoy
PTI | Jul 18, 2014
NEW DELHI: Amid row over Ved Pratap Vaidik's meeting with Mumbai attack mastermind Hafiz Saeed, Pakistan on Friday said it was not aware about the meeting and asserted that no action can be taken against the JuD chief as there was no evidence against him.
Pakistan high commissioner Abdul Basit, replying to a volley of questions on the issue during a meet the press programme at Press Club of India here, said it was a meeting between two private persons.
"Our government was not aware of this meeting and nor was the government of India. It was a meeting between two private individuals and nothing more," Basit said.
Asked whether Pakistani intelligence agency ISI was also not aware about the meeting, he only said Pakistani government has nothing to do with it.
On why no action was taken against the JuD chief for his alleged involvement in terror activities, the Pakistani high commissioner said there was "no evidence" to prosecute Saeed.
He said Pakistan government needs "hard evidence" to put Saeed in jail. "We do not have any evidence against him...We cannot put him in jail just to please anyone."
Full report at:
http://timesofindia.indiatimes.com/india/No-proof-against-Hafiz-Saeed-cant-put-him-in-jail-to-please-anyone-Pak-envoy/articleshow/38607605.cms
-----------
Committed to peaceful, friendly ties with Pakistan: India
18 July 2014
New Delhi: India Thursday said it remains committed to building peaceful and friendly ties with Pakistan and expects it to abide by the commitment to prevent its territory and territory under its control from being used for terrorism against India.
In a written reply to Rajya Sabha on the government's policies and programmes for enhancing bilateral relationship with SAARC countries, Minister of State for External Affairs Gen V K Singh said India will continue to engage pro-actively with all members of the grouping.
On Pakistan, he said the government remains committed to building peaceful, friendly and cooperative ties with Pakistan in an environment free from terror and violence.
"It is India's desire to intensify and accelerate the process of trade normalisation and implement the steps agreed in September 2012 at the Commerce Secretary level," he said.
The Minister said the government hopes that bilateral relations with Pakistan will progress in economic, cultural and political fields in the same manner that India's relations with her other SAARC neighbours have progressed in the recent years, built on partnerships for development and mutual prosperity.
Full report at:
http://zeenews.india.com/news/nation/committed-to-peaceful-friendly-ties-with-pakistan-india_948097.html
-----------
Setback for Gujarat govt, SC acquits all accused in 1993 Surat blast cases
Written by Utkarsh Anand | New Delhi | July 18, 2014
In a setback for the Gujarat government, the Supreme Court on Friday acquitted all the accused in the 1993 Surat Bomb blast cases that had left one girl dead and more than 40 injured.
A bench led by Justice T S Thakur set aside the judgement of the TADA court convicting the accused in 2008 and sentencing them to varying jail terms up to 20 years.
The court also dismissed the state government's appeals demanding enhancement of punishment for some convicts and also challenging the acquittals of a few accused.
Two blasts had rocked the city in 1993. First bomb blast took place on 21 January 1993 in Varachha area of Surat. Next day another bomb blast happened at Surat railway station targetting an express train. The Varachha blast killed one female student Alpa Patel and caused serious injuries to 11 persons. The blast at Surat railway station seriously injured 38 passengers.
The TADA court upheld the prosecution's version that these blasts were carried out to retaliate against the demolition of Babri mosque in Ayodhya. It held them guilty of terror charges and sentenced them to varying jail terms.
http://indianexpress.com/article/india/india-others/setback-for-gujarat-govt-sc-acquits-all-accused-in-1993-surat-blast-cases/
-----------
Terror recruiters target Indians on internet
Sandhya Soman,TNN | Jul 18, 2014
MUMBAI: What's in a name? If it indicates your religious identity, then you could get trolled by strangers wanting to draw you in with videos on the importance of archaic customs and doctored accounts of world history. City-based lawyer Shakeel Ahmed recently took one such bait on the Holocaust from a stranger on WhatsApp just to know what kind of propaganda is in circulation.
"I can laugh at such videos and false images but they might confuse youngsters," says Ahmed. Online baiting to lure sympathizers and recruits by seasoned extremists has been on the police radar. If the four youngsters from Thane and Kalyan are indeed now in Iraq fighting for the Islamic militia ISIS, then a good part of their indoctrination could have happened online, say experts.
ISIS is known to have an aggressive social media policy, including an Arabic-language Twitter app, to spread their message and recruit supporters even after the Iraqi government curtailed internet in areas captured by the group recently. "There are many websites, including jihadi ones, favoured by people with extremist leanings," says Anti-Terrorism Squad (ATS) chief Himanshu Roy. Often, the initial contact is made on social networking sites and messenger services.
Full report at:
http://timesofindia.indiatimes.com/india/Terror-recruiters-target-Indians-on-internet/articleshow/38565102.cms
-------
Mideast
Israeli soldier, 11 Palestinians killed in Gaza ground offensive
Reuters | Jul 18, 2014
JERUSALEM/GAZA: Israel announced on Friday that a soldier had been killed, its first fatality since a Gaza ground offensive was launched the previous evening, and another two soldiers were wounded.
Eleven Palestinians were killed in Gaza, Palestinian health officials said. There was no immediate breakdown of how many were combatants.
http://timesofindia.indiatimes.com/world/middle-east/Israeli-soldier-11-Palestinians-killed-in-Gaza-ground-offensive/articleshow/38593290.cms
-----------
Gaza death toll hits 260 as Israel invades
18 July 2014
GAZA CITY, Palestine: The Palestinian death toll in Gaza hit 260 Friday as Israel pressed a ground offensive on the 11th day of a large-scale operation to stamp out militant rocket fire.
Israel's toll in the violence meanwhile rose to two with the death of a soldier in Gaza, the army said.
The latest Palestinian deaths were of two men from the Shami family at Khan Yunis in southern Gaza, emergency services spokesman Ashraf al-Qudra said.
The deaths raised Friday's toll to 19.
Earlier, four family members in Khan Yunis were killed, with another two slain in the northern town Beit Hanoun.
And before that, three men were killed by tank fire east of Khan Yunis and another was killed in Shejaiyeh, east of Gaza City, Qudra said.
Full report at:
http://www.dailystar.com.lb/News/Middle-East/2014/Jul-18/264291-six-palestinians-killed-in-israeli-gaza-attacks-medics.ashx#ixzz37klmSPNo
-----------
Public outraged over Gaza, but Arab governments stay silent
Jul 18, 2014
While the conflict on Gaza is physically limited to the Israeli army and Gaza-based resistance movements, the war and its aftermath will have a much larger geopolitical impact. The Palestinian-Israeli conflict has a way of unifying warring groups and opposing parties, especially among countries that have witnessed injustice and people who feel for the underdog.
In the Arab world, impromptu demonstrations have taken place in most Arab capitals in support of the people of Gaza. Around the world in locations as far away as South Africa, Chile, Indonesia, Japan and London, demonstrations have taken place in solidarity with the Palestinians.
Full report at:
http://www.al-monitor.com/pulse/originals/2014/07/gaza-israel-war-hamas-palestinians-egypt-saudi-ceasefire.html
-----------
Erdogan: It's 'systematic genocide' of Palestinians
18 July 2014
ISTANBUL: Turkish Prime Minister Recep Tayyip Erdogan on Thursday launched his most bitter attack yet against Israel over its air campaign against the Gaza Strip, accusing it of trying to carry out a "systematic genocide" of the Palestinians.
"This is not the first time we have been confronted by such situations," Erdogan told a meeting of Islamic scholars gathered in Istanbul for Ramadan.
"Since (the creation of the state of Israel) in 1948 we have been witnessing this attempt at systematic genocide every day and every month.
"But above all we are witnessing this attempt at systematic genocide every Ramadan."
Erdogan added: "The Western world remains silent, so does the Islamic world. Because those who lost their lives are Palestinian, you can't hear their voices."
Full report at:
http://www.arabnews.com/news/603636
-----------
Israel okays draft of 18,000 more reservists: army
18 July 2014
JERUSALEM: Israel approved early Friday the draft of 18,000 new reserve soldiers, the army said, as it launched a ground operation in the Gaza Strip.
"Following the approval of the government, the IDF increased the draft of reserve forces to 18,000 troops," the army said in a statement.
A spokeswoman told AFP the decision raised the overall number of soldiers called in since the start of Operation Protective Edge to 65,000, without saying how many of them had actually been mobilised.
http://www.dailystar.com.lb/News/Middle-East/2014/Jul-18/264288-israel-okays-draft-of-18000-more-reservists-army.ashx#ixzz37km0exI7
-----------
Iranian commanders on front line of Iraq's fight
18 July 2014
BAGHDAD: A powerful Iranian general has emerged as the chief tactician in Iraq's fight against Sunni militants, working on the front lines alongside 120 advisers from his country's Revolutionary Guard to direct Shiite militiamen and government forces in the smallest details of battle, militia commanders and government officials say.
The startlingly hands-on role of Iranian Gen. Ghasem Soleimani points to the extent of the Shiite-led Iraqi government's reliance on its ally Tehran. It also strikes a strong contrast with the more methodical, cautious approach of the United States, Iran's rival for influence in Iraq. Shiite fighters have come to idolize the Iranians who have moved into the heat of battle alongside them - with two Iranian advisers killed in fighting - while government officials grumble the United States has failed to come to their aid.
The Iranian role, however, risks further sharpening the sectarian rifts in the conflict. At a time when the U.S. and others are pressing Iraq's government to reach out to Sunnis to reduce support for the insurgency, the effective Iranian command of Iraq's defense is likely to further alienate Sunnis, who have long accused Shiite-led Iran of trying to dominate Iraq through its allies here.
Full report at:
http://www.dailystar.com.lb/News/Middle-East/2014/Jul-17/264220-iranian-commanders-on-front-line-of-iraqs-fight.ashx#ixzz37knCLhNB
-----------
Islamic Jihad: Fighting in Gaza will continue until demands met
18 July 2014
GAZA CITY (Ma'an) -- The military wing of the Palestinian militant group Islamic Jihad said on Wednesday that the fighting in Gaza will continue until the demands of the Palestinian resistance are met, a day after an attempt at a ceasefire with Israel fell through.
The al-Quds Brigades said in a statement that the all Israeli cities and towns would remain under fire," as the resistance has prepared for a long battle which the enemy could not have expected."
The statement said that the al-Quds Brigades had fired 864 missiles and shells at Israeli towns in the eight days since the conflict began.
The attacks included 273 Grad missiles, 32 Buraq missiles, 5 Fajr (5) missiles and one Kornet missile, a Russian-made anti-tank guided missile.
Although Palestinian groups including Islamic Jihad and Hamas have fired more than 1,200 rockets into Israel since fighting began, they have caused only minor damage, killing one Israeli civilian volunteering with soldiers near the border and injuring a soldier in two separate incidents.
Full report at:
http://www.maannews.net/eng/ViewDetails.aspx?ID=713623
-----------
Pakistan
PM assures army of all help in terror war
18 July 2014
ISLAMABAD - Expressing his firm resolve to hunt down terrorists Prime Minister Nawaz Sharif has said that the whole nation is standing behind the armed forces fighting the battle for the peace and stability of the country.
The chase of the militants will continue till their annihilation, Sharif said during his visit to the General Headquarters in Rawalpindi on Thursday.
The PM was received by Chief of Army Staff on his arrival at GHQ. He was accompanied by Defence Minister Khawaja Asif, Interior Minister Chaudhry Nisar, Adviser to PM Sartaj Aziz and Special Assistant to PM Tariq Fatimi.
During the briefing given to the prime minister on ongoing war on terror, the loopholes in the prosecution of terrorists in the courts were highlighted because most of the hardened militants taking advantage of the flawed prosecution escape punishment which on one hand imperil the lives of the citizens while on the other demoralise the soldiers.
Full report at:
http://www.nation.com.pk/national/18-Jul-2014/pm-assures-army-of-all-help-in-terror-war
-----------
Pakistan wants no strings attached to Kashmir talks
18 July 2014
ISLAMABAD: Pakistan on Thursday rejected any pre-conditions for dialogue with India over Kashmir and urged the neighbouring country to take to task the terrorists behind the Samjhota Express incident.
"You cannot have dialogue and at the same time impose pre-conditions," Foreign Office spokesperson Tasnim Aslam told a weekly press briefing on Thursday. "I am not saying that we want to hold up progress on one because of the other. But we do expect that Pakistanis who have been victims of terrorists would also get justice." She was responding to a query regarding Indian defence minister's comments which linked normalisation of Pak-India relations with continuity of dialogue process and an early conclusion of Mumbai attacks trial and his expressed desire to settle all outstanding issues with Pakistan, including that of Jammu and Kashmir.
Full report at:
http://www.dailytimes.com.pk/national/18-Jul-2014/pakistan-wants-no-strings-attached-to-kashmir-talks
-----------
Militants kill eight Pakistani paramilitary members
Reuters | Jul 18, 2014
PESHAWAR, Pakistan: Militants killed eight members of a government paramilitary force in a midnight attack on a security checkpoint in Pakistan's restive northwest, security officials said Friday.
The militants bombarded the checkpoint with rocket-propelled grenades, two senior military officials said, before overrunning and ransacking it. Local residents said the gunfire began around midnight and continued for at least two hours.
The attack, for which no militant group has so far claimed responsibility, comes amid a military offensive to push the Taliban out of North Waziristan, a remote north-western region near the border with Afghanistan.
Full report at:
http://timesofindia.indiatimes.com/world/pakistan/Militants-kill-eight-Pakistani-paramilitary-members/articleshow/38596984.cms
-----------
Eight soldiers killed in attack on Jamrud check post
18 July 2014
PESHAWAR: Heavily armed militants attacked a paramilitary check post in Jamrud area of the Khyber tribal region early Friday, killing at least eight security personnel, official sources said.
Three other security personnel were also injured and the vehicle of FC forces was completely destroyed in the attack.
Sources said more than a dozen militants attacked a Frontier Corps patrolling party and checkpost in Jamrud's Gundi area, followed by a gruelling gun-battle which continued for over two hours.
Full report at:
http://www.dawn.com/news/1120010/eight-soldiers-killed-in-attack-on-jamrud-checkpost
-----------
Bajaur tribesmen raise lashkar to stop infiltration
18 July 2014
KHAR: The Mamond tribesmen in Bajaur Agency formed a qaumi lashkar (militia) to prevent infiltration of militants in the areas near Pakistan-Afghanistan border and eliminate insurgents hiding there after security forces postponed its planned operation in five villages in the region.
The Mamond Qaumi Laskhar was formed during a jirga of the tribesmen of Loe Mamond and Warh Mamond tehsils here on Thursday. A large number of tribal elders and members of peace committees attended the jirga.
The jirga discussed law and order situation in the region and strategy for launching an effective action against the suspected militants in the border villages of the agency.
Full report at:
http://www.dawn.com/news/1120009/bajaur-tribesmen-raise-lashkar-to-stop-infiltration
-----------
Afghanistan should stop attacks on Pakistan from its soil: FO
18 July 2014
ISLAMABAD: Pakistan has told Kabul to deny space to terrorists who are striking from inside Afghanistan against Pakistan and expressed disappointment that no action had been taken by the Karzai government to "eliminate sanctuaries of terrorists on the Afghan soil".
The spokesperson at the Foreign Office commented during the weekly media briefing that Pakistan had cautioned that the India dialogue could not be made conditional.Afghanistan is also home to the head of the TTP, Mullah Fazlullah, whose faction is continuously striking from across the border at a time when the military here is engaged in taking out all the terrorists in North Waziristan.
"We have asked Afghanistan repeatedly not to allow its territory to be used against Pakistan by terrorists and we expect Afghanistan to take action. As Pakistan is determined not to allow its territory to be used against them, we expect a similar commitment from Afghanistan," she stated.
Full report at:
http://www.thenews.com.pk/Todays-News-13-31664-Afghanistan-should-stop-attacks-on-Pakistan-from-its-soil-FO
-----------
Armed forces fighting for country's survival: Shahbaz
18 July 2014
LAHORE - Punjab Chief Minister Shahbaz Sharif announced financial assistance of Rs10 million for the family of Sabir Hussain who was martyred in an operation against terrorists. He also announced Rs1 million each for injured personnel Muhammad Afzal, Sajid and Muzaffar Hussain.
The CM said that Shaheed Sabir Hussain laid down his life for the country's future and the whole nation was proud of his sacrifice. He said the personnel faced terrorists with courage and bravery. He said the security institutions have displayed a high degree of professionalism during the anti-terrorism operation and set a noble example of courage and valour.
Full report at:
http://www.nation.com.pk/lahore/18-Jul-2014/armed-forces-fighting-for-country-s-survival-shahbaz
-----------
Pakistan to join UN mission for Central Africa
July 18, 2014
UNITED NATIONS : A UN peacekeeping force for Central African Republic will begin deploying in two months, with some 2,500 troops joining African and French forces, UN and French officials said Wednesday.
Bangladesh, Pakistan and Morocco have agreed to contribute three battalions to the new UN force, said France's UN Ambassador Gerard Araud.
Indonesia and Cambodia are sending engineers, while Sri Lanka will provide helicopters for much-needed patrols in rural areas.
The first contingents will begin arriving around September 15 and will beef up the 6,000 African troops serving in the African Union's MISCA force.
Full report at:
http://www.nation.com.pk/international/18-Jul-2014/pakistan-to-join-un-mission-for-central-africa
-----------
South Asia
Bangladeshis stand with Gazans
18 July 2014
Different civil rights groups and cultural organisations yesterday expressed their solidarity with the Palestinians and protested what they said genocide by Israel.
People from all walks of life throughout the country held different programmes calling on the global community to stand up for the Palestinians who have been getting killed every day since Israel launched air raids in Gaza on July 8.
Protests were staged in Dhaka, Chittagong, Gopalganj, Bogra and Munshiganj, Mymensingh and some other districts.
The cry of Gaza children echoed in the voice of the singers, thousands of miles away, on TSC premises of Dhaka University, where protests against Israel's bombing of Gaza Strip have been going on for the last four days.
Full report at:
http://www.thedailystar.net/city/bangladeshis-stand-with-gazans-33826
-----------
War-torn Iraq: Govt takes maiden initiative to bring back Bangladeshis
18 July 2014
The government has decided to bring 15 Bangladeshi workers back home from Iraq on its own initiative for the first time since the war-torn country went into internal conflicts involving different forces.
A flight of Arabian Airlines carrying the migrants will land at Hazrat Shahjalal International Airport early tomorrow, said a foreign ministry statement yesterday.
The Bangladeshis had been rescued from Mosul city captured by the Sunni rebels in the early phase of their fight with the Iraqi government forces since June 5.
The helpless migrants had been waiting to return home; then the Bangladesh embassies in Iraq and Turkey took necessary measures to send them back home, said the statement.
Maj Gen Rezanur Rahman Khan, Bangladesh ambassador in Iraq, however, said the embassy had rescued 33 Bangladeshis from Mosul with the assistance of the Iraqi administration.
"Of the 33 Bangladeshis, 18 of them fled as they did not want to return home because they had migrated to Iraq spending huge amounts of money," he told The Daily Star over the phone.
Full report at:
http://www.thedailystar.net/city/govt-takes-maiden-initiative-to-bring-back-bangladeshis-33830
-----------
War crimes trial for freeing nation from stigma: Anisul Huq
18 July 2014
The aim of holding the trial of the 1971 crimes against humanity is to free the nation from stigma and to establish the rule of law, Law Minister Anisul Huq said yesterday.
The trial will also end the culture of giving impunity to the heinous offenders, he told a discussion jointly organised by the law and foreign ministries to observe International Criminal Justice Day at state guest house Padma, said a law ministry press release.
Anisul Huq said the trial of the 1971 perpetrators was going on quite in line with the international criminal law and justice.
International Criminal Justice Day sends the strong message to the perpetrators of human rights violations around the globe that none who commits such crimes is immune, even heads of states or governments, he said.
Full report at:
http://www.thedailystar.net/city/war-crimes-trial-for-freeing-nation-from-stigma-33839
---------
North America
Malaysian Jet Shot Down by Surface-to-Air Missile: US
18 July 2014
Washington. A Malaysian airliner with 298 people on board was shot down over Ukraine by a surface-to-air missile Thursday but it was unclear who fired the weapon, US officials said.
Intelligence analysts are reviewing data from a military satellite and other sources to determine whether the missile was launched by pro-Moscow separatists in Ukraine, Russian troops across the border or Ukrainian government forces, two US officials told AFP on condition of anonymity.
"We are working through all the analysis," said one official.
But there was little doubt that the plane was struck by a surface-to-air missile.
"That's what we strongly believe," the official said.
At an event in Detroit, Vice President Joe Biden said the US-made Boeing 777 was intentionally "blown out of the sky."
Full report at:
http://www.thejakartaglobe.com/international/malaysian-jet-shot-surface-air-missile-us/
---------
US: Israel must do more to protect Gaza civilians
Lara Jakes and Matthew Lee, The Associated Press, Washington
July 18 2014
The Obama administration accused Israel of failing to do all it can to prevent civilian casualties in Gaza during cross-border attacks.
Noting the deaths a day earlier of four boys who were killed on a Gaza beach by an Israeli strike, the State Department said Thursday that the high civilian death toll in Gaza has been "heartbreaking." Three more children were killed in Gaza on Thursday.
Still, State Department spokeswoman Jen Psaki also criticized Hamas militants in Gaza who continue to fire rockets and mortars into Israel, prolonging the latest round of violence in the Mideast that has so far killed 235 Palestinians and at least one Israeli.
"I don't think we've made any secret about our strong concern about the actions of Hamas, the indiscriminate rocket attacks, the targeting of civilians," Psaki said. "And that concern remains."
Full report at:
http://www.thejakartapost.com/news/2014/07/18/us-israel-must-do-more-protect-gaza-civilians.html
-----------
CAIR Condemns Vandalism of Mass. Synagogue with Pro-Palestinian Graffiti
18 July 2014
The Council on American-Islamic Relations (CAIR), the nation's largest Muslim civil liberties and advocacy organization, today condemn vandalism of a Massachusetts synagogue with pro-Palestinian graffiti.
Police are investigating graffiti, which included "Free Palestine" and "God Bless Gaza," spray-painted on the Montefiore Orthodox Synagogue in Lowell, Mass.
In a statement, CAIR said:
"Whatever views one holds on the current round of violence in the Middle East, attacks on houses of worship must be condemned and the perpetrators brought to justice."
CAIR is America's largest Muslim civil liberties and advocacy organization. Its mission is to enhance the understanding of Islam, encourage dialogue, protect civil liberties, empower American Muslims, and build coalitions that promote justice and mutual understanding.
http://www.cair.com/press-center/press-releases/12566-cair-condemns-vandalism-of-massachusetts-synagogue.html
-----------
Jimmy Carter to Speak at Brotherhood-Linked Conference
18 July 2014
Carter will speak at the 51st annual convention of the Islamic Society of North America (ISNA) along with Rep. Keith Ellison (D-MN).
Former President Jimmy Carter will speak and sign books at the 51st annual convention of the Islamic Society of North America (ISNA) and the organization has announced. Rep. Keith Ellison (D-MN) is also listed as a speaker on its program.
The U.S. Justice Department labeled ISNA an unindicted co-conspirator in the largest terrorism-financing trial in American history and listed the group as a Muslim Brotherhood entity. The event's speaker lineup includes many Islamist radicals, debunking the moderate image ISNA puts forth.
The name of this year's conference is, "Generations Rise: Elevating Muslim American Culture." It will be held in Detroit on August 29-September 1.
A Clarion Project analysis in March showed that ISNA's religious leadership is made up of radicals, including one whose deportation is sought by the Department of Homeland Security because of his links to Hamas.
Full report at:
http://jewishvoiceny.com/index.php?option=com_content&view=article&id=7939:former-us-president-jimmy-carter-to-speak-at-brotherhood-linked-conference&catid=118:war-on-terror&Itemid=301
-----------
CAIR Applauds D.C. Council Resolution Against Anti-Islam Bus Ads
18 July 2014
The Council on American-Islamic Relations (CAIR), the nation's largest Muslim civil liberties and advocacy organization, today applauded a resolution adopted by the Washington, D.C., city council "supporting religious tolerance toward people of all faiths in the District of Columbia" and rejecting anti-Muslim bigotry.
The resolution, which was supported by CAIR and Jewish Voice for Peace - DC Metro Chapter, was introduced after extremist blogger Pamela Geller's hate group American Freedom Defense Initiative (AFDI) placed an Islamophobic advertisement on buses in Washington, D.C., falsely claiming that the Quran, Islam's revealed text, encourages Muslims to hate Jews.
"We thank Council Chairman Phil Mendelson for his leadership in passing this resolution reaffirming the District's long-standing tradition of religious freedom and respect for diversity," said CAIR Government Affairs Manager Robert McCaw. "The resolution is a clear repudiation of anti-Muslim hate and sends a strong message to those who seek to promote divisions in our nation."
Full report at:
http://www.cair.com/press-center/press-releases/12562-cair-applauds-dc-council-resolution-against-anti-islam-bus-ads.html
-----------
Canadians watch Gaza violence with disbelief and pain
18 July 2014
As Israel escalates its attacks on the Gaza Strip and the Canadian government continues to support Israel blindly, some Canadians are seeking to provide balanced and accurate information to the Canadian people. They are also trying to raise their voices to end the mindless killings and the violence.
Toronto academic Dr. Izzeldin Abuelaish has invited all residents of Toronto to join him and his children at Queens Park to call for an immediate end to all hostilities and to stop the bloodshed of innocent people.
Dr. Abuelaish stated: "My family has paid the tragic price of injustice, hatred, ignorance, violence and fear. We are fortunate to live in the diverse and democratic society of Canada where people of goodwill can come together peacefully and call for tolerance, reconciliation and peace. Let not one more family suffer the loss of a child because of injustice, intolerance, ignorance and hatred. Only when good and decent people do nothing to protest injustice can extremists flourish."
Full report at:
http://www.saudigazette.com.sa/index.cfm?method=home.regcon&contentid=20140718211904
-----------
Kerry calls for ´precise´ Israeli operation in Gaza
18 July 2014
WASHINGTON: US Secretary of State John Kerry urged Israel on Thursday to limit collateral damage in Gaza, urging the Jewish state to be "precise" in its ground assault on the Palestinian enclave.
In a telephone call with Prime Minister Benjamin Netanyahu, Kerry "emphasized the need to avoid further escalation and to restore the 2012 ceasefire as soon as possible, reinforced our continuing commitment to the Egyptian initiative as the way to do so and underscored the importance of Hamas accepting this plan as soon as possible," a State Department statement said.
http://www.thenews.com.pk/article-154184-Kerry-calls-for-%C2%B4precise%C2%B4-Israeli-operation-in-Gaza
---------
Southeast Asia
ISIS Presence in Indonesia Raises Concern
18 July 2014
Jakarta. The establishment of representatives of the Iraqi militancy group, the so-called Islamic State of Iraq and Syria, or ISIS, in Indonesia has raised concern, with analysts saying that the sympathetic support could turn into extremism — or worse, acts of terror.
Jihadist group ISIS has continuously advanced toward Baghdad in an effort to re-establish an ancient caliphate based on Islamic law, or Shariah, in Iraq and the Eastern Mediterranean. The movement has claimed more than a thousand lives in Iraq and Syria.
More than 30,000 Indonesians have joined the jihadist movement fighting across the Middle East, and some of them have returned home to establish ISIS branches in Jakarta and West Nusa Tenggara.
Ansyaad Mbai, chairman of the National Anti-Terror Agency (BNPT) said support by Indonesian Islamist groups for ISIS was a violation of the law.
"Those who had declared their support by joining the jihadist movement in Syria or Iraq and then establishing Islamic State branches in this country blatantly disobey the law," Ansyaad told the Jakarta Globe on Thursday. "There are even groups that had pledged bai'at [oaths of allegiance] to the ISIS leader [Abu Bakar al-Baghdadi]. This could also be categorized as a violation of the law."
Full report at:
http://www.thejakartaglobe.com/news/isis-presence-indonesia-raises-concern/
-----------
Deep shock over MH17 crash: Malaysia PM
18 July 2014
Malaysia's leader has called the Malaysia Airlines plane crash in eastern Ukraine "deeply shocking".
Describing the disaster as a "tragic day" in a "tragic year" for Malaysia, Najib Razak said the investigation "must not be hindered in any way".
The plane, carrying 298 people, crashed in rebel-held territory near the Russian border.
Both sides in Ukraine's civil conflict have accused the other of shooting it down with a missile.
The Boeing 777, with the call sign MH17, was flying from Amsterdam to Kuala Lumpur.
It is the second disaster suffered by Malaysia Airlines this year. Flight MH370 disappeared en route from Malaysia to China in March and has still not been found.
Full report at:
http://www.thedailystar.net/deep-shock-over-ukraine-plane-crash-malaysia-pm-33872
-----------
Tech-savvy Indonesians monitor vote count in disputed poll
Angela Dewan, Agence France-Presse, Jakarta
July 18 2014
Tech-savvy Indonesians are acting as watchdogs following last week's disputed election, using social media and apps to ensure an honest count as both sides accuse the other of trying to rig the outcome.
Both candidates, Jakarta governor Joko "Jokowi" Widodo and ex-general Prabowo Subianto, declared victory in the July 9 poll, the tightest in Indonesia since the end of authoritarian rule, based on unofficial tallies from different polling agencies.
But most analysts expect Jokowi to be declared president when official results are announced on Tuesday next week.
As allegations mount of attempted manipulation during the complex, lengthy process of counting votes by hand across the sprawling archipelago, social media-mad Indonesians are carrying out their own checks.
Full report at:
http://www.thejakartapost.com/news/2014/07/18/tech-savvy-indonesians-monitor-vote-count-disputed-poll.html
-----------
Activist Kassim Ahmad fails to stay Shariah proceeding
18 July 2014
Former political and social activist, Dr Kassim Ahmad who was charged for insulting Islam, today failed to prevent the Federal Territories Syarie chief prosecutor from pursuing his case in the Shariah High Court here.
A three-member panel chaired by Court of Appeal president Tan Sri Md Raus Sharif rejected Kassim's application to stay the civil High Court's refusal of his application to challenge the prosecution's decision of having charged him in the Shariah High Court.
Kassim is seeking a stay to prevent the prosecution from pursuing the case in the Syariah Court pending disposal of his appeal over the civil High Court ruling.
Justice Md Raus who heard the stay application with Justices Datuk Linton Albert and Datuk Wira Mohtarudin Baki said the bench agreed with submissions by senior federal counsel Nor Hisham Ismail that stay should not be granted and the court had fixed July 24 to hear Kassim's appeal over the High Court ruling.
Full report at:
http://www.themalaysianinsider.com/malaysia/article/kassim-ahmad-fails-to-stay-shariah-proceeding-bernama#sthash.W28EyQno.dpuf
-----------
URL: https://www.newageislam.com/islamic-world-news/new-age-islam-news-bureau/scores-killed-after-isis-seize-syria-gas-field/d/98181