New Age Islam News Bureau
27 May 2018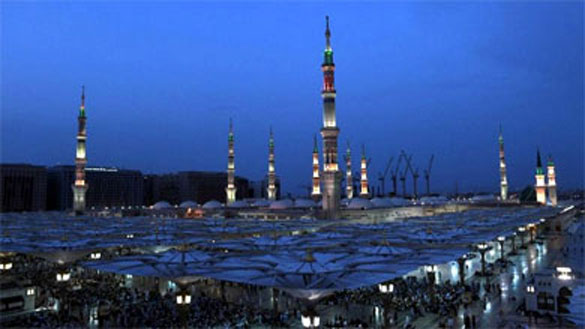 Worshipers are guided by these minarets to the mosque, which can be seen from all angles due to their heights. (SPA)
----
• Scholars from the Arab and Muslim Worlds Call for Reforming Islamic Religious Education
• Minarets of Prophet's Mosque an Architectural Attraction for Worshippers
• Rise Above Narrow Self Interest And Communal Barriers, Bangladesh PM Sheikh Hasina Tells Indian Youth
• US Liberal Islamophobia Is Rising – And More Insidious Than Rightwing Bigotry
• Jewish, Christian, and Muslim Teens Come Together For an Iftar
• Pandit Sagar Tripathi Who Writes in Prophet Muhammad's Praise
Arab World
• Scholars from the Arab and Muslim Worlds Call for Reforming Islamic Religious Education
• Minarets of Prophet's Mosque an Architectural Attraction for Worshippers
• Egypt Bans YouTube for One Month Over 2012 Anti-Islamic Video
• Assad Accused of 'Using Urban Development Law to Carry Out Ethnic Cleansing'
• Kurdish Militia Forming Border Guard in Northern Syria under Saudis' Financial Support
• Abu Dhabi's problem with the Muslim Brotherhood
• Baghdadi evades capture as a new ISIS takes shape
• Ankara-Backed Militants Engaged in Fresh Clashes in Northwestern Syria
• Turkey Set to Disband Tahrir Al-Sham in Northwestern Syria via Assassination Operations
• New Military Convoys of Turkish Occupying Forces Arrive in Northern Syrian
• Civilians Expel US-Backed Militias from Region in Northeastern Syria
• Hundreds of Syria Kurds rally to demand Turkey withdrawal
• Yemeni reprisal attacks: Drones target Saudi airport' in Asir, flights canceled
--------
South Asia
• Rise Above Narrow Self Interest And Communal Barriers, Bangladesh PM Sheikh Hasina Tells Indian Youth
• NDS Special Forces Foil Taliban's Bid to Carry out Coordinated Attack in Farah
• 'Our families would be killed': Rohingya brace for monsoon
• NSA Atmar, top Afghan military officials to meet Pakistan's Army Chief
--------
North America
• US Liberal Islamophobia Is Rising – And More Insidious Than Rightwing Bigotry
• Canadian Army Cadets to Be Expelled After Defacing Qur'an
• US warns Syria of 'firm' action over offensive
• U.S. Sen. Doug Jones visits Alabama mosque
--------
Europe
• Jewish, Christian, and Muslim Teens Come Together For an Iftar
• UK Arrests Islam Critic for Reporting On Grooming Gang Trial
• Police Prepare for Muslim Extremist Clashes on Anjem Choudary's Release
• Putin: Turkey has right to choose its military aircraft
--------
India
• Pandit Sagar Tripathi Who Writes in Prophet Muhammad's Praise
• Telangana Govt. On The Footsteps of Centre; Changing Muslim Identity of Places
• Faizabad Village Sets Example Of Harmony And Hindu-Muslim Unity
• Muslim Man Thrashed in Kanpur over 'Relationship' With Hindu Girl, Video Goes Viral
• Kanji Broth from South India Adds Unique Flavour to Dubai Iftar
• Nagrota attack: NIA arrests Kupwara resident; preliminary interrogation reveals Jaish-e-Mohammad's involvement
--------
Southeast Asia
• Defendant of Terrorism Strongly Condemns Involvement of Children in Terror Acts
• Civilian 'Suicide Squad' Finds Moro Pride in Saving Marawi Lives
• Muslims can boost narrative of Islam, says President
• Strong support for petition amid concerns over incoming minister's Salafist leanings
• List of moderate Islamic preachers needed: Scholar
• Sabah govt to look into changes in state policies, says Mohd Shafie
--------
Mideast
• Iran Detains Professor Over Insulting Sunni Muslims
• Iran Doesn't Really Care about Muslims If They're In China or Russia
• Dozens of Palestinians injured by Israeli gunfire in Gaza border protests
• UN official condemns detention of humanitarian staff in Yemen
• Lebanon at forefront of fight against Israel extremism: Iran's Rouhani
• Yemen: Airstrike hits gas station in Sana'a, killing four
• Israel warplanes target multiple Hamas positions in Gaza Strip
--------
Pakistan
• Pemra Bans PTI Member for 30 Days for Hurting the Sentiments of Different Sects on Religious Matters
• Pakistan Army Determined to End Nawaz's Infuence
• Narendra Modi is not an 'advocate of peace talks,' says Pervez Musharraf, claims Pakistan-US ties are at 'lowest ebb'
• Pakistan's new US envoy to take charge two days before govt term ends
• IHC division bench order has disappointed people: JI
• Pakistan's army summons former spy chief over book
--------
Africa
• Dozens Killed In Cameroon's Separatist Anglophone Region
• Sex-For-Food Claims in Boko Haram-Hit Nigeria
• Kenyan mosque invaded by Al Shabaab
• Over 100 migrants escape from Libya trafficking camp
Compiled by New Age Islam News Bureau
URL: https://www.newageislam.com/islamic-world-news/scholars-arab-muslim-world-call/d/115367
--------
Scholars From The Arab And Muslim Worlds Call For Reforming Islamic Religious Education
May 27 2018
A group of scholars and thinkers from the Arab and Muslim worlds called for reforming Islamic religious education and developing an educational model that would restore the nation's glory and its civilised role, warning at the same time of the dubious calls that seek to strip the nation of its religion.
They pointed out during the third session of the annual Ramadan Forum organised by the Ministry of Awqaf and Islamic Affairs that the nation provided a pioneering model during the early Islamic times when it established a world civilization based on sciences of religion and life sciences without separation between them.
Dr Adel Rafoush, who is the general supervisor and scientific director of Foundation Ibn Tachafin for Contemporary Studies, Research and Intellectual Creation in Morocco, stressed that the reform of religious education is a legitimate requirement and a necessity for life. However, Rafoush warned of the dubious invitations that seek to destroy the origins of Islam and questioning the constants on the grounds of reform. He pointed out that these calls are based on "the reform of religion, not religious education, which threatens the nation's existence."
In turn, Islamic thinker from Morocco Dr Essam al-Bashir al-Marrakshi explained a number of problems between the exact scientific specialisation and the sciences of religion. He pointed out that religious education has returned to its natural path of connecting it to modern scientific disciplines such as engineering, medicine and others.
Academic at Institute of Da'wa and Islamic Sciences in the State of Qatar Dr Abdul Salam Muqbel al-Majidi said that religious education is the basis of national security in all Islamic countries. He added that the calls to prevent it threaten the security of the nation, stressing the need to develop this kind of education for people who truly love their religion of love and peace.
http://www.gulf-times.com/story/594100/Scholars-call-for-reforming-Islamic-religious-educ
--------
Minarets of Prophet's Mosque an architectural attraction for worshippers
26 May 2018
The visiting worshipers to Medina in Saudi Arabia are attracted by the view of the ten minarets of the Prophet's Mosque, which is considered an Islamic architectural landmark.
Worshipers are guided by these minarets to the mosque, which can be seen from all angles due to their heights.
Through history these minarets were the outlet to carry the Azan, the call for prayer, since Bilal bin Rabah the first muezzin during the prophet days 1400 years AH.
The Prophet's Mosque has undergone many improvements, but since the reign of the Saudi state it has witnessed huge improvements at various levels to attract more worshipers whose numbers are increasing annually.
Early improvements
Late King Abdul Aziz al-Saud made the first improvements between 1370 and 1375 AH, and kept the two minarets in the southern corner of the mosque and demolished the other three to build instead two new minarets at the northern corner. Each of the minarets is 70 meters high.
Each minaret consists of four floors, the first is in a square shape and goes all the way up to the roof and ends with a balcony in a square shape. The second is designed in an octagon form and the walls are built high to the ceiling ending with triangles and attached by a balcony as well. The third is designed in a way that can carry a circle shaped balcony at the top, while the fourth is designed in a circle shape carrying pillars decorated by triangles at the top end and above it a balcony.
The expansion of the Prophet's Mosque continued on during 1406 to 1414 AH and six minarets were added at 104 meters high to become ten minarets, designed in harmony with the existing ones during the first expansion works. The four minarets are lined on the northern side, the fifth on the southern east side of the extension of the mosque and the sixth is located at the southern west side corner of the mosque.
The Prophet's Mosque continued to undergo more expansions especially in 1434 Hijri where the mosque underwent the biggest expansion works, increasing its capacity to reach 2 mln worshipers at the end of the project, which is considered the largest in the history of the mosque, and the most prominent Islamic event in all parts of the globe.
Saudi King Salman Bin Abdul Aziz al-Saud continued the process of giving in the service of the two holy mosques.
He stressed the importance of keenness to follow up the work on the major expansion project of the Prophet's Mosque and related projects, which aim to serve Islam and Muslims from all over the world. It also seeks to serve the people of Medina and its visitors by a continuous follow up by the Saudi Crown Prince, Sheikh Mohammed bin Salman, and direct supervision of Prince Faisal bin Salman bin Abdulaziz.
https://english.alarabiya.net/en/features/2018/05/26/Minarets-of-Prophet-s-Mosque-in-Medina-are-attractions-to-visitors.html
--------
Rise Above Narrow Self Interest And Communal Barriers, Bangladesh PM Sheikh Hasina Tells Indian Youth
May 26, 2018
Bangladesh Prime Minister Sheikh Hasina on Saturday surprised the audience at Kazi Nazual University in Bengal's Burdwan district by asking Indian youths to rise above communal barriers.
"Many of you will enter professional life after completing your studies. I have only one request to all of you. Value humanity above everything else. Always treat human beings with respect. Rise above narrow self interest and communal barriers," Hasina said at the university's special convocation where she received an honorary DLitt.
The Bangladesh Awami League president frequently speaks against radical Muslim groups in her country but she never spoke on communalism during her recent visits to India.
"It is our duty to stop youths from getting swayed by global terrorism. I seek cooperation from all my neighbours in the combat against terrorism in the region," she said on Saturday.
The special convocation coincided with the third convocation at KNU in Asansol town. On Saturday, 416 students from 19 departments received post-graduation certificates.
Hasina also asked the students to follow the example of legendary poet Kazi Nazrul Islam, the national poet of Bangladesh, in promoting communal harmony. "In his works, Kazi Nazrul has always spoken of communal harmony. That is why he lives in the hearts of Indians and Bengalis. Similarly, Gurudev Rabindranath Tagore belongs to both the countries," Hasina said.
She raised the Rohingya issue and sought cooperation of India and other neighbouring countries to solve the refugee crisis
https://www.hindustantimes.com/india-news/rise-above-narrow-self-interest-and-communal-barriers-bangladesh-pm-sheikh-hasina-tells-indian-youth/story-sBmso1D6EDpqp5XfAPKE0J.html
--------
US liberal Islamophobia is rising – and more insidious than rightwing bigotry
Khaled A Beydoun
26 May 2018
"When will Muslims step up and reform Islam?" asked the self-identified "progressive and intersectional" college student, following a presentation of my book, American Islamophobia: Understanding the Roots and Rise of Fear, at New York University.
The student wore a Black Lives Matter T-shirt and a colorful assortment of pins and patches on his camouflage backpack calling for "equality now" and claiming that "The future is female". The young man, by way of verbal admission and the myriad of political statements he proudly wore, was a political progressive. And indeed, a representative of a swelling population of leftists who embrace progressive principles yet see Islam as inimical to liberal values and in conflict with American identity.
The left is saturated with pundits and self-styled public intellectuals who disseminate discourses that Islam is monolithic; that Muslims must choose between liberal principles and their faith, and, echoing the college student I encountered at in March, a religion that is in need of "reform".
A diverse and eclectic litany of prominent Islamophobes occupies the left. These liberal Islamophobes, like Bill Maher and Sam Harris, weaponize atheism as an ideology that not only discredits the spiritual dimensions of Islam but also demonizes it in line with longstanding orientalist, political terms. For these new atheists, Islam is illegitimate because it is a religion, but unlike other religions, is distinctly threatening because it is inherently at odds with liberal values.
Echoing Samuel P Huntington and the intellectual father of modern Islamophobia, Bernard Lewis, Harris writes: "While the other major world religions have been fertile sources of intolerance, it is clear that the doctrine of Islam poses unique problems for the emergence of a global civilization."
Harris, the spearhead of the new atheist movement, which has broad appeal on the left, is a mainstay on HBO's Real Time With Bill Maher. Furthermore, Harris's influence on Maher, perhaps the most vivid and venomous liberal Islamophobe, is routinely on display on his weekly program – a program widely viewed by progressives and wildly popular with educated, cosmopolitan and middle-class liberals.
"The Muslim world has too much in common with Isis [Islamic State]," Maher has stated, and also declared in front of a live audience that: "Islam is the only religion that acts like the mafia, that will kill you if you say the wrong thing." Opinions that, at once, conflate an immensely diverse religious population of 1.6 billion believers with a terrorist network, and liken a religion to a criminal enterprise. This opinion was not much different from the one Donald Trump made while on the campaign trail, warning that refugees fleeing war-torn Syria "could be Isis", or more broadly, that "".
These statements flow from the fundamental Islamophobic baseline that Islam is more civilization than religion, and Muslims a homogeneous bloc whose free exercise of religion is a threat. The lone difference? Trump is peddling these views to a predominantly conservative base, while Maher is pushing it on to a progressive audience.
If Trump is the popular mascot of Islamophobia rising from the right, then Maher is his symbolic counterpart on the left.
Just like Trump, the loaded misrepresentations of Islam and condemnation of Muslims spewed by Harris and particularly Maher are reaching millions of leftists and progressives, and, as evidenced by raucous applause, television ratings or questions from college students, resonating. For these liberal Islamophobes, much like their counterparts on the right, "Muslims are the quintessentially illiberal subjects," Long Beach state university scholar Yousef Baker said. In this view, the very existence of Muslims and their expressions of worship pose a threat to liberal values.
The new atheist front has been a key driver of Islamophobia rising from the left, but it is hardly the lone source. A growing roster of native informants, who capitalize on their religious and racial identity as a form of expertise, is also pushing Islamophobia from the left.
Maajid Nawaz leverages his as a "former Islamist", brown skin and an affiliation with Harris, to peddle Islamophobia within largely cosmopolitan circles and liberal audiences. His Quilliam Foundation the Islamophobic tenet that radicalization is a uniquely Muslim phenomenon, and Nawaz has stated that "Islamism is the biggest form of extremism", endorsing destructive policing programs that have eroded the civil liberties of Muslims in the United Kingdom. With the help of Harris, Nawaz has extended his native informant reach into the United States.
Nomani and Nawaz are joined by Irshad Manji, Zuhdi Jasser and a swelling crop of Muslim and former-Muslim pundits who are wedded to messages founded upon core Islamophobic tenets and tropes, such as Islam being distinctly homophobic and irreconcilable with western values, with deep resonance in disparate liberal communities.
Even Ayaan Hirsi Ali, now more aligned with the right, strategically exploits outwardly liberal values – like feminism – to move left-leaning audiences to adopt the position that Islam, a monolith in every respect, is sexist and uncompromisingly patriarchal. Beyond these known commodities, a new wave of outwardly liberal figures who endorse structural Islamophobic policies including counter-radicalization policing, are emerging from the ranks of the left.
Liberal Islamophobia is rising, in the United States and beyond, and rapidly metastasizing in the shadows while its tentacles on the right extend in the form of presidential rhetoric, state-sponsored travel bans and expanding surveillance. Yet, liberal Islamophobia may reveal itself to be more ominous than the bigotry trumpeted by Republican stalwarts and reactionary conservatives, particularly if we continue to ignore its uptick on television, college campuses, and liberal spaces beyond and in between.
https://www.theguardian.com/commentisfree/2018/may/26/us-liberal-islamophobia-rising-more-insidious
--------
Jewish, Christian, and Muslim teens Come Together for an Iftar
May 26, 2018
Eighty teens gathered at the Islamic Center of Long this past Tuesday evening, to launch an Inter-Faith Initiative entitled "Embrace Diversity." Jewish and Christians teens came to join their peers in celebrating the Muslim holiday of Ramadan, and to break the fast together.
Dr. Uzma a member of the Inter-Faith Clergy Council of Syosset-Woodbury NY and Faisal Zakaria's involvement with Islamic Center of Long Island (ICLI), collaborated an event titled "Embrace Diversity" and hosted an Inter-Faith Iftar for teenaged kids at ICLI which was a huge success.
Muslim, Jewish, and Christian leaders created this program as a response to religious intolerance after swastikas and other anti-Semitic sentiments were found on the Syosset High School building earlier this year. They felt that the best response would be to foster relationship building, and give teens an opportunity to embrace the diversity of our faith traditions.
"Youth can bring forth the movement," said Dr. Isma Chaudhry, chair of the Islamic Center of Long Island in Westbury. "Their understanding is very pure. They are still at the stage where life is not complicated by politics, life is not complicated by global,convoluted issues."
For two hours a room full of strangers transformed into a room of friends, as teens participated in ice breakers, shared texts about diversity from their sacred scriptures,and learned about the sacred holiday of Ramadan. One of the highlights of the evening were the speed meetings. Fashioned after speed dating, the teens lined up in rows for minute long conversations about facilitator-led questions. The questions began with favorite movies, hobbies, and family traditions, and questions they have about one another's faith. Teens explained that they were amazed with all they had in common.One Muslim student was surprised to learn that the reasons Jews wear yarmulkes on their heads are similar to the reason Muslim women wear hijabs. "It made me realize how alike we really are," he said, "and how thankful I am to have this opportunity."
"I think it is fantastic that Jewish, Christian and Muslim teens can get together to learn about each other and to learn that we are all created in God's image, and that by learning about each other's faiths, we will also find out that there are so many similarities," said Rabbi Jay Weinstein, co-chair of the council. Tuesday's event "proved that embracing diversity enriches humanity."
The night concluded as Muslim teens participated in their evening prayer, and teens broke the fast together over a buffet of delicious food.
Leaders are already planning to continue the series in the fall. In September, teens will meet at Midway Jewish Center during the Jewish holiday of Sukkot and then in early winter they will meet at St. Johns Episcopal Church in Cold Spring Harbor, in preparation for Christmas. These events aim to foster relationship building and mutual respect for one another's faith traditions. Leaders of faith believe that when we learn about each other, we discover many of our similarities and that we are all children of God.
https://www.siasat.com/news/jewish-christian-and-muslim-teens-come-together-for-an-iftar-1360671/
--------
Pandit Sagar Tripathi Who Writes in Prophet Muhammad's Praise
May 27, 2018
Mohammed Wajihuddin
MUMBAI: At a time of anxieties over prayer locations and portraits of historic figures, in a quiet, sea-facing flat in Mumbai's Colaba, Pandit Ram Sagar Prithvipal Tripathi, or simply Sagar Tripathi, reverentially opens Saibaan-e-Rahmat (Tent of Mercy), his collection of 'Natiya Shairi' or devotional poems penned in praise of Prophet Muhammad.
The 68-year-old, hailing from a family that patronises the Ram Lalla Vinyas, a temple trust in Ayodhya, is also world president of the Vishwa Brahmin Parishad. But that's not what he's well known for. He has become a famous face at mushairas (traditional soirees where Urdu poets recite couplets) for his poetry, and in particular for always opening his session with a 'hamd' (penned in praise of God) and a 'natiya kalam,' a panegyric extolling the Prophet and his message.
'Prophet belongs to all of humanity, not just Muslims'
In his house, dozens of awards and citations that he's won for his works jostle for space with copies of the Quran, biographies of the Prophet, the Bhagavad Gita and the Ramayana. Behind a huge sofa are placed several prayer mats that he spreads often for Muslim guests who want to pray if they wish to.
Tripathi's collection of poems on the Prophet unambiguously declares not just hisdevotion to Islam's founder,but also his yearning for peace and communal harmony. His verses, in Urdu and Devanagri scripts, epitomise India's famed Ganga-Jamuni tehzeeb (composite culture). They celebrate a tradition where Ram inhabits space along with Rahim and where Hindus and Muslims don't just tolerate each other; they co-exist and cooperate.
"Prophet Muhammad doesn't belong to Muslims alone. He is for humanity, and there is nothing wrong if I seek some blessings from him," says Tripathi. He captures this belief in a couplet: 'Sirf ek quom ke nahin hain woh/Rahmate aalminee hain aaqa (He doesn't belong to just one community/He is mercy for the universe).' Such 'shers' predictably draw wide applause and appeals for an encore from the predominantly Muslim crowds at mushairas in India and abroad.
Born in a village in UP's Sultanpur district, Tripathi says there was a lot in his background to prepare him for a career as a poet, though he earns from his business, properties investments and shares. While he was an undergrad and masters' student at Allahabad University, he came under the tutelage of the famous Urdu poet Raghupati Sahai Firaq Gorakhpuri. His grandfather wanted him to become an IAS officer and had bought a house for him near Firaq's place, but Tripathi never sat for the UPSC exams as he fell in love with poetry. His passion grew as he got dazzled by the leading lights of Urdu poetry.
"I would bring chai paani and listen to these greats," laughs Tripathi,who moved to Mumbai in the 1970s primarily "to make money". "I earned loads of money but always found a hollowness within me. Poetry filled this gap as it became therapy, a way to get catharsis," he says. Tripathi donates the money from his book sales to fund the education of poor Muslim children.
"Sagar sahib is an important name in the contemporary Urdu mushaira scene and his contributions are admirable," says noted Urdu poet Abdul Ahad Saaz.
As a member of a 'pandit' family from Ayodhya, what does he have to say about the long-delayed resolution of the Ramjanmabhoomi-Babri Masjid dispute? "I don't want to say much on the dispute as it is sub judice," he says, "but it can be resolved if people stop making it an ego issue and politicians are kept away from it."
https://timesofindia.indiatimes.com/city/mumbai/pandit-who-writes-in-prophets-praise/articleshow/64337030.cms
--------
Arab World
Egypt bans YouTube for one month over 2012 anti-Islamic video
May 27, 2018
Egypt is about to act on its longstanding threat to temporarily ban YouTube. The country's highest administrative court has ruled that officials must block the streaming video site for a month (along with "all" links playing the video) after it allowed the 2012 anti-Islamic video Innocence of Muslims. The short film's portrayal of the Prophet Mohammed triggered outrage in the Islamic world and led to a 2013 Egyptian case demanding the ban, but the appeal process has kept the ruling in limbo for the past five years.
We've asked YouTube for its comment on the ruling, which had yet to take effect as of this writing. Unlike in 2013, this decision is final and can't be overturned.
To some extent, the ban has lost its intended effect -- the furor has clearly died down in six years. YouTube itself has also changed since 2012, with a greater willingness to isolate or remove hateful videos. This is now more of a symbolic punishment than a bid to make YouTube change its ways, and it'll unfortunately affect millions of people in the process.
https://www.engadget.com/2018/05/26/egypt-bans-youtube-for-one-month-over-anti-islamic-video/
--------
Assad accused of 'using urban development law to carry out ethnic cleansing'
May 27, 2018
JEDDAH: The Assad regime in Syria was accused on Saturday of using a new law on urban development to rid the country of all political opposition.
The so-called "Law 10" allows the regime to acquire previously private property to create zoned developments, and to compensate the owners with shares in the new projects.
However property rights are in a state of confusion after a seven-year war that has created more than 5 million refugees and 6 million internally displaced people. Many of the displaced have lost the necessary paperwork, are struggling financially or not aware of the legal requirements in time.
The Assad regime is using the confusion to create a suitable environment for demographic change, Syrian opposition spokesman Yahya Al-Aridi told Arab News.
"The regime has a two-fold goal," he said. "First, terrorize the opposition and supporters of the Syrian revolution so that they lose the right to their properties.
"Second, there is talk of reconstruction in Syria now. This law sends out a message to investors that their interests lie with the regime. It is an attempt to tempt companies and business people to support the regime, because the regime is the only party that approves bids and gives grants and contracts. All this merely adds to the Syrians' plight and misery."
Al-Aridi said the attempted land grab was being resisted by European countries, especially France and Germany. "The Syrian Negotiating Committee is also exerting a very important effort so that such an evil act will not happen," he said.
Also on Saturday, the US warned Damascus it would take "firm action" if the regime violates a cease-fire deal, after Syrian aircraft dropped leaflets on a southern province in advance of an expected offensive.
Al-Aridi said any such offensive would be a breach of agreements between Russia and the US on de-escalation zones, and he warned the regime and Iran against "playing games" with the US. "Such threats are part of a response to the two unanswered Israeli attacks on Iran's military positions in Syria," he said.
"They area also meant to divert attention from the American-Israeli intent to kick Iranian militias and forces out of Syria."
Full report at:
http://www.arabnews.com/node/1310261/middle-east
--------
Kurdish Militia Forming Border Guard in Northern Syria under Saudis' Financial Support
May 26, 2018
The Arabic-language al-Baladi news website reported that the Democratic Union Party (PYD) along with al-Sanadid Forces are recruiting to form the Border Guard Force in the town of al-Ya'arabiyeh near Syria's border with Iraq, adding that the Saudis have been backing the PYD's plan to do so.
The website further said that the men, who join the Border Guard Force will serve two years and will receive a monthly $200 payments.
It went on to say that the PYD militias have embarked on digging trenches in Ra'as al-Ein border region at Syria's border with Turkey, adding that the PYD plans to equip the trenches along Syria's border with Turkey and Iraq with pre-fabricated cement-made cabins supplied by the US forces.
The US-led coalition had announced at the beginning 2018 that it had a plan to form a 30,000-member Kurdish Security Border Force in Northern Syria.
A senior Syrian politician warned in January that the US-led coalition's decision to start a new Border Security Force for the alleged goal of fighting terrorists in Syria was aimed at disintegration of the country and would lead to a horrible war.
"The US is well aware that it has created a crisis by deploying and keeping the Syrian Democratic Forces (SDF) in the region in the past few months. Now it plans to disintegrate the country by bringing the Syrian borders under the control of these forces," Sa'ad al-Qasir, the deputy secretary-general of the Syrian Forces Union, said.
He cautioned that the measure would lead to a political and military crisis in Syria, adding, "If Washington completes this wrong plan and the Kurdish forces are deployed at the borders instead of the Syrian army, a massive war will start between the two sides with no clear ending."
"Deployment of 30,000 forces at the borders with Iraq and Turkey, using the Kurds, will ignite the war itself as Turkey will fight the Kurds on one hand and Ankara will ignore its past agreements with Washington for the US support for the Kurds in Syria, Iraq and Turkey, on the other hand," al-Qasir said.
Damascus, Moscow and Ankara strongly blasted the US new decision to form a Border Security Force.
The US-led coalition announced in January that it was helping to create a new Border Security Force to fight terrorists in Syria. The unit, stationed along the Syrian border with Iraq and Turkey, as well as along the Euphrates River Valley, was expected to be comprised of up to 30,000 people. SDF veterans would make half of the unit, while the other half were yet to be recruited.
The United States' military support for the militia first began under the administration of US President Donald Trump's predecessor, Barack Obama, which provided Kurds with weapons and training.
Washington also continues providing Kurdish fighters with more military hardware in Syria despite US President's promise to his Turkish counterpart Recep Tayyip Erdogan to halt arms shipment to the Kurdish fighters.
Ankara had said late November 2017 that Trump told Erdogan that he had issued instructions that weapons should not be provided to Kurdish fighters in Syria.
Full report at:
http://en.farsnews.com/newstext.aspx?nn=13970305000324
--------
Abu Dhabi's problem with the Muslim Brotherhood
By Andrew Chappelle
May 27, 2018
In March 2011, buoyed by the revolutions sweeping the region, a group of 132 Emirati intellectuals and activists petitioned President Khalifa bin Zayed Al Nahyan to institute reforms. They were calling for the United Arab Emirates' National Council be democratically elected and granted full legislative powers.
Days later, the government they petitioned deployed hundreds of police officers to Bahrain, where they joined a contingent of Saudi troops to end an uprising on the island kingdom. It was the first of several Saudi-Emirati measures to rein in the "advances" of the Arab Spring and eliminate critical voices that questioned their rule.
By most accounts, the Emiratis who signed the petition represented a cross-section of society - doctors, lawyers, judges, and academics - and included members of Al Islah (Reform), a social movement ideologically linked to the Muslim Brotherhood (the Brotherhood).
The crackdown was severe, especially on Al Islah.
Arrests began in April and soon expanded to include most Emiratis who signed the petition; they were accused of promoting "terrorist" ideology and plotting to overthrow the government.
By the end of 2011, six Emiratis had had their citizenship revoked and dozens more were handed hefty prison sentences.
According to US diplomatic cables released by WikiLeaks in 2010 and 2011, UAE Crown Prince Mohammed bin Zayed (also known as MBZ) had a long-held antipathy towards the Brotherhood, and often spoke with US officials about his efforts to target alleged members within Emirati society.
Despite the fact that Al Islah denied having links to the Brotherhood, they were viewed with suspicion by MBZ and his brothers, who rarely missed an opportunity to talk about their supposed "influence".
"The Emirati government's crackdown on Islah, in my view, was not based on actual level of threat or even of popularity of that movement, but rather on the government's (and especially Sheikh Mohammed bin Zayed's) calculation that political Islam of any type is fundamentally threatening to government stability and security," Courtney Freer, author of Rentier Islamism: The Influence of the Muslim Brotherhood in Gulf Monarchies, told Al Jazeera.
"As a result, today, Islamist movements have largely moved underground, with the government eager to promote so-called 'moderate Islam' in its place," she added.
The crackdown had a chilling effect on civil society in the UAE and was a prelude to more dramatic measures to challenge Brotherhood-linked political movements, including support for a counterrevolution in the Arab world's most populous country, Egypt.
The blockade of Qatar, which is about to enter its second year, appears to be motivated in part by Abu Dhabi's long-held antipathy towards individuals, institutions, and governments that appear supportive of "political Islam", which the UAE government has framed as "extremism".
Revolution 2.0
In the elections that followed the Arab Spring, a number of Brotherhood-linked parties succeeded (to varying degrees) at the ballot box, including Ennahdha in Tunisia, the Freedom and Justice Party in Egypt, the Justice & Development Party in Morocco, Islamic Action Front in Jordan, and the Islamic Constitutional Movement in Kuwait.
When a military coup was staged in 2013 to overthrow Egypt's first democratically elected president, Mohamed Morsi, the UAE and Saudi Arabia supported it, opting for their version of strong-man "stability" over rapid democratic change.
As far back as 2011, the UAE and Qatar have followed policies "that are in some cases near-diametric opposites, particularly as they related to the unfolding political transitions in North Africa," Kristian Ulrichsen, research fellow at Rice University's Baker Institute for Public Policy and author of The United Arab Emirates: Power, Politics, and Policy-Making, told Al Jazeera.
"It seems that the visceral reaction to Qatari Arab Spring policies in Abu Dhabi has been the trigger for both the 2014 iteration of the spat and the 2017 version, and that MBZ has worked closely with MBS (Saudi Crown Prince Mohammed bin Salman) in Riyadh to try and present a united front not only on the Qatar issue but also on Yemen, as well," he added.
Politicisation of 'terrorism'
There were signs of a rupture emerging between Abu Dhabi and Doha, years before the Arab Spring.
Diplomatic cables sent from the US Embassy in Abu Dhabi between 2004 and 2010 recount dozens of meetings between MBZ and US officials, where they discussed politically sensitive topics he never discussed in public.
US officials noted how MBZ generically uses the term "Muslim Brotherhood" for all "extremists", ranging from armed groups like al-Qaeda, to populist movements that participate in democratic elections across the region.
By 2014 though, his broad definition of "extremists" was more widely accepted, after Saudi Arabia designated the Brotherhood a terrorist organisation.
The UAE followed suit and passed legislation that opened the way to "terrorism" prosecution to those expressing peaceful opposition to the government.
Human Rights Watch condemned the government for passing such a "violent and extreme law" at the time, while claiming to be a "key ally in the fight against violent extremism".
More shockwaves were felt that year when the UAE released its terror list, lumping the Islamic State of Iraq and the Levant (ISIL, also known as ISIS) group and al-Qaeda with nonviolent organisations based in the US and Europe.
Full report at:
https://www.aljazeera.com/news/2018/05/abu-dhabi-problem-muslim-brotherhood-180526105937656.html
--------
Baghdadi Evades Capture As a New ISIS Takes Shape
27/05/2018
BEIRUT - US officials from President Donald Trump on down say the Islamic State (ISIS) should be on its last legs with its short-lived caliphate broken up in late 2017 and its fighters dispersed to the four winds.
However, as one terrorist horror follows another, the warnings from experienced counterterrorism specialists that ISIS would not go away gently but would strike wherever it could until it reorganises are proving to be deadly accurate.
The Trump administration seems to have accepted the harsh reality by announcing it was reversing plans to dismantle the US State Department's special unit overseeing the war against ISIS.
Ten days earlier, Trump boasted that five of ISIS's "most wanted" leaders had been captured by US and Iraqi forces, which lured them into a trap from their hideouts in Syria through Baghdad's intelligence service.
Among those taken was Ismail al-Eithawi, identified as a close aide to ISIS's fugitive leader Abu Bakr al-Baghdadi, self-proclaimed caliph of the world's 1.5 billion Muslims. So far, Baghdadi has evaded capture in a global manhunt.
The other four leaders were not identified by the US-led anti-ISIS coalition but Iraqi sources identified one as Saddam al-Jammel, a Syrian who controlled an ISIS stronghold around Deir ez-Zor in north-eastern Syria.
Eithawi was the central figure in the capture of the ISIS chieftains on May 9. He was seized by Turkish authorities in February and handed over to Iraq's military intelligence apparatus. Iraqi and US agents used his Telegram messaging app on his mobile phone to lure the others from Syria into Iraq, Iraqi officials said.
There's no doubt this was a body blow to ISIS as it struggles to reinvent itself but the group, like other jihadist organisations before it, has proven to be extremely resilient in absorbing such shocks.
The fear is that this sort of reversal will trigger retaliatory, high-casualty terrorist attacks by ISIS and possibly bring about a merger of Islamic fanatics from other groups.
To the dismay of the United States and its allies, Baghdadi's organisation, held together by seasoned militants who include former Iraqi Army officers and top intelligence operatives who served Saddam Hussein, have in recent weeks carried out dozens of attacks as far apart as Mali, Niger, France, Burkina Faso, Afghanistan, Iraq, Syria and Indonesia, the world's most populous Muslim country and increasingly a linchpin in ISIS's drive to reorganise from the splintered territories it holds in Iraq and Syria.
The Washington Institute for Near East Policy recently stressed that defeating ISIS and other jihadist organisations militarily is essential but the "real objective should be" eliminating the Muslim grievances that fuel extremism.
ISIS militants recently repledged their support for Baghdadi in what is believed to be their first such declaration of allegiance to him since the group's caliphate was torn apart by US-led Western and regional forces in 2017.
In a statement on social media, the militants declared: "To infuriate and terrorise the infidels, we renew our pledge of loyalty to the commander of the faithful and the caliph of the Muslims, the mujahid Sheikh Abu Bakr al-Baghdadi al-Husseini al-Qurashi, may God preserve him."
By using the honorific "al-Qurashi," Baghdadi's followers are trumpeting his claim to be a son of al-Qurashi clan of Saudi Arabia and thus a direct descendant of the Prophet Mohammad.
In Islam, the caliph must be of the Prophet's family. Baghdadi's claim is difficult to verify but for Muslims it's a powerful symbol that has elevated ISIS above other jihadist movements and will undoubtedly be a major boost for recruiting new militants for what is shaping up to be a global conflict.
What ISIS's next moves will be are anybody's guess. However, piecing together fragments of information obtained by Western and Middle Eastern intelligence services, it seems clear that Baghdadi and his lieutenants may be on the run but are far from crushed and remain deadly.
Some counterterrorism analysts suspect that Saif al-Adl, a former colonel in the Egyptian Army's special forces and one of Osama bin Laden's right-hand men, has moved into the ISIS orbit and may be seeking to revive the organisation.
Adl was associated with Abu Musab al-Zarqawi, the Jordanian street thug who led a deadly breakaway faction that coalesced into the Islamic State in Iraq, the forerunner of ISIS.
The Combating Terror Centre (CTC) at the US Military Academy said the two met in a guesthouse in Kandahar, Pakistan, in 1999 and Adl "found that he had a lot in common with Zarqawi, including an 'uncompromising' nature."
The CTC report said Adl convinced bin Laden to invest in Zarqawi's nascent organisation, which allowed it to establish a training camp in Herat, Pakistan, a vital step in the eventual emergence of ISIS.
After the United States invaded Afghanistan in response to 9/11, Adl holed up in Iran — or was held there for some years, the circumstances are not clear — and avoided the US attacks that decimated al-Qaeda's leadership.
Adl and others in bin Laden's inner circle opposed the 9/11 operation because they felt it would endanger the Taliban, which allowed al-Qaeda to incubate and he was right.
The CTC reported that it is "unclear where Adl stood in the schism between bin Laden and Zarqawi due to a lack of primary source documentation" but, it added, Adl "raised ideas that the Islamic State would later champion."
If Adl entertained any hopes of succeeding bin Laden as head of al-Qaeda, they probably suffered from the focus on bin Laden's son and heir, Hamza, widely mooted as al-Qaeda's future leader.
Still, the CTC noted, Adl "has demonstrated an uncanny capacity to adapt to changing circumstances, for example not only surviving over a decade of imprisonment in Iran but using it to lengthen his career."
Adl is believed to be in Syria, possibly helping ISIS regroup. This suspicion has been heightened by the appearance of a jihadist master plan thought to have been largely drawn up by Adl, al-Qaeda's operations chief.
Brian Fishman, a counterterrorism expert at the CTC, said the seven-stage plan mapped out how jihadists could conquer the world by 2020 and outlined the restoration of the historic caliphate, that ended with the collapse of the Ottoman Empire after the first world war, in Syria between 2013 and 2016.
That effort, of course, failed but it validated the reported master plan, which was apparently smuggled out of Iran by Adl on 42 pages of yellowing paper.
Since then "it has seemed remarkably prescient," observed Malise Ruthven in the New York Review of Books.
"Stages One and Two — 'The Awakening' (2000-03) and 'The Eye-Opening' (2003-06) — mention attacks against US targets in Iraq to provoke direct conflict with America, and doubtless reflect an element of hindsight following the US occupation (of Afghanistan).
"The subsequent stages, however, invite no such suspicion. 'Stage Three — Standing Upright (2007-10)' — envisions jihadist expanding their operations across Syria and into Lebanon and able to strike both Israel and Turkey.
"Stage Four — 'Recuperation and Power (2010-13)' — predicted that the jihadis would overthrow regimes across the Middle East (a striking if inaccurate prediction of the 'Arab spring').
"Stage Five — 'Declaring the State' (2013-16) — predicts, impressively, a British-led reversal of the 'rising unity of Europe,' offering a prime opportunity to 'declare an Islamic state — the caliphate," Ruthven observed.
Although the master plan would seem to have foundered, its structure implies that jihadist leaders are adhering to a strategy that is more clear-cut than has widely been believed. If Adl is operational again, more dangers lie ahead.
Fishman observed in his book "The Master Plan: ISIS, al-Qaeda and the Jihadi Strategy for Final Victory" that Baghdadi's proclamation of the caliphate in Mosul in June 2014 closely follows the plan's timetable, with Stage Seven, "The Final Victory," predicting that the world's Muslims "will rally under a single banner of overthrow the remaining 'apostate Muslim regimes and destroy Israel'."
The plan, even when viewed as a millennial fantasy, suggests that, although ISIS seems to be struggling desperately, Adl is determined to resurrect the jihadist cause in preparation for that final battle and may reunite al-Qaeda and ISIS.
Full report at:
https://thearabweekly.com/baghdadi-evades-capture-new-isis-takes-shape
--------
Ankara-Backed Militants Engaged in Fresh Clashes in Northwestern Syria
May 26, 2018
The militants engaged in fierce clashes in al-Filat region in Afrin as the Ankara-backed gunmen continued looting people's houses and shops in Northwestern Aleppo.
In the meantime, field sources reported that Operation Olive Branch kept forces on alert and also dispatched a military convoy of the Turkish army to the region following the fresh infighting.
Also, the Ankara-backed militants started exchanging heavy fire two days ago.
The sources further said that the Ankara-backed militants are blackmailing local people in large scale in different parts of Afrin region, adding that the militants have captured a number of young men in the village of Deibi near Afraz area in Mobata region and asked their families to pay $10,000 each to let them free.
In a relevant development on Thursday heavy infighting erupted between the Turkish army forces and the Ankara-backed fighters in Afrin, increasing tensions in the region.
The Syrian Observatory for Human Rights reported that members of a militant group called 'Olive Branch' engaged in armed clashes with Ahrar al-Sharqiyeh fighters, who are mostly from Deir Ezzur province, leading to injury of a number of gunmen on both sides.
It added that immediately after the clashes, the Turkish police and Ahrar al-Sharqiyeh militants also engaged in infighting, making the former send more forces and military equipment to Afrin.
Full report at:
http://en.farsnews.com/newstext.aspx?nn=13970305000912
--------
Turkey Set to Disband Tahrir Al-Sham in Northwestern Syria via Assassination Operations
May 26, 2018
The sources said that four members of Tahrir al-Sham were killed and several more were wounded in a suicide attack on Tahrir's base in the town of al-Dana.
Also, four more Tahrir members were killed by unknown raiders' gun fire at their vehicle on Idlib-Ma'arat Mesrin road.
In the meantime, a number of Tahrir terrorists were killed in a booby-trap bomb attack on a road in Darkoush region in Western Idlib.
A bomb, planted on a motorcycle, went off on a road connecting al-Dana to al-Tawameh region, killing two Tahrir militants.
A military analyst said Turkey is behind fresh assassination operations against Tahrir in Idlib to undermine and dissolve the terrorist group.
A report said earlier this month that Turkey was excluding the commanders of Tahrir al-Sham Hay'at (the Levant Liberation Board or the Al-Nusra front) who opposed Ankara's new policies in the region in targeted killings by proxy militants.
As a rising wave of assassinations of militant commanders started in Northwestern Syria, sources close to the terrorist groups in Idlib reported that the Turkish army was settling accounts with Tahrir al-Sham commanders who opposed Ankara's policies in Idlib.
They added that bomb attacks in the past few days were conducted by the Turkish intelligence agency, noting that Ankara started assassinating Tahrir al-Sham commanders who opposed the new coalition of militants, mainly by Faylaq al-Sham and Free Syrian Army (FSA) militants.
Meantime, the FSA terrorist group in Idlib, Jeish al-Izzah, Jeish al-Nasr and the Coastal Brigade 1, declared plans to form a new coalition in Idlib with Turkey's financial support and under the command of Faylaq al-Sham.
Full report at:
http://en.farsnews.com/newstext.aspx?nn=13970305000849
--------
New Military Convoys of Turkish Occupying Forces Arrive in Northern Syrian
May 26, 2018
A military convoy entered Syria's soil via Khirbet al-Jowz passageway and headed towards the town of Ashtabraq near the town of Jisr al-Shughour in Western Idlib.
In the meantime, another military convoy of the army forces, including over 20 military vehicles, was dispatched to al-Kabaneh region in Lattakia province after arriving in Northwestern Syria.
Militant sources reported that the army plans to set up a new truce-monitoring point in the region.
Meanwhile, military analysts believe that the Turkish army's deployment in terrorist-held regions in Northern Syria is aimed at preventing the Syrian Army's advances in the region.
In a similar development on Monday, a long convoy of the Turkish troops, including a hundred military vehicles, left the town of Morek in Northern Hama for Shahshabo region in Western Hama after going through Kafr Naboudeh.
Militant-held websites claimed that the Ankara forces have set up the eleventh truce monitoring point in the village of Qazal in al-Ghaab Plain in Western Hama.
Full report at:
http://en.farsnews.com/newstext.aspx?nn=13970305000521
--------
Civilians Expel US-Backed Militias from Region in Northeastern Syria
May 26, 2018
Tens of people in the village of Samihan al-Gharbi near the small town of Tal Barak in Eastern Hasaka stormed patrolling forces of the US-backed People's Protection Units (YPG) and expelled them from their region.
The villagers had previously warned the YPG militias not to enter their region for forced recruiting of the young men.
The villagers threatened to shoot the militias who try to arrest their young men.
In a relevant development on Tuesday, a large number of people in Eastern and Northern Raqqa demonstrated against the forced recruitment of young men by the predominately Kurdish US-backed Syrian Democratic Forces (SDF) in Northern and Western Raqqa.
The SDF embarked on arresting fifty young men in the villages of al-Karama, Hara Balasem and Hamra Boweita in Eastern Raqqa and in the town of Ein Issa in Northern Raqqa under a recruitment plan.
The SDF move angered villagers in al-Karama that took to the village's main street and demonstrated against the Kurdish militias.
Full report at:
http://en.farsnews.com/newstext.aspx?nn=13970305000456
--------
Hundreds of Syria Kurds rally to demand Turkey withdrawal
26 May 2018
Hundreds demonstrated in Syria's northeastern city of Qamishli on Saturday, in response to a call by Kurdish authorities for global protests against Turkey's military presence in the flashpoint Afrin region.
Turkish forces and allied Syrian rebels seized the northwest Afrin region from Kurdish fighters in March, after a two-month military offensive that prompted tens of thousands of people to flee.
Since then, thousands of people displaced from other parts of Syria -- notably the Eastern Ghouta suburb of Damascus -- have been resettled in the emptied city.
Syria's Kurds, who have built up their own autonomous administrations in the chaos of the country's seven-year war, say that amounts to demographic change.
Protests
On Saturday, men and women marched through the Kurdish-controlled city of Qamishli to protest Turkey's military presence.
They waved the yellow, green, and red flag that represents Kurdish part of Syria, as well as signs that read: "No to Turkish occupation."
"Leave, leave, Erdogan! Killer, killer, Erdogan!" many chanted, in reference to Turkish President Recep Tayyip Erdogan.
Ghassan Juli, a 38-year-old resident of Qamishli, described the Afrin developments as a "disaster."
"Our people were forced out, and fighters from other areas were brought to live there," he said.
Her head wrapped in a shawl that matched the Kurdish flag, Bahia Hassan said Afrin's original residents were afraid to return because of fears of abduction or worse.
"Enough killing, enough kidnapping our boys! Enough killing women and children. We won't accept this," said the 45-year-old.
Syria's Kurds control swathes of the country's north, and many of those who fled to Afrin escaped into nearby Kurdish-held territory.
Around 135,000 stayed in the Afrin region, more than a third of them in the urban center that shares the same name, according to the United Nations.
Full report at:
https://english.alarabiya.net/en/News/middle-east/2018/05/26/Hundreds-of-Syria-Kurds-rally-to-demand-turkey-withdrawal.html
--------
Yemeni reprisal attacks: Drones target Saudi airport' in Asir, flights canceled
May 26, 2018
The Yemeni army says its military drones have bombarded a Saudi airport in the kingdom's southwestern province of Asir for the second time in more than a month, forcing the authorities to suspend all flights to and from the regional airport.
Yemen's Arabic-language al-Masirah television network, citing an unnamed official in the air defense unit of the army, said on Saturday that Yemeni drones had targeted Abha International Airport with several airstrikes earlier in the day, inflicting damage upon it.
The official further said the Yemeni army would increase such retaliatory attacks against Saudi bases and facilities in near future.
The report added that in the wake of the airstrikes, Saudi authorities published pictures of the prince of Asir inspecting the damage at the airport.
This as the Saudi-led coalition attacking Yemen said it had foiled an attempted "terrorist" attack by an unmanned drone near Abha airport, Saudi-owned Al Arabiya TV reported.
On April 11, the Yemeni Qasef-1 remote control drones carried out a similar attack on the airport that led to the temporary cancellation of all its flights to Jizan, Jeddah and the capital Riyadh.
Additionally on Saturday, Yemeni artillery fire destroyed a Saudi bulldozer near Alab border crossing in the same province.
In the past couple of months, Yemeni army units, backed by allied fighters from Popular Committees and fighters from the popular Houthi Ansarullah movement, have managed to hit different targets, either military or economic targets, in Saudi Arabia with ballistic missiles, rockets or drone attacks.
However, Saudi Arabia often claims that it intercepts incoming Yemeni missiles, but a close study of evidence by The New York Times last year clearly suggested that in one of the most high-profile of such Yemeni missile attacks, the projectile, launched deep into the Saudi territory, had in fact landed unimpeded, bypassing American-made Patriot missiles and potentially other defenses used by Riyadh. Saudi Arabia claimed that it had foiled that attack, which targeted the Riyadh airport.
Three children killed in Saudi raids
Separately on Saturday, Saudi warplanes conducted airstrikes on Yemen's northern city of Sa'ada, killing three children and wounding 15 other civilians.
Back on October 27, Yemeni forces, using a surface-to-air missile, also shot down a Eurofighter Typhoon warplane belonging to the Royal Saudi Air Force as it was flying east of the Yemeni capital city of Sana'a.
Saudi Arabia and its allies launched the war on Yemen in March 2015 in support of the country's former Riyadh-friendly government. The Yemeni Ministry of Human Rights announced in a statement on March 25 that the Saudi-led war had left 600,000 civilians dead and injured until then.
In one of the deadliest air raids, Saudi warplanes last month targeted a wedding ceremony in Hajjah several times, killing almost 50 people and wounding 55 others. Saudi jets also carried out raids on the ambulances transporting the casualties to local hospitals.
The Saudi-led countries engaged in the war on Yemen have also blockaded the already-impoverished country.
Full report at:
http://www.presstv.com/Detail/2018/05/26/562973/Yemen-Saudi-Asir-drone-Abha-International-Airport
--------
South Asia
NDS Special Forces foil Taliban's bid to carry out coordinated attack in Farah
May 26 2018
The Special Forces of the Afghan Intelligence, National Directorate of Security (NDS), have foiled Taliban's bid to carry out a coordinated attack in western Farah province.
The National Directorate of Security (NDS) in a statement said the Special Forces of the directorate targeted a large compound of the Taliban group in Farah Rod district which the Taliban wanted to use for the attack.
The statement further added that the group's shadow district governor for Khak-e-Safid Mullah Abdul Bari and two other senior commanders in charge of a group of 100 insurgents were using the compound to mobilize forces for the attack.
According to NDS, the militants were looking to target several check posts located along the Farah and Farah Rod highway.
At least fifteen Taliban insurgents were killed during the operation including a commander of the group identified as Lawang, NDS added.
NDS also added in its statement that NDS Special Forces also confiscated six tons of explosives along with several weapons and ammunition during the operation.
The anti-government armed militant groups including Taliban militants have not commented regarding the report so far.
This comes as the group launched a coordinated attack on Farah city nearly ten days ago and managed to briefly take over some parts of the city before the Afghan forces launched a large scale operation to clear the provincial capital.
https://www.khaama.com/nds-special-forces-foil-talibans-bid-to-carry-out-coordinated-attack-in-farah-05245/
--------
'Our families would be killed': Rohingya brace for monsoon
May 27, 2018
COX'S BAZAR: Marooned on a dusty slope in the world's largest refugee camp, Osiur Rahman looked to the hill where a Rohingya girl was buried in a landslide just days earlier and contemplated his chances should the earth give way beneath his feet.
"Our families would be killed. There are children everywhere around here. We constantly fear that rain could trigger a landslide," the 53-year-old told AFP on the steep embankment where he lives with nine family members in a bamboo shack.
For the 700,000 Rohingya Muslims who have fled to southeast Bangladesh in the past nine months, the approaching monsoon season poses the most serious threat since they were violently expelled from Myanmar.
Close to one million of the stateless Muslim minority live in the Cox's Bazar district but the new arrivals, stranded on unstable hills in bamboo and plastic shacks, are especially vulnerable.
A massive operation to shore up the camps against disaster is in overdrive, with bulldozers levelling hills and refugees bunkering down however they can.
But as the rains approach, the young girl's death this month in a torrent of mud and rock has heightened fears of a much greater tragedy.
There is a dearth of safe land to relocate the estimated 200,000 refugees in direct danger of floods and landslides, and just 21,000 have been moved so far.
"We could literally have lives lost as people slide down hillsides and valleys are flooded with water," Kevin J. Allen, head of the UNHCR refugee agency's operations in Cox's Bazar, told AFP.
"They could face yet again another emergency, this time driven by mother nature."
The camps' makeshift homes are predicted to receive more than 2.5 metres (eight feet) of rainfall over three months starting June — roughly triple what Britain gets in a year.
Cox's Bazar has been battered by cyclones for three years running, having already suffered astonishing devastation in the past.
Cyclones have killed tens of thousands along the Bangladesh coast in recent decades and countless more have been swept to their deaths in floods and landslides.
This time, nature is on a collision course with refugees who have nowhere to run -- no higher ground and no cyclone shelters.
The first storms underscored the fragility of the camps: the brief rains turned roads into quagmires, crumbled hillsides and flooded low-lying areas.
The huge endeavour to prevent disaster has seen slopes vulnerable to collapse flattened and extensive canal systems carved throughout the camps.
Toilets are being fortified with sandbags to prevent a major disease outbreak should floodwater meet overflowing latrines.
But there are limits to how much can be done.
Bangladesh has restricted the use of sturdier materials for shelters because it may suggest the Rohingya plan to stay, contrary to Dhaka's desire to return them to Myanmar.
The roof was blown clean off Noor Mohammad's shack in a recent squall. He had gathered chunks of wood and rocks to weigh it down but was "scared of what could pass" when Bangladesh's wild weather barrels through.
The Rohingya are no strangers to the monsoon, he said. But in Myanmar, villages were built to withstand its ferocity and trees provided a bulwark against the elements.
"Here, there is nothing to stop the wind," he said, gesturing to the deforested hills stretching for miles.
Bangladesh has freed up hundreds of hectares (acres) but most is hilly and was prone to landslides even before the Rohingya uprooted trees for shelters and firewood.
Mosques and community centres could shelter 150,000 people if needed, said Kazi Abdur Rahman, acting district administrator of Cox's Bazar.
"But if there is a big cyclone, and all these people need relocating, there is not a system for that yet. It is not possible to shift one million people," he told AFP.
The Rohingya, who have fled persecution time and again, fear being on the run once more.
"Everybody is afraid, wondering where we'll go if our houses are destroyed," Rohingya imam Muhammad Yusuf told AFP.
Aid groups say a cyclone or devastating storm could cut access to the camps for a week — restricting food and supplies to a tent city with a population greater than San Francisco.
The World Food Programme's emergency coordinator Peter Guest said thousands of porters were being assembled to carry food on foot if access roads were cut.
Those left homeless or starving will have nowhere to run anyway: the Rohingya are encircled by military checkpoints and prohibited from leaving.
Full report at:
https://timesofindia.indiatimes.com/world/south-asia/our-families-would-be-killed-rohingya-brace-for-monsoon/articleshow/64338256.cms
--------
NSA Atmar, top Afghan military officials to meet Pakistan's Army Chief
May 26 2018
Afghanistan's National Security Advisor Mohammad Hanif Atmar will meet with Pakistan's Chief of Army Staff (CoAS) General Qamar Javed Bajwa in Pakistan.
Atmar will lead a delegation of high level Afghan military officials who will leave for Pakistan on Sunday on invitation of Pakistan's Prime Minister.
The Office of the President, ARG Palace, confirmed in a statement that National Security Advisor Mohammad Hanif Atmar and senior military officials will visit Pakistan Sunday.
The statement further added that the delegation will depart Kabul based on the instructions of President Mohammad Ashraf Ghani after receiving an invitation from Prime Minister Shahid Khaqan Abbasi to send a delegation to Pakistan.
According to ARG Palace, the delegation will hold talks regarding the situation of Afghanistan, Pakistan, and the region.
No further details have been given by the Presidential Palace in this regard.
This comes as the Afghan and Pakistani officials had earlier agreed to take practical steps regarding the start of the operations of the six working groups upon which President Ghani and Prime Minister Abbasi had reached to an agreement.
Full report at:
https://www.khaama.com/nsa-atmar-top-afghan-military-officials-to-meet-pakistans-army-chief-05246/
--------
North America
Canadian army cadets to be expelled after defacing Qur'an
26th May 2018
By Barry Ellsworth
TRENTON, Canada: Three military cadets in officer training will likely be expelled from the Canadian Forces after desecrating a Quran with bacon and "bodily fluids," authorities said Friday.
The incident, which occurred during the Easter long weekend, came to light after four cadets involved showed a video of the desecration to fellow cadets.
The latter then reported the incident to higher command and Friday, a statement from the military said two cadets were told their release will be recommended while another will be drummed out for unsatisfactory performance.
The fourth cadet received a warning and will undergo counselling.
"Such misconduct goes against our core beliefs and is not tolerated, especially at RMC (Royal Military College) Saint-Jean (Quebec), where our future leaders of the Canadian Armed Forces are trained and educated," the statement read.
Canadian Forces member will not be tolerated, student or not. "Such misconduct goes against our core beliefs and is not tolerated, especially at RMC Saint-Jean," Lieutenant General Charles Lamarre, chief of military personnel.
"Can you imagine if these young people had remained in the army and weren't found out? They would have become lieutenants, colonels, generals," Quebec Imam Guillet said. "The army did what it needed to do, and the message is clear."
But the incident remains troubling for the Forces, which has also had to deal with reports that some of its soldiers are supporters of the far-right Quebec group La Meute, reported The Globe and Mail. Imam Guillet said the desecration is also disturbing because the act of bringing the Qur'an to the cottage party suggests premeditation.
"It certainly wasn't brought along so they could do prayers," he said. He called the act "an insult, an affront to our very presence in the army, and an affront to Canadian values."
Imam Guillet said the incident is also evidence of anti-Muslim sentiment within the military. "There is a small minority that is dangerous and we have to unite to identify it and isolate it. We have to reassure Muslims and say: 'Don't worry. You are part of society and you are welcome in the army as soldiers."
The video, which was not posted on social media, has been destroyed.
The three cadets are appealing the military's decision to oust them and a final ruling will come near the middle of June, according to unnamed Department of National Defense sources.
http://muslimnews.co.uk/news/islamophobia/canadian-army-cadets-expelled-defacing-quran/
--------
US warns Syria of 'firm' action over offensive
May 27, 2018
WASHINGTON - The US has warned Damascus it will take "firm" action if the regime of Bashar al-Assad violates a ceasefire deal, after Syrian aircraft dropped leaflets on a southern province ahead of an expected offensive.
Residents of Daraa told AFP Friday that several different leaflets were scattered across the province, which has borders with Israel and Jordan and is expected to be among the next targets in the resurgent regime's reconquest.
One of them, seen by a journalist contributing to AFP in the city of Daraa, includes a picture showing lined up bodies, presumably of anti-government fighters.
"This is the inevitable fate of anyone who insists on carrying arms," reads the leaflet.
The US State Department issued a statement late Friday saying it was "concerned" by the reports and that the area in question was within the boundaries of a de-escalation zone it had negotiated with Russia and Jordan last year. "We also caution the Syrian regime against any actions that risk broadening the conflict or jeopardize the ceasefire," said spokeswoman Heather Nauert, adding that the ceasefire had been re-affirmed by President Donald Trump and his Russian counterpart Vladimir Putin at a meeting in Vietnam in November.
"As a guarantor of this de-escalation area with Russia and Jordan, the United States will take firm and appropriate measures in response to Assad regime violations," she added.
Syrian regime and allied forces on Monday retook the Yarmuk area in southern Damascus, giving President Bashar al-Assad full control of the capital and its surroundings for the first time since 2012. Daraa's location makes any broad operation there very sensitive, with Israel suspecting Damascus' Iranian allies of seeking to establish a military footprint closer to its borders. Government and allied forces control about 30 percent of Daraa, the rest of which is held by various factions, including a small contingent of fighters from the Islamic State jihadist group.
Syrian army allows pre-2011 conscripts to return home
Syria's army has issued orders to return home for men conscripted for compulsory service in 2010, the year before war broke out, fighters and local media said Saturday. The decision ends the drawn-out deployment of thousands of Syrians who enlisted for the mandatory 18 months of military service in 2010, but who ended up serving for eight years because of the war. Al-Watan, a Syrian daily close to the government, reported that the army had "issued a decision to demobilise the officers and reservists of Recruitment Class 102 as of June 1, 2018".
The decision comes in the wake of a string of military gains around the capital Damascus and in the central province of Homs. Mohammad, 27, has been serving for eight consecutive years after enlisting in 2010, but will finally go home next month. "I feel like I just won a huge battle," said Mohammad, who hails from Syria's second city Aleppo.
"I called my family this morning and told my mom to congratulate me as I'd been discharged. She was surprised and didn't know what to say," he told AFP from Damascus, where he is now deployed.
Before Syria's conflict erupted in 2011, men 18 and older had to serve between 18 months and two years in the armed forces, after which they remained part of the reserves.
But when war broke out, anyone enlisted remained deployed on active duty.
The regime initially lost swathes of territory and its 300,000-strong army was nearly halved by deaths, injuries and defections.
Russian air strikes, local militiamen and fighters from Iran, Iraq, Lebanon and elsewhere have helped it recapture much of the territory it lost.
Mohammad was expecting to serve until 2012, but ended up fighting for years longer along several fronts, including the Eastern Ghouta rebel bastion outside Damascus.
"We've been dreaming of this moment for a long time, and now the dream has become reality," he said.
Syrian state media did not report the decision, while local outlets did not specify how many troops it would impact.
The Britain-based Syrian Observatory for Human Rights war monitor estimated that nearly 15,000 soldiers and reservists would be affected.
Masked attackers kill five rescuers
Five Syrian rescue workers were killed in an attack by masked assailants Saturday on one of their centres in the northern province of Aleppo, the White Helmets said.
The White Helmets said armed men stormed the Al-Hader centre in a pre-dawn attack and fired on the first responders inside.
Four volunteers were killed on the spot and a fifth died later in hospital, it wrote on Twitter.
Founded in 2013, the White Helmets are a network of first responders who rescue wounded in the aftermath of air strikes, shelling or blasts in rebel-held territory.
The Al-Hader centre lies in a part of Aleppo province controlled by Hayat Tahrir al-Sham (HTS), a jihadist organisation whose main component was once Al-Qaeda's affiliate in Syria.
"At around 2:00 am, an armed group stormed the Al-Hader centre, blindfolded the staff members who were on the night shift, and killed five of them," said Ahmad al-Hamish, who heads the centre.
"Two others were wounded and another two were able to flee. The attackers were masked and escaped after stealing some equipment and generators," he said.
It was unclear whether the attack was a robbery-gone-wrong or if the centre and its crew had been specifically targeted.
More than 200 White Helmets rescuers have been killed in Syria's seven-year war, usually in bombing raids or shelling on their centres.
While attacks like the one on Saturday are rare, they have happened before.
In August, seven White Helmets members were killed in a similar attack in the town of Sarmin, in neighbouring Idlib province.
Most of Idlib is held by HTS, as well as a part of Aleppo and the adjacent province of Hama.
Tensions are on the rise there, with a wave of intra-opposition assassinations and clashes leaving at least 20 rebels dead in 48 hours, according to the Syrian Observatory for Human Rights.
"You cannot separate the Al-Hader incident from the assassinations and other killings that have been happening more and more in recent weeks in areas under HTS control," said Observatory head Rami Abdel Rahman.
Full report at:
https://nation.com.pk/27-May-2018/us-warns-syria-of-firm-action-over-offensive
--------
U.S. Sen. Doug Jones visits Alabama mosque
May 27, 2018
U.S. Sen. Doug Jones visited the Hoover Crescent Islamic Center on Saturday night, giving a speech to about 200 Muslims before they broke their daytime fasting with an evening meal after sunset in observance of their holy month of Ramadan.
"The people of this state have so much more in common than what divides us," Jones said.
A coalition of 21 Alabama Muslim organizations sent a letter of congratulations after his election, inviting Jones to visit a mosque to meet with members of the Muslim community and better understand that part of his constituency.
Jones responded to the invitation that was sent after his election from Alabama Muslims who said they supported him statewide over the Republican nominee for senate, former Chief Justice Roy Moore. Moore had made several derogatory comments about Muslims during the campaign.
More than 20,000 Muslim voters - about the margin of victory for Jones - turned out and voted in December almost without exception for Jones, said Khaula Hadeed, executive director of the Council on American-Islamic Relations in Alabama.
Hadeed said Moore had called Islam a "false religion" and made other disparaging remarks about Muslims and their faith. Muslims invited Moore to visit a mosque last year but did not receive a response, she said.
"The fact that Alabama rejected Roy Moore was a really big deal around the country," Jones said. "It sends an incredible message of dignity and inclusion."
Jones, a longtime member of Canterbury United Methodist Church in Mountain Brook, said it was the first time he has been inside a mosque. Officials with CAIR of Alabama said they were not aware of any Alabama senator having previously ever visited a mosque in the state.
Full report at:
https://www.al.com/living/index.ssf/2018/05/us_sen_doug_jones_visits_alaba.html
--------
Europe
UK Arrests Islam Critic For Reporting On Grooming Gang Trial
05/26/2018
Anti-Islam activist Tommy Robinson was arrested Friday outside of a British court hearing on a gang accused of forcing women into sex, prompting protests Saturday.
Robinson was livestreaming on Facebook outside of a Leeds court when police arrested him for allegedly breaching the peace, according to The Independent. The Independent attempted to downplay Robinson's claim of reporting on the grooming gang trial by putting "reporting" in quotes.
Video shows Robinson being whisked off by police as he demands to know the reason for his arrest. "This is ridiculous, I haven't said a word…I've done nothing," he said.
Robinson was sentenced to 13 months in jail for the crime, while the judge prohibited reporting of the verdict within the United Kingdom. No major British outlet reported on the sentence, and Breitbart redacted Robinson's name from its report on the case. (RELATED: U.K. Embraces ISIS Returnees, Cracks Down On Right-Wing Journalists)
According to The Independent, a contempt of court offense can be used to silence reporting on criminal procedures. Robinson was arrested while on a suspended sentence for a similar offense. In 2017, he was arrested and convicted of filming accused rapists as they headed into court.
The judge in that case claimed it was not about "freedom of the press, nor about legitimate journalism, and not about political correctness," but "about preserving the integrity of the jury to continue without people being intimidated or being affected by irresponsible and inaccurate 'reporting.'"
Robinson's supporters claim that he possibly could be murdered in jail due to his marked reputation among Muslim prisoners. The man who founded the English Defence League was assaulted by Muslim inmates during a previous stint in jail in 2014.
A large demonstration took place Saturday in London demanding Robinson's release.
http://dailycaller.com/2018/05/26/tommy-robinson-arrested-reporting/
--------
Police prepare for Muslim extremist clashes on Anjem Choudary's release
May 27 2018
An Islamist preacher accused of inspiring a generation of British jihadists will be released from prison within months, and concern is mounting within police forces and MI5.
Anjem Choudary, 51, who was jailed in September 2016 for urging Muslims to support the terrorist group Isis, is expected to be released on licence in October.
Choudary's release from HMP Frankland, Co Durham, where he is understood to be in a "separation centre", will come halfway through his 5½-year sentence. Next week marks the first anniversary of the London Bridge terrorist attack, masterminded by one of his former acolytes. Eight people died and 48 were injured in the June 3 atrocity.
Anti-terrorism officials at Scotland Yard are concerned Choudary's release will heighten community tension, given his history…
https://www.thetimes.co.uk/edition/news/police-prepare-for-extremist-clashes-on-preacher-s-release-xlj923s9c
--------
Putin: Turkey has right to choose its military aircraft
26 May 2018
Russian President Vladimir Putin said on Friday that Turkey has the right to choose its own military aircraft, amid Ankara's deal to buy missile-defense systems from Russia.
As a NATO member, Turkey decided to buy the best of its class with Russia's S-400 missile defense, Putin said.
His remarks came during a meeting with officials of leading global news agencies, including Turkey's Anadolu Agency, as part of the St. Petersburg International Economic Forum.
Under an accelerated timetable for the S-400 deal, Russia's first deliveries of the S-400 to Turkey are due in late 2019 or early 2020.
Full report at:
http://www.worldbulletin.net/europe/202450/two-killed-in-marseille-shooting
--------
India
Telangana Govt. On The Footsteps of Centre; Changing Muslim Identity of Places
May 26, 2018
Hyderabad: While the Telangana government raise the slogan of secularism and Hindu-Muslim unity and tries to appease Muslims by narrating the achievements of Nizam of Hyderabad, on the other hand, it is trying to impose a specific Hindu culture on the people in a planned manner. As the BJP government at the centre, at the behest of Sangh Parivar, had changed the areas symbolic to Muslim rulers or Muslim culture and introduced the matter related to a particular culture in the syllabus books. Similarly, KCR government also wants to impose a particular culture in Telangana. He is busy in changing the names of the districts having a Muslim identity. KCR government divided 10 districts of Telangana into 31 districts. At that time Telugu and Hindu culture was attached to some famous districts having Muslim names so that in future the Muslim names would go into the background and the areas could be identified with Hindu names.
The Hindu name Komaram Bheem was attached to Asifabad district. Not a single new district was named after a Muslim personality. Had KCR been secular, he would have named the new districts after the name of any family member of Nizam of Hyderabad. Instead, he named a district after Prof Jaishankar who was his teacher.
The new districts like Bhadradri and Yadadari are named after Hindu temples. Similarly, Mahboob Nagar has been changed to Palamoor.
https://www.siasat.com/news/ts-govt-footsteps-centre-changing-muslim-identity-places-1360565/
--------
Faizabad village sets example of harmony and Hindu-Muslim unity
May 27, 2018
In an exemplar of communal harmony and brotherhood, the Hindu and Muslim communities in Faizabad's Dehriyawan village, have been living together peacefully since 40 years.
"We have a mutual understanding amongst ourselves to not interfere during each other's prayer time. Our namaz time is fixed and our Hindu friends never disturb us. You cannot find a village as peaceful as ours," a local, Haji Mohammad Wasim told the news agency.
The village located at Ganga Jamuni Tahajib under Bikapur Tehsil has a temple and a mosque, adjacent to each other where both communities pray peacefully without being disturbed by the other. Even in 1992, when the Babri Masjid was demolished in Ayodhya, no riot broke out among people here.
The Ram Janambhoomi-Babri Masjid dispute is a century-old point of a tussle between Hindus and Muslims.
The mosque was demolished by Hindu Karsevaks on December 6, 1992, in Ayodhya. Following which the country witnessed massive riots that claimed lives of over 2,000 people.
"Hindus and Muslims have always peacefully coexisted here. Even when the Babri Masjid incident took place there was no riot here" said a resident, Gaya Pati.
"There is no conflict between the two communities here. We respect each other's prayer practices," said another.
Full report at:
http://www.dnaindia.com/india/report-faizabad-village-sets-example-of-harmony-and-hindu-muslim-unity-2618988
--------
Muslim Man Thrashed in Kanpur Over 'Relationship' With Hindu Girl, Video Goes Viral
May 27, 2018
Lucknow: A youth from Uttar Pradesh's Kanpur district was brutally thrashed by a group of men at a railway station platform after he admitted that he was in a "relationship" with a Hindu girl.
The incident, which took last week, came to light after a video showing 21-year-old Rizwan being beaten up went viral on social media on Friday, a Times of India report stated.
The video shows Rizwan sitting on a bench at Kanpur district's Barrajpur railway platform and being asked to narrate details of his relationship with a Hindu woman. The youth had gone to drop the woman at the railway station.
In the video, the men can be heard repeatedly hurling abuses at Rizwan in Hindi, asking him to identify the woman's name and his own.
He is also threatened to make admissions of intercourse with the girl on camera as the men film him while warning him that such incidents would be shared with Bajrang Dal and "exposed" in media. The man is heard making pleas to leave him alone.
Rizwan, also known as Samir, runs a salon in Rahmatnagar of Chaubepur village in Kanpur. While he has claimed that the men have affiliations to a Hindu outfit, police say the details were being ascertained.
According to the report, UP government confirmed that a case has been registered by government railway police (GRP) against four assailants, of which two have been identified as Mohan and Bhole Dubey.
"The matter was brought to our notice and probe has already begun. We will arrest all accused," UP Police spokesperson Rahul Srivastava told TOI.
Full report at:
https://www.news18.com/news/india/muslim-man-thrashed-in-kanpur-over-relationship-with-hindu-girl-video-goes-viral-1760745.html
--------
Kanji broth from south India adds unique flavour to Dubai iftar
May 26, 2018
In the winding lanes of Deira sandwiched between garment shops and restaurants, about 6,000 men break their fast daily with a sip of a special broth that is popular in southern India during Ramadan.
Seated on orange and blue tarpaulin stretched out across narrow paths leading to three mosques, thousands of workers in Dubai's lively shopping district drink from plastic containers filled with kanji.
This rice porridge is also served in mosques to the faithful in India's Tamil Nadu state during the holy month.
Word of the nutritious kanji filled with broken rice, minced meat and tempered with Indian spices has spread beyond low income workers to tourists from the UK and businesspeople from Africa.
Families from other emirates also flock to Deira's Kuwaiti Mosque that attracts the biggest numbers.
From serving just 50 people in 1976, crowds have now grown to more than 5,000 people around Kuwaiti mosque, located behind Dubai's old Gold Souk, alone.
The remaining kanji boxes are distributed near two other Deira mosques.
The practice began 42 years ago when a group of men from Tamil Nadu decided to give Indian workers a special treat to remind them of iftar at home.
The kanji was initially prepared in people's homes and then moved to makeshift cooking stations near the mosque.
"We cooked this Indian speciality in a shed on the street and separated the area with a metal partition so it would not affect the business of shopkeepers nearby. That was 20 years ago when the numbers were still at 500 people," said Illias Khan, who owns an air conditioning business and has volunteered with organisers the Iman Cultural Centre for the past two decades.
Fire safety rules then shifted the cooking to a warehouse in Al Quoz.
"Kanji is not normally available in Dubai so it is something unique during Ramadan," he said.
The unusual nature of the porridge attracts new people every day with more than 1,000 queuing up more than an hour before iftar to be handed containers of the aromatic white broth.
Some take it to workers' accommodations to break their fast with friends, others said they gave it to elderly relatives who could not make it to the mosque daily.
A system of handing out tokens has helped regulate the long queue and control crowds that grow restive when groups of men elbow their way to the front to gain quicker access to the kanji.
Shouts of "line, line, go back" erupt to deter any attempt to skip the queue.
Small shops along the street selling embroidered garments and abayas are shut for two hours in the evening as volunteers spread out the tarpaulin and lay out the kanji containers along with servings of oranges, dates, laban, water and samosas, a spicy deep-fried snack for each person.
An Indian family from Sharjah wanted to check if it was exactly the food they remembered from home.
"It is good to sit with the children and eat the kanji so they know what it was like for us to break our fast at home. This is good but not as spicy as in Tamil Nadu," said Yasmin Ahmed, a housewife who took her young son to a private area for women inside the mosque while her husband broke his fast outside.
Spices are an essential ingredient of the kanji that simmers for more than an hour-and-a-half in large aluminium vats in an Al Quoz warehouse.
A group of cooks work two shifts. The men scrape 180 coconuts, clean sacks of broken rice, soak lentil in buckets of water the night before and cut heaps of onions and tomatoes to keep essential ingredients ready for the second shift that prepares the kanji the next morning.
The heat from the massive vats to which chopped meat is added is so intense that the kitchen staff fire up only one 500litre vessel at a time.
"Coping with the heat is the most difficult during Ramadan. We cook in one vat and start on the next as the first one cools down," said Usman Ali, owner of the Chennai Darbar Restaurant
"Biryani is more famous in the UAE. People may not know kanji here but in Tamil Nadu it is always served to break roza (fast) in the mosques. On an empty stomach this gives a quick release of energy to people who are fasting. The methi (fenugreek) seeds and yoghurt we add cools the body that gets heated up during the day and is very good for digestion."
A truck fitted with a small crane lifts up each 300kg crate load filled with boxes of kanji to transfer the containers to the mosques.
More than 100 volunteers come together after work to distribute the iftar meals to three mosques in Deira.
"Volunteers come in after office and they stay to clear up after the crowds leave," said Hameed Yasin, a logistics manager and general secretary of the Iman Cultural Centre that annually coordinates the effort between companies that chip in with supplies, kitchen staff and transport.
"Seeing the smiling, happy faces of people when they get the kanji gives our bodies all the energy we need."
The registered charity also organises medical camps for workers.
Their work began when the small group of men launched the Ramadan kanji initiative that they funded themselves as part of the Indian Muslim Association.
The massive effort now requires daily co-ordination since the numbers can spike as usually happens over the weekend.
Full report at:
https://www.thenational.ae/uae/heritage/kanji-broth-from-south-india-adds-unique-flavour-to-dubai-iftar-1.734090
--------
Nagrota attack: NIA arrests Kupwara resident; preliminary interrogation reveals Jaish-e-Mohammad's involvement
by Basharat Masood
May 26, 2018
THE NIA on Friday arrested a resident of Kupwara in connection with the attack on an army camp in Nagrota in November 2016, in which seven personnel, including two officers, were killed.
"Today, ie on 26-5-18, NIA arrested Syed Muneer-ul-Hassan Qadri, resident of Khurhama, Lolab, Lalpora, Kupwara in NIA case RC-16/2016/NIA/DLI. The Jammu and Kashmir Police have played a key role in the arrest of the accused," NIA spokesman, Inspector General (IG) Alok Mittal said.
"Preliminary interrogation of the arrested accused revealed that the attack was carried out by Jaish-e-Mohammad, a banned terror group, in furtherance of a well-planned conspiracy in Pakistan," he said.
"The accused revealed that he, along with other Valley-based JeM operatives, were in touch with the JeM leadership in Pakistan and had received a freshly infiltrated group of three Pakistani terrorists from the Samba sector a day before the attack," he said. "They subsequently stayed at a hotel in Jammu and then left the attackers at Nagrota, outside the army camp, late at night and proceeded to the Kashmir Valley," he said.
Full report at:
http://indianexpress.com/article/india/nagrota-attack-nia-arrests-kupwara-resident-5192422/
--------
Southeast Asia
Defendant of terrorism Strongly Condemns Involvement of Children in Terror Acts
26 May 2018
JAKARTA, NNC - Defendant of terrorism case Oman Rochman aka Abu Sulaiman bin Ade Sudarma aka Aman Abdurrahman strongly condemns the involvement of minors in terror acts.
He mentioned that suicide bombers in Surabaya and Sidoarjo, East Java, were mentally ill people who did not understand the teachings of Islam.
"Two incidents in Surabaya I say, people who do or call it jihad are people who are sick of their souls and frustrated with life," said the defendant Oman in an appeal trial at the South Jakarta District Court on Friday (5/25/2018).
According to him, the incident of a mother who led her daughters to blow herself up in a church yard is an impossible act from people who understood the teachings of Islam and the demands of jihad.
"It is not even possible to arise from a healthy person. Likewise, a father who is riding his little girl and blowing himself up in front of the police station, the child was thrown away and thank God alive. That is a cruel act with the pretext of jihad," he said as quoted by Antara.
As is known, Oman was designated as a suspect in the case of Thamrin bombs, the bombing of the Church of Oikumene in Samarinda, the bombing case of Kampung Melayu terminal, as well as the assault cases in Bima, West Nusa Tenggara (NTB) and Medan. He is accused of playing the role of mastermind behind those terrors.
http://www.en.netralnews.com/news/currentnews/read/21386/aman.abdurrahman.strongly.condemns.involvement.of.children.in.terror.acts
--------
Civilian 'Suicide Squad' finds Moro pride in saving Marawi lives
May 27, 2018
Emely Comaling recalled having had a hard time memorizing an Islamic prayer that her Muslim colleagues had taught her. But it was something she had to master—for her life depended on it.
By reciting the prayer, she could pass herself off as a Muslim — and be spared from harm — should Islamic State-inspired gunmen ask for her identity.
"Right now, I really don't remember any Islamic prayer that was taught to me. I only remember greetings like 'Assalamualaikum' (peace be with you)," said Comaling, one of the Christians who were trapped in Marawi during the five-month siege of the city last year.
Comaling recalled her experience in a panel discussion during the launch of the documentary film "Maratabat: Mga Kuwento ng Kagitingan sa Marawi" (Honor: Stories of Valor in Marawi), at Yuchengco Museum in Makati City on Thursday, a day after the first anniversary of the siege.
Family honor
"Maratabat" means "sense of pride and honor" in the Maranao dialect. For families belonging to the Moro ethnic group, the loss of such honor could be enough to trigger a clan feud, or a "rido."
But in the context of the Marawi war, it also means finding pride in helping and saving one's fellowmen in life-and-death situations and later helping them heal and rebuild.
"Maratabat" is thus applicable to non-Muslims, said Nor-ain Ahmad Mohammad, a youth leader and one of the residents of the Marawi area that became "ground zero" of the military operations.
Prominent Lanao clans
The documentary recounts the deeds of the "Suicide Squad" — a group of volunteers from prominent clans in Lanao del Sur — who rescued people trapped at the height of the Marawi siege. It highlights the stories of Muslims who helped Christians avoid being captured by terrorists.
Also featured is the peace-building organization International Alert Philippines, whose officials spoke on the importance of local knowledge and context in the rebuilding process.
Comaling, who was originally from Davao City and now a project officer of Maranao People Development Center Inc. (Maradeca), a nongovernment organization based in Marawi, recalled how she feared for her and her family's safety after reading social media posts about terrorists beheading Christians in the city.
Men in black outfits, she said, roamed the streets and asked incriminating questions of people they met.
Comaling narrated how her Muslim friends lent her their hijab, the head covering worn by Muslim women, so she could look just like them.
Saripada "Tong" Pacasum Jr., a member of Suicide Squad and head of the Lanao del Sur local disaster risk reduction and management office, said he had to lie to his family to pursue the group's mission. "I told my daughter I was not a part of the operations she had watched on TV," he said.
Rescue hotline
Pacasum and his fellow volunteers went in and out of the city, first to save their relatives. They increasingly became organized and came up later with a rescue hotline number, through which they received more distress calls about people trapped in the city.
Armed only with basic protective gear like white helmets, they entered the main battle area by car.
Looking back, Pacasum said, what he did was part of his "jihad" (struggle) to stand for fellow Muslims. "We should not be complacent. We should not leave our people alone so that Marawi won't experience another siege in the future," he said.
Aid lacking for evacuees
A year after the siege, Salic Ibrahim, Maradeca's chief executive officer, noted that residents forced to flee the fighting remained at the evacuation centers, coping with inadequate aid.
The water supply has particularly become a problem in this holy month of Ramadan, as the evacuees need it for religious purposes like ablution, aside from cooking meals before and after their daily fasts. Some of the food coming from foreign donors proved unappetizing for the children, Ibrahim also noted.
"The mind-set of those who want to help us should not just be [confined to] 'evacuation system.' This is not like the situation after Supertyphoon 'Yolanda,'" Ibrahim said.
While Marawi has been receiving aid from different countries, International Alert stressed that the residents should learn to stand by themselves and that rebuilding efforts should be placed primarily in the hands of the locals.
A local solution should be found for a local problem, the documentary said, echoing the group's stand. "We need to remember and build upon the many instances when ordinary people fought against terror, rescued the vulnerable, and generously shared their food and resources at the height of the crisis."
It called on viewers to remember May 23, 2017, not only for the blood spilled in Marawi but also for the humanity that shone through the bravery of those who risked their lives to save those trapped in the combat zones.
Martial law acceptable
In an interview, members of Suicide Squad said they found the imposition of martial law in Mindanao acceptable because it was "different from martial law during the Marcos regime."
With martial law in place, the movement of firearms within the island is minimized, Ibrahim said.
The screening of "Maratabat" on Thursday also featured a photo exhibit by Mindanao-based photojournalists Ferdinandh Cabrera, Manman Dejeto, Bobby Timonera and some Marawi residents.
The documentary was written and narrated by journalist Ed Lingao, and produced with the support of Australia's Department of Foreign Affairs and Trade.
Full report at:
http://newsinfo.inquirer.net/994574/civilian-suicide-squad-finds-moro-pride-in-saving-marawi-lives
--------
Muslims can boost narrative of Islam, says President
Zhaki Abdullah
May 27, 2018
The acts of radicals who kill and maim in the name of Islam have fuelled a negative narrative of the religion, but there are ways for the community and individual believers to respond positively, said President Halimah Yacob.
Speaking at a Ramadan charity iftar (breaking of the fast) yesterday organised by Berita Harian, where she and her husband joined others in serving porridge to beneficiaries, President Halimah said the sharing of a meal with the less fortunate is in line "with the true spirit of Islam which encourages its adherents to always care for the community".
She added that it is common in Singapore to find people of different faiths breaking fast together, which strengthens bonds between communities and deepens understanding of Islam as a benevolent and compassionate religion.
Similarly, there is much that individual Muslims can do in their daily lives to counter the negative narrative and to develop trust and confidence from other communities, said the President.
"When people have pleasant experiences with us and find Muslims to be responsible, hard-working, trustworthy and caring, they will view Islam positively," she added.
Held at Wisma Geylang Serai - the new Malay-Muslim social, cultural and heritage hub opened earlier this month - the iftar was attended by more than 150 beneficiaries of various races and religions.
The event also saw Berita Harian, the Malay language daily of Singapore Press Holdings, raise $30,000 for the President's Challenge, of which $20,000 was donated by property and logistics solutions firm MES Group.
Recounting her interactions with the Grand Imam of Al-Azhar University, Dr Ahmed Al Tayyeb, when he visited Singapore recently, President Halimah said he expressed his strong regret over the use of Islam by deviants to commit bloodshed that had fuelled perceptions of Islam as a violent and destructive religion.
Full report at:
https://www.straitstimes.com/singapore/muslims-can-boost-narrative-of-islam-says-president
--------
Strong support for petition amid concerns over incoming minister's Salafist leanings
May 19, 2018
PETALING JAYA: The naming of a former academic as the new education minister has not gone down well with critics and rights activists, many of whom point to his leanings to Salafist Islam, the version of Islam similar to the one practised in Saudi Arabia that has inspired a host of controversial laws.
Critics have also raised concerns over Maszlee Malik's past statements speaking out against non-Sunni followers, in line with the stand by Islamic authorities in Malaysia.
Some have expressed disappointment with Prime Minister Dr Mahathir Mohamad's decision to give up the education portfolio.
An online petition that was started yesterday evening among others said Mahathir was the best man for the job, saying he would "bring much needed reforms to the education system in this country".
Within less than 24 hours, the petition on change.org is fast reaching its target of 50,000 signatures, with over 40,000 signing it as at 1pm today.
Mahathir had initially named himself as the education minister, but was criticised for breaking a Pakatan Harapan (PH) promise that the prime minister would not hold any other portfolio.
"I cannot break (the promise) at the moment, unless of course there is a demand that I take up the education portfolio," he said yesterday in announcing Maszlee as the replacement.
In the May 9 polls, Maszlee won the Simpang Renggam seat in Johor, beating Barisan Nasional's Liang Teck Meng.
But there have been concerns that Maszlee, a lecturer at the International Islamic University before joining PPBM last March, had in the past sympathised with Muslim preacher Dr Zakir Naik, who is wanted in India over allegations of money laundering and extremism.
Known for his speeches critical of Hinduism and Christianity, Naik was granted permanent residence status by the previous government, sparking outrage among non-Muslim and civil groups who said his presence was a threat to religious harmony.
But he has received support from Perlis mufti Mohd Asri Zainul Abidin, who is also closely associated with Maszlee.
Close to Perlis mufti
Maszlee was part of the Perlis fatwa committee when Asri first held the post some ten years ago.
Asri and his Perlis mufti department have come under scrutiny from a Human Rights Commission of Malaysia's (Suhakam) panel hearing into the case of missing Perlis activist Amri Che Mat, after the mufti was accused by Amri's wife for harrassing her family for adhering to Shia Islam, which Asri had condemned as a threat to national security.
"After my own experience of listening to Maszlee Malik, that liberals should really look past his smiling, articulate facade. He is after all a close brother in arms of the Perlis Mufti, who is yet another hardliner pretending to be 'moderate'," activist Sheryll Stothard, who has been helping Amri's family in the Suhakam probe, wrote on Facebook.
Vocal lawyer Siti Kassim, who is also involved in the Suhakam probe, was more hard-hitting, describing Maszlee as an intolerant Muslim who portrays himself as "accommodating and open".
"His stand is not acceptance but tolerance. Maybe that is enough for some people but when people talk about tolerating a necessary evil and they are referring to marginalised communities and non-Muslims. The line should be drawn there," she said on her Facebook.
"He considers Muslim like me as sesat (deviant)."
Full report at:
http://www.freemalaysiatoday.com/category/nation/2018/05/19/strong-support-for-petition-amid-concerns-over-incoming-ministers-salafist-leanings/
--------
List of moderate Islamic preachers needed: Scholar
May 26, 2018
Islamic organizations should make their own list of moderate preachers to promote religious moderation, a renowned Muslim scholar has said following the Religious Affairs Ministry's release of a similar document.
"The Indonesian Ulema Council [MUI] or other Islamic organizations should make their list, and they should cooperate with Islamic universities in making the list so that the names on it could be academically assessed," Azyumardi Azra of the Syarif Hidayatullah State Islamic University in Jakarta said as quoted by tempo.co.
He said the preachers should meet certain standards and such requirements were needed to prevent provocative preaching.
Preachers in countries like Singapore, Malaysia and Egypt, he added, must be licensed to give a sermon.
"Indonesian preachers do not have to obtain a permit, but the freedom is often misused," he said.
The list of moderate preachers released by the Religious Affairs Ministry has stirred public debate, but the ministry defended the move, saying that those who were included had met a series of criteria.
According to Religious Affairs Minister Lukman Hakim Saefuddin, the list was made to cater to the public's demand for moderate preachers.
There are three criteria for moderate preachers, according to the ministry, namely competency in understanding Islamic teachings, experience in preaching and a commitment to preserving the nation's values of unity.
Full report at:
http://www.thejakartapost.com/news/2018/05/26/list-of-moderate-islamic-preachers-needed-scholar.html
--------
Sabah govt to look into changes in state policies, says Mohd Shafie
26 May 2018
PENAMPANG, May 26 — The Sabah state government will look into changes in the state policies for the benefit of the people, said Sabah Chief Minister Datuk Seri Mohd Shafie Apdal.
He said some of the policy changes would include the issuance of deep-sea fishing licences at the state government level.
"All this while, only the federal government has the authority to issue deep-sea fishing licences. However, the state government will study the matter so that it will have the authority to issue the licences," he said when officiating an extraordinary general meeting of the United Pasokmomogun Kadazandusun Murut Organisation (UPKO) here today.
Mohd Shafie said the state government, led by Parti Warisan Sabah (Warisan), together with Pakatan Harapan and UPKO, would ensure consistency in serving the people, including fulfilling the promises of their election manifestos.
"If we (the state government) fail to fulfil the promises, we will be rejected (by the people) in the next general election," he said.
Mohd Shafie, who is also Warisan president, said that the new government would not ignore the welfare of other religions in the state, apart from fighting for Islam.
Earlier, Sabah Deputy Chief Minister Datuk Seri Wilfred Madius Tangau, who is also UPKO acting president, said the assembly approved three motions, namely, to support the Supreme Council's decision to postpone the party's divisions and branches' triennial general assembly, for not more than six months from April 21.
"To support and recognise UPKO Supreme Council decisions to quit the Barisan Nasional (BN) coalition and the party's move to set up a coalition government with Warisan, DAP and PKR to continue the party's struggle, as well as to approve the proposed amendments to the party's constitution," he said.
In the 14th general election on May 9, Pakatan Harapan which is made up of Bersatu, DAP, PKR and Amanah defeated the Barisan Nasional (BN) which had been in power in the country for six decades.
Full report at:
https://www.malaymail.com/s/1635313/sabah-govt-to-look-into-changes-in-state-policies-says-mohd-shafie
--------
Mideast
Iran detains professor over insulting Sunni Muslims
May 26
TEHRAN, Iran — Iran's state-run IRNA news agency is reporting that the country's authorities have detained a university professor over insulting Sunni Muslims.
The Saturday report said that, after locals voiced their anger, forces from the country's powerful Revolutionary Guard detained a professor of Persian Literature at Azad University in the southeastern province of Sistan and Baluchistan for posting a video online insulting Sunni Muslims.
Though most Iranians are Shiite, Iran's eastern Baloch region is majority Sunni. Zahedan city, the provincial capital of Sistan and Baluchistan, has been the scene of occasional clashes between Iranian forces and Baluch separatists.
https://www.washingtonpost.com/world/middle_east/iran-detains-professor-over-insulting-sunni-muslims/2018/05/26/9cebb88c-60f6-11e8-b656-236c6214ef01_story.html
--------
Iran Doesn't Really Care about Muslims If They're In China or Russia
27/05/2018
Iran's official propaganda depicts the country's head of state Ayatollah Ali Khamenei as the "Guardian Commander of Muslims" — Vali-ye Amr-e Moslemin. He is said to be the protector of Muslims all over the world and a champion of the Palestinian cause.
However, the regime in Tehran repeatedly turns a blind eye to the sufferings of Muslims in Russia and China, both of which are considered strategic allies by Iran in its struggle against the United States.
The most recent example of the regime's hypocrisy was Khamenei's first reaction to the new US Embassy in Jerusalem and the clashes between Israeli security forces and Palestinian protesters. On May 17, Khamenei thundered against Israel: "Beit al-Moqaddas (Jerusalem) is the capital of Palestine. America and those greater or smaller than America and its satellites can't do a damned thing about the divine truth and tradition of Palestine."
He asked God for absolution for the sins of "the martyrs of Palestine" and prayed for "greater resilience and resistance" for the "warriors of the path of righteousness and the holy warriors of the path of God."
Remarkably, Khamenei did not utter a single word about the Chinese government's decision to dispatch more than 1 million Communist officials to live with Muslim families in the western region of Xinjiang. The so-called home stays serve the purpose of political indoctrination of China's Uyghur Muslim population. It constitutes the most invasive form of government surveillance of citizens.
Iran has been just as silent about re-education camps, in which the Chinese government incarcerates tens of thousands — if not hundreds of thousands — of Muslims. The Independent reported that Chinese Muslim detainees are forced to drink alcohol, eat pork and denounce their religion in Maoist "self-criticism" group sessions.
The agonies of China's 22 million Muslim population are not new nor is Khamenei's silence about it.
During the July 2009 Urumqi riots, which led to the death and post-riot disappearance of Muslim Uyghur activists, the Ahmadinejad government described the Uyghurs as "terrorists."
At the time, the Tabnak News Agency, which was close to the former chief commander of the Islamic Revolutionary Guard Corps, Mohsen Rezaei, offered an interesting response. It published a reader comment: "Is there difference between Muslims? How come our honourable president constantly thinks about the Muslims of Gaza but ignores Chinese Muslims?"
The Theological Seminary in Qom issued a public statement condemning "killing of many Muslims and closure of mosques in the hands of a racist bunch" but Khamenei, the self-proclaimed Commander Guardian and protector of Muslims, remained silent.
Tehran is just as silent when it comes to the plight of the Muslim population of Russia, in particular Chechens. This silence raises questions about the Iranian regime's sincerity on the Palestinian and other Islamic causes. These appear to be a matter of expediency rather than belief.
When there is any criticism, regime spokesmen make vague references to "realism" and "raison d'etat," none of which figures prominently in Khamenei's dealings with the United States or Israel. In the case of the United States and Israel, the ayatollah takes upon himself the mantle of anti-Americanism and anti-Zionism.
Full report at:
https://thearabweekly.com/iran-doesnt-really-care-about-muslims-if-theyre-china-or-russia
--------
Dozens of Palestinians injured by Israeli gunfire in Gaza border protests
May 26, 2018
GAZA BORDER: Dozens of Palestinians demonstrating at the Gaza border were injured by Israeli gunfire and tear gas on Friday, as the latest round of protests drew several thousand participants to the frontier.
Dubbed the March of Return, the protests were launched on March 30 to demand the right of return for Palestinian refugees and their descendants to family lands or homes lost to Israel during its founding in a 1948 war.
Protests along the border reached a peak on May 14 when Gaza medical sources said at least 60 Palestinians were martyred by Israeli gunfire. The violence has tapered off since but there are still sporadic flare-ups.
Since the border protests began, 113 Palestinians have been martyred by Israeli fire, Gaza medical officials said.
Most of the participants on Friday kept their distance and remained about 800 meters from the fence. Dozens of youths, however, advanced to around 300 meters distance and burned tires at one protest spot. East of Gaza City some youths came right up to the fence and tried to pull it apart.
Israeli troops fired tear gas and live rounds. Soldiers also fired at kites with flaming tails to try to bring them down before they landed in Israeli farmland and set crops alight.
Gaza health ministry officials said at least 109 protesters were hurt. Medics said at least 10 were wounded by live rounds.
Hamas chief Ismail Haniyeh and the group's Gaza leader, Yehya Al-Sinwar, joined separate protest encampments raising cheers from the assembled crowds.
"The marches of return are not over. They may be smaller but we are continuing," said Ali, a participant who masked his face with his t-shirt at a protest east of Khan Younis in the southern Gaza Strip.
Protesters dispersed as dusk fell to prepare to break their daytime fast during the Muslim holy month of Ramazan.
Gaza has been controlled since 2007 by Hamas. Israel and Egypt, citing security concerns, maintain a de facto blockade on Gaza, which has reduced its economy to a state of collapse.
Full report at:
https://nation.com.pk/26-May-2018/dozens-of-palestinians-injured-by-israeli-gunfire-in-gaza-border-protests
--------
UN official condemns detention of humanitarian staff in Yemen
26 May 2018
The United Nations condemned on Friday the increasing restrictions on the work of relief organizations and humanitarian agencies, the detention and intimidation of its staff in the northern areas under Houthi control in Yemen.
The UN Emergency Relief Coordinator Mark Lowcock said: "Humanitarian staff are being detained and intimidated and visas are being delayed and denied. Programmes and missions are being interfered in ways which contradict humanitarian principles."
The UN official said that one quarter of Yemen's children are out of schools, and not only deprived of education but also at risk of recruitment by armed groups and exploitation as the statement puts it.
He said that public employees in the health and education sectors in the northern region under the control of Houthi militias have not been paid their salaries till now.
Expressing his concerns regarding the humanitarian situation in Yemen, Lowcock said that more than 22 million Yemenis are in need for humanitarian assistance or protection, of whom around 8.4 milion are at risk of starvation.
"If conditions do not improve, a further 10 million people will fall into this category by the end of the year," cautioned Lowcock.
He welcomed the decision of by all parties to open a medical air bridge from Sanaa to Saudi Arabia and Egypt to transport patients with conditions that cannot be treated in Yemen to facilities where they can receive the help they need
Full report at:
https://english.alarabiya.net/en/News/gulf/2018/05/26/UN-accuses-Houthi-of-intimidating-international-staff.html
--------
Lebanon at forefront of fight against Israel extremism: Iran's Rouhani
May 26, 2018
Iranian President Hassan Rouhani says Lebanon stands at the forefront of the fight against the Israeli regime's extremism.
Rouhani on Saturday extended his congratulations to Lebanese President Michel Aoun on the occasion of the 18th anniversary of Lebanon's Resistance and Liberation Day, which marks the withdrawal of the Israeli army from the Arab country's southern territory.
"Undoubtedly, Lebanon stands at the forefront of the fight against the Zionist regime's extremism," the Iranian president said, adding that "convergence and unity in the golden triangle of the [Lebanese] government, army and resistance [front] have played a leading role in achieving this big victory."
He once again expressed Iran's strong support for the establishment of stability and peace in Lebanon.
The Israeli regime first invaded Lebanon in 1978 and later escalated the military operation into a full-scale offensive in 1982.
Following the 1982 offensive, known as the First Lebanon War, Tel Aviv refused to leave southern Lebanon and kept its military presence there in defiance of UN Security Council Resolution 425 that called on the regime to immediately withdraw.
However, the Zionist enemy eventually buckled under the resistance put up by Hezbollah fighters and pulled out its forces from the occupied areas overnight on May 24, 2000, in what observers call a humiliating defeat for the regime in Tel Aviv and a glorious victory for Hezbollah.
During the 22-year entanglement with Lebanon, the Israeli military took heavy blows from Lebanese resistance fighters and reportedly lost some 900 of its soldiers.
Full report at:
http://www.presstv.com/Detail/2018/05/26/562993/Rouhani-Hezbollah-Michel-Aoun-Resistance-Liberation-Day
--------

Yemen: Airstrike hits gas station in Sana'a, killing four
May 27, 2018
At least four people are believed to have been killed and at least ten wounded after an airstrike allegedly carried out by the Saudi-led coalition in Sana'a, on Saturday.
According to Yemeni officials, the Saudi-led coalition launched an airstrike, targeting a gas station affiliated to a state-run oil company in Yemen's capital. Earlier in the day, eight other airstrikes were reportedly carried out in Hodeidah province, hitting the communications networks in Salif city.
The Saudi-led bombing campaign continues in Yemen with US backing, with casualty figures exceeding 16,200 people since the beginning of the conflict in March 2015.
A reported 40,000 have been injured and more than two million people have been displaced.
Full report at:
http://www.presstv.com/Detail/2018/05/27/563015/Yemen-Airstrike-hits-gas-station-Sanaa-kill-four
--------
Israel warplanes target multiple Hamas positions in Gaza Strip
May 26, 2018
Israeli fighter planes have carried out airstrikes on locations to the south of the besieged Gaza Strip, say Palestinian security sources.
One of the Saturday night airstrikes was on a position belonging the Ezzedine al-Qassam Brigades, the military wing of Hamas, in the southern town of Rafah.
The other was on a position belonging to the the Palestinian Islamic resistance movement, Hamas, located in Khan Yunis.
The Israeli military confirmed the attacks in a statement in which it claimed they were carried out in retaliation to Palestinian's repeated attempts to cross and damage security fences and infrastructure during protests.
Tensions have been running high along the Gaza fence since March 30, which marked the start of a series of protests, dubbed "The Great March of Return," demanding the right to return for those driven out of their homeland.
The Gaza clashes reached their peak on May 14, the eve of the 70th anniversary of the Nakba Day (the Day of Catastrophe), which coincided this year with the US embassy relocation from Tel Aviv to occupied Jerusalem al-Quds.
At least 65 Palestinians were killed and more than 2,700 others wounded as the Israeli forces used snipers, airstrikes, tank fire and tear gas to target the Gaza demonstrators on May 14.
At least 116 Palestinians have been killed by Israeli fire in the Gaza Strip since the protests broke out.
The Israeli military frequently bombs the Gaza Strip, with civilians being the main target of such attacks.
Israel has also launched several wars on the Palestinian coastal sliver, the last of which began in early July 2014. The military aggression, which ended on August 26, 2014, killed nearly 2,200 Palestinians. Over 11,100 others were also wounded in the war.
The Gaza Strip has been under an Israeli siege since June 2007. The blockade has caused a decline in the standards of living as well as unprecedented levels of unemployment and unrelenting poverty.
Full report at:
http://www.presstv.com/Detail/2018/05/26/563008/israel-palestine-gaza-airstrikes
--------
Pakistan
Pemra Bans PTI Member for 30 Days for Hurting the Sentiments of Different Sects on Religious Matters
May 26, 2018
Pakistan Electronic Media Regulatory Authority (Pemra) on Friday banned TV host and Pakistan Tehreek-i-Insaf member Dr Amir Liaquat from appearing on any TV channel in Pakistan for thirty days after ruling that he had violated several sections of Pemra Ordinance in a TV programme a day ago.
The media regulator, in a notification issued on May 25, stated that Liaquat, during his channel's Ramazan transmission on May 24, had "aired live, un-edited and without any delay" a video call from Gujarat wherein the caller had raised a controversial religious question.
Pemra notes that Dr Liaquat "merely for creating sensation and in order to achieve maximum rating", created "unwarranted drama on the basis of religion and hurt the sentiments of different sects and public at large".
After this incident, Dr Liaquat "quit the show, leaving the live platform for the guest Ulema who exchanged quite harsh arguments," the notification adds.
Pemra said the show's content violated Section 20(b), (c) (f) of Pemra Ordinance 2002 among others, noting that Dr Liaquat "is misusing/abusing the platform without adhering to the provisions of Pemra rules".
It is not the first time that Dr Liaquat has been accused of spreading discord and hatred in the country and subsequently faced sanctions.
In January 2017, Pemra had banned Dr Liaquat programme after he had levelled allegations of blasphemy — which has lethal consequences in most cases — against 'disappeared' civil society activists and bloggers. The abductees were later absolved of any wrongdoing.
In December 2017, he was again barred — this time by the Islamabad High Court — from making any appearances on TV after a petitioner had accused him of "handing out fatwas (religious edicts) on kufr (cardinal sin) and treason, which have put the lives of a number of people in danger".
Earlier, in 2016, Pemra had barred Liaquat from hosting Ramazan show 'Inam Ghar' on Geo Entertainment for three days following an episode in which he had distastefully re-enacted the suicide of a girl.
In 2013, he had sparked outrage by 'giving away' babies to childless couples during live coverage of his Ramazan transmission. He had defended his actions as 'charity'.
In 2011, a controversial behind-the-scenes video was released via social media showing the presenter using vulgar language and speaking crassly with his companions during different instances of his religiously oriented show.
In 2008, Dr Liaquat was widely criticised after he had hosted a TV show during which he, along with others, passed hateful comments against a minority community and discussed their murder as an act of religious duty. The show was followed within days of its airing by the murder of two people belonging to the said community.
https://www.dawn.com/news/1410133/pemra-bans-dr-amir-liaquat-for-30-days-over-unwarranted-drama-on-religious-matters
--------
Pakistan army determined to end Nawaz's infuence
27th May 2018
Former Pakistan Prime Minister Nawaz Sharif has had a long and topsy-turvy relationship with Pakistan's armed forces. Hailing from a wealthy and influential Lahore-based industrial family, Nawaz was inducted into politics by the Governor of Punjab, Lt General Ghulam Jilani Khan, during the decade-long dictatorship of General Zia-ul-Haq. The army created and fostered his party—the Pakistan Muslim League—to counter Bhutto's Pakistan Peoples Party.
Army Chief General Waheed Kakar booted him out of power in his first term as Prime Minister. He fared no better in his second term and landed up in jail and was exiled because of differences with then Army Chief, General Pervez Musharraf, over who should take responsibility for the Kargil fiasco. His third term abruptly ended over allegations of corruption, by an alliance of the Army Chief General Asim Saleem Bajwa and the members of Pakistan's higher judiciary. The Army was bent on giving no political space to Sharif to administer the country.
Nawaz's third ouster was timed to ensure that he was disqualified from politics. The Army now appears determined to use a pliant judiciary to send Nawaz and his heir apparent—daughter Maryam—to jail soon, ending all possibility of them influencing the forthcoming Parliamentary elections, scheduled for July/August. The Army has commenced action to engineer defections from the Pakistan Muslim League, especially in Saraiki-speaking areas of Southern Punjab. It is using familial jealousies and differences with his influential brother Shahbaz, to undermine Nawaz's hold on the party. Direct confrontation has now emerged. Nawaz bluntly criticised the 26/11 terrorist attack, holding the Army responsible for the terrorists crossing the border and thereafter obstructing the trial of those involved.
The outraged Army responded by forcing interim Prime Minister Shahid Khaqan Abbasi to convene a meeting of the National Security Council (NSC). In its statement, the NSC did not directly name Nawaz, but implied that the allegations were baseless. Not to be outdone, Nawaz challenged: "The time has come that the country should know who was responsible for terrorism and the current state of affairs. What have we turned the country into?"
Under siege from the Trump Administration, which is confronting the Pakistan military on issues of terrorism sponsored by it in Afghanistan and India, the military is now giving the appearance of being friendly and cooperative with India and Afghanistan. India should not get carried away by some of its bleeding heart 'liberals', who are already singing songs of praise of General Bajwa. While there can and should be talks on issues of Pakistan-sponsored terrorism, there is little point in any 'comprehensive' dialogue till there is firm evidence of Pakistan's Army ending support for terrorism.
A 'caretaker' Government will soon take charge in Pakistan to conduct the forthcoming elections. In the meantime, the Army is working feverishly to see that no single political party wields significant power. The Army's protégé Imran Khan, leading the Tehreek-e-Insaf, will be set up to play a significant role. The Army's effort will be to split the Pakistan Muslim League and ensure that what remains of the party is in the hands of people like former Interior (Home) Minister Nisar Ali Khan, and Shahbaz, who is now Chief Minister of Punjab.
Full report at:
http://www.newindianexpress.com/magazine/voices/2018/may/27/pakistan-army-determined-to-end-nawazs-infuence-1819307.html
--------
Narendra Modi is not an 'advocate of peace talks,' says Pervez Musharraf, claims Pakistan-US ties are at 'lowest ebb'
May 26, 2018
Islamabad: Pakistan and India were on the path of peace and reconciliation under his regime, former Pakistani dictator Pervez Musharraf has said while claiming that Prime Minister Narendra Modi was not an "advocate of peace talks".
The former president and chief of All Pakistan Muslim League (APML) in an interview with Voice of America claimed that when he was in power, India and Pakistan were on the "path of reconciliation", but that is not the case anymore, the Express Tribune reported.
"At the time, I spoke to both the prime ministers, Atal Bihari Vajpayee and Manmohan Singh, they were both from different political parties but we wanted to move forward from the disputes," he said.
The 74-year-old retired general, who is facing high treason charges, has been living in Dubai since last year when he was allowed to leave Pakistan for medical treatment.
Musharraf claimed that a four-point initiation of peace was strategised by the former president and was put in implementation by the leadership of both countries.
The four points of contention included Siachen and Kashmir as well, he said.
"We were working on my strategy because both sides wanted to have peace. This is not the case anymore. They want to undo us," he claimed.
"Incumbent Prime Minister Narendra Modi wants to enforce supremacy in India and isn't an advocate of peace talks," he alleged.
He alleged that there exists an "inherent bias" towards India's treatment as both possess nuclear arms, but no questions are raised on India.
"Nobody asks India to control their assets. Pakistan became a nuclear state because India posed an undeniable existential threat," he said.
"The US should have stopped them, we have been loyal to them throughout," he said.
He said that Pak-US relations have suffered quite a blow and are currently at "the lowest ebb".
Full report at:
https://www.firstpost.com/world/narendra-modi-is-not-an-advocate-of-peace-talks-says-pervez-musharraf-claims-pakistan-us-ties-are-at-lowest-ebb-4483789.html
--------
Pakistan's new US envoy to take charge two days before govt term ends
May 27, 2018
WASHINGTON: Pakis­tan's ambassador-designate to the US Ali Jahangir Siddiqui arrives in Washington on May 28 and will take charge of his new assignment on May 29, two days before the Pakistan Muslim League-Nawaz (PML-N) government completes its term.
After taking charge from the outgoing ambassador Aizaz Ahmad Chaudhary, his first assignment will be to submit his credentials at the US State Department along with a letter, stating that Mr Chaudhary has been recalled to Islamabad. The State Department has already approved his agrément.
Mr Siddiqui can resume his official duties after submitting the documents, but he cannot call cabinet-level officials until he presents his credentials to the US president, which often takes months.
Although he is believed to have friendly relations with President Donald Trump's son-in-law Jared Kushner, it's not clear if he can help expedite the diplomatic process. Mr Kushner works at the White House as Mr Trump's adviser on the Middle East.
The Pakistan embassy, however, will try to get an early appointment for him at the State Department to ensure that he submits his credentials before completion of the PML-N government's tenure.
Diplomatic sources in Washington say that Mr Siddiqui can continue as ambassador under the interim government as well, but the government elected in the July 25 elections can recall him.
The PML-N government designated as an ambassador Mr Siddiqui — an investment banker and a special assistant to the prime minister — in March but the State Department returned his agrément early this month.
In August last year, Mr Siddiqui was appointed the prime minister's special assistant with the status of a state minister.
He is the son of renowned businessman and banker Jahangir Siddiqui and served as the chairman of JS Bank and JS Private Equity before joining the government. Mr Siddiqui holds a BA in economics from the Cornell University.
Mr Chaudhry — a foreign service official — retired last month and the government did not give him an extension. He will leave for Islamabad on June 5.
Relations between the United States and Pakistan are at their lowest ebb and this posting will test all the manoeuvring skills the young ambassador may have learned as a banker and at university.
Full report at:
https://www.dawn.com/news/1410208/pakistans-new-us-envoy-to-take-charge-two-days-before-govt-term-ends
--------
IHC division bench order has disappointed people: JI
May 27, 2018
LAHORE - Ameer, Jamaat e Islami, Pakistan, Senator Sirajul Haq, has expressed concern over the Islamabad High Court division bench order suspending the single bench order for telecasting five times Azan ( call for prayer) besides other programmes relating to Islamic teachings from TV channels, and has termed it unconstitutional.
In a statement here on Saturday, he said that the division bench order had disappointed the people all over the country. He said the division bench order was tantamount to inviting divine wrath and it should be immediately withdrawn.
Sirajul Haq pointed out that the constitution of Pakistan accepted the sovereignty of Allah Almighty and the supremacy of the Holy Quran and the Sunnah. The constitution clearly laid down that Pakistan is an Islamic republic and no law repugnant to the Islamic teachings would be enacted in the country.
He said that the order of Justice Shaukat Siddiqui regarding five time Azan had won the hearts of the millions of the Pakistanis but the division bench order had dismayed and disappointed the public.
The JI chief said that everybody including the members of the division bench had to appear before Allah Almighty. He said that the division bench order had also spoiled the sacred atmosphere that ad been created by the court earlier order for telecasting special programmes based on salutation for the Holy Prophet and prayers for national security and solidarity.
Meanwhile, in a message on Babul Islam Day on tenth of Ramazan, Sirajul Haq said that the Quaid e Azam Muhammad Ali Jinnah had clearly stated that Pakistan had come into being on the day when Muhammad Bin Qasim landed in Sindh. He said that the tenth of Ramazan marked the beginning of a bright future for the sub continent as Muhammad Bin Qasim brought the message of Islam to this land.
He said that Muhamamd Bin Qasim had reached Daibal on a call from an oppressed Muslim lady, defeated Raja Dahir and later laid the foundation of the first Islamic state in this area.
Sirajul Haq said that hundreds of Muslims women were awaiting Muhamamd Bin Qasim and Mehmud Ghaznvi in Kashmir, Palestine now. He said had any Muhammad Bin Qasim and Mehmid Ghaznavi been around, the Muslims blood would not be shed all around nor Dr Aafia Siddiqui ahd to spend years in a US prison.
Full report at:
https://nation.com.pk/27-May-2018/ihc-division-bench-order-has-disappointed-people-ji
--------
Pakistan's army summons former spy chief over book
26 May 2018
Pakistan's army has summoned a former spy chief over a book he co-authored with his former Indian counterpart.
The newly released book, entitled "Spy Chronicles," suggests Pakistan cooperated with the US in the 2011 raid that killed Osama bin Laden. The book is co-written by Asad Durrani, the former chief of Pakistan's Inter-Services Intelligence; AS Daulat, the former head of India's Research and Analysis Wing; and the Indian journalist Aditya Sinha. Durrani had retired years before the bin Laden raid.
Durrani also came under fire from former prime minister Nawaz Sharif for allegedly disclosing national secrets in the book.
Maj. Gen. Asif Ghafoor, a military spokesman, tweeted late on Friday that Durrani had been summoned to appear at army headquarters on Monday over violations of military rules on attribution.
Ghafoor said Durrani had been called and "will be asked to explain his position on views attributed to him in book 'Spy Chronicles'.
"Attribution taken as violation of Military Code of Conduct applicable on all serving and retired military personnel," the spokesman added.
The book is based on a series of discussion between Durrani and Dulat on various topics including Afghanistan, Kashmir and the tense relations between Pakistan and India.
Disclosing secrets
Durrani was summoned after Sharif on Friday criticised him for disclosing secrets in the book.
Sharif apparently tried to draw a parallel between Durrani's revelations and his own statement suggesting Pakistani militants were behind the 2008 Mumbai attacks, which sparked a firestorm at home and in India and was later slammed by Pakistan's National Security Council.
The former prime minister had approached what is seen as a red line by touching on criticism of Pakistan's powerful armed forces, especially their alleged use of proxies in India, in his interview with Dawn newspaper published last week.
"Militant organisations are active. Call them non-state actors, should we allow them to cross the border and kill 150 people in Mumbai? Explain it to me. Why can't we complete the trial?" Sharif told Pakistan's leading English daily, referring to stalled court cases against several suspects.
The Mumbai attacks left 166 people dead and brought India and Pakistan to the brink of war.
Media reports said Durrani had admitted Pakistan's role in the unrest in Indian-administered Kashmir in the book.
Sharif had called for the National Security Council to convene over Durrani's views in the book and accused the general of disclosing classified information.
Full report at:
https://english.alarabiya.net/en/News/world/2018/05/26/Pakistan-s-army-summons-former-spy-chief-over-book.html
--------
Africa
Dozens killed in Cameroon's separatist Anglophone region
May 27, 2018
More than two dozen people have been killed in one of Cameroon's restive Anglophone regions, in what appears to have been an operation by government forces against alleged separatists.
One witness said anonymously on Saturday that she had seen 29 bodies — including those of women and young boys — in the town of Menka, in Cameroon's Anglophone Northwest Region, where armed secessionists have been fighting against the predominantly Francophone central government since last year.
She said at least three bodies were lying outside a school.
The bodies "are rotting already and reek," she said.
Another source told Reuters that 34 bodies had been discovered on Friday.
The exact circumstances of the deaths were unknown.
A spokesman for the Cameroonian army said in a statement that government forces had been tipped off to the presence of separatists in a hotel in Menka, had been deployed there, and had engaged in a long firefight with elements inside the hotel.
"Several terrorists were neutralized," the spokesman, Colonel Didier Badjeck, said, without providing further details.
"The people in the village confirmed that there was an exchange of fire, and some bodies were found in the hotel rooms," said Nji Tumasang, a member of the English-speaking opposition Social Democratic Front (SDF).
Tumasang said that John Fru Ndi, the SDF's leader who led a delegation to Menka, said local "people do not think they (the deceased) were separatists, but rather criminals."
Demands for independence by the English-speaking minority in the Anglophone Southwest and Northwest regions of Cameroon have been rejected by the country's long-time leader, 85-year-old President Paul Biya.
Separatists advocating for the secession of Southwest Region from the Republic of Cameroon declared the establishment of the self-proclaimed "Republic of Ambazonia" in October last year.
Cameroon's Anglophones make up about a fifth of the country's population of 22 million.
Both English and French are official languages in Cameroon.
http://www.presstv.com/Detail/2018/05/27/563021/Cameroon-Anglophone-bodies-found
--------
Sex-for-food claims in Boko Haram-hit Nigeria
24 May 2018
Amnesty International on Thursday urged Nigeria to act on claims soldiers and members of the civilian militia have raped women and girls in remote camps for people displaced by Boko Haram but the government said the rights monitor was repeating false accusations.
"This ... is just a wild goose chase report, in essence… the report seemed like the one in 2015, and the one in 2016, and the one after that year, the same things being recycled again and again," presidential spokesman Garba Shehu said.
Amnesty said it had gathered multiple testimonies about alleged abuse by the security forces, including claimed that soldiers coerced vulnerable survivors into having sex in exchange for food.
But despite long-standing complaints about sexual violence and repeated promises by the Nigerian authorities that they would address concerns, "no tangible action" had been taken.
In November 2016, police vowed to look into allegations of sexual abuse and exploitation in the camps but several months later, the military rejected the allegations.
"It is not always clear if these investigations were carried out and no reports have been made public," the London-based rights group said in a statement.
Amnesty's Nigeria director, Osai Ojigho, said it was time for President Muhammadu Buhari "to demonstrate his frequently-expressed commitment to protect the human rights of displaced people in northeast Nigeria.
"The only way to end these horrific violations is by ending the climate of impunity in the region and ensuring that no-one can get away with rape or murder."
Rape widespread
Women and girls, many of whom have been separated from their families, are vulnerable to sexual abuse and say rape is widespread both in and outside the camps, according to aid agencies.
Some non-profit organisations run family planning clinics, providing contraception, and say there are high numbers of sexually transmitted infections, abortions and unwanted pregnancies.
"Scores" of women told Amnesty that soldiers and civilian militia members coerced them into becoming "girlfriends", which meant them being available for sex.
In return they got food.
Sexual exploitation was at an "alarming level, as women remain desperate to access sufficient food and livelihood opportunities", the group added.
"Sex in these highly coercive circumstances is always rape, even when physical force is not used, and Nigerian soldiers and (militia) members have been getting away with it," said Ojigho.
'Alarming level'
According to the latest available figures to April 30, nearly 1.8 million people have been displaced within Nigeria by the Boko Haram insurgency, which has killed at least 20,000 since 2009.
Including figures from neighbouring Cameroon, Chad and Niger, the number of people forced to flee their homes by the violence reaches nearly 2.25 million, according to the UN refugee agency UNHCR.
Military gains have wrested back control of areas previously held by the Islamist militants, laying bare the extent of the damage to farming and fishing on which most locals depend.
By the end of March, 3.5 million people were in need of humanitarian assistance, the UN said. Malnutrition cases with medical complications are expected to rise in the upcoming rainy season.
Full report at:
https://mg.co.za/article/2018-05-24-sex-for-food-claims-in-boko-haram-hit-nigeria
--------
Kenyan mosque invaded by Al Shabaab
26th May 2018
John Snow
MANDERA, Kenya – Heavily armed fighters thought to be Al Qaeda linked Al Shabaab stormed small village near Kenya's Mandera town.
The fighters invaded Komor Haile mosque, lecturing local residents for 5 hours, according to a witness, who asked to be anonymous for security reason.
Kenyan police officer says the militants had arrived at Komor Haile mosque on Thursday at about 10pm and left at around 2am.
The militants went through chief's home but he was not at the home during the raid, police said.
"They fled from the area, shortly after preaching to the local residents at mosque near Somalia-Kenya border town", he said.
The local authorities did comment on the attack by Al Shabaab suspects.
Full report at:
https://mareeg.com/kenyan-mosque-invaded-by-al-shabaab/
--------
Over 100 migrants escape from Libya trafficking camp
May 26, 2018
More than 100 east African migrants escaped from a camp in the Libyan town of Bani Walid where they were being held hostage and tortured, international agencies and local sources said on Saturday.
The migrants from Eritrea, Ethiopia and Somalia fled on Wednesday night to a mosque in the town where they were taken in by local associations and residents.
The hospital in Bani Walid said around 20 of them were being treated for injuries from torture.
According to Doctors Without Borders (MSF), in a statement quoting witnesses, 15 migrants were killed and 25 injured during the escape, but there was no immediate confirmation from local sources.
Some of those who escaped, mostly adolescents, told MSF rescue workers that they had been held by people traffickers for up to three years.
The medical charity said seven of those hospitalised had serious gunshot wounds.
"This is another example of the ongoing horrors suffered by many migrants and refugees while transiting through Libya" MSF said, adding that "kidnapping for ransom remains a thriving business".
Bani Walid, 170 kilometres (110 miles) southeast of the Libyan capital Tripoli, is a transit point for migrants aiming to reach Europe by boat from the coast further north.
People traffickers and kidnappers run around 20 detention centres in the town, telephoning the migrants' families to deliver ransom demands.
Since the 2011 fall and killing of longtime dictator Moamer Kadhafi, Libya has become a key launchpad for migrants making desperate bids to reach Europe.
Full report at:
https://nation.com.pk/26-May-2018/over-100-migrants-escape-from-libya-trafficking-camp
--------
URL: https://www.newageislam.com/islamic-world-news/scholars-arab-muslim-world-call/d/115367
New Age Islam, Islam Online, Islamic Website, African Muslim News, Arab World News, South Asia News, Indian Muslim News, World Muslim News, Women in Islam, Islamic Feminism, Arab Women, Women In Arab, Islamophobia in America, Muslim Women in West, Islam Women and Feminism