New Age Islam News Bureau
14 Dec 2018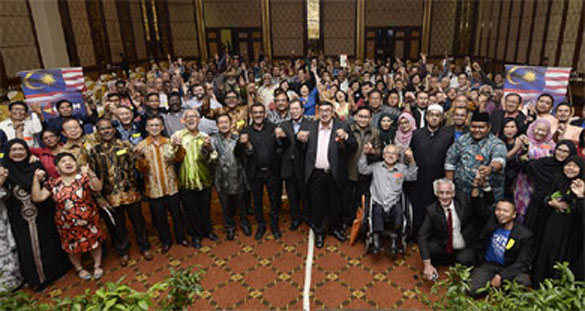 Guests take a group photo after the CPHM Chistmas Dinner in Subang Jaya December 13, 2018. — Picture by Miera Zulyana
------
• Scholars at Makkah Conference Warn Against Sectarianism
• At Interfaith Christmas Dinner, Malay Mufti Calls For Tolerance And Understanding
• Want NRC in West Bengal, Illegal Bangladeshi Muslim Immigrants 'Thrown Out': Hindu Jagran Manch
• Sikhs Visit Jamrud Fort for the First Time Since Independence
• Bolton: Islamic State Finding 'Fertile Ground' in Africa after Mideast Defeats
• Sheikh Hasina's Fight against Islamic Terror Might Help Her Keep Power in Bangladesh
Arab World
• Scholars at Makkah Conference Warn Against Sectarianism
• 900 Corpses of ISIL Victims Found in Mass-Grave at Syria-Iraq Borders
• Assad says Syria reconstruction to cost $400bn
• Iraqi Commander: US Forces Spying on Hashd Al-Shaabi at Borders with Syria
• Kurds Readying to Battle Turkey's Pending Attack in Eastern Euphrates
• All Members of Syrian Family Killed in US Airstrike in Deir Ezzur
• Israeli, Western Arms, Equipment Caches Found in Southern Syria
• UN Security Council authorizes Syria aid deliveries for another year
• Saudi king, crown prince condemn French attack
• US-backed Syrian forces smash Daesh defences in east
--------
Southeast Asia
• At Interfaith Christmas Dinner, Malay Mufti Calls For Tolerance And Understanding
• Mujahid Says Didn't Issue List Of Muslim Preachers To Be Shunned By TV
• Two-term limit for Sabah governor removed despite objections
• Amanah still struggling for footing ahead of convention
• Jakarta recovers from divisive election: BPS
--------
India
• Want NRC in West Bengal, Illegal Bangladeshi Muslim Immigrants 'Thrown Out': Hindu Jagran Manch
• Fact Check: This Protest March by Muslim Organisations Has Nothing To Do With Congress Victory
• Kerala men who left to join IS are ex-PFI workers
• Can Pakistani citizens resettle in J&K, SC asks state govt
• India asks Pakistan to repatriate Ansari as his prison term nears end
• Teenage terrorist killed in Sunday encounter had cameo in 'Haider'
• Five kids among 10 who left Kerala to join IS: Police
--------
Pakistan
• Sikhs Visit Jamrud Fort for the First Time Since Independence
• Global Outcry over INGOs' Closure In Pakistan
• NA Bars Hindu Lawmaker from Presenting Bill Seeking Ban on Alcohol
• Police Arrest Samiul Haq's 'Missing' Personal Secretary
• Experts say despite problems, media disseminating untwisted news
• EU welcomes govt's offer for dialogue on INGOs registration issue
• Qureshi stresses need for opening Pak-Italy legal migration channels
• KP passes resolution against Pakistan's addition to religious freedom blacklist
• Four TTP terrorists held, arms recovered
• PM Khan vows to make Pakistan a economically sound, self-reliant state
--------
North America
• Bolton: Islamic State Finding 'Fertile Ground' in Africa after Mideast Defeats
• US House: Myanmar Crimes against Rohingya 'Genocide'
• Peace possible in Yemen, says Pompeo on agreement reached in Sweden
• American military support for Saudi-led Yemen war must stop: US Senate
• Trump 'delusional' on Iran nuclear deal: Sen. Kaine
• US seeks compensation from Saudi for refueling services
• US: Turkey's planned Syria operation 'grave concern'
• US warns Turkey against unilateral military action in Syria
--------
South Asia
• Sheikh Hasina's Fight against Islamic Terror Might Help Her Keep Power in Bangladesh
• Drone Strikes Leave At Least 15 Militants Dead In Ghazni and Paktika
• Afghan forces eliminating Taliban field commanders seen obstacle to peace
• In a Muslim lawyer's murder, Myanmar's shattered dream
• Daudzai assures peace talks with Taliban will yield positive outcome
• U.S. envoy for Afghan peace to meet with NATO Secretary General in Brussels
--------
Mideast
• Heads of Legitimate Yemeni Gov. and Houthi Delegations Shake Hands
• Khalid Bin Salman: Saudi Arabia Committed To Supporting and Rebuilding Yemen
• Saudi ambassador: Military pressure forced Houthis' withdrawal
• Zionist regime's disturbed dreams will never come true: Iran
• Netanyahu vows to expand settlements in response to attacks
• Iran hails 'promising' deal between warring Yemeni sides
• Israeli soldiers kill Palestinian in alleged car-ramming attack in West Bank
• Israeli troops besiege Ramallah after two soldiers killed
--------
Europe
• The Mufti Demands Lawsuit against UK Embassy in Libya for Anti-Islam Activities
• UK Anti-Terror Scheme Records Major Surge in Far-Right Activity
• Europe: 'Working twenty-four seven' to set up Iran payment channel
• UN investigation delves into Daesh's crimes against Yazidis
• EU parliament urges Egypt to lift human rights constraints
• German police reports 578 Islamophobic crimes in 2018
• UK to establish military base in Kuwait: News Report
• Government urged to adopt new definition of Islamophobia following rise in hate crimes
--------
Africa
• Nigerian Muslims Mark 2015 Massacre Anniversary
• Protesters, Police Scuffle in Anti-Tax Protests In Jordan
• Former al-Shabaab spokesman arrested in SW Somalia
• 600 more police reservists recruited to fight Al-Shabaab
Compiled by New Age Islam News Bureau
URL: https://www.newageislam.com/islamic-world-news/scholars-makkah-conference-warn-sectarianism/d/117160
--------
Scholars at Makkah conference warn against sectarianism
December 13, 2018
JEDDAH: Scholars attending a conference on Islamic unity, which was held in Makkah on Wednesday, have reiterated that Saudi Arabia is the "heart of Islam" in the modern era. The forum, which tackles sectarianism and the strife plaguing the Muslim world, was attended by prominent thinkers and researchers from 127 countries.
Almost 1,300 scholars and intellectuals took part in the conference, titled "Islamic unity: The perils of labeling and exclusion."
Makkah Gov. Prince Khaled Al-Faisal inaugurated the event, which was organized by the Muslim World League. During the conference, participants called for a comprehensive plan to address sectarian-inspired extremism.
Abdullah Al-Turki, adviser to the Royal Court, told Arab News that politicians in Tehran continue to create strife in the Muslim world, while scholars around the world warn against such discord.
"Saudi Arabia is home to Makkah and Madinah and hosts millions of Muslims from around the world every day," he said. "This is why the Muslim World League strives to foster unity by inviting scholars, thinkers and researchers to the table and this is why people of all races are here today."
"Why does Iran continue to fuel sectarianism?" said Al-Turki.
"This will only fuel vulnerability within already-weak states. If Muslims deviate from scripture, they will continue to suffer." Egypt's grand mufti, Shawki Allam, told Arab News that scholars heavily rely on the recommendations put forth by the conference. "Islam calls for us to join ranks and liaise on socioeconomic projects in order to better confront the regional challenges facing our nation today," he said.
"Egypt continues to support the Kingdom, on which regional stability remains contingent. Terror groups that continue to hijack Islam don't speak in the name of this nation, and yet, the Prophet's teachings forbids exclusion."
Bou Abdullah Gholamallah, president of the Islamic Council, told Arab News that the House of God unites people regardless of race or sect and that unity should be a principle of patriotism. "Cultural, historic and geopolitical variants have played a role in creating division," he said.
Ali Al-Amin, a Lebanese Shiite scholar, told Arab News that the conference is unique in its nature. "Saudi Arabia has always pioneered unification initiatives," he said. "Labeling people as 'believers' or 'non-believers' only contributes to alienating minorities."
Ahmed Atiyeh, a Yemeni minister responsible for religions endowments, told Arab News that he only wished the conference had existed sooner.
"We are sending a message to the world that we won't tolerate attempts to reap discord," said Atiyeh.
"I have come from Yemen to take part and to renounce Iran's continued meddling in our region."
http://www.arabnews.com/node/1420456/saudi-arabia
--------
At Interfaith Christmas Dinner, Malay Mufti Calls For Tolerance And Understanding
13 December 2018
SUBANG JAYA, Dec 13 — Peaceful co-existence between Muslims and non-Muslims is an essential principle in Islam and one that Malaysians should strive to emulate, the Federal Territories (FT) Mufti said today.
"Existing peacefully with non-Islamic beliefs is an essential Islamic principle that is clearly stated in many Quranic verses, which has been practised by Muslims throughout history.
"There is no contradiction between Islam and devotion to civil society, social culture and co-existence with others; it is essential to Islam," Datuk Seri Zulkifli Mohamad Al-Bakri said in his speech delivered at the Christians For Peace and Harmony in Malaysia (CPHM) annual Christmas dinner here.
His speech was read by his special officer Mohamad Razif.
The dinner at Dorsett Grand Subang was attended by more than 150 people of various denominations, in an effort to promote interfaith understanding.
Zulkifli also spoke about the importance of being tolerant others, saying it was compulsory in Islam to do so.
He also suggested that local religious leaders band together to speak and strategise ways to deal with religious conflicts in the country.
"In order to achieve this objective, we would like to call upon all religious leaders to develop a cultural and intellectual strategy to face the threat of religious conflicts, religious zealotry and madness of the age.
"It is high time for Malaysians to cherish the peace and harmony that we enjoy in this beautiful nation; we know that deep in our hearts there is a deep love for the country," he said.
Zulkifli also invited all present at the dinner to his office to engage in discussions.
"I would like to invite all religious leaders here to come to my office at Putrajaya.
"A glass of teh tarik and nasi lemak together would be a perfect combination for a kickstart to a series of interfaith and intrafaith discussions among us."
https://www.malaymail.com/s/1702972/at-interfaith-christmas-dinner-ft-mufti-calls-for-tolerance-understanding
--------
Want NRC in West Bengal, Illegal Bangladeshi Muslim Immigrants 'Thrown Out': Hindu Jagran Manch
December 14, 2018
Days after the Vishwa Hindu Parishad (VHP) held a massive Ram temple rally in New Delhi, its affiliate Hindu Jagran Manch will organise its first 'Virat Hindu Sammelan' in Kolkata Saturday.
The 'Sammelan', which will be held at the Shaheed Minar grounds in heart of the city, has the same objective as the VHP's in the national capital — construction of a Ram temple in Ayodhya — with the addition of several state-specific demands.
Hindu Jagran Manch's media in-charge Vivek Kant Singh said, "You will find that the work on construction of the Mandir will begin in another 2-3 months. Hindutva is on the rise…We are not dependent on the government or any one political party to get the Mandir done. Who demolished the Babri Masjid, it was the Hindus right? It'll be the Hindus who construct the Ram Mandir as well…"
Singh added that the Hindu Jagran Manch also had a three-point list of demands to place before the state and central governments. "The first is to throw out all illegal Bangladeshi Muslim immigrants from the country. Secondly, to immediately give citizenship to all Hindus who come to India from neighbouring countries and thirdly, to pass the Citizenship Bill in Parliament and implement the NRC in West Bengal," he said.
"We are demanding NRC for West Bengal. The demographic of the state has changed alarmingly over the past few years. Also, look at what has been happening in the state the past couple of years, look at Basirhat-Baduriya and the Dhulagarh riots, these are incidents of grave concern. There has been tension over Saraswati puja and other Hindu festivities. Having said that Hindutva is on the rise…is the reason why Ram Navami processions have become so successful and popular in West Bengal. Our sammelan is an attempt to unite all Hindus across party lines as well, for all Hindus to come together and defend our community," he further said.
Singh claimed that the Manch was not against the "Bhartiya Musalman" (Indian Muslim). "…But we want Muslims from Bangladesh and Pakistan to be turned away…The Muslim has been given Pakistan as their country. Hindustan is for Hindus and the government needs to declare that India is a country for Hindus — a Hindu Rashtra," he said.
While the HJM maintained that Hindus from across the state were expected to participate in the 'sammelan' in "large numbers", the operations of the organisation are restricted to South Bengal, with it having little presence in the rest of the state.
https://indianexpress.com/article/cities/kolkata/want-nrc-in-state-illegal-bangladeshi-muslim-immigrants-thrown-out-5492904/
--------
Sikhs visit Jamrud Fort for the first time since independence
BY HAMID KHAN WAZIR
December 14, 2018
ISLAMABAD: The leaders of the Sikh community visited Jamrud Fort in Khyber District on Wednesday for the first time since the independence of Pakistan.
The Jamrud Fort is located beside Bab-e-Khyber at the entrance of the Khyber Pass and is 17km away from Peshawar. It was built by the Sikhs in 1836 in 54 days to keep a watch over the invading Afghans who had been entering the plains of Punjab for hundreds of years. At Jamrud, the Sikhs succeeded in creating a frontier defence line against foreign invaders. It was at this fort that the famous Sikh general of Ranjit Singh's government, Hari Singh Nalwa, breathed his last.
Due to the absence of a strong government and a proper security network in the area, and the rough mountainous terrain, the area became the hub of the Tehreek-e-Taliban Pakistan (TTP), Lashkar-e-Islam, Tehreek-e-Nafaz-e-Shariat-e-Mohammadi militants after the US-led NATO invasion of Afghanistan in 2001. Over 90 per cent of the Khyber Agency was under the control of the militants in 2007 until Pakistan Army started an operation in 2008 to clear the area of militants in order to restore routine life. The operation continued for years and resulted in the deaths of hundreds of TTP militants and the martyrdom of Pakistan Army soldiers. In October 2014, the armed forces of the country launched a military offensive named Operation Khyber-1 in the Khyber Agency, resulting in the displacement of thousands of locals. However, peace has now been restored in the area to a great extent.
Speaking on the occasion, Sikh leader Gopal Singh said that during the meeting with Peshawar Corps Commander Mazhar Shaheen two days ago, they informed him about the problems faced by the Sikhs in districts Khyber, Ourakzai, Kurram and Peshawar. He also said that they expressed their desire to visit the historical places built by the Sikhs in what is now Khyber Pakhtunkhwa (KP).
The 25-member delegation was taken to various parts of the fort and was given a detailed briefing about its strategic importance. They were told that two of Hari Singh's rooms were still intact with one being the room where he recovered from the injuries sustained in a battle and the other being the room where he conducted his daily business.
Gopal Singh said that on the instructions of the Peshawar Corps commander, Sector Commander Shahbaz Khattak visited the Bara Bazar and listened to the problems faced by the Sikh community in order to resolve them forthwith.
Further, the Sikh community demanded security for the protection of their historical sites and sought restoration of the places which were in use of Hari Singh. They were assured that the restoration work would be started soon after consultations with the relevant departments.
https://www.pakistantoday.com.pk/2018/12/13/sikhs-visit-jamrud-fort-for-the-first-time-since-independence/
--------
Bolton: Islamic State Finding 'Fertile Ground' in Africa After Mideast Defeats
13 Dec 2018
Islamic State (ISIS/ISIL) and al-Qaeda-linked jihadi groups that pose a threat to the United States are expanding and increasing their lethality in Africa, U.S. President Donald Trump's National Security Advisor John Bolton warned on Thursday, echoing the latest Global Terrorism Index (GTI).
Bolton's comments came in the wake of the near complete destruction of ISIS's physical caliphate in Iraq and Syria.
The latest GTI, compiled by the Institute for Economics and Peace (IEP) and released last week, acknowledged that ISIS is shifting its resources away from its fallen territorial caliphate in Iraq and Syria and into its other branches in "North Africa, sub-Saharan Africa, and Southeast Asia."
During a speech at the Heritage Foundation announcing the release of the president's Africa strategy, Bolton asserted that combating the "serious threat" to the United States posed by "radical Islamic terrorism" on the continent is a top priority for the Trump administration.
Bolton noted:
In recent years, ISIS, al-Qaida, and their affiliates operating in Africa have increased the lethality of their attacks, expanded into new areas, and repeatedly targeted U.S. citizens and interests.
In Mali, Jama'at Nusrat al-Islam wal-Muslimin or JNIM—which describes itself as an al-Qaida affiliate—is increasing in strength and has killed and wounded scores of peacekeepers, partner forces, and innocent civilians, in addition to kidnapping Westerners and threatening U.S. allies.
In Libya, the local ISIS-affiliate has found fertile ground to recruit new terrorists and plot attacks against the United States.
Libya once housed the largest ISIS stronghold outside of Iraq and Syria, where the terrorist group only controls one percent of the territory it once held, courtesy mainly of the U.S.-led coalition and local fighters.
The GTI revealed that while most of the world experienced a decrease of "27 percent to 18,814" deaths from terrorist attacks last year when compared to 2016, five African countries experienced some of the "largest increases in deaths from terrorism" during the same period.
"Half of the countries with the largest increases in terrorism are located in Africa, with rises also occurring in the Central African Republic, Mali, and Kenya," the report noted.
The GTI identified the ten countries that experienced the largest increases in terror-linked deaths from 2016 to 2017 as Somalia, Egypt, Central African Republic, Myanmar, Mali, Kenya, Afghanistan, the Philippines, India, and the United Kingdom, respectively.
Africa is home to three of the world's deadliest terrorist groups: ISIS, al-Shabaab, and Boko Haram, also noted the index, which treats affiliates like al-Shabaab and Boko Haram as separate groups from their parent organization.
GTI identified the Middle East and North Africa (MENA) and sub-Saharan Africa as two of the top three deadliest regions in the world for terror last year, with 33,126 and 9,342 fatalities, respectively.
According to the assessment, ISIS remained the most lethal terrorists in the world.
"The four terrorist groups responsible for the most deaths in 2017 were the Islamic State of Iraq and the Levant (ISIL), the Taliban, Al-Shabaab, and Boko Haram. These four groups were responsible for 10,632 deaths from terrorism, representing 56.5 percent of total deaths in 2017," the index noted.
Despite the threat posed by African jihadi groups, the Pentagon is expected to withdraw more than 700 American troops from Africa as part of the Trump administration's decision to pivot away from the war on terror to focus on deterring strategic competitors like China and Russia.
Bolton acknowledged that "predatory practices" by China and Russia "interfere with U.S. military operations' in Africa, adding that Trump's strategy will address the threat.
The complete destruction of ISIS's physical caliphate, which has been reduced to an ever-shrinking pocket of land near the Iraqi border in Syria, is imminent, said Brett McGurk, the special presidential envoy for the U.S.-led coalition against the terrorist group, on Tuesday.
Nevertheless, he conceded that ISIS "clandestine cells" will continue to pose a menace indefinitely.
He stressed that ISIS's enduring defeat — the U.S.-led coalition's primary goal — will be a "long-term" process.
https://www.breitbart.com/national-security/2018/12/13/bolton-islamic-state-finding-fertile-ground-africa-after-mideast-defeats/
--------
Sheikh Hasina's fight against Islamic terror might help her keep power in Bangladesh
December 13, 2018
Siliguri [India], Dec 13 (ANI): Apart from the noticeable socio-economic growth track, what is favourable for Bangladesh Prime Minister Sheikh Hasina's comeback is her government's "zero-tolerance" policy to counter violent extremism. She has also positioned the Awami League as a secular nationalist party, emphasising on its prosecution and execution of hardline Jamaat-e-Islami leaders who were found guilty of war crimes during the Liberation war in 1971.
The government's main focus had been on a "quick-fix" strategy to curb terrorism, they say, until the attack on the popular Holey Artisan Bakery in Dhaka's upmarket Gulshan neighbourhood on July 1, 2016, which led to the massacre of more than 20 hostages, most of them foreigners. It is termed as one of the deadliest attacks in Bangladesh's history. This, after a series of killings of secular bloggers, writers, publishers, cultural activists and politicians since 2013, that led many to believe that Bangladesh was losing its war against terror, says Dr Smruti S. Pattanaik, a senior fellow at the Delhi-based Institute for Defence Studies and Analyses (IDSA), who has been following studying Bangladesh for more than two decades.
Experts say Bangladesh has been susceptible to religious extremism, even though terrorist attacks appear to have declined in the past two years. The only other major incidents include the armed attack during Eid prayers at the Sholokia Mosque that killed three people on July 8, 2016, and three botched-up suicide bomb attacks in March 2017. Hasina, realising the threat to herself and her government, is committed to the fight against terrorism and radicalisation and has managed to get wider public support from across the political spectrum and civil society, adds Pattanaik.
According to a US State Department's Country Report on Terrorism, 2017, since Holey Artisan Bakery attack, at least 79 suspected radicals have been killed and more than 150 others arrested in an aggressive anti-militancy crackdown. To support counter-terrorism, the Bangladesh government also enacted the country's first anti-terrorism law in 2009, which was amended in 2013. Moreover, to cripple terror at the heel, the government also formulated the Money Laundering Prevention Act, 2012.
"Bangladesh, a member of the Asia/Pacific Group on Money Laundering, and with the central bank and Bangladesh Financial Intelligence Unit, is leading the government's efforts to counter the financing of terrorism," the report says.
"The carefully targeted arrests have visibly weakened the most threatening organisations in the country and reduced the danger of terrorist attacks. The government also imposed bans on six groups, including home-grown terror groups like Harkat-ul-Jihad Bangladesh, Ansar-ul-Bangla Team and Jamaat-ul-Mujahideen Bangladesh," explains Dr Pattanaik.
Development indicators
Bangladesh's per capita income growth has risen to 6.2%, according to figures released by the World Bank's Global Economic Prospects (GEP), 2018. This figure is higher than the 5.4% average compared to developing countries, based on the same report. Bangladesh - the eighth most populous country in the world - has as many 165 million citizens, and is growing rapidly. Its economic growth reached 7.2% last year and has exceeded 6% for two straight decades, lifting 50 million people out of extreme poverty in the process, according to a report by the Centre for Research and Information, Bangladesh.
Hasina's strong rule brought political stability to Bangladesh, enabling it to make noticeable socio-economic progress over the past 10 years, says Dr Arifin, former vice-chancellor of Dhaka University, adding - "Hasina has managed to overcome political and fundamentalist challenges that were also faced by her predecessor Khaleda Zia, with a different outlook and vision. Bangladesh is listed to become a middle-income country by 2024, provided that we maintain the current socio-economic development trajectory."
Bangladesh is the second largest exporters of garments in the world, running into billions of dollars annually, based on data from the International Trade Statistics of the World Bank, 2014. Hasina is also betting big on a self-financed 20 km-long $3.9 billion railroad bridge project on the mighty Padma River, expected to be a major turnaround for South Asia's youngest nation. The small nation, once written off as a "basket case" by former US secretary of state Henry Kissinger, is on the verge of completing its biggest-ever infrastructure project all alone, says Dr Shafiul Alam from Dhaka University. "It will be a game-changer for Bangladesh's economy, a great boost to its national pride and a major poll plank for Prime Minister Hasina," he says.
Hasina's fate, however, hinges in the hands of its young voters - about 23.5 million of the 104 million-strong electorate, aged between 18 and 30, according to latest figures released by the Bangladesh Bureau of Statistics (BBS). Former Bangladesh Election Commissioner Brigadier General (retd) Dr M. Sakhawat Hussain says: "Though it is too early to say which side the first-time voters and other young voters are going to tilt, this segment, which has been ignored by political groups, will be the deciding factor as even a few hundred votes may work in the winner's favour." Bangladeshi youngsters want a stable future and they will carefully consider promises of political parties before voting, adds Alam.
A united, yet weak opposition
Some analysts say that the ruling party is facing a relatively united opposition for the first time in more than 10 years. The contest has been thrown open, they say, with the formation of an opposition alliance - the Jatiya Oikya Front - which includes the Bangladesh National Party (BNP) and other smaller opposition parties. It is being led by former president Badruddoza Chowdhury and former Awami League foreign and law minister Kamal Hossain, both of whom are contesting polls this year.
Bangladesh watchers, however, say if infrastructure development, economic growth and the "zero-tolerance" policy adopted by the Hasina government to counter violent extremism and prevent the country from becoming a terrorist "safe haven", are taken as yardstick, then the Bangladeshi voters have no better option than to vote the Awami League back to power. The opposition's unity will polarise the political narrative into Awami League versus the rest, but it has no consensus on a candidate for prime minister or a vision to match Hasina's, says Dr Arifin - "Bangladesh's socio-economic progress is robust, its entrepreneurial and grassroots economy is among the fastest growing in Asia, in Hasina's 10-year tenure, which will work in her favour."
The Muslim-dominated country's political narrative revolves around two major parties, the Awami League and BNP, both controlled by two powerful women and bitter rivals - Sheikh Hasina and Khaleda Zia - who between each other, have alternately ruled South Asia's youngest country for decades. However, Khaleda Zia's indictment on October 29 raised her prison sentence from three to 10 years. Facing 37 cases, including 2004's grenade attack on Hasina, Zia has been barred from contesting polls, while her son and political heir, Tarique Rahman, is now a fugitive from justice, living in exile in London after a life sentence - this predicament has left the BNP leaderless, and many believe that it may limit their electoral prospects.
https://www.business-standard.com/article/news-ani/sheikh-hasina-s-fight-against-islamic-terror-might-help-her-keep-power-in-bangladesh-118121300593_1.html
--------
Arab World
900 Corpses of ISIL Victims Found in Mass-Grave at Syria-Iraq Borders
Dec 13, 2018
Commander of Hashd al-Shaabi (Iraqi popular forces) in al-Anbar province Qatari al-Obaidi said on Wednesday that the mass-grave of ISIL victims includes more than 900 corpses, most of them Iraqis.
He added that most of the bodies belong to the people who had been detained and kept in ISIL prisons in al-Qa'em after voicing opposition to the occupation of Western al-Anbar by the terrorists.
He added that the ISIL terrorists had transferred and executed tens of inmates at these prisons before the Iraqi security forces started military operations in Western al-Anbar.
In a relevant development on Wednesday, the Syrian Army continued cleansing operation in Albu Kamal region in Southeastern Deir Ezzur near the border with Iraq and found 7 mass graves with over 100 bodies of victims killed by the ISIL terrorists.
The army's engineering units carried out cleansing operation in the Western direction of Albu Kamal region near the border with Iraq and discovered 7 mass graves with a large number of bodies of people that were killed by the ISIL.
The Syrian Red Crescent has thus far discovered 101 bodies of the people who had been tortured by the ISIL before their execution.
The Red Crescent announced further that unearthing bodies of victim from the mass graves is still underway.
http://en.farsnews.com/newstext.aspx?nn=13970922000476
--------
Assad says Syria reconstruction to cost $400bn
Dec 14, 2018
Syria's President Bashar al-Assad predicts that Syria's reconstruction will cost between $250 billion and $400 billion, Russia's Deputy Prime Minister Yuri Borisov has said after meeting with the Syrian head of state.
Borisov's office said Thursday that the diplomat had discussed industrial, medical, and energy cooperation with Assad in Damascus on Thursday, as a years-long fight against foreign-backed terrorists nears its end.
"The range of questions discussed with the Syrian leader included political affairs, Russia's participation in Syria's postwar reconstruction and restoration of life to normal, and cooperation in industry, medicine, energy and other branches of the economy," Borisov's office said.
Syria has been able to purge Daesh and other terrorist groups from most of the country with support from Iran and Russia as well as the Lebanese resistance movement Hezbollah.
The war, which began in March 2011, has killed hundreds of thousands of Syrians and dislocated thousands more while destroying most of the country's infrastructure and industrial capacity.
Borisov said it was critical for Damascus to maximize the effectiveness of its planning by using the existing capacities in order to create the required financial and economic mechanisms.
He noted that Syria didn't have much time to begin the process as vestiges of what was once a united front against the government could still pose a threat by recruiting people.
"We've got to act fast, because any delays in economic recovery will be fraught with serious problems, including an upsurge in the activity of defeated terrorists. Extremists would find it far easier to recruit supporters from the class of impoverished people unable to support their families," Borisov said.
Borisov leads a Russian delegation that is in Damascus for a meeting of the permanent Russian-Syrian commission for trading, economic, scientific and technical cooperation.
Russia, China abstain in UN vote on Syria cross-border aid
Also on Thursday, Russia and China refused to vote on United Nations Security Council resolution that sought to extend approval for cross-border humanitarian aid deliveries to Syrian territories that were controlled by terrorists back in 2014, when the resolution was first adopted.
Vassily Nebenzia, Russia's Ambassador to the UN, said the text of the resolution -- drafted by Sweden and Kuwait-- was outdated and "divorced from reality" because the situation in Syria had changed drastically.
"The fact that the stabilizing trends are strengthening in Syria is undeniable ... Despite remaining problems there are positive steps in improving the humanitarian situation," Nebenzia said.
The Russian envoy said the UN needed to help Damascus speed up its recovery process instead.
"This is a critical moment and the international community needs to now give a helping hand to the Syrians in order to overcome the devastation and making sure that people who voluntarily decided to return can live normally," he added.
Western countries, however, have made it clear that they will not approve reconstruction funding for Syria, or remove sanctions on the Assad government unless a political solution is reached.
Full report at:
https://www.presstv.com/Detail/2018/12/14/582868/Syria-reconstruction-cost-Assad-Russia-Borisov
--------
Iraqi Commander: US Forces Spying on Hashd Al-Shaabi at Borders with Syria
Dec 13, 2018
The Arabic-language al-Ma'aloumeh news website quoted Qassem Moslih, the Iraqi popular forces' commander in Western al-Anbar, as saying that the US forces fly different types of planes over the Iraq-Syria bordering areas, spying on Hashd al-Shaabi.
He added that 20,000 Hashd al-Shaabi forces are deployed near the border with Syria from al-Qa'em to the Southern Iraq near Jordan, stressing that they are prepared to confront any threats against the country.
The US military has widened its buildup in bordering areas between Iraq and Syria, Iraqi sources said in September.
al-Ma'aloumeh news agency quoted Farhan Mohammed al-Dulaimi, a member of al-Anbar province's council, as saying last month that the US forces were still present in different parts of Western al-Anbar near the borders with Syria.
He dismissed media reports claiming that the US forces had withdrawn from al-Qa'em border passageway and other regions in Western al-Anbar to Ein al-Sad airbase, and said they had even reinforced their deployment.
In a relevant development in November, Hashd al-Shaabi foiled the US army plans to seize an airbase in al-Anbar province in the Western parts of the country at the borders with Syria.
Moslih said that his forces had prevented a US plane carrying military forces from landing at Abu Radha al-Baladawi airbase, adding that they wanted to capture the military base.
Another commander for Hashd al-Shaabi said that their forces cordoned off the runway at the Abu Radha al-Baladawi airbase.
He added that Hashd al-Shaabi opposes the presence of US military personnel in the area which, as the source said, contradicts Washington's claim of contributing to the ongoing anti-ISIL efforts on the ground.
"Americans are always provoking our troops while in the area and interfering in the security affairs," he said. "The western Anbar region does not need any foreign deployments as the Iraqi forces, whether from the army or the Hashd al-Shaabi, are able to defend it at any time."
Full report at:
http://en.farsnews.com/newstext.aspx?nn=13970922000622
--------
Kurds Readying to Battle Turkey's Pending Attack in Eastern Euphrates
Dec 13, 2018
The Kurdish-language Hawar news reported on Thursday that the 'Executive Council for Autonomous Forces in Northern and Eastern Syria' has ordered all troops to go on alert after Turkish President Recep Tayyip Erdogan threatened to launch military operations against Kurds in coming days.
The Kurdish forces in a statement claimed Ankara attempts to support the ISIL, calling on the US-led coalition, the international community, specially the UN, and the NATO members to voice opposition to Ankara's aggressive plans.
Meantime, commander of Ferqat al-Hamzeh, affiliated to the Turkey-backed Free Syrian Army (FSA) terrorist group, said that nearly 20,000 FSA militants are prepared to take part in the Turkish army's military operations against Kurds in Eastern Euphrates, specially the town of Manbij in Aleppo and Tal Abyadh in Raqqa.
Erdogan said on Wednesday that Ankara would launch an operation in the East of Euphrates in Syria in a few days to save it from separatist terrorist organization.
"We expressed that we will launch an operation in East of Euphrates in a few days to save it from a separatist terrorist organization," Erdogan stated at the Turkish Defense Industry Summit.
Erdogan added Turkey's target has never been US soldiers, but rather members of terror group.
"It is clear that the purpose of US observation points (in Syria) is not to protect our country from terrorists but to protect terrorists from Turkey," Erdogan noted.
A possible mission East of the Euphrates, which Turkey's leadership has been suggesting for months, would follow two successful cross-border Turkish operations into Syria --- Operation Euphrates Shield and Operation Olive Branch – which were both meant to eradicate the presence of YPG/PKK and ISIL terrorists near Turkey's borders.
Full report at:
http://en.farsnews.com/newstext.aspx?nn=13970922000589
--------
All Members of Syrian Family Killed in US Airstrike in Deir Ezzur
Dec 13, 2018
The Arabic-language al-Manar news channel reported on Wednesday that the US warplanes bombed the village of Kashmeh in Southeastern Deir Ezzur, killing 15 members of a family.
According to other reports, a large number of civilians who were continuously targeted by the US fighters in al-Sha'afah region had sheltered in al-Kashmeh.
Airstrikes by the US-led coalition warplanes have killed many civilians in Deir Ezzur under the pretext of fighting against the terrorists.
The US-led coalition fighters pounded a hospital in a small town in Southeastern Deir Ezzur on Saturday, local sources reported, adding that a sum of 8 civilians were killed and several more were wounded in the US air raid on residential areas in the province.
The warplanes fired several missiles on the town of Hajin in Southeastern Deir Ezzur, leveling a medical center to the ground.
Full report at:
http://en.farsnews.com/newstext.aspx?nn=13970922000372
--------
Israeli, Western Arms, Equipment Caches Found in Southern Syria
Dec 13, 2018
The engineering units of the Syrian army found the arms caches in the Western parts of Nawa in Northwestern Dara'a which included missiles, missile launchpads, Israeli LAV missiles, different types of anti-tank missiles, some of them Israeli, as well as a large number of ammunition for heavy and mid-sized machine guns and explosives, RPG rockets, mines, Dushka guns, artilleries, mortars and thermal cameras.
Meantime, a Syrian field source reported that the engineering units also found another cache which included different types of medicine produced by the Persian Gulf littoral states and western countries.
Also, reports said that the Syrian army has discovered a cache of weapons and military equipment in a 15-meter-deep tunnel between the Syria-Jordan border in the Southwestern parts of al-Nassib passageway which included at least 20 ground-to-air missiles along with launchpads.
In a relevant development last Thursday, the Syrian army discovered a large number of weapons, military equipment and ammunition, including the US and Israeli-made arms, during cleansing operations in the Southern province of Dara'a.
The engineering units of the Syrian army found US-made TOW missiles, Israeli weapons, sniper guns, a large number of combat guns, cannons, mortars, RPGs, machine guns and drones in a former terrorist base in Dara'a al-Balad region.
Full report at:
http://en.farsnews.com/newstext.aspx?nn=13970922000214
--------
UN Security Council authorizes Syria aid deliveries for another year
14 December 2018
The UN Security Council on Thursday approved a one-year extension of humanitarian aid deliveries across war-scarred Syria. The move came despite reluctance from Russia, which called to amend the period to six months.
The United States along with the majority of the Council members, however, approved the one-year extension, citing Syria's dire need for humanitarian supplies. More than 4.3 million people need aid in areas not controlled by the government, according to the United Nations.
That figure includes more than three million people who can only be reached via cross-border operations. During negotiations, Russian Deputy Ambassador Dmitry Polyanskiy said relief supplies were being seized by armed groups, subject to extortion at checkpoints and had generated millions in monthly revenue for the rebels.
The authorization allows humanitarian organizations to cross borders after simply notifying the government. The US believes there is no credible alternative to such deliveries, and has accused the regime of distributing aid unequally at the expense of communities considered less loyal to Damascus during the eight-year conflict.
Full report at:
https://english.alarabiya.net/en/News/middle-east/2018/12/14/UN-Security-Council-authorizes-Syria-aid-deliveries-for-another-year.html
--------
Saudi king, crown prince condemn French attack
December 13, 2018
RIYADH: King Salman and Crown Prince Mohammed bin Salman have condemned the recent shooting attack in the French city of Strasbourg as a "heinous and criminal act."
They sent cables of condolences to French President Emmanuel Macron about the attack. The king said: "We have learned of a shooting incident which took place in the French city of Strasbourg and resulted in a number of deaths and injuries. We strongly condemn this heinous and criminal act."
The king added: "We express our sincere condolences to your excellency, the French people and the families of victims, wishing all the injured speedy recovery."
http://www.arabnews.com/node/1420506/saudi-arabia
--------
US-backed Syrian forces smash Daesh defences in east
December 13, 2018
BEIRUT: Kurdish-led forces on Thursday moved deep into Hajjin, the main village in the last pocket still held by the Daesh group in eastern Syria, a war monitor said.
The Syrian Democratic Forces (SDF), with support from airstrikes conducted by the US-led coalition, deployed across the Euphrates Valley village.
"The SDF managed to break the defenses of the Daesh group after massing a large number of fighters backed by the international coalition," the Syrian Observatory for Human Rights said.
"They achieved quick progress inside Hajjin, the largest of the villages that were controlled by IS," Rami Abdel Rahman, the head of the Britain-based monitoring organization, said.
The SDF said on social media they had "liberated the city center of Hajjin and the big mosque."
Hajjin lies on the east bank of the Euphrates in the eastern province of Deir Ezzor, about 30 kilometers (18 miles) from the border with Iraq.
The area held by IS is sometimes referred to as the "Hajjin pocket," the last rump of a once-sprawling "caliphate" the group proclaimed in 2014 over parts of Syria and Iraq.
Obstacles
The SDF Kurdish-Arab alliance launched an operation in September to flush out Daesh but their advance has been fraught with obstacles.
The push to retake Hajjin was delayed by Turkish threats on Kurdish heartlands further north and deadly counter-attacks by die-hard jihadists making a bloody last stand.
"Now Daesh is confined to tunnels and to the edges of town," Abdel Rahman said.
"Fighting on the group and air strikes are continuing. The mines planted by the jihadists are the main remaining obstacle," he said.
No casualty toll was immediately available for the latest fighting but according to the Observatory close to 500 SDF fighters have been killed since the start of the operation on September 10.
Full report at:
http://www.arabnews.com/node/1420221/middle-east
--------
Southeast Asia
Mujahid says didn't issue list of Muslim preachers to be shunned by TV
14 December 2018
IPOH, Dec 14 ― A list purportedly of Muslim preachers that local television operators should avoid did not originate from the Prime Minister's Department, said Datuk Seri Mujahid Yusof Rawa.
Saying he did not know who produced the list circulating online, the minister in charge of Islamic affairs said his office only issued general guidelines on religious sermons and for preachers.
"To my knowledge, my office did not issue any instructions to ban any of the lecturers. What we have is issue general advice to them," he said.
Speaking to reporters at the sidelines of the Amanah national convention at Casuarina @ Meru here today, Mujahid added that as long as what the group preached was consistent with these guidelines, his ministry would not interfere in their activities.
He stressed that his office does not blacklist any individual based on personal preference and repeated that the guidelines were strictly about content.
When asked about the circulating list, he suggested that it could have been made to cause confusion and provocation.
"As long as they perform their duty, the issue of us disturbing their rice bowl does not arise," he said.
"Even now, we feel some of the ustaz are issuing unfavourable views (about the government), but we never block them," he added.
The list being shared online alleged that a "liberal gang" was attempting to undermine Muslims in the country.
https://www.malaymail.com/s/1703090/mujahid-says-didnt-issue-list-of-muslim-preachers-to-be-shunned-by-tv
--------
Two-term limit for Sabah governor removed despite objections
13 Dec 2018
KOTA KINABALU: The two-term limit for the Sabah Yang DiPertua Negeri (TYT) post was lifted at a special state assembly sitting Thursday (Dec 13) amid opposition objections.
The amendment will now allow for the Sabah governor to serve beyond two terms of four years each, which is widely expected to see incumbent Tun Juhar Mahiruddin's tenure extended for a third term.
His second term ends on Dec 31.
Sabah Chief Minister Datuk Seri Mohd Shafie Apdal is expected to recommend to the Yang diPertuan Agong for Juhar's extension for a third four-year term following the amendments he tabled to delete Clause 3 under Article 2 of the state Constitution that limited the TYT to two terms.
During debates, state opposition leader Datuk Dr Jeffrey Kitingan (Sabah STAR-Tambunan) said there was no need for the amendment as it was not beneficial.
He said issues like switching back the name of Yang DiPertua Negeri to Yang DiPertuan Negara was more pressing to regain Sabah's status as an equal partner in the federation of Malaysia.
He also said that amendments to the Constitution should benefit the people, and this matter does not affect the rakyat, nor was it in the public interest to do so.
Kemabong assemblyman Jamawi Jaafar said deleting the clause was a step further in reinstating state rights according to the Malaysia Agreement 1963 (MA63), and in strengthening the Istana Negeri institution.
"If we keep having former TYTs, the state would need to pay for their retirement fee and they still enjoy the same benefits as they were when they were the TYT," he said.
Paginatan assemblyman Datuk Abidin Madingkir (Upko) said the amendment to the constitution refers back to the original MA63 which did not limit the term of a TYT.
"This is to get back what is written under MA63," he said, adding he also agrees with Jamawi that the move would help the government reduce expenditure.
Kiulu assemblyman Datuk Joniston Bangkuai (PBS) however argued that there was no reason or purpose in lifting the term limits of the TYT.
"In Sabah, we celebrate diversity and there are also people of other races waiting and wanting to see a representative from their own race be in such a position of power," he said.
Sabah STAR's Dr Jeffrey also said that in the earlier MA63 clauses, it was agreed that if a TYT was a Muslim, a chief minister has to be non-Muslim and vice versa.
"So do you agree with this?" he said.
To this, Abidin said the such matters needed to be checked to see if they contradicted the Federal Constitution.
Karanaan assemblyman Datuk Masidi Manjun (Independent) said he felt that it was shameful that anyone would take the issue of the state budget and the TYT's pension to debate this matter.
"A former TYT gets only about RM2,000 a month, and this is such a small amount. We as representatives get more, so I am ashamed that we are even talking about the pension," he said.
Masidi said what was important what to have a reliable and capable person to sit in the TYT's seat.
Kuamut assemblyman Datuk Masiung Banah said he sees that the post of a TYT is politically linked.
"Every time after a government changes, we see that the TYT is blamed for having something to do with it; and every time something happens, the TYT of that time is blamed," he said in agreeing to the proposed amendments.
Shafie said that the move to lift the TYT's term limit had nothing to do with rumoured negotiations that took place between them regarding his appointment as Chief Minister.
Shafie, who is Parti Warisan Sabah president, said that his appointment as Chief Minister on May 10 happened not because of any private deals with the TYT but because he commanded the majority of the house.
"I don't want any question to surface about this. My appointment was made based on the majority, not because there were any deals, nor was it solely the TYT's decision," he told the house, adding that the authorities had stopped him from going to the Istana Negeri for his swearing-in.
"The TYT was not happy with this," he added.
A day after leaving Sabah Umno en bloc, five of its assemblymen voted against the proposed constitutional amendment to lift the limit on a governor's term.
Masidi, Datuk Hajiji Noor (Sulaman - Independent) and Datuk Mohd Ariffin Arif (Membakut - Independent) were not present for the voting.
Full report at:
https://www.thestar.com.my/news/nation/2018/12/13/two-term-limit-for-sabah-governor-removed-despite-objections/
--------
Amanah still struggling for footing ahead of convention
14 December 2018
KUALA LUMPUR, Dec 14 — By all accounts, Amanah profited richly from the 14th general election; almost all of its 11 MPs are in the government and the party can count five ministers and four deputy ministers in its stable.
But as Amanah heads into its national convention in Ipoh, a majority-Chinese tin mining turned gentrified town in Perak, the three-year-old Islamic party still appears to be searching for a unique identity that will not only set it apart from PKR and Parti Pribumi Bersatu Malaysia (PPBM), but also appeal to the coveted Malay-Muslim voter who lives in the villages of Kelantan, Terengganu, and Kedah.
Formed by the progressive exodus from PAS, the party is viewed as too liberal for the conservatives but also too conservative for the liberals, limiting its appeal at either end of the political spectrum.
"Amanah has no support base," Universiti Kebangsaan Malaysia political analyst Datuk Mohammad Agus Yusoff said bluntly.
"They can't compete with PAS even though they have five ministers."
He noted that Amanah has no leaders in Kelantan and observed that the party's success in the west coast was because of support from the Chinese, not Malays. The Malay middle class, he said, tended to support Pakatan Harapan (PH) and not Amanah per se.
Agus said it is fine for Amanah to be a progressive Muslim party, but it needs an "ideology", just like how PAS — the conservative Muslim party that Amanah leaders had broken away from to form their own party — has its own belief system.
Pacific Research Centre principal adviser Oh Ei Sun also noted that Amanah has yet to find its "niche" "with the urban, middle-class-or-above Malay support covered by PKR and Bersatu, and the rural, lower-class Malay support cornered by Umno and PAS".
PAS retained Kelantan and took over Terengganu from Umno in the 2018 election, while Umno retained the Malay heartlands of Perlis and Pahang. Amanah's sole mentri besar is Adly Zahari in Melaka.
Universiti Putra Malaysia analyst Jayum Jawan said Amanah's support base, judging from the distribution of its elected representatives, did not bode well for the young party's future.
Amanah has 11 MPs, 5 per cent of the 222-seat Parliament. It also won a handful of state seats in Johor, Selangor, Perak, Kedah, Negri Sembilan, Penang, and Melaka. But Amanah does not have a single federal or state representative in Kelantan or Terengganu.
"Amanah is essentially a splinter of PAS and so far, it doesn't seem that it is successful in drawing 'good/ reputable' PAS leaders to its side," Jayum told Malay Mail.
"On the impending party convention, it will heat up as people vie for position. This is expected as the party could in some way sway the spoils to members because the party is part of the power at the federal level. So, people are competing not so much to want to contribute and strengthen the party, but for the expected goodies that would come with positions in the party," he added.
What Amanah leaders think should be done
Datuk Mujahid Yusof Rawa, the minister in the Prime Minister's Department in charge of Islamic affairs, said Amanah had its own identity — a progressive and inclusive "party for the future" — but acknowledged the need to improvise.
"New Malaysia demands new thinking in policies and politics," Mujahid told Malay Mail. "Amanah intends to lead that frontier."
Amanah, he said, seeks to promote a "new narrative" for Malays: "progressive and understanding the context of a multiracial environment, self-reliance, and adopting a culture of honesty and trustworthiness."
Malays must also get out of their "siege mentality", said the Amanah vice president.
But will Amanah's "progressive" message — alluring in metropolitan cities but overlapping with stances taken by multi-racial PKR and PPBM, the less right-wing twin of Umno — appeal to Malay-Muslims in monoethnic rural areas?
Amanah communications director Khalid Samad believes it will, saying most Muslims feel that the party's understanding of Islam lines up with theirs.
"But of course, our problem is that we got some of the more traditional 'ulama' coming up with their more right-wing messaging," Khalid told Malay Mail.
"But I think this will end when Hadi is being shown as what he is; when it becomes more apparent that PAS has received funding from Umno and it's closer to Umno," he added, referring to PAS president Datuk Seri Abdul Hadi Awang.
"It's just a matter of time."
Amanah deputy president Salahuddin Ayub said six months after the May 9 election, Amanah had the opportunity to position itself in the government.
"We try to be down-to-earth people," he told Malay Mail.
"It's a good opportunity for us to bring ourselves and to ensure that our image is still preserved and together with the government to ensure good governance."
Malay-Muslims, he said, would judge for themselves which party they wanted to join at the end of the day.
Deputy Entrepreneur Development Minister Hatta Ramli said Amanah's "middle path" in Malay politics and Muslim concerns was not populist rhetoric, but a "rational, Islamic and responsible approach towards nation building".
"The support from Malaysians post-GE14 is very heartening, including from former PAS members and non-Malays. Our perceived good standing in the government is helping us to break into difficult terrain in Sabah and Sarawak and also PAS strongholds in Kelantan and Terengganu," the Lumut MP told Malay Mail.
Whether Amanah can win over conservative Malay-Muslims — especially after last weekend's rally here organised by PAS and Umno that saw over 50,000 Malays demonstrate in favour of Malay privileges and Islamic superiority — remains to be seen.
For James Chin, director of Asia Institute at University of Tasmania, current events are largely irrelevant until 2020 when PKR president Datuk Seri Anwar Ibrahim is expected to succeed Tun Dr Mahathir Mohamad as prime minister.
"[Anwar] has always a bloc of Islamists following him, so it will be interesting to see how he will position the PH government in terms of Islamic vote.
Full report at:
https://www.malaymail.com/s/1703007/amanah-still-struggling-for-footing-ahead-of-convention
--------
Jakarta recovers from divisive election: BPS
December 14, 2018
A study has indicated that democracy in the country's capital has recovered since a polarizing gubernatorial election two years ago.
In the latest release of the Indonesian Democracy Index (IDI), Statistics Indonesia (BPS) has revealed that Jakarta is the most democratic among 34 provinces with a score of 84.73.
According to the report, the number of democratic events in each province relates directly to its democracy rating.
The report noted that, before 2016, Jakarta consistently achieved a "good" democracy ranking and was always at the top. However, its democracy index dropped drastically from "good" to "bad", with only 70.85 points in 2016 amid campaigns for the 2017 gubernatorial election.
The report stated that, from 2016 to 2017, there was a heavy use of identity politics in the lead-up to the 2017 election, which led to violations of election rules and democratic principles.
"A good democracy can be reversed easily just because of certain political events. For example, Jakarta was disturbed by widespread [campaign violations] from 2016 to 2017," the report stated.
The 2017 gubernatorial election saw then-governor Basuki "Ahok" Tjahaja Purnama seeking reelection. He was challenged by former education minister Anies Baswedan and former president Susilo Bambang Yudhoyono's son Agus Harimurti.
Ahok's candidacy was hobbled by a criminal trial in which he was accused of blasphemy against Islam during a campaign appearance in September 2016. He was hit by a string of smear campaigns by conservative Muslim groups, grouped under the "212", that had called for his prosecution.
BPS social security statistics director Harmawanti Marhaeni said democracy in Jakarta improved quickly after the 2016 gubernatorial election. The ranking for civil liberties rose 6.62 points to 87.73, political rights rose 12.32 points to 80.86 and democratic institutions rose 23.93 points to 87.12.
"According to the data, civil liberties returned to the level of 2015," she said on Thursday.
However, the report questioned how permanent the divisions were in society after the sharp decline in the index in 2016.
Prior to and during the election, Jakarta was hit with anti-Chinese and anti-Christian sentiment. Banners with text that threatened to refuse to carry out Islamic burial rituals for deceased Muslims who supported Ahok, a Chinese-Indonesian and Christian, were put up in parts of the capital.
Ahead of the 2019 presidential election, in which President Joko "Jokowi" Widodo, a close ally of Ahok, is seeking reelection, the 212 movement is making its comeback.
In a large rally that shows the enduring presence of the Islamists in politics, hundreds of thousands of conservative Muslims flocked to the National Monument (Monas) on Dec. 2 to commemorate the second anniversary of the 2016 anti-Ahok rally.
Anies, now Jakarta's governor, said the group's revival showed the maturity of democracy. Therefore, he added, this should be an example for other provinces. "If the capital city has matured democratically in carrying out basic rights, this can be spread to all over the country," he said.
The Economist Intelligence Unit's Democracy Index 2017 referred to Indonesia as a flawed democracy. It fell from 48th place to 68th in the index.
Full report at:
http://www.thejakartapost.com/news/2018/12/14/jakarta-recovers-from-divisive-election-bps.html
--------
India
Fact Check: This Protest March by Muslim Organisations Has Nothing To Do With Congress Victory
Nikhil Dawar
December 13, 2018
Did Muslim organisations take out a rally chanting pro-Pakistan slogans and demanding the rebuilding of Babri Mosque after the Congress's victory in Rajasthan, Chhattisgarh and Madhya Pradesh?
According to a video, these claims have been shared made on social media. The caption in one of the Facebook posts reads, "Yeh lo Congress ki jeet ko abhi 24 ghante bhi nahi hue aur Babri Masjid ke liye juloos aur Pakistan ke nare lagne lage. (It has not even been 24 hours since the Congress has won and a procession demanding the Babri Mosque and pro-Pak slogans are being raised)." At the time of filing this report, this post has been shared more than 9,000 times from a single Facebook page, Politics Solitics.
It has been shared on many other Facebook pages as well.
India Today Fact Check found these claims to be misleading. The rally was taken out much before the results of Assembly elections were declared. People in the rally did demand rebuilding of the Babri Mosque but did not raise pro-Pakistan slogans.
In the video, Indian Union Muslim League Sambhal city can be seen written on banners. Sambhal is a district in western Uttar Pradesh.
Using keywords - Sambhal and Babri Masjid - we found the same video on YouTube which was uploaded two years ago in 2016. In the video, it can be seen that the people are carrying placards with pictures of the Babri Mosque and raising slogans for its rebuilding.
We spoke to Mukimur-Quereshi, the district president of Muslim League in Sambhal. He said, Every year on December 6, we take out a march demanding the rebuilding of the Babri Mosque. This particular video is from our protest march but not from this year. The Babri Mosque was demolished on December 6, 1992.
Quereshi insisted, We have been taking out this March very year since the Babri Mosque demolition. Neither do we ever raise pro-Pakistan slogans nor do this rally has anything to do with the recent victory of the Congress party.
A similar video is being shared widely on Facebook with the claim that Pakistani flags were waived at the Congress victory rally in Rajasthan.
The Rajasthan Police has officially refuted the claim and termed it false.
https://www.indiatoday.in/fact-check/story/fack-check-this-protest-march-by-muslim-organisations-has-nothing-to-do-with-congress-victory-1409096-2018-12-13
--------
Kerala men who left to join IS are ex-PFI workers
Dec 14, 2018
KOZHIKODE: Two peope from Kannur who left the country allegedly to join the Islamic State (IS) in Afghanistan last month are former workers of Popular Front of India (PFI).
Police said K Sajjad and Anwar Poothappara went missing along with their families on November 19 after they told relatives they were going to Mysuru. T P Nisam, another youth from Kuruva in Kannur, also has been reported missing and is believed to have joined the group.
Sajjad has gone with wife Shahina and two children and Anwar with wife Afsila and three children. Police said they went to UAE on November 20 and from there to Iran. It is believed the group has sneaked into IS areas in Afghanistan.
PFI sources said Anwar had severed ties with the organisation eight years ago after he went to the Gulf. Sajjad was ousted from the organisation three years ago for 'financial irregularity', the sources added.
Nisam was a regular visitor to a Salafi mosque now managed by an extreme Salafi group, police said. He has raised questions on certain religious issues to the Salafi preachers. Some controversial Salafi preachers are associated with the mosque, whose speeches had led to widespread protest in Kerala.
Anwar is co-brother of Muhammad Shameer T K, the PFI division-level leader from Pappinassery, believed to have been killed in Syria along with his two children. Shameer, who left for Syria in 2015, is suspected to be the motivator for the group from Kannur which joined the IS last year.
According to charge-sheet filed by National Investigating Agency in the Kannur IS case, it was Shameer who motivated others, including PFI workers Abdul Razak, Mithilaj, Rashid, Abdul Manaf, Muhammad Shajil and Abdul Khayoom, to join the terrorist outfit.
Full report at:
https://timesofindia.indiatimes.com/india/kerala-men-who-left-to-join-is-are-ex-pfi-workers/articleshow/67084594.cms
--------
Can Pakistani citizens resettle in J&K, SC asks state govt
Dec 14, 2018
NEW DELHI: More than 35 years after the Jammu and Kashmir assembly enacted a law permitting state residents who migrated to Pakistan in 1947 to return with their descendants for resettlement, the Supreme Court on Thursday asked the state whether it intended to allow Pakistani citizens to settle in J&K.
Taking up a bunch of long pending petitions filed by Panthers Party through its chief Bhim Singh and four others challenging the validity of J&K Grant of Permit for Resettlement in (or Permanent Return to) the State Act, 1982, a bench of Chief Justice Ranjan Gogoi and Justices Sanjay Kishan Kaul and K M Joseph said an 18-year-old who migrated to Pakistan in 1947 would now be 90 years old. "Will you allow his children and grandchildren and their wives, who are born in Pakistan and citizens thereof, to come back and settle in J&K?" the bench asked.
"If the Act is put into operation, the grandchildren of those who migrated to Pakistan in 1947 can now come with their families and settle in Jammu and Kashmir. How do you include his/her children? This will amount to allowing someone other than those who migrated to Pakistan to settle in the state," the bench added.
On behalf of the Centre, solicitor general Tushar Mehta echoed the petitioners' apprehensions against the 1982 law and said permitting resettlement of descendants of state residents who migrated to Pakistan in 1947 would not only create a serious security situation for the country but also contravene provisions of the Citizenship Act.
Appearing for the state, senior advocate Rakesh Dwivedi said the SC could read down the provision to mean that only those who had migrated to Pakistan in 1947 could be permitted to come back and settle in India provided they swore loyalty to the Constitution of India and of J&K.
CJI Gogoi asked Dwivedi whether he was making this statement on instructions from the state government. After conferring with state standing counsel Shoeb Alam, Dwivedi told the court, "It is a sensitive issue. I cannot make any statement as the situation in the state is far from normal." Understanding Dwivedi's predicament, the bench told him to take instructions on this question and adjourned hearing to the second week of January.
The bench also asked the J&K government to furnish details of the number of applications it had received from original migrants from the state to Pakistan expressing their intent to resettle in India. Dwivedi said the state government had indeed received some applications for resettlement under the 1982 law. "We have not considered any of the applications," he said. The bench asked him to apprise the court on the factual position during the next hearing.
In its affidavit, the Centre had cited a few examples of consequences of the 1982 law and said, "The Act purports to enable persons who may have voluntarily migrated to Pakistan, taken Pakistani citizenship, appropriated evacuee property, even served in Pakistani civil or armed services or fought against India or committed other treasonable acts against India to return at any time of their choosing and settle in J&K... This will endanger national security and public order."
Full report at:
https://timesofindia.indiatimes.com/india/can-pakistani-citizens-resettle-in-jk-sc-asks-state-govt/articleshow/67084422.cms
--------
India asks Pakistan to repatriate Ansari as his prison term nears end
Dec 14, 2018
India is looking to turn up the heat on Islamabad for the release of Mumbai youth Hamid Nehal Ansari who crossed over to Pakistan looking to meet a woman he had apparently fallen in love with. The government issued a note verbale to Pakistan on December 11 seeking immediate repatriation of Ansari, official sources here said.
The government also sought release of 11 other Indian civilian prisoners who have served their sentence in Pakistani jails and whose nationality has been confirmed. The note verbale for Ansari is significant as it comes days ahead of the end of his prison term on December 16. Pakistan has so far remained non-committal on the issue of his repatriation.
In the absence of any substantive engagement, India and Pakistan have mostly focused on promoting religious tourism and addressing issues related to prisoners and fishermen. While Pakistan has released Indian fishermen at regular intervals, India is upset that Islamabad never allowed any consular access to Ansari.
As the government pointed out before Pakistan authorities, India had sought consular access to Ansari on at least 95 occasions before the December 11 note verbale. Ansari has been in Pakistan's custody for around 6 years now, including his pre-trial period. India has so far not received any official communication from Pakistan on the nature of the charges against Ansari. India has described the denial of consular access to Ansari as violative of all international diplomatic and humanitarian norms.
Pakistan media reported in August this year that the Peshawar High Court had asked Islamabad to deport Ansari to India immediately after the completion of his 3-year sentence. The Indian government has also not taken kindly to the fact that despite Ansari being a civilian, his trial was carried out by a military court. While Ansari was arrested in 2012, his name, according to Indian authorities, was included in the list of Indian prisoners by Pakistan only in January, 2016.
The government has also urged Pakistan to expedite visas for a team of Indian medical experts constituted to visit Pakistan to examine mentally unsound, women, children and elderly prisoners awaiting repatriation to India. India has offered a similar arrangement to Pakistan for examination of Pakistani prisoners here.
India and Pakistan had arrived at an agreement over the humanitarian issue of prisoners last year in October after a meeting between foreign minister Sushma Swaraj and Pakistan high commissioner Sohail Mahmood. Swaraj had suggested that both countries cooperate in matters related to mentally unsound prisoners and also juvenile, elderly and women prisoners. She had also suggested revival of the Joint Judicial Committee mechanism for visiting jails. Pakistan had accepted these proposals in March, 2018. While India has reconstituted its Joint Judicial Committee, it has not been able to visit Pakistani jails because of, according to Indian officials, lack of approval from Islamabad.
Full report at:
https://timesofindia.indiatimes.com/india/india-asks-pakistan-to-repatriate-ansari-as-his-prison-term-nears-end/articleshow/67083758.cms
--------
Teenage terrorist killed in Sunday encounter had cameo in 'Haider'
Dec 13, 2018
SRINAGAR: The 2013 blockbuster 'Haider' which captured the ironies of the violent conflict in Kashmir, has a new climax—a 17-year-old Kashmiri boy who did a cameo in the Bollywood adaption of Shakespeare's Hamlet, was one of the three Lashkar-e-Taiba terrorists killed in an encounter in Srinagar last Sunday.
The teenager, Saqib Bilal, appeared in the Vishal Bhardwaj movie 'Haider' and earned Rs.1400 for two shots at centaur Lake view hotel here five years ago, his maternal uncle Ajaz Parray, told the TOI.
Saqib was contacted by Kashmiri coordinators in Srinagar because he was one among the "chocolate-boys" the movie director required for several scenes, Parray said. "I took my nephew Saqib, who was 13 or 14 at that time, for screening. He was taken to Srinagar along with a dozen boys in a cab to Lake view hotel for shooting in December 2013. The scene he appeared in pertained to the elections in Kashmir ," Parray said.
The grief-stricken father of the slain terrorist, Bilal Ahmad Sheikh, an employee in Hajin municipality, described Saqib as a good-looking bright student who was interested in theatre. He said he couldn't recall even one instance when his son had exhibited radical behavior.
When and how Saqib got radicalized is a mystery to the entire family. His uncle Parray claimed that Saqib was happy-go-lucky boy who was fond of good food and music.
With a typical fair-complexioned sharp Kashmiri looks, Saqib had acted in a play called 'Vath Chhi Yeahiy' (This is the Way), at Srinagar's Tagore Hall. "He even went to Odisha for the same drama," his uncle Parray said.
"He sung several Kashmiri folk songs at my wedding in 2016, when the whole valley was gripped by violence post-Burhan Wani killing," Parray recalled. The teenager, he said, used to eat half a dozen eggs daily.
"The entirely family was shocked when he left home on August 31, this year and joined militancy. We tried to get in touch with him but he could not meet any of us," the uncle said.
Police sources on Sunday had said that 14-year-old Mudasir Parray, who was a courier boy of Pakistani Lashkar-e-Taiba terrorists since 2014, influenced Saqib and persuaded him to pick up arms and join the terror group.
Parray said Mudasir lived three villages away from Saqib's and it was astonishing to know about their closeness. "Saqib was studying in class 11th in Sumbal New Greenland school while Mudasir was in class 9 in government high school at Hajin in Bandipora district. The two had different hobbies as well. While Saqib played cricket, Mudasir was fond of football. How they met is still a mystery," Parray said.
Full report at:
https://timesofindia.indiatimes.com/india/teenage-terrorist-killed-in-sunday-encounter-had-cameo-in-haider/articleshow/67082512.cms
--------
Five kids among 10 who left Kerala to join IS: Police
December 14, 2018
Kerala Police suspect that 10 people, including five children, from Kannur have sneaked out of the country with the intention to join the Islamic State.
According to police, two families, including their five children, and another person from Azhikode region have been missing since November 19. "They have left their houses informing relatives that they were going to Mysore. However, we have now come to know that they did not go to Mysore, instead flew to the UAE. We could confirm that these persons, including two women, have moved to Iran," said police sources.
Sources said police are collecting specific details about their journey from Kerala to Iran. "The families of the missing persons haven't so far made a formal complaint, although they know that their dear ones have left the country. It is confirmed that they have left the country after moving out of their homes under the guise of visit to Mysore. We haven't registered any case so far. In the past, we had registered cases only when someone either returned from IS areas or was deported back to India," sources said.
Official sources said one of the missing families is related to Fousiya, who had allegedly moved to Syria in 2016. Fousiya's husband T V Shameer and son Salman had reportedly died in Syria last year while fighting for the IS. Another person among the missing was close to Shameer.
Full report at:
https://indianexpress.com/article/india/five-kids-among-10-who-left-kerala-to-join-is-police-5492809/
--------
Pakistan
Global outcry over INGOs' closure in Pakistan
Amin Ahmed
December 14, 2018
ISLAMABAD: A European Union delegation, the heads of mission of the European Union member states represented in Pakistan, and the heads of mission of Australia, Canada, Japan, Norway and Switzerland have expressed concern over the closing down of activities of international NGOs in the country.
Also read: Time to review NGO policy
In a joint statement issued on Thursday, they said: "We fully respect the government's right to maintain an INGO registration policy but we share a deep concern over the way in which it has been implemented, the potential for more INGOs to be closed without clear justification, the impact on Pakistan's civil society, and the implications for Pakistan in achieving good governance and inclusive development."
They urged the government that, in the interest of the population of Pakistan, not least its most vulnerable citizens, a solution be found as soon as possible to avoid the closing down of further INGOs' activities.
They strongly believe that a vibrant civil society is indispensable for good governance and inclusive development, issues that Prime Minister Imran Khan's government promotes and which are at the heart of the Sustainable Development Goals (SDGs).
"We have been engaging with the leadership of Pakistan to revisit the situation of those international non-governmental organisations (INGOs) whose registration was initially rejected by the previous administration. We welcome the recent offer for an open dialogue as proposed by the government of Pakistan, and hope that this dialogue will be initiated shortly," the joint local statement says.
Earlier this month the deadline given by the government to the 18 reputable and well-known INGOs to wind up their operations expired, leaving them with no other option but to terminate their operations and to re-apply in six months' time.
"This means that financial support to Pakistani organisations will be reduced as most INGOs work through local institutions to carry out their activities," according to the statement.
The joint local statement issued by the European Union office says "We believe that the work of INGOs contributes in reaching the Sustainable Development Goals in Pakistan. We are of the view that the rejected INGOs have been positively contributing towards these goals in many areas.
With their expertise, flexibility, and ability to operate under difficult circumstances, international and national NGOs have made invaluable contributions to Pakistan and are indispensable for our countries to continue our wide-ranging cooperation activities in partnership with the government.
https://www.dawn.com/news/1451320/global-outcry-over-ingos-closure-in-pakistan
--------
NA bars Hindu lawmaker from presenting bill seeking ban on alcohol
December 11, 2018
ISLAMABAD – A Hindu lawmaker was barred from tabling a constitutional amendment bill, seeking a ban on the sale of alcohol, in the National Assembly on Tuesday.
Pakistan Tehreek Insaf's (PTI) Hindu MNA Dr Ramesh Kumar sought permission to present the bill, stating that alcohol consumption is prohibited in all religions, including Hinduism, Islam and Christianity. He called for cancelling the alcohol permits in the country.
The PTI and Muttahida Majlis-e-Amal supported the bill but it was opposed by the Pakistan Muslim League-Nawaz (PML-N) and Pakistan Peoples Party (PPP). The bill seeks an amendment to the Article 37 of the Constitution.
A section of the Article states,
Deputy Speaker Qasim Suri, however, barred the minister from presenting the bill after the majority of lawmakers, who were present at that time, voted against it.
The MMA, in response to the deputy speaker's order, protested and demanded voting on the bill again.
The opposition parties, including PML-N and PPP, staged a walk out in NA over not running the session according to the agenda.
The session of the lower house of the parliament was then adjourned till Wednesday.
Talking to media outside the assembly, Kumar called for introducing strict laws to ban sale of alcohol in the name of any religion.
Kumar said unfortunately a number of people had obtained the permits for alcohol business in the name of Hindu religion, which was unacceptable.
An expert is of the view that the PTI legislator could get approved the bill from the NA easily by ensuring the presence of the members of the his party and allies as the Imran Khan-led party is in the majority.
In 2014 when Kumra was also the MNA had said alcohol is strictly forbidden according to the teachings of the Shrimad Baghwat Piran – a Hindu holy book, while also emphasising that decision makers (MNAs) or other higher-ups in the community are prohibited to drink under any circumstances.
Full report at:
https://en.dailypakistan.com.pk/pakistan/pakistans-top-legislative-body-bars-hindu-lawmaker-from-presenting-bill-seeking-ban-on-alcohol/
--------
Police arrest Samiul Haq's 'missing' personal secretary
December 14, 2018
Police on Thursday arrested Maulana Samiul Haq's personal secretary over his alleged involvement in the murder of the Jamiat Ulemae Islam-Sami (JUI-S) chief, a private media outlet reported.
According to reports, Ahmed Shah was arrested with the assistance of the deceased's relatives.
Haq, an influential religious scholar and former senator, was stabbed to death by unidentified suspect(s) at his Rawalpindi residence on November 2.
His personal secretary had "mysteriously disappeared" following Haq's funeral prayer and despite repeated efforts, the police had previously been unable to locate him.
The secretary is currently being interrogated.
Full report at:
https://www.pakistantoday.com.pk/2018/12/13/police-arrest-samiul-haqs-absconded-personal-secretary/
--------
Experts say despite problems, media disseminating untwisted news
Hasan Mansoor
December 14, 2018
KARACHI: Speakers at a session in the ongoing Festival of Arts and Ideas organised by Sindh Madressatul Islam University (SMIU) on Thursday said that despite being influenced by highly divisive society of the country, Pakistani media has still managed to play its role in trying to disseminate untwisted information to people.
At a session titled 'Media and the state: Is honeymoon over?', speakers, however, blamed a section of the electronic media for "negative" reporting because of rat race for ratings that eventually painted negative image of the country.
They said the country was divided on various fronts as there were people who supported fundamentalism and there were others who sided with liberal and progressive ideas, yet media outlets in general were ensuring that factual information reached the people.
They, however, blamed the rat race for ratings that had often forced a section of the electronic media to run twisted and incorrect news reports and disinformation on prime-time talk shows.
"Fundamentalism has gripped the country on the one hand and on the other there are liberal forces. Similarly, our society is divided on ideological grounds as well and in such a situation, media is still making it possible to inform people honestly," said journalist Ghazi Salahuddin.
Columnist Wusatullah Khan said that media was not just limited to a newspaper or a news channel, but books, poetry, fiction and drama also fall in its vast definition.
He said that freedom of expression had been achieved through great struggles in the world.
Mr Khan also spoke about the current financial crisis as being claimed by some media outlets. He said that media organisations got merely a quarter of their advertisements from the government while the rest [75 per cent] came from the private sector.
He said that the overall nature of media was also changing because it had to entertain the dictation of clients who paid for advertisements.
Journalist Mazhar Abbas said that most talk shows on news channels were negative in nature and ratings were the key culprit to blame for it.
He said that most of the wrong information being relayed on electronic media was the result of continuous pressure of deadlines and race for ratings, and such misreporting could not be rectified later on.
"Our reporting is irresponsible and this is leading society to the negative path."
Owais Zaidi of the Pakistan Electronic Media Regulatory Authority said that people were gradually getting aware of what was happening in the country and elsewhere in the world.
Struggle for freedom
Speaking at the distinguished lecture series, journalist and intellectual I.A. Rehman spoke at length about the history of media in the country.
He informed the young audience about troubles that journalists faced while struggling for freedom of press in the country.
He said that Gen Ziaul Haq's dictatorship was the worst in the country's history when newspapers had been forced to publish empty spaces as authorities used to censor the news originally pasted on pre-press copy.
The country's revered rights activist said that the authorities at the time had censored Faiz's poetry and even the reference to pharaoh, as written in the holy texts, in newspapers perturbed authorities.
He said such events were highly important for the young generation as they would help create a culture of tolerance and respect for dissent.
Full report at:
https://www.dawn.com/news/1451255/experts-say-despite-problems-media-disseminating-untwisted-news
--------
EU welcomes govt's offer for dialogue on INGOs registration issue
December 14, 2018
ISLAMABAD: European Union Thursday welcomed the offer for an open dialogue by the government of Pakistan on the issue of the cancellation of the registration of some International Non-Governmental Organizations (INGOs) by the previous government.
"The European Union Delegation, the Heads of Mission of the European Union Member States represented in Pakistan, and the Heads of Mission of Australia, Canada, Japan, Norway and Switzerland strongly believe that a vibrant civil society is indispensable for good governance and inclusive development, issues that Prime Minister Imran Khan's government promotes and which are at the heart of the Sustainable Development Goals," a Joint Local Statement said on the situation of INGOs issued here by European Union Delegation in Pakistan.
It said they had been engaging with the leadership of Pakistan to revisit the situation of those INGOs whose registration was initially rejected by the previous administration.
"We welcome the recent offer for an open dialogue as proposed by the government of Pakistan, and hope that this dialogue will be initiated shortly," it added.
The European Union said it fully respected the government's right to maintain an INGO registration policy but showed reservations on implementation method and its implications.
Full report at:
https://www.pakistantoday.com.pk/2018/12/14/eu-welcome-governments-offer-for-dialogue-on-ingos-registration-issue/
--------
Qureshi stresses need for opening Pak-Italy legal migration channels
December 14, 2018
ISLAMABAD: Foreign Minister Makhdoom Shah Mahmood Qureshi while appreciating the longstanding relationship between Pakistan-Italy on Thursday, underlined the need for opening channels of legal migration between the two countries.
In a meeting with the Italian Ministry of Foreign Affairs Secretary General Elisabetta Balloniat, who had called on him here at the Foreign Office (FO), Qureshi lauded the strong bilateral institutional mechanisms of cooperation in diverse fields, including the political dialogue process between the two countries.
The two sides discussed a wide range of regional and bilateral issues of mutual interest and expressed satisfaction at the current state of relations.
Qureshi emphasised the need to enhance high-level exchanges and augment cooperation in the spheres of trade, investment, economic development, culture and tourism.
The two sides agreed to pursue joint ventures in trade and economic spheres through the transfer of technology.
They also reaffirmed the excellent cooperation existing between the two countries at the multilateral fora, including the United Nations (UN), and agreed to further enhance it.
Full report at:
https://www.pakistantoday.com.pk/2018/12/13/qureshi-stresses-need-for-opening-pak-italy-legal-migration-channels/
--------
KP passes resolution against Pakistan's addition to religious freedom blacklist
December 14, 2018
PESHAWAR: Khyber Pakhtunkhwa (KP) Assembly on Thursday passed a resolution condemning United States' act of putting Pakistan on its blacklist of countries violating religious freedom.
KP assembly members from minorities, including Wazir Zada and Ravi Kumar, moved the resolution in the house, which was passed unanimously by the assembly after being signed by all parliamentary leaders.
"We condemn this act of America. It is baseless and constitutes prejudice. Our worship places are safe and minorities enjoy all their rights here," Wazir Zada stated while reading the resolution.
America does not see the atrocities on Muslims and Sikhs in India, Burma and Palestine, the resolution stated.
"All minorities living in Pakistan want to make it clear that our worship places are safe in Pakistan and we enjoy all our rights here. We can raise our voices and can struggle for our rights at all forums. Pakistan is our country and we will not tolerate anything against its sovereignty. We do not need dictation from anyone," it said.
Both Kumar and Wazir Zada in their speeches said that minorities in Pakistan enjoy the freedom to follow their religion and never in the history of the country has anyone stopped the minorities from going to their worship places or performing their religious rituals.
Full report at:
https://www.pakistantoday.com.pk/2018/12/13/kp-passes-resolution-against-pakistans-addition-to-religious-freedom-blacklist/
--------
Four TTP terrorists held, arms recovered
DECEMBER 14, 2018
The Counter Terrorism Department on Thursday arrested four terrorists of a banned outfit in Chichawatni and recovered arms, ammunition and explosives from them.
The CTD conducted the operation on an intelligence tip-off in Gogera area of Chichawatni.
During the operation, four terrorists of defunct Tehreek-e-Taliban Pakistan (TTP), including Muhammad Yaqoob, Raaz Muhammad, Maulvi Muhammad Younas and Ghazi Hayatullah were arrested.
The CTD also recovered weapons, explosives, ball bearings, detonators and material used in making suicide jackets.
Later, the CTD produced the detained terrorists in an anti-terrorism court (ATC), which remanded them into the CTD custody for eight days.
https://dailytimes.com.pk/333400/four-ttp-terrorists-held-arms-recovered/
--------
PM Khan vows to make Pakistan a economically sound, self-reliant state
DECEMBER 13, 2018
ISLAMABAD: Prime Minister Imran Khan on Thursday said that his vision is to make Pakistan a financially viable and economically self-reliant state, by getting rid of the dependency syndrome.
Addressing Pakistan Economic Fourm (PEF) the Prime Minister said that his government will deal with money laundering and smuggling identically.
The prime minister said that wealth creation is necessary to take the country forward, adding that PTI-led government will introduce a business friendly culture in the country and businessmen will be encouraged to invest their capital in various sectors.
Imran Khan stated that a country seeking help from other cannot move forward.
He stressed the nation to adopt the approach of self-reliance rather than relying on others. "China pulled 700 million people out of poverty over 30 years," Khan quoted.
The premier said that his government is working determinately to provide a safe and healthy atmosphere to investors and we would make all efforts to increase the country's exports.
About taxation, he said the government separating tax collection and tax policy-making bodies from each other.
Khan said the country was rich in natural resources, adding, "Investors don't come to a country as long as making money is not easy there."
Full report at:
https://dailytimes.com.pk/333184/pm-khan-vows-to-make-pakistan-a-economically-sound-self-reliant-state/
--------
North America
US House: Myanmar crimes against Rohingya 'genocide'
14.12.2018
WASHINGTON
The House of Representatives overwhelmingly passed legislation Thursday labeling as "genocide" Myanmar's ongoing crimes against the country's minority Muslim Rohingya population.
The resolution cleared the chamber 394-1.
Steve Chabot, who introduced the legislation, said in a statement after its passage that he asked fellow lawmakers to "affirm that the Burmese military's actions were genocide against the Rohingya people and that the Burmese government's imprisonment of two Reuters journalists is patently unjust," using the U.S.'s preferred name for Myanmar.
"I applaud my colleagues for standing with me and passing this important humanitarian legislation," he said.
In addition to formally considering the attacks to be genocide, it condemns attacks on civilians by Myanmar's military and security forces.
It also calls on Myanmar State Counsellor Aung San Suu Kyi and President Win Myint to pardon a pair of Reuters journalists who have been imprisoned for their work in exposing the massacres against the Rohingya.
Wa Lone and Kyaw Soe Oo have been imprisoned for over a year.
While Chabot's resolution directly labels Myanmar's acts "genocide," the State Department continues to refrain from labeling the actions as such.
Spokesman Robert Palladino told reporters earlier this week that while the department currently considers the violence, which includes mass rapes, destruction and killing to be ethnic cleansing, it "in no way prejudices any potential further analysis on whether mass atrocities have taken place, including genocide or crimes against humanity.
"Our efforts have been and remain focused on steps that will improve the situation for Rohingya refugees and all people in Burma and as well as promoting accountability for those that were responsible for these atrocities," he said.
A UN Fact-Finding Mission on Myanmar found the country's military guilty of genocide and crimes against humanity including rape, gang rape, sexual slavery, forced nudity, mutilations, torture, persecution, and enslavement.
The Rohingya, described by the UN as the world's most persecuted people, have faced heightened fears of attack since dozens were killed in communal violence in 2012.
Since Aug. 25, 2017, nearly 24,000 Rohingya have been killed by Myanmar's state forces, according to a report by the Ontario International Development Agency (OIDA).
https://www.aa.com.tr/en/americas/us-house-myanmar-crimes-against-rohingya-genocide-/1338310
--------
Peace possible in Yemen, says Pompeo on agreement reached in Sweden
14 December 2018
"The United States commends participants from the Yemen consultations in Sweden for making progress on key initiatives, including a cease-fire and withdrawal of forces in Hodeidah, prisoner exchanges, and opening humanitarian corridors to the city of Taiz," according to a press statement on Thursday by Michael R. Pompeo, US Secretary of State.
"Although many details remain subject to further discussion, these consultations between the Republic of Yemen Government and the Houthis marked a pivotal first step," it said.
"All parties have an opportunity to build upon this momentum and improve the lives of all Yemenis," it commented.
Way forward
"Moving forward, all must continue to engage, de-escalate tensions, and cease ongoing hostilities. This is the best way to give these and future consultations a chance to succeed.
"The United States thanks UN Special Envoy Martin Griffiths for his leadership on these efforts, continued optimism, and ability to inspire reconciliation. We also thank the Government of Sweden for hosting, as well as the governments of Kuwait, Oman, Saudi Arabia, the United Arab Emirates, and the many others that helped facilitate and support the consultations.
Full report at:
https://english.alarabiya.net/en/News/gulf/2018/12/14/Peace-possible-in-Yemen-says-Pompeo-on-the-Yemen-agreement-in-Sweden.html
--------
American military support for Saudi-led Yemen war must stop: US Senate
Dec 13, 2018
The US Senate has voted to stop US armed forces from supporting Saudi Arabia in its military aggression against its impoverished southern neighbor, Yemen.
The historic bipartisan vote on Thursday, for the first time, invoked Congress' war powers to challenge US military involvement abroad despite the Trump administration's unwavering support for the Saudi regime in its aggression against Yemen.
The 56-to-41 vote by the Democrats and some Republicans was both a condemnation of the Saudi-led war on Yemen – which has killed thousands of civilians and created a humanitarian crisis – and another rebuke to US President Donald Trump for his all-out support for the Saudi regime and its disgraced de facto leader Crown Prince Mohammed bin Salman --known by media as MbS -- who allegedly ordered the murder of US-based dissident Saudi journalist Jamal Khashoggi.
A half-dozen Republican senators joined all the chamber's Democrats in passing the unprecedented resolution against Trump.
Republicans senators disagreeing with the move all cast no votes.
The vote approved a resolution that will require US forces to stop providing US intelligence, targeting assistance in bombing, and other military support to the Saudi-led campaign against the Yemeni nation.
Some analysts described the resolution as a direct challenge to Trump by Senate.
Proponents of the resolution maintain that US forces involvement in the Yemen war was unauthorized, unconstitutional and immoral.
The motion was sponsored by Sanders, Sen. Chris Murphy, D-Conn., and conservative Sen. Mike Lee, of Utah.
"It is Congress, not the president, that has the power to send our men and women into war," said Sen. Bernie Sanders as the Senate opened debate on Wednesday.
The Vermont independent Senator, who championed US withdrawal, said Congress had abdicated that responsibility for decades.
Sanders described the vote as a message to Riyadh. "Today we tell the despotic regime in Saudi Arabia that we will not be a part of their military adventurism."
Senators also unanimously approved a separate nonbinding resolution naming Saudi Arabia's crown prince, Mohammed Bin Salman, as responsible for Khashoggi's murder.
The Washington Post columnist was killed inside the Saudi Consulate in Istanbul on Oct. 2 by a team of Saudi operatives, many of whom have been tied to the crown prince.
The resolution, introduced by Senate Foreign Relations Committee Chairman Bob Corker, calls on the Saudi regime "to ensure appropriate accountability for all those responsible for Jamal Khashoggi's murder" and urges the kingdom to "moderate its increasingly erratic foreign policy," among other steps.
Corker said the measure would put Congress on record as holding the crown prince responsible for Khashoggi's murder.
"The United States Senate has said the crown prince Mohammed Bin Salman is responsible for the murder of Jamal Khashoggi," Corker said. "That is a strong statement ... I think it speaks to the values that we hold dear."
Referring to reports that Khashoggi was tortured and dismembered, Sen. Lindsey Graham ( Rep-S.C) said, "The crown prince is so toxic, so tainted, so flawed that I can't ever see myself doing business with Saudi Arabia ... Do you really want to transfer your most advanced technology to somebody who thinks it's okay to lure a journalist to a consulate in Turkey … and chop him up?"
Trump has downplayed evidence that Saudi Arabia's crown prince was involved in Khashoggi's murder and said the incident should not harm US-Saudi relations.
Trump relies heavily on Saudi Arabia for buying arms from US weapons manufacturers which has led to an economic boon in the US since he entered office.
Meanwhile, some of the senators said they hoped that the Thursday's resolution would help the current Yemen peace negotiations in Sweden sponsored by the UN.
Full report at:
https://www.presstv.com/Detail/2018/12/13/582861/US-Senate-Saudiled-Yemen-War-Sanders
--------
Trump 'delusional' on Iran nuclear deal: Sen. Kaine
Dec 13, 2018
US President Donald Trump is being "delusional" about the 2015 Iran nuclear deal, says Democratic Senator Tim Kaine, accusing the Republican leader of undermining the international deal out of spite for his Democratic predecessor Barack Obama.
Trump claimed in a tweet on Wednesday that the Obama administration had paid Iran $150 billion to negotiate the Joint Comprehensive Plan of Action (JCPOA), which was signed between Tehran and six world powers – the US, the UK, France, China, Russia and Germany.
The businessman-turned-politician left the deal in May, arguing that it didn't address Washington's concerns regarding Iran's nuclear energy and ballistic missile programs.
"President Trump is delusional and clearly has never read the Iran deal," Kaine wrote on Twitter Wednesday.
"The Iran deal did not "give" Iran one penny; it released Iran's own money frozen in bank accounts. It imposed restrictions and inspections on Iran for decades and prohibited the country from ever purchasing, acquiring or developing any nuclear weapons," he added.
The Virginia senator, who ran against Trump in 2016 as the running mate of Democratic presidential nominee Hillary Clinton, said Trump's "insecurity" over Obama fueled his decisions.
"President Trump blew the whole Iran deal up—over his own military leaders' objections, by the way—because of his insecurity over President Obama," he added, noting that other countries, like Saudi Arabia, were playing Trump's insecurities "like a cheap fiddle."
The truth about payments to Iran is that the Obama administration paid $1.7 billion to Iran in 2016 to settle legal disputes over a sale of military equipment to Tehran before the 1979 Islamic Revolution.
Iranian officials have already dismissed Trump's claim that Iran's frozen assets in overseas banks amounted to around $150 billion.
In total, $29 billion of Iranian cash has been blocked as a result of US sanctions, the Central Bank of Iran (CBI) announced in 2015.
Full report at:
https://www.presstv.com/Detail/2018/12/13/582803/US-Trump-Iran-nuclear-deal-tim-kaine
--------
US seeks compensation from Saudi for refueling services
14.12.2018
By Umar Farooq
WASHINGTON
The United States is seeking reimbursements from Saudi Arabia and United Arab Emirates (UAE) after the Pentagon failed to charge them for fuel and refueling services, the Pentagon said Thursday.
The oversight was reported by The Atlantic last week, and now the U.S. is now requesting $331 million from the two countries.
U.S. Central Command reviewed its record and is seeking $37 million for fuel and $294 million for mid-air refueling services conducted by American forces.
"Our partners have been individually notified about our intent to seek reimbursement, and have been given estimates as to how much they owe," Pentagon spokeswoman Rebecca Rebarich said in a statement.
Yemen has been wracked by violence since 2014, when Houthi rebels overran much of the country and the crisis escalated in 2015 when a Saudi-led coalition, with support of the U.S., launched a devastating air campaign aimed at rolling back Houthi gains.
The violence has devastated Yemen's infrastructure, including its health and sanitation systems, prompting the UN to describe the situation as one of the worst humanitarian disasters of modern times.
Tens of thousands of people, including civilians, are believed to have been killed and the UN estimates 14 million Yemenis are at risk of famine.
Full report at:
https://www.aa.com.tr/en/americas/us-seeks-compensation-from-saudi-for-refueling-services/1338351
--------
US: Turkey's planned Syria operation 'grave concern'
13.12.2018
By Kasim Ileri
WASHINGTON
The United States voiced grave concern Wednesday over an operation planned by Turkey in northeastern Syria against the YPG/PKK terror organization.
President Recep Tayyip Erdogan said earlier that an offensive east of the Euphrates River is imminent and Turkey will launch it "within a matter of days" to clear the region of the terrorist group.
Turkey has long criticized U.S. cooperation with the YPG/PKK against Daesh, pointing out that the YPG is the Syrian branch of the PKK.
"Unilateral military action into northeast Syria by any party, particularly as U.S. personnel may be present or in the vicinity, is of grave concern," said Pentagon Spokesman Cmdr. Sean Robertson. "We would find any such actions unacceptable."
He said "coordination and consultation between the U.S. and Turkey is the only approach to address issues of security concern in this area."
The U.S. military is committed to working closely with the Turkish military to boost cooperation and coordination, said Robertson, adding "uncoordinated military operations" will undermine that shared interest.
The commander praised Turkey as a "NATO ally" for more than six decades and "a key partner" in the international fight against Daesh.
"We have solemn obligations to one another's security. We are fully committed to Turkey's border security," he said.
Robertson said the U.S.-led coalition is working closely with the YPG/PKK-led SDF group, which he said is "in the midst of offensive operations against ISIS in the Middle Euphrates River Valley," using another name for Daesh.
"The SDF remains a committed partner against ISIS and we remain committed to working with them to ensure ISIS's enduring defeat," he said.
A possible mission east of the Euphrates, which Turkey's leadership has been suggesting for months, would follow two successful cross-border Turkish operations into Syria since 2016 – Operation Euphrates Shield and Operation Olive Branch – both meant to eradicate the presence of YPG/PKK and Daesh terrorists near Turkey's borders.
Full report at:
https://www.aa.com.tr/en/americas/us-turkeys-planned-syria-operation-grave-concern/1337116
--------
US warns Turkey against unilateral military action in Syria
December 13, 2018
The Pentagon has said unilateral military action in north-east Syria by any party would be "unacceptable", in a warning after Turkey said it would launch a new military operation in the region within days to target Kurdish militia fighters.
Ankara and Washington have long been at odds over Syria, where the United States has backed the YPG Kurdish militia in the fight against ISIS militants.
Turkey says the YPG is a terrorist organisation and an extension of the outlawed Kurdistan Workers' Party (PKK), which has waged an insurgency in south-eastern Turkey for 34 years.
Within hours of Turkish President RecepTayyip Erdogan's announcement on Wednesday of a planned operation against the Syrian Kurdish militia, the US defence department said such action would undermine the shared interest of securing the border between Syria and Turkey in a sustainable way.
"Unilateral military action into north-east Syria by any party, particularly as US personnel may be present or in the vicinity, is of grave concern," Pentagon spokesman Sean Robertson said.
"We would find any such actions unacceptable."
Turkey has launched military campaigns over the past two years to sweep YPG fighters from territory west of the Euphrates, but has not gone east of the river - partly to avoid direct confrontation with US forces.
But Mr Erdogan's patience with Washington over Syria - specifically a deal to clear the YPG from the town of Manbij, just west of the Euphrates - seems to have worn thin.
"We will start the operation to clear the east of the Euphrates from separatist terrorists in a few days. Our target is never US soldiers," Mr Erdogan said at a defence industry summit in Ankara.
"This step will allow for the path to a political solution to be opened and for healthier co-operation."
Turkey has repeatedly voiced frustration about the speed of implementation of the Manbij deal, saying last month that the agreement should be fully carried out by the end of this year.
The Pentagon said co-ordination and consultation between the US and Turkey was the only way to address security concerns and that Washington was focused on working closely with Ankara.
"We believe this dialogue is the only way to secure the border area in a sustainable manner, and believe that unco-ordinated military operations will undermine that shared interest," Commander Robertson said.
He added that while the US was fully committed to Turkey's border security, it also remained committed to working with the Syrian Democratic Forces (SDF), which includes Kurdish YPG fighters, to defeat ISIS.
Turkish and US troops began joint patrols near Manbij last month, but that co-operation has been complicated by Turkey shelling Kurdish fighters to the east of the Euphrates.
Earlier this year, the SDF temporarily suspended an offensive against ISIS after Turkish shelling in northern Syria.
The Pentagon says it has about 2,000 troops in Syria.
Last month, the US said it would set up observation posts on the border between Kurdish-held northern Syria and Turkey after Turkish cross-border shelling killed four Kurdish fighters.
Three observation posts have now been set up, a US official told Reuters on Wednesday. The official said the positions were clearly marked and any force attacking them "would definitely know they are attacking the United States".
Turkish officials held talks in Ankara this week with the US special representative for Syria engagement, Jim Jeffrey. An SDF military source said Mr Jeffrey met the force's leadership in northern Syria on Wednesday.
Mr Erdogan said Turkey was the victim of a "stalling tactic" over Manbij and that ISIS no longer posed a threat in Syria.
Full report at:
https://www.thenational.ae/world/mena/us-warns-turkey-against-unilateral-military-action-in-syria-1.802221
--------
South Asia
Drone strikes leave at least 15 militants dead in Ghazni and Paktika
Dec 13 2018
The U.S. forces have carried out a series of airstrikes in southeastern Ghazni and Paktika provinces of the country, leaving at least 15 militants dead.
The203rd Thunder Corps of the Afghan Military in the Southeast in a statement said the U.S. forces carried out airstrikes using unmanned aerial vehicles in Gomar district of Paktika province.
The statement further added that the airstrikes were carried out in SyedKhel, Chahar Baran, and Zuhda areas of the district, leaving at least 12 militants dead.
Similarly,the U.S. forces carried out airstrikes in Andar district of Ghazni province which left at least 3 militants dead.
According to 203rd Thunder Corps, a motorcycle and a Ak-47 rifle of the militants were also destroyed in the airstrikes.
Both Ghazni and Paktika provinces are among the relatively volatile provinces in Southeast of Afghanistan where Taliban militants and other groups are active in some of its districts and often carry out terrorist related activities.
https://www.khaama.com/drone-strikes-leave-at-least-15-militants-dead-in-ghazni-and-paktika-02921/
--------
Afghan forces eliminating Taliban field commanders seen obstacle to peace
Dec 13, 2018
Afghan forces, backed by US aerial raids, are targeting Taliban field commanders whom they see as a major obstacle to possible peace talks with Kabul and Washington, officials and security sources say.
Najib Danish, Afghan interior ministry spokesman, said on Thursday that government forces would use all means to remove hurdles to peace and stability.
An unnamed senior security official said the current campaign is part of a strategy to apply heavier battlefield pressure on the Taliban.
"The war-hardened Taliban field commanders are the biggest obstacle to peace efforts because they believe they are winning militarily," media outlets quoted the official as saying.
"The plan was designed to eliminate them and pave the way for future talks," he added.
US military commanders have pressed Afghan government forces to go on the attack to strengthen their hand in any talks.
"We've realigned support and precision lethal assets to precisely target the Taliban more often and more effectively to set conditions for the negotiated settlement," said Colonel David Butler, spokesman for US forces in Afghanistan.
"We don't consider the death of these leaders decisive, unfortunately many more will die until the Taliban decide to stop fighting. The only lasting solution will be a political settlement," he said.
Senior commanders have been targeted regularly in recent weeks.
Abdul Manan, the shadow Taliban governor of the southern province of Helmand and the militants' top commander in the south, was killed in a joint operation by US and Afghan special forces on Dec. 2.
Two days later, the Taliban shadow governor of central Ghor province was killed while on a visit to Helmand and on Saturday, the shadow governor of Paktika was killed in a raid by Afghan special forces on the border with Pakistan.
As air and ground operations have surged in recent weeks, so has the risk of civilian casualties. But Afghan security officials say despite the danger, the local commanders remain high priority targets.
The Taliban, whose fighters briefly overran the central city of Ghazni in August, have steadily increased territorial gains in recent months.
Meanwhile, the Kabul government has stepped up efforts to convince the Taliban to end the 17-year militancy amid Washington's failures on the battleground.
Contacts have already started between US special envoy Zalmay Khalilzad and Taliban representatives to build a favorable position in advance of any talks.
At the request of the US, a Taliban office was established in Doha in 2013 to facilitate peace talks. In recent months, Taliban representatives and Khalilzad have discussed their conditions to end the war in Afghanistan.
Full report at:
https://www.presstv.com/Detail/2018/12/13/582833/Afghan-Taliban-US-Kabul-NATO-Trump-Zalmay-Khalilzad
--------
In a Muslim lawyer's murder, Myanmar's shattered dream
DECEMBER 13, 2018
YANGON (Reuters) - As Ko Ni walked out of Yangon International Airport on a warm January afternoon in 2017, the legal adviser to Myanmar's ruling party had reason to smile.
His grandson, two years old with chubby cheeks, was waiting for him. Ko Ni, 63, scooped the boy up in a tight hug. On the sidewalk outside the airport, their faces close, they gazed at the bustle of luggage and taxis.
Ko Ni did not see the man in a pink shirt and shorts step out of the crowd behind them. The man raised a Czech-made 9mm pistol to the base of Ko Ni's skull and pulled the trigger. A bullet punched a small hole in the back of Ko Ni's head and then blew out his teeth on the other side. His grandson went tumbling. Ko Ni crumpled. His blood spread across the ground.
A prominent member of the country's marginalized Muslim minority, Ko Ni had been receiving death threats for months. He was treading a perilous path in Myanmar: openly calling for reforms meant to reduce the military's dominant role in government. But his political idol, the Nobel Peace Prize laureate Aung San Suu Kyi, was in power. And so, he continued to work to squeeze the generals out of politics.
The gunshot that ended Ko Ni's life was a flash of brutality that revealed a truth about Myanmar: Hopes for genuine democracy and ethnic harmony, largely pinned to Aung San Suu Kyi, have broken apart. They were shattered by the military, by Buddhist nationalism and, ultimately, by Aung San Suu Kyi's inability or unwillingness to confront these forces.
Ko Ni believed that Aung San Suu Kyi, who'd gained world fame for championing democracy in Myanmar, would prevail over a military whose patronage and power reach into many corners of politics and business. That belief ended in tragedy.
In the weeks after Ko Ni's murder, three former military officers were accused by police of organizing his assassination by a hired gunman. Two have pleaded not guilty to murder at a trial in Yangon expected to end in the coming months. The third has evaded capture. The gunman admitted shooting Ko Ni, but says he acted under duress. No evidence has emerged that active military officials ordered the killing.
The official narrative, presented in court and to the public, portrays the three ex-officers as disaffected men swept up by extreme nationalism and acting in isolation.
But a Reuters examination of hundreds of pages of court records and corporate filings, including incorporation documents and director registers, uncovered close and enduring links between the security establishment and one of the men on trial. Accused of bankrolling the plot, he is a former military intelligence captain named Zeyar Phyo.
After leaving military intelligence in 2004, Zeyar Phyo, then in his late twenties, began building a web of companies that included communications and construction, according to court records and company documents maintained by Myanmar's Directorate of Investment and Company Administration. His firms undertook work for the security services, such as building a police barracks, and won contracts from government ministries.
One of Zeyar Phyo's businesses in Myanmar was given access by the military to communications equipment, a transaction recorded by supply forms - and a sign of friends in high places, according to a former officer.
His social circle includes a parliamentary deputy for the military-backed Union Solidarity and Development Party, a man who is also a former longtime assistant to the military's current commander-in-chief.
During court testimony, Zeyar Phyo revealed that in his career as a military intelligence instructor, he "taught and led discussions on matters related to assassinations that had taken place in the international realm." He didn't elaborate.
Speaking to Reuters, Zeyar Phyo's lawyer rejected allegations that her client remained connected to the military and received its communications equipment. Zeyar Phyo "just built some buildings for the police, some police homes," said the lawyer, Pa Pa Win.
When authorities detained Zeyar Phyo in early February 2017, he was at a Buddhist monastery in Yangon and wearing monk's robes as part of what he later told the court was an annual retreat. He'd become more religiously observant, according to his testimony, going deeper into a Buddhist culture that views Muslims with suspicion. At its extreme are ultra-nationalists who say they don't accept the presence of Muslims in Myanmar.
Asked how far hardline Buddhism and nationalism had intertwined in Myanmar, Witha Dara, the head monk at the monastery where Zeyar Phyo was found, said he didn't know how to respond. Then he added, "As for the Muslims' religion, it's not just in our country: There are problems all over the world. It's based on them trying to gain more territory."
After Zeyar Phyo's arrest, a political specialist at the U.S. Embassy in Yangon wrote an analysis examining what was known about Ko Ni's murder. What stood out was the proximity of some of the accused to military power, Lian Bawi Thang, the paper's author, told Reuters. He pointed to the association between two of the alleged conspirators - Zeyar Phyo and another ex-officer named Aung Win Khine - and the former longtime assistant to the commander-in-chief. Photographs entered as evidence showed the three men spending time together.
U.S. Embassy spokesperson Aryani Manring said the embassy consulted "many actors" about the murder and provided information to Washington, but did not issue a formal report or "draw a legal determination" about what happened. "However," she said, "the killing itself and problematic elements of the resulting trial, which has continued for over a year, raise serious questions about who was behind the murder and whether they will face accountability."
Aung San Suu Kyi did not attend Ko Ni's funeral. Nor did she speak of him in public until a televised memorial service a month later, where she praised him as a comrade and adviser. Behind closed doors, just after the murder, she said Ko Ni's being "taken away from us" was a terrible blow and a warning to those left behind, according to a person familiar with her remarks.
Whatever Aung San Suu Kyi's personal views, the assassination - and her weeks of public silence - sent a chilling message to the nation's Muslims. Her party had already taken steps to publicly distance itself from Muslim politicians. The killing underlined the grave risk of talk of taming the military.
Asked about Aung San Suu Kyi's reticence, Ko Ni's son chose his words carefully. "People were quite unhappy about her absence the day of the funeral, as well as keeping too quiet," said Thant Zin Oo, a software engineer living in Singapore.
Neither Aung San Suu Kyi's office nor the Ministry of Defense replied to requests for comment for this story.
AN ORDERLY MAN
At the time he was gunned down, Ko Ni was lobbying to replace a constitution that entrenched the power of the generals. About four decades earlier, when Ko Ni enrolled at the Rangoon Arts and Science University, there was no indication of the role he would one day play in his nation's history.
He'd moved to Rangoon – its name was later changed to Yangon by the military junta – from a hamlet of peanut farmers and fishermen near the Irrawaddy River in northern Myanmar. His family planted crops and worked at a small shop. A university classmate described Ko Ni's economic status succinctly: "very poor." He earned money as a day laborer to pay his way through his legal studies.
Ko Ni began work in a law office in the late 1970s, taking whatever cases he could find at local courts. He was an orderly man, said his wife, Tin Tin Aye. "You were not allowed to touch his books. If you picked up a book, you had to put it back exactly as you found it," she recalled. "He always knew if you touched one of them."
He taught law students on the side. Among them was Robert Sann Aung, a fellow Muslim. Ko Ni never spoke about his faith or his experience practicing law as a Muslim, said Robert Sann Aung. Nor was he interested at the time in joining Robert Sann Aung's political activism that challenged Myanmar's military rulers.
"Ko Ni was not a politician, he was only a lawyer," said Robert Sann Aung, who is an attorney at the trial of the men accused of murdering Ko Ni, representing the family of a taxi driver killed in the melee after the shooting.
Ko Ni built a comfortable life. His wife gave birth to two daughters and a son. He lived with his family in a downtown apartment and played golf, winning a small silver trophy at a Myanmar Golf Club holiday tournament. And he loved to sing old Burmese songs. "If you didn't know better, if you just heard his voice," said his wife, "you would think he was Bamar" – the country's majority Buddhist ethnic group.
Around him, though, Myanmar was changing. Aung San Suu Kyi returned home to care for her dying mother in April 1988, after some three decades abroad. Aung San Suu Kyi's late father holds a place in Myanmar's history similar to that of George Washington in America. He is revered as the father of the modern nation and its army, a man who helped end British colonial rule.
After Aung San Suu Kyi began giving speeches in Yangon, Ko Ni showed up, curious about the slender woman with flowers in her hair who spoke out against the military and co-founded a political party, the National League for Democracy (NLD). "Ko Ni would bring a water bottle, potato chips and sit and listen," said a friend of his, Kyaw Nyein.
The new party contested elections in 1990 and won by a landslide, but the results weren't recognized by the military junta. Aung San Suu Kyi was under house arrest. Activists were rounded up and imprisoned.
Ko Ni continued his life as a lawyer outside the public spotlight. In 1995, he opened a law firm with two other attorneys. As the office grew, he was the only Muslim, a fact that didn't seem to bother Ko Ni.
'THE SHADOW OF DEMOCRACY'
Myanmar's military announced an end to half a century of junta rule with a stage-managed election in 2010 that allowed generals to exchange their uniforms for public office. Six days after the vote, Aung San Suu Kyi was freed. She said she would run for a parliament seat in by-elections to be held in 2012.
Ko Ni was convinced the nation was finally at a turning point. "He said, 'I can see the shadow of democracy and I am starting to have hope,'" recalled his wife, Tin Tin Aye.
Inspired by the dramatic changes, he released a 36-page booklet in January 2012. With a plain brown cover showing a hand with a ballot, its title conveyed his practical approach to life and law: "How to vote in the upcoming election." The manual gave voters step-by-step instructions on how the process worked.
A photograph on Ko Ni's living room wall shows him presenting a thin volume to Aung San Suu Kyi. The image is larger than a nearby inscription of a verse from the Quran, beseeching God for protection from evil, and two small panels of Islamic prayer.
For about five months, starting in November 2011, Ko Ni volunteered for Aung San Suu Kyi's party, driving around the country in a Toyota to give instructional speeches about voting. As he made his way from town to town, he "talked about how much he respected" Aung San Suu Kyi, said his law office assistant of more than 20 years, a Buddhist named San Naing. "He wanted this country to become democratic, he wanted the country to improve and to be governed by educated people."
After Aung San Suu Kyi won the by-election in 2012, she entered parliament, where she headed a committee on the rule of law. Ko Ni volunteered to help at every turn, providing written legal opinions about what was possible under Myanmar law.
He was among those who proposed a way around a constitutional provision that barred someone who had children with foreign citizenship from running for the presidency. The clause, drafted by the military government, held a specific effect: It prevented Aung San Suu Kyi, whose children were born in Britain, from being head of state. Instead of wrangling about that obstacle to the presidency, Ko Ni argued, there could be an entirely new position that allowed her to exercise similar powers. The title of State Counsellor, which she now holds, did just that.
He noted, also, that while the constitution set a high bar for amendments, its text didn't contemplate the possibility of someone replacing it entirely. Why not write a different one?
In a 2016 interview with Myanmar media, Ko Ni explained: "If the military still focuses on protecting its interests, it will be impossible to change any part of the constitution within parliament. That's why writing a new one is the best way to pursue a democratic constitution."
He was stepping on dangerous ground.
For the military, the constitution ensures it has a dominant role. The document puts the generals in charge of nominating the heads of the ministries of defense, home affairs and border affairs, giving them control over the army, the police and frontier security. Through the General Administration Department they oversee the backbone of the nation's bureaucracy.
The emergence of a Muslim lawyer at Aung San Suu Kyi's side who was speaking about changing the constitution was "a direct threat to the military," said Win Min, a senior research fellow at the Centre for Economic and Social Development, a Yangon research institute. "It coincided with the rising nationalist movement against Muslims." Speaking in a low tone in a hotel cafe, Win Min added: "Given that he was a Muslim," ultra-nationalists considered Ko Ni "a target."
THREATS MOUNT
With the opening up of Myanmar, religious tensions bottled during military rule began to erupt. In western Rakhine State, an army crackdown that began in August 2017 sent more than 700,000 Rohingya Muslims fleeing to Bangladesh. The United Nations has said the onslaught included widespread rape and murder, carried out with "genocidal intent." In all, more than 900,000 Muslim refugees from the 2017 campaign and prior waves of bloodshed are now living in Bangladesh.
Ko Ni became the target of online smears, including allegations he was the leader of a militant Rohingya group.
The social media attacks were a warning bell: As a Muslim, Ko Ni had pushed beyond his allotted place in society.
Speaking of Ko Ni's death, Han Tha Myint, a senior member of Aung San Suu Kyi's party, said there were some people, "not a very significant portion," in the country's military who "want to warn the Muslim community."
"And it has been quite effective, I think, because after that the Muslims have become very careful," he said. "They have become a little bit silent. It is a sad thing but I think it's quite effective."
The growing anti-Muslim sentiment fed into the political calculations of Aung San Suu Kyi and her party.
In February 2014, Ko Ni was scheduled to speak at an event in Yangon hosted by the National League for Democracy to mark a holiday celebrating national unity. But a nationalist group, the Patriotic Myanmar Buddhist Monks' Union, demanded that Ko Ni and a second speaker, also a Muslim, be removed from the program, for the sake of "our national affairs, our religion and our country." The party canceled the event. Explaining the decision, a local official from Aung San Suu Kyi's party said he'd done his best to negotiate with the monks.
In remarks to a Myanmar newspaper about the episode, Ko Ni said: "I'm really worried for my country's future."
Nationalist Buddhist groups began suggesting that Aung San Suu Kyi and her party were selling out the nation to Muslims by failing to safeguard its "race and religion." Confronted with those accusations, the National League for Democracy decided not to field any Muslim candidates in the 2015 elections. Aye Lwin, a Muslim community leader in Yangon whose family had long known Aung San Suu Kyi's, said he met with her at the time to demand answers.
"She said we cannot afford to lose even one constituency, so please wait until we have the full-fledged democracy, please try to participate in our effort to achieve this, to overcome this transitional period," Aye Lwin recalls her saying. "If there is any Muslim among the NLD candidates, the other side will have a chance to propagate that the NLD is using Muslims."
But, Aye Lwin added, his voice rising, "If they really claim to be democrats, including Aung San Suu Kyi, democracy means human rights."
The National League for Democracy swept the elections at the end of 2015. In April the following year, Aung San Suu Kyi became state counselor, making her Myanmar's de facto leader.
In power, she began to disappoint some longtime supporters. Among them was Thein Than Oo, a senior member of the Independent Lawyers' Association of Myanmar, a group Aung San Suu Kyi had previously championed. Thein Than Oo recounted meeting Aung San Suu Kyi at a judicial reform conference. He told her he disagreed with her government's proposal to make a law on peaceful assembly more restrictive. Aung San Suu Kyi responded with a smile and a small joke, said Thein Than Oo.
Meanwhile, Ko Ni was becoming more prominent as he pushed for constitutional reform. The threats against him mounted. He would answer his cell phone and a voice would say he was going to die. At least 10 threats against his life came in the eight months before his death, said Nay La, a lawyer representing Ko Ni's family.
TEAHOUSE CONSPIRACY
The conspiracy to murder Ko Ni began in April 2016 as three former officers met at a Yangon teahouse and discussed their "dissatisfaction" with Aung San Suu Kyi's legal adviser, according to findings delivered at a press conference by the nation's police chief and home affairs minister. Media coverage of those remarks was later presented in court.
At the teahouse were Zeyar Phyo, the retired military intelligence captain, and Aung Win Khine, a retired lieutenant colonel, according to the account by the police chief. They were joined by Lin Zaw Tun, an ex-colonel who served in the office of the military commander-in-chief, Min Aung Hlaing, from 2011 to 2015. Since 2016, Lin Zaw Tun has sat in parliament for the military-backed Union Solidarity and Development Party.
The three men had entered the elite Defense Services Academy within two years of one another in the 1990s. Lin Zaw Tun testified that he and Aung Win Khine served in the same battalion after graduation. He also told the court that Zeyar Phyo was a moral and noble person, devoutly religious and "unblemished by worldly pleasures."
Photographs entered as evidence showed the three spending time together in Hong Kong in August 2016, smiling and posing for the camera. In his testimony, Lin Zaw Tun said that was the result of a chance encounter.
The police chief alleged that Aung Win Khine asked one of his brothers to find a gunman to kill Ko Ni. Zeyar Phyo in turn gave Aung Win Khine 100 million Myanmar kyat (about $80,000 at the time) to pay for the operation.
The shooter was an ex-convict named Kyi Lin, jailed previously for stealing religious artefacts. In court, Kyi Lin admitted killing Ko Ni but said he did so because his life had been threatened by another man, a version of events that didn't hold up to police investigation, according to testimony.
After delivering the shot that killed Ko Ni that afternoon in January 2017, Kyi Lin ran off, a 9mm pistol in his hand and another gun tucked in his shoulder bag. He didn't get far. A mob formed and chased him down.
Following Kyi Lin's arrest, it emerged he had previously served time in prison with Aung Win Khine's brother. That information helped lead investigators to the other accused, according to court testimony. Airport security video, entered as evidence, showed Aung Win Khine's brother standing beside Kyi Lin on the day of the shooting. They appear to be speaking to one another. The footage also shows Aung Win Khine nearby.
Former intelligence officer Zeyar Phyo, who has let his hair and beard grow long in jail, pleaded not guilty to murder and abetment. He denied bankrolling the plot or participating in the teahouse meetings.
Aung Win Khine's brother, Aung Win Zaw, pleaded not guilty to murder and conspiracy. Aung Win Khine has evaded arrest.
Aung Win Zaw's lawyer said neither his client nor Aung Win Khine had anything to do with the killing. They "are former military people - if they had done it, it would have been more systematic," the lawyer said.
The third man alleged to have attended those teahouse meetings, Lin Zaw Tun, the former assistant to the commander-in-chief, hasn't been charged. Investigators say they found no link between him and the assassination.
Lin Zaw Tun told the court that on the evening after Ko Ni's assassination, Aung Win Khine traveled to his house in the capital city of Naypyitaw. During that visit, Lin Zaw Tun said, he gave Aung Win Khine a million Myanmar kyat of his own money. He said Aung Win Khine told him he needed the cash for business purposes.
Lin Zaw Tun declined to answer Reuters' questions about his relationship with Zeyar Phyo and Aung Win Khine. "I have answered that in court," he said.
MILITARY MAN
A Reuters review of evidence presented at the trial and company filings - including incorporation documents and director registers - shows the extent of Zeyar Phyo's military connections. It is a world little understood outside Myanmar, of former soldiers who represent a deep well of influence, an intertwining of business, religion and friends in uniform.
After leaving the intelligence service in 2004, Zeyar Phyo struck deals involving the security services, including building a police barracks and importing machinery and tools for police use, according to court testimony and the website of one of his firms.
In 2012, he set up a company in Singapore, ZYP Pte Ltd, according to registration documents filed with the country's Accounting and Corporate Regulatory Authority. The firm approached a Chinese state-owned shipyard about purchasing two patrol boats, according to the shipyard's website. Payment came from a Myanmar-based company, a manager at the shipyard told Reuters. Zeyar Phyo was listed as the company's managing director. An employee in one of Zeyar Phyo's firms, a former major in the military who began working for him in 2012, testified that his employer imported boats for the police.
About five months before Ko Ni was killed, employees of Zeyar Phyo received communications equipment from the military, according to military supply forms found during police searches and entered as evidence in the trial. During his testimony, Zeyar Phyo acknowledged that forms showing the equipment transfer, stamped by a military department and bearing his company's name, were "legitimate documents."
A former Myanmar military officer told Reuters the gear that Zeyar Phyo's company received from or turned over to the military department, including a transceiver and a "main board support encryption card," taken together suggests point-to-point communication designed to avoid a third party listening in. The former officer, who reviewed a copy of the supply forms and is familiar with the requisition process, said the equipment transfer showed Zeyar Phyo had contacts in the highest echelons of the army. Military staff would only sign out such equipment to a civilian with the permission of top brass, the former officer said.
When police searched the offices of one of Zeyar Phyo's companies, they found a disc with the teachings of an ultranationalist Buddhist monk named Wirathu, according to court evidence. In the past Wirathu has called Muslims the "enemy." In a speech about Muslims posted online last year, Wirathu asked a crowd, "Sometimes I wonder, when these guys eat, do they eat with their ass?" As the crowd laughed, he asked, "When they use the toilet, do they use their mouths?"
Zeyar Phyo told the court that the disc was not found in his personal work space and that he is "not a religious extremist."
Wirathu was photographed in 2015 accepting a donation of 20 million Myanmar kyat (about $15,500 at the time) from Lin Zaw Tun, the former assistant to the commander-in-chief.
After Ko Ni's murder, Wirathu posted a comment on Facebook. Myanmar's constitution and the political power it enshrines for the military, he said, is "important for the security of the entire race," an allusion to the Buddhist majority. Then he thanked the men accused of killing Ko Ni.
Reached by phone, Wirathu declined to comment for this story.
Despite the threats against his life as the tide of anti-Muslim sentiment rose in Myanmar, Ko Ni told his wife that the only option he saw was to keep working for democracy.
That's what he'd been doing when he got off the plane at Yangon International Airport on the day he was shot. He was returning from Indonesia. A delegation of Myanmar officials and activists had traveled there to discuss lessons for transitioning away from military dictatorship. Among them was a group of Buddhists and Rohingya Muslims. They'd agreed to nominate small teams of negotiators to talk about reconciliation between their communities in Rakhine State.
"Everyone believed that this was part of the road to peace," said Mya Aye, a pro-democracy activist who was on the trip.
Ko Ni's assassination, he said, put an end to that. About seven months later, the military's crackdown in Rakhine would send hundreds of thousands of Rohingya fleeing to Bangladesh.
Naing Swe Oo, a former military officer who runs a defense studies center in Yangon, was also on the trip. He said he heard the gunshot that killed Ko Ni.
In Naing Swe Oo's estimation, the military was not involved. But after Ko Ni continued to pursue constitutional reform, he said, there were people who thought such talk "may be dangerous for the country."
Full report at:
https://www.reuters.com/article/us-myanmar-murder-politics-special-repor/special-report-in-a-muslim-lawyers-murder-myanmars-shattered-dream-idUSKBN1OC1G0
--------
Daudzai assures peace talks with Taliban will yield positive outcome
Dec 13 2018
The senior presidential adviser in regional affairs for peace consensus Mohammad Omar Daudzai assures that the peace talks with the Taliban will yield positive outcome.
He made the remarks at the end of the second national conference of district chiefs which concluded in Kabul on Wednesday evening.
Daudzai told the district administrative chiefs that the peace talks will yield a positive outcome and peace will return to country in the near future.
Daudzai further added that "We want a lasting peace, a reconciliation which should be fair and strengthen the national unity."
The senior presidential adviser also added that the reconciliation process which the nation demands must be finalized within the framework of the constitution of Afghanistan, should be led by the government and must guarantee international participation.
Full report at:
https://www.khaama.com/daudzai-assures-peace-talks-with-taliban-will-yield-positive-outcome-02923/
--------
U.S. envoy for Afghan peace to meet with NATO Secretary General in Brussels
Dec 13 2018
The U.S. Special Representative for Afghanistan Reconciliation Ambassador Khalilzad will meet with the NATO Secretary General Jens Stoltenberg in Brussels today.
"On Thursday, 13 December 2018, the NATO Secretary General, Mr. Jens Stoltenberg will meet the United States Special Representative for Afghanistan Reconciliation Ambassador Zalmay Khalilzad," NATO said in a statement.
The statement further added that Ambassador Khalilzad will also address the North Atlantic Council.
Ambassador Zalmay Khalilzad had earlier met with the foreign minister of Turkmenistan as part of regional trip aimed at reviving Afghan peace talks.
He shared a brief statement in his official Twitter account regarding his recent trips to Russia, Uzbekistan, and Turkmenistan regarding Afghan peace.
In his Twitter post, Ambassador Khalilzad has said he met with the Foreign Minister of Turkmenistan Rashid Meredov and emphasized on joint efforts for peace and reconciliation in Afghanistan.
Full report at:
https://www.khaama.com/u-s-envoy-for-afghan-peace-to-meet-with-nato-secretary-general-in-brussels-02922/
--------
Mideast
Heads of legitimate Yemeni gov. and Houthi delegations shake hands
13 December 2018
The heads of the legitimate Yemeni government and Houthi delegations shake hands in the presence of United Nations Secretary General, Antonio Guterres, on Thursday, at the conclusion of Sweden's peace talks whicl culminated with a deal between Yemeni warring parties.
Also present at this historical moment was Sweden's Foreign Minister Margot Wallstrom, who said that the outcome of Yemen's peace consultations will be conveyed to the UN Security Council on Friday.
https://english.alarabiya.net/en/News/gulf/2018/12/13/WATCH-Heads-of-legitimate-Yemeni-gov-and-Houthi-delegations-shake-hands.html
--------
Khalid bin Salman: Saudi Arabia committed to supporting and rebuilding Yemen
13 December 2018
Khalid bin Salman, Saudi Ambassador to US, in a series of tweets today stated that the Hodeidah agreement will help in increasing access for aid to Yemen.
The agreement announced today will help bring back security to the region including the security of the Red Sea, a vital water way for international trade.
The Kingdom of Saudi Arabia and the Arab Coalition strongly support the agreement announced in Sweden today. We commend @OSE_Yemen for all of his remarkable efforts. The agreement is a major step towards alleviating the humanitarian crisis and reaching a political solution.
We commend @OSE_Yemen for his efforts to bring together the different parties to the Sweden talks. With a number of confidence building measures already in place, we hope to achieve tangible progress that will bring long lasting peace.
We hope that the Houthis accept a comprehensive political solution, in accordance with relevant UN resolutions, that serves the interests of Yemen and its people rather than working on behalf of the Iranian regime's interests.
The agreement announced today will help bring back security to the region including the security of the Red Sea, a vital water way for international trade.
The Iran backed Houthis must not repeat their mistake of abandoning the political process, like they did with the outcomes of Yemeni national dialogue, Geneva, and the Kuwait talks, as the brotherly Yemeni people deserve a real opportunity at peace.
The Arab Coalition to Support the Legitimacy in Yemen was founded to protect the Yemeni people and end the war and the humanitarian crisis that started as a result of the Iranian-backed Houthi takeover of Yemen.
The legitimate government of Yemen supported the former UN envoy's proposal of UN control over the port of Hodiedah. The Houthis refused, and only consistent military pressure by the Yemeni armed forces and the Arab coalition forced them to agree.
The Kingdom of Saudi Arabia and the United Arab Emirates have contributed the most towards the 2018 UN humanitarian response plan and have provided a number of initiatives worth billions of dollars towards alleviating the suffering in Yemen. We remain committed to ending the humanitarian crisis to help Yemen rebuild.
Full report at:
https://english.alarabiya.net/en/News/gulf/2018/12/13/Khalid-bin-Salman-Hodeidah-agreement-will-help-in-increasing-access-for-aid-to-Yemen.html
--------
Saudi ambassador: Military pressure forced Houthis' withdrawal
13 December 2018
Saudi Arabia's ambassador to Yemen, Mohamed al-Jaber, commented on Thursday on the outcomes of UN brokered peace talks on the Yemeni crisis - which convened last Thursday in Rimbo, Sweden and ended today - saying that Sweden deal emphasizes on the withdrawal of Houthis from Hodeidah city and its ports.
Al Jaber who heads the Saudi Development and Reconstruction Program for Yemen (SDRPY), said on twitter that the Sweden deal also provides for the withdrawal of the Houthis from Taiz and the release of thousands of detainees.
Earlier, the United Nations Secretary General, Antonio Guterres said in a press conference that what have been achieved so far between the two sides is an important step for the Yemeni people.
https://english.alarabiya.net/en/News/gulf/2018/12/13/Saudi-ambassador-to-Yemen-Agreement-states-Houthi-withdrawal-from-Hodeidah.html
--------
Zionist regime's disturbed dreams will never come true: Iran
Dec 13, 2018
The Iranian Foreign Ministry's spokesman has described the Zionist regime of Israel as the main cause of instability in the region, noting that its bad dreams about Iran will never come true.
Bahram Qassemi made the remarks on Thursday in reaction to earlier statements by the Israel Prime Minister Benjamin Netanyahu who had noted on Wednesday that Israel was prepared to launch attacks inside Iran if its survival was at stake.
"Our red line is our survival," Netanyahu was quoted by AFP as saying at a meeting with foreign media where he was asked what his "red line" was for attacking Iranian territory, instead of Iran's allies in Syria and Lebanon.
In reaction to Netanyahu's ranting, Qassemi said, "Although the corrupt and aggressive Zionist regime, which is symbol of delusions, grudge and hatred, will never dare to take such a step, uttering such outrageous and shameful words out of ignorance or delusion by the prime minister of an aggressive regime, knowingly or unknowingly, amounts to threatening a big and historical country with military action, which will be certainly followed up on in legal and international forums and institutions."
The Iranian official noted that although the Zionist regime has been the main disturber of stability and security during past decades, but "expresses false concern about stability in the region in a ridiculous way and with no shame."
Referring to the defeats sustained by Israel at the hands of resistance groups in the region, Qassemi warned that in case of any warmongering measure by Israel, Iran's high military and defensive capabilities will make Zionists regret such "sick and melancholic" remarks.
A short history full of wars
Israel came into existence on occupied Palestinian land in 1948, but its short history has seen numerous wars and attempts to occupy sovereign states. This is while Iran neither attacked any nation nor threatened to do so over the past hundreds of years.
Over the past years, the regime has been intensely lobbying with its American and European allies to dissuade them from engaging in diplomacy with Iran, especially over its nuclear program, and support instead a military action against the Islamic Republic.
Apparently considering itself to be incapable of confronting Iran on its own, the regime has now resorted to the repressive Arab regimes in the Persian Gulf region, with which it has no formal ties. It has intensified its efforts to make secret ties with those Arab regimes, especially Saudi Arabia, public in the hope of getting rid of the Palestinian issue and form a united front against Iran.
Iran has repeatedly said the occupying entity sees its survival tied to wars and instability in the Middle East region.
Even the US –Israel's staunchest supporter—has hinted that Israel needs others for survival.
Last month, US President Donald Trump said Washington intended to remain a steadfast partner of Saudi Arabia to ensure interests of the US, Israel and regional partners, suggesting that the entity risks elimination without Riyadh's support.
In September, Haaretz reported that a document prepared by Major General Yitzhak Brick, the ombudsman of the Israeli military, shows the regime is unprepared to engage in new warfare, contradicting previous claims by Tel Aviv to the contrary.
Netanyahu's latest threats against Iran came weeks after the regime unleashed a wave of deadly attacks against Gaza, which prompted a firm response from the resistance fighters there, triggering a political crisis inside the premier's cabinet.
That crisis saw the Israeli minister of military affairs resign and forced Netanyahu to take over the post himself to prevent early elections in Israel.
Full report at:
https://www.presstv.com/Detail/2018/12/13/582851/Iran-Israel-Qassemi-Ntanyahu
--------
Netanyahu vows to expand settlements in response to attacks
Dec 13, 2018
Israel's Prime Minister Benjamin Netanyahu has pledged to authorize new settlement units in the occupied West Bank in response to a series of recent attacks against Israeli forces.
Netanyahu asked the Israeli attorney general Avichai Mendelblit on Thursday to facilitate the construction of new residential units in the West Bank.
Mendelblit responded by approving the so-called market amendment law, which is expected to legalize the construction of some 2,000 units in Palestinian lands Israel occupied in 1967.
Additionally, the prime minister's office said it would authorize the construction of 82 new units in the settlement of Ofra, as well as two new industrial zones near the settlements of Avnei Hefetz and Betar Ilit.
The decision came after protesters gathered outside the PM's residence, blasting him for not delivering on his promises of security, hours after two Israeli soldiers were shot dead and two others were injured in the Palestinian city of Ramallah.
"Today we suffered a harsh attack in which two soldiers were killed. We will settle accounts with whoever did this," Netanyahu said as he was flanked by chief of staff Gadi Eisenkot.
"Our guiding principle is that whoever attacks us and whoever tries to attack us – will pay with his life. Our enemies know this and we will find them. They think they can uproot us from our land. They will not succeed," Netanyahu added.
He also ordered more Palestinian homes – or as Israeli media put it "terrorist homes" – to be razed in the West Bank within the next two days.
Earlier, Israeli military forces put the town of al-Bireh near Ramallah under siege and stepped up arrests of Palestinians in the West Bank.
Netanyahu also sent a hostile message to the Palestinian resistance movement Hamas, warning that he would not hesitate to violate a shaky ceasefire that was agreed upon in November, according to Israeli media.
Hamas did not take responsibility for the Thursday attack despite announcing earlier this week that it was behind another shooting incident that had injured seven Israelis in Ofra.
Netanyahu has been under immense pressure to confront Hamas since late March, when his crackdown on the Palestinian protests at the Gaza border, dubbed the Great March for Return, backfired and prompted retaliatory attacks from the resistance movement.
Tensions between the two sides peaked in November, when Hamas fired hundreds of rockets to the occupied territories following a botched Israeli commando mission.
The Palestinian response was so overwhelming that Tel Aviv had to call for a truce, a decision that forced Avigdor Lieberman, Israel's former minister for military affairs, to resign.
Full report at:
https://www.presstv.com/Detail/2018/12/13/582863/Israel-netanyahu-Hamas-attack-settlements
--------
Iran hails 'promising' deal between warring Yemeni sides
Dec 13, 2018
Iran has hailed preliminary deals between Yemeni parties as "promising", expressing hope that they would prepare the ground for the next round of talks in order to reach a final agreement.
Foreign Ministry spokesman Bahram Qassemi on Thursday welcomed "positive confidence-building measures" taken by the warring groups under the supervision of UN chief Antonio Guterres in Sweden.
Guterres said Thursday the Yemeni parties had reached an agreement on a ceasefire in the Red Sea port city of Hudaydah, bringing the first round of the talks to a close.
The two sides agreed that the world body would play a "leading role" in Hudaydah which is currently controlled by the Houthis.
Qassemi referred to the deal on Hudaydah as a very important one, and praised the Yemeni parties for discerning the catastrophic situation which the impoverished country is going through.
"The agreement shows that the Yemeni groups participating in the talks have carefully and correctly understood the catastrophic situation of the innocent people of Yemen, and … have preferred the continued dispatch of humanitarian aid to their own interests," he noted.
He also expressed hope that the agreements would be implemented within the specified framework, paving the way for holding the next round of talks in the near future with the aim of clinching a final deal.
Qassemi highlighted the "constructive" role played by the Islamic Republic of Iran in facilitating the Yemeni-Yemeni talks in Sweden, saying Tehran made the contribution as part of its responsible approach toward regional crises.
"Iran still believes that the final solution to the Yemen crisis lies in the cessation of war and bloodshed and the continuation of Yemeni-Yemeni talks, as stipulated in the four-point plan earlier proposed by the Iranian foreign minister," Qassemi added. In April 2015, the Iranian foreign minister submitted a four-point peace plan for Yemen to the United Nations in an attempt to end the bloodshed in the Arab country.
Full report at:
https://www.presstv.com/Detail/2018/12/13/582857/Iran-Yemen-Qassemi-ceasefire-Sweden-Houthi
--------
Israeli soldiers kill Palestinian in alleged car-ramming attack in West Bank
Dec 13, 2018
Israeli troops have shot dead a Palestinian man in the central part of the occupied West Bank, alleging that he attempted to ram his car into the regime's forces.
The Palestine Health Ministry announced the news in a brief statement, adding that the unnamed Palestinian lost his life in the industrial area of al-Bireh, a neighborhood near Ramallah, on Thursday afternoon.
According to other reports, the 60-year-old man, who had owned an aluminum factory in the neighborhood, was shot by Israeli soldiers when his vehicle deviated from its path.
The Palestinian Ma'an news agency, citing a number of eyewitnesses, reported that the incident had been merely a car accident, as the driver saw the unexpected presence of the Israeli soldiers in his way and attempted to turn away from them before they heavily opened fire at him.
Meanwhile, the Israeli military said in a statement that the victim "attempted to run over" soldiers, lightly injuring one.
The Palestinian Red Crescent also announced that the Israeli forces had barred the group's medical team from reaching the scene.
The fatal incident occurred hours after Israeli troops shot another Palestinian, accusing him of shooting dead two Israelis, wounding several others, one critically, at Asaf Junction, north of Jerusalem al-Quds.
Hamas claimed the shooting attacks.
Amid the heightened tensions, Israeli forces encircled the occupied West Bank city of Ramallah and sent in reinforcements.
The shooting came hours after Israeli forces shot dead three Palestinians, including two Hamas members in the West Bank.
Israeli troops also shot dead a young Palestinian over an alleged stabbing attack in the Old City of Jerusalem al-Quds earlier on Thursday.
The Ramallah-based Palestinian Authority also blamed Israel's illegal settlement activities on occupied Palestinian land for renewed tensions in the West Bank.
The Israeli military regularly opens fatal fire on Palestinians, accusing them of seeking to attack its personnel.
Human rights groups have repeatedly slammed the Tel Aviv regime for its shoot-to-kill policy as a large number of the Palestinians killed at the scene of attacks did not pose any serious threat to Israelis.
Full report at:
https://www.presstv.com/Detail/2018/12/13/582850/Palestine-Israel-West-Bank-carramming-Ramallah
--------
Israeli troops besiege Ramallah after two soldiers killed
Dec 13, 2018
Israeli forces have besieged Ramallah in the occupied West Bank and sent in reinforcements after two soldiers were shot dead in the Palestinian city.
Army spokesman Jonathan Conricus said on Thursday the military was sending "a few more infantry battalions" to conduct operations in the West Bank.
"Entrances and exits to the city are all closed. We are conducting searches," media outlets quoted him as saying.
At least one man was shot dead by Israeli soldiers and several others injured as violent clashes broke out in multiple places.
The Israeli army said the attacker emerged from a vehicle and shot at soldiers near the settlements of Beit El and Ofra. Two soldiers were killed and at least two other people, including a soldier, were wounded and the attacker fled.
Following the shooting, Israeli forces detained four Palestinians, including a female minor, during raids in search of the suspect.
On Wednesday night, Israeli forces killed three Palestinians in separate operations over the span of six hours.
In total six people were killed in the most violent 24 hours to hit the West Bank and Jerusalem al-Quds in months.
Since Sunday, Israeli forces have made a series of incursions into central Ramallah, where the Palestinian Authority of President Mahmoud Abbas is based.
The authority has blamed Israel's illegal settlement activities in the occupied territories for renewed tensions in the West Bank.
"The climate created by the policy of repeated intrusions into the cities, the provocations against the sovereignty of the president and the lack of a horizon for peace are what led to this" flare-up, Abbas said.
In a separate development in the West Bank on Thursday, dozens of extremist settlers attacked Palestinian vehicles near the Israeli settlement of Yizthar south of Nablus.
Local sources said one person sustained injures as Israeli settlers showered Palestinian vehicles with rocks, severely damaging at least three cars.
Around 600,000 Israelis now live in settlements considered illegal by the international community.
Tensions escalated in the occupied Palestinian territories after President Donald Trump's recognition of Jerusalem al-Quds as Israel's "capital" and relocation of the US embassy to the city.
Full report at:
https://www.presstv.com/Detail/2018/12/13/582848/Palestine--Ramallah-Israel-Jonathan-Conricus-Beit-El-and-Ofra
--------
Europe
The Mufti demands lawsuit against UK embassy in Libya for anti-Islam activities
December 13, 2018
The Libyan Grand Mufti, Al-Saddiq Al-Gharyani, has called for filing a lawsuit against the British embassy in Libya for sponsoring activities that violate Libya's sacred norms and for motivating anti-religion and sedition activities.
The Mufti's call came as a reaction to a new strategy launched by UK's embassy last week, promoting equality between the two sexes in Libya.
"We want to make changes that can alter lives of men and women as well as boys and girls in Libya." The embassy remarked.
On Tanasuh TV Channel on Wednesday, the Mufti said foreign embassies in Libya are working with some liberals and seculars to rebel over the fixed norms and religious teachings in the country.
"Islam is a religion of justice, equity but not absolute equality. Those who call for equality between man and woman are accusing Islamic Sharia of injustice," the Mufti added.
Several western-motivated activists and liberals have called for gender equality in Libya, especially with regard to "inheritance in Islam."
Inheritance is a topic that is prominently dealt with in the Qur'an, and all Muslims must follow and implement the rules of Islamic inheritance.
Late in November, the UK's embassy organized a seminar chaired by the special envoy of Gender Equality of Britain and announced a new strategy for Libya's sexual equality issues.
Many activists from Libya and the international community attended the UK embassy's workshop where the strategy of gender equality in Libya was explained.
https://www.libyaobserver.ly/news/mufti-demands-lawsuit-against-uk-embassy-libya-anti-islam-activities
--------
UK anti-terror scheme records major surge in far-right activity
Dec 13, 2018
The British government has received a significantly high number of complaints regarding the surge in far-right activity in the country as it seeks as part of a program called Prevent to stop people being attracted and recruited by terrorist groups.
Government officials said Thursday that a total of 7,318 people had been referred to the Prevent program over concerns related to extreme right-wing activity over the past twelve months.
They said the figure of direct far-right referrals, a total of 1,312 cases, showed a major increase of 36 percent compared to the previous period in which some 968 cases had been recorded.
The BBC said in a report that there were questions regarding the British government's determination to tackle far-right extremism as many of those referred to Prevent, more than 40 percent, left the anti-terrorism process without requiring further action. The findings come amid a surge in far-right sentiments among the UK public. There have been numerous reports of attacks by racist and nationalist groups on members of ethnic minorities, especially the Muslims. In a most recent case in November, which sparked huge outrage, a Syrian refugee boy was racially abused in his school in Huddersfield, in northern England. The assault on Jamal was defended and justified by Tommy Robinson, the top Islamopphobe figure in Britain, with the far-right activist saying the Muslim boy was the victim of his own conduct in the school against the white and non-Muslims.
Full report at:
https://www.presstv.com/Detail/2018/12/13/582853/UK-far-right-activity-surge-Prevent
--------
Europe: 'Working twenty-four seven' to set up Iran payment channel
Dec 13, 2018
Europe is "working twenty-four seven" to launch the Special Purpose Vehicle (SPV), a payment mechanism aimed at facilitating business with Iran in the face of US sanctions, an official says.
However the details of the process are confidential, former head of the European Parliament's delegation for relations with Iran Tarja Cronberg said.
"The European officials in charge of the SPV are working on it twenty-four seven, trying to bring it into operation as soon as possible," she told the news website of Iran Chamber of Commerce on her visit to Tehran.
The mechanism is a totally new experience both for Iran and the European Union, and this has resulted in some delay in the process, she said.
"A lot of education will be needed for the companies on our side and on Iran's side, so that we know how to use and take best advantage of it."
Cronberg said the finance ministers of France, Germany, and the United Kingdom are working on the mechanism, but the details are secret.
A former Finnish minister of labor and a current member of the executive board of the European Leadership Network, Cronberg also expressed hope that the mechanism would be finalized by the end of the year.
"What we mean by finalizing is the techniques through which the mechanism works. It will take some more time for the companies to come in and use it," Cronberg said.
"The companies that will especially benefit from the SPV are the small and medium-sized ones. It would be great for them in terms of developing trade with Iran," she added.
Cronberg also expressed hope that the mechanism could be used for exports of medicine and food to Iran.
The US claims it has exempted exports of food and medicine to Iran, but its banking and shipping sanctions and other threats make it extremely difficult for the Islamic Republic to import them.
Cronberg said new US sanctions are different from the sanctions before, because the US, through controlling the dollar transactions, actually controls the European companies.
"Many companies have fears and have decided not to work with Iran because of this fear," she said.
Last month, Iranian Foreign Minister Mohammad Javad Zarif dismissed US claims that its sanctions would not impact the export of humanitarian supplies to Iran, citing evidence to prove that his American counterpart Mike Pompeo was lying.
The Trump administration announced on November 5 the "toughest" sanctions ever against Iran's banking and energy sectors with the aim of cutting off its oil sales and crucial exports.
The bans had been lifted under the 2015 nuclear deal, officially known as the Joint Comprehensive Plan of Action (JCPOA).
Full report at:
https://www.presstv.com/Detail/2018/12/13/582834/Europe-Iran-payment-mechanism-spv-Tarja-Cronberg
--------
UN investigation delves into Daesh's crimes against Yazidis
December 13, 2018
LONDON: A UN investigation into atrocities committed against Yazidis and others in Iraq will do more than simply gather information that will molder in an archive, the probe's leader said on Wednesday, it will help bring perpetrators to justice.
The team, led by British lawyer Karim Asad Ahmad Khan began its work in August, a year after it was approved the UN Security Council.
Speaking on the sidelines of a London event celebrating Yazidi activist Nadia Murad — who won the 2018 Nobel Peace Prize — Khan said the investigation will get into full gear in 2019.
"We will be pushing forward with greater capacity next year once we have a budget from the United Nations," he told the Thomson Reuters Foundation.
The investigation aims to collect and preserve evidence of acts by Daesh in Iraq that may be war crimes, crimes against humanity or genocide. In September 2017 — after a year of talks with Iraq — the UN council adopted a resolution asking UN Secretary-General Antonio Guterres to create the team "to support domestic efforts" to hold the militants accountable.
The evidence gathered is primarily for use by Iraqi authorities.
Whether that evidence will then be shared with international courts, will "be determined in agreement with the Government of Iraq on a case-by-case basis," according to the resolution.
"This mandate was not created to create simply an archive that would gather dust," said Khan.
"Our bid is ... to ensure that the best possible evidence is presented, is preserved, is collected. The necessary investigations are committed so that those who committed these horrendous acts are subjected to the vigour of the law."
UN experts warned in June 2016 that Daesh was committing genocide against the Yazidis in Syria and Iraq, destroying the minority religious community through killings, sexual slavery and other crimes.
Supporters of the Yazidi cause have expressed irritation at delays the probe has faced.
"Four years have passed since the crimes of genocide committed against Yazidis but we have seen no justice as yet for the victims and survivors," Karwan Tahir, the Kurdish regional government's representative in Britain told the London event.
About 7,000 women and girls were captured in northwest Iraq in August 2014 and held by Daesh in Mosul where they were tortured and raped.
Full report at:
http://www.arabnews.com/node/1420426/middle-east
--------
EU parliament urges Egypt to lift human rights constraints
December 13, 2018
CAIRO: The EU's lawmaking body has condemned Egyptian authorities for human rights abuses and is urging them to lift restrictions on free speech and assembly, halt mass trials and stop sentencing minors to death, and release political prisoners.
In a resolution passed by a vote on Thursday, the European Parliament says Cairo enforces continuous restrictions on fundamental democratic rights. It implored authorities to also "drop all existing baseless criminal investigations into the work of non-governmental organizations."
The resolution urged the release of several detained human rights advocates by name , saying that "the long-term prosperity of Egypt and its people goes hand in hand with the protection of universal human rights."
The European Union has occasionally condemned Egypt vocally under general-turned-president Abdel-Fattah El-Sisi's rule, although it rarely impacts trade or weapons sales.
http://www.arabnews.com/node/1420376/world
--------
German police reports 578 Islamophobic crimes in 2018
13.12.2018
By Ayhan Simsek
BERLIN
German police recorded 578 hate crimes against Muslims between January and September this year, according to figures released on Thursday.
At least 40 Muslims were injured in the attacks which were mostly carried out by far-right extremists, the Interior Ministry said in response to a parliamentary question.
Anti-Muslim crimes registered by the police included insulting, threatening letters, physical assaults and attacks against mosques.
The opposition Left Party, which submitted the parliamentary question, has warned against growing hate campaign and violence against Muslims in the country.
Some 27 Muslims were injured in attacks between January and September last year.
Full report at:
https://www.aa.com.tr/en/europe/german-police-reports-578-islamophobic-crimes-in-2018-/1337959
--------
UK to establish military base in Kuwait: News Report
13.12.2018
Kuwait and the U.K. have reached an agreement to establish a British military base in the Gulf state, local Kuwaiti media reported Thursday.
The private Alrai newspaper said the two countries concluded a deal to establish the British military base in Kuwait.
The daily, citing diplomatic sources, said officials from both countries will meet on Thursday to discuss aspects of cooperation between the two sides.
The newspaper also quoted Kuwaiti Foreign Minister Khaled al-Jarallah while denying any link between the British base and a border dispute between Kuwait and Saudi Arabia.
"Our dispute with our brothers in Saudi Arabia is brotherly," he said. "I can term it as a misunderstanding."
The private al-Qabas newspaper also said Thursday's meeting between Kuwaiti and British officials will discuss the establishment of a British military base to train the Kuwaiti army.
The newspaper, citing unnamed sources, said the U.K. base will be limited and will be opened soon.
There was no comment from Kuwaiti or British authorities on the report.
British ambassador to Kuwait Michael Davenport earlier said in an interview with Forces Network that London was considering a permanent military presence in Kuwait.
Full report at:
https://www.aa.com.tr/en/europe/uk-to-establish-military-base-in-kuwait-news-report/1337822
--------
Government urged to adopt new definition of Islamophobia following rise in hate crimes
Dec 13, 2018
The government has been urged by more than 50 cross-party parliamentarians to adopt a new definition of Islamophobia which would classify discrimination against Muslims as a form of racism, The Independent can reveal.
Members of a cross-party group of MPs and peers have warned discrimination against Muslims in the UK is going "unreported and unchallenged" because of the absence of a concrete definition.
The warning comes weeks after official government statistics showed reports of racial and religiously motivated hate crime in England and Wales had risen for a fifth consecutive year.
Following six months of consultations with various groups, the All-Party Parliamentary Group (APPG) on British Muslims proposed "Islamophobia is rooted in racism and is a type of racism that targets expressions of Muslimness or perceived Muslimness" as an official definition.
Now, in a cross-party letter from the APPG seen by The Independent, dozens of parliamentarians are calling on the government to adopt the phrase to clearly identify what constitutes discrimination against Muslims.
"Across policy domains, from employment, education and criminal justice to housing, healthcare and hate crime, Islamophobia has a significant negative impact on the life chances and quality of life enjoyed by British Muslims," the letter states.
"Let us be clear, Islamophobia is rooted in racism and its victims are not just Muslims but also those who are perceived to be Muslims. Its effects are seen in individual behaviours and institutional processes.
"Whether it is Muslim women who are denied job opportunities because they wear a headscarf, gurdwaras that are defaced because they are mistakenly identified as mosques, or Muslim students who fail to secure entry offers from Russell Group universities, the effects of Islamophobia are real and measurable."
More than 71,000 racially motivated hate crimes were recorded in England and Wales in 2017-18, almost double the 35,800 that took place in 2012-13, according to Home Office figures.
Over the same period, hate crimes committed against a person due to their religion had increased more than fivefold, up from just over 1,500 in 2012-13 to 8,300 in 2017-18.
Labour MP Wes Streeting, who co-chairs the APPG on British Muslims with Conservative counterpart Anna Soubry, said it was "encouraging" the definition had achieved cross-party support.
"This definition recognises the deep-rooted nature of Islamophobia and therefore quite rightly has support from parliamentarians across party lines," Ms Soubry added. "I hope it will now enable the serious work that needs to be done to tackle Islamophobia."
The APPG's report on Islamophobia, released in November, found large sections of the UK population bought into "myths" about Islam and Muslims.
The report noted previous studies that found a third of British people believe in the existence of "no-go zones" where non-Muslims are not permitted to enter.
It also criticised false or misleading news stories that stoked mistrust or anger towards the Muslim community, including the "Winterval" myth, which baselessly claims orchestrated efforts are being made for Christmas to be suppressed or rebranded in an attack on Christianity.
The Conservative government announced in 2016 it would adopt the International Holocaust Remembrance Alliance's working definition on antisemitism in a bid to curb hate crime against Jews.
However, Tory peer Baroness Sayeeda Warsi also claimed earlier this year the "poison" of Islamophobia was "widespread" at all levels of her party.
In June, the chairman of the Conservative Muslim Forum accused his own party of failing to root out Islamophobia because he said they were scared of damaging their political power.
The Muslim Council of Britain also called on the government to adopt the APPG's working definition of Islamophobia.
"This definition of Islamophobia not only has credibility due to the endorsement of over 75 academics, but also has community support with the endorsement of Muslim organisations from a range of backgrounds including representatives of hundreds of mosques from different parts of the country," a spokesman for the organisation said.
Full report at:
https://www.independent.co.uk/news/uk/politics/islamophobia-definition-racism-uk-british-muslims-letter-government-discrimination-a8682621.html
--------
Africa
Nigerian Muslims mark 2015 Massacre anniversary
Dec 13, 2018
Members of the Islamic Movement in Nigeria have staged a peaceful rally to mark the 3rd anniversary of the Zaria massacre. In December 2015, hundreds of people were killed at the hands of the Nigerian army during a raid on the residence of Muslim cleric Sheikh Ibrahim Zakzaky. Press TV's correspondent Danjuma Abdullahi has more.
https://www.presstv.com/Detail/2018/12/13/582865/Nigeria-Abuja-Zaria-massacre
--------
Protesters, police scuffle in anti-tax protests in Jordan
December 14, 2018
AMMAN, Jordan: Hundreds of people have protested in Jordan's capital against the government's planned tax increases and high youth unemployment.
Some protesters near the prime minister's office scuffled with riot police who fired several rounds of tear gas. Several people dropped to the ground in coughing fits.
It marked the first time police and protesters clashed since regular Thursday night protests resumed several weeks ago.
Previous demonstrations in the spring forced the resignation of then-Prime Minister Hani Mulki who was replaced by economist Omar Razzaz.
Razzaz promised a more inclusive style of governing, but is also under pressure from international lenders to cut the government's large deficit.
Jordan's economy has been hit by the fallout from years of conflict in neighboring Syria and Iraq, including trade disruptions and an influx of refugees.
http://www.arabnews.com/node/1420601/middle-east
--------
Former al-Shabaab spokesman arrested in SW Somalia
13.12.2018
By Mohammed Dhaysane
MOGADISHU, Somalia
A former al-Shabaab spokesman has been arrested in southwestern Somalia, an official said.
Mukhtar Robow, also known as Abu Mansor, was arrested by Somali and Ethiopian troops in a joint operation in the city of Baidoa, said a senior government official on condition of anonymity due to restrictions on speaking to the media.
Somali Internal Security Ministry confirmed the arrest of former al-Shabaab spokesman in a statement.
"On Thursday, our security forces have arrested Mukhtar Robow in Baidoa, where he was working to organize unlawful militias that risk the security of the town," the statement said.
Robow was a presidential candidate for the South West State election scheduled for Dec. 5. However, the country's election commission postponed the polls on Dec. 1 for the third time.
Full report at:
https://www.aa.com.tr/en/africa/former-al-shabaab-spokesman-arrested-in-sw-somalia/1337965
--------
600 more police reservists recruited to fight Al-Shabaab
DECEMBER 13 2018
The government has recruited over 600 police reservists who will complement security officers operating in terror hotspots along the border with Somalia.
Speaking to journalists in his office on Thursday, Garissa County Commissioner Joshua Chepchieng' said every location in the affected areas will receive 30 police reservists who will be stationed within the villages.
The recruitment follows a request from local leaders who called for reservists to be enlisted from retired locals who have served in the disciplined forces with known good records and who can pursue the militants on foot in areas the security officers cannot access.
Mr Chepchieng' said the reservists will work closely with chiefs, elders, wananchi and the security agencies in eliminating the Al-Shabaab menace in the area.
PURSUE AL-SHABAAB
"With the current recruitments, the reservists will go into interior areas to pursue Al-Shabaab. This, we believe, will work and [we will] eliminate these characters," he said.
Ijara, which is part of Boni Forest, one of the hideouts of Al-Shabaab militants, is the worst hit.
Other areas that have been targeted by Al-Shabaab attackers are Hulugho, Fafi and Dadaab.
"Al-Shabaab menace has forced officers along the border to spend sleepless nights so that we can enjoy the peace we are witnessing today in Garissa and several other parts of the country," he added.
Full report at:
https://www.nation.co.ke/counties/garissa/More-police-reservists-anti-terror-war/3444784-4893726-ykj1kq/index.html
--------
URL: https://www.newageislam.com/islamic-world-news/scholars-makkah-conference-warn-sectarianism/d/117160
New Age Islam, Islam Online, Islamic Website, African Muslim News, Arab World News, South Asia News, Indian Muslim News, World Muslim News, Women in Islam, Islamic Feminism, Arab Women, Women In Arab, Islamophobia in America, Muslim Women in West, Islam Women and Feminism