New Age Islam News Bureau
27 March 2018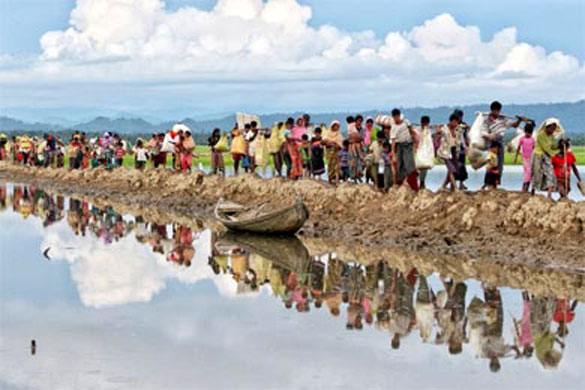 Rohingya refugee. Photo: Syful-IslamSome 700,000 Rohingya Muslims crossed the border from Myanmar's Rakhine state since August
----
• SC Seeks Centre's Response on Plea against Polygamy, Nikah Halala among Muslims
• Tahir Mahmood Ashrafi: Time to Eradicate Houthis, 'Cut Off Iranian Hands'
• 'Bangladesh Spending $280m to Build Homes at Rohingya Island'
• Egyptians Vote, With President Abdel-Fattah El-Sissi Certain Winner
• DPM Calls On Moderates from All Faiths to Fight Extremism
India
• SC Seeks Centre's Response on Plea against Polygamy, Nikah Halala among Muslims
• Muslims Being Ignored, Divisive Politics Will Do No Good: Shahi Imam of Delhi's Jama Masjid
• Left, Right United In Demand to Examine the Validity of Practice of Polygamy, • Nikah Halala, Nikah Mutah and Nikah Misyar in Muslim Community
• Groups working secretly to help illegal Rohingya migrants: MHA report
• Bodies of Indians killed in Iraq will be flown back by next week: Swaraj
• Kapil Sibal's absence in Babri case stokes speculations. It's temporary, say litigants
--------
Pakistan
• Tahir Mahmood Ashrafi: Time to Eradicate Houthis, 'Cut Off Iranian Hands'
• Pakistan to Put Trial Records of Bhagat Singh on Public Display Today
• Dr Qadeer praises IIU for promoting Islamic teachings
• Three terrorists killed as Punjab Rangers foil DG Khan Terror attack
• Hundreds respond to protest call by Pashtun movement
• Pakistan condemns Houthis' attacks on Saudi Arabia
• Two suspected terrorists killed in Mohmand search operation
--------
South Asia
• 'Bangladesh Spending $280m to Build Homes at Rohingya Island'
• Afghan Special Forces Kill Two Key Commanders of Taliban in Laghman
• Islami Andolan to contest in all 300 parliamentary seats
• Ghani off to Uzbekistan to participate in Tashkent conference on Afghanistan
• Ultranationalist Buddhist rhetoric in Sri Lanka
--------
Arab World
• Egyptians Vote, With President Abdel-Fattah El-Sissi Certain Winner
• Social Media Activists Mock Israeli, Saudi Defense Shields Operation
• Syria: What is Turkey waiting for to leave Afrin?
• Popular Uprising against US-Backed Kurdish Militants Reported in Raqqa
• Jihadists in Syria denounce US designation of Uzbek group
• Saudi-led coalition threatens retaliation against Iran over missiles
• Fresh rebel withdrawals from Syria's shrinking Ghouta
• Jeish Al-Islam Terrorist Group to Withdraw from Douma Soon
• 2 Notorious FSA Commanders Killed in Dara'a
• Turkish Army Dispatches New Military Equipment to Borders with Syria
--------
Southeast Asia
• DPM Calls On Moderates from All Faiths to Fight Extremism
• Malaysian Pilgrims Are Special - Imam Al-Sudais
• International recognition of Malaysia's 'wasatiyyah' speaks volumes, says Najib
• Jakarta's Governor, Backed by Islamic Conservatives, Sets Up Vice Showdown
• Singapore Investigating Christian Preacher's Alleged Statements on Islam
• Ex-governor of Jakarta to stay in jail as Indonesia court rejects appeal
--------
Mideast
• Arab States Condemn Houthi Rocket Attacks Targeting Saudi Arabia
• Turkish Police Arrests 33 Suspects over Affiliation to Gulen Network
• Tens of thousands rally in Sanaa to mark 3 yrs of war
• Israel strikes Hamas in Gaza for second day
• Erdogan insists Turkey wants EU membership
• Saudi Arabia demands Iran be held accountable for missile supply to Houthis
• Saudi envoy to US: Iran supports terror in Syria, Iraq, Lebanon, Bahrain, Yemen
• Coalition releases findings of Houthi missile attack on Saudi Arabia
• Egyptian killed, two wounded by shrapnel of Houthi missiles targeting Riyadh
--------
Europe
• UN Chief Hits Out at Myanmar Army Chief Over Rohingya Comments
• Christians and Muslims Come Together To Mourn Victims Of France Attack
• Russia expects deal with major rebel group in Syria's Ghouta
• UK Muslim group accused of undermining anti-Islamophobia campaigners
• How Turkey's outreach to its diaspora is inflaming tensions with Europe
• The brutal killing of a Holocaust survivor raises anti-Semitism fears in France
• Putin: Russia plays 'significant role' in Arab World
• UK Islamophobic march in Birmingham draws protests
--------
Africa
• Katsina Recruits 1,200 People to Confront Boko Haram
• Five Killed By Boko Haram in Niger Attack
• Suicide blast kills 4 near parliament in Somali capital
• Kidnap release in Nigeria raises truce hopes in jihadist revolt
• Eritrea accuses Qatar, Sudan of funding terrorism, deploying fighter planes on border
• Two al-Shabaab recruiters arrested on way to Somalia
• Former presidential candidate, Sam Eke warns against amnesty for Boko Haram
--------
North America
• Bolton and Pompeo Might Unleash Trump on 'Radical Islam'
• Suspected Quebec City mosque shooter pleads not guilty
• Michelle Malkin: Another fatal FBI fumble in Florida
• US slams Houthi missile attack on Saudi Arabia
Compiled by New Age Islam News Bureau
URL: https://www.newageislam.com/islamic-world-news/sc-seeks-indian-government-response/d/114735
--------
SC Seeks Centre's Response on Plea Against Polygamy, Nikah Halala Among Muslims
Mar 26, 2018
New Delhi: The Supreme Court on Monday agreed to examine the constitutional validity of the prevalent practices of polygamy and 'nikah halala' among the Muslims and sought responses from the Centre and the law commission.
A bench headed by Chief Justice Dipak Misra considered the submission that an earlier five-judge constitution bench, in its 2017 verdict, had kept open the issue of polygamy and 'nikah halala' while quashing triple talaq.
On Monday, the bench, which also comprised Justices AM Khanwilkar and DY Chandrachud, said a fresh five-judge constitution bench would be set up to deal with the constitutionality of 'nikah halala' and polygamy.
While polygamy allows a Muslim man to have four wives, 'nikah halala' deals with the process in which a Muslim woman has to marry another person and get divorced from him before being allowed to marry her divorcee husband again.
By a majority of 3:2, a five-judge constitution bench had earlier held triple talaq as unconstitutional in its judgement last year.
The bench was hearing at least three petitions including some PILs challenging the practices on various grounds including that they violate Right to Equality and gender justice.
Delhi BJP leader Aswini Kumar Upadhyay, who filed a PIL on 5 March, claimed that the ban on polygamy and 'nikah halala' was the need of the hour to secure basic rights.
The harm caused to the women due to the practices of triple talaq, polygamy and 'nikah halala' is violative of Articles 14, 15 and 21 of the Constitution and injurious to public order, morality and health, Upadhyay's petition said.
He sought a declaration "that the provisions of the IPC are applicable on all Indian citizens and triple talaq is a cruelty under section 498A (husband or relative of husband of a woman subjecting her to cruelty) of the IPC, 'nikah halala' is rape under section 375 (rape) of the IPC, and polygamy is an offence under section 494 (marrying again during lifetime of husband or wife) of the IPC."
On 14 March, a Delhi-based woman, had moved the apex court saying that by virtue of Muslim Personal Law, section 494 of IPC (marrying again during lifetime of husband or wife) was rendered inapplicable to this community and no married Muslim woman has the avenue of filing a complaint against her husband for the offence of bigamy.
She sought to declare the Dissolution of Muslim Marriages Act, 1939, unconstitutional and violative of Articles 14, 15, 21 and 25 (freedom of conscience and free profession, practice and propagation of religion) of the Constitution in so far as it fails to secure for Indian Muslim women the protection from bigamy which has been statutorily secured for women in India belonging to other religions.
The petitioner, who herself claimed to be a victim of such practices, has alleged that her husband and his family used to torture her for want of more dowry and she was ousted from the matrimonial home twice.
She also alleged that her husband had married another woman without taking any legal divorce from her and the police had refused to lodge FIR under section 494 and 498A (husband or relative of husband of a woman subjecting her to cruelty) of the IPC stating that polygamy was permitted under the Sharia.
Later on 18 March, a Hyderabad-based lawyer, had also challenged the practice of polygamy, claiming that all these types of marriages under the Muslim personal law violate the fundamental rights of Muslim women.
The petition has contended that while the Muslim law allows a man to have multiple wives by way of the temporary marriages or polygamy, same permission is not extended to women.
The petition has opposed the practice of nikah halala, where a divorced woman has to remarry and then get a talaq before being able to marry her first husband, as well as nikah mutah and nikah misyar — both temporary marriages where the duration of the relationship is specified and agreed upon in advance.
http://www.firstpost.com/india/supreme-court-seeks-centres-response-on-plea-against-polygamy-nikah-halala-among-muslims-4405883.html
--------
Tahir Mahmood Ashrafi: Time To Eradicate Houthis, 'Cut Off Iranian Hands'
26 March 2018
During an emergency meeting in Lahore attended by a number of leaders and heads of Islamic associations in Pakistan, Tahir Mahmood Ashrafi, the head of the Council of Pakistani Scholars, said it is time to eradicate the Houthi militias and "cut off Iranian hands" in the region.
He explained that the Houthis have crossed all "the red lines" by attacking Saudi Arabia, the land of the Two Holy Mosques.
The attacks, Ashrafi said, prove that the Houthis do not respect international laws as they constantly violate them by launching missile attacks targeting the holy mosques, which have failed so far after being successfully intercepted by Saudi defenses.
Ashrafi added that the Muslim community will not remain silent at the violations committed by the Houthis and Iran, because it cannot rule out that the Houthis may target Muslim pilgrims who will be heading to the holy sites in the kingdom very soon to mark the month of Ramadan.
He also said that the Houthi declaration of allegiance to Iran indicates that the militias are Iran's hands in the region, and should be suppressed immediately to reinstate legitimacy in Yemen, and protect the sanctity of the holy mosques.
Ashrafi and the participating heads of the Islamic associations strongly condemned the ballistic missile attacks by the Houthi militias on Sunday which targeted areas housing civilians including Riyadh, killing one person and injuring others.
https://english.alarabiya.net/en/News/gulf/2018/03/26/Council-of-Pakistani-Scholars-Time-to-eradicate-Houthis-cut-off-Iranian-hands-.html
--------
'Bangladesh spending $280m to build homes at Rohingya island'
Mar 27, 2018
Bangladesh is not expecting much help from foreign donors as it forges ahead with plans to relocate 100,000 Rohingya refugees to an uninhabited island, an undertaking that does not yet have a timeline, a state minister said in an interview.
The minister of state for foreign affairs, Mohammed Shahriar Alam, told Reuters on Friday that Bangladesh was paying the entire roughly $280 million to build homes and fortify the muddy island in the Bay of Bengal from cyclones, and that it was mulling a formal request for international funds.
No refugees who fled a military crackdown in Myanmar would be moved there against their will, he added.
Some 700,000 Rohingya Muslims crossed the border from Myanmar's Rakhine state since August, and are in cramped camps at Cox's Bazar. Because a repatriation deal between the neighbouring countries has been delayed, Bangladesh aims to prepare new homes on the nearby island, called Bhasan Char, before the onset of seasonal monsoon rains that could come in late April.
"We don't have a timeline because it's a lot of money," Alam said at Bangladesh's United Nations office in New York. "We are so far building it with our own finances. I am not very hopeful about how much funds the international community will be able to raise."
The latest wave of refugees joined about 300,000 Rohingya already in Bangladesh, one of the world's poorest and most crowded countries, who fled previous bouts of violence. A UN coordination branch has separately requested $951 million for immediate relief.
Alam pointed to blueprints of construction on the island 30 km (21 miles) from the mainland, and said one plan could be to bring potential donors there.
He brushed off as "misunderstandings" concerns raised by humanitarian groups such as Amnesty International that the silt island was vulnerable to flooding. "Some people raised concerns about Bhasan Char (but) there is absolutely no reason to be concerned because we are building an embankment," he said.
Bangladesh sees the island as a temporary arrangement for refugees but has given conflicting signals on how much freedom they would have to leave once there.
Alam said Bangladesh shared the building designs with the Organisation of Islamic Cooperation, which suggested "we engage people, countries and organizations to come help and contribute" to the cost. "We are yet to do it," the minister said. "We haven't decided on that."
http://en.prothomalo.com/bangladesh/news/173220/'Bangladesh-spending-280m-to-build-homes-at
--------
Egyptians vote, with President Abdel-Fattah el-Sissi certain winner
March 26, 2018
CAIRO (AP) — Egyptians voted on Monday in a presidential election, with the outcome — a second, four-year term for President Abdel-Fattah el-Sissi — a foregone conclusion and a sign that critics say shows the country is sliding back to the authoritarian rule that had prevailed since the 1950s.
For the general-turned-president, el-Sissi's only challenger is Moussa Mustafa Moussa, a little-known politician who joined the race in the last minute to spare the government the embarrassment of a one-candidate election after several hopefuls were forced out or arrested.
Moussa, who supported el-Sissi until he joined the race in January, made no effort to challenge the incumbent who never mentioned his challenger once in public.
Authorities hope enough people — there are nearly 60 million eligible voters — will vote in the three-day balloting, which ends Wednesday, to give the election legitimacy. Powerful pro-government media have in past weeks relentlessly portrayed voting as a national duty, required to protect the country against foreign conspiracies.
Some of the presidential hopefuls who had stepped forward might have attracted a sizable protest vote but they were all either arrested or intimidated out of the race, making this the least competitive election since the 2011 uprising ousted longtime autocrat Hosni Mubarak and raised hopes of democratic change.
El-Sissi cast his ballot as soon as the polls opened at 9 a.m. at a girls' school in the Cairo suburb of Heliopolis. He made no comments, only shook hands with election workers before he left.
There were no long lines of voters waiting in several Cairo districts — but past elections have shown many prefer to wait for the afternoon or evening to vote. Footage aired by local television networks showed women dominating the early voters. They also showed festive scenes outside polling centers, with women and school children singing.
Tens of thousands of policemen and soldiers have been deployed to protect polling centers as well as key state installations during the election.
"I'm not lazy or apathetic, I'm intentionally skipping this one," said Ahmed, a young man smoking a water pipe at a café near the Khidiwayah high school for boys in central Cairo who would not give his family name, fearing reprisals. A shopkeeper in downtown remarked that the world was laughing at Egypt.
According to an Interior Ministry statement late Sunday, police killed six militants believed to be involved in a weekend bombing in the coastal city of Alexandria that killed two policemen. The statement said they belonged to a Muslim Brotherhood-linked group and that they were killed in a raid on their hideout north of Cairo.
Mohammed Ibrahim Ali, a retired engineer, patiently waited for the polls to open at Cairo's bustling Sayda Zeinab middle-class neighborhood that is home to a much revered Islamic shrine.
"Even if there are 1,000 candidates, we will vote for el-Sissi," he said, struggling to be heard over the patriotic songs blaring from nearby giant speakers. "He is the one who makes life great here."
Ahmed Abdel-Atti, a 58-year-old doorman in the same neighborhood, voiced skepticism. "Do you see any other candidates?" he asked.
During the official campaign period, instead of addressing any of the scores of rallies held by his supporters or appearing in TV ads, el-Sissi has opted for carefully scripted and televised functions. The former general donned military fatigues on recent occasions, highlighting the war on Islamic extremists and perhaps reminding voters that he led the military overthrow of a divisive Islamist president in the summer of 2013.
Many Egyptians welcomed the overthrow of Mohammed Morsi and the crackdown on his Muslim Brotherhood group. For a time, el-Sissi enjoyed a wave of popular support bordering on hysteria, with downtown shops selling chocolates with his portrait on them.
But that aura faded over the last four years, which could explain a clampdown ahead of the election on the media and critics.
In the Sinai Peninsula, an insurgency that gained strength after Morsi's overthrow and is now led by the Islamic State group has only grown more ferocious, with regular attacks on security forces and deadly church bombings. An assault on a mosque in November killed more than 300 people — the worst terror attack in Egypt's modern history.
The government has meanwhile enacted a series of long-overdue economic reforms — including painful subsidy cuts and the floatation of the currency. That improved the investment climate and earned Egypt a $12 billion bailout loan from the International Monetary Fund. But the austerity measures sent prices soaring, exacting a heavy toll on ordinary Egyptians, especially the more than 25 percent living below the poverty line.
On Monday, some risked voicing criticism about the fallout from el-Sissi's ambitious economic reforms and the economy weighed heavily on some voters' minds.
"I was a wholehearted supporter, but not anymore," said Abu Ali, who recently lost his job in a telecommunications company and now works at a Cairo gas station. "Yes, there are big projects but he (el-Sissi) takes from us, the poor, not from them, the rich. We are the people who are living day to day."
Khaled Abdel-Lateef, a fresh juice seller in downtown Cairo, struck an upbeat note, saying authorities need more time. "We need to be patient," he said. "The good things will come. At the very least, we have security."
Thousands of Islamists and several leading secular activists have been jailed, and unauthorized protests have been outlawed. The media is dominated by virulently pro-government commentators and hundreds of websites have been blocked. Independent journalists have been arrested or deported.
In late February, authorities expelled The Times of London correspondent Bel Trew, arresting her after she conducted an interview in Cairo's central Shoubra district, saying she did not have valid accreditation and was filming without a permit.
El-Sissi, meanwhile, has worked to cultivate the image of a folksy populist, going on at length about his devotion to God, reverence for his late mother, and love for Egypt. In a one-hour puff piece TV interview, he said he wished he had one or two trillion dollars of his own money that he could spend on modernizing the country.
In the interview, el-Sissi insisted that the lack of candidates was "completely not my fault."
"Really, I swear, I wish there were one or two or even 10 of the best people and you would get to choose whoever you want," he said. "We are just not ready."
https://www.washingtontimes.com/news/2018/mar/26/egyptians-vote-president-abdel-fattah-el-sissi-cer/
--------
DPM calls on moderates from all faiths to fight extremism
March 27, 2018
KUALA LUMPUR, March 27 ― Malaysia has called on the moderates among religious followers to take the lead in a world threatened by extremism and fundamentalism.
Deputy Prime Minister Datuk Seri Ahmad Zahid Hamidi said moderates from all faiths must reclaim the agenda for peace and pragmatism, and marginalise the extremists and radicals.
"Extremism and radicalism do not have religious nor cultural backings. They are diseases, that can cause disintegration and destruction to a society.
"And for this reason alone, religious followers worldwide must come forward, and support the agenda for moderation, as it is the best approach to address the problems and chaos caused by extreme thinking and flawed understanding of religious principles," he said in his speech at the international symposium on "Moderation in Multi-religious Societies: Towards Peace and Harmony" here, today.
Also present were Minister in the Prime Minister's Department Datuk Seri Jamil Khir Baharom and Global Movement of Moderates Foundation (GMMF) executive chairman Datuk Dr Nasharudin Mat Isa.
Ahmad Zahid said promoting peace and harmony through moderation was just the first crucial step towards a greater agenda, of unity and harmony in multi-religious and multi-cultural societies.
"The way forward for all of us in achieving this vision is by promoting mutual acceptance, respect, and togetherness among people of different religions, so that the world would be a better place for all mankind," he said.
Malaysia has paved the way when the world body, the United Nations adopted Malaysia's resolution of moderation, at its 72nd session of the General Assembly last year.
The deputy prime minister said besides the proclamation of 2019 as The International Year of Moderation, the resolution was also an effort by Malaysia to amplify the voices of moderation, through the promotion of dialogue, tolerance, understanding and cooperation.
The Muslim World League too, he said regarded Malaysia as a great example of national harmony in the world, and an example of wassatiyah or moderation approach.
In the context of Malaysia, Ahmad Zahid said dialogue had been and was the best mechanism to foster mutual understanding, respect and also the avenue to share religious perspectives on issues affecting humanity, including preservation of peace and harmony.
"In a multi-religious and multi-cultural country like Malaysia, where moderation is essential, it is indeed a challenge to establish and sustain peace and harmony, but that is the reality, and we need to address it with wisdom, justice and kindness," he said.
He said the government was most committed to the noble cause of achieving peaceful co-existence in the society, where people from various religious beliefs and cultural backgrounds, are able to live together in an environment characterised by diversity, achieved through engagement, respect, acceptance, tolerance and justice.
Countries that aimed to become great and successful must, as a matter of necessity, tread along the path of peace and peace-making, he added. ― Bernama
http://www.themalaymailonline.com/malaysia/article/dpm-calls-for-moderates-from-all-faiths-to-fight-extremism
--------
India
Muslims Being Ignored, Divisive Politics Will Do No Good: Shahi Imam of Delhi's Jama Masjid
Vineet Upadhyay
Mar 26, 2018
NAINITAL: Syed Ahmed Bukhari, Shahi Imam of Delhi's Jama Masjid, on Monday said that Muslims in India were being ignored while Prime Minister Narendra Modi has been travelling to many Islamic nations and embracing their leaders.
Bukhari, who is on a personal visit to the hill town, said that the PM has to embrace those too who have distanced themselves from him. "These people haven't abandoned him due to any sort of enmity but due to ideological differences. If he wants the nation to progress and abide by his own slogan 'Sabka Saath Sabka Vikaas', he will have to take care of everyone, including Muslims, without discrimination."
"There are no jobs, no security and education due to which, youth of this country is in misery. The government's job is to provide them these things rather than creating a divide," Bukhari added.
The religious leader said divisive politics is failure of political leaders of the country "which will do no good to anyone and secular parties should come together as a strong opposition".
On the issue of instant triple talaq, the Shahi Imam said the practice was being misused against women. He added that laws should be made "through talks and consultation between government, religious leaders and other stakeholders involved and they should be imposed on people forcefully".
"Giving talaq on phone, through SMS or WhatsApp messages or in a fit of rage without any reason cannot be justified. It is the responsibility of the community and religious leaders to stop the unjustified practice of talaq. But there are instances where women want talaq. The government should talk to Muslim religious leaders and take the community into confidence. Laws cannot be forcefully imposed people," Bukhari said.
While responding to a question on the Ayodhya issue, Bukhari said, "Politicians should refrain from interfering in the issue. People from both Hindu and Muslim communities should come together to resolve the matter. If the politicians want to take part in the solution, they should come and participate with an open mind and heart."
https://timesofindia.indiatimes.com/india/muslims-being-ignored-divisive-politics-will-do-no-good-maulana-bukhari/articleshow/63470193.cms
--------
Left, Right United In Demand to Examine the Validity of Practice of Polygamy, Nikah Halala, Nikah Mutah and Nikah Misyar in Muslim Community
Mar 27, 2018
NEW DELHI: Reacting to the Supreme Court decision to examine the validity of practice of polygamy, Nikah Halala, Nikah Mutah and Nikah Misyar in Muslim community, BJP on Monday said it is a serious issue concerning gender rights and the apex court adjudication will ensure justice to women.
"After Supreme Court ruling ending the practice of triple talaq... we are confident that justice will be done to the Muslim women," said BJP spokesperson and newly elected Rajya Sabha MP, Sambit Patra.
A bench of Chief Justice Dipak Misra, Justices A M Khanwilkar and D Y Chandrachud agreed with a plea that validity of the practice needed to be examined in light of constitutional principles and issued notice to Centre to make its stand clear on banning the practice for violating constitutional provisions.
Full report at:
https://timesofindia.indiatimes.com/india/left-right-united-in-demand-for-personal-law-reforms/articleshow/63473201.cms
--------
Groups working secretly to help illegal Rohingya migrants: MHA report
Mar 27, 2018
A confidential Home Ministry report, accessed by Zee News, has revealed that the number of Rohingya migrants in 24 Parganas region of West Bengal has surged from 29 to over 100. The report also has the mention of several groups that have been helping Rohingya Muslim to infiltrate into Indian territory from Bangladesh.
Revelations have also been made about some Islamic groups that have been raising funds to get houses made for these migrants in areas of West Bengal. Information accessed by Zee News reveal that as many as 40 such groups have been identified that are collecting funds from across the country for the settlement of migrant Rohingyas.
According to the report, attempts are being made to settle down more than 40,000 Rohingya Muslims.
These groups have also convinced residents in West Bengal area to donate their land for the settlement of these migrants. Secret meetings were also conducted by the groups in different parts of the country during past few days.
In September last year, the Centre told the Supreme Court that Rohingyas posed a serious threat to national security with links to terror outfits, including the Islamic State.
Full report at:
http://zeenews.india.com/india/groups-working-secretly-to-help-illegal-rohingya-migrants-mha-report-2093928.html
--------
Bodies of Indians killed in Iraq will be flown back by next week: Swaraj
Mar 27, 2018
Bodies of 39 Indians killed in war-torn Iraq will be brought back to India in a week's time, external affairs minister Sushma Swaraj told the families of the deceased on Monday.
This was conveyed by the minister during her meeting with families, who were "appreciative" of efforts made by the government, specially by Sawraj and minister of state for external affairs V K Singh, official sources said.
"The minister told them that bodies will be brought to India in a week's time and Singh will go to Iraq to oversee the entire process," a source said.
Singh is expected to fly out soon in a cargo plane to get bodies, sources said.
Davinder Singh, younger brother of Gobinder Singh, who was among those killed in Iraq, told PTI over phone after meeting Swaraj in New Delhi, "We were assured all kind of assistance, including the possibility of a government job to the next of kin."
On the demand of bringing the mortal remains of the 39 killed to India as soon as possible, the minister "assured us of all possible steps", he said.
The meeting with Swaraj lasted for about 45 minute, he said.
The family of the deceased sought financial help as their bread earners are dead and also government jobs for the next of kin, Kumar said.
"The minister told us that she would meet the CMs of the four states from where the Indians belonged to take a decision on possibility of providing a government job to the next of kin," he said.
Earlier in the day, the family members of those killed in Iraq met Punjab Congress chief and party MP Sunil Kumar Jakhar in New Delhi and he assured them "all possible assistance" to them.
Swaraj had told Parliament last week that all the 39 Indians, abducted by the ISIS in Iraq in 2014, had been killed and their bodies recovered.
As many as 40 Indians were abducted by the ISIS terror group from Mosul in Iraq but one of them escaped posing as a Muslim from Bangladesh, Swaraj had said in Rajya Sabha.
The remaining 39 Indians were taken to Badoosh and killed, she had said.
Search operations led to a mound in Badoosh where locals said some bodies were buried by the ISIS. Deep penetration radars were used to establish that the mound indeed was a mass grave, she had said, adding the Indian authorities requested their Iraqi counterpart to exhume the bodies.
Swaraj said the mass grave had exactly 39 bodies, with distinctive features such as long hair, non-Iraqi shoes and IDs. The bodies were then sent to Baghdad for DNA testing.
Full report at:
https://www.hindustantimes.com/india-news/bodies-of-39-indians-killed-in-iraq-to-be-brought-back-to-india-by-next-week-sushma-swaraj/story-8RD9Ijq4s8vJf2gmikkMbI.html
--------
Kapil Sibal's absence in Babri case stokes speculations. It's temporary, say litigants
Mar 27, 2018
NEW DELHI: Senior lawyer Kapil Sibal is not likely to argue in the Babri demolition case in the coming days with Muslim parties in the dispute saying that he will be required on arguments on the Constitutional issues that will come up a little later. Sibal has not appeared in the last couple of hearings, and may not do so in the coming hearing either.
In the wake of the speculation, all eyes are on future arguments in the Supreme Court to see if Sibal is still part of the legal team in the case. Sibal is the lawyer for the oldest litigant from the Babri side.
Full report at:
https://timesofindia.indiatimes.com/india/sibals-absence-in-babri-case-stokes-speculations-its-temporary-say-litigants/articleshow/63473204.cms
--------
Pakistan
Pakistan to put trial records of Bhagat Singh on public display today
Mar 27, 2018
LAHORE: The Government of Pakistan has decided to put the case file from the trial of colonial-era freedom fighter Bhagat Singh on display at an exhibition in Lahore, Gulf News reported.
The decision was taken at a meeting of top bureaucrats chaired by Punjab Chief Secretary Zahid Saeed, who noted that Singh was a hero for both Pakistan and India.
According to the news outlet, other historical documents are also due to be displayed alongside the Bhagat Singh documents on Monday.
According to Press Trust of India (PTI), an official from the Punjab government spoke about the meeting to the media on Sunday. "The meeting decided that Singh was the independence movement hero of both India and Pakistan," the official was quoted as saying by PTI.
"The people of the country have the right to know about Singh and his comrades' great struggle to get freedom from the British Raj," the official added.
Reports suggested that the tomb of Anarkali, located in Lahore, is going to be the preferred venue for the public exhibition. The tomb also houses the Punjab Archive Department.
PTI reported that the exhibition will put on display important historical documents, which include newspapers, books and hotel records of where Singh and his comrades stayed when they were hiding, as well as letters written by the freedom fighter to his father from jail.
https://www.pakistantoday.com.pk/2018/03/26/pakistan-to-put-trial-records-of-bhagat-singh-on-public-display-today/
--------
Dr Qadeer praises IIU for promoting Islamic teachings
March 27, 2018
Islamabad: Well-known scientist Dr. Abdul Qadeer Khan called on International Islamic University (IIU) President Dr. Ahmed Yousif Al-Draiweesh on Monday and discussed matters of bilateral interest.
Dr. Abdul Qadeer hailed IIU for its services to the society and said the university was playing a pivotal role in the promotion of Islamic teachings. He said he had a lot of memories associated with IIU because people close to his heart had worked at the university.
The IIU president said on the occasion that Dr. Abdul Qadeer is proud of the Muslim world and his services for Pakistani nation are exemplary. He maintained that university is keen to promote of the message of peace and harmony and in its teachings IIU introduces its youth to the heroes such as Dr. Qadeer so that the young minds may get more motivation.
Meanwhile, the students of International Islamic University (IIU), hailing from various communities and countries will exhibit innovative products and cultures in the 27th Cultural Week on Tuesday (Today).
State Minister for the Capital Administration and Development Division (CADD) Tariq Fazal Chaudhary will inaugurate the mega event on the new campus of the university. The mega exhibition will reflect the cultural diversity, including dresses, literature, paintings, photographs, foods, and art, of the Muslim World and some other countries.
The stalls of Saudi Arabia, Iran, UAE, China, Afghanistan, ASEAN countries, SAARC, and all the provinces of Pakistan would set up, while ambassadors and high commissioners of various countries will also join the grand inauguration of the event.
Celebrations in connection with the cultural week are in full swing in both the campuses of the university and in this regard a book fair and flower exhibition will be held followed by cultural evening. In the cultural evening on March 29 students of over 40 countries will show their talent.
Activities in the form of lectures and competitions in various categories, such as Qirat, Naat, drama, photography, declamations, flower exhibitions, local games and sports gala on both male and female sides will be held in connection with the celebrations of the cultural week. A grand Mushaira will be held on March 28 on the new campus of the university.
Full report at:
https://www.thenews.com.pk/print/297174-dr-qadeer-praises-iiu-for-promoting-islamic-teachings
--------
Three terrorists killed as Punjab Rangers foil DG Khan terror attack
Mar 27, 2018
DERA ISMAIL KHAN: Punjab Rangers on Monday foiled an attempted terrorist attack in Dera Ghazi Khan (DG Khan) district by killing three terrorists, a spokesperson of the security forces informed media.
According to the initial details, the suspects opened fire at the law enforcement personnel when asked to stop their vehicle at a check post.
In retaliation, the officers of Punjab Rangers killed three terrorists. One of the officers sustained was injured and provided medical care later on.
Full report at:
https://www.pakistantoday.com.pk/2018/03/26/three-terrorists-killed-as-punjab-rangers-foil-dg-khan-terror-attack/
--------
Hundreds respond to protest call by Pashtun movement
March 27, 2018
LAHORE: Hundreds of supporters of the Pashtun Tahaffuz Movement (PTM), civil society activists and workers of various political parties on Monday responded to a call for protests against the arrest of Fata Political Alliance chief Arif Khan Wazir and three other PTM leaders in Wana a few days ago, and demanded an end to the alleged victimisation of Pashtuns.
The arrests had sparked outrage among the PTM supporters, who took to social media to assail what they termed was discrimination and victimisation of Pashtuns in the country. On Monday, the PTM announced it had countrywide protests in front of press clubs in Peshawar, Quetta, Lahore, Karachi, Islamabad, Zhob, Swabi, Loralai, Qilla Saifullah, Bannu, Ziarat, Dera Ismail Khan, Swat and Hyderabad.
The protesters at the Peshawar Press Club, led by Pakhtunkhwa Ulasi Tehreek chairman Dr Said Alam Mehsud, Aurat Foundation director Shabina Ayaz, and activists Sana Ijaz, Niazbin Malang and others, demanded an end to enforced disappearances and use of alleged coercive tactics to silence those who raised their voice for the oppressed.
They demanded immediate release of PTM leaders and announced that they would march onto Islamabad, once again, and hold a nation-wide sit-in if their demands were not met.
The speakers claimed that coercive measures were being used to stop PTM workers from engaging in peaceful protest, especially in Quetta and Swat, where criminal cases had been registered against their workers.
One of the protesters Ameer Alam Afridi, a brother of Said Gul Afridi, who was killed along with Naqeebullah Mehsud in a fake encounter by former SP Rao Anwar, said that the police had refused to register an FIR in his brother's case.
"They said that a committee has been formed to look into Naqeebullah's case in Karachi, but they have refused to investigate my brother's murder," he lamented.
In Lahore, nearly a hundred protesters gathered in front of the press club and condemned the crackdown on rights activists and the PTM leaders.
Advocate Ibrar Ahmed said that instead of appreciating the PTM's stand against terrorism, the authorities were arresting its leaders for raising a voice for the marginalised communities. "We are told that we are valiant and brave because we have sacrificed so much in the war on terror...but we were sacrificed in this war even when we didn't ask to be sacrificed," he said.
The protesters held up placards with their demands written on them — End enforced disappearances; Stop harassing and discriminating against Pashtuns; We demand the release of non-violent Pashtun leaders, and Do not claim that our legal demands are anti-state.
Diep Saeeda said activists from Punjab were in solidarity with the Pashtun. "We will continue to protest against coercive tactics used to silence activists," she said, while announcing a daylong sit-in in Lahore on March 31 to demand the return of missing activists across the country.
A good number of lawyers, civil society activists and workers of political parties gathered in front of the Swat Press Club and demanded release of their leaders.
"Arif Wazir had peacefully demanded the rights of Pashtuns which is a legal right under the Constitution which ensures freedom of speech. We not only condemn the unlawful arrest but also demand his immediate release," said Muhammad Iqbal Esakhel.
He condemned the attack in Kabul on a sit-in held in solidarity with the PTM.
Women lawyers at the protest said they would back the PTM's demands at every forum. "We are against every type of terrorism and extremism on our land and fully support the PTM's demand for peace," said Mehnaz, a protester and lawyer.
Full report at:
https://www.dawn.com/news/1397781/hundreds-respond-to-protest-call-by-pashtun-movement
--------
Pakistan condemns Houthis' attacks on Saudi Arabia
March 27, 2018
ISLAMABAD: Pakistan on Monday condemned Houthis' missile attacks on Saudi territory from Yemen that are believed to have caused the first casualty in the kingdom due to projectiles fired by the Yemeni militia.
Houthis on Sunday fired multiple missiles targeting Riyadh, Najran, Jizan and Khamis Mushait. Saudi forces claimed to have intercepted the missiles and acknowledged that an Egyptian was killed after being hit by shrapnel. This is the first officially accepted casualty from a Houthi missile attack.
Houthis have over the past few months launched several missiles targeting Saudi cities. Most of them were intercepted before they could hit the target.
"Pakistan commends the Government of Saudi Arabia for destroying the missiles and limiting the casualties," a Foreign Office spokesperson said in a statement on the string of latest attacks.
It is feared that the attacks could escalate the nearly three-year-old war, which the United Nations says has caused the worst humanitarian crisis in the world.
Houthis have also threatened to carry out more attacks, saying they were doing so in response to the war imposed by the US-backed and Saudi Arabia-led military coalition of Arab forces that has killed more than 10,000 Yemenis and pushed the war-ravaged and poverty-stricken country to the brink of mass famine.
Full report at:
https://www.dawn.com/news/1397768/pakistan-condemns-houthis-attacks-on-saudi-arabia
--------
Two suspected terrorists killed in Mohmand search operation
Fauzee Khan Mohmand
March 27, 2018
GHALANAI: At least two suspected terrorists were killed during a search operation in Mohmand Agency on Monday.
According to sources, security forces jointly conducted the operation after receiving information about the presence of some suspected militants in Tor Khwar area of Safi tehsil near the Pak-Afghan border.
They said that the militants opened fire on security personnel during the search operation.
In retaliatory fire two militants, Haq Nawaz and Mohsin were killed. Nawaz is said to be a leader of the militants who were allegedly involved in several terror acts in the area.
The security forces also seized rocket launchers, Kalashnikovs, ammunition and explosives from hideouts of the militants.
Full report at:
https://www.dawn.com/news/1397778/two-suspected-terrorists-killed-in-mohmand-search-operation
--------
South Asia
Afghan Special Forces kill two key commanders of Taliban in Laghman
Mar 26 2018
The Afghan Special Forces have killed two key commanders of the Taliban group during a special operation conducted in eastern Laghman province of Afghanistan.
The provincial government media office in a statement said the Afghan Special Conducted air and ground operations on a hideout of the Taliban in Alingar district late on Saturday night.
The statement further added that two key local Taliban leaders Baryalai and Dawood were killed along with four other militants while three suspects have been arrested.
According to the governor's office, Baryalai and Dawood were involved in major terrorist related activities for a long period of time and were still conducting insurgency in Alingar.
The two senior leaders of the group were being chased by the Afghan forces and were finally shot dead on Saturday night, the statement added.
A civilian was also killed during the operation but the provincial government blames Taliban for the death of the civilian.
The provincial government in its statement also added that the Afghan Special Forces have not suffered any casualties during the operation.
The anti-government armed militant groups including Taliban insurgents have not commented regarding the report so far.
https://www.khaama.com/afghan-special-forces-kill-two-key-commanders-of-taliban-in-laghman-04727/
--------
Islami Andolan to contest in all 300 parliamentary seats
March 26, 2018
Its chief Md Rezaul Karim claims that his party is the third biggest in Bangladesh
The Islami Andolan Bangladesh has announced plans to file candidates at every parliamentary seat in the next general election.
"We have selected our candidates," the party's chief Syed Md Rezaul Karim told a program in Bagerhat on Sunday said. "Islamic scholars will play a pioneering role in ensuring victory for the candidates."
Rezaul claimed that his party was the third biggest in Bangladesh.
He said Islamic scholars rose up whenever there was an attack on Islam in Bangladesh. "But 47 years after independence, the Islamic parties do not hold stable political positions," he added.
"In the past, even though a few Islamic parties have gone to power in alliance with un-Islamic parties, they have passed various anti-Islamic laws in the parliament, such as alcohol license," Rezaul said.
He said the Jamaat-e-Islami had already proven that it was against the spirit of the liberation war. "It will never come to power in this country," he asserted.
Full report at:
http://www.dhakatribune.com/bangladesh/politics/2018/03/26/islami-andolan-contest-300-parliamentary-seats/
--------
Ghani off to Uzbekistan to participate in Tashkent conference on Afghanistan
Mar 26 2018
President Mohammad Ashraf Ghani left for Uzbekistan this afternoon to participate in Tashkent conference on Afghanistan as the Afghan peace process is expected to top the agenda of the summit.
The Office of the President, ARG Palace, said President Ghani is accompanied by a delegation of high level government officials.
According to a statement by ARG Palace, President Ghani will deliver a speech during the conference and will also meet his Uzbek counterpart to discuss the issues of bilateral interest including bilateral relations and expansion of bilateral cooperation.
The statement further added that President Ghani will also meet the High Representative of EU for Foreign Affiars Federica Mogherini and the representatives of the other countries participating in the conference.
President Ghani is accompanied by acting Foreign Minister Salahuddin Rabbani, National Security Advisor Mohammad Hanif Atmar, Finance Minister Iklil Hakimi, senior presidential envoy for infrastructure Humayoun Qayumi, secretary of the high peace council Mohammad Akram Khpolwak, deputy foreign minister Hekmat Khalil Karzai.
Full report at:
https://www.khaama.com/ghani-off-to-uzbekistan-to-participate-in-tashkent-conference-on-afghanistan-04724/
--------
Ultranationalist Buddhist rhetoric in Sri Lanka
March 27, 2018
A recent road accident involving a Sinhalese truck driver and four Muslim men in Kandy district, Sri Lanka, quickly spiralled into violent conflict after news that the driver died of his injuries days later. Attacks by mobs on Muslim homes and properties prompted the Sri Lankan government to declare a state of emergency.
This recent spate of anti-Muslim attacks in Sri Lanka is neither new nor random. Anti-Muslim sentiments have risen in the country due to the spread of ultranationalist Buddhist rhetoric (UBR), similar to one seen in Myanmar recently. One of the key extremist groups in Sri Lanka responsible for such rhetoric is the Bodu Bala Sena (BBS).
Formed in 2012, the BBS has been actively defending Sinhalese Buddhism by stoking fears of the perceived threats from other religious communities. It largely targets the Tamil-speaking Muslim community, but has also included the Christians in its ultranationalist Buddhist rhetoric.
Rumours that Muslims would outnumber the Sinhalese Buddhists and the belief that the minority was economically superior are often circulated online, causing fear and distrust among the Sinhalese Buddhist majority that they will be displaced through a Muslim "takeover".
BBS has also capitalised on the rise of global terrorism to demonise the Muslims. Aside from spreading fake news and stoking fear, it has also turned to resources within Buddhism to justify its violent actions.
The understanding of Buddhism is articulated through its five precepts: the first stipulates that a Buddhist should abstain from killing.
Many scholars have argued that actions like the Buddhist-Muslim clashes in Sri Lanka contradict the humanistic aspect of Buddhism, yet ultranationalist Buddhist groups like BBS have argued that there are Buddhist texts that justify their actions.
A popular historical and religious resource often used is the Mahavamsa, a post-canonical epic poem that recounts the miraculous visit of Buddha to Sri Lanka. It focuses on the actions of Buddha, King Dutugemunu and King Ashoka. Many ultranationalist Buddhists have argued that the passages in the Mahavamsa permits dharma yuddhaya (the defence of the dharma, which is the eternal law and order of the cosmos, or just war) and the text has been used since Sri Lanka's colonial days.
A portion of the infamous canon details King Dutugemunu's conversation with the arahants (the living representations of the dharma). Here, the arahants told the King that he should not feel troubled even though he had killed over 60,000 men. To the arahants, war in Buddhism is justified if the violence contained a moral aspect.
They saw King Dutugemunu as one who was protecting the dharma and noted that no harm was done as the opposing army was attacking their belief. To the arahants, the lives of the 60,000 men was only equivalent to the lives of one and a half human beings. This same passage was also used by one of Myanmar's monastic leaders Sitagu Syadaw in November 2017 to legitimise the Tatmadaw's violence against the Rohingya population.
This does not at all suggest that Buddhism inherently promotes violence. It is also not to debate whether Buddhists are violent or benevolent people. Rather, the point is to acknowledge and accept that Buddhists who embrace the ultra-nationalist orientation – just like other extremist religious adherents be they Muslims, Christians, or others – are people who experience a spectrum of emotions, including fear, suffering, anger and violence. They may, as a result resort to their religious traditions to seek justification for their situation.
It is therefore crucial that the focus shifts to the positive resources within the religion in order to provide a compelling counter-narrative to the exclusivist and ultranationalist rhetoric spouted by groups like BBS.
In this context, other organisations and civil society groups which adopt moderate and humanistic teachings of Buddhism can lead the way in disseminating positive messages. A number of Sinhalese Buddhist leaders in fact have already denounced the ongoing riots, but this move needs to be supplemented with a more long-term strategy of promoting resources for peace in the country.
Full report at:
https://www.nst.com.my/opinion/columnists/2018/03/349796/ultranationalist-buddhist-rhetoric-sri-lanka
--------
Arab World
Social Media Activists Mock Israeli, Saudi Defense Shields Operation
Mar 26, 2018
The Iron Dome missile defense system in Israel was apparently mistakenly activated by automatic gunfire within Gaza on Sunday, sending an unnecessary barrage of interceptors into the skies, the army said.
Also, one video appeared to show a Saudi Patriot missile launch on Sunday night go rapidly wrong, with the missile changing course midair, crashing into a neighborhood in Riyadh and exploding. Another appeared to detonate shortly after being launched in the Saudi capital. The two were fired to intercept the Yemeni army missiles.
Following the incidents, the Israeli social media activists blasted the weak performance of the air defense system called by Tel Aviv as Iron Dome, asking how the multi-million-dollar defense shield has failed to recognize beams of Hamas artillery drills in Gaza from a real rocket attack and sent Israeli people to shelters.
An activist tweeted Sunday was a bad day for the technology of the western defense systems. 2 Saudi Patriot missiles failed to hit the target and the Iron Dome failed to say the difference between missile and beams.
Meantime, Global Observer news website described the incidents as big failure for Saudi Arabia and Israel, noting that the Iron Dome fired several missiles worth of $50,000 in reaction to the light of artillery fire in Hamas drills and the Saudi Patriot defense shield targeted Riyadh instead of the Yemeni missiles.
Sunday night's launch saw one Egyptian killed and two others wounded in Riyadh by a missile fragment, marking the first casualties in the Saudi capital since the war against Yemen began.
Saudi Arabia has been striking Yemen since March 2015 to restore power to fugitive president Mansour Hadi, a close ally of Riyadh. The Saudi-led aggression has so far killed at least 15,700 Yemenis, including hundreds of women and children.
Despite Riyadh's claims that it is bombing the positions of the Ansarullah fighters, Saudi bombers are flattening residential areas and civilian infrastructures.
According to several reports, the Saudi-led air campaign against Yemen has driven the impoverished country towards humanitarian disaster, as Saudi Arabia's deadly campaign prevented the patients from travelling abroad for treatment and blocked the entry of medicine into the war-torn country.
Yemen is the world's largest humanitarian crisis with more than 22 million people in need and is seeing a spike in needs, fueled by ongoing conflict, a collapsing economy and diminished social services and livelihoods.
A UN panel has compiled a detailed report of civilian casualties caused by the Saudi military and its allies during their war against Yemen, saying the Riyadh-led coalition has used precision-guided munitions in its raids on civilian targets.
http://en.farsnews.com/newstext.aspx?nn=13970106000746
--------
Syria: What is Turkey waiting for to leave Afrin?
Mar 27, 2018
The Syrian government has once again called on Turkey to immediately withdraw its troops from the Syrian town of Afrin, citing Turkish officials' own assertions that an alleged security threat posed by the Kurdish militants there has ended.
In a statement carried by Syria's official news agency SANA on Monday, an official source in the Foreign Ministry said Damascus reiterated its call for the "immediate and unconditional withdrawal of the Turkish occupation forces from the Syrian territories."
He referred to recent statements made by Turkish officials about the end of the "security threat" posed by militants in Afrin, which Ankara originally used as a "pretext" to deploy troops to the town. Ankara had set the removal of that purported threat as a precondition to withdraw its forces from Syria.
"If we take seriously for once the statements of the Turkish regime's officials, which are deceptive and lack any credibility, the question that poses itself is: if the alleged security threat is gone, what is the Justice and Development Party government waiting for to withdraw its invading forces from Syria?" the source said, referring to the name of Turkey's ruling party.
The source stressed that the Turkish military presence on Syrian territory was a blatant violation of international law, and appealed to the international community to take action to put an end to the aggression, which has displaced thousands of people.
The Turkish military said on March 24 that it had established full control over Syria's Afrin after more than two months of battles with US-backed militants controlling Syria's northern border regions.
Turkey began the so-called Operation Olive Branch in Afrin on January 20 to clear the northern Syrian border of the US-backed Kurdish militants of the People's Protection Units (YPG), whom it associates with the homegrown Kurdistan Workers' Party (PKK) fighting for autonomy on Turkish soil.
The Turkish military says it has exercised "utmost care" not to harm civilians. The so-called Syrian Observatory for Human Rights (SOHR), a UK-based monitor, however, said last week that more than 280 civilians had been killed since the onset of the operation.
Full report at:
http://www.presstv.com/Detail/2018/03/27/556614/Syria-Afrin-Turkey-immediate-pullout-Kurdish-militants
--------
Popular Uprising against US-Backed Kurdish Militants Reported in Raqqa
Mar 26, 2018
The sources reported that residents of the village of al-Mansoureh and several other nearby regions in Western Raqqa engaged in heavy clashes with the SDF forces on Sunday, adding that civilians set fire at a number of Kurdish forces' bases.
They also said that a number of SDF forces and civilians were wounded in the clashes.
Based on the report, the clashes happened after the Kurdish forces detained the leader of Bu Khamis tribe, Sheikh Bashir Hamdan al-Hashmar.
Relevant reports said on Saturday that the SDF has started forcing civilians in Raqqa to pay for the costs of war with the Turkish army in Afrin after they faced an acute shortage of financial resources.
The SDF's civil administration center has asked each family in the town of al-Tabaqah in Raqqa province to pay 500 Syrian Liras, citizens reported.
The Kurdish militias have imposed the same rules in Tawihineh camp in Western Raqqa, and threatened to expel the families that deny to "cover the costs of war".
Full report at:
http://en.farsnews.com/newstext.aspx?nn=13970106000353
--------
Jihadists in Syria denounce US designation of Uzbek group
March 26, 2018
After the US State Department designated the Uzbek jihadist faction Katibat Imam al Bukhari (KIB) as a global terrorist organization last week, several jihadi figures and groups, including KIB itself, released statements denouncing the move.
In its own statement, which was released on its Telegram channel, KIB states that it "was surprised by the American resolution to enlist [sic] the Imam al Bukhari brigade on the world terror list." The group claims it "does not have ideological or intellectual ties with any faction internationally enlisted." However, this claim is false.
Al Qaeda figures have been prominently featured in KIB videos, thereby demonstrating its "ideological" ties. Senior al Qaeda figures such as Osama bin Laden, Abu Musab al Zarqawi, and Abu Yahya al Libi were all included in one such video. KIB has also released speeches from Abu Saloh, an ethnic Uzbek figure based in Syria. Abu Saloh leads an Uzbek battalion, Katibat al Tawhid wal Jihad (KTJ), which pledged allegiance to Al Nusrah Front in Sept. 2015. Al Nusrah was an official branch of al Qaeda at the time.
According to RFE/RL, KIB's first leader, Salahadin al Uzbeki, was a veteran of the jihad in Afghanistan. He reportedly "met with several leading Taliban figures, including Sirajuddin Haqqani," before relocating to Syria. Haqqani is a US-designated terrorist who serves as one of the Taliban's top deputies. The Haqqani Network, which is part of the Taliban, has been allied with al Qaeda since the 1980s.
KIB claims that it is "restricted to the fight abreast [sic] with the Free Syrian Army and the Syrian people in order to defend the civilians against the Syrian regime and ISIS." But this isn't true, either. The State Department noted that "the group has played a significant role in the fighting in northwestern Syria, fighting alongside groups including al Nusrah Front – al Qaeda's affiliate in Syria."
Indeed, the KIB has taken part in several offensives led by jihadists in Syria since 2015. Those operations include the spring 2015 offensive that captured large swaths of Idlib province and summer 2016 battles in Aleppo and Latakia. It has also fought alongside other al Qaeda-linked groups in Syria, including the Caucasus Emirate's branch in the country and Ansar al Islam.
KIB's statement makes no mention of its activities in Afghanistan or the fact that it has sworn bayah, or an oath of allegiance, to the Afghan Taliban's leader. KIB recently began identifying itself on social media as the "Islamic Emirate of Afghanistan – Katibat Imam al Bukhari," a nod to the official name used by the Taliban.
Other jihadists have joined KIB in denouncing the State Department's designation as well.
For instance, the Syrian Liberation Front (SLF) — a joint venture formed by Ahrar al Sham and the Nur al-Din al-Zanki Movement in February — echoed KIB's claims. The SLF argues that the KIB is an "independent" faction comprised of Uzbeks who were "forced out of their country" and who now fight against the Assad regime and ISIS. However, Ahrar al Sham, which leads SLF, has had al Qaeda operatives embedded in its own ranks. Both Ahrar and Zanki also fought alongside Al Nusrah Front in the past.
The SLF accuses the US and the "international community" of watching as the Assad regime and its Iranian-backed allies have committed "genocide" against the Syrian people. The group also points to the assassination of KIB leader Salahadin al Uzbeki last year, alleging that the Islamic State (ISIS) cooperated with "Russian intelligence" in the killing.
An al Qaeda-linked ideologue, Sheikh Abdullah al-Muhaysini, quickly reiterated the SLF's defense of the KIB on his social media pages. Muhaysini praised the fact that native Syrians within SLF rose to the defense of their immigrant brothers. Muhaysini lauded KIB for not participating in the "infighting" between jihadist factions, saying its members are "Uzbek brothers who are helping the people of Sham against the transgressor Assad." Like the SLF, Muhaysini accused the US of employing "double standards," as foreign fighters have joined the Kurdistan Workers Party (PKK), even as the YPG (or People's Defense Units) has received the US backing in its fight against ISIS. The YPG is affiliated with the PKK, which is a designated terrorist organization.
Full report at:
https://www.longwarjournal.org/archives/2018/03/jihadists-in-syria-denounce-us-designation-of-uzbek-group.php
--------
Saudi-led coalition threatens retaliation against Iran over missiles
March 27, 2018
RIYADH: A military coalition led by Saudi Arabia on Monday threatened retaliation against arch-foe Iran, accusing them of being behind a barrage of Yemeni rebel missile attacks on the kingdom.
Saudi forces said they intercepted seven missiles on Sunday, including over the capital Riyadh, in a deadly escalation that coincided with the third anniversary of the coalition's intervention in Yemen.
Displaying wreckage at a news conference in Riyadh of what it said were fragments of those ballistic missiles, the coalition claimed forensic analysis showed they were supplied to Huthi rebels by their ally Iran.
"The missiles launched against Saudi territory were smuggled from Iran," coalition spokesman Turki al-Malki told reporters.
We "reserve the right to respond against Iran at the right time and right place", he added.
The missile strikes resulted in the first reported fatality from Huthi fire in the Saudi capital.
Egyptian national Abdul-Moteleb Ahmed, 38, died instantly in his bed when what appeared to be burning shrapnel struck his ramshackle room in Riyadh's Um al-Hammam district, leaving a gaping hole in the roof, witnesses told by AFP at the site.
Three other Egyptian labourers in the same room were wounded and hospitalised, they said.
The Iran-aligned Huthis said on their Al-Masirah television that Riyadh's King Khalid International Airport was among the targets.
Malki alleged the rebels in Sanaa were using the airport there to launch missiles on Saudi territory, adding the coalition had seized a number of smuggled weapons.
Iran has repeatedly denied arming the Huthis in Yemen, despite claims by the United States and Saudi Arabia that the evidence of an arms connection is irrefutable.
A Saudi-led military coalition intervened in Yemen on March 26, 2015 to try to restore the government of President Abedrabbo Mansour Hadi after the Huthis and their allies took over large parts of the country, including the capital Sanaa.
Hours after the missile attacks on Saudi Arabia, hundreds of thousands of Huthi rebel supporters flooded the streets of Yemen's capital Monday to mark three years of war.
Sanaa's Sabaeen Square was a sea of Yemeni flags as rebel authorities ordered all schools and government offices shut for the anniversary.
Huthi supporters carried portraits of rebel chief Abdulmalik al-Huthi and speakers blasted out a fiery speech by Hassan Nasrallah, leader of Lebanon's powerful Hezbollah movement, praising the "steadfastness" of the Yemeni people.
War songs, poems and speeches condemning the United States, the main arms supplier for the Saudi-led coalition, echoed across the square.
"No one can speak on behalf of the Yemeni people. The people taking to the streets today are the real voice," Ibtisam al-Mutawakel, head of a Huthi cultural committee, told AFP.
About 10,000 Yemenis have been killed and 53,000 wounded since the start of the coalition intervention in Yemen, which triggered what the United Nations has called the world's worst humanitarian crisis.
Despite the intervention, the rebels remain in control of the capital, northern Yemen and the country's largest port.
Amnesty International, which has criticised both sides in the Yemen war for neglecting civilian safety, on Monday said the "indiscriminate" Huthi missile attack "could constitute a war crime".
The rights group has also slammed the Saudi-led alliance for possible war crimes in Yemen.
Britain urged Iran to "stop sending in weapons which prolong the conflict", while Tehran accused London a key arms supplier for Saudi Arabia of hypocrisy.
Delivering a veiled swipe at Iran, France called the transfer of missile capabilities to non-state actors "irresponsible".
The US State Department said Washington would support the Saudis' "right to defend their borders against these threats".
Rebel leaders have sought to highlight the role of the United States in the Saudi-led intervention.
At Monday's rally, Saleh al-Sammad, head of the rebels' Supreme Political Council, said the rebels were "ready to reach an understanding" to end the intervention and the coalition's blockade of Yemen.
"It is the Americans who are directing this aggression and participating directly on a number of fronts," Sammad told the rally.
The Hadi government said Monday that the overnight attacks on Saudi Arabia amounted to "an open rejection of peace".
The US Senate last week rejected a bipartisan bid to end American involvement in Yemen's war, voting down a rare effort to overrule presidential military authorisation.
The US has provided weapons, intelligence and aerial refuelling to the Saudi-led coalition.
Full report at:
https://nation.com.pk/27-Mar-2018/saudi-led-coalition-threatens-retaliation-against-iran-over-missiles
--------
Fresh rebel withdrawals from Syria's shrinking Ghouta
March 27, 2018
DOUMA - A new group of Syrian rebels and civilians prepared to leave Eastern Ghouta on Monday after the largest exodus yet from the opposition enclave, as talks stalled over the final pocket of resistance. Five weeks since government troops launched a ferocious offensive on Ghouta, they hold more than 90 percent of the long-besieged opposition stronghold on the doorstep of Damascus.
The area has been ravaged by heavy bombardment and emptied by an exodus of tens of thousands of residents and negotiated withdrawals of rebels.
A convoy of more than 5,400 fighters and civilians left a pocket of territory held by Islamist rebel group Faylaq al-Rahman late Sunday and reached northwest Syria the following day.
It was the single largest one-day evacuation yet from Eastern Ghouta, after nearly 1,000 people were bussed out from the same area on Saturday.
Syria's ally Russia has been deeply involved in the process, negotiating with rebels and placing masked military escorts aboard buses leaving Ghouta.
More pull-outs were expected Monday from the towns of Arbin and Zamalka and the neighbouring district of Jobar, all held by Faylaq al-Rahman.
The group's spokesman Wael Alwan on Monday confirmed that "the evacuations are continuing today", but could not provide detailed numbers.
More buses were ready Monday to take around 1,100 people, including fighters and several hundred children, out of the same area, according to state media.
The departures are part of a deal reached with the rebel group last week.
Syrian FM visits Oman on rare Gulf mission
Syrian Foreign Minister Walid Muallem landed in the Omani capital on Monday for talks with officials, the two countries' news agencies said.
Oman, a US ally bordering Saudi Arabia and Yemen, has good ties with Iran, a key backer of the Syrian regime, and has frequently served as a mediator in the Arab world.
Its state news agency ONA said Muallem's visit would cover "several days during which he will meet with a number of senior officials in the sultanate", without giving details.
The visit will cover "the current situation in the region and means of strengthening bilateral ties", said Syria's SANA news agency.
It is Muallem's second trip to Oman since the 2011 outbreak of Syria's conflict, during which it has been the only Gulf state to host a Syrian foreign minister.
The government has repeatedly used such "reconciliation deals" to recapture territory lost during Syria's seven-year war. Eastern Ghouta lies within mortar range of Damascus, and rebels there had threatened to seize the capital from President Bashar al-Assad.
The regime responded by imposing a crippling half-decade siege on the suburb's 400,000 residents, sealing off access to food, medicine and other goods.
On February 18, the regime, its ally Russia and loyalist militia launched an all-out assault, using air strikes and a sweeping ground assault to corner rebels in three isolated pockets.
More than 1,600 civilians have been killed in the operation, according to the Syrian Observatory for Human Rights, a Britain-based monitor.
To help the regime capture the rest, Moscow began talks with the rebels in each area.
The first agreement, with hardline Islamist group Ahrar al-Sham, saw more than 4,500 people including rebels leave the town of Harasta last week.
The deal with Faylaq al-Rahman on Friday has so far seen 6,400 people leave the pocket it controls, putting Assad within reach of securing the second-last part of the former rebel stronghold.
The convoy of 81 buses that left late Sunday began arriving at a staging ground on the edge of opposition territory in northwest Syria on Monday afternoon.
Dozens of people had been waiting since early morning for the arrival of relatives and friends who were bussed out of Ghouta.
"I'm waiting for my wife's parents who were besieged. We've missed them so much," said Abu al-Laith, who himself was evacuated 10 months ago from another Damascus district.
A third set of talks is ongoing over the final pocket, controlled by Jaish al-Islam and including the largest town in the area, Douma.
But unlike the others, that deal could see Jaish al-Islam remain in Douma.
"The ongoing negotiations with Russia are to stay in Douma, not to leave it," said Jaish al-Islam spokesman Hamza Bayraqdar, without providing further details.
Observatory chief Rami Abdel Rahman said the deal could see Jaish al-Islam lay down heavy weapons in exchange for the return of government-provided water and electricity to the town.
Russian military police, but not Syria's army, would deploy there.
But internal divisions within opposition ranks were holding up the talks, Abdel Rahman told AFP.
"Jaish al-Islam's commanders are divided and some are opposed to a deal," he said.
Similar terms were reported by Syria's pro-government Al-Watan daily.
It said a "preliminary understanding" had been reached over Ghouta that would see the "dissolution of Jaish al-Islam, the handover of its heavy weapons and the return of state institutions to the city."
Al-Watan said the parties had three days to study the deal.
In Douma, residents were torn over what to do.
"I've spent my whole life here and lived the revolution. My father died here. How could I abandon his grave?" said Abu Ayman, 30.
"But I could never live alongside regime forces," he added.
Some had already left into government-held zones, using a corridor opened up by regime troops.
About 16,000 people have fled Douma using the route in recent days, the Observatory said. Some 200,000 people, including many who fled other parts of Ghouta, are estimated to remain in the town.
Full report at:
https://nation.com.pk/27-Mar-2018/fresh-rebel-withdrawals-from-syria-s-shrinking-ghouta
--------
Jeish Al-Islam Terrorist Group to Withdraw from Douma Soon
Mar 26, 2018
The Arabic service of RT news quoted Head of the Operations Department of the General Staff of the Russian Armed Forces General Stanislav Haji Mahmidov as saying today that negotiations with the militants in Douma still continue.
He added that the terrorists are ready to put down their weapons and withdraw from the region as soon as possible.
The Russian General said that other than the necessity for making an agreement with militants to withdraw from Ghouta, it also needs logistical measures and vehicles for transferring them by the Syrian government.
Douma is the last stronghold of terrorists in South of Eastern Ghouta as other regions have been cleansed by the army.
The Syrian army gave a last opportunity to Jeish al-Islam terrorists to withdraw from Douma amid its rapid advances in the region.
Military sources reported on Sunday that the army has given the last ultimatum to Jeish al-Islam to evacuate its forces from Douma and deliver its control to Damascus.
Full report at:
http://en.farsnews.com/newstext.aspx?nn=13970106000777
--------
2 Notorious FSA Commanders Killed in Dara'a
Mar 26, 2018
Militant-affiliated sources reported from Eastern Dara'a on Monday that unknown assailants open gunfire at a vehicle carrying FSA-affiliated Jeish al-Thawrah terrorists the road to the town of al-Tayebah South of the town of Saida.
According to the report, commander of 'Mohammed Ibn Abdullah' Brigade, Fadi al-Ba'ouni, and Abdolrahman al-Mahamid, another commander of Jeish al-Thawrah, were killed in the attack.
Assassination attempts against terrorist commanders and militants in Southern Syria have recently increased.
Relevant reports said on Sunday that two notorious FSA commanders were also assassinated in Quneitra in Southern Syria.
The dead body of one of the senior commanders of Jahbat Ansar al-Islam terrorist group affiliated to FSA named Abu Bilal was found South of the province.
The body of deputy commander of the so-called National Front to Liberate Syria affiliated to the FSA named Mohammed al-Akhtabout who was earlier abducted near al-Jamous checkpoint in Southern Quneitra was also discovered.
Full report at:
http://en.farsnews.com/newstext.aspx?nn=13970106000660
--------
Turkish Army Dispatches New Military Equipment to Borders with Syria
Mar 26, 2018
Military sources confirmed on Monday that a new convoy consisting of 25 trucks carrying tanks was sent from Erzurum province in Eastern Turkey to Adiyaman in the South near the borders with Syria.
Turkish President Recep Tayyip Erdogan had on Sunday spoken about the imminent military operations in Tal Rafa'at within the framework of Operation Olive Branch which started in January.
The Turkish president also said on Friday that he told both US President Donald Trump and Russian President Vladimir Putin that "Turkey will not step back in Syria", vowing that the ongoing campaign in Afrin will be expanded to other parts of the war-torn country, including Manbij.
"Last night I spoke with US President Trump on these issues. I discussed the same things with Putin two days ago. I told them: 'We won't take steps backward from here. We are on the side of the suffering and the oppressed,'" Erdogan said in an address at a meeting of his Justice and Development Party (AKP) in Istanbul.
Full report at:
http://en.farsnews.com/newstext.aspx?nn=13970106000300
--------
Southeast Asia
Malaysian Pilgrims Are Special - Imam Al-Sudais
27 March 2018
MAKKAH: Grand Mosque Imam, Sheikh Abdurrahman Abdul Aziz Al-Sudais said he was very happy with the well-organised Malaysian congregation during Haj, and described Malaysian pilgrims as special.
"The Malaysian pilgrims are very organised, well mannered and always respect the sanctity of holy sites," said the grand imam during a meeting with three senior Malaysian editors who visited his office here.
Sheikh Al-Sudais also announced the good news that the guardian of the two holy cities had agreed to provide live translation of the Friday sermons in Makkah, Medina and Padang Arafah (during the Hajj Season) into Bahasa Melayu.
He said Bahasa Melayu was one of the 10 languages included in the project.
Sheikh Al-Sudais who is also president of the General Presidency for the Affairs of the Two Holy Mosques in Saudi Arabia said the the project would benefit the Muslim community from Southeast Asia to better understand the sermons.
He was also delighted with Malaysia's good response given to imams of the Grand Mosque and Nabawi Mosque during their visit to Malaysia.
He said the cooperation and spirit of unity shown by the Malaysian government with Saudi Arabia was very important in preserving the well-being of the Muslim ummah in the world.
At the international level, he said Malaysia was the best example to highlight moderate and true Islamic teachings.
Sheikh Al-Sudais said Saudi Arabia and Malaysia would also work together to combat terrorism.
Saudi Arabia is currently engaged in a conflict with Houthi militants in its southern neighbour Yemen, who have launched ballistic missile attacks towards several locations, including the capital city Riyadh.
Sheikh Al-Sudais also explained the project to expand the Grand Mosque and revive the well of Zam Zam had reached the final stage, and could be utilised very soon.
A check on-site found that most of the new space could be used by Ramadan this year, with an additional capacity of 1.6 million pilgrims.
The new 'tawaf' (circumambulation of the Kaaba) area is expected to accommodate about 100,000 people at all times.
Meanwhile, Sheikh Al-Sudais dismissed allegations from certain parties, who questioned Saudi Arabia's obligations in preserving the sanctity of the holy land.
He said the parties were trying to spread fake news aimed at disregarding all the efforts made by the Saudi Arabian authorities so far.
In this regard, he stressed the importance of the role of the media today in conveying the true message of Islam.
On the spread of fake news, Sheikh Al-Sudais said Islam had provided guidance on how to accept a certain piece of news through the teachings of the Quran and Sunnah.
For example, he said Surah al-Hujurat, verse number 6 mentioned that: "If there comes to you a disobedient one with information, investigate, lest you harm people out of ignorance and become, over what you have done, regretful."
http://www.malaysiandigest.com/news/729839-malaysian-pilgrims-are-special-imam-al-sudais.html
--------
International recognition of Malaysia's 'wasatiyyah' speaks volumes, says Najib
27 Mar 2018
THE Muslim World League's recognition of the "wasatiyyah" (moderation) concept upheld by Malaysia speaks volumes of the country's high commitment to upholding Islamic principles, said Najib Razak.
The prime minister said it also negated allegations by certain quarters that Malaysia was not an Islamic state and was lax in its commitment to upholding Islamic principles.
"The concept of wasatiyyah is one of the basic principles of Islam.
"The Muslim World League scrutinises every country in the world and it has stated that Malaysia is a role model for Islamic states," he said, adding that the international civil society group was not on Malaysia's payroll.
Najib was addressing religious students at the Madrasah Al-Ulum Ad-Diniah Al-Usmaniah Pondok Tanjung Kapor near Jitra, Kedah, over breakfast.
The Muslim World League had recently issued a statement expressing support for Najib's approach of moderation in addressing terrorism in Malaysia.
Its secretary-general, Mohammed Al-Issa, said Najib's initiative to pioneer the Global Movement of Moderates (GMM) was in line with the league's efforts to counter extremist ideologies by spreading moderate Islamic thought.
Najib said the government determined the country's policies based on religious requirements and principles and, most importantly, the "maqasid shariah" as its pillars.
He said even Saudi Arabia regarded Malaysia as the best model of an Islamic state, and the king of Saudi Arabia, King Salman Abdul Aziz Al-Saud, had chosen Malaysia as the first destination of his tour of this region.
Full report at:
https://www.themalaysianinsight.com/s/45279/
--------
Jakarta's Governor, Backed by Islamic Conservatives, Sets Up Vice Showdown
By Anita Rachman
March 26, 2018
JAKARTA, Indonesia—Businesses are criticizing plans by Jakarta's governor to close hotels and entertainment venues without warning as part of a vice crackdown, setting up a fight between a powerful lobby and a fast-rising politician backed by Islamic conservatives.
The crackdown makes good on a campaign pledge by the governor, Anies Baswedan, who benefited from hard-line Muslim support in an election last year that removed a minority Christian from office. The then incumbent Basuki Tjahaja Purnama was also convicted of blasphemy against Islam and is serving a two-year prison sentence.
Indonesia, the world's largest Muslim-majority nation, has traditionally been home to a tolerant strain of Islam. But rising conservatism, in the nearly 90% of Indonesia's 250 million population identifying as Muslims, has played a larger role in politics in recent years.
In addition to Mr. Baswedan's local crackdown, national lawmakers are negotiating a revised criminal code. Under proposals by Islamic political parties, sex outside marriage, gay sex and cohabitation of unmarried couples would become illegal. In Aceh, the only province that is governed by Shariah law, non-Muslims have recently been flogged for violating rules against gambling.
Mr. Baswedan has promised to clean up drugs and prostitution in this capital city of more than 10 million people. Earlier this month, he introduced rules allowing him to shut down without warning any business reported to be dealing in gambling, drugs, prostitution and human trafficking.
Previously, three warnings were required and the establishments had a chance to correct alleged wrongdoings. The new regulation says it welcomes reports of vice activities from the general public and the media. Closure decisions will be based on follow-up internal reports from city inspectors.
On Monday, Erick Halauwet, chairman of the Jakarta Entertainment Entrepreneurs Association that oversees about 60 of the city's larger night clubs, spas and karaoke venues, called the rules "arrogant" and "undemocratic." Some businesses had relocated to the largely Hindu island of Bali, Indonesia's top destination for foreign tourists, he said. Rules there are generally more relaxed.
"Authorities cannot close down our businesses without warning and thorough investigation," he said. "It will hurt business."
Mr. Halauwet said drug dealing and prostitution can take place without management's knowledge, making swift shutdowns too harsh a penalty.
But Edy Junaedi, who oversees permits for tourism and entertainment businesses in Jakarta, said the spirit of the new regulation was to "uphold social norms."
In 2016, 2.5 million foreign tourists visited Jakarta, the wealth and nerve center of the world's fourth most-populous nation. The sprawling city has hundreds of hotels, many with bars and some with in-house night clubs.
Full report at:
https://www.wsj.com/articles/jakartas-governor-backed-by-islamic-conservatives-sets-up-vice-showdown-1522060923
--------
Singapore investigating Christian preacher's alleged statements on Islam
26 Mar 2018
SINGAPORE: The Ministry of Home Affairs (MHA) said on Monday (Mar 26) it stands ready to take "firm action" should there be evidence that a Christian preacher from the United States had made statements to undermine religious harmony in Singapore.
MHA's comments came after an article posted on online publication Rice Media described a speech made by Christian preacher Lou Engle at Singapore Expo earlier this month as threatening "a Christian-Muslim divide" in Singapore.
"MHA is aware of the allegations that Engle had made certain statements, particularly in respect of Islam, during the Kingdom Invasion Conference 2018," the ministry told Channel NewsAsia in response to queries.
"MHA is looking into the matter," it added.
The online article was written by Mr Benjamin Lim, contributing editor of Rice Media, who had attended the mass evangelism conference organised by the local Cornerstone Community Church.
During Mr Engle's sermon to a 2,000-strong crowd, the Christian preacher spoke of "pushing back a new modern Muslim movement", wrote Mr Lim.
ENGLE TOLD NOT TO UNDERMINE RELIGIOUS HARMONY: MHA
In response to queries, MHA said that Mr Engle was granted a Miscellaneous Work Pass to speak at the conference and that he had been told to "keep clear of controversial subjects and not undermine social, racial and religious harmony in Singapore".
"If there is evidence that Mr Engle had made statements that could undermine religious harmony in Singapore or had mixed religion and politics, we will take firm action," the ministry said.
"MHA will not tolerate any person undermining Singapore's social, racial and religious harmony," it added.
YouTube videos show Mr Engle also spoke at Kingdom Invasion conferences in Singapore in 2016 and 2017.
In September last year, two Christian preachers were barred from speaking in Singapore, with MHA noting they had made "denigrating and inflammatory comments of other religions" and that "the Government will not allow religious preachers of any faith to run down other religions".
The next month, two foreign Muslim preachers were also prevented from entering Singapore.
Full report at:
https://www.channelnewsasia.com/news/singapore/christian-preacher-lou-engle-muslim-islam-kingdom-invasion-10078000
--------
Ex-governor of Jakarta to stay in jail as Indonesia court rejects appeal
March 27, 2018
JAKARTA: Indonesia's Supreme Court has rejected an appeal by the Christian ex-governor of Jakarta to review his conviction for insulting Islam, a court spokesman said on Monday, so the politician will serve out his two-year sentence.
A lower court jailed Basuki Tjahaja Purnama for blasphemy last May after a doctored and incorrectly subtitled video spread on social media that appeared to show him insulting the Koran.
At the time, Purnama, who is popularly known as Ahok, was popular and looked set for re-election to govern the capital of a country with the largest Muslim population in the world. But Islamists led mass rallies calling for him to be unseated and hardline groups urged voters to elect a Muslim rival instead.
Purnama lost the election, was jailed and filed for a judicial review of his case last month.
"All the reasons for the appeal put forward by Ahok's team were rejected by the judge," said court spokesman Suhadi. He did not explain the court's reasoning further.
The person who doctored the video was imprisoned for 18 months late last year when a court found him guilty of violating information technology laws and Purnama's lawyers tried to use this to argue his conviction was flawed.
Full report at:
http://www.freemalaysiatoday.com/category/world/2018/03/27/ex-governor-of-jakarta-to-stay-in-jail-as-indonesia-court-rejects-appeal/
--------
Mideast
Arab states condemn Houthi rocket attacks targeting Saudi Arabia
26 March 2018
Kuwait, Bahrain, Jordan and the UAE have expressed their condemnation of rocket attacks targeting Saudi Arabia on Sunday night, asserting their full support for the Kingdom.
An official source at the Kuwaiti foreign ministry said that Kuwait has "followed with deep resentment and condemnation the rocket attacks against Saudi Arabia."
Bahrain condemned the firing of rockets towards residential areas in Saudi Arabia.
A statement released by the UAE's Ministry of Foreign Affairs and International Cooperation "reiterated the UAE's full stand with its sisterly country, in the face of this escalation of hostilities."
It added that the attacks reflect the Iranian-backed Houthi militias intransigence and its insistence on destabilizing the region's security and stability.
Kuwaiti security forces confirmed their total rejection of these attacks, which "reflect the intransigence of the Houthis and their rejection of peace and the will of the international community to put an end to the conflict in Yemen."
The source called on the international community, especially the UN Security Council, to act immediately to put an end to the attacks. He added that these practices will not undermine the determination of brothers in Saudi Arabia to defend their security and stability and preserve the lives of their citizens.
The source affirmed Kuwait's full support to Saudi Arabia and its support for all measures taken to maintain its security and stability.
https://english.alarabiya.net/en/News/gulf/2018/03/26/Kuwait-urges-immediate-UN-Security-Council-action-over-Houthi-violations.html
--------
Turkish police arrests 33 suspects over affiliation to Gulen network
Mar 26, 2018
Turkish police forces have arrested 32 people on suspicion of affiliation to a movement led by US-based opposition cleric Fethullah Gulen, whom the Ankara government accuses of having masterminded the failed July 2016 coup attempt against President Recep Tayyip Erdogan.
Security officials, speaking on condition of anonymity, said police arrested 16 people over using ByLock, an encrypted messaging application that was allegedly used by Gulen's supporters for communication, on Monday.
Ten on-duty soldiers were arrested in the central city of Kirshehir. Six suspects were also detained in the northern province of Tokat as part of an investigation against members of the terror group.
Meanwhile, Turkish prosecutors issued arrest warrants for 56 people linked to the Gulen movement on Monday.
During the botched putsch, a faction of the Turkish military declared that it had seized control of the country and the government of President Recep Tayyip Erdogan was no more in charge. The attempt was, however, suppressed a few hours later.
Ankara has since accused Gulen of having orchestrated the coup. The opposition figure is also accused of being behind a long-running campaign to topple the government via infiltrating the country's institutions, particularly the army, police and the judiciary.
Additionally, the Ankara government has outlawed his movement, and has branded it as the Fethullah Terrorist Organization (FETO).
Gulen has denounced the "despicable putsch" and reiterated that he had no role in it.
"Accusations against me related to the coup attempt are baseless and politically-motivated slanders," he said in a statement.
The 76-year-old cleric has also called on Ankara to end its "witch hunt" of his followers, a move he said is aimed at "weeding out anyone it deems disloyal to President Erdogan and his regime."
Turkish officials have frequently called on their US counterparts to extradite Gulen, but their demands have not been taken heed of.
Turkey, which remains in a state of emergency since the coup, has been engaged in suppressing the media and opposition groups suspected to have played a role in the failed coup.
Tens of thousands of people have been arrested in Turkey on suspicion of having links to Gulen and the failed coup. More than 110,000 others, including military staff, civil servants and journalists have been sacked or suspended from work over the same accusations.
Full report at:
http://www.presstv.com/Detail/2018/03/26/556583/Turkish-police-arrests-33-suspects-over-affiliation-to-Gulen-network
--------
Tens of thousands rally in Sanaa to mark 3 yrs of war
March 27, 2018
SANAA - Tens of thousands of Huthi rebel supporters demonstrated in Yemen's capital on Monday to mark three years of war.
A Saudi-led military coalition entered Yemen in March 2015 with the goal of restoring its "legitimate" government to power after the Huthis and their allies took over Sanaa. Sanaa's Sabaeen Square on Monday was a sea of Yemeni flags, with a smattering of posters bearing pictures of Huthi leader Abdulmalik al-Huthi or the slogan "three years of aggression". "This is legitimacy!" one protest leader bellowed. Around 10,000 Yemenis have been killed and 53,000 wounded since the start of the coalition intervention, triggering what the United Nations has called the world's worst humanitarian crisis. The Iran-backed rebels remain in control of the capital, north Yemen and the country's largest port.
President Abedrabbo Mansour Hadi's forces have controlled southern Yemen since 2015, but cracks have surfaced this year between the president and his southern separatist allies.
Saudi forces announced Sunday night they had intercepted seven Yemeni rebel missiles, including over Riyadh.
One Egyptian was killed by falling shrapnel in the capital, authorities said.
"This aggressive and hostile action by the Iran-backed Huthi group proves that the Iranian regime continues to support the armed group with military capabilities," coalition spokesman Turki al-Malki said.
The Huthi-run Al-Masirah television channel claimed the rebels had targeted Riyadh's King Khalid International Airport as well as other air strips in the south of the kingdom.
The Huthis in November targeted Riyadh airport in what Saudi authorities said was a foiled missile attack, triggering a total blockade on Yemen's ports and international airport.
The blockade was later eased under international pressure.
Full report at:
https://nation.com.pk/27-Mar-2018/tens-of-thousands-rally-in-sanaa-to-mark-3-yrs-of-war
--------
Israel strikes Hamas in Gaza for second day
March 27, 2018
GAZA CITY - An Israeli tank struck two Hamas positions in the Gaza Strip late Sunday after bullets were fired from the Palestinian enclave, the Israeli army said.
Two observation points belonging to the armed wing of the Islamist movement were struck in the northern part of the enclave, the army said. Palestinian security sources said there had been no casualties. It was the second night in a row that Israel had struck the coastal territory.
The strikes came ahead of a planned protest on Friday in which Palestinians have been urged to camp along Gaza's border with Israel.
On Sunday night Israel's Iron Dome missile defence system was activated and sirens sounded near the border, but it later turned out these were false alarms.
The army said it was investigating why the systems turned on, but said "unusual machine gun fire towards Israel was identified."
Children must not be at risk during Palestinian protest: UN
The UN envoy for the Middle East urged restraint on Monday as he raised concern about children at risk during Palestinian protests starting this week near the Gaza-Israel border.
Palestinian families are planning to pitch hundreds of tents in the Gaza Strip near the border starting on Friday, launching a six-week show of support for Palestinian refugees.
"It is imperative that civilians, in particular children, not be targeted and that all actors refrain from putting children at risk at any time," Nickolay Mladenov told the council via videoconference from Jerusalem.
"I call on all sides to exercise restraint and to take the necessary steps to avoid violent escalation," he said.
The protest kicks off on Land Day, which commemorates the killing of six unarmed Arab protesters in Israel in 1976, and ends on May 15.
May 15 marks what the Palestinians refer to as the Nakba, or the catastrophe, marking when more than 700,000 Palestinians fled their land during the war that led to the creation of Israel.
The United States plans to open its embassy in Jerusalem on May 14, which coincides with the 70th anniversary of the creation of Israel.
The US decision to recognize Jerusalem as Israel's capital infuriated the Palestinians, who have broken off ties with the administration of President Donald Trump.
Mladenov told the council that Israel was pressing on with the building of settlements, defying the United Nations, which has branded the expansion of the Jewish outposts on occupied Palestinian land as illegal.
"Israel's illegal settlement expansion and related activities continue further threatening the viability of the two-state solution and eroding the prospects for peace," he said.
Over the past three months, Israel approved 22 plans for some 1,500 housing units in one area of the West Bank, with about a dozen units approved for construction - but this is significantly lower than in the previous three-month period.
Ten tenders for 900 housing units in seven West Bank settlements were announced.
Full report at:
https://nation.com.pk/27-Mar-2018/israel-strikes-hamas-in-gaza-for-second-day
--------
Erdogan insists Turkey wants EU membership
March 27, 2018
VARNA, Bulgaria - President Recep Tayyip Erdogan on Monday insisted Turkey still wanted to become a member of the European Union ahead of a potentially stormy summit with EU chiefs seeking to repair an increasingly fractured relationship.
European Union President Donald Tusk and European Commission chief Jean-Claude Juncker will talk with Erdogan at the Bulgarian Black Sea resort of Varna with a litany of problems clouding their discussions.
Topic expected to be high on the agenda include the crackdown in Turkey after July 2016's failed coup, Ankara's demands for visa liberalisation and the near-endless saga of the country's own EU membership bid.
And a row over Greece and Cyprus that erupted last week has added another point of contention just days before the talks.
Before departing Istanbul for Bulgaria, Erdogan said Turkey was still seeking to become a full EU member and blasted the bloc for what he said were "double standards" towards Ankara.
"EU membership continues to be our strategic target," Erdogan said. But Erdogan added: "We are going to remind them (Tusk and Juncker) once more that Turkey will not tolerate hypocrisy."
Bulgarian Prime Minister Boyko Borisov, whose country holds the rotating presidency of the EU Council, said it was expected to be "a very difficult meeting".
Juncker said he was "looking with mixed feelings towards the summit because the differences in views between the EU and Turkey are many".
But he added that "we will have a frank and open debate with President Erdogan".
Temperatures were raised last week after EU leaders condemned Turkey's "illegal actions" towards Greece and Cyprus in the eastern Mediterranean and the Aegean Sea. Ankara hit back at the "unacceptable comments" and said the EU had lost its objectivity on Cyprus, which is divided between the Greek-majority internationally recognised Republic of Cyprus and the breakaway Turkish Cypriot north.
The statement on Thursday by the 28 EU members meeting in Brussels condemned Turkey over Ankara's arrest of two Greek soldiers and its promise to prevent the Greek Cypriot government from exploring for oil and gas.
Ankara and Brussels had in March 2016 agreed a controversial deal to stop the flow of migrants, in what was seen as a landmark in cooperation and which Turkey hoped would yield visa free travel to Europe.
So far this incentive has not been realised and Erdogan is expected to press this point strongly in the talks.
Brussels has repeatedly criticised the post-coup crackdown, which has seen nearly 160,000 people detained, including dozens of journalists.
Turkey, for its part, has accused Brussels of failing to show solidarity after the coup and appears set on forging a strong partnership with President Vladimir Putin's Russia.
In contrast to Erdgogan's brisk evening meeting with the EU leadership, Putin is expected to make a full two-day visit to Turkey next week.
Ankara has agreed to buy air defence systems from Russia and Moscow will also build Turkey's first nuclear power station.
In his comments before leaving Istanbul, Erdogan lashed out at "some circles whose intentions and goals we know inside and out" who wanted to block Turkey from becoming a full EU member.
Next month the EU will release its latest progress report, which is "bound to illustrate a substantial regression" in Turkey, Marc Pierini, a visiting scholar at Carnegie Europe and a former EU ambassador to Turkey, said in a study.
During a visit by Erdogan to Paris earlier this year, French President Emmanuel Macron said Ankara should settle instead for a looser "partnership" and suggested no more progress was possible in accession talks.
Analysts were sceptical that given the current tensions there would be any breakthrough at the Bulgarian resort.
Full report at:
https://nation.com.pk/27-Mar-2018/erdogan-insists-turkey-wants-eu-membership
--------
Saudi Arabia demands Iran be held accountable for missile supply to Houthis
27 March 2018
Saudi Arabia submitted a letter to the UN Security Council regarding the Iranian ballistic missiles which the Houthis fired towards the kingdom and demanded holding Iran accountable for supplying the Houthis with ballistic missiles.
Saudi Arabia also called on the UN Security Council to bear its responsibilities to maintain international security and stability.
The letter which was submitted by Abdullah Al-Muallami, the kingdom's permanent representative at the UN, to the UN security general and to the president of the UN Security Council, comes a day before Saudi Crown Prince Mohammed bin Salman meets with UN Security General Antonio Guterres.
https://english.alarabiya.net/en/News/gulf/2018/03/27/Saudi-Arabia-demands-Iran-be-held-accountable-for-missile-supply-to-Houthis-.html
--------
Saudi envoy to US: Iran supports terror in Syria, Iraq, Lebanon, Bahrain, Yemen
27 March 2018
Saudi Arabia's Ambassador to the United States, Prince Khalid bin Salman bin Abdulaziz, on Tuesday spoke out against the Iranian regime following a series of Houthi missile attacks on Saudi Arabia.
In a Twitter post, Prince Khalid wrote: "The Iranian regime continues to violate international laws as it tests the world's resolve. It is still supporting terrorism in Syria, Iraq, Lebanon, Bahrain and Yemen.
"It provides the terrorist Houthi militias with missiles in violation of UN Security Council resolutions," he added.
Saudi forces intercepted seven Yemeni rebel missiles on Sunday, including over the capital Riyadh.
Full report at:
https://english.alarabiya.net/en/News/gulf/2018/03/27/Saudi-Ambassador-to-US-Iran-still-supports-terror-in-Syria-Iraq-Lebanon-Bahrain-Yemen.html
--------
Coalition releases findings of Houthi missile attack on Saudi Arabia
26 March 2018
A press conference is currently being held in the capital Riyadh where preliminary findings of the Houthi militia missiles attack on several Saudi cities will be made available to the public.
The spokesman of the Arab coalition, Col. Turki Al-Maliki, is expected to brief journalists and the public on Sunday night's attack on several cities in Saudi Arabia, including Riyadh, Khamis Mushait, Najran and Jazan.
Saudi forces intercepted seven Yemeni rebel missiles on Sunday, including over the capital Riyadh.
Full report at:
https://english.alarabiya.net/en/News/gulf/2018/03/26/Coalition-releases-findings-of-Houthi-missile-attack-on-Saudi-Arabia.html
--------
Egyptian killed, two wounded by shrapnel of Houthi missiles targeting Riyadh
26 March 2018
The Saudi Civil Defense stated that an Egyptian resident was killed and the two others wounded in Riyadh, following the fall of Houthi missiles' flying shrapnel.
The spokesman of the Civil Defense in Riyadh, Maj. Mohammed Al-Hammadi, that the civil defense teams in the city of Riyadh observed on Sunday evening, the fall of fragments of ballistic missiles on residential neighborhoods in different locations following their destruction.
Saudi forces intercepted seven Yemeni rebel missiles on Sunday, including over the capital Riyadh, in a deadly escalation on the eve of the third anniversary of the Saudi-led coalition's intervention in Yemen.
The Iran-aligned Houthi rebels fired three missiles at Riyadh and four others at the southern cities of Khamis Mushait, Jizan and Najran, with the coalition saying they all targeted populated areas.
"This aggressive and hostile action by the Iran-backed Houthi group proves that the Iranian regime continues to support the armed group with military capabilities," Arab Coalition spokesman Turki al-Malki said.
"The firing of multiple ballistic missiles towards cities is a serious development."
Full report at:
https://english.alarabiya.net/en/News/gulf/2018/03/26/Egyptian-killed-two-wounded-by-shrapnel-of-Houthi-missiles-targeting-Riyadh.html
--------
Europe
UN chief hits out at Myanmar army chief over Rohingya comments
March 27, 2018
Some 700,000 Rohingya have been driven into Bangladesh since August, 2017
UN Secretary-General Antonio Guterres on Monday criticized Myanmar's army chief after he declared that the Muslim Rohingya had nothing in common with the country's other ethnic groups.
Guterres said he was "shocked" at reports of General U Min Aung Hlaing's remarks at a military gathering and urged Myanmar's leaders to "take a unified stance against incitement to hatred and to promote cultural harmony."
At the gathering in northern Kachin state on Monday, Hlaing referred to the Rohingya as "Bengalis," a term meant to describe them as foreigners, and said they "do not have the characteristics or culture in common with the ethnicities of Myanmar."
"The tensions were fuelled because the 'Bengalis' demanded citizenship," said the general who was quoted in the Dhaka Tribune.
Some 700,000 Rohingya have been driven into neighbouring Bangladesh since last August by a major army crackdown that the United Nations has likened to ethnic cleansing.
Myanmar authorities say the operation is aimed at rooting out extremists.
Myanmar's de-facto leader Aung San Suu Kyi, a Nobel peace prize laureate, has lost her democratic credentials on the world stage for failing to speak out in favour of the Rohingya.
Guterres said it was "critical that conditions are put in place to ensure that the Rohingya are able to return home voluntarily, in safety and in dignity."
The UN Security Council is hoping to travel to Myanmar to get a first-hand look at the refugee crisis, but has not yet been given the green light for the trip by Myanmar authorities.
Guterres has for months been weighing the appointment of a special envoy for Myanmar that would keep the plight of the Rohingya in the international spotlight.
http://www.dhakatribune.com/world/2018/03/27/un-chief-hits-myanmar-army-chief-rohingya-comments/
--------
Christians and Muslims come together to mourn victims of France attack
26.03.2018
The bells of the Saint-Etienne church rang out under the grey sky in Trebes on Sunday as hundreds of mourners, both Christian and Muslim, came together to pay their respects to the people who died in the deadly shooting that shook the tiny rural French community two days ago.
"Everyone knows each other here. It's a small village, The people who were killed, they were our friends," said a pensioner, Louis, his eyes filled with tears.
He was one of more than 100 people who could not fit into the packed church, but stood instead in the biting cold to listen to the mass via loudspeakers on the square outside.
Heavily-armed gendarmes patrolled in front of and around the Gothic church and guarded the barriers set up to keep the teams of reporters and camera crews away from the grief-stricken mourners making their way to the memorial service bearing olive or laurel branches.
Among the mourners was Sarah, 23, a former employee of the Super U supermarket where the attacker, Radouane Lakdim, shot dead two people on Friday. Wearing a veil and an abaya, she said she feared being shunned, but had decided to attend the service nevertheless.
"It's important to be here. I knew the victims," she said.
"God is for everyone. We're all human beings. His House is open to everyone," said Rabiha, a Muslim from the nearby village of Carcassonne, where, before laying siege to the supermarket, Lakdim hijacked a car, killing the passenger and leaving the Portuguese driver in a critical condition.
An 81-year-old villager called Solange expressed similar sentiments.
"It takes a very deep faith to accept all this, this fighting between religions. It is the same god we worship, Muslims, Christians and Jews."
Official representatives of the Muslim community were among the congregation inside the church, their faces tight and drawn.
"Your presence tells us that the creators of hatred will not win," said the Bishop of Carcassonne and Narbonne, Monsignor Alain Planet, during the service.
The Muslim community and even Islam itself, have been "stabbed by the people who use the symbols that are close to our hearts," said the imam of the Carcassonne mosque, Mohamed Belmihoub, as he left the service.
"'Allah Akbar', is a symbol of the adoration of God. It means that God is greater than hate," he said, adding: "We cannot find the words. We are in shock."
The imam said he attended the service "to prove that France is mother to everyone. We're part of this country. It is multi-coloured, multi-faith France. Everyone has to get this into their heads. We have to live together and fight these lost sheep."
The service was held on Palm Sunday, the start of Holy Week for Christians, which culminates in Easter next weekend.
Bishop Planet paid tribute to Lieutenant-Colonel Arnaud Beltrame, 44, who was shot and stabbed by Lakdim, after taking the place of a woman hostage whom the attacker had been using as a human shield.
"At the beginning of this Holy Week and as we watch Christ take our place to save us from death, (Beltrame's) gesture takes on a very special meaning and I'm sure that he was not unaware of it when he made it," the clergyman said.
Full report at:
https://en.qantara.de/content/christians-and-muslims-come-together-to-mourn-victims-of-france-attack
--------
Russia expects deal with major rebel group in Syria's Ghouta
By Bassem Mroue and Nataliya Vasilyeva 
March 26, 2018
BEIRUT — Russia's military said Monday it expects to reach an agreement with a major Syrian rebel group to arrange its exit from the last rebel-held town in eastern Ghouta in another key victory for President Bashar Assad's forces as they push to gain control of the region on the edge of Damascus.
Douma is the only town on the eastern outskirts of the Syrian capital still held by rebels, after government forces captured all other opposition areas they had besieged for years.
The town, controlled by the powerful Army of Islam, is also home to tens of thousands of people, including many who were displaced over the past weeks of heavy fighting.
Lt. Gen. Stanislav Gadzhimagomedov told Russian news agencies on Monday in Syria that Russia's military is in talks with the Army of Islam to discuss its withdrawal from Douma.
Gadzhimagomedov, who is the deputy head of the Chief Operational Department at the Russian General Staff, said he expects Russian troops to "take them out soon," and that the rebels have reportedly indicated their willingness to lay down arms.
However, the Britain-based Syrian Observatory for Human Rights said there are divisions within the rebel group over the negotiations, with some hard-liners refusing any talks with Russians. The Observatory said some fighters asked to be allowed to go to the southern province of Daraa, but that the Russians rejected this request.
Syria's pro-government Al-Watan daily said the Army of Islam and the Russians have reached an "understanding," adding that each side will study a draft agreement within the next three days.
Al-Watan quoted Syrian legislator Mohammed Kheir Seiryoul, who is originally from Douma, as saying that the understanding could lead to an agreement to dissolve the Army of Islam. During this period, its members would hand over their heavy weapons and the Syrian government would assume control of state institutions in the town.
A civilian committee representing Douma said in a statement released late Sunday after meeting Russian officials that the negotiations "are extremely difficult and no quick results should be expected."
Talks with the Russians will resume within three days, it said.
Douma-based opposition activist Haitham Bakkar said the town was subjected to some artillery shelling early on Monday that wounded several people.
The negotiations on Douma came after thousands of rebel fighters and their families left three other eastern Ghouta pockets in the past weeks, after years of siege and weeks of heavy bombardment by the Syrian army and Russia's air force.
On Monday, a convoy of 56 buses carrying 3,641 people, including 850 fighters from various rebel factions, was preparing to leave the towns of Jobar, Zamalka, Ein Terma, and Arbeen toward Idlib, state-affiliated al-Ikhbariya TV reported.
The Russian Defense Ministry's Center for Reconciliation in Syria said in a statement that more than 400 people left Douma early Monday. It put the total figure of civilians and rebels evacuated from the area since the Russia-sponsored "humanitarian pauses" were announced at 114,000 people.
Army of Islam spokesman Hamza Bayraqdar blasted the group's former ally, the Faylaq al-Rahman rebel group, accusing it of helping government forces capture more than 80 percent of rebel-held districts after they dried out artificial swamps set up by insurgents to slow down the army's offensive.
Full report at:
https://www.washingtonpost.com
--------
UK Muslim group accused of undermining anti-Islamophobia campaigners
March 26, 2018
A grassroots Muslim lobby group has been accused of undermining the work of anti-Islamophobia campaigners in the UK by promoting its own hard-line political agenda at the expense of moderate British Muslims.
A television expose on Monday screened a secret recording of a high-profile imam linked to the campaign group Muslim Engagement and Development (MEND) insulting officials who supported the government's anti-terrorism laws.
The group previously opposed the appointment of Sara Khan as the government's new anti-extremism tsar because of her backing for the government's Prevent programme that was set up to tackle domestic terrorism.
It said another unnamed official apologised after describing Ms Khan as an "Oreo", a brown biscuit that's white in the middle that has been viewed by campaigners as a racially derogatory slur.
An imam, Shakeel Begg, was secretly recorded using the phrase "house Muslims", adapting a term used for black slaves in the United States, about those who supported the policies.
A report by the right-wing thinktank, the Henry Jackson Society, described Mr Begg as a MEND affiliate partner.
Mr Begg lost a 2016 libel case against the BBC after a judge ruled that he was an "extremist Islamic speaker who espouses extremist Islamic positions".
MEND said he was not a member of the group and did not endorse his views, according to the Channel 4 documentary.
Fiyaz Mughal, the founder of Faith Matters which works to tackle anti-Muslim hate crime, said his colleagues had been described as Islamophobic by officials linked to MEND.
He said its activities had damaged the campaign against anti-Muslim hate crime.
"We believe that tackling extremism within our own community and working with other groups is an essential part of tackling anti-Muslim hate crime," he said.
"Our approach so far has been not to highlight our divisions. But this agenda is too important to be left to those who would divide the community and ignore intolerance."
MEND has been one of the most vociferous opponents of the government's anti-extremism programme, which it sees as unfairly targeting the community. But officials linked to MEND have been criticised for espousing extremist views.
Both MEND and Mr Begg were among the signatories of an open letter that opposed the appointment of Ms Khan.
She has been given a three-year contract to examine the scale and threat of extremism and advise on how the government should tackle the challenge.
Full report at:
https://www.thenational.ae/world/europe/uk-muslim-group-accused-of-undermining-anti-islamophobia-campaigners-1.716345
--------
How Turkey's outreach to its diaspora is inflaming tensions with Europe
By Ayca Arkilic
March 26, 2018
Turkey's relations with Europe took another strained turn. In early February, the Dutch government announced it had recalled its ambassador to Turkey and would not be receiving a new Turkish ambassador to the Netherlands. The Dutch government then halted diplomatic talks with Ankara and do not expect to normalize ties any time soon.
The diplomatic tit-for-tat continued. In late February, Turkey summoned the Netherlands's chargé d'affaires to condemn a proposed bill that would see the Netherlands recognize the mass killings of Armenians by Ottoman Turks in 1915 as "genocide."
An impasse with the Netherlands does not bode well for Turkey's economic interests: 85 percent of Turkey's foreign investments come from the West, with the Netherlands being the top foreign investor in Turkey. Worsening relations with one of the founding members of the European Union also jeopardizes Turkey's E.U. bid.
The origins of the crisis
The unprecedented diplomatic crisis between the two NATO allies goes back a year. During the run-up to a Turkish constitutional referendum in April, the Dutch government did not allow Turkish politicians to hold events in the Netherlands. Diplomatic tensions further escalated when Dutch officials detained a Turkish government minister, to prevent her from speaking at an election rally in Rotterdam.
The acrimony continued to intensify as Turkish President Recep Tayyip Erdogan referred to the Netherlands as a "Nazi remnant" and a "banana republic," and called for boycotts and sanctions against the country.
Broader E.U. concerns
The Netherlands is not the only European state that has expressed discomfort with Turkey's increasing sway over its diaspora. German authorities stopped several pro-Turkish government campaign activities, which were scheduled to take place before the April Turkish constitutional referendum, citing security concerns. In a similar vein, Austria's president said such rallies were unwelcome.
Despite the beginning of large-scale Turkish emigration to Europe in the 1960s, Turkey's engagement with its diasporic community has gained momentum only recently, with the ruling Justice and Development Party's (AKP) rise to power in 2002. Apart from organizing pro-government rallies in European cities with the help of a new lobby organization called the Union of European Turkish Democrats (UETD), Turkey has taken other firm steps to cultivate ties with its expatriates. These include the establishment of the Presidency for Turks Abroad and Relative Communities in 2010, an overarching institution designed to streamline the government's activities targeting Turks living abroad, and the introduction of absentee voting in 2014.
Home states' interest in their diasporic communities is hardly a rare or new phenomenon. In fact, more than half of U.N. member countries have at least one state institution tasked with the management of diaspora affairs, many at the ministerial level, including India, Armenia and Lebanon.
European countries also have institutions and policies aimed at their expatriates. Germany and the Netherlands have sub-ministry level diaspora institutions. Why then are both these countries' governments opposed to Turkey's efforts to reach out to its diaspora in Europe?
Turkish diaspora: Largest Muslim immigrant group in Europe
The first reason is the considerable population of the Turkish diaspora in Europe. Turkey is among the world's top 10 emigration countries. The Turkish community living abroad amounts to more than 6 million, of whom approximately 5.5 million live in Western European countries. These numbers render the Turkish diaspora the largest Muslim immigrant group in Europe.
Germany, the Netherlands and Austria are some of the countries that host the largest Turkish expatriate population in the world. European policymakers are aware that any homeland-related tension imported to their territories by Turkish officials would cause serious local problems given the already existing concern about failures of Muslim integration in Europe and Turkey's democratic backsliding.
Turkish communities abroad are very insulated
Second, as my research shows, diaspora populations with stronger grievances against host states are more likely to be wooed by homelands' outreach efforts. European host countries know that Turkish officials' embracive approach toward their expatriates resonate well with members of the Turkish diasporic community because of Turks' feelings of isolation and marginalization in their host countries.
Studies document that Turks are the least integrated immigrant group in Germany. Turks feel excluded in the Netherlands and Austria, too. The present capacity of Turkey to exert influence over its expatriates should induce European states to better integrate Turks.
Turkish government's manipulation beyond borders
Third, European host countries are concerned that Turkey has been manipulating its emigre population in Europe to advance its domestic and foreign policy interests, such as the consolidation of the incumbent AKP's political presence by canvassing expatriate votes.
Turkey's other goals include the extension of its soft power beyond its borders in line with Ankara's neo-Ottoman foreign policy and the mobilization of diaspora action against host state policies that are considered to be harmful to the homeland's interests, such as the recognition of the mass killings of Armenians in 1915 as genocide by European states. European leaders interpret such initiatives as a direct intervention in their domestic affairs.
Competition over migration affairs
Finally, in a context where Turkey has increased its political leverage as the leading host of refugees in the world and an active player in the E.U.-Turkey migrant deal, European countries have found themselves in a power competition with Turkey in the field of migration affairs. Turkey's assertive moves toward its diaspora have only exacerbated European leaders' frustration in this regard.
Full report at:
https://www.washingtonpost.com/news/monkey-cage/wp/2018/03/26/how-turkeys-outreach-to-its-diaspora-is-inflaming-tensions-with-europe/?utm_term=.83b1ab5559fb
--------
The brutal killing of a Holocaust survivor raises anti-Semitism fears in France
By James McAuley
March 26, 2018
PARIS — The Paris prosecutor's office is investigating whether anti-Semitism was a motivation for the killing of an 85-year-old Holocaust survivor that has outraged France's Jewish community.
Mireille Knoll was stabbed 11 times and left in her burning Paris apartment Friday, French government spokesman Benjamin Griveaux announced Monday afternoon on Twitter.
Authorities have taken two suspects into custody, according to a judicial official who was not authorized to speak publicly on the case and would tell The Washington Post only that one of the suspects was born in 1989.
Jewish advocacy groups were quick to put the case within the context of rising anti-Semitism in France and to point out the similarities to another high-profile case being investigated as anti-Semitic: the April 2017 killing of Sarah Halimi, a 66-year-old Orthodox Jewish physician and kindergarten teacher who was beaten in her apartment and then thrown out a window. Authorities suspect a Muslim neighbor.
"This was the same Paris arrondissement, several streets apart," said Noémie Halioua, a French journalist with Actualité Juive and the author of a new book on the Halimi case. "And both victims were elderly women who lived alone and who had both previously complained of threats."
Knoll and Halimi lived in the 11th Arrondissement (or district) on the eastern side of Paris, an area that has traditionally been home to immigrant populations but in recent years has seen large-scale gentrification.
"There is also the barbarity of the crimes and the fact that in both cases the victims were fragile women," Halioua said.
In the Knoll case, French authorities announced Monday that they were investigating whether the suspects targeted the victim because she belonged to a specific religion.
That new line of official inquiry came amid mounting public pressure.
Speaking on French radio Monday morning, Francis Kalifat, the head of France's largest Jewish advocacy organization, the Representative Council of French Jewish Organizations, bristled at the suggestion that investigators should use caution before classifying the killing an anti-Semitic attack.
"Prudence? Obviously," he said. "But prudence doesn't mean we should exclude the possibility that this could have been an anti-Semitic act."
French authorities have often hesitated to formally ascribe a motivation of "anti-Semitism" to attacks on Jews in recent years. This has been a point of contention between Jewish leaders and the French government, even as French President Emmanuel Macron has recently sought to improve relations.
The Halimi killing became a national scandal when authorities initially declined to investigate it as an anti-Semitic attack, despite her family's testimony that the suspect had confronted her with verbal slurs on a regular basis.
The same was true in the 2006 slaying of Ilan Halimi, a 23-year-old Jewish cellphone salesman (no relation to Sarah Halimi) who was killed by the "Gang of Barbarians," a band of immigrant criminals from the Paris suburbs. The gang had targeted Ilan Halimi because he was Jewish — and had even demanded massive ransom sums from his middle-class family, which the gang members assumed would be wealthy because they were Jewish.
In the Sarah Halimi case, public outrage reached such a level that Macron intervened.
"I took a stand by calling on justice to shed light on the anti-Semitic dimension of Sarah Halimi's murder," he recalled in a speech this month, "and I am glad that this dimension could finally be recognized. That is what an investigation must be used to do, to establish the circumstances of a crime and to qualify it precisely."
But at a time when Holocaust survivors' numbers are dwindling, the killing of Knoll proved a dark addition to a narrative that has provoked concern among many European leaders, especially as instances of historical revisionism take root across the continent.
As a child, Knoll escaped the "Vel d'Hiv" roundup of Parisian Jews in July 1942, according to Meyer Habib, a right-leaning French parliamentary deputy and confidant of Israeli Prime Minister Benjamin Netanyahu. Habib issued a statement on the case Sunday, drawing on a conversation with Knoll's relatives.
Two years into Nazi occupation, French police forces in Paris carried out mass arrests of approximately 13,000 Jews, who were then deposited in the now-demolished Velodrome d'Hiver stadium near the Eiffel Tower. Most of those arrested were subsequently deported to Auschwitz.
Knoll's killing raised anxieties over a troubling trend without a clear solution.
"There are two contradictory elements here," Bernard-Henri Lévy, the prominent French writer active in Jewish causes, said in an interview. "One the one hand, it's true that Republican institutions are exemplary and do everything they can in the face of a rising anti-Semitism. But on the other, I am obligated to say that Jews are again being killed on the streets of Paris by virtue of being Jewish."
Full report at:
https://www.washingtonpost.com/world/europe/frances-jewish-leaders-raise-the-alarm-over-brutal-murder-of-holocaust-survivor/2018/03/26/28cf8686-30f4-11e8-8abc-22a366b72f2d_story.html?utm_term=.088c3e8bcb24
--------
Putin: Russia plays 'significant role' in Arab World
Mar 27, 2018
Emir of Qatar Tamim bin Hamad al-Thani noted that Russia takes part in solving the Arab world's problems during his meeting with Russian President Vladimir Putin in Moscow, Monday.
Putin noted that trade between the two countries had grown over 2017. "Investment cooperation is developing as well," he added.
According to Tamim bin Hamad al-Thani, "Russia plays a significant role regarding the things that matter for the Arab world." The Qatari Emir also emphasized that the two countries should strengthen relations across all areas, including trade.
http://www.presstv.com/Detail/2018/03/27/556601/Russia-Putin-talks-emir-Qatar-
--------
UK Islamophobic march in Birmingham draws protests
Mar 25, 2018
A growing number of UK citizens and lawmakers have united to condemn an Islamophobic rally by a far-right group in Birmingham, Britain's second most populous city.
In a move to oppose Saturday's march, Stand Up To Racism organized a counter protest called the Birmingham United anti-racist event.
Stand Up To Racism said it was pushing a "message of unity and opposition to racism and Islamophobia on the streets of Birmingham," according to the group's Facebook page.
The group said the Football Lads Alliance (FLA) was promoting "hatred and intolerance" during Saturday's march.
The FLA's calls for "anti-extremist" protests have raised concern among locals and anti-racists who fear the march could be the UK's biggest ever Islamophobic mobilization.
A key speaker at the event is anti-Islam advocate Anne Marie Waters, the founder and leader of the far-right party For Britain. Waters has called Islam "evil" and has links to an ex-member of the fascist British National Party, according to the Guardian.
British police were deployed in the city center in anticipation of potential violence.
"The FLA said they are not racists, but they have invited Anne Marie Walters and other far-right racists," Weyman Bennett, Stand Up To Racism's co-convenor, told Al Jazeera.
"They are friends of racists and fascists and have targeted Birmingham because they see it as a Muslim town. We have to stand united against those that seek to divide us," he said.
Birmingham is the largest and most populous British city outside London, with an estimated population of 1.1 million. About 22 percent of the city's residents identify themselves as Muslim, significantly higher than the average for England and Wales of 4.8 percent.
In a show of support for the Stand Up To Racism event, several British lawmakers added their voices to a statement expressing concern over the FLA march.
"I unreservedly condemn the Football Lads Alliance because it is an organization seeking to divide our society and to claim to be, in any way, associated with mainstream football supporters is abhorrent," the statement said.
Other signatories to the statement include general-secretaries of several major trade unions and local councilors, faith and community groups.
Last week, the Guardian reported that FLA uses a secret Facebook page that contains violent, racist and misogynistic material as well as posts targeting Sadiq Khan, London's first Muslim mayor, and Dianne Abbott, UK shadow home secretary and Britain's first black female Member of Parliament (MP).
Full report at:
http://www.presstv.com/Detail/2018/03/25/556496/uk-Islamophobic-rally-march
--------
Africa
Katsina recruits 1,200 people to confront Boko Haram
March 26, 2018
By Sylvester Ugwuanyi
The Katsina state government says it has registered 1,200 persons into its vigilance group to complement efforts of security agencies in the state in tackling Boko Haram terrorists who have continued to stage deadly attacks particularly in North-East Nigeria since 2009.
Coordinator of the Katsina State Vigilance Group, Alhaji Abba Mai'nayara, made the disclosure in an interview with newsmen on Monday in Katsina.
According to Mai'nayara, "The vigilance group in Katsina State has opened offices in the 34 Local Government Areas in the state.
"The idea behind opening the offices is to provide adequate security for lives and property of citizens of Katsina state.
"The group is currently working hand-in-hand with the police, NDLEA, State Security Service, immigration, the army and the Nigeria Security and Civil Defence Corps.
"Whenever our men arrest criminals, we always hand over the criminals to the police or NDLEA for prosecution."
The coordinator disclosed that the group had established a system of patrolling the local governments jointly with the police and the military to reduce crime.
"We assisted soldiers and police to clear the issue of cattle rustling in Katsina state," he said.
Mai'nayara called on the Katsina State Government to provide logistics support to the group to provide effective services to people.
http://dailypost.ng/2018/03/26/katsina-recruits-1200-people-confront-boko-haram/
--------
Five killed by Boko Haram in Niger attack
2018-03-26
Niamey - At least five civilians were killed and several others wounded in an attack by suspected Boko Haram militants in southeast Niger, near the border with Nigeria, according to local sources.
"The BH (Boko Haram) came to the market place early on Friday evening, they shot the crowd and took food," said a resident of Toummour, in the southwest Diffa region, which was targeted by the attack.
A local official on Sunday confirmed the toll of "five dead, all civilians", adding that several were also wounded in the attack.
Diffa governor Mahamadou Laoualy Dan went to Toummour on Saturday to "offer his condolences" to relatives of the dead and "encourage" the army who "routed" the attackers, Niger television reported.
"We ask the people to hold on... 2018 will be a decisive year in the war against Boko Haram," he said in front of Toummour residents.
In January, seven Niger soldiers were killed and 17 wounded in an attack in Toummour, which is located in the east of Diffa close to the Lake Chad basin, a strategic area where the borders of four countries converge.
Diffa has suffered several Boko Haram attacks since the insurgency spilled over from Nigeria in 2015.
On June 3, 2016, the militants killed 26 soldiers and left an unknown number of civilian casualties in a massive attack in the town of Bosso, about 20km from Toummour.
Full report at:
https://www.news24.com/Africa/News/five-killed-by-boko-haram-in-niger-attack-20180326
--------
Suicide blast kills 4 near parliament in Somali capital
26 March 2018
At least four people, including soldiers were killed and five others wounded in a suicide car bomb attack targeting a security checkpoint near the parliament in capital Mogadishu on Sunday afternoon, according to police.
Police chief Gen. Bashir Abdi Mohamed told reporters the suicide attacker was among the four dead.
"What we can confirm is that a suicide car bomb blast belonging to al-Shabaab exploded here, as you can see, killing himself and three others, including soldiers," Bashir said from the crime scene.
The injured were rushed to hospitals for treatment, he said.
The police chief added that security forces also captured two vehicles full of explosives during security operations in Mogadishu.
According to Somali media, another car bomb blast took place in Sinka Dher village in the outskirts of Mogadishu on Sunday, which killed at least two people.
No group has yet claimed responsibility for the attacks but the police chief blamed al-Shabaab armed group for being behind them.
Full report at:
http://www.worldbulletin.net/africa/200300/turkey-condemns-terror-attacks-in-somali-capital
--------
Kidnap release in Nigeria raises truce hopes in jihadist revolt
March 27, 2018
As the Dapchi schoolgirls kidnapped by Boko Haram were finally reuniting with their families, Nigeria delivered a small bombshell: it revealed it had begun ceasefire talks with the notorious jihadists.
The talks began months ago, according to officials.
But, to those desperate for a breakthrough in the bloody insurgency, they also caution that divisions among the militants may well hamper progress toward peace -- and analysts say similar initiatives have foundered in the past.
"Government is ever ready to accept the unconditional laying down of arms by any member of the Boko Haram group who show strong commitment," President Muhammadu Buhari said on Friday when he met the schoolgirls in Abuja, the national capital.
"We are ready to rehabilitate and integrate such repented member(s) into the larger society," said Buhari. "This country has suffered enough of hostilities."
A total of 111 schoolgirls were abducted by Boko Haram from the northeastern town of Dapchi on February 19 in the largest mass kidnapping since 2014 when over 200 schoolgirls were taken from Chibok.
In a scene that shocked many Nigerians, the jihadists returned to the town in an unobstructed convoy, flying the black Boko Haram flag, to drop off most of the girls.
Six girls are still missing, including one who was held back for refusing to renounce Christianity. The five others are believed to have died in the initial stages of the kidnapping.
Information Minister Lai Mohammed said that a week-long ceasefire was declared on March 19 as part of "intense back channel" negotiations to allow Boko Haram to return the hostages.
The Nigerian government has repeatedly denied paying a ransom or releasing imprisoned Boko Haram fighters in exchange for the schoolgirls.
"The insurgents' only condition was their demands for a cessation of hostilities and a temporary ceasefire to enable them to return the girls (to) the point they picked them (up)," explained Lawal Daura, a senior security official, on Friday.
The talks with Boko Haram explored the "permanent, possible cessation of hostilities" and the "possibility of granting amnesty to repentant insurgents," Daura said.
But he warned that achieving success would be "problematic" since the group is splintered into rival camps.
- Competing factions -
A source close to the Dapchi negotiations told AFP that the government has been negotiating with the Islamic State-affiliated Abu Mus'ab al-Barnawi faction of Boko Haram.
Al-Barnawi, the son of deceased Boko Haram founder Mohammed Yusuf, leads one faction, while Abubakar Shekau, Yusuf's former deputy, leads another.
"Talks have been ongoing between the government and the insurgents from the Al-Barnawi faction," said the source, speaking on condition of anonymity.
The source said peace talks began in earnest after the July 2017 ambush on an oil exploration team in Lake Chad that killed at least 69 people.
"The major headache now is extending the talks to the Shekau faction which is averse to negotiations," said the source.
Striking a deal with one faction doesn't guarantee that the other faction will follow, said security analyst Ryan Cummings.
"You're not talking to a homogenous, centralised insurgent group," said Cummings.
"Boko Haram is an umbrella movement comprised of various factions motivated for different reasons, some ideological, others profit, some might be a combination."
Others fear that the talks are being used as a diversion by Boko Haram to regroup.
"The military is opposed to negotiations with the militant groups, especially on release of hostages, which is believed to mostly involve ransom payment," said another source close to the talks.
"The military sees Boko Haram using the halt to buy time."
- Rebel negotiators -
It's not the first time Nigeria has talked about a ceasefire with Boko Haram.
In 2014, former president Goodluck Jonathan's government claimed it had brokered a deal with the militants, though Boko Haram attacks continued quickly soon after.
Then, as now, experts questioned the legitimacy and influence of the rebel negotiators.
Shortly after being elected in 2015, Buhari said he was mulling amnesty for Boko Haram fighters.
"If the Boko Haram leadership eventually agrees to turn over the Chibok girls to us -- the complete number -- then we may decide to give them (the prisoners) amnesty," said Buhari at the time.
"We've had previous conversations about ceasefire that turned out to be illusions," said political analyst Chris Ngwodo.
"The distinction here is that this appears to be a specific initiative targeted at a specific faction of Boko Haram," said Ngwodo.
Full report at:
https://nation.com.pk/27-Mar-2018/kidnap-release-in-nigeria-raises-truce-hopes-in-jihadist-revolt
--------
Eritrea accuses Qatar, Sudan of funding terrorism, deploying fighter planes on border
26 March 2018
The Eritrean government released a statement accusing Qatar of sending Sudan three fighter planes to thwart a purported attack from Eritrea, and of secretly funding an Eritrean Islamist opposition office in an isolated area in Sudan.
In the statement, the Eritrean government said that Qatar is funding supporters of the radical Islamist cleric, Mohammed Jumma, who opened an office in an unknown area in Sudan.
"Followers of the radical Islamic Cleric, Mohammed Jumma, opened an office, under extreme secrecy, in a secluded area to organize political and military activities as well as to train their members. Funding of their activities is provided by the Embassy of Qatar in Khartoum. Training and other logistical functions are managed by the Sudanese Security and Intelligence Service," the statement read.
They added that Qatar sent three Mig fighter planes to the Sudanese Defense forces which were deployed in Kassala on Eritrea's border with Sudan. The pilots for the three Mig fighter planes were two Qataris and an Ethiopian.
The Eritrean government said the deployment was done under the pretense of "thwarting an attack from Eritrea that would be unleashed with the support of the United Arab Emirates."
They also mentioned that a delegation from the Qatari military, led by the ambassador of Qatar in Khartoum, visited the "Joint Sudanese-Ethiopian Defense Unit" in March to inspect its operations and gauge the security situation in the Kassala area, while asking "Why does Qatar involve itself in such senseless intricacies?"
Full report at:
https://english.alarabiya.net/en/News/north-africa/2018/03/26/Eritrea-accuses-Qatar-Sudan-of-funding-terrorism-deploying-fighter-planes-on-border.html
--------
Two al-Shabaab recruiters arrested on way to Somalia
Mar. 20, 2018
Two al-Shabaab recruiters are being interrogated by anti-terror detectives after they were arrested last week as they attempted to cross to Somalia.
Suleiman Hemed Mwandilo and Salama Salim Mohamed were apprehended in Takaba, Mandera as they tried to sneak out through the El-Wak - Boroache route.
An Intelligence report seen by The Star said the two are believed to be key al Shabab facilitators and recruiters in Mombasa.
Read; Six al Shabaab arrested after cops foil deadly attack in Kenya
They, however, claimed that they were heading to Elwak to market fish products.
"The two are said to be active members in the facilitation and recruitment network in Mombasa. They are also accused of engaging in drug peddling and other petty crimes in Likoni," the police report said.
The suspects are said to be close allies to Ramadhan Hamisi Kufungwa's network.
Kufungwa is a Kenyan fighter and a middle-level commander within al-Shabaab ranks in Somalia.
Born in Ukunda Kwale County, Kufungwa is also a key recruiter of youths mostly from Majengo and South Coast to join the terror network.
"Kufungwa is believed to have travelled to Somalia in 2011 after attending religious studies at Ijtihaad Madrassa and Maganyakulo Madrasatul Tawheed Islaamiya in Kwale County" police said.
He later returned to become a fanatical adherent and follower of the late Muslim clerics Aboud Rogo and Abubakar Shariff aka Makaburi.
He is also reported to have gone back to Somalia where he leads a recruitment cell on the South Coast and Tanzania.
The network has reportedly spread its tentacles in the South coast and spread to Tanzania.
Police and National intelligence reports say al Shabab is targeting vulnerable youth including individuals HIV positive individuals and drug addicts who are then trained and sent back home as suicide bombers.
Police warn that although terrorist attacks targeting major towns have drastically gone down in recent years, it remains a major security threat in the country and urge police to be vigilant.
Full report at:
https://www.the-star.co.ke/news/2018/03/20/two-al-shabaab-recruiters-arrested-on-way-to-somalia_c1733163
--------
Former presidential candidate, Sam Eke warns against amnesty for Boko Haram
March 26, 2018
By Chijindu Emeruwa
Presidential candidate of Citizen's Popular Party, CPP, in the 2015 general election and National chairman of Green Party of Nigeria, Chief Sam Eke has called on the President Muhammadu Buhari-led federal government to jettison its proposed amnesty to dreaded Boko Haram sect.
He described the sect's members as pure terrorists who have no genuine demand.
Eke made the call in his Ikwuano residence in Abia State on Monday afternoon, while reacting to the federal government's proposed amnesty to repentant Boko Haram sect.
He warned the federal government against taking such step and advised government to take more proactive measures in nipping the activities of the sect in the bud.
He said, "I don't think Boko Haram deserves any amnesty from the Federal government. Because they are not actually demanding for anything from the government. And if they are demanding for anything, to carry arms against the federal government is a clear indication that they are more than secessionists. And at the same time, insurgency has no room for negotiations".
"So, I'm not in support of granting amnesty to terrorists. If the federal government goes on and grant Boko Haram members amnesty, that is to say that the credibility and the authority of the federal government would have been eroded in such a sense that anybody can carry arms against the government, and at the end of the day, after killing thousands of people and destroying properties worth billions of naira, in turn you now recognize them. It is uncalled for", he added.
On the release of the abducted Dapchi schoolgirls in Yobe state, the party chieftain said, "I am not convinced on the operation that led to the release of the kidnapped schoolgirls.
"I think with time, there will be explanation on why such thing happened. You know, behind any perfect plan, there must be loopholes.
Full report at:
http://dailypost.ng/2018/03/26/former-presidential-candidate-sam-eke-warns-amnesty-boko-haram/
--------
North America
Bolton and Pompeo might unleash Trump on 'radical Islam'
03/26/2018
By NAHAL TOOSI
The latest shifts on President Donald Trump's foreign policy team, including his choice of John Bolton as national security adviser, have rekindled fears among lawmakers and activists that the White House will further damage America's precarious standing in the Muslim world.
Bolton chairs an organization that produces harshly critical commentary about Islam and Muslim immigrants and he also has close ties to controversial activists often described as anti-Muslim. He succeeds Lt. Gen. H.R. McMaster, who urged Trump to avoid a favorite phrase — "radical Islamic terrorism" — because it offends many Muslims as a blanket condemnation of their faith.
Trump also decided this month to nominate Mike Pompeo, the current CIA director, as secretary of state, replacing the fired Rex Tillerson. Pompeo has accused U.S. Muslim leaders of being "potentially complicit" in terrorist attacks and, like Bolton, has consorted with conspiracy theorists who have peddled false claims about Muslims. Tillerson, on the other hand, generally used cautious language when it came to Islam and had extensive business experience in the Muslim world.
Both Bolton and Pompeo will now be working for a president who has alleged, with no evidence, that American Muslims celebrated the 9/11 attacks, and who has proposed banning all foreign Muslims from U.S. shores. Critics say the personnel moves suggest Trump's worst instincts on how to approach the world's 1.5 billion Muslims will find receptive ears among his foreign policy aides.
"Either they don't even care, or they're intentionally picking people known for their Islamophobia," said Wa'el Alzayat, a former State Department official who now leads the Muslim-American activist group Emgage. "We're very troubled."
Groups such as Emgage, Human Rights Watch and the Council on American-Islamic Relations are urging lawmakers to speak out against Bolton and Pompeo. Bolton doesn't require Senate confirmation for his position, but Pompeo will have to face a vote in that chamber.
Some also have concerns about Pompeo's planned successor at the CIA, Gina Haspel, who is reported to have run a secret CIA prison in Thailand where suspected al Qaeda operatives were tortured. "Gina Haspel should be investigated, not nominated," Margaret Huang, executive director of Amnesty International USA, said in a recent statement.
Some Muslim-American activists describe a sense of déjà vu: Similar fears abounded in the early days of the Trump administration as the president installed several top aides whose rhetoric towards Muslims and Islam has drawn wide criticism. They included then-National Security Adviser Michael Flynn, who once called Islam a "cancer"; political strategist Steve Bannon, who took a hard line against Muslim immigration; and Sebastian Gorka, who dueled with McMaster over the use of the phrase "radical Islam."
Their fears of a militant policy towards Muslims seemed confirmed when Trump, early in his presidency, imposed a travel ban on people from several Muslim-majority countries.
But over the past year Flynn, Bannon and Gorka have all been forced out of the White House, along with some others who shared their views.
Trump, meanwhile, has developed unexpectedly good relationships with some of the world's Muslim leaders, including top members of Saudi Arabia's royal family.
But if there was a sense among Trump's critics that McMaster and Tillerson had been restraining his worst instincts, there is now concern that Bolton and Pompeo might encourage them.
Bolton has longtime associations with activists criticized for their extreme views of Muslims. He wrote the foreword to "The Post-American Presidency: The Obama Administration's War on America," by Pamela Geller and Robert Spencer—both prominent critics of Islam. ("Excelsior!" Geller tweeted in response to Trump's announcement that Bolton would be assuming the post of national security adviser.)
Bolton also has close ties to another anti-Muslim activist, Frank Gaffney, who has promoted the theory that the Muslim Brotherhood is infiltrating the U.S. government with the goal of imposing Islamic law on Americans. According to The Atlantic, Bolton helped Gaffney gain a more prominent role at the 2016 Conservative Political Action Conference after years of his having been marginalized by the event's organizers.
Bolton was a guest on Gaffney's radio show as recently as last month. On Twitter, Gaffney called Bolton's appointment a "game-changer" for Trump's presidency and said that "McMaster and Tillerson have been among those who have fancied themselves the 'adults' in the administration, determined to stop the President from doing what they oppose."
"Now the President will have actual adults who actually want to help him succeed," Gaffney added. "Hallelujah."
Bolton also serves as the chairman of the Gatestone Institute, which describes itself as a "non-partisan, not-for-profit international policy council and think tank" and serves as a forum for harsh criticism of Islam. Articles on its website often exaggerate or misrepresent the religion and stoke fears of Muslim immigrants. In one posting this month, an author declared, falsely, that for Muslims, "everything Christians believe is pure blasphemy." In another recent post, a writer argued: "The U.K. is accelerating its Islamization at an ever-increasing speed."
Bolton's own writings and discussions of Islam have been notably more nuanced, however. While Bolton doesn't hesitate to use terms such as "radical Islam," he has tried to distinguish the religion's extremists from its mainstream adherents. "We are talking about politics and ideology here, this is not a question of religion," he said in one speech. "It's actually Muslims themselves who have felt the worst effects of Islamic terrorism and who suffer under its rule."
When Trump, on the presidential campaign trail, proposed banning Muslims from U.S. shores, Bolton called the idea "completely wrong." "That's just not consistent with our views about America and how we should operate," he said.
A person close to Bolton said the former ambassador "stands by his writings and speeches." The Gatestone Institute did not respond to a request for comment.
Bolton's appointment as national security adviser doesn't require Senate confirmation, a relief for him because he has so many skeptics in the Senate, including some Republicans. When Bush named Bolton as his ambassador to the United Nations in 2005, he did so using a "recess" appointment to evade a Senate vote.
Pompeo, however, is expected to face tough questions from senators pondering his nomination for secretary of state. Many of those queries may focus on his past apparent support for "enhanced interrogation techniques," or torture. (Haspel already faces similar scrutiny.) But his record of anti-Muslim comments and affiliation also is likely to come up.
As a Republican congressman from Kansas, Pompeo in 2013 accused American Muslim leaders of failing to condemn the Boston Marathon bombings, saying their alleged "silence has been deafening" and that that made them "potentially complicit." Many U.S. Muslims denounced the claim as a false smear given numerous condemnations of the bombings issued by Muslim leaders in the U.S. and beyond.
As a lawmaker, Pompeo fought to have the Muslim Brotherhood designated as a terrorist group and made numerous appearances alongside Gaffney. Pompeo also has ties to ACT for America, which the Southern Poverty Law Center has said"pushes wild anti-Muslim conspiracy theories, denigrates American Muslims and deliberately conflates mainstream and radical Islam."
Pompeo was among the recipients of ACT for America's National Security Eagle Award for 2016, according to the group's website.
"ACT for America has always welcomed and included members and supporters of all faiths, who stand united under the same flag of freedom and support for Western values," Brigitte Gabriel, the group's founder, said in a statement to POLITICO. "Mike Pompeo has been a clear leader in understanding the threats that America faces from rogue actors all over the world."
While Pompeo's role as CIA director had already been of concern to U.S. Muslim leaders, they are even more worried about the possibility of him serving as secretary of state. As America's chief diplomat, he'll be more in the public eye, more likely to meet with the leaders of the Muslim world and more involved in shaping U.S. foreign policy.
During his confirmation hearings for CIA director, some Democratic senators were concerned enough to press Pompeo onwhether he would discriminate against Muslim employees and safeguard U.S. alliances with Muslim-majority nations. Pompeo downplayed such concerns. "Discrimination against any employee based on their religion is deeply objectionable and will not be tolerated," Pompeo pledged in one exchange.
Such rhetoric hasn't assuaged Pompeo critics like the Council on American-Islamic Relations, which has also condemned Haspel's nomination to replace him as CIA chief.
"Those, like Mr. Pompeo, who have expressed Islamophobic views and have been associated with an anti-Muslim hate group, or like Ms. Haspel, who personally oversaw the torture of detainees, should have no role in our nation's government, let alone at the highest levels of policy-making," CAIR National Executive Director Nihad Awad said in a March 13 statement. "These appointments have the potential to harm our nation's image and our relations with key players in the international community."
https://www.politico.com/story/2018/03/26/trump-muslim-bolton-pompeo-islam-487312
--------
Suspected Quebec City mosque shooter pleads not guilty
26 March 2018
A Canadian man accused of killing six Muslim worshippers at a mosque in Quebec City in 2017 has pleaded not guilty to all charges.
Alexandre Bissonnette, 28, faces six counts of first-degree murder and six of attempted murder for the 29 January attack.
A gunman stormed into the Quebec Islamic Cultural Centre that night and shot at those gathered for prayers.
Mr Bissonnette entered the pleas days before his trial is slated to begin.
His trial will take place before a judge and jury in a Quebec City courthouse.
Jury selection is expected to begin 3 April, according to the Canadian Press wire service.
Killed in the January 2017 attack were Khaled Belkacemi, 60, Azzedine Soufiane, 57, Abdelkrim Hassane, 41, Mamadou Tanou Barry, 42, Aboubaker Thabti, 44, and Ibrahima Barry, 39.
Five people were also seriously injured in the Sunday night shooting, accounting for five of the attempted murder charges.
In October, the Crown added a sixth charge of attempted murder against the accused to collectively include the 35 witnesses in the mosque during the shooting.
Mr Bissonnette's parents, who had not spoken publicly since the shooting, broke their year-long silence in January.
In a letter published by the French-language public broadcaster Radio-Canada, they said their lives were "upended" by the "inexcusable" shooting.
They said they had personally expressed their condolences in a personal letter to the survivors and victims' families.
Full report at:
http://www.bbc.com/news/world-us-canada-43489547
--------
Michelle Malkin: Another fatal FBI fumble in Florida
Mar 24, 2018
A sickening act of youth violence in Florida glinted across the news headlines last week and then disappeared from view.
There will be no CNN town halls or student walkouts regarding the lost life and preventable tragedy because there are no guns to blame. Only dropped balls.
As the exploiters of crisis know full well, bureaucratic screwups don't make good fodder for partisan fundraisers and hipster T-shirts.
According to a probable cause affidavit filed by the Palm Beach County police, 17-year-old Corey Johnson bought a knife last Sunday and brought it with him to a sleepover at longtime-friend Kyle Bancroft's house. At 4 a.m., he decided to kill Kyle's mother, Elaine; his brother, Dane; and Dane's friend, Jovanni Sierra Brand.
Johnson repeatedly stabbed Jovanni in his bed and slit his throat. Then, he attempted to murder Elaine as she approached the boys' bedrooms in response to Jio's last gasps. Dane rescued his mom and sustained 32 stab wounds. Both were hospitalized and survived. Jio was buried last Friday — less than a week after celebrating his 13th birthday at a pizza party attended by Johnson.
The accused killer told police he "stabbed the victims because of his Muslim faith," watched videos of "Muslim jihadists" on his cellphone and "was reading the Quran from his phone just prior to the attack to give him courage to carry out his intentions." Perhaps he read the Sword Verses for inspiration? Fort Hood jihadist Nidal Hasan quoted from them in his presentation to classmates and superiors at Walter Reed Medical Center: "I have been commanded to fight the people until they testify that there is no deity worthy of worship except Allah."
Or maybe it was Surah 9:5: "Fight and slay the idolaters wherever ye find them and seize them, confine them and lie in wait for them in every place of ambush."
Johnson's brutal attack was no bolt out of the blue, no unexpected incidence of sudden jihad syndrome. Local school officials and police in Palm Beach County, along with federal and international law enforcement authorities, had encountered more red flags in their years of dealing with Johnson than at a Communist May Day parade in Havana.
In middle school, Johnson reportedly had stalked a student and sexually harassed her. She told school police. Nothing happened. He dabbled in white supremacy, anti-Semitism and gay-bashing and then immersed himself in radical Islam — rising at 5 a.m. daily to pray and revere the Syrian flag. Johnson's online jihad agitation, physical abuse and addiction to ISIS beheading videos prompted his sister in 2016 to confide in a school therapist, who contacted the local sheriff's office.
Johnson's mom, the sister told school officials, was in denial. The sister so feared for her life she slept with a knife under her bed.
Law enforcement officers at the Jupiter Police Department and Palm Beach County Sheriff's office convened at Johnson's high school last January to investigate the self-radicalized teen's contact with ISIS as he sought to join the terror group. The FBI's Joint Terrorism Task Force became involved after European intelligence counterparts told them Johnson had used Instagram to issue security threats to a Catholic high school in England. The threats "were so severe in nature," local officials discovered, "that up to 100 students were removed from the school fearing some kind of attack."
One of the messages threatened: "By Allah, we will kill every single Infidel student at this school." Johnson told FBI agents he "was supportive of known terrorist Anwar al Awlaki" — the spiritual patron of lone-wolf jihadists.
The FBI's plan of action? Inaction. The agency watched and waited and wanly admonished Johnson to knock it off because authorities "believed a redirection approach would be the most beneficial regarding his conduct."
"Redirection" is akin to the alternative social justice strategies school officials and police used in Parkland, Fla., before 17 innocent students and teachers died at the hands of a teen shooter who was a walking neon sign for a mental health catastrophe.
No referrals, no charges, no records, no problems.
Except for the fact Johnson ignored the FBI and continued his Islamic instigation online. After about a year of foot-dragging, the FBI gathered enough evidence to bring federal charges against Johnson for his social media terror threats. According to records released by the Jupiter Police Department, local officials were told the charges would be brought in summer 2017. But on the early morning of the jihad stabbings at Palm Beach Gardens last week, the FBI and U.S. Attorney's Office had yet to take action on a known radicalized threat who had menaced his family, his schoolmates and innocents abroad.
Full report at:
http://www.daily-journal.com/opinion/columnists/national/michelle-malkin-another-fatal-fbi-fumble-in-florida/article_031c231c-f806-5fd6-8d35-2296882196ed.html
--------
US slams Houthi missile attack on Saudi Arabia
27 March 2018
The U.S. on Monday "strongly" condemned a Houthi barrage rocket attack on Saudi Arabia that killed one person and injured two others.
State Department spokeswoman Heather Nauert called the attack "dangerous" while expressing condolences to the families of those killed and injured.
"We support the right of our Saudi partners to defend their borders against these threats," she said in a statement. "We continue to call on all parties, including the Houthis, to return to political negotiations and move toward ending the war in Yemen."
An Egyptian national was killed and two other individuals were injured in the attack late Sunday. All three casualties were the result of falling rocket debris in the Saudi capital, Riyadh.
In 2015, Saudi Arabia and its Arab allies launched a massive air campaign against Houthi rebels, who overran much of Yemen, including the capital, Sanaa, a year earlier.
Full report at:
http://www.worldbulletin.net/america-canada/200332/us-slams-houthi-missile-attack-on-saudi-arabia
--------
URL: https://www.newageislam.com/islamic-world-news/sc-seeks-indian-government-response/d/114735
New Age Islam, Islam Online, Islamic Website, African Muslim News, Arab World News, South Asia News, Indian Muslim News, World Muslim News, Women in Islam, Islamic Feminism, Arab Women, Women In Arab, Islamophobia in America, Muslim Women in West, Islam Women and Feminism