New Age Islam News Bureau
4 May 2015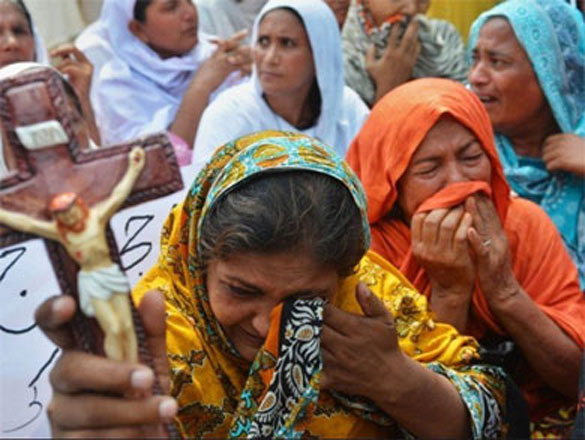 SC Ponders Over Whether Pakistan Can Be Declared a Secular State PHOTO: AFP/FILE
---------
Pakistan
• SC Ponders Over Whether Pakistan Can Be Declared a Secular State
• Special Ops on the Cards to Fight Urban Terrorism
• School Attacked By Gunmen in DG Khan
• Military leadership also part of govt, says Rashid
Arab World
• "Cubs of the Caliphate": Islamic State Trains Youngsters on Jihad
• Iraqi Troops Kill over 47 ISIL Terrorists in Western Baghdad
• S. Arabia Shocked by Ansarullah's Simultaneous Fight against Al-Qaeda, ISIL
• Al-Saud Orders Brotherhood's Militia to Wage Street War in Sana'a
• Hezbollah, Elite Syrian Forces Attack Terrorists' Operations Room in Idlib
• Syria regime air raid kills four children: monitor
• Suicide bomber blows himself up in heart of Damascus
• ISIS execution: Boy shoots Iraqi man in the head
• Pro-Assad forces renew chlorine attacks on Idlib, casualties reported
• Terrorism is not unique to any religion, nationality or region, says FNC speaker
• Egypt charges 40 over allegedly being ISIS members
• Lebanon forces arrest ISIS-linked cleric: security source
North America
• Two Dead, One Wounded At Prophet Muhammad (Pbuh) Cartoon Contest In US
• Local Muslims host faiths to stand for peace
• US: No Syrian civilian deaths in coalition strike
• Geert Wilders on Muslim hit lists before Muhammad cartoon attack
South Asia
• 22 More Taliban Killed, Wounded In Kundoz Fighting
• Airstrike Killed 12 Militants in Nangarhar, Afghanistan
• ISIL-claimed attack crosses line for beaten down Afghans
• Afghan Taliban link reconciliation with complete withdrawal of foreign troops
• Bangladesh Police unsure of Al-Qaeda links
• PM: BNP-Jamaat probably plotted to kill people on polls day
Southeast Asia
• Over 500 Killed In Thai Rohingya Migrants Camps, Says Survivor
• Malaysia: Islamic Leader Warns Comedians Not To Make People Laugh
• Philippines says Islamist militant was killed by followers
• Mat Sabu nabbed for sedition over anti-GST rally
• Let child porn convict complete studies locally, says Malay group
India
• Pro-IS Twitterati Wage a 'War' Against Micro-Blogging Website
• This Is Our Country Too… Why No Justice for Us, Says Maulana Naseeruddin
• India welcomes UN Security Council stand on Lakhvi
• Return To Kashmir Constitutional Right Of Pandits: MoS, PMO
• Kashmiri Pandits Raise Their Voice for Separate Townships
Mideast
• Palestinians Forced To Live In 'Fridges of Death' After Gaza War
• Salafist Group in Gaza Accuses Hamas of Abuse, Torture
• Israeli Arab teacher claims to have joined Islamic State
• Saudi Bombers Strike Aden Airport over 30 Times
• 'Limited' coalition force on ground in Aden: Yemeni official
• Iran determined to end 'manufactured' nuclear crisis
• Hundreds of families trapped in homes by Yemen's war
Europe
• Muslims Reject Findings on Their Influence in UK Elections
• Kazakh Football Player Joined Islamic State Extremists: Sputnik News
• Athens prison brawl leaves 2 Pakistanis dead
• Saudi-led troops in 'limited Yemen deployment'
Africa
• Community Leaders: Nigerian Troops Kill Dozens of Civilians
• Nigeria recovers 260 women, children from Boko Haram
• Xenophobia: South Africa hauled before the courts
• Ethiopian Israelis clash with police as anti-racism protests continue
Compiled by New Age Islam News Bureau
URL: https://www.newageislam.com/islamic-world-news/new-age-islam-news-bureau/sc-ponders-over-whether-pakistan-can-be-declared-a-secular-state/d/102807
-----------
Pakistan
SC Ponders Over Whether Pakistan Can Be Declared a Secular State
By Hasnaat Mailk, May 4, 2015
ISLAMABAD: Supreme Court judges on Monday debated the mechanism that would be needed to declare Pakistan a secular state.
Hearing constitutional petitions against the 18th and 21st Constitutional Amendments, a 17-judge bench headed by Chief Justice Nasirul Mulk questioned how the country would go about declaring itself a secular state if there is a popular demand for change.
The chief justice questioned whether such a process could be carried out through a constituent assembly. "How can the constituent assembly be formed at present stage?"
"If a political party whose manifesto supported such a declaration comes to power, how does that party plan on making the country secular?" Justice Mian Saqib Nisar questioned.
Proposing a solution, Hamid Khan, counsel for different bar associations suggested that it could be carried out through a referendum.
Justice Asif Saeed Khosa also questioned whether parliament had the power to pass an amendment to the Constitution which would declare the country secular.
Taking a page out of history, Justice Khosa said the country was created in the name of Islam in 1947 and later reaffirmed its commitment to being an Islamic state in 1949 with the Objectives Resolution, which was also supported by East Pakistan. However, Khosa pointed out how East Pakistan (now Bangladesh) went on to declare their country a secular state after partition. Later, Bangladesh attempted to declare the country an Islamic state through a constitutional amendments, but the Bangladesh Supreme Court annulled the amendment.
Citing the example of Turkey, Justice Khosa added people and their ideologies change with the passage of time. However, Jutsice Khawaja believed changes in Bangladesh and Turkey were rooted in revolution.
http://tribune.com.pk/story/880622/sc-ponders-over-whether-pakistan-can-be-declared-a-secular-state/?utm_source=Daily+Roundup+Newsletter&utm_campaign=ec7d0ab255-Daily_Roundup_5pm&utm_medium=email&utm_term=0_19961368d8-ec7d0ab255-65338937
------
Special ops on the cards to fight urban terrorism
May 4, 2015
LAHORE - Security establishment is considering carrying out special operations to deal with urban terrorism across the country with special focus on Karachi and parts of Balochistan.
Informed sources told The Nation on Sunday that the secret services tasked with fighting terrorism are planning intelligence-led field operations. The traditional operations being carried out by civilian agencies and paramilitary forces are falling short of desired target because of their limited resources and insufficient capabilities in dealing with urban terrorism, they said.
Security contacts are of the assessment that the violence taking place in Karachi and urban centers of Balochistan falls under the categories of high crime of terrorism and needs extraordinary measures.
Sharing details of a neutralising operation in Karachi, they said the interrogation of an urban terrorist revealed that the training he acquired in different spells abroad gave him the expertise of engaging anti-terror forces in the city streets, besides losing the surveillance on him and launching surveillance on his target.
The arrested terrorist has been successfully evading the traditional surveillance tactics of the sleuths on his tail and was finally neutralised by one of the premier secret service in a special operation, they said. It's just one such example and there are many other well-trained urban terrors who cannot be netted through the existing civilian anti-terror and intelligence sieves.
Interior department contacts while confirming most of the information of this reporter said that terrorists would be hunted down in all corners of the state. In the recent intelligence-led operation, Hafiz Sanaullah alias Qari Zarar, a top leader of outlawed TTP, captured by one of the top secret service from Punjab who was interrogated by that intelligence service and later handed over to the CIA police.
In another operation the same premier intelligence agency captured Tahir Farooqi from RA Bazaar, Lahore, soon after the Cantonment Boards local bodies' polls. According to sources Commander Tahir Farooqi is head of banned Lashkar-e-Jhangvi's armed wing that deals with making suicide jackets. The terrorist reportedly were planning to strike a public target during the polling.
Tahir Farooqi went into hiding when his key facilitator was picked up by the secret service from that area on the polling day, and he was captured later. According to sources some other terror facilitators were also captured after initial interrogation of Farooqi.
Yet in another similar action, Abid Baig Muawiya, a suspect involved in Youhanabad terrorist attack, was captured by one of the premier secret services from Bhatta Chowk, Lahore. Abid is thought to have facilitated the suicide bombers who attacked churches in Youhanabad.
http://nation.com.pk/national/04-May-2015/special-ops-on-the-cards-to-fight-urban-terrorism
--------
School attacked by gunmen in DG Khan
May 4, 2015
Dera Ghazi Khan: Unidentified gunmen attacked a school in Dera Ghazi Khan today and killed a guard, police said, raising fears of a repeat of the deadly Army Public School attack which occurred last year.
The police said that all teachers and children at the high school for boys were safe, although the gunmen had killed a guard.
"We are still not sure how many gunmen there were and whether they are still there. The police are searching," district police officer Rehmatullah Khan Niazi told journalists.
Meanwhile, today, a top police official of Punjab said that the Dera Ghazi Khan School incident was not related to terrorism.
The Inspector-General of Police (IGP) Punjab, in statement said that it was a personal enmity of the security guard who was shot by his rivals.
A Punjab police spokesman said that students or teachers were not injured in the gun attack.
A spokesman for the Punjab Education department also said that the incident was not an act by terrorists but was related to a personal dispute. He also confirmed that teachers and students remained unhurt in the attack.
The Punjab education ministry has ordered the Executive District Officer (Education) department to submit a report on the incident.
http://nation.com.pk/national/04-May-2015/school-attacked-by-gunmen-in-dg-khan
--------
Military leadership also part of govt, says Rashid
May 4, 2015
KARACHI: Information Minister Pervaiz Rashid has said that the military leadership is also a part of the government and national security policies are made with its advice.
Talking to the media after attending a literature conference at Arts Council Karachi, Rashid said, "PM Nawaz Sharif has directed Pakistan Electronic Media Regulatory Authority (PEMRA) over Altaf Hussain's criticism of the army."
He said Altaf Hussain has realised his mistake and hoped that no one will criticize national security institutions in the future.
Reacting on PTI Chairman Imran Khan's reaction over Altaf Hussain criticism, the minister said the PTI Chief was always tries to get others involved in clashes. He added that Khan also tried to create rifts between the government and the Army and also issue statement to divide other countries.
http://www.thenews.com.pk/article-183553-Military-leadership-also-part-of-govt,-says-Rashid-
--------
Arab World
"Cubs Of The Caliphate": Islamic State Trains Youngsters On Jihad
May 4, 2015
Erbil, Kurdistan Region – The radical group of Islamic State (IS/ISIS) has allocated several camps in the areas under its control in Mosul and Ramadi in northern Iraq and in the city of Raqqa in north-eastern Syria, to train minors dubbed as "Ashbal al-Khilafa" (Cubs of the Caliphate) to carry out "jihadist" operations", pro-IS media outlets reported.
The so-called Caliphate's Cubs are also trained to slaughter, assassinate, and physically and psychologically torture others.
Speaking to ARA News in Mosul, civil rights activist A. I. said (on the condition of anonymity) that the radical group has recently closed schools in Mosul, and obliged male youngsters to join the training camps.
The source pointed out that hundreds of children were forced to join IS camps.
"However, other underage children were forced to join by their own families, under the pretext of defending the alleged caliphate, from Iraqi army attacks," the source told ARA News.
The same source stated that the IS camps, in which children are trained, used to be military centres for Iraqi regular army before the group seize the area months ago.
The youngsters are reportedly subject to training sessions of one month and a half, and are then dispersed among the suicide squads and bomb-making workshops.
"Dozens of minors are taken to battlefields by IS militants to implement specific missions assigned to them by the group," he said.
In the meantime, a tribal source in Mosul revealed that the IS hard-line group is training hundreds of children aged from 9 to 12, in the al-Furat area of the sub-district of Heet west of Ramadi.
"The radical group took advantage of the tribes of al-Tarabsha and al-Bu Nimr to collect the Syrian and Iraqi children to be trained in the al-Taqa headquarters of al-Furat district," the source said, pointing out that many minors have also been utilized as human shields.
http://aranews.net/2015/05/cubs-of-the-caliphate-islamic-state-trains-youngsters-on-jihad/
-----------
Iraqi Troops Kill over 47 ISIL Terrorists in Western Baghdad
May 4, 2015
The Iraqi army continued its cleanup operations in Western Baghdad on Monday and claimed the lives of at least 47 ISIL terrorists.
The army troops along with volunteer fighters made more gains in their military campaign against the ISIL in the town of al-Karma, located 48 kilometers (30 miles) West of Baghdad, and managed to kill more than 47 terrorists.
The army troops also defused 43 IEDS and destroyed 13 militant hideouts during the operation.
Also on Sunday, the Iraqi troops intensified their offensive on the ISIL terrorists in the same area and claimed the lives of over 59 Takfiri militants.
The Iraqi soldiers defused 46 improvised explosive devices (IEDs), destroyed 15 militant hideouts, and cleared 14 booby-trapped houses in Sunday's operations.
The ISIL Takfiri terrorists currently control shrinking swathes of Syria and Iraq. They have threatened all communities, including Shiites, Sunnis, Kurds, Christians, Ezadi Kurds and others, as they continue their atrocities in Iraq.
Senior Iraqi officials have blamed Saudi Arabia, Qatar, and some Persian Gulf Arab states for the growing terrorism in their country.
ISIL has links with Saudi intelligence and is believed to be indirectly supported by the Israeli regime.
http://english.farsnews.com/newstext.aspx?nn=13940214000290
-----------
S. Arabia Shocked by Ansarullah's Simultaneous Fight against Al-Qaeda, ISIL
May 4, 2015
Ansarullah's military power to stand in two fronts against the al-Qaeda and ISIL terrorist groups has stunned Saudi Arabia, one of the movement's leaders said on Monday.
Jaber Ahmad al-Nuaimi referred to the Saturday grenade attacks against the positions of ISIL Takfiri terrorists in several parts of Yemen, and told FNA that "these attacks show that the resistance and Ansarullah are present everywhere and despite Ansarullah's being busy with suppressing the terrorists and militia supporting Mansour Hadi, it is ready for confrontation against the Saudi aggression with open eyes and resistance."
"Ansarullah's operations have been successful in obtaining all objectives in a way that several positions of the ISIL and pro-Hadi militia have been destroyed," he added.
Nuaimi underlined that different parts of Yemen can become a scene of popular forces' tough confrontation against the al-Qaeda or ISIL terrorists at any moment.
His remarks came as the Ansarullah fighters along with army units made fresh advances in the Southern Yemeni province of Aden on Sunday, killing large groups of Saudi-backed terrorists and militias.
Full report at:
http://english.farsnews.com/newstext.aspx?nn=13940214000277
---------
Al-Saud Orders Brotherhood's Militia to Wage Street War in Sana'a
May 4, 2015
Saudi Arabia has ordered the militia affiliated to Ikhwan al-Muslimoun (Muslim Brotherhood) to wage attacks and stir chaos in Yemen's Sana'a, Ma'rib, Bayda and Taiz provinces, informed sources disclosed.
"Saudi Arabia has ordered al-Islah party, a branch of Ikhwan al-Muslimoun in Yemen, which collaborates with the terrorists and militia who support the fugitive Yemen president to put their forces on standby to stir chaos and street war in Sana'a, Ma'rib, Bayda and Taiz provinces," the sources said.
They revealed that Saudi Arabia has also called on Islah party to increase its coordination with Riyadh to prevent military moves by Ansarullah Movement and forces loyal to former President Ali Abdullah Saleh.
Full report at:
http://english.farsnews.com/newstext.aspx?nn=13940214000374
-----------
Hezbollah, Elite Syrian Forces Attack Terrorists' Operations Room in Idlib
May 4, 2015
The Lebanese Hezbollah and elite Syrian army forces attacked the terrorists' operations room in Idlib countryside in Northwestern Syria.
The Lebanese-Syrian joint operational forces staged a raid on the gathering center of terrorists' ringleaders and commanders in Idlib and ruined their operations room.
19 terrorists, including a number of militants' commanders, as well as 4 Turkish officers were killed in the clashes.
Also unconfirmed reports said that Riad Mousa al-Asaad, a senior commander of the so-called Free Syrian Army (FSA) (a former Colonel in the Syrian Air Force who defected in July 2011), had also been killed during the Saturday operations.
Other reports from Idlib said that the Syrian army killed tens of Al-Nusra Front terrorists, including a senior commander, in heavy clashes in Idlib countryside.
Abu Osama al-Raqa, a notorious Al-Nusra Front commander, was killed along with tens of other Takfiri terrorists in the Idlib countryside.
Full report at:
http://english.farsnews.com/newstext.aspx?nn=13940213001297
-----------
Syria regime air raid kills four children: monitor
May 4, 2015
A barrel bomb killed at least seven civilians, including a teacher and four children, when it hit a school in Syria's northern city of Aleppo on Sunday, a monitor said.
"The primary school students were playing in the courtyard when the barrel bomb hit," said Rami Abdel Rahman, who heads the Britain-based Syrian Observatory for Human Rights.
He said the school is in Saif al-Dawla, a district where control is split between the regime and opposition.
"The children were taking a test there today because they were afraid their own school would be bombarded," Abdel Rahman said.
The center's director and other civilians are in critical condition after the attack, he added.
An AFP correspondent described buildings in ruins and small bulldozers working to clear the rubble.
Full report at:
http://english.alarabiya.net/en/News/middle-east/2015/05/03/Syria-regime-air-raid-kills-four-children-monitor-.html
-----------
Suicide bomber blows himself up in heart of Damascus
World Bulletin / News Desk
May 4, 2015
A suicide bomber blew himself up on Monday in a central neighborhood of the Syrian capital where major security compounds are housed, according to a Syrian army source.
The army source told state television the security forces had killed all the members of armed group in the bustling Rukn al Din district during a chase after a suicide bomber blew himself up.
The source did not say whether there were any casualties but a resident contacted by Viber said the army had sealed off the main streets of the congested part of the capital adjacent to key government installations and embassies.
http://www.worldbulletin.net/todays-news/158690/suicide-bomber-blows-himself-up-in-heart-of-damascus
-----------
ISIS Execution: Boy Shoots Iraqi Man In the Head
May 4, 2015
Istanbul, Turkey – On Sunday the Islamic State group (IS/ISIS) published a videotape that documents the execution of a man charged of spying on behalf of Iraqi security forces.
The execution was conducted by an IS youngster who claims membership in the so-called Ashbal al-Khilafa (Cubs of the Caliphate), who shot the accused in the head several times, according to the footage that was released by the IS-linked media.
In the videotape, Zafer az-Zawi, an Iraqi citizen from the city of al-Qaem in western Iraq on the border with Syria's al-Bukamal, confessed his suspicious relationship with the Iraqi government and to leaking confidential information about the IS-linked military bases in al-Qaem.
Full report at:
http://aranews.net/2015/05/isis-execution-boy-shoots-iraqi-man-in-the-head/
-----------
Pro-Assad forces renew chlorine attacks on Idlib, casualties reported
May 4, 2015
Damascus, Syria – The Syrian regime's helicopters launched several raids on the cities and towns of the Idlib countryside, using barrel bombs containing toxic gases, which caused the death of at least one civilian and wounded dozens others, primarily children.
Local activists in the Idlib countryside told ARA News that Syrian regime's helicopters dropped several barrel bombs containing toxic chlorine gas on the town of Neirab, leading to the death of Mutee Jalal, 2, in addition to injuring dozens of others.
Speaking to ARA News, activist Mahmoud al-Hamwi said that other raids by the Syrian helicopters using barrel bombs ??Loaded with chlorine gas?? Targeted the town of Saraqib in Idlib's suburbs.
Full report at:
http://aranews.net/2015/05/pro-assad-forces-renew-chlorine-attacks-on-idlib-casualties-reported/
-----------
Terrorism Is Not Unique To Any Religion, Nationality or Region, Says FNC Speaker
May 4, 2015
ABU DHABI // Terrorism is not unique to any religion, nationality, region or culture and all must unite to fight its influence, the Speaker of the Federal National Council said on Sunday.
Mohammed Al Murr was addressing the opening session of a two-day meeting of the Organisation of Islamic Cooperation's executive committee.
He said that the UAE was committed to fighting all sources of terrorism and "deemed it necessary to come up with a collective stance to face these challenges and to have a collective voice for Muslim peoples".
The UAE's Parliamentary Division recognised the dangers extremism posed to Islam's genuine values, he said, and "the need to achieve further solidarity and cooperation on fighting terrorist threats".
Full report at:
http://www.thenational.ae/uae/government/20150503/terrorism-is-not-unique-to-any-religion-nationality-or-region-says-fnc-speaker
-----------
Egypt charges 40 over allegedly being ISIS members
May 4, 2015
A Nile Delta prosecutor said Sunday he referred 40 people to trial on charges of belonging to ISIS and planning to carry out terrorist attacks in Egypt.
The announcement marks the first time people in Egypt's Nile Delta have been accused of belonging to the group, which holds a third of Iraq and Syria in its self-declared caliphate.
Bilal Abu Khadra, a prosecutor in Egypt's Sharqiya province, said that those charged communicated with Islamic State militants in Syria.
He also said the cell's leader confessed to receiving money from the extremists to recruit and help militants travel to Syria.
Khadra said 20 of the defendants are detained, while the others will be tried in absentia.
ISIS gained a foothold in Egypt last November when a Sinai-based militant group declared itself an affiliate of the extremists.
Full report at:
http://english.alarabiya.net/en/News/middle-east/2015/05/03/Egypt-charges-40-over-allegedly-being-ISIS-members.html
-----------
Lebanon forces arrest ISIS-linked cleric: security source
May 4, 2015
Security forces on Sunday arrested a Lebanese man accused of being a cleric and recruiting agent for the extremist Islamic State of Iraq and Syria (ISIS) group, a security source told AFP.
"Ibrahim al-Barakat was arrested early on Sunday and is accused of being a religious jurist for Daesh in the northern city of Tripoli," the security official said, using the Arabic acronym for ISIS.
Full report at:
http://english.alarabiya.net/en/News/middle-east/2015/05/03/Lebanon-forces-arrest-ISIS-linked-cleric-security-source.html
-----------
North America
Two dead, one wounded at Prophet Muhammad (pbuh) cartoon contest in US
May 4, 2015
WASHINGTON: Two gunmen were shot dead Sunday and a security guard wounded outside a Prophet Muhammad (pbuh) cartoon contest in Texas, authorities said, as a bomb squad investigated the gunmen's car.
The American Freedom Defense Initiative (AFDI) organised the event featuring far-right Dutch politician Geert Wilders, who has been outspoken against Muslims.
"I am shocked. I just spoke for half an hour about the cartoons, Islam and freedom of speech and I had just left the premises," Wilder told AFP in an email.
"This is an attack on the liberties of all of us!" Wilders wrote. He added that he was safe with police.
Police said two men drove up to the conference center in Garland, Texas, near Dallas and began shooting at a security guard.
"Garland Police officers engaged the gunmen, who were both shot and killed," the city of Garland said in a statement.
Full report at:
http://tribune.com.pk/story/880553/two-dead-one-wounded-at-us-mohammed-cartoon-contest/
-----------
Local Muslims host faiths to stand for peace
May 4, 2015
WEST CHESTER TWP. – More than 100 Muslims, Christians, Jews and Sikhs came to a local mosque Sunday to form a symbolic, interfaith ring they said was necessary in the wake of local Islamic controversy and international violence.
Officials behind the first "interfaith peace ring" event at West Chester Township's Islamic Center of Greater Cincinnati said they were inspired in part by a February incident in Scandinavia. Dozens of Muslims and others in Oslo, Norway, formed a symbolic, protective ring around a synagogue in the wake of a deadly attack on a synagogue in Denmark.
And they were also prompted by the local uproar last month over a student-proposed and voluntary Mason High School event - the "Covered Girl Challenge" – that invited girls at the Warren County high school to wear the Muslim hijab or head scarf to experience a small part of the Islamic religion.
Mason school officials canceled the event in response to parents and public complaints that it was an inappropriate injection of religion into the school.
"There are numerous stereotypes out there about Muslims," Erika King-Betts, executive director of the Cincinnati Human Relations Commission, who was credited with the idea for the interfaith peace ring event.
Full report at:
http://www.cincinnati.com/story/news/2015/05/03/interfaith-muslims-west-chester/26841019/
-----------
US: No Syrian civilian deaths in coalition strike
4 May 2015
The U.S. military denied Sunday a report that strikes led by Washington had killed at least 52 civilians in northern Syria earlier this week, saying those killed were actually fighters.
Syrian Observatory for Human Rights monitor director Rami Abdel Rahman had told AFP that seven children were among the dead from U.S.-led coalition strikes overnight Thursday into Friday on the village of Birmahle in Aleppo province.
He had warned the toll could rise as rescuers were battling to save 13 people trapped under rubble.
"U.S. Central Command can confirm that Coalition forces conducted airstrikes in the vicinity of Birmahle, Syria, on April 30, destroying several ISIL fighting positions and striking more than 50 ISIL fighters," command spokesman Major Curt Kellogg said in a statement, using an acronym by which ISIS is also known.
Full report at:
http://english.alarabiya.net/en/News/middle-east/2015/05/04/US-No-Syrian-civilian-deaths-in-coalition-strike.html
-----------
Geert Wilders on Muslim hit lists before Muhammad cartoon attack
May 4, 2015
The keynote speaker at Sunday's Muhammad cartoon-drawing contest in Texas was Dutch politician Geert Wilders, a long-time target of Muslim extremists in Europe.
Mr. Wilders is an ally of anti-Shariah organization American Freedom Defence Initiative, which sponsored the event that came under attack from two gunmen and a possible car bomb Sunday.
He also was a friend of two Dutchmen assassinated by self-styled mujahidin in Europe — politician Pim Fortuyn and film director Theo Van Gogh. He has himself been the object of both numerous death threats from Muslims and a cold shoulder from Europe's dominant political parties who dismiss anti-Shariah measures as unacceptable bigotry.
Al Qaeda has released a "hit list" that included a poster declaring him and a handful of other Westerners in mug shots as "Wanted: Dead or Alive for crimes against Islam."
Mr. Wilders is a co-founder of the Dutch Party for Freedom, which advocates restrictions on Islam in public life in secular Europe and on Muslim immigration. He has campaigned to stop the "Islamisation of the Netherlands" and for a ban on new mosque-building.
Mr. Wilders tweeted from inside the event that the attack was ongoing and that he was leaving the building.
He tweeted a photo of himself surrounded by camouflaged men that he said was taken just before the shooting began.
"Thank God the heroes of SWAT-team prevented the worst," he wrote.
http://www.washingtontimes.com/news/2015/may/3/geert-wilders-on-muslim-hit-lists-before-muhammad-/
-----------
South Asia
22 more Taliban killed, wounded in Kundoz fighting
May 04 2015
A statement issued by the Ministry of Interior on Monday morning states that including two Taliban commanders 22 more militants have been killed and wounded in Kundoz fighting.
The statement adds that Taliban suffered these casualties in Imam Sahib and Chahar Dara Districts.
The Taliban commanders are identified as Mullah Shirzai Gajr and Maulvi Qurishi who were involved in several other terrorist activities in Kundoz province.
Hundreds of Taliban militants attacked parts of northern Kundoz province over a week ago engulfing severe gun battles with security forces.
Officials say Taliban's spinal in Kundoz is broken and they are facing a defeat there.
Taliban continue to fight at the time their representatives are in Qatar discussing peace deal with government.
http://www.khaama.com/22-more-taliban-killed-wounded-in-kundoz-fighting-3279
-----------
Airstrike Killed 12 Militants in Nangarhar, Afghanistan
May 04 201
12 militants have been killed in an airstrike in eastern Nangarhar province.
Colonel Hazrat Hussain Mashriqiwal, press officer at the police headquarters of Nangarhar province says in a statement issued this morning that the airstrike took place in Landi Basawal area of Mohamand Dara District yesterday afternoon.
According to the statement a Saracha vehicle and a motorcycle were targeted in the attack which left 12 militants killed including a militant group commander in the area.
The Sarach vehicle and motorcycle were also destroyed in the air assault.
The group planned to carry out terrorist attacks in the jurisdiction of Mohmand Dara District and on Jalalabad-Torkham highway but targeted in the airstrike before reaching to their goal.
No militant group has yet commented on the report.
Nangarhar province is located in the eastern part of the country which shares a long with Pakistan. Militants occasionally crossed the border from Pakistan form terrorist activities in Nangarhar. This past Friday security forces seized 28 bags of explosive materials coming from Pakistan on mules but the militants run away taking the advantage of night.
http://www.khaama.com/airstrike-killed-12-militants-in-nangarhar-3272
-----------
ISIL-claimed attack crosses line for beaten down Afghans
May 4, 2015
JALALABAD, AFGHANISTAN // Days after at least 33 people were killed and dozens more injured by bombings in the city of Jalalabad, torn clothing and pieces of flesh were still stuck in the branches of a tree high above a busy street.
They hung there in the bright sunshine as civilians below struggled to come to terms with the first major attack in Afghanistan to be claimed by ISIL. Government and Nato officials have since cast doubt on whether the movement was responsible, but it hardly matters to those who were there.
Survivors and witnesses told The National that their lives had changed irrevocably when a bank packed with customers was among the targets hit on the morning of April 18. After years of war and countless scenes of devastation, a line had been crossed and they had finally lost hope.
Full report at:
http://www.thenational.ae/world/central-asia/isil-claimed-attack-crosses-line-for-beaten-down-afghans#full
-----------
Afghan Taliban link reconciliation with complete withdrawal of foreign troops
May 4, 2015
ISLAMABAD: Taliban representatives met with Afghan political figures for a second day in Qatar on Sunday, after which Afghan Taliban have linked joining the intra-Afghan dialogue to the withdrawal of all foreign troops.
Hours after President Ashraf Ghani assumed government last September, his government signed security pacts enabling the US and Nato allies to keep almost 1,200 troops in Afghanistan.
Ghani's predecessor Hamid Karzai had rejected the signing of the Bilateral Security Pact on the plea that the US had failed to bring the Taliban to the negotiation table.
In a veiled reference to the security pacts with the US and Nato, the Taliban said "un-Islamic and illegal agreements" cannot solve the Afghan problem.
The closed doors two-day 'talks' concluded in Qatar on Sunday where the Taliban delegation read out their statement in Pashto.
Full report at:
http://tribune.com.pk/story/880555/qatar-talks-taliban-afghan-negotiators-unable-to-agree-on-ceasefire/
----------
Bangladesh Police unsure of Al-Qaeda links
May 4, 2015
Investigators have claimed to have identified two of the killers of secular blogger Avijit Roy, a Bangladeshi-American, but are still to trace their locations.
One of the investigators, who is a high official of police, told the Dhaka Tribune on condition of anonymity that one of them is Redowanul Azad Rana and the other is one of his followers.
He also said that the duo might have fled by crossing the border with a neighbouring country soon after the murder.
On Saturday, a regional branch of global terrorist organisation Al Qaeda claimed responsibility of Avijit's murder through a video message circulated on the Internet.
Full report at:
http://www.dhakatribune.com/bangladesh/2015/may/04/police-unsure-al-qaeda-links#sthash.GODIJlDU.dpuf
-----------
PM: BNP-Jamaat probably plotted to kill people on polls day
May 4, 2015
Prime Minister Sheikh Hasina yesterday said BNP-Jamaat alliance might have had a plot to kill people during the city corporation elections as they did during their 92-day blockade and hartals.
She came up with the observations while exchanging greetings with Buddhist religious leaders and distinguished persons of the community on the occasion of the Buddha Purnima at her official residence Ganabhaban. The programme was arranged by Buddhists Religious Welfare Trust.
Hasina, also the Awami League president, said the BNP-Jamaat alliance could not materialise its evil design as the law-enforcement agencies were active and on sharp vigil alongside the mass people.
Full report at:
http://www.dhakatribune.com/bangladesh/2015/may/03/pm-bnp-jamaat-probably-plotted-kill-people-polls-day#sthash.lG9Hfk1T.dpuf
-----------
Southeast Asia
Over 500 Killed In Thai Rohingya Migrants Camps, Says Survivor
May 4, 2015
More than 500 people have been killed in various camps holding human-trafficking or kidnap victims along the Thai-Malaysian borders, said a survivor wishing anonymity.
He disclosed this via an interpreter, reports The Nation.
He said: "I have also heard that thousands of Rohingya migrants were at those camps waiting for promised jobs or for ransom to arrive."
This survivor said he was lured out of Myanmar's Rakhine state six months ago by an offer to find him a job in Malaysia but he ended up in the camp with Kazim, where between 700 and 800 migrants were held.
"My mum had to sell our family's land to pay for my ransom. That's why I am still safe," he said.
Full report at:
http://www.dhakatribune.com/world/2015/may/04/over-500-killed-thai-camps-says-survivor#sthash.zeHLM5X1.dpuf
-----------
Malaysia: Islamic leader warns comedians not to make people laugh
May 4, 2015
An Islamic mufti has warned Malaysian comedians against telling jokes that cause excessive laughter. According to the mufti, Islam urges emotional moderation and refrain from excessive laughter, crying, or other emotional expressions.
Perak Mufti Tan Sri Harussani Zakaria claims excessive laughter is "haram" or forbidden according to Islamic law. A mufti is an Islamic scholar trained to interpret and expound Islamic law.
According to Zakaria, Muslims are allowed to laugh, but not in excess. In other words, a chuckle is okay, but a prolonged, out-loud laugh could be considered haram.
Zakaria's statements come after the Department of Islamic Development Malaysia (Jakim) issued guidelines stating that jokes told by comedians should be moderate and not cause excessive laughter. Zakaria supports Jakim and believes the guidelines are in line with Islamic law.
Full report at:
http://www.digitaljournal.com/news/world/malaysia-islamic-leader-warns-comedians-not-to-make-people-laugh/article/432376#ixzz3Z9BwtSaA
-----------
Philippines says Islamist militant was killed by followers
May 4, 2015
The Philippines' most wanted Islamist militant, whose death at the weekend could boost peace efforts in the country's south, was killed by his own bodyguards in pursuit of a bounty offered by the United States, the head of the military said on May 4.
Abdul Basit Usman, a militant with strong al Qaeda links who was blamed for numerous bomb attacks in the southern Philippines, had been hunted by security forces since 2002.
"There was in-fighting among his group," General Gregorio Pio Catapang told journalists at the main army base in Manila. "Reports reaching this headquarters revealed that Usman and five of his unidentified cohorts were killed in a shoot-out allegedly with fellow members of his group."
Full report at:
http://www.hurriyetdailynews.com/philippines-says-islamist-militant-was-killed-by-followers.aspx?pageID=238&nID=81910&NewsCatID=359
---------
Mat Sabu nabbed for sedition over anti-GST rally
May 4, 2015
KUALA LUMPUR, May 4 — PAS deputy president Mohamad Sabu has been arrested for sedition following his involvement in last week's rally against the Goods and Services Tax rally, making him the latest to be nabbed in an apparent police crackdown on demonstrators.
Mohamad, or popularly known as Mat Sabu, confirmed this afternoon that he was arrested after turning up at the Dang Wangi police headquarters to have his statement on his participation in the rally recorded.
"I was told that I have been arrested. Under the Sedition Act," Mat Sabu told Malay Mail Online.
Full report at:
http://www.themalaymailonline.com/malaysia/article/mat-sabu-nabbed-for-sedition-over-anti-gst-rally#sthash.p685mpxB.dpuf
-----------
Let child porn convict complete studies locally, says Malay group
May 4, 2015
KUALA LUMPUR, May 4 ? Gabungan Pelajar Melayu Semenanjung (GPMS) has asked for the Malaysian student jailed for child pornography in the United Kingdom to be allowed to continue his studies at a local university.
Local daily Harian Metro reported today the Malay group as saying that Nur Fitri Azmeer Nordin, a mathematics student at Imperial College in London, should be allowed to do so after Majlis Amanah Rakyat (Mara) claimed that the former scholar will be deported by next month.
"GPMS will discuss with Mara on this issue, so Nur Fitri will be allowed to continue his studies in any education institution in this country after he is sent home," GPMS president Jais Abdul Karim told the paper.
Full report at:
http://www.themalaymailonline.com/malaysia/article/let-child-porn-convict-complete-studies-locally-says-malay-group#sthash.MZw5Zy6r.dpuf
----------
India
Pro-IS Twitterati Wage a 'War' Against Micro-Blogging Website
May 4, 2015
Pro-IS Twitter account holders have waged some sort of war against the administrators of the micro-logging website, creating and circulating new aliases every time their accounts get suspended.
"My Message to Jack & his Twitter Admins is, if u suspend our accounts we'll be back, & if you leave them we'll tweet, So good luck," tweeted one such account, sending out message to his followers: "Got suspended. Back again. You know the drill. RT & Support."
Another anonymous Twitter user, who had earlier called for a car bomb attack during the recent U.S. President Barack Obama's visit to India in January and then targeted Prime Minister Narendra Modi, has since then opened over a dozen accounts.
"Modi Obama the two Enemy of Allah. #26 January#flag hosting#car bomb#chemical," said a tweet through the new account on January 25, adding: "The people of Kufr is one Millah.#Modi#Obama."
Through another account, which was also suspended, the same user — suspected to be one of the four alleged IS recruits from Thane, — had about a month ago claimed that a third Indian national named Abdul Rehman had been killed while fighting for the terrorist outfit.
The latest account, showing the user's location in Turkey, became active on Saturday, soon after its previous avatar was suspended. Within hours, it had about 250 followers. Interestingly, the same user appears to have created two more accounts for future use, if the present one is blocked by Twitter administrators.
Full report at:
http://www.thehindu.com/news/national/proislamic-state-twitterati-wage-a-war-against-microblogging-website/article7167937.ece
-----------
This is our country too… why no justice for us, says Maulana Naseeruddin
May 4, 2015
In the circles of police's "SIMI investigations", Maulana Naseeruddin's name comes up often. Police have filed cases against five members of his family till today and after spending years in jail, they have been acquitted. The acquittal of his younger son Raziyuddin Nasir in a Hubli court along with 16 other suspected SIMI men Thursday is the fourth time members of his family have been acquitted in the last five years.
Besides himself and his three sons, the fifth member of Maulana's family to be arrested for alleged terror links was Obaid-ur-Rehman, a BCom student from Hyderabad, who was arrested in September 2012. He is Naseeruddin's sister Tahira Khatoon's grandson. "He was arrested in Hyderabad and booked in a case by Bangalore Police. Then he was also booked in a case in Delhi,'' he said.
Maulana Naseeruddin
On October 31, 2004, Naseeruddin went to the DGP's office to sign his weekly attendance in an earlier case of communal violence. "Two months earlier, I had been arrested after police claimed I was going to plant bombs at a Ganesh temple. I fell ill and was shifted to hospital. Our lawyer friends secured bail," Naseeruddin said. "That day, the CID officer who would take my signatures told me a senior officer wanted to talk to me." He said he was taken to the IG, who said an arrest warrant for him had come from Gujarat.
A Gujarat police contingent led by then ACP Narendra Amin (now in jail for his role in the encounters of Sohrabuddin and Kausar Bi) had come to take him to Gujarat where he had been "accused of a role in (former Gujarat minister) Haren Pandya's murder case''. "People from our neighbourhood didn't allow the vehicle to leave. Narendra Amin opened fire and it hit Mujahid Saleem." Mujahid (26) was elder brother of Moutasim Billa whose family are close friend's with the Maulana's.
Full report at:
http://indianexpress.com/article/india/india-others/this-is-our-country-too-why-no-justice-for-us-says-maulana-naseeruddin/99/
---------
India welcomes UN Security Council stand on Lakhvi
TNN | May 4, 2015
NEW DELHI: India on Sunday welcomed UN security council's assurance that it would take up the issue of Pakistan-based 26/11 mastermind Zaki-ur-Rehman Lakhvi's release from prison at its next meeting.
"Any act by Pakistan which is defying the international approach will be condemned by all and the indication which has come from UN that they will be having a word with Pakistan in the matter related to release of Lakhvi is a welcome step for us," minister of state for home Kiren Rijiju told reporters here.
Rijiju said India had conveyed to Pakistan its unhappiness at the handling of the 26/11 trial. He charged Islamabad with not placing full facts of the case, including the evidence of Pakistan's role furnished by India earlier, before the courts.
"That is why it led to the release of Lakhvi through the court process. We demand the government of Pakistan to be sincere," he said.
The assurance by the UNSC to take up the matter came after India's ambassador to the UN Asoke Mukerji wrote to the chair of the UNSC al-Qaida sanctions committee ambassador Jim McLay expressing concern over Lakhvi's release, stating that it violated the provisions of the committee concerning al-Qaida and associated individuals and entities.
The next meeting of the committee is expected to take place in the next few days.
http://timesofindia.indiatimes.com/india/India-welcomes-UN-security-council-stand-on-Lakhvi/articleshow/47143715.cms
-----------
Return to Kashmir constitutional right of pandits: MoS, PMO
May 4, 2015
JAMMU: Minister of state in the PMO Jitendra Singh on Sunday said the return of Kashmiri pandits is not only their birthright but also their constitutional right and the NDA-led Centre was working to bring them back.
"The return of Kashmiri pandits is not only their birthright but also their constitutional right as well. We want that he goes to his house with honor, with dignity. It is not only the responsibility of the government but of the entire country," Singh told reporters here.
He said the BJP-led Centre was working to finish the unfinished task of the previous coalition government and that the opposition must appreciate and cooperate in this.
"During the last ten years, they were in power in the Centre (Congress-led UPA) and in Jammu & Kashmir (NC-led coalition). It would have been better if they had accomplished their work, but they could not do it. But now if the BJP government is trying to accomplish their unfinished task then it is their duty to cooperate and should desist from such avoidable controversies," he said.
Full report at:
http://timesofindia.indiatimes.com/india/Return-to-Kashmir-constitutional-right-of-pandits-MoS-PMO/articleshow/47140835.cms
-----------
Kashmiri pandits raise their voice for separate townships
Mayank Manohar,TNN | May 4, 2015
NEW DELHI: Distressed over the long wait of 25 years to go back 'home', displaced Kashmiri pandits on Sunday staged a protest at Jantar Mantar demanding immediate steps for their rehabilitation and accused both state and central governments of doing nothing to facilitate their return to the valley.
Wearing black badges and bands as a mark of protest, Kashmiri pandits raised the slogan 'We want our homeland' and also asked the Centre and the Jammu & Kashmir government to bring a 'white paper' on what they have done so far for their rehabilitation.
The protest came a day after the opposition National Conference said they wouldn't allow J&K government to form separate townships for them.
Full report at:
http://timesofindia.indiatimes.com/india/Kashmiri-pandits-raise-their-voice-for-separate-townships/articleshow/47143905.cms
-----------
Mideast
Palestinians forced to live in 'fridges of death' after Gaza war
May 4, 2015
Khuza'a, Gaza // With their homes destroyed by Israel, families in a village in southern Gaza have been forced to live in shipping containers.
Khuza'a, next to the border with Israel, was once a small farming community of 2,000 homes and 15,000 residents.
But during last summer's war on Gaza, Israeli jets and tanks flattened more than half of the houses in the village.
Many of the residents who fled after the Israeli military dropped warning leaflets on July 23 returned a few days later to find their homes turned to rubble.
Today only a few houses remain standing among the destruction. Among the rubble lies a crumpled yellow taxi.
Off to one side, more than a dozen shipping containers sit in the sand. These are makeshift homes for the extended Al Najjar family, which lost 48 members during the attack.
Having survived a miserable cold, wet winter, the occupants of the containers now face a scorching Gazan summer. The metal containers will soon become like furnaces, making the already squalid conditions unbearable.
"I call this caravan the fridge of death – in the winter it's so cold and in the summer it's going to be like an oven," says Samer Najjar, 45, as he gives a tour of his two-room container at the entrance of the camp.
Full report at:
http://www.thenational.ae/world/middle-east/palestinians-forced-to-live-in-fridges-of-death-after-gaza-war
--------
Salafist group in Gaza accuses Hamas of abuse, torture
May 4, 2015
A group calling itself The Salafist Trend is accusing Hamas of torturing its supporters in prisons, monitoring its activities in cities and tracking its movements across refugee camps throughout Gaza, according to Palestinian media.
Palestinian news agency Ma'an cited a press release issued by the group Saturday warning the terrorist organization of the consequences of continuing there activity against The Salafist Trend.
"Once again we ask the wise people of Gaza to stop the ongoing Hamas criminality and abusive detention of our brothers before it's too late," the statement read.
The Salafist group also claimed it possessed "details about what is going on inside the detention cells of the interior security service, including names of the criminal interrogators who torture and insult our people."
Full report at:
http://www.jpost.com/Middle-East/Salafist-group-in-Gaza-accuses-Hamas-of-abuse-torture-401008
---------
Israeli Arab teacher claims to have joined Islamic State
May 4, 2015
An Israeli Arab teacher from Umm al-Fahm, Salah al-Din Mahamid, revealed on Friday photographs of himself allegedly in Syria, where he claims to have joined the Islamic State along with his wife, a Jewish woman who converted to Islam.
In 2014, Mahamid was arrested in Israel on suspicion of joining the terror group, but was later released.
Mahamid, who is in his 20s, shared photos online with his friends and acquaintances, where he is shown supposedly in training and dressed in clothes similar to those worn by members of the terror group. He also sent photos showing his son, who was born only recently, surrounded by weapons.
Full report at:
http://www.ynetnews.com/articles/0,7340,L-4652752,00.html
-----------
Saudi Bombers Strike Aden Airport over 30 Times
May 4, 2015
Saudi warplanes launched over thirty strikes against Aden's international airport in Southern Yemen within a few hours.
The Saudi fighter jets carried out thirty raids on the airport of Yemen's Southern city of Aden late on Sunday and inflicted major damage on the city infrastructure.
Earlier in the day, the governor's office in Aden's Crater district was heavily targeted by the Saudi attacks.
Additionally, Saudi troops also fired artillery shells into the Sa'ada's Ghamar district.
According to a report published by Human Rights Watch (HRW) on Sunday, credible evidence indicates that Saudi Arabia has used banned cluster munitions supplied by the United States in airstrikes against Yemen.
Full report at:
http://english.farsnews.com/newstext.aspx?nn=13940214000238
-----------
'Limited' coalition force on ground in Aden: Yemeni official
May 4, 2015
A "limited" number of Saudi-led ground troops deployed in Yemen's second city Aden on May 3 to support loyalist militia fighting rebels, a government official and a militia commander said as Saudi Arabia rules out launching any major ground operation.
"A limited coalition force entered Aden and another force is on its way" to the southern port city, AFP quoted the official, who requested anonymity, as saying.
The Saudi-led coalition has been conducting an air war against the Huthi rebels and their allies since March 26 but this is the first reported ground deployment inside the country.
A leading member of the popular committees, a locally recruited militia loyal to exiled President Abedrabbo Mansour Hadi, told AFP that the force "will start helping us in fighting the (Shiite) Huthis and (former president Ali Abdullah) Saleh's forces".
Full report at:
http://www.hurriyetdailynews.com/limited-coalition-force-on-ground-in-aden-yemeni-official-.aspx?pageID=238&nID=81879&NewsCatID=352
---------
Iran determined to end 'manufactured' nuclear crisis
May 4, 2015
Iran is determined to end the "manufactured crisis" over its nuclear programme and drafting of a final deal with world powers, though hard, is progressing, Foreign Minister Mohammad Javad Zarif said Monday.
The remarks, on Zarif's official Twitter account, came two days after US Secretary of State John Kerry denounced what he said was "hysteria" from opponents of an agreement, which is due by June 30.
Zarif, Kerry and other diplomats from Iran and the P5+1 world powers (Britain, China, France, Russia and the United States plus Germany) say the deal would guarantee Iran's nuclear activities are peaceful.
Full report at:
http://english.ahram.org.eg/NewsContent/2/8/129307/World/Region/Iran-determined-to-end-manufactured-nuclear-crisis.aspx
-----------
Hundreds of families trapped in homes by Yemen's war
May 4, 2015
SANAA // Hundreds of families are trapped in their homes by weeks of fierce fighting in the centre of Aden, their only lifeline coming from volunteers making dangerous runs across the city's harbour in rickety boats bearing food and medicine.
The southern port city, once Yemen's commercial hub, has seen a month of unrelenting urban warfare between Shiite Houthi rebels and local militiamen backed by airstrikes from a Saudi-led coalition trying to stop the rebel advance.
Infrastructure in the city, once home to a million people, has been systematically destroyed. Wheat is scarce after grain silos at the port were destroyed by airstrikes when the rebels took refuge in them. Other strikes have pounded hotels and schools – even the city's main shopping mall – used as gathering points by the Houthis.
Full report at:
http://www.thenational.ae/world/middle-east/hundreds-of-families-trapped-in-homes-by-yemens-war
-----------
Europe
Muslims reject findings on their influence in UK elections
May 4, 2015
Muslim leaders have dismissed as flawed a recent survey that claims the community could hold sway in a quarter of constituencies in Britain's closely fought general election on Thursday.
The findings by the Henry Jackson Society, a neoconservative research body, are based on parliamentary seats where the number of Muslims among the electorate is greater than the majority achieved by winning candidates at the last general election, in 2010.
Serious misgivings about the survey were raised by the Muslim Council of Britain, an umbrella group for at least 500 mosques, associations and schools.
Miqdaad Versi, assistant general secretary, told The National he felt it relied on "poor methodology" and seemed consistent with the approach of a society that had been seen by Muslims as "scaremongering".
Speculation on how British Muslims may vote has not previously been a feature of the campaign. Coverage of the Henry Jackson Society's analysis is typified by right-wing newspaper headlines such as The Daily Mail's "Muslim vote could decide 25 per cent of seats".
Full report at:
http://www.thenational.ae/world/muslims-reject-findings-on-their-influence-in-uk-elections
-----------
Kazakh Football Player Joined Islamic State Extremists: Sputnik News
May 4, 2015
The former captain of a professional Kazakh football team left for Syria to fight for the Islamic State group, according to a Sputnik News report citing local police. Aibek Gudaidullin is believed to still be in Syria, police said. Kazakh authorities issued an international arrest warrant for Gudaidullin in January. Sputnik News is a Russian news agency owned in part by the Russian government. It is the English-language successor to RIA Novosti and was transformed as part of sweeping media changes initaated by the Kremlin in 2014.
Gubaidullin is believed to be one of at least 300 Kazakh citizens fighting for the Islamic State group, half of which are believed to be women, Sputnik News reported, which quoted the National Security Committee of Kazakhstan.
"[Gudaidullin] is suspected of being a member of an illegal armed formation and participated in the Syrian military conflict on the side of anti-government forces," according to a police statement.
Full report at:
http://www.ibtimes.com/isis-foreign-fighters-kazahk-premier-league-player-joined-islamic-state-group-1905932
-----------
Athens prison brawl leaves 2 Pakistanis dead
May 4, 2015
ATHENS: A brawl in an Athens prison wing housing foreigners left at least two inmates dead and 21 others injured on Sunday, many seriously, authorities said.
The fight, involving makeshift knives, happened in the Korydallos prison over control of Wing C, authorities said.
The two dead inmates are Pakistani.
Prisoners of Albanian and Arab origin clashed with Pakistani inmates right after dinner on Sunday, and just before prisoners were led back to their cells, a justice ministry official said.
The attack involved makeshift knives.
The official, speaking on condition of anonymity because he wasn't authorised to give details about an ongoing investigation, said the injured have been transferred to an outside hospital and at least two are in critical condition.
Full report at:
http://www.dawn.com/news/1179906/athens-prison-brawl-leaves-2-pakistanis-dead
-----------
Africa
Community leaders: Nigerian troops kill dozens of civilians
May 4, 2015
Nigerian troops have killed dozens of civilians and razed scores of homes to avenge the deaths of six soldiers, community leaders and residents of central Plateau state charged on Sunday.
A spokesman for the Special Task Force said its troops are involved only in an ongoing battle with a tribal militia that residents said killed six soldiers and mutilated their bodies last week.
The soldiers' eyes were gouged out, their tongues slit and they were beheaded, according to residents who spoke on condition of anonymity because they feared reprisals.
Spokesman Capt. Ikwedichi Iweha denied the force attacked any civilians, asking why they would attack the very people they are supposed to protect? Traditional ruler Chief Jessie Miri told reporters as many as 80 people have been killed in weekend attacks by soldiers in his Wase district.
Full report at:
http://indianexpress.com/article/world/middle-east-africa/community-leaders-nigerian-troops-kill-dozens-of-civilians/
-----------
Nigeria recovers 260 women, children from Boko Haram
World Bulletin / News Desk
May 4, 2015
Nigerian troops have found up to 260 women and children who were fleeing from Boko Haram in the Madagali local government area of northeastern Adamawa State.
"Troops on patrol yesterday located 260 women and children in the outskirts of Chalawa village in Adamawa State where they had been held up while trying to escape from terrorists," defense spokesman Chris Olukolade said in a Sunday statement.
"They have now been conveyed back to their various communities in Madagali after undergoing the normal security profiling," he added.
The spokesman explained that while some of the women had earlier been abducted by Boko Full report at:
http://www.worldbulletin.net/todays-news/158682/nigeria-recovers-260-women-children-from-boko-haram
-----------
Xenophobia: South Africa hauled before the courts
May 4, 2015
The South African government has been dragged to the country's High Court following the deadly xenophobic attacks in recent weeks.
The Black Business Forum Zimbabwe (BBFZ) and the Zimbabwe Exiles Forum (ZEF), which represent victims drawn from several African countries, filed the application that is set to be heard on Monday in Johannesburg.
Among countries represented are Nigeria, Malawi, Zambia, Mozambique, Ethiopia, Somalia and Zimbabwe, President Jacob Zuma and eight ministers have been cited as respondents.
The Home Affairs, Department of International Relations and Cooperation (DIRCO), National Director of Public Prosecutions, Speaker of Parliament, Police Commissioner, Minister of Police, Minister of Defence as well as Department of State Security are cited as respondents.
BBFZ and ZEF made an urgent application to seek surety that such violent actions would not be allowed to recur as well as ensuring state of emergency if ever another xenophobic violence occurs.
Full report at:
http://allafrica.com/stories/201505040376.html
-----------
Ethiopian Israelis clash with police as anti-racism protests continue
May 4, 2015
Israeli mounted police charged hundreds of ethnic Ethiopian citizens and fired stun grenades on Sunday to try to clear one of the most violent protests in memory in the heart of Tel Aviv.
Hundreds of Ethiopian Israelis protested in central Tel Aviv on Sunday against alleged police brutality and institutionalised discrimination, an AFP correspondent said.
The protest came three days after a stormy demonstration in Jerusalem sparked by footage showing two policemen beating a uniformed Israeli soldier of Ethiopian origin.
As the rally began, Prime Minister Benjamin Netanyahu released a statement saying that on Monday he would meet Damas Pakada, the soldier who was beaten, as well as other representatives of the Ethiopian community.
There were no reports of clashes as occurred in Jerusalem on Thursday, when 10 protesters and three policemen were injured.
Full report at:
http://english.alarabiya.net/en/News/world/2015/05/03/Ethiopian-Israelis-protest-against-police-brutality-.html
---------
URL: https://www.newageislam.com/islamic-world-news/new-age-islam-news-bureau/sc-ponders-over-whether-pakistan-can-be-declared-a-secular-state/d/102807