New Age Islam News Bureau
17 Aug 2017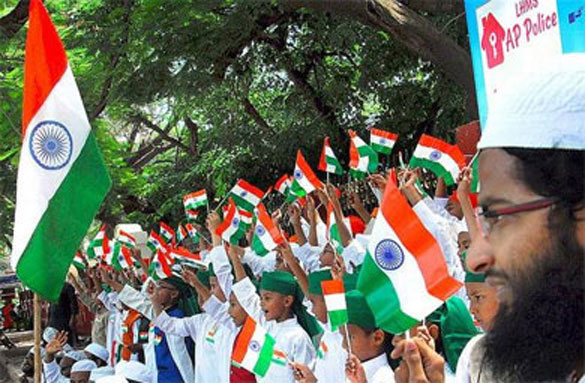 Madrasa students hold a massive flag rally to mark Independence day in Ongole on Tuesday.Kommuri SrinivasKommuri Srinivas
----
• SC Norms on Sound System of Mosques Need To Be Followed: Madras High Court
• Malay Muslim Atheist Questioned By Police, Islamic Authorities, Says Report
• Iraq Seeks UN Resolution to Investigate ISIS
• Hamas Pledges to 'Crush' Israel If Gaza Attacked
• Libya: Videos Capture Summary Executions
India
• SC Norms on Sound System of Mosques Need To Be Followed: Madras High Court
• Madrasa Students Take out 'Tiranga Rally'
• Several Agra Madrasas Celebrate Independence Day, But No Vande Mataram
• Defiant UP Madrasas Might Face NSA Case for Defying Adityanath Govt's I-Day Diktat
• Telangana: Muslim college principal heckled by ABVP, RSS men
• Sanction on Hizbul Mujahideen: A widely-awaited review of US South Asia strategy
• Pulwama encounter: Top LeT terrorist Ayub Lelhari gunned down
• Terror funds: NIA raids 12 premises in Kashmir
• On BJP's Mind Now: Inroads into Maratha, Muslim Areas in Maharashtra
--------
Southeast Asia
• Malay Muslim Atheist Questioned By Police, Islamic Authorities, Says Report
• Moderation under Threat As Malaysia Faces Islamic Tide
• The manufacturing of moral panics in Malaysia
• International Jesuit group learns about Indonesian Islam
• MWL chief urges promotion of moderate Islam, fight against extremism
--------
Arab World
• Iraq Seeks UN Resolution to Investigate ISIS
• Damascus: US, UK Supply Toxic Agents to Terrorist Groups in Syria
• Syria: Several Terrorist Groups Join Al-Nusra to Slow Down Syrian Army Advances in Hama
• US-led strikes kill 17 in Syria's Raqa
• Daesh bomber kills seven Iraqi soldiers near oil-rich Baiji
• Syrian Army Utilizing Modernized Armored Vehicles in War on Terrorists
• Lebanese army begins ISIS battle surrounding Ras Baalbek
• Explosive boat attack foiled targeting UAE ship
• Syria says US, allies supplying terrorists with toxic agents
• Bahraini state TV accuses Qatar of coup attempt
--------
Mideast
• Hamas Pledges to 'Crush' Israel If Gaza Attacked
• Houthis 'Expelling Sanaa Hospital Patients to Treat Leaders and Fighters'
• Iraqi Kurds' independence referendum risks civil war: Turkish FM
• Intelligence Minister: 120 Terrorist Teams Disbanded in Iran in 4 Years
• China, Iran reject US religious freedom report
• Turkey warns Iraqi Kurdish referendum risks 'civil war'
• Ankara asks Berlin to arrest major suspect in 2016 coup attempt
• Iran reform leader Mehdi Karroubi on hunger strike over 6-year house arrest
--------
Africa
• Libya: Videos Capture Summary Executions
• Nigeria Suicide Bombers Kill 28, Wound 82
• Secret Diaries of Nigeria's Chibok Girls Say Kidnap by Boko Haram Was Accidental
• Sudanese PM, officials pushed from activist's funeral procession
• Africa's humanitarian crises worsen: UN
• Kenya: 'Rent' a Child Industry Fueling Lucrative Street Begging in Nairobi
--------
South Asia
• Mosque Prayer Leaders Arrested For Involvement in Magnetic Bombings in Kabul
• Bangladesh Sees Fresh Influx of Rohingya from Myanmar
• DMP suspects the Mourning Day bomber had co-conspirators
• Bogra Madrasa Student's Head Shaved for Praising PM Hasina on Facebook
• US and Afghan soldiers suffer casualties in anti-ISIS operations
• Dostum says coalition to stand against conspiracies being hatched against Noor
• Hekmatyar-led Hezb-e-Islami harshly criticizes pro-Iran media of sparking tensions
--------
North America
• Trump's Double Standard for White Supremacists and Muslims
• Trump Administration Asks Supreme Court To Toss Out Muslim Ban Case
• Trump admin's religious freedom report says IS conducting genocide
• National group labeled 'anti-Muslim' plans pro-Trump rally in Syracuse
• Landlord found to have violated Muslim tenants' religous rights loses appeal
--------
Europe
• Muslim Youth Group Combating Islamophobia by Raising £500,000 for Charity with Single Event
• Manchester attack 'hero' in court for 'theft from victims'
• Britain issues warning over possible commercial ship attacks off Yemen
• Russia throws weight behind Iran's missile program
--------
Pakistan
• Unity, Prosperity of Pakistan Is Unity, Prosperity of Muslim World: Saudi Ambassador
• Seven TTP suspects, 20 Afghans arrested from Punjab: ISPR
• Death toll from Harnai attack rises to eight
• Ensure charity, hides not collected by terrorists
Compiled by New Age Islam News Bureau
URL: https://www.newageislam.com/islamic-world-news/sc-norms-sound-system-mosques/d/112231
--------
SC norms on sound system of mosques need to be followed: Madras High Court
August 16, 2017
The Madras High Court on Wednesday observed that freedom of religion is a fundamental right which cannot be interfered with but stressed that the Supreme Court guidelines on sound system used by mosques for giving prayer calls should be followed.
The observations were made by the first bench comprising Chief Justice Indira Banerjee and Justice M Sundar during the hearing of a PIL on the matter.
The public interest litigation alleged rampant seizure of loudspeakers used for 'azaan' or the prayer call by mosques in Pollachi taluk in Coimbatore district by officials without verifying whether the sound levels were within the permissible limits or not.
Petitioner Shaw Nawaz Khan, president of Pollachi "Aikkiya Jamath", sought to forbear the Coimbatore Rural Superintendent of Police and the Additional Superintendent of Police, Pollachi, from confiscating the loudspeakers in the mosques without examining the decibel levels.
When the petition came up, the bench said offering prayers was the fundamental right and it cannot be interfered with. However, at the same time, it said, the petitioners had to follow the Supreme Court guidelines in operating the sound system. "There can be no doubt that freedom of religion is a fundamental right. The religious practice that do not contravene the law of the land ought not be interfered," it said.
The bench then directed the petitioner to file an affidavit on seizure details of loudspeakers and posted the petition to September 4 for further hearing. According to the petitioner, the respondents had called a meeting in which all custodians of the mosques were instructed to give prayer call and use the sound under the prescribed limits as per Noise Pollution (Regulation and Control) Rules 2000.
The petitioner submitted that the sound system was inspected by an expert sound engineer in all the mosques of the district and subsequently was adjusted to the permissible level through the sound control equipment. He contended that said the call for prayers was given from the highest pedestal of the mosques which was 15 metres from the ground level and hence would not violate any noise pollution control rules. This had been endorsed by the sound engineer.
The petitioner further submitted that call for prayer (Azan) is mandatory practice of Muslims all over the world and this practice came into vogue from the day when Prophet Mohammed commanded his companion Hazrath Bilai to give prayer call from an elevated position.
Noting that it was an essential religious practice, the petitioner said the right to freedom of religion and freedom to manage religious affairs is guaranteed under 25 and 26 of the Constitution. He claimed that senior police officials had raided the mosques in Pollachi taluk and seized the loudspeakers without any reason and without checking whether the emission of sound was beyond the permissible limits.
The petitioner while referring to the Supreme Court guidelines in the matter said the sound system could be seized and confiscated only if they were found to be creating noise beyond the permissible limits.
http://indianexpress.com/article/india/sc-norms-on-sound-system-of-mosques-need-to-be-followed-madras-high-court-4799896/
--------
Malay Muslim Atheist Questioned By Police, Islamic Authorities, Says Report
August 17, 2017
KUALA LUMPUR: At least one Muslim, said to hold atheistic views, is being questioned by both the police and the Islamic religious authorities.
According to a report in The Australian, the man has been questioned by police for long stretches, and has been asked to turn over his phone and his Facebook account.
The report, on how Islamisation is creeping into Malaysian society, quoted a Muslim who holds atheistic views in private as saying that the authorities were hunting for Muslim who were atheists.
The man, given the name Zahari to protect his identity, belongs to the Kuala Lumpur-based atheist club which hit the local headlines recently when a photograph was uploaded to Facebook showing smiling members at a rare social gathering of the largely online group.
On Aug 6, the government said it would investigate whether any Muslims had joined the Kuala Lumpur chapter of Atheist Republic, a Canada-based organisation.
Zahari told The Australian that the authorities had singled out one from his group for questioning in the hope he "will break and rat us out".
He said the man had been interrogated by both the police and officials of the Islamic religious affairs department. The latter, Zahari claimed, had threatened to try the man in the shariah court for apostasy and to convince his wife to annul their marriage.
"There is no room for civil discourse when it concerns religion here. We are lucky to have secular laws and people defending them still. But I'm not sure how long that will last.
"This is a window into a moderate (Muslim) nation that is turning conservative," Zahari was quoted as saying.
Zahari said he had been careful to stay out of pictures taken that day, but that he had been spending the past week looking over his shoulder.
According to the report, some of those in the photograph had received death threats and had gone into hiding, fearing attacks from vigilantes or detention by Islamic religious authorities in one of the country's Islamic re-education centres.
Last week, federal minister Shahidan Kassim made headlines locally and abroad when he said atheists should be "hunted down". He claimed they were in violation of the Federal Constitution.
The Negri Sembilan state mufti Mohd Yusof Ahmad reportedly said Islam prescribed death against Muslims who left the religion for atheism, if they were "stubborn" and refused to repent.
Earlier Channel News Asia had quoted one Muslim who practises atheism as saying: "I am worried. I have already accepted that something might happen to me … that I might be killed.
"I say this because I see how extreme people have become, how my Facebook friends (could) turn into real-life threats for me with their comments that it is halal (permitted) to kill atheists, apostates … how eager they are to kill to gain merits in heaven."
http://www.freemalaysiatoday.com/category/nation/2017/08/17/muslim-atheist-questioned-by-police-islamic-authorities-says-report/
--------
Iraq seeks UN resolution to investigate ISIS
17 August 2017
Iraq has asked the UN to assist it with gathering evidence of crimes committed by ISIS and said it was working with Britain to draft a Security Council resolution to establish an investigation.
In a letter dated August 9 but given to the press Wednesday, Iraqi Foreign Minister Ibrahim al-Jafaari, congratulating his country's army on its "brilliant military victories" against the militant force that once controlled vast swaths of Iraqi territory, said ISIS was guilty of "crimes against humanity."
He requested assistance of the international community to investigate ISIS crimes. "In this regard, the Republic of Iraq and the United Kingdom are working on a draft resolution," he said in the English-language statement.
Religious minority
Britain's deputy ambassador Jonathan Allen confirmed the move, adding: "We are going to work with them and with our partners in the Security Council to bring forward a resolution that will achieve just that, leaving no hiding place for ISIS anywhere".
He declined to specify a timeline for the resolution. British human rights lawyer Amal Clooney, who has advocated for the rights of Iraq's Yazidi religious minority which suffered mass killings as well as sexual enslavement by ISIS, said: "Yazidis and other ISIS victims want justice in a court of law and they deserve nothing less," using another acronym for the group.
"I hope that the Iraqi government's letter will mark the beginning of the end of impunity for genocide and other crimes that ISIS is committing in Iraq and around the world."
https://english.alarabiya.net/en/News/middle-east/2017/08/17/Iraq-seeks-UN-resolution-to-investigate-ISIS.html
--------
Hamas pledges to 'crush' Israel if Gaza attacked
Aug 16, 2017
The Palestinian Islamic resistance movement, Hamas, has pledged to "crush Israel in case it wages another war on the besieged Gaza Strip.
Israeli media reports on Wednesday cited Hamas leader in Gaza Yahya Sinwar as saying that while the movement was not looking to start a war, it was well prepared to take on the Tel Aviv regime's military forces at any time.
"We do not seek confrontation with the Israelis, but if the confrontation happens, we will crush them," Sinwar was quoted as saying on Tuesday.
The Hamas chief, who was appointed in February to succeed Ismail Haniyeh to head the movement's political office in Gaza, said any "stupid steps" by Israel against the coastal enclave would be met with a response greater than the one the movement gave to the 2014 Israeli invasion.
July marked the third anniversary of the 51-day Israeli war on Gaza that left more than 2,200 people dead and over 11,000 others injured. Gaza stood its ground and was able to repel the ruthless invasion.
"Israel is not launching a new war against Gaza, which stresses Tel Aviv's fear of the unknown that awaits it in Gaza," the Palestinian leader asserted.
The Gaza Strip has been under an Israeli siege since June 2007. The blockade and recurrent airstrikes has caused a decline in living standards as well as unprecedented unemployment and poverty.
Sinwar said there was hope for better living standards following a series of breakthroughs in negotiations with Egypt to reopen the Rafah crossing to the southern neighbor.
According to him, Cairo had committed itself to let goods and passengers through the gate since the Muslim holiday of Eid al-Adha.
He also noted that "there is talk about improving the electricity situation" in Gaza, which is hit by daily blackouts of about 17-18 hours.
Sinwar was the most senior figure to be released with over 1,000 other Palestinian prisoners in 2011 in exchange for Gilad Shalit, an Israeli soldier kept in Gaza for more than five years.
Before being appointed to his new post, Sinwar was a senior commander of the Ezzedine al-Qassam Brigades, Hamas' armed wing.
http://www.presstv.ir/Detail/2017/08/16/531985/Hamas-Israel-Palestine-Sinwar-Gaza
--------
Libya: Videos Capture Summary Executions
16 AUGUST 2017
Beirut — Forces loyal to the Libyan National Army (LNA) in eastern Libya appear to have executed captured fighters in Benghazi and desecrated corpses, Human Rights Watch said today. Video recordings posted online since January 2017 seem to show LNA fighters carrying out seven distinct unlawful executions of "extremists."
The most recent video, which appeared on social media on July 24, 2017, shows the apparent summary execution on July 17 of 20 blindfolded men with their hands tied behind their backs in orange jumpsuits, whom the commander in charge accuses of "terrorism." The executioners appear to be members of a special forces unit headed by Mahmoud al-Werfalli. The Army Special Forces in Benghazi, under the command of Wanis Bukhamada, are linked to the LNA, which is commanded by Gen. Khalifa Hiftar. The LNA is allied with the Interim Government, one of the three governments vying for legitimacy, international recognition, and control of territory in Libya.
On August 15, the International Criminal Court (ICC) issued an arrest warrant for al-Werfalli for the war crime of murder. He is wanted by the court for his alleged role in the killing of 33 people in seven incidents that took place in and around Benghazi between June 2016 and July 2017. The Interim Government should take immediate steps to facilitate the surrender of al-Werfalli to the ICC, Human Rights Watch said.
"The posted videos suggest that LNA-linked forces committed a series of grave war crimes over many months," said Eric Goldstein, deputy Middle East and North Africa director at Human Rights Watch. "The ICC warrant for al-Werfalli is a wake-up call to other abusive commanders in Libya that one day their serious crimes could land them in a prison cell in The Hague."
Human Rights Watch reviewed seven videos and several still images that appear to show distinct incidents of LNA-affiliated soldiers executing prisoners in their custody. Some of these videos and images show fighters desecrating the bodies of supposed fighters who opposed the LNA, including the burning and kicking of a corpse and posing for photographs with another corpse that had a leash tied around its neck.
In the video that was posted on social media on July 24, al-Werfalli and LNA soldiers are seen wearing the insignia of the Army Special Forces. Al-Werfalli reads out the execution judgment, identifies the unit, the date of July 17, and the capital offenses attributed to those in custody. He is the main executioner or supervisor of executions in six more video recordings of apparent summary executions of people accused of "terrorism" and committing crimes against the LNA.
The summary execution of fighters who have been captured or who have surrendered is a war crime.
Despite a commitment to investigate alleged crimes by its forces, the LNA has yet to announce the findings of any investigations or sanctions it has imposed on any of its members found to have committed violations. In a July 20 , the LNA rejected allegations made by the United Nations on July 18 that soldiers under al-Werfalli's command were responsible for summary executions and that captured fighters in Benghazi were at "imminent risk of torture and even summary execution."
The LNA said in its response that there was no evidence to substantiate the accusations of torture and executions and that any conclusions of the LNA's investigative commission to uncover abuses in "unverified videos" would be made public.
Human Rights Watch was not able to verify the date when the videos and photos were taken, or the location where they were recorded. However, an analysis of the imagery revealed no indications that they had been doctored or were otherwise inauthentic. Human Rights Watch sought comment from the LNA spokesman but was unable to reach him. On August 8, Human Rights Watch emailed the LNA for comment on the videos and photographs that appear to show al-Werfalli presiding over or carrying out the execution of prisoners. Human Rights Watch did not receive a response.
Three of the seven videos appear to show al-Werfalli himself executing captured and unarmed men, individually or in groups. In three other videos, he appears to give orders to men in military uniform to execute unarmed detainees. In the seventh and most recent video to surface, a commander, who appears to be al-Werfalli, both gives orders and participates in the execution of the 20 unarmed, blindfolded prisoners in orange jumpsuits with their hands tied behind their backs.
The video starts by showing several incidents of crimes the captured men allegedly committed. The commander, who is dressed in fatigues, a black t-shirt, and black cap, then reads out the judgment of execution by firing squad against 18 of the men kneeling in four rows. The commander refers to the men as "terrorists" and says that a "field court" has found them guilty of "kidnapping, torturing, killing, bombing, slaying, and torturing the sons of the military establishment in particular and the Libyan people in general."
The commander does not name any of the captured men or cite their affiliations. He says the date is July 17. Once the reading of the judgment is over, he orders armed men in military uniforms to execute the captured detainees row by row. The recording shows them doing so. Two more individuals are executed in the same way at the end of the video.
In another video recording posted on social media in June, a man who appears to be al-Werfalli is seen reciting religious texts and then ordering four men in fatigues, black t-shirts, and face-masks to shoot in the head four men kneeling in an open field. The captives are hooded and appear to have their hands bound behind their backs. Al-Werfalli does not name the victims but accuses them of crimes, including assassinations, and calls them Kharijites - a term for Muslims who rebelled against the Caliphate in the early ages of Islam. Al-Werfalli says that it is the month of Ramadan, which would mean June 2017.
Another undated video appears to show al-Werfalli reciting religious verses in a room while a man kneels on the floor with his arms behind his head. Other soldiers can be seen and heard in the background. Al-Werfalli accuses the man of being a member of the Islamic State (also known as ISIS), and then pulls out a handgun and shoots him in the back of the head, apparently killing him. Another undated video shows the apparent interrogation of this same man, who says he is Algerian.
On May 22, an undated video appeared online showing the apparent execution of two men: Emad Eddin al-Jazawi, a fighter with the Benghazi Revolutionaries Shura Council, a coalition of fighters including extremists who oppose the LNA, and the son of a minister of the National Salvation Government, another of the rival governments. The video begins with al-Jazawi being interrogated and later shows him in a cage with another man, Haitham Jomaa al-Kafrawi, identified in the video as an Egyptian member of Al-Qaeda, who is also being interrogated. The recording ends with al-Jazawi and al-Kafrawi kneeling on the ground, backs to the camera, as al-Werfalli gives two soldiers an order to execute them. A photo bubble appears above the heads of the victims, showing photos of both men.
On May 15, al-Werfalli announced his resignation from the special forces, after he and his forces were accused of abuses, including looting and burning homes, as well as attacking a rescue division linked with the Interior Ministry in Benghazi that resulted in the killing of an officer. Al-Werfalli denied responsibility for those acts. However, the next day, the commander of the Special Forces, Wanis Bukhamada, rejected al-Werfalli's resignation due to the "many sacrifices al-Werfalli" had made, and kept him in his position.
Armed conflict, insecurity, and political divisions have plagued Libya since May 2014, when General Hiftar announced a war to root out "terrorism" in Benghazi. As a result of armed conflicts in both the east and west, central authority collapsed and the three competing governments emerged, including the Interim Government, which the House of Representatives supports. Key institutions, most notably law enforcement and the judiciary, are dysfunctional in most parts of the country. On July 5, General Hiftar announced the complete "liberation" of Benghazi from armed groups opposing the LNA, including extremists, but pockets of resistance remain.
The ICC prosecutor, Fatou Bensouda, has a mandate to investigate crimes against humanity, war crimes, and genocide committed in Libya since February 15, 2011. Human Rights Watch's research in Libya since 2011 has found rampant violations of international human rights and humanitarian law, including mass long-term arbitrary detention, torture and other ill-treatment, forced displacement, and unlawful killings. In the face of mounting atrocities, Human Rights Watch has called on the ICC prosecutor to urgently pursue an investigation into ongoing grave crimes by all sides, including possible crimes against humanity.
In May, Bensouda said her office was committed to making the Libya situation a priority in 2017. Given the serious crimes committed in Libya and the challenges facing the authorities, the ICC's mandate remains crucial to ending impunity in Libya, Human Rights Watch said.
http://allafrica.com/stories/201708160734.html
--------
India
Madrasa students take out 'Tiranga rally'
AUGUST 16, 2017
'Muslims fully secure in country'
Hundreds of students from a Madrasa led by Muslim clerics took out an impressive 'Tiranga rally' here on the Independence Day on Tuesday. Muslim youth leader Sk.Karimullah unfurled the national flag at Islampet before they marched towards the Prakasam Bhavan raising underscoring the need for Hindu-Muslim unity. Indian Muslims felt fully secure in the country and none need not have any doubts on their commitment in fighting anti-national forces, said a Muslim cleric Moulana Abid Sk.
http://www.thehindu.com/todays-paper/tp-national/tp-andhrapradesh/madrasa-students-take-out-tiranga-rally/article19499975.ece
--------
Several Agra madrasas celebrate Independence Day, but no Vande Mataram
Siraj Qureshi
August 16, 2017
Days after Yogi Adityanath's BJP government controversially obliged madrasas to film Independence Day festivities, over two dozen of celebrated seven decades of freedom from British Raj with the rest of the nation.
But Bankim Chandra Chattopadhyay's Vande Mataram couldn't be heard in any of them.
A leading Barelvi cleric had on Sunday forbidden Muslims to sing the national anthem or the national song, but said they could sing 'Saare Jahan Se Accha,' the Hindustan Times reported.
But 'Jana Gana Mana' was indeed sung yesterday, as was Muhammad Iqbal's song.
'BASELESS HYPE'
Kari Mudassar Ali Khan Qadri, head of the madrasa in Nagla Mevati, told India Today that the hype over Vande Mataram was baseless and only served to create a dispute between Hindus and Muslims.
Independence Day is a festival that celebrates independence, but the Hindu outfits are trying to curb the religious freedom of Muslims in the name of patriotism, he said.
Singing Vande Mataram isn't mandatory and whoever wants to sing it is free to do so, but no devout Muslim will - as it's against the tenets of Islam, he explained.
Exerting pressure on madrasas in this way isn't good, as they have a very important role to play in the cultural and intellectual development of a large section of Indian society, he added.
'UNNECESSARY RUCKUS'
Bhartiya Muslim Vikas Parishad Chairman Sami Aghai said the Modi and Adityanath governments were creating an unnecessary ruckus over Vande Mataram.
Muslims love their country and hold the country's welfare as their foremost patriotic duty, but they shouldn't be forced to do something that goes against their religion in the name of showing their patriotism towards India, he said.
A lot of hardline Muslim organizations opposed the government's directives (to madrasas) to organise and film Independence Day celebrations, but madrasas still celebrated with a fervor that hasn't been seen in recent years, he added.
'FRIVOLOUS ISSUES'
UP Sarvdaliy Muslim Action Committee President Syed Irfan Salim said the central and state governments should think about development, instead of wasting their energy and valuable time on frivolous issues like Vande Mataram.
He said India offers complete religious freedom to all communities and this freedom is ingrained in the Constitution, so the government should be focusing on development and not on trying to meddle into religious issues like the singing of Vande Mataram and triple talaq, he explained.
If the law-and-order situation of any state gets affected due to these frivolities, it will break the pace of development in that particular state, he said.
Full report at:
http://indiatoday.intoday.in/story/agra-madrasas-independence-day-vande-mataram/1/1027392.html
--------
Defiant UP madrasas might face NSA case for defying Adityanath govt's I-Day diktat
17 Aug 2017
Quite a few madrasas (Islamic schools) in Uttar Pradesh may face action under the stringent National Security Act (NSA) for partly defying the Yogi Adityanath government's order that the tricolour must be unfurled and the national anthem recited on their premises as part of Independence Day celebrations.
The NSA was enacted in 1980 primarily to deal with the country's security, defence and foreign relations. It has provisions to detain citizens on presumption of possible tension alone without any recourse to challenge the detention order.
Many of UP's 16,000 madrasas didn't take the order well that was to "inspire students and help them learn more about the contribution of freedom fighters".
A few madrasas in Western UP's Bareilly and elsewhere in the state did flag hoisting but refused to recite the national anthem — Jana Gana Mana... — on the ground that "Islam does not allow anyone except Allah to be praised". A few Hindu organisations and locals lodged a complaint with Bareilly divisional commissioner PV Jagan Mohan in this regard.
"We have asked complainants to produce evidence. An inquiry has also been initiated and if complaints are found true, NSA would be invoked against madarsa management committees for causing disrespect to the national anthem," he warned. Relevant sections of the Prevention of Insults to National Honour Act, 1971, may also be invoked against the erring madrasas, he said.
There was no clarity if this will be a statewide action. The state government has sought legal opinion on whether or not the NSA can be invoked against madrasas who defied its order that had also said that all I-Day events on their premises must be videographed and footage submitted to the UP Madarsa Shiksha Parishad as proof. The Chief Minister has asked divisional commissioners to obtain footage and furnish a list of all erring institutions in UP where nearly a fifth of India's Muslim population lives. The NSA is invoked for preventive arrests to check incidents that might lead to tension.
Qazi of Bareilly, Maulana A Raza Khan, had already announced that reciting the national anthem is "un-Islamic as it contains words which are against the basic tenets of Islam." At Jamiat-ur-Raza, run by the Bareilly Qazi, students participated in flag hoisting and shouted "Hindustan zindabad" but did not recite the national anthem. Instead, they sang "Saare Jahan Se Achha... ", a 20th century patriotic song penned by poet Mohammad Iqbal.
The Abdul Kalam Madrasa in Bareilly also refused to recite the national anthem. "It contains a few un-Islamic words which no devout Muslim would recite. Our divine power is only Allah and we cannot worship or praise anyone except Allah," said madrasa manager Iqbal Beg.
Full report at:
http://www.dnaindia.com/india/report-defiant-up-madrasas-might-face-nsa-case-2532336
--------
Telangana: Muslim college principal heckled by ABVP, RSS men
Ashish Pandey
August 16, 2017
In a shocking incident the principal of a government college in Telangana's Nizamabad was heckled allegedly by ABVP and RSS workers during flag hoisting on Independence Day on Tuesday.
RSS and ABVP workers allegedly shouted slogans against the principal Mohammed Yakeen asking him to remove his shoes during the flag hoisting.
After Yakeen refused to do so, he was allegedly heckled and thrashed after the Independence Day event.
Meanwhile, the college authorities have written to the chief minister, seeking arrest of the attackers.
The incident has shocked many and lodging a strong protest Majlis Bachao Tehreek (MBT) demanded immediate action against all those involved in the incident.
The entire incident as shot on a mobile camera. The video shows several people hurling abuses and chanting slogans and pushing Mohammad Yakeen, while he was calmly trying to address them.
Full report at:
http://indiatoday.intoday.in/story/telangana-muslim-principal-heckled-by-abvp-rss-activists/1/1026996.html
--------
Sanction on Hizbul Mujahideen: A widely-awaited review of US South Asia strategy
Aug 17, 2017
WASHINGTON: The Trump administration on Wednesday designated the violent Kashmiri extremist group Hizbul Mujahideen as a ''Foreign Terrorist Organization'' in yet another put down of its patron Pakistan and the Kashmiri separatist movement.
The designation seeks to deny Hizbul the resources it needs to carry out terrorist attacks, the State Department said in a media note announcing the move. Among other consequences, it said, all of HM's property and interests in property subject to US jurisdiction are blocked, and U.S. persons are prohibited from engaging in any transactions with the group.
The designation come ahead of a widely-awaited review of South Asia strategy -- involving Afghanistan, Pakistan, and India -- which President Trump will preside over on Friday at Camp David with vice-president Mike Pence and the National Security team.
The Trump administration has extended and toughened Washington's hardline policy towards Pakistan that began during the Obama years in view of the country's double dealing and backing of terrorist groups despite taking billions in US aid. Pakistan has also continued its brazen support to terrorists in Kashmir terming them ''freedom fighters.''
Among its proteges are Hizbul Mujaheddin chief Syed Salahuddin who was named as a Specially Designated Global Terrorist by the US State Department just ahead Prime Minister Narendra Modi's meeting with President Trump at the White House in June.
The designations also serve notice to China, which has consistently thwarted India's - and American -- efforts to have the United Nations ban Pakistan-based Jaish-E-Mohammed terrorist Masood Azhar.
Pakistan-based terrorist groups have exported their extremist violence to China's Uighur region and Beijing has retaliated against Islamists by hounding them to the extent of even banning naming of children Mohammed.
Despite such religious and ideological ill-will, China has lately teamed with Pakistan to give cover to terrorism directed against India.
Whatever his other domestic disasters, Trump had promised to address the issue of terrorism directed against India and his administration has so far been pro-active in banning terror groups and putting the squeeze on Pakistan. The Trump administration is also whittling down aid to Pakistan.
Full report at:
http://timesofindia.indiatimes.com/india/sanction-on-hizbul-mujahideen-a-widely-awaited-review-of-us-south-asia-strategy/articleshow/60092496.cms
--------
Pulwama encounter: Top LeT terrorist Ayub Lelhari gunned down
Aug 16, 2017,
NEW DELHI: : One Lashkar-e-Taiba (LeT) terrorist was gunned down in an encounter with security forces on Wednesday in Banderpora village of Jammu and Kashmir's Pulwama, police said.
"Ayub Lelhari District Commander LeT killed in Pulwama. Yet another success in the fight against militancy," the state police said on its Twitter handle.
Giving details of the gunfight, police said a 'naka' (check post) was set up in Banderpora (Koil) village jointly by Rashtriya Rifles, state police and CRPF after receiving information about the movement of the LeT district commander in the area.
"When the vehicle in which Ayub Lalhari was travelling was signalled to stop, it tried to jump the check post, after which the LeT commander started firing at the security forces," the police said.
Read this story in Gujarati
"Two policemen were injured in the initial firing after which an encounter started in which Lalhari was killed," police said.
The driver of the vehicle has been arrested.
Lelhari's killing is a big set back for LeT in Kashmir. Lelhari came close to being killed by security forces, on August 1, in the same district that Wednesday's encounter occurred in. A stone-pelting mob however gave him cover to escape but LeT's another top terrorist Abu Dujana was killed in that encounter.
Full report at:
http://timesofindia.indiatimes.com/india/pulwama-encounter-one-terrorist-killed-search-operation-underway/articleshow/60088126.cms
--------
Terror funds: NIA raids 12 premises in Kashmir
by Mir Ehsan
August 17, 2017
The National Investigative Agency on Wednesday searched 12 places in Kashmir in connection with the ongoing terror funding investigation. The homes of two lawyers, two drivers and a government official were among those that were searched. One of the advocates, Mohammad Shafi Reshi, who is affiliated to Hurriyat's S A S Geelani faction, is the uncle of PDP legislator Yasir Reshi.
NIA sleuths and officials said the searches — conducted simultaneously at Sanatnagar, Parimpora, Tarhama and Mazhama in Baramulla, and Machipora and Bakhihaker in Kupwara — have led to documents related to hawala funding.
At Gulberg Colony, the NIA searched the house of advocate Mohammad Shafi Reshi. At Tarhama village, the NIA raided two houses — of Peerzada Ghulam Nabi, who is an employee with the industries, and commerce department, and Ghulam Mohammad Bhat, who is an accountant of businessman Zahoor Watali, who is in NIA custody.
At Mazhama, the NIA searched the home of Abdul Rahim Wani, an advocate and brother-in-law of Watali. The teams also raided the houses of Mohammad Akbar Bhat at Sanatnagar and Ghulam Mohammad Rather in Parimpora. Both are Watali's drivers.
In Kupwara's Machipora, the home of one of Watali's employees, Ghulam Mohammad, was searched. Another search was carried at Bakhihakar village at the house of Abdul Aziz Mir, the caretaker of a property belonging to Watali.
An official said the teams scanned documents and other items for three to eight hours. "In some places, the NIA team spent more than six to seven hours," he said.
When contacted, legislator Yasir Reshi said he had "nothing to do" with his uncle. "I am an elected representative of people," he said.
A spokesman for the NIA said the houses belonging to Shafi Reshi and Zahoor Watali had yielded suspect financial records. "Some of the documents seized relate to receipt of money from suspected foreign sources and distribution of money so received to certain persons in Kashmir," he said.
Full report at:
http://indianexpress.com/article/india/terror-funds-nia-raids-12-premises-4800089/
--------
On BJP's mind now: Inroads into Maratha, Muslim areas in Maharashtra
by Shubhangi Khapre
August 17, 2017
The Bharatiya Janata Party (BJP) has decided to make inroads into the areas dominated by Maratha and Muslim communities to expand its electoral base in Maharashtra. On the first day of the two-day state BJP executive meeting that commenced Wednesday, the party deliberated that it should focus on the untapped segments and constituents.
"Prime Minister Narendra Modi's call on 'New India' and Chief Minister Devendra Fadnavis's 'Modern Maharashtra' mantra will be the central theme of our conclave," a senior BJP functionary told The Indian Express.
The conclave that started in the backdrop of serious corruption charges against state BJP president Raosaheb Danve and Housing Minister Prakash Mehta is unlikely to see any action against the leaders.
According to political managers in the party, the central leadership of the BJP is seized of the matter. "The chief minister had ordered a probe. If the report shows they are guilty, action will be taken at an appropriate time," said a leader.
Senior BJP leader Eknath Khadse, who was removed from state cabinet following allegations of impropriety, has been demanding to be absolved of the charges if there is no action against others facing similar cases. At its internal party meeting, a decision had been taken not to allow the conclave to become a forum for discussing individual cases.
The political managers said the meeting would not "deviate from the stated agenda of developmental politics emphasising on inclusive growth".
"At the end of the 58th and last Maratha rally, the state government extended Rs 800-crore sops in various educational schemes — similar to the ones enjoyed by the OBCs — to the community. The government has also provided sops in the education sector to various economically backward people within the minorities," said a party leader.
The Marathas constitute 33 per cent of the state's population and Muslims 10 to 12 per cent. The party, which is commemorating the centenary celebrations of RSS/BJP ideologue Deendayal Upadhyay, has also been speaking propagating the latter's theory of 'integral humanism'. The BJP believes efforts made towards this would appeal to the masses, especially the generation next.
Full report at:
http://indianexpress.com/article/india/on-bjps-mind-now-inroads-into-maratha-muslim-areas-in-maharashtra-4800120/
--------
Southeast Asia
Moderation under threat as Malaysia faces Islamic tide
August 17, 2017
AMANDA HODGE
For years Zahari has lived a double life in Malaysia: an observant Muslim in public and a devoted atheist in private.
But it all very nearly came crashing down last week when a photograph was uploaded to Facebook showing smiling members of his Kuala Lumpur-based atheist club at a rare social gathering of the largely online group.
The uproar in multi-religious, multiracial, moderate Malaysia was intense and intimidating.
Senior government ministers warned that members could be prosecuted for propagating atheism and demanded any Muslims involved be "hunted down" and re-educated.
Zahari* says he was careful to stay out of pictures taken that day, but has spent the past week looking over his shoulder.
Some in the photograph have received death threats and gone into hiding, fearing attacks from vigilantes or detention by Malaysia's religious authorities in one of the country's religious re-education centres.
Though the centres are used mostly for the state's deradicalisation program, they are also used to guide "deviant" Muslims considered to have strayed from the religious path.
Unmarried, unveiled and living in a share house with non-Muslim men, Rosle* was singled out for re-education last year after a ­neighbour reported her to religious authorities for "un-Islamic behaviour".
Initially forbidden to contact anyone and allowed a family visitor only after the first fortnight, she says she was subjected to weeks of indoctrination.
"I was accused of being a nonbeliever. Perhaps the neighbours didn't like me living in a house with non-Muslims and not dressing like a Muslim woman," Rosle tells The Australian.
"The whole program is designed to make you believe in Islam. They tell you that if you remain a deviant, you will become an outcast and there will be no one to support you. They threatened that I would be put in jail and my family would be ashamed of my conduct."
Rehab didn't work on Rosle and she made no attempt to hide it. Now, she says, she is constantly monitored and has been told to expect another re-education stint.
Such experiences are an open secret in Malaysia, a multi-religious, multi-ethnic country that has positioned itself internationally as the exemplar of a moderate Islamic nation but which some claim is showing signs of a "creeping Islamisation".
As authorities continue their hunt this week for atheists, Zahari says they have singled out one of his group for questioning in the hope he "will break and rat us out".
"He has been questioned by police for long stretches, asked to turn over his phone and his Facebook account," he says.
He has also been interrogated by the authorities from Malaysia's religious affairs department, who have threatened to try him in the country's sharia courts for apostasy and to convince his wife to annul their marriage.
"There is no room for civil discourse when it concerns religion here," says Zahari. "We are lucky to have secular laws and people defending them still. But I'm not sure how long that will last.
"This is a window into a moderate (Muslim) nation that is turning conservative."
Among the more extreme reactions in recent days to the atheism furore was that of a prominent Malaysian cleric who warned the punishment for apostasy under the Islamic hudud penal code was death.
Hudud's draconian penalties, which include stoning and amputations, have never been enforced in Malaysia, though not for want of campaigning by the country's most prominent Islamic political force, the Pan Malaysian Islamic Party (PAS).
Malaysia has a dual-track legal system of federal criminal and civil law courts, and state Islamic courts that mainly handle religious and family matters such as divorce, custody and inheritance for Muslims as well as cases such as adultery. (Sharia courts may also try to punish Muslims for offences such as drinking alcohol, eating during fasting hours, persistent non-attendance at mosque, and khalwat, or suspect activity between unrelated men and women.)
Successive Malaysian governments since independence in 1957 — all led by the United Malays Nationalist Organisation party — have resisted attempts to increase the scope and sentencing power of the state sharia courts.
Until now.
With UMNO and its leader, Prime Minister Najib Razak, in coming months facing the most challenging election in the party's 60-year history of unbroken rule, amid a financial scandal over the alleged misappropriation of more than $US4.5 billion from the 1MDB state investment fund, everything is on the table.
As the opposition has gained ground — UMNO lost the popular vote for the first time in the 2013 election but retained power under a gerrymandered system — the government has become ever more reliant on the Malay Muslim vote, accounting for about 55 per cent of the country's electorate.
Last April PAS was allowed to introduce a private member's bill in parliament seeking to empower state governments to decide whether to impose more extreme sharia law, to extend the remit of sharia courts, and to lift a ceiling on punishments (currently set at six lashes, a 5000 ringgit, or $1485, fine or three years' jail) to allow aspects of the hudud code.
Months earlier, amid criticism of UMNO support for the PAS bill, Malaysian Deputy Prime Minister Ahmad Zahid Hamidi, in a speech to the Oxford Centre for Islamic Studies, challenged the Western view of a moderate Muslim as one who questioned fundamental Islamic practices and principles and accepted secular moral standards.
Muslims who "intelligently accepted traditional Islamic spiritual, moral and legal principles" but were critical of some secular, Western matters should not be branded fundamentalists, he said.
With the imprimatur of UMNO and the Prime Minister, the sharia bill was to have been debated last week.
Instead it was deferred as the government walks a political tightrope between wooing PAS, a party that could mean the difference between winning and losing government, and maintaining its alliance with East Malaysian Christian parties, whose support is equally critical to retaining power.
Oh Ei Sun, a former Najib political adviser turned analyst and senior adjunct fellow at Singapore's S. Rajaratnam School of International Studies, predicts a strong electoral showing by PAS will increase the likelihood of the sharia bill (RUU355) eventually being passed.
"But if (PAS) don't do so well then the ruling government will have to rely on the East Malaysia constituency to retain government, and we won't see this bill again for a while," he says.
Right now, he says, "UMNO elites are going out of their way to be religious".
Every week it seems a fresh Islamic debate dominates public discourse and headlines in the state-owned or sympathetic media.
Last week it was atheists spreading godlessness through the land. Also this month, the government withdrew proposed legislation that would have prevented a child's conversion to Islam without the consent of both parents — long a thorny legal issue in Malaysia that both sides of politics have worked hard to address.
It has recently banned several academic books discussing moderate Islam. And last month the National Registration Department controversially defied a civil court of appeal that granted a Muslim child born out of wedlock the right to carry his father's surname. It chose instead to follow the non-binding advice of the Fatwa Committee that the Koran does not allow the practice.
Conservative PAS leaders have championed each decision, even as they have drawn condemnation from moderates and opposition parties.
Yet in Malaysia's complicated political landscape, the PAS-UMNO alliance that would cement Malay Muslim dominance — and potentially pave the way for an Islamic state — is not a done deal.
PAS appears to be rethinking its decision to sever its long alliance with the opposition coalition — now nominally led by 92-year-old former Malaysian PM Mahathir Mohamad and his imprisoned former political nemesis Anwar Ibrahim — in return for UMNO support for its sharia bill.
The besieged ruling party may be its best chance at realising its sharia ambitions. But, says Merdeka pollster Ibrahim Suffian, such an alliance would likely lead to PAS's political obliteration in multi-cornered election contests that would ultimately favour UMNO. "It's a very dynamic, moving picture, things change every single day," says Suffian, who suspects the government's commitment to a more Islamic state is mainly rhetorical.
"People in the Islamic party realise if they proceed with that (UMNO) plan they will lose everything: the state they control, their seats in parliament and any constituency they currently possess.
"They're trying to find a face-saving way of getting back with the opposition. They need each other because the rest of the opposition does not have the kind of Muslim support that PAS commands. But they don't trust each other."
Meanwhile, in a bid to keep PAS's sharia dream alive while allaying the fears of his ruling alliance partners, Prime Minister Najib last week set up a cabinet committee to investigate how to elevate the scope and power of state sharia courts.
At present only two Malaysian states, Terengganu and Kelantan, impose more extreme versions of sharia law.
In Kelantan, the only state ruled by a PAS government, there are separate supermarket aisles for women and men, shops must close during Friday prayers and Ramadan fasting hours, and women are required to cover up in offices and government buildings.
Two years ago the PAS-dominated Kelantan assembly reasserted its commitment to hudud punishments by updating a law mandating the draconian legal code, even though it cannot be implemented without amending the federal constitution.
Last month it moved to make caning — a punishment previously meted out in private — a public spectacle for sharia law infringements, sparking outrage among the country's increasingly marginalised moderate voices.
The Sisters in Islam (SIS) group was among those to challenge the caning decision, warning it presented a threat to the nation's values and aspirations.
"This corruption and use of Islam to deal with social issues is seeping into every aspect of our lives and will destroy the very social fabric on which our forefathers built this great country," it said in a statement. "How far away are we from other uncivilised punishments such as stoning being introduced?"
The Malaysian Chinese Association, an ethnic Chinese party within UMNO's ruling Barisan Nasional coalition, said the move represented a breach of the federal constitution and a "dangerous trend of riding rough over the laws of the land".
Critics suspect the Islamic party of seeking ultimately to impose hudud punishments in a country where 23 per cent of the population is ethnic Chinese and 7 per cent Indian. PAS says sharia would apply only to Muslims.
A 2014 Merdeka Centre poll found 71 per cent of Malay Muslims backed the introduction of sharia law.
Chandra Muzaffar, an eminent Malaysian Muslim academic, says he is deeply concerned at the direction in which Malaysian society is heading and at the growing power wielded by "fringe voices" from the Islamic right.
"These voices are getting louder and louder and the powers-that-be are inclined towards accom­modating them," he says.
"What concerns me also is UMNO sort of playing footsie with PAS" — a group Muzaffar regards as representing "ultraconservative Muslim society" on subjects such as Islamic law, the role of women, non-Muslim minorities and economic policy.
While Malaysians understand the need for inclusiveness, it is important for them to recognise signs of growing intolerance and ­authoritarianism, and speak out against the trend, he says.
"What really concerns me is whether the government is in a position to handle the fallout from 1MDB, which is related to what we're talking about."
He sketches a dark scenario in which Najib — unable to keep a lid on the scandal or allegations he profited from it — could use extraordinary powers under the National Security Act to call a state of emergency.
"That's something we should all be concerned about. I don't think Najib, or anyone else, should be allowed to hold society to ransom because of something like this," Muzaffar says.
Another Malaysian analyst ­likens the current political environment to that of pre-martial law Philippines in 1971.
"It's very similar in that (like Najib) Marcos rose to prominence as a reformer and then a few years into his tenure all this corruption started to take place. The opposition against him became so strong he declared a state of emergency," the analyst says.
Sixty years of patronage politics — singling out Malay Muslims for positive discrimination — may be at the root of the growing religious and racial divisions feeding the climate of fear and suspicion in Malaysia today.
But Oh blames a broader regional and global trend towards Islamic conservatism for the multiplier effect that is causing unease among Malaysia's minorities.
"On the one hand the government of the day is allowing this swing to the right in the hope it will return votes for them," he says. "But there is a genuine sentiment among many Muslims in this country that they would like to go for more conservative ways of life. There is a huge group who would like to see this country become more religiously conservative."
And they're not alone: he points to similar movements in Indonesia, southern Thailand and the southern Philippines.
As the government increasingly plays to that conservative Muslim vote bank, Oh says some in Malaysia are now seeking potential escape routes in neighbouring countries such as Australia and Singapore.
"These are politically uncertain times," he explains. "And from time to time the government of the day likes to pick up one or two people to make an example of them."
How much the 1MDB corruption scandal has contributed to Malaysia's apparent lurch to the right is debatable.
Clive Kessler, an emeritus professor at the University of NSW and a Malaysia observer for more than half a century, says the country has seen a "progressive de-secularisation" that has intensified over the past decade.
Among the most obvious signs has been the explosion in the numbers of women wearing the hijab, and an increasingly heavy-handed state insistence that all Malay Muslims comply with Islamic practices such as Friday prayers and fasting during Ramadan.
Malaysia's idiosyncratic interpretation of Islamic law prohibits so-called "deviant" Shia and Ahmadiyya Muslim sects and it frowns on non-Muslims saying the word Allah, using the universal Islamic salutation, assalamu alaikum, or entering mosques.
But Kessler sees the push for sharia law as simply the culmination of a process started by Mahathir who in 1982 sought to outflank PAS by aligning with a young Islamic politician — Anwar Ibrahim — and absorbing Islamic values within the state.
Full report at:
http://www.theaustralian.com.au/news/inquirer/moderation-under-threat-as-malaysia-faces-islamic-tide/news-story/341d55d040ce90e55baf62d590ab13c1
--------
The manufacturing of moral panics in Malaysia
BY PRASHANT WAIKAR
Aug 17, 2017
The debate in Malaysia on whether Muslim children born out of wedlock should be permitted to carry their father's name is yet another sequel in the series on how religion and morality is politicised.
While the Court of Appeals has ruled that Malaysian civil law contains a provision enabling "illegitimate children" to carry their father's name, the National Registration Department (NRD), the Department of Islamic Development and Deputy Prime Minister Ahmad Zahid Hamidi have disputed the ruling.
Additionally, Perak Mufti Harussani Zakaria claimed that if children born out of wedlock are not slapped with the potentially stigmatising "bin/binte Abdullah" to their surname as required by the NRD, Muslims will not avoid having sex outside of marriage. The contention over the Court of Appeal's ruling follows a set pattern of developments.
To name a few, these include the decision to install infrared cameras in the halls of a Kuala Terengganu cinema to monitor and deter couples from engaging in "bad behaviour", the banning of the Spanish song Despacito on government-owned radio stations because it contains sexualised lyrics, and the debate on whether the alleged "gay scene" in Beauty and the Beast should be censored.
Such politicisation of Islam and morality is not new. One need only hark back to the multiple arrests of Anwar Ibrahim on sodomy charges, and the contention that he was morally unfit to lead Malaysia because of this.
These events similarly present a template for how political actors in Malaysia manufacture ludicrous moral panics, characterise them as piercing threats to the country's moral and religious fabric, and present themselves as messiahs sent to purge the country of debauchery.
Sociologists Eric Goode and Nachman Ben-Yahuda provide a useful definition of moral panics: The belief that certain groups, individuals and behaviours pose a threat to society's dominant culture — that is, the presiding norms, values and beliefs of society.
Usually, these threats are either entirely fabricated or grossly exaggerated. Some media organisations and governments produce and circulate narratives that catalyse issues to morph into problems people "need" to be anxious about.
These threats tend to centre on the issues of poverty, drug use, immigration and, as is currently the case in Malaysia, sexuality.
In most cases, these threats are deemed to be morally repugnant precisely because they are framed as antithetical to society's dominant culture.
The common thread tying the issues discussed earlier is the belief that, somehow, each of these "aberrations" will twist and turn Malaysia into a sexually promiscuous country.
Such positions are logically fallacious. The argument that the mere existence of a cinema will drive people to have sex in it, or the belief that unmarried Muslims will have sex since they know that children born out of wedlock will be legitimised, is highly problematic.
Yet this is precisely how moral panics come to be manufactured — by coating a particular issue with melodrama, and driving it to its logical extreme.
PERCEIVED THREAT TO ISLAM
Islam is Malaysia's official religion. It is therefore inevitable that discussions and debates on Islam dominate the country's public space more than any other religion.
Since moral panics are threats to dominant culture, sexual promiscuity becomes framed as a threat to Islam.
A case in point is Federal Territories Mufti Dr Zulkifli Mohamed's statement in which he called for Valentine's Day to be banned. He sought to do so by equating the celebration with premarital sex, immorality and, crucially, sin. To be clear, such rhetoric is by no means unique to Muslim leaders.
Similar arguments have even been put forth by India's Rashtriya Swayamsevak Sangh (RSS) leader Indresh Kumar. He claimed that Valentine's Day leads to "rape, illegitimate children and violence against women", and is thus a threat to "Hindu society". Though it actively vilifies Islam and dehumanises Muslims in India, the RSS and the Islamist-leaning religious actors are ideological cousins on many issues.
In Malaysia, the notion of Islam and Muslims being under siege — whether from outside or within — becomes a fault line political actors use in their attempt to mobilise and rally mass support. Political actors compete with one another to portray themselves as messianic.
The case of the banning of Despacito is particularly telling. Opposition Islamist party Amanah got the ball rolling by describing the song as pornographic. The party argued that society would be infected by the song's "immorality". Communication Minister Salleh Said Keruak proceeded to ban the song from government-owned radio stations. In arguing for the ban, he postulated that the song's mostly Spanish lyrics "are not suitable to be heard". Both parties competed to frame the song as a manifestation of sexual encroachment into Islam in Malaysia that needed to be expunged.
In all the episodes discussed, little is known about the views of the Malaysian public on such issues. This allows religio-political actors to monopolise the narrative, insist their opinions reflect public opinion, and thus present them as the naturalistic position of the larger population.
This could have a number of consequences. First, the excessive focus on issues that appeal to hyper-conservative Muslims distorts the religious preoccupations of lay Muslims.
This could obscure how non-Muslims view their Muslim counterparts, particularly with reference to how "tolerant" they are. The dramatisation of hyper-conservatism could augment divisions between Muslims and non-Muslims, in turn possibly fomenting distrust between the groups.
Second, dominating the public discourse on Islam with the "fight" against relatively trivial issues could catalyse the mainstreaming of hyper-conservative beliefs at the expense of the diverse perspectives held by Muslims.
Finally, hogging public debates with these issues allows political actors to skirt around far more morally reprehensible problems — such as issues of corruption, economic mismanagement and administrative failures.
Full report at:
http://www.todayonline.com/commentary/manufacturing-moral-panics-malaysia
--------
International Jesuit group learns about Indonesian Islam
Aug 16, 2017
JAKARTA: Twelve Jesuit priests from various countries recently gathered for a study program to learn more about Islam, diversity and interreligious tolerance in Indonesia.
The priests from Germany, France, Nigeria, Turkey, India, Spain, Italy and Indonesia held a series of meetings on Aug. 10 at Tebuireng Islamic Boarding School in Jombang, East Java.
"The gathering is part of regular meetings among priest who join the Jesuits Among Muslims (JAM) program and this year Indonesia is the host," Jesuit Father Franz Magnis Suseno, who led the group said.
Abdul Ghofar, the boarding school secretary said the Jesuits talked with students at the school to learn more about their life experiences and what their faith means to them.
Jesuit Father Ignatius Ismartono, one of the group members, said that through this encounter, participants also learned about Nahdlatul Ulema, Indonesia's largest moderate Islamic organization.
"We study about how Nahdlatul Ulema goes about living in harmony with others who are non-believers," he told ucanews.com.
The Tebuireng Islamic School was founded in 1899 by Hasyim Asya'ri, a moderate Muslim leader belonging to the Nahdlatul Ulema.
The school has more than 7,000 students.
Full report at:
http://www.heraldmalaysia.com/news/international-jesuit-group-learns-about-indonesian-islam/37827/1
--------
MWL chief urges promotion of moderate Islam, fight against extremism
17 August 2017
JAKARTA: Mohammed bin Abdul Karim Al-Issa, secretary-general of the Muslim World League (MWL), stressed the league's desire to promote the true Islam and its tolerant, open-minded and moderate principles.
He also noted that the league implements various programs to consolidate moderation, and fight extremism and sectarianism which have spread in conflict areas.
These remarks came in a speech Al-Issa delivered during the International Conference of Islamic Universities and the Promotion of Moderation, which the league organized in cooperation with Al-Azhar University of Indonesia in Jakarta.
On his part, the president of the Al-Azhar University, Ahmed Hussein, stressed the significance of education in instilling true doctrines and principles in Islamic generations, and the significance of cooperation between Islamic universities for conveying the pure educational message to students, away from deviant thoughts.
The conference released a final communique in which participants expressed their support for the efforts of the Global Centre for Combating Extremist Ideology (GCCEI), which was inaugurated by King Salman in Riyadh in the presence of the US President Donald Trump and 55 leaders from the Islamic and Arab worlds. The communique said that the GCCEI dedicated its efforts to fighting extremism with new technologies, and hoped that it plays an important role in defending the interests of the Islamic nation.
The communique also maintained that moderation is well established in the understanding and application of Islam, based on the teachings of the Holy Qur'an.
Full report at:
http://www.arabnews.com/node/1145971/saudi-arabia
--------
Arab World
Damascus: US, UK Supply Toxic Agents to Terrorist Groups in Syria
Aug 16, 2017
The Syrian Foreign Ministry said that the toxic agents found in Aleppo and Damascus suburb were produced by one British company and two American companies.
The US military confirmed in February that more than 5,000 rounds of depleted uranium (DU) ammunition were used in two attacks on in Eastern Syria, despite a pledge that it would not use the controversial ordnance.
The acknowledgment by the spokesman for the US Central Command (CENTCOM) came in an interview with Foreign Policy, in which he said that 5,265 armor-piercing DU rounds were used in November 2015, during two air raids against ISIL oil tanker convoys in the Deir Ezzur and Hasaka provinces in Eastern Syria.
A-10 ground attack aircraft fired the projectiles from their 30mm rotating cannons, destroying about 350 tanker trucks, according to CENTCOM spokesman Major Josh Jacques.
Former White Helmets associate Walid Hindi admitted in mid-May his involvement in fabricating photo and video material, prepared in cooperation with the Turkish Television, during the time when he was working with the notorious group in Eastern Aleppo.
The group prepared fake videos of alleged atrocities of the Syrian army, during the liberation process of Eastern Aleppo.
In his confession, broadcasted on Syrian National Television, Hindi admitted to have worked with White Helmets for three years and received rather huge sums of money, a major portion of which was provided by the Persian Gulf states.
He also described how filming of "atrocities" would take place.
When, for instance, they wanted to stage an airstrike scene, the filming crew would fire sirens and the actors would then immediately rush to the scene. Right after that, live streaming of events would begin, accusing the Syrian Army of carrying out yet another airstrike, targeting civilians. Hindi said he participated in fabricating videos more than just once.
According to Hindi, the main person responsible for "directing" these staged videos was Ibrahim Al Hajj, with Mohammad Al Sayed being the main cameraman.
Also, another former associate named Imad Abdul Jawad admitted to have witnessed possession of chemicals by terrorists in Aleppo, saying "During my work shift as a guard I was once asked to transfer a bunch of barrels, containing something that my supervisors called "detergent and washing powder".
"I was supposed to transfer the materials from the district of Al Sukkariyeh to the district of Amariya," he added.
He then explained that his task was basically to unload the wares at the entrance of the building, pointing out that on one occasion, after finishing unloading the content, he saw people wearing uniforms, silver masks and protective boots and were carrying the goods he just transported to the cellars.
On one occasion, Jawad managed to get closer and he saw people opening the barrels and pouring their content out into something that looked like gas cylinders, adding that contents looked nothing like washing powder or detergent. He described the liquid, which was being poured out of the barrels, to have a rather foul smell. When his boss noticed he is watching the procedure, he was dismissed immediately.
A diplomatic source and the Russian Reconciliation Center for Syria disclosed in may secrets proving the video clip that accused the Syrian Army troops of carrying out attacks on civilians in Eastern Idlib was fake.
A diplomatic source who requested anonymity told Sputnik that the latest footage of a chemical weapons attack against civilians in Syria had been filmed recently and appeared to be ordered from a European country.
Meantime, the Russian Reconciliation Center said, "According to information from a number of sources among local residents and opposition formations … special 'video brigades' carried out staged filming in the past week of alleged consequences of shelling and airstrikes, including with the use of 'poisonous substances'."
The center added that some of the "consultants" of the brigades were recognized by the locals as cameramen shooting news in the region for the Al Jazeera channel.
It is not the first time such reports emerge. On May 2, al-Mayadeen broadcaster reported, citing local sources and eyewitnesses that a group of the White Helmets' activists accompanied by one of the Arab satellite channels arrived in the area near Idlib in Syria to shoot staged videos allegedly depicting consequences of a chemical attack.
However, the Swedish Doctors for Human Rights (SWEDHR) non-governmental organization issued a report earlier in the year, stating that the "lifesaving" procedures shown in the videos published by the White Helmets are incorrect, fake and "ultimately performed on dead children."
On April 4, a chemical weapons incident in Syria's Idlib province claimed the lives of some 80 people and inflicted harm on an additional 200 civilians. The Syrian National Coalition of Revolutionary and Opposition Forces, as well as a number of Western states, accused the Syrian government troops of carrying out the attack, while Damascus refuted these allegations, with a Syrian army source telling Sputnik that the army did not possess chemical weapons.
http://en.farsnews.com/newstext.aspx?nn=13960525001302
--------
Syria: Several Terrorist Groups Join Al-Nusra to Slow Down Syrian Army Advances in Hama
Aug 16, 2017
The websites said that battalions of Abdullah Azam brigade as well as al-Iman brigade, Aswad al-Harb battalion, Ahl al-Beit brigade affiliated to Ahrar al-Sham along with Aswad al-Islam brigade affiliated to Jund al-Islam and al-Majd brigade affiliated to Ajnad al-Sham have been merged and have formed the so-called Hama Army.
The websites went on to say that the newly-formed Hama Army announced in a statement that Abu Taher al-Homawi has been appointed as the army's Emir and religious judge, adding that the Hama Army also appointed Abu Badr Hajazi as the military commander of the army.
The news websites added that the Hama Army has pledged allegiance to Al-Nusra.
The websites reported that Al-Nusra is getting ready for a large-scale battle against the Syrian Army following terrorist groups' decision to join the Al-Nusra.
Earlier reports said that the Syrian army troops managed to take control over another key hill after hours of non-stop clashes with ISIL terrorists in Eastern Hama.
The army men continued their advances against ISIL in Eastern Hama and imposed control over Jubb al-Mazare'a hill overlooking the village of Salba.
A military source said that the army's siege on ISIL in Salba has been tightened and terrorists' supply line from the Western direction to the village has been cut off after the pro-government forces took control over Jubb al-Mazare'a.
ISIL suffered heavy casualties and its military hardware sustained major damage in the attack.
Full report at:
http://en.farsnews.com/newstext.aspx?nn=13960525000790
--------
US-led strikes kill 17 in Syria's Raqa
August 17, 2017
BEIRUT - US-led coalition air strikes on the Islamic State group's remaining territory in Syria's Raqa city killed 17 civilians on Wednesday, including children, a monitor said.
The coalition is providing air support in the form of heavy air strikes for the Syrian Democratic Forces (SDF) militia as it battles to oust IS from its onetime stronghold.
The Syrian Observatory for Human Rights, a Britain-based monitor, said the deaths on Wednesday followed two days of deadly strikes. Since Monday, the monitor said, 38 civilians have been killed in US-led air strikes on the city.
Wednesday's deaths included five children, according to the monitor, which relies on a network of sources on the ground. The coalition says it takes measures to avoid civilian casualties and investigates credible allegations of civilian deaths.
The United States has admitted that coalition strikes have killed 624 civilians in Syria and Iraq since 2014.
But rights groups and monitors say the figure is exponentially higher than that.
The SDF launched an operation to capture Raqa province from IS last year, and in June the militia broke into Raqa city for the first time.
It now holds more than half of the city, but the fighting has proved fierce and civilians have been killed both in the crossfire and while trying to flee.
Full report at:
http://nation.com.pk/international/17-Aug-2017/us-led-strikes-kill-17-in-syria-s-raqa
--------
Daesh bomber kills seven Iraqi soldiers near oil-rich Baiji
Aug 16, 2017
At least seven Iraqi soldiers have been killed when an attacker tried to infiltrate a security headquarters near the northern oil-rich city of Baiji, where members of the Takfiri Daesh terrorist group are holed up in nearby mountain areas.
Army Colonel Mohammed al-Assadi said around five assailants attacked the compound, located more than 210 kilometers (130 miles) north of the capital Baghdad, on Wednesday. Security personnel and army troops are based in the military facility.
Assadi added that one of the attackers blew up his explosive-laden vest at the entrance, while the other four engaged in a fierce exchange of gunfire with the guards for around three hours.
The army colonel noted that police and army soldiers managed to kill the other four assailants. Six policemen and soldiers were also wounded during the gun battle.
On October 20, 2015, the spokesman for Iraq's Joint Operations Command (JOC), Brigadier General Yahya Rasool, said Iraqi army soldiers and pro-government fighters from the Popular Mobilization Units, commonly known by the Arabic word Hashd al-Sha'abi, had recaptured Baiji.
3 Peshmerga fighters killed, 11 injured in Daesh attack in Salahuddin
Meanwhile, three Peshmerga fighters have been killed and nearly a dozen others injured when Daesh extremists launched an attack against the Kurdish forces in the Zarka region of the northern province of Salahuddin.
Peshmerga Spokesman Brigadier General Halgurd Hikmat said his fellow fighters managed to repulse the assault, while three Kurdish fighters were killed and eleven others wounded.
Daesh militants catch 20 families fleeing Anbar town
Separately, Daesh militants caught 20 families attempting to flee a militant-held town in the western province of Anbar.
A security source, speaking on condition of anonymity, said the civilians were trying to escape al-Qa'im, located nearly 400 kilometers northwest of Baghdad, and heading towards the town of Rutbah before the militants arrested them.
Gruesome violence has plagued the northern and western parts of Iraq ever since Daesh terrorists mounted an offensive there more than two years ago, and took control of portions of Iraqi territory.
Full report at:
http://www.presstv.ir/Detail/2017/08/16/531953/Daesh-bomb-attack-kills-Iraqi-soldiers-Baiji
--------
Syrian Army Utilizing Modernized Armored Vehicles in War on Terrorists
Aug 16, 2017
The Arabic-language website of Sputnik reported that the army has recently received a modernized version of light BMP armored vehicles, adding that the modernized vehicles are covered by an intertwined protective layer.
The website added that the protective layer has covered the entire body of the vehicle even its turret, protecting the BMP vehicle against any missile attacks.
Relevant reports said on Saturday that the Syrian Air Force recently received more Russian-made helicopters known as Flying Tanks.
The Arabic-language website of Sputnik reported that the Syrian Air Force received more Mi-24P military helicopters known as Flying Tanks from Russia.
Full report at:
http://en.farsnews.com/newstext.aspx?nn=13960525001138
--------
Lebanese army begins ISIS battle surrounding Ras Baalbek
16 August 2017
Four Lebanese army members and five ISIS members were killed in clashes in the areas surrounding Ras Baalbek along the Lebanese-Syrian border early Wednesday.
Sources reported that the Lebanese army began to advance by road from the surrounding areas, after heavy artillery bombardment, which paved the way for the recapturing and restoring of three hills under the control of ISIS.
The military sources reported that the Lebanese army sent additional reinforcements to the area, after intensified artillery shelling and missiles, with an inspection tour conducted by Army Commander Joseph Aoun military units.
https://english.alarabiya.net/en/News/middle-east/2017/08/16/Lebanese-army-begins-ISIS-battle-surrounding-Ras-Baalbek.html
--------
Explosive boat attack foiled targeting UAE ship
16 August 2017
Yemeni forces destroyed an explosives-laden boat targeting a United Arab Emirates military vessel at Mokha port on Wednesday.
A source at the port said that the foiled terror attack was initiated by Houthi militias.
A large explosion was heard across the port when forces eliminated the threat before it reached the docked ship.
Earlier on Wednesday morning, Yemen National Army forces repelled a Houthi militia attack south of Taiz city. The militia sustained heavy casualties in a battle that involved the use of heavy weapons.
https://english.alarabiya.net/en/News/gulf/2017/08/16/Explosive-boat-attack-foiled-targeting-UAE-ship.html
--------
Syria says US, allies supplying terrorists with toxic agents
Aug 17, 2017
Syria says the US, Britain and their allies are supporting terrorists in the war-torn Arab country by supplying them with toxic agents and other kinds of weapons.
During a press conference in the Syrian Foreign Ministry's main office in the capital Damascus, Syrian Deputy Foreign Minister Faisal Mekdad said on Wednesday that toxic agents found in the cities of Aleppo and Damascus were made by US and UK companies, Syrian's official news agency SANA reported.
He also called on the Organization for the Prohibition of Chemical Weapons (OPCW) to investigate those countries' actions in his country.
Mekdad added that since the beginning of the crisis in Syria, the West, based on false allegations made by the terrorists they support, has usually blamed the government in Damascus for various incidents of the use of chemical weapons throughout the country.
He stressed that the US has even used those "fabrications" as a pretext to attack the town of Khan Shaykhun in Idlib province without launching an investigation into the terrorists' claims.
He stressed that the Syrian government has thoroughly investigated the incident and offered the results to the OPCW.
"Syria has received the fact-finding committee of the OPCW and opened all doors in front of them for investigation, but they refused," the Syrian official said, stressing that as the results do not support the US' agenda they will be rejected.
Full report at:
http://www.presstv.ir/Detail/2017/08/17/531990/syria-chemical-weapons-us-mekdad
--------
Bahraini state TV accuses Qatar of coup attempt
Aug 16, 2017
Bahraini state media on Wednesday accused Qatar of attempting to overthrow the government in Manama, upping the stakes in a diplomatic crisis that has seen Doha isolated in the Persian Gulf.
Along with Saudi Arabia, the UAE and Egypt, Bahrain cut ties with Qatar in June on accusations the emirate supports extremism and is too close to Iran.
Qatar has denied the allegations.
State-run Bahrain Television aired a report Wednesday which claimed that neighboring Qatar was behind anti-government protests that have shaken the tiny kingdom for six years.
The report claimed that, in 2011, Qatar's prime minister contacted Ali Salman -- then head of the country's largest opposition group Al-Wefaq -- and asked him to urge protesters to flood the streets and ramp up pressure on the state.
"We should use this evidence to file charges against a country that supports terrorism," said Munes al-Mardi, head of the country's journalism syndicate, who was featured in the report.
Al-Wefaq Party was the largest bloc in Bahrain's elected lower house of parliament until 2011, when its members resigned en masse in protest against a state crackdown on demonstrators.
A 2016 court order dissolved Al-Wefaq for "harboring terrorism". Ali Salman has been behind bars since 2014.
Authorities have regularly cracked down on protests, which at times have turned violent.
The state has jailed hundreds of citizens and stripped a number of high-profile activists and clerics of their citizenship.
Bahrain has been a key ally of the United States for decades and is home to the US Navy's Fifth Fleet.
Full report at:
http://www.presstv.ir/Detail/2017/08/16/531964/Bahrain-State-TV-Qatar-Coup-
--------
Mideast
Houthis 'expelling Sanaa hospital patients to treat leaders and fighters'
17 August 2017
JEDDAH: Houthi militants are expelling civilian patients from hospitals in Sanaa and other provinces, sources told Arab News.
The sick are being removed from their beds to make way for leaders of the so-called Houthi "popular committees" and their families, as well as injured militants coming back from the battlefield.
Sources in Yemen said Houthi militants used weapons to expel patients from all departments of the largest Yemeni armed forces hospitals in Sanaa and Dhamar. They also threatened to kill doctors and nurses if they tried to protest or prevent them from expelling the patients.
Sources also said that Houthi militias are stealing medicines destined for patients in order to sell them to pharmacies.
Local sources in Al-Bayda province said that forces loyal to deposed President Ali Abdullah Saleh had robbed a medical center and forbade staff from offering the most basic services to patients and those in need.
Armed militants in Hajjah prevented local medical centers from receiving cholera patients, the sources said.
Leaders of the "popular committees" are doing this to pressure people in these areas to send their sons to the battlefield, it was claimed.
Meanwhile, an International Red Cross delegation to Marib province heard testimonies regarding human rights violations against civilians that were committed by Houthi militias and forces loyal to Saleh, Sabaa news agency reported Wednesday.
Testimonies were heard from the mothers and wives of detainees in Houthi prisons.
Houthi militias kidnapped their relatives from roads, markets and houses, and some died due to torture in prisons and detention centers, witnesses said.
The militias raided houses without any legal justification, and arrested men, children and women, according to the testimonies.
The militias terrified families, imposed compulsory taxes, conscripted children, blew up buildings and looted homes and stores, witnesses said.
Separately, Reuters reported that the central bank of Yemen floated the national currency, instructing banks to follow the market rate in a move aimed at shoring up a financial system battered by war.
A circular said the Aden bank had ditched the official rate of 250 riyals to the dollar in favor of "the exchange rate prevalent in the market... in accordance with the exchange rate lists issued by the central bank."
http://www.arabnews.com/node/1145991/middle-east
--------
Iraqi Kurds' independence referendum risks civil war: Turkish FM
Aug 16, 2017
Turkish Foreign Minister Mevlut Cavusoglu has warned that a plan by Iraq's semi-autonomous Kurdistan region to hold an independence referendum late next month will lead to "civil war" in the conflict-stricken Arab country.
"In that country (Iraq), which has been through so many problems, a referendum on independence can make the situation even worse," Cavusoglu told the state-run TRT Haber television news network on Wednesday.
"God forbid, it could even bring it to civil war," he added.
His remarks came a day after Turkish Deputy Prime Minister Bekir Bozdag said the referendum for an independent Kurdish state violates Iraq's constitution and will further destabilize the Middle East.
"Turkey gives importance to Iraq's territorial and political integrity. It is very important that the stability is achieved in the region and people live in peace and safety. This decision by Iraqi regional government would contribute to instability in the region. It also violates the constitution of Iraq," he told a news conference after a cabinet meeting in the capital Ankara.
Hoshyar Zebari, a close adviser to Kurdistan Regional Government (KRG) President Massoud Barzani, told Reuters on Saturday that Kurdish authorities were determined to hold the referendum on September 25 irrespective of all objections.
Zebari's remarks came only two days after US Secretary of State Rex Tillerson asked Barzani in a phone call to delay the referendum.
"On the issue of the postponement of the referendum, the president (Barzani) stated that the people of the Kurdistan region would expect guarantees and alternatives for their future," a statement issued on Friday by the KRG presidency read after Tillerson's call.
In June, Iraqi Prime Minister Haider al-Abadi described as untimely the decision by Barzani to hold the referendum.
"We have a constitution that we've voted on, we have a federal parliament and a federal government…The referendum at this time is not opportune," Abadi said on June 13.
Full report at:
http://www.presstv.ir/Detail/2017/08/16/531942/Turkey-warn-Kurdish-independence-referendum-Iraq-civil-war
--------
Intelligence Minister: 120 Terrorist Teams Disbanded in Iran in 4 Years
Aug 16, 2017
"In order to safeguard security in the country, the intelligence ministry has inflicted deadly blows to almost 120 terrorist teams in the past four years and killed many of their ringleaders and stripped them of capability to take an action," Alavi said, addressing the parliament in Tehran on Wednesday.
Noting that many terrorist leaders, including Abu Hasib Balouchi, Abu Ayesheh Kordi, Abu Farsan and others, were identified and killed by Iranian security forces, he said that 3 tons of explosives, one thousand weapons and thousands of explosives and suicide vests were also discovered and seized in the past four year.
In relevant remarks in June, Alavi announced that the security forces disbanded a terrorist team in the Western province of Kordestan the same day, blaming Saudi Arabia for recent insecurities in Iran.
"Today, a terrorist team was attacked by the security forces and disbanded," he said.
Alavi added that the team consisted of 7 terrorists, including 5 Iranian and 2 foreign nationals from the neighboring countries.
Full report at:
http://en.farsnews.com/newstext.aspx?nn=13960525000894
--------
China, Iran reject US religious freedom report
August 17, 2017
TEHRAN/BEIJING - Iran on Wednesday rejected a US religious freedom report critical of Tehran as "hypocritical", coming from a country where Islamophobia was widespread.
Washington released its annual religious freedom report on Tuesday, with Secretary of State Rex Tillerson criticising Bahrain, China, Iran, Pakistan, Saudi Arabia, Sudan and Turkey. Tillerson charged that Iran had used "vague apostasy laws" to execute 20 members of religious minorities over the past year. "Iran considers it an unrealistic, baseless, unfounded and biased report which has only been made with the intention of certain political gains," foreign ministry spokesman Bahram Ghasemi hit back on the ministry's website.
He said Washington should focus on improving its own record of discrimination, particularly regarding its Muslim population. "It is clear that religious and racial discrimination, Islamophobia, and xenophobia are a widespread and frequent phenomenon among American politicians," said Ghasemi.
Meanwhile, China on Wednesday denied violations of religious freedom after the United States accused Beijing of persecuting Christians, Muslims, Falun Gong members and Tibetan Buddhists in an annual report.
"All Chinese people of all ethnic groups and all regions are fully entitled to religious belief. The so-called report ignores facts," foreign ministry spokeswoman Hua Chunying said at a regular press briefing.
"We see that the United States is not a perfect country either. We urge the US to... manage its own affairs," Hua added.
The report said that in 2016, China "physically abused, detained, arrested, tortured, sentenced to prison, or harassed adherents of both registered and unregistered religious groups."
It cited a national security law that explicitly bans "cult organizations," which includes the Falun Gong, Buddhist-inspired groups and several Christian groups. A new government regulation in the northwestern Xinjiang region bans religious activity in schools and stipulates that parents or guardians who "organize, lure, or force minors into religious activities" may be reported to the police, the report said.
It also noted arrests and harassment of church leaders in eastern Zhejiang province, who have opposed a government campaign to remove crosses from churches.
In response, Hua said Washington should "stop the wrongdoing of using religion to interfere in other country's affairs".
China's officially atheist Communist authorities are wary of any organised movements outside their control, including religious ones, and analysts say controls over such groups have tightened under President Xi Jinping.
Chinese authorities had outlawed Falun Gong in July 1999, branding it an "evil cult".
Members claim that hundreds of followers have since been beaten and killed in labour camps, a charge the Chinese government denies.
Beijing says it "peacefully liberated" Tibet in 1951 and insists it has brought development to a previously backward region.
But many Tibetans accuse the Chinese government of exploiting natural resources, as well as promoting activities and business of China's majority Han ethnic group at the expense of locals and the environment.
Full report at:
http://nation.com.pk/international/17-Aug-2017/china-iran-reject-us-religious-freedom-report
--------
Turkey warns Iraqi Kurdish referendum risks 'civil war'
16 August 2017
Turkey on Wednesday warned that a plan by the leadership in Iraq's autonomous Kurdish region to hold a referendum on independence next month could lead to civil war, in Ankara's strongest warning yet against the poll.
"In that country (Iraq), which has been through so many problems, a referendum on independence can make the situation even worse," Foreign Minister Mevlut Cavusoglu told the state TRT Haber broadcaster. "God forbid, it could even bring it to civil war."
https://english.alarabiya.net/en/News/middle-east/2017/08/16/Turkey-warns-Iraqi-Kurdish-referendum-risks-civil-war-.html
--------
Ankara asks Berlin to arrest major suspect in 2016 coup attempt
Aug 16, 2017
Turkey has asked Germany to arrest and extradite a major suspect in the coup attempt of July 2016 who remains at large.
Turkish media recently reported that theology lecturer Adil Oksuz, whom Ankara accuses of being the so-called imam of air force personnel who bombed parliament as part of the coup attempt, had been seen in German cities including Frankfurt and Ulm.
Oksuz was detained near an Ankara air base hours after the coup plot was foiled. He was released two days later and has been on the run ever since.
"We sent a diplomatic note to Germany after the news regarding the presence in Germany of the FETO suspect Adil Oksuz, who is currently at large," Turkey's Foreign Minister Mevlut Cavusoglu said in an interview with broadcaster TRT Haber.
FETO is the government's label for supporters of the US-based cleric Fethullah Gulen, whom Ankara blames for masterminding the coup attempt. Gulen has denied the accusation.
The note asked the German authorities to arrest Oksuz without delay and to extradite him to Turkey.
Ankara has pressed Washington to extradite Gulen. The United States, however, has not accepted Turkish requests for the extradition so far.
Turkey witnessed the coup attempt on July 15, 2016, when a faction of the Turkish military declared that the government of President Recep Tayyip Erdogan was no more in charge of the country. A few hours later, however, the coup was suppressed. Almost 250 people were killed and nearly 2,200 others wounded in the abortive coup.
Since then, Ankara has been engaged in suppressing the media and opposition groups, who were believed to have played a role in the failed putsch.
Over 50,000 people have been arrested and some 150,000 others sacked or suspended from a wide range of professions, including soldiers, police, teachers, and public servants, in the crackdown that followed the coup.
Full report at:
http://www.presstv.ir/Detail/2017/08/16/531958/Ankara-Berlin-arrest-suspect-coup
--------
Iran reform leader Mehdi Karroubi on hunger strike over 6-year house arrest
17 August 2017
Iranian opposition leader Mehdi Karroubi, under house arrest for the past six years, was hospitalized Thursday after going on hunger strike a day earlier to demand a trial date, his family told local media.
"His health condition deteriorated after the hunger strike and he is now hospitalized," said Sahamnews website, which is affiliated to Karroubi's family.
Also read: Iran opposition leader, Karroubi, quits party after six years of house arrest
He was admitted to Shahid Rajaei hospital due to high blood pressure, less than 24 hours after beginning a hunger strike Wednesday morning, it said, adding that he was still refusing to eat. His son Mohammad also confirmed the news on Twitter.
"At 1:00 AM, Thursday father was sent to hospital due to the hunger strike. Pray a lot," he said. Karroubi's wife Fatemeh Karroubi told Sahamnews that his first demand was the removal of intelligence ministry agents inside their home as well as recently-installed security cameras, which she said "has no precedent before or after the (1979 Islamic) revolution in any house arrest".
'Not expecting a fair trial'
"Second... in case of continuation of the house arrest, they should arrange a public trial," she said. Karroubi "does not expect a fair trial" but wants it to be public and would respect the verdict, she added.
He and fellow reformist leader Mir Hossein Mousavi were candidates in Iran's disputed 2009 presidential election which sparked months of mass protests over claims they were rigged in favor of hardline incumbent Mahmoud Ahmadinejad. Both men were placed under house arrest in 2011 for their role in the protests -- which were brutally suppressed by the regime -- but have never been charged.
Also read: Why did Iran publish images of their general Qasem Soleimani in Aleppo?
In March, Iran sentenced Karroubi's eldest son, Hossein Karroubi, to six months in prison for "propaganda against the regime" after he published a letter that his father had written to Iran's current president, Hassan Rouhani, a reputed moderate, calling for a trial.
Full report at:
https://english.alarabiya.net/en/News/middle-east/2017/08/17/Iran-reform-leader-Mehdi-Karroubi-on-hunger-strike-over-6-year-house-arrest.html
--------
Africa
Nigeria suicide bombers kill 28, wound 82
16 August 2017
Three women suicide bombers blew themselves up at the entrance to a camp for displaced people in northeastern Nigeria on Tuesday, killing 28 people and wounding 82, local sources said.
The attack took place in the town of Mandarari, 25 kilometers (15 miles) from Maiduguri, the capital of Borno state, said Baba Kura, a member of a vigilante force set up to fight militants.
"Three female bombers triggered their explosive outside of the IDP (internally displaced persons) camp... killing 28 people and wounding 82 others," Kura said.
The first assailant blew herself up, triggering panic, Kura said.
"People were trying to close their shops when two other female bombers triggered their explosives, causing most of the casualties," he said.
Ibrahim Liman, the head of a local anti-terror militia force, confirmed the details of the attack, and said that more than 80 injured had been taken to Maiduguri hospital.
A source at the hospital said a "huge number" of patients had arrived.
Northeast Nigeria is a hotbed of activity by the Boko Haram militant group, involving shootings, bombings and kidnappings.
It launched an insurgency in 2009 that has killed about 20,000 people and displaced around 2.6 million others.
On Saturday, Boko Haram killed four people and torched homes in a night-time raid on the village of Amarwa, about 20 kilometers from Maiduguri, according to local sources.
https://english.alarabiya.net/en/News/world/2017/08/16/Nigeria-suicide-bombers-kill-28-wound-82-.html
--------
Secret diaries of Nigeria's Chibok girls say kidnap by Boko Haram was accidental
17 August 2017
The mass abduction of more than 200 Nigerian schoolgirls from Chibok - the biggest publicity coup of Boko Haram's militant insurgency - was the accidental outcome of a botched robbery, say the girls who spent three years in their brutal captivity.
The Chibok girls made the surprise revelation in secret diaries they kept while held prisoner and a copy of which has been exclusively obtained by the Thomson Reuters Foundation.
Recalling the night of their kidnapping in April 2014, Naomi Adamu described in the diaries how Boko Haram had not come to the school in Chibok to abduct the girls, but rather to steal machinery for house building.
Unable to find what they were looking for, the militants were unsure what to do with the girls. Arguments swiftly ensued.
"One boy said they should burn us all, and they (some of the other fighters) said: 'No, let us take them with us to Sambisa (Boko Haram's remote forest base) ... if we take them to Shekau (the group's leader), he will know what to do'", Adamu wrote.
She was one of about 220 girls who were stolen from their school in the northeastern town of Chibok one night in April 2014 - a raid that sparked an international outcry and a viral campaign on social media with the hashtag #bringbackourgirls.
Adamu was among 82 of the Chibok girls released by Boko Haram in May - part of a second wave after 21 of them were freed in October. They are being held in a secret location in Abuja for what the government has called a "restoration process".
A few others have escaped or been rescued, but about 113 of the girls are believed to be still held by the militant group.
The authenticity of the diaries, written by Adamu and her friend Sarah Samuel, cannot be verified, nor their intended role as the government negotiates with Boko Haram for more releases.
Clandestine chronicles
The diaries shed light not only on the horrors the girls endured under Boko Haram, but their acts of resistance, and their staunch belief that they would one day go home.
The girls said they started documenting their ordeal a few months after the abduction, when Boko Haram - whose name loosely means 'Western education is sinful' in the local Hausa language - gave them exercise books to use during Koranic lessons.
To hide the diaries from their captors, the girls would bury the notebooks in the ground, or carry them in their underwear. Three of the other Chibok girls also contributed to the undated chronicles, which were written mainly in passable English, with some parts scribbled in less coherent Hausa.
"We wrote it together. When one person got tired, she would give it to another person to continue," Adamu, 24, said from the state safe house in the capital, where the girls are being kept for assessment, rehabilitation and debriefing by the government.
Convert or burn
Life in the Sambisa involved regular beatings, Koranic lessons, domestic drudgery and pressure to marry and convert. When five girls tried to escape, the militants tied them up, dug a hole in the ground, and turned to one of their classmates.
The militants handed her a blade and issued a chilling ultimatum: 'cut off the girls' heads, or lose your own'. "We are begging them. We are crying. They said if next we ran away, they are going to cut off our necks," Adamu wrote.
On another occasion, the militants gathered those girls who had refused to embrace Islam, brought out jerrycans and threatened to douse them in petrol then burn them alive.
"They said: 'You want to die. You don't want to be Muslim,(so) we are going to burn you," read the diary entry. As fear set in, the militants cracked into laughter - the cans contained nothing but water, the girls wrote.
Fear does their bidding
One of the most striking excerpts illustrates the pervasive fear spread by Boko Haram in northeast Nigeria, where the group has killed 20,000 people and uprooted at least 2 million in a brutal campaign that shows no signs of ending soon.
Despite being flushed with relief at her own freedom, Adamu worries about her closest friend and co-author, Samuel, who is still with the group, having married one of its militants.
Full report at:
https://english.alarabiya.net/en/features/2017/08/17/Nigeria-s-Chibok-girls-say-kidnap-by-Boko-Haram-was-accidental.html
--------
Sudanese PM, officials pushed from activist's funeral procession
Aug 16, 2017
People attending the funeral procession of a prominent Sudanese rights activist have forcefully pushed Prime Minister and First Vice President Bakri Hassan Saleh and a number of high-ranking officials from the ceremony.
According to a report published by the pan-Arab al-Quds al-Arabi newspaper on Wednesday, thousands of people had taken part in the funeral of women's rights activist and Socialist leader Fatima Ahmed Ibrahim in the capital city of Khartoum.
The participants started to shout slogans against Saleh and the governor of Khartoum State, Lieutenant General Abdul-Rahim Mohamed Hussein, once they arrived at the funeral procession in front of the late activist's house.
Video footage published on Facebook showed people jeering and booing the two senior officials and their entourage, and pushed them out.
The mourners, including supporters of the Sudanese Communist Party (SCP), representatives of various other political parties and women's rights activists, also praised Ibrahim's activities and those of her husband Alshafi Ahmed Elshikh, whom former Sudanese President Gaafar Muhammad al-Nimeiry ordered to execute in 1972.
Ibrahim was placed under house arrest for several years after the 1971 failed military coup, supported by the SCP and led by Hashim Elatta, against Nimeiry.
She left Sudan after Omar Hassan al-Bashir took power in a military coup in 1990, and joined the opposition in exile as the president of the banned Sudanese Women's Union.
Ibrahim returned to Sudan in 2005 following reconciliation between the Khartoum government and opposition, and was appointed as a deputy in the parliament representing the SCP.
Full report at:
http://www.presstv.ir/Detail/2017/08/16/531976/Sudan-mourners-expel-prime-minister-Khartoum-governor-funeral-activist
--------
Africa's humanitarian crises worsen: UN
16 August 2017
Africa's humanitarian crises have continued to worsen in 2017, said a report released by the United Nations on Wednesday ahead of the World Humanitarian Day.
"Twenty million Africans have been displaced from their homes and 44 million are acutely food insecure," the report stated.
It said the population displacement crisis has reached record levels with over 20 million Africans now officially registered as refugees, internally displaced, or seeking asylum.
Almost 75 percent of the continent's displaced persons were from 5 countries; namely the Democratic Republic of the Congo, Nigeria, Somalia, South Sudan, and Sudan -- the countries that are experiencing conflicts.
"While global attention has focused on refugees, almost two-thirds of Africa's dislocated population are internally displaced," it said.
The number of internally displaced people --12.7 million -- represent a 65 percent increase since 2013.
"More than 44 million Africans are estimated to be at a crisis or emergency level of food insecurity. Parts of Nigeria, Somalia, and South Sudan are at risk of famine," the report revealed.
It further stated that 51 humanitarian workers have been killed last year in the Central African Republic, Kenya, Mali, Nigeria, Somalia, and South Sudan.
Full report at:
http://www.worldbulletin.net/africa/193017/africas-humanitarian-crises-worsen-un
--------
Kenya: 'Rent' a Child Industry Fueling Lucrative Street Begging in Nairobi
16 AUGUST 2017
By MARGARET NJUGUNAH
Nairobi on a July weekday is cold and almost frosty. Trench coats, pullovers, gloves, and scarves can be spotted up and about as city residents run around town minding their business.
Joyce Nyambura, alias Aida Nyambura, sits on a cold pavement wearing a blue hoodie that covers her braided hair, a pair of trousers and a kanga wrapped around her waist to conceal her trousers.
"As a newly converted Muslim woman, I try to cover up as much as I can," she says.
On her lap is her almost one-year-old daughter, Margie, who is struggling to catch a nap and despite the heavy woolen clothes on her back, the shiver is evident.
Nyambura is one of the hundreds if not thousands of Nairobi's female street beggars. She says she has come to accept the job and respects it as any other career.
"When you have a child, especially a toddler, like I do, people take pity on you. They give you money much more easily than when you are alone, especially fellow parents."
And true to her words, two women drop Sh20 into her collecting tin as they discuss how the chilly weather is cruel to the child.
Daily grind
Nyambura says that those without children usually identify other women who have more than one small child and 'hire' them for the day.
"In the evening, the woman splits her day's earnings in a half and pays the mother of the child."
Women who have older children and have no one to 'rent' a child from are usually forced to go back to the drawing board and give birth to sustain the trade.
Her choice to become a street beggar came after she faced one too many challenges. Her mother left her abusive, alcoholic father when she was very young. Then he married a woman who did not do much to help Nyambura, forging an all-familiar step-mother daughter relationship.
"After I left home, I worked as a house help and then a hawker. But since I gave birth to my daughter and the father abandoned me, I cannot do such jobs as I do not have anyone to look after my child."
Begging also makes Nyambura much more money than other jobs she has done in the past.
"As a house help, the much I could make was Sh3,500. A hawker's pay, especially when you cannot afford city council fees, makes almost the same. But on the streets, in a good month, I can make up to Sh8,000."
The money is enough for Nyambura as she and her daughter eat at a town restaurant which sells fresh leftovers at a throwaway price. She also doesn't account for much rent as she confesses to sleeping on the streets - a cross check with her peers, however, reveal that she lives in one of the city's slums.
Religion and street begging
I ask Nyambura about her decision to convert to Islam out of curiosity. She says that her life on the streets made her appreciate Islam more, made her understand it.
"It is also much easier to get money when you are clad in Islamic attire. Muslims are much more giving. They give money much more easily than their Christians counterparts."
Nyambura, however, clarifies that she did not convert to Islam to make money.
More women, including a beggar whose name is Nancy confirms Nyambura's allegations that in deed there are many women who buy hijabs, hire a child to beg on the streets. According to Nancy, Ramadhan and Fridays especially are very good for their trade. "That is the reason why the Jamia Mosque environs is crowded on Fridays with beggars."
For Susan, Nyambura's friend, life has also not been kind to her, forcing her to the streets after her husband abused and forbade her from working. When the relationship ended, she was left alone to care for their young son, with no job, no skill and no place to call home.
"On the streets, I am guaranteed to have food at the end of the day. I only need a hundred shillings. People will take pity on me and give me enough money to fend for myself and my child."
We spoke to more women to get an idea of how it is like to be a female beggar in Nairobi. The story was the same. Without a supportive family, lack of meaningful jobs and not having some kind of skill, the ladies find the streets more welcoming, the beggar tag not withstanding.
"I do have big dreams for my daughter. I would want her to go to school one day and dress well. I also want her to sleep in a good place one day. But due to the current situation, those can only be dreams for now," Nyambura says.
But despite the earnings from begging, Nyambura says they are harassed by City Council askaris who would want to get rid of them from the streets, though the county lacks a comprehensive plan to deal with street families.
"Some people are so harsh in their judgment towards us. They don't understand why we bring our children to the streets instead of taking them to school. What they do not understand is that it would be hard to even have your child in class when they are not fed, or not clean and we can't afford books or uniform."
Government inaction
A UNICEF finding revealed that there are about 250,000 - 300,000 homeless children in Kenya in 2012; a number that is expected to have gone higher.
Data by the Consortium of Street Children (CSC) estimates that Nairobi alone could have up to 60,000 street children.
The city's county government says it is working on rescuing and rehabilitating the children in its five centers.
But street mothers such as Nyambura say they would do whatever it takes to keep their children away from those centers.
Full report at:
http://allafrica.com/stories/201708160684.html
--------
South Asia
Mosque prayer leaders arrested for involvement in magnetic bombings in Kabul
Aug 17 2017
At least two people were arrested for being involved in magnetic bombings in Kabul city amid a steep rise in such bombings in the city.
The officials in the Criminal Investigation Department of the Ministry of interior said the two men were arrested earlier this week.
The officials further added that the two men were serving in a mosque as prayer leaders and were in the meantime involved in magnetic bombings.
According to the CID officials, the two men had recently planted a magnetic bomb in a residential house in the vicinity of the 10th police district of the city.
The suspects were arrested after the police forces were informed regarding the threats being issued to the residents of the house and the magnetic bomb was planted in their garage, the officials said.
They also added that the two men are in custody of the security forces for further investigations and it is yet not clear to which group the two men belong to.
The anti-government armed militant groups including the Taliban insurgents have not commented regarding the report so far.
This comes as there has been a steep rise in magnetic bombings in Kabul city and other key areas of the country during the recent months.
At least three people were wounded in a similar attack late on Sunday after a magnetic bomb planted in their vehicle went off in Deh Afghanan area of the city.
http://www.khaama.com/mosque-prayer-leaders-arrested-for-involvement-in-magnetic-bombings-in-kabul-03375
--------
Bangladesh sees fresh influx of Rohingya from Myanmar
Aug 16, 2017
DHAKA: Hundreds of Rohingya Muslims have crossed into Bangladesh in recent days following a fresh military build-up in Myanmar's Rakhine state, community leaders said Wednesday.
They said at least 500 Rohingya had made the difficult journey into Bangladesh, some claiming they had been abused by soldiers in Myanmar.
The latest influx follows a months-long bloody military crackdown on the mainly Muslim minority in Myanmar last year that led tens of thousands to flee across the border. The United Nations has said the violence may amount to ethnic cleansing.
Abu Toyyob said he escaped with his seven-member family as the army vandalised Rohingya houses and detained young men.
"They arrested my younger brother from home and injured my two-year-old son by kicking him with boots," the 25-year-old told AFP.
"I immediately set off with my family and crossed the Naf two nights ago," he added, referring to the river that divides the two countries.
Dhaka estimates that nearly 400,000 Rohingya refugees are living in squalid refugee camps and makeshift settlements in the resort district of Cox's Bazar, which borders Rakhine.
Their numbers swelled last October when more than 70,000 Rohingya villagers began arriving, bringing stories of systematic rape, murder and arson at the hands of Myanmar soldiers.
Bangladesh border guards said they had stepped up patrols after reports of a military build-up on the other side of the river.
Last week, the UN special rapporteur Yanghee Lee voiced alarm at reports that an army battalion had flown into Rakhine to help local authorities boost security in the region.
Buddhist-majority Myanmar has long faced criticism for its treatment of the more than one million Rohingya who live in Rakhine, who are seen as interlopers from Bangladesh, denied citizenship and access to basic rights.
But they are also increasingly unwelcome in Muslim-majority Bangladesh, where police often blame them for crimes such as drug trafficking.
Dhaka has floated the idea of relocating tens of thousands of Rohingya refugees to a remote, flood-prone island off its coast, despite opposition from rights groups.
An official with the UN International Organisation for Migration (IOM), which looks after settlements for unregistered Rohingya refugees, said the organisation was aware of new arrivals.
Full report at:
http://timesofindia.indiatimes.com/world/south-asia/bangladesh-sees-fresh-influx-of-rohingya-from-myanmar/articleshow/60086618.cms
--------
DMP suspects the Mourning Day bomber had co-conspirators
August 17, 2017
'The organisational power New JMB and Ansarullah Bangla Team (ABT) has significantly decreased, they no longer have the capability to carry out big attacks'
Police on Wednesday said they suspect the Mourning Day bomber, Saiful Islam, 21, had other co-conspirators who had planned to bomb the procession leading up to the Bangabandhu Memorial Museum on National Mourning Day.
Dhaka Metropolitan Police (DMP) Commissioner Asaduzzaman Mia said: "We strongly suspect that the co-conspirators are hiding somewhere in Dhaka and we are doing everything to find them."
Police also said militant Saiful was a member of New Jama'atul Mujahideen Bangladesh (New JMB) who had encouraged him to carry out the attack.
Saiful, blew himself up on Tuesday at Hotel Olio International in Panthapath after he was cornered by police during a raid.
Only hours before the incident, President Abdul Hamid and Prime Minister Sheikh Hasina were paying their respects to the Father of the Nation on the National Mourning Day at the Bangabandhu Memorial Museum, located roughly 300 metres away from the hotel.
DMP Commissioner assured that militant organisations have become weak in Bangladesh which is why they now attempt sporadic attacks.
"The organisational power New JMB and Ansarullah Bangla Team (ABT) has significantly decreased, they no longer have the capability to carry out big attacks," he said.
The investigation officers said a case has not been filed yet, but the the process is underway. They also said that Saiful was likely radicalised online.
The dead militant's autopsy has been done by Dr Shohel Mahmud, head of the forensic medical department of Dhaka Medical Collage, who said the cause of death was a splinter piercing his right eye and into his brain.
Full report at:
http://www.dhakatribune.com/bangladesh/dhaka/2017/08/17/dmp-suspects-mourning-day-bomber-co-conspirators/
--------
Bogra madrasa student's head shaved for praising PM Hasina on Facebook
August 16, 2017
Siddique called Talha away to a quiet location, tied his hands, blindfolded him and held a knife to his throat
The father of a Bogra madrasa student, who was heavily beaten and had his head shaved after posting a poem praising the incumbent Bangladesh prime minister, lodged a formal complaint against the perpetrators with Shahjahanpur police station on Monday.
According to the father Abdul Halim, his son Abu Talha, 18, a recent Alim graduate from Domonpukur Aminia Senior Kamil Madrasa in the area, was tied up and beaten allegedly by his Jamaat supporting maternal cousin Abu Bakar Siddique and his cohorts on Friday.
Talha, a caddy at the Majhira Cantonment Golf Course in Bogra, posted the poem styled "Prodhanmontri Sheikh Hasina ke niye ekti kobita" (A poem in honour of Prime Minister Sheikh Hasina) on his Facebook page a day before. Talha's father Halim, who currently works as a security guard at a Shahjahanpur establishment, was a freedom fighter.
In the formal complainant, Halim wrote Siddique called Talha away to a quiet location, tied his hands, blindfolded him and held a knife to his throat, threatening him to delete the poem or otherwise be killed. Talha's hair was shaved off after.
Local union parishad member Shahidul Islam said he was not aware of this incident.
Full report at:
http://www.dhakatribune.com/bangladesh/nation/2017/08/16/bogra-madrasa-student-head-shaved/
--------
US and Afghan soldiers suffer casualties in anti-ISIS operations
Aug 17 2017
The Afghan and US forces suffered casualties during an operation against the militants affiliated with the Islamic State of Iraq and Syria (ISIS) terrorist group's offshoot in Afghanistan, ISIS Khurasan.
"One U.S. service member has died as a result of wounds suffered Wednesday during a partnered operation with U.S. and Afghan Forces in Eastern Afghanistan," the US Forces for Afghanistan (USFOR-A) said in a statement.
The statement further added that the U.S. and Afghan forces were also injured during the operation aimed at further reducing Islamic State of Iraq and Syria-Khorasan presence in Afghanistan.
"The wounded personnel have been medically evacuated for treatment," the statement said, adding that "Next of kin notification are underway."
No further details were give regarding the exact location where the operations were conducted but the Afghan and US forces have long been involved in anti-ISIS operations in eastern Nangarhar and Kunar provinces.
The increased raids, usually involving drone strikes, by the US forces followed a broader role granted by the Obama administration earlier last year.
Full report at:
http://www.khaama.com/us-and-afghan-soldiers-suffer-casualties-in-anti-isis-operations-03376
--------
Dostum says coalition to stand against conspiracies being hatched against Noor
Aug 16 2017
The First Vice President General Abdul Rashid Dosutm reacted at the latest controversial incident involving the Balkh governor Ata Mohammad Noor regarding the arrest of the Balkh provincial council member Asif Momand, saying the supporters of the new coalition will stand against the conspiracies being hatched against Noor.
The Office of the First Vice President in a statement said Gen. Dostum made the remarks during a telephone conversation in a gathering of the tribal elders and residents of the northern Jawzjan province.
He said the conspiracies being hatched against Noor are not acceptable to the new coalition, emphasizing that its supporters will stand to challenge such conspiracies, pointing towards the controversial incident in Balkh airport on Monday night that led to the arrest of Balkh provincial council member Asif Momand.
Dostum further added that the recent violence in the northern provinces has roots in areas and circles which/who are having fears regarding the new coalition.
This comes as a clash broke out in Balkh airport in northern Afghanistan during the arrest of the provincial council member Asif Momand.
Momand was arrested late on Monday night in Balkh international airport days after he had accused Ata Mohammad Noor of being involved in massive corruption.
Noor harshly criticized the national security adviser Mohammad Hanif Atmar and the national directorate of security chief Mohammad Stanikzai after the clashes and accused the two top security officials of hatching conspiracies to destabilize the northern Balkh province.
Full report at:
http://www.khaama.com/dostum-says-coalition-to-stand-against-conspiracies-being-hatched-against-noor-03374
--------
Hekmatyar-led Hezb-e-Islami harshly criticizes pro-Iran media of sparking tensions
Aug 16 2017
The Hezb-e-Islami led by Gulbuddin Hekmatyar has harshly criticized certain media outlets, specifically the ones being operated from Iran, of sparking tensions among the various sects, groups, or movements in Afghanistan.
Noting the recent media reports regarding the ongoing differences and deadly clashes among the Taliban and ISIS militants in Afghanistan, Hezb-e-Islami strongly condemned the reports suggesting that the party will side with Deash, ISIS loyalists, in the event tensions further intensify among the two militant groups.
According to a statement by Hezb-e-Islami, such rumors and reports are only aimed sparking further tensions among the people belonging to different sects and groups in a bid to keep fueling the violence in Afghanistan.
The statement further added that the ISIS militants operating in Afghanistan are only the former militants of the Taliban group who have only changed their insurgency by changing the color of their flags.
The party also insisted that the ideology of the ISIS group in Iraq and Syria are far more different than the ones operating in Afghanistan.
The latest statement by Hezb-e-Islami criticizing the Iran-pro media outlets comes as numerous reports have emerged in the past suggesting the ongoing efforts by certain elements in Iran to counter the growing threats posed by the terror group in Afghanistan to the region by supporting the Taliban insurgency.
Full report at:
http://www.khaama.com/hekmatyar-led-hezb-e-islami-harshly-criticizes-pro-iran-media-of-sparking-tensions-03373
--------
North America
Trump's double standard for white supremacists and Muslims
By Wajahat Ali
August 16
Wajahat Ali is a political commentator, Emmy-nominated producer, playwright and attorney.
"Children, if you're a Nazi or a white nationalist, your president will stand up for you. If you're Muslim? Immigrant? Black? Female? Sorry, you're on your own. Perhaps work at Trump Towers or compete in Miss Universe in order to make it. Good luck!"
I never considered saying this to my two babies, but then again I never thought a president would make moral equivalences and excuses for white supremacist terrorism. After Tuesday's news conference, we know that President Trump believes thereare "both sides" to the tragic violence in Charlottesville that left one woman dead and 19 injured. There are apparently "many sides" to the conflict, but only one man, James Alex Fields, a Nazi sympathizer, who was charged with deliberately plowing his car into a crowd killing Heather Heyer, an anti-racism advocate. In reviewing his response to the Charlottesville tragedy, it seems Trump has different standards for different Americans: one for his base, the alt-right, and another for Muslims and people of color.
According to Trump, there were "very fine people" in the weekend rally assembled by members of the alt-right. Some of these "very fine people" included white men and women in Old Navy and Gap clothes carrying Tiki torches bought at Walmart, many armed to the teeth, shouting anti-Semitic and racist slogans and lifting their arms in Nazi salutes. Even though they chanted, "The Jews will not replace us!", I'm sure they'll give a pass to the president's Jewish grandchildren. These misunderstood men are nuanced, sophisticated and generous. They deserve careful restraint in denouncing them.
But there's no such hesitations from Trump when it comes to Muslims. This is the president, after all, who publicly said, "I think Islam hates us." He preemptively, and incorrectly, blamed a Manila shooting on Muslim terrorism and invented a Muslim terror attack in Sweden that never happened. He falls over himself rushing to use the phrase "radical Islamic terrorism," unlike President Barack Obama, whom he chided for being weak. After the San Bernardino attack, he didn't praise "very fine" Muslims who have lived in America for over 400 years, but instead made a call for a complete and total shutdown of Muslims from entering the country. After last year's Orlando shooting, he said that the federal government should begin surveilling mosques. As president-elect he flew to Ohio in December to visit the victims of a Muslim man, allegedly inspired by the Islamic State, who rammed his car into a crowd, injuring 11. Nearly a week after Charlottesville, Trump has yet to visit the family of Heather Heyer. In fact, he was unable to even name her in his Tuesday press conference.
Also, Trump is unable to name this weekend's murder an act of domestic terrorism. Even Attorney General Jeff Sessions, criticized by civil rights groups throughout his career, was able to call it an act of terrorism. Instead, Trump is still waiting to see, because, as he mentioned in the news conference, "When I make a statement, I like to be correct. I want the facts." Which explains his promotion of birtherism, or tweeting that Obama surveilled Trump Tower, or making up a video of Muslims in New Jersey celebrating the 9-11 attacks, or pushing the myth that 3 million to 5 million immigrants voted illegally for Hillary Clinton.
Maybe I can help Trump see the "facts" and "many sides" to these double standards by framing it in a story he understands. The armed protesters in Charlottesville are angry, frustrated men. They feel dislocated from mainstream society, unheard and unwanted. They found a community online that listens to their grievances. They unite over an ideology of supremacy that promises them glory, honor and dignity. They believe their tribe needs to gain dominance over inferior groups as the only path toward creating a pure society. This describes the pathway to radicalization for the Islamic State and for many white supremacists. They were the "very fine people" in Charlottesville.
Don't believe me? Talk to Christian Picciolini, a former leader of the Chicago Area Skinheads and member of the neo-Nazi movement, who left in 1996. That's how he described the recruiting of white nationalists when I interviewed him right before Tuesday's news conference. His group, Life After Hate, which helps de-radicalize white supremacists, received a $400,000 grant from the Obama administration under its "Countering Violent Extremism" program. Out of all the recipients, it was the only group focused exclusively on fighting white supremacy. Recently, Katherine Gorka, a Trump aide with a rich history of anti-Muslim statements, and husband to Sebastian Gorka, another White House aide accused of being a member of an anti-Semitic Hungarian group, helped persuade the Department of Homeland Security to pull Life After Hate's funding.
Perhaps if a Muslim had been driving the car in Charlottesville, the president would be able to muster 140 characters or have the moral clarity to see only one side, and call it for what it is: an act of hate and domestic terrorism that betrays the values and principles that brave Americans died fighting for. Instead, we have a president who is able to see the good in all of his citizens, except, of course, those who aren't part of his base.
https://www.washingtonpost.com/opinions/trumps-double-standard-for-white-supremacists-and-muslims/2017/08/16/ad9954d0-82dc-11e7-b359-15a3617c767b_story.html?utm_term=.df6b31b4c806
--------
Trump administration asks Supreme Court to toss out Muslim ban case
August 16, 2017
BY AL NEAL
The Trump administration quietly urged the Supreme Court Thursday, August 10 to dismiss, without a decision, two cases challenging Trump's March 6 travel ban executive order. The administration maintains that the executive order limiting the entry of travelers from six majority Muslim nations is not a "Muslim ban."
The two cases named in the administration's brief are International Refugee Assistance Project v. Donald J. Trump and State of Hawaii v Donald J. Trump. The 84-page brief is the first to be filed with the Justices, who agreed in late June to review the legality of the March 6 travel ban order.
The administration's argument comes down to three points:
— That no one among the challengers can show that they are being harmed or will suffer harm from the executive order. Therefore, the lower courts had no legal basis and their decisions should be reversed.
—That the federal appeals court's ruling that the executive order was an unconstitutional form of religious discrimination, and went beyond presidential authority under federal immigration laws is an offense to the executive by second-guessing the motives of the president by accusing Trump of "bias against a one of the world's major religions."
— And that Supreme Court legal precedent shows that the courts are ill-equipped to second-guess the executive office in its use of power granted by Congress to decide which foreign nationals can barred entry into the U.S.
The brief also asks the Supreme Court not to allow lower courts to use statements made by Trump, during his campaign for president, when considering the immigration ban. It claims that those statements do not reflect the views Trump currently holds after taking the oath of office.
"Allowing consideration of campaign statements also has no rational limit raising questions about whether courts may consider statements from a previous campaign or from a previous business conferences, or from college," reads the brief. "That approach also threatens to chill campaign speech, to which our most basic free speech principles have their fullest and most urgent application."
During the 2016 presidential campaign, Trump frequently made public statements against Islam and immigration.
Speaking at a rally December 7, 2015, he said, "Donald J. Trump is calling for a total and complete shutdown of Muslims entering the United States until our country's representatives can figure out what is going on. According to Pew Research, among others, there is great hatred towards Americans by large segments of the Muslim population."
Full report at:
http://www.peoplesworld.org/article/trump-administration-asks-supreme-court-to-toss-out-muslim-ban-case/
--------
Trump admin's religious freedom report says IS conducting genocide
Aug 16, 2017
US secretary of state Rex Tillerson, releasing the Donald Trump administration's first report on international religious freedom on Tuesday, accused the Islamic State (IS) of conducting genocide in areas it controls and named Pakistan and China among a short list of countries that deny their citizens the right to practice their religion or belief.
"To remove any ambiguity from previous statements and reports by the state department … ISIS is clearly responsible for genocide against Yazidis, Christians, and Shia Muslims in areas it controls or has controlled," Tillerson said, using another acronym for IS.
The US first determined IS's actions amounted to genocide in 2016, when Tillerson's predecessor John Kerry said: "My purpose here today is to assert in my judgment, (IS) is responsible for genocide against groups in areas under its control." It was called a historic announcement — Darfur, Sudan in 2004 was the last time the US had declared genocide anywhere in the world.
It could not be immediately determined if Tillerson's statement suggested change in US policy or an escalation in hostilities against the terrorist outfit.
The top diplomat named IS at the top of his list of "most egregious and troubling" examples of violators of the right to practice religion. Others on his list, which he discussed at the release event, were Iran, Saudi Arabia, Turkey, Pakistan, China, Bahrain and Sudan.
"Religious freedom was under attack in Pakistan, where more than two dozen are on death row or serving a life imprisonment for blasphemy," Tillerson said. "The government marginalises Ahmediya Muslims and refuses to recognize them as Muslim."
"It's my hope," he added, "the new prime minister, his government will promote inter-faith harmony and protect the rights of religious minorities."
Pakistan's had found a special mention in the 2015 report as well, because of its controversial blasphemy laws.
Tillerson did not name India in his list of egregious violators of the right to practice religion, but the annual report noted that "there were reports of religiously motivated killings, assaults, riots, discrimination, vandalism, and … increase in violent incidents by cow protection groups against mostly Muslim victims, including killings, mob violence, assaults, and intimidation".
Full report at:
http://www.hindustantimes.com/world-news/trump-admin-s-religious-freedom-report-says-is-conducting-genocide/story-w3XfcQyxw94k7YafTJe5jL.html
--------
National group labeled 'anti-Muslim' plans pro-Trump rally in Syracuse
August 16, 2017
SYRACUSE, N.Y. -- ACT For America, which held a "March Against Sharia" earlier this summer in Syracuse, plans to hold a rally next month to support President Donald Trump's immigration, refugee and border policies.
ACT for America, which has been labeled an extremist anti-Muslim group by a national organization that tracks hate groups, says it will hold "America First" rallies across the country on Sept. 9, including one in Syracuse.
ACT for America, on its website, calls for citizens to stand together in "peaceful fellowship" to support the national defense agenda, which they say includes the following: secure our borders; defeat ISIS, Al Qaeda and affiliates; designate the Muslim Brotherhood as a foreign terrorist organization; ensure proper and effective vetting of refugees; and respect law and order, police and military.
The rally, which was planned earlier this summer, was scheduled to be held at the Onondaga County Republican Committee headquarters at 2910 Erie Boulevard East in Syracuse, according to the group's Facebook page.
Randy Potter, of the Republican committee, said Tuesday afternoon that due to the events that took place this weekend in Charlottesville, Va. the location of where the rally will be held is under discussion.
"We don't want violence of any kind," Potter said referring to the violence that erupted between white nationalists and counter protests in Virginia.
The location has been removed from the event page. A new location of the rally is unknown at this time.
Local organizers are listed on the Facebook event as Lisa Jensen and Lisa Joseph.
Joseph told Syracuse.com that she wants the public to know that white supremacists will not be welcome at the rally. Jensen also said in a post on the event page that those advocating violence are not wanted at the rally.
"We welcome all, discriminate against none, and require that our members behave at all times peacefully and with honor," Jensen wrote on Facebook on Monday. "Accordingly, any organizations or individuals advocating violence or hatred towards anyone based on race, religion, or affiliation are not welcome at this rally."
A counter protest dubbed "ACT for America Non-violent counter protest" is being organized by the International Socialist Organization -- Syracuse. An event page on Facebook claims that "America First = White Supremacy."
"Ignoring them or meeting half-way across town to talk about 'diversity' simply yields our public spaces to these fascists, and it even allows them to grow," according to the counter protest's Facebook post. "We need to display our solidarity in a way that's public and in their face. We can shut them down by drowning them out with our collective voices."
The counter protest has no location, but is listed for 10 a.m. on Sept. 9, the same time as the America First rally.
ACT for America is the largest grassroots anti-Muslim group in America, claiming 280,000 members and over 1,000 chapters, according to the Southern Poverty Law Center, an organization that tracks hate groups.
Scott Presler, lead activism strategist for ACT for America, told Syracuse.com in June when the group organized it's anti-Sharia law protest that the group is not anti-Muslim.
"We are not against people," Presler said. "We're against practices."
The national organization also denounced the "violent criminal behavior" at the Charlottesville, in a statement released Monday.
Full report at:
http://www.syracuse.com/news/index.ssf/2017/08/act_for_america_to_host_america_first_rally_in_dewitt_counter_rallies_planned.html
--------
Landlord found to have violated Muslim tenants' religous rights loses appeal
BY MICHELE MANDEL
August 17, 2017
TORONTO - His case went viral around the world: The Nigerian-born landlord ordered to pay $12,000 for violating the religious rights of his Muslim tenants by not removing his shoes or accommodating their prayer times when trying to re-rent their Brampton apartment.
But while John Alabi's predicament garnered sympathy from many, the Human Rights Tribunal of Ontario (HRTO) has just refused to reconsider its controversial ruling.
His next step, he says, is appealing to the Divisional Court.
"I'm disappointed but I'm not surprised," said Alabi, 52. "I had no hope in them."
He's just a small landlord who rented out an apartment in his home to help make his mortgage payments. Walid Madkour and Heba Ismail had moved in during December 2014 but after a month, they gave notice and Alabi started showing the unit to potential renters.
Alabi insists he tried to accommodate the Egyptian-born couple's many demands about booking viewing times around their prayers and the wife's need for advanced notice so she could change into modest dress. But they repeatedly cried racism, he says: They complained he didn't take off his shoes when entering the bedroom where they prayed; Alabi said he was wearing his house shoes, not ones he wore outside. They claimed he made loud pounding noises outside their door to harass them. He said he was just cleaning the walk.
Alabi never did interrupt their prayers or show the apartment when the wife wasn't properly dressed. He always gave legal notice. "He didn't break the law as a landlord but he's still being penalized," said his lawyer Yuce Baykara.
In April, the tribunal sided with his former tenants and basically cast him as an intolerant racist who created a "poisoned housing environment." He was ordered to pay $6,000 to each and take human rights training. "They have the ability to do anything they want to people," Alabi said of the HRTO. "They're playing politics."
In her decision released last week, adjudicator Jo-Anne Pickel stood by her ruling. She denied she'd been unfair in dismissing Alabi's request to adjourn the hearing after he'd just lost his son to suicide. He argued that he'd been forced "to defend the action in his fragile state of mind."
Pickel said Alabi didn't start calling evidence until the hearing's second day, which wasn't held until nine months later, and didn't repeat his request to adjourn for "any allegedly fragile state of mind."
The coldness of her remarks was no surprise to Alabi. "If an institution can tell me that the death of my 24-year-old son is not grounds to give me an adjournment, I'm not surprised by what they decide."
The tribunal vice-chair also defended her disturbing decision to use a Facebook joke Alabi reposted a year after the tenants had left as evidence he was anti-Muslim. "That sunk his case right there because he posted something on Facebook," argued his lawyer. "I don't think that's fair and I think it's very dangerous."
Pickel had no sympathy that English isn't Alabi's first language. "The issue with his testimony was not his inability to speak English," she wrote, "It was the fact that his testimony was neither internally consistent nor consistent with his pleadings or the other documentary evidence in the case."
To Alabi, it seems he's just been called a liar on top of being branded a racist. "I have no reason to lie."
Going through a messy divorce and recently unemployed, Alabi has been so despondent that he even considered taking his life. All that has buoyed him over the last few months has been the outpouring of global support after his story was first told here and picked up by outlets from Britain to Australia which decried political correctness gone amok. Many have contributed to funding his legal fees.
"The support — that is my lifeline that I'm holding on to right now. It gives me faith in Canada," he said. "I will love this country for the rest of my life. The support I got from people has restored my faith."
Full report at:
http://www.torontosun.com/2017/08/16/landlord-accused-of-violating-muslim-tenants-religous-rights-loses-human-rights-appeal
--------
Europe
Muslim youth group combating Islamophobia by raising £500,000 for charity with single event
Chloe Farand
16 August 2017
A Muslim youth organisation is fighting back against hatred and Islamophobia in the UK by raising half a million pounds for charities in a single event.
Hundreds of young Muslims will take part in a half marathon or sponsored walk to promote peace and dispel "misconceptions" about Islam.
The Mercy for Mankind charity challenge organised by the Ahamadiyya Muslim Youth Association (AMYA) is due to be held in the Lake District in Cumbria, a region devastated by strong floods in December 2015.
At the time, the association helped to raise money for those affected by the floods and dozens volunteered to take part in the relief effort. This year, AMYA decided to return to the area to show its ongoing support to the community.
Farooq Aftab, the event organiser and the deputy head of AMYA, told The Independent the location was important because it showed Muslims were engaged in public life across the UK, despite the area itself not being particularly diverse.
"We recognise Islam as a religion of peace and integration which promotes unity and this is what this event will show. We want to make sure that we bring people together and that we show unity and humanity," he said, adding the event will help to fight "misconceptions about Islam".
The event's motto "every act of goodness is charity" is a message of the Prophet Muhammad who according to Muslims encouraged charitable actions towards others.
"This year again, hundreds of us are travelling to the Lake District from up and down the country to raise funds for the most needy in our society without any distinction of faith, colour or creed," he said.
More than 700 members of the AMYA will run and walk alongside members of the local community in a bid to raise £500,000 for charities in the UK including the Cumbria Community Foundation, Bloodwise, the Royal British Legion, Save the Children, NSPCC, Barnardos, CLIC Sargent, Unicef and the British Red Cross.
Mr Aftab added that the timing of the event, a week after a neo-Nazi rally in Charlottesville, Virginia, led to the killing of 32-year-old Heather Heyer, was important because of tensions created by the far-right in some communities.
"We have to combat narratives of hate and divisions and we have to condemn them, that is vital. We have to asked ourselves as a society what we want to achieve," he said.
This years marks the 33rd edition of the charity challenge, which AMYA launched in 1985. Since then, the Muslim organisation has raised more than £2m for charities in the UK.
Every year, the event is held at a different location but this year's half marathon and five kilometre walk will begin from Fitz Park in Keswick on 19 August.
For more information about the Mercy for Mankind challenge or to donate, visit here.
http://www.independent.co.uk/news/uk/home-news/muslim-youth-group-uk-ahamadiyya-raise-500000-half-million-charity-a7897001.html
--------
Manchester attack 'hero' in court for 'theft from victims'
August 17, 2017
LONDON: A homeless man hailed as a hero for coming to the aid of victims of the Manchester Arena terror attack in May appeared in court on Wednesday charged with stealing from two of them.
Chris Parker, 33, was interviewed by British media in the aftermath of the attack in which 22 people were killed, saying he had been begging outside the concert arena when the bomb went off.
A tearful Parker told the Press Association news agency at the time: "I heard a bang and within a split second I saw a white flash, then smoke and then I heard screaming." "It knocked me to the floor and then I got up and instead of running away my gut instinct was to run back and try and help," he said.
"There was people lying on the floor everywhere," he recounted, adding that a woman had died in his arms and he had come to the rescue of a little girl whose mother had been killed. But Greater Manchester Police have accused him of stealing from the victims.
The police said Parker "has been charged with two counts of theft", and at his preliminary hearing on Wednesday, prosecutors said he stole a purse, containing bank cards, from a grandmother.
Pauline Healey, whose 14-year-old granddaughter was killed in the blast set off by suicide bomber Salman Abedi, was injured in the attack. Her daughter was also seriously wounded.
Parker is also accused of stealing a mobile phone from a teenage girl, who cannot be named for legal reasons, at the scene of the explosion.
Prosecutor Ben Southam said Parker had provided "some limited assistance" to injured people but "equally" took the opportunity to steal from them.
Parker denied the charges.
His story had touched hearts amid national mourning following the attack, which was claimed by the Islamic State jihadist group.
A crowdfunding campaign for Parker raised more than £50,000 (55,000 euros, $64,000), though the money was never handed over to him.
One donor even offered to house Parker temporarily, and his estranged mother had contacted her local newspaper after the bombing, asking her son to make contact.
The bomb went off just after the end of a concert by US pop star Ariana Grande, a teen and pre-teen favourite.
Manchester Arena producers said Wednesday that they would re-open on September 9 for the first time since the attack, with a charity concert that will include Noel Gallagher from the Manchester band Oasis.
Full report at:
http://nation.com.pk/international/17-Aug-2017/manchester-attack-hero-in-court-for-theft-from-victims
--------
Britain issues warning over possible commercial ship attacks off Yemen
17 August 2017
The British government and the Merchant Navy have issued a warning alerting commercial ships of the potentiality of being attacked by remote controlled booby-trapped boats or rocket launchers.
The concerned ships involve those passing through Bab-el-Mandeb strait and Gulf of Aden.
The warning was issued after two commercial carriers were attacked by rockets at the southern entrance of Bab el-Mandab in broad daylight near the Yemeni isle of Perim. The booby-trapped boats headed towards the ship with high acceleration.
The statement said: "In previous situations of the sort, attacks were launched via hand grenades, or rocket-propelled grenades. However, the last two attacks involved booby-trapped boats which blew up some distance away from the targeted ship, however the intention was to detonate the hull."
https://english.alarabiya.net/en/News/world/2017/08/17/Britain-issues-warning-on-commercial-ship-attacks-off-Yemen.html
--------
Russia throws weight behind Iran's missile program
Aug 16, 2017
Iran's defensive missile program is part of its "national interests," Russian Foreign Minister Sergei Lavrov says, asserting that the new US sanctions against the Islamic Republic over its missile activities are "illegitimate" and only harm the nuclear deal between Tehran and the P5+1.
Speaking to reporters in a news conference on Wednesday, Lavrov said Iran's development of an array of ballistic missiles was not in violation of the UN Security Council's Resolution 2231, adopted in July 2015 to endorse the landmark nuclear agreement, known as the Joint Comprehensive Plan of Action (JCPOA.)
"The missile program is Iran's internal affair. Iran is not prohibited from having it," Lavrov said. "The UN Security Council's resolution contains no legal bans on that score."
'Illegitimate' pressure
The top Russian diplomat warned the US against upsetting the balance of the deal in favor of its own interests by resorting to unilateral measures.
Washington has on several occasions slapped new sanctions against Iran over its missile program, most recent of which was on July 28.
"Unilateral sanctions are essentially illegitimate. When these sanctions are used to upset the balance on a certain problem in favor of some party, and such a balance was achieved on the Iranian nuclear program, these are irresponsible moves, which may upset and undermine that balance," Lavrov said.
"One should not come up with such provocations, since the issue at hand is the interests of a vast region where we would like to secure a non-nuclear status rather than some individual country's national interests," he added.
Iranian President Hassan Rouhani warned earlier this week that Tehran's nuclear program could quickly return to its pre-JCPOA status in case the US continued its hostile attitude.
"I do hope that this will not happen," Lavrov said. "I also hope that the United States will not violate its commitments to the Joint Plan, either."
He noted that both the International Atomic Energy Agency (IAEA) and the administration of US President Donald Trump had time and again confirmed Iran's compliance to the deal.
Russia against 'suffocating' North Korea
Elsewhere, Lavrov weighed in on the aggravating tensions between the US and North Korea and said Russia was not in favor of economic sanctions that were meant to "suffocate" Pyongyang and its people.
"We cannot support the ideas that some of our partners continue to nourish and that are aimed literally at the economic suffocation of North Korea with all the negative, tragic humanitarian consequences for the North Korean citizens," Lavrov said, noting that the possibilities for economic pressure on North Korea had almost been "exhausted."
The standoff was intensified earlier this month after Trump threatened Pyongyang with "fire and fury" over its missile program. The North hit back by threatening a missile strike against the US Pacific territory of Guam.
Full report at:
http://www.presstv.ir/Detail/2017/08/16/531969/Russia-Lavrov-Iran-missile-program-JCPOA
--------
Pakistan
Unity, Prosperity of Pakistan Is Unity, Prosperity of Muslim World: Saudi Ambassador
Aug 17, 2017
International Islamic University Islamabad (IIUI) Wednesday held a flag hoisting ceremony at Faisal Masjid campus of the university and a book exhibition in connection with 70th Independence Day celebrations. Ambassador of Kingdom of Saudi Arabia (KSA) Nawaf bin Said Al- Malki hoisted the Pakistani flag while an organized squad of university guards was also present in the ceremony which offered salute to the national flag amid national anthem, a press release said.
IIUI Rector Dr Masoom Yasinzai and President IIUI Dr Ahmed Yousif Al Draiweesh, university vice president, director general, deans, directors and faculty members were also present on the ceremony. Pakistan is proud of Muslim Ummah which emerged with an objective of Islam, Ambassador Malki said. He said Pakistan and Saudi Arabia had an immortal friendship and bilateral ties between the brethren countries.
He maintained that unity and prosperity of Pakistan were unity and prosperity of Muslim world. He furthered that the KSA was proud of its cordial relations with Pakistan.
Rector IIUI said Pak-Saudi ties were deeper than the oceans and higher than skies. He said IIUI was an example of exemplary ties between both the friendly states, while he reiterated his resolve that the university would come up to the expectations of Muslim world by bringing top minds in main stream and by nurturing them in lights of Islamic teachings.
He stressed upon the educational institutions that youth should not be disappointed rather they should be told that they were hope of the Muslim world. IIUI President Dr Ahmed Draiweesh said Pakistan came into existence due to prudent thoughts and untiring efforts of Qaid e Azam Muhammad Ali Jinnah and great thinker Allama Muhammad Iqbal.
Later, a book exhibition at Hamid ullah Library of the university was inaugurated by the KSA ambassador Nawaf bin Said Al-Malki where books written on Pakistan Movement were brought on stalls which took special response from the visitors. On this occasion an independence celebration cake was also cut by the ambassador.
http://pakobserver.net/unity-prosperity-pakistan-unity-prosperity-muslim-world-malki/
--------
Seven TTP suspects, 20 Afghans arrested from Punjab: ISPR
August 16, 2017
Pakistan Rangers Punjab along with police and intelligence agencies on Wednesday conducted intelligence-based operations in several cities of Punjab including Attock, DG Khan and Lahore.
According to Inter-Services Public Relations, seven terror suspects and 20 Afghan nationals were apprehended during the last 72 hours, along with a large quantity of explosive, illegal automatic weapons and ammunition.
The apprehended men were affiliated with the proscribed Tehreek-e-Taliban Pakistan, said the statement. It added that the explosives and weapons were likely to be used for terror activities in major cities of Punjab.
http://nation.com.pk/national/16-Aug-2017/seven-ttp-suspects-20-afghans-arrested-across-punjab-ispr
--------
Death toll from Harnai attack rises to eight
August 16, 2017
QUETTA: The death toll from the Harnai bomb attack rose to eight on Tuesday as two more personnel of the Frontier Corps (FC) succumbed to their injuries.
The banned Baloch Liberation Army has claimed responsibility for the blast, which occurred in the Khost area, about 16km from the Harnai town.
Six FC personnel were martyred on Monday when their vehicle was hit by a powerful improvised explosive device (IED) while it was passing through Khost, about 150km northeast of Quetta.
The driver and a non-commissioned officer of the paramilitary force were also injured in the explosion. The IED was planted in the middle of the road linking Shahrag to Harnai. The injured were shifted to hospital where they succumbed to their injuries.
https://www.dawn.com/news/1351847/death-toll-from-harnai-attack-rises-to-eight
--------
Ensure charity, hides not collected by terrorists
August 17, 2017
FAISALABAD-The Faisalabad Chamber of Commerce and Industry (FCCI) stressed a need for saving the billions of rupees money falling in the hands of terrorists or undeserving persons through collection of Zakat and sacrificial animals' hides on Eidul Azha.
Faisalabad Chamber of Commerce and Industry (FCCI) will launch a series of awareness seminars to educate the people about the importance of "safe giving and safe living" project.
Addressing a seminar jointly organised by FCCI and the Initiative for Peace and Development. FCCI Senior Vice President Rana Sikandar-e-Azam said the business community of Faisalabad is acknowledged throughout Pakistan for its proactive philanthropist acts. They are always extending maximum help to the poor and needy people.
"Many of them pay more than the mandatory Zakat of 2.5 percent" he said and quoted two leading businessmen who are running two full-fledged hospitals in addition to managing a large number of schools and colleges where poor patients and students are treated free of cost. Similarly, dozens of FCCI members are independently running free dispensaries particularly in the poor localities of the city, he said and told that Mian Muhammad Idrees has recently announced to bear the entire educational expenses of one thousand students under the System Foundation that has introduced a special program to educate drop out students to pass their matriculation examination within two years. Similarly, Vice President FCCI Engineer Ahmad Hasan will also bear the educational expenses of 25 students under this programme. He said that it is very unlucky fact that Zakat which is a mandatory religious obligation for every Muslim is being abused by the terrorists. Similarly, in Karachi a political party had also introduced a system of forced collection of hides of sacrificial animals for their own ulterior motives. He said that it is the duty of every Muslim to identify the really deserving persons before handing over his Zakat to anybody.
FCCI VP Engineer Ahmad Hasan said that he was surprised to know that a huge amount is being donated by the Muslims every year and said that if it is permitted religiously, we could retire our entire foreign loans just within a few years by diverting Zakat towards this purpose. He said that Pakistan is a unique and blessed country. "We only need honest leadership that could steer Pakistan out of the current political and economic turmoil", he added. He said that the main focus of this seminar is to sensitize the Executive committee members, Trade associations, Businessmen, Industrialist, Philanthropists and local influential's that they should give their charities to the needy and should get the information that where their charity would be spend.
Muqarab Mukhtar, Director Ministry of Information, Broadcasting and National Heritage, said that no doubt Zakat is a mandatory religious obligation but we are also bound to pay it to the really deserving persons. He said that under the clause of 11-H, each and every Pakistani is bound to give Zakat and hides of sacrificial animals to the institutions allowed by the NECTA.
IPAD Executive Director added, "I am glad we had such a receptive and supportive audience which not only understood the actual message but also volunteered to spread the awareness in their respective communities. As responsible citizen we should play our role and verify the individual or institution before giving our Zakat or hides of sacrificial animals to anybody. We must report to NACTA helpline 1717 if come across any suspicious activity, individual or institution."
Full report at:
http://nation.com.pk/national/17-Aug-2017/ensure-charity-hides-not-collected-by-terrorists
--------
URL: https://www.newageislam.com/islamic-world-news/sc-norms-sound-system-mosques/d/112231
New Age Islam, Islam Online, Islamic Website, African Muslim News, Arab World News, South Asia News, Indian Muslim News, World Muslim News, Women in Islam, Islamic Feminism, Arab Women, Women In Arab, Islamophobia in America, Muslim Women in West, Islam Women and Feminism