New Age Islam News Bureau
2 Jul 2020
• Saying Khatam un Nabiyeen With the Name of The Holy Prophet Legally Binding in Sindh, Pakistan
• Prof Muhammad Yunus: Sign Pledge to Declare Covid-19 Vaccine to Be A Common Good
• Odisha: Irate Mob Ransacks Police Outpost, Torches Car After Being Stopped From Azaan
• Turkey to Decide Whether to Re-Designate Iconic Hagia Sophia As Mosque, Not Museum
• US Seizes Items Thought to Be Made from Hair Of Muslims In Chinese Labour Camps
• Embattled Eskom Looks to Islamic-Model Financing to Ease Debt Woes
-----------
Pakistan
• Saying Khatam un Nabiyeen With the Name of The Holy Prophet Legally Binding in Sindh, Pakistan
• FIA files report on video speech to SC in Isa case
• Bilawal says govt wants Zardari to contract Covid-19
• Balochistan govt in touch with Sindh investigators in PSX attack case
------
South Asia
• Prof Muhammad Yunus: Sign Pledge to Declare Covid-19 Vaccine to Be A Common Good
• China Caught Using Malware to Spy on Uighurs As A Part of Campaign to Curb the Muslim Population
• 3 Taliban leaders among 5 killed, wounded in Faryab
• Armed robber killed during a clash with Kabul Police
• Tribute to Latifur Rahman: Two independent newspapers were his gifts to Bangladesh
------
India
• Odisha: Irate Mob Ransacks Police Outpost, Torches Car After Being Stopped From Azaan
• Civilian, CRPF man killed in J&K terror attack from inside mosque
• 107 local, 11 non-local militants killed in 6 months: IGP
• Webinar Organised By Iranian Culture House On Women's Role In View Of Hazrat Fatma (SA) Masoumeh Held In Mumbai
• BJP's Uma Bharti Appears Before CBI Court In Babri Mosque Demolition Case
------
Mideast
• Turkey to Decide Whether to Re-Designate Iconic Hagia Sophia As Mosque, Not Museum
• Yemeni Clerics Denounce Saudi-Led Massacre ofSuba'yan Tribal Family inMa'rib
• SEO to hold 12th virtual intl. forum on Islamic capital market in Sep.
• Gaza rallies, Hamas rocket fire warn against Israeli expansionism
• Iran's president denounces US sanctions against Syria, pledges support for Damascus
------
North America
• US Seizes Items Thought to Be Made from Hair Of Muslims In Chinese Labour Camps
• 5 Quebecers to be recognized for their bravery during Quebec City Mosque attack
• Revere man arrested in connection with hate crime targeting Muslim community members
• CAIR Welcomes Call from House Democrats to Fire Anti-Muslim USAID Official Mark Lloyd
------
Africa
• Embattled Eskom Looks to Islamic-Model Financing to Ease Debt Woes
• Ethiopia: Military Deployed After More Than 80 Killed In Protests
• Muslim leaders reject reproductive health Bill
• Libya's Fatwa House calls for full mobilization against "Russian invasion"
• Boko Haram: Terrorists kill 1 in Kautikari
• Boko Haram: Fate of 5 aid workers uncertain as NGO drags foot on ransom
-------
Southeast Asia
• MahatirCalls on Muslims To Focus on Fighting Israeli Regime
• Can Malaysia keep Covid-19 Free For 28 Days? Health DG Hopes So
• Public outcry as House plans to delay sexual violence bill – again
• Pandemic will distract voters from issues of race, religion in regional elections: Tito
------
Arab world
• Coronavirus: Saudi Arabia's Hospitals Invited to Participate in Four Clinical Trials
• HBKU takes part in Islamic finance conference
• Egypt's Court of Cassation upholds death penalty for 3 defendants in Ansar Al-Sharia case
-----
Europe
• UK PM Pleads with Israel Not to Illegally Annex More of West Bank
• Police Arrest Jason Pagliuca, Charged in Connection with Swastikas Painted on A Muslim Woman's Car in Revere
• Islamic State: Drugs made by terror group and worth more than €1bn seized by police in Italy
• Human Rights Council holds dialogue on Eritrea, ends discussion on Rohingya Muslims and other minorities in Myanmar
Compiled by New Age Islam News Bureau
URL; https://www.newageislam.com/islamic-world-news/saying-khatam-un-nabiyeen-with/d/122271
------
Saying Khatam un Nabiyeen With the Name Of The Holy Prophet Legally Binding In Sindh, Pakistan
New Age Islam

Earlier this month, the Sindh Assembly in Pakistan passed a law making it mandatory for Muslims to say Khatam un Nabiyeen (Seal of prophets) with the name of Prophet Mohammad pbuh.
After the Law was passed not saying Khatam un Nabiyeen with the prophet's name will be a criminal offence and the accused may face jail or penalty. This was done apparently to compel the Ahmadiyyas to pronounce Khatam un Nabiyeen (the last prophet) in public or to identify them in public places or in religious gatherings since the Ahmadiyyas believe that Mirza Ghulam Ahmad, their spiritual leader, was also a prophet.
The Quran declares Prophet Mohammad pbuh " Khatam un Nabiyeen " (Seal of Prophets) in Surah.Ahzab verse 40. But the law may also become a tool of harassment against Sunni Muslims as well as is the case with Blasphemy laws of Pakistan which are used by Muslims against their sectarian opponents.
Every Sunni and Shia Muslim believes that Hadhrat Mohammad pbuh was the last prophet of God and no prophet will come after him. This is a matter of belief and never before in Islamic history, Muslims have been asked to say Khatam un Nabiyeen with the name of the holy Prophet pbuh. The law will be grossly misused by Muslims to implicate Muslims in false cases on sectarian lines or due to personal enmity and the accused will have to prove that he had pronounced Khatam un Nabiyeen. While speaking in a religious gathering (meelad) the speaker may forget to say Khatam un Nabiyeen and may be branded Ahmadiyya and dragged to court or even be lynched by the mob.
This law may have grave social and legal implications. Other states of Pakistan may follow Sindh and bring similar legislation. In a country where blasphemy laws are already being misused this law will only widen the sectarian divide.
------
Prof Muhammad Yunus: Sign Pledge to Declare Covid-19 Vaccine to Be A Common Good
July 02, 2020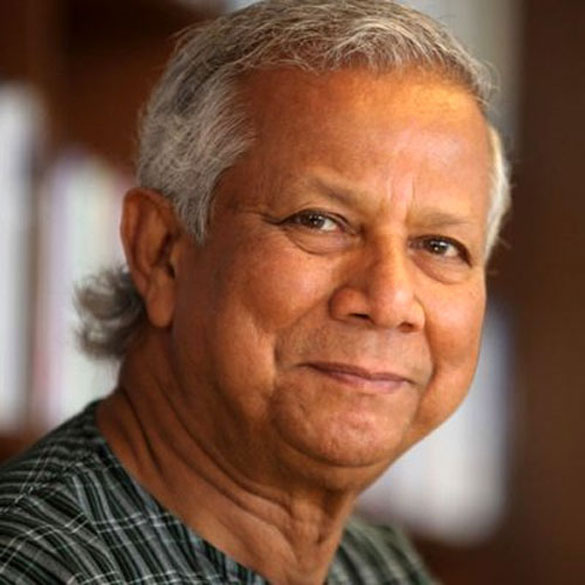 Prof Muhammad Yunus:
----
Nobel laureate Prof Muhammad Yunus has issued an open call to the people of all strata to sign a pledge declaring the Covid-19 vaccine to be a common good.
The Covid-19 vaccine, being a common good, would ensure that it is available to all globally, and that those who cannot pay for it, will not be excluded.
Those who sign this pledge will also agree that results of vaccine research done by the private sector should be in the public domain, making it available to any production facility, as long as it operates under an international regulatory supervision.
This pledge has already been signed by 105 world leaders, including 18 Nobel laureates, 32 former heads of state and government, political leaders, artistes, international NGOs and institutions.
They include Nobel laureates Muhammad Yunus, Tawakkol Karman, Shirin Ebadi, Mikhail Gorbachev, Nadia Murad, Malala Yousafzai, Mairead Maguire, and Archbishop Desmond Tutu among others.
The former heads of state who signed this unified appeal include former Pakistan prime minister Shaukat Aziz, former New Zealand PM Helen Clark, former PM of Italy Romano Prodi, former Brazilian president Luiz Inacio, former president of Mauritius Ameenah Gurib-Fakim, and former UK PM Gordon Brown.
Other signatories include former presidents and prime ministers of Romania, Finland, Bosnia and Herzegovina, North Macedonia, Croatia, Poland, Moldova, Albania, Bulgaria, Mexico, Ireland, Ecuador, Latvia, Montenegro, Serbia, Belgium, Hungary, Malaysia, Kyrgyzstan, Andorra, and Georgia.
https://www.thedailystar.net/frontpage/news/covid-19-vaccine-sign-pledge-declare-it-common-good-1923729
-----
Odisha: Irate Mob Ransacks Police Outpost, Torches Car After Being Stopped From Azaan
02nd July 2020
JAGATSINGHPUR: Members of a particular community ransacked a police outpost and torched the private vehicle of a police officer after being restricted from gathering inside a mosque in violation of COVID-19 guidelines at Krishanandapur panchayat in Tirtol on Tuesday night.
The community members went berserk after officer-in-charge (OIC) of Krishnanandpur police outpost Anirudha Nayak alerted all mosques under the panchayat in Tirtol not to give Azaan (Islamic call for prayer) and adhere to the COVID-19 protocols. Krishanandapur has 20 villages having at least one mosque each since the area is dominated by the minority community.
On being informed about the police directive, village leader SK Alsar Ali and 28 community members held a meeting in Akhunmahala mosque. Ali said mass congregation for prayers is prohibited in all mosques, but there is no restriction on Azaan.
Though congregational prayers are suspended, Namaz can be offered at home. "Villagers were unhappy over the restriction on Azaan. The police does not understand the difference between Azaan and Namaz. The situation turned ugly when the OIC forcibly entered the mosque with his shoes on and threatened to book us for violating COVID-19 guidelines," Ali said.
He also alleged that the police caned some of the persons present inside the mosque and threatened to arrest them if they do not adhere to the rules and regulations. In protest, community members staged demonstration in front of the police outpost demanding stern action against the OIC. The agitators ransacked the outpost and torched the personal vehicle of Nayak.
On the other hand, OIC Nayak refuted the allegations. "Since everyone had removed their shoes outside the mosque, I too did the same before entering. I only warned them of action for not wearing masks and violating social distancing norm," he said.
Collector Sangram Keshari Mohapatra and SP Prakash R rushed to the spot and assured the agitators to remove Nayak from the outpost. The protest was called off after the administration allowed Azaan in mosques.
Tirtol SDPO Deepak Jena said the OIC has been temporarily withdrawn from the outpost. Two platoons of police force have been deployed in the village to maintain law and order. Meanwhile, Nayak lodged an FIR with Tirtol police against 300 people for ransacking the outpost and torching his personal vehicle.
https://www.newindianexpress.com/states/odisha/2020/jul/02/odisha-irate-mob-ransacks-police-outpost-torches-car-after-being-stopped-from-gathering-in-mosque-2164246.html
------
Turkey To Decide Whether To Re-Designate Iconic Hagia Sophia As Mosque, Not Museum
02/07/2020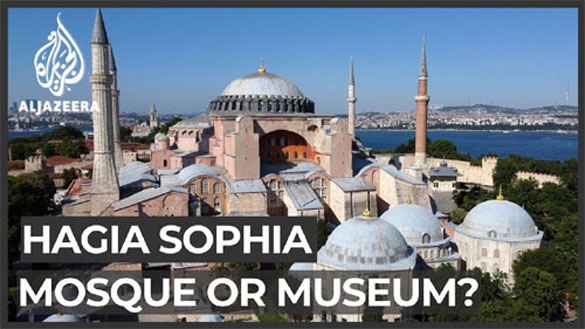 The sixth-century edifice -- a magnet for tourists worldwide with its stunning architecture -- has been a museum since 1935, open to believers of all faiths.
Despite occasional protests by Islamic groups, often shouting, "Let the chains break and open Hagia Sophia" for Muslim prayers outside the UNESCO world heritage site, authorities have so far kept the building a museum.
The Hagia Sophia was first constructed as a church in the Christian Byzantine Empire in the sixth century but was converted into a mosque after the Ottoman conquest of Constantinople in 1453.
Transforming the Hagia Sophia into a museum was a key reform of the post-Ottoman Turkish authorities under the modern republic's founder Mustafa Kemal Ataturk.
But calls for it to serve again as a mosque have raised anger among Christians and tensions between historic foes and uneasy NATO allies Turkey and Greece.
Turkey's Council of State will deliver a ruling on its status either on the same day or within two weeks, the official Anadolu news agency reported.
President Recep Tayyip Erdogan last month said the decision was for the court -- known as the Danistay -- adding: "The necessary steps will be taken following the verdict."
But Erdogan previously indicated it was time to rename the Hagia Sophia as a mosque, saying it had been a "very big mistake" to convert it into a museum, in comments before municipal elections last year.
"The Danistay decision will likely be a political one. Whatever the outcome, it will be a result of the government's deliberation," said AsliAydintasbas, fellow at the European Council on Foreign Relations.
But she added the government will be weighing a number of issues, including relations with Greece, Europe and with the US where "religion is an important matter".
Anthony Skinner of the risk assessment firm Verisk Maplecroft said converting the Hagia Sophia into a mosque would "kill at least two birds with one stone" for Erdogan: he could cater to his Islamic and nationalist base, and sustain if not exacerbate tensions with Greece, all while seeking to cast Turkey as a formidable power.
The Turkish leader has in recent years placed ever greater emphasis on the battles which resulted in the defeat of Byzantium by the Ottomans, with lavish celebrations held every year to mark the conquest.
In May, Muslim clerics recited prayers in the museum to celebrate the anniversary after the first Koran recital in 85 years inside the Hagia Sophia in 2015.
In 2016, the state religious channel broadcast a Koran recitation by a different senior Turkish cleric inside the museum on each day of the holy month of Ramadan.
Greece closely follows the future of Byzantine heritage in Turkey and is sensitive to the issue as it sees itself as the modern succession to Orthodox Christian Byzantium.
Greek Culture Minister Lina Mendoni, who sent a letter of protest to UNESCO last week, said the move "rekindles national and religious fanaticism" and is an attempt to "diminish the monument's global radiance".
She accused the government of using the monument "to serve internal political interests," arguing that only UNESCO had the authority to change Hagia Sophia's status.
US Secretary of State Mike Pompeo on Wednesday urged Turkey to keep the Hagia Sophia as a museum, and to ensure it remains accessible to all.
"The United States views a change in the status of the Hagia Sophia as diminishing the legacy of this remarkable building and its unsurpassed ability... to serve humanity as a much-needed bridge between those of differing faith traditions and cultures."
https://www.france24.com/en/20200702-turkey-hagia-sophia-mosque-museum-mustafa-kemal-ataturk-unesco
------
US seizes items thought to be made from hair of Muslims in Chinese labor camps
2 Jul 2020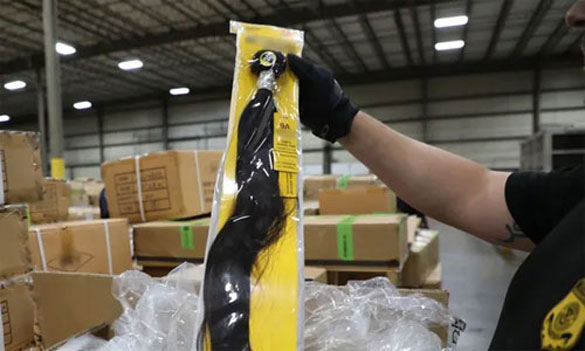 A shipment of hair pieces and accessories from China, part of which is suspected to have been made with forced or prison labor in violation of US Law. Photograph: US Customs and Border Protection/AFP/Getty Images
-----
US federal authorities have seized a shipment of products made from human hair believed to have been taken from Muslims in labor camps in China's western Xinjiang province.
Customs and Border Protection officials said that 13 tons (11.8 metric tonnes) of weaves and other hair products worth an estimated $800,000 were in the shipment.
"The production of these goods constitutes a very serious human rights violation, and the detention order is intended to send a clear and direct message to all entities seeking to do business with the United States that illicit and inhumane practices will not be tolerated in US supply chains," said Brenda Smith, executive assistant commissioner of CBP's office of trade.
This is the second time this year that CBP has slapped a rare detention order on shipments of hair products from China, based on suspicions that people making them face human rights abuses.
Rushan Abbas, a Uighur American activist whose sister went missing in China almost two years ago and is believed to be locked in a detention camp, said women who use hair weaves should think about who might be making them.
"This is so heartbreaking for us," she said. "I want people to think about the slavery people are experiencing today. My sister is sitting somewhere being forced to make what, hair pieces?"
Wednesday's shipment was made by Lop County Meixin Hair Product Co Ltd. In May, a similar detention was placed on HetianHaolin Hair Accessories Co Ltd, although those weaves were synthetic, not human, the agency said.
Both of the exporters are in China's far west Xinjiang region, where, over the past four years, the government has detained an estimated 1 million or more ethnic Turkic minorities.
Detainees are held in internment camps and prisons where they are subjected to ideological discipline, forced to denounce their religion and language and physically abused. China has long suspected the Uighurs, who are mostly Muslim, of harboring separatist tendencies because of their distinct culture, language and religion.
Reports by the AP and other news organizations have repeatedly found that people inside the internment camps and prisons, which activists call "black factories", are making sportswear and other clothing for popular US brands.
Xinjiang authorities announced in December that the camps had closed and all the detainees had "graduated", a claim difficult to corroborate independently given tight surveillance and restrictions on reporting in the region.
Some Uighurs and Kazakhs have told the AP that their relatives have been released, but many others say their loved ones remain in detention, were sentenced to prison or were transferred to forced labor in factories.
https://www.theguardian.com/world/2020/jul/01/china-muslim-labor-camps-uighur-hair-products
-----
Embattled Eskom looks to Islamic-model financing to ease debt woes
by Riyaz Patel
2020-07-01
"Eskom has assessed the viability of an innovative local-currency South African-based sukuk funding solution that would enable Eskom to further develop its borrowing plan," the entity said in a request for proposals posted on the National Treasury website.
Eskom has appointed a lead arranger "to work towards establishing timelines for the issue," company spokesperson SikonathiMantshantsha added Monday.
The struggling utility is about R450bn in debt and indications are that it has no current plans to approach government for additional cash injections. Eskom is currently owed R28bn by municipalities.
Responding to questions in Parliament last month, Public Enterprises Minister Pravin Gordhan said Eskom was at an "advanced stage" of its unbundling process.
"Business models for the divisions and corporate functions for the first phase of divisionalisation are at an advanced stage," he said.
"A total of 8890 employees have been linked to the operating divisions, of whom 6500 are from head-office functions. The volume of staff enables the line divisions to function separately. Divisional managing directors have been appointed, divisional boards have been appointed, divisional board members for all three divisions of Eskom have already been meeting, and cash-flow statements and income statements are in place for the divisions," said Gordhan.
He added the fact that the divisions would trade with each other would allow for better balancing and forecasting of predictive loads due to the penalties and benefits in the trading system.
Eskom's funding plan "requires sizable funding that can provide diversification and longer tenors at reduced finance costs," the utility said.
A sukuk is an Islamic financial certificate, similar to a bond in Western finance, that complies with Islamic religious law commonly known as Sharia.
Since the traditional Western interest-paying bond structure is not permitted in Islam, the issuer of a sukuk sells an investor group a certificate, and then uses the proceeds to purchase an asset, of which the investor group has partial ownership. The issuer must also make a contractual promise to buy back the bond at a future date at par value.
Reports say Shariah-compliant bonds have been considered as a funding source by Eskom since at least 2012. It said two years later that it would monitor the South African government's debut sukuk issuance as a barometer for future funding plans. And while the government has sold one dollar-denominated sukuk, it hasn't issued one in the rand market.
In 2014, South Africa successfully concluded its debut US$500m 5.75 year sukuk bond issuance in the international capital markets.
Pretoria said at the time that the decision to issue an Islamic bond was informed by a drive to broaden its investor base and to set a benchmark for state-owned companies seeking diversified sources of funding for infrastructure development.
https://www.thesouthafrican.com/news/eskom-looks-to-islamic-model-sukuk-ease-debt/
-----
Pakistan
FIA files report on video speech to SC in Isa case
July 02, 2020
ISLAMABAD: As the Supreme Court commences on Thursday (today) the hearing on the video speech containing derogatory remarks and threats against Justice Qazi Faez Isa and other judges, the Federal Investigation Agency (FIA) on Wednesday furnished an interim report highlighting that Rawal­pindi-based cleric Mirza Iftikharuddin had denied making the speech on anyone's instigation or direction.
A two-judge bench comprising Chief Justice of Pakistan Gulzar Ahmed and Justice Ijaz-ul-Ahsan will resume the hearing of the case initiated on a suo motu over the viral video containing derogatory, contemptuous and scandalous language against the institution of the judiciary and the judges.
The cleric owned up to the contents of the lecture he gave to over half a dozen faithful on June 14 (a week before the SC decision on the petition of Justice Isa against the filing of presidential reference against him).
In its report furnished through FIA director (law) Malik Tariq Mehmood, the investigation agency stated that Mirza had already deleted the video from YouTube and Facebook. It added that the FIA had also got the custody of Mirza and his accomplice Akbar Ali on physical remand till July 6.
The report explained that the IP addresses used by the accused persons for uploading the video have been traced and the concerned ISPs have been approached to provide the subscribers detail of the internet devices through which IP addresses were accessed. According to the FIA, the operators concerned have also been approached to obtain Character Detection and Recognition (CDR) and subscriber's details of the SIMs in use of the two suspects to further unearth their probable nexus with other co-accused.
Only a day ago, Mirza submitted an affidavit before the Supreme Court, tendering an unconditional apology for 'unintentionally' uttering some words against honourable judges in a 'private meeting'.
On the basis of the video clip, Justice Isa's wife on June 24 lodged a case at the Islamabad Secretariat Police Station, complaining that death threats were being hurled at the judge of the Supreme Court.
Meanwhile, the FIA in its report stated that the investigation on the basis of FIR No 3 of 2020 under Section 7 of the Anti-Terrorist Act (ATA) read with sections 34, 500, 505 and 506 of the Pakistan Penal Code (PPC) and Section 20 of the Prevention of Electronic Crime Act (Peca) had been entrusted to a Joint Investigation Team (JIT) comprising Assistant Directors Khurram Saeed Rana, Mohammad Azmat Khan and Adnan Khan of CCRC and FIA's counterterrorism wing inspector Raja Wajid Hussain.
During the course of investigation, two suspects Mirza and Akbar were arrested from whom an iPhone, a Samsung mobile phone, a Q-Mobile phone, a movie camera and a laptop were recovered and sent for forensic analysis.
According to the FIA, the cleric claimed to be associated with Imam BargahQasre Abbas, Morgah, Rawalpindi. He has owned the contents of the video lecture and stated that his responsibility was to preach Islamic teachings. Besides, he admitted that he had been running 'Iqra' channel, a web TV, since 2017 in one of the rooms of his residence. His accomplice Akbar recorded his lectures and uploaded/managed his Youtube channel and Facebook page, the report said.
The FIA said Mirza admitted that on June 14, after Namaz-e-Maghrebain, he addressed six or seven namazis of the locality, where his assistant Akbar and Rasool Shah were also present. Akbar recorded the speech through the movie camera, edited and uploaded it without his consent on Youtube channel having URL: https://www.Youtube.com/channel/UCvUDG19AzcExacicaNqPPJW and Facebook account having URL web.facebook.com/mirza.iftikharuddin?rdc=1&rdr.
Mirza claimed when he came to know about uploading of the video, he immediately asked his aide to delete it. However, Akbar claimed that he became frightened and deleted the video when one of the page followers of Mirza Iftikhar told him that this act amounted to contempt of court.
https://www.dawn.com/news/1566450/fia-files-report-on-video-speech-to-sc-in-isa-case
------
Bilawal says govt wants Zardari to contract Covid-19
July 02, 2020
LAHORE: PPP chairman Bilawal Bhutto-Zardari has alleged that the PTI government wants to "murder" former president Asif Ali Zardari through the National Accountability Bureau (NAB).
He was speaking at a press conference here on Wednesday in which he, among other issues, dilated upon the "minus one" formula, negated the impression that his party was seeking any concessions from the government, challenged the prime minister to an open debate, chided Imran Khan for the latter's stance on Osama bin Laden's death, and disputed the government's data on coronavirus pandemic.
"The government wants to assassinate [former] president Asif Ali Zardari. When president Zardari was in jail, he was not provided with medicine and today NAB wants him to be infected with Covid-19 by forcing him to appear in court in connection with a case," he said. "This government does not respect the elderly as well as women but we will not compromise on the 18th Amendment," he said.
Flanked by Qamar Zaman Kaira, Chaudhry Manzoor, Hassan Murtaza and Samina Ghurki, the PPP chairman said his party did not want any NRO and would continue to give tough time to the "puppet" government no matter how many lawsuits were filed against the party leadership. He dared the government to go for conviction of PPP leaders if it had enough evidence to prove cases [of any wrongdoings].
He said Imran Khan gave several NROs, the first one to his sister Aleema Khan, who had not yet produced her money trail. Imran Khan introduced a general amnesty scheme for "thieves" because he himself took advantage of Gen Musharraf's amnesty.
"The sugar commission was also an NRO, which was given to Buzdar, Tareen and Asad Umar. The government's each policy seems to be based on the principle of NRO."
Mr Bhutto-Zardari told a questioner it was PM Khan and not the opposition parties talking about the "minus one" formula. He said whenever democracy faced threats, the PPP played a vital role in its preservation. He said democracy was threatened by Imran Khan "who is undermining the office of prime minister, parliament and the constitution".
Responding to a question, he said they didn't follow the "finger of any umpire" but of the masses and challenged the questioner if his TV channel could telecast evidence of rigging in the last Senate polls.
Asked about the modus operandi to be adopted to oust Imran Khan, he said democracy and the Constitution could provide a solution to the issue and that his party would never go for any unconstitutional option.
"PM Imran is so brave that he makes a speech in our absence… Imran Khan is not willing to come in front of us," he said, adding "Imran Khan is a PM for the PTI's social media only and not ready to become prime minister of the country."
Challenging PM Khan's stance on the death of Osama bin Laden, the PPP chairman said: "If Osama bin Laden is a martyr then what is your stance on Army Public School attack, Zarb-i-Azb (operation) and Swat Operation?"
"The coronavirus pandemic is not subsiding in Pakistan as being claimed by the government. The government has not taken any step to deal with the coronavirus," he said, demanding risk allowance for healthcare workers in Punjab like in Sindh.
He said Pakistan was facing unprecedented challenges but it could be seen in the budget that education, health and unemployment had not been given any priority.
Speaking on the PIA plane crash in Karachi and controversy surrounding the credentials of the pilots, he said the government had turned the crash into an excuse to privatise the national airline. Otherwise, he said, "our pilots are known for their expertise around the world."
He said the PIA's permit to fly to EU countries had been suspended because Aviation Minister Ghulam Sarwar Khan had accused its pilots of holding dubious licences "without any evidence".
"The minister whose own degree is fake ... levelled this type of allegation against our pilots [leading to] them being banned across the world. No one has caused this type of damage to PIA in the history as this government."
he PPP leader said that the entire country was proud of Sindh police for thwarting the Pakistan Stock Exchange attack in which four terrorists were killed. He said timely action of Sindh police had saved the nation from catastrophic damage.
He said the PPP would raise the issue in the proposed multi-party conference of a no-confidence motion against the National Assembly speaker for running the house in a partisan way.
https://www.dawn.com/news/1566446/bilawal-says-govt-wants-zardari-to-contract-covid-19
-------
Balochistan govt in touch with Sindh investigators in PSX attack case
July 01, 2020
KARACHI: Police authorities and the Sindh government on Tuesday confirmed they were in contact with their counterparts in Balochistan to make headway into the investigations of Monday's attack on the Pakistan Stock Exchange (PSX) as initial findings helped investigators to determine areas of residence of the dead attackers and their masterminds.
Two investigation teams — one set up by the Karachi police and the other belonging to the Counter Terrorism Department (CTD) of Sindh police — found new evidence that convinced them about the origin of the attack and the way it was executed in the city.
The findings led to quick contact between the authorities of the Sindh and Balochistan provinces and that development would further lead to more coordination between the two sides during the course of investigation.
"Police authorities in Balochistan and provincial government are briefed about the findings of the probe so far," said an official. "The two sides agreed to pursue the available information and keep strong coordination during the course of investigation. The investigators have enough material to connect the dots to solve the case on a faster pace."
The PSX had come under attack on Monday morning when four heavily armed assailants lobbed grenades at its entrance and opened fire on security guards and officials before being killed in an exchange of fire that also claimed the lives of a police officer and three guards.
The outlawed Balochistan Liberation Army (BLA) claimed responsibility through social media. Rangers chief Major General Omar Bukhari had said that the attack reflected the "frustration" of Indian agency RAW over peace in Pakistan's financial hub, and it was not possible without the help of any foreign hostile agency.
Three of the attackers were later identified as Salman, Tasleem Baloch and Siraj through their fingerprints. The fresh contact and coordination between the law enforcement agencies emerged as a result of such findings.
In another development, the Meethadar police formally registered a case of the incident under Sections 302 (premeditated murder), 365 (kidnapping or abducting with intent secretly and wrongfully to confine person), 344 (wrongful confinement for ten or more days), 109 (abetment) and 34 (common intention) of the Pakistan Penal Code read with Section 7 of the Anti-Terrorism Act of 1997 (ATA).
Chief Minister Syed Murad Ali Shah on Tuesday announced a one-step upward promotion for the martyred policeman and announced a Rs10 million compensation, two jobs, continuation of salary till his superannuation.
He made the announcement while addressing a special ceremony organised at the Central Police Office (CPO) to pay tribute to the policemen and security guards who laid down their lives and sustained multiple injuries while foiling Monday's attack.
He said that the attack on the PSX might have caused us more loss than the attack on World Trade Centre by Osama Bin Laden. "Credit goes to the Sindh government which made recruitments in the police purely on merit, otherwise this bravery and timely action against the terrorists might have not taken place," he said.
Earlier, the chief minister, Information Minister Nasir Shah and Inspector General of Police Mushtaq Mahar offered dua at the memorial built at the CPO to keep the memories of brave policemen who laid down their lives in the line of duty alive.
Replying to a question, the chief minister said that the provincial government was collecting withholding tax on behalf of the federal government.
"If the federal government wants the provincial government to collect any tax they [Fed govt] would have to formally request the provincial government and then the decision would be taken in consultation with our cabinet," he said, adding that the provincial government was ready to serve the federal government within the ambit of the Constitution of Pakistan.
To a question, the chief minister said that the unilateral deduction of withholding tax on vehicles by the federal government was unconstitutional.
Talking about the salary structure of the Sindh police, the chief minister said it was better than the policemen of the other provinces.
Replying to a question about the lockdown, the CM said that his government could not impose it unilaterally. "Now, EidulAzha is approaching and on this Eid virus may take a new turn of highs, if this kind of approach and attitude are continued then the virus would not die down in Pakistan even if it is eliminated in the rest of the world," he said.
https://www.dawn.com/news/1566198/balochistan-govt-in-touch-with-sindh-investigators-in-psx-attack-case
-----
South Asia
China caught using malware to spy on Uighurs as a part of campaign to curb the Muslim population
02/07/2020
China's campaign to restrict the Uighur population reportedly started as far back as 2013 using malware technologies, a U.S.-based mobile intelligence company revealed Wednesday.
The Lookout Threat Intelligence Team found evidence that four Android surveillance malware tools were used to track Uighurs in China and in as many 14 other countries, through their smartphones. The malware tracked and recorded detailed information about Uighur's primarily living in the Xinjiang province, but records tracking Tibetans and other Muslims groups were found as well.
Smartphone tracking appears to have been just the first step in a much broader campaign to collect blood samples, voice and facial recognition, along with other personal data that would target the oppressed minority group, according to a report by the New York Times.
"The development timeline and targeting of these families also appear to align with Chinese national security directives and "counter-terrorism" efforts as defined by the Chinese government, perhaps suggesting a broader strategic goal behind the campaign," the report notes. "Lookout researchers have observed a peak in malware development beginning in 2015, which coincides with the 'Strike Hard Campaign against Violent Terrorism'…campaign in Xinjiang that began in May 2014."
Chinese government officials denied the existence of a network of known internment camps in 2018. But the government now says they are a part of a broader effort to eradicate Islamic extremism in Xinjiang – the encampments hold an estimated 1 million Uighurs, according to a report by the Washington Post.
The Chinese government has further been accused of propagating mass sterilization and birth control efforts, targeting the reproduction of the ethnic minority group.
"I want to call attention to recent, credible, and deeply disturbing new reports that the Chinese Communist Party is imposing forced sterilization and abortions on Uighurs and other minorities in western China," Secretary of State Mike Pompeo said in a press conference Wednesday.
Women are now forced to have an IUD insertion after their second child and face detention for having three of more children, and/or large fines in a further attempt to prevent the proliferation of the ethnic group.
Birth rates in the regions of Hotan and Kashgar located in Xinjiang, dropped by more than 60 percent from 2015 to 2018, and by 24 percent across the entire province over the last year.
But ministry spokesman Zhao Lijian reportedly said, "Everyone, regardless of whether they're an ethnic minority or Han Chinese, must follow and act in accordance with the law," when asked about the birth control campaign.
The Departments of Commerce, Homeland Security, State, and the Treasury released an advisory to all American companies warning against working with or in the Xinjiang province, noting the human rights abuses.
"CEOs should read this notice closely and be aware of the reputational, economic, and legal risks of supporting such assaults on human dignity," Pompeo said.
The letter stated that the PRC is suspected of forcibly transferring workers from Xinjiang to other parts of the countries to work in factories, and companies "should implement human rights-related due diligence policies and procedures."
China has continuously escalated its campaign against the Uighurs over recent years, with some referring to it a "cultural genocide," with more sterilizations per-capita completed in a single year than from 1998 to 2018, according to a Foreign Policy report.
"This shocking news is sadly consistent with the CCP's decadeslong callous disregard for the sanctity of human life," Pompeo said Wednesday. "I call on all nations, women's advocates, religious groups, and human rights organizations to stand up for the Chinese people's basic human dignity."
https://www.foxnews.com/world/china-malware-spy-uighurs-muslim-population
------
3 Taliban leaders among 5 killed, wounded in Faryab
01 Jul 2020
The security forces inflicted casualties on five Taliban militants including three local leaders of the group in northern Faryab province.
The 209th Shaheen Corps in a statement said the Taliban militants attacked the security posts of the Afghan forces in Ozlik Village of Qaisar district.
The statement further added that the security forces killed two local leaders of Taliban during the clash, including Qari Abdullah and Mullah Abid.
The security forces also wouded three other Taliban militants including Mawlavi Ismail, one of the local leaders of the group, the statement added.
Meanwhile, another Taliban militant was killed while he was planting an improvised explosive device in Garziwan district of Faryab, the 209th Shaheen Corps said.
https://www.khaama.com/3-taliban-leaders-among-5-killed-wounded-in-faryab-08935/
-----
Armed robber killed during a clash with Kabul Police
01 Jul 2020
The police forces in Kabul killed an armed robber during a clash in Bagrami district, the Kabul Police Headquarter said in a statement.
The statement further added that the police forces clashed with the armed robber in Seya Beni area of the district late on Monday night.
According to Kabul Police Headquarters, the police forces were in pursuit of the armed robber who was traced at around 11:50 pm on Monday night.
The police forces killed the main suspect while two of his accomplices managed to flee the area, the statement said, adding that the police forces confiscated a small fire arm following the operation.
https://www.khaama.com/armed-robber-killed-during-a-clash-with-kabul-police-08934/
------
Tribute to Latifur Rahman: Two independent newspapers were his gifts to Bangladesh
July 02, 2020
MahfuzAnam
He was an editor's dream of an investor. But he turned out to be so much more. Yes, Matiur Rahman and I run the two papers -- Prothom Alo and The Daily Star respectively -- but it was he who made them happen, with his principles, integrity, courage, steadfastness, strength of character, and unswerving faith in independent media without which, he intuitively knew, that democracy could not flourish.
The Daily Star started when Ershad fell and like the rest of the nation, he also dreamt of a democratic Bangladesh and decided to team up with some other visionary investors and two journalists (SM Ali and myself) to help start an independent newspaper, of which he later became a driving force. Through his unstinting belief and support for freedom of the press, unrelenting focus on management and fanatical emphasis on strict financial discipline, he helped the creation of two independent newspapers which I consider to be his gifts to Bangladesh.
The cornerstone of the ethos that he -- and the rest of the board of directors who appreciated his stance -- represented was total editorial independence for the newspapers. In the nearly 29 years of The Daily Star and almost 21 years of Prothom Alo, for whose first 10 years I was its publisher, never did we receive any advice, suggestion or even a remote hint as to what should or should not be published, or how a news should be treated. Like everybody else he would read the newspaper in the morning. In this long journey it is quite possible that he may have disagreed with what we did but he never, even once, allow his views to override ours.
Even when he faced the wrath of the powers that be, simply because of what the two newspapers published, he would never allow that to affect our daily work. In fact, he would never even tell us that he lost certain contracts, or that his factories' permissions were delayed or denied, or that his expansion plans got derailed because of the way we were reporting, taking editorial positions or writing commentaries. There was never a word but that of standing steadfast behind the two newspapers.
An anecdote from the very first year of my editorship perhaps makes the point beautifully. The boss of a certain big business house asked Latifur Rahman why The Daily Star was publishing certain findings of the Bangladesh Bank, to which he said, "Why don't you talk to the editor, he runs the paper." To which the businessman replied with disbelief, "You are financing the paper and the editor runs the paper. How can that be?" Well that is how it was and has been all along, and that is what made The Daily Star what it is today.
The other fundamental belief he held most firmly was the need for democracy for Bangladesh to prosper. These two beliefs -- democracy and the need for a free and independent press -- fed into one another, making a symbiotic whole that formed the totality of his life's philosophy. That later turned into his life's passion – and it was my honour to be a humble part of the fulfilment of that passion.
He was a gentleman par excellence. With impeccable manners and immaculate courtesy, his was a personality that immediately drew the attention of any gathering both for his insightful observations and strongly held opinions. He would not invite controversy in a conversation but would not shy away from it if the situation so unfolded. He was a man of firm beliefs but always open to counter positions if they were well argued and supported by facts and logic. But challengers would soon become aware that he had his own arsenal of facts and logic which were formidable to say the least.
There was a hidden humour in his personality. He would not easily open up but once he would his hearty laughter would brighten up the occasion and enjoin everybody else in a merriment that was unforgettable.
Another unique aspect of his personality was the sense of dignity with which he always conducted himself. Even at his most tragic moments -- when he lost his daughter and years later, his grandson -- he bore these two incalculable losses with an inner strength and dignity that seemed to most of us as superhuman. In a strange coincidence, he passed away on the day of his grandson -Faraaz - falling victim to the dastardly act of cowardice by some beastly terrorists in Dhaka four years ago.
In the world in which he spent his whole life -- the world of business -- he was an iconic figure. He was respected by all, even those with whom he was not too popular. His honesty was awe striking and adherence to ethical business practice almost legendary. He was known to have given up many business opportunities because the deals were not cent percent above board. His reputation for honesty and integrity were unrivalled and he was universally respected for upholding the highest ethical standards in business.
At his untimely demise, my loss is both personal and professional and to say the least, incalculable. On a personal level he was a friend, a brother, a mentor, a source of strength when I felt weak, a support when I was not sure, a guide when options before me were not obvious. He became a brother when I lost all four of mine in quick succession and greatly helped fill a vacuum that would otherwise have remained with me forever. He was ever the fountain of courage for me whenever obstacles seemed too formidable. I often looked upon him in wonder as to how, a lifelong businessman, with no history of involvement in the media, could have such a strong, deep, and unshakeable faith in the virtues of a free press and such an ironclad commitment for its independence that played such a crucial part in fulfilling my personal dream of setting up an independent newspaper in Bangladesh. What began as a partnership in building an independent newspaper ended with a friendship that transcended into a spiritual bond of mutual love and respect.
https://www.thedailystar.net/frontpage/news/tribute-latifur-rahman-two-independent-newspapers-were-his-gifts-bangladesh-1923757
-----
India
Civilian, CRPF man killed in J&K terror attack from inside mosque
Jul 1, 2020
SRINAGAR: Lashkar-e-Taiba terrorists hiding in a mosque ambushed a CRPF patrol at Model Town in north Kashmir's Sopore on Wednesday, killing a head constable and a civilian who was passing by in a car with his three-year-old grandson. Pictures of the little boy crying over his grandfather's blood-splattered body in the middle of the street magnified outrage over the indiscriminate firing, the second in less than a week of the grenade attack by terrorists in Anantnag in which a four-year-old boy was killed along with a CRPF trooper.
Kashmir IGP Vijay Kumar contested allegations levelled by the family of slain Bashir Ahmad Khan, a 65-year-old construction sector employee from Srinagar's Mustafabad locality, that he was killed in firing by CRPF personnel. The victim's wife is a retired sub-inspector of J&K Police.
"Two Lashkar-e-Taiba terrorists, one of them a Pakistani identified as Usman Bhai and the other a local youth named Adil, fired 30 bullets from inside the mosque before fleeing. One CRPF constable was killed along with the civilian while three personnel were injured. The CRPF team didn't retaliate because there were people all around. The slain civilian's grandson didn't come to harm as police were quick to rescue him," Kumar said.
The CRPF constable killed in the attack has been identified as Dipchand Verma. The injured troopers are Bhoya Rajesh, Deepak Patil and Nilesh Chawde. The injured CRPF personnel have been evacuated to the 92 Base hospital.
IGP Kumar said terror attacks on security forces in crowded areas could be a deliberate strategy adopted by armed outfits to "trigger disturbances" at the cost of even civilian casualties. "We have observed that terrorists are now carrying out attacks on security forces wherever civilian movement is high."
Deceased Bashir had left Srinagar around 6am with his grandson Ayaad to fetch the family's domestic help from her hometown Handwara, 72km away, when they were caught in the terror attack at Model Town in Baramulla district. This happened around 9am, sources said.
Sopore SSP Javaid Iqbal said Bashir was struck by bullets while trying to shield his grandson from the gunfire. "Many vehicles got stuck because of the sudden attack. Everyone got off their cars and ran for cover. Unfortunately, the victim was killed while trying to save himself and the kid."
In one of the pictures that have gone viral, Ayaad is seen perched on his grandfather's chest, seemingly trying to wake up the dead man. Another picture shows a CRPF trooper pointing his gun towards where the terrorists seem to be hiding and gesturing at the boy to come towards him. "This picture was possibly clicked by someone when the shooting was still on," an official said.
https://timesofindia.indiatimes.com/india/civilian-crpf-man-killed-in-jk-terror-attack-from-inside-mosque/articleshowprint/76736827.cms
------
107 local, 11 non-local militants killed in 6 months: IGP
Shabir Ibn Yusuf
July 2, 2020
Stating that there was around 50 percent dip in youths joining militant ranks, Inspector General of Police Kashmir, Vijay Kumar, today said that 118 militants have been killed in the last six months.
"107 of them were locals and 11 non-locals ," IGP told reporters here. "The number of active militants in the Valley now stands between 160 and 170."
"67 Kashmiri youths joined militant outfits this year, 24 of them have been killed and 12 arrested," he said. "A majority of the militants who have been killed this year belonged to the Hizbul Mujahideen followed by Lashkar-e-Taiba and Jaish-e-Mohammad."
"Due to the prevailing COVID19 situation, 79 militants have been buried in graveyards of Sonamarg, Handwara and Baramulla," he said. "They are buried in the presence of family members and a magistrate."
The IGP further said the police have recovered 121 weapons from encounter sites, which include 62 AK 47s, nine SLRs and 44 pistols. "About 55 per cent weapons recovered are big weapons and only 44 out of 121 recovered were pistols," he said adding that the security forces busted 66 modules and recovered another 21 AK 47s. Besides, 22 hideouts were busted.
The Kashmir Police chief informed that they have arrested 309 overground workers. "In total, 15 civilians were killed, but none of them were killed by a police bullet or at any encounter spot," he said.
J&K Police, he said, have started a massive crackdown on narcotics trade and found a network, which extends from the Valley to other parts of the country. He said the police are also investigating narco-terrorism.
He said that in the last six months, police have filed 304 cases and arrested 496 individuals.
https://www.greaterkashmir.com/news/front-page-2/107-local-11-non-local-militants-killed-in-6-months-igp/
-------
Webinar Organised By Iranian Culture House On Women's Role In View Of Hazrat Fatma (SA) Masoumeh Held In Mumbai
July 2, 2020
The Iranian Culture House in Mumbai, India, organized a webinar on the role of women in view of Hazrat Fatemeh Masoumeh (SA) on the occasion of the Keramat Ten-Day Festival.
According to the website of the Islamic Culture and Relations Organization, the program was attended by Mohsen Ashouri, Iranian cultural representative in Mumbai, ShamaRazavi, Muslim intellectual and teacher of Quranic sciences, Umm Salma Naqavi, director of India's Islam Association and IramRazavi, head of Mustafa Foundation of Science and Technology.
Ashouri elaborated on the festival which begins with the birthday anniversary of Hazrat Masoumeh, followed by the birthday of Ahmad ibn Musa (AS) and concludes with the birthday of Imam Reza (AS).
He highlighted the virtues of Ahl-ul-Bayt (AS) and noted that hosting the eighth infallible Imam and his sister and brother is an honor for Iran.
The Iranian official also said that such online programs in today's situation can promote the knowledge of many people around the world about Ahl-ul-Bayt (AS).
The director of Islam's Association of India talked about the status of women before and after the advent of Islam and said that Hazrat Fatemeh Masoumeh (SA) and Hazrat Zahra (SA) are great role-models for women.
She highlighted the moral virtues and scientific status of the sister of Imam Reza (AS) and described her as a noble woman who has an exalted status among Shia Muslims.
ShamaRazavi, as another speaker in the program, said that the life of Hazrat Masoumeh and the various aspects of her character and virtues should be investigated more and introduced to women, particularly the younger generation.
https://en.abna24.com/news//webinar-on-women%e2%80%99s-role-in-view-of-hazrat-masoumeh-sa-held-in-mumbai_1052010.html
-----
BJP's Uma Bharti Appears Before CBI Court In Babri Mosque Demolition Case
July 02, 2020
Lucknow: Senior BJP leader Uma Bharti today appeared in person before a special court in Lucknow which is conducting the trial in the 1992 Babri mosque demolition case.
The special CBI court is currently recording the statements of 32 accused under the code of criminal procedure or CrPC section 313 (court's power to examine the accused), a stage in the trial that follows the examination of prosecution witnesses.
The 61-year-old BJP leader is the 19th accused to depose before the court in the over 27-year-old case.
Thirteen other alleged accused, including former Deputy Prime Minister LK Advani and senior BJP leaders Murli Manohar Joshi and Kalyan Singh are yet to be examined at this stage.
Their lawyers have indicated to the CBI court that they prefer to appear through video conferencing.
The mosque in Ayodhya was demolished in December 1992 by 'karsevaks' who claimed that an ancient Ram temple had stood on the same site.
The CBI court is conducting day-to-day hearings to complete the trial by August 31, as directed by the Supreme Court.
https://www.ndtv.com/india-news/bjps-uma-bharti-appears-before-cbi-court-in-babri-mosque-demolition-case-2255757
------
Mideast
Yemeni clerics denounce Saudi-led massacre of Suba'yan tribal family in Ma'rib
01 July 2020
Yemeni religious scholars have strongly condemned a deadly attack by a group of Saudi-backed militiamen against the houses of family members of a tribal figure, demanding mobilization of more forces against the Riyadh-led coalition of aggressors and its allied militants.
According to a report by Yemen's al-Masirah TV on Tuesday, so-called Islah militiamen raided the homes of the Suba'yan family a day earlier, killing Sheikh Mohsen Suba'yan, as well as six of his brothers and children.
"We condemn the horrific crime against Al Suba'yan family by these cheap and criminal tools, who murdered its innocent members in cold blood and set their houses on fire without paying attention to presence of young children and seniors insides," the Yemen Scholars Association said in a statement released on Tuesday.
The statement added, "In the face of such criminality and brutality by the agents of the Saudi-American coalition of aggression, the Association calls for further mobilization of forces to the battlefront, Ma'rib in particular, to support the oppressed and purge the area of all criminals who have lost their religious faith in the God and Prophet Muhammad (PBUH)."
"We denounce the heinous [June 29] crime committed by the mercenaries of the coalition of aggression against Al Suba'yan family in the Wadi Obeida district of Ma'rib province. They press ahead with their incessant criminal acts, and do not differentiate between civilians and military forces," he added.
Moreover, the political bureau of Houthi Ansarullah movement condemned the move, saying, "This sinful crime committed by militiamen linked to the aggressor states, which resulted in the martyrdom of Sheikh Mohsen bin Suba'yan and six members of his family, is a clear example of the arrogance and racism that the coalition of aggression and its mercenaries exercise."
Saudi Arabia and a number of its regional allies launched a devastating war on Yemen in March 2015 in order to reinstate a former Riyadh-friendly government.
Riyadh has activated and largely relies on Yemeni militants loyal to the ex-government to do the fighting on the ground on its behalf.
The US-based Armed Conflict Location and Event Data Project (ACLED), a nonprofit conflict-research organization, estimates that the war has claimed more than 100,000 lives over the past five years.
https://www.presstv.com/Detail/2020/07/01/628657/Yemeni-scholars-decry-fatal-Saudi-led-attack-in-Marib-call-for-more-mobilization
------
SEO to hold 12th virtual intl. forum on Islamic capital market in Sep.
July 1, 2020
TEHRAN- Iran's Securities and Exchange Organization(SEO) is to hold the 12th Virtual International Forum on Islamic Capital Market (ICM) on September 14-15, the SEO's Public Relations Department announced.
The SEO has organized this event for 11 years in a row with the support of Islamic Development Bank (IDB), and Islamic Research and Training Institute (IRTI).
Given the outbreak of coronavirus and for the safety measures of all respected participants, the SEO has decided to hold this forum online for the first time.
The ICM has already gained its momentum over a decade of its history, therefore, a number of internationally well-known associations and universities have sponsored this event, as follows:
https://www.tehrantimes.com/news/449462/SEO-to-hold-12th-virtual-intl-forum-on-Islamic-capital-market
-----
Gaza rallies, Hamas rocket fire warn against Israeli expansionism
01 July 2020
Today marks another Day of Rage across Palestinian territories. Palestinian people and activists have spilled out into the streets in the Gaza Strip to make their voices heard against Israel's scheme to illegally annex parts of the land it has already occupied, hours after Hamas fired a barrage of rockets into the sea.
The protesters heeded a call by Gaza-based Palestinian resistance groups to stage "Day of Rage" rallies on Wednesday in protest against the Tel Aviv regime's plan to impose its "sovereignty" over about a third of the West Bank, including settlements, as well as the fertile Jordan Valley.
The demonstrations were organized on July 1 to correspond with the date set by Israeli Prime Minister Benjamin Netanyahu to start his land grab scheme.
Speaking on Tuesday, RaafatMurra, the head of Hamas media abroad, described the date as the "Palestinian National Day," saying it would confirm "the widespread Palestinian rejection of the Zionist plan to annex the West Bank."
Similar protests are to take place in other parts of the world, including across the United States and Europe in opposition to the Israeli move.
Israel, however, failed to launch the scheme on the set date amid openly expressed differences between Prime Minister Benjamin Netanyahu and key members of his cabinet, whose consent the White House says is needed for the annexation to go ahead.
The Israeli foreign minister says the regime's plans to annex parts of the occupied West Bank and Jordan Valley is unlikely to begin on July 1.
Last week, the Hamas military wing, known as the Ezzedine al-Qassam Brigades, warned that, if implemented, the annexation bid would be considered a "declaration of war" on the Palestinians.
"This wretched decision and plan, we'll not talk at length, but say it shortly and clearly – the resistance considers the decision as a declaration of war on the Palestinian people. The resistance is ready to protect its people and its holy places," said Qassam spokesman Abu Ubaida.
https://www.presstv.com/Detail/2020/07/01/628655/Palestine-Gaza-Day-Rage-annexation
------
Iran's president denounces US sanctions against Syria, pledges support for Damascus
01 July 2020
Iranian President Hassan Rouhani has denounced as inhumane the US sanctions against Syria amid the war-torn country's battle against the coronavirus pandemic, while pledging Tehran's unwavering support for Damascus.
"In line with the previous sanctions and its desperate efforts to put pressure on the Syrian people, the US regime has imposed new unilateral and inhumane sanctions, known as the Caesar sanctions, [on Syria] with the aim of achieving its illegitimate political aspirations," Rouhani said while speaking at a virtual conference with his Russian and Turkish counterparts, Vladimir Putin and Recep Tayyip Erdogan, on Wednesday as part of the Astana meeting on the situation in Syria, IRNA reported.
Rouhani said the sanctions came as the Syrian people like the rest of the world were facing the coronavirus pandemic, which has created widespread health and economic problems in the country, and thus necessitated access to medical and pharmaceutical items to counter the virus and alleviate the sufferings of the Syrian people.
"The US regime's move amounts to economic terrorism that violates international law, human rights, international humanitarian law and the sovereignty of nations," he added.
He said that while condemning any sanctions against any nations in the world, especially Syria, the Islamic Republic of Iran emphasizes that it will continue to support the Syrian people and its legitimate government with greater force, and that the illegal and inhumane actions by the US regime will not undermine the will of Syria's friendly and allied countries to back Damascus.
"The United States must be assured that what it has not achieved through military pressure and resorting to terrorist groups cannot be attained through the tools of economic pressure and punishment of the Syrian people," he added.
The Iranian president also underlined the need for the American forces to end their "illegal" presence in Syria and the entire region.
Iran, Russia and Turkey underline the importance of continued dialog to maintain the Astana deal as the best way to resolve the conflict in Syria.
The illegitimate presence of the occupying forces of the US regime on Syrian soil has become a destabilizing factor for Syria and the entire region," Rouhani said, adding that the American forces were "plundering the natural resources" of the country by increasing illegal military bases in the oil-rich areas east of the Euphrates.
"It is imperative that American terrorist forces withdraw from the entire region, especially Syria, as soon as possible, and that the Syrian government's rule prevail throughout the territory," he added.
Describing the Astana process as the only viable means to help resolve the Syrian crisis peacefully, Rouhani said that Iran, Russia and Turkey, as the guarantor countries of the Astana process, always supported the Syrian-Syrian dialogue in the framework of the agreements reached in the Astana process, and emphasized their determination to fight Daesh and al-Qaeda terrorism and all their affiliates throughout the region, including Syria.
He also ridiculed the claim of advocating anti-terrorism efforts by the US, which assassinated Lieutenant General Qassem Soleimani, one of the leading commanders on the frontline of combating terrorism.
"The one who claims to be fighting terrorism martyrs the hero of the fight against terrorism in the region, along with his comrades … this is indicative of the false claim of the US regime about fighting terrorism," he said.
General Soleimani, who was the former commander of the Quds Force of Iran's Islamic Revolution Guards Corps, and his companions were killed in an attack near Baghdad International Airport on January 3.
Th Russian president, for his part, told his counterparts from Turkey and Iran that there was a need for peaceful dialogue between warring sides in Syria.
"An inclusive inter-Syrian dialogue should be actively promoted within the framework of the constitutional committee in Geneva. I propose to support this process, to help the participants … meet and start a direct dialogue," Reuters quoted Putin as saying.
Erdogan also told the video conference that the priority for Syria is a lasting solution to the conflict, "achievement of calm in the field and the protection of Syria's political unity and territorial integrity."
"We will continue to do all we can so that our neighbor Syria finds peace, security and stability soon," Reuters quoted the Turkish president as saying.
At the end of the conference, the three heads of state also issues a joint statement, in which they reiterated that Syria's war had "no military solution" and had to be settled only via a political process.
Meanwhile, Iranian Foreign Minister Mohammad Javad Zarif also tweeted at the end of the conference, describing the talks as "very constructive."
"Just concluded very constructive (virtual) summit of the Astana Process, hosted by Pres.@HassanRouhani," said part of his tweet, adding, "Parties agreed to continue coordination among the three guarantors, focusing on tension reduction, political process & humanitarian relief."
Iran, Russia, and Turkey have been leading a peace process for Syria known as the Astana process, because Kazakhstan's capital, Nur-Sultan, formerly called Astana, originally hosted the meetings.
A first deal was signed in Kazakhstan's capital, arranging for the creation of de-escalation zones across Syria, including in parts of Idlib. The second one that came about in the Russian resort city of Sochi allowed Ankara to bring in a small number of forces to man the observation posts to reinforce de-escalation.
While the two deals have helped significantly reduce fighting in Syria, the conflict has not entirely ended, due in large part to Turkish failure to separate terrorists from what it calls "moderate" opposition groups in Idlib and Ankara's dispatch of thousands of troops and heavy military hardware into the Syrian province to back the militants.
https://www.presstv.com/Detail/2020/07/01/628673/Astana-talks-Iran-slams-US-sanctions-against-Syria-Putin-Rouhani-Erdogan
------
North America
5 Quebecers to be recognized for their bravery during Quebec City Mosque attack
July 1, 2020
Five Quebecers are being honoured for putting their lives at risk to end the murderous rampage at a Quebec City mosque in 2017.
Governor General Julie Payette is paying tribute to the group of men for their acts of bravery as part of her list of 123 remarkable Canadians, which was released on Wednesday.
The Star of Courage is being awarded posthumously to Azzedine Soufiane, who died while trying to disarm shooter Alexandre Bissonnette.
Six men were killed in the attack at the Quebec Islamic Cultural Centre after a shooter stormed the place of worship during evening prayers on Jan. 29, 2017. Several others were wounded.
Said Akjour and Mohamed Khabar will receive the Medal of Bravery for confronting Bissonnette during the attack. The medal will also be awarded to Hakim Chambaz, who saved the life of a little girl that night.
AymenDerbali will also receive the Medal of Bravery for throwing himself in the line of the shooter's fire. He was struck by seven bullets and left paralyzed from the waist down.
The Canadian Bravery Decorations were created in 1972 by Queen Elizabeth II to symbolically express the nation's gratitude to those who risked their lives to save or protect others.
https://globalnews.ca/news/7129701/quebec-mosque-shooting-survivors-bravery-medals/
-----
Revere man arrested in connection with hate crime targeting Muslim community members
2 Jul 2020
REVERE, MASS. (WHDH) - Revere police say they have arrested a man in connection with an incident that occurred last month during which swastikas were spray-painted on a Muslim family's car and the phrase "white power" on the asphalt in front of it.
Jason Pagliuca, 38, was arrested Wednesday and charged with the defacement of real or personal property and assault, assault and battery or property damage for the purpose of intimidation (based on the victim's race, color, religion, national origin, sexual orientation, gender identity or disability).
"Sadly, this crime is an example of the racism many of our residents experience on an ongoing basis. We will not allow hatred in our city and we must continue to call it out and address it. I look forward to the continued work with leaders and stakeholders across our city toward an anti-racist Revere," Revere Mayor Arrigo said.
The incident, which occurred June 11, sparked a demonstration in front of City Hall where many gathered to support more transparency among the police and city leaders and for more steps to be taken to quell racism.
https://whdh.com/news/revere-man-arrested-in-connection-with-hate-crime-targeting-muslim-community-members/
------
CAIR Welcomes Call from House Democrats to Fire Anti-Muslim USAID Official Mark Lloyd
June 30, 2020
(WASHINGTON, D.C., 6/30/2020) – The Council on American-Islamic Relations (CAIR), the nation's largest Muslim civil rights and advocacy organization, today welcomed a letter by House Democrats Rep. Ilhan Omar (D-MN) and Rep. Joaquin Castro (D-TX) calling for the removal of newly-appointed Religious Freedom Advisor Mark Kevin Lloyd because of his long history of espousing anti-Muslim hate.
In the letter to USAID Acting Administrator John Barsa, the Democratic lawmakers called Lloyd's appointment "antithetical to the USAID mission of global development and religious freedom" and asserted that his "discriminatory posture disqualifies him for the position." The letter was also signed by Rep. André Carson (D-IN), Rep. Rashida Tlaib (D-MI), Rep. Adriano Espaillat (D-NY), Rep. David Trone (D-MD), and Rep. Al Green (D-TX).
"We applaud the House Democrats for taking action on this unjust appointment and again urge Acting Administrator Barsa to immediately fire Mr. Lloyd," said CAIR Director of Government Affairs Department Robert S. McCaw. "It is not surprising that under President Trump's Islamophobic administration an individual with a history of spewing anti-Muslim vitriol would be chosen to oversee religious freedom at USAID."
In 2016, while working as the Virginia Field Director for then-candidate Trump, Lloyd came under fire for sharing several anti-Muslim posts, including one which referred to Islam as "a barbaric cult" and another characterizing Islam as an inherently violent religion. Following the Orlando nightclub shooting in June 2016, Lloyd also shared a Facebook meme suggesting potential gun buyers eat bacon before being allowed to purchase a firearm.
Acting Administrator Barsa had previously dismissed concerns about Lloyd's record in a June 8th press release, calling them "unwarranted and malicious" and expressing faith in Lloyd's commitment to "enacting the policies of President Donald J. Trump."
La misión de CAIR es proteger las libertadesciviles, mejorar la comprensión del Islam, promover la justicia, y empoderar a los musulmanesen los Estados Unidos.
https://www.cair.com/press_releases/cair-welcomes-call-from-house-democrats-to-fire-anti-muslim-usaid-official-mark-lloyd/
------
Africa
Ethiopia: Military deployed after more than 80 killed in protests
2 Jul 2020
The military was deployed in the Ethiopian capital on Wednesday as armed gangs roamed neighbourhoods in a second day of unrest that claimed more than 80 lives.
Protests following the killing, and a sense of political marginalisation, broke out the next morning in the capital and other towns and cities in the surrounding Oromia region.
The assassination of Haacaaluu, from the country's largest ethnic group, stoked tensions that threaten to derail the country's democratic transition.
"So far 81 people have been killed, including three Oromia special police force members," said BedassaMerdasa, the Oromia police chief.
Gunshots echoed through many neighbourhoods and gangs armed with machetes and sticks roamed the streets. Witnesses described a situation pitting youths of Oromo origin against some of the city's other ethnic groups, and where both sides skirmished with police.
"We had a meeting with the community, and we were told to arm ourselves with anything we have, including machetes and sticks. We no longer trust the police to protect us, so we have to prepare ourselves," said one Addis Ababa resident, who like others interviewed asked not to be named for fear of reprisal.
The military had been deployed in some areas, three witnesses said. One described a street littered with rocks that anti-Oromo protesters had thrown at police
"Security forces have invaded our town, we can't go out to mourn. No vehicles are moving around except security patrols with machine-guns," ChalaHunde, 27, said from Ambo, 100km (60 miles) west of Addis.
A tussle over whether to bury Haacaaluu in Ambo or Addis laid bare the political tensions fanning the protests, said Professor AwolAllo at Britain's Keele University.
"It's very contentious. Oromos claim the city [Addis] to be theirs as it lies fully within the Oromo regional state," he said. But the capital is under federal, not regional control.
The state broadcaster reported the arrest of prominent journalist and activist Eskinder Nega, a former political prisoner who runs a pressure group opposed to what it describes as Oromo attempts to dominate the capital.
Prominent Oromo opposition leader Bekele Gerba and media mogul Jawar Mohammed, along with 34 other people, were also arrested when Jawar's bodyguards refused to disarm during a standoff with police.
Their three years of bloody street demonstrations forced the unprecedented resignation of the previous prime minister and the appointment of Abiy Ahmed in 2018.
Jawar was a prominent supporter of Abiy's appointment but became more openly critical last year. Jawar's popular Oromia Media Network gives him the ability to mobilise support quickly across Oromia and his power base could pose a significant challenge to Abiy's party in next year's elections.
Ethiopia, an ethnic melting pot of 100 million people, has battled deadly intercommunal tensions in recent years, a major threat to efforts by Abiy to bring about democratic reforms in a country long ruled with an iron fist from Addis Ababa.
"The assassination of an important Oromo musician, subsequent protests which have in places involved property destruction and security forces using lethal force, and the arrest of Oromo leaders, creates a dangerous situation and is another blow to Ethiopia's troubled transition," said William Davison, an analyst with the International Crisis Group.
https://www.aljazeera.com/news/2020/07/ethiopia-50-dead-protests-musician-killing-200701133144025.html
------
Muslim leaders reject reproductive health Bill
By KIRSTEN KANJA
July 1st 2020
Muslim leaders have rejected the Reproductive Health Bill which provides that all individuals should attain and be able to make informed decisions on sexual and reproductive health.
The Muslim heads said the statements allowing "all individuals" to make reproductive health decisions could easily be abused by people who want to corrupt the country's social and moral fabric.
Speaking at a press briefing yesterday at Jamia Mosque in Nairobi, the leaders cited the recently released findings on teenage pregnancies across the country as one of the major reasons they were against the proposed law, along with what they termed as legal grounds, vague definitions and religious grounds.
"The Bill provides for a blanket reproductive rights to everybody, including minors, without the input or consent of their parents or guardians," said Alhajji Hassan Ole Naddo, the SUPKEM (Supreme Council Of Kenya Muslims) national chairman.
The Muslim clerics also said the Bill left room for misuse of the right to life law by presuming that a pregnancy may be terminated if there is substantial risk that the foetus may suffer from severe physical and mental abnormality that is "incompatible with life outside the womb".
"This severe abnormality that is incompatible with life outside the womb is not defined and opens the door for abuse. Unless you are a prophet, how would one tell that this physical abnormality is incompatible with life?" reads part of a statement by the religious leaders.
They further said the provision of Section 28(2) within the Bill, which allows for persons with mental illness to make decisions regarding pregnancy termination, goes against the constitution which states that a person of unsound mind has no such capacity.
On religious grounds, the clerics said surrogacy, which is in the Bill, is not allowed in Islam due to confusion over lineage and inheritance issues as provided for in Shariah.
"There are also many legal and ethical concerns on surrogacy which require greater public engagement and participation," said Ole Naddo.
https://www.standardmedia.co.ke/article/2001377127/muslim-leaders-reject-reproductive-health-bill
------
Libya's Fatwa House calls for full mobilization against "Russian invasion"
June 30, 2020
The Libyan Fatwa House has urged all Libyans to be part of full mobilization and total uprising against what it described as "Russian invasion" in Libya.
The Libyan Fatwa House published a statement issued by the Sharia Research and Studies Council, calling on the Libyan people who are eager to defend their religion and land to be part of full mobilization and total uprising against the Russian invasion of Libyan cities.
"This fatwa comes after the growing presence of Russians in Libyan cities, airports and oilfields ahead of their control over Libya's territories and resources." The Fatwa House said, adding that "all Muslims wherever they are and who are able to fight should do so against them anywhere in the world and should boycott their goods."
The fatwa comes amid the growing numbers of Russian Wagner Group mercenaries in Sirte and their recent control over Libya's Sharara oilfield.
The Russian intervention for Haftar's forces could have been very critical and on Haftar's benefit side, but the Government of National Accord forces managed to tip the balance to its side and defeated them with massive support from Turkey.
https://www.libyaobserver.ly/news/libyas-fatwa-house-calls-full-mobilization-against-russian-invasion
------
Boko Haram: Terrorists kill 1 in Kautikari
July 1, 2020
By MainaMaina
Residents of Kautikari village in Chibok Local Government Area of Borno State on Wednesday, said Boko Haram militants attacked and killed one person on his farm.
Indigenes of the local government and Kautikari village, who are residents of Maiduguri said, the attack on their village is becoming too much and therefore, called on the government of Professor BabaganaZulum and the military high command to do something urgently.
"We just received the news again that they (Boko Haram) attacked one of our relatives in the farm and killed him. It is very unfortunate. They have been attacking our village and killing our people like goat. This incident is more than 16 times this year along and nothing is being done about it. I sometimes ask myself why Chibok and why Kautikari?" he said.
According to him, the recent attack was on Tuesday, 23/06/2020 where the attackers attacked some people on their farms killing two men and abducting three girls from the village.
"On Tuesday, 23/06/20 three girls were abducted from farm and two men killed a part from the ones that were abducted and killed on 17/06/20.
"Although all the three girls returned home safely, there are still five remaining who are still out there and we are praying for their safe return. They reported that, they were able to escape in the night when their abductors were sleeping.
"One returned on Wednesday 24/06/20 and the others followed the following day. We have been receiving such bad news and we have been crying out but the response was very lean. Today is another sad day to us. But we believe God will reliever us from this people and whoever is planning evil against our people," he said.
https://dailypost.ng/2020/07/01/boko-haram-terrorists-kill-1-in-kautikari/
------
Boko Haram: Fate of 5 aid workers uncertain as NGO drags foot on ransom
July 1, 2020
By MainaMaina
Five NGO workers captured by the Khalifa Soldiers, part of the Islamic State of West African province, ISWAP group may be killed as others before them, following the policy of non-negotiation for ransom policy by international organisations.
The NGO workers who have been speaking to their offices on videos made available to newsmen said they have been in the custody of the Khalifa Soldiers for close to one month but there has not been any indication from their organisations that they will be rescued.
A few days ago, the terrorists placed a ransom of one hundred thousand dollars ($100,000, which is about forty-three million naira (N43,000,000) each, on the five aid workers abducted between Maiduguri and Monguno, raising fears among families, colleagues and associates that there are likelihoods of them being killed by their abductors if such policy is not change.
The aid workers, Lucas Philibuz with the International Rescue Committee, IRC, Abdulrahman Dungus, with REACH International Initiative, Ishaku Yakubu, with the Action Against Hunger, AAH, Abdulrahman Bulama, a camp manager with state emergency management agency, SEMA and Joseph Prince, a local guard with Halogen security have shown proof of life in a new video released by their abductors.
Speaking with some officials of the NGOs in Maiduguri, DAILY POST observed that, there were no collaborations among the NGO's towards ensuring the release of the aid workers.
One of the NGO officials who pleaded anonymity told DAILY POST in Maiduguri, "You know we NGO have policies guiding our operations, and in a situation like this, all we are doing is to make the insurgents understand our position on ransom negotiation. We have a policy of no payment for ransom. We hope that their abductors would see reasons and free them on the basis that they are humanitarian workers who are helping people in dire need and not part of the conflict.".
Speaking with residents on the videos of the five NGO workers in circulation, Alhaji Auwal Tahir told DAILY POST that only prayers can free those aid workers.
"I did not see any of these organisations taking over N40 million for ransom for their staff. After all, how much are they paying these staff who are risking their lives on a dangerous voyage to help those in need in unreached locations?. The National staff who are doing the work are receiving peanuts while the so-called expatriates are getting their money in dollars and sitting in big hotels within the city." He said.
According to him, " These NGOs will be busy telling people that they are trying to negotiate, but actually, they are not doing anything. The issue is clear and simple and without dragging of foot. They have a policy that is strangling their staff. They are not dealing with rebels in this case but a kind of religious maggots who think differently. I pray these innocent souls regain their freedom."
https://dailypost.ng/2020/07/01/boko-haram-fate-of-5-aid-workers-uncertain-as-ngo-drags-foot-on-ransom/
------
Mahatir calls on Muslims to focus on fighting Israeli regime
Jul 2, 2020
In an interview with a Lebanese-based media on Wed., Mahathir Mohamad said, "Mislims must stop fighting among themselves and focus on 'Israeli enemy' instead."
"I know that there are great powers that seek instability among Islamic countries, but we are actually helping Israel by fighting and dividing ourselves," he emphasized.
Elsewhere in his remarks, former Malaysian prime minister emphasized the non-recognition of existence of the Zionist regime and added, "from the beginning, we did not recognize Israeli regime and there is no diplomatic relationship between Malaysia and Israeli regime up to the present time. We have always condemned it [the Israeli regime] but unfortunately, some other countries have pursued different policies."
He also suggested that Muslims should support the Black Rights Movement instead of attacking Western countries and the United States.
Mahathir Mohamad has always been a staunch supporter of Palestinian rights and during his tenure, he hosted the Islamic Conference and pursued widespread support for the Palestinian cause and freedom of Al-Quds [Jerusalem].
https://en.mehrnews.com/news/160439/Mahatir-calls-on-Muslims-to-focus-on-fighting-Israeli-regime
------
Can Malaysia keep Covid-19 free for 28 days? Health DG hopes so
01 Jul 2020
PUTRAJAYA: With Malaysia recording zero daily local transmission Covid-19 cases for the first time, the Health Ministry is now targeting to maintain this for 28 consecutive days.
Health director-general Datuk Dr Noor Hisham Abdullah said this is not impossible if Malaysians continue to adhere to its Covid-19 standard operating procedures (SOP).
"The ministry will continue to closely monitor locally transmitted Covid-19 cases and today is a good start. We have zero local transmissions.
"I am sure we can achieve that together - if everyone adheres to the ministry's SOP, " said Dr Noor Hisham at the ministry's Covid-19 press conference here on Wednesday (July 1).
Dr Noor Hisham had previously said that the ministry could only declare the country free of Covid-19 if there were no new cases for 28 days.
With schools allowed to resume, the ministry, he said, is looking to reopen more sectors throughout the recovery movement control order (MCO) period, which is scheduled to end on Aug 31.
However, if the ministry detects an outbreak in schools or any other areas, a "semi enhanced MCO" can be declared for the building or locality to contain the infection, said Dr Noor Hisham.
"Our intention throughout the recovery MCO is to open up all sectors. But the ministry will continue to monitor schools and have surveillance on the number of cases.
"If there is any outbreak, we will close down the affected facilities and conduct screening on the people there - just like what we have done in the past, " he said.
"For example, old folks homes and markets are considered high-risk groups. We still conduct screening there, even if there is no spike in cases.
https://www.thestar.com.my/news/nation/2020/07/01/can-malaysia-keep-covid-19-free-for-28-days-health-dg-hopes-so
------
Public outcry as House plans to delay sexual violence bill – again
July 2, 2020
AlyaNurbaiti
A House of Representatives plan to withdraw the highly anticipated sexual violence bill (RUU PKS) from this year's National Legislation Program (Prolegnas) priority list has caused a public outcry.
Lawmakers excluded the bill from the list during a meeting of the House Legislation Body (Baleg) on Tuesday. The House claimed deliberation of the bill was "complicated", even though lawmakers had never deliberated the legislation and had already deferred the discussion for a year. The House is meeting with government representatives on Thursday to decide this year's final legislative priority list.
National Commission on Violence Against Women (Komnas Perempuan) commissioner Mariana Amiruddin said delaying the bill meant the House had no concern for the victims of sexual violence.
"Every minute of delay means more people fall victim to sexual violence and more victims are prevented from getting justice," she said on Wednesday, as quoted by kompas.com.
Many Twitter users bristled at the excuse that the deliberation was "complicated", calling it lazy and ignorant as data showed sustained rates of sexual violence. Recent data from Komnas Perempuan shows that 5,509 cases of sexual violence were reported in 2018 and 4,176 were reported in 2019.
"You guys call yourselves representatives, but who the hell do you represent anyway? People are literally begging for [the bill]," Twitter user @mcflurrycendol said on Tuesday.
"The House and the government must acknowledge that the bill's spirit is to provide protection for victims of sexual violence," Erasmus said in a written statement on Wednesday.
As it stands, many victims of sexual violence in Indonesia fear reporting their cases because of social stigma. Getting legal and psychological assistance is even harder.
Some victims have faced legal prosecution for pursuing their cases. A woman named BaiqNuril, for example, was jailed for reporting sexual harassment and later pardoned.
The sexual violence bill, if passed, would prohibit the criminalization of victimhood and would forbid law enforcement to blame or degrade victims or to saddle victims with the responsibility of searching for evidence in their own cases.
The sexual violence bill would add forms of admissible evidence, such as the victim's statement, the visum et psychiatricum (psychological report), electronic information and other documents that provide an opportunity for the victim to meet evidentiary requirements – all of which are absent in the current Criminal Code.
"The bill also addresses the lack of access to assistance for victims, the state's ignorance of the victim's recovery and the absence of a comprehensive mechanism to prevent and handle sexual violence," Erasmus said.
He said the government, through Presidential Regulation No.82/2018 on health insurance, had excluded coverage for treatment related to sexual violence. Therefore, the cost of a visum et repertum (legal medical report) was not covered by the state, nor was the cost of a visum et psychiatricum.
The bill was highly important as it would enforce victims' rights, such as the right to recovery and the right not to be revictimized during the legal process, Erasmus said.
https://www.thejakartapost.com/news/2020/07/02/public-outcry-as-house-plans-to-delay-sexual-violence-bill-again.html
-----
Pandemic will distract voters from issues of race, religion in regional elections: Tito
July 2, 2020
Home Minister Tito Karnavian has said that holding the upcoming simultaneous regional elections amid the COVID-19 pandemic could actually be beneficial, even as experts and observers call for the polls to be postponed.
Tito argued that the public's attention would shift to the COVID-19 outbreak and the regional administrations' response rather than the issues that typically emerged during elections.
"For instance, issues of race, religion and ethnicity would be reduced, as the public is more concerned about the COVID-19 pandemic than these issues," he said on Wednesday as quoted by a statement on the Home Ministry's website.
He added that contrary to concerns raised by election watchdogs that holding the regional races this year would unfairly advantage incumbents, incumbents would actually be facing an uphill battle, as they had to showcase their success in flattening the COVID-19 curve in their respective region to potential constituents.
Tito said that the regional elections should be used as a platform for ideas about the most effective ways to mitigate the outbreak, as that could help accelerate recovery efforts.
"Let the candidates compete with each other on their ideas. The incumbents, therefore, should act more, as they have power and resources," said Tito.
https://www.thejakartapost.com/news/2020/07/01/pandemic-will-distract-voters-from-issues-of-race-religion-in-regional-elections-tito.html
-----
Arab world
Coronavirus: Saudi Arabia's hospitals invited to participate in four clinical trials
02 July 2020
Hospitals in Saudi Arabia have been invited to participate in several antiviral clinical trials conducted by the King Abdullah International Medical Research Center (KAIMRC) to help develop effective treatments for the coronavirus, the center's executive director told Saudi Gazette.
The first study, called Avi Mild 19, is a trial that will be testing the use of the antiviral medication favipiravir, which was developed in Japan and used to treat mild viruses.
"Since there is still no antiviral for coronavirus approved by the SFDA, any medicine that is currently available is a subject of experiment," KAIMRC Executive Director Dr. Ahmed al-Askar told Saudi Gazette.
The health ministry has also been supervising the third study, which involves extracting plasma from the blood of recovered coronavirus patients.
The fourth study involves collecting data on the effectiveness of different coronavirus countermeasures to determine which ones are the most efficient.
The rise in the number of clinical trials being conducted in the Kingdom is an indication of the country's medical and scientific development, al-Askar said.
https://english.alarabiya.net/en/coronavirus/2020/07/02/Coronavirus-Saudi-Arabia-s-hospitals-invited-to-participate-in-four-clinical-trials-.html
------
HBKU takes part in Islamic finance conference
July 02 2020
The president of Hamad Bin Khalifa University (HBKU), Dr Ahmad M Hasnah, participated in the 12th International Conference on Islamic Economics and Finance (ICIEF), hosted online by the Halkali Campus of Turkey's Istanbul Sabahattin Zaim University, from June 14-20.
Recep Tayyip Erdogan, President of Turkey, delivered the opening address of the conference, which contributed to a better understanding and interpretation of Islamic finance in the context of the theme, 'Sustainable Development for the Real Economy'.
Speaking during the opening panel, Dr Hasnah said, "In 2020, the world economy witnessed unprecedented circumstances due to Covid-19 outbreak, which has affected all countries across the globe. The pandemic was accompanied by multiple crises, which demonstrated that the current way of managing the global economy still lacks many ethical, social, and economic values, especially in times of crisis management."
"In light of these situations, it has become increasingly important to employ the principles of Islamic finance and utilise its institutions to formulate policies and manage the economy and businesses. This requires close co-operation between educational and governmental institutions and the private sector to launch forward-thinking and long-term economic strategies and create diversified, secure, and reliable development plans," he explained
"Ultimately, these plans will support the future growth of the global economy in a sustainable and equitable way. The strategies will also provide economic alternatives based on moral values in the Islamic world, which strike a balance between the individual and state capitalism embraced by the Western and socialist systems," added the official.
The conference saw the participation of a number of key figures in the world of Islamic economics and finance, including Turkey's Treasury and Finance Minister, Berat Albayrak, and Pakistan's Economy Minister, Abdul Hafeez Shaikh.
Topics discussed during the conference included Islamic money and capital markets in Turkey, entrepreneurship, global financial architecture, the digital economy, the non-profit sector, the Fourth Industrial Revolution and sustainable development. More than 130 policy-makers, academics and researchers from over 30 countries presented their papers via videoconferencing, which attracted at least 5,000 online participants from across the globe.
A number of HBKU faculty participated and presented papers at this conference. The College of Islamic Studies hosted the eighth and tenth editions of this event and fully supported the ninth conference, which was also held at Istanbul Sabahattin Zaim University. The partnership is critical for the advancement of Qatar's ambitions locally, and for the nation to deepen its footprint in the global arena.
Qatar, Malaysia, and the UK, among others, have played host to the conference since it began nearly 44 years ago. With Qatar declared the fifth largest Islamic finance market in the world for 2019, it is best positioned to continue the conversation on how Islamic finance can salvage global economies.
https://www.gulf-times.com/story/667165/HBKU-takes-part-in-Islamic-finance-conference
-------
Egypt's Court of Cassation upholds death penalty for 3 defendants in Ansar Al-Sharia case
02 July 2020
Egypt's Court of Cassation upheld on Wednesday death sentences against three defendants convicted on terrorism-related charges in the 2014 case known in the media as the Ansar Al-Sharia case.
The court also upheld life imprisonment sentences for four others, and 10-year prison terms for three defendants.
The final verdict comes nearly two years after a criminal court handed down death sentences to three defendants, and life imprisonment and 15-year prison terms to four and seven others, respectively.
In 2014, the defendants were charged with establishing and running the Ansar Al-Sharia terrorist group, attacking police and army personnel and institutions, as well as targeting government facilities and Christians and their places of worship.
The prosecution charged that between August 2013 and May 2014 in Beni Suef, Sharqiya and Giza, the defendants managed a terrorist organisation and received funds to carry out hostile operations against the state and citizens.
http://english.ahram.org.eg/NewsContent/1/64/373438/-.aspx
-----
Europe
UK PM pleads with Israel not to illegally annex more of West Bank
July 2, 2020
UK Prime Minister Boris Johnson issued a last-gasp plea to Israel to pull back from illegally annexing much of the West Bank, warning it will fail to deliver "justice" for Palestinians.
In an opinion piece for an Israeli newspaper, the prime minister calls himself "a passionate defender of Israel" – but sharply criticises Prime Minister Benjamin Netanyahu' plans, which have provoked an international outcry, The Independent reported.
"Annexation would represent a violation of international law. It would also be a gift to those who want to perpetuate the old stories about Israel," he said, adding, "I profoundly hope that annexation does not go ahead. If it does, the UK will not recognize any changes to the 1967 lines, except those agreed between both parties. There is another way."
Netanyahu has vowed to annex nearly a third of the occupied West Bank, having been given the green light by President Donald Trump's so-called "peace plan" released in January.
It would leave a fragmented Palestinian state pockmarked by Israeli settlements, critics say, rejecting their fundamental demands, such as a capital in East Jerusalem.
"I am fearful that these proposals will fail in their objective of securing Israel's borders and will be contrary to Israel's own long-term interests," the prime minister says.
"Annexation would put in jeopardy the progress that Israel has made in improving relationships with the Arab and Muslim world," he said.
"I have never been more convinced that Israel's interests overlap with those of our closest partners in the Arab world, including potential security cooperation against shared threats," he added.
Despite the strong words, the UK is not thought to be threatening any action against Israel if it defies international pressure and goes ahead.
Netanyahu had vowed to begin the annexation of Israeli settlements and the Jordan Valley from July 1, but has now said talks would continue "in the coming days" with American officials.
His rival to be Prime Minister, Benny Gantz, said annexation must wait while the country tackles the coronavirus pandemic, pointing to deep divisions arising from the plan.
Palestinians hope the territories will become their future state, but this is already seen as increasingly difficult as the settlements expand.
"The only way it can be achieved is for both sides to return to the negotiating table. That must be our goal. Annexation would only take us further away from it," he added.
https://en.abna24.com/news//uk-pm-pleads-with-israel-not-to-illegally-annex-more-of-west-bank_1052003.html
------
Police arrest Jason Pagliuca, charged in connection with swastikas painted on a Muslim woman's car in Revere
02 July 2020
Revere police have arrested a 38-year-old Revere man and charged him with painting swastikas on a Muslim woman's car in Revere just over a week ago, they wrote on Facebook on Wednesday.
Jason Pagliuca was charged with defacement of real or personal property and assault, and assault and battery or property damage for the purpose of intimidation, police said.
The Massachusetts chapter of the Council on American-Islamic announced on June 22 that they will offer a $1,000 reward for information that leads to the arrest and conviction of the person responsible for the graffiti.
In a statement issued Wednesday, Revere Mayor Brian Arrigo said "this crime is an example of the racism many of our residents experience on an ongoing basis."
"I want to thank our detectives for their hard work and diligence in identifying the perpetrator of this hate crime, our partners in the District Attorney's office for their continued support throughout the investigation, and the community leaders who continue to call attention to the injustices that exist in our city," Arrigo said.
https://www.masslive.com/boston/2020/07/police-arrest-jason-pagliuca-charged-in-connection-with-swastikas-painted-on-muslim-womans-car-in-revere.html
-----
Islamic State: Drugs made by terror group and worth more than €1bn seized by police in Italy
1 July 2020
Tens of millions of amphetamine tablets, thought to be made by the terrorist group Islamic State, have been seized by Italian police.
Posting a video on its Twitter page, the Guardia di Finanza, a militarised police force which works for the Italian treasury, showed officers cutting through machinery to reveal the 84 million pills - thought to be worth more than €1bn (£910m).
The 14-tonne shipment of the drug imported from Syria, known as Captagon, was captured from three containers at the port of Salerno, in the south east of Italy, with police claiming it is the world's biggest ever haul of amphetamines.
Syrian police show seized drugs and captagon pills at the Drug Enforcement Administration in the capital Damascus, on January 4, 2016.
A string of major drug busts in Syria and Lebanon has drawn new attention to the trade in captagon, an illegal substance that has flourished in the chaos of Syria's war. Security forces in both countries have clamped down in recent months on exports of the psychostimulant, produced in swathes of Syrian and Lebanese territory where government oversight is lax or non-existent.
It was dubbed the "Jihadi drug" by authorities, which found large quantities of it stashed at the hideout of the terrorists behind the 2015 Paris attacks.
The Guardia di Finanza said that IS largely finances its terrorist activities by trafficking drugs made in Syria, adding that the country has become the world's largest producer of amphetamines over the last few years.
According to Forbes, it is also thought that students sometimes use the drug to help with studying, fuelling the black-market demand for it.
Authorities in Italy believe that lockdown measures across Europe have meant that it cannot be produced and distributed on the continent, leading traffickers to import that drug from Syria.
Two weeks ago, police also seized almost three tonnes of hashish and around one million Captagon pills from the same port, where the shipment was hidden among clothing.
https://news.sky.com/story/islamic-state-drugs-made-by-terror-group-and-worth-more-than-eur1bn-seized-by-police-in-italy-12018652
-----
Human Rights Council holds dialogue on Eritrea, ends discussion on Rohingya Muslims and other minorities in Myanmar
30 June 2020
The Human Rights Council this afternoon held an interactive dialogue with the Special Rapporteur on the human rights situation in Eritrea after concluding its interactive dialogue on the situation of human rights of Rohingya Muslims and other minorities in Myanmar. It also began an interactive dialogue on the annual report of the High Commissioner for Human Rights and her oral update on the human rights implications of the COVID-19 pandemic.
Daniela Kravetz, Special Rapporteur on the situation of human rights in Eritrea, said that over this past year, she had seen no tangible evidence of a meaningful and substantive improvement in the situation of human rights in Eritrea. After almost two years of joining this Council, Eritrea had yet to cooperate with the mandate and with other United Nations Special Procedures.
Eritrea, speaking as the concerned country, stated that the recycled report was an extension of a different agenda item and should not be taken seriously. The shallow conclusions with regards to establishing durable peace in the country were disappointing.
In the ensuing dialogue, speakers called on Eritrea to allow the Special Rapporteur to visit the country and urged it to cooperate with the mandate, expressing regret over the lack of improvements in the human rights situation. Many speakers noted that the indefinite national service appeared to be the driving force of emigration from Eritrea, and one of the main obstacles to peace and security. Other speakers called on the Council not to interfere in Eritrean State affairs via this country-specific mandate.
Ms. Kravetz concluded by saying that her report outlined extensive recommendations to reform the national service in Eritrea. It was important for the Government to promote job creation under the principles of dignified work and fair working conditions. The implementation of the International Labour Organization conventions that Eritrea had ratified would require technical assistance, notably as regard the eradication of child labour.
Speaking in the interactive dialogue were : European Union, Germany, Russian Federation, Belgium, Democratic People's Republic of Korea, Djibouti, China, Venezuela (video message), Saudi Arabia, France, Australia, Spain (video message), Syria, Iran, Bangladesh, Croatia, Netherlands, Greece, Austria, Sudan, Switzerland, Somalia, Norway, United Kingdom, South Sudan, Belarus, Ethiopia, Cuba, Nicaragua and Egypt.
Also taking the floor were the following civil society organizations : Christian Solidarity Worldwide (video message), International Fellowship of Reconciliation (video message), East and Horn of Africa Human Rights Defenders Project, Human Rights Watch, CIVICUS - World Alliance for Citizen Participation and United Nations Watch (video message).
The Council then began the interactive dialogue on the annual report of the High Commissioner for Human Rights. United Nations High Commissioner for Human Rights Michelle Bachelet presented her oral update in the previous meeting and a summary can be found here.
Speakers raised concerns about the effects of the COVID-19 pandemic in exacerbating gender-based violence, discrimination against persons with disabilities and persons of African descent, as well as existing situations where atrocity crimes could be committed, as speakers called for a global ceasefire and the reinforcement of the "Responsibility to Protect" principle. Other speakers emphasised that the Council must transcend double standards of selectivity by limiting interference in State affairs.
Speaking in the interactive dialogue were the State of Palestine, France on behalf of a group of countries, Pakistan on behalf of the Organization of Islamic Cooperation, Uruguay on behalf of a group of countries, Sweden on behalf of a group of countries, European Union, Mexico on behalf of a group of countries, Burkina Faso on behalf of the African Group, Cuba on behalf of a group of countries, the United Kingdom on behalf of a group of countries, Norway on behalf of the Nordic countries, Netherlands on behalf of a group of countries, Morocco on behalf of a group of countries, Ireland on behalf of a group of countries, Viet Nam on behalf of the Association of Southeast Asian Nations, Timor-Leste on behalf of a group of countries, Djibouti on behalf of a group of countries, China on behalf of a group of countries, Australia on behalf of a group of countries, and the United Kingdom on behalf of a group of countries.
At the beginning of the meeting, the Council concluded the interactive dialogue on the oral update of the High Commissioner on the situation of human rights of Rohingya Muslims and other minorities in Myanmar. The interactive dialogue on Myanmar started in the previous meeting and a summary can be found here.
During the discussion, speakers drew attention to the consequences of the COVID-19 crisis and called on the Government of Myanmar to immediately grant full and safe humanitarian access to all conflict-affected areas and to lift any internet and media restrictions. Speakers emphasised that the Government of Myanmar showed no willingness to facilitate the return of Rohingya refugees, noting that it was actively taking measures to drive out the Rohingya located in Myanmar, some of whom were forced to dig holes in the ground in order to shield themselves from the conflict.
Speaking in the interactive dialogue were the European Union, Denmark on behalf of the Nordic countries, Pakistan on behalf of the Organization of Islamic Cooperation, China, Russian Federation, Malaysia, Libya, Japan, Venezuela, Saudi Arabia, France, Pakistan, Armenia, Australia, Bangladesh, Jordan, Indonesia, Lao People's Democratic Republic, New Zealand, Senegal, Ireland, Turkey, Maldives, Democratic People's Republic of Korea, United Kingdom, United Arab Emirates, Egypt, Tunisia and Netherlands.
Also taking the floor were the following civil society organizations: Asian Forum for Human Rights and Development, Save the Children International, International Organization for the Elimination of All Forms of Racial Discrimination, International-Lawyers.Org and Aid Organization.
The Council will next meet on Wednesday, 1 July at 10 a.m. to hold its annual discussion on the rights of the child, with a panel discussion on a healthy environment as a child rights concern: setting the scene. At noon, it will continue its interactive dialogue on the annual report of the High Commissioner and her oral update on the human rights implications of the COVID-19 pandemic.
Interactive Dialogue on the Oral Update of the High Commissioner for Human Rights on the Human Rights Situation of Rohingya Muslims and other Minorities in Myanmar
Speakers, drawing attention to the consequences of the COVID-19 crisis in Myanmar, called on the Government to immediately grant full and safe humanitarian access to all conflict-affected areas and to lift any internet and media restrictions. Speakers noted that there had been reports about arbitrary arrests, detentions of journalists and human rights defenders, and an intensified clampdown on freedom of expression, emphasizing that such practices must be halted. Stressing the need for dialogue and consultation, other speakers called upon the international community to provide constructive assistance to Myanmar. Some speakers said the actions of the Secretariat and the Council must lead to repatriation as soon as possible, and welcomed the creation of a joint working group comprised of foreign ministers of concerned countries, lamenting the colonial factors that were the root of the conflict. Others called on the international community to shoulder a greater part of the problem. Speakers denounced the genocide and hate speech that targettedRohyingya as Muslims, and urged those present to tackle the root causes of the conflict. Measures to respond to the pandemic should be proportionate and time-bound.
Speakers emphasised that the Government of Myanmar showed no willingness to facilitate the return of Rohingya refugees. Moreover, the Government was actively taking measures to drive out the Rohingya located in Myanmar, some of whom were forced to dig holes in the ground in order to shield themselves from the conflict. The services available to Rohingya refugees were lacking, and in combination with a lack of security made the human rights situation dire. A comprehensive action plan with clear milestones must be created by the Government in order to tackle this crisis. The impunity which States like Myanmar enjoyed was an abhorrent reality that must be put to an end, and the Government of Myanmar must undergo deep reflection and reform. The human rights of Rohingya Muslims must be guaranteed and as a first step Myanmar must comply with the provisional measures ordered by the International Court of Justice. On 3 April 2020, Bangladesh's Prime Minister had issued a COVID-19 directive, but it was difficult to implement it in the refugee camps, further worsening the situation.
MICHELLE BACHELET, United Nations High Commissioner for Human Rights, noted that proceedings were underway in a variety of international mechanisms to deal with the crisis. Myanmar would benefit from a broader range of transitional justice measures. While some steps to promote economic activity in Rakhine state had been taken, internally displaced persons still had a lack of freedom of movement, which must be addressed. Myanmar should facilitate an independent election and ensure monitoring by international partners. At least 135 Rohingya migrants had died at sea this year, mostly as a result of lack of food and water, while others were beaten to death by the crew of the boat.
The Council has before it the Human rights situation in Eritrea – Report of the Special Rapporteur on the situation of human rights in Eritrea (A/HRC/44/23).
DANIELA KRAVETZ, Special Rapporteur on the situation of human rights in Eritrea, said that, like other countries across the globe, Eritrea had been affected by the COVID-19 pandemic. She expressed concern that the COVID-19 pandemic was exacerbating the situation of famine and malnutrition that existed in parts of the country and was contributing to food shortages, in part due to the border closure and the restrictions on food imports currently in place. Turning to her report, she said that over this past year, she had seen no tangible evidence of a meaningful and substantive improvement in the situation of human rights in Eritrea. First, to demonstrate progress in human rights, an important initial step was for the Eritrean authorities to address the situation of those arbitrarily and unlawfully detained and of those who had disappeared in the prison system. She had repeatedly raised this issue and had noted the lack of progress regarding the situation of political prisoners, prisoners of conscience and others arbitrarily and unlawfully detained. It was quite striking that the Eritrean authorities remained completely silent on this issue.
To advance towards meaningful and sustainable development, Eritrea must invest in its youth. This required the creation of positive conditions encouraging, among other things, youth to remain in the country. To build the foundations for a thriving society, the Eritrean authorities must open civic space for independent civil society members. Today, there was no space for independent human rights defenders, members of political opposition and independent journalists. After almost two years of joining this Council, Eritrea had yet to cooperate with the mandate and with other United Nations Special Procedures. The Eritrean authorities had complained that the report presented a distorted picture of the situation in the country. At the same time, the authorities continued to deny the Special Rapporteur access to the country, refuse to meet with her and did not respond to her requests for input to her reports.
Eritrea, speaking as the concerned country, stated that its response to the COVID-19 pandemic was one of the most successful in the world. The recycled report was an extension of a different agenda item and should not be taken seriously. The shallow conclusions with regards to establishing durable peace in the country were disappointing. The prospects of the peace process were positive in the long term. Regarding national service, the report claimed that it was the main reason for emigration from Eritrea, yet the real reason lay in misguided policies of certain powers to win over Eritrean youth. Despite the heavy effect of hostilities, Eritrea was driving forward with people-centred development and inclusive economic growth. The 2019 transitional measures were already showing results.
During the dialogue, speakers called on Eritrea to allow the Special Rapporteur to visit the country and urged it to cooperate with the mandate, expressing regret over the lack of improvements in the human rights situation. Many speakers noted that the indefinite national service appeared to be the driving force of emigration from Eritrea, and one of the main obstacles to peace and security. Some speakers endorsed the mandate of the Special Rapporteur, singling out instances of arbitrary detention, enforced disappearances and torture as particularly troubling, especially when used against the political opposition. Political prisoners, prisoners of faith and prisoners of conscience must be released immediately. Human trafficking and gender-based violence were noted as signs that more progress had to be made with regards to gender issues. Recent positive developments in the broader region were noted, as other speakers praised Eritrea's progress and increased engagement despite the many challenges it faced, noting that the report used unconfirmed information and calling on the Council to stop interfering in the internal affairs of developing countries such as Eritrea. Speakers said countries were solely responsible for their internal human rights issues and the international community must only act in assistance to a State, while the Council must not interfere in State affairs and must limit politicisation. Multiple speakers emphasized that the Universal Periodic Review tool, which Eritrea cooperated with, was the best method of pursuing these issues. Speakers also commended the normalisation of relations between Eritrea and Ethiopia following the 2018 peace agreement.
Speakers drew attention to the situation of detainees in Eritrea, which had worsened because of the COVID-19 pandemic. Their situation was life-threatening, despite the Government's declaration that the virus had been vanquished. Eritrea had no welfare system, and with over 2 million people facing food insecurity, the governmental response was inadequate. The international community must wake up to the alarming situation, speakers stated, and urged the renewal of the Special Rapporteur's mandate. The human rights situation in the country remained dire. While the interactive dialogue between the Government and the Committee on the Elimination of Discrimination against Women was noted, Eritrea's denial of access and refusal to cooperate with the Special Rapporteur violated its obligations as a Member State of the Human Rights Council. Speakers asked the Special Rapporteur in which areas progress was more likely to happen and what would be the key drivers of change. Eritreans needed to know that the Government would continue to face Council scrutiny. Civic space remained closed and there was no free and independent press. Speakers inquired about the steps that could be taken to ensure that the benchmarks were met.
DANIELA KRAVETZ, Special Rapporteur on the situation of human rights in Eritrea, said her report outlined extensive recommendations to reform the national service in Eritrea. It was important for the Government to promote job creation under the principles of dignified work and fair working conditions. The implementation of the International Labour Organization conventions that Eritrea had ratified would require technical assistance, notably as regards the eradication of child labour. It was urgent for the authorities to map a way forward on several fronts, including upholding the freedom of religion, and the failure of the Government to do so was not only unhelpful, but also disappointing.
Interactive Dialogue with the High Commissioner for Human Rights on her Annual Report and the Oral Update on the Human Rights Implications of the COVID-19 Pandemic
United Nations High Commissioner for Human Rights Michelle Bachelet presented her oral update in the previous meeting and a summary can be found here.
Speakers agreed with the annual report of the High Commissioner about the need for international solidarity to promote and protect human rights. COVID-19 had led to a global outbreak of gender-based violence, and response mechanisms had to be urgently strengthened to protect the rights of women and girls. Persons with disabilities had suffered disproportionately during the pandemic, and it was important to respect their autonomy and right to education. The pandemic had also further highlighted the discrimination faced by people of African descent, as speakers called for the full implementation of the Durban Declaration and Programme of Action. Efforts undertaken to combat COVID-19 crisis were welcomed, and speakers warned of a growing trend of democratic backsliding that was made worse by the pandemic. Civil society and human rights defenders suffered from disinformation campaigns and abuses of technology, a situation made worse by COVID-19 responses in some States. By compounding structural inequalities, COVID-19 may exacerbate existing situations where atrocity crimes could be committed, as speakers called for a global ceasefire and the reinforcement of the "Responsibility to Protect" principle.
The Council was urged to transcend double standards of selectivity by limiting interference in State affairs. Speakers raised concerns regarding human rights situations in Israeli-occupied Palestinian territories, Indian-occupied Kashmir, Nagorno-Karabakh, Nicaragua, Venezuela, eastern Ukraine, Hong Kong, Xinjiang, China, Russian Federation, Cameroon, Yemen, Turkey, occupied Western Sahara, Afghanistan and Sri Lanka as well as regarding growing instances of Islamophobia, nationalism, racism and discrimination.
https://www.ohchr.org/EN/NewsEvents/Pages/DisplayNews.aspx?NewsID=26021&LangID=E
------
URL: https://www.newageislam.com/islamic-world-news/saying-khatam-un-nabiyeen-with/d/122271
New Age Islam, Islam Online, Islamic Website, African Muslim News, Arab World News, South Asia News, Indian Muslim News, World Muslim News, Women in Islam, Islamic Feminism, Arab Women, Women In Arab, Islamophobia in America, Muslim Women in West, Islam Women and Feminism