New Age Islam News Bureau
1 Jun 2015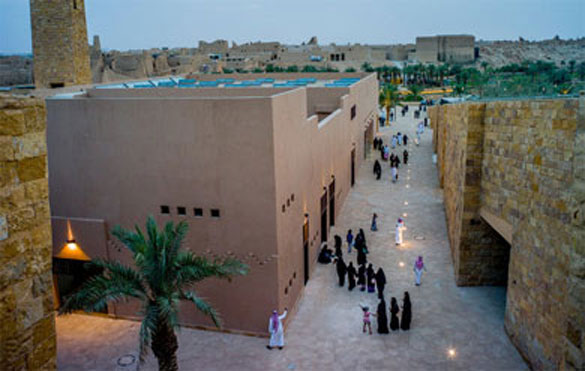 Visitors at the Diriyah complex, on the outskirts of Riyadh, the Saudi capital. The site will feature parks, restaurants, and a series of museums. Credit Tomas Munita for The New York Times
-------------
Arab World
• Saudis Turn Birthplace of Wahhabism Ideology into Tourist Spot
• Egypt Deploys Scholars to Teach Moderate Islam, but Scepticism Abounds
• Syrian Airstrikes Kill Tens of ISIL Leaders in Raqqa
• ISIL Trading Human Body Organs in Iraq
• Kurdish Forces Retake Control over Several Villages in Syria's Raqqa Province
• 2 Senior ISIL Filmmakers Killed in Iraqi Airstrikes
• Source: 17 ISIL Militants Captured in Iraq's Samarra
• Arab air strikes pound Houthi strongholds across Yemen
• Crown prince: Terror won't shake us
Southeast Asia
• Wahhabi Terrorists Misinterpreting Quranic Verses and Hadiths for recruitment of Fresh Badges on Social Media
• Mass graves, camps a good reason to revive police commission, says DAP
South Asia
• 25 Insurgents Killed After Attacking Security Posts in Kandahar
• Three civilians killed, five wounded in rocket attacks in southern Afghanistan
• ISIS militants suffer heavy casualties in fight with Taliban in Farah
• New militant outfit Junud at-Tawheed Wal Khilafah busted
Africa
• Clashes in Somalia Leave 35 Dead: Officials
• Teaching peace to protect young Nigerians from hate
• AQIM Islamists claim two attacks against UN in Mali: Mauritanian agency
• Libya's Tripoli government urges armed mobilisation against IS
India
• The Safest Hindu Abode in Ahmedabad Lies In Muslim Ghetto
• Residents of Enclaves on India-Bangladesh Border: Waiting For Their Second Independence
• People will continue waving Pakistan flags in Kashmir: Geelani
• BJP Leader: All Those Residing In This Country Are Hindus
• Modi to be first Indian PM in Israel
• India, Pakistan spar over $46 billion Pak-China economic corridor passing through PoK
• No 'flip-flop' or 'confusion', we have 'very clear Pakistan policy': Sushma Swaraj
Pakistan
• 12 Militants Killed In Datta Khel Ground Operation
• Political, Military Leaderships Vow To Eliminate Terrorists
• The language barrier: Sindh's 'failed' attempt to learn Chinese
• Washington trip: Islamabad to share RAW terror link proof with US
• Blast kills three in South Waziristan
• TTP claims responsibility for killing PML-N MPA in Gujranwala
Mideast
• Fresh Wave of Saudi Air Raids Kills 8 in Sana'a
• Netanyahu says committed to Palestinian state
• Iran's Velayati Warns Muslims of US, Israel's Divisive Plots
• Turkey's Erdogan vows to punish journalist behind Syria trucks video
North America
• Islamberg: A Tranquil Muslim Hamlet in the Catskills - Until the Attack Plot
• Muslim Invents First Space Tech Prayer Mat
• 'Several' Americans held in Yemen: State Dept
• US in talks with Qatar over five released Taliban prisoners: CIA chief
• Homicide count rises to 43 in Baltimore
• Islamophobia on rise in US, pro-Palestinians blacklisted
Europe
• 16 Saudi Govt Imams Off To Europe to Lead Prayers in Ramadan
• After France, Muslim Students in Belgium Banned From School
• Russia unlikely to drop support of Assad regime
• $500 million appeal for Iraq to be launched: UNICEF
• French far-right leader: Egypt visit failed to change view on immigration
Compiled by New Age Islam News Bureau
URL: https://www.newageislam.com/islamic-world-news/new-age-islam-news-bureau/saudis-turn-birthplace-of-wahhabism-ideology-into-tourist-spot/d/103279
----------
Arab World
Saudis Turn Birthplace of Wahhabism Ideology into Tourist Spot
01 June, 2015
DIRIYAH, Saudi Arabia — More than 250 years ago, in this sun baked oasis of mud-brick houses and ramparts, the ancestors of the Saudi royal family and an outcast fundamentalist preacher formed an alliance that has shaped this land ever since.
In return for political supremacy, the House of Saud endorsed the doctrine of Sheikh Muhammad ibn Abdul-Wahhab and followed it to wage jihad against anyone who rejected their creed, gaining control of much of the Arabian Peninsula.
That alliance laid the foundations of the modern Saudi state, which has in more recent times used its oil wealth to make the cleric's rigid doctrine — widely known as Wahhabism — a major force in the Muslim world.
And now, this site, the birthplace of it all, is becoming a tourist attraction.
Inside a massive complex on the outskirts of Riyadh filled with parks, restaurants and coffee shops, hundreds of labourers are rehabilitating mud palaces once home to the Saud family and building museums celebrating its history. Nearby stands a sleek structure that will house a foundation dedicated to the sheikh and his mission.
The project comes at a tough time for Saudi Arabia. Popular revolts and civil wars have shaken the regional order; the drop in oil prices has hit the national budget; and the kingdom is once again being accused by many of promoting an intolerant brand of Islam similar to that of the Islamic State.
But the kingdom is doubling down on its origins. The development of Diriyah is a pet project of the new king, Salman, who is seeking to create a showcase attraction to reinforce the royal family's national narrative. The entire complex is expected to open in two years at a total cost of about a half-billion dollars, according to a contractor who declined to be named because the sum has not been made public.
Saudi officials hope the project will link citizens to their past and rehabilitate the reputation of Sheikh Abdul-Wahhab, which they say has been wrongly sullied.
While Wahhabism has adherents around the world, many Muslims detest it, because it considers Shiites and followers of other non-Sunni sects — not to mention Christians and Jews — to be infidels. Others blame Saudi Arabia's promotion of Wahhabism abroad for giving theological fuel to groups like Al Qaeda and the Islamic State, an accusation Saudi officials reject.
"It is important for Saudis who are living now, in this century, to know that the state came from a specific place that has been preserved and that it was built on an idea, a true, correct and tolerant ideology that respected others," said Abdullah Arrakban of the High Commission for the Development of Riyadh that oversees the project.
The planned Abdul-Wahhab foundation is to be an international study center, showing the importance Saudi Arabia still puts on spreading the sheikh's teachings.
However, many scholars say that the cleric was not known for his tolerance.
"If someone else did not agree with his conception of monotheism, they had to either convert or be conquered," said David Commins, a history professor at Dickinson College who has written a book on Wahhabism.
In the 18th century, that sense of divine mission gave the House of Saud an advantage in the tribal battles that rocked the Arabian Peninsula.
"When you throw a theological reform movement into the mix, you create an ideological foundation for people here and there to support the Saudi banner rather than another chieftain," Dr. Commins said.
Some found the ideology appealing and accepted Saudi leadership. Others resisted and were deemed "polytheists" who had strayed from monotheism, perverting the one true faith, and needed to be corrected.
These included other Sunni Muslims who practiced different versions of the faith as well as Shiites, thousands of whom were slaughtered when Saudi forces sacked Karbala, in modern-day Iraq, in the early years of the 19th century, Dr. Commins said.
After the House of Saud extended its control over the holy cities of Mecca and Medina, the Ottomans struck back, toppling the first Saudi state and destroying its capital in Diriyah. Surviving members of the family moved to Riyadh, where King Abdul Aziz Ibn Saud, Salman's father, founded the modern Saudi state in 1932. He also re-established the alliance with Sheikh Abdul-Wahhab's descendants, which endures to this day.
Many Saudis reject the term Wahhabism, saying the sheikh did not create a new ideology, but restored the original teachings of Islam by stripping away additions like the veneration of saints.
Nothing should be celebrated except God, he taught, leading his followers to destroy saints' tombs and reject national holidays and birthdays.
Some critics say the interest in Diriyah by the kingdom's rulers is more about politics than about historical preservation, noting that the government has neglected or destroyed many other heritage sites.
Ottoman buildings have been scrapped or left to collapse, and researchers struggle to get permits to visit relics of historic Christian settlements.
The Wahhabi fear that any relic could itself become an object of worship has led to the destruction of more than 95 percent of the historic sites near the holy cities of Mecca and Medina, according to Irfan al-Alawi, the director of the Islamic Heritage Research Foundation.
Scores of tombs have been destroyed; a house associated with Muhammad's first wife, Khadija, was replaced with a bank of public toilets; and a home believed to have belonged to his companion Abu Bakr was razed to make way for a Hilton Hotel, Mr. Alawi said.
At the same time, the Saudi government has filled Mecca with increasingly modern buildings that include the world's third tallest building and, soon, its largest hotel.
Madawi al-Rasheed, a visiting professor at the London School of Economics who has written books on Saudi history, said the royal family tries to bolster its legitimacy by creating "historical amnesia" about aspects of the kingdom's past that do not relate to its rule.
"Diriyah is extremely important in this because for the Saud, it all started there and they want to say that the Arabian Peninsula had no history before them," Dr. Rasheed said.
The site has changed dramatically in recent decades. After the city lay abandoned for centuries, families moved in in the mid-1900s and built new mud-brick homes. The government bought the site in 1982 and the development program began around 1990, when King Salman was the governor of Riyadh Province.
The king remains among the development's champions and has built a palace next door where he spends his weekends. Visitors to the site can see his convoy enter on Friday and return to Riyadh on Saturday.
The complex will feature parks, restaurants, underground parking and a series of museums about traditional Saudi life, warfare and the Arabian horse. Visitors will also be able to stroll through the old mud settlement, Turaif, which was named a Unesco World Heritage site in 2010; shop in a traditional market; and sleep in a boutique hotel.
On a recent evening, footpaths snaking between restaurants and coffee shops filled with children playing and riding bicycles, while families picnicked under date palms.
"It is nice to have something like this in Riyadh because it looks like a desert," said Saleh al-Mohaya, who was strolling with his wife.
Others came for the history.
"France is based on the revolution, America is based on the founding fathers and Saudi Arabia is based on the mission of Sheikh Abdul-Wahhab," said Turki al-Shathri, scion of a prominent clerical family who said he visits often.
He dismissed any suggestion that Sheikh Abdul-Wahhab was intolerant or had anything in common with the Islamic State.
Wahhabi theology does not promote the caliphate, he said, and preaches obedience to rulers, not jihad to overthrow them.
"Look around," he said, gesturing at Saudi families strolling and eating ice cream. "Where is the extremism and the terrorism?"
http://www.nytimes.com/2015/06/01/world/middleeast/saudis-turn-birthplace-of-ideology-into-tourist-spot.html
----------
Egypt deploys scholars to teach moderate Islam, but scepticism abounds
01 June, 2015
CAIRO: In his battle against militant Islam, Egyptian President Abdel Fattah al-Sisi is relying not just on bomber planes and soldiers but on white-turbaned clerics from Al-Azhar, Egypt's 1,000-year-old centre for Islamic learning. He wants clerics to counter radicalism in the classroom.
In a televised speech in January at an Al-Azhar conference centre in Cairo, Sisi called for "a religious revolution" in Islam.
Radicalised thinking, he told the audience of Islamic scholars, had become "a source of anxiety, danger, killing and destruction for the rest of the world."
That had to change ─ and the scholars had a leading role to play, in schools, mosques and on the airwaves.
"You, imams, are responsible before Allah. The entire world is waiting. The entire world is waiting for your next word because this nation is being torn apart."
Surprised by the president's bluntness, the scholars went "white as sheets," some of those in the audience told a Western official.
The president's warning is part of a much larger project. To contain the radical Islamist movement roiling his nation, Sisi has most conspicuously been using the law and brute force. But he is also promoting a more moderate and less politicised version of the faith.
In that struggle, the Al-Azhar institution is one of the most important fronts for Sisi ─ and for the wider region. The outcome of the struggle in Egypt, the intellectual and cultural capital of the Arab world, has ramifications far beyond its borders.
The Al-Azhar mosque was built in the 10th century and is one of the oldest in Egypt. It opened a university that spread Shia Islam until the end of the Fatimid Caliphate in 1171. It later turned into a Sunni mosque and university that taught the four schools of mainstream Sunni Islam.
Today, the university's various faculties and research centres have 450,000 students, many from countries across Asia and Africa. It also has a network of more than 9,000 schools across Egypt attended by more than 2 million students.
Al-Azhar's teachers, preachers, and researchers have so far introduced a few small changes. They include tweaking text books and setting up an online monitoring centre to track militant statements on social media so the institute can better refute them.
But there is no detailed reform programme yet, and Al-Azhar officials openly acknowledge the magnitude of the challenge ahead.
To be successful, Sisi will need to achieve what many before him have not: balancing tough security measures with education to encourage a more moderate version of Islam.
Past experiences in Egypt, Syria, Algeria, and Iraq show that attempts to crack down on extremism can also stoke it. So far the results of Sisi's drive have been mixed.
The president is deeply religious and has a mark on his forehead from years of pressing his head to the carpet in daily prayer. His wife and daughter wear the veil.
His reputation for piety was so well known that his predecessor, Mohamed Morsi, a leading figure in the Muslim Brotherhood and Egypt's first freely-elected president, appointed him army chief in August 2012.
Yet Sisi was also bold enough to seize power from Morsi after the Brotherhood leader became increasingly unpopular.
Since then, he has cracked down hard on the Brotherhood. Hundreds of the group's supporters have been killed, and thousands jailed. This month, a Cairo court recommended the death sentence for Morsi in connection with a mass jail break in 2011.
Balancing that sort of force with a message of moderation is difficult.
Some students at Al-Azhar say they are deeply sceptical of the institution, and of the government's plans. Many dismiss Al-Azhar as a mouthpiece for the state, which favours the military and political elites over the poor masses where militants find most of their recruits.
Some students told Reuters the security crackdown was counterproductive. Cairo's heavy-handed tactics, they say, are radicalising people who may have been open to a message of moderation.
Western officials praise Sisi's calls for action but question whether he has any real plan.
"There's a kernel of a very big idea in what Sisi wants to do," said one. "But his vision of it is not exactly clear and it's not clear how it will be implemented."
Modernising texts
Critics say Al-Azhar's Grand Imams have long issued religious edicts in support of government policy.
During the time of Hosni Mubarak, Egypt's president for three decades until his overthrow in 2011, the Grand Imam was appointed by a presidential decree.
The military government that took over from Mubarak gave Al-Azhar more independence. It allowed an Al-Azhar committee to elect the Grand Imam, though the winner still have to be ratified by presidential decree.
When Morsi came to power in 2012, Al-Azhar criticised his policies and accused the Brotherhood of trying to place its own men into top teaching positions. By contesting and winning faculty seats, the Brotherhood ultimately did gain some influence in the institution.
Since Sisi seized power, though, Al-Azhar has purged Morsi-era professors and teachers, and returned to an appointment system in which the state plays a major role. It has also publicly backed Sisi's crackdown on the Brotherhood and militants.
Al-Azhar's Grand Imam, Ahmed al-Tayeb, was one of a few public figures who flanked Sisi as he announced the military takeover in 2013 after days of mass protests against Morsi.
The university has issued new rules stating that any student or faculty member who incites, supports or joins in protests that disrupt learning or promote rioting or vandalism will be expelled or fired.
Beginning in 2013, Al-Azhar also started to simplify its curriculum to make it more compatible with the modern age, said Abbas Shuman, Al-Azhar deputy head. School text book passages describing the spoils of war and slavery have been removed, he said, because they were applicable during the Muslim conquests but are now considered out of date.
An introduction to an online version of a book on Islamic theology now reads: "We present this scientific content to our sons and daughters and ask God that he bless them with tolerance and moderate thought ... and for them to show the right picture of Islam to people."
Sitting in Al-Azhar's headquarter in old Cairo, Shuman said that such changes are reasonable. "Al-Azhar is built on Islamic heritage. But not all of it is sacred," he said.
The university insists that students should not read old religious texts without guidance. And Professor Abdel Fattah Alawari, dean of the Islamic theology faculty at Al-Azhar, said specialised panels had also been created to review books written by professors to make sure they do not lean towards extremism.
Clerics are also trying to modernise methods of communication. Al-Azhar recently started a YouTube channel to counter Islamist propaganda with its own, and has begun using social media to condemn Islamic State atrocities. Sheikhs from Al-Azhar have embarked on tours of youth centres around the country to promote moderate thought and discourage radicalism.
Abdel Hay Azab, president of Al-Azhar university, said: "Al-Azhar university educates scientists, preachers, doctors and engineers. So when Al-Azhar provides its educational services to society, it has to be with the right vision for religion, which is that religion should not be seen as an obstacle in society."
"Fiqh-Lite"
The reforms have not been universally welcomed. Al-Azhar's university campuses saw several violent pro-Brotherhood protests after Morsi was deposed. Some students are opposed to changes to the curriculum.
Yousef Hamdi, a third-year student studying Islamic theology, said he was upset that he has not been taught the four mainstream schools of thought on Sunni learning and the differences between them. They include rulings by early prominent clerics such as "using force against oppression and rejecting the ruler."
Like some other students, he feels the reforms mean he is not being taught the full teachings of Islam. The result, Hamdi said, is that some students now seek out books that teach what they feel is pure and traditional Islamic jurisprudence.
"A number of students have become radicalised as a result of that, because they turned to these texts on radicalisation without aid and instruction from Al-Azhar," he said.
Another student, who met with Reuters in the Cairo metro to avoid detection by security services, said the move to a softer version of fiqh ─ the interpretation of Islamic Shariah law ─ has made people angry.
"They want to change the curriculum ... They've turned it into 'fiqh-lite'," he said.
Shuman, Al-Azhar's deputy head, said the curriculum changes have not weakened the fiqh taught. "Shariah law allows for rulings that are no longer applicable to the modern age to be reviewed to make it more suitable for this age," he said.
But H.A. Hellyer, a nonresident fellow at the Brookings Institution in Washington, questioned Al-Azhar's approach.
"The students need to be able to contextualise those references properly ... Otherwise they'll end up being susceptible to radicals who'll give them those references, but in a monumentally flawed fashion," he said.
It is not hard to find radical texts. Just outside Al-Azhar mosque in Cairo's old quarter, a maze of alleyways is filled with scores of bookshops that sell both mainstream Islamic titles and books by more extreme Islamist scholars, including Ibn Taymiyya and Sheikh Kishk.
One booklet by Ibn Taymiyya contains stand-alone statements such as "Honesty in faith is not complete without jihad for the sake of God."
More moderate Islamic scholars have criticised such statements because they lack any context for when jihad is justified.
Bookshop owners said that they even quietly sell books by Sayyid Qutb, an Egyptian Brotherhood leader in the middle of last century who is widely seen as the father of modern radical Islamist ideology.
Downside of tough action
The security crackdown may be undermining the attempted education reforms, hardening the outlook of students already sympathetic to Islamists and ostracising some moderates.
Take the 18-year-old Al-Azhar student who goes by the nickname Abu Obeida al-Ansari. The teenager attended Al-Azhar schools from his early years.
Two years ago he joined protests in Cairo against Sisi. The protesters were angry about the fierce security crackdown that killed scores of Brotherhood members and sympathisers. The teenager was later arrested, he said, for standing next to a Brotherhood member in the street as security forces closed in.
Ansari told Reuters via Facebook that Al-Azhar was wrong to back Sisi. He said the institution is "penetrated" by Egypt's security agencies and pro-government thinking, and that it teaches about Shariah (Islamic law) but doesn't implement it.
Ansari said he had also grown disillusioned with the Brotherhood, which he believes buckled too easily under state pressure. He wants to join Islamic State, he said, "whether in Libya, Syria or Iraq, and then return to Egypt to take revenge on every apostate in the army and police who killed and arrested my friends."
He added: "Everybody ought to join jihad ... I learned that from my research, the fiqh I studied ... and Islamic State fatwas."
Islam Yehya, who is studying Islamic theology at Al-Azhar university, is also angered by Sisi's security crackdown. Security forces, he said, "believe that all Al-Azhar students are terrorists or Brotherhood members. And the truth is that Al-Azhar has Brotherhood, Salafists, liberals and secularists and people who don't know anything about politics."
The tough tactics spark a deep hatred for the police, he said. "Two of my university friends travelled to Syria to join terrorist cells after they were tortured for two months in detention," said Yehya, who spoke at a rundown cafe in Cairo's Nasr City district.
Egypt's government denies allegations of human rights abuses and says the Brotherhood, Islamic State and Al Qaeda pose a grave threat to Egypt.
At the same time, security sources say authorities do target universities. One police officer told Reuters that "most of Al-Azhar students are under suspicion" and are regularly monitored. Depending on what is detected, students are either subjected to further monitoring or it is stopped.
"Al-Azhar students have the tendency (towards extremism) and are usually a fertile ground to be deceived into joining terrorist cells," the officer said.
Others also take a tough line. Abdul Ghani Hendi, a religious affairs adviser in the Egyptian parliament, thinks Al-Azhar should be completely restructured to allow for self-criticism. "All the thought which dominates the society is extremists' thoughts. We should confess that frankly," he said.
In April, an official at the education ministry burned books in the courtyard of a private school, saying the literature included Islamic texts that incited violence. The action sparked ridicule from Islamists and secularists alike, who pointed out that some of the burned books had nothing to do with Islam.
Nevertheless, Sisi remains committed to his drive against militancy and thinks Al-Azhar can do more to promote a moderate form of Islam. In a recent speech, he said: "We need to move faster and more effectively."
http://www.dawn.com/news/1185313/egypt-deploys-scholars-to-teach-moderate-islam-but-scepticism-abounds
----------
Syrian Airstrikes Kill Tens of ISIL Leaders in Raqqa
01 June, 2015
Syrian fighter jets hit ISIL positions in Raqqa province and managed to kill tens of high-profile Takfiri commanders in the area.
A senior Syrian military commander, speaking on condition of anonymity, said that tens of terrorists were killed in Ayid Saqir region in Raqqa province on Monday after the Syrian warplanes heavily targeted their positions.
Sham Times news website, meantime, reported that the Syrian security and intelligence forces have obtained intel about the concentration camps of ISIL commanders.
In a similar operation on Tuesday, Saudi warplanes killed 140 ISIL terrorists in Raqqa province.
The ISIL Takfiri terrorists currently control shrinking swathes of Syria and Iraq. They have threatened all communities, including Shiites, Sunnis, Kurds, Christians, Ezadi Kurds and others, as they continue their atrocities in Iraq.
Senior Iraqi officials have blamed Saudi Arabia, Qatar, and some Persian Gulf Arab states for the growing terrorism in their country.
The ISIL has links with Saudi intelligence and is believed to be indirectly supported by the Israeli regime.
http://english.farsnews.com/newstext.aspx?nn=13940311000347
----------
ISIL Trading Human Body Organs in Iraq
01 June, 2015
The ISIL terrorist group is trafficking and selling the body parts of those killed in the battlefield in return for high prices at a hospital in Mosul, Iraq, to overcome its growing financial problems.
"The ISIL is engaged in a huge body organs trade in the city of Mosul," Saeed Memozini, a member of Iraqi Kurdistan's Democrat Party, told reporters on Monday.
He noted that the ISIL has turned a palace of executed Iraqi dictator Saddam Hussein into a special hospital for buying and selling human body parts.
Memozini said that the Takfiri terrorists purchase body organs at very cheap prices and sell them at very high prices to make a lot of money.
He stressed that he has compelling evidence which shows that the ISIL is smuggling body organs to other countries, but he declined to disclose the names of those countries.
In February, sources said that ISIL seeks to deliver the bodies of Kurdish fighters killed in battles in exchange for cash "ranging between 10 thousand and 20 thousand dollars per body.
The German paper said "it is unlikely" that ISIL be able to take advantage of these bodies through trading organs, for not having the medical technology and expertise required for this task.
The newspaper added that ISIL Takfiri group has cut its fighters' salaries by two-thirds, and is no longer able to sell the oil barrel for "more than ten to twenty dollars."
The ISIL Takfiri terrorists currently control shrinking swathes of Syria and Iraq. They have threatened all communities, including Shiites, Sunnis, Kurds, Christians, Ezadi Kurds and others, as they continue their atrocities in Iraq.
Senior Iraqi officials have blamed Saudi Arabia, Qatar, and some Persian Gulf Arab states for the growing terrorism in their country.
The ISIL has links with Saudi intelligence and is believed to be indirectly supported by the Israeli regime.
http://english.farsnews.com/newstext.aspx?nn=13940311000525
----------
Kurdish Forces Retake Control over Several Villages in Syria's Raqqa Province
01 June, 2015
The Kurdish People's Protection Units in the Northern province of Raqqa, in fresh rounds of operations, raided the ISIL terrorists' strongholds and won back control over several militant-controlled villages, the Syrian Observatory for Human Rights confirmed.
The observatory said the Kurdish People's Protection Units seized eight villages from the ISIL on the Western edges of Raqqa province.
"Kurdish units advanced and took control of at least eight villages in the Southeastern parts of Kobani," the monitor said.
On Tuesday, Syrian fighter jets hit the ISIL positions in Raqqa province and managed to kill at least 140 ISIL terrorists.
A senior Syrian military commander, speaking on condition of anonymity, said that more than 140 ISIL terrorists were killed in Raqqa, after the Syrian warplanes heavily targeted their sites.
Full report at:
http://english.farsnews.com/newstext.aspx?nn=13940311000497
----------
2 Senior ISIL Filmmakers Killed in Iraqi Airstrikes
01 June, 2015
Iraqi air raids struck an ISIL position near the Western city of Fallujah in Anbar province and claimed the lives of two top filmmakers of the Takfiri group.
Abu Mohammed al-Soory, a film making expert, and Abu Osama al-Amriky, a documentary specialist, lost their lives after the Iraqi warplanes raided an ISIL hideout in city of Qaim, near Fallujah.
The attack came after a reconnaissance operation carried out by the Iraqi security forces.
Over 28 terrorists were killed in the operation dubbed Mustafa al-Sebhawy, the name of an Iraqi soldier, who was tortured, killed, and hung from a bridge in Fallujah.
ISIL has a history of posting propaganda videos with grisly motifs like decapitation of captive civilians in Iraq and Syria where the terrorist group has been perpetrating heinous crimes against all communities.
Full report at:
http://english.farsnews.com/newstext.aspx?nn=13940311000369
----------
Source: 17 ISIL Militants Captured in Iraq's Samarra
01 June, 2015
At least 17 terrorists were captured after Iraqi troops stormed a compound of the ISIL Takfiri group in Samarra, a military source announced.
A senior Iraqi military commander who preferred to remain anonymous said that the army troops, backed by Shiite and Sunni volunteer forces, made inroads on Western Samarra on Sunday and apprehended more than 17 Takfiri militants.
The source added that that 4 vehicles belonging to the terrorists were also destroyed in the operation.
Earlier, the army troops intensified their offensive against the Takfiri group near the city of Ramadi and took back the Morur district.
Full report at:
http://english.farsnews.com/newstext.aspx?nn=13940311000637
----------
Arab air strikes pound Houthi strongholds across Yemen
01 June, 2015
Warplanes from a Saudi-led coalition launched air strikes on Monday against Yemen's Houthi militia positions in the north, centre and south of the country, residents said.
Saudi planes and artillery bombed the Iran-allied group's northern stronghold province of Saada, which borders the Kingdom, and air strikes hit suburbs of the southern port of Aden on the Arabian sea.
An Arab alliance has been bombing the fighters for more than two months in a bid to restore Yemen's exiled president Abd-Rabbu Mansour Hadi, currently in exile in Saudi Arabia, to power.
Full report at:
http://english.ahram.org.eg/NewsContent/2/8/131639/World/Region/Arab-air-strikes-pound-Houthi-strongholds-across-Y.aspx
---------
Crown prince: Terror won't shake us
01 June, 2015
JEDDAH: Saudi Arabia stands firmly and strongly against terrorism and the Kingdom's security forces are capable of confronting terrorist attacks, said Crown Prince Mohammed bin Naif, deputy premier and minister of interior.
"We have been successful in stopping many terrorist attacks," the crown prince said while receiving foreign diplomats who came to greet him and Deputy Crown Prince Mohammed bin Salman, second deputy premier and minister of defense.
Prince Mohammed thanked the ambassadors for condemning the terrorist attacks on two mosques in Qatif and Dammam. "Saudi Arabia will not be shaken by these incidents as we have seen bigger incidents before and things are now under control," the interior minister said.
Full report at:
http://www.arabnews.com/saudi-arabia/news/755171
----------
Southeast Asia
Wahhabi Terrorists Misinterpreting Quranic Verses and Hadiths for recruitment of Fresh Badges on Social Media
01 June, 2015
Kuala Lumpur: Manipulating the Quranic verses and Prophet Muhammad's (PBUH) Hadith, to justify the terrorist group ISIL's inverse struggle via social media, provided a popular medium in enlisting new recruits.
This has been revealed in the police investigations and study during interrogations of Malaysians, who were arrested for their involvement with the Terrorist group.
Bukit Aman Special Branch Counter Terrorism Division principal assistant director, Datuk Ayub Khan Mydin Pitchay said 95 per cent of the detainees were influenced after seeing videos or reading about the ISIL.
"Our probe has revealed that 95 per cent of them were recruited through the social media and we are having issues in blocking them as most of the Terrorists are savvy in utilising current technology," he said.
He was speaking to reporters after presenting a talk about IS Terrorist group organized by Masjid Kampung Rawa, Saturday night.
Full report at:
http://jafrianews.com/2015/05/30/wahabi-terrorists-misinterpreting-quranic-verses-and-hadiths-for-recruitment-of-fresh-badges-on-social-media/
----------
Mass graves, camps a good reason to revive police commission, says DAP
01 June, 2015
Putrajaya should use the recent discovery of mass graves and human-trafficking camps in Perlis as an impetus to establish the Independent Police Complaints and Misconduct Commission (IPCMC), a DAP lawmaker said today.
Bukit Mertajam MP Steven Sim said in a statement claims that the camps were an "inside job" involving Malaysian police officers were not "something new" and had been highlighted numerous times in reports regarding human trafficking in Malaysia.
"The arrest of police officers in this case proves that all the claims made before this was valid," Sim said.
Full report at:
http://www.themalaysianinsider.com/malaysia/article/police-commission#sthash.HeHxVxDO.dpuf
----------
South Asia
25 insurgents killed after attacking security posts in Kandahar
Jun 01 2015
25 militants have been killed during clashes erupted after attacks on several security check posts in restive Kandahar province.
Officials say groups of Taliban attacked security check posts in Kalamshah, Surkh Abad, Rud Kala and Enzar Kala areas of Marouf District which prompted heavy clashes yesterday.
The clashes left 25 militants killed and 45 others wounded.
Militants carried out the assault using vehicles and motorcycles.
Officials say three vehicles and 10 motorcycles of the militants were also damaged during the attack.
There was no death to security forces but two soldiers sustained light injuries during the exchange of fire.
http://www.khaama.com/25-insurgents-killed-after-attacking-security-posts-in-kandahar-3413
----------
Three civilians killed, five wounded in rocket attacks in southern Afghanistan
Jun 01 2015,
Three civilians lost lives and five others wounded after rockets landed on residential areas in southern Afghanistan.
Officials in southern Kandahar province say that a rocket landed in Surkh Abad area of Ghorak District around 08:00 am this morning leaving two civilians killed and another wounded.
Those killed are father and son and the one wounded is a child of the same family.
Another rocket hit a compound in Helmand province leaving a woman killed and four people wounded.
Officials say the rocket landed in Shakar Shila area of Sangin District. Those wounded in the strike were immediately transported to a nearby medical facility by the security forces for treatment.
This is third rocket landing on civilian-populated areas in two days.
A rocket landed at a school in Logar province that claimed the lives of a teacher and student yesterday.
http://www.khaama.com/three-civilians-killed-five-wounded-in-rocket-attacks-in-southern-afghanistan-3414
----------
ISIS militants suffer heavy casualties in fight with Taliban in Farah
By MIRWAIS ADEEL - Mon Jun 01 2015
Militants affiliated with the Islamic State of Iraq and Syria (ISIS) terrorist group have suffered heavy casualties in fight with the Taliban militants in Farah province.
According to local security officials, the casualties were inflicted on ISIS-affiliated militants during a 20-hour long fight with the Taliban militants in Anar Dara district.
A spokesman for the Afghan National Army (ANA) in Farah province, Hanif Rezaye, said clashes between ISIS and Taliban militants broke out while the ISIS militants were looking to establish sanctuaries for them.
He said at least 15 ISIS militants including their commander Syed Mahmood Hussaini were killed and 12 others were taken as prisoners.
Rezay further added at least 14 ISIS militants were also injured and dozens of others joined the Taliban group together their weapons, ammunition along with some vehicles.
According to Rezaye, at least 5 Taliban insurgents were also killed and 9 others were wounded during the clashes.
This comes as at least sixteen militants affiliated with the Taliban group and (ISIS) group were killed following a series of air raids by the Afghan Air Force in Farah.
According to the local government officials, the airstrikes were carried out on Friday close to Shindand district of Herat and Anar Dara district of Farah.
http://www.khaama.com/isis-militants-suffer-heavy-casualties-in-fight-with-taliban-in-farah-9453
----------
New militant outfit Junud at-Tawheed Wal Khilafah busted
01 June, 2015
Detectives have unearthed the activities of a new militant group named Junud at-Tawheed Wal Khilafah, which follows the strategies of international terrorist group Islamic State to establish caliphate in the country.
They arrested alleged chief of the outfit Abdullah Al Ghalib, son of retired army officer Abdullah alias Khokon, in the capital's Baridhara DOHS on Saturday evening, Shaikh Nazmul Alam, deputy commissioner (north) of the Detective Branch of police, said at a press conference yesterday.
Ghalib was a former member of banned militant outfit Hizb ut-Tahrir and served as the coordinator of Ansarullah Bangla Team, declared outlawed on May 25. Through the new outfit, he used to work as an IS recruiter in the country.
Detectives say the group formed recently aims at targeted killing of noted personalities, deteriorating law and order and overthrowing the democratic government.
Full report at:
http://www.dhakatribune.com/crime/2015/jun/01/new-militant-outfit-junud-tawheed-wal-khilafah-busted#sthash.0L9QC8zt.dpuf
-----------
Africa
Clashes in Somalia leave 35 dead: Officials
01 June, 2015
At least 35 people, most of them civilians, have been killed in a week of clashes in villages near Somalia's border with Ethiopia, officials and traditional elders said Sunday.
The sources said the clashes involved Somali clan militia and members of the Liyu police, an Ethiopian paramilitary unit operating in Ethiopia's ethnic Somali region.
"The Liyu Police Unit launched an attack on innocent civilians. They are attacking villagers and killing people who keep livestock," Hussein Weheliye Irfo, the governor of the Galgadud region in central Somalia, told reporters.
He said the Somali government was aware of the clashes and also called for the intervention of Ethiopia's government and the African Union force in Somalia, AMISOM.
Sources in the region said fighting started a week ago and escalated on Friday.
"It is affecting a vast area and the casualties are very high, 35 dead bodies have been counted so far," Mohamed Garane, a traditional elder in Guricel district where the wounded are hospitalised, said by telephone.
Full report at:
http://english.ahram.org.eg/NewsContent/2/8/131622/World/Region/Clashes-in-Somalia-leave--dead-Officials.aspx
----------
Teaching peace to protect young Nigerians from hate
01 June, 2015
Maiduguri, Nigeria - Children remain anxiously awake with artillery fire cracking through the air as Nigerian troops battle Boko Haram fighters in this city once known as the "home of peace".
Hundreds of the armed group's members recently stormed into Maiduguri near the Giwa Barracks, the largest army base in northeastern Nigeria.
Since the launch earlier this year of a multinational military force with troops from Chad, Nigeria, Niger, and Cameroon, Boko Haram fighters have retreated from areas it once controlled, huge swaths of territory almost the size of Belgium.
Attacks have begun to hit Maiduguri recently, including a deadly one on Saturday by a suicide bomber who blew himself up at a mosque.
But the group is suffering from a lack of ammunition and provisions, according to Aliyu Musa, a UK-based lecturer and Boko Haram analyst.
Full report at:
https://en-maktoob.news.yahoo.com/teaching-peace-protect-young-nigerians-hate-151601505.html
----------
AQIM Islamists claim two attacks against UN in Mali: Mauritanian agency
01 June, 2015
Al-Qaeda's North Africa arm has claimed responsibility for two attacks against the United Nation's MINUSMA peacekeeping mission in Mali this week, the Mauritanian Al-Akhbar news agency reported May 31.
Al-Qaeda in the Islamic Maghreb (AQIM) said it was behind a "rocket attack on a MINUSMA base" in northern Mali on May 26 and a landmine explosion May 28 targeting a UN convoy in the restive north, according to Al-Akhbar, citing AQIM spokesman Abderrahmane Al-Azawadi.
The Al-Akhbar agency regularly carries jihadist statements.
MINUSMA on May 26 said a Bangladeshi peacekeeper had been shot dead and another wounded in "an incident".
And, on May 28, MINUSMA announced that three Burkina Faso peacekeepers were wounded when their convoy triggered at least one mine in the Timbuktu region.
The AQIM spokesman however said the mine blast had caused "three deaths", Al-Akhbar reported.
Full report at:
http://www.hurriyetdailynews.com/aqim-islamists-claim-two-attacks-against-un-in-mali-mauritanian-agency-.aspx?pageID=238&nID=83268&NewsCatID=357
----------
Libya's Tripoli government urges armed mobilisation against IS
01 June, 2015
Libya's Tripoli-based government on Sunday called for an armed "mobilisation" against the Islamic State group after the jihadists claimed a suicide bombing that killed five fighters allied to the government.
A statement by the Tripoli government, which is not recognised by the international community, urged "officers, soldiers... and all security forces and revolutionaries to mobilise" against IS.
It also urged the international community to help it fight the "takfiri" (Sunni radical) jihadist group, saying it posed a "big threat" to Libya's security.
"The Tripoli government is determined to continue fighting extremism and criminal gangs who operate under what is known as the Islamic State until they are uprooted," the statement added.
Full report at:
http://english.ahram.org.eg/NewsContent/2/8/131630/World/Region/Libyas-Tripoli-government-urges-armed-mobilisation.aspx
---------
India
The safest Hindu abode in Ahmedabad lies in Muslim ghetto
01 June, 2015
AHMEDABAD: In a city known for well-marked ghettos that have only expanded with every Hindu-Muslim riot, harmony resides in Zalak Apartments.
This dilapidated complex of 50 flats is the lone abode of Hindus in Juhapura, one of the largest Muslim ghettos in Asia, inhabited by nearly 4.5 lakh residents.
About 35 families occupy these flats on the Muslim-dominated side of the 'border' — a road that divides Juhapura from Hindu-dominated Vejalpur. Amity flows from the public tap outside Zalak, where Hindu and Muslim women fill water while exchanging pleasantries.
Homes in Zalak were vandalized in the violence that erupted after the demolition of the Babri Majid in 1992. Mobs had attacked Zalak and looted it to the last gas cylinder and stray utensil. That was when the first police picket was established outside Zalak. Ever since, peace has prevailed. There have been no major attacks here even when Gujarat turned into a communal cauldron in 2002.
Full report at:
http://timesofindia.indiatimes.com/city/ahmedabad/The-safest-Hindu-abode-in-Ahmedabad-lies-in-Muslim-ghetto/articleshow/47486412.cms
--------
Residents of enclaves on India-Bangladesh border: Waiting for their second Independence
Jayanta Gupta & Pinak Priya Bhattacharya,TNN | Jun 1, 2015
DINHATA/MEKHLIGUNJ: Septuagenarian Asghar Ali's face is expressionless when asked what he feels now that the Land Border Agreement (LBA) of 1974 has been ratified through passage of the Constitution (119th Amendment) Bill in Parliament. The modalities to implement the LBA are likely to be expedited with Prime Minister Narendra Modi's upcoming two-day visit to the neighbouring country. "I am happy that I will no longer have to live with a fake identity and receive all the benefits that were denied to us for so long," he says, almost mechanically.
Prod him, and he speaks his mind: "I had completed my matriculation and intermediate and was a part-time teacher at a primary school. I had no proof of address. I went to a rice mill to get some paddy husked when a policeman stopped me at the check-post.It was 1965 and India and Pakistan were at war. When I told the policeman I lived in Poaturkuti Enclave, he branded me a Pakistani and arrested me. I was charged under Section 14 of the Foreigners Act and spent the next six months in jail. Things haven't changed much. Even today, we have to lie to purchase a packet of salt, get our children admitted to school or receive treatment," he says, the bitterness clear in his voice.
Full report at:
http://timesofindia.indiatimes.com/india/Residents-of-enclaves-on-India-Bangladesh-border-Waiting-for-their-second-Independence/articleshow/47495025.cms
----------
People will continue waving Pakistan flags in Kashmir: Hurriyat Separatist Leader
June 1, 2015
Hurriyat chairman Syed Ali Shah Geelani Sunday said Pakistan flags "would continue to be hoisted" in the Kashmir Valley, days after Union Home Minister Rajnath Singh warned of strict action against those indulging in such acts.
He also condemned the recent attacks on the communication system in Sopore, and asked United Jihad Council chief Syed Salahuddin to probe the incidents.
"Pakistan is our benefactor. It is supporting the right of self determination to Kashmir. People here love Pakistan," Geelani said addressing a seminar at his Hyderpora residence in Srinagar. "The Pakistan flag is being hoisted in Kashmir since 1947. And it (Pakistan flag) would continue to be hoisted in future as well."
Full report at:
http://indianexpress.com/article/india/india-others/people-will-continue-waving-pakistan-flags-in-kashmir-geelani/#sthash.HN0Y1pFC.dpuf
----------
BJP Leader: All Those Residing In This Country Are Hindus
01 June, 2015
BJP leader Subramanian Swamy said that everybody living in India is a Hindu and that all other religion in the country should work in accordance with Hinduism to avoid "religion-based trouble."
"You should understand that whoever lives in this country is Hindu, or his forefathers were Hindus. All those residing in this country are Hindus, this I can prove through DNA test. Even the DNA of Muslims and Christians are like ours (Hindus'). They are all product of the same soil and should accept that they have not come from outside," Swamy said at an event in Vadodara on Saturday.
Speaking on the topic, "Religion in Storm or Storm in Religion" at Gujarat Chhatra Sansad, a state-level student Parliament event, Swamy also called for changes in history "written by Britishers" and urged youth to begin learning Sanskrit.
Full report at:
http://indianexpress.com/article/india/india-others/bjp-leader-subramanian-swamy-all-those-residing-in-this-country-are-hindus/2/#sthash.Ajr8vNUu.dpuf
----------
Modi to be first Indian PM in Israel
SUHASINI HAIDAR
01 June, 2015
Prime Minister Narendra Modi will travel to Israel, making him the first Indian Premier to visit the country, External Affairs Minister Sushma Swaraj said here on Sunday.
Addressing a press conference to recount the achievements of the External Affairs Ministry in the past year, Ms. Swaraj said the PM's "dates were not confirmed", but that they were being "worked out."
Sources told The Hindu the visit could happen this year itself, with a high-level Indian team travelling to Tel Aviv in July for discussions on several bilateral issues.
Ms. Swaraj also said she would visit Israel, Palestine and Jordan later this year, and will travel to Tehran in June for the Non-Aligned Ministerial meet.
However, officials said there is no decision yet on whether Mr. Modi will attend the NAM summit in Caracas, Venezuela in September this year.
Ms. Swaraj insisted did not indicate any shift in the Indian position. But it will in fact be a Full report at:
http://www.thehindu.com/news/national/modi-to-be-first-indian-pm-in-israel/article7268929.ece
----------
India, Pakistan spar over $46 billion Pak-China economic corridor passing through PoK
Jun 01, 2015
India and Pakistan have sparred over the $46 billion Pakistan-China economic corridor, with Prime Minister Narendra Modi informing the top Chinese leadership that the project passing though Pakistan-occupied Kashmir is "unacceptable".
The 3,000-km corridor running from Pakistan's southern Gwadar port on the Arabian Sea to China's western Xinjiang region, was launched in April during President Xi Jinping's visit to Islamabad despite India's strong objections.
External affairs minister Sushma Swaraj told a news conference in New Delhi on Sunday that Prime Minister Modi raised the economic corridor during his visit to Beijing and told the Chinese leadership that it was "unacceptable".
Full report at:
http://www.hindustantimes.com/india-news/india-pakistan-spar-over-46-billion-pak-china-economic-corridor-passing-through-pok/article1-1353486.aspx
----------
No 'flip-flop' or 'confusion', we have 'very clear Pakistan policy': Sushma Swaraj
01 June, 2015
India today reaffirmed adherence to three conditions including having an atmosphere "free of terror and violence" as a precursor to any engagement with Pakistan and demanded action against terrorists including Mumbai attack mastermind Zakiur Rehman Lakhvi.
Asserting that there was no "flip-flop" or "confusion" in the government, which has a "very clear Pakistan policy", External Affairs Minister Sushma Swaraj said the two countries had decided on three principles for talks when Prime Minister Nawaz Sharif had come here last year. These principles were also part of the Shimla and Lahore declarations.
"First, we are ready to resolve each issue through peaceful dialogue. Second, the talks will be between the two countries –us and Pakistan. Neither a third country will mediate nor there will be a third party. Third, an atmosphere of harmony should be created by keeping away terror and violence.
Full report at:
http://indianexpress.com/article/india/india-others/no-flip-flop-or-confusion-we-have-very-clear-pakistan-policy-sushma-swaraj/#sthash.XpuNWkBs.dpuf
----------
Pakistan
12 militants killed in Datta Khel ground operation
01 June, 2015
At least twelve militants were killed in a ground operation in North Wasiristan Agency late on Sunday night.
"Twelve militants were killed by security forces in a ground operation in an area 10km south-west of Datta Khel in North Waziristan Agency late last night," an Inter Services Public Relations statement read.
"Militants were surrounded by troops in a cordon and search operation," the statement added.
Datta Khel area of the restive tribal region was considered a stronghold of local and foreign militant outfits before June, last year, when the military launched a full-scale offensive.
Earlier this month, Army chief General Raheel Sharif said that battlefield successes in the ongoing military operation in North Waziristan have created the momentum for a decisive push against terrorists in the urban areas.
"Noteworthy achievements in Operation Zarb-e-Azab have created a space for a decisive surge against terrorists in the urban areas," the army chief told officers and students of the Command and Staff College in Quetta.
http://tribune.com.pk/story/895645/12-militants-killed-in-datta-khel-ground-operation/
----------
Political, military leaderships vow to eliminate terrorists
01 June, 2015
QUETTA: Political and military leaderships vowed on Sunday to jointly fight terrorists who are killing innocent and unarmed people, labourers, passengers and schoolchildren in Balochistan.
Speaking at a simple but impressive candlelit vigil held on the lawns of the Balochistan Assembly, the leadership said that with the help of people they would foil the conspiracies being hatched to pit members of different nationalities against each other.
"Terrorists will be eliminated by dragging them from their dens and hideouts and serious efforts are afoot to restore peace and order in Balochistan for development of the province and a bright future for our youths," they said.
Full report at:
http://www.dawn.com/news/1185417/political-military-leaderships-vow-to-eliminate-terrorists
----------
The language barrier: Sindh's 'failed' attempt to learn Chinese
01 June, 2015
KARACHI: Vowing to build a stronger relationship with China — Pakistan's 'irreplaceable' and 'all-weather' friend — the Sindh government had decided to promote the Chinese language and culture in the province around a year ago. Amid the tall claims and never-ending rhetoric, the provincial education department had even allocated Rs121 million to introduce the Chinese language as a compulsory subject for classes VI to Matriculation in schools across the province.
Like all such projects, however, this too has been limited to paper alone. Until the filing of this report, there have been no concerted efforts to implement the project, except frequent visits of senior bureaucrats, officials of the education department and elected representatives to China. The higher authorities of both the countries had even inked a memorandum of understanding (MoU) that read: "Teaching of Chinese will be made compulsory in all schools in the province and students learning the language will avail scholarships and other opportunities in China." The opportunity was not limited to students alone as it was decided that "teachers, scholars and employees of the education department will get training in Chinese institutions and, on their return, will teach the language in schools."
Full report at:
http://tribune.com.pk/story/895370/the-language-barrier-sindhs-failed-attempt-to-learn-chinese/
----------
Washington trip: Islamabad to share RAW terror link proof with US
01 June, 2015
ISLAMABAD: Amidst an uptick in terrorist attacks and a growing chorus of accusations against India's top spy agency for aiding and abetting such violence, Pakistan has decided to raise the issue at the international level.
While Prime Minister Nawaz Sharif's top aide said Islamabad would name and shame New Delhi, Pakistan's top diplomat, who left for Washington on Sunday, is expected to share with US officials evidence of RAW's increasing involvement in stoking terrorism in Pakistan.
Foreign Secretary Aizaz Ahmed Chaudhry will lead a Pakistani delegation at an important meeting of the working group under the Pakistan-US Strategic Dialogue. Foreign Office spokesperson Qazi Khalilullah confirmed to The Express Tribune that the meeting would take place on June 2 in Washington. The meeting is a part of the ongoing Strategic Dialogue between the two countries, he added without giving details.
Full report at:
http://tribune.com.pk/story/895527/washington-trip-islamabad-to-share-raw-terror-link-proof-with-us/
----------
Blast kills three in South Waziristan
01 June, 2015
SOUTH WAZIRISTAN: In South Waziristan's Wana area, a political administration official along with two others were killed in a bomb blast, early Monday morning.
Speaking to The Express Tribune, an official of the administration confirmed that Farooq Khan was on his way to Wana Bazaar from his home town. As he approached Raghzai Road, a blast was heard, in which Khan and two others were killed.
The two tribesmen identified as Hazrath Noor and Raz Khan were travelling with him and were also killed in the blast.
Farooq Khan belonged to the Gangi Khel tribe and was serving as a political administrator in Full report at:
http://tribune.com.pk/story/895614/three-killed-in-blast-in-south-waziristan/
---------
TTP claims responsibility for killing PML-N MPA in Gujranwala
01 June, 2015
PESHAWAR: The Tehreek-i-Taliban Pakistan (TTP) on Monday claimed responsibility for the killing of Pakistan Muslim League - Nawaz (PML-N) member of Punjab Assembly (MPA) Rana Shamshad who was shot dead along with his son and a party worker in Gujranwala's Kamoki area on Sunday evening.
Taliban spokesman Mohammad Khorasani told DawnNews that the attack on the legislator was carried out by militants belonging to the proscribed group.
The Punjab legislator was on his way home from his farmhouse in Kot Raja — accompanied by his son, nephew and a party worker— when armed assailants who were travelling in a black car opened heavy fire at the MPA's vehicle.
Full report at:
http://www.dawn.com/news/1185497/ttp-claims-responsibility-for-killing-pml-n-mpa-in-gujranwala
----------
Mideast
Fresh Wave of Saudi Air Raids Kills 8 in Sana'a
01 June, 2015
Saudi military aircraft launched several strikes against arms depots in the Yemeni capital Sana'a on Monday, killing at least 8 people in nearby areas.
More than 8 civilians were killed after the areas of al-Jaraf and Jabal al-Naqam in Sana'a came under the fire of the Saudi warplanes on Monday.
The Saudi warplanes continued their unabated aerial bombardments against Yemen on Monday and claimed the lives of more than 6 civilians after pounding Al Khafji area on the outskirts of the Yemeni capital.
Late on Sunday, the monarchy's air raids also hit a radio station in Northern Sa'ada province, inflicting serious damage on the country's infrastructure.
In the western part of the country, Saudi fighter jets bombarded the Hudaydah International Airport several times.
Full report at:
http://english.farsnews.com/newstext.aspx?nn=13940311000768
----------
Netanyahu says committed to Palestinian state
01 June, 2015
JERUSALEM: Israeli Prime Minister Benjamin Netanyahu said Sunday he was committed to the establishment of a Palestinian state, calling on the Palestinian leadership to return to negotiations unconditionally.
"I remain committed to the idea that the only way we can achieve a lasting peace is through the concept of two states for two peoples – a demilitarised Palestinian state that recognises the Jewish nation state of Israel," he said.
Netanyahu spoke after talks with visiting German Foreign Minister Frank-Walter Steinmeier.
He said they had discussed "our common quest to move forward on peace with the Palestinians".
"I think the only way to move that is through direct negotiations. Unfortunately, the Palestinian Authority has moved away from these negotiations," Netanyahu said.
Netanyahu sparked international concern when he ruled out the establishment of a Palestinian state while campaigning for the March 17 general election but later backtracked on the comments.
Full report at:
http://tribune.com.pk/story/895339/netanyahu-says-committed-to-palestinian-state/
----------
Iran's Velayati Warns Muslims of US, Israel's Divisive Plots
01 June, 2015
Iranian Supreme Leader's top adviser for international affairs Ali Akbar Velayati called on Muslims to grow more united and vigilant against the plots hatched by Washington and Tel Aviv to create rift among them.
"This unprecedented attempt is aimed at creating their desired changes (in the Middle East)," Velayati, also head of Research Center of Iran's Expediency Council, said in an interview with state tv on Sunday night.
He noted all these programs first started in Syria and then reached Iraq, Yemen, Pakistan, Afghanistan, and for the next step China's Xinjiang province.
Full report at:
http://english.farsnews.com/newstext.aspx?nn=13940311000602
----------
Turkey's Erdogan vows to punish journalist behind Syria trucks video
01 June, 2015
Turkish President Tayyip Erdogan has vowed to punish the editor of a newspaper which published video footage it said showed the MIT state intelligence agency helping send weapons to Syria.
The Cumhuriyet newspaper published footage on its website on Friday which it said showed gendarmerie and police officers opening crates of what it described as weapons and ammunition on the back of three trucks belonging to MIT.
"The individual who has reported this as an exclusive story will pay a high price for this," Erdogan said in a television interview with state broadcaster TRT late on Sunday.
"I will not let this go."
Full report at:
http://english.ahram.org.eg/NewsContent/2/8/131659/World/Region/Turkeys-Erdogan-vows-to-punish-journalist-behind-S.aspx
-----------
North America
Islamberg: A Tranquil Muslim Hamlet In The Catskills - Until The Attack Plot
01 June, 2015
ISLAMBERG: Just beyond the gated entrance to the tiny Catskills community of Holy Islamberg, population 200, cows graze and ducks glide on a tranquil pond. Modest houses of wood and cinder block sit along the hamlet's single thoroughfare, a rutted dirt road without traffic signs.
Islamberg sits about 150 miles northwest of New York City, but the small enclave of Muslim families living on shared land feels a world away from city life, which is what its founders intended 30 years ago, when they established the hamlet on 70 acres of pasture land and dense woods in upstate New York.
Last month, however, the community's serenity was disrupted by news that a Tennessee man had pleaded guilty to charges of plotting an attack on Islamberg and its residents.
Formed by a group of African-American Muslims from New York City, the community follows the teachings of Pakistani Sufi cleric Mubarik Ali Shah Gilani, who during the 1980s urged his American acolytes to leave metropolitan areas and establish rural communities centred on religious life.
Full report at:
http://www.dawn.com/news/1185512/islamberg-a-tranquil-muslim-hamlet-in-the-catskills-until-the-attack-plot
----------
Muslim Invents First Space Tech Prayer Mat
01 June, 2015
DUBAI – Offering relief to Muslim patients, a space tech Muslim entrepreneur has invented the world's first physiological prayer mat whose components are derived from space technology and designed with precision.
"It successfully helped people with knee and joint pain, fatigue, body stiffness, low energy, and supporting muscular skeletal structure of the body," Nader Sabry told Al-Arabiya on Sunday, May 31.
Sabry, a Canadian Muslim of Arab origin is a passionate advocate for inspiring youth to embrace entrepreneurship through the Get2space.com initiative, in partnership with the US Space Foundation.
Producing his prayer mat, Sabry was deemed the sole innovation leader in a 2 trillion dollar lifestyle market within the Islamic economy for his invention of the TIMEZ5 prayer mat.
"The TIMEZ5 prayer mat was developed after years of R&D and an in-depth research into the Muslim market. I was inspired after seeing an old man trying to pray in physical pain," he said.
Full report at:
http://www.onislam.net/english/news/americas/486671-muslim-invents-1st-space-tech-prayer-mat.html
----------
'Several' Americans held in Yemen: State Dept
01 June, 2015
WASHINGTON: Several Americans have been detained in Yemen, a State Department official said Sunday, amid reports that at least four US citizens are being held by Shia rebels.
The Washington Post reported that the Americans were believed to be held by the Huthi militia in a prison near the capital Sanaa, and that US efforts to secure their release had faltered, hampered by the fact that Washington has no direct links to the rebels.
The State Department had seen the "reports that several US citizens have recently been detained in Yemen," the official told AFP.
Full report at:
http://tribune.com.pk/story/895337/several-americans-held-in-yemen-state-dept/
----------
US in talks with Qatar over five released Taliban prisoners: CIA chief
01 June, 2015
KUNDUZ: The United States is in talks with Qatar on the status of five Taliban figures who may be free to return to Afghanistan a year after their release in a US prisoner swap, the head of the CIA said Sunday.
I want to make sure that they're not going to be allowed to return to the fight," Central Intelligence Agency director John Brennan said on CBS talk show "Face the Nation."
The five senior Taliban figures were exchanged for Sergeant Bowie Bergdahl on May 31, 2014, and transferred from the US detention center at Guantanamo Bay, Cuba to the custody of Qatar.
Full report at:
http://www.dawn.com/news/1185502/us-in-talks-with-qatar-over-five-released-taliban-prisoners-cia-chief
----------
Homicide count rises to 43 in Baltimore
01 June, 2015
Three fatal shootings in Baltimore on Sunday bring May's homicide count to 43, making it the most violent month in the city in more than 40 years.
Police say two men were fatally shot in the head about 1 a.m. About 11 a.m., a man was fatally shot in the back.
With 43 homicides, May is the deadliest month since the early 1970s, when 44 people were killed in December 1971 and 45 people in August 1972, according to the Baltimore Sun.
There have been 116 homicides in Baltimore in 2015. By this time last year, homicides hadn't hit triple digits. As homicides rose in May, the number of arrests plummeted. Some attribute the drop to increased scrutiny of police following the April death of Freddie Gray from injuries received in police custody.
http://www.dailysabah.com/americas/2015/06/01/homicide-count-rises-to-43-in-baltimore
----------
Islamophobia on rise in US, pro-Palestinians blacklisted
01 June, 2015
hate group in the United States publicizes the identities of pro-Palestinian student activists and professors in an effort to stigmatize them and dissuade employers from hiring them in the future. The group keeps an online database of 54 people in a website called "canary mission" saying that "It is your duty to ensure that today's radicals are not tomorrow's employees," in a video explanation. In the website, which has run since March, no names of editors are displayed.
Blacklisting of pro-Palestinian students and making them a potential target has received severe criticism. "Collecting information on students has particular value because it signals to them that attacking Israel is serious business, not some inconsequential game, and that their actions can damage both Israel and their future careers," Daniel Pipes, president of the Middle East Forum said, as reported by the Israeli newspaper Hareetz.
Full report at:
http://www.dailysabah.com/politics/2015/05/31/aid-sent-upon-ankaras-order-to-turkmens-for-defense-against-isis-syrian-regime
---------
Europe
16 Saudi Govt Imams Off To Europe to Lead Prayers in Ramadan
01 June, 2015
RIYADH — The Ministry of Islamic Affairs, Endowments, Call and Guidance has assigned 16 imams to lead Taraweeh (late night prayers during Ramadan) in various European countries during the holy month, which is expected to begin on June 18.
The Taraweeh prayers will be held in Islamic centres in a number of countries in Europe including Austria, the Canary Islands, Poland, the Czech Republic, Denmark and France.
The ministry's attaché at the Saudi Embassy in Paris, Abdullah Bin Ibrahim Al-Faleh, said the centres are serving the Muslim communities and teaching the children Arabic language and about Islam.
Al-Faleh said Muslims usually come in large numbers to these centres during Ramadan.
He said the ministry is providing the imams and preachers in Europe and elsewhere with support to enable them serve the Muslim communities.
Al-Faleh said the ministry's imams and preachers are supervising the Islamic centers and propagating a moderate form of Islam.
http://www.saudigazette.com.sa/index.cfm?method=home.regcon&contentid=20150601245693
---------
After France, Muslim students in Belgium banned from school
01 June, 2015
Thirty Muslim students in Brussels were banned from entering the school for wearing long skirts, a Belgian local daily, La Dernière Heure (DH), reported on Friday. The school administration of L'Institut De Mot-Couvreu asserted that wearing long skirts represent a religious symbol which is inconsistent with school regulations.
"I arrived at 8 a.m. and he said 'Out! You are not allowed to enter!' " said Hanane, a 17- year-old Muslim student wearing a long turquoise skirt. "This is not the first time he punished us. I was banned from school just because I was wearing a long skirt," 22-year-old Yasmina told the Belgian daily DH.
Full report at:
http://www.dailysabah.com/europe/2015/05/31/after-france-muslim-students-in-belgium-banned-from-school
----------
Russia unlikely to drop support of Assad regime
01 June, 2015
Russia, led by President Vladimir Putin, is unlikely to drop its support for the regime of Syrian President Bashar Assad, even though it distrusts him and recognizes that his situation is not good, experts told The Jerusalem Post.
A Saudi-backed paper quoted unidentified sources in a report on Sunday that said that Russia is abandoning Assad's regime and removing most officials and military experts.
Nikolay Kozhanov, a non-resident fellow at Carnegie Moscow Center and a visiting fellow at Chatham House London, told the Post on Sunday that, while Sunni media reports such as the one in Asharq Al-Awsat should be taken with a "grain of salt," "Russia does not trust Assad 100 percent."
Full report at:
http://www.jpost.com/Middle-East/Russia-unlikely-to-bail-out-on-Assad-regime-404651
----------
$500 million appeal for Iraq to be launched: UNICEF
01 June, 2015
Humanitarian organisations are preparing to launch a fundraising appeal for $500 million (454 million euros) for the crisis created by the Islamic State of Iraq and the Levant (ISIL) in Iraq, UNICEF, the United Nations children's agency said on June 1.
The announcement came a day ahead of a meeting in Paris of the US-led coalition of countries working to defeat the jihadist group in Iraq and Syria.
"The humanitarian situation in Irak [Iraq] is close to disaster! We urgently need extra resources in order to continue assistance," Philippe Heffinck, UNICEF's representative in Iraq, said in a statement in French.
Full report at:
http://www.hurriyetdailynews.com/500-million-appeal-for-iraq-to-be-launched-unicef-.aspx?pageID=238&nID=83277&NewsCatID=359
----------
French far-right leader: Egypt visit failed to change view on immigration
1 June 2015
The leader of France's far right National Front party said on Sunday that a visit to Egypt to meet with the country's religious and political leaders had no effect on her views on Arab and Muslim immigration to France.
Since taking over from her father and becoming head of the National Front, Marine Le Pen has sought to rid the party of its anti-Semitic image and position it as an anti-immigrant, Eurosceptic force offering protectionist policies to shelter France from globalisation.
Le Pen arrived in Egypt last week for a meeting with the grand imam of Al Azhar, Sunni Islam's highest authority, the pope of the Egyptian Coptic Church, and Prime Minister Ibrahim Mehleb.
Full report at:
http://english.alarabiya.net/en/News/middle-east/2015/06/01/French-far-right-leader-Egypt-visit-failed-to-change-view-on-immigration.html
----------
URL: https://www.newageislam.com/islamic-world-news/new-age-islam-news-bureau/saudis-turn-birthplace-of-wahhabism-ideology-into-tourist-spot/d/103279