New Age Islam News Bureau
2 Sept 2014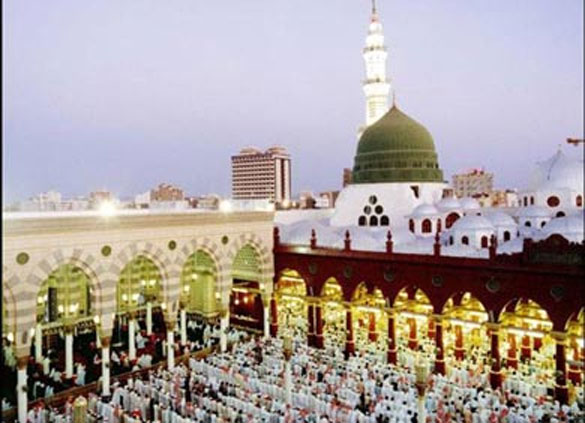 Second-holiest site in Islam attracts millions of pilgrims each year
-----------
Arab World
• Saudis Risk New Muslim Division with Proposal to Move Muhammad's Tomb
• Kurdish Activists 'Convert' to Yazidis in Act of Solidarity
• Army Kills Key ISIL Terrorist Leader in Deir Ezzur
• Iraqi Army Frees Four ISIL-Controlled Villages in Salahuddin
• PKK forces impress in fight against Islamic State
• Sinai blast kills 11 Egypt policemen: security official
• Saudi Arabia arrests 88 terror suspects
• Iraqi forces press advance as parliament stormed
• Syrian rebels issue demands for captive UN troops
Africa
• 31 killed in clashes between Islamists, rivals in Libya
• Scores killed as Boko Haram insurgents overrun Nigerian town, sources say
• Libyan Grand Mufti's Official Website Hacked Amid Violence
• Tunisian deputy survives assassination attempt
India
• Delhi's Govt Schools Not Hiring Urdu Teachers, Muslim Students Forced to Study Sanskrit
• More people questioned in runaway 'Jihadis' case
• Three militants killed in encounter in Kashmir
Pakistan
• Achakzai Urges Govt to Throw Out 'Terrorists' From Parliament's Premises
• Opposition supports democracy, constitution unconditionally: PPP Senator
• Nisar Says Sit-Ins Mutiny against State, Parliament
• Imran, Quadri have army, ISI's backing: Hashmi
• Imran Khan does not believe election mandate was stolen from him
• Altaf urges leaders to shun egos
South Asia
• Suicide attack rocks Nangarhar province in eastern Afghanistan
• 'Bangladesh model coup in the works in Pakistan'
• Taliban release abducted policemen in Herat province
• PM Sheikh Hasina for combined efforts to face security challenge
North America
• Obama urged to take decisive action against ISIS as security experts warn group will target U.S. and 'kill with abandon'
• US air strike in Somalia targeting Shebab leader
• US, Zionism Main Obstacles to Islamic Civilization
Europe
• ISIS recruits planning 26/11-type attack in UK
• Doubts raised over British PM's anti-jihadist plans
• Amnesty accuses ISIL of 'systematic ethnic cleansing' in Iraq
• Radicals in Iraq driving large-scale atrocities: UN
• France Bans Muslim Engineer from N. Sites
• Banning return of British militant suspects 'may breach human rights'
Southeast Asia
• Indonesia has concerns over growing support for IS
• ISIS in Southeast Asia
Mideast
• Turkish president: Syria's Assad helped rise of IS
• Al-Qaeda in Yemen executes three 'spies' for guiding drone strikes
• Abbas plan calls for Israeli pullout from West Bank within three years
• PKK-affiliate claims to have killed ISIL operative in Istanbul
• Iran asks rival political groups in Pakistan to exercise self-restraint
• Iran unveils new surface-to-air missile, radars
Compiled by New Age Islam News Bureau
URL: https://www.newageislam.com/islamic-world-news/new-age-islam-news-bureau/saudis-risk-new-muslim-division-with-proposal-to-move-muhammad's-tomb/d/98859
-------------
Arab World
Saudis Risk New Muslim Division with Proposal to Move Muhammad's Tomb
The Independent | Sep 2, 2014
One of Islam's most revered holy sites - the tomb of the Prophet Muhammad - could be destroyed and his body removed to an anonymous grave under plans which threaten to spark discord across the Muslim world.
The controversial proposals are part of a consultation document by a leading Saudi academic which has been circulated among the supervisors of al-Masjid al-Nabawi mosque in Medina, where the remains of the Prophet are housed under the Green Dome, visited by millions of pilgrims and venerated as Islam's second-holiest site. The formal custodian of the mosque is Saudi Arabia's ageing monarch King Abdullah.
The plans brought to light by another Saudi academic who has exposed and criticised the destruction of holy places and artefacts in Mecca - the holiest site in the Muslim world - call for the destruction of chambers around the Prophet's grave which are particularly venerated by Shia Muslims.
The 61-page document also calls for the removal of Muhammad's remains to the nearby al-Baqi cemetery, where they would be interred anonymously.
There is no suggestion that any decision has been taken to act upon the plans. The Saudi government has in the past insisted that it treats any changes to Islam's holiest sites with "the utmost seriousness".
But such is the importance of the mosque to both Sunni and Shia Muslims that Dr Irfan al-Alawi warned that any attempt to carry out the work could spark unrest. It also runs the risk of inflaming sectarian tensions between the two branches of Islam, already running perilously high due to the conflicts in Syria and Iraq.
Hard-line Saudi clerics have long preached that the country's strict Wahhabi interpretation of Islam - an offshoot of the Sunni tradition - prohibits the worship of any object or "saint", a practice considered "Shirk" or idolatrous.
Dr Alawi, director of the Islamic Heritage Research Foundation, told The Independent: "People visit the chambers, which are the rooms where the Prophet's family lived, and turn towards the burial chamber to pray.
"Now they want to prevent pilgrims from attending and venerating the tomb because they believe this is Shirk, or idolatry. But the only way they can stop people visiting the Prophet is to get him out and into the cemetery."
For centuries Muslim pilgrims have made their way to Mecca in order to visit the Kaaba - a black granite cubed building said to be built by Abraham, around which al-Masjid al-Haram, or the Grand Mosque, is built, and towards which every Muslim faces when they pray.
This pilgrimage, or hajj, is a religious duty that has to be carried out at least once in a lifetime.
Many go on to make their way to the nearby city of Medina to pay their respects at the Prophet's tomb.
Al-Nabawi mosque around the tomb has been expanded by generations of Arabian rulers, particularly the Ottomans. It includes hand-painted calligraphy documenting details of the Prophet's life and his family. Dr Alawi said the plans also call for these to be destroyed as well as the Green Dome which covers the Prophet's tomb.
The Prophet is venerated by both branches of Islam, Sunni and Shia. The strict Wahhabi sect is a branch of the Sunni faith, however, and removing the Prophet could further inflame tensions between the two groups.
The current crisis in Iraq has been blamed on the Shia former Prime Minister Nouri al-Maliki's sectarianism, which alienated the Sunni, leading to the uprising. Isis, also known as Islamic State, which holds swathes of Iraq and Syria, and which murdered the American journalist James Foley, is a Sunni organisation.
Mainstream Sunni Muslims would be just as aghast at any desecration of the tomb as the Shia, Dr Alawi said.
The Independent has previously revealed how the multibillion-pound expansion of the Grand Mosque has, according to the Washington-based Gulf Institute, led to the destruction of up to 95 per cent of Mecca's millennium-old buildings. They have been replaced with luxury hotels, apartments and shopping malls.
King Abdullah has appointed the prominent Wahhabi cleric and imam of the Grand Mosque, Abdul Rahman al-Sudais, to oversee the expansion project - necessary to cope with the huge number of pilgrims who now visit each year.
Dr Alawi says the consultation document for the al-Nabawi mosque in Medina, by the leading Saudi academic Dr Ali bin Abdulaziz al-Shabal of Imam Muhammad ibn Saud Islamic University in Riyadh, has been circulated to the Committee of the Presidency of the Two Mosques.
Several pages of the consultation document have just been published in the presidency's journal. They call for the destruction of the rooms surrounding the tomb - used by the Prophet's wives and daughters, and venerated by the Shia because of their association with his youngest daughter, Fatima.
The document also calls for the Green Dome, which covers the tomb and these living quarters, to be removed, and the ultimate removal of the Prophet's body to a nearby cemetery.
The al-Baqi cemetery already contains the bodies of many of the Prophet's family, including his father who was removed there in the 1970s, Dr Alawi said. In 1924 all the grave markers were removed, so pilgrims would not know who was buried there, and so be unable to pray to them.
"The Prophet would be anonymous," Dr Alawi added. "Everything around the Prophet's mosque has already been destroyed. It is surrounded by bulldozers. Once they've removed everything they can move towards the mosque. The imam is likely to say there is a need to expand the mosque and do it that way, while the world's eyes are on Iraq and Syria. The Prophet Muhammad's grave is venerated by the mainstream Sunni, who would never do it. It is just as important for the Shia too, who venerate the Prophet's daughter, Fatima.
"I'm sure there will be shock across the Muslim world at these revelations. It will cause outrage."
The Independent was unable to contact the Saudi Arabian embassy, but it said in a statement last year: "The development of the Holy Mosque of Makkah al-Mukarramah [Mecca] is an extremely important subject and one which the Kingdom of Saudi Arabia, in its capacity as custodian of the two holy mosques, takes with the utmost seriousness. This role is at the heart of the principles upon which Saudi Arabia is founded."
http://timesofindia.indiatimes.com/world/middle-east/Saudis-risk-new-Muslim-division-with-proposal-to-move-Muhammads-tomb/articleshow/41529848.cms
-------------
Kurdish Activists 'Convert' to Yazidis in Act of Solidarity
Sep 2, 2014
ERBIL, Kurdistan Region - In an act of solidarity with Yazidis made homeless and persecuted en masse by the Islamic State (IS/formerly ISIS) in Iraq, dozens of Kurdish intellectuals and activists announced they have symbolically converted to the faith.
"We become Yazidis to show the radical Muslims that their genocide campaign would only increase the number of Yazidis in Kurdistan," said a group of 48 intellectuals and activists in a joint statement.
They said that the Yazidis are "subjected to savage attacks only because they have a different religion."
"Because of their non-Muslim faith they are killed en masse, their girls and women are enslaved and many of them have been forcefully converted to Islam," their statement read.
IS militants attacked the Yezidi town of Shingal early this month, killing several hundred civilians and displacing tens of thousands to Mount Shingal, where many died of hunger and thirst.
"I feel like a Yazidi," pronounced Frmesk Mustafa, a Kurdish actress. "I am one of them," she said.
Mustafa, who has returned to Kurdistan from Norway to work with Yezidi refugees, said: "The aim is to make them return the girls. And to show that Yezidis have to remain with their faith without fear."
The activists stressed in their statement that the Kurdistan Region has no room for religious intolerance, and that Yezidis are welcome as members of Kurdish society.
"One of the prides of the people of Kurdistan is their belief in religious and ethnic diversity where every individual can live together," they said.
The group called on the people of Kurdistan, Iraq and the world to become Yezidis, albeit symbolically, in solidarity with the small and persecuted community.
"We want to tell the Yezidis and the people of the world that we will not leave the Yezidis to face a genocide alone," read the statement.
http://rudaw.net/english/kurdistan/310820141
-------------
Army Kills Key ISIL Terrorist Leader in Deir Ezzur
Sep 2, 2014
The Syrian army killed a notorious leader of the Islamic State of Iraq and the Levant (ISIL) terrorist group in the Eastern parts of the country.
Abu Dajaneh Al-Qazbiri, the ISIL commander in Eastern Syria, was killed in fierce clashes with the Syrian army in Deir Ezzur countryside.
The army operations against the militants still continue in Deir Ezzur.
Meantime, the Syrian army killed the terrorists of the Islamic State of Iraq and the Levant (ISIL) group in al-Hwaika, al-Rushdieh, al-Ardi, al-Sina'a and al-Jbaileh in Deir Ezuur, and destroyed their weaponry and ammunition.
Two notorious terrorist leaders, Hamza al-Afin and Nazir al-Hassan, have been identified among the dead.
Syria has been experiencing unrest since March 2011, when terrorists started organized attacks on Syrian police and army forces and border guards across the country.
The government blames outlaws, saboteurs, and armed terrorist groups for the deaths, and has always stressed that the unrest is being orchestrated from abroad.
Tel Aviv, Washington and some Arab capitals have been staging various plots to topple President Bashar al-Assad, who is well known in the world for his anti-Israeli stances.
http://english.farsnews.com/newstext.aspx?nn=13930611000661
-------------
Iraqi Army Frees Four ISIL-Controlled Villages in Salahuddin
Sep 2, 2014
Iraqi security forces managed to free four ISIL-controlled villages in Suleiman Bek district, Salahuddin province in a series of operations carried out on Tuesday.
The Iraqi army pushed back the ISIL terrorists from the battlefields in the countryside of Suleiman Bek and liberated villages of Maftool Kabeer, Sakhair, Beir Dahab, and Saker from the control of ISIL terrorists, Alforat news agency reported.
Earlier today, Iraqi security forces targeted a shelter of the ISIL terrorist group in Dholoaya area, Salahuddin province, claiming the lives of 11 terrorists.
The crisis in Iraq escalated after the ISIL militants took control of Mosul in a lightning advance on June 10, which was followed by the fall of Tikrit, located 140 kilometers (87 miles) Northwest of the capital, Baghdad.
Soldiers of the Iraqi army and Pishmarga have been engaged in heavy fighting with the militants on different fronts and have so far been able to push them back in several areas.
http://english.farsnews.com/newstext.aspx?nn=13930611001352
---------
PKK forces impress in fight against Islamic State
Sep 2, 2014
MAKHMOUR, Iraq — Ahmed Mohammed was staring at the corpses of two fighters from the Islamic State (IS), dumped in a natural ditch just a short distance from the town of Makhmour, about 50 kilometres (30 miles) from Iraqi Kurdistan's capital city, Erbil.
"We killed seven of them, but just brought back these two bodies to boost up people's morale here," said Mohammed, a nom de guerre, with his AK-47 rifle hanging on his shoulder.
He was a member of a fighting force in Makhmour affiliated with the Kurdistan Workers Party (PKK), a rebel group whose guerrillas have honed their skills fighting the Turkish military, NATO's second-largest, for Kurdish rights for around three decades.
And there was acknowledgement here of their abilities.
"They have very skilled snipers," said an assistant to a senior Iraqi Kurdish military official in the area. "They shot these [IS] guys."
Just a few yards away, male and female combatants had gathered, wearing the traditional gray uniforms that PKK fighters typically wear. They were mostly residents of a refugee camp inhabited by Kurdish refugees who had escaped Turkish military operations in their area around two decades ago.
Full report at:
http://www.al-monitor.com/pulse/originals/2014/09/pkk-kurdish-fight-islamic-state.html#ixzz3CCgcAaLK
-------------
Sinai blast kills 11 Egypt policemen: security official
Sep 2, 2014
CAIRO: Eleven Egyptian policemen were killed when a roadside bomb blast struck their armoured vehicle in the restive Sinai Peninsula on Tuesday, security officials said.
Militants have claimed a string of attacks that have killed scores of policemen and soldiers, mostly in north Sinai, since the army overthrew president Mohamed Morsi in July last year.
Another four conscripts were wounded in the explosion on a road leading to the town of Rafah bordering the Palestinian Gaza Strip.
The military has sought to quell the militants in a massive operation that has killed scores of extremists and netted some of their leaders.
The main militant group, Ansar Beit al-Maqdis, has acknowledged in statements the loss of some of its leaders, but has continued to attack both the security forces and Bedouin suspected of collaborating with them.
The group, whose name means Partisans of Jerusalem, has also said it was behind deadly bombings of police buildings in the capital and the Nile Delta.
http://www.dawn.com/news/1129418/sinai-blast-kills-11-egypt-policemen-security-official
-------------
Saudi Arabia arrests 88 terror suspects
2 September 2014
Saudi Arabia's Interior Ministry said on Tuesday it had arrested 88 individuals accused of being terrorists, preparing attacks at home and abroad.
The ministry said the 88 were under close observation before they were detained.
http://english.alarabiya.net/en/News/middle-east/2014/09/02/Saudi-Arabia-arrests-88-suspected-terrorists-.html
-------------
Iraqi forces press advance as parliament stormed
Sep 2, 2014
Iraqi forces made more progress Tuesday in their fightback against jihadists but in Baghdad anger boiled over as hundreds stormed parliament over the fate of missing soldiers who surrendered in June.
After breaking a months-long jihadist siege by Islamic State fighters of the Shiite Turkmen town of Amerli, troops on Tuesday regained control of part of a key highway linking Baghdad to the north.
Two towns north of Amerli were also taken from the jihadists on Monday as Iraqi forces -- backed by US air strikes -- score their first major victories since the army's collapse across much of the north in June.
That collapse left some 1,700 soldiers in jihadist hands, with many believed to have been executed.
Full report at:http://english.ahram.org.eg/NewsContent/2/8/109829/World/Region/Iraqi-forces-press-advance-as-parliament-stormed.aspx
-------------
Syrian rebels issue demands for captive UN troops
Sep 2, 2014
BEIRUT: Al-Qaeda-linked Syrian rebels holding 45 Fijian peacekeepers hostage have issued a set of demands for their release, including the extremist group's removal from a UN terrorist list and compensation for the killing of three of its fighters in a shootout with international troops, an official said Tuesday.
The Nusra Front seized the Fijians on Thursday in the Golan Heights, where a 1,200-strong UN force monitors the buffer zone between Syria and Israel. The rebels also surrounded two Filipino units, but those UN troops escaped over the weekend.
Speaking in the Fijian capital of Suva, military commander Brig. Gen. Mosese Tikoitoga said the Nusra Front has made three demands for the peacekeepers' release: to be taken off the UN terrorist list; the delivery of humanitarian aid to parts of the Syrian capital of Damascus; and payment for three of its fighters it says were killed in a shootout with UN officers.
Tikoitoga did not say whether the rebels' demands would be seriously considered. He said the UN had sent hostage negotiators to Syria to take over discussions from military leaders.
"Negotiations have moved up to another level with the professional negotiators now in place," he said.
Full report at:
http://www.arabnews.com/featured/news/624041
-------------
Africa
31 killed in clashes between Islamists, rivals in Libya
Sep 2, 2014
A Libyan security official said clashes in the eastern city of Benghazi between Islamists and rival fighters loyal to a renegade general have killed 31 on both sides.
The official said early on Tuesday that fierce fighting erupted between Gen Khalifa Hifter's loyalists and a group of Islamist militias called The Benghazi Revolutionary Shura Council late Monday.
Hifter's jets pounded Islamists' positions while militiamen responded with artillery. The hours—long clashes concentrated around the city's Benina airport.
The official says Hifter's side lost 20 fighters while the militiamen had 11 killed. He says 36 fighters in all were wounded. The official spoke on condition of anonymity because he is not authorized to talk to media.
Libya is witnessing its worst spasm of violence since Moammar Gadhafi was toppled in 2011.
http://www.thehindu.com/news/international/world/clashes-between-islamists-rivals-in-libya/article6372806.ece
-------------
Scores killed as Boko Haram insurgents overrun Nigerian town, sources say
Sep 2, 2014
Islamist Boko Haram insurgents have overrun much of a northeastern Nigerian town after hours of fighting that has killed scores and displaced thousands of residents, several security sources said on Tuesday.
The Islamists launched an attack on the town of Bama, 70 km (45 miles) from the Borno state capital of Maiduguri, on Monday. They were initially repelled but came back in greater numbers overnight, the sources and witnesses said.
Nigeria's defense spokesman was not immediately available for comment. The sources said there were heavy casualties on both sides. One security source said as many as 5,000 people fled.
Two months after Islamist militants in Iraq and Syria declared the area they seized an Islamic caliphate, Boko Haram has also for the first time explicitly laid claim to territory it says it controls in parts of northeast Nigeria.
It captured the remote hilly farming town of Gwoza, along the Cameroon border, during fighting last month. The group's leader Abubakar Shekau in a video declared it a "Muslim territory" that would be ruled by strict Islamic law.
Shekau's forces have killed thousands since launching an uprising in 2009 to carve an Islamic state out of religiously mixed Nigeria, and are seen as the biggest security threat to the continent's leading energy producer.
Full report at:
http://www.theglobeandmail.com/news/world/scores-killed-as-boko-haram-insurgents-overrun-nigerian-town-sources-say/article20296321/
-------------
Libyan grand mufti's official website hacked amid violence
2 September 2014
The official website of Libya's Grand Mufti Sadiq al-Ghariani was hacked on Monday by a group of hackers identifying itself as "The Great Team."
The hackers left Ghariani a seemingly mocking message on his website: "How you doing in the UK?"
Ghariani, who is currently not in Libya, has recently stirred a controversy after his statements and messages on the website, named "Tanasuh," were labeled as incitement to violence by opposition groups.
He has also directly opposed to the convening of parliament in the city of Tobruk, east of Libya.
Full report at:
http://english.alarabiya.net/en/media/digital/2014/09/02/Libyan-grand-mufti-s-official-website-hacked-amid-violence.html
-------------
Tunisian deputy survives assassination attempt
Sep 2, 2014
A deputy in Tunisia's transitional parliament survived an assassination attempt in the city of Kasserine, near the Algerian border, where security forces have been hunting Islamist militants for months.
Mohamed Ali Nasri told reporters in hospital that about five gunmen attacked his house late on Monday. He threw himself from the roof and hid in a neighbour's home, suffering a broken leg but no bullet wounds.
His family and witnesses in Kasserine confirmed the assassination attempt.
The attack comes as the small North African state attempts to establish full democracy, widely seen as a model for the region. Tunisia holds its first free parliamentary elections on Oct. 26 after parliament adopted a new constitution this year.
Protests in Tunisia in 2010 sparked subsequent revolutions that have transformed the Arab world and in many ways is more stable and secure than other Arab Spring countries such as Libya, Egypt and Syria.
Full report at:
http://english.ahram.org.eg/NewsContent/2/8/109803/World/Region/Tunisian-deputy-survives-assassination-attempt.aspx
-------------
India
Delhi's govt schools not hiring Urdu teachers, Muslim students forced to study Sanskrit
Manash Pratim Gohain,TNN | Sep 2, 2014
NEW DELHI: Over 14,800 Muslim students across 100 Delhi government schools are being forced to study Sanskrit as there is no recruitment of Urdu teachers.
Some schools, like the Sarvodaya Kanya Vidyalaya, Sultanpuri Block H, have as many as 789 Muslim students; yet there are no Urdu teachers appointed.
According to NGO Nawa-E-Haque.Despite, despite directions from Directorate of Education (DoE), a majority of schools don't have Urdu teachers, thereby violating the Delhi School Education Act, 1973 and other constitutional laws, which grant the option of opting for one's mother tongue as third language from class VI to X.
On May 21, 2012, the welfare branch of DoE issued a circular directing heads of the schools to record the student's language preference at the time of admission; and also directed the Post Fixation Cell (PFC) to intimate the DoE about requirement of teachers in the opted language.
Again, on July 15, 2013, the assistant director of education (PFC) wrote to all deputy directors of education in every district for creation of posts for Urdu teachers in Delhi's government schools. The deputy directors were asked to give the exact number of Urdu teachers required, based on current student enrolment, by July 24, 2013.
Asad Ghazi, president of Nawa-E-Haque said that, based on an RTI with regard to a 100 schools, despite official orders, "A majority of Delhi government schools do not have provisions for teaching Urdu due to which Muslim students are left with no option except studying Sanskrit."
Full report at:
http://timesofindia.indiatimes.com/india/Delhis-govt-schools-not-hiring-Urdu-teachers-Muslim-students-forced-to-study-Sanskrit/articleshow/41473637.cms
-------------
More people questioned in runaway 'jihadis' case
RASHMI RAJPUT
Sep 2, 2014
The investigation into the case of four Muslim youth who are believed to have travelled to Iraq to join the jihadist group Islamic State (IS) in May has once again gathered momentum.
After one of the boys was reported killed last week, the Maharashtra Anti-Terrorism Squad (ATS) has questioned six people including a Maulana (priest) who was also scheduled to travel with the young men but backed out at the last minute.
A senior police officer told The Hindu that while the Maulana has not yet been given a clean chit, he may not have played a role in radicalising the youth.
"The boys did meet him regularly and discussed religion but it does not look like he radicalised them. He provided logistical support and put them in touch with a travel agency which organised tours to Gulf countries," he said.
Full report at:
http://www.thehindu.com/news/national/other-states/more-people-questioned-in-runaway-jihadis-case/article6370631.ece
-------------
Three militants killed in encounter in Kashmir
Sep 2, 2014
Three militants were killed in an encounter with security forces in Pulwama district of Kashmir on Tuesday
"Three militants have been killed in the gunbattle which began last night," a police official said.
He said the debris of a house where the militants were hiding is being cleared and searches are going on.
The identity and group affiliation of the slain militants is being ascertained.
Security forces launched an operation in Hanjan village in Rajpora area of Pulwama following information about the presence of militants there on Monday night.
http://www.thehindu.com/news/national/three-militants-killed-in-encounter-in-kashmir/article6372994.ece?homepage=true
-------------
Pakistan
Achakzai urges govt to throw out 'terrorists' from parliament's premises
Sep 2, 2014
ISLAMABAD – Pakhtunkhwa Milli Awami Party (PkMAP) Chief Mehmood Khan Achakzai on Tuesday asked the government to order security forces to throw out the terrorist gypsies stationed in the premises of the Parliament House as they were capable to do so.
Participating in country's current political situation in joint session of the parliament, he said from 40,000 to 50,000 security forces were capable to teach a lesson to the agitators, they need only clear orders to do so. He asked that the workers of Pakistan Awami Tehreek (PAT) and the Pakistan Tehreek-e-Insaf (PTI) to leave the premises of Parliament House.
He said that if the government fails to do so - the PkMAP would kick out the protesters on its own. He urged that the parliament to invoke Article 245 of the constitution as it was a clear act of terrorism by the agitators. He said that the entire parliament standing like a rock behind the prime minister with commitment.
He said that media should not cross the red lines. Severely criticizing PTI chief Imran Khan and PAT chief Dr Tahir ul Quadri, he said that Imran was a spoiled boy while Maulana Canada was spreading hatred and unrest in the society. He said that Prime Minister Nawaz Sharif was enjoying the support of entire parliament, civil society, media, bar associations, etc.
The PkMAP chief said that chief of Tehreek Nifaz-e-Sharia-e Muhammadi Maulana Sufi Muhammad has been incarcerated due to identical unconstitutional demands of Tahir ul Quadri and Imran Khan. Both should be dealt with in same fashion. He said that all the parties could gather 50 million people on a single call.
http://www.dailytimes.com.pk/national/02-Sep-2014/achakzai-urges-govt-to-throw-out-terrorists-from-parliament-s-premises
-------------
Opposition supports democracy, constitution unconditionally: PPP Senator
Sep 2, 2014
ISLAMABAD: Pakistan People's Party (PPP) Senator, Barrister Aitzaz Ahsan said opposition parties support the constitution and democracy unconditionally. Ahsan cautioned that if the government overcame this crisis its ministers would become more arrogant.
Addressing the joint session, Ahsan said parliament was unanimous in its support for the prime minister. The PPP senator added that the parliament, prime minister and cabinet would remain intact. "It is unprecedented how opposition parties are standing with the government."
Referring to Prime Minister Nawaz Sharif , Ahsan said you (PM) will have to consider that your government was overthrown twice before and who was around you then. "You (PM) in a speech on 17 April 1998 said you would not be resigning but resigned on 18 April 1998."
Ahsan stressed that the government would need to change its attitude going forward and evaluate what led to this political crisis in the country. "Can't the ministers especially the ones from Punjab be less-arrogant?"
Full report at:
http://www.thenews.com.pk/article-158566-Opposition-supports-democracy,-constitution-unconditionally:-Ahsan-
-------------
Nisar says sit-ins mutiny against state, parliament
Sep 2, 2014
ISLAMABAD – Minister for Interior Affairs Chaudhry Nisar Ali said on Tuesday that the sit-in by the Pakistan Awami Tehreek (PAT) and the Pakistan Tehreek-e-Insaf was a mutiny against the state and parliament and sought guidance from the parliament how to deal with the mutineers.
Addressing the joint session of the parliament on current political situation, Nisar said that Pakistan was passing through extremely critical times. He said that this parliament was the voice of 180 million people and was united in the face of invasion and mutiny against the state of Pakistan by a few thousand people.
He said that no one should have doubt that the nation was standing with its elected leader. Nisar said that it was not a protest or sit-in but a mutiny against Pakistan and state institutions. Mentioning the attack on Pakistan Television (PTV) office, he stated that protesters broke the CCTV cameras and snatched cameras from the staff during storming the PTV building and misbehaved with a lady staffer, snatching her cell phone and valuables.
"They are not revolutionaries, they are intruders and terrorists," he said. He said that the protestors among them 1500 to 2000 members of a terrorist organisation were trained terrorists who were armed with axes, wooden batons, nails, hammers, cutters and slinging. He said that those who were involved in invasion of PTV complex would be identified through CCTV footage.
Full report at:
http://www.dailytimes.com.pk/national/02-Sep-2014/nisar-says-sit-ins-mutiny-against-state-parliament
-------------
Imran, Quadri have army, ISI's backing: Hashmi
Sep 2, 2014
ISLAMABAD: Making startling disclosures, Pakistan Tehreek-e-Insaf (PTI) President Javed Hashmi on Monday quoted PTI chief Imran Khan as saying that "the badge bearers", a reference to the army, wanted the PTI protesters to move along with Pakistan Awami Tehreek (PAT) leader Tahir ul Quadri.
Addressing journalists outside parliament, the PTI president complained that he was disappointed with the attitude of the PTI chief. "Imran Khan said we can't move forward without the army. ... Imran Khan also said that all the matters had been decided and there will be elections in September," Javed Hashmi claimed, adding that it appeared as if everything had been planned in advance. He further said that "a hijacked PTI has come here".
Full report at:
http://www.dailytimes.com.pk/islamabad/02-Sep-2014/imran-qadri-have-army-isi-s-backing-hashmi
-------------
Imran Khan does not believe election mandate was stolen from him
Sep 2, 2014
Data from Election Tribunals, the Election Commission and Pakistan Tehreek-e-Insaf (PTI) confirm that a total of 58 seats have been contested in the Election Tribunals by the PTI.
The Free and Fair Elections Network (Fafen), the election monitoring association that PTI Chairman Imran Khan has quoted several times in the last 12 months, has issued a recent report titled, 'Political Parties' Petitions with Election Tribunals' dated August, 2014 and available at www.fafen.org .
The report on Page 11 shows that out of the 58 seats where Imran Khan feels election rigging took place; only 30 are of the National Assembly. Out of those 30 seats, only 20 are those which the PML-N won.
The candidate who has at least 172 seats out of 342 National Assembly seats gets to be the prime minister and forms the government. In the 2012 elections, including minority and women's reserved seats, the PTI had independently won 34 seats and the PML-N had won 170 seats. Nineteen independent candidates also joined the PML-N taking the total score to 189.
Even if all the 20 seats of National Assembly where Imran Khan believes the PML-N rigged the elections were turned and given to PTI, PTI's score would rise only by 20 seats and the PML-N score would decrease by 20.
Full report at:
http://www.thenews.com.pk/article-158561-Imran-Khan-does-not-believe-election-mandate-was-stolen-from-him
---------
Altaf urges leaders to shun egos
September 02, 2014
KARACHI: Muttahida Qaumi Movement chief Altaf Hussain has urged the government and the protesting leaders to give up their politics of ego for the sake of the country and resolve the issues peacefully.
Speaking to PTI Vice Chairman Shah Mehmood Qureshi via phone on Monday, he said Pakistan's integrity was confronting serious threats and personality clashes should be abandoned.
He said everyone should leave his ego and stubbornness for the country and should come forward to rescue the democratic institutions. He expressed deep condolences to the PTI leader for the loss of precious human lives and injuries.
Qureshi thanked Altaf on behalf of Imran Khan and workers for being unequivocal to support and condemn the torture on the protesters. He also thanked him for observing a day of mourning for the martyrs. He also appreciated him for his role in defusing the current political tension.
http://www.nation.com.pk/karachi/02-Sep-2014/altaf-urges-leaders-to-shun-egos
-------------
South Asia
Suicide attack rocks Nangarhar province in eastern Afghanistan
Sep 2, 2014
At least two policemen were killed and two others including civilians were injured following a suicide attack in eastern Nangarhar province of Afghanistan.
According to local government officials, the incident took place in Ghani Khel district on Tuesday morning.
Provincial governor spokesman, Ahmad Zia Abdulzai, said the suicide bomber detonated his explosives after the vehicles of the police forces arrived to inspect regarding a suicide attack plot.
Taliban group spokesman, Zabiullah Mujahid, claimed responsibility behind the attack and said at least 6 policemen were killed and 10 others were injured following the attack.
Nangarhar is among the relatively volatile provinces in eastern Afghanistan where Taliban militants are active in a number of its districts and frequently carry out insurgency activities.
At least eight people including two civilians and 6 militants were killed after a group of militants attacked the intelligence office in Nangarhar province last week.
http://www.khaama.com/suicide-attack-rocks-nangarhar-province-in-eastern-afghanistan-8564
-------------
'Bangladesh model coup in the works in Pakistan'
Sep 2, 2014
Current political crisis in Pakistan is a scripted one that would result in a 'Bangladesh model' coup, according to a report published by Pakistani newspaper Dawn.
Based on statement by the Pakistan Tehreek-i-Insaf (PTI) President Javed Hashmi, the report says analysts are speculating that a version of the 'Bangladesh Model' may be in the works.
"Imran had told the PTI core committee it won't be called a martial law," Hashmi alleged at a press conference, read the Dawn report.
The report says: Hashmi hinted at a covert form of takeover by the military establishment, using PTI Chairman Imran Khan and Chief of the Pakistan Awami Tehreek Tahir-ul-Qadri as their instruments.
"When Imran laid out the plan, I said to Imran, 'Khan Sahib what are you doing?'"
"He said, 'I am telling you there will be elections in September and everything has been worked out.'"
Full report at:
http://www.dhakatribune.com/south-asia/2014/sep/02/bangladesh-model-coup-works-pakistan#sthash.HQv1wrGL.dpuf
-------------
Taliban release abducted policemen in Herat province
Sep 2, 2014
Taliban militants have released four policemen who were abducted following an attack on a check post in Obe district last week.
District police chief, Sher Aqa Alokozai, said the policemen were released three days ago in Obe district.
Alokozai further added that the policemen were released unconditionally, without reaching any deal with the Taliban militants.
At least one policeman was also killed following the attack which took place late Friday, local officials said.
Full report at:
http://www.khaama.com/taliban-release-abducted-policemen-in-herat-province-8565
-------------
PM Sheikh Hasina for combined efforts to face security challenge
Sep 2, 2014
Prime Minister Sheikh Hasina has stressed on combined efforts among intelligence agencies of the Asia Pacific region to overcome the security challenges.
The prime minister was inaugurating the 7th Asia-Pacific Intelligence Chiefs Conference (APICC) at Hotel Radison in the capital on Tuesday morning, BSS reported.
"The security challenges that confront mankind today cannot be faced alone by any country. The world would have to work in unison and in a holistic manner to face the menace," she said.
Chiefs of intelligence's of 27 countries are taking part in the five-day conference.
Sheikh Hasina said the terrorists and extremists are always innovating and improvising their ways and means for their very existence.
"Whenever intelligence agencies unearth some of their strategies and techniques, the terrorists switch to newer ones. So, it is really a very challenging mission," she said.
The Prime Minister said the people of Bangladesh, which emerged through an unprecedented bloodshed, are always in favour of peace.
http://www.dhakatribune.com/bangladesh/2014/sep/02/pm-combined-efforts-face-security-challenge#sthash.nhrpMEXx.dpuf
-------------
North America
Obama urged by Republicans to take decisive action against ISIS as security experts warn group will target U.S. and 'kill with abandon'
Sep 2, 2014
U.S. President Barack Obama has been urged to take decisive action against the Islamic State amid concerns the terror group will target America.
Obama was told by security experts that the country is facing a growing threat from militants, who have already taken control of vast swathes of Syria and Iraq.
He was advised that these fighters are now looking toward the U.S. or Western Europe as their next targets, where they would likely 'kill with abandon'.
It comes as Texas Senator Ted Cruz has claimed that America should deal with the threat of ISIS by bombing them 'back to the Stone Age'.
The 43-year-old Republican, a potential 2016 presidential candidate, told Fox News: 'They want to go back and reject modernity, well I think we should help them.
'We ought to bomb them back to the stone age.'
Cruz made his comments at a summit for Americans for Prosperity in Dallas on Saturday, during which he also spoke of the U.S. border immigration crisis and the Affordable Care Act.
Meanwhile, the two security experts, of the House and Senate intelligence committees, gave their warning to Obama at Capitol Hill news conference in Washington on Sunday.
Without offering specifics on any threats or suggestions how to confront them, the pair said Obama soon needs to develop a comprehensive strategy to crush the fighters.
'His foreign policy is in absolute free-fall,' said Mike Rogers, a Michigan Republican who heads the House Intelligence Committee.
Full report at:
http://www.dailymail.co.uk/news/article-2738962/House-Senate-intel-chiefs-flag-Islamic-State-risk.html#ixzz3CCiJYkXO
-------------
US air strike in Somalia targeting Shebab leader
Sep 2, 2014
U.S. military forces launched air strikes against the leader of Somalia's al-Qaeda-linked Shebab, the Somali government said Sept. 1, but gave no details if the attack was successful.
"The Americans carried out a major air strike targeting a gathering by senior Al-Shebab officials, including their leader Abu-Zubayr," said Abdukadir Mohamed Nur, governor for southern Somalia's Lower Shabelle region. The Pentagon have confirmed an "operation" was carried out.
Abu-Zubayr is the often used name for Shebab supreme commander Ahmed Abdi Godane, listed by the U.S. State Department as one of the world's eight top terror fugitives.
Earlier, Pentagon Press Secretary Rear Admiral John Kirby stated that U.S. military forces carried out an operation in Somalia.
"We are assessing the results of the operation and will provide additional information as and when appropriate," he added in a statement. There were no further details immediately available.
Full report at:
http://www.hurriyetdailynews.com/us-air-strike-in-somalia-targeting-shebab-leader.aspx?pageID=238&nID=71199&NewsCatID=359
-------------
US, Zionism Main Obstacles to Islamic Civilization
Sep 2, 2014
Commander of Iran's Basij (volunteer) force Brigadier General Mohammad Reza Naqdi described the US and the Zionists as the main stumbling block standing on the way of the Islamic civilization, and called on the world Muslims to take action to remove these barriers.
"Today, the materialization of the Islamic civilization is our great cause and the biggest obstacle standing on this path is the US and the Zionists and therefore, there needs to be a serious stream created to move and exclude this obstacle," Naqdi said, addressing Basij and the Islamic Revolution Guards Corps (IRGC) public relations officials in Tehran on Tuesday.
He underlined that all the protest rallies which are being held in Pakistan and Yemen should change the direction of their protests from Islamabad and Sana'a to the holy Quds since the root cause of all the regional problems and divisive plots is the usurper Zionist regime, stressing that the Muslim countries can talk to each other to annihilate this regime and settle their problems.
Full report at:
http://english.farsnews.com/newstext.aspx?nn=13930611000668
---------
Europe
ISIS recruits planning 26/11-type attack in UK
Agencies | Sep 2, 2014
An ISIS attack on Europe is not just a wild fantasy of Islamic State militants anymore. Various world leaders and intelligence agencies are acknowledging the threat that the militant group, earlier present only in parts of Syria and Iraq, pose to the continent and the US.
British intelligence agency, MI5, has revealed that British recruits of ISIS, who are returning home are planning a "spectacular" attack on home soil, something similar to the 26/11 Mumbai attacks.
Intelligence officials said that ISIS is planning to bring the war to the UK by targeting high-profile places and buildings in London, Birmingham or Manchester. Experts believe that the terrorists may be smuggling explosive and weapons into UK in shipping containers.
British Prime Minister David Cameron expressed concern about the increasing threat posed by Islamic State in mainland Europe. In order to contain radicalization and extremism within Europe, Cameron will make a statement on Monday, proposing new powers to prevent people from travelling to Iraq and Syria to fight with ISIS.
Full report at:
http://timesofindia.indiatimes.com/world/uk/ISIS-recruits-planning-26/11-type-attack-in-UK/articleshow/41393658.cms
-------------
Doubts raised over British PM's anti-jihadist plans
Sep 2, 2014
British media on Tuesday voiced scepticism over "vague" plans announced by Prime Minister David Cameron to counter the threat of jihadist fighters travelling to Iraq and Syria.
Cameron said that among the measures envisaged was a plan to give border police powers to seize passports from departing would-be jihadists and restricting the movement of suspects.
But he failed to give details or a timetable for implementation and said a proposal to block suspected fighters from returning to Britain was being looked at.
The proposal is a controversial one in international law as it would be illegal to make British nationals "stateless".
"He is doing all he can to sound tough without having the detail in place to back up the rhetoric," wrote Rachel Sylvester, a political commentator for the Times.
Full report at:
http://english.ahram.org.eg/NewsContent/2/9/109821/World/International/Doubts-raised-over-British-PMs-antijihadist-plans.aspx
-------------
Amnesty accuses ISIL of 'systematic ethnic cleansing' in Iraq
Sep 2, 2014
Amnesty International on Sept. 2 accused Islamic State in Iraq and Levant (ISIL) fighters of "systematic ethnic cleansing" in northern Iraq, as Iraqi troops, Kurdish fighters and Shiite militiamen backed by U.S. air strikes fought back against the jihadists.
The military gains came as a senior U.N. rights official said ISIL jihadists had carried out "acts of inhumanity on an unimaginable scale" in Iraq, and caretaker premier Nuri al-Maliki vowed the country would be the group's "graveyard."
The London-based Amnesty meanwhile cited "hair-raising" accounts from survivors of massacres, accusing the jihadists of "war crimes, including mass summary killings and abductions."
"The massacres and abductions being carried out by the Islamic State provide harrowing new evidence that a wave of ethnic cleansing against minorities is sweeping across northern Iraq," said Donatella Rovera, the rights group's senior crisis response adviser currently in northern Iraq.
Full report at:
http://www.hurriyetdailynews.com/amnesty-accuses-isil-of-systematic-ethnic-cleansing-in-iraq.aspx?pageID=238&nID=71194&NewsCatID=352
-------------
Radicals in Iraq driving large-scale atrocities: UN
Sep 2, 2014
GENEVA: Radical fighters have carried out atrocities on "an unimaginable scale" in months of fighting with Iraqi forces, who have also killed detainees and shelled civilian areas, a UN official said on Monday.
There is "strong evidence" Islamic State and allied groups have carried out targeted killings, forced conversions, sexual abuse and torture in Iraq, UN Deputy High Commissioner for Human Rights Flavia Pansieri said, opening an emergency debate on the conflict in Geneva.
Iraq's human rights minister, Mohammed Shia' Al Sudani, told the session that Islamic State militants, "oozing with barbarity," threatened his country and the world, but did not immediately respond to allegations against state troops.
Islamic State has grabbed large areas of Iraq and neighboring Syria, declaring a cross-border caliphate and driving hundreds of thousands from their homes. At least 1,420 people were killed in Iraq in August alone, UN figures showed on Monday.
The one-day UN Human Rights Council session, called by Iraq with the support of allies including the United States, is expected to agree to Baghdad's request to send a team of UN experts to investigate crimes committed in the conflict.
Full report at:
http://www.arabnews.com/middle-east/news/623711
-------------
France Bans Muslim Engineer from N. Sites
Sep 2, 2014
A Muslim engineer has been banned from accessing nuclear sites in France, with his lawyer believing the man is a victim of Islamophobia and radical discrimination, media reports said.
A French court in the North-eastern town of Chalons-en-Champagne upheld the ban on the Muslim man, citing his alleged links to militant groups operating inside the Middle East, AFP reported.
The 29-year-old working for a firm subcontracted by energy giant EDF had been granted access to nuclear installations as part of his job throughout 2012 and 2013.
But in March this year, the man, who cannot be named according to French law, had his pass to enter the Nogent-sur-Seine nuclear power station revoked.
An opinion poll conducted by the French institute BVA late last year has shown that Muslims have been at the receiving end of radical discrimination in France.
http://english.farsnews.com/newstext.aspx?nn=13930611001169
-------------
Banning return of British militant suspects 'may breach human rights'
Sep 2, 2014
A leading Liberal Democrat warned that banning British citizens suspected of terrorism from returning to the United Kingdom could be illegal, The Times newspaper reported.
Plans to ban those suspected of being involved in terrorism are "rather difficult and it might well constitute illegality," Sir Menzies Campbell, a former Liberal Democrats leader, also a member of the intelligence and security committee, said.
Speaking to BBC Radio 4 said "any fresh legislation would have to be subject to the scrutiny of parliament. There will be people on all sides of the House, including some of the prime minister's own backbenchers, who will want to examine in very careful detail any question of extension."
"To render a citizen stateless is regarded as illegal in international law. To render them stateless temporarily, which seems to be the purpose of what's been proposed, can also, I think, be described as illegal," he explained commenting on a proposed "temporary bar" barring those suspected of terrorist activity from entering the UK.
Full report at:
http://english.alarabiya.net/en/perspective/features/2014/09/01/Banning-on-return-of-suspected-British-fighters-may-breach-their-human-rights-.html
-----------
Southeast Asia
Indonesia has concerns over growing support for IS
2 September 2014
In the wake of recent gains in Syria and Iraq by the jihadist fighters of Islamic State, the authorities in Indonesia are expressing their concern over the militant group's growing influence in the world's most populous Muslim nation.
The Indonesian government has banned the organisation, but some of its sympathisers continue to show their support for the radical Islamists.
BBC Indonesia's Sri Lestari reports.
http://www.bbc.co.uk/news/world-asia-pacific-28971343
-------------
ISIS in Southeast Asia
Sep 2, 2014
ISIS is attracting followers from Muslim communities across the Asia-Pacific. In Indonesia, radical groups have declared support for the Islamic State in Jakarta, Surakarta and other cities. In Malaysia, police say they have arrested 19 ISIS-inspired militants planning attacks against pubs, discos and a Carlsberg CARL-A.KO +1.56% brewery in and around Kuala Lumpur. Australia estimates that 150 of its citizens are now fighting with ISIS in the Middle East, with 15 Australians among the dead, including two suicide bombers.
In the face of this threat, governments need to broaden avenues of cooperation. So it's good news that Indonesia and Australia have finally ended a feud that started last November with Edward Snowden's revelations that the Australian Signals Directorate tried to tap the phones of Indonesia's President and his top advisers, including the first lady, for 15 days in August 2009.
Full report at:
http://online.wsj.com/articles/isis-in-southeast-asia-1409590016
-------------
Mideast
Turkish president: Syria's Assad helped rise of IS
Sep 2, 2014
The actions of the government of Syria's Bashar al-Assad have given rise to militant groups such as the Islamic State, Turkey's new President Recep Tayyip Erdogan has said.
"The source [of IS attacks in Iraq] is Syria and al-Qaeda. Unfortunately, it is cruel Assad who is behind the increase of such militant groups, especially in Syria," Erdogan said at an interview aired on Al Jazeera Turk's online news channel on Friday evening.
In his first interview after being elected as Turkey's 12th President on Tuesday, Erdogan said that terrorist groups emerge in countries with no stable government, resulting in al-Qaeda giving birth to the Islamic State, formerly known as ISIL.
"It is our wish that the new Iraqi government eliminate the chaos which feeds such groups," Erdogan said.
Iraq's Prime Minister Nuri al-Maliki stepped aside on August 14 for Haider al-Abadi, who was appointed three days earlier by President Fouad Massoum as the prime minister-designate.
The United States, Turkey and Iran, as well as Iraqi Kurdish, Sunni, Shiite groups have welcomed the nomination of the former deputy parliamentary chairman, who must form a unity government within a month.
"We want Iraqi people to be as one. I pray that Iraq will stand up again in unity," Erdogan said, adding that Turkey is hopeful that a new national consensus government will be formed soon as a divided Iraq would be very dangerous, and conflicts in the country would never end.
"We support Iraq's territorial integrity. The more united a country is, the more powerful it gets."
Full report at:
http://www.middleeasteye.net/news/turkish-president-syrias-assad-helped-rise-1597191513#sthash.JfsreiFq.dpuf
-------------
Al-Qaeda in Yemen executes three 'spies' for guiding drone strikes
Sep 2, 2014
Al-Qaeda militants in Yemen executed three local men in the easterly Hadramout province on Monday whom they suspected of assisting U.S. drone strikes, security sources told Reuters.
In a statement posted online, al-Qaeda in the Arabian Peninsula (AQAP) acknowledged the threat it faced from air attacks by unmanned U.S. drones, which require on-the-ground intelligence to guide them in.
AQAP said it had captured a group of spies, adding: "The greatest help they give to the crusaders against the holy warriors is the placing of trackers for American spy planes."
AQAP is deemed by Washington to be one of the most dangerous franchises of the global militant group and controls broad swathes of Yemen, where security has deteriorated badly since the Arab spring protests that ousted the veteran president in 2011.
Full report at:
http://english.alarabiya.net/en/News/middle-east/2014/09/01/Al-Qaeda-in-Yemen-executes-three-spies-for-guiding-drone-strikes.html
-------------
Abbas plan calls for Israeli pullout from West Bank within three years
Sep 2, 2014
Palestinian Authority President Mahmoud Abbas will seek Arab League approval next week for his diplomatic initiative that calls for a nine-month negotiation window that will eventually lead to an Israeli withdrawal from the West Bank within three years.
Abbas is scheduled to present his plan to Arab League foreign ministers on September 7.
Details of the Palestinian leader's peace plan was revealed on Tuesday by the former religious endowments minister, Mahmoud al-Habash.
According to the plan, Israel and the PA would begin discussions on the borders of a future Palestinian state. The two sides would devote three months to the issue.
In the second stage of talks, the parties would focus on the remaining core issues, including the future status of refugees, control of Jerusalem, the settlements, security, and water.
"President Abbas wants Arab support so that in the future he can submit it for acceptance by the international community," al-Habash told the Jordanian newspaper Al-Ghad.
Full report at:
http://www.jpost.com/Arab-Israeli-Conflict/Abbas-plan-calls-for-Israeli-pullout-from-West-Bank-within-three-years-374205
-------------
PKK-affiliate claims to have killed ISIL operative in Istanbul
Sep 2, 2014
The youth wing of the outlawed Kurdistan Workers' Party (PKK) has claimed to have killed an operative of the Islamic State of Iraq and the Levant (ISIL) in Istanbul.
"Our security forces in the Başakşehir neighborhood have conducted an armed operation against ISIL, killing a gang leader named Hikmet, who was in charge of an [ISIL] organization," the Patriotic Revolutionary Youth Movement (YDG-H) stated in a tweet on Aug. 30. The same Twitter account later added on Aug. 31 that two ISIL operatives were also injured in the same attack.
Unidentified YDG-H members told Fırat, a news agency that is known to be close to the PKK, that the targeted ISIL cell was being used to recruit young men from Istanbul to be sent to Syria and Iraq as jihadists.
"There were five or six people in a car that was leaving the cell house. Two or three gang members were also shot in our pinpoint operation," they were quoted as saying.
The report could not be independently verified and Turkish officials have yet to comment.
http://www.hurriyetdailynews.com/pkk-affiliate-claims-to-have-killed-isil-operative-in-istanbul.aspx?pageID=238&nID=71188&NewsCatID=509
-----------
Iran asks rival political groups in Pakistan to exercise self-restraint
Sep 2, 2014
TEHRAN - Iranian Foreign Ministry spokeswoman Marziyeh Afkham has urged rival Pakistani political groups to show self-restraint and endeavor to resolve their differences through peaceful means.
Afkham renewed Iran's previous stances vis-à-vis Pakistan's ongoing political unrests, and invited all concerned parties to resolve their differences peacefully. She expressed the hope that Pakistan's existing problems would be resolved through the wise and insightful decisions and moves of the Pakistani leaders and officials, stressing that a stable Pakistan which relies on democratic principles will be beneficial for everyone, including the Pakistani nation and the regional countries.
The spokeswoman had in similar remarks on Monday underlined Tehran's strong support for a peaceful solution to the ongoing political differences in Pakistan.
http://www.dailytimes.com.pk/national/02-Sep-2014/iran-asks-rival-political-groups-in-pakistan-to-exercise-self-restraint
-------------
Iran unveils new surface-to-air missile, radars
2 September 2014
Iran on Tuesday unveiled a new surface-to-air missile and two radar systems it claims will boost the country's defense capabilities.
Air defense chief Gen. Farzad Esmaili said the Talash-3, or Endeavor-3 missile will enable Iranian forces to "shoot down any hostile target," even at high altitudes.
Speaking on state TV, he said the missile was successfully test-fired recently. He did not describe its range.
Tehran regularly announces military advances that cannot be independently verified.
The general also inaugurated two radar systems - Arash-2, tasked with detecting miniature drones at a distance of 150 kilometers (93 miles), and also Kayhan, which he said was capable of detecting cruise missiles and drones.
Full report at:
http://english.alarabiya.net/en/News/middle-east/2014/09/02/Iran-unveils-new-surface-to-air-missile-radars.html
-------------
URL: https://www.newageislam.com/islamic-world-news/new-age-islam-news-bureau/saudis-risk-new-muslim-division-with-proposal-to-move-muhammad's-tomb/d/98859