New Age Islam News Bureau
6 Sept 2018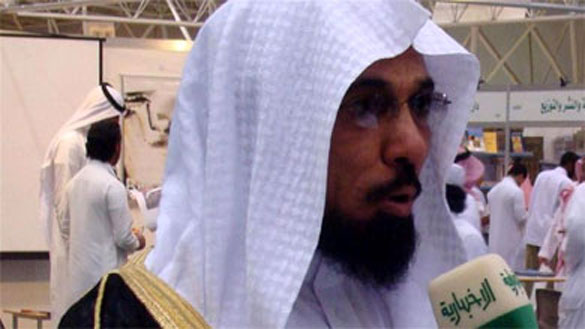 Salman al-Awdah has been held since September 7, according to Human Rights Watch [File: Marwan Almuraisy/Wikimedia Commons]
-----
• Saudi 'Seeks Death Penalty' For Muslim Scholar Salman Al-Awdah
• Islamic Scholar, Ahmed, Restates Boko Haram Members Are Not Muslims
• US lists Jama'at Nusrat al-Islam wal-Muslimin as Terrorist Organization
• Upholding Minorities' Rights Is the Responsibility of an Islamic Republic: Information Minister
• Joko Widodo Moves To Silence Islamists with Social Media Crackdown
Arab World
• Saudi 'Seeks Death Penalty' For Muslim Scholar Salman Al-Awdah
• Top Muslim Organization Censures Riyadh Regime's Bid to Execute Dissident Cleric
• Muslim World League Chief 'Clarifies Truth of Islam' In Italy Multi-faith Meeting
• Syrian Intelligence Forces Operating Behind Terrorists' Frontline in Idlib
• Military Expert: Syria Able to Alarm Iraq before Israel's Attack
• Israeli Warplanes Attack Syrian Army Positions in Hama, Tartus
• One protestor killed, 25 hurt as Iraq forces open fire during new clashes
• 'Pakistan will not allow violation of Saudi sovereignty,' says minister
--------
Africa
• Islamic Scholar, Ahmed, Restates Boko Haram Members Are Not Muslims
• Jordan Steps Up Support of Jerusalemites
• How Chaos in Libya Is Turning Italy's Fault Line into a Frontline
• Cease-fire holds in Libya after clashes that killed dozens
• Two suspected al-Shabaab accomplices arrested in Garissa
• Suspected Boko Haram militants kidnap at least 10 people in northeast Nigeria
• Boko Haram: Nigeria to repatriate 56,000 IDPs from Niger – NEMA
--------
North America
• US lists Jama'at Nusrat al-Islam wal-Muslimin as Terrorist Organization
• Trump Leaves Door Open to Meeting Iran's Rouhani at UN General Assembly
• Conservative Group Claims College Ruled Their 9/11 'Never Forget' Posters Biased Against Muslims
• Iran minister criticizes Trump for focusing on Iran at UN
• Pakistan assures US of its 'full support' for peace talks with Afghan Taliban: Foreign Minister
--------
Pakistan
• Upholding Minorities' Rights Is the Responsibility of an Islamic Republic: Information Minister
• 'Pakistan Believes In Peaceful Coexistence', PM Khan Says In Defence Day Message
• Pakistan Could Emerge As World's 5th Largest Nuclear Weapons State: Report
• SGM Concerned Over Objections To Appointment Of A Non-Muslim Member To EAC
• Task force formed to get ill-gotten money from abroad
• Pakistan, US agree to make fresh start
• Former student gets 29 years in jail on terror charges
• Armed forces will spare no effort to protect motherland: PM
--------
Southeast Asia
• Joko Widodo Moves To Silence Islamists with Social Media Crackdown
• Here Is How Putrajaya Can Stop Shariah Caning, Say Lawyers
• Ministry to push for multi-billion dollar Halal tourism
• IIUM not bound by varsity act, says aide in defence of Maszlee's appointment
--------
South Asia
• 20 Killed In Twin Bombings in Shia Area of Afghan Capital
• Rohingya Protesters Call for Freedom for Reuters Reporters in Myanmar
• Undocumented Bangladesh workers in Malaysia seek PM's intervention
• Five JMB men held in Bogra
• ISIS claims deadly bombings in Kabul that left scores dead, wounded
• Taliban says the group has no links with last evening's attack in Kabul city
• Gang of Haqqani Network members involved in destructive activities busted in Kabul
• Afghan families of terror victims inspire return to education
--------
Mideast
• Erdogan Warns Of 'Massacre' In Syria's Idlib
• Israeli Intelligence: No Knowledge of Trump Ordering Assad Killed
• Iranian DM, Russian Commanders Study Ways for More Effective Fight against Terrorists in Syria
• Houthis set new conditions in Geneva talks, possibly hindering progress
• Israeli court upholds order to raze Palestinian village
• Saudi prevents Houthis from attending Geneva talks
• 1000s of protesters in Sa'ada condemn Saudi slaughter of Yemeni children
• Coalition suggests possible civilian casualties in Aug. 23 anti-Houthi strike
• Yemen government demands Houthis release slain Saleh's body
--------
Europe
• Pro-Palestine Groups Condemn UK Labour Party's Anti-Semitism Vote
• Germany Urges Russia to Avert Regime Attack on Idlib
• Muslim worship centre 'did not properly consult members' over sell-off plans
• UK Committed To Build Afghanistan as A Strong Security Partner: Gavin Williamson
• Turkey follows generous policy for Syrians: Dutch min.
• Germany wants to improve ties with Turkey: FM Maas
• Russia says airstrikes hit terrorists not populated areas in Syria's Idlib
--------
India
• Pakistan Seeks US Help To Ease Tensions With India
• If Pak Stops Terrorism, We Will Also 'Be Like Neeraj Chopra': Army Chief
• 2+2 dialogue: Mike Pompeo arrives for talks after pushing Pakistan on terror
• Terror-funding: ED moves court for questioning jailed UAE-based businessman in money laundering case
• Pakistan summons Indian envoy over 'ceasefire violations'
Compiled by New Age Islam News Bureau
URL: https://www.newageislam.com/islamic-world-news/saudi-eeks-death-penalty-muslim/d/116303
--------
Saudi 'Seeks Death Penalty' For Muslim Scholar Salman Al-Awdah
Sep 6, 2018
Public prosecutors in Saudi Arabia are seeking the death penalty against prominent Muslim scholar Salman al-Awdah, local media, activists and his family members have said.
Awdah, who UN experts have described as a "reformist," was imprisoned a year ago, shortly after Crown Prince Mohammed bin Salman launched a crackdown on dissent and imposed a land, sea and air blockade on the kingdom's Gulf neighbour, Qatar.
Awdah, who has 14 million followers on Twitter, posted a tweet on September 9, saying: "May God harmonise between their hearts for the good of their people" - an apparent call for reconciliation between the Gulf countries.
Local daily Okaz reported that the public prosecution, which represents the Saudi government, had levelled 37 counts against Awdah and called for the death penalty.
According to London-based Saudi rights group ALQST and other activists, some of the charges included incitement against the ruler and spreading discord.
Awdah's son, Abdullah, wrote on Twitter that the charges against his father included critical tweets and establishing an organisation which worked to defend the honour of the Prophet Muhammad.
"Today, at a court hearing for my father Sheikh Salman al-Awdah, the prosecution requested the death penalty against him, and submitted 37 charges, one of which was establishing the al-Nusra organisation in Kuwait to defend the Prophet (PBUH), and being a member of the European Council for Fatwa and Research and the International Union of Muslim scholars, with other charges related to his tweets on Twitter."
Amnesty International's Saudi Arabia campaigner Dana Ahmed called the reports "a disturbing trend in the Kingdom [that] sends a horrifying message that peaceful dissent and expression may be met with the death penalty".
Crackdown on dissent
The ruling Al Saud family has long regarded Islamist groups as the biggest internal threat to its rule.
In the 1990s, the Muslim Brotherhood-inspired Sahwa (Awakening) movement demanded political reforms that posed a challenge to the ruling family.
Al-Awdah, a Sahwa leader, was imprisoned from 1994-99 for agitating for political change, an act which would earn him praise from Saudi-born late al-Qaeda leader Osama bin Laden.
In 2011, al-Awdah called for elections and separation of powers, demands considered dangerous provocations in the kingdom.
Saudi Arabia, an absolute monarchy where public protests and political parties are banned, has witnessed a massive crackdown on dissent, with dozens of religious leaders, intellectuals and women's rights activists arrested in the past year.
Among those arrested were prominent Islamic preachers Awad al-Qarni, Farhan al-Malki, Mostafa Hassan and Safar al-Hawali.
Al-Hawali, 68, was detained after he published a 3,000-page book attacking bin Salman and the ruling family over their ties to Israel, calling it a "betrayal".
Earlier this year, bin Salman softened the kingdom's stance on Israel, telling the US-based Atlantic magazine that Israelis "have the right to their own land" and "there are a lot of interests we [Saudi Arabia] share with Israel".
Last month, authorities recommended the death penalty for five human rights activists from the kingdom's Eastern Province, including Israa al-Ghomgham, the first woman to possibly face that punishment for rights-related work.
https://www.aljazeera.com/news/2018/09/saudi-seeks-death-penalty-muslim-scholar-salman-al-awdah-180905055754018.html
--------
Islamic Scholar, Ahmed, Restates Boko Haram Members Are Not Muslims
06 September 2018
An Islamic scholar, Prof. Adam Okene Ahmed, has said that Boko Haram group, popularly known as Jama'atu Ahlis Sunna Liddaawati Wal-jihad, does not represent the orthodox and mainstream Muslim and the religion of Islam.
Ahmed, who spoke at the seventh professorial inaugural lecture series of Nigerian Defence Academy (NDA) on Tuesday in Kaduna, also said that over 200 well-known Islamic scholars had been killed by the insurgents between 2011 and 2015 when their activities went to the climax.
In the lecture titled: "Boko Haram Since 2009: A Study in Security History," he said: "There's no doubt that Boko Haram and its activities can be traced to Islam but only as heretical and vicious sect inside the fold.
"Boko Haram's leadership has consistently been claiming this position and has tried severally to justify their Islam-ness by relying on textual and scriptural evidences that they often than not quote out of context and without the chains and justifications of revelation."
According to him, some of these proofs include kidnapping of girls and forcing them to change their religion while "Islam says let there be no compulsion in religion."
https://guardian.ng/news/islamic-scholar-ahmed-restates-boko-haram-members-are-not-muslims/
--------
US lists Jama'at Nusrat al-Islam wal-Muslimin as Terrorist Organization
Sep 05, 2018
Washington D.C. [USA], Sep 5 (ANI): The United States (US) has designated Jama'at Nusrat al-Islam wal-Muslimin (JNIM) as a Foreign Terrorist Organisation, under section 219 of the Immigration and Nationality Act.
The Department has also designated JNIM as a Specially Designated Global Terrorist (SDGT) under section 1(b) of Executive Order (E.O.) 13224.
The designations seek to deny JNIM the resources to plan and carry out terrorist attacks. Among other consequences, all of JNIM's property and interests in property subject to U.S. jurisdiction are blocked, and U.S. persons are generally prohibited from engaging in any transactions with JNIM. It is a crime to knowingly provide, or to attempt or conspire to provide, material support or resources to JNIM.
JNIM has described itself as al-Qaida's official branch in Mali, and it has claimed responsibility for numerous attacks and kidnappings since it was formed in March 2017. JNIM carried out the June 2017 attack at a resort frequented by Westerners outside of Bamako, Mali; several deadly attacks on Malian troops; and the large-scale coordinated attacks in Ouagadougou, Burkina Faso, on March 2, 2018. JNIM is led by Iyad ag Ghaly, a U.S.-designated SDGT.
The Coordinator for Counterterrorism, Ambassador Nathan A. Sales, noted, "Al-Qaida and its affiliates like JNIM remain deadly threats to the United States and our allies. These designations are part of our continuing efforts to squeeze al-Qaida's finances, denying it the resources it needs to carry out attacks."
Terrorist designations expose and isolate entities and individuals, and deny them access to the U.S. financial system. Moreover, designations can assist the law enforcement activities of U.S. agencies and other governments. (ANI)
https://www.aninews.in/news/world/asia/us-lists-jamaat-nusrat-al-islam-wal-muslimin-as-terrorist-organization201809052358280001/
--------
Upholding Minorities' Rights Is the Responsibility of an Islamic Republic: Information Minister
September 05, 2018
Information Minister Fawad Chaudhry on Wednesday asserted that it is the responsibility of an Islamic republic to uphold the rights of its minorities.
Chaudhry's statement comes a day after he defended the appointment of leading international academic Atif Mian to the government's Economic Advisory Council amidst a vicious online campaign that targeted the latter for his Ahmadiyya faith.
Chaudhry had said that those who had objections to Mian's appointment "are basically extremists, and we will not bow to extremists."
"Protecting minorities is our responsibility. It is the religious duty of each Muslim, not just the government, to protect minorities and respect those that they live with," he had said.
The Pakistan Tehreek-i-Insaf government came under fire after Chaudhry's statement, with many criticising the government for its dismissal of the backlash against Mian's appointment.
Addressing a press conference in Islamabad after a cabinet meeting today, Chaudhry responded to a question saying: "Protection of minorities is an integral part of Islam. When we speak about Khatm-i-Nabuwwat, we recognise that the Prophet Muhammad (peace be upon him) is the last prophet. And along with that we also recognise Islamic education."
"It was an integral part of the state of Madina that minorities would be protected there. Minorities here will be given rights. Pakistan is an Islamic republic... And why was Pakistan itself created? What was the issue when Hindustan was united? That the Muslim minority faced a lot of cruelty. On the basis of that, we separated from that country. Should we now disregard that basis [for the creation of Pakistan]?" he asked.
"Is it not said that if you take one life, it is like killing all of mankind?" he continued.
"If you think that we should drown all our minorities in the Arabian sea, or that they have no rights here, they have no religious or economic freedom, or freedom to live, then this must be your opinion only. Our interpretation of the state of Madina is that Islam means security, peace and moving forward together," he asserted.
"It is not just the responsibility of the government to protect minorities, it is the responsibility of each Muslim," he reiterated.
"Because of these things," Chaudhry said, referring to the persecution of minorities, "The entire world makes fun of us."
Pakistani prisoners on death row in Iran to get relief
Chaudhry said that approximately 3,000 Pakistani prisoners on death row in Iran will be granted relief since Tehran amended its anti-narcotics laws.
"From Pakistan's point of view, it is a source of relief that in Iran they amended their anti-narcotics laws, so the quantity and severity in cases has been amended," he explained.
"We are hopeful that Pakistanis on death row in Iran will be given some relief," he added.
The Pakistani government spoke to Iranian Foreign Minister Javad Zarif in this regard when he visited Islamabad in August, Chaudhry said, adding that the Pakistani embassy was also in touch with the prosecutor general in Tehran with respect to the matter. Recovery of money illegally taken abroad
The cabinet today took several decisions for the recovery of money taken abroad illegally or gained through corruption, Radio Pakistan reported.
Special Assistant to Prime Minister on Accountability Shahzad Akbar, who was addressing the press conference alongside Chaudhry, said a whistle-blower law would be enforced immediately through an ordinance envisaging a reward worth 20 per cent for those who would help recover such money, and that the names of informants would remain confidential.
The special assistant said another ordinance on mutual legal assistance would be issued which would help remove bottlenecks in the way of seeking information from foreign countries regarding illegal wealth.
He said that Prime Minister Imran Khan had directed the Foreign Ministry to dispatch a high-powered delegation to Switzerland to expedite ratification of a treaty on exchange of information on bank accounts. He said the treaty had been signed in 2013 but was not ratified, Radio Pakistan reported.
Akbar said that the government would also hire firms that would detect and help recover illegal money and in the case of recoveries, the firm would get an agreed upon share of the recovered amount.
He said PM Khan would also receive reports on the implementation of these measures on a fortnightly basis.
Chaudhry also announced the return of Rs80 billion to the Finance Ministry and parliament in the form of the prime minister's discretionary funds. He said that the money had been saved through ending schemes such as the Prime Minister's Laptop Scheme.
The cabinet also made decisions on initiatives regarding education, health, water and sanitation. "Although they fall under the provinces, we think they are important and will be driven by the federal government," Chaudhry said.
Among them is the decision to set up a task force on education led by Minister for Education Shafqat Mahmood. It will include prominent educationists, representatives of seminaries and skill development personnel. Its first objective is to include 250 million out of school children in the education network.
https://www.dawn.com/news/1431108
--------
Joko Widodo moves to silence Islamists with social media crackdown
SEPTEMBER 6, 2018
An Indonesian police crackdown on a social media movement calling for a change of president, just weeks before the start of the official campaign period, has sparked criticism that the government is trying to suppress freedom of speech.
Police have already banned several scheduled meetings in recent weeks of the #2019gantipresiden (#2019changepresident) movement, referring to April's presidential elections in which Joko Widodo is seeking a second term in office, citing the potential for violent clashes ­between pro and anti-Jokowi forces.
That has reignited a debate in Indonesia over whether the government's crackdown on populist Islamist forces seeking to unseat the President is anti-democratic.
TheJakarta Post warned in an editorial this week that the government risked an own goal by shutting down opposition movements; "Democracy, in the end, is a war of words. Neither side ­really needs police protection or support.''
Australian National University Indonesia expert Marcus Mietzner told The Australian yesterday the crackdown indicated "an increasingly authoritarian mindset, previously in the opposition and the Islamist movement in particular, but now in the Jokowi government as well".
Professor Mietzner has previously said the administration's criminalisation of populist movements, in the wake of the politically driven campaign to have former Jakarta governor Basuki "Ahok" Purnama jailed for blasphemy was undermining Indonesia's young democracy.
Indeed, the #2019Gantipresiden hashtag dates back to the anti-Ahok campaign that drew up to half a million people on to the streets demanding the Christian, ethnic Chinese former governor be jailed for blasphemy.
Ahok was convicted in May last year and is serving a two-year sentence widely seen as ­unfair.
His downfall — and Jokowi's powerlessness to protect his political ally — spooked the government by exposing the ease with which powerful political actors and Islamists could use religion to manipulate public opinion.
Its response, banning several Islamist groups including the pro-sharia Hizbut Tahrir and imposing multiple criminal charges against leading anti-­Jokowi campaigners, was seen as an attack on Islam that only fanned opposition flames.
The #2019Gantipresiden hashtag has gained momentum in recent months with the support of some firebrand Islamist activists, including one preacher who publicly advised supporters to vote against Jokowi to prevent their children turning in homosexuals.
Jokowi has tried to head off an expected repeat of the sort of attacks he suffered during the 2014 campaign in which he was accused of being a bad Muslim, and a communist.
Last month, he chose as his election running mate Ma'ruf Amin, one of the country's most powerful Muslim clerics and the man who issued the blasphemy fatwa that helped jail Ahok, in open acknowledgment of the electoral spoiling power of ­Islamic conservatives.
Indonesian political analyst Yohanes Sulaiman said suppressing opposition movements was an over-reaction that only highlighted the government's paranoia.
"By closing down the movement, it's just acknowledging that it is powerful and that the government is heavy-handed," he said.
https://www.theaustralian.com.au/news/world/joko-widodo-moves-to-silence-islamists-with-social-media-crackdown/news-story/2bf3bc45434ef42c6dd54bbf92ee5680
--------
Arab World
Top Muslim Organization Censures Riyadh Regime's Bid to Execute Dissident Cleric
Sep 5, 2018
An international organization of Muslim scholars headquartered in Qatar has condemned Saudi Arabia for its attempts to execute a senior Muslim preacher as a brutal crackdown led by Crown Prince Mohammed bin Salman against intellectuals and political dissidents widens in the conservative oil-rich kingdom.
"What is going on in Saudi Arabia is strange beyond belief" as the kingdom is arresting and trying Muslim scholars, the pan-Arab al-Araby al-Jadeed media outlet quoted Secretary General of the International Union of Muslim Scholars (IUMS), Ali al-Qaradaghi.
He added, "We are no longer surprised by any charges against Sheikh Salman Awdah," stressing that the IUMS censures the ongoing crackdown on Saudi clerics.
The Arabic-language Saudi newspaper Okaz reported on Tuesday that Saudi public prosecutors have leveled 37 counts against Awdah, and even demanded his execution.
Awdah is the assistant secretary general of the IUMS, which the Riyadh regime has listed as a terrorist organization.
Saudi authorities detained the prominent Muslim scholar on September 7 last year, and have held him in solitary confinement without charge or trial ever since. Officials have imposed travel bans on members of his family as well.
A family member told Human Rights Watch that the distinguished cleric was being held over his refusal to comply with an order by Saudi authorities to tweet a specific text to support the Saudi-led blockade of Qatar.
Awdah, instead, posted a tweet, saying, "May God harmonize between their hearts for the good of their people," - an apparent call for reconciliation between the Persian Gulf littoral states, the US-based rights group said in a statement.
Awdah has been prevented from communicating with the outside world since October.
Saudi Arabia, the United Arab Emirates, Bahrain and Egypt all cut off diplomatic ties with Qatar on June 5 last year, after officially accusing it of "sponsoring terrorism."
The administration of the Saudi-backed and former Yemeni president, Abd Rabbuh Mansur Hadi, Libya, the Maldives, Djibouti, Senegal and the Comoros later joined the camp in ending diplomatic ties with Doha. Jordan downgraded its diplomatic relations as well.
Qatar's Foreign Ministry later announced that the decision to cut diplomatic ties was unjustified and based on false claims and assumptions.
Saudi Arabia has lately stepped up politically-motivated arrests, prosecution and conviction of peaceful dissident writers and human rights campaigners.
Saudi officials have also intensified security measures in the Shia-populated and oil-rich Eastern Province.
Over the past years, Riyadh has also redefined its anti-terrorism laws to target activism.
In January 2016, Saudi authorities executed Shia cleric, Sheikh Nimr Baqir al-Nimr, who was an outspoken critic of the policies of the Riyadh regime. Nimr had been arrested in Qatif in 2012.
https://www.presstv.com/Detail/2018/09/05/573256/Top-Islamic-organization-censures-Riyadh-regimes-bid-to-kill-dissident-cleric
--------
Muslim World League Chief 'Clarifies Truth of Islam' In Italy Multi-faith Meeting
5 September 2018
Addressing 5,000 people at a 'Building Bridges' multifaith event in Italy this week, Muslim World League Secretary General Sheikh Dr. Mohammed Alissa said that extremism is an isolated condition, far from the principles of Islam.
"The values of Islam encourage extending bridges of dialogue, peace and harmony," Dr. Alissa said at the event, which was attended by more than a million people over the course of the week-long event.
During the event, Pope Francis spoke, as well as other high-level speakers such as Italian President Sergio Mattarella and UN Secretary General Antonio Guterres.
Dr. Alissa stressed that the Muslim World League "has felt the importance of clarifying the truth of Islam, which has loved, coexisted, engaged and cooperated with all, after Islamically isolated evil, mad, and ignorant extremism has tried to harm and hijack it."
He added: "One cannot imagine any religion which is incompatible with life can survive for more than 1400 years; that is Islam's age to this day. It is still among the most widely distributed geographically and in growth, where Muslims today number nearly one billion and eight hundred million people. All of them appreciate and understand God's design in multiple religions and ideas.
Full report at:
https://english.alarabiya.net/en/News/gulf/2018/09/05/Muslim-World-League-chief-clarifies-truth-of-Islam-in-Italy-multifaith-meeting.html
--------
Syrian Intelligence Forces Operating Behind Terrorists' Frontline in Idlib
Sep 05, 2018
The Arabic-language al-Moraseloun news website reported on Wednesday that a large number of Syrian intelligence forces have been stationed in several cities and towns held by Tahrir al-Sham Hay'at (the Levant Liberation Board or the Al-Nusra Front) and other terrorist groups in Idlib and other occupied areas in Aleppo.
It added that several images and footages have been released by these forces which show the terrorists' strongholds, checkpoints and security zones near Idlib, noting that the intel wired to the Damascus army by these operatives could deal a heavy blow to the terrorist front in the upcoming military operations in the province.
According to the report, the terrorists have installed CCTVs in several regions, including Saraqib, which separates the terrorist-held regions from the army positions, and Idlib city to discover these intelligence officers.
Meantime, the Syrian army's intelligence forces continue providing precise information about the terrorists' positions, arms caches, their commanders' moves and other logistic information, to facilitate military operations in Idlib.
The Syrian Army dispatched on Tuesday more soldiers and military equipment to Northwestern Syria on Tuesday for an imminent large-scale operation against terrorists in Idlib, Hama, Lattakia and Aleppo provinces.
The army sent twenty tanks and BMP vehicles, floating bridges and tens of personnel carriers to the battlefields in Northwestern Syria.
In the meantime, the army's artillery and missile units pounded the positions and movements of Tahrir al-Sham Hay'at in the village of al-Jabeiryeh and in the town of al-Latamina in Northern Hama, inflicting major losses on the terrorists.
Full report at:
http://en.farsnews.com/newstext.aspx?nn=13970614000920
--------
Military Expert: Syria Able to Alarm Iraq before Israel's Attack
Sep 05, 2018
The Arabic website of RT news agency quoted the military expert who called for anonymity as saying that the Syrian radars are able to track Israeli fighter jets immediately after take off. And if they enter Jordan's airspace, it will be clear that they intend to target certain centers in Iraq, he added.
He said that Iraq can then be warned to evacuate the targets, adding that 10 minutes is needed for the Israeli fighter jets to reach the depth of Iraq which provides the needed window of opportunity the adoption of the necessary measures by Iraq.
A second flight path for the Israeli warplanes' possible attack on Iraq goes through the Turkish airspace, but for such operations more than one squadron of fighters are needed to fly to Turkey and while some of them should return for operational camouflage, others could fly towards Syria or Iraq after refueling, the unnamed expert added.
His remarks came after a report by Reuters over the weekend claimed that Iran had transferred ballistic missiles to Iraq over the course of several months and that it is developing the capacity to build more there. Iran denied the claims.
Also, a senior Iraqi official said that the Reuters' claims that Iran had transferred ballistic missiles to Iraq were imprecise as Hashd al-Shaabi (popular forces) had produced the missiles themselves.
"Such reports are not precise. There is a mistake in what has been said. The missiles are produced by Hashd al-Shaabi and they were unveiled during ceremonies to celebrate victory over the ISIL," an unnamed Iraqi official told the Arabic-language al-Hayat newspaper on Saturday.
He added that the range of the missiles is no more than 50km, stressing that they are no threat to the neighbors.
Full report at:
http://en.farsnews.com/newstext.aspx?nn=13970614000573
--------
Israeli Warplanes Attack Syrian Army Positions in Hama, Tartus
Sep 05, 2018
Israeli warplanes targeted several military positions of the Syrian army in Hama and Tartus after violating Lebanon's airspace, but they had to flee the area after they faced the Syrian army's air defense and their rockets were intercepted by the air defense system.
Five rockets fired by the Israel fighter jets were intercepted by Syria's air defense systems in Wadi al-Ayoun region West of Hama province, the state-run news agency said.
SANA reported that one civilian was killed and 12 others were wounded in the Israeli attack on Tartus and Hama provinces.
The Arabic-language service of Sputnik news agency also reported that the Israeli fighter jets also targeted Banias city in Tartous where the missile bases of Syria's air defense units are located.
According to the report, this is the first time since the October 1973 War that Israel has attacked Banias city. There is yet no report confirming that the Israeli air raid also targeted these missile bases and air defense units in the region.
Meantime, the warehouses of the scientific research located in Hayr al-Abbas region located between Masayef and Wadi al-Ayoun West of Hama were also targeted by Israeli missiles.
The electronic warfare bases of the Syrian Army also diverted several Israeli rockets and prevented them from hitting their targets.
In July, Israel launched another strike against the Syrian territories to support the terrorist groups stationed in the region.
An Israeli drone launched missile strike against a Syrian army positions in the Northern parts of Quneitra province.
Full report at:
http://en.farsnews.com/newstext.aspx?nn=13970614000105
--------
One protestor killed, 25 hurt as Iraq forces open fire during new clashes
5 September 2018
One protester was killed in the oil-rich southern Iraqi city of Basra, an official said on Wednesday, after security forces fired live ammunition to stop the latest in two months of demonstrations.
"Twenty-five other demonstrators were wounded, some seriously", said Mehdi al-Tamimi, head of the government's human rights council in Basra province, while medical sources confirmed to AFP the death of a young man.
The Iraqi security forces in the southern city of Basra opened fire as they clashed with protesters a day after six people were killed in demonstrations over poor public services.
An AFP journalist reported gunshots and tear gas were fired by security personnel as they faced off with several thousand demonstrators outside the regional government headquarters.
The measures failed to disperse protesters, who responded by hurling Molotov cocktails and letting off fireworks at the security forces.
Protesters block gate to Umm Qasr port
Protesters later blocked the entrance to Iraq's Umm Qasr commodities port to demand better services, said port employees and local government officials, raising the stakes in some of the worst unrest in southern cities in months.
The move came hours after protesters set fire to the main government building in the oil hub of Basra.
Basra and the surrounding province have been the focus of angry demonstrations over government neglect that have rocked Iraq since early July.
Residents are particularly angry over pollution of the local water supply, which has put 20,000 people in hospital.
On Tuesday six demonstrators were killed and more than 20 wounded during the bloodiest day of clashes with security officials, a local official and medics said.
The authorities said that 30 security personnel were wounded in the violence.
The United Nations envoy to Iraq has called for "calm" in Basra and urged the authorities "to avoid using disproportionate, lethal force against the demonstrators".
In his weekly press conference in Baghdad on Tuesday, Iraqi Prime Minister Haider al-Abadi said he had ordered "no real bullets ... to be fired, in the direction of protesters or in the air".
Shiite leader Moqtada Sadr said in a tweet ahead of the latest clashes that "vandals infiltrated" the protesters.
Sadr's political bloc won the largest number of seats in national elections held in May, and he is trying to form a new government with Abadi.
In July, the government announced a multi-billion dollar (euro) emergency plan for southern Iraq, to revive infrastructure and services.
Full report at:
https://english.alarabiya.net/en/News/middle-east/2018/09/05/Iraq-forces-open-fire-during-new-clashes-with-protesters.html
--------
'Pakistan will not allow violation of Saudi sovereignty,' says minister
September 06, 2018
JEDDAH: Islamabad will not allow anyone to infringe on Saudi security and sovereignty, or the sanctity of the Two Holy Mosques, said Pakistan's information minister, adding that any attack on the Kingdom is an attack on Pakistan.
The Kingdom is an important partner to Pakistan, and bilateral relations are strategic and will continue to strengthen and diversify, Fawad Chaudhry told the Saudi Press Agency (SPA).
The Kingdom is respected and enjoys an important position in the Islamic world and internationally, he said.
Saudi Arabia and Pakistan reject terrorism and extremism, and support the values of moderate Islam and tolerance, he added.
Chaudhry praised the Kingdom's management of this year's Hajj season, and its preparations and efforts to enable pilgrims to perform their rituals easily.
Full report at:
http://www.arabnews.com/node/1367531/saudi-arabia
--------
Africa
Jordan steps up support of Jerusalemites
September 05, 2018
AMMAN: The Jordanian government has taken steps to ease the plight of Palestinians living in the country and to bolster the civil defense guards at Al-Aqsa Mosque.
Wasfi Kilani, director of the Hashemite Fund for Al-Aqsa Mosque, told Arab News that the actions come as part of a combined effort to support Jerusalemites.
"With instructions from His Majesty, we have endeavored to provide administrative support to Jerusalemites by reducing passport fees by a third, and by increasing the number of guards and administrators of the Jordanian waqf in Al-Aqsa Mosque to 1,000," Kilani said.
Fawaz Shahwan, head of Jordan's Passport Department, told Arab News that the Cabinet has accepted recommendations to reduce passport fees and allow Jerusalem's Palestinians to renew their passports without the burden of travel to Amman.
"Now a Palestinian in Jerusalem can go the nearest Jordanian waqf office to apply and the approved passport will be delivered to his or her East Jerusalem home," he said.
Shahwan confirmed that the passport fees have been reduced from 200 Jordanian dinars ($280) to JD50, the same fee paid by Jordanians.
An agreement between the Jordanian Postal Service and the Wasel Package Delivery Co. will ensure new and renewed passports are delivered to Palestinians in their East Jerusalem homes, he told Arab News
In another step to bring Jordanians and Palestinians closer, the Jordanian army's chief of staff, Lt. Gen. Mohammed Freihat, launched a program funding and coordinating the travel of about 24 Jordanian military officers and their families to Christian holy places in Palestine.
Gen. Emad Haddad led a delegation of Christian army officers to Bethlehem, Nazareth and Jerusalem.
Haddad told Arab News that the three-day visit and was made in parallel with the participation of Muslim officers in the annual Hajj pilgrimage to the Saudi holy places.
"Our visit was unique and emotional. People were moved by this positive initiative that showed equality in the Jordanian armed forces and contributed to Palestinian-Jordanian brotherly relations," he said.
Haddad said that a welcome by the delegation's Palestinian counterparts in Bethlehem was especially moving. "We received an excellent welcome as we visited the Church of the Nativity and met with fellow Palestinians."
Naser Tahboub, professor at Jordan University's Prince Hussein School of International Studies, told Arab News that the Jordanian government's efforts will help relieve the burden on Palestinians in Jerusalem. "These actions follow earlier actions by the late King Hussein and the continuous efforts of King Abdullah to support Jerusalemites and boost their steadfastness."
The Jordanian moves to boost relations with Jerusalem and its residents come at a time when the Trump administration is attempting to take Jerusalem "off the negotiating table."
Jerusalemites interviewed by Arab News welcomed the moves, saying they would contribute to the steadfastness of the people of the holy city.
Khaleel Assali, editor of the Jerusalem-based website Akhbar El-Balad, told Arab News that the actions of the Jordanian government will strengthen the morale of Palestinians.
"With so many placing Jerusalem's Palestinians under siege, it is a scent of fresh air coming from the East that gives people hope," he said.
http://www.arabnews.com/node/1367341/middle-east
--------
How chaos in Libya is turning Italy's fault line into a frontline
5 September 2018
Immigration policies in Europe will face new challenges now that the state of emergency has been declared in Libya. In this crisis Italy is on a fault line that is now turning into a front line.
Italy seems to be confused in its uncompromising approach to immigration, while experts argue that there is only one immigration policy to apply now: resettlement to third countries.
"The only possible immigration policy is to evacuate the people from Libya and distribute them in other States: resettlement to a third country" said Christopher Hein, founder and director of the Italian Council for Refugees, an organization that in the last 27 years has given assistance to over 120,000 people.
Practically the United Nations High Commissioner for Refugees (UNHCR) could manage the process on the ground through a quota system approved by third States in Europe, Africa, North America, and following migrants' consensus. This is not an immigration policy experiment. More than 65,000 individuals departed to resettlement countries with UNHCR's assistance in 2017.
"But I am pessimistic regarding the possibility that it will be implemented in Libya" Hein added, explaining that more European countries are closing their doors and Trump's administration doesn't seem to be welcoming foreigners, despite the United States has been the world's top resettlement country, along with Canada and Australia according to UNHCR.
With former Minister of Interior, Marco Minniti, Italy's immigration strategy was to cooperate at an international level, for example by getting the UNHCR involved in Libya, and at a local level through mayors.
"The agreements concluded by the former Italian government led to a significant reduction of illegal immigration, but now there is a different migration policy with the new government, there are more dead in the Mediterranean Sea and the situation in Libya is deteriorating", Hein told Al Arabiya English.
According to UNHCR 2018 report, the number of migrants arriving to Italy by sea, mainly from Libya, declined by 74 percent in the same period between 2017 and 2018, but the number of those that died while crossing the Mediterranean Sea increased: in 2017 the mortality rate was of one victim every 29 persons, this year the ratio is 1:14. Less migrants arriving to Italy, but more dead: this doesn't seem like a successful story.
Immigration policy
With the current Minister of Interior, Matteo Salvini, the first immigration policy to be applied was to close Italian ports to boats carrying migrants. "Salvini aims at eliminating asylum rights in Italy which are Constitutional rights" said Hein, who is also Professor of Immigration Law and Policies at Luiss University in Rome, Italy.
Apparently Hein is not the only one to consider Salvini's measures against the law. For keeping migrants on the Diciotti vessel and prohibiting their disembarkation for several days, Salvini is risking to be sentenced to 30 years in jail.
The Attorney General of Agrigento, Luigi Patronaggio, is ready to charge Salvini with kidnapping, illegal arrest, abuse of power and other charges currently under examination by the authorities in Palermo.
The current political debate is amplifying the problem. According to Eurispes 2018 survey, the vast majority of Italians have a wrong perception of the number of migrants in Italy.
Over 70 percent of the people interviewed believe foreigners living in Italy are between 16 percent and 24 percent of the total population in the country, with over 25 percent convinced that one resident out of four is not Italian, while the real incidence is only 8 percent.
Full report at:
https://english.alarabiya.net/en/features/2018/09/05/Chaos-in-Libya-There-is-only-one-immigration-policy-to-apply-now.html
--------
Cease-fire holds in Libya after clashes that killed dozens
September 05, 2018
BENGHAZI: Libyan authorities say more than a week of heavy fighting in the capital has come to a halt after the UN announced a cease-fire between the warring militias.
The fighting between militias allied to the UN-backed government in Tripoli and an armed group from a nearby town killed at least 63 people, and underscored the country's lingering lawlessness more than seven years after the uprising that toppled and killed Muammar Qaddafi.
Interior Minister Abdelsalam Ashour said Wednesday that all parties on the ground have welcomed the cease-fire, which was announced Tuesday, and that "new security measures" will be taken.
Full report at:
http://www.arabnews.com/node/1367326/middle-east
--------
Two suspected al-Shabaab accomplices arrested in Garissa
Sep. 05, 2018
Security agencies in Garissa have arrested two suspected al-Shabaab accomplices in Ijara and Liboi towns.
North Eastern commissioner Mohamed Birik said the two are a Kenyan from Gatundu, Kiambu County and a foreigner of European origin.
The European was arrested in Ijara town while inquiring on where to board public vehicles to the border town of Hulugho, some 100 Kilometers away.
"The public became suspicious and called in the police who picked him up for further interrogations. We have handed both of them to a multi-agency investigating team," he said.
Birik said police recovered foreign currency valued at over 34,000 US dollars, night visual cameras, GPS gadgets and other assorted high tech-communication equipment from the European suspect.
According to the suspect's passport, he had been to Iran, Somalia and several European countries.
On the Kenyan suspect, Birik said that he was in possession of a Qoran and claimed he was travelling to Kismayu on a business trip.
His passport indicated that he was widely travelled and has been to Uganda between 2005 and 2006.
He also travelled to Qatar in 2004.
He speaks fluent Kiswahili, Kikuyu and English.
The suspect left Kiambu on Thursday last week and spent the night at his cousin's place in Kahawa West, Githurai.
He then travelled to Garissa the following day and where he spent two days at paradise hotel in Garissa before proceeding to the border town of Liboi.
Full report at:
https://www.the-star.co.ke/news/2018/09/05/two-suspected-al-shabaab-accomplices-arrested-in-garissa_c1814055
--------
Suspected Boko Haram militants kidnap at least 10 people in northeast Nigeria
SEPTEMBER 5, 2018
MAIDUGURI, Nigeria (Reuters) - Suspected Boko Haram militants have kidnapped between 10 and 20 people, a family member of one of those abducted, a senator and two military sources said on Wednesday.
The people were aboard a bus from Maiduguri, the city worst hit by Boko Haram, traveling to the town of Gwoza around 100 km(60 miles) away in the east of Borno state, near the border with Cameroon, late on Tuesday.
Boko Haram "attacked commercial vehicles and abducted some civilians - over 10 men and women were abducted", said one of the military sources, who spoke on condition of anonymity because they were not authorized to brief the media.
Other sources gave the number taken at around 20.
The abduction calls into question government and military statements that stability and security are returning to the northeast in the conflict with Islamist insurgents Boko Haram, which dates back to 2009.
President Muhammadu Buhari is now seeking a second term in February 2019 elections, campaigning in part on his administration's successes in the northeast.
A police spokesman could not immediately be reached for comment.
Isa Musa said his uncle was among those kidnapped.
"He was in the bus with some other passengers, men and women, about 20 of them, when the incident occurred," he said.
A second military source said Boko Haram stopped three vehicles on the road.
"One of the vehicles is a commercial passenger bus with about 20 passengers," they said. "The terrorists fired shots and took away some of the passengers. Women were among (them) and one of our soldiers was killed in the attack."
A senator from Borno sate, Ali Ndume, said that he had been contacted by the wife of one of the victims about the kidnapping of about 10 people.
Full report at:
https://www.reuters.com/article/us-nigeria-security/suspected-boko-haram-militants-kidnap-at-least-10-people-in-northeast-nigeria-idUSKCN1LL2OF
--------
Boko Haram: Nigeria to repatriate 56,000 IDPs from Niger – NEMA
September 5, 2018
The National Emergency Management Agency (NEMA) said on Wednesday that it had concluded plans to repatriate 56,000 Borno Internally Displaced Persons (IDPs), from Difa, Niger Republic.
The Northeast Zonal Coordinator of NEMA, Bashir Garga, disclosed this during a humanitarian and development coordination forum organized by the agency in Maiduguri.
Mr Garga said that the IDPs were those who escaped Boko Haram onslaught in the last seven years in Mobbar and Abadam Local Government Areas of Borno.
He said that all arrangements had been made with the government of Niger to ensure that they were brought back to Nigeria.
"There were serious concerns on insecurity in some of the liberated local government areas.
NEMA is working with the security agencies toward ensuring that the liberated LGAs are safe and habitable to the returnees.
"But much still needs to be done. So we are urging the humanitarian organisations to give attention to developing the liberated communities.
"This is because some of the IDPs, after going back home, return to where they were because their homes are not habitable.
"We need to encourage them and reassure them of their safety all the time," he said.
In his remarks, Ahmed Bello, Assistant Commissioner of Police, Borno Command, who gave update on the security situation, said proactive measures had been adopted to protect the IDPs.
Mr Bello said that the force had deployed no fewer than 50 mobile police units in communities liberated from Boko Haram to enhance law and order.
He said that the force also trained some personnel on conflict resolution techniques to curb issues of land grabbing, cattle rustling and other menace arising in the liberated communities.
Full report at:
https://www.premiumtimesng.com/news/top-news/282582-boko-haram-nigeria-to-repatriate-56000-idps-from-niger-nema.html
--------
North America
Trump leaves door open to meeting Iran's Rouhani at UN General Assembly
6 September 2018
President Donald Trump left the door open Wednesday to meeting with his Iranian counterpart Hassan Rouhani on the sidelines of the UN General Assembly -- even as the United States ramps up the pressure on a regime it accuses of destabilizing the Middle East.
"It's possible, anything is possible," Trump told reporters in the Oval Office when asked about the possibility of a face-to-face with Rouhani during the gathering later this month.
"We'll see what happens with Iran. Whether they want to talk or not, that's up to them, not up to me," said the US leader, who decided in May to pull out of the 2015 nuclear deal between world powers and Iran.
"Iran is a much different place than when I took over the presidency," Trump added, describing the country as "in turmoil."
"When I took office it was just a question of how long until they took over the entire Middle East. Now they are just worrying about their own survival as a country."
Trump is due to lead September 26 meeting of heads of state of the UN Security Council, with the goal of ramping up pressure on Tehran over its alleged violations of council resolutions.
On assassinating Syria's Assad
Trump said he did not discuss assassinating Syrian leader Bashar al-Assad, which journalist Bob Woodward has reported in his forthcoming book about Trump's administration, according to
multiple media outlets.
Trump, speaking to reporters during a visit with Kuwaiti ruler Sheikh Sabah al-Ahmad al-Jaber al-Sabah, also said that if there is a slaughter in the Idlib province of Syria, the United States will be very angry. The Syrian military shelled Idlib, the last stronghold of active rebellion against al-Assad, on Wednesday as a war monitor said insurgents blew up a bridge in anticipation of a government offensive.
Defense Secretary Mattis to keep his job
Trump said Defense Secretary James Mattis will remain in his job, a day after a report, denied by Mattis, that he had made disparaging remarks about the president.
Asked by reporters at the White House whether he was considering replacing Mattis, Trump said: "He'll stay right there. We're very happy with him. We're having a lot of victories."
According to the book, "Fear: Trump in the White House," by the Watergate reporter Bob Woodward,the Republican president told Mattis he wanted to have Syrian President Bashar al-Assad assassinated after Assad launched a chemical attack on civilians in April 2017.
Mattis told Trump he would "get right on it," but instead developed a plan for a limited air strike that did not threaten Assad personally, according to the excerpts.
Full report at:
https://english.alarabiya.net/en/News/middle-east/2018/09/06/Trump-leaves-door-open-to-meeting-Iran-s-Rouhani-at-UN-.html
--------
Conservative group claims college ruled their 9/11 'Never Forget' posters biased against Muslims
Sep 6, 2018
A conservative student group at a Wisconsin-based college claims they were told their 9/11 "Never Forget" poster violates the school's bias policy because it exclusively targets Islamic terrorism, but the college says that's simply not true.
By focusing "relentlessly on one religious organization, one religious group, one religious identity," Ripon College's bias incident team allegedly told the Young America's Foundation that their posters remembering September 11th create an environment where "students from a Muslim background would feel singled out and/or harassed."
"The school's claim that the posters may make Muslim students feel 'harassed' is absurd," YAF spokesman Spencer Brown told Fox News. "[It] ignores the fact that innocent Muslims also died at the hands of radical Islamists on 9/11, and continue to suffer under the same evil ideology around the world."
Ripon College spokewoman, Melissa Anderson, told Fox News the posters were never ruled against or told they violated any bias policy, which doesn't exist. She added posters don't even need to be pre-approved on campus.
"The Bias Protocol Board doesn't have any disciplinary authority at Ripon," Anderson said. "There would never have been a meeting last Tuesday if local YAF had not requested it."
YAF's "9/11: Never Forget Project," which started in 2003, is made up of 2,977 American flags, one for each of the victims who died that day, and "Never Forget" posters, both of which have been desecrated and defaced at college campuses across the nation. "Last year many posters were torn down and destroyed," Hannah Krueger, YAF Ripon chapter president, told The College Fix. "The posters went before the student judiciary board and they found them to be in compliance with the poster posting policy. It is only this bias protocol team that finds them to be inappropriate and racist."
Krueger said the bias team informed them that their posters were offensive at the end of the spring semester, but she was unable to meet with them until last week, giving them little notice before the 17th anniversary.
Kreuger said the bias team "heavily implied the current posters could not be put up."
Anderson said the university offered up its student marketing resources to create a new poster.
"There was no ban," Anderson said of the 9/11 memorial, adding that the school has received several threats after it was reported the private school was blocking the posters. "The meeting did not result in any action."
Full report at:
http://www.foxnews.com/us/2018/09/05/college-officials-rule-911-never-forget-memorial-biased-against-muslims.html
--------
Iran minister criticizes Trump for focusing on Iran at UN
6 September 2018
Iran's foreign minister sharply criticized President Donald Trump Wednesday for allegedly abusing the US presidency of the Security Council this month by holding a meeting on Iran's international activities during the annual gathering of world leaders at the UN in late September.
Mohammad Javad Zarif was responding in a tweet to US Ambassador Nikki Haley's announcement Tuesday that Trump will chair a meeting to address "violations of international law and general instability Iran sows throughout the entire Middle East region."
She accused Iran of supporting terrorism and destabilizing activities in Lebanon, Yemen and Syria.
Zarif tweeted that Trump "plans to abuse presidency of SC to divert a session - item devoted to Palestine for 70 yrs - to blame Iran for horrors US & clients have unleashed across M.E. (Middle East)."
He also accused Trump of violating a 2015 UN Security Council resolution, number 2231, that endorsed the Iran nuclear deal. The president withdrew the United States from the nuclear accord between Iran and six major powers in May.
Zarif said "@realDonaldTrump is violating it & bullying others to do same."
Under Security Council rules, Iran can speak at the Sept. 26 meeting that Trump will chair, but Zarif and Iran's UN Mission did not indicate whether it would participate. Iran's President Hassan Rouhani is scheduled to attend the General Assembly's ministerial session, along with Zarif.
The mission said in a press release that despite the fact that Iran is in compliance with all its nuclear obligations under the 2015 deal according to the International Atomic Energy Agency, "the US not only unilaterally and unlawfully withdrew from the accord, but also now openly invites all UN member states to either violate or ignore resolution 2231 or face punishment."
Iran called the Sept. 26 council meeting "a further attempt by the US to divert attention away from Israeli brutalities and to remove the issue from the council agenda; however, such actions are doomed to fail."
Answering US criticism of "the so-called destabilizing role of Iran in the region," the Iranian mission called the United States "a menace to Middle Eastern security with its destabilizing, unilateralist policies and military interventions based on false claims."
The mission noted that Iran was in "the forefront" of defeating the ISIS extremist group which it claimed was created and supported by the US and its regional allies.
Several evidence has been brought forward linking Iran to several militias in the Middle East including the Houthi militias and Hezbollah.
Haley had presented concrete evidence of Tehran supplying missiles to the Houthis in Yemen.
Full report at:
https://english.alarabiya.net/en/News/world/2018/09/06/Iran-minister-criticizes-Trump-for-focusing-on-Iran-at-UN.html
--------
Pakistan assures US of its 'full support' for peace talks with Afghan Taliban: Foreign Minister
September 06, 2018
ISLAMABAD: Foreign Minister Shah Mahmood Qureshi said on Wednesday that Pakistan has assured the United States of its full support for peace talks with Afghan Taliban as this was in line with the policy of the government and best interest of Islamabad.
"I assured them (the US) full support for peace talks with Taliban," he said while addressing a news conference here after having talks with the US delegation that was led by Secretary of State Mike Pompeo.
The Secretary of State arrived in Islamabad Wednesday on a day-long visit. He was accompanied by Chairman Joint Chiefs of Staff General Joseph Dunford. They held formal talks with Foreign Minister Shah Mahmood Qureshi and his team at Foreign Office; and later called on Prime Minister Imran Khan and military leadership including chief of army staff General Qamar Javed Bajwa at the Prime Minister Secretariat.
This was the first high-level visit from Washington since the Pakistan Tehreek-e-Insaf (PTI) government assumed office in August this year.
"Today we met with Prime Minister Imran Khan and Foreign Minister Shah Mahmood Qureshi to discuss our diplomatic and military to military relationship," the Secretary of State tweeted shortly after conclusion of his day-long trip.
The foreign minister said that the US delegation expressed its desire that Pakistan should help Washington for peace talks in Afghanistan.
"Afghanistan is our neighboring country, our peace and our future is linked to it," he said, "we want that violence should come to an end there and people should lay down their arms for their better future."
Qureshi said that the US has reviewed its policy with respect to Afghanistan and reached a conclusion that "negotiated political settlement" is the solution of the war-ravaged country.
"There was a convergence and alignment of Pakistan and America's stance on the issue (during the talks," he said, "Imran Khan has been saying this for years that there is no military solution of Afghanistan's conflict."
He said that he got a hint during the talks that the United States has mentally prepared to have direct talks with Taliban in Afghanistan, as well as Washington does not intend to keep its footprint in Afghanistan for a long period.
"And obviously, this is linked to the situation there and ground reality … but this is a big positive hint," he said, adding that Afghanistan has been an "impediment" in bilateral relations of the United States and Pakistan.
"This is a good start and impasse in the relations has broken," he said, adding that this shift in the US policy is a result of the State Department's efforts and will also be followed through with input from all other relevant institutions.
He said the meeting with the US delegation has "reset an environment" to improve the bilateral relationship. "History is evident to the fact that when we (Pakistan and the US) worked together, it helped us both. And they (the US) acknowledge this fact," he said.
The foreign minister said that he placed this before the US delegation that Pakistan would need "ease and facilitation" from its eastern border – India – to focus on the western border – Afghanistan.
"We should look towards this aspect too that how we can bring improvement," he said, "repeated violation of ceasefire on the Line of Control (by India) helps no one but affects the innocent people (living near the border)."
The foreign minister said the meeting helped understand concerns of the US and present Pakistan's viewpoint on important issues. "The future course of action will be chalked out in a next meeting to be held in Washington," he said, adding that he has accepted invite of Secretary Pompeo to visit Washington and would go there for a meeting during his upcoming visit to the United Nations General Assembly's session.
Pak-US relations deteriorated to the lowest ebb since President Donald Trump announced South Asia policy last year. The policy envisaged a greater involvement of India – Pakistan's archrival – in Afghanistan.
Secretary Pompeo's visit came on the heels of US announcement of cancellation of $300 million in Coalition Support Fund (CSF) to Islamabad due to a lack of "Pakistani decisive actions" in support of the US' South Asia strategy.
The foreign minister, however, said that he did not take up the issue of the CSF during the talks as "sovereign nations think differently."
Full report at:
http://www.arabnews.com/node/1367496/world
--------
Pakistan
'Pakistan believes in peaceful coexistence', PM Khan says in Defence Day message
September 06, 2018
As the nation marks the 53rd anniversary of the 1965 Pakistan-India war on Thursday, Prime Minister Imran Khan and outgoing President Mamnoon Hussain issued their messages of solidarity in connection with Defence Day.
Prime Minister Khan in his message said Pakistan believes in peaceful coexistence and wants to promote mutual cooperation with other countries, including its neighbours, on the basis of equality, Radio Pakistan reported.
He said the people of Pakistan have the ability to brave all challenges while following Quaid-i-Azam's principles of Unity, Faith, and Discipline.
"The people of Pakistan will leave no stone unturned in defending their motherland, while standing side by side with [the] valiant armed forces of the country," he was quoted as saying.
While paying tribute to the martyrs who sacrificed their lives in defence of the country, the premier assured their families that all possible steps will be taken for their welfare.
President Hussain said the spirit of sacrifices rendered by the armed forces and the nation should inspire the people to forge unity among their ranks.
He also emphasised the need to foster collective consciousness and wisdom, saying these traits are imperative to defeat the evil designs and conspiracies of the enemy.
The president and prime minister reiterated that the resolution of the Kashmir issue in light of United Nations resolutions is imperative for peace in the region.
Defence Day celebrations
The 53rd Defence Day of Pakistan is being celebrated with traditional fervour and solemnity across the country.
The day began with special prayers for the progress and prosperity of Pakistan, followed by change of guard ceremonies at the mausoleums of Allama Iqbal in Lahore and Quaid-i-Azam in Karachi, and a ceremony at the Pakistan Navy headquarters in Islamabad.
A number of events are scheduled to be held in connection with Defence Day across the country. The highlight of the day will be a function tonight at General Headquarters in Rawalpindi to pay tribute to the martyrs.
https://www.dawn.com/news/1431290/pakistan-believes-in-peaceful-coexistence-pm-khan-says-in-defence-day-message
--------
Pakistan Could Emerge As World's 5th Largest Nuclear Weapons State: Report
Sep 5, 2018
WASHINGTON: Pakistan currently has 140 to 150 nuclear warheads and the stockpile is expected to increase to 220 to 250 by 2025 if the current trend continues, according to a latest report by authors keeping a track of the country's nukes.
The current estimate of 140 to 150 nuclear weapons exceeds the projection made by the US Defense Intelligence Agency in 1999 that Pakistan would have 60 to 80 warheads by 2020.
"We estimate that the country's stockpile could more realistically grow to 220 to 250 warheads by 2025, if the current trend continues. If that happens, it would make Pakistan the world's fifth-largest nuclear weapon state," Hans M Kristensen, Robert S Norris and Julia Diamond said in the report 'Pakistani nuclear forces 2018'.
Kristensen, the lead author, is the director of the Nuclear Information Project with the Federation of American Scientists (FAS) in Washington, DC.
Over the past decade, the US assessment of nuclear weapons security in Pakistan appears to have changed considerably from confidence to concern, particularly as a result of the introduction of tactical nuclear weapons, the report said.
"With several delivery systems in development, four plutonium production reactors, and its uranium enrichment facilities expanding, however, Pakistan has a stockpile that will likely increase further over the next 10 years," says the report.
Pakistan continues to expand its nuclear arsenal with more warheads, more delivery systems and a growing fissile materials production industry, it said.
"Analysis of a large number of commercial satellite images of Pakistani army garrisons and air force bases shows what appear to be mobile launchers and underground facilities that might be related to nuclear forces," said the report.
The authors observe that the size of the increase will depend on many factors.
Two key factors will be how many nuclear-capable launchers Pakistan plans to deploy, and how much the Indian nuclear arsenal grows.
"Speculation that Pakistan may become the world's third-largest nuclear weapon state – with a stockpile of some 350 warheads a decade from now – are, we believe, exaggerated, not least because that would require a buildup two to three times faster than the growth rate over the past two decades," the authors said.
According to the report, Pakistan is modifying its nuclear posture with new short-range nuclear-capable weapon systems to counter military threats below the strategic level.
"The efforts seek to create a full-spectrum deterrent that is designed not only to respond to nuclear attacks, but also to counter an Indian conventional incursion onto Pakistani territory," it said.
Full report at:
https://timesofindia.indiatimes.com/world/pakistan/pakistan-could-emerge-as-worlds-5th-largest-nuclear-weapons-state-report/articleshow/65691890.cms
--------
SGM Concerned Over Objections To Appointment Of A Non-Muslim Member To EAC
SEPTEMBER 6, 2018
Society for Global Moderation (SGM) has expressed its concern regarding objections raised by a section of parliament over appointment of a member of Economic Advisory Council (EAC).
Earlier, a group of senators submitted a Call Attention notice to Pakistan Senate, raising objections to the appointment of a member in EAC on grounds that he was a non-Muslim.
The EAC, headed by Finance Minister, Asad Umar has been tasked to lay guidelines for future economic policies and priorities that government should adopt in order to avert the country's ongoing economic crisis.
The SGM chairman Syed Jawaid Iqbal said, on Wednesday, that SGM stood firmly behind policies of government so that interfaith harmony could be more actively promoted in the country.
Syed Jawaid Iqbal, commenting on statement of the parliamentarians, described it as' completely uncalled for'. He said that the objections were irrational since Pakistan was a tolerant society and rights of minorities were duly protected under the constitution of Pakistan.
"EAC is a non-governmental body and has been reconstituted to include leading Pakistani economists and financial experts who have been selected from all over the world for their proven expertise and know-how in economics and finance," said Jawaid Iqbal before pointing out that many minority members were already serving Pakistan's public and private sector and some of them were also holding key positions in organisations. He said that these included Hindus, Christians and Parsis.
Full report at:
https://dailytimes.com.pk/293530/sgm-concerned-over-objections-to-appointment-of-a-non-muslim-member-to-economic-advisory-council/
--------
Task force formed to get ill-gotten money from abroad
Syed Irfan Raza
September 06, 2018
ISLAMABAD: Taking a step forward to fulfil its promise of retrieving ill-gotten wealth of Pakistanis in foreign countries, the government has formed a high-powered task force comprising officials of the Federal Investigation Agency, National Accountability Bureau as well as intelligence agencies
In this regard, the government has decided to enforce an anti-corruption rule which offers informers 20 per cent of the looted wealth recovered through information provided by them. The rule exists in accountability laws but has seldom been enforced.
The government also made another significant decision to introduce uniform curriculum not only in public and private schools but also in religious seminaries (madressahs).
These decisions were made in a federal cabinet meeting held at PM Office on Wednesday with Prime Minister Imran Khan in the chair.
The meeting also decided to abolish discretionary funds of all ministries estimating that with this move, over Rs 80 billion would become available to the national kitty.
Under other decisions, the government will establish an orphanage in the federal capital to offer shelter to homeless beggar women and children and provide assistance to Pakistanis languishing in prisons of foreign countries so that they could be reunited with their families.
"Initially we will target 100 big fish to retrieve their ill-gotten wealth stashed in foreign countries," said Special Assistant to Prime Minister on Accountability Shahzad Akbar at a press conference held after the cabinet meeting. Information Minister Fawad Chaudhry was also present.
Mr Akbar said the whistle-blower law would be enforced immediately through an ordinance offering a reward worth 20 per cent of the recovered amount to those people who would help recover such money. The names of informants would be kept confidential.
The special assistant said another ordinance on mutual legal assistance would be promulgated which would help remove bottlenecks in the way of seeking information regarding illegal wealth from foreign countries.
He said Prime Minister Imran Khan had directed the foreign ministry to send a high-powered delegation to Switzerland to expedite ratification of a treaty on exchange of information on bank accounts. "Unfortunately the treaty has been dumped in files since 2012 intentionally by the previous rulers, instead of being ratified. Now the prime minister has issued directives to immediately ratify the treaty so that the government can get information regarding transfer of corruption money into Swiss banks by the Swiss authorities," he added.
Responding to a question about the total amount of money laundered abroad, the special assistant said it would be difficult to say what it was but the main thing was that the government was committed to retrieving it.
Mr Akbar said the prime minister was so concerned about the recovery of looted money that he would himself monitor the progress of the task force and other relevant departments in this regard.
Information Minister Fawad Chaudhry said the prime minister wanted uniform curriculum not only in private and public sector schools but also in seminaries.
"Different modes of education in different types of schools is the source of disparity in our education system and divides our children in different categories," he said.
The minister said introducing uniform curriculum in the whole country was not an easy task but the federal government was committed to doing that with the cooperation of the provincial governments.
"We know that education, health, sanitation and provision of potable water are provincial subjects but they will be driven from the Centre," he added.
Education became a provincial subject after the 18th Amendment and the decision of uniform curriculum is expected to spark a controversy in the country over the 'centre's interference' into provincial affairs.
The Pakistan Tehreek-i-Insaf (PTI), which is ruling at the centre and in the provinces of Punjab and Khyber Pakhtunkwa, will have to convince the government of two other provinces — Sindh and Balochistan — in this regard. "We believe that no provincial government will oppose the idea that all children of the country should have a similar opportunity of seeking education," he hoped.
The information minister said the cabinet had also decided to take concrete steps to provide education to over 25 million children who were presently out of schools.
Regarding Pakistani prisoners in different countries, he said there were more than 10,000 Pakistani nationals in jail abroad and the government wanted to help them so that they could return to their families.
He said approximately 3,000 Pakistani prisoners on death row in Iran would be granted relief since Tehran had amended its anti-narcotics laws.
"We took up the matter with Iranian Foreign Minister Javad Zarif during his recent visited to Islamabad and the Pakistani embassy is also in touch with the prosecutor general in Tehran for early release of the prisoners," Mr Chaudhry added.
The cabinet also made decisions on initiatives regarding health, water and sanitation. "Although they fall under [the domain of] the provinces, we think they are important (sectors) and will be driven by the federal government," he said.
He reiterated the government's resolve to provide due rights to all minorities as guaranteed in Islam.
The information minister's statement comes a day after he defended the appointment of Atif Mian, a leading international academic, to the government's Economic Advisory Council amid criticism in the social media that the expert belongs to the Ahmadi faith.
"Those who have objections to Mian's appointment are basically extremists, and we will not bow to extremists," the minister said. "Protecting minorities is our responsibility. It is the religious duty of every Muslim, not just the government, to protect minorities and respect those they live with."
Full report at:
https://www.dawn.com/news/1431260/task-force-formed-to-get-ill-gotten-money-from-abroad
--------
Pakistan, US agree to make fresh start
Baqir Sajjad Syed
September 06, 2018
ISLAMABAD: Pakistan and the United States have decided to give reset in ties another shot after the positive initial engagement on Wednesday resulted in an understanding between the Trump administration and the new Pakistani government on delivering on each other's expectations.
The positivity shown by the two sides after their meeting deeply contrasted the clouds of negativity under which US Secretary of State Mike Pompeo arrived in Islamabad.
Mr Pompeo, who was accompanied by Chairman of the Joint Chiefs of Staff Gen Joseph Dunford, stayed in Islamabad for nearly five hours during which he met Foreign Minister Shah Mehmood Qureshi, and Chief of the Army Staff Gen Qamar Bajwa.
The US delegation also held a meeting with Prime Minister Imran Khan. FM Qureshi, the army chief, ISI director general Lt Gen Naveed Mukhtar and other senior officials also attended the meeting.
At the meeting, PM Khan said he was hopeful of finding a new way forward with Washington. "A sportsman always is an optimist," said the former cricketer, who captained Pakistan to World Cup victory in 1992, according to a pool report. "He steps on the field and he thinks he's going to win."
However, the inclusion of newly appointed US adviser on Afghanistan Zalmay Khalilzad, who has been hostile towards Pakistan and is also unacceptable to Taliban, in the Secretary Pompeo-led delegation raises questions about US seriousness about reaching a political settlement in Afghanistan.
The visit came in the backdrop of the recent row over the readout of the phone conversation between PM Khan and Secretary Pompeo and the US ann­ouncement about the reprogramming of the remaining $300 million reimbursement under Coalition Support Fund.
Speaking to journalists at the Foreign Office after Secretary Pompeo's departure for New Delhi, Foreign Minister Qureshi said: "Today's meetings set the stage for a reset. And the stalemate, which has been weighing down the relationship, has been overcome".
He said the meetings were "productive" for "understanding each other's point of view" and "cha­lking out the future course". During the meeting, he said, the Pakistani side "understood their wishes" and presented its "expectations and concerns" in an amicable manner.
Mr Qureshi and Mr Pompeo will now meet in Washington later this month when the former travels to the US to attend the UN General Assembly session. Mr Pompeo invited Mr Qureshi for the visit. The invitation notwithstanding, Secretary Pompeo and Gen Dunford made no secret that military-to-military relationship would provide the actual basis for forward movement.
Speaking to journalists at the Nur Khan Airbase before his departure, Secretary Pompeo also gave a positive impression about his meetings. He said: "I'm hopeful that the foundation that we laid today will set the conditions for continued success as we start to move forward.
"We made clear to them that — and they agreed — it's time for us to begin to deliver on our joint commitments, right. So we've had lots of times where we've talked and made agreements, but we haven't been able to actually execute those. And so there was broad agreement between myself and Foreign Minister Qureshi, as well as with the prime minister, that we need to begin to do things that will begin to actually, on the ground, deliver outcomes so that we can begin to build confidence and trust between the two countries. That was the focus of the gathering."
Gen Dunford said Secretary Pompeo visited Islamabad to "reset the relationship" and after the meetings he could say that "the objectives were very consistent between the Secretary and the prime minister, and General Bajwa". He said military relations would be leveraged "to support the Secretary and the prime minister, and more importantly, President Trump's South Asia strategy".
Mr Pompeo, too, concurred with Gen Dunford on military ties acting as a prop for taking the planned rapprochement forward. He hoped that military-to-military ties, which had withstood the challenges in the cyclic relationship, could be used as "one of the foundational elements as well".
Persisting challenges
Despite all the positive optics, both sides were candid enough to admit that challenges still exist.
The secretary's five-hour-long visit may have set the stage for an effort to resolve the differences, but it was too short a trip to achieve substantive progress. The apparent cordiality was reminiscent of what was witnessed after Vice President Mike Pence's meeting with the then Prime Minister Shahid Khaqan Abbasi on the sidelines of UNGA last year, weeks after President Trump had announced South Asia policy, which rocked the ties. The two sides had on that occasion agreed on an engagement plan, which was also executed, but then ended at President Trump's New Year tweet that accused Pakistan of "lies and deceit".
Responding to a question at his presser, Mr Qureshi said: "I'm not painting a rosy picture. It would be wrong to say that we do not differ on many issues. But as a matter of fact there is a better atmosphere now to move ahead."
The two sides have a divergence of opinion on the alleged existence of terrorist sanctuaries on Pakistani side. "It would be wrong to say that the entire problem lies on our side of the border," Mr Qureshi countered.
The issue of terrorist sanctuaries was taken by the US side during the meetings. "Secretary Pompeo conveyed the need for Pakistan to take sustained and decisive measures against terrorists and militants threatening regional peace and stability," US State Department spokesperson Heather Nauert said.
Secretary Pompeo, meanwhile, too conceded: "We've still got a long way to go, lots more discussion to be had".
Way forward
The hope about the two sides making progress in ties hinges on their cooperation for peace in Afghanistan.
Pakistan is optimistically looking at the realization in the US that the Afghanistan strategy had not worked well and the resultant shift in its policy on dialogue with the Afghan Taliban. Pakistan has long advocated a peaceful and a political settlement of the Afghan conflict.
Referring to the new US inclination towards dialogue with the Taliban, Mr Qureshi said: "In it you can see an alignment and convergence of our positions. This is what Imran Khan has been saying for long that there is no other solution, but political settlement."
Spokesperson Nauert said Secretary Pompeo underscored the role Pakistan could play in bringing about a negotiated peace in Afghanistan.
Ties with India
FM Qureshi said the US was asked to play its role for improvement in the Pakistan-India relations, especially the situation on the Line of Control, so that the focus on Western border with Afghanistan could be increased.
The foreign minister disclosed that he did not take up the issue of reprogramming of the remaining amount of CSF reimbursement, $300 million, out of "self-respect". He added that the CSF reimbursements were ended sometime back and it was an "old issue".
Full report at:
https://www.dawn.com/news/1431263/pakistan-us-agree-to-make-fresh-star
--------
Former student gets 29 years in jail on terror charges
Naeem Sahoutara
September 06, 2018
KARACHI: An antiterrorism court on Wednesday handed down a collective imprisonment of 29 years to a former student on charges of terrorism, possessing explosives and illicit arms.
Syed Rehan Zaidi alias Ali Budha was found guilty of possessing explosives and an illicit weapon, terrorism, encounter with law enforcers and attempting to murder in the remit of Mochko police station on Oct 2, 2017.
The ATC-X judge, who conducted the trial in the judicial complex inside the central prison, pronounced his verdict after recording evidence and arguments from both sides.
The judge also ordered the convict to pay Rs150,000 fine or serve an additional sentence of six months on default.
According to the prosecution, a police party during routine patrolling saw a suspicious man walking on the Hub River Road near Lucky Charhai adjacent to the Jamia Faruqia on Oct 2, 2017.
When signalled to stop by the police, he allegedly put up resistance, fired shots with a pistol at the police party with an intention to kill and caused deterrence in the discharge of official duties and functions, it added.
However, the police also returned fire and managed to arrest the suspect while he was trying to escape, said the prosecution.
The detained man later disclosed his name as Syed Rehan Zaidi and during search a hand grenade and a 30-bore TT unlicensed pistol with a live bullet was recovered from his possession.
He was arrested and booked in three cases registered under Sections 353, 324 of the Pakistan Penal Code read with Section 7 of the Anti-Terrorism Act, 1997 read with Section 4/5 of the Explosives Act and Section 23(I)-A of the Sindh Arms Act, 2013.
During the trial, the detained man denied the allegations and recorded his testimony on oath.
The defence counsel Nazeer Hussain contended that his client was a student, who was not involved in any of the offences, and was studying in the street to prepare for his examinations, when the law enforcers arrested him.
He also produced Zaidi's registration and admit cards, and two witnesses — Syed Qamar Abbas and Khaliq-ur-Rehman.
The lawyer pleaded to acquit Zaidi of the charges.
On the other hand, the prosecution examined four witnesses, all of them policemen.
Sub-inspector Ghulam Mustafa Arain deposed that he was posted as in-charge of the Bomb Disposal Unit (BDU) South Zone on Oct 3, 2017 when he was summoned to the Mochko police station where duty officer sub-inspector Khadim Hussain handed over a recovered hand grenade to him for inspection.
"I found hand grenade to be 'ARGES-69, plastic body, green colour, made in Pakistan, WAH Factory was written on it," the bomb disposal expert deposed before the court.
He further said that he found no detonator, therefore, he sealed the grenade and handed it over to the police.
Assistant Prosecutor General Ghulam Abbas Dalwani pleaded to punish the accused according to the law.
Three sentenced over armed assault on police
The same court, in the meantime, awarded a collective sentence of 34-years rigorous imprisonment to three accused in cases pertaining to terrorism and an armed assault on the police in 2017.
The convicts — Farhan Danish, Zeeshan Khan and Kashif Jillani — were found guilty of carrying out an attack on the police, engaging in encounter, attempting to murder and committing terrorism in the remit of the New Karachi police station on Dec 22, 2017. All of them were arrested and booked in three separate cases under Sections 353, 324, 427 and 34 (common intention) of the Pakistan Penal Code, read with Section 23(I)-A of the Sindh Arms Act, 2013, Sections 4/5 of the Explosives Act and Section 7 of the Anti-Terrorism Act, 1997.
The ATC-X judge, who conducted trial in the judicial complex inside the central prison, pronounced his verdict after recording evidence and arguments from both sides.
The judge observed that the prosecution fully established its case beyond any shadow of doubt.
The judge found them guilty on three counts: armed assault on the law enforcers and encounter, attempted murder and terrorism. Therefore, the court handed down a collective sentence of 34 years of rigorous imprisonment each.
It also imposed a fine of Rs200,000 each on the convicts.
Furthermore, the convict Farhan Danish was also found guilty of possessing an illicit weapon and awarded sentences of five years rigorous jail term and Rs50,000 fine.
According to the prosecution, a police party received information about presence of three motorcyclists allegedly equipped with arms and ammunition on the service road near a marriage lawn in Sector 11-J, New Karachi, with an intention to commit terrorism.
On seeing the police, the motorcyclists opened fire and lobbed a hand grenade that did not explode, the prosecution claimed.
However, after an encounter, the police detained Farhan, Zeeshan and Kashif and recovered one hand grenade each from their possession while they also seized an unlicensed pistol from Danish.
The accused persons were indicted, but they pleaded not guilty and opted to contest.
The defence counsel — Qamar Altaf and Shaikh Moinuddin Pasha — denied the allegations and contended that the prosecution made up a concocted story and requested the court to acquit them.
Full report at:
https://www.dawn.com/news/1431228/former-student-gets-29-years-in-jail-on-terror-charges
--------
Armed forces will spare no effort to protect motherland: PM
Sep 6, 2018
ISLAMABAD: Prime Minister Imran Khan has said that the observance of Defence Day of Pakistan is, in fact, a reiteration of the message to the enemy forces that the entire Pakistani nation along with its armed forces will spare no effort to protect the motherland.
"Furthermore, we all collectively will face our problems following the Quaid's principles of Faith, Unity and Discipline. Let's play our role with diligence and devotion for the progress of the country," the prime minister said in his message on the Defence Day of Pakistan being celebrated on Thursday (Sept 6).
He said the Defence Day was the best reflection of national unity and solidarity. "This year the Defence Day is quite unique because the Armed Forces of Pakistan, keeping in view their magnificent traditions, have achieved standout achievements in the war against terrorism which provided further stability and continuity to the motherland," he added.
He said the topic of 'Hame Pyar Hay Pakistan Say' represented the spirit and ambition of the entire nation. The Defence Day of Pakistan, he said, was not limited to only 6th September but its real spirit remained alive throughout the year.
Prime Minister Imran Khan said the whole world had witnessed the passion of Pakistani people and its armed forces and especially there was no example of sacrifices the Pakistani children, youth, women and elders had given in the war against terrorism during the last 17 years.
"We present salute and devotion to our Shuhada and Ghazis who performed their duty in defending the motherland." The prime minister, while appreciating the courage and professionalism of the armed forces in eliminating militancy and terrorism, said no doubt their efforts for national development, strengthening of democracy and world peace were laudable.
He said Pakistan believed in peaceful coexistence and wanted to promote mutual cooperation with all its neighbours and the entire world on an equal basis.
The prime minister stressed upon the world powers to play their role to stop Indian cruelty and aggression in the occupied Kashmir. The resolution of Kashmir issue according to the United Nations resolutions was indispensable.
He paid tributes to all the martyrs, Ghazis, their families and relatives, and assured them that the government would leave no stone unturned in their welfare. The government, he added, would continue absolute struggle in the war against terrorism till its logical end.
Full report at:
https://www.pakistantoday.com.pk/2018/09/05/armed-forces-will-spare-no-effort-to-protect-motherland-pm/
--------
Southeast Asia
Here is how Putrajaya can stop Shariah caning, say lawyers
06 September 2018
KUALA LUMPUR, Sept 6 ― The federal government can amend the Shariah Courts (Criminal Jurisdiction) Act 1965 to remove whipping as a sentence, lawyers said amid outrage over the Shariah caning of two women in Terengganu.
Senior civil and Shariah lawyer Nizam Bashir acknowledged that Islamic law was under state jurisdiction, which ministers in the Pakatan Harapan (PH) government have cited as their reason for non-intervention in the case of PAS-led Terengganu.
"Nevertheless, this does not mean that the federal government's hands are therefore tied," Nizam told Malay Mail.
"The federal government can always amend Section 2 of the Shariah Courts (Criminal Jurisdiction) Act 1965, and remove whipping as a sentence which the Shariah Courts are entitled to mete out," he added.
Section 2 limits punishments by Shariah courts to three years' jail, six strokes of the cane, and RM5,000 fines.
Nizam also disagreed with several civil societies which said that caning could only be enforced upon prisoners. The young Muslim women who were whipped six strokes of the cane last Monday for attempting to have lesbian sex had not been jailed.
He pointed out that this was because one cannot equate legal provisions stipulated under Shariah laws with those under civil laws and vice versa, or enforce the latter against the former.
Two women's rights groups had slammed the Terengganu Shariah High Court for publicly caning the women, describing the punishment as "a travesty and a grave miscarriage of justice".
"There are some quarters who subscribe to the view that caning can only be done in prisons pursuant to Rule 132 of the Prison Regulations 2000, and there is potent force in their argument, as there are no Shariah prisons or Shariah prison officers. Consequently, caning or whipping can only be done in a federal prison.
"That aside, dealing with views of rights groups who say that caning also violates the Procedure Code, I don't think they would be correct in their view as the civil version of the CPC does not apply to Shariah criminal offences," said Nizam.
Constitutional lawyer Syahredzan Johan echoed Nizam's sentiment, saying provisions in the Prisons Act, Prison Regulations, and the CPC do not apply to caning under Shariah law.
"For example, Regulations 131 and 132 on corporal punishment in the Prisons Regulations 2000, often cited to say that caning can only be carried out in prisons actually refers to corporal punishment for offences under the Regulations themselves, and not all caning punishments.
"As for the CPC, Chapter 27, which contains provisions relating to whipping, refer to whipping sentences carried out by the criminal courts, not the Shariah courts. I am of the opinion that these laws cannot be relied on when discussing the legality of the caning by the Terengganu Shariah courts," Syahredzan said when contacted.
In light of this, the senior lawyer said that the caning by the Terengganu Shariah court did not appear to contravene any federal laws and, as such, the matter was outside federal jurisdiction.
"There is one way. If the federal government amends the Shariah Court Act and takes away the power of the Shariah court to mete out the sentence of caning.
"Meaning, caning cannot be done by any Shariah Court at all. But that is too drastic, and I doubt anyone has the political will to do that," he said.
Senior Shariah lawyer Datuk Akbardin Abdul Kader said if one is unhappy with the Shariah law permitting caning, they can challenge it in the Federal Court.
Until then, Akbardin said the laws practised by the Shariah courts were good laws.
"It's unfortunate that the two offenders in Terengganu failed to appeal on the sentence to the higher court. Hence the decision is valid and correct as per the Terengganu Criminal Enactment, and no one shall question it," he said, adding that this is already stipulated under Article 121(1A) of the Federal Constitution.
The said constitutional article provides that the civil courts cannot interfere in the Shariah courts.
"It must be remembered that like in the civil law, the objective of sentencing in Islamic law is deterrence. So we are guided by the Quran and prophets traditions and any international treaties, which are contrary to the two sources, are to be disregarded and have no legal force. Unless such treaties are in the form of edicts (fatwa) made by authoritative international Islamic bodies or scholars," he added.
On Monday, two women were punished by six strokes of the cane under Sections 30 and 59(1) of the Shariah Criminal Offences Enactment (Takzir) (Terengganu) 2001 after they pleaded guilty to lesbian sexual relations.
In addition to being caned, the women aged 22 and 32 were also required to pay a fine of RM3,300.
Around 100 people witnessed the punishment in the courtroom, including public onlookers, government agencies' representatives, and NGO members.
After the Terengganu caning, Pahang and Kelantan ― under Barisan Nasional and PAS rule respectively ― are reportedly considering following suit.
https://www.malaymail.com/s/1669746/here-is-how-putrajaya-can-stop-shariah-caning-say-lawyers
--------
Ministry to push for multi-billion dollar halal tourism
6 Sep 2018
KUALA LUMPUR: Halal or Islamic tourism is a lucrative sector that is still largely untapped, and Malaysia aims to continue being the leading destination for tourists from this sector, says Deputy Tourism, Arts and Culture Minister Muhammad Bakhtiar Wan Chik.
The country managed to attract 5.3 million Muslim tourists out of a total 26 million tourist arrivals last year.
Muhammad Bakhtiar said a report by Thomson Reuters and DinarStandard showed that halal tourism represented 11.6% of global tourism expenditure and was estimated to be worth US$238bil (RM984bil) by 2019.
Malaysia is not the only country trying to tap into the lucrative market, as countries such as Japan and South Korea were also ramping up their offerings for Muslim tourists, said Muhammad Bakhtiar.
"Under the country's tourism policy, we try to provide facilities that will ease Muslim tourists' travels such as prayer rooms," he said in a speech read out by the ministry's deputy secretary-general Datuk Haslina Abdul Hamid.
This was done at the launch of the Malaysian Association of Tour and Travel Agents' (MATTA) B2B Islamic Halal Tour 2018 at the Seri Pacfic hotel here yesterday.
MATTA deputy president Mohd Akil Yusof said the one-day event, the first of its kind held by the association, attracted more than 100 buyers and sellers of tourism products.
He added that the event was also focusing on Lombok, Indonesia, as a way for MATTA to help the island recover after its recent earthquake hits.
"We feel their pain and this is one of the ways we can help Lombok.
"We hope that it can recover quickly (from the tragedy)," he added.
Full report at:
https://www.thestar.com.my/news/nation/2018/09/06/ministry-to-push-for-multibillion-dollar-halal-tourism/
--------
IIUM not bound by varsity act, says aide in defence of Maszlee's appointment
September 5, 2018
PETALING JAYA: An aide to Maszlee Malik has defended the education minister's appointment as the president of the International Islamic University (IIUM) amid criticism that it amounted to government interference in the administration of higher institutions of education.
He told FMT that the university's unique status, where its stakeholders are made up of several Muslim governments, makes Maszlee's role crucial especially in ensuring funds for the university.
Saying the president of IIUM functions as a "ceremonial head", he said appointing Maszlee would also save some RM500,000 in allowance annually, as no payment is required to be made to a minister.
Maszlee is the third education minister to hold the post since IIUM was established together with several member-states of the then Organisation of Islamic Conference (OIC).
Its first president was Hussein Onn, followed by Anwar Ibrahim when he was the education minister in the eighties. After Anwar's ouster from the government in 1998, he was replaced by Najib Razak, then the education minister.
The aide said the university's glory days were when the education minister was its president.
"A fact that cannot be denied is that IIU became well known in the eighties and nineties when its presidency was held by education ministers Anwar Ibrahim and Najib Razak," it said.
Maszlee, 44, a former IIUM student and lecturer, replaces Rais Yatim, the former cultural adviser to the previous government whose contract with the varsity ended last June.
When contacted, Rais questioned Maszlee's appointment, saying it was not done through proper procedures.
"As the education minister, he acts as the umbrella to all 21 public universities. If he appointed himself to the post, the appointment could be questioned," Rais told FMT.
He also questioned Maszlee's recent appointment of new IIUM rector, Dzulkifli Abdul Razak, when the minister was still not the varsity's president, adding this was a violation of the IIU constitution.
Earlier, a DAP assemblyman said Maszlee helming IIUM was a conflict of interest and against the minister's pledge not to interfere in the management of tertiary institutions.
Kampung Tunku assemblyman from Selangor, Lim Yi Wei, also urged Maszlee not to accept the appointment.
"To fail to do so would be failing the students who counted on us to restore academic freedom. To fail to do so would be a slap on the face to the student activists blacklisted, harassed or detained under the UUCA," she said, referring to the Universities and University Colleges Act 1971 heavily criticised by Pakatan Harapan.
But the aide told FMT that IIUM is not governed by the UUCA, as it was an incorporated body formed under the Companies Act.
That status allows the university to use English and Arabic in its syllabus, he added.
He said Maszlee was not a politician parachuted into the academic world.
"He is a grassroots educationist. A big part of his life was spent in the academic field and for many years he was involved in discourses on education before he joined politics."
Meanwhile, IIUM in a statement said its constitutional head, Pahang's Sultan Ahmad Shah, has consented to Maszlee's appointment.
It said Maszlee would serve as president until 2021.
Full report at:
https://www.freemalaysiatoday.com/category/nation/2018/09/05/iiu-not-bound-by-varsity-act-says-aide-in-defence-of-maszlees-appointment/
--------
South Asia
20 killed in twin bombings in Shia area of Afghan capital
Sep 5, 2018
At least 20 people have been killed and nearly 70 others injured in twin bombings inside a sports club in a mainly Shia Muslim area of western Kabul.
Afghan Interior Ministry spokesman Najib Danish said on Wednesday that the first attack was carried out by a bomber in Dasht-e-Barchi, an area where many of the Hazara Muslims live and has frequently been targeted by bombers.
Hashmat Stanikzai, Kabul police spokesman, confirmed the explosion and said the wounded were "being evacuated" from the club.
"Based on initial information (the blast) was caused by a bomber," Stanikzai said.
Mohammad Hanif, a local resident who purportedly witnessed the deadly assault, said on social media that the bomber killed the guards at the club before blowing himself up inside.
Minutes later, a second explosion was reported at the same site, officials said but gave no details.
There was no immediate claim of responsibility for the latest blasts. However, previous attacks on Shia targets in the area have been claimed by the Daesh Takfiri terrorists.
In mid-August, nearly 50 Shia Muslims were killed in a bomb attack in front of an educational center in the same area.
In December last year, a bombing attack on a Shia cultural center and the nearby office of a media outlet in the Afghan capital left at least 40 people dead.
The Hazara Shia community, the poorest of the country's ethnic groups, accounts for about 22 percent of Afghanistan's population. Its members have been targeted in several large-scale kidnappings and killings across Afghanistan in the past, prompting demonstrations and sit-ins in Kabul and elsewhere.
The UN Assistance Mission in Afghanistan (UNAMA) said last year civilian casualties in sectarian attacks across Afghanistan, primarily against Shia mosques, had sharply risen.
The rise of Daesh in Afghanistan has triggered concerns in a country that has already been torn apart by decades of Taliban-led militancy and the 2001 invasion of the United States and its allies.
Daesh, which has been crushed in Iraq and Syria, has reportedly managed to take recruits from Taliban defectors in Afghanistan's eastern province of Nangarhar, which borders Pakistan.
https://www.presstv.com/Detail/2018/09/05/573270/Hazara-Shia-Muslims-Afghanistan-Kabul--DashteBarchi-UN-Daesh
--------
Rohingya protesters call for freedom for Reuters reporters in Myanmar
05 Sep 2018
COX'S BAZAR, Bangladesh: About 50 Rohingya Muslim refugees gathered in a muddy sports field in a camp in Bangladesh on Wednesday to protest against the conviction in Myanmar of two Reuters reporters, who were arrested while covering the plight of their community.
A Myanmar judge on Monday found the two journalists guilty of breaching a law on state secrets and jailed them for seven years, in a landmark case seen as a test of progress towards democracy in the Southeast Asian country.
The two reporters, Wa Lone, 32, and Kyaw Soe Oo, 28, were investigating the killing by the Myanmar security forces of Rohingya villagers at the time of their arrest in December.
The pair had pleaded not guilty.
More than 700,000 stateless Rohingya Muslims fled from the west of mostly Buddhist Myanmar into Bangladesh from August last year when Rohingya insurgent attacks on the Myanmar security forces triggered a sweeping military crackdown.
Abdul Shakur, the father of Rashid Ahmed, one of the 10 men whose deaths at the hands of the Myanmar military were exposed by the Reuters reporters, was among the crowd protesting in a refugee camp in southeast Bangladesh.
"I felt very upset as my sons and other families were innocent and the reporters were innocent," Shakur told Reuters.
"Why were they sentenced?"
The crowd held signs bearing the reporters faces and chanted "Free!"
"I hope that if we all try for them then the government will release," Shakur said.
After the two reporters were arrested, the military confirmed that the massacre they were investigating, of 10 Rohingya in the village of Inn Din in Rakhine State, had taken place and several soldiers were prosecuted and punished.
Though the Myanmar military acknowledged the killings at Inn Din, the government has denied most allegations of atrocities against Rohingya by the security forces.
It says it conducted a legitimate counterinsurgency operation against Muslim militants who started the violence.
Rahama Khatun, the widow of another of the men killed in Inn Din, was also at the protest.
"Our family members have passed away, also these two Buddhists were jailed," she said, clutching a sign that read 'Release Wa Lone and Kyaw Soe Oo'.
Full report at:
https://www.channelnewsasia.com/news/asia/rohingya-protesters-call-for-freedom-for-reuters-reporters-in-myanmar-10687472
--------
Undocumented Bangladesh workers in Malaysia seek PM's intervention
September 5th, 2018
According to the Asian News Network, an estimated 7,000 Bangladeshi workers have been held since January
Thousands of undocumented Bangladeshi migrant workers in Malaysia are calling on Prime Minister Sheikh Hasina to intervene after they were conned out of money while trying to legalize their immigration status in the country.
Malaysian police have been raiding homes and workplaces and arresting illegal foreign nationals since midnight on August 30, when the 3+1 amnesty program for illegal immigrants ended.
Under the program, illegal immigrants were to pay a RM300 fine and RM100 for a special pass that would allow them to return to their respective countries. It followed a June 30 deadline for the rehiring and relocation of foreign workers.
The director general of the Malaysian Immigration Department, Datuk Seri Mustafar Ali, said 30,000 illegals had been detained up to Monday, although he did not specify their nationalities.
"The detentions were the result of more than 10,000 operations carried out nationwide with over 100,000 foreigners examined," Mustafar was quoted as saying by the Malaysian newspaper New Straits Times.
The undocumented migrants are thought to be mostly from Bangladesh, Cambodia, India, Indonesia, Myanmar, Nepal and Philippines.
According to the Asian News Network, an estimated 7,000 Bangladeshi workers have been held since January.
"The undocumented Bangladeshi workers left their places soon after the Malaysian authorities started the operation," Jahangir Alam, a Bangladeshi national who has been working in Kuala Lumpur for over five years, told the Dhaka Tribune.
"Most had applied through the legalization process to stay in Malaysia, but they are yet to be authorized due to getting cheated by agents and sub-agents (who were) appointed by the previous Malaysian government.
"Most of the sub-agents vanished after taking money from the workers, without updating their documents. (Now) the Bangladeshi workers are passing days and nights in hideaways fearing arrest."
Jakir Hossain is another Bangladeshi worker who has been left fearing the worst.
"We are in deep trouble here in Malaysia," he said. "Many of us have come to the country after selling the last piece of asset we had. Our last hope is the immediate intervention from our prime minister, Sheikh Hasina, to solve the crisis."
According to the Bureau of Manpower, Employment and Training in Bangladesh, since 1976 around one million Bangladeshi nationals have left the country to work in Malaysia with the correct immigration clearance.
However, sources in Malaysia said the figure for Bangladeshis could be far higher as many who arrived as students only became undocumented workers later.
Thousands more have travelled to the Southeast Asian country through illegal means, or from being trafficked.
According to an estimate from OvibashiKarmiUnnayan Program (OKUP), a community-based migrant's rights organization, as many as half a million Bangladeshis are in Malaysia as undocumented workers.
OKUP Chairman Shakirul Islam told the Dhaka Tribune that in order to legalize them, the previous Malaysian government appointed six outsourcing companies who later engaged numerous sub-agents to carry out the job.
"The workers don't have any fault in this matter," he said. "Ninety-eight percent of workers have been cheated by the sub-agents. (They) have submitted papers and paid money but the sub-agents did not fulfil their duties.
"The Malay authorities were also responsible for a large number of undocumented immigrant workers in the country despite their 3+1 volunteer program. The (Bangladesh) government should address the issue with the Malaysian government."
Shakirul Islam also sought the intervention of the prime minister.
"If the undocumented workers are forced to come back to the country, there will be immense loss for them," he warned. "They will have to go abroad for work again, selling their assets to the benefit of the recruiting agencies."
Dr Namita Halder, secretary of the Ministry of Expatriate Welfare and Overseas Employment, said the Bangladesh government can take steps if the workers come forward to seek assistance.
"Why are the undocumented workers going to the agents instead of coming to the High Commission (in Kuala Lumpur)? If they go to agents, the trouble will increase," she said.
Dr Halder said the figure of undocumented workers in Malaysia is "very low", as most of them had already returned home.
Full report at:
https://www.dhakatribune.com/bangladesh/migration/2018/09/05/undocumented-bangladesh-workers-in-malaysia-seek-pm-s-intervention
--------
Five JMB men held in Bogra
September 06, 2018
Police claim to have arrested five members including two military wing leaders of outlawed militant outfit Jama'atul Mujahideen Bangladesh in Bogra's Sherpur upazila early yesterday.
The arrestees are identified as Shahidullah alias Masum alias Gopal, 46, Bulbul alias Sohag, 32, Masud Rana, 31, converted Muslim Atikur Rahman alias Saikat and Mizanur Rahman Mizan alias Tailor alias Dorzi Mizan.
Based on information from the Lawful Interception Unit (LIC) of Police Headquarters, detectives arrested the five in Mirzapur Ranirhat Bazar area around 1:30am, said Superintendent of Police of Bogra Md Ali Ashraf Bhuiyan.
The members of Detective Branch of police also recovered one 7.65 pistol, one 9mm pistol, two magazines, 10 rounds of bullets, three sharp Burmese knives and one handcuff.
The police claim Shahidullah is the military and Isaba (operation wing) chief of Rangpur and Rajshahi divisions and Bulbul is the Isaba chief of Rajshahi division, reports our Bogra Correspondent.
Bulbul's name surfaced after four members of mainstream JMB had given confessional statements before a Rajshahi court between March 24 and April 30.
At that time, police claimed Bulbul led a group of 10 people, who were directly involved in robbery to collect funds especially for fighting legal battles and supporting the families of JMB men behind bars.
Even an intelligence report also mentioned Bulbul's name in May that said mainstream JMB men were monitoring a top leader of a faction of Gonojagoron Mancha and sending reports to Bulbul with an aim to kill the leader.
A high official of Bogra police, who has been dealing with militancy, told The Daily Star that Bulbul during primary interrogation admitted his involvement in a robbery attempt in which two bKash staff members were shot in Rajshahi city's Choddopai area on August 10, 2016.
Rabiul Islam, one of the injured, died four days later, the official said requesting anonymity.
A case was filed yesterday against the five arrestees with Sherpur police, who produced them before a Bogra court and sought 10 days remand for each of them. After hearing, Senior Judicial Magistrate Abu Raihan granted three days' remand.
Of the other arrestees, Atikur Rahman graduated from Rajshahi University in journalism and mass communication in 2010, while Masud Rana completed master's in Islamic studies from Rajshahi College in 2013.
The police claim the firearms recovered from the arrestees were delivered by senior leader of mainstream JMB Khorshed Alam alias Master Zia alias Uday (head of the media wing of Bangladesh) in Gazipur.
The law enforcers had intelligence that the alleged members of JMB were coming from Gazipur after holding a secret meeting with Khorshed and his associates Hasan alias Esha and Sadekul Islam alias Omayer about their next plans and activities on Tuesday.
District police chief Ali Ashraf further said primary interrogation revealed the JMB men had collected the firearms to use those in their future operations.
Earlier on October 5 last year, a robbery case was filed against Bulbul, Atikur, Masud and Mizanur with Matihar police in Rajshahi. The Detective Branch of Rajshahi Metropolitan Police has been investigating the case.
Full report at:
https://www.thedailystar.net/news/country/5-jamaatul-mujahideen-bangladesh-jmb-men-held-in-bogra-1629445
--------
ISIS claims deadly bombings in Kabul that left scores dead, wounded
Sep 06 2018
The Islamic State of Iraq and Syria Khurasan (ISIS-K), the offshoot of ISIL terror group in Afghanistan, has claimed responsibility behind the deadly bombings in Kabul that left scores of people dead or wounded.
The group in a statement said the first attack was carried out by a suicide bomber named Sabir al-Khurasani while the second attack was carried out using a vehicle-borne improvised explosive device targeting the gathering of people, including journalists. The group also claims that the attack has left more than 150 people dead or wounded.
Taliban spokesman Zabiullah Mujahid in a statement had earlier said the group has no links with the recent attack in Kabul city, claiming that Taliban strongly condemns attack on ordinary civilians.
The security officials and the Ministry of Public Health say the death toll from the back to back explosions in Dasht Barchi area has reached to at least 21 people.
The first explosion took place at around 6pm local time after a suicide bomber detonated his explosives inside a wrestling club.
The second blast took place almost 40 minutes after people had gathered in the area to help the victims.
Full report at:
https://www.khaama.com/isis-claims-deadly-bombings-in-kabul-that-left-scores-dead-wounded-05908/
--------
Taliban says the group has no links with last evening's attack in Kabul city
Sep 06 2018
The Taliban militants group in Afghanistan has rejected involvement in last evening's coordinated attack in Kabul city that left scores of people dead or wounded.
Taliban spokesman Zabiullah Mujahid in a statement said the group has no links with the recent attack in Kabul city, claiming that Taliban strongly condemns attack on ordinary civilians.
The security officials and the Ministry of Public Health say the death toll from the back to back explosions in Dasht Barchi area has reached to at least 21 people.
The first explosion took place at around 6pm local time after a suicide bomber detonated his explosives inside a wrestling club.
The second blast took place almost 40 minutes after people had gathered in the area to help the victims.
The officials are saying that the two back to back explosions have also left more than 70 people wounded
Full report at:
https://www.khaama.com/taliban-says-the-group-has-no-links-with-last-evenings-attack-in-kabul-city-05907/
--------
Gang of Haqqani Network members involved in destructive activities busted in Kabul
Sep 05 2018
A gang of Haqqani Network members involved in destructive activities and killing of the officials has been busted in capital Kabul.
The Afghan Intelligence, National Directorate of Security (NDS), in a statement said a gang of Haqqani Network consisting of 11 militants was busted during separate operations in Kabul.
The statement further added that the militants were arrested during the operations from the 5th and 12th districts, Paghman and Bagrami districts.
According to the National Directorate of Security, the detained militants were involved in some major terrorist related activities, including attacks on government and security officials, tribal elders, and roadside bombings.
The Afghan forces also confiscated a Ak-47 rifle, a pistol, three kgs of explosives, and a motorycle during the operations, NDS added.
The detained militants have been identified as Momin Khan, Azizullah, Sardar Wali, Hamid, Mustafa, Mir Agha, Mohammad Rasool, Nawab, Lal Agha, Munir, and Ehsanullah.
Full report at:
https://www.khaama.com/gang-of-haqqani-network-members-involved-in-destructive-activities-busted-in-kabul-05905/
--------
Afghan families of terror victims inspire return to education
September 05, 2018
KABUL: The grief had barely subsided when many households, to comply with local tradition, began to prepare elaborate feasts for those who had attended the burial of their loved ones killed in a bomb attack in Kabul.
The carnage — the third of its kind on an educational center and part of a spate of terror attacks across the country in recent months — prompted some families to stop sending their children to study, possibly for good.
Nearly 50 young boys and girls died in a terrorist attack in Dashte Barchi when a suicide bomber detonated explosives in a class packed with students whose future dreams and those of their families were buried with them in a mass grave.
The attack was claimed by Daesh, leading owners of other educational institutions to consider shutting down out of fear of being the terrorists' next target, according to residents of Dashte Barchi, which has taken the brunt of such strikes.
But two families who lost their young daughters became a source of inspiration for the community and for many more in Afghanistan.
Ismail Lali, father of Madina, and Assadullah Rafi, father of Rahila Monji, rejected the tradition of extravagantly feeding "guests" or those who attended the funeral, forming a vanguard to break the social taboo of lavish meals.
Instead they announced that they would allocate the cash set aside to feed guests to help underprivileged students and build a library.
It is considered a dishonor in many Afghan households to fail to serve meals comprising at least two types of dishes to immediate family members and neighbors when a member of the family dies.
Sometimes the number of "guests" reaches several hundred and the family of the deceased, overcome with grief and preparing for the burial, also have to focus on arranging an impressive feast.
This tradition has been going on for generations in Afghanistan.
Lali put aside more than $7,500 for a group of destitute students to study while Rafi declared that he was allocating his money to establish a library named after his daughter.
"We will rise like this from the midst of blood and ash … no one can stop us from education and acquiring knowledge … if you kill one of us, we will at least admit five more in the school … no one can erase us," Lali said in a statement.
Nearly 1,000 books have been contributed to the library, which is being set up on the fourth floor of a mosque in Barchi, Hamidullah Rafi, Monji's brother, told Arab News.
Apart from raising money, more than 100 scholarships were pledged by various universities for poor students who cannot study in private universities, Lali told Arab News.
"We had a message ... to urge the people not to waste money by following unnecessary traditions. Keep Rahila's soul happy by establishing this library, helping a poor family to learn, to help the next generation to acquire education," Rafi said.
"Another message from us to those hostile to education and knowledge was that if you kill Rahila, hundreds of other people will turn to education, you cannot stop us from learning, people will get more inspired."
When news of the fathers' decision spread, the head of one educational institution planning to shut down, fearing a similar attack, told the family that he had changed his decision after being inspired by them.
Some of Monji's classmates who survived the carnage also changed their mind and returned to class, defeating fear, Rafi said.
"They had become extremely frightened and the idea of opening the library and the offer of scores of scholarship basically motivated them to resume their classes," Hamidullah said.
Many lament the rise of attacks in Barchi.
"Once upon a time Barchi was known for immense poverty but now it is famous for education and earning pride for Afghanistan," Rahmatullah Nabil, Afghanistan's former intelligence chief, wrote recently.
Full report at:
http://www.arabnews.com/node/1367351/world
--------
Mideast
Erdogan warns of 'massacre' in Syria's Idlib
September 05, 2018
Turkish President Recep Tayyip Erdogan warned that dropping bombs and missiles on Syria's last rebel-held province of Idlib could cause a "massacre," in remarks published Wednesday.
"God forbid, a serious massacre could take place if there is a rain of missiles there," Erdogan told journalists on his plane after an official visit to the Central Asian state of Kyrgyzstan, Hurriyet daily reported.
His comments come as Syrian troops mass near the northwestern region of Idlib for a major assault that is raising fears of a humanitarian catastrophe on a scale not yet seen in the seven-year-old conflict.
Damascus and its main backer Moscow have vowed to root out the jihadist groups that dominate Idlib province.
Russia, an ally of President Bashar al-Assad's regime, on Tuesday resumed air strikes on Idlib after a 22-day pause.
Turkey, which backs some of the rebels, has held several rounds of talks with Russia aimed at averting an assault on Idlib, as well as with Washington.
"Our cooperation with Russia now is very important. The United States sends the ball into the corner of Russia and Russia into the corner of the US," he said.
Erdogan talked of a "very merciless process" unfolding in Idlib, warning of the risk that heavy fighting would trigger an influx of refugees.
"3.5 million people live there. God forbid, it is again Turkey where those people will flee in case of a disaster," Erdogan said.
Idlib is one of the so-called "de-escalation" zones set up as a result of talks by Russia, Turkey and Iran last year as Damascus regained control of more of the country.
Erdogan as well as the presidents of Iran and Russia will meet on Friday in Tehran for a summit expected to focus on Idlib.
"God willing we will succeed in averting the extreme actions of the regime there by getting a positive result from the Tehran summit," he said.
The UN Security Council is also due to meet Friday to address the situation in Idlib amid growing fears of an attack and the possible use of chemical weapons.
Washington warned Tuesday that if Damascus were to use chemical weapons, it would respond.
https://nation.com.pk/05-Sep-2018/erdogan-warns-of-massacre-in-syrias-idlib
--------
Israeli Intelligence: No knowledge of Trump ordering Assad killed
5 September 2018
Israel's intelligence minister said on Wednesday he had no knowledge of close ally US President Donald Trump ever ordering the killing of Syria's President Bashar al-Assad.
A new book by Watergate reporter Bob Woodward, "Fear: Trump in the White House", says Trump told his defense secretary that he wanted to have Assad assassinated in response to a chemical attack on Syrian civilians in April 2017.
The book said James Mattis, the defense secretary, told Trump he would "get right on it" but instead developed a plan for a limited air strike that did not threaten Assad personally.
Trump tweeted that quotes attributed to Mattis were "made up frauds, a con on the public". Mattis dismissed the book as "a uniquely Washington brand of literature".
"I do not know of any such instruction. He (Trump) is also denying it, by the way," Israeli Intelligence Minister Yisrael Katz told Tel Aviv radio station.
"In any event, what can be said is that in the framework of the coordination between the United States and Israel ... the subject of the Syrian regime is certainly part of the discussions. Israel did not take a decision to topple Assad."
While formally neutral on the 7-year civil war in neighboring Syria, Israel has carried out scores of air strikes against suspected attempts by Assad's Iranian and Lebanese Hezbollah allies to set up permanent posts or advanced arms.
Under decades of Assad family rule, Syria has maintained a Cold War-style hostility toward Israel. Katz said Israel did not see a better alternative to Assad among Syrian rebel groups.
"Of course his (Assad's) actions are terrible actions, and something that we abhor and condemn. Those opposing him, ISIS and others, are not a side that we think are better. We took care to preserve our interests," Katz said.
Woodward gained national fame for his reporting on the Watergate scandal in the 1970s, and has since written a number of books that provide behind-the-scenes glimpses of presidential administrations and other Washington institutions.
Full report at:
https://english.alarabiya.net/en/News/middle-east/2018/09/05/Israeli-Intelligence-No-knowledge-of-Trump-ordering-Assad-killed.html
--------
Iranian DM, Russian Commanders Study Ways for More Effective Fight against Terrorists in Syria
Sep 05, 2018
During the meeting, the Russian army's top field commander in Syria presented a report of the latest developments in the war on the terrorists in the country.
General Hatami, for his part, said that victories in Syria are not yet complete, and noted, "The operations should continue in full coordination and the achievements gained in the military field should be well maintained in other scenes."
He added that the experience gained through cooperation and coordination in Syria should be used as a role model to establish peace and stability in the region and other scenes, saying, "The Astana meeting is one of the successful experiences at the political level to resolve this crisis and we emphasize continuation and strengthening of this process."
In relevant remarks on Tuesday, Russian Foreign Minister Sergei Lavrov stressed that "there is no place for terrorists in Syria, and the Syrian government has every right to seek their liquidation on its territory".
"We are now taking the most active effort, together with our Turkish colleagues, together with the Syrian government, and with the Iranians as participants in the Astana format, to split the armed normal opposition forces from the terrorists 'on the ground'," Lavrov said during his speech at the Moscow State Institute of International Relations (MGIMO).
Full report at:
http://en.farsnews.com/newstext.aspx?nn=13970614000486
--------
Houthis set new conditions in Geneva talks, possibly hindering progress
5 September 2018
Political sources told Al Arabiya English on Wednesday that the Houthi delegation in the Yemen peace talks, being held in Geneva this week, have set new conditions that may possibly hinder negotiations.
It was also reported that it was unlikely the Houthi delegation would arrive on time for talks to begin.
Yemeni Information Minister Muammar al-Eryani earlier said Yemeni President Abdrabbuh Mansour Hadi has directed a delegation at the upcoming Geneva peace talks to prioritize the issue of releasing the body of former president Ali Abdullah Saleh.
Also prioritized will be the release of Saleh's sons from detention, along with the General People's Congress officials, journalists, activists and other detainees.
Eryani said on Twitter that Hadi's directions are an important message that everyone including the General People's Congress must understand as a message which conveys the importance of honest work and efforts to turn the page of the past and head towards the future to restore the state and end the people's suffering.
Full report at:
https://english.alarabiya.net/en/News/middle-east/2018/09/05/Releasing-body-of-Yemen-s-Saleh-to-be-prioritized-at-Geneva-peace-talks-.html
--------
Israeli court upholds order to raze Palestinian village
Sep 5, 2018
Israel's supreme court has upheld an order to destroy a Palestinian Bedouin village in the Israeli-occupied West Bank, despite strong international appeal against the move.
In upholding the order on Wednesday, the court also rejected a petition filed by residents of the Bedouin village of Khan al-Ahmar.
"We reject the petitions" against the directive to demolish Khan al-Ahmar, the Supreme Court panel said in its ruling, adding that a temporary order preventing the razing of the village during court hearings "will be canceled within seven days from today," AFP reported.
For around nine years, various tribunals had been hearing various cases against the destruction of the village.
Palestinians were forced to build Khan al-Ahmar out of sticks and stones in the face of Israel's refusal to issue building permits across much of the occupied territory. The Israeli officials call the constructions "illegal."
In July, the European Union and the United Nations each demanded that Tel Aviv refrain from going ahead with the demolition of Khan al-Ahmar.
Israel's minister for military affairs Avigdor Liberman hailed the court's decision, calling it a move in the face of "the coordinated hypocrisy attack by Abu Mazen (Palestinian President Mahmoud Abbas), the left, and European states."
Israel closes Gaza crossing
In separate news, the Israeli military said it was closing the Erez Crossing, which is the Gaza Strip's sole crossing meant for people to travel to and from the blockaded enclave, just 10 days after it had reopened it.
It claimed "a violent riot" at the site had prompted the decision to close it.
By riots, it was referring to a protest by a group of Palestinians who had gathered at the site to condemn an earlier US decision to cut all of its funding to the UN agency for Palestinian refugees.
Full report at:
https://www.presstv.com/Detail/2018/09/05/573240/Israel-Palestinian-Bedouin-village-Khan-alAhmar
--------
Saudi prevents Houthis from attending Geneva talks
Sep 5, 2018
Yemen's Houthi Ansarullah movement says the Saudi regime, which imposes restrictions on Yemen's airspace, has banned its delegation from flying to attend peace talks brokered by the United Nations in Geneva.
According to Yemen's al-Masirah television network, the UN could not "secure authorization" from the Saudi-led coalition.
The office of the UN special envoy for Yemen did not respond to media request for comment.
Representatives from Yemen's running government, which is allied to the popular Houthi movement, and the country's former regime, backed by Saudi Arabia, are to participate in the talks in the Swiss city on Thursday.
Martin Griffiths, the UN special envoy, will be supervising the talks and is likely to shuttle between the two sides as face-to-face meetings between them are unlikely.
Speaking at a press conference Wednesday on the eve of the talks, Griffiths said the upcoming "consultations" between the conflicting parties in Geneva offered a "flickering signal of hope."
"The people of Yemen ... are desperately in need of a signal of hope. We would like to think that the work we will do together in these next days will begin to send a flickering signal of hope to them."
The UN official also said the talks would begin by trying to build trust between the two parties and substance will come later.
The former Yemeni government resigned in 2015 as the country was experiencing political turmoil.
The head of that government, Abd Rabbuh Mansur Hadi, fled to Riyadh after resignation. There, he encouraged Saudi plans to launch attacks on Yemen, where the Houthi movement had taken over state matters in the absence of a functioning government.
A Saudi-backed coalition soon invaded Yemen in an attempt to reinstall the former Riyadh-friendly officials to power despite their resignation.
Thousands have been killed in the Saudi-led invasion, and the country has been pushed close to the edge of famine. A cholera outbreak, resulting from the devastation of Yemen's health infrastructure, has also claimed more than 2,000 lives.
Police injure 8 protesters in Hadi-held areas in southern Yemen
In a separate development, police on Wednesday shot and injured eight people who took part in protests in southern Yemen, which is largely controlled by pro-Hadi militants, against the rising cost of living, according to eyewitnesses and a security official.
Hundreds of people were protested in Mukalla, the provincial capital of Hadramawt, tearing down pictures of officials in the Saudi-led coalition, eyewitnesses said.
Clashes reportedly erupted between the demonstrators and the security forces.
A security official in Hadramawt said eight people were injured by police.
Full report at:
https://www.presstv.com/Detail/2018/09/05/573289/Saudi-Houthis-Geneva-talks
--------
1000s of protesters in Sa'ada condemn Saudi slaughter of Yemeni children
Sep 5, 2018
Thousands of Yemenis poured into the streets of Sa'ada in the country's northwest to censure the Saudi-led coalition's August attack on a bus carrying Yemeni students, calling on the international community to prosecute the Riyadh regime for its deadly campaign against the impoverished country.
On Wednesday, demonstrators held huge pictures of some of the children killed in the airstrike that claimed the lives of 51 Yemenis, mostly children.
Abdel Salam al-Seliehy, a Houthi Ansarullah official, told the huge crowd of protesters that the UN Security Council and the International Court of Justice must "prove their humanity" by prosecuting those behind the deadly attack.
He also called for legal action against those selling arms to the coalition, which has waged a devastating war on Yemen since March 2015 in a bid to restore power to the former Yemeni president, Abdrabbuh Mansur Hadi, a close ally of Saudi Arabia.
All the countries exporting weapons to the coalition are "directly involved in the bloodshed against children and women" in Yemen, said the Ansarullah official, adding that those countries "will be haunted by the shame of this crime and will not escape a legal action."
During the past few weeks, the Al Saud regime has been globally criticized, even by its closest allies, for its airstrike on the school bus.
In the most recent reaction, the Spanish Defense Ministry cancelled a €9.2-million deal to sell Saudis 400 precision bombs amid fears that they could be used against targets similar to the August tragedy.
The protest rallies in Sa'ada were held a day before the beginning of a fresh round of UN-brokered peace talks due to be held in the Swiss city of Geneva. The talks will be aimed at getting the former government of Yemen and the Houthi Ansarullah movement to "work toward halting the fighting, removing foreign forces, and establishing a unity government."
However, the UN's efforts are being hampered by the Saudi regime as it has banned the Houthis, a key side of the conflict, from attending the meeting.
Yemen's Al-Masirah television network reported on Wednesday that the UN has so far failed to "secure authorization" from the Saudi-led coalition, which imposes restrictions on Yemen's airspace.
Full report at:
https://www.presstv.com/Detail/2018/09/05/573291/Protest-Saudi-Saada-yemen
--------
Coalition suggests possible civilian casualties in Aug. 23 anti-Houthi strike
September 06, 2018
JEDDAH: The coalition supporting Yemen's legitimate government said Wednesday that it has passed on for assessment its review suggesting possible civilian casualties in an Aug. 23 strike targeting terrorists in Hodeidah.
"There might have been collateral damage and civilian casualties" in the Aug. 23 incident, which was targeting members of the terrorist Iranian-Houthi militia in Durayhimi directorate, coalition spokesman Col. Turki Al-Malki said in a statement carried by the Saudi Press Agency (SPA).
"All documents relating to this incident have been handed over to Joint Incidents Assessment Team (JIAT) pending assessment and announcement of results," Al-Malki said.
The official spokesman reaffirmed the commitment of the coalition in applying the highest standards of targeting, the SPA report said.
Earlier, the JIAT called for a review of the rules of engagement by the coalition as it concluded that dozens of civilians, some of them children, were killed in an anti-Houthi strike on a bus in Saada, Yemen on Aug. 9
Mansour Ahmed Al-Mansour, JIAT legal adviser, said the strike had been based on intelligence indicating that the bus was carrying Houthi leaders, a legitimate military target, but the mission went awry due to delays in execution of the strike and failure to receive a no-strike order.
A report by the International Committee for the Red Cross on the Aug. 9 incident said at least 29 children were killed and dozens more injured when the bus was hit in Dahyan area in Saada province.
The coalition apologized for the failed strike, promised to review its rules of engagement, hold those at fault accountable and compensate the victims.
Full report at:
http://www.arabnews.com/node/1367526/saudi-arabia
--------
Yemen government demands Houthis release slain Saleh's body
September 05, 2018
JEDDAH: Yemen's government will demand the release of the body of former President Ali Abdullah Saleh, killed by Houthi militias last year, at upcoming peace talks in Geneva, Yemen's Information Minister Moammer Al-Eryan said on Wednesday.
Saleh, for decades the most powerful politician in troubled Yemen, was killed by Iran-backed Houthis in December.
President Abed Rabbo Mansour Hadi will demand the militias release Saleh's body via a government delegation at the UN-sponsored talks in Geneva, which open Thursday, said Al-Eryan. "This is an important message that all within (Saleh's) General People's Congress should take into consideration to turn the page of the past and move forward toward the future to restore the state," he tweeted.
Eryan said the government will also demand the release of Saleh's sons, believed to be detained by the Houthis.
According to one of his relatives, Saleh was buried in his village outside of Sanaa in a funeral attended by 20 people under the strict watch of the Houthis.
Meanwhile, the UN envoy for Yemen said Wednesday that "consultations" in Geneva between the warring parties offered a "flickering signal of hope" after years of conflict.
"The people of Yemen ... are desperately in need of a signal of hope. We would like to think that the work we will do together in these next days will begin to send a flickering signal of hope to them," UN envoy Martin Griffiths said.
That meeting is expected to take place in a Geneva hotel, as are any other meetings that might happen on Thursday.
"So we are not going to waste time, and we are looking forward to getting our friends from Sanaa here and participating fully in the consultations."
Griffiths emphasized that the Geneva talks were "not formal negotiations," but said they aimed to pave the way towards bringing the parties back to the negotiating table.
The talks also seek to put in place a range of so-called confidence-building measures, which could prisoner swaps and the vaccination of children, he said.
Full report at:
http://www.arabnews.com/node/1367286/middle-east
--------
Europe
Pro-Palestine groups condemn UK Labour Party's anti-Semitism vote
Sep 5, 2018
Pro-Palestinian groups across the United Kingdom have expressed concern and outrage over the opposition Labour Party's decision to fully adopt a Zionist-backed definition of anti-Semitism.
The groups say the decision could outlaw free speech on Israel and Palestine, as well as lead to the expulsion of hundreds of pro-Palestine activists from Labour.
On Tuesday, Labour's ruling body, the National Executive Committee (NEC), held a debate on the definition which says calling Israel "racist" could be anti-Semitic. Hundreds of pro-Palestine Labour members came out to protest against the move to adopt the multi-national definition, known as IHRA code, urging the NEC not to accept it.
The Scottish Palestine Solidarity Campaign released a statement following the NEC meeting, elaborating on the racist nature of the Israeli regime due to its crimes against the Palestinians.
"Israel is the fruit of violent conquest by European colonists who, like the British and Spaniards before them, believed they had a God-given right to pillage, displace or dominate all militarily weaker peoples" read the statement.
There has been months of bitter infighting within the Labour Party on this issue which has pitted pro-Palestinian factions which claim Zionism is a racist ideology against pro-Israel forces who claim critics of Israel are anti-Semites and racists.
The Muslim Public Affairs Committee also condemned Labour's decision, saying the adoption of the anti-Semitism definition was a short victory for opponents of party leader Jeremy Corbyn.
"By our assessment, despite the fact this is a big setback for the Palestinian movement, it will be a short-lived victory for the Zionist lobby and their Blairite allies, who are willing to do anything to dislodge Corbyn," said the Committee.
The Islamic Human Rights Commission said it "deplores" NE's decision to adopt the multi-national code on anti-Semitism with all its 11 examples, saying it came because of pressure from Zionist groups.
"The definition deliberately conflates anti-Zionism with anti-Semitism and is nothing but a back-door attempt to shield the Israeli state from criticism and prevent the Palestinians and their supporters from realizing their legitimate goals," it said.
During its Tuesday meeting, Labour's NEC also emphasized the need for free expression on Israel and the rights of Palestinians.
The Jewish Voice for Labour group, which organized the protest outside Labour's London headquarters, said it will continue to challenge Israeli actions against the Palestinians.
"One thing that is clear is that the struggle is not over," said the pro-Palestine group.
https://www.presstv.com/Detail/2018/09/05/573280/UK-Labour-antiSemitism-code-outrage
--------
Germany urges Russia to avert regime attack on Idlib
05.09.2018
Germany called on Russia on Wednesday to use its influence on the Syrian regime to avert a large-scale military offensive on Idlib, the last opposition stronghold.
"We expect from Russia to deter a military escalation by the Syrian regime and in doing so prevent a humanitarian catastrophe," the government's deputy spokeswoman told a news conference in Berlin.
Ulrike Demmer said Berlin was closely following the talks between Turkey, Russia and Iran.
"It is important to reach an understanding between Russia and Turkey, therefore we hope that the meeting between Russia, Turkey and Iran on Friday, as part of the Astana process, would contribute to a peaceful solution," she said.
Demmer also underlined that an unhindered humanitarian access to the civilian populated areas of Idlib should be ensured.
Located near the Turkish border, Idlib province is home to more than 3 million Syrians, many of whom fled from other cities following attacks by regime forces.
The Syrian regime has recently announced plans to launch a major military offensive to the area, which is controlled by various armed opposition groups.
On Tuesday, the UN's humanitarian chief Mark Lowcock warned that such an offensive would lead to the "worst humanitarian catastrophe in the 21st century".
Full report at:
https://www.aa.com.tr/en/europe/germany-urges-russia-to-avert-regime-attack-on-idlib-/1247096
--------
Muslim worship centre 'did not properly consult members' over sell-off plans
Sep 6, 2018
An east London worship centre for Shia Muslims failed to properly consult members about plans to sell its premises in order to move into a new building four miles away, the Charity Commission has found.
A case report published by the regulator today says the commission was contacted by people concerned about Imamia Mission London's proposal to sell its building in Newham, where it has been since 1985, and relocate to Ilford.
Demonstrators protested outside the commission's London office and handed in a petition against the move, but trustees argued there were safety concerns about the Newham building and it was too small for current use, according to the commission's report.
The report says protesters alleged that there had been financial irregularity in the sale of the property, which could be worth more than £1.3m, and the trustees would be making a personal gain. It adds that concerns were also raised about how the charity runs its elections and restrictions on membership.
The commission found no evidence of financial irregularity or that the trustees would benefit from the sale. The report says it did not have any concerns about elections.
But it says the charity had not adequately taken members' views into account.
"The trustees had clearly failed to properly communicate and consult with members of the charity or beneficiaries about the relocation," the report says.
"Attempts to inform the community, such as notices after Friday prayers, were insufficient, thereby exposing the charity to the possibility of reputational damage."
The report says the commission would have expected the trustees to consider the impact of the move on members, but there had been "a concerning lack of evidence of proper planning" and trustees had failed to produce a proper business plan for the proposed move.
The regulator says it did not find anything that would prevent the charity from selling the building, but trustees should make sure that any beneficiaries who will struggle to travel to the new mosque are catered for, for example by providing transport.
It says it agreed with trustees that any surplus proceeds from the sale should be used to redevelop the new property.
"We will be closely monitoring compliance with the advice and guidance given," the report says. "Any further disputes that arise due to a failure to comply with trustee duties may result in more serious regulatory action."
A spokesman for the charity told Third Sector: "We do not accept that members were not sufficiently informed.
"Members and other visitors to the charity were fully aware of the proposal of relocation for many years and were invited to give ideas and recommendations of any suitable premises."
He said that Stephen Timms, the Labour MP for East Ham, and a Newham Council planning officer had addressed a large crowd of members and guests at the premises to explain its unsuitability and the need to relocate.
"It is unfair to suggest the committee did not consider the beneficiaries as a factor," he said. The committee decision was based solely on their benefit, in particular the disabled and elderly, women and children, who had next to no facilities in the old premises," he said.
Full report at:
https://www.thirdsector.co.uk/muslim-worship-centre-did-not-properly-consult-members-sell-off-plans/governance/article/1491981
--------
UK Committed To Build Afghanistan as A Strong Security Partner: Gavin Williamson
September 05, 2018
Defence Secretary of the United Kingdom, the Rt Hon Gavin Williamson CBE MP has said that his country would remain absolutely committed to building an Afghanistan that was strong security partner for the decade to come.
He stated this while meeting the UK troops at the New Kabul Compound the other day.
A UK government statement issued here said that 100 Welsh Guards (UK troops) arrived in Kabul last week. They travelled with the Defence Secretary Gavin Williamson who was in Afghanistan for a three-day visit.
The 100 troops are the first group of the additional 440 troops, the Prime Minister committed to NATO's capacity building mission in Afghanistan at the NATO Summit in July.
"The UK plays a leading role in NATO, and this troop uplift will make the UK the third largest contributor to Afghanistan with around 1,100 personnel", the statement said.
The Defence Secretary said "We remain absolutely committed to building an Afghanistan that is a strong security partner for decades to come. A secure and stable Afghanistan helps keep the streets of the UK safe".
He said, "The uplift of UK personnel not only underlines our commitment to Afghanistan and regional security but also to the Alliance that has been the cornerstone of our defence for 70 years."
Thousands of our personnel stand shoulder-to-shoulder with NATO allies around the world. Those here in Afghanistan are just one example of Global Britain in action".
The additional troops would bolster the UK's existing contribution to the UK-led Kabul Security Force (KSF), which plays a critical role in enabling NATO advisors in the city to undertake the engagement with the Afghan Government.
"They will also continue to mentor the Afghan National Defence and Security Forces who are responsible for security in the capital", he remarked.
The UK Defence Secretary also travelled to Mazar-e-Sharif where, alongside the German Armed Forces, UK personnel were supporting the expansion of the Afghan Special Police.
The force has recently illustrated its increased capability in responding to the Inter-Continental Hotel and Kabul Military Academy attacks. He also met around 40 UK advisors who have been based in the north of the country since January 2018.
Full report at:
https://nation.com.pk/05-Sep-2018/uk-committed-to-build-afghanistan-as-a-strong-security-partner-gavin-williamson
--------
Turkey follows generous policy for Syrians: Dutch min.
05.09.2018
The Netherlands' foreign trade and development cooperation minister on Wednesday hailed Turkey's "generous policy" in protection of Syrians.
"Turkey carries out a generous policy in protection of Syrians in the country," Sigrid Kaag said in a written statement.
Kaag added that Turkey contributed largely in reduction of the number of irregular migrants, as well as the drowning cases in the sea.
She made her remarks upon a parliamentary question by Dutch lawmakers on the deal between Turkey and the EU in March 2016, which aims to stem the irregular migration flow through the Aegean Sea by taking stricter measures against human traffickers and improving conditions for over 3 million Syrians in Turkey.
Kaag said the EU Facility for Refugees in Turkey (FRIT) provided many Syrian children with education, and ensured livelihood of Syrian families in Turkey.
"That Syrians consciously choose to stay in Turkey instead of the EU proves that the condition in Turkey is good for Syrians," she stated.
According to UNCHR figures, the number of Syrians residing in Turkey has risen to 3.5 million in August, which stood at 3.4 million at the beginning of the year, Kaag said.
"Apart from this, Turkey takes other migrant groups and vulnerable people under protection, as well," she said, adding that the number was 2.7 million in 2015 and it rose to 3.7 million in 2018.
"According to these figures, we need to continue supporting Turkey through FRIT," she said.
Full report at:
https://www.aa.com.tr/en/europe/turkey-follows-generous-policy-for-syrians-dutch-min/1247115
--------
Germany wants to improve ties with Turkey: FM Maas
05.09.2018
BERLIN
Germany wants to improve relations with Turkey and enhance cooperation on issues of common interest, Foreign Minister Heiko Maas said ahead of his talks in Ankara.
"Germany has a strategic interest in reshaping our relations with Turkey in a constructive way. Turkey is not only a big neighbor of us but also an important partner of Germany," he said in a statement.
Maas is scheduled to meet his Turkish counterpart Mevlut Cavusoglu and other senior officials on Wednesday in the capital Ankara.
Over the past two years, political relations between Ankara and Berlin have suffered setbacks, but in recent months both sides have taken steps towards improving ties.
Germany's top diplomat said, during his talks in Ankara, he would also raise the issue of several German citizens, who were arrested in Turkey as part of counter-terrorism investigations.
Turkish government has repeatedly ruled out any political influence on the judiciary and also advised German politicians to wait for the decisions of the courts.
A senior official, who spoke on condition of anonymity, said all those concerned were German citizens with Turkish migrant background and they were arrested on charges of providing support to a terrorist organization, in most of the cases to the Fetullah Terrorist Organization (FETO).
High-level talks
On Wednesday, Maas is also expected to be received by President Recep Tayyip Erdogan and Parliament Speaker Binali Yildirim in Ankara.
Following his high-level talks in the capital, Maas is scheduled to visit Istanbul on Thursday, where he will attend a celebration together with Cavusoglu to mark the 150th anniversary of the German School of Istanbul.
Maas' two-day trip to Turkey comes ahead of Erdogan's key visit to Berlin on Sept. 28-29.
EU heavyweight Germany remains Turkey's main economic and trade partner, despite political disagreements between the two governments on a number of issues.
Berlin's reluctance to take serious measures against terrorist groups such as the PKK and FETO has long been a source of tension between the two countries.
Full report at:
https://www.aa.com.tr/en/europe/germany-wants-to-improve-ties-with-turkey-fm-maas-/1246815
--------
Russia says airstrikes hit terrorists not populated areas in Syria's Idlib
Sep 5, 2018
The Russian Defense Ministry says its fighter jets have bombed the positions of foreign-sponsored Takfiri terrorists in Syria's militant-held northwestern province of Idlib, as Syrian government troops and allied fighters are preparing for a ground operation to liberate the territory.
The ministry, in a statement released on Wednesday, announced that the aerial attack had only pounded members of the Jabhat Fateh al-Sham Takfiri terrorist group, formerly known as al-Nusra Front, dismissing allegations that it had struck populated areas. The statement further noted that the planes involved in the airstrikes had taken off from the Russian-run Hmeimim air base in Syria's western coastal province of Latakia.
The so-called Syrian Observatory for Human Rights reported on Tuesday that Russian military aircraft had battered Idlib for the first time in three weeks.
"Russian warplanes resumed bombing Idlib province after a 22-day pause," Rami Abdel Rahman, who heads the Britain-based monitor group, said.
He added that the aerial attacks came a day after militants in Idlib hit Syrian army positions in neighboring Latakia province, which killed three pro-government fighters.
Syria has been gripped by foreign-backed militancy since March 2011. The Syrian government says the Israeli regime and its Western and regional allies are aiding Takfiri terrorist groups wreaking havoc in the country.
Syrian army troopers, backed by allied fighters from popular defense groups, have recently made major territorial gains in battles against Daesh and other foreign-sponsored Takfiri terrorist groups, almost capturing the entire southern part of the country after securing the capital Damascus and other key areas.
The major militant stronghold remains in Idlib province, where government forces are preparing to launch a full-scale military offensive.
Takfiri militants are also in control of some areas of the western-central province of Hama, and are holding some desert regions near the border with Turkey.
Full report at:
https://www.presstv.com/Detail/2018/09/05/573251/Russia-confirms-its-fighter-jets-struck-terrorist-positions-in-Syrias-Idlib
--------
India
Pakistan seeks US help to ease tensions with India
Sep 5, 2018
ISLAMABAD: Pakistan on Wednesday sought US help to ease tensions with India, saying it wanted peace on the eastern border in order to concentrate on the Western border with Afghanistan.
"We want ease on the eastern border if we have to look towards the western side," foreign minister Shah Mahmood Qureshi told reporters while briefing them on the outcome of his talks with US secretary of state Mike Pompeo.
Stating that people suffer due to ceasefire violations along the Line of Control, he said, it was "important that we should look at it and see how we can improve that who can help us to bring the improvement (on eastern border)."
He reiterated that Pakistan wanted peace with all its neighbours and had never shied away from negotiations, but "we need two hands to clap."
Pakistan's neighbours, including India and Afghanistan, often accuse Islamabad of providing safe havens to militants to conduct cross border attacks.
Qureshi said the LoC ceasefire was a very good confidence building measure but when it gets violated, people suffer.
The India-Pakistan ties nose-dived in recent years with no bilateral talks taking place. The ties between the two countries had strained after the terror attacks by Pakistan-based groups in 2016.
India has made it clear to Pakistan that terror and talks cannot go together.
Qureshi said that the visiting US delegation indicated to have direct talks with the Afghan Taliban and Pakistan offered its full support for a negotiated solution of the Afghan issue.
"Pompeo said the State Department will lead the peace effort in Afghanistan. The impression we get is that there is space for (US) direct talks with the Taliban," he said.
He said Pompeo assured that the US did not want to keep its foot print for unlimited period in Afghanistan, though there was no timeline for America to pullout from the strife-torn country.
"US wants that Pakistan should help to move forward the talks. And we will do and we have offered full support as it is according to our policy. We want peace (in Afghanistan)," he said.
https://timesofindia.indiatimes.com/india/pakistan-seeks-us-help-to-ease-tensions-with-india/articleshow/65691361.cms
--------
If Pak stops terrorism, we will also 'be like Neeraj Chopra': Army Chief
Sep 5, 2018
NEW DELHI: If Pakistan stops terrorism, the Army would also "be like Neeraj Chopra", Army Chief General Bipin Rawat said Wednesday, referring to the Asian Games javelin gold medallist's gesture of reaching out to his Pakistani competitor.
Rawat, while speaking at an event to felicitate Asian Games medallists from the Army, also said the situation in Kashmir improved in 2017 as
compared to the year before and in 2018, it was improving further.
Asked if there was any "sportsmanship" on display at the Indo-Pak border, Rawat said, "They should make the first move, they should stop terrorism.
If they stop terrorism, we will also be like Neeraj Chopra."
It was quite a moment at the Asian Games when Chopra stood flanked by a Chinese and a Pakistani on the podium.
The picture of Chopra shaking hands with Pakistan's Arshad Nadeem, who won bronze, on the podium went viral on social media.
Rawat said that contrary to the figures that keep coming up in the media that terrorism was rising, local youngsters getting radicalised and taking up arms were getting killed by the security forces or arrested or surrendering in 1-2 months.
"This action (by the security forces) will continue, but I can say with confidence that among youngsters and their families there is a belief that this is not the right path.
Full report at:
https://timesofindia.indiatimes.com/india/if-pak-stops-terrorism-we-will-also-be-like-neeraj-chopra-army-chief/articleshow/65691186.cms
--------
2+2 dialogue: Mike Pompeo arrives for talks after pushing Pakistan on terror
by Shubhajit Roy
September 6, 2018
Keeping with the commitment to New Delhi, the visiting US Secretary of State Michael R Pompeo on Wednesday conveyed to Pakistan's civilian and military leadership that they need to take "sustained and decisive measures against terrorists and militants threatening regional peace and stability". This has set the stage for the 2+2 dialogue between Indian and US Foreign and Defence ministers on Thursday, where counter-terrorism is going to be one of the major issues for discussion.
As reported by The Indian Express on Wednesday, ahead of the first India-US 2+2 dialogue, Washington had conveyed to Delhi that it is going to "call out Pakistan" for not doing enough against terrorist groups operating out of its soil, and press it for doing more against terrorist groups.
Pompeo on Wednesday met Pakistan's newly-elected Prime Minister Imran Khan, Army chief General Qamar Javed Bajwa and Foreign Minister Shah Mahmood Qureshi. US State Department spokesperson Heather Nauert said, "In all of his meetings, Secretary Pompeo emphasised the important role Pakistan could play in bringing about a negotiated peace in Afghanistan, and conveyed the need for Pakistan to take sustained and decisive measures against terrorists and militants threatening regional peace and stability."
Responding to questions in Islamabad, before heading to Delhi, on whether the US warned of increased sanctions against certain Pakistani individuals, Pompeo told reporters, "We made clear to them that — and they agreed. It's time for us to begin to deliver on our joint commitments, right."
During his meeting with General Qamar Bajwa, Pompeo "welcomed the smooth transition of power to a new civilian government, stressing the importance of strong democratic institutions".
Full report at:
https://indianexpress.com/article/india/22-dialogue-mike-pompeo-arrives-for-talks-after-pushing-pakistan-on-terror-5342098/
--------
Terror-funding: ED moves court for questioning jailed UAE-based businessman in money laundering case
September 5, 2018
The Enforcement Directorate Wednesday moved a Delhi court seeking permission to question a UAE-based businessman, arrested by the NIA and currently in judicial custody here in a terror-funding case also involving Lashkar-e-Taiba (LeT) chief and 26/11 Mumbai attack mastermind Hafiz Saeed.
In an application filed before District Judge Poonam A Bamba, the ED said that United Arab Emirates businessmen Naval Kishore Kapoor was required for interrogation and recording of his statement in a money laundering case, being probed by the ED in relation to the present matter.
The NIA had arrested Kapoor on July 26 and he is presently lodged in Tihar central jail. The court has put up the application, filed by ED's special public prosecutor Nitesh Rana, for hearing tomorrow.
The ED had earlier interrogated a Kashmiri businessman Zahoor Watali, a co-accused in the case, in an investigation in the present matter under the provisions of the Foreign Exchange Management Act (FEMA) against him for allegedly receiving funds from abroad.
In Wednesday's application moved through advocate A R Aditya, the ED told the court that "Watali had mobilised huge amount of funds in the guise of foreign remittance from unknown sources in India through/in association with one of his old associates Kapoor."
"It is crucial to record the statement of the accused as the money laundering case is being investigated," it said.
According to the NIA, Kapoor entered in an agreement with Trison Farms and Constructions through its Managing Director Watali to take land in Budgam on lease.
Kapoor remitted a total amount of Rs 5.579 crore in 22 instalments between 2013 and 2016 to Watali, it had said.
According to the NIA, the said land did not exist in the name of the company and the agreement lacks legal sanctity. The agency alleged that it was a 'cover' created by Watali to bring foreign remittance from unknown sources to India.
Watali, Saeed, Hizbul Mujahideen chief Syed Salahuddin and others have been accused by the NIA of "conspiring to wage war against the government" and fomenting trouble in the Kashmir Valley.
In its charge sheet, the NIA has alleged that officials of the Pakistan High Commission here were passing on money to separatists in Jammu and Kashmir through Watali. The separatist leaders have been accused of taking a cut of the money.
Saeed has been accused of using Watali's services for passing on the money to the separatists and some individuals, who were actively indulging in stone-pelting in the Valley.
The NIA has charged Pakistan-based terrorists Saeed and Salahuddin, besides 10 others, with criminal conspiracy, sedition and provisions of the UAPA.
Besides Saeed, Salahuddin and Watali, the agency has named hardline separatist leader Syed Ali Shah Geelani's son-in-law Altaf Shah alias Altaf Fantoosh and Bashir Ahmad Bhat in the charge sheet.
Hurriyat Conference leaders Nayeem Ahmad Khan, Farooq Ahmad Dar alias Bitta Karate, Mohammad Akbar Khanday and Raja Mehrajuddin Kalwal have also been charged by the agency in the terror-funding case.
Most of the accused are currently in the judicial custody.
Two of the accused — freelance photo-journalist Kamran Yusuf and Javed Ahmad Bhat — both accused of stone-pelting, were earlier granted bail by the court.
Full report at:
https://indianexpress.com/article/india/terror-funding-ed-uae-businessman-money-laundering-hafiz-saeed-mumbai-attack-5341837/
--------
Pakistan summons Indian envoy over 'ceasefire violations'
Sep 05, 2018
Pakistan on Wednesday summoned India's Deputy High Commissioner to protest the "unprovoked ceasefire violations" across the Line of Control by the Indian forces that resulted in the death of a Pakistani villager.
Director General (South Asia and SAARC) Mohammad Faisal, who is also the foreign ministry spokesman, summoned the Indian diplomat and "condemned the unprovoked ceasefire violations by the Indian forces along the Line of Control on September 4," the Foreign Office (FO) said in a statement.
The firing in the Kotkotera Sector along the LoC resulted in the death of the civilian on Tuesday, it said.
The FO alleged that the Indian forces have carried out more than 2,000 ceasefire violations along the Line of Control and the Working Boundary, resulting in the death of 32 innocent civilians, while injuring 122 others.
"This unprecedented escalation in ceasefire violations by India is continuing from year 2017 when the Indian forces committed 1970 ceasefire violations," it alleged.
"The deliberate targeting of civilian population areas is indeed deplorable and contrary to human dignity and international human rights and humanitarian laws. The ceasefire violations by India are a threat to regional peace and security and may lead to a strategic miscalculation," the statement said.
Faisal urged the Indian side to respect the 2003 Ceasefire arrangement; investigate this and other incidents of ceasefire violations; respect the ceasefire and maintain peace on the LoC.
He also urged the Indian side to allow the UN Military Observer Group in India and Pakistan (UNMOGIP) to play its mandated role as per the UN Security Council resolutions.
Full report at:
https://www.hindustantimes.com/india-news/pakistan-summons-indian-envoy-over-ceasefire-violations/story-O6ykPkEewFHRYTc35cKHGJ.html
--------
URL: https://www.newageislam.com/islamic-world-news/saudi-eeks-death-penalty-muslim/d/116303
New Age Islam, Islam Online, Islamic Website, African Muslim News, Arab World News, South Asia News, Indian Muslim News, World Muslim News, Women in Islam, Islamic Feminism, Arab Women, Women In Arab, Islamophobia in America, Muslim Women in West, Islam Women and Feminism