New Age Islam News Bureau
24 Jun 2017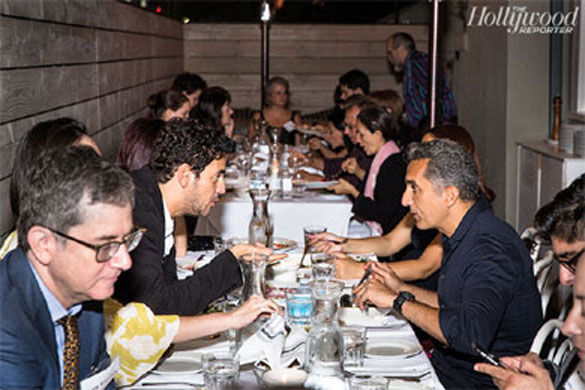 From left: Daniels, Naga (who recently moved his family from Egypt to L.A.) and Youssef at the WGF/MOST iftar. Photographed by Gizelle Hernandez
----
• Saudi Security Foils Terror Plot Targeting Mecca Grand Mosque and Pilgrims
• Egypt's Christian and Muslim Communities Share Ramadan Meals
• Singapore: Early Counselling By Muslim Scholars Turned Two Teenage Boys Away From Radicalism
• Death Toll from Pakistan Attacks Crosses 70, Several Others in Critical Condition
• Lucknow-Kanpur IS Module: 'Leader Ran Online Portals, Was Popular Among Radicals'On
• Majority of Terrorists Who Have Attacked America Are Not Muslim, New Study Finds
Arab World
• Saudi Security Foils Terror Plot Targeting Mecca Grand Mosque and Pilgrims
• Egypt's Christian and Muslim Communities Share Ramadan Meals
• If Baghdadi Is Dead, Next IS Leader Likely To Be Saddam-Era Officer
• Daesh bomb blast kills at least 12 civilians in Iraq's Mosul
• Five arrested after Saudi security forces foil attack on Grand Mosque in Mecca
• Worshipers continue their prayers at Mecca's Grand Mosque safely
• Saudi security forces kill most wanted militant in Mecca
• UAE: Attack attempt in Saudi bolsters our will to eliminate terrorism
• Saudi Crown Prince to Al-Azhar Sheikh: Muslims count on their institutes
• Russian warships fire cruise missiles at IS targets in Syria
• Syrian Army Fends Off Terrorists' Attacks in Northern Homs
• Syrian Air Force Strikes ISIL's Military Positions in Deir Ezzur
• Syrian Army Recaptures More Regions in Homs Province
--------
Southeast Asia
• Singapore: Early Counselling By Muslim Scholars Turned Two Teenage Boys Away From Radicalism
• Hadi: Islam Rejects 'Foreign Intervention' To Solve Internal Problems
• Australia to send spy planes to help Philippines fight militants
• Najib calls on Muslims to foster peace, unity
• Report: IS wants Malaysia's anti-terror chief 'terminated'
• Lego condemns bootleg IS toys sold in Malaysia
--------
Pakistan
• Death Toll from Pakistan Attacks Crosses 70, Several Others in Critical Condition
• Multiple Attacks on Eid Shoppers, Cops Stun Nation
• Recent terror attacks linked to sanctuaries across border: ISPR
• 13 killed in suicide attack on Quetta's Gulistan Road
• 4 policemen gunned down in Karachi's SITE area during iftar
• Four cops martyred in Karachi attack
--------
India
• Lucknow-Kanpur IS Module: 'Leader Ran Online Portals, Was Popular Among Radicals'On
• Mathura-Bound Train, 15-Year-Old Killed, Brother Says Were Called Beef Eaters
• Pakistan's concept of Sharia has nothing to do with Islam: Ahamdi Muslim Jamaat of India
• CRPF Completes Yoga Week under Muslim Teacher
• With 42 killed, bloodiest Ramzan in Kashmir in years
• Babri Masjid demolition case: NBW warrant against Mahant Dharam Das
• Mehbooba Mufti warns Kashmiris against abusing 'restraint shown by police'
• DSP Mohammad Abdullah Pandith's lawyer cousin defended stone-pelters
• ISIS sympathiser arrested in Hyderabad's Bharath Nagar: Police
• Ahead of Modi visit, US sees no threat to Pakistan from arms deal with India
--------
North America
• Majority of Terrorists Who Have Attacked America Are Not Muslim, New Study Finds
• Ramadan in Hollywood: Industry Muslims Hold Interfaith Outreach Events
• U.S. Muslim group launches cellphone app to report hate crimes
• Priorities and nature of ties with India, Pakistan different: White House
--------
Mideast
• Iranian Demonstrators Issue Resolution in Support of Liberation of Holy Quds
• Iranians Chant 'Death to Israel', Burn Islamic State's Flag at Rallies
• Iran Disbands Terrorist Team in Western Province; Kills 3, Arrests 1
• Turkey rejects call to shut military base in Qatar
• Turkey welcomes U.S. pledge to take weapons from Kurds after IS defeat
• UN rejects Israel claims of Hezbollah operating under cover of NGO
• Israel irate at Germany over hosting Quds march
--------
Europe
• Trump, Putin and Erdogan Behave Like Autocratic Rulers: Germany's Schulz
• Facebook launches initiative to counter cyber terrorism
• French court jails militant recruits
• Daesh shifting focus to Central Asia after Mideast defeats: Security official
• Germany warns Turkey against meddling in religious affairs
--------
South Asia
• Taliban Chief Says US Should Adopt Diplomatic Means To Resolve The Issues
• Taliban loses one of its most senior leaders in Takhar province
• PM: Give scope to AL to serve people time and again
• 3 British-Bangladeshi siblings stayed with elderly parents inside burning Grenfell Tower
• Taliban's shadow district governor killed by own guard in Jawzjan
--------
Africa
• After Fears of Boko Haram Attack, Nigerian Intelligence Thwarts Plan Targeting Muslims
• Nigeria's Acting President Meets With Regional Leaders On Ethnic Unrest
Compiled by New Age Islam News Bureau
URL: https://www.newageislam.com/islamic-world-news/saudi-security-foils-terror-plot/d/111667
--------
Saudi security foils terror plot targeting Mecca Grand Mosque and pilgrims
24 June 2017
Saudi Arabian security forces have foiled a terror plot targeting the Grand Mosque in the Muslim holy city of Mecca, exchanging gunfire with one of the suspects who blew himself up inside a home on Friday, the interior ministry said.
The ministry described the plot as part of "self-serving schemes managed from abroad".
Five people, including a woman, were arrested in security operations in Mecca, the Saudi-owned Al-Arabiya news website said, citing interior ministry security spokesman Mansour al-Turki.
Five security force members and six other people were injured, the report said.
Turki said police "foiled the terrorist plan that targeted the security of the Grand Mosque, pilgrims and worshippers".
In dawn raids on Mecca and the Red Sea city of Jeddah officers arrested suspects before surrounding the bomber's location close to the Grand Mosque.
"Unfortunately he started shooting towards security personnel once he noticed their presence in the area, which led to an exchange of fire before he blew himself up," Turki said.
The blast partially collapsed the building where he had taken refuge, injuring six pilgrims, Turki said.
He added that four had already been released from hospital, and five security men were also slightly hurt.
The interior ministry said in a statement it "confirms that this terrorist network, whose terrorist plan was thwarted, violated, in what they would have perpetrated, all sanctities by targeting the security of the Grand Mosque, the holiest place on Earth. "They obeyed their evil and corrupt self-serving schemes managed from abroad whose aim is to destabilise the security and stability of this blessed country," the statement said.
The ministry did not name the group involved in the attack. The ultraconservative Sunni kingdom battled an al-Qaida insurgency for years and more recently has faced attacks from a local branch of the Islamic State group.
Since late 2014 Saudi Arabia has faced periodic bombings and shootings claimed by Isis.
Near the end of Ramadan last year in the Saudi city of Medina four security officers died in an explosion close to Islam's second holiest site, the Prophet's Mosque.
It was one of three suicide blasts around the kingdom on the same day, in which a total of seven people were believed killed. The others occurred in Jeddah and in the Gulf city of Qatif.
The US Central Intelligence Agency said those attacks bore the hallmarks of Isis.
Most of the targets in Saudi Arabia have been the Shiite minority and security forces, killing dozens of people.
Isis leader Abu Bakr al-Baghdadi has called for attacks against the kingdom, a member of the US-led coalition battling the group in Syria and Iraq.
Since July last year police have arrested around 40 people, including Saudis and Pakistanis, for alleged extremist links.
Saudi Arabia's counter-terrorism capabilities – which for years were led by Prince Mohammed bin Nayef – are well-regarded internationally.
On Wednesday Prince Mohammed was ousted from his posts of crown prince and interior minister, replaced as heir to the throne by King Salman's son Mohammed bin Salman.
Friday's counter-terrorist operation was the first to take place under the new interior minister, Prince Abdulaziz bin Saud bin Nayef, who is in his early 30s.
Prince Abdulaziz is the nephew of the deposed minister.
The Grand Mosque has been the target of militants before. In 1979, a group seized the mosque, home to the cube-shaped Kaaba that Muslims pray toward five times a day, for two weeks as they demanded the royal family abdicate the throne.
The official toll of the assault and subsequent fighting to retake the mosque from hundreds of armed militants was over 100 people killed and 500 wounded.
Meanwhile, Saudi Arabia and other Arab countries have cut diplomatic ties to neighboring Qatar and are trying to isolate the energy-rich country over its alleged support of militants and ties to Iran. Qatar long has denied those allegations.
https://www.theguardian.com/world/2017/jun/24/saudi-security-foils-terror-plot-targeting-mecca-grand-mosque
--------
Egypt's Christian and Muslim Communities Share Ramadan Meals
KARI MEGEED
JUNE 23, 2017
In a demonstration of solidarity, community, and defiance against extremist violence, Egyptians in Cairo, both Coptic Christians and Muslims, shared meals together during the holy month of Ramadan, reported Reuters.
Every year, communities all over Egypt share inter-communal fitaar meals, but this year in particular the gatherings hold even more resonance after multiple extremist attacks targeted the Coptic community.
Copts compose an estimated 15 to 23 per cent of Egypt's population- anywhere from 5 to 15 million.
Community Efforts for Unity
"They invited me and my kids, and I was surprised. They laid the table out on the street with no difference between sheikhs, Christians or Muslims – they pulled everyone to the table to break their fast," said Muslim resident Tarek Ali to Reuters.
Multiple Christian families in the neighbourhood and its surrounding are and regularly offer food and drinks to bring together residents of various faiths during Ramadan, a time where charity is especially highlighted.
"We all live in the same square, we're all brothers and friends, I've raised this man's son (alongside my own son) and he's Muslim," said Dawoud Riyad, a Christian man, as he set up tables in a street near his home to Reuters.
Violence
Ramadan began near the end of May and ends on June 24 this year.
Recent assaults on Egypt's Coptic community were claimed by the Islamic State, sparking fears of further violence and dividing citizens throughout the nation.
At the start of Ramadan, IS-affiliated gunmen launched an attack on a tour group of Copts heading to a monastery, killing 29 worshipers.
The attack resulted in Al-Azhar cancelling all celebrations marking the start of Ramadan, and a general somber mood over the start of the Holy Month across Egypt.
https://egyptianstreets.com/2017/06/23/egypts-christian-and-muslim-communities-share-ramadan-meals/
--------
Singapore: Early Counselling By Muslim Scholars Turned Two Teenage Boys Away From Radicalism
JUN 24, 2017
SINGAPORE - Few have approached Muslim scholar group Religious Rehabilitation Group (RRG) for help, but those who did had subsequently turned away from radical ideology after the group counselled them.
On Friday (June 23), it highlighted three cases in which it had been called to intervene, since it set up a counselling centre in 2014. All involved self-radicalisation.
Two were teenage boys and in the third, it helped a woman cope with her husband who had "extreme religious views", said the RRG in a statement.
"The three cases were detected early and hence need not be dealt with by the law," it added, referring to the Internal Security Act.
The RRG, which has been counselling terror detainees and debunking radical ideology since 2003, was able to help the trio because their family members, relatives and friends had sought help early and directly from the group, said its vice-chairman Ustaz Mohamed Ali at a press conference.
The RRG, in citing the three examples, underlined the importance of early reporting of radicalised individuals which political leaders have been urging people to do.
This comes as the authorities announced the arrest of three radicalised people, including one woman, who were arrested under the Internal Security Act in the past weeks.
The RRG's first case was a secondary school student who had written "several pro-Islamic State in Iraq and Syria (ISIS) slogans on his school books" after being exposed to ISIS propaganda online.
It alarmed his father, said Ustaz Mohamed Ali. The parents brought their son to the RRG's counselling centre at Khadijah Mosque in Geylang Road and the counsellors were able to turn around the teenager after one session of counselling. The boy regretted supporting ISIS.
"It is an example of how family members can intervene early to prevent one from being led astray by extremist ideology," he said.
The other teenager was also a secondary school boy. He was "convinced on the need to migrate to an Islamic caliphate" after reading about global affairs in the Muslim world online, said the Ustaz .
The boy also openly discussed religious issues that were contrary to mainstream Islamic teachings with family members and friends, who referred him to the RRG.
Its counsellors were able to change the boy's mind after several sessions, Ustaz Mohamed Ali said.
"The two boys were saved from further radicalisation," he added.
He stressed the RRG did not report them to the Ministry of Home Affairs (MHA).
"There was no need to," he said, adding that RRG will assess whether to report to the MHA on a "case by case basis".
"We work with the MHA, not for the MHA," Ustaz Mohamed said.
The RRG does not have further details on the two boys, including how they are doing now, as it was not necessary to call the boys back for further counselling, he added.
In the third case, a Muslim woman had phoned the RRG for help after her husband became "increasingly vocal in pushing extreme religious views at home".
The RRG counsellors helped her "advise her husband against his extreme religious views", he said. They did not speak to the husband.
Ustaz Mohamed Ali said parents are the first line of defence to prevent and stop their children from being self-radicalised.
Sometimes they feel embarrassed about seeking help, he said.
Dr Yaacob Ibrahim, Minister-in-charge of Muslim Affairs and Minister for Communications and Information, had stressed to the community that reporting those who have been radicalised to the authorities is "the best and only way to help a loved one before it is too late".
http://www.straitstimes.com/politics/early-counselling-by-muslim-scholars-turned-two-teenage-boys-away-from-radicalism
--------
Death Toll from Pakistan Attacks Crosses 70, Several Others in Critical Condition
AP PESHAWAR (PAKISTAN):, JUNE 24, 2017
Maj. Gen. Asif Ghafoor, a military spokesman, linked the attacks to alleged militant sanctuaries in neighboring Afghanistan and promised greater border security.
The death toll from twin blasts in the northwestern town of Parachinar climbed to 55 overnight, bringing the overall death toll from three separate attacks in Pakistan on Friday to 73, with several others in critical condition, officials said.
Shahid Khan, a government official in Parachinar, confirmed the toll on Saturday, saying residents who had been preparing to celebrate the end of Ramzan were now in mourning. Lashkar-e-Jhangvi, a Sunni extremist group, claimed the twin bombings at a crowded market in the Shia-dominated town, linking them to sectarian fighting in Syria.
Dr. Sabir Hussain, an official at a government-run hospital in Parachinar, said they had received 261 victims of the twin blasts, with 62 listed in critical condition.
Another 14 people were killed on Friday in a suicide car bombing near the office of the provincial police chief in the southwestern city of Quetta, police spokesman Shahzada Farhat said. That attack was claimed by a breakaway Taliban faction and the Islamic State group. Gunmen in the port city of Karachi attacked police officers at a roadside restaurant, killing four of them before fleeing, senior police officer Asif Ahmed said.
Maj. Gen. Asif Ghafoor, a military spokesman, linked the attacks to alleged militant sanctuaries in neighboring Afghanistan and promised greater border security. The two countries often accuse each other of turning a blind eye to militants.
Security forces raided a militant hideout in the northwestern city of Peshawar before dawn on Saturday, triggering a shootout in which three Pakistani Taliban were killed and two police officers were wounded, senior police official Sajjad Khan said. He said the militants were making bombs that likely would have been used to target holiday festivities.
Mr. Khan said the identity of the slain militants was not immediately known. But intelligence officials said one of the men has been identified as a wanted militant commander linked to the IS group. They spoke on condition of anonymity because they were not authorised to release the information.
Prime Minister Nawaz Sharif condemned the attacks, which came just days before Eid-al-Fitr, the Muslim holiday that marks the end of the fasting month of Ramzan.
Friday's car bombing in Quetta could be heard across the city, and shattered the windows of nearby buildings, said police spokesman Shahzada Farhat. TV footage showed several badly damaged cars and a road littered with broken glass.
Quetta is the capital of Baluchistan province, which has long been the scene of a low-level insurgency by Baluch nationalists and separatists, who want a bigger share of the region's resources or outright independence. Islamic militants have also carried out several attacks in the province.
Source: http://www.thehindu.com/news/international/death-toll-from-pakistan-attacks-crosses-70/article19140323.ece
--------
Lucknow-Kanpur IS Module: 'Leader Ran Online Portals, Was Popular Among Radicals'On
June 24, 2017
The self-styled Lucknow-Kanpur module of Islamic State, which was busted by Uttar Pradesh and Madhya Pradesh police in March, was until now understood to have had very little internet activity and, therefore, no foreign handler.
However, an alleged IS recruiter deported from Saudi Arabia recently has told NIA that the leader of the group, Atif Muzaffar, was very popular among IS sympathisers from both India and abroad and ran some very well-known online platforms in the IS circles.
NIA has now written to US authorities for help in fishing out details of his past online activities. Once it gets the details, it will not only use it as evidence against Muzaffar, but also find out people associated with him and put them under surveillance.
Agency sources said alleged IS recruiter Amzad Khan alias Ayan Khan Salafi, who was deported from Saudi Arabia in April for allegedly motivating youths online to join the IS, has revealed about Muzaffar's social media platforms that discussed Islam and disseminated news and opinion related to IS activities.
NIA has confronted Muzaffar with these details but he has said he does not remember the handles and platforms anymore as many of them were shut down later, said the sources. "These revelations have been a surprise as the online activity of the group, in the period right before it was apprehended, has been found to be minimal.
They had no foreign handler… Muzaffar apparently had
many followers on the Internet. That's how Amzad came in contact with him," an NIA officer said. Muzaffar and five of his aides were arrested from UP and MP on March 7 for allegedly planting explosives in an Ujjain-bound train.
http://indianexpress.com/article/india/lucknow-kanpur-is-module-leader-ran-online-portals-was-popular-among-radicals-islamic-state-4719340/
--------
Majority of terrorists who have attacked America are not Muslim, new study finds
Jun 24, 2017
Most of the designated terrorist groups in the US are right-wing extremists, not Muslim, according to a new report.
A joint project by the Investigative Fund at the Nation Institute, a nonprofit media centre, and news outlet Reveal from the Center for Investigative Reporting took a look at the 201 designated terrorism incidents within the US from 2008 to 2016.
The results: "right-wing extremists were behind nearly twice as many incidents" as terror acts associated with those identified as "Islamist domestic terrorism".
The report identified 63 incidents involving those "motivated by a theocratic political ideology espoused by such groups as the Islamic State". In that time period, this includes the San Bernardino shootings and Boston Marathon bombings, among others.
Right-wing extremists, often white supremacists, were responsible for 115 incidents within the same period. Events like Robert Dear's killing of three people at a Colorado Planned Parenthood women's health clinic in December 2015 for offering abortion services would fall into this category.
In terms of police action, 76 per cent of the Islamist incidents were thwarted versus just 35 per cent of the right-wing extremist incidents.
Sting operations were used in nearly half of the Islamist-related incidents, a rate four times higher than police operations on right and left-wing extremist acts.
More people died in the Islamist incidents, a total of 90 due to mass shootings like the one in Fort Hood, Texas in 2009.
However, around 33 per cent of right-wing extremist incidents involved deaths versus 13 per cent of Islamist terror acts. They also caused 79 deaths.
Regarding violent extremism on the left of the political spectrum, between 2008 and 2016 there were 19 incidents and seven deaths. The recent shooting on Republican Congressman playing baseball in Alexandria, Virginia falls under this category.
The evidence appears to belie Donald Trump's rhetoric, however.
The report said that Mr Trump's "fixation" on "radical Islamic terrorism" is "irrational".
The "shutdown of Muslims" was a key platform issue throughout his presidential campaign and some of his closest advisers like Steve Bannon and former National Security Adviser Mike Flynn, are said to think "fear of Muslims is rational," as Mr Flynn once said.
Once in the White House, he signed two versions of a travel ban barring people from a list of six Muslim-majority countries from entering the US.
After thousands of people protested the order at airports across the country, American courts have, for now, issued holds on the order.
The President has also openly chastised world bodies like the United Nations and allies in the North Atlantic Treaty Organisation (Nato) military alliance for not doing enough to fight terrorism of this variety.
On a visit to Saudi Arabia, Mr Trump inaugurated a new centre to combat financing terrorism in Middle Eastern countries.
Some experts have noted that the visit also prompted Saudi Arabia - where 15 of the 19 terrorists responsible for the September 11th attacks hailed from - to cut diplomatic and trade ties with Qatar.
Saudi Arabia cited the small Gulf kingdom's financing of terror groups, its support of the Muslim Brotherhood, and housing of Turkish troops as just a few of the reasons.
Mr Trump's sole emphasis on Muslim-related terrorism has implications in the US, too.
The report found that only one per cent of "perpetrators or alleged perpetrators" were from the countries listed in the travel ban. An overwhelming 87 per cent of them were US-born.
Shirin Sinnar, a law professor at Stanford University and the effect of counter-terror policies on immigrant and minority populations, told The Independent that "the administration's anti-Muslim and anti-immigrant rhetoric and policies can fuel white supremacist violence directed at Muslims, immigrants, or people of colour by legitimising such hate."
By ignoring the non-Muslim domestic threats law enforcement agencies may "fail to devote investigative resources towards combating them," she said.
This could allow groups like those who are categorised as white supremacists, for instance, to grow and plot more incidents such as the Portland, Oregon and Kansas murders as well as attacks on mosques and Sikh temples.
The report also found a significant difference in the way right-wing terrorists and Islamist terrorists were treated in the US court system.
"Muslims, it seems, are taken quite seriously as potential perpetrators, but far less so as victims," the report said.
Perpetrators of attacks on the general public were sentenced to an average of 14.5 years in prison, with seven death sentences.
Those found to be guilty of attacking a mosque or targeting Muslims was sentenced to under nine years, never receiving life in prison or death sentences.
Ms Sinnar said that after the tragic 2015 mass shooting at the Emanuel African Methodist Episcopal Church in Charleston, South Carolina there was some sign of hope in at the Department of Justice.
The incident, in which nine people were killed by self-identified white supremacist Dylann Roof, appeared to prompt what she said was a "belated recognition...that 'domestic terrorism' by white supremacists, anti-government activists, and other non-Muslim groups was a significant and overlooked threat."
John Carlin, the Assistant Attorney General at the time, established a new position in the agency solely dedicated to addressing 'homegrown' terrorism as well.
In January 2016, Mr Carlin told PRI that white supremacists, in particular, have planned attacks on "government buildings, businesses, synagogues...stockpiling of illegal weapons, explosive biological and chemical weapons and killing sprees".
"Just like with international terrorism...you see people being radicalised, where they go from someone with a series of beliefs to someone who's willing to kill in the name of those beliefs," said Mr Carlin.
Ms Sinnar said though, "it would be naive" to think the DOJ position or studies showing a more diverse, homegrown threat will change the approach of the Trump administration or the priorities for law enforcement agencies.
"Its approach to security has less to do with facts than with racialised fears."
http://www.independent.co.uk/news/world/americas/us-politics/terrorism-right-wing-america-muslims-islam-white-supremacists-study-a7805831.html
--------
Arab World
If Baghdadi is dead, next IS leader likely to be Saddam-era officer
Jun 24, 2017
If Islamic State leader Abu Bakr al-Baghdadi is confirmed dead, he is likely to be succeeded by one of his top two lieutenants, both of whom were Iraqi army officers under late dictator Saddam Hussein.
Experts on Islamist groups see no clear successor but regard Iyad al-Obaidi and Ayad al-Jumaili as the leading contenders, though neither would be likely to assume Baghdadi's title of "caliph", or overall commander of Muslims.
Russia's defense ministry said last week Baghdadi may have been killed in an air strike in Syria and Interfax news agency quoted a senior Russian parliamentarian on Friday as saying the likelihood that he had been killed was close to 100 percent.
But armed groups fighting in the region and many regional officials are skeptical about the reports.
"We don't have any concrete evidence on whether or not he's dead either," U.S. Army Colonel Ryan Dillon, spokesman for the international coalition battling Islamic State, told a Pentagon briefing.
Obaidi, who is in his 50s, has been serving as war minister. Jumaili, in his late 40s, is head of the group's Amniya security agency. In April Iraqi state TV said Jumaili had been killed, but that was not confirmed.
Both joined the Sunni Salafist insurgency in Iraq in 2003, following the U.S.-led invasion which Saddam and empowered Iraq's Shi'ite majority.
They have been Baghdadi's top aides since air strikes in 2016 killed his then deputy Abu Ali al-Anbari, his Chechen war minister Abu Omar al-Shishani and his Syrian chief propagandist, Abu Mohammad al-Adnani.
"Jumaili recognizes Obaidi as his senior but there is no clear successor and, depending on conditions, it can be either of the two (who succeeds Baghdadi)," said Hisham al-Hashimi, who advises several Middle East governments on IS affairs.
Baghdadi awarded himself the title of caliph - the chief Muslim civil and religious ruler, regarded as the successor of the Prophet Mohammad - in 2014. Obaidi or Jumaili would be unlikely to become caliph because they lack religious standing and Islamic State has lost much of its territory.
NO "LAND TO RULE"
"They don't belong to the Prophet Mohammad's lineage. The group has no longer 'a land to rule' or 'Ardh al-Tamkeen'. And none is well versed in Islamic theology," said Fadhel Abu Ragheef, another Iraqi expert on the extremist group.
"A caliph has to have an Ardh al-Tamkeen, which he rules in accordance with Islamic law. Failing that, the successor will just be recognized as the emir," said Hashimi.
Emir is Arabic for prince, and is a title that jihadists often use to describe their leaders.
By contrast, Baghdadi, born as Ibrahim Awad al-Samarrai' in 1971, comes from a family of preachers and studied Islamic law in Baghdad.
The appointment of the new leader would require the approval of an eight-member shoura council, an advisory body to the caliph. But its members would be unlikely to meet for security reasons so would make their opinion known through couriers.
Six members of the council are Iraqis, one Jordanian and one Saudi, and all are veterans of the Sunni salafist insurgency.
A ninth member, the group's Bahraini chief cleric, Turki al-Bin'ali, was killed in an air strike in Syria on May 31.
In Washington, two U.S. intelligence officials said they believed Islamic State had moved most of its leaders to al-Mayadin in Syria'a Euphrates Valley, southeast of the group's besieged capital there, Raqqa.
Among the operations moved to al-Mayadin, about 80 km (50 miles) west of the Iraqi border, were its online propaganda operation and its limited command and control of attacks in Europe and elsewhere, they said.
http://nation.com.pk/international/24-Jun-2017/if-baghdadi-is-dead-next-is-leader-likely-to-be-saddam-era-officer
--------
Daesh bomb blast kills at least 12 civilians in Iraq's Mosul
Jun 23, 2017
At least a dozen of people have lost their lives after a suspected member of the Takfiri Daesh terrorist group blew himself up among Iraqi civilians fleeing the Old City of Mosul, as the terror group is drawing its last breaths in the embattled northern city.
"We received 12 people killed and more than 20 wounded in our field hospital, including women and children," Ahmed Hashem, a medical official from a nearby field hospital, said on Friday.
The carnage came as more than 90 percent of the once militant-held city has been liberated from the clutches of the terror group and streams of civilians are currently fleeing the newly freed parts under the protection of Iraqi troops.
On Wednesday, Daesh also blew up Mosul's 800-year-old Grand al-Nuri Mosque, where the terrorist group's leader Abu Bakr al-Baghdadi announced the formation of a so-called caliphate after capturing the city in 2014 and declared the ill-fated city as the group's de facto capital in the Arab country. The mosque's iconic ancient leaning minaret was also destroyed in the bombing.
Shortly after the destruction of the iconic mosque, Iraqi Prime Minister Haider al-Abadi described the event as Daesh's "official declaration of defeat."
Military officials say that some 8,000 people have so far managed to flee the Old City since Iraqi forces launched a new wave of attacks on the remaining militant-held patches of Mosul on June 18.
They also say some 100,000 more people are estimated to have been trapped by terrorists, who have made human shields a key element in their fierce but desperate fight in their last remaining stronghold. Old Mosul's narrow and maze-like streets, where army tanks and heavy vehicles are incapable of passing through, have made the liberation process slower than expected.
Iraqi army soldiers and volunteer fighters from the Popular Mobilization Units, commonly known by their Arabic name, Hashd al-Sha'abi, have made sweeping gains against Daesh since launching the Mosul operation on October 17, 2016.
Full report at:
http://217.218.67.231/Detail/2017/06/23/526302/Iraq-Old-City-Mosul-Daesh-bomb-blast-abadi
--------
Five arrested after Saudi security forces foil attack on Grand Mosque in Mecca
23 June 2017
The Saudi Interior Ministry said on Friday that it has arrested five members of a cell that was planning an attack on the Grand Mosque area in Mecca.
Security forces in Saudi Arabia foiled a terror plot on Friday targeting the Grand Mosque in Mecca, the security spokesperson of the Saudi Interior Ministry, Mansour al-Turki said.
Security forces said the operation was planned by three terrorist groups, two based in Mecca and the thrid in Jeddah. The foiled attack targetted worshipers at the mosque, it said.
The first operation was foiled in Mecca in Assila district, while the second was thwarted in Ajyad al-Masafi neighborhood.
A suicide bomber, who was hiding in a house in the Ajyad neighborhood, opened fire on security forces and refusing to comply with calls to turn himself in. He later blew himself up after a crackdown on him.
Six people were injured and five members of the security forces were lightly injured.
Full report at:
https://english.alarabiya.net/en/News/gulf/2017/06/23/Saudi-security-forces-foil-terrorist-operation-targeting-Grand-Mosque-in-Mecca.html
--------
Worshipers continue their prayers at Mecca's Grand Mosque safely
23 June 2017
Muslim worshipers are continuing their Tarawih prayers safely at the Grand Mosque in Mecca on Friday, Al Arabiya News Channel correspondent reported after Saudi security forces foiled a terrorist attack in the area.
The Grand Mosque is the largest mosque in the world and surrounds Islam's holiest place, the Kaaba, in the city of Mecca, Saudi Arabia. Muslims during the month of Ramadan perform extra prayers known as Tarawih in the evening after they break their fast at sunset.
Mansour Turki, the spokesperson of the Saudi interior ministry, said the kingdom's forces have foiled the terrorist attack by three groups, one based in Jeddah city and the other two were in Mecca.
Full report at:
https://english.alarabiya.net/en/News/gulf/2017/06/23/Worshipers-continue-their-prayers-at-Mecca-s-Grand-Mosque-safely-.html
--------
Saudi security forces kill most wanted militant in Mecca
23 June 2017
Saudi security forces shot dead a wanted man in Mecca on Friday and arrested several others.
The gunmen, who are wanted for terrorism, exchanged fire with the security forces who surrounded one of the buildings in the al-Aseelah neighborhood in Mecca where the militants were hiding. No one from the security forces was harmed in the shooting.
Full report at:
https://english.alarabiya.net/en/News/gulf/2017/06/23/Saudi-security-forces-kill-most-wanted-militants-in-Mecca.html
--------
UAE: Attack attempt in Saudi bolsters our will to eliminate terrorism
24 June 2017
UAE's Minister of Foreign Affairs and International Cooperation Abdullah bin Zayed bin Sultan Al Nahyan said Saturday that the recent terrorist attack attempt targeting Mecca's Grand Mosque will only increase "our will" to encounter those who support terrorism.
"This horrible crime shows how far terrorism has reached in scope and brutality. No sane person can give any justification or explanation for this," he said.
The UAE minister hailed the Saudi security apparatus in foiling the attack.
Along Saudi Arabia, Bahrain, Egypt, the UAE has also severed ties with Qatar after accusing the latter of supporting terrorism.
Full report at:
https://english.alarabiya.net/en/News/gulf/2017/06/24/UAE-Attack-attempt-in-Saudi-bolsters-our-will-to-eliminate-terrorism.html
--------
Saudi Crown Prince to Al-Azhar Sheikh: Muslims count on their institutes
24 June 2017
Saudi Crown Prince Mohammed bin Salman told Al-Azhar's Sheikh Ahmed Al-Tayeb that Muslims count on Islamic institutes in the upcoming period to encounter terrorism.
Egypt's Al-Azhar is Sunni Islam's most revered institution.
The conversation took place when Sheikh Al-Tayeb called the Crown Prince to denounce Friday's terrorist attempt to attack Mecca's Grand Mosque area.
Full report at:
https://english.alarabiya.net/en/News/gulf/2017/06/24/Saudi-Crown-Prince-to-Al-Azhar-Sheikh-Muslims-count-on-Islamic-institutes-.html
--------
Russian warships fire cruise missiles at IS targets in Syria
Jun 24, 2017
Moscow - Two Russian warships and a submarine in the Mediterranean have fired missiles at Islamic State group targets in Syria, the defence ministry said Friday.
It said that Turkish and Israeli military "were informed in a timely manner of the missile launches through communication channels," but it did not mention the United States.
Russia has suspended its communication channel with the US on military operations in Syria after a US jet shot down a Syrian warplane on Sunday, with Moscow accusing Washington of failing to issue a warning.
The defence ministry said that Russia's Admiral Essen and Admiral Grigorovich warships and the Krasnodar submarine fired six Kalibr missiles at command centres and weapons stores in Syria's Hama region.
"As a result of the surprise mass missile strike, command points were destroyed and also large stores of weapons and ammunition of the IS terrorists in the area of Aqirbat in the Hama province," it said.
The ministry added that Russian planes then carried out aerial strikes that "destroyed the remainder of the IS fighters and their facilities."
The ministry released video footage of missiles being fired from underwater by the submarine and from the ships as well as aerial footage of the missiles striking two-storey buildings in what appeared to be semi-desert areas.
The most recent such strikes from ships and submarines were announced by the ministry on May 31, aimed at targets around Palmyra.
The defence ministry said Friday that IS fighters have been moving forces into Hama province this week under cover of night and using large buildings there as command points and weapons stores. It said the fighters were trying to move out from Raqa towards Palmyra.
Meanwhile, the likelihood that Islamic State leader Abu Bakr al-Baghdadi has been killed is close to 100 percent, Interfax news agency quoted the head of the defense committee in Russia's upper parliamentary house as saying on Friday.
Russia's defense ministry said a week ago it believed it may have killed Baghdadi when one of its air strikes hit a gathering of senior Islamic State commanders on the outskirts of the Syrian city of Raqqa.
But armed groups fighting in the region and US officials say they have no evidence that Baghdadi was killed, and many regional officials have said they are skeptical about the information from Moscow.
Committee head Viktor Ozerov was quoted as saying the defense ministry would not have released information about Baghdadi's death if it believed it could be later proved incorrect.
"I think this information is close to 100 percent," Interfax quoted Ozerov as saying. "The fact that Islamic State has still not shown him anywhere also adds to our confidence that al-Baghdadi has been killed."
Full report at:
http://nation.com.pk/international/24-Jun-2017/russian-warships-fire-cruise-missiles-at-is-targets-in-syria
--------
Syrian Army Fends Off Terrorists' Attacks in Northern Homs
Jun 23, 2017
Members of a terrorist group tried to penetrate into an army military position East of the village of Um al-Tababir from the direction of the village of Jabajeb in the Eastern countryside of Homs.
An army report said all the terrorists were killed.
Elsewhere, several terrorists were killed and wounded in separate clashes with the Syrian army troops in Northern Homs.
In a relevant development earlier on Friday, the Syrian army continued its military operations in Homs, and took control of more strategic regions in the province.
The army units captured Zahr Abah region East of Arak village, some 10 kilometers to the East of Homs.
The Syrian air force also pounded ISIL's military positions in Rasm al-Tavil and Jub Habal in Eastern Homs.
The Syrian fighter jets also hit hard ISIL's military positions in Abu al-Tababir, Abu Fatur, Jub Habal and Rams al-Vatil in Eastern Homs, destroying a number of their military vehicles.
The Syrian troops killed a large number of ISIL terrorists and destroyed their military vehicles in their advances in Eastern Homs.
In a relevant development on Thursday, the Syrian warplanes destroyed a large ISIL convoy in Eastern Homs as the army forces continued military operations against the terrorist group in the region.
The army soldiers continued clashes with the ISIL terrorists after establishing security in power plant 3 in Eastern Homs, and could advance towards al-Hil energy field in Northeastern Palmyra.
Meantime, the Syrian fighter jets pounded an ISIL military convoy moving from Raqqa towards al-Sukhnah, smashing over 20 ISIL military vehicles and killing all the terrorists in the trucks.
On Wednesday, the Syrian army backed by the country's air force had warded off attacks by ISIL and al-Nusra Front (also known as Fatah al-Sham Front or the Levant Liberation Board) on government forces' military positions, inflicting heavy losses on them. The Syrian army units engaged in heavy clashes with ISIL terrorists who were trying to penetrate into areas near Ain al-Dananir village and West of al-Moshrefeh town from Ain Hossein Jonoubi village Northeast of Homs and foiled their attacks.
The Syrian government troops killed most of the invaders and forced the rest of them to flee the scene.
Full report at:
http://en.farsnews.com/newstext.aspx?nn=13960402001304
--------
Syrian Air Force Strikes ISIL's Military Positions in Deir Ezzur
Jun 23, 2017
The Syrian army units engaged in sporadic clashes with the ISIL in the Western countryside of the city of Deir Ezzur, killing at least nine terrorists and injuring many more.
The Syrian army's artillery units also hit hard ISIL's military positions in near Panorama region and square as well as al-Amal district and al-Baqilieh village in the Western countryside of Deir Ezzur.
During the Syria fighter jets' air raids on ISIL's military positions and movements in the villages of Ayash, al-Janineh, al-Hasan, and the surrounding areas of al-Savameh in Deir Ezzur-Hasaka road several ISIL terrorists, including 4 foreign militants, were killed.
Meantime, the Syria army warded off ISIL's terrorist attack on Fou'ad Cinema street, and killed a number of terrorists.
The Syrian army also downed an ISIL drone over Harabesh region.
In a relevant development earlier on Friday, the Syrian army units continued their military operations from Iraqi borders deep into Badieh (desert) region and took control of a key region to the East of Deir Ezzur.
The Syrian army advanced from Eastern al-Tanf towards the Southern part of Bu Kamal city in Eastern Deir Ezzur and regained control of Wadi al-Lavizeh near the borders with Iraq.
The army troops have entered Deir Ezzur province from the direction of Iraqi borders and Southwest of Bu Kamal and reinforced their positions.
A battlefield source confirmed that the Syrian army has advanced more than 30 kilometers from East and South and after reinforcing its positions in strategic regions is rapidly increasing the extent of its advances.
In a relevant development on Wednesday, the Syrian army backed by the country's air force fended off ISIL's massive attack on several military positions of the government forces in Southern Deir Ezzur, killing tens of terrorists.
The army units engaged in fierce clashes with the terrorists who had attacked the government forces' military positions in areas near al-Jabileh, Qata al-Talmieh and near al-Maqaber (cemetery) region.
The Syrian army killed 11 terrorists and injured some others during the clashes.
The Syrian army's artillery units also pounded ISIL's military positions around Tal al-Sonouf, Altim Oilfield and the two districts of al-Huweiqa and al-Amal, killing and injuring a number of terrorists.
Full report at:
http://en.farsnews.com/newstext.aspx?nn=13960402001179
--------
Syrian Army Recaptures More Regions in Homs Province
Jun 23, 2017
The army units captured Zahr Abah region East of Arak village, some 10 kilometers to the East of Homs.
The Syrian air force also pounded ISIL's military positions in Rasm al-Tavil and Jub Habal in Eastern Homs.
The Syrian fighter jets also hit hard ISIL's military positions in Abu al-Tababir, Abu Fatur, Jub Habal and Rams al-Vatil in Eastern Homs, destroying a number of their military vehicles.
The Syrian troops killed a large number of ISIL terrorists and destroyed their military vehicles in their advances in Eastern Homs.
In a relevant development on Thursday, the Syrian warplanes destroyed a large ISIL convoy in Eastern Homs as the army forces continued military operations against the terrorist group in the region.
The army soldiers continued clashes with the ISIL terrorists after establishing security in power plant 3 in Eastern Homs, and could advance towards al-Hil energy field in Northeastern Palmyra.
Meantime, the Syrian fighter jets pounded an ISIL military convoy moving from Raqqa towards al-Sukhnah, smashing over 20 ISIL military vehicles and killing all the terrorists in the trucks.
On Wednesday, the Syrian army backed by the country's air force had warded off attacks by ISIL and al-Nusra Front (also known as Fatah al-Sham Front or the Levant Liberation Board) on government forces' military positions, inflicting heavy losses on them. The Syrian army units engaged in heavy clashes with ISIL terrorists who were trying to penetrate into areas near Ain al-Dananir village and West of al-Moshrefeh town from Ain Hossein Jonoubi village Northeast of Homs and foiled their attacks.
The Syrian government troops killed most of the invaders and forced the rest of them to flee the scene.
Full report at:
http://en.farsnews.com/newstext.aspx?nn=13960402000977
--------
Southeast Asia
Hadi: Islam rejects 'foreign intervention' to solve internal problems
June 24, 2017
KUALA LUMPUR, June 24 — PAS President Datuk Seri Abdul Hadi Awang has urged all quarters to reject foreign powers from meddling in the nation's affairs, as it is forbidden by Islam.
"The Quran forbids Muslims from trusting other quarters in solving their internal problems.
"Whether right or wrong, a problem must be resolved internally with patience," he said in an open letter posted on his official Facebook page.
Hadi said it was foreign intervention by the colonisers that led to the fall of the Islamic government in Melaka.
"After that, the whole Indonesian region was colonised and divided, which led to the downfall of Islam.
"We shouldn't repeat history by inviting foreign quarters to solve our problems such as the BMF scandal, Perwaja, Tabung Haji, EPF and 1MDB."
Hadi also said that it was the intervention of foreign powers which led the downfall of Islam in Spain, after being around for eight centuries.
"The lights of Islam have been turned off in Spain until today."
Hadi stressed that internal issues in the country must be heard by our own courts.
"As cruel and as stupid as we can be, let us bear this ourselves and at the end of the day, we will be blessed with peace.
"There will always be foreign quarters who are looking for opportunities around. Enough, we have been colonised for several centuries and its effects hasn't fully recovered."
Last Thursday, the US Department of Justice (DoJ) announced its latest civil filing that sought to seize US$540 million (RM2.31 billion) in assets obtained by funds allegedly stolen from 1MDB.
The latest civil forfeiture complaints from the lawsuit launched last July alleged that more than US$4.5 billion had been misappropriated from the Malaysian state investment firm from 2009 through 2015.
1MDB has since responded saying that the allegations were not backed with proof.
The Malaysian Anti-Corruption Commission (MACC) subsequently said that it will leave the matter with the police to handle.
Attorney-General Tan Sri Mohamed Apandi Ali had said that no wrongdoing or misappropriation was found in 1MDB after the Malaysian firm was probed by various agencies, such as the MACC, the Auditor-General and the bi-partisan Public Accounts Committee.
http://www.themalaymailonline.com/malaysia/article/hadi-islam-rejects-foreign-intervention-to-solve-internal-problems
--------
Australia to send spy planes to help Philippines fight militants
Jun 24, 2017
Australia agreed on Friday to send two surveillance planes to help the Philippines tackle Islamist rebels, as jets and artillery pounded militant positions in a southern town held for more than a month by Islamic State loyalists.
The Philippines accepted the offer of two AP-3C Orion aircraft for reconnaissance to pinpoint locations of Maute group fighters holed up for a fifth week in Marawi, a town the rebels have declared as their own Islamic territory.
"The regional threat from terrorism, in particular from Daesh and foreign fighters, is a direct threat to Australia and our interests," Australian Defense Minister Marise Payne said in a statement, referring to Islamic State by an Arabic acronym.
Australia's help comes as fears grow that the Maute and its affiliates have much stronger designs on parts of the southern Philippines than previously imagined, evidenced by their preparations and combat capability during the weeks of fighting.
The threat is heightened by losses suffered by Islamic State in Syria and Iraq, and intelligence reports that it is building alliances and seeking new pastures from which to project its agenda.
Gilbert Gapay, an Philippine military spokesman, said the surveillance planes would help tackle extremism across Mindanao, an island of 22 million people, where separatists, pirates and kidnap gangs have thrived for decades.
He said the battle for Marawi was not a failure because the military had learned a lot and was stopping Islamic State from taking root.
"This gives us a picture of the expanse of their network," Gapay told reporters.
"They won't thrive anymore in our country."
But security experts say the battle has exposed intelligence and operational failures by the Philippines and its limited cooperation with neighboring Malaysia and Indonesia to stop extremism from spreading.
The three countries on Thursday agreed on joint measures to pool information and try to stem recruitment, movement and financing of fighters. The Philippines says it knows of 40 foreign operatives in the country.
'LAST STAND'
Australia's support follows that of Philippine defense treaty ally the United States, which has provided technical help through military surveillance and communications experts stationed in Zamboanga city on Mindanao.
The Philippines has welcomed foreign support amid operations that have had mixed results, with 67 security forces killed as rebels withstand a fifth week of ground assaults and air strikes, one of which saw 10 government troops killed on June 1 when a bomb missed its target.
Philippine troops, more adept at fighting in jungles and mountains, have found unfamiliar territory in the urban warfare that has devastated much of Marawi and displaced nearly 250,000 people.
Some 300 civilians were believed to be either trapped or being used as human shields, according to the army. Civilians involved in relief efforts believe the number could be higher.
Planes dropped more bombs early on Friday and the army tried to flush out the estimated 90-100 rebels with artillery and heavy gunfire. Efforts were being slowed by roadside bombs, snipers and booby-trapped vehicles and gas tanks.
"This is already their last stand and they are getting desperate," Jo-Ar Herrera, a military spokesman, told reporters.
"Our mission is to neutralize them so that they will no longer threaten other parts of the Philippines."
Full report at:
http://nation.com.pk/international/23-Jun-2017/australia-to-send-spy-planes-to-help-philippines-fight-militants
--------
Najib calls on Muslims to foster peace, unity
June 23, 2017
KUALA LUMPUR: Najib Razak today expressed hope that Muslims, especially those in Malaysia, will take the opportunity at Aidilfitri to forgive one another and foster peace and unity as prescribed by Prophet Muhammad.
The prime minister said if Muslims were negligent and chose to practise the politics of hate, it would be no surprise that relations between Muslims and non-Muslims in the country would worsen.
"Victory for Muslims begins only when they forgive each other for the sake of unity, and it is also encouraged that the spirit of forgiveness is practised among all humans, irrespective of their beliefs and ideologies," he said in a post on his blog.
Reflecting on the current situation of Muslims, with conflicts occurring around the world, Najib said it was very difficult to state that they were winning.
"This situation is exacerbated by the perception of some outsiders who regard Islam as the source of hatred and violence despite the fact that the 1,400-year-old religion has always advocated peace and unity as the best solution to conflict resolution," he said.
Full report at:
http://www.freemalaysiatoday.com/category/nation/2017/06/23/najib-calls-on-muslims-to-foster-peace-unity/
--------
Report: IS wants Malaysia's anti-terror chief 'terminated'
June 24, 2017
PETALING JAYA: The head of Malaysia's counter-terrorism activities has become a prime target for Islamic State (IS) militants.
Referring to a message shared on social media, police sources told The Star that IS militants from Indonesia are urging their counterparts in Malaysia to eliminate the main threat to its operations, namely Bukit Aman's Counter-Terrorism Division head Deputy Comm Ayob Khan Mydin Pitchay.
The message – "Di Malaysia negara yang udah dibawah Khilafah ada satu nama polis AYOB KHAN … dia kerja dengan pemerintah thogut … dia juga orang yang tangkap askar khilafah di Malaysia … semua ikhwan khilafah yang ada di Malaysia bangun sekarang dan habiskan AYOB KHAN orang yang mau lawan dengan KHALIFAH ABU BAKAR AL BAGHDADI".
(In Malaysia, which is now under the Caliphate, there is a police officer by the name of AYOB KHAN … he works for the infidel government. He is also responsible for the arrests of caliphate soldiers in Malaysia. Forces of the Caliphate, rise up and terminate AYOB KHAN who dares to challenge Caliph Abu Bakar al Baghdadi.)
The police recognise the seriousness of such a threat, calling it highly dangerous, especially as it has been made against a senior member of the Malaysian police force.
"It is definitely very serious as Indonesian IS militants are very committed and have a wide network in the region and globally.
"Their ties to militants in Malaysia are also quite close and the Indonesian militants have expertise in making electronic devices," The Star quoted its police source as saying.
Meanwhile, Ayob is not downplaying the seriousness of the threat admitting that its the first time such a call has been made across the region for his head.
"I have received many death threats over the years but this is the first time Indonesian militants have issued a clarion call to fellow militants in Indonesia, Malaysia and other countries to have me killed," he told the daily.
He added that police action in nabbing Indonesian IS militants on Malaysian soil, in Slim River (Perak) and Sandakan (Sabah) recently point to their infiltration to possibly carry out such threats.
"The chances of a collaboration between Malaysian and Indonesian militants to have me killed are high given their close relations.
"In Syria, Malaysian and Indonesian militants formed a squad called Khatibah Nusantara operating in Raqqa.
"Furthermore, there is a rise of militants in Syria returning to South-East Asia given the onslaught on the IS strongholds in Mosul, Iraq and Raqqa, Syria," he was quoted as saying.
Speaking about the Indonesian detained in Slim River on June 13, Ayob said the man was an administrator for a Telegram mobile messaging group that reaches out to about 200 militants from Southeast Asia, as well as Saudi Arabia, Syria, Oman and some European countries.
Full report at:
http://www.freemalaysiatoday.com/category/nation/2017/06/24/report-is-wants-malaysias-anti-terror-chief-terminated/
--------
Lego condemns bootleg IS toys sold in Malaysia
June 23, 2017
PETALING JAYA: Danish toy manufacturer Lego has condemned the production of figurines, made in the style of its own famous plastic play figures, themed on violent Islamic State fighters wielding weapons like chainsaws and bombs.
Its spokesperson Camilla Pedersen was quoted by RT.com as stressing that the toys have nothing to do with the family-owned company.
"The product is not a Lego product – nor are the bricks in the set Lego bricks," she said.
"As a company dedicated to inspiring and developing children, we would naturally never make a product like this."
The RT report on Wednesday cited Perak schoolteacher Mahnun Mat Isa, who reportedly said last month that he had found the China-made toys and reported the matter to the police and state Islamic council.
"I came to know about it when my son who was playing with the toy showed me the 'terrorist' character holding a banner which displayed the words 'Allah' and 'Muhammad'," he reportedly said.
"I ask the authorities not to freely allow the entry of toys that touch on religious sensitivities in this country," he added.
Kerian district police chief Supt Omar Bakhtiar Yaacob confirmed receiving the police report on the matter.
The RT.com report said the play set named "Falcon Commandos", which pitches "information intelligence officers" against the IS jihadists, is part of a series of Lego-style toys being sold online via a Chinese retailer.
It said images on the set's box show IS fighter figurines tossing dynamite sticks and launching a flaming oil barrel from a catapult, and a militant fighter armed with a chainsaw looking at a man's decapitated head.
Full report at:
http://www.freemalaysiatoday.com/category/nation/2017/06/23/lego-condemns-bootleg-is-toys-sold-in-malaysia/
--------
Pakistan
Multiple attacks on Eid shoppers, cops stun nation
Jun 24, 2017
54 dead, over 120 injured in Parachinar, Quetta
Seven policemen, JUI faction leader among victims
BOMBS targeted civilians and security personnel in Parachi­nar and Quetta on Friday, leaving at least 54 people dead and over 120 injured.
Most casualties happened in Parachinar — 41 dead and about 100 wounded — because a second bomb was detonated when people gathered at the place where the first explosion had occurred to carry out the rescue work.
While no group claimed responsibility for the twin attacks in Parachinar, two outfits said they had carried out the suicide car bomb blast in Quetta — Jamaat-ul-Ahrar, a splinter group of the banned Tehreek-i-Taliban Pakistan and, according to AFP news service, the militant Islamic State group.
About three weeks ago, security forces claimed to have conducted an operation near Mastung town of Balochistan in which 12 suspected IS men had been killed.
Eyewitnesses in Parachinar said that the first blast took place in the busy Turi Market when people were busy shopping for Eid, minutes after an Al Quds Day demonstration had concluded at some distance from the crime scene.
Muhammad Hussain, who sustained injuries in the incident, told Dawn that he was heading for his poultry shop after the conclusion of the Al Quds rally when the first blast took place. Another explosion shook the area soon after a large number of people rushed to the site to help the injured.
"I lost consciousness after the second blast and later found myself on a hospital bed," Mr Hussain said.
Abdullah, a political administration official, said 41 people died and about 100 others suffered injuries.
However, the medical superintendent of the Parachinar agency headquarters hospital, Dr Sabir Hussain, confirmed 31 fatalities. He said that army choppers airlifted 11 seriously injured people to Peshawar and they were treating 85 others at the facility.
He said some bodies might have been taken away from the blast site.
The town, which has been caught in the cross hairs of the militant attacks for the past several years, sank into paralysis, as the communication links were broken soon after the incident.
"Better ask the hospital about death toll as we are dealing with a security situation," a political administration official told Dawn when approached for comment.
The nature of the blasts was not immediately clear.
Today's blasts were the third major such attack to hit Parachinar during the year.
Quetta explosion
The suicide car bomb in Quetta left seven policemen and a leader of the Jamiat Ulema-i-Islam (Nazaryati) dead as well as 24 others injured and the perpetrators carried it out in front of the Balochistan police inspector general's office at Shuhada Chowk.
"We received 13 bodies and 20 injured people," said Wasim Baig, spokesperson for Quetta's Civil Hospital.
The injured include nine policemen, four army personnel, a girl and a woman, and the condition of at least five of them is said to be serious. The army men were taken to the Combined Military Hospital.
Official sources said that a car approached the IGP's office from Gulistan Road at around 8:30am and rammed into the buffer of sandbags around the boundary of the Central Police Office (CPO).
According to an eyewitness, the attacker initially tried to enter the CPO premises, but drove into the sandbags instead.
Assuming that the car had veered into the bags by accident, the policemen on security duty in front of the IGP's office helped push the car towards the Shuhada Chowk.
They asked the driver to get out, but he refused. Then the bomb planted in the vehicle went off killing seven people, including four policemen, on the spot.
Following the explosion, law enforcement personnel cordoned off the area and took the deceased and those injured to Quetta Civil Hospital.
"The roads linking to Shuhada Chowk were strewn with dismembered body parts," Muhammad Zahid, who had witnessed the attack, told Dawn, adding that some bodies were beyond identification.
Soon after the attack, officials of the Bomb Disposal Squad arrived at the site and collected evidence. They said the car had been carrying 90-95kg of explosives.
Provincial government spokesperson Anwar-ul Haq Kakar said it was likely that attacker wanted to target the IGP's office. However, the IGP was not in his office when the bomb went off, a constable said.
Sources said that law enforcement agencies had received a threat alert for the possibility of such an attack.
There are several important government offices in the vicinity of Shuhada Chowk, including the State Bank of Pakistan, the Army's China check post, the entry to the Quetta Cantonment, and the residence of provincial home minister. A vehicle carrying army personnel was damaged in the blast, and a captain and three soldiers were injured.
Several others vehicles were damaged and the walls of a house in the Mission Girls School collapsed and windowpanes of surrounding buildings shattered.
Home Secretary Dr Akbar Harifal told reporters that security had been tightened in the provincial capital.
Sarfaraz Ahmad, one of the injured policemen, told Dawn that he hailed from interior Punjab and did not have any immediate family members in the city. "I am a Special Branch inspector responsible for frisking people at the IG police office," he introduced himself, adding that his family lived in the Punjab but he had a nephew in Quetta who taught at a public school.
The bodies of 12 people were handed over to their families but one body could not be identified. The deceased include: Sajid Ali, Ghani Khan, Ghulam Shabbir, Faisal Khan, Sajjad Hussain, Muhammad Amin, Sanaullah, Anwar Ali, Muhammad Naeem, Lal Khan, Muhammad Kashif and Dr Abdul Rehman of the JUI-N.
The funeral prayers of the seven policemen were later offered at Police Lines.
Kausar Ali, younger brother of Dawn Peshawar senior correspondent Zulfiqar Ali, also lost his life in the Parachinar blast. Mr Kausar, who ran his business in the market, had rushed to the blast site to help the injured after the first explosion and died in the second blast.
https://www.dawn.com/news/1341425/multiple-attacks-on-eid-shoppers-cops-stun-nation
--------
Recent terror attacks linked to sanctuaries across border: ISPR
Jun 24, 2017
The army's media wing announced that security and surveillance of the Pak-Afghan border had been intensified after two separate terror attacks in Quetta and Kurram Agency on Friday, which Inter-Services Public Relations (ISPR) attributed to 'sanctuaries' across the border.
Director General (DG) ISPR Maj Gen Asif Ghafoor made the announcement after a suicide attack in Quetta killed 13, twin blasts in Kurram Agency's Parachinar area killed at least 30 people, and a gun attack targeting police officials in Karachi left four policemen dead.
The DG ISPR said: "Recent terrorist incidents linked to sanctuaries across [the Pak-Afghan border]."
"Stringent action" will be taken against "illegal border-crossers", he asserted.
Earlier, the DG ISPR, quoting Chief of Army Staff Gen Qamar Javed Bajwa, said that security would be tightened and search operations carried out across the country after the attacks.
"Security tightened across the country. Special Intelligence Based Operations and search operations launched in coordination with intelligence and other law enforcement agencies," he said.
The COAS, as quoted by the ISPR, said that in the run-up to the Eid holidays, the "enemy [is] trying to mar [the] festive mood of [the] nation through such coward acts".
He added that the "enemy... shall fail against [the] resilience of Pakistan."
Earlier this week, Pakistan at the United Nations Security Council said that terrorist "safe havens" are inside, not outside, Afghanistan.
Explore: Pakistan, Afghan envoys in US trade barbs at Washington moot
Relations between the two countries have been strained since Afghan President Ashraf Ghani accused Pakistan of waging an "undeclared war of aggression" against Afghanistan.
Pakistan and Afghanistan have long accused each other of turning a blind eye to militants operating along their porous border.
Operation Raddul Fasaad
The Pakistan Army had launched Operation Radd-ul-Fasaad earlier this year following a spate of terror attacks in the country, which claimed more than a hundred lives and left hundreds of others injured.
The operation seeks to eliminate the "residual/latent threat of terrorism", consolidating the gains made in other military operations, and further ensuring the security of Pakistan's borders.
Hundreds of suspected terrorists have reportedly either been killed or arrested in raids carried out by security personnel since the start of the operation.
https://www.dawn.com/news/1341306/recent-terror-attacks-linked-to-sanctuaries-across-border-ispr
Lal Masjid's Shuhada Foundation barred from organising political, religious activities
The federal capital's administration on Friday imposed a ban on all political and religious activities by Lal Masjid's Shuhada Foundation, declaring it an "unregistered entity".
Deputy Commissioner (DC) Islamabad had received an application for a no-objection certificate (NOC) from the Shuhada Foundation for a ceremony to be held in remembrance of the 'martyrs' of the military crackdown on Lal Masjid and Jamia Hafsa on July 7.
Responding to the request, the DC Islamabad's office released a notification rejecting not only the said application, but also disallowing the foundation from conducting any political or religious activities owing to it not being registered with any state entity.
The notification, signed by an additional district magistrate, has warned the foundation against violating the order, which could lead to "strict legal action".
Lal Masjid is registered with Auqaf and is therefore allowed only worship-related activities, the notification stated.
Rejecting the notification, the Shuhada Foundation said that it will go on with the event as planned, insisting that the foundation was a registered entity.
It also accused the government of "deceiving the public" on the matter. It, however, did not comment on which entity the foundation was registered with.
The Foundation has also called a meeting after Eidul Fitr to determine a plan of action following the ban on its activities.
Full report at:
https://www.dawn.com/news/1341297/lal-masjids-shuhada-foundation-barred-from-organising-political-religious-activities
--------
13 killed in suicide attack on Quetta's Gulistan Road
Jun 24, 2017
At least 13 people ─ including seven policeman ─ lost their lives, while 19 others were injured in a suicide blast that shook Shuhada Chowk in Quetta's Gulistan Road area on Friday morning, police said.
The injured were moved to Quetta's Civil Hospital, where an emergency was declared. Security was tightened across the city following the attack.
According to DawnNews, the blast occurred close to Inspector General of Police Ehsan Mehboob's office.
The blast was powerful enough that it was heard across the city, shattering windows of nearby buildings, said police spokesman Shahzada Farhat.
TV footage showed several badly damaged cars and a road littered with broken glass.
Security personnel stand-by at the site of the blast after it was cordoned off.─DawnNews
Director General of Civil Defence Mohammad Aslam Tareen said 75 kilogrammes of explosives were used in the suicide attack.
Deputy Inspector General of Police Abdul Razzaq Cheema, while talking to media, said it had not been determined yet who was being targeted in the attack.
"This road sees a lot of traffic and movement; however the timing of the blast did not coincide with rush-hour traffic, so we are not sure of what was targetted," the DIG said.
Security forces had reached the area soon after the bombing, cordoned it off and launched an initial investigation, DawnNews reported.
Anwarul Haq Kakar, a spokesman for the provincial government, said the bomb was planted in a moving car.
No one claimed responsibility for the attack, but Kakar blamed India for the blast. He offered no evidence.
On Thursday, Pakistan said that Indian naval officer Kulbhushan Jadhav, who was sentenced to death by a Pakistani military court on charges of espionage and sabotage, had petitioned for mercy.
In a 'confessional' video released simultaneously with the announcement of Jadhav's appeal, the spy was heard saying that Indian intelligence agency Research and Analysis Wing (RAW) sponsored various terrorist activities in Pakistan in order to disrupt economic activities linked to the China-Pakistan Economic Corridor.
Jadhav, who Pakistan said had crossed into Balochistan from neighbouring Iran, was arrested in March 2016 and sentenced to death in April.
Security challenges
Balochistan has faced a number of security challenges in recent months, with security personnel in the province often being targeted in roadside explosions.
Earlier this month, three security officials were injured after an improvised explosive device (IED) seemingly targeted their vehicle in the Johan area of Kalat.
Full report at:
https://www.dawn.com/news/1341271/13-killed-in-suicide-attack-on-quettas-gulistan-road
--------
4 policemen gunned down in Karachi's SITE area during iftar
Jun 24, 2017
Four policemen were gunned down in Karachi's SITE area on Friday in what appeared to be an incident of target killing, officials told Dawn.
SITE Station House Officer (SHO) Rana Maqsood said the policemen were having iftar at a hotel located between Siemens Chowk and Habib Bank Chowrangi when three unidentified persons on two motorbikes opened fire on them.
The police officers ─ Assitant Sub-Inspector Muhammad Yousuf, and police constables Shabir, Khalid and Israr ─ died on the spot while the suspects managed to escape.
Maqsood initially claimed that the assailants belonged to a "defunct terrorist organisation".
However, Counter Terrorism Department (CTD) official Raja Umer Khattab told Dawn that a new militant organisation called the Jamaat-ul-Ansar Al-Sharia Pakistan had claimed responsibility for the attack on the policemen in pamphlets dropped at the site of the shooting.
Members of the militant outfit had doubled back to the crime scene after the attack and dropped pamphlets claiming responsibility for the attack, Khattab said.
Khattab said that the militant organisation was "newly established" and had previously claimed responsibility for the murder of a retired army officer in Karachi.
Senior Superintendent Police (SSP) West Nasir Aftab reached the site of the attack to investigate the incident.
Sindh Chief Minister Murad Ali Shah, taking notice of the attack said, "We will not let the spilled blood of our policemen go in vain."
Two policemen injured in Ibrahim Hyderi
In a separate incident in Karachi's Ibrahim Hyderi area, two policemen were beaten and wounded Friday evening after getting into a tussle.
The wounded police officers were identified as Kamal Din and Rahim Bux, police said.
Background: Karachi operation
The 'operation' against criminal elements in Pakistan's commercial hub was initiated back in September 2013 after the federal cabinet empowered Rangers to lead a targeted advance with the support of police against criminals already identified by federal military and civilian agencies for their alleged involvement in targeted killings, kidnappings for ransom, extortion and terrorism in Karachi.
A high-level apex committee meeting chaired by then chief of army staff Raheel Sharif on May 14, 2015 decided to implement effective policing and surveillance in the "vast suburbs of Karachi", to prevent what the military spokesperson said were "sneaking terrorist attacks".
Full report at:
https://www.dawn.com/news/1341305/4-policemen-gunned-down-in-karachis-site-area-during-iftar
--------
Four cops martyred in Karachi attack
June 24, 2017
KARACHI - Terrorists gunned down at least four policemen in an act of target killing near Habib Bank Chowrangi Friday evening.
The four policemen of the SITE police station were busy in having Iftar at a hotel when armed terrorists attacked them," said District West SSP Nasir Aftab. "All the cops were shot in their heads and died instantly," he added.
Their bodies were taken to Abbasi Shaheed Hospital for medico-legal formalities. Contingents of law enforcers, including Rangers and police, reached the spot and cordoned off the locality to collect evidences. The police also recovered over a dozen empty shells of pistols. "The terrorists were reportedly more than four and were wearing helmets," said SSP Aftab.
The victims were police mobile officer Muhammad Yousuf ASI, mobile driver Israr and constables, Shabbir and Khalid. No case has so far been registered and no arrest has been made. According to the police officials, they are investigating the case.
The gunmen also threw a leaflet on the crime scene, claiming responsibility for the incident. According to the leaflet, they belonged to Jamaat-ul-Ansar Al-Shariya Pakistan.
Another similar incident took place in the outskirts of the city in which two policemen, later identified as Kamal Din and Rahim Bakhsh, were wounded when terrorists attacked them in the Ibrahim Hyderi area. The injured were shifted to Jinnah Postgraduate Medical Centre for treatment. Their condition is stated to be critical. Police said the cops were conducting a raid at a criminal hideout when they were attacked and injured.
Sindh Home Minister Sohail Anwar Siyal and IGP Sindh Allah Dino Khawaja took notice of the incident and ordered the police officials to arrest those involved in the incident.
Full report at:
http://nation.com.pk/national/24-Jun-2017/four-cops-martyred-in-karachi-attack
--------
India
Mathura-Bound Train, 15-Year-Old Killed, Brother Says Were Called Beef Eaters
June 24, 2017
When 15-year-old Junaid Khan left home in Ballabhgarh on Thursday morning, he thought he'll return with a new set of kurta-pyjama, a pair of shoes and some khushboo. Little did he know that the journey to Delhi, for Eid shopping, would cost him his life.
On his way home in a Mathura-bound train, with his elder brother Hashim and two friends, Junaid was stabbed to death, allegedly by "a group of 10-12 men between 7-8 pm". His brothers Hashim and Shaqir, who boarded the train later, also sustained stab wounds.
Speaking to The Indian Express, 23-year-old Shaqir, admitted to the AIIMS Trauma Centre in Delhi, alleged that the accused started taunting Junaid and the others over their clothing, and also made references to "beef eating".
"They flung our skull caps, pulled my brother's beard, slapped us, and taunted us about eating cow meat. Beef is not even cooked in our village. Once we reached Ballabhgarh, they took out knives. They were older than us — probably in their 30s — so we couldn't do anything," recalled Shaqir, tears rolling down his cheeks. He said the men started stabbing Junaid, Hashim and him.
Shaqir, who works as a driver, suffered five stab wounds, including one on his chest. While the family, including Hashim, is in Ballabhgarh, his elder brother Ismail is in the hospital with him.
"Hashim told me the men threw them off the train at Asaoti station. Some people there called an ambulance and they were then taken to a hospital in Palwal," said Ismail.
The FIR mentions that the two groups fought over seats. "They noticed we are Muslims because of our clothing and began taunting us. It would go on for a bit, then stop, then start again," said Shaqir. "First they slapped us, then abused us, and then between Ballabhgarh and Asaoti stations, they stabbed us."
Shaqir's last memory of Junaid is of him being stabbed. Soon after, he said, the mob moved to the other two brothers.
"He used to study Urdu at the madrasa in our village, and just a day earlier, he read the Quran at home. He was a healthy kid but he never fought with anyone. I told the mob that these are children… and that if we don't say anything about their religion, they shouldn't say anything about ours."
A case has been registered at Government Railway Police station, Faridabad, under IPC sections 323 (voluntarily causing hurt), 324 (voluntarily causing hurt by dangerous weapons or means), 302 (murder), and 34 (common intention). One arrest has been made so far, Superintendent of Police Kamaldeep Goyal said.
The FIR, filed by Hashim, states that the accused picked an argument over seats before becoming violent.
http://indianexpress.com/article/india/18-year-old-stabbed-to-death-they-flung-our-skull-cap-pulled-beard-ballabhgarh-mathura-bound-train-4719096/
--------
Pakistan's concept of Sharia has nothing to do with Islam: Ahamdi Muslim Jamaat of India
23 Jun 2017
'Pakistan's concept of Sharia has nothing to do with Islam,' said Shiraz Ahmad in his address at a seminar on 'Human Rights abuses in Pakistan' organised by the Nehru Memorial Museum and Library in collaboration with the Asian-Eurasian Human Rights Forum. Ahmad is the Additional Executive Director of the Ahmadiya Muslim Jamaat, India, and he was speaking about gross human rights violation being perpetrated on the Ahmadiya community in Pakistan, and that too with state sanction.
Ahmad said that Ahmadiyas were declared non-Muslim in 1974 by the government of Zulfikar Ali Bhutto and were further deprived through an Anti-Ahmadiya Ordinance in 1984 promulgated by then military dictator General Zia-ul-Haq.
The political isolation of the Ahmadiyas through instruments of state has led to their harassment in all walks of life. They vote as non-Muslims and are denied and equitable job opportunities. There are severe restrictions to their entry in professional institutions which hampers their right to education. Restrictions have been imposed on the production of Ahmadiya literature.
Hundreds of Ahmadiyas have been charged under the Draconian Blasphemy Law of the state and sentenced to long imprisonment and even death.
Most significantly, state marginalisation of the Ahmadiyas in Pakistan has encouraged the militants and extremist elements towards specifically targeting the community with violence. Many Ahmadiyas have been and continue to be murdered in cold blood by religious extremists while their religious places are desecrated and destroyed.
Ahmad concluded by saying that even though international human rights organisations raise the issue of Ahmadiya persecution in Pakistan in various forums more need to be done to ensure the safety and individual liberty of the persecuted community.
The seminar also touched upon the human rights abuses of other minority communities like the Shias, Hindus and Christians.
Full report at:
http://www.dnaindia.com/india/report-pakistan-s-concept-of-sharia-has-nothing-to-do-with-islam-ahamdi-muslim-jamaat-of-india-2481766
--------
CRPF completes yoga week under Muslim teacher
Jun 23, 2017
Nagpur: ZS Haider, a former Ordnance factory personnel, conducted a week-long awareness-cum-training week for the Central Reserve Police Force (CRPF) personnel at Nagpur. The seven-day programme ended on the World Yoga Day observed globally on Monday on June 21.
Haider, who began coaching the CRPF cops on June 15, ensured that the personnel were also enlightened about the benefits of the traditional vedic psysio-mental practice. DIG, Nagpur Range, Dinesh Uniyal, DIG, Nagpur group centre, Sanjay Kumar, DIG, medicine, Dr Anirban Roy, commandants Manoj Dhyani and MH Khobragade had taken part in the programme. Commandant of the women battalion, Seema Toliya, too was among the participants.
In Naxal-affected Gadchiroli, the police force also performed yoga on June 21 to mark the global awareness day for the traditional form of exercise at the parade ground at the headquarters. SP, Gadchiroli, Abhinav Deshmukh, Addl SPs, Gadchiroli, Hari Balaji and Mahendra Pandit were among the ones who participated in the programme under the guidance of Patanjali Sevasansthan's Varshatai Deshmukh and others.
Full report at:
http://timesofindia.indiatimes.com/city/nagpur/crpf-completes-yoga-week-under-muslim-teacher/articleshow/59287780.cms
--------
With 42 killed, bloodiest Ramzan in Kashmir in years
Jun 24, 2017,
SRINAGAR: At least 42 people, including nine policemen, were killed in Kashmir in June in what could be the bloodiest Ramzan in the Valley in recent years. The toll includes 27 terrorists and six civilian deaths.
A senior police officer told TOI that Friday's lynching+ has resulted in fear among the lower rungs of security forces. Although the killing drew criticism from all quarters, security forces believe it's insufficient to deter people from acting against cops.
"Although she (Mehbooba) was very hard in her statement against the attack on police+ , we have got the signal not to act severely against the wrong-doers, even local militants because of political reasons," the officer said.
"How long will we lose our men to people, who like mad dogs, chase us because we happen to belong to the police department?" he added.
Full report at:
http://timesofindia.indiatimes.com/india/with-42-deaths-bloodiest-ramzan-in-kashmir-in-years/articleshow/59293538.cms
--------
Babri Masjid demolition case: NBW warrant against Mahant Dharam Das
June 24, 2017
The special court in Lucknow hearing the Babri Masjid demolition case issued a non-bailable warrant (NBW) against Mahant Dharam Das, an accused, on Friday for not appearing in the proceedings. Das is an invited member of Ramjanmbhoomi Nyas.
"Court issued NBW against Mahant Dharam Das because neither he nor any lawyer representing him appeared before the court today. No application was moved in the court for Mahant Dharam Das seeking exemption from appearance in the court," said special counsel for CBI, Lalit Kumar Singh.
Meanwhile, prosecution witness and Shiv Sena Rajya Sabha member Sanjay Raut also did not appear before the court to record his statement.
Full report at:
http://indianexpress.com/article/india/babri-masjid-demolition-case-nbw-warrant-against-mahant-dharam-das-4719347/
--------
Mehbooba Mufti warns Kashmiris against abusing 'restraint shown by police'
Jun 23, 2017
NEW DELHI: Even as police arrested two people in connection with the lynching of an on-duty police officer in Srinagar+ on Friday, J&K chief minister Mehbooba Mufti had strong words for Kashmiris: "This is not how you respond to restraint on the part of the police."
The chief minister then warned that incidents like this don't bode well for the security situation in Kashmir She also warned the people of the state against testing the patience of the security forces.
"If this is the result of their restraint it's going to be very difficult. For how long can this go on? I want to tell people, if this goes on, things may well go back to how they were, when people would run just upon seeing a (police) jeep on the road," Mehbooba said, according to ANI.
"What could be more shameful than this episode...He (Pandith) was there to protect the life of the people...Police are exercising maximum restraint, people must understand," Mehbooba said. "There's still time for people (to change their behaviour), I want to tell them that," she said.
Mehbooba earlier laid a wreath at Pandith's casket at the district police lines.
Early on Friday morning, deputy superintendent of police Mohammed Ayub Pandith was stoned to death by a mob in Srinagar that believed he had shot at a group of people who caught him taking photographs outside Jamia Masjid.
Police sources told TOI Pandith was part of Kashmiri separatist Mirwaiz Umar Farooq's security grid deployed outside the Jamia Masjid on the religious occasion of Shab-e-Qadr.
Some 10 hours after the incident, J&K Director General of Police SP Vaid said three people accused of being complicit in the lynching have been identified, of whom two have been arrested.
"Two people have been arrested, third person identified. They will have to face the law," said Vaid.
Vaid concurred with the chief minister's views on the incident.
"Our police is one of the best police forces in country, showing maximum restraint because they feel they're dealing with their own people," he said.
"People should understand the difference between good and bad. Those who are protecting them, someone who was on duty was lynched," Vaid added.
In the meanwhile, details about what preceded the lynching are still fuzzy.
Police sources said that Pandith was seen taking pictures of people coming out of Jamia Masjid in Nowhatta area around 3 am on Friday. They said that when people tried to catch Pandith and stop him from taking photos, he allegedly fired several shots from his pistol, injuring three people.
Soon after, reportedly a group of young men began to beat the police officer. That group then quickly swelled into an irate mob that stripped the officer before killing him by hitting him with stones.
Conflicting reports say that Pandith fired after people surrounded him and started assaulting him.
Full report at:
http://timesofindia.indiatimes.com/india/srinagar-cop-lynching-mehbooba-mufti-warns-kashmiris-against-abusing-restraint-shown-by-police/articleshow/59283415.cms
--------
DSP Mohammad Abdullah Pandith's lawyer cousin defended stone-pelters
Jun 24, 2017
SRINAGAR: The family members of DSP Mohammad Ayub Pandith, lynched on Thursday night, are known supporters of the Mirwaiz Umer Farooq family.
More, Ayub's cousin, Mohammad Abdullah Pandith, a lawyer, often takes up the defence of stone-pelters and separatists in subordinate courts, and is a close associate of Mian Qayoom, a staunch associate of Hurriyat separatist Syed Ali Shah Geelani, sources said.
Abdullah Pandith is an active member of the J&K high court bar association and always on the forefront of any protest concerning Kashmir issue, police said.
He defended Hurriyat (Syed Ali Shah Geelani faction) separatist Firdous Ahmad Shah in 2015 when he was allegedly involved in a case of accepting slush money to the tune of Rs 3 cr from Pakistan for 2008 Mumbai attacks. He was subsequently charged by the Enforcement Directorate.
Full report at:
http://timesofindia.indiatimes.com/india/dsp-mohammad-abdullah-pandiths-lawyer-cousin-defended-stone-pelters/articleshow/59295335.cms
--------
ISIS sympathiser arrested in Hyderabad's Bharath Nagar: Police
June 23, 2017
A 22-year-old ISIS sympathiser on Friday was arrested by police in Hyderabad's Bharath Nagar area, according to news agency ANI. According to police, the sympathiser, Konakalla Subramanyam alias Omer wanted to carry out subversive activities in the country and was in touch with other ISIS sympathisers via phone and social media.
An official release issued by the Hyderabad police said, "On receipt of credible information, the Special Investigation Team (SIT) apprehended Omer and found in his possession one mobile phone, which contained incriminating
conversation with ISIS sympathisers."
According to a PTI report, Omer was booked on charges of sedition, criminal conspiracy and under relevant sections of the Unlawful Activities (Prevention) Act, 1967 based on a complaint filed by SIT Inspector K Syamala Rao.
Police further said, "Omer's interrogation revealed he had embraced Islam in 2014. Later, he visited Gujarat and trained in religious rituals and scriptures. He also visited Srinagar and other places in Tamil Nadu and Mumbai."
Earlier on June 3, on the completion of three years of the Narendra Modi government, Home Minister Rajnath Singh said, 90 ISIS sympathisers have been arrested across the country so far. Adding that the security situation in the country has improved in the last three years, Singh said that even though India has a large Muslim population, Islamic State has been unable to establish a hold in the country.
"He allegedly chatted with ISIS sympathisers through Facebook, WhatsApp, Telegram and was in regular touch with Abu Qahafa Al-Hindi, a Mumbai-based ISIS sympathiser. He wanted to carry out subversive activities in the
country at the instigation of Abu Qahafa Al-Hindi. The accused is being remanded in judicial custody," the police added.
On May 29, a Kashmiri youth, identified as Afshan Pervaz, 21, who was allegedly trying to join the Islamic State (IS), was deported from Turkey. Pervaz had told his family that he wanted to go to Iran for higher education, said police source. A PTI report quoted sources as saying that he had booked a seat on a flight to Tehran on March 23.
Full report at:
http://indianexpress.com/article/india/isis-sympathiser-arrested-in-hyderabads-bharath-nagar-say-police-4718842/
--------
Ahead of Modi visit, US sees no threat to Pakistan from arms deal with India
June 24, 2017
With the United States expected to authorize India's purchase of naval drones, a senior White House official cautioned on Friday that any US military transfer to India would not represent a threat to its rival neighbor Pakistan. The official spoke to reporters in advance of U.S. President Donald Trump's first meeting with Indian Prime Minister Narendra Modi on Monday, a White House visit that will include one-on-one talks and a working dinner.
Securing agreement on the purchase of 22 unarmed drones, worth more than $2 billion, is seen in New Delhi as a key test of defense ties that flourished under former President Barack Obama but have drifted under Trump, who has courted Asian rival China as he seeks Beijing's help to contain North Korea's nuclear program.
The US-based company that makes the drones, General Atomics Aeronautical Systems Inc, said on Friday that the U.S. government had approved the sale of a naval variant of the Predator drone to India.
The senior White House official said any arms transfer would take into account the regional situation.
"We want to avoid a situation that escalates the tension" between India and Pakistan, the official said. India and Pakistan should engage in direct talks and seek a normalization of ties, the official said.
"Some of the defense systems we're talking about we don't believe impact Pakistan," the official added.
The Indian Navy wants the surveillance drones, variants of the Predator drones, to keep watch over the Indian Ocean. The deal would be the first such purchase by a country that is not a member of North Atlantic Treaty Organization.
India, a big buyer of U.S. arms that was recently named by Washington as a major defense ally, wants to protect its 7,500- km (4,700-mile) coastline as Beijing expands its maritime trade routes and Chinese submarines increasingly lurk in regional waters. But sources tracking the discussions say the U.S. State Department has been concerned about the potentially destabilizing impact of introducing high-tech drones into South Asia, where tensions are simmering between India and Pakistan, particularly over Kashmir, which is divided between them.
Such a sale of sensitive military hardware must be authorized by the State Department before being sent to Congress for review. The drone deal would still require approval by Congress. The State Department declined comment ahead of any notification.
Defense cooperation, the U.S. trade deficit with India, counter-terrorism efforts and regional tensions are expected to be discussed between the two leaders.
Modi's two-day visit to Washington begins on Sunday. Trump met Chinese President Xi Jinping in April and has also had face time with the leaders of nations including Japan, Britain and Vietnam since taking office in January, prompting anxiety in New Delhi that India is no longer a priority in Washington.
Other strains have emerged in U.S.-India relations, with the United States vexed by a growing bilateral trade deficit and Trump accusing New Delhi of negotiating unscrupulously at the Paris climate talks to walk away with billions in aid.
US officials expect a relatively low-key visit by Modi, without the fanfare of some of his previous trips to the United States, and one geared to giving the Indian leader the chance to get to know Trump personally and to show that he is doing so.
Full report at:
http://indianexpress.com/article/india/ahead-of-modi-visit-us-sees-no-threat-to-pakistan-from-arms-deal-with-india-4719447/
--------
North America
Ramadan in Hollywood: Industry Muslims Hold Interfaith Outreach Events
6/22/2017
TV producer Greg Daniels and more join Muslim stars and creators in a Ramadan ritual and applaud a discourse amid "blowback" against Trump: "This was my first time sharing my faith with Hollywood."
The growl of a motorcycle roaring down Melrose doesn't disturb the reverence just yards away, where actor Ben Youcef is singing the adhan (the Muslim call to worship) to signal the end of the day's fast.
It's June 14, and inside a tent in front of The Larchmont, a restaurant near the Paramount lot, about 50 writers, producers and other industry figures have gathered for prayers before iftar, the evening meal during the Islamic holy month of Ramadan — when Muslims fast from sunrise to sunset — which this year started on May 26 and ends on June 24.
Nearly half of those present are Muslim. "As a Presbyterian in L.A., I've been invited to tons of seders," says Katie Buckland, executive director of the Writers Guild Foundation, which is co-hosting the event with the Muslims on Screen & Television Resource Center (MOST). "Why not an iftar?"
While President Donald Trump fights to push his Muslim travel ban through the courts, many in Hollywood are resisting with a counternarrative to deepen ties and understanding with industry Muslims through fresh portrayals in character (Master of None's acclaimed "Religion" episode this season) and in public life (Mahershala Ali's impassioned SAG Awards acceptance speech).
"There's been a blowback against the type of draconian opinions that Trump is making about Muslims," says The Italian Job screenwriter Wayne Powers, whose passion for positive Muslim and Middle Eastern representation began when he taught a screenwriting course in Jordan about five years ago. "It's caused a bit of self-reflection from writers. If I'm only portraying Muslims as terrorists, that's feeding the fire of Trumpian diplomacy."
The Larchmont iftar saw Muslim talent including Bassem Youssef — aka "the Jon Stewart of Egypt" — and Tyrant star Kal Naga breaking bread alongside the likes of Designated Survivor co-producer Jenna Richman and comedy showrunner Greg Daniels, whose interest in engaging the culture, as with Powers, was sparked after leading a screenwriting workshop in Abu Dhabi last summer.
"I've done a lot of iftars with non-Muslims but never with people in the business," says Youcef, whose credits include acting in Munich and recording the adhan in films such as 13 Hours and Netflix's Sand Castle. "This was my first time sharing my faith with Hollywood, which is a good start."
The hope is that Muslim observances someday become as familiar and commonplace in popular culture as their Jewish and Christian counterparts. "The mainstreaming of the community is still in its infancy," says Jawaad Abdul Rahman, development director of Unity Productions Foundation, the nonprofit that supports MOST, but integration efforts are growing.
On June 13, L.A. Mayor Eric Garcetti hosted an interfaith iftar attended by Ali and manager-producer Ahmos Hassan, who is starting a Muslim-focused production company, Chariot Entertainment, with his friend David Stern, a Jeffer Mangels partner who's serving as outside legal counsel.
After 20 years in the industry, Hassan is beginning to see an increase in the exploration and understanding of Islam. He still has clients who question the sanity of fasting for an entire month, but "now you get that pass," he says. "During Ramadan, if I tell them, 'Hey, I got to go home and take a nap [from hunger-induced fatigue],' they're like, 'OK, good. Need me to wake you up?' "
http://www.hollywoodreporter.com/news/ramadan-hollywood-industry-muslims-hold-interfaith-outreach-events-1015236
--------
U.S. Muslim group launches cellphone app to report hate crimes
Jun 24, 2017
By Riham Alkousaa
NEW YORK, June 23 (Reuters) - Hoping to get an accurate count of anti-Muslim hate crimes in the United States, the Council on American-Islamic Relations (CAIR) on Friday launched a mobile app allowing victims to report bias incidents.
The group launched its Making Democracy Work for Everyone app a month after it reported a 44 percent surge in the number of hate crimes reported by U.S. Muslims last year. Concerned that the 260 hate crimes CAIR learned of last year represent just a fraction of the actual total, the group intends the app to increase reporting.
"In a moment of trauma, you're not thinking that I need to go online and enter something, but your phone will always be in your hand," said Corey Saylor, who runs the group's anti-Islamophobia efforts.
The application allows a user to file a description of an alleged incident, which CAIR staff will then investigate. If the group concludes the incident was the result religious bias, it will include it in its reporting, and if it believes the incident was criminal, it will share the details with local police.
The app offers advice about what rights are protected by the U.S. Constitution and contains contact information for CAIR's national headquarters in Washington and chapters nationwide.
The group this year resumed tracking anti-Muslim incidents, following a surge in bias cases last year. While the group saw an increase in anti-Muslim incidents prior to Donald Trump's stunning rise in last year's presidential primaries and November election victory, it said the acceleration in bias incidents was due in part to Trump's focus on militant Islamist groups and anti-immigrant rhetoric.
Trump has said his policies do not reflect religious discrimination but rather efforts to improve national security, following a series of attacks.
Full report at:
http://timesofindia.indiatimes.com/business/international-business/u-s-muslim-group-launches-cellphone-app-to-report-hate-crimes/articleshow/59293226.cms
--------
Priorities and nature of ties with India, Pakistan different: White House
June 24, 2017
Asserting that the US' ties with India and Pakistan were not a 'zero-sum game', the White House has said that the Trump administration's priorities and the nature of relationship with the two countries were different. "We seek to have an effective partnership with each country. With India, we're building that strategic partnership. We see India's role and influence growing. We like to encourage that trend. So, we're looking for ways to cooperate on our mutual interests," a senior administration official told reporters at a news conference in Washington.
"With Pakistan, we seek to have a productive partnership working together. But frankly, the priorities are different, and the nature of the relationships are different. So, I think that we would like to move forward with both countries. "We realise that the pace and scope of that relationship is going to be different in each case," the official, who spoke on condition of anonymity said in response to a question on concerns in Pakistan with regard to increasing ties with India.
Relationship with India and Pakistan is not a zero-sum game, he said. "I want to make the point here that US relationships with India and Pakistan really stand on their own merits and terms. We don't see a zero-sum relationship when it comes to the US relationship with Pakistan and the US relationship with India. "We're certainly eager to deepen the strategic partnership with India," he said.
"We are also interested in continuing our cooperation with Pakistan," the official said adding that the US is concerned about tensions between India and Pakistan. He said the US would like to see the normalisation of relations between the two countries.
"We believe it's in both countries' interests. It's in the interests of the region, and even the globe, given that they're both nuclear-weapon powers," the official said. "But we very much encourage India and Pakistan to engage in a direct bilateral dialogue aimed at reducing those tensions," the official said while denying reports that sale of high-tech defence items to India would have any adverse impact on Pakistan.
"The US also has a defence partnership with Pakistan. We do cooperate with Pakistan on some security and defence and counter terrorism issues. So again, we don't see this as a zero-sum game," the official said. "We see this as the US and India have mutual security interests that they want to advance, and we believe that the defence sales that are being discussed will help advance those. It is not about Pakistan.
"The defence deals — we do take into account the regional situation. We very much want to avoid a situation that escalates tensions between the two," he said. "So these issues are taken into account. But some of the defence systems that we're talking about we don't believe impact Pakistan. They may be different systems than we are transferring to Pakistan, but we don't believe they represent a threat to Pakistan," said the White House official.
Meanwhile, a senior Trump official on Friday said that India and the US have a common objective in Afghanistan, and the two countries could increase their cooperation to enhance the Afghan economy. "India has played a positive role in Afghanistan, the US believes. They have pledged over USD 3 billion in assistance to Afghanistan. The Afghans appreciate the kind of support and assistance that the Indians have provided–I'm not just talking about the government, I'm talking about the population," the official told reporters.
"When they've done polling, there's a very positive feeling toward India and the kind of assistance — they've assisted in the education sector, the health sector. They built the parliament building. They support democracy, democratic development there," he said, listing out the developmental activities by India in the war-torn country.
"So I think this administration's opinion is that India has played a helpful role in Afghanistan in helping to stabilise that country, helping to strengthen the government in its fight against the Taliban insurgency.
"That's the kind of role that the US would like to encourage and perhaps maybe even cooperate in terms of development projects," the official said on condition of anonymity.
As such, "this is an area that the two can increase their coordination and their consultation," the official said. "Of course, the US has major assistance programs to Afghanistan as well. So I think this is an area where I think they can expand that dialogue on what they can do to help the economy, help Afghanistan become more self-sufficiently financially.
Full report at:
http://indianexpress.com/article/india/priorities-and-nature-of-ties-with-india-pakistan-different-white-house-4719586/
--------
Mideast
Iranian Demonstrators Issue Resolution in Support of Liberation of Holy Quds
Jun 23, 2017
The International Quds Day Rallies this year witnessed a stronger and wider public turnout in all the world countries due to the Zionist regime's continued occupation of the Palestinian territories and its continued atrocities against the Palestinians.
Millions of people took part in the International Quds Day rallies in solidarity with the oppressed Palestinian people today.
The International Quds Day is an annual event opposing Israel's occupation of Beitul-Muqaddas. Anti-Zionist rallies and demonstrations are held on the last Friday of Ramadan in Muslim and Arab countries around the world, specially in Iran.
The Iranian demonstrators in Tehran and hundreds of other Iranian cities in a resolution supported Palestinians' resistance for liberating their territories from the Israeli occupation.
The demonstrators in their final resolution reiterated that the liberation of Beit-ul-Moqaddas and the holy Quds are among the noble ideals and causes of the Islamic Revolution of Iran.
"The only solution to the Palestinian issue is the return of Palestinian refugees from remote parts of the world and holding a free referendum to determine the future of their country," part of the resolution by the participants of the Quds International Day Rally read.
They said that the plot by the ISIL and other Takfiri terrorists in Iraq, Syria and Libya and the savage crimes of the Saudi regime against the oppressed nations of Yemen and Syria are the result of a joint plot of the US, the "Zionist regime" and the region's reactionary regimes to create a rift among Muslims and for the sake of the security of Israel.
Voicing their support for the axis of resistance and the Intifada, the demonstrators strongly condemned the Judaization of the Palestinian lands and the efforts aimed at destroying the national and historical identity of Palestine.
The Iranian demonstrators called on the international organizations to prevent the Judaization of the Palestinian territories through adopting decisive stances.
The Iranian demonstrators condemned the savage attacks of the Zionists against the Palestinian Muslims, specially the women and children, as "war crime and genocide", and called on the international human rights organizations, the members of the Organization of the Islamic Cooperation (OIC) and other international bodies to take practical steps to punish the Israeli leaders.
The final resolution also condemned the satanic efforts by the Al Saud and some regional countries in favor of Israel's security and also normalization of diplomatic relations with the occupying regime of Israel.
International Quds Day rallies are held annually on the last Friday of the month of Ramadan.
The day of anti-Zionist expression was first declared by Late Ayatollah Khomeini, the Leader of the 1979 Islamic Revolution.
The International Quds Day is an annual event opposing Israel's occupation of Beitul-Muqaddas. Anti-Zionist rallies and demonstrations are held on the last Friday of Ramadan in Muslim and Arab countries around the world, specially in Iran, as well as a large number of non-Muslim states.
The International Quds Day was started by the late Founder of the Islamic Republic, Imam Khomeini, in 1979 as a way of expressing solidarity with the Palestinians and underscoring importance of the holy Quds to Muslims.
http://en.farsnews.com/newstext.aspx?nn=13960402000804
--------
Iranians chant 'Death to Israel', burn Islamic State's flag at rallies
Jun 23, 2017
ANKARA: Hundreds of thousands of Iranians chanted "Death to Israel" in nationwide rallies on Friday at which they also burned flag of the Islamic State militant group which claimed responsibility for attacks in Tehran this month, state TV reported.
Iranian state media said millions of people turned out for the rallies to mark Al-Quds Day that was declared by Iran's 1979 Islamic revolution founder Ayatollah Ruhollah Khomeini and which is held on the last Friday of the Muslim fasting month of Ramadan. Opposition to Israel is a touchstone of belief for Shi'ite-led Iran, which backs Palestinian and Lebanese Islamic militant groups opposed to peace with the Jewish state, which Tehran refuses to recognise.
Israel, the United States and its chief Sunni Arab ally Saudi Arabia accuse Iran of fomenting tension in the Middle East and of sponsoring terrorism. This is denied by Tehran.
Tensions have risen sharply in the Gulf between Qatar and four Arab states, including Saudi Arabia, in part over Doha's links with Iran.
"This year's rally ... shows people want our region to be cleaned up from terrorists, backed by the Zionist regime (Israel)," President Hassan Rouhani told state TV.
State TV covering the rallies showed crowds chanting anti-Israel slogans in solidarity with Palestinians whom they urged to continue their fight against the "occupying regime".
Demonstrators chanted "Death to Israel, Death to America,", carrying banners reading "Israel should be wiped off the map" while people were shown burning the Israeli flag.
People meted out the same treatment for the banner of Islamic State (IS) which has said it carried out deadly twin attacks in Tehran on June 7. Iran blames regional rival Saudi Arabia for being behind the attacks. Riyadh denies this.
"Daesh (IS), America and Israel are all the same. They are all terrorists," a young woman marcher in Tehran told TV.
Marchers included soldiers, students and clerics. Black-clad women with small children were among those flocking the streets of central Tehran, many carrying portraits of Khomeini and his successor Supreme Leader Ayatollah Ali Khamenei.
In Tehran's Vali-ye Asr street, three mid-range surface-to-surface ballistic missiles were displayed, including the Zolfaghar missile that Iran's elite Revolutionary Guards used on Sunday to target bases of the IS in eastern Syria.
Top Guards' commanders have repeatedly said that Israel is within range of Iran's missiles. Sunni Muslim states in the Gulf and Israel say Tehran's ballistic missile program is a threat to regional security and has led to the United States imposing new sanctions.
Full report at:
http://timesofindia.indiatimes.com/world/middle-east/iranians-chant-death-to-israel-burn-islamic-states-flag-at-rallies/articleshow/59285516.cms
--------
Iran Disbands Terrorist Team in Western Province; Kills 3, Arrests 1
Jun 23, 2017
Three terrorists were killed during the operation and one was arrested and a large amount of weapons and ammunition were seized from the terrorists.
The IRGC in Kordestan province announced that the terrorist team had intended to conduct terrorist activities in the country and destabilize Iran.
On June 7, the terrorists attacked Iran's Parliament and Imam Khomeini Mausoleum in Southern Tehran. The ISIL terrorist group claimed responsibility for the attacks.
Iranian security officials have pledged to give crushing response to terrorist attacks in the country.
Three unknown assailants fired several rounds at the guards protecting the parliament building in Tehran on June 7. The assailants opened their way into the parliament's administrative building while shooting at the guards and civilians.
A similar attack took place at the holy shrine of the late founder of the Islamic Republic, Imam Khomeini, parallel with the parliament attack.
Full report at:
http://en.farsnews.com/newstext.aspx?nn=13960402000683
--------
Turkey rejects call to shut military base in Qatar
Jun 24, 2017
ISTANBUL - Turkey rejected a call from four Arab states on Friday to shut down its military base in Qatar, saying the base was a guarantor of security in the Gulf and demands for its closure represented interference in its ties with Doha.
Defense Minister Fikri Isik told Turkish broadcaster NTV that he had not yet seen a request for the closure of the base, but made clear Ankara had no plans to review a 2014 agreement with Qatar which led to it being set up.
He was speaking after an official from one of the four Arab states boycotting Qatar over alleged support for terrorism said they had sent Doha a list of 13 demands including closing down the military installation.
"If there is such a demand, it will mean interference in bilateral ties," Isik said, suggesting instead that Turkey might continue to bolster its presence in Qatar. Five armored vehicles and 23 military personnel arrived in Doha on Thursday in a deployment Turkey's armed forces said was part of a military training and cooperation deal. Some 88 Turkish soldiers were already in Qatar, according to the Hurriyet newspaper.
The newspaper said a joint exercise by Turkish and Qatari forces was expected following the Islamic Eid al-Fitr holiday which starts on Sunday, and the number of Turkish soldiers sent to the Gulf state could eventually reach 1,000. An air force contingent was also envisaged, it said.
"The strengthening of the Turkish base would be a positive step in terms of the Gulf's security," Isik said. "Re-evaluating the base agreement with Qatar is not on our agenda."
Turkey, which has long tried to play the role of regional mediator, is also wary of upsetting its other allies in the Gulf, including Saudi Arabia, and Isik said Ankara had hoped that tensions over Qatar could be resolved without a crisis.
Isik said Turkey's presence in Qatar should be seen as a benefit for the whole Gulf. "The base in Qatar is both a Turkish base and one that will preserve the security of Qatar and the region," he said.
Turkey's military support for Qatar has been matched by stepped up commercial links.
Customs and Trade Minister Bulent Tufenkci said Turkish exports to Qatar have tripled since the four Arab countries began boycotting the Gulf state earlier this month.
Full report at:
http://nation.com.pk/international/24-Jun-2017/turkey-rejects-call-to-shut-military-base-in-qatar
--------
Turkey welcomes U.S. pledge to take weapons from Kurds after IS defeat
Jun 24, 2017
Turkey regards as a "positive step" a U.S. pledge to take back weapons supplied to the Kurdish YPG militia in Syria after the defeat of Islamic State and said its implementation was essential, Defense Minister Fikri Isik said on Friday.
In an interview with broadcaster NTV, Isik also said Turkey would retaliate if it faced any threat from the YPG, which Ankara regards as a terrorist group tied to militants who have fought a three-decade old insurgency in southeast Turkey.
http://nation.com.pk/international/23-Jun-2017/turkey-welcomes-us-pledge-to-take-weapons-from-kurds-after-is-defeat
--------
UN rejects Israel claims of Hezbollah operating under cover of NGO
Jun 24, 2017
The United Nations has dismissed Israeli accusations that Lebanon's Hezbollah resistance movement is setting up observation posts on the border under the guise of an environmental NGO.
Earlier this week, the Israeli military published photographs and footage showing what it claimed to be Hezbollah observation posts established on behalf of "Green Without Borders" near the frontier with the occupied territories.
Israel's Ambassador to the UN Danny Danon sent a letter of protest to the UN Security Council, denouncing the alleged "dangerous provocation" and accusing Hezbollah of carrying out undercover reconnaissance activities.
The council should "demand that the government of Lebanon dismantle these observation posts immediately, and prevent any future activity of Hezbollah and its affiliates in southern Lebanon, particularly near the Blue Line," he said, referring to the UN-drawn boundary between Lebanon and the occupied lands.
On Friday, however, UN spokeswoman Eri Kaneko rejected Tel Aviv's allegation against Hezbollah and said that members of Green Without Borders had only planted trees in the area over the past years.
She stressed that the United Nations Interim Force in Lebanon (UNIFIL) "has not observed any unauthorized armed persons at the locations or found any basis to report a violation of [Security Council] Resolution 1701," passed at the end of the 33-day Israeli war on Lebanon in the summer of 2006.
UNIFIL remains in contact with the Lebanese armed forces on monitoring the border to ensure there are no violations "and to avoid any misunderstandings or tensions that could endanger the cessation of hostilities."
The 33-day war, which killed more than 1,200 Lebanese, ended on August 14, 2006, after a UN-brokered ceasefire went into effect.
Since then, UNIFIL has also been charged with monitoring the cessation of hostilities.
Israel's claims come while it frequently violates Resolution 1701 by invading Lebanon's airspace.
Full report at:
http://217.218.67.231/Detail/2017/06/24/526323/UN-Israel-Lebanon-Hezbollah
--------
Israel irate at Germany over hosting Quds march
Jun 24, 2017
Israel has reacted with fury to a rally by hundreds of pro-Palestinian demonstrators in the German capital of Berlin on the occasion of the International Quds Day.
The Friday march drew some 600 pro-Palestinian activists, who were heeding a call by the late founder of the Islamic Republic, Imam Khomeini, to march for Palestine on the last Friday of every Ramadan.
Back in 1979, Imam Khomeini declared the last Friday of the holy fasting month of Ramadan as the International Quds Day, demanding Muslims worldwide to demonstrate on the occasion to remind the world of the plight of the Palestinians under Israeli occupation and aggression.
The occasion was honored by millions of pro-Palestinian and Muslim activists worldwide.
The German capital has hosted Quds Day marches for many years, including this year on Friday.
The demonstrators in the Berlin rally held up banners bearing the slogans, "Free Palestine, Boycott Israel," and "Resistance against Zionism."
They also carried pictures of Imam Khomeini, and those of Leader of the Islamic Revolution Ayatollah Seyyed Ali Khamenei, as well as Secretary General of the Lebanese resistance movement of Hezbollah, Seyyed Hassan Nasrallah, whose group has fought off two Israeli wars on Lebanon.
The Israeli embassy in Berlin had called on the city's Mayor Michael Müller to prevent the march. Müller ignored the call, and the Israeli embassy issued threatening remarks about him afterwards, according to the Israeli paper the Jerusalem Post.
Full report at:
http://217.218.67.231/Detail/2017/06/24/526326/Germany-Berlin-Quds-Day-rally-Israeli-ire
--------
Europe
Trump, Putin and Erdogan behave like autocratic rulers: Germany's Schulz
Jun 24, 2017
The European Union must become stronger in response to a weakening of democracy in the United States, Russia and Turkey, the leader of Germany's centre-left Social Democrats said in remarks published on Saturday.
Martin Schulz, who is also a former president of the European Parliament, said that U.S. President Donald Trump, Russian President Vladimir Putin and Turkish President Tayyip Erdogan behaved like "autocratic rulers".
"It is now important to rejuvenate Europe and make it stronger. Not only through words but also through concrete policies," Schulz told the Passauer Neue Presse.
Chancellor Angela Merkel hosts leaders of the G20 leading economies at a summit in Hamburg on July 7-8, where Trump's vow to renegotiate trade agreements and make them better for the United States is expected to be one of the most divisive topics on the agenda.
Opposition to Trump's protectionist agenda is one area on which Schulz and Merkel agree. Schulz last month accused Trump of destroying Western values and undermining international cooperation.
"There are some in the G20 that behave like autocratic rulers: Turkish President Erdogan, Russian President Putin and also U.S. President Trump," Schulz said.
Schulz's SPD are 14 percentage points behind Merkel's Christian Democrats (CDU) and their Bavaria-based Christian Social Union sister party three months before a national election on Sept. 24.
Trump wants Germany and other European allies to boost defence contributions to the NATO military alliance. He has criticized Germany's large trade surplus with the United States.
Merkel said this week that open markets and free trade were a key focus of Germany's G20 presidency.
http://nation.com.pk/international/24-Jun-2017/trump-putin-and-erdogan-behave-like-autocratic-rulers-germany-s-schulz
--------
Facebook launches initiative to counter cyber terrorism
Jun 24, 2017
Facebook Inc is launching a UK program to train and fund local organizations to combat extremist material online, as internet companies attempt to clamp down on hate speech and violent content on their services.
Facebook, which outlined new efforts to remove extremist and terrorism content from its social media platform last week, will launch the Online Civil Courage Initiative in the UK on Friday, the company said in a statement.
The new initiative will train non-governmental organizations to help them monitor and respond to extremist content and create a dedicated support desk so they can communicate directly with Facebook, the company said.
"There is no place for hate or violence on Facebook," said Sheryl Sandberg, Facebook's chief operating officer. "We use technology like AI to find and remove terrorist propaganda, and we have teams of counterterrorism experts and reviewers around the world working to keep extremist content off our platform."
The British government has stepped up attacks on Silicon Valley internet companies for not acting quickly enough to take down extremist online propaganda and fostering "safe places" where extremists can breed following a string of attacks in recent months in London and Manchester.
Facebook, Alphabet Inc's Google and Twitter Inc have responded by saying they have made heavy investments and employed thousands of people to take down hate speech and violent content over the past two years. Security analysts say the efforts have dramatically reduced the use of these platforms for jihadist recruitment efforts, although more work needs to be done.
Prime Minister Theresa May has sought to enlist British public opinion to force the U.S. internet players to work more closely with the government rather than proposing new legislation or policies to assert greater control over the web.
Earlier this week, May urged fellow European Union leaders at a meeting in Brussels to join her in putting pressure on tech companies to 'rid terrorist material from the internet in all our languages'.
Full report at:
http://nation.com.pk/international/23-Jun-2017/facebook-launches-initiative-to-counter-cyber-terrorism
--------
French court jails militant recruits
24 June 2017
Five young men inspired to fight in Syria by of one of France's most notorious jihadist recruiters in Nice were handed prison sentences by a Paris court on Friday.
The men, all in their 20s, were found guilty of associating with a terrorist organization. They had been recruited by Omar Diaby, a French national of Senegalese descent known for funneling fighters to Syria.
The stiffest penalties went to Ali Abzouzi and Luck Manodritta, sentenced to six and eight years in prison, respectively. The two had spent several months in Syria in 2013 and 2014.
Two others, Cedric Belly and David Assila, were given four years in prison including two-year suspended sentences for having attempted to join the others.
The court also handed a three-year jail sentence to Magomed Bagaiev, including a one-year suspended sentence for helping a young woman prepare to leave for Syria.
The court however acquitted Rouslan Bagaiev, who had also been accused of helping the woman.
The trial highlighted the extent of Diaby's influenced on the young men, most of them just becoming adults at the time of their recruitment in 2013 and 2014.
Throughout the trial, which started Monday, the defendants described Diaby, who was known to recruit in the Nice area, as an elder who imposed his ideas on younger people through his preachings, brainwashing them.
Investigators said Diaby, who has also called himself Omar Omsen, had set up a particularly well-organized recruiting network.
The United States last year labelled Diaby a "global terrorist" subject to US economic sanctions and estimated he has recruited around 50 French fighters to head to Syria.
Full report at:
https://english.alarabiya.net/en/News/world/2017/06/24/French-court-jails-militant-recruits-.html
--------
Daesh shifting focus to Central Asia after Mideast defeats: Security official
Jun 24, 2017
A Russian security official has warned that the Takfiri Daesh terror group is now seeking to shift the main focus of its acts of terrorism from Iraq and Syria, where it is suffering fatal blows, to Central Asia.
Daesh seeks to subdue some Taliban militants and other local extremist groups to create a new power base in Afghanistan and extend its influence to Central Asia, Russian media quoted Colonel General Andrey Novikov, the head of the Anti-Terrorist Center (ATC) of the Commonwealth of Independent States, as saying during an address to two UN Security Council committees on Friday.
The Takfiri group "exports a new model of extremist and terrorist activity from the battle zones [in Syria and Iraq] to the Central Asian states," he was quoted as saying by Russia's TASS news agency.
Novikov stressed that the rise in terrorist attacks perpetrated by the Taliban in Afghanistan's northern regions bordering the Central Asian countries could be an indication that some commanders of the militant group had switched their allegiance and joined Daesh.
The ATC head also pointed to a 2015 Daesh announcement regarding the creation of a new "province" with a center in Afghanistan that included the territories of the Central Asian states.
He drew a parallel between the military strategies being used by Afghanistan's local Taliban militants to those previously "typical" for Daesh terrorists.
Local extremists, Novikov said, are now trying to capture large areas and then take over the surrounding territory, thus preparing a bridgehead for further expansion.
"In the medium term, Daesh set a goal of expanding its influence in the northern regions of Afghanistan and gaining access to the border regions of the Central Asian states as well as to the Chinese Xinjiang Uighur Autonomous Region," Novikov said.
Meanwhile, the Russian security official noted that more than 7,000 citizens of the member countries of the Commonwealth of Independent States (CIS) are currently on a wanted list for terrorism-related activities, including more than 2,000 mercenaries.
Full report at:
http://217.218.67.231/Detail/2017/06/24/526332/Andrey-Novikov-CIS-Daesh-Central-Asia
--------
Germany warns Turkey against meddling in religious affairs
3 June 2017
BERLIN: Berlin on Friday warned Ankara against interfering in how people in Germany practiced their religion, as a new row erupted over a new "liberal" mosque in the German capital.
Diyanet, which oversees religious activity in Turkey, on Wednesday voiced distaste over the Berlin mosque where men and women pray side-by-side, saying it was incompatible with the principles of Islam.
Diyanet's criticism sparked strong words from Germany, with foreign ministry spokesman Martin Schaefer firmly rejecting the Turkish agency's comments "which are targeted at limiting people's right to practice their religion and freedom of opinion."
"How, where, when and in which manner people worship is not a matter for the state," said the spokesman.
"According to our understanding, the state has absolutely no authority over the assessment of theological questions. Rather, it has the duty to protect freedom of religion as well as freedom of opinion or press," stressed Schaefer.
Interior ministry spokesman Tobias Plate added that comments that "endanger domestic peace in Germany is something that cannot be accepted."
"We will be sure to express that bilaterally in every channel of dialogue that the interior ministry is responsible for," he added.
Berlin's new mosque, located in a rented room on the third floor of the Protestant Johanniskirche (St. John's Church) building, welcomes all Muslims — Sunni or Shia, Alawite or Sufi, and comes complete with female imams.
Full report at:
http://www.arabnews.com/node/1119466/middle-east
--------
South Asia
Taliban chief says US should adopt diplomatic means to resolve the issues
Jun 23 2017
The leader of the Taliban group Mawlavi Haibatullah Akhundzada has recommended to the Americans to adopt diplomatic approach to resolve the issue in Afghanistan.
In his message released ahead of the Eid-ul-Fitr, Mawlavi Akhundzada said "By accepting the legitimate demands of the Afghan Mujahid people, the Americans themselves should resolve the issue through diplomatic means instead of confrontation with the Jihadic resistance."
Terming the presence of the foreign forces in Afghanistan as 'occupation', the Taliban supreme leader said "The occupation is the main obstacle in the way of peace. The solution of the Afghan issue through peaceful means is part and parcel of the policy of the Islamic Emirate, should the occupation come to an end. The Political Office has been given the task to find a peaceful solution."
This comes as the group has repeatedly rejected to participate in peace talks, demanding the full withdrawal of the foreign forces from the country as one of its main conditions for the peace talks.
The group also announced its spring offensive in April this year despite the repeated calls by the government and international community to participate in peace talks.
Taliban continues to its relentless attacks across the country as the group is accused of causing the majority of the civilian casualties.
http://www.khaama.com/taliban-chief-says-us-should-adopt-diplomatic-means-to-resolve-the-issues-03010
--------
Taliban loses one of its most senior leaders in Takhar province
Jun 23 2017
The Taliban militants group has lost one of its most senior leaders during a military operation in northeastern Takhar province, the 209th Shaheen Corps of the Afghan National Army said Thursday.
According to a statement by the Shaheen Corps, the deputy military commission chief of the group Mawlavi Shukoor was killed during the operations of the Afghan security forces being conducted under the name of Pamir-8.
The statement further added that Mawlavi Shukoor was killed along with his nine companions during the operation.
At least nineteen Taliban insurgents were also wounded during the operations, the statement said, adding that the group's two senior commanders identified as Mullah Abdul Hadi and Mawlavi Belal were also among those wounded.
The Taliban insurgents group has not commented regarding the report so far.
Takhar is among the relatively calm provinces in northeastern Afghanistan which rarely witnessed insurgency since the fall of the Taliban regime.
However, the insurgent groups have increased their activities in this province during the recent years and often carry out insurgency activities, including coordinated attacks.
Full report at:
http://www.khaama.com/taliban-loses-one-of-its-most-senior-leaders-in-takhar-province-03009
--------
PM: Give scope to AL to serve people time and again
Jun 24, 2017
Awami League has worked to improve the socioeconomic condition of rural people and to remove any disparity between the rich and the poor while in power'
Prime Minister Sheikh Hasina on Friday urged people to vote in favour of Awami League in the upcoming election so as to maintain the pace of development, UNB reported.
"Bangladesh has become an emerging light in the world community. Bangladesh is moving ahead, and it will continue its forward march," the PM said.
"Still, I am aware that there are many conspiracies and evil designs against the country; there are plenty of anti-liberation forces, their collaborators and adulators who will continue their conspiracies," she said.
According to the report, Sheikh Hasina, also the Awami League president, made these statements while laying the foundation stone of the party central office at 23 Bangabandhu Avenue in Dhaka at an event marking the party's 68th founding anniversary.
She said the government wants to build the country into a developed and prosperous one.
"This will be done by Awami League. Only the Awami League can carry through and change the fate of the people," she said.
During the AL-led rule, Hasina said, the country gained recognition worldwide as a role model of development. "This has to continue to keep up the pace of development. The Awami League has to form a government again to serve the people," she further said. She said the AL has worked to improve the socioeconomic condition of rural people and to remove any disparity between the rich and the poor while in power.
Sheikh Hasina urged the public to compare the AL tenures with the others. She directed AL leaders and workers to build themselves up with the ideals of Bangabandhu and stand beside the public.
She said Bangabandhu struggled in his life to ensure the overall development of the public and the fulfillment of their basic rights, and gave us an independent country and a separate identity in the world.
Dubbing the 1996-2001 term of her government a golden era of Bangladesh, she said people for the first time understood that a government exists only to serve them during her rule
During 2009-2017, Hasina recalled, much marked development had taken place in all sectors, including the economic, social and cultural fields.
She reiterated her commitment to turn Bangladesh into a middle-income digital nation by 2021 and a front-ranking developed one in South Asia by 2041.
Awami League General Secretary and Road Transport and Bridges Minister Obaidul Quader spoke as well.
Party senior leaders, including Industries Minister Amir Hossain Amu, Commerce Minister Tofail Ahmed, Agriculture Minister Begum Matia Chowdhury, Housing and Public Works Minister Engineer Mosharraf Hossain, AL Presidium members Sheikh Fazlul Karim Selim and Adv Sahara Khatun, and joint secretaries Dr Dipu Moni and Jahnagir Kabir Nanak were present.
Full report at:
http://www.dhakatribune.com/bangladesh/politics/2017/06/23/hasina-give-scope-al-serve-people-time/
--------
3 British-Bangladeshi siblings stayed with elderly parents inside burning Grenfell Tower
June 23, 2017
As smoke and flames engulfed the 17th floor, bride-to-be Husna Begum, 22, and her brothers, Hanif, 26, and Hamid, 29, explained their decision to stay to relatives on the phone
Three young British-Bangladeshi siblings chose to stay and accept death with their parents inside the burning Grenfell Tower instead of leaving them to die alone, it has recently emerged.
As the fire raged on, the siblings, bride-to-be Husna Begum, 22, and her brothers, Hanif, 26, and Hamid, 29, explained their decision to relatives over the phone, report the Mirror.
In an emotional conversation 2 hours into the fire, the siblings said they could not leave their mother, Rabeya, in her 60s, and 82-year-old father, Kamru Miah.
The British-Bangladeshis also told their relatives not to grieve as they were "going to a better place".
Also read- Deadly London tower blaze began in Hotpoint fridge freezer
It has been claimed they had an "opportunity" of almost an hour after the fire began around 12:50am to make their way to safety – until about 1:45am – and were last heard of on the phone at 3:10am.
Their cousin, Samir Ahmad, 18, told The Times : "Their dad could barely walk anyway.
"What were they going to do? Abandon him?"
Ahmad said he believed "until around 1:45am they could have left their parents, but they didn't."
Of their final conversation, he said: "My auntie spoke to Hanif. He was very calm.
"He said his time had come, and not to mourn for them, but be happy for them because they would be in a better place.
"Hats off to them. They didn't show cowardice. They stayed with their mum and dad.
"Family was so important to them. They lived together and they died together."
Ahmad said he believed the children would have been haunted for the rest of their lives.
Full report at:
http://www.dhakatribune.com/bangladesh/2017/06/23/3-siblings-chose-stay-elderly-parents-inside-burning-grenfell-tower/
--------
Taliban's shadow district governor killed by own guard in Jawzjan
Jun 23 2017
The shadow district governor of the Taliban group was shot dead by one his own guards in northern Jawzjan province of Afghanistan.
According to the local government officials, the incident took place on Thursday in the relatively volatile district of Darzab.
Provincial security chief Abdul Hafiz Khashi confirmed the incident and said at least five other militants were also killed in the attack.
He said the attacker has apparently joined the ISIS ranks in Jawzjan province after killing the shadow district chief of the Taliban.
The Taliban insurgents have not commented regarding the report so far.
The security situation in Jawzjan province has started to deteriorate during the recent years with the rampant insurgency led both the Taliban and ISIS militants.
Full report at:
http://www.khaama.com/talibans-shadow-district-governor-killed-by-own-guard-in-jawzjan-03012
--------
Africa
After fears of Boko Haram attack, Nigerian intelligence thwarts plan targeting Muslims
Jun, 24 2017
Abuja: Nigeria's intelligence service on Saturday said it had thwarted a plan to target Muslims celebrating the end of Ramadan after fears that Boko Haram was planning a major attack.
The Department of State Services (DSS) said two men were arrested in a dawn raid on Friday on suspicion of plotting an attack on the northern city of Kano.
A third man, described as an "explosive expert", was arrested in Kano state on Tuesday, DSS spokesman Tony Oyuipo said in an emailed statement.
"Their plan, together with others now at large, was to assemble the explosives and use them on select targets during the Eid al-Fitr celebrations," he added.
Among the items recovered were eight AK-47 assault rifles, 27 hand grenades, nearly 800 rounds of live ammunition, a gas cylinder, vehicles, laptop and a mobile phone. The arrests had "nipped in the bud" potential end-of-Ramadan attacks in Kano, Sokoto, the northern city of Kaduna and Maiduguri, in the northeast, said Oyuipo.
"Terrorist elements" had been plotting "a series of coordinated attacks using explosives on different cities", he added.
Markets, public parks, processions, mosques and Muslim prayer grounds were said to be targets.
Boko Haram was not named in the statement but it has repeatedly attacked similar "soft targets" packed with civilians in the past.
Nigeria's military has said the group, whose insurgency has left at least 20,000 people dead and more than 2.6 million homeless since 2009, is on the verge of defeat. But Boko Haram has continued to mount sporadic raids and suicide bombings, including on 19 June, when at least 16 people were killed near a camp for the displaced just outside Maiduguri.
Earlier this month, security sources told AFP the group was planning a surprise attack in Kano on Eid al-Fitr, which is known in Nigeria as Sallah.
In July 2014, Eid festivities were cancelled in Kano after two deadly bomb attacks in the city blamed on Boko Haram.
In Maiduguri on Saturday, Borno state police spokesman Victor Isuku said security would be tightened over the weekend, banning the movement of all vehicles in the city. "This restriction, though regrettable, is necessary in view of recent security concerns," he added.
http://www.firstpost.com/world/after-fears-of-boko-haram-attack-nigerian-intelligence-thwarts-plan-targeting-muslims-3740529.html
--------
Nigeria's Acting President Meets With Regional Leaders On Ethnic Unrest
Jun 24, 2017
ABUJA - Nigeria's acting president met with regional leaders in an effort to quell ethnic tensions, his office said, as threats grow of conflict between northern Muslims and southeastern Igbo people.
The two groups have been trading barbs since the beginning of the month, after Muslim activists demanded the eviction of Igbo from the north over their calls for a separate southeastern state, known as Biafra.
The expulsion notice is an echo, 51 years later, of the anti-Igbo pogroms across the north that helped spark the secession of Biafra in 1967. The resulting civil war ended with Nigeria's victory in 1970, after an estimated one million people died.
"There is a point where a line has to be drawn, and that is when conversations or agitations degenerate into hateful rhetoric, where the narrative descends into pejorative name-calling, expressions of outright prejudice and hatred," said Yemi Osinbajo, Nigeria's acting leader, according to a statement late on Thursday.
Osinbajo met with leaders from the north and southeast, state governors and media publishers and editors, the statement said.
"It will be wrong of us to approach our grievances by threatening to disobey the laws or by threatening the integrity of our nation," Osinbajo told leaders.
Nigeria is no stranger to ethnically charged violence. Deadly clashes between Muslim herders and Christian farmers have erupted in recent years, partly over land use in the region known as the Middle Belt.
Full report at:
http://ewn.co.za/2017/06/23/nigeria-s-acting-president-meets-with-regional-leaders-on-ethnic-unrest
--------
URL: https://www.newageislam.com/islamic-world-news/saudi-security-foils-terror-plot/d/111667
New Age Islam, Islam Online, Islamic Website, African Muslim News, Arab World News, South Asia News, Indian Muslim News, World Muslim News, Women in Islam, Islamic Feminism, Arab Women, Women In Arab, Islamophobia in America, Muslim Women in West, Islam Women and Feminism