New Age Islam News Bureau
1 Feb 2015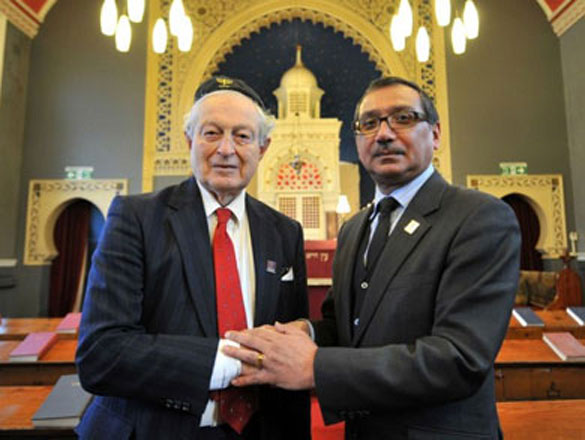 Rudi Leavor (L) and Jani Rashid (R). PHOTO: THE INDEPENDENT
---------------
Arab World
• Saudi Religious Scholars Call For Clear Strategy to Fight Extremism
• Iraq: Over 50 ISIL Terrorists Killed in Anbar
• Isis Claims 2nd Japanese Hostage Beheaded
• Six dead, 10 wounded in central Damascus blast: monitor
• Egypt court rules Hamas armed wing 'terror group'
• Nationality of 72 Bahrainis revoked on security grounds
• Jordan vows to do 'everything' to save life of IS-held pilot
• At least 1,375 Iraqis killed in January, most of them civilians
• Airstrikes hit 76 ISIS targets in Iraq and Syria
Pakistan
• Gloom, Sense of Insecurity Prevail In Sindh over Imambargah Tragedy
• Tahir Ul Qadri Says Rulers Orchestrate Terrorist Attacks
• Militants Blow Up Gas Pipeline in Balochistan
• Govt in a State Of Denial about Daesh
• A matter of rights: Supreme Court bar to challenge military courts
• Govt must build case for N-deal: Gilani
• 'Stringent laws to stop sectarianism': Shahbaz Sharif
• Pak Army committed to training all LEAs: COAS
South Asia
• Japan: 'We Will Never, Never Forgive' ISIS for Apparent Beheading
• 3 ANA Martyred, 30 Insurgents Killed In ANSF Operations
• Pakistan mistreating refugees, say Afghan Taliban
• Two killed as Muslim protesters clash with police in Afghan capital
• Rights activists urge politicians to stop violence
• Adhaalath Party decides against participation in opposition talks
India
• Following Obama's Advice Ahmadiyya's Married To Pakistan Brides Writes to Modi
• Kashmiri Youths on Mission to Highlight Ground Reality
• IS link being probed as Turkey sends back Indians
North America
• Taliban Fighters Divert To ISIS: NBC NEWS
• U.S. General Says Syrian Town of Kobane Taken From ISIS
• Islamic foundation buys Midland Park site for mosque, centre
• Pakistan's fears over N-deal can be allayed: US
• FBI 'had no prior knowledge of deadly Philippine raid targeting militants'
• Netanyahu US protocol flap Republicans' fault: Envoy
Africa
• Nigeria: Maiduguri under Fresh Boko Haram Attack
• Witnesses: Boko Haram attacks northeast Nigeria's main city
• A third of Libya's population, may have been affected by internal conflict
• Journalists in Libya must be protected by the state, says head of ICA Authority
Europe
• Muslim Man Becomes Member of Synagogue Council in England
• Revealed: How Scotland's Muslims Are Fighting the Rise of Radical Islam At Home
• British mosques hold open day after Paris attacks
• Maldives' human rights worsening, Amnesty tells UN
• Tweeting troops: UK to create new military unit to fight 'wars' on social media
• British Fascists Growing United against Islam
Mideast
• Gülenists in Turkey cooperating with Israel's Mossad, Erdoğan says
• Iranian film on early life of Prophet (PBUH) to premiere in Tehran today
• Ex-Envoy Describes Leader's Message as Prelude to Proper Introduction of Islam
• UN Peacekeeper in Lebanon Killed by Israel
Southeast Asia
• Extremists Stabbing Islam in the Back, Says Anwar
• 'Mis-Encounter' Kills 44 Cops but Peace Process Survives
• Putrajaya 'hell-bent' on nuclear plant despite public concerns, says consumer group
• Secession a right of any state that joined Malaysia voluntarily, says Sabah politician
• Muslim should blame themselves for failure to understand Islam, says Dr Tariq Ramadan
Compiled by New Age Islam News Bureau
URL: https://www.newageislam.com/islamic-world-news/new-age-islam-news-bureau/saudi-religious-scholars-call-for-clear-strategy-to-fight-extremism/d/101308
------------
Arab World
Saudi Religious Scholars Call For Clear Strategy to Fight Extremism
February 1st, 2015
JEDDAH — A number of religious scholars have asked Minister of Islamic Affairs Saleh Al-Asheikh to lay down a clear and unified strategy for combating extremism and terrorist activities in the Kingdom.
The scholars also requested they be given guidelines and practical tips on incorporating anti-extremism and anti-terrorism sermons in mosques to raise awareness among the youth.
Secretary-general of the International Qur'an Memorization Organization Sheikh Abdullah Basfar said sheikhs and religious scholars need to attend workshops and training courses on how to give effective sermons and speak to the general public in regard to such sensitive issues.
"The ministry needs to continuously invest in religious scholars and imams, especially the ones giving sermons and participating in guidance campaigns. There is a need for a number of reforms such as the endowments system but we also need to attend to more pressing matters," said Basfar.
Sheikh Asad Al-Shahrani said the Kingdom's youth are at a sensitive age and they need to receive transparent and accurate information. "We need to protect them from extremist ideologies and terrorist campaigns. With the right strategic program for tackling extremism and terrorism among the youth, we can have tangible effects in protecting the youth from malicious people in society," said Al-Shahrani.
He also stressed the importance of cooperating with private sector organizations with the same purpose and vision.
"By unifying our efforts, we will leave no room for doubts or grievances among the youth. This would also enable us to detect extremists who infiltrate our campaigns and organizations to preach their ideologies. Sermon givers and the call and guidance campaign participants must not only be carefully trained but also meticulously chosen and screened," said Al-Shahrani.
King Abdulaziz Mosque Imam Sheikh Mohammad Bin Husain Al-Hudairy agreed that the ministry needs to create a strategic program to combat terrorism and extremism.
"I think we need to first raise awareness among religious scholars and the general public of the influential role mosques play in guiding society. Only when we have our youth recognize the intention and direction of our efforts, will we get their attention so we can begin guiding them," said Al-Hudairy.
http://www.saudigazette.com.sa/index.cfm?method=home.regcon&contentid=20150201232309
------------
Iraq: Over 50 ISIL Terrorists Killed in Anbar
February 1st, 2015
Iraqi troops continued their offensive operations against the ISIL Takfiri group in the Western province of Anbar and claimed the lives of more than 50 terrorists, a senior army official said.
Spokesperson of the Iraqi Ministry of Interior Brigadier Saad Maan said that the Iraqi soldiers continued to make more gains in their fight against the ISIL across Anbar province, leaving 50 terrorists dead and 16 others injured.
Also, 28 terrorists were killed in heavy fighting between the Iraqi army and ISIL Takfiri group on Friday in the area of Milahma, Northern Fallujah.
The ISIL Takfiri terrorists currently control a shrinking part of Syria and Iraq. They have threatened all communities, including Shiites, Sunnis, Kurds, Christians, Ezadi Kurds and others, as they continue their atrocities in Iraq.
Senior Iraqi officials have blamed Saudi Arabia, Qatar, and some Persian Gulf Arab states for the growing terrorism in their country.
The ISIL has links with Saudi intelligence and is believed to be indirectly supported by the Israeli regime.
http://english.farsnews.com/newstext.aspx?nn=13931112000313
------------
Isis claims 2nd Japanese hostage beheaded
February 1st, 2015
The Islamic State of Iraq and Syria (Isis) said in a video yesterday it had beheaded a second Japanese hostage, drawing outrage from Tokyo and condemnation from Washington.
The claim was made in a video released online that included no mention of a Jordanian pilot also being held by Isis, whom the jihadist group has also threatened to kill.
Japanese journalist Kenji Goto is seen kneeling next to a standing masked man who speaks with a British accent and blames the Japanese government for his "slaughter".
The man, dressed head-to-toe in black with his face covered, appears to be the same Isis militant who has featured in the group's previous execution videos.
Goto is dressed in an orange outfit similar to those worn by prisoners at the US-run prison in Guantanamo Bay, also in keeping with hostages in previous Isis videos.
The executioner, who is standing against a mountainous background, addresses Japanese Prime Minister Shinzo Abe, saying the murder of Goto would mark the beginning of "the nightmare for Japan".
Goto's killing, he said, was the result of "reckless" decisions by the Japanese government.
The brief video ends with the image of a body dressed in orange with a decapitated head on top of it.
In Tokyo, a government spokesman said Japan was "extremely outraged" at the "heinous and despicable terrorist act."
And in Washington, National Security Council spokeswoman Bernadette Meehan said the United States strongly condemned the execution and was working to confirm the video's authenticity.
The apparent execution came after Japan said negotiations to win Goto's release in a prisoner exchange had stalled.
"It has become deadlocked," Deputy Foreign Minister Yasuhide Nakayama, who is leading Tokyo's emergency response in Jordan, told reporters in Amman late Friday, Japanese media reported.
Isis had vowed to kill Goto and Jordanian pilot Maaz al-Kassasbeh by sunset Thursday unless Amman handed over an Iraqi female jihadist.
On Saturday morning Abe met with Foreign Minister Fumio Kishida and Chief Cabinet Secretary Yoshihide Suga.
He renewed orders for officials to maintain close cooperation with Jordan in a bid to secure Goto's release.
Jordan demanded evidence that the pilot, who crashed in Syria on December 24, was still alive before freeing would-be suicide bomber Sajida al-Rishawi, who is on death row
The latest video made no mention of Kassassbeh's fate.
Last week Isis claimed responsibility for the beheading of another Japanese man it had been holding, self-described contractor Haruna Yukawa, after the expiration of a 72-hour deadline during which it the jihadists had asked Tokyo to pay a US$200 million (RM726 million) ransom.
Jordan has offered to free Rishawi, who was convicted for her part in triple-hotel bombings in Amman in 2005 that killed 60 people, if Isis releases the pilot.
The government has been under heavy pressure at home and from Japan – a major aid donor – to save Kassasbeh as well as Goto.
On Thursday, government spokesman Mohammad al-Momani said Rishawi was still in Jordan and would only be released if Isis gave it "proof of life".
Isis had set the Thursday sunset deadline for Rishawi to be released at the Turkish border in return for Goto but there was no news of a swap by nightfall.
Friday morning Jordan's military said it was still awaiting proof that Kassasbeh was safe.
The pilot's father Safi Kassasbeh begged Amman to save his son's life "at any price".
"We believe in God and we will accept whatever he has in store for us," said Safi Kassasbeh
Goto's wife Rinko also broke her silence this week also to plea for her husband's return.
"My husband is a good and honest man who went to Syria to show the plight of those who suffer," she said.
"I beg the Jordanian and Japanese governments to understand that the fates of both men are in their hands."
Isis has imposed a brutal version of Islamic law in territory it controls in Syria and Iraq and has executed since August two US journalists, an American aid worker and two British aid workers.
http://www.themalaysianinsider.com/world/article/isis-claims-beheading-of-second-japanese-captive#sthash.xx8uAzmn.dpuf
------------
Six dead, 10 wounded in central Damascus blast: monitor
February 1st, 2015
BEIRUT — A blast on a bus in a central district of the Syrian capital killed at least six people and wounded 10 on Sunday, a monitoring group said.
The Syrian Observatory for Human Rights said it was not immediately clear what had caused the blast in the Souq Al-Hamadiyeh neighborhood of Damascus.
The blast was also reported by state television, which reported an unspecified number of deaths and at least 19 injuries.
http://www.saudigazette.com.sa/index.cfm?method=home.regcon&contentid=20150201232340
------------
Egypt court rules Hamas armed wing 'terror group'
February 1st, 2015
CAIRO: An Egyptian court banned the armed wing of Palestinian Islamist movement Hamas, declaring it a "terrorist" group.
Hamas, which controls the Gaza Strip, denounced the ruling against the Ezzedine al-Qassam Brigades as "a dangerous political decision that serves the interests of the occupier," referring to Israel.
Since Egypt's military ousted Islamist president Mohamed Morsi in 2013, the authorities have accused Hamas of aiding jihadists who have waged a string of deadly attacks on security forces in the Sinai Peninsula.
Saturday's court verdict followed a complaint from a lawyer accusing the Hamas armed wing of direct involvement in "terrorist operations" in the Sinai, which borders Gaza, a court official said.
The lawyer also accused the movement of using tunnels under the frontier between Egypt and Gaza to smuggle arms used in attacks against the police and army, the official said.
Egypt's military says it has destroyed more than 1,600 tunnels since Morsi's ouster.
In the ruling, the judge said that "the documents submitted by the plaintiff to the court showed that the organisation has conducted attacks...that targeted the military and the Egyptian police and facilities."
Full report at:
http://www.dawn.com/news/1160667/egypt-court-rules-hamas-armed-wing-terror-group
------------
Nationality of 72 Bahrainis revoked on security grounds
February 1st, 2015
MANAMA: The Bahraini government has revoked the nationality of 72 citizens for damaging national security, the state news agency BNA reported on Saturday.
A list published on the agency's website included names of well-known Sunni and Shia Muslim families, suggesting the move did not focus solely on the protracted unrest by Bahrain's Shia Muslim majority.
The move aimed "to preserve security and stability and to confront terrorist dangers and challenges, given that some citizens are acting to undermine the interests of the kingdom," the state news bulletin said.
Bahrain's Sunni monarchy has repeatedly revoked the nationality of citizens deemed a security threat — a policy condemned by rights groups — but the decision announced on Saturday was the largest of its kind.
A few dozen citizenship revocations in recent years have targeted both activists abroad and in Bahrain, who were subsequently permitted to leave.
"The ruler of Bahrain revoked my citizenship today without a court, any charges or clear evidence of why," United Kingdom-based Bahraini blogger and activist Ali Abdulemam wrote on Twitter.
Full report at:
http://www.dawn.com/news/1160794/nationality-of-72-bahrainis-revoked-on-security-grounds
------------
Jordan vows to do 'everything' to save life of IS-held pilot
February 1st, 2015
AMMAN: Jordan has vowed to do all it could to save an airman held by the Islamic State group after the extremists killed a Japanese journalist they had been holding.
The kingdom "will do everything it can to save the life and secure the release of its pilot," Maaz Al-Kassasbeh, who was captured by the jihadists after his plane crashed in Syria in December, government spokesman Mohammed Al-Momeni told the Petra news agency.
IS has been demanding the release of a convicted terrorist on death row in Jordan in exchange for Al-Kassasbeh's life, a demand the government has expressed readiness to accept provided it is given proof he is still alive.
Full report at:
http://www.arabnews.com/middle-east/news/697891
------------
At least 1,375 Iraqis killed in January, most of them civilians
1 February 2015
Fighting and other violence in Iraq killed at least 1,375 people including 790 civilians in
January, the United Nations said on Sunday.
The dead included 585 members of the Iraqi army which is struggling to rebuild itself after Islamic State militants seized large sections of the country last year.
At least 2,240 civilians and soldiers were wounded during the same period, the U.N. Assistance Mission for Iraq said in a statement.
http://english.alarabiya.net/en/News/middle-east/2015/02/01/At-least-1-375-Iraqis-killed-in-January-most-of-them-civilians-.html
---------
Airstrikes hit 76 ISIS targets in Iraq and Syria
1 February 2015
The anti-ISIS coalition carried out 27 airstrikes against 76 Islamic State of Iraq and Syria (ISIS) targets on Saturday, an official with the coalition said.
The targets included a factory where militants reportedly made car bombs in Tal Afar in addition to "large ISIL units near Kirkuk," Deputy Special Presidential Envoy for the Global Coalition to Counter ISIS Brett McGurk said in a tweet.
Earlier on Saturday, McGurk confirmed the death of Abu Maliki, a chemical weapons specialist with ISIS in Iraq who once worked for Saddam Hussein, in a coalition airstrike.
The air raid carried out last Saturday near Mosul took out Abu Malik, whose training "provided the terrorist group with expertise to pursue a chemical weapons capability," the military said in a statement, according to Agence France-Presse.
Malik had worked at a chemical weapons production plant under Saddam's regime and later forged an affiliation with Al-Qaeda in Iraq in 2005, before joining ISIS, according to Central Command.
Full report at:
http://english.alarabiya.net/en/News/middle-east/2015/02/01/Airstrikes-hit-76-ISIS-targets-in-Iraq-and-Syria.html
------------
Pakistan
Gloom, sense of insecurity prevail in Sindh over Imambargah tragedy
February 1st, 2015
SHIKARPUR: "We feel insecure and want severe and concrete action against militants, their handlers and planners," said Mehboob Hussain Shah aka Babu Shah, who lost his 20 relatives in the Friday bomb attack on Markazi Imambargah Maula Ali in Shikarpur while speaking to Dawn at the blast site on Saturday.
"Despite in shock, we have not lost patience," added the caretaker of the Imambargah whose floor was still strewn with human remains as the law enforcement agencies sealed the roads leading to the Imambargah situated just opposite a 250-year-old Imambargah deep inside the Lakhi Dar area.
There were some motorcycles, apparently belonging to the victims, parked near the debris of the Imambargah, which was built about one and a half years ago.
"The blast has also caused damage to the centuries-old Imambargah," said Babu Shah, the caretaker.
"It's not just a tragedy but an irreparable loss caused to us, as our near and dear ones embraced martyrdom in the blast," he said with tears in his eyes.
He complained of lack of security during the Friday prayers and said there were criminal elements who could have facilitated the act in Shikarpur district which has been targeted repeatedly in recent years.
Meanwhile, heavy contingents of Rangers and police were deployed during the funeral prayers at Clock Tower.
Amid a charged atmosphere, many people offered Nauhakhwani and demanded that the government unmask the hand behind the incident, arrest the killers and ensure proper security at Imambargahs when SSP Saqib Memon tried to address the crowd.
Full report at:
http://www.dawn.com/news/1160701/gloom-sense-of-insecurity-prevail-in-sindh-over-imambargah-tragedy
------------
Tahir Ul Qadri Says Rulers Orchestrate Terrorist Attacks
February 1, 2015
LAHORE: Pakistan Awami Tehreek Chief Tahir ul Qadri telephoned Majlis-i-Wahdatul Muslimeen secretary general Agha Amin Shaheedi on Saturday to offer his condolences for those killed in the Shikarpur carnage on Friday.
Qadri said it seemed that the country had been presented to terrorists on a platter. He said only God could help the country if incidents like this continued to happen. Qadri said a government unable to enforce rules regarding wedding receptions was unlikely to be able to enforce the National Action Plan on terrorism.
He said people from the entire cross-section of American and European societies including the parliaments, the judiciary and non-governmental organisations had joined hands to eradicate the scourge of terrorism once and for all. Qadri asked why this could not be done in Pakistan. The PAT chief told Shaheedi that the party shared their grief. He said an attempt was being made to ensure that the constitution of military courts brought no improvement. Qadri said the rulers were trying to give the act of terrorism a sectarian colour. Qadri said 'a hidden hand' was behind this.
He said the government's actions had left the people disillusioned. Qadri accused the government of orchestrating terrorist attacks. He said the June 17 Model Town violence was no different.
http://tribune.com.pk/story/830891/carnage-in-shikarpur-qadri-says-rulers-orchestrate-terrorist-attacks/
-------
Militants blow up gas pipeline in Balochistan
February 1st, 2015
QUETTA: Militants on Sunday blew up a 24-inch gas pipeline in Balochistan's resources-rich Dera Bugti district.
Militants had planted improvised explosive device (IED) close to gas pipeline in Landola area of the district, Levies sources told Dawn, adding that the explosives went off with a big bang.
Gas supply to adjoining villages was disrupted due to damage caused by the powerful blast that rocked the entire area, Levies said.
Levies and Frontier Corps personnel were quick at the scene and fire fighters were also called to extinguish roaring flames of fire.
However, it was learnt that the technical staff of the gas company was facing problems in terms of immediate repair of the destroyed portion owing to uncertain law and order situation in the area.
There has been no immediate claim of responsibility for the attack.
The incident has come days after militants blew up two 220kv transmission lines in Balochistan's Notal area, which had caused suspension of power supply to 29 districts of the province.
Sabotage of gas pipelines is a characteristic tactic of tribal militants which is frequently witnessed in Balochistan. However, the province also suffers from attacks carried out by Taliban militants.
http://www.dawn.com/news/1160822/militants-blow-up-gas-pipeline-in-balochistan
------------
Govt in a State Of Denial about Daesh
February 1st, 2015
ISLAMABAD: The government apparently remains in a state of denial regarding a massive threat posed by the Middle Eastern terrorist group Daesh (Islamic State), which recently announced its set-up for Pakistan and Afghanistan.
"Islamic State (IS) is not a major threat. It is not a serious problem for Pakistan," Adviser on Foreign Affairs and National Security Sartaj Aziz said on Saturday in reply to a question on the sidelines of a seminar on US President Barack Obama's recent visit to India.
Mr Aziz's assessment gave an insight into the government's thinking about the challenge from the group and its planning for dealing with the threat.
Daesh had earlier in January announced its organisational structure for "Khorasan" (Pakistan and Afghanistan) led by a former leader of the banned Tehreek-i-Taliban Pakistan (TTP) from Orakzai, Hafez Saeed Khan. A former Afghan Taliban leader, Mullah Abdul Rauf Khadim, was named his deputy.
With the group's leadership for the region going to a Pakistani and ex-TTP men getting a lion's share in the 12 top positions, it is clear that the IS plans to focus on the country as part of its 'expansion into Khorasan' strategy.
Full report at:
http://www.dawn.com/news/1160813/govt-in-a-state-of-denial-about-daesh
------------
A matter of rights: Supreme Court bar to challenge military courts
February 1, 2015
ISLAMABAD: The Supreme Court Bar Association (SCBA) has decided to challenge before the apex court the proposed creation of military courts that will try terror suspects.
The independent SCBA will thus become the second bar association after the Lahore High Court Bar Association (LHCBA) to appeal against the move.
The government's initiative to set up special courts was taken in the aftermath of the attack on the Army Public School in Peshawar last month.
SCBA President Fazle Haq Abbasi told The Express Tribune on Saturday that the association will request the court to strike down the 21st Amendment which is against the very basic structure of the Constitution. There is no guarantee of fair trial in this new legislation, he said.
Earlier on Wednesday, a Supreme Court bench headed by top judge of the country had sought a concise statement from the federal and provincial governments within 15 days while hearing the LHCBA plea against the establishment of military courts.
Full report at:
http://tribune.com.pk/story/830967/a-matter-of-rights-supreme-court-bar-to-challenge-military-courts/
------------
Govt must build case for N-deal: Gilani
February 1st, 2015
MULTAN: Former prime minister Syed Yousuf Raza Gilani has said the government should ask the United States to sign a deal with Pakistan like it inked with India.
Addressing a meeting of Pakistan Peoples Party representatives from entire south Punjab here on Saturday, he said Pakistan fought war against terrorism on the front line "but the USA is signing a civil nuclear deal with India".
"Over 40,000 civilians and 7,000 soldiers have so far sacrificed their lives in war against terror which also destabilised the country," he said.
He claimed the PPP implemented the Charter of Democracy (CoD) in its true spirit and ensured election through ballot.
He declared that his party would cooperate with the government for the implementation of the remaining 15 per cent of CoD.
Full report at:
http://www.dawn.com/news/1160788/govt-must-build-case-for-n-deal-gilani
------------
'Stringent laws to stop sectarianism': Shahbaz Sharif
February 1st, 2015
LAHORE: Chief Minister Shahbaz Sharif says the government has made stringent laws to stop sectarianism.
"The laws have been enforced to check literature based on religious hatred, publication and distribution of objectionable books, checking of misuse of loudspeakers and ban on wall-chalking. Strict action is being taken against violators," he said while addressing a passing-out ceremony of the first batch of the counter-terrorism force here on Saturday.
Shahbaz said the political and military leadership would eliminate terrorism with joint efforts.
"The officers, soldiers, police, children and people belonging to other sections of life have rendered numerous sacrifices in the war against terrorism. More than 50,000 Pakistanis have lost their lives in this war which is unprecedented in history. The sacrifices in the war against terrorism reflect complete and strong determination of Pakistan against terrorism," he said.
The chief minister said the government would not rest until the elimination of the last terrorist.
http://www.dawn.com/news/1160783/stringent-laws-to-stop-sectarianism
------------
Pak Army committed to training all LEAs: COAS
February 1st, 2015
RAWALPINDI: Chief of Army Staff (COAS) Gen Raheel Sharif reiterated Pakistan Army's commitment to train all law enforcement agencies (LEAs) and build capacity to collectively work for security and law and order in the country.
Speaking at the passing out parade of Counter Terrorism Force (CTF) at the Elite Police Training School, he said, "We have enhanced our training capacity and will further expand our training programme across the country."
It may be mentioned here that under the National Action Plan, the capacity-building of police is underway. The first batch trained by the team of Special Service Group (SSG) and Pakistan Army instructors has completed its training.
http://www.dailytimes.com.pk/national/01-Feb-2015/pak-army-committed-to-training-all-leas-coas
------------
South Asia
Japan: 'We will never, never forgive' ISIS for apparent beheading
February 1st, 2015
(CNN)He ventured to Syria to tell the stories of lives torn apart by war.
But in doing so, Japanese journalist Kenji Goto suffered his own gruesome fate -- apparently becoming the latest foreigner to be decapitated by ISIS.
A newly distributed video from ISIS appears to show the beheaded body of Goto. It came one week after a video surfaced showing him holding a photo of what appeared to be the corpse of his fellow Japanese captive, Haruna Yukawa.
Just like ISIS' previous beheading videos, the 67-second footage released Saturday was issued by the terror group's media wing, Al Furqan Media. The video cannot be authenticated by CNN.
And now, Japan finds itself more deeply embroiled in the global fight against ISIS.
"We are deeply saddened by this despicable and horrendous act of terrorism, and we denounce it in the strongest terms," Japanese Prime Minister Shinzo Abe said, according to broadcaster NHK. "To the terrorists, we will never, never forgive them for this act."
Unlike the United States, Britain and other allies, Japan is not involved in the military campaign against ISIS. But Japan has been providing humanitarian aid in the Middle East as ISIS continues its bloody quest to solidify an Islamic state across parts of Iraq and Syria.
Japan said it will continue providing humanitarian aid.
"We would like to expand our support for refugees," Chief Cabinet Secretary Yoshihide Suga said Sunday. "We are surely going to have necessary support in terms of not yielding to terrorism."
U.S. President Barack Obama said the United States stands in solidarity with Japan "in denouncing this barbaric act."
"We applaud Japan's steadfast commitment to advancing peace and prosperity in the Middle East and globally, including its generous assistance for innocent people affected by the conflicts in the region," Obama said in a statement.
Full report at:
http://edition.cnn.com/2015/02/01/middleeast/isis-japan-jordan-hostages/
------------
3 ANA martyred, 30 insurgents killed in ANSF operations
Feb 01 2015
Defense Ministry says that three Afghan National Army soldiers have embraced martyrdom in Improvised Explosive Devise (IED) blast.
Defense Ministry in the information released to the media on Sunday morning has not specified the exact location of the explosion and only states that the explosion occurred in past 24 hours.
Information states that 12 insurgents were also killed and 16 others injured in past 24 hours in confrontations with Afghan National Army.
In the mean time, the Interior Ministry says that 18 insurgents were killed in police operations in past 24 hours which were also assisted by Afghan National Army and personnel from National Directorate of Security (NDS).
Interior Ministry states that the operations were conducted in Laghman, Herat, Faryab, Kunduz, Baghlan, Helmand, Nimroz, Khost, Paktiya, Ghazni, Zabul and Kandahar provinces.
Information released from Interior Ministry further states that four other insurgents were also wounded and five arrested in the operations.
According to Defense and Interior Ministries 83 Improvised Explosive Devices (EIDs) were also defused by Afghan National Security Forces (ANSF) during the operations.
Improvised Explosive Devises (IEDs) are one of the main tools Taliban insurgents use in their fight in Afghanistan.
It beside the security forces every year claim lives of hundreds of civilians in the country.
http://www.khaama.com/3-ana-martyred-30-insurgents-killed-in-ansf-operations-29001
------------
Pakistan mistreating refugees, say Afghan Taliban
February 1st, 2015
ISLAMABAD: The Afghan Taliban have criticised Pakistan for what it called "mistreatment" of refugees in Pakistan and warned that it could have a negative impact on relations between the two countries.
The rare criticism came amid reports that police in Peshawar and other parts of Khyber Pakhtunkhwa have launched a crackdown on the refugees following the attack on the Army Public School.
"The Islamic Emirate of Afghanistan asks Pakistan authorities to restrain those police and security officials wantonly mistreating the refugees," the Taliban spokesman Zabihullah Mujahid said in a statement.
He also called for the immediate release of the detained refugees "so that they can return to their normal lives and ensure that no further innocent refugees are detained or mistreated".
http://tribune.com.pk/story/830980/relations-at-stake-pakistan-mistreating-refugees-taliban/
------------
Two killed as Muslim protesters clash with police in Afghan capital
February 1st, 2015
Kabul: Two people were killed when violence broke out at an anti-Charlie Hebdo protest in the Afghan capital on Saturday, according to witnesses, but Kabul's police chief said there were no deaths and only two injuries.
Around 500 protesters streamed into an eastern part of the city, chanting "Death to France" and "Death to Infidels", putting residents of nearby international compounds on a state of alert. Police sources said the protest turned violent when protesters attacked policemen with burning tyres, stones and then gunfire.
A man who gave his name only as Moshtaq, pointing at a pool of blood in the road, said one protester "was shot in the head and his dead body was there. And I saw one more dead body in a car."
Full report at:
http://www.dailytimes.com.pk/region/01-Feb-2015/two-killed-as-muslim-protesters-clash-with-police-in-afghan-capital
------------
Rights activists urge politicians to stop violence
Feb 01 2015
Human rights activists yesterday urged political leaders to immediately restrain party activists from perpetrating violence and not to ruin people's lives in the name of politics.
They called on the government to ensure public safety.
Addressing a rally under the banner of National Human Rights Commission on Shaheed Minar premises, the rights activists urged political leaders to observe peaceful programmes and to call off all sort programmes that could bring troubles for Secondary School Certificate (SSC) examinees.
National Human Rights Commission Chairman Mizanur Rahman, Honorary Member Professor Mahfuza Khanom, Bangladesh Mahila Parishad General Secretary Maleka Banu and Dhaka University Teachers Association President Professor Farid Uddin joined the rally among others.
Mizanur Rahman said: "I beg of you [politicians], please do not ruin the lives of the commoners."
Full report at:
http://www.dhakatribune.com/bangladesh/2015/feb/01/rights-activists-urge-politicians-stop-violence#sthash.IuSxjXDi.dpuf
------------
Adhaalath Party decides against participation in opposition talks
By Mohamed Saif Fathih | February 1st, 2015
Adhaalath Party will not join discussions held between the opposition Maldivian Democratic Party (MDP) and the Jumhooree Party (JP).
In a brief statement released by Adhaalath yesterday (January 31), it was announced that the party's council had decided it would not "for the time being" participate in talks held by the two opposition parties, giving assurances that it would "closely monitor" events.
"If the occasion calls for discussions in relation to national interests that concern the citizens, Adhaalath Party will maintain and follow the noble principle of negotiation and discussions with the government and other parties", the statement read.
After the MDP and JP officially agreed to work together in defence of the Constitution last week, JP Spokesman Ali Solih said he believed Adhaalath would enter the talks.
However, Adhaalath Spokesman Sheikh Ali Zahir told Minivan News today that the decision had been taken because "no such talks were found to be of use for the time being".
He denied any pressure from the government regarding the party's participation in the talks, stating that "Adhaalath is an independent political party" and that "the party is in no formal agreement with the government".
Full report at:
http://minivannews.com/politics/adhaalath-party-decides-against-participation-in-opposition-talks-92499
------------
India
Following Obama's Advice Ahmadiyya's Married To Pakistan Brides Writes to Modi
Yudhvir Rana,TNN | February 1st, 2015
AMRITSAR: Following US president Barack Obama's advice to India for protecting religious freedom during his trip to India, the Pakistani brides living in Qadian, Ahmadiyya Muslim sect's headquarters in India, has blamed Narendra Modi government of religious discrimination and not giving Indian citizenship to Pak brides despite marrying and living in India for one to three decades.
In charge, media, Ahmadiyya Muslim Jamat, India, Chaudhary Maqbool Ahmad has written a letter to Modi urging his immediate intervention in the matter and give Indian citizens to Pakistani bride so they could live with pride and enjoy all freedom in India.
Maqbool himself had married to resident of Faislabad in Pakistani Tahira Zahoor, now Tahira Maqbool on December 7, 2003.
Talking to TOI on Saturday he said the external affair ministry's website was the proof that only a handful of Muslims were given Indian citizenship.
"Our prime minister talks of women empowerment but these women who have been married in India for past ten to thirty five years even can't call themselves Indians leave alone going out of Qadian" he said. At least nine Pakistani brides in Qadian alone were awaiting Indian citizenship, he said.
Tahira questioned "Isn't this a discrimination against women and Muslim's"? She held bureaucracy responsible for their plights adding that they had fulfilled all the formalities required for acquiring Indian citizenship yet they were made to run between pillar to post.
Mehmood Ahmad Nasir who married to Hafizabad, Pakistan, resident Mubina Kanwal 18 years ago said "I am father of three yet my wife doesn't have Indian citizenship". He said he wondered why the Pak girls were being discriminated.
"I hope after Obama's public advice to India on religious discrimination , the bureaucracy will get out of its slumber and persuade our case immediately" said Mubina. She said not allowing them to go out of Qadian was also their human rights violation.
Tahira said when her mother was admitted in hospital in Amritsar she even couldn't go there to look after her. "When we can't cross borders of Qadian, we all feel very discriminated , it should come to an end now" she said. Eom
http://timesofindia.indiatimes.com/india/Following-Obamas-advice-Ahmadiyyas-married-to-Pakistan-brides-writes-to-Modi/articleshow/46078113.cms
------------
Kashmiri youths on mission to highlight ground reality
OMAR RASHID
February 1st, 2015
Joginder Singh has seen death and horror from close quarters. In 1999, when he was barely four, he witnessed the murder of 15 of his relatives, including his parents, when militants attacked his Lahota village in the Doda district of Jammu and Kashmir. The incident left Joginder scarred.
Joginder might be forgiven for harbouring hate. But he chose a different path: that of reconciliation and forgiveness. "Yes, there is anger. But does it solve the issue? It only gives way to more anger," says Joginder, now 19.
Joginder's words may sound too profound for someone his age, but that is the message he and a dozen-odd Kashmiri youths want to send across the country. His own tragedy has given him a sense of purpose to spread the message of reconciliation and peaceful co-existence.
Unlike most other youths in violence-torn districts of Kashmir, Joginder was fortunate enough, three years ago, to get rehabilitated by the Pune-based NGO, Sarhad, on the recommendation of the then Union Health Minister, Ghulam Nabi Azad.
Full report at:
http://www.thehindu.com/news/national/kashmiri-youths-on-mission-to-highlight-ground-reality/article6843057.ece
------------
IS link being probed as Turkey sends back Indians
February 1st, 2015
Nine persons travelling from Bengaluru were detained at the Turkish border while trying to cross over to Syria and were deported back to India. On their arrival in the city on Friday night, the police detained them to ascertain if they had any links with Islamic State (IS), a terror outfit which controls parts of Syria. The group comprised three men, a woman and five children.
Preliminary investigations revealed that the three men were working in IT companies in Bengaluru. One of them had worked in the U.S. for over a decade after acquiring a master's degree in Computer Science there. The other men are computer science engineers.
The nine persons had travelled from the city on tourist visas and landed in Istanbul on December 24, 2014. They were deported to India on January 30, 2015 by Turkish authorities. Upon arriving at Kempegowda International Airport, they were questioned by the police, along with central agencies, about their visit to Turkey.
A senior city police officer, who has been questioning the group since Friday evening, told The Hindu that they did not have a "satisfactory explanation" for trying to cross over to Syria. "The men claimed that they were going to Syria to do social work for the Sunni Muslim community in the strife-torn country. However, they have no answer as to why they tried to cross over to Syria through Turkey," the officer said, adding that they were surprised that one of the detained persons had taken along his children on the trip.
http://www.thehindu.com/news/national/is-link-being-probed-as-turkey-sends-back-indians/article6843331.ece
------------
North America
Taliban fighters divert to ISIS: NBC NEWS
Feb 01 2015
NBC NEWS, a US based media organization says to have talked to some insurgent commanders in Afghanistan and Pakistan who have confirmed that hundreds of Taliban have diverted to Islamic States in Iraq and the Levant (ISIS) or DAESH.
NBC NEWS claims to have talked to four insurgent commanders in Afghanistan who have said that a number of Taliban fighters have joined DAESH and more are talking about it.
"A small number of people of the Afghan Taliban who weren't happy with their leadership joined Daesh, but others are discussing meeting and waiting for a suitable time to become part of it," NBC NEWS quotes a Taliban commander in eastern Nangarhar province of Afghanistan who has spoke to them on condition of anonymity.
"Our people are now getting frustrated and asking us why did we fail in getting a space in Afghanistan to implement Shariah, despite the loss of thousands of people in their war against the U.S. and its allies,", the unnamed Taliban commander was quoted as saying.
NBC NEWS further quotes the Taliban commander as saying "Their concerns are genuine as we don't have an inch of land in our possession in Afghanistan where we could live freely."
Afghan Taliban leadership has not accepted that their fighters have diverted to ISIS but has ordered fighters not to let ISIS operate in Afghanistan.
NBC NEWS also claims to have talked to some insurgent commanders in Pakistan who have confirmed that hundreds of Tehreek-e-Taliban Pakistan (TTP) fighters are now part of DAESH's new branch in Pakistan.
Full report at:
http://www.khaama.com/taliban-fighters-divert-to-isis-nbc-news-28099
-------
U.S. general says Syrian town of Kobane taken from ISIS
February 1st, 2015
Kurdish ground forces, helped by U.S. and allied air support, have retaken the Syrian town of Kobane from the Islamic State of Iraq and Syria (ISIS) militants, U.S. Lieutenant-General James Terry said on Saturday.
Supporting what Kurdish forces said earlier this week, Terry, commander of the Combined Joint Task Force that has been leading air strikes against ISIS, said in a statement: "Kurdish ground forces, supported by our air component, were successful in retaking the town of Kobane."
The American military, which has backed the Kurds with a steady stream of air strikes, had been cautious in its earlier assessments, even after Kurdish militia claimed victory in the months-long battle.
The Syrian Kurdish forces have been backed by near daily U.S.-led airstrikes around the town, known as Ayn al-Arab in Arabic, and supported by Iraqi Kurdish Peshmerga forces.
'Big deal'
Kurdish fighters' success in recapturing the key Syrian town of Kobane from the Islamic State of Iraq and Syria (ISIS) group was a "big deal," U.S. Secretary of State John Kerry said Saturday.
Kerry, speaking during a trilateral meeting with his Mexican and Canadian counterparts in Boston, noted that ISIS has been "forced to acknowledge its own defeat."
The U.S.-led coalition targeting ISIS meanwhile said it carried out more than 700 airstrikes since August 8 to help Kurdish fighters drive the militants from Kobane.
http://english.alarabiya.net/en/News/middle-east/2015/02/01/U-S-general-says-Syrian-town-of-Kobane-taken-from-ISIS.html
-------
Islamic foundation buys Midland Park site for mosque, center
February 1st, 2015
MIDLAND PARK — An Islamic foundation closed Friday on the purchase of a church building on Irving Street to convert it into a mosque and center, a proposal that last year prompted resident opponents to filled the Borough Council chambers and claim it would hurt their quality of life and property values.
The Elzahra Education Foundation of Teaneck, which plans to open the first Islamic mosque and center in the borough, paid $2.475 million for the 2.8-acre property including the 12,000-square-foot church building.
Imam Mohammad Moutaz Charaf, the foundation's president, said that it will allow a small number of people to come pray in the next few days, with the mosque's first services starting next Friday. Charaf hopes the center will have a grand opening within the next month.
On Jan. 8, a federal bankruptcy court judge approved the sale of the former Han Maum Reformed Church, owned by a Korean congregation, and named the foundation the highest bidder.
Last June, about 100 residents attended a council meeting to oppose the sale. They aired concerns about potential noise pollution and traffic the mosque would generate, and whether or not there would be calls to faith over loudspeakers. But Charaf said he's been moved by emails he's also received from Midland Park community members welcoming the mosque and he expressed hope the religious center will be a "center for peace, knowledge and communication with neighbors."
Full report at:
http://www.northjersey.com/news/islamic-foundation-buys-midland-park-site-for-mosque-center-1.1262026
----------
Pakistan's fears over N-deal can be allayed: US
February 1st, 2015
WASHINGTON: The United States can influence a range of factors in the US-India nuclear deal, said the US State Department while responding to Pakistan's concerns about the agreement.
"There are a range of requirements in these types of deals, and certainly, we factor in a range of factors as we make them. So I will leave it at that," the department's spokesperson Jen Psaki told a briefing in Washington.
The United States reached "a breakthrough understanding" on nuclear cooperation with India last week that would allow US companies to establish reactors in the country.
'Both Islamabad and Delhi assured that US had strong ties with each of them'
The deal was announced during US President Barack Obama's visit to New Delhi last week. Pakistan, however, warned that the agreement would "further compound the already fragile strategic stability environment" in the region. Pakistan described the deal as "another country-specific exemption from Nuclear Suppliers' Group (NSG) rules", which would undermine its effectiveness.
Full report at:
http://www.dawn.com/news/1160807/pakistans-fears-over-n-deal-can-be-allayed-us
-------
FBI 'had no prior knowledge of deadly Philippine raid targeting militants'
February 1st, 2015
WASHINGTON: The FBI had no prior knowledge of a police raid in the Philippines last Sunday to arrest wanted militants that went awry and left 44 police dead, an FBI spokesman said.
Philippine media had reported that the FBI helped orchestrate the raid, which targeted Zulkifli bin Hir, an Islamic militant on the US law enforcement agency's list of "most wanted terrorists."
"The FBI was not involved in the planning or execution of the operation. We do express our deepest condolences to the brave officers of the Philippine National Police who lost their lives in the line of duty," FBI spokesman Josh Campbell said.
Campbell said the FBI is analyzing a biological sample provided by the Philippines of an unknown individual killed in the raid to determine if it belongs to bin Hir.
"It is routine for the FBI to process biometric information that may positively identify a subject and his or her whereabouts," Campbell said.
A Malaysian member of the Al Qaeda-linked Jemaah Islamiyah militant group behind numerous bombing attacks in the Philippines, the FBI had offered $5 million for the arrest of bin Hir.
The clash, which the Philippine government has described as a "misencounter," shattered a three-year cease-fire between Philippines police and militants in the south of the country.
It also dealt a temporary setback to peace talks, Manila's chief peace negotiator said on Saturday, appealing for renewed efforts to keep the process on track.
http://www.arabnews.com/world/news/697901
-------
Netanyahu US protocol flap Republicans' fault: Envoy
February 1st, 2015
WASHINGTON — Israel's ambassador to Washington has denied responsibility for a protocol incident over an invitation for Prime Minister Benjamin Netanyahu to address the US Congress, saying that Republican leaders made the decision.
The White House had expressed frustration last week when House Speaker John Boehner, a main political adversary of President Barack Obama, announced Netanyahu had been invited to address a joint meeting of Congress just weeks before Israel's snap elections.
The White House signaled it was blindsided by the invitation, saying protocol dictated that national leaders contact one another when plans are being formulated for a visit.
"The final decision to invite the prime minister was made by the speaker's office," Israeli ambassador Ron Dermer told The Atlantic magazine in an email exchange published on the monthly's website.
Full report at:
http://www.saudigazette.com.sa/index.cfm?method=home.regcon&contentid=20150201232261
--------
Africa
Nigeria: Maiduguri Under Fresh Boko Haram Attack
February 1st, 2015
Gunshots are sounding in Maiduguri Sunday morning as soldiers and Boko Haram terrorists engage in battle over the control of Maiduguri, the Borno State capital.
A soldier on the frontline told a PREMIUM TIMES reporter that the insurgents initially moved to invade Maiduguri town through a suburb community called Dalwa.
"It is the Boko Haram terrorists we are battling with now as you can hear. They wanted to enter through Dalwa. But we are tackling them".
The attack is coming a week after the insurgents launched simultaneous attacks on three key Borno towns -- Maiduguri, Konguda and Munguno.
That three-pronged attack by the Boko Haram sect is one of the most daring in recent times as the insurgents, who already control a large part of Borno State, tighten the noose on Maiduguri.
The assault on Maiduguri and neighbouring Konduga by the insurgents were however successfully repelled by soldiers while the troops securing Monguno could not stop the militants from seizing the town as they had to retreat from there after the Brigade's commander and other soldiers were wounded in battle.
UPDATE 1: Heavy artillery shooting rips through Maiduguri city as Boko Haram terrorists continue their push to take over Maiduguri from all angles.
A high ranking officer told PREMIUM TIMES that "the hoodlums are coming from four different axis. Some are attacking through Njimtilo, some via Dalwa, others are charging through Ngom and Mulai. But our boys are doing their best".
Sounds of aircraft hovering over the city is being heard from a distance but PREMIUM TIMES cannot confirm if an airforce support has been deployed.
http://allafrica.com/stories/201502010213.html
----------
Witnesses: Boko Haram attacks northeast Nigeria's main city
Feb 01 2015
Islamist insurgents have attacked the outskirts of northeast Nigeria's main city Maiduguri on Sunday, engaging in a gun battle with soldiers that killed at least eight people, witnesses and a security source said.
Militant group Boko Haram has killed thousands since it launched its revolt in Maiduguri five years ago and wants the city to become the capital of a separate Islamist state.
"There is heavy gunfire going on. Everybody is panicking and trying to flee from the area," said Idris Abubakar, a resident of Polo on the western outskirts of the city.
Growing violence by the insurgents is a major headache for President Goodluck Jonathan who faces elections on February 14 that analysts say were too close to call.
Capturing Maiduguri would be a huge victory for Boko Haram, which currently controls mostly rural areas along the Cameroon and Chad borders that together make up a territory the size of Belgium.
Resident Babagana Lawan said a grenade fell on his house, killing his brother and two factory workers living with him.
A security source confirmed the attack, but said troops had been mobilised to try to repel the insurgents.
A hospital source said eight bodies had been brought in from the fighting.
Boko Haram has become the main security threat to the stability of Africa's biggest economy and top oil producer, and increasingly threatens its neighbours.
http://www.dhakatribune.com/africa/2015/feb/01/witnesses-boko-haram-attacks-northeast-nigerias-main-city#sthash.D4VtjIaR.dpuf
----------
A third of Libya's population, may have been affected by internal conflict
February 1st, 2015
A new report out last week estimates that two million people, a third of the Libya population, may have been affected, and close to four-hundred thousand people are displaced – as a result of the country's conflict.
The political crisis and escalation of violence in Libya since May 2014 has led to civilian casualties, massive displacement as well as the destruction of public infrastructure and the disruption of basic services and social protection systems, the multi international agency report entitled Interagency Rapid Assessment Report December 2014, concluded.
The interagency rapid assessment was carried out by IOM, UNHCR, UNICEF, UNSMIL and WFP from November to December 2014 in Libya in order to fill the critical information gap for the agencies to respond to the crisis, the report said.
The assessment covered a total of six locations across the country, focusing on the sectors of the population that had been directly affected by the conflict (IDPs, returnees), as well as vulnerable population (migrant workers, refugees/asylum seekers).
The crisis has had a significant impact on the lives and livelihoods among the affected population, it concluded. Out of the total Libyan population of 6.25 million, close to 400 thousand people have been displaced as of November 2014. While many were displaced from September to November due to the escalation of the conflict, some have returned to their place of origin, the report revealed.
Full report at:
http://www.libyaherald.com/2015/01/31/two-million-people-a-third-of-libyas-population-may-have-been-affected-by-internal-conflict-international-report/#ixzz3QV422qvS
----------
Journalists in Libya must be protected by the state, says head of ICA Authority
February 1st, 2015
The protection of journalists is a national duty and must be carried out by all security offices, the head of Information, Culture and Antiquities Authority Omar Gawairi told the Libya Herald.
In an interview with this paper, Gawairi said that all security personnel have been instructed to support, protect and facilitate the movement of journalists.
He bemoaned the fact, as attested in a recent Human Rights Watch release, that Tripoli is mostly empty now of journalists and that most media personnel, Libyans as well as foreigners, have left because of safety concerns.
Journalists, said Gawairi, feared attack by militias. Furthermore, the chaos in Libya that has resulted from a lack of rule of law and state deterrence of such attacks, has been capitalised on by terrorists. International terrorist organisations, claimed Gawairi, had used the current situation to sow confusion and further chaos.
Journalists were now choosing to use the internet to report from a distance, he said.
Gawairi, however, wants to those who would attack journalists and media outlets to be made accountable for doing so. He said he hoped that media personnel would be able to operate freely again within Libya.
http://www.libyaherald.com/2015/01/31/journalists-in-libya-must-be-protected-by-the-state-says-head-of-information-culture-and-antiquities-authority/#ixzz3QV4S1BjM
--------
Europe
Muslim man becomes member of synagogue council in England
February 1st, 2015
A Bradford synagogue has appointed a member of the city's Muslim community to its council, The Independent reported.
Jani Rashid, who heads the Diversity and Cohesion at Education Bradford, was an active member of the Muslim community who came to the financial rescue of the synagogue a few years ago.
In 2013, a Bradford Council for Mosques donation had helped save the synagogue when it ran into financial difficulties.
"The local Muslim community has been an unfailing partner in the fight to keep the building open and flourishing," a spokesperson said.
"At a time when both the Jewish and Muslim communities are reeling from the impact of the horrific attacks in Paris," the spokesperson added, "the positive and supportive relationship between Bradford's Jews and Muslims has grown another step closer."
"We thought it would be a splendid idea to co-opt Jani to the Council," Rudi Leavor, chairman of the synagogue council, told Jewish News.
The proposal was passed unanimously by the council.
"I am delighted to take up this kind offer to sit on the Synagogue Council," Rashid said. "I am a firm believer in openness within and between communities."
"This helps us to respect one another's diversity and, to share in our common beliefs of decency, respect and compassion for our fellow human beings," he added.
http://tribune.com.pk/story/830728/muslim-man-becomes-member-of-synagogue-council-in-england/
------------
Revealed: how Scotland's Muslims are fighting the rise of radical Islam at home
February 1st, 2015
THE Muslim Council of Scotland is leading a nationwide drive to counteract extremist preachers online trying to radicalise young Islamic men and women.
Yesterday, the MCS and Police Scotland held a seminar entitled Extremism and Radicalisation which was attended by over 50 Imams and mosque representatives, which looked at ways of fighting online preachers espousing the ideology of al-Qaeda and Islamic State.
Such is the fear of online radicalisation the MCS and Police Scotland are also hosting a session related to the dangers of social media at Glasgow Central Mosque next month.
MCS convenor Dr Javed Gill said that despite only two Scots known to have travelled to Syria where they joined Islamic State, religious leaders could not 'afford to be complacent,' especially given the role of the internet in 'seducing' youngsters.
He said: "The biggest challenge we face in Scotland is the dangers posed by the internet in radicalising our youth. We simply cannot control the online content posted by those abroad. It is also vital that parents play a greater role in what their children are watching on the internet. The videos made by the likes of Islamic State are very professional, very appealing. Although the reality on the ground will be completely different from what is portrayed online.
"I have travelled across Scotland and there are no radical preachers in Scottish mosques who are urging Muslims to commit violence abroad or at home. It is vital that a mosque is made more than a place just for prayer. It should be an open environment for young people in terms of organising sports and leisure facilities as well. Such engagement will lead to the youth increasing their knowledge of their religion and foster a more balanced approach as well as getting involved in the decision making process in their local mosque".
Dr Gill also urged mosque authorities to address issues related to family breakdown and gang related violence.
Full report at:
http://www.heraldscotland.com/news/home-news/revealed-how-scotlands-muslims-are-fighting-the-rise-of-radical-islam-at-home.117425272
------------
British mosques hold open day after Paris attacks
February 1st, 2015
Some 20 mosques in Britain were opening their doors to the public today in an unprecedented gesture of reassurance following last month's Islamist attacks in Paris.
Visitors will be served tea and cakes by members of the mosque community who will answer questions about Islam, the Muslim Council of Britain (MCB) umbrella group which is organising the initiative said in a statement.
Participating mosques include Finsbury Park in north London, where Abu Hamza – jailed in the US last month for the deadly kidnapping of Western tourists in Yemen plus terrorism offences – was once imam.
The Finsbury Park Mosque has since undergone a change of leadership and ethos and now stresses community relations and interfaith dialogue.
But in the wake of the Paris attacks which killed 17 people, it has received a string of threatening letters and emails, its secretary-general, Mohammed Kozbar, told Sky News television recently.
Prime Minister David Cameron's government sent a letter to Muslim leaders following the Paris attacks urging them to "explain and demonstrate how faith can be part of British identity" and suggesting there was "more work to do" in fighting extremism.
This prompted an angry response from the MCB, which questioned whether the government was aligning itself with the far-right by suggesting that Muslims were "inherently apart from British society".
Around five percent of people in England and Wales are Muslim, according to a 2011 census, and there are around 1,700 mosques across Britain.
http://www.themalaysianinsider.com/world/article/british-mosques-hold-open-day-after-paris-attacks#sthash.RzoXrmAT.dpuf
------------
Maldives' human rights worsening, Amnesty tells UN
February 1st, 2015
The human rights situation has deteriorated in the Maldives over the past four years, says Amnesty International in its report to the UN Human Rights Council.
In its submission for the country's second Universal Periodic Review (UPR) titled 'Republic of Maldives – Ignoring Human Rights Obligations', the NGO accuses the government of having failed to implement recommendations made in 2011.
"Furthermore, it has effectively been undermining human rights protection by failing to strengthen the independent institutions of the state including the judiciary, which needs urgent reform."
The report – made public for the first time last week – notes the "emergence of vigilante religious groups", "fundamental flaws" within the judicial system, and the "feared abduction" of Minivan News journalist Ahmed Rilwan.
It also accuses the government of not defending the independence of the Human Rights Commission of Maldives (HRCM), which is currently being prosecuted by the Supreme Court as a result of its own submission to the UPR.
Full report at:
http://minivannews.com/politics/maldives-human-rights-worsening-amnesty-tells-un-92478
------------
Tweeting troops: UK to create new military unit to fight 'wars' on social media
February 1, 2015
A little over three months after the UK ended its combat mission in Afghanistan, the country has announced that it will be setting up a new military unit which will be specialised in non-lethal but equally important skills to counter advances by the likes of Islamic State group and Russia in a new battle theatre – social media, the BBC reported on Saturday.
Dubbed as 'Tweeting troops' by Channel4, the new unit will be part of the 77th Brigade with a strength of 2,000 troops, reservists and possibly civilians with 'bespoke skills', as the British army seeks to go on the offensive in the information and psychological war on the 'frontlines' in online forums — all from the comfort of its command and control centre in Hermitage, Berkshire.
Modeled after a Second World War unit that operated in Burma, the 'Chindits', the unit is expected to begin operations in April and will focus on "unconventional non-lethal, non-military methods such as shaping behaviours through the use of dynamic narratives."
A British army spokesperson said the unit will "play a key part in enabling the UK to fight in the information age" and that it "consists of more than just traditional capabilities".
"It recognises that the actions of others in a modern battlefield can be affected in ways that are not necessarily violent and it draws heavily on important lessons from our commitments to operations in Afghanistan amongst others."
Full report at:
http://tribune.com.pk/story/831033/tweeting-troops-uk-to-create-new-military-unit-to-fight-wars-on-social-media/
------------
British Fascists Growing United against Islam
February 1st, 2015
Anti-Islam sentiments are running high in the UK following the last month's Charlie Hebdo attacks in France as British far-right factions unite against Muslims, media reports said.
With the newly formed Pegida UK advertising for a spokesperson, the English Defense League (EDL) and Britain First - the most-established and active Islamophobic fascist groups in Britain - are ramping up their rhetoric against Muslims living in the country, the World Bulletin reported.
"True piss taking with Muslims in the midlands!" wrote one social media user on the English Defense League's Facebook page set up as part of its preparations for an anti-Muslim demonstration on Feb. 7 in the West Midlands town of Dudley near Birmingham.
Bradley Doak is just one of many EDL fanatics who are openly voicing their hatred against Islam and plan to travel to Dudley, which has a Muslim minority, to join the rally.
The event has been promoted through social media and EDL's official web site and focuses on a mosque that is planned to be built in Dudley.
Dudley Council's leader, Councilor Pete Lowe, said in a statement on the council's website that there was no legal power available to ban the demo and it may cost local businesses up to £ 1 million.
"We are clear as a community and as a council that the EDL is not welcome in Dudley borough, but there are no legal powers available to stop a static democratic protest," Lowe said.
Full report at:
http://english.farsnews.com/newstext.aspx?nn=13931112001213
-------
Mideast
Gülenists in Turkey cooperating with Israel's Mossad, Erdoğan says
February 1st, 2015
Turkish President Recep Tayyip Erodoğan said Jan. 31 that the Gülenists in the country, which he dubs "the parallel structure," have joined forces with the Israeli intelligence service.
"The sincere people backing this parallel structure should see with whom this structure is cooperating with," Erdoğan said, while addressing a meeting of the All Industrialist and Businessmen's Association (TÜMSİAD) in Istanbul.
"Shame on them if they still cannot see that this structure is cooperating with the Mossad," he said.
Erdoğan accuses the followers of the U.S.-based Islamic scholar Fethullah Gülen for illegal wiretappings and a "coup attempt," starting from the revelation of a large corruption investigation in December 2013.
The Gülenists did not let the other religious organizations and associations live, Erdoğan said.
Turkey's relations are tense with Israel since nine Turks and one Turkish-American were killed and several other pro-Palestinian activists were wounded when Israeli commandos stormed the ship Mavi Marmara on May 31, 2010, bound for Gaza.
"They are not national, they are not local;" Erdoğan said for Gülenists. "The ones who are still accompanying them despite all these will face a big shame soon. We were hurt by [Gülenists] and don't want others to be hurt. I address to those who think they are hiding at political parties, NGOs and associations right near us. They have no excuse in still remaining under that umbrella despite all this scum."
Full report at:
http://www.hurriyetdailynews.com/gulenists-in-turkey-cooperating-with-israels-mossad-erdogan-says.aspx?pageID=238&nID=77716&NewsCatID=510
-------
Iranian film on early life of Prophet (PBUH) to premiere in Tehran today
February 1st, 2015
TEHRAN: Iran's most expensive film — a biopic of Prophet Mohammed (PBUH) – is scheduled to have its world premiere in Tehran on Sunday amid some doubts that the screening will take place.
The Iranian Film Daily (IFD) had earlier reported the last-moment cancellation of the premiere of "Muhammad, Messenger of God" at Tehran's Fajr International Film Festival which is sponsored by the Iranian government.
However, after speculations that the 'last-minute cancellation' was over reservations regarding the representability of the Prophet (PBUH), an IFD report said the uncertainty surrounding the showing of "Muhammad" is likely due to technical difficulties with the film itself.
According to a report in the Guardian, the film be shown out of competition in respect for the Prophet (PBUH). Made by Majid Majidi, described by the report as a leading pro-establishment Iranian director who has worked for more than five years the Iranian film is the second big-budget feature made about the Prophet (PBUH).
Full report at:
http://www.dawn.com/news/1160824/iranian-film-on-early-life-of-prophet-pbuh-to-premiere-in-tehran-today
-------
Ex-Envoy Describes Leader's Message as Prelude to Proper Introduction of Islam
February 1st, 2015
The Iranian Supreme Leader Ayatollah Seyed Ali Khamenei's highly-important message to the European youth will pave the way for a proper understanding of Islam in the West, former Iranian Ambassador to Mexico Mohammad Hossein Qadiri Abiyaneh said.
"The Supreme Leader's message is an earnest prelude to serious work to properly introduce Islam to the world," Qadiri Abiyaneh told FNA on Sunday.
He reiterated that the western leaders are afraid of the familiarization of their youth with genuine Islam because they know that a large number of their younger generation might convert to this religion.
"Ayatollah Khamenei's letter also provide us with an opportunity in Iran to realize the importance of familiarizing the world people with Islam … as it will produce much effect and people (in the West) will be persuaded to step onto this path," Qadiri Abiyaneh said.
Last week, a senior Iranian lawmaker underlined the importance of the role of the Muslim elites in the West in defusing Islamophobia scenarios and explaining the different dimensions of the Leader's highly-important message to the western youth.
"The Muslim elites and university students should inform the European youth about the different aspects of the Supreme Leader's message and real Islam," member of the parliament's National Security and Foreign Policy Commission Mohammad Hassan Asafari told FNA.
Full report at:
http://english.farsnews.com/newstext.aspx?nn=13931112001203
-------
UN Peacekeeper in Lebanon Killed by Israel
February 1st, 2015
A new footage released after recent clashes between Lebanon's Hezbollah Resistance Movement and Israel suggests that the Tel Aviv regime was likely responsible for the killing of a Spanish UN peacekeeper in the violence.
The video clip, captured by the UN peacekeepers in Lebanon and distributed in the Spanish media, purportedly shows that an Israeli shell probably targeted Spanish UN peacekeeper Cpl. Francisco Javier Soria Toledo on January 28, press tv reported.
In the footage taken by a cell phone, two United Nations Interim Force in Lebanon (UNIFIL) peacekeepers could be seen talking in their vehicle next to a watchtower, as the sound of the first artillery shell is heard in the background.
Then the camera is aimed at the wall separating Lebanon from the occupied Palestinian territories, with one of the peacekeepers saying, "They're falling from Israel, man!"
"Hush, hush, let's see...they're falling from...How can that be? It cannot be that, huh?," responds the other peacekeeper.
Full report at:
http://english.farsnews.com/newstext.aspx?nn=13931112001183
---------
Southeast Asia
Extremists stabbing Islam in the back, says Anwar
February 1st, 2015
Islamic terror groups, the self-righteous and self-proclaimed defenders of the faith, are stabbing the religion in the back by preaching intolerance and animosity, said opposition leader Datuk Seri Anwar Ibrahim.
In his opening speech at the International Youth Gathering 2015 in Ampang, Kuala Lumpur, today, Anwar said these groups, using jihad as an excuse to justify their act of violence, were trying to outdo one another in their demonstration of faith.
"Who can kill more, be more violent and as uncompromising as possible? Who are the champion in creating fear among those who do not subscribe to their beliefs?"
Calling all Muslims to condemn such acts in the name of the faith, Anwar said Islamic State of Iraq and Syria (Isis) was to date at the forefront of this vicious cycle with issuance of ultimatums, beheadings and mass executions.
He said these groups went against what Prophet Muhammad had done, who despite facing many difficulties and obstacles during the spread of Islam, had showed compassion, tolerance and commitment for dakwah, not violence.
Full report at:
http://www.themalaysianinsider.com/malaysia/article/extremists-stabbing-islam-in-the-back-says-anwar#sthash.cbBcnvkE.dpuf
-------
'Mis-encounter' Kills 44 Cops but Peace Process Survives
February 1st, 2015
In the wake of the "mis-encounter" in the normally sleepy town of Mamasapano in Central Mindanao in the Philippines, where 44 elite policemen lost their lives, former President Fidel V. Ramos says there shouldn't be finger-pointing among government officials, and there should be no stopping the passage of the Bangsamoro Basic Law (BBL) that will establish the new autonomous region in Muslim Mindanao.
He may well add: there shouldn't be washing of hands. President Benigno Aquino III has delivered a speech distancing himself from the manner the debacle took place.
Still highly respected by his countrymen, the former president fears, as do many, that the peace process between the Philippine government and the Moro Islamic Liberation Front (MILF) will be among the casualties of the Mamasapano massacre.
In the night of last Jan. 24, 392 policemen of the Special Action Force (SAF) entered Mamasapano to serve an arrest warrant to two terrorists: Zulkifli bin Hir alias Marwan, a Malaysian, and Abdulbasit Usman, a Filipino. Held responsible for a series of bombings in Mindanao, both have links to Jemaah Islamiyah. Marwan figured in the Bali bombings of 2002.
Mamasapano is a stronghold of the Bangsamoro Islamic Freedom Fighters (BIFF), which broke away from the MILF because, insisting on its secessionist aims, it opposed the peace process. The government has a ceasefire agreement with the MILF but not with the BIFF.
Full report at:
http://thejakartaglobe.beritasatu.com/opinion/jamil-maidan-flores-mis-encounter-kills-44-cops-peace-process-survives/
-------
Putrajaya 'hell-bent' on nuclear plant despite public concerns, says consumer group
February 1st, 2015
Plans to build a nuclear plant in Malaysia are afoot, warned a consumer group, and said Putrajaya was misleading the public into thinking that it will consult the people on the use of nuclear energy when it had already decided to proceed with a bill to be table in Parliament this year.
Consumers Association of Penang (CAP) president SM Mohamed Idris said the government was "hell-bent" on introducing nuclear power in the country's energy mix and highlighted statements made by energy officials over the past year and recently which indicated that Malaysia was intent on adopting nuclear energy.
As proof, he cited the setting up of the Malaysian Nuclear Power Corporation (MNPC) in January 2011, and the listing of nuclear energy as an entry point project in the Economic Transformation Programme in 2010.
"The government is hell-bent on introducing nuclear energy in the country's energy mix.
"It is disingenuous of the government to continue misleading the public with its standard response line that a decision has yet to be made and the government is still exploring the option to go nuclear," he said in a statement today.
Full report at:
http://www.themalaysianinsider.com/malaysia/article/putrajaya-hell-bent-on-nuclear-plant-says-consumer-group#sthash.Z6DuVdiC.dpuf
-------
Secession a right of any state that joined Malaysia voluntarily, says Sabah politician
February 1st, 2015
It is not seditious for Sabah and Sarawak nationalists to call for secession from Malaysia if the agreements that formed the country in 1963 are not honoured, Sabah opposition politician, Datuk Dr Jeffrey Kitingan said.
The Bingkor assemblyman, who is chairman of the Sabah STAR party, said the people of these two Borneo states which formed Malaysia with Malaya had been "taken for a ride and cheated outright" despite the Malaysia Agreement as the peninsula depended on these two states for political support and oil wealth.
"If the federal leaders care to listen, Sabah and Sarawak nationalists and activists are not seeking secession but restoration of the legitimate rights, privileges and autonomy of the Borneo states that were taken away or eroded since 1963.
"There was a basis that led to the formation of Malaysia and if that basis is not honoured, one of the lawful and legal recourse would be a de-merger or dissolution. In such an event, it is not secession," Kitingan said in a statement today.
The opposition politician has long campaigned against the Barisan Nasional federal government over issues of oil royalty, freedom of religion, alleged Islamisation of Sabah institutions and the local people as well as immigration which have change the demographic of the state's population.
Full report at:
http://www.themalaysianinsider.com/malaysia/article/secession-a-right-of-any-state-says-sabah-opposition-politician#sthash.0s8czCAl.dpuf
-------
Muslim should blame themselves for failure to understand Islam, says Dr Tariq Ramadan
BY MUZLIZA MUSTAFA
1 February 2015
Muslims have only themselves to blame for their own failure to translate Islamic values and understanding the universal messages depicted in the Quran, said Islamic scholar Professor Dr Tariq Ramadan today.
In his speech titled "The Quranic concept of jihad and how do we rise above its misinterpretation", he also said this is also why some Muslims felt the world is 'against' them.
"Islam came as a message not only for Muslims but also people of other faiths. We are not here to impose value but to spread our shared values and bringing back the forgotten ones. Quran is remembrance.
"We cannot blame the world for not understanding us. We have to blame ourselves for not being able to translate our own values (to the world)," said the Oxford University's professor of Contemporary Islamic Studies.
Tariq said some Muslims have the misconception that because they are 'different', hence is better that others of different faith.
"We do not know how to convey the message. But the message is clear. It is our mind that is confused and clouded by emotion, saying we are not like you (others)," said Tariq.
He said these Muslims, rather than spreading better understanding of the shared values, are obsessed with being judgemental and calling others kuffar (non-believers).
http://www.themalaysianinsider.com/malaysia/article/muslim-should-blame-themselves-for-failure-to-understand-islam-says-scholar#sthash.mQkwF9Ha.dpuf
-------
URL: https://www.newageislam.com/islamic-world-news/new-age-islam-news-bureau/saudi-religious-scholars-call-for-clear-strategy-to-fight-extremism/d/101308