New Age Islam News Bureau
20 Jun 2014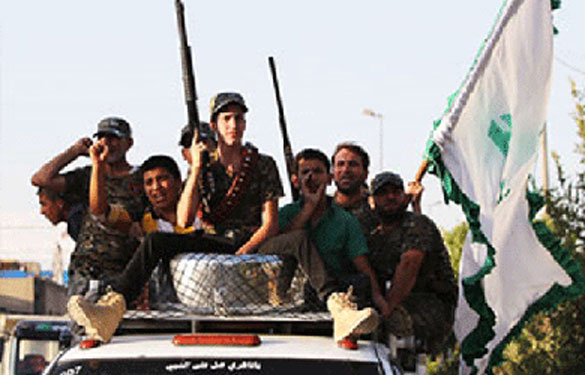 Photo: Iraqi militants seize former chemical weapons factory
----------
Arab World
• Saudi Preacher under Fire for Saying Face Veil Is Not Mandatory
• ISIL Militants Seeking Sex Slaves in Mosul
• Foreign Islamist fighters urge Muslims to join jihad in Syria and Iraq
• Car bomb kills at least 34 in Syria's Hama: state media
• Clashes kill 34 Iraq security forces on Syria border: Officials
• ISIL to target West if wins war in Iraq
• ISIS fires Aleppo 'emir' for threatening man
• Court sentences Brotherhood leaders Badie, Hegazi and El-Beltagi to death
• Egypt's Religious Endowments ministry closely monitors Friday sermons
• Three killed in suicide bombing in eastern Lebanon
• Iraqi forces ready push after Obama offers advisers
• Iraq's top Shiite cleric urges for new govt
• King Abdullah to make landmark visit to Egypt
Pakistan
• Over 50 killed in airstrikes in North Waziristan
• Operation Zarb e Azb targets more militant hideouts
• Islamabad asks Kabul to extradite Fazlullah
• Karachi operation: Two TTP militants killed
• Mohmand tribal jirga offers support to security forces
• PTI to counter Sharifs' fascism, says Imran
North America
• New York police vows to protect Muslims rights
• Obama willing to strike ISIS in Iraq and Syria, open to constructive role from Iran
• Support ballooning in Congress for harsher financial sanctions on Hezbollah
• ISIS mocks Michelle Obama with new hashtag
Europe
• Saudi woman killing sparks hate crime fears in UK
• France for unity gov't in Iraq 'with or without Maliki'
• 'British values' rules may prevent Muslims from managing schools
• Salman Rushdie wins PEN/Pinter writing prize
• More than 50 million driven from homes by war, crisis: UN
• Arrests over Norway imam attack, Muslims threatened
South Asia
• Dhaka Supports Efforts to Ensure Rights of Rakhine Muslims
• Sri Lanka Buddhist leader warned of 'end' to all Muslims
• Sri Lanka Muslims cut back Friday prayers after unrest
• First all-Afghan C-130 crew takes to the air
• 193 Jamaat-BNP men sent to jail in Bogra
Mideast
• Palestinian FM: Despite anger over IDF raids, Abbas won't permit intifada
• Iran says Obama lacks will to combat terrorism in Iraq
• Israel bans UK-based Islamic Relief charity
• Iran convicts two men of spying for Britain, Israel
Southeast Asia
• Jakarta Acting Governor: Religion Has No Place on Identity Card
• Indonesia fears terror return as fighters head to Syria, Iraq
• 17 killed in Philippines clash with extremists
• Jais, Mais jurisdiction over other religions disturbing, says Bar Council
• Court allows teen's suit against Putrajaya over citizenship
India
• Gogoi against visa-free entry for select Bangladeshis
Africa
• Secret Algerian document says Tunisian terror group to target Jews, Western targets
Compiled by New Age Islam News Bureau
URL: https://www.newageislam.com/islamic-world-news/new-age-islam-news-bureau/saudi-preacher-under-fire-for-saying-face-veil-is-not-mandatory/d/87655
-----------
Arab World
Saudi Preacher under Fire for Saying Face Veil Is Not Mandatory
Jun 20, 2014
A Saudi preacher has sparked controversy on social media after Tweeting that Muslim women are allowed to uncover their faces and not wear the face veil known as the Niqab, but that if someone wants to wear it, she is free to do so.
Sheikh Suleiman al-Trifle, a member of Ministry of Islamic Affairs in Saudi Arabia, based his opinion on what he said were the teachings of Islam's Prophet Mohammad.
Women in many areas of Saudi Arabia are required to wear black robes, Abayas, and head-shrouding Hijabs covering their hair. Some conservative Saudi women also wear face-covering Niqabs.
The preacher's Twitter generated wide controversy, including many critical and angry remarks.
"I dare you join your wife in an outing while she uncovers her face," said one Twitter user (@Hamood20121111). "You are seeking fame and I wish you shave your beard because you are not a man," the tweep continued.
"If you want to apply Western customs and traditions, this is impossible and if you do, please travel and live abroad," said @Hamood2012111, another user.
"If you enjoy looking at other Muslim women then it means something is wrong with you! And you are the one who needs advice," commented @k_almassad.
Another user, @m_MesOo, described the preacher's Twitter comment as "Liberals' heresies."
Few users appeared to support al-Torifee's opinion, saying the face veil is inspired by tradition, not religion; therefore it should be enforced.
"Although we are convinced that uncovering [a woman's] face is permissible, our society does not accept it and I've heard people describe a woman uncovering her face as a prostitute," posted @ghalibalshareef.
http://english.alarabiya.net/en/perspective/features/2014/06/19/Saudi-preacher-under-fire-for-saying-face-veil-is-not-mandatory-.html
-----------
ISIL militants seeking sex slaves in Mosul
Jun 20, 2014
Foreign-backed ISIL militants in Iraq have called on the residents of the country's major northern city of Mosul to offer their women to the Takfiri militants for sex.
In a statement released nearly a week ago, the notorious and well-armed militants have also threatened Iraqis in the northern city, with consequences if they fail to comply with the order.
The idea of offering sex to militants under the pretext of a holy war, referred to in Arabic as "Jihad-ul-Nikka," first surfaced back in 2013.
At the time, a Saudi-based Wahhabi cleric issued a fatwa (religious edict) calling on women to offer themselves to the armed militants fighting against the government of Syrian President Bashar Assad.
Wahhabism is a radical and deviant interpretation of Islam that is violently intolerant of any opposing points of view and issues religious edicts that contradict basic Islamic principles and values.
ISIL (Islamic State of Iraq and the Levant) is an al-Qaeda splinter terrorist group that is fighting the government of Syria and Iraq.
On June 10, the ISIL militants took control of Mosul, the capital of Nineveh Province, which was followed by the fall of Tikrit, located 140 kilometers (87 miles) northwest of the capital Baghdad.
Hundreds of thousands of Iraqi people have been forced out of their homes since the attacks.
Iraqi Prime Minister Nouri al-Maliki has vowed that the country's security forces would confront the foreign-sponsored terrorists, describing the seizure of Mosul as a "conspiracy." Maliki has also said Saudi Arabia and Qatar are responsible for the security crisis and growing terrorism in his country, denouncing the Al Saud regime as a major supporter of global terrorism.
http://www.presstv.ir/detail/2014/06/19/367652/isil-seeking-sex-slaves-in-mosul/
-----------
Foreign Islamist fighters urge Muslims to join jihad in Syria and Iraq
20 June 2014
Five Islamist fighters identified as Australian and British nationals have called on Muslims to join the wars in Syria and Iraq, in a new video released by the Islamic State in Iraq and Syria (ISIS).
The online footage, titled "There is No Life Without Jihad", showed the five militants sitting in a rural area and holding rifles with al Qaeda's black flag flying behind them.
They called on Muslims to join ISIS in jihad, or holy war. A song in the background urged "the lions of God to travel to the land of Sham (Syria) and the Euphrates (Iraq)".
"We are a State who is implementing the sharia (Islamic law) in both Iraq and Sham (Syria), and look at the soldiers - we understand no borders," one fighter said in English. A caption said he was Abu Muthanna al-Yemeni from Britain.
"We have participated in battles in Sham, and we will go to Iraq in a few days, and we will fight there, Allah permitting, and come back, and we will even go to Jordan and Lebanon, with no problems," he said, adding that the best land for jihad was Syria.
The other militants were identified as Abu Bara' al-Hindi and Abu Dujana al-Hindi, also from Britain, and Abu Yahya al-Shami and Abu Nour al-Iraqi, both from Australia. A caption said Abu Yahya had been killed fighting in Syria.
Radical takeover
With stunning speed, ISIS, an offshoot of al Qaeda, has captured swathes of territory in northwest and central Iraq, including the second city of Mosul, seizing large amounts of weaponry from the fleeing Iraqi army and looting banks.
President Barack Obama has offered up to 300 Americans to help coordinate the Baghdad government's battle against the Sunni insurgent group.
ISIS, which is also fighting in neighboring Syria, includes thousands of foreign fighters and has become a magnet for jihadi volunteers from Europe and North Africa, Western intelligence agencies say.
Earlier this month, nine European countries endorsed plans to step up intelligence-sharing and take down radical websites to try to stop European citizens going to fight in Syria and bringing violence back home with them.
British Prime Minister David Cameron said on Wednesday that Sunni Islamist insurgents fighting in Iraq were planning to attack Britain and that "ungoverned spaces" where militants thrived had to be shut down.
http://english.alarabiya.net/en/News/middle-east/2014/06/20/Foreign-Islamist-fighters-urge-Muslims-to-join-jihad-in-Syria-and-Iraq.html
-----------
Car bomb kills at least 34 in Syria's Hama: state media
Jun 20, 2014
DAMASCUS: A car bomb claimed by rebels killed at least 34 people on Friday in a government-controlled village in the central Syrian province of Hama, state news agency SANA reported.
More than 50 people were wounded in the attack in Al-Horra, SANA said, blaming the attack on rebels fighting to overthrow President Bashar al-Assad.
The Islamic Front, a rebel coalition, claimed responsibility. It said on Twitter that a radio-controlled bomb had targeted a "gathering of Assad militia. "
The Syrian Observatory for Human Rights said 37 people were killed, including civilians as well as security personnel, and more than 40 wounded.
On Thursday, a car bomb exploded in the city of Homs, to the south of Hama, killing at least six people in a neighbourhood populated by Alawites, the Islamic sect to which Assad belongs.
No one claimed responsibility for what was the second attack in Homs — Syria's third largest city — in less than a week, but state television blamed it on rebels.
http://www.dawn.com/news/1114038/car-bomb-kills-at-least-34-in-syrias-hama-state-media
-----------
Clashes kill 34 Iraq security forces on Syria border: Officials
Jun 20, 2014
Clashes with Sunni Muslim militants have killed 34 Iraqi security forces members in Al-Qaim, a town on the Syrian border, officials said Friday.
The fighting broke out late Thursday night and continued until around noon Friday, with militants in control of most of the town, security forces officers and a local official said.
The identity of the militants was not immediately clear.
But the official, Farhan Farhan, appealed to the government for arms "stronger than the weapons that ISIL has," a reference to the jihadist Islamic State of Iraq and the Levant (ISIL).
Witnesses said families had begun to flee Al-Qaim.
Militants said to be loyal to Syrian rebel groups took control of the nearby Al-Qaim border crossing on Tuesday, the second crossing the government has lost since June 9.
Iraq is struggling to contain a major ISIL-led offensive that overran all of one province and large parts of three more in a matter of days last week.
http://english.ahram.org.eg/NewsContent/2/8/104252/World/Region/Clashes-kill--Iraq-security-forces-on-Syria-border.aspx
-----------
ISIL to target West if wins war in Iraq
Jun 20, 2014
The Takfiri militants currently operating in Iraq will strike the Western governments if they emerge winner, an analyst writes for Press TV.
"There is no doubt that in case of the success of [the Islamic State of Iraq and the Levant] ISIL, the next target of its members would be Western counties," Mohammad Zandy wrote in acolumn for the Press TV website.
He said the US government and its Western allies should now feel responsible for establishing "peace and security" in the region which they bombed more than a decade ago under the pretext of battling terror.
"Creation of a medieval caliphate state would be a source of instability for the whole world due to the irresponsible views that they [the ISIL] hold," wrote Zandy.
Full report at:
http://www.presstv.ir/detail/2014/06/19/367668/isil-to-target-west-if-wins-in-iraq/
-----------
ISIS fires Aleppo 'emir' for threatening man
Jun 20, 2014
Militant organization the Islamic State of Iraq and Syria (ISIS) has asked one its leaders in Aleppo to step down after footage of him threatening an elderly man came to light, according to a Twitter post by an account linked with the organization.
Scroll down to see the video.
The ISIS member was filmed threatening an elderly man with a weapon for lacking knowledge about Islam.
Abu Bakr al-Masri, the ISIS "emir" of the city of Jarabulus in the northern Syrian province of Aleppo, is seen waving and pointing a handgun at an elderly man who repeatedly fails to answer a series of questions about Islam.
"Do you know the Prophet [Mohammad]?" al-Masri, who is sat on a cushioned chair, asks the old man.
Full report at:
http://english.alarabiya.net/en/News/2014/06/19/ISIS-fires-Aleppo-emir-for-threatening-old-man-in-video.html
-----------
Court sentences Brotherhood leaders Badie, Hegazi and El-Beltagi to death
Jun 20, 2014
An Egyptian criminal court has sentenced a number of top Muslim Brotherhood leaders to death Thursday, judicial sources said.
The convicted include the Brotherhood's supreme guide, Mohamed Badie, and top leaders Safwat Hegazi and Mohamed El-Beltagi, as well as 11 others. The sentences will be carried out pending the religious advice of Egypt's top cleric, the Grand Mufti.
The referral of the sentences to the mufti is the first step in the legal process required to enact a death sentence. The mufti's decision is not binding, however; following his decision, the court will issue a final verdict. Once a final verdict is issued, defendants can appeal.
The charges in the case include inciting murder, and are in relation to clashes that took place outside Al-Isteqama mosque in Giza in August, after the ouster of the Brotherhood's Mohamed Morsi from the presidency.
Full report at:
http://english.ahram.org.eg/NewsContent/1/64/104180/Egypt/Politics-/Court-sentences-Brotherhood-leaders-Badie,-Hegazi-.aspx
-----------
Egypt's Religious Endowments ministry closely monitors Friday sermons
Jun 20, 2014
Egypt's Religious Endowments Minister has said that Friday will witness a close monitoring of the noon prayer sermons at mosques to put into effect a law tightening control on these sermons.
There will be no leniency with violators, said Minister Mohamed Mokhtar Gomaa.
Former President Adli Mansour had issued a decree regulating the sermons given by preachers at mosques and limiting it only to preachers appointed by the endowments ministry and Azhar clerics authorised to preach.
Gomaa has ordered special committees to monitor today's sermons and report any violations that take place, a statement on the ministry's website said.
Last Friday, the ministry had begun its campaign to put the new decree into effect.
According to the decree, "Only specialists appointed at the Endowments Ministry and Azhar preachers are allowed to preach and give sermons at mosques and other similar venues."
http://english.ahram.org.eg/NewsContent/1/64/104240/Egypt/Politics-/Endowments-ministry-closely-monitors-Friday-sermon.aspx
-----------
Three killed in suicide bombing in eastern Lebanon
Jun 20, 2014
Three people were reportedly killed in a suicide bombing on Friday in Eastern Lebanon.
A bomber blew up his vehicle at a security checkpoint on the Beirut-Damascus highway in the eastern Bekaa Valley, a security source told Anadolu Agency.
A medical source said that three people were killed and 25 others injured in the blast.
There was no claim of responsibility for the attack.
In March, three military personnel had been killed in a suicide bombing at an army checkpoint in Arsal town on border with Syria.
Another suicide bombing in the eastern city of Hermel on February 1 left three people dead and over 20 injured, an attack claimed by the Al-Nusra Front group.
In January, the group declared that all of Hezbollah's offices would be considered "legitimate targets."
http://www.worldbulletin.net/headlines/139284/three-killed-in-suicide-bombing-in-eastern-lebanon
-----------
Iraqi forces ready push after Obama offers advisers
Reuters | Jun 20, 2014
BAGHDAD: Iraqi forces were massing north of Baghdad on Friday, aiming to strike back at Sunni Islamists whose drive toward the capital prompted the United States to send military advisers to stiffen government resistance.
President Barack Obama offered up to 300 Americans to help coordinate the fight. But he held off granting a request for air strikes from the Shi'ite-led government and renewed a call for Prime Minister Nuri al-Maliki to do more to overcome sectarian divisions that have fueled resentment among the Sunni minority.
In the area around Samarra, on the main highway 100 km (60 miles) north of Baghdad, which has become a frontline of the battle with the Islamic State of Iraq and the Levant, the provincial governor, a rare Sunni supporter of Maliki, told cheering troops they would now force ISIS and its allies back.
Full report at:
http://timesofindia.indiatimes.com/world/middle-east/Iraqi-forces-ready-push-after-Obama-offers-advisers/articleshow/36887176.cms
----------
Iraq's top Shiite cleric urges for new govt
Jun 20, 2014
In an implicit criticism of the embattled incumbent premier Nouri al-Maliki, the spiritual leader of Iraq's Shiite majority called for a new, "effective" government on Friday.
Grand Ayatollah Ali al-Sistani called for the "formation of an effective government that is acceptable on a ... national level (and) avoids past mistakes," in remarks made by his spokesman on his behalf, Agence France-Presse reported.
"It is necessary for the winning political blocs to start a dialogue that yields an effective government that enjoys broad national support, avoids past mistakes and opens new horizons toward a better future for all Iraqis," the Associated Press quoted al-Sisanti as saying in a message delivered by his representative Ahmed al-Safi in the holy city of Karbala.
Prime Minister Nuri al-Maliki, who is seeking a third term following an April 30 general election, is under fire both domestically and internationally for allegedly exclusionary policies towards the Sunni Arab minority that helped set the stage for a militant offensive that has overrun swathes of Iraq.
Full report at:
http://english.alarabiya.net/en/News/middle-east/2014/06/20/Iraq-s-top-Shiite-cleric-urges-for-new-govt.html
-----------
King Abdullah to make landmark visit to Egypt
Jun 20, 2014
Saudi King Abdullah will visit Egypt on Friday for the first time since the 2011 uprising, in a show of support for newly-elected President Abdel-Fattah al-Sisi, the kingdom said.
Egyptian officials said Thursday that Sisi will receive King Abdullah upon his arrival from Morocco, where he spent time for medical rehabilitation. The visit will be King Abdullah's first since the 2011 ouster of Hosni Mubarak, a close ally of both Saudi Arabia and the United States.
Saudi Arabia and other Gulf nations showered Egypt with billions of dollars in aid after Sisi, then the army's top general, overthrew Islamist President Mohammad Mursi amid massive protests last summer.
http://english.alarabiya.net/en/News/2014/06/20/Saudi-King-Abdullah-to-visit-Egypt-for-first-time-since-2011-uprising.html
-----------
Pakistan
Over 50 killed in airstrikes in North Waziristan
Jun 20, 2014
At least 50 militants were killed in aerial strikes by Pakistani forces in North Waziristan, media reported on Friday.
The sources said several hideouts were destroyed by warplanes and helicopter gunships in Qutab Khail and adjacent areas in the restive tribal region near the Afghan border during Operation Zarb-e-Azb, Geo News reported.
The identities of those killed are yet to be known.
http://www.thehindu.com/news/international/south-asia/over-50-killed-in-airstrikes-in-north-waziristan/article6133977.ece
-----------
Operation Zarb e Azb targets more militant hideouts
June 20, 2014
PESHAWAR- Pakistan's warplanes and helicopter gunship targeted militant hideouts in North Waziristan as part of military offensive "Operation Zarb-e-Azb", killing more than 50 insurgents, sources said today.
The sources said that several hideouts were destroyed in Qutab Khail and adjacent areas in the restive tribal region near Afghan border. Identities of those killed were yet to be known
http://www.nation.com.pk/national/20-Jun-2014/operation-zarb-e-azb-targets-more-militant-hideouts
-----------
Islamabad asks Kabul to extradite Fazlullah
June 20, 2014
ISLAMABAD: Islamabad has sought the extradition of Tehreek-e-Taliban Pakistan (TTP) chief Mullah Fazlullah from Afghanistan and the dismantlement of the militant group's hideouts in the Kunar and Nuristan provinces, The Express Tribune has learnt.
The request for the extradition of Pakistan's most wanted man was made by Mehmood Khan Achakzai – the chief of Pashtunkhwa Milli Awami Party (PkMAP) – on behalf of Prime Minister Nawaz Sharif in a meeting with Afghanistan's President Hamid Karzai in Kabul on Wednesday, a well-informed government official said.
The Foreign Office (FO) confirmed Achakzai visited Afghanistan as a special envoy of the prime minister to seek Kabul's cooperation in eliminating terrorism. He was also accompanied by Foreign Secretary Aizaz Ahmed Chaudhry.
Full report at:
http://tribune.com.pk/story/724442/anti-terrorism-cooperation-islamabad-asks-kabul-to-extradite-fazlullah/
-----------
Karachi operation: Two TTP militants killed
June 20, 2014
KARACHI: Two Tehreek-e-Taliban Pakistan (TTP) members were killed in a joint operation by police and Rangers personnel in Karachi's Manghopir Sultanabad area, Express News reported on Friday.
It was reported that one of the deceased was a local TTP commander. A Rangers spokesperson confirmed the death of the two militants.
The operation was conducted after the security forces were tipped off about the presence of the militants.
When the security forces reached the area, the militants opened fire and threw hand grenades at them, injuring three Rangers personnel, identified as Naseer and Akbar. The injured were immediately shifted to the Abbasi Shaheed Hospital for treatment.
A high contingent of security forces was called in after the initial encounter. An exchange of fire took place again, which lead to the death of the two militants.
After the operation, additional IGP Karachi announced cash reward as well as commendation certificates for the police personnel involved in the operation.
http://tribune.com.pk/story/724550/karachi-operation-two-ttp-militants-killed/
-----------
Mohmand tribal jirga offers support to security forces
June 20, 2014
GHALLANAI: Mohmand tribal jirga has offered its support to security forces for keeping peace in the agency.
Tribal elders made this announcement at a jirga held in Ghallanai, the headquarters of Mohmand Agency.
The tribal peace committee leaders, tribal elders and Brigadier Zahid Khan of 115 Brigade, Political Agent Mohmand Agency Khushal Khan and Assistant Political Agents of all three sub divisions attended the gathering.
Brig Zahid Khan told the Jirga that Mohmand Tribe has always supported the security forces in peace keeping in the agency and have rendered sacrifices for the peace in the past, and will continue their support to forces in future.
Full report at:
http://tribune.com.pk/story/724395/waziristan-operation-mohmand-tribal-jirga-offers-support-to-security-forces/
-----------
PTI to counter Sharifs' fascism, says Imran
Jun 20, 2014
ISLAMABAD - Pakistan Tehreek-e-Insaf (PTI) Thursday ruled out any possibility of a political alliance with Pakistan Awami Tehreek (PAT) and said that the party had supported the latter because it was a victim of brutality of Punjab police. On the other hand, PTI also demanded of the government to ensure halt to the US drone strikes, saying these are damaging the ongoing military operation in North Waziristan Agency.
PTI chairman Imran Khan said in a statement that his party had no alliance with PAT. However, PTI will stand by PAT against the brutality of Punjab police, he said. He said that PTI would always support strengthening of democracy and pointed out that despite total failure of PM Sharif in giving leadership to dialogue for peace and to the military operation, PTI stood by the government despite many reservations. The PTI even postponed its rally in Bahawalpur in view of the military operation, said the statement. "Yet, PML-N seemed to have misread these gestures," Khan asserted and added so it chose to use the opportunity to crush dissent out of fear of PTI's street movement to expose electoral rigging by demanding opening up of four constituencies for thumbprint verification of votes.
Full report at:
http://www.nation.com.pk/editors-picks/20-Jun-2014/pti-to-counter-sharifs-fascism-says-imran
-----------
North America
New York police vows to protect Muslims rights
Jun 20, 2014
New York Police Department to stopped the undercover spying operation against the religious community after angry Muslim communities demanded disbanding of the controversial surveillance unit.
Police Commissioner has made a pledge to protect the minority's rights ahead of the holy month of Ramadan two months after disbanding the New York Police Department spying unit that targeted Muslims.
Relations between Muslims and NYPD have been tense over the past years over the unit's much criticized spy program.
Under the program issued in 2003, NYPD has investigated mosques, entire ethnic communities and Muslim student associations in several universities across the US.
The program of undercover spying has drawn anger of Muslim communities who demanded disbanding the controversial surveillance unit.
Full report at:
http://www.worldbulletin.net/todays-news/139292/new-york-police-vows-to-protect-muslims-rights
-----------
Obama willing to strike ISIS in Iraq and Syria, open to constructive role from Iran
Jun 20, 2014
The fate of the state of Iraq hangs in the balance, US President Barack Obama said at the White House on Thursday, announcing military preparations for "targeted and precise" kinetic action against ISIS, a terrorist militia conquering territory in eastern Syria and northern Iraq.
Iraqi leaders "don't have a lot of time," Obama said, warning that the country might once again descend into civil war.
While Obama has not yet ordered military action, he positioned assets in the region for a strike, he said. Obama also announced that 300 military advisers would be deployed to Iraq to advise and train officials there.
Full report at:
http://www.jpost.com/Middle-East/Warning-of-Iraqi-spiral-Obama-readies-strikes-and-hopes-for-constructive-role-from-Iran-359982
-----------
Support ballooning in Congress for harsher financial sanctions on Hezbollah
Jun 20, 2014
Support is widening in the US Congress for a bipartisan bill to block Hezbollah's financing and to limit the group's access to logistical support.
Last month, US Senators Jeanne Shaheen (D-New Hampshire) and Marco Rubio (R-FLorida), both members of the US Senate Foreign Relations Committee, introduced the Hezbollah International Financing Prevention Act of 2014 (HIFPA) in the Senate, following its earlier introduction in the House by US Congressmen Brad Schneider (D-Illinois), Mark Meadows (R-North Carolina), Eliot Engel (D-New York) and Ed Royce (R-California.) The bill has quickly attained 280 co-sponsors – a number that more than doubled in a matter of weeks and far exceeds the 218 needed for a majority – in the House of Representatives and 36 in the Senate.
Full report at:
http://www.jpost.com/Diplomacy-and-Politics/Support-ballooning-in-Congress-for-harsher-financial-sanctions-on-Hezbollah-360001
-----------
ISIS mocks Michelle Obama with new hashtag
Jun 20, 2014
The Islamic State of Iraq and Syria (ISIS) has made a mockery of the U.S. first lady Michelle Obama through series of tweets accompanied by the hashtag: #bringbackourhumvee.
The militant group photo-shopped a popular image of Michelle carrying a sign that reads #bringbackourgirls, part of a global campaign to rescue 276 Nigerian school girls who were kidnapped by Boko Haram last month.
The #bringbackourhumvee tweets being shared by ISIS members and their supports on Twitter refer to American-made Humvees confiscated by the extremist militants in Iraq last week, the UK-based Daily Mail said.
The group which had been fighting in Syria's civil war gained control of many swathes of Iraqi territories since last week, including Mosul, the country's second largest city.
The U.S.-made military hardware seized by ISIS in Iraq could be used for in battles against the forces of Iraqi Prime Minister Nuri al-Maliki.
Full report at:
http://english.alarabiya.net/en/variety/2014/06/20/ISIS-mocks-Michelle-Obama-with-bringbackourhumvee-Twitter-hashtag.html
------------
Europe
Saudi woman killing sparks hate crime fears in UK
Jun 20, 2014
The murder of a Saudi student in Britain has sparked fears that hate crime is on the rise amid 'widespread' Islamophobia in the UK, members of the Muslim community warn.
Nahid al-Manea, who was 31 years old and studying at the University of Essex, died after being stabbed 16 times in Colchester, Essex. A 52-year-old man has been detained by police in connection with the murder.
Manea was wearing an abaya – a black cloak worn by some Muslim women – and headscarf when she was murdered, and police are investigating the possibility she was deliberately targeted because of her religious dress.
The Muslim Council of Britain (MCB) today warned of a rise in intimidation towards the community in the UK, which has coincided with a surge in support for right-wing political parties.
Full report at:
http://english.alarabiya.net/en/perspective/features/2014/06/20/Saudi-woman-killing-sparks-hate-crime-fears-in-UK-.html
-----------
France for unity gov't in Iraq 'with or without Maliki'
Jun 20, 2014
France on Friday called for the formation of a unity government in Iraq with or without Shia Prime Minister Nuri al-Maliki to fight Sunni jihadists advancing towards Baghdad.
Foreign Minister Laurent Fabius said the offensive by fighters from the Islamic State of Iraq and the Levant (ISIL) that has brought them close to the capital posed an unprecedented threat.
"This is the first time that a terrorist group is threatening to take control of a state," Fabius told BFM-RMC media groups.
"There has to be a government of national unity," he said. "With or without Nuri al-Maliki."
"If you want to fight terrorist groups there has to be national unity," he added.
Fabius said the situation in oil-rich Iraq was "extremely serious" with the country "on fire and with blood flowing" that threatened to have repercussions not only in Europe but the whole world.
Full report at:
http://english.ahram.org.eg/NewsContent/2/8/104223/World/Region/France-for-unity-govt-in-Iraq-with-or-without-Mali.aspx
-----------
'British values' rules may prevent Muslims from managing schools
Jun 20, 2014
Muslims becoming trustees or governors of British schools is threatened because of the possible new rules for academies and free schools that compel them to promote British values are "dangerous".
UK Education Secretary Michael Gove has drawn up funding agreements that will allow him to shut down schools or kick out governors if he believes a member of the academy trust is "unsuitable" because of "relevant conduct".
Unacceptable actions are defined as anything "aimed at undermining the fundamental British values of democracy, the rule of law, individual liberty and mutual respect and tolerance of those with different faiths and beliefs".
Full report at:
http://www.worldbulletin.net/todays-news/139296/british-values-rules-may-prevent-muslims-from-managing-schools
-----------
More than 50 million driven from homes by war, crisis: UN
Jun 20, 2014
The number of people driven from their homes by conflict and crisis has topped 50 million for the first time since World War II, with Syria hardest hit, the UN refugee agency said Friday.
The UNHCR said there were 51.2 million forcibly displaced people at the end of 2013, a full six million higher than the previous year.
The protracted Syria conflict was largely to blame for the increase, it said in its annual report, released on World Refugee Day.
Since the war began in March 2011, a total of 2.5 million people have fled Syria, with 6.5 million more displaced inside the country.
The Central African Republic and South Sudan crises also sparked new waves of displacement.
"We are seeing here the immense costs of not ending wars, of failing to resolve or prevent conflict," said UNHCR chief Antonio Guterres.
Full report at:
http://english.ahram.org.eg/NewsContent/2/9/104218/World/International/More-than--million-driven-from-homes-by-war,-crisi.aspx
-----------
Arrests over Norway imam attack, Muslims threatened
Jun 20, 2014
Several mosques in Norway recieve threats that are full of hatred agaisnt Muslims including the mosque Nehmat Ali Shah was an imam in.
According to The Islamic Council, Norwegian mosques receive an increasing number of threats that are full of hatred against Muslims.
Secretary General in the Islamic Council in Norway, Mehtab Afsar, tells Klassekampen that both the Imam's mosque, Central Jamaat Ahle Sunnat, as well as other mosques have received several threats.
"This is an unfortunate development," Afsar said.
Nehmat Ali Shah, the imam of the Central Jamaat Ahle-Sunnat mosque on Oslo, was wounded in the face and hands after he was attacked by a masked man late on Monday night.
"We conducted a search of his house and have therefore charged the two men," Grete Lien Metlid from the Oslo police told Norway's VG newspaper.
Full report at:
http://www.worldbulletin.net/headlines/139294/arrests-over-norway-imam-attack-muslims-threatened
-----------
Salman Rushdie wins PEN/Pinter writing prize
AP | Jun 20, 2014
LONDON: The writers' group PEN is honoring Salman Rushdie for his "outstanding" literary output and support for freedom of expression.
The India-born writer, who spent years in hiding after his novel "The Satanic Verses" drew a death edict from Iran's religious authorities, was named winner on Friday of the PEN/Pinter prize.
The award was established in 2009 in memory of Nobel Prize-winning playwright Harold Pinter. His widow, Antonia Fraser, said Pinter had "respected Salman twice over, both for his work and his great personal courage."
The prize goes jointly to a British writer seen as sharing Pinter's "unflinching, unswerving" gaze on society, and an international writer who has faced persecution, chosen by the British winner and PEN.
The co-winner will be announced at an October 9 ceremony in London.
http://timesofindia.indiatimes.com/india/Salman-Rushdie-wins-PEN/Pinter-writing-prize/articleshow/36865120.cms
-----------
South Asia
Dhaka supports efforts to ensure rights of Rakhine Muslims
Jun 20, 2014
Dhaka supports efforts of Organization of the Islamic Cooperation (OIC) to promote rights and welfare of the minority Muslim community in Rakhine State with cooperation from Myanmar government, said Bangladesh Foreign Minister AH Mahmood Ali on Wednesday.
He made the remark while delivering his statements in two separate sessions organised on the occasion of the 41st Session of the Council of Foreign Ministers (CFM) of the OIC taking place in Jeddah.
The foreign minister also welcomed the appointment of former Malaysian foreign minister Syed Hamid Albar as the special envoy of OIC secretary general for Myanmar.
He indicated that Bangladesh government has been pursuing its goal of building a robust, friendly and mutually beneficial relation with Myanmar, and is committed to resolving the issues of influx and return of refugees from Myanmar through sustained dialogue, understanding and cooperation.
http://www.thedailystar.net/city/dhaka-supports-efforts-to-ensure-rights-of-rakhine-muslims-29484
------------
Sri Lanka Buddhist leader warned of 'end' to all Muslims
Jun 20, 2014
Sri Lankan Buddhist leader Galagoda Atthe Gnanasara threatened to destroy Muslim businesses and asked his audience to fight against the minorities. Part of the audience shouted back saying yes, they will do it.
Bodu Bala Sena's General-Secretary Gnanasara in an inciteful and fear mongering speech on Monday said that "if one marakkalaya (Muslim) lays a hand on a Sinhalese, that will be the end of all of them" to a rousing and cheering crowd prior to the riots in Aluthgama.
The monk threatened to destroy Muslim businesses at Aluthgama, Beruwala and other places, instructed his listeners to grab any bags with Halal signs and throw them on the ground, asked his audience to fight against the minorities and he told the crowd that party politics have destroyed Sinhalese and urged the crowd to unite and take things into their own hands.
The violence on Sunday and Monday nights was blamed on the hardline Buddhist Force (BBS) in the southern towns of Alutgama and Beruwala, about 60 kilometres (35 miles) south of Colombo.
Full report at:
http://www.worldbulletin.net/world/139231/sri-lanka-buddhist-leader-warned-of-end-to-all-muslims
-----------
Sri Lanka Muslims cut back Friday prayers after unrest
June 20, 2014
A Sri Lankan soldier stands guard by a roadside following clashes between Muslims and an extremist Buddhist group in the town of Alutgama on June 17, 2014. PHOTO: AFP
COLOMBO: Sri Lanka's Muslim minority held shortened Friday prayer services as religious tensions gripped the island after clashes with Buddhists killed four people, an official said.
The Muslim Council of Sri Lanka (MCSL) said Islamic clerics instructed mosques to conduct shorter services and asked the faithful to disperse peacefully after lunchtime prayers.
"The Ulamas asked mosques to ensure shorter sermons and in some places they started prayers earlier than on other Fridays," MCSL President N M Ameen told AFP.
Full report at:
http://tribune.com.pk/story/724576/sri-lanka-muslims-cut-back-friday-prayers-after-unrest/
-----------
First all-Afghan C-130 crew takes to the air
Jun 20, 2014
The first C-130 manned by an all-Afghan aircrew flew from Kabul to Kandahar and back on Monday.
Col. Aimal Sayedi, Afghan Fixed Wing Squadron Commander, said the Afghan Air Force has been looking forward to this flight for a long time.
The Afghan aircrew trained in the United States and Afghanistan, qualifying eight months ahead of schedule.
"We were really excited about this flight," said Sayedi. "That was a big step forward for our air force."
The Afghan Air Force currently has 6,800 personnel and 102 aircraft. The C-130 is the biggest aircraft in the AAF fleet and expands their capabilities.
"We can help people all around Afghanistan," said 1st Lt. Khial Shinwari, C-130 co-pilot. "We can move passengers, we can move cargo, and we even helped out our government for the elections."
Full report at:
http://www.khaama.com/first-all-afghan-c-130-crew-takes-to-the-air-6212
-----------
193 Jamaat-BNP men sent to jail in Bogra
Jun 20, 2014
A Bogra court yesterday sent 193 Jamaat and BNP men to jail, canceling their bail in the case for arson attack on 16 offices of Nandigram Upazila Parishad in the district on March 3, 2013.
Jamaat upazila unit General Secretary Monjurul Islam, former union parishad chairman and Jamaat leader Anwarul Islam, BNP district unit Religious Affairs Secretary Fazle Rabbi Toha, Chhatra Dal Nandigram municipality unit President Shah Alam are among the accused.
Several thousands people came out of their houses at Nandigram in the early hours of March 3, 2013 following an announcement by Jamaat men through loudspeakers that Delawar Hossain Sayedee's face was seen in the moon.
Later, Jamaat men with the help of BNP vandalised and looted 16 offices of Nandigram Upazila Parishad and set them afire.
Full report at:
http://www.thedailystar.net/country/193-jamaat-bnp-men-sent-to-jail-in-bogra-29412
-----------
Mideast
Palestinian FM: Despite anger over IDF raids, Abbas won't permit intifada
By REUTERS
06/20/2014
Palestinian President Mahmoud Abbas will prevent any uprising in the West Bank despite escalating tensions with Israel, his foreign minister said on Friday.
Palestinian Foreign Minister Riad al-Malki told Reuters that a massive Israeli military sweep following the disappearance of three Jewish youths a week ago were unacceptable, but said Abbas would continue assisting Israel in an effort to end the crisis.
"We will do our utmost to help because if the situation continues as it is, this will end up (with) the destruction of what we have built in Palestine," Malki said.
Malki also warned that a recent reconciliation deal with the Islamist group Hamas would be threatened if, as Israel said, it was responsible for abducting the three youths as they hitchhiked near a Jewish settlement in the West Bank.
After seven years of feuding, Abbas's secular Fatah movement and its rival Hamas agreed earlier this month to the formation of a unity government, but the disappearance of the seminary students has put an immediate strain on their accord.
Full report at:
http://www.jpost.com/Operation-Brothers-Keeper/Palestinian-foreign-minister-Despite-anger-over-IDF-raids-Abbas-wont-permit-new-intifada-360047
-----------
Iran says Obama lacks will to combat terrorism in Iraq
Jun 20, 2014
US President Barack Obama lacks "serious will" to combat terrorism, a top Iranian official said on Friday, after a request from the Iraqi government for US air strikes went unanswered.
Deputy Foreign Minister Hossein Amir Abdollahian's comments followed a statement from Obama on the Iraq crisis in which he pledged to send military advisers to Baghdad but stopped short of further action at this stage.
http://english.ahram.org.eg/NewsContent/2/8/104236/World/Region/Iran-says-Obama-lacks-will-to-combat-terrorism-in-.aspx
-----------
Israel bans UK-based Islamic Relief charity
Jun 20, 2014
Israeli Defense Minister Moshe Yaalon signed an order on Thursday banning Islamic Relief Worldwide (IRW), a Britain-based charitable agency that solicits donations from around the world, from operating in the country, Israeli media has reported.
According to IRW's website, it has been working in the Palestinian territories since 1994, tending to underprivileged, malnourished and traumatised children as well as creating jobs and encouraging entrepreneurship with interest-free loans.
Founded in 1984, IRW lists the European Commission, the World Health Organization and UNHCR - the UN Refugee Agency - among its "key partners".
Its stated aim is to promote – in partnership with local communities – sustainable economic and social development with a view to eradicating poverty, illiteracy and disease.
HAMAS LINKS ALLEGATIONS
Full report at:
http://www.worldbulletin.net/headlines/139278/israel-bans-uk-based-islamic-relief-charity
-----------
Iran convicts two men of spying for Britain, Israel
Jun 20, 2014
An Iranian court convicted two men on charges of spying for Britain and Israel and sentenced them to 10 and five years in prison, respectively, state television reported on Friday.
The report on the state television's website quoted prosecutor Yadollah Movahhed in southeastern Kerman province, were both were tried, as saying that the man sentenced to 10 years had "exchanged information with four British intelligence operatives".
Mr. Movahhed said the other man, arrested last August, passed on intelligence to a security officer at the Israeli embassy in Thailand.
Both men are believed to be Iranians but Mr. Movahhed did not provide their names. It was not known if the suspects had defence lawyers.
On Thursday, Iran's official IRNA news agency reported that a court in Kerman province sentenced a group of already jailed cyber-activists to prison terms ranging from one to 11 years in prison on charges of breaching national security.
Full report at:
http://www.thehindu.com/news/international/world/iran-convicts-two-men-of-spying-for-britain-israel/article6133853.ece
-----------
Southeast Asia
Jakarta Acting Governor: Religion Has No Place on Identity Card
Jun 20, 2014
Jakarta. Jakarta Acting Governor Basuki Tjahaja Purnama said that he supported the removal of religion status from Indonesia's national identity card, or KTP, after a member of Indonesian Democratic Party of Struggle (PDI-P) presidential candidate Joko Widodo's campaign team said that Joko would seek to remove the category if elected — a statement that the campaign quickly rescinded.
"Why do we need a religion status on the identification card?" Basuki, popularly known as Ahok — asked, as quoted by Indonesian news portal Vivanews.com. "Why would I need to know your religion? Since I was a lawmaker [in the House of Representatives], I have said that I did not want to have religion status on the ID card and we have a presidential candidate who agrees."
As a member of the Great Indonesia Movement Party (Gerindra), Basuki, a Christian of Chinese descent, endorsed his party's presidential candidate, former general Prabowo Subianto. But Joko and Basuki are known to have a close working relationship in their partnership as governor and deputy governor of the capital.
Full report at:
http://www.thejakartaglobe.com/news/ahok-says-religion-place-identity-card/
-----------
Indonesia fears terror return as fighters head to Syria, Iraq
Jun 20, 2014
JAKARTA: Indonesians are joining the procession of jihadists to Syria and Iraq, sparking fears they will revive sophisticated militant networks when they return and undermine a decade-long crackdown that has crippled the most dangerous cells.
Support for groups like the Islamic State of Iraq and the Levant (ISIL), Sunni radicals currently rampaging through northern Iraq, is growing among Indonesian with dozens believed to have joined the insurgency.
Analysts say the fighters will pose a new and serious threat to Indonesia when they return home with honed insurgency tactics and international militant connections, echoing the concerns of Western governments.
Britain and Australia have expressed fears that Syria and Iraq are breeding grounds for violent militants who travel there from the West to fight and pose a threat to national security on their return.
Full report at:
http://www.dawn.com/news/1114035/indonesia-fears-terror-return-as-fighters-head-to-syria-iraq
-----------
Jais, Mais jurisdiction over other religions disturbing, says Bar Council
Jun 20, 2014
t is alarming that an Islamic body appears to have jurisdiction or purview over other religions and their property, the Bar Council said today, in a swipe at the Selangor Islamic Religious Council (Mais) over their refusal to return the 321 Bibles seized from the Bible Society of Malaysia (BSM) earlier this year.
Bar Council president Christopher Leong said this was not what is stated in the Federal Constitution, adding that it supported Attorney-General Tan Sri Abdul Gani Patail's decision not to prosecute BSM over claims that the society was going to use the holy books to propagate Christianity to Muslims.
Full report at:
http://www.themalaysianinsider.com/malaysia/article/jais-mais-jurisdiction-over-other-religions-disturbing-says-bar-council#sthash.Klx1HIlL.dpuf
-----------
17 killed in Philippines clash with extremists
June 20, 2014
ZAMBOANGA, Philippines : Ten extremists and seven soldiers were killed on Thursday in one of the bloodiest clashes in the southern Philippines in recent months, the military said.
Soldiers were approaching a known hotbed of the militant Abu Sayyaf group on the strife-torn island of Jolo when the fighting broke out, military statements said.
The Abu Sayyaf initially fired on the soldiers, killing an officer. Ten minutes later, six more soldiers were killed and many others wounded when the Abu Sayyaf fired mortar shells at them, the statement added.
The fighting left 10 Abu Sayyaf fighters dead, although only one body was recovered, and 24 soldiers wounded, the military said. "The remaining troops are still in the area of operations while the casualties were evacuated," the statement said.
The attack comes after the Abu Sayyaf suffered a series of setbacks including the capture in Manila last week of one of its leaders, Khair Mundos, who is on the US government's list of "most wanted" terror suspects.
Full report at:
http://www.nation.com.pk/international/20-Jun-2014/17-killed-in-philippines-clash-with-extremists
-----------
Court allows teen's suit against Putrajaya over citizenship
Jun 20, 2014
Putrajaya's application to strike out a lawsuit brought by a 16-year-old boy demanding citizenship was rejected by the High Court today.
Lawyer Annou Xavier said High Court judge Hue Siew Kheng ruled in chambers that it was not a clear cut case to be struck out and ordered for the merits of the case to be heard.
Putrajaya was ordered to file an affidavit in reply within 14 days.
In the originating summons filed last December, businessman R. Moorthy named the director-general of the National Registration Department, secretary-general of the Home Ministry and the government as defendants where he asked Putrajaya to recognise his son, M. Navin, as a citizen.
Full report at:
http://www.themalaysianinsider.com/malaysia/article/court-allows-16-year-old-to-file-lawsuit-against-putrajaya-over-citizenship#sthash.TCetH9TP.dpuf
-----------
India
Gogoi against visa-free entry for select Bangladeshis
Written by Samudra Gupta Kashyap | Guwahati | June 20, 2014
Assam Chief Minister and veteran Congress leader Tarun Gogoi on Thursday said the BJP-led government at the Centre was trying to introduce visa-free entry facilities to certain categories of Bangladesh nationals, a proposal his government has rejected outright.
"Last week we received a letter from the Ministry of External Affairs seeking our opinion on a proposal by the Centre to introduce visa-free entry facilities to some categories of Bangladeshi citizens to our country. We have rejected it outright saying it was meaningless when we have not been able to keep track of those Bangladeshis who come with proper visas," Gogoi said at a press conference in Guwahati.
Quoting a letter sent by the MEA to Assam government on June 11, he said the Centre had invited views and comments from his government on a proposal to permit Bangladesh nationals below the age of 18 and above the age of 65 to visit India without a visa. Gogoi also accused the BJP of changing their stand on the issue of Bangladeshi immigrants.
http://indianexpress.com/article/india/india-others/gogoi-against-visa-free-entry-for-select-bangladeshis/
-----------
Africa
Secret Algerian document says Tunisian terror group to target Jews, Western targets
Jun 20, 2014
A Tunisian counter-terrorism expert cited a secret Algerian report stating that jihadist group Ansar al-Sharia in Tunisia plans to target Jews as well as Western targets in Tunisia, Egypt, and Algeria.
A new report published on Wednesday by the Jihad and Terrorism Threat Monitor of MEMRI (the Middle East Media Research Institute) reveals that Ali Zawi, a Tunisian counter-terrorism expert warned in an article published on Wednesday in the London-based Arab daily al-Quds al-Arabi that terrorists are planning to target the Jewish community on the Island of Djerba during the month of Ramadan.
During last year's Ramadan, the group perpetrated an attack that killed eight Tunisian soldiers.
The expert's claims, which were first published in the Tunisian weekly Akhar Khabar, also noted that Ansar al-Sharia operative Khaled Al-Shaeb is considered very dangerous and suspected to be connected to these planned attacks. According to the newspaper, Shaeb is highly dangerous and was involved in a recent attack on the home of the Tunisian interior minister.
Full report at:
http://www.jpost.com/Jewish-World/Jewish-Features/Report-Secret-Algerian-document-says-Tunisian-terror-group-to-target-Jews-Western-targets-360021
-----------
URL: https://www.newageislam.com/islamic-world-news/new-age-islam-news-bureau/saudi-preacher-under-fire-for-saying-face-veil-is-not-mandatory/d/87655