New Age Islam News Bureau
25 May 2014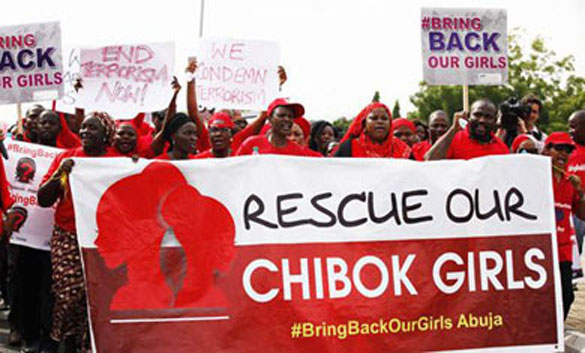 People attend a demonstration calling on the government to rescue the kidnapped girls of Nigeria, on May. (AP Photo/Sunday Alamba)
-----------
Arab World
• Saudi Ministry Says It Will Not Employ Imams with Extremist Views
• Nusra Front Kills 90 ISIL Militants in Syria, ISIL Leader Promised To Take Revenge
• 25 killed in Iraq as Shiites throng Baghdad for rituals
• Car bomb at liquor store in northern Iraq kills 12
• Syria's Nusra Front targets army with four suicide bombings
• ISIL Claims Responsibility for Terrorist Attack on Iranian Technicians in Iraq
• Lebanon says arrests Syrian-born preacher
• Car bomb in Syria's Homs kills 10: governor
• Zawahiri again addresses jihadist infighting in Syria in online statement
Africa
• Top Nigerian Islamic cleric calls for unity against Boko Haram
• 40 Libyan MPs pledge support to renegade general Haftar
• Sultan of Sokoto cautions Federal Government on foreign troops occupying Nigeria
• Sudan rebels launch 'big offensive' in Kordofan
• Nigeria explosion: toll rises to eight
North America
• Your heart is full of evil, US Islamic clerics write Shekau
• Muslim cleric who backed fatwa on 'killing of U.S. soldiers' promoted by State Dept
• Obama puts drone strikes in Pakistan on hold: CNN
• US media highlights Sharif's move to attend Modi's swearing-in
South Asia
• 47 Taliban militants killed, 12 injured in Afghan operations
• China offers amnesty to militants in restive Xinjiang province
• MDP sets eight conditions for backing candidate for Majlis speaker
• RAB: Jihad of AL masterminded Ekram's killing
• Banned Hizb-ut Tahrir reawakening
India
• India, Pakistan must resolve Kashmir issue once for all: Moderate Hurriyat Leader
• From Ram temple to law on cow slaughter, VHP presents its wish list
Mideast
• West Sparks Sectarian Wars in Region to Distract Attention from Israel
• Yemen army kills 3 Qaeda suspects near capital
• Turkish Cypriot religious leader calls to reopen Hala Sultan mosque
• Pope: End 'unacceptable' Israel-Palestinian conflict
• Ahmad Jarba Brands Iranian Terrorist Group as Brother of Syrian Opposition
• Rouhani Asks for Promotion of Muslim Media to Show True Face of Islam
Pakistan
• Twin blasts a warning from militants against Waziristan operation
• Eight Levies personnel shot dead near Wadh, Insurgents suspected
• Political ownership sought for military action in Fata
'• Establishment' unhappy with PML-N: Maulana Fazl ur Rehman
• Imran promises 'change' in three months
• Pakistan: No plans to end peace process with Taliban
• 5 important terrorist commanders killed in North Waziristan Agency airstrikes: Sources
Southeast Asia
• Insulting Umno doesn't mean insulting Malays, says Anwar
• Utusan Malaysia a paper for extremists and racists, says Guan Eng
• Become formidable political force, Filipino expats in Saudi told
• Seized Bibles in good condition, says Selangor MB
Europe
• Germany police probe in Erdogan poster with Nazi symbol
• Slain British jihadist 'trained ninjas' in Syria
• Baltic States bring number of 'Israel ally' caucuses to 30
• Belgium hunts Jewish museum gunman amid fears of anti-Semitism
• French author pushes boundaries by writing in Urdu
Compiled by New Age Islam News Bureau
URL: https://www.newageislam.com/islamic-world-news/new-age-islam-news-bureau/saudi-ministry-says-it-will-not-employ-imams-with-extremist-views/d/87184
-----------
Arab World
Saudi Ministry Says It Will Not Employ Imams with Extremist Views
May 25, 2014
The Ministry of Islamic Affairs, Endowments, Call and Guidance will not employ any imam who holds extremist views, according to Sheikh Talal Ahmad al-Aqeel, adviser to the minister of Islamic affairs.
The process of selecting imams involves tests and interviews conducted by a five-member committee, he told al-Eqtisadiah daily.
Aqeel said the ministry categorically refuses to allow any imam with extremist views to get on the podium of any mosque.
A committee has been formed to monitor imams in all mosques and ensure they do not spread extremist views. Any imam who is found guilty of such an act will have to meet with the committee, which will reason with him and bring him back to the righteous path.
Toeing the line
"Several imams have decided to abandon their extremist ideas and thoughts after sitting and talking with the committee members," he noted, adding that 98 percent of imams follow the ministry's regulations and instructions.
A man who wants to be an imam should have a degree in the Shariah, sufficient knowledge about the jurisprudence of prayer and completed the memorization of the Quran.
As part of the ministry's upcoming plans, all imams will be required to focus on societal reforms in their sermons and talks. Imams will be asked to teach worshippers to avoid extremism and uphold moderate views.
http://english.alarabiya.net/en/News/2014/05/25/Saudi-ministry-says-will-not-employ-imams-with-extremist-views.html
-----------
Nusra Front Kills 90 ISIL Militants in Syria, ISIL Leader Promised To Take Revenge
May 25, 2014
Two days of clashes between terrorist groups in Syria's Eastern province of Deir Ezzur left tens of foreign-backed militants dead.
Some Arab media outlets have released the names of 90 members of the terrorist Islamic State of Iraq and the Levant (ISIL) who have been killed by rival Al-Qaeda affiliate al-Nusra Front militants in clashes near the border with Iraq, Al-Alam reported.
ISIL leader Abu Bakr al-Baghdadi has promised to take revenge.
Rival militant groups in Syria have been lately engaged in fierce fighting among themselves.
The infighting has escalated in the past months amid gains by the Syrian army across the country. In recent months, the Syrian army has managed to liberate a number of cities and towns from militant control.
Clashes between the militant groups still continue despite a recent order by terrorist Al-Qaeda leader Ayman al-Zawahiri to stop the infighting.
Months of violent conflicts among different terrorist groups have killed thousands of Takfiri militants in Syria.
Since March 2011, the government of President Bashar al-Assad has been fighting with militants backed by the western powers and their regional allies, especially Qatar, Saudi Arabia and Turkey.
A British defense study showed that about 100,000 militants, fragmented into 1,000 groups, are fighting in Syria against the government and people.
http://english.farsnews.com/newstext.aspx?nn=13930304001000
-----------
25 killed in Iraq as Shiites throng Baghdad for rituals
May 25, 2014
Throngs of Shiite Muslims converged on a shrine in Baghdad for an annual ritual under heavy security, but a string of attacks outside the capital killed 25 people.
The bloodshed was the latest in a protracted surge in nationwide unrest that has fuelled fears Iraq is slipping back into the all-out communal conflict that plagued it in 2006 and 2007, leaving tens of thousands dead.
Much of Baghdad was on lockdown Saturday for the climax of the rites to mark the death of a revered figure in Shiite Islam, with Baghdad's security forces looking to deter Sunni militant groups which often target Iraq's majority community.
Several major roads were closed off and a wide variety of vehicles barred from the streets, as security forces also relied on aerial cover and sniffer dogs.
Organisers say millions of pilgrims are expected to visit the shrine in the Kadhimiyah neighbourhood of north Baghdad between Saturday and Sunday, when the commemoration rituals are to climax.
For days worshippers from across the country, have been walking to Kadhimiyah, site of a shrine dedicated to Imam Musa Kadhim, the seventh of 12 revered imams in Shiite Islam, who died in 799 AD.
Sunni militants regard Shiites as apostates and, as in previous years, multiple attacks have targeted worshippers in the run-up to the annual commemoration.
Three bombings in the capital, including two carried out by suicide attackers, on May 22 killed 21 people, while mortar fire on Friday struck a district adjacent to Kadhimiyah, killing three more.
Outside of Baghdad on Saturday, a series of attacks killed 25 people, security and medical officials said.
In the deadliest attack a car bomb exploded outside an alcohol shop in the northern city of Kirkuk, killing 10 people and wounding 33 others.
In Kirkuk province three farmers kidnapped in the early hours of the morning were found beheaded.
Another vehicle rigged with explosives, this time set off by a suicide attacker, targeted an army convoy in Diyala province escorting Iranian workers who had been installing a gas pipeline between Iran and Iraq.
Five people were killed -- three Iranians and two soldiers -- and 13 people were wounded, including eight Iranians.
Attacks also struck in the restive provinces of Nineveh and Salaheddin, officials said.
Violence has surged in the past year to its highest level since 2008, while anti-government fighters also control an entire city a short drive from Baghdad and parts of another.
The authorities have trumpeted security operations against militants, claiming to have killed around 90 on Saturday alone, and blame external factors such as the civil war in neighbouring Syria for the surge in violence.
Analysts and diplomats, however, say the Shiite-led government must also do more to reach out to disgruntled minority Sunnis and undermine support for militancy.
http://english.alarabiya.net/en/News/middle-east/2014/05/24/Tight-security-as-Shiites-throng-Baghdad-for-rituals-.html
-----------
Car bomb at liquor store in northern Iraq kills 12
Press Trust of India | Baghdad | May 25, 2014
A car bomb exploded outside a liquor store in northern Iraq overnight, killing at least 12 civilians, a senior police officer said on Sunday.
The blast struck the northern oil-rich and ethnically-mixed city of Kirkuk, deputy police chief Maj Gen Torhan Abdul-Rahman Youssef said. Youssef said that the blast in the western al-Wasiti neighborhood wounded 29.
Kirkuk is located 290 kilometers (180 miles) north of Baghdad.
Militants often target night clubs, liquor stores and brothels. They want to impose a strict interpretation of Islam in Iraq.
The attack comes as Iraq's Shiite-led government is struggling to contain a surge in sectarian violence unseen since the country was pushed to the brink of civil war in 2006 and 2007 after the US-led invasion that toppled dictator Sadaam Hussein.
According to the United Nations, 8,868 people were killed in Iraq last year.
The uptick in violence also comes as the country's political rivals are trying to form a new government after parliamentary elections April 30.
Shiite Prime Minister Nouri al-Maliki's bloc emerged as the biggest winner, securing 92 seats in the 328-member parliament, but it failed to gain the majority needed to govern alone.
http://indianexpress.com/article/world/asia/car-bomb-at-liquor-store-in-northern-iraq-kills-12/
-----------
Syria's Nusra Front targets army with four suicide bombings
25 May 2014
The Britain-based group said that dozens of troops were killed or wounded, without giving specific figures
Syria's al-Qaeda branch staged four suicide bomb attacks on army positions Sunday, leaving dozens of casualties, in a bid to cut off Idlib province from the coast, a monitoring group said.
"Four al-Nusra Front fighters carried out suicide attacks this morning, driving vehicles packed with explosives into four regime forces' checkpoints in the Jabal al-Arbaeen area near Ariha city," said the Syrian Observatory for Human Rights.
The Britain-based group said that dozens of troops were killed or wounded, without giving specific figures.
Fierce fighting broke out in the area, pitting army troops backed by pro-regime militia against rebels and jihadists, said the Observatory.
Full report at:
http://english.alarabiya.net/en/News/middle-east/2014/05/25/Syria-s-Nusra-Front-targets-army-with-four-suicide-bombings-.html
---------
ISIL Claims Responsibility for Terrorist Attack on Iranian Technicians in Iraq
May 25, 2014
Al-Qaeda offshoot, the Islamic State of Iraq and the Levant (ISIL), claimed responsibility for the Saturday terrorist attack on a convoy of Iranian workers and technicians in Iraq.
The Arabic-language Khandan news website reported on Sunday that ISIL has claimed responsibility for Saturda attack on a number of Iranian technicians working on gas pipeline projects in Iraq.
Four Iranian workers were killed when a roadside bomb struck a convoy of vehicles belonging to an Iranian company building a gas pipeline between Iran and Iraq in Imam Wies area in Iraq's Eastern province of Diyala, some 110 km Northeast of Baghdad, a provincial police source said Saturday.
Full report at:
http://english.farsnews.com/newstext.aspx?nn=13930304001213
-----------
Lebanon says arrests Syrian-born preacher
World Bulletin/News Desk
May 25, 2014
Lebanese security forces arrested an influential Syrian-born cleric on Sunday who went into hiding last month after a crackdown in the northern city of Tripoli to end sectarian violence fuelled by civil war in neighbouring Syria.
Omar Bakri founded outlawed British group Al Muhajiroun and was banished from Britain to Lebanon in 2005.
He sought refuge in the mainly Sunni city of Tripoli where he was popular among young Sunni Muslims.
"In the early hours of the morning we have arrested Omar Bakri from where he was hiding in Aley," Interior Minister Nouhad Machnouk said at a conference.
Divisions among Lebanese factions were worsened by Syria's civil war and the coastal city of Tripoli where pockets of minorities live including Alawites, has seen the worst spillover of violence.
Full report at:
http://www.worldbulletin.net/todays-news/137295/lebanon-says-arrests-syrian-born-preacher
-----------
Car bomb in Syria's Homs kills 10: governor
May 25, 2014
At least 10 people were killed in a car bomb attack Sunday targeting a regime-held area of the city of Homs in central Syria, the province's governor told AFP.
"Ten people were killed and 22 wounded in a car bomb attack on a collective taxi stand in Zahraa," a district inhabited by Alawites, the Shiite sect of President Bashar al-Assad, said Talal al-Barazi.
Barazi had earlier reported a toll of eight, while the Syrian Observatory for Human Rights gave a death toll of 12.
A second car bomb exploded in another district of the city, wounding three people but without causing more deaths, said Barazi.
Full report at:
http://www.hurriyetdailynews.com/car-bomb-in-syrias-homs-kills-10-governor.aspx?pageID=238&nID=66932&NewsCatID=352
-----------
Zawahiri again addresses jihadist infighting in Syria in online statement
May 25, 2014
In a three-page statement released online, al Qaeda head Ayman al Zawahiri again discusses the infighting between jihadist groups in Syria. Zawahiri's missive is addressed to the six jihadist ideologues who called on him to offer specific critiques of the Islamic State of Iraq and the Sham (ISIS), which was disowned by al Qaeda's general command in early February.
The ideologues called for Zawahiri's statement in mid-April. The al Qaeda emir's reply is dated May 3, but was not released by As Sahab, al Qaeda's propaganda shop, until May 24.
In his new statement, Zawahiri refers to a message he released in early May entitled, "Testimonial to Preserve the Blood of Mujahideen in al Sham." Zawahiri explained in that message that the ISIS' leaders, including the ISIS chief Abu Bakr al Baghdadi, had sworn bayat (an oath of allegiance) to al Qaeda. Some ISIS supporters and officials have claimed that the group was not an official branch of al Qaeda, despite the fact that ISIS openly referred to Zawahiri as its emir. Zawahiri's message served as a rebuttal in which he offered several examples showing that ISIS and its predecessors treated Zawahiri as their leader.
Full report at:
http://www.longwarjournal.org/archives/2014/05/zawahiri_addresses_j.php##ixzz32jX1ES3T
-----------
Africa
Top Nigerian Islamic cleric calls for unity against Boko Haram
25 May 2014
The leader of Nigeria's Muslims on Sunday called for followers of the faith to unite against Boko Haram extremists, pledging the government full support to ensure their defeat.
But the Sultan of Sokoto, Muhammad Sa'ad Abubakar III, also said the government should address issues of inequality towards Muslims, which have been seen as factors in fuelling the five-year insurgency.
"Terrorism has no place in Islam," he told a congregation, including Nigeria's Vice-President Namadi Sambo, clerics and traditional rulers, at the National Mosque in the capital, Abuja.
"We must rise up, as always, with one voice to condemn all acts of terrorism, condemn those terrorists wherever they are and try our possible best as Muslims to ensure peace reigns in our community."
The Sultan, who is president of Nigeria's Supreme Council for Islamic Affairs, has come under pressure to speak out against Boko Haram, who have killed thousands in their quest for an Islamic state in the north.
Full report at:
http://english.alarabiya.net/en/News/africa/2014/05/25/Top-Nigerian-Islamic-cleric-calls-for-unity-against-Boko-Haram-.html
-----------
40 Libyan MPs pledge support to renegade general Haftar
World Bulletin/News Desk
May 25, 2014
Forty members of Libya's General National Congress (parliament) announced late Sunday their support to military operations launched by renegade army general Khalifa Haftar.
In a televised statement read out by MP Abu Bakr al-Rajbani, the lawmakers said they no longer support Premier-elect Ahmed Maiteeq.
The Libyan parliament has a total of 182 members.
Forces loyal to Haftar recently took up arms against militias serving as part of Libya's regular army.
Haftar says his campaign, dubbed "Operation Dignity," is aimed at "purging" Libya of "extremists."
Libya's government, however, has called the move a "coup" against constitutional legitimacy.
Haftar argues that the parliament's mandate must be assigned to another constitution-writing body.
Full report at:
http://www.worldbulletin.net/headlines/137267/40-libyan-mps-pledge-support-to-renegade-general-haftar
-----------
Sultan of Sokoto cautions Federal Government on foreign troops occupying Nigeria
May 25, 2014
The Sultan of Sokoto and President of the Nigeria's Supreme Council for Islamic Affairs (NSCIA), Alhaji Muhammad Sa'ad Abubakar, on Saturday in Abuja, warned the Federal Government not to allow foreign troops coming to assist the country combat the wave of terrorism, to occupy Nigeria's territory in the name of offering help.
He stated that assistance from international community should be restricted to support in terms of equipment, logistics and training.
The Sultan, who spoke amidst the call for foreign assistance in the fight against Boko Haram insurgency at the Muslim Students' Society of Nigeria diamond jubilee celebration, cautioned against the use of force in efforts to rescue the kidnapped Chibok schoolgirls.
Emphasising confidence in the ability of the military to contain the insurgency, the Sultan noted that there is no where use of force has brought peace.
Full report at:
http://tribune.com.ng/news/news-headlines/item/6165-terrorism-sultan-cautions-fg-on-foreign-troops-occupying-nigeria
-----------
Sudan rebels launch 'big offensive' in Kordofan
25 May 2014
Sudanese rebels say they have launched a major operation against an area in South Kordofan which a controversial counter-insurgency unit showed off to journalists after "liberating" it last week.
The local commander of the government troops, known as Rapid Support-2, was reported killed.
"Our forces launched (a) big offensive in Daldako", Arnu Ngutulu Lodi, spokesman for the Sudan People's Liberation Movement-North (SPLM-N), told AFP late Saturday in an email.
Fighting continued into Saturday evening, Lodi said.
Troops from Rapid Support-2 said they had seized the strategic Daldako area, 17 kilometers northeast of South Kordofan's state capital Kadugli, on May 18.
Two days later they flew journalists to the area, allowing a rare visit to a war zone where access is tightly restricted.
Full report at:
http://english.alarabiya.net/en/News/africa/2014/05/25/Sudan-rebels-launch-big-offensive-in-Kordofan-.html
-----------
Nigeria explosion: toll rises to eight
May 25, 2014
Witness Abdullateef Adio more than 50 people were injured.
A suicide bomber has killed eight people in an attack in central Nigeria on spectators watching a broadcast of the Champions League final, an eyewitness told DPA.
Police spokesman Frank Mba earlier said on Saturday's attack killed two people, as well as the suicide bomber, while two people who sustained injuries were taken to hospital.
But witness Abdullateef Adio told DPA he saw "more than eight bodies after the stampede that followed the explosion" at a viewing centre.
Full report at:
http://www.thehindu.com/news/international/world/nigeria-explosion-toll-rises-to-eight/article6046186.ece
----------
North America
Your heart is full of evil, US Islamic clerics write Shekau
May 25, 2014
Shocked by the delay in the release of the over 200 schoolgirls abducted in Chibok, Borno State, by leader of the proscribed Boko Haram sect, Abubakar Shekau, Islamic clerics resident in the United States of America have called for the immediate freedom of the girls.
This was contained in a letter written to Shekau and made available to Sunday Tribune. It was signed by the Supreme Council of Muslim Organisations Zaytuna College Washington, DC Berkeley; Imam Sheikh Jamal Said; Imam Sheikh Kifah Mustapha; The Mosque Foundation, Bridgeview, IL Bridgeview; Dr. Hatem Bazian; American Muslims for Palestine; Council on American-Islamic Relations; Islamic Circle of North America; Khalil Meek W. Deen Mohammed II; Muslim Legal Fund of America The Mosque Cares, Dallas, TX Chicago, IL; Mahtabuddin Ahmed Hussein Ata, among others.
Full report at:
http://tribune.com.ng/news/top-stories/item/6141-your-heart-is-full-of-evil-us-islamic-clerics-write-shekau
-----------
Muslim cleric who backed fatwa on 'killing of U.S. soldiers' promoted by State Dept
May 25, 2014
The State Department's Counter Terrorism (CT) Bureau promoted a controversial Muslim scholar whose organization has reportedly backed Hamas and endorsed a fatwa authorizing the murder of U.S. soldiers in Iraq.
The CT bureau on Friday tweeted out a link to the official website of Sheikh Abdallah Bin Bayyah, the vice president of the International Union of Muslim Scholars (IUMS), a controversial organization founded by a Muslim Brotherhood leader "who has called for the death of Jews and Americans and himself is banned from visiting the U.S.," according to Fox News.
Bin Bayyah is reported to have been one of several clerics who endorsed a 2004 fatwa that endorsed resistance against Americans fighting in Iraq, PJ Media reported in 2013, when Bin Bayyah met with Obama's National Security Council staff at the White House.
The CT Bureau tweet linked to a press release on Bin Bayyah's site condemning the kidnapping of hundreds of Nigerian girls by the Boko Haram group.
However, Bin Bayyah himself has been known to back controversial causes.
Bin Bayyah has "urged the U.N. to criminalize blasphemy," according to reports, and spoke "out in favor of Hamas," the terror group that rules over the West Bank.
Full report at:
http://www.washingtontimes.com/news/2014/may/24/muslim-cleric-who-backed-fatwa-killing-us-soldiers/?page=2
-----------
Obama puts drone strikes in Pakistan on hold: CNN
May 25, 2014
WASHINGTON: US President Barack Obama has put drone attacks in Pakistan on hold, CNN reported on Saturday, noting that Islamabad's decision to step up its military actions in Fata contributed to the decision.
The report pointed to a combination of factors which contributed to the cessation of dro­ne strikes in Pakistan since the beginning of the year. These included President Obama pushing for a more calibrated use of drone strikes, decimation of "high value" targets in the tribal areas and a strong "pushback" from the Pakistani public and governm­ent who saw the drone strikes as a violation of their sovereignty. "And the fact that the Pakistani government is stepping up its own military operations" also encouraged the US to reduce strikes, the report added.—Correspondent
http://www.dawn.com/news/1108383/obama-puts-drone-strikes-in-pakistan-on-hold-cnn
-----------
US media highlights Sharif's move to attend Modi's swearing-in
May 25, 2014
WASHINGTON - The US print and electronic media Saturday highlighted Prime Minister Nawaz Sharif's move to attend his Indian counterpart Narendra Modi's swearing-in ceremony as a sign of possible thaw in the relations between the two neighbours, but an American scholar warned that under Modi's Hindu nationalist government, India was likely to expand its overseas intelligence operations in Afghanistan and Pakistan.
Writing in The Washington Post, Paul Staniland, an Assistant Professor of Political Science at the University of Chicago, said that the attack on the Indian consulate in Herat, was Modi's first challenge even before being sworn in, and called it "grim welcome message."
"While the possibility of a Sharif-Modi dialogue and more concerted Pakistani attacks on radical TTP (Tehreek-i-Taliban Pakistan) factions are welcome, the attack on the Herat consulate and deadly clashes along the Line of Control that divides the Indian- and Pakistani-controlled areas of Jammu and Kashmir make clear how unstable the region is," he wrote in an opinion piece.
Full report at:
http://www.nation.com.pk/editors-picks/25-May-2014/us-media-highlights-sharif-s-move-to-attend-modi-s-swearing-in
----------
South Asia
47 Taliban militants killed, 12 injured in Afghan operations
May 25 201
At least 47 Taliban militants were killed following military operations conducted by Afghan national security forces in the past 24 hours.
The interior ministry of Afghanistan following a statement said at least 12 Taliban militants were also injured and 3 others were detained during the operations.
The statement further added that Afghan national security forces confiscated various types of light and heavy weapons along with explosives including 19 improvised explosive devices (IEDs).
Afghan national police forces conducted the operations in cooperation with the Afghan national army and Afghan intelligence – National Directorate of Security (NDS) operatives.
The operations were conducted in Nangarhar, Laghman, Badakhshan, Kandahar, Zabul, Maidan Wardak, Logar and Ghazni provinces.
Interior ministry did not say if Afghan security forces suffered any casualties during the operations.
http://www.khaama.com/47-taliban-militants-killed-12-injured-in-afghan-operations-8143
-----------
China offers amnesty to militants in restive Xinjiang province
May 25, 2014
Stepping up its crackdown against radical separatists in the troubled Muslim-dominated Xinjiang province, China has offered an amnesty to militants saying they would face lenient punishment if they surrender.
Legal, procuratorate and public security authorities in China's northwestern Xinjiang Uygur Autonomous Region issued a joint statement last night calling for law-breakers who are involved in terrorist activities to surrender to get lenient punishments, State-run Xinhua news agency reported.
The statement forbids people to organise, lead or join any terrorist groups. It bans people from implementing or instigating terrorist violence.
It also prohibits people from directly or indirectly funding, supporting or harbouring terrorist activities, terrorist organizations and terrorists.
Those who turn themselves in and make major meritorious performances will be given minor punishment or exempted from punishment, it said.
Full report at:
http://www.thehindu.com/news/international/world/china-offers-amnesty-to-militants-in-restive-xinjiang-province/article6046237.ece
-----------
MDP sets eight conditions for backing candidate for Majlis speaker
By Ahmed Naish | May 24th, 2014
The opposition Maldivian Democratic Party (MDP) has set eight conditions for supporting a candidate for the Speaker of the 18th People's Majlis.
Following a meeting of the party's executive national council in Addu City, the MDP revealed in a statement yesterday (May 23) that the party's 25 MPs-elect would back a candidate who supports eight main policy objectives:-
Removing obstacles for access to justice and reforming the judiciary
Empowering local councils and amending the Decentralisation Act to enable councils to generate income
Establishing a minimum wage
Strengthening social security and the 'Aasandha' health insurance scheme to ensure coverage for all citizens
Assuring investor confidence in business transactions with the state
Working with the MDP to "resolve the international problems that have arisen due to the cancellation of the contract to develop the Ibrahim Nasir International Airport."
Introducing an income tax, maintaining the Tourism Goods and Services Tax at eight percent and eliminating import duties
Full report at:
http://minivannews.com/politics/mdp-sets-eight-conditions-for-backing-candidate-for-majlis-speaker-85510
-----------
RAB: Jihad of AL masterminded Ekram's killing
May 25, 2014
Another suspected AL leader Shiblu surrender to police
The Rapid Action Battalion yesterday claimed that local Awami League leader Jihad Chowdhury had masterminded the killing of Fulgazi Upazila Chairman Ekramul Haque.
Interrogating eight people, seven of whom were arrested from the capital and another from Feni, RAB found that internal feud between Jihad and Ekram over establishing supremacy led to the killing that took place four days back in broad daylight in Feni town.
However, Jihad Chowdhury, joint secretary of Fulgazi upazila unit Awami League, is still at large.
Seven of the arrestees, aged between 20 and 24, took part in the killing mission on Tuesday on the instructions of Jihad Chowdhury, RAB's Media Wing Director Habibur Rahman told a press briefing arranged at its headquarters.
Full report at:
http://www.dhakatribune.com/crime/2014/may/25/rab-jihad-al-masterminded-ekram%E2%80%99s-killing#sthash.1mxTufzL.dpuf
-----------
Banned Hizb-ut Tahrir reawakening
May 25, 2014
The organisation, however, was silent in last few months, but recently they have become secretly active
The banned Islamist organisation Hizb-ut Tahrir has been trying to be organised again in the port city and elsewhere of the district, especially in the hilly areas to establish their controversial ideology amongst the people.
Publishing leaflets, jihadi books, different outlets and pasting posters on city street walls secretly, the banned organisation has been trying to build up their network amongst the students of different reputed educational institutions in Chittagong.
The organisation, however, was silent in last few months, but recently they have become secretly active, said police sources.
Police nabbed 48 Hizb-ut Tahrir men from the district with many leaflets, zihadi books and banners in last three months, while the number of arrestees was 17 from November, 2013 to February, 2014, they added.
Full report at:
http://www.dhakatribune.com/politics/2014/may/25/banned-hizb-ut-tahrir-reawakening#sthash.IRTETSIo.dpuf
----------
India
India, Pakistan must resolve Kashmir issue once for all: Moderate Hurriyat Leader
PTI | May 25, 2014
SRINAGAR: Moderate Hurriyat Conference on Sunday said the leadership of India and Pakistan need to "boldly" move forward towards the start of a full-fledged peace process for resolving Kashmir issue "once for all".
"We reiterate our call to resolve the Kashmir issue once and for all. We call upon the leadership of India and Pakistan to boldly move forward towards the start of a full-fledged peace process," Hurriyat chairman Mirwaiz Umar Farooq said in a statement here.
Mirwaiz said both Pakistan Premier Nawaz Sharif and Prime Minister designate Narendra Modi have been given strong democratic mandate by the people of their respective countries and expressed hope that the two leaders would work toward resolving the Kashmir issue.
"It is our ardent wish that they urgently work toward a just and lasting solution to Kashmir issue so that peace, prosperity and stability can become a reality in South Asia," he said.
Mirwaiz said the Hurriyat welcomes any immediate steps- symbolic or otherwise-that might improve the relationship and build confidence between India and Pakistan.
Full report at:
http://timesofindia.indiatimes.com/india/India-Pakistan-must-resolve-Kashmir-issue-once-for-all-Mirwaiz-says/articleshow/35605043.cms
-----------
From Ram temple to law on cow slaughter, VHP presents its wish list
May 25, 2014
As the Narendra Modi government prepares to take over, BJP's affiliate outfit VHP today came out with a wish list ranging from Ram Temple to law on cow slaughter which it wants to be addressed within the Constitutional framework.
Among other issues which it wants to be addressed are Common Civil Code and saving the "enduring holistic culture" by incorporating its "vitals in the educational curriculum" and legal prohibition on "horizontal religious conversions".
Addressing a press conference here, VHP International President Ashok Singhal said the absolute majority that BJP got under the leadership of Modi stands for triumph of the ideas and principles of Gandhiji's Ram Rajya (Welfare State) and Suraajya (Good Governance). To a question on construction of Ram Temple, Singhal said that with the formation of a strong government at the centre, it would be definitely built "strongly".
When pressed to specify a timeline, he said there was no need for impatience. He claimed that the starting point for "Temple development will be to ensure autonomy for Sri Ram Janmabhumi Mandir and the lakhs of Hindu Temples taken over by the governments". Singhal listed several other issues which he said were related to Hindutva and could be worked out within the framework of the Indian Constitution.
Full report at:
http://indianexpress.com/article/india/politics/from-ram-temple-to-law-on-cow-slaughter-vhp-presents-its-wishlist/
-----------
Mideast
West Sparks Sectarian Wars in Region to Distract Attention from Israel
May 25, 2014
Secretary General of the Palestinian Islamic Jihad resistance group Ramazan Abdullah warned against the West's plots to wage sectarian and tribal wars in the Middle East region to distract the international community's attention from resistance against Israeli atrocities.
"The western countries are trying to replace the Palestinian cause with other things and replace war against the Zionist regime with sectarian and tribal strife," Abdullah said addressing the Seventh General Assembly meeting of Islamic Radios and Televisions Union in Tehran on Sunday.
The Islamic Jihad secretary general cautioned that the issue of Palestine should still remain the main topic of the media, and said, "The media play an important role" in preventing the distraction of attention from the Palestinian cause."
He also stressed the need for the promotion of the true meaning of the Palestinian resistance, saying that it means that the Islamic Jihad will not be entrapped in some traps, like Oslo agreement.
Earlier today, Palestinian Prime Minister Ismayeel Haniya also called on the Muslim world media to focus on the issue of Palestine in a bid to stop the Israeli regime from deviating world attention from the realities surrounding Palestine anymore.
Full report at:
http://english.farsnews.com/newstext.aspx?nn=13930304000958
-----------
Yemen army kills 3 Qaeda suspects near capital
May 25, 2014
Yemeni troops launched a ground assault Sunday against Al-Qaeda suspects who fled an army offensive in the south to a district near the capital, killing three jihadists, sources said.
"Yemen's anti-terrorism forces carried out a military operation in Arhab," 35 kilometers from Sanaa, "killing three al-Qaeda militants and arresting four others," a security official told AFP.
Tribal sources in the region said the army had closed access to Arhab on Sunday as it continued to target militants.
The same sources said that in late 2011, the targeted suspects had fought in Syria, where foreigners have joined the conflict between forces loyal to President Bashar al-Assad and rebels battling to oust him.
The militants, who included foreigners, returned to Yemen and were in the southern al-Qaeda bastions of Shabwa and Abyan before an army offensive that was launched on April 29 drove them to Arhab, according to the tribal sources.
Full report at:
http://english.alarabiya.net/en/News/2014/05/25/Yemen-army-kills-3-Qaeda-suspects-near-capital-.html
-----------
Turkish Cypriot religious leader calls to reopen Hala Sultan mosque
World Bulletin / News Desk
May 25, 2014
The Religious Affairs Minister of the Turkish Republic of Northern Cyprus (TRNC) Prof. Dr. Talip Atalay has called on the Greek Cypriot authorities in the south of the island to open the famous Hala Sultan mosque for worship.
Speaking to Turk Ajansi Kibris (Turkish Agency Cyprus), Dr. Atalay said that worshippers should be free to visit the Ottoman-era mosque, which was built near the burial site of a prominent companion and relative of the Prophet Muhammad - Umma Haram.
Having brought up the subject with the visiting US vice-president Joe Biden on Thursday, Dr. Atalay also called on religious leaders in the eastern Mediterranean island to avoid using political rhetoric as peace talks between Turkish Cypriots and Greek Cypriots continue.
The island of Cyprus is home to various ethno-religious communities. While the island's dominant Greek Orthodox community largely resides in the southern Greek Cypriot-controlled territory, Muslim Turkish Cypriot mainly live in the TRNC.
Full report at:
http://www.worldbulletin.net/muslim-world/137217/turkish-cypriot-religious-leader-calls-to-reopen-hala-sultan-mosque
-----------
Pope: End 'unacceptable' Israel-Palestinian conflict
May 25, 2014
Pope Francis came face to face with the daily reality of Palestinians on Sunday, even touching the controversial separation wall, after calling for an end to the "increasingly unacceptable" Israeli-Palestinian conflict.
The pope has said his three-day visit to the Middle East, which began in Jordan Saturday, has "purely religious" motives, but he grabbed headlines with a spontaneous stop at the West Bank separation wall, where he rested his forehead against the barrier in prayer.
It was a show of support that Palestinians had been hoping for, weeks after the collapse of US-brokered peace talks with the Israelis.
In an unprecedented move, Francis invited Palestinian president Mahmud Abbas and Israeli President Shimon Peres to his home in the Vatican for a "heartfelt prayer" for peace.
"Building peace is difficult, but living without peace is a constant torment," he said.
Neither president's office would explicitly confirm acceptance of the invitation, though Peres' spokesman said he welcomed it.
Full report at:
http://www.hurriyetdailynews.com/pope-invites-israeli-palestinian-presidents-to-pray-for-peace-at-vatican.aspx?pageID=238&nID=66917&NewsCatID=393
-----------
Rouhani Asks for Promotion of Muslim Media to Show True Face of Islam
May 25, 2014
Iranian President Hassan Rouhani underlined the necessity for reinforcing media and news corporations in the Muslim states in a bid to display the true face of Islam to the world.
"We can introduce a real face of Islam to the world, and by our productions and solidarity, we shouldn't allow the West to pioneer in news and images and interpret the events (the way it wants); we should be the flag-bearer in such moves," Rouhani said, addressing the inauguration ceremony of the Seventh General Assembly meeting of the Islamic Radios and Televisions Unions which started work today in the presence of political and media figures of over 18 foreign states in Tehran.
He stressed that the Muslim states can foil the West's plots to distract the younger generation from the right path, and said, "We should display Islam's real face and push away all those who have chosen the incorrect path of following the West and their reactionary behavior and those who have introduced Islamic as a religion of violence."
Full report at:
http://english.farsnews.com/newstext.aspx?nn=13930304000744
-----------
Ahmad Jarba Brands Iranian Terrorist Group as Brother of Syrian Opposition
May 25, 2014
Head of the Syrian Opposition Coalition (SCO) Ahmad Jarba called the members of the terrorist Mojahedin-e Khalq Organization (MKO, also known as MEK, NCRI or PMOI) as brothers of the Syrian opposition.
"The MKO and the Syrian Opposition Coalition are brothers," Jarba said in a meeting with MKO ringleader Maryam Rajavi in Paris a couple of days ago.
During the meeting, Jarba also hailed MKO's terrorist operations against Iran.
In January, a defected MKO member disclosed that the MKO has been providing military training to the Free Syrian Army (FSA) and other militant groups in Syria.
Speaking to Ashraf news website, former MKO member Mohammad Razzaqi said the MKO has been training some militant groups fighting the Syrian government, including the FSA, on bomb manufacturing, planting and detonation methods, assassination and street war.
He noted that some MKO leaders have had a series of meetings with the Syrian opposition leaders in France and Jordan and discussed help and assistance to the FSA and a number of other extremist Salafi groups in Syria.
Full report at:
http://english.farsnews.com/newstext.aspx?nn=13930304000674
-----------
Pakistan
Twin blasts a warning from militants against Waziristan operation
May 25, 2014
ISLAMABAD: The two explosions in the capital city early Saturday were described as a warning from militant outfits against the military operation in North Waziristan.
A senior police official on the condition of anonymity told Dawn that the explosions were carried out to create panic and terrorise the citizens. "It was a warning from the militants affiliated with terrorist outfits," he added.
"The terrorists wanted to warn the government to get ready for more brutal acts of terrorism in the city against the killing in North Waziristan by security forces," the official said, adding warning in such a way was never given in the past.
Police say booby-trapped IED used in capital for the first time
Besides, evidence collected from one of the blast sites showed that it was a booby trap which was never used in the capital before.
"It is difficult to defuse a booby trap as it goes off when someone touches it."
The official said the modus operandi used in carrying out the two blasts suggested that they were prepared by a same group.
Full report at:
http://www.dawn.com/news/1108441/twin-blasts-a-warning-from-militants-against-waziristan-operation
-----------
Eight Levies personnel shot dead near Wadh, Insurgents suspected
May 25, 2014
QUETTA: At least eight levies personnel were killed and one levies personnel was injured on Sunday when unidentified gunmen open fired at a check post near Wadh Tehsil on the Quetta-Karachi Highway.
Gunmen stormed Johar tribal police post Sunday in southwestern Pakistan.
The attack took place in Wadh area of Balochistan's Khuzdar district, where insurgents have launched previous attacks, said Baroz Khan, a senior government official.
Officers manning the post returned fire and pushed the gunmen back toward nearby mountains, Khan said.
Reinforcements from the paramilitary Frontier Corps later reached the post, some 300 kilometers south of Quetta, the provincial capital, he said.
Security and rescue teams immediately reached the site of the incident and shifted the injured to Khuzdar Civil Hospital.
Full report at:
http://www.dawn.com/news/1108512/eight-levies-personnel-shot-dead-near-wadh
-----------
Political ownership sought for military action in Fata
May 25, 2014
ISLAMABAD: Imran Khan, the chairman of the Pakistan Tehreek-i-Insaf (PTI), has asked Prime Minister Nawaz Sharif to "immediately take the national political leadership into confidence on the state of dialogue with the militants and the nature of the ongoing military operation in North Waziristan and its authorisation".
"It is equally important to give political ownership to any military action being contemplated as our brave soldiers continue to be martyred while the government maintains an inexplicable distance and silence on the prevailing state of affairs," he said in a statement on Saturday.
Mr Khan expressed his "serious concerns" over recent military strikes in the region and termed it "a clear beginning of a full-fledged military operation in the NWA".
The core committee of the PTI, after receiving a briefing from the party's nominee in the talks with militants, had urged the government to resume the peace process and make efforts to end a deadlock.
Full report at:
http://www.dawn.com/news/1108400/political-ownership-sought-for-military-action-in-fata
-----------
'Establishment' unhappy with PML-N: Maulana Fazlur Rehman
May 25, 2014
HUB- Jamiat Ulema-i-Islam-Fazl (JUI-F) Chief Maulana Fazlur Rehman today said 'establishment' seems to be unhappy with the current government.
According to reports, the JUI-F Chief said that no step had been taken for building peace in FATA and Balochistan.
To a question, Maulana Fazl said Pakistan should not expect much from the newly elected Indian government. Answering a question about PTI Chief Imran Khan, the JUI-F Chief said that some forces were backing Imran to protest against vote rigging.
http://www.nation.com.pk/national/25-May-2014/establishment-unhappy-with-pml-n-maulana-fazlur-rehman
-----------
Imran promises 'change' in three months
May 25, 2014
ABBOTTABAD: Pakistan Tehreek-i-Insaf chief Imran Khan has said that the people of Khyber Pakhtunkhwa will witness a real change in their lives in the next three months.
He made these remarks while addressing a public gathering at Pattan Kalan on Saturday in connection with the by-elections for PK-45 Abbottabad, which are scheduled to be held on June 5. The provincial assembly seat was vacated by Sardar Mehtab Ahmed Khan after assuming charge as governor of Khyber Pakhtunkhwa.
Six candidates are in the run for the PK-45 seat. However, tough contest is expected between Sardar Mehtab's cousin Mohammad Farid contesting the elections on PML-N ticket and Ali Asghar Khan, divisional president and central vice-president of PTI.
Full report at:
http://www.dawn.com/news/1108466/imran-promises-change-in-three-months
-----------
Pakistan: No plans to end peace process with Taliban
World Bulletin/News Desk
May 25, 2014
Pakistan denied reports about deepening divisions between the civilian government and the army on Saturday and said it had yet to decide whether to call off attempts to engage Pakistani Taliban in peace talks.
On Friday, Reuters quoted a government insider as saying that during a tense meeting this week, Pakistan's powerful army chief told Prime Minister Nawaz Sharif that the time for talks with the Taliban was over.
Sharif came to power a year ago promising to find a peaceful settlement and has put talks at the heart of his security policy.
But as round after round of talks failed, the army started to lean towards a military solution in the troubled North Waziristan region where the militants are holed up.
Pakistani media almost never report on the often difficult relationship between the civilian government and the army.
Full report at:
http://www.worldbulletin.net/headlines/137247/pakistan-no-plans-to-end-peace-process-with-taliban
-----------
5 important terrorist commanders killed in North Waziristan Agency airstrikes: Sources
May 25, 2014
ISLAMABAD- Important terrorist commanders have been killed in the Wednesday's May 21, 2014 airstrikes in North Waziristan Agency, sources said today.
Five important commanders including Uzbek terrorist commander Abu Ahmed, terrorist commander Qanooni, suicide bombers' commander Sabir, terrorist commander Gilamand and terrorist commander Jihad Yar were among those who were killed in Wednesday's airstrikes, the sources said.
http://www.nation.com.pk/national/24-May-2014/5-important-terrorist-commanders-killed-in-wednesday-s-nwa-airstrikes-sources
-----------
Southeast Asia
Insulting Umno doesn't mean insulting Malays, says Anwar
May 25, 2014
Insulting Umno does not mean insulting the Malays or Muslims, PKR de facto leader Datuk Seri Anwar Ibrahim said today.
"While we appreciate the struggle of previous Umno leaders, it does not mean we acknowledge the current leaders who are robbing the rakyat," Anwar said.
"What is this nonsense that insulting Umno means insulting Malays? Umno is Umno. The Malays are Malays. They are separate.
"Brothers, who apparently rob the Malays, are idolised as defenders of the Malays."
He said Umno leaders who defended the actions of Umno Youth members who barged into the Penang legislative assembly were irrational.
"If a DAP lawmaker is accused of insulting Umno and justifies the action of barging into the Penang assembly, then we would have stormed Parliament on numerous occasions.
"After all, Pakatan Rakyat has been insulted on numerous occasions in the Dewan Rakyat," Anwar said.
Full report at:
http://www.themalaysianinsider.com/malaysia/article/insulting-umno-doesnt-mean-insulting-malays-says-anwar
-----------
Utusan Malaysia a paper for extremists and racists, says Guan Eng
May 25, 2014
Umno mouthpiece Utusan Malaysia is a Nazi-type of paper, meant only for those who are uneducated, DAP secretary-general Lim Guan Eng (pic) said today, criticising the daily for calling his party the most racist in Malaysia.
Lim said Utusan will continue its attacks against the DAP, but no credence should be given to it.
"We have filed suits against them so many times and we have won so many times, and they've also paid so many times," he told reporters after voting at the Chung Hwa Confucion school in Island Park today.
"It's not a paper meant for people who are educated and people who are uneducated. It's only meant for racists and extremists, "he said.
The Umno mouthpiece today said DAP had proven once again that it was the most racist party in Malaysia with leaders who insulted religion and race.
Full report at:
http://www.themalaysianinsider.com/malaysia/article/utusan-malaysia-a-paper-for-extremists-and-racists-says-guan-eng
-----------
Become formidable political force, Filipino expats in Saudi told
25 May 2014
More than 400 Filipino workers in Jeddah have registered for overseas absentee voting in the 2016 general election in the Philippines since the process began on May 6.
Officials from the Department of Foreign Affairs in Manila are calling on all Filipinos living abroad to register for the overseas voting for the upcoming national election.
Undersecretary Rafael Seguis, who is also the chairman of the Overseas Voting Secretariat, said: "Presidential elections on May 9, 2016, will be a pivotal moment for all Filipinos wherever they maybe ... don't miss your chance to turn your economic power into formidable political force for effecting and sustaining change in our country."
Under the Republic Act No. 9189, otherwise known as "The Overseas Absentee Voting Act of 2003", as amended by Republic Act No. 10590, all citizens of the Philippines abroad, who are not otherwise disqualified by law and at least 18 years on the day of the voting, are eligible to register.
Full report at:
http://english.alarabiya.net/en/News/middle-east/2014/05/25/Become-formidable-political-force-Filipino-expats-in-Saudi-told.html
-----------
Seized Bibles in good condition, says Selangor MB
May 25, 2014
Selangor Menteri Besar Tan Sri Abdul Khalid Ibrahim today assured that the 320 Bup Kudus and Alkiab seized from the premises of the Bible Society of Malaysia more than five months ago were in good condition.
"As long as Attorney-General Tan Sri Abdul Gani Patail does not give us a response, no action will be taken on the Bibles.
"The seized Alkitab and Bup Kudus are still in the custody of the Selangor Islamic Affairs Department (Jais)," Khalid said.
Khalid confirmed that Gani had not responded to a letter sent by the state government and state exco Elizabeth Wong.
"We are hoping that a solution will be found," he told reporters when met at the Dataran Saujana Prima in Kajang today.
Full report at:
http://www.themalaysianinsider.com/malaysia/article/seized-bibles-in-good-condition-says-selangor-mb
-----------
Europe
Germany police probe in Erdogan poster with Nazi symbol
World Bulletin/News Desk
German police in the city of Cologne have launched an investigation after a protester carried posters of Turkish Prime Minister Recep Tayyip Erdogan decorated with Nazi symbols during Erdogan's rally in Cologne on Saturday.
Cologne police announced in a written statement on Sunday that eight people were arrested in two separate protests held against Erdogan, and that protests in general were largely peaceful.
Four people were arrested on damage to property and physical assault during a rally organized by extreme right-wing Pro-NRW party, the statement said.
Another four protesters were held after they tried to stop Erdogan's convoy in Ottoplatz square, it added.
Erdogan addressed thousands of German citizens of Turkish origin at Lanxess Arena on Saturday on the 10th founding anniversary of the Union of European Turkish Democrats.
http://www.worldbulletin.net/headlines/137284/germany-police-probe-in-erdogan-poster-with-nazi-symbol
-----------
Slain British jihadist 'trained ninjas' in Syria
25 May 2014
A British jihadist has been filmed training foreign fighters in Syria, the Sunday Times reported, describing the fighters as "ninjas" as they are seen fully dressed in black in a video uploaded to YouTube.
In the clip, the Briton, aged 23 according to the newspaper, said: "There is no place better than being out on the battlefield."
The man, who is believed to have been killed earlier this month, fought under the alias Abu Hafs al-Pakistani, according to the Times, which added that the name is seemingly a reference to his family origins.
In the video, Abu Hafs al-Pakistani spoke in a middle class British accent, but it is unclear which part of Britain he came from.
Another clip shows Abu Hafs al-Pakistani describing fighting as "one of the best moments of my life." He says: "Your death is in front of you, there's nothing to save you except Allah."
"A 'martyrdom' video, narrated by another British fighter, claims Abu Hafs al-Pakistani was a member of the Jund al-Aqsa rebel group. He is said to have died after being shot in the eye while defending a village in northern Syria from the army of President Bashar al-Assad," the Times reported.
Full report at:
http://english.alarabiya.net/en/News/middle-east/2014/05/25/Slain-British-jihadist-trained-ninjas-in-Syria.html
-----------
Baltic states bring number of 'Israel ally' caucuses to 30
May 25, 2014
Latvia and Estonia will become the 29th and 30th countries with Israel Allies Caucuses in their parliaments this week at events attended by MKs in the Knesset's Christian Allies Caucus.
The MKs will join together with World Jewish Congress and International Christian Embassy Jerusalem representatives to meet with Christian and political leaders in the two Baltic states to mobilize support for Israel.
There will be meetings with senior leaders from a spectrum of Christian denominations, with hopes of garnering further support for Israel, concentrating on shared Judeo-Christian values.
There will also be large events held in honor of the launching of the caucuses in the capital cities of the two countries, Riga, Latvia, and Talinn, Estonia, with hundreds of people. The events will feature inspiring words from Jewish and Christian leaders urging a closer bond between Israel and their people.
Full report at:
http://www.jpost.com/Diplomacy-and-Politics/Baltic-states-bring-number-of-Israel-ally-caucuses-to-30-353252
-----------
Belgium hunts Jewish museum gunman amid fears of anti-Semitism
AFP | May 25, 2014
BRUSSELS: Belgian police hunted down a gunman on Sunday who shot dead three people including two Israelis in an attack on the Brussels Jewish Museum reviving fears of a fresh wave of anti-Semitism in Europe.
The first attack against a Jewish target in Belgium for more than 30 years came as the country headed into a crucial general election and as a mammoth European ballot involving 400 million voters wound up.
"An election day is usually a celebration of democracy. Today it is clouded," said Belgium's premier Elio Di Rupo. "It is in everyone's mind."
"In Belgium we are not accustomed to such acts of barbarity." Welcoming Pope Francis in the Holy Land, Israel's Premier Benjamin Netanyahu hailed the pontiff for his "determined stance against anti-Semitism, especially in light of the growing hatred of Jews that we are witness to in these days."
Full report at:
http://timesofindia.indiatimes.com/world/europe/Belgium-hunts-Jewish-museum-gunman-amid-fears-of-anti-Semitism/articleshow/35602429.cms
-----------
French author pushes boundaries by writing in Urdu
25 May 2014
Writing mainly historical fiction with a prose described as vivid and forceful, critics say that Columeau, now 41, has injected fresh life into a scene considered to have grown stale.
Frenchman Julien Columeau came to Pakistan at the age of 30 as a humanitarian worker, but a knack for languages and love of books have made him one of the country's most innovative Urdu novelists.
Writing mainly historical fiction with a prose described as vivid and forceful, critics say that Columeau, now 41, has injected fresh life into a scene considered to have grown stale.
His works have featured at the country's most prominent literature festivals with three novels published and more in the pipeline.
Full report at:
http://www.khaleejtimes.com/kt-article-display-1.asp?section=todaysfeatures&xfile=data/todaysfeatures/2014/May/todaysfeatures_May36.xml
-----------
URL: https://www.newageislam.com/islamic-world-news/new-age-islam-news-bureau/saudi-ministry-says-it-will-not-employ-imams-with-extremist-views/d/87184