• 'Underground N-plant in Iran almost ready' say Intelligence officials from several countries
Arab World
Saudi King Abdullah urges UN resolution to stop insulting prophets
MINA: ARAB NEWS
28 October 2012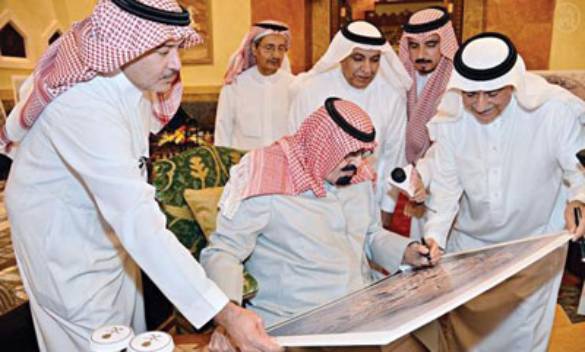 Custodian of the Two Holy Mosques King Abdullah yesterday urged the United Nations to adopt a resolution condemning those states and groups that abuse divine religions and Prophets (peace be upon them).
Addressing a reception given to prominent personalities and heads of foreign Haj missions at Mina Palace, he urged Muslims to strengthen their unity. "Haj is a symbol of Islamic unity and solidarity," he said.
"From the vicinity of Grand Mosque in Makkah, I demand a UN resolution that condemns any country or group that insults religions and prophets," he said. "It is our duty and that of every Muslim to protect Islam and defend the Prophets."
The king's statement comes after a low-budget film produced in the US, "Innocence of Muslims," triggered a wave of deadly anti-American violence last month across the Muslim world targeting US symbols ranging from embassies and schools to fast-food chains.
He highlighted the importance of a center for dialogue between Muslim sects (madahib), which he proposed during the emergency Islamic summit in Makkah last Ramadan.
"This center (in Riyadh) is not necessarily for reaching an agreement on matters related to the Islamic faith but for finding solutions for the division and achieve coexistence among the various sects without any intrigues," he said.
King Abdullah stressed that such a center initiating dialogue between Muslim sects would benefit the Ummah, strengthening its unity.
The annual royal reception was attended by Malaysian King Sultan Abdul Halim Mu'adzam Shah, President Professor Alpha Conde of Guinea; Indonesian Vice President Dr. Bodiono; Iraq's Vice President Tareq Al-Hashemi, Pakistan Prime Minister Raja Pervez Ashraf and Djibouti Prime Minister Dileita Mohamed Dileita.
Crown Prince Salman, deputy premier and minister of defense, Makkah Gov. Prince Khaled Al-Faisal, Interior Minister Prince Ahmed, chairman of Supreme Haj Committee, Professor Ekemeleddin Ihsanoglu, secretary-general of the Organization of Islamic Cooperation and Dr. Abdullatif Al-Zayani, secretary-general of the Gulf Cooperation Council attended the ceremony.
In his keynote speech, King Abdullah highlighted the significance of Haj as a manifestation of Islamic unity as Muslim pilgrims from all over the world assemble in the holy sites, unifying their ranks and getting rid of their divisions.
The Saudi leader said the importance of dialogue between Muslims in order to strengthen moderation and end reasons of conflict and extremism. He called upon Muslim scholars and organizations to work for unity, without losing hope in God.
Later in a detailed message to the Islamic Ummah on the occasion of Haj, King Abdullah said Saudi Arabia would continue its efforts in the service of pilgrims to help them perform their religious rituals with ease.
He quoted a Hadith from the Prophet (peace be upon him) that "He who performs Haj, without committing obscenity, nor wickedness, will return home free of sins such as on the day he was born."
King Abdullah congratulated Muslims all over the world on Eid Al-Adha. "From the holy sites of Mina and Arafat … I congratulate you and all of the Islamic nation, praying to Allah to accept Haj from all who came to this sacred House, and forgive all their sins, and to return them safely to their homelands, after Allah Almighty has honored them with the performance of the fifth pillar of Islam and the honor of standing in these sacred places, holding firmly to the guidance of the Holy Qur'an and Prophet's Sunnah."
The message continued: "Contemplating on the Haj and the pilgrims' movement, makes me think deeply about the purpose of this rite and its meaning. On this blessed land where pilgrims repeats Talbiya and the praises of God, the meaning of monotheism is clearly manifested, as if Allah kept this sacred land to let the faithful renew their pledge toward Him, century after century, generation after generation, and year after year. Whenever the humanity deviates from the guidance of its Lord, we find in these sacred places, what makes humanity return to the right path.
"That makes the pilgrim forget everything in the mundane life, and respond to the Great Qur'anic call: "And proclaim to mankind the Haj. They will come to you on foot and on every lean camel, they will come from every deep and distant (wide) mountain highway (to perform Haj)." (22:27) Soon the pilgrims responded to the call and arrived saying Labbaik Allahumma Labbaik.
"When pilgrims come to this holy land and circumambulate the Kaaba, make Saei between Safa and Marwa in the Holy House, ascend to Mina, stand on Arafat, and then move from Arafat to Muzdalifa and Mina, in a unique view of faith, leaving behind them their families, wealth, homes and their accustomed types of life, they pledge to Allah Almighty- the unity of faith, repeating the word of the unity of the creator: "Say: truly my prayer, And my service of sacrifice, My life and my death, Are (all) for Allah, the Cherisher of the worlds'. No partner hath He: This am I commanded, And I am the first of those who submit to his will." (6:162-163)
King Abdullah said: "Dear brothers and sisters, during Haj, the values of brotherhood and tolerance and the rejection of rancor appear clearly, since Allah wished the Muslim to lead a life which is an example of purity, and Haj reflects the above mentioned values, in submission to Allah's Almighty saying in His Holy Qur'an:
"For Haj are the months well known. If any one undertakes that duty therein, Let there be no obscenity, nor wickedness, nor wrangling in the Haj (2:197). Then come forgiveness and tolerance.
"All the atmosphere surrounding the pilgrims makes them feel that the mission of the true Muslim is to spread security and peace, not only with the human being, but also with birds, trees and stones. This ultimate aim to which a Muslim yearns, is to contribute to the reform of the earth and populate it.
On this blessed site, Prophet Muhammad (peace be upon him) whom Allah sent as a mercy to mankind stood preaching pilgrims, explaining to them the sanctity of souls and property, and laid down the highest sense of brotherhood, saying:
"Oh people: Your blood and wealth are sacred to you such as the sanctity of this day of yours, in this month of yours, in this country of yours. I have informed you and my lord stands as witness."
King Abdullah continued: "Dear brothers and sisters, Haj has many lessons to consider, and many aims. And that provides a chance for the pilgrims who came from remote areas to devote themselves to Allah in order for them to return back home free of sins such as on the day they were born, and have been given a new chance to reform themselves and be useful members of their societies.
During Haj pilgrims show feelings of love and brotherhood. There is no difference between one language and another, nor between one race and another. The rich help the poor, and the strong help the weak. All hearts are united on one call to Allah, and the unity of the nation is achieved, so that the sublime social purpose, which Islam sought will be fulfilled:
"O mankind! We created You from a single (pair), Of a male and a female, And made you into Nations and tribes that Ye may know each other, Not that ye may despise, (Each other). Verily, The most honored of you, In the sight of Allah, Is (he who is) the most, Righteous of you, And Allah has full knowledge, And is well acquainted, (with all things) (49:13).
King Abdullah emphasized the importance of Islamic solidarity. "We are in dire need of true solidarity which maintains the unity of the nation, protects it from fragmentation, division, and prohibits the bloodletting which Allah has made sacred.
"Indeed this is the message of Haj which calls for unity of ranks and the rejection of fragmentation. We beseech Allah Almighty to help leaders of Muslim states for the good of our homeland and societies. We also call on Muslim leaders to fear Allah while dealing with their peoples and countries. We are responsible before Allah for our peoples and nation," the king said.
"As renaissance and progress are achieved through prosperity and security, we Muslims, nowadays, are in dire need of dialogue with the others and ourselves, in order to put an end to dissent, ignorance, extremism and injustice which threaten the aspirations of Muslims.
Out of this vision, Saudi Arabia is still calling for dialogue between religions and cultures. It is following this path for the good of the Islamic nation and humanity as a whole.
The Kingdom, which Allah has honored to serve the two holy mosques, pilgrims and visitors, feels the great responsibility bestowed upon its shoulders and exerts every effort to achieve this mission to enable pilgrims to perform Haj in ease and comfort.
"Dear brothers and sisters, We pray to Allah Almighty to accept your righteous deeds, Haj, forgive your sins and to return you safely to your homelands. Once again, I renew congratulations to you on the blessed Eid Al-Adha and pray to Allah that it would bring greater progress, prosperity, security and stability to the Islamic nation."
Haj Minister Bandar Hajjar spoke about the gigantic projects being implemented by the Saudi government to improve services to the millions of pilgrims who come for Haj and Umrah, including the massive expansions of the two holy mosques.
Muslim World League Secretary-General Dr. Abdullah Al-Turki commended the king for launching the largest expansion of the Prophet's Mosque, adding that it would increase the mosque's capacity to three million worshippers. Yemeni Minister of Endowments and Guidance Hamoud Muhammad Abbad, who spoke on behalf of the delegates, thanked Saudi Arabia for its services to pilgrims.
http://www.arabnews.com/king-urges-un-resolution-stop-insulting-prophets
--------------
150 killed on first day of Syria truce: Watchdog
Oct 27, 2012
BEIRUT: Almost 150 people died on the first day of a barely-observed truce between the warring parties in Syria, a watchdog said, adding that a fresh clashes on Saturday claimed more lives.
The Syrian Observatory for Human Rights said of the 146 people killed in bombings, artillery fire and fighting on Friday, 53 were civilians, 50 were rebels and 43 were members of President Bashar al-Assad's forces.
The Syrian regime and most rebel commanders had agreed to a truce brokered by UN peace envoy Lakhdar Brahimi from the start Friday of the four-day Muslim Eid-ul-Adha holiday, but the calm lasted only a few hours before fighting erupted.
After a day of clashes across most flashpoints of the Syrian conflict, army commanders announced late on Friday that Assad's forces were still engaged in "fighting against armed terrorist groups," the regime's term for rebels.
Fresh violence on Saturday killed four people including a child, in clashes and shelling in Damascus province, the northern city of Aleppo, Daraa in the south and the eastern city of Deir Ezzor.
Regime shelling targeted several areas of Damascus province, where one person was killed by army sniper fire and another in the bombardments, according to the Observatory.
Two people, including a child, were killed by gunfire in Daraa, while in Deir Ezzor violent clashes between regime forces and rebels followed a large explosion in the city.
Shelling of various areas of Aleppo wounded several people, the Britain-based watchdog added.
According to the Observatory, more than 35,000 people have been killed in 19 months of conflict, which began as an anti-regime uprising but is now a civil war pitting mainly Sunni rebels against Assad's regime dominated by his minority Alawite sect, an offshoot of Shiite Islam.
The Britain-based Observatory relies on a countrywide network of activists and medics in civilian and military hospitals. It says its tolls take into account civilian, military, and rebel casualties.
http://timesofindia.indiatimes.com/world/middle-east/150-killed-on-first-day-of-Syria-truce-Watchdog/articleshow/16979044.cms
--------------
Iraq bombings, house raids leave 40 dead
October 28, 2012
BAGHDAD: Iraqi insurgents unleashed a string of bombings and other attacks primarily targeting the country's Shia community on Saturday, leaving at least 40 dead in a challenge to government efforts to promote a sense of stability by preventing attacks during a major Muslim holiday.
The bloodshed appeared to be the worst in Iraq since Sept 9, when insurgents launched a wave of bombings and other attacks that left at least 92 dead in one of the country's bloodiest days this year.
The attacks underscored the difficulties facing the country's leadership as it struggles to keep its citizens safe.
Authorities had increased security in hopes of preventing attacks during the four-day Eidul Azha celebrations, when people are off work and families gather in public places.
The deadliest attacks struck in the evening in the Shia neighborhood of Sadr City. Police said a car packed with explosives blew up near a market, killing 12 people and wounding 27.
Half an hour later, a second car bomb went off in one of Sadr city's bus stations, killing 10 and injuring 31.
Earlier in the day, a bomb exploded near playground equipment that had been set up for the holiday in a market on the capital's outskirts in the eastern neighborhood of Bawiya. Police officials said eight people were killed, including four children. Another 24 people, including children, were wounded, they added.
"Nobody expected this explosion because our neighborhood has been living in peace, away from the violence hitting the rest of the capital," said Bassem Mohammed, a 35-year-old father of three in the neighborhood who was startled by the blast. "We feel sad for the children who thought that they would spend a happy time during Eid, but instead ended up getting killed or hurt."
Elsewhere, a bomb attached to a bus carrying Iranian Shia pilgrims killed five people and wounded nine, according to police.
The bomb, hidden on the underside of the bus, detonated as the pilgrims were heading to a Shia shrine in Baghdad to mark the holiday.
Authorities have said they planned to increase the number of checkpoints, shut some roads and deploy extra personnel during the holiday period. They are also relying more on undercover intelligence agents, said Lt Col Saad Maan Ibrahim, a spokesman for the interior ministry. He emphasised that both bombings took place on the edge of the capital rather than in densely populated areas.
"The terrorists apparently weren't able to get to the heart of the city. So they chose to attack soft targets on the outskirts," he said.
In the northern city of Mosul, gunmen broke into the houses of two Shabak families, killing a boy and his parents in one and a mother and daughter in the other, according to police.
A bomb exploded near the house of another Shabak family, wounding six family members.
Shabaks are ethnically Turkomen and Shia by religion. Most Shabaks were driven out of Mosul by Sunni militants during the sectarian fighting a few years ago.
In Tuz Khormato, about 210 kilometers north of Baghdad, a car bomb exploded near in a neighborhood with a Turkomen Shia majority. Mayor Shalal Abdoul said 11 people were wounded, including three children.
Medics in nearby hospitals confirmed the casualties. All officials spoke on condition of anonymity because they were not authorised to talk to the media.
Eidul Azha, or Feast of the Sacrifice, is a major Muslim holiday that commemorates what Muslims believe was the Prophet Abraham's willingness to sacrifice his son Ismail, the Biblical Ishmael, as a test of his faith from God. Christians and Jews believe another of Abraham's sons, Isaac, was the one almost sacrificed.
The holiday, which began Friday, marks the end of the hajj pilgrimage to Mecca. Muslims worldwide typically slaughter lambs and other animals to commemorate the holiday, sharing some of the meat with the poor.
Violence has ebbed across Iraq, but insurgents frequently attack security forces and civilians in an attempt to undermine the country's Shia-led government.
Holidays are a particular time of concern for security forces. A wave of attacks shortly before another Muslim holiday in August, Eidul Fitr, killed more than 90 people in one of the deadliest days in Iraq this year.
http://dawn.com/2012/10/28/iraq-bombings-house-raids-leave-40-dead/
--------------
Iraqi Sects Join Battle in Syria on Both Sides
By YASIR GHAZI and TIM ARANGO
October 28, 2012
BAGHDAD — Militant Sunnis from Iraq have been going to Syria to fight against President Bashar al-Assad for months. Now Iraqi Shiites are joining the battle in increasing numbers, but on the government's side, transplanting Iraq's explosive sectarian conflict to a civil war that is increasingly fueled by religious rivalry.
Some Iraqi Shiites are traveling to Tehran first, where the Iranian government, Syria's chief regional ally, is flying them to Damascus, Syria's capital. Others take tour buses from the Shiite holy city of Najaf, Iraq, on the pretext of making a pilgrimage to an important Shiite shrine in Damascus that for months has been protected by armed Iraqis. While the buses do carry pilgrims, Iraqi Shiite leaders say, they are also ferrying weapons, supplies and fighters to aid the Syrian government.
"Dozens of Iraqis are joining us, and our brigade is growing day by day," Ahmad al-Hassani, a 25-year-old Iraqi fighter, said by telephone from Damascus. He said that he arrived there two months ago, taking a flight from Tehran.
The Iraqi Shiites are joining forces with Shiite fighters from Lebanon and Iran, driving Syria ever closer to becoming a regional sectarian battlefield.
Lebanon, which has 100,000 Syrian refugees, was pushed to the brink this month when a Sunni intelligence chief was assassinated in a bombing. Many Lebanese blamed the Syrian government and its allies for the attack. Jordan, sheltering more than 180,000 refugees, has struggled to contain the violence on its border, which claimed the life of a Jordanian soldier in a firefight with extremists last week. Turkey, with more than 100,000 refugees, has traded artillery fire with Syria since Syrian shelling killed five civilians near the border early this month.
Now Iraq, still haunted by its own sectarian carnage, has become increasingly entangled in the Syrian war. And Iran, which, like Iraq, is majority-Shiite, appears to be playing a critical role in mobilizing Iraqis.
According to interviews with Shiite leaders here, the Iraqi volunteers are receiving weapons and supplies from the Syrian and Iranian governments, and Iran has organized travel for Iraqis willing to fight in Syria on the government's side.
Iran has also pressed the Iraqis to organize committees to recruit young fighters. Such committees have recently been formed in Iraq's Shiite heartland in the south and in Diyala Province, a mixed province north of Baghdad.
Many Iraqi Shiites increasingly see the Syrian war — which pits the Sunni majority against a government dominated by Alawites, an offshoot of Shiite Islam — as a battle for the future of Shiite faith. This sectarian cast has been heightened by the influx of Sunni extremists aligned with Al Qaeda, who have joined the fight against the Syrian government much as they did in the last decade against the Shiite-led Iraqi government.
"Syria is now open to all fighters, and Al Qaeda is playing on the chords of sectarianism, which will spur reactions from the Shiites, as happened in Iraq," said Ihsan al-Shammari, an analyst and professor at Baghdad University's College of Political Science. "My biggest fear from the Syrian crisis is the repercussions for Iraq, where the ashes of sectarian violence still exist."
One young Iraqi, Ali Hatem, who was planning to travel to Tehran, then to Damascus, said he saw the call to fight for Mr. Assad as part of a "divine duty."
Abu Mohamed, an official in Babil Province with the Sadrist Trend, a political party aligned with the populist Shiite cleric Moktada al-Sadr, said he recently received an invitation from the Sadrists' leadership to a meeting in Najaf to discuss a pilgrimage to the shrine of Sayyida Zeinab, a holy Shiite site in Damascus.
"We knew that this is not the real purpose because the situation is not suitable for such a visit," he said. "When we went to Najaf, they told us it's a call for fighting in Syria against the Salafis," ultraconservative Sunni Muslims.
A senior Sadrist official and former member of Parliament, speaking on condition of anonymity, said that convoys of buses from Najaf, ostensibly for pilgrims, were carrying weapons and fighters to Damascus.
Iran, which has been accused of sending weapons and fighters to Syria, may have employed the same ruse. After the Syrian rebels detained 48 Iranians in Damascus in August, the Iranian government said they were pilgrims, and expressed outrage that they had been kidnapped by the rebels. According to American intelligence officials, at least some of the pilgrims were members of Iran's elite Islamic Revolutionary Guards Corps.
Religious warriors, however, do not always make such distinctions. In Diyala Province, still a hotbed of Iraq's Sunni insurgency, Shiite leaders say they are seeking volunteers for a "combat regiment" to defend the Zeinab shrine against "the holders of extremist Salafi ideology backed by gulf states," according to Abu Ali al-Moussawi, the head of a recruitment committee. He said that 70 men from Diyala had recently left to join the fight in Syria.
Abu Sajad, who moved to Damascus in 2008 and joined the fight after the rebellion began, said he and other Iraqi fighters were indeed fighting to protect the shrine. A former fighter in Mr. Sadr's Mahdi Army in Iraq, he said he was given weapons and supplies by the Syrian government.
But as the fight evolved, and Iraqis began to be killed and kidnapped, it reminded him too much of the Iraq he left, and so he recently returned to his home in Basra.
"I can tell that things are going to be crazy in Syria," he said. "It's a sectarian war, and it's even worse than the one we had here, which was between the militias and the political parties. In Syria, all of the people are involved. You can feel the hatred between the Sunnis and the Alawites. They will do anything to get rid of each other."
Iraqi Shiites did not initially take sides in Syria. Many Shiites here despise Mr. Assad for his affiliation with the Baath Party, the party of Saddam Hussein, and the support he gave foreign Sunni fighters during the Iraq war.
But as the uprising became an armed rebellion that began to attract Sunni extremists, many Shiites came to see the war in existential terms. Devout Shiites in Iraq often describe the Syrian conflict as the beginning of the fulfillment of a Shiite prophecy that presages the end of time by predicting that an army, headed by a devil-like figure named Sufyani, will rise in Syria and then conquer Iraq's Shiites.
It was the bombing of an important shrine in Samarra in 2006 that escalated Iraq's sectarian civil war, and many Iraqis see the events in Syria as replicating their own recent bloody history, but with even greater potential consequences.
Hassan al-Rubaie, a Shiite cleric from Baquba, the capital of Diyala Province, said, "The destruction of the shrine of Sayyida Zeinab in Syria will mean the start of sectarian civil war in Iraq, Syria, Lebanon, Bahrain and Saudi Arabia."
Yasir Ghazi reported from Baghdad and Tim Arango from Istanbul. Employees of The New York Times contributed reporting from Babil and Diyala Provinces in Iraq.
http://www.nytimes.com/2012/10/28/world/middleeast/influx-of-iraqi-shiites-to-syria-widens-wars-scope.html?hp&_r=0&gwh=93D0CEDB8F42F6B83BE3A6BA59CB6BC2
--------------
Religious Scholars Aid Pilgrims with Fatwas
MINA: JASSIM ABUZAID
28 October 2012
During the last days of Haj, many pilgrims are confused about which day they perform Tawaf Al-Wada.
Questions arise about offering sacrifices, when to leave Mina and what time they should go to Jamrat.
Indian pilgrim Mostafa Jalal said he was told by a scholar that Tawaf Wada can be performed on Eid day.
This reporter told him this was an odd fatwa and that he might want to check again with that scholar.
I suggested he may have heard it wrong especially that the scholar consulted was following a madhab that believes Tawaf Wada (farewell tawaf) is the final ritual ever. He called the scholar back and got the same first answer.
We happened to perform Tawaf Efadha and Sai of Haj together. After we finished he wanted to do Tawaf again for Wada. I was not sure of the accuracy of the fatwa he was given, but I told him about the toll-free lines distributed around Holy Mosque. I said to him he won't lose anything by asking one more time.
We took the stairs down to King Abdul Aziz Gate were I recalled seeing those telephones. But on the way we passed by a fatwa office with few people queueing outside.
I suggested that he meet the sheikh in person. It took less than three minutes until the sheikh in the office was done with people before us. I imagined that with the number of people asking for fatwas from this office, the sheikh would be impatient. But that was not the case as he was answering the last inquirer with humor.
Our turn came and we I asked the sheikh on the behalf of my friend as he could not speak Arabic. It turned out that Tawaf Wada should be the last ritual in Haj as I thought.
My Indian friend said I never thought I could get fatwa this fast and easy from the most crowded place in the most crowded time.
"I never imagined that scholar will be so easily accessible during Haj time," he said. Saudis are not just providing the necessary infrastructure, but also the spiritual guidance. This truly is the cradle of Islam.
As we separated, I went back to my camp and looked at the website of the General Presidency of the Two Holy Mosques. It contained an electronic gate that provides numerous services for the Grand and the Prophet's Mosques. From there you can get a free ticket to access the libraries inside the two holy mosques. They both contain huge libraries that provide books, CDs and cassettes.
http://www.arabnews.com/religious-scholars-aid-pilgrims-fatwas
----------
Qaida's Zawahri calls for kidnap of Westerners in Egypt
Oct 27, 2012
DUBAI: Al-Qaida leader Ayman al-Zawahri has called on Muslims to kidnap Westerners, join Syria's rebellion and ensure Egypt implements sharia, SITE Monitoring reported, citing a two-part film posted on Islamist websites.
"We are seeking, by the help of Allah, to capture others and to incite Muslims to capture the citizens of the countries that are fighting Muslims in order to release our captives," he said, praising the kidnapping of Warren Weinstein, a 71-year-old American aid worker in Pakistan last year.
Full report at:
http://timesofindia.indiatimes.com/world/middle-east/Qaidas-Zawahri-calls-for-kidnap-of-Westerners-in-Egypt/articleshow/16978841.cms
--------------
Saudi authorities disperse anti-Assad protest in Mecca
Oct 28, 2012
MECCA: Saudi authorities quickly dispersed a protest by hundreds of Syrian pilgrims calling for the fall of Syrian President Bashar al-Assad and denouncing what they said was international failure to stop bloodshed in Syria, a Reuters witness said.
Protesters held up rebel flags and marched toward the Jamarat Bridge in Mina, east of the Saudi Arabian city of Mecca, where more than 3 million Muslim pilgrims congregated for the annual haj.
No one was hurt when two police vehicles drove slowly in the direction of the protesters with the sirens on as the officers asked the crowd through loudspeakers to leave the area. The protesters swiftly dispersed and merged with thousands of other pilgrims in the area, the witness said.
Full report at:
http://timesofindia.indiatimes.com/world/middle-east/Saudi-authorities-disperse-anti-Assad-protest-in-Mecca/articleshow/16987862.cms
--------------
Truce in tatters as fighting, air raids rock Syria
Oct 27, 2012
DAMASCUS: Fighting raged across Syria and air raids struck near Damascus and in the north on Saturday after a ceasefire declared for a Muslim holiday fell apart, with nearly 200 killed since it was due to take effect.
The truce for the Eid al-Adha holiday that started Friday -- conditionally agreed by the regime and the rebel Free Syrian Army (FSA) -- had raised the prospect of the first real halt to the fighting after 19 months of conflict.
But after fresh fighting on both Friday and Saturday, rebels and a monitoring group declared the ceasefire well and truly dead.
Full report at:
http://timesofindia.indiatimes.com/world/middle-east/Truce-in-tatters-as-fighting-air-raids-rock-Syria/articleshow/16984821.cms
--------------
New Syria Fighting Despite UN-Backed Truce
October 28, 2012
BEIRUT (AP) — Activists say Syrian regime forces are shelling suburbs of the capital of Damascus on the third day of what was meant to be a four-day holiday cease-fire. They say government troops and rebels are also clashing in several areas of the country.
A U.N-backed truce declared for the Muslim holiday of Eid al-Adha has largely unraveled. Activists say more than 150 people were killed Friday, the start of the holiday, and more than 120 people on the second day, on par with previous daily casualty tolls.
The Britain-based Syrian Observatory for Human Rights says government troops shelled three suburbs east of Damascus on Sunday. Another opposition group also reported violence there. Activists say fighting also resumed in the city of Aleppo and near a northern military base.
http://www.nytimes.com/aponline/2012/10/28/world/middleeast/ap-ml-syria.html?ref=middleeast&gwh=7035F4C0C4C7512B45FE7881F16F8104
--------------
Pilgrims stone Jamrat Al-Aqaba with remarkable ease, praise Saudi efforts
27 October 2012
MINA: Nearly three million pilgrims performed the symbolic act of stoning the devil yesterday in a very orderly fashion.
Masses of faithful, still clad in a two-piece seamless white cloth or ihram, completed the largest human movement on earth and flocked to the Mina Valley from Muzdalifah where they spent the night praying and collecting small rocks for the stoning of devil.
Pilgrims began the journey of faith on Wednesday, moving from Makkah to Mina, and on Thursday they moved to Mount Arafat for the Haj climax, before returning to Mina where three giant structures symbolizing "Satan" stand.
Full report at:
http://www.arabnews.com/pilgrims-stone-jamrat-al-aqaba-remarkable-ease-praise-saudi-efforts
--------------
Egypt activists try to stop holiday harassment
28 October 2012
CAIRO: A group of Egyptian men had a mission for this year's Eid Al-Adha, which began Friday. They wanted to make some effort to stop sexual harassment of women, which in past years has spiked in Cairo during the holiday celebrations with the crowds of rowdy men in the streets.
Their idea was simple: to patrol downtown Cairo and shame men who harass women by cornering them and spray-painting "I'm a harasser" on their backs.
That proved pretty much impossible, however. The small group was outnumbered by boys and men who mocked them, some of them blaming women for bringing harassment by the way they dress.
Full report at:
http://www.arabnews.com/egypt-activists-try-stop-holiday-harassment
----------
Africa
Suicide Bomber Strikes Nigeria Church in Deadly Attack
October 28, 2012
KADUNA (Reuters) - At least one suicide bomber drove a vehicle packed with explosives into a Catholic church in northern Nigeria on Sunday, killing and wounding several people, witnesses and police said.
Survivor Linus Lighthouse said two bombers had struck different parts of the packed St Rita's church, in Kaduna, a volatile ethnically and religiously mixed city. They had got right inside the building, causing many casualties, he said.
"I cannot tell you how many casualties, but there were many. The heavy explosion also damaged so many buildings around the area," he said.
Full report at:
http://www.nytimes.com/reuters/2012/10/28/world/africa/28reuters-nigeria-
--------------
India
Kalyan Singh owns responsibility for Babri Masjid demolition
Oct 27, 2012
LUCKNOW: Ahead of his re-induction into Bhartiya Janta Party (BJP), former Uttar Pradesh (UP) chief minister and Jan Kranti Party (JKP) patron Kalyan Singh has worn hard-line Hindutva mask again.
Addressing reporters in Etah, Kalyan said that he owns full responsibility for the demolition of the 16th-century mosque in Ayodhya on December 6, 1992, thus reigniting the controversial Ramjanmabhoomi dispute.
"As chief minister of UP, I had ordered police not to fire at Ram bhakts who had assembled at Ayodhya in 1992 during the Ram temple movement, which led to demolition of the Babri mosque. I take full responsibility," he said.
Full report at:
http://timesofindia.indiatimes.com/india/Kalyan-Singh-owns-responsibility-for-Babri-Masjid-demolition/articleshow/16982785.cms
--------------
India and U.S share strategic aim in Iran: Burns
October 27, 2012
US believes that India has took a "smart long term strategy" by reducing import of oil from Iran and both countries share a "strategic aim" with regard to Tehran's nuclear ambitions.
"I don't think India needs much convincing about the strategic dangers of Iran acquiring a nuclear weapon," deputy secretary of State William Burns said Friday.
Burns added that India and the US share a clear strategic aim in stopping Iran from going nuclear because of all the obvious risks that would ensue in a region in the Middle East that already has more than its share of instability, the dangers of a nuclear arms race and everything else that could come from that.
Full report at:
http://www.hindustantimes.com/world-news/NorthAmerica/India-and-US-share-strategic-aim-in-Iran-Burns/Article1-950778.aspx
---------
Over 70 arrested in Faizabad communal violence
Oct 27, 2012
LUCKNOW: Curfew continued in the violence hit areas of Faizabad on the third consecutive day on Saturday. The Eid-ul-Zuha festival of Muslims and the Bharat Milap episode of Ram Lila organised by Hindus were held under restrictions and heavy security arrangements.
The district administration heaved a sigh or relief as no major incident of violence was reported during the day. However, a war of words broke out between political parties with the ruling Samajwadi Party (SP) and the Bhartiya Janta Party (BJP) blaming each other for communal flare up in Faizabad. Some relaxation in the curfew bound areas was given to allow Muslims offer special festival prayers in mosques of their respective localities.
Full report at:
http://timesofindia.indiatimes.com/india/Over-70-arrested-in-Faizabad-communal-violence/articleshow/16984904.cms
--------------
Ex-PM's 'ill-treatment' in Ajmer angers Pakistan
Kishitiz Gaur & Sachin Parashar
Oct 28, 2012
AJMER: Id celebrations turned sour for former Pakistan prime minister Chaudhry Shujaat Hussain, as he was detained at Ajmer by India's intelligence bureau (IB) for travelling without essential documents like visa, on Saturday.
Hussain, who is also the Pakistan Muslim League's president, was detained for three hours at a hotel where he, along with the party's secretary-general S Syed Mushahid Hussain, had lodged. It was only when the Pakistan embassy in New Delhi emailed Hussain's papers around midday that the Indian authorities allowed him to move out of his room.
Meanwhile, both the countries' officials present at the hotel in Ajmer got engaged in heated talks. The Pakistani delegation protested that the Indian authorities were being too hard on a former prime minister. The Indian officials, however, justified their action.
Full report at:
http://timesofindia.indiatimes.com/india/Ex-PMs-ill-treatment-in-Ajmer-angers-Pakistan/articleshow/16985765.cms
--------------
India's rider to repeat visit of Pakistan judicial panel
Oct 27, 2012
NEW DELHI: India may insist on Pakistani law officers vetting "evidential value" of the testimonies that the Pakistani judicial commission proposes to collect from cross-examining 26/11 witnesses in Mumbai. It is only then that the terms of reference of the second visit of the Pakistani panel will be tied up.
New Delhi is hoping to send a National Investigation Agency (NIA) team to Pakistan sometime next month to liaise with the Federal Investigation Agency (FIA), which is probing the 26/11 case, and also assess the necessity of proposed repeat visit by the Pakistani judicial commission.
Full report at:
http://timesofindia.indiatimes.com/india/Indias-rider-to-repeat-visit-of-Pakistan-judicial-panel/articleshow/16975224.cms
--------------
Terror probe: Karnataka doctor among 3 wanted from Saudi Arabia
Johnson T A
Oct 28 2012
Bangalore : An older brother of two persons accused of terrorism in India and killed in Pakistan in August 2007, a practicing medical doctor whose name has appeared in past investigations of a SIMI network, and a 27-year-old from Bangalore — all believed to be in Saudi Arabia at present and allegedly linked to the recent terrorism investigation across three states — are the latest terror suspects being sought by police in India through the Interpol.
The Bangalore police have initiated the process for issuing Interpol red corner notices and have obtained non-bailable warrants from a local court against Mohammed Abdul Majeed, 47, a Hyderabad resident and brother of alleged terrorists Mohammed Abdul Shahed and Mohammed Abdul Samad who were killed in 2007; Dr Usman Ghani Khan alias Abu Anas MD, 32, whose name figures in a 2008 investigation as a SIMI initiator; and Mohammed Shaheed Faisal alias Zakeer alias Ustad, a Bangalore youth with no previous police record.
Full report at:
http://www.indianexpress.com/news/terror-probe-karnataka-doctor-among-3-wanted-from-saudi-arabia/1023019/
--------------
Europe
Rights groups urge immediate action to protect Myanmar's Rohingya Muslims
October 28, 2012
NEW YORK: Human Rights Watch urged the government of Myanmar on Saturday to take immediate steps to stop violence against the Rohingya Muslim population in the Arakan State of western Myanmar.
According to a statement by the rights group, new satellite imagery obtained by the right group shows extensive destruction of homes and other property in a predominantly Rohingya Muslim area of the coastal town of Kyauk Pyu – which, it says, is one of several areas of new violence and displacement.
The group called on Myanmar to urgently provide security for the Rohingya, which it said were under "vicious attack", and to ensure protection and aid were given to the affected Muslim and Buddhist communities in the region.
Full report at:
http://dawn.com/2012/10/27/rights-groups-urge-immediate-action-to-protect-myanmars-rohingya-muslims/
--------------
Mughal treasures to be exhibited in UK
Oct 28, 2012
LONDON: Treasures from the Mughal-era, including the gem-set crown worn by Bahadur Shah II, last emperor of the dynasty which ruled India for about 200 years, will be displayed in a major exhibition in the UK.
Jewels, rare ornaments, paintings and intricately illustrated manuscripts exploring the extravagant lives of the Mughal emperors will feature in the British Library's exhibition, The Telegraph reported.
Full report at:
http://timesofindia.indiatimes.com/india/Mughal-treasures-to-be-exhibited-in-UK/articleshow/16990782.cms
--------------
22,000 displaced by Myanmar unrest: UN
Oct 28, 2012
YANGON: More than 22,000 people from mainly Muslim communities have been displaced by fresh unrest in western Myanmar that has killed dozens and seen whole neighbourhoods razed, the UN said Sunday.
The United Nations chief in Yangon, Ashok Nigam, said government estimates provided early Sunday were that 22,587 people had been displaced and 4,665 houses were set ablaze in a new wave of communal unrest that swept Rakhine state this week.
Full report at:
http://timesofindia.indiatimes.com/world/south-asia/22000-displaced-by-Myanmar-unrest-UN/articleshow/16989186.cms
--------------
Defying U.S.-EU, Bern opposes curbs against Iran
ATUL ANEJA
28 October 2012
Switzerland has reinforced its opposition to unilateral sanctions imposed on Iran outside the framework of the United Nations. The assertion comes in defiance of such unilateral sanctions imposed by Israel, the United States (U.S.) and the European Union (EU).
Switzerland's Foreign Minister Didier Burkhalter has said in Moscow his country will never back sanctions, imposed by any alliance, outside the U.N. Security Council framework. "As a rule, we don't support such sanctions", said Mr. Burkhalter after talks with his Russian counterpart Sergei Lavrov.
Full report at:
http://www.thehindu.com/news/international/defying-useu-bern-opposes-curbs-against-iran/article4038277.ece
--------------
Humanitarian needs: UN agencies facing acute fund shortages in Pakistan
October 28, 2012
ISLAMABAD: United Nations agencies in Pakistan are facing acute fund shortages that could adversely affect their ongoing relief operations in flood affected areas of the country.
The UN's new estimates say that a total of 1.3 million people need immediate food and livelihood assistance and safe drinking water in Pakistan.
"Critical humanitarian needs remain unmet across all sectors in flood-affected areas," the UN Office for Coordination of Humanitarian Affairs (OCHA) wrote in a letter to its head office and all donors. The OCHA coordinates on behalf of different UN agencies with donors.
Full report at:
http://tribune.com.pk/story/457385/humanitarian-needs-un-agencies-facing-acute-fund-shortages-in-pakistan/
----------
Pakistan
2 Killed in Shrine Bombing in Northwest Pakistan
28 October 2012
PESHAWAR: Two people were killed and at least 25 injured when an explosion took place in the Ziarat Kaka Sahib area in Nowshera on Sunday.
According to the Nowshera police, a remote-controlled bomb had been planted on a bicycle in front of the main gate of the shrine of Ziarat Kaka Sahib.
Police also said that the death toll could increase.
Meanwhile, security forces have cordoned off the area and the injured have been shifted to local hospitals.
The shrine is often frequented by locals and a large number of people were also gathered there today on the occasion of Eid.
http://dawn.com/2012/10/28/one-killed-several-injured-in-nowshera-blast/
--------------
No terror attacks on Eid a success for govt: Malik
28 October 2012
ISLAMABAD: Interior Minister Rehman Malik said the fact that no terrorism related incidents occurred in the country on Eidul Azha, was a success on the part of the government, DawnNews reported.
Speaking to the media, he apologised for the inconvenience to the general public due to the closure of mobile phone services.
The interior minister also said that the closure of mobile services today helped prevent terrorists from carrying out attacks.
During his talk to the media, Malik also said that if Youtube barred access on its website to anti-Islamic material, then there is a possibility of the site being reopened.
http://dawn.com/2012/10/27/no-terror-attacks-on-eid-a-success-for-govt-malik/
--------------
Governor KP alleges links exist between Punjab govt and "terrorists"
October 28, 2012
PESHAWAR: Governor Khyber Pakhtunkhwa Syed Masood Kausar on Saturday alleged that the Punjab government had covert links with "terrorists", DawnNews reported.
Speaking at a fund distribution for the displaced people of Bara, the governor said that the Punjab government had been encouraging the "terrorists" hiding in the madrassas and had secret links with them.
He further said that the "terrorists" were neither friends of Pakistan nor were they the friends of the tribesmen.
Moreover, he said that the tribesmen were not involved in terrorist activities and that people belonging to all religions resided in the tribal areas.
On the issue of the construction of the controversial Kalabagh dam, Governor Kausar said it was not wise to discuss the matter.
http://dawn.com/2012/10/27/governor-kp-alleges-links-exist-between-punjab-govt-and-terrorists/
--------------
Khan't help it: Imran says US bumped him off plane
Chidanand Rajghatta
Oct 28, 2012
WASHINGTON: Maybe US airport authorities just "khan't" help it. Or, maybe the Khans just can't take it. But yet another airport flap fluttered briefly in the news cycle after Pakistan's cricketer-turned-politician Imran Khan was reportedly bumped off a US-bound flight in Toronto and grilled about his views on drone strikes in Pakistan. Khan has been vocal opponent of US drone attacks.
Imran Khan, who heads the Pakistani Tehreek-i-Insaaf (PTI) party, himself broke the news on social media networks of his brief detention late on Friday, tweeting that he was "taken off from plane and interrogated by US Immigration in Canada on my views on drones."
"My stance is known. Drone attacks must stop," added, for the benefit of anyone who didn't know his stand.
Full report at:
http://timesofindia.indiatimes.com/world/us/Khant-help-it-Imran-says-US-bumped-him-off-plane/articleshow/16986622.cms
--------------
New Pakistan outreach could aid Afghan peace deal
October 28, 2012
Pakistan has increased efforts to reach out to some of its biggest enemies in Afghanistan, a significant policy shift that could prove crucial to US-backed efforts to strike a peace deal in the neighboring country.
The target of the diplomatic push has mainly been non-Pashtun political leaders who have been at odds with Pakistan for years because of the country's historical support for the Afghan Taliban, a Pashtun movement.
Many of the leaders fought against the Taliban when the fundamentalist Islamic group seized control of Afghanistan in the 1990s with Pakistan's help, and have accused Islamabad of maintaining support for the insurgents following the US-led invasion in 2001 - allegations denied by the government.
Full report at:
http://www.hindustantimes.com/world-news/Pakistan/New-Pakistan-outreach-could-aid-Afghan-peace-deal/Article1-951199.aspx
--------------
Pakistanis get sacrificed everyday, says Imran Khan on Eidul Azha
October 27, 2012
ISLAMABAD: How can Pakistanis celebrate Eid when they themselves get sacrificed everyday, stated Pakistan Tehreek-i-Insaf (PTI) chief Imran Khan at a fundraiser in New York, Express News reported on Saturday.
Khan was earlier pulled off a New York-bound plane by US immigration officials and interrogated about his view on American drone strikes.
Khan was headed to New York to attend a fund raiser organised by his party when he was stopped by US officials in Toronto on Friday, he said.
Full report at:
http://tribune.com.pk/story/457624/pakistanis-get-sacrificed-everyday-says-imran-khan-on-eidul-azha/
----------
South Asia
Indian Quran teacher arrested on suspicion of molesting student in Maldives
By Minivan News | October 28th, 2012
An Indian Quran teacher has been arrested in the Meedhoo district of Addu City on suspicion of sexually abusing an under-age female student.
Local daily Haveeru reported yesterday that the 35 year-old suspect taught Quran at the privately owned Shamshudeen Centre for Islamic Studies and that the victim was a grade nine student at the Seenu Atoll School.
Full report at:
http://minivannews.com/category/news-in-brief
---------
Afghans: Taliban kill 5 civilians grabbed off bus
October 27, 2012
Police say Taliban militants have pulled five Afghan civilians off a bus in eastern Afghanistan and shot them dead.
Ghazni province deputy police chief Mohammad Hussain says the insurgents stopped the bus on Sunday as it was driving in Andar district on the main road headed south
to Kandahar city.
He says they pulled out five people and killed them on the spot. Police recovered the bodies today from the roadside.
Hussain says it is not yet clear if the victims were specifically targeted by the insurgents.
http://www.hindustantimes.com/world-news/Afghanistan/Afghans-Taliban-kill-5-civilians-grabbed-off-bus/Article1-950892.aspx
---------
Fleeing Muslims seek shelter in refugee camps after unrest in Myanmar
Oct 28, 2012
PAUKTAW: Boatloads of Muslims struggled to reach refugee camps and sought safety on islands and in coastal villages on Saturday as Myanmar tried to put out the fires of a week of sectarian unrest that has shaken its fragile democratic transition.
Dozens of rickety wooden vessels packed with the stateless Rohingya Muslims who fled clashes with Buddhists in western Rakhine state had reached land by Saturday after two days at sea, but nine boats were still unaccounted for, according to several Rohingya refugee sources reached by telephone.
Full report at:
http://timesofindia.indiatimes.com/world/south-asia/Fleeing-Muslims-seek-shelter-after-unrest-in-Myanmar/articleshow/16987894.cms
--------------
Villages torched, Rakhine Rohingyas throng camps
Oct 28, 2012
SITTWE (MYANMAR): Thousands of displaced people were clustered in boats and on bare ground near overcrowded camps in western Myanmar on Saturday as the toll from vicious communal violence rose above 80, officials said.
Seething resentment between Buddhists and Muslims erupted this week in new unrest in Rakhine state that has seen whole neighbourhoods razed and caused boatloads of people to flee from Rohingya minority areas. The latest fighting, which has prompted international warnings that the nation's reforms could be under threat, has killed 36 women and 46 men, according to a government official.
"Altogether 82 people died and 129 people were injured," the official said. It was unclear how many from each community were killed.
Full report at:
http://timesofindia.indiatimes.com/world/south-asia/Villages-torched-Rakhine-Rohingyas-throng-camps/articleshow/16986680.cms
--------------
Rohingyas not welcome in Bangladesh
HAROON HABIB
28 October 2012
Rohingya Muslims have started moving to Bangladesh once again in the backdrop of fresh ethnic violence in Myanmar's Rakhine state.
Locals in Cox's bazaar said that nearly 3,000 Rohingya refugees, boarded on around 50 boats were waiting in Bay of Bengal to cross the Naff river from Myanmar. Border Guard Bangladesh (BGB) sources said they had pushed back 52 Rohingyas in the last few days. This is the second time that sectarian violence in Myanmar forced the Rohingyas to flee the country this year. Myanmar's Muslims reportedly abandoned plans to celebrate Id al-Azha because of the violence.
Full report at:
http://www.thehindu.com/news/international/rohingyas-not-welcome-in-bangladesh/article4038610.ece
--------------
People waiting for regime change: Khaleda
October 28th, 2012
Claiming that the country's people are eagerly waiting for a regime change, opposition leader Khaleda Zia on Saturday said the government must restore the non-party caretaker government system to hold the next national election in a credible manner.
"Once Awmi League had been in a movement for introducing the caretaker government claiming that a fair and credible election is not possible under a partisan government. Singing the same music, we're now telling an impartial election is not possible under a party government," she told reporters after exchanging Eid greetings with a cross-section of people at the city's Ladies' Club.
Full report at:
http://www.thedailystar.net/newDesign/latest_news.php?nid=41997
---------
Opening their eyes to the world of learning: Bangladesh
October 28th, 2012
Over 800 inmates of the district jail who were illiterate only a few weeks ago, can now put their signature instead of thumbprint, thanks to the initiative of the authorities.
A large number of them can also read and write while many are being imparted with vocational training.
Aiming to achieve 100 percent success, an adult literacy programme was taken up in the jail in May this year.
Jail office sources said, 818 inmates including 78 convicted and 740 under trial prisoners were made literate in five months from May.
Full report at:
http://www.thedailystar.net/newDesign/news-details.php?nid=255321
---------
"Legal order" last option to compel judges to attend committee: MDP
By Ahmed Naish | October 28th, 2012
A "legal order" from parliament is the last available option to compel three judges of the Hulhumale' Magistrate Court to attend parliament's Government Oversight Committee, following their refusal to answer two previous summons, the Maldivian Democratic Party (MDP) said in a statement on Saturday.
The press release stated that "the excuses" offered by the three magistrates on administrative grounds – contending that as judges of the lower courts they doubted whether they could answer questions regarding the Commission of National Inquiry's report and that they needed to await a decision by the Judicial Service Commission (JSC) – were "reasons that lacked any principle."
Full report at:
http://minivannews.com/politics/legal-order-last-option-to-compel-judges-to-attend-committee-mdp-46193
---------
New Afghan war phase, with no decisive end seen
October 28, 2012
By Robert Burns
KABUL: A new chapter of the Afghanistan war is opening with a slimmed-down Western force doing more advising than fighting, a resilient Taliban showing little interest in peace talks, and Americans tempted to pull the plug on a conflict now in its 12th year.
A decisive end seems nowhere in sight.
The allied offensive that just ended, spearheaded by an influx of 30,000 U.S. troops, hammered the Taliban in its southern strongholds. Yet the insurgency persists as the American-led international military coalition hands off security responsibilities to the Afghans before exiting in two years.
Full report at:
http://www.dailystar.com.lb/News/Middle-East/2012/Oct-28/192943-new-afghan-war-phase-with-no-decisive-end-seen.ashx#ixzz2Aaip9iz4
---------
North America
Al Qaeda-Inspired Groups, Minus Goal of Striking U.S
By ROBERT F. WORTH
October 28, 2012
WASHINGTON — One of the currents running through the presidential campaign has been a tacit but fundamental question: After 11 years of the war on terror, what kind of threat does Al Qaeda pose to America?
The candidates offered profoundly different answers during their final debate last week, with President Obama repeating his triumphant narrative of drone attacks and dead terrorists, and Mitt Romney warning darkly about Islamists on the march in an increasingly hostile Middle East.
Full report at:
http://www.nytimes.com/2012/10/28/world/middleeast/al-qaeda-inspired-groups-minus-
--------------
Imran Khan taken off US-bound plane in Toronto
Oct 27, 2012
TORONTO: Pakistani cricketer-turned-politician Imran Khan was taken off a New York-bound plane here and claimed that he was questioned by American officials about his stance on US drone strikes in Pakistan.
Khan, Chairman of the Pakistan Tehrik-i-Insaf () party, was questioned for about an hour late yesterday before he was allowed to travel by the US officials.
"I was taken off from plane and interrogated by US Immigration in Canada on my views on drones. My stance is known. Drone attacks must stop," Khan tweeted.
Full report at:
http://timesofindia.indiatimes.com/world/pakistan/Imran-Khan-taken-off-US-bound-plane-in-Toronto/articleshow/16978181.cms
--------------
Southeast Asia
The Harakah Sunni for Indonesia denies police' accusation on terrorism link
October 28 2012
The Harakah Sunni for Indonesia (Hasmi) group has denied a statement made by the National Police saying that 11 of the suspected terrorists arrested on Saturday were members of its organization.
Hasmi announced on its website www.hasmi.org on Sunday that its members only took part in educational and religious activities.
"Hasmi is an Islamic organization that has been legally listed with the Home Ministry's mass organization division," said Hasmi chairman Muhammad Sarbini. "Our activities are only in religious and educational matters. We never promote or teach violence to our members."
Full report at:
http://www.thejakartapost.com/news/2012/10/28/hasmi-denies-police-accusation-terrorism-link.html
---------
Police arrest Ahmadiyah mosque vandal, an Islam Defenders Front Member
Arya Dipa
October 28 2012,
Bandung Police have arrested M. Asep Abdurahman, aka Utep, an Islam Defenders Front (FPI) member, and named him a suspect of Thursday night's attack on the Ahmadiyah An-Nasir mosque.
"We arrested Utep and named him a suspect on Saturday night," said Bandung Police chief detective Adj. Sr. Comr. Widjonarko on Sunday.
Widjonarko said the police had questioned five witnesses and seized evidence at the scene before naming Utep a suspect. "The number of suspects will likely increase as we are still collecting more evidence. For now, Utep is the sole suspect," he said.
According to police, Utep could be charged under Article 170 of the Criminal Code on assault, as well as Article 406 on the destruction of private property and Article 335 on disorderly conduct.
Full report at:
http://www.thejakartapost.com/news/2012/10/28/police-arrest-ahmadiyah-mosque-vandal.html
---------
Indonesia arrests 11 suspected terrorists planning attack on US embassy
Oct 27, 2012
JAKARTA: Indonesian police arrested 11 suspected terrorists on Saturday allegedly planning attacks on the US embassy and an American consulate, a spokesman said.
"The group's objectives were to attack the US embassy in Jakarta and consulate-general in the eastern Javanese city of Surabaya," national police spokesman Suhardi Alius told reporters.
Alius said the group was also targeting a building in the capital near the Australian embassy where US mining giant Freeport-McMoRan has an office.
Full report at:
http://timesofindia.indiatimes.com/world/rest-of-world/Indonesia-arrests-11-suspected-terrorists-planning-attack-on-US-embassy/articleshow/16981687.cms
--------------
Indonesian Govt protests death sentence for workers in Malaysia
Ridwan Max sijabat
October 27 2012
The government is protesting a court decision that sentenced two Indonesian migrant workers in Malaysia to death, saying that the verdict is unfair and not transparent.
"The government will fight for justice. We will file a strong protest against the trial," Manpower and Transmigration Minister Muhaimin Iskandar said after meeting with the parents of the workers here on Thursday.
"Both the workers have explained the situation, but they have been charged with murder and have been sentenced to death."
Full report at:
http://www.thejakartapost.com/news/2012/10/27/govt-protests-death-sentence-workers.html
---------
'Hard work ahead after Philippine peace deal'
27 October 2012
SULTAN KUDARAT, Philippines: The Philippines' top rebel leader warned Saturday a peace deal signed by his group could only end the armed conflict if the wider Filipino Muslim community supported it.
Under the pact the 12,000-strong Moro Islamic Liberation Front (MILF) would give up its quest for an independent homeland in the south in return for significant power and wealth-sharing in a new autonomous region there to be known as Bangsamoro.
Authorities and MILF leaders must work to convince the large Muslim minority that the October 15 accord was a step forward for them, the front's chairman Murad Ebrahim said Saturday.
Full report at:
http://www.arabnews.com/hard-work-ahead-after-philippine-peace-deal
---------
Mideast Asia
'Underground N-plant in Iran almost ready' say Intelligence officials from several countries
David E Sanger & William J Broad
Oct 27, 2012
WASHINGTON: Intelligence officials from several countries say Iran in recent weeks has virtually completed an underground nuclear enrichment plant, racing ahead despite international pressure and heavy economic sanctions in what experts say may be an effort to give it leverage in any negotiations with the US and its allies.
The installation of the last of nearly 3,000 centrifuges at a site called Fordo, deep under a mountain inside a military base near the holy city of Qum, puts Iran closer to being able to build a nuclear weapon, or come up to the edge, if its leaders ultimately decide to proceed.
Full report at:
http://timesofindia.indiatimes.com/world/us/Underground-N-plant-in-Iran-almost-ready/articleshow/16977645.cms
--------------
Saudi Kingdom's security strong enough to deter any threats
28 October 2012
Board Chairman of King Faisal Centre for Islamic Research and Studies (KFCIRS) Prince Turki Al-Faisal said Saudi Arabia retains an advanced security system sufficient to deter any internal or external threats and protect its oil facilities.
Prince Turki, addressing the 21st Arab-US Policymakers Conference in Washington DC organized by the National Council on US-Arab Relations (NCUSAR), said the Kingdom's internal security system is based on maintaining peace and security within its borders.
He said the Kingdom has played an active role in addressing foreign security concerns through building strategic ties with other countries, keeping collective security in the Gulf region and dealing with regional relations through diplomacy.
Full report at:
http://www.arabnews.com/prince-turki-kingdom%E2%80%99s-security-strong-enough-deter-any-threats
---------
'Israeli airstrike kills Gaza militant'
October 28, 2012
An Israeli airstrike on the Gaza Strip killed a Hamas militant and wounded another early on Sunday, after they fired mortar shells at Israeli tanks on an incursion near the southern town of Khan Younes, Palestinian medics and eyewitnesses told AFP.
An Israeli military spokeswoman confirmed that a strike had taken place but she did not immediately have further details. The exchange took place after a three-day lull between the sides brought some respite from a latest spike in cross-border fighting.
Full report at:
http://www.hindustantimes.com/world-news/RestOfAsia/Israeli-airstrike-kills-Gaza-militant/Article1-951194.aspx
--------------
No Syria-related US military presence in Turkey: Turkish army
October 28, 2012
ANKARA: The United States has not deployed any military personnel or units in Turkey in connection with the crisis in Syria, the Turkish army said in a statement Saturday.
The headquarters of the Turkish armed forces denied press reports that US military personnel had been sent to the country following increasing tension along its border with Syria.
"There are neither military personnel nor units deployed in Turkey beyond those at the base at Incirlik (in the southern province of Adana) and those at Kurecik (in the southeastern province of Malatya, home to a Nato radar installation)and those at the American embassy in Ankara," the statement said.
Full report at:
http://dawn.com/2012/10/27/no-syria-related-us-military-presence-in-turkey-turkish-army/
--------------
Iran has advanced drone technology: defence minister
October 28, 2012
By Yeganeh Torbati
DUBAI: Iran possesses drones that are far more advanced than the unmanned aircraft Iranian-backed Hezbollah launched into Israeli airspace this month, Iran's defence minister was quoted as saying on Sunday.
Iran's military regularly announces defence and engineering developments though some analysts are sceptical of the reliability of such reports.
Earlier this month, Israel shot down a drone after it flew 25 miles (55 km) into the Jewish state. Lebanese militant group Hezbollah claimed responsibility for the aircraft, saying its parts had been manufactured in Iran and assembled in Lebanon.
Full report at:
http://www.dailystar.com.lb/News/International/2012/Oct-28/192966-iran-has-
---------
URL: https://newageislam.com/islamic-world-news/saudi-king-abdullah-urges-un/d/9119