New Age Islam News Bureau
19 Oct 2015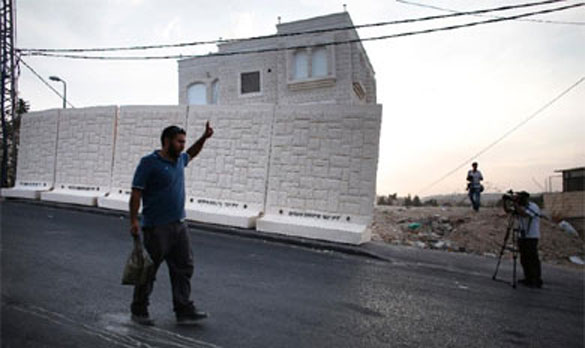 A television crew films as a Palestinian man walks past a wall put in place by Israeli officials to separate the Palestinian neighborhood of Jabel Mukaber from the Jewish settlement of Armon Hanatziv in east Jerusalem, on October 18, 2015 (AFP Photo/Thomas Coex)
--------
Arab World
• Saudi Juvenile Offender Al-Nimr, Being Referred To As 'That Shia Boy' Could Be 'Beheaded Imminently'
• Over 40 ISIL Terrorists Killed in Russian Airstrike in Syria's Hama
• Iraqi Forces Tighten Noose on Daesh in Baiji, Hawijah, Ramadi
• Syrian Forces Hit Militants Hard In Homs
• Scores of Militants Killed in Lattakia
• Syrian Air Force Raids Militant Positions in Six Areas of Hama Province
• Al Qaeda financier in Syria killed in US coalition air strike: Pentagon
• Russia's Mideast adventure will make Assad's army a regional threat of future
• Russian Defense Ministry: Terrorists in Syria Fighting Each Other
• Syrian Forces Kill Internationally Wanted Senior ISIL Commander in Deir Ezzur
• Three Nusra-Affiliated Leaders Killed in Clashes with Army in Syria's Aleppo
• Syrian Troops Kill Takfiris in Daraa
• Syrian Forces Regain Three Villages, One Town in East of Aleppo
• Syrian Army, Hezbollah Fighters Win Back over 20 Regions in Aleppo Province in 1 Week
---------
Mideast
• Israel Erects Wall to Protect Jews in East Jerusalem
• Deputy Iranian Defence Minister Urges Great Asian Coalition against Terror
• Yemenis Urge UN Action against Saudi Aggression
• Turkey Honoured For Hosting Refugees
• Eritrean mistakenly shot during Israel bus station attack dies
• Obama orders steps towards lifting Iran sanctions
• Iran's Army begins Moharram military exercise
---------
Europe
• UK To Block Passports to Stop ISIS Teen Recruits
• Blair Committed UK to Iraq War Year before Invasion
• UK govt pledges £5mn to fight extremism
• Germany: Xenophobic attack against pro-refugee politician
• Russians protest against Putin's involvement in Syria
• Thousands protest Israel in London
• Slovenia decreases refugee intake to 2,500
---------
Southeast Asia
• Indonesia's Aceh Province Tears Down Churches after Religious Violence
• Malaysia's plan on accepting Syrian refugees still in the works
---------
South Asia
• US Troop Extension Hands Afghanistan A Lifeline - For Now
• Afghan TV Stations Face Taliban Threat after Kunduz
• Signs of cracks in ISIS-Khorasan
• Heavy Clashes between Security Forces and Taliban in Herat Province
• Traffic accident leaves 20 Afghan migrants killed in Iran
• Pakistan says breakthrough expected in stalled Afghan Taliban-Government talks
• SQ Chy wants deposition of 5 Pakistanis
• 48 Jamaat-Shibir men held in Ctg, Rangpur
• In Burma's historic elections, a Muslim minority is banned from voting but still the focus of the campaign
---------
India
• Mumbai Policemen Thrash Muslim Youths, Tell Them to 'Go Back To Pakistan'
• Banning Cow Slaughter against Constitution: Kerala Muslim Cleric
• Talks with Pakistan cricket chief cancelled as Sena workers barge into BCCI office
• Sudhir panel to fast-track Muslim quota
---------
Pakistan
• Tribal People to Decide Fate of FATA: PML-N Senior Vice President
• US Resolution Calls For Supporting Democracy in Pakistan
• Pakistani military controlling Nawaz government: TIME
• Pakistan to seek US role in repatriation of Afghan refugees
• Ex-army man Janjua to be appointed NSA: sources
• Pakistan well aware of threats to its nuclear sites: US
• Terrorism unacceptable in all forms, says SC judge
---------
Africa
• Daesh Video Shows Man Dragged To Death in Libya
• Suicide attack at Nigeria army base foiled
• Sudan sends ground troops to Yemen
• Misrata's biggest force refuses Leon government
---------
North America
• Obama Announces Adoption of Iran Nuclear Deal
• Kerry Calls Netanyahu, Abbas over Palestinian Unrest
• Trump and Bush spar over 9/11 attacks
• Pro-Palestinian protesters rally across US
• UK Bishops Urge Gov't to Take More Refugees
Compiled by New Age Islam News Bureau
URL: https://www.newageislam.com/islamic-world-news/new-age-islam-news-bureau/saudi-juvenile-offender-al-nimr,-being-referred-to-as-'that-shia-boy'-could-be--beheaded-imminently-/d/104977
---------
Arab World
Saudi Juvenile Offender Al-Nimr, Being Referred To As 'That Shia Boy' Could Be 'Beheaded Imminently'
October 18, 2015
Ali Mohammed al-Nimr, a young man sentenced to death in Saudi Arabia for crimes he committed as a child, has been relocated by jailors in a move that could mean his execution is imminent.
The family of Mr al-Nimr, whose case has been raised by both Jeremy Corbyn and later David Cameron, said he has now been transferred to solitary confinement.
An appeal against his sentence was rejected by Saudi Arabia's Supreme Court last month, and all family visits and prison calls have been cancelled. Mr al-Nimr's mother and father fear that his beheading and crucifixion could take place within days.
"We are worried about him, we are not allowed visits, there is no way of communicating," his father told The Times. "The government have not given us any explanations for this transfer. There is no department within the state that we can appeal to directly, we fear they will do it any day now."
Mr al-Nimr was sentenced to death for his involvement in anti-government protests when he was 16 or 17 years old. The young man's case has been the subject of fervent campaigning from rights groups including Amnesty International and Reprieve, who say he was tortured and forced to sign a false confession before being sentenced to "death by crucifixion". They have continued to argue that to behead and crucify someone arrested as a juvenile is "indefensible".
Mr al-Nimr's mother, Nusra al-Ahmed, has claimed she has seen the evidence of the torture, with scars on his forehand and broken and missing teeth.
His family believe the sentence could be linked to the fact they are part of the Shia minority. He had joined a protest appealing for equal rights for Shias in Saudi Arabia, during a wave of demonstrations three years ago. Mr al-Nimr's family have claimed that he is being referred to as "that Shia boy" and not as a Saudi citizen, potentially highlighting a sectarian element to this case.
Under international law, countries are not allowed to sentence under-18s to death - but Saudi law allows anyone under the age of 18 to be tried and given the death penalty if they show physical signs of puberty.
Labour leader Jeremy Corbyn has been vocal about the case and demanded that David Cameron intervenes. Mr Corbyn has written to the Prime Minister, urging him to use his influence to "prevent a grave injustice". Mr Nimr's family have also appealed to David Cameron, Barack Obama and King Salman in the hope of halting the execution.
Since January there have been 135 executions in Saudi Arabia, with beheading the most common method. Sentences are frequently carried out in public to serve as a deterrent to others.
http://nation.com.pk/international/18-Oct-2015/saudi-juvenile-offender-al-nimr-could-be-beheaded-imminently
---------
Over 40 ISIL Terrorists Killed in Russian Airstrike in Syria's Hama
Oct 19, 2015
At least 40 militants of the ISIL group were killed in an airstrike on their convoy in the Syrian province of Hama, the sources said.
The Russian warplanes hit the 16-vehicles motorcade overnight between Saturday and Sunday in Hama province.
The militant convoy was hit as it was heading from the self-declared ISIL capital of Raqqa in Northern Syria to the Hama countryside.
On Sunday, a long convoy of ISIL vehicles was targeted by the Syrian army on Sunday, local officials said, and added that the attack left more than 45 terrorists dead and scores of others wounded.
The sources said that more than 23 ISIL vehicles were destroyed in the Syrian army offensive in al-Raheel farms at Um Khedeij in the Eastern countryside of Hama province.
They further added that 45 members of the ISIL were killed by the army when the convoy was attacked.
http://english.farsnews.com/newstext.aspx?nn=13940727000256
---------
Iraqi forces tighten noose on Daesh in Baiji, Hawijah, Ramadi
Oct 19, 2015
Iraqi army troops, backed by fighters from allied Popular Mobilization units, have advanced on three fronts against the Daesh Takfiri terrorist group in Baiji, Hawijah, Ramadi, further tightening the noose on militants.
In Kirkuk province, Iraqi forces managed to regain control of the al-Rashad area of the Hawija district, located southwest of the provincial capital Kirkuk, on Sunday, the Iraqi News online newspaper reported.
They also made advances against the terror group around al-Fatha area, west of Kirkuk, and near Allas oil field in the south. At least 30 terrorists were slain during the operation.
Meanwhile, government forces flushed out terrorists from most of the city of Baiji and its surroundings and started searching for bombs and booby-trapped houses.
Baiji, located in the restive province of Salahuddin, is some 200 kilometers north of capital Baghdad and has the country's largest oil refinery in its vicinity.
The latest developments came days after Iraqi armed forces launched a new large-scale military offensive to regain full control of Baiji.
As for Ramadi, the capital of the western province of Anbar, Iraqi forces succeeded in liberating some militant-held areas and further tightening their siege around the city.
"Albu Farraj neighborhood is under full control now. The city of Ramadi is completely isolated from the northern side now," said Major General Ismail Mahalawi, from Anbar Operations Command, according to AFP.
Iraq has been grappling with a deadly insurgency since the summer of 2014 when Daesh seized control of some territories west and north of the Arab country. The Takfiri terrorist group has claimed dozens of bombing attacks on areas outside of its control across Iraq, including those in central and eastern provinces.
The Iraqi military and popular forces have managed to expel the militants from some key areas, including Tikrit, the capital of Salahuddin Province, which was declared liberated at the end of March.
http://presstv.ir/Detail/2015/10/19/434021/Iraq-Daesh-Baiji-Hawijah-Ramadi-Anbar-Baghdad-Salahuddin
---------
Syrian Forces Hit Militants Hard in Homs
Oct 19, 2015
Syrian army troops continued to advance in Jwalik, Sneisel, Teir Ma'ala and al-Ghantou in the Northern countryside of Homs, and destroyed terrorists' command centers and ammunition depots on Sunday.
Also on Sunday, the Syrian Armed Forces' large-scale operations to hit the militants' gathering centers in Homs province left tens of terrorists dead or wounded, military officials said.
The sources said that Ghaja Amir, al-Ghanatou, and Talbisa areas were the targets of the Syrian army troops' attacks.
The sources further added that the army killed scores of the militants in the abovementioned fighting areas.
Large depots of the terrorists were also destroyed in the army operations.
http://english.farsnews.com/newstext.aspx?nn=13940727000320
---------
Scores of Militants Killed in Lattakia
Oct 19, 2015
The Syrian fighter jets bombed several headquarters, concentration centers, and vehicles of the terrorists in Qaraqfi mountain, North of Salma, Marj Khokha and Tertiah in the Northern countryside of Lattakia, a military source said Sunday.
Scores of terrorists were killed in the air raids. A number of the militants' hideouts and machinegun-equipped vehicles were also destroyed.
On Saturday, the terrorist groups acknowledged on their social media pages the murder of the a large group of the Takfiri militants, including the military commander of the so-called "1st Costal Brigade", in Lattakia province.
The terrorist organizations said the terrorists have suffered heavy losses in the Syrian military operations in Lattakia.
Full Report at:
http://english.farsnews.com/newstext.aspx?nn=13940727000425
---------
Syrian Air Force Raids Militant Positions in Six Areas of Hama Province
Oct 19, 2015
The sources said that the terrorists' positions in the nearby areas of the villages of al-Rawda, Jana al-Albawi and Abu al-Alaya in Eastern countryside of Hama were massively targeted by the Syrian air fleet.
In the meantime, the terrorists' gathering centers in al-Rahjan, al-Hazm and al-Mintar were attacked by the Syrian warplanes, which resulted in the destruction of the militants' military vehicles and munitions depots.
On Sunday, a long convoy of ISIL vehicles was targeted by the Syrian army on Sunday, local officials said, and added that the attack left more than 45 terrorists dead and scores of others wounded.
Full Report at:
http://english.farsnews.com/newstext.aspx?nn=13940727000597
---------
Al Qaeda financier in Syria killed in US coalition air strike: Pentagon
WASHINGTON: The Pentagon on Sunday confirmed that a United States (US)-led coalition air strike has killed Sanafi al-Nasr, a Saudi citizen and the leading financier for Al Qaeda and its Khorasan Group offshoot.
The Pentagon said al-Nasr had organised routes for new recruits to travel from Pakistan to Syria through Turkey and played a significant role in the group's finances. He was killed in an air strike on Thursday in northwest Syria, it said.
"Al-Nasr was a longtime jihadist experienced in funnelling money and fighters for Al Qaeda. He moved funds from donors in the Gulf region into Iraq and then to Al Qaeda leaders from Pakistan to Syria," a Pentagon spokesman said in a statement.
Al-Nasr worked for Al Qaeda's Iran-based network before taking charge of the militant group's finances in 2012 and moving to Syria in 2013, the Pentagon said.
He was the fifth senior Khorasan Group leader killed in the last four months, it said.
Khorasan is a term for the area in Afghanistan and Pakistan where Al Qaeda's main council is thought to be hiding.
The militants moved to Syria after the civil war erupted there and were believed to be aiding Al Qaeda's Syrian affiliate, the Nusra Front.
Full Report at:
http://dawn.com/news/1214121/al-qaeda-financier-in-syria-killed-in-us-coalition-air-strike-pentagon
---------
Russia's Mideast adventure will make Assad's army a regional threat of future
Oct 19, 2015
While the world still rages on at Russia's presumption in the Middle East — to intervene in Syria instead of letting the Americans decide which dictators should survive or die — we've all been forgetting the one institution in that Arab land which continues to function and protect the state which Moscow has decided to preserve: the Syrian army.
While Russia has been propagandising its missiles, the Syrian military, undermanned and undergunned a few months ago, has suddenly moved on to the offensive.
Earlier this year, we may remember, this same army was being written off, the Bashar al-Assad government said to be reaching its final days.
We employed our own army of clichés to make the case for regime change. The Syrian army was losing ground — at Jisr al-Shugour and at Palmyra — and so we predicted that the whole Assad state had reached a "tipping point".
Then along came Vladimir Putin with his air and missile fleets and suddenly the whole place is transformed. While we huffed and puffed that the Russians were bombing the "moderate" rebels — moderates who had earlier ceased to exist according to America's top generals — we've been paying no attention to the military offensive which the Syrians themselves are now staging against the Nusra Front fighters around Aleppo and in the valley of the Orontes.
Syrian commanders are now setting the coordinates for almost every Russian air strike. They were originally giving between 200 and 400 coordinates a night.
Now the figure sometimes reaches 800. Not that the Russians are going after every map reference, of course.
The Syrians have found that the Russians do not want to fire at targets in built-up areas; they intend to leave burning hospitals and dead wedding parties to the Americans in Afghanistan. This policy could always change, of course.
No air force bombs countries without killing civilians. Nor without crossing other people's frontiers.
But the Russians are now telling the Turks — and by logical extension, this information must go to the Americans — their flight coordinates. Even more remarkable, they have set up a hotline communications system between their base on the Syrian Mediterranean coast and the Israeli ministry of defence in Tel Aviv. More incredible still is that the Israelis — who have a habit of targeting Syrian and Iranian personnel near the Golan Heights — have suddenly disappeared from the skies.
In other words, the Russians are involved in a big operation, not a one-month wonder that is going on in Syria. And it is likely to continue for quite a time.
The Syrians were originally anxious to move back into Palmyra, captured by ISIS (the self-styled Islamic State) last May, but the Russians have demonstrated more interest in the Aleppo region, partly because they believe their coastal bases around Lattakia are vulnerable.
The Nusra Front has fired several missiles towards Lattakia and Tartous and Moscow has no desire to have its air force targeted on the ground.
But the Syrian army is now deploying its four major units — the 1st and 4th Divisions, Republican Guards and Special Forces — on the battle fronts and are moving closer to the Turkish border.
Full Report at:
http://dawn.com/news/1214044/russias-mideast-adventure-will-make-assads-army-a-regional-threat-of-future
---------
Russian Defense Ministry: Terrorists in Syria Fighting Each Other
Oct 19, 2015
He said the defense ministry has information about growing contradictions between various terrorist groups, which are caused by fighting for control over territories and money flows, Itar-Tass reported Sunday.
"According to intercepts, last week only IS(IL) organized near the city of Idlib three acts of terror using mined cars, aiming against field commanders of the Jabhat-an-Nusra (al-Nusra Front)," he said.
Full Report at:
http://english.farsnews.com/newstext.aspx?nn=13940727000452
---------
Syrian Forces Kill Internationally Wanted Senior ISIL Commander in Deir Ezzur
Oct 18, 2015
The sources said that the Syrian army troops repelled the ISIL terrorists' offensive in Deir Ezzur airbase, and launched a counter-attack to push back the ISIL militants, which resulted in the killing of over 15 terrorists, including al-Iraqi and his two aides Ahmad Haboush and Siraj Al-Deen Jasseem Al-Ayadeh.
Full Report at:
http://english.farsnews.com/newstext.aspx?nn=13940726000674
---------
Three Nusra-Affiliated Leaders Killed in Clashes with Army in Syria's Aleppo
Oct 18, 2015
The militant group confirmed the killing of three leaders, Group Commander Nouri Mohammad al-Abd, Commander Mohammad Hadi al-Abd and a Judge of the al-Nusra Front in Kafr Hamra town, the Saudi national Abu Azzam al-Jarzawi.
On Saturday, sources said that the Takfiri terrorists are on the run to save their lives after suffering heavy casualties in Syria's Province of Aleppo as the Syrian army, backed by Russian warplanes.
The Syrian army forces alongside the Lebanese Hezbollah forces struck heavy blows at the Takfiri militants with the Russian air backup, forcing the Takfiri militants to retreat from the province, reports said Saturday.
Full Report at:
http://english.farsnews.com/newstext.aspx?nn=13940726001020
---------
Syrian Troops Kill Takfiris in Daraa
Oct 19, 2015
The army killed a number of terrorists in al-Bajabja neighborhood, South of the old customs building, around the technical institute and East of the shoes factory in Daraa al-Balad neighborhood in Daraa city on Sunday.
Full Report at:
http://english.farsnews.com/newstext.aspx?nn=13940727000370
---------
Syrian Forces Regain Three Villages, One Town in East of Aleppo
Oct 19, 2015
The army said that the villages of al-Sbeihiyeh, al-Qadara and al-Jaberiyeh and the town of Al-Jabria were recaptured by the army after fierce clashes with the militant groups.
The army further added that the militant groups suffered heavy casualties and pushed back their forces from the liberated areas.
A report said on Sunday that The Syrian army and the Lebanese Hezbollah resistance forces seized back control over 21 regions in the Northern province of Aleppo in the last week.
The army and the resistance forces won back 12 regions only in the past 48 hours: 1-Tanks Battalion, 2-Qala'at Al-Najam village, 3-Hadadin village, 4-Al-Shahid hilltops, 5-Zeytouna Farms, 6-Al-Kabdar Garrison, 7-Mleiha Village, 8-Abtayn Village and its surrounding farms, 9-Al-Vazihi village, 10-Kodar village, 11-Al-Sabeqiya village and 12-Shaqidla town.
The Syrian army and Hezbollah forces also seized seven other regions in the Eastern countryside of Aleppo, including 1-Tal al-Naa'am, 2-Al-Naa'am town, 3-Al-Nasseriya town, 4-Heijeneh, 5- Howeija town, 6-Boqja town and 7-al-Barijieh
The army and the resistance forces also won back the regions of Kafr Tuna and al-Harra near the industrial city of Sheikh Najjar about a week ago.
The army operations backed by Hezbollah and Russian air force are presently underway in Aleppo province now.
Full Report at:
http://english.farsnews.com/newstext.aspx?nn=13940727000326
---------
Syrian Army, Hezbollah Fighters Win Back over 20 Regions in Aleppo Province in 1 Week
Oct 18, 2015
The army and the resistance forces won back 12 regions only in the past 48 hours: 1-Tanks Battalion, 2-Qala'at Al-Najam village, 3-Hadadin village, 4-Al-Shahid hilltops, 5-Zeytouna Farms, 6-Al-Kabdar Garrison, 7-Mleiha Village, 8-Abtayn Village and its surrounding farms, 9-Al-Vazihi village, 10-Kodar village, 11-Al-Sabeqiya village and 12-Shaqidla town.
The Syrian army and Hezbollah forces also seized seven other regions in the Eastern countryside of Aleppo, including 1-Tal al-Naa'am, 2-Al-Naa'am town, 3-Al-Nasseriya town, 4-Heijeneh, 5- Howeija town, 6-Boqja town and 7-al-Barijieh
The army and the resistance forces also won back the regions of Kafr Tuna and al-Harra near the industrial city of Sheikh Najjar about a week ago.
The army operations backed by Hezbollah and Russian air force are presently underway in Aleppo province now.
The first major objective of the Syrian Armed Forces-Lebanese Resistance's Southern Aleppo offensive was to recapture the 'Azzan Mountains from the terrorists, while also creating a larger buffer-zone around the Syrian government's only highway leading to the provincial capital.
Full Report at:
http://english.farsnews.com/newstext.aspx?nn=13940726001395
---------
Mideast
Israel erects wall to protect Jews in East Jerusalem
18 October 2015
Israeli police on Sunday began erecting a wall in east Jerusalem to protect a Jewish neighborhood subject to firebomb and stone attacks launched from an adjacent Palestinian village.
The wall would effectively divide Palestinian Jabel Mukaber and Jewish Armon Hanatziv, raising criticism among the government's opposition, which considered the move a de facto division of Jerusalem.
As of Sunday, police had placed six slabs below Jabel Mukaber, each about 2.5 meters (yards) high and two meters long. Black lettering in Hebrew at the bottom of the slabs read "temporary mobile police barrier."
The municipality said the wall would eventually cover a 300-metre strip, stressing it would not be peripheral and it was being placed where "there is a history of stone and firebomb throwing at Jewish homes and cars."
Jabel Mukaber has been a hotspot in the recent wave of violence in which 42 Palestinians and seven Israelis have been killed, raising fears of a full-blown Palestinian uprising grew.
Three residents of the village had killed three Israelis in two separate attacks in Jerusalem on Tuesday before being killed by security forces.
On Saturday, a 16-year-old Palestinian was shot dead by police after attempting to stab border police at a checkpoint near Jabel Mukaber.
Full Report at:
https://english.alarabiya.net/en/News/middle-east/2015/10/18/Israel-erects-wall-to-protect-Jews-in-East-Jerusalem.html
---------
Deputy Iranian defense minister urges great Asian coalition against terror
Oct 19, 2015
A deputy Iranian defense minister has urged the formation of a great Asian coalition to counter terrorism.
"Terrorism has turned into a global phenomenon today, and has targeted Asia above all [other regions]," said Deputy Defense Minister Brigadier General Nasrallah Kalantari in the Sixth Xiangshan Forum in the Chinese capital, Beijing.
A great coalition among countries from the east and west of the Asian continent is required to eliminate terrorism, said the senior official in the annual security conference.
"Unfortunately, terrorism has created a lot of challenges on the international stage, and its promoters are making every effort to spread extremism, violence, chaos and insecurity across the world, particularly in the Asian continent," Brig. Gen. Kalantari said.
He then touched upon the assistance offered to militants by sponsors of terrorism, saying, "The US and its allies in the region and [other parts of] the world, which themselves, both overtly and covertly, set the stage to breed terrorism, have no right to claim to be fighting it."
The deputy defense chief further said Washington and its allies do not really seek to root out terrorism, saying the so-called anti-terror war they have waged in Syria and Iraq was a clear indication that whatever they do in the two Arab countries is just a "charade."
Since late September 2014, the US, along with some of its allies, has purportedly been conducting airstrikes against Daesh extremists inside Syria without any authorization from Damascus or a UN mandate.
The airstrikes in Syria are an extension of the US-led aerial campaign against alleged Daesh positions in Iraq, which started in August last year. Many have criticized the ineffectiveness of the raids.
Brig. Gen. Kalantari reiterated that Iran's policy on regional crises, especially the Syrian conflict, is that those tensions could only be settled through political solutions and the enhancement of diplomatic cooperation.
Full Report at:
http://presstv.ir/Detail/2015/10/19/434040/Iran-Nasrallah-Kalantari-great-asian-coalition-Xiangshan
---------
Yemenis urge UN action against Saudi aggression
Oct 19, 2015
Yemenis have held a rally in the capital, Sana'a, to slam the ongoing Saudi military aggression against their impoverished country, Press TV reports.
On Sunday, several hundred Yemenis, including rights activists and the representatives of non-governmental organizations, gathered in front of the United Nations (UN)'s office in Sana'a, urging the world body to take serious action to put an end to the Saudi aggression.
'Genocidal war'
"We have congregated near the UN office to call for an end to genocidal war waged by Saudi Arabia…We want to say that the news about Saudi atrocities are either being blocked or fabricated by media in order to mislead the international community and silence the voice of truth," said a protester.
Carrying banners and chanting anti-Saudi slogans, the demonstrators described Saudi atrocities in Yemen as far worse than the Israeli massacre of Palestinians.
"Saudi Arabia has killed Yemeni women and children and destroyed public and private properties and the country's infrastructures. They systematically kill Yemenis in wedding ceremonies, at mosques and even at markets," a protestor said.
"So this unprecedented genocide has not taken place anywhere else in the world even in Palestine. So, such a massacre and invasion should be stopped right away," he added.
Yemen has been under Saudi military strikes on a daily basis since March 26, in a bid to undermine the Houthi Ansarullah movement and restore power to fugitive former Yemeni President Abd Rabbuh Mansour Hadi, an ally of Riyadh.
Yemeni children stand amid the rubble of a building damaged in a Saudi airstrike on the capital, Sana'a, July 13, 2015. (Photo by AFP)
'Damning evidence of war crimes'
Some 7,000 people have reportedly lost their lives in the Saudi raids, and at least 14,000 people have been injured.
Full Report at:
http://presstv.ir/Detail/2015/10/19/434039/Yemen-Sanaa-UN-Saudi-Arabia
---------
Turkey Honoured For Hosting Refugees
18 October 2015
WASHINGTON – Acknowledging its notable efforts in offering support for refugees, a leading US Muslim advocacy group has granted Turkey a humanitarian award for opening its doors to millions of refugees every year.
"Just to give an example in this regard, during the last cours of the four years, Turkey has taken more refugees (only the number of Syrian refugees) than the US has taken in thirty years," the Turkish ambassador to the US, Serdar Kilic, was quoted by Anadolu Agency on Sunday, October 18.
The Turkish ambassador's comments came after his country received the 2015 Humanitarian Award by the Council on American-Islamic Relations (CAIR).
Kilic received the award during an annual ceremony of the organization held on Saturday, October 17.
The award honored the country for its humanitarian efforts towards Syrian and Iraqi refugees.
Since 2011, Turkey has received more than 2.2 million Syrian refugees and 200,000 Iraqi refugees.
According to Kilic, his country has accepted the refugees regardless of their ethnicity or religion.
Full Report at:
http://onislam.net/english/news/europe/495223-turkey-honored-for-hosting-refugees.html
---------
Eritrean mistakenly shot during Israel bus station attack dies
19 October 2015
An Eritrean man mistakenly shot and beaten by a mob during an attack in the city of Beersheba has died, police said on Monday.
The attack on Sunday night at a bus station in the southern city saw a gunman also armed with a knife kill a 19-year-old soldier and wound around 10 other people.
The gunman was killed, while a security guard shot the Eritrean man mistakenly thinking he was a second attacker. A mob also attacked and beat him, Israeli media reported.
Police identified the attacker as a Mohannad Al-Aqaby, 21, an Arab Israeli citizen from the area.
"During a raid last night, security forces and Shin Bet (internal security agency) arrested one of his family members, who was accused of providing support" for the attack, police said.
Video that spread online appears to show the Eritrean lying on the ground after being shot and being kicked in the head and body by angry bystanders.
More than two weeks of violence and unrest has raised questions of a full-scale Palestinian Intifada, or uprising, while some Israeli politicians have urged residents to arm themselves in the face of attacks.
Full Report at:
https://english.alarabiya.net/en/News/middle-east/2015/10/19/Eritrean-mistakenly-shot-during-Israel-bus-station-attack-dies.html
---------
Obama orders steps towards lifting Iran sanctions
18 October 2015
President Barack Obama ordered the U.S. government Sunday to take steps towards lifting sanctions on Iran, in accordance with the historic nuclear deal struck between six world powers and Tehran.
Obamas directive comes 90 days after the U.N. Security Council endorsed the accord signed in Vienna in July, a milestone referred to as "Adoption Day."
"I hereby direct you to take all necessary steps to give effect to the U.S. commitments with respect to sanctions," Obama said in a memorandum addressed to the U.S. secretaries of state, energy, commerce and the treasury.
The measures will take effect upon confirmation by the Secretary of State that Iran has met its commitments under the so-called Joint Comprehensive Plan of Action (JCPOA), as the accord is known, Obama said.
"This is an important day for all of us and a critical first step in the process of ensuring that Iran's nuclear program will be exclusively for peaceful purposes," Secretary of State John Kerry added in a statement.
But no sanctions will be lifted immediately - full relief will come not on "adoption day" but on "implementation day," the point when the IAEA is able to certify that Iran has fully complied with its end of the bargain.
Under the deal with world powers, Iran will dramatically reduce its uranium enrichment program, surrender or dilute most of its highly enriched fuel and open its nuclear sites to inspectors from the IAEA, the U.N. nuclear watchdog.
A top official said Sunday the "huge task" of disabling parts of Iran's nuclear infrastructure would probably start this week, as Obama was taking steps to end the sanctions.
In return, the United States, Europe and other countries will rescind a raft of economic sanctions imposed on Iran because of fears that its nuclear research program concealed plans to develop an atomic bomb.
Tehran has said it hopes "implementation day" will come quickly, in less than two months, but Washington envisages a longer timeframe.
"For us it's important that it's done right, not that it's done quickly," a senior administration official told reporters. "We cannot imagine less than two months."
Ali Akbar Salehi, head of Iran's nuclear agency, told state television he was awaiting President Hassan Rowhani's order to remove thousands of centrifuges from atomic sites at Natanz and Fordo.
The rendering of the centrifuges – fast-spinning machines that enrich uranium - was part of a July 14 deal, known as the Joint Comprehensive Plan of Action, between Iran and six world powers to end a 13-year dispute over Tehran's atomic activities.
As well as slashing its number of centrifuges to around 6,000, Iran will have to satisfy the International Atomic Energy Agency that it has taken steps to ensure its Arak reactor and other installations cannot be used for military purposes.
Full Report at:
https://english.alarabiya.net/en/News/middle-east/2015/10/18/Obama-orders-steps-towards-lifting-Iran-sanctions-.html
---------
Iran's Army begins Moharram military exercise
Oct 19, 2015
The Iranian Army, backed by the Khatam al-Anbia Air Defense Base, has officially started a large-scale military drill in west and northwest of the country.
Deputy Commander of the Iranian Army's Ground Forces Brigadier General Kiyoumars Heidari announced the launch of the two-day military exercise, dubbed Moharram, on Monday.
Iranian Army's ground and air forces as well as Air Defense units are taking part in the maneuver.
On the first day of the drill on Monday, rapid reaction units, which have been set up to confront threats from terrorist groups, are set to take part in the operations. Armored and infantry units of the ground forces will also join the exercises.
The forces were deployed in the preparation stage on Sunday.
Different types of fighters and military transport aircraft from four air bases will also support operations involving ground forces and air defense units.
The Army's Air Defense units will also conduct exercises, using different radar and missile systems to support the air and ground forces.
Full Report at:
http://presstv.ir/Detail/2015/10/19/434038/Iran-Army-Ground-Forces-military-drills-Moharram-Pourdastan-
---------
Europe
UK To Block Passports to Stop ISIS Teen Recruits
19 October 2015
British parents worried that their 16 and 17-year-old children might travel to Syria or Iraq under the influence of militants will be able to apply to have their passports removed, Prime Minister David Cameron is set to announce on Monday.
The measure is aimed at disrupting a steady stream of young Britons lured by the Islamic State of Iraq and Syria (ISIS)'s radical ideology to join the militant group fighting in the Middle East.
Cameron has said that defeating militants is the "struggle of our generation."
"The government's new 'Counter-Extremism Strategy' is a clear signal of the choice we have made to take on this poisonous ideology with resolve, determination and the goal of building a greater Britain," he will say, according to extracts from his speech. "The government's new 'Counter-Extremism Strategy' is a clear signal of the choice we have made to take on this poisonous ideology with resolve, determination and the goal of building a greater Britain," he will say, according to extracts from his speech.
Full Report at:
http://english.alarabiya.net/en/News/middle-east/2015/10/19/UK-to-block-teenagers-passports-to-stop-them-joining-militants.html
---------
Blair committed UK to Iraq war year before invasion
October 19, 2015
LONDON - Former British prime minister Tony Blair was committed to joining the United States in the Iraq war a year before the 2003 invasion, documents obtained by a Sunday newspaper suggested.
The revelations focus on a memo allegedly written by former US secretary of state Colin Powell on March 28, 2002 to then president George Bush a week before the US leader's meeting with Blair at his ranch in Crawford, Texas.
"On Iraq, Blair will be with us should military operations be necessary," wrote Powell, in a document the Mail on Sunday published on its website.
"He is convinced on two points: the threat is real; and success against Saddam will yield more regional success," Powell said, referring to former Iraqi leader Saddam Hussein, who was eventually ousted in the 2003 US-led invasion.
The Mail on Sunday said the memo and other sensitive documents were part of a batch of secret emails held on the private server of Democratic presidential candidate Hillary Clinton which US courts have forced her to reveal.
Full Report at:
http://nation.com.pk/international/19-Oct-2015/blair-committed-uk-to-iraq-war-year-before-invasion
---------
UK govt pledges £5mn to fight extremism
19 October 2015
British Prime Minister David Cameron has announced that his government will invest 5 million pounds in 2015 for local initiatives, campaigns and charities to counter extremist ideologies.
In a statement released by the government, Cameron said: "We need to systematically confront and challenge extremism and the ideologies that underpin it, exposing the lies and the destructive consequences it leaves in its wake. We have to stop it at the start -- stop this seed of hatred even being planted in people's minds and cut off the oxygen it needs to grow."
The government will spend £5 million this year to "build a national network of grassroots organizations to challenge all forms of extremist ideology", Cameron announced, only a day before the U.K. government's new Counter-Extremism Strategy.
Full Report at:
http://worldbulletin.net/europe/165405/uk-govt-pledges-5mn-to-fight-extremism
---------
Germany: Xenophobic attack against pro-refugee politician
18 October 2015
A prominent pro-refugee politician has been stabbed in western German city of Cologne on Saturday, in what officials said was a xenophobic attack.
Henriette Reker, an independent candidate running for Sunday's mayoral elections in Cologne, was attacked during an outdoor campaign event by a 44-year-old man who shouted against the refugee policies of the government before being detained by a police officer.
Four other people from the campaign team were also wounded, one of them seriously.
The 58-year-old politician has undergone surgery for serious neck wounds.
Director of Cologne's Police Department Wolfgang Albers said at a press conference that Reker was in stable condition but added that she is "not out of the woods yet".
Police officer Norbert Wagner, head of the police investigation team, said the detained German citizen apparently had xenophobic motivations.
"In his initial testimony the suspect said that he has deliberately targeted Ms. Reker. He also said that he committed this act with a xenophobic motive," Wagner told a news conference.
The suspect was living in Cologne for the past 15 years and was unemployed, he added.
Eyewitnesses said the man shouted "I have to save our society from such people" after the attack.
The prominent politician Henriette Reker was known for her pro-refugee stance and activities for the integration of immigrants in Cologne.
Backed by the Christian Democrats, Free Democrats and the Greens, she has a good chance of securing the mayorship.
The premier of Germany's northern state of North Rhine-Westphalia, Hannelore Kraft, condemned the attack and said that it targeted democracy and the whole society.
Kraft joined representatives of other political parties in the evening in forming a human chain in front of Cologne's City Hall against extremism and in solidarity with Henriette Reker.
German authorities are alarmed by growing violence against refugees and pro-refugee politicians in recent months, as far-right and populist parties exploit growing refugee influx to the country.
Full Report at:
http://worldbulletin.net/europe/165385/germany-xenophobic-attack-against-pro-refugee-politician
---------
Russians protest against Putin's involvement in Syria
18 October 2015
Scores of Russians took to the streets in capital Moscow on Saturday to protest the government's intervention in Syria.
The protest took place in the Suvorov Square, people were chanting slogans against Russian President Vladimir Putin and Syrian President Bashar al-Assad.
The group shouted, "This war is a shame on Russia", "If you want to start a war, declare it against corruption", "Hell is waiting for those who love to bomb for peace".
The demonstration continues under strict security measures, Anadolu Agency correspondent reports.
Full Report at:
http://worldbulletin.net/europe/165384/russians-protest-against-putins-involvement-in-syria
---------
Thousands protest Israel in London
18 October 2015
Thousands of people gathered in front of Israel's London embassy Saturday to protest the escalating violence in the Palestinian territories and violations in holy sites in East Jerusalem.
Various groups, namely Friends of Al-Aqsa, Palestinian Forum in Britain, Muslim Association of Britain and Stop the War Coalition, organized the three-hour rally attended by thousands.
"Palestine don't you cry, we will never let you die!" protesters shouted in solidarity with Palestinians. Some placards read "Stop Israel's war crimes in Palestine".
"There will never be peace without justice for the Palestinians. Well, there is no justice for the Palestinians. We are on the streets of London and throughout Britain, we will continue demonstrating our support and tell 'Palestine is free'," said Andrew Murray, a unionist and one of the representatives from Stop the War Coalition.
Former MP George Galloway, who was among those attended, also commented on the recent situation in Palestine.
Full Report at:
http://worldbulletin.net/europe/165382/thousands-protest-israel-in-london
---------
Slovenia decreases refugee intake to 2,500
Oct 19, 2015
Slovenia has decreased the number of refugees entering the country to 2,500 per day, half of the number it had previously agreed with neighboring Croatia.
On Sunday, Slovenia's Interior Minister Bostjan Sefic said that his country cannot accept Croatia's appeal to take in 5,000 asylum seekers per day arguing that Austria's daily limit for refugee entrance into the country was 1,500.
"If we would accept 5,000 migrants per day that would mean 35,000 would be in Slovenia in 10 days" adding, "that would be unacceptable."
Local media reported that there was not enough room in the country's transit camps especially built for refugees since earlier this year.
Croatia and neighboring Slovenia agreed earlier this week that they would keep their borders open under the condition that Germany and Austria also do the same.
Full Report at:
http://presstv.ir/Detail/2015/10/19/434023/Slovenia-limitation-2500-refugees-entrance-day
---------
Southeast Asia
Indonesia's Aceh province tears down churches after religious violence
October 19, 2015
Authorities in Indonesia's conservative Aceh province on Monday began tearing down several small Christian churches after hardline Muslims demanded their closure, citing a lack of building permits, and following religious violence.
Tensions are high among the ethnically and religiously diverse population of Aceh Singkil, where last week a mob burned down a church, leaving one person dead and forcing thousands of Christians to flee the area.
Armed police and military troops have been deployed to the area and evacuees have returned.
Indonesia has the world's largest Muslim population and the vast majority of its citizens practice a moderate form of the religion.
Aceh is its only province to implement Islamic Sharia law as it was granted autonomy as part of a 2005 peace agreement that ended decades of separatist violence.
Police in Aceh Singkil district used sledgehammers and axes to tear down the churches - little more than small, wooden structures - as Christian members of the community looked on, many of them weeping.
"Whether or not we agree, we are going ahead with it," said Paima Brutu, 35, caretaker of one Protestant church that was closed. He added the church had about 100 members.
"We have applied for the building permit again and again so at this point all we're asking the government is to be allowed to have that permit," he said.
The closures come after a meeting on Sunday of local political and religious figures, including Christians, in which all sides agreed to close the houses of worship, officials present at the meeting said.
Full Report at:
http://thedailystar.net/world/indonesia-removes-churches-after-religious-violence-159562
---------
Malaysia's plan on accepting Syrian refugees still in the works
BY AIZYL AZLEE
October 19, 2015
KUALA LUMPUR, Oct 19 — Putrajaya is still refining plans to take in 3,000 Syrian refugees in stages, Deputy Home Minister Datuk Nur Jazlan Mohamed said.
He added that the government would reference its past work taking in refugees during the Bosnian war to set up the new framework.
"We can form a framework for the Syrian refugees based on lessons learned during the intake of Bosnian refugees," he told reporters after a corporate lunch with the Malaysia-Bosnia and Herzegovina Business Council (MBBC) here today.
Full Report at:
http://themalaymailonline.com/malaysia/article/malaysias-plan-on-accepting-syrian-refugees-still-in-the-works
---------
South Asia
US troop extension hands Afghanistan a lifeline - for now
October 19, 2015
Issam AHMED - The United States' decision to extend its military presence in Afghanistan beyond 2016 has thrown the war-ravaged country's government a much needed lifeline even as its dysfunctionality, blamed for the Taliban's revival, shows no signs of abating.
It has been just over a year since Ashraf Ghani was sworn in as president as part of a US-brokered unity government with his main election rival, former anti-Soviet fighter Abdullah Abdullah, as chief executive.
While the deal was hailed as a breakthrough that had averted a possible ethnic civil war, experts blame the political deadlock it created for allowing the Taliban to regain momentum and unleash a wave of violence not been seen for years.
The insurgents' seizure of the northern regional capital Kunduz last month, though brief, was a stinging blow to Western-trained Afghan forces as they struggle to maintain security after the end of NATO's mission in December.
US President Barack Obama's decision to keep 5,500 troops beyond 2016 has therefore been met with widespread relief by officials and residents, who hope it will prevent the country from becoming a regional hub of terror and violence like Syria.
"The announcement is an important boost to the Afghan army morale, it shows that the world is not leaving them alone," said retired general Atiqullah Amarkhil.
But few are hopeful it can tilt the balance in favour of government forces, with a protracted stalemate seen as one possible scenario, and rising proxy battles between opposing foreign powers another.
Russian President Vladimir Putin's announcement this week that his country would create a joint task force with ex-Soviet states to defend against a spillover in Afghan violence has invoked fears of a fresh Russian-US proxy war in addition to the rivalries already being played out between Saudi Arabia and Iran, and India and Pakistan.
'One truck, two drivers'
"What it is essentially saying is that the Americans and NATO will continue to bankroll the salaries of the Afghan army," said Ahmed Rashid, a Pakistani author and Afghanistan expert.
"Obama's statement wasn't tough enough on the corrupt leadership, which has squandered the opportunities given to it and robbed the country.
.
.
We've seen a year of hopeless governance and there is mounting pressure for a fresh government.
"
At the heart of the problem, insiders say, is the unstable power-sharing deal between Ghani and Abdullah - only ever meant to be temporary arrangement before a more permanent solution was fleshed out by the loya jirga (grand assembly) and a fresh constitution.
"When we first proposed a unity government it was to keep everybody on board so we have a united vision for Afghanistan," said Ahmad Wali Massoud, an ex-ambassador who was close to former president Hamid Karzai.
Full Report at:
http://nation.com.pk/international/19-Oct-2015/us-troop-extension-hands-afghanistan-a-lifeline-for-now
---------
Afghan TV stations face Taliban threat after Kunduz
October 19, 2015
KABUL - Already forced to operate in one of the world's most hostile environments for journalists, Afghan television stations are now being openly targeted by Islamist insurgents in a widening insurgency that threatens cities across the country.
The Taliban's brief capture of the northern city of Kunduz last month, the first time in 14 years of fighting it had taken a provincial centre, underlined how far its military strength has grown since NATO forces ended combat operations last year. Amid reports of summary executions, kidnappings and other abuses, the Taliban also issued a grim warning to two Afghan television stations, Tolo News and 1 TV, designating them as "military objectives".
Both stations had reported allegations of rape by Taliban fighters during the fighting in Kunduz, incensing the militant Islamist movement, which accused them of spearheading a U.S.-sponsored propaganda campaign. It said reporters and offices of the channels would be considered "enemy personnel" and would be "eliminated".
Tolo News, Afghanistan's first 24-hour news channel, has been one of the most active reporting operations in the country for years, employing dozens of journalists, many in volatile provincial areas. "It's unprecedented, I've never seen this," said its director, Lotfullah Najafizada.
Part of Afghanistan's largest private broadcaster, the station has won a reputation for fast, credible reporting in a shifting media landscape that features scores of newspapers, broadcasters and online news sites. It insists it was scrupulous in reporting all sides of the Kunduz fighting, including allowing Taliban spokesmen a right of reply.
"For us, it was the biggest story of the past 14 years," Najafizada told Reuters in an interview at the group's heavily guarded headquarters in Kabul. "We dispatched our biggest team to the city. About 10 reporters were on the ground." Moreover, twenty Afghan would-be migrants bound for Europe were killed in Iran on Sunday when the mini-bus in which they were travelling collided with a truck, state television said. Ten other Afghans suffered injuries in the accident, which occurred between Tehran and the central city of Qom, about 125 kilometres (77 miles) southwest of the capital, the television report said.
The accident happened early in the evening. It comes as authorities in Iran report an influx of Afghans fleeing insecurity in their country, which borders the Islamic republic. The governor of Sistan-Baluchistan province, which borders Afghanistan and Pakistan, warned that Iran needed to prepare for a tide of would-be migrants.
Full Report at:
http://nation.com.pk/international/19-Oct-2015/afghan-tv-stations-face-taliban-threat-after-kunduz
---------
Signs of cracks in ISIS-Khorasan
Oct 19 2015
After Taliban, signs of cracks have been experienced in the lines of Khorasan group of the Islamic State which is also known by its Arabic name 'Daesh'.
Mawlawi Abdul Rahim Muslim Dost who is a senior commander of the Islamic State's so-called Khorasan region and among the first ones who pledged allegiance to Abu Bakr al-Baghdadi has separated ways with Hafiz Saeed Khan, the chief of IS-Khorasan region who was reported dead in July but later the reports were turned down by the group.
Mawlawi Muslim Dost accuses Hafiz Saeed Khan of "killing, arresting and insulting people" in violation of Islamic principles. "We had wholeheartedly welcomed and declared full support to Hafiz Saeed Khan after he was appointed IS chief for Khorasan region. But he unleashed cruelty, took the people to ignorance, violating Islamic injunctions and humiliated Afghans," Dost says in a statement as per the report of a Pakistani news agency that publishes most of the Taliban and Daesh stories.
Full Report at:
http://khaama.com/is-khorasans-muslim-dost-separates-ways-with-hafiz-saeed-khan-4011
---------
Heavy Clashes between Security Forces and Taliban in Herat Province
Oct 19 2015
Heavy clashes have been erupting between security forces and Taliban militants in Shindand District of western Herat province.
A source who did not want to be identified said that Taliban have stormed the district center and trying to reach to the governor's house and police HQ.
Full Report at:
http://khaama.com/breaking-news-heavy-clashes-between-security-forces-and-taliban-in-hearts-shindand-district-4012
---------
Traffic accident leaves 20 Afghan migrants killed in Iran
By ZABIHULLAH MOOSAKHAIL
Oct 19 2015
20 Afghan migrants have lost lives in a traffic accident in Iran, the country's state TV reported on Sunday.
The crash took place on the road between Iran's capital Tehran and the city of Qom. It involved a mini-bus, a truck and a car. 10 other Afghans were also wounded in the accident.
Mohammad Hussain, chief officer of the country's road police said that the victims were illegal migrants who had crossed the border into Iran illegally.
Following a rapid increase in insecurity, poverty and lack of job opportunities, thousands of Afghans leave the country every month.
Full Report at:
http://khaama.com/traffic-accident-leaves-20-afghan-migrants-killed-in-iran-4010
---------
Pakistan says breakthrough expected in stalled Afghan Taliban-Government talks
Oct 19 2015
Pakistani premier Mohammad Nawaz Sharif left on a state visit to Washington on Monday. Beside other issues, he is expected to talk to U.S. officials about the Afghan reconciliation process.
A high ranking Pakistani official is quoted by the country's The Express Tribune news agency as saying that the halted talks between Afghan government and Taliban may resume soon.
The unnamed official has also said that the resumption of peace talks is arranged by behind-the-scene efforts of Pakistan and other stakeholders and that some progress is expected in the coming days.
Full Report at:
http://khaama.com/pakistan-says-breakthrough-expected-in-stalled-afghan-taliban-government-talks-4009
---------
SQ Chy wants deposition of 5 Pakistanis
October 19, 2015
Condemned war criminal Salauddin Quader Chowdhury today filed a petition praying to the Supreme Court to record statements of eight persons including five Pakistanis during hearing of his review petition.
A lawyer of BNP leader Salauddin submitted the petition at the appeal section of the apex court in the morning.
The five Pakistani citizens are: Mohammad Mian Soomroo, former caretaker prime minister of the country; Ishak Khan Khakwani, former rail minister; Amber Haroon Saigol, chairman of Dawn Group; and Munib Arjamand Khan, a social worker and Riaz Ahmed Noon, grandson of Viqarunnisa Noon.
The three others are Osman Siddik, former ambassador of USA to Fiji, Shamim Hasnain, a High Court judge of Bangladesh, and his mother Zinnat Ara Begum.
Confirming the names, Salauddin's lawyer Md Huzzatul Islam told The Daily Star that the petition will be placed before the SC chamber judge tomorrow for fixing a date for hearing.
Khandker Mahbub Hossain, principal counsel for Salauddin, told reporters that his client was not in Bangladesh from March 29, 1971 to April 1974 as he went to Pakistan for studying at Panjab University.
Full Report at:
http://thedailystar.net/country/sq-chy-wants-deposition-4-pakistanis-sc-review-159565
---------
48 Jamaat-Shibir men held in Ctg, Rangpur
October 19, 2015
Police arrested 48 leaders and activists of Jamaat-Shibir in Chittagong and Rangpur yesterday and on Saturday.
Full Report at:
http://thedailystar.net/city/48-jamaat-shibir-men-held-ctg-rangpur-159469
---------
In Burma's historic elections, a Muslim minority is banned from voting but still the focus of the campaign
By Philip Sherwell
19 Oct 2015
In the wretched and sprawling internment camps for Rohingya Muslims strung along the cyclone-battered Bay of Bengal, Burma's unpredictable experiment in democracy next month is already a non-event.
There are no rallies, no posters, not even any candidates, for landmark elections as the minority Muslim community here has been wiped from the voting lists by official decree under controversial citizenship rules.
The Rohingya may not be able to cast a ballot on November 8, but they are still at the centre of an election campaign increasingly tainted by anti-Muslim sentiment fuelled by Buddhist nationalist politicians and radical monks.
Aung San Suu Kyi, the opposition leader who has been drawing huge crowds at rallies across the country, also kept her distance from the camps in her first campaign foray into Rakhine state - the scene of sectarian bloodletting between Buddhists and Muslims.
The Nobel laureate has been criticised on the international stage for her failure to speak out about the desperate plight of the Rohingya, largely confined to internment camps since the 2012 violence.
But inside Burma, also known as Myanmar, she has been attacked by Buddhist hardliners for being too sympathetic to the Muslim minority. And in Rakhine, she made her clearest call yet for an end to religious hatred and discrimination.
"It is very important that all people regardless of religion living in our country must be safe," Ms Suu Kyi declared.
She also gave short shrift to a Buddhist constituent who asked her about rumours that the NLD would oversee a "takeover" of the country by Muslims, who form about five per cent of the population.
It is a fear expressed repeatedly by Buddhist nationalists across the country. But Ms Suu Kyi was forthright in her response, saying the question itself risked "inciting racial or religious conflict."
While anti-Muslim feelings are growing across Burma, the Rohingya of Rakhine state are particularly reviled. Corralled in camps behind military checkpoints after the communal bloodshed three years ago, many have risked their lives fleeing on rickety trafficker boats as South East Asia's "boat people."
"We can't go anywhere," one community elder told The Telegraph. "At least the blacks in South Africa could leave the bantustan homelands created by the Afrikaaners to go to work, we can't even do that. We're trapped."
Rohingya leaders insist that they have roots in Burma dating back centuries, but the country's government has long viewed them as illegal Muslim interlopers from neighbouring Bangladesh. The Burmese do not even accept the name Rohingya, instead calling them "Bengalis".
Their plight as a stateless unwanted people was already pitiful. But in the former British colony's venture towards a new, democratic era after five decades of military dictatorship, they are losers before any votes are even cast.
Buddhism has a reputation as a religion of peace and tolerance, but a new breed of firebrand Burmese monk has exerted its political clout by stoking the anti-Islamic feeling during the campaign.
Full Report at:
http://telegraph.co.uk/news/worldnews/asia/burmamyanmar/11939177/In-Burmas-historic-elections-a-Muslim-minority-is-banned-from-voting-but-still-the-focus-of-the-campaign.html
---------
India
Mumbai policemen thrash Muslim youths, tell them to 'go back to Pakistan'
by Srinath Rao
Tabassum Barnagarwala
Oct 19, 2015
The Mumbai Police has ordered a probe into allegations by two Muslim youths that they were told to go to Pakistan by a police constable inside the Bandra police station early on Saturday morning before being brutally assaulted in custody. The police has so far insisted that the young men were taken to the police station after creating a ruckus and assaulting a policeman. Mahim residents Asif Shaikh and Danish Shaikh — both 19 — were allegedly assaulted between 2 am and 6.30 am on Saturday, leaving the former hospitalised and the latter hurt. Deven Bharti, Joint Commissioner of Police (Law and Order) said, "DCP Zone IX has started his inquiry. He should be given some time to speak to both sides. We are recording statements of the so-called victims and also of the police officers. If there are allegations, they should come forward with some proof." While Maharashtra Chief Minister Devendra Fadnavis was yet to react, Minister of State for Home Ranjit Patil said the CM will speak after a proper briefing on the issue on Monday. "I absolutely refute the allegation that they were told to go to Pakistan. It is also incorrect to blow up a single stray incident. Two other Muslims are witnesses in the case. There is no question of the police having asked the boys to go to Pakistan," said a senior BJP leader. Asif, meanwhile, is undergoing treatment at Bandra's Bhabha Hospital. "He is stable. He has bruises on his back. He also sustained a fracture," said the hospital's superintendent, Dr P Jadhav. Asif suffered a fracture in the little finger of his left hand. Recalling the alleged assault at the Police station, Asif told The Indian Express, "They had handcuffed me. I was stripped and beaten by eight police officers. At one point they threatened to use oil as a tool to torture…I cried and begged them to stop. I even questioned about the reasons to beat me up. That agitated them further." "The room doesn't have a CCTV camera. Asif was hit with bamboo sticks and belts on his back, shoulders and legs. He was told to remove his clothes and beaten. He was also handcuffed to a table," said advocate Rahul Dangle, who has known both boys for more than a decade. While Asif works at a fitness centre and aspires to become a model, Danish is a school student. However, Satya Narayan Choudhary, Deputy Commissioner of Police, Zone IX, said that the boys were booked for a scuffle and charged with assaulting a policemen. "There was a fight between two groups at Galaxy Apartments. We arrested them and charged them under Section 353 of the IPC. All the other allegations are the subject of an inquiry," he said. Dangle disputed the theory, claiming that an inspector had instead tried to get the boys to sign undertaking that they had been injured by a mob outside the Galaxy Apartments. Asif's uncle Mohammad Hassan said, "We tried to get him admitted at Bhabha hospital in Bandra on Saturday morning. The doctors kept him on a stretcher but refused to admit him. There was immense police pressure. Until now, no FIR has been lodged. No officer has come to record his complaint."
http://indianexpress.com/article/cities/mumbai/mumbai-cops-thrash-2-muslim-youth-ask-them-to-go-to-pakistan/#sthash.ZsF0l1oA.dpuf
---------
Banning cow slaughter against Constitution: Kerala Muslim cleric
by Shaju Philip
Thiruvananthapuram
Oct 18, 2015
Joining the debate on cow slaughter, orthodox Muslim cleric Kanthapuram Aboobacker Musaliyar on Saturday said the argument that cow should not be killed was "against the Constitution". Addressing a community outfit's function in Kannur, the prominent Sunni leader said that it was against the Constitution to say that cow should not be slaughtered on the ground that the animal was worshipped.
Full Report at:
http://indianexpress.com/article/india/india-news-india/unconstitutional-to-say-cow-shouldnt-be-slaughtered-kerala-sunni-leader/#sthash.jKwSEliX.dpuf
---------
Talks with Pakistan cricket chief cancelled as Sena workers barge into BCCI office
Oct 19, 2015
Shiv Sena workers on Monday stormed into the BCCI headquarters in Mumbai shouting anti-Pakistan slogans ahead of a meeting between PCB and BCCI officials over resumption of cricket ties. The meeting between the two cricket boards now stands cancelled, news agency ANI reports. On Sunday, Pakistan Cricket Board Chairman Shaharyar Khan and head of the PCB's executive committee Najam Sethi arrived in Mumbai hoping to convince the BCCI to confirm the bilateral series in December.
Besides their meeting with the new BCCI President Shashank Manohar, Khan and Sethi are expected to meet Secretary Anurag Thakur along with other government officials in New Delhi. "The trip is being made on the invitation of Shashank Manohar who took over as the new Indian cricket chief," a official in the PCB said. Khan had also discussed the planned series with BCCI secretary Anurag Thakur on the sidelines of the ICC meeting in Dubai. Thakur had assured him a final decision could be taken later this month and conveyed Manohar's invitation to visit India to Shaharyar. A reliable source in the PCB said Khan and Sethi had both gone to India after holding discussions with the government's National Security Advisor Sartaj Aziz.
Full Report at:
http://indianexpress.com/article/india/politics/shiv-sena-workers-storm-bcci-office-shout-anti-pak-slogans-ahead-of-meet-with-pcb/#sthash.4L6bdJ7h.dpuf
---------
Sudhir panel to fast-track Muslim quota
Syed Amin Jafri
Oct 19, 2015
HYDERABAD: After initial hiccups and delays, the commission of inquiry on socio-economic conditions of Muslims, constituted by Telangana government, has begun its task in right earnest.
The commission, headed by former special chief secretary G Sudhir, has conducted public hearings in half-a-dozen districts so far and proposes to fast-track its work to meet deadline of 31st March 2016.
The commission was constituted under the commissions of inquiry act on 3rd March 2015 to study the socio-economic and educational conditions of Muslims in the state of Telangana with a view to enable the government to formulate policies for the amelioration and upliftment of Muslims so as to bring them on par with other sections of society.
The government nominated two members-Dr Ameerullah Khan, development economist and visiting faculty at Indian School of Business, and Dr Abdul Shaban, professor and deputy director at Tata Institute of Social Sciences (Mumbai)-to the commission and sanctioned the supporting staff only on 30th July. Sudhir Commission has been tasked with 9 terms of reference which, inter alia, include intensive survey on the educational and health indicators of Muslims, their representation in government/quasi-government and private sector employment, access to bank credit, availability of government welfare infrastructure and institutional mechanism for implementation of the welfare schemes in Muslim-dominated areas.
But the key job entrusted to the commission is to recommend measures for removal of impediments in the provision of reservations in education and employment to poor, deserving Muslims in the State, since the TRS government has promised to raise the quantum of quota for socially and educationally backward sections of Muslims under BC "E" category.
The success of the commission would be determined mainly by what it suggests to make the 12 percent quota legally, procedurally and factually tenable.
The backward class reservations in united Andhra Pradesh dated back to the erstwhile Hyderabad and Andhra states.
BC quota was raised to 25 percent in AP and the 93 BC communities were categorised into four groups (A, B, C, D) in 1970.
The reservations were extended to backward sections of Muslims only in 2004 with the addition of "E" group to BC list. The quantum of quota for "E" group was fixed at five percent. Thus, began the protracted legal battle against "Muslim" quota.
Soon, the AP High Court quashed the government order on inclusion of Muslims in the BC list. The government promulgated an ordinance in 2005, providing 5 percent quota for backward Muslims. However, the ordinance, too, was struck down by the High Court. Subsequently, the government promulgated another ordinance in 2007, restricting the reservations to 14 groups of socially and educationally backward class (SEBC) Muslims and reducing the quantum to four percent.
This legislation, too, was overturned by the High Court. On an appeal by the state government, the Supreme Court permitted the state to provide 4 percent quota in government jobs and education for SEBC Muslims and referred the issue to a special bench to go into its constitutional validity.
Full Report at:
http://timesofindia.indiatimes.com/city/hyderabad/Sudhir-panel-to-fast-track-Muslim-quota/articleshow/49445998.cms
---------
Pakistan
Tribal People to Decide Fate of FATA: PML-N Senior Vice President
Oct 19, 2015
PESHAWAR: The decision about merger of Fata into Khyber Pakhtunkhwa would be taken by the tribal people themselves, said PML-N senior vice president Eng Amir Muqam.
Talking to journalists here on Sunday, he said that no one had the right to comment on merger of Fata into Khyber Pakhtunkhwa as the decision would be taken by tribal people.
He said that government wanted to bring Fata at par with the developed areas and give the tribal people all the facilities available to other citizens of the country.
Mr Muqam, who is also adviser to the prime minister, said that people of Federally Administered Tribal Area were also citizens of the country and had similar rights as other citizens. The government wanted to take all possible steps for welfare of the tribesmen, he added.
About the Kalabagh dam, the PML-N leader said that it was a technical issue but some people politicised it. He said that none of the political governments could initiate work on the project without taking all the provinces into confidence. He said that politicians should not use it for settling political scores.
PML-N leader terms Kalabagh dam a technical issue
Mr Muqam said that Khyber Pakhtunkhwa government failed to come up to the expectations of people. He said that people knew about the inability of provincial government to mitigate their sufferings.
He said that PTI lost ground in the province as it was manifested during the recently held local government elections.
He said that PTI was facing serious internal rifts in all the cities and that was why it lost by-election in Okara. Its workers had started raising voices against the party leadership owing to different reasons, he added.
Mr Muqam claimed that only PML-N had the capability to serve the nation. Prime Minister Mian Nawaz Sharif successfully pleaded the case of the country at the general assembly of United Nations, he said.
Full Report at:
http://dawn.com/news/1213993/tribal-people-to-decide-fate-of-fata-muqam
---------
US resolution calls for supporting democracy in Pakistan
Oct 19, 2015
WASHINGTON: A resolution moved in the US Congress urges American lawmakers to reaffirm their support for strengthening the democratic process in Pakistan.
The resolution, moved by Representative Sheila Jackson Lee, who co-chairs the Congressional Pakistan Caucus, and Representative Joe Pitts, also welcomes Prime Minister Nawaz Sharif on his official visit to the United States, which begins on Oct 20.
The resolution expresses solidarity with the people of Pakistan in their struggle against terrorism and supports strengthening of the democratic process in the country.
It also "reaffirms friendship and strategic partnership with a democratic Pakistan".
The resolution "encourages and supports ongoing cooperation between the United States and Pakistan in a range of areas, including security, economic development, strengthening of democratic institutions, education, and trade".
It recognises that the people of Pakistan "have consistently aspired to democracy and rule of law".
The resolution recognises Mr Sharif as a democratically elected leader and as "a symbol of the first successful democratic transition in Pakistani history".
It notes that Pakistanis have been victim of attacks by Al Qaeda and other terrorist networks and more than 50,000 Pakistanis have lost their lives in these assaults.
It also notes that terrorists have targeted schools, including the Army Public School, Peshawar, where 140 schoolchildren were killed in a gruesome attack in December 2014.
According to the resolution, Pakistan has undertaken successful military operations against militants in the border areas at a huge material and human cost.
It notes that Mr Sharif is leading implementation of the National Action Plan to defeat terrorism so that all Pakistani communities, including religious and ethnic minorities, can live safely.
Full Report at:
http://dawn.com/news/1214020/us-resolution-calls-for-supporting-democracy-in-pakistan
---------
Pakistani military controlling Nawaz government: TIME
October 19, 2015
Appointment of retired general to key security role seen as military attempt to have greater sway Pakistan plans to appoint a recently retired army general as its new national security advisor, senior officials have told Reuters, indicating yet another step forward in the Pakistani military's effort to increase its control of the country's government.
Lieut. General Naseer Khan Janjua will soon be appointed to the key diplomatic and strategic post and will accompany Pakisani Prime Minister Nawaz Sharif on an upcoming visit to the U.S., Reuters cited one military and two civilian officials as saying.
Janjua retired from the armed forces last week and will reportedly replace current national security advisor Sartaj Aziz, who also holds a key post in the Ministry of Foreign Affairs.
"The army chief feels that Sartaj Sahib's attention is divided," the military source told Reuters. "So it has been decided that General Janjua will be appointed the national security adviser and Sartaj Aziz can give his full attention to the foreign office."
In his new role, Janjua will oversee Pakistan's security affairs, including negotiations with nemesis India.
Aziz is a key confidante of Sharif, who was deposed by a military coup during his previous term as Prime Minister in 1999 before being re-elected in 2013.
Sharif has often been at odds with the military leadership during his current term as well, adopting a far more reconciliatory attitude towards India than the military would like (although the strategy that has thus far failed to improve frosty relations between two countries that have fought three wars since their independence in 1947).
Scheduled bilateral talks between Aziz and his Indian counterpart in September were called off at the last minute over a disagreement on the agenda — with Pakistan insisting that the disputed region of Kashmir must be part of the dialogue and India demanding it be restricted to Pakistan's alleged sponsorship of cross-border terrorism.
Full Report at:
http://nation.com.pk/national/19-Oct-2015/pakistani-military-controlling-nawaz-government-time
---------
Pakistan to seek US role in repatriation of Afghan refugees
October 19, 2015
Maqbool Malik
ISLAMABAD - Pakistan will seek US role in evolving a meaningful roadmap for repatriation of millions of Afghan refugees in addition to discussing other key issues during the visit of Prime Minister Nawaz Sharif beginning on Monday (today).
"Repatriation of Afghan refugees is also on the agenda of Prime Minister when he meets the US President Obama", a senior Pakistani diplomat told The Nation, stating'repatriation of refugees is part of Afghan issue'.
Other important issues that will figure high during the meeting are enhancing bilateral cooperation in defence, civil nuclear programme and trade and investment, the official added while requesting anonymity.
Repatriation of refugees gained significance because of security concerns that have increased following the two major terrorist attacks including PAF Badaber base, Peshawar and Army Public School believed to have been engineered in Afghanistan.
Islamabad is indecisive to implement the looming December 31 deadline for the repatriation of more than three million Afghan refugees after requests from UNHCR and Afghan government to extend the deadline for next two years.
In August, Kabul had requested Islamabad to register Afghan refugees to stay on in Pakistan for another two years.
But Islamabad is shying away to respond to these requests and instead wants the role of the US to help facilitate early repatriation.
As an interim strategy, Islamabad is encouraging voluntary repatriation of registered Afghan refugees and has launched Rs 170 million comprehensive programme to register Afghans who are illegally living in Pakistan.
The programme has started across the country and a 100-member Afghan delegation would soon visit Pakistan to monitor the registration of illegal Afghan nationals in Pakistan.
In June, UNHCR chief António Guterres had requested Islamabad to review the December 31 deadline and do not force the Afghan refugees to leave Pakistan.
In his meeting with Adviser on National Security and Foreign Affairs, Sartaj Aziz, Guterres had stressed the need for drawing up a 'viable roadmap' for the return of Afghan refugees.
A statement issued by the Foreign Office at that time said that issues related to Afghan refugees in Pakistan and their voluntary repatriation back to their homeland were discussed during the meeting.
Full Report at:
http://nation.com.pk/national/19-Oct-2015/pakistan-to-seek-us-role-in-repatriation-of-afghan-refugees
---------
Ex-army man Janjua to be appointed NSA: sources
Oct 19, 2015
ISLAMABAD: Lieutenant General (retd) Nasir Khan Janjua is to be appointed to the post of National Security Adviser (NSA) soon but Sartaj Aziz will likely retain his post as Adviser to the Prime Minister on Foreign Affairs, well placed sources told Dawn.com.
The decision was made in principle during high-level consultations between Chief of Army Staff General Raheel Sharif and Prime Minister Nawaz Sharif last week, but a notification is expected to be issued once the premier returns from the United States.
Janjua will be the second military official to hold the post after Major General (retd) Mehmood Durrani who was NSA during the PPP last government.
It is unclear as to why the sudden change in post is being made, though some military sources are speculating the decision was made so that Aziz could focus his attention entirely on foreign affairs.
Full Report at:
http://dawn.com/news/1214124/ex-army-man-janjua-to-be-appointed-nsa-sources
---------
Pakistan well aware of threats to its nuclear sites: US
Oct 19, 2015
WASHINGTON: "Pakistan has a professional and dedicated security force that understands the importance of nuclear security," says the US State Department.
"We have confidence that the government of Pakistan is well aware of the range of potential threats to its nuclear arsenal," said a State Department spokesperson, Helaena White.
The statement, sent to Dawn in response to a query, indicates a recent lessening of concern in Washington about Pakistan's nuclear programme. The assurance also follows a series of reports in the mainstream US media that the United States is willing to offer a deal to Pakistan, which would legitimise its nuclear programme, as a similar deal did for India.
Also read: US considering nuclear deal with Pakistan: report
The proposed deal, according to the US media, would also be discussed in a meeting between Prime Minister Nawaz Sharif and US President Barack Obama when the two leaders meet at the White House on Oct 22. The prime minister reaches Washington on Tuesday on a two-day official visit.
Reports about the deal followed a claim that Pakistan has the world's fastest growing nuclear programme and is capable of making up to 200 nuclear devices by the year 2020.
The claim, by the influential Council on Foreign Relations, led to speculations in the US media that this "fastest growing nuclear arsenal" was a threat to world peace as Pakistan was not strong enough to defend its weapons against possible terrorist threats.
But the media gave another spin to this story following reports that Pakistan and the United States had been "secretly discussing a nuclear deal". Now they argue that a deal could secure those weapons by placing certain restrictions on the reach and quantity of Pakistan's nuclear devices.
Full Report at:
http://dawn.com/news/1214026/pakistan-well-aware-of-threats-to-its-nuclear-sites-us
---------
Terrorism unacceptable in all forms, says SC judge
October 18, 2015
Islamabad - Justice Dost Muhammad Khan says the curse of terrorism is a global issue but Pakistan bears the brunt of it. Terrorism is unacceptable in all its forms and manifestations in this beautiful world.
The Supreme Court judge expressed these views in the certificate awarding ceremony at the conclusion of a six-day national training of trainers workshop for judges, prosecutors and investigators on global legal framework against terrorism and relevant criminal justice response measures here at the Federal Judicial Academy yesterday.
He said, "The UN is the best forum to counter terrorism where the member countries share their strategies and best practices to counter terrorism. We all have to resolve to take pragmatic steps individually and collectively to prevent and combat this scourge competently and effectively."
Regarding the capacity and coordination of relevant organisations, he said, "We must have to build the capacity of our key players of criminal justice system and other relevant institutions in accordance with international practices. Our organisations must have to increase their coordination to effectively confront and eliminate this menace, once and for all. I appreciate the UNODC capacity-building efforts which arranged this national training workshop in the Federal Judicial Academy. It is the "Qaumi Amanat" (national guardianship) whatever you have learnt here in this workshop must put in practice and share with others to create a terrorism-free country."
Full Report at:
http://nation.com.pk/islamabad/18-Oct-2015/terrorism-unacceptable-in-all-forms-says-sc-judge
---------
Africa
Daesh video shows man dragged to death in Libya
Oct 18, 2015
The Daesh Takfiri group has released video footage purportedly showing the macabre executions of two men in Libya.
In the recently released video, verified by the SITE Intelligence Group, two alleged Libyan militants are put to death by the terrorists in an ISIL controlled part of the northeastern city of Derna.
In the footage, an orange jumpsuit clad man, identified as 43-year-old Rushdi Ageela Omran al-Masouri, can be seen being handcuffed, tied to a vehicle, and then dragged to his death.
Masouri had allegedly confessed to harboring a weapons stash at his home.
A screen grab from a video released by the Daesh Takfiri terrorist group on October 17, 2015 shows a man digging his own grave before being shot in the head.
Full Report at:
http://presstv.ir/Detail/2015/10/18/434001/Daesh-Libya-execution-spy-
---------
Suicide attack at Nigeria army base foiled
Oct 19, 2015
KANO: Nigerian soldiers shot dead a suspected suicide bomber outside a military base in the northeast on Sunday, detonating explosives concealed in her handbag, a civilian vigilante and a military source said.
The target was thought to be the Maimalari army barracks — the main military base in Maiduguri, which has been hit repeatedly in recent months by Boko Haram Islamists.
"Soldiers at Maimalari army barracks this morning (Sunday) foiled a suicide attack by a female bomber," said Babakura Kolo, from the civilian volunteer force assisting troops against the rebels.
Full Report at:
http://dawn.com/news/1214040/suicide-attack-at-nigeria-army-base-foiled
---------
Sudan sends ground troops to Yemen
October 19, 2015
ADEN - A battalion of Sudanese troops arrived in Yemen's southern port city of Aden on Saturday, military officials said, bolstering Saudi-led Arab forces trying to keep out the Iran-backed Houthis and curb the growing presence of Islamist militants.
Aden, a strategic port and shipping hub, became the seat of the Yemeni government earlier this year after the Houthis, a clan from northern Yemen which follows the Zaydi branch of Shiaism, seized the capital Sanaa and forced President Abd-Rabbu Mansour Hadi to flee to the south.
A military source in Aden said that 300 Sudanese soldiers and officers arrived by sea on Saturday. Their purpose was to "help maintain security for the city against the Houthis and Saleh," the source said, referring to former President Ali Abdullah Saleh, whose supporters have sided with the Houthis.
Hadi escaped to Saudi Arabia as the Houthis advanced towards Aden in March and has since been back only for a brief visit. But Prime Minister Khaled Bahah returned after anti-Houthi fighters, backed by the Arab coalition, drove the Houthis and their allies out of the city in July. However, they have not managed to restore security there. Islamist militant suicide bombers killed 15 people in attacks on the Yemeni government's headquarters and Arab coalition outposts in Aden on Oct. 6.
"Our troops in Yemen are ready to do their military task under the command of the alliance military leadership," Sudanese army spokesman Brigadier General Ahmed Khalifa Alshami said. "Sudan is committed to restore legitimacy in Yemen."
The Arab coalition says its aim is to restore Hadi's government to power in Yemen. At least 5,400 people have died since it began an air offensive in March.
The Arab coalition spokesman, Brigadier General Ahmed al-Assiri confirmed the arrival of the Sudanese troops to Arab television channels.
They will join contingents from the United Arab Emirates, Saudi Arabia and Bahrain on the ground.
In Aden, residents report that armed men, including Islamist militants associated with al Qaeda, roam the streets. Unidentified gunmen killed a UAE national in Aden on Saturday at a shop, according to a local security source. The UAE state news agency WAM reported that a coalition soldier had died but gave no further details.
Meanwhile, Yemen's government will attend UN-sponsored talks with the Houthis and their allies, a government spokesperson said on Sunday, in a fresh bid to end months of fighting that has killed more than 5,000 people.
Full Report at:
http://nation.com.pk/international/19-Oct-2015/sudan-sends-ground-troops-to-yemen
---------
Misrata's biggest force refuses Leon government
19 October 2015
The Central Shield Force of Libya , the biggest military force in Misrata, has rejected Leon's proposed government, describing it as a trusteeship government according to a report in the Libyan Observer.
Commander of the Force Colonel Hassan Shakah confirmed in a statement that the dialogue is the only way out of the current crisis; however, the proposed unity government does not reflect the spirit of the national reconciliation necessary for the success of the political agreement.
"We support any dialogue outcomes that unite Libyans and lead to a consensus government that can preserve 17 February constants, without any foreign trusteeship." He said.
"Leon's government, which he described as consensual, is far away from consensus. It wasn't formed by consultation of Libyan people's representatives; it was dictated by foreign powers." He added.
Full Report at:
http://worldbulletin.net/africa/165411/misratas-biggest-force-refuses-leon-government
---------
North America
Obama announces adoption of Iran nuclear deal
19 October 2015
U.S. President Barack Obama announced Sunday the official "adoption" of the nuclear deal between P5+1 countries and Iran.
It marks the launch of the Joint Comprehensive Plan of Action (JSPOA) -- as the deal is officially known -- after the end of a procedural 90-day period since the UN Security Council passed a resolution approving the deal on July 20.
The landmark agreement, signed on July 14, provides Tehran with economic relief from biting sanctions in exchange for unprecedented inspections and curbs on its nuclear program.
In practice, however, the "Adoption Day" does not mean an immediate sanctions relief. An Implementation Day will be the next milestone, signifying the achievement of concrete action by Iran.
Tehran must presumably wait until Dec. 15 for the removal of sanctions to begin, when the International Atomic Energy Agency (IAEA) is expected to issue a final report on its nuclear activities.
Full Report at:
http://worldbulletin.net/america-canada/165407/obama-announces-adoption-of-iran-nuclear-deal
---------
Kerry calls Netanyahu, Abbas over Palestinian unrest
17 October 2015
U.S. Secretary of State John Kerry called Israeli Prime Minister Benjamin Netanyahu and Palestinian President Mahmoud Abbas over the recent Israeli-Palestinian conflict late Friday.
According to a statement from the State Department, he expressed his "deep concern over the recent wave of violence and offer[ed] his support for efforts to restore calm as soon as possible".
Kerry also made clear to the Palestinian leader that the U.S. would remain engaged with the leaders of the two communities to restore calm.
The recent clashes have erupted between Israeli forces and Palestinian Muslims who are prevented from attending prayers at Al-Aqsa Mosque in Jerusalem's Old City.
As Israeli authorities have prevented men under 40 years old from entering the Al-Aqsa Mosque compound, violence has spread across Palestinian cities.
Since Oct. 1, seven Israelis and more than 30 Palestinians, including several children, have been killed in clashes.
Full Report at:
http://worldbulletin.net/america-canada/165364/obama-announces-adoption-of-iran-nuclear-deal
---------
Trump and Bush spar over 9/11 attacks
Oct 19, 2015
NEW YORK: The often outspoken Republican presidential candidate Donald Trump has suggested that former president of the United States, George W. Bush is to blame for the 9/11 terrorist attacks, according to the New York Post newspaper.
Trump was speaking at a rally about national emergencies, such as the 9/11 attacks of 14 years ago, when he began discussing his qualifications to be president. The real estate mogul quickly put himself over, stating that he would not only be a better candidate than his current competitors, but also presidents of the past, the Post report said.
Jeb Bush, brother of former president fired back at Donald Trump in a CNN interview. He said he had doubts about Trump's qualification and credibility as the next president of the country.
Full Report at:
http://dawn.com/news/1214042/trump-and-bush-spar-over-911-attacks
---------
Pro-Palestinian protesters rally across US
19 October 2015
Thousands of people marched across the U.S. in support of Palestinians, and against Israeli use of force in the ongoing Palestinian-Israeli tensions witnessed in New York and Chicago on Sunday.
"Free Palestine," the protesters chanted as they waved a massive Palestinian flag making their way down Manhattan to Times Square, where the crowd grew larger. Shutting down traffic, the activists took turns addressing the public.
Hosted by NYC Students for Justice in Palestine as part of NY4Palestine wider movement, the crowd condemned Israel's aggression in the recent violence recently on the rise across Israel, the West Bank and Gaza.
Some Jewish activists joined the rally in support of the Palestinian cause and in protest to PM Benjamin Netanyahu's policies as well, arguing that the state of Israel does not represent world Jewry.
Full Report at:
http://worldbulletin.net/america-canada/165412/pro-palestinian-protesters-rally-across-us
---------
UK Bishops Urge Gov't to Take More Refugees
18 October 2015
LONDON – Scores of bishops of the Church of England have criticized the British government's decision to accept 20,000 Syrian refugees by 2020, describing it as "disheartening" and frustrating.
"As the fighting intensifies, as the sheer scale of human misery becomes greater, the government's response seems increasingly inadequate to meet the scale and severity of the problem," Bishop of Durham, the Rt Rev Paul Butler, told BBC on Sunday, October 18.
"There is an urgent and compelling moral duty to act which we as bishops are offering to facilitate alongside others from across civil society."
Rev Butler was commenting on UK's decision to accept 20,000 by 2020. UK has also provided £1bn in aid to Syria, with an extra £100m given to charities to help thousands displaced by the conflict.
Downing Street said the government wanted to tackle "the causes and consequences" of the refugee problem and that the UK was the second biggest donor in the world towards helping refugees in Syria, Lebanon, Jordan and Turkey.
Criticizing the decision, 84 Church of England bishops wrote to David Cameron last month, saying it was not adequate and most people wanted to offer more help.
Bishop of Manchester David Walker, a signatory, said he had come under pressure from parishioners to encourage action.
Full Report at:
http://onislam.net/english/news/americas/495227-uk-bishops-urge-govt-to-take-more-refugees.html
---------
URL: https://www.newageislam.com/islamic-world-news/new-age-islam-news-bureau/saudi-juvenile-offender-al-nimr,-being-referred-to-as-'that-shia-boy'-could-be--beheaded-imminently-/d/104977