New Age Islam News Bureau
10 Apr 2015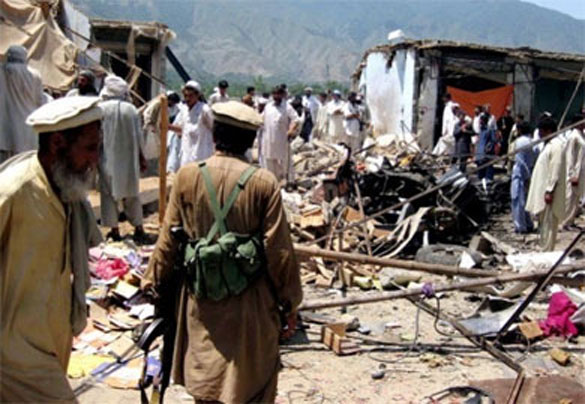 TTP Bajaur Leaders Declare Allegiance to Islamic State PHOYO: AFP
-----------
Arab World
• Saudi Fatwa Allowing Husbands to Eat Wives Unsubstantiated
• 2 Bombings Kill 11 People in Iraq: Officials
• Hezbollah: Saudi Arabia Intimidates Lebanese Gov't, Media
• Egypt Army Killed 29 Suspected Militants in North Sinai This Week
• Reports: ISIL Loses Control of Three Large Iraq Oil Fields
• ISIL holding 50 civilians after raid on Syria village: monitor
• Top Saudi Cleric's Fatwa Allows 'Man to Chop off and Eat Wife' When Extremely Hungry
South Asia
• 10 People Killed, 70 Wounded In Mazar-i-Sharif Attack
• Another Tragedy As IED Kills 12 Members of Family In Ghazni
• Taliban suicide bomber strikes Nato convoy in Afghanistan
• EU renews call to commute death sentences in Bangladesh
• Rooting out extreme poverty should top agenda
• The Muslims of Xi'an, China
Pakistan
• TTP Bajaur Leaders Declare Allegiance to Islamic State
• 23 Suspected Militants Killed In Tirah
• 10% of Hyderabad madrasas built on state land, says report
• Middle East conflict: Zardari advises govt to convene Islamic summit
• PM urges Muslim countries to promote restraint on Yemen's issue
Mideast
• Ayatollah Khamenei Warns Saudis of Dire Repercussions of Yemen Invasion
• Senior Houthi and Saleh Militia Killed In Coalition Air Strikes
• Turkey arrests 17 soldiers over 'Syria arms interception'
• European Parliament president calls Turkey's social media ban 'inappropriate'
• ISIL must be defeated, says former Turkish President Gül
• Indictment argues the pro-Gülen 'terror gang' wanted to build 'cemaat state'
• Israeli Forces Seize 1,000 Dunums of Palestinian Lands in Al-Khalil
Southeast Asia
• 'Black Day' For Free Speech as Malaysia Amends Sedition Law
• Cops Inspect Tanah Abang Bomb for Link to Known Terror Cells, IS
• Najib has lost touch with liberal, reformist policies, says report
Europe
• Cameron's Unthinking Policy on Syria Has Fuelled the Rise of British Jihadism
• French TV Station Hit by 'Unprecedented' Pro-Islamic State Hack
• Red Juma Mosque Opens after 90 Years in Russia
• U.N. top body to vote on Yemen embargo
Africa
• UN In $174m Appeal for Nigeria's Boko Haram Refugees
• Kenya: Somalia Reward for Information on Terrorists
North America
• Iraqis Do Not Want To Be 'Puppets' Of Iran: U.S.
• Irving police step up mosque security amid hate mail reports
• Tsarnaev prosecution employed flawed theory of radicalisation
• US defends latest provision of military equipment to Pakistan
• US warns Iran on backing Yemen rebels, Tehran defiant
India
• Now, RSS Says BR Ambedkar Supported Ghar Wapsi
• Zaki-ur-Rehman Lakhvi's release unfortunate, disappointing: Home Minister
• UNESCO to ask PM Modi to introduce programmes for reducing rapes in India
Compiled by New Age Islam News Bureau
URL: https://www.newageislam.com/islamic-world-news/new-age-islam-news-bureau/saudi-fatwa-allowing-husbands-to-eat-wives-unsubstantiated/d/102391
----------
Arab World
Saudi Fatwa Allowing Husbands to Eat Wives Unsubstantiated
By Staff writer | Al Arabiya News
10 April 2015
Saudi Arabia's Grand Mufti Sheikh Abdulaziz bin Abdullah al-Sheikh has denied issuing a fatwa (religious edict) which allows a hungry man to eat his wife, or parts of her body, in the case of famine or if eating his wife would result in saving his own life.
Over the past few days, several pro-Iranian media outlets, such as the online portal of Al Allam news channel and Lebanon's al-Jumohouria newspaper have carried the story without backing it with any evidence or specifying where or when such a fatwa has been issued.
The unsubstantiated fatwa attributed to the Grand Mufti claims that such sacrifice is the ultimate way of showing subordination and love to her husband as a "way for their two bodies to become one."
However, Sheikh has issued a statement to the Saudi Press Agency (SPA) where brushes off such media reports as "attempts by enemies to distract society from their main cause at the moment, which is standing together behind our wise leadership against attempts to distort the ummah [the world's Muslims]."
"This is also falls under attempts to distort the image of Islam which has honored the human-being without discrimination between men and women."
In the past few days, Saudi ambassador to Lebanon Ali Awad al-Assiri as well as former Prime Minister Saad Hariri have criticized Lebanon's state television and other media outlets and accused them of being exploited in attempts to insult Saudi Arabia.
As for the original source of the fake fatwa, CNN Arabic has reported that the imaginary edict was first mentioned in a sarcastic column written by a satirst Moroccan blogger called "Israfel al-Maghribi."
Despite The Onion-like column carrying the name "Akhbar al-Tanz" (which in Moroccan dialict means 'sarcastic news'), several media outlets, including various pro -Iranian ones, still went on to report what was meant to be a joke as news.
http://english.alarabiya.net/en/perspective/features/2015/04/10/Saudi-fatwa-allowing-husbands-to-eat-wives-unsubstantiated-.html
-------
2 bombings kill 11 people in Iraq: Officials
10 April, 2015
Iraqi officials say two separate bombings have targeted public places in Baghdad and near the Iraqi capital, killing 11 people.
Police officials say a suicide bomber set off his explosives vest at noon on Friday inside a small restaurant in the town of Mishada, killing six people and wounding 14. Mishada is 30 kilometers (20 miles) north of Baghdad.
A little bit later, a car bomb blast in the downtown Karrada district in Baghdad killed five people and wounded 12.
Hospital officials confirmed the casualty figures. All officials spoke on condition of anonymity because they are not authorized to talk to the media.
Iraq sees near-daily attacks that are often claimed by the Islamic State group, which last year seized much of the country's northern and western region.
http://english.ahram.org.eg/NewsContent/2/8/127346/World/Region/-bombings-kill--people-in-Iraq-Officials-.aspx
----------
Hezbollah: Saudi Arabia Intimidates Lebanese Gov't, Media
10 April, 2015
Head of Hezbollah Media Relations Official Mohammad Afif said that the Saudi embassy in Beirut and its local agents lead a campaign of organized intimidation against the Lebanese media.
Afif rejected the objection to the Tele Liban's broadcast of Hezbollah Secretary General Sayyed Hasan Nasrallah's recent interview with the Syrian al-Ekhbariya channel, Al-Manar reported.
"What Tele Liban has graciously done is merely a tiny step to preserve its balance, fairness and professionalism as it represents the Lebanese state and society, including all its segments and trends," he added, "We had provided the channel with a long list of its live broadcast, news coverage and programs which were all in favor of one political team at the expense of the national partnership."
Hezbollah official refuted the claim that Tele Liban coordinated the technical side with the Syrian channel to broadcast the interview, stressing that Al-Manar TV distributed the broadcast frequencies to all the channels for free, as what usually happens when Sayyed Nasrallah delivers a speech or holds an interview.
"Saudi Arabia, which does not bear criticism and does not allow freedom of speech, is leading through its embassy in Beirut a campaign of intimidations and threats against the Lebanese government and media outlets."
Denouncing the Saudi campaign, Afif asserted his confidence that the Lebanese media will disobey the financial temptations and the ugly threats.
According to Afif, what outraged Saudi Arabia and its allies as well as media is that Sayyed Nasrallah exposed that Saudi aggression on Yemen amid Arab and western silence due to Riyadh's threats and financial influence.
Hezbollah official finally asserted that along with time more honorable and free voices will confront aggression, hegemony and domination.
http://english.farsnews.com/newstext.aspx?nn=13940120000249
----------
Egypt army killed 29 suspected militants in North Sinai this week
10 April, 2015
The Egyptian armed forces killed 29 suspected militants in North Sinai this week, army spokesman Mohamed Samir has announced.
"Eleven suspects were killed in Al-Arish, while 18 were killed in Sheikh Zuweid," the statement read.
Samir also revealed that the army arrested many suspected militants in the above mentioned cities and 18 others in North Sinai's Rafah city.
Samir has been posting weekly briefings on the army's long-running battle with militants who have intensified their presence in North Sinai since the ouster of Islamist president Mohamed Morsi in July 2013.
Eleven civilians were killed in Sheikh Zuweid late Wednesday when an unidentified rocket-propelled grenade hit their homes. It was also reported that a roadside bomb killed two officers in the same city.
In recent months, militants have increasingly attacked economic targets in urban areas across Egypt, such as electricity pylons and mobile-network stores.
Meanwhile, the army is creating a buffer zone on the Rafah-Gaza border which has forced thousands of locals to relocate to other cities in Sinai.
The army has repeatedly announced killing or arresting hundreds of suspected "terrorists" and destroying smuggling tunnels linking Rafah and the Gaza Strip.
Media reports have surfaced claiming civilians are often caught in the violence between militants and the army. President Abdel-Fattah El-Sisi has previously said security forces are dedicated to protecting civilian lives in the area.
http://english.ahram.org.eg/NewsContent/1/64/127300/Egypt/Politics-/Egypt-army-killed--suspected-militants-in-North-Si.aspx
----------
ISIL Loses Control of Three Large Iraq Oil Fields
10 April, 2015
The Islamic State of Iraq and the Levant (ISIL) terrorist group has lost control of three large oil fields in Iraq that helped the group finance their operations, German daily Suddeutsche Zeitung reported Thursday citing the German Federal Intelligence Service.
According to the newspaper, the ISIL currently controls only the Qayara oil field outside Mosul, RIA Novosti reported.
The oil field has the output capacity of 2,000 barrels per day, which amounts to around 5 percent of the total oil production, previously available to the ISIL, according to Suddeutsche Zeitung.
Full Report at:
http://english.farsnews.com/newstext.aspx?nn=13940120000512
----------
ISIL holding 50 civilians after raid on Syria village: monitor
10 April, 2015
Jihadist fighters from the Islamic State of Iraq and the Levant (ISIL) are holding hostage at least 50 civilians seized in a raid on a village in central Syria, a monitor said.
They were kidnapped from the village of Mabujeh in Hama province on March 31, said the Syrian Observatory for Human Rights.
News of the kidnap had been kept quiet because of ongoing negotiations for their release, but the talks have since faltered, said Observatory head Rami Abdel Rahman.
Ten of those taken, including six women, are Ismailis, a minority sect that is an offshoot of Shiite Islam. The remaining 40 are Sunni Muslims, including at least 15 women.
"There are fears that the women are being taken as slaves," Abdel Rahman told AFP.
He said the Ismailis were kidnapped because ISIL considers them "infidels," and that the Sunnis -- although from the same sect as ISIL fighters -- were taken because ISIL viewed them as "loyal to the Ismailis".
Full Report at:
http://www.hurriyetdailynews.com/isil-holding-50-civilians-after-raid-on-syria-village-monitor-.aspx?pageID=238&nID=80871&NewsCatID=352
--------
Top Saudi Cleric's Fatwa Allows 'Man to Chop off and Eat Wife' When Extremely Hungry
10 April, 2015
A report claiming that a leading Saudi Arabian cleric has issued a controversial fatwa allowing a husband to chop off his wife and eat her body in the event of extreme hunger, has stirred up quite a controversy as many try to ascertain whether it is a hoax or truth?
On Thursday, reports emerged that Grand Mufti of Saudi Arabia, Abdul Aziz bin Abdullah, issued the fatwa (an Islamic edict) on the grounds that they would "become one as their bodies will fuse together after the husband eats his wife."
Multiple local reports noted that the fatwa "allows a man to eat his wife or parts of her body, if the husband was afflicted with a severe hunger."
The report further went on to say that "the fatwa is interpreted as evidence of the sacrifice of women and obedience to her husband and her desire for the two to become one."
The alleged fatwa soon raked up controversy as many derided it over various social media platforms.
Full Report at:
http://www.express.co.uk/news/world/569514/Abdul-Aziz-bin-Abdullah-Saudi-Arabia-cleric-eat-wife-fatwa-Islam
http://www.ibtimes.co.in/hoax-truth-top-saudi-clerics-fatwa-allows-man-chop-off-eat-wife-when-extremely-hungry-628704
----------
South Asia
10 People Killed, 70 Wounded In Mazar-i-Sharif Attack
10 April, 2015
Ten people were killed and around 70 others wounded in today's attack at the office of appellate attorney in Mazar-i-Sharif, provincial capital of northern Balkh province.
Police say there is no resistant now and that all attackers have been killed.
A group of insurgents who were wearing military uniform stormed the office of appellate attorney in Mazar-i-Sharif this morning and started to exchange fire with security forces.
At least three huge explosions were also heard from inside the building during the attack.
The area was cordoned off by the security forces and ambulances reached to the area for assistance.
Hospital sources confirmed that ten people were killed and around 70 others wounded in the attack.
According to security officials, four soldiers including the police chief of 6th police district of Mazar-i-Sharif, three civilians and three attorneys comprise the ones killed. And the ones wounded are civilians, soldiers and attorneys.
Taliban insurgents have claimed responsibility for the attack.
Atta Mohammad Noor, governor of Balkh province and U.S. embassy in Kabul have condemned the attack.
http://www.khaama.com/breaking-news-balkh-appeal-court-building-attacked-3137
----------
Another tragedy as IED kills 12 members of family in Ghazni
10 April, 2015
At least 12 people were killed following an Improvised Explosive Device (IED) explosion in southeastern Ghani province of Afghanistan.
According to local government officials, the incident took place in Qarabagh district on Friday morning.
Deputy provincial governor Ahmad Ali confirmed the incident and said the victims were all members of a single family.
He said the civilians were travelling in a vehicle when it struck with an Improvised Explosive Device (IED) in Khogyani area.
Ali further added that women and children were among those killed.
No group including the Taliban militants has so far claimed responsibility behind the incident.
Taliban militants and insurgents from the other militant groups frequently use Improvised Explosive Device (IED) as the weapon of their choice to target the security forces which normally lead to civilian casualties.
http://www.khaama.com/another-tragedy-as-ied-kills-12-members-of-family-in-ghazni-9988
----------
Taliban suicide bomber strikes Nato convoy in Afghanistan
10 April, 2015
JALALABAD: A Taliban suicide car bomb targeted a Nato convoy in eastern Afghanistan Friday, killing at least three civilians, as security forces brace for the start of the Taliban's traditional spring offensive.
Separately, 12 civilians onboard a minivan were killed Friday when a roadside bomb struck their vehicle in the militant-infested south-eastern province of Ghazni.
Taliban insurgents have stepped up suicide attacks on government and foreign targets since Washington announced a delay in troop withdrawals from Afghanistan last month.
The attack on the Nato convoy in Jalalabad city comes a day after 18 people were killed when Taliban insurgents mounted a six-hour gun and grenade siege on a courthouse in the usually tranquil northern city of Mazar-i-Sharif.
Full Report at:
http://www.dawn.com/news/1175093/taliban-suicide-bomber-strikes-nato-convoy-in-afghanistan
----------
EU renews call to commute death sentences in Bangladesh
10 April, 2015
The European Union has renewed its call on the Bangladesh authorities to commute all death sentences and to introduce a moratorium on executions.
Following war crimes convict Muhammad Kamaruzzaman's review rejection order by the Supreme Court, the politico-economic union of 28 member European states issued a statement on Thursday.
On May 9, 2013, the International Crimes Tribunal 2 handed down death penalty to Kamaruzzaman, the key organiser of notorious Al-Badr force in greater Mymensingh, for committing crimes against humanity during the Liberation War in 1971.
The Jamaat leader appealed to the Appellate Division of the Supreme Court challenging the verdict. But the SC upheld the ICT decision on March 7.
Full Report at:
http://www.dhakatribune.com/foreign-affairs/2015/apr/09/eu-renews-call-commute-death-sentences-bangladesh#sthash.wyWwbJYa.dpuf
----------
Rooting out extreme poverty should top agenda
10 April, 2015
The government's next five-year development plan must prioritise rooting out extreme poverty by way of allocating more budgetary resources for the poorest of the poor, experts at a two-day conference said.
The two-day conference, Towards Sustained Eradication of Extreme Poverty in Bangladesh, also called for investing more in developing human capital and ensuring quality opportunity so the extreme poor become more resilient.
Policymakers, economists, researchers and development activists also said the country needs to strengthen the government's institutional capacity to support and coordinate extreme poverty eradication initiatives carried out by the government and civil society organisations.
There could be a permanent secretariat within the planning commission to spearhead efforts to eradicate extreme poverty, according to one of the recommendations compiled by the organisers.
Full Report at:
http://www.thedailystar.net/business/rooting-out-extreme-poverty-should-top-agenda-analysts-76551
----------
The Muslims of Xi'an, China
10 April, 2015
CHINA: Xi'an was the first city in China to be introduced to Islam when Emperor Gaozong of the Tang dynasty officially allowed the practice of Islam in 651 AD and since, has made it home to a large Muslim community.
With an estimated 50,000 Muslims in the region, majority of them hail from the Hui group.
Located in the city centre, Muslim Quarter is the hub of the Muslim community in the city. The quarter covers several blocks and is inhabited by over 20,000 Muslims.
Full Report at:
http://tribune.com.pk/story/867509/the-muslims-of-xian-china/
---------
Pakistan
TTP Bajaur Leaders Declare Allegiance to Islamic State
10 April, 2015
ISLAMABAD: All leaders of the outlawed Pakistani Taliban from the Bajaur tribal region have declared allegiance to the Islamic State or Daish in an another serious setback for the banned outfit. This comes at a time when it is under attack in its last stronghold of strategically important Tirah Valley.
"The Chief of Tehreek-e-Taliban Pakistan Bajaur Maulana Abu Bakar and his deputy Qari Zahid, all members of the central Shura (council), commanders, scholars and judges of the Islamic court have recognised Abu Bakr al Baghdadi as Khalifa" said the Daish spokesman for the region Shahidullah Shahid on Thursday.
A leader of the TTP Bajaur also confirmed joining Daish in a separate call from his Afghan mobile phone.
Full Report at:
http://tribune.com.pk/story/867412/long-forgotten-ttp-bajaur-leaders-declare-allegiance-to-islamic-state/
----------
23 Suspected Militants Killed In Tirah
10 April, 2015
LANDI KOTAL: Twenty-three suspected militants were killed and at least 12 injured when helicopter gunships pounded militant hideouts in Tirah valley on Thursday.
Official sources said Taliban sanctuaries were targeted in Kandaw and Kandu Ghaibi areas of Kukikhel, adding that 16 suspected Taliban were killed and 10 others injured.
In similar air strikes in Mehraban Kalley, Thor Darra and Wochay Wany, seven suspected militants died and two of their associates were injured.
The air strikes destroyed four Taliban sanctuaries, officials said.
http://www.dawn.com/news/1175030/23-killed-in-tirah
----------
10% of Hyderabad madrasas built on state land, says report
10 April, 2015
HYDERABAD: Nearly 10 per cent of the 649 madrasas in the Hyderabad police range are built on state land, according to a report compiled by Hyderabad DIG's office.
A majority of these seminaries, built illegally on government land, are in Jamshoro district (51), followed by 13 in Dadu and two in Badin. Hyderabad DIG Dr Sanaullah Abbassi directed the SSPs of all the nine districts in the police range to take action after issuing a 15-day warning. He was speaking at a meeting on Thursday.
The police have also completed a survey of students and teachers in the seminaries in eight districts excluding Hyderabad where the process is underway. According to the report, only a small fraction of teachers and students belong to other provinces. Only 104 students out of 28,500 are from other provinces and, similarly, just 12 of the faculty members out of 990 are not from Sindh.
The DIG asked the SSPs to verify the permanent addresses and credentials of the teachers and students from other provinces from the relevant police stations.
http://tribune.com.pk/story/867262/illegal-construction-10-of-hyderabad-madrassas-built-on-state-land-says-report/
----------
Middle East conflict: Zardari advises govt to convene Islamic summit
10 April, 2015
KARACHI: Co-chairperson of Pakistan People's Party (PPP) Asif Ali Zardari has called upon the government to convene an Islamic summit to discuss the fragile situation in Yemen and other parts of the Middle East. He also said his party has decided to send delegations to Muslim countries to find a peaceful solution.
"The PPP and its leadership are concerned about Saudi Arabia and the countries of the Gulf Cooperation Council," the former president told a press conference at Bilawal House on Thursday. "We want to reach a solution through dialogue," he stressed.
Referring to the ongoing Houthis' rebellion in Yemen and the Saudi-led action against them, Zardari suggested the government to call an all parties conference (APC) and give an in-camera briefing. He said the Central Executive Committee (CEC) of PPP has decided to send delegations to Muslim countries and try to find a peaceful solution to the crisis.
Full Report at:
http://tribune.com.pk/story/867425/middle-east-conflict-zardari-advises-govt-to-convene-islamic-summit/
----------
PM urges Muslim countries to promote restraint on Yemen's issue
10 April, 2015
Prime Minister Nawaz Sharif on Thursday called upon all Muslim countries to use their influence to counsel restraint and promote a spirit of mutual accommodation on Yemen's issue.
Talking to Iran's Foreign Minister Mohammad Javad Zarif here, the prime minister stressed the need to ponder the ways and means to bring an end to the conflict at the earliest by peaceful means. He expressed serious concern over the deteriorating situation in Yemen, which he said was so grave that it could endanger fellow Muslim countries.
The prime minister said that besides the loss of innocent lives, the crisis can undermine the unity of Muslim world. He stated that Iran is a brotherly country and an important neighbour with which the government and people of Pakistan desire friendly and cooperative ties. Bilateral relations and regional issues of common concern came under discussion during the meeting.
Full Report at:
http://www.dailytimes.com.pk/national/09-Apr-2015/pm-urges-muslim-countries-to-promote-restraint-on-yemen-s-issue
---------
Mideast
Ayatollah Khamenei Warns Saudis of Dire Repercussions of Yemen Invasion
10 April, 2015
Supreme Leader of the Islamic Revolution Ayatollah Seyed Ali Khamenei warned the Saudi rulers of the dire consequences of continued war against the Muslim people of Yemen.
"The Saudis will definitely be struck back in this issue and their nose will be rubbed against the ground (they will be defeated)," Ayatollah Khamenei said, addressing a large number of Iranians in Tehran on Thursday.
"This action (of the Saudis) is not acceptable in the region and I warn that they will certainly lose interests," he added.
Ayatollah Khamenei said that the Saudis used to show more self-restraint and sobriety in their foreign policy, but now the affairs in the Arab country are controlled by a number of inexperienced young people who want to show savagery instead of patience and self-restraint, warning that the present trend of policy in Riyadh will certainly harm the Saudi officials.
Full Report at:
http://english.farsnews.com/newstext.aspx?nn=13940120000850
----------
Senior Houthi and Saleh militia killed in coalition air strikes
10 April 2015
Several senior members of Houthi militias and forces allied to deposed Yemeni President Ali Abdullah Saleh were killed during an air strike by the Saudi-led coalition, reported Al Arabiya News Channel on Thursday.
The air strike targeted a gathering of Houthi and Saleh militias in the governorate of Amran, just north of Sanaa.
The news comes after earlier reports that coalition jets bombed a military airport in the city of Ataq in the Shabwa province.
Full Report at:
http://english.alarabiya.net/en/News/middle-east/2015/04/10/Senior-Houthi-and-Saleh-militia-killed-in-coalition-air-strikes-.html
----------
Turkey arrests 17 soldiers over 'Syria arms interception'
10 April, 2015
A Turkish court today placed under arrest 17 soldiers charged in a hugely controversial case over the interception last year of a consignment that allegedly contained arms bound for Syria.
The 17 have been charged with membership of a terrorist organisation and working on behalf of the "parallel state", common official shorthand for President Recep Tayyip Erdogan's arch enemy the US-based preacher Fethullah Gulen.
A total of 32 soldiers detained after prosecutors issued warrants at the weekend, had appeared before the Istanbul court but 15 were allowed to go free, 10 of them under judicial supervision.
A date for the trial has yet to be set. In January last year, Turkish security forces stopped and seized seven trucks near the Syrian border, that were suspected of seeking to smuggle weapons into Syria.
Full Report at:
http://www.themalaysianinsider.com/world/article/turkey-arrests-17-soldiers-over-syria-arms-interception#sthash.rxcoBdLT.dpuf
----------
European Parliament president calls Turkey's social media ban 'inappropriate'
10 April, 2015
Bans on social media networks are "not appropriate" according to basic democratic standards, said European Parliament President Martin Schulz, who held meetings with a number of senior officials in Turkey, adding that he expected "meaningful answers" from Ankara on the issue.
"To close social media networks is definitely inappropriate with regard to basic democratic standards, but we should look fully into each situation, case-by-case. I can understand people who say we shouldn't publicly show pictures of victims with machine guns pointing at their heads. But there is always the option to delete the picture, rather than closing the whole system," Schulz said in an interview on private broadcaster CNNTürk on April 9.
Full Report at:
http://www.hurriyetdailynews.com/european-parliament-president-calls-turkeys-social-media-ban-inappropriate-.aspx?pageID=238&nID=80838&NewsCatID=351
----------
ISIL must be defeated, says former Turkish President Gül
10 April, 2015
The presidents and former presidents of Eurasian countries attending the 18th Eurasian Economic Summit have stressed the need for international cooperation in struggle against the Islamic State of Iraq and the Levant (ISIL).
"This new phenomenon which is called Daesh definitely must be defeated in the region," said former Turkish President Abdullah Gül during his speech at the summit, referring to the abbreviation of the jihadist group's name in Arabic.
"Cooperation between the countries of the region is needed for that. Therefore countries of the region must be in close contact with each other," Gül said.
He added that ISIL is a phenomenon that is the result of "despair, injustice, poverty, lack of education."
Full Report at:
http://www.hurriyetdailynews.com/isil-must-be-defeated-says-former-turkish-president-gul.aspx?pageID=238&nID=80851&NewsCatID=449
----------
Indictment argues the pro-Gülen 'terror gang' wanted to build 'cemaat state'
10 April, 2015
The Ankara Chief Public Prosecutor's Office has finalized the draft of an indictment arguing it has found "concrete evidence" that sympathizers of U.S.-based Islamic scholar Fethullah Gülen were trying to form a "cemaat state" parallel to the state of the Republic of Turkey. It has also charged seven people for leaking information and documents to criminal organizations.
The chief public prosecutor claims that the seven arrested suspects were members of a "Pro-Fethullah Terror Organization" (Fetullahçı Terör Örgütü), led by arrested civil servant Kadir İnan and composed of four policemen and two civilians, read the indictment.
The suspects are accused of leaking important documents and information to criminal organizations for political purposes, the indictment stated, adding that crimes committed by this organization should be assessed from the dimension of "state order, public security and national security."
Full Report at:
http://www.hurriyetdailynews.com/indictment-argues-the-pro-gulen-terror-gang-wanted-to-build-cemaat-state-.aspx?pageID=238&nID=80850&NewsCatID=509
----------
Israeli Forces Seize 1,000 Dunums of Palestinian Lands in Al-Khalil
10 April, 2015
The Israeli forces grabbed hold of 1,000 dunums of Palestinian land tracts in al-Khalil's towns of Beit Ummar and Beit Fajjar.
Local sources said Israeli army troops and settler hordes residing in the illegal settlement of Migdal Oz, to the North of al-Khalil city, cordoned off the targeted land lots with a 2,600-meter-long fence as part of intents to expand a nearby military academy, PIC reported.
The local farmers and landowners rallied in the area in protest at such arbitrary misappropriation but they reportedly failed to protect their land tracts as the Israeli soldiers, who suddenly showed up in the area, barred them from reaching their blockaded terrains.
http://english.farsnews.com/newstext.aspx?nn=13940120000474
-----------
Southeast Asia
'Black day' for free speech as Malaysia amends sedition law
10 April, 2015
Malaysia's Parliament early Friday approved tougher penalties for sedition in a move criticised by the United Nations and described by the opposition as "a black day" for democracy and free expression.
For the second time this week, the ruling coalition pushed through legislation that has been denounced by rights and legal advocates, after it on Tuesday passed an anti-terrorism law that allows authorities to detain people without charge.
The amendments to the Sedition Act extend the maximum jail term to 20 years from the current three years and establish a minimum three-year jail term for certain cases.
The revised act also makes it illegal to propagate sedition on the Internet, sparking concerns over possible Web censorship.
Courting votes ahead of 2013 elections, Prime Minister Datuk Seri Najib Razak had promised to scrap the British colonial-era Sedition Act, long viewed as a tool to gag free speech.
But after a poor showing in those polls, Najib's government has targeted scores of its critics with the law. Last year Najib went back on his pledge, announcing the act would be retained and "strengthened".
Full Report at:
http://www.themalaysianinsider.com/malaysia/article/black-day-for-free-speech-as-malaysia-amends-sedition-law#sthash.flSsHC4c.dpuf
----------
Cops Inspect Tanah Abang Bomb For Link to Known Terror Cells, IS
10 April, 2015
Jakarta. The National Police confirmed that Wednesday's blast at Tanah Abang market in Central Jakarta was an act of terrorism, saying the explosive was filled with nails to inflict maximum harm to bystanders.
The improvised explosive device acted like a hand grenade, detonating on impact, National Police spokesman Sr. Comr.
Rikwanto said.
Investigators are working to identify a suspect and determined that none of the four people severely injured in the blast were involved in the attack.
"At the moment we think that the victims are just victims," he said on Thursday. "They are [Tanah Abang] locals and are well-known by other residents."
The injured have been identified as Rukam, 56; Asep Samsudin, 66; Amir, 51; and Feri Andiyanto, 28. Rukam, known as Suro to friends, remains in critical condition, said Yayok Witarto, head of medical care at the Sukanto Police Hospital in East Jakarta.
Full Report at:
http://thejakartaglobe.beritasatu.com/news/cops-inspect-tanah-abang-bomb-link-known-terror-cells/
----------
Najib has lost touch with liberal, reformist policies, says report
10 April, 2015
The Prevention of Terrorism Act (Pota), passed by the Dewan Rakyat on April 7, and the amendments to the Sedition Act clearly show that Prime Minister Datuk Seri Najib Razak has backed off from the liberal, reformist policies he was touting in his first term in office, says The Economist.
The colonial-era Internal Security Act (ISA) has been repealed, as promised by Najib, but Pota bears many features of the ISA, such as imprisonment without trial for two years with the option of multiple extensions.
The government made its case for Pota by citing an increasing threat from militants influenced and prompted by the extremist beliefs of the Islamic State (Isis). About a dozen Malaysian "jihadists" are said to have died in the Middle East so far.
On April 5, just hours before the Dewan Rakyat began debating the bill, police announced the detention of 17 people said to be planning terror attacks in Kuala Lumpur and Putrajaya. In the past 2 years, about 90 people have been rounded up on suspicion of having links to militant groups.
Full Report at:
http://www.themalaysianinsider.com/malaysia/article/najib-has-lost-touch-with-liberal-reformist-policies-says-report#sthash.bK01MmIS.dpuf
---------
Europe
Cameron's unthinking policy on Syria has fuelled the rise of British jihadism
10 April, 2015
Foreign policy is virtually absent from the election campaign. But if David Cameron had had his way, we could have been embroiled by now – more than we already are – in yet another Middle East war. As it is, his Syria policy has still backfired, contributing to the rise of jihadism in our own back yard.
Cameron should not be let off the hook for supporting the armed opposition in Syria and being ready to start bombing Syrian government forces in 2013 after the Syrians had apparently used chemical weapons. The planes were ready to take off from Cyprus. It was only parliament, in a historic and too-soon-forgotten vote, that stopped this recklessness in its tracks. True, Syria subsequently disarmed itself of chemical weapons, but this was after the climbdown on bombing had shown western public opinion had no appetite for another war of choice. So it was no thanks to Cameron's warmongering; it was, rather, a result of Russian pressure.
Full Report at:
http://www.theguardian.com/commentisfree/2015/apr/07/david-cameron-failure-fuelled-british-jihadism
----------
French TV station hit by 'unprecedented' pro-Islamic State hack
10 April, 2015
PARIS: French television network TV5Monde was forced to broadcast only pre-recorded programmes Thursday after an "unprecedented" hack by self-proclaimed Islamic State militants, who also hijacked its websites and social networks.
The Paris-based company, whose programmes are broadcast in more than 200 countries worldwide, was the target of a cyberattack that is "unprecedented for us and unprecedented in the history of television," TV5Monde boss Yves Bigot told AFP.
"Since 5:00am (0300 GMT), we have only been able to put out a single programme on all our channels. For the moment, we are unable to produce our own programmes," Bigot added.
"When you work in television… and you find out that your 11 channels are down, of course that's one of the most dreadful things that can happen to you," he said.
The hackers took control of the station and its social media operations late Wednesday, blacking out the TV channels and posting documents on its Facebook page purporting to be the identity cards and CVs of relatives of French soldiers involved in anti-IS operations, along with threats against the troops.
Full Report at:
http://tribune.com.pk/story/867073/french-tv-station-hit-by-unprecedented-pro-islamic-state-hack/
----------
Red Juma Mosque opens after 90 years in Russia
10 April, 2015
RUSSIA: The Red Juma Mosque located in Russia's Tomsk region has reopened for worship after 90 years.
The mosque was first opened in 1901 but was seized and closed in the 1920s to be used as a cinema and then a restaurant that served alcohol.
In 2002, restorations began to open the mosque for worship. An official ceremony marked the opening of the mosque for the Muslim population.
Tomsk Governor Sergey Jvachkin, Mayor Ivan Kleyin, Chechen Republic Parliament Speaker Dukuvah Adurakhmanov, and Chechen Republic Mutfi Salah Haci Meciev officiated the ceremony which was also attended by numerous representatives of the Islamic community as well as hundreds of Muslims that were part of the congregation.
Full Report at:
http://tribune.com.pk/story/866400/red-juma-mosque-opens-after-90-years-in-russia/
----------
U.N. top body to vote on Yemen embargo
10 April 2015
A United Nations Security Council resolution on Yemen may go to vote on Friday, blacklisting the son of Yemen's ousted leader and a Houthi commander in addition to imposing an arms embargo on the Shiite militia, Reuters news agency reported.
Council member Jordan and Gulf Arab states finalized their draft text on Thursday. Diplomats, speaking on condition of anonymity, said the resolution may be put to a vote in the 15-member Security Council on Friday or Saturday, Reuters news agency reported.
It was unclear how Russia would vote. Diplomats said Russia had suggested during negotiations that an arms embargo should also include the Yemen government of President Abdrabbu Mansour Hadi. The Russian U.N. mission declined to comment.
Saudi Arabia launched air strikes against the Iran-allied Houthis in neighboring Yemen on March 26 along with a 10-state coalition. The United States said on Tuesday it is speeding up arms supplies to the coalition.
Full Report at:
http://english.alarabiya.net/en/News/middle-east/2015/04/10/U-N-top-body-to-vote-on-Yemen-embargo.html
----------
Africa
UN in $174m appeal for Nigeria's Boko Haram refugees
10 April, 2015
The United Nations launched an appeal for $174 million in what it called "life-saving aid" for almost 200,000 Nigerians who have fled the country due to brutal attacks by Boko Haram jihadists.
The insurgents, who are seeking to create an Islamic state in the country's predominantly Muslim north, have killed up to 15,000 people since 2009, according to the UN.
"Displaced people in north-eastern Nigeria and across borders are in a very dramatic situation," Liz Ahua, west Africa representative for the UNHCR, the organisation's refugee agency, said.
Full Report at:
http://english.ahram.org.eg/NewsContent/2/9/127321/World/International/UN-in-m-appeal-for-Nigerias-Boko-Haram-refugees.aspx
----------
Kenya: Somalia Reward for Information On Terrorists
10 April, 2015
SOMALIA yesterday announced a bounty of between $100,000 (Sh9.2 million) and $250,000 (Sh23.3 million) on the heads of 13 most wanted terror suspects.
In the list is Kenya's Mohamed Mohamud, alias Gamadere, on whose head the Kenyan government put Sh20 million bounty last week.
Somalia announced a reward of $100,000 to anyone with a report leading to his arrest or death.
He is said to be the mastermind of the Garissa University College attack in which 147 students were killed.
The list is topped by Ahmad Ubaidah, the al Shabaab leader, for whom there is the maximum $250,000 reward.
Full Report at:
http://allafrica.com/stories/201504100159.html
----------
North America
Iraqis do not want to be 'puppets' of Iran: U.S.
10 April 2015
U.S. Vice President Joe Biden said Thursday that Iraqi leaders have asserted the country's sovereignty in their war against militants and do not want to be "puppets" of Iran or other outside powers.
In last month's battle over the town of Tikrit, Iraqi Prime Minister Haider al-Abadi had insisted that forces fighting the Islamic State of Iraq and Syria (ISIS) group must be under Baghdad's authority and not answer to neighboring Iran, Biden said.
Media coverage had initially portrayed Shiite militias backed by Iran as "running the show" in the Tikrit offensive.
But after the operation stalled in Tikrit, Abadi "courageously stepped in, making it absolutely clear the Iraqi government, him, as commander in chief, was in charge of this operation," Biden said in a speech at National Defense University in Washington.
Full Report at:
http://english.alarabiya.net/en/News/middle-east/2015/04/10/Iraqis-do-not-want-to-be-puppets-of-Iran-U-S-.html
----------
Irving police step up mosque security amid hate mail reports
10 April, 2015
Amid fears that anti-Muslim rhetoric could lead to attacks, police have stepped up security around Irving's mosque and Islamic school.
Police Chief Larry Boyd ordered a squad car stationed outside the Islamic Center of Irving this week, and officers are trying to increase patrols around the mosque.
Islamic leaders asked for the measures because they've been getting disturbing emails, letters and phone calls since a City Council vote last month intersected with a fringe movement that fears Muslims plot to dominate the United States.
"People who hate Islam and Muslims are getting more and more empowered to do something violent. To me it's a matter of when, not if," said Alia Salem, who leads the North Texas chapter of the Council on American-Islamic Relations. "We have elected officials charged with our safety targeting the Muslim community and making disparaging statements towards them."
Full Report at:
http://www.dallasnews.com/news/20150409-irving-police-step-up-mosque-security-amid-hate-mail-reports.ece
----------
Tsarnaev prosecution employed flawed theory of radicalisation
10 April, 2015
Two years after planting bombs at the Boston Marathon that killed three people, a federal jury found Dzokhar Tsarnaev guilty on all 30 counts against him. Now the trial goes to the sentencing phase, in which jurors will decide whether to impose the death penalty.
To bolster their case against Tsarnaev, 21, prosecutors portrayed him as a textbook case of religious radicalization. Prosecutors say he listened to jihadist-inspired music and watched videos of Anwar al-Awlaki, a radical cleric who was killed in a 2011 drone strike in Yemen. They point to messages Tsarnaev wrote on a boat where he hid from law enforcement, including "We Muslims are one body, you hurt one you hurt us all." In its closing statement, the prosecution showed video of the bombing and argued that he was a "mujahedeen" who "wanted to punish America for what it was doing to his people."
Full Report at:
http://america.aljazeera.com/opinions/2015/4/tsarnaev-prosecution-employed-flawed-theory-of-radicalization.html
----------
US defends latest provision of military equipment to Pakistan
10 April, 2015
WASHINGTON: The United States has defended its latest sale of military equipment to Pakistan, arguing the American weapons systems would enhance Islamabad's counter-terrorism abilities.
"This proposed sale of helicopters and weapons systems will provide Pakistan with military capabilities in support of its counter-terrorism operations inside the country," US State Department Acting Spokesperson Marie Harf said at the daily briefing.
She was commenting on Washington's green light this week for provision of approximately $1 billion of arms, including Hellfire missiles and attack helicopters.
"We have a very close counter-terrorism relationship with Pakistan for a very - for very good reasons," Harf said. Referring to the terrorist threat, the spokesperson said, "the Pakistanis have a serious problem still, and that's why we're trying to help them. This (provision of military equipment) is in our national security interest to do so."
Full Report at:
http://www.dawn.com/news/1174907/us-defends-latest-provision-of-military-equipment-to-pakistan
----------
US warns Iran on backing Yemen rebels, Tehran defiant
10 April, 2015
ADEN: Washington warned Thursday it would not stand by while Tehran supports rebels in Yemen, as Iran's supreme leader denounced Saudi-led air strikes in the country as "criminal acts".
In the most direct American criticism yet of Tehran's backing for the Huthi rebels, Secretary of State John Kerry said Washington would not accept foreign interference in Yemen.
"There have been – there are, obviously – flights coming from Iran. Every single week there are flights from Iran and we've traced it and know this," he told PBS television.
"Iran needs to recognise that the United States is not going to stand by while the region is destabilised or while people engage in overt warfare across lines, international boundaries in other countries."
Full Report at:
http://tribune.com.pk/story/867451/us-warns-iran-on-backing-yemen-rebels-tehran-defiant/
----------
India
Now, RSS says BR Ambedkar supported Ghar Wapsi
Vasudha Venugopal,ET Bureau | Apr 10, 2015
NEW DELHI: The world may know BR Ambedkar as a Dalit leader and a visionary who headed the committee that wrote the Indian Constitution but the RSS has decided to bring out what it calls "lesser known facets" about him. On Ambedkar's 125th birth anniversary next Tuesday, both the Organiser and Panchjanya will issue collector's editions, 200-page bumper issues on Ambedkar, where he would be celebrated as a 'purifier' who vehemently spoke against Islamic 'aggression', conversion to Islam, communism and Article 370.
The RSS move is the latest in a series of attempts by political and ideological groupings to appropriate one of India's greatest leaders. Till now, Sangh publications have never had a 'collector's edition' but only special issues limited to RSS founder KB Hedgewar and the Ram Janmabhoomi movement. At the recently-held Nagpur conclave, the Sangh reiterated its 'one well, one temple, one crematorium for all' policy and decision to project Ambedkar as a unifier of people to show its emphasis was on creating an inclusive society.
Full Report at:
http://timesofindia.indiatimes.com/india/In-new-light-Now-RSS-says-BR-Ambedkar-supported-Ghar-Wapsi/articleshow/46874096.cms
----------
Zaki-ur-Rehman Lakhvi's release unfortunate, disappointing: Rajnath Singh
10 April, 2015
"India wants talks with Pakistan but the present development (release of Lakhvi) is unfortunate and disappointing."
Voicing concern over the release of top Lashkar leader Zaki-ur-Rehman Lakhvi, Union Home Minister Rajnath Singh on Friday said India wants talks with Pakistan but the release of the Mumbai attack mastermind is an "unfortunate and disappointing" development.
"India wants talks with Pakistan but the present development (release of Lakhvi) is unfortunate and disappointing," he told reporters on the sidelines of a function here.
Full Report at:
http://www.thehindu.com/news/national/zakiurrehman-lakhvis-release-unfortunate-disappointing-says-rajnath-singh/article7089175.ece
----------
UNESCO to ask PM Modi to introduce programmes for reducing rapes in India
10 April, 2015
LONDON: UNESCO to ask Prime Minister Narendra Modi to introduce a spate of formal and non-formal programmes "to change the mind set of men" in India in order to reduce rapes in the country.
In an exclusive interview with TOI, UNESCO's director general Bokova said "India needs to work with boys and use them as advocates of gender equality."
"We need a strong political leadership in India for the well-being of girls. We can change mind sets through education - both formal and non-formal. Educating men will make them advocates of change and help them self-identify with issues of gender equality which will liberate not only women, but also men, from prescribed social roles and gender stereotypes," Bokova said.
Full Report at:
http://timesofindia.indiatimes.com/india/UNESCO-to-ask-PM-Modi-to-introduce-programmes-for-reducing-rapes-in-India/articleshow/46867102.cms
--------
URL: https://www.newageislam.com/islamic-world-news/new-age-islam-news-bureau/saudi-fatwa-allowing-husbands-to-eat-wives-unsubstantiated/d/102391