New Age Islam News Bureau
10 Nov 2014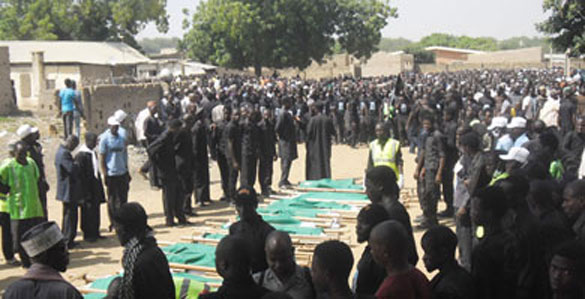 Muslim botherhood attends a funeral for the victims of suicide bomb explosion in Potiskum, Nigeria,Tuesday, Nov. 4, 2014 (Source: AP)
----------
• Suicide Bomber believed to be from Boko Haram Kills 48 School children in Nigeria
Arab World
• Saudi Culture Minister Fired After Challenging Wahhabi Elite
• Militant Group, Ansar Bayt al-Maqdis, Pledges Loyalty to Islamic State in Audio Clip
• 40 ISIL Terrorists Killed in Salahuddin in Iraq Air Strikes
• Social Media Activities of Saudi Imams Monitored
• Activists say five nuclear engineers murdered in Syria
• Islamic State leader Abu Bakr al-Baghdadi's close aide killed in US air strike
• ISIS says British suicide bomber killed Iraq police general
• Lebanon's Druze community fearful as Syria's war moves closer
• Kuwait says stateless to be offered Comoros citizenship
• Iraq president to visit Saudi Arabia as relations thaw
• Egypt arrests Salafist leader spurring 'Islamic revolt'
Africa
• Suicide Bomber in School Uniform Kills 48 Students in Nigeria
• In New Mystery, Second Libyan Statue 'Vanishes' Into Thin Air
• Man armed with sword invades Sudan palace, kills two guards
South Asia
• Taliban bombs kill 10 Afghan police: officials
• Taliban militants suffer heavy casualties during clearing operations
• Independent prayer congregations "unacceptable," says Maldivian minister
• Bangladesh arrests hard-line cleric over TV host's death
• Maldivian jihadist fighter dies in Syria
• Bangladesh Detective Branch deciphering militants' encrypted messages
Europe
• Kyrgyzstan Plunges Into Islamic State Frenzy
• Good relations with Turkey more important than suspect's release: Danish FM
• Local ceasefires best way to ease Syrians' suffering –researchers
• UK radicalism, the crisis of a generation
Pakistan
• Clash kills two soldiers, four militants in North Waziristan
• Imran wants ISI, MI role in poll rigging inquiry
• Jamaat ul Ahrar confirms death of commander in Khyber airstrikes
• IS Footprints Growing In Pakistan: Report
• Christians in Lahore, Peshawar protest against lynching
• Bugti murder case: ATC orders Musharraf to appear during next hearing
• Pakistan is not a dangerous place: Bilawal Bhutto
• No peace in the region without resolution of Kashmir dispute: Sartaj Aziz
• Young Pakistanis introduced to the 'Poet of the East', Allama Iqbal
Mideast
• Turkish PM terms it 'divine duty to protect' al-Aqsa
• Iran's Rafsanjani says Moslems must end religious strife
• Turkey provides education for Syrian refugee children
• Israeli ministers approve applying Israel law to West Bank settlers
• Israel recognizes 'Aramaics' as separate ethnicity
Southeast Asia
• Muslim authorities need to grow up, says Malaysian Minister
• Acting Jakarta Governor Wants Central Govt to Disband Islamic Defenders Front
• No mention of liberalism or pluralism during dialogue with Selangor Fatwa Council — SIS
India
• Burdwan blast mastermind admits he is a Bangladeshi
• No dialogue with Pak if ceasefire violation continues: Jaitley
North America
• Bush says rise of ISIS the only 'regret' for 2003 Iraq invasion
• Islamic State winning support, but not allegiance: Experts
• Muslims across America, Europe face renewed 9/11-style scorn amid ISIS' violent campaign
• Alabama 'bans' Sharia law amid fears it could violate American rights
• U.S. faces last best chance on Iran nuclear deal
• Obama says anti-ISIS campaign now in new phase
• 'I killed Osama bin Laden - and he died afraid'
Compiled by New Age Islam News Bureau
URL: https://www.newageislam.com/islamic-world-news/new-age-islam-news-bureau/saudi-culture-minister-fired-after-challenging-wahhabi-elite/d/99945
-----------
Arab World
Saudi Culture Minister Fired After Challenging Wahhabi Elite
Nov 10, 2014
ABU DHABI — On Nov. 5, Culture and Information Minister Abdul Aziz Khoja was fired hours after he announced the closure of an anti-Shi'ite Wahhabi television channel amid a purported Wahhabi attack on a Shi'ite mosque.
Khoja was fired by King Abdullah, who then cancelled the closure order on the Wesal television channel.
The dismissal of a Cabinet minister has demonstrated the power of the Wahhabi elite in Saudi Arabia.
"Wesal channel continues and minister [Khoja] has been relieved of his position," Wesal said in a Tweet message on Nov. 5.
The order by Khoja to close Wesal was submitted in wake of a Wahhabi attack, linked to police, on a Shi'ite mosque in the oil-rich Eastern Province, in which at least seven people were killed. Wesal has highlighted the Sunni-Shi'ite struggle in the Middle East and expressed joy at the killing of Shi'ite rebels in Yemen. In one Tweet, Wesal also called for the bombing of Shi'ite villages in Lebanon.
"I gave orders to shut down the office of Wesal in Riyad and to ban any broadcasting of the channel from Saudi Arabia," Khoja said in a statement. "The channel is not Saudi in the first place."
But Saudi sources acknowledged that Wesal was part of the powerful Wahhabi establishment and supported by the state-aligned clergy as well as the National Guard. They said Wesal reflected fear and hatred of Iran and Shi'ites that led to Gulf Arab support for Islamic State of Iraq and Levant.
"Will the [Shi'ite] channels that spread their venom against our faith and incite against Gulf countries also be shut down?" Mohammed Khalid Bu Amar, a leading Islamist and former parliamentarian in neighbouring Bahrain, asked.
http://www.worldtribune.com/2014/11/09/saudi-culture-minister-fired-challenging-wahabi-elite/
-------------
Militant Group, Ansar Bayt al-Maqdis, Pledges Loyalty to Islamic State in Audio Clip
Nov 10, 2014
Egypt's most active militant group, Ansar Bayt al-Maqdis, has sworn allegiance to Islamic State, the al-Qaeda offshoot which has seized territory in Syria and Iraq, according to an audio clip posted on its Twitter account.
If genuine, the declaration of allegiance would be a boost for Islamic State, showing its widening influence in the region alongside its territorial advances in Iraq and Syria.
The Sinai-based militant group posted the clip, which is 9 minutes and 26 seconds in length, early on Tuesday morning on a Twitter account that calls itself the official mouthpiece of Ansar.
The clip was then carried on a website used by Islamists.
Reuters was not immediately able to verify the authenticity of the statement nor contact the group directly for comment.
In the clip, a man identifies himself only as part of the group's "information department". He says the militants had pledged loyalty to Abu Bakr al-Baghdadi, head of Islamic State, which is now facing US-led air strikes.
The Twitter account has issued other statements on the group's behalf in recent months. It is often suspended and re-opened; one of these shutdowns occurred hours before the statement was tweeted.
The posting comes the week after the group distanced itself from a statement pledging loyalty to Baghdadi that appeared in its name online and was reported by Reuters.
Egyptian security officials have said Islamic State has established contacts with Ansar Bayt al-Maqdis, though the precise nature of these to date is unclear.
In September, Islamic State issued a statement urging insurgents in Sinai to push ahead with attacks on the country's security forces.
Egyptian President Abdelfattah al-Sisi has said Egypt faces an "existential threat" from Sinai-based militants who have killed hundreds of police and soldiers since the army ousted Islamist President Mohamed Morsi last year.
Last month, at least 33 security personnel were killed in two successive attacks, prompting Egypt to declare a three-month state of emergency in parts of northern Sinai.
The attacks were a setback for the government, which had managed over the past few months to make some progress in the struggle against insurgents and focus on repairing the economy.
http://www.themalaysianinsider.com/world/article/egyptian-militant-group-pledges-loyalty-to-islamic-state-in-audio-clip#sthash.yjL0aNGn.dpuf
-----------
40 ISIL Terrorists Killed in Salahuddin in Iraq Air Strikes
Nov 10, 2014
Iraqi air strikes claimed the lives of at least 40 ISIL terrorists in Salahuddin province in a series of successful operations.
Iraqi fighter jets, in cooperation with the army's Military Intelligence Service, hit the hideouts of the Takfiri terrorists in Makhoul areas and killed dozens of them.
Ten vehicles belonging to the terrorists were also targeted during the operation.
The ISIL Takfiri terrorists currently control parts of Syria and Iraq. They have threatened all communities, including Shiites, Sunnis, Kurds, Christians, Ezadi Kurds and others, as they continue their atrocities in Iraq.
Senior Iraqi officials have blamed Saudi Arabia, Qatar, and some Persian Gulf Arab states for the growing terrorism in their country.
The ISIL has links with Saudi intelligence and is believed to be indirectly supported by the Israeli regime.
http://english.farsnews.com/newstext.aspx?nn=13930819000216
-----------
Social Media Activities of Saudi Imams Monitored
Nov 10, 2014
RIYADH — The Ministry of Islamic Affairs, Endowments, Call, and Guidance monitors the social media activities of all of its sheikhs, imams and official preachers, according to its deputy minister.
Tawfiq Bin Abdulaziz Al-Sudairy said there is an entire committee responsible for monitoring the social media activities of all of its employees, representatives and partner associations.
The job of the monitoring committee is to guide the general public and correct any false statements posted online.
The deputy minister also said the ministry is working on a unified structure for all Saudi Islamic online forums to eliminate extremist posts and opinions and offer Islam as a balanced and facilitated religion to the general public.
He said: "The ministry is currently studying the potential of the Internet as a platform for call and guidance and encourages everyone to share their religious knowledge online."
The ministry launched Al-Sakinah Campaign for Dialogue, a campaign responsible for monitoring and eliminating online terrorist activities.
Its team of specialists and scholars from many fields ensure that any terrorist activities online are dealt with fairly, sensitively and in confidentiality to protect the culprit and rehabilitate him. The campaign also plays an essential role in spreading the correct way of Islam and rectifying some of the false allegations published.
Al-Sudairy said: "The ministry is launching several new projects including 'Tech-Mosques', a project to install plasma screens inside mosques and broadcast many Islamic matters such as announcements of sermons and lectures, awareness messages, informative ads, Qur'anic verses, prophetic sayings, and many more related materials."
http://www.saudigazette.com.sa/index.cfm?method=home.regcon&contentid=20141110223944
-----------
Activists say five nuclear engineers murdered in Syria
Nov 10, 2014
Syrian activists said Sunday unidentified assailants killed five nuclear engineers on Sunday while they were on a bus just north of Damascus, near the research center where they worked.
"Unidentified attackers murdered five nuclear energy engineers who worked in the scientific research Centre near the neighborhood of Barzeh, northern Damascus," Rami Abdel Rahman, the director of the Britain-based Syrian Observatory for Human Rights Observatory, told AFP.
The monitoring group, which relies on a network of sources on the ground for its reports, was unable however to say how they were killed or supply their nationalities.
"It was not immediately clear whether the bus that they were travelling on was hit by a bomb, or by gunfire," Abdel Rahman told AFP.
In July last year, six people who worked at the same center were killed in a mortar attack carried out by rebels seeking President Bashar al-Assad's ouster.
Another military research center, also near Damascus, was also hit by a deadly Israeli raid in May 2013.
http://english.alarabiya.net/en/News/middle-east/2014/11/09/Activists-say-five-nuclear-engineers-murdered-in-Syria-.html
-----------
Islamic State leader Abu Bakr al-Baghdadi's close aide killed in US air strike
Nov 10, 2014
A close aide of Abu Bakr al-Baghdadi was killed in a United States-led coalition air strike on a convoy of militants in Iraq, it can be revealed, amid mounting speculation that the leader of the Islamic State of Iraq and the Levant was himself killed or injured in the attack.
Auf Abdulrahman Elefery, who went by the code name Abu Suja, died when planes struck a convoy of Isil vehicles close to the northern city of Mosul on Friday night, killing him and several other members of the jihadist group.
There were contrasting reports about the fate of Baghdadi, with Isil members writing on Twitter that he was not in the convoy, and other sources claiming that he had been either killed or "critically injured".
"I can't absolutely confirm that Baghdadi has been killed," said General Nicholas Houghton, Chief of the Defence Staff of the British Armed Forces. "Probably it will take some days to have absolute confirmation."
Hisham al-Hashimi, an Iraqi security strategist, confirmed to The Telegraph that Abu Suja, "Baghdadi's very close companion", was killed in the air strike that destroyed at least 10 vehicles.
"He and Baghdadi were rarely separate. It's for this reason that it could be possible that Baghdadi was with him [at the time of the attack]," he said.
Mr Hashimi said he had "called relatives" of Abu Suja in Mosul on Sunday and that they had confirmed his death.
Some Arabic media outlets reported that Baghdadi had been critically wounded in the bombing, which also struck houses in Qaim, a town in Anbar Province, citing comments by tribal leaders in the area.
Patrick Ryder, a spokesman for US Central Command said that coalition air craft had conducted a "series of air strikes against a gathering of (Isil) leaders near Mosul", but that they could not confirm if Baghdadi was among those present.
It is not the first time that the jihadist leader is reported to have been killed.
Mr Hashimi said Abu Suja was the most senior person confirmed to have died in the attack. "There are more 20 other people were killed in the US air strike but they are not senior in the organisation," he said.
However, he noted that the very fact that Isil members were travelling in a convoy of this kind indicated something out of the ordinary: "They were hit while their convoy was heading to hold a meeting. Certainly it was not a routine meeting because of the way they were travelling to it, moving many cars despite the danger of the coalition air planes."
Earlier this year Mr Hashimi was one of a select group to have access to documents seized from the house of a senior Isil member in a raid by the Iraqi military that revealed, in remarkable detail, the leadership structure of this secretive organisation.
According to the documents and a "family tree" of Isil's top members, made by Mr Hashimi and published by The Telegraph, Abu Suja from the Iraqi town of Tal Afar, was the "general coordinator for the affairs of martyrs and women".
Full report at:
http://www.telegraph.co.uk/news/worldnews/islamic-state/11219630/Islamic-State-leader-Abu-Bakr-al-Baghdadis-close-aide-killed-in-US-air-strike.html
-----------
ISIS says British suicide bomber killed Iraq police general
Nov 10, 2014
The Islamic State of Iraq and Syria (ISIS) jihadist group said on Sunday that a British national carried out a suicide bombing that killed a senior Iraqi police officer.
ISIS said in a statement posted online that "Abu Sumayyah al-Britani" detonated a truck carrying eight tonnes of explosives on the outskirts of the northern town of Baiji, killing Major General Faisal al-Zamili.
It identified two more bombers involved in attacks in the area as "Abu Abdullah al-Turkistani" and "Abu Abdullah al-Turki," indicating that they were from Turkmenistan and Turkey, respectively.
A podcast called "The ISIS Show" interviewed a British jihadi identified as Abu Sumayyah al-Britani earlier this year, but it was unclear if he was the same person who carried out Friday's suicide bombing.
Full report at:
http://english.alarabiya.net/en/News/middle-east/2014/11/09/ISIS-says-British-suicide-bomber-killed-Iraq-police-general-.html
-----------
Lebanon's Druze community fearful as Syria's war moves closer
Nov 10, 2014
On mountains close to the Syrian border, members of Lebanon's minority Druze sect say they are ready to defend their towns and villages with arms if the civil war raging next door gets much nearer.
"Here in the east, the danger has become very close to us, it is right in our faces and in our lives," said Ali Fayik, a regional official speaking in the predominantly Druze town of Rashaya, set in steep mountains with a panorama over the region.
The town is in a sensitive area close to the Israeli-occupied Golan Heights and home to various religious communities which fought one another in Lebanon's own 1975-90 civil war.
On the other side of the mountain range, Sunni Islamist fighters linked to Al-Qaeda and hostile to groups including the Druze are battling Syria's army as well as other insurgents.
Fresh battles over the border late last week killed at least 31 members of pro-government forces and around 14 insurgents, the Syrian Observatory for Human Rights monitoring group said on Saturday.
Full report at:
http://english.alarabiya.net/en/perspective/features/2014/11/09/Lebanon-s-Druze-community-fearful-as-Syria-s-war-moves-closer.html
-----------
Kuwait says stateless to be offered Comoros citizenship
Nov 10, 2014
Tens of thousands of stateless people in oil-rich Kuwait will be offered citizenship of the impoverished African nation of Comoros to end their decades-old problem, the government said Sunday.
The stateless people -- known as bidoons -- would be granted "special applications for Comoros' economic citizenship," Kuwait's interior ministry assistant undersecretary Major-General Mazen al-Jarrah told Al-Jarida daily.
Those who accept the offer would be given free residence permits in Kuwait, in addition to a series of incentives like free education and healthcare and the right to employment, Jarrah was quoted as saying.
The process would start as soon as an embassy for Comoros is opened in Kuwait in the coming months.
Full report at:
http://english.ahram.org.eg/NewsContent/2/8/115134/World/Region/Kuwait-says-stateless-to-be-offered-Comoros-citize.aspx
-----------
Iraq president to visit Saudi Arabia as relations thaw
Nov 10, 2014
RIYADH, Nov 10 — Iraqi president Fuad Masum is to visit Saudi Arabia tomorrow for the highest-level talks between the two neighbours in years, as relations thaw in the face of the jihadist threat.
The official Saudi Press Agency gave no details of the programme for Masum's visit in a short announcement today.
There have been years of tension between Sunni-dominated Saudi Arabia and its Shiite-majority neighbour.
Relations plumbed new depths earlier this year when then Iraqi prime minister Nuri al-Maliki accused Saudi Arabia and its Gulf neighbour Qatar of backing Sunni "terror groups" in his country.
Full report at:
http://www.themalaymailonline.com/world/article/iraq-president-to-visit-saudi-arabia-as-relations-thaw#sthash.4HELApTb.dpuf
-----------
Egypt arrests Salafist leader spurring 'Islamic revolt'
Nov 10, 2014
The spokesman of the Salafist Front Khaled Said noted that Mawlana was one of a number of people, calling for staging an "Islamic revolt" in Egypt
The authorities on Sunday arrested a leader of the Salafist Front, one of the political forces making the National Alliance for the Defense of Legitimacy, which backs ousted president Mohamed Morsi, a security source said.
He added that the authorities had arrested Ahmed Mawlana, a member of the political office of the front, after accusing him of inciting violence and terrorism.
He said Mawlana was taken to a security agency for interrogation.
The spokesman of the Salafist Front Khaled Said, meanwhile, said Mawlana was one of a number of people, calling for staging an "Islamic revolt" in Egypt.
Full report at:
http://www.worldbulletin.net/todays-news/148078/egypt-arrests-salafist-leader-spurring-islamic-revolt
-------------
Africa
Suicide Bomber in School Uniform Kills 48 Students in Nigeria
AP | Nov 10, 2014
POTISKUM (Nigeria): A suicide bomber disguised in school uniform detonated explosives at a high school assembly in the northeast Nigerian city of Potiskum on Monday, killing at least 48 students, according to survivors and a morgue attendant.
Soldiers rushed to the scene, grisly with body parts, in the capital of Yobe state, but they were chased away with stones and calls by people angry at the military's inability to halt a 5-year-old Islamic insurgency that has killed thousands and driven hundreds of thousands from their homes.
A suicide bomb attack in the same city killed 30 people one week ago, when suspected Boko Haram fighters attacked a religious procession of moderate Muslims.
Some 2,000 students had gathered for Monday morning's weekly assembly at the Government Technical Science College when the explosion blasted through the school hall, according to survivors who spoke on condition of anonymity for fear of repercussions.
"We were waiting for the principal to address us, around 7.30am, when we heard a deafening sound and I was blown off my feet, people started screaming and running, I saw blood all over my body," 17-year-old student Musa Ibrahim Yahaya said from the general hospital, where he was being treated for head wounds.
Full report at:
http://timesofindia.indiatimes.com/world/rest-of-world/Suicide-bomber-kills-48-students-in-Nigeria/articleshow/45097314.cms?
-----------
In New Mystery, Second Libyan Statue 'Vanishes' Into Thin Air
10 November 2014
A historic Libyan statue of Omar al-Mukhtar mysteriously disappeared days following the vanishing of another statue, an official in Libya's Antiquities Authority said Sunday, according to Agence France-Presse.
Omar al-Mukhtar, who was a hero and the leader of the Libyan resistance against Italy in the 1920's and 30's, had his statue located in front of the headquarters of the municipal council of Al-Maya region on the coastal road west of Tripoli.
The archaeological statue disappeared in mysterious circumstances," an official, who spoke on condition of anonymity, said.
"Siimilar [circumstances] to the ones in which another archaeological statue, known the gazelle statue, one of the most important historical monuments located in downtown Tripoli, disappeared," he added.
Full report at:
http://english.alarabiya.net/en/life-style/art-and-culture/2014/11/10/Second-Libyan-statue-to-mysteriously-disappear-.html
-----------
Man armed with sword invades Sudan palace, kills two guards
Nov 10, 2014
CAIRO — Sudanese President Omar Bashir has come under attack.
At least three people were killed in an attack on Bashir's palace in Khartoum. Officials said a man killed two guards as he tried to enter the palace. The assailant was later shot dead by other guards.
"A mentally-ill man carrying a sword tried to enter the Republican Palace via the western gate next to the Nile River," Sudanese military spokesman Col. Al Sawarmi Khaled Saad said.
In a briefing on Nov. 8, Saad said the attacker killed one of the guards with a sword. The attacker, identified as Mohammed Kafi, then grabbed the rifle of his first victim and shot a second guard dead. Other guards opened fire on Kafi and killed him.
"The situation has been contained fully, and the situation at the Republican Palace is normal," Saad said.
Full report at:
http://www.worldtribune.com/2014/11/09/man-armed-sword-invades-sudan-palace-kills-two-guards/
---------
South Asia
Taliban bombs kill 10 Afghan police: officials
Nov 10, 2014
KABUL: Two Taliban bombs killed at least 10 policemen in Afghanistan on Monday. Officials said the latest attack is against the security forces who are suffering huge casualties as US-led Nato troops pull out.
Seven police, including their commander, died when a suicide bomber detonated his explosives next to a group of officers in Logar province, south of Kabul.
"A suicide attacker on foot this morning, targeted an Afghan local police commander in Puli Alam, killing him and six others," Abdul Hakim Eshaqzai, Logar's provincial police chief, told AFP.
The attacker, who was wearing a military uniform, struck as the commander was arriving at his office for a meeting.
Logar's media spokesman Din Mohammad Darwish confirmed the attack.
Also on Monday, a remote-controlled bomb hit a police car in Jalalabad city in the east of Afghanistan, killing three policemen. Ahmad Zia Abdulzai, the provincial spokesman told AFP.
Furthermore, another roadside bomb blast left two civilians wounded in Kabul.
The Taliban, who claimed responsibility for the Logar and Jalalabad attacks, have stepped up attacks as the withdrawing Nato-led forces leave Afghan security forces to fight the insurgents on their own.
Full report at:
http://www.dawn.com/news/1143514/taliban-bombs-kill-10-afghan-police-officials
-----------
Taliban militants suffer heavy casualties during clearing operations
Nov 10 2014,
At least 36 Taliban militants were killed during clearing operations by Afghan national security forces in the past 24 hours.
The Ministry of Interior (MoI) said at least 7 Taliban militants were also injured during the operations conducted by Afghan National Police (ANP), Afghan National Army and Afghan Intelligence – National Directorate of Security (NDS) forces.
A statement released by MoI said the operations were conducted in Parwan, Kandahar, Zabul, Uruzgan, Khost, Paktia, Kunduz and Kapisa provinces.
Another militant was also arrested by Afghan national security forces during the operations, MoI said, adding that various types of weapons and ammunition were discovered and seized by the security forces.
Afghan security forces also confiscated 7 rounds of improvised explosive device (IED) during the operations, MoI said.
The anti-government armed militant groups have not commented regarding the reports so far.
http://www.khaama.com/taliban-miliants-suffer-heavy-casualties-during-clearing-operations-8964
-----------
Independent prayer congregations "unacceptable," says Maldivian minister
Nov 10, 2014
Independent or unauthorised prayer congregations are "unacceptable" and legal action will be taken against its members if they refuse to accept advice from scholars, Islamic Minister Dr Mohamed Shaheem Ali Saeed has said.
Speaking at a press conference yesterday about the ministry's achievements during the first year of President Abdulla Yameen's administration, Shaheem stressed that it was not the government's policy to violate the sanctity of mosques by entering with force and stopping the congregation.
"The Islamic ministry met the people who were praying in an independent congregation and advised them over a long period and instructed them to stop," Shaheem said, referring to a separatist congregation at the Dharumavantha mosque in Malé.
The ministry's scholars later advised members of the congregation for one month in the presence of police officers, he said.
Full report at:
http://minivannews.com/politics/independent-prayer-congregations-unacceptable-says-islamic-minister-90891
-----------
Bangladesh arrests hardline cleric over TV host's death
Nov 10, 2014
DHAKA: Bangladesh police said on Monday they have arrested a hardline Muslim preacher for allegedly inciting the murder of a popular television host.
Sheikh Nurul Islam Faruqi, the 60-year-old chief cleric of a Dhaka mosque and host of television shows on Islamic issues, was found tied to a chair with his throat slit at his home in the capital in August.
Police suspect he was murdered by Ansarullah Bangla, a little-known group of hardline Islamists whose members were accused of killing an atheist blogger last year.
On Monday police said they had arrested 35-year-old preacher Mozaffor bin Mohosin after video footage of him calling Faruqi an "apostate" emerged.
Full report at:
http://www.dawn.com/news/1143516/bangladesh-arrests-hardline-cleric-over-tv-hosts-death
-----------
Maldivian jihadist fighter dies in Syria
Nov 10, 2014
A Maldivian jihadist fighter has died in Syria, Bilad al Sham Media (BASM) has revealed on social media, in what would be the fifth Maldivian casualty in the ongoing civil war.
"Another great Maldivian brother martyred. May Allah accept him. Ameen," Bilad al Sham tweeted last night.
The jihadist media group – which describes itself as "Maldivians in Syria" – identified the deceased as Abu Fulan Rahimullah, which was his assumed name or alias.
"He was a great companion and a pious brother who feared Allah, who made hijrah for the sake of Allah and strove hard in the cause of Allah, trying his utmost to be among the martyrs, especially after the martyrdom of his close companions Abu Turab, Abu Nuh, Abu Dujanah, and Abu Ibrahim," reads a message posted by the media group.
BASM revealed the death of Abu Dujanah and Abu Ibrahim in September while Abu Nuh and Abu Turab were killed in May.
Full report at:
http://minivannews.com/society/maldivian-jihadist-fighter-dies-in-syria-90883
-----------
Bangladesh Detective Branch deciphering militants' encrypted messages
Nov 10, 2014
As part of their ongoing effort to clamp down on militants, detectives are trying to decipher encrypted messages that were used by militant outfits to communicate with each other on secret websites.
"We have come to know that militant leaders were using secret IP addresses and encrypted messages to issue commands to sleeper cells," a senior official of the Detective Branch told the Dhaka Tribune yesterday.
The official said 11 people who operated those sites have already been traced, adding that the information was extracted from Ansarullah Bangla Team media wing chief Morshed Alam alias Masum alias Tractor, who is now under a six-day police remand.
AKM Mahbubur Rahman, assistant commissioner of DB, said they were also trying to locate militant sleeper cells by analysing some of the websites used by the militant outfits.
DB Joint Commissioner Monirul Islam told the Dhaka Tribune that internet was now the birthplace of militants, as militants relied on the web to share messages and organise.
Analysing the websites, the police have already identified the acting chief of Ansarullah Bangla Team as well as identifying four other spiritual leaders of the outfit, he added.
Full report at:
http://www.dhakatribune.com/law-rights/2014/nov/10/db-deciphering-militants%E2%80%99-encrypted-messages#sthash.AEa4mOTb.dpuf
---------
Europe
Kyrgyzstan Plunges Into Islamic State Frenzy
10.11.2014
From the Taliban to the Islamic Movement of Uzbekistan and the Hizb-ut-Tahrir, it is the Islamic State that is now seen as the bigger threat in Kyrgyzstan.
Verifiable facts are hard to come by when it comes to the IS as a potential threat in Central Asia. According to a report by EurasiaNet.org, however, the number of IS fighters from Central Asia is thought to be growing. And anger with the region's governments would seem to provide fertile soil for radicalism to flourish. That is prompting speculation about what will happen when battle-hardened fighters return home radicalised by the most vicious jihad movement in modern times.
The current IS scare in Kyrgyzstan was reportedly triggered by comments made by Kadyr Malikov, a prominent religious-affairs analyst in Bishkek.
Full report at:
http://www.neurope.eu/article/kyrgyzstan-plunges-islamic-state-frenzy
-----------
Good relations with Turkey more important than suspect's release: Danish FM
Nov 10, 2014
Maintaining good relations with Turkey is more crucial for Denmark than the recent dispute between the countries that erupted after the release of the suspected shooter of a Danish writer, the country's foreign minister has said.
"Good relations with Turkey are more important than the Hedegaard case," Foreign Minister Martin Lidegaard told Danish daily Berlingske, in reference to Lars Hedegaard, an outspoken critic of Islam whose suspected shooter was recently released in Turkey.
The release of the suspect has severely strained ties between the two countries since early October, with many Danish lawmakers and prominent figures pressuring the Copenhagen government to take harsh measures against Turkey.
Full report at:
http://www.hurriyetdailynews.com/good-relations-with-turkey-more-important-than-suspects-release-danish-fm-.aspx?pageID=238&nID=74102&NewsCatID=351
----------
Local ceasefires best way to ease Syrians' suffering -researchers
World Bulletin/News Desk
Nov 10, 2014
Local ceasefires in Syria may be the best way to ease the suffering of civilians in the absence of a political solution to the three-and-a-half year conflict, researchers from the London School of Economics said on Monday.
In a report that looked at more than 35 local negotiations across Syria since the start of the crisis, they said the international community should support such solutions, even if they have sometimes been problematic.
While two rounds of peace talks between the government and the political opposition this year failed to halt the war, local ceasefires have brought some relief.
"It is unacceptable to postpone international support for local peace initiatives until a top-level political deal is achieved," the authors of the report 'Hungry for Peace' said in a summary.
Full report at:
http://www.worldbulletin.net/todays-news/148087/local-ceasefires-best-way-to-ease-syrians-suffering-researchers
---------
UK radicalism, the crisis of a generation
Nov 10, 2014
A professional student of radicalization at King's College London, Shiraz Maher is concerned to understand why British Muslims are traveling to Syria to enlist as militants with the Islamic State.
In a voluminous article for the New Statesman magazine, Maher describes how, through the social media, he made contact with radicalized British Muslims operating in Syria. He evokes a generation apt to be far more responsive to extremist websites than to the preaching of British imams, many of whom come from outside the UK and possess poor English language skills. Such imams, he writes, stand little chance of rivaling the Islamic State's millenarian propaganda, its "hyper-empowering" videos with their images of balaclava-clad young men parading their zeal for jihad.
Full report at:
http://www.arabnews.com/columns/news/657486
-----------
Pakistan
Clash kills two soldiers, four militants in North Waziristan
Nov 10, 2014
PESHAWAR: At least two soldiers and four militants were killed in an exchange of fire in North Waziristan near the Afghan border, the military said on Monday.
The clash took place during a clearance operation late Sunday in North Waziristan tribal district, where the military has been waging a major offensive against insurgents since June.
"Four terrorists were killed during clearance operation in Gharlamai area of North Waziristan. Two soldiers also embraced shahadat (martyrdom) in the exchange of fire," a military statement said.
No other details of the clash were given but two intelligence officials said both soldiers and militants used heavy weapons.
North Waziristan has become a major base for the Tehreek-i-Taliban Pakistan (Pakistani Taliban), which rose up against the state in 2007.
The army says it has killed more than 1,100 militants and lost more than 100 soldiers since the start of the operation.
Full report at:
http://www.dawn.com/news/1143509/clash-kills-two-soldiers-four-militants-in-north-waziristan
-----------
Imran wants ISI, MI role in poll rigging inquiry
Nov 10, 2014
RAHIMYAR KHAN: Pakistan Tehreek-i-Insaf Chairman Imran Khan came up with a unique idea on Sunday, suggesting that representatives from the Inter-Services Intelligence and Military Intelligence should sit on a Supreme Court commission to investigate alleged riggings in last year's general elections.
The head of the commission should be decided by the government and the PTI, he declared. The commission should be formed by Nov 30 and it should finalise its findings within six weeks.
Addressing a large public meeting on the lawns of Khawaja Fareed College in Rahimyar Khan, the PTI chief said: "If the rigging is proved by the commission, Nawaz Sharif should resign and new elections be held under a free and fair election commission."
He said his party did not trust former chief justice Tassaduq Hussain Jillani because he was not impartial and that was why the PTI had suggested the name of retired Justice Nasir Aslam Zahid for the post of chief election commissioner. Four other members of the ECP should also resign, he demanded.
Full report at:
http://www.dawn.com/news/1143447/imran-wants-isi-mi-role-in-poll-rigging-inquiry
-----------
Jamaatul Ahrar confirms death of commander in Khyber airstrikes
Nov 10, 2014
PESHAWAR: The outlawed Tehreek-i-Taliban Jamaatul Ahrar has confirmed on Monday that their key commander Abu Jandal was killed during the Nov 9 bombing in Khyber Agency's Tirah Valley.
The TTP Jamaatul Ahrar spokesman Ehsanullah Ehsan confirmed to Dawn that Abu Jandal hailing from Mohmand Agency was leading a contingent of 50 fighters to battle the Pakistani security forces with others in Tirah.
Ehsan said that a contingent of about 50 more fighters would soon be on their way to the valley to fight along with others against the country's armed forces.
He also said that Khyber Agency is a key route for Nato supplies and would be their prime target in the days to come to inflict loss on the Pakistani military and state.
Full report at:
http://www.dawn.com/news/1143515/jamaatul-ahrar-confirms-death-of-commander-in-khyber-airstrikes
-----------
IS Footprints Growing In Pakistan: Report
Nov 10, 2014
KARACHI: The Balochistan government has sent a report to the federal government and law-enforcement agencies about "growing footprint in Pakistan" of the Islamic State (IS) group, also referred to as 'Daish'.
The confidential report, a copy of which is available with DawnNews, is dated October 31 and says that IS claims to have recruited between 10,000 and 12,000 people from Hangu and Kurram Agency.
"It has been reliably learnt that Daish has offered some elements of Lashkar-i-Jhangvi (LJ) and Ahle Sunnat Wal Jamaat (ASWJ) to join hands (with it) in Pakistan. Daish has also formed a ten-member Strategic Planning Wing," the report issued by the provincial government's Home and Tribal Affairs Department says.
Full report at:
http://www.dawn.com/news/1143272/is-footprints-growing-in-pakistan-report
-----------
Christians in Lahore, Peshawar protest against lynching
10th November 2014 | Agencies
A Christian bonded labourer and his pregnant wife were killed on November 4 for allegedly desecrating pages of the Quran in the eastern village of Chak. They were first beaten by a mob and their bodies burnt in the brick kiln where they worked. Police said they have arrested as many as 45 Muslims in connection with the killing.
http://www.dawn.com/news/1143508/christians-in-lahore-peshawar-protest-against-lynching
-----------
Bugti murder case: ATC orders Musharraf to appear during next hearing
Nov 10, 2014
QUETTA: The Anti-Terrorism Court (ATC) hearing the murder case of Akbar Bugti granted the main accused former president General (retd) Pervez Musharraf a one day exemption from appearing in court and ordered him to appear during the next proceeding.
During Monday's proceedings, Musharraf's lawyer presented his clients medical board report which was dismissed by the court. The court stated that if Musharraf fails to appear during the next hearing of the case his bail will be revoked.
The next hearing of the case will be held on December 10.
http://www.thenews.com.pk/article-165253-Bugti-murder-case:-ATC-orders-Musharraf-to-appear-during-next-hearing
-----------
Pakistan is not a dangerous place: Bilawal Bhutto
Nov 10, 2014
LONDON: Pakistan People's Party chairman Bilawal Bhutto Zardari has said Pakistan is not a dangerous place rather it's the bravest country that has given birth to people like Salman Taseer and Shahbaz Bhatti.
Speaking at the book opening ceremony at the Oxford University, he said that Pakistan's real strength was its democracy.
Bhutto said though democracy had been facing different challenges across the globe, the solution to challenges could also be found in democracy.
"Bowing down before oppression is not an option, terrorists belonging to Tehreek-e-Taliban Pakistan and Islamic State or those who launched 9/11 or London attacks are in very small numbers," the PPP chairman said.
He said that militants wanted to impose their agenda by using name of Islam but in fact they had nothing to with the religion of Islam.
http://www.thenews.com.pk/article-165232-Pakistan-is-not-a-dangerous-place:-Bilawal
-----------
No peace in the region without resolution of Kashmir dispute: Sartaj Aziz
November 10, 2014
Islamabad- Adviser to Prime Minister on National Security and Foreign Affairs Sartaj Aziz said the resolution of Kashmir dispute is prerequisite for durable peace in the region.
In an interview with a TV channel, he stressed the need for resumption of the dialogue process between Pakistan and India to settle all the outstanding disputes including Kashmir. Sartaj Aziz, however, said that this time India will have to take the initiative to revive the stalled peace process as it was New Delhi which had suspended the dialogue process with Islamabad. To a question, the Advisor affirmed Pakistan's steadfast support for an inclusive Afghan-led and Afghan-owned peace and reconciliation process. Sartaj Aziz hoped that peaceful democratic transition in Afghanistan would prove to a new beginning in Pak-Afghan relations.
http://nation.com.pk/national/10-Nov-2014/no-peace-in-the-region-without-resolution-of-kashmir-dispute-sartaj-aziz
--------
Young Pakistanis introduced to the 'Poet of the East', Allama Iqbal
Nov 10, 2014
RAWALPINDI: The Rawalpindi Arts Council (RAC) opened a photography exhibition on Sunday to highlight different aspects of the national poet Allama Mohammad Iqbal's life in connection with Iqbal Day celebrations.
RAC Resident Director Waqar Ahmed inaugurated the exhibition which was attended by a large number of schoolchildren and general public.
More than 100 rare photos of Iqbal were showcased, which included pictures of Iqbal addressing All India Muslims League and meeting various prominent personalities of the sub-continent. Some pictures captured moments from Iqbal's personal life.
"The aim of the exhibition is to highlight the efforts made by the 'Poet of the East' in making the Muslim homeland of Pakistan a reality.
Full report at:
http://www.dawn.com/news/1143467/young-pakistanis-introduced-to-the-poet-of-the-east
-----------
Mideast
Turkish PM terms it 'divine duty to protect' al-Aqsa
Nov 10, 2014
Turkish Prime Minister Ahmet Davutoglu has said Turkey holds most sacred the Al-Aqsa Mosque in Jerusalem just as Kaaba in Mecca, describing the protection of the both holy sites a "divine duty."
Davutoglu's remarks came as Al-Aqsa complex that represents the world's third holiest site for Muslims was stormed Wednesday by a group of a number of Jewish settlers and Israeli security forces, who stepped in the mosque with their boots on, knocked around Palestinians protesting their presence and threw around the Qurans.
"Even if a tiny piece of stone was taken from Al-Aqsa, it will be replaced, rebuilt and revived by our hands," he told the inauguration ceremony of a new metro line in Istanbul on Sunday.
Davutoglu said "we are the servants of the soil of Quds," using the Arabic name of Jerusalem, pledging to protect the holy city and Al-Aqsa -- the first direction of praying for Muslim worshippers -- against any attempt to destroy them.
Full report at:
http://www.worldbulletin.net/turkish-pm-terms-it-divine-duty-to-protect-al-aqsa/148054/turkish-pm-terms-it-divine-duty-to-protect-al-aqsa
-----------
Iran's Rafsanjani says Moslems must end religious strife
Nov 10, 2014
Former president of Iran Akbar Hashemi Rafsanjani argues that terrorism by extremist groups like al-Qaeda is caused, in part, by religious differences among Moslems.
"While the Quran seriously advises all to avoid sectarian challenges, we as religious leaders have ignored and repeatedly inflamed sectarian conflict," according to a video which appeared yesterday on his official website.
He cited the ceremony in which Shiites "insult" the companions of the Prophet Muhammed as an example of the divisive strife. Discord of this kind is what provokes terrorism, Rafsanjani said.
This undesirable conflict had made 60 nations and one billion Muslims too weak to face their common enemies on the world, Rafsanjani said.
http://www.worldbulletin.net/todays-news/148090/irans-rafsanjani-says-moslems-must-end-religious-strife
-----------
24 Arab Israelis in court for rioting after shooting
Nov 10, 2014
Twenty-four Arab Israelis, 10 of them minors, appeared in court Monday on charges of rioting in Arab areas of northern Israel after occupation police shot dead a palestinian young man.
Police said all of them had been arrested on Sunday and were in court for a hearing to decide whether their custody should be extended.
They are suspected of stone-throwing and other public order offences during demonstrations which have rocked the northern town of Kfar Kana, near Nazareth, since the fatal shooting of a 22-year-old resident early on Saturday.
Kheir Hamdan was shot dead after he attacked a police vehicle as officers tried to arrest a relative.
Full report at:
http://english.ahram.org.eg/NewsContent/2/8/115178/World/Region/-Arab-Israelis-in-court-for-rioting-after-shooting.aspx
-----------
Turkey provides education for Syrian refugee children
World Bulletin/News Desk
Nov 10, 2014
The Turkish government is offering a range of educational services to more than 150,000 Syrian refugee children, the Turkish Minister of National Education said on Monday.
"I urge the whole world to be sensitive to the needs of Syrian refugee children for education," Minister Nabi Avci said in a speech at the UNESCO 2014 World Conference on Education.
Avci pointed out that the Turkish Government has played a critical role in providing for Syrian refugee children education.
Full report at:
http://www.worldbulletin.net/todays-news/148089/turkey-provides-education-for-syrian-refugee-children
-----------
Israeli ministers approve applying Israel law to West Bank settlers
Nov 10, 2014
A ministerial committee approved a proposed bill on Sunday that would ensure the wholesale application of Israeli law to Jewish settlers in the occupied West Bank, a move sponsored by legislators who want Israel to annex part of the territory.
But Justice Minister Tzipi Livni, Israel's chief negotiator in peace talks with the Palestinians that collapsed in April, said she would appeal the decision, effectively putting parliamentary ratification on indefinite hold.
Most countries consider the settlements Israel has built in the West Bank, which Palestinians seek for a state along with the Gaza Strip and East Jerusalem, as illegal.
Israel, which captured the West Bank in a 1967 war, disputes that view. It considers the territory to be under its military control, and largely adjudicates legal matters relating to the area's 2.4 million Palestinians in military courts.
Full report at:
http://english.alarabiya.net/en/News/middle-east/2014/11/09/Israeli-ministers-approve-applying-Israel-law-to-West-Bank-settlers.html
-----------
Israel recognizes 'Aramaics' as separate ethnicity
Nov 10, 2014
In the green hills of the Galilee, where Jesus is said to have preached two thousand years ago, a group of Aramaic speakers looking to revive the language of Christ are celebrating a victory in their quest to safeguard their heritage.
In a place where tensions run high on issues of ethnicity, faith and citizenship, members of the Christian sect have won the right to change their designation in the population registry from "Arab" to a newly-created ethnic classification: "Aramaic."
The group that sought the change is small, a few hundred people at most, but their campaign is part of a larger debate on issues of identity in the Holy Land and Israel's treatment of its Arab minority.
Supporters say Israel's agreement to allow the group to define itself as "Aramaic" is a sign of ethnic tolerance.
But critics call it an attempt by the government to encourage splits within its Arab population, which largely defines itself as Palestinian and makes up about a fifth of the country's 8.2 million citizens.
Full report at:
http://english.alarabiya.net/en/perspective/features/2014/11/09/Israel-recognizes-Aramaics-as-separate-ethnicity-.html
----------
Southeast Asia
Muslim authorities need to grow up, says Malaysian Minister
Nov 10, 2014
Muslim authorities in Malaysia need to grow up and Muslims must not easily take offence at those they disapprove of or deemed to have committed sinful acts, says former de facto law minister Datuk Zaid Ibrahim.
In his blog posting today, he said that Muslim authorities in Malaysia should stop going after minority groups such as the transgender community.
His posting today paid tribute to the landmark ruling of the appellate court last Friday which recognised transgender individuals as human beings with rights and protected by the Federal Constitution.
The Court of Appeal ruled that Section 66 of the Negri Sembilan Shariah Criminal Enactment 1992 was unconstitutional.
Section 66 prohibits any Muslim man from "wearing a woman's attire and poses as a woman" and carries a punishment of a fine not exceeding RM1,000 or jail of not more than six months or both.
Full report at:
http://www.themalaysianinsider.com/malaysia/article/muslims-need-to-grow-up-says-zaid-after-landmark-ruling-on-transgenders#sthash.SA9EVPMG.dpuf
---------
Acting Jakarta Governor Wants Central Govt to Disband Islamic Defenders Front
Nov 10, 2014
Jakarta. Acting Jakarta Governor Basuki Tjahaja Purnama on Monday said he will be sending a letter to the central government proposing to disband the notorious hard-line organization Islamic Defenders Front, or FPI.
"I will recommend the justice and human rights minister disband the FPI," Basuki said.
On Monday, members of the FPI, along with a number of other Islamic organizations, rallied at the Hotel Indonesia traffic circle in protest of Basuki's imminent appointment as governor of the capital.
Basuki replaces former governor Joko Widodo, who in October officially stepped in as Indonesian president after winning the presidential election in July.
The hard-line organization has for the past few months expressed its disapproval of Basuki, who is a Christian.
Full report at:
http://thejakartaglobe.beritasatu.com/news/jakarta/soon-governor-ahok-wants-central-govt-disband-fpi/
-----------
No mention of liberalism or pluralism during dialogue with Selangor Fatwa Council — SIS
NOVEMBER 10, 2014
Sisters in Islam (SIS) stresses that religious liberalism and pluralism were not issues discussed during the dialogue between SIS and the Selangor Fatwa Council on January 12, 2012.
SIS is disappointed and puzzled by the Selangor Mufti's statement as reported by the media on November 7, 2014, which cites our meeting with the Selangor Fatwa Council on January 12, 2012 as "evidence" that they met with SIS on the issue of religious liberalism and pluralism.
On December 14, 2011, we received an invitation letter to a 'Majlis Dialog' (dialogue session). The invitation letter and the agenda made no mention of matters of faith.
Moreover, the terms "religious liberalism and pluralism" were not raised by any members of the Selangor Fatwa Council during the dialogue.
We briefed the Selangor Fatwa Council about SIS activities, including some of the cases that we handle through our Legal Clinic TeleNisa and the necessity for law reform. We also presented the findings from our latest study titled "The Impact of Polygamy on the Muslim Family in Malaysia."
Full report at:
http://www.themalaymailonline.com/what-you-think/article/no-mention-of-liberalism-or-pluralism-during-dialogue-with-selangor-fatwa-c#sthash.zqRnG2VR.dpuf
-----------
India
Burdwan blast mastermind admits he is a Bangladeshi
TNN | Nov 10, 2014
KOLKATA: Short, with a fragile frame but deep piercing eyes, Sajid, the October 2 Khagragarh blast mastermind, was sent to 12-days custody of the NIA by a Kolkata sessions' court on Sunday.
Chief judge Md Mumtaz Khan, however, reminded NIA that all apex court guidelines regarding medical facilities and amenities should be adhered to. The judge said he was allowing the NIA custody appeal till November 20 to unearth the truth due to the larger national security ramifications.
Brought to court in a police prison van with a pilot car around 2:20pm, Sadiq, his face hooded, was whisked to court-room lockup. Within moments the judge took his seat. NIA counsel Shyamal Ghosh said, "Sk Rehmatullah (Sadiq) was arrested in Salt Lake by the West Bengal Police and handed over to the NIA. He is very much involved (in the case). In fact he was the head (of the blast module). He planned it. This concerns the security of the country."
Full report at:
http://timesofindia.indiatimes.com/india/Burdwan-blast-mastermind-admits-he-is-a-Bangladeshi/articleshow/45092695.cms
-----------
No dialogue with Pak if ceasefire violation continues: Jaitley
Nov 10, 2014
In a stern warning to Pakistan, India on Sunday said there cannot be a dialogue with Islamabad if ceasefire violations are repeated.
"...if repeated ceasefire violations take place then environment for dialogue itself suffers," Defence Minister Arun Jaitley, who is also holding the portfolio of the Finance Ministry, said at the India Global Forum meeting.
"Yes, there should be a dialogue. We will welcome it but then the environment for dialogue has to be created by both countries. One of them cannot upset the environment and then say why dialogue is not taking place," Mr. Jaitley said.
The dialogue process was derailed after Pakistan envoy met Kashmiri separatists just a day before the foreign secretary level talks in August.
"When we further the discussions (after swearing-in invitation) it was through foreign secretary dialogue, this was responded to by an immediate invite to the separatists particularly keeping in mind elections in J&K at the doorsteps. Now this we found completely unacceptable...," he said.
Full report at:
http://www.thehindu.com/news/national/no-dialogue-with-pakistan-if-ceasire-violations-continues-says-union-defence-minister-arun-jaitley/article6580301.ece
---------
North America
Bush says rise of ISIS the only 'regret' for 2003 Iraq invasion
Nov 10, 2014
Former U.S. President George W. Bush has claimed that the rise of the Islamic State of Iraq and Syria (ISIS) militant group is his only regret about invading Iraq in 2003.
Bush, 68, who was speaking to U.S. network CBS News in a two-part interview, said that he believed he had taken "the right decision" to take over Iraq in 2003 and oust its longtime leader, Saddam Hussein.
But he added: "My regret is that…a violent group of people have risen up again…This is 'Al-Qaeda plus'…they need to be defeated. And I hope we do…I hope the strategy works."
Bush also said that he was surprised by Saddam's insistence to stay in Iraq on the eve of the invasion instead of leaving.
"You know, when he was captured -- I was told that the FBI agent that talked to him, he said, 'I just didn't believe Bush [that the U.S. would invade],'" he said. "And it's hard for me to believe he didn't believe me."
"It was hard in retrospect, for me to look back and say . . . I don't see how he could doubt my word," he added.
Full report at:
http://english.alarabiya.net/en/News/middle-east/2014/11/09/Bush-says-rise-of-ISIS-the-only-regret-for-2003-Iraq-invasion.html
-----------
Islamic State winning support, but not allegiance: Experts
Nov 10, 2014
While the Islamic State group is rapidly gaining support among jihadists' worldwide, only marginal organisations and isolated individuals are formally expressing their allegiance, experts say.
Of the five main Al-Qaeda offshoots -- in Afghanistan, Syria, Somalia, the Sahel and Yemen -- none has recognised the authority of IS Chief Abu Bakr al-Baghdadi, who at the end of June proclaimed the establishment of a caliphate straddling Iraq and Syria, with himself as "leader for Muslims everywhere."
"For the moment, those rallying behind Islamic State are on the margins, not at the centre (of the jihadist movement)," said Dominique Thomas, an expert in Islamist groups at the Paris-based School for Advanced Studies in the Social Sciences.
"They are small groups or marginalised individuals looking for recognition. They are proclaiming their allegiance to show they exist," Thomas told AFP.
The expert cited as an example the declaration of allegiance to IS made in September by the Algerian group Jund al-Khilifa -- or "Soldiers of the Caliphate" -- which hit the headlines by kidnapping and then beheading French hiker Herve Gourdel.
Full report at:
http://english.ahram.org.eg/NewsContent/2/8/115117/World/Region/Islamic-State-winning-support,-but-not-allegiance-.aspx
-----------
Muslims across America, Europe face renewed 9/11-style scorn amid ISIS' violent campaign
November 10, 2014
When Zainab Chaudry left a grocery store Wednesday in her native Baltimore, a man loitering outside followed the 32-year-old to her car.
"'Are you one of those people who are beheading people over there?'" she recalled him asking her. "He said, 'You need to go back to where you came from, because you're not welcome here.'"
Chaudry, who wears a traditional headscarf, is one of many Muslims and Muslim-Americans who face heightened backlash since the Islamic State tried to establish a caliphate in Iraq and Syria.
"I never really was very conscious of my Muslim identity in a negative way as I was after 9/11, but even more so after ISIS and the beheadings," Chaudry said in an interview with the Daily News. She was referring to a slew of executions of American and British citizens by the militants.
From Europe to Canada to the United States, experts say Muslims have been the target of increased discrimination and recent waves of violence as ISIS continues its brutal campaign — in an environment seemingly more hostile than the one after 9/11.
Full report at:
http://www.nydailynews.com/news/world/isis-muslims-america-europe-facing-9-11-style-scorn-article-1.2003180
----------
Alabama 'bans' Sharia law amid fears it could violate American rights
Alabama 'bans Shariah law' in move decried by Muslims and liberals
November 10, 2014
Sharia law has been "banned" by Alabama in the US – even though it has never been part of the state's legal system.
Under the "American and Alabama Laws for Alabama Courts Amendment", it is now illegal for judges to apply any foreign law if it violates citizens' existing rights.
Voters passed Amendment One on Tuesday, which despite being worded to encompass any foreign law, sprang from a specifically anti-Sharia bill first proposed almost four years ago.
Senator Gerald Allen's original attempt, the "Sharia Law Amendment", targeted Islamic laws but was dropped after a similar move was blocked in Oklahoma because it was found to unconstitutionally limit religious freedoms.
In a 2011 interview with the Anniston Star, Mr Allen claimed the measure as necessary to "protect" the current legal system but seemed unable to define Sharia.
"I don't have my file in front of me," he said. "I wish I could answer you better."
The paper found that the bill's definition of Sharia - "a form of religious law derived from two primary sources of Islamic law: the divine revelations set forth in the Koran and the example set by the Islamic Prophet Muhammad" – was almost identical to the current Wikipedia entry on the subject.
Full report at:
http://www.independent.co.uk/news/world/americas/alabama-bans-sharia-law-amid-fears-it-could-violate-american-rights-9847600.html
----------
U.S. faces last best chance on Iran nuclear deal
10 November 2014
The Obama administration is facing its last best chance to curb Iran's nuclear program - not just to meet an end-of-the-month deadline for a deal, but also to seal one before skeptical Republicans who will control Congress next year are able to scuttle it.
Years of negotiations to limit Tehran's nuclear production entered the final stretch Sunday as U.S. Secretary of State John Kerry met with Iranian Foreign Minister Javad Zarif and European Union senior adviser Catherine Ashton in Oman's capital.
With no immediate agreement in sight, officials said the discussions were expected to continue into Monday.
The stakes are high as the Nov. 24 deadline approaches. A deal could quell Mideast fears about Iran's ability to build a nuclear bomb and help revive the Islamic Republic's economy.
It also would deliver a foreign policy triumph for the White House, which is being hammered by prominent Republican senators over its handling of the civil war in Syria and the growth of the Islamic State militancy in Iraq. Those same critics seek to put the brakes on U.S.-Iranian bartering, if not shut it down completely, once they seize the majority on Jan. 3.
Full report at:
http://english.alarabiya.net/en/News/middle-east/2014/11/10/U-S-faces-last-best-chance-on-Iran-nuke-deal.html
-----------
U.S. jury deliberates fate of Palestinian bomb convict
10 November 2014
A federal jury in Detroit is resuming deliberations on whether a Palestinian immigrant broke U.S. law when she failed to disclose her conviction and imprisonment in a Jerusalem supermarket bombing that killed two people.
Rasmieh Yousef Odeh is charged with immigration fraud for not revealing an Israeli military court conviction for several bombings in 1969.
She served 10 years before being released in a prisoner swap with the Popular Front for the Liberation of Palestine.
Deliberations began Friday and resume Monday morning.
The 67-year-old Odeh is associate director of Chicago's Arab American Action Network. She says she thought the question in the 2004 citizenship application referred to convictions under U.S. law.
She also says Israeli authorities tortured her to confess. The judge in Detroit barred reference to that at trial.
http://english.alarabiya.net/en/News/middle-east/2014/11/10/U-S-Jury-deliberates-fate-of-Palestinian-bomb-convict.html
-----------
Obama says anti-ISIS campaign now in new phase
Nov 10, 2014
President Barack Obama said on Sunday that the deployment of an additional 1,500 American troops to Iraq marks a "new phase" in the campaign against militants from the Islamic State of Iraq and Syria.
"Phase one was getting an Iraqi government that was inclusive and credible – and we now have done that," Obama told CBS News.
"Rather than just try to halt ISIL's [ISIS'] momentum, we're now in a position to start going on some offense," the president added.
"The air strikes have been very effective in degrading ISIL's capabilities and slowing the advance that they were making," Obama said, according to a CBS transcript. "Now what we need is ground troops, Iraqi ground troops, that can start pushing them back."
U.S. air strikes on Saturday destroyed an ISIS convoy near the Iraqi city of Mosul, but U.S. officials said it was unclear whether the group's top commander, Abu Bakr al-Baghdadi, had been in any of the 10 targeted vehicles.
http://english.alarabiya.net/en/News/middle-east/2014/11/09/Obama-says-anti-ISIS-campaign-now-in-new-phase.html
-----------
'I killed Osama bin Laden - and he died afraid'
November 10, 2014
WASHINGTON - The former US Navy Seal claiming to be 'The Shooter' who killed Osama bin Laden has said the Al-Qaeda leader 'died afraid'.
Rob O'Neill, who was publicly named for the first time last week, said he does not care about people accusing him of lying about his role. "Osama bin Laden died afraid, and he knew we were there to kill him. And that's closure."
Amid controversy about who actually killed Osama bin Laden, the former Navy SEAL said it doesn't matter who killed the Al-Qaeda leader as the "team got him."
"The most important thing that I've learned in the last two years is to me it doesn't matter anymore if I am 'The Shooter.' The team got him," Robert O'Neill said in an audio interview with freelance journalist Alex Quade, a former CNN correspondent that aired on CNN's "AC360" news show.
Full report at:
http://nation.com.pk/national/10-Nov-2014/i-killed-osama-bin-laden-and-he-died-afraid
-----------
URL: https://www.newageislam.com/islamic-world-news/new-age-islam-news-bureau/saudi-culture-minister-fired-after-challenging-wahhabi-elite/d/99945