New Age Islam News Bureau
14 February 2021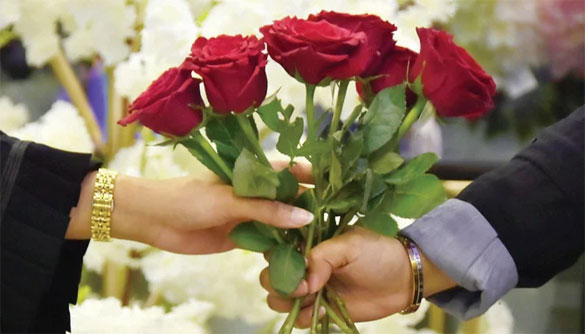 Saudis in major cities are buying extravagant gifts, flowers, cheesy balloons and even the cliched teddy bears for that special person. (AN photo by Hameed Al-Harbi)
-----
• Saudi Couples Are Undeterred — It's Valentine's Day, And They're Going For It Big Time
• Muslim Law Board Moves SC Opposing Plea Seeking 'Uniform Grounds Of Divorce' For All Citizens
• A Mistake In 'Bomb-Making Training' Session Killed 30 Taliban Terrorists, Six Of Them Foreign Militants
• Oversight Board, An International Watchdog: Facebook To Reinstate Post Feared To Incite Muslims To Violence
• Israeli Jewish Fanatics Trespass, Desecrate Muslim Cemetery Below Jerusalem's Old City Wall
• US Senate Acquits Trump As Republicans Save Him In Impeachment Again
• Army Holding War Games To Validate Concept Of Defence In Desert: ISPR
• Masari To Islamic Clerics: Sensitise Your Members On Community-Driven Security
• Non-Muslim Houses Of Worship Allowed To Operate During MCO
Arab world
• Saudi Couples Are Undeterred — It's Valentine's Day, And They're Going For It Big Time
• Egypt's Sisi Urges Developing Programs To Qualify Imams, Preachers
• Egyptian Court Justifies Islamist Travesty: Al Sisi's Statement To Macron
• HSBC completes first Islamic trade facility in Menat at $100m with QIB
• HSBC completes $100mn first Islamic trade facility in MENAT with QIB
• Downsize Or Delay: Saudis Weigh Up Wedding Options Amid Pandemic
-------
India
• Muslim Law Board Moves SC Opposing Plea Seeking 'Uniform Grounds Of Divorce' For All Citizens
• Lucknow's All India Shia Orphanage Donates For Ayodhya's Ram Temple
------
South Asia
• A Mistake In 'Bomb-Making Training' Session Killed 30 Taliban Terrorists, Six Of Them Foreign Militants
• Necessary Steps Have Already Been Taken To Amend The Muslim Marriage Law – Sri Lankan Justice Minister
• 52% of Afghanistan is under the Taliban control: Pajhwok
• Military General warns of 'bloody spring' ahead
--------
Europe
• Oversight Board, An International Watchdog: Facebook To Reinstate Post Feared To Incite Muslims To Violence
• Imam Urging Worshippers To Get Vaccinated Warns Against Scapegoating Muslims When There's 'Scepticism Across The Board'
• Marine Le Pen Defends Muslims From Liberal Macron's Interior Minister
• Victory anniversary of Islamic Revolution observed in Spain
-------
Mideast
• Israeli Jewish Fanatics Trespass, Desecrate Muslim Cemetery Below Jerusalem's Old City Wall
• Manifestations of joy at al-Abbas holy shrine on birth anniversaries of Imam al-Baqer & Imam al-Hadi
• Islamic Jihad to boycott Palestinian vote
• Explosion hits Iran-Afghanistan border
-------
North America
• US Senate Acquits Trump As Republicans Save Him In Impeachment Again
• Osama Bin Laden's Suspected Bodyguard Dies
• US announces exclusion of Yemen's Ansar Allah from list of terrorist organizations
• Biden press aide out of a job after threatening White House journalist
--------
Pakistan
• Army Holding War Games To Validate Concept Of Defence In Desert: ISPR
• PTI MPs' video probe to focus on beneficiaries
• Punjab governor accords approval to 'illegal' sub-campus
-------
Africa
• Masari To Islamic Clerics: Sensitise Your Members On Community-Driven Security
• Nigerian soldiers kill two top Boko Haram commanders – Official
• Nobody Can Force Us Out Of South-West, Miyetti Allah Says
• Miyetti Allah lists conditions to stop clashes between farmers, herders
• Islamists threaten to kill another teacher
--------
Southeast Asia
• Non-Muslim Houses Of Worship Allowed To Operate During MCO
• Event organiser takes blame for photo of Annuar Musa in apparent MCO SOP breach
• KL traffic personnel being investigated over claims of sexual harassment
Compiled by New Age Islam News Bureau
URL: https://www.newageislam.com/islamic-world-news/saudi-couples-undeterred-—-its/d/124300
------
Saudi Couples Are Undeterred — It's Valentine's Day, And They're Going For It Big Time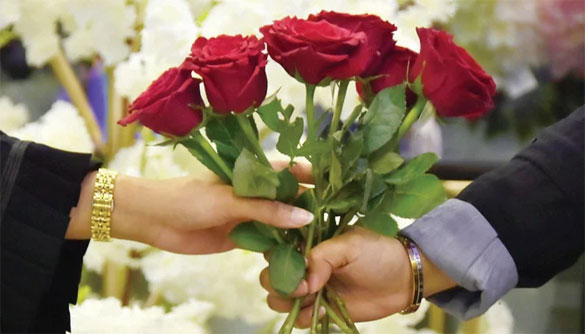 Saudis in major cities are buying extravagant gifts, flowers, cheesy balloons and even the cliched teddy bears for that special person. (AN photo by Hameed Al-Harbi)
-----
Deema Al-Khudair
February 14, 2021
RIYADH: There may have been less romance and more coronavirus in the air for the past year, but Saudi couples are undeterred — it's Valentine's Day, and they're going for it big time.
Flower shops, chocolate stores and restaurants, even with food available only for delivery, report booming business as love conquers all.
Khalid Omar, 28, who set up Dream Flowers in Jubail Industrial City in 2017, has doubled his sales in the past four days. And not a moment too soon, after the damage caused by the coronavirus lockdown, with the shop closed for three months in 2020.
"The COVID-19 pandemic hindered all local business projects for everyone," he told Arab News. "With the lockdown, we did not receive so many customers. Production stopped during the lockdown because we could not import fresh flowers twice a week. This affected us greatly.
"Days such as Mother's Day, Father's Day, Teacher's Day and so forth have a positive impact on sales. We increased our profit in just four days. This is our season."
With in-restaurant dining strictly forbidden, the time-honored tradition of eating out with your partner on Valentine's Day is off the menu this year — but enterprising restaurants are offering special deliveries of a romantic meal for two.
The popular Japanese hotspot Kampai has a Valentine's Day box of sushi rolls and salmon sashimi, complete with a red rose and a bottle of non-alcoholic Merlot to share with your significant other, while Casper and Gambini's will supply a heart-shaped cake in chocolate or red velvet.
Meanwhile, Saudis have been telling Arab News what their ideal Valentine's gift would look like. "There is nothing I would love more than a cake and a card from my children so my wife and I can celebrate with them," said Mohammed Al-Qahtani.
Hafsa Ayub said: "A box of chocolates. I don't care if it's a cliché, because I still like receiving them."
https://www.arabnews.com/node/1808856/saudi-arabia
--------
Muslim Law Board Moves SC Opposing Plea Seeking 'Uniform Grounds Of Divorce' For All Citizens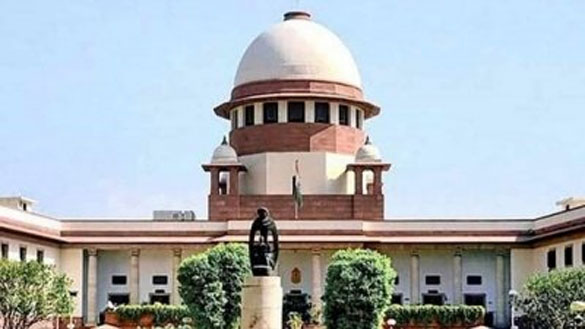 Supreme Court of India/ Representational Image
-----
Feb 14, 2021
PTI
New Delhi: The All India Muslim Personal Law Board has moved the Supreme Court against a plea seeking laying down of "gender and religion neutral" uniform grounds to award maintenance and alimony in matrimonial disputes as per international conventions and Constitution.
The Board has opposed the plea filed by advocate and BJP leader Ashwini Kumar Upadhyay which also seeks directions to the government to take appropriate steps to remove the prevailing anomalies in the grounds of maintenance and alimony, and make them uniform for all citizens without discrimination.
"The applicant would like to submit that the expression and 'Custom and Usage' in Article 13 of the Constitution does not include faith of a religious denomination embedded in personal laws," the All India Muslim Personal Law Board (AIMPLB) plea said.
"The constituent assembly was aware of the distinction between 'personal law' and the 'Custom and Usage' and chose advisedly to exclude personal law and include Custom and Usage in Article 13 of the Constitution," it said while seeking impleadment in the petition filed by Upadhyay.
The AIMPLB opposed Upadhyay's plea on the basis that personal laws cannot be tested on the anvil of Articles 14, 15, 21 and 44 of the Constitution.
The top court on December 16 last year had issued notice to the Centre on the plea filed by Upadhyay.
Upadhyay's petition, filed through advocate Ashwani Kumar Dubey, said that despite the eloquent provisions in the Constitution, the central government has totally failed to provide even gender-neutral, religion-neutral uniform grounds of maintenance and alimony for all citizens.
Maintenance and alimony is the only source of livelihood hence discrimination on the basis of religion, race, caste, sex or place of birth is a direct attack on the right to life, liberty and dignity, guaranteed under Article 21 of the Constitution, it said.
"Even after 73 years of Independence and 70 years of India becoming a socialist secular democratic republic, laws relating to maintenance and alimony are not only complex and cumbersome but also against the constitutional mandate of being equal, rational and just," the plea said.
"Hindus, Buddhists, Sikhs, Jains are governed by the Hindu Marriage Act 1955 and the Hindu Adoption & Maintenance Act 1956. Muslims are dealt as per status of valid marriage & prenuptial agreement and governed under the Muslim Women Act 1986. Christians are governed under the Indian Divorce Act 1869 and Parsis under the Parsi Marriage & Divorce Act 1936, but none of these laws are gender neutral," it said.
The PIL stated that discriminatory maintenance and alimony reinforce patriarchal and stereotypical notions about women and thus any provision that perpetrates or reinforces discriminatory stereotypes against women is manifestly arbitrary.
The plea has sought directions to declare that the discriminatory grounds of maintenance and alimony are violative of Articles 14, 15, 21 of the Constitution.
It has also sought directions to the Law Commission to examine domestic and international laws and prepare a report on "uniform grounds of maintenance and alimony" within three months.
https://economictimes.indiatimes.com/news/politics-and-nation/aimplb-moves-sc-opposing-plea-seeking-uniform-grounds-of-maintenance-and-alimony/articleshow/80909018.cms
--------
A Mistake In 'Bomb-Making Training' Session Killed 30 Taliban Terrorists, Six Of Them Foreign Militants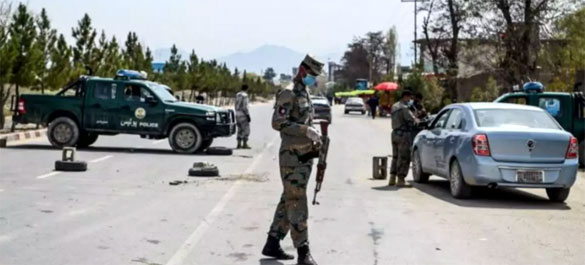 Balkh was among one of the relatively secure parts of Afghanistan until recent years, but the Taliban have extended their reach there from their traditional power base in the south and southeast of the country. (AFP/File Photo)
------
Arab News
February 14, 2021
Thirty Taliban terrorists, six of them foreign militants, were killed by an explosion inside a mosque where they had gathered for a "bomb-making training" session in northern Afghanistan on Saturday, officials said.
"As a result of the explosion of a mine in a mosque, 30 terrorist Taliban, including six foreign nationals who were professional mine-makers, were killed," a Defense Ministry statement said.
The incident took place at 9.15 a.m. in the Qitla village of the Dawlat Abad district of Balkh province, which lies some 450 km to the north of the capital city Kabul and shares its border with Uzbekistan, ministry officials said.
Fawad Aman, a spokesman for the ministry, said: "There were no survivors from the blast," calling it the "deadliest of its kind" for the insurgents.
"In the past, the enemies would have suffered like six, eight or 10 people while either planting a bomb or making a mine, but this is the first time they suffered such heavy losses," he said.
A Taliban terrorist spokesman, Zabihullah Mujahid, said that the explosion had occurred last night in a room used for storing ammunition and "not today as reported by government officials."
Munir Ahmad Farhad, a spokesman for Balkh's governor, said that the Taliban have had a "heavy presence in Dawlat Abad for years," but had not heard about the Defense Ministry's report related to the incident.
Balkh was among one of the relatively secure parts of Afghanistan until recent years, but the Taliban have extended their reach there from their traditional power base in the south and southeast of the country since the reduction of US-led troops in the past few years and due to infighting among government leaders.
https://en.abna24.com/news//a-mistake-killed-30-taliban-terrorists-making-bombs-in-northern-afghan_1115077.html
--------
Oversight Board, An International Watchdog: Facebook To Reinstate Post Feared To Incite Muslims To Violence
Simon Rushton
February 13, 2021
Facebook has been ordered to reinstate a post it had taken down amid accusations that it encouraged Muslims to violence.
The Oversight Board, an international watchdog set up to monitor Facebook's handling of posts that spark complaints of hate or abuse, said the post did not pose an imminent threat.
France's relations with its Muslim population has been tense since teacher Samuel Paty was killed after he discussed cartoons of the Prophet Mohammed in class.
The Facebook post was uploaded to an online group for Indian Muslims and included hashtags that called Mr Macron the devil and urged a boycott of French goods.
The board said human rights standards allow for people to express ideas and opinions, even those that "may be controversial or deeply offensive", as well as offence "at such expressions".
"A majority found that, for this specific post, Facebook did not accurately assess all contextual information and that international human rights standards on expression justify the board's decision to restore the content," the group said in a statement.
"While a minority viewed the post as threatening some form of violent response to blasphemy, the majority considered the references to President Macron and the boycott of French products as calls to action that are not necessarily violent," the board said in its ruling.
"The majority interpreted the post as criticising [Mr] Macron's response to religiously motivated violence rather than threatening violence itself. The board notes that its decision to restore this post does not imply endorsement of its content," it added.
https://www.thenationalnews.com/world/europe/facebook-to-reinstate-post-feared-to-incite-muslims-to-violence-1.1165028
-------
Israeli Jewish fanatics trespass, desecrate Muslim cemetery below Jerusalem's old city wall
February 13, 2021
WAFA
JERUSALEM – A group of Israeli Jewish fanatics today trespassed and desecrated a Muslim cemetery located just below Jerusalem's old city wall, according to a Palestinian official.
Munther Siam, member of the committee in charge of Muslim cemeteries in Jerusalem, told WAFA that the Israelis first walked through the Muslim cemetery known as Bab al-Rahma cemetery, under police protection, before reaching Lions' Gate, one of the gates to the old city located near the cemetery, where they performed Jewish rituals.
Ahmad Sumrein, spokesman for the committee, told WAFA that residents of Silwan, a neighborhood of East Jerusalem where the cemetery is located and where the neighborhood's dead are buried, confronted the Israeli fanatics and forced them to leave the cemetery.
This is not the first time Jewish fanatics trespass on the cemetery and they previously held a party there, he said.
The cemetery is located below the close Bab al-Rahma gate that leads to the walled-in Al-Haram Al-Sharif compound, the third holiest site in Islam that houses Al-Aqsa Mosque and the golden Dome of the Rock, as well as other Muslim mosques and antiquities buildings.
Israeli Jewish fanatics often gather near the gate, but from inside the wall, where they sometimes hold rituals in violation of standing rules that prevent non-Muslims from holding any religious rituals inside or near the Muslim holy place.
https://english.wafa.ps/Pages/Details/123270
-------
US Senate acquits Trump as Republicans save him in impeachment again
FEBRUARY 14, 2021
WASHINGTON - The US Senate acquitted Donald Trump on Saturday in his second impeachment trial in a year, with fellow Republicans blocking conviction over the former president's role in the deadly assault by his supporters on the US Capitol.
The Senate vote of 57-43 fell short of the two-thirds majority needed to convict Trump on a charge of incitement of insurrection after a five-day trial in the same building ransacked by his followers on Jan 6 shortly after they heard him deliver an incendiary speech.
Trump left office on Jan 20, so impeachment could not be used to remove him from power. But Democrats had hoped to secure a conviction to hold him responsible for a siege that left five people including a police officer dead and to set the stage for a vote to bar him from ever serving in public office again. Given the chance to hold office in the future, they argued, Trump would not hesitate to encourage political violence again.
Trump's attorneys argued that his words at the rally were protected by his constitutional right to free speech and said he was not given due process in the proceedings.
Republicans saved Trump in the Feb. 5, 2020, vote in his first impeachment trial, when only one senator from their ranks — Mitt Romney — voted to convict and remove him from office.
Romney voted for impeachment on Saturday along with fellow Republicans Richard Burr, Bill Cassidy, Susan Collins, Ben Sasse, Pat Toomey, and Lisa Murkowski.
Senate Majority Leader Mitch McConnell, who voted "not guilty," offered scathing remarks about the former president after the verdict.
"There is no question that President Trump is practically and morally responsible for provoking the events of the day," he said. "The people who stormed this building believed they were acting on the wishes and instructions of their president."
The drama on the Senate floor unfolded against a backdrop of gaping divisions in a pandemic-weary United States along political, racial, socioeconomic and regional lines. The trial provided more partisan warfare even as Democratic President Joe Biden, who took office on Jan 20 after defeating Trump in the November election, called for healing and unity after his predecessor's four turbulent years in power and a caustic election campaign.
Seventy-one percent of American adults, including nearly half of all Republicans, believe Trump was at least partially responsible for starting the Capitol assault, but only about half of the country thought Trump should be convicted of inciting insurrection, according to an Ipsos poll conducted for Reuters.
Trump, 74, continues to hold a grip on his party with a right-wing populist appeal and "America First" message. The wealthy businessman-turned-politician has considered running for president again in 2024.
Trump is only the third president ever to be impeached by the House of Representatives — a step akin to a criminal indictment — as well as the first to be impeached twice and the first to face an impeachment trial after leaving office. But the Senate still has never convicted an impeached president.
The House approved the single article of impeachment against Trump on Jan 13, with 10 Republicans joining the chamber's Democratic majority. That vote came a week after the pro-Trump mob stormed the neoclassical domed Capitol, interrupted the formal congressional certification of Biden's victory, clashed with an overwhelmed police force, invaded the hallowed House and Senate chambers, and sent lawmakers into hiding for their own safety.
Shortly before the rampage, Trump urged his followers to march on the Capitol, repeated his false claims that the election was stolen from him through widespread voting fraud, and told them that "if you don't fight like hell, you're not going to have a country anymore."
During the trial, nine House lawmakers serving as trial managers, or prosecutors, urged senators to convict Trump to hold him accountable for a crime against American democracy and to prevent a repeat in the future. They played searing video of rioters swarming inside the Capitol and making violent threats toward politicians including House Speaker Nancy Pelosi and then-Vice President Mike Pence. The House managers said Trump summoned the mob to Washington, gave the crowd its marching orders and then did nothing to stop the ensuing violence.
The defence lawyers accused Democrats not only of trying to silence Trump as a political opponent they feared facing in the future but of attempting to criminalise political speech with which they disagreed and aiming to cancel the voices of the tens of millions of voters who backed him.
Trump's lawyers argued the trial was unconstitutional because he had already left office. The words Trump used, they argued, were no different than those regularly employed by Democrats.
In his previous impeachment trial, the Senate voted to acquit Trump on two charges — abuse of power and obstruction of Congress. That impeachment arose from Trump's 2019 pressure on Ukraine to investigate Biden as he sought foreign aid to sully a domestic political rival.
A common theme in the charges at the heart of the two impeachments was Trump's abandonment of accepted democratic norms to advance his own political interests.
The US Constitution sets out impeachment as the instrument with which the Congress can remove and bar from future office presidents who commit "treason, bribery or other high crimes and misdemeanours."
Impeachment, once a rare occurrence, has become more commonplace during America's era of poisonous political polarisation in recent decades. In the 209 years after the first US president, George Washington, took office in 1789, there was only one impeachment.
Since 1998, there have been three, including Trump's two. Andrew Johnson was impeached and acquitted in 1868 in the aftermath of the American Civil War and Bill Clinton was impeached in 1998 and acquitted in 1999 of charges stemming from a sex scandal.
Trump's acquittal does not end the possibility of other congressional action against him such as a censure motion. Republicans seemed dead set against an idea floated by Democrats of invoking the Constitution's 14th Amendment provision barring from public office anyone who has "engaged in insurrection or rebellion" against the government.
The impeachment proceedings also can be viewed in the context of a battle for the future of the Republican Party. Some Republicans — mostly moderates and establishment figures — have voiced alarm at the direction Trump has taken their party.
Detractors have accused Trump — who had never before held public office — of undermining the institutions of democracy, encouraging a cult of personality and pursuing policies built around "white grievance" in a nation with a growing non-white population.
https://www.asiaone.com/world/us-senate-acquits-trump-republicans-save-him-impeachment-again
--------
Army holding war games to validate concept of defence in desert: ISPR
Staff Reporter
February 14, 2021
ISLAMABAD: Pakistan Army on Saturday said that its troops are holding war games in the Thar desert.
The exercises codenamed 'Jidar-ul-Hadeed' that began on Jan 28, the ISPR said, would conclude on Feb 28.
Troops assigned to Karachi Corps are taking part in the drills. The troops are "practising tactical drills and procedures" as part of the exercises.
ISPR said the defensive manoeuvres were aimed at validating the concept of defence in deserts.
"The exercise is being conducted in extreme desert conditions, 74km ahead of Chhor, under conventional operations setting," it added.
The army has a Desert Warfare School at Chhor, which is 165km from Hyderabad.
The school was established in 1987 in recognition of the importance of desert warfare training.
https://www.dawn.com/news/1607235/army-holding-war-games-to-validate-concept-of-defence-in-desert-ispr
--------
Masari to Islamic clerics: Sensitise your members on community-driven security
February 14, 2021
By Augustine Okezie
Governor Aminu Bello Masari of Katsina State, yesterday, called on Islamic clerics in the state to partner with the state government in sensitising their members on the new three-tier community-driven security arrangement designed to tackle banditry.
Governor Masari, who made the call in Katsina during a two-day security awareness seminar for Jumma'at Mosque Imams and other Islamic religious leaders in the state, with the theme, "Combating Insecurity through Da'awa," said several security meetings and strategic policies have been adopted by the state government, which have started yielding the needed results.
He charged the clerics to instigate communal participation in security arrangements within their localities rather than waiting for security operatives, whose population, he noted, is grossly disproportionate to the 7.8 million population of Katsina State.
He said, "The setting up of the 3-tier security arrangement should be seen as grassroots approach by the state government, by engaging the usual traditional and religious methods of enforcing discipline and good conduct amongst the populace.''
"We must go back to our tested traditional and religious method of enforcing security. The situation got degenerated because of the failure of the religious leaders to play their assigned roles of enforcing discipline and good conduct amongst members."
The Emir of Katsina, Alhaji Abdulmumin Kabir Usman, also warned the clerics that failure to actively sensitise their members on the growing security challenges in the state may further limit activities, especially farming, religious freedom and movements.
While calling for continued prayer and support to the government in tackling insecurity, the monarch blamed the insatiable quest for wealth amongst the youths as responsible for their engagement in crimes.
Earlier, the Special Adviser to the Governor on Security, Alhaji Ahmad Katsina, said the seminar was organised to challenge the clerics to mobilise their members to partner with the state government in tackling the growing insecurity in the state.
https://thenationonlineng.net/masari-to-islamic-clerics-sensitise-your-members-on-community-driven-security/
--------
Non-Muslim houses of worship allowed to operate during MCO
13 Feb 2021
by Ahmad Zamzahuri
PUTRAJAYA, Feb 13 — Non-Muslim Houses of Worship (RIBI) are now allowed to operate during the Movement Control Order (MCO) effective Feb 12 until 18, said the Ministry of National Unity (KPN).
In a statement today, KPN said the decision was made during the National Security Council (MKN) Special Meeting On Covid-19 Management chaired by Prime Minister Tan Sri Muhyiddin Yassin.
It said the government had agreed on the opening of RIBI during the MCO subject to strict standard operating procedures (SOP), namely, the number of worshippers present not to exceed 30 at any one time.
In addition, SOP also included the usage of the MySejahtera application for recording purposes in areas with good internet access.
''An exemption of the MySejahtera code scan is given to worshippers who are 60-year-old and above and those without a smart phone,'' it said.
According to the statement, the prayer schedules for Buddhist temples, Tao temples, Wat and churches started at 6 am until 2 pm.
For Hindu temples, the first session is from 6 am to 10 am and the second session is from 5 pm to 9 pm while Gurdwara commences at 6 am until 9 am, it said.
KPN advises all worshippers nationwide to comply with the SOP which were effective during the period (Feb 12 to 18).
https://www.malaymail.com/news/malaysia/2021/02/13/non-muslim-houses-of-worship-allowed-to-operate-during-mco/1949519
-------
Arab world
Egypt's Sisi urges developing programs to qualify imams, preachers
Ahram Online
13 Feb 2021
Egypt's President Abdel-Fattah El-Sisi urged the continuing and development of programs to qualify Muslim male imams and female preachers, as he met with Endowment Minister Mohamed Mokhtar Gomaa on Saturday.
Gomaa reviewed with the president, the ministry's plan on continuously providing training to imams and teachers through the International Awkaf Academy, said Presidential Spokesman Bassam Radi.
He also presented the ministry's latest updates in the fields of writing, translation and publishing as well as the publications that the ministry provided for Islamic libraries abroad.
El-Sisi urged for the developing of qualifying programs for imams and preachers and for the strengthening of communication skills through securing postgraduate chances for the endowment ministry staff, especially in psychology and sociology.
Prime Minister Mostafa Madbouly, Irrigation Minister Mohamed Abdel-Aty, Finance Minister Mohamed Maait and Agriculture Minister El-Sayed El-Quseir attended the meeting with El-Sisi.
The presidential spokesman also said that the meeting addressed a number of activities carried out by both the agriculture ministry and the endowment ministry.
The meeting reviewed the status regarding organising the overlap between the general authority for agrarian reform and the endowments authority in terms of the agricultural plots, Radi noted.
The meeting also discussed the national project for horizontal expansion of the agricultural areas nationwide, especially in central and north Sinai, Toshka, Al-Hamam and west Minya.
The president urged for intensifying efforts to apply the modern technology methods of agriculture and to expand the use of the modern irrigation system nationwide.
El-Sisi also urged coordination between the ministries of agriculture and irrigation to secure irrigation water. He highlighted the importance of raising the efficiency of the wastewater treatment plants and the canal networks as well as lining these canals nationwide.
http://english.ahram.org.eg/NewsContent/1/64/403979/Egypt/Politics-/Egypt%E2%80%99s-Sisi-urges-developing-programs-to-qualify-.aspx
--------
Egyptian court justifies Islamist travety: Al Sisi's statement to Macron
Dr. Ashraf Ramelah
Feb 14 , 2021
Nearly five years ago now, on Arutz Sheva, I wrote about a courageous Coptic Christian woman and a brave Coptic Bishop who stood with her and her son in the "Bedouin arbitration" court after she fell victim to a heinous crime.* -
As justice is never served through the "Bedouin" process of arbitration, shortly thereafter the woman and her son brought a civil lawsuit against the perpetrators in the state court. This past December 2020, her case was lost in favor of Islamists. The religious deep state found the offenders innocent, and the court set them free.
Al Karm is a small, miserable village in the Al Minya Governorate, which is one of the poorest governorates in Egypt. In Al Karm village, as in other parts of the country, Muslims and Christians live as neighbors. The common denominator of its villagers is simplicity of life penetrated with poverty and ignorance. Such conditions aid in the diffusion of Salafi fundamentalists and Muslim Brotherhood influencers that are able to control behavior and handle religious matters.
In July 2016, a rumor started everything. It circulated that a relationship existed between a Christian man and Muslim woman -- unacceptable to the Muslim community. Seeking reparations, a religious mob struck back.
After the targeted man was seized by the radicals and arrested by the police, his mother, a woman in her 70's, was stripped, dragged from her home and paraded through the village streets. As the mother of a Coptic man who had been convicted in the court of public opinion for a religious crime she paid a dear price.
During this humiliating and brutal exercise the mob screamed Allah u Akbar signaling great satisfaction as if winning an Islamic invasion (Gazwa). State authorities and Al Azhar Sunni Institute both turned a blind eye. There were no statements of condemnation coming from either direction.
During their press conference in France on Dec 6, 2020, the Egyptian president offered a morality lesson to Macron when a journalist asked them each for his vision concerning religion and social issues. Macron responded:
"The rank of religious values is much higher than human value, it is the right of a person to embrace what he wants and reject what he refuses, but it is important, as we express our opinion, that we do not violate religious values, because religious values are much higher than human value."
The clash between the two leaders demonstrates the hierarchy of values in the Arab-Muslim culture. Differing from the Western view and dominating the Islamist mentality, the embracing of ideas, rejecting them and expressing opinions remains confined to religion alone. Religious values, if they contradict human rights, come before that which makes up human value -- life, liberty, free speech, free will, i.e. all human rights. In the West, human rights (God given) stand above all else, and religious freedom is one of those rights.
The battered and humiliated Coptic family was assaulted due to an Islamic "insult" and under the auspices of "religious values" was finally defeated in the pursuit of justice. This is how Al Sisi's "rank of religious values is much higher" comment actually plays out over and over in horrible tragedies. Egypt's society suffers at the hands of Islamic religious values incongruent with human rights and ranked above them in governing the country.
It is this basic concept that does anything but deter Egypt's internal divisions. It fosters all types of crimes against the Christian minority. Islam's rooted perception of values appears as the heavy stumbling block to fairness and equality under the law. The president's message in the international arena discourages any potential for modification to religious teachings, which could lead to gradual change in outlook and respect for life and liberty.
Also, Al Sisi's statement to Macron illustrates Islam's double standard. Al Sisi indicates that without violating religious values one can "embrace what he wants and reject what he refuses…" and as well express opinions. This implies that individuals with Islamic "religious values" must embrace, reject and express only while adhering to approved doctrine, and those outside of Islam must not embrace, refuse or express their truths at any time because it is merely an exercise of intrinsic human value (rights).
As with the tragic incident of this family, the tremendous danger in statutes and decisions coming from the "rank of religious values," in this religion, over human value lies in giving absolute immunity to those believing in Islam. This carries in its essence an absolute threat to the humanity of the country -- especially to those who do not embrace the "religious values" of the ruling, majority religion.
The verdict from the Egyptian court is in keeping with Islamic doctrine where it is permissible for a man to violate a woman's body and dignity. Al Sisi's statement made it clear; religious values supersede human value.
Dr. Ashraf Ramelah is the 2007 founder of Voice of the Copts, dedicated to opposing the idea of Islamist supremacy and Sharia throughout the Western world through education, advocacy and action. By drawing attention to the suffering of Coptic Christians in Egypt, it endeavors to educate the Western world as to the chilling effect of Sharia (Islamic law).
https://www.israelnationalnews.com/News/News.aspx/296784
-------
HSBC completes first Islamic trade facility in Menat at $100m with QIB
14 Feb 2021
The Peninsula
Doha: HSBC Bank Middle East has completed its first Islamic trade facility in the Middle East, North Africa, and Turkey (Menat) region valued at $100m, in January 2021 with Qatar Islamic Bank (QIB), Qatar's largest Islamic institution. The Financial Institutions Refinance trade facility is a new addition to HSBC Bank Middle East's Islamic product suite.
"This is a first-of-its-kind transaction for HSBC Bank Middle East within the Menat region and we are very proud that Qatar was the first country where it was executed," said Abdul Hakeem Mostafawi, CEO of HSBC Qatar. "We are very optimistic about the different growth opportunities in Qatar that is driven by the expansion in gas production, final preparations for the FIFA 2022 World Cup and ongoing investment in infrastructure development. This transaction signals a strong start to the year," he added.
The fact that this transaction was first completed in Qatar demonstrates that the country has a number of market leading internationally recognised Islamic financial institutions with diversified product sets and a high demand for Sharia compliant banking products.
Bassel Gamal, Group CEO of QIB, added: "We are very proud that QIB is the first Bank in the region to complete an Islamic trade facility with HSBC. The transaction has been executed efficiently, with the highest professional standards. We look forward to further cooperation in the future".
Osama Ali, Head of Global Banking in Qatar, said: "This transaction demonstrates our ability to identify and deliver unique solutions to our clients, by utilising our extensive global network and applying our broad knowledge of the market in Qatar."
HSBC is able to offer a complete range of Islamic financial products to its wholesale clients. In addition to being the top Sukuk arranger globally, it provides its clients with Islamic financing, hedging and bespoke solutions.
https://thepeninsulaqatar.com/article/14/02/2021/HSBC-completes-first-Islamic-trade-facility-in-Menat-at-$100m-with-QIB
-------
HSBC completes $100mn first Islamic trade facility in MENAT with QIB
February 13 2021
Abdul Hakeem Mostafawi
HSBC Bank Middle East completed its first Islamic trade facility in Middle East, North Africa and Turkey (MENAT) valued at $100mn in January with Qatar Islamic Bank, Qatar's largest Islamic institution. The Financial Institutions Refinance trade facility is a new addition to HSBC Bank Middle East's Islamic product suite.
"This is a first-of-its-kind transaction for HSBC Bank Middle East within the MENAT region and we are very proud that Qatar was the first country where it was executed," said Abdul Hakeem Mostafawi, CEO, HSBC Qatar.
"We are very optimistic about the different growth opportunities in Qatar that is driven by the expansion in gas production, final preparations for the FIFA 2022 World Cup and ongoing investment in infrastructure development. This transaction signals a strong start to the year."
The fact that this transaction was first completed in Qatar demonstrates that the country has a number of market leading internationally recognised Islamic financial institutions with diversified product sets and a high demand for Sharia compliant banking products.
Bassel Gamal, Group CEO, QIB stated: "We are very proud that QIB is the first Bank in the region to complete an Islamic trade facility with HSBC. The transaction has been executed efficiently, with the highest professional standards. We look forward to further cooperation in the future".
Osama Ali, HSBC Head of Global Banking in Qatar said, "This transaction demonstrates our ability to identify and deliver unique solutions to our clients, by utilising our extensive global network and applying our broad knowledge of the market in Qatar."
HSBC is able to offer a complete range of Islamic financial products to its wholesale clients. In addition to being the top Sukuk arranger globally, it provides its clients with Islamic financing, hedging and bespoke solutions.
https://www.gulf-times.com/story/684609/HSBC-completes-100mn-first-Islamic-trade-facility-
-------
Downsize or delay: Saudis weigh up wedding options amid pandemic
HALA TASHKANDI
February 14, 2021
RIYADH: Life has changed dramatically since the coronavirus pandemic hit Saudi Arabia.
Face masks and other personal protective equipment have become commonplace, daily tasks such as grocery shopping have become more hazardous, and terms like "social distancing" and "quarantine" have found their way into everyday vocabulary.
But life has continued in one way or another and even a global pandemic cannot stand in the way of true love because, despite the obvious challenges presented by preventive measures, Saudi couples have beaten the odds to find wedded bliss.
Jeddah-based wedding planner Rajaa Zagzoog said that the number of weddings she organized during the pandemic did not decrease. Instead, they went up.
"We actually had more weddings than we're used to normally," she told Arab News. "Those who had decided to postpone their weddings during lockdown approached us as soon as it was over to plan. Numbers were especially high during the mid-year school vacation, we had back-to-back weddings then."
Zagzoog started planning home weddings as soon as the first lockdown ended and when ballroom weddings with up to 50 guests were allowed again, she started doing those too.
Home weddings were popular last year due to their intimate nature along with the relative ease of planning and the safety of conducting an event in one's own space.
And, with wedding costs climbing and people's finances still reeling from the effects of the pandemic, some Saudi couples have taken advantage of the situation to downsize their weddings and hold their celebrations at home with fewer guests.
One such person is Layla M, who got married at home last year with only her family and her husband's family present, along with a few of her closest friends.
"Nobody can guarantee what is going to happen tomorrow, and never has that been truer than it is today," she said. "If this virus ends up killing us all, at least I can say I got to marry the love of my life and spend a little time with him."
"The numbers weren't as low as you'd expect. They depended on what we had planned for the wedding in the way of flowers and decorations, the number of guests, and so on."
Wedding costs in Saudi Arabia vary greatly, but estimates from industry research company IBISWorld put Saudi Arabia's wedding sector at $550m (roughly SR2.06 billion).
Arabian Business puts the price tag of a Saudi wedding at between $185,000 and $2 million, and reports that around $1 billion is spent every year on wedding jewelry and bridal dresses in Saudi Arabia and other Gulf Cooperation Council countries.
"Some home weddings we planned even surpassed the costs of ballroom weddings," added Zagzoog. "Even a home wedding can have a high budget depending on the design."
When it came to the challenges of planning a pandemic wedding, she and her team were able to find ways to spruce up weddings and make both the couple and guests feel special, while also incorporating the necessary safety requirements into the wedding decor.
"We would write the bride and groom's names on the masks, for example, or offer masks that fit with the theme colors of the wedding, or if the couple had a logo or a monogram, we would put those on the masks, or on the bottles of sanitizer, or go with something floral, for example."
All in all the pandemic had put the importance of weddings into perspective for many of her clients, and she had noticed a definite change in the way weddings were now viewed.
"Since the pandemic began, people have really started looking at weddings differently. They've started focusing on the true reason behind a wedding - to be happy. Getting to wear a nice dress, not needing to be nervous all the time, just enjoying spending the day with family and loved ones. It's much more intimate and cozier and, in my opinion, much nicer than before."
But some Saudi brides are choosing to bide their time, hoping to be able to have their dream weddings in peace once things are calm again.
Raghad Abdulaziz, who is 23, got engaged just before the lockdown began last March. She steadfastly refused to get married during the pandemic, holding on to the hopes of having the elaborate and opulent ceremony of her dreams.
"Like almost every other girl, I've been dreaming of my wedding since I was just a kid," she told Arab News. "I've had most of the details worked out since I was a teenager. The color scheme, the style of my dress, the wedding cake, everything. I've always wanted it to be a big affair. I can't let go of that dream."
Abdulaziz said that, as an only child, she wanted to give her mother the chance to celebrate her wedding properly as both mother and daughter had their hearts set on a fabulous fete to send her off to her new home in style.
"If the pandemic lasts for much longer, I will probably concede at some point. But for now, both my mother, my fiance, and myself are all in agreement to postpone for a little longer. I'm not in that big of a rush, for now. As long as there's a chance to still have the wedding of my dreams, I'm going to hold out for it."
Marriage is a family affair and, in some families, is it common to find the groom bearing the cost of the wedding, home and furniture alongside the dowry and honeymoon. With the mandatory cut in the number of wedding guests by authorities, a pandemic wedding is practically a steal for some grooms.
Ahmed Abdulhamid, an engineer from Madinah and soon-to-be groom, came to an agreement with his wife to give up on the prospect of a large wedding in order to save for their dream honeymoon and home.
"It's an insult to the family if you can't pay for a wedding, it's tradition and though it's an expensive one, it's still too much of a burden on a lot of young grooms just starting to find a solid base in their careers and to settle down," he told Arab News. "My wife is brilliant inside and out and my love for her grew more when we both stood our ground to get married in a small intimate wedding and save on the cost. I want to give her a dream honeymoon that she deserves and a home that we both want to build together, and that is now closer to reality when I was able to save almost 80 percent of the cost. It's what we both want and we've never been happier."
https://www.arabnews.com/node/1808811/saudi-arabia
-------
India
Lucknow's All India Shia Orphanage donates for Ayodhya's Ram Temple
Abhishek Mishra
February 14, 2021
With over Rs 1,000 crore raised so far for the Ram temple in Ayodhya, the crowdfunding drive has not only seen participation by Hindu devotees, but by the Muslim community as well.
Over 80 orphans from the Sadatganj orphanage of the All India Shia Orphanage in Lucknow and people from the minority community donated more than Rs 1.5 lakh for the construction of the Ram temple. The donations ranged from Rs 1,100 to Rs 10,100.
Muslim intellectuals said such an effort would send a message of unity and brotherhood in the country. Speaking to India Today TV, 12-year-old Aarif said all religions are same. "No one has got a stamp of any religion from God and we should come together to contribute for each other's religious work," he said.
Over 80 orphans from the All India Shia Orphanage in Lucknow and people from the minority community donated more than Rs 1.5 lakh for the construction of the Ram temple (Source: India Today)
Speaking to India Today TV during the contribution drive, former chairman of Shia Waqf Board Wasim Rizvi said "such a picture will send a message of unity to those who work to divide people in the name of religion". RSS executive member Dr Indresh Kumar said a new chapter of mutual harmony would be written with the construction of the Ram temple.
The Shri Ram Janmabhoomi Teerth Kshetra trust is conducting a mass contact and contribution campaign from January 15 till February 27 for the construction of the grand temple in Ayodhya.
"The accounts of the trust in three nationalised banks show an amount of over Rs 1,000 crore. Nearly 1.50 lakh VHP activists are collecting funds for the Ram temple. 37 activists have been deputed to deposit the donations in the bank accounts," PTI quoted Shri Ram Janmabhoomi Teerth Kshetra secretary Champat Rai as saying.
https://www.indiatoday.in/india/story/all-india-shia-orphanage-muslim-community-donation-ayodhya-ram-temple-1769010-2021-02-14
---------
South Asia
Necessary Steps Have Already Been Taken To Amend The Muslim Marriage Law – Sri Lankan Justice Minister
Sandasen MARASINGHE
13-02-2021
Necessary steps have already been taken to amend the Muslim Marriage Law, Justice Minister Ali Sabry, PC stated in Parliament yesterday (12).
Minister Sabry made this observation responding to a question raised by MP Ven. Athuraliye Rathana Thera under Standing Order 2/27 in Parliament.
Minister Sabry said that the time has come to introduce adjustments to the Muslim marriage rules and regulations and that steps are being taken to that end.
Minister Sabry pointed out that proposals have been submitted suggesting that the minimum age of marriage should be 18 and that women should be allowed to act as Khati and that Muslim women should also sign at the time of marriage. Accordingly, a special advisory committee has been appointed to amend the Constitution based on the said proposals, Minister Sabry added.
Minister Sabry also pointed out that the statement made regarding the involuntary marriage of young children under Muslim law was incorrect and that it is not done in practice. He furthered that following discussions, it could be amended if necessary.
However, Minister Sabry pointed out that this should not be turned into a slogan and should not be used to attack religious leaders. He noted that the law should be enforced equally for all the citizens.
Minister Sabry also said that a number of rules and regulations pertaining to personal law are being implemented and that they are being implemented in foreign countries as well. He said that Muslim law alone should not be abolished.
"Even in Saudi Arabia today, the age of marriage has been amended to 18. Thus these laws should go through timely amendments," Sabry noted.
http://www.dailynews.lk/2021/02/13/local/241485/muslim-marriage-law-be-amended-%E2%80%93-justice-minister
-------
52% of Afghanistan is under the Taliban control: Pajhwok
By Khaama Press
13 Feb 2021
Pajhwok Afghan News in a survey analysis found that at least 52 percent of Afghanistan's territory is controlled by the Taliban and 59 percent of the population lives under the Afghan government.
Pajhwok Afghan News indicated that the government controls 46 percent of the territory, the survey is conducted between November 2020 and February 2021.
During the survey, 1,266 people were questioned through interviews, questionnaires, telephonic conversations, and in each part of the country, three people were given the papers to the questions.
According to the survey Taliban controls 337,000 square kilometers of Afghan land and about 297,000 square kilometers are under government control. And 18,000 square meter is reported to have no influence over by any of the parties.
The findings revealed that 27 districts are under Taliban control while 64 other districts are fully controlled by the government and the rest 297 districts are controlled by both of the parties.
A Taliban spokesman claimed that the group has control over 70 percent of the country's territories which was later rejected by the National Security Advisor, Hamdullah Mohib at a weekly briefing on Saturday.
"The Taliban claims to have control over 70 percent of the territory, but even today, they convene their meetings in Quetta (in Pakistan) where they make plans on how to kill the people of Afghanistan and destroy the gains that we have achieved and destroy our infrastructures," Tolonews quoted Mohib.
head of Pajhwok Afghan News Danish Karokhel told media, "In 422 districts of which, 24 are temporary, we interviewed three people in each district to find out their perspectives and find who controls or has an influence on how many swaths of land,"
This comes as National security Adviser, Hamdullah Mohib in a press briefing on Saturday said that the Taliban does not have the authority for negotiations and the group so far have shown no interest in the peace process and is seeking acquittance of complete power.
The afghan NSA iterated that the government is fully prepared to give sacrifice for real peace in the country, he said the scale of violence has doubled in the country, but the Taliban has refused the claims and said they have not announced their so-called summer offensives.
Mohib said Taliban leaders want absolute power, and that their supporters and want the destruction of Afghanistan, he added, that Pakistan apparently supports peace but behind the scene, they are supporting the violence by the extremist group in the country.Referring to Pakistan he said, they have invited their [Taliban] commanders to their homes in Quetta, to prepare for summer offensives.
Earlier, Second Vice President Sarwar Danish hinted that US Special envoy Zalmay Khalilzad once had warned that if the government does not release the remaining 400 notorious Taliban inmates, the security situation in the country will worsen.
https://www.khaama.com/52-of-afghanistan-is-under-the-taliban-control-pajhwok-334433/
---------
Military General warns of 'bloody spring' ahead
By Khaama Press
13 Feb 2021
Senior Commander of 207th Zafar Corps in the western zone of Afghanistan, warned that the Taliban are preparing for a "Major Attack" in the upcoming spring.
Abdul Rauf Arghandiwal, 207th Zafar Corps' commander, said during the introductory ceremony of the new commander of the 1st Brigade of the 207 Zafar Corps.
He indicated that we are waiting for a "bloody war" and we must be "ready for it".
The commander warned the Taliban to violence or face the bloodiest spring ahead.
Referring to peace efforts, he said, the Taliban offensives did not only decreased but escalated in Ghor, Farah, and some part of Herat Province, he also added that 1200 Taliban were killed and 1600 were wounded in the operations conducted by the Corps this year
On the other hand, 600 Taliban attacks were repelled, Herat's Governor, Sayed Abdul Wahid Qatali said.
According to Qatali, with the support of neighboring countries ( not exactly mentioning which country) he said the Taliban are destroying infrastructures, and spreads insecurity across the country.
https://www.khaama.com/military-general-warns-of-bloody-spring-445533/
--------
Europe
Imam urging worshippers to get vaccinated warns against scapegoating Muslims when there's 'scepticism across the board'
ByRamazani Mwamba
13 FEB 2021
A local imam has warned about scapegoating the Muslim community when talking about covid sceptics in BAME communities.
Imam Irfan Chishti MBE, who has been using Friday prayers to raise coronavirus awareness and dispel myths around the vaccinations has warned that there is 'scepticism across the board' and not just in the Muslim community.
His comments come after experts and politicians warned that people in high-risk minority ethnic groups must be prioritised for Covid vaccines, amid growing concerns over vaccine scepticism.
Even in Greater Manchester new Covid-19 vaccination centres, such as the one in Whalley Range , are seeing a low turnout for residents eligible for the AstraZeneca jab.
The Scientific Advisory Group for Emergencies (Sage) also raised concerns after research showed that up to 72% of black people said they were unlikely or very unlikely to have the jab.
Imam Irfan Chishti MBE is the managing director of the Chishtia Mosque in Rochdale. He has been working closely with the local health authority to spread information about the vaccine and has released informational videos on social media and on messaging apps like Whatsapp.
Irfan believes that vaccine scepticism is prevalent in all communities and has stressed the importance of not scapegoating the Muslim community when discussing the anti-vaxxers.
He told the M.E.N that he has been urging members of the Muslims to abide by 'Quranic principles' when it comes to Covid and the vaccine.
"The Muslim community gets scapegoated for a lot of stuff, but the statistics are saying that there are some Muslim communities that are disproportionately affected along with some black and Caribbean communities.
"There's a beautiful verse in the Quran that says when you receive information you must verify it, and when it comes to any issue you must ask the experts in that field.
"Those are two Quranic principles that I encourage people to adhere to, not just with Covid, but also general principles that we should always abide by."
Last year the British Islamic Medical Association (BIMA) released a statement recommending the Pfizer/Biontech vaccine to eligible at-risk members of the Muslim community after rumour surfaced that the vaccine was haram.
Gorton MP Afzal Khan has also been vocal about the misinformation spread across Asian communities regarding the Covid and the vaccine.
"The preservation of life is central to Islam. That's why mosques have an important part to play in the health of Britain's Muslims, and throughout the pandemic they have been a lifeline for our communities," he said.
"Now, mosques and religious leaders are working hard to make sure communities get accurate information that will help to save lives," the MP added.
"We know this vaccine is safe for everyone. It is so important that we all get the vaccine to protect ourselves and our loved ones.
"I am deeply concerned about the impact disinformation could have on the vaccination effort. I would urge everyone to be cautious about believing what they read or see, and if in doubt check the NHS website.
"Last week, I came together with other MPs from across Parliament with South Asian heritage to encourage communities to take up the vaccine when it is their turn. You can watch the video here."
https://www.manchestereveningnews.co.uk/news/greater-manchester-news/imam-urging-worshippers-vaccinated-warns-19815927
-------
Marine Le Pen Defends Muslims From Liberal Macron's Interior Minister
by James Tweedie
13.02.2021
French President Emmanuel Macron has renewed his war on "Islamist separatism" since the beheading of teacher Samuel Paty on 16 October, cracking down on the independence of mosques. Now his Interior Minister has even accused nationalist Marine Le Pen of going soft on Muslim fundamentalists.
French Muslims have an unlikely new champion against the liberal government — anti-immigration National Rally leader Marine Le Pen.
Le Pen, whose National Front party rebranded itself in 2018, stood up for Muslims' freedom of worship in a televised debate on Thursday with Interior Minister Gérald Darmanin.
"In her attempts to rehabilitate [her party], Ms Le Pen has gone a bit soft," Darmanin charged. "You need to take some vitamins, you're not tough enough here."
Le Pen replied: "I don't intend to attack Islam, which is a religion like any other. Because I am strongly attached to our French values, I want to conserve total freedom of religion."
President Emmanuel Macron has redoubled his offensive against what he calls "Islamist separatism" since the horrific murder of Parisian teacher Samuel Paty in October 2020. Paty had used satirical cartoons of Islam's prophet Mohammad in a class on freedom of expression, including one showing him naked with his genitals exposed.
"You're not even prepared to legislate on religion, and you say that Islam is not even a problem. You've gone quite far, it's going to disappoint quite a lot of your voters I imagine," the minister claimed. "Ms Le Pen says it's not a problem with Islam, it's a problem with ideology. The Salafists, the Muslim Brotherhood."
In this 30 November 2006 file photo, unidentified women are seen wearing niqabs during a demonstration outside the Dutch parliament against a proposed ban on the burqa, in The Hague, Netherlands.
In 2010 France became one of the first of several socially liberal western European nations — at the core of the European Union — to legislate for a so-called Burqa Ban to prevent women from wearing the veil in public.
Others to have passed a ban on Islamic dress include Belgium in 2010, the Netherlands in 2012, Austria in 2017 and Denmark and Luxembourg in 2018. In 2017 Germany banned face coverings for all armed forces personnel, state employees and drivers. Of the more conservative east European nations, by contrast, only Bulgaria and Estonia have imposed blanket bans on face coverings.
https://sputniknews.com/europe/202102131082064520-marine-le-pen-defends-muslims-from-liberal-macrons-interior-minister/
-------
Victory anniversary of Islamic Revolution observed in Spain
Feb 13, 2021
Journalist ID: 1114
London, Feb 13, IRNA – The 42nd victory anniversary of the 1979 Islamic Revolution and Iran's National Day was commemorated at a ceremony in the Spanish capital on Saturday.
The ceremony was organized by Iran's cultural attaché in Madrid.
The ceremony involved different parts including the inauguration of a virtual exhibition of Quranic arts, unveiling a book on the Islamic Revolution, and playing music instruments.
A group of Iranians living in Spain, as well as Spanish people interested in the Iranian culture took part in the ceremony.
https://en.irna.ir/news/84227806/Victory-anniversary-of-Islamic-Revolution-observed-in-Spain
-------
Mideast
Manifestations of joy at al-Abbas holy shrine on birth anniversaries of Imam al-Baqer & Imam al-Hadi
Source : Al-Kafeel News
February 14, 2021
Here is the month of Rajab has come, carrying with it the anniversary of auspicious births of the Mohammadian moons, starting by the birth anniversary of Imam Mohammad al-Baqer (peace be upon him), which will be on tomorrow Sunday, and followed by the birth anniversary of his grandson Imam Ali al-Hadi (peace be upon him) that is celebrated on the second of this blessed month.
The manifestations of joy and happiness spread over the al-Abbas's (p) holy shrine, as banners on which expressions of loyalty to those moons were written, were hung around the courtyard of Aba al-Fadl al-Abbas (peace be upon him), and their walls and minarets were decorated with colored lamps, in addition to roses that covered large parts of the Holy Sanctuary.
As for outside the holy shrine of Master Aba al-Fadl al-Abbas (peace be upon him), celebration decorations were spread through the square between the Two Holy Shrines, up to the shrine of the master of the Youth of Paradise; Aba Abdillah al-Hussayn (peace be upon him).
On the other hand, the al-Abbas's (p) Holy Shrine prepared a festive program to revive these auspicious anniversaries, in the forefront of which is the holding of the Imam al-Baqer (peace be upon him) conference in its seventh edition.
https://en.abna24.com/news//manifestations-of-joy-at-al-abbas-holy-shrine-on-birth-anniversaries-of-imam-al-baqer-imam-al-hadi_1115088.html
--------
Islamic Jihad to boycott Palestinian vote
By KHALED ABU TOAMEH
FEBRUARY 14, 2021
The Iranian-backed Palestinian Islamic Jihad (PIJ) organization announced at the weekend that it will boycott the upcoming Palestinian parliamentary election because the vote is being held under the umbrella of the Oslo Accords.
PIJ, which has boycotted all previous Palestinian presidential and parliamentary elections, is the second largest terror group in the Gaza Strip after Hamas.
Both PIJ and Hamas reject the Oslo Accords signed between the Palestinian Liberation Organization and Israel and call for replacing Israel with an Islamic Palestinian state.
In 1996, Hamas boycotted the first Palestinian general elections, also on the pretext that they were being held as part of the Oslo Accords.
Ten years later, however, Hamas participated in the election for parliament, the Palestinian Legislative Council (PLC), though it did not change its position regarding the Oslo Accords.
Hamas has announced that it will participate in the election for the PLC on May 22 and the PLO's Palestinian National Council (PNC) on August 31. The presidential election is scheduled to take place on July 31.
Palestinian sources said that PIJ's decision to boycott the parliamentary election, which did not come as a surprise, was taken in coordination with Iran.
The sources pointed out that leaders of PIJ recently met in Moscow with the Iranian ambassador to Russia and discussed with him Palestinian Authority President Mahmoud Abbas's decision to hold general elections.
The decision to boycott the election was announced shortly after PIJ leaders attended a meeting of Palestinian factions in Egypt to discuss preparations for the vote.
A statement issued by the factions after the two-day meeting said that they all agreed on "mechanisms" for holding the elections. The talks in Cairo were held under the auspices of Egypt's General Intelligence Service.
Sheikh Nafeth Azzam, member of the PIJ political bureau, said that his organization decided to boycott the election, because they will be "part of the current political system." PIJ won't be participating in the election because it rejected the Oslo Accords, he added.
Explaining its decision to boycott the vote, PIJ said it believes that "the correct approach to national unity is to agree on a political program that strengthens the steadfastness of the Palestinian people and protects its resistance."
PIJ expressed hope that the election for the PNC (the PLO's legislative body) would pave the way for the "reconstruction" of the PLO.
The Palestinian factions are expected to hold another meeting in Cairo next month to discuss preparations for the PNC election.
Established in 1964, the PNC is often described as the Palestinian parliament-in-exile because it represents Palestinians inside and outside the West Bank and Gaza Strip.
Meanwhile, Fatah leaders were scheduled to hold a meeting in Ramallah late Saturday to discuss the latest developments concerning the elections. Fatah's leaders were set to discuss the internal situation of the faction and the mechanism for choosing its candidates, said Fatah Central Committee Secretary-General Jibril Rajoub.
Rajoub, who headed the Fatah delegation to the Cairo talks, said that the Palestinian factions agreed on a "political map" for holding the elections.
Rajoub said the parliamentary election would be followed by the formation of a new Palestinian government whose main task would be to heal the rift between the West Bank and Gaza Strip.
https://www.jpost.com/israel-news/islamic-jihad-to-boycott-palestinian-vote-658841
-------
Explosion hits Iran-Afghanistan border
Feb 13, 2021
MEHR NEWS AGENCY
According to initial reports, several trucks have been engulfed in flames after a gas tanker exploded Saturday noon.
Afghan media cited Waheed Qatali, governor of the western province of Herat, as saying that Iranian authorities had been asked for urgent assistance to contain the blaze.
Unconfirmed reports suggest that around 300 trucks have been engulfed in the fire and the number of fatalities could rise to at least 50.
According to Afghan officials, the explosion has cut Iran's electricity export to Herat province.
Iran has dispatched firefighting and military forces to the explosion-hit area.
https://en.mehrnews.com/news/169889/Explosion-hits-Iran-Afghanistan-border-VIDEO
---------
North America
Osama Bin Laden's Suspected Bodyguard Dies
13 February, 2021
Asharq Al-Awsat
He was taken to the prison at Guantánamo Bay in Cuba on the day it opened as a suspected bodyguard of bin Laden and was then released by the Obama administration as too impaired to pose a threat to the US.
Christopher Curran, a lawyer who represents Sudanese interests in Washington, said he succumbed "to medical complications he had from Guantánamo."
The New York Times revealed that the exact cause was not immediately known, but Idris had been a sickly shut-in at his mother's home in his native country, in Port Sudan, according to another former Sudanese prisoner, Sami al-Haj, who asserted that Idris had been tortured at Guantanamo, at the US naval base there.
Idris was captured in Pakistan fleeing the Battle of Tora Bora in December 2001, three months after the Sept. 11, 2001, terror attacks.
He was initially thought to be part of bin Laden's security detail, according to a leaked US military intelligence profile from 2008. He was never charged with a crime, and he denied the allegation.
He was among 20 prisoners taken to Guantánamo on Jan. 11, 2002, the day the Pentagon opened its crude, open-air prison called Camp X-Ray as a detention and interrogation compound for "enemy combatants".
A widely viewed Navy photograph from that day shows the men on their knees in orange jumpsuits, shackled at the wrists and blindfolded inside a barbed-wire pen.
Military medical records showed that Idris spent long stretches in the prison's "behavioral health unit", where an Army psychiatrist concluded that he had schizophrenia. He also developed diabetes and high blood pressure at the prison.
He was repatriated on Dec. 18, 2013, in a rare instance of the government's choosing not to oppose a petition in federal court for the release of a Guantánamo prisoner.
His habeas corpus petition invoked domestic and international law, noting that "if a detainee is so ill that he cannot return to the battlefield, he should be repatriated."
"Given how ill he was, it was clear that at home with his family was where he would receive the best care," Ian C. Moss, a former State Department diplomat who arranged for Idris's transfer, said on Wednesday.
At the time, Sudan was still on the State Sponsor of Terrorism list. But because a federal court ordered his release, he could be returned.
https://english.aawsat.com/home/article/2802621/osama-bin-laden%E2%80%99s-suspected-bodyguard-dies
-------
US announces exclusion of Yemen's Ansar Allah from list of terrorist organizations
Source : Yemen Press
February 13, 2021
US Secretary of State Anthony Blinken announced the exclusion of Yemen's Ansar Allah from the list of foreign terrorist organizations, effective February 16.
Blinken said in a statement issued by the Foreign Ministry: "Starting from February 16, the classification of" Ansar Allah ", sometimes called Houthis, is withdrawn from the list of foreign terrorist organizations.
He explained that the decision was based on "the catastrophic humanitarian situation in Yemen."
In a statement, he added: The United States will "closely monitor" the activities of the Houthis, and are working to "define" new targets for the sanctions, especially for those responsible for attacks on commercial shipping in the Red Sea and for missile attacks on Saudi Arabia, as he put it.
https://en.abna24.com/news//us-announces-exclusion-of-yemens-ansar-allah-from-list-of-terrorist-organizations_1114799.html
-------
Biden press aide out of a job after threatening White House journalist
Feb 14, 2021
Alexandra Alvaro
White House deputy press secretary TJ Ducklo has resigned a day after being suspended for issuing a sexist and profane threat to a journalist seeking to cover his relationship with another reporter.
Ducklo had been put on a week-long suspension without pay on Friday after a report surfaced in Vanity Fair outlining his sexist threats against a female Politico journalist to try to suppress a story about his relationship, telling her: "I will destroy you."
The journalist had been seeking to report on his relationship with a political reporter at Axios who had previously covered the Biden campaign and transition.
In a statement on Saturday, Ducklo said he was "devastated to have embarrassed and disappointed my White House colleagues and President Biden".
Before Politico broke the story, People magazine published a glowing profile of the relationship. It was the first time either one had publicly acknowledged they were dating.
It's the first scandal and the departure from the new administration, less than a month into President Joe Biden's tenure, and it comes as the White House was facing criticism for not living up to standards set by Biden himself in the decision to retain Ducklo.
During a virtual swearing-in for staff on Inauguration Day, Biden said "if you ever work with me and I hear you treat another colleague with disrespect, talk down to someone, I will fire you on the spot".
https://thenewdaily.com.au/news/world/us-news/2021/02/14/first-white-house-sacking/
-------
Pakistan
PTI MPs' video probe to focus on beneficiaries
Amir Wasim
February 14, 2021
ISLAMABAD: The three-member ministerial committee constituted by Prime Minister Imran Khan to probe the leaked video showing then Khyber Pakhtunkhwa Assembly members allegedly receiving money to sell their votes during the 2018 Senate elections has vowed to find out the "beneficiaries" of the purchased votes and suggest criminal action against those involved in the scam.
Talking to Dawn after attending the first meeting of the committee here on Saturday, federal Minister for Science and Technology Fawad Chaudhry said the committee wanted to ascertain two things — who provided those funds and who were the beneficiaries in the 2018 Senate polls.
The minister said the committee wanted to submit a comprehensive report to the PM containing suggestions to remove the "menace of corruption" from the Senate poll process and ascertaining as to what criminal action should be taken against those seen in the video and involved in the scam.
The minister had earlier said the committee could seek the Federal Investigation Agency (FIA) and police assistance to find out buyers and sellers of votes.
Besides Mr Chaudhry, the committee comprises federal Minister for Human Rights Dr Shireen Mazari and Adviser to the PM on Accountability and Interior Shahzad Akbar.
According to a brief handout issued by the Press Information Department (PID), the committee has also decided to invite the journalist who had "actually released" the video and "exposed the scam". Sources said the committee was informed the leaked video was first run by senior TV anchor Arshad Sharif of ARY News, from where it was picked up by other TV channels and the social media team of the Pakistan Tehreek-i-Insaf (PTI).
The committee has also sought help and input from any other person having firsthand knowledge or information about the scam, asking them "to share it with the committee either in writing or in person".
The PID handout said the committee recognised the undermining of democracy by vote purchasing, especially in Senate elections which had been regularly subjected to this malpractice.
The committee members decided to make the office of the human rights minister as secretariat of the committee and decided the procedure to be followed.
The video of PTI lawmakers allegedly receiving bribes before the Senate elections in 2018 had surfaced on the social media amid the ongoing debate in the country on the issue of open and identifiable ballots in the Senate elections, scheduled to be held on March 3.
In the video, stacks of currency notes, can be seen piled up on a table in front of PTI MPAs. Following the release of the video, KP Minister for Law, Parliamentary Affairs and Human Rights Sultan Mohammad Khan, one of the characters in the video, sent his resignation to Chief Minister Mahmood Khan as he was asked to do so.
Soon after the release of the video, Mr Khan tweeted: "The videos showing the shameful way in which politicians buy & sell votes in Senate reflects the total destruction of the nation's morality by successive ruling elites as they drowned the nation in debt. Cycle of corruption & money laundering is a sordid tale of our political elite."
In another tweet, the PM said: "They spend money to come to power and then use this political power to make money to purchase bureaucrats, media and other decision-makers to consolidate their power and rob nation's wealth — money laundering it into offshore assets/foreign assets/palatial residences abroad."
"This is what the PDM cabal wants to protect by supporting a corruption-friendly system. We are determined to stop this cycle of corruption and money laundering that is debilitating the nation," wrote the PM.
https://www.dawn.com/news/1607232/pti-mps-video-probe-to-focus-on-beneficiaries
--------
Punjab governor accords approval to 'illegal' sub-campus
Imran Gabol
February 13, 2021
LAHORE: Ignoring the advice of the Higher Education Department, official accreditation committee and the law department, Governor/Chancellor Chaudhry Sarwar has given approval 'in principle' to an illegal sub-campus of a Lahore-based private university in Pakpattan.
The issue of illegal sub-campuses of private sector universities in Punjab has been lingering on for a long time after the HED declared 23 sub-campuses of six private universities as illegal on January 10, 2020 and asked their managements to stop further intake of students and also shift the enrolled students to the main campuses to complete their degrees.
Earlier, on Dec 23, 2019, the chancellor had ordered an inspection/ inquiry into the affairs of the University of Lahore (UoL) on account of its unauthorized sub-campuses at Gujrat, Pakpattan and Islamabad under section 7 (1) of the University of Lahore Ordinance 2002.
The HED had also constituted a five-member committee to ascertain whether the Ibadat Trust (the sponsoring body) of the UoL was functioning in line with aims and objectives stated in the trust deed and to conduct forensic audit of the trust.
When the private universities strongly opposed the HED move of declaring 23 sub-campuses illegal, the government constituted a six-member committee to re-inspect these sub-campuses under the ToRs of conducting forensic audit.
Rejecting the forensic audit, the private universities formed an association and held a meeting with the chancellor, who stopped the six-member committee from proceeding ahead and rather constituted a new eleven-member committee, involving the PHEC to soften the terms of reference (ToRs) to conduct inspection of the 23 sub-campuses.
The committee was mandated to conduct inspection of sub-campuses of Hajvery University, Qarshi University, University of Central Punjab (UCP), National College of Business Administration and Economics (NCBA&E), University of Lahore and Superior College in the light of criteria and guidelines notified by the provincial government vide a notification No SO (Univ) 5-6/2004 dated 20.09.2006.
In its report, the 11-member committee headed by Quaid-i-Azam University VC Prof Dr Muhammad Ali Shah recommended grant of approval to the UoL sub-campus in Pakpattan but did not attach any supporting document to substantiate any claims made or information provided by the UoL.
The committee declared the sub-campuses of rest of the five universities as illegal on the ground of not having purchased land and faculty shortage. However, it treated the case of UoL's Pakpattan sub-campus differently despite the fact that it has been established on leased land and there is shortage of faculty as well. The case of UoL's Gujrat sub-campus was also rejected on same grounds.
In the light of the inspection committee report, the chancellor again issued directions to the HED to implement the recommendations in consultation with the PHEC.
The HED referred the report to the PHEC with a reminder that the chief minister had already endorsed the view of the accreditation committee that a society or trust applying for a university campus must own in its name at least 10 acres of land and minimum tangible assets of Rs 100 million. The land obtained on lease might not be relevant for the purpose.
Documents reveal that during consultation at the PHEC, there was a clear divide among its members on the implementation of inspection committee recommendations. Five members opposed the recommendations while as many endorsed them. The 11th member (from the HED) stayed away from voting since the HED was the implementing body.
Dr M Khaleeq, former GCU VC, attended the PHEC meeting on 23.10.2020 though his term of appointment had already expired on 18.10.2020. Accreditation Committee Chairman Prof Dr. Khalid Aftab also submitted his dissenting note.
Giving its observation on the PHEC summary, the HED observed that "One of the major reasons due to which the Gujrat sub-campus of UoL does not qualify to be a legally valid sub-campus, is the fact that infrastructure/ purpose-built campus has been constructed on leased land rather than on purchased land. Regarding the Pakpattan sub-campus of UoL, it was observed that there is deficiency of faculty as per notified criteria issued with the approval of the provincial cabinet. Secondly, it remains unclear whether a purpose-built campus is built on the owned land or leased land".
It further observed that the "government can only process the case for opening of a sub-campus if all the requirements of the notified criteria of 2006 are fulfilled. The inspection committee's report is self-contradictory as Gujrat and Pakpattan campuses have been treated differently while both are on leased land."
On the constitution of inspection committee by the governor/chancellor, the law department stated that the governor/chancellor is bound by the advice of the chief minister which was not obtained while constituting the new inquiry committee (the earlier inquiry committee constituted on the advice of CM was superseded by Mr Sarwar). It further said that any decision on the issue is also subject to the advice of the chief minister.
However, the chancellor ignored the observations of the HED and advice of the Law Department and during the pendency of the summary, acted in contravention to the prescribed rules and granted approval 'in principle' to the UoL's Pakpattan campus directly from his own office.
A senior officer told Dawn that approval 'in principle' cannot be construed as 'final approval' until all legal requirements are met and no admission can be announced in such a sub-campus till the formal notification of 'final approval'.
HED Secretary Nadeem Mehboob told Dawn the department had moved a summary on the matter of 'in principle approval' to the Chief Minister Office and response was awaited.
The Governor House spokesperson said the approval of the sub-campus charter was granted on the recommendation of the committee formed to inspect the sub-campuses.
https://www.dawn.com/news/1607037/punjab-governor-accords-approval-to-illegal-sub-campus
-------
Africa
Nigerian soldiers kill two top Boko Haram commanders – Official
ByAgency Report
February 14, 2021
Nigerian Army Headquarters says the troops of Operation Tura Takaibango on Tuesday eliminated two most wanted Boko Haram terrorist leaders, Abul-Bas and Ibn Habib in an encounter at Pulka axis of Borno.
Mr Yerima said the renewed offensive operations by troops under the theatre command, Operation Lafiya Dole, had continued to inflict heavy casualty on the Boko Haram and Islamic State of West Africa Province (ISWAP) terrorists in the North East.
He said the troops of 121 and 151 Battalions, on Tuesday, laid ambush at the terrorists' crossing point between Vuria and Guja settlements along road Banki Junction – Pulka axis.
According to him, the troops also recovered three GPMG, seven AK47 rifles, a belt of ammunition containing 446 rounds of 7.62mm, one Boxer motorcycle and one ITEL 2160 mobile phone among others.
"Abul-Bas was a top commander second to Abu Fatima, while Ibn Habib was the BHT Commander in charge of Njimia and Parisu camps in the Sambisa Forest," he said.
The spokesperson said the elimination of Abul-Bas and Ibn Habib by the gallant troops had inflicted a big blow on the operations of the terrorists and further boosted the morale of the troops of Operation Tura Takaibango.
"The Chief of Army Staff (COAS), Maj.-Gen. Ibrahim Attahiru, has commended the troops for this feat and other successes being recorded in the Theatre.
"He further charged them to intensify the aggressive clearance operation in order to clear the Sambisa Forest and environs of all remnant terrorists and their collaborators," he said.https://www.premiumtimesng.com/news/top-news/442732-nigerian-soldiers-kill-two-top-boko-haram-commanders-official.html
--------
Nobody Can Force Us Out Of South-West, Miyetti Allah Says
BY SAHARAREPORTERS
FEB 14, 2021
Fulani herdsmen under the aegis of Miyetti Allah Kautal Hore have vowed to resist any eviction from the South-West, citing their rights as enshrined in the Nigerian constitution to live wherever they desire.
Miyetti Allah also vowed to avenge the alleged attacks on and loss of herdsmen and their cattle, saying it would never tolerate any act of injustice on herders.
The National Secretary of Miyetti Allah Kautal Hore, Mr Alhassan Saleh, stated these in an interview with Sunday PUNCH against a backdrop of the eviction notices issued to criminal herdsmen by some South-West groups and personalities.
Saleh said it was wrong to drive herders out of any part of Nigeria and that even if there were criminals among them, it was the function of the government's security forces to identify and arrest them.
He said the eviction of herdsmen from the southern region of the country was a dangerous precedent and that the best way to solve the herders-farmers crisis was for state governments to provide ranches and grazing routes for the herders and their animals.
In January, the Ondo State Governor, Rotimi Akeredolu, asked all Fulani herdsmen to vacate the forest reserves in the state. He later issued a seven-day ultimatum to the effect.
The governor gave the order at a meeting with leaders of the Hausa/Fulani and Ebira communities in the state, saying the herdsmen's activities had long been causing a threat to security in the state.
Miyetti Allah Kautal Hore National Secretary, Saleh, said no group could evict the herders, vowing to resist any eviction from the South-West.
He said, "Nobody has the right (to evict herdsmen). If you say you are going to evict us, we will resist eviction. We have been surviving in harsh environments; if we do not resist, we will be wiped out of the planet. If you kill a herder, don't go and sleep, we will revisit you, and it's not because we hate your tribe. People attack herders, and in one way or the other, herders have found a way to retaliate."
Also, Saleh said nobody could bar foreign herdsmen from entering Nigeria, saying most of the herders entering to the country once settled in Nigeria but relocated to other neighbouring countries like Ghana and Benin republics.
He said, "All those who travelled to the Benin Republic and others are coming back home. All those saying they will bar foreign herders from entering Nigeria are just playing to the gallery because if they know the ECOWAS Protocols, they would know they cannot chase them away. That is why the position of the Bauchi State Governor [Bala Mohammed] is the true position. You have no right to evict anybody from any part of the country.
"Our number has increased recently because of the tension in Ghana and Benin republics. The Benin Republic ones have integrated with the Yoruba in such a way that they speak the language. They were initially living in the South-West, and they are coming back," he added.
He said, "They expected a reaction from us, maybe by way of attacking other ethnic nationalities. But that is wrong because the herders they are attacking are the innocent herders. Are the criminals representing anybody? They are doing their criminal enterprise. Our pain is that the people who are supposed to know are pretending as if they don't know."
Saleh also asked governors to provide land for ranching for the herders as a solution to the ongoing crisis, adding that herders' eviction would only lead to wider consequences.
Similarly, Miyetti Allah's leaders in some states in the South-East and South-South geopolitical zones have said they are not ready to leave the regions anytime soon.
On Friday, the Northern Elders Forum called on herdsmen feeling unsafe in the southern region of the country to relocate to the North.
http://saharareporters.com/2021/02/14/nobody-can-force-us-out-south-west-miyetti-allah-says
--------
Miyetti Allah lists conditions to stop clashes between farmers, herders
February 13, 2021
By Nwanosike Onu, Awka
The Miyetti Allah Cattle Breeders Association of Nigeria MACBAN, in the Southeast, says it will support any policy by the government that seeks to stop the clashes between host communities and the herdsmen.
He said the association in the southeast zone was in support of any government policy that would put to an end, the continued clashes between Fulani herders and farmers in the country. So long the policy would be of benefit to both parties.
According to Siddiki, "the governor's position is a welcome development, but for the policy to work as expected, the following provisions must be in place for peace and equity.
"They are training and re-training of Fulani herdsmen on Mechanized Grazing, provision of land for Ranching in the 36 states of the federation and the FCT and a continue Town Hall Meetings between Government, Farmers and the Herders in the affected areas.
"I believe with all these, it will bring to an end, the lingering crisis between the farmers and herder in the country, Siddiki added.
The group maintains that the majority of its members have no idea of mechanized grazing while calling on the government to organize training on that for the cattle breeders.
Speaking with reporters Saturday in Awka, Anambra State, the Chairman of the Association in the Southeast, Alhaji Gidado Sidikki, said about 89 percent of herders had no such knowledge.
"The government should train us so that we can plan with the modern system of animal husbandry because the majority of us have no knowledge of Mechanized Farming"
Miyetti Allah leader was reacting to the decision of the Nigeria Governors Forum (NGF), on the need for the country to transit into modern systems of animal husbandry that would replace open, night and underage grazing across the country.
He disclosed that the association in the southeast zone was in support of any government policy that would put to an end, the continued clashes between Fulani herders and farmers in the country. So long the policy would be of benefit to both parties.
Sidikki, therefore urged farmers and host communities where his people were residing to always report any disagreement to the security or other relevant authorities for prompt action to avoid the destruction of lives and property.
https://thenationonlineng.net/miyetti-allah-lists-conditions-to-stop-clashes-between-farmers-herders/
-------
Islamists threaten to kill another teacher
February 12, 2021
REMIX NEWS
French authorities provided police protection to teacher Didier Lemaire, who received several anonymous death threats after warning against the spread of radical Islam in the country.
Lemaire will now have to live under the same police protection as top constitutional officials, according to Interior Minister Gérald Darmanin, AP reported. Police were already providing unspecified protection to the philosophy teacher, but Darmanin said the authorities had raised it to the highest possible protection, which includes a driver and an additional bodyguard. The minister did not say whether the teacher had accepted the offer.
Lemaire lectures on philosophy at the University of Trappes, located in a suburb of Paris. The threats began, according to Lemaire, after he published a text last autumn in which he publicly criticized the state for not doing enough to protect Samuel Paty, the middle-school teacher who was beheaded by an Islamist terrorist.
In October, an 18-year-old Chechen immigrant murdered Samuel Paty in Conflans-Sainte-Honorine, near Paris. The assailant waited for Paty in front of the school and cut his head off with a knife, allegedly for showing cartoons of the Prophet Muhammad from the Charlie Hebdo magazine as part of a classroom discussion on freedom of speech. Police pursued and shot the perpetrator, who did not know his victim, shortly after the crime.
A few weeks after Paty's murder, in an article published on Le Point, Lemaire criticized French authorities for underestimating the threat and failing to provide protection. Prior to his murder, Paty had faced harsh criticism on social media.
The philosophy teacher now lives under police protection. "Following his wishes, the local authorities, in cooperation with the police, will provide him with such conditions that he can continue working," the regional school board said in a statement.
Paty's murder quickly became a national story, prompting demonstrations across France in support of freedom of speech. Paty's memory was also honored by President Emmanuel Macron, who defended the right to print cartoons of the Prophet Muhammad. The Macron administration has since banned several organizations considered Islamist and has proposed legislation banning, among other things, the financing of Islamic organizations from abroad.
https://rmx.news/article/article/islamists-threaten-to-kill-another-teacher
--------
Southeast Asia
Event organiser takes blame for photo of Annuar Musa in apparent MCO SOP breach
BY JUSTIN ONG
14 Feb 2021
KUALA LUMPUR, Feb 14 — A non-governmental organisation has apologised to Federal Territories Minister Tan Sri Annuar Musa over an event in which he dined at a table with six others in breach of the movement control order's (MCO) regulations.
According to the Malaysiakini news portal, the Kelab Pencinta Alam Kolam Takungan Banjir Sungai Midah accepted blame for the incident during Annuar's visit to a community centre project in the Cheras township.
"I, on behalf of the community here, apologise to Tan Sri (Annuar) and all Malaysians. We admit this was our shortcoming.
"When Tan Sri came, we invited him to drink at a hut in our communal farm, but that was only for a brief moment.
"Tan Sri already felt (the photograph) would be shared widely; that was why he moved on quickly," the group's chairman, Zainuddin Amran, was quoted as saying.
Under the current standard operating procedures for the MCO, only two people are allowed to share a table for meals.
Yesterday, Annuar was accused of again violating the SOPs after the photograph of him dining at a table with six others was posted online.
At the time, the minister asserted that he did not stay at the table as he was aware the arrangement violated the SOPs.
This morning, Umno leader Datuk Puad Zarkashi dismissed Annuar's explanation as another excuse similar to when the latter was photographed exercising outdoors with two acquaintances, again in apparent violation of the SOPs.
When the exercise photograph was taken, the SOPs only allowed outdoor exercise among members of the same household.
The incidents coincide with growing discontentment among Malaysians over the apparent bias in the enforcement of the rules governing the MCO.
Such views have forced government leaders including Prime Minister Tan Sri Muhyiddin Yassin to repeatedly pledge that there would be no double standard in the enforcement of the rules to curb the spread of Covid-19.
https://www.malaymail.com/news/malaysia/2021/02/14/event-organiser-takes-blame-for-photo-of-annuar-musa-in-apparent-mco-sop-br/1949645
--------
KL traffic personnel being investigated over claims of sexual harassment
13 Feb 2021
by Farhan Najib
KUALA LUMPUR, Feb 13 — An investigation is being carried out into the alleged sexual harassment of a woman by police personnel during a roadblock at Jalan Duta, here.
Kuala Lumpur police chief Datuk Saiful Azly Kamaruddin said the department had opened an investigation paper based on the woman's claim which had gone viral on social media today.
"The investigation is underway involving a member from the Kuala Lumpur Traffic Investigation and Enforcement Department (JSPT)," he said when contacted.
Earlier, Bukit Aman Integrity and Standards Compliance Department (JIPS) director Datuk Zamri Yahya confirmed that the police had received a report over the matter.
A woman claimed on Twitter today she was pulled over at a roadblock along Jalan Duta and sexually harassed by the police personnel on duty.
Meanwhile, Brickfields District Police chief ACP Anuar Omar said the incident occurred when the complainant, a 23-year-old woman, was stopped by a policeman while passing through the roadblock at about 7.30 pm yesterday, before being asked to produce her driving licence.
"The complainant claimed that she was approached by a policeman who asked her to reveal her breasts, and threatened to issue a summons if the complainant refused.
"The complainant was also asked by the policeman to provide her phone number before being allowed to leave once her identity card had been verified," he said in a statement today.
Meanwhile, Anuar advised the public not to make any speculations that could interfere with the police investigation.
He said members of the public with any information regarding the incident may contact the Brickfields Police Hotline at 03-2297 9222; Kuala Lumpur Police Hotline at 03-2115 9999 or head over to any nearby police station.
https://www.malaymail.com/news/malaysia/2021/02/13/kl-traffic-personnel-being-investigated-over-claims-of-sexual-harassment/1949528
-------
URL: https://www.newageislam.com/islamic-world-news/saudi-couples-undeterred-—-its/d/124300
New Age Islam, Islam Online, Islamic Website, African Muslim News, Arab World News, South Asia News, Indian Muslim News, World Muslim News, Women in Islam, Islamic Feminism, Arab Women, Women In Arab, Islamophobia in America, Muslim Women in West, Islam Women and Feminism