New Age Islam News Bureau
15 Apr 2017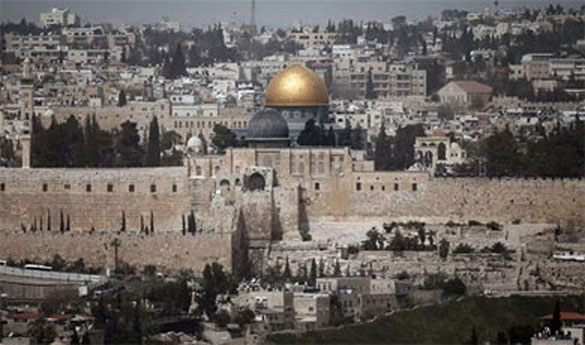 A general view of the Dome of the Rock and the al-Aqsa Mosque (in front) ©AFP
------
• Saudi Banks, Bin Laden Companies Face $4.2-Billion US Lawsuit by 9/11 Insurers
• Jamaat-e-Islami Pakistan for Abolition of Interest-Based Economic System
• ISIS in Afghanistan Kidnapped Wives, Daughters for Forced Marriage: Commander of the US Forces
• Turkey in Final Referendum Push as Militants Detained
• Jokowi Turns To Islam-Nationalism to Preserve Indonesia's Diversity
Arab World
• Saudi Banks, Bin Laden Companies Face $4.2-Billion US Lawsuit by 9/11 Insurers
• Saudi Defence Minister: We Will Not Allow Houthis to Become Hezbollah of Yemen
• Maliki Handed Over Iraqi Cities to ISIS, Moqtada Al-Sadr Representative Says
• Egyptian Family Carry Cross in Easter Ritual As Pope Deplores Global Unrest
• Russia slams watchdog probe of alleged Syria chemical attack
• ISIS Mufti killed by air strike in western Mosul
• Syria: Civilians Injured in Terrorists' Attack on Buses Evacuating People from Towns in Idlib
• Syrian Army Preparing for another Large-Scale Operation in Northern Hama
• Syria: Thousands of Civilians Start Leaving Shiite-Populated Towns in Idlib
• Syrian Army Starts New Phase of Operations in Eastern Aleppo
• Syrian Army Launches Operations to Separate Northern, Western Aleppo
--------
Pakistan
• Jamaat-e-Islami Pakistan for Abolition of Interest-Based Economic System
• Pakistan 'Blasphemy Killing': Murdered Student 'Devoted To Islam'
• Iran rejects allegations of its agencies' links to Uzair Baloch
• 17,000 Christian workers to celebrate Easter without salary, pension
• Passport condition introduced for entry to Afghanistan
• Militant killed, 3 arrested in CTD operation in Lahore's Punjab Society
• Nine 'terrorists' killed in DG Khan cleanup op
--------
South Asia
• ISIS in Afghanistan Kidnapped Wives, Daughters for Forced Marriage: Commander of the US Forces
• US Misused Afghanistan as Testing Ground for Dangerous Weapons: Hamid Karzai
• Hefazat Demands Withdrawal of Mongol Shobhajatra
• Afghan tribal elders seek more airstrikes after MOAB strike on ISIS
• Afghan govt was in the loop when GBU-43 was dropped on ISIS target
--------
Mideast
• Turkey in Final Referendum Push as Militants Detained
• Nearly 400 Israeli Settlers Storm Aqsa Mosque Again
• Kurdish militant attack kills two in Turkey's southeast
• Turkey detains ISIS suspects over planned attacks
• Saudi forces repel Houthi attack near Yemen border
• Yemeni forces seize strategical mountains from Houthi militias
• Russia, Iran, Syria united against US acts of aggression: Analyst
--------
Southeast Asia
• Jokowi Turns To Islam-Nationalism to Preserve Indonesia's Diversity
• Indonesia's Former First Lady, Promotes a Tolerant, Feminist, Progressive Islam
• M'sia's moderate Islam makes it ideal site for King Salman Centre: Hishammuddin
• Apex court orders extradition of Iranian over Bangkok bombing
• Jakarta election challenger Anies accused of courting Islamic vote amid religious divide
• Trump's Indonesia Challenge Begins with Pence Visit
--------
North America
• Trump's Pick for Army Secretary Has A Troubling History of Anti-Muslim Remarks
• US Releases Of Footage of 'Mother of All Bombs' Dropped On ISIS in Afghanistan
• Anxiety intensifies in Toronto's suburbs as anti-Muslim rhetoric escalates
• Huge US bomb kills dozens of ISIS militants
--------
India
• Honouring Members of the Muslim Community, a Worthy Example of Communal Harmony
• Kashmir Sees Sharp Decline In Tourists This Year Due To Political Situation
• 'Pressure of issues like Kashmir made me choose Goa,' says chief minister Parrikar
• NIA to seek Interpol notice against Zakir Naik
• Wife of IS Jihadi informs father-in-law about his death in drone strike in Afghanistan
• Pak claims Jadhav sponsored Balochistan blasts
• Jammu: 5 Rohingya Muslim homes gutted, police blame it on short circuit
• War on drugs brings Indo-Pak border village in BSF crosshairs
--------
Africa
• Easter: Religion is love, not hatred – MURIC
• UN chief warns of Libya risking return to wide conflict
• Dozens of more US troops dispatched to Somalia
• Tanzania gunmen kill 8 police in restive region
• Nigeria: Why ICC Must Prosecute El-Rufai
--------
Europe
• Russia slams watchdog probe of alleged Syria chemical attack
• Peace conference on Afghanistan begins in Russia
• The Muslim 'Issue' in the French Campaign
• Morocco Remains Safe despite Rise in Terrorist Activity in North Africa/Sahel in 2016
• Spain saves 26 migrants from sinking boat in Atlantic Ocean
• The Islamic world has been "engaging lustily with modernity" since the 1700s
• Man charged after windows broken at main Ottawa mosque, Islam centre
Compiled by New Age Islam News Bureau
URL: https://www.newageislam.com/islamic-world-news/saudi-banks-bin-laden-companies/d/110781
--------
Saudi banks, bin Laden companies face $4.2-billion US lawsuit by 9/11 insurers
April 14, 2017
NEW YORK/RIYADH: More than two dozen US insurers affiliated with Travelers Cos have sued two Saudi banks, companies affiliated with Osama bin Laden's family, and several charities for at least $4.2 billion over the September 11, 2001 attacks.
The lawsuit filed late on Wednesday night in the US District Court in Manhattan is the latest effort to hold entities in Saudi Arabia liable for the attacks.
Nearly 3,000 people died when hijacked aeroplanes crashed into New York's World Trade Center, the Pentagon near Washington, D.C., and a Pennsylvania field.
The 10 defendants in the lawsuit include Al Rajhi Bank 1120.SE, National Commercial Bank 1180.SE, aviation contractor Dallah Avco, the Mohamed Binladin Co, the Muslim World League, and other charities. They were accused in the lawsuit of having "aided and abetted" the attacks through a variety of "activities in support of al Qaeda" in the years leading up to them.
"But for the assistance provided by defendants," the lawsuit said, "al Qaeda could not have successfully planned, coordinated, and carried out the September 11th attacks, which were a foreseeable and intended result of their material support and sponsorship of al Qaeda."
The insurers are seeking to recoup sums paid to policyholders who suffered personal, property, and business injuries from the attacks. Their lawsuit seeks at least $1.4 billion of compensatory damages, triple damages, and punitive damages.
The defendants could not immediately be reached for comment on Thursday, which is the start of the weekend in the Gulf.
Al Rajhi has previously said that US courts have "repeatedly" dismissed similar claims against the bank, which "has no links to terrorism" and is "committed to operating at the highest levels of compliance" with applicable rules.
The Saudi government and affiliates including the Public Investment Fund, its sovereign wealth fund, have a majority stake in National Commercial Bank.
Matt Bordonaro, a Travelers spokesman, had no immediate additional comment on Thursday.
Several other lawsuits pending in the Manhattan court seek to hold Saudi Arabia liable to individuals and insurers over its alleged involvement in the September 11 attacks. The Saudi government has denied such involvement.
Saudi Arabia long had broad immunity from such lawsuits in the United States, but Congress in September overrode a veto by former President Barack Obama and allowed such lawsuits to proceed.
The case is Charter Oak Fire Insurance Co et al v Al Rajhi Bank et al, US District Court, Southern District of New York, No. 17-02651.
https://www.geo.tv/latest/138041-Saudi-banks-bin-Laden-companies-face-42-billion-US-lawsuit-by-911-insurers
--------
Jamaat-e-Islami Pakistan for Abolition of Interest-Based Economic System
April 15, 2017
LAHORE - Jamaat-e-Islami chief Sirajul Haq has termed remarks of the chief justice of the Federal Shariat Court regarding interest 'against the Constitution'.
In a statement issued from JI head office Mansoora on Friday, the JI senator said that the Constitution gave categorical direction for winding up the interest based economic system. "The Holy Quran and the Sunnah strictly prohibits usury and Allah Almighty had termed interest as a war against Him," Siraj said. Therefore, he added, the confusion being created in his regard by the Shariat Court Chief Justice is incomprehensible.
The JI chief further said that nation would not tolerate any steps in violation of the Quran and the Sunnah nor would it allow any effort to make the unanimous constitution be made controversial.
He also expressed that nation was keenly awaiting the Panama leaks case judgment, and remarked that the Panama issue should not be made the Kashmir issue. "The judgment, in this historic case, will close the door of corruption in the country."
Meanwhile, a representative meeting of the religious parties in the country held at Mansoora called upon the government to announce abolition of interest system thus ending their war against Allah Almighty, instead of fighting a case for interest in the courts.
The meeting deplored that the Federal Shariat Court was continuously delaying the case of abolition of interest. It said that the government circles were delaying the winding up of interest based economy and a switch over to the Islamic banking as required under the constitution. JI Secretary General Liaqat Baloch, while briefing media after the meeting, called upon the Shariat Court Chief Justice to withdraw his remarks. He said that the FSC Chief Justice had proved to be a party and he should not sit at the bench hearing the matter.
Those attending the meeting included Mufti Khan Muhammad Qadri, Dr Aatif Waheed, Dr Muhammad Ameen, Mufti Syed Mehmood Farooqi, Mufti Khalilur Rahman Qadri, Maulana Muhammad Baqir, Abdul Haq Awan, Mujibur Rahman Inqilabi, Hafiz Muhammad Idrees, Asadullah Bhutto and others.
The meeting called upon the Supreme Court Chief Justice Saqib Nisar to immediately present the case of the FSC chief justice before the Supreme Judicial Council for his remarks regarding interest. The Supreme Judicial Council should also consider ways and means for making the Federal Shariat Court an effective organisation, it added.
http://nation.com.pk/lahore/15-Apr-2017/ji-for-abolition-of-interest-based-economic-system
--------
ISIS in Afghanistan Kidnapped Wives, Daughters for Forced Marriage: Commander of the US Forces
Apr 14 2017
The commander of the US forces in Afghanistan leading the NATO-led Resolute Support Mission (RSM) General John Nicholson told reporters in Kabul that the deadly airstrike against the ISIS terrorist group was carried out in response to the barbaric acts of the terror group affiliates, including the kidnapping of the wives and daughters for forced marriage to their fighters.
Gen. Nicholson further added that the group has sent suicide bombers to attack peaceful demonstrations and killed and wounded hundreds of civilians and dragged elders out of their homes in Nangarhar, beheaded them in front of their families.
He said night's complex strike in Achin district of Nangarhar was part of alliances campaign to destroy ISIS-K in Afghanistan in 2017.
"The weapon used, the GBU-43, is designed to destroy caves and tunnels in Achin Nangarhar," Gen. Nicholson said, adding that "ISIS-K used tunnel and minefields to move around battlefield, protect themselves from Afghan & US Forces in Achin Nangarhar."
Stressing that GBU-43 was the right weapon considering the condition in Achin, Gen. Nicholson said "I want to assure you that our forces took every possible precaution to prevent civilian casualties."
"We have US Forces at the site and we see no evidence of civilian casualties nor have there been reports," he added.
Gen. Nicholson also added that Afghan Army and Commandos are leading this fight against these barbaric terrorists on behalf of the people of Afghanistan.
According to Gen. Nicholson, the alliance is united with the Afghan government to prevent terrorists from establishing safe havens in Afghanistan.
http://www.khaama.com/isis-in-afghanistan-kidnapped-wives-daughters-for-forced-marriage-nicholson-02566
--------
Turkey in final referendum push as militants detained
Apr 15, 2017
Stuart WILLIAMS and Fulya OZERKAN - The opposing sides in Turkey's tightly-contested referendum on expanding President Recep Tayyip Erdogan's powers made a last push for votes Friday as the arrest of five suspected militants fuelled security concerns.
Opinion polls - usually treated with caution in Turkey - have predicted a tight outcome on Sunday despite the considerable advantages of the 'Yes' campaign in both airtime and campaign resources. The referendum will take place under a state of emergency that has been in place since last summer's failed coup which has seen some 47,000 arrested in the biggest crackdown in Turkey's history.
Analysts regard the referendum as a turning point in the modern history of the country that will affect not just the shape of its political system but also its relations with the West.
If the new system is passed, it will abolish the office of prime minister, enabling the president to centralise all state bureaucracy under his control and also to appoint cabinet ministers.
Supporters see the new system as an essential modernisation step for Turkey to streamline government but opponents fear it risks granting Erdogan authoritarian powers.
Erdogan has raised hackles in the West throughout the campaign with his repeated denunciations of the European Union, which Turkey has sought to join for the last half century. "April 16 will be an answer to the European Union," Erdogan said in a TV interview late on Thursday. He expressed confidence that the new presidential system would be approved, saying there were no longer undecided voters. "'Yes' has gone up considerably, while 'No' has gone down," he said.
Conflicting polls
A poll by the Konda group showed 'Yes' ahead at 51.5 percent but the Sonar group has projected a 'No' vote of 51.2 percent, and with other polling companies producing different figures the outcome remains uncertain.
Erdogan will on Friday speak in Konya, the Anatolian city seen as the heartland of conservative supporters who have benefited from his rule.
The leader of the opposition Republican People's Party (CHP) Kemal Kilicdaroglu has called for a 'No' vote, arguing there was too much uncertainty over the consequences of the new system. "We will altogether write a legend of democracy (on Sunday) because our questions have been left unanswered," he told reporters in Istanbul. The referendum is taking place after a bloody year of terror attacks in Turkey blamed on militants and Kurdish militants.
Adding to security concerns, Turkish police on Friday detained five suspected Islamic State militants in Istanbul accused of planning a "sensational" attack targeting the weekend referendum.
Turkish authorities had on Tuesday detained another 19 suspected IS supporters in the Aegean city of Izmir, accused of planning to sabotage the vote. In the latest issue of its Al-Naba magazine, IS called for attacks on polling stations in Turkey.
Last-minute spat?
Campaigning is allowed until 6:00 pm (1500 GMT) on Saturday and voting in the country's east gets under way at 7:00 am (0400 GMT) on Sunday and an hour later elsewhere.
Meanwhile, a last-minute dispute appeared to be brewing between Erdogan's ruling Justice and Development Party (AKP) and its main political ally in implementing the plan, the Nationalist Movement Party (MHP).
An advisor to Erdogan suggested this week Turkey could form a federal system if 'Yes' won in a move that would be an anathema to the nationalists.
But MHP leader Devlet Bahceli quickly responded saying he would dismiss any advisor of his if they made similar remarks.
"Have you heard such a thing from me? No," Erdogan hit back.
In a bid to prevent any last-minute schism with the MHP, Prime Minister Binali Yildirim also said he would resign if there was any move towards a federal structure for Turkey.
UN raps Turkey
Ahead of the vote, UN experts accused Turkey of "massive violations" of the right to education and work, citing figures suggesting that since the state of emergency was declared, some 134,000 public servants had been dismissed.
The dismissals "cannot be justified by reference to Turkey's longstanding international human rights obligations," said four UN special rapporteurs in a statement.
However, Turkey's foreign ministry rejected the "political statement", adding it would diminish the value of the UN mechanisms. –AFP
http://nation.com.pk/international/15-Apr-2017/turkey-in-final-referendum-push-as-militants-detained
--------
Jokowi turns to Islam-nationalism to preserve Indonesia's diversity
Apr 15, 2017
Irrespective of the result, the Jakarta gubernatorial election next Wednesday will leave a bitter aftertaste that could have consequences on the political landscape in the rest of Indonesia. The election is already billed as the ugliest, most divisive and most polarising the country has seen.
Religion and, to a lesser extent, race were issues that were widely exploited in the election. Rivals trying to unseat the hugely popular incumbent, Basuki Tjahaja Purnama, virtually forced Jakarta voters to decide whether a non-Muslim and an ethnic Chinese, hence a double-minority, could be allowed to govern the sprawling city of 10.5 million people.
Whether Basuki or his challenger, Islamic scholar Anies Baswedan, wins the run-off, the religious bigotry and racism that the election raised will likely linger on, or even spread further afterwards.
President Joko Widodo has stepped up to the plate, and he may have taken his cue from Indonesia's first president Sukarno by combining several ideologies into one. In his particular case, it is Islam and nationalism.
Indonesia, the country with the world's largest Muslim population, has defied the myth that democracy and Islam are incompatible by holding four peaceful democratic national elections since the downfall of strongman Suharto in 1998. Now Mr Joko, who is also known as Jokowi, must show that Islam and nationalism are not only compatible, but also that the two can work together to preserve national unity.
Jakarta is considered a political trendsetter and the whole nation is watching the election to get a sense of how deep a role religion now plays in national politics. Not that Indonesia needs more of it. Religious intolerance is already on the rise in recent years, with many minorities becoming the target of attacks. The ugly election campaign in Jakarta is bound to put more pressure on the religious minorities and further strain on overall interfaith relations.
Two big demonstrations in Jakarta, in November and December, that were ostensibly aimed at stopping the re-election of Governor Basuki were part of a persistent campaign to push Islam into the centre of the political stage and then drum up support for whatever agenda their sponsors have, includingsyariah to replace the law of the land and an Islamic state down the road.
This is making not only the religious minority groups restless, but also many Muslims who don't necessarily agree with the Islamist agenda.
Although nearly 90 per cent of Indonesia's population are Muslims, Indonesia is not an Islamic state, a decision its founding fathers consciously made upon independence in 1945 to placate religious minorities like Christians and Hindus, particularly from eastern Indonesia. These eastern provinces would have happily opted out of the new republic and formed their own independent states if the former Dutch colony had gone Islamic.
Indonesia's secular status has since survived many tests, including a series of armed rebellions and terrorist attacks in the name of Islam. But now the battle by the Islamist proponents is primarily being waged in the public space. With the help of the Internet, which has created an open marketplace for ideologies, this fight has become about winning the hearts, minds and soul of the people.
President Joko is leading the campaign to stop or reverse the rise of Islamism. He does so by raising the spectre, rightly or wrongly, that the nation's unity is at stake because its key underpinning, pluralism, is being attacked by those who want to turn Indonesia into a theocratic state. And he does so not by tackling Islam head on, but rather by embracing the religion without losing sight of the bigger interests of preserving the unity of this very diverse nation.
He is combining Islam and nationalism into a single, powerful force for national unity, development and prosperity.
This is reminiscent of the founding father Sukarno who, as a 26-year-old revolutionary thinker, penned an article in 1926 about synthesising Islam, nationalism and Marxism, which he saw as the main political pillars for the independence struggle. These three are competing ideologies, Sukarno wrote, but their combination would portend for a force that the Dutch colonial rulers could not stop. After independence in 1945, Sukarno tried to rally the three pillars together again, this time with disastrous and fatal effects. The communist party was crushed for good and Sukarno lost power in 1966.
Mr Joko is not as academically inclined, but he can be as astute a politician as Sukarno was.
His campaign in recent months has taken him to meet top leaders of the military - the main force to preserve national unity - to secure their support and loyalty, telling them that he is fighting against the forces that are undermining the Unitary State of the Republic of Indonesia (NKRI).
He called a press conference during his visit to the headquarters of the special forces, saying that in his capacity as Indonesia's commander-in-chief, he could deploy the country's most fearsome and revered military division anywhere in the country to quell any threat to the state's pluralistic status.
He has met leaders of the Muhammadiyah and Nahdlatul Ulama, the country's two largest Islamic social organisations, to get them on board his NKRI campaign, and to make their leaders publicly denounce the forces that threaten national unity and get them to say that all Muslim citizens have the obligation to support the state and its policies.
These two organisations, with their massive influence among Muslims in Indonesia, have been responsible in developing the more tolerant and moderate version of Islam in the country, and in the past have been counted on to fight against the rise of radical Islam. And now Mr Joko is turning to them once again.
Has the President done enough to stop the creeping Islamism in Indonesia? Time will tell. And somehow, the Jakarta election, whichever way it goes, would also be a telling factor about which direction Indonesia is heading.
This is a series of columns on global affairs written by top editors and columnists from members of the Asia News Network and published in newspapers and websites across the region.
http://www.straitstimes.com/asia/se-asia/jokowi-turns-to-islam-nationalism-to-preserve-indonesias-diversity
--------
Arab World
Saudi Defence Minister: We Will Not Allow Houthis to Become Hezbollah of Yemen
14 April 2017
Saudi Arabian Defence Minister, Major General Ahmad Assiri, announced that since the beginning of its operations, the forces of the Arab coalition in Yemen have worked in two axes.
The first is to carry out military operations and reduce the capabilities and influence of the militias. The second is to build the military establishment from day one, pointing out that the alliance will not allow the Houthi militias in Yemen to become as the Hezbollah militia in Lebanon.
Assiri, speaking at a seminar in Paris, said that military operations in Yemen were being carefully conducted to protect civilians, adding that "the Houthi militias in Yemen have established command and control centres among civilians."
He also considered that "the rush in the implementation of military operations in Yemen may lead to losses, and that the policy of besieging the militias in Yemen is leading to effective results."
Assiri explained that the legitimacy forces have made progress in Yemen and that the political leadership has returned to Aden. He also confirmed that the alliance cooperated with the Yemeni forces to defeat al-Qaeda.
He stressed that the Arab coalition "seeks a comprehensive political solution that satisfies everyone", saying that the solution in Yemen should include the implementation of international resolutions and the will of the Yemenis, refusing to accept any "mid-solutions that makes the Houthis part of the solution in Yemen."
Civilian security
He said that the legitimacy forces in Yemen are working to train young people in the security sector and the war against terrorism. He added that the coalition does not use non-guided free-fall bombs since they are dangerous to civilians. He also explained that the military operations in Yemen are taking place in dangerous areas because of the density of the population.
He explained that the coalition is implementing a maritime ban, not a blockade; meaning that they make sure who is using the waters, which challenges those who claim that the siege led to a famine.
He said that the coalition forces have given more than 6,000 permits to international bodies to work inside Yemen, saying that there are organizations that report on Yemen which are not even there.
Humanitarian crisis
He added that the port of Hudaydah is important, because it provides money, weapons and communication to the militias. But the port, according to Assiri, has become the source of the diversion of weapons inside Yemen instead of aid.
He said that the port of Hudaydah has become a base for targeting the traffic navigation in Bab al-Mandab, revealing that the alliance was clear to the international community "either inspection or submission to the legitimacy forces."
Attacking journalists
For his part, Yemeni Information Minister Muammar Al-Iryani said that the Houthis had turned against the elected president and launched small wars against him.
He added that the international organizations revealed a terrible reality for journalists in Yemen. "It came to the point of carrying out assassinations against journalists by the rebels."
He considered that the rebels took control of all the media who are against them, and there is no longer any truth to any information. He said that the death sentence against the Yemeni journalist was issued after a trial of only 10 minutes.
https://english.alarabiya.net/en/News/gulf/2017/04/14/Assiri-We-will-not-allow-Houthis-to-become-Hezbollah-of-Yemen.html
--------
Maliki handed over Iraqi cities to ISIS, Moqtada al-Sadr representative says
15 April 2017
A representative of prominent Shiite cleric Moqtada al-Sadr in Baghdad, Ibrahim al-Jabri, said on Friday that former Iraqi Prime Minister "Nouri al-Maliki is behind the current crises that have hit Iraq," adding: "Maliki handed over several Iraqi provinces to ISIS."
Jabri said "Maliki cannot do anything about the suffering of the Iraqi people because he caused the suffering and the killing of our sons by security forces at the Speicher base."
Camp Speicher, officially known as the Tikrit Air Academy, is an air installation near Tikrit in northern Iraq.
With Iraqi forces all but certain to defeat ISIS in Mosul this year, Sadr has begun mobilizing his supporters ahead of two elections, for provincial councils in September and the crucial parliamentary vote, by April 2018.
Full report at:
https://english.alarabiya.net/en/News/middle-east/2017/04/15/Maliki-handed-over-Iraqi-cities-to-ISIS-Sadr-representative-says.html
--------
Egyptian family carry cross in Easter ritual as pope deplores global unrest
15 April 2017
Pope Francis deplored the suffering of migrants, victims of racism and persecuted Christians as some 20,000 worshippers gathered at Rome's Colosseum to hear his Good Friday prayer.
This year an Egyptian couple and their three young daughters carried a large cross for part of the Via Crucis (Way of the Cross) procession, descending through the Colosseum and then outside into the crowd.
"Christ, our only savior, we turn towards you this year with eyes lowered in shame," the pope told the crowds outside the former gladiators' battleground, their faces lit by candlelight.
"Shame for all the images of devastation, destruction and shipwrecks which have become ordinary in our lives," Francis said in an apparent reference to Mediterranean migrant disasters that have left at least 590 people feared people dead this year.
The pope also spoke of the child abuse scandals that have rocked Catholicism in recent years, expressing "shame for all the times when bishops, priests and the religious have scandalized and hurt" the Church.
"Shame for the innocent blood, spilt daily, of women, children, migrants, people persecuted for the color of their skin or for their social or ethnic group -- or for their faith in you," he said.
The Easter holy week commemorating the last days of Jesus's life had a bloody beginning last Sunday with attacks claimed by the Islamic State group on two Coptic churches in Egypt that left 45 people dead.
Egyptian Copts observed a solemn Good Friday with prayers and fasting, as the community reeled from the bombings. Despite concerns over security, Francis is planning to go ahead with a visit to the country later this month.
In Rome, security was tight for the night-time ceremony, with road blocks and metal detectors in place as worshippers gathered to hear the leader of the world's 1.3 billion Catholics. Three thousand officers were deployed to protect the Colosseum.
Worshippers from Portugal and Colombia -- two countries the pontiff is set to visit in May and September respectively -- also took part in the procession, taking turns to carry the cross along with two Chinese Christians.
Full report at:
https://english.alarabiya.net/en/variety/2017/04/15/Egyptian-family-carry-cross-in-Easter-ritual-as-pope-deplores-global-unrest.html
--------
Russia slams watchdog probe of alleged Syria chemical attack
14 April 2017
Russia on Friday criticized the world's chemical weapons watchdog for not sending experts to the site of an alleged chemical attack in Syria, backing up President Bashar al-Assad's regime.
"We consider it unacceptable to analyses events from a distance," Foreign Minister Sergei Lavrov said at a press conference in Moscow with his counterparts from Syria and Iran.
Lavrov said Assad's opponents had "in essence" given guarantees for the Organization for the Prohibition of Chemical Weapons to visit the location where at least 87 people died, but the watchdog was refusing to send them.
"They say still that it is not very safe, but they cannot put forward convincing arguments," Russia's top diplomat said.
Russia has rejected accusations from the West that its Assad's forces were responsible for a chemical attack and has lashed out at the US for its cruise missile strikes last week against a Syrian air base.
The OPCW said Thursday that a fact-finding mission was analyzing samples gathered from "various sources" and that allegations a chemical attack took place in the Syrian rebel-held town of Khan Sheikhun were "credible".
Lavrov said Russia, Iran and Syria have demanded a "thorough, objective and unbiased investigation" under the auspices of the OPCW, insisting it must use "independent experts", including from Moscow.
Full report at:
https://english.alarabiya.net/en/News/middle-east/2017/04/14/Russia-slams-watchdog-probe-of-alleged-Syria-chemical-attack.html
--------
ISIS Mufti killed by air strike in western Mosul
14 April 2017
The Directorate of Military Intelligence announced on Friday that areas controlled by ISIS in the neighborhood of al-Rifai on the right side of Mosul, have been destroyed.
It confirmed the killing of a number of ISIS members, the most important of whom was Abdullah al-Badrani, ISIS legitimate Mufti.
According to the statement of the Directorate of Military Intelligence, the coalition aircrafts destroyed areas controlled by ISIS in al-Rifai district on the right side of Mosul.
The statement reported that the strikes resulted in the death of ISIS Mufti Abdullah al-Badrani.
It also reported the death of terrorist Abdul Rahman al-Talib, known as Abu Obaida and is of Arab origins. Ibrahim Awni al-Hayali, known as Abu Baraq, who is ISIS leader in al-Rifai neighborhood was also killed.
Full report at:
https://english.alarabiya.net/en/News/middle-east/2017/04/14/ISIS-Mufti-killed-by-air-strike-in-western-Mosul.html
--------
Syria: Civilians Injured in Terrorists' Attack on Buses Evacuating People from Towns in Idlib
Apr 14, 2017
The sources confirmed that terrorists of Faylaq Al-Sham attacked a bus carrying civilians leaving the predominately Shiite towns of Fua'a and Kafraya that have long been under siege by the terrorists.
According to local activists in Fua'a, Faylaq Al-Sham militants in the nearby village of Binnish fired at least ten mortar shells at the buses leaving Idlib for government-controlled regions.
The local activists reported that at least one mortar shell struck a bus in Fua'a, injuring two civilians.
The two victims were identified as a 10 year old boy and 25 year old woman, both from Fua'a.
Ahrar Al-Sham Movement has agreed to find the culprits behind the last night attack.
The Arabic language al-Mayadeen News Agency reported on Friday that more than 5,000 residents of Fua'a and Kafraya left their towns today to travel on over 75 buses en route to government-controlled territories.
The residents of Fua'a and Kafraya were initially stopped from leaving their towns after the terrorists of Faylaq Al-Sham fired several mortar shells at their transport vehicles last night, the agency said.
Al-Mayadeen added that another batch of civilians is expected to leave Fua'a and Kafraya in the coming days, as the second phase of the agreement has commenced.
A convoy of buses and ambulances arrived in Fua'a and Kafraya in Idlib province on Thursday to transfer civilians and patients from the two towns which had been besieged by the terrorists for three years now.
The development came in line with an agreement between the Syrian army and the terrorist groups to transfer civilians from Fua'a and Kafraya in exchange for the militants' exit from Damascus province.
A sum of 99 buses and 20 ambulances of the Syrian Red Crescent Society entered Fua'a and Kafraya in Northern Idlib on Thursday morning to transfer the civilians from the two towns after three years.
Based on the agreement, 8,000 civilians are due to leave Fua'a and Kafraya and 3,800 militants along with their family members will be transferred from the towns of Zabadani, Madhaya, Baqin and al-Jabal al-Sharqi in the outskirts of Damascus.
In late March, the army and militants groups inked an agreement on the evacuation of all the citizens of Kafraya and Fua'a in the aftermath of a ceasefire agreement, in lieu of the evacuation of militants and their family members from al-Zabadani and Madhaya.
According to media reports implementation of the agreement would begin on April 4th after a ceasefire began on 28 of March that would be processed in two phases in order to end the simultaneous evacuation in the two regions.
Full report at:
http://en.farsnews.com/newstext.aspx?nn=13960125000318
--------
Syrian Army Preparing for Another Large-Scale Operation in Northern Hama
Apr 14, 2017
The sources said that the army troops, led by the Tiger Forces and 40th Brigade of the 4th Mechanized Division, are making their final preparations to storm the key towns of Souran and Taybat Al-Imam.
They added that with Ma'ardes fully secured, the army has moved in position to strike Souran from several directions, while the Russian and Syrian fighter jets bombed heavily positions of Tahrir al-Sham Hay'at (the Levant Liberation Board also known as the Al-Nusra Front) at Taybat Al-Imam.
In relevant developments in the province on Thursday, the army units advanced in the Eastern parts of Souran towards the town's cemetery after clashes with Al-Nusra terrorists in Northern Hama.
Concurrent with the army advance, the terrorists' defense lines fell and the militants were forced to retreat.
Meantime, the Syrian air force pounded the al-Nusra Front positions in the two towns of Souran and Taybat al-Imam in Northern Hama, killing tens of militants and destroying their military equipment.
Also, the Syrian and Russian fighter jets launched airstrikes against an ISIL position in the village of Um Mil in Aqayrabat region of Eastern Salamiyah, inflicting tens of losses on the terrorists and wounding several others.
Full report at:
http://en.farsnews.com/newstext.aspx?nn=13960125000248
--------
Syria: Thousands of Civilians Start Leaving Shiite-Populated Towns in Idlib
Apr 15, 2017
The Arabic language al-Mayadeen News Agency reported that more than 5,000 residents of Fua'a and Kafraya left their towns today to travel on over 75 buses en route to government-controlled territories.
The residents of Fua'a and Kafraya were initially stopped from leaving their towns after the terrorists of Faylaq Al-Sham fired several mortar shells at their transport vehicles last night, the agency said.
Al-Mayadeen added that another batch of civilians is expected to leave Fua'a and Kafraya in the coming days, as the second phase of the agreement has commenced.
A convoy of buses and ambulances arrived in Fua'a and Kafraya in Idlib province on Thursday to transfer civilians and patients from the two towns which had been besieged by the terrorists for three years now.
The development came in line with an agreement between the Syrian army and the terrorist groups to transfer civilians from Fua'a and Kafraya in exchange for the militants' exit from Damascus province.
A sum of 99 buses and 20 ambulances of the Syrian Red Crescent Society entered Fua'a and Kafraya in Northern Idlib on Thursday morning to transfer the civilians from the two towns after three years.
Based on the agreement, 8,000 civilians are due to leave Fua'a and Kafraya and 3,800 militants along with their family members will be transferred from the towns of Zabadani, Madhaya, Baqin and al-Jabal al-Sharqi in the outskirts of Damascus.
In late March, the army and militants groups inked an agreement on the evacuation of all the citizens of Kafraya and Fua'a in the aftermath of a ceasefire agreement, in lieu of the evacuation of militants and their family members from al-Zabadani and Madhaya.
According to media reports implementation of the agreement would begin on April 4th after a ceasefire began on 28 of March that would be processed in two phases in order to end the simultaneous evacuation in the two regions.
Full report at:
http://en.farsnews.com/newstext.aspx?nn=13960125000279
--------
Syrian Army Starts New Phase of Operations in Eastern Aleppo
Apr 13, 2017
The army forces attacked ISIL bases near the strategic town of al-Mahdoum and engaged in heavy clashes with the terrorists.
The army's artillery and missile units also pounded ISIL positions in al-Mahdoum, al-Zakiyeh and Kishish villages and towns as well as areas near al-Jarrah military airport.
Meantime, fierce clashes erupted between the Syrian army and ISIL forces in al-Zakiyeh village. No further report is available on the al-Zakiyeh battle yet.
In a relevant development in the same province on Wednesday, the Syrian army soldiers continued their anti-terrorism offensive in Northern Aleppo and managed to deploy forces in positions very close to one of the main bastions of the terrorists after killing 60 militants and destroying their equipment, well-informed sources said.
The sources said that following liberation of the village of Khirbet Anadan on Tuesday, the army forces continued their operation from two directions to take back the strategic town of Anadan, killing 60 terrorists and forcing the rest of them to retreat towards their main base, Anadan.
Full report at:
http://en.farsnews.com/newstext.aspx?nn=13960124000794
--------
Syrian Army Launches Operations to Separate Northern, Western Aleppo
Apr 13, 2017
A military source reported that the Syrian soldiers have launched heavy attacks on terrorists' positions in the Northwestern parts of Aleppo city near al-Yarmoun industrial halls, the Western parts of al-Zahra district and near the Family House region and Shuwaiheneh hills.
He underlined that if the Syrian army retakes control of Tal Shuwaiheneh hills, the Western parts of Aleppo province will be separated from its North and the terrorists' supply routes from the towns in Northern Aleppo will be cut off. The army is busy now to ready for launching an assault to capture the town of Anadan in the same region.
The army units also targeted the terrorists' positions in the Southern parts of al-Tamoureh village in Northern Aleppo with missile and artillery fire, destroying one of the militants' bases in Tal al-Ma'askar and killing and wounding several of them.
On Wednesday, the Syrian army soldiers continued their anti-terrorism offensive in Northern Aleppo and managed to deploy forces in positions very close to one of the main bastions of the terrorists after killing 60 militants and destroying their equipment, well-informed sources said.
The sources said that following liberation of the village of Khirbet Anadan on Tuesday, the army forces continued their operation from two directions to take back the strategic town of Anadan, killing 60 terrorists and forcing the rest of them to retreat towards their main base, Anadan.
Full report at:
http://en.farsnews.com/newstext.aspx?nn=13960124000420
--------
Pakistan
Pakistan 'blasphemy killing': murdered student 'devoted to Islam'
14/04/2017
Those who knew a Pakistani student who was accused of blasphemy and beaten to death say he was intellectually curious and asked many questions, but openly professed devotion to Islam.
A mob in the northern city of Mardan severely tortured and killed Mashal Khan following a heated debate over religion, witnesses claim. It attracted a crowd of hundreds.
Images of Khan's university room show posters of communist leaders Che Guevara and Karl Marx hanging on the walls.
He was dragged from there out into the university grounds after a horde of people kicked in his door.
Local reports suggest dozens of students have since been detained and the campus has been closed.
Khan was one of two students alleged to have shared offensive content on social media. The other survived with injuries.
Crimes related to blasphemy are a serious offence in the Islamic Republic of Pakistan.
Since 1990, at least 65 people have been killed over allegations of heresy, according to data from local media and a report by the Center for Research and Security Studies.
Tens more convicted of blasphemy are serving time on death row in Pakistani prisons.
http://www.euronews.com/2017/04/14/pakistan-blasphemy-killing-murdered-student-devoted-to-islam
--------
Iran rejects allegations of its agencies' links to Uzair Baloch
Apr 15, 2017
ISLAMABAD: Iran has cautioned against a "vilification campaign" launched against it on the basis of allegations by Lyari gangster Uzair Baloch that its intelligence agencies had links with him.
A statement issued by the Iranian embassy in Islamabad on Friday rejected "unfounded rumours being circulated in some media during recent days about linking the activities of some miscreants with some Iranian organisations".
A Joint Investigation Team (JIT) set up by the Sindh government to investigate Baloch had last year in its report said: "Uzair Baloch was involved in espionage activities by providing secret information regarding army installations and officials to foreign agents [Iranian intelligence officers] which is a violation of the Official Secret Act 1923."
Uzair had in a confessional statement said that he had met an Iranian intelligence official in Chabahar, who had asked him to provide information about Pakistani military officials and Karachi's security environment.
JIT report was published after Uzair was taken into custody by army under the Official Secret Act for leaking of sensitive security information to foreign intelligence agencies.
The embassy said "dissemination of such baseless" material was aimed at turning public opinion against Iran. This, it stressed, was "contrary to the spirit of friendship and brotherhood between the two nations".
"It goes without saying that such untrue stories are not commensurate with trajectory of expanding bilateral relations in all spheres between two friendly and brotherly countries of Iran and Pakistan," the embassy said.
Full report at:
https://www.dawn.com/news/1327101/iran-rejects-allegations-of-its-agencies-links-to-uzair-baloch
--------
17,000 Christian workers to celebrate Easter without salary, pension
Apr 15, 2017
KARACHI: Over 17,000 Christian workers and pensioners of the civic agencies had not been paid advance salary, therefore they would not be able to celebrate their religious festival Easter (to be observed on Sunday) properly, said the workers' union on Friday.
The court would be moved against the government inattention, it said.
Condemning the non-payment of salary and pension to Christian workers, All Pakistan Local Government Workers Federation leader and KMC Sajjan (CBA) Union chief Zulfiqar Shah said the government had not only hurt the feelings of the workers, but also failed to follow the agreements signed with the union. It also violated court orders, he pointed out.
Mr Shah said the union and KMC etc, had agreements and the Sindh High Court had also directed that workers be paid salaries/pensions in time so that they could celebrate their religious festivals.
He said that two festivals each — Eidul Fitr and Eidul Azha of the Muslims, Diwali and Holi of the Hindus, and Christmas and Easter of the Christians — had been identified for early payments.
Full report at:
https://www.dawn.com/news/1327000/17000-christian-workers-to-celebrate-easter-without-salary-pension
--------
Passport condition introduced for entry to Afghanistan
IBRAHIM SHINWARI
Apr 15, 2017
LANDI KOTAL: The local authorities have announced all Pakistani nationals will be required to produce passports at Torkham from today (Saturday)) to get permission for cross-border movement.
Earlier, Pakistanis used to travel across the border by producing computerised national identity cards, route permits and rahdari cards.
The officials insisted the passport condition had been introduced over the growing incidence of the production of forged documents by travellers.
A joint statement issued here on Friday by the political administration and Khyber Rifles explained the new border entry and exit procedure, while banners were also displayed at prominent places in the area to inform both Pakistani and Afghan nationals about it.
Officials attribute move to seizure of forged CNICs from travellers
The statement said no Pakistani would be allowed to cross the border and return by showing CNIC and that only those carrying valid passports would be allowed the cross-border movement.
"The new restrictions will apply to all Pakistani nationals, including local tribal elders, transporters, traders, journalists and ordinary citizens," it said, adding that the 'facility' of CNIC production in that respect had been withdrawn altogether.
The officials said security agencies had reported the growing use of forged CNICs by Pakistanis to cross the border over the last few months, fearing the entry of terrorists into the country through legal border crossings.
They insisted some Afghan nationals had installed special machines in Nangrahar province of Afghanistan to change the original photo on a Pakistani CNIC to an Afghan national's keeping the other written information intact.
The officials said the administration didn't have modern technology on Torkham border to detect forged CNICs and therefore, the passport's production had been made mandatory for all Pakistani nationals for cross-border movement.
They however said Pakistanis wanting to travel to Afghanistan would be exempted from visa restriction unlike Afghans, who had to get their passports stamped by Pakistani authorities for entry to the country since June 1 last year.
For the first two months after the restrictions were imposed, relaxations were made for Afghan transporters, who were allowed multiple entries to Pakistan on the production of valid route permits.
The officials insisted imports from Afghanistan had considerably declined due to strict implementation of visa conditions for Afghan transporters and traders.
They also said the passport condition for Pakistani nationals adversely affected exports of Pakistani goods to Afghanistan.
The officials however added that a large number of local transporters had applied for passports and that they expected that exports would pick up momentum soon.
They said those without passports had temporarily hired the services of truck drivers having passports.
The officials said the new arrangement would help transporters clear most of their stranded vehicles loaded with goods.
Some officials insisted that the government could relax its rules for hundreds of clearing agents and Afghans studying in Pakistani schools in Torkham after developing a special 'commuter software'.
Full report at:
https://www.dawn.com/news/1327087/passport-condition-introduced-for-entry-to-afghanistan
--------
Militant killed, 3 arrested in CTD operation in Lahore's Punjab Society
April 15, 2017
A militant was killed while three, including a female 'terrorist', were arrested from Lahore today, reported Waqt News .
According to details, intelligence agencies and Counter Terrorism Department (CTD) conducted an operation in Punjab Society of the provincial capital.
The militants were residing in a rented house. Four security personnel were injured in cross firing, reported sources. Huge cache of weapons and suicide jacket were retrieved from the militants.
The raid was conducted under Operation Radd-ul-Fasaad.
On February 22, Pakistan Army launched a countrywide operation for "indiscriminately eliminating residual and latent threat of terrorism".
Operation 'Radd-ul-Fasaad [eradication of violence/mischief]' was termed the last phase of the armed action by country's security forces against terrorists, which has been ongoing for over a decade.
The aim of the operation, according to a press release issued by the ISPR, is to consolidate gains of earlier military operations like Zarb-e-Azb, Rah-e-Raast and Rah-e-Najaat.
Besides ensuring more effective border management and continuation of ongoing operations in troubled areas of the country as part of this process, one of its key features is action of Rangers in Punjab – which has been a longstanding demand of various segments of the society.
Additionally, the country would be de-weaponised through a national campaign and a comprehensive explosives control regime would be put in place.
The announcement of the nation-wide anti-terror operation came after Army Chief General Qamar Javed Bajwa chaired a high-level security meeting in Lahore.
A sweeping action against suspected militant elements across the country had already been initiated after a series of bloody extremist assaults killed dozens of people across the country. Now, however, it has been formally named and its objectives and scope have been clearly stated.
Pakistan Air Force, Pakistan Navy, civil armed forces (CAF) and other security and law enforcing agencies (LEAs) are actively participating and intimately supporting the efforts to eliminate the menace of terrorism from the country, the media wing of the military said, showing the scale and comprehensiveness of this national operation.
The effort entails conduct of Broad Spectrum Security and Counter Terrorism operations by Rangers in Punjab, said the ISPR, adding that pursuance of National Action Plan will be the hallmark of this operation.
Earlier, military and paramilitary Rangers top brass met in Lahore to chalk out a comprehensive action plan to eradicate terrorism in all its form and shades across Punjab, through a province-wide operation to be led and spearheaded by Punjab Rangers.
The meeting chaired by Army Chief General Qamar Javed Bajwa was attended by Corps Commanders from Punjab province, Punjab Rangers DG Major General Azhar Naveed Hayat Khan and director generals of Inter-Services Intelligence [General Naveed Mukhtar], Military Intelligence and Inter-Service Public Relations [Maj-Gen Asif Ghafoor].
Once the action plan is ready, it was placed before Punjab Chief Minister Shehbaz Sharif to take the civil administration on board.
Interestingly, the same day the federal government approved a request forwarded by the Punjab government for the deployment of Rangers personnel in the province.
The province had requested the centre for deployment of over 2,000 Rangers personnel, who would be given policing powers to conduct intelligence-based operations (IBOs) against militants, wherever required and with full authority.
A well-placed security source confided to The Nation that the operation in Punjab would be different than those of Karachi and Balochistan.
"Karachi is densely populated but it's a single city. Balochistan is an extensive province but the population there is scattered. Punjab is an extensive area with considerable population, but neither it is as extensive and hardly accessible as Balochistan nor has as much population concentration as Karachi. Therefore, the strategy and modes of operation have to be different", he explained.
He quoted former Army Chief Ashfaq Parvez Kayani of having said that battle against terrorists would [ultimately] be fought in streets and 'mohallahs' for achieving the objective of rooting them out of society at the grassroots level.
In Punjab, the menace of terrorism is double-edged. Here, it's a combination of sectarian militancy and outright terrorism based on negation of the state existence. Therefore, he was of the view that a different approach would have to be adopted to tackle the problem in this most populated province of the country. He expressed optimism about the success of the proposed operation saying that it was not possible to give a timeline on its progress and completion.
He said the operation would be intelligence-based and most part of it would be conducted on the basis of information that is already available.
Asked if the operation on Pak-Afghan border was joint in nature, he replied in the negative saying that the Afghan government and its military forces had no writ on their side of the border which is occupied by the common enemy I.e. Afghan and Pakistani Taliban, and Daesh.
"Chief of Army Staff Gen Javed Qamar Bajwa had informed the Commander of the US force Gen Nicholson about the operation in Pak-Afghan border area before it was launched. The US General gave his nod realising it was well-intended and indiscriminate as the targets are all terrorists belonging to different so-called Jehadi outfits", the source added.
To a question, he said that Afghan government has now decided to move their troops to the troubled area near Pak-Afghan border. "This suits Pakistan very well since it did not want this area to be freely available to such elements for use against our soil", he remarked.
Asked about the decision of closing border crossings at Torkham and Chaman, he said it was essential to curb terrorists' lifeline in terms of weapons, ration and other essential items which were being supplied through these routes.
"Wait for a while and demand for reopening would be initiated by the Afghan government. Normally, they maintain a stock of daily use items for a week and when they run out of the stock, the panic starts", the source added.
The source said situation with India was different since it had writ on every inch of its soil except held-Kashmir. Its armed forces are properly trained and generally act under defined international laws and norms. India, by and large, is a responsible state unlike Afghanistan, which has its writ over less than 30 percent of the land while the rest is being held by different militant groups. Therefore, there is no danger of similar situation arising on our eastern border, he said in definite terms.
He bitterly criticised the media for consistently trying to create a rift between the military and civilian leaderships which, he thought, would weaken the combined strength of the state institutions. Such efforts by some elements in the print and electronic media would benefit the terrorists and their facilitators.
Full report at:
http://nation.com.pk/national/15-Apr-2017/militant-killed-3-arrested-in-ctd-operation-in-lahore-s-punjab-society
--------
Nine 'terrorists' killed in DG Khan cleanup op
April 15, 2017
DERA GHAZI KHAN/Bahawalnagar - Three Ranges soldiers embraced martyrdom and nine hardcore terrorists were killed on Friday during an intelligence-based operation of security forces near Dera Ghazi Khan city.
In the morning, Punjab Rangers and Counter Terrorist Department (CTD) carried out a joint operation in Basti Dadwani, about 35kms from the city.
The operation was part of Raddul Fasaad cleanup operation which is being carried out across the whole country to rid it of terrorism and extremism.
Military's media wing - ISPR - in a press brief said that the joint operation was carried out against terrorists affiliated with TTP and their facilitators, holed up in Basti Dadwani near Choti Zereen town.
During exchange of fire, nine to ten hardcore terrorists and criminals were killed, including Muhammad Asghar Dadwani alias Ustad Gorchani and Muhammad Naeem alias Waqas Dadwani.
Asghar Dadwani is said to be a hardcore terrorist who was also involved in Airport attack.
The ISPR said three soldiers namely Havaldar Asif, Sepoy Aftab and Sepoy Azizullah of Rangers embraced Shahadat, while two soldiers sustained injuries and they were taken to CMH Multan by a army helicopter.
It said, the operation was still continuing in the area to flush out the terrorists and hardened criminals.
Full report at:
http://nation.com.pk/national/15-Apr-2017/nine-terrorists-killed-in-dg-khan-cleanup-op
--------
South Asia
US misused Afghanistan as testing ground for dangerous weapons: Hamid Karzai
Former President of Afghanistan Hamid Karzai said that US has misused Afghanistan as a testing ground for new and dangerous weapons.
He has condemned the dropping of Non-Nuclear bomb by US in Afghanistan.
He tweeted:
Last evening US dropped the 'mother of all bombs', one of the largest non-nuclear devices ever unleashed in combat in Afghanistan in Nanghar area where ISIS were hiding in caves. 36 suspected ISIS militants were killed.
http://nation.com.pk/international/14-Apr-2017/us-misused-afghanistan-as-testing-ground-for-dangerous-weapons-hamid-karzai
--------
Hefazat demands withdrawal of Mongol Shobhajatra
April 14, 2017
'Muslims only seeks blessings to Allah. The Muslims who will take part in the Mongol Shobhajatra procession will not remain Muslims'
Hefazat-e-Islam on Thursday called for the withdrawal of the government's order of mandatory Mongol Shobhajatra procession in educational institutions, calling it "anti-Islamic".
Azizul Haque Islamabadi, the central organising secretary of the radical Islamist platform, made the demand in a press release. He claimed that Mongol Shobhajatra is a part of Ganesh worship and therefore "goes against the fundamental tenets of Islam".
"Muslims only seeks blessings to Allah. The Muslims who will take part in the Mongol Shobhajatra procession will not remain Muslims," he said.
"Therefore, we demand the withdrawal of the government's order immediately," the press release read.
Full report at:
http://www.dhakatribune.com/bangladesh/2017/04/14/hefazat-demands-withdrawal-mongol-shobhajatra/
--------
Afghan tribal elders seek more airstrikes after MOAB strike on ISIS
Apr 15 2017
The tribal elders in eastern Nangarhar province of Afghanistan welcomed the airstrike against the ISIS hideouts in Achin district, seeking for more such raids against the other hideouts of the terror.
Provincial governor Ataullah Khogyani said the elders sought further support from the Afghan and international community in the fight against the terror group.
Khogyani further added that the airstrike conducted on Thursday evening has resulted into the killing of more than 80 insurgents, mainly comprising foreigners.
Nangarhar's provincial council secretary Zabiullah Zmarai said the tribal elders had long requested the government for the elimination of ISIS terrorist group affiliates in Nangarhar.
He said the Thursday night's airstrike did not result into any civilian casualties, emphasizing that the airstrike was carried out based on the recommendations of the provincial and district councils.
Zmarai further added that the airstrike targeted the main leadership center of the terror group which is not only a serious threat to Nangarhar but for the whole country from where they were planning insurgency.
Full report at:
http://www.khaama.com/afghan-tribal-elders-seek-more-airstrikes-after-moab-strike-on-isis-02569
--------
Afghan govt was in the loop when GBU-43 was dropped on ISIS target
Apr 14 2017
The Afghan government has confirmed it was in the loop when the 'Mother of All Bombs' was dropped in Nangarhar province to target the hideouts of ISIS terrorist group.
The Office of the President, ARG Palace, said the loyalists of the terror group have suffered heavy casualties in the airstrike as it insisted on close coordination between the Afghan forces and the foreign based in Afghanistan.
A statement by ARG Palace said the Afghan forces will continue to their fight to eliminate terrorism and to maintain peace and stability in the country, the region, and around the world as they are in the front line against the terrorist groups.
The statement further added that the Afghan forces continue to their fight against the terrorist groups and in close coordination with the foreign forces based in the country.
The US Forces in Afghanistan (USFOR-A) in a statement said "At 7:32 pm local time today, US Forces-Afghanistan conducted a strike on an ISIS-K tunnel complex in Achin district, Nangarhar province, Afghanistan, as part of ongoing efforts to defeat ISIS-K in Afghanistan in 2017."
Full report at:
http://www.khaama.com/afghan-govt-was-in-the-loop-when-gbu-43-was-dropped-on-isis-target-02565
--------
Mideast
Nearly 400 Israeli settlers storm Aqsa Mosque again
Apr 14, 2017
Nearly 400 Israeli settlers, guarded by regime forces, have once again stormed the al-Aqsa Mosque compound in the Israeli-occupied Old City of East Jerusalem al-Quds.
Firas al-Dibs, spokesperson of the Islamic Waqf, which manages the compound's affairs, told the Palestinian Ma'an news agency that large groups of Israeli settlers, approximately 385 in total, "raided the mosque" on Thursday.
The official also told Turkey's Anadolu news agency that the intruding settlers tried to perform rituals and attempted to attack the mosque guards, while Israeli forces made two arrests in the mosque's courtyard.
The al-Aqsa Mosque compound is a flashpoint Islamic site, which is also holy to the Jews.
Under a 1967 deal between Israel and Jordan, the compound's custodian, non-Muslim worship is prohibited at the site.
In defiance of the agreement, the regime in Tel Aviv regularly allows Israeli settlers and extremists to enter the site and carry out religious rituals -- often under armed guard.
Thursday marked the third day of the Jewish holiday of Passover.
In a similar move on Wednesday, nearly 300 settlers and extremists entered the compound by force, performing acts deemed provocative by Palestinians.
In the lead-up to Passover, Israeli forces had detained at least 30 Palestinians during raids in occupied East Jerusalem al-Quds.
Muslim bodies in Jerusalem al-Quds condemned the incursions, saying they are meant to change al-Aqsa's historical character.
"We cannot accept such arbitrary, barbaric … measures under the pretext of Jewish holidays," the Department of Islamic Waqf and Islamic Higher Council, as well as Dar Al-Ifta and the Supreme Islamic Council, said in a joint statement.
Last week, the Palestinian Prisoners' Society (PPS) criticized the Israeli regime for stepping up its crackdown on Palestinians every year during Passover.
"For (Palestinian) Jerusalemites, the Jewish holiday season means an escalation in arbitrary detentions, house raids, and searches -- measures that terrify families. The installation of additional security checkpoints, particularly at the al-Aqsa Mosque (compound)'s gates and in the Old City, only increase tensions in Jerusalem," the PPS head in Jerusalem Nadi Qaws told Ma'an last week.
In a war in 1967, Israel captured the West Bank and East Jerusalem al-Quds, where the Aqsa Mossque compound is located. Since then, Tel Aviv has continued to expand its illegal settlements there.
http://www.presstv.ir/Detail/2017/04/14/517974/Israel-Settlers-Aqsa
--------
Kurdish militant attack kills two in Turkey's southeast
Apr 15, 2017
ANKARA: A Turkish soldier and a guard were killed by a roadside bomb in the southeastern city of Van, military sources said on Friday, adding that an aerial operation was underway against the suspected Kurdish militant attackers. An explosion hit Turkish security forces carrying out reconnaissance along a road in Van, the sources said. Initial reports pointed to an explosive device planted by members of the outlawed Kurdistan Workers' Party (PKK), they said. The second victim of the blast was a village guard, part of a paramilitary force employed by the state to support security forces in southeast Turkey. - Reuters
Full report at:
http://nation.com.pk/international/15-Apr-2017/kurdish-militant-attack-kills-two-in-turkey-s-southeast
--------
Turkey detains ISIS suspects over planned attacks
14 April 2017
Police in Istanbul have detained seven suspects, two of them believed to be members of ISIS, who were plotting to carry out attacks in Turkey ahead of a referendum on Sunday, a police statement said on Friday.
The four Turks, two Syrian nationals and one Tajik aimed to "create chaos" in Turkey, police said. Two of the Turks were thought to have joined the ranks of ISIS, which holds territory in neighboring Syria and Iraq.
ISIS has been blamed for at least half a dozen attacks on civilian targets in Turkey in recent months, including one on New Year's Day at Istanbul's Reina lounge, which killed 39 people.
The police said they had also seized identity cards, mobile phones and passports in the raids in four districts of Istanbul since last week.
Turks will vote on Sunday on constitutional changes that would give President Tayyip Erdogan sweeping new powers. Supporters say that will strengthen the country at a time when it faces threats from ISIS and Kurdish militants. Opponents fear a lurch towards authoritarianism in Turkey.
Two opinion polls on Thursday showed a narrow majority of voters would vote in favour of the changes.
Full report at:
https://english.alarabiya.net/en/News/middle-east/2017/04/14/Turkey-detains-ISIS-suspects-over-planned-attacks.html
--------
Saudi forces repel Houthi attack near Yemen border
15 April 2017
Saudi forces repelled an attack led by Houthis and militias allied to ousted President Ali Abdullah Saleh on Friday night. The militias attempted to head towards the Saudi port village of Tuwal.
Tuwal is a village in Jizan Province, in south-western Saudi Arabia near the Yemeni border.
An Al Arabiya correspondent reported that "artillery fire from Saudi forces managed to destroy military vehicles belonging to the militias. Apache helicopters targeted the militants hiding behind sand barriers that they used to protect themselves."
This resulted in the deaths of dozens of militias, in addition to the destruction of their military equipment, namely missiles and weapons that were in their possession.
Meanwhile, in the province of Dhahran - a city located in Saudi Arabia's Eastern Province – a group of Houthi militias was killed after attempting to plot an attack on a Saudi surveillance center.
Full report at:
https://english.alarabiya.net/en/News/gulf/2017/04/15/Saudi-forces-repel-Houthi-attack-near-Yemen-border.html
--------
Yemeni forces seize strategical mountains from Houthi militias
14 April 2017
Yemen's National Army and Popular Resistance Forces, supported by the Arab Coalition, managed to seize control several strategical mountain ranges from Houthi militias on the western coast of Yemen.
Intense clashes took place on mountains al-Nar and al-Nabati between Houthi Militias and Yemeni forces loyal to President Abdrabbuh Mansur Hadi.
Full report at:
https://english.alarabiya.net/en/News/gulf/2017/04/14/Yemeni-forces-seize-strategical-mountains-from-Houthi-militias-.html
--------
Russia, Iran, Syria united against US acts of aggression: Analyst
Apr 14, 2017
An analyst has hailed the recent trilateral meeting in Russia on the crisis in Syria, stressing that the assembly sends a clear message to US statesmen that Moscow, Tehran and Damascus will not be intimidates by US acts of aggression.
"What this meeting shows you is that these three allies have a unified front. They have one viewpoint and they are sticking to it. It is a very big message to the United States of America and its allies that they will not be bullied by Donald Trump and his policies towards Syria over the previous weeks. These three allies are going to pursue a path in Syria, which is anti-American and runs contrary to US interests in the region," London-based expert on Middle East affairs, Danny Makki, told PressTV in an exclusive iednterview on Friday.
The remarks came on the same day that Syrian Foreign Minister Walid al-Muallem, along with his Iranian and Russian counterparts Mohammad Javad Zarif and Sergei Lavrov, met in Moscow to discuss the recent US missile strikes on an air base in Syria's central province of Homs.
The Pentagon said 59 Tomahawk cruise missiles were fired from two warships in the Mediterranean Sea at Shayrat airfield on April 7.
US officials claim that the suspected chemical incident in the town of Khan Shaykhun in Idlib Province, which reportedly left over 80 people dead on April 4, had been launched from the military site.
Syria's official news agency, SANA, reported that at least nine people were killed in the early morning strike on the Syrian airfield.
Makki further criticized Britain and France for supporting the anti-Damascus allegations over the suspected chemical attack, arguing that the backing comes at the same as neither a British nor a French expert has paid a visit to the town of Khan Shaykhun. "So it is very clear that there is a political agenda behind ongoing manipulation of this attack if it ever happened," the pundit pointed out.
Syria's Foreign Ministry has condemned the US strike as "a flagrant aggression" against the Arab country, and said Washington's real objective was to "weaken the strength of the Syrian army in confronting terrorist groups."
Full report at:
http://www.presstv.ir/Detail/2017/04/14/518045/Moscow-trilateral-meeting-Syria-crisis-Russia-Iran-Syria-missile-strikes-Shayrat-airfield-chemical-attack-Khan-Shaykhun
--------
Southeast Asia
Indonesia's former first lady, promotes a Tolerant, Feminist, Progressive Islam
04/14/2017
It's not surprising that media for the past week have been dominated by Syria – the nerve gas atrocities, the US missile response, the dispute with the Russians over what really happened. And other atrocity news slips in occasionally — the London and Stockholm attacks, ISIS bombings in Egypt, an attack at a Somali refugee camp.
It's a picture of the Muslim world as an almost incomprehensible war zone. Almost nothing about why this happened gets reported – ten years ago Syria was an autocracy, but a seemingly highly functional and peaceful country. What happened, not only in Syria but in the other trouble spots?
One New York Times story offers a hint of an explanation. It's a profile of Sinta Nuriyah, the former first lady of the largest Muslim nation in the world, Indonesia.
The Times reports on her meeting a group of distressed women dressed in traditional gowns — but with a clear mission: how to rescue their Islamic school for women "which had been shut down by a local hard line organization amid a nationwide crackdown on lesbian, gay, bisexual and transgender organizations."
They had clearly come to the right place to meet with the right person who could guide them effectively when she said strategically: "Reach out to the regional district head. All people have the right to worship God, not just some people. That's the truth in Islam."
Since 2009 when her husband passed away, Ms. Nuriyah took on his mantle and advised the group who conferred with her to promote tolerance. Sinta Nuriyah is smart and strategic as she confronts her opponents. She is clear about real politics and recognizes that her hard line opponents need to be confronted as they attempt to disrupt interfaith events she headlined last year.
Ms Sinta is also focused on women's rights. Furthermore, she is eager to promote religious tolerance. Last year, Ms Sinta was harassed for promoting the mixing of two religious traditions, Christianity and Islam. However, that challenge elicited a strong response from other moderate Muslim voices in the country offering to protect her future events from disruption. So far in Indonesia the center seems to be holding.
One of the characteristics I admire about Ms. Sinta is that she is no wall flower. She is willing to take on the hardliners who tried to disrupt multiple inter-faith events she headlined last year.
She has brought around some of her critics. She is a stately woman with passion, clarity and conviction about her mission. She reads to me like a thorough bred women's rights activist.
What's particularly interesting about Ms. Sinta is that she seems to take women's issues head on. She reads to me like a globalist with a mind of her own. On a talk show, Ms. Sinta was asked why she was opposed to polygamy when she had heard about a man who was perfectly fair to all 12 of his wives. Ms Sinta speaks her mind and took him on when she said: "Who can be fair to multiple wives?"
When her husband died, Mrs. Sinta went on to establish a network of progressive Islamic boarding schools for girls to promote gender equality in some of the most rural and conservative parts of the country. Today, Ms Sinta worries about whether Indonesia's moderate Muslim institutions are capable of turning back the tide of fundamentalist Islam, which is spreading fast
Mrs Sinta makes a poignant point when she said: "Now our struggle is even weightier than earlier struggles against colonialist and imperialist powers, because the people we are facing down are not foreigners but are from our own nation."
However, there is a silver lining which is reflected in what we call "Women's Islam." It is how we pray, and support our women, friends and families. Mrs. Sinta is clearly smart, savvy and anchored in her faith. "She now differentiates between earlier times and current times because the people we are facing down aren't foreigners but are from our own nation."
But the Times profile, by itself, leaves out a big piece of the story. Ms. Nuriyah, and the women she was striving to help, wear head scarves and traditional clothing – but are standing up for the gay and lesbian community in their country. They represent Indonesia's historic Islam, open, tolerant, and heavily influenced by powerful women's organizations who led the anti-colonial struggle.
And while it is true that hard-line forces are growing inside Indonesia, they are not truly home grown. It is the insidious influence of outside funding and support, primarily from US allies and US motorist supported powers in the Persian Gulf, that has fed regressive and intolerant Islam in Indonesia.
Relations with the Muslim world have been bubbling over for fifteen years, since the attacks on 9-11. Our approach has failed – tolerant and progressive values have lost ground almost everywhere, including Indonesia. We can always find funds for military adventures,are willing to kill civilians in repeated and unsuccessful interventions, but somehow cannot be relied upon to fund education, particularly women's education, or support women's organizations, the primary advocates for peace and tolerance, does not go unnoticed.
It would be nice if the West could wake up to its real allies in the Muslim world – not petro-powers or dictators, but leaders like Sinta Nuriyah.
http://www.huffingtonpost.com/entry/indonesias-former-first-lady-promotes-a-tolerant_us_58f103a0e4b0156697224ed6
--------
M'sia's moderate Islam makes it ideal site for King Salman Centre: Hishammuddin
By Chuah Bee Kim
April 15, 2017
KLUANG: Malaysia was chosen as the site for the proposed King Salman Centre of Peace because of its practice of true Islam, Defence Minister Datuk Seri Hishammuddin Hussein said today.
The newly-appointed Special Functions Minister in the Prime Minister's Department revealed that this will be one of the messages Umno will be delivering during the 14th general election (GE14).
"Malaysia upholds the true meaning of Islam, as it embraces tolerance, moderation, peace and love," Hishammuddin said at a press conference after declaring open the community gathering of the Felda Kahang Timur branch and the Felda Ulu Dengar branch here, today.
"Saudi Arabia could have chosen countries that are richer and stronger (in which to build the centre), but it chose Malaysia, as King Salman believes we can correct the world's perception of Islam," he said.
On a separate matter, Hishammuddin said the newly-launched Jalinan Rakyat Plus (JR Plus) machinery will prove that there is strength in diversity, as all Umno party members and BN component parties – from Women, Youth and the main wing – will move as one to woo voters and defend the ruling government.
Dubbing Kahang and Sembrong, where Hishammuddin is MP, as a "mini Malaysia" with 43,000 voters and 29 district polling centres, he urged all BN parties to move in unison in their preparations for GE14.
"War rooms have to adhere to guidelines and start identifying the white voters, persuadable voters and new voters, in line with the JR Plus initiative," he said.
Meanwhile, a trilateral maritime patrol initiative under the trilateral cooperative arrangement involving Malaysia, Indonesia and the Philippines, will soon be launched to beef up maritime security in the Sulu Sea.
Full report at:
http://www.nst.com.my/news/nation/2017/04/230752/msias-moderate-islam-makes-it-ideal-site-king-salman-centre-hishammuddin
--------
Apex court orders extradition of Iranian over Bangkok bombing
April 14, 2017
PUTRAJAYA: The Federal Court here today ordered an Iranian, who is wanted by the Thai government over a 2012 bombing in Bangkok, to be extradited to Thailand to face charges in connection with the case.
A five-man bench led by Court of Appeal president Zulkefli Ahmad Makinudin made the decision after dismissing Sedaghatzadeh Masoud's appeal against the High Court's refusal to hear his habeas corpus application to secure his release.
Zulkefli said the panel was unanimous that there was no merit in the appeal on the three points raised by Sedaghatzadeh's lawyer, Muhammad Shafee Abdullah.
He said even though Shafee had presented a very persuasive argument, the panel was not persuaded by it.
Zulkefli said the court also found that the documents provided by the Thai authorities to support the extradition order were more than sufficient to satisfy the requirements under the Extradition Act 1992.
He said although the charge was not specifically produced, the panel found the details to be in order and more than sufficient in place of the charge.
"On the third point on the breach of the constitutional rights of the appellant, we find that the alleged irregular, or unlawful arrest does not affect the current detention order," he said.
Shafee had argued on the authenticity of the documents for extradition by the Thai authorities, saying none of the originals were given to their Malaysian counterparts.
He said only copies of the order were given, without the seal of the Thai justice minister.
"If you do not have the original document, you can produce a copy, but the copy must be certified that is a true copy of the original," he said.
He also questioned the issue of no charge brought against his client in the documents.
Deputy public prosecutor Awang Armadajaya Awang Mahmud countered that the prosecution was not relying on the justice minister's seal on the authenticity of the documents, but depending on an oath made by an officer, which was made in the form of an affidavit.
Full report at:
http://www.freemalaysiatoday.com/category/nation/2017/04/14/apex-court-orders-extradition-of-iranian-over-bangkok-bombing/
--------
Jakarta election challenger Anies accused of courting Islamic vote amid religious divide
15 April 2017
It was in 2004, as a PhD student in political science at Northern Illinois University, that Anies Baswedan would ponder the future interplay between Islam and Indonesia.
In his paper, "political Islam in Indonesia, present and future trajectory", Baswedan pointed out that, "fertile ground exists for Islam-friendly political parties to attract considerable support from 'Muslim' voters." Muslim voters, he explains in the footnotes, referred to devout and practising adherents of the faith.
More than a decade on, Baswedan is campaigning to become Jakarta's next governor and seems to have wholeheartedly taken his own advice. Analysts say he has overtly courted the Muslim vote in the tight race against the ethnic Chinese Christian incumbent, Basuki Tjahaja Purnama, better known as "Ahok".
On Wednesday, more than 7 million Jakartans will head to the polls in one of the most contested elections to date, marked by several massive, Islamic-inspired anti-Ahok rallies late last year, and an ongoing controversial blasphemy trial.
Neither Ahok nor Baswedan, a former education minister, won an outright majority in the first round vote this February when Agus Yudhoyono, the son of former president Susilo Bambang Yudhoyono, was knocked out.
Days out from the second and final round, Baswedan is just one point ahead, according to a survey by Saifiul Manjuni Research and Consulting (SMRC) released on 12 April. But before Ahok became engulfed in the blasphemy trial for allegedly insulting Islam, the picture looked very different – the incumbent had an approval rating of more than 70%.
The religion card
The only way to beat him, analysts say, would be to play the religion card and appeal to the Islamic base.
Aleksius Jemadu, dean of political sciences at Pelita Harapan University, says: "We cannot underestimate the effect of using religion, the last instrument they could use in order to win the election considering the fact that quite a number of people in Jakarta are conservative Muslims."
"So it is a source of strength for Anies [Baswedan] to capitalise on that issue," he adds, "on religious sentiment."
Baswedan, a former rector of Paramadina University, was seen as a religious moderate before, the type to write an editorial in defence of religious tolerance.
But as the Jakarta governor race has tightened Baswedan's public image has morphed, argues Hendro Prasteyo, a professor of political sociology at Indonesia's State Islamic University.
"From the beginning of November until now you can see how Anies always uses religious gestures. For example, he always wear the black peci, the black cap," says Prasetyo, of the hat often worn by Muslim men.
"He is going to mosques, and then preaching in the mosque and he also shows his closeness to radical groups like the FPI [the Islamic Defenders Front]. The point is to show he is close to Muslims, and he represents Muslims," notes Prasetyo, "He has had huge success by using religious symbols, which is contradictory to what he was before."
Basewdan, agrees Jemadu, is less statesman, more politician these days.
"I don't think that you can categorise him [Baswedan] as a man of principle," says professor Jemadu, "He is quite pragmatic. Whatever benefits him he will take it, from one camp to another camp changing his principles, his values, all the way."
Amid the blasphemy proceedings, the sometimes-brash Ahok has kept a lower than normal profile, opting for slick social media coverage and largely refusing interviews.
'Anies is against Ahok, and Ahok is Christian'
The ethnic Chinese Christian governor understands the importance of religious symbols, too. Three days before the vote he is scheduled to inaugurate a new government-funded mosque in West Jakarta, with the president, Joko Widodo, by his side.
The use of religious symbols is nothing new in Indonesian politics, but the differences, ethnic and religious, have perhaps never been so stark, or as sensitive.
In neighbourhoods across the capital the idea that Muslims must choose Muslim leaders has spread over recent months, propagated in anti-Ahok pamphlets and banners strung up at local mosques, which threaten to deny funeral rights to Muslims who vote for Ahok.
More than 1,000 such discriminatory banners have been pulled down so far, an Ahok spokesperson told the Guardian. Baswedan has also condemned them – saying that if mosques refused an Ahok voter he would perform the burial rites himself.
But in the capital of the world's largest Muslim-majority nation, the messaging has been effective. According to the SMRC survey, the main reason voters are choosing Baswedan is because they share the same religion.
Full report at:
https://www.theguardian.com/world/2017/apr/15/jakarta-election-challenger-anies-accused-of-courting-islamic-vote-amid-religious-divide#img-2
--------
Trump's Indonesia Challenge Begins With Pence Visit
By Prashanth Parameswaran
April 15, 2017
WASHINGTON, D.C. – U.S. Vice-President Mike Pence's visit to Indonesia from April 20 to 22 is an important early opportunity for Donald Trump's administration to kick off its engagement with a key emerging power and to signal its commitment to Southeast Asia more broadly. But it also marks the beginning of a longer-term challenge for the Trump team in adroitly managing a U.S.-Indonesia relationship that risks coming under strain. Doing so will require both easing anxieties in Jakarta about a new U.S. administration while getting across concerns central to the advancement of American interests.
The Challenge
The strategic logic of a stronger U.S.-Indonesia partnership is clear. Indonesia wants to cement ties with major players such as United States to support its rise as a regional power with global interests, while Washington needs to engage emerging powers like Jakarta – the world's fourth largest nation, third largest democracy, and largest Muslim-majority country – to tackle challenges in an increasingly multipolar world ranging from terrorism to climate change. It is this logic that drove both countries to upgrade ties, first to to a comprehensive partnership in 2010 and then to a strategic partnership in 2014 under then-U.S. President Barack Obama, who had a unique personal connection to Indonesia having spent part of his childhood in Jakarta (See: "The New US-Indonesia Strategic Partnership: Problems and Prospects").
Enjoying this article? Click here to subscribe for full access. Just $5 a month.
But expectations also tend to rise with any elevated relationship, and the reality is that both sides have faced challenges in living up to their new strategic partnership. For Jakarta, there is understandably deep uncertainty about both the general foreign policy direction of the new U.S. administration as well as the implications for the bilateral relationship. For Washington, strategic convergence has been more difficult to operationalize in some cases with the domestic-oriented government of President Joko "Jokowi" Widodo than his relatively more internationalist predecessor Susilo Bambang Yudhoyono. There are also concerns among some actors in the U.S. foreign policy process about trends within Indonesia, whether it be growing economic nationalism or rising intolerance. Though both sides cannot resolve these challenges during a single trip, they must begin shaping an approach to dealing with them in the coming years.
Assuaging Indonesian Anxieties
Pence's primary task will be to begin to assuage Indonesian anxieties about the direction of the new administration, of which there are many. One set of concerns relates to U.S. foreign policy more generally. These run the gamut, whether it be basic dynamics of a rather unconventional administration, the sustainability and shape of U.S. commitment to Asia and Southeast Asia, the Trump team's approach to the U.S.-China relationship, and its posture toward various global threats, from a nuclear North Korea in Northeast Asia to a rising Islamic State in the Middle East (See: "Trump's Real ASEAN Test").
Getting aligned on these issues is important because it is often the manifestations of these broader considerations – whether it be U.S. military interventions in the Middle East or the American posture in the South China Sea – that have complicated ties in the past. As the administration ventures deeper into the Middle East and begins firming up its approach to key challenges, the risk of this will only increase.
The other set of concerns Jakarta has relates to the bilateral relationship more specifically. And here too, there will be much to discuss. On the security side, though the Trump travel ban did not cover Indonesia, it nonetheless risked diminishing support for the United States amongst Indonesians and potentially restricting policymakers' ability to openly pursue greater counterterrorism cooperation with the United States, a familiar challenge that had emerged during the initial years of George W. Bush's war on terrorism as well. "We can do it, but it's [more] difficult if we cannot bring [along] our people also," one Indonesian official told me in March, in reference to bilateral cooperation against the Islamic State, one of the key priorities under Trump's America First vision.
On the economic side, meanwhile, Trump's withdrawal from the Trans-Pacific Partnership (TPP) and Indonesia's subsequent inclusion in the list of 16 countries being investigated by the administration for trade abuses has turned this dimension of the relationship into a headache for Jakarta. "[A]t this time of global economic uncertainty we are puzzled with the signal being sent from Washington…[i]t really concerns us" Iman Pambagyo, director general for international trade negotiation at Indonesia's Trade Ministry, said earlier this month. Privately, officials say there is in fact some flexibility as to how the administration will actually proceed, and there are indications that this could well be the case. But charting a clear path forward soon will be important priority for both sides.
Conveying U.S. Concerns
But Pence will also want to convey U.S. concerns about Indonesia and the state of the bilateral relationship as well. At home, though Jokowi himself enjoys high popularity ratings and has kickstarted much-needed domestic reforms in Indonesia, he has also presided over a rising tide of intolerance as well as growing economic nationalism in the country that has concerned actors ranging from rights groups to companies (some of whom are now also concerned about these developments in the United States too, with Trump's ascendancy to the presidency).
To be fair, these troubling trends did not start with Jokowi, and in some cases the blame lies equally in inflated past expectations as much as ongoing realities (See: "Is Indonesia Really the World's Most Tolerant Muslim Country?"). Nonetheless, Pence's visit will coincide with one perceived litmus test for the former: the second round of the Jakarta gubernatorial election. Unfairly or not, whether the favorite – reform-minded, Christian, and ethnically Chinese incumbent Basuki Tjahaja Purnama, popularly known as Ahok – can win despite of a perceived smear campaign by radical Islamists and amid an ongoing blasphemy trial has been billed a test for Islam and politics domestically as well as Indonesia's reputation as a moderate Muslim country in Western countries like the United States (See: "The Trouble With Indonesia's Ahok Test").
Abroad, despite Washington's desire for greater Indonesian regional leadership, much of the conversation in Southeast Asia since Jokowi's election has been more about Indonesia's absence rather than its presence (See: "Is Indonesia Turning Away from ASEAN Under Jokowi"). Though Indonesian officials are right that some of this is overstated – even offering lists of Jakarta's regional contributions on specific challenges central to its interests and ideals from illegal fishing to the Rohingya issue – it is also true that the relative comparison to the Yudhoyono years is clear for all to see and felt by some of the country's most seasoned diplomats, especially this year, which marks both the 50th anniversary of ASEAN's founding and the 40th anniversary of U.S.-ASEAN relations.
In his opening keynote address at a U.S.-ASEAN conference in Manila organized by the Center for Strategic and International Studies (CSIS) in February, Indonesia's former Foreign Minister Marty Natalegawa told the audience that a stronger Indonesian leadership role is critical for ASEAN to formulate a more transformative vision for its future. In private, it is not difficult to find Indonesian diplomats conveying the same message, often with less diplomatic language. ASEAN will be in the spotlight during Pence's visit, with the ASEAN Secretariat located in Jakarta and the vice president expected to meet the ASEAN secretary general as well as ASEAN permanent representatives. Just as it is fair for Indonesian interlocutors to ask Pence about the U.S. commitment to ASEAN, including Trump's attendance at regional summits later this year, it is also reasonable for U.S. officials to ask Jakarta about its own regional role (See: "Why Trump Should Go To ASEAN and EAS in Vietnam and the Philippines").
U.S. concerns about Indonesia's domestic and foreign policy outlook also bleed into the bilateral relationship too. Jakarta's traditional preference for a free and active foreign policy has meant a tendency to pursue a diversified set of relationships and exercising its own independent leadership instead of just backing U.S.-led initiatives (See: "Indonesia's South China Sea Policy: A Delicate Equilibrium"). But given the Trump administration's narrower worldview and its more transactional approach to engagement, it is understandable that it would want Indonesia to do more on issues central to its agenda – whether it be on the Islamic State or maritime security – in order for Jakarta to be a key partner for the administration in the Asia-Pacific and for Washington to reciprocate on priorities Indonesia would like to see advanced, be it on energy or education. The visit is an opportunity for Pence to convey what these areas are and what the United States expects from Indonesia, and for both sides to begin to work out how substantive cooperation can be advanced in ways that are feasible for both sides.
Full report at:
http://thediplomat.com/2017/04/trumps-indonesia-challenge-begins-with-pence-visit/
--------
North America
Trump's Pick For Army Secretary Has A Troubling History Of Anti-Muslim Remarks
Christopher Mathias
15/04/2017
A Muslim civil liberties group is opposing the confirmation of President Donald Trump's pick for Army secretary due to his history of deeply disparaging remarks about Islam and Muslims.
The White House announced last week that Trump will nominate Republican Tennessee state Sen. Mark Green for the role. Green ― a physician, Iraq War veteran and Bronze Star recipient ― would oversee all matters relating to the U.S. Army if confirmed by the Senate.
But the Council on American-Islamic Relations says Green's "past Islamophobic statements" should disqualify him from the role.
In a press release this week, CAIR highlighted remarks Green made about Islam and Muslims at a tea party meeting in Chattanooga in the fall of 2016.
"Great question," Green said when someone asked him about an armed insurrection in the U.S. staged by people "who don't belong here, like Muslims..."
Green, who did not respond to a request for comment on this story, describes himself as Christian on the official Tennessee state senate website. At the tea party meeting, he made it clear he didn't want students in Tennessee learning about Islam.
When an audience member read a passage from a school textbook that correctly stated that Muslims believe in all the prophets in the Old and New Testament, Green replied, "When you start teaching the pillars of Islam ... we will not tolerate that in this state."
But if students did have to learn about Islam, they should only learn "the history of the Ottoman Empire" and "the assault of Islam out into the Levant and North Africa and into Constantinople," Green said.
When speaking about his missionary work in a Toronto Pakistani community, Green also incorrectly claimed that Muslims don't believe Jesus was "born from a virgin."
CAIR, in its press release, stated that "Muslims worldwide love and revere the Prophet Jesus." The organization also cited a couple of passages in the Quran:
"Behold! The angels said: 'O Mary! God giveth thee glad tidings of a Word from Him. His name will be Jesus Christ, the son of Mary, held in honor in this world and the Hereafter and in (the company of) those nearest to God.'" (The Holy Quran, 3:45)
"How can I have a son when no man has ever touched me?" (Mary in The Holy Quran, 3:47)
At another point in the tea party meeting, Slate notes that Green agreed with an audience member who said former President Barack Obama was not a U.S. citizen. And when asked if Obama was secretly a Muslim ― an Islamophobic conspiracy theory ― Green refused to answer.
"I think, standing alone, [Green's] nomination is one thing," Ibrahim Hooper, a national spokesman for CAIR, told The Huffington Post on Friday. "But coming as it does after all of these other Islamophobes and white supremacists who have been nominated and confirmed ― Stephen Miller, Steve Bannon, Frank Wuco ― it just sends a very negative message to the American Muslim community and to Muslims worldwide: People with these kind of extremist views are now in the halls of power in our government."
LGBT rights groups have also raised alarm over Green's nomination. Ashley Broadway-Mack, president of the American Military Partner Association, an LGBT organization for military families, said in a statement that Green has made "a shameful political career out of targeting L.G.B.T. people for discrimination."
Asked once about transgender members of the military, Green said that "if you poll the psychiatrists, they're going to tell you that transgender is a disease."
Being transgender is not a disease.
If confirmed, according to the Department of Defense, Green would have "statutory responsibility for all matters relating to the United States Army: manpower, personnel, reserve affairs, installations, environmental issues, weapons systems and equipment acquisition, communications, and financial management."
http://www.huffingtonpost.in/entry/mark-green-army-secretary_us_58f118b5e4b0da2ff860839d
--------
US releases of footage of 'Mother of All Bombs' dropped on ISIS in Afghanistan
Apr 14 2017
The United States Department of Defense released a short video of the massive non-nuclear bomb, Mother of All Bombs, the GBU-43 bomb dropped on ISIS in East of Afghanistan.
The aerial footage shows the impact of the massive bomb on the hideouts of the ISIS militants in Achin district of Nangarhar.
According to the preliminary reports of the Afghan government sources, at least 36 ISIS loyalists including a commander of the group were killed although the exact number has not been ascertained so far.
The Afghan defense officials confirmed that the area was already abandoned by the local residents and only one family was left which was evacuated by the security forces before the strike.
The US Forces in Afghanistan (USFOR-A) in a statement said "At 7:32 pm local time today, US Forces-Afghanistan conducted a strike on an ISIS-K tunnel complex in Achin district, Nangarhar province, Afghanistan, as part of ongoing efforts to defeat ISIS-K in Afghanistan in 2017."
The Afghan government has confirmed it was in the loop when the 'Mother of All Bombs' was dropped in Nangarhar province to target the hideouts of ISIS terrorist group.
Full report at:
http://www.khaama.com/us-releases-of-footage-of-mother-of-all-bombs-dropped-on-isis-in-afghanistan-02567
--------
Anxiety intensifies in Toronto's suburbs as anti-Muslim rhetoric escalates
Apr. 14, 2017
Hamza Aziz makes sure to stay close to a friend at all times, and his parents have told him not to be outside after dark – precautions the student never imagined would be needed in his quiet corner of suburban Toronto.
But recent tensions between his school board and some members of the community, including anti-Muslim groups, over providing space for Mr. Aziz and other students to pray as a group every Friday have heightened concerns about safety in the Peel region, just west of Toronto.
"[My parents] are afraid of hate crimes towards the Muslim community, especially since that's been on the rise lately," said Mr. Aziz, a high-school student in Mississauga.
That anxiety forced the Peel District School Board to step up security measures at its most recent board meeting on Wednesday evening. Police and security guards were present, guests had to sign in and show identification at the door and the meeting was videotaped. Outside, a group who covered their faces with bandanas to prevent nearby protesters from identifying them said they were there to escort people into the board office safely.
Recent incidents in Peel have caused concern among Muslims, who are among the area's largest religious minority groups. At an earlier school-board meeting, audience members shouted anti-Muslim rhetoric, tore pages from a Koran and stepped on the religious text. More recently, an inflammatory video circulating online offered a cash reward for a recording of Muslim students using hate speech in Friday prayers.
And on Wednesday evening, Peel police were called to a Mississauga neighbourhood after graffiti with the words "White Power" was smeared on a Canada Post mailbox. The words were scrubbed off, and police say they are investigating.
Critics argue a secular school system should not accommodate religion. But Ontario boards, both public and Catholic, are legally required to provide religious accommodation when it is requested.
Devout Muslim students have observed congregational prayers, known as Jummah, in Peel schools for more than two decades. But the issue came to the forefront in the fall, when the board began reviewing whether to allow students to write their own sermons, approved by a school administrator, or be required to choose from six prewritten ones.
After some push-back from community members and students, such as Mr. Aziz, who said the decision to limit their sermons violated their right to religious freedom, the board earlier this year revised its procedure and allowed students to deliver their own sermons or choose from several prewritten ones approved by local imams.
But vocal opponents used the issue to step up their anti-Muslim rhetoric.
Mr. Aziz said he overheard those in the audience at a previous board meeting call him a terrorist. He said another person told him he was not a real Canadian. A friend has been threatened on social media, he said.
A teacher in Peel, who asked that her name be withheld because she fears for her family's safety, said she asked her teenage son if he wanted to keep participating in Friday prayers at his Brampton school. He told her that the congregational prayer was a form of meditation for him, and he was not going to let fear stop him. The prayer is about 15 minutes.
"I think parents are feeling, 'Are our children safe during Jummah prayers?'" she said, adding that her fear grew after the video offering a cash reward. "As a parent, I get afraid that what if one day that hate and negative rhetoric becomes escalated and it's a Muslim child who ends up being in front of that heat."
The teacher has lived in Brampton for 21 years. She said neighbours have asked her why the situation has grown so heated. Some Muslims in the community said they had been targeted on social media after they spoke out against Islamophobia.
"There is a lot of fear," she said. "It's hard for Muslim kids to know that there's so much hatred against them."
Ibrahim Hindy, an imam in Mississauga, said community leaders are telling organizations to increase security at their events. The fear is that the rhetoric will escalate. In January, six worshippers were shot and killed at a Quebec City mosque. Alexandre Bissonnette, 27, faces six charges of first-degree murder.
Full report at:
http://www.theglobeandmail.com/news/toronto/anxiety-intensifies-in-peel-as-anti-muslim-rhetoric-escalates/article34714564/
--------
Huge US bomb kills dozens of ISIS militants
14 April 2017
The US military's largest non-nuclear bomb killed at least 36 militants as it destroyed a deep tunnel complex of the ISIS group, Afghan officials said Friday, ruling out any civilian casualties.
The GBU-43/B Massive Ordnance Air Blast bomb - better known as the "Mother Of All Bombs" - hit ISIS hideouts in Achin district in eastern Nangarhar province on Thursday.
"As a result of the bombing, key Daesh (ISIS) hideouts and a deep tunnel complex were destroyed and 36 ISIS fighters were killed," the defence ministry said in a statement.
US President Donald Trump had earlier called the mission "very, very successful."
The Afghan presidential palace said precautions were taken to avoid civilian casualties.
The huge bomb, delivered via an MC-130 transport plane, has a blast yield equivalent to 11 tons of TNT, and the weapon was originally designed as much to intimidate foes as to clear broad areas.
"The GBU-43/B is the largest non-nuclear bomb ever deployed in combat," Air Force spokesman Colonel Pat Ryder said.
Achin district governor Esmail Shinwari said the bomb landed in the Momand Dara area of Achin district.
"The explosion was the biggest I have ever seen. Towering flames engulfed the area," Shinwari told AFP.
"We don't know anything about the casualties so far, but since it is a Daesh (ISIS) stronghold we think a lot of Daesh fighters may have been killed."
'Fearing more bombings'
An Afghan militant source told AFP from an undisclosed location that locals had described the ground shaking "like an earthquake", with people being knocked unconscious by the blast.
"People have started leaving the area fearing more bombings," he said.
The Pentagon's announcement of the attack drove markets down, with Asian bourses headed south following overnight losses on Wall Street.
It added to concerns among investors already wary of risks over Syria and North Korea, as well as the outcome of the French presidential election.
The assault came only a week after Trump ordered missile strikes against Syria in retaliation for a suspected chemical attack.
Meanwhile Trump has said he is keeping "all options" on the table to stop North Korea's nuclear programme, as speculation mounts that Pyongyang may soon hold another nuclear test.
Full report at:
https://english.alarabiya.net/en/News/world/2017/04/14/Huge-US-bomb-kills-dozens-of-ISIS-militants.html
--------
India
Honouring Members of the Muslim Community, a Worthy Example of Communal Harmony
APRIL 14, 2017
By honouring members of the Muslim community at the annual Panguni Uthiram festival on Wednesday, the Hindus in Gurusamipuram, a small village near Rasipuram, have set a worthy example of communal harmony.
It is a thanksgiving gesture to the Muslims of Rasipuram town, whose forefathers were believed to have cured through prayers many children of the Hindu community of cholera.
This practice has been in vogue for over a century now, the village elders say.
The Panguni Uthiram is a major festival of Arulmigu Sivasubramaniar Temple and is celebrated with usual gaiety every year. It is at the valediction of this festival the Hindus honour the Muslims.
According to K. Thalamuthu, a former school headmaster and president of the Sengunthar Nala Kalvi Arakkattalai, and Devarajan, its treasurer, many children of the weaver community in Gurusamipuram were affected during a cholera outbreak in the village.
On learning about this, the Muslims of Raispuram who used to visit the village for business transactions, offered special prayers by tying a white holy flag to a tree. They smeared sandalwood paste on the doors and walls of each and every house in the village. Following this, all the children were believed to have recovered.
Since then, the residents of the village make it a point to honour the Muslims of Rasipuram at the annual Panguni Uthiram festival.
The organising committee of the festival visited Rasipuram and extended invitation to members of the Muslim community belonging to Achukatti Street Mosque Jamath.
The Jamath members, accepting the invitation, visited the village on Wednesday with fruits and sweets . The Hindus and Muslims holding the holy white flag went through all the streets in the village, when the Muslims smeared sandalwood paste on the doors of all the houses. After tying the flag to the tree, which is popularly known as 'jhanda' (flag) tree, they assembled at the Paavadi ground.
The Hindus honoured the visiting Muslims with garlands and vice-versa. Special 'fathiha' was recited by the Muslim religious scholar for communal harmony, followed by the distribution of a mixture of jaggery and roasted gram by the visitors.
Later the Muslims took leave.
"This is a worthy gesture practised by our forefathers and we are continuing this tradition in the interest of strengthening the bond between both the communities for decades together," says Mr. Thalamuthu.
http://www.thehindu.com/news/cities/Coimbatore/a-worthy-example-of-communal-harmony/article18029122.ece
--------
Kashmir sees sharp decline in tourists this year due to political situation
Apr 15, 2017
SRINAGAR: Kashmir has seen a sharp decline in tourists this year owing to the turbulent political situation, with just about 20 per cent occupancy in hotels and very few advance bookings even as the peak season has started.
Hoteliers and travel agents said that if the situation does not improve, many of them may be forced to look for another business.
"The situation is going from bad to worse. We have just 15-20 per cent occupancy, down from 70-80 per cent a year ago. The political uncertainty and continued violence leaves no scope for this sector," Javed Burza, president of Kashmir Hotel and Restaurant Owners Federation, told ET.
Prime Minister Narendra Modi had in his recent speech at Udhampur in Jammu asked the youth of Kashmir to choose between tourism and terrorism. J&K chief minister Mehbooba Mufti also said that militancy and terrorism can be tackled with tourism. However, the fresh bout of violence in the recent by-election appear to have dimmed the prospects for this season.
This comes amid the shadow of five months of protests in the wake of the killing of militant Burhan Wani last year, during which more than 95 civilians were killed, 15,000 injured and 8,000 arrested.
"Why were elections in south Kashmir postponed till May, which is again peak season?" asked Burza. "The violence on election day has hampered all the chances of bookings even in May or June. If the government is serious about tourism, any sort of elections should take place after autumn."
Full report at:
http://timesofindia.indiatimes.com/india/kashmir-sees-sharp-decline-in-tourists-this-year-due-to-political-situation/articleshow/58190904.cms
--------
'Pressure of issues like Kashmir made me choose Goa,' says chief minister Parrikar
Apr 15, 2017
NEW DELHI: Former defence minister Manohar Parrikar opted to step down as defence minister and go back to Goa+ because of the "pressure of issues like Kashmir", reported PTI.
Parrikar was defence minister from November 2014 until last month. He acknowledged yesterday that the job was stressful.
"Pressure of issues like Kashmir while working as Defence Minister one of the reasons why I chose to come back to Goa," said the BJP leader who's now Goa chief minister.
Full report at:
http://timesofindia.indiatimes.com/india/pressure-of-issues-like-kashmir-made-me-choose-goa-says-chief-minister-manohar-parrikar/articleshow/58189610.cms
--------
NIA to seek Interpol notice against Zakir Naik
Neeraj Chauhan
Apr 15, 2017
NEW DELHI: The National Investigation Agency has decided to seek an Interpol notice against controversial Islamic preacher Zakir Naik to curb his movements out of Saudi Arabia where is currently based if he fails to turn up before it on Monday after defying repeated summons to join a probe into his affairs.
According to intelligence agencies, Naik has been travelling to Malaysia and Indonesia frequently from Saudi Arabia, where he fled to immediately after investigations were launched against him and his NGO, Islamic Research Foundation, for terror propaganda. The agency wants to restrict Naik's movements by issuing a Red Corner Notice which will empower Interpol and authorities of Saudi Arabia to arrest him.
The red corner notice, an NIA official said, would be issued once a non-bailable warrant against him is procured.
A lookout circular has already been issued for his arrest at Indian ports/airports. "We have already given him enough time to respond. He has been issued three summons.
Full report at:
http://timesofindia.indiatimes.com/india/nia-to-seek-interpol-notice-against-zakir-naik/articleshow/58188174.cms
--------
Wife of IS jihadi informs father-in-law about his death in drone strike in Afghanistan
Apr 15, 2017
NEW DELHI: The news of killing of Murshid Mohammed, one of the 17 missing Kerala youths who had joined Islamic State terror organisation and travelled to IS territory in Afghanistan via Teheran in mid-2016, was broken to his father by a woman identifying herself as his wife Mughira. Murshid (24), was unmarried when he left for 'hijra' to the Islamic State-controlled Nangarhar province of Afghanistan.
Mughira informed Mohammed Haider, a native of Kasaragod in Kerala, through Whatsapp text messages sent on April 12 and 13 from Afghanistan that his son and her husband Murshid was killed on April 11. Murshid's death, supposedly in a drone strike, came two months after another 'missing' youth from Kerala, T K Hafesudheen, was killed by a drone in Afghanistan.
Murshid had flown to Teheran from UAE, where he was working at the time of joining IS, on June 1, 2016. He then joined other fellow youths from Kerala, who had come via the Gulf, to reach Afghanistan. Intelligence agencies believe Murshid may have got married in Nangarhar itself and that his wife Mughira could possibly be an IS recruit or sympathiser.
Though Murshid was killed a couple of days before the US dropped the MOAB on IS-infested caves in Nangarhar, agencies are trying to ascertain the fate of the other 'missing' Keralites, including mastermind Abdul Rashid, based in the same province.
According to an NIA chargesheet filed in January in the case relating to missing IS recruits from Kerala, the mobile communication made by the absconding accused with their relatives, over internet-based social media platforms, and unearthed during the course of NIA probe established that the absconding accused Mohammed Sajid Kuthirrumal was staying at same place as Murshid. It confirmed that Sajid and Murshid, along with other absconding accused Abdul Rashid, Dr Ijas Kallukettiya Purayil, Mohd Marwan Becker Ismail and Shihas Kallukettiya Purayil are with IS and that they have been instigating others to join them.
Agencies are following field reports as well as incoming traffic of messages on the mobile phones of relatives of the absconding accused for apossible update on fate of those missing from Kerala, which include 4 women and 4 children. One of the women who was pregnant at the time of fleeing India is believed to have delivered a child in IS territory.
The IS recruits, who hail from Palakkad and Kasaragod, took care to travel to Teheran from Dubai and Muscat in separate batches of 1-2 (except families accompanied by children) over a month's time so as not to arouse suspicion. All their international travel was on tourist visas, giving no reason for immigration authorities at home or in the countries of destination to suspect that they were headed for the IS territory.
Full report at:
http://timesofindia.indiatimes.com/india/wife-of-is-jihadi-informs-father-in-law-about-his-death-in-drone-strike-in-afghanistan/articleshow/58188012.cms
--------
Pak claims Jadhav sponsored Balochistan blasts
Apr 15, 2017
ISLAMABAD/NEW DELHI: Sartaj Aziz, adviser on foreign affairs to the Pakistani PM, persisted with the Pakistani claim that Jadhav was a serving Indian Navy officer even though India has said he had retired from service some time back. Aziz claimed that Jadhav was provided legal assistance though the military court, largely used for summary trials of terrorists, is not open to any outside scrutiny.
Pakistan claimed that Jadhav had "sponsored" explosions of gas pipelines and electric pylons in Sibi and Sui areas in Balochistan and also plotted IED explosions in Quetta in 2015 causing "massive" damage to life and property. But it did not explain the basis for these conclusions as the proceedings of the military court are in any case secret.
Aziz said Jadhav's options included right to appeal within 40 days to an appellate court. "He may lodge a mercy petition to the chief of army staff within 60 days of the decision by the appellate court. He may lodge a mercy petition to the president of Pakistan within 90 days after the decision of the COAS," he said.
India demanded consular access to Jadhav yet again after being repeatedly rebuffed. The Pakistani foreign secretary said since this was an "espionage" case, consular access could not be granted but Bambawale said under international law it must be granted.
"I have asked for a certified copy of the chargesheet as well as the judgment in the death sentence of Kulbhushan Jadhav," Bambawale told the media.
Aziz though claimed due process had been followed. "We condemn the baseless allegations from India, especially in the light of the fact that it was non-cooperation and lack of Indian response to Pakistan's request for legal assistance, due to which consular access has not been provided to Jadhav. May I mention in this context that India has not allowed consular access to many Pakistani prisoners for many years despite repeated requests," he said.
India to appeal Pak secret court verdict
India has demanded a certified copy of the chargesheet and is planning to appeal the judgment even as Pakistan detailed Jadhav's alleged espionage activities in the country.
The government also sought consular access to Jadhav for the 14th time as Indian high commissioner to Pakistan Gautam Bambawale met Pakistani foreign secretary Tehmina Janjua on Friday afternoon and said India would appeal the verdict on Jadhav's behalf.
Soon after the meeting, Sartaj Aziz issued a statement detailing how the case had proceeded against Jadhav.
Full report at:
http://timesofindia.indiatimes.com/india/pak-claims-jadhav-sponsored-balochistan-blasts-india-to-appeal-against-death-sentence/articleshow/58187814.cms
--------
Jammu: 5 Rohingya Muslim homes gutted, police blame it on short circuit
April 15, 2017
Seven jhuggis, five of which housed Rohingya Muslim families from Myanmar, were gutted in a fire at a settlement opposite Shri Amarnath Yatri Niwas at Bhagwati Nagar in Jammu in the early hours of Friday. The residents escaped unhurt.
Sub-Inspector Neelam Saini, in charge of the local Canal Road police post, attributed the fire to an electric short circuit as several live wires hung around the jhuggis. The victims, on the other hand, suspected sabotage. There was no electricity supply to their jhuggis when the incident took place, they said. Of the gutted jhuggis, five housed Rohingya families, while the remaining two housed a labourer from Bihar and a widow, respectively, sources said. The plot had nine jhuggis.
SSP, Jammu, Dr Sunil Gupta, said that though prima facie it did not appear to be a case of sabotage, they were probing the matter further.
Noor-ul-Islam (26), whose jhuggi was gutted, said he and his parents were asleep when his father woke up around 1 am, saying that he heard footsteps outside. "I came out of the jhuggi, but found no one and returned to bed,'' he said. About two hours later, he woke up to find the jhuggi on fire, he said.
Noor-ul-Islam raised an alarm and informed the landowner Farman Ali, a transporter who lives at the nearby Puran Nagar. Ali rushed to the spot with his son. "We brought the women and children out of their jhuggis and informed the police," he said. The police and fire brigade reached around 4 am, but seven jhuggis had been reduced to ashes by then, Ali recalled.
According to Ali, each of these families pay him a rent between Rs 500-600 for living on the plot of land opposite the Shri Amarnath Yatri Niwas, which acts as a base camp for Amarnath pilgrims.
"Except for the clothes we are wearing, everything, including our rickshaws, ration and our children's books have been lost in the fire,'' said Madansa, the labourer from Bihar.
Significantly, the incident came four days after some Rohingya families living at Patta Bohri on the outskirts of Jammu alleged that unidentified people beat them up and set ablaze the scrap they collected to earn a livelihood. The police have registered a case in the matter but no one has been arrested so far.
Full report at:
http://indianexpress.com/article/cities/jammu/jammu-rohingya-jhuggis-slums-set-ablaze-under-mysterious-circumstances-4612626/
--------
War on drugs brings Indo-Pak border village in BSF crosshairs
April 15, 2017
"Najayaz nahi honi chayidi. Je najayaz karoge te pher tuhadi…..vekh lao kar ke" (No excesses should be done. If you are going to do excesses then *Punjabi expletive* just try doing it).
Sitting on a cot in his house, just a few hundred metres from the International Border with Pakistan, Kulwant Singh, the de-facto Sarpanch of the village (his wife Manjit Kaur is the Sarpanch but he 'manages' the Panchayat for her) sounds defiant. He manages to convey in two sentences of rustic Punjabi what he thinks of the recent crackdown on drugs by the Punjab government and the Border Security Force (BSF).
The village is uniquely situated along the Indo-Pak border. It is surrounded by Pakistan from three sides as the Indian territory forms a bulge into Pakistan at this point along the border. The Indian enclave where Daoke is located is ringed by half a dozen villages of Pakistan Punjab, which are just a short distance from the border. One Pakistani village, Maujoke, is virtually at a stones's throw from the border and is clearly visible from here. Five-and-a-half kg Heroin has been found from Daoke village in two separate seizures by the BSF earlier this month. And the village has a history of 'grand' seizures upto a dozen kg over the past few years.
With a CCTV monitor behind him, relaying the feed of cameras covering the entrance to his house, Kulwant Singh is not very appreciative about the BSF efforts. "They have suddenly started getting accurate information about the places where Heroin has been left on the Indian side of the border. Maybe they are trying to show some output to support the drive announced by the new state government. In any case, most drugs have been seized from fields of Congress supporters," he says with a grin.
With a population of nearly 4500, Daoke is linked by a narrow road over some rickety bridges to the rest of the country. Even the ditch-cum-bundh used by the defence forces for staging protection against any attack by Pakistani forces is located well in the rear of the village. Farming is the major vocation of the residents and a large number of them have land across the border fence. The village has well-built houses with barely one or two mud walls seen in the entire village.
Kulwant Singh, who has nearly 20 acres across the border fence, says the border villagers are wrongly defamed for being involved in the drug trade. "The drug trade is carried out by those sitting in the hinterland. We are blamed because we are on the border. Before the fence came up there was smuggling of gold and silver, I admit, but the drug smuggling is done by rich people," he says.
A member of the Panchayat, Chanan Singh, an octagenarian, also has about 10 acres of land across the fence. "How come there is smuggling taking place despite such heavy presence of BSF on the border? There are floodlights, there are cameras, there is thorough checking of those going across the fence for cultivation yet it is taking place," he says.
There are five gates on the fencing along this part of the Indo-Pak border, which allows villagers to cultivate limited crops along the border. Strict timings are observed and a complete inspection of farm equipment, tractors and farmers is done while entering or leaving the land across the fence.
Yet, BSF officials say that innovative methods have been noticed to carry out smuggling. Recoveries have been made from the PVC pipes which have been laid from the tubewells on one side of the fence leading to the fields across the fence. Pakistani smugglers fill bottles with drugs which are then pulled to the Indian side with a cord tied to them.
When asked about this new method of smuggling drugs, Kulwant Singh offers some reasoning on a different line. "Maybe the rope got broken and the bottles got stuck. Maybe some BSF guy saw someone putting the stuff in the pipe. Who knows," he muses, even as he emphasises that no local person is involved.
BSF officials, however, say that it's their strict vigil which is paying dividends. Data provided by the Punjab Frontier Headquarters of BSF reveals that this year alone 64.721 kg of heroin has been recovered from the border villages. This is in addition to 1.5 kg opium and arms and ammunition of various sorts and Pakistan mobile sim cards. The BSF has also apprehended 15 Indian border crossers, two Bangaldeshis, apprehended five Pakistanis and interdicted two Pakistanis.
Full report at:
http://indianexpress.com/article/india/daoke-india-pakistan-border-village-drugs-bsf-4613866/
--------
Africa
Easter: Religion is love, not hatred – MURIC
MURICBy John Owen Nwachukwu
April 14, 2017
As Christians in Nigeria join the body of Christ worldwide to mark the death and resurrection of Jesus Christ, the Muslim Rights Concern, MURIC, has called on churches to join in the fight against corruption, assuring Christians across the country that they are with them in the celebration of Easter.
In a message to felicitate with the Christian body, sign by its Director of publicity, Ishaq Akintola, the group noted that religion is unity and togetherness not division and rancor.
The statement reads, "The Muslim Rights Concern (MURIC) sends fraternal greetings to all Nigerian Christians on this august occasion. We love our Christian neighbours and we wish to coexist peacefully with them. Religion is love, not hatred.
"Religion is unity and togetherness, not division and rancor. Originally from the Greek word 'religio' meaning 'to link', or 'to bind' religion is expected to bring people together in peace and harmony.
"We call on the Nigerian body of Christ to consolidate the nation's gains under the present administration by heightening its patriotism and its readiness to sacrifice.
"We charge Nigerian churches to promote internal justice, equity and fairplay in all its dealings. We appeal to Christian leaders and clerics to guide the nation's leaders both at state and national levels with scriptural wisdom, to redirect the focus of the youth from materialism to piety and to pay special attention to core family values which are now lacking in society.
"In view of the fact that corruption has been identified as the major cancerous tumor afflicting the nation's anatomy, MURIC urges Christian leaders to give full support to current efforts of the Federal Government aimed at energizing those vital cells in the Nigerian anatomy already affected by the cancer of corruption.
"We remind our Christian neighbours that the impact of corruption in the areas of ignorance, disease, bad roads, poverty, poor power supply, technological backwardness, etc know no religion.
"It affects all of us whether we are Christians, Muslims or traditionalists. We are all victims. We must all stand together in a single file to fight this social cankerworm. No retreat, no surrender.
"We must speak with one voice and reject those who arrogate our commonwealth to themselves alone without caring whose faith is gored.
"Both the church and the mosque have big roles to play in the fight against corruption because corruption begins from the home. It is also an open secret that the corrupt elements in our society are either Muslims or Christians.
"These anti-social elements also come to the church and the mosque. We therefore charge both the minbarand the altar to demonstrate the political will to stamp out corruption in every home.
"We must address their consciences. We must stop idolizing dubious characters. We must publicly appreciate hardworking and honest Nigerians and stop deriding them for their low financial status.
"Let us also come together in love and harmony to bring peace to our great nation once again. Christians and Muslims worshipping only one God must desist from seeing themselves as enemies.
We are from one and the same God and unto him we shall return. Killing and maiming in the name of that same God is a huge dis-service to Him as our Creator.
"Let us use religion to fight evil, not ourselves. We all do not have to belong to the same religion as it is by chance that we were born in the South, East or Northern part of Nigeria. We could have been scattered in Siberia, Holland or Trinidad and Tobago.
Finally, we call on Christian clerics and prayer warriors to persistently pray for the survival of Nigeria, for peace and stability.
"We look forward to the day when our religious leaders will extend dinner invitations to each other and dine together while radio and television stations air the joyous event live.
"We have no doubt that such an incident will go a long way to promote love, forgiveness and peaceful co-existence. But who will bell the cat?"
http://dailypost.ng/2017/04/14/easter-religion-love-not-hatred-muric/
--------
UN chief warns of Libya risking return to wide conflict
Apr 15, 2017
UN Secretary General Antonio Guterres warns that Libya faces a risk of relapsing into chaos amid renewed military confrontations between rival parties and a political stalemate in the North African country.
Guterres made the warning in a report to the UN Security Council on Thursday, saying that Libya could return to widespread conflict in the wake of the volatile security situation in the capital, Tripoli, and the eastern oil crescent.
The UN chief noted that the Takfiri Daesh terrorist group has fully lost ground in Libya, but its operatives were still carrying out sporadic attacks in different areas.
The potential for an escalating conflict remains mainly due to unaddressed political issues "and the multiplicity of armed actors on the ground with conflicting agendas," he said.
Guterres said he was "deeply alarmed" by the human rights situation in Libya where violations of international law continue to be perpetrated by all parties involved in the conflict.
"Armed groups from all sides continued to abduct, torture and kill civilians," he said. "In addition, ordinary crime was endemic, mainly owing to the state of general lawlessness and the weakness of judicial institutions."
Fighters allied with Libya's Government of National Accord (GNA) are seen around a tank during an operation against the Takfiri Daesh terrorists in Sirte on July 2, 2016. (Photo by AFP)
The UN chief called on all parties in the oil-rich North African country to address the key issues blocking the implementation of the agreement in the late 2015 on forming a unity government.
He said the UN-brokered deal continues to be supported by the majority of Libyans and interested countries "as the only political framework to lead the country forward."
An emerging consensus on the need for limited amendments to the agreement "represents an opportunity to overcome the current political stalemate and move the transition forward," Guterres added.
The UN chief also pointed to the Libyan gateway to Europe, saying that the refugees and asylum seekers in Libya "continue to suffer horrific abusers and risk death while transiting the country and across the Mediterranean Sea."
Libya has been dominated by violence since a NATO military intervention followed the 2011 uprising that led to the overthrow and death of long-time dictator Muammar Gaddafi. Rival governments were set up in Tripoli and eastern Libya back in 2014.
In December 2015, however, the two administrations agreed on forming the Government of National Accord (GNA) after months of UN-brokered talks.
The new government has not yet received the endorsement of the internationally-recognized government, which is largely based in the northeastern city of Tobruk.
Clashes in neglected south
Meanwhile, reports emerged of clashes between rival governments vying for power in Libya's southern desert.
Forces loyal to the Libyan National Army (LNA) commanded by General Khalifa Haftar had launched an offensive to seize the Tamenhant airbase on the outskirts of the southern Libyan city of Sabha from armed militants backing the UN-endorsed GNA.
Full report at:
http://www.presstv.ir/Detail/2017/04/15/518087/Libya-United-Nations-Antonio-Guterres-Daesh-Takfiri-group-GNA-Khalifa-Haftar-Muammar-Gaddafi
--------
Dozens of more US troops dispatched to Somalia
Apr 14, 2017
The US military has dispatched dozens of troops to Somalia on a mission allegedly aimed at training the African country's forces to confront terrorist groups.
A US military official said on Thursday that about 40 soldiers from the US Army's 101st Airborne Division had been deployed to Somalia as part of an effort to enhance the capabilities of local forces in their fight against terrorism.
"United States Africa Command will conduct various security cooperation and/or security force assistance events in Somalia in order to assist our allies and partners," said Pat Barnes, the US Africa Command (AFRICOM) spokesman.
Barnes added that the troops had arrived in the Somali capital of Mogadishu on April 2 from the Fort Campbell army base in the US state of Kentucky, and were carrying out a train-and-equip mission expected to continue until the end of September.
The official claimed that the deployment had been at the request of Somalia's government.
This comes as Somalia has ramped up its operations against terrorist groups and particularly the al-Qaeda-linked al-Shabab militants.
The United States already has a small contingent of special operations forces in Somalia, between 3 and 50 troops, allegedly aiding the war-torn country in fighting Takfiri terrorist groups; however, there have been reports of civilian casualties as a result of American military interference in the African nation.
Somalia has been the scene of deadly clashes between government forces and al-Shabab militants since 2006.
Last week, new Somali President Mohamed Abdullahi Mohamed declared war on al-Shabab, calling on militants to retreat from the group within 60 days in exchange for jobs and education.
Full report at:
http://www.presstv.ir/Detail/2017/04/14/518037/US-military-Somalia-terrorism-alShabab-militants-Mogadishu
--------
Tanzania gunmen kill 8 police in restive region
Apr 14, 2017
Gunmen have ambushed and killed eight police officers in eastern Tanzania, the presidency said Friday, the latest in a string of killings targeting politicians and security officers in the East African nation.
"President John Pombe Magufuli is surprised and very sorry to learn of the news of the death of eight police officers killed last night by armed people," Tanzania's presidency said in a statement.
The policemen came under attack in their vehicle in the eastern region of Kibiti as they returned from patrol, and their assailants fled into a nearby forest, the statement said.
The officers were part of a unit deployed to pacify the region south of Tanzania's largest city Dar Es Salaam.
Local authorities say nine officials belonging to Magufuli's ruling Chama cha Mapinduzi (CCM) have been killed in the coastal districts of Kibiti and Rufiji since last October.
A separate attack killed three police officers in the area last month.
The killings, and uncertainty over the motive, has spread fear throughout local government in the region.
While the assailants have not been identified, they typically use motorcycle taxis to escape after assassinations and steal weapons from police officers' bodies.
Magufuli condemned the violence, calling in the statement for "cooperation of all Tanzanians to stop these acts."
Full report at:
http://www.presstv.ir/Detail/2017/04/14/518016/Tanzania-police-politicians-president-violence-assailants-Dar-Es-Salaam-
--------
Nigeria: Why ICC Must Prosecute El-Rufai
13 APRIL 2017
By Abdulmumin Giwa
The Zaria pogrom of December 2015 is an incident that has permanently been recorded by history and the major actors and stakeholders already have their names written boldly in the black books of history. There is no way the genocide perpetrated by the Buhari regime on the Islamic Movement in Nigeria (IMN) members can ever be forgotten most especially as it has affected the IMN members as individuals directly or indirectly and generally as a group.
IMN member were mercilessly killed with some burned alive including the elder sister of Sheikh Ibraheem Zakzaky and his nephew while others were buried alive and women were molested by the Nigerian Army.
Three children of the IMN leader were brutally murdered by the Army while he was literally killed but he didn't die. It was a very terrible incident that even the Nigerian Army had to officially operate as a coward in order not to allow itself be identified with that dirty job it did.
A lot of Nigerians wondered how the Army could descend so low and operate just like a terrorist organization and murder innocent unarmed civilians who pay tax to support them without any form of instigation whatsoever simply because their Commander-in-Chief is a Sunni Muslim and their victims are Shiah Muslims.
Being a proxy war they are fighting for their masters in America, Israel and Saudi Arabia, it was easy for them to initiate the Kaduna state Governor Nasir El-Rufai, an amateur politician looking for the slightest opportunities, into the project.
Governor El-Rufai in whose state the historic genocide took place decided to play a major role to please his masters. He took everything personal and was in an all-out war with the IMN. He even got himself initiated into the global Wahhabbi/Salafi club, the official Islam of CIA and founders of international terrorism.
He even embraced the local Wahhabi dogs that blackmailed him during his campaign days by accusing him of being a Shiite by printing and spreading posters containing his picture when he visited Sheikh Zakzaky in Zaria after the 2014 genocide where he joined hands with them to fight a common enemy, The Shiites!.
During their attack on IMN, the Nigerian Army used Rocket Propelled Missiles, Armored Personnel Carriers (APC) and Automatic Machine Guns (AMG) on unarmed civilians made up of women, children and youth struggling to duck and hide with a lot of them trapped inside building roofs and soak away pits for days. Knowing fully well that they have committed crimes against humanity they decided to also kill all possible evidences.
Governor El-Rufai employed state machinery to help demolish the physical evidences of the army terror on IMN property and pretended nothing happened. He ordered the demolition of the residence of the leader of the IMN as well as the Husainiyya Islamic Center where even the rubbles was packed away to unknown destinations. The entire area was cordoned off and all blood stains were washed off the streets and they picked up bullets and bomb shells they used on IMN as revealed by the Amnesty International.
Being that they have killed just too many people, running to over a thousand within the 36 hours of operation and there were just too many people with bullet injuries that were summarily killed by the army, they now joined hands together again with governor El-Rufai to hide the casualty figures by burying them in a mass grave far away from the site of the genocide.
There too they wanted to hide the incident to the public where the Chief of Army Staff Lt. Gen. Tukur Buratai claimed before the National Human Rights Commission that he killed only seven people and the army also took along that track.
Revelations that included satellite footages released by the Amnesty International forced the Kaduna Governor to reveal that they buried 347 in a mass grave in Mando near Kaduna, about 100 kilometers away from the site of the genocide. This is just one of the mass graves they have revealed.
There wasn't anything to show that all of those buried were actually dead. This was in total violation of all known law within and outside Nigeria. Despite this violation there was a statement released from the office of Governor El-Rufai claiming that what he did was in accordance with the provisions of the Geneva Convention just to deceive the ignorant public.
They violated the provisions that have to do with identification of those buried, proximity of the mass grave, confirmation of cause of death and those that are actually dead, burial rights in accordance to religion and a mischievous burial in the middle of the night.
Governor El-Rufai went further to spread hate speech on the IMN and its leadership all in order to justify the crimes against humanity they have committed.
He claimed that the IMN was an insurgent group without any reference or evidence; he claimed that the IMN as a religious group is not registered and he also declared the IMN as an unlawful society based on laws that are inferior to the Nigerian Constitution all to save his neck from crimes against humanity.
This led to mass killings of IMN members by his sect members escorted by Police in Kaduna, Funtua, Kano, Jos and other places. IMN members were attacked and killed and their property destroyed while the state executives looked the other way.
The issues of mass grave, demolition of evidences, hate speeches and misuse of office to deceive the public on his criminal role on humanity are very substantial in getting him prosecuted at The Hague.
There is a study published by the Associated Press on 30 august 2016 in which it was revealed that 72 mass graves have been located in Iraq and Syria which resulted from activities of the American backed ISIS.
The estimated number of bodies inside them based on excavation findings and memories of witnesses and survivors ranges from 5200 to 15,000. Majority of those mass graves are located in Iraq.
In Nigeria also there are mass graves that resulted from acts of state terrorism and genocide perpetrated by the Nigerian Buhari regime in Zaria in December 2015. The government was forced to confess illegally mass burying 347 IMN members that were victims of mass genocide it perpetrated. The IMN on the other hand has collected names and profiles of almost nine hundred missing persons since the pogrom.
Under Article 7 of the Rome Statutes, enforced disappearance and extra-judicial killings which may lead to existence of mass graves are unlawful and when perpetrated as part of a widespread or systematic attack directed against civilians may constitute a crime against humanity.
Full report at:
http://allafrica.com/stories/201704140199.html
--------
Europe
Russia slams watchdog probe of alleged Syria chemical attack
Apr 15, 2017
MOSCOW - Russia on Friday criticised the world's chemical weapons watchdog for not sending experts to the site of an alleged chemical attack in Syria, backing up President Bashar al-Assad's regime.
"We consider it unacceptable to analyse events from a distance," Foreign Minister Sergei Lavrov said at a press conference in Moscow with his counterparts from Syria and Iran. Lavrov said Assad's opponents had "in essence" given guarantees for the Organisation for the Prohibition of Chemical Weapons to visit the location where at least 87 people died, but the watchdog was refusing to send them. "They say still that it is not very safe, but they cannot put forward convincing arguments," Russia's top diplomat said.
Russia has rejected accusations from the West that its Assad's forces were responsible for a chemical attack and has lashed out at the US for its cruise missile strikes last week against a Syrian air base.
The OPCW said Thursday that a fact-finding mission was analysing samples gathered from "various sources" and that allegations a chemical attack took place in the Syrian rebel-held town of Khan Sheikhun were "credible". Lavrov said Russia, Iran and Syria have demanded a "thorough, objective and unbiased investigation" under the auspices of the OPCW, insisting it must use "independent experts", including from Moscow.
Russia on Wednesday vetoed a Western-backed UN resolution demanding that the Syrian government cooperate with an investigation into the alleged attack, blocking Security Council action against Moscow's ally for the eighth time Russia and Iran are the firmest allies of Assad's regime and have deployed forces to the war-torn country to back him in the country's brutal six-year conflict.
Lavrov was meeting with his counterparts from Syria and Iran in a show of support for Damascus after US Secretary of State Rex Tillerson visited Moscow earlier this week. Lavrov repeated the Kremlin's condemnation of the US missile strike in Syria and said Washington was seeking "excuses for regime change". "These attempts will not succeed, this will not happen," he said.
Meanwhile, hundreds of civilians and fighters who have been under crippling siege for more than two years left four Syrian towns in fleets of buses Friday under a delayed evacuation deal. Men, women and children packed onto the buses, expressing despair at leaving their homes with no way of knowing when they might return. "When I first went onto the bus, I broke down from sadness, I fell on the ground and they had to help me," said Abu Hussein, a resident of the government-held town of Fuaa. "I just couldn't bear it.
The deal to evacuate government-held Fuaa and Kafraya, and rebel-held Madaya and Zabadani is the latest in a string of such agreements through Syria's six-year civil war. They have been touted by the government as the best way to end the fighting but rebels say they are forced out by siege and bombardment.
Critics say deals are permanently changing the ethnic and religious map, but in an exclusive interview with AFP on Wednesday President Bashar al-Assad insisted the evacuations were only temporary and people would return once the "terrorists" had been defeated.
The evacuation of the four towns had been due to start on April 4, but implementation of the deal brokered by rebel supporter Qatar and regime ally Iran late last month was repeatedly delayed. At least 80 buses left Fuaa and Kafraya in Idlib province in the northwest, an AFP correspondent in rebel-held territory said.
They arrived at a marshalling point in Rashidin, west of government-held second city Aleppo, followed by 20 ambulances.
The Syrian Observatory for Human Rights said 5,000 people had left the two towns, including 1,300 pro-government fighters.
The pro-government Al Watan newspaper said 3,000 more would follow in a second convoy on Friday night.
Dozens of rebel fighters, including from Al-Qaeda's former Syria affiliate Fateh al-Sham Front, stood guard at the marshalling point, the AFP correspondent reported.
As the buses waited, the Red Crescent distributed water to waiting passengers.
A civilian travelling in one of the evacuation buses from the rebel-held towns of Madaya and Zabadani said the operation began at around 6:00 am (0300 GMT). "Most of the passengers are women and children who started gathering yesterday evening and spent the night in the cold waiting," Madaya resident Amjad al-Maleh told AFP by telephone.
He said that rebel fighters among the evacuees had been allowed to keep their light weapons.
The evacuees were all searched when they reached government-held territory. "It is a very bad feeling when you see those who besieged you and killed you with hunger and bombardment right in front of you," Maleh said. "Madaya cried today - the ones who stayed and the ones who left."
The Observatory said 2,200 people from Zabadani and Madaya had left, among them 400 rebels.
Madaya doctor Mohamed Darwish was among the evacuees. "People feel like they are being slapped in the face. They are shocked," he said.
More than 30,000 people are expected to be evacuated under the deal, which began on Wednesday with an exchange of prisoners between rebels and government forces.
All 16,000 residents of Fuaa and Kafraya are expected to leave, heading to government-held Aleppo, the coastal province of Latakia or Damascus.
Civilians from Madaya and Zabadani will reportedly be allowed to remain if they choose. Those who opt to leave will head to rebel-held territory in Idlib.
The four towns are part of a longstanding agreement reached in 2015 that requires aid deliveries and evacuations to be carried out to all areas simultaneously.
But access has been limited, with food and medical shortages causing malnutrition, illness and even death among besieged residents.
The UN says 4.72 million Syrians are in so-called hard-to-reach areas, including 600,000 people under siege, mostly by the Syrian army, but also by rebels or the Islamic State group.
There has been a series of evacuations in recent month, mostly around the capital Damascus but also from the last rebel-held district of Syria's third city Homs.
The overwhelmingly Sunni rebels have charged that Assad's regime is deliberately forcing civilians to leave to alter the country's sectarian map.
But in Wednesday's interview, the president told AFP that it was the rebels who were driving people from their homes.
"We wish that everyone could stay in his village and his city, but those people like many other civilians in different areas were surrounded and besieged by the terrorists, and they've been killed on (a) daily basis, so they had to leave," he said.
"But of course they're going to go back to their cities after the liberation.
"Talking about demographic changes is not in the sake or in the interest of the Syrian society when it's permanent. As long as it's temporary, we wouldn't worry about it."
http://nation.com.pk/international/15-Apr-2017/russia-slams-watchdog-probe-of-alleged-syria-chemical-attack
--------
Peace conference on Afghanistan begins in Russia
Apr 15, 2017
A peace conference on Afghanistan begins in Moscow today.
A number of countries including Pakistan, China, India, Iran and Central Asian States have been invited to the conference.
Full report at:
http://nation.com.pk/international/14-Apr-2017/peace-conference-on-afghanistan-begins-in-russia
--------
The Muslim 'Issue' in the French Campaign
April 14, 2017
Two blocks up from my apartment is St. Pierre du Gros Caillou, a Catholic Church whose first stones were laid in 1733. This being Good Friday, this morning on my way to buy the papers I saw two policemen armed with assault rifles take up positions inside. I don't know if they will be reinforced later for Easter services, or if two will suffice, or how many French churches now have that kind of protection.
France is having an odd presidential campaign. If you take note of the major books written, the sharpest intellectual debates, and the most loaded private conversations, you might conclude that the identitarian issues facing France somehow predominate. But instead, in this otherwise quite interesting presidential campaign, one has the feeling that no one wants to address them. It's as if every wants to pretend France is basically fine, and argue about the economy, or Fillon's corruption or Macron's ties to the unpopular François Hollande.
Of course few candidates are making much of an overt appeal for the Muslim vote: some saw Macron's depiction last month of the colonization of Algeria as a "crime against humanity" as a subtle bid in that direction, and the socialist whose campaign is failing, Benoît Hamon, has been campaigning in the Paris suburbs. (Asking a marketplace crowd why they thought Marine Le Pen was so naughty—méchant—Hamon quickly recoiled when someone his audience replied, "Because she's Christian." No, no, no, that's not the reason, he quickly interrupted, cameras rolling.
In any case it is only Marine Le Pen who tries to press the issue. She called today for the banning of a weekend meeting of national Muslim organization, the Union des Organizations Islamique de a France; she asserts that it has over the years invited many extremist speakers and fount of hate speech against women, Jews, and homosexuals. That is probably true, but somehow banning a meeting, or type of speech, doesn't seem a very satisfactory solution in a democratic country. And it's a large organization. This weekend, at an exhibition hall outside Paris, 150,000 people are expected to spend some time at the UOIF's annual gathering.
The larger issue is that the people represented by the group, a substantial minority of French Muslims, have a considerably different way of viewing the world than Marine Le Pen or any other French politician, and banning their meeting will hardly change that.
Another problem for Le Pen is that when she is invited on TV, no one wants to talk about such proposals, whatever their merit. TV journalists are more inclined to press her on her various legal difficulties. (Whether she arranged for some National Front party workers to be paid by the European Parliament has been subject to a long and continuing investigation.)
In any case, Le Figaro today published its investigation of the state of the Muslim vote in the campaign. It is still quite small, a million perhaps, but growing. Of course all the candidates have at least put forth some ideas of how to deal with radicalization: Muslim imams should be trained in French universities, so that they absorb "the values of the Republic" (Macron); Muslims who go abroad to fight should be stripped of their nationality (Fillon); support the values of laïcité, protect the girl who wears shorts as well as the one who wears the headscarf (Hamon); the left-most candidate Mélenchon warns against the "instrumentalisation" of laïcité against Islam, which I suppose is is a nice way of saying he doesn't plan to do anything. Le Pen, of course, has a long list of ideas, ranging from the aforementioned dissolution of the UOIF, to banning the wearing of ostensible religious signs or garments, shutting down Salafist mosques, the requirement that sermons be preached in French and the creation of a special surveillance agency to keep track of radical prisoners. To see these ideas written out makes me suspect no satisfactory political solution is going to be reached any time soon.
Full report at:
https://www.theamericanconservative.com/articles/the-muslim-issue-in-the-french-campaign/
--------
Morocco Remains Safe despite Rise in Terrorist Activity in North Africa/Sahel in 2016
April 15, 2017
WASHINGTON--(BUSINESS WIRE)--
Moroccan American Center for Policy (MACP) — The number of terrorist incidents in the Maghreb and Sahel regions of Africa rose 14% in 2016, according to a study released Thursday by The Inter-University Center on Terrorism Studies (IUCTS) and the Potomac Institute for Policy Studies, reaching the second highest level since 9/11. The eighth annual report, "Terrorism in North Africa and the Sahel in 2016," revealed that, despite this alarming trend, Morocco and Mauritania registered zero terrorist incidents in 2016, and that Morocco has been the country least-affected by terrorism in the region over the past fifteen years.
"During 2016, Morocco continued to improve its counterterrorism capabilities, as demonstrated by multiple arrests of suspected terrorists, seizing weapons, and aborting violent plots," said the report. "Particular mention should be made of the leadership of King Mohammed VI in denouncing terror and proposing the excommunication of Muslims who use their faith as justification for political violence. And in early 2017, Morocco banned the production and sale of the burqa out of concern that the shroud-like garment, which covers the entire face and body of Muslim women, would be exploited to mount terrorist attacks.
"In sum, Rabat's holistic security strategies, ranging from expanded international cooperation (e.g., joining the African Union) to developing tolerant Islamic approaches, seem to serve as a practical model to bring potential terrorist threats to manageable levels."
According to the report, the most affected countries in 2016 were Libya (with 125 incidents), Mali (with 64 incidents), Tunisia (with 16 incidents), and Algeria (with 13 incidents); while to date, Algeria, Libya, and Mali have experienced the most terrorist incidents (1,329; 578; and 218, respectively).
"Of growing concern for African security interests are the increasing links and flow of recruits between… regional extremists and the so-called 'Islamic State' in Syria and Iraq, as well as al-Qa'ida affiliates and allies across the region," the reported stated, noting that "countries in the Maghreb and Sahel are not immune to the broader threat of violence emanating from Iraq and Syria."
Among the report's ten tactical recommendations to address these regional threats were to:
"Strengthen U.S. and NATO intelligence assets by broadening cooperation through AFRICOM, NATO's Partnership for Peace, and other modalities that supply and support training, equipment, and monitoring of resources throughout the region";
"Continue to expand U.S. counterterrorism technical assistance and training to internal security personnel";
"Work to settle intra-regional conflicts that provide openings for extremists to exploit and impede security and economic cooperation -- including the Western Sahara dispute and the problem of refugees in the Polisario-run camps in Algeria. Also, collaborate with the global donor community to conduct a census of the camps to ensure that humanitarian aid is not diverted, from this location or elsewhere, for military purposes or personal enrichment";
"Recognize the importance of and provide quiet encouragement to Muslim leaders in promoting the practice of a moderate Islam, as well as counter-radicalization programs that limit the appeal of extremist recruiters"; and
"Promote regional trade and investment by expanding the US-Morocco Free Trade Agreement to include goods and products from North, West, and Central Africa."
"As the IUCTS study shows, the situation in North Africa and the Sahel is dangerous and we cannot be complacent," said Jordan Paul, Executive Director of the Moroccan American Center for Policy. "Morocco has emerged largely unscathed thanks to the leadership of King Mohammed VI and the vigilance of the country's security forces. However more can and should be done, including resolving the Western Sahara issue based on the Moroccan autonomy plan."
Full report at:
http://finance.yahoo.com/news/morocco-remains-safe-despite-rise-201900578.html
--------
Spain saves 26 migrants from sinking boat in Atlantic Ocean
Apr 14, 2017
MADRID (AP) — Spain's maritime rescue service says it has saved 26 migrants, including one pregnant woman, from a boat that was taking on water as it tried to reach the European coast during the night.
The migrants were 15 miles southwest of the Atlantic coastal town of Barbate, which lies between Cadiz and Gibraltar. The maritime rescue boat "Salvamar Gadir" found the struggling smugglers' boat early Friday.
Emergency services for Spain's southern Andalucia region say the 20 men and six women were all of North African descent.
Tens of thousands of migrants, most from sub-Saharan African countries, try to reach the shores of Spain and Italy by boat each year.
On Wednesday, a 10-year-old girl and two adults died when their boat capsized while trying to cross the Mediterranean Sea.
___
This corrects the headline to Atlantic Ocean, instead of Mediterranean.
Full report at:
http://theworldlink.com/news/world/spain-saves-migrants-from-sinking-boat-in-atlantic-ocean/article_b56cea41-6221-5450-9338-ead668b07621.html
--------
The Islamic world has been "engaging lustily with modernity" since the 1700s
Apr 15, 2017
'I think Islam hates us." It is impossible to pick Donald Trump's most dangerous statement, but that line from last year reveals one of the most terrifying aspects of his presidency: that at the heart of his administration lies a belief that Islam and "the West" are locked in a clash of civilisations. Such views are disturbingly widespread: polls consistently find that many western voters see a fundamental conflict between Islam and "western values". Islam, many argue, needs an "Enlightenment" to bring it into the modern age.
In this sweeping and timely book, Christopher de Bellaigue shows that such ideas are based on historical ignorance. In the century or so after Napoleon's conquest of Egypt in 1798, the Islamic world "engaged lustily with modernity", and just as in Europe – a constant reference point for Muslim modernisers – both progress and reaction characterised a "vortex" of change. "In the process of transformation," wrote Edmondo de Amicis of Constantinople in 1878, "everything is in confusion".
Napoleon's success, and the slow retreat of the Ottoman Empire, had a profound impact, leading intellectuals and politicians to question a sense of "superiority" that had ignored major European advances from printing to plague control. When one of the Ottomans' first western-style artillery guns blew itself up, officials debated whether the disaster was punishment from God or a vivid example of backwardness. How to approach modern ideas swiftly became the defining question of Islamic politics.
Visionary individuals and "progressive autocrats" embarked on programmes of reform. In Cairo, Muhammad Ali ("enemy of the foot-draggers") and his grandson Ismail Pasha – "We are now part of Europe," he proclaimed in 1879 – laid the foundations for an Egyptian state. In Istanbul, the sultans liberalised commerce and granted greater equality to minorities, while in Tehran, chief minister Amir Kabir set about transforming Iran's archaic state. Slavery was abolished, citizenship widened, telegraphs and railways constructed: modernisation was the order of the day.
Public engagement in politics widened. Ibrahim Sinasi founded the first Turkish newspapers (a "social body" has the "right" to comment on "the state of their country . . . by word and pen", he wrote), and redefined Turkish language and writing. Debates about women's rights and equality began: "Are we not humans?" wrote a Turkish feminist in 1869. The Iranian intellectual Mirza Saleh travelled widely to collect ideas and campaign for secular reform, arguing that "as long as the mullahs interfere" in government and science, the Islamic world "shall make no progress".
While conservative clergy continued to exert influence in the Islamic world, many religious thinkers were calling for change. In Iran the Bahá'i movement challenged old orthodoxies: poet and theologian Quarrat al-Ayn called on people to "cast off the garments of old laws/ Of outworn traditions", and gained notoriety for removing her face veil at a religious conference. De Bellaigue writes of a "struggle between faith and reason", but his book reveals something more complex: "Is there another place like Paris," Rifaa wrote, "where the suns of knowledge never set/ Where the night of unbelief has no mornings/ . . . Is this not the strangest of things?"
Religious reform went to the top. The Grand Mufti of Egypt, Muhammad Abduh ("Islam's great liberal") advocated inter-faith co-operation, and issued fatwas permitting all sorts of necessities for Muslims in modern societies, from insurance to interest accounts, shopping at Christian butchers to wearing sun hats. Too many Muslims, he argued, rejected change out of blind adherence to tradition, exactly what ancient unbelievers were criticised for in the Koran. Abduh reportedly once said that in the West he had seen Islam – progress, equality, liberty – but no Muslims, and in the East Muslims but no Islam.
Great advances
Many Islamic reformers greatly admired Europe, viewing the Renaissance and the Enlightenment as extensions of medieval Islam's great advances: "the masters are surprised by the brilliant career of their disciples", wrote one pamphleteer in 1803, and "are in sore need of them". Mirza Saleh praised England's journey out of "a state of ignorance", Sinasi's Young Ottoman colleague Namik Kemal saw London as "the model of the world", and the feminist writer Zainab Fawwaz (rather generously) applauded European gender equality.
Rifaa al-Tahwati, father of the nahda (renaissance), translated thousands of foreign works into Arabic. But modernisers did not want simply to emulate Europe: Kemal advocated a specifically Islamic modernity, deriding Ismail Pasha's Egyptian assembly as following "the crack of the gendarme's leash".
Western support of reform, de Bellaigue notes, was mostly "insincere" cover for imperial ambition. Western imperialism had a defining influence on the "Islamic Enlightenment". When Ahmad Urabi led an Egyptian revolt in 1879 ("We are not slaves," he asserted), Britain expanded what would become nearly a century of "oversight". After the Great War, British and French officials sliced up the Middle East with pen-strokes. In the 1920s, the French destroyed Damascus and the British brought "air policing" to Iraq. The scars would linger.
The "inevitable" response to this was the growth of Islamic movements opposed to the West and its allies, various strands of "Islamism" that began as avowedly pro-modern. Jamal al-Din al-Afghani – a charismatic polymath who "intrigued" everywhere from London to Moscow to Calcutta – argued that the Islamic world could only resist colonialism with unity and radical modernisation. Egyptian intellectual Qasim Amin saw the need to modernise in explicitly Darwinian terms: westerners "seize the wealth of any country weaker than them".
Full report at:
http://www.irishtimes.com/culture/books/the-islamic-world-has-been-engaging-lustily-with-modernity-since-the-1700s-1.3032048
--------
Man charged after windows broken at main Ottawa mosque, Islam centre
April 14, 2017
Police have charged one man after Ottawa's central mosque on Northwestern Avenue and the Islam Care Centre were hit by vandalism this week.
The suspect turned himself in to police after calling them Wednesday to report the vandalism, police said Friday.
Investigators were able to confirm that windows were broken at both the mosque and care centre and then arrested the man. Police allege that the man assaulted one of the arresting officers.
Shawn Le Guerrier, 27, has been charged with two counts of mischief and one count of assault police.
In a Facebook post, the organizations said windows were broken at the two buildings early Wednesday morning. There were no injuries.
"It's always distressing to see our places of worship targeted in this hateful way. We call on the police to investigate these incidents as potential hate crimes," said Naeem Malik, president of the Ottawa Muslim Association, in a Facebook message posted posted Thursday night. "We know that such acts do not represent the sentiments of our fellow Ottawa neighbours and community members."
The damages to an upper floor window at the mosque were quickly repaired, but the care centre's front door had a cardboard patch on Friday.
The OMA mosque and several other Muslim institutions have been targeted before.
"It is important for community members to report suspicious activities to the police," said Omar Mahfoudhi, executive director of the Islam Care Centre in the release. "It has just gotten easier to report hate crimes through an online form the police are now providing. That should help people feel more comfortable coming forward."
Ottawa police announced earlier this week that it had added hate crime reports to its online reporting system.
Full report at:
http://ottawacitizen.com/news/local-news/man-charged-after-windows-broken-at-main-ottawa-mosque-islam-centre
--------
URL: https://www.newageislam.com/islamic-world-news/saudi-banks-bin-laden-companies/d/110781
New Age Islam, Islam Online, Islamic Website, African Muslim News, Arab World News, South Asia News, Indian Muslim News, World Muslim News, Women in Islam, Islamic Feminism, Arab Women, Women In Arab, Islamophobia in America, Muslim Women in West, Islam Women and Feminism