New Age Islam News Bureau
5 Apr 2020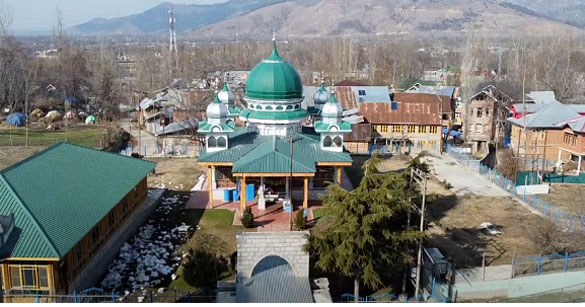 A screengrab from the video published by Saudi Arabia's Ministry of Justice of people shaking hands. — Twitter
------
• Saudi Arabia's Ministry of Justice Sends Out A Message of Hope Amid Corona Pandemic
• Grand Mosque Imam Stresses on Importance of Supplication
• After COVID-19 Outbreak at Tablighi Jamaat Conference, Fake News Targeting Muslims Abounds
• Muslim Scholars in UP Urge Members to Back PM's 9pm Call on April 5 To Remain In The Mainstream Of The Country
• Iran Unveils AI-Powered Coronavirus Diagnosis Technology
• Old Video of Racist Heckling Falsely Viral as Muslim Man Spits on Passenger In New York Metro
• Kabul Gurdwara: Islamic State Khorasan Chief Arrested for Plotting the Attack
• 'Look At New York Where Rich People Live': Imran Khan Warns Pakistan On Covid-19
• Chilling British Inspiration Behind the New Zealand Mosque Attack That Killed 51
• Somalia Muslim Clerics Moving to The Front-Line To Battle Against Coronavirus Propaganda By Al-Shabaab Militants
---------
Arab world
• Saudi Arabia's Ministry of Justice Sends Out A Message of Hope Amid Corona Pandemic
• Grand Mosque Imam Stresses on Importance of Supplication
• 3,500 Workers, 89 Machines Disinfect Grand Mosque Daily
• KACST Super Tracks Scientific Research To Combat Coronavirus
• EU Envoy: Saudi anti-coronavirus measures unprecedented
• Answering Ayatollah Sistani's call, Iraqis support those in need amid coronavirus outbreak
• PMU anti-terror forces vow to end US 'occupation' of Iraq
-----
India
• After COVID-19 Outbreak at Tablighi Jamaat Conference, Fake News Targeting Muslims Abounds
• Muslim Scholars in UP Urge Members to Back PM's 9pm Call on April 5 To Remain In The Mainstream Of The Country
• Rajasthan: Doctor Refuses to Admit Pregnant Woman Because She's Muslim, Her Child Dies After Delivery
• Delhi Minorities Commission Notice to Delhi Police on Mosque Vandalism Amid Lockdown and • Random Arrests of Muslims Involved In CAA-NRC Protests
• Coronavirus Outbreak: 12 Isolated Over Suspected COVID-19 Linked To Tablighi Jamaat Attendee, 3 Mosques Sanitized In NOIDA
• Five Imams, 150 Others Booked For Mass Prayers In Uttar Pradesh
• 11 held for organising prayer at mosque
• Police Using Cellphone Data To Trace People Linked To Delhi Mosque Event
• 1,023 COVID-19 Cases Linked to Mosque Event, Tamil Nadu Leads
------
Mideast
• Iran Unveils AI-Powered Coronavirus Diagnosis Technology
• Al-Sukhnah, "Umm Al-Qura" Where "Islamic State" Is Trying To Expand Influence
• Islamic Jihad urges world to act on Palestinian inmates
• Ayatollah Makarem Shirazi calls on people to stay at home
• Head of Iran's Islamic Seminaries writes letter to Pope
• Gaza Strip could face real catastrophe if COVID-19 cases soar: Rights group
• Saudi rocket attack kills entire Yemeni family in Sa'ada
• Sanctions are crippling Iran's fight against coronavirus: Tehran mayor
• Iranian firm awarded contract to produce micro-CHPs on commercial scale
-------
North America
• Old Video of Racist Heckling Falsely Viral as Muslim Man Spits on Passenger In New York Metro
• Coronavirus reveals, exacerbates US inequality
• Faith In Action: Muslims Answer The Call To Make Masks For Health Workers, Patients
• US attorney opposes release of inmates amid COVID-19 pandemic
• Trump warns of 'a lot of death' from coronavirus, blaming media-induced public 'panic'
• Number of US sailors infected with Covid-19 on aircraft carrier rises to 155: Navy
• Muslim firefighter gets coronavirus after Hasidic teen allegedly sneezed into his face
----
South Asia
• Kabul Gurdwara: Islamic State Khorasan Chief Arrested for Plotting the Attack
• Ramadan Is Coming; Muslims Advised to Perform Tarawih at Home
• Offer prayers at home on Shab-e-Barat, Islamic Foundation urges
• 9 Taliban militants killed, wounded after attacking ANDSF convoy in Laghman
• Public Uprising forces kill, wound 11 Taliban militants in Kapisa province
• The crucial future of power-sharing in Afghanistan
• Airstrike targets Taliban gathering in Kandahar, killing 6 militants
• Combating coronavirus: PM announces Tk 72,750cr stimulus package
• Biman extends suspension of all flights till April 14
-----
Pakistan
• 'Look At New York Where Rich People Live': Imran Khan Warns Pakistan On Covid-19
• 4 mid-range hotels in Islamabad to be used to quarantine international passengers
• COVID-19: Pakistan Says No to Cricket During Holy Month Of Ramadan
• Some mosques in Punjab, Sindh defy curbs on Friday prayers
• Virus cases may top 50,000 by April end, SC told
• PML-N, PPP doubt PM will take 'friends' to task
• Surge in demand for sanitizers exposes flaws in regulation
• Fear grips health workers as doctor tested positive for Covid-19 put on ventilator in Karachi
• Maulana Abdul Aziz, 6 others booked for violating govt order
------
Europe
• Chilling British Inspiration Behind the New Zealand Mosque Attack That Killed 51
• Birmingham Imam Delivers Strong Message to City Youngsters Not To Gather In City Parks
• COVID-19: Al-Azhar Issues Fatwa on Gatherings for Worship
• Coronavirus Pandemic Aggravating Poverty In UK: Experts
• First confirmed case of COVID-19 on the occupied Malvinas Islands
• Coronavirus: Starmer will address 'serious mistakes' in government's handling of COVID-19
• What is Queen Elizabeth II expected to say in her address to the nation
• Coronavirus: Two Pentonville Prison staff members die
------
Africa
• Somalia Muslim Clerics Moving to The Front-Line To Battle Against Coronavirus Propaganda By Al-Shabaab Militants
• League of Imams Clarifies Stand on Alcohol-Based Sanitisers
• South African Muslim Cleric Dies Of Coronavirus After Attending Tablighi Congregation in New Delhi
• Covid-19: Muslim faithful ignore social distancing in Kano, Yola, Ughelli, observe Jum'at prayers
• Khazarian Mafia Virus is more Dangerous than the Coronavirus
-----
Southeast Asia
• China Reiterates Commitment to Help Indonesia Win Fight Against COVID-19
• Three Malaysians among 75 new cases in S'pore
• 'Stop sending MCO violators to jail'
• 250 Rohingya refugees land on Langkawi beach
• Covid-19: Cases pass 1.2 Million; 'Horrendous' phase seen
• COVID-19: Anies slams Health Ministry's requirements for large-scale social restrictions
Compiled by New Age Islam News Bureau
URL: https://www.newageislam.com/islamic-world-news/saudi-arabias-ministry-justice-sends/d/121490
------
Saudi Arabia's Ministry of Justice Sends Out A Message of Hope Amid Corona Pandemic
April 5, 2020
RIYADH -- In a heart-warming video, Saudi Arabia's Ministry of Justice reached out to the local community and beyond with a message of hope and a better tomorrow as governments around the world are responding to the fight against the coronavirus pandemic.
"People will hug again, hands will shake, schools will re-open, prayers will be held, stadiums will fill with fans, and airplanes will take to the skies. But to get there, we must keep fighting," said the ministry in a video published on its Twitter account, according to a report in Al Arabiya English.
The Ministry of Justice said that the Saudi government believes that the people's lives should not be disrupted by the novel coronavirus and that people should be empowered to fight back.
On Monday, Custodian of the Two Holy Mosques King Salman has ordered coronavirus treatment to be available for anyone in need of medical care, including people who have overstayed their visa in the Kingdom, Health Minister Tawfiq Al-Rabiah said.
King Salman also ordered the disbursement of up to SR9 billion ($2.39 billion) in financial support to more than 1.2 million citizens who work in private sector companies affected by the economic fallout of the coronavirus outbreak, the state-run Saudi Press Agency reported on Friday.
G20 leaders under Saudi Arabia Presidency pledged last week to inject over $5 trillion into the global economy to limit job and income losses caused by border closures and sweeping shutdowns aimed at halting the spread of the disease.
http://saudigazette.com.sa/article/591514/SAUDI-ARABIA/MoJ-sends-out-a-message-ofhope-amid-corona-pandemic
-----
Grand Mosque imam stresses on importance of supplication
April 4, 2020
MAKKAH/ MADINAH — The Imam of the Grand Mosque in Makkah brought to light on Friday the importance of supplication (Dua), while the Imam of the Prophet's Mosque in Madinah praised the solidarity between the leadership and individuals during coronavirus crisis.
In his Friday sermon delivered at the Grand Mosque in Makkah, Sheikh Dr. Bandar Bin Abdulaziz Balilah, detailed the benefits of supplication, noting that supplication saves from distress and distracts wickedness.
He concluded that supplication is also a key to change and a good source for victory, especially if it is accompanied by the power of certainty and persistence.
In Madinah, Sheikh Abdulbari Al-Thobaiti, stated that, in light of the current global crisis caused by coronavirus, every person in the Kingdom of Saudi Arabia lauded the cohesion that is embodied between the leadership and individuals.
He added that the leadership seeks to enact regulations and procedures to protect lives and preserve interests, while the individuals are aware of their role in adhering to instructions and guidelines.
He pointed out that overcoming this crisis would be by Allah's grace, his mercy and kindness, then with more solidarity.
He stated that, in light of this pandemic, businessmen and intellectuals should sense their religious and national duty in such events to mitigate the effects of this crisis.
http://saudigazette.com.sa/article/591502/SAUDI-ARABIA/Grand-Mosque-imam-stresses-on-importance-of-supplication
------
After COVID-19 outbreak at Tablighi Jamaat conference, fake news targeting Muslims abounds
SHAWN SEBASTIAN
04 April 2020
Since 30 March, when news broke that six attendees at the Tablighi Jamaat, an Islamic religious gathering in Delhi's Nizamuddin locality, had died of COVID-19, fact-checking websites have reported a barrage of fake-news targeting Muslims for the pandemic. Many video clips shared on Facebook and WhatsApp purportedly showed Muslims actively working to spread the virus in India. Fact checkers said that despite each of the posts on social media being easy to disprove, the sheer quantity of false-information shared made it tough for them to flag all cases of disinformation. "Ever since the Nizamuddin incident is in the public domain, there is a surge in fake content targeting the Muslim community," Rakesh Dubbudu, the founder of the fact checking website Factly, said.
From mid-March, Indian social media reported seeing a consistent uptick in verifiably false message about COVID-19. Most messages on platforms such as WhatsApp and Facebook surrounding the virus tended to be false-cures, or "expert tips," on how to avoid the pandemic. Dubbudu said that a majority of fake content related to COVID-19 did not have a religious tone until recently. However, on 30 March, multiple fact-checking organisations noticed a sudden surge in Islamophobic fake news on social media.
From 8 to 15 March, more than two thousand devotees met in Nizamuddin for a conference organised by the Tablighi Jamaat—a Muslim revivalist organisation. The meeting continued for two days after the Delhi government banned any gathering of more than 200 people. However, reports show that the 13 March order did not extend to religious organisations. The organisers of the event argued in a press release that several delegates, many from south India and abroad, were stuck in Delhi because of the cancellation of rail services on 21 March.
On 19 March, ten Indonesian nationals who had attended the conference tested positive for COVID-19 in Telangana. Following this, dozens of delegates were tested positive from various parts of the country. Fifteen deaths have since been reported among those who attended the event. On 30 March, the Delhi Police sealed off the organisation's office and charged the group's leaders for a variety of offences including criminal conspiracy, and other penal provisions under the Epidemic Diseases Act.
On 30 March, several videos appeared on both WhatsApp and Facebook that claimed to show Muslims engaging in various activities to infect others with the virus. #CHECKIT is a WhatsApp group started by an organisation called Confederation of Voluntary Associations which works towards maintaining communal harmony in south Asia. #CHECKIT have been attempting to spot false forwards on the platform and inform users of the same. Goutham Uyalla, a member of #CHECKIT, told me that they had been working on identifying such content from 2019. Uyalla said, "The organised communal propaganda wing of the right and its controversial leaders have been inactive ever since the COVID-19 outbreak. They are likely to be energised now as Tablighi Jamaat congregation is making headlines."
On 1 April, one of the members of #CHECKIT found a video on WhatsApp showing a group of men in white robes and skull caps licking the leftovers from plates and spoons meticulously. An embedded message read, "Be careful everyone…. These are some people who are preparing to spread Corona Virus…Please be far from people…Please." On the same day, an article on Factly pointed out that the practice of licking cutlery after every meal is a tradition among the Bohra community of Muslims. The article states, "Entire Bohra family eats in a single plate 'Thaal' and they have a 'no-wastage' policy. So they do not leave a single grain of rice on their plate when it is taken away." The website identified that the video preceded the COVID-19 outbreak by at least two years. The portal also shared the screenshot of a Facebook post with the same video, which claimed that Muslims were, "applying and putting saliva on spoons, plates, and utensils and also they are with the intention of spreading coronavirus disease. Nobody knows what is happening to the nation." The user who posted the video claimed that police caught 11 Indonesian Muslim "mullahs" from a mosque in Salem, Tamil Nadu for spreading the virus. When Factly archived the post on 1 April it had over 3,000 views and 176 shares.
In another video shared in a WhatsApp group called "Beyond Organic" on 20 March, an employee at a restaurant wearing a skull cap is seen blowing into a plastic carry bag before packing food. The accompanying text read, "Muslims are spitting in food which we give order to purchase to eat. Please. Avoid purchase food from Muslim shops." GR Sai, one of the members of the group, said that it was evident that the man in the video was trying to blow open the bag. Though this might be unhygienic, many people do so irrespective of their religion. The fact checking website Alt News also found that the video had been uploaded onto YouTube in April 2019 and had nothing to do with the COVID-19 pandemic.
Dubbudu said he expects more old video clips of Muslim communities and their practices to be shared in the coming days, wrongly linking them to the COVID-19 outbreak. So far, he had come across at least four such videos. One video he found on Facebook showed a group of Muslims sitting in a mosque, rotating their head and breathing out ritualistically. The video was accompanied by the caption, "No words, seems they are on mission." Many comments below the video also accused the Muslim community of actively attempting to spread the pandemic. "Ninja technique of spreading corona for longer distance just like the way they throw grenades and stones for longer distance," wrote one user. "Bioweapon by human, sneeze…" wrote another. One user pointed out that the video depicted a common Sufi tradition. The user also shared the video of a song from Turkey that showed similar ritualistic breathing. Factly's team is currently working on identifying the origin of the initial video using their verification tools. Dubbudu thinks that a Sufi practice is being circulated in a completely different context. "Those who create it have an agenda and those who share it often do it blindly while their existing prejudices will influence them," he said. "There are people out there ready to milk the situation." Alt News also identified the video as not being from Nizamuddin and also being shared by users in Pakistan accusing the Sufi sect of madness.
On 30 March Republic TV aired a video with a ten-minute audio recording which they claimed belonged to a Muslim cleric from the Tablighi Jamaat congregation. The clip was widely shared with an incorrect translation in Telugu attached which read, "Defeat lockdown and come out. If we spread this disease to 70,000 people, India will be destroyed. It will come into our control.". On 30 March Republic TV aired a video with a ten-minute audio recording which they claimed belonged to a Muslim cleric from the Tablighi Jamaat congregation. The clip was widely shared with an incorrect translation in Telugu attached which read, "Defeat lockdown and come out. If we spread this disease to 70,000 people, India will be destroyed. It will come into our control.".
Dubbudu told me that he had found a video on 30 March on Facebook with a ten-minute audio recording which they claimed belonged to a Muslim cleric from the Tablighi Jamaat congregation. The video was earlier aired by Republic TV. The clip was widely shared with an incorrect translation in Telugu attached which read, "Defeat lockdown and come out. If we spread this disease to 70,000 people, India will be destroyed. It will come into our control." The statement was being attributed to the Tablighi Jamaat chief. Facebook later flagged the video as fake with the help of independent fact checkers. "Since no one likely hears the ten-minute long speech, everyone believed the accompanying text and it went viral," Dubbudu said. Mazhar Hussain, the founder of COVA, found another old video on WhatsApp shows Muslims cleaning themselves beside a water tank before namaz in large numbers. A user named Nadeem argued that the video is most likely from 2018 at the Raiwind Ijtema—a religious gathering held in Pakistan. He shared a screenshot of a local TV channel called Message TV to prove his claim. These videos are clear attempts to spread misinformation that Muslims are defying the lockdown.
Such misinformation has been spread not only by social-media users, but also in broadcasts by some television channels. The Kannada channel Public TV, in a segment aired on 14 March, wrongly claimed that four Muslim youths from Bhatkal in Karnataka refused medical screening due to "religious reasons" on returning from Dubai. Alt News cross-checked the claim with the district authorities and found out that no such incident occurred. The channel had based their broadcast entirely on a one local's statement. In its report on the Public TV's broadcast, Alt News noted that the "religious" angle was the contribution of the anchor.
"The reason why misinformation is accepted very easily is because there is so much polarisation in society," Pratik Sinha, the founder of Alt News, said. Sinha agreed that misinformation surrounding COVID-19 did not have a religious tone before the Nizamuddin event was covered by mainstream media. He said when an opportunity is given to polarise people, it is easily used by those who want to. Sinha said that being able to identify fake content was often tied to how you would be affected by it. "Those who are targeted would be more critical,'' he said, adding that the beneficiaries of misinformation would often encourage it or remain passive letting the damage of it be done.
There has also been a clear growth in video content that might not be fake but attempts to give a communal angle to the lockdown. On 24 March, Hussain found a point-of-view video shot by a man on a bike during the lockdown in Hyderabad, which was shared on WhatsApp. The video shows a large group of Muslims praying in two different mosques while the roads are deserted due to the lockdown. In the running commentary on the video, the person who shot it criticises Telangana's chief minister K Chandrashekar Rao for "going soft on Muslims even when section 144 is imposed." The person added that had it been Hindus praying in temples, the government would have taken strict action against them.
On 28 March, Tathagata Roy, the governor of Meghalaya, retweeted images of a crowded street with a caption reading, "see lockdown in Kolkata's Metiabruz today." Along with the image he tweeted "Government relief should be given to only those people who abide by the rules of lockdown. Those who don't, shouldn't get benefits, relief and (medical) treatment from the government." Alt News later proved that the images were from Rawalpindi in Pakistan and from a street in Kolkata clicked in June 2019. The Alt News report noted that the images were being used to falsely claim that people, particularly Muslims, were flouting the lockdown. Roy later took down his tweet.
The islamophobic hysteria created by such false videos is also evident in twitter hastags such as #CoronaJihad, which trended on 1 April. Uyalla told me that they were struggling to cope with the sheer quantity of fake content posted about Muslims and COVID-19, saying that a lot more kept being posted in informal groups. He said that fake content targeting Muslims was spreading faster than the virus itself.
https://caravanmagazine.in/media/after-covid-19-outbreak-at-tablighi-jamaat-conference-fake-news-targetting-muslims-abounds
------
Muslim Scholars In UP Urge Members To Back PM's 9pm Call On April 5 To Remain In The Mainstream Of The Country
Apr 05, 2020
In a video clip, which is doing the rounds in some closed WhatsApp groups, a Muslim doctor based in the US can be seen advising community members to light a candle or diya (earthen lamp) at 9pm on Sunday, April 5, to "remain in the mainstream of the country".
"Today, people, including our own neighbours, are looking at us with suspicion. They will be watching us. Do light diyas to remove all misgivings about the community," he says.
With the Nizamuddin Markaz emerging as a hotspot of coronavirus disease (Covid-19) in the country, influential members of the Muslim community have taken to mobilising the people to take steps that help bust myths, not just about coronavirus but also about the community.
And getting Muslims to openly answer the call given by Prime Minister Narendra Modi, to light diyas, candles or flash torchlights for nine minutes at 9pm on Sunday to show solidarity in the fight against Covid 19, is one of them.
With mosques practically closed due to the lockdown, WhatsApp messages have come in as a handy tool for the clerics and scholars to disseminate the message.
Mufti Obaid-ur- Rahman of Gorakhpur feels the Nizamuddin incident has dented Islam's image and thus it is their (the community's) duty to correct it. He says, "There are WhatsApp groups of madarsa teachers, clerics, intellectuals and commoners, wherein appeals are being made repeatedly to abide by social distancing rules and join countrymen in lighting candles outside doors and on balconies on April 5. Earlier too, many Muslims here had joined the nation in ringing bells and clanging thalis to show their solidarity with frontline corona warriors. This time, too, we will follow the PM's appeal."
In Lucknow, Maulana Khalid Rasheed Farangi Mahali, Imam of Eidgah (Aishbagh), says: "Muslims love their country and they must come out of this communal mindset to defeat coronavirus."
Prominent Shia cleric Maulana Kalbe Jawwad says, "The coronavirus doesn't differentiate between Hindus and Muslims, so we must fight it together."
Dr Javed Ahmed Siddiqui, who runs a clinic in Hussainganj locality of the state capital, says, "It's time to prove that everyone is not like the Tablighis. Muslims are most liberal and scientific in approach. I have asked all my neighbours to join me in lighting diyas as this disease is a common enemy of both the communities."
Tablighi Jamaat, an Islamic group that urges Muslims to follow the practices of the religion, has been grabbing headlines since March 30 after several people who participated in a religious congregation held in its headquarters — Markaz, situated in Delhi's Nizamuddin area — in mid-March were tested positive for Covid-19. The gathering was attended by hundreds, including foreigners, leading to intensive contact tracing efforts and enforcement of mass quarantine and isolation. On Saturday, the Union health ministry said that a third of the 3,000-odd Covid-19 cases reported in the country are linked to the Tablighi Jamaat.
In Agra, social activist and footwear exporter Nazeer Ahmad says, "The PM's appeal is to Hindustanis and not Muslims and Hindus. Lighting lamps may not be a treatment of the coronavirus, but it is a token of the country's unity to fight the disease."
On Friday, religious heads of various communities met superintendent of police, City (Agra), Rohan Pramod Botre and expressed solidarity with the cause.
The clerics are also quoting verses of the Quran to convince the community members that religious assemblies can be avoided during emergency situations.
In Meerut, Shahar Mufti Qazi-e-Shariat Darul Qaza Saif-ur- Rehman, in a video released on social media, can be seen asking people not to move in groups as it will expose them to the virus and, in turn, cause problems for others.
On the PM's appeal, Zainus Rasheedin, the Nayab Shahar Qazi and Aligarh president of Jamiat- Ulema- e- Hind, says, "It is a personal decision but one can use a cell phone torch instead of a candle or diya."
Mufti Zulfikar, state president of All India Imam Association, says, "As the PM's appeal has nothing to do with treatment and cure of the coronavirus, following it will be a personal decision."
Darul Uloom Farangi Mahal, a seminary in Lucknow, is planning to launch a helpline to remove misconceptions about Covid-19 in the society. "We are going to launch a helpline for answering queries of Muslims about the coronavirus," says Maulana Khalid Rasheed Firangi Mahali.
"I saw a post by an educated Muslim on Facebook stating that the word corona is derived from Quran so it will not happen to Muslims. I couldn't stop myself from writing that had this been true, the virus would not have affected the Muslim countries and Mecca and Medina would not have been shut down," he adds.
In western Uttar Pradesh in particular, Muslim scholars and spiritual leaders are trying to control what they call the damage done by the Nizamuddin incident.
Qazi Zainus Sajeedin, former professor of Islamic mythology at Aligarh Muslim University, agrees that the Markaz committed mistakes, but adds that mistakes were also made on part of the district authorities who didn't take adequate action for evacuating the jamatis in time.
In Varanasi, Mufti-e-Banaras Maulana Abdul Batin Nomani has issued a video appeal. "When you return to your area from any other city, do go for testing as per government instructions. All of us should ensure the contagious disease doesn't spread further," he says.
He also appealed to the people not to misbehave with the medical staff. "I appeal to the awam (people) to welcome the medical team when they come to your doorstep for testing. Don't misbehave with them. Treat them well and get your test done."
https://www.hindustantimes.com/india-news/muslim-scholars-urge-members-to-back-pm-s-9pm-call-on-apr-5/story-XcZf01ISxTX5fOeCKLiOlK.html
------
Iran Unveils AI-Powered Coronavirus Diagnosis Technology
04 April 2020
Iran unveils indigenously-developed smart technology capable of diagnosing infection with the new coronavirus with the help of artificial intelligence and use of CT scan.
The technology produced by experts at Iranian science-based enterprises was wheeled in, in the presence of Iran's Deputy President for Science and Technology, Sourena Sattari, Fars News Agency reported on Saturday.
"A number of the companies managed to introduce a new method for diagnosing coronavirus' [infection] by resorting to artificial intelligence," he said, describing the innovation.
Sattari said such enterprises as the ones, who gave birth to the new method, had made much progress over the recent years and "were [now] on the frontline of the battle [against the infection].
According to the official, the level of productivity that has come about across the country since emergence of the outbreak has rendered the Islamic Republic needless of all virus-related medical imports.
Apart from the companies, the innovative ecosystem contributing to the virus fight also comprises research centers and various universities, which are active in the area of biotechnology, Sattari said.
The cycle of innovation had led to development of modern diagnostic kits, with two of the enterprises producing 250,000 of the devices so far, he added. The companies possess the potential to produce as many as 100,000 of the kits per week, he added.
Production of preventive facemasks has also witnessed a four-fold-plus increase, Sattari noted, but said the production level still had to rise far higher.
Science-based organizations were also heavily engaged in clinical tests on remedial pharmaceutical protocols, an endeavor that has lifted up any need for medicine imports as the country confronts the outbreak, he said.
After emergence, the outbreak created a need for ventilators that can be used to turn a normal hospital bed to an intensive care unit one, the official stated. Two of the scientific companies, therefore, embarked on producing the devices, making up for any shortages that countrywide hospitals faced in the areas, he added.
The novel virus emerged in central China late last year. It can cause a potentially fatal respiratory infection that is called Covid-19.
The pandemic has claimed 61,144 people and infected 1,139,112 others worldwide ever since. In Iran, it has taken the lives of 3,452.
https://www.presstv.com/Detail/2020/04/04/622316/Iran-unveils-new-technology-diagnosis-coronavirus-artificial-intelligence-CT-scan
-----
Old video of racist heckling falsely viral as Muslim man spits on passenger in New York metro
4th April 2020
A 40-second video that shows a man spitting on another at a metro station has been shared by several social users along with the text, "New York, an islamic jihadi spits into a metro coach passenger just as the door closes. Unfortunately the low IQ jihadi picked on wrong person, he forced the train door open, thulped the jihadi to pulp and then made him fall on the ground and stomped on his head…"
New York, an islamic jihadi spits into a metro coach passenger just as the door closes. Unfortunately the low IQ jihadi picked on wrong person, he forced the train door open, thulped the jihadi to pulp and then made him fall on the ground and stomped on his head… pic.twitter.com/4SXZUUd2Kp
Several users have shared this video on Twitter and Facebook. Alt News has also received requests to fact-check the images on WhatsApp (+91 76000 11160) and on our official Android application.
Alt News performed a keyword search on Google and found multiple reports from August 2019 – New York Post, Daily Mail, The Sun, Mirror, Metro and Atlanta Black Star. According to these reports, the incident took place at 34th Street in Manhattan, New York. The New York Post reported added that "neither the MTA [Metropolitian Transportation Authority] nor NYPD [New York Police Department] responded to requests for comment".
The viral video was tweeted by @MrJonCee on August 2, 2019. This video has over 17 million views. It was also posted by a Reddit user ventriiloquist on August 3, 2019. The video posted by ventriiloquist was published by New York Post, Daily Mail, Mirror and Atlanta Black Star. As per these posts, a racist white man spat on a person of colour commuting by the New York subway.
Since the viral video is of low resolution, Alt News analysed the video uploaded by @MrJonCee and noticed that a caucasian man spat on an African American.
None of the reports gives details about the persons involved in the public spat, however, the act was seemingly racist.
Therefore the social media claim that a Muslim person spat on a man in a New York subway is false and misleading. Several such claims have been made amidst the pandemic which falsely target the Muslim community. Recently, a video of Mumbai police escorting an undertrial was falsely shared as a Nizamuddin Markaz attendee spitting on a cop.
https://www.altnews.in/old-video-of-racist-heckling-falsely-viral-as-muslim-man-spits-on-passenger-in-new-york-metro/
-----
Kabul gurdwara: Islamic State Khorasan chief arrested for plotting the attack
Yesterday · 09:12 pm
The chief of Islamic State Khorasan Province has been arrested in Afghanistan for plotting the attack on a gurdwara in Kabul last month in which 27 worshippers were killed, Tolo News reported.
Aslam Farooq was arrested along with 19 of his associates from Kandahar on Friday during a "targeted and complex operation" by special national security forces. Farooq is also believed to have ties with the Lashkar-e-Taiba and the Haqqani network.
Unidentified suicide bombers and gunmen had attacked the gurdwara in the Shor Bazaar area of Kabul, triggering a military confrontation between the security forces and the attackers, with Afghan special forces blocking off the area to avoid more casualties, Interior Ministry Spokesperson Tariq Arian was quoted as saying by AP. The identity of the attackers was not immediately clear but Taliban spokesperson Zabihullah Mujahid in a message on Twitter denied responsibility for the attack.
India had condemned the terror attack saying that the "cowardly" incident that happened at the time when the world was struggling to combat the coronavirus pandemic, shows the "diabolical mindset" of perpetrators. Ministry of External Affairs Spokesperson Raveesh Kumar had said, "Such cowardly attacks on places of worship of minority community especially at this time is reflective of the diabolical mindset of the perpetrators and their backers."
On Wednesday The National Investigation Agency registered a case to look into the terror attack in Kabul. One Indian was among 27 Sikh worshippers who were killed in the attack.
This is the first instance of the NIA filing a case for a terror attack committed outside India. According to the amended NIA Act, the central agency is empowered to investigate terror attacks committed outside India "affecting Indian citizens or affecting the interest of India".
https://scroll.in/latest/958216/kabul-gurdwara-islamic-state-khorasan-chief-arrested-for-plotting-the-attack
------
'Look at New York where rich people live': Imran Khan warns Pakistan on Covid-19
Apr 05, 2020
Pakistan Prime Minister Imran Khan on Saturday warned the people of his country that they are not immune to the threat posed by the coronavirus. He, however, exuded confidence that Pakistan would emerge stronger from the challenge.
"Nobody should have the false notion that they will be safe from this (coronavirus)...Look at New York where most of the rich people live," he said on Saturday.
Khan's remarks came as he visited Lahore to oversee the measures taken by the Punjab government as the number of coronavirus patients in the largest province of the country crossed 1,000.
Khan visited a 1,000-bed makeshift hospital set up by the provincial government at a short notice to accommodate the coronavirus patients.
As of Saturday, Pakistan has recorded 2,818 cases of Covid-19. There have been 41 deaths due to the disease in the country, though with only limited testing available, observers worry the number is far higher.
Punjab - the hotspot of the viral infection in Pakistan - reported a total of 1,072 cases, followed by Sindh at 839, Khyber-Pakhtunkhwa 383, Balochistan 175, Gilgit-Baltistan 193, Islamabad 75 and 11 cases in Pakistan-occupied Kashmir.
The Pakistan government on Saturday informed the Supreme Court that the number of coronavirus patients in the country could reach up to 50,000 by the last week of this month.
According to the breakdown provided in the report and widely reported in the media, around 7,000 cases of the total are expected to be critical in nature while around 2,500 could be a cause of concern. The government estimates that a further 41,000 cases could be of a mild nature.
The report noted that confirmed cases are expected to be lower than that of countries in Europe, and assured that the government is trying to maximise its testing capacity.
https://www.hindustantimes.com/world-news/look-at-new-york-where-rich-people-live-imran-khan-warns-pakistan-on-covid-19/story-VR0bGRuMIJTrRDLvnTE76L.html
-----
Chilling British inspiration behind the New Zealand mosque attack that killed 51
4 APR 2020
A terrorist who slaughtered 51 Muslim worshippers was inspired by twisted neo-Nazis 11,000 miles away in Britain.
Just days before he unleashed carnage in Christchurch, New Zealand, Brenton Tarrant revealed his admiration for a disgraced British soldier.
Afghanistan War veteran Mikko Vehvilainen was jailed for eight years for being a member of the banned terrorist group National Action. The lance corporal boasted of recruiting fellow soldiers to start a race war.
The Sunday Mirror can reveal that in tweets sent just days before his rampage a year ago, Tarrant, 29, promoted links to articles about 34- year-old Vehvilainen and his fellow fascist Alex Deakin.
He "followed" and tweeted about the Finnish-born Brit and his crony Deakin, 24 – also jailed for eight years for being a regional co-ordinator of the neo-Nazi cell.
Tarrant deleted the Twitter account before launching his attack on two mosques – which he filmed with a headcam and streamed live on Facebook.
Aussie Tarrant has now admitted 51 murders, 40 attempted murders, and committing a terrorist act at the Al Noor and Linwood mosques in March 2019.
Accused Patrick Crusius, 21, allegedly published an anti-immigration manifesto on social media immediately before the attack – stating Tarrant's online material "had the right message".
It was further startling evidence of how extremists' warped tentacles reach out across the globe – from Britain to New Zealand and the US.
Like Tarrant, Vehvilainen had a vision of wiping out ethnic minorities. When police raided his home in Powys, Wales, they found swastika flags, Nazi memorabilia and stockpiles of knives, guns and other weapons.
Vehvilainen, who was considered an "outstanding" soldier by superiors, boasted that killing Muslims during Army service "didn't bother me one bit".
He also fantasised about shooting the youngsters of black people, writing in one online rant: "I could shoot their children and feel nothing."
In another outburst he said whites "shouldn't be on the same planet" as blacks, adding: "The sooner they are eliminated the better."
While Vehvilainen plot-ted carnage in the UK, Tarrant latched on to the abuse of white girls by Asian grooming gangs as somehow being "justification" for his carnage.
https://www.mirror.co.uk/news/world-news/chilling-british-inspiration-behind-new-21813503
-----
Somalia Muslim Clerics Moving To The Front-Line To Battle Against Coronavirus Propaganda By Al-Shabaab Militants
4/4/2020
Somalia Muslim clerics are moving to the front-line in an effort to counter the propaganda being spread by Al-Shabaab militants regarding the Coronavirus pandemic.
The Al-Qaeda affiliated Al-Shabaab group is about to exploit the current global Coronavirus pandemic by spreading propaganda to Somali populous. The Islamist militant group which seeks to overthrow the Federal Government of Somalia (FGS) is 'warning' the Somalis that the infectious diseases such as coronavirus are spread by the 'crusader forces' (meaning allied foreign forces battling them) and 'disbelieving countries' that support them.
By spreading this propaganda, the militants which still controls much of southern and central Somali wish to turn Somali locals against security assets by portraying them as the root behind the lethal virus in their country.
Although there have only been a handful of confirmed cases of coronavirus (COVID-19) in Somalia so far, the spread of this infectious disease could have a catastrophic outcomes to the weak FGS that is still battling the Al-Qaeda-led insurgency. Somalia authorities are deeply worried that if the disease takes hold they will be unable to cope.
With over three decades of civil conflict and catapulted by militant insurgency, Somalia has been left with devastated health facilities. The conflict and militant menace have left hundreds of thousands of displaced people are crowded into camps, with limited access to soap and water, and no way of practicing social distancing meaning the spread of COVID-19 could be lethal in the Horn of Africa nation.
Al-Shabaab's propaganda on COVID-19 should worry the Somali government as it could easily oppose medical help from international aid agencies and very easily could cause humanitarian crisis.
Somalia's mainstream Muslim clerics have now decided to fight the spread of Al-Shabaab's propaganda by calling on the Koranic schools popularly known as madrassas to be shut down to help spread of the virus.
The Muslim clerics, leaders have opted to work with others including ministries of religious affairs, health and information to transform madrassa teachers and mosque Imams into what has been dubbed as an 'anti-corona army'.
In the coming days the anti-corona army is expected to stand in every corners with loudspeakers to educate Somali populous on how to prevent the spread of COVID-19 and subsequently counter Al-Shabaab's propaganda.
According to Mohamed Ali Ibrahim, a university professor and senior adviser in the ministry of religious affairs, the messages will include religious elements.
'We will talk about hand-washing and social distancing, but also speak of how Islam encourages cleanliness, including ablutions before prayers, and how there were dangerous diseases at the time of the Prophet Muhammad.'
https://menafn.com/1099969182/Somalia-Muslim-Clerics-Moving-to-the-Front-line-to-Battle-against-Coronavirus-Propaganda
------
Arab world
3,500 workers, 89 machines disinfect Grand Mosque daily
April 4, 2020
MAKKAH – About 3,500 workers and 89 machines are being used daily to disinefct the Grand Mosque here, the Saudi Pres Agency (SPA) said in a report on Saturday. The report said over 2,160 liters of environment-friendly sanitizers are used in the six-times per day cleaning process covering the entire mosque, its piazzas and utilities.
Besides this all the carpets are cleaned once every five days, SPA quoted the General Presidency for the Affairs of the Two Holy Mosques as saying.
The Suqya Zamzam Administration has assigned 450 workers to cleanse and sterilize Zamzam coolers, their bases and Zamzam fountains. There are about 27,000 Zamzam coolers in the Grand Mosque.
The Services Administration has sterilized all the manual and electric wheelchairs available in the warehouses. All the services points in and outside the Grand Mosque have been supplied with hand gloves and sanitizers.
These measures come as part of the precautionary and preventative measures being carried out by the presidency to prevent the transmission of the novel coronavirus (COVID-19) infection into the Grand Mosque and its piazzas. It is also meant to ensure the safety of the visitors and worshipers at the Holy Mosque.
Sterilization workers have been divided into three shifts so as to have workers 24/7 to sterilize the Haram. These workers have received training and have been enlightened on the precautionary role they are carrying out, and the great importance of sterilization in ensuring the safety of the worshipers and visitors to the Grand Mosque.
Special machines are being used to mix the sanitizers and detergents to guarantee a balance in all the fluids. The workers are taught to mix these fluids in the correct way. Furthermore, the necessary tests are conducted before starting the cleaning and sterilization operations.
http://saudigazette.com.sa/article/591499/SAUDI-ARABIA/3500-workers-89-machinesdisinfect-Grand-Mosque-daily
-----
KACST super tracks scientific research to combat coronavirus
April 4, 2020
RIYADH — King Abdulaziz City for Science and Technology (KACST) launched a super track (high-speedway) to back-up scientific research to combat novel Coronavirus pandemic.
The objective of the project is to consolidate and boost national efforts that are being exerted aiming at limiting the spread of the COVID-19 pandemic.
It would also provide research institutions in the Kingdom with back up to develop checkup and monitoring mechanisms to track down what's causing the virus, accurately and rapidly, as well as in an economically effective manner in accordance with the best world class recognized scientific standards.
The project comes in collaboration with the Ministry of Health, the Saudi Health Council and the Saudi Center for Disease Prevention and Control (SaudiCDC).
http://saudigazette.com.sa/article/591509/SAUDI-ARABIA/KACST-super-tracks-scientific-research-to-combat-coronavirus
-------
EU Envoy: Saudi anti-coronavirus measures unprecedented
April 4, 2020
By Amal Al-Said
RIYADH – The Saudi government has taken unprecedented measures in countering the novel coronavirus (COVID-19) pandemic with their quick preemptive move, said the Ambassador of the European Union to Saudi Arabia Michele Cervone D'urso, while adding, it is in a good position that will enable it to manage this pandemic and "flatten the curve".
In an interview with Okaz on Saturday, the EU ambassador said: "The Kingdom took early, firm preemptive measures in restricting travel and movement and implementing mandatory social distancing. Now there is a partial curfew and lockdown in several cities, including Riyadh, Jeddah, Makkah and Madinah. All are very well aware what they ought to do when the symptoms aggravate. In this regard, the public facilities had made preparations for any contingency quite early."
He added: "These also include the important emergency measures to stimulate the economy and pave the way for recovery in the post-crisis stage, including the commitment to increase lending this year and the emergency measures for the private sector. All these will pose a special challenge when oil prices drop and the ensuing financial impacts set in."
Speaking to Okaz in Riyadh, he said: "I was appointed about four years ago. During this period, I have seen directly the flexibility of the Saudi people and their generosity and sympathy.
"These are the qualities that have come to the surface during these difficult times. I support the great human efforts being exerted by the medical teams and those operating the basic services, especially since the coronavirus pandemic has brought humanity closer to one another."
The EU ambassador said, "We are today facing a global problem. Therefore, blaming particular countries or regions instead of us all bearing the responsibility will not provide us with a solution. We have not blamed any country. We expect the same at a time when Europe is totally preoccupied in facing this crisis. On the contrary, the pandemic has emphasized the close ties between us."
He stressed that the European Union has not shirked the responsibility to protect citizens (of EU countries) and people all over the world.
"We have dealt with the crisis with full transparency. The facts are important at this point of time. We have provided a lot of explicit and updated information regularly. The current time is inappropriate for unilateral measures or competition. We need collective work and enhancing the international capability to face the crises," the EU ambassador stressed.
As to whether the EU was late in responding and showing solidarity with its member countries, like Italy, that were impacted by the crisis, he said: "We must warn against those who are exploiting the crisis to spread a particular political narrative.
"Let us look at the facts and figures. It may not be quite clearly visible to the eyes, but Germany and France have together donated a larger number of facemasks to Italy than China. Furthermore, Germany is receiving patients from France and northern Italy."
http://saudigazette.com.sa/article/591510/SAUDI-ARABIA/EU-Envoy-Saudi-anti-coronavirus-measures-unprecedented
------
EU Envoy: Saudi anti-coronavirus measures unprecedented
April 4, 2020
By Amal Al-Said
RIYADH – The Saudi government has taken unprecedented measures in countering the novel coronavirus (COVID-19) pandemic with their quick preemptive move, said the Ambassador of the European Union to Saudi Arabia Michele Cervone D'urso, while adding, it is in a good position that will enable it to manage this pandemic and "flatten the curve".
In an interview with Okaz on Saturday, the EU ambassador said: "The Kingdom took early, firm preemptive measures in restricting travel and movement and implementing mandatory social distancing. Now there is a partial curfew and lockdown in several cities, including Riyadh, Jeddah, Makkah and Madinah. All are very well aware what they ought to do when the symptoms aggravate. In this regard, the public facilities had made preparations for any contingency quite early."
He added: "These also include the important emergency measures to stimulate the economy and pave the way for recovery in the post-crisis stage, including the commitment to increase lending this year and the emergency measures for the private sector. All these will pose a special challenge when oil prices drop and the ensuing financial impacts set in."
Speaking to Okaz in Riyadh, he said: "I was appointed about four years ago. During this period, I have seen directly the flexibility of the Saudi people and their generosity and sympathy.
"These are the qualities that have come to the surface during these difficult times. I support the great human efforts being exerted by the medical teams and those operating the basic services, especially since the coronavirus pandemic has brought humanity closer to one another."
The EU ambassador said, "We are today facing a global problem. Therefore, blaming particular countries or regions instead of us all bearing the responsibility will not provide us with a solution. We have not blamed any country. We expect the same at a time when Europe is totally preoccupied in facing this crisis. On the contrary, the pandemic has emphasized the close ties between us."
He stressed that the European Union has not shirked the responsibility to protect citizens (of EU countries) and people all over the world.
"We have dealt with the crisis with full transparency. The facts are important at this point of time. We have provided a lot of explicit and updated information regularly. The current time is inappropriate for unilateral measures or competition. We need collective work and enhancing the international capability to face the crises," the EU ambassador stressed.
As to whether the EU was late in responding and showing solidarity with its member countries, like Italy, that were impacted by the crisis, he said: "We must warn against those who are exploiting the crisis to spread a particular political narrative.
"Let us look at the facts and figures. It may not be quite clearly visible to the eyes, but Germany and France have together donated a larger number of facemasks to Italy than China. Furthermore, Germany is receiving patients from France and northern Italy."
http://saudigazette.com.sa/article/591510/SAUDI-ARABIA/EU-Envoy-Saudi-anti-coronavirus-measures-unprecedented
------
India
Rajasthan: Doctor refuses to admit pregnant woman because she's Muslim, her child dies after delivery
April 4, 2020
Dev Ankur Wadhawan
Agovernment hospital in Rajasthan's Bharatpur district has come under the scanner for allegedly citing the religion of a pregnant Muslim woman as grounds for refusing to admit her at the hospital.
"My pregnant wife had to deliver a child. She was referred from Sikri to the Janana Hospital in the district headquarter but the doctors here mentioned that we should go to Jaipur because we are Muslim. As I was taking her in the ambulance, she delivered the child but the baby died. I hold the administration responsible for my child's death," Irfan Khan, the husband of the woman who was refused admission, alleged.
"A woman had come for delivery but in a critical state. She was referred to Jaipur and whatever laxity happened will be investigated," Dr Rupendra Jha, Principal, Janana Hospital, Bharatpur, said.
Vishvendra Singh, Rajasthan tourism minister, lashed out at the refusal of the doctor, currently posted as the Head of Department in OBS and Gynae department at the Government hospital in Bharatpur for refusing admission to the woman because of her religion.
Singh tweeted a video in which he stated that the woman was referred to the Janana Hospital in Bharatpur where she was refused admission by a doctor named Dr Moneet Walia. He added that the state health minister is also an MLA from Bharatpur.
Vishvendra Singh, in his tweet, wrote, "Pregnant Muslim Woman was refused medical attention at the Zenana Hospital in Bharatpur and was told to go to Jaipur given her religion. Local Bharatpur MLA is state health minister and this is the condition of the hospital in Bharatpur City. Shameful."
The Rajasthan tourism minister added that just because the Tablighi Jamaat has been linked to a surge of coronavirus cases in the country it does not mean that citizens of the Islamic faith are going to be treated the way the pregnant lady was.
Singh tweeted, "The (Tablighi) Jamaat has most certainly been hazardous to the entire country. However, it does not mean that citizens of the Islamic faith are treated the way a pregnant lady was handled by the doctors in Bharatpur Zenana Hospital. The local MLA is also the Minister of State for Health."
AIMIM chief Asaduddin Owaisi also condemned the incident. Tweeting a testimony from the husband, Owasi wrote, "The staff must be tried & punished as common criminals & should receive exemplary punishment. They are responsible for the death of an innocent woman. Should we now stop seeking healthcare? Anti-Muslim hate reaches new heights every day & is costing us our lives."
https://www.indiatoday.in/india/story/rajasthan-doctor-refuses-to-admit-pregnant-woman-because-she-s-muslim-her-child-dies-after-delivery-1663352-2020-04-04
-----
Delhi Minorities Commission Notice to Delhi Police on Mosque Vandalism Amid Lockdown and Random Arrests of Muslims Involved In CAA-NRC Protests
Apr 04, 2020
New Delhi, 4 April 2020: Delhi Minorities Commission has issued two notice to the Police Commissioner Delhi. The first notice sent on 3 April said that the Commission is getting reports via emails, whatsapp messages and phone calls from the North-East district since even before the lockdown that police is arresting young Muslim boys by their dozens every single day.This has continued under the lockdown. At 8 pm on 2 April 2020, Muslim women in Mustafabad came out protesting against this objectionable and dubious activity. The notice further said that earlier too the Commission had brought to the notice of DCP North East that the trend of randomly arresting young Muslim boys of the North-East district is not acceptable.
The notice also brought to the notice of the CP the serious allegation made by some people of the North East district that some police officers are using arrests as a pretext to extract huge sums of money as bribes or ransom money which, if paid, will ensure the freedom of the arrested youth.
The notice asked the CP to instruct police ground staff to desist from random arrests in the North East district as arrests must only be made when there is a clear evidence about someone's involvement in a punishable crime. The notice further said that once lockdown is lifted and conditions return to normal, "we will take a closer look at these arrests."
The notice also said that the Commission is getting complaints that mosques are being prohibited from using loudspeakers for azaan. As of now, under the current restrictions, a maximum of four persons are allowed to offer congregational prayers at a time in a mosque. The notice said that "loudspeakers are used by mosques to announce that the time of prayer has come so that people may pray at home on time as there is a prescribed time for each prayer. Hence, prohibition of azaan on loudspeakers has no rationale or need. SHOs should be clearly told not to insist on prohibition of use of loudspeakers for azaan and should take action only if more than four persons gather for performing namaz while the current lockdown is effective."
The notice also said that meat shops in some areas have been closed down which is against the lockdown regime which considers food stuff as part of essentials and shops selling such stuff cannot and must not be closed.
In a second notice sent on 4 April the Commission said that it has received a report and a video which says that at around 8 pm in the night of 3 April 2020, around 200 people attacked a mosque in village Mukhmelpur under Alipur police station in North West Delhi while there were 2-3 persons inside. The mob attacked the mosque, ransacked it, burnt it partially and demolished some of its parts including the roof. The notice further said that it is unbelievable that this could happen in the national capital. The issue cannot be patched up artificially by arranging a compromise where a religious place has been ransacked and partially burnt and demolished. If no proper legal action is taken, this lawlessness will become common.
The notice asked CP to ensure that an FIR is lodged against the culprits and that law should take its course so that a deterrent is created in the minds of people as some have started to think that they will go scot-free after any crime against weaker sections like Muslims, Christians, Dalits and Adivasis
http://www.milligazette.com/news/16892-notice-to-delhi-police-on-mosque-vandalism-amid-lockdown-and-random-arrests-of-muslims-involved-in-caa-nrc-protests
------
Coronavirus Outbreak: 12 Isolated Over Suspected COVID-19 Linked To Tablighi Jamaat Attendee, 3 Mosques Sanitized In NOIDA
April 5, 2020
Coronavirus: A dozen men from three mosques in Gautam Buddh Nagar have been tested for coronavirus and sent to an isolation facility after it emerged that they might have come in contact with a COVID-19 positive man, who had attended the Tablighi Jamaat in Delhi's Nizamuddin last month, officials said. The men were tested on Saturday. The three mosques are in the Dadri area of Greater Noida, where the coronavirus-infected man, who hails from Hardoi district in Uttar Pradesh, had stayed in the second half of March, and those have been sanitised, police said.
Coronavirus Pandemic: One more tests positive for COVID-19 in Odisha, total cases rise to 21Coronavirus Pandemic: One more tests positive for COVID-19 in Odisha, total cases rise to 21COVID-19: Seven more test positive in HP, total cases now 14COVID-19: Seven more test positive in HP, total cases now 14
"We got an input from the police in Hardoi that a man had returned home after attending the Tablighi Jamaat congregation in Nizamuddin and appeared to be ill. He was examined by doctors and tested positive for COVID-19. We conducted an inquiry and it was found that he and one more person were on a four-month-long foot-march as part of their tour," a police official had said here. "During the period, they came in contact with these people and stayed at the three mosques in Dadri. It has also been found out that two persons from the group had consulted a local doctor for some illness. The infected man and the other man then left the area on March 28," he added.
An inspection was carried out in the area by the police, along with officials from the Gautam Buddh Nagar health department and local clerics, on Saturday. "Twelve men from the three mosques have been examined by doctors and sent to the isolation facility in Sector 39, Noida. Other local residents who may have come in contact with these people are also being traced and the mosques have been sanitised," the police official said.
The Tablighi Jamaat's Markaz (headquarters) in Nizamuddin West has emerged as a coronavirus hotspot as hundreds of its attendees have tested positive for COVID-19, while several others are spread across the country and suspected to be carriers of the virus. At least 1,023 COVID-19 cases have been found to be linked to the Tablighi Jamaat congregation, but massive efforts by various authorities have led to nearly 22,000 people linked to the religious grouping and their primary contacts being quarantined, a Union Health Ministry official said in Delhi on Saturday.
https://www.financialexpress.com/lifestyle/health/coronavirus-outbreak-12-isolated-over-suspected-covid-19-linked-to-tablighi-jamaat-attendee-3-mosques-sanitised/1919267/
------
Five imams, 150 others booked for mass prayers in Uttar Pradesh
Apr 5, 2020
LUCKNOW: UP Police booked five imams and 150 others in last 24 hours for leading congregational prayers in Basti, Santkabirnagar, Deoria, Badaun, Lakhimpur Kheri, and Pilibhit in violation of lockdown orders.
Additional director general of police, law and order, PV Ramasastry said, "Any non-adherence or non-compliance of government directions in connection with coronavirus restrictions and regulations of Epidemic Diseases Act, 1897 will be dealt under relevant laws, and in case someone is found creating panic, gathering in group or spreading false information then police will take action."
In Rampurkarkhana, Deoria, an imam and 50 persons were booked for violating lockdown order. CO Nishtha Upadhayay said, "A police team reached Basantpur village and asked people at the mosque to disperse, but they did not listen."
Similarly, 31 persons, including an imam, were booked in Madhopur village of Sant Kabirnagar. In Basti, an imam and 40 others were booked for mass prayers in Bhanpur. Police booked 20, including an imam, in Kadar Bazaar police station area, and an imam among 10 in Pilibhit.
https://timesofindia.indiatimes.com/city/lucknow/five-imams-150-others-booked-for-mass-prayers-in-uttar-pradesh/articleshowprint/74988988.cms
----
11 held for organising prayer at mosque
05th April 2020
THIRUVANANTHAPURAM: As many as 11 persons were arrested by Palode police in Thiruvananthapuram rural limits on Saturday for organising a mass prayer at a mosque at Palode here violating the lockdown protocol. The prayer was conducted at Jamaath mosque at Chittoor near Peringammala at 6.45pm on Friday.
The arrested includes the priest, and president and secretary of Jamaath Committee. However, they were later released on station bail and were warned not to conduct any prayers until the lockdown period is over. The arrested are Basheer,55, Shameem, 39, Rasheed, 63, Abdul Rouf, 23, Muhammad Riyaz, 24, Shajahan, 42, Nassim, 39, Buhari, 39, Sajeer, 27, Moosakunju, 65, and Nizar Muhammad Sulfi, 48, natives of Peringammala. Earlier, a congregation held at a mosque at Nizamuddin in Delhi resulted in a rise in Covid-19 cases in the country as most of the persons attended in the function were tested positive.
https://www.newindianexpress.com/cities/thiruvananthapuram/2020/apr/05/11-held-for-organising-prayer-at-mosque-2125901.html
-----
Police Using Cellphone Data To Trace People Linked To Delhi Mosque Event
April 05, 2020
Anindita Sanyal
New Delhi: All those who attended the religious gathering in Delhi - hosted by Tablighi Jamaat -- or were in the vicinity, are being traced through cellphone data, sources in the Delhi Police told NDTV. The Crime Branch has been investigating the case as it was identified as a hotspot for the spread of the highly contagious coronavirus. More than 1000 people - around a third of the coronavirus cases in the country - have been found to be linked to the gathering, which was attended by a large number of foreign nationals.
It is believed that 9,000 people attended the event, held in March, defying the government's message of social distancing. Many of them then travelled across the country, setting off a surge in infections.
The police are checking all those people whose GPS location in March signalled their presence in that area for several days, sources said.
Over the last week, contact tracing is being conducted on a war footing across most states to locate people who attended the event and those who have been directly in contact with them.
A sergeant in the Indian Air Force has also been traced through this. He and those in contact with him have been quarantined as a precautionary measure.
Religious activity by foreign nationals on tourist visa is not allowed and the Union Home Ministry has promised action in the matter. More than 900 foreigners have been blacklisted so far. Sources said the ministry is being briefed on the matter daily.
https://www.ndtv.com/delhi-news/delhi-police-using-cellphone-data-to-trace-people-linked-to-islamic-sect-meet-2206388
-----
1,023 COVID-19 Cases Linked To Mosque Event, Tamil Nadu Leads:
April 04, 2020
New Delhi: Nearly a third of all confirmed novel coronavirus cases in India have been linked to Islamic sect Tablighi Jamaat and its gathering in Delhi last month, the Health Ministry said today, adding that such had been detected across 17 states and union territories. "It is an everyday battle for us. If we miss out on even one person it may pose a new challenge. So we need the cooperation of everyone," Lav Aggarwal, Joint Secretary (Health Ministry), said. The total number of COVID-19 cases across the country crossed 3,000 today, with at least 75 deaths linked to the virus.
In Tamil Nadu, the state worst hit by the fallout of the Jamaat event, 73 of 74 new cases reported today have been linked to the Jamaat. On Friday the southern state reported a spike in the number of new cases for a third straight day, with most of the 100 patients linked to the Delhi mosque event. Overall 1,200 of 1,500 people who were at the Jamaat event have been quarantined. The state has a total of 485 cases with at least two deaths linked to the virus.
In neighbouring Andhra Pradesh around 157 of 180 COVID-19 cases, or around 87 per cent, have ties to the Islamic sect, with 16 new cases reported over the past 24 hours. The state has reported one virus-related death, so far. In Telangana eight Indonesian tourists, who were members, tested positive. As of now the state has 229 cases (with seven deaths), of which the 75 on Friday were all linked to the Jamaat sect. Around 70 per cent of Telangana's COVID-19 cases - i.e., around 160 - have been connected to the Jamaat.
Uttar Pradesh, which has identified 1,302 attendees and isolated 1,000 of them, reported 227 positive cases by Saturday evening, of which 94 were related to the mosque event. As many as 27 districts in the state have reported such cases, with 47 fresh cases reported in the past 24 hours. The state has reported two virus-related deaths, so far.
Of the 62 COVID-19 cases reported from Haryana, 23 have connections to the Jamaat. Over 1,300 members, including 107 foreigners, came to the state before the lockdown came into force on March 25, Manoj Yadava, Director General of Police, said on Friday. In Punjab 241 of 309 Jamaat members have been traced, with six testing positive for the virus so far; results on 82 other tests are awaited. Overall the state has 57 cases and five deaths.
There are seven COVID-19 positive people in Maharashtra who have been linked to the Jamaat. A list of 1,225 people from the event has been handed to state authorities, of which 1,033 have been contacted 738 placed in isolation. Overall the state has 635 cases and 30 deaths have been linked to the virus.
In Madhya Pradesh, where 104 cases and six deaths have been confirmed overall, 10 Jamaat-related cases have been reported, with five from Bhopal. Three others are from Ujjain and two from Khargone. In Kerala, where 295 cases and two deaths have been reported, six cases have been linked to the Jamaat, while 60 others are under observation.
Rajasthan has 43 cases (out of 200 overall) and nine of the 10 cases reported from the remote Andaman and Nicobar Islands are connected to the Jamaat. Bengal, which has three virus-related deaths and 69 cases, has one Jamaat-related case.
In Karnataka, of the 16 new cases reported two have Jamaat connections. Overall the state has 144 cases with four deaths. Jamaat members have also been identified and isolated in North East India, where 27 of 30 COVID-19 cases have been linked to the group.
As the highly infectious COVID-19 virus continues to spread across the country - 525 new cases and 13 deaths were reported in the past 24 hours - authorities are concerned that the number could increase as states track down other members of the group and await test results on those already quarantined. The Home Ministry has blacklisted 960 foreigners in India on tourist visas for involvement in Jamaat activities.
A case has been filed against Jamaat chief cleric Maulana Saad and six others under the Epidemic Disease Act, Delhi Police Commissioner SN Shrivastava said this week. Maulana Saad, 56, who is missing and may have been exposed to coronavirus, is reportedly in "self-quarantine", according to a video released Wednesday.
https://www.ndtv.com/india-news/coronavirus-tablighi-jamaat-1-023-of-2-902-covid-19-cases-linked-to-mosque-event-tamil-nadu-leads-2206193
-----
Mideast
Al-Sukhnah, "Umm Al-Qura" Where "Islamic State" Is Trying To Expand Influence
04/04/2020
Under the title "The Attrition Saga," the media office of the so-called Islamic State (IS) released a new detailed recorded video about its military operations against regime forces in the countryside of the Syrian Badia, in an attempt to transmit a notification message that it is still present.
After reviewing the video by Enab Baladi, what was strikingly remarkable is that most operations carried out by IS took place in the Syrian Badia, especially al-Sukhnah region, in the northern countryside of Homs, which IS named "Umm al-Qura" (Mother of towns) after taking control of it in 2015.
The video shows attacks on Syrian army forces' vehicles and convoys, along with some executions by shooting and beheading of fighters that the IS claimed to be members of the Syrian regime or the Iranian-backed militias of Liwa al-Quds (Jerusalem Brigade).
The new video shows the IS members on sub-roads of the Syrian Badia, launching sudden attacks, using medium weapons, and Konkurs anti-armor missiles.
Al-Sukhnah city, the second city in the Syrian Badia (after Palmyra), which is administratively affiliated to Homs province, has become the center of IS operations in the Syrian Badia in the past few months.
Last February, the Islamic State-affiliated news agency, Amaq, published a video report of attacks on Syrian regime forces near al-Sukhnah city. The report included images of the regime's killed members after battles with IS fighters.
On 17 November last year, the IS organization announced that a number of the Syrian regime forces had been killed and injured in an ambush inside the al-Sukhnah area. This announcement came weeks after the killing of its former leader, Abu Bakr al-Baghdadi, in a US bombing raid in Idlib, northern Syria.
According to the field control map, IS fighters holed up in a pocket between Homs and Deir Ezzor, precisely on the outskirts of al-Sukhnah region to the borders of al-Bukamal and al-Mayadeen in Deir Ezzor.
During the past years, al-Sukhnah city witnessed several hit and run battles between IS and the regime forces. Consequently, leading to IS's full control of the city in May 2015, which was a gateway to hold control over Palmyra afterward.
IS replaced the name of al-Sukhna by "Umm al-Qura" (Mother of Towns). Back then, it published images showing delegations of the city's tribes in a large tent pledging allegiance to al-Baghdadi, which the pro-Islamic State media outlet considered it to be "a pledge of allegiance to the Commander of the Faithful."
The IS organization held control over the city for nearly two years until a military campaign was launched by the Syrian regime backed by Russian forces. The regime regained control over it in August 2017; thus, IS lost its last military fortress in the countryside of Homs.
During the past months, IS holed up itself in a pocket between Homs and Deir Ezzor provinces, from the outskirts of al-Sukhnah region to the borders of al-Bukamal and al-Mayadeen in Deir Ezzor.
IS uses these areas as small and sporadic pockets to launch quick and rapid offensives against al-Assad forces, throughout the Syrian Badia, aiming primarily to seizure their weapons and ammunition.
The most prominent of these offensives was the one on 22 March of last year, when IS announced the killing of six Russian soldiers in an ambush in al-Sukhna desert, in the eastern countryside of Homs. While the other offensive took place on 8 April of the same year, resulted in the killing of two Russian officers as displayed by Amaq agency.
This development comes amid warnings of IS resurgence amid the world's preoccupation with the pandemic of the novel coronavirus (COVID-19).
In a report entitled "Contending with IS in the Time of Coronavirus" published on 31 March, "The International Crisis Group" urged the world to brace itself for new offensives by the organization, which is poised to capitalize on the chaos caused by the virus instead of being affected.
https://english.enabbaladi.net/archives/2020/04/al-sukhnah-umm-al-qura-where-islamic-state-is-trying-to-expand-influence/
-----
Islamic Jihad urges world to act on Palestinian inmates
05.04.2020
Hamdi Yildiz
The Islamic Jihad Movement urged the international community not to remain silent on Palestinians imprisoned in Israeli amid the coronavirus pandemic.
Yousuf al-Hasayna, member of the political bureau of the group, said in a statement: "Despite the COVID-19 outbreak, the world and the international community still turn a blind eye to the worst crimes against humanity, such as the arrests of Arabs and Palestinians, medical negligence, torture and sham trials against them."
In Israeli prisons, there are approximately 5,000 Palestinian prisoners, including 43 women, 180 children and 700 patients.
Palestinians Prisoner's Commission reported three guardians tested positive for coronavirus and organizations, including the International Committee of the Red Cross, urged Israel to take action to protect them from coronavirus.
Since appearing in Wuhan, China, last December, the novel coronavirus has spread to at least 181 countries and regions.
Data compiled by the U.S.-based Johns Hopkins University shows worldwide infections surpassing 1.2 million with nearly 65,000 deaths. An excess of 246,400 have recovered.
https://www.aa.com.tr/en/latest-on-coronavirus-outbreak/islamic-jihad-urges-world-to-act-on-palestinian-inmates/1792709
-----
Ayatollah Makarem Shirazi calls on people to stay at home
April 4, 2020
AhlulBayt News Agency (ABNA): The revered source of emulation emphasized on the importance of responsibility and called on the people to stay at home during the Coronavirus outbreak.
Given the COVID-19 (Coronavirus) outbreak in Iran, the revered source of emulation called on people to stay at home and in keeping in line with their individual and social responsibilities and to prevent further outbreaks of the Coronavirus.
He said, "In these days, a tribulation and epidemic has deprived everyone of peace. In this special situation, I call on all of you dear ones to pay serious attention to the danger of this disease while maintaining complete composure."
Ayatollah Makarem-Shirazi added, "I would like to thank the medical and nursing community and other health and medical workers, the devoted military and law enforcement forces and the public for their assistance and selfless and diligent efforts from the bottom of my heart."
His Eminence stated, "Today, our important responsibility is harmony, empathy and friendship between the hearts of the people and in a word, commitment and responsibility in [coping with the Coronavirus]. Therefore, I ask all the dear people to pay special attention to the observance of all of the requests requested by the health officials, including staying at home and avoiding any unnecessary travel. It's a duty of everyone to take responsibility for this and not to be spectators like some uninformed and indifferent people who pass by these scenes."
He said, "Undoubtedly, anyone who does little to combat this crisis and doesn't do his job properly has engaged in underselling."
In conclusion, Ayatollah Makarem-Shirazi said, "By praying and supplicating to God Almighty and resorting to the Infallibles, I ask you to repel and eliminate this tribulation."
https://en.abna24.com/news//ayatollah-makarem-shirazi-calls-on-people-to-stay-at-home_1022796.html
----
Head of Iran's Islamic Seminaries writes letter to Pope
April 4, 2020
TEHRAN — Head of Iran's Islamic Seminaries Ayatollah Alireza Arafi has written a letter to Pope Francis, calling for cooperation amid the global fight against the coronavirus pandemic.
In his letter, Ayatollah Arafi said the unfortunate incident of the coronavirus outbreak has caused suffering for countries and nations, wishing all disasters away from the world, according to the Hawzah news agency.
He thanked the Pope and all those who contribute to the fight against coronavirus, saying addressing this challenge and other contemporary crises such as injustice, discrimination, inhumane sanctions, environmental crises, war, terrorism, production and maintenance of WMDs, require international consultation, cooperation, and comprehensive policies.
"I take this opportunity to announce that the Seminary and its professors, scholars, and students are ready to exchange scientific, cultural and relief experiences, especially in the virtual field, and to open a new chapter of collaboration with international scientific centers, universities, religious centers, leaders of divine religions, official organizations of countries, and specifically the institution of Catholic Christianity in order to form a community of divine religions to serve humanity," he added.
https://www.tehrantimes.com/news/446474/Head-of-Iran-s-Islamic-Seminaries-writes-letter-to-Pope
----
Gaza Strip could face real catastrophe if COVID-19 cases soar: Rights group
04 April 2020
The besieged Gaza Strip might be hit by a "real catastrophe" if the number of people infected by COVID-19 rises, a rights group warns, as the new pandemic rages across the world.
In an urgent appeal to the international community, al-Mezan Center for Human Rights said in a statement on Saturday that "the lives of tens of thousands of the Gaza Strip residents are under an unprecedented threat in light of the weak health capabilities and the continued siege."
The group, which is based in the Jabaliya Palestinian refugee camp in the blockaded enclave, also called for urgent action to help Gazans in their fight against the contagious disease before "the situation gets out of control."
It also called on the international community to supply the besieged people of Gaza with ventilators, necessary medicine and laboratory test material to better fight the disease and save more lives.
The COVID-19 disease, caused by a new coronavirus, was first detected in the Chinese city of Wuhan in late December and has currently affected 205 countries and territories across the globe. So far, more than 1,139,120 people have tested positive. Over 61,140 have died.
The Palestinian resistance movement Hamas has held Israel fully responsible for any COVID-19 outbreak in the besieged Gaza Strip.
Official figures by Palestine's Health Ministry shows that as of Saturday, 210 people have tested positive for COVID-19 and one individual has died so far. A dozen of the infected people are in Gaza, home to nearly two million people, and the rest are in the occupied West Bank.
The majority of population of Gaza lives in tightly packed refugee camps, where social distancing is hardly feasible and the new coronavirus can rampage there if necessary safety measures are not taken.
On Thursday, the Palestinian resistance movement Hamas, which runs Gaza, held the Israeli regime "fully responsible" for the consequences of any COVID-19 outbreak in the enclave.
Gaza has been under an Israeli siege through air, land and sea since June 2007. The blockade has caused a decline in the standards of living as well as unprecedented levels of unemployment and unrelenting poverty.
The Israeli regime denies Gazans their basic rights, such as freedom of movement, jobs with proper wages as well as adequate healthcare and education.
https://www.presstv.com/Detail/2020/04/04/622306/Palestine-Gaza-Strip-Israel-COVID-19-catastrophe
------
Saudi rocket attack kills entire Yemeni family in Sa'ada
04 April 2020
The al-Masirah television network reported that the family consisting of a father, a pregnant mother and two children had lost their lives in the Saudi rocket strike on BeniSayyah area of Sa'ada's Razih district.
Sa'ada's border neighborhoods are subjected to daily Saudi shelling which cause civilian casualties and destroy properties, the report added.
The fresh Saudi crime comes amid a global fight against the deadly coronavirus (COVID-19) pandemic, which first showed up in China in late December 2019 before spreading to other parts of the world.
Yemen has not recorded any COVID-19 cases to date, but the possibility of an outbreak threatens the country's fragile healthcare system, which is already struggling to fight cholera and dengue fever.
Last month, OsamahAlfakih, advocacy director of the independent Yemeni rights group Mwatana, estimated that attacks on hospitals and clinics have closed over half of Yemen's pre-war facilities.
"Even those hospitals that remain open lack specialists, equipment and medicine. We currently only have 10 healthcare workers per 10,000 people instead of the standard 22," he said, adding that the constant threat of being targeted makes it very difficult for doctors and nurses to work.
On March 25, UN Secretary General Antonio Guterres urged Yemen's rival parties to work with his special envoy, Martin Griffiths, to achieve a nation-wide de-escalation, saying, "a political solution is the only way to a comprehensive and sustainable resolution of the conflict in Yemen."
It followed an earlier call by Guterres for "an immediate global ceasefire in all corners of the world" to tackle the novel coronavirus (COVID-19) pandemic.
The popular Houthi Ansarullah movement said any political solution to the Yemen conflict should begin with an end to the US-sponsored Saudi military aggression and the blockade on the impoverished state.
Ansarullah says any political solution to the Yemen conflict should begin with an end to the US-sponsored Saudi war and the blockade on the country.
According to a tally released last November by the Armed Conflict Location and Event Data Project or ACLED, more than 100,000 Yemenis have been killed in the war.
The Western-backed bombing campaign, coupled with a naval blockade, has plunged Yemen into what the UN says is the world's worst humanitarian crisis.
https://www.presstv.com/Detail/2020/04/04/622285/Saudi-rocket-attack-Yemen-Sa%E2%80%99ada
----
Sanctions are crippling Iran's fight against coronavirus: Tehran mayor
04 April 2020
The extra-territorial US sanctions prevent many countries and companies to do legitimate business with Iranians, particularly to sell medicines to the Islamic Republic, at a time that the country is severely fighting the deadly new coronavirus pandemic, the mayor of Tehran Pirouz Hanachi writes in an opinion in the British daily newspaper Guardian.
To many of us urban administrators in Iran, the onslaught of coronavirus has underscored an important fact of life: no town, city or nation can be indifferent to global crises, even in far-flung corners of our world.
Indeed, while the mantra of good governance over the past century has been to "think global, act local", we must today think and act both locally and globally.
Unfortunately, the small-mindedness that has dominated the politics of various countries in past years has not dissipated. Rather, those who have aggressively advocated pursuit of narrowly defined "national interests" at any cost are doubling down. The consequences of this posturing are many.
In Iran, urban administrators are left facing an unprecedented public health crisis. Figures show that 3,160 had died from the disease by 2 April and there are more than 50,000 cases of infection. The rate of infections is not yet slowing, and many of them are in Tehran, the city of which I am mayor.
Doubtless there are things that we could do differently, like every country in the world. But we are operating against the backdrop of the most extreme sanctions regime in history. The US embargo not only prohibits American companies and individuals from conducting lawful trade with Iranian counterparts, but given that the sanctions are extra-territorial, all other countries and companies are also bullied into refraining from doing legitimate business with Iranians, even the selling of medicines.
As a result, the ability of my colleagues and I to provide the health, logistical and other essential infrastructure necessary to combat the disease has been drastically reduced. We experience this loss every day, and it can be counted in people that would not have died.
This unjust treatment of Iran has come about via the policies of one country – the United States – whose ruling administration does not seem to priorities even its own national interests, but instead the narrow interests of a governing party. The outcome of such irresponsible policies and behavior is not limited to Iran; they have also inflicted harm on the American public.
Indeed, the Donald Trump administration's refusal to halt its economic warfare against Iran is directly impeding our efforts to deal with a virus which knows no borders. Is it in the US's national interest for the coronavirus pandemic to become permanent?
In order to better confront these new global crises, there is a need for politicians to realize that the path to pursuing national interests is not separate or contrary to that of global interests and international accountability.
Of equal importance, it must be recognized that as long as the general consensus in international politics does not actively move toward reducing injustice and inequality beyond national and racial boundaries, global crises will continue to indiscriminately endanger every country in the world.
The world cannot go on like this. If global leaders fail to seize the opportunity to embrace change, we will all continue to remain highly vulnerable to communicable diseases, environmental catastrophes, global warming, terrorism, violent extremism and other shared threats.
The United States has refused to lift sanctions on Iran and even tightened them several times in recent weeks, making it almost impossible for the Islamic Republic to access life-saving medications and medical equipment.
The disease has so far killed 3,452 people and infected 55,743, of whom 4,103 are in critical condition in Iran. A total of 19,736 people have also recovered.
https://www.presstv.com/Detail/2020/04/04/622327/coronavirus-mayor-Tehran-Pirouz-Hanachi-Guardian-US-sanction
-----
Iranian firm awarded contract to produce micro-CHPs on commercial scale
04 April 2020
Iran's Oil Ministry has awarded a major contract to a domestic company to manufacture micro-combined heat and power (CHP) systems as the country aims to increase efficiency in energy consumption.
Oil Minister Bijan Namdar Zanganeh oversaw the signing of the contract on Saturday between the Research Institute of Petroleum Industry (RIPI) and Aran Energy Systems for production of 85 micro-CHPs in one year.
Micro-CHPs are gas boilers that produce electricity as well as heating and hot water. Experts see a bright future for the systems which are small-size versions of industrial heating systems that generate electricity as a by-product of heating.
The Iranian-made micro-CHPs are planned to be used for an initial period of six months in government offices and non-residential places. That could help the manufacturer to fix troubleshooting issues and reduce the final price of the product for introducing to the households.
The Iranian version of the micro-CHPs will be equipped with modern overhead valve engines (OHV), said Jaber Neshati, an Iranian Oil Ministry official familiar with the process to commercialize the boilers.
Neshati said that the project for obtaining the technology needed for micro-CHPs began in Iran in 2014 when the National Iranian Oil Company and the fuel efficacy department of the Oil Ministry provided the funding and support.
He said the total costs for manufacturing a micro-CHP in Iran would amount to nearly 7,000 euros, adding that once fully commercialized, the final price of the product would be around a fourth of the price of a current European version.
Iran, a leading energy producer in the world, has seen a rapid jump in consumption of natural gas by households and industries over the past years.
The government hopes efficiency schemes could help save as much as possible form a current whopping consumption of nearly 600 million cubic meters of natural gas in winter months by the households.
https://www.presstv.com/Detail/2020/04/04/622318/Iran-firm-contract-produce-micro-CHPs
-----
North America
Coronavirus reveals, exacerbates US inequality
05 April 2020
Just three weeks ago, Miguel Rodriguez was enjoying a pleasant life, working as a waiter in a Maryland restaurant in a job he held for 20 years.
Everything changed overnight when La Ferme, a French restaurant in the upscale Chevy Chase suburb of Washington, was forced to close amid statewide shutdowns to try to contain the coronavirus outbreak.
The pandemic instantly threw millions of US workers off the payroll and into poverty, in a crisis that is revealing and further exacerbating inequalities in the world's largest economy.
"This is an extraordinary blow to millions of Americans who had barely recovered from the 2008 financial crisis," said Edward Alden, an expert at the Council on Foreign Relations.
Real wages took eight years to recover after the crisis, and had only accelerated for lower-paid workers in the past two years, he said.
A decade of employment gains came to an abrupt halt in March, as the economy jettisoned 701,000 jobs and the unemployment rate posted the biggest increase in 45 years, rising to 4.4 percent.
President Donald Trump, who is running for re-election in November, regularly touts the record low unemployment among Hispanics and blacks.
Even during years of economic growth, inequalities have continued to widen between wealthiest Americans -- who accumulated substantial gains on Wall Street -- and the bottom 90 percent.
The COVID-19 pandemic has pushed the global economy into recession and the downturn "will exacerbate inequality," said Gregory Daco, chief economist at Oxford Economics.
Nearly 10 million workers filed for unemployment insurance in the final two weeks of March, and those "sudden job losses are concentrated in the low-income service sectors" in a country with few social safety nets and an extremely low savings rate of around eight percent.
Rodriguez, 55, is saddened to have to rely on unemployment benefits for the first time since arriving in the United States in 1983 from El Salvador.
And he worries payments, which do not take into account tips, which make up the majority of his earnings, will not be enough to provide for his three children.
He is not alone: half of all Americans do not have emergency savings to deal with unforeseen financial difficulties, according to a survey by Oxford Economics.
The still-exploding coronavirus pandemic in the US will increase the country's suicide rate and domestic violence, as well as causing massive poverty and permanent business closures, says an American political commentator.
Bradley Hardy, professor at American University, cautioned that "we must brace for impacts on employment and wages that would last into at least early 2021."
"Given low savings rates and high levels of installment debt, many US households do not have the needed cushion to push through the economic headwinds that have arrived," he said.
Just like the 2008 global financial crisis, Alden said, "this one has highlighted the enormous vulnerability of many Americans."
Lower-income individuals are woefully unprepared for retirement, and many Americans into their 70s and 80s likely will have to continue to work.
The Saint Louis branch of the Federal Reserve found that among those who lack a high school diploma, only 22 percent have a retirement savings plan. And even when they do, the median balance is only $35,000.
But Hardy said "this recession will have negative impacts across the income distribution, including for some ostensibly well-off households."
"Any threat to their income flow would therefore be quite dangerous for these families" he said, and "this is disproportionately true for black middle class households."
https://www.presstv.com/Detail/2020/04/05/622348/US-coronavirus-poverty-pandemic-
-----
FAITH IN ACTION: MUSLIMS ANSWER THE CALL TO MAKE MASKS FOR HEALTH WORKERS, PATIENTS
By ABDIRAHMAN MOHAMED
APRIL 4, 2020
Dr. Ayesha Rashid asked the imam recently to put the word out for volunteers willing to make some non-medical face masks and help meet a growing need during the COVID-19 outbreak.
Sheikh Muhammad Faraz and the congregants of Masjid Hamza al-Mahmood Foundation in Prior Lake delivered in a big way. Some 40 families responded to the call, sewing 1,500 homemade masks for low-risk patients and non-medical staff at local hospitals around the Twin Cities.
That good work also helped bring the al-Mahmood community together in a way that's been difficult with the mosque closed as part of the statewide effort to slow COVID-19's spread. Making masks let people put their faith into practice and connect with a sense of purpose.
"This was a substitute for us for being unable to gather in the masjid. I think this kept our spirit alive," Sheikh Faraz said. "We felt a bigger gathering than when we usually gather in the masjid."
Ayesha — a doctor of infectious diseases who understood the seriousness of the virus and it's potential spread — described the community response as "nothing short of a miracle."
Sheikh Faraz said he had expected a response from a half dozen families who could make up to 200 masks when he put the call out to the community with a flyer on March 21. Within 48 hours he knew it would be much bigger — 25 families were on board to help make masks.
Although al-Mahmood is based in Prior Lake, it serves families across the Twin Cities metro area. The distances created challenges that needed to be solved when so many people wanted to help. Sewing volunteers needed to refill supplies and pick up finished masks while limiting exposure for everyone involved.
Sahan Journal provides you with essential news and information about our newest Minnesotans. News produced by local journalists and delivered to your inbox every Sunday morning.
Saima Masood, a student and volunteer at al-Mahmood, was tasked with being the direct contact for the many families that volunteered to make masks. Her job as PNC Bank automation manager transferred well into her position coordinating the volunteers.
Saima began working with volunteer drivers to move supplies between homes and connect teams of sewing volunteers together to answer questions. She created a WhatsApp chat group for the volunteers to ask questions.
Sheikh Faraz had encouraged volunteers to involve their families in the work, calling it a chance to participate locally and leave a footprint for their children."
"Families made sure that their kids, teenagers, or the husbands were helping at home by cutting or sewing and that was inspiring to see," Saima said. "Everybody at home was working together, not just the moms."
Samiya Jamal was one of the volunteers helping create masks. Like many of the other volunteers, it was tough for Samiya to make the time for sewing masks, but with her family shouldering responsibilities at home, she was able to create 50 masks on her own.
When word spread in her neighborhood that Jamal was sewing masks, four of her neighbors reached out to join her and make more.
Three of her children are students in college or university while the youngest is 13 years old. Outside of their online schooling, Samiya's children helped their mother in this task by stepping up in other household responsibilities.
Ayesha said she's heartened and astonished at the work done by her community in the span of a week to help her colleagues at United Hospital.
"What started as one family, went to three, then 10, and within a few days, over 40 families had joined hands," she said. "The true grit and beautiful character of the Muslim community shone like a bright light, unfazed and focused in the face of crises. Each problem was followed by a brilliant solution."
https://sahanjournal.com/culture-community/faith-in-action-muslims-answer-the-call-to-make-masks-for-health-workers-patients/
-----
US attorney opposes release of inmates amid COVID-19 pandemic
05 April 2020
A US attorney has officially opposed release of prisoners amid the coronavirus pandemic, arguing that "violent criminals" should not be set free.
The attorney for Washington, DC, Timothy Shea, expressed the opposition Saturday in response to an emergency motion filed by the Public Defender Service general counsel Thursday.
"These misdemeanor defendants include violent criminals convicted of offenses involving vicious and armed assaults, assault on police officer and other first responders, bomb threats, voyeurism, stalking, indecent exposure to minors, and domestic violence," Shea said in a statement. "This pandemic should not be used as a basis to release violent criminals onto the streets of Washington."
According to the motion, outbreaks of COVID-19 "are far from speculative — they are imminent, with confirmed positive cases [at the jail] now approaching double digits."
The Public Defender Service general counsel introduced the motion after several inmates in Washington jails tested positive for the coronavirus.
In California's crowded prisons and jails, the threat of the rapidly spreading coronavirus induces a sense of fear and helplessness.
Two DC prisoners have also sued Hope Village, the jail they are held in, over defying coronavirus regulations such as social distancing.
There were meanwhile concerns about the conditions of prisoners as the pandemic was growing fast across the states amid a shortage of medical supplies.
US President Donald Trump said Friday evening that he was invoking the Defense Production Act (DPA) to prevent the export of surgical masks and gloves.
"Today's order is another step in our ongoing fight to prevent hoarding, price gouging, and profiteering by preventing the harmful export of critically needed PPE," the White House said in a statement. "It will help ensure that needed PPE is kept in our country and gets to where it is needed to defeat the virus."
The Trump administration is facing unprecedented criticism over its poor response to the outbreak as well as spread of disinformation about COVID-19.
https://www.presstv.com/Detail/2020/04/05/622338/US-Washington-DC-prosecutor-Timothy-Shea-coronavirus-pandemic-prison-inmates
-----
Trump warns of 'a lot of death' from coronavirus, blaming media-induced public 'panic'
05 April 2020
US President Donald Trump has warned there will be "a lot of death" in the weeks ahead over the coronavirus outbreak while blasting local media outlets for "spreading false rumors" and creating "fear" and "panic" among people.
"This will be probably the toughest week, between this week and next week, and there will be a lot of death, unfortunately," Trump said Saturday during his daily briefing on the pandemic which has so far infected over 300,000 in the country with the death toll surpassing the 8,000 mark, according to official figures released by the Center for Disease Control (CDC).
Trump further underlined that the US is approaching a "horrendous" time in the outbreak, adding, "We are getting to that time where the numbers are going to peak and it is not going to be a good-looking situation."
"I really believe we've probably have never seen anything like these kind of numbers; maybe during the war, during a world war, a world war one or two or something," he went on to note. "But this is a war, all into itself, and it's a terrible thing."
The US president also slammed press coverage of the virus outbreak in his country, accusing the media of generating public panic, saying: "It's therefore critical that certain media outlets stop spreading false rumors and creating fear and even panic with the public."
"It's just incredible. I could name them but it's the same ones; always the same ones. I guess they're looking for ratings. I don't know what they're looking for. So bad for our country," he added.
Trump further emphasized that his administration is using the Defense Production Act "very powerfully", noting that government emergency management and health services institutions such as FEMA and HHS have ordered 180 million N95 masks.
"We need the masks," he underlined. "We don't want other people getting them. That's why we're instituting a lot of Defense Production Act. You could call it retaliations because that's what it is, it's a retaliation. If people don't give us what we need for our people, we're going to be very tough."
Pledging to deploy 1,000 military personnel to New York City, which leads all major American cities as a "hotspot" for the coronavirus cases, Trump further added: "We will continue to use every power, every authority, every single resource we've got to keep our people healthy, safe, secure and get this thing over with. We want to finish this war."
Two of the principal US coronavirus hot spots - New York and Louisiana - reported their biggest jumps in COVID-19 deaths yet on Friday.
We have to get back to work," he then insisted. "We have to open our country again. We have to open our country again. We don't want to be doing this for months and months and months. We have to open our country again. This country wasn't meant for this. Few were, few were. But we have to open our country again."
This is while the White House announced earlier that Trump had issued disaster declarations for the states of Wisconsin and Nebraska, bringing the overall count to 36 states, the District of Columbia (Washington, DC) and four US territories.
Trump also pointed out that he had considered acting to relax stay-at-home orders nationwide so Christian churches across the US could celebrate Easter Sunday next week.
US health experts warn that mass shutdowns of businesses and schools over the coronavirus outbreak will lead to thousands of deaths and suicides unrelated to the disease itself.
"Palm Sunday, tomorrow," he said. "Think of it. We're not going to churches on Palm Sunday. But think of next Sunday: Easter. And I brought it up before, I said, maybe we could allow a special for churches. Maybe we could talk about it. Maybe we could allow them with great separation outside on Easter Sunday."
The US president further continued to lobby for hydroxychloroquine, the malaria drug he believes could work as a preventive for coronavirus, noting that he had called Indian Prime Minister Narendra Modi earlier in the day to urge the release of the unspecified amounts of the drug ordered by Washington.
"I just hope that hydroxychloroquine wins, coupled with perhaps the Z-Pak as we call it, depending totally on your doctors and the doctors there," Trump asserted. "There is a possibility – a possibility – and I say it: what do you have to lose? … Take it. I really think they should take it."
The reason the US failed to tackle the coronavirus pandemic at its onset is that President Trump has no belief in science and even denigrates it, an American academic says.
However, FDA (Food and Drug Administration) Commissioner Dr Stephen Hahn emphasized right after Trump's prepared remarks on Saturday that "we are prioritizing this drug to come in for clinical trials and use if doctors think it's appropriate."
Although the drug has not been approved by FDA, Trump insisted during his remarks that "I may take it," claiming that it may be a "game changer" for treating the virus.
https://www.presstv.com/Detail/2020/04/05/622334/US-President-Donald-Trump-coronavirus-pandemic-CDC-daily-briefing-media-outlets
-----
Number of US sailors infected with Covid-19 on aircraft carrier rises to 155: Navy
05 April 2020
The number of American sailors tested positive so far for the coronavirus on the USS Theodore Roosevelt aircraft carrier has surged 13 percent to 155 within the past 24 hours, the US Navy has confirmed amid the sacking of the warship's captain for publicizing the debacle.
The Navy further declared in a Saturday statement that 44 percent of the warship's 5,000-strong service members had been tested and 1,548 of them were transferred ashore, noting that none of the infected sailors have been hospitalized.
The carrier's Captain Brett Crozier was relieved of his command of the Theodore Roosevelt last Thursday after the public leak of a contemptuous letter in which he urged the US Navy to take stronger action in efforts to contain the spread of the virus aboard the nuclear-powered warship.
The US Navy has fired the commander of an aircraft carrier who had warned American sailors aboard the vessel would die unless the coronaviru-hit ship was evacuated.
In the letter, which was published by the San Francisco Chronicle and caught the Navy by surprise, Crozier described how bleak the situation was onboard the carrier as more sailors were diagnosed with the virus.
He further stated in his memo to the Navy's Pacific Fleet that the warship lacked sufficient quarantine and isolation facilities, warning the current strategy would slow but fail to eliminate the virus.
US Navy's acting Secretary Thomas Modly then announced in a Thursday briefing that Crozier had been "relieved of command," explaining that the captain had allowed "the complexity of his challenge with the COVID-19 breakout on the ship to overwhelm his ability to act professionally when acting professionally was what was needed the most at the time."
The fallout from the Navy's firing of Crozier is growing, however, as Democrats in both chambers of the US Congress called on Friday for a probe into his dismissal as well as the coronavirus outbreak on board the warship.
Democratic Senators Richard Blumenthal of Connecticut and Chris Van Hollen of Maryland wrote a letter co-signed by 15 other senators to Pentagon inspector general Glenn Fine demanding that his office "immediately conduct a formal investigation" into the outbreak and the Navy's decision to relieve Crozier of his command.
"It is essential that your office conduct a comprehensive investigation to avoid any potential conflicts of interest within the Navy chain of command, and we encourage you to evaluate all relevant matters associated with the dismissal and the outbreak on the ship," the letter read, as quoted in local media reports.
Separately, Democratic Congressmen Ted LIeu of California and Ruben Gallego of Arizona also wrote to Fine on Friday calling on him to "open an investigation into this matter as soon as possible."
"As veterans, we were taught that protecting the health and safety of troops was one of the highest priorities of any commander," they wrote, insisting that they are "disturbed" by the captain's firing.
This is while sailors on the warship cheered for their departing captain Thursday night as he was relieved from duty by the US military.
https://www.presstv.com/Detail/2020/04/05/622337/US-Navy-infected-sailors-coronavirus-USS-Theodore-Roosevelt-Captain-Brett-Crozier
-----
Muslim firefighter gets coronavirus after Hasidic teen allegedly sneezed into his face
by Susan Edelman
April 4, 2020
A Muslim FDNY firefighter — whose father is a convicted terrorist — tested positive for coronavirus nine days after three Hasidic teens in Borough Park deliberately sneezed on him, sources told The Post.
The alleged sneeze assault on Omar Sattar, 33, is described in a letter, obtained by The Post, from Lt. Kasey Koslowski of Engine Co. 282 to Thomas Richardson, the Department's Chief of Operations.
While the engine company responded to a call at 47th Street and Fort Hamilton Parkway, one firefighter — whose name is blacked out but was identified by sources as Sattar — was inspecting a hydrant when he was approached by "three Hasidic Jewish teens."
The firefighter started experiencing flu-like symptoms four days after the "unusual occurrence," the letter says. He was subsequently tested for coronavirus and placed on medical leave March 24 while awaiting the results. The test came back positive on March 27.
"Although we will not be able to tell if this positive COVID-19 test result is a direct outcome of the previous incident, what we do know is the continued lack of disregard by the citizens of [Borough]Park for the state of emergency policy," the letter reads.
It adds, "In a time when personal space and social distancing is at an all-time high, it is going to take a cumulative effort from everyone to defeat this virus, including the residents of [Borough] Park."
Koslowski could not be reached for comment. The NYPD did not return a request for information. Sattar did not respond to messages.
He denounced "a minority" in the religious community who are thumbing their noses at social-distancing guidelines amid the deadly pandemic.
"What the hell is wrong with these people?" Hikind asked, adding that Brooklyn funeral homes catering to the Jewish community have been "overwhelmed" with bodies.
As of Saturday, 426 FDNY members, including EMS, firefighters and civilians, are out sick with confirmed COVID-19 infections, Long said. The total 3,000 on medical leave includes others believed to have the virus, he added.
Sattar graduated from the Fire Academy in October 2017. He is the eldest son of Ahmed Abdel Sattar, who was convicted in 2005 of "soliciting crimes of violence" and conspiracy to murder Jews.
In a statement to The Post at the time, Sattar said, "This is what I have always wanted to do. This is who I have always wanted to be. I have always admired firefighters."
Omar's dad, now 60, appeared to be a mild-mannered postal-service worker living peacefully in Staten Island. The court found he was an Islamist extremist who used his home as a communications hub to further the schemes of Sheik Omar Abdel Rahman, the blind Muslim cleric who masterminded the 1993 World Trade Center bombing, which killed six.
https://nypost.com/2020/04/04/nyc-firefighter-gets-coronavirus-after-teen-sneezes-on-him/
-----
South Asia
Ramadan Is Coming; Muslims Advised to Perform Tarawih at Home
Laila Afifa
4 April 2020
TEMPO.CO, Jakarta - Chief of an Islamic organization (LPOI), Said Aqil Siroj, calls on the Muslim community to continue perform their prayers at home during the fasting month of Ramadan and Eid al-Fitr holiday.
"I call on the Muslims to perform Friday, Tarawih, and this year's Eid al-Fitr Prayers at home," Siroj said in a video conference on Saturday, April 4, adding that the Muslims shouldn't take to the street to celebrate Eid eve (malam takbiran) in order to suppress the spread of Covid-19 transmission.
In addition, Said Aqil asked the public to not leave for their hometowns, or mudik, during Eid holidays. "We support the government's policy of providing incentives for the people who won't go for Eid exodus,"
He explains that taking care of your self and the safety of others is God's command. Therefore, Said Aqil asks the people to stay at home and implement physical distancing to prevent the novel coronavirus transmission.
"Allah not only commands us to perform salah (prayers), but he also orders us to keep each others' safety and health. 'La Darar Wa La Dirar' one must not harm himself or bring harm to others," said the chairman of PBNU, quoting one of the hadiths of Prophet Mohammad.
https://en.tempo.co/read/1327939/ramadan-is-coming-muslims-advised-to-perform-tarawih-at-home
---
Offer prayers at home on Shab-e-Barat, Islamic Foundation urges
April 04, 2020
Islamic Foundation today urged all Muslims to offer prayers on the occasion of Shab-e-Barat at their respective homes, in order to contain the spread of coronavirus.
The request was made in a statement signed by Anis Mahmud, director general of Islamic Foundation.
The holy Shab-e-Barat will be observed across the country on the night of April 9 (Thursday).
https://www.thedailystar.net/country/news/offer-prayers-home-shab-e-barat-islamic-foundation-urges-1889524
-----
9 Taliban militants killed, wounded after attacking ANDSF convoy in Laghman
05 Apr 2020
The Afghan forces killed or wounded nine Taliban militants after responding to a Taliban attack on a convoy of the Afghan National Defense and Security Forces (ANDSF) in Laghman province.
The 201st Silab Corps in a statement said the Taliban militants attacked the convey of the Afghan National Defense and Security Forces in Alisheng district on Saturday.
The statement further added that the Afghan forces responded to the attack with the support of the Air Forces who were providing close air support to the convoy.
The security forces killed 4 militants and wounded 5 others during the clash, the 201st Silab Corps added.
The anti-government armed militants including Taliban have not commented regarding the incident so far.
https://www.khaama.com/9-taliban-militants-killed-wounded-after-attacking-andsf-convoy-in-laghman-04611/
----
Public Uprising forces kill, wound 11 Taliban militants in Kapisa province
05 Apr 2020
The Public Uprising forces killed or wounded at least 11 Taliban militants during a clash in North-eastern Kapisa province of Afghanistan.
The 201st Silab Corps in a statement said a group of Taliban militants attacked the security posts of the Public Uprising forces in Nawa Jangal area of Tagab district on Friday.
The statement further added that the Public Uprising forces responded to the attack, killing at least 4 militants and wounding others.
The Silab Corps did not disclose further information regarding the clash and it was not clear if the Public Uprising forces also sustained casualties during the clash or not.
https://www.khaama.com/public-uprising-forces-kill-wound-11-taliban-militants-in-kapisa-province-04609/
-----
The crucial future of power-sharing in Afghanistan
05 Apr 2020
All of Afghanistan's Post-Bonn governments were based on power-sharing, and history has taught Afghans that power-sharing is not a remedy for the State's ills.
For Afghans, the "endless war" has actually lasted for over 40 years, starting with the 1978 Communist coup and 1979 Soviet invasion, the subsequent 1990s civil war that culminated in Taliban rule, and then the current U.S.-led war to topple the Taliban. There are many complex issues to address stemming from all this conflict—from a cease-fire to disarmament, from freeing prisoners to addressing past atrocities, from resettling millions of refugees to safeguarding rights for women and minorities. But, perhaps the hardest of all will be creating a vision for a common future, where all parties will need to compromise on sharing power in Afghanistan.
Intra-Afghan negotiations around power-sharing will be fraught for multiple reasons. First, these discussions will require engagement on principles, including deeply held beliefs on the nature of Islamic governance and democracy; on a centralized State; on ethnic and regional divisions; on reading of recent Afghan history and the role of outsiders; and on individual rights. At the same time, the negotiations will be weighted with very practical implications for a greater number of actors getting a limited share of power.
Afghanistan's form of government will be a foundational issue in power-sharing negotiations. The Taliban have said they want Islamic government, ideally in the form of an emirate. Most take this to mean a government of clerical rule drawing its legitimacy from clerics, if not led by one. The "Governmental" position is that Afghanistan must remain an Islamic Republic, in which the legitimacy of the government is derived from the consent of the governed through universal suffrage, and where basic rights are enshrined and protected in accordance with international laws and norms, as the current Afghan constitution recognizes. The challenge will be to create a shared worldview, and to do so in a way that is rooted in more universal values and principles and not subject to fiat.
While much of the attention in the negotiating process will be on political power-sharing, it is worth thinking about economic power-sharing and women's rights also, especially as the state controls a substantial amount of employment, investment opportunity, and revenue sources. Doling out jobs is a significant form of patronage available to those in power. The reality in Afghan society is that the Taliban have no human resources other than fighters, while millions of young Afghans have been trained over the past 18 years. Now the integration of these is another problem that must be solved between the Taliban's group and the Afghan government. And lack of clarity about the intra-Afghan talks and the designated negotiators has further heightened fears about the implications for women's rights. women's rights are controversial issue to fully participate in political, professional, and economic life should also be seen through the lens of power-sharing. Government power distribution will both affect individual women directly and the course of policy making. There is great and significant concern that the Taliban have not advanced from their 1996-2001 position, which led to bans on things like work and education.
Whether or not the draft U.S.-Taliban deal was good for most Afghans, the suspension of talks maintains a deadly and worsening situation. The Taliban continue to hold large amounts of territory, political debates are increasingly polarized, and the level of civilian casualties is horrendous. Fundamental uncertainty over the future course of peace negotiations may trigger hedging behavior that could lead to a rapidly worsening situation. The worst-case scenario is the growing threat of ISIS or other groups as a long-term threat to peace and regional security.
In Afghanistan's case, devolving power to local institutions will only encourage further jihadism, warlordism and extremism designed to wring concessions from the State. The recent political debacle between President Dr. Ashraf Ghani and former Chief Executive Dr. Abdullah over the presidential election results in Afghanistan has spurred an array of solutions and opinions from practitioners and scholars, all with the aim of preventing political instability in Afghanistan. Many analysts see the centralized model of governance led by Ghani as a potential spoiler for stability and a peace deal with Taliban. Proposals for "power-sharing mechanisms to ensure different groups are represented in the political system" are gaining sizable momentum. However, for a State that is rising from the ashes of civil war to make concessions to the same individuals and groups who were responsible for starting the fire in the first place is nonsensical.
The present debacle between President Dr. Ghani and Abdullah is a recurring instance of jihadism: threatening to "go to the mountain" to force political concessions. In the meantime, the United States is hoping to convince Taliban to "climb down from the mountain." This is in effect legitimizing jihad as an institution to make claims to power and get concessions from the government. Championing power-sharing, under these circumstances, is nothing more than advocacy for making concession to armed groups who rebel or threaten the government with rebellion. if President Dr. Ashraf Ghani chooses to resist power-sharing it will perpetuate instability. However, if the aim of this resistance is to establish the Afghan government as the only entity that deploys physical force in the country then it might yield security and stability in the long run – providing that he triumphs. Helping the Afghan government become the only entity that has the capabilities to use physical force is the only long-lasting solution. Now that the Afghan Government is trying to reassert its dominance over the Afghan society, it must deal with the competing informal institutions that formed during decades of civil war. Any solution for lasting stability and peace in Afghanistan must include two components: a government that can actually control rogue violence and therefore has a monopoly over the use of force and tangible efforts to address the foundational disputes between Afghanistan and Pakistan.
Ethnic warlords and strongmen are the another crucial problem in power-sharing. They are the product of the last four decades of war and one of the worst legacies of the United States' long war in Afghanistan. These figures remain a strong challenge for the central government. The warlords created private militias and have been involved in heinous crimes and human rights violations ever since. Using government resources and positions, they have been ruling with impunity for decades. warlords remain a barrier Afghanistan's fledgling democracy and accountability, blocking a new generation from leading the country toward progress and development. They are responsible for killings, beatings, abductions, extortion, land seizures, illegal mining, drug trafficking, and in some cases joining hands with the Taliban where there is mutual interest. In short, these warlords have become a major problem for the country. the rise and endurance of the warlords is a legacy of the U.S. war in Afghanistan. The majority of the current warlords gained prominence in late 2001 while fighting against the Taliban regime. With the U.S.-supplied funds and weapons, coupled with the collapse of the Taliban regime, these warlords were able to control and influence the nation's security forces and government ministries. They largely used their official positions to cement their own authority in their respective territories and have enriched themselves through illegal money. From ministerial posts to civilian positions, from the security sector to lucrative customs, they have influence everywhere.
These are a serious hurdle facing the Afghan educated generation and technocrats keen to transform Afghanistan from a traditional conservative society into a modern and progressive era.
https://www.khaama.com/the-crucial-future-of-power-sharing-in-afghanistan-5678587/
------
Airstrike targets Taliban gathering in Kandahar, killing 6 militants
04 Apr 2020
An airstrike targeted a Taliban gathering in southern Kandahar province killing at least six militants who were planning to launch an attack on security posts.
The 205th Atal Corps in a statement said the militants had gathered in Shalghami area of Maiwand district and were looking to attack the security posts.
The statement further added that the airstrike killed 6 militants of Taliban led by Mullah Haroon.
The airstrike also destroyed six weapons and two night vision goggles, the 205th Atal Corps added in its statement.
The Taliban group has not commented regarding the airstrike so far
https://www.khaama.com/airstrike-targets-taliban-gathering-in-kandahar-killing-6-militants-04607/
-----
Combating coronavirus: PM announces Tk 72,750cr stimulus package
April 05, 2020
Prime Minister Sheikh Hasina today declared Tk 72,750 crore stimulus package to address the adverse impacts of the coronavirus pandemic on the country's economy.
Bangladesh's GDP growth may be stunted due to the coronavirus outbreak, Prime Minister Sheikh Hasina said. The government will extend funds to combat the impact caused by the coronavirus situation, she also said
https://www.thedailystar.net/coronavirus-deadly-new-threat/news/combating-coronavirus-pm-announces-tk-727cr-stimulus-package-1889764
-----
Biman extends suspension of all flights till April 14
Biman Bangladesh Airlines has extended the suspension of all international and domestic flights until April 14.
Biman's Deputy General Manager (Public Relations) Tahera Khandaker confirmed it to The Daily Star this noon.
https://www.thedailystar.net/country/news/biman-extends-suspension-all-flights-till-april-14-1889773
------
Pakistan
4 mid-range hotels in Islamabad to be used to quarantine international passengers
April 05, 2020
Malik AsadU
ISLAMABAD: Four mid-rangehotels in the capitalwill be used as quarantine facilities for suspected Covid-19 patients, specifically passengers travelling to Pakistan from other countries.
The capital administration has approached a number of hotels asking them to make arrangements to accommodate passengers after a recent Islamabad High Court (IHC) decision passed on a petition filed by Hotel Margalla, which allowed the National Disaster Management Authority (NDMA) to convert the hotel into a quarantine centre.
The move comes after the government decided to partially resume international flight operations, as the existing four hotel quarantine facilities may not be able to accommodate hundreds of passengers.
On March 16 and March 22, the NDMA asked four mid-range hotels to offer their facilities to temporarily house suspected Covid-19 patients.
While most of the hotels were reluctant to do so and one - Hotel Margalla - went into litigation fearing that doing so would damage their reputation and negatively effect clientele, the Redison Hotel volunteered its facilities and recalled staff to serve its residents.
Capital admin approaching hotels to convert them into quarantine centres after govt decision to partially resume international flight operations
The hotel's owner, Raja Sajjad, offered staff perks and privileges and assured them they would be provided protective equipment during working hours to persuade them to return to work.
He said all 50 rooms in the hotel have been placed at the disposal of the NDMA since March 22; around 350 to 400 people, mostly passengers, have stayed at the quarantine centre since then. They were all allowed to leave when they tested negative for Covid-19.
The capital administration later converted Hillview Hotel, Islamabad Hotel and Hotel Margalla into quarantine centres as well. Several hotels along Murree Road have also been contacted, and will likely be used as quarantine centres as well.
On the Hotel Margalla petition, IHC Chief Justice Athar Minallah observed that the federal government "has taken several measures to prevent spread of the novel coronavirus" to safeguard the public at large and their fundamental rights.
The court order also provided remedy for hotels used as quarantine centres, stating: "In case the petitioner hotel suffers loss, it would not be without remedy because in such an eventuality remedies available under the law can be resorted to later."
Islamabad Deputy Commissioner Mohammad Hamza Shafqaat said the government would compensate hotels that are turned into quarantine centres since their premises and facilities are being used for official purposes. He added that the generosity of any hotel voluntarily offering its services would be appreciated.
The NDMA has also converted educational institutions, public halls meant for large exhibitions such as the Expo Centre in Karachi and Lahore or the Pak-China Centre in Islamabad, hostels and even train coaches into makeshift quarantine facilities to prevent a coronavirus outbreak.
https://www.dawn.com/news/1546489/4-mid-range-hotels-in-islamabad-to-be-used-to-quarantine-international-passengers
-----
COVID-19: Pakistan Says No To Cricket During Holy Month Of Ramadan
IANS
04 April 2020
The Pakistan Cricket Board on Saturday said due to the prevailing COVID-19 pandemic, it will not issue NOCs for any cricket during the holy month of Ramadan. (More Cricket News)
The PCB in a statement said: "We have been approached by some organisers, seeking clarification on the PCB's NOC policy for Ramadan cricket. At this time it is appropriate we follow our overarching policy which states that organised cricket in Pakistan will remain suspended until normalcy returns to society. In this background, the PCB will not issue any NOCs for Ramadan cricket.
"These are unprecedented, tough and challenging times for the world as all economic and sporting activities have come to a standstill with sole focus being on health and safety of the people. The PCB strongly urges organisers and cricketers to religiously follow all precautionary measures, including remaining indoors, maintaining social distancing and avoiding gatherings.
"The PCB takes the welfare and wellbeing of its staff and cricketers very seriously. It has around 220 professional cricketers on its payroll apart from its staffers. The PCB will ensure that full player salaries continue to be honoured until at least the end of the 2019-2020 financial year. Furthermore, we have put in place systems to ensure that monthly salaries are paid on time and without delay.
"The PCB is monitoring the situation in the country closely as it evolves and will amend its policy when appropriate.
https://www.outlookindia.com/website/story/sports-news-covid-19-pakistan-says-no-to-cricket-during-holy-month-of-ramadan/350072
-----
Some mosques in Punjab, Sindh defy curbs on Friday prayers
APRIL 4, 2020
Prime Minister Imran Khan is relying on restricting the size of congregations attending mosques and advice to stay at home from religious groups like the Islamic Ideology Council. Some provinces have also issued their own lockdown orders to prevent people from gathering in mosques, especially for Friday prayers. In Sindh, a complete lockdown was announced from noon until 3 pm on Friday, and anyone found on the streets was to be arrested. However, the government's call for 'complete lockdown' on Friday from noon to 3 pm was defied by some mosques as congregational prayers were held as per routine.
Majority of the people who attended the congregations and the prayer leaders who led them were of the view that they have left the current situation to the 'Will of God' and no harm will befall them unless it was Divine Will.
Nothing will happen. Karachi is a city of 20 million, the government cannot implement its decision in every nook and cranny," said the prayer leader of the Jamia Mosque Quba.
Out of the four mosques in the area, only one was open for Friday congregation. Despite an announcement from mosques to pray at home, around three to four dozen people attended the congregational prayers at Jamia Mosque Quba.
Reports from different areas of Karachi suggested that the majority of mosques followed government orders, however, some continued to hold regular prayers.
In other towns and cities of the province, including Sukkur, Larkana, Hyderabad and Mirpurkhas divisions, the doors of most mosques were locked with only four to five people, including the prayer leader, allowed to pray. But in rural areas, especially in villages, the ban could not be implemented. "We have prayed Friday prayers in our Jamia mosque with the same amount of people," Abdul Hanan, who lives in a village in the Kamber Shahdadkot district, said via phone. "The partial ban is only in cities and towns, people here pray five times a day without any fear," he added.
Police said its officials were assaulted after they stopped congregational prayers from taking place on Friday. Police said a local mosque's Imam led the Friday prayers despite the three-hour complete lockdown in place in the Karachi's Liaquatabad area. Upon violation, police officials tried to stop the prayers but were attacked by the violators. "People were instigated by the Imam when police asked them to stop the congregational prayers," it stated. Two policemen were assaulted by people, who later had to find cover at a citizen's home. In Punjab, where 60% of Pakistan's 220 million people live, checkpoints were set up in major cities stopping people from congregating. Still, mosques remained open in several areas, even as they have been shut down across much of the Middle East and elsewhere.
https://dailytimes.com.pk/588537/some-mosques-in-punjab-sindh-defy-curbs-on-friday-prayers/
------
Virus cases may top 50,000 by April end, SC told
April 05, 2020
Nasir Iqbal
ISLAMABAD: The Ministry of National Health Services, Regulation and Coordination (NHSRC) informed the Supreme Court on Saturday that the number of coronavirus cases in Pakistan might be over 50,000 by the end of April — 2,392 critical patients needing intensive care, 7,024 serious patients and 41,482 others who would have mild symptoms and just require isolation at their homes.
In a report submitted to the apex court, the ministry, however, explained that these figures were mere projections based on assumptions made from trends of the Covid-19 outbreak in other countries.
The ministry in the report on the national action plan for combating Covid-19 told the court that the number of confirmed cases of coronavirus after 35 days of its outbreak in Pakistan remained low as compared to reported cases in European countries and Iran.
Two other reports were also filed before the court on Saturday by the Ministry of Interior and the Punjab government as well as a written synopsis by senior counsel Khawaja Haris Ahmed defending the March 20 order of the Islamabad High Court (IHC) for releasing under-trial prisoners (UTPs) on bail.
The reports were furnished prior to a scheduled hearing on Monday of a challenge to the March 20 IHC order on a petition by Raja Mohammad Nadeem.
Headed by Chief Justice of Pakistan Gulzar Ahmed, a five-judge larger bench will resume the hearing of the petition on April 6.
At the last hearing on April 1, the apex court had sought a comprehensive report from the government on measures taken to prevent the spread of deadly coronavirus in the country.
The NHSRC in its report explained that 13,000 health facilities across the country have been entrusted with collecting surveillance data besides developing public awareness messages for dissemination to all modes of media.
Moreover, the Public Health Emergency Operation Centre, activated at the National Institute of Health (NIH) has been assigned to conduct surveillance, prepare daily situation report, risk assessment, date analysis and to follow up suspected patients.
Apart from domestic emergency funding made available by the finance division, the report said, a comprehensive financing requirement for Pakistan to the tune of $366 million from the World Bank and the Asian Development Bank has also been prepared in consultation with the provinces that has also been approved by the Planning Commission.
According to the NHSRC report, the NHSRC has also prepared and issued an advisory on Corona Mitigation Strategy for the health sector that include early case detection, contact tracing protocols, infection prevention SOPs, information education and communication material. It has set up 1166 helpline and adopted best practices to educate the masses on avoiding transmission.
In addition, social distancing measures and quarantine/isolation protocols have also been included in the advisory, the report says, adding SOPs for safe dignified burial have also been developed and shared providing clear guidelines to limit infection during the process.
The National Coordination Committee (Covid-19) has also been constituted and given specific terms of reference with respect to controlling the situation.
The NHSRC said that more than 1.4 million travelers were restricted for strict screening at major points of entry in the country — 1.1 million passengers at seven airports and more than 300,000 passengers at three land crossings, adding that 222 suspected patients were identified and quarantined.
Moreover, the NHSRC report says, the provision of five thermal scanners, more than 1,000 guns, essential equipment, human resource, training, standard guidelines and SOPs for point of entry have been developed.
Special counters have been established at all major international airports, all ground crossings at Taftan, Chaman and Torkham borders have further been strengthened, extra officials have been deployed and an emergency has been declared at bordering areas of Balochistan.
Similarly, the report says, 207 hospitals in all major cities and 154 districts of the country have been identified for isolation of suspected patients, adding that the isolation capacity has been increased.
The interior ministry's report has informed the apex court that a total of 991,337 persons have departed from Pakistan for different worldwide destinations since Jan 1, 2020 and a total of 13,493 persons have arrived in the country from different countries after screening.
The Islamabad Capital Territory (ICT) administration, which is under the administrative control of the interior ministry, has taken appropriate necessary measures to control the spread of Covid-19.
The competent authority, the report says, in exercise of powers conferred under Article 245 of the Constitution and Section 131-A CrPC has authorised deployment of Pakistan Army's troops in addition to the civil armed forces in the ICT and in all parts of the country in connection with the prevailing situation.
Moreover, the Pakistan Coast Guards has sealed all the Jetties to control the movements from the sea. In addition, the civil armed forces have been deployed at eight international airports on the recommendation of the National Security Committee to assist the airport authorities across Pakistan.
Meanwhile, Advocate Khawaja Haris Ahmed in his synopsis before the apex court argued that inmates in crowded jails of Pakistan were obliged by law to face trial on the basis of allegations made against them and not to become martyrs while waiting to be tried.
These inmates can be tried and convicted only if they are alive and well enough to face trial, he contended, adding unless the accused benefitting from the March 20 IHC order were desperate or dangerous criminals, their release did not affect the rights of the respective complainant.
Khawaja Haris said though he was not privy to what was discussed and what decisions were taken by the National Judicial Policy Making Committee, with respect to the national calamity and public emergency of international concern, he was quite convinced that the issue of the release of UTPs from jails in the wake of the coronavirus outbreak never discussed.
Besides no such bar was ever placed on high courts upon taking cognisance of the predicament of such prisoners, or passing of any orders to protect them from acquiring or being exposed to the risk of being infected by the deadly virus, he argued.
https://www.dawn.com/news/1546517/virus-cases-may-top-50000-by-april-end-sc-told
-----
PML-N, PPP doubt PM will take 'friends' to task
April 05, 2020
ISLAMABAD: The country's two main opposition parties — Pakistan Muslim League-Nawaz (PML-N) and Pakistan Peoples Party (PPP) — on Saturday doubted that Prime Minister Imran Khan would take action against his "cronies" who had been found involved in the recent wheat and sugar crises in the country as per the reports of the Federal Investigation Agency.
PML-N information secretary Marriyum Aurangzeb in a statement said Imran Khan and his "wingmen" stole the nation's wheat and sugar while he was busy in blaming others for wheat and sugar crises.
Ms Aurangzeb said Imran Khan, Jahangir Tareen and Khusro Bakhtiar had been revealed as the "true culprits and profiteers" of this crisis they created to make money.
Meanwhile, PPP information secretary Dr Nafisa Shah in a statement said the people who created sugar crisis in the country and minted money exposed as the "financial facilitators" of Prime Minister Imran Khan.
"Will he act against his deputy in Pakistan Tehreek-i-Insaf (PTI)? she asked. Dr Shah alleged that Imran Khan's cronies had been caught stealing red handed "so will he cut their hands as per the principle of Madina State?"
https://www.dawn.com/news/1546512/pml-n-ppp-doubt-pm-will-take-friends-to-task
-----
Surge in demand for sanitizers exposes flaws in regulation
April 05, 2020
Kalbe AliU
ISLAMABAD: An unprecedented surge in demand for hand sanitizers in the wake of the Covid-19 pandemic has exposed weaknesses in the regulatory system in the country where no official agency is responsible for its quality standard and pricing mechanism, it emerged on Saturday.
Minister for Science and Technology Fawad Chaudhary has apparently taken the lead to curb the sale of substandard hand sanitizers, while the product does not fall under the domain of any government department.
Turning to social media on Friday, the minister tweeted that sample testing by Pakistan Standards and Quality Control Authority (PSQCA) showed that 23 brands of sanitizers being sold in the market were "not in comformity with WHO standards, we have advised health departments to remove these brands from stores".
Interestingly, the ministry for science and technology has yet to adopt the new international standards recommended for hand sanitizers in the wake of global pandemic, while the media-savvy minister's move also indicated that he had not obtained information from relevant departments of his ministry that hand sanitizers did not fall in PSQCA's domain.
Mr Chaudhary did not respond to the query, but a senior official of the ministry said that quality standards were not set by the World Health Organization (WHO). It only gives guidelines, while most of the product standards in Pakistan have been adopted from the "American Society for Testing and Materials" (ASTM), established in 1898. "In the wake of the global pandemic, new standards have been issued by the ASTM to all countries that have agreements with them including Pakistan," the official said.
The PSQCA has only 105 items under its mandate to meet "Pakistan Standards" at its website, which includes a number cosmetic and consumer items such as toothpaste, skin cream, shampoo, hair dyes, toilet soaps, tea-whitener, packed milk etc.
Meanwhile, a senior PSQCA official acknowledged that there were no standards for sanitizers with the authority. As this product was a "disinfectant", it was under the domain of Drug Regulatory Authority of Pakistan (DRAP), the official added.
In response to the query, a senior DRAP official said disinfectants came under the domain of cosmetics division of DRAP, but it covered only surface disinfectants and equipment disinfectants. "Human disinfectants [hand sanitizers] were not the domain of DRAP. That is why none of anti-bacterial products including Dettol sanitizer was registered with DRAP," said a senior DRAP official.
However, the official said, there was only one disinfectant, HiClean, registered with DRAP and the circumstances led them to launch sanitizers, too.
While the Competition Commission of Pakistan (CCP) initiated a preliminary inquiry into the mushroom growth of sanitizers in the country, an official explained, "Our domain is limited to the protection of consumers only, [so that] there should not be any deceptive marketing of any kind."
For this, the official said, a CCP team would pick samples from the market and get the sanitizers tested in various labs to determine that all claims made at the label were fulfilled.
Sanitizer tests had been conducted at the labs of PSQCA and Pakistan Council of Scientific and Industrial Research (PCSIR), but at the same time a senior PCSIR official said that Pakistan could only check the contents of any soap or sanitizer.
"But there is no lab – at least in the civil public sector to perform microbiology test to show that 99 per cent germs were killed after using any sanitizer, which is the standard test," the official said, "possibly that is why we do not have any standards for sanitizers."
Amid the ambiguity, cosmetic manufacturers in the country wrote a letter to the PSQCA seeking details of the standards and rules regarding sanitizers in Pakistan and the list of approved imported sanitizers.
"We have asked them to inform us when sanitizers of any multinational company was lab tested," said Mian Shafeeq, chairman of the Pakistan Cosmetics Manufacturers Association, adding that the prevailing system was encouraging wrongdoings because none of the agencies would have interfered if locally manufactured sanitizers had fake labels showing that they were imported products.
https://www.dawn.com/news/1546560/surge-in-demand-for-sanitizers-exposes-flaws-in-regulation
------
Fear grips health workers as doctor tested positive for Covid-19 put on ventilator in Karachi
April 05, 2020
Imran Ayub
KARACHI: Fear and anxiety gripped health workers on Saturday when a senior doctor, who was active on the front line ever since the first case of coronavirus was reported and last week tested positive for Covid-19, was put on a ventilator after his condition deteriorated.
He was a former medical officer of the Pakistan Steel Mills and was tested positive for the virus earlier this week, health officials said and added that he was respected in the medical fraternity for his growing medical practice in different private facilities of Malir.
"He has a very good practice in Gulshan-i-Hadeed where hundreds of patients visit him daily in different hospitals," said Dr Abdul Malik of the Pakistan Islamic Medical Association (Pima). The doctor in question was also a former Sindh president of the association.
"Apart from his professional skills in health sciences, he is known as a socially active person in his district where people even from rural parts of the province came to see him. He was vigorously calling for PPE [personal protective equipment]. He tested positive because he was treating patients without PPE to honour the oath he had taken that he would not deny anyone care."
According to Dr Malik, the senior doctor was in his early 60s and battling for life on a ventilator at the Indus Hospital. The situation should be a wake-up call for authorities and they should speed up distribution of PPE among health professional and workers across the province, he added.
As the number of confirmed coronavirus patients continues to grow with most becoming victims of local virus transmission, the health workers have been increasingly more exposed to the threat as in just a week almost a dozen members of the medical fraternity in Karachi tested positive for the pandemic.
According to doctors, they are facing a lot of problems at work, severely affecting their mental health as well as the quality of work.
The worst-hit health facilities include government hospitals in Sukkur and Larkana, the Abbasi Shaheed Hospital (ASH), the Jinnah Postgraduate Medical Centre (JPMC) and two teaching hospitals, one in Hyderabad and the other in Jamshoro, attached with the Liaquat University of Medical and Health Sciences (LUMHS).
"Not only from Karachi, we have been approached by doctors from every parts of the country who want PMA [Pakistan Medical Association] to play its role and talk to the government for PPE," said Dr Qaiser Sajjad of the PMA. "I believe that the health workers are doing a great service but they also need protection. I appeal to both the provincial and federal governments to provide these workers PPE who are exposed to the virus due to their professional contribution."
An official said that Sindh Chief Minister Murad Ali Shah had informed Prime Minister Imran Khan during a meeting he participated in via video link that the province was facing serious shortage of PPE.
Also, the testing kits provided by the Provincial Disaster Management Authority had "accuracy issues", which was why Sindh had opted not to use them, said the official quoting CM Shah's concerns.
https://www.dawn.com/news/1546473/fear-grips-health-workers-as-doctor-tested-positive-for-covid-19-put-on-ventilator-in-karachi
-----
Maulana Abdul Aziz, 6 others booked for violating govt order
Munawer Azeem
April 05, 2020
ISLAMABAD: A case has been registered against former Lal Masjid cleric Maulana Abdul Aziz and six others for disobeying a government order, spreading fear and inciting people against the state.
The case was registered with the Aabpara police on a complaint lodged by SHO Inspector Mohammad Walyat against Mr Aziz and six others under Pakistan Penal Code sections 505(b) (with intent to cause, or which is likely to cause, fear or alarm to the public or to any section of the public whereby any person may be induced to commit an offence against the state or against the public tranquility) and 188 (disobedience to order duly promulgated by public servant).
According to the Aabpara police, Mr Aziz gathered people at Lal Masjid for Friday prayers despite a ban on prayer congregations imposed to prevent the spread of the coronavirus. He provoked the sentiments of people, they added.
Officials deployed around the mosque informed them of the ban on prayer congregations and the misuse of loudspeakers, but they ignored. They said around 400 people gathered at the mosque whose sentiments were provoked by these actions.
Mosque officials brought to police stations across capital for violating ban on Friday prayer congregations released after warnings
A separate case has been registered with the Golra police against a khateeb and two others for disobeying an order issued by the government. The khateeb was arrested after the case was registered, but the other two people remained at large, the police said.
They said the suspects violated the ban on prayer congregations in Bilal Masjid in E-11/4. The violations led to 200 people gathered at the mosque, putting their lives and the lives of others at risk.
The capital administration has asked the police to compile data on mosques, khateebs and imams who violated the ban on prayer congregations on Friday.
The administration and police were lenient towards khateebs and imams who disobeyed the order issued by the administration, administration officials said.
Every police station in the capital arrested three to four imams and khateebs who violated the ban on prayer congregations on Friday, but they were released after they were given warnings.
Police have been asked to compile data on them so action can be taken against them if they ignore the warnings. Obtaining undertakings from them that they will not disobey the order is also being considered.
A total of 121 cases disobeying the administration's order have been registered in the capital since the lockdown was announced, police said. Some 424 people have been booked and arrested for violating the ban on various activities imposed to halt the spread of the coronavirus.
Violations include social and public gatherings, riding pillion, running passenger vehicles and opening shops - not including those selling food items.
Most were released on personal surety and others were fined, officials said. A few, allegedly involved in hoarding and profiteering, were sent to jail.
The officials said that because of the current conditions, most violators are released on personal surety and fines as sending them to jail may put their lives at risk as well.
https://www.dawn.com/news/1546485/maulana-abdul-aziz-6-others-booked-for-violating-govt-order
------
Europe
Birmingham Imam delivers strong message to city youngsters not to gather in city parks
4 APR 2020
Sheikh Mohammed Aslam asked youths not to gather in parks and to imagine what their mothers would do to protect them if it was predominately the young dying from Covid-19.
Sheikh Aslam delivered a powerful video sermon, which has gone viral, after claiming West Midlands Police had approached the chair of trustees at Central Jamia Mosque Ghamkol Sharif, on Golden Hillock Road, for help in getting the life-saving 'stay at home' message across.
The message came as it was revealed the Midlands now has almost double the number of deaths from coronavirus than London.
He said: "There's a lot of young people hanging around in the parks in groups and some of them are causing trouble. This is in Small Heath, Sparkbrook, Aston, across Birmingham.
"I think a lot of them are getting bored at home. It's difficult for young people to stay in but if roles were reversed and Covid-19 affected the young rather than the old, imagine what your mother would do to keep you safe.
Muhbeen Hussain, founder of British Muslim Youth, said: "We are worried that something like Christchurch could happen in the UK. It is especially worrying Tarrant mentioned Rotherham.
https://www.mirror.co.uk/news/world-news/chilling-british-inspiration-behind-new-21813503
------
COVID-19: Al-Azhar issues fatwa on gatherings for worship
KUALA LUMPUR, April 4 -- The Council of Senior Religious Scholars of Al-Azhar on Friday have agreed that a gathering during an outbreak even for the purpose of worship constitute a contravention of the Shariah law.
This was one of the fatwa issued in its second series of fatwas (Islamic rulings) pertaining to COVID 19, which was posted in a statement written in Arabic language on the Council's Facebook page.
According to the statement, the Council agreed that any gathering, including a prayer in public, constitute an infringement of the Syariah law as the outbreak can spread through physical contact.
Headed by the Grand Imam of Al-Azhar Sheikh Ahmed el-Tayeb, the Council also issued five other fatwas related to COVID-19 in the second series.
They are the prohibition of dissemination of speculations and rumours; to obey the government's instructions including closing the mosque to protect the public during the pandemic; banning the monopolising of goods and exploiting people's needs during pandemics and disasters that result in extreme price hikes; obeying the authorities regarding quarantine and other orders given by authorities to prevent the disease from spreading; and allowing zakat (tithe) payments to be made earlier in order to address the spread of the COVID-19 outbreak and its effects on the 'asnaf' (one of the group of people deserving of zakat).
In the first series of fatwas, released on March 15, the Council approved a ruling to postpone Friday prayers, including daily congregational prayers at the mosque, following the spread of the COVID-19 outbreak.
As of noon yesterday, the media reported that the COVID-19 outbreak had spread to over 200 countries and territories, with more than a million confirmed positive cases.
https://www.bernama.com/en/world/news.php?id=1828659
------
Coronavirus pandemic aggravating poverty in UK: Experts
05 April 2020
Meanwhile, the government has launched state stimulus, including a boost to Universal Credit, but this will not solve the problem.
An adult aged over 25, who is receiving the benefit, will get £1,000 ($1,239) extra per year, but an increase in the monthly amount to £400 is still far below the level of £600 deemed enough for a single-person household to be able to avoid "poverty".
"Economically we know there is very likely to be a big recession and it's difficult to recover quickly from a big recession," said Innes.
Food banks, on the other hand, which help provide food for the most vulnerable people including the homeless, are receiving fewer donations now.
https://www.presstv.com/Detail/2020/04/05/622355/UK-coronavirus-pandemic-poverty
------
First confirmed case of COVID-19 on the occupied Malvinas Islands
04 April 2020
After days of speculation the first case of COVID-19, the disease caused by coronavirus, has been confirmed on the occupied Malvinas Islands (which the British call Falkland Islands).
According to Sky News' foreign affairs editor, the first confirmed case is a "British service person" based at Mount Pleasant, the sprawling tri-service military complex situated in Isla Soledad (which the British call East Falkland).
An outbreak of coronavirus amongst troops, contractors and their families on Mount Pleasant runs the very real risk of compromising the UK's offensive military posture on the archipelago.
There are growing signs of a major outbreak of the COVID-19 disease on the occupied Malvinas Islands, prompting London to rush in emergency medical supplies.
Situated in the South Atlantic Ocean (just over 480 km from the Argentine coast), the Malvinas Islands is claimed by Argentina on the grounds that the UK has illegally occupied the archipelago since 1833.
Beyond the 1,300-strong garrison in Mount Pleasant, the population of occupied Malvinas Islands – which numbers around 3,400 – is believed to be particularly vulnerable to COVID-19, primarily due to the prevalence of old people in poor health.
https://www.presstv.com/Detail/2020/04/04/622310/UK-Malvinas-Islands-Coronavirus-Confirmation-
----
Coronavirus: Starmer will address 'serious mistakes' in government's handling of COVID-19
5 April 2020
Sir Keir Starmer has pledged to work with the government to fight the coronavirus pandemic but has also said "serious mistakes" have been made in handling the crisis.
The newly-elected Labour Party leader said he would work "constructively" with the Conservatives, but added that ministers had been too slow to explain why the UK is "so far behind" on testing.
He also called for "blockages in the system" which are delaying the delivery of protective equipment - known as PPE - to frontline workers to be "addressed quickly".
It came after the PM wrote to opposition party leaders, telling them "we have a duty to work together at this moment of national emergency".
Writing in the Sunday Times, Sir Keir said: "There will be many times when, and there are many issues upon which, I will fundamentally disagree with the prime minister.
"Now is such a time. Coronavirus is a national emergency. It is also a global emergency. Everyone is anxious about what the next few months will bring, but we know we must be resolute in our determination to see this virus defeated, as it will be.
"I want to see the government succeed in this: to save lives and protect livelihoods. This is a national effort and all of us should be asking what more we can do."
Sir Keir said Labour would "do our bit to offer solutions" but would also "speak for those who have been ignored", and expose mistakes, adding: "And let's be honest, serious mistakes have been made.
"The public is placing an enormous trust in the government at the moment: it is vital that that trust is met with openness and transparency about those mistakes and the decisions that have been made."
Sir Keir also said the UK should build vaccination centres in towns and cities so "the minute a vaccine becomes available, we can begin to protect the entire population".
"We should know what that exit strategy is, when the restrictions might be lifted and what the plan is for economic recovery to protect those who have been hardest hit," he added.
"There will be many more difficult days ahead. Great sacrifices must be made because of a crisis that was unimaginable only a few months ago. But Britain is a great country and we will get through this."
The UK has been in lockdown for almost two weeks, after the government announced measures aimed at limiting the spread of COVID-19.
A leading scientist and government adviser has said social distancing measures could be relaxed within weeks if there are signs the epidemic is slowing.
Imperial College London Professor Neil Ferguson said the UK's epidemic was expected to plateau in the next week to 10 days, but said people's behaviour was critical in determining what happens next.
https://news.sky.com/story/coronavirus-starmer-will-address-serious-mistakes-in-governments-handling-of-covid-19-11968718
-------
What is Queen Elizabeth II expected to say in her address to the nation
April 5, 2020
By Barnali Pal Sinha
Queen Elizabeth II will address the nation and Commonwealth at 8pm on Sunday. The speech will be broadcast on both television and radio as well as the Royal Family's social media handles.
The monarch is likely to speak of her admiration for UK's resilience and communities, the NHS and key workers, and draw on the country's history to inspire Britons to persevere in the face of unprecedented lockdown conditions. Queen Elizabeth II will call on the nation to display "self-discipline, quiet resolve and fellow feeling" as the coronavirus crisis continues.
The 93-year-old head of the state will also laud the efforts of health workers and all those who have been helping in the fight against COVID-19. In the "deeply personal" address she will thank those working on the front line, including those carrying out essential roles.
According to Hello, the 4 minute 30 second broadcast, the monarch will also empathise with the pain already felt by many families. She will also thank people for staying at home to protect the vulnerable.
"The broadcast is a deeply personal message from Her Majesty reflecting her experience in other difficult times," a royal source said.
The queen's address was recorded at Windsor Castle last week. A cameraman wearing protective equipment following specific advice from the Medical Household recorded the speech. In order to maintain proper distance, a room was chosen. Other technical staff assisted the cameraman from another room connected by speakers.
The queen and her husband Prince Philip are self-isolating at the Castle in the west of London with limited number of staff.
Britain's Queen Elizabeth II has been troubled by a series of scandals and misfortunes in a year she described as "quite bumpy" in her Christmas Day message Photo: POOL / Paul Edwards
Apart from her customary Christmas message, the queen has addressed the nation during times of crisis. The monarch addressed the nation during the first Gulf War in 1991, following the death of Diana, Princess of Wales in 1997 and after the death of Queen Mother in 2002. She also recorded a televised message to mark her Diamond Jubilee in 2012.
https://www.ibtimes.co.uk/what-queen-elizabeth-ii-expected-say-her-address-nation-1677242
-------
Coronavirus: Two Pentonville Prison staff members die
5 April 2020
Two staff members at Pentonville Prison in north London have died after showing symptoms of coronavirus, the Prison Officers' Association (POA) has said.
Mr Peter was described as "an experienced member of staff" working at operational support grade at the prison, who "died earlier this week due to Covid-19 symptoms".
"We are on the front line doing a commendable job on behalf of society and he will be sadly missed by all his colleagues. We wish the best for his family and friends."
Staff at the prison are thought to have held a minute's silence after hearing their colleagues had died within days of each other earlier this week.
A Prison Service spokesman said: "Our deepest sympathies are with their loved ones and colleagues at this difficult time."
https://www.bbc.com/news/uk-england-london-52169957
------
Africa
League of Imams Clarifies Stand on Alcohol-Based Sanitisers
April 5, 2020
A Muslim group, League of Imams and Alfas of Yorubaland, has clarified its position on the use of alcohol-based sanitisers by Muslims as the world battles the COVID-19 pandemic.
In a statement issued by spokesman for the league and Mudir Markaz (Arabic and Islamic College, Agege, Lagos), the league said its stand that Muslims should use detergents rathan than alcohol-based sanitisers, was informed by the fact that the 60 per cent to 70 per cent alcohol content in the sanitiser which could kill the virus is above the permissible per centage agreed by most Islamic scholars for non-consumable alcoholic content.
The group, also known as Rabita, said the fact that alcohol-based sanitisers could kill some useful cells and bacteria in the body made detergent a better option.
It added that it was forbidden by Allah for anyone to take advantage of unusual times to arbitrarily increase prices of goods and services.
The league said, "Muslims must, therefore, desist from increasing prices of goods and commodities to cause additional inconveniences to the society.
All rights reserved. This material, and other digital content on this website, may not be reproduced, published, broadcast, rewritten or redistributed in whole or in part without prior express written permission from PUNCH.
https://punchng.com/muslim-group-clarifies-stand-on-alcohol-based-sanitisers/
-----
South African Muslim Cleric Dies Of Coronavirus After Attending Tablighi Congregation in New Delhi
Apr 05, 2020
JOHANNESBURG: A South African Muslim cleric, who recently returned from India after attending the Nizamuddin congregation, has died after contracting the novel coronavirus, according to his family members.
Moulana Yusuf Tootla, 80, attended the March 1-15 Tablighi Jamaat congregation in the Nizmuddin area, that has emerged as the epicentre for the spread of the coronavirus in different parts of India and abroad after thousands of people took part in it.
https://economictimes.indiatimes.com/news/politics-and-nation/s-african-muslim-cleric-dies-of-coronavirus-after-attending-nizamuddin-congregation/articleshow/74989905.cms
-----
Covid-19: Muslim faithful ignore social distancing in Kano, Yola, Ughelli, observe Jum'at prayers
APRIL 4, 2020
Muslim faithful in some parts of the country yesterday ignored the directive by the various state governments on social distancing in order to curtail the spread of COVID- 19 as they thronged the mosques enmass to observe the juma'at prayers. This happened in Kano, Yola and Ughelli in Delta state. In Kano, although the Kano state government had not issued any order banning the people from attending the congregational prayer in Mosques or Churches, Governor Umar Ganduje had often preached social distancing and even demonstrated it in one of the State Executive Council meetings where they shifted their sitting from the usual Council Chamber to Africa House which was more spacious to observe the social distancing. A visit to some juma'at mosques in Kano showed that the faithful ignored the social distancing directive. Some of the mosques visited included the Central Mosque in Emir of Kano's palace, Kofar Nassarawa mosque, and Kofar Gadon Kaya mosque. A worshipper, Al-Amin Albarra who spoke with Saturday Vanguard said they observed the prayer according to the Islamic teachings and the teachings of the Holy Messenger of Allah and were not observing any social distancing which was not recognized by the teachings. A reliable source in one of the enforcement agencies told Vanguard that a critical meeting was held with religious leaders over banning of congregational prayers but at the end of the meeting it was resolved that enforcement agencies would be deployed to control the crowd in such places but this has not been effective. In Ughelli, despite the lockdown order by Governor Ifeanyi Okowa of Delta State, hundreds of Muslim worshippers yesterday defied the order as they gathered at the Okorodafe Mosque for the Juma'at service. The main Mosque along Isoko Road, also held Jumat service contrary to the social distancing order but the crowd was minimal compared to the Okorodafe Mosque. Governor Ifeanyi Okowa had ordered a 14-day lockdown order from Wednesday as a measure to prevent the spread of the Corona Virus in the state". Observing the flouting of the lockdown order at Ughelli, a team of policemen who stationed their hilux van at the Okorodafe roundabout to ensure that the lockdown was implemented, watched helplessly as the crowd from the mosque dispersed at the end of the prayer. Giving reasons why they failed to accost the worshippers for flouting the social distancing order, one of the policemen said they decided to allow them (worshippers) since the prayer was very short as against the normal timing. The policeman who spoke on condition of anonymity, said: "Apart from the fact that the service was shorter than usual, we didn't want to cause any tension, hence we allowed them to be and ensured that they dispersed immediately." Similarly, in Yola, Adamawa state capital, there was commotion and breakdown of law and order Friday afternoon when some Muslim faithful attempted to defy the lockdown order to observe the Jumat prayers. READ ALSO: Pray against COVID-19, Chief Imam of Lagos, Baba Adinni urge Muslims Though some were said to have sustained injuries, but the situation was quickly put under control by the combined taskforce. The clash occurred at about 2:00pm on Friday, when the operatives arrived the Damilu Juma'at mosque to enforce the lockdown order, according to a worshipper. The Damilu mosque, opposite the Air force base, allegedly called for Juma'at prayer in defiance of the lockdown order, imposed by the the government. Violence erupted when a combined team of law enforcement operatives, stormed the mosque and directed the imam and some top officials of the mosque to suspend the prayers. Irate youths at the prayer ground were said to have violently attacked the operatives, pelting them with stones and metals. An eye witness said that many worshippers and security men alike, sustained injuries in the violent clash. The police have however denied the claim, saying there was neither violence nor arrest at the mosque. Spokesperson for the Adamawa police command, Suleiman Nguroje, said no injury was inflicted on any worshipper. H said, "we were patrolling round the city to monitor compliance with the lockdown order, when we got a distress call that something was happening around Damilu Jumma'at mosque. On getting there, we learnt the imam had earlier told the congregation to disperse because there wouldn't be Jumma'at prayer today (yesterday). But some youths started shouting 'Allahu akbar', causing panic and scare. "However, our men were timely, so we were able to contain the situation before it degenerated into violence. Therefore, I can confirm to you that no one was injured nor arrested as claimed", he said.
https://www.vanguardngr.com/2020/04/covid-19-muslim-faithful-ignore-social-distancing-in-kano-yola-ughelli-observe-jumat-prayers/
----
Khazarian Mafia Virus is more Dangerous than the Coronavirus
April 4, 2020
By Sajjad Shaukat
Coronavirus pandemic also named COVID-19 which is, rapidly, spreading across the world has killed more than 64,000 persons and infected over 1,192,000 individuals till today April 4, 2020, despite lockdowns in many countries, especially Western states and it is enveloping new territories.
Unlike Asia and Africa, this novel virus has badly affected many Western and European countries, such as Italy, France, Germany, Spain, the UK, Spain, the USA, etc.
In Spain, Italy, and the US, hundreds of persons have died due to COVID-19, as every day new individuals are being infected, raising the death doll.
The US has almost 24000 confirmed cases, the highest in the world. More than 4,000 people in the US have now died from COVID-19. Unlike China from where this fatal disease outbreak, now America has become coronavirus epicenter.
Owing to the impact of this deadly virus, a number of Western countries, particularly European states have imposed lockdowns, while world's some governments have also imposed curfews and national emergency, and many of them have forced travel restrictions of various kinds—airlines have announced a drastic reduction in their operations.
US President Donald Trump who has declared a national emergency on March 14, 2020, to help handle the growing outbreak of COVID-19 could toughen movement restrictions to curb the spread of the virus. There are lockdowns in some areas of the United States.
However, many Western countries, including Asian academic institutions have been closed, while, restrictions have been imposed on gathering of the people—religious, political and social protests, while public events such as games, musical events, etc., including other functions like marriage ceremonies have been curbed. These countries have also closed markets, hotels and restaurants, and have banned conferences and seminars.
Besides other restrictions, taking precautionary measures, some countries have banned flights from other countries, airport screening of passengers is being done not only at airports but also at other transport places like railway stations, bus stations, etc. To further prevent the coronavirus outbreak, many countries' authorities have stepped out screening of passengers arriving from coronavirus sensitive countries. And many countries have closed borders with the neighbouring countries.
Nevertheless, the outbreak of COVID-19 has resulted in dire consequences in Third Word in General and West's developed countries in particular.
According to the BBC, "The stock markets, where shares in companies are bought and sold, can affect many investments in pensions or individual savings accounts. Central banks in many countries, including the UK, have slashed interest rates. Investors fear the spread of the coronavirus will destroy economic growth and that government action may not be enough to stop the decline. The EU banned travellers from outside the bloc for 30 days in an unprecedented move to seal its borders because of the coronavirus crisis. In the US, the Trump administration has banned travellers from European airports from entering the US. Data from the flight tracking service Flight Radar 24 shows that the number of flights globally has taken a huge hit. As many countries across the world have started implementing very tough measures. Countries and world capital have been put under strict lockdown, bringing a total halt to major industrial production chains."
Medical experts agree that "COVID-19 typically causes flu-like symptoms including fever and cough. In some patients…particularly the elderly and others with other chronic health conditions…these symptoms can develop into pneumonia, with chest tightness, chest pain, and shortness of breath. After a week, it can lead to shortness of breath, sore throat, sneezing, and stuffy nose are most often signs of a cold."
To stop the further spread of coronavirus pandemic, people need self-quarantine or isolation. In this connection, in a majority of countries, people have been self-isolated by the government authorities and those already suffering from some disease have self-isolated themselves from others. However, owing to this lethal disease, patients meet a very painful death like the slow-poisoning.
Renowned historians agree that besides other causes, the major cause of the French Revolution of 1789 was the class distinction between the privileged and the unprivileged. The people signed "the Declaration of the Rights of Man, which declared that all estates are equal…all men are born equal under the law."
This enthusiasm died, when France witnessed the era of Reign of Terror from September 1793 to July 1794. The Reign of Terror was essentially created by the radical leader of the revolution Maximilien de Robespierre.
According to a researcher, "The guillotine became the preferred method of executions and became known as "The National Razor. Joseph Guillotine, a doctor, suggested its use for all executions because it was a quick, painless death…The device was a large timber frame with space at the bottom for the neck of the prisoner. At the top of the machine is a large angled blade. Once the prisoner is secured, the blade is dropped, severing the head and bringing about immediate death."
During the Reign of Terror, the revolutionaries executed many high ranking members of France's elite class through the guillotine, which also included King Louis XVI, his wife Marie Antoinette, Louis Philippe II, Madame Roland, and the Girondins.
The Reign of Terror was controlled by the Committee of Public Safety-the the Jacobins. Robespierre ran the country. Researchers say, "Between 20,000 and 40,000 people were executed. At their trials, they could not speak in their own defense. The victims were clergy, aristocracy, and common people. Anyone who disagreed with the Jacobins was a threat to the Republic."
According to Indian historian, V. D. Mahajan, "The Reign of Terror has been described as martial law has gone mad…On 10 November [1793], Madam Roland was executed. When she mounted to the scaffold, she exclaimed: Liberty! What crimes are committed in thy name!"
If we take cognizance of the bloody aftermath of the French Revolution, we need to know that in the modern era, Khazarian Mafia (KM) has also gone mad and followed the French Revolution's Reign of Terror in its worst form. This Mafia has refined the tactics of the guillotine and tortured to deaths millions of people, belonging to various nations. If guillotine resulted in the quick death of persons, Khazarian Mafia's techniques have been eliminating human beings not only through mass murder but also through perennial pain which may also be equated with slow poisoning.
As regards the historical background of the Khazarian Mafia and its connections with Israel and Zionist Jews, various writers and authors have already exposed its evil-designs.
Nonetheless, many Jewish writers have objected that a number of writers and authors confuse the term Khazarian Mafia by amalgamating it with the Jews. But, fact remains that in the context of modern history, collective interests and present phenomena of the world, it is much difficult to differentiate between these two entities. Wikipedia points out that the Khazarian King Bulan (Khazar) had chosen Judaism as the religion of the Khazarians. So, connections between Jews and the Mafia are quite obvious.
In fact, Jews are owners of the many big cartels of the US in particular and the world in general. Based in the US, they have been running the major multinational corporations, arms factories, five-star hotels, oil companies, liquor businesses, banks, film industry, print and electronic media on the international level. Having an influence on financial institutes like the World Bank and International Monetary Fund, Jews have a direct and indirect hold on the global economy. Thus, by dominating the American internal policies Khazarian Mafia and Zionist Jews have moulded country's foreign policy for their own interests and those of Israel. By changing America into a corporate industry, they have converted the world into a corporate industry.
It is notable that after the disintegration of the Soviet Union in 1991, the US emerged as the sole superpower in the unipolar world. In consultation with his Zionist-advisers, American former President Bush, (The Senior) replaced the old bipolar order with the New World Order (NWO), with the US acting as a kind of global policeman to protect the political, economic and religious interests of the Khazarian Mafia.
In the unipolar world, even the United Nations system became an instrument of the US policy to establish American hegemony in the world. The Third World—Muslim countries were compelled to realign their domestic policies according to Washington's dictates. In order to obtain the hidden agenda of the Khazarian Mafia, the US imposed its sudden terms of globalization such as free markets, privatization and de-nationalization, etc. on the ill-prepared developing countries and the Muslim countries, which left behind shattered nations and a global financial crisis and increased poverty in most of these countries, which resulted into painful deaths of many persons due to diseases and lack of medical treatment. It further widened the gap between the poor and the rich countries or G-7 countries. The Khazarian Mafia has continued to drive the project of globalization.
Besides, America's child-killing sanctions against Iraq and Iran; late action to curb ethnic cleansing in Kosovo, support to Israel's aggressive occupation of the West Bank and Gaza, with vetoing any effective action by the UN to stop the Israeli state terrorism greatly annoyed the Muslims all over the world.
When President George W. Bush became the US president, he and the neo-conservatives crossed all the limits in securing the political, economic and religious interests of Israel and the Khazarian Mafia at the cost of Muslims and even patriot Americans.
Once Henry Kissinger stated, "legitimacy is not natural or automatic, but created." Under the cover of the false flag operation of 9/11, the US President Bush orchestrated the drama of global war on terror.
Bush who used the words, "crusade against the evil-doers" adding to the perception that the ongoing 'different war' against terrorism is actually a war against the Islamic countries. It was owing to the employment of pressure-diplomacy on the weak states—Muslim countries like Pakistan, Indonesia, Libya, etc., including almost all the Arab states, joined the Bush anti-terrorism war. By manipulating the 9/11 carnage, Bush also got the sympathies of almost all the major Western countries, including NATO states which also joined the phony global war on terror.
During the invasion of Afghanistan and Iraq (By the US-led allied forces) and after occupation, the brutal tactics of the US-led NATO like heavy air bombardment and ground shelling by the sophisticated war machinery, including special military operations and extra-judicial assassinations killed millions of innocent persons. Particularly, the US military-strategic warlords who preferred to create a paralyzing effect of 'shock and awe' displayed the terrible inferno of destruction in Afghanistan and Iraq.
In the case of Iraq, many of the Iraqi and some members of the former Interim Governing Council were shocked at the violence in Fallujah. Even the US weekly, 'Newsweek' admitted in its publication of April 19/April 26, 2004 that the US forces "used a very heavy hand in Fallujah where more than 400 people were killed. Four members of the [former] Governing Council resigned in a protest against America's crackdown in Fallujah…according to doctors figure of the deaths was impossible to check and it is more than 400…an airstrike dropped a 500-pound bomb. Arab language TV claimed that the bomb killed more than a score of civilians at prayer."
Like Afghanistan, American soldiers also massacred several wounded people and civilians in Iraq. In November 2004, a number of world's televised channels including those of America showed footage of a US marine who was shooting and killing an already captive and wounded Iraqi prisoner at close range in a mosque in Fallujah where civilians had taken shelter.
Notably, we cannot deny the fact that these were the worst examples of US-led state terrorism or the use of abnormal force.
Besides, the US-led troops, assisted by CIA have carried out indiscriminate mass round-ups in catching up suspected Muslim men and women in Afghanistan and Iraq, including some Arab countries without evidence. Israeli intelligence agency Mossad and Indian secret agency RAW have helped the CIA officials in arresting the Muslim men, having beards and ladies, wearing scarves. Besides Guantanamo Bay and Iraq's Abu Ghraib prison, CIA torture cells were present in several Islamic countries and were also set up in ships where American secret agencies and military personnel employed various methods of torture on the militants and suspected persons like physical violence and even murder. American notorious private military firm Blackwater also eliminated countless Muslims in Iraq and Afghanistan.
In March 2013, an investigative report by the British Guardian/BBC disclosed that acting under the direction of the top US officials; the CIA utilized a global network of secret prisons, foreign intelligence agents and torture centers in various Islamic countries including Belgium, Thailand, etc. where torture was conducted directly by American intelligence operatives.
The report also mentioned atrocities of the US-backed entities, carried out in Bagram Airbase (Afghanistan), Guantanamo and Iraq—unleashed a deadly sectarian militia that terrorized the Sunni community and germinated a civil war between Sunnis and Shias, and claimed tens of thousands of lives.
Some reports suggest that more than 3 million people, including civilians, died in Afghanistan, Iraq, and Pakistan which was not attacked but was, deliberately, destabilized by CIA, RAW, and Mossad, as the latter is the only nuclear country in the Islamic World.
Following his predecessor, President Barack Obama also continued the ruthless killings of the Muslims to complete the unfinished agenda of the Khazarian Mafia. Apart from air strikes on funerals, marriage-ceremonies, and mosques in Afghanistan, he converted Egypt, Libya, Syria, Yemen, etc. into concentration camps.
As part of the US double game, CIA which created Al-Qaeda and then Islamic State group (Also known as Daesh, ISIS, and ISIL), including Al-Qaeda's Al-Nusra Front and Syrian rebel groups in fighting against the Syrian President Bashar al-Assad and Iraqi regime is responsible for the mass murder of more than 2 million Muslims and Christians who were killed in civil wars—ground and aerial strikes of the US-led Western countries—suicide attacks and bomb blasts, conducted by Al-Qaeda and ISIS.
During the fake global war on terror in Afghanistan and Iraq and various Muslim countries, especially in Syria, millions of Muslims became homeless. The plight of refugees—countless deaths, particularly of children due to lack of medical treatment and starvation have shocked the peace-loving people of the international community. The same practice was witnessed in the case of Myanmar (Burma) where US-Israeli supported-brutal military operations against the Rohingya Muslims have tortured to death tens thousands of Muslims and forced a majority of them to migrate to Bangladesh and other Islamic countries.
President Obama had also broken all the records of human rights violations by extrajudicial killings of the innocent people through illegal CIA-operated drone attacks in Afghanistan, Somalia, Yemen, etc. in general and Pakistan in particular.
It is mentioned that through the war against terrorism, President Bush and President Obama provided a golden chance to Israel and India to accelerate the systematic genocide of the Palestinians and Kashmiris by equating the wars of liberation in the controlled territories of Palestine and Kashmir with terrorism. Their forces have been employing military terrorism such as curfews, crackdowns, sieges, massacre and targeted killings to maintain alien rule on these territories.
It is noteworthy that a number of investigative reports after lab-verification verified that since 1948, Israel used the banned chemical and radiological materials against the Palestinians, Egyptians, and Syrians, and during various phases of the Palestinian Intifada, which resulted into severe convulsions, the burning sensation, the difficulty to breathe, the vomiting and pain found in relation to the victims—mostly women and children, a majority of whom died in the long run. In 2006, during the war against Lebanon, Israel used banned chemical weapons like phosphorous bombs in Lebanon and Gaza, which killed 286 Palestinians and injured 4,200. India has also used these banned weapons against the Kashmiris of the Indian Occupied Kashmir where lockdown continues unabated in wake of the spread of coronavirus.
Particularly, the main purpose of the occupation of Afghanistan and Iraq by the US-led forces was to possess energy resources of Central Asia and Iraq. In the case of the Middle East, we can see the resources of natural gas reserves in the whole Persian Gulf region. So, the same is true in case of intervention of America in Syria.
It is worth mentioning that according to the retired NATO Secretary-General Wesley Clark, a memo from the Office of the US Secretary of Defense just a few weeks after 9/11 revealed plans to attack and destroy the governments in 7 countries in five years, starting with Iraq and moving on to Syria, Lebanon, Libya, Somalia, Sudan, and Iran. In an interview, Clark said that this strategy is fundamentally about control of the region's vast oil and gas resources.
Similarly, when during the regime of the then President Gen. Pervez Musharraf, Pakistan initiated the construction of Gwadar deep-seaport in Balochistan province in March 2002 with Chinese assistance, sirens went off in the capitals of some European countries, especially the US, India, and Israel which took it as a threat to their global and regional plans.
Located on the southwestern coast of Pakistan, Balochistan's Gwadar seaport is close to the Strait of Hormuz from where more than 17 million barrels of oil pass every day. Its ideal location among South Asia, the oil-rich Middle East, and oil and gas-resourced Central Asia has further increased its strategic significance. Besides, Balochistan's abundant mineral resources irritate the eyes of Washington, New Delhi and Tel Aviv who intend to weaken Pakistan for their collective aims.
Based in Afghanistan, CIA, Mossad, and RAW which are well-penetrated in the ISIS and Tehreek-e-Taliban Pakistan (TTP), including their linked terror outfits and Baloch separatist groups are using their terrorists to destabilize Tibetan regions of China, Iranian Sistan-Baluchistan and Pakistan's Balochistan by arranging the subversive activities. In this context, the China-Pakistan Economic Corridor (CPEC) is their special target.
Although in the present world of social media and Internet, Machiavellian sinister politics of the past have been replaced by modern trends such as fair-dealings, reconciliation, and economic development, yet by following the old strategies, Khazarian Mafia has been practicing the most horrible form of colonialism and neo-colonialism, while employing ruthless techniques of terrorism by assisting the militant groups like Al-Qaeda and ISIS which conducted various terrorism-related attacks in the US, Europe and other Western countries, including Turkey, Pakistan, Bangladesh, Iraq, Syria, Egypt, Iran, Indonesia, Philippines, etc., and some African countries. Thus, they massacred thousands of persons which also include Christians.
It is of particular attention that on September 25, 2016, at the UN General Assembly, while indicating the unjust global order, Pope Francis condemned the global financial institutions, calling on them to ensure that countries "are not subjected to oppressive lending systems which, far from promoting progress, subject people to mechanisms which generate greater poverty, exclusion and dependence."
Earlier, addressing the US Congress, Pope Francis said, "No religion is immune from forms of individual delusion or ideological extremism…We must be especially attentive to every type of fundamentalism. A delicate balance is required to combat violence perpetually in the name of a religion, an ideology or an economic system…Every life is sacred…Deadly weapons for money are being sold to those who plan to inflict untold suffering on individuals and society…Money that is drenched in blood, often innocent blood."
He added: "If politics must truly be at the service of the human person, it follows that it cannot be a slave to economy and finance."
It is also of particular attention that after becoming the US President, Donald Trump started acting upon the hidden agenda of Israel and the Khazarian Mafia. His decisions such as the tough screening process for the Muslims and executive order regarding a ban on arrivals to the US from a number of mainly-Muslim countries might be cited as instance.
But, President Trump's connections with Israel and KM were undoubtedly proved when Trump Administration announced the opening of the US Embassy in Jerusalem on May 14, last year. President Trump implemented his decision of December 6, 2018, by officially recognizing Jerusalem as the capital of Israel, and reversed nearly seven decades of American foreign policy and set in motion a plan to move the United States Embassy from Tel Aviv to the fiercely contested Holy City.
In a joint press conference with Israeli Prime Minister Benjamin Netanyahu, President Donald Trump exposed the new Middle East peace plan at the White House on January 27, this year. The plan would give Israel most of what it has sought over decades of conflict while offering the Palestinians the possibility of a state with limited sovereignty.
Ignoring Israeli unabated state terrorism on the Palestinians under the cover of security, while speaking in a sterner tone, Mr. Trump issued the Palestinians a warning to accept the deal by elaborating renunciation of violence against Tel Aviv and the disbandment of militant groups like Hamas. At the same time, Mr. Trump's plan would guarantee that Israel would control a unified Jerusalem as its capital.
Knowing the intentions of the pro-Israeli President Trump, Palestinians had already rejected the Middle East peace proposals. Terming it as the "slap of the century", President Mahmoud Abbas immediately denounced the plan as a "conspiracy deal" unworthy of serious consideration, making the decades-long pursuit of a so-called two-state solution appears more distant than ever. Other Islamic countries, including Pakistan and pro-American Gulf states, also rejected the new Middle East Plan.
These decisions clearly proved that President Trump has been acting upon the evil designs of the Khazarian Mafia and is making efforts for a greater Israel.
In this connection, Khazarian Mafia forgot that angry elements within the Muslim countries, particularly the pro-Arab states may react against America and its interests in the form of terrorism and other violent actions. Unquestionably, the US president's move on Jerusalem has created new risks for all of Washington's allies in the Middle East, as the decision will offer extremist groups a valuable opportunity to capitalise on anti-US sentiment and direct such anger towards those regimes which are close to America and non-confrontational towards Tel Aviv. While the world is already witnessing various kinds of terrorism-related assaults, the acceleration of terror-attacks would further destabilize the world by harming the political and monetary interests of the KM.
Anyhow, it is most surprising to note that especially since the orchestrated drama of the 9/11 attacks, on the one side, Khazarian Mafia has been acting upon its evil designs by targeting the non-Zionist Americans and the international community, while, on the other, it is, rapidly, jeopardizing its financial interests by destabilizing the global economy.
Meanwhile, in the recent years, various developments such as reluctance of NATO countries to support America's fake global war on terror, acceptance of Syrian refugees by the European countries, especially Germany, Britain's decision to leave the EU, and the divide between the elite class which runs multinational companies with the direct or indirect control of the KM and the general masses who are suffering from multiple problems in wake of differences on the refugee crisis, Syrian war, Greece's weak economy, violent protests against the labour laws in France, etc.—the chances of European Union's disintegration and a rift among the NATO countries, as noted in the recent past by the "Stop NATO protests in Europe were quite opposite to the Israeli secret interests and those of the KM.
In the meantime, since September 2015, when Russian-led coalition of Iran, Iraq, Syria, and Lebanon-based Hezbollah started successful military operations against the CIA-supported rebels and mercenaries after their failure to topple Assad's government, proving links of Al-Qaeda and ISIS, several false flag terror assaults in Europe and the US, were, in fact, arranged by Mossad in connivance with some CIA operatives and ISIS terrorists to increase anti-Muslim phenomena in the West—now, more resentment is found against the US-led West, and in response, even the moderate Muslims are likely to join the militants. Another aim, particularly of Mossad is to radicalize the Muslims against the Western Christians and the latter against the former.
While the US fanatic President Donald Trump has broken the records of his predecessors-Bush and Obama by creating and leading the 'Christian Taliban' and his fanatic policies are creating division between the white and the black and between the Muslims and the Christians.
Regrettably, Western politicians have introduced dangerous socio-religious dimensions in their societies by equating the "war on terror" with "war on Islam" and acts of Al Qaeda and ISIS with all the Muslims. Their media have also been contributing to heighten the currents of global politics on cultural and religious lines with the negative projection of Islam. Owing to these reasons, far right-wing parties and "Stop Islam" movement in the West, particularly in Europe has been becoming popular by largely attracting their people. Right-wing parties in a growing number of European countries have made electoral gains. The right-wing parties range across a wide policy spectrum, from populist and nationalist to far-right neofascist.
It is noteworthy that the US and other developed countries produce 'surplus' which is being exported to the less developed countries, including the Islamic countries. The latest machines produce products quickly, and rapid means of communication and correspondence through the internet or email have accelerated the business transactions. But, in the present world, terrorism is being manipulated by the KM, while, at the same time, they are damaging their monetary interests by following conflicting strategies.
Being a capitalist, President Trump is blindly pursuing the goals of the Khazarian Mafia. At the same time, like the dual policy of the Mafia, Mr. Trump is harming the economic interests of America, as his initiation of trade war-strategy against Europe and especially China has displayed.
While, implementing the clandestine strategy of the Khazarian Mafia and besides supporting the fanatic Israeli Prime Minister Netanyahu, American extremist President Trump is also backing the Indian leader of the fanatic party BJP and the fundamentalist Prime Minister Narendra Modi against China and Pakistan in accordance with anti-China, anti-Russia, anti-Pakistan and anti-Muslim agenda. He is leading the covert Indo-Israeli nexus as part of the invisible war of the Mafia.
In these terms, the Khazarian Mafia virus is more dangerous than the coronavirus, as the Mafia has infected humanity at large and has continued killing the people of various nations to obtain, particularly, Mafia's business interests.
Now, the world economy has received a greater blow due to the increase of the COVID-19. Multinational companies, including other industries especially of the US and EU, have been badly affected by this pandemic virus. Complete lockdowns and partial lockdowns in these and other most developed countries, including the Third World and the Muslim countries have reduced the trade. Interaction among the peoples of various fields has also been reduced.
Regarding the origin of this deadly virus, Lijian Zhao, an official spokesperson for the Chinese Ministry of Foreign Affairs said on March 12, 2020, that the US Army might have brought the Coronavirus epidemic to Wuhan from where it originated. US athletes participated in the Military World Games which were held from October 18–27, 2019 in Wuhan.
At present, China has controlled the coronavirus. The economy of the US and Europe has been paralyzed. China buys 30% of the shares of companies in Europe and the US at a very low price. China has owned companies in Europe and the US. And Beijing decided that these companies stay in China and earned $ 20,000. The companies, created by America and Europe in China with all the technology put in by these exchanges and their capital they passed into the hands of China, which is now rising with all that technological potential and will be able to set prices at will to sell everything they need to the West.
Sometimes, the hunter becomes the hunt and the gunner himself becomes a target. It happens so with the Khazarian Mafia.
http://kashmirwatch.com/khazarian-mafia-virus-dangerous-coronavirus/
------
Southeast Asia
China reiterates commitment to help Indonesia win fight against COVID-19
Apriza Pinandita
Chinese President Xi Jinping reiterated China's commitment to working together with Indonesia to fight the COVID-19 pandemic during a phone call with President Joko "Jokowi" Widodo, asserting the Southeast Asian country as among priority nations to engage with.
In a statement issued by the State Secretariat, Xi shared his concerns about the COVID-19 spread in the archipelago and discussed his country's experience in addressing the global health crisis. He mentioned his country's readiness to support Indonesia in its fight against the pandemic.
"We believe that with your perseverance, Indonesia will be able to defeat this [COVID-19] pandemic," said the Chinese president.
"Indonesia will be one of our priorities [in engaging in such cooperation]," Xi said. "We're ready to work together with the Indonesian people."
"We have to continue working together to curb the spread of the virus. I also disagree with stigmatization, as it is not beneficial in such a hard time like this," Jokowi said.
The medical gear included disposable masks, N-95 masks, protective clothing, goggles, gloves, shoe covers, infrared thermometers and surgical caps to be used by the country's doctors and fast-response team for COVID-19.
On the next day, the Chinese Embassy in Indonesia announced that the Chinese government had shipped another round of medical kits.
The State Secretariat, however, has yet to share details about future cooperation and whether Indonesia would receive another round of aid from China.
https://www.thejakartapost.com/news/2020/04/04/china-reiterates-commitment-to-help-indonesia-win-fight-against-covid-19.html?src=mostviewed&pg=/
-------
Three Malaysians among 75 new cases in S'pore
05 Apr 2020
SINGAPORE: Three Malaysians are among 75 new cases of Covid-19 in Singapore, the republic's health ministry announced on Sunday (April 5).
One of the Malaysian patients is an imported case involving a 32-year-old man who is a work pass holder. The other two are women working in public healthcare.
One is a 24-year-old female porter at Tan Tock Seng Hospital and the other a 20-year-old female healthcare assistant at Sengkang General Hospital.
Four more new clusters were identified: Sungei Tengah Lodge at the Old Choa Chu Kang Road, Toh Guan Dormitory at Toh Guan Road East, Cochrane Lodge II at Admiralty Road West, and The Orange Ballroom at Geylang Road.
Updating on the condition of confirmed cases, the health ministry said 15 more cases of Covid-19 have been discharged from hospitals or community isolation facilities, bringing to 297 the total number of full recoveries.
Of the 500 confirmed cases still in hospital, most are stable or improving while 26 are in critical condition in the intensive care unit.
Meanwhile, 386 cases who are clinically well but still test positive for Covid-19 are isolated and cared for at Concord International Hospital, Mount Elizabeth Hospital, Gleneagles Hospital and the Community Isolation Facility at D'Resort NTUC.
https://www.thestar.com.my/news/nation/2020/04/05/three-malaysians-among-75-new-cases-in-spore
------
250 Rohingya refugees land on Langkawi beach
05 Apr 2020
The MMEA, in a WhatsApp message to the media, said the agency was still investigating the incident while declining to give further information for the time being.
On April 3,2018, The Star reported the MMEA had reportedly detained a boat carrying dozens of Rohingya refugees in the waters off Langkawi.
In the report, about 56 women, men and children on board were being taken to the maritime base in Bukit Malut.
https://www.thestar.com.my/news/nation/2020/04/05/250-rohingya-refugees-land-on-langkawi-beach
-----
Covid-19: Cases pass 1.2 Million; 'Horrendous' phase seen
05 Apr 2020
SINGAPORE: US leaders offered a sombre outlook on the Covid-19 (coronavirus) pandemic with President Donald Trump warning of a "very horrendous" phase and Governor Andrew Cuomo predicting New York -- after reporting its most deaths in a day -- would soon reach the epidemic's apex.
China, the first country to suffer a major outbreak of the disease when it first emerged late last year, reported 47 so-called asymptomatic cases, as testing for the disease in the country finds more that are symptom free.
Elsewhere in Asia, South Korea, Thailand and the city of Tokyo reported new cases as Asian nations that worked early to stem the virus battle a new wave of infections.
The city found more than 130 new coronavirus infections Sunday -- a record for daily confirmed cases -- local outlet Kyodo reported, citing unnamed sources close to the Tokyo Metropolitan Government.
The city found more than 110 new coronavirus cases on Saturday, the first time its daily confirmed infections passed the 100 mark, national broadcaster NHK reported.
The city-state is set to unveil further support for businesses and households on Monday, following a previously announced S$48 billion (US$33.4bil) stimulus package to buffer the virus's impact. Authorities plan to waive foreign worker levies for April and boost an existing jobs support program, Deputy Prime Minister Heng Swee Keat said Saturday. He didn't elaborate on other measures or how much authorities will spend.
Bangladesh Prime Minister Sheikh Hasina rolled out a 727.5 billion taka ($8.6 billion) stimulus package, which is 2.52% of the country's GDP, to cushion the impact of the outbreak.
Low-income groups will be affected the most by the outbreak as economic costs will mount in the days to come, she said. The government will prioritize fiscal benefits and low-cost loans for businesses, including small and medium enterprises. Bangladesh has 70 cases, with nine reported Saturday.
Malaysia's prisons department sent a letter to the federal court asking the judiciary to stop jailing violators of the country's movement control order, The Star newspaper reported. The prisons department director-general is said to have signed a letter that states social distancing was impossible in prisons due to overcrowding, according to the report.
Business conditions in the United Arab Emirates worsened at a record pace last month and dropped at the fastest in over a decade in Saudi Arabia following measures to stem the outbreak as it spreads in the Middle East, Europe and US.
Trump and Indian Prime Minister Narendra Modi held a phone call in which they "agreed to remain in touch on the issue of global supply chains for critical pharmaceuticals and medical supplies and to ensure they continue to function as smoothly as possible during the global health crisis," White House spokesman Judd Deere said in a readout.
The hard-hit country reported 81 new virus cases in 24 hours, for a total of 10,237, as Asia battles a second wave of infections.
China reported that it had 30 new infections April 4, including 25 imported cases. It also said there had been three more deaths. China also reported 47 new asymptomatic cases for April 4, including 16 cases from abroad.
Communities in the US "cannot afford to wait" for the next coronavirus stimulus, Speaker Nancy Pelosi said in a letter to House lawmakers, adding "it is my hope that we will craft this legislation and bring it to the floor later this month."
The next package "must go further in assisting small businesses including farmers, extending and strengthening unemployment benefits and giving families additional direct payments," according to Pelosi. She said it would give more resources to state and local governments, health care including hospitals and medical workers, and first responders.
Queen Elizabeth will strike an optimistic note about the UK's collective response to the coronavirus in a special broadcast Sunday to the U.K. and Commonwealth nations, according to excerpts reported by the BBC and the Guardian. Other than her annual Christmas address, the monarch rarely makes public pronouncements of this kind.
Trump offered a stark warning about the days ahead as his top medical adviser said cases in hard-hit cities like New York, Detroit and New Orleans will likely reach a peak within a week.
"There's going to be a very, very deadly period, unfortunately," Trump said at the White House on Saturday. "It's not going to be a good-looking situation." Trump compared the casualties to a world war, without giving specific estimates.
New York, the worst-hit US state, recorded the biggest daily death toll yet, adding 630 fatalities for a total of 3,565, Governor Andrew Cuomo said.
One thousand ventilators are due to arrive from China on Saturday. "This is a big deal and it's going to make a significant difference for us," Cuomo said. Oregon donated another 140. "We're not at the apex," Cuomo told reporters.
Mayor Bill de Blasio earlier repeated calls for a national system to help move doctors and nurses from other states to areas with high need, saying the weeks ahead will be New York City's "the toughest time."
https://www.thestar.com.my/news/regional/2020/04/05/covid-19-cases-pass-12-million-horrendous-phase-seen
-------
COVID-19: Anies slams Health Ministry's requirements for large-scale social restrictions
Ardila Syakriah
April 5, 2020
Jakarta Governor Anies Baswedan has heavily criticized the Health Ministry's newly issued guidelines on large-scale social restrictions to curb the spread of COVID-19, saying they showed "no sense of urgency".
"[It's] as if we are proposing a project that needed a feasibility study," Anies told The Jakarta Post on Sunday. "Can't the ministry see that we are facing a rising death toll? Is it not enough?"
Earlier this week, President Joko "Jokowi" Widodo said that in lieu of a regional or national lockdown, regions could implement large-scale social restrictions (PSBB) in their fight against COVID-19. Such restrictions include the closing down of schools, offices and places of worship, as well as limitations on public transport.
According to Government Regulation No. 21 on PSBB, provinces and cities are required to obtain a permit from the health minister to impose the policy. As of Sunday, no region has yet to obtain such a permit.
According to a ministerial regulation issued by the Health Ministry on Friday, regional heads who want to enact a PSBB have to attach an epidemiology study to their requests, as well as data and maps showing the spread of the virus in their respective regions.
The request would then be discussed by a team appointed by the health minister, who would approve or deny the request in consultation with COVID-19 fast response team chief Doni Monardo, who also heads the National Disaster Mitigation Agency (BNPB).
Anies said he had sent a PSBB request to Health Minister Terawan Agus Putranto on Wednesday before the ministerial regulation was issued and would wait for an answer instead of sending a new letter.
In the letter, he wrote that the virus had spread to 253 of the city's 267 districts and 86 medical workers had also been infected. He also wrote that while the official death toll in the capital was 85, 401 people had been buried using COVID-19 protocols. The request was being discussed by the Health Ministry's team on Sunday afternoon.
"We already detailed the facts about [COVID-19 in] Jakarta in the letter. We are waiting for an answer [from the minister]," he said. "It's very strange that we have to [go through so much bureaucracy] during a crisis such as this."
According to the government's official count, there are 2,092 confirmed COVID-19 cases nationwide as of Saturday, 1,028 of which are in Jakarta.
https://www.thejakartapost.com/news/2020/04/05/covid-19-anies-slams-health-ministrys-requirements-for-large-scale-social-restrictions.html
------
URL: https://www.newageislam.com/islamic-world-news/saudi-arabias-ministry-justice-sends/d/121490
New Age Islam, Islam Online, Islamic Website, African Muslim News, Arab World News, South Asia News, Indian Muslim News, World Muslim News, Women in Islam, Islamic Feminism, Arab Women, Women In Arab, Islamophobia in America, Muslim Women in West, Islam Women and Feminism