New Age Islam News Bureau
05 December 2020
Prince Faisal bin Farhan Al Saud was addressing on online talk on Med2020 [File: John Macdougall/Pool]
-----
• Iran: Saudi Arabia Main Hub for Nurturing, Training Terrorists in Region
• Top Diplomats From Jordan And Israel Hold Rare Meeting On Palestine Issue
• Supreme Court Junks Plea Seeking Govt Nominees In Muslim Trust, Indo-Islamic Cultural Foundation For Ayodhya Mosque
• Call for Lawyers to Assist with Cases of Islamophobia in the UK with the IRU
• Decision On Resignation To Be Finalised Next Week: PDM
• Pompeo Calls on Negotiating Parties to 'Stand Back and Stand Down'
• Indonesia Must Follow The Path To Unity And Healing after The Election Of Moderates To Indonesian Ulema Council
• Biden Says He Remains Committed To The Iran Nuclear Deal
Arab World
• Saudi Arabia's Foreign Minister: Normalisation With Israel Requires A Sovereign State To Palestinians
• Hezbollah files lawsuits against figures over Beirut blast accusations
• 'Significant progress' made to resolving Gulf crisis: Saudi FM Prince Faisal
• Bahrain denies statement on import of goods from West Bank, Golan Heights
• Iran continues to fund militias in region, terror operations in Europe: Saudi FM
• Lebanese security services warn of terror plot to destabilize country
--------
Mideast
• Iran: Saudi Arabia Main Hub for Nurturing, Training Terrorists in Region
• High Council for Human Rights Official: Deal with Terrorism in Iran as in France, Austria Just for Once!
• Man arrested for pouring 'flammable liquid' inside Jerusalem church
• Palestine to sue Israel at ICC for killing teen at West Bank protest
• Israeli forces attack Palestinian protesters in West Bank, kill minor
• Turkish security forces detain Daesh suspects, including 1 with links to Vienna attacks
--------
Africa
• Top Diplomats From Jordan And Israel Hold Rare Meeting On Palestine Issue
• Ziad Takieddine, Lebanese Businessman Detained In Beirut Over Alleged Sarkozy-Gaddafi Corruption
• Somalia: SNA Says 51 Shabaabs Killed in 'Botched' Raid On Somali Military Base
• Is Africa overtaking the Middle East as the new jihadist battleground?
• Displaced Nearing 400,000 in Mozambique's Islamist Insurgency
--------
India
• Supreme Court Junks Plea Seeking Govt Nominees In Muslim Trust, Indo-Islamic Cultural Foundation For Ayodhya Mosque
• 'Our Turn to Return Favour': Team of Muslim Men Serve 'Langar' 24/7 to Protesting Farmers at Singhu Border
• Hindu Jagran Manch Meets Jharkhand Governor For Law Against Love Jihad
• Mau Woman Eloped with Married Lover of Different Faith, Case Filed Under UP's New 'Love Jihad' Law
• 'Can't Even Build Their Roads': Rajnath Singh's Stinging Jibe At Pakistan
--------
Europe
• Call for Lawyers to Assist with Cases of Islamophobia in the UK with the IRU
• Erdogan Hopes France 'Will Get Rid Of Macron Soon'
• US encouraging separatism in Syria, hindering restoration of its unity: Russia FM
• Germany wants broader Iran nuclear deal
--------
Pakistan
• Decision On Resignation To Be Finalised Next Week: PDM
• Justice Isa seeks live broadcast of hearings of review petitions
• SC orders ATC to conclude Perween Rahman murder trial as per law
• PDM holds protest meetings in Quetta, Khuzdar, Gwadar
• 1 killed, 7 injured in auto rickshaw blast in Pakistan's Rawalpindi
--------
South Asia
• Pompeo Calls on Negotiating Parties to 'Stand Back and Stand Down'
• Presidential Palace Rejects 4 'Reconciliation Council' Members
• NDS Busts Haqqani Leader in Kabul, 8 Arrested: Saleh
• Trump has moved to pull back US troops from Afghanistan – but that may not help achieve peace
• Iran warns about 'suspicious' moves to disrupt Iran-Afghanistan ties
--------
Southeast Asia
• Indonesia Must Follow The Path To Unity And Healing after The Election Of Moderates To Indonesian Ulema Council
• Indonesia: Controversial Cleric Apologizes over Gatherings after Public Outcry
• Selangau MP Calls On PM Muhyiddin To Retract Statement Against Secularism, Liberalism
• Sabah To Allow Social Visitors Again In Time For Christmas, Holiday Season
• Philippine troops repel major Daesh attack
--------
North America
• Biden Says He Remains Committed To The Iran Nuclear Deal
• US could designate Houthi militia as 'terrorist' organization
• Sen. Cruz reintroduces act to designate Muslim Brotherhood a terrorist group
• Pompeo claims Iran keen to return to nuclear talks for sanctions relief
Compiled by New Age Islam News Bureau
URL: https://www.newageislam.com/islamic-world-news/saudi-arabias-foreign-minister-normalisation/d/123673
--------
Saudi Arabia's Foreign Minister: Normalisation With Israel Requires A Sovereign State To Palestinians
By Barbara Bibbo
4 Dec 2020
Prince Faisal bin Farhan Al Saud was addressing on online talk on Med2020 [File: John Macdougall/Pool]
-----
Rome, Italy – Saudi Arabia's foreign minister has said Saudi Arabia would only normalise ties with Israel within a plan that would deliver a sovereign state to Palestinians, quashing speculation that the kingdom may soon become the latest Arab country to establish full diplomatic relations with Israel.
"What we need to make [normalisation of ties with Israel] happen is a peace deal that delivers a Palestinian state with dignity and with a workable sovereignty that Palestinians can accept," Prince Faisal bin Farhan Al Saud said on Friday.
Prince Faisal was addressing an online talk at Med2020, a yearly international forum held every year in Italy's capital Rome bringing together world leaders.He said Saudi Arabia envisaged normalisation of ties with Israel in exchange for the creation of a Palestinian state within the 1967 borderlines.
"That deal would have to be negotiated, but what is important now is to bring back Israelis and Palestinians to the negotiating table to work towards a fair deal," Prince Faisal said.
The so-called Abraham Accords were signed in September to normalise ties between Israel and the United Arab Emirates (UAE) and Bahrain.
The agreements, brokered by US President Donald Trump's administration, included a freeze by Israel on planned annexation of Palestinian land.
Palestinian officials condemned the normalisation as "a stab in the back of the Palestinian cause and the Palestinian people".
Prince Faisal said a normalisation of ties with Israel has long been part of Saudi Arabia's vision.
"It was first put on the table in Fez in 1982 by then Crown Prince Fahad," he said.
"We still have that same vision, whereby Israel becomes a normal part of the region, where it has fully normal relations with the neighbours. What we need to make it happen is to deliver a [Palestinian] state."
The two-state solution closely reflects the Arab Peace Initiative, which was proposed by Saudi Arabia in 2002. The initiative called for normalised relations between Israel and other Arab states in exchange for a full withdrawal by Israel from lands it occupied in the 1967 war, including the Golan Heights, East Jerusalem and the West Bank.
The initiative was re-endorsed over the years by the Arab League but never implemented, as Israel continued its occupation and settlement expansion in the West Bank.
Qatar's position
Just a few hours earlier, Qatari Foreign Minister Mohammed bin Abdulrahman Al Thani also delivered Qatar's take on the Abraham Accords to the Med2020 platform, saying Qatar did not consider them as helping the Palestinian cause.
Al Thani said the Palestinian issue would have to be at the core of any normalisation agreement between Qatar and Israel.
"If there are chances for peace, based on a just resolution of the Palestinian issue, establishing a [Palestinian] sovereign independent state with East Jerusalem as its capital, according to the Arab Peace Initiative, Qatar will go along with other countries in the region," said the minister.
"Right now, I don't see that the normalisation of ties between Qatar and Israel is going to add value to the Palestinian issue."
Al Thani said Qatar had a "working relationship" with Israel aimed at facilitating the delivery of aid and development support to the Palestinian people.
"For the time being this relationship is sufficient to benefit our brothers in Palestine."
https://www.aljazeera.com/news/2020/12/4/normalisation-with-israel-requires-palestinian-state-saudi-fm
-------------
Iran: Saudi Arabia Main Hub for Nurturing, Training Terrorists in Region
2020-December-4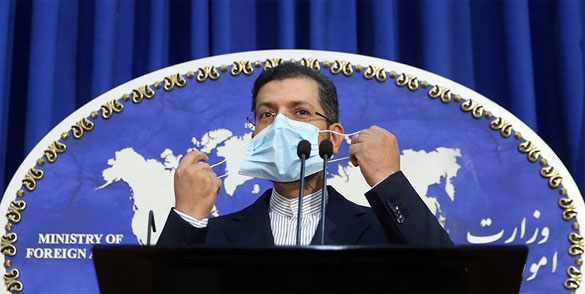 Abbas held talks in Jordan last week with King Abdullah II ahead of visits to Egypt
--------
Khatibzadeh wrote on his Twitter account that the Riyadh's regime should revisit its decades-old policy of fueling tensions throughout the region.
"Wahabism—nurtured by colonial powers—has been the source of bigotry, hatred and terrorism in our region — and beyond," the Iranian foreign ministry spokesman tweeted.
"Fact: Every terrorist group in our region has graduated from Saudi-funded Madrassas. No amount of Saudi obfuscation can hide this ugly reality," he added.
Khatibzadeh called on the Saudis to change their ways, as the policy of creating tensions can no longer be continued.
Khatibzadeh's reaction came after al-Jubeir in recent tweets wrote, "Iranian Foreign Minister Zarif is desperate to blame the Kingdom for anything negative that happens in Iran. Will he blame us for the next earthquake or flood?"
"It is not the policy of Saudi Arabia to engage in assasinations; unlike Iran, which has done so since the Khomeini Revolution in 1979. Ask us, and ask many other countries who have lost many of their citizens due to Iran's criminal and illegal behavior!," al-Jubeir claimed.
Al-Jubeir's insulting comments came in reaction to remarks by Iranian Foreign Minister Mohammad Javad Zarif.
Zarif had earlier blamed the kingdom, the US, and Israel for cooperating with one another to enable the November 27 assassination near Tehran of Mohsen Fakhrizadeh, a senior Iranian nuclear scientist.
He had cited Netanyahu's visit to Riyadh, trilateral meetings involving him, Saudi officials, and US Secretary of State Mike Pompeo -- who was visiting the Saudi capital during a frenzied tour of the region -- and concurrent Iranophobic remarks by the Israeli premier.
The surprisingly coincidental developments, Zarif had regretted, "unfortunately crystalized in the form of the cowardly terrorist act and [consequent] martyrdom of one of the country's senior directors (Fakhrizadeh)."
The foreign minister had also shown how the assassination had been followed by a misinformation campaign on Twitter featuring countless fake accounts and tweets attacking Iran, something for which he still blamed the trio.
Martyr Fakhrizadeh's car was targeted by an explosion and machinegun fire in Damavand's Absard 40 kilometers to the East of Tehran on November 27 (last Friday).
The nuclear scientist and one of his companions were immediately taken to a nearby hospital but he could not be saved.
Iranian Foreign Minister Mohammad Javad Zarif tweeted on Sunday that the assassination bears all the hallmarks of the Israeli regime.
An informed source told Press TV on Monday that the remains of the weapon used in the Friday assassination of senior nuclear scientist Mohsen Fakhrizadeh show that it was made in Israel.
The history of Tel Aviv's sabotage targeting Iran's nuclear energy program is as old as the program itself.
Many observers believe Israel is not able to carry out such dangerous operations without the prior information and support of the United States which left a landmark nuclear deal with Iran in 2015.
Secretary of Iran's Supreme National Security Council (SNSC) Ali Shamkhani said that electronic equipment has been used in the "highly complicated" assassination of Fakhrizadeh, and further underlined the role of Israel and the anti-Iran Mojahedin-e Khalq Organization (MKO, also known as the MEK, PMOI and NCRI) in the terror attack.
"Unfortunately, the operation was very complicated and was carried out by using electronic equipment and no one (terrorist) was present on the scene. But some clues are available, and the identity and records of the designer of the operation has been discovered by us," Shamkhani said on Monday.
"Certainly, Monafeqin (hypocrites as MKO members are called in Iran) have played a role and certainly, the Zionist regime and Mossad are the criminal mastermind of this incident," he added.
Early in 2018, the Israeli sources had acknowledged that Mossad had tried to assassinate an Iranian nuclear scientist, but its operation failed.
According to Fars News Agency, Mossad had gained access to Fakhrizadeh's name via a UN list which referred to him as a senior scientist of Iran's Defense Ministry's Physics Research Center.
After the terrorist attack on Friday, Commander of the Islamic Revolution Guards Corps (IRGC) Major General Hossein Salami underlined that assassination of Fakhrizadeh may not undermine Iranians' resolve, and said revenge for the terror attack is already on the country's agenda.
General Salami extended condolences to Supreme Leader of the Islamic Revolution Ayatollah Seyed Ali Khamenei, martyr Fakhrizadeh's family, and the Iranian nation over the martyrdom of Head of the Research and Innovation Organization of Iran's Defense Ministry, Dr. Mohsen Fakhrizadeh, who was assassinated in an organized and pre-planned terrorist attack by the child-killing Israeli regime.
"The enemies of the Iranian nation, specially the masterminds, perpetrators and supporters of this crime, should also know that such crimes will not undermine the resolve of the Iranians to continue this glorious and power-generating path, and harsh revenge and punishment is on agenda for them," the IRGC chief commander stressed.
Also, Ayatollah Khamenei in a message condemned assassination of Fakhrizadeh, ordering officials to take action to punish the masterminds and perpetrators of the terror attack.
"Mr. Mohsen Fakhrizadeh, a prominent nuclear and defense scientist of the country, was martyred by criminal and cruel mercenaries. The unique scientific figure gave his dear and precious soul in the way of God for his great and lasting scientific efforts, and the high position of martyrdom is his divine reward," Ayatollah Khamenei said in his message on Saturday.
"Two important issues should be seriously put on the agenda by all relevant officials; first, probing the crime and the definite punishment of those who perpetrated and ordered it; and second, pursuing and continuing the martyr's scientific and technical efforts in all the sectors in which he was engaged," he added.
Ayatollah Khamenei also extended his condolences to martyr Fakhrizadeh's family, students and the scientific society of the country, wishing him the highest position before God.
President Rouhani had on Saturday condemned assassination of Fakhrizadeh, vowing retaliation for the criminal act.
"All think-tanks and enemies of Iran should know well that the Iranian nation and officials are too brave and too couragous to leave this criminal act unanswered," Rouhani said, addressing a meeting of the national coronavirus campaign headquarters in Tehran.
"The relevant officials will give a response to their crime in due time, and in addition, the Iranian nation is too wise and too smart to fall into the trap of the Zionists' plot," he added.
President Rouhani said that it seems some parties are after stirring chaos but "they should know that we are aware of their plots and they will not succeed in attaining their malicious goals".
"The Zionist regime and those standing against Iran should know that the path of the country's development and research will be paved rapidly" and a large number of other Iranian scientists like Fakhrizadeh will emerge to help, he added.
Iranian nuclear scientists have been the target of the western and Israeli spy agencies' assassination attempts in recent years.
In June 2012, Iran announced that its intelligence forces had identified and arrested all terrorist elements behind the assassination of the country's nuclear scientists.
"All the elements involved in the assassinations of the country's nuclear scientists have been identified and arrested," Iran's Intelligence Ministry announced in a statement.
"A number of countries, whose territories and facilities had been misused by the Mossad-backed terrorist teams, have provided the Iranian officials with relevant information," the statement added.
"Over the course of the investigations, all other elements behind the assassinations of the Iranian scientists Massoud Ali-Mohammadi, Majid Shahriari and Mostafa Ahmadi Roshan as well as Reza Qashqaei (Roshan's driver) have been apprehended," the statement read.
"Some of the perpetrators of the assassination of Dr. Fereidoun Abbasi, the current head of Iran's Atomic Energy Organization, are among those arrested," the ministry added.
According to the statement, Iran's Intelligence Ministry had detected some of Mossad's bases within the territories of one of Iran's Western neighbors, which provided training and logistical support to the terrorist networks.
In the fifth attack of its kind in two years, terrorists killed a 32-year-old Iranian scientist, Mostafa Ahmadi Roshan, and his driver on January 11, 2012.
The blast took place on the second anniversary of the martyrdom of Iranian university professor and nuclear scientist, Massoud Ali Mohammadi, who was also assassinated in a terrorist bomb attack in Tehran in January 2010.
The assassination method used in the bombing was similar to the 2010 terrorist bomb attacks against the then university professor, Fereidoun Abbassi Davani – who became the head of Iran's Atomic Energy Organization - and his colleague Majid Shahriari. While Abbasi Davani survived the attack, Shahriari was martyred.
Another Iranian scientist, Dariush Rezaeinejad, was also assassinated through the same method on 23 July 2011.
In a relevant development in January, 2015, the Islamic Revolution Guards Corps (IRGC) announced that it had thwarted an attempt by the Israeli intelligence forces to assassinate an Iranian nuclear scientist.
"In the last two years, the Zionist enemy (Israel) was trying hard to assassinate an Iranian nuclear scientist, but the timely presence of the IRGC security forces thwarted the terrorist operation," Deputy Chief Liaison Officer of Flight Guards Corps Colonel Ya'qoub Baqeri told FNA in 2015.
https://www.farsnews.ir/en/news/13990914000240/Iran-Sadi-Arabia-Main-Hb-fr-Nrring-Training-Terrriss-in-Regin
--------
Top Diplomats From Jordan And Israel Hold Rare Meeting On Palestine Issue
December 05, 2020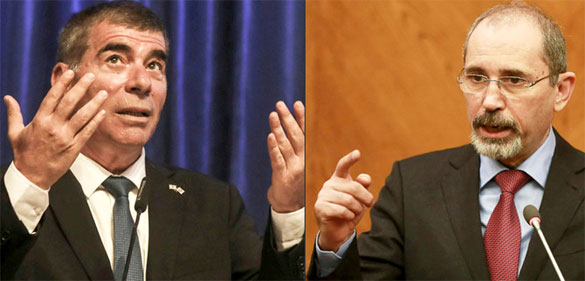 Abbas held talks in Jordan last week with King Abdullah II ahead of visits to Egypt,
-----
AMMAN: Jordanian Foreign Minister Ayman Safadi has held a rare meeting with his Israeli counterpart to press for the restart of stalled negotiations between the Palestinians and the Jewish state.
Thursday's meeting came days after Palestinian Authority leader Mahmoud Abbas visited Jordan as part of an Arab tour to raise support for the Palestinian cause after Joe Biden beat Donald Trump in last month's US presidential election.
During the meeting at the King Hussein (Allenby) Bridge crossing between Jordan and the Israeli-occupied West Bank, Safadi said the creation of an independent Palestinian state was key to ending the conflict with Israel.
"There is no alternative to a two-state solution" between Israel and the Palestinians, he told Israeli Foreign Minister Gabi Ashkenazi, quoted by the official Petra news agency.
"It is necessary to return to the negotiating table according to international law in order to find a real solution to achieve a just peace," Safadi said.
Thursday's meeting was a rare encounter between officials from the two countries and the first officially reported between Safadi and Ashkenazi since the latter, a former army chief of staff, become foreign minister in May.
Jordan and Israel have been bound by a peace treaty since 1994, but relations between the two neighbors are often tense.
Safadi said resuming talks between Israel and the Palestinians was timely, "particularly in light of the Palestinian Authority's decision to resume security cooperation with Israel."
Last month the Palestinians announced they were restoring coordination with Israel that they had stopped in May over to Israeli plans to annex parts of the West Bank.
Israel put on hold its annexation plans, in return for an agreement to normalize ties with the United Arab Emirates announced in August.
Abbas held talks in Jordan last week with King Abdullah II ahead of visits to Egypt, where he met separately with President Abdel Fattah El-Sisi and Arab League chief Ahmed Aboul Gheit.
During the tour, the Arab leaders he spoke to called for stepped-up international efforts for a solution to the Palestinian-Israeli conflict based on a two-sate solution.
Talks between Israel and the Palestinians have been frozen since 2014, and a US peace plan announced in January has been welcomed by Israel but rejected outright by the Palestinians as biased.
The plan was among moves pushed by Trump — including recognition of Jerusalem as Israel's "undivided capital" that has angered the Palestinians.
The Palestinians, who want to set up an independent state with east Jerusalem as its capital, broke ties with the Trump administration, and are now hoping to improve relations with Biden's incoming administration.
https://www.arabnews.com/node/1772666/middle-east
--------
Supreme Court Junks Plea Seeking Govt Nominees In Muslim Trust, Indo-Islamic Cultural Foundation For Ayodhya Mosque
Dec 5, 2020
New Delhi/Lucknow: The Supreme Court on Friday dismissed a petition seeking directions for nominating Central and state government representatives to the Indo-Islamic Cultural Foundation (IICF) trust for building a mosque in Ayodhya.
Citing the Shri Ram Mandir Teerth Ksehtra Trust – formed by the central government in accordance with the SC judgment of November 2019 in the Ayodhya dispute to oversee construction of Ram Temple in Ayodhya — the petitioners said it was only fair that the government monitors the Muslim trust as well.
The writ, filed by Shishir Chaturvedi of Lucknow and Karunesh Kumar Shukla of Basti in August 2020, was dismissed by the bench of Justice Rohinton Fali Nariman and Justice KM Joseph.
The petitioners had contented that the central government's involvement was necessary to maintain peace in Ayodhya and to "ensure no malpractices take place and funds are not misused or misappropriated" by the trust.
Spokesperson of the trust Athar Husain said, "The petition does not hold any water. The trust formed by UP Sunni Central Waqf Board for management of 5-acre plot already has CEO of the Board, who is a government officer, as founder trustee."
In November 2019, Supreme Court had ordered the disputed land in Ayodhya be set aside for construction of Ram Mandir and UP Sunni Central Waqf Board be allotted 5 acres by the government for construction of a mosque. Aftert the state government allotted land at Dhannipur village in Ayodhya , UP Sunni Central Waqf Board formed a trust, Indo-Islamic Cultural Foundation in August this year with nine members.
https://timesofindia.indiatimes.com/city/lucknow/sc-junks-plea-seeking-govt-nominees-in-muslim-trust-for-ayodhya-mosque/articleshow/79574122.cms
--------
Call for Lawyers to Assist with Cases of Islamophobia in the UK with the IRU
4th December 2020
The Islamophobia Response Unit is calling for lawyers in the UK to assist with the growing number of Islamophobia cases – from 2019 to 2020 alone, there were 3,089 religiously aggravated hate crimes against Muslims. This accounts for 50% of all religiously aggravated hate crime recorded by the Home Office. This shocking statistic means that the majority of hate crimes against religious identity is being directly targeted towards Muslims.
This specific and targeted attack on Muslims must be addressed, and the Islamophobia Response Unit is on the lookout for dedicated and experienced lawyers to help with the unfortunate rise in Islamophobic attacks. The IRU has so far received more than 750 cases – including the attempted murder of Zaynab Hussein and the continued attempt to dismiss Muslims in the workplace on the grounds of their religion. The cases the IRU has received vary from the severity and the victim's background – the youngest victim of an Islamophobic hate crime the IRU received was as young as 4 years old.
The IRU is therefore looking to expand its team of volunteer lawyers to continue the work that is so essential in the UK today. Ideally, the IRU is looking for people with legal expertise in:
Employment
Clinical negligence
Education
Housing
Crime
Professional Regulation
Created in 2017, the IRU was founded by MEND in response to the rising anti-Muslim and Islamophobic attacks across Europe – including the UK – and is a platform for victims of Islamophobic abuse to both report and share their personal experiences. The IRU has four main functions: data collecting and monitoring, provision of free legal guidance, provision of basic emotional support, and referrals to partner agencies and signposting to other services.
If you are interested in offering voluntary support towards the IRU and helping combat the growing number of Islamophobic hate crimes, be sure to contact them by emailing them at iru@mend.org.uk, or by calling them at 020 3904 6555.
Now more than ever, we need your support…
The Muslim Vibe is a non-profit media platform aiming to inspire, inform and empower Muslims like you. Our goal is to provide a space for young Muslims to learn about their faith as well as news stories affecting them, so we can reclaim the Muslim narrative from the mainstream.
Your support will help us achieve this goal, and enable us to produce more original content. Your support can help us in the fight against Islamophobia, by building a powerful platform for young Muslims who can share their ideas, experiences and opinions for a better future.
Please consider supporting The Muslim Vibe, from as little as £1 – it will only take a minute. Thank you and Jazakallah.
https://themuslimvibe.com/muslim-current-affairs-news/call-for-lawyers-to-assist-with-cases-of-islamophobia-in-the-uk-with-the-iru?utm_source=Mailing+list+-+digest&utm_campaign=8965b3ec27-TMV+Daily+Digest&utm_medium=email&utm_term=0_171fa92253-8965b3ec27-333700246&goal=0_171fa92253-8965b3ec27-333700246&mc_cid=8965b3ec27&mc_eid=67e5408261
--------
Decision on resignation to be finalised next week: PDM
Zulqernain Tahir
05 Dec 2020
LAHORE: As the Pakistan Democratic Movement (PDM) could not hold significant demonstrations across the country on Friday against the PTI government's manhandling of its workers during the Multan rally, the 11-party opposition alliance announced that a decision on resigning from the national and provincial assemblies as well as long march on Islamabad would be finalised in its Dec 8 meeting in the federal capital, which would also be attended by deposed prime minister Nawaz Sharif from London via video link.
"The PDM huddle on Dec 8 will chalk out its strategy regarding resignations from assemblies and long march [on Islamabad] to oust the selected PTI regime," PML-N information secretary Marriyum Aurangzeb told Dawn on Friday.
In reply to a question whether the PML-N, especially Maryam Nawaz, insisted on announcing the date for resignations from the assemblies at PDM's Dec 13 Lahore rally, she said: "Any such decision will be taken on the PDM platform after evolving a consensus among all 11 parties [of the opposition alliance]."
Opposition alliance's Dec 8 meeting will be attended by Nawaz from London via video link
During a meeting between PML-N president Shehbaz Sharif and vice president Maryam Nawaz on Thursday in Model Town, both issues (resignations and long march) came under discussion.
According to sources, Maryam pressed on adopting an aggressive stance on resignations, saying the PDM after Lahore rally should immediately use this option and no expediency be shown.
Shehbaz Sharif, who had recently advocated for a 'national dialogue' among institutions, however, advised against any hasty decision in this regard.
Addressing a protest rally in Lahore's Sherakot on Friday, former National Assembly speaker Ayaz Sadiq said that the opposition should have followed JUI-F chief Mualana Fazlur Rehman's advice not to take oath of assemblies.
At that time, both Nawaz and Shehbaz had paid no heed to this suggestion and preferred launching the opposition's struggle on parliament's platform.
The hawkish group in the PML-N has already advocated for resigning from the assemblies to stop the PTI government from holding the Senate elections scheduled for March next year.
PML-N senior leader Khawaja Asif had said: "When this struggle [of the PDM] reaches its peak, our 84 MNAs will resign from the National Assembly and then we will see how the Senate polls are held."
Interestingly, the PDM's anti-government campaign has entered third month, but neither the PPP and JUI-F nor other main players of the alliance have shown any intention to resign from the assemblies. Maulana Fazl is also president of the PDM.
Prime Minister Imran Khan had already announced that his government would hold by-polls if the opposition resigned from the assemblies.
Despite Maulana Fazl's announcement at the Multan rally that a countrywide protest would be held on Dec 4 and 6 against the torture of PDM workers, no significant rally was held on Friday.
PML-N held rallies in Lahore and Faisalabad in connection with the PDM's forthcoming public meeting in Lahore.
"PML-N being host of the Lahore rally is mobilising its workers. Holding Multan episode-specific protests on two successive days amounts to making the workers tired," a party leader told Dawn.
"PDM's main concern is Dec 13 Lahore rally and it is utilising all its energies in this regard. Maryam Nawaz has planned to hold two mini rallies in Lahore on Dec 7 and 10 to build up momentum for Dec 13 PDM power show," he said.
Meanwhile, Jamaat-i-Islami dispelled the impression that it might join the PDM for its struggle against the government. "We have no such plans. We have launched a solo struggle against the PTI government which in fact is a continuation of PPP and PML-N regimes," JI spokesperson Qaisar Sharif told Dawn.
He said the second phase of JI's anti-government campaign would begin from Dec 25 with a rally in Gujranwala. "We provide an alternative leadership to steer the country out of crises," he added.
https://www.dawn.com/news/1594084/decision-on-resignation-to-be-finalised-next-week-pdm
--------
Pompeo Calls on Negotiating Parties to 'Stand Back and Stand Down'
By Mohammad Haroon Alim
05 Dec 2020
Mike Pompeo was considered a safe bet to win the seat left vacant by Pat Roberts © AFP via Getty Images
Mike Pompeo, U.S secretary of State, on Friday said, violence in Afghanistan is unacceptably high, and that Washington asked clashing parties to stand back and indeed stand down.
According to Reuters, Pompeo commented in a virtual address to IISS Manama Dialogue, year security conference.
Pompeo said he met the negotiating teams in Nov 21st Doha visit, and asked both sides to end and reduced the strife.
"I made clear to them that the violence levels can't continue while these negotiations go on and it won't work," Reuters quoted Pompeo.
Pompeo said he asked the sides to address some of the front-end issues, including a nationwide ceasefire", asking both parties " to stand back and indeed stand down".
Taliban spokesperson Mohammad Naeem tweeted on Friday, that will be on the agenda among other topics during the negotiations.
https://www.khaama.com/pompeo-calls-on-negotiating-parties-to-stand-back-and-stand-down-8869879/
--------
Indonesia Must Follow The Path To Unity And Healing after The Election Of Moderates To Indonesian Ulema Council
Siktus Harson
December 03, 2020
The election of moderates to head the Indonesian Ulema Council last week has many hoping that Indonesia's top Muslim clerical body will now focus more on promoting national unity rather than issuing controversial fatwas.
The MUI, as it is known, is the highest authority regarding Islamic teachings in Indonesia and is comprised of representatives from all Muslim organizations in the country except those banned by the government.
In recent years, it has been criticized for not being tough on radicalism as some of its members were affiliated with intolerant groups.
Therefore, it came as a surprise when Indonesia's Vice President Ma'ruf Amin, a former council chairman, announced at the end of last month a new board and that Miftachul Akhyar was its chairman.
Akhyar is a top cleric in Nahdlatul Ulama, Indonesia's largest moderate Islamic group with over 80 million members.
Amin himself became chairman of the council's advisory board. He was actively involved in the election of the new chairman and other key moderate figures in a move which some observers saw was state intervention to return the council to safe hands to counter a growing Islamist movement in Indonesia.
One of the reasons President Joko Widodo chose him as vice president was to unite all clerics in fighting radicalism and promote Islam as a religion of peace.
So it came as good news that those connected to the 212 Alumni Brotherhood, an alliance of Islamist groups including the notorious Islamic Defenders Front, were excluded from the council's leadership.
The 212 refers to the biggest-ever recorded Muslim rally in Indonesia — estimated at 700,000 participants — on Dec. 2, 2016, against the then Christian governor of Jakarta Basuki Purnama, whom they had accused of blasphemy.
The governor was later ousted and jailed under Indonesia's controversial blasphemy law.
Since the rally, the 212 movement has metamorphosed into another giant political organization and one of its key figures was a former MUI board member who often used the name of the council to attract participation in subsequent rallies promoting an intolerant form of Islam.
With this kind of figure removed from the MUI leadership, it's hoped the newly elected moderates will be able to eradicate or at least diminish the intolerance that has risen from some controversial edicts targeting religious minorities and secularism that have been issued in recent years.
Only time will tell. But a good start was made by Akhyar, who called on the new administrators to be a guiding light for Indonesians and work for the common good in partnership with the government.
He said the world recognizes Indonesia as a Muslim-majority nation. But what matters most is not the numbers but the contribution Indonesian Muslims make to the world and humanity. He said he hoped the MUI can help lead this effort.
Akhyar emphasized the important role that ulemas play in society, particularly through their preaching.
Sermons have been used as "weapons" by religious leaders, he said. Now sermons should be "embracing not hitting, loving not competing, educating not targeting, fostering not insulting, offering solutions not looking for sympathy, defending not bullying," he added.
It was a timely reprimand considering that some clerics have used their sermons to insult the government or other religions, promote lawlessness, provoke anger against minority groups or even call for jihad.
Here Akhyar is telling his fellow clerics to avoid involvement in politics as it creates divisions among the faithful.
What has concerned non-Muslims are fatwas or edicts which have caused trouble for believers of other religions in terms of discrimination and religion-based violence.
One that hurts Christians is an edict issued in December 2016 prohibiting Muslims from using non-Islamic symbols.
The fatwa, although it did not explicitly mention Christmas or Christianity, was used by Muslim groups to raid shopping centers and shops displaying Christmas decorations. Some conservative clerics expanded on this by even banning Muslims from wishing their Christian neighbors a Merry Christmas.
Such a fatwa was unnecessary and dangerous as it fostered anti-Christian sentiment.
The Indonesian Ulema Council was established by the government in 1975 with a mission to guide Islam in accordance with Indonesia's secular ideology of Pancasila (Five Principles) and to encourage the participation of clerics in national development and fostering interfaith harmony.
During the Suharto era, it helped the government fight against communism and served as an umbrella organization for Islamic groups participating in politics. But since the fall of Suharto in 1998, the organization shifted to envisioning a more active role in protecting Muslim interests and became more critical of the government.
During the post-Suharto era, MUI grew more independent from the government. The recent election underlined Widodo's intention during his second term to revert the MUI back to its original mission to maintain interfaith unity, with clerics leading the way.
The organization has issued good fatwas such as those against corruption, forest fires, euthanasia and more. However, those that caused divisions are the ones that have stood out more.
The MUI's new leadership must remain steadfast and not harm interfaith relations by creating policies that ignite intolerance and hatred against other religions. Instead, it should ensure Indonesia follows a more accommodating and peaceful form of Islam.
https://www.ucanews.com/news/indonesia-must-follow-the-path-to-unity-and-healing/90549
--------
Biden says he remains committed to the Iran nuclear deal
04 December 2020
The projected winner of the 2020 disputed US election, Joe Biden, says he remains committed to the principles of the 2015 Iran nuclear deal.
In an interview with CNN on Thursday, Biden denounced outgoing President Donald Trump's withdrawal from the Joint Comprehensive Plan of Action (JCPOA) in May 2018.
The Trump administration restored the sanctions against Iran after pulling out from the nuclear deal between Iran and major powers -- the US, UK, France, Russia, and China plus Germany.
Departure from the deal and restoration of the sanctions are constituted illegal actions because they came in absolute disregard for the fact that the JCPOA has been ratified by the United Nations Security Council. The illegal measures were also marked by sheer unilateralism as they violated the international nature of the deal.
US officials have repeatedly accused Iran of trying to develop nuclear weapons. However, Tehran rejects such allegations.
Iran has denounced the US for adopting a double-standard policy toward the Weapons of Mass Destruction (WMDs), stating that Washington never raised the issue of its main US alley in the region, the Israeli regime, which has hundreds of nukes.
Leader of the Islamic Revolution Ayatollah Seyyed Ali Khamenei has issued a fatwa (religious decree), which bans the development and production of weapons of mass destruction, including nukes, as contrary to Islam.
Despite all this, Biden reiterated US claims and said he would try to prevent Tehran from acquiring nuclear weapons.
"The bottom line is that we can't allow Iran to get nuclear weapons," Biden told CNN on Thursday.
Trump "has pulled out to get something tougher, and what have they done? They've increased the ability for them to have nuclear material," Biden argued.
"They're moving closer to the ability to be able to have enough material for a nuclear weapon," he claimed.
"We cannot do this alone. And that's why we have to be part of a larger group, dealing not only with Iran, but with Russia, with China and a whole range of other issues," he said, stressing the importance of a coalition in dealing with Tehran.
The Trump administration unleashed the so-called maximum pressure campaign against Iran after it left the 2015 multilateral nuclear agreement.
It targeted the Iranian nation with the "toughest ever" economic sanctions in order to force it into submission.
However, the pressure campaign has failed in its objectives, including renegotiating the Iran nuclear deal to cover the Islamic Republic's national defense program and its influential role in the Middle East.
Tehran says the next US administration has to submit to the will of the Iranian nation amid the failure of its economic terrorism on Iran.
https://www.presstv.com/Detail/2020/12/04/640003/Biden-says-he-remains-committed-to-the-Iran-nuclear-deal
--------
Arab World
Hezbollah files lawsuits against figures over Beirut blast accusations
04 December 2020
Lebanon's Hezbollah said Friday it had filed slander lawsuits against an ex-parliamentarian and a political party who allegedly claimed the Shia movement was responsible for the Beirut port blast.
The explosion of hundreds of tons of ammonium nitrate fertilizer at the Beirut port on August 4 was Lebanon's worst peace-time disaster.
For all the latest headlines, follow our Google News channel online or via the app.
It killed more than 200 people, wounded at least 6,500 others and ravaged large swathes of the capital.
Lebanon has launched a probe into the disaster, but no conclusions on responsibility have yet been reached.
Accusations have swirled, however, in some media and on social networks alleging Hezbollah had considerable control over port activities, or was making use of the highly-explosive fertilizer.
"The accusations directed at Hezbollah over the port blast are false and constitute a real injustice," Hezbollah lawmaker Ibrahim al-Moussawi said.
The movement has filed lawsuits against former independent parliamentarian Fares Souaid and the website of the Christian Lebanese Forces party over such allegations, he said.
Speaking to reporters outside the judicial court in Beirut, the Hezbollah MP said the Shiite movement would file more lawsuits in the future.
"We have assigned a group of lawyers to file lawsuits with the judiciary to pursue all those who have practiced deception, falsification, slander and false accusations," he said.
Souaid and the Lebanese Forces are both opposed to Iran-backed Hezbollah, the only side not to have disarmed armed after the 1975-1990 civil war.
Hezbollah is labeled a "terrorist" group by several Western nations.
But it is also the most powerful player in Lebanese politics and holds seats in parliament.
Lebanon's government resigned after the August explosion but remains in a caretaker capacity, while talks on forming a new one have hit a wall.
A investigation into the blast launched by Lebanese authorities has led to the arrest of 25 people, including top port and customs officials.
Lebanon is mired in its worst economic crisis in decades, increasing the poverty rate to more than half the population.
https://english.alarabiya.net/en/News/middle-east/2020/12/04/Hezbollah-files-lawsuits-against-figures-over-Beirut-blast-accusations-
--------
'Significant progress' made to resolving Gulf crisis: Saudi FM Prince Faisal
05 December 2020
Saudi Arabian Foreign Minister Prince Faisal bin Farhan said on Saturday that there has been "significant progress" in resolving the Gulf crisis that began in 2017.
"We have seen significant progress in the last few weeks, which means we are now hopeful we can reach a final conclusion very soon that will be satisfactory to all parties," Prince Faisal said, at speaking at the International Institute for Security Studies Manama Conference on Saturday.
The crisis erupted when Saudi Arabia, Bahrain, the UAE and Egypt cut all diplomatic and economic ties with Qatar in June of 2017 over concerns related to terrorism.
Qatar's neighbors had demanded that the nation shut down media network Al Jazeera, cut diplomatic ties with Iran and immediately halt the establishment of a Turkish military base and end any military cooperation with the NATO member.
I am hopeful that we'll be able to announce the details soon," Prince Faisal said at the conference.
Last week, Saudi Arabia and other countries in the GCC said that they would be open to restoring diplomatic relations with Qatar, but only when Doha agrees to meet the demands of the Arab Quartet.
https://english.alarabiya.net/en/News/gulf/2020/12/05/-Significant-progress-made-to-resolving-Gulf-crisis-Saudi-FM-Prince-Faisal
--------
Bahrain denies statement on import of goods from West Bank, Golan Heights
Ismaeel Naar
04 December 2020
Bahrain has denied a statement attributed to its Minister of Industry to an Israeli journalist regarding the import of goods produced in the West Bank and the Golan Height, according to an official statement released by the Bahrain News Agency.
"An official source from the Ministry of Industry, Commerce and Tourism denied a statement attributed to Minister of Industry, Commerce and Tourism, HE Zayed bin Rashid Al Zayani, to an Israeli journalist regarding the import of goods produced in the West Bank and the Golan Heights," read the statement.
For all the latest headlines follow our Google News channel online or via the app.
"The official source stressed that the minister's statement was misinterpreted and that the ministry is committed to the Bahraini government's unwavering stance regarding adherence to the resolutions of the United Nations, the Arab League and the Organisation of Islamic Cooperation concerning the Israeli settlements in the West Bank and the Syrian Golan Heights," the statement added.
Bahrain's industry minister last Wednesday met with the chairman of Israel's trade promotion agency and the chief executive of Israel's largest bank Hapoalim.
A 40-strong Bahraini delegation arrived in Israel Tuesday for two days of talks on boosting economic cooperation and tourism after the two countries normalized relations in September.
https://english.alarabiya.net/en/News/gulf/2020/12/04/Israel-relations-Bahrain-denies-statement-on-import-of-goods-from-West-Bank-Golan-Heights
--------
Iran continues to fund militias in region, terror operations in Europe: Saudi FM
Ismaeel Naar'
04 December 2020
Iran continues to fund terrorist militias in the region while Iranian terrorist groups carry out operations in Europe, Saudi Arabia's Foreign Minister Prince Faisal bin Farhan said during his panel discussion at the Med Dialogue.
"The Kingdom supports dialogue between US and Iran, but Tehran is the one who closes the door on dialogue," Prince Faisal said during his talk.
For all the latest headlines follow our Google News channel online or via the app.
The Saudi Arabian foreign minister also said that the Kingdom said it supports a just peace agreement that gives the Palestinians an independent state.
"We've made significant progress in the last few days thanks to the continuing efforts of Kuwait but also thanks to the strong support of President Trump and the US administration towards bringing all parties closer," he said in response to the first question posed by William F. Wechsler, Director of the Rafik Hariri Center for the Middle East and Middle East Programs.
"And we hope that this progress can lead to a final agreement which looks in reach and I can say I am somewhat optimistic that we are close to finalizing an agreement between all the nations in the dispute to come to a resolution that we think will be satisfactory to all," Prince Faisal added.
https://english.alarabiya.net/en/News/gulf/2020/12/04/GCC-dispute-Iran-continues-to-find-militias-in-region-terror-operations-in-Europe-Saudi-FM
--------
Lebanese security services warn of terror plot to destabilize country
December 04, 2020
BEIRUT: Lebanon's security services revealed on Thursday that they had received information regarding a plot to destabilize the country through the assassination of public figures over the coming holiday period.
During a meeting of the Supreme Defense Council, the director-general of Lebanese General Security, Maj. Gen. Abbas Ibrahim, and his counterpart at State Security, Maj. Gen. Tony Saliba, said the information had been obtained from more than one security and intelligence service. They did not reveal the names of those believed to have been targeted for assassination.
Supreme Defense Council meetings are usually confidential, but several local media outlets published reports of Thursday's meeting the next day, along with a story claiming that Hezbollah had thwarted a plot targeting its leaders, particularly Secretary-General Hassan Nasrallah.
The information revealed in the council meeting included suggestions that the operations could target places of worship, commercial venues and tourist destinations. It also reportedly included details of a smuggling ring that has traditionally operated between Iraq and Syria but that now seems to be widening its reach into Lebanon.
The meeting concluded with a decision to develop a pre-emptive security plan to be carried out during the holiday period.
Also on Friday, Hezbollah filed lawsuits against former MP Fares Souaid and the website of the Lebanese Forces for "accusing Hezbollah of being involved in the Beirut port blast on Aug. 4."
Ibrahim Al-Mousawi, a member of the Loyalty to Resistance parliamentary bloc, said to the media outside Beirut Justice Palace: "A lawsuit is also being prepared against Bahaa Hariri as well as other lawsuits that will soon be registered based on legal articles condemning those who try to sow discord."
Al-Mousawi added: "Accusations of Hezbollah's involvement in the explosion are false and constitute a continuation of the crime. When the real perpetrator is lost and the finger of blame is pointed at a party without any evidence, this conceals the real criminal, misleads public opinion, stirs hatred, incites sedition, and threatens civil peace."
Souaid told Arab News: "I do not recall directly accusing Hezbollah of the Beirut port blast. It does not matter that the party has resorted to the law to sue me — the most important issue is why it has resorted to the judiciary now, and what is behind the lawsuit?"
He went on to suggest that Hezbollah's public display of initiating legal proceedings against him could be a ruse to cover up its true intentions.
"Hezbollah's announcement that it will file a lawsuit against me when I am a permanent political opponent of the party is a step that intersects with security information about possible assassinations in Lebanon," he said. "Does Hezbollah want to clear its name of any assassinations that might take place in Lebanon by saying that it has resorted to the judiciary to prosecute its opponents? Does the party want to clear its name and tell us that it is not a murderer?"
Charles Jabbour, head of the Lebanese Forces' Media and Communication Service, said: "We hope that Hezbollah will constantly resort to institutions and the judiciary, and that its commitment to institutions and resorting to the law will be an entry point to hand over its weapons to the state."
However, former minister May Chidiac, who is affiliated with the Lebanese Forces, described Hezbollah's move as "rude." She said: "You have no right to complain before the courts about defamation when everyone knows your crimes. You have no regard for the International Tribunal and consider accusing you of involvement in the port blast a false accusation. You have no shame."
Meanwhile, the British Embassy in Lebanon released a statement in which the UK Minister of State for the Middle East and North Africa James Cleverly — who just finished a two-day visit to Beirut — said, "The people of Lebanon deserve a better future. Accountability, transparency and taking responsibility are key for Lebanon to rise again."
He added: "The UK is a proud partner of the Lebanese Armed Forces, Lebanon's sole legitimate defenders."
The EU delegation to Lebanon announced in a press conference on Friday the launch of its "Lebanon Reform, Recovery and Reconstruction Framework," which was prepared by the EU, the UN, and the World Bank Group in response to the Beirut port blast and is intended to be implemented within 18 months.
Najat Rochdi, UN resident and humanitarian coordinator and deputy special coordinator for Lebanon, renewed the call for the formation of a new government that bears responsibility for its people. She added: "We have communicated this to those concerned."
https://www.arabnews.com/node/1772576/middle-east
--------
Mideast
High Council for Human Rights Official: Deal with Terrorism in Iran as in France, Austria Just for Once!
2020-December-4
Mentioning the terrorist act committed against the Iranian prominent nuclear scientist, Mohsen Fakhrizade, Ali Bagheri wrote that inaction against this criminal and terrorist act and failure to spotlight it in the relevant UN reports would further question the credibility of the reports and may be considered as offering legitimacy to terrorism and would also result in the further spread of radicalism and terrorism, entailing international responsibility for the United Nations, the High Council for Human Rights reported.
Bagheri also reminded the UNSG's of his clear stance with respect to terrorist acts in other countries including Austria (statement on November 3, 2020) and France (statement on September 17, 2020) and asked the UNSG to stress the necessity of greater cooperation among countries for the administration of justice against terrorists and ultimately draw the attention of the General Assembly and the Security Council of the United Nations to this state-orchestrated assassination and violation of international peace and security in accordance with the implementation of Article 99 of the United Nations Charter.
"Within the framework of these thoughts and approaches, the newly-emerged concept of "state terrorism" is being exploited as an instrument by the powers to advance their illegitimate and illegal policies which would ultimately threaten and violate peace, security and human rights more than any other time," HCHR Secretary added.
Regarding the politicized approach taken by Western countries towards the vicious phenomenon of terrorism, Bagheri wrote the mentioned countries' double standards and decriminalization of terrorism in "terrorism-laundering" frameworks have exposed the global community to new challenges in connection with international peace and security.
Stressing that this assassination is a blatant breach of peremptory norms and inviolable international human rights (such as the right to life) as stipulated in Article 6 of the International Covenant on Civil and Political Rights, the HCHR Secretary said that this terrorist act would entail the international responsibility of the perpetrator and sponsor governments as well as the individual criminal liability of the accomplices and participants in this murder crime.
The international responsibility of this flagrant violation of peremptory principles is also incumbent upon countries, the Western advocates of human rights and international organizations which adopted silence and inaction specifically, he added.
https://www.farsnews.ir/en/news/13990914000139/HR-Official-Deal-wih-Terrrism-in-Iran-as-in-France-Asria-Js-fr-Once
--------
Man arrested for pouring 'flammable liquid' inside Jerusalem church
04 December 2020
Israeli police said Friday they arrested a Jewish man after he poured out a "flammable liquid" inside a church near Jerusalem's Old City, in what they described as a "criminal" incident.
The police did not provide further details about the motive, but past attacks on churches in the Holy Land have been blamed on Jewish extremists.
Friday's incident took place at the Church of All Nations, a Catholic church built on the traditional site of the Garden of Gethsemane, where Christians believe Jesus was betrayed by Judas, one of his followers, and arrested by the Romans before being crucified.
Police circulated a photograph of wooden pews with black stains on them.
A 2015 arson attack blamed on Jewish extremists caused extensive damage to the Church of the Multiplication of the Loaves and Fish, a popular pilgrimage site on the Sea of Galilee in northern Israel.
Jewish extremists have targeted mosques, churches and dovish Israeli groups in recent years.
https://english.alarabiya.net/en/News/middle-east/2020/12/04/Man-arrested-for-pouring-flammable-liquid-inside-Jerusalem-church
--------
Palestine to sue Israel at ICC for killing teen at West Bank protest
05 December 2020
The Palestinian Ministry of Foreign Affairs and Expatriates says it is going to sue the Tel Aviv regime at the International Criminal Court (ICC) over the fatal shooting of a teenager during clashes with the Israeli army on the sidelines of a protest in the occupied West Bank.
The ministry, in a statement released on Friday evening, called upon the ICC to undertake an immediate investigation into Israel's crimes and to ultimately hold Israeli war criminals to account.
It held Israeli prime minister Benjamin Netanyahu's administration fully and directly responsible for the murder of thirteen-year-old Ali Ayman Nasr Abou Aliya, stating that the crime reflects the nature of instructions that the Israeli regime gives its military forces.
"Such instructions make it easy for them to shoot Palestinian citizens without any fear of punishment," the statement pointed out.
Moreover, Palestinian President Mahmoud Abbas's office issued a statement, condemning the "cold-blooded murder" of the Palestinian minor and describing it as the latest episode in Israel's crimes against Palestinian people.
Abbas then urged the international community to protect the Palestinian nation, end the Israeli occupation of Palestinian land, and help establishment of an independent Palestinian state with East Jerusalem al-Quds as its capital.
Hamas, Islamic Jihad denounce Palestinian teen killing
Separately, Hamas resistance movement denounced the killing of the Palestinian minor, stating that the incident marks a new crime by the Israeli regime against humanity.
Hamas urged the international community to hold Israeli authorities to account at the ICC for such appalling atrocities.
"The killing of Abou Aliya reflects the terrorism being exercised by Israelis at all levels. It also shows how horrible and faulty the latest normalization deals by some Arab countries with Israel are."
"Additionally, it reveals that the Palestinian Authority has made a terrible mistake to restore ties with the occupying Israeli regime, and re-launch security collaboration with it," the movement stated.
Hamas highlighted that resistance against Israel is the only viable way in the face of the regime's attacks and settler assaults across the West Bank.
Islamic Jihad, another Gaza-based resistance movement, also decried the "heinous crime" of killing Palestinian teenager Abou Aliya, stating it reflects the policy of oppression and execution that Israeli forces employ against Palestinian people.
"There is no way but to mount greater resistance and stage a popular uprising to deter the occupying regime and protect our people and land," it said in a statement, stressing that the Palestinian minor's death shows the failure of recent normalization agreements and that the death have provided a cover for Israel to press ahead with its crimes and acts of terror.
Earlier in the day, the Palestinian Health Ministry said in a statement that Abou Aliya "succumbed to his wounds after he was shot with live rounds in the stomach" during clashes north of Ramallah.
He had been taken in critical condition for treatment at a hospital in Ramallah where he later died, the ministry said.
Marzouq Abu Naeem, a member of the local council, said the Palestinian teenager was involved in a weekly protest against illegal Israeli settlement expansion activities at al-Mughayyir village, which has been the site of clashes between Palestinians and Israeli settlers in the past.
More than 600,000 Israelis live in over 230 settlements built since the 1967 Israeli occupation of Palestinian territories of the West Bank and East Jerusalem al-Quds. All Israeli settlements are illegal under international law.
The UN Security Council has condemned Israel's settlement activities in the occupied Palestinian territories in several resolutions.
https://www.presstv.com/Detail/2020/12/05/640020/Palestine-intends-to-sue-Israel-for-killing-teen-at-West-Bank-protest
--------
Israeli forces attack Palestinian protesters in West Bank, kill minor
04 December 2020
Israeli forces have attacked Palestinians taking part in protests against Israeli settlement construction in several areas across the West Bank, killing a minor and leaving dozens of protesters injured.
Protesters took to the streets in the villages of Kafr Malik and al-Mughayyir, northeast of Ramallah, on Friday to condemn an Israeli plan to construct a new settlement on the area of Ras al-Tin in Kafr Malik.
The Israeli forces used live ammunition, rubber bullets, and tear gas against the protesters.
They shot a 14-year-old boy in the abdomen with a live bullet, Palestinian media reports said. He later died at the hospital, according to the Palestinian Health Ministry.
Dozens of others were wounded.
Israeli troops also attacked protesters in the village of Bayt Dajan, east of Nablus City, as well as a Palestinian event to sow seeds in a land threatened with seizure by Israel.
The Israeli forces fired rubber bullets, sound bombs, and tear gas canisters at the demonstrators, leaving a number of them suffering from breathing difficulties due to the tear gas.
The residents of the village have been staging weekly protests against the Israeli seizure of land for a future settlement for two months.
In the village of Kafr Qaddum, dozens of people, including children and women, also suffered breathing difficulties due to inhaling tear gas fired by Israeli troops against a weekly anti-settlement protest.
Israeli troops also attacked a similar rally in the area of al-Ras near the town of Salfit, injuring scores of people.
At least one protester was hit by a rubber bullet in the foot.
Another Palestinian suffered injuries when he was run over by an Israeli military vehicle as Israeli troops ambushed the protesters.
More than 600,000 Israelis live in over 230 settlements built since the 1967 Israeli occupation of the Palestinian territories of the West Bank and East Jerusalem al-Quds.
Since US President Donald Trump took office in December 2016, Israel has stepped up its settlement expansion activities in defiance of United Nations Security Council Resolution 2334, which pronounced settlements in the West Bank and East Jerusalem al-Quds "a flagrant violation under international law."
All Israeli settlements are illegal under international law as they are built on occupied land.
https://www.presstv.com/Detail/2020/12/04/639990/Israeli-forces-attack-Palestinian-protesters-in-West-Bank
--------
Turkish security forces detain Daesh suspects, including 1 with links to Vienna attacks
DEC 03, 2020
Turkish security forces continue to nab Daesh terrorists across the country, with the latest operations on Thursday taking place in metropolises such as Istanbul and western Izmir, where one of the detained suspects confessed having links to the Vienna attack.
In Izmir, a suspect and 10 others with links to the terrorist group, were detained during a counterterrorism operation. The operation was conducted within the scope of Izmir's office of the chief prosecutor's investigation on the Salafi groups' actions within the province. In this respect, it was determined that the suspect Ramazan O., code-named "Ebu Haris," who is already being sued in an ongoing trial, was carrying out terrorist activities from a bookshop in Izmir.
Reportedly, the suspect had been conducting meetings in the bookshop to recruit terrorists for Daesh and influence youth through live events on his social media account while engaging in fundraising activities at the same time. He is also revealed to have links with one of the detained suspects in the Vienna attacks.
Upon this evidence, simultaneous counterterrorism operations were conducted at 14 different spots. During the operation, a shotgun and various banned publishing were seized.
Efforts to capture the suspects who managed to escape are still underway.
At least four people were killed and 22 more were wounded in a terrorist attack in the Austrian capital last month. Austrian Interior Minister Karl Nehammer said the assailant, who was killed in a police operation last night after the attack, was a sympathizer of the Daesh terrorist group. Daesh also declared later that it was responsible for the attack. Later on, it was revealed that previously, the attacker was handed to Austrian authorities by Turkey, only to be released shortly after, showing the incapability of European states to subdue foreign fighters.
Although the terrorist group has been largely defeated in Iraq and Syria, its presence still poses a threat, as individuals following its ideology encourage others to carry out violence. European analysts have also warned against attacks by Daesh, as attacks by isolated individuals not under the watch of intelligence services have become more common.
Turkey recognized Daesh as a terrorist group in 2013, and since then, the country has been attacked numerous times, including 10 suicide bombings, seven bombings and four armed assaults, which have killed 315 people and injured hundreds more.
In response, Turkey launched military and police operations both inside and outside the country, capturing top Daesh members in counterterrorism efforts at home and in Syria.
During another counterterrorism operation against Daesh, security forces busted 16 different locations in Istanbul, detaining scores of terror suspects.
https://www.dailysabah.com/politics/war-on-terror/turkish-security-forces-detain-daesh-suspects-including-1-with-links-to-vienna-attacks?utm_source=iterable&utm_medium=email&utm_campaign=1784017_
--------
Africa
Ziad Takieddine, Lebanese Businessman Detained In Beirut Over Alleged Sarkozy-Gaddafi Corruption
04 December 2020
Lebanon detained a French-Lebanese businessman linked to allegations of covert Libyan financing for former French President Nicolas Sarkozy's 2007 election campaign, two Beirut security sources said on Friday.
The sources said security forces arrested Ziad Takieddine based on an Interpol request over the Sarkozy case and separate corruption charges.
For all the latest headlines follow our Google News channel online or via the app.
French prosecutors are investigating allegations that Libya's late former leader Muammar Gaddafi provided Sarkozy's successful run for the presidency with millions of euros shipped to Paris in suitcases. Sarkozy denies this.
In a 2016 interview with a French news site, Takieddine said he had transferred about 5 million euros ($6.07 million) of illicit funding from Gaddafi's former intelligence chief to Sarkozy and his campaign director.
But when Takieddine surfaced in Beirut a few months ago, he withdrew his account of events in a video published by French media.
Imad al-Khazen told Reuters on Friday that he and another Beirut lawyer had stopped representing Takieddine as of last weekend over unpaid bills and disagreement about how to proceed with his case.
Reuters could not immediately verify whether Takieddine had hired other legal representatives.
https://english.alarabiya.net/en/News/middle-east/2020/12/04/Lebanese-businessman-detained-in-Beirut-over-alleged-Gaddafi-Sarkozy-corruption
--------
Somalia: SNA Says 51 Shabaabs Killed in 'Botched' Raid On Somali Military Base
2 DECEMBER 2020
The government confirmed that on Tuesday Somali troops killed 51 Al-Shabaab fighters during the latter's botched attack on the Somali National Army (SNA) base in the southern region on Monday.
Osman Dubbe, Minister for Information said six al-Shabab terrorists were also arrested including the mastermind of the attack. The attack also left 15 other people, including soldiers dead.
The government also lauded the civilians who teamed up with the soldiers to defeat the terrorists who had planned to overrun the military base in the southern town of Baladweyne in Mudug region.
"Al-Shabab defeat in yesterday's (Monday) attack in Baladweyne is a clear example of how the people who stand by the army can easily stop the attacks and plots of the enemy against the Somali nation," Dubbe said in a statement issued in Mogadishu.
The minister said both the soldiers and the residents fought bravely to defeat the al-Qaida allied terrorist group which Dubbe termed as the "enemy of the Somali people."
However, the militant group said its fighters killed 53 government troops and seized six military vehicles including anti-aircraft guns during the Monday morning assault.
The extremist group which is fighting to overthrow the government frequently exaggerates the number of troops/civilians they kill.
The government forces have stepped up operations against al-Shabab extremists in central and southern regions in recent days, but the militants still control swathes of rural areas, conducting ambushes and planting landmines.
https://allafrica.com/stories/202012030244.html?utm_source=iterable&utm_medium=email&utm_campaign=1784017_
--------
Is Africa overtaking the Middle East as the new jihadist battleground?
By Frank Gardner
04 December 2020
About 300 British troops have arrived in the troubled West African state of Mali at a time when the epicentre of the Islamic State group (IS) appears to have moved from the Middle East to Africa.
In a three-year mission named Operation Newcombe they are joining a force of around 15,000 UN multinational troops, spearheaded by the French, in efforts to help stabilise a part of the continent known as the Sahel.
Mali is one of several Sahel nations currently fighting jihadist insurgencies and the violence is getting worse.
According to the Global Terrorism Index published on 25 November, the "centre of gravity" for the Islamic State group IS has moved away from the Middle East to Africa and to some extent South Asia, with total deaths by IS in sub-Saharan Africa up by 67% over last year.
"The expansion of ISIS affiliates into sub-Saharan Africa led to a surge in terrorism in many countries in the region," reports the Global Terrorism Index.
"Seven of the 10 countries with the largest increase in terrorism were in sub-Saharan Africa: Burkina Faso, Mozambique, DRC, Mali, Niger, Cameroon and Ethiopia".
The report points out that in 2019 "sub-Saharan Africa recorded the largest number of ISIS-related terrorism deaths at 982, or 41 per cent of the total".
'Next stage in fight against terrorism'
Jihadists have long been active in Africa.
In modern times the late al-Qaeda leader Osama Bin Laden made Sudan his base before moving back to Afghanistan in 1996.
Nigeria's Boko Haram movement, infamous for kidnapping hundreds of schoolgirls at Chibok in 2014, carried out major attacks after declaring a jihad in 2010.
But today, as competition increase between rival jihadist groups, the threat of terrorism in the region is increasing.
The US State Department's coordinator for counter-terrorism, ambassador Nathan Sales, says both IS and al-Qaeda have shifted much of their operations away from their heartland in Syria and Iraq to their affiliates in West and East Africa, as well as Afghanistan.
"Africa", he says, "is a key front in the next stage in the fight against terrorism".
But it is not just a case of governments versus insurgents, there is also a deadly rivalry taking place between supporters of al-Qaeda and IS. This rivalry is becoming so intense that French expert on jihad Olivier Guitta from GlobalStrat Risk Consultancy even predicts:
"Africa is going to be the battleground of jihad for the next 20 years and it's going to replace the Middle East".
Al-Qaeda and IS share a common loathing for secular, Western-supported rulers whom they call "apostates".
But they also have major differences in their approach.
IS has a predilection for extreme, graphic, violence - as demonstrated by its gruesome beheading videos.
While this certainly attracts sociopaths and convicted criminals to its ranks, it also tends to repel the vast majority of Muslims.
Al-Qaeda and its affiliates often seek to win over the loyalty of local populations who have no confidence in their governments or their police, exploiting regional and ethnic grievances.
Which countries are most at risk?
Mali and the Sahel
Several of the world's poorest nations border the Sahara desert.
This region is known as "the Sahel", an Arabic word literally meaning "the coast".
Mali, Chad, Niger, Burkina Faso and Mauritania make up the Sahel countries and all have suffered attacks from insurgents.
Parts of the region are afflicted variously with drought, poverty, unemployment, corruption and in some cases large tracts of ungoverned space.
"West Africa", says ambassador Sales, "is a perfect storm, with nation states that don't control their territories, commit abuses by their forces, and have porous borders".
The dominant jihadist group in this region is the al-Qaeda affiliate Jama'at Nusrat Al-Islam wa'l-Muslimin (JNIM).
The group is in direct competition with the IS affiliate Islamic State in the Greater Sahara (ISGS) and this year has seen a number of low-level battles between them.
Nigeria has suffered some of the worst jihadist attacks in the region, with the government struggling to control the north-east of the country where the Boko Haram movement evolved.
According to the Global Terrorism Index, Boko Haram has been responsible for over "37,500 combat-related deaths and over 19,000 deaths from terrorism since 2011, mainly in Nigeria" but also neighbouring countries.
In 2015, one faction of Boko Haram pledged allegiance to IS, becoming "Islamic State West Africa Province" (Iswap), crossing borders with ease and capturing a multinational base on the shores of Lake Chad in 2018.
IS has since been heavily promoting this African affiliate.
Attacks are still being carried in Boko Haram's name. A video posted by the group on 1 December claimed responsibility for massacring dozens of farmers in Borno state who it claimed had collaborated with government forces.
Western nations have offered only limited military and intelligence assistance to Nigeria. Western diplomats say they are constrained by the corruption and poor human rights record of the Nigerian military.
These failings have been a major contributor towards mistrust of the government and towards recruitment for Boko Haram and other jihadist groups in the region.
"The corruption angle in Nigeria" says Olivier Guitta, "is ruining everything".
North Africa
Al-Qaeda's insurgency in North Africa started off in Algeria.
So it is no surprise that the newly appointed leader of al-Qaeda in the Islamic Maghreb (AQIM) is an Algerian.
The white-bearded 51-year-old Abu Obaida Al-Annabi replaces his predecessor, Abdelmalik Droukdel, who was killed by French troops in Mali in June.
In a microcosm of the wider al-Qaeda-IS rivalry, his appointment has been cheered by al-Qaeda's supporters while rival IS supporters have cast doubt on his jihadist credentials.
Tunisia, the smallest country in the region, produced one of the highest numbers of volunteers - 15-20,000 - who travelled to Syria to join IS during its peak years of 2013-2018.
With high unemployment and a proximity to Libya, Tunisia continues to face an ongoing threat from terrorism.
Libya has been in a state of intermittent chaos ever since the Arab Spring revolt of 2011 and the overthrow of the despotic regime of Muammar Gaddafi.
The end of his regime not only released thousands of tonnes of weapons and explosives from government armouries, much of it making its way across the southern border into the Sahel countries, it also allowed IS jihadists to gain a foothold in the east of Libya.
Somalia
Somalia's al-Shabab group - Arabic for "the young men" - has been one of the most persistent and dangerous jihadist movements on the entire continent.
"Al-Shabab" says Nathan Sales, "sees itself as al-Qaeda's most successful group".
It has survived concerted multinational military campaigns to eradicate it yet it has been able to strike across its borders in Kenya and Uganda as well as detonating massive bombs in the Somali capital, Mogadishu.
US Special Operations raids and drone strikes, launched from neighbouring Djibouti, frequently kill al-Shabab leaders and yet the group has been able to keep regenerating itself.
It has also succeeded in beating back a challenge from the local IS affiliate which is now largely confined to the north-east tip of the Horn of Africa.
Mozambique
The foothold gained by IS in the northern district of Cabo Delgado under the banner of "Islamic State Central Africa Province" (ISCAP), could well be an example of a full-blown insurgency arranged almost entirely over the internet.
Counter-terrorism officials believe that the jihadists operating in this gas-rich part of Mozambique have been recruited online with some input from across the border in Tanzania but largely without the physical presence of recruiters sent from the IS heartlands of Syria and Iraq.
There are conflicting reports as to the veracity of some of the recent atrocities carried out in the name of IS in Cabo Delgado, such as the alleged massacre of around 50 villagers on a football field.
But IS does appear to be getting the upper hand against the government.
"IS" says Olivier Guitta, "is moving around within Mozambique unhampered by other forces".
Hostage ransoms
This is a hugely contentious issue.
In June 2013 all seven leaders at the G7 summit at Loch Erne signed up to an agreement not to pay ransoms to proscribed terrorist organisations.
Seven years on and the reality remains that European citizens tend to be eventually released for undisclosed amounts while British and American hostages are the most likely to get executed.
Several French citizens have been released from jihadist captivity in the Sahel, most recently in exchange for the release of a large number of dangerous jihadist prisoners in Mali.
Analysts have put the total amount paid to jihadist kidnappers in North and West Africa over the years at more than €100m ($120m; £90m).
This ransom money is then used by the jihadists to buy more weapons, more explosives, better vehicles, night vision goggles, communications equipment as well as funding their recruitment efforts and providing bribes to corrupt officials.
No quick fix
So, is Africa, as some are predicting, really set to overtake the Middle East as the primary theatre of violent jihad?
This will depend on many factors but chief amongst them is the quality of governance.
The long-term solution to the challenge of jihadist insurgencies is not just about better policing and stronger borders.
It comes back to the age-old challenge of creating the economic opportunities and political stability that eventually steer people away from a life of violence.
https://www.bbc.com/news/world-africa-55147863?utm_source=iterable&utm_medium=email&utm_campaign=1784017_
--------
Displaced Nearing 400,000 in Mozambique's Islamist Insurgency
By Charles Mangwiro
December 03, 2020
PEMBA, MOZAMBIQUE - Aid groups in northern Mozambique say attacks on civilians have displaced close to 400,000 people during three years of Islamist terrorism.
Fifty-year-old Matumba Mussa said armed men showed up at his house in the port town of Mocímboa da Praia one October night and demanded he call his relatives.
After his three brothers arrived, the men set fire to his house and three others, then took his brothers into the forest, according to Mussa.
Three days later, he said, dismembered bodies were found in the forest.
Insurgents linked to Islamic State took over Mocímboa da Praia in August – one of a series of brazen attacks this year in Mozambique's northern Cabo Delgado province.
Mussa fled south to the provincial capital's Metuge refugee camp, becoming one of close to 400,000 people displaced by the violence since 2017.
The United Nations World Food Program's representative in Cabo Delgado, Cristina Graziani, said they are working to assist those in need.
"The latest, official count is a bit above 366,000 people displaced in Cabo Delgado, in the province," she said. "And that has obviously been an increase in the past six months. So, WFP has adjusted its program to try to cater [for] the needs, the emergency food needs, of these people. ... Our monthly food ration covers 80% of the basic food needs of a family of five."
As the insurgency and the number of its victims expand, concerns about the displaced are growing.
Borges Nhamire of Mozambique's Center for Public Integrity — which promotes democracy and human rights — said the government needs to do more for displaced civilians in Cabo Delgado.
People are fleeing using their own means and the government does not have any logistics in place to evacuate people from conflict zones to safer areas like Pemba, he said. The government is there to receive refugees, he added, but they end up living with host families because there is no place to sleep.
Cabo Delgado's fast-growing Islamist threat was underscored when local media reported in November the insurgents killed scores of people in a series of brutal attacks.
Mozambique's state media reported militants in Muatide village rounded up more than 50 people, mostly young men, and beheaded them on a football pitch.
In April, local media reported militants shot or beheaded 52 young people in Muidumb district after they refused to join their ranks.
Mozambican National Defense Minister Jaime Neto told Radio Mozambique last month that they are fighting to eliminate the Islamist threat, adding that people must be patient and trust the security and defense forces.
Cabo Delgado has vast oil and gas deposits estimated to be worth $60 billion. Due to the threats from militants, though, development of the natural resource has been slow.
The Islamist attacks began in October 2017 when armed men overran police stations in Mocimboa da Praia. The insurgents and military have been fighting for territory ever since, leaving up to 2,000 people dead and hundreds of thousands displaced.
https://www.voanews.com/africa/displaced-nearing-400000-mozambiques-islamist-insurgency?utm_source=iterable&utm_medium=email&utm_campaign=1784017_
--------
India
'Our Turn to Return Favour': Team of Muslim Men Serve 'Langar' 24/7 to Protesting Farmers at Singhu Border
DECEMBER 04, 2020
A25-member team of Muslim men have been serving 'langar' (community kitchen) since Wednesday to the farmers protesting against the Centre's new farm laws at Delhi's Singhu border. The team of the Muslim Federation of Punjab, led by Faaroqi Mubeen, say they have arrived at the Singhu border to "serve the farmers who feed everyone".
"The 'langar' will go on 24X7 till the protests continue. The farmers do so much for us. It is out turn to return the favour," he said. "It is our responsibility to take care of the farmers. We are a team of 25 volunteers who are working non-stop to keep the 'langar' going," Mubeen said. Key routes at Delhi's borders with Haryana and Uttar Pradesh remained choked as thousands of farmers held demonstrations for the ninth consecutive day, after talks between three union ministers and a representative group of agitating farmers failed to yield any resolution on Thursday. The protesting farmers had on Wednesday threatened to block other roads of Delhi in the coming days if the new agriculture laws are not scrapped soon.
Bharatiya Kisan Union leader Rakesh Tikait on Friday said the farmers are hoping that the government will meet their demands during the fifth round of talks scheduled on December 5, failing which they will continue their protests. As farmers remained unyielding on their demand for scrapping the new farm laws, the police kept the Delhi-Haryana border at Singhu, Tikri, Jharoda Lampur, Auchandi, Safiabad, Piao Maniyari, and Saboli closed for traffic movement. It said border points at Dhansa, Daurala, Kapashera, Rajokri, NH 8, Bijwasan/Bajghera, Palam Vihar and Dundahera are open for travel between Delhi and Haryana.
https://www.news18.com/news/india/our-turn-to-return-favour-team-of-muslim-men-serve-langar-247-to-protesting-farmers-at-singhu-border-3146354.html
--------
Hindu Jagran Manch meets Jharkhand Governor for law against love jihad
Satyajeet Kumar
December 4, 2020
Adelegation of the Hindu Jagran Manch met Jharkhand Governor Droupadi Murmu in support of its demand for a law against the so-called love jihad -- forced religious conversion of Hindu girls and women through marriage and other means. Love jihad victim and national shooter Tara Shahdeo was a part of the delegation led by Hindu Jagran Manch president Rishi Shahdeo.
Rishi Shahdeo claimed that at least 300 cases of love jihad have surfaced in the region in the last few years. After Tara Shahdeo's case in 2014, and the more recent Nikita case, the necessity for a law against love jihad was being felt in Jharkhand, he said.
Tara Shahdeo recounted how she became a victim of love jihad and how other girls are also being targeted. She said the guy with whom she fell in love hid his real identity, and pressure was mounted on her to convert after their marriage.
Later, the case reached court and many people were arrested. "But in the absence of a law, the marriage could not be declared null and void. I should at least get a divorce. The CBI is probing the case," she said.
Jharkhand High Court advocate Rajeev Kumar said many tribal girls and women in the state who come from poor economic backgrounds are vulnerable to love jihad. "There should be a provision in law that the marriage registrar should seek permission from the parents of those who apply for inter-faith marriages. District authorities should also verify details and claims. A law on this can help a lot," he said.
https://www.indiatoday.in/india/story/hindu-jagran-manch-jharkhand-governor-law-against-love-jihad-1746730-2020-12-04
--------
Mau Woman Eloped with Married Lover of Different Faith, Case Filed Under UP's New 'Love Jihad' Law
DECEMBER 04, 2020
The police in Mau district of Uttar Pradesh have registered a case against 14 people under the ordinance against forced religious conversions after a woman eloped with her lover who belongs to a different religion. The officers said that the man was already married.
The incident was reported from Molnalganj village under Chiraiyyakot police station in Mau district. Case has also been registered under sections 366, 506 and 3/5 of Uttar Pradesh law against ordinance against forced religious conversions. The police have started taking action after registering the case.
The matter was reported from Molnaganj under Chiraiyakot police station area where a boy who was allegedly already married had eloped with a girl from different faith just before her marriage on November 30. As soon as the family members came to know about the matter, they informed the police. A case was registered after the father of the girl gave a written complaint.
Speaking on the issue, Additional Superintendent of Police, Tribhuvan Nath Tripathi said, "A boy and a girl from different faiths have eloped from their house in Molnaganj village of Chirayakot police station area. The boy is already married, in which the police have filed a case under the 366, 506 and 3/5 Uttar Pradesh Laws Against forced conversion. The police has started investigating case."
https://www.news18.com/news/india/mau-woman-eloped-with-married-lover-of-different-faith-case-filed-under-ups-new-love-jihad-law-3145037.html
--------
'Can't even build their roads': Rajnath Singh's stinging jibe at Pakistan
Posted by Nilavro Ghosh
Dec 05, 2020
In a veiled swipe at Pakistan, Defence Minister Rajnath Singh on Friday said countries which are unable to protect their sovereignty and cannot even build roads or do trade on their own become like India's 'neighbours'.
Singh's comments are seen as an indirect reference to Pakistan where China has been rapidly enhancing its influence in an increasing number of areas including trade and infrastructure development.
In an address at an online event, Singh also highlighted the effective response by India's armed forces in dealing with various security threats including the challenge to the country's territorial integrity or confronting cross-border terrorism.
"Countries which are not able to protect their sovereignty become like our neighbours. Those who can neither make their own 'road', nor walk on it, nor do trade themselves, nor stop anyone else from doing trade," he said.
China is implementing a $50 billion China-Pakistan Economic Corridor (CPEC) in Pakistan-occupied Kashmir (PoK) besides developing the Gwadar port on the Arabian Sea. Several major Chinese companies have been playing a major role in Pakistani economy in the last few years.
In his remarks, the defence minister also said that India's "brave soldiers" were fearlessly engaged in protecting the country's borders when people were largely confined to their homes in view of the rising cases of coronavirus.
Indian and Chinese troops are locked in a tense border standoff in eastern Ladakh for the last seven months. Indian troops had strongly responded to multiple attempts by the Chinese military to intimidate them. Multiple rounds of talks between the two sides have not yielded any concrete outcome to resolve the border standoff.
"When Covid-19 cases were on the rise, we sat in our homes helplessly, but our brave soldiers were fearless and bravely engaged in protecting the borders. They not only protected the border with promptness, but also made supreme sacrifice when needed," he said.
Singh further said: "Whether it is to win in multidimensional wars to protect India's integrity, and sovereignty, or to counter terrorist activities from across the border, our armed forces have responded to challenges with great vigour."
The event was organised by the Kendriya Sainik Board (KSB) on the eve of the Armed Forces Flag Day. The KSB is the apex body of the government that formulates policies for rehabilitation and welfare of ex-servicemen and their dependants.
India has been observing December 7 as the Armed Forces Flag Day since 1949 to honour those soldiers who valiantly fought on the borders to safeguard the country's honour.
The defence minister also appealed to people to make contributions towards the Armed Forces Flag Day Fund, and even referred to donations made by the citizens during the 1962 war with China.
"In the war of 1962, the people of this country had happily donated 'hot wool to warm blood' at the call of the nation. There was no count of money or jewellery. This is our feeling towards the nation," he said.
He also mentioned how people of Bardhana Khurd village in Rajasthan had decided that one son from each family will be sent to the border knowing very well what could have been the result of going to the frontier.
The government had constituted the Armed Forces Flag Day Fund (AFFDF) for the welfare and rehabilitation of the ex-servicemen (ESM) community.
There are more than 32 lakh exservicemen and around 60,000 are added each year due to superannuation. "We must come forward with a 'big' and 'open' mind in fulfilling responsibility towards the security of our nation," Singh said.
https://www.hindustantimes.com/india-news/can-t-even-build-their-roads-rajnath-singh-s-stinging-jibe-at-pakistan/story-ntMDNy7AtjtpZvnvdHxLIM.html
--------
Europe
Erdogan hopes France 'will get rid of Macron soon'
05 Dec 2020
ISTANBUL: Turkish President Recep Tayyip Erdogan said on Friday he hoped France would get rid of Emmanuel Macron as soon as possible, the latest salvo in an escalating war of words between the two leaders.
Turkey is embroiled in a series of disputes with France and its EU partners, from tensions in the eastern Mediterranean to the contested Nagorno-Karabakh region.
The spat has risen to new levels in recent months as France has moved to crack down on extremism after several attacks on its soil.
"Macron is trouble for France. With Macron, France is passing through a very, very dangerous period. I hope that France will get rid of Macron trouble as soon as possible," the president told reporters after Friday prayers in Istanbul.
He said the French should dump their leader "otherwise they will not be able to get rid of yellow vests", referring to the protest movement that erupted in France in 2018.
"Yellow vests could later turn into red vests," Erdogan said, without elaborating.
The Turkish leader has repeatedly suggested that Macron get "mental checks" and urged the Turkish people to boycott French-labelled products.
Turkey and France are also at odds over Nagorno-Karabakh, a region of Azerbaijan populated by ethnic Armenians that broke away from Baku's control in a 1990s post-Soviet war.
Fresh fighting broke out in September, leaving several thousand people dead, until a Russian-brokered ceasefire deal was sealed last month.
Turkey is a staunch ally of Azerbaijan.
France along with Russia and the United States co-chairs the Minsk Group, which has led talks seeking a solution to the conflict for decades but has failed to reach a lasting agreement.
Last month, the French Senate adopted a non-binding resolution calling on France to recognise Nagorno-Karabakh as an independent state.
"Why? You are a mediator but on the other side, you have passed a resolution in your parliament... about a region on which you are supposed to be a mediator," Erdogan charged.
He also repeated comments by Azerbaijani President Ilham Aliyev that France should concede the Mediterranean port city of Marseille to Armenia if it wanted to establish a state for the Armenians of Karabakh.
"I am giving the same advice: if they are so keen, they should give Marseille to Armenians," Erdogan said.
In September, Macron's comments on the simmering eastern Mediterranean standoff, which has pitted Turkey against Greece and the rest of the EU, drew Ankara's wrath.
"The people of Turkey, who are a great people, deserve something else," Macron said while discussing Erdogan's approach to the crisis.
France backs Greek claims in the row over the contested energy-rich waters, with Athens seeking EU sanctions to punish Ankara.
EU members will decide at a summit on December 10 whether to begin the process of applying sanctions against Turkey although many states are not convinced.
"Turkey has a bellicose attitude towards its Nato allies," Macron told Al-Jazeera in October, condemning Turkey's behaviour in Syria, Libya and the Mediterranean.
He said France's wish was that things "calm down" but for this to happen, it is essential that the "Turkish president respects France, respects the European Union, respects its values, does not tell lies and does not utter insults".
https://www.dawn.com/news/1594119/erdogan-hopes-france-will-get-rid-of-macron-soon
--------
US encouraging separatism in Syria, hindering restoration of its unity: Russia FM
05 December 2020
Russia has censured the illegal presence of US troops in Syria and said the deployment of the American forces there is meant to hinder the restoration of unity in the Arab country.
The US is also openly encouraging separatism in Syria by keeping its troops there, said Russian Foreign Minister Sergey Lavrov via a video link at the Rome 2020 Mediterranean Dialogues on Friday.
Lavrov called for the involvement of the international community in resolving the humanitarian crisis in Syria and said it was possible to "break the back" of terrorism mostly thanks to Russia's decisive assistance to the Syrian government.
"The tasks of providing decent life conditions for millions of Syrians, who have survived that devastating war, are coming to the fore. It requires the participation of the entire world community," the top Russian diplomat said.
"We have to state with regret that in response to constructive shifts in political settlement, Damascus receives illegal presence of US forces on its territory, which is overtly used for encouraging separatism and for hindering the restoration of the country's unity," Lavrov added.
He called for adherence to international law and said the entire regional conflicts, including the one in Syria, should be resolved through "inclusive national dialog" and away from external interference.
Washington has refused to withdraw US forces from Syria and openly backs anti-Damascus Kurdish militants in the north and east of the country.
Since late October 2019, the United States has been redeploying troops to the oil fields controlled by Kurdish forces in eastern Syria, in a reversal of President Donald Trump's earlier order to withdraw all troops from the Arab country.
The Pentagon claims the move aims to "protect" the fields and facilities from possible attacks by the Takfiri Daesh terrorist group.
The presence of US forces in eastern Syria has particularly irked the civilians, and local residents have on several occasions stopped American military convoys entering the region.
Syria, which has not authorized the presence of the US military in its territory, has on several occasions said Washington is "plundering" the country's oil.
'West shows double standards with anti-Syria sanctions'
In his video speech, the Russian foreign minister also lambasted new US and European sanctions against Syria over baseless allegations of Damascus' use of chemical weapons and war crimes.
"The West demonstrates double standards denying help to Syria, even when humanitarian issues are raised," he underlined. "Amid the pandemic, the West sticks to its policy of economic strangling of Syria."
The United States recently imposed a round of sanctions against Syria known as the Caesar Syria Civilian Protection Act.
The sanctions came into effect on June 17 -- six months after being signed into law by Trump -- targeting individuals and businesses anywhere in the world that operate directly or indirectly within the sphere of Syria's economy. This includes entities that help the Arab country produce oil or fight terrorism in any way.
The US economic measures have effectively blocked imports of essential goods, impacting the Syrian people's access to medical equipment, food, fuel, natural gas, and electricity.
https://www.presstv.com/Detail/2020/12/05/640034/Russia-Sergey-Lavrov-US-military-presence-illegal-unity-
--------
Germany wants broader Iran nuclear deal
December 04, 2020
BERLIN: Germany said Friday that a new broader Iran nuclear accord must be reached to also rein in Tehran's ballistic missile program, warning that the 2015 deal was no longer enough.
"A form of 'nuclear agreement plus' is needed, which also lies in our interest," German Foreign Minister Heiko Maas, whose country currently holds the EU presidency, told Spiegel magazine in an interview.
"We have clear expectations for Iran: no nuclear weapons, but also no ballistic rocket program which threatens the whole region. Iran must also play another role in the region."
"We need this accord because we distrust Iran," he added.
The 2015 nuclear deal — known formally as the Joint Comprehensive Plan of Action, or JCPOA — gave Iran relief from sanctions in return for curbs on its nuclear program.
The European Union and the United States were key signatories in the deal but US President Donald Trump unilaterally withdrew from the accord in 2018 and has reimposed crippling sanctions on Tehran as part of a "maximum pressure" campaign.
President-elect Joe Biden has signalled that Washington could rejoin the deal as a starting point for follow-on negotiations if Iran returned to compliance.
But Iran's Foreign Minister Mohammad Javad Zarif has rejected talk of reopening the 2015 deal, saying on Thursday: "We will not renegotiate a deal which we negotiated."
He added that Western powers should look to their own behavior before criticizing Iran.
He also complained at what he characterised as a lack of European outrage at the assassination of one of Iran's leading nuclear scientists, Mohsen Fakhrizadeh, outside Tehran last week — an attack Tehran has blamed on Israel.
Decades old US-Iranian tensions dramatically escalated after Trump walked out of the deal.
In recent months, alarm has also grown over Iran's regional activities through proxies in Lebanon, Iraq, Syria and Yemen, which the West says destabilizes the region.
https://www.arabnews.com/node/1772461/world
--------
Pakistan
Justice Isa seeks live broadcast of hearings of review petitions
05 Dec 2020
ISLAMABAD: Justice Qazi Faez Isa has requested the Supreme Court to order live broadcast of the hearings of the review petitions against the judgement in the case pertaining to the presidential reference against him and accused a number of aides of Prime Minister Imran Khan of possessing properties abroad.
In a petition filed in the Supreme Court on Friday, Justice Isa again rebutted that he owned any offshore properties in London but alleged that many distinguished functionaries of the government owned foreign properties.
The petition however hastened to add that the petitioner did not have any idea whether these individuals had disclosed these properties in Pakistani tax returns or even if they had filed such returns because a cloak of secrecy had been cast allegedly by the prime minister on all those in his government.
Accuses several associates of PM of owning properties abroad
According to the petitioner, those who allegedly possess properties abroad are Sayed Zulfikar Abbas Bukhari who owns a flat in London; Yar Mohammad Rind who owns a residential villa and an apartment in UAE; Nadeem Babar who has a house in Texas, US; Dr Shahbaz Gill who has a house in US, retd Lt Gen Asim Saleem Bajwa who owns 13 commercial and five residential properties in the US which have been shown in the name of his wife; Mirza Shahzad Akbar who has a London property in his name and a flat in Spain in the name of his spouse; Faisal Vawda who has nine properties in London, Dubai and Malaysia, and Usman Dar who owns a property in Birmingham, West Midlands.
The petition said that the detailed reasons of the Supreme Court judgement in the Justice Isa case stated that there was a "stigma in Pakistan, that these assets [three London properties of Justice Isa's wife] have been acquired unlawfully" and this claim probably prompted the official respondents to submit the presidential reference against Justice Isa to the Supreme Judicial Council (SJC).
However, the petitioner clarified that he did not own nor had ever owned any property outside Pakistan.
On the other hand, the prime minister who advised the president to submit the reference against him admittedly owned a property in London and so did his two former wives and his children about whom the prime minister adamantly refused to make disclosure, the petition alleged.
The petition requested the Supreme Court to order that the hearing of the review petitions in the Justice Isa case be broadcast live on television because the official respondents had disclosed confidential matters affecting the petitioner and his family, had them broadcast/published, then carried out a relentless propaganda campaign against them and prohibited the media from broadcasting and publishing his and his family's version.
The petition also pleaded that Justice Maqbool Baqar, Justice Syed Mansoor Ali Shah and Justice Yahya Afridi, who wrote dissenting notes in the detailed reasons, should not be excluded from the benches hearing the review petitions as well as the present application.
The petition also requested the apex court to revisit paragraphs 3 to 11 of June 19 short order asking the Federal Board of Revenue chairman to furnish a report on the proceedings conducted by the inland revenue commissioner after seeking explanation from the wife and children of Justice Isa about three properties in the UK to the SJC secretary though the majority order had quashed the reference.
On the receipt of the report, the SJC may determine to initiate any action/proceedings for the purposes of Article 209 of the Constitution, in its suo motu jurisdiction, the judgement added.
https://www.dawn.com/news/1594081/justice-isa-seeks-live-broadcast-of-hearings-of-review-petitions
--------
SC orders ATC to conclude Perween Rahman murder trial as per law
Naeem Sahoutara
05 Dec 2020
KARACHI: The Supreme Court has directed an antiterrorism court to conclude the trial in the murder of head of the Orangi Pilot Project (OPP) Perween Rahman in accordance with law, it emerged on Friday.
Five accused — Abdul Raheem Swati, his son Mohammad Imran Swati and three co-accused: Ayaz Shamzai aka Swati, Amjad Hussain Khan and Ahmed Khan aka Ahmed Ali aka Pappu Kashmiri — have been charged with her murder.
Ms Rahman was gunned down near her office in Orangi Town on March 13, 2013.
In September, the Supreme Court had directed Karachi's ATC-XIII judge to conclude the trial within one month since a fourth joint investigation of the Federal Investigation Agency (FIA) had concluded reinvestigation on the directives of the apex court.
Notice to Gizri SHO on plea for FIR registration over killing of five suspects in DHA 'encounter'
Judicial sources told Dawn that the judge of the ATC-XIII had sent a report to the SC in November mentioning progress in the case. The trial court also requested the apex court to allow it more time to conclude the trial, which is still under way, the sources added.
In the meanwhile, the sources said that the tenure of the judge of the ATC-XIII expired on Nov 23. Therefore, the case had been transferred to the ATC-IV for further proceeding.
The judicial sources said that a letter had been received from the apex court directing the ATC-IV judge to conclude the trial in accordance with the law.
The trial in the high-profile case remained stalled for around one and half years following a restraining order passed by the Sindh High Court against passing of the judgement without recording evidence of the heads of three joint investigation teams (JITs) constituted to investigate the killing of Ms Rahman.
Earlier, the judge of the ATC-XIII had recorded statements of the accused persons under Section 342 of the criminal procedure code (CrPC).
But, the complainant, a sister of the slain activist, had approached the SHC to seek recording of evidence of the heads of the three JITs and also moved a separate application before the SC for a fresh investigation into the murder by the FIA showing "mistrust" in the Sindh police.
According to the prosecution, some of the detained accused during interrogation had confessed to their involvement in the crime and disclosed that local leaders of the Awami National Party (ANP) had allegedly hired Taliban militants to kill the activist.
Plea for FIR in DHA 'encounter' case
A sessions court on Friday issued notice to the Gizri SHO on an application seeking registration of a criminal case against police officials for allegedly killing five suspects in a 'fake' encounter in the Defence Housing Authority.
The additional district and sessions judge (South) directed the SHO Gizri to file a report on Dec 10.
Police claimed to have killed five 'suspects' alleging they had entered a bungalow near Imambargah Yasrab in DHA Phase 4 with the intention of committing a burglary on Nov 27.
Laila Parveen, a local PTI leader, had filed an application under Section 22-A of the CrPC seeking a direction for the SP (complaints cell) and Gizri SHO to lodge an FIR against police officials allegedly involved in the 'staged' encounter.
Ms Parveen, the owner of the bungalow, said that the officials of the Gizri police station took away her driver, Abbas, from her house and later killed him along with four others dubbed as suspected robbers.
The complainant further submitted that the officials showed that the encounter took place in her bungalow, but there was not a single bullet mark anywhere in the house to prove their claim.
She alleged that the officials had killed her driver, Abbas, who was an innocent man and was neither involved nor wanted by police in any criminal case.
She stated that after the alleged encounter the police officials of the Gizri police station washed the crime scene to destroy the evidence, which was also a criminal act.
The complainant said that the police officials also did not allow an independent post-mortem examination of the slain driver, adding that the body was still lying in the mortuary.
https://www.dawn.com/news/1594012/sc-orders-atc-to-conclude-perween-rahman-murder-trial-as-per-law
--------
PDM holds protest meetings in Quetta, Khuzdar, Gwadar
Saleem Shahid
05 Dec 2020
QUETTA: Provincial leadership of the opposition Pakistan Democratic Movement (PDM) said on Friday that the present government had failed to fulfill its promises and its wrong policies had brought the country to the brink of economic disaster.
Speaking at a public meeting organised by the 11-party alliance at the Bacha Khan Chowk, the PDM leaders said the struggle they had launched would continue until the ouster of the rulers who had been "imposed on the country after stealing the people's mandate in the 2018 elections".
Jamiat Ulema-i-Islam's chief Maulana Abdul Wasey, Senator Usman Kakar of the Pakhtunkhwa Milli Awami Party, Agha Hassan of the Balochistan National Party-Mengal, Khair Jan Baloch of the National Party, Rasheed Khan Nasar of the Awami National Party, Wali Mohammad of the PPP and Abdul Wahab Atal of the PML-N were among the leaders who spoke on the occasion.
The opposition alliance also organised protest meetings and demonstrations in Khuzdar, Gwadar and Hub, where local leaders spoke to the public.
They strongly criticised the Pakistan Tehreek-i-Insaf government and its leadership and said their wrong policies had resulted in the country "becoming bankrupt".
They said that those who had promised to provide 10 million jobs to the people were snatching the existing jobs from them, thus making them think in terms of committing suicide.
They said that despite arrests and "other excesses" committed by the government they would continue their struggle until its logical conclusion.
https://www.dawn.com/news/1594089/pdm-holds-protest-meetings-in-quetta-khuzdar-gwadar
--------
1 killed, 7 injured in auto rickshaw blast in Pakistan's Rawalpindi
Dec 4, 2020
RAWALPINDI: One person was killed while seven others were injured in a blast in a parked autorickshaw at Rawalpindi's Pir Wadhai bus station here on Friday, informed police officials.
According to city police spokesperson, Sub-Inspector Sajjadul Hassan, the injured were admitted to Holy Family Hospital, and efforts were underway to identify all victims, reported Dawn.
Hassan further said that the nature of the blast is still being determined, adding that the possibility of terrorism could not be ruled out yet.
"The bomb disposal squad and all concerned law enforcement agencies are on the scene and investigating the area. A final decision regarding the nature of the blast will be announced soon," Dawn quoted Hassan.
The area has been cordoned off as officials inspect the site to collect evidence.
https://timesofindia.indiatimes.com/world/pakistan/1-killed-7-injured-in-autorickshaw-blast-in-pakistans-rawalpindi/articleshow/79566958.cms
--------
South Asia
Presidential Palace Rejects 4 'Reconciliation Council' Members
By Mohammad Haroon Alim
05 Dec 2020
A source in the High Council for National reconciliation told Khaama Press that the listed names of Rahmatullah Nabil, Seyed Ishaq Gilani, Farkhondeh Zahra Naderi, and Shahzadeh Shahid has been removed as the members of the Reconciliation council due to opposition from President Ghani.
According to the source, President Ghani opposed their presence at the first meeting of the leadership committee of the High Council for National Reconciliation at the Presidential palace.
The first general meeting of the council is scheduled today, Meanwhile, Rahmatullah Nabil and Sayed Ishaq Gailani confirmed that an invitation was sent to them at first, were later removed after President Ghani objected to their presence at the meeting.
The names of these prominent political figures were recently included in the list of 45 members of the council at the request of HCNR Head, Abdullah Abdullah.
The Presidential Palace has not yet commented on the matter, but in the past, there have been disagreements between President Ghani and Dr. Abdullah over appointing Reconciliation council members.
Following the establishment of the High Council for National Reconciliation, President Ghani had announced a list of names as part of the Council members, the list was later opposed at that time by Abdullah Abdullah.
Since then, contrary to the political agreement of both sides, the council was left without members and lacks a formal organization.
https://www.khaama.com/presidential-palace-rejects-4-reconciliation-council-members-897897/
--------
NDS Busts Haqqani Leader in Kabul, 8 Arrested: Saleh
By Mohammad Haroon Alim
05 Dec 2020
Amrullah Saleh, the first vice president, said in the Morning meeting on Saturday, that the NDS have arrested a leader of a Haqqani network along with seven others in Kabul.
According to him, this leader of the Haqqani network is known as Matiullah, who was arrested with the cooperation of the people.
Saleh added that Rahmatullah, one of the facilitators and suppliers of the magnetic mines in Kabul, has been detained.
The first vice president noted, Rahmatullah hired a child for his subversive purposes for a daily payment of 200 afghanis and had repeatedly raped him.
On the other hand, the Ministry of Defense stated in a press release, that 28 Taliban were killed and eight others were wounded in clashes between Taliban fighters and security forces in Kandahar province.
Fawad Aman, the Deputy Spokesman for MoD, tweeted on Saturday, that the incident took place when Taliban fighters attacked Afghan security forces in the region, as a result of which the attacks were repelled and the Taliban suffered casualties.
Aman added that 27 bombs planted by the group on public roads had also been discovered and defused.
Kandahar is one of the most insecure provinces in the country where the Taliban have a large presence.
https://www.khaama.com/nds-busts-haqqani-leader-in-kabul-8-arrested-saleh-7868768/
--------
Trump has moved to pull back US troops from Afghanistan – but that may not help achieve peace
05 Dec 2020
The United States President Donald Trump's recent call to withdraw just over half of the 4,500 United States troops in Afghanistan has been condemned as an act that "would hurt our allies and delight, delight, the people who wish us harm" by members of his own party and key military leaders. The November 17 announcement of troop reduction is part of a ceasefire agreement with the Taliban, but may not help deliver a lasting peace to the Afghan people.
The Taliban are a fanatical minority who seek to replace Afghanistan's fledgling democracy with harsh Islamic law. They also have close ties to al-Qaida, offering refuge to other terrorist groups and supporting terrorist campaigns against neighbouring Uzbekistan and Pakistan.
The country's long-suffering people will be most affected by the pullout. Many of them rely on the US military to keep the Taliban from moving out of the countryside – much of which they control, especially in the southeast – to take provincial capitals and the rest of the country.
According to a major Washington think tank, the withdrawal of US troops could "potentially cripple" the Afghan National Army, which has seen 45,000 troops killed from 2015 to 2019. But based on my work among the Afghan tribes – whose leaders are powerful figures who provide crucial supports for the current government – an American drawdown is also likely to proclaim US weakness to Afghanistan's tribal leaders. Those important allies may switch sides to the Taliban en masse if they feel the US is abandoning their country.
An embattled ally
I worked with Afghan National Army troops while working on a forward operating base for the US Army's Information Operations team in eastern Afghanistan. From that experience, I know they are brave and willing to make tremendous sacrifices – including of their lives – to defend their country. But they lack the essential training, equipment and other support that American troops provide.
When Afghan forces deploy on missions to repel insurgent offensives or retake villages, valleys or towns from the constantly probing and advancing enemy, they are transported by US aircrews in Black Hawk or Chinook helicopters. When they engage the Taliban in combat, US Special Forces troops embedded with them fly hand-launched Raven drones that provide aerial views of the battlefield. Those US troops also call in American artillery and air strikes, which are key to the Afghan National Army's ability to succeed in the battle against a determined foe.
These American "force multiplier" troops also provide their Afghan National Army allies with vital logistics support and, in a psychological sense, let their hard-fighting partners know that the American superpower has their back.
But the Army is not the only Afghan key factor the US would weaken by pulling out.
The tribes are key
The strategic southeast of Afghanistan that is home to the Taliban is dominated largely by ethnic Pashtun tribes, which is very different from the postmodern melting-pot societies familiar to those in the US and Europe. These 60 tribes, or clans, have for centuries maintained – and shifted – the country's balance of military and political power. They are always calculating which of the rival factions or warring parties is in the strongest position and seeking to join that side.
When the Soviets withdrew their forces from Afghanistan in 1989 after 10 years of war supporting the country's communist government, tribes who had remained neutral joined the advancing mujahedeen Islamist rebels and eventually defeated the remaining government forces.
I was working in Afghanistan in 2007, the year that the George W Bush administration kept US forces in Afghanistan roughly constant around 20,000 – but sent a far larger force to Iraq. The shift in US priority pulled vital resources like drones, Special Forces troops, artillery, vehicles with additional armor protection, and combat planes and helicopters out of Afghanistan.
As the Pentagon's focus shifted to Iraq, the tribes saw the US as only weakly committed to winning the Afghan conflict. Those that had allied with the previously powerful Americans and Afghan government defected to a resurgent Taliban in order to be on the winning side.
The resulting Taliban advance on the Pashtun tribal area saw the insurgents take much of the country's second-largest city, destroy US-built girls' schools and take the lives of Afghans who had worked with Americans. The Talibans' offensive was averted only by President Obama's 2009-2012 troop surge, which vastly increased the number of US troops in the country, to a peak of 100,000.
That commitment conveyed a message of strength to the tribes, who came back to the government's side in key strategic areas and prevented the Taliban conquest of the southeast. As US and NATO troops bolstered the Afghan National Army, vast swaths of territory in the Pashtun belt and its second largest city of Kandahar were wrested from the Taliban, who lost tens of thousands of fighters.
The effects of Pentagon disengagement
For the past several years, a tentative stalemate has prevailed. Many tribes are clearly watching for signs of weakness from either the Taliban or the Americans. They will interpret any retreat or sign of weak commitment from one side as a signal to join the other side.
The U.S. has gradually over the years reduced its troop numbers, which has hurt the country's reputation among the tribes. But so far, American forces are still numerous enough to deploy alongside Afghan troops to call in supporting artillery and air strikes – demonstrating enough power to keep the tribes tentatively on the U.S. side.
[Get our most insightful politics and election stories. Sign up for The Conversation's Politics Weekly.]
The upcoming troop drawdown would end most, if not all, of that capacity, leaving the Afghan National Army without crucial reinforcements. The Taliban will likely claim a huge tactical victory on the battlefield, and an equally important victory in the battle of perceptions. The tribes will see U.S. weakness, and may shift their support to the Taliban out of a sense of self-preservation.
The remaining number of just 2,000 U.S. troops in Texas-sized Afghanistan would no longer be able to support the Afghan National Army – and will most likely be hard-pressed just to protect themselves.
Brian Glyn Williams is a Professor of Islamic History, University of Massachusetts Dartmouth.
https://scroll.in/article/980225/trump-has-moved-to-pull-back-us-troops-from-afghanistan-but-that-may-not-help-achieve-peace
--------
Iran warns about 'suspicious' moves to disrupt Iran-Afghanistan ties
04 December 2020
Iran has warned about "suspicious" moves by those who seek to disrupt cordial relations between Tehran and Kabul, after a video purportedly showing Afghan nationals being insulted by Iranians went viral.
The Iranian Police issued an announcement on Friday suggesting the video published on social media with regards to insulting Afghan nationals was basically untrue, and that the incident in question had not happened in Iran.
In a separate statement, Iranian Foreign Ministry spokesman Saeed Khatibzadeh expressed regret over such incidents, wherever in the world they might occur.
He called on the government and officials of the brotherly and friendly country of Afghanistan to be more careful with releasing news and not to rush when issuing official statements.
"At a time when the Khaf-Herat railroad is to be inaugurated by both countries' presidents in the coming days as the symbol of extensive cooperation between the two sides, it is inevitably necessary to be wary of suspicious actions by those who are against [Iran-Afghanistan] relations," Khatibzadeh noted.
"Iran and Afghanistan are two friendly and neighboring countries with a common culture and a historical background of unity and cooperation," the Iranian police said in its statement.
"The Islamic Republic of Iran has always supported Afghanistan despite all the problems and cruel sanctions, and will do so in the future," it added.
It said Afghan people have entered Iran in the past decades because of the numerous problems they faced, and Iran has always warmly received and hosted them as its brothers and sisters.
However, it added, enemies are not pleased with this empathy and humanitarian interaction between the two sides, and make mischievous moves every now and then.
"They spare no effort to destroy trust between the two countries, but the people of Iran and Afghanistan will always stand by each other and these tensions will not disrupt their cordial relations," it added.
Similar efforts to disrupt Iran-Afghanistan relations were also made earlier this year after two incidents in which Afghan nationals were killed.
The first was in May, when a group of 54 Afghan migrants allegedly sought to enter Iran, but were thrown into Harirud, on the border between Iran and Afghanistan.
Western media claimed that Iranian border guards killed the migrants by forcing them into the river at gunpoint. Eighteen were reportedly drowned, among them a 12-year-old boy. However, Iran categorically rejected the claims.
In the next incident, on the third of June, a bus fire on the road from the Iranian central city of Yazd, went as such: the car was transporting illegal Afghan refugees or entrants to other cities.
When the police became suspicious and the driver refused to stop, the police shot at one of the back tires of the car, which caught fire after skidding on the asphalt for some eight kilometers due to its high speed. Finally, it hit the center guardrail, and eventually caught fire. This was also used as a pretext to impact Tehran-Kabul relations.
https://www.presstv.com/Detail/2020/12/04/639975/Iran-afghanistan-incident-khatibzadeh-police
--------
Southeast Asia
Indonesia: Controversial Cleric Apologizes over Gatherings after Public Outcry
2020-12-02
Ronna Nirmala
A hardline Indonesian Muslim cleric on Wednesday apologized for leading gatherings that flouted coronavirus restrictions after his return from Saudi Arabia last month.
Muhammad Rizieq Shihab's apology came as police sought to question him in connection with his role in the COVID-19 health protocol violations, after he failed to answer an earlier summons, citing exhaustion.
Thousands of Rizieq's supporters thronged Soekarno-Hatta International Airport on Nov. 10 to welcome his arrival in Indonesia after spending three years in Saudi Arabia.
In the same week, Rizieq held at least three religious gatherings attended by thousands of people in Jakarta and neighboring West Java, prompting public criticism and calls for authorities to take action against the violations of social distancing rules.
"I apologize for the disturbances, discomfort and offence caused by the gatherings. It got out of hand because of the enthusiasm of the people," Rizieq said in a live YouTube broadcast.
The Health Ministry said on Nov. 22 that 80 coronavirus cases had been linked to the gatherings.
Outcry over the gatherings prompted the sackings of Jakarta and West Java police chiefs and four other municipal officials for their failure to stop the events.
Rizieq, founder of the anti-vice group Islamic Defenders Front (FPI), added in his broadcast on Wednesday that he had cancelled all plans to attend public events.
"Together we follow health protocols and avoid crowds, any crowds, including elections. We support the goal to get out of this pandemic as soon as possible," he said.
Millions of Indonesians will go to the polls on Dec. 9 to elect governors, mayors and regents in simultaneous local elections.
Self-exile
Rizieq went to Saudi Arabia after police called him in for questioning about complaints that he sent lewd images to a woman or insulted Pancasila, the Indonesian state philosophy. He stayed in Saudi Arabia after police issued arrest warrants against him on these charges.
The cleric previously said police had targeted him for criticizing the government, while authorities said they had evidence to support their charges.
Rizieq insisted that he could not return to Indonesia after the charges against him were dropped in 2018, saying authorities had blocked his return. The government denied this accusation last week.
Also last week, Rizieq was treated for exhaustion in a hospital in Bogor, near Jakarta, and underwent a COVID-19 swab test. The hospital has not made public the result, citing patient privacy.
Rizieq said he would self-quarantine, though he denied contracting COVID-19.
Indonesia recorded 5,533 new confirmed cases of COVID-19 on Wednesday, bringing the total to 549,508. The virus-related death toll rose by 118 to 17,199.
New summons
On Wednesday, police delivered a summons to Rizieq's residence in Central Jakarta, after he failed to show up earlier for questioning over the gatherings.
Jakarta police spokesman Yusri Yunus said investigators sought to question Rizieq on Thursday.
"Hopefully he can attend this time," Yusri told BenarNews, adding that the investigation would continue despite Rizieq's apology.
Rizieq on Wednesday attended a virtual gathering marking the anniversary of the massive protest four years ago against Jakarta's then-governor, Basuki "Ahok" Tjahaja Purnama, over remarks citing the Quran that some Muslims said were blasphemous.
The 212 Alumni Association, named after the date of the protest, had planned to stage a rally at the National Monument square to mark the event, but authorities refused to issue a permit.
In 2017, a court sentenced Ahok, a Christian, to two years in prison for blasphemy for the offending remarks.
Ahok lost the Jakarta gubernatorial election that year to former Education Minister Anies Baswedan, who courted support from conservative Muslim groups despite his liberal credentials.
Governor Anies said Tuesday that he had tested positive for COVID-19, days after his deputy Ahmad Riza Patria announced he had contracted the disease.
"The results came out early Tuesday morning and showed I was positive for COVID-19," he said in a video statement, adding that he had no symptoms as yet. He urged those who had been around him recently to get tested and self-isolate.
A spike in new cases prompted the government to cut the year-end holiday – previously scheduled from Dec. 24 through Jan. 1 – by three days, to curb the spread of the coronavirus, Minister for Human Development and Culture Muhadjir Effendy said Tuesday.
The spokesman for Indonesia's COVID-19 task force, Wiku Adisasmito, blamed the public's lack of observance of health guidelines for the increase in cases.
"A lot of people get together and do not keep their distance. People are also starting to be careless and not use masks or wash their hands," he told reporters on Tuesday.
https://www.benarnews.org/english/news/indonesian/covid-fpi-12022020173951.html
--------
Selangau MP calls on PM Muhyiddin to retract statement against secularism, liberalism
05 Dec 2020
KUCHING, Dec 5 ― Selangau MP Baru Bian has called upon the Prime Minister Tan Sri Muhyiddin Yassin to retract his statement against secularism and liberalism as it was deemed grossly insensitive to Sarawak's aspirations.
He also also called upon all right-thinking Sarawak leaders to make their stand on this issue and be heard, so as to safeguard the Federal Constitution and secularity.
"If the Perikatan Nasional (PN) government perseveres to challenge secularism, then all Sarawakian parliamentarians must withdraw support for this PN administration, including the GPS parliamentarians without whom Muhyiddin Yassin will surely fall as PM," he said in a statement today.
Baru, who is Parti Sarawak Bersatu (PSB) presidential council member, said on November 28 at Parti Pribumi Bersatu Malaysia (Bersatu) annual general meeting, the prime minister was quoted as saying the PN government alliance with Umno and PAS, was 'God's will', and vows to fight against secularism and liberalism.
He added that secularism was simply defined as "the concept that the government or other entities should exist separately from religion and/or religious beliefs while liberalism, he pointed out, meant "a political and/or moral philosophy based on liberty consent of the governed and equality before the law."
He noted that this type of secularism on a social or philosophical level has often occurred whilst maintaining an official state church or other state support of religion.
"This statement by the prime minister is very alarming, especially for Sarawak which has always been a secular state.
"Is it the PM's agenda to change this part of the constitution? Make no mistake about it, Sarawak is a secular state, period," he said.
Baru believed Sarawak would not have agreed to join in the formation of Malaysia 50 years ago if it was an Islamic state.
He said Sarawak signed the Malaysia Agreement as a secular state, as shown in historical documents and legal judgments.
"That was the 'binding spirit' of MA63. It must be pointed out that the founding father, Bapa Malaysia Tunku Abdul Rahman, stated it plainly in Parliament: "I would like to make it clear that this country is not an Islamic State as it is generally understood, we merely provided that Islam shall be the official religion of the State [Hansard, May 1,1958]."
"How much clearer can it be that the intention was the establishment of a secular state?" he said.
He believed that during the talks leading to the formation of Malaysia, the non-Muslim communities of Sarawak had voiced their reservations about Islam being the religion of the Federation.
He said it was finally agreed that "While there was no objection to Islam being the national religion of Malaysia there should be no State religion in Sarawak, and the provisions relating to Islam in the present Constitution of Malaya should not apply to Sarawak."
He pointed out that the absence of a state religion was key to Sarawak's agreement to join in the formation of Malaysia in 1963, due to the wisdom of our forefathers.
"If it were otherwise then I have no doubt that Sarawakians would never have agreed to be part of the Federation," he said.
He said in 2015 the capital of Sarawak, Kuching was picked as the "City of Unity" as Kuching is a model city for promoting unity among people of different races and religions.
This, he said, was an undeniable acknowledgement that Sarawak is a state that has a clear direction to unity.
"This is because all Sarawakians value our unique culture where we can all sit and have a meal regardless of race, creed or religion under our unadulterated acceptance way of life. There is a mutual respect here that is obviously lacking in other parts of the country.
"It is imperative that all Sarawakians must take a stand against this insensitive statement by the PM. This brazen attack against secularism must not go unresponded," he said. ― Borneo Post
https://www.malaymail.com/news/malaysia/2020/12/05/selangau-mp-calls-on-pm-muhyiddin-to-retract-statement-against-secularism-l/1929027
--------
Sabah to allow social visitors again in time for Christmas, holiday season
04 Dec 2020
BY JULIA CHAN
KOTA KINABALU, Dec 4 — Sabah is gradually re-opening its borders again, starting by allowing social visits from Malaysians, long-term immigration pass holders, as well as family members of resident Sabahans.
Sabah Covid-19 spokesman Datuk Seri Masidi Manjun said that the state is relaxing the standard operating procedures (SOP) for travellers to Sabah ahead of the upcoming Christmas and holiday season as well as to prepare the state to welcome domestic tourists again.
"We are preparing to normalise domestic travel again soon. There are a lot of families separated for long periods of time during this conditional movement control order, so we would like to facilitate their reunion.
"Let the Christians who want to come home for Christmas be reunited with their families, so for this we will relax some of the restrictions in place," he said during a virtual press conference held today.
The relaxed entry requirements will still mean that visitors have to go through a swab test of RT-PCR or RT Antigen three days before, but will no longer require police approval.
"Basically, the categories of people who can travel into Sabah now have been widened. Previously, the authorities were strict on who could travel and required written approval from the police," he said.
Now, holders of MyKad, MyPR, MyKAS, long-term immigration pass holders as well as spouses and dependents of Sabah residents are permitted entry.
When asked whether the Immigration and state Health Department are ready to process the influx of travellers, Masidi said it is unlikely there would be a sudden flood of visitors given that public awareness of the risks of infection of Covid 19 is still high.
"I don't think that because we are opening our gates again there will be flood of people suddenly. People are still cautious. I think the entry will be dependent on the current situation. People are still weighing the risks of whether or not to travel," he said.
When asked when the new SOP will come into effect and whether the updated SOP will allow inter district travel for such travellers, Masidi said that an announcement is expected to be made by Senior Minister (Defence) Datuk Seri Ismail Sabri Yaacob tomorrow.
"I'm making this statement slightly earlier. Tomorrow the senior minister will make another announcement that is related.
"I believe when you allow people to come here, they won't just want to be in Kota Kinabalu. So let's hope everything goes well and the situation improves," he said.
Sabah's current CMCO is due to end on December 6, but it is widely believed that there will be an extension but with certain changes to the SOPs allowing the economy to recover.
Meanwhile, Masidi also announced that eateries could open till midnight starting tomorrow.
Previously, the state only allowed eateries to open till 10pm despite the national SOP allowing longer operational hours.
The state is also preparing to open its museum galleries again starting December 15.
"This will be in starting with the state museum, the Muslim Civilisation Museum, the Locomotive gallery and the Heritage village. Those in Sandakan and Semporna will open at a later date," he said.
https://www.malaymail.com/news/malaysia/2020/12/04/sabah-to-allow-social-visitors-again-in-time-for-christmas-holiday-season/1928870
--------
Philippine troops repel major Daesh attack
December 04, 2020
MANILA: Philippine security forces repelled a major attack by Daesh militants in southern Maguindanao province, army officials confirmed.
About 50 militants from the Bangsamoro Islamic Freedom Fighters (BIFF) group struck the Muslim town of Datu Piang around 10 p.m., the Army 6th Infantry Division said on Friday.
"The attack was a retaliation against the chief of police, who previously had problems with a relative of some members of the group," the army report said.
Spokesman Lt. Col. Anhouvic Atilano said the militants were led by BIFF commander Sukarno Guilil, a supporter of Ustadz Karialan, who had previously led attacks against the military and police.
No casualties were reported among the security forces, while the military is still examining the scene.
The attack sparked fears of a repeat of the 2017 Marawi city siege, which lasted over five months and left more than 1,000 people dead.
However, Philippines armed forces chief Gen. Gilbert Gapay said the incident was an "isolated case" and troops "have already learned their lessons from Marawi."
"It happens every now and then in Maguindanao. We have been receiving reports of security forces being harassed," he said.
Militants were attempting to "sow terror in the area, but another Marawi is highly improbable," Gapay said.
The army reportedly received a tipoff that extremists were preparing an attack.
"Generally, the armed capability of the BIFF is on a decline," Gapay said.
However, he called for greater vigilance among security forces and members of the public.
"They are really not that strong, but this is terrorism we are confronting. Usually they attack whenever we let our guard down or when our vigilance is low."
https://www.arabnews.com/node/1772606/world
--------
North America
US could designate Houthi militia as 'terrorist' organization
December 03, 2020
DUBAI: US Secretary of State Mike Pompeo could designate the Houthi militia as a terrorist organization this week, Al-Arabiya TV reported, citing the Washington Post.
US National Security Adviser Robert C. O'Brien said earlier that the US had options to deal with the Iranian-backed Houthis in Yemen.
O'Brien added that Washington has been constantly studying this decision, calling on the militia to stay away from Iran and stop attacking neighboring countries.
He further criticized the Houthis for their failure in engaging in negotiations and showing good intentions to end the conflict in Yemen, adding that Washington has been monitoring the situation closely over the past period.
The decision to designate the Houthis as a terrorist organization is on President Donald Trump's agenda during the remaining months of his administration, O'Brien said.
https://www.arabnews.com/node/1771911/middle-east
--------
Sen. Cruz reintroduces act to designate Muslim Brotherhood a terrorist group
DECEMBER 3, 2020
Senator Ted Cruz (R-TX) reintroduced the Muslim Brotherhood Terrorist Designation Act this week, his office announced on Wednesday. The act urges the US State Department to designate the Muslim Brotherhood as a Foreign Terrorist Organization (FTO).
"I am proud to reintroduce this bill and to advance America's fight against radical Islamic terrorism," said Cruz. "I commend the current administration's work calling terrorism by its name and combating the spread of this potent threat, and I look forward to receiving the additional information this new bill requests from the Department of State.
"Many of our closest allies in the Arab world have long ago concluded that the Muslim Brotherhood is a terrorist group that seeks to sow chaos across the Middle East," he said.
Senator Jim Inhofe (R-OK) co-sponsored the bill, saying that, "since the founding of the Muslim Brotherhood in Egypt, Brotherhood-affiliated groups have consistently preached and incited hatred against Christians, Jews, and other Muslims while supporting designated radical terrorists.
"I am proud that under the Trump administration, we continue to call out and combat radical terrorism, and I am glad to join my colleagues today in reintroducing this legislation," he said. "We must continue to condemn foreign terrorist organizations and hold them accountable for the evil they perpetrate."
The Trump administration worked to designate the Brotherhood as an FTO in April. Former White House national security advisor John Bolton and Secretary of State Mike Pompeo supported the designation but officials at the Pentagon and elsewhere have been opposed and have been seeking more limited action.
Some conservative and anti-Muslim activists have argued for years that the Brotherhood, which was founded in Egypt in 1928 and sought to establish a worldwide Islamic caliphate by peaceful means, has been a breeding ground for terrorists.
Designating the Brotherhood as an FTO could complicate Washington's relationship with NATO ally Turkey. The organization has close ties with Turkish President Recep Tayyip Erdogan's ruling AK Party and many of its members fled to Turkey after the group's activities were banned in Egypt.
According to Shimrit Meir, a commentator on Arab affairs, the designation is not appropriate and Trump was pushed to declare the designation by Egyptian President Abdul Fattah al-Sisi.
"The truth is that the Muslim Brotherhood is not meeting the parameters. If the move doesn't fail in the Congress, it will in the Senate, and then reach court," Meir said in an interview with The Jerusalem Post's sister paper, Maariv. "Abdul Fattah al-Sisi is pushing Trump because he is still threatened by the Muslim Brotherhood, which is still a very strong phenomenon in Egypt – and the Saudis are also very threatened by this."
Cruz, a member of the senate Foreign Relations Committee, first introduced the act in 2015 and reintroduced it for the first time in 2017.
The 2017 reintroduction of the bill sparked warnings by critics of the Trump administration that such a move will be the first step in a crackdown on Muslim-American civil society groups. Birzeit University political scientist Samir Awad warned then that designating the Muslim Brotherhood as a terrorist organization would signal regimes that they are free to intensify human rights abuses against their opponents.
"They're not anything like Daesh or Nusra, which are terrorist groups," Awad said, using the Arabic acronym for the Islamic State. "If a person can't see the difference between the Muslim Brotherhood and Daesh, then his eyesight is blurred."
The Brotherhood, which estimates its membership at up to a million people, came to power in Egypt's first modern free election in 2012, a year after long-serving autocrat Hosni Mubarak was toppled in a popular uprising during the Arab Spring. But the movement is now banned, and thousands of its supporters and much of its leadership have been jailed.
https://www.jpost.com/breaking-news/sen-cruz-reintroduces-act-to-designate-muslim-brotherhood-terrorist-group-651012?utm_source=iterable&utm_medium=email&utm_campaign=1784017_
--------
Pompeo claims Iran keen to return to nuclear talks for sanctions relief
04 December 2020
US Secretary of State Mike Pompeo has tried to defend during his final days in office the illegal "maximum pressure campaign" by the Trump administration against the Islamic Republic of Iran.
In an outrageous statement on Friday, he claimed that Tehran "desperately" wants to return to the nuclear talks and get sanctions relief from Washington.
"We know our campaign is working because now the Iranians are desperately signaling their willingness to return to the negotiating table to get sanctions relief," Pompeo said while addressing the virtual conference, Manama Dialogue, hosted by Bahrain.
The top American diplomat did not elaborate on what signals Washington had seen.
Warning against going easy on Tehran during the possible negotiations, Pompeo said, "In the event that they come to the table, and are only willing to talk about turning off a few nuclear centrifuges for a few months or a few years, the world should not find that satisfactory... We ought to not cut short negotiation."
US President Donald Trump, a hawkish critic of the landmark 2015 nuclear deal between Iran and six world powers, officially known as the Joint Comprehensive Plan of Action (JCPOA), unilaterally withdrew Washington from the agreement in May 2018, and unleashed the "toughest ever" sanctions against the Islamic Republic in defiance of global criticism.
The US unleashed the so-called maximum pressure campaign and targeted the Iranian nation with draconian restrictive measures in order to bring it to its knees, but Iran's economy keeps humming and is getting back on its feet.
Following its much-criticized exit, Washington has been attempting to prevent the remaining signatories -- the UK, France China and Russia plus Germany -- from abiding by their commitments and thus kill the historic agreement, which is widely viewed as a fruit of international diplomacy.
On Thursday, Foreign Minister Mohammad Javad Zarif reasserted Iran's position that its 2015 nuclear deal with world powers is not open to renegotiation and that the US has to observe the agreement and the UN resolution that endorses it.
Zarif advised that the US end its "grave breach" of the JCPOA and UN Security Council Resolution 2231 that has endorsed the nuclear deal, because Washington "has walked out of the nuclear agreement, but did not walk out of the United Nations."
The top Iranian diplomat also said if the incoming administration of US President-elect Joe Biden continues to ask Iran to come and renegotiate the JCPOA, it would be walking in the same "rogue" steps as Trump's team.
Biden has previously expressed a conditional desire to rejoin the Iran nuclear deal.
Iran remained fully compliant with the JCPOA for an entire year after Washington's unilateral pullout from the deal, waiting for the co-signatories to fulfill their end of the bargain by offsetting the impacts of American bans on the Iranian economy.
But as the European parties failed to do so, the Islamic Republic moved in May 2019 to suspend its JCPOA commitments under Articles 26 and 36 of the deal covering Tehran's legal rights.
Iran took five steps in scaling back its obligations, among them abandoning operational limitations on its nuclear industry, including with regard to the capacity and level of uranium enrichment.
All those measures were adopted after informing the International Atomic Energy Agency (IAEA) beforehand, with the agency's inspectors present on the ground in Iran.
https://www.presstv.com/Detail/2020/12/04/640004/US-Mike-Pompeo-Iran-nuclear-talks
--------
URL: https://www.newageislam.com/islamic-world-news/saudi-arabias-foreign-minister-normalisation/d/123673
New Age Islam, Islam Online, Islamic Website, African Muslim News, Arab World News, South Asia News, Indian Muslim News, World Muslim News, Women in Islam, Islamic Feminism, Arab Women, Women In Arab, Islamophobia in America, Muslim Women in West, Islam Women and Feminism