New Age Islam News Bureau
21 Jun 2015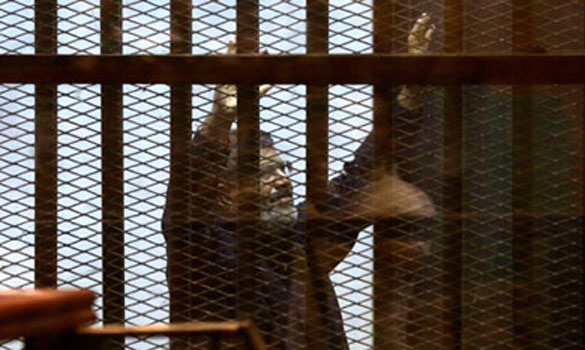 Egypt's ousted Islamist President Mohammed Morsi gestures in a defendants cage at the Police Academy courthouse in Cairo, Egypt (Photo: AP)
---------
Arab World
• Saudi Arabia Warns Citizens against Sharing 'Faked' Documents after Wikileaks Release
• Air Strikes Kill 15 In Yemen Attacks: Houthi Media
• Morsi Qatar Espionage Trial Underway
• Syrian Army Wins Back 4 Strategic Regions in Aleppo Province
• Yemeni Troops Capture Al-Qaeda Terrorists in Ma'rib Province
• Egypt cabinet to discuss constitutionality of election laws amendments
• Saudi-Russia relations 'get a shot in the arm'
• Governor announces renovation initiative in Old Cairo
'Art in Airport' aims to showcase Saudi culture
• Four-wheel electric scooters launched at Makkah Haram for the elderly
-------
South Asia
• Seven Soldiers Martyred, 57 Militants Killed In Nafghan Military Operations
• Taliban Takes Over Northern Kunduz Province in Afghanistan
• Security forces recapture Yamgan District of Badakhshan
------
Africa
• Mali's Tuareg-Led Rebels Sign Landmark Peace Deal
• Dozens Killed In Attack On IS In Libya: Agency
• 'Three Shebab militants killed' in attack on Somali intelligence base
• Five Libyan troops killed by mortar in Benghazi
------
North America
• Charleston Church to Reopen As Suspect's 'Manifesto' Revealed
------
Europe
• Al Jazeera Journalist Arrested In Berlin upon Egypt's Request
Mideast
• Iran Rejects US Claim It 'Continues To Sponsor Global Terror'
• Israel PM Rejects 'Dictates' As France's Top Diplomat Visits
• A year on, no quick fix to halt Daesh
• Palestinian stabs Israeli policeman, then shot by same officer
• Israel raid destroys own crashed drone in Lebanon: Security source
------
India:
• PM likely to visit Saudi Arabia by year's end
Compiled by New Age Islam News Bureau
URL: https://www.newageislam.com/islamic-world-news/new-age-islam-news-bureau/saudi-arabia-warns-citizens-against-sharing--faked--documents-after-wikileaks-release/d/103590
---------
Arab World
Saudi Arabia warns citizens against sharing 'faked' documents after Wikileaks release
Reuters , Saturday 20 Jun 2015
Saudi Arabia on Saturday urged its citizens not to distribute "documents that might be faked" in an apparent response to WikiLeaks' publication on Friday of more than 60,000 documents it says are secret Saudi diplomatic communications.
The statement, made by the Foreign Ministry on its Twitter account, did not directly deny the documents' authenticity.
The released documents, which WikiLeaks said were embassy communications, emails between diplomats and reports from other state bodies, include discussions of Saudi Arabia's position regarding regional issues and efforts to influence media.
Reuters was not able to independently verify the authenticity of the released documents.
The world's top oil exporter, an absolute monarchy, is highly sensitive to public criticism and has imprisoned activists for publishing attacks on the ruling Al Saud dynasty and senior clerics. It maintains tight control over local media.
Since the 2011 Arab uprisings, the Saudi authorities have grown increasingly intolerant of dissent, apparently fearful that the instability sweeping neighbouring countries will in turn hit the conservative Islamic kingdom.
Saturday's statement is the only official government response since the release, which WikiLeaks says is the first batch of more than half a million Saudi documents it has obtained and plans to publish.
WikiLeaks did not say where it obtained the documents, but it referred in a press release to Riyadh's statement in May that it had suffered a breach of its computer networks, an attack later claimed by a group calling itself the Yemeni Cyber Army.
Saudi state and private media on Saturday ignored the release.
http://english.ahram.org.eg/NewsContent/2/8/133258/World/Region/Saudi-Arabia-warns-citizens-against-sharing-faked-.aspx
-------
Air Strikes Kill 15 In Yemen Attacks: Houthi Media
Reuters , Sunday 21 Jun 2015
Saudi-led airstrikes killed 15 people and wounded dozens across Yemen late on Saturday, the Houthi-run Saba news agency reported.
The dead included five women and two children in attacks on Saada and Marib provinces, the agency said.
A Saudi-led Arab coalition has been bombarding Houthi rebels and allied army units since March 26 in a campaign to restore President Abd-Rabbu Mansour Hadi to power.
Hadi, Ryadh's ally, was pushed aside last year when Houthis advancing from their northern strongholds overran the government in the capital Sanaa and went on to capture lands to the south.
The Houthis are allied to former president Ali Abdullah Saleh, who still has the loyalty of much of the army.
U.N.-sponsored talks in Geneva between Yemen's warring parties ended on Friday without agreement on a ceasefire, an outcome relief agencies had sought in order to support efforts to stave off what many see as a humanitarian disaster.
More than 2,800 people have been killed since March 26. The United Nations says more than 21 million people, or 80 percent of the population, are now estimated to be in need of some form of humanitarian aid, or protection, or both.
A series of coordinated bombings claimed by Islamic State has adding another layer to the conflict.
In the latest, Islamic State said it was behind a car bomb that exploded in Yemen's capital Sanaa on Saturday near the Qiba al-Mahdi mosque, killing two people and wounding six.
Islamic State consider the Houthis, a political movement hailing from the Zaydi sect of Shi'ite Islam, as apostates.
http://english.ahram.org.eg/NewsContent/2/8/133286/World/Region/Air-strikes-kill--in-Yemen-attacks-Houthi-media.aspx
-------
Morsi Qatar Espionage Trial Underway
Ahram Online , Sunday 21 Jun 2015
Cairo Criminal Court resumes on Sunday the trial of former Islamist president Mohamed Morsi and ten others for allegedly leaking classified documents to Qatar.
Morsi is expected to appear in Sunday's session wearing a red uniform after Cairo Criminal Court on Tuesday sentenced him to death over a prison break in 2011.
Morsi and five others were sentenced to death on charges of damaging and setting fire to prison buildings, murder, attempted murder, looting prison weapons depots and releasing prisoners while escaping from the prison outside Cairo during the January 2011 uprising.
In the Qatar espionage case, Morsi is accused of using his post to leak classified documents to Qatar, with the help of secretaries and Muslim Brotherhood figures.
In April, a Cairo court sentenced Morsi to 20 years in jail for inciting violence that led to the death of ten people in clashes outside the Ittihadiya presidential palace on 5 December 2012, the first verdict in one of five trials against him since his ouster in July 2013.
Morsi was elected president in June 2012.
He was removed from power in July 2013 by Egypt's military, with the support of most political forces who opposed his rule, following mass protests against him.
http://english.ahram.org.eg/NewsContent/1/64/133294/Egypt/Politics-/Morsi-Qatar-espionage-trial-underway.aspx
-------
Syrian Army Wins Back 4 Strategic Regions in Aleppo Province
Sun Jun 21, 2015
TEHRAN (FNA)- The Syrian army continued its advances in Aleppo, and seized back four strategic regions in the Northern province.
The army took control of Jamiat Bashkoy, two factories and a stronghold of the coalition of the terrorist groups called 'Fath Halab' (Aleppo Conquest) in the Northern parts of Aleppo.
Jamiat Bashkoy is of strategic importance because it is only two kilometers away from the town of Ratian which is an important terrorist center in Northern Aleppo.
Meantime, Halab al-Jadida, al-Rashedeen and Al-Ashrafiya regions were also the scenes of heavy clashes between the army and the terrorist groups.
On Friday, reports from Northern Syria said the Army has pushed back terrorists' massive attacks on its line of defense in Aleppo city and inflicted heavy casualty on the militants in the last four days.
Fath Halab had intensified its attacks on the city to break the army's line of defense, specially in the Western parts of Aleppo.
Fath Halab started its attacks on Al-Ashrafiya, Al-Khalediya, Al-Sabil and al-Zahra districts in Western Aleppo last Monday.
On Tuesday, the Syrian army intensified its offensives in Aleppo after the terrorist groups launched mortar attacks on the Western parts of the city.
The army's intensified attacks came after the terrorists hit the government-controlled residential areas in Aleppo city.
However, the Syrian army prevented the terrorists to make any advancement in the areas under its control in Western Aleppo.
The terrorists started heavy attacks against the Syrian army positions in Aleppo with the intelligence, logistic and arms supports that could have been provided only by their regional allies, an independent source said.
http://english.farsnews.com/newstext.aspx?nn=13940331001214
-------
Yemeni Troops Capture Al-Qaeda Terrorists in Ma'rib Province
Sun Jun 21, 2015 4:25
TEHRAN (FNA)- Yemen's popular Ansarullah fighters captured a number of fugitive Al-Qaeda terrorists who were fleeing Ma'rib province on Sunday.
The captured terrorists had fled their military bases in Al-Bayanat, Al-Jawf and Al-Sahil in Ma'rib province.
They were arrested by the Yemeni revolutionary forces on Ma'rib-Sana'a road.
The Ansarullah fighters and army troops have made major advances in their fight against the Saudi-backed al-Qaeda terrorists and forces loyal to fugitive President Mansour Hadi across Yemen in recent weeks.
Saudi Arabia has been striking Yemen for 88 days now to restore power to fugitive president Mansour Hadi, a close ally of Riyadh.
Hadi stepped down in January and refused to reconsider the decision despite calls by Ansarullah revolutionaries of the Houthi movement.
Despite Riyadh's claims that it is bombing the positions of the Ansarullah fighters, Saudi warplanes are flattening residential areas and civilian infrastructures.
The Monarchy's attacks have so far claimed the lives of at least 4,688 civilians, mostly women and children.
http://english.farsnews.com/newstext.aspx?nn=13940331001153
-------
Egypt cabinet to discuss constitutionality of election laws amendments
Gamal Essam El-Din , Saturday 20 Jun 2015
Amendments to three laws aimed at paving the way for Egypt's long-delayed parliamentary elections are expected to be discussed by the cabinet in a plenary meeting this week.
The three laws regulate the division of electoral constituencies, the workings of the House of Representatives, and the exercise of political rights.
According to Judge Magdi Al-Agati, chairman of the State Council's legislation and fatwas department, the amendments, as revised by the department in constitutional and legal terms over one month, were referred back to Minister of Parliamentary Affairs and Transitional Justice Ibrahim Al-Heneidy last Wednesday.
"We hope our revision will ensure that the three laws no longer face any constitutional challenges and finally open the way for parliamentary elections," said Al-Agati.
Egypt's parliamentary elections, which were scheduled to be held in March, were postponed after the High Constitutional Court (HCC) ruled the distribution of voters among constituencies lacked equality.
Minister Al-Heneidy told reporters Saturday that he has already received the revised amendments and that "they are expected to be discussed by the cabinet in its plenary meeting this week."
"For my part, I have sent a copy of these revised amendments to the Higher Election Commission (HEC) — the judicial body in charge of supervising Egypt's parliamentary elections — to give its final say over the revised laws and whether it has any remarks," said Al-Heneidy.
Al-Agati indicated that the State Council recommended a few minor amendments, mostly related to the constituencies law. "We recommended some changes in a very limited number of independent constituencies in three governorates: Cairo and the two Upper Egypt governorates of Minya and Qena."
Full report at:
http://english.ahram.org.eg/NewsContent/1/64/133260/Egypt/Politics-/Egypt-cabinet-to-discuss-constitutionality-of-elec.aspx
-------
Saudi-Russia relations 'get a shot in the arm'
Saturday, June 20, 2015
Khaled Tashkandi
Okaz/Saudi Gazette
JEDDAH – The entire gamut of bilateral relations between Saudi Arabia and Russia, especially in political and business fields, have received a shot in the arm with the visit of Deputy Crown Prince Muhammad Bin Salman, second deputy premier and minister of defense, to Russia, according to Vladimir Yevtoshkov, co-chairman of the Russian Saudi Business Council (RSBC). In an interview with Okaz/Saudi Gazette, he said the meeting of Prince Muhammad with the Russian President Vladimir Putin was historic and was of extreme significance as it was the first visit of its kind after the change of rule in the Kingdom. He hoped that the visit would have concrete results in further bolstering historic bilateral relations.
Deputy Crown Prince Mohammad, who is also chairman of the Saudi Council of Economic and Development Affairs, held wide-ranging talks with Yevtoshkov during the visit. "We reviewed the efforts of the RSBC in enhancing trade exchanges and investment in all fields between the Kingdom and Russia. Several landmark pacts were signed in business and other vital sectors during the visit and we are hopeful of its very good outcome in future," he said.
Yevtoshkov said a large number of prominent Saudi businessmen came to attend the forum of the Council. "We thank the Saudi Arabian General Investment Authority (SAGIA) for its gigantic efforts in organizing this great event. Several Russian businessmen from various parts of the country participated in the forum and they are keen to develop business relations with their Saudi counterparts," he said.
According to Yevtoshkov, the trade exchange between the two countries would witness remarkable growth in future. "The Council believes that there are great prospects in enhancing cooperation in various vital fields such as oil, gas, petrochemicals, petroleum services, agriculture, food, halal products, health services, telecom, construction and building, and contracting sectors. There is also scope for a surge in export of Russian products to the Kingdom, in addition to benefiting from the tourism and Umrah services," he said, adding that all these are promising areas of cooperation and investments for both parties in future.
Referring to the developments in the Middle East region, Yevtoshkov said this won't have any negative impact on the fast growing relations between the two countries. "The relations between Saudi Arabia and Russia are excellent and there is a promising future despite these developments. An improvement in business ties is important as businesses would spur economic growth, and hence it is essential to safeguard these ties in a way serving the interests of both the countries," he noted.
http://www.saudigazette.com.sa/index.cfm?method=home.regcon&contentid=20150621247905
------
Governor announces renovation initiative in Old Cairo
Ahram Online , Saturday 20 Jun 2015
Governor of Cairo Galal Saeed announced Saturday the launch of a new campaign for the development of heritage sites in Old Cairo, governorate spokesperson Khaled Mostafa said.
The initiative will include the Old Cairo districts of Al-Darb Al-Ahmar, Al-Gamaliya, Al-Helmiya, Al-Sayeda Zeinab and Al-Sayed Nafisa, Mostafa told Ahram Online.
He added that they main work will be renovating streets, not whole districts. For instance, in Darb Al-Ahmar the initiative will work on Haram Rabea and part of Khan El-Khalili.
Amongside the renovation process, Mostafa said the governorate will try to find alternate activities for shop owners in the area, to suit its historical significance.
"If a shop owner works on tires we will convince him to change his current job in order to work on something that suits the heritage of the street, such as working on aluminum, glass, copper or even pottery," Mostafa said.
Along with the governorate, the Aga Khan Development Network (AKDN) will also contribute to the development of the area.
Full report at:
http://english.ahram.org.eg/NewsContent/1/64/133233/Egypt/Politics-/Governor-announces-renovation-initiative-in-Old-Ca.aspx
------
'Art in Airport' aims to showcase Saudi culture
Saturday, June 20, 2015
Layan Damanhouri
Saudi Gazette
RIYADH – Millions of visitors arriving at King Khalid International Airport (KKIA) in Riyadh can now visit the second "Connected: Art in Airports" Exhibition, hosting artwork of various local artists.
A full-fledged art gallery is set up in Terminal 3 of the airport, showcasing a selection of contemporary art showing historical, cultural, social and political aspects of Saudi life.
The exhibition is organized by Art Jameel, in collaboration with the General Authority of Civil Aviation and Saudi Fine Arts Association.
According to Nahar Marzoug, the Jeddah branch manager of the Saudi Fine Arts Association, the exhibition will run until July 1 at the transit point of the Kingdom's largest city.
"We want to target the maximum number of international visitors we can. This is high season for tourists visiting the Kingdom. Most travelers don't have a chance to get a glimpse of Saudi culture because of the short duration of their trips and tight schedules. So this gallery gives them an idea of our culture," he said.
Full report at:
http://www.saudigazette.com.sa/index.cfm?method=home.regcon&contentid=20150621247949
----
Four-wheel electric scooters launched at Makkah Haram for the elderly
Saturday, June 20, 2015
Sheikh Abdurahman Al-Sudais, head of the Presidency for the Affairs of the Two Holy Mosques, launches on Saturday four-wheel electric scooters, specially designed for the elderly and physically challenged pilgrims and worshippers at the Grand Mosque in Makkah. Muslih Al-Mehmadi, director of the department for wheelchairs at the Grand Mosque, said these scooters, weighing 250 kg, have been approved by the Saudi Standards, Quality and Metrology Organization and the Saudi Food and Drug Authority.
http://www.saudigazette.com.sa/index.cfm?method=home.regcon&contentid=20150621247961
-------
South Asia
Seven Soldiers Martyred, 57 Militants Killed In Nafghan Military Operations
By KHAAMA PRESS - Sun Jun 21 2015
Seven soldiers have embraced martyrdom and 57 insurgents killed in newest military operations across the country, ministries of defense and interior announced on Sunday.
A statement issued by the Ministry of Defense states that the seven Afghan National Army soldiers embraced martyrdom in roadside bomb blasts and insurgent fire in past 24 hours.
The statement does not specify the exact location of the incidents.
In the meantime, a statement issued by the Ministry of Interior states that 57 militants were killed and 23 others wounded in separate military operations in Paktika, Sar-e-Pul, Logar, Oruzgan, Helmand, Kunduz and Badakhshan provinces also in past 24 hours.
11 different types of Improvised Explosive Devices (IEDs) placed by insurgents were also defused by the security forces during these operations.
IEDs are one of the deadliest tactics Taliban use in their attacks. The victims of IEDs are not only security forces but every year dozens of civilians also lose lives to these IEDs in Afghanistan.
14 civilians were killed and five others wounded when their vehicle ran over a landmine in Marjah District of southern Helmand province yesterday evening.
http://www.khaama.com/seven-soldiers-martyred-57-militants-killed-in-newest-military-operations-3522
------
Taliban Takes Over Northern Kunduz Province in Afghanistan
By: Associated Press | Kabul | June 21, 2015
Taliban insurgents have taken control of the Chardara district in northern Kunduz province, according to Afghan officials.
Mohammad Yusouf Ayubi, head of the provincial council in Kunduz, said on Sunday that Taliban fighters established control of the district after two days of attacks on local security forces.
Sayed Sarwar Hussaini, spokesman for the provincial police chief, said that reinforcements are being dispatched and an operation to retake the district is imminent. "Right now an intensive gun battle is going on in the area and local people, including women and children, are fleeing the fight," said Ayubi, adding that the sound of heavy and light weapons fire could be heard in Kunduz city, the provincial capital. Afghan army and police forces have sustained heavy losses in the field against the Taliban following the departure of international combat forces at the end of last year. The fighting on Saturday in the Chardara district killed three members of the Afghan security forces and wounded six, Hussaini said. Among the Taliban fighters, he estimated that 17 were killed and more than 20 wounded. Taliban spokesman Zabihullah Mujahid claimed responsibility for the attack in an emailed statement and claimed heavy casualties among the Afghan security forces. Meanwhile a statement from the Afghan Ministry of Interior claimed that Afghan security forces had re-established control of the Yamgan district in northeastern Badakhshan province, which fell into Taliban hands earlier this month.
http://indianexpress.com/article/world/asia/taliban-takes-over-northern-kunduz-province-in-afghanistan/#sthash.1ucIbvVn.dpuf
--------
Security forces recapture Yamgan District of Badakhshan
By KHAAMA PRESS - Sun Jun 21 2015
Ministry of Interior announced that Afghan security forces have recaptured Yamgan District of Badakhshan province from militants.
Sediq Sediqi, spokesman for the Ministry of Interior said that after large-scale military operations security forces took full control of Yamgan District this morning.
The district was under Taliban control for about two weeks. It was ran over by hundreds of Taliban insurgents armed with light and heavy weapons on 6 June.
Sediq Sediqi said 120 insurgents have been killed during these operations including six commanders of the group.
A Tajikistani is among the militant commanders killed in the operations.
Ahmad Naweed Frotan, spokesman for the acting governor of Badakhshan province told Khaama Press that Taliban suffered heavy casualties during the clashes with security forces.
He said 20 foreigners were among the insurgents killed in these operations.
Frotan further said that civilians have not suffered casualties during these operations but five soldiers embraced martyrdom and 10 others wounded.
Afghan National Police, Afghan National Army and personnel from the National Directorate of Security (NDS) took part in the operations. however, Afghan air force played key role in pushing back the Taliban, Frotan said.
"Security forces are now considering military operations in Khastak valley and Juram Distric since the Taliban from Yamgan District have fled to these locations," Frodan added.
Shah Waliullah, the acting governor of Badakhshan province had earlier told Khaama Press that Khastak valley has become a safe haven of militants from where they plan attacks.
http://www.khaama.com/beaking-news-security-forces-recapture-yamgan-district-of-badakhshan-3521
------
Africa
Mali's Tuareg-Led Rebels Sign Landmark Peace Deal
AFP , Saturday 20 Jun 2015
Mali's Tuareg-led rebel alliance signed a landmark deal on Saturday to end years of unrest in a nation riven by ethnic divisions and in the grip of a jihadist insurgency.
The Algiers Accord aims to bring stability to the country's vast northern desert, cradle of several Tuareg uprisings since the 1960s and a sanctuary for Islamist fighters linked to Al-Qaeda.
The agreement had already been signed in May by the government and loyalist militias but the Coordination of Azawad Movements (CMA), a coalition of rebel groups, had been holding out until amendments were agreed.
Cheers broke out as Sidi Brahim Ould Sidati, a member of the Arab Movement of Azawad, put his name to the document on behalf of the CMA in a televised ceremony at a packed conference hall in the capital Bamako.
"Trust me -- we will make sure that no one is disappointed. We will build a brotherly Mali together," President Ibrahim Boubacar Keita told an audience of northern community leaders and international sponsors.
"Today is a great day for all of us children of Mali."
Ramtane Lamamra, the foreign minister of Algeria, which has been leading international efforts to mediate the peace talks, hailed "a new beginning, a new opportunity and a new destiny for this great Malian nation".
The peace accord, hammered out over months under the auspices of the UN, calls for the creation of elected regional assemblies but stops short of autonomy or federalism for northern Mali, known by locals as Azawad.
Full report at:
http://english.ahram.org.eg/NewsContent/2/9/133276/World/International/Malis-Tuaregled-rebels-sign-landmark-peace-deal.aspx
-------
Dozens Killed In Attack On IS In Libya: Agency
AFP , Saturday 20 Jun 2015
Dozens of fighters from the Islamic State group were killed in Libya Saturday as militiamen sought to dislodge them from a neighbourhood in the eastern city of Derna, Libyan news agency Lana reported.
For more than a week now, fighters belonging to a group known as the Mujahedeen Council of Derna have been attacking elements of the radical Sunni Muslim group in the city.
"Armed men" were trying Saturday morning to drive IS forces out of Derna's eastern district of Fataeh, Lana said, and "there were dozens of deaths in the IS ranks."
Lana, with links to the militia-backed government in Tripoli that is not recognised by the international community, said Fataeh was "IS's last bastion in Derna," suggesting that the group's fighters had been driven out of the rest of the city.
IS has had a significant presence in Derna since the end of 2014.
Libya descended into chaos after a revolt unseated longtime dictator Muammar Gaddafi in 2011. It now has rival governments and parliaments, as well as powerful militias battling for influence and a share of its oil wealth.
http://english.ahram.org.eg/NewsContent/2/8/133277/World/Region/Dozens-killed-in-attack-on-IS-in-Libya-Agency.aspx
-------
'Three Shebab Militants Killed' In Attack On Somali Intelligence Base
AFP, Sunday 21 Jun 2015
Shabab militants launched a major suicide attack on Sunday against a military intelligence base in the capital Mogadishu, setting off a car bomb before storming inside, security officials said.
Somalia's interior ministry said the three attackers were all killed in the raid, and that Somali security forces who fought them suffered no casualties.
"There was an attack against a base belonging to the security forces. The violent elements used a car bomb to get inside the compound. There was a heavy exchange of gunfire," said Adan Mohamed, a Somali security official.
Witnesses near the base, belonging to the internationally-backed government's National Intelligence and Security Agency (NISA), reported a loud explosion followed by intense gunfire.
"There was a heavy explosion and in seconds heavy gunfire broke out. We cannot go outside the house because of the shooting," said Abdulahi Yare, a resident who lives near the base.
In a brief statement, NISA said the attack had failed.
"The attack was successfully thwarted by our forces. None of our buildings nor bases were entered," it said.
Somali officials displayed three corpses after the attack, which came at the start of Islam's holy fasting month of Ramadan -- a period when the Al-Qaeda-linked Shabab, who are fighting to topple the Mogadishu government, have in the past intensified attacks.
"The security forces have foiled an attempted attack by the desperate terrorists," interior ministry spokesman Mohamed Yusuf told reporters.
"One of them detonated himself and two others were shot dead. They were trying to storm the premises but they have been taken out before they reached their objective. There was no casualty on our side," he added.
Full report at:
http://english.ahram.org.eg/NewsContent/2/8/133284/World/Region/Three-Shebab-militants-killed-in-attack-on-Somali-.aspx
------
Five Libyan troops killed by mortar in Benghazi
Saturday, June 20, 2015 9:05 PM
BENGHAZI, Libya — At least five Libyan troops were killed late on Friday when a mortar landed in the eastern city of Benghazi where pro-government forces have been fighting against a mix of Islamist militant brigades, medical sources said.
Benghazi is just one front in a complex conflict involving Libya's two rival governments, and loose alliances of armed factions as well as militant forces taking advantage of the chaos to gain ground.
"Five members of the Libyan National Army were killed when a mortar shell landed among them late Friday evening," the medical source at Benghazi's Al-Jala hospital told Reuters.
The source said at least 20 troops had been killed in fighting in June. LNA Mohamed Hejazi said their forces had been fighting in around six districts in the city.
"These militant groups have become individuals who are taking high building as posts. The militants have also booby-trapped all houses and streets," Hejazi said.
Army forces loyal to Libya's internationally recognized government have been fighting several Islamist groups in Libya's second-largest city as part of a wider struggle since the overthrow of Muammar Gaddafi in 2011.
Fighters claiming allegiance to the Islamist State group holding parts of Iraq and Syria have also claimed attacks in Benghazi as that group looks to expand its foothold in Libya.
Pro-government forces in Benghazi have regained some territory lost last year. But progress has stalled as militants hole up in several districts and the port area despite claims by army commander Khalifa Haftar that his forces control most of the city.
Libya's recognized government operates out of the east since an armed faction known as Libya Dawn took over the capital Tripoli last summer and declared its own government.
Ongoing United Nations negotiations to end the conflict and bring the two main factions into a unity government and broker a broad ceasefire have struggled as both sides seek more concessions over their rivals. — Reuters
http://www.saudigazette.com.sa/index.cfm?method=home.regcon&contentid=20150621247884
-------
Europe
Al Jazeera journalist arrested in Berlin upon Egypt's request
Reuters , Saturday 20 Jun 2015
A leading Al Jazeera journalist was arrested at a Berlin airport on Saturday at the request of Egypt, a lawyer for the Qatar-based satellite network said, a move he described as part of a crackdown by Cairo on the channel.
International lawyer Saad Djebbar told Reuters Ahmed Mansour, one of the most senior journalists on the channel's Arabic service, had been abruptly and unexpectedly arrested in Germany.
A spokesman for the German Federal Police confirmed that a 52-year-old man was arrested at Berlin's Tegel airport at 1320 GMT following an international arrest warrant from the Egyptian authorities.
The spokesman said the general public prosecutor was now checking the man's identity, as well as a possible extradition to Egypt.
Cairo's criminal court sentenced Mansour, who has dual Egyptian and British citizenship, to 15 years in prison in absentia last year on the charge of torturing a lawyer in Tahrir Square in 2011.
Jazeera said at the time the charge was false and an attempt to silence Mansour.
"This is a very serious development," said Djebbar. "We knew that the Egyptians were going to set such a trap to harass our journalists and that is what has happened."
Full report at:
http://english.ahram.org.eg/NewsContent/1/64/133268/Egypt/Politics-/Al-Jazeera-journalist-arrested-in-Berlin-upon-Egyp.aspx
-----
North America
Charleston church to reopen as suspect's 'manifesto' revealed
AFP , Sunday 21 Jun 2015
Large crowds are expected at Sunday's service at the black church in Charleston where nine African Americans were gunned down, as a chilling website apparently created by the suspected white supremacist shooter emerged.
The service will be the first since the bloodbath on Wednesday at the Emanuel African Methodist Episcopal Church in the southern state of South Carolina, which has fuelled simmering racial tensions in the United States and reignited impassioned calls for stronger gun-control laws.
The historic church reopened Saturday after police said it was no longer considered a crime scene, with some members visiting the room where fellow worshippers were shot dead, according to the local Post and Courier newspaper.
Meanwhile, a website allegedly created by the accused shooter, Dylann Roof, surfaced, in which the suspect rails against African Americans and appears in photographs with guns and burning the US flag.
A rambling 2,500-word manifesto on the website, laced with racist lingo and spelling errors, does not bear the 21-year-old suspected supremacist's name.
But its first-person style, its title -- "Last Rhodesian" -- and references to Charleston and apartheid South Africa suggested he was its author.
Roof, who went on the run after the shooting, was caught a day later in neighbouring North Carolina and is in solitary confinement in jail charged with nine counts of murder.
The FBI said it was "taking steps to verify the authenticity" of the website.
Full report at:
http://english.ahram.org.eg/NewsContent/2/9/133301/World/International/Charleston-church-to-reopen-as-suspects-manifesto-.aspx
-------
Mideast
Iran Rejects US Claim It 'Continues To Sponsor Global Terror'
AFP , Saturday 20 Jun 2015
Iran rejected Saturday US claims that it was a sponsor of global terror attacks, saying instead it is a victim of terrorism.
On Friday, the US State Department said the Islamic Republic "continued to sponsor global terror" attacks last year and supplied arms to the Syrian regime even though it was engaged in talks to rein in its nuclear programme.
But Iranian foreign ministry spokeswoman Marzieh Afkham said those accusations were "worthless."
"For three decades, Iran has been the great victim of terrorism and considers international cooperation to combat terrorism a priority," she said, without elaborating.
US counterterrorism envoy Tina Kaidanow, unveiling the 2014 Country Reports on Terrorism, said "Iran continued to sponsor terrorist groups around the world," adding that Washington remained very concerned by the activities of the Iranian Revolutionary Guard "and its proxies."
And she stressed that "we have sanctions in place against Iran specifically related to the terrorism issue. That's not going to change."
http://english.ahram.org.eg/NewsContent/2/8/133275/World/Region/Iran-rejects-US-claim-it-continues-to-sponsor-glob.aspx
-----
A year on, no quick fix to halt Daesh
Saturday, June 20, 2015
BEIRUT — A year after its establishment, the Daesh (the so-called IS) group's self-declared "caliphate" in Syria and Iraq remains well-funded and heavily armed, and experts say it could be around for years to come.
The would-be state headed by Daesh chief Abu Bakr Al-Baghdadi has suffered setbacks in the months since it was proclaimed.
A US-led coalition is carrying out strikes against the group throughout its territory and this week it lost the key Syrian border town of Tal Abyad to Kurdish forces.
But the group has continued to score shocking victories elsewhere, including the seizure of Syria's ancient city of Palmyra, and experts say Daesh has the means to last for years.
"The group operates as an insurgency and might shrink in one region and expand in another, but it'll stay with us for the foreseeable future," said Hassan Hassan, associate fellow at the Chatham House think tank's Middle East and North Africa program.
"I see it existing and active for at least a decade."
Other experts agree that while the current borders of the self-proclaimed "caliphate" are likely to shift, the entity is far from on its last legs.
"The very idea of the caliphate and 'Caliph Ibrahim' will surely remain for many of the movement's members and supporters around the world," said Charles Lister, a vising fellow at the Brookings Doha Center think thank.
Daesh's success is driven by various factors, chief among them its significant financial resources, superior firepower, and ability to play on the legitimate grievances of local populations in Syria and Iraq.
"It remains the richest terrorist group in the world," with weekly revenues of about $2 million (1.7 million euros), said Patrick Johnston, a political scientist at the Rand Corporation think tank.
US-led strikes on the group's oil infrastructure and a drop in the price of crude have cut into its funds, but it has found ways to compensate.
"Key among them are extortion, taxation, and the sale of looted goods from areas they have captured," Johnston said.
More importantly, the group's operating costs are relatively low: it has a steady supply of recruits, particularly foreign fighters, and its vast armory is stocked largely from the spoils of battles against armies and other rebel groups.
Fighters have access to a range of small arms and light weapons, as well as artillery, anti-tank guns and a "seemingly unending supply of pick-up trucks and captured armored vehicles and, in Syria, tanks," according to Lister.
He said the group seeks to "ensure a near-constant series of tactical-level victories are won, thereby resulting in the capture of additional weapons supplies."
Daesh also buys arms from the black market, making it "one of the most equipped groups in Syria and Iraq," said Hassan, author of a book on the group.
"IS (Daesh) has the weapons, training and means to operate as a small army," he said.
The US-led coalition fighting Daesh has had some successes, but experts say it is constrained by a lack of reliable ground forces and relatively poor intelligence.
Daesh, meanwhile, has strategically focused its expansion on areas where local government and security is weak.
And it quickly implements governance in captured territory, Johnston said, using its bureaucrats and police to consolidate its control.
The militants use a carrot-and-stick approach with local populations, terrorizing with brutal public executions but also offering relative stability and public services including healthcare and education.
"Its popularity is fluid... but generally it still has what it takes to rule without much pressure from within its areas," said Hassan.
"People on the ground still fear the group's retribution, see value in its model of governance, and don't have any other acceptable alternatives."
Full report at:
http://www.saudigazette.com.sa/index.cfm?method=home.regcon&contentid=20150621247881
------
Palestinian stabs Israeli policeman, then shot by same officer
AFP , Sunday 21 Jun 2015
A Palestinian stabbed an Israeli border policeman outside Jerusalem's Old City on Sunday, critically wounding him, with the officer managing to shoot his attacker, leaving him in critical condition.
Police described the incident, which took place just outside Damascus Gate, as a "suspected terror attack," saying the attacker was an 18-year-old Palestinian from the West Bank.
"An 18-year-old resident of the West Bank stabbed a border police officer in the neck with a knife, and the border police officer was taken in critical condition to Shaarei Tzedek hospital in Ein Kerem," police spokeswoman Luba Samri said in a statement.
"The border police officer managed to fire at the terrorist, critically wounding him," she said.
The attack took place two days after a Palestinian shot dead an Israeli hiker near the West Bank city of Ramallah as Palestinians marked the first Friday of the Muslim fasting month of Ramadan.
http://english.ahram.org.eg/NewsContent/2/8/133296/World/Region/Palestinian-stabs-Israeli-policeman,-then-shot-by-.aspx
-----
Israel PM rejects 'dictates' as France's top diplomat visits
AFP , Sunday 21 Jun 2015
Israeli Prime Minister Benjamin Netanyahu on Sunday rejected "international dictates" ahead of a visit by France's top diplomat, with Paris advocating a UN resolution laying out parameters for peace talks.
"The only way to reach an agreement is through bilateral negotiations, and we will forcibly reject any attempts to force upon us international dictates," Netanyahu said at the weekly cabinet meeting.
French Foreign Minister Laurent Fabius will hold separate talks with Palestinian and Israeli leaders later on Sunday during a tour of the region.
Without mentioning France, Netanyahu said that the proposals put forth on creating a separate, independent Palestinian state had neglected to address vital Israeli security concerns.
"In the international proposals that have been suggested to us -- which they are actually trying to force upon us -- there is no real reference to Israel's security needs or our other national interests," Netanyahu said in comments quoted by his office.
"They are simply trying to push us into indefensible borders while completely ignoring what will happen on the other side of the border."
Fabius, during a visit to Cairo on Saturday, urged the resumption of Middle East peace talks, while warning that continued Israeli settlement building on land the Palestinians want for a future state would damage chances of a final deal.
Peace talks between Israel and the Palestinians have been comatose since a major US push for a final deal ended in failure in April 2014.
http://english.ahram.org.eg/NewsContent/2/8/133303/World/Region/Israel-PM-rejects-dictates-as-Frances-top-diplomat.aspx
------
Israel raid destroys own crashed drone in Lebanon: Security source
AFP, Sunday 21 Jun 2015
Israel carried out an air strike in eastern Lebanon on Sunday targeting a drone belonging to Israel that crashed in the area, a security source told AFP.
"An Israeli air strike was launched this morning to destroy one of their drones that crashed in the mountains outside Saghbine yesterday," the source said, speaking on condition of anonymity.
Images published by Lebanese media purported to show the remains of the drone that was targeted, including what looked to be a wing and twisted pieces of metal.
http://english.ahram.org.eg/NewsContent/2/8/133309/World/Region/Israel-raid-destroys-own-crashed-drone-in-Lebanon-.aspx
------
India
PM Likely to Visit Saudi Arabia by Year's End
Saturday, June 20, 2015
Shams Ahsan
Saudi Gazette
JEDDAH — Indian Prime Minister Narendra Modi is likely to visit Saudi Arabia by the end of this year, a section of the Indian media reported on Saturday quoting sources familiar with the development. The prime minister may visit the Kingdom along with two other Gulf countries, Hindustan Times quoted the sources as saying.
In an interview with Saudi Gazette earlier this month, Syed Shahnawaz Hussain, who is a national spokesperson of the ruling Bharatiya Janata Party (BJP), said that India wants to further enhance its relations with Saudi Arabia.
"Stronger ties are for the good of both countries," he said, adding that a visit to Saudi Arabia was on the prime minister's priority list.
"India has the largest population of Muslims in the world after Indonesia, and some 2.8 million Indians are working in the Kingdom. So it is natural to have strong ties with Saudi Arabia," Shahnawaz told Saudi Gazette.
Saudi-Indian ties were upgraded to strategic partnership during the visit of former Prime Minister Manmohan Singh in 2010, the first by an Indian PM to the Kingdom in 28 years.
Custodian of the Two Holy Mosques King Salman, who visited India in 2014 when he was the Crown Prince, met Prime Minister Modi on the sidelines of the G20 summit in Brisbane last November.
Shahnawaz said King Salman is a good friend of India and has a good understanding of the country.
Prime Minister Modi sent a strong delegation led by Vice President Hamid Ansari to the Kingdom to offer condolences on the death of King Abdullah.
King Salman made a telephone call to the Indian prime minister when Operation Decisive Storm began against Houthi rebels in Yemen in March. Following the telephone conversation, Saudi warplanes allowed the evacuation of stranded Indian nationals out of Sanaa to Djibouti.
http://www.saudigazette.com.sa/index.cfm?method=home.regcon&contentid=20150621247946
------
URL: https://www.newageislam.com/islamic-world-news/new-age-islam-news-bureau/saudi-arabia-warns-citizens-against-sharing--faked--documents-after-wikileaks-release/d/103590