New Age Islam News Bureau
12 Dec 2017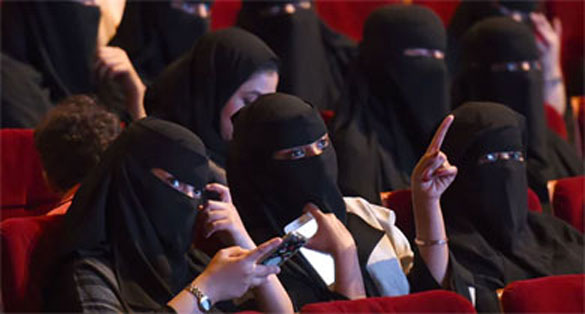 Saudi women attending a short film competition the King Fahad culture centre in Riyadh in October. Photograph: Fayez Nureldine/AFP/Getty Images
-----
• Saudi Arabia to Lift 35-Year Ban on Cinemas
• UK Clerics Teach Same 'Extremist Ideas' As Taught In Pakistan: US Think Tank
• Why Is PM Narendra Modi Obsessed With Muslims?
• Abbottabad Dossier: Curious Case of Links between Fisk and Bin Laden's Letters
• Who Is Qais Al-Khazaali, Godfather Of Iranian-Backed Shiite Militias?
• Senator: All Malaysian Flight Attendants Should Wear Syariah-Compliant Uniforms
Arab World
• Saudi Arabia to Lift 35-Year Ban on Cinemas
• Religious Leaders Call UAE an Example of Tolerance
• Rifts Widening among Al-Nusra Commanders in Northwestern Syria
• Syrian Army Enters Idlib Province for First Time in Last Three Years
• Syria: US Resumes Arms Supplies to SDF
• Syrian Army Imposes Control over 2,000 sq-km of Land in Southeastern Deir Ezzur
• KSRelief, UN to report on Rohingyas after mission to Bangladesh
• Putin orders partial withdrawal of Russian troops from Syria
• Bahraini scholars condemn civil society group's visit to Israel
-------
Europe
• UK Clerics Teach Same 'Extremist Ideas' As Taught In Pakistan: US Think Tank
• Muslim Leaders Visit Swedish Synagogue In Show Of Support Following Anti-Semitic Events
• UK drops on ranking of nations doing good for humanity due to arms sales
• Putin, Sisi sign deal on construction of Egypt's 1st nuclear power plant
• Emboldened By Change, Some Uzbek Imams Turn On Loudspeakers for Call to Prayer
• Number of Salafists in Germany Reaches Record High
• Islamic State a resilient threat, international counter-terrorism conference hears
• Nearly 900 refugees rescued off Libya arrive in Italy
-------
India
• Why Is PM Narendra Modi Obsessed With Muslims?
• No Differences between Hindus and Muslims in West Bengal, Says CM
• Cow Protection Movement Not Against Muslims, Christians, Says RSS
• IS asks Kashmiris to behead Indian troops
• LeT Operative Stayed With Terrorists in Kashmir, Filmed Army Camps: Officials
• Indian police arrest French journalist for filming in Kashmir
• Row over minority status for Muslims in J-K: Can't ask legislature to legislate, says SC
• India, Russia, China resolve to step up counter-terror co-operation
• YSRCP President Promises Fair Deal to Muslims
-------
Pakistan
• Abbottabad Dossier: Curious Case of Links between Fisk and Bin Laden's Letters
• Musharraf urges Pakistan to back UAE, Saudi Arabia against Qatar
• Two Soldiers Martyred As Terrorists Open Fire On Army Vehicle In North Waziristan
• Senate urges Muslim countries to take united stand against Trump's Jerusalem decision
• China Leverages Belt and Road Investment to Shape Pakistan
• JI marches towards Islamabad to seek merger of Fata with Khyber Pakhtunkhwa
• K-P Assembly resolution calls upon Muslim countries to 'financially boycott' US
-------
Mideast
• Who Is Qais Al-Khazaali, Godfather Of Iranian-Backed Shiite Militias?
• Erdogan, Putin Warn Of Further Tension Over US Jerusalem Move
• Houthis kill 20, arrest dozens in latest crackdown
• Saudi warplanes kill at least 14 people in north, south Yemen
• Palestinians Miss Major Reconciliation Deadline
• Abbas in Cairo, Istanbul to rally region over holy city
• Israeli tank, aircraft hit Gaza after rocket fire
• Houthi militia claims nephew of slain Yemeni ex-president Saleh is alive
• IRGC commander Soleimani reaffirms full support for Palestinian resistance groups
• Chileans gather outside US embassy to protest Trump's al-Quds move
• Israel targets Hamas positions throughout Gaza Strip
-------
Southeast Asia
• Senator: All Malaysian Flight Attendants Should Wear Syariah-Compliant Uniforms
• Still No Request to Extradite Zakir Naik from Malaysia, Says Lawyer
• Reviving 'waqf' institutions in Indonesia
• Indonesia reiterates call for Palestinian independence
• Hardline Indonesian Muslim groups burn US, Israeli flags over Trump's Jerusalem move
-------
Austaralia
• Australian National Imams Council says, No Religious Reason Not to Stand for Judge
-------
South Asia
• Anti-Rohingya Sentiment Growing Among Locals in Bangladesh
• US Airstrike Leaves 3 ISIS Militants Dead In East Of Afghanistan
• Hekmatyar opposes bid for Loya Jirga, calls for on time elections
• ISIS suffer casualties during clashes with the Afghan forces in Nangarhar
• Bangladesh police looking for family, associates of New York bombing suspect
• Russia and West exchange heated words over Afghanistan, Iraq, and Syria
-------
Africa
• Libyan Forces Suffer Casualties As Fighting Drags On In Benghazi
• ICC Reports Jordan to UN Security Council for Not Arresting Sudan's Bashir
• EU complicit in crimes against refugees in Libya, Amnesty says
• US military expects at least 2 more years of combat in Somalia
• Two Years after Nigerian Soldiers Murdered Hundreds Of Shiites, Amnesty International Insists On Justice
-------
North America
• Suspect in Times Square Bombing Leaves Trail of Mystery
• 'Attempted Terrorist Attack': Pipe Bomb Explosion in NYC Leaves 4 Injured; Man In Custody
• Some Alabama religious leaders worry faith is sacrificed to politics in Senate race
• Donald Trump Has Never Stopped Lying About Muslims
• Call for Muslim Action against US Quds Policy
• De-radicalization can work for former ISIS fighters
Compiled by New Age Islam News Bureau
URL: https://www.newageislam.com/islamic-world-news/saudi-arabia-lift-35-year/d/113542
-------
Saudi Arabia to Lift 35-Year Ban on Cinemas
Martin Chulov
Monday 11 December 2017
Saudi Arabia is to allow cinemas to open for the first time in 35 years as it continues a push to overhaul its society and image after decades of hardline rule.
The first movie theatres will be opened by March and it is intended that up to 2,000 screens will be in place within 12 years.
Announcing the move on Monday, the culture minister, Awwad Alawwad, said: "This marks a watershed moment in the development of the cultural economy in the kingdom. Opening cinemas will act as a catalyst for economic growth and diversification. By developing the broader cultural sector we will create new employment and training opportunities, as well as enriching the kingdom's entertainment options."
The announcement was widely welcomed but left some citizens worried that the breakneck speed of change would lead to a pushback in a country that for decades has been one of the world's most culturally austere and restrictive.
"It's spectacular news. We are in a state of shock," said Hisham Fageeh, a Saudi actor and producer, but he expressed concern over censorship, as "any kind of intimacy and love is considered taboo and a moral violation".
Alawwad's statement gave no details about whether audiences would be segregated along gender lines. It is believed that a partial wall will split men and women, with authorities not yet willing to tackle a taboo about mixing between sexes, which still has wide traction in Saudi society.
Salma al-Saud, 24, a Saudi student, said: "I believe that there must be a wall in the beginning. It's a huge cultural shift so it would be easier for people to accept. Many are against this move. They believe it's going to corrupt values if men and women are mixed in together. It is still considered a taboo to mix here.
"It should be done very gradually. This is a new era for Saudi and a new step for us. This will show the world that we also have an artistic side. We have to keep progressing."
The rollout of reforms includes allowing women to drive by next June, watering down laws that have severely limited women's movements without the consent of a male guardian, and allowing women into sports stadiums. It has also led to a crackdown on corruption that has implicated senior royals and some of the kingdom's most senior businessmen and led to claims that its architect – the crown prince, Mohammed bin Salman – has used the purge to consolidate his rule.
Saudi Arabia's highest-ranking cleric spoke in January of the "depravity" of cinemas, saying they would corrupt morals, but the authorities appear to be shrugging off the resistance.
Even with the decades-long ban on cinemas, Saudi movie buffs were able to circumvent traditional censors by streaming movies online and watching films on satellite TV. Some young Saudi film-makers have received government support and recognition in recent years.
The film Wadjda made history in 2013 by becoming the first Academy Award entry for Saudi Arabia, though it was not shortlisted for a prize.
Although domestic reforms have been cautiously welcomed at home and encouraged from abroad, Saudi Arabia's newly assertive regional projection has been met with trepidation by some Arab neighbours, who believe Prince Mohammed has over-reached by simultaneously intervening militarily in Yemen, boycotting neighbouring Qatar and demanding the resignation of the Lebanese prime minister, Saad Hariri, amid a heated standoff with Iran.
Arab states have questioned whether Riyadh played a part in deliberations before Donald Trump recognised Jerusalem as the capital of Israel, overturning decades of US policy that had placed the future of the city at the centre of negotiations towards a two-state solution to the Middle East conflict.
Additional reporting: Nadia al-Faour
https://www.theguardian.com/world/2017/dec/11/saudi-arabia-to-lift-35-year-ban-on-cinemas
------
UK clerics teach same 'extremist ideas' as taught in Pakistan: US think tank
Dec 12, 2017
WASHINGTON D.C: A Leading American think tank, Middle East Media Research Institute (MEMRI) has expressed concern over the growing threat of religious extremism in the United Kingdom, according to a news agency.
In a research paper published by the MEMRi, Tufail Ahmad, Director for South Asia said, "The speeches and activities of Islamic clerics settled in the UK and coming into the UK from Pakistan and elsewhere reveal only one point — they teach the same extremist ideas that are taught in Pakistan."
Ahmad was speaking in the context of the recent weeks-long siege of Islamabad over the issue of Khatm-e-Nabuwwat, a belief that is part of the Pakistan's blasphemy laws.
He said, "the ideas articulated by militants in Pakistan are being preached in British towns and Europe – publicly and in mass rallies".
He further states, "In recent decades, Ahmadis, pejoratively dismissed by clerics as 'Qadianis' and persecuted by the Pakistani state and society, have found shelter in the UK. Ahmadis will be at the receiving end of Pakistani extremism flowing into the UK because they are accused, of not believing Prophet Muhammad (PBUH) to be the last prophet."
Speaking in Birmingham on November 28, Chaudhary Dawood Pahalwan, the convener of the Jamaat-e-Islami UK for the Midlands – "paid generous tribute to those who sacrificed their lives for the honour of Prophet Muhammad (PBUH)" during the violence in Islamabad.
Pahalwan warned, "Unless Nizam-e-Mustafa [the Prophet Muhammad's (PBUH) system of governance] is established in Pakistan, there cannot be peace in the country."
Ahmad indicated that there have been several instances where Islamic clerics in the UK have opposed democratic rule in favour of Islamic rule.
In conclusion, Ahmad writes, "Khatm-e-Nabuwwat is one of the beliefs that constitute Islam's blasphemy laws. The speeches and activities of Islamic clerics settled in the UK and coming into the UK from Pakistan and elsewhere reveal only one point: they teach the same ideas that are taught in Pakistan."
https://www.pakistantoday.com.pk/2017/12/12/uk-clerics-teach-same-extremist-ideas-as-taught-in-pakistan-us-think-tank/
-------
Why Is PM Narendra Modi Obsessed With Muslims?
By Jyoti Malhotra
December 11, 2017
As the high-voltage Gujarat election campaign winds down, Prime Minister Narendra Modi's comments on the Indian Muslim-Pakistan Muslim continuum is not only having a deeply divisive effect inside the country, it is also poisoning the waters beyond India's borders.
The Pakistan foreign office, in a statement on Monday morning said, "India should stop dragging Pakistan into its electoral debate and win victories on own strength rather than fabricated conspiracies, which are utterly baseless and irresponsible."
Question is, why did the PM, in his speech in Palanpur, Gujarat, on Sunday drag former Prime Minister Manmohan Singh's name into the contentious argument in which he named both former vice-president Hamid Ansari as well as Pakistan high commissioner Sohail Mehmood, who were present last week at a dinner meeting organized by suspended Congressman Mani Shankar Aiyar?
The guest list at Aiyar's dinner was pretty secular, and included former external affairs minister K Natwar Singh, as well as several former high commissioners to Pakistan such as Satinder K Lambah, Sharad Sabharwal, TCA Raghavan as well as a former army chief Deepak Kapoor. READ | At Mani Shankar Aiyar's dinner: Former army chief, ex-diplomats
Is The Modi Wave Working For BJP In Gujarat?
So why did the PM pick on only the obvious Muslim names like Hamid Ansari and Sohail Mehmood – besides Dr Manmohan Singh, of course – in his Palanpur speech?
He also targetted an alleged comment by a Pakistani general saying Congress leader Ahmed Patel should be made the chief minister of Gujarat, by asking whether Pakistan was now going to influence an Indian election.
As the election campaign has become shriller and Congress leader Rahul Gandhi has perceptibly taken the high moral ground, Modi's speeches seem to have increasingly focused on anti-Muslim rhetoric. Even RSS leaders are beginning to wonder if the election, that too in BJP's favourite home state Gujarat, is becoming so tight that the PM is being forced to add to the vitriol.
Dragging Pakistan high commissioner Sohail Mehmood through this high-voltage rhetoric is decidedly odd, especially as Mehmood's presence on Indian territory is legitimized since he presented his credentials to President Ram Nath Kovind in August, the BJP's own candidate.
So does the PM's attack on the Pakistan high commissioner now mean that he has doubts about the credentials ceremony of his own government, a sacrosanct event that draws its strength from the Geneva/Vienna convention?
The PM's attack on Aiyar, a day after Aiyar accused the PM of being a "neech kisam ka aadmi hai," a man of low intellectual thought, was equally astounding.
"Congress leaders are speaking in a language that is not acceptable in a democracy…This is insulting. This is nothing but a mindset of the Mughals," the PM said.
Whatever did he mean by conflating the long-departed Mughals – who, at the height of their empire, employed Hindu generals to fight their battles against other Hindu kings — with a throwaway remark by Aiyar, at best unbecoming of a diplomat-turned-politician ?
Only two days ago, Modi accused Congressman Salman Nizami of saying that he wants "Azaad Kashmir," as well as made uncalled for remarks against the PM, asking "whose son is he?" As the Congress went into damage control mode – just like it had done with Mani Shankar Aiyar two days before, by suspending him – now saying Nizami was not a Congress worker, the former Kashmiri journalist from Banihal denied he had said anything anti-national.
Nizami wanted to know why the PM was picking on him in the first place. "I am a nobody, I joined the Congress only three years ago," he said.
From targeting the Congress' "Mughal mindset" to picking on Salman Nizami The Nobody, to attacking Hamid Ansari to disparaging the Pakistan high commissioner, the prime minister seems to have made the short leap from Indian Muslims to Pakistani Muslims. It is as if the partition of India in 1947, only 70 years ago, is still such a burning issue that needs to be constantly addressed by the prime minister.
With the winter session of Parliament only a couple of days old when the results for the Gujarat election come in, will the prime minister be able to put aside the vitriol and work with the Congress party on Bills that demand the attention of the Opposition as well? Will he be able to lead with skill and panache India's difficult policy with Pakistan, having torn up the Pakistan high commissioner's presence on Indian soil ?
Sources point out that Modi's obsession with Pakistan manifests in several ways – including critical comments he made to US Secretary of State Rex Tillerson during his recent trip to India. But the Americans, or any other country, will do what is in their national interest, not in India's – that is the first lesson of politics.
The second lesson is that the PM is the prime minister of the entire country, not just the BJP. All state election campaigns will come to an end, sooner than later. Then the country will beckon.
http://indianexpress.com/article/opinion/narendra-modi-manmohan-singh-congress-bjp-india-pakistan-gujarat-elections-4978061/
-------
Abbottabad Dossier: Curious Case of Links between Fisk and Bin Laden's Letters
11 December 2017
As the Abbottabad documents continue to reveal more of the inner-workings of al-Qaeda and its leader Osama bin Ladin, the letters found in his Pakistan compound in 2011 show how the mastermind behind the September 11 attacks took such care of his portrayal throughout the West by focusing on British journalist Robert Fisk.
The dossier has raised several key questions regarding past articles written by leftist journalist Fisk, who wrote extensively on bin Ladin and al-Qaeda especially during the 10-year anniversary of the Twin Tower attacks in 2011.
Fisk published a piece for British daily, The Independent, titled "For 10 years, we've lied to ourselves to avoid asking the one real question" in which he tackled some of the many books, opinions, articles and reports published around the world on the secrets of the September 11 attacks in the United States.
Fisk's piece marking 10-year anniversary of 9/11 attacks
Read closely, many would notice that both Fisk's article, who is close to the Lebanese militia group Hezbollah, and bin Laden's directives through the letters uncovered in the Abbottabad dossier share a great amount of similarities. It is as if both documents had sprung from the same source.
In one of his letters, bin Laden assigned to a number of his al-Qaeda commanders the task of reaffirming the organization's agenda during the tenth anniversary of the 9/11 attacks in 2011. Bin Laden specifically instructed them to reach out Abdel Bari Atwan and Robert Fisk and considered the anniversary a good opportunity to explain the motives behind the organization's intention of continuing their war of terror, one that has been so detrimental to the Islamic world.
Bin Laden declared in one his letters: "I believe that you should contact Abdel Bari Atwan and Robert Fisk under the banner of free speech and on the occasion of the 10th anniversary of the September attacks, which represents the harvest of ten years of war between the Mujahideen and the Americans. You will need to raise the banner of 'one's opinion and the other'. This is an opportunity to clarify our motives to continue a war that is harmful to both humanity and the Islamic world. Amid dangerous environmental conditions, it is important to end injustices and for mankind to seek the reduction of gas emissions. Given the current state, we have no choice but to defend our nation against incursions. Thus, it is important to present the real picture surrounding this war as a conflict between two of the largest civilizations on earth amid dangerous climatic conditions".
Bin Laden then added in his letter: "We want them [referring to Atwan and Fisk] to make a documentary film on this 10th anniversary and we will provide them with information that is readable, audible and visual. We hope that they will reveal different matters and highlight the role played by the Mujahideen as the main cause for the financial crisis afflicting America".
Fisk follows
Fisk then appears to respond to bin Laden's request when he published his now-infamous piece for The Independent.
In the article, Fisk writes: "By their books, ye shall know them.
I'm talking about the volumes, the libraries – nay, the very halls of literature – which the international crimes against humanity of 11 September 2001 have spawned. Many are spavined with pseudo-patriotism and self-regard, others rotten with the hopeless mythology of CIA/Mossad culprits, a few (from the Muslim world, alas) even referring to the killers as "boys", almost all avoiding the one thing which any cop looks for after a street crime: the motive".
Fisk then adds: "Why so, I ask myself, after 10 years of war, hundreds of thousands of innocent deaths, lies and hypocrisy and betrayal and sadistic torture by the Americans – our MI5 chaps just heard, understood, maybe looked, of course no touchy-touchy nonsense – and the Taliban? Have we managed to silence ourselves as well as the world with our own fears? Are we still not able to say those three sentences: The 19 murderers of 9/11 claimed they were Muslims. They came from a place called the Middle East. Is there a problem out there?"
Fisk then concludes his piece by saying the following: "We still haven't told the truth about the crime which – we are supposed to believe – "changed the world forever". Mind you, after watching Obama on his knees before Netanyahu last May, I'm really not surprised.
When the Israeli Prime Minister gets even the US Congress to grovel to him, the American people are not going to be told the answer to the most important and "sensitive" question of 9/11: why?"
Bin Laden and translating Fisk's writings
Bin Laden's eagerness to follow closely Fisk's writings was ever more proven through the Abbottabad documents. In one letter, Fisk's name was mentioned several times as Bin Laden even conveyed to his followers his wish for "Brother Azzam to translate Robert Fisk's book."
The Abbottabad documents further disclosed the existence of committees within the organization allocated monitoring and analyzing media reports and articles supporting the organization's ideology both in the Arab and Western media. The committees were also in charge of compiling and preparing these reports with the intent of providing them for bin Laden's counsel.
The Abbottabad documents also revealed that one of Robert Fisk's articles published in 2004 was requested for translation following the Al Jazeera audio recording of bin Laden at the time.
Bin Laden and his praise of Fisk
To conclude, it is quite ironic that bin Laden so highly praised Robert Fisk since the latter is an avid anti-Saudi British journalist who has vehemently painted al-Qaeda and bin Laden as an exclusive Saudi - Wahhabi product.
And so according to a question posed by Fisk in one of his article: Is it possible for Iran to become the possible future policeman of the Middle East?
He responded in a Belfast Telegraph opinion piece in 2015 by saying: "Iran was reborn as a major Middle East nation when it agreed to limit its nuclear ambitions. Despite the "ifs" (if Iran complies with the "key parameters", if Iran's Revolutionary Guards don't try to wreck the agreement, if Israel does not batter Iran's nuclear facilities in a rogue nation attack) the framework could one day return the 36-year-old Islamic Republic to the status of a regional superpower which last existed under the Shah." "And who would be surprised if the US begins to re-examine its relationship with the Wahhabi Saudis who gave the world Osama bin Laden and 15 of the 19 hijackers of 9/11?"
https://english.alarabiya.net/en/features/2017/12/11/Abbottabad-dossier-Curious-case-of-links-between-Fisk-and-bin-Laden-s-pieces.html
-------
Who Is Qais Al-Khazaali, Godfather Of Iranian-Backed Shiite Militias?
11 December 2017
A video showing the leader of Iraq's Iranian-backed Asaib Ahl al-Haq militia, Qais Khazaali, appearing at the Lebanese-Israeli border earlier this week has prompted widespread debate.
He was seen in the footage in military uniform, meeting with Hezbollah factions and announced: "The whole country together with Hezbollah is ready to fight and prelude to the Islamic state that is ruled by the Awaited Mahdi."
This produced a wide discussion about the character of Khazaali who just a few months ago took over the task of announcing the Badr Organization, an Iraqi Shiite militia that is fully Iranian-backed.
Following the spread of a video of the visit that showed aKhazaali entering the country illegally, Lebanon's Prime Minister Saad al-Hariri demanded to ban him from entering Lebanon. He also called on carrying out the "necessary measures and investigations to prevent any person from carrying out activities of a military nature on Lebanese territory," according to a statement released by his office.
His appearance attracted further widespread condemnation among other Lebanese government officials.
But who is Khazaali?
Qais al-Khazaali was born in the city of al-Sadr, east of Baghdad in 1974. He completed his highschool education in the Iraqi capital where he also went on to study Geology at university.
He then began focusing on religious studies, and was taught under the mentorship of religious authority Muhammad Muhammad Sadiq al-Sadr. He later worked at al-Sadr's office.
After al-Sadr was killed in 1999, Khazaali remained close to al-Sadr's fourth son, and helped him with propaganda, security and finances.
After the US invasion of Iraq in 2003, Khazaali created the special groups to fight alongside Akram al-Kaaby, the leader of the al-Nujba Iraqi Shiite militia. Both men later created the Asaib Ahl al-Haq in 2006.
British forces arrested and imprisoned Khazaali, his brother and a number of their followers in 2007 for two and a half years. At the end of 2009, the Asaib Ahl al-Haq group captured five British employees from inside the Ministry of Finance in Baghdad. They were then exchanged for Khazaali the following year.
As time went by, and American and British forces withdrew from Iraq, Khazaali began to get involved in politics and ran for parliament in 2014.
The Asaib Ahl al-Haq group receives training and finances from Iran, and is composed of a number of brigades geographically distributed into combat missions. They fight with about 4,000 of those brigades in Syria to save the Bashar al-Assad regime, under the leadership of the Iranian revolutionary guard.
https://english.alarabiya.net/en/features/2017/12/11/Who-is-Qais-al-Khazaali-godfather-of-Iranian-backed-Shiite-militias-.html
-------
Senator: All Malaysian Flight Attendants Should Wear Syariah-Compliant Uniforms
By Nandini Balakrishnan
12 Dec 2017
According to Bernama, Hanafi stressed that this is line with Malaysia's image as a Muslim country.
"We are proud that Malaysia is an Islamic country with its own cultural identity. But when our flight attendants dress up sexily and disrespectfully, this will give tourists who use the services of our national carriers the wrong impression.
"The time has come for the government to provide new uniform guidelines which will portray Malaysia as a Muslim country with strong eastern values," he explained, during the debate on the Supply Bill 2018 at the Dewan Negara yesterday, 11 December.
Malaysia is a Muslim-majority country, where Islam is the official religion. Approximately 60% of the 28 million Malaysian population are Muslims. However, the Syariah laws in the country are only applicable to Muslims and is used to resolve conflicts related to creed and family matters.
"I challenge the government. Malaysia Airlines is a government-linked company. And whatever airlines that operate within Malaysia, they are on Malaysian land.
"If they take Muslim workers from Malaysia, they should give a choice," Kota Raja MP Dr Siti Mariah Mahmud from Parti Amanah Negara told Malay Mail Online on 25 November.
She did, however, stress that Muslim women shouldn't be forced to cover their aurat.
"There are some people who feel it's not wajib (compulsory). But for people who feel it's wajib, 'I want to do it', give them the choice," added Dr Siti Mariah.
http://says.com/my/news/malaysian-flight-attendants-should-wear-shariah-compliant-uniforms
-------
Arab World
Religious leaders call UAE an example of tolerance
Jasmine Al Kuttab
December 11, 2017
World leaders must work hand-in-hand to fight radicalisation, they said
Top global religious leaders urged countries around the world to look at the UAE as an example of a nation that seeks religious and cultural tolerance, while helping combat racism and hatred.
During the fourth Forum for Promoting Peace in Muslim Societies, themed Global Peace and Islamophobia,' held in Abu Dhabi on Monday, hundreds of religious leaders gathered to shed light on "The reality that our world faces today".
At the forum, which is held under the patronage of Sheikh Abdullah bin Zayed Al Nahyan, Minister of Foreign Affairs and International Cooperation, Shaykh Abd'Allah bin Bayyah, president of the Forum for Peace, said combating radicalisation and intolerance must start within each nation.
He said it is crucial for education systems around the world to teach youth about co-existence.
"We must work on education in schools and universities - because to make progress you have to take care of your home."
Shaykh bin Bayyah said international peace is threatened, and thus world leaders must work hand-in-hand to fight radicalisation.
"Intellectuals and people with wisdom do exist in every region - but the problem is, these people are not bringing their efforts together to face the problems that our world faces today."
He said the UAE holding the forum reflects on the country's vision of unity. "This concept serve peace and harmony, not only between Muslims, but amongst all humanity."
He said the top objective for religious leaders at the forum is to show the reality of Islam. "The concept of jihad and a number of other concepts have been distorted and used in ways that are untruthful," he explained.
He stressed that extremism, as well as terrorist organisations, have wronged Islam. "These groups claim they are following the path of Islam, but they lost the path of Islam."
Sheikh Nahyan bin Mubarak Al Nahyan, Minister of Tolerance, said the UAE will continue to spread its message of peace and acceptance.
"The leaders of this noble country always emphasis on tolerance and mutual understanding."
Sheikh Nahyan said the forum will help shed light on critical issues faced by Muslims around the world.
"The forum will allow us to share ideas and will enable us to develop strategies and proposals to achieve global peace and confront Islamophobia.
"Islam does not represent a threat to societies, but has a principle of mutual understanding and peace."
Adama Dieng, UN Secretary-General's Special Advisor for the Prevention of Genocide, Senegal, said in order to witness change, countries must learn to educate communities about the importance of co-existence.
"The UAE spreads the message of tolerance, peaceful existence and harmony among people," he added.
"The UAE symbolises the future we see for our children and grandchildren, and the Louvre Abu Dhabi museum is an example of this testimony - a testimony that is built on an ambition, which promises that in a world filled with hate and violence, peace and harmony prevail."
Father Bishoy Salib, pastor of the Coptic Orthodox Church in Abu Dhabi, said the UAE has created a "blessed gathering," and continues to raise awareness about unification.
"The churches have been serving in the UAE for over 40 years. Our first mass began in 1974, and because of the UAE's long history, how neutral and open-minded it is towards embracing all cultures and religions, we can say that the UAE is an example of what every country in the world should be."
jasmine@khaleejtimes.com
American Peace Caravan
Shaykh Bin Bayyah launched the American Peace Caravan this year to spread awareness about religious tolerance. The caravan includes various religious leaders from around the world who work together to promote unity.
The initiative was began in Abu Dhabi and Rabat, Morocco, in May, and will conclude after five years - when 50 cities, 500 mosques, churches and synagogues in the US are covered.
https://www.khaleejtimes.com/nation/abu-dhabi-religious-leaders-call-uae-an-example-of-tolerance-peace-forum
-------
Rifts Widening among Al-Nusra Commanders in Northwestern Syria
Dec 11, 2017
The websites reported that a fresh wave of differences and accusations has erupted among Al-Nusra commanders after the recent advances of their ISIL rivals in Al-Nusra regions in Idlib province.
The websites further said that a number of dissident commanders of Al-Nusra have even been arrested by the group's security forces.
They added that the Chief Commander of Tahrir al-Sham Hayat Abu Mohammad al-Joulani has issued an order to arrest a number of field commanders that have leaked intel about the Al-Nusra's supply lines and military movements in the battlefields to the ISIL. The websites went on to say that sudden changes have happened in the Al-Nusra's hierarchy of command in Eastern Hama, adding that four commanders of Al-Nusra have been dismissed from their post and sent to Idlib.
The ISIL has pushed the Al-Nusra back from over 15 towns and villages in Northeastern Hama in last week.
Relevant reports said on Sunday that the ISIL terrorists prevailed over the Al-Nusra Front in Southern Idlib for the first time and captured a village near the border with Hama.
Dissident-affiliated websites reported on Sunday that the ISIL stormed the positions of their Al-Nusra rivals in Northeastern Hama and later managed to drive them out of the village of Bashkoun in Southern Idlib.
http://en.farsnews.com/newstext.aspx?nn=13960920001075
-------
Syrian Army Enters Idlib Province for First Time in Last Three Years
Dec 11, 2017
The army men exchanged heavy fire with the Al-Nusra in Northeastern Hama and imposed control over the town of al-Mosheirefeh in Southern Idlib, entering the Northwestern province for the first time after three years.
Also, a field source confirmed that the army has entered Idlib province.
Relevant reports said on Sunday that the army soldiers, backed up by the country's Air Force and artillery fire, stormed the strongholds of the Al-Nusra in Northeastern Hama, and captured the small town of Baleel and Baleel hill in al-Zaqbah region.
The army men continued their advances and took control over the village of Um Khazim and Um Khazim hill in Southeastern Idlib at border with Hama.
Full report at:
http://en.farsnews.com/newstext.aspx?nn=13960920001017
-------
Syria: US Resumes Arms Supplies to SDF
Dec 11, 2017
The sources in Northern Syria said that a convoy of the US arms and ammunition was delivered to the SDF on Friday.
The sources said that the convoy, including large trucks carrying arms and military vehicles crossed Simalka border-crossing in Northern Iraq into Syria's Hasaka province, heading to the SDF-held town of Qamishli.
Turkish Foreign Minister Mevlüt Çavuşoğlu said in late November that the Turkey expected US President Donald Trump to keep his promise to stop supplying arms to the PKK/PYD and PKK/YPG.
Çavuşoğlu told reporters in the Mediterranean province of Antalya that it is Turkey's "natural" right to expect Trump to stick to his word not to give the PKK/PYD weapons anymore.
"We would like to see implementation" of Trump's promise, he added.
Full report at:
http://en.farsnews.com/newstext.aspx?nn=13960920000963
-------
Syrian Army Imposes Control over 2,000 sq-km of Land in Southeastern Deir Ezzur
Dec 11, 2017
The sources said that the army men stormed ISIL's positions in Southeastern Deir Ezzur and freed a region as large as 2,000 sq/km extending from the village of al-Salehiyeh to al-Ma'eizeliyeh region, al-Ma'eizeliyeh Dam, the T2 Oil Pumping Station and the town of Albu Kamal.
The sources further said that the army units had already advanced 18 km against ISIL from the Northern direction of T2 Oil Pumping Station.
Military sources said on Friday that the army men, operating from South of the town of al-Mayadeen towards the town of Albu Kamal and from North of Albu Kamal towards al-Mayadeen, managed to join the town flanks and captured the entire villages and towns on the Western bank of the Euphrates River that were previously under ISIL's control, the sources said, adding that with the recent advances the army soldiers managed to lay siege on ISIL trapped in a large desert region as large as 7,000 sq/km.
Full report at:
http://en.farsnews.com/newstext.aspx?nn=13960920000438
-------
KSRelief, UN to report on Rohingyas after mission to Bangladesh
12 December 2017
MOHAMMED RASOOLDEEN
RIYADH: A high-level mission from the UN High Commissioner for Refugees (UNHCR) and the King Salman Humanitarian Aid and Relief Centre (KSRelief) concluded a two-day field visit to Cox Bazar in Bangladesh on Sunday, and will shortly submit a joint report on the Rohingya refugee camps.
The UNHCR delegation was headed by UNHCR Deputy Representative Kelly Clements. It also included Khalid Khalifa, UNHCR's regional representative to the Gulf Cooperation Council (GCC).
The supervisor-general of KSRelief, Dr. Abdullah Al-Rabeeah, met Bangladesh Ambassador Golam Moshi, who agreed to take the next course of action after the submission of the joint report in Riyadh on Monday.
Speaking to Arab News, Moshi said he had thanked King Salman for helping these refugees and Crown Prince Mohammed bin Salman for reducing their suffering.
The ambassador said the number of refugees had reached nearly 1 million and they need food, clothing, shelter, medicines, and education for the children.
He said Al-Rabeeah also thanked Bangladesh Premier Sheikh Hasina on behalf of the Kingdom for hosting so many refugees.
Clements said the Rohingya situation was "the world's fastest-growing refugee crisis" and demanded global support.
Full report at:
http://www.arabnews.com/node/1207636/saudi-arabia
-------
Putin orders partial withdrawal of Russian troops from Syria
12 December 2017
JEDDAH: Russian President Vladimir Putin declared victory in Syria on Monday during a surprise visit to a Russian military base in the country and announced a partial pullout of his troops.
It was Putin's first trip to Syria, where Russia launched an air campaign in 2015 that allowed the Bashar Assad regime to gain the upper hand against the Syrian opposition. It was also the first visit by a foreign head of state to Syria since the anti-regime protests began in 2011.
Putin ordered "a significant part" of Russia's military contingent in Syria to start withdrawing on Monday, saying Moscow and Damascus had achieved their mission of defeating Daesh in just over two years.
He made the announcement during a visit to Hmeymim air base in Syria, where he held talks with Assad and addressed Russian forces.
Putin told Russian servicemen they would return home as victors. "The task of fighting armed bandits here in Syria, a task that was essential to solve with the help of extensive use of armed force, has for the most part been solved, and solved spectacularly," he said. "I salute you."
He said his military had proved its might, Moscow had succeeded in keeping Syria intact as a "sovereign independent state," and conditions had been created for a political solution.
He said while Russia might be drawing down much of its forces, its military presence in Syria is permanent and will retain enough firepower to destroy any Daesh comeback.
Russia will keep its Hmeymim air base in Latakia province and its naval facility in the Mediterranean port of Tartous "on a permanent basis," said Putin. Both bases are protected by sophisticated air defense missile systems.
Hamdan Al-Shehri, a political analyst and international relations scholar, said one should not ready much into Putin's announcement.
"This isn't a withdrawal, this will simply be a relocation of troops. All Russians troops will be at Hmeymim air base and its naval facility in Tartous," he told Arab News.
This "maneuvering" stems from the fact that there is no longer an excuse for Russia to stay in Syria because Daesh is finished there and in Iraq, he said, adding: "There's no pretext anymore to justify the Russian presence in Syria."
Russia may have accomplished what it wanted to militarily, "but for the people of Syria there's no light at the end of a very dark tunnel," Al-Shehri said. "They want to see the end of Assad, the man whose regime spilled the blood of nearly 500,000 fellow Syrians."
Al-Shehri said Russia should focus on meeting the aspirations of the Syrian people. "It sided with the tyrant, not the people of Syria," he said. "Now is the time for Russia to hammer out a solution where there's no room for a killer like Assad."
Oubai Shahbandar, a Syrian-American analyst and fellow at the New America Foundation's International Security Program, told Arab News that Russia has long-term basing agreements with the Assad regime, "so as long as Assad is in power, Russian forces will remain to prop him up."
On Putin's "mission accomplished" speech in Hmeymim, Shahbandar said: "The manner in which he summoned Assad was clearly indicative of who holds the dominant position in that partnership. The prospect of the Russians withdrawing in total seems unlikely at this juncture."
Pentagon spokesman Maj. Adrian Rankine-Galloway said: "Russian comments about removal of their forces do not often correspond with actual troop reductions, and do not affect US priorities in Syria."
An American official told Agence France-Presse that Putin is likely to carry out a "token withdrawal" of some aircraft, then follow up by demanding that the US pull its forces out of Syria.
EU diplomatic chief Federica Mogherini said the bloc is ready to do whatever is needed to support UN-brokered peace efforts, but warned that the idea that "things can go back to normal unfortunately has no real ground."
Full report at:
http://www.arabnews.com/node/1207661/middle-east
-------
Bahraini scholars condemn civil society group's visit to Israel
Dec 11, 2017
More than 130 Bahraini scholars have strongly condemned the recent visit by an inter-faith group of residents from the tiny Persian Gulf kingdom to the occupied Palestinian lands, describing it as "unjustified" especially in the wake of US President Donald Trump's recognition of Jerusalem al-Quds as Israel's capital.
The scholars, in a statement released on Sunday, decried any attempts by the ruling Al Khalifah regime aimed at normalization of diplomatic relations with "the usurper Zionist regime (of Israel)."
"We feel a strong sense of religious responsibility to categorically reject any form of normalization of ties with the Zionist entity. We strongly condemn such a move," the statement pointed out.
Meanwhile, Bahrain's dissolved main opposition bloc, the al-Wefaq National Islamic Society, has censured any bid by the Manama regime to establish ties with Israel.
The group emphasized that any such effort is a betrayal of the Palestinian cause.
A Bahraini civil society group, which calls itself "This is Bahrain", has defended sending a delegation to Israel in a statement published by Bahrain's state news agency BNA.
The group said the visit was a private initiative to "Israel and occupied Jerusalem al-Quds," and had the backing of Bahraini monarch King Hamad bin Isa bin Salman Al Khalifah.
The controversial visit has prompted the hashtag #Bahrain_resists_normalisation, in which twitter users declaring their opposition to what some called an "act of treason" against Palestinians and Bahrainis.
The trip came as US President Donald Trump announced his decision to recognize Jerusalem al-Quds as Israel's capital and relocate the US embassy in the occupied lands from Tel Aviv to Jerusalem al-Quds on December 6.
The dramatic shift in Washington's Jerusalem al-Quds policy triggered demonstrations in the occupied Palestinian territories, Iran, Turkey, Egypt, Jordan, Tunisia, Algeria, Iraq, Morocco and other Muslim countries.
On Sunday, violent clashes erupted outside the US Embassy in the Lebanese capital city of Beirut during a protest against US president's decision to officially recognize Jerusalem al-Quds as Israel's capital.
Demonstrators burnt tires as well as the US and Israeli flags as they pushed to break through a barbed wire erected by security forces around the embassy complex.
Security forces fired tear gas and water cannon to disperse the angry protesters.
Full report at:
http://www.presstv.com/Detail/2017/12/11/545250/Bahraini-scholars-condemn-civil-society-groups-visit-to-Israel
-------
Europe
Muslim leaders visit Swedish synagogue in show of support following anti-Semitic events
Dec 12, 2017
Muslim and Christian leaders have rallied around the Jewish community in Swedish cities following anti-Semitic events this weekend, condemning the action and visiting a synagogue in Malmo in a show of support.
Around 200 people attended a rally in Malmo on Friday night, where people shouted anti-Semitic slogans and waved Palestinian flags in protest against Donald Trump's decision to recognise Jerusalem as Israel's capital.
In Gothenburg, a group of young people gathered outside a synagogue and attacked it by setting objects on fire and throwing them at the building on Saturday night.
Muslim representatives visited Malmo's synagogue on Sunday. Alaeddin al-Qut, head of the Ibn Rushd society, an Islamic study group, told Swedish news outlet SVT Nyheter Skane:
"We want to show sympathy and solidarity with Jews in Malmo and condemn all forms of racism and anti-Semitism in society," he said.
Freddy Gellberg, a spokesperson for Malmo's Jewish community, told The Local: "This is a very good initiative. We may have different views, but it is important we can have a normal conversation and speak to each other."
Archbishop Antje Jackelen wrote a column in newspaper Dagen addressing the Jewish communities in Gothenburg and Malmo, saying: "I would like to assure you of the solidarity of the Swedish church in the fight against anti-Semitism and violence in the name of religion."
Three people have been arrested in connection with the synagogue attack on suspicion of attempted arson.
Witness Allan Stutzinsky told the Associated Press he saw a dozen masked youths throwing what appeared to be firebombs into the garden surrounding the synagogue.
A community centre connected to the synagogue was hosting a youth event at the time of the attack, with between 20 and 30 people reportedly in attendance. No injuries were reported and no damage was done to the synagogue.
Sweden's prime minister, Stefan Lofven, condemned the events of the weekend, while authorities increased security around the synagogue and at Jewish centres in Stockholm and Malmo.
The European Jewish Congress said it was "unconscionable that Jews are under attack on the streets of Europe" and urged Swedish and other European governments to take "strong punitive action" against perpetrators.
Mr Lofven said: "I'm terribly upset over the attack on a synagogue in Gothenburg yesterday and calls for violence against Jews at a demonstration in Malmo.
"There is no place for anti-Semitism in our Swedish society. The perpetrators will be held accountable."
He urged "all democratic forces" in Sweden to work together to create "a tolerant and open society where everyone feels safe".
http://www.independent.co.uk/news/world/europe/sweden-synagogue-muslim-leaders-visit-anti-semitic-events-gothenburg-malmo-support-jewish-islam-a8103031.html
-------
UK drops on ranking of nations doing good for humanity due to arms sales
Dec 12, 2017
The UK is falling for the second year in a row on the world's list of countries that have contributed to the "common good of humanity," due to "vast weapons exports" and inadequate aid to foreign countries.
Based on a new study called the "Good Country Index," Britain has fallen from number four to number eight out of 163 countries and in the area of "international peace and security," it ranks a poor 48th in the world.
The index measures country contributions to global peace and security, culture, health, prosperity, equality and environment, instead of basing the rankings on traditional economic and social factors via 35 criteria from the United Nations, the World Bank and other international organizations.
In 2016, Britain was in fifth place for its contribution to prosperity and equality – that place is now number 35. Factors analyzed were the size of cross-border trading, the number of aid workers and volunteers sent abroad and investment in developing countries relative to the size of the economy.
International policy adviser Simon Anholt, who created the index, said on Monday that, "One of the two main reasons why the UK ranks so low in 'Peace and Security' is because of its big weapons exports, to the Kingdom of Saudi Arabia and other destinations," he said.
Anholt explained that although there is an ongoing debate about British weapons exports among the public, "[...] the debate doesn't affect the ranking: no matter how much people criticize the exports, and no matter how fierce the debate, the level of sales remains high and that's what keeps the ranking so low."
Full report at:
http://www.presstv.com/Detail/2017/12/12/545297/Britain-Good-Country-Index-UN-Simon-Anholt
-------
Putin, Sisi sign deal on construction of Egypt's 1st nuclear power plant
Dec 11, 2017
Russian President Vladimir Putin and his Egyptian counterpart Abdel Fattah el-Sisi have signed a bilateral agreement on the construction of the first nuclear power plant in the North African country.
The two presidents agreed on Monday to build Egypt's first nuclear power plant in the city of Dabaa, located on the Mediterranean coast and about 130 Kilometers northwest of the country's capital Cairo.
The contract was signed by Alexei Likhachev, the head of Russian state nuclear company Rosatom, and Egypt's Electricity and Renewable Energy Minister Mohamed Shaker.
The plant, which is to house four 1,200-megawatt nuclear reactors, is due to be completed in 2022 and possibly generate power in 2024.
Egyptian media reports put the construction cost of Dabaa nuclear power plant at around 30 billion dollars.
The accord was initially signed in February 2015, but Moscow-Cairo relations were badly impacted after the horrific Russian passenger plane crash in Sinai in October that year, when all 224 people on board were killed.
The two leaders also agreed on resuming Russian flights to Egypt as soon as possible during their talks on Monday.
The Monday agreement was reached as the two presidents also discussed tensions in the Middle East following US President Donald Trump's decision to recognize Jerusalem al-Quds as Israel's "capital."
Last week, Trump said Washington was recognizing Jerusalem al-Quds as Israel's "capital" and tasked his officials with making preparations for transferring the embassy from Tel Aviv to the occupied city.
Trump's announcement triggered harsh criticisms from the entire global community, including from Israel's very own allies.
Speaking on state television during his visit to Egypt, Putin stressed the importance of "the immediate resumption of Palestinian-Israeli talks over all disputed issues, including the status of Jerusalem [al-Quds]."
"These agreements must be in harmony with previous decisions of the international community," the Russian president said, adding that "Russia fully supports previous Security Council resolutions."
Putin added that any steps which would pre-empt a possible agreement between Israel and the Palestinians were "counterproductive and destabilizing."
The entire Jerusalem al-Quds is currently under Israel's control, while the regime also claims the city's eastern part, which hosts al-Aqsa Mosque, the third holiest Muslim site.
The city has been designated as "occupied" under international law since the 1967 Arab War. Palestinians want the city as the capital of their future state.
Trump had vowed during his presidential campaign that he would relocate the US embassy in order to court pro-Israel voters.
Palestinians have repeatedly warned Trump against such an action, saying it would deliver a death blow to any prospects of the resolution of the Palestinian-Israeli conflict and fuel extremism in the region.
Putin to discuss Syrian peace process with Erdogan
Meanwhile, the Russian leader is due to fly to Turkey after his visit to Egypt.
Kremlin spokesman Dmitry Peskov announced that Putin and his Turkish counterpart Recep Tayyip Erdogan would discuss a possible political resolution to the Syrian crisis when they meet.
Peskov said the two leaders would also negotiate preparatory measures for the work of a proposed National Dialogue Congress that aims to bring together the Syrian government and the opposition.
The plan had been announced by Russia after the latest peace talks on Syria, which were also backed by Turkey and Iran, in the Kazakh capital, Astana.
Kazakhstan's capital has hosted several rounds of peace talks on Syria since January.
Iran, Russia and Turkey, which serve as guarantor states of a ceasefire that took effect in Syria late last year, agreed on setting up four de-escalation zones in Syria's militant-held northwestern province of Idlib, the central province of Homs and the Eastern Ghouta area outside of the capital Damascus.
The talks in Astana have been going on in tandem with another series of talks held in Geneva and brokered by the UN.
Full report at:
http://www.presstv.com/Detail/2017/12/11/545253/Putin-Dabaa-nuclear-plant-Sisi-Russia-Egypt-
-------
Emboldened by change, some Uzbek imams turn on loudspeakers for call to prayer
Dec 12, 2017
TASHKENT (Reuters) - Some mosques in Uzbekistan are starting to broadcast the Muslim call to prayer from loudspeakers for the first time in a decade as they take advantage of a more tolerant official attitude toward Islam since President Islam Karimov died last year.
The imams are amplifying the Adhan call to prayer without asking for government permission. Under Karimov, an imam who took such a liberty would have faced losing his job or possible imprisonment.
The new boldness is a response to decisions by President Shavkat Mirziyoyev to liberalize the ex-Soviet nation of 32 million people whose main religion is Islam.
Mirziyoyev has overseen the release of several prominent political prisoners, relaxed some security measures and this week he pardoned 2,700 convicts, saying that in the past many sentences had been unjust.
Western countries and human rights groups accused the government of repression under Karimov who ruled the Central Asian nation from 1989 until his death in September 2016.
The leader cracked down on public displays of Islamic practice including hijabs and beards because he feared the country was vulnerable to Islamist militancy.
His government blamed militants for bombings in the capital in 1999 and unrest in the city of Andijan in 2005. Around 200 people died in all, according to official figures, and the incidents were the bloodiest since Uzbekistan gained independence from the Soviet Union in 1991.
After government troops clashed with armed protesters in Andijan, Uzbek mosques stopped using loudspeakers for the call to prayer though the practice was never formally banned.
Over the last few months, however, some imams have begun to broadcast the Adhan from mosques again. A Reuters reporter heard it at three mosques in Tashkent, though it was only audible to people near the buildings.
The call is part of the soundscape in many Muslim cities, blasting from speakers on minarets five times each day and extra loud on Friday, which is the day of prayer. Worshippers in Tashkent welcomed the change.
"People should hear that it's prayer time. That's what Muslim life is about," said a young man outside one of the mosques. He declined to give his identity.
A cleric at one of Tashkent's main mosques said the matter was being discussed within the Muslim Board of Uzbekistan, which is close to the government. No ruling has been made.
"Some imams took the initiative" and turned on their loudspeakers at their own risk once the talks with the Board had started, said the cleric who declined to give his name because he was not authorized to comment publicly.
Another source close to the clergy said some imams had argued that without a formal ban there was no need for formal permission to restart. There have been no reports of clerics being prosecuted for breaking the informal ban.
The government declined to comment on the matter.
RETURN FROM EXILE
Nurulloh Muhammad Raufkhon, an Uzbek writer who recently returned to Tashkent after living in exile for more than a year, said he saw the cautious return of Adhan as a sign of a broader change in the state's attitude to religion under Mirziyoyev.
"(Mirziyoyev's) decree on developing and introducing Halal standards was another important step," he said.
Mirziyoyev ordered the government last month to develop standards for food products that adhere to Islamic dietary laws, which prohibit the consumption of pork and alcohol among other things.
The move could boost Uzbek sales of halal food both domestically and overseas.
"Previously, we were banned from using the word 'halal'. I know because I used to work at ... a religious magazine .... Halal restaurants were closed down. The word 'halal' was removed from product labels,' he said.
In another break with Karimov-era policy, Mirziyoyev said in September Uzbekistan had removed about 16,000 people from a 17,000-strong security blacklist of potential Muslim religious extremists and dissidents.
He said he wanted "to bring them (back) into our society and educate them."
The issue of Islamist militancy in Uzbekistan has spread beyond the country's borders. This year, at least 60 people have died in attacks abroad carried out by Uzbek nationals or ethnic Uzbeks. The most deadly was a shooting in an Istanbul nightclub in which 39 people died.
In the late 1990s, the government fought the Islamic Movement of Uzbekistan, a militant group that sought to make Uzbekistan an Islamic state. It later moved to Afghanistan to join forces with the Taliban.
Hundreds of Uzbeks have also joined Islamic State in Syria and Iraq. Authorities fear radicalized youths may return home.
"Nowadays they are talking about driving the terrorists out of Syria," Mirziyoyev said in a public speech this month. "But the question is, where will they go now? We should think about it."
Full report at:
https://www.reuters.com/article/us-uzbekistan-islam/emboldened-by-change-some-uzbek-imams-turn-on-loudspeakers-for-call-to-prayer-idUSKBN1E51KQ?il=0
-------
Number of Salafists in Germany reaches record high
10.12.2017
More Salafists are living in Germany than ever before, domestic intelligence chief Hans-Georg Maassen said on Sunday.
Maasen said the number of people adhering to the fundamentalist Islamic ideology had "risen to an all-time high," with the German intelligence agency BfV giving a figure of 10,800 Salafists in Germany as compared with 9,700 in December last year.
A growing "fragmentation" and drift to the private sphere of Salafism in Germany was making the scene harder to observe for authorities, Maassen said.
The BfV said the movement's recruitment drives have now more or less left the streets and mosques, and added that Salafists were instead being radicalized in small conspirative groups on the internet. The agency also pointed to the growing number of women's networks as posing a challenge for authorities, who have problems accessing them.
Security authorities see the Salafist movement as a potential springboard into Islamist terrorism, particularly for young Muslims.
Read more: Salafist Sven Lau handed jail sentence for terror-related charges
German Interior Minister Thomas de Maiziere last year banned as unconstitutional a prominent recruitment campaign by the group in which passers-by were exhorted to read the Quran by banners bearing the word "Read!" ("Lies!" in German).
'Experienced fighters'
Maassen also said Islamists from the North Caucasus region represented a major threat to security in Germany, with some 500 extremists from republics such as Chechnya, Dagestan and Ingushetia now thought to be living in the country.
"The affinity for violence, martial arts and weaponry held by many Islamists from the North Caucasus calls for attention from German security authorities," Maassen said.
He said that many of them had combat experience, having not only fought in the wars in Chechnya but also taken part in current conflicts in Syria and Iraq.
Full report at:
http://www.dw.com/en/number-of-salafists-in-germany-reaches-record-high/a-41733878
-------
Islamic State a resilient threat, international counter-terrorism conference hears
Dec 12, 2017
The Islamic State (IS) group remains resilient and will be desperate to prove itself, an international counter-terrorism conference in Melbourne has heard.
The warning comes from terrorism experts who believe the extremist threat has not diminished despite IS being banished from Iraq.
The issue has been at the forefront of the International Counter Terrorism Forum in Melbourne, attended by police and intelligence agencies from around the world.
Professor Greg Barton from Deakin University, an expert in global Islamic politics, said for many countries small-scale attacks are most concerning.
"All around the world, the biggest threat, the hardest thing to deal with are small groups — one or two or three people — acting without any top-down direction," Professor Barton said.
"Counter-terrorism forces are now very good at disrupting large-scale ambitious plots, but things such as the Manchester bombing or the attacks on London Bridge, those sort of attacks are very hard to predict and very hard to stop once they start."
Australia has not been immune either, with five different so-called 'lone wolf' terror attacks on Australian soil occurring since late 2014.
As part of a $10 million security boost, the Victorian Government will be installing loudspeakers at 95 key sites across central Melbourne.
"This is really about having an additional capacity in emergency situations for Victoria Police to issue emergency alerts," the Police Minister Lisa Neville said.
"Whether it's through SMS, through social media, and adding the speakers as an additional sense of security and source of information for the community."
Australia vulnerable with 'soft targets'
Victoria Police assistant commissioner Ross Guenther said the fall of IS in Iraq does not mean it is time to celebrate just yet.
"It'd be nice if we could actually do that, but what we do know is the caliphate may be as a physical structure lessened or extinguished," Mr Guenther said.
"But that doesn't mean the ideology or the threat of that has gone away."
The counter-terrorism conference, whose attendees include the UK Metropolitan Police and the Royal Canadian Mounted Police, will run over three days.
But in the meantime, Professor Barton believes a public address system like in Melbourne is an important step.
"That suggests that there's a recognition that we may not be able to cut off every attempt at attack before it commences," he said.
Full report at:
http://www.abc.net.au/news/2017-12-11/islamic-state-remains-a-threat,-counter-terrorism-experts-say/9247800
-------
Nearly 900 refugees rescued off Libya arrive in Italy
Dec 11, 2017
Sicily on Monday welcomed nearly 900 refugees rescued in Mediterranean waters off the coast of Libya in the past few days, with many expressing relief at having escaped the "Libyan hell".
More than 330 refugees rescued by Italian coast guard and other European vessels have already disembarked at Sicilian ports, Italian media reported.
Another hundred were en route to the western city of Trapani on Monday while 450, including a woman about to give birth, are due to arrive in Augusta by evening aboard the Aquarius, a boat operated by charity group SOS Mediterranee along with Doctors Without Borders.
"Testimonies gathered Sunday aboard the Aquarius reflect the extreme gravity of the situation in Libya for migrants and refugees, who lacking a safer alternative, risk their lives at sea to escape what they call the Libyan hell," said Francis Vallat, the SOS Mediterranee president in France.
"Today, the absolute priority is to rescue at sea those who continue to flee and to accompany them to a safe place where they will be protected and where their basic human rights will be respected".
Libya has long been a major transit hub for refugees trying to reach Europe.
More than 3,000 have died attempting to cross the Mediterranean in rickety boats, according to the International Organization for Migration. Others have fallen prey to serious abuse at the hands of traffickers and others.
Recent shocking footage by US news channel CNN appeared to show refugees being sold as slaves near Tripoli, sparking global outrage and promises from the African Union it would repatriate 20,000 distressed refugees in the next six weeks.
"I would rather die than return to prison," a 25-year-old from Cameroon said, according to SOS Mediterranean.
"In the cell they hit us, they tied our feet and hands, feet up, head down. Europeans would come visit, and the guards would tell us not to talk."
Nicola Stalla, relief coordinator for SOS Mediterranee, said weather conditions are also a concern for refugees, but what "they fear more than anything is be intercepted and sent back to the hell they came from in Libya".
Full report at:
http://www.presstv.com/Detail/2017/12/11/545265/Italy-Libya-Sicily-migrants-Mediterranean-Sea-rescue-vessel-EU
-------
India
No Differences between Hindus and Muslims In West Bengal, Says CM
December 11, 2017
West Bengal Chief Minister Mamata Banerjee on Monday said her government would not let anyone create differences between the Hindus and Muslims in the state and slammed the BJP for resorting to a "false propaganda" to malign her party.
Banerjee's comments came in the backdrop of a brutal killing of a labourer from the state in Rajasthan last week. "One person from our state was burnt alive in Rajasthan. How long will this keep happening? I do not want to know whether he was Muslim or Hindu. In West Bengal, we do not create differences between Hindus and Muslims, between Sikhs and Christians. We consider everybody as our family members," she told a public meeting here.
The chief minister, in an apparent dig at state BJP chief Dilip Ghosh, said some were raising the question as regards why would the people of Bengal go to the other states (for employment). Ghosh had recently said the people of West Bengal were going to the other states as the Banerjee-led Trinamool Congress (TMC) government in the state had failed to create jobs.
The chief minister said it was only normal for the people of other states to come to Bengal and vice versa. "Can we tell our brothers and sisters from Rajasthan to leave Bengal?" she wondered.
The TMC supremo slammed the BJP for trying to "spread canards and a false propaganda" to malign her party. Mohammad Afrazul, a labourer from Malda district, was hacked and burnt to death in Rajsamand district of Rajasthan last week.
Banerjee also sounded a warning to her party's Birbhum district chief, Anubrata Mandal, asking him not to use "offensive language". "For the last time, I am telling him (Mandal) not to use any offensive language. Because they (BJP) indulge in bad-mouthing, we will not be doing the same. This is not our culture. We can speak in a decent language," she said.
Referring to Afrazul's killing, Mandal had yesterday said, "Had it taken place in Bengal, I would have burnt the offender alive." Banerjee asserted that her party would fight the BJP "politically and administratively".
http://indianexpress.com/article/india/rajasthan-murder-no-differences-between-hindus-and-muslims-in-west-bengal-says-cm-mamata-banerjee-4978195/
-------
Cow protection movement not against Muslims, Christians, says RSS
Dec 11, 2017
MEERUT: Rashtriya Swayamsevak Sangh (RSS) General Secretary Suresh Bhaiyyaji Joshi said on the cow protection movement is not directed against Muslims and Christians and that it is being given a communal color "unnecessarily".
He said demands related to "caste, region and language cannot bring about a change in society but Hindutva can".
"Confusion is being created with regard to the cow protection movement. It is not directed against Muslims and Christians. It is linked to the pride of the nation. A communal colour is being given to it unnecessarily," Joshi said here.
"We need to make the people aware about those who spread canards about cow protection and fan tension by giving a communal color to such issues," he said.
Joshi also stressed the need to bring about a change in the mindset to check the menace of female infanticide, untouchability, dowry, pollution, etc.
Full report at:
https://timesofindia.indiatimes.com/india/cow-protection-movement-not-against-muslims-christians-says-rss/articleshow/62026890.cms
-------
IS asks Kashmiris to behead Indian troops
Dec 12, 2017
NEW DELHI: An article in Islamic State magazine 'Rumiyah" asks Kashmiri Muslims to restart their fight "under the banner of Khilafah" and behead Indian and Pakistani troops who confront them.
The article, originally published in Urdu but translated by a Kashmir centric, pro-IS media group 'Al-Qaraar' in a Telegram post dated December 1, asks Kashmiri Muslims not to be fooled by "spies from RAW or ISI", the two agencies handling external intelligence in India and Pakistan respectively, or those working with them, and "kill them everywhere" . "Even if their names resemble those of Muslims, they are murtadd (apostate) and have left the religion of Allah just as the arrow leaves the bow, so crush the heads of these wolves in sheep's clothing before these murtaddin hit you," a post uploaded on SITE Intelligence Group website said quoting from the article.
Calling upon Kashmiris to disavow democracy and pledge allegiance to IS leader Abu Bakr al-Baghdadi, the article asserted that Kashmiri people have been continuously "deceived" by India and Pakistan since Partition in 1947.
Full report at:
https://timesofindia.indiatimes.com/india/is-asks-kashmiris-to-behead-indian-troops/articleshow/62030366.cms
-------
LeT operative stayed with terrorists in Kashmir, filmed Army camps: officials
December 11, 2017
Suspected Lashker-e-Taiba operative Abdul Nayeem Sheikh, who was arrested last month from Lucknow, had spent some time in trouble-torn south Kashmir and filmed some Army installations, officials said. Sheikh, a resident of Aurangabad in Maharashtra, was on the radar of central intelligence agencies for quite sometime before he was nabbed with the help of Uttar Pradesh police in the last week of November.
The case was handed over to the National Investigation Agency (NIA), a central probe agency mandated to investigate all terror modules in the country. The central security agencies, which interrogated Sheikh at length, had told the investigators about his accomplice, Tauseef Ahmed Malik, in Pulwama district of south Kashmir. He was placed under arrest by the NIA on December 9.
During interrogation, Sheikh disclosed that he had stayed in Pulwama, moved to various places with the help of Malik and even photographed some Army and para-military camps, the officials claimed. Sheikh, who was wanted in connection with a 2014 terror case and was since on the run, told investigators that some important power projects and railway tracks in the Valley were surveyed, they said.
He had also visited some places in Himachal Pradesh, especially Kasol, which is frequented by Israeli nationals visiting India, according to the officials. Security agencies have claimed that Sheikh was roped in for a recce mission similar to that undertaken by David Headley, a Pakistan-American, who is at present serving a prison sentence of 35 years at a US jail for his involvement in terror activities and the 26/11 Mumbai attacks of 2008.
Full report at:
http://indianexpress.com/article/india/let-operative-stayed-with-terrorists-in-kashmir-filmed-army-camps-officials-4978260/
-------
Indian police arrest French journalist for filming in Kashmir
Fayaz Bukhari
DECEMBER 11, 2017
SRINAGAR, India (Reuters) - An Indian court on Monday remanded in custody a French journalist for five days after he was arrested in the disputed Kashmir region for filming a documentary without permission and violating visa regulations, police said.
The freelance journalist, Paul Comiti, was arrested on Sunday in Srinagar, the main city in Indian-administered Kashmir where Muslim separatists have been waging a violent campaign against Indian rule since the late 1980s.
Comiti held an Indian business visa which did not permit him to make a documentary on political or security-related issues, Senior Superintendent of Police Imtiyaz Ismael Parray told Reuters.
Comiti had met a separatist leader, Mirwaiz Umar Farooq, and filmed protesters throwing stones at members of the security forces, said another senior police official, who declined to be identified as he is not authorized to speak to the media.
Comiti held an Indian business visa which did not permit him to make a documentary on political or security-related issues, Senior Superintendent of Police Imtiyaz Ismael Parray told Reuters.
Full report at:
https://www.reuters.com/article/us-india-kashmir-arrest/indian-police-arrest-french-journalist-for-filming-in-kashmir-idUSKBN1E50H2?il=0
-------
Row over minority status for Muslims in J-K: Can't ask legislature to legislate, says SC
Dec 11, 2017
The Supreme Court on Monday said it cannot direct the legislature to legislate but has "simply" asked the Centre and the Jammu and Kashmir government to deliberate on issues including whether the majority Muslim community in the state could be regarded as a minority for availing benefits.
The Centre informed a bench headed by Chief Justice Dipak Misra that it was still deliberating on a host of issues including whether Muslims, who are majority in Jammu and Kashmir, can be treated as minority to get benefits which are only available to minorities in the state.
"We have legal difficulties. We cannot direct the legislature to legislate on a particular issue. We just asked them (Centre and state) to deliberate," the bench, which also comprised Justices A M Khanwilkar and D Y Chandrachud, said.
It considered the statement of Attorney General K K Venugopal that the process of deliberations was on and a decision would be taken, and granted eight weeks to the Centre.
The bench had on August 8 granted the last opportunity to the Centre and other stakeholders to take a final decision within three months on issues raised in the petition filed by Ankur Sharma, a Jammu-based lawyer.
The Centre had then sought time saying it has been holding consultations with the state government.
Prior to this, the top court had issued notice to the Centre, the state government and the National Commission for Minorities (NCM) on the plea filed by Sharma who alleged that benefits accruing to the minorities were being taken away by the 68%-strong Muslim community in J-K.
The court had asked the Centre and the state government to "sit together" and find a solution to "contentious" issues including whether the Muslims in the state could be regarded as a minority to avail benefits under that category.
The plea has alleged that the rights of religious and linguistic 'minorities' in the state were being "siphoned off illegally and arbitrarily" due to extension of benefits to "unqualified sections" of the population.
Sharma alleged the provisions of the National Commission for Minorities Act were not applicable to Jammu and Kashmir due to a caveat put by Article 370 of the Constitution.
"Moreover, crores of rupees are being given to the members of the majority community under various schemes meant for linguistic and religious minorities," he said.
The state government was violating Article 29 (protection of interests of minorities) and Article 30 (right of minorities to establish and administer educational institutions) under the Constitution, he has alleged.
The PIL has also sought setting up of a state minority commission for identification of minorities and extension of National Commission for Minorities (NCM) Act, 1992 to Jammu and Kashmir.
"The population of Muslims in Jammu and Kashmir according to the 2011 Census is 68.31%. Communities which are eligible to be notified as minorities, are not awarded their due share of scholarship owing to their non-identification as minorities, thereby jeopardising their constitutionally guaranteed rights enshrined under Part III of the Constitution of India," it has said.
"This clearly reflected the unfairness and discrimination of the state government towards other communities in Jammu and Kashmir which were eligible to be notified as minorities," the petition has alleged.
It has pleaded that a committee of experts functioning under the direct supervision of the apex court be appointed and a comprehensive report be submitted identifying communities in the state which qualified as religious and linguistic minorities.
Full report at:
http://www.hindustantimes.com/india-news/row-over-minority-status-for-muslims-in-j-k-can-t-ask-legislature-to-legislate-says-sc/story-bKp2lz2ohgi5ebomtq0NrJ.html
-------
India, Russia, China resolve to step up counter-terror co-operation
Dec 11, 2017
EW DELHI: India, China and Russia on Monday resolved to step up cooperation to counter terrorism, including choking terror funding and dismantling terrorist infrastructure, as the Indian side flagged concerns over increasing acts of terrorism by Pakistan-based terror outfits such as Lashkar-e-Taiba (LeT).
During the 15th Russia-India-China (RIC) trilateral, the foreign ministers - Sushma Swaraj, Wang Yi (China) and Sergey Lavrov (Russia) - also underlined the primary and leading role and responsibility of states in preventing and countering terrorism and extremism, a joint statement said.
They also reiterated that all states should take adequate measures to prevent terrorist activities from their territory, it said.
"While discussing terrorism, I put across my view that significant rise in acts of terrorism by terrorist organisations like Taliban, Daesh (Isis), al-Qaida, and LeT directly undermine international peace and security and endanger ongoing efforts to strengthen the global economy and ensure sustainable growth and development," Swaraj said.
However, the RIC joint statement did not name Pakistan unlike the joint document issued after the Brazil-Russia- India-China-South Africa (BRICS) meet in Xiamen in China in September.
Condemning terrorism in all its forms and manifestations including the recent heinous terrorist attacks around the world, the leaders reaffirmed their determination to prevent and counter terrorism in all its forms and manifestations.
"We reaffirm that all acts of terrorism are criminal and unjustifiable irrespective of their motivations, committed wherever and by whomsoever," the statement of the RIC leaders said.
They called for greater unity, stronger international partnership and concerted actions by the international community in addressing the menace of terrorism in accordance with international law and the UN Charter, including the principles of sovereign equality of states and non-interference in their internal affairs.
The leaders also emphasised the need for a comprehensive approach in combating terrorism.
The statement said in this context, they resolved "to step up cooperation to prevent and counter terrorism and radicalisation, combat the spread of terrorist ideology and propaganda, stop sources of terrorist financing, prevent travelling of and the supply of arms to terrorists, dismantle terrorist infrastructure."
They also resolved to enhance cooperation to disrupt recruitment and the flow of foreign terrorist fighters and prevent misuse of Information and Communication Technologies (ICTs) for terrorist purposes, it said.
Swaraj, Wang and Lavrov also stressed that those committing, organising, inciting or supporting terrorist acts must be held accountable and brought to justice in accordance with the obligations under international law, including the principle of "extradite or prosecute" as well as the applicable domestic legislations.
"We agree to strengthen cooperation to take decisive and concerted actions against globally proscribed terrorists and terror entities. We condemn all forms of terrorism and all terrorists, terror entities and organisations listed by the UN Security Council," the statement said.
It assumes significance as China has been blocking the international banning of UN-designated terrorist group Jaish- e-Mohammed chief Masood Azhar, the mastermind of Pathankot terror strike.
The three countries also agreed to intensify cooperation in multilateral fora including FATF and FATF-style regional bodies (FSRBs) so as to cut the flows of funds, and other financial assets and economic resources to individuals and entities involved in terrorism including those proscribed under the relevant UN sanctions.
They stressed the need for joint, integrated and balanced approach to deal with drug menace, its illicit production and trafficking including new psychoactive substances in accordance with the UN Conventions and principles of international law.
The grouping also called for an early adoption of the Comprehensive Convention on International Terrorism (CCIT) in the UN to establish the much needed comprehensive international legal framework to address the growing global menace of terrorism.
Expressing deep concern about the threat of WMDs falling into the hands of terrorist groups, including the use of chemicals and biological agents for terrorist purposes, they said they would cooperate to prevent proliferation of weapons of mass destruction and their delivery systems and to deny access to such weapons by non-state actors, including terrorists.
Full report at:
https://timesofindia.indiatimes.com/india/india-russia-china-resolve-to-step-up-counter-terror-co-operation/articleshow/62024036.cms
-------
YSRCP President Promises Fair Deal to Muslims
DECEMBER 12, 2017
Leader of the Opposition seeks blessings of the people
Promising to go a step further than his father in serving the people, Leader of the Opposition and YSRCP president Y.S. Jagan Mohan Reddy on Monday sought the blessings of the people. He was speaking at a public meeting at Madigubba cross in Raptadu mandal where the Muslim population is more.
"Chief Minister N. Chandrababu Naidu has promised to allocate ₹2,500 crore for minorities. Similarly, he made several promises to the community and none of them was fulfilled," Mr. Reddy alleged and questioned the gathering whether Mr. Naidu be given another chance to rule the State.
"For the minority children to become engineers and doctors, it costs lakhs of rupees. But the Chandrababu Naidu government gives them only ₹35,000," said Mr. Reddy and promised to bear the entire cost of higher education of the minorities once he comes to power.
Full report at:
http://www.thehindu.com/news/national/andhra-pradesh/jagan-promises-fair-deal-to-muslims/article21461572.ece
-------
Pakistan
Musharraf urges Pakistan to back UAE, Saudi Arabia against Qatar
December 12, 2017
KARACHI: Former president retired Gen Pervez Musharraf continues to make headlines with his outspoken views.
At 74, the former army chief, who lives with his mother and wife in a tastefully decorated apartment in downtown Dubai, still displays the toughness associated with a soldier. He runs his own political party, the All Pakistan Muslim League (APML), and is facing several court cases.
In an exclusive interview with Arab News, he spoke about various issues facing Pakistan and beyond. Mr Musharraf criticised the Pakistan government for not siding with the Anti-Terror Quartet (ATQ) — comprising Saudi Arabia, the UAE, Egypt and Bahrain — against Qatar. "I'm shocked at how the Pakistan government dealt with the Qatar crisis. Qatar was never with Pakistan, and we witnessed this many a time," he said.
Saudi Arabia and the UAE "have always been Pakistan's great friends. We must never do anything that's against either country — both have always stood by us, and we must value their friendship", he added.
Citing the Pakistan's ruling party's business interests in Qatar, he said his country's "larger interests were ignored over personal business interests. If that's the priority, then God save our country".
Gen Musharraf's words and deeds on Kashmir continue to be an area of interest for most observers and stakeholders.
"I've started working for the cause by taking a big initiative on the resolution of the Kashmir issue," he said.
"I and other like-minded people have formed a group that consists of popular and prominent people from Pakis­tan, India and both sides of Kashmir. We'll go to the UN, and the Indian and Pakistani governments," he added.
"The Kashmir issue can be resolved, and I strongly believe that the present Indian government is capable of doing it because they represent the hard-liners."
Gen Musharraf rejected the notion that Pakistan is over-romanticising the China-Pakistan Economic Corridor (CPEC) and Chinese investment in the port city of Gwadar.
"In this multipolar world, all three leading superpowers have strategic interests in Pakistan. We must use this interest in our own favour. For example…Gwadar provides China with access to the Indian Ocean," he said.
"In today's world, geo-economics will determine geopolitics and geo-strategies. CPEC gives us an excellent opportunity to use our strategic location to our favour," he added.
https://www.dawn.com/news/1376073/musharraf-urges-pakistan-to-back-uae-saudi-arabia-against-qatar
-------
Two soldiers martyred as terrorists open fire on army vehicle in North Waziristan
December 12, 2017
Two soldiers were martyred when terrorists opened fire on an army vehicle in Noth Waziristan on Tuesday, Inter-Services Public Relations (ISPR) said in a statement.
Second Lieutenant Abdul Moeed and Sepoy Basharat, both 21, were killed in the incident, the Pakistan Army's media wing added in its statement.
Lt Moeed, a resident of Burewala, Vehari, had recently passed out from the Pakistan Military Academy. Sepoy Basharat, a resident of Danyor village, Gilgit, had been serving in the military for three years, the ISPR statement read.
Earlier this month, six were killed when an improvised explosive device, reportedly targetting a military vehicle, went off in North Waziristan. The vehicle was carrying three civilian candidates seeking recruitment in the army. The candidates and three bystanders were killed in the attack.
Full report at:
https://www.dawn.com/news/1376147/two-soldiers-martyred-as-terrorists-open-fire-on-army-vehicle-in-north-waziristan
-------
Senate urges Muslim countries to take united stand against Trump's Jerusalem decision
Dec 12, 2017
ISLAMABAD: Senators from both sides of the divide on Monday strongly rejected US President Trump's decision of recognising Jerusalem as Israel's capital and shifting the United States embassy to that city from Tel Aviv, and called upon Muslim countries to take a united stand on the issue which had hurt their religious sentiments.
The senators also demanded the US administration to immediately withdraw its move as it would destabilise the whole region.
Earlier, the House suspended rules adopting a resolution moved in that regard by Col (r) Tahir Hussain Mashhadi to discuss the US president's decision.
Opening debate in the House, Saher Kamran of the Pakistan People's Party Parliamentarians (PPPP) strongly rejected the Trump decision and questioned why the international human rights organisations were keeping mum over Israeli forces brutalities against innocent Palestinians.
Mushahid Hussain Sayed of the Pakistan Muslim League-Quaid (PML-Q) termed the decision a sheer violation of the UN resolutions and international laws. "It is also a slap in the face of the US itself as the country now stands isolated due to its move," he said.
Tahir Hussain Mashhadi of the Muttahida Qaumi Movement (MQM) strongly denounced the US decision, which, he said, was a violation of international laws and UN Security Council resolutions.
He said the decision would have lasting effects on the whole region which would lead to war and create hatred. He said the House should be adjourned to show solidarity with the Palestinian people after the passage of the resolution to condemn the US move. Farhatullah Babar said the coalition force of about 42 Muslim countries should prove its perception that it was established to counter terrorism, by taking a clear stance on the issue. Pakistan had defended the Middle East in 1973 and it should play that role again, he added.
Rehman Malik said the US decision of recognising Jerusalem as the capital of Israel had dented interfaith harmony in the Middle East. The decision was aimed at promoting Israeli objective, which was even against the verdict of the International Court of Justice, he added.
Full report at:
https://www.pakistantoday.com.pk/2017/12/12/senate-urges-muslim-countries-to-take-united-stand-against-trumps-jerusalem-decision/
-------
China Leverages Belt and Road Investment to Shape Pakistan
James Dorsey
12 DEC 2017
A Chinese decision to redevelop criteria for the funding of infrastructure projects that are part of the $50 billion plus China Pakistan Economic Corridor (CPEC), a key pillar of the People's Republic's Belt and Road Initiative, seemingly amounts to an effort to enhance the Pakistani military's stake in the country's economy at a time that the armed forces are flexing their political muscle.
The Chinese decision that has reportedly led to the suspension of funding for three major road projects valued at a total of $850 million – the upgrading of the Dera Ismail Khan-Zhob motorway and the Karakorum highway as well as construction of a 110-kilometre road linking Khuzdar and Basima – suggests that Beijing is not averse to exploiting its massive investment in the Belt and Road, an effort to link Eurasian infrastructure to China, to shape the political environment in key countries in its authoritarian mold.
Pakistan's use of militants in its dispute with India over Kashmir serves Chinese interest in keeping Asia's other giant, India, off balance. Chinese personnel and assets have nonetheless been targets of a low-level insurgency in Balochistan.
The suspension of funding coincided with apparent efforts by the military to increase its political sway by supporting militant and hardline Sunni Muslim groups opposed to the ruling of the Pakistan Muslim League (N) headed by disgraced former Prime Minister Nawaz Sharif.
Former Pakistani strongman, General Pervez Musharraf, in the latest manifestation of links between the circles close to the military and hardliners, announced earlier this month that he was discussing an alliance with Milli Muslim League (MML).
MML was recently established by Hafiz Muhammad Saeed, who was designated a terrorist by the United Nations and the US Justice Department that put a $10 million bounty on his head. He stands accused of having masterminded the 2008 attacks in Mumbai in which 164 people were killed.
Mr. Saeed, the leader of Jamaat ud-Dawa (JuD), widely seen as a front for Lashkar-e-Taibe (LeT), one of the largest and most violent groups in South Asia, was last month freed by a court in Lahore from ten months of house arrest.
Speaking on Pakistani television, Mr. Musharraf pronounced himself "the greatest supporter of LeT." Acknowledging that he had met with Mr. Saeed, Mr. Musharraf appeared to confirm long-standing suspicions that the military supported LeT as a proxy in Pakistan's dispute with India over Kashmir.
"Because I have always been in favour of action in Kashmir and I have always been in favour of pressuring the Indian army in Kashmir. This is the biggest force and they have been declared terrorists by India and the US jointly," Mr. Musharraf said.
Parallel to Mr. Musharraf's endorsement of LeT, the military displayed its political influence by mediating an end to a week's-long blockade of a main artery leading into Islamabad to protest a perceived softening of the government's adherence to Islam in a proposed piece of legislation.
Tehreek Labbaik Pakistan (TPL), the organizer of the protest, is a political front for Tehreek Labbaik Ya Rasool Allah (TLR), which glorifies Mumtaz Qadri, who was executed for killing Punjab governor Salman Taseer because of his opposition to Pakistan's draconic blasphemy law,
The TPL is a political expression of the Barelvi strand of Sunni Islam that throughout the decades was long viewed as more moderate than the other dominant strand in Pakistan, the Saudi-supported Deobandis, whose militancy dates to the US-Saudi-backed Islamist insurgency in the 1980s that forced Soviet troops to withdraw from Afghanistan.
Suggestions that the protesters were supported by the military were reinforced by video circulating on social media and the negotiation of an end to the blockade that involved the forced resignation of law minister Zahid Hamid and the dropping of all charges against protesters.
Chinese support for the military's role has long been evident with its repeated veto in the UN Security Council of US, European and Indian efforts to get Masood Azhar, a prominent Pakistani militant designated as a global terrorist. Mr. Azhar is believed to have close ties to Pakistani intelligence and the military. Prior to the Mumbai attacks, China also blocked Mr. Saeed's designation.
Mr. Azhar, a fighter in the anti-Soviet jihad in Afghanistan and an Islamic scholar who graduated from a Deobandi madrassah, Darul Uloom Islamia Binori Town in Karachi, the alma mater of numerous Pakistani militants, is believed to have been responsible for an attack last year on India's Pathankot Air Force Station. The militants, dressed in Indian military uniforms fought a 14-hour battle against Indian security forces that only ended when the last attacker was killed. Mr. Azhar was briefly detained after the attack and has since gone underground.
Criteria for the funding of the road projects, once redrafted, are expected to benefit the military's engineering and construction company, Frontier Works Organization.
The suspension was projected as an effort to avoid corruption in CPEC in the wake of Mr. Sharif's ousting as prime minister after documents leaked from a Panama law firm linked his children to offshore companies and assets. Long viewed as a nemesis of the military, Mr. Sharif's demise served the interests of the armed forces.
The suggestion failed to stand up to scrutiny given that some Chinese companies have been granted CPEC contracts despite allegations of corruption. In one instance, the China Gezhouba Corporation (CGGC), was awarded the development of Pakistan's $4.5 billion, 969 MW Neelum-Jhelum Hydropower Project, despite having been blacklisted by the World Bank.
Chinese backing for a more prominent role of the military in economic and political life comes amidst increased Pakistani scrutiny of CPEC.
In a rare challenge to Chinese commercial terms, Pakistan recently withdrew from a Chinese-funded dam-building project.
Pakistani Water and Power Development Authority chairman, Muzammil Hussain, charged that "Chinese conditions for financing the Diamer-Bhasha Dam were not doable and against our interests." China and Pakistan were also at odds over ownership of the $14 billion, 4,500 megawatts (MW)-hydropower project on the Indus River in the country's problematic region of Gilgit-Baltistan near disputed Kashmir.
Earlier, a State Bank of Pakistan study concluded that exports of marble to China, Pakistan's foremost rough-hewn, freshly-excavated marble export market, and the re-export to Pakistan of Pakistani semi-processed marble was "hurting Pakistan's marble industry to a significant extent."
A report by the Pakistani Senate, that has repeatedly criticized CPEC's lack of transparency and Chinese commercial policies, concluded that China would for the next four decades get 91 percent of the revenues generated by the port of Gwadar.
Greater military involvement in CPEC would weaken China's critics and enhance Chinese confidence in Pakistan's ability to tackle security concerns. The Chinese embassy in Islamabad warned last week that militants were targeting the embassy and Chinese nationals.
Full report at:
https://intpolicydigest.org/2017/12/12/china-leverages-belt-and-road-investment-to-shape-pakistan/
-------
JI marches towards Islamabad to seek merger of Fata with Khyber Pakhtunkhwa
Jawed Hussain
December 11, 2017
Thousands of residents of the Federally Administered Tribal Areas (Fata) and members of the Jamaat-e-Islami (JI) are marching towards Islamabad and have announced they will camp at D-Chowk if the government does not take immediate steps to merge Fata with Khyber Pakhtunkhwa.
The JI's long-march, which started from Peshawar's Bab-i-Khyber, is aimed at exerting pressure on the federal government to revoke the Frontier Crimes Regulation (FCR) and merge Fata with KP before the 2018 general elections.
The caravan was en route to the capital on Monday night.
The protesters have announced a sit-in at Faizabad on Tuesday followed by another sit-in at D-Chowk to press for their demands.
Meanwhile, the opposition in the National Assembly staged a walkout from the Monday session after they discovered that the Fata Reforms Bill — which was initially included in the agenda for the day — had been removed from the revised agenda.
Subsequently, a large number of Fata residents protested vocally outside Parliament House. The protesters demanded the merger of Fata with KP.
PTI leader Shah Mahmood Qureshi addressed the protesters and told them that the bill had to be tabled before the assembly as per the copy of the agenda lawmakers received earlier, but "it was missing from the copy of the NA's agenda we received today".
The joint opposition has raised the question that why it was removed from the agenda, Qureshi said.
He said though the parliamentary affairs minister had claimed it was removed on technical grounds, "the government and the ministers had no solid reason to justify delaying the bill".
"The reason is that the government and the parliament have surrendered before two people," he alleged, referring to Jamiat Ulema-e-Islam chief Fazlur Rehaman and Mahmood Khan Achkzai of the Pakhtunkhwa Milli Awami Party — who have both opposed the move.
The PTI leader questioned the seriousness of the government on the issue and said the PTI remained committed to the cause of Fata and will stand firmly by the people of the region.
The Leader of the Opposition Khursheed Shah told media that Minister for States and Frontier Regions Abdul Qadir Baloch had contacted him earlier saying the government was going to table the bill. "Baloch also sought my comments on the bill," the PPP leader said.
Shah termed the entire situation a mockery of parliament. The bill was removed from the agenda under pressure from some quarters, he said, adding that the opposition would announce its future course of action if the bill is not placed on the agenda by tomorrow (Tuesday).
Full report at:
https://www.dawn.com/news/1375973/ji-marches-towards-islamabad-to-seek-merger-of-fata-with-khyber-pakhtunkhwa
-------
K-P Assembly resolution calls upon Muslim countries to 'financially boycott' US
By Umer Farooq
December 11, 2017
PESHAWAR: The Khyber-Pakhtunkhwa (K-P) Assembly on Monday unanimously adopted a resolution calling upon all Muslim countries to 'financially boycott' the United States.
The move comes in the wake of President Donald Trump's recognition of Jerusalem as Israel's capital last week.
"This [K-P Assembly] proposes to the federal government to utilise all diplomatic resources to prevent the US and Israel from taking such decisions with all Muslim countries unequivocally rejecting this move in Muslim countries' summit and to boycott the US financially," read the resolution, a copy of which is available with The Express Tribune.
K-P Assembly demands inquiry into ATI terrorist attack
The resolution, moved by Pakistan Peoples Party (PPP) MPA Fakhr-e-Azam Wazir, stated: Recognising Jerusalem as Israel's capital is meant to hurt the sentiments of Muslims but the way Islamic countries have refused to accept the the US decision is commendable.
The US wants to divide and rule by making Muslims fight each other, it added.
Full report at:
https://tribune.com.pk/story/1581486/1-k-p-assembly-resolution-calls-upon-muslim-countries-financially-boycott-us/
-------
Mideast
Erdogan, Putin warn of further tension over US Jerusalem move
December 12, 2017
Turkish President Recep Tayyip Erdogan and Russian counterpart Vladimir Putin warned on Monday that Donald Trump's recognition of Jerusalem as the capital of Israel risks escalating tension in an already tense region.
Trump's decision and his plan to move the US embassy to Jerusalem sparked violence in Jerusalem, with a fifth day of protests in the Middle East.
"Both Russia and Turkey believe that the decision... does not help regulating the situation in the Middle East but instead destabilizes the already complicated atmosphere," Putin said during a press conference in Ankara.
"It can derail the Israel-Palestine peace process," he warned after his meeting with Erdogan following lightning visits to Syria and Egypt earlier on Monday.
Erdogan said that he and Putin had taken a similar approach on the issue as he accused Israel of continuing to "add fuel to the flames".
"Israel is using this as an opportunity to further increase the pressure and violence against Palestinians," he added.
Putin earlier in Cairo stressed the importance of "the immediate resumption of Palestinian-Israeli talks over all disputed issues, including the status of Jerusalem".
- 'Partner to bloodshed' -
The Turkish head of state bitterly opposes Trump's decision and has sought to mobilize the Muslim world against it, calling a summit of Islamic countries on December 13 in Istanbul.
Erdogan, who regards himself as a champion of the Palestinian cause, said the "struggle" of Muslims would not end until there is an independent Palestinian state.
"They will never be able to clean the blood," he said in a speech in Ankara.
"With this recognition of Jerusalem as the capital of Israel, it (the United States) has become a partner to this bloodshed. We do not recognise this decision, we will not," he added.
Turkey had high hopes for bilateral relations under the Trump presidency, but ties have frayed with rows over the Syria conflict, a New York legal case and now Jerusalem.
Erdogan said that the current "vandalism and cruelty" in Jerusalem would not last. "Those who think they own Jerusalem today will not find trees to hide behind," he said.
- 'Turning point' -
Trump's move has ignited protests across the Islamic world and deadly violence in the Palestinian territories.
Erdogan said Wednesday's summit of the Organization of Islamic Cooperation (OIC) in Istanbul would be a "turning point" on the issue.
Erdogan and Israeli Prime Minister Benjamin Netanyahu had traded verbal blows at the weekend, with the Turkish leader describing Israel as a "terrorist state" that kills children.
Hours later Netanyahu hit back, during a visit to Paris, calling his Turkish counterpart a leader who bombs Kurdish villagers and supports terrorists.
Last year, Turkey and Israel ended a rift triggered by Israel's storming in 2010 of a Gaza-bound ship that left 10 Turkish activists dead and led to a downgrading of diplomatic ties.
The two sides have since stepped up cooperation, particularly in energy, but Erdogan has repeatedly been critical of Israeli policy. (**)
http://www.thejakartapost.com/news/2017/12/12/erdogan-putin-warn-of-further-tension-over-us-jerusalem-move.html
-------
Houthis kill 20, arrest dozens in latest crackdown
12 December 2017
CAIRO: Yemen's official news agency SABA said the Houthi militias have killed at least 20 people and detained dozens across the country's north since assassinating former President Ali Abdullah Saleh.
The Houthis appear to be escalating their crackdown on any possible sign of rebellion among their one-time allies from Saleh's party, the General People's Congress. They are also shutting down the Internet and tightening an already existing media blackout.
According to SABA, now under control of the internationally-recognized government, the Houthis also blew up 20 houses in the northern province of Hajja and replaced the province's governor who was a onetime Saleh associate.
The agency reported on Monday that the Houthis also arrested 49 people in Mahwet, another northern province in Yemen.
Full report at:
http://www.arabnews.com/node/1207656/middle-east
-------
Saudi warplanes kill at least 14 people in north, south Yemen
Dec 11, 2017
At least 14 people have been killed after warplanes belong to the Saudi-led military coalition hit residential localities across the war-torn Yemen.
Yemen's al-Masirah television network reported on Monday that earlier in the day Saudi warplanes had launched a number of airstrikes on Hamli neighborhood in Moze district of the southwestern province of Ta'izz that led to the killing of at least six civilians after their vehicles were hit by the aerial aggression.
The report added that later in the day, eight other civilians also lost their lives after Saudi fighter jets bombarded an educational center in Kataf district in the northwestern province of Sa'ada.
The report further said that Saudi warplanes had conducted multiple airstrikes against the Yemeni provinces of Jawf, Shabwah, Sana'a and Hajjah since morning, the possible casualties of which were not reported yet.
During the past recent weeks, Saudi war machine has killed dozens of Yemenis, mostly women and children, in the impoverished country.
Separately, a security source, speaking on condition of anonymity, told al-Masirah that Yemeni forces, in a retaliatory attack, managed to destroy two military vehicles of the Saudi mercenaries as they were attempting to go through a passageway in Ta'izz's Moze district.
Elsewhere in Jawf province, Houthi Ansarullah fighters targeted gatherings of Saudi mercenaries with rocket and mortar fire.
The developments came after Yemen's ex-President Ali Abdullah Saleh was killed on last Monday while attempting to escape the capital Sana'a to Ma'arab province. This came shortly after he broke ranks with Houthis in favor of the Saudi-led coalition.
On November 6, Saudi Arabia announced that it was shutting down Yemen's air, sea, and land borders, after Yemeni fighters targeted an international airport near the Saudi capital with a cruise missile in retaliation for Saudi's devastating aerial bombardment campaign against Yemen.
The tight blockade has exerted further pressure on Yemeni people, who receive desperately needed humanitarian assistance through the western port city of Hudaydah and an international airport in the capital Sana'a, both under the crippling siege.
The United Nations has already made a plea for the so-called coalition to remove its blockade, warning that without aid shipments "untold thousands of innocent victims, among them many children, will die" and that its partial lifting was not enough.
The Saudi-led military campaign, propelled by a constant flow of US and UK arms supplies, has been incessantly pounding Yemen since March 2015 in an attempt to crush the popular Houthi Ansarullah movement and reinstate the former president, Abd Rabbuh Mansur Hadi, a staunch ally of the regime in Riyadh.
Latest figures show that the war has so far killed over 12,000 Yemenis and wounded thousands more. The Saudi aggression has also taken a heavy toll on the country's facilities and infrastructure, destroying many hospitals, schools, and factories.
Full report at:
http://www.presstv.com/Detail/2017/12/11/545272/Yemen-Saudi-Taizz-Saada-airstrike-UN-cholera
-------
Palestinians miss major reconciliation deadline
December 12, 2017
GAZA CITY - Palestinian factions Fatah and Hamas have missed a major deadline in their reconciliation bid by failing to transfer power in the Gaza Strip, with the rivals on Monday trading accusations of blame.
US President Donald Trump's declaration of Jerusalem as Israel's capital has further complicated an already difficult attempt to transfer power in Gaza from Islamist movement Hamas back to the Palestinian Authority (PA).
The Palestinian territories, including the Gaza Strip, have seen protests and clashes each day since Trump's declaration on Wednesday.
Sunday had been the deadline for the handover, a decade after Hamas seized power in the Palestinian enclave in a near civil war with president Mahmud Abbas's Fatah, based in the occupied West Bank.
An Egyptian-brokered agreement in early October originally set a December 1 deadline for full transfer of power back to the PA, which is dominated by Fagah, though that was later pushed back to December 10.
In Gaza, the situation was essentially unchanged despite the deadline , with Hamas police still patrolling the streets, while crippling electricity shortages endured.
Hamas claimed on Saturday it had handed over control of all government ministries, but Fatah's top negotiator later said "obstacles" remained.
PA government spokesman Yousef Mahmud said Monday it had not received full control in key ministries.
In a statement on official Palestinian news agency WAFA, he accused Hamas of seeking to stop the handover.
Fawzy Barhoum, a Hamas spokesman, told AFP that Mahmud's statement was an attempt to "cover up the government's failure to carry out its duties to the people of Gaza".
Palestinians and international players had hoped that a reconciliation deal could lead to the easing of Israeli and Egyptian blockades on Gaza, reducing the suffering of the two million people largely trapped in the enclave.
Both sides still publicly said they remain committed to the reconciliation , but fears that it could collapse are growing.
They appear no closer to an agreement about the future of Hamas's vast military wing, which has fought three wars with Israel since 2008, while they must still resolve the issue of two separate civil administrations.
Abbas has also not yet lifted sanctions against Hamas, including cutting payments for electricity, further worsening an already severe power shortage in Gaza.
There was already little optimism about achieving a full handover by December 10, but Trump's controversial announcement has added further complications.
The Palestinian government has called for wide-scale peaceful protests against it, but Hamas has called for violence - hailing attacks against Israelis as the start of a new violent intifada, or uprising, against Israeli occupation.
Hamas is considered a terrorist organisation by Israel, the United States and the European Union.
Four Palestinians in Gaza, including two Hamas fighters, were killed either in clashes with Israeli forces or by Israeli air strikes in retaliation for rocket fire on Friday and Saturday.
Naji Sharab, political science professor at Al-Azhar University in Gaza, said Trump's move made the reconciliation bid harder.
"Some want uprising and others don't. Some want a military escalation and some don't," he told AFP. "With the Jerusalem issue, they cannot continue."
Jamal al-Fadi, a politics professor, said he feared the process could now collapse.
Full report at:
http://nation.com.pk/12-Dec-2017/palestinians-miss-major-reconciliation-deadline
-------
Abbas in Cairo, Istanbul to rally region over holy city
12 December 2017
CAIRO: Palestinian President Mahmoud Abbas on Monday intensified efforts to rally Middle Eastern countries against US recognition of Jerusalem as Israel's capital, setting up talks with Arab leaders beginning in Cairo.
Abbas will meet President Abdel Fattah El-Sisi of Egypt, which has been a key broker in past peace talks with Israel and between fighting Palestinian factions, before heading for Istanbul to give a speech, his office said.
El-Sisi, after a separate meeting with visiting Russian President Vladimir Putin, said the US moving its Israel Embassy to Jerusalem would have "dangerous effects on peace and security in the region."
Abbas met the head of the Arab League in Cairo on Monday, local media reported. Arab foreign ministers held an hours-long emergency meeting at the weekend and vowed to seek a UN Security Council resolution rejecting the US move, but gave few details on other measures they would take.
The Palestinians hope for concrete action.
"Daring Palestinian and Arab decisions are required in the coming stage, which is very important," Abbas's spokesman Nabil Abu Rdainah told Palestinian official news agency WAFA.
Abbas will not meet Mike Pence during the US Vice President's visit to the region later this month, Palestinian Foreign Minister Riyad Al-Maliki said on Saturday.
Egypt's top Muslim and Christian religious leaders also said they would not meet Pence.
Abbas is expected to make a statement after his meeting with El-Sisi, the Palestinian Embassy in Cairo said, without giving details.
Egypt, along with Jordan a key US ally in the region which has helped broker past peace deals and has good relations with Israel, has said the Jerusalem move undermines efforts to end the conflict.
It has also brokered reconciliation deals between Abbas's Fatah party and Gaza-based militant group Hamas, which called for a new uprising against Israel last week.
The planned handover of control of Gaza to the Fatah-dominated Palestinian Authority under the latest deal hit another delay on Sunday, with a Fatah official blaming "obstacles" without elaborating.
Full report at:
http://www.arabnews.com/node/1207441/middle-east
-------
Israeli tank, aircraft hit Gaza after rocket fire
12 December 2017
The Israeli military said it hit the Gaza Strip's Hamas rulers with tank and aircraft fire after Palestinians launched rockets at southern Israel on Monday.
At least two rockets were fired from the Gaza Strip, with the second intercepted by Israel's Iron Dome missile defense system, the army said.
After the first rocket was fired, the army issued a statement saying that in response, "a tank and the Israel Air Force targeted Hamas military posts in the southern Gaza Strip."
It did not say where the first rocket fell or report any casualties. There was also no word on injuries on the Gaza side of the border.
After the interception of the second rocket, Israeli tank and aircraft fire targeted Hamas military posts in the north of the Gaza Strip, the army said.
There were no immediate reports of injuries.
It was the first rocket fire since Friday evening, which triggered repeated Israeli strikes throughout that night and into Saturday in which two members of Hamas's military wing were killed.
The Israeli army says it holds Hamas responsible for all attacks originating from the territory under its control.
The latest wave of rocket fire followed US President Donald Trump's statement on Wednesday recognizing Jerusalem as the capital of Israel.
On Thursday, Israel also targeted Gaza sites with air strikes and tank fire after what a military statement described as "a projectile" was fired into southern Israel.
Palestinian security officials in the enclave said the strikes hit two Hamas posts.
Full report at:
https://english.alarabiya.net/en/News/middle-east/2017/12/12/Israeli-tank-aircraft-hit-Gaza-after-rocket-fire.html
-------
Houthi militia claims nephew of slain Yemeni ex-president Saleh is alive
11 December 2017
One of the senior sheikhs of the Yemeni Khawlan tribes revealed the reasons for the clashes that arose between their tribes and the Houthi militia late Sunday evening.
He stated that the militia surrounded the Khawlan tribes' Sheikh Mohammed al-Ghader's home and demanded that he surrender former slain President Ali Abdullah Saleh's nephew.
Saleh's nephew, Brigadier Tariq Mohammed Saleh, was also the head of his security and led several battles against the Houthis in Sanaa. The source confirmed that the militia insists that Brigadier Saleh is in hiding in Khawlan, and that he was not killed with his uncle as the General People's Congress (GPC) Party's news outlets had claimed.
The heads of the GPC Party said that Brigadier Saleh was killed right before the assassination of former President Saleh, indicating that the former president had attended his nephew's funeral before meeting his fate on the hands of the Houthi militia.
According to primary sources, the Khawlan tribes defended Sheikh al-Ghader and destroyed eight groups belonging to the militia in clashes that continued until late Sunday evening.
Tribal sources had said earlier that Houthi militias have been trying to arrest Sheikh al-Ghader, and announce his surrender to them while seizing his weapons. This was prior to the Yemeni army and Arab-led coalition forces liberating the Khawlan front as it is considered the eastern gate to the capital Sanaa.
Sources have also said that the Houthis were displeased with Sheikh al-Ghader and other leaders of the Khawlan tribe supporting the Yemeni army in their quest to free Sanaa, after the Houthis killed former President Saleh.
Tribal sources called on the legitimate Yemeni government and the Arab coalition forces led by Saudi Arabia to stand with the Khawlan tribes in their battles against the Iranian-backed militia.
Full report at:
https://english.alarabiya.net/en/News/gulf/2017/12/11/Houthi-militias-claim-Saleh-s-nephew-is-alive.html
-------
IRGC commander Soleimani reaffirms full support for Palestinian resistance groups
Dec 11, 2017
Major General Qassem Soleimani, commander of the Islamic Revolution Guards Corps' Quds Force, has reaffirmed the Islamic Republic's full support for Palestinian resistance movements.
Soleimani made the remarks in a phone call on Monday with commanders of Hamas' military wing, Ezzeddin al-Qassam Brigades, which has been defending the blockaded Gaza Strip against Israel's acts of aggression, and the Islamic Jihad resistance movement.
The senior IRGC commander also urged all resistance movements in the region to boost their readiness to defend the al-Aqsa Mosque.
Soleimani's comments came amid simmering tensions in the occupied territories of Palestine following a decision by US President Donald Trump to formally recognize Jerusalem al-Quds as the capital of Israel.
Trump on Wednesday defied global warnings and said Washington formally recognized Jerusalem al-Quds as the "capital" of Israel and would begin the process of moving its embassy to the occupied city, breaking with decades of American policy.
The announcement prompted harsh international warnings that it would bring more chaos to the Middle East region. Several protests have been held in many countries over the past days against the US and Israel.
Earlier on Monday, Iranian President Hassan Rouhani held talked on phone with Ismail Haniyeh, the leader of Palestinian resistance movement Hamas, saying that unity and resistance of the oppressed Palestinian people and other Muslim nations would definitely lead to the failure of the US-Zionist plan to recognize Jerusalem al-Quds as Israel's "capital."
Rouhani added that the "insulting" move by the US president was a vicious plan against Palestine and the Muslim world, urging all Muslims to stand against it in unison.
Also on Monday, the leader of Lebanon's Hezbollah resistance movement, Sayyed Hassan Nasrallah, said Trump's decision to formally recognize Jerusalem al-Quds as the capital of Israel had made the United States and White House isolated in the world.
Hezbollah leader also stated that the most important response to be given to Trump was to declare the beginning of a new intifada, noting that "Trump's decision on al-Quds will be the beginning of the end of Israel."
Clashes broke out between Israeli forces and Palestinian protesters on Monday, who took to the streets for the fifth consecutive day to censure the US president's decision.
Full report at:
http://www.presstv.com/Detail/2017/12/11/545286/Qassem-Soleimani-IRGC-Quds-Force-Ezzeddin-alQassam-Brigades-Islamic-Jihad
-------
Chileans gather outside US embassy to protest Trump's al-Quds move
Dec 12, 2017
Chileans have staged a large rally in the capital, Santiago, in protest at US President Donald Trump's recognition of Jerusalem al-Quds as the "capital" of Israel.
Around 2,000 people demonstrated in front of the US embassy in the capital, waving Palestinian flags and holding banners reading "Trump, Jerusalem [al-Quds] is Palestine."
Police used water cannon to disperse the protesters, who blocked city streets.
The rally was organized by members of Chile's Palestinian community, one of the largest in Latin America.
On December 6, Trump sparked international outrage as he declared that Washington was recognizing Jerusalem al-Quds as the "capital" of Israel and that he had instructed his administration to begin the process of moving the American embassy from Tel Aviv to the ancient city.
Trump's move upended decades of American diplomacy, causing an overwhelming global diplomatic backlash and sparking protests by Palestinians and their clashes with Israeli forces.
Full report at:
http://www.presstv.com/Detail/2017/12/12/545315/Chile-protest-trump-Jerusalem-Santiago
-------
Israel targets Hamas positions throughout Gaza Strip
Dec 12, 2017
Israeli forces have targeted several positions in the Gaza Strip with land and air attacks for the second time in one day.
The Israeli army confirmed that it carried out attacks on positions belonging to the Palestinian resistance movement Hamas for the second time late on Monday.
It claimed that the attacks were in response to rocket fire from the Gaza Strip into an unpopulated area in the occupied territories without causing any injuries.
The Gaza Strip has been under an Israeli siege since June 2007. The blockade has caused a decline in the standards of living as well as unprecedented levels of unemployment and unrelenting poverty.
Full report at:
http://www.presstv.com/Detail/2017/12/12/545294/israel-gaza-airstrike-land-air
-------
Southeast Asia
Still no request to extradite Zakir Naik from Malaysia, says lawyer
12 Dec 2017
MALAYSIA has yet to receive any request from India to extradite fugitive islamic preacher Dr Zakir Naik, based on a letter from the Attorney-General's Chambers to his lawyer.
The letter from the AGC's Prosecution Department to lawyer Shaharudin Ali requested Zakir's representatives to refer to the Home Ministry's Security and Public Order division for further explanation.
The AGC said the Home Ministry was the central authority for matters pertaining to extradition.
"For your information, we have not received any official extradition request from the Indian government involving your client Dr Zakir Naik," the letter sighted by The Malaysian Insight said.
Shaharudin told The Malaysian Insight today the letter by the AGC's office was confirmation nothing has been received or heard from India regarding Zakir's much talked about extradition.
Last month, Shaharudin told The Malaysian Insight that he had written to the Attorney-General and Inspector-General of police, requesting he be informed of any new development from Wisma Putra or India regarding his client.
He said it was only right Zakir was given every opportunity to exhaust his rights in Malaysia before being sent to India.
It was reported India was finalising an official request to Malaysia to have Zakir extradited to face charges that he had "promoted enmity and hatred between different religious groups in India through public speeches and lectures".
India's counterterrorism agency was reported as having prepared charges against Zakir, while Indian authorities revoked his passport in July upon the recommendation of its National Investigation Agency.
Zakir was granted permanent resident status in Malaysia five years ago.
In his appeal to Interpol, Zakir wrote the Indian agencies were unfairly targeting him because he was a Muslim, adding all his speeches promoted peace and in no way advocated terror or jihad.
He said he had been delivering speeches on Islam over the past 25 years in several countries, where he was respected and welcomed.
He said Indian agencies, by banning his Islamic Research Foundation and preventing him from delivering speeches on Islam, were violating his freedom of expression.
On November 8, Deputy Prime Minister Ahmad Zahid Hamidi said Zakir would be deported if the Indian government requested his extradition.
Zahid also said the preacher had not flouted local laws, and had not committed any crime in Malaysia.
Zakir, a 52-year-old medical doctor, has stirred controversy with his recommendations for the death penalty for homosexuals and those who abandon Islam, according to media reports.
https://www.themalaysianinsight.com/s/27261/
-------
Reviving 'waqf' institutions in Indonesia
Fahmi M. Nasir and Hidayatul Ihsan
December 11, 2017
Endowments from Muslims or waqf have played an important role in the social and economic development of Muslim societies. However, many waqf properties in Indonesia suffer from abuse and neglect due to many reasons.
Newly elected chairman of the Indonesian Waqf Board (BWI) Mohammad Nuh in his inaugural speech urged the transformation of the great potential of waqf into a real force to increase welfare in various fields and to support the national economy.
Current development of waqf is hindered by five core issues i.e. misperception, legislation, governance, professionalism and the availability of funding, according to Securities Commission Malaysia in 2014.
First is the misperception. Waqf is traditionally associated with religious purposes such as mosques and Islamic boarding schools or pesantren. However, Daud Bakar, the chairman of the shariah advisory council at the Central Bank of Malaysia, has pointed out that waqf is a financial institution with potential to finance various projects. Murat Cizakca of Turkey, a leading scholar in the comparative economics and Islamic civilisation, explains that waqf can significantly reduce government expenditure by providing many essential services such as health, education, infrastructure, municipal, and etc. Back in 1948, endowments from Acehnese Muslims helped Indonesia buy its first two airplanes to fight colonial aggression.
Second, regulation plays an important role in revitalizing waqf institutions. To some extent the Law No. 41/2004 on waqf has encouraged the government and civil society to manage waqf assets productively, while many previous regulations on waqf did not cover the issue comprehensively, according to Uswatun Hasanah, an Indonesian expert earlier involved in the drafting of the law. Among others this law lay the basis for the BWI for developing and improving Indonesia's waqf assets.
However, some important issues such as the provisions of a survey or census on waqf and tax incentives are lacking in the current law.
A survey on waqf is crucial in mapping the current problems and status of waqf assets. Existing literature often mentions the big potential of Indonesia's waqf assets, no precise data is available so far. Certainly, many stakeholders are eager to know the real potential. The survey could also provide the updated database of waqf properties across the country, which in turn would influence the development and governance of waqf in the future.
Hence, revision towards Waqf Law No. 41/2004 is necessary, particularly related to census and tax incentive. Provisions for a census in the waqf law could enforce allocation for the purpose in the national budget. Meanwhile, the inclusion of tax incentive could encourage more people to create a new waqf.
The next pressing matters are governance and professionalism. The BWI could learn from the Religious Council of Singapore (MUIS) in managing waqf effectively and efficiently. In 2000, MUIS corporatized its Property Development Department into a wholly owned subsidiary called Warees Investments Pte Ltd (Warees). Subsequently, MUIS handles all administrative and regulatory matters, while Warees focuses on the income-generating development of waqf assets.
In discharging its responsibility, Warees is putting the right people in the right jobs. Zaini Osman, Chief Executive Officer (CEO) of Warees asserted that its staff comprise task-oriented, technology-savvy individuals and most importantly are professionals in various fields such as finance and accounting, real estate, engineering, architecture, economics and statistics, Islamic finance, business administration, marketing, construction management and project management.
Finally, the issues of financing waqf properties should also be addressed to speed up the revival of waqf. Sadly in Indonesia waqf institutions are largely not bankable and hardly have a channel to financial institutions in financing the development of their properties.
With the current development of Islamic finance in Indonesia and across the globe, various modes of financing are available to support waqf institutions. Magda Ismail Abdel Mohsen and other researchers have examined 95 cases of waqf development in 11 countries. They found that Turkey, Malaysia, Singapore, Sudan, Indonesia, Iran, New Zealand, Kuwait, India, Pakistan and Bangladesh used 13 classic and innovative modes of financing waqf properties.
Among the modes of financing are substitutions, long lease, construction financing, diminishing partnership, build, operate and transfer schemes; build, lease and transfer schemes, joint ventures, sukuk/partnership bond, partnership, self-finance/donations, waqf shares, corporate waqf and waqf entrepreneurship.
We can also learn from the successful sukuk issuance for the development of waqf assets in Singapore and Saudi Arabia. In Singapore, sukuk musharakah (Islamic investment certificate which allows investors to have rights of ownership of the asset) was introduced to develop commercial building on waqf land in Bencoolen Street in 2002. In Saudi Arabia the issuance of sukuk al-intifa' (timeshare) has been successfully implemented to develop the Zamzam Tower in Makkah.
Back in 2006, there were sparks of interest towards waqf in Indonesia when every pilgrim from Aceh province received supplementary money for accommodation in Makkah from the provincial administration. From then on, every pilgrim from Aceh has been receiving between Rp 4.3 million to Rp 7.2 million from the income of the local waqf body, the Bait al-Asyi Waqf, which was established in 1809 through crowd-funding by the Acehnese community of that period. This indicates that, if the waqf properties are managed effectively, the profit generated from those assets would be very promising.
Full report at:
http://www.thejakartapost.com/academia/2017/12/11/reviving-waqf-institutions-in-indonesia.html
-------
Indonesia reiterates call for Palestinian independence
Dec 12, 2017
Indonesia will continue to support Palestine in its struggle for independence, in spite of United States President Donald Trump's recent decision on Jerusalem, Indonesian Foreign Minister Retno Marsudi said yesterday.
"The unilateral US statement on the status of Jerusalem will not alter Indonesia's strong diplomatic commitment to fight for Palestinian independence," she said in a statement after meeting her Jordanian counterpart Ayman Safadi in Amman.
Indonesia's top diplomat is in the Jordanian capital as part of a three-nation tour that includes stops in Turkey and Belgium in a bid to garner political support for Palestine.
Her trip comes days after a controversial announcement by the US President to recognise Jerusalem as Israel's capital and to move the US Embassy from Tel Aviv to the historic city regarded as holy by Jews, Christians and Muslims.
Mr Trump's announcement last Wednesday, a reversal of decades of US policy, has been met with angry protests around the world, including in Malaysia and Indonesia.
World leaders have also criticised the move as going against international law, warning that it could set back the peace process and embolden extremists and hardliners.
Indonesian President Joko Widodo strongly condemned Mr Trump's decision, and urged the US to reconsider it.
Yesterday, some 1,000 protesters held a rally in front of the US Embassy in Jakarta, burning US and Israeli flags and images of Mr Trump.
Turkish President Recep Tayyip Erdogan, whose country currently chairs the Organisation of Islamic Cooperation (OIC), has convened an emergency leaders' summit in Istanbul to be held tomorrow, which Mr Joko and Ms Retno will attend.
Ms Retno will then continue to Brussels for talks with European Union representatives on the issue.
Malaysian Prime Minister Najib Razak will also attend the summit of the OIC, a 57-nation grouping of Muslim-majority countries, which seeks to secure a concerted response to the US decision.
Israel captured East Jerusalem after the Six-Day War in 1967, and later declared the city as its capital in 1980, a move opposed to this day by the international community. Many back a two-state solution, with East Jerusalem as the capital of an independent Palestinian state, and see the US move as a rejection of that idea.
In her meeting with Mr Ayman, Ms Retno affirmed that Mr Joko strongly condemned the US move.
"We all have a moral responsibility to stop the injustices facing the Palestinian people," she added.
University of Indonesia international law expert Hikmahanto Juwana said Mr Joko's decision to attend the OIC meeting shows that Indonesia is serious in its support for Palestine. He added that what the Indonesian government is doing "fits its people's aspirations" to see an independent Palestine.
Dr Fitri Bintang Timur of Jakarta's Centre for Strategic and International Studies agreed, saying that efforts by Mr Joko's administration - like on the Rohingya issue - continue to reflect its support for fellow Muslims around the world.
Meanwhile, former Saudi intelligence chief Turki al-Faisal, in a letter to Mr Trump published in a Saudi newspaper yesterday, called his move a domestic political ploy that would stoke violence.
"Bloodshed and mayhem will follow your opportunistic attempt to make electoral gain," he wrote.
Full report at:
http://www.straitstimes.com/asia/se-asia/indonesia-reiterates-call-for-palestinian-independence
-------
Hardline Indonesian Muslim groups burn US, Israeli flags over Trump's Jerusalem move
December 11, 2017
Hardline Muslim groups in Indonesia burned photos of US President Donald Trump, as well as US and Israeli flags, on Monday during a protest outside the US embassy against Trump's decision to recognise Jerusalem as the capital of Israel. Indonesia, home to the world's largest Muslim population, has joined a global chorus of condemnation of Trump's controversial move on Israel, which they say threatens security and stability in the Middle East and the world.
The status of Jerusalem, a city holy to Jews, Muslims and Christians, is one of the thorniest barriers to a lasting Israeli-Palestinian peace. Jerusalem's eastern sector was captured by Israel in a 1967 war and annexed in a move not recognised internationally. Palestinians claim East Jerusalem for the capital of an independent state that they seek, while Israel maintains that all of Jerusalem is its capital.
Hundreds attended the protest outside the US embassy in Jakarta, which was barricaded by barbed wire and dozens of police officers. "Let us witness the destruction of Israel's hegemony," one protest leader shouted into a megaphone as protesters burned an Israeli flag. "We will support Palestine with our blood."
Many protesters waved Palestinian flags and carried banners supporting "intifada", or an uprising against Israel, and rally leaders also shouted anti-Semitic slogans. The protest was led by the Islamic Defenders Front, an aggressive vigilante group that calls for sharia, or Islamic religious law, to be imposed in Indonesia, a secular country.
Full report at:
http://indianexpress.com/article/world/hardline-indonesian-muslim-groups-burn-us-israeli-flags-over-trumps-jerusalem-move-4977601/
-------
Austaralia
Australian National Imams Council says, No Religious Reason Not to Stand for Judge
December 12, 2017
AUSTRALIAN Muslims have been told there is no religious reason why they should not stand for a judge in court or why women should not uncover their faces.
The guidance from the Australian National Imams Council comes after a string of Muslim defendants have refused to stand for judges in court.
Moutia Elzahed, the wife of a convicted Islamic State recruiter Hamdi Alqudsi, was the first person to be charged under new disrespectful behaviour laws when she refused to stand for District Court judge Audrey Balla.
Her barrister Clive Evatt told the civil court his client "won't stand for anyone except Allah".
Separately she has been granted leave to appeal a decision by Judge Balla to dismiss her lawsuit against police. Judge Balla refused to allow her to testify unless she uncovered her face.
Her actions followed a string of defiant refusals to stand in court including Milad Bin Ahmad-Shah Al-Ahmadzai, jailed for 18-years for a shooting in a Western Sydney gay nightclub, and IS-inspired Sulayman Khalid and Mohamed Almaouie, who planned to attack Australian Federal Police officers.
But now Muslim leaders have said there is no reason in the teachings of Islam why any of these defendants should not stand in court.
"Standing up for the Magistrate or Judge is a sign of respect to the court. This sign of respect is also reflected in the teaching of Islam," said the Explanatory Note on the Judicial Process and Participation of Muslims.
It said the teachings of the Prophet told people to "stand up for your chief".
The note said it was acceptable to follow custom and lower or bow the head to the magistrate or judge when entering or leaving the courtroom.
The imams also said "it is not contrary to sharia law for a woman to uncover her face when she is giving testimony in court."
Magistrates or judges could also look at a woman's face to "know or identify who she is."
"If called upon to give evidence in court, it is not contrary to sharia law for a woman to uncover her face and for it to remain uncovered when she is giving evidence so that the magistrate or judge may identify her," it said.
https://www.dailytelegraph.com.au/news/nsw/muslims-told-no-religious-reason-not-to-stand-for-judge/news-story/effc6fc06faf0b6acdec1a760d3a079d
-------
South Asia
Anti-Rohingya Sentiment Growing Among Locals in Bangladesh
December 12, 2017
Although local people came forward to help the persecuted Rohingyas taking shelter in Cox's Bazar at the initial stages, resentment is brewing among the former now as the refugees are entering the local labour market, according to a fact-finding report.
The report was revealed by Sri Lanka-based rights group South Asians for Human Rights (SAHR). A team of the organisation recently visited the Rohingya refugee camps in Cox's Bazar. The findings were disclosed through a press conference at Dhaka Reporters Unity yesterday.
Speaking at the programme, SAHR chairperson Sultana Kamal said the government should look into this growing resentment and take effective measures.
Locals have to be assured that they have a participatory role in the process of sheltering the persecuted people, and that the situation is temporary, she said.
The six-member SAHR team led by Sultana went on a five-day fact-finding mission to Kutupalong, Balukhali-1 camps and Hindupara area in Ukhia on December 7.
They talked to the refugees, locals, government officials, police, and members of UN agencies. As part of the mission, they also spoke to civil society members and journalists in Cox's Bazar and Dhaka.
More than 640,000 Rohingyas have fled into Bangladesh since August 25, when the Myanmar army launched atrocities on the Muslim minority in Rakhine State.
The SAHR team collected testimonies of atrocities like killing, rape, forced displacement, and enforced disappearance from the refugees, who wanted to return to Myanmar with "guaranteed citizenship rights, assured safety and justice".
The team found that Rohingyas remained vulnerable to human trafficking and smuggling, while security of those belonging to Hindu community was a matter of concern.
While medical workers reported severe to moderate malnutrition, especially among children and women, access to clean and potable water in the visited camps was inadequate.
SAHR called upon the government to take long-term policies, in compliance with relevant international norms and standards, to deal with the crisis effectively.
It also urged the Myanmar government to create a conducive environment for safe return of the refugees and demanded justice for the atrocities.
Rights activist Sara Hossain and Indian journalist Bharat Bhushan, who were among the team members, also spoke on the occasion.
http://www.thedailystar.net/city/anti-rohingya-sentiment-growing-among-locals-1503787
-------
US airstrike leaves 3 ISIS militants dead in East of Afghanistan
Dec 11 2017
At least three ISIS militants were killed in an airstrike conducted by the US forces in eastern Nangarhar province of Afghanistan.
According to the local officials, airstrike was carried out in the vicinity of Haska Mina district on Saturday.
The provincial police commandment also confirmed the report and in a statement said a hideout of the terror group was pounded in Awghaz area.
The statement further added that three militants of the terror group were killed in the airstrike but no one else was killed or wounded.
The anti-government armed militant groups including the ISIS militants have not commented regarding the report so far.
At least twenty five militants affiliated with the terror group were killed in the latest airstrikes conducted in this province last week.
According to the officials of the 201st Silab Corps of the Afghan army in the East, the airstrikes were carried out on Tuesday in the vicinity of Achin district.
Full report at:
http://www.khaama.com/us-airstrike-leaves-3-isis-militants-dead-in-east-of-afghanistan-04024
-------
Hekmatyar opposes bid for Loya Jirga, calls for on time elections
Dec 11 2017
The leader of Hezb-e-Islami Gulbuddin Hekmatyar opposed the bid for convening a Loya Jirga, grand assembly of the elders, as he insisted that the elections should be organized on time.
Speaking during a press conference in southeastern Khost province, Hekmatyar said he and his party opposes with the calls to convene a Loya Jirga.
He said those who are supporting and calling for the Loya Jirga should instead participate in the elections, emphasizing that the elections are the only way to help resolve the issues of the country.
This comes as the former Afghan President Hamid Karzai has long been insisting that the group should convene a Loya Jirga to discuss and resolve the national issues.
In an interview with Germany's Deutsche Welle Karzai said the biggest priority for Afghanistan is for the Afghan people to put their heads together and to study as to what has gone wrong in this country.
"Where are we to blame, where is the US to blame, where are our neighbors to blame? And to evaluate and analyze the situation and come up with solutions," he said.
Full report at:
http://www.khaama.com/hekmatyar-opposes-bid-for-loya-jirga-calls-for-on-time-elections-04028
-------
ISIS suffer casualties during clashes with the Afghan forces in Nangarhar
Dec 11 2017
Militants affiliated with the Islamic State of Iraq and Syria (ISIS) terrorist group suffered casualties during the clashes with the Afghan security forces in eastern Nangarhar province of Afghanistan.
The provincial government media office in a statement said an armed clash erupted among the Afghan forces and ISIS militants in Khogyani district soon after Silab-4 operations were launched to suppress the militants.
The statement further added that 9 ISIS militants were killed and 4 others were killed during the clashes while 5 villages have been cleared from the presence of the militants.
According to Nangarhar government, the Afghan security forces have also confiscated some weapons, ammunition, and explosives during the operations.
The anti-government armed militant groups including ISIS militants have not commented regarding the report so far.
Nangrhar has witnessed relative calmness since the Taliban group regime was toppled down but certain districts of the province have started to witness growing insurgency activities during the recent years.
Both the Taliban insurgents and militants affiliated with the Islamic State terror group are attempting to expand their foothold in this province although operations are underway to suppress their activities.
The provincial government in a separate statement said at least three ISIS militants were killed in an airstrike conducted by the US forces in eastern Nangarhar province of Afghanistan.
Full report at:
http://www.khaama.com/isis-suffer-casualties-during-clashes-with-the-afghan-forces-in-nangarhar-04027
-------
Bangladesh police looking for family, associates of New York bombing suspect
December 12, 2017
Bangladesh's police chief told Reuters late on Monday that 27-year-old Ullah had no criminal record in his home country, which he last visited in September
Officials in Bangladesh are trying to track down the extended family and any known associates of Akayed Ullah, a Bangladeshi man US authorities say set off a homemade pipe bomb in a crowded New York City commuter hub on Monday.
"Police are looking for his family, but so far they've not been able to trace them," said Abul Khair Nadim, the Chair of Musapur Union council, a local government body in the Chittagong division in southern Bangladesh, where Ullah's family originally lived.
Bangladesh's police chief told Reuters late on Monday that 27-year-old Ullah had no criminal record in his home country, which he last visited in September.
Ullah lived with his mother, sister and two brothers in Brooklyn and was a green card holder, said Shameem Ahsan, consul general of Bangladesh in New York.
Also Read- New York blast suspect went from limo driver to accused subway bomber
Ahmad Ullah, a relative of Ullah, who Reuters tracked down on Tuesday, said his cousin's father had moved to the Bangladeshi capital of Dhaka with his family many years ago.
He said Ullah's father had passed away about five years ago, and that Ullah had been through a normal public school education in Bangladesh before moving to the United States.
Ullah, who had a homemade bomb strapped to his body, set off an explosion in an underground pedestrian corridor between New York's Times Square and the Port Authority Bus Terminal at rush hour, injuring himself and three others in what New York Mayor Bill de Blasio called an attempted terrorist attack.
A law enforcement official familiar with the investigation said investigators have found evidence that Ullah had watched Islamic State propaganda on the internet.
Full report at:
http://www.dhakatribune.com/bangladesh/2017/12/12/bangladesh-police-looking-family-associates-new-york-bombing-suspect/
-------
Russia and West exchange heated words over Afghanistan, Iraq, and Syria
Dec 12 2017
The Russian and US-led coalition officials have reportedly exchanged heated words over the circumstances surrounding the anti-terror fight in Afghanistan, Syria, and Iraq as well as the recent breakthroughs achieved in anti-IS fight in Syria.
According to RT Russian television network, the spokesperson of the ministry of foreign affairs of Russia Maria Zakharova reacted at the remarks of the anti-IS coalition and Western officials after they downplayed the role of the Russian military in suppressing the terror group in Syria.
Zakharova has reportedly 'advised' Western politicians to focus on their perceived successes in Afghanistan, Iraq, and Libya, where over the years, hundreds of thousands of people have been killed, infrastructure destroyed and vast numbers left in ruins.
A spokesman for the anti-IS US-led coalition had reportedly earlier that "The US-led coalition, not the Russian Federation or Syrian Regime, is the only force that has made meaningful progress against [Daesh/ISIS]."
The latest heated exchange between Moscow and the West comes as tenions are also on the rise in Afghanistan as the country has often been accused of supporting the Taliban group.
A number of the Taliban group commanders had earlier said Russian intelligence agencies have stepped up aid to the Taliban insurgents to fight the NATO-led coalition forces in Afghanistan.
The Taliban sources told a British newspaper, The Times, in mid-October that the group mainly receives the funding in a covert way, involving large quantities of fuel deals.
The sources further added that the monthly funding of the Taliban by the Russian intelligence amounts to nearly 2.5 million US Dollars.
A Taliban leader in southeastern Ghazni province told the paper "We sell the fuel on and distribute the money directly to our commanders."
Full report at:
http://www.khaama.com/russia-and-west-exchange-heated-words-over-afghanistan-iraq-and-syria-04030
-------
Africa
Libyan forces suffer casualties as fighting drags on in Benghazi
12 December 2017
BENGHAZI: Libyan forces fighting in Benghazi have lost four men and seen 10 wounded so far in December, five months after declaring victory in a campaign to control the eastern city, a medical source said on Monday.
Three of the dead from the Libyan National Army (LNA) were killed by snipers and one by a land mine as it faces resistance from a group of fighters in the Benghazi district of Khreibish.
There have been daily clashes in the area and occasional air strikes.
LNA commander Khalifa Haftar declared victory in a three-year military campaign against an array of extremists and other fighters in Benghazi in early July.
The fighting is part of a broader conflict that developed following the 2011 fall of strongman Muammar Qaddafi. Haftar has opposed a UN-backed government based in the capital, Tripoli, as he has gradually strengthened his position on the ground.
Also on Monday, he UN urgently appealed for countries to take in 1,300 "extremely vulnerable" refugees stranded in Libya, following revelations of horrific abuse of migrants in the country.
The UN refugee agency (UNHCR) said there was a dire need for 1,300 resettlement places by the end of March 2018.
"This is a desperate call for solidarity and humanity," Volker Turk, UNHCR's Assistant High Commissioner for Protection, said in a statement.
"We need to get extremely vulnerable refugees out of Libya as soon as possible," he said. The chaos-ridden country has long been a major transit hub for migrants trying to reach Europe. Many refugees and migrants have fallen prey to serious abuse there at the hands of human traffickers and others.
European and African leaders have already vowed to evacuate nearly 4,000 distressed migrants from Libya after global outrage erupted last month over video footage showing African migrants being auctioned off as slaves in the country.
"Many refugees, asylum seekers and stateless persons in Libya are victims of serious violations of human rights, including different forms of inhumane, cruel and degrading treatment," the UNHCR warned in Monday's appeal.
It stressed that many of them had been detained for an indefinite period of time in deplorable conditions, denouncing the "routine detention of refugees and displaced people."
The UN refugee agency in early November evacuated a first group of 25 vulnerable refugees — 15 women, six men and four children of Eritrean, Ethiopian and Sudanese nationalities — to Niger.
"Given the imminent humanitarian needs and the rapidly deteriorating conditions in detention centers in Libya, UNHCR is actively working to organize more life-saving refugee evacuations to Niger in the coming weeks and months," Turk said.
UNHCR said the vulnerable refugees included unaccompanied children, single mothers, people with serious medical conditions and people who had been severely tortured during their journey or in detention in Libya.
The agency said it aimed to evacuate them to Niger and hopefully other emergency transit centers pending their final resettlement to other countries.
"Given the seriousness of the situation for refugees in Libya, we need to explore all sorts of solutions, including resettlement, family reunification, evacuation to UNHCR-run emergency facilities in other countries, or voluntary return," Turk said.
http://www.arabnews.com/node/1207511/middle-east
-------
ICC reports Jordan to UN Security Council for not arresting Sudan's Bashir
11 December 2017
The International Criminal Court (ICC) said on Monday it would refer Jordan to the UN Security Council for failing to arrest Sudanese President Omar al-Bashir when he visited Amman in March.
The court issued arrest warrants for Bashir in 2009 and 2010 over his alleged role in war crimes including genocide in Sudan's Darfur province. Jordan, as a member of the ICC, is obliged to carry out its arrest warrants.
Sudan is not a member of the Hague-based permanent international war crimes court, and the ICC therefore does not have automatic jurisdiction to investigate alleged war crimes there.
However, the UN Security Council referred the case to the international court in March 2005.
The Security Council has the power to impose sanctions for a failure to cooperate with the ICC, but has so far not acted on court referrals.
A diplomatic row broke out when Bashir visited South Africa in 2015 and Pretoria failed to arrest him.
South Africa's government argued that doing so would have been a violation of the immunity Bashir enjoys as a head of state. That argument was rejected by South African courts as well as the ICC.
The ICC ultimately did not refer South Africa to the Security Council, however, saying it was not clear that doing so would have any effect.
Kenya and South Africa have threatened to withdraw from the ICC over perceived bias against African countries. Burundi, which is under ICC investigation, has actually withdrawn.
Full report at:
https://english.alarabiya.net/en/News/middle-east/2017/12/11/ICC-reports-Jordan-to-UN-Security-Council-for-not-arresting-Sudan-s-Bashir.html
-------
EU complicit in crimes against refugees in Libya, Amnesty says
Dec 12, 2017
Amnesty International has accused European Union (EU) countries of complicity in human right violations by Libyan officials against refugees through blocking the asylum seekers from reaching Europe.
Amnesty said on Tuesday that up to 20,000 people were now held in detention camps under horrific conditions and were subject to "torture, forced labor, extortion, and unlawful killings," echoing similar allegations made by other rights groups over the past months.
"European governments have not just been fully aware of these abuses; by actively supporting the Libyan authorities in stopping sea crossings and containing people in Libya, they are complicit in these crimes," said John Dalhuisen, Amnesty International's director for Europe.
Since the 2011 uprising that toppled longtime dictator Muammar Gaddafi, chaos-ridden Libya has become a major transit hub for refugees trying to reach Europe. Most of them are from conflict zones such as Syria and Afghanistan. Others are migrating for economic reasons.
The EU has reached an agreement with Libya aimed at stopping the flow of refugees across the central Mediterranean to the north. Under the deal, the EU has been training the Libyan coast guard to intercept boats carrying refugees.
The agreement has managed to drastically decrease the number of arrivals in Italy.
Libyan coastguard 'in cahoots with human traffickers'
Amnesty said the Libyan coastguards work hand-in-hand with people smugglers, including in torturing people to extort money.
It also said Europe had little regard for the plight of the refugees who remain in Libya.
Full report at:
http://www.presstv.com/Detail/2017/12/12/545310/Amnesty-International-EU-Libya-refugees-complicity
-------
US military expects at least 2 more years of combat in Somalia
Dec 11, 2017
The US Defense Department has presented the White House with a military plan that expects at least two more years of combat operation against suspected terrorists in Somalia, amid the escalating campaign of US drone strikes there, according to a report.
The proposed plan for Somalia would be the first under new rules secretly signed by US President Donald Trump in October for drone strikes and commando raids outside conventional battlefields, The New York Times reported Sunday, citing US officials familiar with internal deliberations.
The US military has carried out about 30 airstrikes in Somalia this year, twice as many as in 2016. Nearly all have come since June, including a bombing last month that killed over 100 suspected al-Shabab militants.
Trump's reported new policy for the targeted killing of terrorism suspects is said to exempt high-level vetting by US counterterrorism agencies, a sign that the Pentagon does not envision a quick end to the deepening war in Somalia.
Instead, the Defense Department wants to wait two years before reviewing how the plan in Somalia is working, according to the officials, who spoke on condition of anonymity to discuss sensitive matters.
Trump recently approved new rules that dismantle much of the Presidential Policy Guidance on targeted killings issued in 2013 by then-President Barack Obama.
The new rules would scrap the requirement that anyone targeted for attack outside of conventional battlefields must pose a "continuing, imminent threat" to American lives.
However, Trump did not rescind the requirement for "near-certainty" that no civilians would be killed or injured in a drone operation.
This change gives US troops greater latitude to strike individuals it considers low-level members of terrorist groups, rather than primarily targeting high-level leaders.
Human Rights Watch warned last month that Trump's new policy increases the risk of civilian deaths.
The Trump administration should immediately publish the proposed new rules on lethal drone strikes outside conventional war zones and strengthen protection for civilians, the New York-based human rights organization said.
"Trump's reported changes for targeting terrorism suspects will result in more civilian deaths with less oversight and greater secrecy," said Letta Tayler, senior terrorism and counter-terrorism researcher at Human Rights Watch.
Full report at:
http://www.presstv.com/Detail/2017/12/11/545254/US-Defense-Department-Somalia-US-drone-strikes
-------
Two years after Nigerian soldiers murdered hundreds of Shiites, Amnesty International insists on justice
December 12, 2017
The Nigerian authorities must ensure justice, truth and reparation over the military's unlawful killing of more than 350 Shi'a Muslims in the northern city of Zaria in December 2015, Amnesty International said on the two-year anniversary of the massacre.
No one has been held accountable for the killings, while the families of the missing are still awaiting news of their loved ones. Amnesty International has identified and visited the location of a possible mass grave near Mando, but it is yet to be exhumed.
"The Nigerian authorities' failure to hold anyone to account for the killing of hundreds of women, men and children by soldiers in Zaria, shows the acceptance of a culture of impunity for violations for human rights in the country," said Osai Ojigho, Director of Amnesty International Nigeria.
"Our research indicates that the deaths in the clashes between members of the Islamic Movement of Nigeria, IMN, and the Nigerian military two years ago were the consequence of an excessive use of force that must be thoroughly investigated."
Between 12 and 14 December 2015, Nigerian security forces killed hundreds of civilians, some of them supporters of the IMN – including men, women and children – and arrested more than 200 following a Shi'a Muslim protest.
The exact number of those killed is not known, but it may be higher than the official figure of 347. Hundreds of IMN supporters reported missing since the killings remain unaccounted for, feared dead.
Satellite images of the Mando mass grave site taken on 2 November and 24 December 2015 show severe disruption of an area of approximately 1000 square metres, including the destruction of buildings and mosques.
"A full independent forensic investigation into this crime under international law is long overdue. Many families still do not know the fate of their loved ones who have not been seen or heard of since December 12, 2015," said Osai Ojigho.
"Nigeria's Attorney General and Minister of Justice of the Federation should order that the bodies in the mass graves are exhumed, and that those suspected to be responsible for their deaths are prosecuted in fair trials without recourse to death penalty."
The Nigerian government has failed to publicly condemn the unlawful killings that took place in Zaria.
Meanwhile, the IMN's leader, Sheik Ibraheem El Zakzaky and his wife have been unlawfully detained since the killings, despite an Abuja High Court order for their release a year ago.
"The Nigerian government cannot continue to disregard this court order and as a matter of urgency respect the rule of law by releasing them immediately." said Osai Ojigho
In April 2016, a Kaduna state government official admitted that 347 IMN members were dumped in a mass grave near Mando.
"This information should be an important lead for the government to investigate the killings and ensure all those suspected of criminal responsibility are held to account," said Osai Ojigho.
"But until now, the shocking lack of accountability for these deaths has served only to bolster a climate of impunity."
Background
The IMN is a Shi'a religious and political organisation whose leader, Ibraheem El-Zakzaky, has been a proponent of Shi'a Islam in Nigeria since the 1980s. In October 2016, Kaduna State government declared IMN an unlawful organisation.
According to Amnesty International's research, more than 350 IMN members were killed by security forces between 12 and 14 December 2015 in Zaria.
In July 2016, the Kaduna State Commission of Inquiry, set up to investigate the killings, presented its report to the state government indicting the Nigerian military for unlawful killings.
Full report at:
https://www.premiumtimesng.com/news/top-news/252156-two-years-nigerian-soldiers-murdered-hundreds-shiites-amnesty-international-insists-justice.html
-------
North America
Suspect in Times Square Bombing Leaves Trail of Mystery
By ALAN FEUER
DEC. 11, 2017
On the surface, Akayed Ullah seemed to be an ordinary member of a Bangladeshi enclave in Brooklyn. He often prayed at a mosque in an unassuming brownstone in the Kensington section of the borough, where a few thousand of his countrymen reside. Like many immigrants in New York, he made his living — at least for a while — driving for a car service.
But on Monday morning, Mr. Ullah, 27, strapped a pipe bomb to his body and set out to detonate it in a Times Square subway station, the police said, not only causing chaos among crowds of commuters, but also leaving behind a trail of mystery that baffled those who knew him.
"He was a good guy," said Mohammad Yousuf, a cabdriver who prayed with Mr. Ullah at the mosque. "I can't believe he would do anything like this."
According to several law enforcement officials, Mr. Ullah said he set off the bomb in retaliation for American airstrikes in Syria and elsewhere, targeting members of the Islamic State, or ISIS. He told investigators that he had been radicalized online and had made a number of trips overseas in the past five years, visiting Bangladesh in recent months, one of the officials said.
Mr. Ullah admitted that he had looked up online how to build the bomb and had assembled it in his residence in Brooklyn, purchasing all of the materials except the pipe, which he said he found at a job site where he was working as an electrician at 39th Street and Eighth Avenue in Manhattan, two of the officials said.
Immigration officials said that Mr. Ullah arrived in the United States from Bangladesh in 2011 on a family immigrant visa and has lived in Brooklyn ever since as a legal permanent resident. According to the terms of his visa, Mr. Ullah was the nephew of an American citizen and benefited from what the officials called "extended family chain migration."
Real estate records show that Mr. Ullah lived in the Flatlands neighborhood in a small, two-story, brick-faced house. He and his family had been there for about seven years, said Alan Butrico, a businessman who owns the house next door. In the last few years, Mr. Butrico said, he had some unpleasant encounters with Mr. Ullah. They largely revolved around parking.
"He used to block the driveway," Mr. Butrico complained. "His family used to block the driveway all the time."
On Sunday night, Mr. Butrico added, one of his tenants heard the sounds of "big fighting" coming from Mr. Ullah's house, though it remained uncertain what the trouble might have been. On Monday morning, police officials, including some from the bomb squad, descended on the house, surrounding it in yellow crime-scene tape. Officers and federal agents also appeared at another Brooklyn address associated with Mr. Ullah — a six-story beige brick building at 679 Ocean Parkway in Kensington.
According to census statistics compiled by Queens College, Kensington is home to more than 3,000 Bangladeshi-born New Yorkers, making it the largest Bangladeshi enclave in Brooklyn. Mian Quadry, a representative of the Bangladesh Muslim Center in Kensington, said he did not know Mr. Ullah, adding, "This is not what and who we are."
"The Kensington community we have," Mr. Quadry said, "it's people who work very hard just to provide for our family."
Outside the Ocean Parkway building on Monday evening, Albert Fox Cahn, legal director of the New York chapter of the Council on American-Islamic Relations, said the group was "heartbroken by the violence that was targeted at our city today and by the allegations being made against a member of our family."
The Masjid Nur Al Islam mosque, which Mr. Ullah was said to have attended, sits on the corner of Church and Chester Avenues in Kensington. It was closed on Monday. One man, who has worshiped at the mosque for 15 years and gave his name only as Mohammad, said Mr. Ullah prayed there regularly, especially during Ramadan. Mr. Ullah, Mohammad said, was close to the mosque's imam and was often seen with him at afternoon prayers. But Mr. Yousuf, the cabdriver, said he had not seen Mr. Ullah at the mosque in the past five or six months.
From 2012 to 2015, Mr. Ullah held a license issued by the city to drive for-hire vehicles, city officials said. The officials were unable to say if Mr. Ullah had driven a yellow cab or for a private service like Lyft or Uber. It was also unclear, they said, if he had his own car or drove for an employer.
Police officials in Bangladesh said on Monday that they had never heard of Mr. Ullah, and the country's embassy in Washington issued a statement declaring a "zero tolerance" policy toward terrorism. "A terrorist is a terrorist irrespective of his or her ethnicity or religion," the statement said, "and must be brought to justice."
Condemnations of the bombing did little to lessen the confusion in Mr. Ullah's neighborhood.
"Nothing surprises me anymore today," Mr. Butrico said. "You don't know who your neighbors are. Can't trust nobody anymore."
An earlier version of this story misstated where the Bangladeshi community in Kensington, Brooklyn, ranks among New York City neighborhoods. It is the fifth-largest in the city, and the largest in Brooklyn; it is not the third-largest in the city.
Reporting was contributed by Luis Ferré-Sadurní, Sean Piccoli, William K. Rashbaum and Liz Robbins.
https://www.nytimes.com/2017/12/11/nyregion/akayed-ullah-port-authority-bombing-suspect.html?mtrref=www.google.co.in&gwh=814F5F2C036DDD3C13F7FA1299F572D1&gwt=pay
-------
'Attempted terrorist attack': Pipe bomb explosion in NYC leaves 4 injured; man in custody
December 11, 2017
The New York City police took a suspected pipe bomber into custody Monday after an explosion hit midtown Manhattan in what the mayor described as "an attempted terrorist attack."
Initial reports claimed the explosion was a possible pipe bomb that was detonated underneath the Port Authority. The Associated Press reported that a man had the device strapped to his body when he activated it on the subway.
The explosion was reported in the Port Authority Bus Terminal and left four people with non-life-threatening injuries, including the man who detonated the device, according to NBC News. He is in custody.
Police identified the suspect as Akayed Ullah.
Law enforcement officials said the man in custody is a 27-year-old who lived in Brooklyn and is possibly of Bangladesh origin, the New York Post posted.
"He did make statements, but we're not going to talk about that right now," James P. O'Neill, NYPD commissioner, said at a press conference when asked if the suspect claimed connection to the Islamic State.
Authorities declined to say whether the suspect said anything prior to detonating the device, only saying that was "part of the investigation." They said the device used was "based on a pipe bomb," adding that it was strapped to his body with "Velcro and zip ties."
Investigators also said the suspect has "serious injuries," but no one else was seriously harmed.
"This was an attempted terrorist attack," New York City Mayor Bill de Blasio confirmed in the same press conference.
The terminal was evacuated and subway trains are avoiding the Port Authority and Times Square stops, according to New York City Police Department.
"Today's attempted mass murder attack in New York City — the second terror attack in New York in the last two months — once again highlights the urgent need for Congress to enact legislative reforms to protect the American people," President Trump said in a statement.
The president has pushed for stricter regulations on both legal and illegal immigration, which White House press secretary Sarah Huckabee Sanders mentioned at the briefing on Monday.
"If his policy had been in place, then that attacker would not have been allowed to come in the country," Mrs. Sanders said.
Full report at:
https://www.washingtontimes.com/news/2017/dec/11/nypd-responding-reports-explosion-near-port-author/
-------
Some Alabama religious leaders worry faith is sacrificed to politics in Senate race
Dec. 11, 2017
MONTGOMERY, Ala. — Reed DePace doesn't preach about politics from the pulpit at his small Presbyterian church in Montgomery. He doesn't talk publicly about the contentious Senate race brewing in his state.
But DePace, pastor of the First Presbyterian Church of Montgomery, said he prayed Friday night that faith wouldn't be sacrificed at the altar of politics on Election Day.
"I'm scared about the continual abuse of the church, using the church as a source of power, using the church as nothing more than part of the coalition that you use to get elected," he said. "I understand that's how politics works… but can we figure out somehow to be gracious and kind and agree to be generous with one another. That's what scares me the most."
DePace and some other religious leaders in Alabama say they're concerned faith is being used for political not religious purposes in the Senate race pitting Republican Roy Moore against Democrat Doug Jones.
Both candidates have talked about their faith with Moore touting his Christianity as the core of his campaign and the basis for his positions on everything from same-sex marriage to abortion and immigration.
Jones hasn't promoted his Christianity as much, but regularly cites his faith on the campaign trail.
Mixing faith and politics in this Bible Belt state is not unusual, but some religious leaders from pastors to imams worry the role of faith has been heightened in this race – and not necessarily in a good way.
"The big issue between all of us is the way that we appropriate scripture," said Elizabeth O'Neill, pastor of Immanuel Presbyterian Church in Montgomery. "Our challenge is not to use it as a weapon one side or the other… My deep lament is the scripture is being used for political reasons by tapping into the power of that divide."
On recent Saturday afternoon, a steady stream of worshippers visited the Masjid Qasim Bilal El-Amin mosque in Montgomery. Imam William Abdullah said the Muslim population is growing in the city, which has for the most part welcomed them.
Abdullah said his mosque hasn't been involved in politics, and he doesn't think faith should be the focus of the campaigns.
"Islam is a way of life,'' he said. "It's not something you just do once a week it should be something you practice every day… If you're a Christian and you have concepts that you live by, let it be seen. Let it be seen in how you treat people.''
Abdullah said he is bothered that Moore has said Muslims shouldn't be allowed to serve in Congress. He was less troubled that Moore unsuccessfully tried to keep a Ten Commandments monument at a courthouse.
"If you just live by it, you don't have to put them up," Abdullah said.
Abdullah said the focus on faith distracts from other issues.
"All this religious talk just takes away from our real problems, discussing what our real problems are and trying to improve the life" of Alabamians, he said.
Robert L. McAdory , pastor of Faith Missionary Baptist Church, a small church in Bessemer, Ala., said he's also worried it's distracting from issues.
"When I look at politics we have enough people talking about what this person did, 'He did this and he did that,' but never tell us about what they're going to do,'' said McAdory minutes before changing into his robe for Sunday service. "If you're a Christian you don't have to talk about it all the time. Show it in the way that you treat other folk."
But Terry Batton, who is with the Christian Renewal and Development Ministries in Eufaula, Ala., says faith is key to his support of Moore, who has come under fire for allegations that he had inappropriate contact with teenage girls when he was in his 30s.
Moore denies those charges.
Batton questions the timing of the allegations and what he calls "too many holes in the story line. They have already convicted him."
He said Moore is innocent until proven guilty.
"Even if he was guilty, can not a person get forgiveness?" Batton said. "It has been a long time since we have had someone who has a track record that he has over the last 30 years to put his life, his career on the line" for his beliefs.
D'Linell Finley, a political scientist at Alabama State University and a Baptist preacher in Montgomery, said he doesn't object to religion and faith being used in politics or in government. But he questions whether Moore's positions should be used to represent faith.
"Nothing is wrong with using faith and politics as long as it's really about faith," Finley said. "This thing is more about politics, ideology and race. Religion is being used as a pretext to cover some of the darkest statements that you can make about race, including the anti-immigration fervor, the anti-Muslim fervor and some of the very subtle things that come through as anti-African American."
Finley said faith was a key political tool during the civil rights movement, particularly in bringing about changes in places like the Deep South.
"The church was the one institution that had the moral standing to question the inequality that we saw in this nation,'' he said. "I'm not sure that the kind of faith we're talking about today can be compared to the faith that we saw in the 50's and 60's that provided a moral foundation.''
Alabama state Rep. Ed Henry, a Republican and Moore supporter, said a candidate's faith should be a part of their campaign if it's important to them.
"I believe if your faith is important to you and who you are then it's a major portion of everything you do and every action you take whether it's your interaction with people in the grocery store or casting your vote,'' he said. "Your faith is your guiding principle that leads you through life."
Still, Henry said, "politicians should be very leery of standing on the corner ringing their bells about their faith. They should let their walk speak for itself.''
Henry said for decades Moore has put his actions before his words when it comes to his faith. "It's not just an empty advertisement,'' he said.
Kathy Albree, a retired teacher at an Episcopal school, said it's her faith that has her and her husband, Joe, more politically involved in this campaign.
"Our faith leads us to believe that everyone is equal, that God loves us all," said Albree, who attended a Jones rally Saturday. "He seems to be the kind of person who lives his faith and shows it through what he accomplishes in his life …There are those who like to wear it on their sleeves and unfortunately that has been a common theme in Alabama."
DePace said discussions about faith in the race have caused tension in some corners.
Full report at:
https://www.usatoday.com/story/news/politics/2017/12/11/some-alabama-religious-leaders-worry-faith-sacrificed-politics-senate-race/941914001/
-------
Donald Trump Has Never Stopped Lying About Muslims
12/11/2017
It's been just over two years since then-candidate Donald Trump called for a "total and complete shutdown of Muslims entering the United States." It's not quite 11 months since his administration first announced the institution of a travel ban on visitors from several majority-Muslim countries. And it's been two weeks since the president took time out from the debate over the Republican tax bill to share a series of violent anti-Muslim videos on Twitter. Indeed, Trump has used Islamophobia throughout his short political career, spreading hate and misinformation about Muslims to stoke his base and attack his opponents. Unsurprisingly, hate crimes targeting Muslims in the U.S. have risen two years running.
Here, for people of conscience who are concerned by the growth of Islamophobia in the U.S., are ten of the worst lies told by Donald Trump about Muslims:
10) Trump Mentions Non-Existent Terror Attack "Last Night In Sweden"
During a February 2017 rally in Florida, Trump told a cheering crowd: "You look at what's happening... We've got to keep our country safe. You look at what's happening in Germany, you look at what's happening last night in Sweden. Sweden, who would believe this?"
But there was no terror attack in Sweden. It simply never happened.
"Sweden? Terror attack? What has he been smoking?" tweeted former Swedish prime minster Carl Bildt.
9) Trump Says Neighbors Saw "Bombs All Over" San Bernardino Shooters' Apartment
During the second presidential debate between Trump and Hillary Clinton, a Muslim woman asked Trump how he would help millions of Muslims in the U.S. overcome the stereotype that they pose a threat. Trump responded by referring to the December 2015 San Bernardino shooting and insinuating that Muslims knew about the attack beforehand:
"In San Bernardino, many people saw the bombs all over the apartment of the two people that killed 14 and wounded many, many people... Muslims have to report the problems when they see them,"
Both the Los Angeles Times and Washington Post found that there was "no evidence" to support Trump's claim.
8) A Fake Story On General Pershing's Pig Blood Massacre Of Muslim Insurgents
In August 2017, Trump bizarrely tweeted: "Study what General Pershing of the United States did to terrorists when caught. There was no more Radical Islamic Terror for 35 years!"
According to Time, this tweet referenced a false story that Trump told at rallies more than once on the campaign trail. Trump claimed that during the Moro rebellion in the Philippines, U.S. General John "Blackjack" Pershing executed captured Muslim insurgent prisoners with bullets dipped in pig's blood.
Notwithstanding the fact that executing captured prisoners is a war crime, the general conclusions from all experts was that Trump's story was bogus, implausible, and an insult to the memory of an American hero.
"I've never met an American officer who would carry out an order to commit an atrocity like this [war cime]," David French wrote in National Review.
7) Trump Shares Inflammatory Anti-Islam Videos
Just last month, the president of the United States retweeted a series of videos shared by the right-wing British group Britain First, including one of a dark-haired teenager assaulting a blonde, Dutch teenager on crutches, with the erroneous caption: "Muslim migrant beats up Dutch boy on crutches!"
The Dutch government quickly corrected the president:
6) Trump Falsely Claims Botched Casino Robbery Was A Terror Attack
In June 2017, just before announcing that the U.S. would be leaving the Paris climate agreement, Trump began his remarks by saying that "our thoughts and our prayers" are with those affected by the "terrorist attack in Manila."
"We are closely monitoring the situation and I will continue to give updates, anything happens, during this period of time," he said. "But is really pretty sad what is going on throughout the world with terror."
CNN reported that Philippines national police chief Gen. Dela Rosa said that the shooting incident at a Manila casino was an "attempt by a lone thief to rob gamblers rather than a terrorist attack."
According to NBC News, a U.S. intelligence official said that Trump "was freelancing" with the terrorism declaration and "a laugh went up in the Situation Room" in response to the comments.
5) Trump Suggests Muslim Gold Star Mother Was Not Allowed To Speak
The undisputed highlight of the 2016 Democratic National Convention was when Muslim Gold Star parents Khizr and Ghazala Khan took the stage to challenge Trump's proposed ban on Muslims from entering the United States.
"We are honored to stand here as the parents of Captain Humayun Khan [who was killed in Iraq in 2004 and posthumously awarded The Bronze Star] and as patriotic American Muslims with undivided loyalty to our country."
Trump's response to the New York Times's Maureen Dowd, playing on ignorant assumptions of strict patriarchy in Muslim families, was brief: "I'd like to hear his wife say something."
"His wife... she had nothing to say," Trump told ABC News journalist George Stephanopoulos. "Maybe she wasn't allowed to have anything to say. You tell me."
"Donald Trump said that maybe I wasn't allowed to say anything. That is not true," wrote Ghazala Khan in a piece for The Washington Post. "My husband asked me if I wanted to speak, but I told him I could not... Donald Trump said he has made a lot of sacrifices. He doesn't know what the word sacrifice means."
4) Trump Claims Hillary Clinton Would Allow 620,000 Syrian Muslim Refugees Into America
"Altogether, under the Clinton plan, you'd be admitting hundreds of thousands of refugees from the Middle East with no system to vet them, or to prevent the radicalization of their children," Trump lied in June of last year.
At a September rally in North Carolina, he got more specific, "Altogether, Hillary Clinton's plan would bring in 620,000 refugees in her first term alone with no effective way to screen or vet them."
Not even close.
As reported by HuffPost, Hillary Clinton proposed in September 2015 that the U.S. should welcome up to 65,000 refugees from Syria ― only 10 percent the number Trump erroneously stated.
3) Trump Says "There's No Real Assimilation" By U.S. Muslims
During a June 2016 interview, Fox News host Sean Hannity set up a question with the Islamophobic premise that many Muslim immigrants "want to proselytize, indoctrinate and bring their theocracy with them." Trump took the bait: "Assimilation has been very hard. It's almost — I won't say nonexistent, but it gets to be pretty close. And I'm talking about second and third generation. They come — they don't — for some reason, there's no real assimilation."
According to PolitiFact, the implication of what Trump said — that Muslims want to isolate themselves from the mainstream American culture — is "flat wrong."
They cited a 2011 Pew Research Center study which concluded that "Muslim Americans appear to be highly assimilated into American society."
2) Trump's Outrageous Claim That "Thousands" Of Muslims Celebrated 9/11 In New Jersey
One of the most blatantly insidious lies ever told by Donald Trump was the complete fabrication that thousands of American Muslims in New Jersey were cheering the 9/11 attacks on television.
"I watched in Jersey City, New Jersey where thousands and thousands of [Muslim] people were cheering as that building was coming down. Thousands of people were cheering," he once told a campaign rally in Alabama.
The next day, ABC This Week host George Stephanopoulos asked Trump if he misspoke. "It was on television. I saw it," Trump said to Stephanopoulos. "It was well covered at the time, George. Now, I know they don't like to talk about it, but it was well covered at the time. There were people over in New Jersey that were watching it, a heavy Arab population, that were cheering as the buildings came down. Not good."
This never happened. Politifact ― winner of the 2009 Pulitzer Prize ― said that this was a "pants on fire" lie by Donald Trump.
1) Trump Fuels Birther Controversy Saying Barack Obama Is A Muslim
Most people have completely forgotten that the whole "birther" controversy around President Barack Obama had largely faded to the fringes until it was revived by none other than Donald J. Trump in 2011.
In an interview with right-wing radio host Laura Ingraham, Trump first questioned Obama's citizenship when he said that, "He doesn't have a birth certificate ― or if he does ― there's something on that certificate that is very bad for him... Perhaps it would be — that where it says 'religion,' it might have 'Muslim' ... And if you're a Muslim, you don't change your religion," insinuating that Obama was a crypto-Muslim Manchurian candidate.
Full report at:
https://www.huffingtonpost.com/entry/donald-trump-lies-about-muslims_us_5a2db9c1e4b0a290f051c193
-------
Call for Muslim Action Against US Quds Policy
December 12, 2017
M ajlis Speaker Ali Larijani has called on Muslim countries to take serious action against Washington's decision to recognize Beit-ul-Moqaddas as Israel's "capital" and start the process of relocating the US Embassy from Tel Aviv to the holy Quds.
"We expect Islamic countries to adopt a unified stance against the United States and take practical measures so that the US will not repeat such domineering behavior," Larijani said on Sunday, Fars News Agency reported.
US President Donald Trump on Wednesday announced the new US policy on Quds, which marked a break from the approach adopted by his predecessors who had tried to avoid actions that would inflame tensions in the region.
"Even US allies denounced the irrational move and Islamic countries voiced opposition," Larijani said.
The top lawmaker outlined two possibilities regarding the stance taken by regional countries allied with Washington such as Saudi Arabia who have offered hundreds of billions of dollars to the US in exchange for weapons.
He said the countries are to blame whether they have been aware of the development or kept in the dark by their ally.
"If the United States made the move without informing them, they would suffer the most damage, because this would show the US had absolutely no trust in nor respect for these countries. Trump repaid their financial generosity by sacrificing the [Palestinian] cause of Arab and Islamic countries for the sake of the Zionist regime," Larijani said.
"But if they were aware of the announcement beforehand, this signifies the utmost political impotence of these countries. Muslim nations will never forget this."
Utmost Incompetence
Trump's announcement has prompted strong criticism from top Iranian officials.
Leader of Islamic Revolution Ayatollah Seyyed Ali Khamenei said on Wednesday that the decision displayed the desperation of Washington and Tel Aviv in the face of Islamic resistance.
President Hassan Rouhani slammed the move and urged Muslims all over the world to speak up against it.
"Tehran will not tolerate a violation of Islamic sanctities," he said.
The Foreign Ministry issued a statement on Thursday denouncing the decision, saying that the "provocative and unwise" move could inflame a new intifada (uprising) against Israel.
The development also sparked widespread global outcry. Countries and political figures from around the world, US allies or foes alike, have voiced disapproval over Trump's decision.
Full report at:
https://financialtribune.com/articles/national/77710/call-for-muslim-action-against-us-quds-policy
-------
De-radicalization can work for former ISIS fighters
December 12, 2017
Canada's spy agency, CSIS, recently revealed that 60 foreign fighters who joined ISIS and other terror groups in Syria and Iraq are now back and living in Canada.
Their fate has sparked fierce debate in Canada's Parliament between Prime Minister Justin Trudeau and Conservative Leader Andrew Scheer.
Scheer has expressed concerns about the national security threat posed by these fighters, while Trudeau pledged to prosecute those who broke Canada's anti-terrorism laws. The prime minister is also in favour of reintegrating these radicalized citizens into society through de-radicalization programs.
Who are they?
In 2015, the standing Senate committee on National Security and Defence released a report entitled Countering the Terrorist Threat in Canada. It provided details about the more than 130 Canadians who joined organizations such as ISIS.
However, there is scant explanation into how these individuals shifted from beer and hockey to engaging in terrorist acts abroad. What made ISIS attractive to both Canadian converts like Damien Clairmont and Andre Poulin and born-again Muslims such as Abu Turaab al-Kanadi?
Many of these ISIS followers — Western converts and newly observant Muslims alike — had issues of identity in common. Some had troubled childhoods and intense struggles with their identities, sparking a great deal of inner confusion and turmoil.
John McCoy, a Canadian terrorism expert, explains the phenomenon by looking at the European context.
He notes that many of the terrorists who perpetrated the attacks in Nice, Paris and Belgium were born or raised in Europe in ghettoized suburbs.
"They are individuals who do not have direct connections to the land and culture of their parents and never felt welcome in the society in which they were raised. They are stuck between two worlds."
Islam a convenient outlet
For these young men, Islam became an outlet for voicing anger, discontent and identity confusion.
French political scientist Oliver Roy has offered a novel perspective on understanding terrorism that he calls "the Islamization of radicalism."
In an article in the Guardian, Roy claims that "far from exonerating Islam, the 'Islamization of radicalism' forces us to ask why and how rebellious youths have found in Islam the paradigm of their total revolt."
And so it's not that Islam is becoming radicalized, but rather political radicalization has been Islamicized.
Providing examples of Western radical youth, such as the Baader-Meinhof gang in Germany and the Red Brigades in Italy, he points to many similarities with Western jihadists today, regardless of whether they're Muslims or converts.
Roy's idea of the Islamization of radicalism offers a sound explanation for the appeal of jihad for Western recruits in particular.
How to de-radicalize
De-radicalization is defined by John Horgan, a professor of security studies at Georgia State University, as "the social and psychological process whereby an individual's commitment to, and involvement in, violent radicalization is reduced to the extent that they are no longer at risk of involvement and engagement in violent activity."
It can be achieved through programs that are geared towards moving people smoothly and peacefully from violent extremism. These programs can take different shapes, subjects, aims and sizes.
Recent research by academics and researchers underscores that radicalization and extremism can be eroded in several ways using various approaches.
We have our own example here in Canada. Abu Huzaifa served as an ISIS enforcer in Syria but left the group and came to realize he'd been deceived. After coming back to Canada and working with Mubin Shaikh, a Toronto-born de-radicalization expert, Huzaifa has been successfully de-radicalized.
De-radicalization is a major component of counter-terrorism, and should be holistic and comprehensive. Governments and civil society should employ multiple preventive mechanisms instead of focusing on military and security approaches.
By locking up radicalized individuals, the problem of radicalization isn't solved. Instead, these individuals often set up recruitment networks inside the prisons. Guantanamo Bay prison is an illustrative example — many of the extremists who have been jailed there for long periods rejoined terrorist groups when deported to their home countries.
Marisa Porges, an American foreign policy expert, argues that "at least 74 Guantanamo detainees — one in five of those freed — returned to terrorist activity after release." One of them, she wrote, fled to Yemen after release and became deputy commander of al-Qaida in the Arabian Peninsula.
No zero risk
No country is immune to terrorism. There is no zero risk.
International and regional conflicts will continue to shape and mould the nature of terrorist threats to Canada. But in order to address the issue of violent extremist groups, counter-terrorism ought not to revolve solely around military action.
There must also be a comprehensive approach that incorporates education, policing, community, health, culture and democracy. Academic research suggests that terrorism could be significantly diminished via several approaches: Crime prevention, community engagement and public health policies.
Despite the sensitivity of the issue, especially when the safety and security of Canadian citizens are at stake, Trudeau's approach could therefore be deemed the most effective and efficient.
Full report at:
https://theconversation.com/de-radicalization-can-work-for-former-isis-fighters-88686
-------
URL: https://www.newageislam.com/islamic-world-news/saudi-arabia-lift-35-year/d/113542
New Age Islam, Islam Online, Islamic Website, African Muslim News, Arab World News, South Asia News, Indian Muslim News, World Muslim News, Women in Islam, Islamic Feminism, Arab Women, Women In Arab, Islamophobia in America, Muslim Women in West, Islam Women and Feminism