New Age Islam News Bureau
1 Jun 2014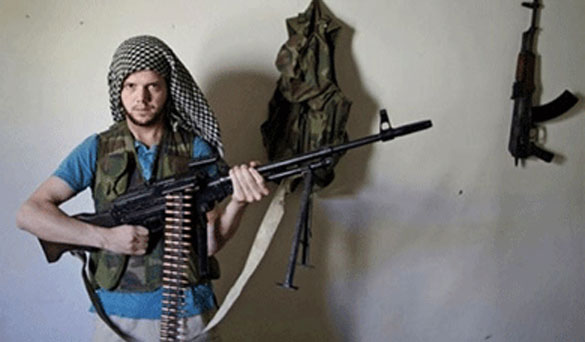 Photo: Ecuador Calls for Immediate Halt in Arms Shipment to Rebels in Syria
------------
Arab World
• Saudi Arabia Tests Cadbury Chocolates for Pork Traces
• President Assad: Thanks to Our People Syria Remains Firm
• Mortar Attacks Kill 5 Civilians, Injure 4 Others in Aleppo
• Saudi inter-religious centre warns against extremist views
• Egypt's PM Mahlab's government to officially step down next week
• UAE, Saudi Arabia to Provide Egypt with Extra $20 bln following Presidential Election
Africa
• Boko Haram Releases Priests, Nun Abducted In Cameroon
• Al-Qaeda urges Libyans to fight rogue General Haftar
• Morocco, Tunisia sign 20 bilateral pacts
• W. Africa seeks regional effort against Boko Haram
• Haftar: some Libyan officials support al-Qaeda
South Asia
• 34 Taliban militants killed, 16 injured in counter-terrorism operations
• 4 Taliban militants killed in Kunar public uprising
• Taliban leader Mullah Omar says prisoner swap "big victory"
• Taliban bomb leaves 2 children dead in Kandahar
• China wages integrated anti-terrorism war
• Afghan high peace council welcomes release of 5 senior Taliban leaders
• Maldives' peacekeeping troops to be deployed over next two years
Pakistan
• Salman Taseer was a real hero of Pakistan: Bilawal
• Minister calls for imposition of Article-6, pertaining to high treason, on Imran Khan
• 'Pakistani businessmen to make inroads in Bosnia to tap huge trade potential'
• Zardari warns govt against political victimisation
• Govt to work for uplift of all provinces, says Sharif
• Travel restrictions on Pakistan by WHO to be enforced from today
• Former rulers put nation's future under threat: Shahbaz Sharif
• Fata clashes spill over into Afghanistan
India
• Amid 370 row, JKLF to start 'Quit Kashmir' movement
• Afghanistan offers 'safer' sites to shift Herat mission
North America
• Anti-Islam ad sparks US free speech debate
• Obama hails US soldier's release from Taliban
• U.S. insists Assad must go, but expects he will stay
• Obama: Qatar gave security guarantees on transferred prisoners
• US rejects Palestinians claims it invited unity government PM to Washington
Mideast
• Israel: World must not recognize Palestinian govt
• Iran has air defence system more advanced than Russian S-300
• Palestinian unity government to be announced Monday, despite Israeli threats
• Iran executes man convicted of 'enmity against God'
• Zionist Entity Denies West Bank Entry for Gaza Future Ministers
• Iran Voices Regret over US Decision to Train Terrorists in Syria
Southeast Asia
• Islamic students to get aerospace studies scholarship if 'they memorise Quran'
• For the presidential candidate, a Dangerous Dalliance with Islamic Hard-Liners
• DAP laments failure of voters to return to Teluk Intan for by-election
Europe
• Ecuador Calls for Immediate Halt in Arms Shipment to Rebels in Syria
• Jewish museum shooting: suspect with ties to Syrian radicals arrested
• Nearly 800 killed in Iraq's bloodiest month this year: UN
• UK probes Briton's 20-year jailing in Iran for Facebook posts
Compiled by New Age Islam News Bureau
URL: https://www.newageislam.com/islamic-world-news/new-age-islam-news-bureau/saudi-arabia-tests-cadbury-chocolates-for-pork-traces/d/87297
------------
Arab World

Saudi Arabia tests Cadbury chocolates for pork traces
Reuters | Jun 1, 2014
RIYADH: Saudi Arabian authorities on Saturday said they are testing chocolate bars made by British confectioner Cadbury for traces of pork DNA after two of its products in Malaysia were found to violate Islamic standards.
The Saudi Food and Drug Authority said in a statement published on its website that it had taken samples of Cadbury chocolates from the local market to test for contamination.
Pork is strictly prohibited in Islam. Saudi Arabia, the religion's birthplace, adheres to one of the world's most stringent forms of the faith.
The statement said that Cadbury products on sale in Saudi Arabia, an ultra conservative Muslim country, were not manufactured in Malaysia, but added that "strong measures" would be taken if the chocolates being tested revealed any traces of pork.
The scandal over the ingredient discovered in Malaysian Cadbury's chocolates has prompted outrage among some Muslim groups in the country, who have called for a boycott on all products made by the company, and its parent, Mondelez International Inc.
On Friday, Indonesia, the most populous Muslim nation, also said that it was testing Cadbury products to check that they complied with Islamic standards.
Malaysian authorities have warned that it remains unclear if the contamination of two varieties of Dairy Milk chocolate bar with pork was Cadbury's fault or was a result of "external factors".
Cadbury Malaysia, in a statement, said that it had withdrawn the two products as a precaution and that it had no reason to believe there was pork-related content in its other foods.
"We stand by our halal certification and we have the highest levels of product labelling standards," it said.
http://timesofindia.indiatimes.com/world/middle-east/Saudi-Arabia-tests-Cadbury-chocolates-for-pork-traces/articleshow/35904376.cms
------------
President Assad: Thanks to Our People Syria Remains Firm
Jun 1, 2014
Presidnet Bashar al-Assad hailed the Syrian people, saying they have enabled their country to remain firm and thwart the foreign schemes plotted against it.
As he received dignitaries from the Syrian capital, President Assad praised Damascus city, which he said has withstood all invaders and held firm throughout history.President Assad as he received dignitaries from Damascus
The Syrian leader stressed that the power of any country stems from that of its people, official news agency, SANA, reported Saturday.
"Was it not for the high popular sentiment, Syria would not have been able to remain firm and frustrate the externally-plotted schemes against it," Assad told the dignitaries who took part in the reconciliation efforts in various areas.
For their part, the dignitaries underscored the significance of national reconciliations which are underway in several areas across Syria.
They also expressed support to the Syrian army in its battle against terrorism, as they vowed to spare no effort in order to ensure security and stability.
http://www.almanar.com.lb/english/adetails.php?eid=154306&cid=23&fromval=1&frid=23&seccatid=20&s1=1
------------
Mortar Attacks Kill 5 Civilians, Injure 4 Others in Aleppo
Jun 1, 2014
Five civilians were killed and four others were injured Sunday by terrorist mortar attacks in Aleppo.
A source at Aleppo governorate told the state media that militants fired mortar shells on neighborhoods of al-Jamilya, al-Meridian, Saadallah al-Jabery and surrounding the municipal palace.
http://english.farsnews.com/newstext.aspx?nn=13930311001078
-----------
Saudi inter-religious center warns against extremist views
1 June 2014
The Secretary-General of King Abdullah Bin Abdulaziz Center for Inter-religious and Inter-cultural Dialogue has cautioned against extremist interpretations of religious teachings or political ideologies.
Faisal Bin Muammar said extremist views should be confronted with sound scientific and logical information regarding universal human values that all religions agree upon.
He explained that all religions agree on preserving basic human rights, such as the right to life, safety and security, co-existence and tolerance.
Bin Muammar added that no group or organization had the right to attack these rights.
This article appeared in the Saudi Gazette on June 1.
http://english.alarabiya.net/en/News/middle-east/2014/06/01/Saudi-inter-religious-center-warns-against-extremist-views.html
------------
Egypt's PM Mahlab's government to officially step down next week
Jun 1, 2014
Egypt's Prime Minister, Ibrahim Mahlab, announced Sunday that he will officially resign once the president-elect swears the constitutional oath, Al-Ahram Arabic news website reported.
Mahlab added he would make slight changes in the current government in case Egypt's newly elected president asks him to form a new government.
He underlined that his government, that was appointed 90 days ago, has worked on all issues that concern Egyptians and will continue to work until the last day in office.
Mahlab said in a press conference held late Saturday that the presidential elections held last week were fair and that the Egyptian people chose a leader that will help the country move forward.
Full report at:
http://english.ahram.org.eg/NewsContent/1/64/102629/Egypt/Politics-/Mahlabs-government-to-officially-step-down-next-we.aspx
------------
UAE, Saudi Arabia to Provide Egypt with Extra $20 bln following Presidential Election
Jun 1, 2014
A senior Egyptian official said that the United Arab Emirates and Saudi Arabia will provide Egypt with up to $20 billion in a new aid package to be negotiated following the inauguration of the new president.
"Riyadh and Abu Dhabi have already halted any negotiations on economic support pending the outcome of the presidential elections," Middle East Monitor reported, saying, "The Saudi Arabia has already officially informed Egypt, during talks with the former Prime Minister Dr Hazem Beblawy, that the continued support of Egypt is conditioned on the accession of Field Marshal Abdel Fattah Al-Sisi as president, and no one else."
According to the report, the package will include deposits in the central bank to support the Egyptian pound, which has lately suffered a drop against the US dollar. "It will also include low-interest loans; investments in water and sanitation projects; schools; the financing of projects for low-income citizens and the poor; the establishment of a Saudi-funded residential city in El Alamein; financing the creation of silos for storing grain; fulfilling Egypt's petroleum products needs; particularly gas and diesel; and encouraging investors from both countries to pump huge investments into Egypt to revive its economy."
Full report at:
http://english.farsnews.com/newstext.aspx?nn=13930311001247
------------
Africa
Boko Haram releases priests, nun abducted in Cameroon
Jun 1, 2014
Militant group Boko Haram released two Italian priests and a Canadian nun it abducted in northern Cameroon in April, national television reported on Sunday.
Priests Giampaolo Marta and Gianantonio Allegri and nun Gilberte Bussier, who had been kidnapped from their parish in Tcherein Cameroon's Far North region on April 4, were released in the early hours of Sunday near the Nigerian border.
Security forces escorted them to the military base in Maroua, from where they were flown on board a military aircraft to the capital, Yaounde.
http://www.thehindu.com/news/international/world/boko-haram-releases-priests-nun-abducted-in-cameroon/article6072125.ece
------------
Al-Qaeda urges Libyans to fight rogue General Haftar
Jun 1, 2014
Al-Qaeda in the Islamic Maghreb urged Libyans to fight a rogue general who is pressing an offensive against Islamist militias in the country's east, labelling him an "enemy of Islam".
Last month, ex-general Khalifa Haftar unleashed forces from his so-called National Army on Islamist militias in Benghazi in a campaign dubbed "Operation Dignity".
"We call on you to unite to remove the symbol of treachery and apostasy, Khalifa Haftar, and the supporters of (late dictator Muammar) Qaddafi who are under his command," AQIM said in a statement posted on jihadist Internet forums.
"Thanks to the support of the bloodthirsty (Egyptian president elect Abdel Fattah al-) Sisi, American complicity and funding from Gulf countries, the traitor Haftar has launched a war against Islam on the pretext of fighting terrorism," it said.
"We warn our Libyan brothers that the criminal Haftar is carrying out a crusader plan against sharia (Islamic law), and we especially urge the Libyan heroes of the revolution to strongly resist it".
Full report at:
http://english.alarabiya.net/en/News/middle-east/2014/06/01/Al-Qaeda-urges-Libyans-to-fight-rogue-General-Haftar.html
------------
Morocco, Tunisia sign 20 bilateral pacts
Jun 1, 2014
TUNIS – Moroccan King Mohamed VI arrived in Tunis on Friday for his first official visit to the country since the January 2011 popular uprising.
The king, whose three-day visit comes at the invitation of Moncef Marzouki, was met by the Tunisian president at the airport in Aouina near the capital mid-afternoon.
Eleven ministers and some 90 businessmen are accompanying the king on the visit.
Around 20 bilateral agreements, in both the private and public sectors, are due to be signed during the visit, according to the president's office.
Mohamed VI also meet Prime Minister Mehdi Jomaa on Saturday and give a speech to the National Constituent Assembly at 1530 GMT. Shortly after his election to the presidency in 2012, Marzouki visited Morocco, a country he is familiar with having lived there.
http://www.saudigazette.com.sa/index.cfm?method=home.regcon&contentid=20140601206981
------------
W. Africa seeks regional effort against Boko Haram
Jun 1, 2014
The West African bloc announced plans Saturday to increase cooperation with Central African states in the battle against "terrorism", amid fears of Boko Haram's insurgency spreading across the region.
Nigeria has repeatedly said it needs more help from its central African neighbours -- including Chad, Cameroon and Niger -- to end the brutal five-year insurgency being waged by the Islamists.
In the final communique of an extraordinary security summit, the Economic Community of West African States (ECOWAS) said it would "establish a high level partnership with Central African States to effectively combat terrorism."
Nigeria insists that Boko Haram fighters escape military pursuit by fleeing across the porous borders of its northeastern neighbours and some analysts believe senior Boko Haram commanders are in fact based in Cameroon.
Nigeria's presidency has accused Cameroon of not doing enough to help defeat Boko Haram.
The call at the West Africa summit follows a joint declaration of war against Islamist insurgents by Nigeria, Chad, Cameroon and Niger at a meeting in Paris.
On Mali, ECOWAS urged the United Nations to strengthen its peacekeeping force deployed in the country, which is known as MINUSMA.
Full report at:
http://english.ahram.org.eg/NewsContent/2/9/102598/World/International/W-Africa-seeks-regional-effort-against-Boko-Haram.aspx
------------
Haftar: some Libyan officials support al-Qaeda
Jun 1, 2014
Renegade ex-general Khalifa Haftar warned that some of the country's National Libyan Congress - the main body of lawmakers - support al-Qaeda and other radical groups in an interview with an Egyptian daily published on Friday.
When asked about jihadist groups that have targeted Libyan police and troops since the fall of former Libyan leader Muammar Qaddafi in 2011, Haftar, the self-declared leader of the Libyan National Army, described these groups as "belonging to al-Qaeda, and its heads are present in the National Congress itself."
He lamented how the Libyan people have put their trust in the National Congress to rebuild the country, but instead "[these National Congress members] used their positions to bring terrorist elements from al-Qaeda and Ansar al-Sharia, even some others from jihadist movements."
Full report at:
http://english.alarabiya.net/en/News/africa/2014/05/31/Haftar-some-Libyan-officials-support-al-Qaeda-.html
----------
South Asia
34 Taliban militants killed, 16 injured in counter-terrorism operations
Jun 01 2014,
At least 34 Taliban militants were killed following military operations conducted by Afghan national security forces in the past 24 hours.
The interior ministry of Afghanistan following a statement said the operations were jointly conducted by Afghan national police, Afghan national army and Afghan intelligence – national directorate of security (NDS).
The statement further added that 34 Taliban militants were killed, 16 militants were injured and 11 others were detained during the operations.
Interior ministry in its said the operations were conducted in Logar, Paktika, Ghor, Nangarhr, Baghlan, Kunduz, Balkh and Maidan Wardak provinces.
Afghan national security forces also confiscated various types of weapons, ammunition and explosives during the military operations.
The statement by interior ministry did not disclose further information regarding the casualties of Afghan national security forces during the operations.
http://www.khaama.com/34-taliban-militants-killed-16-injured-in-counter-terrorism-operations-8183
------------
4 Taliban militants killed in Kunar public uprising
Jun 01 2014
At least four Taliban militants have been killed following public uprising in eastern Kunar province of Afghanistan.
According to local government officials, dozens of Nari district residents have participated in public uprising against the Taliban militants.
Provincial security chief, Gen. Abdul Habib Syed Khel said the public uprising in Nari district started three days ago.
In the meantime, the public uprising forces have claimed they have killed four Taliban militants were killed and arrested 12 others during the campaign.
Public uprising against Taliban militants in Kunar province started last year after Dangam district residents picked up weapon against the Taliban militants who were torturing local residents.
http://www.khaama.com/4-taliban-militants-killed-in-kunar-public-uprising-8185
------------
Taliban leader Mullah Omar says prisoner swap "big victory"
Jun 1, 2014
KABUL: Taliban supreme leader Mullah Mohammad Omar on Sunday hailed the release of five senior insurgents in exchange for US soldier Bowe Bergdahl as a "big victory".
"I extend my heartfelt congratulations to the entire Afghan Muslim nation, all the mujahideen and to the families and relatives of the prisoners for this big victory regarding the release of five Taliban leaders from Guantanamo prison," he said in a rare statement.
"I thank the government of Qatar, especially its emir Sheikh Tamim bin Hamad (Al Thani), who made sincere efforts for release of these leaders and for their mediation and for hosting them," he added.
Mullah Omar was Afghanistan's de facto head of state during their 1996-2001 rule over Afghanistan. He has continued to lead the group's insurgency since they were ousted from power.
Full report at:
http://www.dawn.com/news/1109917/transfer-of-five-gitmo-detainees-brings-great-happiness-taliban
------------
Taliban bomb leaves 2 children dead in Kandahar
Jun 01 2014
At least two children were killed following an improvised explosive device (IED) explosion in southern Kandahar province of Afghanistan.
According to local government officials, the incident took place in Daman district on Sunday morning.
The officials further added that children were playing in the area when they struck with an improvised explosive device planted by Taliban militants.
Another child was also injured following the explosion, the officials said.
No group including the Taliban militants has so far claimed responsibility behind the incident.
Local officials blame Taliban group for the incident as Taliban fighters frequently use improvised explosive device (IED) to target the security forces which normally leads to civilian casualties.
http://www.khaama.com/taliban-bomb-leaves-2-children-dead-in-kandahar-8187
------------
China wages integrated anti-terrorism war
Jun 1, 2014
BEIJING: Police in China's far-western Xinjiang region have offered rewards for citizens who turn over guns, explosives or provide tips in the latest move in the region's year-long special anti-terrorism campaign.
The campaign was launched after a terrorist attack on May 22 in an open market in Urumqi killed 39 innocents and injured 94 others, which was the deadliest attack in recent years in the region. Individuals will be given 100 yuan (16.2 U.S. dollars) for turning over a grenade, landmine or source bomb, 30 yuan for a detonator, 20 yuan for each kg of dynamite and 10 yuan for each kg of gunpowder, said the reward document, which took effect on Tuesday.
Citizens who provide tips on specific large amounts of explosives, guns and knives will also be given rewards of up to 10,000 yuan. Those whose tips play an especially important role in preventing or breaking up an explosives-related terrorist case will be rewarded between 5,000 yuan and 30,000 yuan. On Friday, eight suspects were indicted in Urumqi, capital of Xinjiang, for their roles in a terrorist attack which left two pedestrians dead and 40 injured at Beijing's Tian'anmen Square in October.
Full report at:
http://www.dailytimes.com.pk/region/01-Jun-2014/china-wages-integrated-anti-terrorism-war
------------
Afghan high peace council welcomes release of 5 senior Taliban leaders
Jun 01 2014
Afghan high peace council (HPC) welcomed the release of five senior Taliban leaders from Guantanamo jail who were released in swap for US soldier.
HPC officials said the release of Taliban prisoners will help Afghan peace process with the Taliban militants group.
The officials further added that the high peace council was engaged for the freedom of the Taliban leaders since their release will create a better environment for the peace process.
The five Taliban leaders, Mulla Muhammad Fazal Akhund, Mulla Noorulla Noori, Mulla Khairulla Khairkhwa, Mulla Abdul Haq Waseeq, Moulavi Muhammad Nabi, were released from Guantanamo detention facility on Saturday in swap for the abducted US soldier, Sgt. Bowe Bergdahl.
Full report at:
http://www.khaama.com/afghan-high-peace-council-welcomes-release-of-5-senior-taliban-leaders-8188
------------
Maldives' peacekeeping troops to be deployed over next two years
By Daniel Bosley | June 1st, 2014
The Maldives has signed an MOU with the UN, agreeing to actively contribute to peacekeeping operations as observers and infantry.
The agreement, signed in New York by the Maldives ambassador to the UN Ahmed Sareer last week, is the first of its kind to be signed by the country.
"This agreement marks a new era in relations between the Maldives and the UN," said Sareer upon signing the agreement with UN Under Secretary-General Hervé Ladsous.
"With the maturation of the Maldivian State, we look forward to taking up the mantle of leadership in all of our international endeavors. No matter how small the nation, all have an obligation to maintaining and sustaining the security of populations across the globe."
A small contingent of military observers and infantry personnel will be deployed over the next two years, explained a press release from the Foreign Ministry.
Full report at:
http://minivannews.com/politics/maldives-peacekeeping-troops-to-be-deployed-over-next-two-years-86200
----------
Pakistan
Salman Taseer was a real hero of Pakistan: Bilawal
June 01, 2014
Karachi- Bilawal Bhutto Zardari, Patron-in-Chief, Pakistan Peoples Party has paid a rich tribute to Governor Salman Taseer on his birthday and stated he would have become the voice against inhumane incidents occurring in our society.
Bilawal Bhutto said if Shaheed Salman Taseer would have been alive, he would have continued his struggle in giving voice to the poor and down trodden masses of the society.
In a press statement issued here, the Patron-in-Chief PPP said that people like Salman Taseer are real heroes of Pakistani nation who laid down their lives for the protection of weak segments of the society and did not care about the threats to their life.
Bilawal Bhutto Zardari said Pakistan and its peopls are indebted to its heroes like Salman Taseer and will never forget the sacrifices of the PPP leaders and workers to make our society an egalitarian one where the elements who want to impose their nefarious agenda on gun-point get no room.
http://www.nation.com.pk/national/01-Jun-2014/salman-taseer-was-a-real-hero-of-pakistan-bilawal
------------
Minister calls for imposition of Article-6, pertaining to high treason, on Imran Khan
June 01, 2014
FAISALABAD- State Minister for Water and Power Abid Sher Ali has come up with a demand to initiate proceedings against Imran Khan and his supporters under Article-6 of the Constitution.
Article-6 pertains to high treason, which reads "Any person who abrogates or subverts or suspends or holds in abeyance, or attempts or conspires to abrogate or subvert or suspend or hold in abeyance, the Constitution by use of force or show of force or by any other unconstitutional means shall be guilty of high treason."
It also states, "Any person aiding or abetting? or collaborating the acts mentioned in above clause shall likewise be guilty of high treason."
Talking to journalists in Faisalabad, Abid Sher Ali said "the government won't allow foreigners to disrupt peace in the country." He claimed his party will run over all forces obstructing the national agenda. Attempts are being made to stir clash between state institutions, said the minister. Ali stated that record investment was being made in the country.
http://www.nation.com.pk/national/01-Jun-2014/abid-calls-for-imposition-of-article-6-on-imran-khan
------------
'Pakistani businessmen to make inroads in Bosnia to tap huge trade potential'
Jun 1, 2014
LAHORE: The Ambassador-designate to Bosnia-Herzegovina Lt Gen (retd) Muhammad Yousaf urged Pakistani businessmen to make inroads in Bosnia to tap huge trade potential exists in Eastern European countries.
Talking at Lahore Chamber of Commerce and Industry (LCCI) he said interaction with the Bosnian businessmen would enable Pakistan private sector to get access to whole of Balkan region that mostly comprises Muslims.
He informed the participants there were strong signals Bosnia was likely to join European Union (EU) group in near future and any business in that part of the world would bound to win EU.
He said he would make all out efforts to turn Pakistan mission into Bosnia a match making point for the business community in the two countries.
Full report at:
http://www.dailytimes.com.pk/business/31-May-2014/pakistani-businessmen-to-make-inroads-in-bosnia-to-tap-huge-trade-potential
------------
Zardari warns govt against political victimisation
Jun 1, 2014
ISLAMABAD: Former president and PPP co-chairman Asif Ali Zardari has warned the government against the alleged victimisation of PPP members.
In a statement on Saturday, Mr Zardari said he was "shocked" that while the PPP was seeking to protect the democratic system through political reconciliation, the government was "chasing opponents and thereby undermining the unity of political forces".
He "deplored" the alleged victimisation of former premiers Yousuf Raza Gilani and Raja Pervez Ashraf and former commerce minister Makhdoom Amin Fahim.
The PPP co-chairman said that policy decisions about rental power plants or subsidies in importing commodities were taken collectively and transparently by the cabinet in the light of objective realities and singling out the prime minister was "patently wrong and smacks of political victimisation".
Full report at:
http://www.dawn.com/news/1109910/zardari-warns-govt-against-political-victimisation
------------
Govt to work for uplift of all provinces, says Sharif
Jun 1, 2014
GUJRANWALA: Prime Minister Nawaz Sharif has said that equal development in all provinces is the priority of his government because he is working for progress of the nation.
Addressing the inaugural ceremony of the first phase of the Nandipur Thermal Power Project on Saturday, he said his government would start uplift projects not only in areas where the PML-N received a majority of votes, but also in those parts of the country where people did not vote for his party.
He said the government was working to overcome the power crisis, but other sectors were also not being neglected, citing proposed projects like Lahore-Karachi Motorway and upgradation of Gwadar city.
Full report at:
http://www.dawn.com/news/1109902/govt-to-work-for-uplift-of-all-provinces-says-sharif
------------
Travel restrictions on Pakistan by WHO to be enforced from today
Jun 1, 2014
KARACHI: The travel restrictions on Pakistan recommended by World Health Organisation (WHO) due to the rising number of polio cases in the country, will be enforced from today (June 1), DawnNews reported.
The WHO issued its new guidelines in order to curb the spread of polio, which had become an international health emergency threatening to infect other countries.
The public health arm of the United Nations recommended that from June 1, people travelling abroad from Pakistan should present a polio vaccination certificate.
WHO recommended strict travel restrictions on Pakistan on May 5 due to the increase in the crippling disease.
In a statement, the WHO said Pakistan, Cameroon, and the Syrian Arab Republic pose the greatest risk of further wild poliovirus exportations in 2014. The WHO recommended:
"These States should:
officially declare, if not already done, at the level of head of state or government, that the interruption of poliovirus transmission is a national public health emergency;
ensure that all residents and long-term visitors (i.e. > 4 weeks) receive a dose of OPV or inactivated poliovirus vaccine (IPV) between 4 weeks and 12 months prior to international travel;
Full report at:
http://www.dawn.com/news/1109915/travel-restrictions-on-pakistan-by-who-to-be-enforced-from-today
------------
Former rulers put nation's future under threat: Shahbaz Sharif
June 01, 2014
LAHORE- Chief Minister Punjab Mian Muhammad Shahbaz Sharif today said that previous rulers put nation's future under threat by neglecting Nandipur power project.
Talking to journalists, intellectuals from Sindh, Khyber Pakhtunkhwa and Balochistan province, he claimed that PML-N government completed all the important power project in the shortest duration of 7 months. Shahbaz Sharif said that the PML-N government was working hard to serve the masses. He reiterated that government was working day in and day out to overcome the power and energy crisis in the country adding that country's image was getting better abroad and foreign investors were bringing their capital into the country.
http://www.nation.com.pk/national/01-Jun-2014/former-rulers-put-nation-s-future-under-threat-shahbaz-sharif
------------
Fata clashes spill over into Afghanistan
Jun 1, 2014
PESHAWAR/ISLAMABAD - The clashes between the military and Taliban militants in tribal belt have spilled over into neighbouring Afghanistan as a cross-border skirmish on Saturday left a soldier and several militants dead across the rugged frontier dividing the two countries.
One soldier and 16 militants were killed when the Taliban insurgents launched a major attack from Afghanistan side, triggering hours-long gunbattle at the border post.
A Pakistani security official said around 200 militants gathered at the village Ghund in Kunar province of Afghanistan and launched the attack at 5:15 am (local time) at a group of Pakistani military border posts at Nao Top in Bajaur tribal district.
The army responded to the attack, resulting in the fierce gunbattle which continued for several hours. The army said 16 militants were killed while one soldier embraced martyrdom and two others were critically injured.
Full report at:
http://www.nation.com.pk/national/01-Jun-2014/fata-clashes-spill-over-into-afghanistan
------------
India
Amid 370 row, JKLF to start 'Quit Kashmir' movement
IANS | Jun 1, 2014
SRINAGAR: JKLF chief Yasin Malik on Saturday said his party would soon start a "Quit Kashmir" movement to counter deliberate change in Kashmir discourse by raking up Article 370.
"There is a design behind the Indian junior minister's statement that Article 370 would be revoked. There is a storm of debate over this in India and also in Kashmir. Everywhere in Kashmir people are discussing the fate of Article 370," he said.
"Omar Abdullah has said Kashmir will cease to be a part of India if Article 370 is scrapped," JKLF chairman said. Malik contended that it is the state legislature and not the Indian government or Parliament that has the authority to revoke Article 370.
http://timesofindia.indiatimes.com/india/Amid-370-row-JKLF-to-start-Quit-Kashmir-movement/articleshow/35875054.cms
------------
Afghanistan offers 'safer' sites to shift Herat mission
Jun 1, 2014
Promosing stronger security, the Afghan government has proposed a few "secure locations" where the Indian consulate in Herat can be shifted in the coming weeks. The offer has come following the May 23 terrorist attack on the consulate, which was repulsed by Indian and Afghan security personnel.
Top government sources told The Sunday Express that Herat Governor Sayed Fazulllah Wahedi met Foreign Secretary Sujatha Singh on Friday, and suggested a few locations, which are close to his office and where the security is tighter. It is learnt that India is considering this proposal, as it has conveyed its "full commitment" to stay in Herat — despite the attack.
Investigations into the May 23 attack are pointing in the same direction as outlined by initial findings, sources said. The initial findings, shared by Afghan President Hamid Karzai with Prime Minister Narendra Modi, had indicated the involvement of Pakistan-based terror group Lashkar-e-Toiba.
Full report at:
http://indianexpress.com/article/world/neighbours/afghanistan-offers-safer-sites-to-shift-herat-mission/
----------
North America
Anti-Islam ad sparks US free speech debate
Jun 1, 2014
NEW YORK // The first time Irfaan Noorudin saw the black-and-white ad equating Islam with antisemitism, he was sitting in traffic not far from the US Capitol when a bus bearing the incendiary message rolled past.
"It's still so jarring", he said, even though the ad, which also features a picture of the colonial-era mufti of Jerusalem, Amin Al Husseini, with Adolf Hitler, is only the latest in a string of ads placed on public transport across the country by anti-Islam groups.
The next time Mr Noorudin was confronted with the ad, he was dropping off his young daughter at her church-run daycare.
"How is that even allowed? That's so weird", members of the church staff and fellow parents said to him.
A few days later, the financial advisor and a group of friends were enjoying a Saturday night at a Washington cafe when a bus emblazoned with the message was stuck in traffic beside the patio where they were seated, drawing eyes and muting conversations.
Full report at:
http://www.thenational.ae/world/united-states/anti-islam-ad-sparks-us-free-speech-debate#page2#ixzz33ONwhAgh
------------
Obama hails US soldier's release from Taliban
Jun 1, 2014
President Barack Obama, flanked by the parents of a U.S. soldier released after being held for nearly five years by the Taliban, said in the White House Rose Garden on Saturday that the United States has an "ironclad commitment" to bring home its prisoners of war.
Obama said that while Army Sergeant Bowe Bergdahl was being held, he was never forgotten. "We're committed to winding down the war in Afghanistan and we are committed to closing Gitmo (the prison for foreign terrorism suspects at Guantanamo Bay, Cuba). But we also made an ironclad commitment to bring our prisoners of war home," Obama said.
Full report at:
http://www.jpost.com/International/Obama-hails-soldiers-release-cites-ironclad-commitment-to-bring-home-POWs-354983
------------
U.S. insists Assad must go, but expects he will stay
Jun 1, 2014
Since Syrians rose up more than three years ago against longtime President Bashar al-Assad, U.S. President Barack Obama has had a clear message: Assad must go.
Now, even as the United States seeks to increase support to moderate rebels to fight his regime, U.S. officials privately concede Assad isn't going anywhere soon.
The contrast between public rhetoric and private expectations reflects the Obama administration's struggle to address the increasingly complex, messy conflict in Syria, which is pitting world powers against one another - from Moscow to Tehran and Washington.
It also points to a continuation of the administration's policy of supporting Syria's neighbors and providing small-scale armed assistance to moderate rebels to fight the regime, while ruling out large-scale U.S. involvement that officials fear would lead to another Iraq or Afghanistan.
Full report at:
http://english.ahram.org.eg/NewsContent/2/8/102657/World/Region/US-insists-Assad-must-go,-but-expects-he-will-stay.aspx
------------
Obama: Qatar gave security guarantees on transferred prisoners
Jun 1, 2014
President Barack Obama said Saturday the Qatari government had given the United States security guarantees over five Guantanamo Bay prisoners transferred to secure the release of a US soldier in Afghanistan.
Obama appeared at the White House with Bowe Bergdahl's parents Bob and Jani, saying "the Qatari government has given us assurances that it will put in place measures to protect our national security."
The five prisoners were named by the Taliban as Mohammad Fazl, Norullah Noori, Mohammed Nabi, Khairullah Khairkhwa and Abdul Haq Wasiq. A US State Department official also confirmed their identities.
Full report at:
http://english.ahram.org.eg/NewsContent/2/9/102641/World/International/Obama-Qatar-gave-security-guarantees-on-transferre.aspx
----------
US rejects Palestinians claims it invited unity government PM to Washington
Jun 1, 2014
The US over the weekend rejected Palestinian claims that the Obama administration had accepted the newly unified government between Fatah and Hamas and invited its prime minister to Washington.
Although the unity government won't formally be announced until Monday, Palestinian media outlets reported that Palestinian Authority Prime Minister Rami Hamdallah – who is expected to head a unity government with Hamas – was invited to Washington for talks with US government officials.
The Palestinians said that the invitation could signal US approval of the unity between Fatah and Hamas.
On Thursday, PA President Mahmoud Abbas asked Hamdallah to form a unity government with Hamas after the two sides reportedly overcame differences over the identity of the ministers slated to serve in the line-up.
Full report at:
http://www.jpost.com/Diplomacy-and-Politics/US-rejects-Palestinians-claims-it-invited-unity-government-PM-to-Washington-354976
------------
Mideast
Israel: World must not recognize Palestinian govt
1 June 2014
Israel's prime minster on Sunday warned against any international rush to recognize a Palestinian government due to be announced under a unity pact between the Fatah and Hamas Islamist groups.
Israel and the West classify Hamas as a terrorist organization and have no official dealings with the movement, which advocates the destruction of the Jewish state.
Meeting Saturday with French peace activists in the West Bank city of Ramallah, where his limited self-rule government is based, Palestinian President Mahmoud Abbas said he expects a joint government of his Fatah party and Hamas Islamists to be announced on June 2.
"We will announce the government the day after tomorrow, it will be formed of technocrats and independents," he said.
None of the unity government's members would belong to either the Western-backed Fatah, which rules the Israeli-occupied West Bank, or Islamist Hamas, which holds sway in the Gaza Strip, Abbas said.
Full report at:
http://english.alarabiya.net/en/News/middle-east/2014/06/01/Unified-Palestinian-cabinet-to-be-announced-Monday.html
------------
Palestinian unity government to be announced Monday, despite Israeli threats
Jun 1, 2014
The Palestinian unity government with Hamas will be announced on Monday "despite Israeli threats," Palestinian Authority President Mahmoud Abbas said on Saturday.
In the Gaza Strip, Hamas spokesman Taher a-Nunu said the "reconciliation train was about to arrive at its final station," and will mark the beginning of the restoration of Palestinian unity.
The unification ends a seven- year feud between Fatah and Hamas but appears to place a final nail in the coffin of the US-led peace process.
"We will not negotiate with a Palestinian government backed by Hamas," an Israeli official told The Jerusalem Post and added that the United States supported this position.
"We have a commitment from the Americans, a commitment that was reiterated in the first Obama administration and was reiterated in the second," the official said.
"Hamas believes the State of Israel should be destroyed. They are very open about it," he added.
Full report at:
http://www.jpost.com/Middle-East/Fatah-official-Palestinian-unity-government-to-be-announced-Monday-354958
------------
Iran executes man convicted of 'enmity against God'
1 June 2014
Iran on Sunday hanged a man said to be affiliated to an exiled opposition group, state media reported, despite international pressure on the Islamic republic to halt the execution.
According to the official IRNA news agency, Gholamreza Khosravi Savadjani was convicted of "waging war against God" (moharebeh) by helping the People's Mujahedeen Organisation of Iran (PMOI).
The announcement of the hanging came just hours after Amnesty International said Khosravi Savadjani's trial in 2010 had been unfair.
The rights group said the condemned man's family was informed by prison officials on Saturday that they must go to a jail west of Tehran, sparking fears his execution may be imminent.
Full report at:
http://english.alarabiya.net/en/News/middle-east/2014/06/01/Iran-executes-man-convicted-of-enmity-against-God-.html
------------
Zionist Entity Denies West Bank Entry for Gaza Future Ministers
Jun 1, 2014
The Zionist entity denied three future Palestinian ministers from the Gaza Strip entry to the West Bank ahead of the unveiling of a new unity government, a senior source said Sunday.
The three ministers elect had applied to cross from Gaza to the West Bank on Thursday, but their application was immediately rejected, a senior Palestinian official responsible for coordinating exits and entries told AFP. Gaza border crossing
"We sent the application in on Thursday and explained that these officials are to be sworn in as ministers in Ramallah, but Israel immediately rejected the application," he told AFP on condition of anonymity.
COGAT, the Israeli defense ministry unit responsible for Palestinian civilian coordination, refused to comment on the matter, as did the office of Prime Minister Benjamin Netanyahu, AFP reported.
Full report at:
http://www.almanar.com.lb/english/adetails.php?eid=154328&cid=23&fromval=1&frid=23&seccatid=18&s1=1
------------
Iran Voices Regret over US Decision to Train Terrorists in Syria
Jun 1, 2014
Iran on Sunday reiterated opposition to the use of military options in Syria, and voiced regret over Washington's decision to train terrorists and supply them with more advanced weapons to fight in the Middle-Eastern country.
Addressing the second 'Friends of Syria' conference - attended by the chairpersons of the national security and foreign policy commissions of the parliaments of those countries which have friendly relations with Syria - in Tehran on Sunday, Chairman of the Iranian parliament's National Security and Foreign Policy Commission Alaeddin Boroujerdi voiced deep regret over the US policy on Syria.
Full report at:
http://english.farsnews.com/newstext.aspx?nn=13930311000805
---------
Southeast Asia
Islamic students to get aerospace studies scholarship if 'they memorise Quran'
Jun 1, 2014
The Terengganu state government will send five Islamic religious school students who memorise 30 "juzuk" of the Quran for aerospace studies abroad next year.
Terengganu Menteri Besar Datuk Ahmad Razif Abd Rahman said via the aerospace scientist programme, each student will be given full scholarship with all fees and expenses borne by the state government.
He said after graduation, they will serve the Terengganu Science and Creativity Centre (PSKT) for several years.
"This programme is a pilot project to produce Muslim scientists in aerospace which is currently dominated by the West.
"The missing Malaysia Airlines flight MH370 shows that we are short of experts in this field and have to rely on expertise from Western countries," he said after closing the Aerospace Carnival and Kite Competition 2014, in Kuala Terengganu today.
Full report at:
http://www.themalaysianinsider.com/malaysia/article/islamic-students-to-get-aerospace-studies-scholarship-if-they-memorise-qura
------------
For the presidential candidate, a Dangerous Dalliance with Islamic Hard-Liners
Jun 1, 2014
Jakarta. For all the allegations of war crimes and human rights abuses re-emerging against Prabowo Subianto, the presidential candidate has at least been spared the ignominy of religious intolerance accusations.
Until now, that is, as the party of his running mate, Hatta Rajasa, seeks to win over the Islamic hard-line fringe, in a complete affront to the values in which it was conceived.
Hatta and Amien Rais, the chairman and chief patron, respectively, of the National Mandate Party, or PAN, have in the past week come in for criticism over their courting of the Islamic Defenders Front, or FPI, a radical group notorious for mob attacks on religious minorities, and which in the past has had legal wrangles with Amien over his defence of religious pluralism.
Full report at:
http://www.thejakartaglobe.com/news/prabowo-dangerous-dalliance-islamic-hard-liners/
------------
DAP laments failure of voters to return to Teluk Intan for by-election
Jun 1, 2014
DAP would have retained the Teluk Intan seat with a new MP in Dyana Sofya Mohd Daud if just another 1% of the final voter turnout of 40,236, or 400 voters, had returned from outstation to vote for her, said Lim Kit Siang (pic).
The party adviser suggested that the opposition party may have retained the seat it has held since 2008, if the polling day had been today, a Sunday.
"It would enable more outstation voters to make the journey back to Teluk Intan to vote, the result would have been very different," he said in a statement today.
Political newbie Dyana Sofya lost to Barisan Nasional's Datuk Mah Siew Keong in a razor thin majority of 238 votes.
Gerakan president Mah obtained 20,157 votes against Dyana's 19,919. There were 550 spoilt votes.
Full report at:
http://www.themalaysianinsider.com/malaysia/article/dap-laments-failure-of-voters-to-return-to-teluk-intan-for-by-election
----------
Europe
Ecuador Calls for Immediate Halt in Arms Shipment to Rebels in Syria
Jun 1, 2014
A senior Ecuadoran lawmaker underlined that an immediate halt in arms shipment to the foreign-backed militants in Syria would be the main contributor to the success of international efforts to end the over 3-year-long bloodshed in the Middle-Eastern country.
Speaking at a meeting with an Iranian parliamentary delegation which is currently visiting Quito, the chairman of Ecuadorian Parliament's foreign policy commission touched upon the situation in Syria, and said the crisis in the Muslim country must be solved by the Syrian people themselves.
The legislator said foreign intervention in Syria and shipment of arms to rebel groups in the country would further exacerbate the security situation in Syria and the entire Middle-East region.
Syria was hit by a violent unrest since mid-March 2011, where the Syrian government accuses foreign actors of orchestrating the conflict by supporting the militant opposition groups with arms and money.
Full report at:
http://english.farsnews.com/newstext.aspx?nn=13930311000429
------------
Jewish museum shooting: suspect with ties to Syrian radicals arrested
Jun 1, 2014
PARIS // A Frenchman with suspected ties to Islamic radicals in Syria has been arrested over last week's shooting at the Jewish Museum in Brussels that left four people dead, investigation sources said on Sunday.
The suspect, 29-year-old Mehdi Nemmouche, was arrested on Friday in the southern French city of Marseille.
He had in his possession a Kalashnikov rifle and a handgun similar to the ones used in the attack on May 24, sources said.
He has been detained on suspicion of murder and attempted murder in connection with a terrorist enterprise.
http://www.thenational.ae/world/europe/jewish-museum-shooting-suspect-with-ties-to-syrian-radicals-arrested#ixzz33OO1mUBJ
------------
Nearly 800 killed in Iraq's bloodiest month this year: UN
Jun 1, 2014
Nearly 800 people were killed in violence across Iraq in May, the United Nations said on Sunday, making it the deadliest month so far this year.
Of the total 799 people killed, 196 were members of the Iraqi security forces, and the rest were civilians - often victims of attacks by Sunni Islamist insurgents who have been regaining ground and momentum in Iraq over the past year.
The real toll is in fact higher because the UN figures do not include casualties in the western province of Anbar, where the Iraqi army has been fighting tribal and insurgent groups since they overran two cities at the start of the year.
Despite deteriorating security, Iraq's incumbent Prime Minister Nouri al-Maliki won the largest share of parliamentary seats in national elections last month, dealing a blow to his opponents who blame him for leading the country to ruin.
Full report at:
http://english.ahram.org.eg/NewsContent/2/8/102650/World/Region/Nearly--killed-in-Iraqs-bloodiest-month-this-year-.aspx
------------
UK probes Briton's 20-year jailing in Iran for Facebook posts
1 June 2014
The Foreign Office said Saturday it was following up the case of a British woman reportedly sentenced to 20 years in jail in Iran for posting anti-regime propaganda on Facebook.
Iranian opposition website Kaleme said Roya Saberinejad Nobakht, an Iranian-born British woman, was among eight people jailed for posts on the social networking site.
The 47-year-old, from Stockport outside Manchester in northwest England, was detained whilst visiting friends in the city of Shiraz in October, reports said.
Nobakht has dual British and Iranian nationality and has lived in England with her British husband, Daryoush Taghipoor, 47, for more than six years, according to The Times newspaper.
Full report at:
http://english.alarabiya.net/en/News/middle-east/2014/06/01/U-K-probes-Briton-s-20-year-jailing-in-Iran-for-Facebook-posts-.html
------------
URL: https://www.newageislam.com/islamic-world-news/new-age-islam-news-bureau/saudi-arabia-tests-cadbury-chocolates-for-pork-traces/d/87297