New Age Islam News Bureau
17 May 2020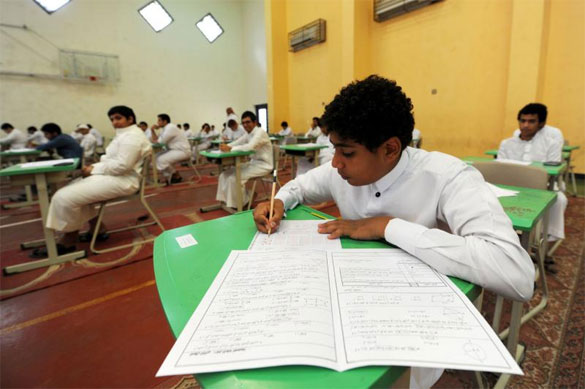 Value-system. Saudi students sit for their final high school exams in the city of Jeddah. (AFP)
------
• Saudi Arabia Strives to Roll Back Muslim Brotherhood Influence in Education
• 'Arrest Non-Muslims Who Criticise Islam': Zakir Naik To Islamic Countries
• First Qibla Of Muslims Not for Sale, World Quds Day Aims to Attract Muslims' Attention to The Issue: Iran's Ambassador in Damascus
• 'Taliban Killed 120 Civilians Since Start of Ramadan': Govt
• Lockdown: Mumbai Congress Minority Leader Asks Muslims To Forego Eid Celebrations, Help Needy
• Ramadan Lockdown: 'Perfectly Permissible To Perform Tarawih With Our Families, Call SA President Cyril Ramaphosa
• Lockdowns Don't Violate Federal Legislative List, SC Told
--------
Arab world
• Saudi Arabia Strives to Roll Back Muslim Brotherhood Influence in Education
• Combating coronavirus: New Muslim quits job to take care of Covid-19 patients in Dubai
• Police intensify inspections to curb begging menace during Ramadan in UAE
• Vodafone supports Ramadan Iftar project of QRCS
• QRCS intensifies Ramadan Campaign assistance for vulnerable families
• Taraweeh, Isha prayers broadcast live from Sheikh Zayed Mosque in Ras Al Khaimah
------
Southeast Asia
• 'Arrest Non-Muslims Who Criticise Islam': Zakir Naik To Islamic Countries
• COVID-19: Bernama Highlights Need to Focus on Efforts by Muslim Scientists in Finding Solutions
• Take heart and reflect during Ramadan, amid coronavirus outbreak: PM Lee
• Islamic University lays off all staff, closes all campuses
• CMCO: Praying outside mosques not allowed, says Ismail Sabri
• Malaysia: Covid-19 recovery rate exceeds 80%
• Exporters: Malaysia signs record rice import deal with India
-------
Mideast
• First Qibla Of Muslims Not for Sale, World Quds Day Aims to Attract Muslims' Attention to The Issue: Iran's Ambassador in Damascus
• Imam Khomeini Viewed the Right Path Toward Quds: Islamic Jihad Representative
• Muslim scholar group urges stand against Israeli plans
• Eid al-Fitr prayers should be held in mosques, open spaces across Iran: President Rouhani
• Islamic Center Hamburg publishes online Ramadan journals
• Turkish charity eyes donation to more than 1M in Ramadan
------
South Asia
• 'Taliban Killed 120 Civilians Since Start of Ramadan': Govt
• China's ambassador to Israel found dead in his apartment in Herzliya
• China leaves Trade Minister Simon Birmingham hanging on the telephone
• Saleh's latest remarks regarding Taliban-ISIS links, deadly Kabul attack
• Afghan army officer assassinated in Kabul city
• Pakistani ambassador stops short of supporting Indian dialogue with Taliban
• Afghanistan records 349 new cases of coronavirus in past 24 hours
-------
India
• Lockdown: Mumbai Congress Minority Leader Asks Muslims To Forego Eid Celebrations, Help Needy
• 64 Foreign Islamic Sect Members Arrested In Bhopal
• Give Ramzan Packs Comprising Sevaiyyan, Sugar, Milk and Ghee Along with Rice and Other • • Essential Commodities to Poor Muslims: Telangana Cong
• Muslims Perform Last Rites Of Sikh In J&K's Ganderbal Amid Lockdown
• Imam of Eidgah In Ayodhya Seeks Relaxation for Namaz On Last Friday, Eid
-----
Africa
• Ramadan Lockdown: 'Perfectly Permissible To Perform Tarawih With Our Families, Call SA President Cyril Ramaphosa
• Zimbabwe extends coronavirus lockdown 'indefinitely'
• Boko Haram attacks army base, kills five soldiers
• Troops intensify hits on Boko Haram, destroy hideouts in Sambisa Forest
------
Pakistan
• Lockdowns Don't Violate Federal Legislative List, SC Told
• MQM-P leaders rejects Sindh govt's emergency relief ordinance
• LHC to rehear child pornographer's plea against conviction
• Lockup after lockdown: Rashid predicts indiscriminate NAB sweep after Eid
-----
Europe
• Volunteers from Newcastle Islamic school praised for selfless efforts during coronavirus crisis
• Sunday Times Rich List shows UK's wealthiest have lost billions during Covid-19 pandemic
-----
North America
• Diversity in Utah: Imam on Terror Watch List Delivers Prayer at State Senate
• A hamper drive is helping these St. John's students make the most of a challenging Ramadan
• For one Phoenix family, Ramadan in a pandemic is less celebratory, more spiritual
Compiled by New Age Islam News Bureau
URL; https://www.newageislam.com/islamic-world-news/saudi-arabia-strives-roll-back/d/121873
------
Saudi Arabia strives to roll back Muslim Brotherhood influence in education
16/05/2020
RIYADH –The Saudi ministry of education is pushing ahead with efforts to roll back Muslim Brotherhood influence in the country's educational system.
The authorities recently decided to remove teachers who persist in teaching extremist and intolerant ideas which are inherited from the previous school curricula dominated by Muslim Brotherhood thinking.
Saudi Minister of Education Hamad al-Sheikh granted regional education directors the power to "immediately remove school teaching personnel who commit intellectual breaches and assign them to administrative tasks outside schools on a temporary basis pending a decision on the case."
But some analysts described the move as coming too late. They noted that the ministry's previous decision to remove books by Muslim Brotherhood ideologues from the curriculum did achieve its goals in light of the continued presence of teachers imbued with the Brotherhood's extremist ideas, including an inclination to accuse others of apostasy and call for jihad against rulers.
The ministry's new decision does not provide for the dismissal of the pro-MB teachers from their jobs but only bans them from classrooms. The United Arab Emirates had long implemented similar measures to rid its educational system of extremist ideologies.
In March 2018, the Ministry of Education decided to exclude some teachers in primary, middle, and high schools, in addition to members of the teaching staff in universities, on charges of "being influenced by the ideas of banned groups classified as terrorist, including the Muslim Brotherhood."
Saudi Arabia is implementing a long-term plan to dismantle all aspects of the Muslim Brotherhood's control of Saudi society, especially in vital sectors such as education, media, and religious affairs, areas that have been targeted by "Brotherhood empowerment" programme since the 1960s.
In recent years, the Brotherhood has targeted reform moves made by the Saudi Crown Prince Mohammed bin Salman bin Abdulaziz, by seeking to incite conservative Saudi groups against Riyadh's new culture and entertainment policies. The policies included promoting tourism and hosting foreign artists.
Observers believe that the Ministry's decision to transfer teachers imbued with the Brotherhood's ideology to non-teaching tasks reveals an official Saudi awareness of the group's nature and strategy.
The Muslim Brotherhood was aware of the importance of education in influencing the ideological orientation of the society and that is why they took control of it for decades despite its shaky relation at times with Saudi authorities.
At the end of 2015, Saudi Arabia decided to withdraw from school and university curricula and libraries 80 reference books promoting Muslim Brotherhood thought, among them books by key Brotherhood ideologues such as Hassan al-Banna, Sayyid Qutb, Yusuf al-Qaradawi and Abu al-A'la al-Mawdudi.
Muslim Brotherhood members flocked to Saudi Arabia from Egypt in the 1960s after a showdown they had with the government of then-President Gamal Abdel Nasser. Their persecution and trials in Egypt led hundreds of them to migrate to Gulf states, mainly Saudi Arabia.
The second wave of the Brotherhood migration to Saudi Arabia came after the 1991 Kuwait war, which opened the Gulf countries gates for Egyptian teachers of all levels.
The Muslim Brotherhood found in the Sarouri ideological current in Saudi Arabia a golden opportunity to re-establish its influence in the vital institutions of the country and keep their activities from being scrutinised.
The Sarouri current, introduced to Saudi Arabia by the Syrian scholar Muhammad Zain Al-Abidin, is an ideology that mixes Salafism, in order to satisfy the official orientation of the state in Saudi Arabia, with the Brotherhood's own thinking which politicises religion.
A known figure of the Sarouri current in Saudi Arabia is Salman al-Ouda, currently in detention in Saudi Arabia on charges of illicit relations with Qatar and the International Organisation of the Muslim Brotherhood formerly led by Yusuf al-Qaradawi.
https://thearabweekly.com/saudi-arabia-strives-roll-back-muslim-brotherhood-influence-education
------
'Arrest non-Muslims who criticise Islam': Zakir Naik to Islamic countries
15 May 2020
A video of the controversial Islamic preacher Zakir Naik is doing the rounds on social media that shows him urging all the Islamic nations to gather the data of non-Muslims living in India who have criticised Islam, so that they can be arrested if and when they land in their country. Naik also advocated their trial under the blasphemy law.
"Rich non-Muslims travel to the Gulf and different Muslim countries. If these Muslim countries have data of these people attacking or spreading venom against Muslims, they should arrest them under their (own) law once they enter their territory," he said.
Fugitive Jehadi Zakir Naik says non-Muslim Indians who criticize Islam should be noted in a data bank & whenever they visit an Islamic country, should be arrested & tried under blasphemy laws
Naik is currently living in Malaysia after fleeing India in 2016. He is facing charges such as inciting communal passions and terror activities through his incendiary speeches. He has often said that he will never return to India till the Bhartiya Janata Party (BJP) remains in power at the centre.
https://uk.news.yahoo.com/arrest-non-muslims-who-criticise-islam-zakir-naik-to-islamic-countries-103959794.html
------
First Qibla Of Muslims Not For Sale, World Quds Day Aims To Attract Muslims' Attention To The Issue: Iran's Ambassador in Damascus
May 16, 2020
Tehran, May 16, IRNA – Iran's Ambassador in Damascus JavadTorkabadi said on Saturday that the first Qibla of Muslims is not a land to be sold in international auctions and World Quds Day aims to attract Muslims' attention to the issue.
Addressing a ceremony marking 72nd anniversary of Nakba Day and coordination for holding World Quds Day, he said that the purpose of holding the World Day of Quds is to draw Muslims' attention and direct them toward forging a connection with their first Qibla, and to keep the first Qibla of Muslims away from international auctions so that it will not to be a snack for the Zionists and their supporters.
From the beginning, the Islamic Republic of Iran was targeted and economically besieged for its support for legitimate rights of the Palestinian people, he said.
Meanwhile, Chairman of the High Committee for the Public Support of Intifada and Resistance against the Zionists Mohammad Mostafa Mirou stressed the need to work for the liberation of all Palestinian lands from Zionist occupation, calling for a united movement to counter American-Zionist plans in the region and to work to keep Quds Day and the Palestinian cause alive.
He also stressed the need to continue the struggle for liberating the occupied Syrian Golan Heights and the rest of the occupied Arab regions.
https://en.irna.ir/news/83789698/First-Qibla-of-Muslims-not-for-sale-Iran-s-ambassador
-----
'Taliban Killed 120 Civilians Since Start of Ramadan': Govt
By Khalid Nekzad
YESTERDAY - 6:25 PM
"The attacks launched by the Taliban and their backers show a 33 percent increase compared with the second week of the holy month of Ramadan," said ONSC spokesman Jawed Faisal.
Meanwhile, the Afghan Ministry of Defense has said that the Afghan National Security and Defense Forces (ANDSF) have returned to "offense mode" following an order by the president.
"Over the past few days we managed to conduct a series of powerful attacks on the enemy position and dealt major human fatalities on them," said Rohullah Ahmadzai, a spokesman for the Ministry of Defense.
At least 24 people, among them two newborn babies, were killed in an attack on the Dash-e-Barchi 100-bed hospital, which is home to a maternity clinic run by Doctors Without Borders (MSF).
On Friday, Ghani defended his new military stance against the insurgents, saying that his administration will never oppose efforts for peace and reconciliation, but warned that the Afghan armed forces deserve the right to defend the nation against threats and create conditions for a dignified peace.
Nevertheless, a number of political commentators and former Taliban members have said that both the Afghan government and the Taliban should swiftly end the hostilities and engage in dialogue.
"Both sides (Taliban and the Afghan govt) should agree on an Islamic solution and move forward," said Sayed Akbar Agha, a former Taliban commander.
"Being in "offense mode" is needed to foil their (Taliban) attacks, but it has some shortcomings because it can lead to an increase in the civilian casualties," said Sher Mohammad Karimi, a military analyst.
"If Mr. Ghani intends to force the Taliban to peace by conducting offense operations, this will be a big mistake. He did not achieve this goal during the days we had the support of foreign forces, in the future also, this move will lead to further fatalities among the security forces," said Assadullah Nadeem, a military analyst.
The Afghan government insists on military supremacy at a time when foreign parties in the conflict in Afghanistan--such as the US and Russia--have warned that Kabul's harsher military action could pose devastating blows to the Afghan peace process.
However, the peace deal between the US and the Taliban in Doha had raised some new hopes among the Afghan people and their international partners that this time more concrete steps for a negotiated settlement between the Taliban and the Afghan factions too, will be taken. But with the passage of time, attacks increased and both the Afghan government and the Taliban have accused each other of attempts to sabotage the peace process.
On Friday, The US Special Representative for Afghanistan Reconciliation Zalmay Khalilzad briefed the US State Department on the situation in Afghanistan, particularly the situation which has emerged in the country following Tuesday's deadly attacks on a maternity hospital in capital Kabul.
Khalilzad stated that the recent violence has raised questions about the peace process, but he said that there is no alternative to pushing forward with peace.
Although the US, NATO, and other western countries in the past few months have persistently urged the Taliban to reduce violence, the Taliban have increased their offensives on the Afghan Security and Defense Forces (ANDSF) since the US-Taliban peace agreement on February 29.
On April 25, the figures provided by the Office of the National Security Council (ONSC) indicated that the Taliban had conducted an average of 55 attacks per day since the signing of the peace deal with the United States in Doha on February 29.
ONSC said that the Taliban conducted 2,804 attacks from the beginning of March to April 19, adding the group "does not remain committed to the reconciliation process that will help the country to end decades of war."
https://tolonews.com/afghanistan/%E2%80%98taliban-killed-120-civilians-start-ramadan%E2%80%99-govt
-----
Lockdown: Mumbai Congress Minority Leader Asks Muslims To Forego Eid Celebrations, Help Needy
May 16, 2020
MUMBAI: Congress Minority department (Mumbai) vice-chairman Mudassar Patel has urged Muslims to forego Eid celebrations. He had appealed to the community to help the needy affected by the coronavirus-induced lockdown with the money they would have spent on the festivities. Eid will be celebrated on May 24.
"People have lost jobs and incurred loss in businesses due to the lockdown. Daily wagers like masons, plumbers, construction workers are hardest hit. Money should be spent in helping them and not on shopping and preparing lavish dishes on Eid," said Patel.
While asking community members not to break the lockdown rules in the name of Eid shopping, he said defeating the pandemic and saving life should be the priority today. "If life is saved, Eid will come again. Social distancing should be maintained and needy should be reached out with help," he said.
Patel who has distributed over 7,000 ration kits in Mumbai city and suburbs demanded that the government should give interest-free loans of minimum Rs two lakh to SMEs to restart their shut businesses.
"There is a young graduate known to me. Before the lockdown, he used to earn between Rs 30,000 to Rs 35,000 per month. The other day he approached me for a loan of Rs 5000. There are thousands like him who have been impoverished and need to be bailed out. Both the government and individuals should help such people who are not beggars and hesitant to seek help," he said.
A Mira Road-based beneficiary who received help from Patel requesting anonymity said, "His help came at a time when we needed it desperately. We were about to run short of ration when his ration kit came."
https://timesofindia.indiatimes.com/city/mumbai/mumbai-congress-minority-leader-asks-muslims-to-forego-eid-celebrations-help-the-needy/articleshowprint/75774596.cms
-----
Ramadan lockdown: 'Perfectly permissible to perform tarawih with our families
17-05-2020
Ramadan 2020 is going to be radically different, not least because we will not able to attend the popular nightly tarawih prayers, since our masajid will be closed for parts and perhaps all of this blessed month. We will be spending our time locked down in our homes as we heed the call by our President Cyril Ramaphosa and public health officials to practice physical distancing in an attempt to flatten the curve or slow the rate of transmission of the Coronavirus (COVID-19).
In these distressing times, we should use this novel Ramadan 2020 experience of practicing physical distancing, as an opportune time to learn and nurture new forms of personal spirituality. We can make Ramadan 2020 truly memorable by engaging in and occupying our time with a number of spiritual practices and rituals in the sanctuaries of our homes, which in more normal circumstances, we may not have had time to do. This is also a good time to bond with those in our households – our spouses, our children, our parents, our siblings – and to use the opportunity to strengthen familial relations.
One of the key purposes of fasting in Ramadan is to display deep gratitude for receiving Divine guidance in the form of the revelation of the Glorious Qur`an (Surah al-Baqarah, 2:185). Traditionally, the evening congregational tarawih prayers have always been an opportunity to celebrate the Qur'an by listening to recitals of the Qur'an and exult in the Glory of Allah's message.
Without nightly tarawih prayers to look forward to, we should adorn our lives and our homes with the recitation of the Qur'an. In doing so we may also discover the Qur'an as a great source of shifa' i.e. healing (Surah al-Najm, 17: 82). We may also choose to recite the Qur'an together as a family immediately after praying `isha' together and/or to listen to excellent recitations of the entire Qur'an by some of the leading Qurra globally and on our local Muslim community Radio stations.
It is perfectly permissible to perform our tarawih prayers with our families at home especially if someone in the family is a hafiz al-Qur'an. However, since the tarawih prayers are not obligatory but recommended (sunnah), some Muslim scholars have proposed that we may choose to perform 20 raka`at or 8 raka`at.
But since this is an extra-ordinary Ramadan, spent under lockdown at home, it might be an ideal opportunity to implement one of the most important sunnahsalahs, namely that of the night vigil prayer (qiyam al-layl). The preferred time to perform this would be in the middle of the night after you have had some sleep.
This celebrated sunnahsalah is referenced in several verses of the Qur'an (17:79, 25:64 and 73:1-4). It is also mentioned in an authentic hadith tradition in which the Prophet Muhammad (pbuh) is reported to have proclaimed that after the obligatory five daily salawat the prayer in the middle of the night is unequalled (Sahih Muslim). So, this Ramadan, we could all try to perform the night vigil prayer (qiyam al-layl) in our homes, if not every night, then perhaps twice a week. The night vigil prayer may consist of 2, 4, 6 or 8 raka`at and one should recite generous portions of the Qur'an and perform it with khushu' i.e. with sincere devotion and full reverence and with our minds and hearts fully present.
During this blessed month in which we celebrate the revelation of the Glorious Qur'an, we need to remind ourselves that there are many Qur'anic passages that exhort Muslims to turn to Allah in hope in times of difficulty. We may find great solace in Allah's promise in Surah al-Inshirah, chapter 94 verses 5-6 'that after difficulty there will be ease'.At this sacred time of Ramadan, we should also adorn our fasting by acknowledging and showing gratitude to the many health professionals within our country and the world who are unselfishly serving on the frontline of the fight to save lives. We are grateful for their sacrifices and pray that Allah, the Source of All-Healing, will keep them safe and healthy.
In conclusion, during this unprecedented Ramadan experience under lockdown, let us keep in our supplication all those who have lost their lives to the Coronavirus (Covid19), those who are ill, and those who face months of hardships due to food insecurity and loss of incomes. Let us also not let the physical distance keep us isolated from others – use the phone and other devices to reach out and keep in touch with our families, our friends and our neighbours.
http://alqalam.co.za/ramadan-lockdown-perfectly-permissible-to-perform-tarawih-with-our-families/
-----
Lockdowns don't violate Federal Legislative List, SC told
May 17, 2020
Nasir Iqbal
ISLAMABAD: The Punjab government on Saturday informed the Supreme Court that enforcement of partial lockdowns under the Punjab Infectious Diseases (Prevention and Control) Ordinance 2020 was not in violation of the Federal Legislative List (FLL) of the Constitution rather it was aimed at securing public health, public order and prevention of a pandemic of an unparalleled magnitude.
It was, in fact, the federal government that had encouraged the provinces to undertake such legislation that may incidentally have a bearing on certain subjects and areas not falling within the provincial legislative competence, the Punjab government argued in a report, explaining that the dominant object of law was to arrest Covid-19 and to protect and secure the right to health — concomitant right of the right to life under Article 9 of the Constitution.
Additional Advocate General for Punjab Shan Gul furnished the report in response to the Supreme Court's questioning of the competence of the provinces to enact legislation for shutting down business activities that adversely impacted taxation activity of the federal government in terms of the Federal Legislative List.
Punjab says Centre encouraged provinces to undertake legislation that may have bearing on subjects not falling within provincial legislative competence
A five-judge bench of the Supreme Court, headed by Chief Justice Gulzar Ahmed, will resume the hearing of the case on Monday (May 18).
Justice MushirAlam, Justice Sardar Tariq Masood, Justice Mazhar Alam Khan Miankhel and Justice Qazi Muhammad Amin Ahmed are other members of the bench. Justice MushirAlam and Justice Sardar Masood had been added in the bench due to unavailability of Justice Umar Ata Bandial and Justice Sajjad Ali Shah.
Besides the Punjab government, the Khyber Pakhthunkhwa, Sindh and Balochistan governments as well as the federal Ministry of Health filed similar reports.
Justifying the imposition of partial lockdowns, the Punjab government argued that the National Command and Operation Centre (NCOC) at one of its meetings had decided to impose partial lockdown on business and trade for ensuring social distancing among masses in a bid to arrest the spread of the Covid-19. This was done in the garb of Entry No 19 of Part I of the Fourth Schedule of the FLL, the report explained, adding both federal and the provincial governments were stakeholders in NCOC.
"It is, therefore, not as if the province is doing on its own rather a meaningful and consultative process between the federation and the provinces resulted in the promulgation of the provincial ordinance 2020 for imposing partial lockdown," the report explained.
Moreover, the Epidemic Disease Act 1897 — a federal law on pandemic/calamities — itself vests the provinces with necessary authority to put in place temporary regulations for controlling the spread of epidemics.
This is exactly what the provinces did and therefore the announcement of partial lockdown by the Punjab province with respect to trade and business was not only justified in the context of the legislative competence but was also backed and supported by an existing federal law, the report stated.
Thus the action had unanimous backing of the federation and the provinces as the NCOC had approved such a course of action, it said, adding that the action was initiated in a holistic manner and was across the board.
The provinces did not exceed their legislative competence by imposing lockdowns, rather they showed regard and respect for the mandate of the Constitution, the report argued.
Besides the element of complete ban on inter-provincial movement of people had been diluted by means of allowing travel by rickshaw and Chinghcee, but for other larger public transport vehicles, a meeting of the transport sector representatives with the government had been arranged.
Referring to the requirement of seeking consent of the President before enacting a provincial legislation, the report explained that the assent of the Governor in terms of Article 116 of the Constitution condones the failure of the provincial government to obtain consent from the President as required by Article 151(4) of the Constitution.
About the allegations of irregularities in the Zakat Fund, the Punjab government explained that the main objections of the Auditor General of Pakistan was about the violation of rules and procedures, minor errors and non-production of the record. But the auditor general had also admitted that there was no case of fraud, embezzlement, thefts and misuse of public resources, the report explained.
On May 2, the AGP had disclosed that irregularities worth Rs3.67 billion were unearthed when a total of Rs5.96 billion funds had been audited for the Zakat Department and Pakistan Baitul Mal for the year 2019-20.
The AGP had explained that in the Zakat Fund, a sample audit of 13 per cent (Rs961 million) of the total budget of Rs7.38 billion was carried out. Out of the Rs961 million audited, irregularities worth Rs574 million were detected.
Similarly, the annual budget of Pakistan Baitul Mal was Rs5 billion, of which it conduct the audit during the audit year 2019-20 and found out irregularities to the tune of Rs3.1 billion.
The irregular expenditure in the case of Baitul Mal was 62 per cent of the total funds though Rs475 million was also recovered, the AGP had said.
Meanwhile, the Sindh government said that due to alarming growth of Covid-19 cases, the provincial government had been issuing necessary advisories to the general public from time to time to take precautionary measures. The provincial government is making all-out efforts including preventative and curative measures to enhance the capacity of hospital-based isolation / quarantine centres, ICUs, Lab Testing Capacity and human resource and their trainings to cope up with this pandemic.
https://www.dawn.com/news/1557689/lockdowns-dont-violate-federal-legislative-list-sc-told
------
Arab world
Combating coronavirus: New Muslim quits job to take care of Covid-19 patients in Dubai
May 17, 2020
Saman Haziq
Filipino expat Maryam Cuevas and her family have embraced Islam in 2015 and, since then, they have been observing Ramadan as devout Muslims by doing volunteer work. Now that they're spending the holy month amid the Covid-19 pandemic, they knew they had to do something to help others.
Maryam, 32, has quit her job to become a volunteer nurse for Covid patients at Al Warsan facility in Dubai - and it's the first time she's staying away from her family during Ramadan.
She gets to visit them only once in two weeks but, even during such opportunities, she stays outside the house - fearing that she might be carrying the virus and could infect her family.
"Ramadan is the month of mercy and sacrifice and, this time, I experienced it in its true essence as I sacrificed staying with my family and instead spent most of my time with patients who needed reassurance and assistance."
For the past five years since they embraced Islam, the family - which includes Maryam's mother Fatima Dela Cruz and her eldest brother Khalid Cuevas - has been volunteering at the Islamic centre in their neighbourhood. They would usually help the Filipino community prepare and share Iftar meals.
This time, however, while Maryam is taking care of Covid patients, Fatima, Khalid and their relatives have also been doing their bit. They have been making face shields and masks at home, distributing fumigation sprays for free to those in need, and joining other volunteer initiatives.
Fatima is the only earning member of the family at the moment, since Khalid's job contract is over and Maryam has resigned from her job to be a volunteer. It may be an exceptional time for them, but she expressed her trust in Allah and her happiness in seeing her daughter serve Covid patients.
"I am proud of my daughter and happy that she is sacrificing her job, family time and even putting her health at stake to serve this amazing country that is now our home. This is the time the country needs her. I and my sister Noor (Maryam's aunt) really encouraged her to leave her job and volunteer her services for the nation," Fatima said.
Last week, in one of Maryam's rare visits, the family managed to do their first Iftar together - on Fatima's insistence. Her aunt Noor and daughter Jenny, who are also new Muslims, joined them for the special meal.
"Although I managed to do iftar just once with my family, I am grateful to Allah for everything," an emotional Maryam said.
"I do miss having Suhoor with my family and cousins and attending Iftar gatherings with my fellow Muslims in Islamic schools, but I stayed connected with all of them through calls and videos."
https://www.khaleejtimes.com/coronavirus-pandemic/combating-coronavirus-new-muslim-quits-job-to-take-care-of-covid-19-patients-in-dubai--
------
Police intensify inspections to curb begging menace during Ramadan in UAE
May 16, 2020
Afkar Abdullah
Despite intensified inspections, begging activities have been rising in Sharjah, according to authorities. Beggars are seen stopping pedestrians and motorists asking for money, while not adhering to the mandatory Covid-19 measures of wearing masks and gloves.
Sharjah resident Mohamed Amin noticed beggars selling cleaning wipes on various roads posing as street vendors. "Without wearing masks, they approach pedestrians and people in their cars, telling fabricated stories to get some money. I also see pedestrians running away to avoid getting close to them," Amin said. "Beggars are desperate this Ramadan as everyone is committed to staying at home," he added.
Another resident, Mohamed Saud, said these people are using the pandemic to continue their activities with various stories - the death of the breadwinner due to Covid-19 infection, loss of work, to name a few.
Beggars usually stand near traffic signals in industrial areas, especially in the mornings, to take advantage of the cars that stop, said Salim Al Kutabi, another resident. "They approach the drivers for sympathy, selling sterilisers that are mostly counterfeited. They also offer to sell boxes of cleaning wipes containing sterile materials. They knock the car windows with their bare hands, not wearing gloves, to display these products to the motorists."
Sharjah resident Abu Mazin said some take their disability as an advantage to get social sympathy. "I saw a man begging with an amputated hand and another who used crutches for walking. There was also a woman who would ask for money to buy milk for the infant she was holding. These scenes have become frequent in Ramadan."
Shaneela Khan felt the increase in beggars' presence near ATMs, banks, residential building entrances, and in front of supermarkets. "Before the Covid-19 situation, most of these people were seen around mosques and residential neighbourhoods," she said.
Beggars are exploiting the current global situation by spreading fabricated stories through social media. "They cook up stories like the inability to buy medicine. They beg you to pay the value of a bus ticket to go back to their residence or to pay debts." said a top Sharjah Police official. The police urged the public not to respond to such activities of emails or on social media.
A number of beggars who were interrogated by the Sharjah Police said they were bought into the country in November and told to practise begging for six months in order to return home for a wealthy life, said Col. Ibrahim Al Ajill, director of the criminal investigation department at the Sharjah Police. "As they got stuck in the country, they were asked to continue their activities by their gangmasters. The gangs provide beggars with visas, air ticket and even accommodation, in return of 80 per cent of their daily earnings," he said.
"The police have started intensified inspection campaigns after receiving complaints about beggars pestering residents with their sad stories. According to police investigation, most beggars are brought in to the country by Arab and Asian gangs," he added.
Col Al Ajill said the police have launched 'Ramadan Aman' (Safe Ramadan) campaign to combat begging, limiting activities of street vendors and promoters of fireworks. "Patrols are detecting beggar movements, especially in residential areas. "People must report such activities on 901 or 065943210 rather than sympathising with them.
As many as 242 beggars of different nationalities have been nabbed by the Dubai Police since the beginning of the holy month of Ramadan.
Among those arrested, 143 were men, 21 were women and 78 were hawkers, said the police. "An anti-begging campaign was launched, especially to find beggar hotspots, to combat the negative phenomenon," said Colonel Ali Salem Al Shamsi, director of the anti-infiltrators department at the Dubai Police.
Col Al Shamsi also called on the public to stop helping them with money. "The public must direct those in dire straits through proper channels in order to get support from charitable institutions."
Col Al Shamsi also urged residents to report begging activities by calling 901 or through the Dubai Police app's 'Police Eye' feature.
Article 5 of Federal Law No. 9 of 2018 punishes whoever commits begging activities despite having a living resource by imprisonment for a period not exceeding three months and by a fine of no less than Dh5,000, said legal advisor Adel Shawky. "The same penalty is applied against whoever makes a false injury or pretends to have a permanent impairment or uses any other means of deception and deceit with the intent to influence others to gain their sympathy."
Legal attorney Saud Al Abdouli said: "In the event that one of the beggars is found to have Covid-19 and intentionally portrays behaviour that results in the transmission of the disease through dealing with people in public places, he or she shall be punished with imprisonment for a period of five years and a fine of between Dh50,000 and Dh100,000."
https://www.khaleejtimes.com/news/crime-and-courts/police-intensify-inspections-to-curb-begging-menace-during-ramadan
-------
Vodafone supports Ramadan Iftar project of QRCS
May 17 2020
Vodafone Qatar continues to pursue its corporate social responsibility (CSR) during the holy month of Ramadan, donating QR100,000 to Qatar Red Crescent Society's (QRCS)
Vodafone is donating an equivalent of QR1 to a charitable initiative for every 100 points collected on the Sawa platform throughout Ramadan. Daily entertainment, such as games, general knowledge/Ramadan-themed quizzes, and other challenges have been proving immensely popular since Vodafone Qatar launched the platform to encourage the public to be a part of its
Khames Mohamed al-Naimi, chief human resources officer, Vodafone Qatar, said, "We are humbled to support Qatar Red Crescent Society's Ramadan Iftar campaign to spread the spirit of Ramadan giving among those who are fasting. This is also part of our wider commitment for initiatives that support communities facing challenging circumstances."
Ibrahim Abdullah al-Maliki, chief executive director of Qatar Red Crescent Society, said, "We thank Vodafone Qatar for their continuous support for our charitable and
"This particular contribution would help us to reach out to as many vulnerable persons as we can during the holy month of Ramadan. The given food baskets would mitigate the socioeconomic impact of the coronavirus lockdown."
Vodafone Qatar is offering the public a chance to be part of next week's campaign to benefit the charity initiative Education Above All and get the chance to win cash prizes. To participate on the Vodafone Sawa platform via the web and on mobile devices, visit the link www.sawa.vf.qa, or download the My Vodafone app on the Google Play or
https://www.gulf-times.com/story/663392/Vodafone-supports-Ramadan-Iftar-project-of-QRCS
-----
QRCS intensifies Ramadan Campaign assistance for vulnerable families
May 16 2020
Qatar Red Crescent Society (QRCS) has said it is continuing with its Ramadan Campaign 1441 AH under the slogan, 'It is Better and Greater in Reward', which has been widely received by the public, the media - including newspapers, social media and websites.
This year, the Ramadan Iftar project involves the distribution of food baskets and fresh meals instead of the traditional Ramadan Iftar tents. All health precautions are taken to prevent gatherings as part of QRCS's large-scale work to curb the spread of Covid-19, particularly at quarantine facilities and highly populated districts.
https://www.gulf-times.com/story/663329/QRCS-intensifies-Ramadan-Campaign-assistance-for-v
------
Taraweeh, Isha prayers broadcast live from Sheikh Zayed Mosque in Ras Al Khaimah
Sun 17-05-2020
RAS AL KHAIMAH- The General Authority for Islamic Affairs and Endowments in Ras Al Khaimah said that Isha and Taraweeh prayers are streamed live across the emirate from the Sheikh Zayed Mosque throughout the last ten nights of the holy month of Ramadan.
The prayers are confined to the imam and two worshippers, taking into full consideration all precautionary and preventative measures adopted by the relevant UAE authorities to contain the COVID-19 pandemic.
The decision is aimed to maintain the spiritual nature of the holy month and ensure people remain in constant contact with mosques emirate-wide in light of the current circumstances.
http://wam.ae/en/details/1395302843128
-----
Southeast Asia
COVID-19: Bernama highlights need to focus on efforts by Muslim scientists in finding solutions
17/05/2020
KUALA LUMPUR, May 17 – The Malaysian National News Agency (Bernama), during the first Media Forum of the Union of Organisation of Islamic Cooperation (OIC) News Agencies (UNA), highlighted the need to provide extensive coverage on the efforts taken by Muslim scientists and medical societies around the globe in finding a cure for the ongoing global COVID-19 pandemic.
Bernama's Editor-in-Chief Datuk Mokhtar Hussain, when sharing the agency's experiences and knowledge in providing coverage for the pandemic, said the news agency will come up with a strategy or programme to share more information on the matter.
"We wish to share how Muslim scientists around the world or the medical society in the Muslim world is doing to help us (in) looking for a solution to face this (global) challenge of (COVID-19).
"Bernama is planning to do more online forum; for example, (a) webinar, where we can discuss these issues among the Muslim countries with our colleagues in UNA in (the) near future," he said during the forum titled "The role of news agencies in supporting anti-coronavirus efforts" held via video teleconferencing which began 6pm local time yesterday (May 16).
Saudi Arabia's Acting Media Minister and Chairman of Executive Council of UNA Dr Majid bin Abdullah Al-Qasabi chaired the forum, which aims to highlight the role of news agencies as reliable sources of information in spreading awareness about the COVID-19 pandemic.
The forum also provided an opportunity to the news agencies to exchange their experiences in disseminating knowledge and authentic information, in addition to refuting fake news and rumours besides preparing a manual and recommendations to document these experiences.
Sharing on the Standard Operating Procedure (SOP) of Bernama throughout the Movement Control Order (MCO), Mokhtar – who is also Bernama's acting Chief Executive Officer – said the agency allowed most of its staff to work from home.
"There is 'hikmah' or blessing in disguise in this, where we find that sometimes we are more focused in our work…the quality of our reporting (is) getting better and we managed to do social monitoring to see how people are coping at home," he said.
Mokhtar also pointed out that it is important to share information on how Muslims around the world are coping with the pandemic, namely on the reopening of the economy and how people would return to work after the lockdown.
During the virtual meeting, the editor-in-chief expressed his sincere gratitude and appreciation towards the government of Saudi Arabia under the leadership of King Salman bin Abdulaziz Al Saud – who is also the Custodian of Two Holy Mosques – and Crown Prince Mohammed bin Salman Al Saud for their continued support for UNA.
The forum was also participated by the Secretary-General of the OIC, Yousef bin Ahmed Al-Othaimeen, and President of the Islamic Development Bank (IsDB) Group, Dr Bandar bin Mohammed Hajjar, as well as directors of news agencies from OIC member countries and the permanent representatives to the organisation.
During the forum, Dr Majid launched the virtual annual activities and training programme which would benefit 2,200 media professionals from OIC member countries.
The forum also unanimously adopted resolutions, among others, to emphasise the paramount importance of the media, particularly the official news agencies, in raising awareness and educating people on many issues that concern humanity, especially climate change and epidemics.
It also called upon member news agencies and the Union to provide support and assistance to the Palestine News and Information Agency (WAFA) and Palestinian media professionals who are simultaneously suffering from two 'pandemics' – the coronavirus pandemic and the occupation of Palestinian territories.
https://www.bernama.com/en/general/news_covid-19.php?id=1842446
------
Take heart and reflect during Ramadan, amid coronavirus outbreak: PM Lee
MAY 16, 2020
Olivia Ho
SINGAPORE - With Hari Raya Puasa approaching, Prime Minister Lee Hsien Loong acknowledged that this year's muted festivities amid the Covid-19 outbreak would be difficult.
In a Facebook post on Saturday (May 16), the PM said that he had held a virtual dialogue with Malay-Muslim and community leaders to discuss how families are coping with the circuit breaker restrictions.
Muslims in Singapore will celebrate Hari Raya Puasa, or Hari Raya Aidilfitri, which marks the end of the Ramadan fast, on May 24, ahead of the circuit breaker ending on June 1.
The Islamic Religious Council of Singapore (Muis) had announced on Friday (May 15) that there should not be Hari Raya visits or gatherings during the circuit breaker period, and that Singaporean pilgrims will have to defer the annual haj pilgrimage to Mecca to 2021.
PM Lee, who partook in an "e-bukapuasa", or a virtual breaking of fast, observed: "It has been an unusual Ramadan, with families breaking fast with immediate family only and no jalanjalans to the GeylangSerai bazaar."
He added: "To all who have sacrificed to keep loved ones safe during this period, take heart. We are facing this together, and our collective efforts are showing results.
"We may be celebrating differently this year, but the significance of the holy month remains constant - a time of reflection, prayer, and good deeds. No pandemic can change this. May your Ramadan continue to be blessed and bright, and your family healthy."
https://www.straitstimes.com/singapore/take-heart-and-reflect-during-ramadan-pm-lee
-----
Islamic University lays off all staff, closes all campuses
May 16, 2020
Written by URN
The Islamic University in Uganda (IUIU) has indefinitely suspended the contracts of both teaching and non-teaching staff. The institution has also temporarily closed all its campuses after failing to pay staff salaries.
The university which is based in Mbale in eastern Uganda also has campuses in Kampala and Arua. It employs 600 full-time members of staff and about 300 on a part-time basis.
The university top management notes that they have made a review of their finances and established that they don't have sufficient funds to sustain staff. They argue that most of the students have not completed payment of tuition fees, which is the main source of income for the university.
The decision was communicated to all staff members by the university secretary Hussein Lukyamazi. According to Lukyamuzi, all running employment contracts will be suspended from June 1, 2020, until when the university reopens and can resume paying salaries.
"Following the Government of Uganda directive on the closure of academic institutions, the university finds itself unable to continue paying staff salaries and meet other financial obligations, because of the sudden and unplanned early closure of the university. Consequently, I am authorized to inform you that It has been decided that employment contracts for all IUIU staff are suspended indefinitely," Lukyamazi's letter reads in parts.
Lukyamazi adds that a few critical staff departments like security will continue working to protect the university assets. A separate communication signed by university council chairperson Almilik Talal and rector professor Ahmed KawesaSsengendo has directed the university bursar to work with the management and directors of campuses to ensure that full-time staff at all campuses receive their full salaries for May.
Following the COVID-19 directives issued by President Museveni in March, some organisations, companies and businesses have laid-off workers while others have suspended operations.
https://www.observer.ug/news/headlines/64811-islamic-university-lays-off-all-staff-closes-all-campuses
------
CMCO: Praying outside mosques not allowed, says Ismail Sabri
16 May 2020
PUTRAJAYA, May 16 — Individuals whose names are not in the list of congregation for prayers at mosques are not allowed to join in the prayer, including outside the mosque concerned, during the conditional movement control order (CMCO) period, said Senior Minister (Security Cluster) Datuk Seri Ismail Sabri Yaakob said.
He said the National Security Council has issued a standard operating procedure (SOP) on the matter, whereby no prayer is allowed to be held outside mosques during the CMCO period.
"We have agreed that during every Friday prayer and other prayers, the police and RELA (Department of Volunteers of Malaysia) will be monitoring the situation to ensure compliance with the SOP at mosques and surau which are allowed to conduct the prayers," he told a daily media conference here today.
He said this in response to reports on individuals whose names are not in the list attending yesterday's Friday prayer, but performed the prayer outside the mosque.
Meanwhile, Ismail Sabri said almost all the 25 mosques and 30 Friday surau in the Federal Territory that are allowed to hold the Friday prayer complied with the stipulated SOP.
On the house to house takbir on Hari Raya eve practiced by some mosques, he said it would not allow for the coming Aidilfitri celebration.
"We are worried that when too many people gather, and then move from one house to another, it is difficult to maintain social distancing," he added.
Teachers' Day is celebrated on May 16 every year and for this year the theme is Berguru Demi Ilmu, Bina GenerasiBaru (Teaching for Knowledge, Shaping a New Generation). — Bernama
https://www.malaymail.com/news/malaysia/2020/05/16/cmco-praying-outside-mosques-not-allowed-says-ismail-sabri/1866768
-----
Malaysia: Covid-19 recovery rate exceeds 80%
16 May 2020
KUALA LUMPUR: Another 73 Covid-19 (coronavirus) patients were cured and discharged from hospital in Malaysia over the past day, pushing the recovery rate to 80.2 percent, the Malaysian Health Ministry said on Saturday.
Health Ministry Director-General Noor Hisham Abdullah told a press briefing that the total number of cured cases stood at 5,512 while there are 1,247 active cases.
Of those still receiving treatment, 13 are currently being held in intensive care and five of those are in need of assisted breathing. One more death had been reported, with the victim having suffered from pre-existing health problems, raising the total deaths to 113.
The restrictions were eased on May 4 to allow most economy to reopen, but activities involving large gathering are still banned and schools remain closed.
In a televised speech in conjunction with Malaysia's Teachers' Day on Saturday, Prime Minister Muhyiddin Yassin said the government will follow the advice by the Health Ministry to set a date to reopen schools, and that the government would provide two weeks notice.
When schools are reopen, senior grade students in middle schools who are facing important exams for further studies would be prioritised to return to classroom.
Separately, Tourism, Arts and Culture Minister Nancy Shukri said the government has decided to allow the foreigners participating in the "Malaysia My Second Home" (MM2H) programme to enter Malaysia from Sunday.
Defence Minister Ismail Sabri Yaakob said in a separate press conference that MM2H participants must be tested negative for Covid-19 before being allowed to return.
Under the movement control order, Malaysia maintain a tight border control to reduces imported virus cases, banning Malaysians from leaving the country and most foreigners from entering. Malaysians return from overseas are required to be quarantined for 14 days at designated quarantine centres.
The MM2H programme is promoted by the Malaysian government to allow foreigners who fulfill certain criteria, to stay in Malaysia for as long as possible on a multiple-entry social visit pass.
https://www.thestar.com.my/news/regional/2020/05/16/malaysia-covid-19-recovery-rate-exceeds-80
------
Exporters: Malaysia signs record rice import deal with India
17 May 2020
MUMBAI: Malaysia has contracted to import a record 100,000 tonnes of rice from India for shipment this month and next, four industry officials told Reuters, in a further sign of improving trade relations between the countries after a diplomatic spat.
The first such purchase this year is already nearly twice the average annual volume of rice Malaysia has imported from India in the last five years, as rival suppliers such as Myanmar, Vietnam and Cambodia placed temporary curbs on exports to save the grain for themselves during the Covid-19 (coronavirus) crisis.
"After a long time, Malaysia is making substantial purchases from India," B.V. Krishna Rao, president of India's Rice Exporters Association, told Reuters.
The South-East Asian country's imports from India could rise to 200,000 tonnes this year after the latest deals, Rao and officials from three other firms said.
Malaysia bought around 53,000 tonnes per year on average from India in the past five years, according to data from the Indian commerce ministry. Total sales to Malaysia was a record 86,292 tonnes last year.
Restriction imposed on exports by Myanmar, Vietnam and Cambodia could have prompted Malaysia's state-linked rice importer Bernas to source supplies from India, said Himanshu Agarwal, executive director at Satyam Balajee, India's biggest rice exporter.
Vietnam, the third-largest rice supplier, fully resumed exports this month, after halting sales from late March and limiting supply in April to make sure it has sufficient food during the pandemic.
The rice deals come against the backdrop of a massive jump in recent imports by Malaysia of other commodities such as sugar from India, the biggest buyer of Malaysian palm oil.
India early this year restricted imports of Malaysian palm oil as a retaliation for then Malaysian Prime Minister Mahathir Mohamad's repeated criticism of New Delhi's domestic policies affecting the country's Muslim minority.
"Both economics and diplomacy have played out here," an Indian official with knowledge of Malaysia-India ties said on the condition of anonymity, referring to the recent uptick in deals.
"And when this palm oil thing came in, things sort of fell in place for India," the official said, referring to how India's tightening of palm import restrictions led to Malaysia signing other deals with the South Asian country.
Malaysia is the world's second-biggest producer and exporter of the vegetable oil after Indonesia, and India's restrictions had badly affected its sales. - Reuters
https://www.thestar.com.my/news/regional/2020/05/17/exporters-malaysia-signs-record-rice-import-deal-with-india
-------
Mideast
Imam Khomeini viewed the right path toward Quds: Islamic Jihad representative
May 16, 2020
TEHRAN, May 16 (MNA) – Glorifying the International Quds Day, initiated by the founder of the Islamic Republic Imam Khomeini in 1979, is an annual event held on the last Friday of Ramadan to express support for the Palestinians and oppose Zionism and the Israeli regime. Quds Day is a unique form of a wide-aware campaign against the Israeli occupation of Palestine.
The Muslims around the world pour into the streets each year to mark Quds Day, but this year due to the novel coronavirus pandemic, rallies will have a different shape and style. The marchers are to prove that they will never give up their struggle against the Zionist regime of Israel. The Muslims are resolved to prove that the anti-Zionism path is always full of people who never put the Palestinian cause aside.
A representative of the Palestinian Islamic Jihad Movement in Tehran Naser Abu Sharif, in an interview with the Mehr News Agency, underscored, "The International Quds Day is the day of taking giant strides on the right path. It proves that any other path is wrong and destructive. The right path is moving towards Quds. Imam Khomeini's correct understanding of the religion, as well as the current situation, caused him to initiate the Quds Day."
He further pointed to the internal crises with which the Zionist regime is struggling and said, "The Palestinian Arabs who are living in the occupied territories form over 40 percent of the territories' population. These residents include Muslims, Christians, and Druze people who have their own problems and tensions with the Zionist regime. There are also Jewish communities including Falasha and Haredim sects in the occupied territories. The Zionist regime has now turned into the greatest racist government worldwide as the far-right Zionist groups have been trying hard to broaden their control over the West Bank."
Abu Sharif highlighted the existing political differences among the Zionist factions and said, "The recent elections reflected the regime's unstable political, social, and ideological situation. The election showed that the regime is suffering from considerable religious, factional, and tribal differences. In addition to deep differences among the political parties, there are over 10 different tribal, ideological, and religious groups inside the Zionist regime.
"Possibly the mentioned internal differences and tensions do not leak out openly their consequences in social and political scenes, but when they are coupled with the central government's weakness and intensified political disputes, the problems will be more obvious. The internal disputes presage a very dangerous future for the regime as we are witnessing a big gap among key political parties and lack of reliable willful leadership in Tel Aviv. The mentioned deficits will bring a catastrophic fate for Israel," Abu Sharif stated.
He added, "The Zionist regime, in spite of all-out support provided by the hegemonic powers, is experiencing a decrease in a number of those who follow far-rightists; there are also weaker extremist movements and hate against others. The Zionist regime is not ready anymore to handle a situation of internal coexistence to later pave the ground for coexistence with the Palestinians. Accordingly, the Tel Aviv regime will face a huge deadlock in the future.
"Furthermore, the Zionists had to form a unity government without any form of solidarity. Vast political tensions that forced the Zionists to hold three rounds of elections (in less than a year) has now caused the Israeli political parties and lawmakers to choose Benyamin Netanyahu as the prime minister regardless of his scandalous cases," the representative of the Palestinian Islamic Jihad Movement added.
Abu Sharif said that now the illegal Zionist regime of Israel is 72-year old. However, he added, "The Zionists have not thus far been capable of forming a religion-oriented Jewish government. Their governments have been formed based on race and ethnicity which has been ruled by the Jews with Western origin. The Zionists have regarded the Jews with Eastern origin as some tools to materialize their hegemonic plots."
"Regardless of the hegemonic powers' unsparing support for Israel and imposing pressure on the world nations to normalize relations with Tel Aviv and recognize the regime over the past decades, the Zionist regime has yet failed to gain international recognition. Israel is still an unstable shoddy building which may collapse in a jiffy," he underlined.
He pointed to widespread corruption among the political leaders in Israel, and said, "We witness a large number of ministers and prime ministers in Israel facing corruption charges. The corrupt Israeli officials have lost their standing and position among the Israelis but they are still chanting racism and Zionism slogans. The only reason that brings the Israelis to a common point is their fear of living in an insecure situation."
Abu Sharif criticized certain Arab nations for ignoring the Palestinian cause and said, "The establishments (certain Arab leaders) that are currently ruling over the Ummah (the Islamic nations) suppose that they will fail to govern their countries without the West's financial and political support. Therefore, such Arab countries see no choice for themselves but accepting the United States' orders and demands. Such Arab countries believe that normalization of relations with Israel is the only path towards pleasing the US in turn, the US will slur over the whole crimes such Arab rulers have committed against their own people."
He added, "These pro-West regimes are nothing but some tools used by the Zionists. The regimes are currently utilizing the entire facilities, funds, and media, including the MBC news network and other outlets, to distract the regional nations from the most important issues of the Ummah."
Unfortunately, rulers in certain Arab countries imagine that the only way to preserve their power is turning back to their own people and seeking the hegemonic powers' assistance, he pointed out.
"Fortunately, the Islamic world nations are completely aware. The Zionists' plots may deceive some simple-minded people but can't derail the Ummah's general policy which is defending the Palestinian cause and the holy Quds," Abu Sharif concluded.
https://en.mehrnews.com/news/158753/Imam-Khomeini-viewed-the-right-path-toward-Quds-Islamic-Jihad
------
Muslim scholar group urges stand against Israeli plans
Ahmed Asmar
17.05.2020
The International Union for Muslim Scholars (IUMS) on Saturday urged the Islamic world and all countries to stand against Israel's plans to annex the occupied Palestinian territories.
Secretary General of the IUMS, Ali al-Qaradaghi, accused Israel of exploiting the world's preoccupation with the coronavirus pandemic, along with the Trump's administration support, to proceed with its aggressive policies against the Palestinians.
"The IUMS calls upon all to stand with the Palestinian people, and their right in self-determination and to liberate their occupied territories," said al-Qaradaghi.
He held the U.S. administration fully responsible for implications of approving Israeli plans of annexing Jerusalem and other Palestinian territories to its sovereignty by giving a green light to the Israeli government.
The annexation will take place July 1, as agreed between Prime Minister Benjamin Netanyahu and his newfound ally Benny Gantz, head of the Blue and White party.
Palestinian officials have threatened to abolish bilateral agreements with Israel if it goes ahead with its plans, which would further undermine the two-state solution.
The annexation comes as part of US President Donald Trump's so-called "Deal of the century" announced Jan. 28. It refers to Jerusalem as "Israel's undivided capital" and recognizes Israeli sovereignty over large parts of the West Bank.
The plan includes the establishment of a highly fragmented Palestinian state connected by bridges and tunnels.
Palestinian officials say that under the US plan, Israel will annex 30% - 40% of the West Bank, including all of East Jerusalem, seen as the capital of a future Palestinian state.
The plan has drawn widespread criticism from the Arab world and was rejected by the Organization of Islamic Cooperation (OIC), which urged all member states not to engage with the plan or cooperate with Washington in implementing it in any way.
https://www.aa.com.tr/en/middle-east/muslim-scholar-group-urges-stand-against-israeli-plans/1843682
------
Eid al-Fitr prayers should be held in mosques, open spaces across Iran: President Rouhani
16 May 2020
Tehran (ISNA) - Appreciating people who observed health protocols and smart social distancing during Laylat al-Qadr ceremonies, Iran's President praised the efforts of the organizers of the ceremony, including sermons, Basij of mosques and all executives, saying, "Today, we are in a situation where we should not allow anxiety and despair prevail in the society. At the same time, people should not feel that everything is over and we have overcome the danger".
Speaking on Saturday at the session of the National Task Force for Fighting Coronavirus, Dr. Hassan Rouhani said that some are trying to promote frustration, anxiety and apprehension in the society to make people feel that they are in a difficult situation, adding, "This condition can have serious psychological consequences. Medical, social and economic officials need to make it clear to the public that the virus is not over yet, but that conditions have improved".
The President said that at the beginning of the disease in Iran since three months ago, there was high concern and anxiety about the unknown nature of the virus and the uncertainty of its effects and characteristics, adding, "Fortunately, our health staff and nurses' skills about this unknown virus have become more".
Dr. Rouhani said that the treatment equipment for this disease is much better than the first day of the outbreak of the virus, and that we have gone through a difficult process in producing requirements such as N95 masks and ventilators, adding, "People should know that in the future, our status in the fight against the virus will be better, even if we see a new peak".
"Today, our conditions are better than the first day, but at the same time, we still have to be careful not to think that everything is over. Holding gatherings and not observing health principles and smart social distancing will increase the number of patients and create problems for us," he said.
Dr. Rouhani emphasized that we must have a middle ground in fighting coronavirus so that we neither create anxiety and apprehension, nor are indifferent, saying, "Fortunately, mosques have been reopened in the white cities, Friday prayers are being held, and economic and business activities have resumed".
The President continued, "The foreign media wanted to shut down the country under the pretext of coronavirus, but we did not shut down production in the country for a day, and focused on basic goods and the essential needs of the people".
Dr. Rouhani said that in the current situation, personal hygiene is an important and basic principle that must be observed, adding, "Social distancing must still be on the agenda. We must forget some past habits for a while and adapt our lives to coronavirus".
Emphasizing the need to separate the person infected with coronavirus from the society and the need for quarantine, the President said, "After being identified, the infected person must be separated from the society immediately, and in this regard, the task force approved a resolution for informing their family and colleagues that unfortunately was not implemented thoroughly".
Dr. Rouhani emphasized, "The instructions in this regard must be communicated clearly and decisively to all medical centres and doctors, and sufficient training should be given to the people. Quarantining infected people is an important principle; otherwise all efforts will be wasted".
Stating that victory and success against the disease is the first condition for public trust, the president said, "The work is done by the people; The people must also trust the government, the system, the experts and the relevant authorities and the media; We also need transparency and honesty to gain trust".
Dr. Rouhani emphasized that the more the general cooperation between the organs, the more the people's trust will be gained, stressing, "Coordination among organs give people trust, while the voice of the people, their opinions and criticisms must be heard well".
"Declaring a white status in a city does not mean the end of the disease," the president said, stressing that we need to prepare people for at least a few months to live with coronavirus.
Dr. Rouhani continued his speech by stating that we should consider support packages for people who have problems in the society and are not in a good situation, and said, "The government has considered support and assistance for these groups as much as it can, but it is not able to do it alone".
The President also referred to the actions taken by knowledge-based companies in the field of fighting coronavirus and said, "Knowledge-based companies have a very heavy burden and have done great things and used all their power to meet the needs".
Dr. Rouhani also pointed out the importance of production and export in the country and said, "In the country, we need to produce goods, export them and the currency resulting from exports, and we all need to fulfil the slogan of Surge in Production put forward by the Supreme Leader for this year".
The President emphasized, "If we rely solely on the oil barrel, we will have problems, but we rely on patriotic exporters, we will be able to solve the problems".
Explaining the approvals of today's meeting of the National Task Force for Fighting Coronavirus, Dr. Rouhani said, "Today we had a promising report that showed that the deaths of the elderly due to coronavirus in Iran have been very low compared to many other countries".
The President added, "99% of the elderly in the whole country are kept in homes, and this is one of our prominent cultural and religious characteristics, and only 1% of the elderly are kept in nursing homes".
Dr. Rouhani emphasized, "According to today's resolution, the Quds Day ceremony in white cities, which was announced today as 218 cities, will be held in Friday prayers, observing all health protocols, not as the form of procession, but as a gathering".
The President added, "In the case of Tehran, due to the special conditions of the capital, it was decided that with the responsibility of the Islamic Revolutionary Guard Corps, from one origin to the end, we would have a symbolic ceremony in the form of moving cars without gathering people".
Dr. Rouhani added, "Regarding Eid al-Fitr prayers, it was decided to hold Eid al-Fitr prayers in mosques and open spaces throughout the country in accordance with health instructions, but we will not have Eid al-Fitr prayers in large prayer halls".
The President added, "Regarding the reopening of holy places and shrines, it was decided that after the holy month of Ramadan, the courtyards of these places will be open to pilgrims for 3 hours in the morning and 3 in the afternoon with full observance of health instructions".
Dr. Rouhani added, "According to the resolution of the National Task Force for Fighting Coronavirus, restaurants will reopen after the holy month of Ramadan, and hotels will be more active".
"The national university entrance exam will be held on time and will be held in accordance with health protocols put forward by the Ministry of Health," said Rouhani.
He continued, "Universities will restart their activities since June 6, and sports activities will resume within the framework of health protocols without the presence of spectators. The release of prisoners whose release do not pose a threat to society was also extended until June 20".
https://en.isna.ir/news/99022719383/Eid-al-Fitr-prayers-should-be-held-in-mosques-open-spaces-across
-----
Islamic Center Hamburg publishes online Ramadan journals
May 16, 2020
The Islamic Center Hamburg has published online journals titled "Al-Fajr" and "Salam Kinder" on the occasion of the holy month of Ramadan.
The center says the magazines that are free highlight some of the religious issues including the importance of the holy month and reading Quran, Qadr nights, and the status of fasting in other religions.
The necessity and importance of healthcare and medical treatment in view of Islam and how to face problems in view of the Quran are also among the themes discussed in the magazines.
The center has also organized different online programs in the holy month of Ramadan this year including online Ramadan competitions, the second edition of "Tanzeel" European online Quran competition and an online contest on the occasion of the birthday anniversary of Imam Hassan (AS) on the 15th of the holy month.
https://en.abna24.com/news//islamic-center-hamburg-publishes-online-ramadan-journals_1037514.html
-----
Turkish charity eyes donation to more than 1M in Ramadan
17.05.2020
Faruk Zorlu
A Turkish humanitarian agency has an ambitious goal to reach more than 1 million needy people in Turkey and around the globe during the holy month of Ramadan, according to a top official with the group.
With its slogan, All Together Ramadan, the charity wants to provide relief, mostly in Turkey, and in major crisis zones around the world amid the novel coronavirus outbreak, Bulent Yildirim, head of the Istanbul-based Humanitarian Relief Foundation (IHH), told Anadolu Agency.
"This Ramadan is different from other ones since the whole world is tested with the coronavirus," he said, noting the charity started Ramadan activities early this year to meet the needs of those affected by the outbreak.
He said in addition to its work in 81 Turkish provinces, the group will also help 14 different nations and regions, including Syria, Gaza, Yemen, Libya, Niger, Kosovo, Afghanistan, Azerbaijan, Somalia, Sudan -- including its capital city of Khartum and the western Darfur region -- Bangladesh, Myanmar and the Philippines' self-governing Muslim-majority Bangsamoro region.
As it does every year, IHH will assist orphans and their families by distributing new clothes in celebration of Eid al-Fitr, the Muslim holiday that marks the end of the holy month of Ramadan which will take place at the end of the week, by providing food parcels, iftar -- the fast-breaking meal, packages and provide cash to families.
"The world is under lockdown this year. Everywhere became Gaza, everywhere became East Turkestan [the area otherwise known as China's Xinjiang province populated with Uyghur Muslims], became Arakan [Rakhine state in Myanmar that is home to Rohingya Muslims] and Syria. So people stayed home and learned how limited life looks."
Although many were forced to shutter businesses, lost jobs and income because of lockdowns, Yildirim said this year, donations to IHH rose compared to last year and that people support each other more during difficult times.
"Turkey never got tired [of helping others]," he said. "And now, the people of Turkey are in a tight spot. The Turkish nation needs to remain standing, integrated and to overcome these difficulties."
Most of the aid will be distributed in Turkey to those affected by COVID-19, while during Ramadan, 70,000 people will benefit from zakat donations, or mandatory charity, and fitrah -- a special form of charity on the eve of the Eid holiday, he added.
Yildirim said the agency will deliver 210,500 food packages -- each costing 120 Turkish liras ($17) -- to those in Turkey and other countries.
"Aid will be delivered by 60 trucks in 81 provinces in Turkey. This aid includes food, cleaning materials, clothes, chocolate, candy, balloons and toys for children."
"[About] 100,000 people will receive iftar packages," he said, noting as part of health precautions because of the pandemic, everyone will be able to set up a table in their own place instead of organizing the usual mass iftar programs.
Last year, IHH distributed iftar meals to 221,700 people around the world. It also provided 226,795 food parcels, from which more than 1.21 million people received charity.
"Charitable people will be able to meet the holiday needs of children by contributing 150 Turkish liras ($22) to dress a child from top to toe," he said.
He underlined 50,000 orphans and children will benefit from the holiday clothing and called on benefactors to double the number to 100,000 to reach more orphans during Ramadan.
"I invite all non-governmental organizations in Turkey and around the world to make a similar project and to provide new clothes to all orphans for the holiday celebrations."
https://www.aa.com.tr/en/life/turkish-charity-eyes-donation-to-more-than-1m-in-ramadan/1843706
-------
South Asia
China's ambassador to Israel found dead in his apartment in Herzliya
05.17.20
The death was confirmed by to the envoy's deputy, Dai Yuming, in an official statement.
The envoy was found dead in his bed by his assistant. Although the cause of death has not yet been revealed, sources say the ambassador suffered a cardiac arrest overnight.
He was appointed the ambassador in February, in the midst of the coronavirus pandemic. He had previously served as China's envoy to Ukraine from 2016 to 2019.
Foreign Ministry Director General said he talked to the envoy's deputy and offered him condolences as well as any help the embassy might require in the aftermath of the event.
Du posted a message of encouragement to Israelis shortly after taking on the post, which was published on Chinese Embassy's official Facebook page. "The world is engulfed in a major challenge of pandemic and Israel is impacted," said the statement.
"The Israeli people across the society offered valuable support to China [during the outbreak] ... now, we want to give you our support in the battle against the disease."
Only on Friday he posted a message via the Chinese Embassy's website, rejecting claims by U.S. Secretary of State Mike Pompeo of a coronavirus cover-up.
The spokesperson for the Chinese Embassy said Pompeo has over years been labeling Chinese products, investments and people as security risks without producing any evidence to support his claims.
"We trust that our Jewish friends are not only able to defeat the coronavirus but also the 'political virus,' and choose the course of action that best serves its interests," said the statement.
https://www.ynetnews.com/article/rkgDVvC5L
------
China leaves Trade Minister Simon Birmingham hanging on the telephone
May 17, 2020
High-ranking calls to China have gone unanswered amid an escalating trade dispute with Australia that's been fuelled by calls to investigate the origins of the deadly coronavirus pandemic.
Trade Minister Simon Birmingham has been seeking to speak with his counterpart since China threatened to impose an 80 per cent import tariff on Australian barley.
China will make its final decision on the tariff on Tuesday. If it follows through with the threat, Australian exporters fear it will cripple a once-lucrative market.
Barley exports were worth $1.5 billion in 2018 but dropped to $600 million in 2019 amid drought and an Australian push to diversify into more markets.
The Morrison Government needs to explain what it's doing to hold China to account. Are these actions allowed under CHAFTA? If so, what confidence can other Australian exporters have that they won't similarly be used as pawns in China's political games? https://www.abc.net.au/news/rural/2020-05-12/china-trade-escalation-as-beef-farmers-are-targeted/12237468 …
Australia's livestock farmers could be the latest victims in a fast-evolving trade war with China with four Australian abattoirs banned from selling meat to China.
Senator Birmingham said while diplomats had held talks with Chinese officials, discussions with high-ranking politicians were yet to happen.
"The call ought to be returned," he said. "We are open to have that discussion, even where there are difficult issues to be discussed at any time.
"It's for our counterparts around the world to decide whether or not they agree to the same standards of open dialogue and discussion."
A major point of friction has been Australia's decision to ban the Chinese-owned tech giant Huawei from taking part in the rollout of 5G mobile infrastructure over national security concerns.
Prime Minister Scott Morrison's calls for an investigation into the origins of the COVID-19 outbreak, which Australia attributes to a wildlife wet market in Wuhan, China, further escalated the tension.
China's ambassador to Australia Cheng Jingye had previously threatened his country would impose economic sanctions if Mr Morrison continued to push for the probe.
"Maybe also the ordinary people will say why should we drink Australian wine or to eat Australian beef?" he said in an interview with the Australian Financial Review in April.
Beijing's trade war threats on beef were followed through in part, announcing a sudden ban on imports from four Australia abattoirs last week.
There are estimates the four meatworks represent 35 per cent of beef exports to China, a trade that had been on track to reach $3.5 billion this year.
Senator Birmingham and the Prime Minister have sought to distance the barley and beef woes from Mr Morrison's push for an investigation into China's handling of the coronavirus outbreak.
China charges Australia's meat exports don't the meet the health standards its consumers find in its own plants and markets, such as the one above. Photo: PA
They've said the beef ban was the result of Australian exports failing to meet Chinese health standards, while the barley tariff threat follows an 18-month investigation into allegations of Australia dumping barley.
Senator Birmingham said a formal response to the claim had been submitted and Australia expected to learn the outcome of China's decision in coming days.
"Our view is that very clearly Australian barley lands in China at commercially competitive prices, based entirely on market prices," he said.
"This is simply a commercial farming operation getting on with business and there's no justification for duties to be applied on any of the barley products."
https://thenewdaily.com.au/news/coronavirus/2020/05/17/china-leaves-trade-minister-simon-birmingham-hanging-on-the-telephone/
-------
Saleh's latest remarks regarding Taliban-ISIS links, deadly Kabul attack
17 May 2020
The First Vice President of Afghanistan Amrullah Saleh said the confessions of the detained ISIS leaders leave no room for illusions regarding Taliban and ISIS, apparently gesturing that there is no distinction between the two groups.
Speaking during a gathering in Nangarhar province, Saleh said certain 'strangers' claim that a specific group carried out the attacks in Kabul and Nangarhar on Tuesday.
However, Saleh said the confessions of Aslam Farooqi and Abu Omar, the two top leaders of ISIS, leave no room for any question regarding the Taliban and ISIS.
Saleh accused the Taliban group for the deadly attack on maternity ward in Kabul city, emphasizing that the group would not be able to seize power by force.
The group on Friday issued a statement demanding a transparent and impartial investigations into the deadly attacks in Kabul and Nangarhar provinces.
The group condemned the two attacks in strong words and blamed the 'criminal and malicious elements affiliated with the Afghan government' for being involved in the two attacks.
"The Islamic Emirate strongly condemned both attacks and clarified that these attacks were the work of criminal and malicious elements who are seeking to attain their malicious objectives by killing defenseless human beings," the group said in a statement.
The statement further added "The Islamic Emirate once again clarifies that it had no hand in the DashtiBarchi incident, considers it a vile, inhumane and an un-Islamic act and shares the grief of the families of martyrs and wounded of this tragedy."
The Afghan government earlier ordered the Afghan forces to resume offensive operations against the militants, blaming the Taliban and ISIS groups for targeting the civilians, women and infants.
Dozens of people including many security personnel, women and newborn children were killed after the militants carried out a series of attacks in Kabul, Nangarhar and Laghman provinces during the course of the week.
https://www.khaama.com/salehs-latest-remarks-regarding-taliban-isis-links-deadly-kabul-attack-08830/
------
Afghan army officer assassinated in Kabul city
17 May 2020
Unknown gunmen assassinated an officer of the Afghan National Army (ANA) forces in Kabu city earlier today, the Ministry of Interior (MOI) said.
Tariq Arian, a spokesperson for the Ministry of Interior (MoI), said unknown gunmen assassinated an officer of the Afghan army in the 12th district of the city earlier today.
Arian further added that the gunmen opened fire on Afghan Army officers, killing one of them and wounding another officer.
According to Arian, the security forces are investigating the incident and as a result five people who were riding motorcycles have been arrested so far.
https://www.khaama.com/afghan-army-officer-assassinated-in-kabul-city-08829/
-----
Pakistani ambassador stops short of supporting Indian dialogue with Taliban
17 May 2020
The Ambassador of Pakistan to United States Asad Khan stopped short of supporting the Indian dialogue with the Taliban group in a bid to help advance the peace process.
"If India feels that their engagement is going to help the peace process, then we would defer to their judgment. But it's not for us to sit in judgment on what they should do or they shouldn't do," Khan told Reuters.
This comes as the U.S. envoy for Afghan peace Zalmay Khalilzad had earlier emphasized on the importance of dialogue between India and Taliban.
Speaking during an interview with The Hindu, Khalilzad said he discussed how India could play a "more active role" in the Afghan reconciliation process during his talks in Delhi on Thursday.
"India is an important force in Afghanistan and it would be appropriate for that [India-Taliban] engagement to take place," Khallilzad said.
Khalilzad further added that India had a "significant role" in Afghanistan's development, but paradoxically, doesn't play a role in the international peace efforts.
"India and Afghanistan have historic ties, and I believe that dialogue between India and the Taliban is important, and it would be important that issues of concern like this [terrorism] are raised directly," he added.
https://www.khaama.com/pakistani-ambassador-stops-short-of-supporting-indian-dialogue-with-taliban-08828/
-----
Afghanistan records 349 new cases of coronavirus in past 24 hours
16 May 2020
The public health authorities recorded 349 new positive cases of the novel coronavirus (COVID-19) in the past 24 hours, the Ministry of Public Health said.
Deputy Public Health Minister Wahid Majroh told reporters that the authorities tested 1,113 people for coronavirus across the country in the past 24 hours.
Majroh further added that the tests of 349 people returned as positive which increased the total number of positive cases to 6,402 since the outbreak of the virus.
According to Majroh, at least 15 people also lost their lives during the same period and 32 others recovered.
He also added that the virus has so far killed 168 people across the country while 777 others have recovered.
https://www.khaama.com/afghanistan-records-349-new-cases-of-coronavirus-in-past-24-hours-08827/
------
India
64 Foreign Islamic Sect Members Arrested In Bhopal
May 16, 2020
Bhopal: Over 60 foreign nationals, who are members of Tablighi Jamaat, have been arrested by police for participating in various religious programmes of the organisation in violation of Foreigners Act and under the Indian Penal Code, a senior officer said on Saturday.
Tablighi Jamaat had hit headlines earlier over a religious congregation held at Nizamuddin in Delhi in March this year amidst coronavirus pandemic. Many COVID-19 cases were reported when some Tablighis travelled back to their respective home states.
They had arrived in India on tourist visas under which they can't participate in religious activities," Bhopal Police Range Inspector General (IG) Upendra Jain told PTI.
Another official said a total of 64 foreigners were arrested under sections 188 (disobedience to order duly promulgated by public servant), 269 (negligent act likely to spread infection of disease dangerous to life) and 270 (Malignant act likely to spread infection of disease dangerous to life) of the Indian Penal Code (IPC) and provisions of the Disaster Management Act and Foreigners' Act.
He said some of the arrested persons had earlier tested positive for coronavirus and all of them were placed under quarantine.
https://www.ndtv.com/india-news/covid-19-64-foreign-islamic-sect-members-arrested-in-bhopal-2229877
-----
Give Ramzan Packs Comprising Sevaiyyan, Sugar, Milk and Ghee Along With Rice And Other Essential Commodities To Poor Muslims: Telangana Cong
May 17, 2020
Hyderabad: Congress has demanded that the government distribute free Ramzan packs comprising Sevaiyyan, sugar, milk and ghee to poor Muslims along with rice and other essential commodities. State Congress minorities cell chairman Shaik Abdullah Sohail, in a letter to CM KCR, said due to extended lockdown, poor Muslims do not have any money left to buy items required to prepare sheer-khorma, the Id-ul-Fitr sweet dish. TNN
https://timesofindia.indiatimes.com/city/hyderabad/give-ramzan-packs-to-poor-muslims-cong/articleshowprint/75782590.cms
------
Muslims Perform Last Rites Of Sikh In J&K's Ganderbal Amid Lockdown
May 16, 2020
Amid the coronavirus-induced lockdown, Muslims performed last rites of a Sikh who passed away in Ganderbal district of Jammu and Kashmir, officials said on Saturday.
Ranveer Singh, a resident of Punjab, who was working as a carpenter in Wakura area of Ganderbal district of central Kashmir died a few days ago, the officials said.
Soon after the news of his death spread, locals informed police and made arrangements for performing his last rites, the officials said.
Singh was cremated in the presence of officials of the civil and police administration, Wakura Tehsildar Ghulam Mohammad Bhat told PTI.
"The locals showed huge support and arranged everything for the cremation of the deceased. The expenses related to the cremation were made by the locals. They also deposited some money in the account of Singh's wife," he said.
He said many people from outside have been working in the area for the past several years and live there for most part of the year.
"Most of them leave the valley when winter approaches, but return in a few months. They become a part of the society. We try to help them in whichever way we can when they face any difficulty. So, when we heard about Singh's death, we came forward to arrange for his last rites," Rehman added.
https://www.indiatoday.in/india/story/muslims-perform-last-rites-of-sikh-in-j-k-s-ganderbal-amid-lockdown-1678800-2020-05-16
-----
Imam Of Eidgah In Ayodhya Seeks Relaxation For Namaz On Last Friday, Eid
May 16, 2020
Imam of Eidgah in Ayodhya, Samsul Qamar on Saturday sought permission to offer prayer in mosques on the last Friday of Ramzan and on the festive occasion of Eid.
Imam Qamar handed over a memorandum addressed to the Prime Minister Narendra Modi and chief minister Yogi Adityanath, to city magistrate and circle officer (city) on Saturday seeking permission for a collective offering of namaz in mosques on the last Friday of the ongoing Ramzan, on May 22.
So, Muslims must be allowed to offer namaz in mosques on the last Friday of Ramzan and on the occasion of Eid, which is likely to be held on May 24 or 25, said Qamar.
It may be pointed out that after the nationwide lockdown from March 25 all mosques and temples in Ayodhya are closed. Even on the nine-day long Navratra (March 25- April 2), all the temples in Ayodhya were closed and the Navratri Mela on last day of Navratra (April 2) was also cancelled.
https://www.hindustantimes.com/lucknow/imam-of-eidgah-seeks-relaxation-for-namaz-on-last-friday-eid/story-70gGEjPQcTDu3qWIXmBWGK.html
-----
Africa
Zimbabwe extends coronavirus lockdown 'indefinitely'
2 hours ago
Zimbabwean President Emmerson Mnangagwa has extended a nationwide lockdown meant to control the spread of coronavirus, though the restrictions will be reviewed every two weeks.
In a live broadcast on Saturday, Mnangagwa said the measure would remain in place "for an indefinite period", adding that "the country needs to ease out of the lockdown in a strategic and gradual manner".
He said informal street markets, where millions of Zimbabweans make a living, would remain shut while the government consulted health specialists on how to reopen them safely.
But businesses such as manufacturers, supermarkets and banks, which have been allowed to continue operating, will see their operating hours extended from a maximum of six hours to more than eight hours between 8am (06:00 GMT) and 4:30pm (14:30 GMT).
Mnangagwa said the hundreds of Zimbabwean migrants returning home every week, mainly from South Africa and Botswana, will have to undergo a 21-day quarantine in school and college buildings set aside for the purpose.
The president said only students writing final examinations this year would be allowed to resume classes, but did not say when. The government is still working on plans to reopen schools in phases.
The drastic restrictions have so far borne fruit as coronavirus transmission has not been widespread and numbers remain lower than the initial projections, Mnangagwa said.
Mnangagwa said the World Health Organization had classified coronavirus transmission in Zimbabwe as "sporadic", with a low number of cases and no discernible clusters.
Doctors and experts have warned that Zimbabwe's poorly equipped health service could not cope with a severe coronavirus outbreak.
https://www.aljazeera.com/news/2020/05/zimbabwe-extends-coronavirus-lockdown-indefinitely-200517065538318.html
------
Boko Haram attacks army base, kills five soldiers
May 17, 2020
Boko Haram fighters have attacked a Nigerian Army location at 156 Battalion in Mainok area, Borno State, killing five soldiers.
An army situation report obtained by our correspondent stated that the terrorists came in no fewer than 10 gun trucks to attack the base.
The report from the Headquarters, 29 Task Force Brigade, to the Headquarters, Sector 2, Operation Lafiya Dole, said the terrorists were met with firepower and an unconfirmed number of them were also killed.
The report said, "Update on attack on 156 Battalion location in Mainok; at about 5pm, Boko Haram elements attacked 156 Task Force Battalion's location, Mainok town, with approximately 10 gun trucks – about six gun trucks attacked from Mainok and about four attacked from the North end.
"Attackers began from Mainok town and later attacked the camp. Troops responded with firepower. Reinforcement troops from Headquarters 29 Brigade led by Brig Gen O. G. Onubogu responded to attack, forcing some of the Boko Haram to divert from Mainok attack to ambush reinforcement troops.
"Troops cleared ambush and married up with 156 Task Force Battalion led by Lt Col N. D. Ajah. Boko Haram elements were forced to withdraw. Enemy casualties unconfirmed but lots of bloodstains all around Mainok camp.
"Two casualties among 156 Battalion and three casualties among reinforcement troops. All the casualties were evacuated to 7 Division Military Hospital. The situation in Mainok is stable but unpredictable."
Meanwhile, the Defence Headquarters, Abuja, said on Saturday that the Air Task Force of Operation Lafiya Dole had killed scores of Boko Haram terrorists in several locations in the AlafaYagayaga area of Borno State.
The DHQ's Defence Media Operations in a release stated that intelligence showed that the Boko Haram elements were recruiting new fighters at the locations and planning to attack military bases.
The DMO Coordinator, Maj Gen John Enenche, said, "Boko Haram terrorists in the AlafaYagayaga, Sambisa Forest area, have been set in disarray as a result of massive air strikes conducted by the Air Task Force of Operation Lafiya Dole on May 15.
"The operation was executed based on series of intelligence, surveillance and reconnaissance missions, which showed that the terrorists had imported additional fighters and increased their logistics stocks.
"Consequently, the ATF dispatched attack aircraft and a surveillance platform to engage the location. The Nigerian Air Force fighter jets attacked the target area, neutralising many Boko Haram terrorists as well as destroying their logistics facilities."
https://punchng.com/boko-haram-attacks-army-base-kills-five-soldiers/
------
Troops intensify hits on Boko Haram, destroy hideouts in Sambisa Forest
By Maureen Onochie
May 17, 2020
Troops of Operation Lafiya Dole through the Air Task Force killed several Boko Haram Terrorists (BHTs) in the Sambisa Forest general area of Borno State during an air strike on Friday. In a statement signed by Coordinator, Defence Media Operations, Major General John Enenche, the operation was executed based on credible intelligence reports and series of Intelligence, Surveillance and Reconnaissance (ISR) missions, which showed that the terrorists had increased their activities in the settlement by importing additional fighters and increasing their logistics stocks preparatory to attacks on troops' locations and surrounding civilian settlements. He said the Air Task Force dispatched an enhanced force package of attack aircraft and a surveillance platform to engage the location. Enenche explained that when the Air Task Force spotted the target area, they observed significant activities of the terrorists in different parts of the settlement. ADVERTISEMENT Dear valued readers, subscribe to the Daily Trust e-paper to continue enjoying our diet of authoritative news. Kindly subscribe here He said Nigerian Air Force (NAF) fighter jets took turns in attacking the target area, neutralizing many terrorists and destroying their logistics facilities and other structures in successive passes, thereby further degrading them.
https://www.dailytrust.com.ng/troops-intensify-hits-on-boko-haram-destroy-hideouts-in-sambisa-forest.html
-----
Pakistan
MQM-P leaders rejects Sindh govt's emergency relief ordinance
Azfar-ul-Ashfaque
May 17, 2020
KARACHI: The MuttahidaQaumi Movement-Pakistan on Saturday rejected the Sindh Covid emergency relief ordinance, saying it lacked relief for the lockdown-hit traders and people of the province.
MQM-P convener Dr Khalid Maqbool Siddiqui said this while talking to the media at the party's temporary headquarters in Bahadurabad, where a delegation of city traders came to meet and share with the party their grievances.
Only on Friday, Sindh Governor Imran Ismail signed the Sindh Covid19 Emergency Relief Ordinance 2020 after the Sindh government had reviewed and resent the document to him after removing the objections he had raised on the first draft.
According to the relief envisaged in the Covid-19 relief ordinance, no educational institution shall charge more than 80 per cent of the total monthly fees; no employee or worker shall be laid off, terminated or removed and the employee shall be paid salary by the employers. The ordinance also suggests up to Rs1 million fine on violation of the government orders or guidelines devised to contain the spread of the virus.
Commenting on the ordinance later on Friday, senior MQM-P leader KhwajaIzharul Hasan criticised the Sindh government for providing "zero facilities following 18th Amendment" and asked in a tweet "where is the relief in this ordinance".
Another MQM-P leader Haider Abbas Rizvi had also tweeted: "Where is the relief in the law enforced by the Sindh government in the name of a relief ordinance? [Instead of] waiving taxes, providing subsidies as government relief, here they [Sindh govt] are focusing on imposing Rs1 million fine, imprisonment and forfeiture of property."
Against this backdrop, Dr Siddiqui announced that the MQM-P rejected the ordinance and assured the city traders that the MQM would not leave them come what may.
He alleged that the commissioners and deputy commissioners, who came to Karachi on posting, treated Karachi just as a place for minting money.
Dr Siddiqui said that the public sector hospitals of Sindh were being run on philanthropists' donations instead of government funds.
He also directed Karachi Mayor Wasim Akhtar to hold a meeting with Prime Minister Imran Khan and plead the case of Karachi with him.
"We are hopeful that the prime minister will soon give us time to listen to the grievances of the people of Karachi," he added.
Deputy convener Kanwar Naveed Jameel, city mayor and other leaders were also present during the meeting and media talk.
https://www.dawn.com/news/1557654/mqm-p-leaders-rejects-sindh-govts-emergency-relief-ordinance
-----
LHC to rehear child pornographer's plea against conviction
May 17, 2020
Wajih Ahmad Sheikh
LAHORE: The Lahore High Court is going to rehear the appeal of a man who was convicted in 2018 for being part of an international nexus of child pornographers.
Justice Farooq Haider suspended the sentence of the convict, Saadat Amin, and allowed his release on bail through a verbal order two days ago.
However, a source in the high court said that since the judge was yet to dictate and sign a written order on the appeal, the matter can be put to rehearing. He said a judge, as per rules, could recall or amend his/her order unless it is signed.
There was an outcry on social media against the relief granted to the convicted child pornographer as the decision was widely reported in the press.
Sources in the judiciary said Chief Justice of Pakistan Gulzar Ahmad had also taken notice of the LHC decision and asked Attorney General Khalid Anwar to look into the matter.
At the Lahore office, Additional Attorney General Ishtiaq A. Khan held a meeting with officials concerned of the Federal Investigation Agency (FIA) who presented evidence against the convict before the trial court.
Mr Khan went through the entire record of the case as the federal government had already decided to challenge the LHC decision. The attorney general's office also applied in the high court branch for provision of an attested copy of the decision; however, it came to their knowledge that the written order had not been issued so far.
It said the federal government would vehemently oppose the release of Amin as he had been convicted of committing a most heinous offence.
A judicial magistrate had on April 26, 2018, awarded seven-year imprisonment to Amin of Sargodha under Section 22 of the Prevention of Electronic Crime Act, 2016 and also imposed a fine of Rs1.2 million on him. The cybercrime cell of the FIA had arrested him on a complaint of the Norwegian embassy in 2017.
The prosecution said the convict was an active member of an international racket operating online from Pakistan that engaged children of 10/12 years and sent their pornographic pictures/videos outside the country against monetary benefits.
It said more than 650,000 pictures and videos relating to child pornography were found from the digital media recovered from the convict's possession.
It said Amin was hand in glove with international child pornographers, namely Jan Lindstrom in Sweden, Giovani Betotti in Italy, Max Hunter in the US, and Andrew Moody and Mukhtar in the UK. The agency produced 11 witnesses against the convict.
Advocate Rana Nadeem Ahmad, the counsel for Amin, told Dawn that he had so far not been informed about rehearing of the matter. He said the appellant had already served about five-year period of his sentence.
https://www.dawn.com/news/1557697/lhc-to-rehear-child-pornographers-plea-against-conviction
-----
Lockup after lockdown: Rashid predicts indiscriminate NAB sweep after Eid
Khalid Hasnain
May 17, 2020
LAHORE: Minister for Railways Sheikh Rashid Ahmad says those enjoying life on bails or any other pretext would be taken to task by the National Accountability Bureau (NAB) before July 31. He says that Shahbaz Sharif can save himself if he changes his 'software'.
"You are seeing that opposition parties' leaders are repeatedly asking for curtailment of NAB. But I tell you clearly that NAB will sweep till July 31, as those enjoying life on bails would be no more in such a situation," he told journalists at his weekly press conference here at the Pakistan Railways (PR) headquarters on Saturday.
On the other hand, senior PPP leader Chaudhry Manzoor Hussain, while commenting over Sheikh Rasheed's press conference, accused NAB of victimising opposition on the instructions of PM Imran Khan.
"We have already termed this so-called accountability drive a NAB-Niazi Gath Jorr made just to target the opposition. Actually this government is itself allegedly involved in corruption as evident from the wheat flour, sugar, IPP, drugs etc scams," he told Dawn.
"But neither the NAB nor the courts are taking action. We also don't see relief from courts if we approach them on this issue," he said and added: "The courts know all this."
While focusing the PML-N, Sheikh Rashid said Shahbaz Sharif wouldn't be allowed to move abroad to take some papers about his case in NAB.
"This lockdown will be a lockup for Shahbaz Sharif, as he cannot save himself. But he can save himself if he changes his 'software', he claimed.
"If Moonis Elahi has a meeting with Jahangir Tareen, he has right to do so. But I clearly tell you that the Chaudhrys are wise people and they will not go agaisnt the government," he added.
He said if the government doesn't take action in the light of forensic report on sugar and wheat crisis, it would not be able to save it.
"Now we have even no money to pay salaries and pensions (over Rs5 billion). And we may face default soon if the situation remains same," he said.
"We have requested PM Khan to also allow us to resume railways operations since the public transport (AC buses, coaches, planes) has been opened. Let see what he decides," the minister said.
According to PPP leader Chaudhry Manzoor, like Sheikh Rashid, PM's assistant on accountability Shahzad Akbar continued to spoke against the opposition. "But no one is here to look into the corruption of the government in sugar, wheat and other scams. Most of sugar millers are at present sitting in the government," he deplored.
https://www.dawn.com/news/1557619/lockup-after-lockdown-rashid-predicts-indiscriminate-nab-sweep-after-eid
-------
Europe
Volunteers from Newcastle Islamic school praised for selfless efforts during coronavirus crisis
ByDaniel Holl
16 MAY 2020
Volunteers in Newcastle's West End have been praised for overcoming fear of racially-motivated attacks to help frontline carers and vulnerable residents during the coronavirus crisis.
Teams from the Bahr Academy Islamic school have been delivering food parcels to paramedics, care homes, hospitals, and people in need during lockdown.
More than 600 packages have been delivered across the West End and other parts of the city after the school put out a call for donations and volunteers.
Coun Habib Rahman, the sheriff and deputy lord mayor of Newcastle, said that many of the generous people offering to help during the crisis would previously have been afraid of going to certain parts of the city.
He said: "I have seen images of these young hijabi and niqabi girls delivering food and shopping to care homes and frontline staff.
"On a normal day, these girls feel scared to be roaming certain streets or certain parts of the city because of their own safety and because they are often seen differently and negatively.
"All of a sudden, what they are wearing isn't a problem. There is an energy and an enthusiasm about them and they are not thinking about the possibility of reprisals or attacks.
"I hope when we are on the other side of this pandemic those far right wing extreme groups and their views remain hidden away like they have been recently."
The Bahr Academy was the target of attacks by vandals last year in which racist graffiti was daubed on its walls and copies of the Koran torn up.
Its principal, Mufti Abdulmuheet, said he had been overwhelmed by the positive response to the school's kind actions during the coronavirus crisis.
He added: "Knowing that people are obviously locked down and unable to go out to the shops, we decided that this is the kind of thing we are here for. This is what the one of the aims of our school is – to help people who are in need.
"We asked for volunteers and for people to donate what they could – not everyone is able to but the response has been really good and we wanted to get it out to the people who need it as quickly as possible.
"It has been wonderful to see how happy it has made people and for them to be so supportive and welcoming of us.
https://www.chroniclelive.co.uk/news/north-east-news/bahr-academy-newcastle-covid-volunteers-18251376
------
Sunday Times Rich List shows UK's wealthiest have lost billions during Covid-19 pandemic
ELLENA CRUSE
45 minutes ago
The combined wealth of the UK's 1,000 richest people has plummeted for the first time since the financial crash, according to the Sunday Times Rich List.
Britain's most affluent citizens have lost more than £54 billion in the past two months during the Covid-19 pandemic, with some billionaires counting losses of up to £6 billion since last year, it adds.
The list says that a number of billionaires have also sought to use the Government's emergency furlough scheme, under which staff are paid 80 per cent of their salary by the state up to £2,500 a month.
Inventor Sir James Dyson is the richest person in the UK for the first time, as the Brexit-backing entrepreneur saw his wealth grow by £3.6 billion over the past year, climbing to £16.2 billion.
But he was helped by the declining fortune of the Hinduja brothers, who suffered losses of £6 billion since last year and dropped into second place.
There were a record 25 female billionaires on this year's list, the 32nd edition of the definitive guide to Britain's most affluent people.
List compiler Robert Watts said: "Ever since the financial crisis of 2008 to 2009, Britain's wealthiest people have become richer and richer.
"Covid-19 has called time on their golden period. This year's rich list paints a picture of Britain on the brink of calamity – two months after lockdown and already billions of pounds have been wiped out.
"You may not like the super-rich, but it is hard to deny that our economy will need the jobs they create and the taxes they and their companies pay if we are to escape a prolonged recession that causes further misery to millions."
The full list covering the wealthiest 1,000 people in the UK will be published on Sunday in a 136-page edition of The Sunday Times Magazine.
https://www.standard.co.uk/news/uk/wealthy-lose-billions-covid19-sunday-times-rich-list-a4442676.html
------
North America
Diversity in Utah: Imam on Terror Watch List Delivers Prayer at State Senate
BY ROBERT SPENCER
MAY 16, 2020
The state of Utah has given us Mitt Romney in the Senate, and as if that weren't enough punishment, they're not finished frog-marching us into the glorious multicultural future. In a new display of just how enlightened and woke flyover country can be, the Utah State Senate has had YussufAwadir Abdi, imam of the Madina Islamic Center of Utah in Salt Lake City, deliver the opening prayer at one of its sessions. Those who can never let a multiculti love feast go by without throwing a rotting cabbage onto the sofa, however, will have the bad manners to point out that Abdi, for all his doubtless impeccable liberal credentials, is on a terror watch list.
It's unclear whether or not the Utah solons were aware of Abdi's exalted status, or if they simply thought it would be too "Islamophobic" to have the temerity to check into his background before inviting him to beseech the Almighty on their behalf. Abdi, for his part, was thrilled, effusing on Facebook: "All praises is due to Allaah who gave me to mention his name and his prayer front of our state senators. Thank you UTAH Muslim Civic league for giving me this opportunity."
Nor was this a singular event, an oversight from an otherwise vigilant political class. The Madina Islamic Center of Utah's Facebook page features greetings for the end of last year's Ramadan from Senator Romney ("Eid Mubarak!" writes Mitt happily, without the slightest indication that he is aware that the mosque's imam is on the terror watch list). Last October, the Islamic Center noted that "our congressman ben mc Adams came to madina masjid today and we discussed a lot of issues specially our brothers and sisters in Kashmir and much more. Thank you Utah muslim civic league ( UMCL) for working hard to establish a good relationship with the leaders. Good job guys."
In a similar vein, there is this from January 7: "Today we got chance to meet our governerutah and our new elected mayor during ceremony inauguration and our new mayor will be visiting our mosque madina masjid to meet our muslim community. UTAH always well comes refugees and immigrants."
All these goodwill meetings took place well after Abdi went to court to challenge his placement on the terror watch list – and lost. The Associated Press reported on April 24, 2018, that "a judge has dismissed a lawsuit filed by a Utah Muslim leader who said he was wrongly placed on a government watch list and temporarily blocked from leaving Kenya with his family last summer. The lengthy screening process undergone by Yussuf Abdi on flights since the trip is inconvenient but not unconstitutional, U.S. District Judge Dee Benson wrote in the decision Monday."
Abdi's lawsuit alleged that he "was added to a watch list in 2014 that let him fly but required extra security measures. He asked to be removed, arguing he had no criminal record and no reason to be on the list." He was not, however, removed from the list. In November 2019, a U.S. District Court dismissed his lawsuit against "the directors of several federal agencies challenging his placement on the 'Selectee List,' a subset of the federal government's terrorist watchlist, which he alleges subjects him to enhanced screening at the airport and requires the government to label him as a 'known or suspected terrorist' and to disseminate that information to government and private entities."
Would the state senators who invited Abdi to lead them in prayer have similarly welcomed a Christian pastor was on a terror watch list? Probably not, but the political elites now have no need to fear any fallout from cozying up to Abdi and the Islamic Center of Utah. Welcoming Muslims without making any distinction between those who are genuinely peaceful and those who are suspected of pro-terror sympathies is an entirely safe political position to take, and to suggest that such a distinction should be made will only get one dismissed as "Islamophobic."
The Utah State Senate was happy to welcome imam Yussuf Abdi and bow their heads for his prayer, because the senators know that to do otherwise would be to join the forces that the media elites want us to believe stand only for "hate" and "division." By having him lead them in prayer they have demonstrated their virtue and insulated themselves against any possible charges of "racism" and "Islamophobia" that might possibly come their way in this overheated age. And that's all that matters. Might there be good reasons why Abdi is on a watch list, making it imprudent at best to give him and his mosque so many official seals of approval? No one in Utah cares about such questions, and so why should you, you racist, bigoted "Islamophobe"?
https://pjmedia.com/culture/robert-spencer/2020/05/16/diversity-in-utah-imam-on-terror-watch-list-delivers-prayer-at-state-senate-n398282
------
A hamper drive is helping these St. John's students make the most of a challenging Ramadan
May 17, 2020
Ramadan is usually one of the most social months of the year for Muslims, although international student Akheel Mohammed can only describe this year as "difficult" because of COVID-19 restrictions.
The Muslim Students Association at Memorial University is offering iftar hampers to students and families who are fasting from dawn to dusk and anyone else in the community who may be struggling.
"As soon as Ramadan started we were like we have to do this, we have to do something for the community," said Mohammed, a second-year mechanical engineering student from India.
People who are seeking help can register on the association's Facebook page. Every Friday, groceries are delivered using a contactless system.
Each hamper costs between $20 to $25 to supply, which means the group is relying on donations through Facebook, GoFundMe and the local Muslim community.
Because of the contactless delivery system, the group says it receives kind words through video messages and Facebook messages.
https://www.cbc.ca/news/canada/newfoundland-labrador/ramadan-muslim-students-food-hampers-1.5567938?cmp=rss
-----
For one Phoenix family, Ramadan in a pandemic is less celebratory, more spiritual
May 16, 2020
The month of Ramadan is typically a busy one for the Ariff family, filled with daily trips to the church that serves as their makeshift mosque and weekend gatherings with friends and family to break the fast that begins before sunrise each morning.
Typically, after returning from the mosque for evening prayers nightly, the family divides up money they've saved for this time of year and disperses it to various causes including local food banks, Islamic community centers or refugee shelters.
Ramadan is the holiest time of year for Muslims, a period in which the reward for doing good deeds and saying prayers is multiplied. It's also a time where donations typically spike and provide Islamic organizations with most of the funding they need for the rest of the year.
The COVID-19 pandemic has changed what is usually a joyous, social time of year. Though the Ariff family mourned the loss of gatherings and memory-making with friends and family, they said the pandemic has forced them to devote more time to their faith, more attention to the needs of their neighbors and more gratitude for the blessings in their lives.
The Ariff family is made up of 52-year-old Asan, 49-year-old Julaiha and their children —26-year-old Azra, 22-year-old Anish and 16-year-old Afzal.
Both Azra and Anish were previously out of state, working and studying thousands of miles away. They returned to Arizona to be with family in their north Phoenix home once the pandemic hit.
They each spread out across the carpet in their large living room with their individual prayer mats. One person leads the prayer and the others follow.
It's a far cry from the solidarity felt by praying alongside dozens of other Muslims under the guidance of an imam, but it will have to do for now.
"We have missed that, but we all have to do our due diligence and be aware of what is going on in the world and follow what is being advised," she said.
JulaihaAriff still rushes home from her job to prepare for iftar, the breaking of the fast that she celebrates with her family each night. She typically starts cooking at 5 p.m. and serves the meal around 7:30 p.m., a process that's repeated each night throughout the month.
They have tried to implement social distancing measures within their home, particularly because Julaiha and Asan are both physicians and said they do not want to unknowingly pass an illness onto their children.
Both said they immediately take off and wash their work uniforms upon returning home and that they only sit in every other chair at their dinner table.
Even if the mosque follows other sectors that have started resuming operations in Arizona and reopens before the end of Ramadan, the family said they would not go.
"I don't think it's a good idea when people ... pray so close together," JulaihaAriff said. "I don't think it's a good idea even if restrictions have lifted."
"We do the best we can with telemedicine but I think the whole picture of a physician isn't complete without seeing and touching the patient," AsanAriff said. "I think at the end of they day, they don't just come for the medicine — they come for the human interaction."
Each family member said they saw a silver lining in the pandemic, in that it's given Muslims an opportunity for more introspection and gratitude for the simple things.
"When it's all over, it will be a real blessing to see family and friends and sit together and have a meal together," JulaihaAriff said.
"Every morning is a blessing, every day there are thousands of people suffering and God has given you a roof and shelter and food on the table," he said.
https://www.azcentral.com/story/news/local/phoenix/2020/05/16/valley-muslims-years-holy-month-ramadan-home/5190386002/
------
URL: https://www.newageislam.com/islamic-world-news/saudi-arabia-strives-roll-back/d/121873
New Age Islam, Islam Online, Islamic Website, African Muslim News, Arab World News, South Asia News, Indian Muslim News, World Muslim News, Women in Islam, Islamic Feminism, Arab Women, Women In Arab, Islamophobia in America, Muslim Women in West, Islam Women and Feminism