New Age Islam News Bureau
15 Jun 2015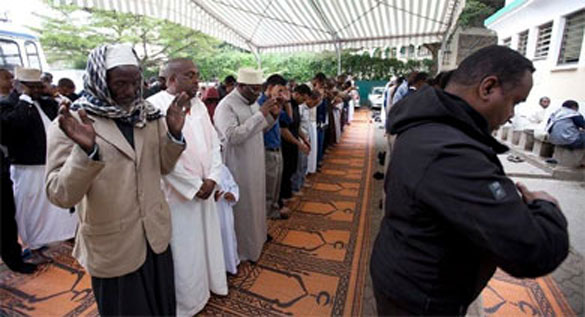 In this Photo, Kenyan Muslims stand for Prayers in a Mosque in Nairobi
------------
Arab World
• At Least 40 ISIL Terrorists Killed in Iraqi Forces' Operations in Salahuddin Province
• Saudi Arabia's Najran Tribes Declare War on Riyadh
• Saudi Arabia Beheads 100th Person This Year
• Over 30 ISIL Terrorists Killed in Iraqi Airstrikes in West
• Army Kills over 22 Terrorist Commanders across Syria
• A history of domestic terrorism in Saudi Arabia
• Seventeen killed in battles near Iraq's Baiji refinery
• Islamic State turns to widescreen TV propaganda in Iraq
• 58 Islamists to stand military trial in Egypt
• 23 sentenced to prison for videotaped killing of Shias in 2013
South Asia
• 'Lowering Marriage Age Would Legalise Child Rape': Bangladesh Activists
• Security Forces Kill 83 Militants in Military Operations in Afghanistan
• Taliban reject truce appeal for Ramazan "The month of forgiveness"
• Hundreds of families displaced because of Daesh-Taliban clashes in Nangarhar
• Apollo Hospitals Dhaka organises blood donation drive
Africa
• Kenyan Police Accused Of Abuses against Muslims after Massacre: Report
• Algerian Jihadist Belmokhtar Killed In US Strike
• Suicide attack on police, intelligence offices in Chad capital: minister
• British jihadist Thomas Evans believed killed in Kenya
• Three Tunisia police, jihadist killed in clashes: Ministry
• Kenya says kills al Shabaab commander
Mideast
• Yemeni Capital under Riyadh's Chemical Attack
• Ansarullah Leader: S. Arabia Taking Toll from Civilians by Means of Prohibited Weapons
• Saudi-led air forces bomb Yemen's capital before talks
• Israel blocks visit of UN human rights envoy
• Turkey urges Europe for help with refugee influx
• Iran Urges Collective Efforts to Stop Bloodshed in Yemen
Europe
• Ban Calls for Immediate Ramadan Truce in Yemen
• High Stakes in Geneva As Yemen Sides Meet Over Bloody Conflict
• Bishop supports Muslim prayer room at Queen's University Belfast petition
• Online Community Hopes To Link Muslims with France Prayer Sites
• Cameron orders to tackle FGM to stop British girls being taken abroad during summer holidays
• Islamic State teenager said to be UK's youngest suicide bomber
North America
• ISIS Magazine Preparing Young Muslims for an Apocalypse
• Watch mosques, Islamic schools for radicalization, expert tells key committee
• Muslim who saved Jews during Paris supermarket attack honoured in New York
Pakistan
• Over 100 Baloch Militants Given Amnesty
• Zarb-E-Azb: Victory for Peace
• Pakistan will not hold dialogue on India's terms: Sartaj Aziz
• Senior Afghan Taliban leader killed in Peshawar
• Pakistan's enemy is coming forward with new methods to challenge us: Zardari
• Country has benefited from Operation Zarb-e-Azb
• Hope for Save the Children as Pakistan halts closure order
India
• BJP MP Sakshi Maharaj Calls Himself a True Muslim, Prophet Mohammed A Great Yogi
• Central Govt Selects Muslim Couple's NGO to Hold Yoga Camp in UP
• Ballabhgarh Communal Violence: Muslims reject compensation of Rs 1 Lakh per family as too little
• J&K Government Bars Hurriyat from Holding Seminar, Speakers Held
• Shoot those who hoist Pakistani flags in Kashmir: Pravin Togadia
Southeast Asia
• Media Freedom No Impact on Being Developed Nation, Says Malay Minister
• Racism can unite a race 'for good', BTN says
Compiled by New Age Islam News Bureau
URL: https://www.newageislam.com/islamic-world-news/new-age-islam-news-bureau/saudi-arabia-s-najran-tribes-declare-war-on-riyadh/d/103502
---------
Arab World
Saudi Arabia's Najran Tribes Declare War on Riyadh
June 15, 2015
The tribal people living in the Saudi border city of Najran in a statement voiced opposition to Riyadh's strikes on Yemen and declared war against the Saudi regime.
"The Najran tribes in a statement declared war against the occupying Saudi regime, stressing that the House of Saud represents corruption on the Earth and sheds the bloods of innocent people across the globe in a very routine and normal manner," activist Abdulaziz Farid told FNA on Monday.
According to Farid, the statement also added that "the seditionist Saudi regime wants to turn the Najran region into the forefront of war against its brothers and neighbors and has used this region for artillery attacks against Yemen since the second week of the war" on the Yemeni people.
He underlined that the tribes in Najran will rise against the Saudi regime for its aggression against Yemen and will fight against the Saudi forces.
His remarks came after Saudi Minister of the National Guard Mutaib bin Abdullah sent gifts, worth several millions of Rials, to the Arab sheikhs in Najran in the Southeastern parts of the country to dissuade them from hosting and supporting Yemen's Ansarullah movement.
Yemen's Khabar news agency reported last week that Mutaib has paid 1mln Saudi rials (approximately 250,000 US dollar) to each tribal leaders and sheikhs in Najran along with an appreciation letter to keep them on Riyadh's side.
The Saudi activists have released documents showing one-million-rial checks sent for Hossein Mahdi al-Haidar, Massoud Bin Mahdi al-Haidar, Sal Ibn Naji and others who are among the Nijran leaders.
The Najran tribes' statement in opposition to using the region as a frontline to attack Yemen showed that their leaders have not accepted the checks.
Also yesterday reports said that a large number of Saudi nationals are on the verge of starvation as a result of intensified attacks by the Yemeni forces on the border regions and the Riyadh government's lack of attention.
"As the clashes between the Yemeni revolutionary forces and Saudi forces have intensified in Najran province in Southwestern Saudi Arabia and near the border with Yemen in recent days, hundreds of residents of border regions who have fled the fighting are facing famine due to an acute shortage of foodstuff," Talal Ahmed, a Saudi political activist, told FNA on Sunday.
He underlined that a large number of families in the border regions of Saudi Arabia cannot meet their daily needs, and complained that "the Saudi army has looted the houses of these people".
http://english.farsnews.com/newstext.aspx?nn=13940325000702
---------
At Least 40 ISIL Terrorists Killed in Iraqi Forces' Operations in Salahuddin Province
June 15, 2015
A senior police officer confirmed that at least 40 fighters of the ISIL terrorist group were killed in a series of operations by the Iraqi army and popular forces in Salahuddin province.
Raeed Jawdat, an Iraqi Federal Police commander, said that 40 ISIL fighters were killed in a battle with the Iraqi forces for Fatha area in Salahuddin province.
The Shiite militia called the Badr Organization claimed in a press release on Sunday that its forces repelled the ISIL gunmen's attacks in the Fatha area and killed 30 extremists while destroying the group's armored vehicles.
The ISIL Takfiri terrorists currently control shrinking swathes of Syria and Iraq. They have threatened all communities, including Shiites, Sunnis, Kurds, Christians, Ezadi Kurds and others, as they continue their atrocities in Iraq.
Senior Iraqi and Syrian officials have blamed Saudi Arabia, Qatar, and some Persian Gulf Arab states for the growing terrorism in their country.
The ISIL has links with Saudi intelligence and is believed to be indirectly supported by the Israeli regime.
http://english.farsnews.com/newstext.aspx?nn=13940325000779
---------
Saudi Arabia beheads 100th person this year
June 15, 2015
RIYADH: Saudi Arabia Monday beheaded a Syrian drug trafficker and a national convicted of murder, taking to 100 the number of executions in the kingdom this year.
The number of executions has surged in 2015 compared with the 87 recorded by AFP for all of last year. But it is still far below the record 192 which rights group Amnesty International said took place in 1995.
Syrian Ismael al-Tawm smuggled "a large amount of banned amphetamine pills into the kingdom", said an interior ministry statement carried by the official Saudi Press Agency.
He was beheaded in the northern region of Jawf.
A separate statement said that Rami al-Khaldi was convicted of stabbing another Saudi to death and was executed in the western province of Taef.
Drug and murder convictions account for the bulk of executions in Saudi Arabia.
According to London-based Amnesty, use of the death penalty for other than the "most serious crimes" - premeditated killings - violates international law.
Saudi judicial proceedings "fall far short" of global norms of fairness, according to the rights watchdog.
Under the Gulf state's strict Islamic sharia legal code, drug trafficking, rape, murder, armed robbery and apostasy are all punishable by death.
http://www.dailystar.com.lb/News/Middle-East/2015/Jun-15/302163-saudi-arabia-beheads-100th-person-this-year.ashx
---------
Over 30 ISIL Terrorists Killed in Iraqi Airstrikes in West
June 15, 2015
The Baghdad Operations Command Center in a statement announced that a large number of ISIL terrorists have been killed in Anbar and Salahuddin provinces.
"Over 32 ISIL terrorists were killed in Iraqi warplanes' strikes in Anbar and Salahuddin," the statement said.
The Iraqi interior ministry, meantime, announced that 26 ISIL terrorists were killed in the airstrikes on their positions in the city of al-Qaem in Western Anbar province.
The interior ministry also announced that several senior ISIL commanders, including Abu Zeinab al-Tunesi, Abdel Raouf al-Somali, Seif ul-Islam al-Khorassani, Abu Ezzam al-Fullouji, Abu Mujahid al-Azerbijani and Abu Khadija al-Souri were among the terrorists killed in Western Iraq.
On Sunday, the Iraqi army struck a heavy blow at the ISIL Takfiri group in Western Ramadi, Anbar province, leaving several terrorists dead and injured.
According to Iraqi media reports, the army troops backed by tribal fighters repelled an ISIL attack in West of Ramadi and killed more than 7 terrorists during the clashes.
Also, large groups of the militants sustained serious injuries in the fighting.
The ISIL Takfiri terrorists currently control shrinking swathes of Syria and Iraq. They have threatened all communities, including Shiites, Sunnis, Kurds, Christians, Ezadi Kurds and others, as they continue their atrocities in Iraq.
Senior Iraqi officials have blamed Saudi Arabia, Qatar, and some Persian Gulf Arab states for the growing terrorism in their country.
The ISIL has links with Saudi intelligence and is believed to be indirectly supported by the Israeli regime.
http://english.farsnews.com/newstext.aspx?nn=13940325000838
---------
Army Kills over 22 Terrorist Commanders across Syria
June 15, 2015
The Syrian army killed a large number of foreign-backed terrorist leaders across Syria over the past 24 hours.
The army units killed over 22 terrorists in Hasaka, Idlib, Homs, Hama, Damascus, Sweida and Daraa on Sunday.
In Hasaka province, the Syrian army killed Kamal Zoraq, a senior commander of Ansar al-Sharia Takfiri terrorist group of Tunisia.
Zoraq was one of the most notorious Takfiri terrorists who had entered Syria last year to fight alongside the ISIL against the Syrian government.
He was involved in beheading a large number of Syrian troops.
In Idlib province, Mostafa al-Dabal known as Abu Mohammad Al-Shami was killed in heavy clashes with the Syrian army. Al-Dabal was a senior commander of Ahrar al-Sham who was killed in Northwestern Idlib.
In Homs province, Saeed al-Ayoubi, the Lebanese Takfiri terrorist commander was killed in clashes with the Syrian troops. Also, Ahmed Assem Harish also known as Abu Mossab Moqadassi was killed in the army raid.
In Hama province, the army units killed notorious Takfiri terrorist commanders, including Mohammed Abdu Al-Kordi, Necdet Abd al-Javad al-Reem, Mohammed Rashid Nabhan, Majd Abd al-Mohsen Abd al-Karim along with tens of other terrorists.
In Daraa, Marvan al-Abdeh, Mahmoud Osman, Abdel Rahman al-Hamasaneh, Mosab al-Hamavi and Abu Maria were killed in fierce clashes with the army units.
In Sweida, Mohammed Abd al-Razzaq Nassab, a senior commander of the Al-Nusra Front was killed along with 25 other terrorists in clashes with the army units.
http://english.farsnews.com/newstext.aspx?nn=13940325000477
---------
A history of domestic terrorism in Saudi Arabia
June 15, 2015
The two deadly suicide attacks in Saudi, which claimed the lives of dozens of worshippers in the kingdom's eastern province in May, mark the latest in a series of coordinated attacks launched in 2003 by the Al-Qaeda militant group.
The report is part of a series by Al Arabiya News Channel on terrorism in Saudi Arabia.
In 2003, three car bombs were detonated near three residential compounds in Riyadh housing Saudis and expats, killing 20 people and injuring 200 others. Following the attack, the Saudi Ministry of Interior launched a major operation hunting down the suspects, Al Arabiya News Channel reported.
Full report at:
https://english.alarabiya.net/en/perspective/analysis/2015/06/14/A-history-of-domestic-terrorism-in-Saudi-Arabia-.html
---------
Seventeen killed in battles near Iraq's Baiji refinery
June 15, 2015
BAGHDAD: Seventeen people were killed in Iraq on Monday in clashes between Islamic State militants and pro-government forces in a town close to the country's biggest refinery, a focal point in efforts to counter the ultra-hardline Sunni group.
The refinery beside the town of Baiji has changed hands before, reflecting the Iraqi army's struggle to hold territory it recaptures after months of clashes.
Fighting on Monday took place on a road used by Islamic State for supply lines leading from Baiji to the nearby town of Siniya to the west.
Twelve militants, two government soldiers and three members of Shi'ite militias that provide vital support for the army were killed, a senior regional security official said.
Siniya is held by Islamic State, which controls a third of Iraq, as well as parts of neighbouring Syria.
Full report at:
http://tribune.com.pk/story/903905/seventeen-killed-in-battles-near-iraqs-baiji-refinery/
---------
Islamic State turns to widescreen TV propaganda in Iraq
June 15, 2015
Islamic State militants have set up giant television screens in the Iraqi city of Ramadi and are using them to proclaim that they will seize more Iraqi territory after capturing the provincial capital last month, residents said.
Efforts by the Shia Muslim-led government and its American allies to break the hardline group's control of about a third of Iraq are currently focused on Ramadi, in Sunni Muslim heartland Anbar province.
"They have started to show videos of their military operations in Iraq and also show confessions by captured soldiers," said the owner of a small food shop near one of the screens in central Ramadi.
Full report at:
http://english.ahram.org.eg/NewsContent/2/8/132786/World/Region/Islamic-State-turns-to-widescreen-TV-propaganda-in.aspx
---------
58 Islamists to stand military trial in Egypt
June 15, 2015
Egypt's public prosecutor referred on Sunday to military prosecution 58 alleged Muslim Brotherhood members who are accused of terrorism-related charges between 2013 and 2014, a step ahead of a military trial.
A statement from the prosecutor's office said that fugitive Brotherhood leaders in Qatar and Turkey -- in liaison with local middle-ranking leaders in Egypt -- spearheaded assassination attacks against members of the police, army and the judiciary and carried out assaults on private and public facilities to "destabilise the country and batter its economy."
The Egyptian constitution allows civilians charged with attacking military installations or personnel to be tried before military tribunals.
Full report at:
http://english.ahram.org.eg/NewsContent/1/64/132771/Egypt/Politics-/-Islamists-to-stand-military-trial-in-Egypt.aspx
---------
23 sentenced to prison for videotaped killing of Shias in 2013
June 15, 2015
A Cairo court sentenced 23 defendants to 14 years in high security prison for killing Shia leader Hassan Shehata and three other members of the dwindling Egyptian Shia Muslim community in June 2013, an incident that was videotaped and that sent shockwaves across the country.
Eight defendants, all of whom were also charged with attempted murder, were exonorated as family members of those found guilty received the verdict with hysterical screaming, according to Al-Ahram's Arabic news website.
Full report at:
http://english.ahram.org.eg/NewsContent/1/64/132691/Egypt/Politics-/-sentenced-to-prison-for-videotaped-killing-of-Shi.aspx
----------
South Asia
'Lowering Marriage Age Would Legalise Child Rape': Bangladesh Activists
Jun 15 2015
Government's proposal for lowering the age of marriage for girls to 16 from 18 would legalise child rape in the country, activists of different children and women's rights groups made the remark in Barisal yesterday.
Therefore, lowering the legal age for marriage of girls 16 will legalise child rape, they said at a press conference arranged at the Barisal Reporter's Unity yesterday.
National Girl Child Advocacy Forum, Girls Not Brides, Child Rights Advocacy Coalition in Bangladesh, Bangladesh Girl Power Alliance took part in the event and called for immediate cancellation of the proposal.
"Even such discussion will spread a wrong message across the country as well as the world. Apart from health hazards, early marriages can result into an increased rate of crimes against women and children in the society," said Anowar Zahid, president of Barisal NGO Development Network.
Strict movements would be waged if the plan is not dropped immediately, the speakers said. The press conference was addressed by Akkas Hossain, Khaleda Huq, and Shuvangkar Chakraborty among others.
http://www.dhakatribune.com/bangladesh/2015/jun/15/lowering-marriage-age-would-legalise-child-rape#sthash.SO4Nfajy.dpuf
--------
Security Forces Kill 83 Militants in Military Operations in Afghanistan
Jun 15 2015
83 militants have been killed and 53 others wounded in newest military operations across the country, Ministry of Defense announced on Monday morning.
A statement issued by the ministry states that the operations were carried out in nine provinces where eight militants hideouts were also destroyed and a large number of weapons and ammunition seized by the security forces.
The operations were conducted in Qara Bagh District of Kabul, Urgon District of Paktika, Zherai District of Kandahar, Mohammad Agha and Azra districts of Logar, Sozhma Qala of Sar-i-Pul, provincial capital of Farah, Pasaband and Dolina of Ghor, Kishk-i-Kohna of Herat and Musa Qala District of Helmand province.
53 Improvised Explosive Devices (IEDs) were also defused by the security forces during the operation.
During these operations eight soldiers from the Afghan National Army embraced martyrdom due to insurgent fire and landmine explosion.
Afghan National Security Forces an all-out military operation against militants after taking the full responsibility of security from NATO forces in January this year.
http://www.khaama.com/83-militants-killed-in-newest-military-operations-across-the-country-3495
---------
Taliban reject truce appeal for Ramazan "The month of forgiveness"
Jun 15 2015
Taliban militant group has rejected a truce appeal made by the Ulema council of Afghanistan to halt its bloody campaign for the month of Ramazan, to pay respect to "The month of forgiveness".
Taliban spokesman Mujahid says that they are not only rejecting the truce offer but will increase their attacks during the month.
Taliban announce their stance after religious clerics in Afghanistan appeal to the insurgent group to halt their attacks in Afghanistan and allow people worship to god during the holy month of Ramazan.
Ramazan the holy month for Muslims will began on June 18. A true Muslim is fasting throughout the day during the month of Ramazan.
He/She does not eat, drink, smoke, listen to music, participate in musical parties or any other activity that is considered Haram in Islam.
Also during the holy month there is more spritual reward on forgivenesses. Anyone taking the first step in forgiveness or making truce with his enemy or person/people he/she does not like gets more spiritual rewards (Sawab).
http://www.khaama.com/taliban-reject-truce-appeal-for-ramazan-the-month-of-forgiveness-3492
---------
Hundreds of families displaced because of Daesh-Taliban clashes in Nangarhar
Jun 15 2015
Hundreds of families have been displaced because of continued clashes between the fighters of the two militant groups of Daesh and Taliban in eastern Nangarhar province.
Some of these families have arrived at the provincial capital city Jalalabad where they are in dire need of first aid.
Both the militant groups have killed dozens of each others fighters during these clashes. They have announced "Jihad" against each other.
Daesh fighters are the former members of Taliban group who announced allegiance to the militant group after the announcement of the province of Khorasaan in recent months.
The two sides have fought in a number of provinces but the most deadly clashes erupted in eastern Nangarhar province recently.
Haska Meena, Achin and Bati Kot are among the districts of Nangarhar province where both sides have killed/beheaded dozens of each others fighters during clashes which also forced people free from their homes.
Ahmadzia Abdulzai, spokesman for the governor of Nangarhar province confirms that a number of families have been displaced from Bati Kot District but he did not have a specific number of them.
http://www.khaama.com/hundreds-of-families-displaced-because-of-daesh-taliban-clashes-in-nangarhar-3494
---------
Apollo Hospitals Dhaka organises blood donation drive
Jun 15 2015
The day is observed globally on the 14 of June every year.
The event serves to thank voluntary and unpaid blood donors for their life-saving gifts of blood and to raise awareness of the need for regular blood donations.
Every donor received refreshments, free registration to Apollo Hospitals Dhaka, free blood group checking and a free t-shirt.
The drive is scheduled to continue till 16th June, 2015 between 9:00am and 5:00pm.
http://www.dhakatribune.com/bangladesh/2015/jun/15/apollo-hospitals-dhaka-organises-blood-donation-drive#sthash.fZnLq9MV.dpuf
---------
Africa
Kenyan police accused of abuses against Muslims after massacre: report
June 15, 2015
NAIROBI: The response by Kenyan security forces to a wave of massacres a year ago in Kenya's coastal region has been marked by beatings, arbitrary detentions and theft, human rights groups said Monday.
A report by Human Rights Watch and the Kenya Human Rights Commission said the abuse suffered by the local communities in the wake of the attacks underscores an urgent need for far-reaching security reforms, including increasing their resources and weeding out abusive officers.
Groups of Islamist militants carried out a string of raids in June and July 2014 near Lamu island, a once-popular tourist destination situated close to the border with war-torn Somalia. Close to 90 people died in the violence, according to officials.
The Somali-led and Al Qaeda-affiliated Shebab rebels claimed responsibility for the attacks, which they said were in retaliation for Kenya's mistreatment of its coastal Muslims, including the alleged extra-judicial killings of several hardline clerics in Mombasa.
On Sunday Shebab militants attacked a Kenyan army base and briefly overran a village, both in Lamu county close to Mpeketoni.
Full report at:
http://www.dawn.com/news/1188353/kenyan-police-accused-of-abuses-against-muslims-after-massacre-report
---------
Algerian jihadist Belmokhtar killed in US strike
June 15, 2015
Notorious Algerian jihadist Mokhtar Belmokhtar has been killed in a US airstrike in Libya, the strife-torn country's internationally recognised government said in a statement Sunday.
"American jets conducted an operation which resulted in the deaths of Mokhtar Belmokhtar and a group of Libyans belonging to a terrorist organisation in eastern Libya," said the statement, which was posted on Facebook.
The operation took place "after consultation with the Libyan transitional government" based in the eastern city of Tobruk, the statement added.
Full report at:
http://www.themalaysianinsider.com/world/article/algerian-jihadist-belmokhtar-killed-in-us-strike#sthash.WF6K4kXe.dpuf
-------
British jihadist Thomas Evans believed killed in Kenya
15 June 2015
A British militant fighting for Somalia's Al-Qaeda affiliate, the Shebab, is believed to have been killed in a thwarted attack on a Kenyan army base on Sunday, a Kenyan defence spokesman said.
"All the available data, including photographs, points to it being Thomas Evans. There is an investigation going on with forensics and DNA to confirm his identity," Kenya Defence Forces spokesman Colonel David Obonyo told AFP on Monday.
Evans, in his mid-20s and also known as Abdul Hakim, is a Muslim convert whose family lives in Buckinghamshire in southern England. He reportedly travelled to Somalia in 2011 to join Shebab.
Full report at:
https://english.alarabiya.net/en/News/africa/2015/06/15/British-jihadist-Thomas-Evans-believed-killed-in-Kenya.html
---------
Suicide attack on police, intelligence offices in Chad capital: minister
June 15, 2015
N'DJAMENA: At least one suicide bomber attacked police and intelligence offices in Chad's capital N'Djamena on Monday, the interior minister told Reuters, the first attack of its kind on the city.
One witness at the police station told Reuters by telephone that he had seen three bodies.
Interior Minister Abderahim Bireme Hamid said security forces had locked down the area but the situation was ongoing. He said it was too early to give any toll from the incident.
"I can confirm that it was a suicide attack," he told Reuters.
Oil-producing Chad has become a key ally in the fight against the Islamist threat across West Africa, playing a central role in offensives on Al-Qaeda-linked groups in Mali and Boko Haram militants in neighbouring Nigeria.
Full report at:
http://www.dailystar.com.lb/News/World/2015/Jun-15/302164-suicide-attack-on-police-intelligence-offices-in-chad-capital-minister.ashx
--------
Three Tunisia police, jihadist killed in clashes: Ministry
June 15, 2015
Three Tunisian police and a suspected jihadist were killed on Monday in clashes in the centre of the country, the interior ministry said.
"The national guard attempted to ambush at dawn two terrorists on a motocycle in Sidi Ali Ben Aoun after obtaining information that (they) were about to launch an operation," ministry spokesman Mohamed Ali Aroui told AFP.
He said two officers were killed in the ensuing shoot-out, and that the militants fled before killing a third policeman who was making his way to work at the time.
They were pursued by an elite unit of the national guard, Aroui said.
"One of the terrorists was exterminated, the second was wounded and arrested. He is in a serious condition," he added.
Tunisia has seen a surge in radical Islam since veteran president Zine El Abidine Ben Ali was ousted in the 2011 revolution.
Dozens of security forces have been killed since then in jihadist attacks.
http://english.ahram.org.eg/NewsContent/2/8/132792/World/Region/Three-Tunisia-police,-jihadist-killed-in-clashes-M.aspx
---------
Kenya says kills al Shabaab commander
June 15, 2015
NAIROBI: Kenya's army said it killed a regional commander from Somalia's al Shabaab group, and possibly also a Briton who joined the militants, in fighting over the weekend.
Eleven Somali militants and two Kenyan soldiers died when al Qaeda-linked al-Shabaab fighters attacked a military base in Kenya's northern coastal region of Lamu County on Sunday, officials said.
An al Shabaab spokesman, Abdiasis Abu Musab, said 20 Kenyan soldiers died and "some of our fighters were martyred" in two attacks in Lamu, giving no details about the fighters or the second assault.
Full report at:
http://tribune.com.pk/story/903860/kenya-says-kills-al-shabaab-commander-and-possibly-militant-briton/
---------
Mideast
Yemeni Capital under Riyadh's Chemical Attack
June 15, 2015
Saudi fighter jets bombarded the Yemeni capital city of Sana'a with banned chemical weapons early on Monday, leaving dozens of people dead and injured.
According to reports, the Saudi warplanes used prohibited bombs and missiles in their Monday's airstrikes on Sana'a and claimed the lives of scores of civilians.
Elsewhere in Yemen, at least 17 civilians were killed and dozens of others sustained serious injuries after the monarchy's airstrikes hit Yemen's Ta'izz.
Additionally, the kingdom's air raids pounded the city of al-Hazm in Jawf province and killed 18 people.
Full report at:
http://english.farsnews.com/newstext.aspx?nn=13940325000566
---------
Ansarullah Leader: S. Arabia Taking Toll from Civilians by Means of Prohibited Weapons
June 15, 2015
A senior leader of Ansarullah movement blasted Saudi Arabia for attacking the innocent Yemeni people with prohibited weapons and massacring them, specially children.
"Saudi Arabia has in most cases bombed non-military centers and over 61 medical centers have been bombed so far, resulting in the death an injury of over 10,000 people," Mohammed al-Moqbeli, a member of Ansarullah's Central Council said, addressing a gathering to support the Yemeni people in Iran's holy city of Mashhad on Sunday night.
Noting that 30% of the wounded and killed Yemenis are women and children, he said Yemen is also under a Saudi siege and the power cut is one of the major problems in Yemen.
"Saudi Arabia uses weapons which are prohibited globally and many people, specially children, have directly or indirectly been injured or killed by them," Moqbeli said.
Yemen's Ministry of Public Health complained on Saturday that Saudi Arabia had used internationally banned weapons in its air raids on Yemen.
Full report at:
http://english.farsnews.com/newstext.aspx?nn=13940325000367
--------
Saudi-led air forces bomb Yemen's capital before talks
June 15, 2015
SANAA/ADEN: Warplanes from a Saudi-led coalition bombarded Yemen's Houthi-controlled capital Sanaa overnight as the country's warring factions prepared for talks expected to start in Geneva on Monday.
A Reuters witness said the airstrikes caused big explosions before dawn and hit locations south and west of Sanaa as part of the coalition's nearly 12-week campaign to target the Houthis and army forces loyal to former President Ali Abdullah Saleh.
On the diplomatic front, United Nations Secretary General Ban Ki-moon was in Geneva for talks aimed at reaching a deal to end the fighting in which more than 2,500 combatants and civilians have been killed since March 19. It was not clear if the opposing factions would meet each other face-to-face.
Full report at:
http://www.dailystar.com.lb/News/Middle-East/2015/Jun-15/302132-saudi-planes-strike-yemens-capital-ahead-of-talks.ashx
--------
Israel blocks visit of UN human rights envoy
June 15, 2015
OCCUPIED JERUSALEM: Israel has blocked a visit to the occupied Palestinian territories by a U.N. rights envoy, an official said Monday, just ahead of the publication of a United Nations report on last year's Gaza war.
It was the second time Makarim Wibisono, the U.N.'s special rapporteur on human rights in the occupied Palestinian territories, had been barred entry.
"We didn't allow this visit," which was to take place last week, foreign ministry spokesman Emmanuel Nahshon told AFP.
"Israel cooperates with all the international commissions and all (U.N.) rapporteurs, except when the mandate handed to them is anti-Israeli and Israel has no chance to make itself heard."
Full report at:
http://www.dailystar.com.lb/News/Middle-East/2015/Jun-15/302162-israel-blocks-visit-of-un-human-rights-envoy.ashx
--------
Turkey urges Europe for help with refugee influx
June 15, 2015
Turkish Foreign Minister Mevlüt Çavuşoğlu hosted an ad hoc meeting of the Parliamentary Assembly of the Council of Europe (PACE) on the large-scale arrival of refugees from Syria to Turkey on late June 14.
Çavuşoğlu said the world must share the refugee burden Turkey has been carrying for more than two years, during a speech at a dinner with PACE members, including PACE President Anne Brasseur.
"Turkey has spent more than $6 billion so far for refugees. The international community's help is only $300 million. The burden must be shared," Çavuşoğlu said.
The foreign minister also said around 500,000 of the refugees have come of age to receive education but "only 40 percent of them can get it."
Full report at:
http://www.hurriyetdailynews.com/turkey-urges-europe-for-help-with-refugee-influx-----.aspx?pageID=238&nID=83990&NewsCatID=510
--------
Iran Urges Collective Efforts to Stop Bloodshed in Yemen
June 15, 2015
ranian Foreign Minister Mohammad Javad Zarif demanded main actors in the Muslim world to launch collective efforts to stop further bloodshed in Yemen.
"All regional and Muslim countries should try to put an end to the calamities in Yemen through maintaining their unity," Zarif said in a meeting with the outgoing Sudanese Ambassador to Tehran Mirghani Abbaker Eltayeb Bakhit on Sunday evening.
The Iranian foreign minister underlined the need for unity among Muslim states to confront the plots hatched against them, and called for the Muslim states' vigilance against the plots targeting the Muslims.
Full report at:
http://english.farsnews.com/newstext.aspx?nn=13940325000628
---------
Europe
Ban calls for immediate Ramadan truce in Yemen
June 15, 2015
GENEVA: UN chief Ban Ki-moon on Monday called for an immediate two-week humanitarian pause in Yemen to mark Ramadan as talks got underway in Geneva to try and resolve the bloody conflict.
"I hope this week starts the beginning of the end of the fighting," Ban said.
"Ramadan begins in two days," he said, stressing that the holy Muslim month should be a period for "harmony, peace and reconciliation".
"I have emphasised the importance of another humanitarian pause for two weeks," Ban said.
Ban dismissed fears that the talks would be torpedoed by the non-arrival of an Iran-backed rebel delegation in time for the talks. The team's plane was delayed in Djibouti, according to UN and diplomatic sources.
He said the delay was due to logistical reasons and added: "I am pleased to know that the other parties are on their way" and were expected to arrive later Monday.
Underscoring the need for immediate action in Yemen, he said: "The ticking clock is not a time piece, it is a time bomb. "He also called on all parties to reach an agreement on a "comprehensive and lasting" ceasefire.
Full report at:
http://www.dawn.com/news/1188363/ban-calls-for-immediate-ramadan-truce-in-yemen
---------
High stakes in Geneva as Yemen sides meet over bloody conflict
June 15, 2015
Yemen's warring factions will come together for the first time in Geneva Monday in a bid to resolve the bloody conflict between Iran-backed Shia rebels and the government of exiled President Abedrabbo Mansour Hadi.
The UN's peace envoy for Yemen, Ismail Ould Cheikh Ahmed, said in a statement that Monday would see the start of "preliminary inclusive consultations" on the war that has claimed more than 2,500 lives and sparked a "catastrophic" humanitarian crisis.
Analysts said a breakthrough was "very unlikely", however, and the delegations will not even begin talks in the same room.
Instead they will start with "what we call proximity talks" in two separate rooms with the envoy shuttling between them "with the hope they can be brought together", UN spokesman Ahmad Fawzi told reporters in Geneva.
UN Secretary General Ban Ki-moon, who will attend the opening session of the talks, appealed for participants to take part "in good faith and without pre-conditions".
Full report at:
http://www.themalaysianinsider.com/world/article/high-stakes-in-geneva-as-yemen-sides-meet-over-bloody-conflict#sthash.cyfaHzT2.dpuf
---------
Bishop supports Muslim prayer room at Queen's University Belfast petition
World Bulletin / News Desk
Jun 15 2015
Students at Queen's University Belfast have launched a campaign for the university to allocated premised for a prayer room. Muslim students currently have to pray in corridors, classrooms and forgotten corners of the campus because the college will not provide a dedicated space for prayer.
Ahmed Amer speaking to the BBC Radio Ulster Talkback programme stressed that most other universities in England and in the Republic of Ireland have dedicated rooms for prayer as well as the University of Ulster.
"Having a prayer room on campus is just a sign that the university is accommodating the needs of its students," he said.
Full report at:
http://www.worldbulletin.net/world/160615/bishop-supports-muslim-prayer-room-petition
---------
Online community hopes to link Muslims with France prayer sites
June 15, 2015
They simply wanted a place to pray, as required five times a day for faithful Muslims. But in France, that's not necessarily simple.
The country has relatively few Muslim prayer spaces compared with the population - one for every 1,200 by some estimates - and a group of five friends from a variety of backgrounds decided they could do something about a problem they found themselves facing every day.
They created an online community they called Salatsurfing, building an app and website to link the faithful with people willing to donate space. Salatsurfing lists about 150 spaces - homes or businesses - throughout France. About 2,500 people have joined since the geolocation service started in September.
Full report at:
https://english.alarabiya.net/en/perspective/features/2015/06/14/French-app-hopes-to-link-Muslim-faithful-with-prayer-sites.html
---------
Cameron orders to tackle FGM to stop British girls being taken abroad during summer holidays
Jun 15 2015
New laws are to be rushed through Parliament aimed at sparing girls from female genital mutilation (FGM).
David Cameron said urgent action was needed to tackle the 'barbaric practice' and legislation would be brought forward early.
Charities said the measures, which would be introduced before the school summer holidays next month, would help prevent vulnerable young females from being taken abroad for the procedure.
The Prime Minister ordered the plans be fast-tracked to change the law before the school holidays when young girls in Britain are most at risk of being taken abroad.
Councils, social workers and police will be able to apply directly to courts to stop someone travelling abroad if they are suspected of planning to take someone abroad for FGM.
The courts will be able to force them to give up their passports and other travel documents immediately.
Full report at:
http://www.dailymail.co.uk/news/article-3123445/Cameron-orders-laws-tackle-female-genital-mutilation-stop-British-girls-taken-abroad-summer-holidays.html#ixzz3d7cuoN4r
---------
Islamic State teenager said to be UK's youngest suicide bomber
June 15, 2015
A 17-year-old who left northern England to join Islamic State was reported to have become Britain's youngest suicide bomber when he blew himself up in a car in northern Iraq.
Abu Yusuf al-Britani was shown standing next to a black vehicle in photographs posted on IS-affiliated social media accounts, media reported. The posts said he then took part in a suicide attack in Iraq's Salahuddin province.
He is believed to be Talha Asmal, a teenager who left West Yorkshire in March, and was thought to have joined IS, according to a statement from his family.
"Although the information within these reports has not been confirmed and the relevant UK authorities are working hard to verify the facts, we can confirm that the photographs shown of a youth purportedly named Abu Yusuf al-Britani appears to show our 17-year-old son Talha," the family of Talha Asmal said in a statement issued by West Yorkshire police on Sunday.
Full report at:
http://www.thehindu.com/news/international/islamic-state-teenager-said-to-be-uks-youngest-suicide-bomber/article7317446.ece
--------
North America
ISIS magazine preparing young Muslims for an apocalypse
Jun 15 2015
Online sales giant Amazon experienced an embarrassing mishap: Users were invited to purchase the glossy copies of the Dabiq magazine.
It's safe to assume that Amazon's managers had no idea what black hole they were getting themselves into when they put Dabiq on sale for $12 a copy in its English, German, French and Spanish versions. Over the weekend, following a series of complaints, Amazon removed the problematic item without any explanation.
Dabiq is a town in northern Syria. The tradition adopted by the Islamic terror organizations insists that this is where the apocalypse will take place and that this will be the last stop before the caliphate. This is where the name of the magazine published by the Islamic State comes from. Nine issues have been published so far, each dedicated to a an issue aimed at serving the murderers in the name of Islam.
Here are a few facts: Although it is translated into five languages, this magazine is not directed at the Western reader. Its editors did not sit down in front of their computers in order to improve their image. Dabiq is for propaganda "among the hesitant" and for recruiting purposes in the Persian Gulf, in North Africa and in the Muslim exile communities in the United States and Europe.
Full report at:
http://www.ynetnews.com/articles/0,7340,L-4668336,00.html
---------
Watch mosques, Islamic schools for radicalization, expert tells key committee
Jun 15 2015
The violent doctrine of extreme Islam is spreading in Canada through the foundation of mosques, Islamic centres and Islamic schools by wealthy Gulf state investors with radical goals, a controversial U.S. commentator is warning.
Ayaan Hirsi Ali, a former devout follower of the Muslim Brotherhood, best-selling author, ex-politician and now a fellow at Harvard University's JFK School of Government, was the final witness recently at the national security and defence committee, which is preparing a report on threats to national security.
"You should be looking out for the sprouting of mosques and Islamic centres. You should be looking out for the establishment of Islamic schools and anything that costs money," she said via a video link from Boston. "Countries like Saudi Arabia and the oil-wealthy Gulf countries that have absolutely everything that money can buy, yet many of them choose, for their philanthropy, radical Islamic goals, institutions, activities, jihad.
Full report at:
http://ottawacitizen.com/news/politics/ayaan-hirsi-ali-warns-the-west-to-watch-mosques-islamic-schools
---------
Muslim who saved Jews during Paris supermarket attack honoured in New York
June 15, 2015
Hailed as "the Paris kosher supermarket hero," Lassana Bathily, a Muslim employee who saved 15 French Jews during a terrorist attack, was honoured in New York on Friday.
Bathily was flown to New York to be honoured at the annual scholarship dinner of the NYPD Muslim Officers Society, the New York Daily News reported.
Prsenting him with an official city proclamation honouring him for his actions in the supermarket attack in Paris on January 9, New York Mayor Bill de Blasio called Bathily a 'real hero.'
Blasio said the 24-year-old Muslim hero "stood up to protect human life even when his own life is in danger," according to the newspaper. The meeting took place at the Islamic Center of Brighton Beach.
Full report at:
http://tribune.com.pk/story/903844/muslim-who-saved-jews-during-paris-supermarket-attack-honoured-in-new-york/
---------
Pakistan
Over 100 Baloch militants given amnesty
June 15, 2015
QUETTA - Over a hundred Baloch militants fighting against security forces in Balochistan have surrendered and pledged their allegiance to the country, officials said on Sunday.
A group of 59 militants including two key commanders appeared before the media, along with senior politicians and government officials from the province, to announce they would end militant activities and become a "useful part" of society.
They followed a group of 47 militants on Saturday.
All were given amnesty by the government.
"These people were in fact misled by the anti-state elements who are being funded by foreign spy agencies," said Sanaullah Zehri, a senior Balochistan minister.
"They have now pledged to lead a good life as true Pakistanis," he said.
The militants who surrendered were from groups such as Baloch Republican Army (BRA), Baloch National Movement (BNM) and Lashkar-e-Balochistan (Army of Balochistan).
"We were trapped by our leaders who said they are fighting for the rights of Balochs, but later we realised that they were enjoying their lives abroad and had pushed us and our families to a war here," Obaidullah alias Babrak, a Lashkar-e-Balochistan commander, told reporters.
Full report at:
http://nation.com.pk/national/15-Jun-2015/over-100-baloch-militants-given-amnesty
---------
Zarb-e-Azb: Victory for peace
June 15, 2015
ISLAMABAD - In just 12 months the reliable Pak forces have silenced almost all the guns that were targeting innocent lives and the terror-hit nation can now expect a positive conclusion soon.
In a country where suicide attacks and terrorism acts had become a daily routine, operation Zarb-e-Azab came as a breath of fresh air after the civil and military leadership vowed to fight until the last terrorist's elimination.
There were a few hesitations in the beginning.
Some feared the reaction and others thought the battle could possibly last longer.
The valiant forces proved these views wrong as they thrashed the militants.
Operation Zarb-e-Azb, a joint military offensive of the armed forces against various militant groups, including Tehreek-e-Taliban Pakistan (TTP), Lashkar-e-Jhangvi, Jundullah, Al-Qaeda, East Turkistan Islamic Movement (ETIM), the Islamic Movement of Uzbekistan (IMU) and the Haqqani Network, was launched on June 14 last year in the restive parts of the Federally Administrated Tribal Areas (Fata).
Full report at:
http://nation.com.pk/editors-picks/14-Jun-2015/zarb-e-azb-victory-for-peace
---------
Pakistan will not hold dialogue on India's terms: Sartaj Aziz
June 15, 2015
ISLAMABAD: Adviser to Prime Minister Nawaz Sharif on National Security and Foreign Affairs Sartaj Aziz on Monday underscored that Pakistan will not hold dialogue with India on her terms, adding that there can be no dialogue without the water issue and Kashmir as topics for discussion.
Speaking to media representatives in Islamabad after an inauguration of the 10th meeting of heads of the Higher Education Commission (HEC) of South Asian Association for Regional Cooperation (Saarc) countries, Aziz said that even if cordial terms are not possible with India, Pakistan wants to maintain tension-free relations with her.
Sartaj reiterated that Pakistan will take up India's anti-Pakistan statements with the United Nations' Secretary General Ban Ki-Moon.
Full report at:
http://www.dawn.com/news/1188347/pakistan-will-not-hold-dialogue-on-indias-terms-sartaj-aziz
---------
Senior Afghan Taliban leader killed in Peshawar
June 15, 2015
ISLAMABAD: Senior Afghan Taliban leader, Maulvi Mir Ahmad Gul Hashmi, was shot dead in Peshawar on Monday, Taliban spokesperson Zabihullah Mujahid said in a statement.
Hashmi, the Taliban shadow governor for Afghanistan's eastern Nangarhar province was critically injured during firing in Peshawar, and later succumbed to his injuries, the spokesperson said.
The Taliban leader had been vigorously involved in organising the movement in Nangarhar province, close to Pakistan's border.
The spokesperson upheld that no group had claimed responsibility for the assassination so far. However, the Taliban routinely blame Afghan intelligence officers for such killings.
Several Taliban leaders have been killed in different parts of Pakistan. Last year, a former Taliban minister Abdul Raqeeb was killed in Peshawar.
Full report at:
http://tribune.com.pk/story/903804/senior-afghan-taliban-leader-killed-in-peshawar/
---------
Pakistan's enemy is coming forward with new methods to challenge us: Zardari
June 15, 2015
KARACHI: At the passing out parade of the Elite Police Force in Karachi's Razzakabad on Monday, chief guest Asif Ali Zardari said Pakistan's enemy was coming forward with new methods to challenge the forces.
"Our enemy is coming forward with new methods to challenge you (the forces). The have new technology and they will challenge you," Zardari said at the passing out parade of the 25th batch of Elite forces.
Zardari lauded the efforts of the 2080 police personnel who were passing out today, of which 40 were women.
Read: Passing-out parade: Terrorism will be defeated at all costs, says Nawaz
"Forty of our sisters are also passing out today and this is a new step for Pakistan and for Pakistan's police," he said as he congratulated the new members of the force.
http://tribune.com.pk/story/903808/pakistans-enemy-is-coming-forward-with-new-methods-to-challenge-us-zardari/
---------
Country has benefited from Operation Zarb-e-Azb
June 15, 2015
KARACHI: Former President Asif Ali Zardari said on Monday the country had benefited from Operation Zarb-e-Azb.
Addressing the Elite Force passing out ceremony at Razak police station, Asif Ali Zardari said the country's enemies were using new ways and technology stressing innovation was required in the police force.
During the same ceremony, Sindh Chief Minister Syed Qaim Ali Shah congratulated Army Chief General Raheel Sharif on the completion of one year of Operation Zarb-e-Azb. Shah said extortion, kidnapping for ransom and target killing and decreased in Karachi.
http://www.thenews.com.pk/article-188094-Country-has-benefited-from-Operation-Zarb-e-Azb:-Zardari-
---------
Hope for Save the Children as Pakistan halts closure order
June 15, 2015
Pakistan's Interior Ministry has halted an order it made closing the office of the international aid group Save the Children in Islamabad, an official said Sunday.
The senior Interior Ministry official, who spoke to The Associated Press on condition of anonymity as he wasn't authorized to discuss the decision, did not elaborate.
Saeed Ahmed, a spokesman for Save the Children in Pakistan, said they had no word from the government on the decision. "We would appreciate relevant government authorities to communicate to us officially," Ahmed told the AP. On Thursday, Pakistan shuttered the group's main office in the capital for allegedly "violating its charter." By Friday, the organization had shut all its offices across the country. At the time, Pakistan said it would not allow any non-government organization to work against its interests, without elaborating. The group has said it received no prior warning before its office was closed, saying it had worked in Pakistan for over 35 years and that it had 1,200 employees nationwide — none of them a foreign national.
Full report at:
http://indianexpress.com/article/world/neighbours/hope-for-save-the-children-as-pakistan-halts-closure-order/#sthash.pVnquj5r.dpuf
-------
India
BJP MP Sakshi Maharaj Calls Himself a True Muslim, Prophet Mohammed A Great Yogi
TNN | Jun 15, 2015
NEW DELHI: Controversial BJP MP Sakshi Mahwaj stirred another controversy by claiming that he was a true Muslim and Prophet Mohammed was the biggest practitioner of yoga, TV reports said.
Maharaj said, "In Islam, the biggest name is that of Mohammed and I think Mohammed Saab is a great yogi. I think that a Muslim is one with 'Iman', thus a Mussalman. I am a true Muslim."
Earlier, hitting out at Uttar Pradesh Minister Mohd Azam Khan, who has advised Yogi Adityanath to offer Namaz, the controversial BJP MP said that Hindus do not have problem in taking name of 'Allah' as they believe in different cultures but if Azam Khan has guts he should speak 'Jai Shree Ram' and prove that he is a true Indian.
Ahead of the government's big plans for Yoga Day on June 21, the BJP MP had also said that all those who objected to the surya namaskar should jump into the sea.
Sakshi Maharaj has made several controversial statements in the past. Earlier this year, he said all Hindu women must produce at least four children. The Unnao MP said, "The concept of four wives and 40 children will not work in India and the time has come when a Hindu woman must produce at least four children in order to protect Hindu religion."
Also on the Ram Mandir issue, he said, "No power on earth can stop the construction of Ram Mandir in Ayodhya. It will be constructed, come what may."
http://timesofindia.indiatimes.com/india/Sakshi-Maharaj-calls-himself-a-true-Muslim-Prophet-Mohammed-a-great-yogi/articleshow/47673323.cms
---------
Central Govt Selects Muslim Couple's NGO to Hold Yoga Camp in UP
June 15, 2015
While the All India Muslim Personal Law Board is set to start a campaign against yoga and Surya Namaskar, an NGO run by a Muslim couple has been selected by Union Ministry of Ayush's Central Council for Research in Yoga and Naturopathy to conduct a month-long camp in Balrampur district ahead of International Yoga Day on June 21.
Mohammad Sayeed Memorial Welfare Society is the only organisation in UP that has been selected for conducting the yoga camp. While Akhtar had applied for organising a camp in Barabanki, his NGO was selected for Balrampur. The ministry will give financial assistance of Rs 1 lakh to organisations and institutions selected for the camps.
Since May 21, around 100 people — including 26 Muslims — are practicing yoga at a camp being conducted by the NGO in a school in Balrampur. A camp for a larger gathering will be organised in a stadium on June 21.
Full report at:
http://indianexpress.com/article/india/politics/govt-selects-muslim-couples-ngo-to-hold-yoga-camp-in-up/2/
---------
Ballabhgarh Communal Violence: Muslims reject compensation of Rs 1 lakh per family as too little
June 15, 2015
Riot-hit Muslims of Atali village have refused to accept the compensation amount of Rs 27,46,000 offered to them by the district administration, as they alleged that it is far less than what was promised to them initially. They also alleged that essential services such as transport and goods were being "denied" to the community.
Kapil Patwadi from the Ballabhgarh Revenue department said, "The process of giving compensation to those in Atali has begun. A total amount of Rs 27,46,000 is being given out to 28 families who were affected by the riots. The money has been divided based on an assessment of the damage done."
Full report at:
http://indianexpress.com/article/cities/delhi/ballabhgarh-communal-violence-muslims-reject-compensation-of-rs-1-lakh-per-family-as-too-little/#sthash.eE8ArLU5.dpuf
---------
J&K Government Bars Hurriyat from Holding Seminar, Speakers Held
June 15, 2015
The Jammu & Kashmir government on Sunday barred the Hurriyat Conference led by Syed Ali Shah Geelani from holding a seminar and arrested the "guest speakers" who had come from several states.
Hurriyat has termed the government action as "state terrorism" saying it has proved that Chief Minister Mufti Mohammad Sayeed's slogan of "battle of ideas" is hollow.
In the morning, a heavy contingent of police was deployed outside Geelani's Hyderpora residence — the venue for the seminar — and didn't allow anybody to move towards it. The police also raided a city hotel and arrested Sikh leaders who had come from Punjab to attend the seminar. They also put several Hurriyat leaders under house detention to foil the seminar.
"Most prominent leaders from India had reached Srinagar," Hurriyat spokesman Ayaz Akbar said. "From early morning, police raided several city hotels and arrested Dal Khalsa chief Kanwarpal Singh, his companion Dr Manjinder Singh Jandi and a prominent human rights activist and chairman of 'Sikhs for Human Rights', Advocate Harpal Singh Cheema. Akali Dal leaders including Jaskaran Singh and Narinder Singh Khalsa were stopped by police outside the lane which leads to the seminar venue," he said. Hurriyat had convened a seminar on the Union government's "anti-minority" approach and invited several leaders from outside including human rights activist Gautam Navlakha. Condemning the government action, Hurriyat has called for a joint response from the minorities to the Modi governments "anti-minority" policy. "All the minorities including Muslims, Sikhs and Christians should fight collectively to foil the wicked agenda of the RSS," Geelani said. "The BJP is following the RSS agenda and are on their way to make India a Hindu Rashtra and to accomplish this goal the government can go to any extent," he said.
http://indianexpress.com/article/india/india-others/jammu-and-kashmir-government-bars-hurriyat-from-holding-seminar-speakers-held/#sthash.t5apQgB3.dpuf
---------
Shoot those who hoist Pakistani flags in Kashmir: Pravin Togadia
June 15, 2015
RAJKOT: Accusing the Union government of not taking "stern action" against pro-Pakistani separatists, Vishwa Hindu Parishad (VHP) president Pravin Togadia on Sunday said those who hoist Pakistani flags in Kashmir must be "shot".
"The way Pakistani flags are being hoisted in Kashmir is a matter of concern and now it is necessary to shoot people in their chest if they shout slogans in favour of Pakistan and hoist Pakistani flags," Togadia told reporters in Kutch district.
While answering a query about the current situation in Jammu & Kashmir, Togadia also criticized the BJP-led central government and alleged it has not been taking "sufficient" action to rein in separatists.
Full report at:
http://timesofindia.indiatimes.com/india/Shoot-those-who-hoist-Pakistani-flags-in-Kashmir-Pravin-Togadia/articleshow/47667043.cms
--------
Southeast Asia
Media Freedom No Impact On Being Developed Nation, Says Malay Minister
June 15, 2015
Having media freedom does not necessarily equate to achieving developed nation status, which is Malaysia's ambition for the year 2020, Communications and Multimedia Minister Datuk Seri Ahmad Shabery Cheek said today.
"We need to see if we need media freedom to become a developed nation," Shabery told the Dewan Rakyat while wrapping up his ministry's debate for the 11th Malaysia Plan.
"Look at Singapore, they are a developed nation, but they are behind us in terms of media freedom."
Malaysia has ranked a lowly 147th in the global press freedom index out of 180 countries evaluated, while Singapore ranked 153 in the Reporters Without Borders 2015 World Press Freedom Index.
Full report at:
http://www.themalaysianinsider.com/malaysia/article/media-freedom-no-impact-on-being-developed-nation-says-minister#sthash.HHA9VrrX.dpuf
---------
Racism can unite a race 'for good', BTN says
June 15, 2015
KUALA LUMPUR, June 15 — The National Civics Bureau (BTN) claims that racism can unite a race for a "good purpose" as Malaysia struggles to deal with inter-ethnic tensions that have bubbled up the last few years.
In another set of slides uploaded on its website titled "Rasis", the government agency claimed that racism has instead received a "negative connotation" as the idea is being used by certain parties to achieve their political goals and topple the government.
"The reality is, the minorities in Malaysia have possessed what was mentioned in human rights," according to the content of the slide first uploaded on March 11.
It claimed that the concept of "racism" had initially originated from the Islamic concept of "asabiyyah", a positive idea that centered on brotherhood and formed social solidarity in historical Muslim civilisations.
Full report at:
http://www.themalaymailonline.com/malaysia/article/racism-can-unite-a-race-for-good-btn-says#sthash.9syTzKFw.dpuf
--------
URL: https://www.newageislam.com/islamic-world-news/new-age-islam-news-bureau/saudi-arabia-s-najran-tribes-declare-war-on-riyadh/d/103502