New Age Islam News Bureau
17 Dec 2018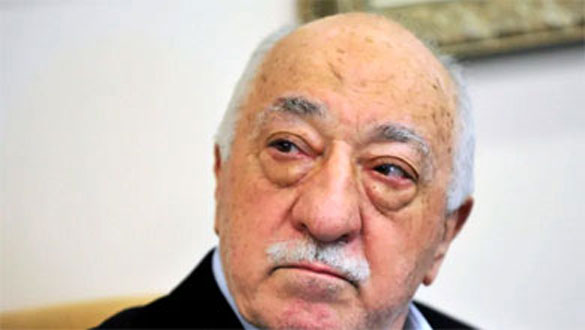 In this 2016 photo, Islamic cleric Fethullah Gulen speaks to members of the media at his compound, in Saylorsburg, Pa. The Turkish government has blamed the influential movement led by U.S.-based Gulen, who runs a network of schools, dormitories, media outlets and universities, for a failed coup attempt. (Chris Post/Associated Press)
-------
• Saudi Arabia 'Rejects US Senate Position and Any Interference in Its Affairs'
• Iranian Reformists Clash with Hard-Liners in Drive to Restrict Child Marriage
• Trump 'Working On' Extraditing Islamic Cleric Gulen from US to Turkey
• Muslim Board to Approach Opposition Parties on Stalling Triple Talaq Bill in Parliament
Arab World
• Saudi Arabia 'Rejects US Senate Position and Any Interference in Its Affairs'
• Iraqis Begin Rebuilding Iconic Mosul Mosque with $50.4 Mln UAE-Financed Project
• Fresh US-led airstrikes leave 17 Syrian civilians dead in Dayr al-Zawr
• Car bomb goes off at marketplace in Syria's Afrin, kills 8
• Comprehensive Plan Urged To Address Issues Facing Muslim World
• UAE declares 2019 as the Year of Tolerance
• Saudi Arabia competent authority for Islamic world: Scholars
• Whistle-Blower: Khashoggi's Killer Pardoned by Saudi King
• Iraqi air raids kill 16 aides of ISIS leader Baghdadi in Syria
--------
Mideast
• Iranian Reformists Clash with Hard-Liners in Drive to Restrict Child Marriage
• Israeli Premier's Son Blocked On Facebook for Anti-Muslim Posts
• Netanyahu warns Hamas after deadly West Bank attacks
• Israel says it uncovered 4th Hezbollah tunnel from Lebanon
• Turkey says strikes PKK in Iraq again despite Baghdad protest
• How Iran, Turkey use Qatar to undermine regional security and US interest
• Despite truce, intense clashes hit Yemen's Hodeidah with 22 Houthis killed
• Iran 'ready' for joint anti-terror operation after deadly ambush in Pakistan
• Hamas marks anniversary with parade of new missiles
--------
North America
• Trump 'Working On' Extraditing Islamic Cleric Gulen from US to Turkey
• Saudi Arabia Rebukes US Senate over Khashoggi Resolution
• Why US destroyed richest African nation
• Trump to review case of soldier charged with murdering Afghan
--------
India
• Muslim Board to Approach Opposition Parties on Stalling Triple Talaq Bill in Parliament
• Bareilly's Mehtab Hussain Sprints Past Odds but Official Apathy Still a Hurdle
• Indian society most tolerant: Rajnath
--------
Europe
• Pope Francis To Deliver Mass In Abu Dhabi Stadium
• British Security Council Delegation to Present Draft Resolution on Yemen
• UAE dismisses baseless Germany's former FM statements over Qatar
• Iranian students in Britain face suspension over new US sanctions: Report
• North Cyprus journalist takes on Turkey's mighty Erdogan
• France's National Rally links to violent far-right group revealed
--------
Pakistan
• Imran Khan Says That His Vision of Naya Pakistan Is Actually the Vision of Quaid-i-Azam
• 'Fall of Dhaka Underlines Need For Boosting Unity, Harmony'
• Peshawar school attacker a state guest: Pakistan politician
• JI chief sees favouritism behind ongoing accountability drive
• Bilawal pledges to continue resistance against terrorism
• Trilateral moot urges Taliban to join talks
• Imran Khan condemns civilian killings in Pulwama, vows to take up issue with UN
--------
South Asia
• Bangladesh, Political Islam and Intellectual Forgery of the Harvard University
• Afghan Taliban Say Will Meet US Officials in UAE Today
• 5 militants killed, 2 wounded in Uruzgan airstrikes
• Bangladeshi president urged to curb poll violence
--------
Southeast Asia
• China's Detention Camps for Muslims Turn to Forced Labour
• Malaysia's Mahathir Says No Rights to Recognize Jerusalem as Israeli Capital
• Chinese' re-education camps' for Uighur Muslims run like 'concentration camps', says Amnesty
• Asean must pressure Suu Kyi on Rohingya issue: Mahathir
• Amanah taking the path less travelled to win over Malay-Muslims
• UN should not have generalised Malaysia with other Islamic countries on ICERD: Tajuddin
--------
Africa
• Hundreds Flee After Boko Haram Burns Nigerian Village
• Northeastern Nigeria Fighting With Militants Leaves 12 Soldiers Dead
• US says new airstrike in Somalia kills 8 al-Shabaab fighters
• Three CSOs write Buratai, demand details of money spent fighting Boko Haram
• Sudan President Lands in Syria in First Visit By Arab Leader
Compiled by New Age Islam News Bureau
URL: https://www.newageislam.com/islamic-world-news/saudi-arabia-rejects-senate-position/d/117182
--------
Saudi Arabia 'rejects US Senate position and any interference in its affairs'
17 December 2018
Saudi Arabia's foreign ministry has released a statement in which it rejected the position recently expressed by the United States Senate and any interference in its internal affairs.
"The Kingdom of Saudi Arabia rejects the position expressed recently by the United States Senate, which was based upon unsubstantiated claims and allegations, and contained blatant interferences in the Kingdom's internal affairs, undermining the Kingdom's regional and international role," the foreign ministry statement read.
"While the Kingdom of Saudi Arabia reaffirms its commitment to continue to further develop its relations with the United States of America, the Kingdom also expresses its concern regarding the positions that were expressed by members of an esteemed legislative body of an allied and friendly government, a government that the Kingdom, under the leadership of the Custodian of the Two Holy Mosques and the Crown Prince, holds at the highest regard, and with whom the Kingdom maintains deep strategic, political, economic, and security ties that were built over several decades to serve the interests of both countries and peoples," the statement added.
Saudi Arabia said it categorically rejects any interference in its internal affairs, any and all accusations, in any manner, that "disrespect its leadership, represented by the Custodian of the Two Holy Mosque and the Crown Prince, and any attempts to undermine its sovereignty or diminish its stature".
Saudi Arabia said it emphasizes that such a position will not affect its leading role in the region, in the Arab and Muslim worlds, and internationally and added that it would will continue to fulfill its pivotal role.
https://english.alarabiya.net/en/News/gulf/2018/12/17/Saudi-Arabia-rejects-US-Senate-position-and-any-interference-in-its-affairs.html
--------
Iranian Reformists Clash with Hard-Liners in Drive to Restrict Child Marriage
Saeid Jafari
December 16, 2018
A group of Iranian lawmakers is seeking caps on child marriage in the country, a drive that seems to have little chance of success due to fierce opposition from hard-liners.
"It all dates back to 44 years ago," wrote hard-line daily Kayhan in a Nov. 26 editorial, "when US Secretary of State Henry Kissinger placed the [National Security Study Memorandum 200] on President Richard Nixon's desk. … The document addressed the threat of human development in America's rival countries and how population growth could boost them." The editorial then accused the Iranian members of parliament who are pushing for restrictions on child marriages of having the document as their role model.
What the lawmakers are advancing is a ban on marriage for girls below the age of 13 and boys under 16. Originally proposed by the parliamentary Women's Faction, the bill was formally introduced Sept. 26 by 67 Reformist members of parliament who sought an amendment to an article in the Islamic Republic's Civil Code, which sets the same age limit for both genders but allows girls to marry at a younger age, with the consent of a guardian. If passed, the bill will raise the age limit to 16 and 18 for girls and boys, respectively. Under the same amendment, marriage is still legal from the ages 13 to 16 for girls and 16 to 18 for boys, with consent from a "sound-minded" guardian and judicial approval.
Although the Iranian parliament has fast-tracked a debate of the bill, the road is expected to be a bumpy one, and the prospects for the bill's approval look bleak as hard-liners tirelessly put obstacles in its path.
This opposition was explicitly expressed in an Oct. 2 public letter drafted by the Basij Students Unions, which represents the most conservative political and religious camps at Iranian universities. Addressing the Office of the Supreme Leader, the Guardian Council and the Expediency Council, the hard-line students sounded the alarm on what they called the prospect of an increase in "unregistered marriages." They described the amendment as irrational and counter to religious principles.
"Even if the bill is approved," stated the letter, "many families still support marriage at lower ages and will continue the practice inattentive to the law. Thus, we will be facing the phenomenon of unregistered marriages." It further said the legislation will give a free pass to the spread of religiously forbidden contacts between youths of opposite sexes.
According to figures released by the Department for Women's Affairs affiliated with the presidency, 39,609 Iranian girls had their marriages registered in the previous Iranian calendar year (ended March 20, 2018). Statistics from Iran's National Organization for Civil Registration put the total number of national marriages in the same period at 608,956. Girls aged 10 to 14 accounted for 6% of the marriages in the mentioned period.
Another hurdle the bill faces stems from the country's senior clerical community. Tehran University's Basij Student Union urged top conservative clerics to publicly declare their opinions on the measure. Though different in tone and wording, the positions of all four clerics were similar, affirming that once girls reach puberty — at the age of nine, according to Islamic principles — they are allowed to get married with parental consent, regardless of limits set by the law.
But the pressure did not stop there. Fereshteh Rouhafza, director of the Department for Women's Cultural Policymaking, which is affiliated with the Supreme Council of the Cultural Revolution — whose members are appointed by the supreme leader — warned that the amendment will exacerbate such social maladies as runaway girls, prostitution and illegitimate male-female relationships. "Given today's increasing sexual content online and across social media, which expose the young to more sexual temptations, the age limit should not be raised and obstacles ought not be placed on legal marriage," Rouhafza said.
Meanwhile, voices in support of the bill have also been heard here and there. Fahimeh Hassan Miri is the director of an Iranian nongovernmental organization that advocates for the rights of children who have been subjected to domestic abuse. "Even the new amendment still allows the marriage of girls below the age of 18, who are considered as minors under the United Nations Convention on the Rights of the Child," she told Al-Monitor.
"Still, the amendment is bringing hope," she added. "It is a positive step toward defending the rights of children and protecting them against harms which underage marriage poses to them." As a former journalist, with a years-long career focused on Iranian women's issues, Hassan Miri noted that in most cases of underage marriage, young girls are wedded to men far older, and "this, coupled with a lack of pre-marital sexual awareness and physical fitness, makes them vulnerable to irreparable physical and mental damage."
To the opponents of the bill, age limits should not be the government's priority. Rather, the government should institute policy aimed at facilitating marriage for young Iranians. Mohammad Taghi Rahbar, a former lawmaker, is critical of the bill for that very reason. "The marriage age has already gone up in Iran and such limitations are of no help to the young, who need to get married. Although under religious rules, the age limits are nine and 15 for girls and boys [respectively], over the years those numbers have [practically] undergone changes," he said, echoing the hard-liners' stance that the government should focus on easing the process of marriage instead.
Elsewhere, Mohammad Dehghan, a member of the parliament's Judicial Commission, has described the bill as "immature." "The commission has already found numerous faults with the proposal by the Women's Faction. Still, it has not been put to the commission's internal vote for a final decision, Dehghan said, implying just how uncertain the bill's fate is.
Should the Women's Faction win parliament's support for the bill, tough challenges still lie ahead. The measure is still pending final approval from the country's powerful Guardian Council, which is controlled by hard-liners. The supervisory body has the full authority to decide whether the bill runs counter to Islamic principles.
https://www.al-monitor.com/pulse/originals/2018/12/iran-child-marriage-bill-reformists-hardliners-restrictions.html
--------
Trump 'Working On' Extraditing Islamic Cleric Gulen from US To Turkey
December 17, 2018
Donald Trump told Turkey's President Recep Tayyip Erdogan that Washington is working on extraditing an Islamic cleric self-exiled in the United States, according to Turkey's foreign minister.
The extradition of Fethullah Gulen would be a strategic effort to persuade Turkey to lessen scrutiny on Saudi Arabia over the killing of journalist Jamal Khashoggi.
Mr Gulen, a former ally of Mr Erdogan, is blamed by Turkish authorities for orchestrating a failed coup in 2016, when rogue soldiers commandeered tanks and helicopters, attacked parliament and shot unarmed civilians. Mr Gulen denies any involvement in the coup.
Speaking at the Doha Forum in Qatar on Sunday, Turkey's foreign minister Mevlut Cavusoglu said: "In Argentina, Trump told Erdogan they were working on extraditing Gulen and other people."
Mr Cavusoglu was referring to the G20 summit where the leaders met two weeks ago.
He added: "I have recently seen a credible probe by the FBI on how the Gulen organisation avoids taxes."
Turkey has long sought the extradition of Mr Gulen, who has lived in self-imposed exile in the US for nearly two decades.
Mr Erdogan said that Turkey will start new initiatives abroad to target the financing of Mr Gulen's supporters during a speech in Ankara on Thursday.
However, last month, Mr Trump said he was "not considering" extraditing the Islamic cleric.
The foreign minister's recent comments about Washington now working to extradite Mr Gulen come after Mr Erdogan on Friday renewed attacks on Saudi Arabia over the Khashoggi murder.
Mr Erdogan accused Saudi Crown Prince Mohammad bin Salman's "closest" associates of being behind the killing of Khashoggi, in an apparent attempt to keep the pressure on the oil-rich kingdom.
"We have learned this from the audio recordings: of those who arrive, those closest to the crown prince played the most active role," Mr Erdogan said, according to the official Anatolia news agency. "The perpetrators are clear to me."
Mr Erdogan's statement comes after the US Senate passed a resolution saying Crown Prince Salman is responsible for the murder of Khashoggi following the CIA's assessment of the case. Riyadh maintains that the murder, which took place at the Saudi consulate in Istanbul on 2 October, occurred at the behest of "rogue elements" – not the Crown Prince.
Mr Trump and a number of administration officials have sought to play down the CIA assessment, with Secretary of State Mike Pompeo saying this week that it has been reported "inaccurately".
In recent months, the Trump administration has been vigorous in its defence of Saudi Arabia and the crown prince, in an effort to maintain close relations including lucrative weapons deals.
https://www.independent.co.uk/news/world/europe/fethullah-gulen-extradition-us-turkey-trump-erdogan-failed-coup-criticism-saudi-arabia-a8685826.html
--------
Muslim board to approach opposition parties on stalling Triple Talaq bill in Parliament
Nelanshu Shukla
December 16, 2018
The All India Muslim Personal Law Board (AIMPLB) has decided to approach opposition parties to ensure that the Triple Talaq ordinance is not cleared by the Parliament in the ongoing session.
The decision was made at the AIMPLB's working committee meeting.
Other issues that were also discussions included the Ayodhya issue, matters concerning Muslim women and Darul Qaza (shariat courts).
Addressing the media after the meet, senior AIMPLB member Qasim Rasool Illyas said, "We have decided that our members will be approaching leaders of opposition parties especially Rajya Sabha members so that the Triple Talaq ordinance is not cleared by the Parliament. This ordinance goes against the interests of Muslim women."
Senior AIMPLB member Jafaryab Jilani said, "We have also discussed about the Ayodhya issue. The matter is pending in the Supreme Court and hearings are expected to resume from January. If the government tries to bring in legislation in Parliament for the temple's construction then we will approach the apex court against it. Fourteen new Darul Qazas have also been set up. They are easing the burden on courts and helping us resolve dowry and matrimonial issues that concern Muslim women."
Speaking on the Ayodhya issue, board member Kamal Farooqi said, "On one hand we are waiting for the Supreme Court's decision while on the other hand people are talking about a bill in Parliament for the temple's construction. They are also giving statements about it. However we have been assured that such statements cannot influence the case."
Board secretary Umrain Mehfooz Rehmani said, "We will try to chalk out a solution for shortcomings in society. We are working hard to educate people from our community on the matter. We have also issued a helpline to deal with issues concerning Muslim women. We handled more than 28,000 matters through the helpline."
Responding to AIMPLB decision's on the Triple Talaq ordinance, Uttar Pradesh BJP spokesperson Dr Chandramohan said, "The BJP is committed to empower Muslim women and this is why an ordinance to make instant triple talaq a punishable offence was brought by the government. We believe in equality for all. We also urge the AIMPLB to prioritise the issue of women's security. We also request the opposition parties to help us ratify the ordinance in both the houses."
https://www.indiatoday.in/politics/story/muslim-board-to-approach-opposition-parties-on-stalling-triple-talaq-bill-in-parliament-1410884-2018-12-16
--------
Arab World
Iraqis begin rebuilding iconic Mosul mosque with $50.4 mln UAE-financed project
16 December 2018
As part of a five-year project financed by a $50.4 million donation from the United Arab Emirates, Iraqis on Sunday laid the cornerstone in rebuilding Mosul's Al-Nuri mosque and leaning minaret, national emblems destroyed last year in the ferocious battle against ISIS.
Abu Bakr Kenaan, head of Sunni Muslim endowments in Nineveh province, told AFP remnants of the minaret would be preserved, while other parts of the mosque would be built afresh, along with a museum about its history and adjacent homes.
The famed 12th century mosque and minaret, dubbed Al-Hadba or "the hunchback," hosted Abu Bakr al-Baghdadi's only public appearance as ISIS chief, when he declared a self-styled "caliphate" after extremists swept into Mosul in 2014.
The structures were ravaged three years later in the final, most brutal stages of the months-long fight to rid Iraq's second city of ISIS.
On Sunday, dozens of government officials, religious figures, United Nations representatives and European ambassadors gathered in the large square in front of the battered mosque to see the foundation laid. Abdullatif Al-Humaym, the head of Sunni Muslim endowments in Iraq, set down the stone in a simple ceremony.
It bore a black Arabic inscription: "This cornerstone for the rebuilding and restoration of the Al-Hadba minaret and the Great Al-Nuri Mosque was laid on December 16, 2018."
More than a year after ISIS lost control of Mosul, the iconic mosque still lies in ruins. The stone gate leading up to its courtyard and the greenish dome now covered in graffiti are virtually the only parts still erect. All that is left of the minaret is part of its rectangular base, the rest of it sheared off by fighting.
The first year will focus on documenting and clearing the site, while the next four years will see the physical restoration, the UN's heritage agency UNESCO has said. The mosque's destruction "was a moment of horror and despair," said UNESCO Iraq representative Louise Haxthausen."Today as we lay the foundation stone of the Nuri mosque, we are starting a journey of physical reconstruction," she told those gathered.
The mosque takes its name from Nureddin al-Zinki, who ordered it built in 1172 after unifying Syria and parts of northern Iraq. Its cylindrical minaret, which featured several levels of ornamental brickwork capped by a small white dome, started listing centuries ago. It is featured on Iraq's 10,000-dinar banknote and gave its name to countless restaurants, companies and even sports clubs.
But in June 2014, it became infamous as the site where Baghdadi declared ISIS's "caliphate" just days after the extremists seized Mosul in a lightning assault.
That capture prompted three years of ferocious fighting to wrest back Mosul and other Iraqi cities overrun by ISIS. In June 2017, as Iraqi forces closed in on a shrinking ISIS-held pocket in Mosul's Old City, the extremists blew up both the Al-Nuri mosque and its leaning minaret.
ISIS itself blamed a US-led strike for the destruction. When the rest of the Old City fell back under state control, Iraqi forces celebrated at the mosque, holding ISIS black flag upside down and tauntingly calling out, "Where is Baghdadi?"
https://english.alarabiya.net/en/features/2018/12/16/UAE-spends-50-4-mln-to-rebuild-iconic-Al-Nuri-Mosul-mosque-Iraq-.html
--------
Fresh US-led airstrikes leave 17 Syrian civilians dead in Dayr al-Zawr
Dec 16, 2018
More than a dozen civilians, mostly women and children, have been killed after the US-led coalition purportedly fighting the Daesh Takfiri terrorist group carried out a series of aerial assaults in Syria's troubled eastern province of Dayr al-Zawr.
Syria's official news agency SANA reported that 17 people were killed on Sunday when US-led warplanes bombarded residential buildings in Albu Khatir village, which lies southeast of the town of Hajin.
The report added that the air raids also severely damaged private property in the targeted area.
Local sources told Turkey's official Anadolu news agency on December 12 that a US-led coalition airstrike targeted a residential building in al-Kashmah neighborhood of al-Shaafah town, which lies in Abu Kamal district of Dayr al-Zawr province, the previous night, leaving 15 people dead.
Sources noted that the victims were all members of the same family.
The US-led coalition has been conducting airstrikes against what are said to be Daesh targets inside Syria since September 2014 without any authorization from the Damascus government or a UN mandate.
The military alliance has repeatedly been accused of targeting and killing civilians. It has also been largely incapable of achieving its declared goal of destroying Daesh.
On November 13, the Syrian Ministry of Foreign Affairs and Expatriates condemned a recent airstrike by the so-called US-led coalition against the eastern town of al-Shaafah, which left more than 60 people dead and injured, arguing that the massacre clearly pointed to the fact that members of the military alliance had no respect for moral values, international rules and regulations besides the lives of innocent civilians.
The ministry, in two separate letters, addressed to United Nations Secretary General Antonio Guterres and the former rotating president of the UN Security Council Ma Zhaoxu, called on the Security Council to fulfill its responsibilities and stop US-led aerial assaults.
It also asked the world body to propose an international, independent and impartial mechanism to investigate the crimes being perpetrated by the so-called US-led coalition.
The letters noted that the coalition was deliberately targeting Syrian civilians and making use of internationally banned weapons, including white phosphorus bombs, in Syria.
The ministry stressed that the so-called US-led coalition airstrikes were meant to kill as many Syrian people as possible, prolong the ongoing Syrian conflict, destroy the country's infrastructure and undermine its sovereignty and territorial integrity in flagrant violation of all UN Security Council resolutions on Syria.
Full report at:
https://www.presstv.com/Detail/2018/12/16/583123/Fresh-USled-airstrikes-leave-17-Syrian-civilians-dead-in-Dayr-alZawr
--------
Car bomb goes off at marketplace in Syria's Afrin, kills 8
Dec 16, 2018
At least eight civilians have been killed and dozens more injured after an explosives-laden vehicle exploded at a marketplace in Syria's northern province of Aleppo.
The so-called Syrian Observatory for Human Rights reported that the explosion struck al-Hal market in the city of Afrin, situated 43 kilometers north of the provincial capital city of Aleppo, on Sunday afternoon.
The Britain-based monitor group added that security forces have sealed off the attack scene, members of the so-called White Helmets are rushing to the area to provide help to the victims
The death toll is expected to rise as some of the injured are in a critical condition.
No militant group has claimed responsibility for the attack so far.
Afrin was captured in March this year from the Kurdish People's Protection Units (YPG) by Turkish armed forces and Ankara-backed Free Syrian Army militants.
The explosion came as Turkey said that there would be a campaign against "terrorists" in the eastern Euphrates region.
"It is time to realize our decision to wipe out terror groups in the east of Euphrates," Turkish President Recep Tayyip Erdogan said on Wednesday.
"We will start the operation to clear the east of the Euphrates from separatist terrorists in a few days," Erdogan added.
The commander-in-chief of the so-called Syrian Democratic Forces (SDF) said on Thursday that his fellow fighters would respond strongly to any Turkish attack, but noted that the US-supported Kurdish-led forces were pressing diplomatic efforts to deter an assault.
Mazloum Kobani told Reuters that Washington had made "serious attempts" to prevent a Turkish offensive, but the US should ramp up its efforts further.
Kobani warned that a Turkish assault would tie up militants from the People's Protection Units (YPG), who are purportedly fighting Daesh remnants in eastern Syria, which would allow the Takfiris to spread again.
"We are ready for any attack and will respond strongly ... within our areas. "Till now, our diplomatic attempts are ongoing to deter this," he said.
Full report at:
https://www.presstv.com/Detail/2018/12/16/583096/Car-bomb-goes-off-at-marketplace-in-Syrias-Afrin-kills-8
--------
Comprehensive plan urged to address issues facing Muslim world
December 16, 2018
JEDDAH: Describing Saudi Arabia as the center of Islam, religious scholars and intellectuals said media attacks against the Kingdom offend more than 1.8 billion Muslims across the world.
The scholars expressed their solidarity with Saudi Arabia on Sunday — the final day of a conference titled "International Conference on Islamic unity — the perils of labeling and exclusion" organized by the Muslim World League (MWL) in Makkah.
They said the Kingdom and its leadership command great respect due to their services to Islam and Muslims.
The conference, organized under the patronage of King Salman, was attended by more than 1,000 religious scholars and intellectuals from 128 countries.
The participants of the conference called for a comprehensive plan to address sectarianism and extremism.
They also stressed the need for creating effective channels of communication between followers of different Islamic schools of thought to remove misunderstandings and increase cooperation.
They unanimously rejected sectarian views and extremist ideas and urged scholars and preachers to play their role in uniting Muslims.
The scholars recommended the establishment of an all-inclusive committee to draft a comprehensive Islamic charter that lay down rules to resolve disputes between Muslim and to help forge unity among different schools of thought.
They entrusted the MWL with the implementation of the decision through a comprehensive document titled "Makkah document."
The conference stressed the idea of nation state is an extension of the concept of the Ummah, which converges and integrates with other Muslim countries under the umbrella of the MWL. Its international political framework comes under the umbrella of the Organization of Islamic Cooperation (OIC) and its international economic framework under the umbrella of the Islamic Development Bank. In addition to other Islamic institutions, especially the Islamic Military Counter Terrorism Coalition.
The closing statement urged the MWL to establish an international forum to promote common values among followers of different religions and cultures and, another forum to promote the values of tolerance and coexistence. It also stressed the importance of improving relations between Muslim sects.
It highlighted the importance of rejecting futile debates between different sects or schools of thought and called on the media and other social institutions to help strengthen the values of moderation and unity.
The participating scholars described themselves only as "Muslims" without referring to their respective sects or schools of thought.
They decried religious edicts (fatwas) that incite hatred. They also stressed the need for finding a single scientific reference for each country and respecting the religious leaders of the minorities.
The MWL secretary-general, Sheikh Dr. Mohammed bin Abdulkarim Al-Issa, said his organization is making efforts to forge unity among Muslims and to promote love and reconciliation.
Full report at:
http://www.arabnews.com/node/1421786/saudi-arabia
--------
UAE declares 2019 as the Year of Tolerance
15 Dec 2018
UAE President Sheikh Khalifa bin Zayed Al Nahyan on Saturday declared 2019 as the Year of Tolerance, an extension of the Year of Zayed which has run this year.
The leader said 2019 would highlight the UAE as a global capital for tolerance, instilling the values of co-existence and peace in local, regional and international communities, state news agency WAM reported.
"Instilling values of tolerance carries on Sheikh Zayed's legacy and teachings," Sheikh Khalifa said, adding that the Year of Tolerance will focus on five main pillars.
The first will be to deepen the values of tolerance and co-existence among cultures and peoples by concentrating on teaching the youth on the values of tolerance while the second seeks to solidify the UAE as the global capital for tolerance.
The third factor will see the UAE enacting multiple cultural programmes and contributions to build tolerant communities while the fourth pillar will focus on legislative and policy-oriented objectives that contribute to mandating cultural and religious tolerance.
The fifth pillar will focus on promoting tolerance and co-existence via targeted media initiatives and projects.
Sheikh Khalifa added: "We look forward to further contributing towards building societies that believe in the values of tolerance, cohesion and dialogue, and establishing concrete models improving tolerance and co-existence both regionally and internationally."
"Here in the UAE," he said, "the Year of Tolerance will be celebrated as a national effort towards further advancing a decades-long dream of creating a tolerant and cohesive society, open to peoples of varying cultures and religions from around the world. The UAE and Tolerance go hand-in-hand."
Sheikh Mohammed bin Rashid Al Maktoum, Vice President, Prime Minister and Ruler of Dubai, said: "We want government policies that further consolidate tolerance and a deep sense of community, and to spread this values among our youth and future generations.
"The UAE must lead the way for intellectual, cultural and media initiatives that further consolidated the values tolerance and co-existence, opening up to cultures of the region and the world as a whole," he added.
In July 2015, Sheikh Khalifa issued Federal Decree Law No. 02 of 2015 on Combating Discrimination and Hatred, which aims to protect everyone in the UAE and fight discrimination.
Full report at:
https://www.arabianbusiness.com/culture-society/409748-uae-declares-2019-as-year-of-tolerance
--------
Saudi Arabia competent authority for Islamic world: Scholars
2018-12-15
MAKKAH — Renowned Islamic scholars and muftis from around the world underscored the importance of Saudi Arabia's position as the competent spiritual authority for the entire Islamic world.
Around 1,200 prominent figures, including scholars, religious leaders, thinkers and intellectuals representing 28 schools of thought and sects from 127 countries attended the two-day conference in Makkah.
The conference was organized by the Makkah-based Muslim World League (MWL).
The participants lauded the efforts of Saudi Arabia, under the leadership of Custodian of the Two Holy Mosques King Salman and Crown Prince Muhammad Bin Salman, in serving Islam, Muslims and the entire humanity, especially their initiatives in fighting extremism and terrorism.
The conference recommended the drafting of a comprehensive Islamic charter that includes the rules to tackle disagreement and govern the relationship of Muslims in a broad spectrum.
It called for setting up of a committee, comprising representatives of major segments, to draw up a charter called "Makkah Charter" under which all major points of disagreement will be referred to a group of specialists to study and examine.
Full report at:
http://saudigazette.com.sa/article/550300/SAUDI-ARABIA/Saudi-Arabia-competent-authority-for-Islamic-world-Scholars
--------
Whistle-Blower: Khashoggi's Killer Pardoned by Saudi King
Dec 16, 2018
The Arabic-language al-Nashrah news website of Lebanon quoted Mujtahid as writing on his twitter page that al-Qahtani still continues his job which is running the social media for Saudi Arabia's crown prince and supervising the intelligence and foreign ministries.
"Al-Qahtani has been apparently pardoned by King Salman and at present is using several twitter accounts, including Monzar Al Shaikh Mubarak," he added.
Al-Qahtani, a top aide for Saudi Crown Prince Mohammed bin Salman, was one of the fall guys as Riyadh tried to stem international outrage at Khashoggi's death. Saudi state media reported in October that King Salman had sacked Qahtani and four other officials over the killing carried out by a 15-man hit team.
But Qahtani's influence in the crown prince's entourage has been so vast over the past three years - his own rise tracking that of his boss - that it will be hard for Saudi officials to paint Qahtani as the mastermind of the murder without also raising questions about the involvement of Prince Mohammed, according to several sources with links to the royal court.
Qahtani himself once said he would never do anything without his boss' approval.
"Do you think I make decisions without guidance? I am an employee and a faithful executor of the orders of my lord the king and my lord the faithful crown prince," Qahtani tweeted last summer.
Full report at:
http://en.farsnews.com/newstext.aspx?nn=13970925000502
--------
Iraqi air raids kill 16 aides of ISIS leader Baghdadi in Syria
16 December 2018
Iraqi fighter jets launched an air raid in Syria's Sousa east of the country, killing 16 aides of ISIS leader Abu Bakr al-Baghdadi, according to the Iraqi interior minister.
A military source revealed that the 16 terrorists were killed during a gathering they were holding in the area.
He added that a second strike targeted another location killing 13 would-be suicide bombers, who were preparing to enter Iraq through the desert bordering Syria to execute terrorist operations targeting the Iraqi capital Baghdad , Karbala, Samarra and Kirkuk.
The source revealed that among those killed were senior ISIS leaders, one of them is Mushtaq Anad Haram al-Mouhamadi, an Iraqi national known as Abu Omar and carries the title war minster responsible for what is classified by ISIS as the "Middle Euphrates State."
Also killed is al-Baghdadi's deputy Sijad Ali Hussein who is known by the name the Iraqi Abu Saffia, accused of overseeing the implementation of the bombings of the recent massacre in Karrada in Baghdad, and participating in the implementation of a number of terrorist operations in Iraq and Syria.
Full report at:
https://english.alarabiya.net/en/News/middle-east/2018/12/16/Iraq-kills-16-associates-of-ISIS-leader-Baghdadi-in-Syria.html
--------
Mideast
Israeli premier's son blocked on Facebook for anti-Muslim posts
December 17, 2018
Israeli Prime Minister Benjamin Netanyahu's eldest, Yair, tweeted on Sunday that Facebook blocked his page for 24 hours over apparent anti-Muslim posts and called the leading social network a "dictatorship".
In a message posted on Thursday on his Facebook page after deadly Palestinian attacks, Yair Netanyahu had called for "all Muslims (to) leave" Israel.
"Do you know where there are no attacks? In Iceland and in Japan where coincidentally there are no Muslims," the prime minister's son wrote.
In another post he wrote that there were only two possible solutions for peace, either "all Jews leave (Israel) or all Muslims leave".
"I prefer the second option," he added.
His comments came after two soldiers were shot dead on Thursday at a central West Bank bus station near a settlement.
On the same day, a baby prematurely delivered after his mother was shot and wounded in a separate attack nearby on Dec 9 also died.
Facebook deleted Yair Netanyahu's posts, prompting him to take to Twitter to criticise the social networking giant, calling it a "dictatorship of thought".
Critics of the prime minister have often attacked Yair as a grown man living in the premier's residence despite having no official role and benefiting from a bodyguard, a driver and other perks.
They say the parents of the 27-year-old are grooming him for future political power in an attempt to establish a ruling dynasty.
https://www.dawn.com/news/1451954/israeli-premiers-son-blocked-on-facebook-for-anti-muslim-posts
--------
Netanyahu warns Hamas after deadly West Bank attacks
16 December 2018
Israeli Prime Minister Benjamin Netanyahu said Sunday he had issued a warning to Hamas after recent deadly attacks in the occupied West Bank, including two shootings claimed by the Palestinian faction.
Netanyahu referred to a controversial Gaza ceasefire in November that ended the worst escalation between Israel and Hamas since a 2014 war.
"I conveyed a clear message to Hamas - we won't accept a situation of a truce in Gaza and terror in Judea and Samaria," Netanyahu told a cabinet meeting, using the biblical name for the West Bank, as is Israel's official policy.
"We will exact a high price over them," he said of the attacks.
Hamas runs the Gaza Strip but also has a presence in the West Bank.
Netanyahu's comments came after two soldiers were shot dead at a central West Bank bus station near a settlement on Thursday.
On the same day, a baby prematurely delivered after his mother was shot and wounded in a separate attack nearby on December 9 also died.
Hamas claimed responsibility for the December 9 shooting and another in the West Bank on October 7 that killed two Israelis.
The two Palestinians behind those attacks were shot dead by Israeli forces during arrest raids last week, Israeli officials said.
Israel's security forces say they have also arrested at least 37 Hamas operatives in connection with recent violence.
The attacks came after a deal to restore relative calm to the Gaza Strip that included Israel enabling Qatar to bring fuel and tens of millions of dollars to the besieged territory for salaries.
Hardline Israeli politicians opposed the Gaza agreement and have also criticized Netanyahu over the recent West Bank violence.
On Sunday, hundreds of settlers protested outside Netanyahu's office in Jerusalem to call on the government to increase security measures as well as settlement construction.
Those moves would make Palestinian militants understand that "there's no point to terror and hope in it," said Hananel Dorani, chairman of settler group the Yesha council.
Participating in the protest were a number of ministers, including Justice Minister Ayelet Shaked of the far-right Jewish Home.
A ministerial committee headed by Shaked later gave initial approval to a bill that would help legalize settlement homes built on state land without government approval.
"The terrorists will know that we're here to stay," she said following the vote. "We won't be deterred by attacks."
On Thursday, Shaked said that Attorney General Avichai Mandelblit had also approved of a way to help legalize some 2,000 West Bank homes considered illegal by Israel as they are located on privately owned Palestinian land.
Right-wing Israelis often call for increased settlement construction and approvals following Palestinian attacks.
All Israeli settlements are viewed as illegal under international law, but Israel differentiates between those it has approved and those it has not.
Israel occupied the West Bank in the 1967 Six-Day War.
Full report at:
https://english.alarabiya.net/en/News/middle-east/2018/12/16/Netanyahu-warns-Hamas-after-deadly-West-Bank-attacks.html
--------
Israel says it uncovered 4th Hezbollah tunnel from Lebanon
16 December 2018
Israel's army said Sunday it has uncovered another Hezbollah "attack tunnel" leading from Lebanon into north Israel, the fourth since it started a search-and-destroy operation this month.
Israel says the Iranian-backed Shiite militant group has dug the infiltration tunnels for use in a future conflict, and the military has been working to eliminate them.
The latest tunnel crossing into northern Israel was exposed at the weekend, the army said in a statement.
As with the other tunnels, soldiers placed explosives in it to keep out militants from the Lebanese side, it said.
The military refused to give the exact location, stressing the tunnel did not "pose an imminent threat".
On December 4, the army announced an operation dubbed "Northern Shield" to destroy tunnels it said have been dug under the border by Hezbollah.
Israel fought a devastating war against Hezbollah in 2006 that was halted by a UN-brokered truce.
Hezbollah is the only group in Lebanon not to have disarmed after the country's 1975-1990 civil war.
"The Lebanese government is held accountable for the attack tunnels dug from Lebanese territory," the Sunday statement said.
On Wednesday, Prime Minister Benjamin Netanyahu said the UN peacekeeping force in south Lebanon, UNIFIL, and international community should do more to curb Hezbollah's "acts of aggression against Israel".
Full report at:
https://english.alarabiya.net/en/News/middle-east/2018/12/16/Israel-says-it-uncovered-4th-Hezbollah-tunnel-from-Lebanon.html
--------
Turkey says strikes PKK in Iraq again despite Baghdad protest
16 December 2018
Turkish warplanes struck PKK targets in northern Iraq on Saturday, the military said, ignoring protests from Baghdad which said Turkey's repeated air strikes violate Iraqi sovereignty and endanger civilians.
Iraqi authorities summoned Turkey's ambassador in Baghdad on Friday after Ankara said it killed eight militants from the outlawed Kurdistan Workers Party (PKK). Turkey said it would continue attacking the PKK as long as it sought refuge in Iraq.
In a statement on Twitter, Turkey's armed forces said they carried out air strikes in northern Iraq on December 14 and 15, killing seven militants. It was not immediately clear whether those casualties were in addition Friday's toll.
Turkey regularly hits PKK bases across its southern border, saying the militants use the mountainous northern Iraqi region as a base for deadly attacks inside Turkey, where the Kurdish separatist group has waged an insurgency since the 1980s.
In a speech on Saturday, Erdogan said Turkish air strikes against PKK targets in the Iraqi region of Sinjar earlier this week had "turned those places into their graveyards."
"We will bury them in the holes they dug," he told supporters in Turkey's southwestern city of Denizli.
Erdogan threatened to launch a ground offensive in northern Iraq earlier this year. This week he also announced an imminent operation against a Kurdish militia in neighboring Syria.
The US-backed YPG militia, which has been fighting ISIS in Syria, controls Syria's northeastern border with Turkey. Ankara says it is an extension of the PKK and poses a direct threat to Turkey.
"The activities of the PKK terrorist organization in the territory of Iraq and Syria have become a national security issue for Turkey," Foreign Ministry spokesman Hami Aksoy said.
Turkey's operations "will continue as long as terror organizations nest on Iraqi soil and as long as Turkey's security needs require it to," Aksoy said.
Full report at:
https://english.alarabiya.net/en/News/middle-east/2018/12/16/Turkey-says-strikes-PKK-in-Iraq-again-despite-Baghdad-protest.html
--------
How Iran, Turkey use Qatar to undermine regional security and US interest
16 December 2018
Not only did the statements from Iranian and Turkish officials during the Doha Forum recently, underline simmering tension within the Arab Gulf region and its US ally, they demonstrated Qatar's risk of breaking away from the Arab orbit and posing a serious threat to Saudi Arabia, the United Arab Emirates and Bahrain, according to experts.
In a sign of transforming the forum into a platform to divide the Arab Gulf countries and blasting the Arab treaties, Iranian and Turkish officials engaged in slamming the Gulf Cooperation Council (GCC) and its allies.
Iranian Foreign Minister Mohammad Javad Zarif on Saturday said US sanctions would have no impact on the policies of the Islamic Republic at home or abroad.
"It is obvious that we are facing pressure by the US sanctions. But will that lead to a change in policy? I can assure you it won't," Zarif told the Doha Forum policy conference in Qatar.
"If there is an art we have perfected in Iran and can teach to others for a price, it is the art of evading sanctions," he added.
Discussing the Yemen conflict, Zarif said that the Houthi militias have enough weapons, adding that there were only "allegations" that Iran had sent weapons to Yemen.
"Those are American-made jets and those are Saudi fighters, I assume, which are piloting those jets," Zarif said.
Turkish Foreign Minister Mevlut Çavusoglu on Saturday also criticized Saudi Arabia and the sanctions imposed on Qatar by its main four Arab neighbors.
Speaking to reporters on the sidelines of the 18th Doha Forum, Çavuşoglu said the sanctions targeting the country is "unacceptable… these issues will be resolved as soon as possible".
The Turkish FM's statements follow campaigns against the GCC in Turkish media.
Turkey's military offence on the east of Euphrates River would also mean a defeat for the GCC, columnist Ibrahim Karagul said in pro-government Yeni Şafak daily on Saturday.
"Whatever the price to be paid, even if it means suicide, this operation should be launched," Karagul added.
New wave of attacks
The new wave of attacks against the GCC, launched from Qatar, follows Qatari Emir Sheikh Tamim bin Hamad al-Thani's decision to skip the annual GCC summit in Riyadh.
While the Qatari moves have been depicted as "symbolic" by Doha and as "insignificant" political maneuvers by its embittered neighbors, they reflect Qatar's shifting foreign policy that has been dubious and counterintuitive according to Iman Zayat, the Managing Editor of The Arab Weekly.
She added in a piece that Doha has gradually slid into an unofficial yet open alliance with Iran, the arch-rival of the GCC, and Turkey, one of the few remaining havens for Islamist groups, notably the Muslim Brotherhood.
Iran, Turkey and Qatar quietly struck a deal in late November in Tehran to create a "joint working group to facilitate the transit of goods between the three countries." While the agreement seemed like a modest effort to streamline trade flow to Qatar, which can no longer access air, land and sea routes to neighboring Arab countries, it has proven to be a mechanism to further the agendas of Ankara and Tehran, which are at loggerheads with Saudi Arabia, the piece added.
It showed that the Qatar-Iran entente, previously concealed, is out in the open. To put it simply: Qatar has irrevocably joined with Ankara and Tehran against its former Arab allies. It has conclusively positioned itself in a regional alliance that pursues geopolitical dominance by driving instability, Zayat added.
While Tehran has tried to resurrect a Persian Shia empire through supporting proxies in Syria, Yemen, Lebanon, Iraq and elsewhere, Ankara has struggled to rediscover the glory of the Ottoman Empire by supporting the Muslim Brotherhood and other Islamist groups as they sow division in Arab countries and weaken their social fabric, the article added.
This not only represents a threat to the GCC and the Arab world, it also jeopardizes the US interests in making the sanctions work.
The two countries' trade volume topped $8 bln over the May-October 2018 period and is expected to rise to $12 bln by March next year, Chairman of Iran-Turkey Chamber of Commerce Reza Kami said.
Beyond trade, Ankara and Tehran share key political objectives. Both countries, for example, view the Kurdish presence near their borders as a threat to their strategic interests and territorial integrity. They are engaged in fierce competition with Riyadh over primacy in the Arab Gulf and the wider Middle East, a battle that has played out in Syria, Iraq, Yemen, Lebanon and Africa.
Both states hope to continue playing their respective roles as key powers in the region and they regard their cooperation as a means to this end, at least in the short term, according to Zayat.
'Playing with fire'
By continuing this course, Qatar is playing with fire, not only because its foreign policy objectives are precarious but because it is antagonizing its neighbors and driving the country into isolation, according to Zayat.
On Saturday, Qatar called for a new alliance that would replace the four-decade-old Gulf Cooperation Council.
"The regional alliance has been undermined," Qatar's Deputy Prime Minister and Foreign Minister Sheikh Mohammed bin Abdulrahman al-Thani told policymakers at the two-day Doha Forum.
Full report at:
https://english.alarabiya.net/en/News/gulf/2018/12/16/How-Iran-Turkey-use-Qatar-to-undermine-regional-security-and-US-interest.html
--------
Despite truce, intense clashes hit Yemen's Hodeidah with 22 Houthis killed
16 December 2018
Air strikes and fierce clashes shook the outskirts of Yemen's militia-held port city of Hodeidah overnight, pro-government sources and residents said Sunday, despite a UN-brokered ceasefire.
At least 29 fighters, including 22 Houthis, were killed on Saturday night in clashes and air strikes in Hodeidah province, a pro-government military source told AFP.
He added that seven Houthis were captured during an attack on al-Durayhimi district, which lies about 20 km south of Hodeida city.
The fighting comes days after a UN-backed ceasefire came into effect, part of a hard-won accord agreed in Sweden between Yemen's warring sides.
The truce was due to be followed by the withdrawal within days of fighters on both sides.
Meanwhile, security sources and residents in the capital Sanaa said that the Houthi militias were carrying out large-scale arrests of intelligence officers of the national security service branch, amid Houthi fears of a rebellion against them.
According to local media, the sources also revealed that the Houthi militias are subjecting the remaining members of the national security service to surprise searches of their homes and examinations of their personal phones, while the arrest of dozens from the branch has been carried out during the past few hours.
A prisoner swap involving some 15,000 detainees is planned and a "mutual understanding" has been struck to facilitate aid deliveries to Yemen's third city Taiz - under control of loyalists but besieged by the Houthis.
The two sides also agreed to meet again in late January for more talks to define the framework for negotiations on a comprehensive peace settlement.
Full report at:
https://english.alarabiya.net/en/News/gulf/2018/12/16/Despite-truce-intense-clashes-hit-Yemen-s-Hodeidah-with-22-Houthis-killed.html
--------
Iran 'ready' for joint anti-terror operation after deadly ambush in Pakistan
Dec 16, 2018
Iran says it is fully ready for joint anti-terror operations with neighboring Pakistan after terrorists killed six Pakistani troops in an ambush near their joint border Friday.
Foreign Ministry spokesman Bahram Qassemi strongly condemned the attack on a border checkpoint in Pakistan's Balochistan province.
He also expressed condolences to the Pakistani government and people as well as the families of the victims and those wounded in the terrorist attack.
The Islamic Republic of Iran, Qassemi said, is fully ready to take part in any joint campaign "against the evil phenomenon of terrorism in all its forms and shapes in the region," IRNA reported.
Six Pakistani soldiers were killed when a paramilitary convoy came under attack by gunmen during a routine patrol in the mountainous district of Kech on Friday.
Pakistan authorities said some 30 militants attacked the Frontier Corps convoy, also wounding 14 soldiers.
The separatist Pakistani group the Balochistan Liberation Army (BLA) claimed responsibility for the attack, which also left four attackers killed in the shootout.
Pakistan's Foreign Ministry said Saturday it had lodged a protest with Iran over the killing of the troops. It summoned Iran's ambassador to demand it take action against the armed group responsible for the attack.
In the past, Iran has repeatedly announced its readiness for joint operations with Pakistan from where militants launch cross-border attacks against Iranian troops and civilians.
Last month, Iran's Interior Minister Abdolreza Rahmani-Fazli called for intelligence sharing between the two neighbors as he suggested Iranian operations on Pakistani soil under Islamabad's supervision.
The proposal came after 12 Iranian border guards were abducted near the town of Mirjaveh in Iran's Sistan and Baluchestan province and taken into Pakistan in April.
Five of the guards were released last month, but the rest of them still remain in captivity despite Pakistan's repeated promises to have them freed.
Full report at:
https://www.presstv.com/Detail/2018/12/16/583076/Iran-Pakistan-joint-antiterror-operation-border-attack
--------
Hamas marks anniversary with parade of new missiles
Dec 16, 2018
Tens of thousands of Palestinians have attended a huge rally in the besieged Gaza Strip to mark the 31st anniversary of the establishment of the Hamas resistance movement.
Hamas was established in 1987 soon after the first Palestinian Intifada or uprising broke out against the Israeli occupation. The movement has been administering Gaza since 2007 when it scored a surprise parliamentary victory.
On Saturday, Hamas marked the anniversary of its foundation with a military parade featuring the Palestinian resistance movement's new defensive hardware.
Members of the group's military movement, the Izzddin al-Qassam Brigades, showcased various military vehicles and weapons.
The ceremony was held in the southern city of Khan Yunis in the Gaza Strip which is ruled by the movement.
The movement's special units staged a march-past during which truck-mounted missile defense systems were driven through the streets.
The movement also honored its fighters who outed and neutralized an Israeli infiltration near Khan Yunis last month.
Undercover Israeli special forces infiltrated into the territory in a civilian car near Khan Yunis, opening fire and killing local commander Noor Baraka when they were discovered.
The unit was chased by Hamas fighters who killed a ranking Israeli officer. Israel then launched dozens of airstrikes on Gaza, drawing Hamas retaliation. During a two-day flare-up, more than 500 rockets were fired at Israel, forcing Tel Aviv to accept a hasty declaration of a ceasefire.
The Saturday ceremony also coincided with the anniversary of the first Palestinian Intifada, which broke out in 1987 after four young Palestinians were killed by Israeli soldiers at a checkpoint in Gaza as well as the shooting death of a 17-year-old boy during an unarmed protest.
Full report at:
https://www.presstv.com/Detail/2018/12/16/583090/Hamas-anniversary-Gaza
--------
North America
Saudi Arabia rebukes US Senate over Khashoggi resolution
17 Dec 2018
Saudi Arabia has issued an unusually strong rebuke of the US Senate, rejecting a bipartisan resolution that put the blame for the killing of Saudi journalist Jamal Khashoggi squarely on the Saudi crown prince and describing it as interference in the kingdom's affairs.
It was the latest sign of how the relationship between the royal court and Congress has deteriorated, more than two months after Khashoggi was killed and dismembered by Saudi agents inside the kingdom's consulate in Istanbul. The assassins have been linked to Saudi crown prince Mohammed bin Salman.
On Thursday US senators passed the measure that blamed the prince for Khashoggi's killing and called on Riyadh to "ensure appropriate accountability". Senators also passed a separate measure calling for the end of US aid to the Saudi-led war in Yemen.
In a lengthy statement early on Monday, Saudi Arabia said the Senate's resolution "contained blatant interferences" in the kingdom's internal affairs and undermines its regional and international role. The resolution was based on "unsubstantiated claims and allegations," the statement also said.
"The kingdom categorically rejects any interference in its internal affairs, any and all accusations, in any manner, that disrespect its leadership ... and any attempts to undermine its sovereignty or diminish its stature," it said.
Such language is usually reserved for those who criticise the kingdom's human rights record, such as Sweden in 2015 after the public flogging of a blogger, and Canada this year over the arrests of women's rights activists.
Bu the statement was also tempered in saying the kingdom "reaffirms" its commitment to relations with the United States and describing the Senate as "an esteemed legislative body of an allied and friendly government".
Donald Trump has been reluctant to condemn the crown prince, despite US intelligence officials concluding that Prince Mohammed must have at least had knowledge of the plot. Trump instead has touted Saudi arms deals worth billions of dollars and has thanked the Saudis for lower oil prices.
Saudi Arabia denies Prince Mohammed was involved in the 2 October killing of Khashoggi, a Washington Post columnist who wrote critically of the crown prince. Under intense international pressure, the kingdom recently acknowledged that the plot was masterminded by top Saudi agents close to Prince Mohammed.
After shifting accounts about what happened to Khashoggi, Saudi Arabia said its investigations concluded that the crown prince's aides had plotted to bring Khashoggi by force back to Saudi Arabia and that the agents on the ground exceeded their authority and killed him.
The Saudi statement said the Senate's position will not affects the kingdom's "leading role in the region" and the stability of international energy markets, its counterterrorism cooperation and its stand with the US in confronting Iran.
It "sends the wrong messages to all those who want to cause a rift in Saudi-US relationship," the statement added.
https://www.theguardian.com/world/2018/dec/17/saudi-arabia-reject-us-senate-interference-khashoggi-yemen
--------
Why US destroyed richest African nation
Dec 17, 2018
The United States and its allies are responsible for completely destroying Libya, the richest country with a highest standard of living in Africa, an American journalist and political analyst says.
"Prior to the invasion of Libya in 2011, which resulted in the murder of Muammar Gaddafi and his country's destabilization, Libya had enjoyed one of the highest standards of living on the African continent," Walt Peretto said in an interview with Press TV on Sunday.
"Their major crime in the perception of the global financial elites was the announcement by Gaddafi that he planned on creating a new currency that would be backed by gold which would have potentially destabilized other currencies that are fiat based and lacking significant material foundation," he added.
"While Libya had been openly targeted for invasion by the Western bloc nations, Gaddafi's announcement put an invasion of Libya on the top of the priority list. Predicted chaos ensued which culminated in the infamous Benghazi incident where an American diplomat and three associated were brutally killed after the US State Department led by Hillary Clinton reacted in ways that seemed irresponsible at the very least. Since then there has been no official US diplomatic presence in Libya," he stated.
A US military commander has declared that conditions are improving on the ground in Libya for the return of an American diplomatic post in the country, six years after the US envoy was killed there in an attack on the Benghazi consulate.
"There were indications that ... recent improvements in the landscape and the operating environment of Libya were suggestive that a reintroduction a diplomatic mission was on the near horizon," Commander of Special Purpose Marine Air-Ground Task Force-Crisis Response Africa, Col. Adam Chalkley, stated on Friday as quoted in the US-based military.com news website.
According to the report, the taskforce was established as a result of the September 11, 2012 attack on the Benghazi diplomatic post that killed US Ambassador Chris Stevens and three other Americans.
Peretto said, "In my opinion, based on recurring patterns of behavior by the military/media complex, I see this latest policy announcement as an official advertisement that Libya is stabilizing and the 2012 invasion is now bearing some positive fruit. In reality, the invasion of Libya ousted a leader who was independent of the looming one world order pathologically coveted by the Western-led financial elites."
"The last thing they would have wanted is a new currency, backed by real value, in competition with the new world order's fiat currencies which are used primarily as a means of control over large swaths of the world's population instead of a convenient means of exchange backed by a more one-world agenda-free regulatory financial system," he concluded.
Full report at:
https://www.presstv.com/Detail/2018/12/17/583161/Why-US-destroyed-richest-African-nation
--------
Trump to review case of soldier charged with murdering Afghan
December 17, 2018
US President Donald Trump said on Sunday that he will review the case of a soldier charged with premeditated murder for killing an alleged bomb-maker in Afghanistan.
"I will be reviewing the case of a 'US Military hero,' Maj Matt Golsteyn, who is charged with murder," Trump wrote on Twitter.
The president's tweet mentioned Fox News, the channel on which Golsteyn's attorney and his wife were interviewed about the issue earlier in the day.
US media reported that the soldier killed the suspected bomb-maker after he was detained in 2010, and that Golsteyn admitted to doing so both to the CIA in 2011 and on Fox in 2016.
The latter appearance prompted the military to open a new investigation after Golsteyn was previously cleared.
His attorney, Phillip Stackhouse, tweeted that Golsteyn is charged with "premeditated murder, a death penalty offense for allegedly killing a Taliban bomb-maker during combat operations in Marjah, Afghanistan."
A US military spokesperson confirmed the charge but said: "We are not at liberty to discuss details of an ongoing case or investigation to ensure the rights of the accused are protected."
Speaking on Fox, Mr Stackhouse on Sunday denied "a narrative... put out" by the military in which Golsteyn "released this Taliban bomb-maker, walked him back to the house... and assassinated him in his house."
As to why his client is being charged now, Mr Stackhouse said: "The prosecutor in this case has intimated to me that they have new evidence."
Golsteyn's wife Julie, also appearing on Fox, denied that her husband had "killed someone in cold blood" and said that "there are a lot of words flying around that make this very difficult for us as a family."
Golsteyn is due to report to Fort Bragg in North Carolina on Monday, she said.
Full report at:
https://www.thenational.ae/world/mena/trump-to-review-case-of-soldier-charged-with-murdering-afghan-1.803525
--------
India
Bareilly's Mehtab Hussain Sprints Past Odds but Official Apathy Still a Hurdle
Nov 30, 2018
Mehtab Hussain, a daily wager at a meat factory in Bareilly, is locally famous as 'Bolt'— the last name of Jamaican sprinter and nine-time Olympic gold medallist Usain Bolt – for his athletic prowess.
Deaf and mute by birth, Hussain, in his 30s, is an athlete of international repute and has won a number of national and international tournaments, including Asia Pacific Deaf Games.
However, his sporting talent and achievements have failed to fetch him a job and the fame he deserves, thanks to official apathy. Despite overcoming his physical disability, financial constraints have forced him work at a local meat factory to support his family in Chak Mehmood area of Bareilly.
Gritty to the core, Hussain still wakes up at 4am and runs at least 10km a day to keep himself fit as he never knows when his financial condition permits him to participate in sporting events.
Hussain's mother Ashraf Jahan says, "As my daughter was already suffering from hearing and speech impairment, we did not take long to understand that Hussain was also suffering from the same problem. He was only three then."
"His behaviour was very much like his sister. He hardly responded to any sound," she recalls. Hussain is the youngest among three brothers and a sister. Soon after Hussain's birth, his father Latafat Hussain, a teacher at a primary school, passed away.
However, Ashraf Jahan didn't lose hope and got Hussain admitted to a school for differently-abled students in Bareilly where he showed much interest in athletics.
"During his school days, he never hired a rickshaw or public transport to reach his school which was 7 kms away. He always preferred to go by foot. Once he bought me a present from the money I gave him for conveyance," she recalls.
After winning innumerable interschool athletic championships, he participated in state-level championship in Faizabad and stood first.
"I couldn't believe that I had overpowered all the other athletes there," says Hussain, using sign language.Winning the championship fetched him entry to national-level championship and he became a member of the All-India Sports Council for Deaf (AISCD), the apex body for sports for the deaf.
"I participated in national level athletic meet in West Bengal in 1995 and won the 400-metre relay. I was on cloud nine. This was what I wanted," says Hussain. The period from 1995-2000 proved to be the golden one for Hussain as during this time he participated in about 22 state and 19 national athletic meets.
In 2000, he was informed by AISCD that he has been selected in the 6th Asia Pacific for Deaf, to be held in Taiwan.
"I had to sell a piece of land for Rs 50,000 to bear the expenses. Representatives of the council assured us that the money we spent would be reimbursed but they did not keep their word," Ashraf Jahan says.
Hussain, who was the only player from the state to participate in the event, bagged third position in 5000-metre race. Later, Hussain received several calls from the council informing him about his entry in several international championships but his financial condition did not permit him.
Showing letters from the council, Hussain says he got calls from Australia, Italy, Kuwait, Canada and Turkey but could not go there for the want of money.
"I don't have any problem in playing providing I get help from the government, which seems to be a distant dream," says Hussain. In the hope of playing for his state and country again, Hussain still continues to practice daily before leaving for his 12-hour shift in the meat factory.
https://www.hindustantimes.com/lucknow/bareilly-s-bolt-sprints-past-odds-but-official-apathy-still-a-hurdle/story-0Ok6hv63kjmyzqRJwfbNeK.html
--------
Indian society most tolerant: Rajnath
December 16, 2018
Indian society is most tolerant, and people of all major religions of the world live here in harmony, Union Home Minister Rajnath Singh said Sunday.
Addressing a group of school children from Jammu and Kashmir, he said all sects of Islam are present in India, something not even any Islamic nation can boast of.
"India is a unique country where people of all major religions of the world live in harmony. There is no other such tolerant society anywhere," Singh said.
The home minister said India is a rising power and in last four years the country's economy jumped from ninth position to sixth.
"In the next fiscal, we will break into the top five and by 2030, we hope to be among the world's top three economies," he said.
The students are visiting the national capital under a youth exchange programme called "Watan ko Jano", organised by the Union home ministry, to give them exposure about the cultural and socio-economic development taking place in other parts of the country.
Full report at:
https://www.business-standard.com/article/pti-stories/indian-society-most-tolerant-rajnath-118121600558_1.html
--------
Europe
Pope Francis to deliver Mass in Abu Dhabi stadium
12 Dec 2018
Details were announced on Wednesday about the visit of Pope Francis to the UAE next February which will see him deliver Mass in a stadium in Abu Dhabi.
The programme for the February 3-5 trip shows the Pope will celebrate Mass in Zayed Sports City on the last day of the visit.
Organisers of the trip, the first by a pope to the Arabian peninsula, said it would be the first time Mass would be held in an outdoor, public venue in the UAE.
There are about a million Roman Catholics in the UAE, all of them expatriate workers.
According to the itinerary, Francis will also visit Abu Dhabi's Sheikh Zayed Grand Mosque, the largest in the country where he will hold a private meeting with the members of the Muslim Council of Elders.
He will also preside at an inter-religious meeting at the Founder's Memorial, a complex commemorating the late Sheikh Zayed bin Sultan Al Nahyan, founding father of the UAE, and pay an official visit to the Abu Dhabi Crown Prince in the Presidential Palace.
Pope Francis has made boosting ties between Christianity and Islam a cornerstone of his papacy.
The pontiff was invited to the majority-Muslim country by both Abu Dhabi Crown Prince Sheikh Mohammed bin Zayed Al-Nahyan and the local Catholic church.
https://www.arabianbusiness.com/culture-society/409634-pope-francis-to-deliver-mass-in-abu-dhabi-stadium
--------
British Security Council delegation to present draft resolution on Yemen
16 December 2018
Source speaking to Al Arabiya News Channel have revealed that the British delegation at the United Nations is currently working on a draft resolution on the situation in Yemen, and it is expected that members of the Security Council will vote in its favor within the next few days.
The draft resolution aims to form a "strong and effective" monitoring mechanism suggested by UN Special Envoy for Yemen Martin Griffiths in the Red Sea city of Hodeidah.
Sources pointed out that diplomats have agreed on a set of objectives, most important of which is to grant Griffiths the full support to implement the Sweden agreements. As well as granting the necessary authority to carry out the monitoring tasks and the mobilization of international support for the diplomatic and humanitarian efforts.
In addition to calling on the special envoy to submit reports to the UN Security council on about the commitment to implement the agreement and report any violations.
The objectives are as below:
1- The draft resolution would welcome the parties' participation at the Stockholm consultations and the agreements that had been reached, which the draft resolution would describe as an important step towards the implementation of resolution 2216 and would quote the contents of resolution 2216.
2- The draft resolution will include the ratification of the Stockholm Conventions, including the Prisoners' Exchange Agreement, the Hodeidah Agreement and the Taiz Understanding. It will encourage the parties to continue to work towards a gradual opening of the Sana'a Airport and to reach economic agreements (including paying public sector salaries) of the timetable agreed upon by the Parties.
3- The draft resolution will also include the ratification of the Hodeidah/Taez preparations which include an immediate ceasefire and will call for applying it implementation according to the agreed timed schedules.
4- The draft resolution also includes authorize the United Nations to provide the support required by the parties, including monitoring the implementation of the agreements reached, and on how to report violations to the Security Council.
5- The draft resolution will welcome the involvement of the parties in discussing a framework for the upcoming negotiations, presented by the UN Special Envoy to the parties. The draft resolution will encourage the parties to continue this engagement to pave the way for the start of formal negotiations with a view to finding a political solution to the Yemeni crisis.
6- The draft resolution will also include the condemnation of Houthi attacks using ballistic missiles and drones, as well as their attacks against shipping lines. The draft resolution would also deplore the provision of weapons by the Houthis to resolution 2216, and would deplore the military and illegal exploitation of civilian infrastructure and reports of the use of civilians as human shields.
7- The draft resolution will condemn Houthi attacks against merchant ships in the Bab al-Mandab area and the surrounding region.
8- The draft resolution will reaffirm that the crisis can only be resolved through a comprehensive political process, as called for in resolution 2216, the Gulf Initiative and the outcomes of the National Dialogue Conference.
9- The draft resolution would welcome the progress made by the parties in dealing with the humanitarian situation, welcome the Alliance's financial commitments in that regard and appeal to the Member States of the international community to provide additional funding for United Nations-led humanitarian operations.
10- The draft resolution will emphasize the importance of adherence to international humanitarian law.
11- The draft resolution will emphasize the need for the regional States concerned to refrain from any action that might undermine the political process and stresses the need to respect their obligations towards the arms embargo.
Full report at:
https://english.alarabiya.net/en/News/gulf/2018/12/16/British-Security-Council-delegation-to-present-draft-resolution-on-Yemen.html
--------
UAE dismisses baseless Germany's former FM statements over Qatar
16 December 2018
UAE Minister of State for Foreign Affairs Anwar Gargash dismissed baseless Germany's former FM statements about a military intervention in Qatar in 2017.
Gargash Twitted on Saunday saying that" "the statement by Sigmar Hartmut [Gabriel], the former German minister, at the Doha Forum that the region, during the Qatar crisis, was not far from a military intervention is incorrect."
"The decision of the four countries was based on Qatar's support for extremism and interference in their affairs. I met Gabriel at the time in Berlin and he understood the causes of the crisis."
He added that the measures taken by the four countries are political and aim to thwart the Qatar's destructive orientation.
"We realize that Doha will go back to its senses and to its Gulf surroundings in due course and the statement of Gabriel is distinctively spatial and wrong."
Full report at:
https://english.alarabiya.net/en/News/world/2018/12/16/UAE-dismisses-baseless-Germany-s-former-FM-statements-over-Qatar.html
--------
Iranian students in Britain face suspension over new US sanctions: Report
Dec 16, 2018
Iranian university students in Britain are being affected by Washington's newly re-imposed sanctions on the country, with some facing suspension because they are unable to pay their tuition fees, according to a report.
US sanctions have targeted money transfers from Iran, making it difficult for families to financially support their children studying abroad.
Law student Parsa Sadat, 23, of the University of Reading in Berkshire, England, is among those Iranians who risk being unable to graduate, and possibly having their student visa removed, even though he has already paid £30,600 to cover his first two years, The Guardian reported.
The university has warned Sadat that the "only viable option" is for him to travel to Tehran over Christmas and return with cash to pay his £5,350 tuition fees for the next term.
"This should hopefully provide you with sufficient time to bring the money back from Iran after the Christmas break. If payment is not received by this date, you would be suspended from your course," according to an email from a senior university official, obtained by The Guardian.
Sadat said he has received at least six threats of suspension, most recently on December 5.
"I am not in a unique position. One of the other students has his parents coming and bringing in cash. They're hitting ordinary people. It's basically an economic blockade," he told the British newspaper.
It is not clear how many Iranian students studying in the UK are affected by the sanctions but the London-based Iranian Association described their plight as really sad.
"The university has an opportunity here to be seen to take a stand against a clear injustice that flows directly from President Trump's policy towards Iran," said Sadat's tutor, Mai Sato, associate professor in criminology.
Iranian students in the US are facing similar problems.
Trump in May withdrew from the 2015 multilateral Iran nuclear deal, officially known as the Joint Comprehensive Plan of Action (JCPOA), which had seen sanctions lifted in exchange for Iran limiting its nuclear program.
In November, the Trump administration announced the re-imposition of the "toughest" sanctions ever against Iran's banking and energy sectors.
Full report at:
https://www.presstv.com/Detail/2018/12/16/583073/Iranian-students-in-Britain-feel-pinch-of-US-sanctions
--------
North Cyprus journalist takes on Turkey's mighty Erdogan
December 16, 2018
Jail time, angry mobs and assassination attempts — editor Sener Levent has paid a price for challenging Turkey's President Recep Tayyip Erdogan and authorities in breakaway northern Cyprus through his tiny newspaper.
Alongside the stacks of old papers on his desk in northern Nicosia, a screen displays footage from security cameras at the entrance to his office..
The cameras are part of protective measures in place since gun attacks in 2011 targeted Mr Levent, who has run the leftist daily Afrika for the past 20 years.
"There is always a price you pay for freedom of expression," said the 70-year-old Turkish Cypriot, grey hair combed back and sporting a mischievous grin.
"We paid this price … but I believe that a person should get rid of his fears."
In January, hundreds of protesters attacked the paper's offices after it ran an article criticising a Turkish military offensive against the Kurdish border enclave of Afrin in Syria.
"Afrin, a second occupation by Turkey" after Cyprus, ran the article's bold headline.
Mr Levent is a native of Cyprus. The northern third of the Mediterranean island has been under Turkish military control since 1974.
Turkish troops invaded that year in response to a coup backed by the military junta then in power in Athens that sought to unite the island with Greece — a union staunchly opposed by Turkish Cypriots.
Only Ankara recognises the self-declared Turkish Republic of Northern Cyprus (TRNC). It also bankrolls the entity.
Ankara regards the use of the term "occupation" for its deployment of some 35,000 troops in the TRNC — as well as criticism of its operations against the Kurds in Syria — as defamation.
After Afrika's article on Afrin, Mr Erdogan called on Ankara's "brothers in north Cyprus to give the necessary response".
The following day, a crowd of ultranationalists attacked the paper's offices — a tiny daily with a 1,500 circulation in a statelet of around 300,000 people — as Turkish Cypriot police stood back and watched.
For media watchdog Reporters Without Borders (RSF), "the hunt for critical media conducted by Erdogan's government" is so widespread that "we can fear a collateral effect in Cyprus".
Turkey ranks 157th out of 180 countries on RSF's 2018 press freedom index.
Ankara holds more than 160 journalists in detention, according to P24, a platform that promotes editorial independence in Turkey.
Turkey's embassy in northern Cyprus refused to comment on "unfounded allegations" that Ankara interferes with the media.
But the head of RSF's EU and Balkans desk, Pauline Ades-Mevel, said "a freelance journalist critical of Turkey like Sener Levent can fear the worst".
Mr Levent faces three separate trials in north Cyprus for "defaming a foreign leader", "insulting religion" and "publishing fake news with the intent to create fear and panic among the population", his lawyer Tacan Reynar said.
He faces up to five years in prison for the article on Afrin and for republishing a cartoon from social media of a Greek statue urinating on Mr Erdogan's head captioned: "Through Greek eyes".
To avoid possible arrest, Mr Levent shuns travel to Turkey, a country he says "is no longer a democracy".
The TRNC leadership has said Turkish Cypriots cannot be extradited to Turkey, and Mr Levent also sees EU citizenship as his protection.
"They know in Turkey that they can't really do what they are doing to their citizens to a European citizen," said Mr Levent, a seasoned campaigner for reunification with the island's Greek Cypriot south, an EU member state since 2004.
His two-decade career has long brought pressure from the Turkish Cypriot authorities.
In 2002, he and colleague Memduh Ener were jailed for nearly two months after "offending" the Turkish Cypriots' veteran leader Rauf Denktash.
The previous year, an assailant who considered Mr Levent a "traitor" tried on two separate occasions to shoot him.
He has carried a revolver ever since, but remains undaunted.
"The thing that upsets me the most is the silence of people in front of injustice," he said.
And so, every night, the pages of Afrika continue to roll out from an old-fashioned press in Nicosia. But Levent remains modest.
Full report at:
https://www.thenational.ae/world/europe/north-cyprus-journalist-takes-on-turkey-s-mighty-erdogan-1.803303
--------
France's National Rally links to violent far-right group revealed
by David Harrison
December 17, 2018
Al Jazeera's Investigative Unit has exposed close links between high ranking figures in France's National Rally and a violent far-right movement that calls for the expulsion of Muslims from Europe.
A new documentary, broadcast on Sunday, shows senior National Rally politicians mingling with Generation Identity (GI) activists at a private bar that functions as the group's headquarters in the city of Lille, and expressing support for GI's anti-immigration policies.
In a secretly filmed conversation in March, Nicolas Crochet, Le Pen's former accountant and key ally, told our undercover reporter that the National Rally would introduce "remigration" - a programme to send immigrants back to their countries of origin - if it came to power.
"Yes, it will happen. If we win, it will happen," he said.
He added: "You see all those pieces of s**t. You see the migrants. You see them all."
The revelations came in the second film of a two-part documentary called Generation Hate.
The first film, broadcast last week, shows a GI activist carrying out a racist attack on an Arab teenage girl. It also shows other activists admitting to a series of assaults on Arab and Muslims and making Nazi salutes.
GI is one of Europe's fastest-growing and most prominent far-right movements.
The second film shows high-profile members of the National Rally, formerly known as the National Front, attending the GI's bar, called the Citadelle, during the weekend of the party's annual congress in Lille earlier this year.
'Same objectives'
The politicians included Christelle Lechevalier, a National Rally Member of the European Parliament (MEP), who was voted on to the party's national council at the congress.
"We fight for our identity, our culture," she told our undercover reporter. "When you see Islam which is winning out against Christianity. No!"
Lechevalier said that most National Front politicians, and most of its leaders, held similar views as the GI. But they had to hide them from voters, she said.
"We need the greatest number of people to come to our side to obtain the highest vote, in order to win," she said. "Then we can do what we want when we are in power."
Asked why Le Pen didn't want senior party members to mix with GI, the legislator said: "She doesn't want us to show ourselves. She doesn't want people to see us … She doesn't want the media to take control of our image. That's the only reason Marine isn't personally against this. But in public, we need to be careful."
Lechevalier said many National Rally politicians wanted to come to the Citadelle, "but wouldn't dare because they are scared their photos will be taken and people will see them".
When Lechevalier was interviewed by Al Jazeera at the party congress, she denied any links between the National Rally and groups that promote violence.
"The small groups who claim to be on the far right will remain small. These days they are not allowed to join a political party because they promote too much violence," she said.
Mathias Destal, a French journalist who investigates the country's far right, said he was shocked by Lechevalier's claim that many National Rally leaders "support the programme and ideas of Generation Identity".
"But the second thing which is telling for me, is to see a National Front MEP, in an identity bar, surrounded by violent, openly racist activists," he said.
Other prominent members seen at the Citadelle included Sylvie Goddyn, who was a National Rally MEP at the time. She has since left the party.
When our undercover reporter asked Goddyn if a prominent party figure should be seen at a GI bar, she replied: "We have the same objectives."
Crochet echoed the same sentiment: "We don't give a s**t. We are Identitarians. We don't care. That's just how we are."
Crochet was at the Citadelle with Frederic Chatillon, who was Le Pen's communications adviser during the presidential elections last year.
The two men are known as Le Pen's "men in the shadows" because they "pull the strings from behind the scenes", said Marine Turchi, a journalist who covers the far right. "They've been her friends for 30 years. They control the party's communications and finances and work for the National Front at the European Parliament."
Full report at:
https://www.aljazeera.com/news/2018/12/france-national-rally-links-violent-group-revealed-181216092409471.html
--------
Pakistan
Imran Khan Says That His Vision of Naya Pakistan Is Actually the Vision of Quaid-i-Azam
December 17, 2018
LAHORE - Prime Minister Imran Khan says that his vision of Naya Pakistan is actually the vision of Quaid-i-Azam Muhammad Ali Jinnah.
To corroborate his claim, the prime minister posted on Twitter videos of famous Islamic scholar late Dr Israr Ahmed in which the prominent scholar reads an excerpt from the diary of Dr Riaz Ali Shah who treated the Father of the Nation as he suffered from TB.
In the video Dr Israr has quoted the Quaid-i-Azam as saying that Pakistan's emergence on the world map was a blessing of the Holy Prophet (PBUH), and now it is incumbent upon the people of Pakistan to make the new state as a model of "Khilafat-i-Rashida" so that Allah bestows upon Muslims the rule of the world.
TheRiasat-i-Madinah the prime minister talks of in his speeches is a reference to Khilafat-i-Rashida.
Dr Israr Ahmed himself worked for caliphate in Pakistan, although he did not get popular support required to translate the determination into reality.
He was a great preacher who spent his life spreading the message of Islam.
A migrant from India, Dr Israr remained a member of the Jamaat-i-Islami for long. However, he had parted ways with it because he was opposed to the JI's decision to take part in electoral politics. He was of the view that the JI should focus on nation's character-building instead of taking part in politics.
In politics, he used to argue, the leaders have to make compromises to please their voters and thus there was a strong possibility of the society changing the character of the party rather than the party molding the society's character.
During Gen Zia's era, a debate was started in the media about the kind of system that suited Pakistan. The idea was to keep people busy in the debate so that they don't demand elections, which the military ruler was obliged to hold to honour his commitment to the Supreme Court that had legitimised his intervention on the basis of doctrine of necessity. People belonging to various walks of life expressed their views in the media. The debate continued for months. The matter also went to the Lahore High Court.
Dr Israr was also among those who gave their opinion on the subject. He took many by surprise when he said in the courtroom that the US presidential system was closer to Islam.
Mufti Muhammad Hussain Naeemi of Jamia Naeemia, Lahore, also appeared before the court. He had said that there was no importance in Islam of who came to power through which means. If such a person has all the qualities of a ruler, Islam has no objection against his takeover.
Dr Israr was in favour of caliphate, and opposed to democracy. He had also launched a movement (Tehrik-i-Khilafat) for the introduction of this system in Pakistan. However, opposed both by religious as we'll as other political parties, he could not get public support to his programme.
The only important person who joined hands with Dr Israr for the caliphate was Maj-Gen (retd) Muhammad Hussain Ansari, who also remained the director general of the Lahore Development Authority during Gen Zia's period.
Before joining hands with Dr Israr, Gen Ansari also remained a leader of the Jamiat Ulema-i-Pakistan, of which Maulana Shah Ahmed Noorani and Maulana Abdus Sattar Khan Niazi remained president and secretary general for more two decades.
Dr Israr was also appointed as a member of the Majlis-i-Shoora by Gen Zia, a body that served as an unelected parliament before the 1985 partyless elections. Khwaja Muhammad Safdar, father of Khwaja Asif (foreign and defence minister in the last PML-N government) was the chairman of the Majlis-i-Shoora.
However, Dr Israr resigned on account of differences with the military ruler.
Dr Israr was criticised by a large number of people when he arranged both wedding ceremonies of his son and his daughter, on the 10th of Muharram (Some recall that it was 7th of the month). Setting a date for marriage in a month of mourning for all Muslims of all sects was not liked by anyone.
He authored many a book on Islam and addressed countless seminars on various subjects concerning religion.
Tanzeem-i-Islami, the organisation set up by Dr Israr, continues to work for the mission the medical doctor-turned-preacher had set for himself.
Dr Israr thought US system was closer to Islam
https://nation.com.pk/17-Dec-2018/dr-israr-thought-us-system-was-closer-to-islam
--------
'Fall of Dhaka underlines need for boosting unity, harmony'
December 17, 2018
LAHORE: Speakers at a national conference organised by Jamaat-e-Islami (JI) in connection with the fall of Dhaka underlined the need for promoting national unity and harmony and educating the younger generation about the Pakistan Ideology in order to prevent similar tragedies in future.
They said unless and until Pakistan was brought in harmony with the objective of its creation, its solidarity and integrity would remain in danger. Presided over by the JI Secretary General, Liaquat Baloch, the conference was addressed by JI deputy chief Dr Farid Ahmed Piracha, columnist Sajjad Mir, Amirul Azeem and others.
The speakers deplored that hundreds of people who had been expelled from Bangladesh only for their love for Pakistan had not been granted citizenship in the country and they were forced to live in camps. They demanded that these patriotic Pakistanis be granted citizenship without further delay to enable them live with respect.
JI Secretary General called for raising a strong voice against inhuman treatment being meted out to the pro-Pakistan people in clear violation of the tripartite agreement between Pakistan, India and Bangladesh.
He said despite the drama of elections in Bangladesh three times, Bangladesh was under the grip of dictatorship and the BD leader had thrown their country into the lap of India. Dr Farid Ahmed Piracha said pro-Pakistan people in Bangladesh were being executed and jailed but the rulers in Islamabad were silent. JI chief for central Punjab, Amirul Azeem, said the emergence of Bangladesh was the result of forgetting the Islam's message of love and fraternity and strengthening of the feelings of parochialism. He alleged that the rulers were decorating the ministers with medals despite their poor performance.
Seerat conference: The Young Nurses Association (YNA) held a Seerat-un-Nabi (SAW) conference at Services Hospital. According to a press release issued here on Sunday, YNA President Shamshad Niazi and Nursing Superintendent Azra Abbas addressed the participants. A large number of nurses were present. Shamshad Niazi said management according to the principles of Islam provides best services for everyone without any discrimination. She asked the nurses to come forward with a new passion to extend cooperation to the patients.
Full report at:
https://www.thenews.com.pk/print/406881-fall-of-dhaka-underlines-need-for-boosting-unity-harmony
--------
Peshawar school attacker a state guest: Pakistan politician
Dec 17, 2018
ISLAMABAD: As Pakistan observed the fourth anniversary of a terrorist attack on a school in Peshawar on Sunday, some political leaders blamed the authorities for treating one of the accused in the case as a "state guest".
More than 150 people, 137 of them kids, were killed in a gun-and-bomb attack by a squad of suicide bombers of Tehreek-i-Taliban Pakistan (TTP), a conglomerate of several militant outfits from Pakistan. In a message, PM Imran Khan said the attack on Army Public School had unified the nation against terrorism and that the attack was a blot on humanity.
President of Awami National Party Asfandyar Wali Khan, the grandson of Frontier Gandhi, however, said the murderer of innocent children is now a state guest while the victims still await justice. He was referring to Ehsanullah Ehsan, the former spokesperson of TTP. Ehsan had surrendered to the security forces in April 2017 and is currently in custody of law enforcers.
Full report at:
https://timesofindia.indiatimes.com/world/pakistan/peshawar-school-attacker-a-state-guest-pakistan-politician/articleshow/67120984.cms
--------
JI chief sees favouritism behind ongoing accountability drive
December 17, 2018
MANSEHRA: Jamaat-i-Islami (JI) chief Sirajul Haq on Sunday termed the ongoing accountability process favouritism.
"To me, the ongoing accountability process in the country is unnatural. And the Pakistan Tehreek-i-Insaf (PTI) will also suffer like that of Pakistan People's Party and Pakistan Muslim League-Nawaz in case of an across-the-board accountability," Sirajul Haq told reporters Shan-i- Mustafa Conference here.
Dr Tariq Sherazi, JI district head, and deputy head Jamil Ahmad Jahangir also addressed the conference. Sirajul Haq said those who plundered the national wealth and syphoned it abroad should be taken to justice through an impartial accountability drive. "If accountability process is natural and meeting the requirements of justice, then why only Nawaz Sharif is being targetted and rest of 436 people, whose names were in the Panama leaks, are yet to be held accountable," he added.
Sirajul Haq said that first hundreds of days of the federal government better revealed that Prime Minister Imran Khan was powerless. "I do not know whatever PPP Co-chairman Asif Ali Zardari says about army but I am the firm belief that every institution should work under its constitutional ambit," he told a query.
The JI chief said that India was behind all conspiracies being hatched against Pakistan nationally and internationally and its Prime Minister Narendra Modi publicly claimed that his country was behind the fall of Dhaka.
Full report at:
https://www.thenews.com.pk/print/406847-ji-chief-sees-favouritism-behind-ongoing-accountability-drive
--------
Bilawal pledges to continue resistance against terrorism
December 17, 2018
ISLAMABAD: Pakistan People's Party (PPP) Chairman Bilawal Bhutto Zardari on Sunday pledged to continue resistance against terrorism "despite being the worst victim and target of the terrorists".
In his message on the fourth anniversary of the attack on Army Public School (APS) Peshawar, Bilawal said that the blood of innocent children will continue to haunt the entire nation until terrorism and its sponsors and facilitators are completely wiped out from the country. The PPP chairman said that the terrorists had made the whole world weep on this day four years ago through their ghastly attack on innocent children. "Pakistan and its people continue to grieve and we stand by the bereaved parents and families in solidarity even today," he added.
Bilawal said that his stance against the blood-thirsty beasts has finally been adopted by everyone in the country. "All those who were martyred in the gruesome attack on APS that day are national heroes and while we salute them we also pledge that their sacrifices will not go in vain," he added.
Paying tribute to the victims of APS tragedy, Bilawal urged the party leaders to visit their families to express complete solidarity with them.
Full report at:
https://www.pakistantoday.com.pk/2018/12/16/bilawal-pledges-to-continue-resistance-against-terrorism/
--------
Trilateral moot urges Taliban to join talks
Tahir Khan
DECEMBER 16, 2018
In a joint statement issued at the conclusion of a day-long trilateral meeting of foreign ministers on Saturday, Afghanistan, China and Pakistan urged the Taliban to join the peace process 'at an early date'.
Afghan Foreign Minister Salahuddin Rabbani and his Chinese and Pakistani counterparts Wang Yi and Shah Mahmood Qureshi called upon all the parties involved in the conflict to end violence and the loss of innocent lives in Afghanistan as efforts are underway to start the peace process.
Taliban have previously rejected all calls for talks with the Afghan government and insist at holding dialogue with the US.
The 2nd Afghanistan-China-Pakistan Foreign Ministers' Dialogue in Kabul, presided over by Foreign Minister Salahuddin Rabbani, reiterated its support to the Afghan-owned and Afghan-led peace process, which is fully supported regionally and internationally, as the most viable way to bring peace in Afghanistan. The three sides also expressed their strong determination not to allow any country, organization or individual to use their respective territories for terrorist activities against any other countries. The three sides took stock of trilateral cooperation in their fight against terrorism and underlined the need to further strengthen counter-terrorism coordination and cooperation in an effort to combat all terrorist groups and individuals without any discrimination."They also agreed to counter terrorist's logistical capabilities including financing, recruitment, training, and strengthen trilateral cooperation for counter-terrorism capacity building, deny terrorist use of the internet and to take joint steps for de-radicalization, as well as work together to break the nexus between narco-trade and terror financing.
To advance their cooperation in the fields of counter-terrorism, the three sides signed a memorandum of understanding (MoU) on counter-terrorism," the statement said.
The three sides reiterated their strong resolve to fight terrorism in all its forms and manifestations, and without any distinction," it said, adding that the three foreign ministers agreed to jointly continue their efforts for building political mutual trust and support reconciliation, development cooperation and connectivity, security cooperation and counter-terrorism as the three areas of the trilateral cooperation.
China and Pakistan appreciated the efforts of President Ashraf Ghani especially for the comprehensive peace plans that came out of the second Kabul Process in Kabul this year, the statement further said.
The joint statement said China expressed its readiness to support Afghanistan and Pakistan in building immigration reception center and drinking water supply schemes at each side of the Ghulam Khan crossing point in North Waziristan district, and to explore cold storages at Chaman in Balochistan and Spin Boldak, the border Afghan town. "China supports enhanced coordination between Afghanistan and Pakistan on major energy and connectivity projects including the construction of Quetta-Kandahar railway and Kabul-Peshawar motorway and railway. The three sides reiterated their firm commitment to implement the activities and projects agreed to under practical cooperation," the statement said.
China and Pakistan also congratulated Afghanistan on the completion of the parliamentary elections, and welcomed the efforts of the Afghan government for holding the presidential elections in 2019.
The three sides, once again, reaffirmed their commitment to further strengthening their relations, deepening cooperation and advancing connectivity under the Belt and Road Initiative (BRI), Regional Economic Cooperation Conference on Afghanistan (RECCA) and other regional economic initiatives.
The three sides agreed to promote China-Afghanistan-Pakistan trilateral cooperation under the framework of the Belt and Road Initiative. The three sides agreed to continue economic development cooperation in areas of mutual interest. They will continue to implement and expand the 'soft' projects such as exchange and capacity building programs, and explore 'hard' projects of livelihood facilities and connectivity.
They agreed to implement the consensus of the 2nd Foreign Ministers' Dialogue through the trilateral Vice-Ministerial Strategic Dialogue, Vice-Ministerial Consultation on Counter-Terrorism and Security, and Director Generals' Practical Cooperation as well as other agreed mechanisms.
Full report at:
https://dailytimes.com.pk/334055/trilateral-moot-urges-taliban-to-join-talks/
--------
Imran Khan condemns civilian killings in Pulwama, vows to take up issue with UN
December 16, 2018
Condemning the killings of seven civilians in Jammu and Kashmir's Pulwama district, Pakistan Prime Minister Imran Khan on Sunday emphasised on the need for dialogue to resolve the "conflict" in the state and vowed to raise the issue of alleged "violation of human rights" with the United Nations Security Council (UNSC).
Taking to Twitter, the PTI chief said, "Strongly condemn the killing of innocent Kashmiri civilians in Pulwama by Indian security forces. Only dialogue and not violence and killings will resolve this conflict. We will raise the issue of India's human rights violations and demand UNSC to fulfil its J&K plebiscite commitment."
In another tweet, he said, "Kashmiris must be allowed to decide their future."
Seven people, including two minors, were killed and at least 23 other civilians were injured when security forces opened fire on protesters after an encounter, in which three militants and an Armyman were killed at Sirnoo village of the district on Saturday morning. While police said the civilians were killed when they came "dangerously close" to the site of the encounter, eyewitnesses said they were killed more than an hour after the gunfight.
While mobile internet services were suspended in several parts of the Valley as a precautionary measure yesterday, police appealed the citizens to maintain calm and stay away from the encounter site. The services were restored today.
Political parties had lashed out at Governor Satya Pal Malik, with former J&K chief minister Mehbooba Mufti asking "is this what was expected from the Governor's rule?". "No probe enough to bring back the dead innocent civilians. South Kashmir has been reeling under fear for the last six months. Is this what was expected from the Governor's rule? The administration has failed in securing civilian lives. Deepest condolences to the bereaved."
She added: "How long are we going to shoulder the coffins of our youngsters? So many civilians killed today post encounter in Pulwama. No country can win a war by killing its own people. I strongly condemn these killings, and once again appeal for efforts, to stop this bloodbath." J&K has been under the rule of the Governor who had dissolved the Assembly last month.
Full report at:
https://indianexpress.com/article/india/jk-pulwama-encounter-imran-khan-civilians-killed-human-rights-unsc-5496349/
--------
South Asia
Bangladesh, political Islam and intellectual forgery of the Harvard University
December 17, 2018
One of the basic principles of the establishment of Bangladesh was secularism. But since the tragic assassination of Bangabandhu Sheikh Mujibur Rahman in 1975, all of the subsequent governments and regimes have contributed in transforming Bangladesh into an Islamic nation. Military dictator Hussain Muhammad Ershad was the first culprit who had given Islam the status of state religion. This was actually the beginning of a secular Bangladesh in advancing towards Islamization.
The Harvard International Review article:
In November 2008, prestigious Harvard International Review published an article titled Stemming the Rise of Islamic Extremism in Bangladesh by Sajeeb Wazed and Carl Ciovacco, few weeks before the general election in Bangladesh. Years later, now the name of Sajeeb Wazed Joy is deleted as the author and Carl Ciovacco is shown as the only author. This is clearly an intellectual forgery by the prestigious Harvard University.
The topic of the above mentioned article has been quoted and discussed in numerous opinion editorials and in different newspapers and news sites around the world, including Bangladesh. But, Harvard University authorities had silently deleted the name of Mr. Joy in the recent years, for reasons best known to them. People, especially those scholars and students of the Harvard University have the right to know – who had influenced this prestigious institution in committing such shameless intellectual forgery. If forgery is the standard of current Harvard, then people must think twice before boasting of being a student of this university of disgust.
To understand the possible motive behind such deletion, let us have a look into what Sajeeb Wazed Joy had written in that much discussed article.
Carl Ciovacco, the co-author of the article has graduated from the Kennedy School of Government with a Masters of Public Policy in International Security and Political Economy. His thesis on Al Qaeda's media strategy and was written for the Combating Terrorism Center at West Point. He received his Bachelor of Science in International Relations from West Point and served as an Army officer in Iraq and Saudi Arabia.
In this article, Joy wrote, "As elections are scheduled for December 18th (ultimately the election was held on December 29, 2008) and the two major political parties jostle over the country's future, each party's vision for the proper mix of Islam and government will be at the forefront. Rahman's (Sheikh Mujibur Rahman, the maternal grandfather of Mr. Joy) Awami League has long been the standard bearer of secularism and if elected, it could roll back the growing tide of Islamism in Bangladesh. The Awami League must, however, implement certain changes to proactively check this Islamism if it hopes to secure long-lasting secularism and democracy."
Joy said winning Awami League will do everything possible in securing "long-lasting secularism". So, in other words, he had hinted the present rulers in Bangladesh will make all possible arrangements in keeping power as long as possible, since they proclaim to be the lone vanguards of secularism.
Islamists inside Bangladesh Armed Forces:
In the above article, Sajeeb Wazed Joy wrote, "Islamic extremism is also on the rise in Bangladesh because of the growing numbers of Islamists in the military. The Islamists cleverly began growing their numbers within the Army by training for the Army Entrance Exams at Madrassas. This Madrassa training was necessary because of the relative difficulty associated with passing these exams. The military is attractive because of both its respected status and its high employment opportunities in a country where unemployment ranges from 20 percent to 30 percent for younger males. High demand for military posts has resulted in an entrance exam designed to limit the number of recruits. Before this Madrassa Entrance Exam campaign, only 5 percent of military recruits came from Madrassas in 2001. By 2006, at the end of the BNP's reign, Madrassas supplied nearly 35 percent of the Army recruits. In a country that has seen four military coup d' tats in its short 37 year history, the astronomical growth of Islamists in the military is troubling to say the least."
He further suggested "increased recruitment of secularist cadets in Bangladesh Army."
Commenting on the Qawmi or Koranic Madrassas, Sajeeb Wazed Joy wrote, "Relying on Saudi and Kuwaiti funding that dictates rote Koranic memorization is counterproductive for a nation that desires growth, productivity, and a brighter future, because it limits the population's skill-set."
The subsequent contradictions:
While in 2008, Sajeeb Wazed Joy brought the issue of madrassa-educated members in the Bangladesh Armed Forces, just ten years later, her mother, Prime Minister Sheikh Hasina has granted recognition to Qawmi degrees thus widely opening the doors for the Qawmi madrassa students in entering civil and military services. The Prime Minister also has delightedly accepted the title of "Qawmi Janani" (mother of the Qawmi madrassas), which had been conferred to her by the platform of Qawmi madrassa teachers and students – more precisely, Hefazat e Islam, an organization demanding establishment of Caliphate in Bangladesh.
In 2016, Obaidul Quader, incumbent general secretary of the ruling Awami League had openly proclaimed Sheikh Hasina as the "Muslim Prime Minister of a Muslim Bangladesh."
Isn't that disturbing? Why the Awami League leaders are over enthusiastic in transforming a secular Bangladesh into a "Muslim Bangladesh"? What is their secret agenda? Are they willing to finally transform this country as another Islamic Republic similar to an Islamic Pakistan? Doesn't it go against the very spirit of our war of independence? How the religious minorities can feel safe in a Muslim Bangladesh where the country already has set the example of using of the blasphemy law against people like me, simply for the "crime" of criticizing radical Islamic militancy?
Infiltration of political Islam in Bangladesh:
Very unfortunately, those mainstream political parties such as Awami League (AL) and its arch rival Bangladesh Nationalist Party (BNP) have already embraced political Islam thus betraying with the spirit of our liberation war. While BNP is a known Islamist and notoriously antisemitic party, we really don't have good news from its political rival – AL. Both the parties in fact are competing is appeasing the Islamists and helping in transforming Bangladesh into a Muslim nation, if not even worst. BNP's political darling Jamaat-e-Islami Bangladesh (JIB) is already proved of having connections with terrorist entities and it is openly proclaiming establishment of "Allah's rule" in Bangladesh. On the other hand, coalition partner of AL, Jatiyo Party, which is headed by military dictator Hussain Muhammad Ershad is clearly committed in establishing Islam as the driving force in Bangladesh. Gen Ershad is at the forefront of promoting political Islam.
What is next?
Another general election in Bangladesh is at the doorstep. It is scheduled to be held on December 30, 2018. Here again, contestants are those two mainstream parties – Awami League and Bangladesh Nationalist Party. Looking into their past track record, we really cannot hope anything good from either of them as both are totally inclined towards political Islam. Both are committed in patronizing radical Islam and even – caliphate! All of us know, South Asia already is at the risk of seeing the rise of notorious jihadist forces – something even much dangerous than Al Qaeda or ISIS. In India, radical Hindutva, which has been promoted and patronized by Prime Minister Narendra Modi and his Bharatiya Janata Party (BJP) is already losing steam. It is well expected that Indian National Congress (INC) will get a huge victory during the 2019-general election. Although in the recent years INC too have adopted the rogue policy of appeasing and promoting radical Hindutva, there is no certainly of return of secularism in India, which is the biggest democracy in the world.
With such uncertainties both in Bangladesh and Indian, what we really can expect from the coming days and years? Are we actually going to witness the ultimate hijacking of our secularism by religious extremism, bigotry and radicalism?
https://www.weeklyblitz.net/news/bangladesh-political-islam-and-intellectual-forgery-of-the-harvard-university/
--------
Afghan Taliban say will meet US officials in UAE today
DECEMBER 17, 2018
KABUL: Representatives from the Afghan Taliban will meet US officials in the United Arab Emirates on Monday, the movement's main spokesperson said as diplomatic moves toward agreeing to the basis for talks to end the 17-year war in Afghanistan continue.
Zabihullah Mujahid said representatives from Saudi Arabia, Pakistan and the UAE would also take part in the meeting, which follows at least two meetings between Taliban officials and US special peace envoy Zalmay Khalilzad in Qatar.
The meetings come as diplomatic efforts to resolve the Afghan conflict have intensified, although the Taliban have so far refused to deal directly with the Western-backed government in Kabul, which it considers illegitimate.
The Taliban say the presence of international forces in Afghanistan is the main obstacle to peace but have said that issues including mutual recognition with the Kabul government, constitutional changes and women's rights can be negotiated.
https://dailytimes.com.pk/334454/afghan-taliban-say-will-meet-us-officials-in-uae-today/
--------
5 militants killed, 2 wounded in Uruzgan airstrikes
Dec 17 2018
At least five militants were killed and two others were wounded in airstrikes in southern Uruzgran province of Afghanistan, the Afghan Military said Sunday.
According to a statement released by 205th Atal Corps of the Afghan Military in the South, the airstrikes were carried out in the vicinity of Tarinkot city.
The statement further added that the militants were targeted in Sarkham area of the city, leaving at least five dead and two others wounded.
A Dshk heavy machine gun, a PKM machine gun, and two compounds of the militants were also destroyed in the airstrikes, the 205 thAtal Corps added.
The anti-government armed militant groups including Taliban have not commented regarding the airstrikes so far.
Uruzgan is among the relatively volatile provinces in South of Afghanistan. The Taliban militants are active in some of the districts of Uruzgan and often carry out terrorist related activities.
https://www.khaama.com/5-militants-killed-2-wounded-in-uruzgan-airstrikes-02943/
--------
Bangladeshi president urged to curb poll violence
December 17, 2018
DHAKA: Bangladesh's opposition alliance, Jatiya s Oikya Front (JOF) — led by the Bangladesh Nationalist Party (BNP) — has called on President Abdul Hamid to help bring an end to violent clashes between followers of the country's leading political parties ahead of the national election scheduled for Dec. 30.
The JOF submitted a letter to the president's office requesting a meeting with Hamid on Tuesday, although one of the coalition's leaders, Subrata Chowdhury, told Arab News, "We are yet to receive any reply."
Violence has flared between the ruling Awami League (AL) and the BNP, with confrontations taking place across the country since December 10, when campaigning in all 300 constituencies began.
Within the first week, two AL supporters were killed, while more than 500 leaders and supporters of both parties were injured. The AL claims that police have arrested around 400 BNP supporters.
"We are yet to receive a reply from the president's office," said Subrata Chowdhury a top leader of opposition alliance JOF who is also a contender in this election from a constituency in the capital Dhaka.
In an interview with Arab News, Chowdhury — who is running for election in a Dhaka constituency — alleged that opposition parties are unable to campaign properly because of violence from their opponents and police harassment.
"We are facing injustice," he said. "Our leaders can't stay in their constituency and move freely as plain-clothed law enforcers intimidate them to leave the area. There is no level playing field."
He went on to compare the country's election commission (EC) to "a referee not playing an impartial role."
This was why the JOF had requested a meeting with the president, he explained: "Our election commission is a constitutional body, appointed by the president of the country. So we want to present our demands to the president."
He added that the JOF expects to sit with the election commission again on Dec. 17 "to ensure a level playing field." Political scientist Dr. Ataur Rahman said that, according to the constitution, the election commission now holds executive power in the country.
"Anything concerning a free and fair election depends on the role of the commission, and the present government will not take any responsibility for this," he told Arab News. "So, in the interests of the country, the president can ask the election commission to perform its duties without any fear."
He added, however, that there are also limits to the president's power, since he is himself a candidate nominated by a political party.
Rahman called the ongoing violence "unexpected," pointing out that there had been a number of successful meetings between the parties about the election. However, he added that he did not believe the violence would jeopardize the election. "In this charged situation everybody is trying to establish their might," he said. "And it seems that the major parties are practicing the 'Might is Right' formula. But the election will most likely take place according to the announced schedule."
On Sunday, Selima Rahman, vice chair of the BNP, delivered a letter to the election commission requesting the immediate deployment of the army to keep the peace and to ensure that all candidates are given the same opportunities to campaign.
"One party is conducting a countrywide election campaign while another party cannot even hang posters," she told journalists. "We would like to know the EC's definition of a level playing field.
"The police are acting like our opposition. Attacks have been launched against BNP leaders and activists, including Mirza Abbas and Mahbub Uddin Khokon. Khokon was injured by police fire. We are facing obstacles to our campaigning in Dhaka," she continued.
Chief Election Commissioner (CEC) KM Nurul Huda denied the opposition's claims. "Candidates are able to conduct campaigns and they are not facing any obstacles," he told reporters on Saturday at his office in Dhaka.
Referring to the clashes, Huda said, "We will take action based on reports from the investigation committees."
Full report at:
http://www.arabnews.com/node/1421881/world
--------
Southeast Asia
China's Detention Camps for Muslims Turn to Forced Labour
By Chris Buckley and Austin Ramzy
Dec. 16, 2018
KASHGAR, China — Muslim inmates from internment camps in far western China hunched over sewing machines, in row after row. They were among hundreds of thousands who had been detained and spent month after month renouncing their religious convictions. Now the government was showing them on television as models of repentance, earning good pay — and political salvation — as factory workers.
China's ruling Communist Party has said in a surge of upbeat propaganda that a sprawling network of camps in the Xinjiang region is providing job training and putting detainees on production lines for their own good, offering an escape from poverty, backwardness and the temptations of radical Islam.
But mounting evidence suggests a system of forced labor is emerging from the camps, a development likely to intensify international condemnation of China's drastic efforts to control and indoctrinate a Muslim ethnic minority population of more than 12 million in Xinjiang.
Accounts from the region, satellite images and previously unreported official documents indicate that growing numbers of detainees are being sent to new factories, built inside or near the camps, where inmates have little choice but to accept jobs and follow orders.
"These people who are detained provide free or low-cost forced labor for these factories," said Mehmet Volkan Kasikci, a researcher in Turkey who has collected accounts of inmates in the factories by interviewing relatives who have left China. "Stories continue to come to me," he said.
China has defied an international outcry against the vast internment program in Xinjiang, which holds Muslims and forces them to renounce religious piety and pledge loyalty to the party. The emerging labor program underlines the government's determination to continue operating the camps despite calls from United Nations human rights officials, the United States and other governments to close them.
The program aims to transform scattered Uighurs, Kazakhs and other ethnic minorities — many of them farmers, shopkeepers and tradespeople — into a disciplined, Chinese-speaking industrial work force, loyal to the Communist Party and factory bosses, according to official plans published online.
These documents describe the camps as vocational training centers and do not specify whether inmates are required to accept assignments to factories or other jobs. But pervasive restrictions on the movement and employment of Muslim minorities in Xinjiang, as well as a government effort to persuade businesses to open factories around the camps, suggest that they have little choice.
Independent accounts from inmates who have worked in the factories are rare. The police block attempts to get near the camps and closely monitor foreign journalists who travel to Xinjiang, making it all but impossible to conduct interviews in the region. And most Uighurs who have fled Xinjiang did so before the factory program grew in recent months.
But Serikzhan Bilash, a founder of Atajurt Kazakh Human Rights, an organization in Kazakhstan that helps ethnic Kazakhs who have left neighboring Xinjiang, said he had interviewed relatives of 10 inmates who had told their families that they were made to work in factories after undergoing indoctrination in the camps.
They mostly made clothes, and they called their employers "black factories," because of the low wages and tough conditions, he said.
Mr. Kasikci also described several cases based on interviews with family members: Sofiya Tolybaiqyzy, who was sent from a camp to work in a carpet factory. Abil Amantai, 37, who was put in a camp a year ago and told relatives he was working in a textile factory for $95 a month. Nural Razila, 25, who had studied oil drilling but after a year in a camp was sent to a new textile factory nearby.
"It's not as though they have a choice of whether they get to work in a factory, or what factory they are assigned to," said Darren Byler, a lecturer at the University of Washington who studies Xinjiang and visited the region in April.
He said it was safe to conclude that hundreds of thousands of detainees could be compelled to work in factories if the program were put in place at all of the region's internment camps.
The Xinjiang government did not respond to faxed questions about the factories, nor did the State Council Information Office, the central government agency that answers reporters' questions.
The documents detail plans for inmates, even those formally released from the camps, to take jobs at factories that work closely with the camps to continue to monitor and control them. The socks, suits, skirts and other goods made by these laborers would be sold in Chinese stores and could trickle into overseas markets.
Kashgar, an ancient, predominantly Uighur area of southern Xinjiang that is a focus of the program, reported that in 2018 alone it aimed to send 100,000 inmates who had been through the "vocational training centers" to work in factories, according to a plan issued in August.
That figure may be an ambitious political goal rather than a realistic target. But it suggests how many Uighurs and other Muslim ethnic minorities may be held in the camps and sent to factories. Scholars have estimated that as many as one million people have been detained. The Chinese government has not issued or confirmed any figures.
"I don't see China yielding an inch on Xinjiang," said John Kamm, the founder of the Dui Hua Foundation, a San Francisco-based group that lobbies China on human rights issues. "Now it seems we have entrepreneurs coming in and taking advantage of the situation."
The evolution of the Xinjiang camps echoes China's "re-education through labor" system, where citizens once were sent without trial to toil for years. China abolished "re-education through labor" five years ago, but Xinjiang appears to be creating a new version.
Retailers in the United States and other countries should guard against buying goods made by workers from the Xinjiang camps, which could violate laws banning imports produced by prison or forced labor, Mr. Kamm said.
While the bulk of clothes and other textile goods manufactured in Xinjiang ends up in domestic and Central Asian markets, some makes its way to the United States and Europe.
Badger Sportswear, a company based in North Carolina, last month received a container of polyester knitted T-shirts from Hetian Taida, a company in Xinjiang that was shown on a prime-time state television broadcast promoting the camps.
The program showed workers at a Hetian Taida plant, including a woman who was described as a former camp inmate. But the small factory did not appear to be on a camp site, and it is unclear whether it made the T-shirts sent to North Carolina.
Ginny Gasswint, a Badger Sportswear executive, said the company had ordered a small amount of products from Xinjiang, and used Worldwide Responsible Accredited Production, a nonprofit certification organization, to ensure that its suppliers meet standards.
Seth Lennon, a spokesman for Worldwide, said that Hetian Taida had only recently enrolled in its program, and the organization had no information on possible coerced labor in Xinjiang. "We will certainly look into this," he said.
Repeated calls over several days to Wu Hongbo, the chairman of Hetian Taida, went unanswered.
Satellite imagery suggests that production lines are being built inside some internment camps.
Images of one camp featured in the state television broadcast, for example, show 10 to 12 large buildings with a single-story, one-room design commonly used for factories, said Nathan Ruser, a researcher at the Australian Strategic Policy Institute. The buildings are surrounded by fencing and security towers, indicating that they are heavily guarded like the rest of the camp.
"It seems unlikely that any detainee would be able to go to any building that they were not taken to," Mr. Ruser said.
Commercial registration records also show at least a few companies have been established this year at addresses inside internment camps. They include a printing factory, a noodle factory and at least two clothing and textile manufacturers at camps in rural areas around Kashgar. Another clothing and bedding manufacturer is registered in a camp in Aksu in northwestern Xinjiang.
The government's effort to connect the internment camps with factories emerged this year as the number of detainees climbed and Xinjiang faced rising costs to build and run the camps.
Many camps were once called "transformation through education centers" by the government, reflecting their mission: inducing inmates to cast aside Islamic devotion and accept Communist Party supremacy.
But since August, the Chinese government has defended the camps by arguing that they are job training centers that will help lift detainees and their families out of poverty by giving them the skills to join China's economic mainstream. Many rural Uighurs speak little Chinese, and language training has been advertised as one of the main purposes of the camps.
Yet the practical training in the camps often appears to be rudimentary, said Adrian Zenz, a social scientist at the European School of Culture and Theology who has studied the campaign.
An early hint of the factory labor program came in March when Sun Ruizhe, the president of the China National Textile and Apparel Council, described it to senior industry representatives, according to a transcript of his speech that was posted on industry websites.
Mr. Sun said that Xinjiang planned to recruit from three main sources to increase the textile and garment sector's work force by more than 100,000 in 2018: impoverished households, struggling relatives of prisoners and detainees, and the camp inmates, whose training "could be combined with developing the textile and apparel section."
In April, the Xinjiang government began rolling out a plan to attract textile and garment companies. Local governments would receive funds to build production sites for them near the camps; companies would receive a subsidy of $260 to train each inmate they took on, as well other incentives.
In remarks in October defending the camps, a top official in Xinjiang, Shohrat Zakir, said the government was busy preparing "job assignments" for inmates formally finishing indoctrination and training. A budget document this year from Yarkant, a county in Kashgar, said the camps were responsible for "employment services."
The inmates assigned to factories may have to stay for years.
Mr. Byler said a relative of a Uighur friend was sent to an indoctrination camp in March and formally released this fall. But he was then told he had to work for up to three years in a clothing factory.
A government official, Mr. Byler said, suggested to his friend's family that if the relative worked hard, his time in the factory might be reduced.
The Chinese state media has praised the centers as leading wayward people toward modern civilization. It also reports that the workers are generously paid.
"The training will turn them from 'nomads' into skilled marvels," the official Xinjiang Daily said last month. "Education and training will make them into 'modern people,' useful to society."
https://www.nytimes.com/2018/12/16/world/asia/xinjiang-china-forced-labor-camps-uighurs.html
--------
Malaysia's Mahathir Says No Rights to Recognize Jerusalem as Israeli Capital
Dec. 16, 2018
BANGKOK (REUTERS) - Malaysian Prime Minister Mahathir Mohamad on Sunday criticized Australia's move to recognise West Jerusalem as Israel's capital, saying countries had "no rights" to do so.
Australia's move follows U.S. President Donald Trump's decision to move the U.S. embassy to Jerusalem from Tel Aviv in May, which infuriated Palestinians and the wider Islamic world and upset Western allies.
"Jerusalem should remain as it is now and not the capital of Israel," Mahathir told Reuters on the sidelines of an event in Bangkok.
"Jerusalem has always been under Palestine, so why are they taking the initiative to divide Jerusalem not belonging to them, but to divide the Arabs and the Jews? They have no rights," he added.
Malaysia is a majority-Muslim country and has long supported a two-state solution in the Palestine-Israel conflict.
The status of Jerusalem, home to sites holy to the Muslim, Jewish and Christian faiths, is one of the biggest obstacles to a peace agreement between Israel and Palestinians who want East Jerusalem recognized as the capital of a Palestinian state.
Israel regards all of Jerusalem as its capital, including the eastern sector that it annexed in a move not recognized internationally, after the 1967 Middle East war.
Full report at:
https://www.usnews.com/news/world/articles/2018-12-16/malaysias-mahathir-says-no-rights-to-recognize-jerusalem-as-israeli-capital
--------
Chinese' re-education camps' for Uighur Muslims run like 'concentration camps', says Amnesty
December 17, 2018
Mass re-education camps used to hold Uighur and other Muslim minorities in China are being run like "wartime concentration camps", Amnesty has said.
Up to one million Uighurs, Kazakhs and other minorities have been arbitrarily detained in internment camps in the far-west Xinjiang region, according to human rights groups and a UN panel.
China maintains that it is detaining people guilty of minor crimes, and has sent them to "vocational centres" and that inmates are "grateful" to be there.
But Uighur activists have estimated up to 3 million people have been detained in the camps, Patrick Poon, China researcher at Amnesty International, told The Independent.
"The scale is scary. We haven't seen in recent Chinese history that there would be such a scale of detaining people in camps in such huge numbers," he said.
"So I think it's legitimate for people to raise concern about how the camps are being run similar to wartime concentration camps. It's comparable in scale."
He said Amnesty had reports from former detainees who said they were forced to attend political re-education lessons and sing political songs. Previous reports have said Muslims were forced to denounce Islam and swear loyalty to the Chinese Communist Party, in addition to being forced to eat pork and drink alcohol – acts forbidden by their religion.
But new reports of life in the camps or the wider region are rare, mostly because former detainees are too afraid to talk about their cases and because the Chinese state controls what journalists in the region can do, according to Sophie Richardson, China director at Human Rights Watch.
"It's a region that at least in theory journalists can get into, but the controls on what they can do once there are incredibly strict, and those have only gotten tighter," she told The Independent. "It is a huge story that people are aware of, but it's hard to get fresh information."
She added: "One of the big challenges is that the diaspora community is rightly very concerned about surveillance. So while you do see a few more people speaking out, there is a lot of logic in the minds of people who are concerned about speaking out, because they're concerned about their family members inside China."
She said there was also the issue that it was harder for those who had been detained to leave China, adding: "When you see a government denying people the right to leave, it generally means they've got something to hide."
Another reason could be Uighurs' unique status as both an ethnic and religious minority, Ms Richardson said. "Uighurs are not nearly as well known as an ethnic community worldwide as Tibetans are. And there's the issue of Islamophobia, which the Chinese government has stoked at home. They say Xinjiang is awash with terrorists and it [China] is merely following a counter-terror and counter-extremism strategy like everyone else is."
While Chinese officials initially issued blanket denials the country ran mass internment camps, they later defended them by saying they were used for citizens who were guilty of minor offences as vocational centres to provide employment opportunities.
The international reaction has also been somewhat muted, though criticism of Beijing's treatment of its Muslim minority is increasing.
"If any other government in the world was locking up a million Muslims I think we can reasonably expect to have seen demands for a debate at the UN Security Council or an international investigation," Ms Richardson said. "That's generally unlikely to happen with China."
Last week, the United Nations' most senior human rights official recently requested direct access to the Xinjiang region to verify the "worrying reports" of re-education camps.
"We have been asking for direct access to the region to be able to check and verify the worrying reports we are receiving," Michelle Bachelet, the high commissioner for human rights, told a news conference in Geneva.
Her request came a day after Germany's human rights commissioner, Barbel Kofler, said China had blocked her from travelling to the region.
"I am shocked by reports of the treatment of the Turkic Uighur minority," Ms Kofler said in a statement last Tuesday. "I would have liked to have gained a first-hand impression of the situation there and will continue to push for permission to visit Xinjiang soon."
But Ms Richardson said it was encouraging that the Organisation of Islamic Cooperation, which states it is "the collective voice of the Muslim world", has issued increasingly strong statements about China and the arbitrary detention of Uighur and Muslim minorities.
"One of the threads of those debates all along has been 'why isn't the Muslim community of the world speaking up for Muslims in China?' Well, it looks like they are now," Ms Richardson said.
It comes amid reports more than one million Han Chinese people have moved into the homes of Uighur Muslim families to report on whether they display Islamic or unpatriotic beliefs.
Full report at:
https://www.independent.co.uk/news/world/asia/china-muslims-re-education-camps-amnesty-uighur-religion-human-rights-watch-a8678156.html
--------
Asean must pressure Suu Kyi on Rohingya issue: Mahathir
December 17, 2018
Asean must take tough measures to put pressure on Myanmar and its de facto leader, Aung San Suu Kyi, to end atrocities against the Muslim Rohingya, Malaysian Prime Minister Dr Mahathir Mohamad said yesterday.
More than 720,000 refugees have fled Myanmar's strife-torn Rakhine state to Bangladesh since August last year, when militant attacks on security outposts prompted a heavy-handed "clearance operation" by the military (Tatmadaw) that claimed thousands of lives.
Muslim residents of Rakhine faced arson, torture, gang rape and murder and many were forced to flee their homes.
The United Nations and United States dubbed the onslaught by the Tatmadaw "genocide".
The UN called for Myanmar's generals to face the International Criminal Court or an international tribunal on the charge.
"We can appeal to the government of Myanmar, but if there is no response and the atrocities continue, Asean must support international moves to stop this abuse of authority and injustice in Myanmar," Dr Mahathir said in an interview with The Nation newspaper (of Thailand) over the weekend.
"Asean has to learn how to bring pressure on governments that are not treating their own people with fairness and justice," he said.
"If Asean just allows these people to be massacred, it doesn't seem we are acting responsibly."
While the government in Nay Pyi Taw set up and sponsored several committees to address the crisis in Rakhine, Suu Kyi was criticised for delaying action and doing little to tackle the problem at its roots.
Dr Mahathir said he and other foreign leaders has urged Suu Kyi to help the Rohingya, just as other nations rallied to protect her when she was a victim of injustice under Myanmar's former military regime from 1989-2010.
"Aung San Suu Kyi once fought against the military, but now she is a member of the government and is not able to have any influence over the military," Dr Mahathir said.
"She should not associate herself with the military. They were unjust to her and now they are unjust to the Rohingya."
Thousands of Rohingya have refused plans set out by Myanmar and Bangladesh to repatriate them, fearing for their safety should they return.
Predominantly Buddhist Myanmar does not seem to want them back, Dr Mahathir pointed out.
Their fear of more violence is such that they would risk a dangerous journey across the Indian Ocean to South-East Asia, where thousands have sought asylum in mainly Muslim Indonesia and Malaysia, he said.
Dr Mahathir said Malaysia wanted to send them back to Myanmar, but they don't want to go.
"They might stay longer – they won't become Malaysian citizens, but they will be [accepted as] refugees."
Visiting Thailand since Saturday, Dr Mahathir was yesterday conferred a prestigious Thai honorary doctorate by Rangsit University in recognition of his statesmanship.
He told The Nation that Malaysia's newly appointed peace facilitator Abdul Rahim Noor, a former police chief who is familiar with problems in the southern border area with Thailand, would help to install peace in the predominantly Muslim region.
Violence has rocked the South since early 2004 claiming over 7,000 lives so far. Dialogue with insurgent groups, initiated in 2013, has yielded no significant results.
As the MARA Patani, a so-called umbrella organisation, is widely believed to not represent the insurgents on the ground, Dr Mahathir suggests that Thailand authorises invitations for other groups to join the talks.
"We are aware of the fact that there is not only one group, but several groups, so if one group achieves a kind of settlement, it doesn't mean other group will accept the result of such negotiation.
"Therefore, it's important to meet as many groups as possible," he said.
Abdul Rahim reportedly informed the Thai authority early this month that he would introduce leaders of the Barisan Revolusi Nasional (BRN) separatist group to the talks but they were not expected to be willing to take part.
Full report at:
https://www.thedailystar.net/rohingya-crisis/news/asean-must-pressure-suu-kyi-rohingya-issue-mahathir-1674814
--------
Amanah taking the path less travelled to win over Malay-Muslims
17 DECEMBER, 2018
KUALA LUMPUR — Instead of competing with Islamic party PAS, splinter party Amanah is poised to chart a new narrative for Muslims in Malaysia.
"We don't want to compete with PAS. We want a new narrative," said its vice-president, Mr Mujahid Yusof Rawa, at the close of the party's third convention in Ipoh on Sunday (Dec 16).
The minister in the Prime Minister's Department (Islamic Affairs) told The Malaysian Insight that Amanah did not want to base its struggles on race and religion any more.
"Amanah can be like PAS or Umno, and I can be as Malay and Islamic as them to attract support but this will not solve our problems," he said.
Although Amanah was a PAS spin-off, with most of its leaders coming from the Islamist party, the party constitution accepts non-Muslims as full members.
According to central committee member Hu Pang Chaw, the non-Malay component of Amanah has hit 5 per cent of its total membership of more than 100,000 individuals.
While Amanah only has 11 parliamentary seats, it boasts the largest number of members in the cabinet relative to the number of its MPs.
Five members of the fledgling party hold ministerial posts and another five, deputy minister spots in Prime Minister Dr Mahathir Mohamad's cabinet.
All of Amanah's seats, however, are in the west coast of the peninsula, as it lost all the seats it contested in PAS strongholds, Kelantan and Terengganu.
"Umno tried to compete with PAS… to be more Islamic than them with all sorts of slogans. But they failed.
"PAS has managed to deceive voters with their dressing. It is an effective vote-puller but it will fail in the long run. But we are not interested competing with them in the conventional sense," said Mr Mujahid, when asked if the party planned to boost the number of religious scholars working in the PAS strongholds.
During the convention, a Pahang delegate suggested that the party boost its cadre of religious leaders to compete with PAS.
Deputy president Salahuddin Ayub said PAS' direction was lagging behind 40 years.
"We are on the right track with our policy of 'Rahmatan al'amin' (benefit for all)," said Mr Salahuddin, who is also agriculture and agro-based industry minister.
PAS chose to regress after its 2015 annual congress, he said.
"That's why we chose to leave PAS. We don't accept their narrow definition of Islam that will only break apart a pluralistic Malaysia," said the former PAS vice-president.
But where does this leave Amanah in the battle for Kelantan, Terengganu?
Political Islam and east coast analyst Dr Mazlan Ali described east coast voters as fairly conservative, with their worldview shaped by Islam and Malay nationalism.
"In this context, Umno and PAS align closer with east coast voters," said the Universiti Teknologi Malaysia lecturer.
Dr Mazlan said any new party looking for their favour would need to spend a considerable amount of time wooing voters there.
"Amanah appeals to urban voters while rural voters don't care for them. Lower education levels coupled with poor analytical skills make them more likely to side with PAS," said Dr Mazlan.
In the past two decades, PAS has also built a strong following among tahfiz and kindergarten teachers.
Recognising this, Mr Mujahid reiterated that Amanah will not compete with PAS, which his father, Yusof Rawa, founded in 1951.
"We now administer Jakim (Islamic Development Department) and after six months, we have managed to convince them to include the concept of Rahmatan al-amin in all its programmes," said Mr Mujahid.
He said that Amanah would use tactics like this to combat PAS' narrative.
In its third and largest convention since its founding in 2015, Amanah leaders repeatedly espoused the new concept among its delegates.
Unlike PAS, which is pushing for a stricter hudud-based brand of Islam, Amanah's Rahmatan al-amin advocates justice and equality for all, regardless of race or religion.
Mr Mazlan said as Amanah continues with its inclusive approach, it also has to take into consideration the needs of east coast voters.
"Amanah needs to adapt to the political reality in Kelantan and Terengganu, where the role of religious scholars cannot be separated from society.
"While Nik Omar Nik Aziz can fulfil that role for Amanah in Kelantan, there's nobody in that mould in Terengganu as yet," said Mr Mazlan.
Another former PAS member, Shazni Munir Mohd Ithnin, said it made sense to put an end to politics based on racial and religious sentiments.
"In the new Malaysia, it is up to Amanah to change this narrative," said the Amanah Youth deputy chief.
Full report at:
https://www.todayonline.com/world/amanah-taking-path-less-travelled-win-over-malay-muslims
--------
UN should not have generalised Malaysia with other Islamic countries on ICERD: Tajuddin
December 10, 2018
KUALA LUMPUR: The United Nations (UN) should not have generalised Malaysia with other Islamic countries when it comes to ratifying the International Convention on the Elimination of All Forms of Racial Discrimination (ICERD).
Umno Supreme Council member Datuk Seri Tajuddin Abdul Rahman said UN did not understand the peculiarity of Malaysia compared to other Islamic countries such as Saudi Arabia and Turkey.
"They don't understand. We have our own peculiarity. The Malays are the natives of this country, and we have other races who were the immigrants who came into the country during the colonisation by the English.
"They were brought in for tin mining and to tap rubber.
"Nearing the country's independence, we were asked to accept them and we generously did so.
"But there was a social contract signed between the Bumiputera and non-Bumiputera, which was later incorporated into the Federal Constitution.
"This is what happened in this country, previously known as Tanah Melayu before eventually becoming Malaysia.
"Did UN take into consideration all this? We have our own rights.
"So, if you don't know the peculiar history and background of a country, how we live together and how we started together; sorry-lah, please do not interfere.
"This is what I meant by 'go to hell to UN'," said Tajuddin when met at the Parliament lobby today.
Tajuddin was asked to comment on his recent blow of "Go to hell with UN", while addressing the crowd during anti-ICERD rally on Saturday.
Tajuddin said the UN wanted to imposed ICERD to allow equalisation between Bumiputera and non-Bumiputera in the country.
"We know who is in control of UN - the Westerners. They were the colonials before and now they wanted to colonise us again.
"Even (Prime Minister) Tun M (Tun Dr Mahathir Mohamad) reminded us of the new way of colonisation by the Westerners.
"UN must understand that they should not interfere with a country, without understanding about it first.
"In Malaysia, we respect other races and religions. No discrimination here and do not simply accuse us of discriminating one another.
Full report at:
https://www.nst.com.my/news/nation/2018/12/439222/un-should-not-have-generalised-malaysia-other-islamic-countries-icerd
--------
Africa
Hundreds flee after Boko Haram burns Nigerian village
17 December 2018
Hundreds fled late Sunday after Boko Haram burned their homes near Nigeria's northeastern city of Maiduguri, residents told AFP.
Boko Haram fighters in several trucks stormed Maiborti village, five kilometers (miles) outside Maiduguri, firing indiscriminately and setting fire to homes, they said.
A military officer who did not want to be identified said troops and fighter jets were deployed to the village and scrambled to push out the militants after "fierce battle".
It was not clear if there were casualties in the attack, which once again highlighted the fragile security situation in the restive region.
"They (Boko Haram) came around 5:30 pm (1630GMT) and started firing in the village which made us abandon our homes and flee to Maiduguri," Maiborti resident Abacha Kaka told AFP.
Militia leader Babakura Kolo said the extremists were later forced out of the village by troops with aerial support.
"Unfortunately, the terrorists succeeded in setting fire to the village and burning it down completely," he added.
Boko Haram has in recent months launched attacks in a bid to capture Maiduguri, the birthplace of its founder Mohammed Yusuf.
Last month, the extremists attacked Jimmi village just outside the city, killing one person and stealing hundreds of livestock.
In April, scores of Boko Haram fighters launched a gun and suicide attack on Jiddari-Polo, outside the city.
The extremist group has attacked at least 20 military bases in recent weeks, killing dozens of soldiers and carting away weapons.
Boko Haram's nine-year rebellion has killed at least 27,000 and forced more than two million people to flee their homes.
https://english.alarabiya.net/en/News/world/2018/12/17/Hundreds-flee-after-Boko-Haram-burns-Nigerian-village.html
--------
Northeastern Nigeria fighting with militants leaves 12 soldiers dead
Dec 16, 2018
At least 12 Nigerian soldiers have been killed and dozens of others have gone missing following clashes with Takfiri militants in the northeastern state of Borno.
Three unnamed military sources told media outlets Sunday that the attack targeted a military base and a nearby community in the Gudumbali local government area.
The fighting followed an attack on Friday by militants in the troubled area, where a splinter group of Boko Haram called "Daesh in West Africa" is influential. The poor communication network in the remote area delayed the relay of the details of the attack. The army officially said it had repelled the attack, in which it said one soldier was killed and another was injured. Militants opened fire on troops while aid materials were being distributed in Gudumbali. "The troops, however, fought gallantly and outmanoeuvred the attackers inflicting heavy casualties on them. Unfortunately, a soldier paid the supreme price during the encounter, while another was wounded in action," the statement read.
In late November, about 100 soldiers were killed by Daesh Takfiri terrorists who attacked an army base in Metele, Borno.
Nigeria's northeastern region has been plagued by the terrorist activities of Boko Haram and a Daesh affiliate, which broke away in 2016 and is now considered by security experts as the stronger of the two.
The Abuja government in June ordered thousands of people who fled the conflict with Boko Haram to return to Gudumbali, one of the most dangerous northeastern areas. Officials cut off food and other aid to those who refused.
Since 2009, militants have killed at least 20,000 dead and made over 2.6 million others homeless. In 2015, Boko Haram pledged allegiance to Daesh.
Full report at:
https://www.presstv.com/Detail/2018/12/16/583130/Nigeria-Borno
--------
US says new airstrike in Somalia kills 8 al-Shabaab fighters
2018-12-16
The US military says it has killed eight members of the al-Shabaab extremist group with an airstrike south of Somalia's capital.
The US Africa Command statement says the airstrike occurred on Saturday near Gandarshe, a coastal community. The statement says no civilians were involved.
The US military has carried out at least 40 airstrikes this year against the al-Qaeda-linked al-Shabaab, Africa's most active Islamic extremist group. It controls parts of rural southern and central Somalia and continues to stage deadly attacks in the capital, Mogadishu, and other cities.
The US airstrikes have picked up dramatically since President Donald Trump took office and approved expanded military operations in the Horn of Africa nation. Airstrikes also target a small presence of fighters linked to the Islamic State group.
https://www.news24.com/Africa/News/us-says-new-airstrike-in-somalia-kills-8-al-shabaab-fighters-20181216
--------
Three CSOs write Buratai, demand details of money spent fighting Boko Haram
December 16, 2018
The Socio-Economic Rights and Accountability Project (SERAP), Enough is Enough (EiE), and BudgIT have sent a joint Freedom of Information request to Tukur Buratai, Chief of Army Staff of Nigeria, requesting him to use his good offices and leadership position to "urgently provide information on the 2015, 2016 and 2017 budget implementation reports of the Nigerian Army, including the amounts released (financial implications) and expended in fiscal years 2015, 2016 and 2017 for the various operations the Army carried out."
The groups also urged Mr Buratai, a Lieutenant General, to furnish them with "the amounts released (financial implications) and expended in fiscal years 2015, 2016 and 2017 for: Operation Lafiya Dole, Operation Safe Haven, Operation Python Dance, Operation Ruwan Wuta, Operation Delta Safe, Operation Mesa, Operation Harbin Kunama, Operation Awatse, Operation Tsera Teku and Operation Crocodile Smile."
In the FOI request sent last week and signed by Bamisope Adeyanju of SERAP, Seun Akinyemi of EiE and Atiku Samuel of BudgIT, the groups said: "Transparency of the budget process and its implementation is an essential condition to achieve good governance. The reports, if provided and published, will shed light on military spending and put to rest once and for all the perceived lack of transparency and accountability in the spending of military budgets, which has been a subject of intense public debate and concern."
The groups said: "If the requested information is not provided within 14 days of the receipt and/or publication of this letter, our organisations shall take all appropriate legal action under the Freedom of Information Act to compel you to comply with our request."
According to the groups: "several billions of naira allocated to the military to defend the country and protect its people have neither contributed to improving the ability of Nigerian soldiers to fight Boko Haram and other armed groups nor provided the much-needed security especially for Nigerians in the North-east of the country."
The FOI request read in part: "The information being requested does not come within the purview of the types of information exempted from disclosure by the provisions of the FOI Act. The information requested for, apart from not being exempted from disclosure under the FOI Act, would serve the national interest, public welfare, public interest and peace, human rights, good governance, transparency and accountability."
"By virtue of Section 1(1) of the Freedom of Information Act, 2011, we are entitled as of right to request for or gain access to information, including information on 2015, 2016 and 2017 budget implementation reports of the Nigerian Army, and the amounts released (financial implications) and expended in fiscal years 2015, 2016 and 2017 for the various operations listed, which have yielded no tangible result."
Full report at:
https://www.premiumtimesng.com/news/top-news/301322-three-csos-write-buratai-demand-details-of-money-spent-fighting-boko-haram.html
--------
Sudan president lands in Syria in first visit by Arab leader
17 December 2018
Sudan's President Omar al-Bashir on Sunday became the first Arab League leader to visit Syria since civil war erupted there nearly eight years ago.
Al-Bashir was greeted at the Damascus airport by Syrian President Bashar Assad before they both headed to the presidential palace, where they held talks on bilateral relations and the latest developments in Syria and the region, according to the state-run news agency.
Syria was expelled from the 22-member Arab League soon after war broke out in 2011. Arab countries have sanctioned Damascus and condemned Assad for using overwhelming military force and failing to negotiate with the opposition.
The Syrian state news agency SANA quoted the Sudanese president as saying during the meeting with Assad that he hopes Syria will recover its important role in the region as soon as possible. He also affirmed Sudan's readiness to provide all that it can to support Syria's territorial integrity.
SANA said Assad thanked al-Bashir for his visit, asserting that it will give strong momentum for restoring relations between the two countries "to the way it was before the war on Syria."
Full report at:
https://english.alarabiya.net/en/News/middle-east/2018/12/17/Sudan-s-Omar-al-Bashir-arrives-in-Damascus-on-official-visit.html
--------
URL: https://www.newageislam.com/islamic-world-news/saudi-arabia-rejects-senate-position/d/117182
New Age Islam, Islam Online, Islamic Website, African Muslim News, Arab World News, South Asia News, Indian Muslim News, World Muslim News, Women in Islam, Islamic Feminism, Arab Women, Women In Arab, Islamophobia in America, Muslim Women in West, Islam Women and Feminism