New Age Islam News Bureau
17 Aug 2014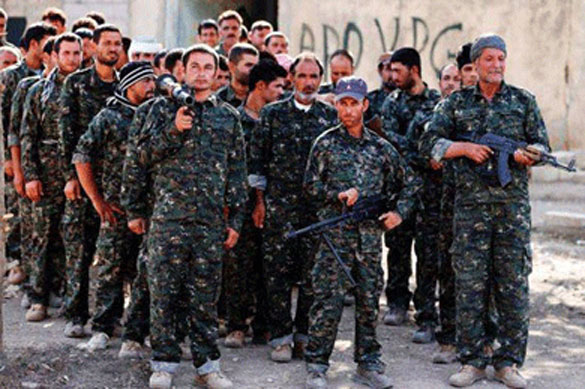 Iraqi volunteers from the Yazidi sect gather during a training camp at the Serimli military base August 16, 2014. (Reuter's photo)
----------
Arab World
• Saudi Arabia, Kuwait to Abide By UN Blacklisting Of Citizens
• ISIS Militants 'Kill 300 More Yazidi Men and Kidnap Their Families
• Kurds Advance on Key Iraq Dam, Sunni Tribesmen Hit Islamic State Jihadists
• Iraqi Army Kills 25 ISIL Terrorists in South of Baghdad
• Syrian Army Inflicts Massive Losses upon Rebels in Homs
• ISIS closes in on rebel stronghold in north Syria
• ISIS 'caliph' Baghdadi visits west Anbar towns
• Muslim Brotherhood denies army's accusations of violence
• Islamic State executed 700 people from Syrian tribe: monitoring group
Pakistan
• Dr Tahirul Qadri: Step Down In 48 Hours, Dissolve All Assemblies
• PAT and PTI set deadlines for democracy not government: Pervaiz Rashid
• Rs15bn Approved For Zarb-i-Azb Operation
• MQM Asks PTI, Awami Tehreek to Withdraw Ultimatum against Government
• Protest over 'excesses' against minorities
• Baluchistan CM rules out acceptance of unconstitutional demands of Imran and Qadri
• Punjab CM offers to resign to resolve current political crisis
India
• Govt Asked Not To Concentrate On Madrasas, 96% Muslims Go To Contemporary Schools
• Police hunt on for man who put ISIS speech online
• LeT men Skype Pakistan from jail
South Asia
• 18 Taliban Militants Killed, 20 Injured in Afghan Army Operations
• 'Aug 15 killing aimed to destroy the state': PM Sheikh Hasina
• Over 700 Taliban militants attack check posts in Logar province
• 126 rockets fired in Kunar as cross-border shelling continues
• Minister: Militancy in Bangladesh originated at Hawa Bhaban
North America
• Militants hiding in Pakistani cities: CIA's ex-chief
• U.S. aid to Iraq may speed up despite billions already spent
• New Jersey Man Taken Aback by ISIS Flag Flap, Says He Was 'Expressing My Religion'
• US forces close to total pullout from Afghanistan, Iran official claims
• Imam Shortage Crimps U.S. Mosques
Africa
• 'South Africa' man appears in Islamic State video
• Reports - Ex-Seleka Rebels Kill 34 in Central African Republic
• UN condemns fresh clashes in Libyan capital
• Chadian soldiers 'rescue 85 Nigerians from Boko Haram'
Mideast
• Abbas says Egyptian initiative only viable option for Israel-Gaza truce
• Hamas tells Israel to accept Palestinian demands or face long war
• Yemen clash kills soldier, four suspected militants
• Israel to develop 'Iron Spade' to counter Hamas
• No Gaza deal unless Israel's security needs met, says Netanyahu
Europe
• West facing 'generational struggle' against IS, UK's Cameron says
• UN watchdog chief holds top level nuclear talks in Iran
• UN: 218,000 Palestinians forcibly displaced by Israel in Gaza
• Rabaa deaths marked in London
Southeast Asia
• School Fosters Tolerance in Indonesia's Millennial Generation
• We know 'bin' doesn't mean Muslim: Sabah NRD
• Sultan of Brunei bid for five-star hotels angers gay rights activists
Compiled by New Age Islam News Bureau
URL: https://www.newageislam.com/islamic-world-news/new-age-islam-news-bureau/saudi-arabia,-kuwait-to-abide-by-un-blacklisting-of-citizens/d/98594
----------
Arab World
Saudi Arabia, Kuwait to Abide By UN Blacklisting Of Citizens
Aug 17, 2014
DUBAI: Saudi Arabia and Kuwait agreed to comply with a United Nations resolution aimed at stopping financing for Islamist militant groups in Syria and Iraq after four of their nationals were named among a group blacklisted by the international body.
The UN Security Council unanimously adopted a resolution on Friday intended to weaken the Islamic State — an al-Qaida splinter group that has seized swaths of territory in Iraq and Syria and declared a caliphate — and al-Qaida's Syrian wing, Nusra Front.
Western officials believe that wealthy Gulf Arabs, in countries that include Saudi Arabia and Kuwait, have been a main source of funding for Sunni Islamist militants fighting against Syrian President Bashar al-Assad.
While Sunni Muslim Saudi Arabia is a main backer of the rebellion against Assad, a member of the Alawite sect of Shia Islam and an ally of Riyadh's rival Shiae Iran, it says it is careful to direct state support to moderate groups.
Riyadh this year declared the Islamic State group and the Nusra Front terrorist organizations, imposing prison terms for giving them moral or material support, and has mobilised its clerics to preach against private donations to militants.
The Islamic State has long been blacklisted by the Security Council, while Nusra Front was added earlier this year. Both groups are designated under the UN al-Qaida sanctions regime.
Gulf media said that two of the blacklisted men were Saudis wanted by Riyadh for links to Islamist militants, while two others were Kuwaitis, including Sheikh Hajjaj Bin Fahd Al Ajmi, a prominent cleric accused of links to Syria's al-Qaida branch, the Nusra Front.
"Kuwait will abide by the UN Resolution 2170 and implement all its terms," Kuwait's UN ambassador Mansour Ayyad al-Otaibi said in a statement carried by state news agency KUNA on Saturday.
Wanted
Under Friday's resolution, the six people will be subject to an international travel ban, asset freeze and arms embargo. It asks UN experts — charged with monitoring violations of the council's al-Qaida sanctions regime - to report in 90 days on the threat posed by Islamic State and Nusra Front, and on details of their recruitment and funding.
The London-based Asharq al-Awsat said the two Saudis, Abdul Mohsen Abdallah Ibrahim al-Charekh and Abdelrahman Mouhamad Zafir al Jahani, were on two lists of wanted militants issued in 2009 and in 2011.
The Syrian Observatory for Human Rights, which monitors casualties in fighting in Syria, has said that Charekh was killed near the Syrian coastal city of Latakia in March. Jahani was believed to be at large somewhere outside Saudi Arabia.
Saudi Arabia's ambassador to the United Nations, Abdullah al-Mualami, also said Riyadh was "committed to implementation" of the resolution.
Both Saudi Arabia and Kuwait have recently tightened laws aimed at preventing citizens from involvement in foreign conflicts and instructed mosque preachers to abide by government policies during their sermons.
The Kuwaiti government last month ordered non-governmental public welfare associations to refrain from involvement in politics and shut down branches of some associations.
Kuwait's justice and Islamic affairs minister resigned in May after a senior US official said he had called for jihad in Syria and promoted the funding of terrorism.
In Saudi Arabia, Muslim Sharia courts have issued a series of verdicts jailing people for going to fight abroad or collecting funds for Islamist militants.
http://timesofindia.indiatimes.com/world/middle-east/Saudi-Arabia-Kuwait-to-abide-by-UN-blacklisting-of-citizens/articleshow/40344602.cms
------
ISIS militants 'kill 300 MORE Yazidi men and kidnap their families
Aug 17, 2014
Islamic State militants today 'massacred' more than 300 Yazidi men - just one day after allegedly killing 82 others who refused to convert to Islam.
The insurgents stormed into the small village of Kocho in northern Iraq, where they spent five days trying to persuade villagers to take up their religion, local officials said.
When they refused, 82 male members of the ancient sect were reportedly rounded up and shot dead yesterday, while more than 100 women and girls were kidnapped.
And today, a further 312 Yazidis were allegedly murdered and their families abducted.
The terrified relatives were taken to the ISIS-controlled city of Tal Afar, near Mosul, a senior member of the Ministry of Peshmerga, in the Kurdish-controlled region of Iraq, told Sky News
This afternoon, Yazidi fighter Mohsen Tawwal told AFP via phone that he had seen hundreds of bodies sprawled across the ground after entering the village, around 12 miles south of Sinjar.
'We made it into a part of Kocho village, where residents were under siege, but we were too late,' he said.
'There were corpses everywhere. We only managed to get two people out alive. The rest had all been killed.'
The news comes as U.S. officials said a mix of fighter planes and remotely piloted aircraft have attacked Islamic State militants near the Iraqi city of Irbil and the Mosul Dam.
In a statement, U.S. Central Command said today's airstrikes were launched under the authority to support humanitarian efforts in Iraq, as well as to protect U.S. personnel and facilities.
Central Command says the nine airstrikes conducted so far had destroyed or damaged four armored personnel carriers, seven armed vehicles, two Humvees and an armored vehicle.
Yazidi politician Mahma Khalil said the massacre of 394 Yazidis took place after militants besieged the village and gave residents a deadline by which they must convert to Islam or die.
He added: 'When the residents refused to do this, the massacre took place.'
Those killed yesterday are believed to have been gunned down in the desert after being told they were being driven to the border.
Yesterday, senior Kurdish official Hoshiyar Zebari told Reuters: 'They arrived in vehicles and they started their killing this afternoon We believe it's because of their creed: convert or be killed.'
The resident of a nearby village claimed to have been told details of the bloodshed by an Islamic State fighter.
'He told me that the Islamic State had spent five days trying to persuade villagers to convert to Islam and that a long lecture was delivered about the subject today,' said the villager.
'He then said the men were gathered and shot dead. The women and girls were probably taken to Tal Afar because that is where the foreign fighters are.'
However, the account could not be independently confirmed. Kocho, like other areas held by the extremist IS group, is not accessible to journalists.
Following the massacre, the U.S. responded with attacks by drone aircraft near Kocho destroying two IS armored vehicles which, according to Kurdish sources, had been involved in the attack.
Maisar Hajisalih, mayor of Sinjar region which includes the village, said one man survived the carnage and, although wounded, had called him once the jihadists had left.
The injured man said IS gathered all the villagers in the school on Friday afternon, then after a long lecture told them they had one final chance to convert.
When the Yazidis remained defiant, the militants appeared to relent and told the terrified residents they would be driven to Dohuk, a town outside their control.
They were put on a fleet of vehicles. But after a short drive the men were taken off and shot, together with some older women, before the remaining women and girls were driven away.
'The international community watched this happen and there will be more mass graves found around Sinjar,' said Khider Domle, a Yazidi activist. 'It is shameful. We feel betrayed by the British and Americans.'
The Mail on Sunday initially revealed how heavily-armed jihadists besieged the walled village.
It comes as the Islamic State's continued push to the border with the Kurdish region has sparked a series of U.S. airstrikes and sent tens of thousands of Yazidis and Christians fleeing for their lives.
Today, airstrikes struck the area around Iraq's largest dam in a bid to drive out militants who captured it on August 7.
Residents living near the Mosul Dam, a huge hydroelectric power station which stems the flow of the River Tigri, said the area had been hit numerous times, killing several militants.
However, it was not immediately clear whether the airstrikes they were being carried out by Iraq's air force or the United States.
America last week began launching air strikes aimed at halting the advance of the Islamic State group across the country's north.
The decision marked the first direct U.S. military intervention in Iraq since the last troops withdrew in 2011, and reflected growing international concern about the extremist group.
Earlier today, Britain said it had deployed a US-made spy plane over northern Iraq to monitor the humanitarian crisis and the movements of IS fighters.
The Ministry of Defence (MoD) confirmed the intelligence-gathering Rivet Joint aircraft has carried out several flights over areas in north Iraq under threat from Islamic State militants.
It added the converted Boeing KC-135 tanker would monitor mobile phone calls and other communication.
'Rivet Joint has helped build an understanding of the humanitarian situation in Northern Iraq and the associated ISIL (another name for the IS) threat,' an MoD spokesman said.
'The intelligence and insight it has provided has guided our humanitarian efforts, giving us an accurate picture of what is going on on the ground so that we could best deliver aid to the Yazidi people.'
The elderly reconnaissance plane, which were bought from the U.S. in 2010 but date from the mid-1960s, are the latest Western forces sent to the region to counter the Islamic State-led Sunni insurgency.
It also emerged today that a fresh consignment of British aid has been flown in to Iraqis fleeing the advance of Islamist extremists .
In a signal of the international concern, the United Nations Security Council last night unanimously approved a resolution designed to choke off the terrorists' funding and recruitment.
It imposed sanctions including a travel ban and asset freeze on six prominent extremists and warned action could be taken against anyone held responsible for aiding the cause.
Sir Mark Lyall Grant, the UK's UN ambassador, said the resolution represented a 'comprehensive rejection' of IS.
But he said it was only a first step and urged the international community to be 'resolved, active and creative in considering what further measures should be taken to tackle this terrorist scourge'.
The vote came after European Union (EU) foreign ministers approved the arming by member states of Kurdish troops trying to resist the extremists' push to expand their sphere of control in Iraq.
Foreign Secretary Philip Hammond said Britain - which has so far only been transporting weapons provided by other countries - stood ready to 'consider favourably' any request by Kurdish leaders for it to join countries such as the U.S. and France by directly supplying military equipment.
The latest delivery of aid, sent from UK stores in Dubai and Gloucestershire, was made up of 8,000 cooking sets for some of the estimated half a million refugees in camps in Dahuk province.
They are aimed at allowing almost 40,000 people to cook for themselves rather than queuing at makeshift canteens in sweltering heat.
International Development Secretary Justine Greening said: 'Displaced Iraqi people who have managed to escape Mount Sinjar have walked many miles in searing heat, and now find themselves in camps cut off from their homes and without any possessions.
'They have shown immense courage to get off the mountain and the UK is committed to giving them support. These kitchen sets will enable displaced people to feed themselves and their families.'
One Airbus flight set off from Dubai, where the Department for International Development has its main aid stockpile, and another from East Midlands Airport.
The UK has so far committed £13million in new assistance in response to the crisis in Iraq.
Because it was adopted under Chapter 7 of the UN Charter, military force is authorised to enforce the resolution but Russia has made clear its vote should not be seen as approval of such a move.
Kurdish Peshmerga fighters have been at the forefront of efforts to halt the IS advance and their efforts have been praised for helping thousands of Yazidis flee from Mount Sinjar, where they had been trapped by the jihadists.
But they have complained about being outgunned by IS, leading to the offers of support from western governments.
Mr Hammond said IS represented a threat to civilisation and promised support for any inclusive new administration in Baghdad following the replacement as Iraqi prime minister of Nouri al-Maliki, who is accused by critics of fuelling sectarianism, helping the rise of IS.
There have been signals from political leaders from the Sunni majority that they could join a government led by new prime minister Haider Abadi.
The chairman of the Commons defence committee Rory Stewart - a former deputy governor of an Iraqi province who is visiting Kurdistan - warned a long-term strategy was needed and that Britain lacked adequate information about the situation.
The Tory MP said the present violence 'feels like the beginnings of a civil war'.
'We need far more information; I don't personally feel we have enough diplomats on the ground who really understand who Isis are and what's going on,' he told Channel 4 News.
'But we also need to accept that in the end Isis are a seriously bad force and anything that we can do to protect populations and contain their expansion we ought to.'
He said, however, that he believed it would be 'very difficult' to secure public and parliamentary support for UK air strikes after the experience of the aftermath of the 2003 invasion.
http://www.dailymail.co.uk/news/article-2726367/UK-deploys-spy-plane-Iraq.html#ixzz3AenXf0cN
------
Kurds advance on key Iraq dam, Sunni tribesmen hit Islamic State jihadists
AFP | Aug 17, 2014
BAGHDAD: Kurdish fighters backed by US warplanes pushed back jihadists around Iraq's largest dam on Sunday, as Sunni Arab tribesmen and security forces fought the militants west of Baghdad.
Two months of violence have brought Iraq to the brink of breakup, and world powers relieved by the exit of divisive premier Nouri al-Maliki were sending aid to the hundreds of thousands who have fled their homes as well as arms to the Kurds.
Kurdish fighters were advancing on Mosul dam, which the Islamic State (IS) fighters seized a week ago, but their progress was being hampered by roadside bombs, Kurdish officials said.
The dam on the Tigris river north of Iraq's second city provides electricity and irrigation water for farming to much of the region.
It recapture would be the first major prize won back from the jihadists since they launched their shock offensive in early June, routing the security forces across much of northern and western Iraq.
An AFP journalist saw towers of smoke rising from the dam area on Sunday.
"Half of the Mosul dam area was retaken, the eastern part," said Kawa Khatari, an official of the autonomous Kurdish region's largest party. "They are heading towards Tal Kayf, but the main road was planted with roadside bombs," he added.
Another Kurdish official, Harim Kamal Agha, said the bombs planted by the retreating jihadists were slowing the advance.
The US military said it carried out nine air strikes on Saturday in support of Kurdish forces.
US Central Command said warplanes and drones had destroyed or damaged four armoured personnel carriers, seven armed vehicles, two Humvees and an armoured vehicle.
Buoyed by the air strikes US President Barack Obama ordered last week, Kurdish forces have tried to claw back the ground they have lost since the start of this month, when the jihadists went back on the offensive north, east and west of Mosul.
In Anbar province, west of Baghdad, security forces backed by Sunni Arab tribal militia, who threw their weight behind a counter-offensive against the jihadists on Friday, made gains west of the provincial capital Ramadi, police said.
Fighting was also taking place near the strategic Euphrates Valley town of Haditha, which hosts another important dam, Police Staff Major General Ahmed Sadag said.
The rallying of more than two dozen Sunni tribes to the government side marked a potential turning point in the fightback against the jihadists and their allies.
The militants were able to sweep through the Sunni Arab heartland north and west of Baghdad in June, encountering little effective resistance, and Iraqi federal security forces have yet to make significant headway in regaining ground.
Anbar was the birthplace of the Sahwa, or Awakening, movement of Sunni tribes that from late 2006 sided with US forces against their co-religionists in al-Qaida, helping turn the tide of that insurgency.
In the north, members of minority groups including the Yazidis, Christians, Shabak and Turkmen, remain under threat of kidnapping or death at the hands of the jihadists, human rights groups said.
On Friday, IS fighters killed around 80 Yazidi Kurds in the village of Kocho near the northwestern town of Sinjar, Kurdish officials said.
The jihadist' storming of the town on August 3 sent tens of thousands of civilians fleeing into the Sinjar mountains, prompting an international aid operation and helping to trigger the launch of US air strikes.
The Yazidis' ancient non-Muslim faith is anathema to the Sunni extremists of IS.
Human rights groups and residents say IS fighters have been demanding that religious minorities in the Mosul region either convert or leave, unleashing violent reprisals on any who refuse.
Amnesty International, which has been documenting mass abductions in the Sinjar area, says IS has kidnapped thousands of Yazidis in this month's offensive.
Tens of thousands have fled, most of them seeking refuge in areas of northern Iraq still under Kurdish control, some in neighbouring Syria.
When the jihadists began their Iraq offensive on June 9, Kurdish forces initially fared better than federal government troops, many of whom simply fled.
But the US-made weaponry abandoned by the federal army has turned IS into an even more formidable foe.
Many in and outside Iraq say the Shiite-led government was partly to blame by pushing sectarian policies that have marginalised and radicalised the Sunni Arab minority.
Maliki was seen as an obstacle to any progress, and his announcement on Thursday that he was abandoning his efforts to cling to power was welcomed with a sigh of relief at home and abroad.
International support has poured in for prime minister designate Haidar al-Abadi as he attempts to forge a new, more inclusive government capable of uniting broad support against the jihadists.
http://timesofindia.indiatimes.com/world/middle-east/Kurds-advance-on-key-Iraq-dam-Sunni-tribesmen-hit-Islamic-State-jihadists/articleshow/40343826.cms
-------
Iraqi Army Kills 25 ISIL Terrorists in South of Baghdad
TNN | Aug 17, 2014
The Iraqi Armed Forces won back full control of a village in South of Baghdad, killing over 25 ISIL terrorists and wounding many others.
"The Iraqi Army in cooperation with the country's Air Force carried out a security operation in Arab Jasim village that resulted in killing of 25 ISIL terrorists and destroying their shelters," spokesperson of the Ministry of Interior Brigadier Saad Maan said, Iraqi news reported.
The crisis in Iraq escalated after the ISIL militants took control of Mosul in a lightning advance on June 10, which was followed by the fall of Tikrit, located 140 kilometers (87 miles) Northwest of the capital, Baghdad.
Soldiers of the Iraqi army and Pishmarga have been engaged in heavy fighting with the militants on different fronts and have so far been able to push them back in several areas.
http://english.farsnews.com/newstext.aspx?nn=13930526000717
----------
Syrian Army Inflicts Massive Losses upon Rebels in Homs
TNN | Aug 17, 2014
The Syrian army units inflicted heavy losses upon foreign-backed rebels in Homs countryside, killing and wounding a large number of insurgents.
Soliders of the Syrian Army killed and injured a number of militants in several villages and towns in Homs countryside, foiling their attempt to infiltrate into Ahrash Kafarnan.
Army forces also repeled an infiltration attempt by terrorists into Burj Qa'ai in Ahrash Kafarnan in Homs countryside, killing a number of them.
Gatherings centers of terrorists were raided in the surrounding of schools gathering in Um Sharshouh, Tal Abu al-Sanabel, in the villages of Um Sahrij, Um al-Rish, Salam Sharqi, Aqrab and al-Hula where many rebels were killed and wounded.
Full report at:
http://english.farsnews.com/newstext.aspx?nn=13930526001065
----------
ISIS closes in on rebel stronghold in north Syria
17 August 2014
Syria's Western-backed opposition called on Saturday for U.S. airstrikes against the Islamic State of Iraq and Syria extremist group as the militants captured three northern villages, putting them within striking distance of a mainstream rebel stronghold.
ISIS fighters have overrun nearly a dozen towns and villages in Aleppo province this week, crushing what little resistance they have encountered. Those gains threaten rival factions' supply lines to neighboring Turkey and squeeze the mainstream armed opposition's position in the country's largest city, Aleppo, which is also under assault by President Bashar Assad's forces.
Full report at:
http://english.alarabiya.net/en/News/middle-east/2014/08/17/ISIS-closes-in-on-rebel-stronghold-in-north-Syria.html
----------
ISIS 'caliph' Baghdadi visits west Anbar towns
17 August 2014
Locals in the western Iraqi towns of Rawa and Qaim have said the leader of militant group the Islamic State of Iraq and Syria, who has dubbed himself a "caliph," had paid them a visit on Friday.
Abu Bakr al-Baghdadi, who allegedly appeared in a widely-shared video last month while he gave a sermon in the militant-held city of Mosul, visited ISIS fighters in both towns, Al Arabiya News Channel's Iraq correspondent reported.
Baghdadi visited the towns accompanied by dozens of cars loaded with fighters.
Residents speculated that Baghdadi would then be heading to Raqqa province in northern Syria, an ISIS stronghold, on Saturday evening.
Full report at:
http://english.alarabiya.net/en/News/middle-east/2014/08/17/ISIS-caliph-Baghdadi-visits-west-Anbar-towns.html
----------
Muslim Brotherhood denies army's accusations of violence
Aug 17, 2014
The Muslim Brotherhood has denied all accusations of violence by the army and rejects "the violence by the military junta", the group said in an official statement released on Saturday.
The statement asserted that the "revolution will continue… until the junta is defeated and the coup is reversed". It added that the group "mourns the martyrs" killed in the Rabaa Al-Adaweya sit-in dispersal in August 2013.
Protests were held across Egypt on the anniversary of the Rabaa Al Adaweya sit-in, leaving four protestors dead, according to Muslim Brotherhood. The ministry of interior also confirmed the death of one policeman and the injury of another during the confrontations.
The ministry said 193 people were arrested during Friday's violence as "the elements of terrorist Muslim Brotherhood" attempted to launch marches to block roads, firing live ammunition and bird,shot, which prompted the police to intervene, read the statement.
The arrests were made in different governorates across Egypt including Cairo, Giza, Alexandria, Suez and Kafr El-Sheikh where the arrested had weapons in their possession, according to the interior ministry of interior.
Full report at:
http://www.dailynewsegypt.com/2014/08/17/muslim-brotherhood-denies-armys-accusations-violence/
---------
Islamic State executed 700 people from Syrian tribe: monitoring group
Aug 17, 2014
(Reuters) - The Islamic State militant group has executed 700 members of a tribe it has been battling in eastern Syria during the past two weeks, the majority of them civilians, a human rights monitoring group and activists said.
The Syrian Observatory for Human Rights, which has tracked violence on all sides of the three-year-old conflict, said reliable sources reported beheadings were used to execute many of the al-Sheitaat tribe, which is from Deir al-Zor province.
The conflict between Islamic State and the al-Sheitaat tribe, who number about 70,000, flared after the militants took over two oil fields in July.
"Those who were executed are all al-Sheitaat," Observatory director Rami Abdelrahman said by telephone from Britain. "Some were arrested, judged and killed."
Reuters cannot independently verify reports from Syria due to security conditions and reporting restrictions.
Full report at:
http://www.reuters.com/article/2014/08/16/us-syria-crisis-execution-idUSKBN0GG0H120140816
----------
Pakistan
Dr Tahirul Qadri: Step Down In 48 Hours, Dissolve All Assemblies
Aug 17, 2014
ISLAMABAD: Pakistan Awami Tehreek (PAT) chief Dr Tahirul Qadri late on Saturday night pressed the federal and provincial governments to step down in 48 hours.
Addressing thousands of charged party workers, he demanded dissolution of the national and provincial assemblies, formation of a national government to undertake immediate democratic reforms, and resignations of Prime Minister Nawaz Sharif and Punjab Chief Minister Shahbaz Sharif.
, Qadri presented four demands. The cleric also congratulated the nation for 'revolution' which he claimed was not far away.
"Revolution will come through the power of peace and there will be no act of arson," the PAT chief said, adding, "Marchers will not go back home until the arrest of PM Nawaz Sharif and CM Shahbaz Sharif, and they should be treated as per law over their crime of killing 14 people and injuring 90 people in an incident in Model Town last month."
He demanded that the Federal Investigation Agency (FIA) put the names of the Sharifs and their cabinet members on the Exit Control List (ECL).
"If Nawaz and Shahbaz escaped from the country, they [FIA] will be held accountable," Dr Qadri asserted.
Full report at:
http://www.dailytimes.com.pk/national/17-Aug-2014/step-down-in-48-hours-dissolve-all-assemblies
----------
PAT and PTI set deadlines for democracy not government: Pervaiz Rashid
August 17, 2014
Islamabad- Federal Information Minister, Pervaiz Rashid said today that the deadline set by Tahirul Qadri and Imran Khan was for democracy and not for the government.
He said that the difference between the democratic and undemocratic forces made crystal clear today and now the democratic forces have to come out with their strategy. In a TV interview Pervaiz Rashid said that a commission has been set up on the demand of Imran Khan and the government through talks was trying to convince him, as those demanding for a commission have been retracted by now.
Federal information minister said that 35 assembly members and a crowd of 5,000 persons can't overthrow the democratically elected government. It may be recalled that Pakistan Awami Tehreek (PAT) and Pakistan Tehreek-e-Insaf (PTI) chiefs Tahirul Qadri and Imran Khan respectively addressing their protesting workers and supporters here had set a 48-hour deadline for the prime minister to step down.
http://www.nation.com.pk/national/17-Aug-2014/pat-and-pti-set-deadlines-for-democracy-not-government-pervaiz-rashid
----------
Rs15bn approved for Zarb-i-Azb operation
Aug 17, 2014
ISLAMABAD: An amount of Rs15 billion has been approved by the Finance Ministry for Operation Zarb-i-Azb being carried out against terrorists in North Waziristan tribal region.
Out of the approved amount, Rs8bn will be released to the Defence Ministry on Monday and the rest by the end of the current month, according to a spokesperson for the Finance Ministry.
He said that Defence Ministry had made a request for the amount to which the Finance Ministry had agreed so that the operation could move ahead successfully.
He said the ministry had also released an amount of Rs20 billion to the Water and Power Ministry regarding tariff subsidy for life-line consumers who used up to 50MW of electricity and for onward distribution to Pakistan State Oil and independent power producers to improve generation.
Water and Power Nargis Sethi had briefed a meeting of the Committee on Energy Resource Rationalisation on Friday about various issues being faced by the ministry.
The committee was set up by the prime minister to address various problems being faced by the Water and Power Ministry in collecting receivables from various sectors.
http://www.dawn.com/news/1125849/rs15bn-approved-for-zarb-i-azb-operation
----------
MQM asks PTI, Awami Tehreek to withdraw ultimatum against government
Aug 17, 2014
KARACHI - Muttahida Qaumi Movement (MQM) chief Altaf Hussain has asked Pakistan Tehreek-e-Insaf (PTI), Pakistan Awami Teheek (PAT) and their allied parties to withdraw their ultimatum against the government and said that they should restrict themselves to their demands only to avoid further confrontation.
In a statement issued here, Altaf applauded both party leaders and their activists for staging a peaceful protest despite harsh weather in Islamabad. He encouraged the opposition to remain peaceful and avoid entering into the red zone. He also appealed protesting parties to avoid rigid behaviour and any ways leading towards confrontation.
He asked them to show flexibility in their demands so that the matter could be resolved peacefully. He praised the government for avoiding any use of force against the marchers and advised them to show open heartedness and initiate talks with the protesting parties. The government should accept legitimate demands of the protesting parties and implement them immediately as the matter could only be solved through negotiations.
Full report at:
http://www.dailytimes.com.pk/national/17-Aug-2014/mqm-asks-pti-pat-to-withdraw-ultimatum-against-govt
----------
Protest over 'excesses' against minorities
Aug 17, 2014
BADIN: Activists of the Hindu-Christian Party along with those of the Quami Awami Tehreek on Saturday held a rally against what they described as the government's failure to protect minorities from kidnapping for ransom, killings on communal grounds and abduction of girls for forced conversion. They rally set off from the Tando Bango bus stand and ended outside the local press club.
Speaking to the protesters, Jeewan Kumar, Sachal Halepoto, Francis Kolhi and others claimed that excesses against members of the minority communities in the province had been on the rise over the past few years but the government had failed to arrest and punish culprits of killings, kidnappings, forced conversion and other heinous crimes against Hindus and Christians.
Full report at:
http://www.dawn.com/news/1125744/protest-over-excesses-against-minorities
----------
Baluchistan CM rules out acceptance of unconstitutional demands of Imran and Qadri
August 17, 2014
QUETTA- Baluchistan Chief Minister Dr Abdul Malik Baoch has termed demands of Imran Khan and Tahirul Qadri as unconstitutional and would not be accepted.
Talking to journalists today said Baluchistan government firmly believes in democracy and whatever the demands are within constitution should be accepted. He said he has no contact with Imran Khan and Tahirul Qadri and thus cannot play any mediatory role between the government and the marchers.
In reply to a question, Baluchistan Chief Minister said Mir Hasir Khan Bizenjo has been included in the negotiating team by the Prime Minister and he can play some role during negotiations.
http://www.nation.com.pk/national/17-Aug-2014/baluchistan-cm-rules-out-acceptance-of-unconstitutional-demands-of-imran-and-qadri
----------
Punjab CM offers to resign to resolve current political crisis
August 17, 2014
LAHORE- Following the demands of Pakistan Tehreek-e-Insaaf (PTI) and Pakistan Awami Tehreek (PAT) at Azadi and Inqilāb marches respectively; the Chief Minister Shahbaz Sharif has offered to tender his resignation to resolve the ongoing political crisis.
A private TV channel today reported that the government was ready to hold direct talks with Imran Khan and Dr. Tahirul Qadri if opposition demand for resignation of Prime Minister Nawaz Sharif was withdrawn.
The proposal from Shahbaz for his resignation was floated in a meeting held at Raiwind today, presided over by Prime Minister Sharif. The meeting was attended by all key PML-N leaders.
http://www.nation.com.pk/national/17-Aug-2014/shahbaz-offers-to-resign-to-resolve-current-political-crisis
----------
India
Govt Asked Not To Concentrate On Madrasas 96% Muslims Go To Contemporary Schools
Aug 17, 2014
New Delhi: Eminent educationists and heads of educational institutions from across the country asked the government not to concentrate on madrasas where hardly four per cent Muslim children study.
Noting that 96 per cent Muslim children go to the contemporary education institutions for the prime reason of job opportunities, they sought promotion of the educational institutions in the minority-concentrated areas as that will better address the educational progress of the community.
They were reacting to Minority Affairs Minister Najma Heptulla's remarks in her inaugural address to the Fourth World Education Summit that Prime Minister desires students of madrasas to have the holy Quran in one hand and the computer in another. The inaugural session was dedicated to the theme "Minority Education: Let's Walk the Talk".
Highlighting difficulties in the Muslim girls' education, eminent educationist Dr Shabistan Ghaffar said that women, regardless of religion, region or colour are a minority within minority and their empowerment is a great challenge.
Full report at:
http://freepressjournal.in/only-4-muslims-go-to-madarsas/
----------
Police hunt on for man who put ISIS speech online
TNN | Aug 17, 2014
CHENNAI: The state police and intelligence sleuths are trying to trace the person or persons who uploaded on YouTube a Tamil sub-titled video of a speech of Abu Muslim, a Canadian who died fighting for ISIS in Syria.
The video that went viral on the Internet has since been taken off YouTube, following a request from police to the host server in US, but continues to be circulated on WhatsApp, sources said.
In the video, Abu Muslim is said to have explained how he was a normal youth in Canada before deciding to join the ISIS. The state police have requested intelligence units to help trace those who gave Tamil subtitles to the video that shows Abu Muslim encouraging people to join the cause.
Full report at:
http://timesofindia.indiatimes.com/india/Police-hunt-on-for-man-who-put-ISIS-speech-online/articleshow/40332036.cms
----------
LeT men Skype Pakistan from jail
Raj Shekhar,TNN | Aug 17, 2014
NEW DELHI: In a revelation that shows how jails have become convenient workstations for miscreants, the special cell of Delhi Police has found that the Lashkar-e-Taiba suspects lodged in Alipore Central Jail in Kolkata were using internet telephony through smartphones to communicate with their Pak-based handlers for facilitating the execution of a terror strike in the capital.
Sources said that operatives Arshad Khan and Shaukat, who are convicts in the Partho Burman abduction case, were using more than one phone loaded with Skype software to video-chat with Lashkar commander Javed Baluchi and one other unidentified person.
"Skype IP codes are cryptic and difficult to decode. They also believed they could dodge police by not using the phone's SIM to make calls directly," a source said. Police have written to Kolkata prison authorities briefing them about the security breach and have asked them to monitor the LeT operatives closely, sources said, adding that more of these resources may still be available and in use in the jail. The sleuths also suspects that the operatives lodged in Tihar may also be using the same modus operandi and have initiated a probe in this connection.
Full report at:
http://timesofindia.indiatimes.com/india/LeT-men-Skype-Pakistan-from-jail/articleshow/40324510.cms
----------
South Asia
18 Taliban Militants Killed, 20 Injured in Afghan Army Operations
TNN | Aug 17, 2014
At least 18 Taliban militants including their local commanders were killed following counter-terrorism operations in the past 24 hours across Afghanistan.
The Ministry of Interior (MoI), following a statement said Sunday that the militants were killed in Kunduz, Faryab, Sar-e-Pul, Maidan Wardak, Logar, Paktia and Paktika provinces, Khaama press reported.
The statement further added Afghan national army, Afghan national police and Afghan intelligence – national directorate of security (NDS) operatives jointly conducted the operations.
At least 20 Taliban militant was also injured during the operations, MoI said.
The statement also added that Afghan security forces confiscated various types of weapons, ammunition and explosives during the operations.
Afghan police forces also neutralized two rounds of improvised explosive device (IED) during operations in Nangarhar and Kandahar provinces, MoI said.
The Taliban militants group has not commented regarding the report so far.
http://english.farsnews.com/newstext.aspx?nn=13930526000661
----------
'Aug 15 killing aimed to destroy the state': PM Sheikh Hasina
Aug 17, 2014
Prime Minister said Ziaur Rahman was involved in the conspiracy that led to the August 15, 1975 killings.
She also said: "The killing was not against a family, it was against the state; the killing was aimed at destroying the state,"
Sheikh Hasina made the remarks while addressing a programme marking the National Mourning Day in the capital on Saturday afternoon.
She alleged that Gen Ziaur Rahman prevented her and her sister from returning home after the killing of Bangabandhu. "Whenever we wanted to come back, Zia prevented us."
"But I came back for the love of people; their love helped me to move forward," she said.
Remembering the aftermath of the killing of Bangabandhu Sheikh Mujibur Rahman and the other members of her family, Hasina said Ziaur Rahman had rehabilitated the anti-liberation forces and rewarded the killers.
Full report at:
http://www.dhakatribune.com/politics/2014/aug/16/aug-15-killing-aimed-destroy-state#sthash.QmG8cAjs.dpuf
--------
Over 700 Taliban militants attack check posts in Logar province
Aug 17, 2014
According to local authorities in central Logar province of Afghanistan, at least 5 Taliban militants were killed following clashes with the security forces in this province.
The officials further added nearly 750 Taliban militants launched coordinated attacks on security check posts in Azra district early Sunday morning.
Provincial security chief, Abdul Hakim Ishaqzai, said clashes sparked around 2:00 am local time after Talban militants launched attacks on security check posts.
Ishaqzai further added that clashes continued until 7:00 am local time which left at least five Taliban militants dead and an Afghan policeman injured.
Full report at:
http://www.khaama.com/over-700-taliban-militants-attack-check-posts-in-logar-province-8454
----------
126 rockets fired in Kunar as cross-border shelling continues
Aug 17, 2014
At least 126 rockets were fired in eastern Kunar province of Afghanistan as cross-border shelling from the other side of Durand Line continues.
Provincial police chief, Gen. Abdul Habib Syed Khel, confirmed that the rockets landed in Dangam district of Kunar province on Saturday night.
Gen. Syed Khel said the shelling did not result to loss of life but parts of a jungle caught fire in Dangam district.
Full report at:
http://www.khaama.com/126-rockets-fired-in-kunar-as-cross-border-shelling-continues-8450
----------
Minister: Militancy in Bangladesh originated at Hawa Bhaban
Aug 17, 2014
Food Minister Advocate Quamr ul Islam has alleged that militancy in Bangladesh was originated at Hawa Bhaban with aim to turn the country a communal state.
The minister came up with the observation on Sunday while addressing a human chain formed in front of the National Press Club marking the 9th anniversary of series bombing carried out by Jammat-ul-Mujahideen Bangladesh (JMB), BSS reported.
He said: "Defeated forces of '71, killers of '75, BNP, Jamaat and militants are not different anymore; rather they are joint force now."
The minister also mentioned that meeting was held in Hawa Bhaban in preparation of the grenade attack (21 August, 2004) on the rally of Awami League.
Full report at:
http://www.dhakatribune.com/politics/2014/aug/17/quamrul-militancy-originated-hawa-bhaban#sthash.TosoaRe2.dpuf
----------
North America
Militants hiding in Pakistani cities: CIA's ex-chief
Aug 17, 2014
WASHINGTON: Taliban and Al Qaeda militants are hiding not only in tribal areas but also in Pakistani cities, says former CIA director Michael Hayden.
Former US Senator Richard Lugar, who co-authored the $7.5 billion Kerry-Lugar assistance package for Pakistan, wants the United States to offer another similar package after the present arrangement expires later this year.
Jalil Abbas Jilani, Pakistan's ambassador in Washington, believes that Pak-US relations are again on an upward trajectory and will continue to improve.
The three speakers made these observations at the annual convention of Pakistani physicians in North America and at a dinner arranged by the alumni of the Allama Iqbal Medical College in Washington this week.
Full report at:
http://www.dawn.com/news/1125844/militants-hiding-in-pakistani-cities-cias-ex-chief
----------
U.S. aid to Iraq may speed up despite billions already spent
TNN | Aug 17, 2014
The United States may accelerate U.S. economic and military aid to Iraq with the end of Nouri al-Maliki's eight-year reign but will first want proof that the country's new leaders have abandoned his sectarian ways.
Maliki's surprise announcement that he would give way to Haider al-Abadi as Iraq's prime minister removes the man blamed by Washington for the revival of vicious sectarianism in Iraq and the advance of Islamic State of Iraq and Syria (ISIS) militants deep into Iraqi territory.
U.S. officials said his departure, which may not occur until September, could open the door to greater military and economic assistance to a new Iraqi government if it adopts an inclusive agenda.
Full report at:
http://english.alarabiya.net/en/perspective/features/2014/08/16/U-S-aid-to-Iraq-may-speed-up-despite-billions-already-spent.html
-------
New Jersey Man Taken Aback by ISIS Flag Flap, Says He Was 'Expressing My Religion'
Aug 17, 2014
A photo of a New Jersey home flying a flag that resembled the flag of ISIS, the militant group being bombed by U.S. planes in Iraq, sparked alarm and a complaint to the Department of Homeland Security -- but the home's occupant said he meant no offense and was just expressing his religion.
Mark Dunaway told ABC News that he's flown that black flag for the 10 years he's lived in Garwood, New Jersey.
"I'm Muslim, and I fly a flag in front of my home that says I'm a Muslim," he said.
Dunaway has flown the black flag -- which bears the Arabic inscription familiar to Muslims, "There is no God but God, and Muhammad is the messenger of God" -- every year during Ramadan, and every single Friday, he said. Having already had the flag up during Ramadan, he originally planned to keep it up until Friday.
However, after the Garwood Police Department received a complaint about the flag, officers visited Dunaway's home on Tuesday.
Full report at:
http://abcnews.go.com/US/jersey-man-aback-isis-flag-flap-expressing-religion/story?id=24971471
-----------
US forces close to total pullout from Afghanistan, Iran official claims
Aug 17, 2014
A senior Iranian official has claimed that Afghan people no more want foreign forces in their country and that the US forces are close to complete withdrawal from Afghanistan.
Ali Akbar Velayati, a senior advisor to Leader of the Islamic Revolution Ayatollah Seyyed Ali Khamenei, has also claimed that Americans have realized that the Afghan nation will no longer tolerate the presence and interference of US-led forces in internal affaires of Afghanistan.
According to Iran's Fars News Agency, the issue was shared during a meeting between Velayati and the UN special envoy for Afghanistan, Jan Kubis, in Tehran.
According to Velayati, Kubis has said that that the US officials are determined more than before to pull their forces out of Afghanistan.
"According to what the UN envoy said, the Americans think they should no longer have numerous military bases in Afghanistan so that they would be able to leave Afghanistan's soil in the near future," Velayati quoted by Fars News Agency said.
Full report at:
http://www.khaama.com/us-forces-close-to-total-pullout-from-afghanistan-iran-official-claims-8451
----------
Imam Shortage Crimps U.S. Mosques
Aug 17, 2014
Even as the Muslim population in the U.S. multiplies, the number of religious leaders, known as imams, lags behind.
Many Muslim immigrants have steered their children away from religious leadership roles and toward careers in medicine, engineering, law and business, said Jihad Turk, an imam and president of Bayan Claremont, the Islamic graduate school at Claremont School of Theology in Southern California. Many American mosques are run on shoestring budgets by volunteers and can't always guarantee a leader a steady paycheck.
According to 2011 study sponsored by a multifaith coalition, only 44% of U.S. imams are full-time and paid, with volunteers filling the role in many congregations.
Finding an imam who can relate to young, American-born congregants is especially tough, said U.S. Muslim leaders.
Younger American Muslims expect more than traditional scripture-recitals from imams, said Edgar Hopida, spokesman for the Islamic Society of North America, a network of Muslim leaders and groups. Like other American clergy-members, imams are expected to be "marriage counselor, youth director, scholar and fundraiser," Mr. Hopida said. "Like the local priest, they're put into this role of community leader."
Full report at:
http://online.wsj.com/articles/imam-shortage-crimps-u-s-mosques-1408051802
-----------
Africa
'South Africa' man appears in Islamic State video
Aug 17, 2014
Cape Town - The first possible link between South Africa and the Islamic State – the group formerly known as the Islamic State in Iraq and Syria (Isis), a radical jihadi group that has conquered parts of Syria and Iraq – has emerged with a man claiming to be from South Africa appearing in one of the group's propaganda videos.
The 20-minute video, "Eid Greetings from the Land of Khilafah", was uploaded to social media sites to coincide with Eid al-Fitr, the Muslim holiday that celebrates the breaking of the Ramadaan fast.
It shows "foreign" fighters claiming to be from the US, Belgium and South Africa urging their countrymen to travel to the caliphate.
The caliphate – an Islamic state that is supposed to encompass all Muslims – was declared by Abu Bakr al-Baghdadi in late June.
Full report at:
http://www.iol.co.za/news/south-africa/western-cape/sa-man-appears-in-islamic-state-video-1.1736452#.U_CTBcVdU4U
----------
Reports - Ex-Seleka Rebels Kill 34 in Central African Republic
TNN | Aug 17, 2014
Officials and witnesses in the Central African Republic say suspected Muslim rebels have killed at least 34 people over the past week in a series of raids on northern villages.
Witnesses said Saturday that they believe the attackers were ex-Seleka fighters.
They say some of the attackers threatened to raid more villages before a United Nations peacekeeping force is deployed to the C.A.R. in mid-September.
The French News Agency says some villagers were shot at point-blank range while others were hanged, tortured or beaten to death.
The C.A.R.'s ethnic and religious unrest began last year, when the mainly Muslim Seleka rebel coalition toppled the government. In response to the ensuing violence, largely Christian communities formed "anti-balaka" vigilante forces, that have carried out revenge attacks on Muslims.
Full report at:
http://allafrica.com/stories/201408160049.html?aa_source=mf-hdlns
----------
Chadian soldiers 'rescue 85 Nigerians from Boko Haram'
Aug 17, 2014
Reports are emerging of the rescue by Chadian troops of some 85 Nigerian villagers abducted earlier this week by suspected Boko Haram militants.
A Nigerian security official told AFP that they had intercepted a convoy of buses transporting gunmen and the villagers in a routine security check.
Neither the Nigerian or Chadian militaries have confirmed the reports.
Boko Haram is accused of kidnapping hundreds of people in the north-east of Nigeria, and neighbouring Cameroon.
The group, which wants to create an Islamic state in the region, sparked international outcry when they abducted more than 200 schoolgirls in April in Nigeria's remote down of Chibok in Borno state.
Full report at:
http://www.bbc.co.uk/news/world-africa-28824379
----------
UN condemns fresh clashes in Libyan capital
TNN | Aug 17, 2014
The United Nations condemned a new round of fighting between rival militias around Tripoli international airport, saying the clashes were undermining Libya's political process.
Since mid-July, Libya has been rocked by fierce and deadly fighting between militias that has prompted an exodus of foreign nationals from the oil-rich North African country.
The skirmishes have centred around Tripoli, where nationalists militiamen are battling pro-Islamist groups, and in second city Benghazi where a renegade army general is fighting Islamists.
The new clashes in Tripoli raged on Friday and Saturday, forcing hundreds of people to flee, residents said. There were no immediate reports of casualties.
The confrontation between nationalist militiamen from Zintan and pro-Islamists from Misrata focused on a bridge leading to the capital's airport, which is controlled by the Zintan forces, residents added.
Full report at:
http://english.ahram.org.eg/NewsContent/2/8/108631/World/Region/UN-condemns-fresh-clashes-in-Libyan-capital.aspx
----------
Mideast
Abbas says Egyptian initiative only viable option for Israel-Gaza truce
Aug 17, 2014
Palestinian Authority President Mahmoud Abbas said there was no alternative to the Egyptian initiative for a long-term truce, during a meeting with Palestinian leaders on Saturday evening.
"We adhere to the Egyptian plan," the PA chief said in his opening remarks at the Ramallah meeting. "We will not accept any other party to take Egypt's place" as the mediator of indirect talks to cement a truce between Israel and Hamas. Azzam Al-Ahmed, the chief Palestinian negotiator in Cairo also attended the meeting and briefed the leaders on the progress of negotiations.
The Palestinians delegation is slated to return to Cairo this evening to renew talks on Sunday, though members of the negotiating team have expressed pessimism that any progress could be made as things currently stood. Senior figures in Hamas and Islamic Jihad reiterated that the document presented to both sides in Cairo was unacceptable and did not meet their demands.
Full report at:
http://www.jpost.com/Arab-Israeli-Conflict/Palestinian-Authority-President-says-Egyptian-initiative-only-viable-option-371281
----------
Hamas tells Israel to accept Palestinian demands or face long war
August 17, 2014
Hamas rejected on Saturday as insufficient offers made in Cairo to Palestinian negotiators seeking to end Israel's offensive in the Gaza Strip, and raised the possibility of renewed fighting when the current truce expires.
Israel said it had also not yet accepted any proposals made in the Egyptian-mediated talks but, like the Palestinians, its envoys would continue attending them on Sunday.
The ceasefire concludes on Monday night.
Hamas, Gaza's dominant Islamist group, wants an Israeli-Egyptian blockade on the coastal enclave lifted, as well as the establishment of a seaport and airport, as part of any enduring cessation of hostilities with the Jewish state.
Full report at:
http://www.nation.com.pk/international/17-Aug-2014/hamastells-israel-to-accept-palestinian-demands-or-face-long-war
----------
Yemen clash kills soldier, four suspected militants
17 August 2014
A firefight between Yemeni troops and Al-Qaeda fighters killed one soldier and four suspected militants, the Defense Ministry said in a statement Sunday.
The ministry said the military targeted a house where it believed militants stayed in the southeastern province of Hadramawt. It said five suspected militants were arrested after the overnight clashes that lasted until early Sunday.
Security officials, who spoke on condition of anonymity because they were not authorized to brief reporters, said the firefight killed three soldiers and wounded six. The different accounts could not be immediately reconciled.
At least 1,200 troops have been sent to Hadramawt over the past days as reinforcement in the offensive against al-Qaida in the Arabian Peninsula, which the U.S. considers to be the group's most dangerous offshoot.
Earlier in August, al-Qaida militants killed 15 soldiers in Hadramawt after seizing them from a public bus in apparent retaliation to the army offensive against the group.
http://english.alarabiya.net/en/News/middle-east/2014/08/17/Yemen-clash-kills-1-soldier-4-suspected-militants.html
----------
No Gaza deal unless Israel's security needs met, says Netanyahu
Aug 17, 2014
Israel will not agree to any long-term ceasefire in Gaza at indirect talks in Cairo unless its security needs are clearly met, Prime Minister Benjamin Netanyahu said today.
"The Israeli delegation in Cairo is acting with a very clear mandate to stand firmly on Israel's security needs," Netanyahu told ministers at the start of the weekly cabinet meeting in Jerusalem.
"Only if there is a clear answer to Israel's security needs, only then will we agree to reach an understanding," he said, as Israel's negotiating team made its way back to Cairo for indirect talks with the Palestinians over a long-term arrangement to end more than a month of bloodshed in Gaza.
The Egyptian-brokered talks, which were due to resume today, are taking place during a five-day lull in the fighting between Israeli and Gaza's Hamas de facto rulers which is due to expire tomorrow.
Full report at:
http://www.themalaysianinsider.com/world/article/no-gaza-deal-unless-israels-security-needs-met-says-netanyahu#sthash.AyRPbYkk.dpuf
----------
Israel to develop 'Iron Spade' to counter Hamas
17 August 2014
Israel is developing a new system that will detect and destruct tunnels as they are dug by Hamas militants in the Gaza Strip, Britain's weekly The Sunday Times reported.
The new system, which was developed by a consortium led by Elbit Systems, Israel's biggest developer of military technology, is expected to eliminate any future threat from the tunnels without recourse to such large-scale force.
It is described as the an underground version of the Iron Dome air defense system which has destroyed around 90% of the rockets fired at Israel from Gaza.
Rafael, the company behind the construction of the Iron Dome is also involved in the new project.
Full report at:
http://english.alarabiya.net/en/News/middle-east/2014/08/17/Israel-to-develop-iron-spade-to-counter-Hamas-tunnels-.html
--------
Europe
West facing 'generational struggle' against IS, UK's Cameron says
PTI | Aug 17, 2014
LONDON: British Prime Minister David Cameron on Sunday said the west is facing a "generational struggle" against a poisonous and extremist ideology of Islamic State which he said is a direct threat to the country.
"I believe we will be fighting this generational struggle for the rest of my political lifetime," Cameron said.
"We face in ISIL (Islamic State of Iraq and the Levant, now known as Islamic State) a new threat that is single-minded, determined and unflinching in pursuit of its objectives," Cameron wrote in Sunday Telegraph.
"We are in the middle of a generational struggle against a poisonous and extremist ideology," Cameron said, adding that Islamic State fighters sweeping across Syria and Iraq are a direct threat to the UK. Already it controls not just thousands of minds, but thousands of square miles of territory, sweeping aside much of the boundary between Iraq and Syria to carve out its so-called caliphate," he said.
Full report at:
http://timesofindia.indiatimes.com/world/middle-east/West-facing-generational-struggle-against-IS-UKs-Cameron-says/articleshow/40342363.cms
----------
UN watchdog chief holds top level nuclear talks in Iran
Aug 17, 2014
DUBAI - UN nuclear agency chief Yukiya Amano began talks in Tehran on Sunday with President Hassan Rouhani and other senior officials to push for progress in a long-running investigation into Iran's suspected atomic bomb research.
Amano's trip comes ahead of an Aug. 25 deadline for Iran to provide information relevant to the International Atomic Energy Agency's (IAEA) inquiry into what it calls the possible military dimensions of the country's disputed nuclear program.
The issue is closely tied to high-profile nuclear negotiations with six world powers aimed at resolving the decade-old standoff over Tehran's atomic activities, suspected by the West of having military objectives.
Full report at:
http://www.jpost.com/Middle-East/UN-nuclear-watchdog-chief-holds-top-level-nuclear-talks-in-Iran-371318
----------
UN: 218,000 Palestinians forcibly displaced by Israel in Gaza
World Bulletin/News Desk
TNN | Aug 17, 2014
Thousands of Palestinians have been forcibly displaced from their own and only homes due to the ongoing Israeli military offensive that has been rocking besieged Gaza for over a month, a UN report revealed on Saturday.
According to a statement released on Saturday by the UN Office for the Coordination of Humanitarian Affairs in the Occupied Palestinian Territory (OCHA), the rate of Palestinians who have been displaced due to mounting Israeli acts of terror in Gaza has gone up to 218,000, all sheltering in 87 UN-run schools across the Gaza Strip.
Earlier, the Palestine Liberation Organization's Gaza Under Fire Report announced "Over 485,000 people have been displaced (almost one third of the Gaza population) –1,800,000 people (the entire population of the Gaza Strip) have been affected by the destruction of electricity, water and waste water infrastructures."
Full report at:
http://www.worldbulletin.net/headlines/142642/un-218000-palestinians-forcibly-displaced-by-israel-in-gaza
----------
Rabaa deaths marked in London
World Bulletin/News Desk
TNN | Aug 17, 2014
Protesters have gathered in London to commemorate the Rabaa massacre, a year since it took place in Egypt.
Around 150 protesters came together outside the Egyptian Embassy and Downing Street on Saturday to condemn the massacre that resulted in hundreds killed and thousands injured on August 14 when Egyptian security forces dispersed two sit-ins in capital Cairo that were protesting against the July 3 military coup.
The demonstrators shouted, "From the river to the sea, Egypt must be free," and "We don't want an army state," as they also accused British Prime Minister David Cameron of "killing democracy."
Full report at:
http://www.worldbulletin.net/headlines/142627/rabaa-deaths-marked-in-london
----------
Southeast Asia
School Fosters Tolerance in Indonesia's Millennial Generation
Aug 17, 2014
That morning, Stefani Ditya Kristanti is assigned to lead the daily prayer in front of her. The 12th-grader asks for permission from her peers at the Selamat Pagi Indonesia, or Good Morning Indonesia, High School to lead the prayer according to her Christian faith. Her classmates proceed to bow their heads but pray according to their own beliefs.
"Every student gets the chance to lead the morning prayer," says Stefani. "Which is why I know how Hindus, Buddhists, Catholics and Muslims say their prayers."
Established in 2007, SPI high school, located in the town of Batu, East Java, promotes tolerance to its students by providing free education to teens of different ethnic and religious backgrounds.
Founder Julianto Eka Putra believes that by allowing students from across the country to study and live together, they will learn more from each other about different cultures and religions found in Indonesia, an archipelago home to 250 million people of different ethnic groups, cultures and dialects.
Julianto, a successful businessman who hails from Surabaya, was saddened by a wave of religious intolerance sweeping the nation, threatening the country's national motto of "Unity in Diversity."
Full report at:
http://www.thejakartaglobe.com/news/education/school-fosters-tolerance-nations-millennial-generation/
----------
We know 'bin' doesn't mean Muslim, Sabah NRD says of wrongful conversion claims
Aug 17, 2014
KOTA KINABALU, Aug 17 — The Sabah branch of the National Registration Department (NRD) today denied it had wrongly categorised Christians here as Muslims, insisting the changes were made after verifying records of the applicants.
Disputing the complaints raised by Sidang Injil Borneo (SIB) Sabah on behalf of 162 locals, Sabah NRD deputy director Adrian Allan Richard said the department was aware that the use of "bin" or "binti" in Sabahan names does not necessarily mean the person is Muslim.
As such, the department would not automatically "convert" their religion to Islam without checking their records.
Full report at:
http://www.themalaymailonline.com/malaysia/article/we-know-bin-doesnt-mean-muslim-sabah-nrd-says-of-wrongful-conversion-claims#sthash.ecpCoF5o.dpuf
----------
Sultan of Brunei bid for five-star hotels angers gay rights activists
17 August 2014
The Sultan of Brunei Hassanal Bolkiah is reportedly the favorite among bidders to purchase the five-star Grosvenor House Hotel in London and the Plaza and Dream Downtown hotels in New York, in a move that has angered gay rights activists, Britain's Daily Mail reported Sunday.
The controversial Sultan, who has already signed a preliminary accord for the sale of the three hotels, is facing criticism from activists who allege that Bolkiah is a homophobe whose policies call for the stoning to death of homosexuals.
The sultan, who also owns the Beverly Hills Hotel, came under fire in 2013 for endorsing his country's strict Shariah law which calls for punishing adultery, abortions and same-sex relationships.
Full report at:
http://english.alarabiya.net/en/life-style/travel-and-tourism/2014/08/17/Sultan-of-Brunei-bid-for-five-star-hotels-angers-gay-rights-activists-.html
---------
URL: https://www.newageislam.com/islamic-world-news/new-age-islam-news-bureau/saudi-arabia,-kuwait-to-abide-by-un-blacklisting-of-citizens/d/98594