New Age Islam News Bureau
28 Nov 2019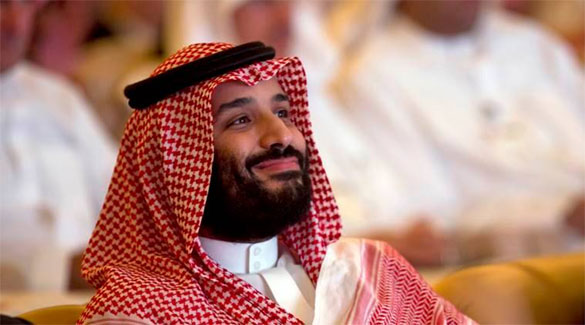 Saudi Crown Prince Mohammed bin Salman smiles as he attends the Future Investment Initiative summit in Riyadh, Saudi Arabia. (AP/File)
-----------
• Saudi Arabia Is Stepping Up Crackdown on Dissent, Rights Groups Say
• Boris Johnson: I'm Sorry for the Hurt Caused to Muslims
• Shias Want 5 Acres If UP Sunni Central Waqf Board Refuses
• Bill To Make Qur'an Teaching Compulsory In Schools Passed In Punjab
• TikTok Reverses Ban on Teen Who Slammed China's Muslim Crackdown
• Canadian Fund Distribution Platform Launches First Islamic Investment Product
• Iran Underlines Readiness to Hold Meetings with All Afghan Groups to Establish Peace
• French Flag Burns in Mali As Islamists Overrun Frazzled Army
• Malaysia Warns Islamic State May Shift Operations to Southeast Asia
Compiled By New Age Islam News Bureau
URL: https://www.newageislam.com/islamic-world-news/saudi-arabia-stepping-up-crackdown/d/120385
------
Arab World
• Saudi Arabia Elected To UNESCO's World Heritage Committee
• Saudi Minister: Kingdom's Judiciary Unique, Efficient
• Iraq condemns attack on Iran's consulate in southern Najaf: State media
• Overnight clashes in Lebanon injure dozens as tensions rise
• Saudi experts start work on Yemeni airport upgrade
• Historic Mud Palace Still Takes Pride Of Place In Najran Region
• Saudi entrepreneurs gear up for a high-tech future
• Diplomatic Quarter: Kazakh ambassador, Saudi Shoura Council speaker review bilateral ties
• Christian expat's mosque, priest's book bring them awards from Sheikh Mohammed
------
Europe
• Muslims in the UK Aim to Make a Mark in the British General Election
• Skegness Mosque set for approval after 'hate crime' arson attack
• Single Muslim marriage events in Leeds, Manchester and Birmingham
• Falkirk-Born Tory Candidate Suspended Over Alleged Anti-Muslim Language
• Republican Politician Claims Flying The Trans Flag Is A 'Rainbow Jihad', Clearly Not Knowing What 'Jihad' Means
------
India
• Indian Millennial Disagree With Social Taboo of Women Not Entering Temples, Mosques
• After Sanskrit Controversy, BHU's Muslim Professor Prepares To Teach Ayurveda
• Hindu Minister To Be Chairperson In Case Of Muslim CM of Uttarakhand: Char Dham (Four Holy Hindu Abodes) In Proposal
------
Pakistan
• Pakistan's retired army general Asim Bajwa appointed as CPEC Authority chairperson
• No signs of improvement in former Pak PM Nawaz Sharif's health: Hussain
• Islamabad HC stops special court from announcing verdict in Musharraf treason case
• SC reserves verdict on Gen Bajwa's extension
• PM Imran slams 'powerful countries' for remaining silent on occupied Kashmir crisis
• Fakhar Imam wants US role to help stop long reign of state terrorism in IoK
• SHC sets aside Sunni Tehreek activist's death sentence in murder case
------
South Asia
• Muslim Group Calls For Boycott Of 2022 Olympics In Beijing Because It's 'Anathema To The Olympic Spirit'
• Islamic State-Khorasan group remains 'enduring threat' to US interests in South and Central Asia, says Pentagon report
• Furious China threatens retaliation over US law on Hong Kong
• Kabul Police EOD team defuse bomb planted close to a school building
• 15 Afghan pilots, trainers and door gunners complete training for Black Hawk helicopters
• Taliban roadside bomb kills 15 civilians, wounds 2 others in Kunduz
• World Bank approves $52.5 million grant for Afghanistan Gas Project
• Kabul Police arrest 21 people in connection various criminal incidents including murder
• Iranian FM holds talks with senior Taliban leader in Tehran
------
North America
• Brooklyn Man Charged With Encouraging Islamic State Subway Attacks
• Trump signs Hong Kong democracy legislation that has angered China
• Trump says US to designate Mexican drug cartels as terrorists
• US Sending 15 Trade Delegations to Pakistan Next Year: Wells
• New York police arrest Brooklyn Islamic State supporter
• Gangs, gun owners, Islamic group submit on gun law changes
• Fire Breaks Out In Mosque On Stony Island Avenue Near 90th Street
------
Mideast
• Erdogan Urges Unity in Islamic World to Overcome Problems
• IRGC Quds Force Saves 2 Hostages from Terrorists' Hands
• Supreme Leader: Highly Dangerous Conspiracy Foiled by Iranian people
• IRGC Commander: US Using Empty Gun of Sanctions against Iran
• Official: IRGC Navy to Receive Large Numbers of Speed Boats Soon
• MP: UAE, Kuwait Funding Iraqi Gov't Overthrow Plans
• Assad: Islamic State members in Syrian Kurds jails to stand local trial
------
Africa
• Suspected Islamists kill at least 19 in latest east Congo attack
• IPOB takes war to Miyetti Allah trouble makers in Ebonyi State
------
Southeast Asia
• Singapore Islamic Hub holds anti-terror drill
• This photo was taken two years before a military crackdown on Rohingya Muslims in Myanmar
• 2nd International Conference on Mosque Architecture Concludes in Malaysia
------
New Zealand
• Man convicted for sharing mosque shooting footage loses second appeal
------
Saudi Arabia is stepping up crackdown on dissent, rights groups say
November 27, 2019
Written by Vivian Yee
Saudi Arabia's long-running drive to muzzle dissent has escalated again in recent weeks with the arrests of several journalists, writers and academics who had not vocally criticized the government in years, according to two rights groups that monitor the kingdom.
At least eight people have been detained since Nov. 16, the rights groups said.
Since Crown Prince Mohammed bin Salman became Saudi Arabia's de facto leader in 2017, the government has arrested dozens of activists, bloggers and others perceived as political opponents, showing almost zero tolerance for dissent even in the face of international condemnations of the crackdown.
Saudi Arabia is preparing for another moment in the international eye next month, when it is expected to take public its flagship state-owned oil company, Saudi Aramco, in what could be the largest initial public offering ever. But the recent detentions indicate that the prince appears determined to stay the course, as he did after widespread rebukes over the killing of journalist Jamal Khashoggi last year, the kingdom's military campaign in Yemen and the detentions of several women's rights activists.
Activists said the recent arrests undermined Crown Prince Mohammed's efforts to introduce social changes to the kingdom — or, at least, the international image boost they have given him. Along with diversifying the economy, the prince aims to open up what is still a highly traditional society by encouraging concerts and movie theaters, promoting tourism, and granting women more freedoms, such as the right to drive.
"It's very clear now that the Saudi government hasn't learned any lessons from the international pressure," said Yahya Assiri, the director of ALQST, one of the rights groups. "The only thing they've learned is that they can avoid international pressure with sports and entertainment and PR campaigns."
The people arrested recently were "not activists, and they haven't been critical for many years," he said. "It's just repression."
Assiri said that many of those arrested were friends or acquaintances who moved in the same intellectual circles. But it was unclear why some of the others were arrested, the groups said.
https://indianexpress.com/article/world/saudi-arabia-is-stepping-up-crackdown-on-dissent-rights-groups-say-6138741/
------
Boris Johnson: I'm sorry for the hurt caused to Muslims
by Dominic Yeatman
November 28, 2019
BORIS JOHNSON and the Tories are on course to win the election, according to pollsters who called it right in 2017.
The prime minister is set to bag a hefty majority of 68 with 359 MPs, while Labour will have 211, the SNP 43 and the Lib Dems 13, shows the most detailed analysis of the campaign so far.
The Tories are forecast to take 44 Labour seats, including in their rival's heartlands of the North and the Midlands.
The YouGov 'mega-poll' correctly forecast the hung parliament two years ago, while also accurately predicting Labour wins in long-held Tory constituencies such as Canterbury and Kensington and Chelsea. It is based on interviews with about 100,000 voters over the last seven days.
And it also factors in detailed data about the backgrounds and lifestyles of people in specific areas to work out which party they are likely to back — a method known as 'multilevel regression and post-stratification'.
Before the results were released, however, the PM's senior adviser Dominic Cummings warned the election in two weeks' time would be much closer than other polls have suggested.
The strategist, believed to have formally stepped down so he can comment without breaking civil service impartiality rules, said: 'As someone who has worked on lots of campaigns, there is a very real possibility of a hung parliament.'
Sterling rose against the dollar on the poll result.
Meanwhile, Mr Johnson said sorry for the 'hurt and offence' caused by Tory Islamophobia as Jeremy Corbyn resisted calls for him to offer an apology over anti-Semitism in Labour.
The prime minister promised that an independent inquiry into 'every manner of prejudice and discrimination' in his party would start before Christmas.
But he refused calls to apologise for comparing Muslim women who wear the niqab to letterboxes in a Daily Telegraph column he wrote last year. On a visit to Cornwall, he said: 'Obviously whenever we have an incident of anti-Semitism or Islamophobia or whatever in the Conservative Party we take a zero tolerance approach.
'We have a one-bounce-and-we-deal-with-it approach to this.' But the Muslim Council of Britain named Tory election candidates who are standing as MPs despite facing allegations.
It mentioned Lincoln hopeful Karl McCartney, who apologised on Monday for retweeting anti-Muslim comments by far-right extremists Katie Hopkins and Tommy Robinson.
'The PM goes around saying "people are out on the first bounce", but there's example after example that that's not the case,' said MCB spokesman Miqdaad Versi.
The Tories yesterday suspended Flora Scarabello, candidate for Glasgow Central, over alleged anti-Muslim language.
Mr Corbyn said yesterday he had already said sorry 'to all those who have suffered' and pledged to lead 'the most anti-racist government you've ever seen'.
https://www.metro.news/boris-johnson-im-sorry-for-the-hurt-caused-to-muslims/1813390/
------
Shias Want 5 Acres If UP Sunni Central Waqf Board Refuses
Nov 28, 2019
Lucknow: A day after UP Sunni Central Waqf Board's passed a resolution against seeking a review of the Ayodhya verdict, the Shia Central Waqf Board too followed suit.
Though Shia Board won't file for review, it resolved to ask the government to hand over the five-acre plot to the board for setting up a hospital, if the Sunni Waqf board refuses to accept the land mandated by Supreme Court as an alternative site for the mosque.
"If Sunni Waqf board decides not to accept the five acre, then Shia Waqf board is ready to take the same to end the dispute," Board chairperson Waseem Rizvi said. "We will propose to build a hospital on that land which will be beneficial to the society," he said. Five of seven board members, including the chairperson, were present in the meeting in Lucknow.
"Though the Supreme Court dismissed the petition of Shia Waqf Board in the Ayodhya case, we will not file a review petition," Board Rizvi said in a press statement.
"Shia Waqf Board lost a court case in 1946 against which we had filed an appeal in Supreme Court. On judgment day, our appeal was dismissed under the Limitation Act since a span of 71 years had passed since 1946," Rizvi said.
"We will not appeal against it and so there will be no review from our side. The dispute should end here in national interest and SC order should be accepted by everyone," he added.
https://timesofindia.indiatimes.com/city/lucknow/shias-want-5-acres-if-sunni-board-refuses/articleshow/72267978.cms
------
Bill to make Qur'an teaching compulsory in schools passed in Punjab
11 MAY 2018
CONCERNS have been raised over a new law that makes the teaching of the Qur'an compulsory in schools in a province of Pakistan.
The legislation, the Compulsory Teaching of the Holy Qur'an Bill, was passed by the Punjab Assembly last Friday. It makes it mandatory for children to learn the Muslim religious text in schools.
The director of CLAAS-UK, Nasir Saeed, said: "It is sad that for minorities, especially Christians who are living in large numbers in Punjab, their religious and fundamental rights are totally ignored.
"No alternative programme has been announced for non-Muslim students of Punjab."
The Bill says: "Being an Islamic country, the free and the compulsory teaching of Holy Qur'an will definitely be a source of the establishment of a society based on the teachings of Islam."
It seeks to make Islam more widely understood; encourage peace; and promote truth, integrity, and honesty.
Mr Saeed continued: "Forcing compulsory teaching of Holy Qur'an against the will of the non-Muslim students and their parents will have a negative impact on the non-Muslim students.
"It will promote bigotry and hatred against non-Muslims in Pakistani society, something which is already on the rise."
https://www.churchtimes.co.uk/articles/2018/11-may/news/world/bill-to-make-qur-an-teaching-compulsory-in-schools-passed-in-punjab
------
TikTok Reverses Ban on Teen Who Slammed China's Muslim Crackdown
By Raymond Zhong
Nov. 27, 2019
SHANGHAI — The video app TikTok on Wednesday reversed its decision to block an American teenager who posted a clip in which she discussed the mass internment of minority Muslims in China, and acknowledged that its moderation system had overreached in shutting her out of her account.
The incident raised fresh concerns about whether TikTok, which is owned by the Chinese tech giant ByteDance, muzzles its users in line with censorship directives from Beijing — an accusation the company has denied.
TikTok said the teenager, Feroza Aziz, 17, had been barred from using her personal device to access the app, but not because of her video this past week about China's detention camps. Rather, the company said, it was because she had used a previous account earlier this month to post a clip that included a photo of Osama bin Laden.
After TikTok banned that account for terrorist imagery, Ms. Aziz used a different one to post her video about the plight of Muslims in China. As the second video began to go viral, TikTok on Monday blocked more than 2,400 devices associated with accounts that had been banned for terrorist content and other malicious material, in what it called a scheduled enforcement action.
This, TikTok said, resulted in Ms. Aziz being locked out from her new account, even though her videos on that account, including the one on China, were still visible to others.
On Wednesday, Ms. Aziz expressed skepticism about TikTok's explanation. She was blocked only after she had posted about Muslims in internment camps in China. Did she believe that TikTok had actually shut her out for her earlier video? "No," she wrote on Twitter.
Earlier in the day, the episode had taken another turn when TikTok took down Ms. Aziz's video about China for 50 minutes. The company said that this was the result of a human moderation error, and that the video should not have been removed.
In a statement, Eric Han, the head of safety for TikTok in the United States, apologized for the mistake. He also said the platform banned devices associated with a blocked account to prevent the spread of "coordinated malicious behavior."
"It's clear that this was not the intent here," Mr. Han wrote.
Earlier this week, Ms. Aziz had told The Times that her video containing an image of Bin Laden was satirical in nature, an attempt to use humor to defuse the discrimination that she felt as a young Muslim in the United States.
"While we recognize that this video may have been intended as satire, our policies on this front are currently strict," Mr. Han wrote. But he added that TikTok would consider exempting satirical and educational videos in the future.
Mr. Han also said TikTok would conduct a broader review of its moderation process and publish a "much fuller" version of its guidelines on acceptable content within the next two months.
TikTok has risen quickly over the past year to become a veritable cultural phenomenon. But its Chinese ownership has also aroused the concerns of United States lawmakers, who have voiced worries both about potential censorship on the platform and about how user data is stored and secured.
https://www.nytimes.com/2019/11/27/technology/tiktok-censorship-apology.html
------
Canadian fund distribution platform launches first Islamic investment product
27 NOV 2019
Canadian fund distribution platform NEO Connect has onboarded its first Islamic investment product.
The Shariah-compliant Manzil Mortgage Investment Fund, from Islamic mortgage lender Manzil, is on NEO Connect and is also listed on DealSquare, Canada's first centralised platform for private placement offerings, NEO said in a statement on Tuesday (Nov 26).
NEO Connect is Canada's first distribution platform to allow investment products not listed on an exchange to be purchased and redeemed. It was launched in 2016 and has helped fund providers raise nearly $1 billion across 70 PTFs, it said.
Manzil Co-founder & CEO Mohamad Sawwaf said Manzil's partnerships with NEO and DealSquare will give investors "the most efficient access" to the company's fund.
"The Canadian value of Shariah-compliant mortgages in 2017 was estimated at $2 billion, of which we have captured $300 million on our waitlist, and growing at $5 million per week, proving there is a significant demand for Halal financing and investment products," said Mohamad.
Manzil was established in 2017 and has raised 1.2 million Canadian dollars ($900,000) in one pre-seed funding round so far, according to Crunchbase data. It uses murabahah mortgage contracts.
Toronto-based Manzil's mortgage products are certified Shariah-compliant by the Islamic Finance Advisory & Assurance Services following Accounting and Auditing Organisation of Islamic Financial Institutions (AAOIFI) standards.
https://www.salaamgateway.com/story/canadian-fund-distribution-platform-launches-first-islamic-investment-product
------
Iran Underlines Readiness to Hold Meetings with All Afghan Groups to Establish Peace
Wed Nov 27, 2019
TEHRAN (FNA)- Iranian Foreign Minister Mohammad Javad Zarif announced that his country is prepared to hold meetings with representatives of any Afghan groups to help to the establishment of peace in the country.
"We will meet all Afghan groups in line with efforts to establish peace in Afghanistan," Zarif told reporters on the sidelines of a cabinet meeting in Tehran on Wednesday.
He also confirmed that representatives of the Taliban group have traveled to Iran to this end.
Meeting with a visiting Taliban delegation, Zarif voiced Iran's readiness to help promote intra-Afghan talks aimed at restoring peace and stability to the neighboring war-wracked country.
The meeting took place on Tuesday in Tehran between Zarif and the delegation led by Mullah Abdul Ghani Baradar, the head of Taliban's Qatar-based political bureau.
During the talks, the top Iranian diplomat highlighted the need for the launch of Afghan-Afghan talks and the formation of an all-inclusive government.
He said Tehran was ready to take part in efforts aimed at facilitating such a peace process that would be participated by Kabul and all influential Afghan political forces.
Iran, he added, was also prepared to expand its economic and cultural cooperation with the Afghan government and people on the basis of common interests.
Zarif's meeting with the Taliban delegates was, according to the reports, meant to encourage different Afghan sides to sit at the negotiating table and promote dialog as part of efforts aimed at finding a solution to Afghanistan's woes.
The meeting also conveyed Iran's support for any effort by various Afghan forces to find common ground for cooperation towards paving the way for the departure of all foreign forces from Afghanistan and addressing the country's security issues following such a potential withdrawal.
It was the latest in a series of meetings of a similar nature between Iranian Foreign Ministry representatives and Afghan officials and important figures, including President Ashraf Ghani.
Tehran has laid emphasis on the need for all Afghan groupings to join negotiations, spearheaded by the government, towards resolving the country's problems.
https://en.farsnews.com/newstext.aspx?nn=13980906000576
------
French flag burns in Mali as Islamists overrun frazzled army
The French were hailed as liberators in Mali in the aftermath of a bloody coup that left the land-locked former colony exposed. These days, Malians want them gone.
One of the worst losses of life in France's military in more than three decades -- 13 dead soldiers during an anti-terrorism mission in Mali -- shines a light on the uncomfortable fact that its mission in a former colony is a shambles.
When France intervened in 2013 to stop a loose alliance of ethnic Tuareg separatists and Islamist fighters from moving south toward the capital, its troops were hailed by jubilant crowds. Restaurants and bars even flew the French national flag. Now demonstrators are burning it.
In recent protests, many have carried posters that read: Get out France. We don't want to see you here.
The sense among the population who have endured years of endless conflict boils down to this: France has thousands of troops in Mali, yet violence by al-Qaida and Islamic State militants is growing and spreading across borders. The French troops work alongside the United Nations, which has described its 15,000-strong peacekeeping mission in Mali as its most deadly operation globally.
Salif Keita, one of Mali's best-loved musicians, released a video this month on his Facebook page in which he tells President Ibrahim Boubacar Keita to stop "subjecting yourself to little Emmanuel Macron - he's just a kid." Sitting at what appears to be a kitchen table and speaking in the Bambara language, Keita goes on to say France is financing Mali's enemies, the jihadists.
The influence that France still wields in West Africa, 60 years after most countries gained their independence, is a source of suspicion and conspiracy theories.
"This sentiment against the French military presence is not just measurable in Mali, but also in Niger and Burkina Faso," said Christian Bouquet, a French geopolitics research and specialist of Africa at Bordeaux's Montaigne University. "It is not surprising but difficult to address."
Macron, who has his own vision of Europe's place in the world, sees Africa's fight against terrorism as key for the continent's own security. With a foothold in the region, jihadists have a launching pad for attacking across the region, even targeting Westerners.
The French leader has called on European Union partners to do more to help prevent that from happening by supporting weak local armies, but the quagmire France now finds itself in shows how hard it will be to convince them.
Even his own lawmakers are wondering if France shouldn't just pull out. A few hours after the announcement of the deadly helicopter crash, a far-left French lawmaker posed that very question.
Prime Minister Edouard Philippe replied that France is "waging a rude fight, a fight against, men, gangs that try to destabilize states and then to destabilize us." Military work "was not enough" to help bring stability to the region, but it remains "indispensable," Philippe said.
French Defense Minister Florence Parly said in a news conference shortly after the crash that "It's not the time to question the presence in Mali." But the questions won't go away. The conservative Figaro newspaper described the situation as a "dead end." France is spending 690 million euros ($761 million) a year on the anti-insurgent operation known as Barkhane that covers the Sahel, according to the latest public figures. The arid band on the southern fringe of the Sahara desert is the size of Europe and stretches through some of Africa's poorest states. Altogether 4,500 French troops are fighting Islamist militants and hunting down their commanders.
Authorities in countries where anti-French criticism is growing stronger should work to counter false information and slander, a French diplomatic source said.
The French have used drones, helicopters, tanks and armored vehicles along with special troops -- the campaign is by far its biggest abroad and with the deaths this week, it's claimed the lives of more than 30 French soldiers.
The advance of the loose alliance of ethnic Tuareg insurgents and Islamist militants gutted Mali's already demoralized army, and UN and EU-funded efforts to rebuild it have been slow. An al-Qaida-linked group formed in 2017 has spread by capitalizing on communal tensions and weak governance, as has the Islamic State in The Greater Sahara.
Mali's army has been struck more than 30 times by militants since May and recorded two of its deadliest attacks in years this month. In one of the most dramatic, hundreds of militants on motorbikes, their faces covered in black wraps, overran dust-caked outposts in the country's northeastern region, killing almost 100 soldiers in two separate incidents.
The havoc has forced 168,515 people to flee their homes in the first half of this year alone, according to the U.N.
"We're exhausted," Defense Minister Ibrahima Dahirou Dembele, an army general, told Parliament this month. "You're right to be scared. Even me, the defense minister, I'm scared. Really, we're in trouble."
https://www.stripes.com/news/africa/french-flag-burns-in-mali-as-islamists-overrun-frazzled-army-1.609014
------
Malaysia Warns Islamic State May Shift Operations to Southeast Asia
28 November 2019
KUALA LUMPUR—A Malaysian minister warned on Wednesday that the Islamic State militant group may shift its base of operations to Southeast Asia after the death of its leader, according to a media report.
Authorities in the region have said it will be a long battle to thwart the jihadist group's ideology, even after Islamic State leader Abu Bakr al-Baghdadi killed himself by detonating a suicide vest during a raid by US special forces in northwest Syria in October.
Malaysia will remain on guard against threats posed by fighters returning from abroad, online radicalization and possible lone-wolf attacks, home minister Muhyiddin Yassin said at a meeting of ministers from members of ASEAN in Bangkok.
"We believe that al-Baghdadi's death will open up another chapter in Daesh's terror operation. After losing much of its territory in Syria and Iraq, Daesh is also looking for a new base," Muhyiddin was quoted as saying by Malaysian news agency Bernama.
Daesh is the Arabic-language acronym for Islamic State and the name Malaysia commonly uses to refer to the group.
Muhyiddin, whose ministry oversees the police force, said Malaysia had foiled 25 planned attacks by Islamic State in the country and arrested 512 people with suspected links to the group over the past six years.
Malaysia has been on high alert since January 2016, when gunmen allied with Islamic State carried out a series of attacks in the Indonesian capital, Jakarta.
Islamic State also claimed responsibility for a grenade attack on a bar in the outskirts of Kuala Lumpur in June 2016 that wounded eight people. It was the first such strike on Malaysian soil.
https://www.irrawaddy.com/news/asia/malaysia-warns-islamic-state-may-shift-operations-southeast-asia.html
------
Arab World
Saudi Arabia elected to UNESCO's world heritage committee
28 November 2019
RIYADH: Saudi Arabia was elected to UNESCO's World Heritage Committee for the first time on Wednesday.
The announcement comes a week after the Kingdom was elected to the UN heritage body's executive board for 2019-2023.
"After the executive board (election), the Kingdom wins UNESCO's World Heritage membership for the first time," Culture Minister Prince Badr bin Abdullah said in a tweet, adding: "Thank you to the Custodian of the Two Holy Mosques and the Crown Prince for their continuous support to the cultural sector.
"This confirms the Kingdom's international status and its role in building peace and contributing effectively to the establishment of the principles of culture and science."
The World Heritage Committee meets once a year, and consists of representatives from 21 member states to the convention elected by the general assembly.
The committee has the final say on whether a property is added to the World Heritage List. It also examines rthe state of conservation at listed sites asks member states to take action when they are not being properly managed.
There are five sites in Saudi Arabia that are currently on UNESCO's World Heritage List: Al-Ahsa Oasis, Al-Hijr Archaeological Site (Madain Saleh) in AlUla, Al-Turaif district in Diriyah, Historic Jeddah, and rock art in the Hail region.
https://www.arabnews.com/node/1590581/saudi-arabia
------
Saudi minister: Kingdom's judiciary unique, efficient
28 November 2019
RIYADH: The Saudi judiciary is unique and has proven its speed and efficiency, said Dr. Walid bin Mohammed Al-Samaani, justice minister and president of the Supreme Judicial Council.
This, he added, is due to the Kingdom's justice system deriving its authority from the Holy Qur'an and the Prophetic Sunnah, which determine the basic law of governance and all the country's systems.
His comments came during a scientific lecture on the Saudi judiciary, in the presence of Dr. Ahmad Al-Ameri, rector of Imam Muhammad Ibn Saud Islamic University.
Al-Samaani said the judiciary's structural development started under Saudi Arabia's founder, King Abdul Aziz.
In 2007, the judiciary was transformed into institutions instead of being linked to judges, Al-Samaani added.
He said litigants have the right to have adjudicators who have had enough qualifications and training so that justice can be served.
"It's also important for academia to be built on the goals and needs of work. Similarly, communication between universities and the justice department should be on the highest level in the area of research, training and qualifications, which makes universities and judicial authorities complement each other," he added.
Al-Samaani said the principle of judicial independence, as stated in the basic law of governance, is extremely important.
"Independence isn't the judge's right, it's his duty," he said, adding that many royal decrees emphasize judicial independence.
https://www.arabnews.com/node/1590721/saudi-arabia
------
Iraq condemns attack on Iran's consulate in southern Najaf: State media
Nov 28, 2019
CAIRO: Iraq condemned an attack on Iran's consulate in the southern city of Najaf, its state news agency said early on Thursday, citing the foreign ministry, after the building was stormed and set ablaze by Iraqi protesters the previous day.
Wednesday's attack was 'aimed at damaging the historical relations between Iraq and Iran and with rest of the countries', the ministry said in a statement.
"Diplomatic missions operating in Iraq are highly respected and appreciated," it added, stressing that the incident did not reflect Iraq's perspective
https://timesofindia.indiatimes.com/world/middle-east/iraq-condemns-attack-on-irans-consulate-in-southern-najaf-state-media/articleshow/72270647.cms
------
Overnight clashes in Lebanon injure dozens as tensions rise
28 November 2019
BEIRUT: Fears are spreading of another Lebanese civil war breaking out right where the previous one erupted 44 years ago, on the demarcation line between the towns of Ain Al-Remaneh and Chiyah.
On Tuesday, tens of men from Chiyah, which supports Hezbollah and the Amal Movement — both Shiite parties — entered Ain Al-Remaneh on motorcycles. They raised the flags of the two parties and chanted "Shiites."
They were confronted by the people of Ain Al-Remaneh, which is dominated by supporters of the Lebanese Forces, a Christian party. Stone-throwing clashes ensued, and the Lebanese Army intervened to separate the two sides.
"Suddenly, out of nowhere, we started hearing yelling and insults in the street," Ain Al-Remaneh resident Adele told Arab News.
"This area is no longer how it was during the civil war. Muslims and Christians now live together, and no one wants the war to re-emerge, so why are they taking us back to the past?"
On Tuesday in Bikfaya, the hometown of the Christian Kataeb Party, a convoy from the largely Christian Free Patriotic Movement (FPM) headed to the house of former President Amine Gemayel, whose son Sami Gemayel now leads the Kataeb Party.
Its supporters blocked the road and prevented the convoy from reaching the house. The two sides clashed, and the army intervened.
FPM activists said the convoy was a response to protesters gathering outside the house of the party's leader Gebran Bassil in Rabieh, and insulting him and his father-in-law, Lebanese President Michel Aoun.
A confrontation also took place on Tuesday in Tripoli, Lebanon's second-largest city. "Rumors started circulating on WhatsApp about people being shot, and at the same time some men started attacking private properties in the city, breaking shops' facades and burning ATMs," said an activist who has been taking part in ongoing protests.
"Some of them also besieged an FPM office … Since the beginning of our movement, such actions had never taken place."
The army, which intervened, said Molotov cocktails and stones were thrown at soldiers, 33 of whom were injured.
It added that a hand grenade that was thrown at them did not explode, and that 16 people involved in the incidents were arrested and motorcycles were seized.
"As our soldiers were attempting to restore security and calm in the Chiyah-Ain Al-Remaneh area, 10 of them were injured due to stone-throwing incidents, and in Bikfaya eight others were also injured," the army command said. Clashes had taken place the previous day in the cities of Beirut, Tyre and Baalbek.
Development expert Dr. Nasser Yassin told Arab News: "There's a significant mechanism working hard to scare people and prevent them from joining protesters in the streets, by spreading rumors and using violence, destruction and vandalism."
He said: "They think people will be scared, but their tactics aren't working because there's a large group of people who decided to join the protests after watching protesters being attacked."
He added: "They might succeed in scaring people, but even if they manage to create panic, fear of the ruling authority is broken, and there's no going back to before Oct. 17, when the protests broke out. They think … they'll be able to silence the revolution, but it's continuing."
The protest movement had stopped blocking roads since the beginning of the week, resorting instead to gathering outside the Central Bank in Beirut to demonstrate against a banking policy that is blamed for leading to the country's economic collapse.
On Wednesday morning, activists entered some banks as customers and started reciting statements criticizing banks' performance and profits.
https://www.arabnews.com/node/1590491/middle-east
------
Saudi experts start work on Yemeni airport upgrade
28 November 2019
ADEN: A team of Saudi technical experts on Tuesday visited Aden International Airport as part of a redevelopment initiative for the site.
The Saudi Development and Reconstruction Program for Yemen (SDRPY) team, headed by Ahmed Al-Medkhali, met with specialists to assess and study the extent of work required to upgrade the airport.
Al-Medkhali said an evaluation of the necessary technical and structural needs of the airport would include assessing buildings, facilities and the runway, in addition to inspecting lighting and runway equipment, existing navigation devices, and the arrival and departure lounges.
"We are here to assess the airport's emergency requirements and reactivate it. We're working to evaluate all requirements and needs, to study them, and recommend the necessary work to address those needs, as part of the work of the SDRPY to support the transport, airports and ports sector," added Al-Medkhali.
The SDRPY recently completed the revamp of Al-Ghaida airport in Yemen's Al-Mahra governorate and conducted successful air navigation systems tests and flight-testing procedures there in cooperation with internationally accredited companies.
The program helps to implement Yemeni airport safety plans by providing fully equipped ambulances and fire trucks fitted with the latest technology, in addition to ensuring compliance with the International Civil Aviation Organization's (ICAO) airport safety and firefighting requirements.
Separately, on Tuesday, SDRPY officials signed a number of contracts relating to a development project at the Baqah border post linking the Saada governorate to the Kingdom. The program was also behind the delivery of generators to the director of the post, Khalid Al-Omaisi, with the aim of improving its operational capabilities.
The SDRPY, supervised by Mohammed bin Saeed Al-Jaber, the Saudi ambassador to Yemen, not only gives financial aid for development in Yemen but also provides educational training and resources.
The program was established almost a year ago to work alongside the Yemeni government to devise and implement development projects in all areas affecting the daily lives of the Yemeni people, to facilitate recovery, create job opportunities, provide basic services and support the economy.
https://www.arabnews.com/node/1590726/saudi-arabia
------
Historic mud palace still takes pride of place in Najran region
28 November 2019
NAJRAN: The fast-growing Saudi city of Najran still retains its cultural traditions and rich heritage through its famed shrubberies and historic mud houses on the edges of its famous valley.
Al-Aan Palace, with its unique style of construction and ornate white edges, remains one of the most splendid architectural gems in the region.
The spectacular structure was built of mud in 1688 and sits on top of Al-Aan mountain, guarding the old city. The palace was named after its village location and includes observation towers, main gates, and a fence rising up to seven meters.
Al-Aan Palace overlooks the famous Wadi Najran, historical Raoum tower and mountain, as well as a number of attractive villages and palm plantations.
Encouraged by the Saudi Commission for Tourism and National Heritage (SCTH) and Najran provincial authorities, local residents take pride in preserving the old buildings and mud castles and houses, which in turn helps to support the region's tourism economy.
Saleh Mohammed Al-Marih, director general of the SCTH in Najran, said that Al-Aan Palace was one of the most prominent visitor destinations in the region, and noted that the building had undergone a major revamp by its owners as part of a national initiative to restore historical properties.
https://www.arabnews.com/node/1590706/saudi-arabia
------
Saudi entrepreneurs gear up for a high-tech future
November 27, 2019
DUBAI: Silicon Valley, a cluster of cities in the southern part of the San Francisco Bay Area in California, is synonymous with technology startups and businesses that have changed the world.
Apple, for instance, posted a net income of $55.26 billion in 2019, compared with $3.5 billion in 2007 when it first released its iPhone 1, according to a report by Statista, a leading provider of market and consumer data.
This manifold jump in income in a span of just 22 years makes Apple a major contributor to US economic growth. A 2018 report by Apple predicted that the company would contribute $350 billion to the US economy over the next five years.
Today, Saudi Arabia, which was responsible for 16.1 percent of global oil exports in 2018, is pushing for a growing role for technology in small and medium-sized enterprises (SMEs) with a view to positioning itself as a regional center of high technology and innovation.
Vision 2030, a reform program aimed at diversifying Saudi Arabia away from oil dependency and creating new-economy jobs for a young population, has made it possible to imagine such a transition.
A new set of objectives have been given to captains of the SME sector aimed at making it a vital contributor to the country's economy by lifting its contribution to the GDP from 20 percent to 35 percent by 2030.
One way for Saudi Arabia to achieve this target is by using technology in small businesses, entrepreneurs say, adding that not only does technology help to attract investors, but it also increases job opportunities and raises competitiveness between SMEs and corporations.
"Tech investments — major and minor — have come out of Saudi Arabia since Silicon Valley was in its early days. It is actually one of the longest-standing investor-investee relationships," said Prince Khaled bin Alwaleed bin Talal Al-Saud, founder of KBW Investments and KBW Ventures and co-founder of the property developer Arada.
The Kingdom has established a number of public and private entities — Monshaat, King Abdullah University of Science and Technology and MISK Academy, to name just three — that offer funds, loans and investments.
Speaking to Arab News on the sidelines of the recent Sharjah Entrepreneurship Festival, Prince Khaled said that it is not always possible to get an angel investor or an entity to invest in a business as investors look for unique ideas and business viability.
One way for an entrepreneur to attract the attention of investors is by establishing a business that responds to clients faster than other tech companies.
Another element that helps entrepreneurs create partnerships with investors is transparency.
"I think consistent communication not only improves relationships," he said. "It also prevents any misunderstanding that could arise."
Fadi Al-Wami, an SMEs and entrepreneurship consultant, said that investors are interested in technologies that offer solutions to existing problems and have the potential for geographical expansion into other markets.
"Also, the return on investment should be very attractive. There should be a clear exit strategy or at least a strategy for making high profit," he said in an interview at the Sharjah Entrepreneurship Festival.
Investing in SMEs allows companies to expand, thus creating job opportunities.
SMEs make up about 90 percent of enterprises and account for more than 50 percent of employment worldwide, according to a World Bank report. The fact that "600 million jobs will be needed by 2030 to absorb the growing global workforce makes nurturing an SME ecosystem a priority for governments around the world."
According to the Saudi government's General Authority for Statistics, the second quarter of 2019 showed an unemployment rate of 12.3 percent. The aim by 2030 is to lower the unemployment rate to 7 percent, according to a Vision 2030 report.
Prince Khaled gave an example of how tech SMEs can help to generate jobs. He said that if an entrepreneur decides to create a line of wooden toys and sells them on Instagram, he or she will need supplies to create the products, such as wood, tools and so on.
"That wood is collected by someone, potentially refined down to sellable stock by another, and maybe delivered by yet another," he said.
Imagine now that the entrepreneur decides to get help with Instagram ad buying. This may require an arrangement with another freelancer. They might even get busy and big enough to engage a small social media agency and, later, a web developer for e-commerce, said Prince Khaled.
Al-Wami said that Saudi entrepreneurs are already using technology in their businesses. He pointed to a number of tech-business success stories inside the Kingdom: "Ten Saudi startups have been chosen among the most promising Arab startups at the World Economic Forum for this year."
Tech Pills, Foodics, HalalaH, Lucidya, Mrsool, HungerStation, Morni and Noon Academy are examples of recent entrants to the nascent Saudi tech-business field.
Al-Wami cites Noon Academy as an example of an educational platform that is considered one of the fastest growing on-demand ed-tech startups in the Middle East, with more than two million registered students.
The company raised $8.6 million in a Series A investment round this year and was chosen as one of the most promising startups in the Arab world at the World Economic Forum, according to Al-Wami.
Prince Khaled said that women and men in Saudi Arabia are ready to break ground in emerging technologies as many of the startups employ intelligent and imaginative Saudis.
"This is how the entrepreneurs of our country can increase everything from community engagement and employment rates to inclusion."
Although Saudi Arabia is steadily becoming more entrepreneur-friendly, SMEs still have to put up with slow and cumbersome administrative processes, according to a Vision 2030 report.
The good news is that the Kingdom has begun to address these challenges and, according to Prince Khaled, there is burgeoning government support for the SME ecosystem.
"You can get mentorship, incubation, acceleration, partnerships, grants, investments — literally everything you may need to jumpstart your venture," he said.
Entrepreneurs who establish tech enterprises that can help to develop or secure the Kingdom's main source of income are likely to succeed. Al-Wami said that entrepreneurs should focus on technology in the oil and gas sector.
"I think there are still great opportunities to support this sector by providing innovative solutions involving the use of technology," he said, underscoring opportunities for cybersecurity companies in a country where the oil and gas sector accounts for about 50 percent of its GDP and about 70 percent of its export earnings.
Investors and entrepreneurs say small businesses contribute to any local economy, and that Saudi Arabia is no exception. They help to stimulate economic growth by offering job opportunities to individuals who are not selected by larger corporations.
Al-Wami said that he advises aspiring entrepreneurs to be committed and passionate about what they are doing. They should offer solutions, not just a product or service, and they must always think how to improve their customers' experience.
https://www.arabnews.com/node/1590686/saudi-arabia
------
DiplomaticQuarter: Kazakh ambassador, Saudi Shoura Council speaker review bilateral ties
28 November 2019
RIYADH: Kazakhstan's Ambassador to Saudi Arabia Berik Aryn met with Shoura Council Speaker Dr. Abdullah Al-Asheikh at the council's headquarters in Riyadh.
The Saudi Press Agency reported that they discussed increasing cooperation, issues of common concern to both countries, and ways to enhance bilateral ties in various fields, especially relations between the Shoura Council and Kazakhstan's Parliament.
They also discussed activating the Saudi-Kazakh Parliamentary Friendship Committee to enhance parliamentary cooperation and joint work between the two countries.
Earlier this year, Aryn met with Dr. Mohammed bin Abdul Karim Al-Issa, secretary-general of the Muslim World League. They discussed issues of common interest.
Aryn's predecessor Bakhit Batyrshayev said last December: "Kazakhstan and Saudi Arabia are strategic partners, and have many common features and interests."
He added: "We're proud of our strong, enduring partnership, and pledge to continue our work to further strengthen it."
https://www.arabnews.com/node/1590716/saudi-arabia
------
Christian expat's mosque, priest's book bring them awards from Sheikh Mohammed
November 27, 2019
A Christian businessman's touching gesture of building a mosque for worshippers, and a priest's book on tolerance got them appreciation from the highest quarters on Tuesday.
Both of them were among the several individuals and entities honoured by His Highness Sheikh Mohammed bin Rashid Al Maktoum, Vice-President and Prime Minister of the UAE and Ruler of Dubai, with the UAE Pioneers award for tolerance-related initiatives.
Indian businessman Saji Cheriyan had grabbed headlines when he built a mosque in Fujairah for worshippers in 2018. An orthodox Christian from Kerala, Cheriyan was lauded for his humanitarians values and compassion when he constructed the Mariam Umm Eisa (Mary, the Mother of Jesus) mosque in Al Hail Industrial Area and dedicated it to thousands of Muslim workers, who had to walk a long way to pray.
Bagging the award from Sheikh Mohammed is a moment he will never forget. "This is the best birthday gift I could get," Cheriyan, who is turning 50 this December, told Khaleej Times. "I did not even imagine that a small gesture I did would be recognised by this country. As an Indian who has been living in this country for the last 15 years, this definitely is my proudest moment."
When asked what Sheikh Mohammed told him, he said: "I got goose bumps when Sheikh Mohammed spoke to me. He asked me why as a Christian I built the mosque. He also asked about the Iftar distribution I did for 28,000 people.
"I have no words to thank this country. We all live here, make money and go back to our own country. But I think it is our responsibility to give back to this country. I am inspired by this award to do more for the UAE that has been my home for the last 15 years."
Join the path of tolerance
For Anglican priest Reverend Canon Andrew Thompson, winning the UAE Pioneers award is an invitation for everyone to join the path of tolerance. "The award is a message that there is still hope in this world; hope that we can all live together despite our differences," the senior pastor at St Andrew's Church in Abu Dhabi told Khaleej Times.
The priest said the award on Tuesday came as a 'big surprise'.
Rev Thompson, who has lived in the UAE for more than two decades, has authored a book 'Celebrating Tolerance: Religious Diversity in the United Arab Emirates' which was released in February 2019 to coincide with the UAE's Year of Tolerance.
"The award has reinforced my love for the UAE. It is reminder that in the heart of the Islamic world, this country has opened its doors to people from all backgrounds."
St Andrew's church receives about 15,000 worshippers from more than 80 congregations from across the world. It was built in 1984 on a land gifted by the UAE leaders.
anjana@khaleejtimes.com
https://www.khaleejtimes.com/news/general/christian-expats-mosque-priests-book-bring-them-awards-from-sheikh-mohammed
------
Europe
Muslims in the UK aim to make a mark in the British general election
With rising anti-Muslim prejudice, British Muslim communities want to make sure that politicians take their concerns seriously.
With the UK general election just weeks away, British Muslims and other minority groups are mobilising to ensure their communities cast their ballots.
While far from a monolithic voter block, Britain's Muslim population of more than 2.6 million people is a considerable electoral force.
Once concentrated in urban working-class areas, where the Labour party was the dominant force, improving economic prospects mean Muslims are increasingly visible in more affluent areas and are distributed more evenly across the country.
Many in the community hope that with the mere act of taking part in the election, irrespective of who they vote for, they will force politicians to take their concerns seriously.
Shamiul Joarder, who is the head of public affairs at rights group Friends of Al Aqsa, is helping to mobilise the British Muslim vote on issues, such as how politicians aim to tackle problems like anti-Muslim hatred and other forms of racism, as well as their stance on issues affecting Muslims internationally.
According to Joarder it is crucial that British Muslims and other minorities vote for those who have their interests at heart.
"We have been reminding people they will need to vote for a person who will represent their views on important issues that will impact on themselves as well as their friends and family," he told TRT World.
"Issues like healthcare, challenging Islamophobia and racism, education fees, accountable policing and a just foreign policy on Palestine, Kashmir, the Uyghurs and Rohingya will all be influenced by their participation," Joarder added.
Rising anti-Muslim sentiment
The upcoming election comes amid widespread distrust among Muslims both within government and the public.
A February 2019 survey found that one in three Britons saw Islam as a threat to British values and those sentiments come coupled with a large rise in anti-Muslim violence. After the Christchurch terror attack, for example, there was a 600 percent rise in violent attacks against Muslims.
Media coverage of Islam is also overwhelmingly negative according to studies, and leading politicians have in the past made comments targeting Muslims.
In 2018, now-Prime Minister Boris Johnson caused a media storm when he compared Muslim women wearing the face veil to postal boxes.
Joarder said that despite the difficulties they face in day to day life, minority groups such as Muslims, were not fully exercising their electoral potential.
"Over one million potential voters from the BAME (Black, Asian, Minority, Ethnic) community did not vote in the last general election," he said.
"Current data suggests only 66 percent of 18 and 19-year-olds are registered to vote compared to over 94 percent of over 65s and only one in four Asian and black people are registered to vote."
Youth vote
Activists are trying to ensure that changes by taking matters into their own hands. Using the slogan "#TakeThePower" Joarder and his team have been present outside mosques and in town centres with iPads in hand to get people to register to vote.
Their impact could be massive as Muslims communities make up a significant proportion of the population in 40 out of 50 closely contested constituencies.
On November 22 or 'National Voter Registration Day', Joarder's activists along with others like them across the country ensured more than 300,000 people registered to vote.
Singers and celebrities have also been crucial in ensuring younger voters take to the polls.
After the rapper Stormzy endorsed the Labour party and called on young people to register to vote, more than 350,000 people did so.
Young people, like student Yasmine, told TRT World that many are coming to the conclusion that by not voting, they are passing on the responsibility for the decisions that affect their lives to those who may not have their best interests at heart.
"For my generation, it is the decisions that are made today that will affect the rest of our lives, and so it falls on us to engage and make sure our politicians hear our views and voice our concerns," she said.
"Our individual votes do make a difference and my aim was to make sure we all know the importance of taking part in this general election.
"This will be the most important general election in decades and we need to ensure everyone is ready to cast their vote."
https://www.trtworld.com/europe/muslims-in-the-uk-aim-to-make-a-mark-in-the-british-general-election-31721
------
Skegness Mosque set for approval after 'hate crime' arson attack
28 NOV 2019
A proposed development which would bring a mosque to Skegness looks set to be given approval - just months after an arson attack at the site which is being treated as a hate crime.
Plans were submitted to ELDC earlier this year by the Skegness Central Mosque group and includes a community centre with four self-contained flats above it.
Then, on October 6, more than 40 firefighters rushed to the proposed site in Roman Bank to a huge blaze in the derelict building currently built there.
Police then confirmed that the fire is being treated as an arson attack and hate crime.
https://www.lincolnshirelive.co.uk/news/local-news/skegness-mosque-set-approval-after-3584482
------
Falkirk-born Tory candidate suspended over alleged anti-Muslim language
Wednesday 27 November 2019
Tory candidate Flora Scarabello – a former senior dux at St Mungo's High School – has had support for her campaign for Glasgow Central withdrawn by the party and is now subject to an internal investigation, following the submission of a complaint to the party's central office about the alleged use of anti-Muslim language.
While the party investigates that complaint, Ms Scarabello will have her membership suspended.
However, the deadline for removing her as a candidate has passed, meaning there is no option but for her name to still appear on the ballot paper.
A spokesman for the Scottish Conservatives said: "We take allegations like this extremely seriously. There is no place in the Scottish Conservatives for anti-Muslim language, or any other form of racial or religious discrimination.
"As such, we have immediately suspended the candidate and the complaint will be thoroughly investigated."
https://www.falkirkherald.co.uk/news/politics/falkirk-born-tory-candidate-suspended-over-alleged-anti-muslim-language-1-5053348
------
Republican politician claims flying the trans flag is a 'rainbow jihad', clearly not knowing what 'jihad' means
The pink, blue and white trans flag was flown over the Capitol building in Des Moines on 20 November to mark International Transgender Day of Remembrance (TDOR).
TDOR is observed annually to honour and remember the members of the trans community lost to transphobic violence around the world.
Skyler Wheeler, a state senator who represents Iowa's 4th district, took issue with the trans flag being flown in Des Moines and told local news that he was upset no one had informed him the flag was going to be flown.
"I found out the same time as most Iowans," the conservative lawmaker said. "Nothing was sent to my legislative email, no phone call, absolutely nothing."
He added: "It's another way that the Rainbow Jihad continues to give those of us who don't agree with them a finger in the eye and push their beliefs on us."
Jihad is an Arabic word that literally means striving or struggling. It is often interpreted in a Western context to mean war or acts of terrorism.
"Flags flown at our state Capitol should not be flags that fuel division among Iowans," Wheeler said. "How would the Rainbow Jihad react if we were trying to fly the Christian flag over the state Capitol? The Rainbow Jihad is not OK with simply living their lives. They are so hellbent on pushing their beliefs on us that they would go so far as to fly that flag over the state Capitol. It's one of the most egregious acts of political aggression I've ever seen."
Local news reports the flag was flown over the Capitol building for three-to-five minutes.
Another Republican, Dean Fisher, said he plans to put forward a bill next session to limit which flags can be flown at the Capitol – a move that will prevent the trans flag from being flown.
"I'd sure like to know the history of who else has been able to fly their flag over the Capitol, but I think it's kind of disappointing that we're doing it," Fisher said. "I'm preparing a bill to specify that, as far as the official flag poles, it would only be the United States and Iowa flags, and we'll see where that goes."
"I don't think it ought to be any group that wants to," Fisher added.
Fisher said he had also not been made aware in advance that the trans flag would be flown.
"I thought it was ridiculous," he said. "My question is, why are we doing that? Why is it anything but the United States flag or the Iowa flag? We'll head down the path and see where we can get. I guess the question is, can I fly the Christian flag over it? Do I think that's right? Well, not necessarily. Yeah, I'm solidly a Christian, but should I be flying my flag over somebody else's instead of the Iowa flag or the United States flag?"
https://www.pinknews.co.uk/2019/11/27/republican-politician-claims-flying-trans-flag-rainbow-jihad-iowa-skyler-wheeler/?utm_source=feedburner&utm_medium=feed&utm_campaign=Feed%3A+Pinknews+%28Pink+News%29
------
India
Indian Millennials Disagree With Social Taboo of Women Not Entering Temples, Mosques
27.11.2019
New Delhi (Sputnik): The majority of young people are socially progressive and reject traditional views, including the social taboo on women not entering the inner sanctum of temples and mosques.
A day after an Indian woman was attacked by chilli spray when she tried to enter the Sabrimala Temple in Kerala, a study has suggested that the majority of the Indian youths don't agree with social taboos as practiced in the Indian culture.
The observations have been made by Big Small Steps, a report which examines the gender narrative and puts forward a template for change.
Akshara Centre, a Mumbai-based non-profit and women's rights organisation working for women's empowerment and an inclusive and safe city, launched Big Small Steps which measures the acceptance of gender equality and gender beliefs amongst urban youth, the change-makers and thought leaders of tomorrow.
The report also states that most of the Indian youths don't agree that menstruating women should not cook in the home (51.4 percent men and 74.7 percent women)
To achieve its purpose, Akshara Centre surveyed a total of 6,428 youth aged between 15-29, of which 3,364 were men and 3,064 women from across 8 different cities in different states of India. Four metros – Mumbai, Delhi, Chennai, and Kolkata and four cities namely Vijayawada, Ludhiana, Ahmedabad and Bhubaneswar were covered.
As per report, an overwhelming 79.2 percent of men and 87.4 percent of women said that men and women should have the same rights.
Also domestic violence on women was rejected by both men and women. However, if there was violence then women should tolerate it for the sake of keeping the family together, say 42.6 percent of men.
The common myth that revealing clothes invite rape or sexual harassment still held strong in the minds of both men 54.8 percent and women 39.2 percent.
Commenting on the rationale for the report, Nandita Gandhi, Co-Director of Akshara Centre said, "Unless men, women and all genders have the same opportunities and the same access to resources, we will see not see the progress and development which should rightfully be ours."
Sabarimala Temple has traditionally banned the entry of women of menstrual age despite Indian Supreme Court ruling in late September to end a ban on women of menstruating age entering it.
https://sputniknews.com/asia/201911271077418360-indian-millennials-disagree-with-social-taboo-of-women-not-entering-temples-mosques/
------
After Sanskrit controversy, BHU's Muslim professor prepares to teach Ayurveda
November 27, 2019
After a controvery erupted on his appointment as an Assistant Professor in Benaras Hindu University, Firoze Khan will now appear for an interview to teach Ayurveda at the varsity.
This comes after students held protests spanning over a two weeks opposing his appointment as an Assistant Professor to teach Sansnkrit in Sanskrit Vidya Dharam Vijnan (SVDV). The students argue that a professor, who is not Hindu by faith cannot teach them Sanskrit.
The protesting students say they are against a Muslim professor imparting education on "Hindu rituals as part of the course" -- which they claim can only be taught by a practising Hindu.
"BHU has two distinct faculties -- Sanskrit department and Sanskrit Vidya Dharma Vedvigyan Sankay (SVDVS). Firoze Khan has been appointed in SVDVS, which deals with ancient shastras and literature. At SVDVS, we go beyond theory. Here, practical knowledge is required for future scholars and priests as per Hindu traditions. Only professors who practice Hindu tradition can educate us about certain rituals...not possible by a non-Hindu. He will have to participate in Hindu ceremonies. How can he join us in such rituals?" asked Chakrapani Ojha, a BHU student.
Another student, Shubham Tiwari adds that the controversy is not about teaching Sanskrit. "This is about our faith and culture, which must be respected as per ideas laid down by BHU founder [Madan Mohan Malviya]. We respect Professor Khan as an individual and this is not about his faith," Tiwari tells India Today.
Meanwhile, the BHU administration had issued a statement backing his appointment. The statement read: "The idea behind the establishment of the university was to contribute in nation-building by providing equal opportunity of study and teaching to all deserving people without any discrimination on the basis of caste, religion, gender and sect."
The statement also said that Khan's appointment was a unanimous decision made by a selection committee under a transparent process.
Following the protests, Firoze Khan had said that he felt 'insulted' by the incident and added that he would have never applied for the job if the university had mentioned in the advertisement that they did not want a Muslim.
https://www.indiatoday.in/india/story/sanskrit-controversy-firoze-khan-bhu-1623089-2019-11-27
------
Hindu Minister To Be Chairperson In Case Of Muslim CM of Uttarakhand: Char Dham (Four Holy Hindu Abodes) In Proposal
Nov 28, 2019
The Uttarakhand cabinet on Wednesday approved a proposal to manage the Char Dham, or four holy Hindu abodes in the state, and 51 other temples on the lines of the Vaishno Devi temple in Jammu and Kashmir and Tirupati Balaji shrine in Andhra Pradesh.
The state government plans to enact the Chardham Shrine Management Board Act 2019 to oversee the management of Yamunotri, Gangotri, Kedarnath and Badrinath.
State urban development minister and spokesperson for the state government Madan Kaushik said on Wednesday that the proposed law would provide for a Hindu cabinet minister to be the chairperson of the shrine board in case a Muslim becomes chief minister.
The attempt is to introduce an overarching law to oversee the functioning of Hindu places of worship in the state where, until now, temples have been governed by individual committees with government representatives. The law will regulate all major temples in the state including Kedarnath and Badrinath, which are being overseen now by the Kedarnath-Badrinath temple committee.
Kaushik said that the new shrine board will work on the lines of the one for Vaishno Devi Temple in Katra district of Jammu and Kashmir and the Balaji shrine in Tirupati. He said the move is aimed at improving facilities at all major temples in the state, which would give a boost to religious tourism.
A total of 36 proposals were discussed and 35 approved at a cabinet meeting chaired by chief minister Trivendra Singh Rawat, Kaushik said. They included the Chardham Shrine Management Board Act, 2019.
"Once formed, CM of the state would head the board as its chairperson. Three MPs, six MLAs, several secretaries and priests of the char dhams will also be included as members in the board," Kaushik said.
Kaushik said that the chief executive officer of the board would be an Indian Administrative Service officer who will lookafter the rights of the priests they have enjoyed previously. "In case there is a Muslim CM then a senior Hindu cabinet minister would be the chairperson of the board," he said.
"In the initial phase, the board will manage Char Dham and 51 temples. A bill regarding this will be tabled in the State Assembly in the upcoming session. Once the Act is formed, the board will work on the lines of Vaishno Devi and Tirupati Balaji Shrine Management Boards," he said.
The cabinet also decided to form rules and regulations for the modernisation of madarsas in the state.
"The rules and regulations would help in modernising the madarsas. It would help in their computerisation as the government works under PM Narendra Modi's principle of 'Sabka Saath Sabka Vikas'. Apart from this, the state cabinet also decided to form rules and regulations for the Arabic-Farsi Madrasa Board in the state," said Kaushik.
In case of schools that don't have their own buildings, the cabinet approved a proposal to construct structures using bamboo.
Among the other approvals, the state cabinet announced that it would be organising a Wellness Summit-2020 in April which would be inaugurated by Prime Minister Narendra Modi. The event will feature the US, United Arab Emirates, China and Thailand as partner countries and would cost Rs 25 crore to host.
https://www.hindustantimes.com/india-news/hindu-minister-to-be-chairperson-in-case-of-muslim-cm-char-dham-proposal/story-2oH8042DrydVeQ3grCfjpN.html
------
Pakistan
Pakistan's retired army general Asim Bajwa appointed as CPEC Authority chairperson
November 27, 2019
Pakistan government has appointed Lt-Gen (retd) Asim Saleem Bajwa as the first chairman of the newly-established China-Pakistan Economic Corridor Authority with an aim to ensure timely completion of the multi-billion dollar projects.
The CPEC is a planned network of roads, railways and energy projects linking China's resource-rich Xinjiang Uyghur Autonomous Region with Pakistan's strategic Gwadar Port on the Arabian Sea.
The CPEC was launched in 2015 when Chinese President Xi Jinping visited Islamabad and it now envisages investment of over USD 60 billion in different projects of development in Pakistan.
Bajwa was appointed as the chairman of the China-Pakistan Economic Corridor Authority (CPECA) on Tuesday, which comes under Pakistan's planning and development ministry, Dawn News quoted a notification issued by the Establishment Division of the government.
"The new chairman will get MP-I scale for a period of four years from the date of assuming the charge of the office with immediate effect and until further orders," it said.
Bajwa had served as a Commander Southern Command before his retirement. He remained director general of the Inter-Services Public Relations, the media wing of the Pakistan Army, from 2012 to 2016, the report said.
The authority was established through an ordinance in October, before the visit of Prime Minister Imran Khan to Beijing.
However, the idea of the authority was initially presented in 2016 but the then prime minister Nawaz Sharif had shot it down, The Express Tribune reported..
The basic aim of the authority is to ensure timely completion of the CPEC projects. The prime minister has said the CPECA will help ensure coordination among the departments concerned, Dawn News reported.
The powers that are vested in the authority are that they can summon any information related to the CPEC activities and impose penalties on those who fail to do so, it said.
Opposition parties, including the Pakistan Muslim League-Nawaz (PML-N) and Pakistan Peoples Party (PPP), have already rejected the CPECA and termed it a violation of recommendations of the parliamentary committee concerned.
While the PPP criticised the creation of the CPECA and said it undermined the authority of parliament, the PML-N was of the view that it would create problems and complications in collaboration between the ministries and departments.
This would create bureaucratic hurdles and limitations that would hamper and stall the CPEC, the parties were quoted as saying by the report.
On Tuesday, Jamiat Ulema-i-Islam-Fazl chief Maulana Fazlur Rehman also criticised the formation of the CPECA and said the government was making the corridor project controversial.
Speaking at a press conference after a multi-party conference, he said there was no need to establish a separate authority for the CPEC project, adding that it negated the parliamentary committee's decision against such a body. He said the opposition would oppose the authority at all available forums.
The CPEC passes through Pakistan-occupied Kashmir (PoK), over which India has conveyed its protests to China. The area covers Karakoram mountain ranges, including the Siachen glacier.
https://indianexpress.com/article/world/pakistans-retired-army-general-saleem-bajwa-appointed-as-cpec-authority-chairperson-6139416/
------
No signs of improvement in former Pak PM Nawaz Sharif's health: Hussain
Nov 28, 2019
ISLAMABAD: Hussain Nawaz, the son of former Pakistan prime minister Nawaz Sharif said on Wednesday that there were no signs of improvement in the health of his father and requested the people of the country to pray for him.
Hussain said that he wished his father would be treated under one roof, Geo News reported.
"Have advised my father numerous times to go to the US for treatment," he said.
"We can't see any signs of improvement in his health," he added.
Hussain said that Nawaz would have to be taken to the hospital numerous times over the next couple of days.
"Diagnosis of the bone marrow is a very sensitive issue, I would like the nation to pray for my father," he was quoted as saying.
Sharif family sources confirmed to Geo News that the former prime minister underwent two therapy sessions at London Bridge Hospital a day before.
They further revealed that Sharif was being provided with medicines to strengthen his immune system.
The Lahore High Court (LHC) last week ordered the federal government to remove Nawaz's name from the Exit Control List (ECL) allowing the ailing PML-N leader to travel abroad for his medical treatment for a period of four weeks.
Prime Minister Imran Sharif took a jibe on Sharif by stating that his health had immediately improved after the former prime minister boarded the steps of his air ambulance
https://timesofindia.indiatimes.com/world/pakistan/no-signs-of-improvement-in-former-pak-pm-nawaz-sharifs-health-hussain/articleshow/72269939.cms
------
Islamabad HC stops special court from announcing verdict in Musharraf treason case
Nov 27, 2019
ISLAMABAD: The Islamabad high court accepted on Wednesday the request of Prime Minister Imran Khan's government to stop the special court from announcing its verdict against former military ruler General Pervez Musharraf in a high treason case.
On November 19, the special court had ruled that it was reserving its judgment and would announce its verdict on November 28 on the basis of available records.
On Monday, the incumbent Pakistan Tehreek-i-Insaf (PTI) government came to Musharraf's rescue and filed a petition in the high court. According to the government's petition, "The special court's decision to reserve its verdict in the case is in violation of the Constitution because it was issued without giving the ministry the opportunity to notify a new prosecution team in the case. The judgment is set to be passed without hearing the prosecution during the trial."
After hearing the government's petition, the high court on Wednesday barred the special court from issuing the verdict on Thursday and asked the federal government to form a new prosecution team for the case by December 5. The court also directed the special court to hear the pleas of all sides and decide Musharraf's case in accordance with the law.
It also remarked that the reasons to stop the hearing of the special court would be announced later.
The treason case against Musharraf was filed by the previous Pakistan Muslim League-Nawaz (PML-N) government in December 2013 over his imposition of emergency in the country in November 2007. He was indicted in the case in March 2014.
Musharraf had left Pakistan for Dubai on medical grounds in May 2016 after his name was removed from the no-fly list. A few months later, the special court had declared him a proclaimed offender and ordered his property confiscated owing to his absence from court hearings.
In the fresh petition, the PTI government even disowned the complaint filed by the previous government against the former military dictator under Article 6 (high treason) of Pakistan's Constitution and requested the high court that "the special court be restrained from passing final verdict in the trial". The petition was filed by the interior ministry through the additional attorney general.
According to Article 6 of the Constitution, any person who abrogates or subverts or suspends or holds in abeyance, or attempts or conspires to abrogate or subvert or suspend or hold in abeyance, the Constitution by use of force or show of force or by any other unconstitutional means shall be guilty of high treason. And a person found guilty of high treason shall be punishable with death or imprisonment for life.
https://timesofindia.indiatimes.com/world/pakistan/islamabad-hc-stops-special-court-from-announcing-verdict-in-musharraf-treason-case/articleshow/72266511.cms
------
SC reserves verdict on Gen Bajwa's extension
Haseeb Ahmed
Naveed Siddiqui
November 28, 2019
All eyes are on the Supreme Court where a three-judge bench on Thursday reserved the verdict in a case pertaining to the extension/reappointment of incumbent Chief of Army Staff (COAS) Gen Qamar Javed Bajwa.
As Gen Bajwa is set to retire at midnight, today's hearing that started at 9:30am was the last opportunity for the government to satisfy the court on the legal grounds of the move.
As the hearing started, the bench — comprising Chief Justice of Pakistan (CJP) Asif Saeed Khosa, Justice Mian Mazhar Alam Khan Miankhel and Justice Syed Mansoor Ali Shah — directed Attorney General of Pakistan Anwar Mansoor Khan to submit the extension notification issued for former army chief Gen (retd) Ashfaq Pervez Kayani as well as that of Gen (retd) Raheel Sharif's retirement in the court.
It is pertinent to mention that over the past two decades, Gen Raheel Sharif is the only army chief to have retired on time. Gen Kayani's tenure was extended for another three years by the PPP-led government in 2010. Interestingly, the service extension given to Kayani was also challenged in the Islamabad High Court but was dismissed by the bench as "non-maintainable", saying Article 199 (3) of the Constitution barred the high court from hearing a case against persons subject to the Pakistan Army Act (PAA).
"Under what section was Gen (retd) Kayani granted an extension?" the chief justice asked during today's hearing. "We want to see what pension and perks Gen Kayani got after retirement."
Referring to the retirement of army generals, Justice Khosa said: "If an army general never retires, then under what rule did Raheel Sharif retire?"
"You said that generals never retire; if they don't retire, then they wouldn't be entitled to pension either," he observed. The attorney general said that he wanted to assist the court on the matter.
Justice Khosa said that the court will examine the grounds on which Gen (retd) Kayani was granted an extension and adjourned the hearing for 15 minutes.
Meanwhile, the Pakistan Bar Association restored the license of Farogh Naseem, who stepped down as law minister to represent Gen Bajwa. The CJP had told him yesterday that the court didn't want to waste time on a side issue to let the institution of army suffer and asked Naseem to settle the licence issue or come with an associate if he wanted to argue on COAS behalf.
After the hearing resumed, the AG submitted the summary of the draft notification for Gen Bajwa's extension prepared by the government yesterday following the court's adjournment. An emergency meeting was called at Prime Minister House on Wednesday evening to debate the government's strategy for today's hearing. The meeting was attended by Gen Bajwa himself, along with Prime Minister Imran and several ministers.
Upon examining the summary, the CJP berated the attorney general over the mention of the Supreme Court's proceedings in the draft notification.
"Bear your own burden, why do you use our name?" Justice Khosa asked. "Do your own work, why do you drag us in the middle?"
He directed the attorney general to eliminate the mention of the court from the summary, saying: "The court's name has been used so we cannot even point out what's wrong."
He raised questions over the appointment of the army chief, noting that the post was already occupied by Gen Bajwa.
"How can an appointment be made on a position that is already occupied?" the chief justice asked.
It seems like this time a lot of thought has been put into drafting the notification, the chief justice remarked. "Take out the part about the court's advice," Justice Khosa directed the attorney general. "If the president seeks our advice, that is a different matter."
Justice Shah noted once again that the law does not mention that the duration of the tenure is three years.
The chief justice regretted that no one had examined the law while extensions were being granted.
"There is no check on the activities that are going on in cantonment or under which law an action is being taken," he said.
"Now a constitutional institution is examining this matter."
He said that the process of appointment on a constitutional post should be clear.
"The summary neither mentions the army chief's salary nor the perks he is receiving," Justice Shah pointed out. "The attorney general too must have read the laws regarding the army for the first time."
"We were labelled as agents of India and the CIA when we examined the Army Act yesterday," the chief justice regretted. AG Khan told him that India "took a lot of advantage" of yesterday's arguments.
"It is our right to ask questions," the CJP declared.
Justice Shah asked the AG to "suggest how to fix laws regarding the army".
The chief justice, before adjourning the hearing yesterday, said that there were three points which the court will consider:
He had said that the first two issues are very important and based on those, the court will announce its decision. Gen Bajwa will be able to continue his service if the Supreme Court decides the case in his favour before November 29.
Attorney General of Pakistan Anwar Mansoor Khan outside the Supreme Court yesterday. — White Star
During yesterday's hearing, the bench was irked by the fact that after Tuesday's cabinet meeting, Prime Minister Imran Khan submitted a summary to President Arif Alvi for approval to "reappoint" the army chief on his retirement and the new appointment was made under Article 243(4) of the Constitution, but the notification later issued pertains to the "grant of extension" to the COAS for another term of three years.
The attorney general chalked the gaffe up to "clerical errors" by the ministry.
"No one even bothered to read what they are issuing," Justice Khosa observed, regretting the way the law ministry dealt with the issue.
"Please settle the matter by Thursday because you have only one day or the time will be over and the court will decide in accordance with the Constitution and the law," the chief justice said, highlighting the need for urgency in view of COAS' fast-approaching retirement. "You have amended Regulation 255 of the army rules in Tuesday's cabinet meeting when it does not deal with the appointment of the army chief but that of other officers," he observed.
Recalling that several generals in the past had granted themselves extension, the court observed that it was necessary to settle the service matters of the army chief for all times to come.
"Personalities don't matter to us since it is a court of law," the CJP said, explaining that the court would be satisfied if everything was done in a legal manner. To understand the scheme of the service structure, the court also asked the AG to read one by one the entire provisions of the Pakistan Army Act (PAA) 1952 as well as the army rules and regulations.
In an unanticipated development on Tuesday, CJP Khosa had suspended the federal government's notification of Gen Bajwa's extension and issued notices to the army chief, defence ministry and the federal government.
The Supreme Court said the AG could not refer to any provision in any legal instrument regarding extension in service of the army chief upon completion of his first term for his re-appointment.
https://www.dawn.com/news/1519326/sc-resumes-hearing-asks-for-notification-of-gen-kayanis-extension-and-gen-sharifs-retirement
------
PM Imran slams 'powerful countries' for remaining silent on occupied Kashmir crisis
November 27, 2019
ISLAMABAD: Prime Minister Imran Khan on Wednesday criticised 'powerful countries' for remaining silent to protect their trading interests with India and not urging India to end the inhumane human rights violations in occupied Kashmir.
"Shows the fascist mindset of the Indian govt's RSS ideology that has continued the siege of IOJK for over 100 days, subjecting Kashmiris to the worst violation of their human rights while the powerful countries remain silent because of their trading interests," he tweeted.
The lockdown in occupied Kashmir has entered its 115th day. Indian armed forces have forcibly imposed curfew-like restrictions in the occupied valley and subjected the innocent people of occupied Kashmir to brutality.
In his speech at the UN General Assembly, Prime Minister Imran had called out the Indian government for illegally annexing occupied Kashmir and urged world leaders to stop appeasing Modi.
https://www.thenews.com.pk/latest/575210-pm-imran-slams-powerful-countries-for-remaining-silent-on-occupied-kashmir-crisis
------
Fakhar Imam wants US role to help stop long reign of state terrorism in IoK
November 28, 2019
ISLAMABAD, Nov 28 (APP):Chairman Kashmir Committee of the Parliament Syed Fakhar Imam Thursday stressed the United States to take immediate notice of worst human rights violations in Indian occupied Kashmir (IOK) and pressurize India to stop its long reign of state terrorism there.
Talking to a private news channel , he said the Modi government in India should lift its military clampdown in Occupied Kashmir and resolve the dispute peacefully through dialogue.
Fakhar Imam also stressed that international human rights organizations, observers and independent media should be allowed to visit occupied Kashmir.
He regretted that thousands of Indian troops have kept millions of Kashmiris confined to their homes during all these days, adding, educational institutions, shops, markets and business establishments continue to remain closed while public transport is off the roads across the Kashmir valley.
Chairman said Kashmiris are being economically paralyzed by the Modi regime and India would suffer because of PM Narendra Modi's "extremist ideology".
Kashmir issue has been highlighted globally and the international community has acknowledged it as a dispute, he added.
He assured that whole Pakistani nation stands by Kashmiris till they achieve their goal.
Syed Fakhar said Modi's actions in Occupied Kashmir indicate that India is trying to snatch the rights of citizenship and acquisition of land from the Kashmiris.
He said Indian regime is trying to deprive Kashmiris from their civilization.
Fakhar Imam said India has crossed all limits of injustice in Occupied Kashmir and it is strange that there is total media blackout in the valley and human right champions are still silent.
He appealed leaders of important countries of the world to help settle longstanding Kashmir dispute on humanitarian basis to restore peace in South Asia.
He further assured that his government would continue approach the world leaders to inform them about Indian brutalities in Kashmir.
https://www.app.com.pk/fakhar-imam-wants-us-role-to-help-stop-long-reign-of-state-terrorism-in-iok/
------
SHC sets aside Sunni Tehreek activist's death sentence in murder case
November 28, 2019
The Sindh High Court (SHC) on Wednesday set aside the death sentence of an activist of the Sunni Tehreek in a sectarian killing case but upheld his 14-year imprisonment sentence in a case pertaining to possession of explosive substance and illegal weapons.
Sanwal, alias Chariya, was sentenced to death by an anti-terrorism court for murdering a private bank employee and awarded 14-year imprisonment for possessing illegal weapons and explosive substance. According to the prosecution, the appellant was arrested by the police and during investigations he disclosed that he had concealed a huge cache of arms and ammunition at the KESC PMT room near Burnes Road and also murdered of bank employee in the Saddar area on October 9, 2012.
A counsel for the appellant submitted that he was falsely implicated in the murder case and his confession before the police could not be admissible under the law. The counsel sought acquittal of the appellant arguing that the prosecution had failed to prove charges against him.
A deputy prosecutor general supported the prosecution case and requested the SHC to dismiss the appeal. After perusal of the evidence and hearing the arguments, the high court observed that the prosecution had failed to prove the charges of murder against the appellant; however, it had been proved that the weapons and explosive substance were seized due to his disclosure. The SHC set aside the death sentence awarded to the appellant but upheld his 14-year imprisonment.
https://www.thenews.com.pk/print/575269-shc-sets-aside-sunni-tehreek-activist-s-death-sentence-in-murder-case
------
South Asia
Muslim group calls for boycott of 2022 Olympics in Beijing because it's 'anathema to the olympic spirit'
11.27.19
Every four years, the world comes together for the Olympics. We set aside our differences of race, religion, and nationality and are, for a brief moment, just citizens of the world. The event itself says it promotes "peace, friendship and understanding in the world." Now, top Muslim group, Emgage, is saying the location of the 2022 Winter Olympics, Beijing, China, violates the ideals of the Olympics.
Emgage works to increase Muslim American involvement in politics. They held the first Muslim-American presidential forum, and released a report showing a 25% increase in Muslim voters in swing states from 2014 to 2015. Now, they want the U.S. Olympic National Committee to boycott the 2022 Winter Olympics in Beijing, saying that the Chinese government has been persecuting Uighur Muslims (ethnically Turkic Muslims).
In the western province of Xinjiang, over ONE million Uighurs have been incarcerated, while the rest are forced to assimilate as an attempt to remove them FROM their religion. Over half of Xinjiang's population of 25 million are predominantly Muslim ethnic minority groups, the largest of which is the Uighurs.
The Chinese government says the internment camps are job-education centers, and are attempting to curb extremism. The New York Times recently detailed the "coercive nature" of the internment camps. The expose also found "plans to extend restrictions on Islam to other parts of China."
"The Olympic Games are a showcase of what is best of humanity and a celebration of our differences," Emgage CEO Wa'el Alzayat told the Huffington Post. "The mass incarceration of Muslim minorities in China and the intentional attempt to erase their identity are anathema to the Olympic spirit."
"We cannot as Americans participate in good conscience in these Games as long as these concentration camps are operational," Alzayat continued.
The Olympics don't have a great track record when it comes to human rights. In 2016, the Summer Olympics was linked to human rights violations in Rio. A report found that 4,120 people lost their homes to make way for Olympic infrastructure. Police violence and bad labor conditions were among the human rights violations also listed in the report.
Since then, the International Olympic Committee (IOC) has put in a reference to the United Nations Guiding Principles on Business and Human Rights in its Host City Contract. However, it won't apply until the 2024 Summer Olympics. Hopefully, the Olympics will finally be able to get a gold medal when it comes to human rights.
https://www.good.is/olympics-beijing-muslim-boycott
------
Islamic State-Khorasan group remains 'enduring threat' to US interests in South and Central Asia, says Pentagon report
27 November 2019
Gabriel Dominguez, London
The Islamic State-Khorasan (IS-K) militant group in Afghanistan remains "an enduring threat to US and allied interests in South and Central Asia", the Lead Inspector General (Lead IG) at the Pentagon for the US Operation 'Freedom's Sentinel' said in his latest quarterly report to the US Congress published on 20 November.
Glenn Fine, the principal deputy inspector general performing the duties of the Inspector General, said in the report, which covers the period from 1 July to 30 September, that while IS-K has not directed an attack against the US homeland, it regularly issues anti-Western propaganda to encourage sympathisers to conduct attacks abroad, and has emerged as a threat to US interests, "attracting disaffected fighters from other terrorist groups and the Taliban".
https://www.janes.com/article/92882/islamic-state-khorasan-group-remains-enduring-threat-to-us-interests-in-south-and-central-asia-says-pentagon-report
------
Furious China threatens retaliation over US law on Hong Kong
Nov 28, 2019
HONG KONG: China on Thursday threatened to retaliate after US President Donald Trump signed legislation supporting Hong Kong pro-democracy protesters, just as the world's top two economies edge towards a trade truce.
Trump had seemed reluctant to sign the legislation, but came under heavy pressure from Congress, where the issue has attracted rare bipartisan support.
In a statement, Trump spoke of "respect" for Chinese President Xi Jinping and said he hoped the "leaders and representatives of China and Hong Kong will be able to amicably settle their differences".
But Beijing reacted furiously, warning it was ready to take unspecified "firm countermeasures".
"The nature of this is extremely abominable, and harbours absolutely sinister intentions," the foreign ministry said in a statement.
In Hong Kong, the government expressed "extreme regret" after Trump signed legislation requiring an annual review of freedoms in Hong Kong and banning the sale of crowd control equipment like tear gas.
"The two acts are obviously interfering in Hong Kong's internal affairs," the government said in a statement, warning the move would "send the wrong message to the protesters".
Hong Kongers have protested in huge numbers over the last six months, fuelled by years of growing fears that authoritarian China is stamping out the city's liberties.
The territory's Beijing-backed leaders have offered few concessions and police have cracked down hard on protesters in increasingly violent confrontations.
The violence has done little to dampen support though, with pro-democracy candidates winning a landslide victory in local council elections over the weekend.
The Hong Kong Human Rights and Democracy Act requires the US president to annually review the city's favourable trade status and threatens to revoke it if the semi-autonomous territory's freedoms are quashed.
Trump also signed legislation banning sales of tear gas, rubber bullets and other equipment used by Hong Kong security forces in putting down the protests.
Republican Senators Marco Rubio and Jim Risch, together with Democratic Senators Ben Cardin Bob Menendez, issued a joint statement welcoming Trump's decision.
"The US now has new and meaningful tools to deter further influence and interference from Beijing into Hong Kong's internal affairs," Rubio said.
"Following last weekend's historic elections in Hong Kong that included record turnout, this new law could not be more timely in showing strong US support for Hong Kongers' long-cherished freedoms."
Hong Kong activists welcomed the move saying it would help build international consensus in support of their movement.
Sunny Cheung, a student who testified before Congress in support of the legislation, told AFP it would give "Hong Kong people timely leverage to press Hong Kong and Beijing further on democratic reform".
Trump could have vetoed the bill, but he would have faced the possibility of a politically humiliating override -- something unthinkable on most issues, but feasible given the strength of congressional support on Hong Kong.
Trump badly wants even a partial trade deal with Beijing to show to voters as his reelection campaign gets underway, and had appeared to hesitate on the legislation for fear of a backlash from China.
But he faced new pressure after Hong Kong voted decisively in local elections Sunday pro-democracy candidates, and his decision was welcomed even by his fiercest domestic opponents.
"This bicameral, bipartisan law reaffirms our nation's commitment to democracy, human rights and the rule of law in the face of Beijing's crackdown," Democratic House speaker Nancy Pelosi said in a statement.
"I am pleased that the president signed this legislation and look forward to its prompt enforcement."
On Tuesday, Trump said he was "with" the protesters, but quickly backpedalled, emphasising his close ties to Xi and efforts to secure a long-delayed resolution to the trade war.
"It's going very well but at the same time we want to see it go well in Hong Kong," he said.
"I think it will. I think that President Xi can make that happen. I know him and I know he'd like to make it happen."
https://timesofindia.indiatimes.com/world/china/furious-china-threatens-retaliation-over-us-law-on-hong-kong/articleshow/72270143.cms
------
Kabul Police EOD team defuse bomb planted close to a school building
Thursday, 28 Nov 2019
The Explosive Ordnance Disposal (EOD) team defused an improvised explosive device which the militants had planted close to a school in Kabul city.
The Kabul Police Headquarters said in a statement that EOD team of Kabul Police discovered and defused the bomb on Wednesday morning.
The statement further added that the militants had planted the bomb close to Naheed Shaheed School in the 5th district of Kabul city.
The Kabul Police also added that the militants had planted the bomb with an intention to inflict casualties on ordinary civilians.
The anti-government armed militants including Taliban have not commented in this regard so far.
Taliban and militants of the other groups frequently use improvised explosive device as the weapon of their choice to target the security forces and government officials.
However, the majority of roadside bombings inflict casualties on ordinary civilians.
The officials in northern Kunduz province said a Taliban roadside bomb killed 15 civilians and wounded 2 others late on Wednesday afternoon.
https://www.khaama.com/kabul-police-eod-team-defuse-bomb-planted-close-to-a-school-building-04413/
------
15 Afghan pilots, trainers and door gunners complete training for Black Hawk helicopters
Thursday, 28 Nov 2019
A group of 15 Afghan pilots, trainer pilots and door gunners completed their training for UH-60 Black Hawk helicopters in southern Kandahar province.
The provincial government said in a statement that the Afghan Air Force personnel completed a 3-month course in Kandahar Air Brigade.
The statement further added that 2 trainer pilots, 8 pilots and 5 door gunners received their graduation certificates during a ceremony in Kandahar Airfield on Wednesday.
Major Gen. Abdul Raziq Sherzai, the commander of Kandahar Air Brigade, Resolute Support officials and some other officials also attended the graduation ceremony, the statement added.
Speaking during the ceremony, Gen. Sherzai said the newly-graduated air force personnel are well trained to thwart all plans of the enemies by providing air support to ground forces.
Gen. Sherzai further added that the air force personnel will demonstrate their capabilities which they have learned during the 3-month training course.
https://www.khaama.com/15-afghan-pilots-trainers-and-door-gunners-complete-training-for-black-haw-helicopters-04412/
------
Taliban roadside bomb kills 15 civilians, wounds 2 others in Kunduz
Wednesday, 27 Nov 2019
An explosion killed 15 civilians and wounded 2 others in northern Kunduz province of Afghanistan, the security officials said.
Nasrat Rahimi, a spokesman for the Ministry of Interior said a vehicle struck a Taliban roadside bomb at around 5 pm local time in Imam Saheb district.
Rahimi further added that the explosion killed 15 civilians and wounded 2 others.
Meanwhile, the provincial government in a statement said the civilians were on their way from Khanabad district to Imam Sahib district to participate in a wedding ceremony.
The statement further added that the explosion killed 15 civilians including 6 women, a man and 6 young girls and 2 children.
The Taliban group has not commented regarding the incident so far.
https://www.khaama.com/taliban-roadside-bomb-kills-15-civilians-wounds-2-others-in-kunduz-04411/
------
World Bank approves $52.5 million grant for Afghanistan Gas Project
Wednesday, 27 Nov 2019
The Board of Executive Directors of World Bank on Tuesday approved $52.5 million grant for Afghanistan Gas Project, the World Bank said in a statement.
The statement further added that the project will provide sustainable supply of natural gas to independent power producers in Northern Afghanistan.
More specifically, the Afghanistan Gas Project will provide direct financing and technical assistance for the construction, operation and maintenance of a gas pipeline from Sheberghan to Mazar-e-Sharif and a new natural gas desulfurization amine plant, the statement added.
The World Bank also added that the project will also provide direct financing and technical assistance for the establishment of a strong institutional, regulatory, and contract management framework based on the principles of good governance in the gas sector.
Henry Kerali, World Bank Country Director for Afghanistan said "By investing in critical gas infrastructure and developing a strong foundation for good governance in the gas sector, the project will improve Afghanistan's energy supply, which is currently critically low, and contribute to poverty reduction."
Meanwhile, the Ministry of Mines and Petroleum will lead the overall implementation of the project in close coordination with other government agencies, including the Afghanistan Gas Enterprise, and the Afghanistan Oil and Gas Regulatory Authority.
https://www.khaama.com/world-bank-approves-52-5-million-grant-for-afghanistan-gas-project-04410/
------
Kabul Police arrest 21 people in connection various criminal incidents including murder
Wednesday, 27 Nov 2019
The Kabul Police arrested 21 people in Kabul city in connection with various criminal incidents including murder.
According to a statement released by Kabul Police Headquarters, the police forces arrested the suspects during separate operations in the past 24 hours.
The police forces arrested 11 suspects in connection with murder, robberies, looting, moral offenses and illegal transfer of weapons, the Kabul Police said in a statement on Tuesday.
The statement further added that the police forces arrested the suspects from 1st, 2nd, 12th, 16th, 11th, 13th, 17th districts and Shakardarah district.
The Kabul Police said in a separate statement that the police forces arrested a group of 3 people who had snatched two cell phones from commuters in the vicinity of Kabul University Road.
Meanwhile, the Kabul Police said the security forces arrested 7 suspects from the 10th and 15th districts of Kabul city, in connection with the possession of illegal arms.
https://www.khaama.com/kabul-police-arrest-21-people-in-connection-various-criminal-incidents-including-murder-04409/
------
Iranian FM holds talks with senior Taliban leader in Tehran
November 28, 2019
GENEVA: Iranian Foreign Minister Mohammad Javad Zarif held talks in Tehran with a Taliban delegation led by Mullah Abdul Ghani Baradar, one of the group's founders, the official IRNA news agency reported on Wednesday.
Zarif expressed Iran's willingness to support the dialogue between all Afghan parties with the participation of the Afghan government, according to IRNA. The Taliban have refused to talk to Afghan President Ashraf Ghani's government, denouncing it as a US puppet.
Last week, the Taliban released American and Australian university professors held hostage for more than three years, completing a delayed prisoner swap and raising hopes for a revival of peace talks. Iran also held talks with a delegation from Afghanistan's Taliban in September, a week after peace talks between the United States and the Islamist insurgents collapsed.
Iran said in December it had been meeting with Taliban representatives with the knowledge of the Afghan government, after reports of US-Taliban talks about a ceasefire and a possible withdrawal of foreign troops.
https://www.thenews.com.pk/print/575364-iranian-fm-holds-talks-with-senior-taliban-leader-in-tehran
------
North America
Brooklyn Man Charged With Encouraging Islamic State Subway Attacks
NOVEMBER 27, 2019
(NEW YORK) — A Brooklyn man was arrested Wednesday on charges that he tried to help the Islamic State group, in part by encouraging attacks on New York's subway system.
Zachary Clark was detained after an initial appearance in Manhattan federal court.
Federal authorities accused Clark of providing instructions on how to plan attacks on U.S. soil and encouraging Islamic State group supporters to attack well-populated areas.
They said he also posted a manual online on how to build a bomb.
A defense lawyer declined to comment.
Authorities said Clark, 40, this year pledged allegiance to the Islamic State leader who was killed in October and also his replacement.
He was charged with providing material support to IS and distributing information relating to explosives and weapons of mass destruction.
https://time.com/5740869/brooklyn-man-arrested-subway-attacks/
------
Trump signs Hong Kong democracy legislation that has angered China
November 28, 2019
Written by Emily Cochrane (Keith Bradsher contributed reporting)
President Donald Trump on Wednesday signed tough legislation that would impose sanctions on Chinese and Hong Kong officials responsible for human rights abuses in Hong Kong, expressing support for pro-democracy activists in the territory and most likely angering China as the two countries negotiate ending their trade war.
"I signed these bills out of respect for President Xi, China and the people of Hong Kong," Trump said in a statement Wednesday. "They are being enacted in the hope that leaders and representatives of China and Hong Kong will be able to amicably settle their differences, leading to long-term peace and prosperity for all."
As late as last week, Trump refused to commit to signing the legislation, which Congress had overwhelmingly approved, saying that he supported the protesters but that President Xi Jinping of China was "a friend of mine."
"I stand with Hong Kong," he said Friday during a nearly hourlong interview on the morning program "Fox & Friends." "I stand with freedom. I stand with all of the things we want to do. But we're also in the process of making the largest trade deal in history."
The bill would require the State Department to annually review the special autonomous status it grants Hong Kong in trade considerations. That status is separate from the relationship with mainland China, and a revocation of the status would mean less favorable trade conditions between the United States and Hong Kong.
After the Senate approved the bill, the Chinese Foreign Ministry denounced it, saying it "interferes in China's internal affairs" and "violates the basic norms of international law and international relations."
The Hong Kong government said the bill was "unnecessary and unwarranted" and would harm relations between the United States and Hong Kong.
Because the bill, in theory, has the support of a veto-proof majority in Congress, it could have been enacted into law even if Trump had vetoed it.
The bill is the latest sign of a strong bipartisan push in Washington to confront China and its authoritarian leader on a wide range of issues, including commercial practices, global infrastructure building and the detention of at least 1 million Muslim ethnic minority members in camps in northwest China. Because of the pro-democracy protests, Hong Kong has become a central rallying point.
Sen. Ted Cruz, R-Texas, and Sen. Josh Hawley, R-Mo., both flew to Hong Kong in October, while Speaker Nancy Pelosi, D-Calif., has met with activists in Washington.
"We have sent a message to President Xi: Your suppression of freedom, whether in Hong Kong, in northwest China or anywhere else, will not stand," Sen. Chuck Schumer, D-N.Y. and the Democratic leader, said last month. "You cannot be a great leader and you cannot be a great country when you oppose freedom, when you are so brutal to the people of Hong Kong, young and old, who are protesting."
While there was no immediate reaction from the Chinese government to Trump's signing of the bill, Beijing had previously made clear its strong hostility to the measure.
On Monday, China's Foreign Ministry summoned the U.S. ambassador to Beijing, Terry Branstad, to criticize the bill. According to the ministry, Zheng Zeguang, a vice foreign minister, demanded that the United States "stop interfering in China's internal affairs."
Pro-democracy supporters celebrate results outside a polling station in the Tuen Mun area of Hong Kong, Nov. 25, 2019. (Lam Yik Fei/The New York Times)
Although Trump announced last month that the United States and China had reached a "historic" Phase 1 trade agreement, signing a deal has proved elusive. Both the United States and China have tried to keep the Hong Kong issue separate from their bilateral trade talks. The Commerce Ministry issued a statement this week that talks were going well on a partial resolution of the issues.
Eswar Prasad, the former head of the International Monetary Fund's China division, said the injection of Hong Kong into the trade process could derail the talks with China, which is notoriously sensitive about outside political interference.
"The legislation will further fuel the narrative in Chinese domestic policy circles that the U.S. is attempting to infringe on the sovereignty of China in terms of its internal economic and political affairs," Prasad said.
Economists at Goldman Sachs said in a note to clients this month that the Hong Kong legislation was a potential "complication," warning that China's Ministry of Foreign Affairs had promised "strong countermeasures" if such a bill were enacted.
On Tuesday, Secretary of State Mike Pompeo said the Trump administration "has been pretty clear about our expectations about how Beijing will treat people throughout their country."
"We have human rights standards that we apply all across the world, and Hong Kong is no different," Pompeo told reporters.
He appeared to be goading Beijing, suggesting that the degree of independence Hong Kong maintains as part of its "one country, two systems" agreement with China was weakening.
"Our support for the Chinese Communist Party's continued commitment to the promises that they made remains unwavering," Pompeo said. "And I think you saw that from the people of Hong Kong this past week. That's what they're asking for, too."
Pro-democracy candidates overwhelmingly won local elections in Hong Kong this weekend, shocking Beijing and its allies in Hong Kong's government. Smarting from the loss, Chinese officials have accused the United States of interfering in the election.
https://indianexpress.com/article/world/trump-signs-hong-kong-democracy-legislation-that-has-angered-china-6140457/
------
Trump says US to designate Mexican drug cartels as terrorists
November 27, 2019
US President Donald Trump said he will designate Mexican drug cartels as terrorist groups for their role in trafficking narcotics and people, prompting a speedy request for talks by Mexico.
"They will be designated … I have been working on that for the last 90 days. You know, designation is not that easy, you have to go through a process, and we are well into that process," Trump said in an interview aired on Tuesday with conservative media personality Bill O'Reilly.
Soon afterwards, Mexico's foreign ministry issued a statement saying it would quickly seek a high-level meeting with U.S. State Department officials to address the legal designation as well as the flow of arms and money to organized crime.
"The foreign minister will establish contact with his counterpart, Michael R. Pompeo, in order to discuss this very important issue for the bilateral agenda," the ministry said.
Once a particular group is designated as a terrorist organization, under US law it is illegal for people in the United States to knowingly offer support and its members cannot enter the country and may be deported.
Financial institutions that become aware they have funds connected to the group must block the money and alert the U.S. Treasury Department.
Earlier this month, Trump had offered in a tweet to help Mexico "wage WAR on the drug cartels and wipe them off the face of the earth" in the aftermath of the bloodiest attack on U.S. citizens in Mexico for years.
Three women and six children of dual U.S.-Mexican nationality were killed in the ambush in northern Mexico. Mexican authorities said they may have been victims of mistaken identity amid confrontations among drug gangs in the area.
Alex LeBaron, a former Mexican congressman and relative of some of the victims, on Twitter rejected the idea of a U.S. "invasion".
"We have already been invaded by terrorist cartels," he wrote. "We demand real coordination between both countries… both countries are responsible for the rising trade in drugs, weapons and money."
The LeBaron extended family has often been in conflict with drug traffickers in Chihuahua and victims' relatives said the killers must have known who they were targeting.
https://indianexpress.com/article/world/trump-says-u-s-to-designate-mexican-drug-cartels-as-terrorists-6138766/
------
US sending 15 trade delegations to Pakistan next year: Wells
Anwar Iqbal
November 28, 2019
WASHINGTON: The United States plans to send 15 trade delegations to Pakistan next year to explore possibilities for expanding trade with the country, says Assistant Secretary of State Alice Wells.
The information is included in a paper Ms Wells read at a Washington think-tank, Wilson Centre, last week, which focused heavily on the China-Pakistan Economic Corridor (CPEC), but it also included various suggestions for expanding US-Pakistan trade ties.
The paper, now posted at the US State Department's official site, says that the US Commerce Department has "already stepped up its activity in Pakistan with 15 trade delegations planned for the next year".
And once the new expanded Deve­lopment Finance Corporation (DFC) is up and running, "Pakistan is going to be a country of great interest".
According to the paper, the DFC will have more than double the investment cap than the Overseas Private Investment Corporation (OPIC), increasing from $29 billion to $60bn. OPIC is a US government agency which mobilises private capital for overseas investments.
Document suggests US-Pakistan ties are going to expand
The paper argues that doubling the cap would enable investment in projects that have high standards and are financially sustainable over the long haul.
While urging Pakistan to benefit from these additional US resources, Ms Wells reminded Islamabad last week that "true sustainable development is really a marathon and not a sprint. It requires the development of effective regulatory framework, strong rule of law, fiscal health, and an enabling business climate".
She recalled that during Prime Minister Imran Khan's visit to the United States in July, President Donald Trump was "extremely enthusiastic about the potential for increasing and expanding our US-Pakistan trade and investment relationship. And both our governments are working very hard to find practical ways to do that. We commend Pakistan for surging 28 slots on the World Bank's 2020 Ease of Doing Business ranking and being highlighted as one of the top ten reformers globally," she added.
The paper also highlights some commercial connections between the United States and Pakistan such as, the US firm Excelerate is prepared to potentially invest more than $300 million to upgrade a floating storage regasification unit in Pakistan's first LNG terminal.
ExxonMobil has been working to support Pakistan's ambitious effort to access new LNG supplies.
Over the last five years PepsiCo has invested $800m to expand its infrastructure and diversify products, and Coca-Cola has invested $500m in the last couple of years, providing thousands of jobs for Pakistanis.
Uber Technologies entered the Pakistani market in 2016 and currently operates across nine cities, providing employment opportunities for thousands of Pakistanis.
The paper argues that US corporate social models are outstanding vehicles that create jobs and opportunities for communities associated with these foreign investments.
So, the US-Pakistan Women's Council, for instance, fosters cooperation between American and private sector, Pakistani private sector, to mentor women and girls. Another American brand, KFC, supports the education of children with hearing disabilities and other underprivileged young people, partnering with schools throughout Pakistan.
Proctor & Gamble's Children's Safe Drinking Water Programme has provided 875m litres of clean drinking water to Pakistani communities in need.
Noting that US companies bring superior quality and technology, the paper points out that Pakistani leaders often praise US companies like Cargill and Corteva, that are passing critical technology and driving "enormous productivity gains in Pakistan's huge agricultural sector".
The US has also helped establish some of Pakistan's most prestigious educational institutions and centres including Lums, IBA, JPMC and the Centre for Advanced Studies in Energy at Nust.
And just to be crystal clear, the US-Pakistan development partnership has primarily taken the form of grants — not loans," said Ms Wells while adding that such links "offer a sense of the direction that we envision".
https://www.dawn.com/news/1519260/us-sending-15-trade-delegations-to-pakistan-next-year-wells
------
New York police arrest Brooklyn Islamic State supporter
Nov. 27 (UPI) -- New York police arrested a 40-year-old Brooklyn man Wednesday for allegedly encouraging supporters of the Islamic State to commit terrorist attacks and for distributing bomb-making instructions, according to officials.
Zachary Clark has been charged with one count of attempting to provide material support to IS, which carries a maximum sentence of 20 years in prison, and two counts of distributing information relating to explosives, destructive devices and weapons of mass destruction, which also carries a maximum 20-year prison term, the U.S. Justice Department said in a statement.
According to the complaint, Clark, a resident of Brooklyn, disseminated IS propaganda, including calls for people to commit terrorist attacks in New York City, since at least March 2019 through encrypted chatrooms to people affiliated with, or attempted to be recruited to, the Islamic terrorist organization.
"The defendant allegedly provided instructions for how to plan attacks on U.S. soil, encouraging [IS] supporters to attack in well-populated locations," said Assistant Attorney General for National Security John C. Demers in a statement.
The complaint states that on or about Aug. 3, Clark invited an undercover agent to a pro-IS chatroom where the defendant allegedly posted "a series of highly detailed instructions regarding how to carry out a lone-wolf terrorist attack."
"The instructions address, among other things, how to select an attack target; how to conduct pre-operational surveillance; how to conduct operational planning and how to avoid attracting law enforcement attention while preparing for and conducting the attack," the complaint said.
In another pro-IS channel, one that Clark owned and consisted of 194 subscribers, the undercover agent saw that Clark had allegedly posted an image of the New York subway system and pages of instructions entitled "Make a bomb in the kitchen of your mom," bomb-making instructions that had originally been published by al-Qaida, another Islamic terrorist organization, the Justice Department said.
In a third channel, the Justice Department said Clark posted a manual titled "Knife Attacks," which, among other instructions, specified which organs to target and that a knife attack's intention is to "attain a reasonable kill count" while causing "terror on the crusader citizens" through violence.
"As alleged, Clark championed his support for [IS], disseminated hate-filled messages via encrypted chatrooms and encouraged like-minded individuals to carry out vicious attacks in the name of jihad," said FBI Assistant Director-in-Charge William F. Sweeney Jr. "While today's arrest reminds us that there are still people out there who embrace the idea of inflicting harm on others in this way, it also presents evidence of the dedication and resolve of the FBI's [Joint Terrorism Task Forces] here in New York who, along with our many partners, successfully confronts threats of this nature head-on, day in and day out."
Clark allegedly pledged alliance twice to IS, once to former leader Abu Bakr al-Baghdadi in July and then again in October to the terrorist's new leader, Abu Ibrahim al-Sashemi al-Qurayshi following Baghdadi's suicide death during a U.S. raid.
https://www.upi.com/Top_News/US/2019/11/27/New-York-police-arrest-Brooklyn-Islamic-State-supporter/1941574913608/?sl=2&ur3=1
------
Gangs, gun owners, Islamic group submit on gun law changes
Ruby Nyika
Nov 28 2019
Looming gun law changes have been commended by an Islamic group, slammed as "cowardly" by gun owners and dubbed "racist" by a gang.
Dozens of impassioned submissions were presented at a select committee hearing in Hamilton, before the Arms Legislation Bill is considered by the Finance and Expenditure Committee.
Firearm owners argued the Government's rushed changes were "jumping the gun".
But the Islamic Women's Council say the tightening of laws will prevent more violence and trauma for vulnerable groups.
The proposed changes include a register of firearms, require a gun license to posess parts or ammunition. Health practitioners will also be able to notify police if they have concerns about a licence firearms owner's health and a licensing regime for shooting clubs and ranges would be created.
Anjum Rahman spoke in support of the changes on behalf of the Islamic Women's Council of NZ.
Racist threats, comments and physical attacks were already rife, Rahman said.
"If we add guns to the mix, what might that violence look like?"
Firearm owners making online threats should be penalised and face license disqualification, Rahman said.
She also asked people to be wary of using the Christchurch mosque attacks to justify the change in legislation.
"Doing so drives a wedge between Muslim communities and other communities, putting us at higher risk.
"I believe this legislation does stand on its own merits.
"We know there a lot of law-abiding gun owners. We know these laws will impact them in terms of more onerous requirements
"We are asking that they think of the greater good, that some individual inconveniences could lead to a prevention of trauma and harm."
Meanwhile, the gun law changes have been labelled "racist" and undemocratic by the Waikato Mongrel Mob.
Louise Hutchinson, who manages the chapter's PR, made the gang's first formal submission to a select committee, supported by Paula Ormsby.
While the mob supported the law being revisited, the Government was taking shortcuts, Hutchinson said.
"Many Māori do not understand the content of this legislation and will continue to be a stick to beat," Hutchinson told the select committee. "[The gun laws] will essentially see Māori being the prime targets, particularly our gang communities.
"This legislation is racist in its intent."
But select committee member Labour MP Kiritapu Allan challenged the gang's submission, questioning whether they were speaking on behalf of all Māori.
"I just want to be very clear because it's a strong allegation that you've made on this attempt to reform to ensure public safety ... I think statistics would show, Māori are arguably, disproportionately more likely to be the victims of gun violence.
"These provisions - which go towards enhancing the protection of citizens - would go towards protecting Māori.
"One of the key issues with this gun law reform is about creating a register so it can track firearms as they pass through hand. Are you contending that's racist?"
Ormsby argued it was the formal legislation process the gang were challenging.
Outside of the hearing, Hutchinson said the Government should have held hui at marae to ensure Māori voices were heard, without having to engage with "intimidating" processes.
She told Stuff the gang had been "cooperating fully" with law changes and liaising with Waikato police.
"[Waikato Mongrel Mob] have already handed in guns."
Meanwhile Tim Wikiriwhi argued the changes were part of an "anti-gun era being foisted onto our country by the government".
"The cowardly way the Government has behaved has prove that the terrorist has won.
Others told the committee they feared family heirlooms would be confiscated.
Firearm user and mother Krystal Anderson worried firearm owners wouldn't seek help for mental health issues.
"I believe that doctors having to report patient's personal information would be more detrimental than beneficial. Many with depression, like myself, may be worried about seeking treatment for fear of losing their license in sport."
Zac Dodunski said he'd been raised on a farm that had been in his family since prior to WWI.
"As a rural lad I've been around firearms since I was young."
He argued that with the Royal Commission of Inquiry into the March 15 attack still underway, the law changes were "metaphorically jumping the gun."
https://www.stuff.co.nz/national/117770198/gangs-gun-owners-islamic-group-submit-on-gun-law-changes
------
Fire Breaks Out In Mosque On Stony Island Avenue Near 90th Street
November 27, 2019
CHICAGO (CBS) — A fire broke out Wednesday evening at a mosque on Stony Island Avenue near 90th Street.
Police said around 6:20 p.m., a fire was reported in a place of worship. The place of worship was Masjid Al Farooq at 8950 S. Stony Island Ave.Police said there were no reported injuries, but serious damage was reported inside.
Efforts were under way to investigate the cause of the fire, police said.
https://chicago.cbslocal.com/2019/11/27/fire-breaks-out-in-mosque-on-stony-island-avenue-near-90th-street/
------
Mideast
Erdoğan urges unity in Islamic world to overcome problems
27.11.2019
The Islamic world is easily manipulated because Muslims are not a tight-knit community, President Recep Tayyip Erdoğan said Wednesday.
The president highlighted that Muslim-majority countries are facing many threats, including terrorism and civil war, on top of a rise in xenophobia.
"The terrorist organizations shed blood in our marketplaces, mosques and schools," Erdoğan said, in reference to groups that carry out terrorist attacks under the name of Islam.
He continued by noting that Muslims are powerless, inactive and are not fairly represented in international organizations.
"The Islamic world has no prerogative to make and implement decisions to determine its future," Erdoğan said, noting once again that there is not a single Muslim country in the U.N. Security Council and that the unjust system cannot prevail.
"We need to first believe in ourselves. As the Organization for Islamic Cooperation (OIC), we need to recognize our power, comprehend ourselves and determine our attitude accordingly. The U.N., which failed to find solutions in Bosnia-Herzegovina, Rwanda and Syria will not find solutions to our problems," he said and suggested that the Security Council's structure needs to be shaped taking into consideration of the world population.
He repeated his call to restructure the U.N. and argued that Muslims need to be the defenders of justice in the 21st century.
He extended his for call fraternity beyond favorable relations among Muslims by suggesting that Muslim countries should mobilize to cooperate in technical, trade, cultural and social affairs.
Erdoğan also urged the U.N. and other global organizations to designate March 15 as "International Solidarity Day Against Islamophobia."
Turkey has voiced its concern about growing anti-Muslim sentiment and attacks targeting Muslims in the West.
Turkey, along with Pakistan and Malaysia, has also proposed to establish a joint media and communications center against anti-Muslim racism.
Anti-Muslim hatred has significantly risen in Europe in recent years. Far-right extremism and xenophobia have fueled anti-Muslim hatred in Western countries, where terror attacks by Daesh and al-Qaida are used as an excuse to legitimize those views.
Although enmity toward Muslims is not a new phenomenon, it intensified after 2001 when two airplanes crashed into the World Trade Center in New York City. Since then, for almost two decades, Islam has been unjustly tarnished with labels that have negative connotations and portrayed as a religion of hate and violence with anti-Western sentiment and women's oppression. This trend of intolerance has since triggered deadly attacks against Muslims and immigrants.
With growing racism emerging as a serious problem in almost all EU states, citizens of foreign origin are more vulnerable in some countries. For instance, in Germany, Muslims have become targets of countless attacks in recent years.
Touching upon the Palestine issue, President Erdoğan said Muslims should also take a determined stance against Israel's injustice. "By not respecting Palestinian people's right to live and work in peace, Israel is jeopardizing the future of the world and the region," he said and added that Turkey is determined to defend the rights of Palestinians on all platforms.
https://www.dailysabah.com/politics/2019/11/27/erdogan-urges-islamic-world-to-unite-forces-to-overcome-problems
------
IRGC Quds Force Saves 2 Hostages from Terrorists' Hands
Wed Nov 27, 2019
TEHRAN (FNA)- The Islamic Revolution Guards Corps (IRGC) Quds Force released 2 people who had been abducted by an unknown group in Southeastern Iran.
The IRGC Quds Forces rushed to free two people who had been taken hostage by unknown abducters in Iranshahr region of Sistan and Balouchestan province on November 24 and released them after special intelligence and operational measures on November 26, returning them to their families.
The kidnappers wanted to transfer the two to Pakistan via Sarbaz bordering regions and hand them over to the terrorist groups.
There is yet no further information available on the identity of abductors or abductees.
Sistan and Balouchestan in Southeastern Iran is a restive region where some terrorist and militant groups stage cross border attacks each year.
15 Iranian Basijis (volunteer forces) and border guard forces were abducted by terrorists in the border of Iran's province of Sistan and Baluchistan with Pakistan on October 15, 2018, by Jeish al-Adl terrorist group. Five of them were later released through the efforts of the Pakistani government on November 15, 2018.
There are still 6 other Iranian border guards in the hands of terrorists.
Jeish al-Adl, a Pakistan-based radical Wahhabi terrorist group staging cross border attacks into Southeastern Iran from South-West Pakistan, claimed responsibility for the February 13, 2018, attack against members of the Islamic Revolution Guards Corps in Iran which killed 27 IRGC personnel.
The group has bases in Southwestern Pakistan and started operations after recruiting the remnants of Jundullah notorious terrorist group and reorganizing them. Iran had captured leaders of Jundullah notorious Wahhabi terrorist group and dismantled the terrorist organization years earlier.
https://en.farsnews.com/newstext.aspx?nn=13980906000962
------
Supreme Leader: Highly Dangerous Conspiracy Foiled by Iranian people
Wed Nov 27, 2019
TEHRAN (FNA)- Supreme Leader of the Islamic Revolution Ayatollah Seyed Ali Khamenei praised the Iranian people for their vigilance and rallies to support the Islamic Republic after the recent riots in Iran, stressing that they thwarted a dangerous plot against the country.
"I would like to express my heartfelt gratitude and appreciation to the great Iranian nation for their magnificent movement during recent days. The people proved again that they are powerful and great, and defeated the big conspiracy of the enemy with their presence on the scene," Ayatollah Khamenei said, addressing a large number of Iranian Basij (volunteer) forces in Tehran on Wednesday on the occasion of the National Week of Basij.
"The grave, extensive and very dangerous conspiracy that Global Arrogance and Zionism spent so much on and worked for so that they could cause this destruction, villainy, and murder in Iran at a crucial time was quashed by the presence of the people," he added.
Police and security forces entered the scene and performed their duty, but what the nation did during this week was more important than any other measure, he added, noting that the movement started in Tabriz and Zanjan, spread to all cities, villages, and a great movement took place in Tehran.
Ayatollah Khamenei underlined that the system of domination is against freedom, adding that "The biggest freedom is a nation's freedom and independence, which they are against. They enter via colonialism, then via neocolonialism, today using new methods, soft war, and if they can and find it necessary using military force without hesitation."
The nation's main enemies comprehend the meaning and message conveyed by the national drive, the Leader stated. "This past week truly witnessed the height of the Iranian nation's glory and magnificence. We are grateful towards God and are thankful towards the dear people, too," Ayatollah Khamenei noted.
The Leader said the hegemonic system and the US have expended all in their power since the Islamic Revolution to confront Iran's Islamic establishment.
The establishment, however, has grown in power and strength every day and come to flaunt these qualities before the enemy's eyes, Ayatollah Khamenei added.
The Leader warned that expansive and magnificent institutions such as Basij in Iran and its kindred organizations in some other countries were more likely to be targeted by the hegemonic system's adversarial plots.
"Victory is guaranteed for the Iranian people, Basij, and the country's revolutionary movement," the Leader stated, citing the divine pledge of assistance to those following the divine path.
In relevant remarks on Monday, Head of the Islamic Revolution Guard Corps Public Relations Department Brigadier General Ramezan Sharif revealed that Washington and Tel Aviv played a role in masterminding the recent riots in Iran by abusing people's peaceful protest rallies.
"Israel and the US were behind these incidents," General Sharif said, addressing a forum in the Southern province of Kerman.
He added that enemies thought that they had found a ground to ride on the popular protest rallies after the hike in gasoline prices which pressured people.
"We witnessed ISIL-like behavior during these riots by those who showed highly violent and organized behavior, and use of females to provoke clashes was a new experience in these incidents," General Sharif said.
He said after enemy failed to confront Iran in the military field, it has now resorted to abusing people's peaceful protest rallies and using the remnants of Mojahedin-e Khalq Organization (MKO, also known as the MEK, PMOI and NCRI) terrorist group to attain its goals.
On November 15, the government raised Iran's extremely cheap gas price in order to moderate the national consumption rate, which stands at 110 million liters per day, 40 million liters above the maximum domestic requirement.
The government also announced a number of aid and subsidiary programs to protect vulnerable households from the adverse effects of the measure.
The price reform, required by Iranian legislature and essential as US-imposed sanctions seek to deplete Iran's budgetary resources, had been long delayed due to concerns regarding the move's probable backlash.
The measure's adoption prompted initially peaceful protests, but riotous elements, abusing the situation, quickly entered the scene, destroying public property, setting ablaze banks and gas stations among other facilities, and opening fire on people and security forces.
Last Friday, IRGC Lieutenant Commander Brigadier General Ali Fadavi said that the US was disappointed that its perpetrated violent riots in Iran did not last more than 48 hours, adding that reports from all four corners of the country indicate that peace and calm has been restored much to Washington's chagrin.
"Based on information we have received, the Americans have gone mad that the riots were over within 48 hours and are disappointed that there is no more disorder in Iran," Fadavi added.
However, Fadavi said that in numerous calls with other IRGC officials in the country no further riot attempts had been reported.
"Attacking homes, shops, hospitals, banks and gas stations is a malicious act which is not an act of protest nor rioting, but an act of thievery," Fadavi said.
"This is the difference between protest and disorder," he said.
The IRGC deputy commander added that peaceful protests were "natural" given the recent price hike and that the government has to adopt additional measures to reduce pressure on the general population.
Fadavi added, however, "The fact that the malicious actors of the world are targeting Iran in issues that are by no means related to them is a matter to note."
Deputy Head of Iran's Basij volunteer forces Brigadier General Salar Abnoosh said last Friday "a full-fledged war" had been meant to be waged against the country, only to be quelled early on.
Abnoosh added that interrogations of arrested rioters had revealed that a "coalition of evil" made up of "Zionists, America and Saudi Arabia" had joined forces to organize destructive riots from abroad.
Addressing worshipers during weekly Friday prayers in Tehran, senior Iranian cleric Ayatollah Ahmad Khatami said certain foreign countries had spent "three years" preparing for an opportunity to wreak havoc in Iran, training specific elements to that end.
"But their schemes were neutralized," he said, adding that the riots ceased to continue despite the fact that countries such as Saudi Arabia had spent many resources and had provided much media coverage in order to instigate disorder.
Following the Friday prayers, numerous rallies were also held across Iran to condemn the recent riots.
The protesters condemned the US, Israel and seditionist elements for fueling the unrest and chanted slogans in support of the Islamic establishment.
Addressing recent riots during a speech, Iran's Judiciary Chief Ebrahim Rayeesi said those "who have abused the concerns and troubles of the people in order to create disorder and insecurity" will face severe consequences.
"The Islamic Republic of Iran is known as the safest country in the region due to the sacrifices of our martyrs and our wounded," he said.
"We will never allow the smallest breach in the security of our people," he added.
Riots by a small number who had taken advantage of legitimate public protests against the government's gas price hike plan in Iran were directed at sowing chaos through targeted attacks on public and private properties, forcing law enforcement to step in to stop saboteurs.
Early estimates of an intelligence body showed that a sum of nearly 87,000 protesters and rioters had taken part in protest rallies and gatherings since Friday night, mostly (over 93%) men. A large number of protesters had only been present in the gathering centers and avoided joining the rioters in sabotage attacks on public and private properties.
"The identical methods of the main core of violent rioters discloses that they are fully trained individuals who have been prepared and looking forward for the situation to rise, unlike most people who have been taken off guard by the sudden hike in gas price," the report said.
The report showed that gatherings have been comprised of 50 to 1,500 people held in 100 regions of the country out of a number of 1,080 major towns and cities. The report says violent raids and damage inflicted on properties has been larger than what happened in February 2018 unrests.
Most cases of damage to properties had happened in Khuzestan, Tehran, Fars and Kerman provinces. The report says most casualties have resulted from armed outlaws' attacks on oil storage and military centers, adding that a number of police and popular forces have been martyred in these attacks.
Nearly 1,000 people were arrested across the country while over 100 banks and 57 big stores were set on fire or plundered in just one province.
The Iranian intelligence ministry announced in a statement on November 17 that it had identified several rioters who misused the recent protest rallies against the gasoline price hikes to destroy public and private properties.
"The main culprits behind the riots in the past two days have been identified and proper measures are being adopted and the honorable nation will be informed about its result later," the statement said.
Hundreds of thousands of people in the capital city of Tehran poured to the streets on Monday to show allegiance to Supreme Leader and the Islamic Republic and support for the country's security and might.
The rallies started at 14:30 local time (1100 GMT) with demonstrators moving towards Enqelab (Revolution) Square in Central Tehran.
The demonstrators shouted 'death to the US', 'death to Israel', 'death to Britain', 'death to the plotters' and 'death to the rioters' slogans.
They also carried the Iranian flags and placards with Supreme Leader of the Islamic Revolution Ayatollah Seyed Ali Khamenei's images and remarks.
The ralliers also voiced their opposition to the hike in gasoline prices and other goods in Iran, but meantime, voiced hatred for the rioters who misused the recent protests to set ablaze the public and private properties and loot the big stores.
In similar rallies on Sunday, tens of thousands of people in Northern, Western and Southern Iran demonstrated to show allegiance to the Islamic Republic and Supreme Leader after the recent riots.
Demonstrators in the towns of Pardis and Baharesten in Tehran province, Nour, Savadkouh, Behshahr, Neka, Qa'em Shahr and Sari in Mazandaran province, Ahrom in Bushehr, Imam Khomeini port city in Khuzestan province and Sahneh, Sarpol Zahab, Gilan Qarb, Qasr-e Shirin, Kermanshah and Javanroud in Kermanshah province held massive rallies to condemn the rioters who misused the popular protests to destroy and set fire at public properties last week.
They shouted slogans, including 'death to the US' and 'death to Israel' to deplore their officials' interfering remarks against Iran as well as 'death to the rioters' and 'death to plotters' to condemn their acts of sabotage during the recent unrests.
The protestors also carried placards which called on the government to show more attention to people's welfare and living conditions and urged the judiciary to sue and seriously punish those who distorted security and tranquility of people in the recent riots.
Similar demonstrations have been underway throughout the country in the past few days.
https://en.farsnews.com/newstext.aspx?nn=13980906000766
------
IRGC Commander: US Using Empty Gun of Sanctions against Iran
Wed Nov 27, 2019
TEHRAN (FNA)- Commander of the Islamic Revolution Guards Corps (IRGC) Aerospace Force Brigadier General Amir Ali Hajizadeh underlined that the US sanctions and military option against Iran have both lost effectiveness.
"Today the gun of sanctions is empty of bullets and today the enemy has reached the end of line and it is now Iran's turn for a counterattack and we should look at the internal capacities and trust the young people," General Hajizadeh said, addressing a forum in the Central city of Qom on Wednesday.
He also underscored that the US military option against the country is now off the table due to Iran's military might, saying that Washington was forced to thank Tehran for not targeting its P8 aircraft with 35 on board after downing the American spy drone.
General Hajizadeh said the US quest for the regime change plan is known a secret to Iran, and that's why "they try foment insecurity in our country".
He also referred to the UAE and Saudi officials' war rhetoric against Iran, and said the Iranians' self-restraint in the past few years have made them miscalculate but they witnessed Iran's high military power.
Iran's powerful defense system intercepted an intruder US Navy spy drone over Iran's territorial waters on June 20.
The IRGC shot down a US Navy's Northrop Grumman MQ4-C Triton drone that had entered Iranian airspace in the Gulf of Oman to gather intelligence on June 20, using indigenous Sevvom Khordad surface-to-air missile system.
The United States had confirmed that one of its reconnaissance planes was shot down by Iranian air defenses, but denied that it intruded into Tehran's airspace at the time.
General Hajizadeh said that his forces could have also shot down a US P8 aircraft with 35 on board which was violating Iran's airspace, but decided to shoot down the drone to only send a message to Washington.
"We intended to send a message to American terrorists in the region," Brigadier General Hajizadeh said on June 21, adding that his forces had also traced a military P8 aircraft violating the airspace of Iran.
"Along with the American drone was an American P8 aircraft with 35 on board, and it was also violating our airspace and we could have downed it too," he said, adding, "But we did not do (shoot down) it, because our aim was to warn the terrorist forces of the US."
General Hajizadeh also stressed on June 22 that Iran was not after war but was fully ready to defend itself, adding that the fate of the downed US spy drone was waiting for any intruding flying object.
"Our response to anything trespassing Iranian territory is like this, and if such acts of aggression are repeated, our response will also be the same," General Hajizadeh said.
"We don't embrace war but we are ready to fully defend the country," he said.
"We possess a collection of US drones which is a proof that US has violated Iran's airspace and shows that they don't want to respect the international law," General Hajizadeh said.
"If such an aggression is repeated, we will add other US (military) products to complete this collection," he noted.
"The US measure was in violation of international law and we acted according to our legitimate responsibility," General Hajizadeh said, adding, "It is possible that a US general or some operators were behind this American aggression, we don't know that. But that measure (intruding into Iranian airspace) is a violation of international aviation rules by a spy drone which then received our natural response."
Meantime, IRGC Commander Major General Hossein Salami stressed that the move should alert Washington officials to stay away.
The incident sent "a clear message" to the US and other enemies that Iran will show a firm and crushing response to any aggression, he stated.
"Borders are our red lines and any enemy which violates them will not go back home and will be annihilated. The only way for enemies is to respect Iran's territorial integrity and national interests," the major general noted.
https://en.farsnews.com/newstext.aspx?nn=13980906000828
------
Official: IRGC Navy to Receive Large Numbers of Speed Boats Soon
Wed Nov 27, 2019
TEHRAN (FNA)- Head of the Marine Industries Organization of Iran General Amir Rastegari announced that a large number of speed boats will be delivered to the Islamic Revolution Guards Corps (IRGC) Navy in the next few months.
"A large number of speed boats will be delivered to the IRGC Navy by the yearend (March 21, end of the Iranian year) and we are also preparing a number of vessels for the Law Enforcement Police's coast guards," General Rastegari said in an interview with the state radio on Wednesday.
He also said that the home-made destroyer, Dena, will be delivered to the Iranian Navy by the yearend, adding that the vessel enjoys different equipment, including 3D phased-array radar, ground-to-ground and ground-to-air missiles, safe integrated telecommunication system, highly advanced electronic warfare system and pin-pointing defense system.
In relevant remarks earlier today, Iranian Navy Commander Rear Admiral Hossein Khanzadi announced that his forces would be equipped with Dena destroyer within the next two months.
"God willing, we will witness addition of the destroyer, Dena, to the Navy in (the Iranian month of) Bahman (January 21 to 19 February)," Rear Admiral Khanzadi told reporters in a press conference held in Tehran on Wednesday to mark the national Navy Day (November 28).
He also noted that Sahand, another destroyer which joined the Navy last year, is now ready for missions in the ocean, and further expressed the hope that Taftan warship would be delivered to the Naval forces next year.
"Concurrently, we will witness the launch of a mine-clearing warship, Saba, in the Navy as well as a drone, namely Simorq, which has a flight durability of 24 hours and capability to carry different types of weapons, including bombs, rockets and projectiles."
https://en.farsnews.com/newstext.aspx?nn=13980906000669
------
MP: UAE, Kuwait Funding Iraqi Gov't Overthrow Plans
Wed Nov 27, 2019
TEHRAN (FNA)- A senior Iraqi legislator claimed that the UAE and Kuwait, supported by the US, have sent huge sums to their affiliates in Iraq in a bid to derail protest rallies in the country and overthrow its government.
"The Persian Gulf littoral states and the US have sent money to Iraq to support the organizers of the protest rallies," Mohammad al-Baldawi, a representative of al-Fatah coalition in the Iraqi parliament, told the Arabic-language Baghdad al-Youm news website on Wednesday.
"These countries are behind the operations to kill the activists and demonstrators and they aim to topple the Iraqi government," he added.
Al-Baldawi noted that certain Persian Gulf Arab littoral states, spearheaded by the UAE and Kuwait, and supported by the US send huge amounts of money to the political figures and mercenaries in Iraq to shift the course of demonstrations towards their objectives through stirring chaos in the country.
In relevant remarks on Saturday, the leader of Iraq's Asaib Ahl al-Haq group, which is part of the country's Popular Mobilization Forces or Hashd al-Sha'abi, said Washington and Tel Aviv were members of "a third party" behind many deaths during the recent unrest.
Qais al-Khazali told Dijlah TV, an Amman-based Iraqi satellite television channel, that the committee set up to investigate the violence is merely an administrative body, and thus cannot identify the "third party" responsible for the killing of demonstrators.
He stressed that "Israel and US have a great role in the third party".
Khazali further said the probe into the deaths in Iraq should not be restricted to the question of who killed the protesters, but also examine who "eased" the way for the killers and who gave them order.
https://en.farsnews.com/newstext.aspx?nn=13980906000503
------
Assad: Islamic State members in Syrian Kurds jails to stand local trial
November 27, 2019
DAMASCUS, Syria — Syrian President Bashar Assad said in remarks published Wednesday that members of the Islamic State group held in the country will stand trial in local courts specialized in terrorism cases.
Assad made his comments in an interview with Paris Match when asked about a deal with a Kurdish-led force that would eventually bring their areas under government control. The Kurdish-led Syrian Democratic Forces, who defeated ISIS in March with the help of the U.S.-led coalition, are holding more than 10,000 militants, mostly Syrians and Iraqis, including some 2,000 foreigners.
Abandoned by their U.S. allies, the Kurds turned to Assad and Russia for protection and over the past weeks Syrian and Russian forces have moved into areas once held by Kurds.
Syrian authorities are holding hundreds of ISIS members who were captured in battles between government forces and the extremists over the past years in different parts of the country. No public announcements have been made about any of them being put on trial, unlike in neighboring Iraq where thousands of ISIS members, many of them foreigners, have been sentenced to death.
Some human rights groups have expressed concern about government troops taking over ISIS detention centers currently run by the U.S.-allied Kurds.
Assad said: "Every terrorist in the areas controlled by the Syrian state will be subject to Syrian law and Syrian law is clear concerning terrorism. We have courts specialized in terrorism and they will be prosecuted." He did not elaborate.
Most European countries are refusing to take back their citizens and a number of French ISIS prisoners received death sentences in trials in Iraq.
U.S. troops last month killed ISIS leader Abu Bakr al-Baghdadi in a commando operation in northwestern Syria.
Al-Baghdadi, the shadowy leader of ISIS who became arguably the world's most wanted man, died after U.S. special operators cornered him during a raid in Syria's Idlib province, Trump said. Trump thanked the Syrian government after the operation in which al-Baghdadi was killed.
When asked why Trump thanked the Syrian government, among others, after al-Baghdadi was killed, Assad said: "I always laugh when this question is raised, because the more important question which should be asked is: was al-Baghdadi really killed or not? And did this "fantastic play" staged by the Americans take place in reality?"
Asked again why Trump thanked him, Assad said: "It's one of Trump's cute jokes. It's a joke."
https://www.stripes.com/news/middle-east/assad-islamic-state-members-in-syrian-kurds-jails-to-stand-local-trial-1.608906
------
Africa
Suspected Islamists kill at least 19 in latest east Congo attack
NOVEMBER 27, 2019
GOMA, Democratic Republic of Congo (Reuters) - Suspected Islamist rebels have killed at least 19 people in east Congo, an official said on Wednesday, the latest in a series of attacks causing anger at the perceived inaction of the army and U.N. troops.
The raid occurred overnight in the village of Maleki, near the city of Oicha in a forested region near the Ugandan border, said Donat Kibwana, the administrator of Beni territory.
Kibwana blamed the attack on the Allied Democratic Forces (ADF), a jihadist rebel group originally from Uganda that has operated for decades in Congo. They have killed at least 80 people in 14 raids since the army launched an operation against them late last month, according to U.N figures.
He said that many family members of the victims were afraid to return to the scene for fear of being attacked, but that an initial search had found 19 people dead.
"This assessment remains provisional as the search continues," Kibwana told Reuters by phone.
ADF personnel were not reachable for comment.
Several previous ADF attacks have been claimed by Islamic State, but the extent of their relationship remains unclear.
Recent attacks sparked protests in the city of Beni, 20 km (12 miles) south of Oicha, driven by accusations that the army and United Nations are not doing enough to protect people.
Protesters burned down the mayor's office and damaged U.N. facilities on Monday, forcing some health workers helping to combat an Ebola epidemic into lockdown and others to leave.
At least four people have died during protests in Beni and nearby Butembo this week. On Wednesday the protests spread to Goma, the regional capital, where activists have called for a two-day strike starting on Thursday.
A U.N. peacekeeper shot dead a man who was throwing a Molotov cocktail during protests in Beni on Tuesday, a U.N spokesman said late on Wednesday, adding that it would open an investigation into the death.
The U.N. peacekeeping mission said in a statement on Wednesday that it would be unable to end the ADF's violence if its forces were under attack from local people.
https://uk.reuters.com/article/uk-congo-security/suspected-islamists-kill-at-least-19-in-latest-east-congo-attack-idUKKBN1Y1247?rpc=401&
------
IPOB takes war to Miyetti Allah trouble makers in Ebonyi State
November 27, 2019
The Indigenous People of Biafra, IPOB says it will chase away from Ebonyi State all members of Miyetti cattle breeders association who cause trouble for indigenes of the state.
A press release by groups spokesperson, Emma Powerful, made available to DAILY POST in Awka stated that the group has done it before in Anambra and will not fail to replicate it in Ebonyi.
The group said it was also surprised that the governor of the state, Mr Dave Umahi was giving tacit support to the Miyetti Allah members by also recruiting local security men to protect them, but said it will soon invade the state and send away trouble making cattle herders.
Part of the statement reads, "We the global family of the Indigenous People of Biafra (IPOB) wish to warn Ebonyi State Government and Bakassi boys recruited to fight IPOB, that henceforth they will be treated as agents of RUGA and enemy of the people of Biafra.
"IPOB Intelligence units on the ground continue to report the activities of this very outfit formed to provide grassroots logistical support and local intel to hordes of invading Fulani terror herdsmen in Ebonyi State raping our mothers and destroying our villages.
"Those that doubt our opposition to RUGA should ask Willie Obiano of Anambra State what became of his Miyetti Allah friends he gave land in Anam. We IPOB chased them away from Anam and all over Anambra State and our ongoing operations in Ebonyi is designed to do exactly the same."
The group added that it is aware that Umahi had declared war on the group, but it will not be dettered and will remain determined to send all trouble-making cow herders out of Ebonyi State.
Ends.
https://dailypost.ng/2019/11/27/ipob-takes-war-to-miyetti-allah-trouble-makers-in-ebonyi-state/
------
Southeast Asia
Singapore Islamic Hub holds anti-terror drill
NOV 27, 2019
SINGAPORE - The Singapore Islamic Hub in Braddell Road held an anti-terrorism exercise on Wednesday (Nov 27), the second time this week that such drills were conducted in places of worship.
On Sunday, a similar exercise took place at the Sultan Mosque in Kampong Glam.
Both drills involved simulated terror attacks to test the preparedness of religious institutions, the Islamic Religious Council of Singapore (Muis) said in a statement on Wednesday.
About 40 members of Muis staff, volunteers and police officers were involved in both exercises. Staff members practised the run, hide and report drill after hearing a gunshot, Muis told The Straits Times.
Masjid Muhajirin, Muis and police jointly organised the exercise on Wednesday while Sultan Mosque, police and Singapore Civil Defence Force (SCDF) organised the exercise on Sunday.
Muis said its statement: "Due care was taken to respect and maintain the sanctity of the mosque prayer halls while ensuring that the exercises were carried out as close as possible to real scenarios."
Measures were taken to maintain the condition and cleanliness of the prayer halls after the exercises were completed, Muis added.
Both exercises are part of a series of anti-terrorism exercises held at various locations. For instance, one was held at the lobby of Crowne Plaza Changi Airport on May 17, and another was held at Republic Polytechnic on July 23.
With the recent attacks on places of worship and religious institutions in other parts of the world, the exercise at Sultan Mosque on Sunday was aimed at ensuring that the mosque's existing plans to deal with a terror attack are effective, the police, SCDF and Sultan Mosque said on Monday.
There were two mosque shootings in Christchurch, New Zealand, in March this year. At least 49 people were killed and dozens injured, and the New Zealand government put the country on its highest security threat level.
On Easter Sunday in April, a series of bombings in Sri Lanka targeted three churches, among other targets. More than 250 people were killed.
https://www.straitstimes.com/singapore/singapore-islamic-hub-holds-anti-terror-drill
------
This photo was taken two years before a military crackdown on Rohingya Muslims in Myanmar
Thursday 28 November 2019
A photo has been published on multiple news sites, blogs and on Facebook alongside a claim that it shows an instance of "genocide" against the Rohingya people in Arakan, Myanmar. The claim is false; the photo has circulated online since March 2015 in media reports about a student-led protest in the town of Letpadan, Myanmar, more than two years before a military crackdown on Rohingya Muslims in the country.
The photo was published here on Facebook on November 23, 2019. It has been shared more than 870 times.
The image shows several people wielding batons surrounding a person seated against a wall in a defensive position.
The post's caption and the text superimposed on the image read: "This is the witnessed of Rohingya genocide was in Arakan states Myanmar".
Below is a screenshot of the misleading post:
A 2017 military crackdown against the Rohingya minority in Myanmar led to widespread violence and the displacement of hundreds of thousands of people. The crisis prompted dozens of countries to formally accuse Myanmar of violating the 1948 Genocide Convention, AFP reported here on November 21.
The photo was also shared here on Turkish news site World Bulletin, here on a Thai-language blog and here on a Malay-language blog alongside a similar claim. It was also described as showing Burmese soldiers attacking a Rohingya Muslim here by Pars Today, an Iranian news agency.
The claim is false; the photo was taken in March 2015 during a protest against an education reform bill near Yangon, Myanmar's capital.
A reverse image search on Google found the same photo published in this March 25, 2015 BBC report titled "Myanmar students and activists charged over protest clashes".
The photo appears at the 30-second mark of the video embedded in the BBC report. The reporter narrating the video can be heard saying at this point: "A photographer caught this moment as four officers cornered a defenceless man."
The photo was taken more than two years before the violent crackdown against the Rohingya, which began in August 2017, according to the United Nations.
Below is a screenshot of the BBC report:
The report also states: "Sixty-five people have appeared in court in Myanmar to be charged over a student protest that ended in violence. The group, a mix of students and activists, were arrested while taking part in a protest two weeks ago against a new education bill."
The report adds that clashes between police and protesters broke out in Letpadan, a town roughly 300 km southeast of Rakhine, the state where the Rohingya conflict is centered. AFP also reported on the student protest here.
Below is a screenshot showing the distance between Letpadan and Rakhine state on Free Map Tools:
https://factcheck.afp.com/photo-was-taken-two-years-military-crackdown-rohingya-muslims-myanmar
------
2nd International Conference on Mosque Architecture Concludes in Malaysia
Kuala Lumpur, Nov. 27, 2019, SPA -- Activities of the 2nd International Conference on Mosques Architecture, organized by the General Secretariat of Abdullatif Al-Fawzan Award for Mosques Architecture, concluded in Kuala Lumpur, Malaysia, today.
The event was held under the patronage of Prince Sultan bin Salman bin Abdulaziz, Chairman of the Board of Trustees of the Abdullatif Al-Fawzan Award for Mosques Architecture.
It was organized in cooperation with a number of local and international partners and organizations in the presence of more than 500 interested and visitors from more than 30 countries around the world.
https://www.spa.gov.sa/viewfullstory.php?lang=en&newsid=2004011
------
New Zealand
Man convicted for sharing mosque shooting footage loses second appeal
Philip Neville Arps was jailed for 21 months in June for distributing the live-streamed video of the March attack.
Arps' first appeal was denied in August; at the same time the Crown accused him of sending letters of a violent nature from prison.
His second attempt at appeal was heard in the Court of Appeal last week.
It has released its decision - dismissing it.
The court said the sentence was not manifestly excessive.
"The video footage distributed by Mr Arps was very disturbing. Judge O'Driscoll characterised it as being at the 'high end of the scale of extreme violence or cruelty' of objectionable material. We agree with that assessment."
It said Arps' lack of remorse and prospect of rehabilitation "is a troubling feature of his case".
"Arps' offending was particularly insensitive as he distributed the video within about 24 hours of the attack on the mosques, at a time when many members of the victims' families were waiting to learn the fate of their loved ones."
https://www.rnz.co.nz/news/national/404391/man-convicted-for-sharing-mosque-shooting-footage-loses-second-appeal
------
URL: https://www.newageislam.com/islamic-world-news/saudi-arabia-stepping-up-crackdown/d/120385
New Age Islam, Islam Online, Islamic Website, African Muslim News, Arab World News, South Asia News, Indian Muslim News, World Muslim News, Women in Islam, Islamic Feminism, Arab Women, Women In Arab, Islamophobia in America, Muslim Women in West, Islam Women and Feminism