New Age Islam News Bureau
29 October 2020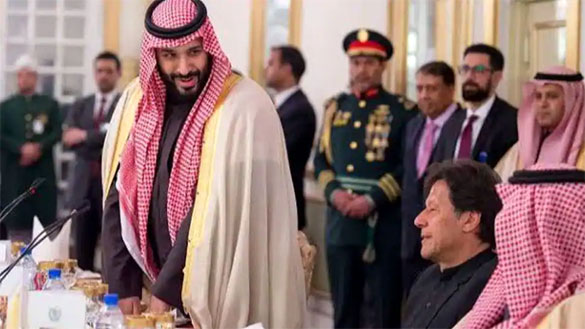 File photo of Pak PM with King of Saudi Arabia
-----
•Dr. Mahathir Mohamad, Ex-Malaysia PM: Muslims Have Right To 'Kill Millions Of French People'
• Islamic Law Allows Minorities A Place Of Worship: Pakistan's Top Islamic Body Approves Construction Of Hindu Temple
• India Comes Out In Support Of French President Macron Amid Outrage Across Muslim Nations
• Religious Scholars in Bangladesh Issue Fatwa, Calling Afghanistan War Against Islamic Norms
• Jakim Condemns French Cartoons On Prophet Muhammad, Urges Malaysians To Respect Religious Boundaries
• Controversial French Magazine Sparks Outrage In Turkey With Cartoon Of Erdogan
• West Wants To 'Relaunch Crusades' Against Islam, Says Erdogan
Arab world
• Saudi Arabia Has Removed Pakistan-Occupied Kashmir And Gilgit-Baltistan From Pakistan's Map
• Egypt's Al-Sisi Says Freedom Of Expression 'Stops' When It Offends 1.5 Bln Muslims
• Bahrain's Top Cleric: Muslims Must Not Remain Silent On Macron's Insult To Islam
• Lebanon demands extra 1,430 sq. km. in US-brokered talks with Israel
• Journalists covering border talks between Lebanon and Israel attacked by Hezbollah
• Grand imam of Egypt's al-Azhar calls for end to anti-Muslim actions
• Arab Coalition destroys 3 Houthi ballistic missiles, 6 drones targeting Saudi Arabia
--------
Southeast Asia
•Dr. Mahathir Mohamad, Ex-Malaysia PM: Muslims Have Right To 'Kill Millions Of French People'
• Jakim Condemns French Cartoons On Prophet Muhammad, Urges Malaysians To Respect Religious Boundaries
• Wisma Putra summons French envoy over growing hostility towards Islam
--------
Pakistan
• Islamic Law Allows Minorities A Place Of Worship: Pakistan's Top Islamic Body Approves Construction Of Hindu Temple
• Pakistan PM Imran Khan Asks Muslim Countries to Make Collective Efforts to Confront Islamophobia
• Reference towards Pakistan in Indo-US joint statement 'unwarranted': FO
• Pakistan, Afghanistan can't afford chaos: Bajwa
• 55 suspects arrested over seminary bombing
• Chinese group offers help in developing Karachi's infrastructure, coastal area
• Pakistan: Hundreds rally against France anti-Islam wave
--------
India
• India Comes Out In Support Of French President Macron Amid Outrage Across Muslim Nations
• Sunni Waqf Board Seeks Implementation Of Place Of Worship Act Amid Calls To Reclaim Kashi, Mathura
• Pakistan Army Chief Bajwa's 'Legs Were Shaking'; Qureshi Said India Will Attack If Abhinandan Not Released: Pakistan Opposition Recalls
• Gonda Man Accuses Eight Of Forcing Daughter To Embrace Islam With The Promise Of Marriage
• Petition in Bombay High Court against NCW chief's 'love jihad' comment
• 'Muslim museum' proposal triggers slugfest in election-bound Assam
• Terrorist hideout busted in Poonch
• Jaish commander among 2 terrorists killed in J&K encounter
• NIA raids in terror-funding case at Srinagar, Delhi continue for 2nd day
• 100 years of Jamia Millia Islamia: Institute with roots in national struggle
• Muslim-Hindu demography of Jammu and Kashmir: what the Census numbers show
--------
South Asia
• Religious Scholars in Bangladesh Issue Fatwa, Calling Afghanistan War Against Islamic Norms
• UN report names Afghanistan as the worst place for civilians
• Angry Bangladeshis burn Macron effigy to protest cartoon
--------
Europe
• Controversial French Magazine Sparks Outrage In Turkey With Cartoon Of Erdogan
• France Dissolves Muslim Charity Barakacity, One Of The Largest Muslim Charities
• Libyans fume at France over anti-Islam remarks
• French Muslims accuse Macron of dividing society
• French mosque receives threatening notice
• Albanian children stuck in Syrian camp return home
• Two Swiss Muslim leaders convicted of spreading al Qaeda propaganda
--------
Mideast
• West Wants To 'Relaunch Crusades' Against Islam, Says Erdogan
• Iran: Disrespecting Prophet Muhammad Insult To All Muslims, Human Values
• Iran's Expediency Council Secretary Says Macron Should Apologize to Muslims, Calls for Expulsion of French Ambassadors from Muslim World
• Trump lifts ban that prohibits funding Israeli scientific research in West Bank
• Iran: Prisoner Shahram Takhsha Executed in Sanandaj Prison
• Man Suffocated to Death After Being Pepper Sprayed by Police in Iran
• Iran: Prisoners Who Reported Abuse Charged
• November 2019 Protesters Sentenced to a Total of 159 Years in Prison
• Iran Sentences Five Bahai Women to Total Five Years of Prison
--------
Africa
• UN Envoy Hopeful Of Agreement On Libya Election Date As UNSC Ratifies Truce
• Nigeria: 20 Killed, 10 Injured in Borno
• Somalia: Three Killed in Latest Attack in Somalia
• ISIS Re-Establishing Network in Africa
--------
North America
• Trump Administration Paves The Way For More US Investment In Illegal Israeli Settlements
• US To Let Jerusalem-Born Passport Holders Use 'Israel'
• US accuses Syria of delaying constitution ahead of election
• Arabs in Middle East know the US election will affect their lives, experts say
• Time running out for Afghan peace, US envoy warns
• US embassy in Dubai warns of potential terrorist attack
• CAIR warns American Muslims against traveling to France
• Former New York City accountant who admitted aiding al Qaeda to be released from prison early
Compiled by New Age Islam News Bureau
URL: https://www.newageislam.com/islamic-world-news/saudi-arabia-removed-pakistan-occupied/d/123311
--------
Saudi Arabia Has Removed Pakistan-Occupied Kashmir And Gilgit-Baltistan From Pakistan's Map
Oct 29, 2020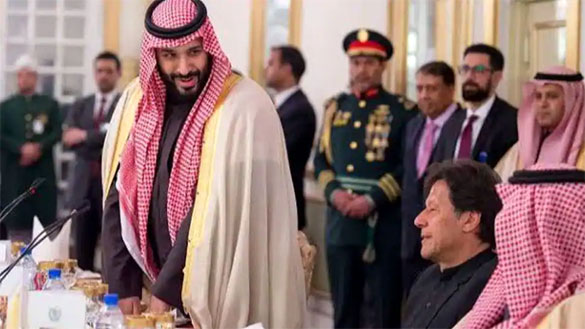 File photo of Pak PM with King of Saudi Arabia
-----
LONDON: Saudi Arabia has removed Pakistan-occupied Kashmir and Gilgit-Baltistan from Pakistan's map, said POK activist Amjad Ayub Mirza on Wednesday.
He also tweeted a picture that was captioned, "Saudi Arabia's Diwali gift to India — removes Gilgit-Baltistan and Kashmir from Pakistan's map," the picture's text read.
According to media reports, Saudi Arabia released a 20 Riyal banknote to commemorate its presidency of organising the G-20 Summit on November 21-22. It was further reported that the world map displayed on the banknote does not show Gilgit-Baltistan (GB) and Kashmir as parts of Pakistan.
Media reports say that Saudi Arabia's step is nothing short of an attempt to disgrace Pakistan, which also seems to be "adapting to its new bloc".
The ministry of external affairs (MEA) in September stated that they have seen reports regarding elections to the so-called "Gilgit-Baltistan" assembly to be held on November 15 and took a strong objection to it. "The government of India conveyed strong protest to Pakistan Government and reiterated that Jammu and Kashmir and Ladakh, including the so-called Gilgit and Baltistan, are an integral part of India," the MEA stated.
https://timesofindia.indiatimes.com/india/saudi-has-taken-gilgit-baltistan-pok-off-paks-map-activist/articleshow/78922956.cms
--------
Dr. Mahathir Mohamad, Ex-Malaysia PM: Muslims Have Right To 'Kill Millions Of French People'
By Lia Eustachewich
October 29, 2020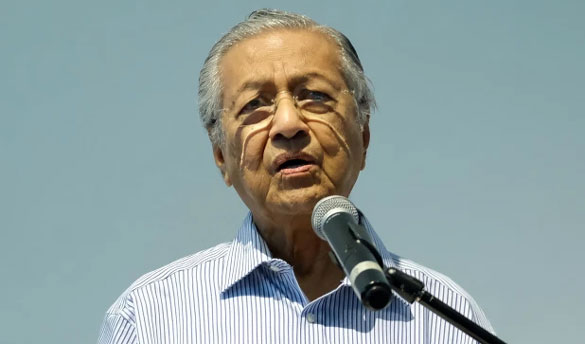 Mahathir MohamadGetty Images
----
The former prime minister of Malaysia said Muslims have "a right to be angry and kill millions of French people" just hours after an attacker yelling "Allahu akbar!" beheaded one woman and killed two others in a church in France.
The incendiary comments were part of a tweetstorm from Dr. Mahathir Mohamad, who railed against Western culture and French President Emmanuel Macron for refusing to denounce the caricatures of the Prophet Mohammad that have sparked three attacks in two months in France.
Macron has also vowed to fight "Islamist separatism" in the wake of the beheading of school teacher Samuel Paty in a Paris suburb on Oct. 16.
"Macron is not showing that he is civilized. He is very primitive in blaming the religion of Islam and Muslims for the killing of the insulting school teacher. It is not in keeping with the teachings of Islam," Mohamad tweeted.
"But irrespective of the religion professed, angry people kill. The French in the course of their history has killed millions of people. Many were Muslims.
"Muslims have a right to be angry and to kill millions of French people for the massacres of the past."
Mohamad also said "the West" shouldn't impose its views and values on others.
"To do so is to deprive the freedom of these people," he wrote.
Malaysia is home to more than 32 million people, 61 percent of whom practice Islam.
Mohamad's comments come after the third attack France has seen in two months, which left three people dead at the Notre Dame Basilica in Nice. The alleged knife-wielding attacker is in police custody.
Mayor Christian Estrosi called the assailant a "terrorist" who shouted "Allahu akbar!" — Arabic for "God is great" — repeatedly as police arrested him.
https://nypost.com/2020/10/29/malaysia-pm-muslims-have-right-to-kill-millions-of-french-people/
----
Islamic Law Allows Minorities A Place Of Worship: Pakistan's Top Islamic Body Approves Construction Of Hindu Temple
29 Oct 2020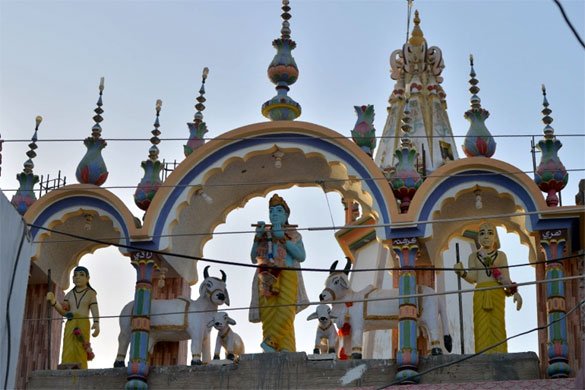 A general view of the Shri Krishna Temple in Mithi, some 320km (198 miles) from Karachi [File: Rizwan Tabassum/AFP]
-----
Pakistan's state-run council of clerics, which advises the government on religious issues, has given its approval for the construction of a new temple for minority Hindus, ruling that Islamic law allows minorities a place of worship.
Lal Malhi, a prominent Hindu leader who is also a member of parliament, applauded Wednesday's ruling but noted the council also recommended the government not spend public funds directly on the construction of private places of worship.
The decision by the Council of Islamic Ideology comes after the government of Prime Minister Imran Khan abruptly halted construction on the temple in the capital Islamabad in June.
Khan's decision came amid threats from hardline Muslims who called the construction of the temple a blasphemous act.
Some of those Muslims had threatened to try to stop the temple's construction by force, raising tensions.
Khan turned to the council to decide if public money could be used for construction. He had promised $600,000 for the temple's construction.
It was not immediately clear on Wednesday whether Khan would follow through with providing the funds in light of the council's ruling.
However, the council's ruling left open the possibility the money could be distributed to the Hindu community to use as it sees fit.
Khan, who has promised equal rights for minorities, is expected to issue a formal order to allow the temple's construction.
Currently, there is no functioning temple for Hindus in Islamabad. About 3,000 Hindus live in the capital with its population of more than one million, mostly Muslims.
Muslims and Hindus generally live peacefully together in Pakistan, but there have been incidents in which Hindu girls were forcibly converted to Islam.
Most of the country's Hindus migrated to India from present-day Pakistan in 1947 when India was divided by the British government.
Nuclear-armed rivals Pakistan and India have a history of bitter relations. They have fought three wars over the disputed Himalayan region of Kashmir, which is split between them but claimed by both in its entirety.
https://www.aljazeera.com/news/2020/10/29/pakistan-clerics-approve-hindu-temple-construction-in-capital
--------
India comes out in support of French President Macron amid outrage across Muslim nations
October 29, 2020
India has issued a statement condemning the personal attacks against French President Emmanuel Macron over his stand on Islam and radicalism. The Ministry of External Affairs has come out in support of Macron and said the attacks are a violation of the basic standards of international discourse.
The MEA has also condemned the brutal terror attack, in which a French teacher was beheaded in public, and said that there is no justification for terrorism for any reason or under any circumstance. This comes amid massive outrage across the Muslim world with several countries going against Macron's stance.
"We strongly deplore the personal attacks in unacceptable language on President Emmanuel Macron in violation of the most basic standards of international discourse," the MEA said.
"We also condemn the brutal terrorist attack that took the life of a French teacher in a gruesome manner that has shocked the world. We offer our condolences to his family and the people of France," it said.
Following the MEA statement, French Ambassador to India Emmanuel Lenain thanked India saying both countries can count on each other in the fight against terrorism.
"Thank you @MEAIndia. France and India can always count on each other in the fight against terrorism," he tweeted.
Macron has been facing criticism from various Muslim-majority countries after he took a tough stand on radical Islam and defended cartoons of the Prophet Muhammad. The French President said that Islam was a religion in "crisis".
His comments came in the backdrop of the beheading of French teacher Samuel Paty on October 16 outside Paris in broad daylight. He had shown caricatures of the Prophet Muhammad to his students.
https://www.indiatoday.in/india/story/india-supports-macron-amid-muslim-world-outrage-1736064-2020-10-29
--------
Religious Scholars in Bangladesh Issue Fatwa, Calling Afghanistan War Against Islamic Norms
By Mohammad Haroon Alim
26 Oct 2020
The Ulema, Sheikhs, and Muftis of the Republic of Bangladesh have issued a Fatwa calling an end to the war and the establishment of peace in Afghanistan.
Afghanistan Ministry of Foreign Affairs stated in a press release on Monday, that the Ulema, Sheikhs, and Muftis of the Republic of Bangladesh have boycotted the declaration of the current war in the country.
According to the newsletter, Bangladeshi scholars have supported the Intra-Afghan dialogue in Qatar, calling it important for peace in Afghanistan.
The religious scholars forbade the current war in Afghanistan and said that "this war is against the religious scriptures (verses) of Islam".
The Bangladeshi Religious Scholars Resolution states that "we welcome and support the actions of the ulema of the Islamic world to condemn the terrorist acts of terrorist groups in Afghanistan".
It is noteworthy, that Bangladeshi clerics have called on the warring parties in Afghanistan to respond to the people's call for peace and agree on a nationwide ceasefire to reduce violence and protect civilians.
Bangladeshi Ulemas (religious scholars) called on the parties involved, especially the Taliban, to refrain from destroying or damaging public facilities, adding all parties have to work together in a spirit of tolerance and to build trust.
The meeting was held on Sunday in Dhaka, the capital of Bangladesh, under the title of "Call for Peace in Afghanistan".
MoFA expressed its gratitude for the issuance of the declaration of the fatwa by the scholars and reiterated the reduction of violence and ceasefire.
Earlier, scholars from the Islamic world had embargoed the ongoing war in Afghanistan at a general meeting in Pakistan and called for an end to it.
https://www.khaama.com/religious-scholars-in-bangladesh-issue-fatwa-calling-afghanistan-war-against-islamic-norms-987987/
--------
Jakim Condemns French Cartoons On Prophet Muhammad, Urges Malaysians To Respect Religious Boundaries
29 Oct 2020
KUALA LUMPUR, Oct 29 — Muslims in Malaysia are advised not to act above the law and religion boundaries in response to the publication of caricatures depicting Prophet Muhammad.
Department of Islamic Development Malaysia (Jakim) deputy director-general (Operations) Datuk Abdul Aziz Jusoh said this was because such action could create disharmony among the country's multi-religious society.
"Islam forbids human actions which may lead to harm, evil, violence, tyranny whether among Muslims or non-Muslims.
"Islam rejects any extremist movement that uses violence, murder and war that threaten the peace of the country and the world," he said in a statement in conjunction with the Maulidur Rasul celebration today.
According to media reports, a teacher was beheaded on the outskirts of Paris on Oct 16 after showing cartoons of Prophet Muhammad published in Charlie Hebdo to his students.
Commenting further, Abdul Aziz said Jakim condemned the provocative action of the publication of the caricature by the French weekly satirical newspaper.
"This issue should not be raised, let alone when Muslims around the world are now celebrating the month of Rabiulawal, the birth month of Prophet Muhammad," he said.
Meanwhile, Abdul Aziz virtually announced that the International Non-Governmental Organisations (NGO) chairman Datuk Dr Mustapha Ahmad Merican was selected as the recipient of the "Semarak Cinta Rasul SAW 1442H/2020M" main award for his deeds in raising funds and upgrading mosques and surau in Malaysia and other Muslim countries in the region. — Bernama
https://www.malaymail.com/news/malaysia/2020/10/29/jakim-condemns-french-cartoons-on-prophet-muhammad-urges-malaysians-to-resp/1917458
--------
Controversial French magazine sparks outrage in Turkey with cartoon of Erdogan
28 October 2020
Turkey says the French magazine Charlie Hebdo is spreading "cultural racism and hatred," following the recent publication of a cartoon of President Recep Tayyip Erdogan, amid a major feud between the Turkish leader and French President Emmanuel Macron.
Ankara on Wednesday said it will take "legal and diplomatic actions" over the offensive cartoon.
"We assure our people that necessary legal and diplomatic actions will be taken against this cartoon," the Turkish presidency said in a statement.
The Ankara prosecutor's office announced shortly afterwards that an "official investigation" into the publication was already underway, Anadolu reported.
Earlier, Erdogan's spokesman Ibrahim Kalin condemned the caricature in the French magazine, "which has no respect for any belief, sacredness, and values."
"They are just showing their own vulgarity and immorality. An attack on personal rights is not humor and freedom of expression," the Turkish presidential spokesman said on Wednesday.
Erdogan's communications director Fahrettin Altun also condemned "this most disgusting effort by this publication to spread its cultural racism and hatred."
He said in a Twitter message that "Macron's anti-Muslim agenda is bearing fruit!"
The French president has sparked outrage among Muslims across the world for his defense of the publication earlier of blasphemous cartoons of Islam's Prophet Muhammad (PBUH) by Charlie Hebdo.
A trial is underway in France over a 2015 attack on Charlie Hebdo's offices in Paris.
The magazine republished the offensive cartoons in the run-up to the trial last month.
Macron has also come under fire across the Muslim world for his remarks about "Islamist separatism," which according to him threatens to take control in some Muslim communities around France.
Erdogan said in reaction to Macron's remarks that the French leader needed "mental health treatment."
"What is the problem of this person called Macron with Muslims and Islam?" Erdogan said on Saturday.
The Turkish president also on Monday called on his people to boycott French products, saying that Macron had targeted Muslims with a "lynch campaign."
Maron's government has introduced a draft law at the senate seeking to prohibit the justification of a crime due to ethnic or religious motives on constitutional grounds.
Erdogan said that "the main goal of such initiatives led by Macron is to settle old scores with Islam and Muslims."
The draft law came a week after a teacher was beheaded outside his school in a Paris suburb. Samuel Paty, a history teacher, had raised controversy and provoked anger by showing defamatory cartoons of Prophet Muhammad (PBUH) to his students. He was murdered by an 18-year-old assailant, identified as Chechen Abdullakh Anzorov, who was shot dead by police soon after the killing.
Macron said Paty was murdered because he "taught freedom of expression."
https://www.presstv.com/Detail/2020/10/28/637409/Controversial-French-magazine-sparks-outrage-in-Turkey-with-cartoon-of-Erdogan
--------
West wants to 'relaunch Crusades' against Islam, says Erdogan
29 Oct 2020
ANKARA: Turkey's president said on Wednesday that Western countries mocking Islam wanted to "relaunch the Crusades", heightening a confrontation with France over cartoons of the Prophet Muhammad (peace be upon him) that have stirred anger in Muslim-majority countries.
In a speech to lawmakers of his AK Party in parliament, President Tayyip Erdogan said that standing against attacks on the Prophet (PBUH) was "an issue of honour for us", suggesting Ankara may be digging in for a prolonged standoff.
The row with France flared after a French teacher who showed pupils cartoons of the Prophet (PBUH) published in the French satirical weekly Charlie Hebdo was beheaded in France this month.
In a sign of spreading anger at France's defence of the right to publish the cartoons, demonstrators denounced France in street protests in several Muslim-majority countries. Furthering Turkish anger, Charlie Hebdo published a cartoon on its cover ridiculing the Turkish president.
Turkish officials said Ankara would take legal and diplomatic steps in response to the caricature, calling it a "disgusting effort" to "spread its cultural racism and hatred". The Turkish foreign ministry summoned the charge d'affaires at the French embassy over the magazine cover.
Erdogan said he had not seen the caricature "because I consider it wrong to even look at these immoral publications" and that his anger was over disrespect towards the Prophet (PBUH) rather than the "disgusting attack directed at me".
The West was "once again headed to a period of barbarity", he said, describing colonial powers as "murderers" for their record in Africa and the Middle East.
"They literally want to relaunch the Crusades. Since the Crusades, the seeds of evil and hatred have started falling on these (Muslim) lands and that's when peace was disrupted."
Macron has said he would redouble efforts to stop conservative Islamic beliefs subverting French values.France's foreign ministry on Tuesday issued safety advice to French citizens in Indonesia, Turkey, Bangladesh, Iraq and Mauritania, advising them to exercise caution. They were told to stay away from any protests over the cartoons and avoid any public gatherings.
https://www.dawn.com/news/1587577/west-wants-to-relaunch-crusades-against-islam-says-erdogan
--------
Arab World
Egypt's Al-Sisi Says Freedom Of Expression 'Stops' When It Offends 1.5 Bln Muslims
28 October 2020
Egypt's President Abdel-Fattah al-Sisi said on Wednesday freedom of expression should stop if it offends more than 1.5 billion people, following the display of images in France of the Prophet Mohammad that Muslims see as blasphemous.
Sisi also said he firmly rejects any form of violence or terrorism from anyone in the name of defending religion, religious symbols or icons.
For all the latest headlines follow our Google News channel online or via the app.
"We also have rights. We have the right for our feelings not to be hurt and for our values not to be hurt," he said during an address to commemorate the Prophet Mohammad's birthday.
"And if some have the freedom to express what is in their thoughts I imagine that this stops when it comes to offending the feelings of more than 1.5 billion people," he added in televised remarks.
The Grand Imam of Egypt's al-Azhar university, one of the world's most eminent seats of Sunni Muslim learning, also called on the international community to criminalize "anti-Muslim" actions.
Sheikh Ahmed al-Tayeb, who sits at the head of the thousand-year-old institution, also said that al-Azhar strongly rejects the use of anti-Muslim sentiment to rally votes in elections.
Turkey's leader Tayyip Erdogan has called for a boycott of French goods and Pakistan's parliament passed a resolution urging the government to recall its envoy from Paris.
https://english.alarabiya.net/en/News/middle-east/2020/10/28/Egypt-s-al-Sisi-says-freedom-of-expression-stops-when-it-offends-1-5-bln-Muslims
--------
Bahrain's top cleric: Muslims must not remain silent on Macron's insult to Islam
29 October 2020
Bahrain's top Shia cleric Ayatollah Sheikh Isa Qassim has denounced French President Emmanuel Macron's outrageous anti-Islam remarks, calling on Muslim nations not to remain silent in the face of even the slightest insult to Islam's Prophet Muhammad (Peace be upon Him).
In a statement published on Bahrain's almuqawim website, Sheikh Qassim said disrespecting Prophet Muhammad (PBUH) is equal to insulting all other holy prophets.
Macron has been facing a growing backlash in the Islamic world over defending offensive caricatures of Prophet Muhammad (PBUH) and ordering a crackdown on Islam and its followers in the European country.
Earlier this month, French history teacher Samuel Paty provoked outrage by showing to his students the blasphemous cartoons of Prophet Muhammad (PBUH) published by the satirical newspaper Charlie Hebdo.
He was murdered outside his school in a Paris suburb on October 16 by an 18-year-old assailant, identified as Chechen Abdullakh Anzorov, who was shot dead by police soon after the killing.
Macron characterized the incident as an "Islamist terrorist attack."
In a tribute to the slain teacher, Macron described him as a "quiet hero" and posthumously awarded him the Légion d'Honneur, the country's highest civilian honor.
He also vowed his country would not "give up cartoons" depicting Prophet Muhammad (PBUH), claiming that the teacher was killed by "cowards" for representing the secular, democratic values of the French Republic.
Sheikh Qassim further said that a "widespread and effective boycott of French goods does not constitute a declaration of hostility to France and its people. It is just a response to President Emmanuel Macron" for his insult to Islam's Prophet.
Macron turned a blind eye to humanity, the interests of his country and the responsibility to maintain global peace, he said.
The Bahraini cleric called on Muslim nations to take a serious and honest stance against the French president's insult to the greatest prophet of God (PBUH).
A Muslim nation seeks to maintain security and peace in the world more than any other nation, but at the same time, it holds nothing dearer than Islam, the Holy Qur'an, the Prophet of Islam and its sanctities, said Sheikh Qassem, adding, that is why silence in the face of the slightest insult to the holy Prophet (PBUH) is not permissible.
More anti-France protests
Macron's comments followed by republications of the offensive cartoons in France have triggered a wave of protests and boycott calls in several Muslim nations across Asia and Africa.
On Wednesday, Palestinian preachers staged a rally outside the Ministry of Religious Endowments in the occupied West Bank city of al-Bireh to condemn Macron.
"We follow with great dismay the continued publication of offensive caricatures of the Prophet (PBUH), and we firmly reject any kind of insult against Prophet Muhammad and all the prophets," the ministry said in a statement.
These insults are a direct assault on our honorable Messenger, our religion and our faith," it added, warning that a repetition of such insults would ignite hatred and hostility and serve to destroy the culture of tolerance and peace among peoples.
A protest was also held in the Afghan capital, Kabul, on the same day against Macron's contentious anti-Islam stance.
The protesters rallied outside the French Cultural Center in downtown Kabul chanting "death to France" and "death to Macron."
https://www.presstv.com/Detail/2020/10/29/637478/Bahrain-cleric-Sheikh-Qassim-Muslims-French-President-Macron-
--------
Lebanon Demands Extra 1,430 Sq. Km. In US-Brokered Talks With Israel
Joseph Haboush and Rawad Taha
28 October 2020
Lebanon called for an extra 1,430 square kilometers (550 sq. miles) on Wednesday during the second round of US-brokered negotiations with Israel over maritime borders between Beirut and Tel Aviv.
For years, the debate was over close to 860 sq. kilometers of disputed waters, where there are believed to be large swathes of natural gas reserves.
For all the latest headlines, follow our Google News channel online or via the app.
But senior political and military sources in Lebanon told Al Arabiya English ahead of Wednesday's session that the Lebanese Army Commander ordered the delegation heading the talks to state that Lebanon's southern maritime border begins from Ras al-Naqoura toward the sea.
But Reuters reported that the Israeli team presented its own map that pushed the boundary farther north than its original position, according to a source familiar with what was discussed.
All sides agreed to have another session on Thursday.
This will be the third round of dialogue in less than a month after Washington spent years trying to mediate and find common ground for the talks to begin.
The first round of talks earlier this month was seen as positive, with little controversy surrounding any of the topics discussed that included opening speeches and each delegation's positions.
While the formalities were relatively straightforward the first time around, officials dug into details and technicalities on Wednesday.
According to a Lebanese army study, Lebanon's new maximalist approach references the border between the French and British mandate instead of the 1949 Armistice Agreement.
"It also does not take into account Tekhelet's island in Israel and other small rocks, as they are small and uninhabited," said Laury Hatayan, the MENA Director at the Natural Resource Governance Institute.
In recent years, Lebanese officials have demanded that Beirut's border begin from the "B1" point, demarcated in the 1949 Armistice Agreement between Lebanon and Israel.
The new directives appear to backtrack on that stance and demand Ras al-Naqoura as the starting point, giving Lebanon more than 1,400 sq. km. they had not claimed previously.
The Armistice Agreement "largely matches" with the international boundary line, or Paulet-Newcomb line, a Lebanese army source said.
Why does this matter?
Tekhelet, an island claimed by Israel, is around 1,800 meters south of Ras al-Naqoura and 1,000 meters west of the shore.
Based on this, the Lebanese army has conducted a new study based on the UN Law of the Sea Convention, ratified by Lebanon in 1982. This has not been agreed to or signed by Israel.
The Lebanese army source said that the delineation of the Lebanese Exclusive Economic Zone (EEZ) boundaries allowed for the modification of the maritime boundary line, "provided that more accurate data is available, and this is the case."
But this line would also cross the Karish Field, which Energean from Greece is prepping to dig in after signing a deal with Israel.
"Accordingly, the Karish field will be located in a disputed area which bears consequences on international companies drilling for oil and gas in this area. The same can be said of concession Block 72, which was open for bidding by Israel on June 2020," the army source added.
Hatayan, an oil and gas expert, told Al Arabiya English that the Israelis probably expected this new Lebanese approach but that it was unclear how Tel Aviv would respond.
She noted that new dispute could result in Energean and other energy companies to refrain from investments in Block 72 or the Karish Field.
The US State Department said it does not comment on private, diplomatic discussions, when asked if the new Lebanese stance threatened the fate of the negotiations.
https://english.alarabiya.net/en/News/middle-east/2020/10/28/Lebanon-demands-extra-1-430-sq-km-in-US-brokered-talks-with-Israel-
--------
Journalists covering border talks between Lebanon and Israel attacked by Hezbollah
Rawad Taha
28 October 2020
A team of journalists from Lebanon TV were attacked by three young men while covering the second round of maritime border negotiations between Lebanon and Israel in Naqoura, the channel's correspondent Nayla Shahwan said on Facebook.
"When we were covering the negotiation session in Naqoura, and after taking permission to film from the Lebanese army, three young civilians expelled us from the area and introduced themselves as part of a [specific political party]. They damaged and broke our video kit, gave us 3 minutes to leave, or else," Shahwan said.
For all the latest headlines follow our Google News channel online or via the app.
The Lebanese Minister of Information Manal Abdel Samad confirmed the incident on Twitter and wrote, "Today, a team from #Lebanon_TV was attacked while covering the issue of border demarcation in Naqoura, and a group of media professionals was prevented from being there. What happened is reprehensible and calls for the intervention of the relevant security services to preserve the security of journalists and the dignity of the profession."
Israel and Lebanon on Wednesday launched a second round of US-mediated talks over their disputed sea border, an Israeli statement said.
Delegations from the long-time foes reconvened at a UN peacekeeper base to "assess the possibility of reaching an agreement on demarcating the maritime border ... in a manner enabling the cultivation of natural resources in the area," Israel's Energy Ministry said.
The two sides held their first round of talks on Oct. 14 and are expected to hold another round on Thursday, the statement said.
https://english.alarabiya.net/en/News/middle-east/2020/10/28/Lebanon-crisis-Journalists-covering-border-talks-between-Lebanon-and-Israel-attacked-by-Hezbollah-
--------
Grand imam of Egypt's al-Azhar calls for end to anti-Muslim actions
Tamara Abueish
28 October 2020
The Grand Imam of Egypt's al-Azhar on Wednesday called on the international community to criminalize "anti-Muslim" actions, following images being displayed in France of the Prophet Mohammad.
Sheikh Ahmed al-Tayeb, who sits at the head of the thousand-year-old seat of Sunni Muslim learning, also said that
al-Azhar strongly rejects the use of anti-Muslim sentiment to rally votes in elections.
For all the latest headlines follow our Google News channel online or via the app.
He urged Muslims to resort to peaceful methods to deal with hate speech.
"Muslims must adhere to peaceful, legal and rational methods in resisting hate speech and obtaining their legitimate rights, following the example of their noble Prophet Mohammed, may God bless him and grant him peace," al-Tayeb said amid calls across the Middle East to boycott French products.
French President Emmanuel Macron labelled the killing as "an Islamist terrorist attack" and tweeted in Arabic earlier this week that France would "not give in" and would "not accept hate speech and defend reasonable debate."
In response, several Arab countries, including Kuwait and Jordan, urged their citizens to boycott French products over the use of Prophet Mohammed in French cartoons, with retail co-ops in Kuwait pulling French products from their shelves.
Social media users in the Kingdom also called for a boycott of French supermarket retailer Carrefour on Sunday.
https://english.alarabiya.net/en/News/middle-east/2020/10/28/Grand-imam-of-Egypt-s-al-Azhar-calls-for-end-to-anti-Muslim-actions
--------
Arab Coalition destroys 3 Houthi ballistic missiles, 6 drones targeting Saudi Arabia
Reem Krimly and Ismaeel Naar
28 October 2020
The Arab Coalition on Wednesday said it destroyed six bomb-laden drones launched by the Iran-backed Houthi militia toward Saudi Arabia as well as three ballistic missiles targeting the southern cities of Jazan, Najran and Khamis Mushait.
For all the latest headlines follow our Google News channel online or via the app.
Wednesday's attack is the latest in a series of attempted attacks by the Houthis targeting the Kingdom in recent weeks.
The Coalition said it is taking the necessary measures to protect civilians and civilian objects.
"The terrorist Houthi militia, and those who stand behind it, are continuing their crimes through attempts to target civilians and civilian objects. Such terrorist attempts are blatant contraventions to the customary International Humanitarian Law and flagrant contradictions of humanitarian values," the coalition said in a statement.
"These hostile attempts reflect the militia's terrorist conduct through adopting terrorist operations carried out by launching bomb-laden UAVs that target civilians, as well as the state of desperation the militia is facing due to heavy losses sustained on equipment and terrorist elements, specifically in Marib and Al Jawf Governorates," the coalition added.
https://english.alarabiya.net/en/News/gulf/2020/10/28/Arab-Coalition-destroys-a-number-of-Houthi-drones-launched-toward-Saudi-Arabia
--------


Pakistan
Pakistan PM Imran Khan Asks Muslim Countries to Make Collective Efforts to Confront Islamophobia
OCTOBER 28, 2020
Pakistan Prime Minister Imran Khan on Wednesday wrote a letter to the leaders of the Muslim states, asking them to make collective efforts to confront growing trend of Islamophobia. "The recent statements at the leadership level and incidents of desecration of the Holy Quran are a reflection of this increasing Islamophobia that is spreading in European countries where sizeable Muslim populations reside," according to the letter posted on Khan's official Twitter account.
The letter came in the wake of publication of caricatures on the Prophet in France and comments made by French President Emmanuel Macron, who defended such depictions as protected under the right to free speech. "We won't renounce the caricatures, Macron said last week. Khan urged the leaders of the Muslim countries to collectively take the lead in breaking this cycle of hate and extremism, which nurtures violence and even death".
The prime minister said that blasphemy against any prophet, including those of Christianity and Judaism, was not acceptable to the Muslims. On Monday, Pakistan summoned French Ambassador Marc Barety to lodge a "strong protest" against the publication of caricatures and President Macron's comments. On the same day, Foreign Minister Shah Mahmood Qureshi moved a resolution in the National Assembly, condemning the publication of caricatures in France and the "resurgence of Islamophobic acts" in some countries, which was unanimously passed.
The resolution also asked the 57-member states of the Organisation of Islamic Cooperation (OIC) to boycott French goods.
https://www.news18.com/news/world/pakistan-pm-imran-khan-asks-muslim-countries-to-make-collective-efforts-to-confront-islamophobia-3017888.html
--------
Reference towards Pakistan in Indo-US joint statement 'unwarranted': FO
Oct 28, 2020
ISLAMABAD: Pakistan on Wednesday rejected as "unwarranted" the reference made towards it in a joint statement issued by India and the US after their 2+2 Ministerial Dialogue in New Delhi.
The joint statement, issued after the high-level US-India talks on Tuesday, asked Pakistan to take immediate, sustained and irreversible action to ensure that no territory under its control is used for terrorist attacks, and to expeditiously bring to justice the perpetrators of all such attacks, including 26/11 Mumbai, Uri, and Pathankot.
The two sides "emphasised the need for concerted action against all terrorist networks, including al-Qaeda, ISIS/Daesh, Lashkar-e-Tayyiba (LeT), Jaish-e-Mohammad (JeM) and Hizb-ul-Mujahideen," the statement said.
Reacting to the joint statement, the Foreign Office said, "We reject the Pakistan-specific reference in the 'joint statement', issued by India and the US after their '2+2 Ministerial Dialogue', as unwarranted and misleading."
The FO urged the international community to "recognise Pakistan's efforts, sacrifices and success in the fight against terrorism."
As a country that has suffered the most from cross-border terrorism, Pakistan would continue to contribute constructively to regional and global efforts to promote peace and stability in the region, the FO said.
It also rejected the Indian government's amendments in land ownership laws in Kashmir.
https://timesofindia.indiatimes.com/world/pakistan/reference-towards-pakistan-in-indo-us-joint-statement-unwarranted-fo/articleshow/78916720.cms
--------
Pakistan, Afghanistan can't afford chaos: Bajwa
29 Oct 2020
PESHWAR: Chief of the Army Staff General Qamar Javed Bajwa said on Wednesday that Pakistan and Afghanistan could not afford the risk of lawlessness and chaos as such a situation would have catastrophic consequences for both countries.
A statement issued here said that Gen Bajwa was speaking during his visit to the Lady Reading Hospital (LRH) to inquire after the health of those who suffered injuries in the bomb blast at Dir Colony madressah on Tuesday.
Gen Bajwa said that Afghan refugees in Pakistan should exercise caution about inimical forces so that they were not wittingly or unwittingly used in terrorist activities. He said that Pakistan always desired peace in Afghanistan and would spare no effort to restore peace and stability in that country.
He said that Pakistan and Afghanistan had faced terrorism for the past two decades. He said that Pakistan opened its arms and doors for its Afghan refugee brethren and that peace of both countries was intertwined.
The army chief said that Pak-Afghan border fence was a fence of peace and it had been set up to stop illegal cross-border movement of terrorists.
He said that on Sept 16, 2014, enemy attacked innocent children of the Army Public School, Peshawar, and on Oct 27, this year, on the occasion of Kashmir Black Day, it attacked the innocent students of a madressah.
At least eight students were killed and about 120 others wounded on Tuesday when a timed device went off inside a mosque in Pesha­war where a large number of seminary students were attending a class.
Gen Bajwa said that a large number of Afghan refugee children were among those injured and killed in the madressah attack.
The army chief said that they would not sit at ease till the elimination of all terrorists and their facilitators, adding that he had come to share the grief of families, students and teachers of the madressah and to express his solidarity with them.
Gen Bajwa also visited the Upper Dir area of Malakand division.
The statement said that Corps Commander of Peshawar Lieutenant General Nauman Mehmood welcomed the COAS on his arrival in Upper Dir. The army chief was briefed about stabilisation operations and border management in the area.
https://www.dawn.com/news/1587535/pakistan-afghanistan-cant-afford-chaos-bajwa
--------
55 suspects arrested over seminary bombing
29 Oct 2020
PESHAWAR: The police on Wednesday arrested 55 suspects in Yakatoot area here over the seminary bombing, which killed eight people and injured 120 on Tuesday.
A statement issued here said the arrests came during a major crackdown, which was launched by the Rapid Response Force, Ladies Police and Bomb Disposal Unit in Dir Colony, where the bomb blast had occurred, and adjoining areas.
It added that a special investigation team had been formed to interrogate suspects.
According to the statement, security of the city has been beefed up, while a security plan is being chalked out to ensure peace on Rabiul Awwal 12. The counter-terrorism department registered an FIR of the seminary bomb attack against unidentified militants.
Meanwhile, political and religious leaders visited the seminary to condole the bombing deaths.
Jamaat-i-Islami chief Sirajul Haq along with senior party leaders met administrator of the seminary Sheikh Rahimuddin Haqqani and offered condolences.
He said Oct 27 was the blackest day in the country's history as a religious centre and attached mosque were targeted in an Islamic country.
Mr Siraj said the intelligence agencies had alerted the government about the possibility of such a terrorist attack but the latter didn't take it seriously and therefore, many lives were lost.
He likened the seminary bombing with the Army Public School Peshawar attack and criticised the government's representatives over 'failure' to visit the seminary for condolences.
The JI leader said terrorism was rearing its ugly head.
He wondered how terrorists attacked people in their homes despite the presence of intelligence agencies and checkposts in large numbers and border fencing.
Mr Siraj announced that his party would demonstrate against the seminary bombing and France's blasphemous cartoons on Friday.
https://www.dawn.com/news/1587579/55-suspects-arrested-over-seminary-bombing
--------
Chinese group offers help in developing Karachi's infrastructure, coastal area
29 Oct 2020
KARACHI: A delegation of the Peoples Republic of China called on city administrator Iftikhar Ali Shallwani on Wednesday and discussed matters of mutual interests.
The delegation was led by director of Houji Group Mr Xiang Qiwen and Miss Wang Huayu and Coordinator Friendship of Foreign Country Mr Yang Haiming.
The delegation offered China's support for uplift of Karachi infrastructure, coastal areas and construction of parking plaza.
They also offered to sign a memorandum of understanding for declaring Karachi and similar cities of China 'Sister Cities'.
The administrator welcomed the offer and said that Pakistan and China had ironclad friendship, adding that a mega project like CPEC brought both the countries even more closer. He said that Pakistan's economy was likely to be lifted through CPEC.
Mr Shallwani said that Pakistan and China were already working on several joint projects and the latter's experts had played vital role in Pakistan's development. "Karachi Metropolitan Corporation wants to uplift infrastructure of the city and carry out road construction and other works," he added.
The administrator said that they also wanted to develop coastal areas while parking plazas were the need of the hour, adding that China's experience and expertise in these fields would surely help the local administration. He said that Karachi was a gateway and economical hub of Pakistan and offers plenty of opportunities for investors owing to its geographical situation.
Mr Shallwani said that there were four economic zones, two ports and an international standard airport in Karachi. "This city is known as commercial capital as business activities are done throughout the year," he said.
The administrator said roads and footpaths were being constructed or renovated in residential as well as commercial areas.
The delegation members said Karachi was the biggest city of Pakistan and China wanted prosperity and development of the city's people, adding that China was ready for all-out support.
Liaquatabad flyover
The KMC on Wednesday started replacement of Liaquatabad flyover's joint expansion.
During the replacement work, one track of the flyover would remain closed and the people have been advised to use alternative route.
The administrator took notice of media reports about deplorable condition of the flyover's expansion joints and directed the department concerned to fix the issue at the earliest.
https://www.dawn.com/news/1587482/chinese-group-offers-help-in-developing-karachis-infrastructure-coastal-area
--------
Pakistan: Hundreds rally against France anti-Islam wave
Aamir Latif
28.10.2020
KARACHI, Pakistan
Hundreds gathered near the French Consulate in Pakistan's largest city Karachi on Wednesday to protest the rising wave of Islamophobia in the European nation.
Supporters of Jamaat-e-Islami (JI), a mainstream religious party, vehemently denounced French President Emmanuel Macron's anti-Islam remarks and the insulting caricatures of Prophet Muhammad being publicized in France.
They carried banners and placards with messages such as "Down with Charlie Hebdo," "Down with France," and "Sacrilege of Prophet Muhammed is unacceptable" as they marched towards the French consulate in Karachi's upscale Clifton town.
In recent weeks, Macron has attacked Islam and the Muslim community, accusing Muslims in France of "separatism" and describing Islam as "a religion in crisis all over the world."
Charlie Hebdo, a French satirical magazine infamous for printing anti-Islamic caricatures, republished cartoons insulting Islam and Prophet Muhammad earlier this year.
Police contingents blocked nearby roads with barricades and stopped protesters roughly 200 meters (656 feet) from the heavily guarded French Consulate.
Speaking to Andaolu Agency, JI spokesperson Zahid Askari accused security forces of blocking several city roads to restrict the rally, but said over 1,000 people still managed to gather near the building.
Following talks between the protesters and local administration, JI lawmaker Syed Abdul Rasheed was allowed to hand over a letter with demands to consulate officials.
The document conveyed Pakistanis' anger over the recent move to project the blasphemous caricatures of Prophet Muhammad on French government buildings.
That happened on Oct. 21 as part of a tribute to Samuel Paty, a teacher who was beheaded in a Paris suburb earlier this month after showing the cartoons in class during a discussion on freedom of speech.
"We cannot accept attacks on Islam and Prophet Muhammad under the guise of freedom of speech. These have nothing to do with freedom of speech," Hafiz Naeem-ur-Rehman, JI's Karachi chief, said at the rally.
"This is just a smear campaign that is part of the rising tide of Islamophobia in the Western world, mainly Europe."
He urged the Organization of Islamic Cooperation (OIC) and all Muslim world leaders to take a "joint and strong" stand against France and other countries guilty of such acts.
Otherwise, the Muslim world will never forgive you, he warned.
Rehman also demanded the expulsion of the French ambassador to Pakistan.
https://www.aa.com.tr/en/asia-pacific/pakistan-hundreds-rally-against-france-anti-islam-wave/2022842
--------


India
Sunni Waqf Board seeks implementation of Place of Worship Act amid calls to reclaim Kashi, Mathura
Oct 28, 2020
Expressing concern over Kashi and Mathura temples being dragged into legal dispute a year after the Supreme Court's Ayodhya verdict, the Sunni Central Waqf Board has sought strict implementation of the Places of Worship Act.
The Places of Worship (Special Provisions) Act, 1991 provides for maintaining the "religious character" of holy structures as it existed on August 15, 1947.
A plea filed by a Hindu organisation in June had challenged Section 4 of the law in a bid to open the litigation route to reclaim disputed religious sites other than the Ram Janmabhoomi in Ayodhya.
The Vishwa Bhadra Pujari Purohit Mahasangh's plea assumes significance in the case of Kashi and Mathura where two disputed mosques stand.
Talking to PTI, chairman of Sunni Central Waqf Board, Zufar Farooqui, said, "The Places of Worship Act clearly prohibits the conversion of any place of worship and maintain its religious character as it existed on 15 August, 1947." "The Supreme Court's verdict which had cleared the construction of a Ram temple at the disputed site in Ayodhya where the demolished Babri Masjid once stood has also reiterated the places of worship act," he added.
"The board will be dealing with the court cases but since the places of worship act in place, it must be implemented to stop such attacks on mosques in India," he said. After a protracted legal tussle, the Supreme Court, on November 9 last year, ruled in favour of the construction of a Ram temple at the disputed site in Ayodhya and directed the Centre to allot an alternative five-acre plot to the Sunni Waqf Board for building a new mosque at a "prominent" place in the holy town in Uttar Pradesh.
Farooqui, who is also the president of the Indo-Islamic Cultural Foundation (IICF), a trust, for the construction of the mosque in Ayodhya, said the new structure will be bigger than the Babri masjid. A museum, hospital and research centre which will also be built inside the complex.
"We are working on war footing to kick start the construction of the mosque and other facilities in Ayodhya. We are taking the advice of International experts to construct a world-class facility," he said.
"The hospital of course will hold centre stage as it will serve humanity in the true spirit of Islam as taught by the prophet. It will be in sync with the architecture of the mosque, replete with calligraphy and Islamic symbols. It will house a 300-bed speciality unit, where doctors will work with missionary zeal to provide free treatment to the ailing," he added.
The master plan will be designed to house an archive, museum and community kitchen in the mosque complex. The archive and museum will exhibit contribution of Muslims to nation building, Indian culture and freedom struggle and of course Sufi saints who spread love and harmony, he said.
https://www.hindustantimes.com/india-news/sunni-waqf-board-seeks-implementation-of-place-of-worship-act-amid-calls-to-reclaim-kashi-mathura/story-mA3BThhZ1Cbn7GmAIX62RP.html
--------
Pakistan Army Chief Bajwa's 'Legs Were Shaking'; Qureshi Said India Will Attack If Abhinandan Not Released: Pakistan Opposition Recalls
Oct 29, 2020
NEW DELHI: Pakistan Army Chief Qamar Javed Bajwa's "legs were shaking" as foreign minister Shah Mahmood Qureshi urged ministers to release Indian pilot Wing Commander Abhinandan Varthaman who was captured after his jet was shot down during a standoff with India in 2019, a country's lawmaker claimed on Thursday.
"I remember Qureshi was in the meeting in which Imran Khan had refused to attend and Chief of Army Staff General Bajwa came into the room, his legs were shaking and he was perspiring. Foreign minister said for God's sake let Abhinandan go, India's about to attack Pakistan at 9 PM", said Pakistan Muslim League-N (PML-N) leader Ayaz Sadiq in National Assmebly.
Pakistan-based Dunya News further quoted Sadiq as saying that the opposition has supported the government in all issues including Abhinandan but will not be able to further support it.
PML-N leader Sadiq was responding to allegations by the government of his party "colluding" with PM Narendra Modi.
"I try not to make any personal attacks but when those in power refer to us as thieves or 'Modi ka yaar', we will have to respond," Sadiq was quoted as saying by Dunya News.
Sadiq's remark came at a time when his party is lodged in a vocal slugfest with the country's powerful armed forces.
An alliance of 11 opposition parties led by PML-N has been organising a series of rallies against the government, which it calls "puppet regime" "selected" by the country's armed forces.
BJP president JP Nadda tweeted a video of Sadiq's remark in the National Assembly to target the Congress party.
"The shehzada of Congress has no belief in India -- be it the Army, the government, or our people. They should perhaps listen to their most trusted friend Pakistan. Hopefully, they will wake up now," Nadda tweeted in Hindi in an apparent dig at Congress leader Rahul Gandhi.
He added that the Congress party was focussed on weakening its own armed forces.
"Either they make fun of them, or they will doubt their bravery. They tried to their best to ensure that India doesn't get the Rafale fighter jet. However, the people of this country has taught a lesson (to the Congress party) by defeating such politics," he tweeted.
Wing Commander Varthaman was caputed by Pakistan soldiers after he shot down a Pakistani aircraft F-16, which had transgressed into the Indian airspace during a dog fight between Indian and Pakistani air force on February 27, 2019 and in the process, his plane crossed over to Pakistani side and was shot down.
Abhinandan was returned to India from the Attari-Wagah border on March 1, 2019. He has been awarded the Vir Chakra on Independence Day by President Ram Nath Kovind for his exemplary bravery.
https://timesofindia.indiatimes.com/world/pakistan/pakistan-army-chief-bajwa-trembling-qureshi-said-india-will-attack-if-abhinandan-not-released-pak-oppn-recalls/articleshow/78924776.cms
--------
Gonda Man Accuses Eight Of Forcing Daughter To Embrace Islam With The Promise Of Marriage
Oct 29, 2020
LUCKNOW: Eight persons were booked for allegedly coercing a 16-year-old girl in Gonda to embrace Islam with the promise of marriage. The teen's father, who lodged the FIR with Kernalganj police on Tuesday, also accused the group of-eight of delivering violent threats and brainwashing his daughter with grandiose marriage plans in Dubai.
Gonda SP Shailesh Pandey told TOI that the girl is undergoing medical test and arrests could be made only after her statement was recorded. She is a Class 12 passout and has been under medication for anxiety since 2013, said police sources. On October 17, the girl's father complained to police that his daughter had been abducted. The girl was tracked within hours and one person, Imran, was arrested and sent to judicial custody.
"On Tuesday night, another complaint was lodged by the girl's father, who alleged that Arman Ahmad, Fatima, Zahir Ahmad, Mohammed Shahid, Salman and his wife, Amar and few others were forcing his daughter to convert to Islam. He has also stated his daughter was not in good mental health," said Pandey.
The complainant also said he was attacked with a knife by the accused on Monday night and his daughter was threatened. The eight have been booked for deliberate and malicious acts to outrage religious beliefs, rioting, rioting with deadly weapons and conspiracy.
https://timesofindia.indiatimes.com/city/lucknow/man-accuses-8-of-forcing-daughter-to-embrace-islam/articleshow/78921770.cms
--------
Petition in Bombay High Court against NCW chief's 'love jihad' comment
October 28, 2020
Vidya
RTI activist Saket Gokhale has moved the Bombay High Court and sought National Commission for Women (NCW) Chairperson Rekha Sharma's removal for "love jihad" comments made through her Twitter handle.
The action has been sought for alleged violation of Articles 14, 21, and 25 of the Constitution of India and under the provisions the National Commission for Women Act, 1990.
On October 20, a tweet was put out from Rekha Sharma's account that said "she met Maharashtra Governor Bhagat Singh Koshyari and discussed issues related to women's safety in the state including defunct one-stop centres, molestation and rape of women patients at Covid centres and rise in love jihad cases."
Saket Gokhale pointed out that the Union Ministry of Home Affairs (MHA) informed Parliament earlier this year that Article 25 of the Constitution provides for the freedom to profess, practise and propagate religion subject to public order, morality and health.
He quoted the MHA as saying, "Various courts, including the Kerala High Court, have upheld this view. The term 'love Jihad' is not defined under the laws. No such case of 'love Jihad' has been reported by any central agencies. However, two cases from Kerala involving inter-faith marriages have been investigated by the National Investigation Agency (NIA)."
The petition said that Rekha Sharma has "violated Article 14 of the Constitution of India by officially pursuing a policy which raises a phony, baseless, and communal bogey of 'love jihad' and denies inter-faith couples equal protection under law as is provided to same-faith couples by viewing the marriage of the former through a blatantly communal lens".
The petition has quoted various Supreme Court judgements too on inter-faith marriages. The petition is likely to come up for hearing soon.
https://www.indiatoday.in/india/story/bombay-high-court-petition-against-ncw-chief-love-jihad-comment-1736010-2020-10-28
--------
'Muslim museum' proposal triggers slugfest in election-bound Assam
Oct 29, 2020
GUWAHATI: A controversy over an Assam assembly proposal to set up a museum for 'Char-Chapori' areas has become the latest political flashpoint in the state with the opposition calling it the polarisation tactics of the ruling BJP before the state polls due early next year. The Char-Chapori area denotes the riverine area and the museum was slated be set up inside the Srimanta Shankardeva Kalakshetra complex here.
The controversy broke out when Congress MLA Sherman Ali Ahmed used the word 'Miya Museum' in a Facebook post while referring to the museum.
The word 'Miya' in Assam is a slang which usually refers to the Bengali speaking Muslim population. The non- Bengali population in the state generally identify them as Bangladeshi immigrants.
BJP was quick to jump into the controversy with a number of its leaders saying no 'Miya Museum' will ever be allowed in Assam as the people living in such places are "illegal immigrants from Bangladesh".
NEDA convenor and Assam minister Himanta Biswa Sarma said, "In my understanding, there is no separate identity and culture in Char Anchal of Assam as most of the people had migrated from Bangladesh." "Obviously, in Srimanta Sankardeva Kalakhetra, which is the epitome of Assamese culture, we will not allow any distortion. Sorry MLA Sahab," he tweeted.
Congress MP Prayut Bordoloi alleged on Wednesday that BJP has been trying to polarise the voters on the issue as it is afraid that it will taste defeat in the hands of the Congress-led Grand Alliance in the Assam assembly polls due early next year. "The museum is a recommendation by a standing committee of the assembly and majority of its members are from the BJP-led alliance. They unanimously suggested it," he told.
RS MP Ajit Kumar Bhuyan, who heads the regional party Anchalik Gana Morcha(AGM) said the Char-Chapori museum was recommended by the DRSC, whose majority members are from the BJP and its ruling coalition.
https://timesofindia.indiatimes.com/india/muslim-museum-proposal-triggers-slugfest-in-election-bound-assam/articleshow/78922942.cms
--------
Terrorist hideout busted in Poonch
Oct 28, 2020
JAMMU: Security forces on Wednesday busted a terrorist hideout in Poonch district of Jammu and Kashmir and recovered a huge cache of arms and ammunition.
"A joint cordon and search operation was launched by Mendhar police and troops from the 37 Rashtriya Rifles of Indian Army with a team of Special Operation Group (SOG) in Kalaban forest area of Mendhar late on Tuesday evening," said Poonch SSP Ramesh Angral. "After hectic search operation in the tough mountainous terrain, security forces succeeded in busting a terrorist hideout and recovered arms and ammunition," he added.
The recovery included one AK-56 rifle, 793 AK rounds, three AK magazines, one pair of binoculars, one radio set, one Pakistan-made pistol, one pistol magazine, one solar charger and a pouch.
This was the seventh terrorist hideout busted in Poonch in the recent past. Last week, the security forces in a joint anti-insurgency operation had busted a terrorist hideout in Behermgala-Surankote area of Poonch and recovered one rifle, three magazines, one pistol, one pistol magazine and 150 AK rounds.
Prior to this, on September 1, another terrorist hideout was busted in Khenatar village of Poonch and recovery included two Chinese pistols, five pistol magazines, 270 AK rounds and four Chinese grenades, among other things.
In a similar anti-insurgency operation on August 7, Army and J&K police had busted a terrorist hideout in Shashitar forest area of Dingi Cheer in Poonch. On July 26, a terrorist hideout was busted in Doriyaa Dhok of Poonch district. On September 19, security forces had arrested three Lashker–e-Toiba terrorists in Rajouri district who had come from Kashmir Valley to receive weapons air-dropped by Pakistan using a drone.
https://timesofindia.indiatimes.com/india/terrorist-hideout-busted-in-poonch/articleshow/78918873.cms
--------
Jaish commander among 2 terrorists killed in J&K encounter
Oct 28, 2020
SRINAGAR: Two Jaish-e-Mohammad terrorists, one of them a commander of the outfit, were killed in an encounter in Mouchwa area of J&K's Budgam district on Wednesday.
Inspector general of police (IGP) Vijay Kumar said, acting on a specific input, a team of J&K Police, Army and the CRPF cordoned off a suspected hideout in Mouchwa area on Tuesday evening. During the search, terrorists holed up there fired at the forces, triggering a gun battle.
"Bodies of the two terrorists were recovered from the spot on Wednesday morning. The two were identified as Jaish commander Ilyas, a Pakistani national, and Javaid Ahmed from Pulwama. We gave full opportunity to them to surrender but they didn't," the IGP said.
This year eight terrorists surrendered during live encounters across Kashmir. Of the eight, five surrenders took place in October alone, he added.
https://timesofindia.indiatimes.com/india/jaish-commander-among-2-terrorists-killed-in-jk-encounter/articleshow/78918792.cms
--------
NIA raids in terror-funding case at Srinagar, Delhi continue for 2nd day
Edited by Prashasti Singh
Oct 29, 2020
The National Investigation Agency's (NIA) raids in a case pertaining to funding of NGOs and trusts from India and abroad for secessionist and terror activities in Jammu and Kashmir continued for the second day on Thursday. Raids were conducted in nine places in Srinagar and Delhi belonging to six NGOs and trusts.
Former Delhi minorities commission chairman Zafarul Islam Khan was among those being raided by the agency on Thursday.
On Wednesday, the NIA conducted searches at 10 locations in Srinagar and Bandipora and at one location in Bangalore in connection with the case. The office of Greater Kashmir newspaper and the residence of human rights activist Khurram Parvaiz in Sonwar were among the places raided by the agency.
The offices of NGO Athrout were also raided and a case to probe into its fund-raising activities was registered. Hawala racket, misappropriation of funds and terror funding are some of the allegations against these NGOs, officials said on Wednesday.
Meanwhile, People's Democratic Party chief Mehbooba Mufti condemned the raids and called them a "vicious crackdown on dissent."
"NIA raids on human rights activist Khurram Parvez & Greater Kashmir office in Srinagar is yet another example of GOIs vicious crackdown on freedom of expression & dissent. Sadly, NIA has become BJPs pet agency to intimidate & browbeat those who refuse to fall in line," she tweeted on Wednesday.
https://www.hindustantimes.com/india-news/nia-raids-in-terror-funding-case-at-9-places-in-srinagar-delhi-continue/story-OJEoY542lEtfZPrxfKUgIN.html
--------
100 years of Jamia Millia Islamia: Institute with roots in national struggle
Fareeha Iftikhar
Oct 29, 2020
Five years after returning to India for good, Mohandas Karamchand Gandhi had acquired quite the following among students who were struck by his message preaching brotherhood between themselves and non-cooperation towards the colonial rulers. Sample this: On October 12, 1920, when Gandhi visited the Muhammadan Anglo-Oriental (MAO) College in Aligarh, he asked the students gathered, "How can you remain, even for an hour, in an institution in which you are obliged to put up with the Union Jack and profess your loyalty to a Governor or other high-ranking officials, when, in fact you, are not loyal?"
Moved, a group of students, faculty members and activists including Mohammad Ali Jauhar and Shaukat Ali — also called the Ali brothers — joined the Non-Cooperation Movement within the fortnight. Even before the month was up, the group had established the Independent National University with an aim to have an indigenous education free from British influence. It was renamed Jamia Millia Islamia (JMI), and shifted from Aligarh to New Delhi soon after. Jauhar became its first vice-chancellor, and Hakim Ajmal Khan its first chancellor. Prominent educationalist Zakir Husain, who went on to become India's third President, was associated with the university from the start.
On October 29, 2020, JMI turns 100, and from temporary quarters in an ashram to operating out of a set of tents for four years, the educational institution today has five schools with nine distinct faculties, 39 departments and 30 centres (spread across Nanoscience, Dalit and Minorities Studies, Peace and Conflict Resolution, and even Information Technology) that educate over 21,000 students of various religious, caste, and class affiliations. The first batch that graduated in 1921 comprised 21 students — all male. Last year, nearly 2,000 students graduated from JMI; at least 35% of them women.
Its alumni span across fields from film, politics and science, to journalism and civil services, and include former Chief Election Commissioner SY Qureshi, filmmaker Kiran Rao, and cricketer Virendra Sehwag, among others. Even actor Shah Rukh Khan was enrolled at the university's well-known AJK Mass Communication Research Centre (AJK-MCRC).
Loveleen Tandon, co-director of Oscar-winning film Slumdog Millionaire, called Jamia a "birthplace of self-discovery". "In our canteen, you would see people sitting discussing politics, films and speaking about people like (Andrei) Tarkovsky and (Ingmar) Bergman. Being in such an institute opened up a new world for me," said Tandon who studied at AJK-MCRC in 1998.
Former lieutenant governor of Delhi and Jamia vice-chancellor between 2009 and 2013, Najeeb Jung, said: "Jamia is not just a university. It's a movement started back in 1920 with an aim to provide first-rate modern education. Here modern means secular and nationalist education with the all-round development of students."
Indigenous institution
The year 1920 was an eventful one. Gandhi gave a call to boycott government-run schools and colleges and the Congress passed a resolution of Non-cooperation advising "the gradual withdrawal of children from schools or colleges... controlled by government and... the establishment of national schools and colleges in the various provinces". In response, a number of institutions came up such as the Gujarat Vidyapith, Bihar Vidyapith, Kashi Vidyapith, and Modern School in Delhi, besides JMI.
"Jamia, which means a university in Arabic, was born out of Gandhi-ji's call," said Sabiha Zaidi, director of Jamia's Premchand Archives and Literary Center, which has a collection of photos, private papers and mementos dating back to its start.
The new university aimed to be "nationalist" and "indigenous", Gandhi's personal secretary Mahadev Desai recorded in his journal at the time. By 1924, however, it had nearly run out of money. "Mohammad Ali had even suggested closing down Jamia but Gandhi-ji was totally against it. He said, 'Jamia has to run. If you are worried about its finances, I will go about with a begging bowl'," Zaidi said.
A year later, the university shifted to Karol Bagh in New Delhi. Prominent industrialists sustained it — GD Birla, contributed Rs 50,000; Jamnalal Bajaj, raised Rs 6,000 for a new building — at Gandhi's behest.
In 1938, Jamia established the Ustadon ka Madarsa, which came to be called the Teachers' Training College at Karol Bagh, and the Idara-e-Talim-o-Taraqqi that would provide evening classes for adult education. "Whenever we talk about the education of Independent India, and more specifically teacher's education in India, Jamia's contribution in preparing teachers for an education system free from the British influence cannot be stressed enough," said Aejaz Masih, head of the faculty of education at the university.
"We had no boundaries when it came to learning in Jamia. Though I was an engineering student, I got the opportunity to learn French and read the poetry of Rumi and Tabrez," said Hanif Quraishi, secretary, Renewable Energy department, Haryana.
Shohini Ghosh, officiating director at AJK-MCRC said this was one of the earliest centres for the production of educational films for the University Grants Commission. "Many of us started our careers as producers of these documentaries whose subject ranged from a portrait of Shahjahanabad to the workings of the Railways. Amar Kanwar, who is now a well-known documentary filmmaker and artist, made an award-winning series on the leather industry. Apart from this, AJK-MCRC encouraged us to make independent documentaries that affirmed social justice and questioned discriminatory practices," she said.
2019 political protest
On December 15, 2019, policemen entered JMI's central library in an effort to quell the students and citizens' protests against the Citizenship (Amendment) Act. The Delhi Police used sticks and fired tear gas shells. Civil society activists and opposition parties condemned the violence and demanded a judicial probe. A National Human Rights Commission report released in June stated that the police was "law bound to contain the activities of the unlawful assembly."
Many Jamia students who were a part of the protest, including Meeran Haider and Safoora Zargar, have been arrested and charged by Delhi Police. Vice-chancellor Najma Akhtar said that the First Information Report based on a complaint made by the institute is yet to be filed.
"Jamia believes in Gandhiji's principle of non-violence. We have restored the library completely and even changed the colour of the chairs with a hope that it does not remind my students of the violence when they return back to the campus," said Akhtar.
The student-led protest outside the university was suspended after the Covid-19 pandemic hit in March. The matter is currently before the Delhi high court.
https://www.hindustantimes.com/india-news/100-years-of-jamia-millia-islamia-institute-with-roots-in-national-struggle/story-s6n3HdkjEuHOylSA7THkfM.html
--------
Muslim-Hindu demography of Jammu and Kashmir: what the Census numbers show
by ZEESHAN SHAIKH
October 29, 2020
The land laws that were amended and notified by the Centre for the Union Territory of Jammu and Kashmir on Monday (October 26) have omitted the protection earlier available to its "permanent residents". It allows the purchase of non-agricultural land by outsiders, even though the government may provide some protection through notifications.
The decision, celebrated by BJP leaders and spokespersons, has given fresh wind to fears expressed by political parties in Kashmir about attempts to fundamentally alter the demography of the Valley. On Tuesday, National Conference leader Omar Abdullah posted on Twitter that the Centre had now ended "even the tokenism of domicile", and that "J&K is now up for sale".
The Census of 2011 showed that the religious make-up of the erstwhile state of Jammu and Kashmir had remained almost entirely unchanged over the previous half century. The special status of Jammu and Kashmir under the Constitution was removed on August 5, 2019, and the state was split into two Union Territories.
What was the demographic make-up of the state of Jammu and Kashmir before Independence?
The pre-Independence Census of 1941 recorded Muslims as constituting 72.41% of the population, and Hindus 25.01%. Thereafter, the proportion of Muslims in the state's population fell gradually.
So how did the demography of Jammu and Kashmir change between Independence and now?
Jammu and Kashmir was not a part of independent India's first Census in 1951. The 1961 Census showed that Muslims, with a population of 24.32 lakh, constituted 68.31% of the state's population of 35.60 lakh, while Hindus, numbering 10.13 lakh, made up 28.45%.
A full 50 years later, these percentages came out identical: the Census of 2011 recorded the Muslim population at 85.67 lakh — again, 68.31% of the total population of 125.41 lakh (1.25 crore). And the Hindu population was 35.66 lakh — 28.43% of the total. 📣 Express Explained is now on Telegram
And how did the share of population of the two communities change in the Censuses in between?
The percentage of Muslims in the (erstwhile) state started to fall after the 1961 Census when the community made up 68.3 per cent of the population. In the Census of 1971, it was 65.83 per cent and, in the Census of 1981, it fell to 64.19 per cent.
The beginning of militancy ensured no Census could be conducted in Jammu and Kashmir in 1991. But in the next Census in 2001, the proportion of Muslims in the population touched 66.97 per cent — more than the community's share in 1971. And in 2011, it had risen further to reach exactly what it was in 1961 (68.31%).
Consequently, the share of Hindus in the population moved in the opposite direction — increasing from 28.45 per cent in 1961 to 30.42 per cent in 1971, and peaking at 32.24 per cent in 1981; before falling to 29.62 per cent in 2001 and further to 28.43 per cent in 2011.
Jammu and Kashmir originally had 14 districts — six each in the Kashmir and Jammu divisions, and two in Ladakh. Ten of these districts were Muslim-majority — all six in Kashmir, three in Jammu, and one in Ladakh.
The remaining three districts in Jammu had a Hindu majority, and the remaining district in Ladakh was Buddhist majority.
In 2006, eight new districts were created, taking the total number of districts in the erstwhile state to 22.
Of these, 17 are Muslim majority — 10 in Kashmir, six in Jammu, and one in Ladakh. Hindus are the majority community in four districts of the Jammu division; Buddhists are the majority in Leh.
In most districts of Kashmir, the percentage of Hindus went up in the 2011 Census as compared to 2001. The same was the case with Muslims in the districts of Jammu.
What is the share of migrants in the population of (the erstwhile state of) Jammu and Kashmir?
Only about 1.64 lakh (1.31 per cent) of the 1.25 crore population of Jammu and Kashmir (as per the 2011 Census) are people who stay there, but who were born elsewhere. In India as a whole, 4.64 per cent of the population lives in a state in which they were not born.
https://indianexpress.com/article/explained/jammu-and-kashmir-muslim-hindu-demography-census-6906950/
--------
South Asia
UN report names Afghanistan as the worst place for civilians
28 October 2020
Amin Alemi
A report of the United Nations Assistance Mission in Afghanistan has sounded the alarm about a sharp rise in civilian casualties.
According to the report nearly 6000 Afghan civilians were killed or maimed between January and September this year due to the rise of violence. Following the release of the UNAMA reports, human rights bodies and Afghanistan's national Security Council blamed militant groups for much of the civilian casualties.
Based on the latest report by the UNAMA, some 2117 civilians including women and children were killed and 3822 others were wounded as a result of increase of bloodshed and violence from January till September this year. This puts Afghanistan on top of the worst places around the world for civilians.
Experts believe that the recent US-Taliban peace deal is one of the main causes, behind the rise of violence, as the deal has emboldened militants against the Afghan government.
The rise of civilian deaths in Afghanistan comes, as Afghan government representatives and a Taliban delegation, are in talks in Qatar. Locals pessimistically looks at negotiations.
An increase in the number of burial ceremonies in Kabul, is only a small example of the real misery of rural Afghans. This is while a blame game between the US, Taliban and the Afghan government is underway regarding to civilian casualties in Afghanistan.
https://www.presstv.com/Detail/2020/10/28/637444/UN-Afghanistan-civilian-casualty-US-Taliban-
--------
Angry Bangladeshis burn Macron effigy to protest cartoon
28 October 2020
Protesters in Bangladesh burned an effigy of French President Emmanuel Macron on Wednesday, October 28, in capital Dhaka as anger seethes over cartoons of the Prophet Muhammad and the leader's response to the caricatures considered blasphemous by Muslims.
Hundreds of people on Wednesday took part in a rally outside the Baitul Mukarram National Mosque as they held anti-France and anti-Macron banners and chanted.
The row has its roots in a knife attack outside a French school on Oct. 16 in which a man of Chechen origin beheaded Samuel Paty, a teacher who had shown pupils cartoons of Prophet Muhammad in a civics lesson.
The French government, backed by many citizens, saw the beheading as an attack on freedom of speech and said they would defend the right to display the cartoons, with Macron calling the teacher a hero. France's foreign ministry on Tuesday, October 27, issued safety advice to French citizens in Indonesia, Turkey, Bangladesh, Iraq and Mauritania, advising them to exercise caution as calls to boycott French products grow in Muslim-majority countries.
https://www.presstv.com/Detail/2020/10/28/637433/Bangladesh-protest-Emmanuel-Macron-cartoon-Prophet-Muhammad-
--------


Southeast Asia
Wisma Putra summons French envoy over growing hostility towards Islam
October 28, 2020
PETALING JAYA: The foreign ministry today summoned an envoy from the French Embassy to address Malaysia's concerns on the growing hostility, hate speech and defamation of Islam in the European nation.
The ministry said such elevated tension does not bode well for the peaceful co-existence of all religions.
During the meeting, the ministry reiterated Malaysia's position to strongly condemn any inflammatory rhetoric and provocative acts that seek to defame Islam as the world had recently witnessed in the forms of populist speeches and publication of profane caricatures depicting the Prophet Muhammad.
"Malaysia is committed to upholding the freedom of speech and expression as fundamental human rights for as long as these rights are exercised with respect and responsibility in order not to infringe on or violate the rights of others," Wisma Putra said in a statement.
It said Malaysia also underscored the importance of initiatives to curtail and eliminate Islamophobia at all levels.
"Towards this end, Malaysia will continue to work with the international community to promote mutual respect among religions and prevent religious extremism."
This comes amid a backlash across the Islamic world over French President Emmanuel Macron's public remarks which were seen as defending the right to publish caricatures of Prophet Muhammad, which are considered blasphemous in Islam.
Macron made the remarks at a memorial event for high school teacher Samuel Paty, who was murdered after he allegedly showed his students some caricatures of Prophet Muhammad, published by the satirical magazine Charlie Hebdo in 2015, during a class on freedom of expression.
https://www.freemalaysiatoday.com/category/nation/2020/10/28/wisma-putra-summons-french-envoy-over-growing-hostility-towards-islam/
--------
Europe
France Dissolves Muslim Charity Barakacity, One Of The Largest Muslim Charities
Alaattin Dogru
28.10.2020
PARIS
Amid growing protests and condemnations against anti-Islam rhetoric in France, Paris dissolved on Wednesday BarakaCity, one of the country's largest Muslim charities.
Interior Minister Gerald Darmanin confirmed the development on Twitter, sharing a detailed decree agreed during the Council of Ministers meeting.
He claimed that the NGO has links to "radical Islamist movements," and accused them of "legitimizing terrorist attacks." The organization denied the charges.
Idriss Sihamedi, the charity's founder, took to Twitter to deny all the accusations against Barakacity, which delivered aid to 2 million people in 26 countries for 10 years, calling them "smear" and "lies".
Addressing Turkish President Recep Tayyip Erdogan on Twitter, Sihamedi asked for asylum in Turkey.
"I would like to request political asylum for myself and my staff (at BarakaCity), as I am not safe in France," he tweeted in Turkish.
On Oct. 14, police raided the home of Sihamedi and arrested him. He was released the day after.
The raid was one of many that took place across France following President Emmanuel Macron's announcement to fight "Islamist separatism" in the country in a controversial speech, in which he described Islam "a religion in crisis all over the world."
Tensions have further escalated since the the murder of a high school teacher, Samuel Patty, on Oct. 16, who showed blasphemous cartoons of Prophet Muhammad in class.
Macron has defended the cartoons, saying France would "not give up our cartoons," causing outrage across the Muslim world.
Besides condemnations from Turkey, Iran and Pakistan, among others, there have been calls to boycott French products, protests, as well as attacks on French websites.
https://www.aa.com.tr/en/europe/france-dissolves-muslim-charity-barakacity/2022586
--------
Libyans fume at France over anti-Islam remarks
28.10.2020
Anti-French sentiments continued to grow in Libya on Wednesday after repeated insults against Islam and the Prophet Muhammad.
A video clip published by the private February channel showed scores of Libyans using their cars to walk over the French flag in the western city of Misrata.
The video showed young Libyans standing on the sidewalk chanting and applauding as the cars moved over the French flag put on the ground.
On Tuesday, Libya's Fatwa House denounced French President Emmanuel Macron's insulting remarks against the Islamic faith and called for a boycott of the French products.
On Oct. 2, Macron announced a controversial plan to tackle what he calls "Islamic separatism" in France, claiming that the faith of Islam is in "crisis" all over the world and promising to "free Islam in France from foreign influences."
Last week, he defended blasphemous cartoons of the Prophet Muhammad, saying France would "not give up our cartoons" after the brutal murder of high school teacher Samuel Paty, who showed provocative caricatures in a class.
At least 73 mosques, private schools, and workplaces in France, a country that has the largest Muslim minority in Western Europe with around 5 million, have been shut down so far this year, according to the French Interior Ministry.
https://www.aa.com.tr/en/africa/libyans-fume-at-france-over-anti-islam-remarks/2022312
--------
French Muslims accuse Macron of dividing society
Rabia Iclal Turan
28.10.2020
Muslims in France say President Emmanuel Macron has divided the country with the controversial remarks on Islam he has repeatedly made in recent weeks.
Amid tension between the government and French Muslims, Macron on Monday posted a photo on Twitter saying "We are one," which Yasser Louati, head of the Justice and Liberties For All Committee, called a "joke," accusing the president of "excluding Muslim citizens."
"How did we go from France being celebrated in the Muslim world or the Arab world for its refusal to join America in destroying Iraq in 2003 to France today being boycotted under Emmanuel Macron?" Louati asked in an interview with Anadolu Agency, adding that Macron lacks an understanding of foreign policy.
"His arrogance has not only divided the French population but also brought it to a crisis," the human rights activist added.
Farid Hafez, a political scientist and lecturer at the University of Salzburg in Austria, described Macron's move as "the manifestation of discrimination based on the law."
"Macron is following his strategy of creating a French Muslim identity that is first of all invisible and secondly politically harmless, not questioning the status quo of France's discriminatory policies vis-a-vis its Muslim population," he said.
On Oct. 2, Macron announced a controversial plan to tackle what he calls "Islamic separatism" in France, claiming that the faith of Islam is in "crisis" all over the world and promising to "free Islam in France from foreign influences."
Last week, he defended blasphemous cartoons of the Prophet Muhammad, saying France would "not give up our cartoons" after the brutal murder of high school teacher Samuel Paty, who showed provocative caricatures in a class.
At least 73 mosques, private schools, and workplaces in France, a country that has the largest Muslim minority in Western Europe with around 5 million, have been shut down so far this year, according to the French Interior Ministry.
Macron competing in same lane as far-right
French voters will head to the polls for presidential elections in less than two years, in April 2022. The polls, however, currently show Macron neck and neck with Marine Le Pen, leader of the far-right National Rally.
Many believe Macron's strategy to win the next elections is by co-opting the arguments of the far-right.
According to Enes Bayrakli, a researcher at the Foundation for Political, Economic and Social Research (SETA) based in Ankara, Turkey, Macron is trying to overcome his domestic and foreign policy woes by "scapegoating Islam and Muslims."
"Macron is trying to stop the rise of the far-right by adopting their extreme statements," he said.
Louati, echoing this idea, said Macron has nothing else to show for his candidacy as he failed socially and economically, citing the Yellow Vest movements and other protest demonstrations.
"He's got nothing to show us aside from identity politics. So basically what he's saying is, I can't grant you a bright future. I can only promise you war against Muslims," he added.
'Signs of Islamophobic terror wave'
Bayrakli, also a co-editor of the European Islamophobia Report, said he thinks that the situation for Muslims in Europe is deteriorating.
"I see the signs of an Islamophobic terror wave in Europe," he told Anadolu Agency, citing the rise of far-right networks across the continent.
The last few years have seen a surge in far-right terrorist attacks in Western countries.
Far-right attacks ballooned 320% over the past five years in North America, Western Europe, and Oceania, according to the 2019 Global Terrorism Index.
On July 22, 2011, Norwegian far-right terrorist Anders Breivik killed eight people in bombings in Oslo and shot to death another 69 at a youth camp on Utoya island.
On March 15, 2019, Brenton Tarrant, an Australian white supremacist, killed 51 Muslims preparing for Friday prayers in Christchurch, New Zealand.
On February 19, 2020, a German far-right extremist attacked two Turkish cafes in the western German town of Hanau, killing nine people with migrant backgrounds.
Hostility in France towards Muslims rose further in recent weeks. For instance, last week, two headscarf-wearing Muslim women were repeatedly stabbed in a park under the Eiffel Tower, with attackers shouting insults such as "dirty Arabs."
Bayrakli says this is exactly what terrorist groups such as Daesh/ISIS expect from Europe.
"They want Europe to enter a wave of violence. European politicians also come to this game because of cheap political calculations," he said.
Silence of EU member states
Bans on headscarves, "burkini" swimwear, and halal slaughter (according to Muslim dietary rules) as well as restrictions on mosques in some European countries have also drawn outrage.
But Macron's plan to control "foreign influences" in religion is not new for Europe. In Austria, the funding of imams from foreign countries was already banned with the Islam Act of 2015, said Hafez.
Macron "is following suit and trying to impose the same discriminatory measures against Muslims only, not believers of other churches and religious denominations," Hafez said.
"What we see is an intervention in religion by states. This is actually against secularism," said Bayrakli. "A state should not interfere in the internal affairs of religion and theological debates."
Asked about the silence of European leaders amid rising tension in France, Yasser Louati said he interpreted it as "disapproval of Macron's policies."
On the other hand, Enes Bayrakli said he saw it as support.
The EU even avoids using the word "Islamophobia," he added.
"The EU appointed a coordinator on 'combating anti-Muslim hatred,' avoiding using the term Islamophobia," he said.
"In my opinion, Islamophobia has become the dominant ideology of the 21st century, just like opposition to communism during the Cold War."
https://www.aa.com.tr/en/europe/french-muslims-accuse-macron-of-dividing-society-/2021833
--------
French mosque receives threatening notice
Alaattin Dogru
28.10.2020
PARIS
A mosque in Vernon district in northern France received a threatening notice Tuesday, according to a post on Twitter by the Islam & Info website.
The notice, left in the mosque's mailbox, contained death threats and insulting messages against Turks, Arabs and the community who comes to the mosque regularly.
"The war has begun. We will drive you out of our country. You will give account for Samuel's death," it said.
It was referring to Samuel Paty, a teacher at Bois-d'Aulne College in Conflans-Sainte-Honorine who was beheaded on Oct. 16 by Abdullakh Anzorov, an 18-year-old of Chechen origin, in retaliation for showing controversial cartoons depicting the Muslim Prophet Muhammad to his students during one of his classes on freedom of expression.
The notice also contained ugly remarks directed against Muslim women wearing headscarves.
The Grand Mosque of Pantin outside Paris was recently closed for six months after it shared a video on its Facebook page before Paty's murder criticizing him.
Earlier this month, President Emmanuel Macron accused French Muslims of "separatism" and described Islam as "a religion in crisis all over the world."
Tensions further escalated after Paty's murder. Macron paid tribute to him and said France would "not give up our cartoons."
Insulting cartoons by Charlie Hebdo, a French satirical weekly magazine, were also projected on buildings in a few cities.
Several Arab countries as well as Turkey, Iran and Pakistan have censured Macron's attitude toward Muslims and Islam, with President Recep Tayyip Erdogan saying the French leader needs "mental treatment."
While calls to boycott French products are circulating online in many countries, Erdogan has urged Turks "to never help French brands or buy them.
https://www.aa.com.tr/en/europe/french-mosque-receives-threatening-notice/2021503
--------
Albanian children stuck in Syrian camp return home
Fatjon Cuka, Furkan Abdula
28.10.2020
Five Albanians who had been living in a Syrian camp for families of militants fighting in Syria and Iraq returned home Tuesday as part of an operation carried out by Albanian and Lebanese authorities.
After traveling to the Lebanese capital Beirut to oversee the operation, Albanian Prime Minister Edi Rama and Interior Minister Sander Lleshaj flew back home with the four Albanian children and woman who were in Al-Hawl camp in northern Syria.
"After a year-long effort, four Albanian children returned from the hell camp Al Hawl thanks to a complicated operation," said Rama, speaking at Tirana International Airport Nene Tereza.
Noting that other children in the camp have been identified, Rama said they will also be brought back to Albania soon.
He said Albania does not have relations with the Bashar al-Assad regime, but their permission was needed for their passage, adding the operation was led by Lebanon's General Security Chief Abbas Ibrahim.
Rama did not disclose the number of Albanian children who went to camps in Syria with their families a few years ago and are still there.
https://www.aa.com.tr/en/europe/albanian-children-stuck-in-syrian-camp-return-home/2021492
--------
Two Swiss Muslim leaders convicted of spreading al Qaeda propaganda
OCTOBER 28, 2020
ZURICH (Reuters) - A Swiss court handed suspended jail terms on Tuesday to two senior officials from a Swiss Islamic group for spreading propaganda supporting al Qaeda, in a retrial which followed their earlier acquittal.
Nicolas Blancho, president of the Islamic Central Council of Switzerland (ICCS), and media spokesman Abdel Azziz Qaasim Illi were sentenced by the Federal Criminal Court to 15 months and 18 months in prison respectively, both suspended for three years.
Prosecutors originally charged the two men and one other ICCS official in 2017 over videos posted online two years earlier that included interviews with leaders of Jabhat al-Nusra, at the time al Qaeda's Syrian branch.
The ICCS did not respond to requests for comment on Tuesday's ruling. It has previously said the footage was intended to shed light on a troubled region, not glorify extremists.
Films of the interview were subsequently used online as propaganda for al Qaeda, according to the indictment. Prosecutors said the filmmakers failed to explicitly distance themselves from al Qaeda activities in Syria in the 2015 videos.
The charges were made under a Swiss law that bans al Qaeda and Islamic State. Blancho and Illi were found not guilty in the earlier trial because the court held that prosecutors had failed to provide sufficient detail about the allegations. The third ICCS official was convicted at the time.
The Federal Court overturned Blancho and Illi's acquittals in March and ordered a new hearing.
The Office of the Attorney General, which brought the prosecution, said it noted the court's decision on Tuesday with satisfaction.
https://www.reuters.com/article/swiss-islamicstate-int/two-swiss-muslim-leaders-convicted-of-spreading-al-qaeda-propaganda-idUSKBN27C2TW?utm_source=iterable&utm_medium=email&utm_campaign=1661770_
--------
Mideast
Iran: Disrespecting Prophet Muhammad insult to all Muslims, human values
28 October 2020
Iran's President Hassan Rouhani has condemned the Islamophobic comments made by French and other Western officials, saying disrespecting Islam's Prophet Muhammad (Peace be upon Him) is equal to insulting all Muslims and human values.
"It is surprising that those who claim [to be advocating] culture and democracy somehow encourage others, albeit unintentionally, to [commit] violence and bloodshed," he told a cabinet meeting in Tehran on Wednesday.
Respect for others, morality and freedom were among the teachings of Prophet Muhammad (PBHU), he noted, stressing that vilification, insults and drawing offensive caricatures do not manifest democracy and humanity.
"It is surprising that the countries, which claim [to be promoters of] freedom, rights and law encourage people to insult each other and those loved by [other] people," Rouhani said.
The president added, "The Westerners should understand that the great Prophet of Islam is loved by all Muslims and freedom-seeking people in the world. Insulting the Prophet is a violation of morality and an insult to all Muslims, divine prophets and human values."
Earlier this month, French history teacher Samuel Paty provoked outrage by showing his students the blasphemous cartoons of Prophet Muhammad (PBUH) earlier published by the satirical newspaper Charlie Hebdo.
He was murdered outside his school in a Paris suburb on October 16 by an 18-year-old assailant, identified as Chechen Abdullakh Anzorov, who was shot dead by police soon after the killing.
French President Emmanuel Macron characterized the incident as an "Islamist terrorist attack."
Macron claimed Islam as a religion was in a state of "crisis" and defended the offensive cartoons, which have hurt the feelings of Muslims in France and elsewhere.
The remarks triggered anti-France sentiment in the Muslim world, prompting calls for the boycott of French goods and an official apology.
Elsewhere in his address, the Iranian chief executive urged the Western countries not to meddle in the affairs of Muslims states.
"If the West, Europe and France are sincere about their efforts for peace and security, they should stop interfering in the affairs of Muslims," he said.
A clear manifestation of the Western interventionism is war-torn Yemen, where impoverished people have been falling victim to the bombs supplied by the Westerners to the Saudi-led coalition of aggressors, Rouhani said.
He further hailed "the appropriate and decisive reaction" of the Muslim world to Western officials' false statements, expressing hope that "those who have made a mistake would soon make up for it and return to the path of morality, justice and respect for all divine religions."
https://www.presstv.com/Detail/2020/10/28/637422/Iran-Rouhani-Prophet-Muhammad-insult
--------
Iran's Expediency Council Secretary Says Macron Should Apologize to Muslims, Calls for Expulsion of French Ambassadors from Muslim World
Oct 28, 2020
"The French president's measure was a kind of political folly and he should apologize to the Islamic world for this position," Rezayee, the former commander of the Islamic Revolution Guards Corps (IRGC), said.
He blamed certain Arab states which have normalized ties with Israel for Macron's insolence to insult the Islamic sanctities, and said, "The Islamic states and bodies are necessitated to adopt more united and more serious positions against this blasphemous act."
EC Secretary Mohsen Rezayee
Rezayee also asked Iranian President Hassan Rouhani to urge Islamic states' leaders to sack the French ambassadors from their countries in a coordinated move.
In recent weeks and after a French teacher was beheaded by an ISIL member after he displayed cartoons of the prophet of Islam, French President Emmanuel Macron attacked Islam and the Muslim community, accusing Muslims of "separatism", and he said previously that "Islam is a religion in crisis all over the world".
The incident in Paris coincided with a provocative move by Charlie Hebdo, a left-wing French magazine infamous for publishing anti-Islamic content, which has drawn widespread anger and outrage across the Muslim world.
The caricatures were first published in 2006 by a Danish newspaper Jylllands Posten, sparking a wave of protests.
The Iranian Foreign Ministry on Tuesday summoned the French Chargé d' Affaires, Florent Aydalot, over the French President's recent remarks against Islam.
The French Charge d' Affaires was summoned to the Foreign Ministry, in absence of its ambassador, to hear Iran's condemnation of the growing anti-Islamic moves and remarks in France.
Aydalot received the Iranian Foreign Ministry's condemnation of the sacrilegious acts in France and the following unacceptable remarks of the French authorities that have hurt the feelings of nearly 2 billion Muslims in the world and millions of Muslims in Europe.
"Any insult and disrespect to the Prophet of Islam (PBUH) and the pristine values of Islam are strongly condemned and rejected by every person and in every position," the Iranian Foreign Ministry official who met the French diplomat said.
"It is of deep regret to incite Islamophobia and spread hatred in the name of freedom of expression, which should serve relations, empathy and peaceful coexistence among human societies."
The French official said he would convey Iran's strong objection to Paris very soon.
In relevant remarks, Iranian Foreign Minister Mohammad Javad Zarif blasted sacrilege of Islam's Prophet (PBUH) in the European states, warning that disrespecting the sanctity of nearly two billion Muslims for the crimes of Wahhabi groups would only heightens extremism.
"Muslims are the primary victims of the cult of hatred (Wahhabism), empowered by colonial regimes and exported by their own clients," Zarif wrote on his twitter page on Monday.
He said that insulting 1.9bln Muslims and their sanctities "for the abhorrent crimes of such extremists is an opportunistic abuse of freedom of speech".
"It only fuels extremism," Zarif warned.
https://en.farsnews.ir/newstext.aspx?nn=13990807000554
--------
Trump lifts ban that prohibits funding Israeli scientific research in West Bank
28 October 2020
The Trump administration lifted a decades-old ban on Wednesday that had prohibited US taxpayer funding for Israeli scientific research conducted in Jewish settlements in occupied territory, drawing Palestinian condemnation.
With Tuesday's US election approaching, President Donald Trump's move was praised by Israeli Prime Minister Benjamin Netanyahu and could resonate with evangelical Christian voters who support Israeli settlement in the West Bank.
For all the latest headlines follow our Google News channel online or via the app
The West Bank settlement of Ariel, the site of an Israeli university, was chosen as the venue for a ceremony opening a new avenue of US scientific cooperation with Israeli researchers.
Palestinians, who seek the West Bank for a future state, said the move made Washington complicit in what they termed Israel's illegal settlement enterprise.
In Ariel, Netanyahu and David Friedman, the US ambassador to Israel, revised three agreements reached between 1972 and 1977, enabling researchers in settlements to apply for US government funds. They also signed a new scientific and technology cooperation accord.
Under the now-lifted prohibition, research money for Israelis could not be distributed in areas such as the West Bank that Israel captured in the 1967 Middle East war. Most countries view permanent settlements on such land as a violation of the Geneva Conventions, though Israel disputes this.
"The Trump vision ... opens Judea and Samaria to academic, commercial and scientific engagement with the US," Netanyahu said at the ceremony in Ariel, using biblical names for West Bank territory.
"This is an important victory against all those who seek to delegitimise everything Israeli beyond the 1967 lines."
Friedman said $1.4 billion had been invested by three US-Israeli research cooperation funds since 1972.
A spokesman for Palestinian President Mahmoud Abbas said lifting of the funding ban represented "American participation in the occupation of Palestinian lands".
The Trump administration last year effectively backed Israel's right to build West Bank settlements by abandoning a long-held US position that they were "inconsistent with international law".
At the ceremony, Netanyahu again praised Trump for his "successful approach to bringing peace to our region", citing US-brokered deals for diplomatic relations between Israel and several Arab states.
https://english.alarabiya.net/en/News/middle-east/2020/10/28/Trump-lifts-ban-that-prohibits-fuding-Israeli-scieintific-research-in-West-Bank
--------
Iran: Prisoner Shahram Takhsha Executed in Sanandaj Prison
Iran Human Rights (IHR); October 21, 2020: A prisoner sentenced to qisas (retribution-in-kind) for "premeditated murder during the course of an armed robbery" has been executed in Sanandaj Central Prison.
According to the Iran Human Rights, this morning, Wednesday, October 21, a male prisoner was executed in Sanandaj Central Prison. The prisoner, whose identity was established as 28-year-old Shahram Takhsha, was on death row on the charge of "premeditated murder during the course of an armed robbery."
Previously, an informed source had told IHR: "Shahram Takhsha was arrested two years and eleven months ago on charges of murder during an armed robbery with his brother Shahriyar. Shahram was arrested after being shot in the leg and sentenced to death as the primary defendant and his brother sentenced to 40 years in prison as his accomplice."
IHR had reported that Shahram had been transferred to solitary confinement in preparation for his execution on Sunday.
HRANA News Agency, which first published the news, wrote of Shahram Takhsha's health condition: "Shahram Takhsha was shot and wounded during his arrest and has since been in prison without any medical attention until he was taken limping for execution this morning."
https://iranhr.net/en/articles/4473/
--------
Man Suffocated to Death After Being Pepper Sprayed by Police in Iran
October 25, 2020 - A young man suffocated to death from exposure to pepper spray after the state security forces harassed and tortured him in public.
A harrowing video shared on social media on Saturday showed a police torturing a detained man handcuffed to a pole with pepper spray and tasers in public.
The young man identified as Mehrdad Sepehri suffocated to death from abuse and pepper spray in a police car prior to reaching a hospital.
Locals said that the police was called following a family dispute. A doctor has verbally told the deceased's family members that he died of suffocation from pepper spray.
The body of Mehrdad Sepehri was transferred to Mashhad's Taleghani Hospital where he was registered without a name. His brother identified him in the hospital morgue. His body had numerous torture marks including on his hands, stomach, chest, neck, and head. The torture and beating marks were also evident in the video.
Shortly after the publication of the video which outraged the public, the state-run IRNA news agency reported – citing a judiciary official – that an investigation has been launched into the matter.
The death of Mehrdad Sepehri is not an isolated case.
A video clip circulated in social media on October 22, 2020, of a young woman in Abadan being mistreated by Oil Company's security forces. The young woman with bloodied face was being held on the ground while one of the security agents put his foot on her chest.
https://iran-hrm.com/index.php/2020/10/25/man-suffocated-to-death-after-being-harassed-by-police-in-iran/
--------
Iran: Prisoners Who Reported Abuse Charged
October 23, 2020
(Beirut) – Iranian judiciary authorities are prosecuting human rights defenders for reporting abuse in detention, Human Rights Watch said today. Since September 2020, the authorities have brought charges against two imprisoned activists who had published letters alleging mistreatment.
On October 18, Emtedad online news channel reported that in the previous week, authorities had charged Niloufar Bayani, an environmental conservationist serving a 10-year sentence after an unfair trial, with "publishing false information." In a separate case, the Human Rights Activists Agency (HRANA) reported that on October 11, the authorities charged an imprisoned student activist, Parisa Rafiee, with "propaganda against the state" after she published a letter about her detention conditions.
"Punishing people reporting mistreatment in Iranian detention facilities shows a warped sense of justice," said Tara Sepehri Far, Iran researcher at Human Rights Watch. "The judiciary's recent rhetoric on 'transparency' rings especially hollow if prosecutors silence alleged torture victims rather than impartially investigating their claims."
In February, the BBC Persian website published a detailed account of the alleged mistreatment of Bayani by prison authorities based on her letters, including "1,200 hours of interrogations," "long hours of interrogation while standing," "threatening with a hallucinogenic injection," and "sexual insults."
On February 24, Iran's presidential cabinet tasked Alireza Avayi, the justice minister, to investigate the allegations of torture and report back. More than nine months later, there has been no information about such an investigation.
In January 2018, the Revolutionary Guards' Intelligence Organization arrested Bayani and seven of her colleagues, all members of the Persian Wildlife Heritage Foundation, a local conservation nonprofit group, on accusations of "using environmental projects as a cover for espionage." On February 10, 2018, family members of Kavous Seyed Emami, one of those arrested, reported that he had died in detention under suspicious circumstances.
The environmentalists' trial began in January 2019 but was halted multiple times. The defendants were not allowed to have access to a lawyer of their choice. Bayani had interrupted a trial session in February, saying that the defendants had been under psychological torture and were coerced into making false confessions.
On February 18, 2020, Gholamhossein Esmaili, Iran's judiciary spokesman, confirmed at a news conference that a court of appeal had upheld sentences ranging from 6 to 10 years against seven of the group's members for "cooperating with the hostile state of the US." Esmaili said the court also upheld a 4-year sentence for Abdolreza Kouhpayeh, another member of the group, for "assembly and collusion to act against national security." Authorities released Kouhpayeh in March.
The court upheld the 10-year sentences for Niloufar Bayani and Morad Tahbaz, two of the seven, and ordered them to return allegedly "illicit income." The court ordered Bayani to return US$360,000 in "illicit funds;" authorities calculated this amount by multiplying Bayani's last annual salary from the United Nations Environment Programme, where she worked prior to joining the wildlife group, by the six years she worked at the UN, a source told Human Rights Watch.
Over the past two years, several senior Iranian government officials have indicated that they did not find any evidence to suggest that the detained activists are spies.
HRANA reported that the authorities arrested Rafiee, a student activist at the University of Tehran, on February 25, 2018 and released her on bail after 23 days. On August 26, 2018, Saeed Khalili, Rafiee's lawyer, told the Iranian Student News Agency (ISNA) that branch 26 of Tehran's revolutionary court had sentenced her to seven years in prison on charges of "assembly and collusion to act against national security," "propaganda against the state," and "disturbing public order."
The lawyer said the charges were brought for activities such as participating in peaceful demonstrations on campus after dormitory curfew hours. In November 2019, Rafiee's sentence was reduced to one year after a clemency order by Ayatollah Khamenei.
In a letter published on May 9, 2019, Rafiee wrote that she had been kept in solitary confinement for 21 days without knowing her location. She also wrote that her interrogator sent her for a virginity test, which she refused. But she said she was not allowed to file a complaint about this degrading treatment.
On June 7, 2020, the authorities arrested and transferred Rafiee to prison to serve her sentence. On August 19, HRANA reported that the prosecutor's office at Evin prison had opened a new case against Rafiee, charging her with propaganda against the state because of the letter.
On October 15, Ayatollah Ebrahim Raeesi, the head of Iran's judiciary, published a "document on judicial security" as part of the judiciary's obligations under the country's sixth development plan. Among other things, the document emphasizes several key human rights issues, including the prohibition on torture and arbitrary arrests and the right of access to a lawyer. The document also commits the judiciary to publishing final court opinions while respecting privacy rights.
"If the judiciary actually wants to curb ongoing abuse, it can start by quashing abusive charges against human rights defenders who are already unfairly behind bars, investigate their torture allegations, and hold those responsible to account," Sepehri Far said.
https://www.hrw.org/news/2020/10/23/iran-prisoners-who-reported-abuse-charged
--------
November 2019 Protesters Sentenced to a Total of 159 Years in Prison
October 26, 2020 - The Great Tehran Penitentiary detainees arrested during the protests in November 2019 have been sentenced to a total of 159 years in prison.
The state-run Ensafnews.ir reported that more than 50 detainees in the Great Tehran Penitentiary who had been arrested in November 2019, have been sentenced to a total of 159 years in prison. Those arrested include Reza Ghoreishi who has received 10 years. Other detainees have received between 2 and 6 years each. The age of the detained protesters ranges from 19 to 45.
The majority of the detainees in the political ward of the Great Tehran Penitentiary are those arrested in November 2019 protests. They are serving their sentences but some are still held in limbo.
The ensafnews.ir said most of the detainees in GTP's Ward 5 were arrested during the November 2019 uprising. There is no accurate statistics available on how many protesters have received verdicts.
Ensafnews.ir wrote that those arrested during the November 2019 protests were beaten and brutalized in the SSF stations, and unofficial centers. The state-run website went on to say that the detainees experienced other bad things as well, without getting into details. It added that the detainees made confessions against themselves because of undergoing torture. Many of the detainees did not have access to lawyer during their trails.
The report by ensafnews.ir points out that the detainees were harassed in prison. They were relocated from Ward 5 to Ward 2, something that they did not want. They want to go back to Ward 5.
On September 30, 2020, the political prisoners and prisoners arrested during the November 2019 protests were moved from Ward 5 in GTP to Ward 2.
The protests in November 2019 broke out on November 15 in protest to the petrol price hike and rapidly spread to more than 190 cities. Over 1,500 protesters were killed by the IRGC, the State Security Force (SSF), intelligence forces, and plainclothes agents.
Those killed included children between 13 and 15 years of age. Some 4,000 people were wounded in these protests. The number of those arrested is estimated to be around 12,000.
In anohter developmenr, the Court of Behbahan issued a total of 109 years of prison sentence, 2,590 lashes, and 3.3 million Tomans in cash fine for 36 protesters arrested during November 2019 protests in this city.
Behbahan was one of the hotbeds of protest in the southwest province of Khuzestan in November 2019.
Behbahan's court informed the convicted of their sentences on the eve of the anniversary of the November 2019 uprising, on October 22, 2020.
https://iran-hrm.com/index.php/2020/10/26/november-2019-protesters-sentenced-to-a-total-of-159-years-in-prison/
Iran Steps Up Its Repression 'Plans' to Terrorize the Public
With the increase of the public degradation of "thugs" on the streets of Iran, in what authorities are calling "maneuvers of power", the regime has spread its repressive plans to other cities and provinces. In recent days regime officials announced the establishment of bases in various cities of Iran.
On October 19, in a broadcast by the regime's state-run television, Mohammad Reza Yazdi, the commander of the Revolutionary Guards (IRGC) Mohammad Rasul brigade in Tehran said, "The Razaviun patrol units started its work in 2018 to maintain security. In 2019, its structure was completed, and their services expanded in 2020… In coordination with our brave brothers in the State Security Forces and Tehran's prosecutor's office, we have deployed Razaviun units in all cities to maintain the security… These efforts will continue until we can stop any attempt at disrupting security in the capillaries of cities."
Widespread arrests
The regime has resorted to widespread arrests. Though the official motive behind the crackdown is crime prevention, these measures are politically motivated and designed to intimidate and subdue Iranians to prevent protests against the regime's absolute rule.
It is worth noting that November 2019, as nationwide protests expanded to most provinces of the country, Ali Fadavi, the deputy commander of the IRGC declared a surge in the deployment of the Razaviun security patrol units, which are run by the paramilitary Bassij Force and aim to quell anti-regime protests in every town and city.
On October 14, Abdollah Hassani, the commander of State Security Forces in Semnan province reported the arrests of 3,000 thieves in six months, according to the state-run Hamshahri Online. Hassani added that 80 percent of the arrested individuals were under the age of 35, and also reported an uptick in "cybercrime" and increased activity by the regime's cyberpolice.
On the same day, Abdollah Hassani, the commander of State Security Forces in Semnan province reported the arrests of 3,000 thieves in six months, according to the state-run Hamshahri Online. Hassani added that 80 percent of the arrested individuals were under the age of 35, and also reported an uptick in "cybercrime" and increased activity by the regime's cyberpolice.
On October 17, Nabiollah Ghassemi, the commander of State Security Forces in Kuhdasht, Lorestan province, reported 98 arrests in police operations, as reported by the semi-official ISNA news agency. Ghassemi added, "The continuation of police security plans aims to preempt bad behavior and maintain public peace and security. These goals have been prioritized by the police."
On the same day, Nabiollah Ghassemi, the commander of State Security Forces in Kuhdasht, Lorestan province, reported 98 arrests in police operations, as reported by the semi-official ISNA news agency. Ghassemi added, "The continuation of police security plans aims to preempt bad behavior and maintain public peace and security. These goals have been prioritized by the police."
On October 18, Tasnim News Agency, affiliated with the IRGC, quoted Rahim Jahanbakhsh, the commander of State Security Forces in Zanjan province, as saying that 1,500 "security disruptors" were apprehended in the past eight months. Jahanbakhsh described these people as individuals who "spread rumors and cause tensions in the society" and said, "Cyberspace is a reality of the society, and this space has become a reality, which requires the expansion of security efforts in this domain."
Also on October 18, Ali Akbar Javidan, the commander of State Security Forces in Kermanshah province reported that the regime had arrested 5,550 people as "thugs and thieves" in the first six months of the Persian calendar year (March-September), according to IRNA. "[Security forces] will not allow any group to cause tensions and fear in the society and the people," Javidan said.
Suppressing "thugs" to prevent protests
According to state-media reports published in the 1990s, following major protests in the northeastern city of Mashhad and Tehran's Eslamshahr, the regime's security institutions reached the conclusion that "thugs" were important players in protests.
An IRGC official also said that during nationwide protests in 2009, the regime "identified 5,000" people who took part in protests but "were not affiliated with any parties or political groups" and were "thugs and hooligans".
"We controlled them in their homes. When there were calls for street protests, they were not allowed to leave their homes," Hossein Hamedani who died in 2015 in Syria added.
https://iran-hrm.com/index.php/2020/10/22/iran-steps-up-its-repression-plans-to-terrorize-the-public/
--------
Iran Sentences Five Bahai Women to Total Five Years of Prison
October 26, 2020 -HRANA – Nika Pakzadan, Faraneh Daneshgari, Sanaz Ishaqi, Nakisa Hajipour and Naghmeh Zabihian, five Baha'i citizens living in Mashhad, were each sentenced by the Mashhad Revolutionary Court to one year in prison. These citizens were originally arrested by security agents in Mashhad on November 15, 2015, and were later released on bail pending trial.
According to the verdict issued by Branch 3 of the Revolutionary Court of Mashhad and announced to these citizens on Monday, October 19, 2020, Naghmeh Zabihian, Sanaz Ishaqi, Faraneh Daneshgari, Nika Pakzadan and Nakisa Hajipour were charged with propaganda against the regime by promulgating the Baha'i faith. They have been sentenced to 1 year in prison.
"These citizens are protesting against the verdict, and their case is to be sent to the appellate court," a source familiar with the status of their case told HRANA.
The trial of these Baha'is was held on September 28, 2019 in the Revolutionary Court of Mashhad.
Naghmeh Zabihian, Sanaz Ishaqi, Faraneh Daneshgari, Nika Pakzadan and Nakisa Hajipour were arrested by security agents in Mashhad on October 16, 2015. Simultaneously with the arrest of these citizens, at least 11 other Baha'i citizens were arrested by security agents in the cities of Tehran and Isfahan. Some time after the end of the interrogation process, they were temporarily released until the end of the trial.
Among these citizens, Naghmeh Zabihian had previously been arrested in the winter of 2011, along with a number of other Baha'is, for setting up a handicraft exhibition at the home of a Baha'i living in the city. He was tried and sentenced to six months in prison for propaganda against the regime.
Baha'is in Iran are prevented from practicing their religion. This systematic deprivation of liberty occurs even though Article 18 of the Universal Declaration of Human Rights and Article 18 of the International Covenant on Civil and Political Rights entitle every individual to freedom of religion and belief, as well as to freedom to express it individually or collectively, in public or in private.
According to unofficial sources, there are more than 300,000 Baha'is in Iran, but Iran's constitution only recognizes Islam, Christianity, Judaism, and Zoroastrianism; it does not recognize the Baha'i Faith. For this reason, the rights of Baha'is in Iran have been systematically violated for many years.
http://iranpresswatch.org/post/21467/iran-sentences-five-bahai-women-total-five-years-prison/
--------
Africa
Nigeria: 20 Killed, 10 Injured in Borno
27 OCTOBER 2020
Daily Trust (Abuja)
At least 20 people have been killed, including 16 Boko Haram members, when the insurgents attempted to attack a military base in the southern part of Borno State Sunday evening, sources confirmed.
The attackers, it was gathered, came around 1640hrs into Damboa town, headquarters of Damboa LGA of the state, and opened fire killing four displaced persons. More than 10 others were wounded in the ensuing crossfire.
A top security source disclosed that the insurgents launched an attack on the military base but they met swift response and 16 of them were neutralized.
The source added that the gun battle lasted for about three hours and the Air Task Force of Operation Lafiya Dole provided support to the ground troops against the insurgents.
"I can confidently tell you that there were no casualties on our side. Both the Air Task Force and ground troops did a great job," the top security source said.
A member of the vigilante group in Damboa, Hamisu Bakura, told Daily Trust via phone call that "Boko Haram came with more than 20 gun trucks, and they were just shooting anyhow."
"Everybody was running and three displaced persons were caught in the crossfire and got killed. One other lost his life in hospital so we lost four persons but we are happy that many of them (Boko Haram) were killed. As we speak now there is a celebration in Damboa.
https://allafrica.com/stories/202010270273.html?utm_source=iterable&utm_medium=email&utm_campaign=1661770_
--------
Somalia: Three Killed in Latest Attack in Somalia
27 OCTOBER 2020
Three people were killed and an unknown number injured in the latest attack on the outskirts of Somalia's restive capital Mogadishu on Tuesday, a government official said.
Ismael Mukhtar, the government spokesman, said the militants shot dead a government official in Mogadishu's Kahda district after seizing his properties including a vehicle.
Omar said a few minutes later, a vehicle-borne improvised explosive device that had been left behind by the attackers detonated, killing two staff of the Kahda district who were carrying out a polio vaccination campaign.
Omar said the security forces have not established the exact number of those injured in the latest attack.
No group has claimed responsibility for the latest attack
https://allafrica.com/stories/202010271087.html?utm_source=iterable&utm_medium=email&utm_campaign=1661770_
--------
ISIS Re-Establishing Network in Africa
27 October 2020
The Islamic State group, essentially pushed out of Iraq and Syria by a U.S.-led coalition in March 2019, has re-established itself in Africa, conducting attacks in 13 countries, capturing territory and establishing de facto governments in portions of two of them in the past year and a half, a report by a West Point-affiliated policy institute says.
The militant Islamists, which went by the names of Islamic State in Iraq and Syria (ISIS) and later by Islamic State in Iraq and the Levant (ISIL), have re-established themselves largely in west and central Africa and the Sinai Peninsula, with its strongest presence in northeast Nigeria, the Combatting Terrorism Center at the U.S. Military Academy says.
"Contrary to what some claimed in the months since the last vestiges of the territorial caliphate in Syria were liberated in 2019, the Islamic State is far from defeated," the report says, adding that IS has been operating as separate but affiliated military units which go by names such as Islamic State, Western African Province (ISWAP).
"…This dynamic is especially clear in northeast Nigeria and the surrounding region, where ISWAP is engaging in operations that are increasingly audacious, staggeringly brutal, and worryingly akin to what ISIL, as it was known at the time, was doing in Syria in early 2014."
Besides Nigeria, ISWAP has launched attacks in Niger, Cameroon, Chad, Mali and Burkina Faso.
Similarly, the Islamic State, Central African Province (IS-CAP) affiliate has been gaining territory in Congo and Mozambique, while Islamic State-Sinai Peninsula (IS-SP) has likewise been doing the same in the Egyptian-controlled territory.
"IS-CAP is gaining more strength by the month," the CTC says. "In March 2020, it managed to take over two towns in Cabo Delgado Province in just 48 hours, a clear sign that it enjoys more than just a foothold in the area. This became even clearer in August 2020, when the port city of Mocimboa da Praia, with its population of over 100,000, was seized by IS-CAP after days of clashes with Mozambican soldiers."
And albeit relatively small, the Sinai contingent is troubling, the CTC says, because it can be used as a staging area.
"On account of the persistent threat posed by these three African (affiliates) — not to mention the relatively stable presence of the Islamic State's affiliates elsewhere on the continent — it is paramount that strategic policymakers and military practitioners consider the threat posed by the Islamic State in Africa as a priority, not just a sideshow of the activities of its remnants in Iraq and Syria," the CTC report concluded.
https://www.newsmax.com/newsfront/isis-isil-africa-terrorism/2020/10/27/id/994040/?utm_source=iterable&utm_medium=email&utm_campaign=1661770_
--------
North America
Trump administration paves the way for more US investment in illegal Israeli settlements
28 October 2020
The Trump administration has lifted the bans on investment in settlements illegally built by the Israeli regime on Palestinian lands.
US ambassador to Israel David Friedman and Israeli Prime Minister Benjamin Netanyahu signed an agreement in a ceremony at Ariel University, located within an Israeli settlement in the occupied West Bank.
Friedman, in part, brought up the so-called Abraham Accords, signed last month between Israel, the United Arab Emirates and Bahrain despite the outcry from Palestinians and much of the global community.
"Just as we have seen tremendous regional progress on the Abraham Accords, we are also seeing the tangible benefits of President Trump's policies for bilateral cooperation with Israel," said the American envoy.
Netanyahu also said that the move would open the region "to academic, commercial and scientific engagement with the United States," claiming that, "This is an important victory against all those who seek to delegitimize everything Israeli beyond the 1967 lines."
Emboldened by Trump's all-out support, Israel has stepped up its settlement construction activities in the occupied territories in defiance of United Nations Security Council Resolution 2334.
The resolution, approved in December 2016, states that Israel's establishment of "settlements in the Palestinian territory occupied since 1967, including East Jerusalem [al-Quds], has no legal validity and constitutes a flagrant violation under international law and a major obstacle to the achievement of the two-state solution and a just, lasting and comprehensive peace."
The latest agreement would allow federal investment in science, research and agriculture projects in the illegal settlements.
https://www.presstv.com/Detail/2020/10/28/637443/US-lifts-bans-on-investment-in-Israeli-settlements
--------
US to let Jerusalem-born passport holders use 'Israel'
Michael Gabriel Hernandez
29.10.2020
WASHINGTON
The Trump administration will announce this week that US nationals born in the contested city of Jerusalem can have their place of birth listed as Israel in their passports, according to a report published Wednesday.
The US had refrained from listing on passports the country to which the city belongs because of its contested nature, but President Donald Trump decided to unilaterally extend US recognition of Jerusalem as Israel's capital in 2017. The US has since moved its Israel embassy from Tel Aviv to Jerusalem.
The looming decision to end the long-standing policy of listing the city simply as "Jerusalem" comes amid successive steps by Trump to bolster Israel's claims to the city, which it claims to be its capital as Palestinians seek it for their future state.
Jerusalem's status was to be determined as part of bilateral peace talks between Israeli and Palestinian officials under a plan that envisioned two states for two peoples, but the prospects for such a deal have been repeatedly undercut by Trump.
The new passport policy could be announced as soon as Thursday, according to the Politico news website.
The tentative plan is to allow passport-bearers born in Jerusalem to choose whether they will add "Israel" to the city's name or leave it simply as "Jerusalem," an anonymous official told Politico.
If the policy is indeed enacted on the reported timeline, it would come just five days before the US's Nov. 3 presidential election in which Trump is trailing Democratic challenger Joe Biden in national polls.
It would further solidify Trump's support among his base -- particularly Evangelical Christians, who are staunch supporters of Israel.
https://www.aa.com.tr/en/americas/us-to-let-jerusalem-born-passport-holders-use-israel-/2022910
--------
US accuses Syria of delaying constitution ahead of election
October 29, 2020
NEW YORK: The US and several Western allies on Tuesday accused the Syrian regime of deliberately delaying the drafting of a new constitution to waste time until presidential elections in 2021, and avoid UN-supervised voting as called for by the UN Security Council.
US Deputy Ambassador Richard Mills urged the Security Council to "do everything in its power" to prevent Bashar Assad regime from blocking agreement on a new constitution in 2020. The Trump administration believes Assad's hope is to "invalidate the work" of UN special envoy Geir Pedersen who has been trying to spearhead action on a constitution, and the council's call for a political transition.
The Security Council resolution adopted in December 2015 unanimously endorsed a road map to peace in Syria that was approved in Geneva on June 30, 2012 by representatives of the UN, Arab League, EU, Turkey and all five permanent Security Council members — the US, Russia, China, France and Britain.
It calls for a Syrian-led political process starting with the establishment of a transitional governing body, followed by the drafting of a new constitution and ending with UN-supervised elections. The resolution says the free and fair elections should meet "the highest international standards" of transparency and accountability, with all Syrians — including members of the diaspora — eligible to participate.
At a Russian-hosted Syrian peace conference in January 2018, an agreement was reached to form a 150-member committee to draft a new constitution. That took until September 2019, and since then only three meetings have been held with little progress.
Pedersen, the UN envoy, told the Security Council on Tuesday he was unable to convene a fourth meeting in October because the government wouldn't accept a compromise agenda which the opposition agreed to. During his just concluded visit to Damascus, he said there was "some valuable narrowing of the differences" that could enable consensus on agendas for the next two meetings.
"If we are able to find agreement in the next two days, it should be possible to meet in Geneva sometime in the month of November," Pedersen said, dropping the Nov. 23 date in his prepared speech.
Mills, the US envoy, urged Pedersen "to take any measures he thinks are appropriate to facilitate the parties' efforts ... and also to identify to the council who is blocking progress."
"Syria is wholly unprepared to carry out elections in a free, fair and transparent manner that would include the participation of the Syrian diaspora," Mills said. "This is why we need the constitutional committee to work, and why we need the UN to accelerate its planning to ensure Syria's upcoming elections are credible."
German Ambassador Christoph Heusgen called Assad's "delaying and obstruction tactics" on the constitutional committee's work "just detestable."
He said Russia, Syria's most important ally, "should finally use its influence by, for instance, just cutting military aid and stopping its support, so that the Syrian regime finally plays ball."
Syria's tactics are clear, Heusgen said. "They want to waste time until the presidential elections in 2021. The regime should not have any illusions. The elections will not be recognized if they are held under the present circumstances."
French Ambassador Nicolas De Riviere also criticized Assad's "refusal to engage in good faith" and called for preparations to begin for UN-supervised elections that include the diaspora. France won't recognize results that don't comply with these provisions, he said, stressing: "We will not be fooled by the regime's attempts to legitimize itself."
Russia's ambassador, Vassily Nebenzia, made no mention of the April presidential election and countered that Syrians must have "the opportunity to negotiate without interference from the outside."
"The work of the constitutional committee should not be subject to any deadlines," he said, expressing hope that Pedersen's mediation will enable the committee's work to continue "in line with the agenda agreed by the Syrians."
Russia also sparred with Western ambassadors over its veto threats that led to the closure of two border crossings to deliver aid to Syria — one in the northeast and one in the northwest — leaving only one crossing to Idlib in the northwest.
The US, Germany, France, Britain, Belgium and others criticized the border crossing closures.
UN humanitarian chief Mark Lowcock told the council that Syrian government deliveries across conflict lines to the northeast are "not delivering at the scale or frequency required to meet the current health needs." He said one hospital received only 450 gowns in April, and another received nothing for its maternity wing.
Lowcock also said "the situation of families across Syria is truly desperate," citing food prices more than 90 percent higher than six months ago.
Russia's Nebenzia responded, noting "with satisfaction the progress in UN humanitarian deliveries from inside Syria including through cross-line routes," saying this "proves" the government is providing aid to people including in areas not under its control.
https://www.arabnews.com/node/1755621/middle-east
--------
Arabs in Middle East know the US election will affect their lives, experts say
October 29, 2020
CHICAGO: Arabs in the Middle East have a direct stake in the outcome of next week's US presidential election. That was the conclusion reached on Wednesday by the guests who took part in a US radio discussion of a recent YouGov poll, commissioned by Arab News, that asked people across the region for their opinions on the candidates and their policies.
Arab News Editor-in-Chief Faisal Abbas and columnist Dalia Al-Aqidi agreed that one of the key conclusions that can be drawn from the "Election 2020: What do Arabs Want?" survey is that most people in the region believe the election will have an effect on their lives.
About 40 percent of those polled said Democratic challenger Joe Biden is the better choice for the region, compared with only 12 percent who preferred Trump. However, 53 percent said they had opposed the policies of Biden's former running mate, President Barack Obama, who is currently on the campaign trail to rally support for his former vice president.
"What is very interesting about the study we did this time around is that while the majority thinks that Biden might be better for the region (about half of the respondents) don't even know who Biden is," Abbas said during the "The Ray Hanania Show" on WNZK AM 690 Radio in Detroit, which is part of the US Arab Radio Network. "They are voting for a candidate they don't know just so they don't vote for Trump."
Biden's close association with Obama is seen by many Arabs as a negative factor.
"You cannot separate Joe Biden from Barack Obama," said Abbas. "Yet even people who said Biden is better for the region, 58 percent of them said that they would want Biden to distance himself from Obama's policies, and they think Obama left the region in a worse-off situation."
Al-Aqidi said it is unrealistic to expect that Biden would disregard his personal history with Obama.
"This is impossible — you cannot expect Biden to distance himself from Obama," she said. "Actually, Obama is helping and trying to save Biden in the past two weeks, campaigning with him.
"Even in Biden's platform, it always goes back to 'I was a VP and as a VP I did this.' It would be extremely hard for Biden to distance himself … if Biden wins, he will be a shadow of Obama."
The YouGov survey, which was commissioned by the Arab News Research and Studies Unit, asked 3,097 people in 18 Arab countries about their opinions on a number of issues relating to the US presidential election.
The continuation of Washington's recent tough stance on Iran was one of the top issues that respondents said the winner should focus on. Notably, the war posture adopted against Iran by the Trump administration, and the strict sanctions it has imposed on the regime in Tehran, received strong support from people polled in Iraq (53 percent), Lebanon (38 percent) and Yemen (54 percent), three nations that have been severely affected by the regional activities of the Iranian state.
"This is not a marginal issue for people living in the Middle East," said Abbas. "You just have to look at countries, any country in the Middle East: where you find destruction, you will find Iranian fingerprints all over."
The main issue is not religion or differences between Sunnis and Shi'ites, he added, it is Iranian interference in the affairs of other nations.
"As the former ambassador to the US, Prince Khaled, said, Saudi Arabia used to send tourists to Lebanon — Iran sends terrorists," Abbas said.
"For people who have short-term memories let me remind them it was the Iranians who attacked the US Marines in Beirut. It's the Iranians who transformed (Beirut) from a tourist destination … today, Lebanon is (experiencing) one of its worst-ever economic crises and it does not look like there is a way out for it."
Arabs in Lebanon, Syria and Yemen are therefore very supportive of Trump's tough approach to Iran, he added.
"Nobody is safe from the Iranian tentacles," Abbas said. "This is a mad regime."
On another important regional issue, slightly more than half of the Arabs polled said they do not support a bigger role for Washington in the peace process between the Palestinians and Israelis. However, the proportion of Palestinians living in the occupied territories who favor greater US involvement was higher.
"I think the Trump administration succeeded in this issue (pursuing peace between Israel and the Palestinians) more than any other previous administration," said Al-Aqidi. "The US approach now is extremely different and it is driven by number one, the economy."
She added that Trump's strategy of brokering the recent agreements by the UAE and Bahrain to normalize relations with Israel was "the result of a different strategy."
"The Ray Hanania Show," which is sponsored by Arab News, is broadcast on WNZK AM 690, on the US Arab Radio Network, from 8 a.m. to 9 a.m. EST on Wednesdays. There is also a live simulcast of the show on the Arab News Facebook page.
https://www.arabnews.com/node/1755661/world
--------
Time running out for Afghan peace, US envoy warns
SAYED SALAHUDDIN
October 29, 2020
KABUL: The US special representative for Afghanistan has voiced his dismay at a stalemate in Afghan peace talks, warning that the "bloodshed must end" and the chance for a political solution to the country's prolonged conflict "will not stay open forever."
In a series of tweets on Tuesday, Zalmay Khalilzad said: "I return to the region disappointed that despite commitments to lower violence, this has not happened."
Taliban and Afghan government negotiators gathered in Doha on Sept. 12 to begin US-sponsored peace talks as part of a historic deal between Washington and the Taliban signed in February this year.
However, almost two months on, the two groups have failed to agree on even a basic plan for the peace process, let alone engage in serious negotiations.
Meanwhile, officials from both sides blame each other for a spike in lethal attacks in Afghanistan in recent weeks.
"Too many Afghans are dying," Khalilzad said, reiterating that both sides "urgently need an agreement on a reduction of violence leading to a permanent and comprehensive cease-fire."
In a report released on Tuesday, the UN said that almost 6,000 Afghan civilians were killed or injured in the first nine months of this year, blaming heavy fighting between the Taliban and government forces for the spike in violence.
The report said that from January to September, 2,117 people had been killed and 3,822 wounded in fighting.
"High levels of violence continue with a devastating impact on civilians, with Afghanistan remaining among the deadliest places in the world," the UN Assistance Mission in Afghanistan said in its quarterly report.
While civilian casualties were 30 percent lower than in the same period last year, the report added that violence had failed to slow since the start of the Qatar talks.
Without naming any foreign country, Khalilzad said that Afghans were dying at a "high rate" and that "regional spoilers" were using the population as "cannon fodder for their illegitimate objectives."
However, President Ashraf Ghani's chief spokesman, Sediq Seddiqi, on Wednesday rejected Khalilzad's comments, saying the government "took all necessary steps to ensure lasting peace and a cease-fire be maintained."
Seddiqi told Arab News that "the Afghan government is focused on ending the senseless war and creating a common future for all Afghans."
Arab News could not reach the Taliban for comment.
Khalilzad's warning comes ahead of next week's US presidential elections, with analysts saying any success in the Afghan talks could give Trump an edge over his rival, Joe Biden, amid plans to recall US troops from Afghanistan.
The US accord with the Taliban followed months of secret negotiations which did not include Afghan government representatives.
Emboldened by Washington's announcement of a troop withdrawal, the Taliban have refused to enforce a truce — a major demand of the Kabul government — which has been one of the main stumbling blocks during the Qatar talks.
Experts say that Khalilzad's comments "are a clear sign of Washington's frustration over the talks."
Shafiq Haqpal, an analyst, told Arab News that the US government "is in a hurry to sign a deal between the Taliban and Kabul."
However, with the election looming, "it has no other alternative or a good option, and is talking publicly about its frustration and the fact that Afghans are losing a golden chance for peace."
Torek Farhadi, a former government adviser, said that Washington's political options are "drying up."
He said that the Taliban believe that in the event of a Biden victory, Khalilzad will no longer be the US representative in Afghanistan.
Farhadi added that with the US envoy's departure, the "peace drive will fizzle out, and violence and political instability will further deepen in Afghanistan."
https://www.arabnews.com/node/1755581/world
--------
US embassy in Dubai warns of potential terrorist attack
Mennatallah H. H. M. Said A., Ali Semerci
29.10.2020'
The US embassy in Dubai issued a warning to American citizens Wednesday of a potential terror attack threat in the Gulf countries.
In a statement on its website, the embassy said reports that terrorist groups could organize attacks against US citizens in the region are being monitored, adding US citizens are being asked to remain alert.
The US embassy in the Saudi capital Riyadh meanwhile warned American citizens of the possibility of missile or drone attacks and also called on them to stay alert.
https://www.aa.com.tr/en/americas/us-embassy-in-dubai-warns-of-potential-terrorist-attack/2022949
--------
CAIR warns American Muslims against traveling to France
Servet Günerigök
28.10.2020
WASHINGTON
The Council on American-Islamic Relations (CAIR) warned American Muslims on Tuesday against traveling to France, saying they may face danger and discrimination there.
The country's largest Muslim civil rights and advocacy organization issued a travel advisory on its website "amid the French government's 'hypocritical and dangerous' campaign of Islamophobic bigotry targeting French Muslims, mosques and Islamic organizations."
It cited a racist stabbing attack on two Muslim women in Paris and legal prohibitions on religious attire.
In a statement, CAIR National Executive Director Nihad Awad called on the French government to end its "irrational, illegal and hypocritical campaign of bigotry against its own citizens."
"Everyone in France should have the right to practice their religion, and everyone around the world has the right to decide which products they purchase," said Awad.
French President Emmanuel Macron recently sparked outrage across the Muslim world by accusing French Muslims of "separatism" and describing Islam as "a religion in crisis."
That coincided with the murder of a French middle school teacher who showed blasphemous cartoons of the Prophet Muhammad to his students during a class discussion about freedom of speech. Macron paid tribute to the teacher and said France would "not give up our cartoons."
Several Arab countries as well as Turkey, Iran and Pakistan have censured Macron, with Turkish President Recep Tayyip Erdogan saying the French leader needs "mental treatment."
"France cannot extol the virtues of free speech while punishing French Muslims for engaging in free speech, nor can France claim to be a beacon of freedom while calling on dictatorships to ban their Muslim citizens from boycotting French products," said Awad.
https://www.aa.com.tr/en/americas/cair-warns-american-muslims-against-traveling-to-france/2021482
--------
Former New York City accountant who admitted aiding al Qaeda to be released from prison early
OCTOBER 28, 2020
NEW YORK (Reuters) - A Manhattan federal judge on Tuesday ordered that a former New York City accountant who admitted to scoping out the New York Stock Exchange for al Qaeda be released early from his 18-year prison sentence.
U.S. District Judge Kimba Wood said Sabirhan Hasanoff, 44, of Brooklyn, had shown "extraordinary and compelling" reasons for being resentenced to time served under a law allowing the early "compassionate release" of some prison inmates.
Wood, who sentenced Hasanoff in 2013, cited evidence he was the only available caregiver for his mother, who is in poor health, and his "striking and unique efforts" to rehabilitate himself since his April 2010 arrest.
She said these included working in a chapel at the Otisville, New York, federal prison, teaching classes focused on tolerance and moderation in Islam, and teaching accounting and finance classes.
While Hasanoff's crimes were "extremely serious," Wood wrote that "this is a rare case in which a defendant exceeds the bounds of what we consider rehabilitation."
The office of Acting U.S. Attorney Audrey Strauss in Manhattan, which opposed Hasanoff's release, did not immediately respond to requests for comment.
"This is a just and compassionate result," Hasanoff's lawyer, Joshua Dratel, said in an email.
Prosecutors said Hasanoff supported al Qaeda from 2007 to 2009, including by performing surveillance on the NYSE, and sending remote-control devices that could be used in explosives attacks to operatives abroad.
Hasanoff, a dual U.S. and Australian citizen, had worked at the accounting firms KPMG and PricewaterhouseCoopers.
He pleaded guilty in June 2012 to supporting al Qaeda and conspiring with other people.
A co-defendant, Wesam el-Hanafi, who has serious health problems, recently had his own sentence shortened to time served, Wood said.
The case is USA v. el-Hanafi et al, U.S. District Court, Southern District of New York, 10-cr-00162.
https://www.reuters.com/article/usa-crime-hasanoff-int/former-new-york-city-accountant-who-admitted-aiding-al-qaeda-to-be-released-from-prison-early-idUSKBN27C387?utm_source=iterable&utm_medium=email&utm_campaign=1661770_
--------
URL: https://www.newageislam.com/islamic-world-news/saudi-arabia-removed-pakistan-occupied/d/123311
New Age Islam, Islam Online, Islamic Website, African Muslim News, Arab World News, South Asia News, Indian Muslim News, World Muslim News, Women in Islam, Islamic Feminism, Arab Women, Women In Arab, Islamophobia in America, Muslim Women in West, Islam Women and Feminism