New Age Islam News Bureau
26 Jan 2019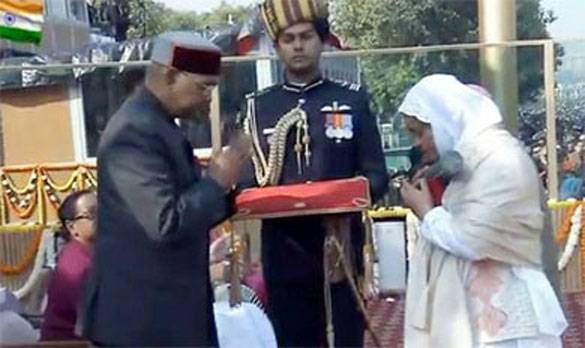 Republic Day 2019: President Kovind confers Ashoka Chakra on Shopian martyr Lance Naik Nazir Wani
------
• Saudi Arabia Blacklisted For Lax Control on Terror Financing: Report
• Republic Day 2019: President Kovind confers Ashoka Chakra on Shopian martyr Lance Naik Nazir Wani
• Republic Day 2018: There Were Many Firsts At The Parade This Year Including • An All-Women's Contingent Of The Assam Rifles And The Inclusion Of Four INA Veterans.
• Muslim Family in Pakistan Looks After Church For Three Generations
• Pakistan Clerics, Religious Scholars Highlight Need To Eradicate Sectarian Violence
• Eight-Year Old Questioned On Islam By Counter-Terrorism Officers
• Muslim Self-Rule Backed In Philippines' Troubled South
Arab World
• Saudi Arabia Blacklisted For Lax Control On Terror Financing: Report
• Rights Groups Demand Access To Political Prisoners In Saudi Arabia
• Video shows US deploying 250 trucks of arms in Syria despite pullout claim
• SDF Commander: Syria Anti-ISIS Forces Must Keep 'Special Status'
• Dozens killed in failed ISIS counterattack in east Syria: Monitor
• Saudi Arabia building its first ballistic missile factory: Report
• Damascus 'welcomes' Kurdish negotiation appeal, talks to start 'in days'
• Iraq priest who saved Christian heritage ordained Mosul archbishop
• Kurdish MP on hunger strike in Turkey jail gets release order
--------
India
• Republic Day 2019: President Kovind confers Ashoka Chakra on Shopian martyr Lance Naik Nazir Wani
• Republic Day 2018: There Were Many Firsts At The Parade This Year Inlcuding An All-Women's Contingent Of The Assam Rifles And The Inclusion Of Four INA Veterans.
• Report on Al-Qaeda in the Indian Subcontinent's Growing Influence Alarmist: Official
• Dalit Benefit Plank against AMU Minority Status
• India's soft power is very effective in Afghanistan
• Wasim Rizvi's controversial remark on madrasas; here's how intellectuals react
• Two militants killed in Jammu and Kashmir gunfight with security forces
• NIA arrests absconding accused for 2006 Kerala twin blasts
• CJI sets up new five-judge bench to hear Ayodhya case on Jan 29
--------
Pakistan
• Muslim Family in Pakistan Looks After Church For Three Generations
• Pakistan Clerics, Religious Scholars Highlight Need To Eradicate Sectarian Violence
• Pakistan receives $2 bn from UAE, Saudi Arabia
• Qureshi says winds of change have started blowing in Sindh
• Senate committee calls for abolishing travel blacklist
• Arms licences of 16 members of banned organisations cancelled by Punjab govt
• JI leader terms PTI govt 'directionless, visionless'
• Premier promises hydel profit payment under AGN Kazi formula
• Sahiwal tragedy: Fire opened on SSP Jawad Qamar's orders, probe reveals
--------
Europe
• Eight-Year Old Questioned On Islam By Counter-Terrorism Officers
• Pope Says 'Senseless' To Condemn Every Immigrant As Threat
• Three await trial for racist threats to Muslim MSP Anas Sarwar
• Muslim group pulls application to hold religious events
• Berlin set to sell weapons to Doha amid tension with Riyadh
• Macron faces diplomatic test in Egypt amid human rights pressure
• UK increases spending to stop migrant departures in Channel
• UN to assess 'governments' steps' on Khashoggi case
--------
Southeast Asia
• Muslim Self-Rule Backed In Philippines' Troubled South
• Uyghur Muslims forced into labour in China's 'concentration camps'
• NGO to Develop RM20 Million School For Rohingya Muslims
• Chinese carver leaves his mark making granite Muslim gravestones
--------
North America
• Top US Think-tank No Longer Accepts UAE Funding Over Human Rights Issues: Report
• Two charged in plot to aid Islamic State group are Lansing School District graduates
• Canadian youth charged in terror 'plot,' explosive seized
• Texas man captured in Syria charged with aiding ISIS
• Canadian cops charge minor with terror offense after security raids
--------
Africa
• Sudan Opposition Leader Says Bashir 'Must Leave' As Hundreds March
• Nigeria: 8 soldiers killed in Boko Haram attack
• 50 killed in Sudan demonstrations to date: Former PM
• Al Shabaab: A retake on the science of the DusitD2 attack
--------
South Asia
• UN expert urges caution on Bangladesh's Rohingya island 'relocation' plan
• Over 45,000 Afghan forces have lost their lives in past 4 years: Ghani
• RAB claims to have arrested last fugitive suspect in Gulshan attack
• No prospect Rohingya refugees can go home soon, UN envoy says
• Challenges before PM Sheikh Hasina in her unprecedented third term
• Afghan and Coalition Forces kill 6 militants in separate operations, airstrike
• Efforts underway to recruit youths to Afghan Army territorial force
• Key ISIS-K group member killed in drone strike in Nangarhar province
--------
Mideast
• Turkey Expects Creation Of Syria Security Zone In Few Months, Erdogan Says
• Thousands Of Yemenis Rally To Honour 'Martyrs' Of Saudi War
• Hamas says it rejects Qatari aid over Israeli conditions
• 7 dead, 30 injured after Houthi militias shell camp for displaced persons in Yemen
• Palestinian protester killed, 22 others hurt as hundreds protest at Gaza border
• Turkey 'will go it alone' with Syria security zone
• UN says fire damages two food silos near Yemen's Hodeidah
Compiled by New Age Islam News Bureau
URL: https://www.newageislam.com/islamic-world-news/saudi-arabia-blacklisted-lax-control/d/117563
--------
Saudi Arabia blacklisted for lax control on terror financing: Report
Jan 26, 2019
Saudi Arabia has reportedly been included in an EU draft list of countries that pose a threat to the bloc due to their lax control on money laundering and terrorism financing.
An EU source and a Saudi source told Reuters on Friday that the European Commission had added Riyadh to its blacklist, which already includes 16 states based on criteria used by the Financial Action Task Force (FATF), a Paris-based anti money-laundering watchdog.
The EU claims that the countries blacklisted "have strategic deficiencies in their anti-money laundering and countering the financing of terrorism regimes that pose significant threats to the financial system of the Union."
The bloc has recently taken a new methodology, under which jurisdictions may also be blacklisted if they fail to provide sufficient information on ownership of companies or if they have lax rules on reporting suspicious transactions or monitoring financial customers.
The EU's decision to include Saudi Arabia to its blacklist needs an endorsement by the bloc's 28 member states before being formally adopted next week.
The updated list is still confidential, according to the two sources.
Saudi Arabia is under mounting pressure over the assassination of dissident journalist Jamal Khashoggi at Riyadh's Istanbul consulate in October 2018. The killing is widely believed to have been ordered by the kingdom's US-backed Crown Prince Mohammed bin Salman.
Riyadh has sought to distance him bin Salman from the case despite US senators and the CIA's conclusion that he was behind the murder.
The possible blacklist would further complicate Saudi Arabia's financial ties as the EU's banks are required to carry out additional checks on payments involving entities from listed jurisdictions.
Capital Economics halves Saudi growth forecast for 2019
Separately on Friday, a report from London-based research firm Capital Economics found that key economies in the Middle East and North Africa (MENA) are expected to be hard hit this year as oil output drops and governments rein in spending.
Saudi Arabia, the report said, will see its growth almost cut in half to 1.3 percent in 2019, down from 2.5 percent last year.
It further predicted the kingdom's return to austerity in the latter half of the year, saying the planned generous spending announced in the Saudi budget is likely based on dodgy assumptions.
"The budget seemed to be based on an optimistic forecast for oil to average $80 [per barrel]," the report added.
This is while Saudi Arabia is struggling with the high cost of the protracted war on Yemen.
It has signed multi-billion-dollar contracts to purchase weapons and military equipment from several western countries amid stiff resistance from the Yemenis.
https://www.presstv.com/Detail/2019/01/26/586814/Saudi-Arabia-EU-blacklist
--------
Republic Day 2019: President Kovind confers Ashoka Chakra on Shopian martyr Lance Naik Nazir Wani
Jan 26, 2019
Lance Naik Nazir Ahmad Wani, a militant-turned-soldier who laid down his life fighting a group of terrorists in Shopian in Kashmir in November, was awarded the Ashoka Chakra by President Ram Nath Kovind Saturday.
The award - India's highest peacetime gallantry honour - was received by Wani's wife and mother at the Republic Day celebrations at Rajpath. Wani is the first Kashmiri to be conferred the Ashoka Chakra.
On November 25, 38-year-old Wani, hailing from Cheki Ashmuji in Kulgam district of Jammu and Kashmir, lost his life in a counter-terror operation against six terrorists in Hirapur village near Batgund in Shopian. Under intense hail of bullets from the terrorists, he eliminated the 'district commander' of the Lashkar-e-Taiba (LeT) and one foreign terrorist in a daring display of raw courage, Army officials said. In the ensuing gunfight, he was hit multiple times including on his head. He also injured another terrorist before succumbing to his grievous wounds, they said.
According to the citation, Wani single-handedly killed two terrorists during the Shopian operation and injured a third one despite receiving serious injuries. "In an unparalleled saga of sacrifice, Lance Naik Wani prevented escape of the terrorists from the target house and made a huge contribution in neutralisation of six hardcore terrorists, in the process laying down his life upholding the highest tradition of the Indian Army," it said.
Delhi: Lance Naik Nazir Ahmed Wani, who lost his life while killing 6 terrorists in an operation in Kashmir, awarded the Ashok Chakra. Award was received by his wife and mother #RepublicDay2019pic.twitter.com/3bjYdiwTLp
Lance Naik Wani joined the Army's 162 Infantry Battalion (Territorial Army) Jammu and Kashmir Light Infantry in 2004. Wani was a recipient of the Sena Medal for gallantry twice in 2007 and 2018. Wani was from a humble background and used to work for the benefit of the underprivileged sections of society in his locality.
Ashoka Chakra is the highest peacetime military decoration for valour, courageous action or self-sacrifice away from the battlefield.
Source: businesstoday.in/current/economy-politics/republic-day-2019-president-kovind-confers-ashoka-chakra-shopian-martyr-lance-naik-nazir-wani/story/313914.html
-----
Republic Day 2018: There Were Many Firsts At The Parade This Year Including An All-Women's Contingent Of The Assam Rifles And The Inclusion Of Four INA Veterans.
By Express Web Desk
New Delhi | January 26, 2019
The event started with PM Modi paying his tributes to the martyrs by laying a wreath at Amar Jawan Jyoti after which President Kovind unfurled the national flag with the national anthem being played in the accompaniment of booming 21 gun salute in the background. The well-coordinated gun salute by seven cannons of 2281 Field Regiment starts with the first note of the national anthem and ends with the last. Special clocks are used to measure time in smaller units for precision.
Soon after this, President Kovind awarded the Ashoka Chakra — India's highest peacetime gallantry honour — to Lance Naik Nazir Ahmad Wani, a militant-turned-soldier who was martyred while fighting a group of six militants in Shopian in Kashmir in November. Wani is the first Kashmiri to be conferred the Ashoka Chakra and the award was received by his wife and mother.
Republic Day 2019: India's rich culture, military might on display; President awards Ashok Chakra to Nazir Wani
Several states, organisations and government departments also showcased their achievements through 22 tableaux this year. (Express Photo: Tashi Tobgyal)
This year, the overall theme for the Republic Day celebrations was the 150th birth anniversary of Mahatma Gandhi and tableaux of many states, themed on him. The highlights of the parade were four Indian National Army (INA) veterans, aged over 90 years, taking part in the parade, among the many firsts for a Republic Day parade as well as 'Nari Shakti' (women power) which was on full display on the ceremonial boulevard with an all-woman Assam Rifles contingent creating history this year by participating for the first time in the parade, which was led by Maj Khushboo Kanwar. Contingents of the Navy, Army Service Corps and a unit of Corps of Signals (transportable satellite terminal) were led by women officers too, as the crowd cheered.
At Rajpath, India showcased its military might as well as its rich cultural heritage and traditions. The military might was on display, with the artillery gun system M777 American Ultra Light Howitzers, recently acquired from the US, and K9 Vajra, a self-propelled artillery gun, showcased on Rajpath, being new additions this year.
republic day parade 2019 watch highlights
The parade also showcased 33 people on 9 motorcycles forming a human pyramid, lead by Subedar Major Ramesh. (Express Photo: Tashi Tobgyal)
Several states, organisations and government departments also showcased their achievements through 22 tableaux this year. The tableaux of Sikkim, Delhi, Uttar Pradesh, Gujarat, Punjab, West Bengal, Tripura, Goa, Andaman and Nicobar Islands and Uttarakhand were displayed on the occasion. The Governors unfurled the tricolour in their respective states to mark the day.
The event ended with the flypast which began with the Rudra formation comprising three ALH Mk IV WSI helicopters and featured Sukhois, MiG fighter jets. The parade also witnessed a 'vic' formation of An-32 aircraft, whose lead plane flew on a mix of traditional and bio-fuel for the first time. It also showcased 33 people on 9 motorcycles forming a human pyramid, lead by Subedar Major Ramesh. A lone woman officer exhibited bike stunts as part of the iconic team.
The event ended with the flypast which began with the Rudra formation comprising three ALH Mk IV WSI helicopters and featured Sukhois, MiG fighter jets. (Express Photo: Tashi Tobgyal)
Scores of people had reached to watch the parade. The Indian Army's T-90 tank, Ballway Machine Pikate (BMP-II/IIK), Surface Mine Clearing System, 155 mm/52 Calibre Tracked Self-propelled Gun (K-9 Vajra), Transportable Satellite Terminal, Troop Level Radar and Akash Weapon System were also showcased at the parade.
Several senior leaders, including Home Minister Rajnath Singh and External Affairs Minister Sushma Swaraj, and former prime ministers Manmohan Singh and HD Deve Gowda, Congress leaders Rahul Gandhi and Ghulam Nabi Azad and Delhi Chief Minister Arvind Kejriwal were present on the occasion at Rajpath. Also, continuing his tradition of donning colourful turbans at the Republic Day and the Independence Day, PM Modi wore a yellowish orange headgear with a red tail and traditional kurta pajama along with the trademark Nehru jacket.
PM Modi wore a yellowish orange headgear with a red tail. (Express Photo: Tashi Tobgyal)
SWAT women commandos, mobile hit teams, snipers are among the varied layers of security under which the national capital was placed for the Republic Day celebrations. Elaborate measures, including deployment of anti-aircraft guns, were put in place to secure the airspace.
Source: https://indianexpress.com/article/india/republic-day-2019-70th-narendra-modi-cyril-ramaphosa-india-south-africa-army-parade-president-kovind-5555988/
------
Muslim family in Pakistan looks after church for three generations
January 24, 2019
Dubai: A Muslim family has looked after a church in Pakistan for over a 100 years now. A lone caretaker, rings the church bell, even though there are no Christians left in the area. Social media users have commended the family's efforts, against the sectarian backdrop of Pakistan.
"The weather has wreaked havoc on the church, but it still stands in all its grandeur," caretaker Waheed Murad told the Pakistani news website Dawn.com.
Built entirely out of cedar wood, the quaint St. Matthew's church is located among the hills of Nathia Gali, in the Hazara District of Khyber Pakhtunkhwa province. It was designed during the British colonial era, by Colonel Hope Waddell Kelsall. Murad, told the German news agency Ruptly: "The church was built in 1914, so it is 104 years old... and our family has served for almost a 100 years."
Guarding a faith
Murad is the third generation of caretakers in his family. He has served the church for 17 years, his father for 45 years, and his grandfather for 35 years before that. Murad explained why he chose his particular path in an interview with the BBC.
"I am a Muslim. But the church is a place of worship. It can be of any religion. To look after it is our duty. ...I am holding onto my religion while I work serving the church, and I will continue doing it."
Netizens are glad
Pakistani social media users were moved and appreciated the gesture of unity.
Sarah Omar posted on a Facebook comment thread: "Saw this church when we visited Nathia Gali last year. It was getting renovated and I could only see Muslims there. So proud."
Tweep @le_me_taimoor posted: "St. Matthew's Church is in a rural area of Pakistan, where there are hardly any Christians.For the last 100 years it has been looked after by a local Muslim family. Faith in humanity."
Facebook user Zaynab Saleem Khurram posted: "I have been fortunate to go inside this place. Such peace."
While previous Pakistan governments did not provide financial support, the current Imran Khan-led government, true to its word about protecting minorities, took over and provided funds. This has allowed for more maintenance work to be done, Murad said in an interview with German news agency Ruptly.
In the same Pakistan, that was divided over the reversal of the death sentence of Asia Bibi for blasphemy, this story is a telling portrait of humanity that has survived the toll of time.
https://gulfnews.com/world/asia/pakistan/muslim-family-in-pakistan-looks-after-church-for-three-generations-1.61643550
--------
Pakistan Clerics, Religious Scholars Highlight Need To Eradicate Sectarian Violence
JANUARY 26, 2019
Clerics and religious scholars at seminar highlighted the need to carryout struggle at grass root level to eradicate the menace of terrorism, extremism and sectarian violence from Pakistan and from within the Muslim Ummah.
While addressing Paigham-e-Islam Convention on Thursday in Faisalabad, the clerics and religious scholars from different religious organisations vowed to observe 2019 as the year for annihilation of terrorism, extremism and sectarian violence from Pakistan. Commenting on military courts' issue, the representatives of religious organisations of the country also stated that the elements who are opposing extension to military courts, why did these elements did not make legislations to reform the judicial system of the country.
Pakistan Ulema Council (PUC) Chairman Tahir Ashrafi presided over the Paigham-e-Islam Convention.
The speakers lauded the efforts of Pak-Force and law enforcement agencies of the country in annihilating the menace of terrorism and extremism from Pakistan. Notable speakers of the convention included Tahirul Hassan, Maulana Izharul Haq, Maulana Umar Waqas Baig, Mian Muhammad Irshad, Maulana Tayyab Gurmani and Maulana Habibur Rehman Abid.
The clerics underlined the importance of carryout a joint struggle for elimination of terrorism and extremism at grass root level. The clerics also pointed out to keep check on religious decrees being issued without proper mechanism and authority. Speaking at the conference, PUC Chairman Tahir Ashrafi stated that Darul Afta Pakistan was being established in Lahore in aegis of PUC to keep check on anti-Shariah decrees. Tahir Ashrafi also lauded the efforts of the Pakistan Tehreek-i-Insaf government for streamlining relationships of Pakistan with Muslim brother countries and also lauded efforts on part of Pakistan and Saudi Arabia for initiating a peace talk process for peace and stability in Afghanistan.
He also stated that the Paigham-e-Pakistan draft was a very positive outcome to eradicate the menace of terrorism and extremism from Pakistan adding that some elements are endeavouring to make this draft controversial.
"The Paigham-e-Pakistan draft is a very effective narrative, which has been endorsed by all the religious sections of the country and the government should initiate consultative process for legislation of this draft," he said.
The convention also welcomed the decision of Punjab government for not celebrating Basant. The participants of the convention while condemning the Sahiwal incident demanded of the government to expose the reality of this inhuman incident, adding that if elements responsible for Model Town incident had been punished, this brutal incident could have been avoided.
The participants of the convention while endorsing the Islamabad Declaration, issued the following declaration with mutual consent.
The religious leadership of the country dissociated itself with any sort of extremism being carried out on pretext of religion.
Any orator, scholar and cleric will not utilise derogatory remarks about other religious sects. Any such orator and cleric will not be considered as representative of any religious sect and organisation.
Any religious sect will not be declared as infidel or any individual could not be declared doomed to death extra judicially. As per the Constitution, followers of any religion and religious sect are allowed to live as per their religious values and culture.
Check on misuse of loudspeaker will be made. Loudspeakers at mosques will be used only for Friday sermons and azaan. For religious gatherings, permission should be sought from respective local governments.
A complete ban will be ensured on hate speeches, hate content and other abusive online material. Any derogatory remark about religious scholars and other notables will not be tolerated.
It's the responsibility of the government to ensure protection of worship places of minorities living in Pakistan. Strict action will be taken against elements responsible for causing harm to minorities and their holy worship places.
The government should seek every possible effort to ensure implementation on National Action Plan in letter and spirit.
https://dailytimes.com.pk/348063/clerics-religious-scholars-highlight-need-to-eradicate-sectarian-violence/
--------
Eight-Year Old Questioned On Islam By Counter-Terrorism Officers
25th Jan 2019
Hamed Chapman
The Metropolitan Police and Redbridge Council have launched separate investigations into why a boy as young as 8-year-old was subjected to questioning by two counter-terrorism police officers and a social worker about alleged radicalism at his school in east London.
The parents of the child, who wish to remain anonymous, said they had lodged official complaints about their son was left "frightened" and "traumatised" after he was separated from his classmates at an Ilford school to be interviewed.
The father claims his son was asked about Islam, the mosque he attends, whether he prays, and his views on other religions. He was also asked to recite verses from the Qur'an, according to a report in the Independent newspaper.
"We are absolutely shocked and appalled that our son was questioned alone and in this manner and without informing his parents," he was quoted saying. "We as parents have never asked our eight-year-old son some of these questions and are deeply upset some stranger would ask these questions of him.
"Our son is only in Year 3 and is significantly impacted by this. He has since asked us why he had been questioned and not any other children were questioned. He feels betrayed by his teacher, as it was someone he trusted who took him to the officers to be questioned in this manner."
The incident happened at the end of the summer term last July but no safeguarding issues were identified from the interview and no further action was taken by the police. But the parents are seeking legal advice after being "extremely upset" by the experience which they say made them feel like criminals.
Met Police Assistant Commissioner, Neil Basu, the head of UK counter-terror policing, told the Home Affairs Committee last October that safeguarding children was at the heart of the Government's controversial Prevent Extremism programme. "We have got to challenge extremist behaviour even if it doesn't cross the criminal threshold because of the kind of intolerance it breeds."
The recent case involving a child in east London emerged after the latest Government figures showed that more than half of people referred to Prevent in 2017-18 were aged 20 or under.
Home Office figures reveal that as many as 2,009 under-15s were flagged up over terror concerns in the year to March, a 20 per cent rise on the year before.
Corey Stoughton, Advocacy Director at civil rights' group Liberty, said the country's "counter-terrorism legislation, particularly the Prevent duty, has consistently spread discrimination and distrust, pushing schools and other public authorities to question people based on their religion and skin colour."
Mohammad Khan, a spokesman for Prevent Watch, a group that supports people affected by the Prevent Duty, said "A child asked to recite from a sacred text is wrong on so many levels and smacks of an authoritarian state. Prevent does little to prevent terrorism but instead sows deep and structural prejudices towards the Muslim community."
The Met Police has confirmed that counter-terrorism officers "undertook a visit to an east London school earlier this year following concern raised about a child under 10 years old" and that a complaint has been received and is "being investigated by the Counter-Terrorism Professional Standards Unit."
A Redbridge Council spokesman said it was "unable to comment" on the incident that is now being "investigated."
The Independent report also said that it "understands radicalisation concerns were sparked by the father's links to members of an Islamist group." It mentioned that the child was interviewed without consent following concerns, albeit five years later, "about the father's attendance at dawah stalls in 2014 which allegedly had links to Anjem Chaoudary's al-Muhajiroun.
http://muslimnews.co.uk/newspaper/top-stories/eight-year-old-questioned-islam-counter-terrorism-officers/
--------
Muslim self-rule backed in Philippines' troubled south
January 25, 201
MANILA: Voters have decisively approved a new Muslim-led region in the Philippines' south, which is hoped will bring a measure of peace after decades of fighting killed thousands and mired the area in poverty.
The results, announced Friday, will begin the process of the Catholic-majority nation's largest group, the Moro Islamic Liberation Front, laying down its weapons and assuming political power.
About 150,000 people were killed in the rebellion that began in the 1970s and aimed to push the government to grant independence to a Muslim minority concentrated on the island of Mindanao.
"We are very happy about the overwhelming support of the people," MILF leader Murad Ebrahim said.
"It was a landslide. There's been nothing like this."
Voters, who were expected to back the so-called Bangsamoro region, delivered a convincing result of about 1.7 million in favour and some 254,600 against, according to official results from the Philippines elections commission.
A handful of smaller areas, which were not included in Monday's referendum due to administrative delays, are set to vote on February 6 on whether to join.
Rebels and the government in Manila hope a new peaceful Bangsamoro will finally draw the investment needed to pull the region from the brutal poverty that makes it a hotspot for radical recruitment.
As part of the peace process, the MILF has joined the government in battling the hardline, Islamic State-aligned factions waging guerilla campaigns in the southern Philippines.
President Rodrigo Duterte, himself from Mindanao, has been a staunch supporter of the Bangsamoro and signed the law last year paving the way for the vote.
Under the terms of the law which lays out the region's powers, Bangsamoro will get $950 million in development funds over the next 10 years, as well as a chunk of the tax revenue generated within its borders and national receipts.
Manila will keep control over the police, but it is hoped close cooperation on security with the Bangsamoro's leaders will help get a handle on the region's endemic lawlessness.
Muslims have long been battling for independence or autonomy on Mindanao, which they regard as their ancestral homeland dating back to when Arab traders arrived there in the 13th century.
https://tribune.com.pk/story/1896668/3-muslim-self-rule-backed-philippines-troubled-south/
--------
Arab World
Rights groups demand access to political prisoners in Saudi Arabia
Jan 25, 2019
Amnesty International and Human Rights Watch have demanded that Saudi Arabia allow independent monitors access to political prisoners in the country, amid new reports of torture.
Amnesty International made the demand on Friday after it obtained new reports of torture and abuse against 10 human rights activists who have been held in an unknown location in Saudi Arabia since last summer.
"The Saudi Arabian authorities have repeatedly proven themselves unwilling to effectively protect detainees from torture, or to carry out impartial investigations into claims of torture in custody. That is why we are calling on Saudi Arabia to give independent monitoring bodies immediate and unfettered access to the detained activists," said Lynn Maalouf, Amnesty International's Middle East research director.
Earlier, Human Rights Watch (HRW) said monitors also had to get access to the royals and businessmen still being held in what the Riyadh regime claims is an anti-corruption campaign but is commonly believed to be an attempt by Saudi Crown Prince Mohammed bin Salman to silence his domestic critics.
The US-based advocacy group said the kingdom's Human Rights Commission and public prosecutor's office — both government entities — lacked the independence to conduct a credible and transparent probe.
"Saudi Arabia's internal investigations have little chance of getting at the truth of the treatment of detainees, including prominent citizens, or of holding anyone responsible for crimes accountable," said Michael Page, the deputy Middle East director at HRW.
Former Riyadh governor Prince Turki bin Abdullah, Saudi-Ethiopian billionaire Mohammed al-Amoudi, and former economy minister Adel Fakieh are believed to be among those still held in detention since Mohammed started rounding up his critics in November 2017.
"Independent monitors can help confirm what has happened to people detained during these operations and find out about their current wellbeing," Page said, adding, "Without such scrutiny, there is every reason to believe that the Saudi authorities may still be treating them with unspeakable cruelty."
A group of British lawmakers threatened to release a detailed report on allegations of torture if Riyadh did not give them access to the women detainees by the end of the month, British media reported on Thursday.
On January 2, a cross-party group of British parliamentarians and international lawyers asked Saudi Arabia to allow them access to the maximum-security Dhahban prison, where the regime holds female activists, but the request has not received a response.
In recent years, the Al Saud regime has come under intense pressure by rights groups for mistreating women and minorities.
Since May, Saudi authorities have detained more than a dozen prominent women's rights activists, most of whom have formerly campaigned for the right for women to drive.
Saudi Arabia's human rights record has also come under scrutiny after the killing of dissident journalist Jamal Khashoggi inside the kingdom's consulate in the Turkish city of Istanbul last October.
https://www.presstv.com/Detail/2019/01/25/586787/Rights-groups-Saudi-Arabia-access-political-prisoners
--------
Video shows US deploying 250 trucks of arms in Syria despite pullout claim
Jan 25, 2019
The US has reportedly deployed at least 250 trucks filled with weapons to its bases in Syria despite President Donald Trump's decision to withdraw all American forces from the Arab country.
A video by the so-called Syrian Observatory for Human Rights, based in the UK, purportedly shows the entry of about 250 trucks loaded with weapons and logistical equipment.
The SOHR said it had obtained information from a number of reliable sources that a column of over 100 vehicles carrying military and logistical equipment had entered the Syrian territory in the east of the Euphrates, coming from the Kurdistan Region of Iraq.
According to the Observatory, the arms have been distributed among US military bases in Hasakah, Raqqah and Aleppo.
Last month, Trump announced a plan to withdraw American forces from Syria amid preparations by Turkey to launch an operation against US-backed Kurdish militants in northern Syria.
His abrupt move sparked concern among officials in Washington, prompting Defense Secretary Jim Mattis to step down in protest.
Opponents of the decision argued that leaving Syria would amount to a victory for Iran and Russia, which have helped the Syrian government purge foreign-backed militants from most parts of the country.
In what seemed to be a sign of disagreement in Washington, US Secretary of State Mike Pompeo recently announced that American military forces would remain in Syria until Daesh terrorists were defeated.
"And so in Syria, President Trump has made a tactical decision," Pompeo told Fox News.
"We're going to withdraw our 2,000 uniformed military personnel from that country, but make no mistake about it: the defeat of the caliphate, the ISIS caliphate in Syria, is almost complete. We're going to stay there till it's done," he said, using another acronym for Daesh.
Upon unveiling his plans for Syria, Trump claimed that American troops were going back home because, with Daesh defeated, their mission had come to an end.
The founder of an infamous private military company recently said US troops in Syria could be replaced with mercenaries.
In an interview with Fox Business, Erik Prince, who founded Blackwater now called Academi, welcomed Trump's Syria pullout decision, adding that US allies should not be abandoned in the war-torn country.
Full report at:
https://www.presstv.com/Detail/2019/01/25/586743/US-deployment-Syria-Trump-withdrawal-arms
--------
SDF commander: Syria anti-ISIS forces must keep 'special status'
25 January 2019
Any deal between Syria's Kurds and Damascus should respect the "special status" of Kurdish-led forces who fought the ISIS extremist group, a top Kurdish commander of those forces said.
"Any political agreement should include the special status" of the Syrian Democratic Forces after they fought ISIS "on behalf of all humanity and even the Syrian army", SDF commander-in-chief Mazloum Kobani said.
"This is our red line and we will not concede this" in ongoing talks with the Damascus regime, he told AFP in an exclusive interview on Thursday.
The SDF control around a third of Syria after expelling extremists from a large northeastern swathe of the war-torn country with backing from the US-led coalition.
The Kurdish-led alliance "protected northeastern Syria... liberated these areas, and have the right to continue protecting the region", said Kobani, who was speaking near the northeastern city of Hasakeh.
President Bashar al-Assad's government has gained ground against rebels and extremists with key Russian backing since 2015, and now controls almost two-thirds of the country.
It is determined to reassert its authority over SDF-held areas, which make up the lion's share of the rest.
But after years of marginalization, the Kurds are determined to keep some of the autonomy they gained during the eight-year war.
The SDF could "agree to be part of the national army of a future Syria, but only on the condition they keep their special status", Kobani said.
Damascus has rejected self-rule in northeastern Syria, but Kurdish leaders started talks with the government in July in a bid to seek some form of decentralization.
"The discussions are ongoing but have not yet reached any positive result," he said.
The regime "keeps on thinking it can go back to the way it was before 2011. It still hopes it can take military control of the whole region".
"It needs... to understand that is impossible."
Kobani said the SDF were however prepared to "protect the Syrian border and the unity of Syrian territory".
Full report at:
https://english.alarabiya.net/en/News/middle-east/2019/01/25/Kurdish-commander-Syria-anti-ISIS-forces-must-keep-special-status-.html
--------
Dozens killed in failed ISIS counterattack in east Syria: Monitor
25 January 2019
ISIS made an aborted attempt to retake a village from US-backed forces in eastern Syria Thursday, a monitor said, leaving 50 fighters dead on both sides.
The failed assault came a day after the Syrian Democratic Forces (SDF), who are backed by the US-led coalition, took the village of Baghouz from ISIS.
On Thursday, the group launched a counterattack including at least three suicide bombers wearing explosive belts against SDF fighters, the Syrian Observatory for Human Rights said.
Sixteen SDF and 34 ISIS fighters were killed in the assault aimed at retaking the village near the Iraqi border, the Britain-based monitor said.
A further "21 ISIS fighters were taken prisoner as they tried to open up a gap" in defenses and make an escape towards Iraq, Observatory chief Rami Abdel Rahman said.
The SDF have since September been whittling away at a pocket of territory on the eastern banks of the Euphrates River in the eastern province of Deir Ezzor.
The latest advance by the US-backed group has left the last diehard ISIS fighters holed up in scattered farmhouses near the Euphrates.
Thousands of people, mostly women and children, have fled into SDF-held territory in recent days, according to the Observatory.
ISIS overran large swathes of Syria and neighboring Iraq in 2014, declaring a "caliphate", but they have since lost almost all of it to various offensives.
Full report at:
https://english.alarabiya.net/en/News/middle-east/2019/01/25/Dozens-killed-in-failed-is-counterattack-in-east-Syria-Monitor-.html
--------
Saudi Arabia building its first ballistic missile factory: Report
Jan 25, 2019
Saudi Arabia, already known as the world's top importer of foreign-made ballistic missiles, has started building its first missile production factory near the central town of Al-Watah, The Washington Post has quoted experts as saying.
In a Wednesday report, The Post quoted leading experts as saying that satellite imagery dating back to November appears to show Saudi Arabia's debut ballistic missile factory located at an existing missile base near Al-Watah.
This would reportedly be the first known instance of Saudis manufacturing the weapons indigenously, after importing foreign-made ballistic missiles for years.
The photos were discovered by Jeffrey Lewis, a nuclear weapons expert at the Middlebury Institute of International Studies at Monterey and founder of the Arms Control Wonk blog, and his team.
The photos raise "the possibility that Saudi Arabia is going to build longer-range missiles and seek nuclear weapons," according to The Post. Lewis said that "we may be underestimating their desire and their capabilities."
The findings were further confirmed by Michael Elleman of the London-based International Institute for Strategic Studies and Joseph Bermudez of the Washington-based Center for Strategic and International Studies.
Media reports of a Saudi ballistic missile base in Al-Watah first surfaced in the form of an article published in July 2013 by IHS Jane's Defense Weekly. The site revealed satellite imagery that appeared to show surface-to-surface missile sites being constructed to accommodate the deployment of Chinese Dongfeng DF-3A intermediate-range ballistic missiles, purchased in the 1980s during the war Iraqi dictator Saddam Hussein imposed on Iran.
Saudi Arabia publicly unveiled its DF-3A arsenal for the first time during a military parade in April 2014. That same year, Newsweek reported that the CIA helped facilitate a secret deal to allow Saudi Arabia to buy improved Chinese DF-21 missiles in 2007.
Last year, the Saudi foreign minister threatened that the kingdom will make nuclear bombs if the Islamic Republic of Iran moves to develop an atomic weapons program.
"We have made it very clear that if Iran acquires a nuclear capability we will do everything we can to do the same," Saudi Arabia's former Foreign Minister Adel al-Jubeir said in May 2018.
Meanwhile, there are reports that Riyadh is buying information from the Israeli regime that would allow it to develop nuclear weapons, a senior Israeli nuclear expert revealed last year.
Ami Dor-On, a senior nuclear commentator with the Israeli military organization iHLS, said in May 2018 the cooperation has been made possible in the wake of the widening ties between Saudi Crown Prince Mohammad bin Salman and Israeli Prime Minister Benjamin Netanyahu, and is indicative of an emerging nuclear arms race in the region.
According to the Israeli writer, the Tel Aviv regime is aware that Saudis would eventually make the move for developing nuclear weapons and want to make sure they would not go to other regional players such as Pakistan to obtain the know-how.
"It can be assumed that Israel may take the initiative to develop Saudi Arabia's efforts to acquire nuclear weapons and not leave it solely to Pakistan, given the growing Saudi-Israeli relations," the expert added.
Saudi Arabia has already asked the US for permission to expand its nuclear program to include uranium enrichment, a move that experts warn is not to be taken lightly considering the Riyadh regime's never-ending thirst for political and military dominance in the region.
The kingdom is widely viewed as the financier of Pakistan's nuclear program. Ironically, Saudi royals took the first steps in the 1970s after finding out that Israel and India had already taken major steps towards developing nuclear weapons.
Full report at:
https://www.presstv.com/Detail/2019/01/25/586752/Saudi-missile-factory-nuclear-weapons-Israel
--------
Damascus 'welcomes' Kurdish negotiation appeal, talks to start 'in days'
Jan 25, 2019
The head of a Syrian Kurdish group says talks with Damascus will begin "in days" following the government's "positive" reaction to a negotiation appeal.
"There are attempts to carry out negotiations. The Syrian government stance was positive," Reuters quoted Kurdish People's Protection Units (YPG) chief Sipan Hemo as saying. "We believe they will start in the coming days."
Syria's Kurds have been granted some degree of self-rule by the government since the war began in 2011. Last month, they sought to come back under the full Syrian sovereignty after the US announced plans to withdraw troops.
People in the Kurdish-populated areas are wary of a planned Turkish incursion into northern Syria in order to establish a "safe zone".
Ankara views the YPG as the backbone of the US-backed Syrian Democratic Forces (SDF) which Ankara sees indistinguishable from PKK militants who have waged an insurgency inside Turkey.
"We want to be on good ties as neighbors, but the Turkish state does not accept this," said Hemo. "If Turkey attacks our region, we will respond appropriately."
The return of the territories under Syria's sovereignty would piece together the two biggest chunks of a nation splintered by eight years of war.
Syrian Kurdish leaders have sought Russian mediation for talks with the government of President Bashar al-Assad, hoping to safeguard their autonomy when US troops pull out.
Russia coordinates its moves in Syria with Iran and Turkey - the guarantors of the Astana process which has resulted in the return of a succession of militant bastions to the government fold and movement of civilians to safe zones.
On Wednesday, Russian President Vladimir Putin announced that Moscow was planning a trilateral summit "in the near future" to further discuss the situation in Syria.
The last meeting between Putin, Turkish President Recep Tayyip Erdogan and Iran's President Hassan Rouhani took place in the Iranian capital, Tehran, last September.
The talks led to the creation of a demilitarized buffer zone separating Syrian troops from Takfiri militants in the northwestern province of Idlib.
Full report at:
https://www.presstv.com/Detail/2019/01/25/586731/Damascus-welcomes-Kurdish-appeal
--------
Iraq priest who saved Christian heritage ordained Mosul archbishop
January 25, 2019
MOSUL: An Iraqi priest who saved a trove of religious manuscripts from the Daesh group was ordained on Friday as the new Chaldean Catholic archbishop of Mosul.
Najeeb Michaeel, 63, was inaugurated in a ceremony in Mosul's St. Paul Church attended by Catholic leaders from the region and the US, as well as local officials and residents.
"Our message to the whole world, and to Mosul's people, is one of coexistence, love, and peace among all of Mosul's different communities and the end of the ideology that Daesh brought here," Michaeel said.
Michaeel entered religious life at 24 and spent years serving at Al-Saa Church (Our Lady of the Hour) in Mosul.
There, he managed the preservation of nearly 850 ancient manuscripts in Aramaic, Arabic and other languages, as well as 300-year-old letters and some 50,000 books.
In 2007, he transferred the archives to Qaraqosh, once Iraq's largest Christian city, to protect them during an Islamist insurgency which saw thousands of Christians flee Mosul.
And when Daesh — who was notorious for defacing churches and destroying any artifacts deemed contrary to its neoconservative interpretation of Islam — swept across Iraq in 2014, Michaeel again took action.
As the militants charged toward Qaraqosh, the Dominican friar filled his car with rare manuscripts, 16th century books and irreplaceable records and fled east to the relative safety of Iraq's autonomous Kurdish region.
With two other friars from his Dominican order, Michaeel also moved the Oriental Manuscript Digitization Center (OMDC), which scans damaged manuscripts recovered from churches and villages across northern Iraq.
From the Kurdish capital Irbil, he and a team of Christian and Muslim experts digitally copied thousands of Chaldean, Syrian, Armenian and Nestorian manuscripts.
Iraqi forces recaptured Mosul from Daesh in the summer of 2017, and Michaeel returned to the city months later to attend the first post-Daesh Christmas mass.
He found his church in ruins, with rooms transformed into workshops for bombs and explosive belts and gallows had replaced the church altar.
But he insisted there was reason for hope.
"I'm optimistic. The last word will be one of peace, not the sword," Michaeel said last year.
On Friday, the head of the Chaldean Catholic Church called for more international support to Iraq's Christians.
"Bishops from outside Iraq are participating in this occasion to support the Christians of Mosul," said Patriarch Louis Raphael Sako.
Full report at:
http://www.arabnews.com/node/1441776/middle-east
--------
Kurdish MP on hunger strike in Turkey jail gets release order
January 26, 2019
DIYARBAKIR: A Turkish court on Friday released a Kurdish lawmaker who was jailed last year for criticizing Ankara's military operation in Syria and has been on hunger strike for nearly three months.
Leyla Guven still faces trial and up to 31 years' jail over charges of terrorism leadership and propaganda for her opposition to Turkey's incursion into northwest Syria's Afrin region.
The judge in the largely Kurdish city of Diyarbakir released Guven as she had already been in custody for a year. Her health has deteriorated during a 79-day hunger strike to protest against the prison isolation of Kurdish militant leader Abdullah Ocalan, those close to her say.
"This is a bittersweet joy for us," Guven's daughter, Sabiha Temizkan, told Reuters, saying her mother would continue her hunger strike despite her release.
"I hope her demand will be met and her hunger strike will be finished before it does damage to her," Temizkan said.
Guven, wearing a surgical mask, made a victory sign from inside an ambulance after her release.
She has been consuming water with sugar, salt and vitamins. The pro-Kurdish Peoples' Democratic Party (HDP), says 250 inmates and politicians have joined the hunger strike.
Guven was among some 600 people detained over social media posts and protests criticising Turkey's operation last year into Afrin where it pushed out the U.S.-backed Kurdish YPG, viewed by Ankara as a terrorist group.
Last June, Guven was elected to parliament as a HDP member while in detention. Ten former HDP parliamentarians detained are still in prison.
Guven is also co-leader of the Democratic Society Congress (DTK), an umbrella group of civil society organisations based in Diyarbakir.
Full report at:
http://www.arabnews.com/node/1442081/middle-east
--------
India
Report on al-Qaeda in the Indian Subcontinent's growing influence alarmist: official
JANUARY 24, 2019
A top intelligence official on Thursday dismissed as 'alarmist' a U.S.-based think tank's report that contends that the al-Qaeda in the Indian Subcontinent (AQIS) was exploiting the growing incidents of violence against Muslims in India and attacks in the name of "cow vigilantism" to recruit cadres.
Asserting that the study by The Soufan Center, a New York-based think tank, was misleading, the official who spoke on the condition of anonymity said: "researchers appear to have extrapolated isolated instances, imaginatively."
The report titled 'AQIS — The Nucleus of Jihad in South Asia' asserts that the rise in inter-religious clashes in India due to a changing political discourse had resulted in further divisions between Hindus and Muslims. Increasing incidents of violent attacks on Muslims in India, who are accused of eating beef, was being exploited by groups like AQIS to "incite Indian Muslims to join what is being called a fight for their honour," according to the study's authors.
"India is a pluralist country with 180 million Muslims," the intelligence official said. "Indian Islam is based on rich Sufistic traditions of pluralism, inclusivism and composite nationalism. The wave of al-Qaeda in the 1990s and 2000s did not impact the Indian Muslim. The wave of Islamic State had minimal impact, with only about 108 individuals succumbing to its lure. In the past few decades, global Islamist uprisings and terrorism have not impacted the Indian Muslim, as they were based on Jihadism, born out of exclusionism," the official added, dismissing the report's premise on the increasing vulnerability of the Indian Muslim to recruitment by the AQIS.
AQIS was created in August 2014 and is led by an Indian, Maulana Asim Umar, who was later identified as U.P. resident Sanaul Haq. In 2015, central intelligence agencies helped Delhi Police arrest three members of AQIS. Two of them, Mohammad Asif and Zafar Masood, belong to Sambhal district in Western U.P. and the third, Rehman, belongs to Orissa. AQIS was banned by the Home Ministry last year.
The Soufan Center also said in its report that there was strong evidence of ties between the AQIS and the LeT. According to the report, AQIS operative Abdul Rehman, who was arrested from Orissa in 2015, travelled to Pakistan in 2014 as a LeT recruit. "ISI facilitated his entry into Karachi via Dubai, but once inside Pakistan, Rahman met with several high-ranking AQIS leaders, including its chief, Asim Umar. Through his LeT contacts, Rehman later joined AQIS. The indictment documents of Abdul Rahman reveal that numerous LeT leaders visited AQIS headquarters in South Waziristan including Sajid Majid, ISI operative who masterminded the 26/11 Mumbai attacks," it said.
One of the contributors to the report is IPS officer Sajid Farid Shapoo, who is currently a Phd scholar at Woodrow Wilson Scholar, Princeton University. He is also a Senior Fellow at The Soufan Center.
"The common notion that Al-Qaeda and its affiliates only operate and thrive in conflict zones, such as Yemen, Libya, and Syria, is incorrect. AQIS illustrates how al-Qaeda successfully infiltrates, operates, and spreads its ideology in countries experiencing relative calm, like India. This model may prove to be al-Qaeda's blueprint for the future," the centre said in its report.
The report said that AQIS maintains a diverse funding portfolio that includes donations from individuals and charities, kidnapping for ransom and money solicited or siphoned from other terrorist groups, including Lashkar e Taiba (LeT). "Since nearly one-third of AQIS' operating budget is derived from donations from individual citizens, this will make it extremely difficult to counter the group's finances, a major long-term challenge in combating the group overall," the report said.
The think tank said the situation in Kashmir had also taken an "unprecedented turn." "For the first time since the onset of conflict in Kashmir, the region is responding to the appeal of groups like al-Qaeda."
"We know that terrorist forays into India, in the name of AQIS, are the handiwork of Pakistan's ISI," the intelligence official said.
https://www.thehindu.com/news/national/report-on-al-qaeda-in-the-indian-subcontinents-growing-influence-alarmist-official/article26082410.ece
--------
Dalit benefit plank against AMU minority status
26.01.19
A constitutional body headed by a BJP parliamentarian has asked the government to argue in court that removing the minority status of Aligarh Muslim University would benefit the Scheduled Castes.
The suggestion came in a letter to the higher education department early this month from Pritam Singh, secretary to the National Commission for Scheduled Castes, headed by MP Ram Shankar Katheria.
A dispute over AMU's minority status is before the apex court, where a scheduled hearing failed to take place on January 22. The UPA government supported the university's minority status but the NDA government is against it.
Currently, functioning as a minority institution, AMU does not have to implement caste quotas but removal of the status will force it to. Two of its teachers said the commission was invoking Dalit interests for "political reasons" ahead of the general election.
But the HRD ministry has written to the commission saying it does not need to bring in the quota angle since the 1967 apex court judgment on which it has based its stand is strong enough.
The Muhammadan Ango-Oriental College, which philanthropist Syed Ahmed Khan founded in 1875 mainly to promote Muslim education, became AMU in 1920 through an act of legislature, whose preamble said it had been passed to establish the university.
It did not say AMU was a minority institution but some of its provisions, such as compulsory religious teaching and a Muslims-only court (its highest decision-making body), indicated its minority character. After the Constitution was adopted, the act was amended to make religious teaching optional and revoke the university court's all-Muslim membership rule.
In 1967, on a petition from Azeez Basha, the apex court held that since the university was set up by an act rather than by Muslims, it's not a minority institution.
Full report at:
https://www.telegraphindia.com/india/dalit-benefit-plank-against-aligarh-muslim-university-s-minority-status/cid/1682836
--------
India's soft power is very effective in Afghanistan
Jan 25, 2019
Abdul Rahman Rahmani
US President Donald Trump recently mocked Prime Minister Narendra Modi, who has promoted soft power policies in Afghanistan that benefit India and the US, about building a "library" and not doing enough to help stabilise the war-torn country. Some believe Trump mistook the Afghan parliament for a library, but whatever the intention, the perception was not welcomed by Afghans, Indians and US citizens. From an Afghan perspective, India's soft power is effective in Afghanistan and the Indian government doesn't need to have direct military involvement in the country.
There are three reasons for these conclusions: historic India-Afghanistan links; a feeling of kinship due to Bollywood's popularity; and India's support to rebuild Afghanistan.
The historic links form the bedrock of friendly relations. Afghan vice-president Mohammad Sarwar Danish highlighted this during the 70th Indian Independence Day celebrations at the Indian embassy in Kabul by saying, "Afghanistan and India have 1,000 years of historic relations…As a result, both countries' history is nested together and cannot be divided." According to a study, there are countless Afghan-related monuments and historic and cultural items across India. Similarly, there are more than a dozen sites in Afghanistan with Indian artwork.
India's film industry has nurtured a feeling of friendship among Afghans.
My own experiences helped me understand Bollywood's influence on Afghans. I was four months old when I left Afghanistan with my uncle's family in 1984 to settle in Peshawar, Pakistan, because of the Soviet invasion. I was 12 years old when I watched the Indian movie Saajan. Watching Indian films was a family tradition and men and women gathered to watch them every Friday night.
In the 1990s, we returned home when the mujahidin took power in Kabul. Every Friday night, Afghan national television beamed Indian movies. In those days, the mujahidin forces, who defeated the Soviets with the help of the US and Pakistan, were fighting each other for power.
Despite bombings and gunfire from every direction, almost everyone waited for the little joy of Friday nights. Thanks to limited electrical power in Kabul, some nights in Kabul were dark. I still recall collective prayers by my family for the power to not go off before the movie ended. Like me, I am pretty sure most Afghans who speak Hindi have learned it by watching Indian movies.
In the past 17 years of the US involvement in Afghanistan, most TV and radio stations play Indian songs as part of their routine programming.
Indian support to the Afghan government is vital due to its soft power and influence on the population. India has influenced Afghans and gained their trust and respect for two reasons: India has helped economically to rebuild Afghanistan; and both countries face a shared threat from Pakistan.
India is the largest regional donor to Afghanistan, having provided $3 billion. The new parliament building, Salma dam in Herat province, and a highway to Iran's Chabahar port, are a few prominent projects backed by India. Chabahar is of immense importance to Afghanistan because it provides access to the oceans and reduces dependence on Pakistan. Through an indirect military role, India trains Afghan security forces and supplies modest quantities of defence gear.
Economically and politically, these are the most beneficial options in India's Afghanistan policy that strengthen the consensus that India should not deploy troops in Afghanistan. Our country has seen many foreign military involvements and, as a result, Afghans dislike many foreigners. But this dislike does not include India. In December 2015, when Modi visited Kabul to inaugurate the parliament building, people welcomed him and expressed their love for Indian people through social media.
Kabul has been a victim of Islamabad's "strategic depth" policy that sees Afghanistan as the fifth state of Pakistan. India too has been a victim of Pakistan's proxy wars. The shared threat from Pakistan, home to the Taliban and Lashkar-e-Taiba, has strengthened India-Afghanistan ties.
India, with the world's second largest Muslim population, has suffered from the proliferation of radical Islamic ideologies in Afghanistan and Kashmir by Pakistan. India cannot mitigate these transitional threats without help from Afghanistan and a friendly relationship with a legitimate Afghan government is in India's vital interest. Also, Indian support for an Afghan-led and Afghan-owned peace process is very important for both countries.
Full report at:
https://www.hindustantimes.com/analysis/india-s-soft-power-is-very-effective-in-afghanistan/story-1db4KfSkgoQYO7xM08LaVP.html
--------
Wasim Rizvi's controversial remark on madrasas; here's how intellectuals react
Jan 23, 2019
New Delhi: Anger prevails among the Muslim community against Shia Waqf Board Chairman Uttar Pradesh after his provocative remark against the madrasas.
Uttar Pradesh Shia Waqf Board chief Waseem Rizvi on Tuesday said that madrasas promote ISIS ideology. Rizvi has written to Prime Minister Narendra Modi to shut Islamic seminaries across India so that Muslim children are not influenced by it.
"If madrasas across the country are not shut down soon then after 15 years half of the Muslims will start favouring the ISIS ideology. It has been observed across the world that ISIS is targeting children and asking them to follow them," Rizvi wrote in the letter.
The UP Shia Board chief added that Muslim children should study with students of other religions in schools so that they are able to get a better education. In his letter to the prime minister, Rizvi cited the example of Kashmir to substantiate his point, "In Kashmir, ISIS supports can be seen in huge numbers. In rural areas, Madrasas are destroying the future of our children being run on donations as their owners are hungry for money," he stated.
Reacting strongly on Rizvi's remarks, former Mustafabad MLA Hasan Ahmed said the presence of madrasas in the country is inevitable. The same madrasas had initiated the freedom struggle against the Britishers, as a result, we have got freedom today. He added Wasim Rizvi's remark will create unrest. With his remark, he has tried to appease his bosses and organisations like BJP, RSS and Bajrang Dal.
Chaudhry Mateen Ahmed said people like Wasim Rizvi cannot succeed in their nefarious plans as long as secularism and brotherhood prevail in the country.
Imam and Khateeb of Madina Masjid in Jafferabad Maulana Mohammed Shameem Qasmi said the role played by Islamic madrasas in the freedom struggle will be written with golden words in the Indian history.
All India Muslim Ekta Committee chairman Haji Ikram Hasan said today we are living in an independent country just because of the sacrifices made by the ulamas, poets and sadhu saints. But unfortunately, people like Wasim Rizvi want to disrupt peace by issuing such statements.
Full report at:
https://www.siasat.com/news/wasim-rizvis-controversial-remark-madrasas-heres-how-intellectuals-react-1459129/
--------
Two militants killed in Jammu and Kashmir gunfight with security forces
Jan 26, 2019
Two militants of the Jaish-e-Muhammad (JeM) outfit were killed on Saturday in a gunfight with security forces in Jammu and Kashmir's Srinagar district, police sources said.
Both were killed in Khonmoh area on the outskirts of Srinagar city. They had planned to disrupt the Republic Day functions being held here, the sources said
Two AK-47 rifles and ammunition were recovered from their possession. The slain militants' names were not given out.
A search operation was going on in the area.
The Rashtriya Rifles, the Special Operations Group (SOG) of the Jammu and Kashmir Police and the Central Reserve Police Force (CRPF) earlier surrounded Khonmoh area following information about the presence of militants.
"As the cordon was tightened, the militants fired, triggering the encounter," a police officer said.
Full report at:
https://www.hindustantimes.com/india-news/two-militants-killed-in-jammu-and-kashmir-gunfight-with-security-forces/story-hFFLqUvqJil8H8qvavMrJI.html
--------
NIA arrests absconding accused for 2006 Kerala twin blasts
Jan 25, 2019
NEW DELHI: The National Investigation Agency (NIA) on Thursday said it has arrested one of the men involved in the 2006 Kerala twin blaste from the airport here.
Mohammad Ashar, who had since been absconding, was arrested on Wednesday from the Indira Gandhi International (IGI) Airport here after he arrived from Saudi Arabia, an NIA spokesperson told IANS.
"The cases pertain to the twin IED blasts that had occurred at the KSRTC and Mofussil Bus Stands in Calicut (Kozhikode) City on March 3, 2006, causing injuries to two persons besides damage to property. NIA had taken over the investigation of the cases on December 18, 2009 and had filed a chargesheet against eight accused persons, including Ashar," the NIA said in a statement, reported The Hindu.
Ashar had escaped to the Middle East nation in 2007. He would be produced later in the day before an NIA Special Court in the national capital to obtain a transit remand to take him to Kochi for his production before the Special Court in Ernakulam.
The twin blasts near the Kerala State Road Transport Corporation and Mofussil bus stands had rocked Kozhikode on March 3, 2006, and left two persons injured and a few properties damaged.
The counter-terror agency had taken over the case from the Kerala Police in 2009 and filed the charge-sheet against eight accused in August 2010 under several sections of the Indian Penal Code (IPC), Arms Act and Unlawful Activities (Prevention) Act.
The NIA official said that thier probe revealed that besides Ashar, another absconder P.P. Yusuf, was involved in the conspiracy hatched by prime accused T. Naseer and others to carry out the IED blasts after bail was denied to the accused involved in the Marad communal riots of 2003 in Kozhikode district.
Full report at:
https://www.siasat.com/news/nia-arrests-absconding-accused-2006-kerala-twin-blasts-1460035/
--------
CJI sets up new five-judge bench to hear Ayodhya case on Jan 29
Jan 26, 2019
NEW DELHI: Chief Justice Ranjan Gogoi on Friday constituted a fresh fivejudge bench for the January 29 hearing of the legal battle for ownership of the 2.77-acre Ram Janmabhoomi-Babri Masjid disputed land in Ayodhya, importantly drafting in the lone Muslim SC judge in Justice S Abdul Nazeer.
The politically sensitive case relating to the over century-old litigation has been pending in the SC since 2011.
The reconstitution of the bench was necessitated after Justice U U Lalit recused from the case on January 10. This was followed by Justice N V Ramana withdrawing citing personal reasons.
With two judges dropping out, the CJI decided to draft Justice Ashok Bhushan and Justice Nazeer into the five-judge bench led by him. The other two judges on the bench are Justice S A Bobde and Justice D Y Chandrachud. The developments meant that on the previous two hearings, the court could not draw up a schedule which could have provided an inkling of when a final verdict could be expected.
TOI had on January 4 reported that as per tradition, Justice Bhushan and Justice Nazeer were expected to be part of the bench that would decide the Ayodhya dispute since they were part of the three-judge bench that had on September 29 rejected the plea of Muslim parties for reference of the vexed litigation to a five-judge bench.
But the CJI sprang a surprise on January 8 by announcing a bench that comprised himself and four future CJIs in Justice Bobde, Justice Ramana, Justice Lalit and Justice Chandrachud. However, on January 10, senior advocate Rajeev Dhavan pointed out that Justice Lalit, when he was an advocate in 1997, had appeared for a party in the criminal case relating to Babri Masjid demolition on December 6, 1992. This led to Justice Lalit immediately announcing his recusal.
On September 29, a bench of then CJI Dipak Misra and Justice Bhushan and Justice Nazeer, by 2 to 1 majority held that appeals against Allahabad HC's verdict on Ayodhya land dispute would be heard by a three-judge bench. Justice Nazeer had leaned in favour of the Ayodhya dispute being sent to a five-judge bench.
There are 16 appeals and petitions by Hindu and Muslim parties challenging the Allahabad HC's September 30, 2010, verdict,
which had divided the 2.77 acres equally between Ram Lalla, Sunni Wakf Board and Nirmohi Akhara.
The SC had on May 9, 2011, admitted the appeals and stayed operation of the HC order. The first hearing on the appeals against the 2010 HC verdict took place on December 5, 2017. Senior advocates Kapil Sibal, Dhavan and Dushyant Dave, appearing for Muslim parties, had used politics, religion and even alleged 'agenda' and 'bias' for the "hurry' being shown by then CJI Misra-led bench in deciding the 70-year-old litigation and sought its reference to a five or seven-judge bench.
On January 10 this year, CJI Gogoi had explained why he constituted a five-judge constitution bench to adjudicate appeals against the Allahabad HC verdict on title suits despite a three-judge bench rejecting the plea for reference of the petitions to a larger bench.
Full report at:
https://timesofindia.indiatimes.com/india/cji-sets-up-new-five-judge-bench-to-hear-ayodhya-case-on-jan-29/articleshow/67696113.cms
--------
Pakistan
Pakistan receives $2 bn from UAE, Saudi Arabia
Jan 25, 2019
KARACHI: Cash-strapped Pakistan has received $1 billion each from Saudi Arabia and the United Arab Emirates (UAE), as part of the bailout package by the two Gulf nations to help shore up Islamabad's dwindling foreign currency reserves.
The country's central bank, the State Bank of Pakistan (SBP), on Friday confirmed that Pakistan has received the third tranche of $1 billion as part of balance-of-payments support from close ally Saudi Arabia.
On Thursday, the SBP tweeted that $1 billion has been received from the UAE. The assistance was the first part of the $3 billion assistance announced by the Gulf nation.
The amount was received under an agreement, signed on Tuesday, by SBP Governor Tariq Bajwa and Abu Dhabi Fund for Development Director General Saif Al Suwaidi, the SBP said.
Saudi Arabia's assistance was part of the $6 billion bailout package - $3 billion balance-of-payments support and another $3 billion in deferred payments on oil imports - which Riyadh had agreed in October last year.
The kingdom has already deposited $2 billion to provide vital cushion to Pakistan's dwindling reserves. Pakistan, which is in talks with the IMF for a bailout package, has also reportedly received financial assistance from China.
According to the SBP, Pakistan's foreign currency reserves dropped to a 57-month low of $6.63 billion as of January 18, 2019.
With these reserves, Pakistan can hardly cover one-and-a-half-month of imports. The reserves have continued to drop for the last two years due to the country's high foreign expenditure and low income, which is better known as the current account deficit, the Express Tribune reported.
The deficit was recorded at $8 billion in the first half (Jul-Dec) of the current fiscal year 2018-19, which was slightly lower than $8.4 billion in the same period of previous year.
This assistance has improved Pakistan's position in terms of import payments and debt repayment in the short term.
"The deposits will help Pakistan achieve financial stability and overcome economic challenges," the Foreign Office had tweeted after the agreement between Pakistan-UAE was inked with Abu Dhabi.
https://timesofindia.indiatimes.com/world/pakistan/pakistan-receives-2-bn-from-uae-saudi-arabia/articleshow/67690317.cms
--------
Qureshi says winds of change have started blowing in Sindh
January 26, 2019
UMERKOT: Foreign Min­is­ter Shah Mehmood Qureshi has said that winds of change have started blowing from Karachi and will reach every nook and cranny of Sindh.
Mr Qureshi said at a large gathering outside the residence of Pakistan Tehreek-i-Insaf MNA Lal Malhi here on Friday that people of Punjab and Balochistan had rejected the Pakistan Peoples Party and now people in Sindh would follow suit.
"The change is also visible in Gilgit-Baltistan and Azad Kashmir," he said.
He said that South Punjab used to be a stronghold of PPP but it was now a fortress of PTI.
A"The change will soon come to Umerkot and Tharparkar as well," he said.
He criticised PPP leaders who claimed to champion the cause of democracy but at the same time subjected poor voters who supported PTI in general election to political victimisation.
He asked PTI supporters and his spiritual followers not to be frightened by PPP's "oppressive policies". People of Sindh had become fed up with the 11-year rule of PPP government.
The party won majority seats in Tharparkar district but failed to serve people, he said.
Mr Qureshi said that people of the province would soon hold PPP accountable for its "mega corruption and worst governance" in Sindh's history.
He condemned attack on PTI MPA Mohammad Ramzan Ghanchi, who was elected from Lyari, and asked Sindh government to arrest culprits involved in the attack.
He said the National Accountability Bureau was an autonomous organisation which did not take orders from anyone. Electronic visa service had been started for many countries, he added.
MNA Lal Malhi said that people understood the importance of their vote and they would never again put their trust in corrupt people.
He said that the prime minister would visit Tharparkar next month and he had high hopes that he would work for the development of the desert region.
The PM would announce laying of a railway track and gas pipelines and issuance of health insurance cards for the people of Umerkot during his visit.
Full report at:
https://www.dawn.com/news/1459763/qureshi-says-winds-of-change-have-started-blowing-in-sindh
--------
Senate committee calls for abolishing travel blacklist
Jamal Shahid
January 26, 2019
ISLAMABAD: Describing the blacklist as being without constitutional and legal sanctity, the Senate Standing Committee on Law and Justice on Friday recommended abolishing it along with all such lists that impinge upon the fundamental rights of citizens.
"The practice of putting names on the blacklist should be stopped immediately," said the chairman of the committee Senator Javed Abbasi.
Take a look: Why the law governing FIA's opaque blacklist should worry us
The Senator was presenting a point of order raised in the house in December last year regarding the procedure for putting names in the blacklist and its legal value.
The point of order was referred by the Senate chairman to the Standing Committee on Law and Justice for consideration.
The committee considered the matter in its meetings held late December and then again this month. It also invited ministries of interior and human rights for their inputs on the subject.
The house was informed that during the course of the briefings, Immigration and Passports Director General Ishrat Ali said that the blacklist was being maintained in pursuance of the Passport Manual, 2006. The provision has remained part of the manual since 1957. However, some of its parts and categories were incorporated in the Passport Act, 1974, and the remaining continued to be part of the passport manuals, as and when issued.
The report said that the Directorate General of Immigration and Passports do not initiate this list but the names were added on the recommendations of Judicial and quasi-judicial forums.
It quoted the Federal Investigation Agency (FIA) director general as saying that the agency only implemented the blacklist through an automated system, which did not process the case of a person whose name had been added in the list.
The report mentioned Minister for Human Rights Shireen Mazari as stating that such lists and the likes of it were not acceptable in a democracy, which impinged upon the fundamental rights and had no legal sanctity behind it.
It said that the authorities concerned also recognised that the blacklist and the likes of it had no legal value and that the exit control list (ECL) was the only valid list in this regard.
All members present deplored the long-standing practice of issuing and maintaining blacklist and termed it as ultra vires and in violation of fundamental rights.
The committee also noted that the Passport Act was enacted by the parliament and no such power of maintaining blacklist was delegated to the executive.
In absence of any such power, the government had no authority to maintain such lists, it said.
Demanding an end to putting names in the list, the committee recommended that the Ministry of Interior submit a compliance report regarding abolishing it before the Senate within 10 days.
The matter was also taken up the Senate Functional Committee on Human Rights under its chairperson Senator Mustafa Nawaz Khokhar late in December 2018.
Full report at:
https://www.dawn.com/news/1459814/senate-committee-calls-for-abolishing-travel-blacklist
--------
Arms licences of 16 members of banned organisations cancelled by Punjab govt
Mohammad Asghar
January 26, 2019
RAWALPINDI: The Punjab government has cancelled all arms licences, irrespective of their categories, issued to 16 members of banned organisations whose names are on the Fourth Schedule of the Anti-Terrorism Act (ATA), 1997.
According to sources, the move for the cancellation of the arms licences came about on the recommendation of the Counter Terrorism Department (CTD) and deputy commissioners and that the concerned authorities in Punjab and the National Database and Registration Authority (Nadra) have been informed to take further action accordingly.
Divisional commissioners, divisional police chiefs, additional inspectors general of police, CTD, city police officers and district police officers across the province have been informed by the Punjab government that under rule 31 of the Punjab Arms Rules, 2017, the government has cancelled all arms licences, irrespective of their categories, issued to 16 members of banned organisations who are also placed on the ATA's Fourth Schedule.
The names of the individuals, their CNIC numbers and arms licence numbers have been sent to the authorities concerned for intimation of cancellation of arms.
The individuals whose arms licences were cancelled are Haji Mushtaq Hussain, Mohammad Ilyas, Rana Mohammad Ilyas, Abdul Latif, Khalid Mehmood alias Mooda, Ejaz Ahmed, Ghulam Shabir Joiya, Abdul Hameed Khalid, Haq Nawaz, Ehsanullah, Rana Mamraiz Ali, Mohammad Asif Javed, Mohammad Abdullah, Mohammad Abu Zar Naqvi, Hafiz Mohammad Ahmed and Abdul Rasheed.
However, the reason for the cancellation of these licences was not given by the provincial authorities.
Under ATA 1997, all individuals placed on the Fourth Schedule are bound to inform the police when leaving their permanent residence and also when they return. They are also bound to submit a surety bond to the concerned police station, guaranteeing peaceful conduct.
A senior police official said it is not necessary that all members of a banned organisation be placed on the Fourth Schedule and that it depends case to case. However, he said, if someone is placed on the watch list, their arms licenses are cancelled under the law.
Licences can be cancelled for many reasons under the Punjab Arms Rules 2017 including if it is used for the commission of an offence or it is not renewed for three consecutive years. A licence can also be cancelled on receipt of a complaint as well.
Full report at:
https://www.dawn.com/news/1459788/arms-licences-of-16-members-of-banned-organisations-cancelled-by-punjab-govt
--------
JI leader terms PTI govt 'directionless, visionless'
January 26, 2019
HYDERABAD: Jamaat-i-Islami (JI) secretary general Liaquat Baloch has said that the Pakistan Tehreek-i-Insaf (PTI) government remains directionless and visionless.
Speaking to media at the local press club on Friday, he said that another mini-budget was thrust on people who were already groaning under price hike.
He said the mini-budget, which was also replete with taxes, would increase inflation.
He said the government on the one hand claimed that it would provide relief to people, but on the other higher taxes were introduced in the budget.
He said the shortage of gas supply was the height of poor administration of the present government while delay in import of liquefied natural gas would affect domestic and industrial consumers.
He said the country could not progress with a "borrowed" economy.
Prime Minister Imran Khan raised a slogan against corruption, but except for Nawaz Sharif, others, whose names appea­r­ed in Panama­gate too, were not taken to court, he said.
He said the names of those who got their loans waived off, looted national wealth and transferred money to offshore banks were available, but since the name of Aleema Khanum surfaced, the issue had been put in cold storage.
He said that accountability was not on the agenda of the government and thus it was being made controversial. He did not rule out collusion among the Pakistan Peoples Party (PPP), Pakistan Muslim League-Nawaz (PML-N), Pakistan Tehreek-i-Insaf (PTI), "corrupt mafia" and state institutions.
He termed the Sahiwal tragedy the height of barbarism on the part of law enforcement agencies.
He said it was not only Sahiwal, but such incidents were also reported in other parts of the country, adding that missing persons cases were being reported in Balochis­tan and Khyber Pakhtun­khwa in a large number, but no measures for their recovery were being taken.
He said people had lost trust in joint interrogation teams (JITs), adding that the PM hinted at formation of a judicial commission on the tragedy and the JI had demanded the same.
NAP reform
He paid tributes to the sacrifices of the armed forces for implementation of the National Action Plan (NAP).
Full report at:
https://www.dawn.com/news/1459760/ji-leader-terms-pti-govt-directionless-visionless
--------
Premier promises hydel profit payment under AGN Kazi formula
January 26, 2019
PESHAWAR: The federal government has assured the Khyber Pakhtunkhwa government of the resolution of issues about the payment of net hydel profit and its arrears to it under the AGN Kazi formula.
The assurance was made during Prime Minister Imran Khan's meeting with Chief Minister Mahmood Khan in the federal capital, said a statement issued here on Friday.
The statement said the provincial government would form an independent and high-powered authority to use the royalty of oil and gas projects and invest it in the exploration and exploitation of oil and gas in the province.
The chief minister informed the premier about the net hydel profit issue and sought his intervention for its resolution under the AGN Kazi formula.
He also briefed the prime minister about four energy projects in Chitral, electricity produced in the province, and its use for industrial growth or sale.
The statement said the federal government agreed to give representation to KP in the Oil and Gas Development Company Limited, National Transmission and Despatch Company, all boards and forums.
The premier accepted the chief minister's proposal to grant additional new blocks near the existing Lakki block to the KPOGCL so that the province could execute oil and gas related projects and facilitate investment.
The chief minister also briefed the prime minister about 356 micro-hydel projects executed in the province for the provision of cheap electricity to people in far-off areas, where water resources are untapped.
He said work on mini-hydel power stations had been completed, while a mechanism for running them had devised.
The chief minister said those power stations would be handed over to the local communities within two to three months. He said the communities would own, run and manage those stations on their own.
The statement said the meeting also decided that measures would be taken to control oil and gas theft in the province. Mr Mahmood highlighted the exploitation of natural resources in the province for the people's development.
"We have a comprehensive multidimensional plan covering all sectors, where the provincial government will begin projects for the long-term sustainable development," he said.
The chief minister said the government was focusing attention to explore productive areas and execute money-generating projects to achieve self-sufficiency.
TOURISM PROMOTION: Chief Minister Mahmood Khan on Friday announced that the government was committed to promoting tourism as an industry in the province.
"Our government is working to ensure easy access of local and foreign tourists to the attractive and beautiful tourism sites," he said.
The chief minister was talking to a delegation of investors led by MPA Nazir Abbasi at the Chief Minister's Secretariat here.
According to a statement issued here, head of delegation Henri (Hans) WR Kennedie, president and CEO of Swiss International Hotels & Resorts, revealed that they were working on establishing luxury hotels in several cities of the province.
He said hotels would be established in Peshawar and Swat in the first phase and in Mardan, Chitral and Malakand in the second phase.
The visitors showed interest in investing money in the development of tourism spots on the proposal of the chief minister.
The chief minister said 20 new sites had been identified in Chitral, Malakand and Hazara for tourism promotion for which both national and international investment would be welcomed and facilitated.
He said reconstruction and rehabilitation of access roads to those sites were in progress.
Full report at:
https://www.dawn.com/news/1459813/premier-promises-hydel-profit-payment-under-agn-kazi-formula
--------
Sahiwal tragedy: Fire opened on SSP Jawad Qamar's orders, probe reveals
Jan 26, 2019
LAHORE: The investigation into the Sahiwal tragedy on Friday revealed that orders of opening fire on the car were given by Senior Superintendent of Police (SSP) Jawad Qamar.
"The Counter Terrorism Department (CTD) team was just not in the mood to arrest Zeeshan, a terror suspect," sources said.
They added that SSP Jawad Qamar was also seen reaching the site of the incident after the shootout.
The bodies of the Sahiwal incident victims were also shifted to police lines on the orders of SSP Qamar, sources said and added that efforts were underway to save the police official.
Full report at:
https://www.pakistantoday.com.pk/2019/01/25/sahiwal-tragedy-fire-opened-on-ssp-jawad-qamars-orders-probe-reveals/
--------
Europe
Pope says 'senseless' to condemn every immigrant as threat
26 January 2019
Pope Francis said in Panama on Friday that it was "senseless" to condemn every immigrant as a threat to society.
Francis was speaking after leading a solemn ceremony for hundreds of thousands of young pilgrims at the Catholic World Youth Day event.
He said the Church wanted to foster a culture "that welcomes, protects, promotes and integrates, that does not stigmatize, much less indulge in a senseless and irresponsible condemnation of every immigrant as a threat to society."
In a wide-ranging speech to round off a massive gathering of young people in a Panama park, the pope also made a plea for the environment that he said was "trampled underfoot by disregard and a fury of consumption beyond all reason."
Society in general "has lost the ability to weep and to be moved by suffering."
Instead of solidarity "from an opulent society" many encountered rejection, sorrow and misery "and are singled out and treated as responsible for all society's ills."
https://english.alarabiya.net/en/News/world/2019/01/26/Pope-says-senseless-to-condemn-every-immigrant-as-threat-.html
--------
Three await trial for racist threats to Muslim MSP Anas Sarwar
January 25 2019,
Three people are awaiting trial accused of threatening Anas Sarwar, the Glasgow MSP, and his family. The Muslim politician made the revelation during a meeting of the Scottish parliament's cross-party group on tackling Islamophobia.
Police have conducted eight investigations into alleged threats against him and his family since he began trying to root out racism in Scottish society last year. Mr Sarwar, 35, said that the past 12 months had been "extremely challenging" but urged others to share their experiences.
He said that the potential threat to his wife Furheen and sons Adam, ten, Ahmed, eight, and two-year-old Aliyan has been extremely difficult to deal with.
Full report at:
https://www.thetimes.co.uk/article/three-people-await-trial-for-threatening-muslim-politician-lxx205pvl
--------
Muslim group pulls application to hold religious events
Jan 25, 2019
A Muslim group that sought permission to use an area of Fauquier farmland as a site for Islamic retreats for thousands of participants has withdrawn its application.
It appeared unlikely the Fauquier County Board of Supervisors would approve a special-exception permit sought by the Ahmadiyya Movement in Islam after the county planning commission unanimously recommended that the supervisors not do so.
The recommendation followed a Jan. 17 public hearing that drew more opponents than supporters of the application. Concerns focused on the additional traffic the events would generate on Meetze Road south of Warrenton. There were also concerns about noise and the number of people coming to the events.
The group needed a special-exception permit to hold one summer event for a maximum of 5,000 people and three other events drawing up to 1,000 people on 515 acres land it planned to purchase at 8721 Meetze Road.
Rafiq Sayed, who handles property matters for the Ahmadiyya Movement, informed the Fauquier County Community Development Department on Thursday that "given the outcome of the public hearing AMI has decided to withdraw the application for now and rethink our approach."
Sayed said after the planning commission vote that "our hope was that there would be a postponement and that we would make an effort to reach out" to the community to better explain what the group was about and how it planned to use the property.
Full report at:
https://www.fauquier.com/news/muslim-group-pulls-application-to-hold-religious-events/article_a3d917b4-20b5-11e9-96a1-eb50535ff243.html
--------
Berlin set to sell weapons to Doha amid tension with Riyadh
Jan 25, 2019
Germany has approved exporting military equipment to Qatar amid deepening tensions with Riyadh, Doha's rival.
Germany's Economy Minister Peter Altmaier told lawmakers in a letter dated January 23rd that the German government approved selling to Qatar four RAM naval missile systems.
Chancellor Angela Merkel said in October that Berlin would stop arms sales to Saudi Arabia over the murder of the dissident Saudi journalist Jamal Khashoggi at Riyadh's consulate in Istanbul earlier that month.
Merkel called Khashoggi's murder an "atrocity" that "had to be clarified," calling on fellow European governments to follow suit and suspend arms exports to the kingdom.
The decision was met with strong criticism from a major German arms manufacture which threatened to take legal action against the decision.
Rheinmetall AG - one of Germany's largest military contractors - believes the halt in arms sales to Saudi Arabia, which has waged a war on Yemen since 2015, has already affected approved exports worth up to 2 billion euros ($2.3 billion).
Jointly developed by Germany and the United States, RAM is a ship-based rolling airframe missile that protects naval vessels against missiles, aircraft, helicopters and other ships. The sale also includes 85 dual-mode radar and infrared seekers that guide the missile into its target.
Saudi Arabia, the UAE, Bahrain and Egypt all cut off diplomatic relations with Qatar in 2017, accusing it of "sponsoring terrorism", a charge Doha strongly denies.
They then released a 13-point list of demands, including the closure of Al Jazeera television network and downgrade of relations with Iran in return for the normalization of diplomatic relations.
Qatar rejected the demands as an attack on the country's sovereignty and interference in its domestic affairs and foreign policy agenda.
Full report at:
https://www.presstv.com/Detail/2019/01/25/586726/Germany-Qatar-weapons-arms-sale-export
--------
Macron faces diplomatic test in Egypt amid human rights pressure
January 26, 2019
PARIS: When French President Emmanuel Macron hosted Abdel Fattah El-Sisi in Paris in October 2017, five months after taking office, he handed him a list of activists he believed the Egyptian president could release from prison.
El-Sisi looked at Macron, suggested he was naive and meticulously outlined the reasons why each person should not be released, stressing their links to militancy or the Muslim Brotherhood, three sources aware of the exchange told Reuters.
Taken aback, the young French president, who sees El-Sisi as a stabilizing force in the region and wants to bolster trade and defense ties with Cairo, told a subsequent news conference it was not up to him to "lecture" Egypt on civil liberties.
Fast-forward 13 months and Macron is nuancing his approach, French officials say. As he prepares for a three-day visit to Egypt starting on Sunday, he hopes to secure more business and defense contracts while not abandoning the human rights file.
Facing pressure
The problem Macron faces is that while he has been less outspoken on rights since his first meeting with El-Sisi, Egypt has not come through on defense and civilian deals, and rights groups say the crackdown on liberties has only worsened.
NGOs are piling pressure on Macron to be firm in confronting the Egyptian president, who in April secured a second term, shoring up his position as a powerbroker in the region.
The Elysee admits to an "evolution" in Macron's thinking.
"The president's approach in October 2017 was maybe a bit different ... but time has passed," a presidential adviser said.
This time, rather than delivering a narrow list of names of people who should be released from prison, French authorities have sent Cairo a broader accounting of human rights shortcomings and jailed non-militant activists that they think El-Sisi will find it harder to dismiss out of hand.
Shared concerns
"I think Macron realizes that there have been limits to his silent diplomacy," said a French diplomatic source. "He needs to find a balance between not upsetting El-Sisi and making a public point about human rights."
After El-Sisi rose to power in 2014, Franco-Egyptian relations strengthened. Both countries shared concerns about a political vacuum in Libya and the threat from militant groups in Egypt.
Former French President Francois Hollande took a quiet approach on rights, and defense deals were signed, including the sale of 24 Rafale combat aircraft, a multi-mission frigate and two Mistral warships, deals worth some €6 billion.
"Partly in return for France's blind eye in the realm of human rights and democratic standards, Cairo bought billions' worth of weaponry," said Jalel Harchaoui, a geopolitics lecturer at the University of Versailles. "But things have changed a bit lately. El-Sisi's grip on power is much firmer."
Since Macron came to power, business has cooled. France's trade surplus with Egypt has not improved in three years, hovering at about €1 billion. Germany and other states have managed to secure major civilian contracts.
An Egyptian pledge to buy a further 12 Rafale fighters has been on hold for almost two years. French officials hope that may change in the coming weeks, although there is an awareness that signing such a contract during Macron's visit would be poor optics amid the clamor over human rights.
"In private, they are saying Macron has understood, but the test for him will be whether it's just words to keep us happy or there is something concrete like the release of prisoners at the end of it," said one official with a Paris-based NGO.
Whether Macron can find a formula of words and actions that keeps human rights on the agenda and convinces El-Sisi to re-engage on trade remains unclear. But even if he can convince the Egyptian president that France is a trusted partner, it may not be enough, given Cairo's financial situation.
Full report at:
http://www.arabnews.com/node/1442091/world
--------
UK increases spending to stop migrant departures in Channel
January 25, 2019
Britain is to spend over £6 million on surveillance equipment to step up its fight against illegal migration across the Channel Sea, the worlds busiest shipping lane. After the signing of a plan between France and UK ministers, CCTV will be installed in port areas and potential embarkation points and new night goggles will be bought. The two counties will also increase intelligence sharing and migrants rescued will be taken to the nearest safe port.
"It is vital we continue to work closely with our French partners to stop vulnerable migrants making these treacherous crossings and tackle the people smugglers who are putting their lives in danger. The joint action plan strengthens our already strong relationship and increases joint action around keeping our borders secure and discouraging these dangerous journeys," said Sajid Javid, the UK home secretary.
The deal was sealed by Mr Javid his French counterpart Christophe Castaner. Roughly half of the £6.07 million had already been pledged in January 2018.
"This agreement once again shows the UK's commitment to managing our shared border along with us. By combating illegal Channel crossings by migrants, we're saving lives and deterring new migrants from coming to Hauts-de-France," said Mr Castaner.
Some 504 migrants attempted to cross the Channel last year compared to only 3 the year before.
Full report at:
https://www.thenational.ae/world/europe/uk-increases-spending-to-stop-migrant-departures-in-channel-1.817979
--------
UN to assess 'governments' steps' on Khashoggi case
25.01.2019
A UN official on extrajudicial executions will assess the "steps taken by governments to address and respond" to the killing of a Saudi journalist in Istanbul, and launch an international inquiry, the United Nations said on Friday.
In a statement, the UN's Human Rights Office of the High Commissioner said that Agnes Callamard, the UN's special rapporteur on extrajudicial, summary or arbitrary executions, will head an international inquiry into the killing last fall in Istanbul of Jamal Khashoggi, starting with a visit to Turkey from Jan. 28 to Feb. 3.
Callamard will "assess the steps taken by governments to address and respond to the killing, and the nature and extent of states' and individuals' responsibilities for the killing," the statement said.
"The inquiry will also seek to identify ways by which states can strengthen fulfillment of their international commitments to protect the right to life, prevent violations and ensure accountability," the statement quoted Callamard as saying.
This inquiry was established at Callamard's request, the statement added.
The probe will "review and evaluate, from a human rights perspective, the circumstances surrounding the killing of Khashoggi," the statement said, adding: "Callamard will be accompanied by Baroness Helena Kennedy, QC, and Professor Duarte Nuno Vieira from the University of Coimbra [Portugal]."
On Thursday, Turkish Foreign Minister Mevlut Cavusoglu reiterated that Turkey is carrying out a transparent process on the case and that it is important to expose the culprits in the killing.
Citing Turkish President Recep Tayyip Erdogan's remarks calling for an international probe of the case, Cavusoglu said Callamard would visit Turkey at the end of January.
Khashoggi, a contributor to The Washington Post, was killed at the Saudi Consulate in Istanbul on Oct. 2.
After producing various contradictory explanations, Riyadh acknowledged he was killed inside the consulate building, blaming the act on a botched rendition operation.
Full report at:
https://www.aa.com.tr/en/africa/un-to-assess-governments-steps-on-khashoggi-case/1374858
--------
Southeast Asia
Uyghur Muslims forced into labour in China's 'concentration camps'
25th Jan 2019
Meng Yihua
The Chinese Government has been detaining people belonging to Muslim minority groups for the past two years.
In China's northwest lies East Turkestan, a large province twice the size of Germany. East Turkestan is home to the native Uyghurs, one of China's ten Muslim minorities, as well as Kazakhs, Tajiks and Uzbeks from neighbouring states. The Chinese Government refer to the province as Xinjiang, meaning "new territory" in Mandarin Chinese, refusing to acknowledge the people's desires for an independent state. In their latest attempt to "Sinicize" the people, and erase their culture, they have been detaining Muslims without charge in internment camps.
Due to propaganda within China as well as the limited entry of foreign journalists, international awareness was limited. Within the first 18 months, an estimated 1million people had been detained, separated from their families and imprisoned without any basis. When challenged on the issue, the Government denied the existence of the camps.
However, satellite reports clearly showed images of the internment camps growing on a large scale. Only recently, after members of a UN committee challenged them on the issue, were senior Chinese officials forced to publicly respond in an international forum. They admitted that 'criminals' involved in minor offences had been assigned to so-called 're-education centres' where they received vocational education and training as part of a rehabilitation programme.
Stories from inside the camps reveal a vastly different picture; political indoctrination is the norm, with detainees being forced to renounce their religious convictions, instead pledging allegiance to the Chinese Communist (CPC).
Torture and death are common, and international human rights experts say these 're-education centres' are akin to concentration camps. Recently, reports emerged that factories are being built at the camps, and detainees are coerced into forced labour, with very little or no pay.
US company Badger Sportswear has been receiving shipments from a factory inside one of these internment camps, despite it being illegal in the US to import products of forced labour. John Anton, the CEO of Badger Sportwear, a leading sportswear supplier in North Carolina, said that the company would source sportswear elsewhere while this issue is being investigated.
International experts now agree that this latest campaign by the Chinese Government is perhaps the largest and most brutal repressive practice conducted in China since the Cultural Revolution, on par with Myanmar's treatment of the Muslim Rohingya minority. However, China continues to claim that the heavily guarded Muslim camps are actually training centres offering free vocational training to the minorities as part of a plan to eliminate poverty. Chinese authorities allege that the people in the centres have signed agreements to receive vocational training.
They maintain that vocational training is a method of solving the global issue of extremism and terrorism, which they describe as the 'common enemy of human civilization'. In a wave of propaganda, the CPC insist the expansive network of camps in Xinjiang is for the good of the people, offering them a way out of poverty, and an escape from the temptations of 'radical Islam'.
Despite China's claims of contributing to poverty eradication, numerous reports from relatives of detainees say that their loved ones were actually well-educated and were in high-paying jobs before their arrest; they were not in need of the Government's poverty alleviation programme.
Rezila Nulale, a 25-year-old college graduate, worked in advertising in Xinjiang's capital city Urumqi, where she afforded a comfortable urban lifestyle. After returning from a visit to her family in Kazakhstan, she disappeared into one of the detention camps and was discovered to have been forced into weaving clothes within one of the factories.
Nulale's mother, Nurbakyt Kaliaskar who lives in Kazakhstan, learned that her daughter wasn't being paid, nor was she allowed to leave. Contact between detainees and family members is mostly prohibited or strictly monitored if allowed at all.
Luopu County, in South Xinjiang, bore the brunt of the crackdown. Despite being a relatively sparsely populated county, with only 280,000 residents, it is home to eight internment camps.
In an analysis of 28 camps across Xinjiang, the Australian Strategic Policy Institute found that there was a 465 per cent expansion rate in the size of camps since 2016, with one camp increasing 2469 per cent in size between 2016 and 2018. Over the past two years, Government spending on domestic security in Xinjiang has almost doubled and Hotan prefecture, where Luopu county is, has seen a threefold increase.
This has become one of the world's most urgent human rights crises, and despite small-scale action by a handful of individuals, it has still not received the attention needed to cause change. Maung Zarni, a human rights activist and intellectual, was scheduled to deliver a speech on his country's Myanmar genocide at a Beijing-sponsored forum in London on December 7.
To protest the detention of the Uyghurs, Zarni withdrew from the event, and said he will be boycotting all Beijing-sponsored events until China takes action against the 'racially motivated persecution of Uyghur Muslims'.
Moreover, New Jersey Republican Congressman, Chris Smith, has called on the Trump Administration to ban Chinese imports with any affiliation to the detention camps. He rebuked US consumers and business for buying goods made in what he called 'modern-day concentration camps'.
Over ten foreign governments, the UK and the US among them, have now denounced China for the camps and called for their closure. US lawmakers, led by Florida Senator Marco Rubio, have recently petitioned the White House to impose sanctions on the Chinese officials believed to be responsible for the campaign against Muslim minorities in East Turkestan.
In December, the UN requested direct access to the camps after reviewing the credibility of reports stating that at least 1.1 million ethnic Muslim minorities had been detained, including Uyghurs, Kazakhs and Huis.
http://muslimnews.co.uk/newspaper/top-stories/uyghur-muslims-forced-labour-chinas-concentration-camps/
--------
NGO to Develop RM20 Million School For Rohingya Muslims
Vinodh Pillai
January 26, 2019
KUALA LUMPUR: A Muslim NGO plans to begin work this year on a primary school and community centre in Kelantan for Rohingya Muslims.
Ya'akob Wan Harun, founder of 7 Sanaabil International, a company formed in 2011, said the 10-story school cum centre would be built in Kota Bharu.
The building, expected to take two years to build and costing more than RM20 million, is to be completed by 2021.
The groundbreaking ceremony is expected to be held in March or April.
ix floors will be allocated for lodging for Rohingya Muslim families, orphans and single refugees while two floors will be allocated for the school and training centre. Two more floors are for administration staff.
The building will accommodate 500 Rohingya at a time. Of the several hundred students who will be part of the school, 15 top scoring students will be put in a private college nearby which Ya'akob owns.
Ya'akob said he has met representatives from the office of Deputy Prime Minister Dr Wan Azizah Wan Ismail to ask for an allocation from the Qatar government's US$50 million (RM198.9 million) donation last year to help the Rohingya.
Ya'akob has always wanted to give back to society, something he picked up from his family and Islamic studies. So, it makes sense that Islamic education will form a major part of the school when it comes in 2021.
But Ya'akob has yet to decide what education system will be used in his school. He has also yet to decide if the school will only admit Muslim students. "We'll see how things go," he said.
He said, however, that teachers would be well equipped to teach Rohingya studies, with Rohingya natives as part of his staff.
"We will look into this. Turkey, Indonesia, Bangladesh, they all have similar programmes. We will emulate them," Ya'akob told FMT at the Yayasan 7 Sanaabil International headquarters in Wangsa Maju here.
"Through our programme, we want to educate the Rohingya orphans and young people to become independent and no longer rely on government assistance… so that in the future there is no need for us to support them.
"We want to bring about a new generation of Rohingya who are entrepreneurs and can help themselves in this country. They can then be good workers for Malaysia and fulfil our economic needs."
Currently, Rohingya in Malaysia attend community schools where they learn about religion, the Malay language, and other literacy skills. They are not allowed to study at public or private schools.
Ya'akob, 55, announced his company's intention to open such a centre back in 2017. The initiative was to be in Langkawi, Kedah, and open to all minority groups, but it did not work out as planned.
"I chose Langkawi because it's a beautiful place but it wasn't easy to get land for the project. I had land ready for a hotel in Kelantan that happened to match what we needed so we used it instead," he said.
When Ya'akob announced his plan to open a school, he said it would reflect Malaysia's "proactive" stand in dealing with the Rakhine crisis between the Myanmar military and the Rohingya community there.
Next on the map after the Kelantan project is the setting up of a similar centre in Kuala Lumpur. But Ya'akob said this might take some time as he had "too many projects" in Kelantan at present.
Ya'akob also claims to have spearheaded similar projects for Muslims in Palestine and Finland.
Full report at:
https://www.freemalaysiatoday.com/category/nation/2019/01/26/ngo-to-develop-rm20-million-school-for-rohingya-muslims/
--------
Chinese carver leaves his mark making granite Muslim gravestones
January 25, 2019
KUALA SELANGOR: Kuah Leong Chuan has been making headstones for 40 years, but for the past decade, his clients have mostly been Muslims.
The 63-year-old, who comes from a family of carvers, can even carve onto headstones in Jawi (an Arabic alphabet or writing system used for Malay or related languages).
"I learned to write in Jawi from my customers," Kuah told Bernama when met here recently.
Kuah is a fifth-generation carver. His ancestors had migrated from China in the late 1800s to trade. As carvers, they used their skills to carve statues of Buddha and at Buddhist places of worship.
A family trade
Kuah learned the technique of carving on headstones from his late father. He was in his early 20s at the time.
During his 40 years in the trade, he has carved on headstones for the Chinese and Indians as well. However, demands from non-Muslim customers have dwindled over the years as many of such services have been taken over by burial homes.
He has a makeshift "workshop" under a tree in an old part of Kuala Selangor, near Bukit Melawati. This is where he goes to cut down the granite-like slabs collected to make headstones.
Kuah lives not far away from the location and cycles from his home to the workshop daily, working from 8am to 6pm.
Unlike many other headstone carvers who use machines to carve onto headstones, Kuah engraves on granite by hand – a skill that is quite a rarity these days.
Making a headstone
The first process of making a headstone involves cutting the granite-like slabs that he had collected.
"There is a particular method to chisel down rocks, just like there is a method to open a durian," he said.
The slabs are cut using a diamond-tip chisel and measured into the sizes requested by customers. If the customer requests it, the stones would then be engraved on and polished.
The next process involves carving down the requested information onto the headstone in Jawi. This work is done in another workshop and could take up an hour per headstone.
Kuah is a detail-oriented person and as such prefers to do things by hand instead of relying on a machine.
A small headstone measuring two feet could take three days to complete while larger ones could take up to three weeks. The prices range from RM150 to RM700.
His customers are from all over Malaysia.
Particular
Interestingly, Kuah is wary of the dos and don'ts of writing on a Muslim gravestone.
He knows that Quranic verses should not be carved onto them as there was a possibility that visitors to gravesites might step on them or even sit on them. He therefore refuses to entertain such requests.
Families of the deceased have also asked him to carve the word bismillah (in the name of Allah) onto headstones but Kuah firmly rejects their requests as he does not want to bear any blame for committing a disrespectful act.
"Furthermore, your religion (Islam) says that headstones are just to mark the grave and should not be anything fancy," he told this writer, revealing the depth of his knowledge on the matter.
He says that granite headstones tend to remain firmly in the soil due to their rough surface. Limestone headstones, on the other hand, could easily topple over due to its smooth surface.
Kuah is possibly the last of granite headstone carvers in Malaysia to engrave by hand.
Full report at:
https://www.freemalaysiatoday.com/category/leisure/2019/01/25/chinese-carver-leaves-his-mark-making-granite-muslim-gravestones/
--------
North America
Top US Think-tank No Longer Accepts UAE Funding Over Human Rights Issues: Report
Jan 26, 2019
One of the most prominent thinktanks in the United States has reportedly announced that it no longer accepts funding from the "anti-democratic government" of the United Arab Emirates (UAE), which is the most significant ally of Saudi Arabia in a Saudi-led brutal war against impoverished Yemen.
The Washington-based Center for American Progress (CAP), a public policy research and advocacy organization with a declared goal of presenting a liberal viewpoint on economic and social issues, further said it sought to distinguish itself from the "authoritarian regimes" around the globe, the UAE included, with which US President Donald Trump's administration has developed a close bond, The Guardian newspaper said in a report on Friday.
"With a rising undemocratic tide around the world, and serious questions about which side of that struggle our own president stands on, it seemed clear that all Americans should take extra steps and leave no doubt where they stand," The Guardian quoted a CAP spokesperson as saying.
According to the report, CAP's move came amid heightened public scrutiny over the financial support Washington-based thinktanks receive from authoritarian regimes. It also cited a detailed funding list the organization previously released showing that it had obtained between $500,000 and $1 million from the UAE embassy in the US capital.
The considerable Emirati-provided financial support, overseen by CAP's foreign policy team, placed the Arab country in the upper echelon of the group's donors, fueling speculation that the organization's policies, in a way or another, are shaped by the wealthy donor, a conjecture strongly denied by the group.
"This funding never impacted any CAP position or policy, but everybody here agrees it's just the right thing to do," the spokesperson was further quoted as saying.
Earlier this month, The Intercept, an online news publication, claimed that CAP was shaping its policies under the influence of the UAE, alleging that the group fired two of its staffers suspected of being involved in leaking an email exchange that the pair thought reflected improper influence by the Emirati government within the organization.
CAP, however, rejected the claim, saying that the two staffers had not been fired "for leaking or whistle blowing."
The report further suspected that the content of the email exchange revolved around an internal debate over how to frame CAP's response to the brutal murder of Saudi dissident journalist Jamal Khashoggi in the Saudi consulate in Istanbul in early October last year. The US Central Intelligence Agency (CIA) has concluded that Saudi Crown Prince Mohammed bin Salman had ordered the gruesome murder, which triggered a global outcry.
The report alleged that CAP's initial draft statement denounced the killing and Saudi Arabia's role in it, calling for "specific consequences." However, the publically-released statement, purportedly under the influence of the UAE, which is a close ally of Saudi Arabia, dropped the specifics and confined itself with merely calling to "take additional steps to reassess" the Washington-Riyadh relationship.
CAP, however, strongly disputed the Intercept's characterization of events.
Furthermore, The Guardian said in its Friday report that after reviewing a number of documents it came to the conclusion that CAP's refusal to accept funding from the UAE started in June last year, well before the Saudi journo's murder, adding that the decision, however, was finalized in December.
The Guardian went on to say that other top thinktanks in the US capital had also drawn criticism for receiving financial support from the Emirati government and maintaining close ties with the Emirati Ambassador to the US Yousef al-Otaiba, who allegedly acts as the go-between for Emirati money flowing into the US capital and who has cultivated a reputation as an influential figure inside capital Abu Dhabi.
Al-Otaiba is also known to have played a particularly key role in championing the Saudi crown prince.
The report added that the main source of criticism against leading American thinktanks is obtaining funding from the dictatorship regime in the UAE that launches crackdown on human rights while at the same time maintaining a close partnership with Saudi Arabia and the two regimes' role in a nearly four-year-long brutal war against Yemen, creating a humanitarian crisis that experts believe could soon leave 14 million Yemenis on the brink of starvation.
The Saudi-led war has reportedly claimed the lives of around 56,000 Yemenis since its onset in March 2015.
Critics have already called on the US thinktanks and universities to take a "democracy pledge" by rejecting both Saudi and Emirati money.
Furthermore, the Emirati government is known for its purposeful spending in the US capital, in pursuit of creating a friendly environment while pushing forward its own strategic goals, The Guardian added.
https://www.presstv.com/Detail/2019/01/26/586799/UAE-CAP-US-funding-Yousef-alOtaiba-Saudi-Arabia-Yemen-Khashoggi
--------
Two charged in plot to aid Islamic State group are Lansing School District graduates
Jan. 25, 2019
LANSING – Mohamed Mberwa first met Mohamed Salat Haji about two years ago at Beacon Soccer Field, near downtown Lansing.
Haji complemented Mberwa for his skills and even offered tips on how to improve his game.
"He just came to me and said, 'Oh, you're a good player!'" Mberwa recalled of their first meeting.
Mberwa, who is 18 and originally from Kenya, and Haji, 26, lived in the same Lansing neighborhood. And, at no point when they played soccer together, Mberwa said, did he consider Haji dangerous.
That changed this week.
Haji and two other Lansing men were charged Tuesday by federal prosecutors for conspiring to provide "material support" to the Islamic State group.
Mberwa said he remains stunned and confused as to why Haji may have wanted to kill others.
"It's not just everyday people who wake up and think about things like that," Mberwa said.
The investigation
Haji, Mohamud Abdikadir Muse, 23, and Muse Abdikadir Muse, 20, allegedly pledged allegiance to ISIS in self-recorded videos, according to a federal complaint filed in Grand Rapids.
ISIS is part of the larger Islamic militant organization that broke with the al-Qaida network and declared a caliphate, a traditional form of Islamic rule. It is largely made up of Sunni militants from Iraq and Syria but found success recruiting fighters from across the Muslim world.
Muse Muse and Haji allegedly took their loyalty for ISIS a step further when they "discussed with each other their desire to join ISIS, kill non-believers and even potentially use a car for a martyrdom operation to run down non-believers here in the United States if they could not travel overseas to fight for ISIS," the U.S. Attorney's Office wrote in court documents.
Conspiring to provide material support to a terrorist organization is punishable by up to 20 years in federal prison upon conviction.
A detention hearing for the men is scheduled for 2 p.m. Friday in Grand Rapids, court records show.
Their activities allegedly supporting ISIS had been tracked by undercover federal agents since 2016, according to court records.
Agents were able to develop a relationship with the three suspects by posing as a Somali male and African-American living in Chicago who had converted to Islam.
Agents exchanged messages with the three suspects, and the FBI monitored the suspects' Facebook accounts, according to a federal complaint.
In a message to Mohamud Muse, Haji said he loved how ISIS burned people, the complaint said.
Ties to Lansing
Attempts this week by the State Journal to reach relatives of the three Lansing men were unsuccessful.
None of the men appear to have a history of criminal convictions in Ingham County, based on online records searches.
Muse Muse and Mohamud Muse are brothers, officials said. Haji is a cousin and brother-in-law of the Muse brothers, they said. All three were born in Kenya.
Haji is a naturalized U.S. citizen, while the two brothers received U.S. citizenship as minors through the naturalization of their parents, officials said.
Two of the three men are graduates of the Lansing School District.
Bob Kolt, a district spokesman, confirmed in an email that records indicate Haji entered Otto Middle School in 2005 and graduated from Sexton High School in 2011.
Muse Muse entered Eastern High School on Sept. 6, 2016 and graduated a year later, Kolt said.
There are no records, Kolt said, that indicate Mohamud Muse, the 23-year-old brother of Muse Muse, 20, ever attended a school in the district.
Haji and Mohamud Muse were arrested Monday at the Gerald R. Ford International Airport in Grand Rapids shortly after Muse Muse checked in for a flight there and was also arrested.
Haji, Muse Muse and Mohamud Muse were arrested about a week after an undercover federal agent met the men at a Lansing-area Walmart, the complaint said.
They discussed items for a trip to join ISIS in Somalia, the complaint said. Two of the defendants told the agent "they would conduct an attack or martyrdom operation" if they failed to join ISIS, it said.
After Monday's arrests in Grand Rapids, federal agents searched a Lansing residence shared by Mohamud Muse and Muse Muse.
"Wow! How? Why"
The federal complaint said Haji and Mohamud Muse helped Muse Muse buy airline tickets to Mogadishu earlier this month.
Haji and Mohamud Muse drove Muse Muse to the Grand Rapids airport, according to the complaint, knowing that Muse Muse planned to join ISIS.
Anthony Zarwea, 24, of Lansing, considers Haji a lifelong friend. They've played soccer in the Lansing area for several years.
It's hard for Zarwea to think of Haji as someone who may promote violence.
"If people ask me about him," Zarwea said, "I'm going to tell them what I know.
"I've never expected him to be that type of person."
A Facebook page Zarwea confirmed to the State Journal belongs to Haji shows posts dating back to at least 2014 that appear to reference Islam and passages in the Quran.
The most recent post is dated 8:44 a.m. Monday — nearly three hours before the federal complaint was filed in Grand Rapids. It appears to be from Haji and refers to loyalty within the Islamic faith.
"God tells us that this Book the Quran Do Not Have Doubt about it, that this Quran is a guidance for anyone who fear the Lord Allah," an excerpt from the post read.
Zarwea said he's never interpreted messages Haji posted on Facebook to be pro-ISIS or anti-American.
Zarwea said he's found most of Haji's messages to be focused on healthy relationships and loyalty among family members.
Said Zarwea of Haji's legal situation, "I'm thinking 'Wow! How? Why?'"
Search for a sense of belonging
Dr. Farha Abbasi, a Michigan State University psychologist, doesn't know the three Lansing men and said she isn't familiar with the case.
But Abbasi has spent more than a decade researching why men and women can be drawn to radicalized groups. She said social media platforms like Facebook can be problematic because groups like ISIS often use them as recruiting tools.
Young people across the globe can be drawn to groups of all kinds online if they feel disenfranchised, disturbed because of untreated trauma or just bored, Abbasi said.
"All the youth right now — Muslim or not — are looking to this utopia, the place where they can be this great person," Abbasi said. "These kids are looking for role models. They are looking to reclaim their identity, to know what's right from wrong."
Abbasi, who established the annual Muslim Mental Health Conference 11 years ago, has found through her research in the United Kingdom that men attracted to ISIS often have a history of exposure to violence. She often shares with colleagues that "hurt men hurt men."
Members of ISIS can lure young people into their world through deception, especially with misuse and misquotations of the holy Quran, Abbasi said.
Full report at:
https://www.lansingstatejournal.com/story/news/2019/01/25/terrorism-isis-islamic-state-group-lansing-lansing-school-district/2658677002/
--------
Canadian youth charged in terror 'plot,' explosive seized
26 January 2019
A minor has been arrested in Canada and charged with two terrorism-related offenses, police said on Friday after the seizure of a suspected explosive.
Superintendent Peter Lambertucci of the Royal Canadian Mounted Police told reporters that Canadian investigators received in late December "credible FBI information regarding an attack plot with no specific time, date, or location affixed to it."
There was never a threat to public safety, Lambertucci said, but the young suspect "was reported to be involved in the manufacturing of homemade and improvised explosive devices and that was one of the subjects of our investigation."
During a search of two Kingston, Ontario homes early Friday officers found a suspected "explosive substance" which was removed and later detonated, Lambertucci said.
The minor, whose identity is protected under Canadian law, was charged with knowingly facilitating a terrorist activity and counseling a person to deliver, place, discharge or detonate an explosive device with intent to cause death or serious bodily injury.
The RCMP also arrested a second suspect, an adult man, on Thursday night in Kingston, mid-way between Toronto and Montreal. He has not been charged and has to be released within 24 hours unless a formal criminal complaint is laid.
Canadian media reported that the two suspects knew each other.
Public broadcaster CBC named the adult arrested but not charged as 20-year-old Hussam Eddin Alzahabi, and reported that he was of Syrian descent.
Alzahabi's parents arrived in Canada as refugees in 2017, after living in Kuwait for nearly a decade.
"They tell me they search about him about terrorists. I know my son, he didn't think about that," Alzahabi's father Amin told the CBC.
The investigation involved about 300 personnel and various agencies including the US Federal Bureau of Investigation and Canadian Security Intelligence Service.
Investigators also used a surveillance plane which spent several days over Kingston in January, Lambertucci said.
Prime Minister Justin Trudeau praised the police work and said Canada is among the safest nations on the planet.
Full report at:
https://english.alarabiya.net/en/News/world/2019/01/26/Canadian-youth-charged-in-terror-plot-explosive-seized-.html
--------
Texas man captured in Syria charged with aiding ISIS
26 January 2019
A 34-year-old Texas man who was captured in Syria and brought to the United States has been charged with providing support to ISIS.
Warren Christopher Clark, 34, of Sugar Land, Texas, appeared before a federal court judge in Houston on Friday, the Department of Justice said.
It said Clark was charged in an indictment unsealed on Friday with providing material support to ISIS -- which the United States has designated as a foreign terrorist organization.
The Justice Department said Clark was captured in Syria by members of the Syrian Democratic Forces, an anti-ISIS alliance of Kurds and Arabs, and transferred to US custody this week.
"The arm of American Justice has a lengthy reach," US Attorney Ryan Patrick said in a statement.
"The FBI continues to aggressively pursue individuals who attempt to join the ranks of ISIS foreign fighters or try to provide support for other terrorist organizations," FBI special agent Perrye Turner said.
If convicted, Clark, a former substitute school teacher, could face 20 years in prison.
Clark, in an interview with NBC News before his transfer to the United States, said he went to Syria to become an English teacher for ISIS and was never a fighter.
"I wanted to go see exactly what the group was about, and what they were doing," said Clark, also known as Abu Muhammad al-Ameriki.
Full report at:
https://english.alarabiya.net/en/News/world/2019/01/26/Texas-man-captured-in-Syria-charged-with-aiding-ISIS-.html
--------
Canadian cops charge minor with terror offense after security raids
January 25, 2019
TORONTO: The Canadian police said on Friday they had charged a minor with terror-related offenses in connection with a pair of national security raids in Kingston, Ontario Thursday night.
Two people were arrested late Thursday after the raids. One, a minor, has been charged with knowingly facilitating terrorism and counseling a person to place a bomb "or other lethal device" in public, the Royal Canadian Mounted Police (RCMP) said in a statement.
A bomb was never placed, police said. As a minor, the person cannot be named under Canadian law.
The second person was identified by his older sister, who spoke with Reuters, as 20-year-old Hussam Eddin Alzahabi. He has since been released with no charges, police confirmed Friday afternoon.
The investigation originated from a Federal Bureau of Investigation tip in December and involved multiple agencies, RCMP officers said during a press conference.
"It was a substantial and credible attack plot, however there was no indication of where that attack was going to take place" and there was never any imminent danger to the public, RCMP officer Peter Lambertucci told reporters.
He said officers conducting the Thursday night arrests detonated "an element ... believed to be an explosive substance."
"We are confident that there is no risk to public safety and there are no trace elements remaining," Lambertucci said.
Police burst into her family's house Thursday night and placed guns to her parents' heads, 21-year-old Rose Alzahabi told Reuters.
"They got into the house in a really violent way," she said, adding that they wouldn't let her mother wear her hijab.
She said a man not known to the family had recently met her brother and his friend, approaching them near their high school and inviting them to do some computer programming for him.
The man started coming to her family's home and asking "absurd" questions about how many rooms they had and whether he could see them, she said.
In an interview with CBC following the arrests, Alzahabi's father Amin Alzahabi protested his son's innocence. The family, originally from Syria, came to Canada as privately sponsored refugees, according to a pastor at one of the churches who sponsored them.
Bronek Korczynski, a church member who sponsored the Alzahabi family, said he worries about the way the arrests will shape perceptions of Muslims and refugees in Canada.
"That is a fear, because that's the kind of ill-informed knee-jerk reaction that puts any group in potential harm's way. ... This is hypothetically about two individuals who may or may not have made a bad decision."
Public Safety Minister Ralph Goodale said the country's official threat level would remain unchanged at "medium," where it has been since 2014.
Goodale told reporters Friday afternoon it was too early to say whether the alleged plot was connected to others elsewhere in the world and cautioned against making assumptions.
"Rather than leaping to conclusions, let the police do their job, let's get the facts on the table," he told a news conference in Edmonton, Alberta.
Kingston is a small city east of Toronto, home to a major university and several prisons.
Rose Alzahabi was happy her brother was released, but she wasn't surprised.
Full report at:
http://www.arabnews.com/node/1442106/world
--------
Africa
Sudan opposition leader says Bashir 'must leave' as hundreds march
25 January 2019
The leader of Sudan's largest opposition party demanded that President Omar al-Bashir's administration bow to mass protests and step down, in an address to hundreds of party supporters in a mosque near Khartoum on Friday.
After Sadiq al-Mahdi's remarks at Friday prayers, hundreds of protesters then marched through Omdurman, across the River Nile from the capital, and police fired teargas to try to break up the rally.
Students, activists and other protesters have held almost daily demonstrations across Sudan since Dec. 19, calling for an end to economic hardships and mounting the most sustained challenge to President Omar al-Bashir's three decades in power.
"The most important demand is that this regime must leave and be replaced by a transitional government," Mahdi said at Al-Sayed Abd al-Rahman al-Mahdi mosque, which has links to his Umma Party.
The former prime minister expressed support for the protests and condemned security forces' use of live bullets, saying more than 50 people had been killed since unrest began. The official death toll stands at 30, including two security personnel.
Protesters also gathered in different neighborhoods in Khartoum. South of the capital, hundreds of protesters blocked a main road, chanting "peaceful, peaceful, against the thieves", drawing tear gas volleys from police, a Reuters witness said.
Bashir has blamed the protests on foreign "agents" and challenged his rivals to seek power through the ballot box. He has shown no sign that he is prepared to concede any power.
Sudan has been rapidly expanding its money supply in an attempt to finance its budget deficit, causing spiralling inflation and a steep decline in the value of its currency.
Early Friday, AFP quoted police spokesman General Hashim Abdelrahim as saying that two protesters were killed during anti-government demonstrations that rocked Sudan's capital in the past day.
"There were several illegal gatherings in different states and also in different areas of Khartoum state," Abdelrahim said.
"Police dispersed them with tear gas. In the state of Khartoum we have recorded two deaths," he said, without specifying how the people died.
Police had also detained an individual who was carrying a pistol in a demonstration, he said.
A car equipped with "long distance communication equipment" was also captured, he added.
https://english.alarabiya.net/en/News/middle-east/2019/01/25/Two-protesters-dead-in-Khartoum-demonstrations-police.html
--------
Nigeria: 8 soldiers killed in Boko Haram attack
25.01.2019
By Rafiu Ajakaye
LAGOS, Nigeria
At least eight Nigerian soldiers have been killed in an Boko Haram attack on an army position in the restive northeast, local media reported on Friday.
The deadly attack occurred in the heavily fortified northeastern Geidam town on Wednesday evening, causing multiple injuries to the troops, the news outlet Premium Times quoted the local military sources as saying.
Several Boko Haram militants also died in the ensuing fight, it added.
The army has neither confirmed nor denied the attack.
However, in statement on Friday, the army said four terrorists were killed and caches of weapons were seized when troops raided their hideouts in northeastern Borno state.
Full report at:
https://www.aa.com.tr/en/africa/nigeria-8-soldiers-killed-in-boko-haram-attack/1374933
--------
50 killed in Sudan demonstrations to date: Former PM
25.01.2019
By Mohammed Amin
KHARTOUM
At least 50 people have been killed in Sudan since the country was engulfed by popular protests in mid-December, Sadiq al-Mahdi, an opposition politician and former prime minister, said Friday.
Addressing thousands of supporters in Khartoum, al-Mahdi called on the Sudanese security forces to stop using deadly force to disperse unarmed demonstrators.
He also called for the resignation of President Omar al-Bashir.
"We have credible information that the number of deaths since the protests began more than one month ago now stands at 50," al-Mahdi stated.
"We support these demonstrations and roundly condemn the use of violence against protesters," he added.
Al-Mahdi, leader of the opposition National Umma Party, went on to say that his party had agreed with Sudan's Independent Professional Association on the need for a post-Bashir "transitional period".
Following Friday prayers, large demonstrations erupted in both Khartoum and Omdurman, Sudan's second largest city.
Full report at:
https://www.aa.com.tr/en/africa/50-killed-in-sudan-demonstrations-to-date-former-pm/1374978
--------
Al Shabaab: A retake on the science of the DusitD2 attack
By Gitura Mwaura
January 26, 2019
History does not repeat itself, but it rhymes, so goes the aphorism often attributed to the iconic American author and satirist, Mark Twain.
Though there lacks evidence it is Twain who coined it, the nifty line was once described as "too good to resist".
This is what occurred to me when I recalled this rather unremarkable sentence: We look to the New Year with the threat of terrorism as real as it has ever been. Note that this could be said of any other year.
It was the opening sentence in this column in January 2015 after yet another round of Al Shabaab attacks in Kenya as the previous year drew to a close. (See "Understanding terrorism through mathematics", The New Times, January 03, 2015)
This not to suggest there's anything wrong with the sentence. But that it is the attack at the DusitD2 Hotel earlier this month in Nairobi that provoked my mind to that nifty line about history and rhyming.
It reminded of the macabre reason we should enter each new year with renewed vigilance wherever we may be.
The threat of terrorism or its consequences is not about the particular country it is unleashed.
As I write, international investigative agencies including the FBI and Interpol are camped at the DusitD2 gathering clues about the attack and the attackers.
This is to update their databases on the attackers' profiles and the changing trends of their tactics to better counter them in the global war against terrorism.
Already the DusitD2 assault reveals how the face of regional terrorism has literally changed.
While before the stereotype of the Shabaab terrorist was Somali, the attackers were Kenyan – born and bred.
This was until their radicalization, as evidenced by the well-pocketed Kenyan middleclass lifestyle of the lead attacker and his girlfriend, a journalism graduate.
The tactic to source from the country is to enable attackers to blend in their target social environment and evade the detection of security agencies.
According to the International Crisis Group says the Shabaab, the change of tactic started shortly after the September 2013 Westgate Mall attack in Nairobi with the establishment of local cells.
The intended results are clear, complete with the high-value target at the up-market location of the hotel nested close to Western embassies – German, Australian and Dutch – to extract maximum media attention.
And, with some of the major international media organization headquartered in the city, it reminds us that the underlying terrorist principle remains the same, which is to gain the broadest attention whatever their deranged cause may be.
I say deranged advisedly. Physicists and mathematicians looking at the terrorist phenomena created equations and generated data that reflects the universal behaviour of the individual insurgents or clusters of them. (See "Understanding terrorism through mathematics", The New Times, January 03, 2015).
In their computer models, the attackers behave like random, thoughtless particles, demonstrating that terrorists don't have to be rational or require central command to effectively consummate their deadly attacks.
One would certainly wonder how rational the young Kenyan men were to willingly go to the slaughter despite that apparent living the good life with money to splash around.
But in one of the universal justifications for terror, a successful strike is not one that does the most damage, but one that draws the most attention.
Observe that the casualty figures at the DusitD2 attack numbered just over 20 dead, compared to 71 at the Westgate Mall attack and the 150 dead at the April 2015 attack at Garissa University.
This brings in the other lesson, also observed globally: that the reduced number of the fatalities was due better preparedness and a much-improved counterterrorism response.
The 2018 Global Terrorism Index (GTI) reports a decline in terrorism with deaths falling for the third consecutive year after peaking in 2014. The number decreased by 27per cent in 2017.
However, the GTI highlights an ongoing persistence of terrorism in several countries in Asia and Africa. Somalia and Egypt have both registered increases in deaths from terrorism in 2017.
Therefore, while terrorism deaths by Al-Shabaab declined in Kenya to 100 in 2017 from 256 in 2014, the ominous portent for the region is that the group overtook Boko Haram as the deadliest terror group in sub-Saharan Africa for the first time since 2010.
The total number of deaths increased by 93 per cent from 2016 to 2017 to stand at 1,457. Boko Haram's stood at 1,254.
The numbers make it worrying, especially about what the increase portends regionally unless something is done.
Thus the other observation, to come back the computer models referred to above: that the terrorists are not invincible even as they change their tactics.
Using probability or what the mathematicians are terming percolation theory, each terrorist in a cell or network can be independently detected depending on factors such as the number of law enforcement agents tasked with tracking suspects as well as on the willingness of citizens to offer information.
Full report at:
https://www.newtimes.co.rw/opinions/al-shabaab-retake-science-dusitd2-attack
--------
South Asia
UN expert urges caution on Bangladesh's Rohingya island 'relocation' plan
26 January, 2019
Bangladesh must not "rush to relocate refugees" from the Rohingya Muslim minority, a top UN rights official said on Friday, amid plans to move the community to an island vulnerable to extreme monsoon weather.
Some 750,000 Rohingya Muslims from Myanmar escaped a bloody military crackdown in northern Rakhine state since August 2017 and joined some 300,000 refugees living in the already overcrowded Bangladesh camps.
Dhaka has spent some US$280 million transforming Bhashan Char, a muddy silt islet that only emerged from the Bay of Bengal nearly two decades ago, into a camp for some of the refugees.
But the island, in a coastal region where extreme weather has killed hundreds of thousands of people in recent decades, is one hour by boat from the nearest land and over a stretch of sea prone to violent storms.
Yanghee Lee, a UN Special Rapporteur of human rights, visited the island on Thursday and urged Bangladesh to observe "caution and patience" before proceeding with any relocation plan.
"There should be no rush to relocate refugees, such as before the monsoon season which is one of the possibilities that has been outlined to me," she told reporters on Friday.
"It is imperative that any measures to relocate the refugees enhance their enjoyment of rights and do not create a new crisis," she added.
Lee also advised Dhaka to share feasibility studies and allow the UN to carry out a "full technical and humanitarian assessment, including a security assessment, before making any further plans for the housing of people on the island".
"The island's isolation does particularly trouble me, especially in the event of cyclones or other natural disasters," she added.
Lee did not provide further details about the island, which is still strictly off limits to the public and the news media.
Plans for the island camp were first floated in 2015 and Bangladesh had previously wanted to start relocating refugees to the island last June before the monsoon season began.
Prime Minister Sheikh Hasina was then slated to open the new settlement, built to house 100,000 refugees, last October, but the inauguration was postponed.
A senior disaster management official said in September that nearly three-quarters of the project was complete, with the navy fast-tracking construction of shelters and evacuation centres.
Local officials have pointed to a newly-constructed three-metre (nine-feet) embankment around the island that they say will keep out tidal surges in the event of a cyclone.
Lee, who also visited Rohingya camps in Cox's Bazar, said the refugees "cannot return to Myanmar in the near future".
"I encourage the government to begin to engage in longer-term planning and prepare the local population for this reality," she said.
https://www.scmp.com/news/asia/south-asia/article/2183731/un-expert-urges-caution-bangladeshs-rohingya-island-relocation
--------
Over 45,000 Afghan forces have lost their lives in past 4 years: Ghani
26 Jan 2019
President Mohammad Ashraf Ghani has said over 45,000 Afghan forces have lost their lives since he assumed office as the president of the country in 2014.
"Thirdly, since I have become president, a hundred thousand troops left. Over 45,000 Afghan security personnel have paid the ultimate sacrifice," President Ghani said during a discussion with journalist Fareed Zakaria on the sidelines of World Economic Forum in Davos, Switzerland.
He said "The number of international casualties is less than 72. So it shows you who is doing the fighting and the support is mutual. We need to get a stable Afghanistan as an entity that can ensure security of America and Europe and others on the one hand, but more fundamentally our own democratic rights and institutions and our right to live in peace and harmony."
President Ghani had earlier said around 28,000 Afghan soldiers have lost their lives until the start of 2019.
The latest revelation by President Ghani comes as the Taliban militants have increased their attacks against the security forces during the recent years.
Full report at:
https://www.khaama.com/over-45000-afghan-forces-have-lost-their-lives-in-past-4-years-ghani-03182/
--------
RAB claims to have arrested last fugitive suspect in Gulshan attack
25 Jan 2019
Chanpainawabganj RAB camp in-charge Sayeed Abdullah Al Murad said they arrested Shariful alone known aka Nahid aka Abu Sulaiman, 27, on Nachol-Mohipur road around 3pm on Friday following information given by the force's Dhaka office.
Shariful is a top leader of the banned militant outfit Jama'atul Mujahideen Bangladesh's revived faction Neo-JMB, which is blamed for the deadly 2016 attack on the Holey Artisan cafe attack, the RAB official said.
They were preparing to send Shariful alias Khalid to Dhaka, he added.
RAB-5 deputy commander Major Shibli Mostafa told bdnews24.com that Shariful is among the two militants sentenced to death for the killing of Prof AFM Rezaul Karim Siddiquee of Rajshahi University's Department of English.
Shariful was a student at the department, the law enforcers said.
Prof Siddiquee, 58, was hacked to death in the city's Shalbagan while he was waiting to ride a university bus on Apr 23, 2016.
According to a tweet of SITE Intelligence Group, Islamic State claimed in its Amaq News Agency it killed Siddiquee for 'calling to atheism'.
Bangladesh authorities and security agencies, however, deny the presence of the Middle East-based radical group in the country despite its claim of credit for the Gulshan attack as well.
The arrest of Shariful came 15 days after the arrest of another absconding suspect in the Gulshan attack, Mamunur Rashid Ripon, in Gazipur.
Police's Counter Terrorism and Transnational Crimes Unit had previously said that they believed Khalid and Ripon had fled across the border to India.
According to a report from Indian publication Anandabazar in early 2017, Indian detective agencies believed that Khalid and Ripon were attempting to raise militant groups in West Bengal under the aliases 'Abu Sulaiman' and 'Banglar Bagh 2'.
The trial over the Gulshan cafe attack proceeded in their absence. The court had issued arrest warrants against them and ordered their property seized.
On the night of Jul 1, 2016 a group of five young men shot and slaughtered 20 people, including 20 foreign nationals in the upscale cafe.
Five attackers were killed by army commandos the following day. They were identified as Nibras Islam, Rohan Ibne Imtiaz, Meer Saameh Mubasheer, Khairul Islam Payel and Shafiqul Islam.
On Jul 23, 2018, two years after the incident, Counter Terrorism Unit Inspector Humayun Kabir identified 21 people in connection with the attack and formally charged in court eight living suspects.
According to the investigation report, the attack was carried out by Neo-JMB militants after six months of planning. The goal was to create 'unrest' in the country and transform it into a 'militant state'.
The Dhaka Anti-Terrorism Tribunal accepted the charges on Nov 26 of last year, starting the trial.
Full report at:
https://bdnews24.com/bangladesh/2019/01/25/rab-claims-to-have-arrested-last-fugitive-suspect-in-gulshan-attack
--------
No prospect Rohingya refugees can go home soon, UN envoy says
Jan. 25, 2019
DHAKA, BANGLADESH—A UN human rights envoy said Friday that hundreds of thousands of Rohingya Muslim refugees won't be able to return to Burma soon because of threats to their safety in the Buddhist-majority nation.
Burma has been criticized by global rights groups and many nations for state-sponsored violence against ethnic minorities.
Yanghee Lee, the UN special rapporteur on human rights in Burma, also criticized India and Saudi Arabia for mistreatment of the Rohingya in those countries amid global calls for protections for Rohingya Muslims.
Lee spent 10 days in Thailand and Bangladesh, speaking to people from Burma, authorities, UN agencies and international experts. More than 700,000 Rohingya refugees have fled into Bangladesh since late August 2017.
"It is clear that Rohingya refugees in Bangladesh cannot return to Myanmar in the near future," she said.
She said violence against the Rohingya by the Burma army in Rakhine state that prompted them to flee to neighbouring Bangladesh "bear the hallmarks of genocide." Burma has repeatedly turned down her request for allowing her to visit the country.
Lee told journalists she was disturbed by reports of new violence in Rakhine state and she accused Burma of failing to create a peaceful environment so the refugees could return from Bangladesh.
"The campaign of violence against the Rohingya continues, with the security forces slowly bleeding the remaining Rohingya population and continuing to force them to flee to Bangladesh," she said.
Lee added: "From the discussions I had with Rohingya this week in Bangladesh, it is evident that Myanmar is not working to create conditions for return for the Rohingya but is engaging in a sustained campaign of violence, intimidation and harassment."
Lee said she was dismayed by Saudi Arabia's recent deportation of 13 Rohingya to Bangladesh, where they have been arrested and charged with forging the passports that they used to travel to Saudi Arabia.
She also said about 1,300 Rohingya have arrived in Bangladesh from after Indian authorities deported them to Burma, and they crossed into Bangladesh from Burma.
The exodus of Rohingya began after Burma security forces launched a brutal crackdown following attacks by an insurgent group on guard posts in late August in 2017. The scale, organization and ferocity of the crackdown led the UN and several governments to accuse Burma of ethnic cleansing and genocide.
Full report at:
https://www.thestar.com/news/world/asia/2019/01/25/no-prospect-rohingya-refugees-can-go-home-soon-un-envoy-says.html
--------
Challenges before PM Sheikh Hasina in her unprecedented third term
JOYEETA BHATTACHARJEE
Jan 26, 2019
On 30 December, the 11th parliamentary election was held in Bangladesh. The election was historical for many reasons: (a) Prime Minister Sheikh Hasina hit a hat-trick, as she became the first in the country to form a government for a third consecutive term. Hasina's party, Awami League (AL), and its allies won 288 seats out of the 300. This is a victory similar only with the country's first election in 1973, when the AL won 293 seats. (b) Electronic Voting Machines (EVMs) were used for the first time in a parliamentary election in the country. (c) This election also recorded the highest number of woman-contestants. However, this election was not free of controversies. The Bangladesh Nationalist Party (BNP), an arch rival of the Awami League which could win only 7 seats, rejected the poll outcome and expressed doubts about its fairness. The party alleged vote rigging. Here is an assessment of the election and the likely future course of politics in the country.
Following the boycott by the BNP, the Hasina government faced criticism globally. The BNP boycotted the election after its demand for reinstating a caretaker government, which was abolished following a constitutional amendment in 2011, was not met. However, this time, all political parties participated in the election and this saved the government from calling the poll one-sided.
The AL and the BNP are the dominant parties in the country. These parties are led by two begums – the AL by PM Sheikh Hasina and the BNP by Khaleda Zia. In the 2018 election, both parties preferred alliances. The prominent alliances were: (1) Grand Alliance spearheaded by the ruling AL. AL's partners are Jatiya Party, the Jatiya Samajbadi Dal, Tarikat Federation, the Workers Party, and Bikalpadhara Bangladesh. (2) Jatiya Oikyo Front (JOF), led by former AL leader Kamal Hossain, who severed ties with the party and founded the Gono Forum. Its partners included the BNP, the Krishak Sramik Janata league, the Jatiya Sramajtantrik Dal and Nagorik Oikya. Interestingly, the BNP, apart from participating in the JOF, was leading another alliance, popular as 20-party alliance. Key partners of the BNP in the 20-party alliance were Liberal Democratic Party, the Khelafat Majlish, the Bangladesh Kalyan Party, the Jamiat-e-Ulama-e-Islam, the Jatiya Party (Kazi Zafar), the Nationalist People's Party and the Labour Party. The left parties also formed an alliance known as the Left Democratic Alliance and the major parties of this alliance are the Communist Party of Bangladesh, the Samaj Tantrik Dal and the Revolutionary Party of Bangladesh. A total of 39 political parties fielded candidates in the election.
It is worth to note that the 22 members of Jamaat-e-Islami, an influential religious political party banned from fighting elections following the cancellation of its registration, also participated in the election using the BNP's symbol. The participation of Jamaat, a major coalition partner of the BNP government (2001-06), indicates that the party will be present in the country's political scene while it may not either use the name or the symbol of the party.
'Jatiya Sangsad', the parliament of Bangladesh, consists of 350 members. Three hundred members are directly elected and the rest 50 are reserved for women who are nominated. On 30 December, the election was held in 299 seats as polling in one constituency was postponed following the death of a candidate. Around 1800 candidates contested the election, out of which 69 were women. The number of woman-constants was highest in the history of the country, though it is still very low when compared to the number of women voters, who comprise half of the voters. Twentytwo women have been elected to the 11th parliament. Participation from the minority in this election was around 74 candidates -- 18 nominated by the AL, 7 by the BNP and 3 by the Gono Forum. Around 18 of them won, and most of them being from AL. In Bangladesh, a Muslim majority country, minorities comprise 10 percent of the population.
The Election Commission (EC) supervised the election. And it was the second election after the abolition of the caretaker government system in 2011. The system of caretaker government was installed following a constitutional amendment in 1996 to ensure a credible election. So, the present election was a test for the EC's credibility to deliver an impartial election. The EC claims that the election was free and fair. The international observers also did not question its credibility.
The absence of the top opposition leader, Khaleda Zia, in the election is considered a reason for its weakness. Begum Zia, the BNP chairperson, was unable to fight the election after her candidature was rejected due to her conviction in a corruption case. She is serving 10 years jail term, and according to Bangladesh's constitution, one is disqualified from fighting election if that person sentenced to a prison term of more than two years. Similarly, Tarique Rahman, her son and successor and living in London for a decade, alsocould not enter the electoral race following his life sentence in a criminal case. Fakhrul Islam Alamgir, the General Secretary of BNP, led the party in this election. The party's poor performance suggests that the charisma of General Zia, the founder of the BNP, is still a major factor for the party and people are not ready to test the new leadership without his kin.
This election was marked by the introduction of the Electronic Voting Machine (EVM) in the parliamentary poll. To enable introduction of EVMs, the Representation of the People's Order was amended last year. The EVMs were used in six constituencies on a pilot basis. The introduction of EVMs indicate the EC's efforts to bring in transparency in the electoral process.
Use of social media as a tool for campaigning added a new dimension to the election. Both the Awami League and the BNP used social media as a major platform for reaching the voters. The BNP claimed that the party had to take refuge in the virtual platform since it faced resistance in campaigning in the real world. There are 81 million internet users in the country, which corresponds to 49 percent of the country's population. This number is substantial for a country which has 100 million voters. The authorities watched the influence of the virtual medium in forming public opinion. Prior to the election, the authorities had shut down around 54 news sites as a precautionary measure. Again, during the election, the speed of the internet was slowed as a security measure.
The election saw large deployment of the army and law enforcement agencies for the maintenance of peace during the election. The army was deployed in 389 Upazila or sub-districts, covering 270 constituencies, for assisting the civil administration in the conduct of the election. The army gained popularity due to its experience in the 2008 parliamentary election held under a military-backed caretaker government and recognised as the most credible election in the country's entire history. The deployment of the army was welcomed by all the political parties. Although 17 people died in the election, it was considered by and large peaceful because in Bangladesh, violence has been an integral part of politics where loss of life is quite common.
Indian Prime Minister Narendra Modi was the first to congratulate her. Soon, China followed the suit. Russia, Saudi Arabia, Qatar, Iran, the United Arab Emirates, Bhutan and Pakistan congratulated PM Hasina. The EU and the United States also pledged to cooperate with her government. The international recognition has strengthened PM Hasina's position in the country.
Earlier this month, Hasina took the oath of secrecy for the 3rd consecutive term and formed a 46-member cabinet, including 24 full ministers, 19 ministers of states and three deputy ministers. Giving a refreshing look to her cabinet, she dropped many of the influential leaders who have been in the ministry for a long time. Thirty one members of her cabinet are new comers in the cabinet.
The trends suggest that PM Hasina has settled down to rule the country for the next five years and work to fulfil the promises made to the people. During her campaigning, Hasina promised development and democracy and the expectation is that she will transform the country into a developed nation. Along with accelerating economic growth, attention also need to be given to improving the democratic institutions because democracy was also a desire for people to fight for the liberation from Pakistan in 1971.
Full report at:
https://www.orfonline.org/expert-speak/challenges-before-pm-sheikh-hasina-in-her-unprecedented-third-term-47573/
--------
Afghan and Coalition Forces kill 6 militants in separate operations, airstrike
26 Jan 2019
At least six militants were killed in separate ground operations and airstrike conducted in three provinces of Afghanistan in the past 24 hours.
According to the informed military sources, the Afghan Special Forces conducted a raid in Chk-e Wardak district of Maidan Wardak province yesterday killing 1 Taliban fighter and destroying bomb making materials, including a suicide vest.
The sources further added that a coalition air strike killed 2 Taliban fighters in Qarah Bagh district of Ghazni province.
Afghan Special Forces conducted a clearance operation in Zerkoh district of Herat province killing 3 Taliban fighters and destroying a weapons cache, the sources added.
Both the Afghan and Coalition Forces have increased ground operations and airstrikes against the anti-government armed elements in the restive parts of the country.
https://www.khaama.com/afghan-and-coalition-forces-kill-6-militants-in-separate-operations-airstrike-03181/
--------
Efforts underway to recruit youths to Afghan Army territorial force
5 Jan 2019
On Wednesday, the 205th Corps hosted a shura of over 200 district and tribal leaders within Kandahar to include the acting Provincial Governor, Abdul Muneeb, the Provincial Chief of Police, Major General Tadin Khan, and the 205th Corps Commander, Lieutenant General Imam Nazar. There were 18 different speakers to include Masood Akhunzada, the keeper of the Holy Cloak and the Director of Kandahar University, who housed the students who initiated the peace protect in Kandahar just a week ago.
Acting Provincial Governor Muneeb said "We can introduce 1,000 youth recruits to the Corps. Afghan National Army Territorial Force Soldiers can live in their homes with their families while serving. It is all of our responsibility to protect our country." "I thank all the district elders for their support. We want to bring peace. We should try to bring peace, whether its the government, we should all hold hands and stand together because the war has been going on a long time and it only harms the Afghans. There is no profit in fighting and it is destroying our country," he added.
Provincial Chief of Police Tadin Khan said "The youth can defend our country and we need the youth to volunteer to serve for this country. This country needs service and sacrifice and we will stand shoulder to shoulder with our security forces."
Masood Akhunzada, keeper of the holy cloak said "We know Afghanistan has a lot of enemies, all around Afghanistan there are our enemies. But we need to support our government and our Army. If the tribal leaders work with our security forces, it will bring peace. We are ready to sacrifice for this country."
Additionally, Uruzgan Province had a similar shura in Tarin Kot, Uruzgan with 50 tribal elders to discuss recruitment efforts of the ANA Territorial Force which will help bring peace to Afghanistan. They stated that there were rumors that Tarin Kot would fall but residents have already stood up to defend their communities, the initiation of the Territorial Force would be beneficial to maintain security across the province.
Uruzgan Provincial Governor Asadullah Saeed said " The people of Uruzgan are taking a big part in joining and building the ANDSF. We have 4,000 forces in Uruzgan and nearly 80% of them are Uruzgan residents."
A resident of Uruzgan said "People believe that the government is the right government and everyone has the right to a peaceful environment. We believe that our government is important, governance is important and the constitution is important to all Afghans."
Full report at:
https://www.khaama.com/efforts-underway-to-recruit-youths-to-afghan-army-territorial-force-03179/
--------
Key ISIS-K group member killed in drone strike in Nangarhar province
25 Jan 2019
A key member of the Islamic State of Iraq and Syria Khurasan (ISIS-K) was killed in a drone strike which was conducted in eastern Nangarhar province of Afghanistan.
The media office of provincial government of Nangarhar in a statement said Qari Naqibullah, a key group member of ISIS-K was killed in a coalition drone strike in Chaparhar district.
The statement further added that airstrike was carried out late on Thursday night in Aghez area of the district.
According to the local officials, Qari Naqibullah was a key group member of ISIS-K who was involved in destructive activities in this province for the past several years.
Full report at:
https://www.khaama.com/key-isis-k-group-member-killed-in-drone-strike-in-nangarhar-province-03178/
--------
Mideast
Turkey expects creation of Syria security zone in few months, Erdogan says
Jan 25, 2019
Turkish President Recep Tayyip Erdogan says the Ankara government expects a "security zone" to be created in neighboring Syria within a few months as the United States withdraws its troops from the war-torn Arab country.
"The zone should be aimed at protecting our country from terrorists not protecting terrorists right beside our border, and should be established within a few months," Erdogan said in a speech in Turkey's eastern province of Erzurum on Friday.
"Otherwise, we will definitely form this safe or buffer zone ourselves. Our only expectation from our allies is that they provide logistical support to Turkey's effort," he added.
"Our patience has a limit," Erdogan said. "We will not wait forever for the fulfillment of the promises given to us."
Since 2012, Turkey has been calling for the establishment of a safe zone of 30-40 kilometers between the northern Syrian towns of Jarablus and al-Rai in a bid to drive out Kurdish People's Protection Units (YPG) and to protect civilians. However, the plan has not come to fruition so far.
Erdogan and his US counterpart Donald Trump held a telephone conversation last week, where the Turkish leader expressed Ankara's determination to establish a safe zone in northern Syria.
Trump has suggested creation of a 30-kilometer safe zone along Turkey's border with Syria, but has not specified who would create, enforce or pay for it, or where it would be located.
Ankara has been threatening for months to launch an offensive in northern Syria against US-backed YPG militants.
Turkey considers the YPG a terrorist organization and an extension of the outlawed Kurdistan Workers' Party (PKK), which has been fighting for an autonomous region inside Turkey since 1984.
The Turkish military, with support from allied militants of the so-called Free Syrian Army, has launched two cross-border operations in northern Syria, dubbed "Euphrates Shield" and "Olive Branch", against the YPG and Daesh Takfiri terrorists.
https://www.presstv.com/Detail/2019/01/25/586768/Turkey-Syria-security-zone
--------
Thousands Of Yemenis Rally To Honour 'Martyrs' Of Saudi War
Jan 25, 2019
Thousands of Yemenis have rallied on the streets of Yemen's northern city of Sa'ada to commemorate fallen soldiers on Martyrs' Day.
The demonstrators stressed their willingness to counter what they described as foreign occupation and American policies in the region, Yemen's al-Massirah TV channel reported on Friday.
Protesters chanted slogans such as "We shall remain loyal to our martyrs" and "We will not abandon our principals" as they marched while they condemned those who had "betrayed the nation".
The protesters also expressed their determination to resist sanctions, fight the Saudi-imposed aggression and raise awareness among the public to thwart the "enemy's schemes".
At the rally, Ansarullah movement leader Abdul-Malik Badreddin al-Houthi urged the Yemeni nation to continue resistance against the invaders.
He said "hypocrites and those who committed profoundly evil deeds" carry out schemes drawn up by arrogant powers.
"The enemy seeks to use all methods to weaken the will of our nation in the face of its aggression," said al-Houthi.
Last month, Yemen's warring parting withdrew forces from the strategic port city of Hudaydah following a peace deal signed in the Swedish capital of Stockholm on December 13.
The Saudi-led coalition has, however, violated the truce on many occasions. On Thursday, heavy clashes were reported in the city following a Saudi attack on the city.
Saudi Arabia and a number of its regional allies launched a devastating military campaign against Yemen in March 2015, with the aim of bringing a former government back to power and crushing the Houthi movement.
According to a new report by the Armed Conflict Location and Event Data Project (ACLED), a nonprofit conflict-research organization, the Saudi-led war has so far claimed the lives of around 56,000 Yemenis.
The Saudi-led war has also taken a heavy toll on the country's infrastructure, destroying hospitals, schools, and factories.
Full report at:
https://www.presstv.com/Detail/2019/01/25/586746/Yemenis-rally-honour-martyr
--------
Hamas says it rejects Qatari aid over Israeli conditions
25 January 2019
Gaza's rulers Hamas said on Thursday they would not accept a fresh tranche of Qatari funds, accusing Israel of imposing new conditions on the money entering the blockaded Palestinian territory.
The rejection of the expected $15 million raised fears of fresh tensions along the Gaza-Israel border, ahead of weekly protests on Friday.
"We refuse to receive the third Qatari grant in response to the (Israeli) occupation's behavior and attempts to evade the agreement," Khalil al-Hayya, Hamas's deputy head in Gaza, told journalists.
Under an informal agreement struck in November, Qatar has sent $15 million a month into the strip.
The funds to pay salaries of Hamas employees and support impoverished Gazans are in exchange for relative calm along the border, where often violent protests have taken place since March 2018.
Israel's permission is required since the cash must be delivered via its territory.
Hamas is labelled a terrorist organization by the United States and the European Union, and banks are hesitant to make the transfer.
Netanyahu blocks third tranche
The third tranche had been expected to enter this week but Israeli Prime Minister Benjamin Netanyahu blocked it on Tuesday after two shooting incidents along the Gaza border, including one in which a soldier was lightly injured.
Al-Hayya did not name specific conditions that were changed, but said Israel was playing politics with the funds ahead of upcoming general elections.
The Israel Hayom newspaper reported that Netanyahu had proposed conditions on when the funds be dispersed, including a suggestion that they would be given out on Fridays before weekly protests to dampen enthusiasm for violence.
Netanyahu is running for a fifth term in April elections and has faced criticism from right-wing Israelis who accuse him of being too soft on Hamas.
Mohammed al-Emadi, ambassador of the Gulf state to Gaza, met Thursday in the enclave with Hamas officials, including leader Ismail Haniya.
Friday's protests will be seen as a key test of whether Hamas wishes to increase tensions along the border.
Loudspeakers in Gaza on Thursday evening encouraged Palestinians to go to the border after prayers the following day for the protests.
At least 244 Palestinians have been killed by Israeli fire since March, mostly during border clashes but also by tank fire and air strikes.
Two Israeli soldiers have been killed over the same period.
Protesters are calling for Palestinian refugees in Gaza to be able to return to their former lands now inside Israel.
Full report at:
https://english.alarabiya.net/en/News/middle-east/2019/01/25/Hamas-says-rejects-Qatari-aid-millions-over-Israeli-conditions-.html
--------
7 dead, 30 injured after Houthi militias shell camp for displaced persons in Yemen
26 January 2019
The Houthi militias shelled a camp for displaced persons in Haradh in Yemen's Hajjah province on Saturday, killing seven people and wounding 30 others, an Al Arabiya correspondent reported.
The correspondent said that the wounded included women and children, and that the camp is located about 15 kilometers from areas where clashes occur.
He also pointed out that the shelling was carried out by guided missile.
Meanwhile in Hodeidah, a Yemeni military source said that "the militias shelled grain mills and silos where wheat is stored using a number of missiles," causing severe damage.
Full report at:
https://english.alarabiya.net/en/News/gulf/2019/01/26/7-dead-30-injured-after-Houthi-militias-shell-camp-for-displaced-persons-in-Yemen.html
--------
Palestinian protester killed, 22 others hurt as hundreds protest at Gaza border
Jan 25, 2019
A young Palestinian man has been killed by Israeli fire and another 22 sustained gunshot wounds as hundreds of people staged demonstrations in multiple spots along the border between the besieged Gaza Strip and Israeli-occupied territories for the 44th consecutive Friday.
The spokesman for the Gaza Ministry of Health, Ashraf al-Qidra, named the dead man as 25-year-old Ehab Atallah Hussein Abed, stating that he was fatally shot east of the border town of Rafah, located 30 kilometers south of Gaza City, during a "Great March of Return" protest rally.
He added that 22 civilians, including 14 children, were struck with live bullets while dozens of others suffered tear gas inhalation.
Qidra went on to say that Israeli military forces directly targeted an ambulance, leaving six Palestinian paramedics and a photo journalist injured. Medic Yousef Zino was treated for a wound after a tear gas canister hit him in the hand.
Palestinian source, requesting anonymity, said 15 civilians, among them two children, were injured by Israeli live fire. One of the minors was struck in the foot while another was hit in the pelvis.
Six other protesters were admitted to the Al-Aqsa Martyrs Hospital in Deir al-Balah, in the central Gaza Strip. One of them is said to be in a critical condition.
Moreover, dozens of Palestinian demonstrators suffered excessive tear gas inhalation east of Rafah and Jabalia after Israeli forces sought to suppress anti-occupation protests.
Palestinians have held weekly protests on the Gaza border, over the siege on the enclave and the right for refugees to return to their homes they were forcibly expelled from during the 1948 creation of Israel.
Nearly 250 Palestinians have been killed by Israeli forces ever since anti-occupation protest rallies began in the Gaza Strip on March 30. Over 26,000 Palestinians have also sustained injuries.
The Gaza clashes reached their peak on May 14 last year, on the eve of the 70th anniversary of Nakba Day (Day of Catastrophe), which coincided this year with the US embassy relocation from Tel Aviv to occupied East Jerusalem al-Quds.
On June 13, 2018, the United Nations General Assembly adopted a resolution, sponsored by Turkey and Algeria, condemning Israel for Palestinian civilian deaths in the Gaza Strip.
The resolution, which had been put forward on behalf of Arab and Muslim countries, garnered a strong majority of 120 votes in the 193-member assembly, with eight votes against and 45 abstentions.
The resolution called on UN Secretary General Antonio Guterres to make proposals within 60 days "on ways and means for ensuring the safety, protection, and well-being of the Palestinian civilian population under Israeli occupation," including "recommendations regarding an international protection mechanism."
Full report at:
https://www.presstv.com/Detail/2019/01/25/586780/Palestinian-protester-killed-22-others-hurt-as-hundreds-protest-at-Gaza-border
--------
Turkey 'will go it alone' with Syria security zone
January 25, 2019
JEDDAH: Turkey may establish its own 32km security zone in northern Syria to keep Kurdish militias away from its border, President Recep Tayyip Erdogan said on Friday.
The threat by Ankara to "go it alone" with a buffer zone follows silence from Washington on US involvement in the plan.
President Donald Trump proposed the border zone, but has not specified who would create, enforce or pay for it, or where exactly it would be.
"We expect the promise of a security zone, a buffer zone aimed at protecting our country from terrorists, to be fulfilled in few months," Erdogan said on Friday. "Otherwise we will establish it ourselves.
"Our only expectation from our allies is that they provide logistical support to Turkey's effort. Our patience has a limit. We will not wait for ever for the fulfilment of the promises given to us."
Erdogan said neither the UN nor the international coalition formed to protect the Syrian people were capable of creating a safe zone or maintaining security in the region.
"The only power that can in a true sense establish the safety and functioning of this region on our Syrian border is Turkey," he said. "We are closed to all proposed solutions besides this."
He said Turkey had the right to enter Syrian territory when it was threatened under a 1998 agreement with Damascus after Syria expelled the Kurdish militant leader Abdullah Ocalan, now jailed in Turkey.
Ankara regards the Syrian Kurdish YPG as an extension of Ocalan's Kurdistan Workers Party (PKK), which has fought a decades-long insurgency in southeast Turkey.
The YPG has played a key role in the US-led coalition against Daesh. Trump had previously warned Ankara not to attack Kurdish fighters in Syria, and threatened retaliation against Turkey's economy.
US special Syria envoy James Jeffrey held talks in Ankara on Friday with Turkish Defense Minister Hulusi Akar and armed forces chief Gen. Yasar Guler. Akar told him Turkey expected the US to end its support for the YPG and complete the road map which the two countries agreed upon for the Syrian town of Manbij to the west of the Euphrates.
Military operations against Daesh in Syria are wrapping up and the last pockets of the self-proclaimed "caliphate" will be flushed out within a month, a top commander said.
"The operation of our forces against Daesh in its last pocket has reached its end and Daesh fighters are now surrounded in one area," said Mazloum Kobani, head of the Kurdish-led Syrian Democratic Forces (SDF).
Full report at:
http://www.arabnews.com/node/1441791/middle-east
--------
UN says fire damages two food silos near Yemen's Hodeidah
January 26, 2019
SANAA: A fire on the edge of the Yemeni port city of Hodeidah has reportedly damaged two food silos, the UN said Friday, adding it appeared a mortar shell hit storage facilities.
"We are very concerned that some of our wheat stocks at the Red Sea Mills have been damaged," said the UN World Food Programme's Yemen director Stephen Anderson, quoted in a statement by the UN Office for the Coordination of Humanitarian Affairs.
The WFP has 51,000 metric tons of wheat stored at the Red Sea Mills site on Hodeidah's outskirts, but has been unable to access the site since September last year, due to fighting, the statement said.
Government forces, supported by a regional coalition that includes Saudi Arabia and the UAE, have battled to oust Iran-backed Houthi rebels from the lifeline port city.
UN-sponsored peace talks in Sweden last month brought about a fragile truce for Hodeidah, but the embattled government on Thursday accused the rebels of failing to abide by its terms.
"WFP urgently needs to get access to the Red Sea Mills so we can assess the level of damage and begin transporting the unaffected wheat stocks to areas of Yemen where it is desperately needed," Anderson added.
The UN agency's stores at the facility represent a quarter of its wheat stock in the country — enough to feed 3.7 million people for a month — the OCHA statement said.
Yemen's war has pushed 14 million people to the brink of famine in what the UN describes as the world's worst humanitarian crisis.
"The situation in Yemen is heart-breaking," said UN Humanitarian Coordinator for Yemen Lise Grande, in the statement.
"A quarter of a million people are in a catastrophic condition, facing near starvation if assistance doesn't get to them. We need this wheat," she added.
The UAE's official news agency WAM accused the Houthi rebels of targeting the mills with a mortar shell, causing what it described as a huge fire that destroyed a large quantity of wheat.
There was no immediate response from the Houthis.
Yemen's state-run Saba news agency said Friday that five soldiers and a child were also killed by an exploding land mine in Al-Baida in central Yemen.
Full report at:
http://www.arabnews.com/node/1442061/middle-east
--------
URL: https://www.newageislam.com/islamic-world-news/saudi-arabia-blacklisted-lax-control/d/117563
New Age Islam, Islam Online, Islamic Website, African Muslim News, Arab World News, South Asia News, Indian Muslim News, World Muslim News, Women in Islam, Islamic Feminism, Arab Women, Women In Arab, Islamophobia in America, Muslim Women in West, Islam Women and Feminism