New Age Islam News Bureau
17 March 2014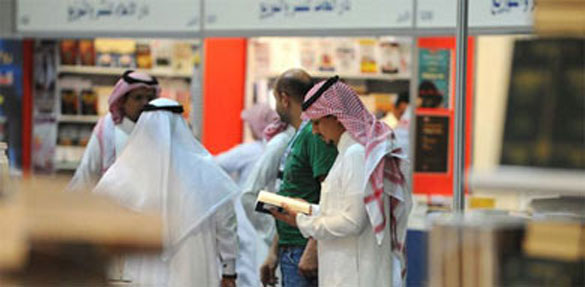 The religious Saudi police frequently intervene to enforce the kingdom's strict conservative values, but the move to ban so many works was seen as unprecedented. — Photo by AFP
-------------
Arab World
• Saudi Arabia Bans Threatening Books at Fair in Wide-Ranging Crackdown
• Militants attack Iraq anti-Qaeda leader, kill four
• Two Hezbollah members killed in Bekaa Valley blast
• Lebanon: 9 die in Syria-linked clashes
• Syrian forces fully control rebel stronghold near Lebanon
• Lebanon Week in Jeddah to affirm strong Saudi ties
• Bin Laden son-in-law 'had no military role'
---------------
Mideast
• Conditions in Turkey worse than military coup - Islamic scholar Gülen
• Iran pursuing banned items for nuclear, missile work: US
• Saudi Arabia bans books at fair in wide-ranging crackdown
• Obama, Palestinian leader set meeting as deadline nears
• Palestinians protest UN food cuts in Gaza
• Israel fuel deliveries to Gaza to resume
---------------
India
• Indian Play about Muslim Identity Cancelled Over Fears of Violence
• India Muslims on tenterhooks over election
• Indian arms imports almost triple China, Pakistan: study
---------------
Pakistan
• Coloured up: Muslims and Christians join Holi celebrations
• Some elements in law enforcing agencies protecting terrorists: Ahl-e-Sunnat Wal Jamaat
• Pakistan won't send arms to Syria: Sartaj Aziz
• Islamabad facilitates release of 251 prisoners around the world
• IG Sindh orders improved security around Hindu temples
• Bugti murder case: ATC issues arrest warrants for Musharraf's guarantors
• Musharraf wants treason trial shifted to Dubai
---------------
Southeast Asia
• Spotlight on Malaysia's complex ties with Islam
• Christians, Muslims join anti-slavery campaign
• Malaysia doubles scale of plane search, pilots probed
• Muslim NGO takes ministry to task after drug deaths
• Has Obama Been in Denial that Muslim Terrorists Probably Hijacked Malaysia Airlines?
---------------
Africa
• Algeria accused of protest crackdown
• Refugee children die in Jordan fire
• Tunisian police kill 3 militants in shootout
---------------
Europe
• French Muslims Protest Islamophobic Laws
• Britain hands over bases to Afghan forces
• Crimea votes to join Russia amid Western outrage
• British PM sets out priorities for EU reform
---------------
South Asia
• Bangladesh opposition leader sent to jail as protests loom
• Afghan election field down to nine as ex-minister drops out
• Maldives to shut down Dhaka mission from April 1
---------------
North America
• Annual American Muslim Union brunch an opportunity for dialogue, bridge building
• Crimean Tatars in Ukraine: Deep-Seated Fears
• US Seals take control of rogue Libya oil ship: Pentagon
Compiled by New Age Islam News Bureau
URL: https://www.newageislam.com/islamic-world-news/new-age-islam-news-bureau/saudi-arabia-bans-threatening-books-at-fair-in-wide-ranging-crackdown/d/56164
---------------
Arab World
Saudi Arabia Bans Threatening Books at Fair in Wide-Ranging Crackdown
March 17, 2014
RIYADH - Saudi authorities have banned hundreds of books, including works by renowned Palestinian poet Mahmud Darwish, as part of a crackdown on publications deemed threatening to the kingdom.
The local Okaz daily reported Sunday that organisers at the Riyadh International Book Fair had confiscated 'more than 10,000 copies of 420 books' during the exhibition. Local news website Sabq.org reported that members of the kingdom's religious police had protested at 'blasphemous passages' in works by the late Darwish, widely considered one of the greatest Arab poets, pressing organisers to withdraw all his books from the fair, which ended Friday.
Similar action was taken against works by Iraq's most famous modern poet, Badr Shaker al-Sayyab, and another Iraqi poet, Abdul Wahab al-Bayati, as well as those by Palestinian poet Muin Bseiso. Activist Aziza Yousef said the crackdown had offered 'free advertising to those whose books were banned' as many 'rushed to download these works from the Internet.' Organisers also banned all books by Azmi Bishara, a former Arab Israeli MP who fled Israel in 2007 and is now close to authorities in Qatar, where he is based, Sabq.org reported. The ban comes amid escalating tensions between Qatar and three other Gulf Arab monarchies - Saudi Arabia, the United Arab Emirates, and Bahrain - who pulled their envoys from Doha earlier this month, accusing it of interfering in their internal affairs. Organisers of the book fair, which began March 4, had announced ahead of the event that any book deemed 'against Islam' or 'undermining security' in the kingdom would be confiscated. A few days after the fair opened, Saudi authorities closed the stall of the Arab Network for Research and Publishing headed by Islamist publisher Nawaf al-Qudaimi and confiscated all his publications, citing threats to the kingdom's security.
http://www.nation.com.pk/international/17-Mar-2014/saudi-arabia-bans-books-at-fair-in-wide-ranging-crackdown
---------------
Militants attack Iraq anti-Qaeda leader, kill four
March 17, 2014
SAMARRA : Heavily-armed militants attacked the home of an anti-Qaeda militiaman north of Baghdad Sunday, killing and decapitating his wife and two sons and killing another person in a brutal pre-dawn assault.
The militia leader, Abu Salim, was not in the house at the time of the attack, which involved more than a dozen vehicles and fighters armed with heavy machine guns and other weapons and also left two of his young sons wounded.
Fighters attacked the militia leader's house in Jilam, a suburb of the city of Samarra, at around midnight on Saturday, and killed Abu Salim's wife, two sons and another woman, a police colonel and another officer said. They then decapitated his wife and two sons, and set off explosives around the house, injuring two other sons, aged four and five. Policemen at a nearby checkpoint attempted to repel the assault, the officers said, but were unsuccessful and fled the scene when they ran out of ammunition and reinforcements that they had radioed for failed to arrive.
Abu Salim is the leader in Jilam of the Sahwa, or Awakening, a collection of mostly- tribal militias that from late-2006 onwards sided with US forces against their co-religionists in Al-Qaeda, helping turn the tide of Iraq's insurgency.
But as a result, they are regarded by the militants as traitors, and are regularly targeted in attacks.
In the Baghdad area on Sunday, meanwhile, a bombing and two shootings killed three people, security and medical officials said.
The latest bloodshed came a day after five car bombs were set off in commercial areas of the Iraqi capital, killing 15 people and wounding more than 50 others.
No group immediately claimed responsibility for the bloodshed, but the militants, including those linked to the Islamic State of Iraq and the Levant jihadist group, are often blamed for carrying out coordinated mass-casualty bombings.
Iraq is grappling with its worst prolonged period of violence since it emerged from a bloody sectarian war that left tens of thousands dead in 2006-07. More than 250 people have been killed already this month, according to an AFP tally.
Iraqi Prime Minister Nuri al-Maliki has instead singled out Saudi Arabia and Qatar, accusing the two Gulf states of backing militant groups and effectively waging war on Iraq. He told France 24 in an interview this month that Riyadh and Doha provide political, financial and media support to militant groups, and also accused the Saudis of supporting global "terrorism".
http://www.nation.com.pk/international/17-Mar-2014/militants-attack-iraq-anti-qaeda-leader-kill-four
---------------
Two Hezbollah members killed in Bekaa Valley blast
17 March 2014
The suicide car bomb attack in a Hezbollah-dominated area of eastern Lebanon, near the Syrian border, left two people dead, according to a new toll released Monday.
A security source said the Lebanese army detected and detonated another car bomb in the Fakiha area, five kilometres (three miles) from Al-Nabi Othman village, the scene of Sunday's attack.
According to the official National News Agency, Sunday's blast killed two people and wounded another 14.
Two Hezbollah members were among four people killed on Sunday after a suicide car bomb attack hit Lebanon's Bekaa Valley.
The two killed were members of Hezbollah, including a local official of the Shiite militant group which has sent thousands of fighters into neighboring Syria to support President Bashar al-Assad's army.
An earlier toll on Sunday said four people were killed but it was revised downwards.
The attack was claimed by the jihadist al-Nusra Front in Lebanon, as well as by little known extremist Sunni Muslim group, Liwa Ahrar al-Sunna in Baalbek, who are group opposed to Hezbollah's involvement in the Syrian war.
The blast occurred in the small town of Nabi Osmane, a Hezbollah stronghold.
Footage aired on the Hezbollah-owned al-Manar TV channel showed police cordoning off the area of the explosion and the twisted metal of a burnt-out car.
Hezbollah-dominated areas in eastern Lebanon and southern Beirut have witnessed a series of deadly attacks, many of them suicide car blasts.
The attacks have been linked Hezbollah's involvement in the Syrian war to support President Bashar al-Assad's troops in his war against opposition fighters.
The latest attack comes hours after the Syrian army backed by Hezbollah fighters captured Yabrud, a former rebel bastion in Syria near the Lebanese border.
Hezbollah and Lebanese security forces have said many of the car bombs used in previous suicide car bombings originated in Yabrud.
Immediately after news of the attack broke, a radical Sunni Islamist group claimed responsibility for the blast via Twitter.
"Liwa Ahrar al-Sunna in Baalbek officially takes responsibility for the heroic martyrdom (suicide) operation 'revenge for Yabrud' in the village of Al-Nabi Othman," the group said.
It also warned Hezbollah and the Lebanese army -- which radical Sunni groups in Lebanon say has sided with the Shiite movement: "Prepare for the transfer of the battle of Yabrud into Lebanese territory."
Lebanon is deeply divided over the war in neighboring Syria. While Hezbollah and its allies back Assad, many of the country's Sunnis support the three-year revolt.
http://english.alarabiya.net/en/News/middle-east/2014/03/17/Blast-hits-Hezbollah-stronghold-in-Lebanon-.html
---------------
Lebanon: 9 die in Syria-linked clashes
16 March 2014
TRIPOLI: Nine people have been killed in 48 hours of clashes in Lebanon's northern town of Tripoli linked to the conflict in neighboring Syria, a security source told AFP on Saturday.
The violence between two districts of the city caused local schools to close and cut traffic flow in the city to a trickle, an AFP correspondent said.
The clashes, which have also injured 50 people, pit the Alawite district of Jabal Mohsen against the neighboring Sunni quarter of Bab Al-Tebbaneh.
The latest fighting broke out on Thursday after a Sunni man was killed by unknown gunmen on a motorbike in central Tripoli.
But tensions between the districts have run high for decades, only increasing with the outbreak of the conflict in Syria, where Alawite President Bashar Assad faces a Sunni-dominated uprising.
On Saturday, two people were killed by snipers and another three succumbed to injuries sustained earlier in the clashes, the source said, raising the toll since Thursday to nine. The Lebanese Army has deployed in the city, arresting several people overnight and responding to sources of fire.
The war in Syria has deepened existing sectarian and political tensions in Lebanon, particularly between supporters of the Shiite movement Hezbollah, an Assad ally, and Sunni backers of former prime minister Saad Hariri who support the uprising.
http://www.arabnews.com/news/540906
---------------
Syrian forces fully control rebel stronghold near Lebanon
17 March 2014
BEIRUT: Syrian forces backed by Hezbollah militants took full control of the town of Yabroud on Sunday after driving out rebels, helping President Bashar Assad secure the land route connecting the capital Damascus with Aleppo and the Mediterranean coast.
The fall of Yabroud, the last rebel bastion near the Lebanese border, could sever a vital insurgent supply line from Lebanon and consolidate government control over a swathe of territory from Damascus to the central city of Homs.
The army "restored security and stability to Yabroud...after eliminating a large number of terrorist mercenaries," the Syrian military said in a statement hailing the strategic victory.
A military source told Reuters that about 1,400 rebels from the Free Syrian Army, Ahrar Al-Sham and other factions had fled Yabroud in the past two days. Another 1,000 militants from the Al-Qaeda-linked Nusra Front had held out on Saturday to fight government forces which had entered eastern districts of Yabroud and captured several hilltops.
"They fought a fierce battle and then from last night until the early hours of today they all pulled out," he said.
The source said the militants had withdrawn to the nearby villages of Hosh Arab, Fleita and Rankos as well as Arsal, a Lebanese border town 20 km (13 miles) to the northwest.
Hezbollah-operated Al Manar television broadcast scenes from Yabroud's main square where people walked around and talked in apparent safety. Soldiers replaced the three-star flag of the Syrian revolution with the government's two-star banner.
Footage from earlier in the day showed empty streets, shuttered shops and abandoned homes in a main thoroughfare. Heavy gunfire could be heard in the background.
The anti-Assad Syrian Observatory for Human Rights monitoring group said fighters from the Lebanese Shiite Muslim militant group Hezbollah, who supported the Syrian army and pro-government fighters in sealing off the frontier area with Lebanon, were now in charge of large parts of Yabroud.
"The Nusra Front had a lot of influence in the region, but their influence has now ended," Rami Abdelrahman, head of the Observatory, told Reuters. He said it was unclear where the more than 2,000 foreign fighters in the area had ended up.
The army was dismantling a large number of explosive devices planted by the rebels in Yabroud, Syrian state television said.
Thousands of civilians fled Yabroud, a town of about 40,000 to 50,000 people roughly 60 km (40 miles) north of Damascus, and the surrounding areas after it was bombed and shelled last month ahead of the government offensive.
The government has been making incremental gains along the land route and around Damascus and Aleppo in the past months, regaining the initiative in the three-year uprising-turned-civil war which has killed more than 140,000 people.
Syria's Mediterranean coastal region is strategically vital for Assad because it is the heartland of his minority Alawite community, whose faith is an offshoot of Shiite Islam.
The military source said that among the rebel positions the army seized was the headquarters where the Nusra Front had held hostage 13 Greek Orthodox nuns for more than three months before their release last week in a rare prisoner swap.
BATTLE TO CLOSE THE CROSSINGS
The military source said that in parallel to the capture of Yabroud, the army and air force had closed 14 of 18 crossings into Lebanon, where violence has spilled over in the past year.
"In the next few days, the battle will be over closing these remaining crossings," the source said.
Syrian television said the army was targeting rebels between Fleita and Arsal who had withdrawn from Yabroud. Al Manar said air raids had destroyed several trucks carrying fleeing militants near Arsal.
The military dropped barrel bombs on Ras Al-Maara, a rebel-held village 10 km (6 miles) east of the Lebanese border, killing at least six people including two children, according to the Observatory.
An influx of militants into Lebanon from Syria threatens to further destabilize the small Mediterranean country whose own 15-year civil war ended in 1990. Sectarian tensions between Shiite and Sunni Muslims have already been heightened by the war in Syria, causing insecurity and political gridlock.
A local Lebanese official from Arsal told Al Arabiya television he wanted the Lebanese army to secure the border and prevent Sunni militants fleeing Yabroud from entering his town.
"We in Arsal are not ready to accept militants. Even if we support the revolution, the militants' battle is in Syria, not in Lebanon. Arsal will not be the place from which war is sparked inside Lebanon," he said.
A Lebanese security source told Reuters that Lebanon's army was confronting insurgents crossing the border from Syria. Forces in Arsal detained a group of Syrians carrying "weapons of war and ammunition," Lebanon's National News Agency said.
In a separate incident, the army fired on militants in a pickup truck near Arsal after they bypassed a checkpoint, but failed to prevent their escape, the security source said.
A Nusra Front fighter in Yabroud denied that the rebels had planned to withdraw to Arsal.
http://www.arabnews.com/news/541111
---------------
Lebanon Week in Jeddah to affirm strong Saudi ties
17 March 2014
The Lebanese Consulate General in Jeddah is planning to organize "Lebanese Week," a week-long celebrations with different activities starting with an exhibition "Made in Lebanon" in the first week of April.
Lebanese Consul General Ziad Atallah told Arab News that the relationship between Lebanon and Saudi Arabia is very deep, strong and enduring. The Saudi leadership and people have never stopped supporting Lebanon, even during the most turbulent times.
The Lebanese community is enjoying their stay in the Kingdom and most of them can be found occupying excellent positions.
The Lebanese community considers the Kingdom to be a strong supporter of stability, sovereignty, and the well being of their country, and the Lebanese community in Jeddah would like to express its gratitude to the Saudi leadership, he said, adding that the investment and trade levels between the two countries indicates the strong bilateral relations.
Full report at:
http://www.arabnews.com/news/541456
---------------
Bin Laden son-in-law 'had no military role'
17 Mar 2014
The alleged mastermind of the 9/11 attacks in the US says Osama bin Laden's son-in-law Sulaiman Abu Ghaith, who is on trial in New York, had no role in planning military operations for al-Qaeda.
Khalid Sheikh Mohammed said in a statement filed in Manhattan federal court late on Sunday that Abu Ghaith served as an al-Qaeda spokesman because he was "an eloquent, spellbinding speaker".
But Mohammed said Abu Ghaith, 48, "was not a military man and had nothing to do with military operations".
Abu Ghaith is charged with conspiring to kill Americans. He is the highest-level al-Qaeda figure to be tried in the US since the September 11, 2011 attacks.
Prosecutors say he was part of al-Qaeda's deadly plot in his role as spokesman in fiery videos and as a motivational speaker at the group's training camps in Afghanistan.
Abu Ghaith's lawyers have said the Kuwait-born imam made inflammatory remarks but did not conspire to carry out terrorism.
Defence lawyers are seeking to use testimony from Mohammed, who is being held at the US military prison at Guantanamo Bay, Cuba. They would need US District Judge Lewis A Kaplan's approval to introduce the information.
"Mr Mohammed is unavailable to physically appear at trial, and his testimony is necessary to prevent a failure of justice in this matter," the lawyers, led by Stanley Cohen, wrote to the judge.
Full report at:
http://www.aljazeera.com/news/americas/2014/03/bin-laden-son-law-had-no-military-role-201431762159394565.html
---------------
Mideast
Conditions in Turkey worse than military coup - Islamic scholar Gülen
Mar 17, 2014
Islamic scholar Fethullah Gülen, who has inspired a worldwide network active in education, charity and outreach, has described large-scale slander, pressure and oppression his Hizmet movement currently faces as worse than that seen during anti-democratic military coup regimes witnessed by Turkey. He also calls on his supporters to remain patient and steadfast and to not despair.
"What we are seeing today is 10 times worse than what we saw during the military coups," he said, adding to that "we face similar treatment [as seen during the military coups] but at the hands of civilians who we think follow the same faith as us."
Gülen's remarks represent a stark reminder of how he feels today in comparison to past military coups, during which he said he was prosecuted and persecuted. His comparison confirms what Turkish opposition parties are saying; namely, that the government in Turkey has staged a civilian coup and suspended the constitution and the rule of law in the country following the breakout of a corruption scandal on Dec. 17 of last year.
"But despite everything, I don't complain. … All we can do is say 'This, too, shall pass,' and remain patient," Gülen added. He also predicted that the current oppression engaged in by the government will not last long. "Aggressors will be turned upside down when they least expect it," Gülen said.
Having stayed largely silent in the face of relentless attacks amounting to hate speech by beleaguered Prime Minister Recep Tayyip Erdoğan, who was incriminated in a massive corruption scandal, Gülen spoke to Today's Zaman and provided his account of how he sees the recent events in Turkey in the first interview with the Turkish media since Dec. 17.
In an extensive interview that will be published in Today's Zaman as a four-part series starting on Monday, Gülen explains his views on the corruption investigations, upcoming local elections, whether he will support any political party, slander leveled against him, voice recordings that have been leaked to the Internet, the release of suspects in the Ergenekon trial, the settlement process with the country's Kurds, rumors on a possible lawsuit against members of the Hizmet movement after the elections, Hizmet's alleged involvement in the takeover of the Fenerbahçe sports club, how he sees Turkey exiting from the current crisis, his return to Turkey and other questions many have been wondering about.
In the first part of the series, Gülen makes it clear that no conspiracy, slander and smear attacks can overcome truth, prudence and foresight. "What evidence are they relying on when speaking so confidently? I really don't know," he said, challenging those who spread lies about the Hizmet movement to bring forth evidence in support of their allegations. Recalling that believers have been denigrated throughout history, Gülen emphasized that "everyone acts in accordance with their character."
Full report at:
http://www.newvision.co.ug/news/653615-conditions-in-turkey-worse-than-military-coup-islamic-scho.html
---------------
Iran pursuing banned items for nuclear, missile work: US
March 17, 2014
DUBAI, TEHRAN - Iran has pursued a longstanding effort to buy banned components for its nuclear and missile programmes in recent months, a US official said on Sunday, a period when it struck an interim deal with major powers to limit its disputed atomic activity.
Vann Van Diepen, Principal Deputy Assistant Secretary of State for International Security and Non-Proliferation, said Iran was still "very actively" creating front companies and engaging in other activity to conceal procurements.
The reported supplies do not contravene last year's breakthrough agreement between Tehran and six world powers to curb its most sensitive atomic activity in exchange for some limited easing of sanctions damaging its economy. But such trade would breach a 2006 UN embargo banning the provision by any nation to Iran of materials related to its nuclear and missile development work. Western experts say such low-profile procurement efforts by Iran date back many years, perhaps decades in the case of its nuclear activity.
Asked if he had seen a change in Iranian procurement behaviour in the past six to 12 months, a period that has seen a cautious thaw in US-Iranian relations after decades of hostility, Van Diepen replied: "The short answer is no. "They still continue very actively trying to procure items for their nuclear programme and missile programme and other programmes," he told Reuters in an interview.
Full report at:
http://www.nation.com.pk/international/17-Mar-2014/iran-pursuing-banned-items-for-nuclear-missile-work-us
---------------
Obama, Palestinian leader set meeting as deadline nears
17 March 2014
WASHINGTON: President Barack Obama is seeking to ease the jam in elusive Mideast peace talks and keep Palestinian President Mahmoud Abbas from walking away, despite few signs that either Palestinians or Israelis are prepared to budge on key points.
Obama's White House meeting with the longtime Palestinian leader Monday marks a renewed foray into a diplomatic minefield that Obama has mostly left up to his secretary of state, John Kerry. While Kerry remains deeply involved, his attention is split among multiple undertakings in the Middle East — not to mention a crisis in Ukraine.
With just weeks left before a US-imposed April deadline for completing a framework for peace talks expires, Obama is inserting himself in the process with fresh vigor, hoping that presidential pressure might salvage the talks despite a growing sense of pessimism on both sides. Just two weeks ago, Obama held a similar meeting with Israeli Prime Minister Benjamin Netanyahu in which he urged Israel to make the "tough decisions" needed to move forward.
Absent signs of progress, attention has turned to whether the parties might agree to extend the deadline if a formal framework can't be forged in time.
Aaron David Miller, a Mideast peace negotiator under presidents of both parties, said both Abbas and Netanyahu have an incentive to stick with the talks — if only to avoid bearing the blame if the effort falters. After all, both Israelis and Palestinians have spent countless hours in direct and indirect contact, in what Kerry has warned could be the last chance for peace before demographics and fast-growing Israeli settlements make the conflict nearly impossible to solve.
Full report at:
http://www.arabnews.com/news/541546
---------------
Palestinians protest UN food cuts in Gaza
16 Mar 2014
GAZA CITY – Hundreds of Palestinians have demonstrated against cuts to a United Nations food programme, as protest leaders said they would boost their efforts to restore food assistance to local families.
Protesters gathered outside the metal gate of the UN Relief and Works Agency (UNRWA) offices in Gaza City on Sunday, banging pots and pans and raising banners against the cuts.
UNRWA provides food, education and other basic services to Palestinian refugees in the occupied Palestinian territories, and in Palestinian refugee camps in Syria, Lebanon and Jordan.
In recent months, the organisation has reduced the number of families in Gaza receiving urgent food assistance by about 65 percent, Shukri al-Arouqi, a representative of the refugees' popular committees in the central Gaza Strip, told Al Jazeera.
The protesters also expressed anger at UNRWA's poverty survey, which reviews the status of food aid recipients and decides whether to keep or remove them from the list of beneficiaries.
"The budget for the survey programme is about $16m a year… Why don't they use that money for more [food] coupons instead?" al-Arouqi said.
Funding deficit
More than 800,000 Palestinians in Gaza receive UNRWA food assistance, including food baskets of flour, rice, sugar, sunflower oil and other items. According to a 2012 UNRWA survey, 57 percent of households in Gaza, or approximately 1.04 million people, are considered food insecure.
Adnan Abu Hassna, a spokesman for UNRWA in Gaza, told Al Jazeera that 34,000 families were removed from the food programme. He said that the cuts were applied to achieve "justice and fairness" in distribution.
Full report at:
http://www.aljazeera.com/news/middleeast/2014/03/palestinians-protest-un-food-cuts-gaza-2014316123839807309.html
---------------
Israel fuel deliveries to Gaza to resume
16 Mar 2014
Israel is to allow the resumption of diesel deliveries into Gaza, a day after the territory's sole power plant stopped working due to a lack of fuel, officials have said.
The announcement on Sunday came after the Defence Ministry had shut down the Kerem Shalom goods crossing into southern Gaza on Thursday following cross-border fire.
The latest violence started after Israel killed three men associated with the Islamic Jihad armed group. Palestinian fighters then fired scores of rockets over the border, although no one was injured.
Israel hit back with air strikes, which also caused no injuries, halting all deliveries, including fuel. The power station halted operation on Saturday.
The Israeli government on Saturday denied it was cutting off fuel supplies, and said the source of the shortage was an internal conflict between the Hamas government and the Palestinian Authority in Ramallah.
The fuel deliveries were to resume on Sunday following an order from the Defence Ministry, a statement from COGAT, the unit responsible for crossings into Gaza, said.
"Defence Minister Moshe Yaalon.. instructed to open the Kerem Shalom crossing for the transition of gas into the Gaza Strip," it said.
"The amount coordinated for today... is 500,000 litres of diesel and gasoline for the private sector, 160,000 tonnes of cooking gas, and 200,000 litres of diesel for the operation of the power plant in Gaza," it said.
Rafik Maliha, director of Gaza's only power plant, told Al Jazeera that whatever fuel is expected to come only covers the "bare minimum."
"When this power plant is in complete shutdown that means there is only six hours of electricity supply for the consumers of Gaza," Maliha said.
"[Now] we will have partial operation of the power plant [which will] make the schedule to eight hours of power supply instead of six."
Daily blackouts
Full report at:
http://www.aljazeera.com/news/middleeast/2014/03/israel-fuel-deliveries-gaza-resume-201431692326150533.html
---------------
India
Indian Play about Muslim Identity Cancelled Over Fears of Violence
By KAVITHA RAO
MARCH 17, 2014
BANGALORE, India — An Indian play on the Muslim identity, "Ali J," had a strong start last year, premiering at the Edinburgh Fringe festival in August to good reviews during its 25-day run and then making its first domestic appearance in October at the National Centre for the Performing Arts in Mumbai.
But since then, "Ali J" has caught the attention of the Hindu Janajagruti Samiti, whose stated mission is to establish a Hindu nation. It has argued that the play would "hurt the feelings of Indians" and could lead to religious violence. And now, the play's producers say that with election season in full swing, it has become impossible for anyone to attend an "Ali J" performance in India.
"Ironically, I have offers from a Pakistani theatre group to show it in Karachi, and another U.K.-based group too," said Karthik Kumar, who directed the play and has the title role.
Ali J" is a one-hour monologue by Ali, a Muslim everyman on death row for a crime he is accused of committing during the Gujarat religious riots in 2002. In the play, Ali recalls the major events in his life, exploring what it means to be a Muslim in today's India and his identity outside India.
The play encountered its first hint of trouble in January, when the Ranga Shankara Theater in Bangalore staged the play, but only with police protection. Then in February, the popular Kala Ghoda festival in Mumbai cancelled "Ali J" because festival organizers could not get extra security. On March 9, shows in Chennai, India, were canceled after the police commissioner there issued a letter to Evam, the Chennai theater group behind the play, advising it to desist from showing the play to "maintain law and order."
Knowing the risks, Arundhati Raja, the director of the 200-seat Jagriti Theater in Bangalore, decided to put on "Ali J" anyway, arranging for police protection for the shows that had been scheduled for last week. The police had agreed there was nothing objectionable in the play, Ms. Raja said, but they changed their minds at the last minute.
"An hour before the first show on Wednesday, policemen came into the theater and told us to stop the play and leave the premises," she said.
Full report at:
http://india.blogs.nytimes.com/2014/03/17/indian-play-about-muslim-identity-canceled-over-fears-of-violence/
---------------
India Muslims on tenterhooks over election
By Amy Kazmin in Bhopal, India
March 16, 2014
In Bhopal's Darul Uloom – or House of Knowledge – madrassa, a school offering secular and religious education in an elegant, 127-year-old mosque, the teachers are increasingly apprehensive about the outcome of India's forthcoming parliamentary election.
Indian voters are widely expected to catapult Narendra Modi, the prime ministerial hopeful of the Hindu nationalist Bharatiya Janata party, to power in polls that start in April and end in mid-May . But among India's Muslim minority, Gujurat's chief minister is indelibly tainted by the 2002 Gujarat riots in which some 1,000 people, mostly Muslims, were killed and tens of thousands more driven from their homes.
High quality global journalism requires investment. Please share this article with others using the link below, do not cut & paste the article. See our Ts&Cs and Copyright Policy for more detail. Email ftsales.support@ft.com to buy additional rights. http://www.ft.com/cms/s/0/d8d92e9a-a9b4-11e3-adab-00144feab7de.html#ixzz2wK1OW2zl
Although Mr Modi was not charged with any criminal wrongdoing over the massacre that occurred on his watch, most Muslims – and some secular or liberal Hindus – believe he allowed, or even covertly supported, the carnage.
Muslims are fretting about what Mr Modi's ascent to the country's top political job could mean.
Full report at:
http://www.ft.com/intl/cms/s/0/d8d92e9a-a9b4-11e3-adab-00144feab7de.html#axzz2wJuZJLB1
---------------
Indian arms imports almost triple China, Pakistan: study
2014-03-17
PARIS: India remains the biggest buyer of arms in the world, importing nearly three times as many weapons as its nearest competitors China and Pakistan over the last five years, a Swedish think tank said on Monday.
The total volume of arms sales was up 14 per cent in 2009-13 compared to the previous five years, according to the Stockholm International Peace Research Institute (SIPRI).
Indian imports of major weapons rose by 111 per cent in the last five years compared to 2004-08. Its share of total global arms imports increased from 7 to 14 per cent, SIPRI said.
India replaced China as the world's biggest arms buyer in 2010. With its domestic defence industry struggling to manufacture high-tech arms, India is in the midst of a defence spending binge as it struggles to keep up with better-equipped Chinese forces and a range of military challenges in its volatile neighbourhood.
The main supplier of arms to India in 2009-13 was Russia, accounting for 75 per cent of all imports — reflecting India's need to upgrade and modernise weapons systems dating back to their close relationship during the Cold War. India has lately sought to diversify its sources, looking particularly to the United States.
Figures from IHS Jane's released in February showed that India became the biggest buyer of US weapons last year — with total imports worth $1.9 billion, and a string of large-scale purchases including Boeing's C-17A transport aircraft and P-8I Maritime Patrol Aircraft.
In 2009-13, however, the US still accounted for only 7 per cent of India's purchases according to SIPRI.
Full report at:
http://www.dawn.com/news/1093722/indian-arms-imports-almost-triple-china-pakistan-study
---------------
Pakistan
Coloured up: Muslims and Christians join Holi celebrations
March 17, 2014
KARACHI: Screams of joy and laughter echoed through the Lakshmi Narayan Temple as the colours of Holi consumed those within.
Pakistan Hindu Seva Welfare Trust president Sanjesh Sunny Dhanja was happy to see the way the celebrations had transcended religion and had become an event for the whole community. "We made it very clear that everyone is invited, regardless of their religion, and it makes me happy to see how people responded."
Full report at:
http://tribune.com.pk/story/683619/coloured-up-muslims-and-christians-join-holi-celebrations/
---------------
Some elements in law enforcing agencies protecting terrorists: Ahl-e-Sunnat Wal Jamaat March 17, 2014
KARACHI - Ahl-e-Sunnat Wal Jamaat leader Allama Muhammad Ahmed Ludhianvi said that some elements in the law enforcing agencies are protecting the terrorist and diverted the Karachi operation towards Ahl-e-Sunnat.
Addressing Tahafuz Ahl-e-Sunnat conference here on Sunday, Ludhianvi said it is unfortunate that basic rights of Ahl-e-Sunnat community have been exploited. At present, he said, the LEAs are practicing unconstitutional acts and carrying out extra-judicial killing of the party workers. "We are not blaming the entire Police and Rangers but there is no doubt about the presence of black sheep in the departments, who have diverted the Karachi operation towards Ahl-e-Sunnat," he added.
Full report at:
http://www.nation.com.pk/karachi/17-Mar-2014/some-elements-in-leas-protecting-terrorists-aswj
---------------
Pakistan won't send arms to Syria: Sartaj Aziz
2014-03-17
iSLAMABAD: Adviser to Prime Minister on National Security and Foreign Affairs Sartaj Aziz informed the Senate's foreign affairs committee on Monday that Saudi Arabia had gifted USD 1.5 billion to Pakistan and added that the country would not send arms to Syria or to any other country undergoing a civil war, DawnNews reported.
Addressing a meeting of the Senate's standing committee on foreign affairs in the federal capital, Aziz said the donation of 1.5 billion dollars by Saudi Arabia was a "gift for the people of Pakistan which was deposited in the Friends of Pakistan fund.
Sources further quoted Aziz as saying that Pakistan would not send weapons to Syria or to any other country going through civil unrest.
Moreover, the committee moved a resolution condemning the incidents of terrorism in China and also expressed solidarity with the neighbouring country.
Speculation had been rife in Pakistan following a sharp recovery of the Pakistani rupee value, which rose to a nine-month high of 97.40 from 105.40 against the dollar between March 4 and 12, its strongest rally in 30 years.
Reuters later reported that the climb in the rupee's value was a result of Saudi Arabia's $1.5 billion "loan" to Pakistan last month which helped Islamabad shore up its foreign exchange reserves, meet debt-service obligations and undertake large energy and infrastructure projects.
Full report at:
http://www.dawn.com/news/1093748/pakistan-wont-send-arms-to-syria-sartaj-aziz
---------------
Islamabad facilitates release of 251 prisoners around the world
17 March 2014
The Pakistani government has paid over RS15, 962,163 for the release of 251 prisoners languishing in various prisons around the world due in the last few years.
"Those prisoners have already completed their sentences for beggary, illegal stay, working on visit visas, driving under the influence of alcohol and non-payments of loans," according to a statement of the Ministry of Foreign Affairs.
In 2010-11, the Pakistani government facilitated the release of as many as 92 Pakistani prisoners from Gulf countries and Malaysia by paying fines and providing them with legal aid.
In 2011-12, the Pakistani mission in Saudi Arabia, Kuwait and UAE secured the release of 30 prisoners after paying fines.
In 2013-14, many Pakistani fishermen were released from Indian prisons after being provided with legal aid at the government's expenses.
Full report at:
http://www.arabnews.com/news/541516
---------------
IG Sindh orders improved security around Hindu temples
2014-03-17
KARACHI: The Inspector General of Sindh Police, Iqbal Mahmood, on Monday directed DIGs, AIGs and SPs of different zones to beef-up security arrangements at areas inhabited by members of the Hindu community.
The directives follow the events of Saturday, when a mob set on fire a Dharamshala and damaged some statues of Hindu deities in an adjacent temple in Larkana in protest against alleged desecration of Holy Quran.
In his directives, Mahmood said special measures must also be adopted for security of all temples as well as community halls and other facilities frequented by members of the Hindu community across the province.
Full report at:
http://www.dawn.com/news/1093747/ig-sindh-orders-improved-security-around-hindu-temples
---------------
Bugti murder case: ATC issues arrest warrants for Musharraf's guarantors
2014-03-17
QUETTA: An anti-terrorism court (ATC) in Quetta on Monday issued arrest warrants for the guarantors of the former military ruler Gen (retd) Pervez Musharraf in a case relating to the murder of Baloch nationalist leader Nawb Akbar Bugti, DawnNews reported. The ATC in Quetta issued the warrants against Mumtaz Ahmad and Nazeer Ahmad after the former president failed to appear in court.
Moreover, the court accepted pleas requesting bail for former provincial home minister Mir Shoaib Nosherwani and former federal interior minister Aftab Sherpao.
Subsequently, the hearing of the case was adjourned to April 7.
Full report at:
http://www.dawn.com/news/1093733/bugti-murder-case-atc-issues-arrest-warrants-for-musharrafs-guarantors
---------------
Musharraf wants treason trial shifted to Dubai
March 17, 2014
ISLAMABAD: Pervez Musharraf's lawyer filed a petition in the special court on Sunday requesting that the hearing of the high treason case be conducted in Dubai owing to the worsening law and order situation in the country which, he said, was a threat to the former military dictator.
A petition was filed by Syed Abbas Naqvi in the special court over the shifting of the Musharraf treason case to Dubai due to the deteriorating law and order situation of the country. According to reports, the request was filed by Advocate Shah and stated that Musharraf faces death threats in Pakistan. It says that due to the worsening law and order situation of the country it was not possible to continue Musharraf's case in Pakistan and it is important to transfer hearing of the case to an "unbiased" place – United Arab Emirates – for dispensation of justice.
Full report at:
http://www.dailytimes.com.pk/islamabad/17-Mar-2014/musharraf-wants-treason-trial-shifted-to-dubai
---------------
Southeast Asia
Spotlight on Malaysia's complex ties with Islam
By Jeremy Grant
March 16, 2014 8:
As any tourist visiting Malaysia discovers, the lure of the country's pristine beaches and rainforest treks are a powerful draw.
The government has designated 2014 "Visit Malaysia" year, as part of a plan to boost tourist arrivals to 36m – 6m more than the country's population – by 2020.
High quality global journalism requires investment. Please share this article with others using the link below, do not cut & paste the article. See our Ts&Cs and Copyright Policy for more detail. Email ftsales.support@ft.com to buy additional rights. http://www.ft.com/cms/s/0/e9e92b3e-ad2b-11e3-8ba3-00144feab7de.html#ixzz2wJuZXdF7
Yet as well as the colourful images being portrayed in the government's advertising campaign, Malaysia is a moderate Muslim country with a complex relationship with Islam.
As investigators scramble to figure out whether missing Malaysia Airlines flight MH370 was hijacked, analysts will be tempted to speculate on whether this has any relevance.
On the face of it, the answer is no. Malaysia is not known as a base for radical Islamist terrorism, and it is precisely its success in managing its multi-ethnic population under the banner of moderate Islam that has turned the country into an important ally for the US.
Malaysia was at the forefront of nations condemning the 9/11 attacks on the US and provided logistical support and use of its air space for the US-led war against the Taliban in Afghanistan. Yet domestically, the picture is more complex.
Malaysia's constitution established Islam as the state religion when the country achieved independence from Britain in 1957. But its vague provisions mean that successive political leaders were "given free rein over the employment or neglect of Islam as a political tool", says Ahmad Fauzi Abdul Hamid, associate professor at Universiti Sains Malaysia.
The effect has been to give some Islamic institutions the same status as secular institutions, a process that started in earnest under former prime minister Mahathir Mohamad, who ruled for 22 years until 2003.
Full report at:
http://www.ft.com/cms/s/0/e9e92b3e-ad2b-11e3-8ba3-00144feab7de.html#axzz2wJuZJLB1
---------------
Christians, Muslims join anti-slavery campaign
March 17 2014
Christians and Muslims have joined to try to help free millions of men, women and children held in modern-day slavery, forced to work as maids, prostitutes, child soldiers and manual labourers.
The Global Freedom Network launched Monday at the Vatican aims to eradicate slavery by encouraging governments, businesses, educational and faith institutions to rid their supply chains of slave labour.
The initiative is the brainchild of billionaire Australian mining magnate Andrew Forrest, who founded the Walk Free Foundation in 2012 to mobilize a grass-roots movement to end slavery.
Forrest, ranked 270th on Forbes' list of the world's richest people, used personal contacts to bring the 1.2-billion strong Catholic Church, 85-million strong Anglican Communion and al-Azhar University in Cairo, the world's foremost seat of Sunni learning, on board with the initiative.
Representatives from all three gathered Monday at the Vatican to sign an agreement to launch the project, which will be based at the Vatican and have a chief executive responsible for implementing a five-year business plan. Objectives include getting the G20 to condemn modern-day slavery, persuading 50 major corporations to commit to slavery-proofing their supply chains and convincing 160 governments to endorse a seven-year, $100 million fundraising effort to implement anti-slavery programs globally.
In an interview, Forrest said it makes financial sense for countries to rid themselves of slave labour.
Full report at:
http://www.thejakartapost.com/news/2014/03/17/christians-muslims-join-anti-slavery-campaign.html
---------------
Malaysia doubles scale of plane search, pilots probed
March 17, 2014
KUALA LUMPUR - Malaysia said Sunday the number of countries searching for a missing airliner had nearly doubled to 25 as a full-scale criminal probe into its disappearance got under way, with particular scrutiny of the pilots.
Transport Minister Hishammuddin Hussein said the number of participating countries had jumped from 14 to 25 as the search for the aircraft focused on two vast, and vastly contrasting, land and ocean transport corridors. The dramatic "re-calibration" would inevitably bring "new challenges of coordination and diplomacy", the minister said.
Police said they had searched the homes of both pilots and examined the captain's home flight simulator after it became increasingly clear that the Malaysia Airlines Boeing 777 that vanished March 8 had been deliberately diverted by someone on board.
Hishammuddin cautioned people against "jumping to conclusions" about the thrust of the investigation, which national police chief Khalid Abu Bakar stressed was covering "all" the 239 passengers and crew. Engineers who may have had contact with the aircraft before take-off were also being looked at, Khalid said.
The police action followed Saturday's startling revelations that the plane's communications systems had been manually switched off before the jet veered westward and flew on for hours.
Full report at:
http://www.nation.com.pk/international/17-Mar-2014/malaysia-doubles-scale-of-plane-search-pilots-probed
---------------
Muslim NGO takes ministry to task after drug deaths
MARCH 17, 2014
KUALA LUMPUR, March 17 — A Muslim group has accused the government of jeopardising the future of the country's youth, after a six drug-related deaths at a three-day music festival over the weekend.
According to media reports, six Malaysians aged between 18 and 28 are suspected to have died after taking a new party drug at The Future Music Festival Asia 2014 held at the National Sports Complex in Bukit Jalil.
"The government has not only encouraged vice activities, but also destroyed the future of the young," Ikatan Muslimin Malaysia (ISMA) president Uztaz Abdullah Zaik Abd Rahman said on the Ismaweb website.
Full report at:
http://www.themalaymailonline.com/malaysia/article/muslim-ngo-takes-ministry-to-task-after-drug-deaths
---------------
Has Obama Been in Denial that Muslim Terrorists Probably Hijacked Malaysia Airlines?
March 16, 2014
Why has the United States not been leading the investigation into the disappearance of Malaysia Airlines Flight 370? Why has it taken so long for the United States to finally realize this may have been a terrorist action? Was the delay simply due to the Malaysian government not giving out information, or has the Obama Administration been very slow to respond?
Two Iranian men have been identified as apparently boarding Flight 370 with stolen passports.
It appears to be unknown if one or two airline crewmembers might have boarded Flight 370 and sat in the jump seats of the 777? Might there have been one or two terrorists riding with the crew in the cockpit?
It is said that no cell phone or Internet transmissions were received from Flight 370 after communications were lost? Was the aircraft simply always out of range of cell phone communication? Did the hijackers purposely take the 777 up to 45,000 feet immediately after communications were cut for the purpose of depressurizing the aircraft in order to quickly kill the passengers and crew? Persons in a depressurized aircraft at 45,000 feet would have lost consciousness in a few seconds.
If the 777 flew for seven more hours after communications were cut off, it could have reached Pakistan or even Iran.
Full report at:
http://lubbockonline.com/interact/blog-post/may/2014-03-16/has-obama-been-denial-muslim-terrorists-probably-hijacked-malaysia#.UyhH7ahdUqM
---------------
Africa
Algeria accused of protest crackdown
17 Mar 2014
Algerian authorities have been deploying large numbers of police and arresting protesters to prevent demonstrations in the capital ahead of the upcoming presidential elections, Human Rights Watch said.
The New York-based rights group said on Monday that officials have recently targeted a movement opposed to a fourth term for President Abdelaziz Bouteflika.
The 77-year-old president will be running after 15 years in power, despite having a stroke last year that has made his speech and movement difficult.
While six candidates have been approved for the April 17 elections, Bouteflika is expected to win with the backing of the powerful machinery of the state.
Human Rights group said that security personnel in Algiers have used force three times this month to disperse supporters of the Barakat [Enough] movement, as they expressed their opposition to a new mandate for Bouteflika.
"On March 1, 4, and 6, security forces tried to block access to the protest site. Security forces confronted protesters who managed to reach the site and started to wave banners and chant slogans," the organisation said in a statement.
Human Rights Watch urged authorities to rescind the 2001 decree banning all demonstrations in Algier. It also called on it to create conditions for unfettered debate and competitive elections.
"The open-ended, blanket ban on demonstrations in the capital has been in effect almost as long as Bouteflika has been president," said Eric Goldstein, deputy Middle East and North Africa director at Human Rights Watch.
"Is it any surprise that these latest victims of the crackdown on protest are those who peacefully oppose his election to a fourth five-year term?"
Full report at:
http://www.aljazeera.com/news/africa/2014/03/algeria-accused-protest-crackdown-201431774655186191.html
---------------
Refugee children die in Jordan fire
17 March 2014
AMMAN: A fire caused by a candle tore through a Syrian refugee caravan in a town north of Jordan, killing two children, a civil defense department official said on Sunday.
"The two Syrian brothers, aged two and five, died late last night after their caravan caught fire in Zaatari town in the Mafraq governorate," he told AFP.
"The fire swept through the caravan. The children died after sustaining fourth-degree burns," the official said, adding that "a candle sparked the fire."
The town hosts the 7-sq-km Zaatari Syria refugee camp, home to around 100,000 people.
The official said the incident took place outside the camp.
In December, two Syrian children and their father died when a gas cylinder exploded in their tent at Zaatari.
Full report at:
http://www.arabnews.com/news/541396
---------------
Tunisian police kill 3 militants in shootout
17 March 2014
TUNIS: Tunisian counter-terrorism forces killed three armed militants early Monday after surrounding their home in a clash which lasted several hours, the state news agency reported.
The siege took place in the northwest region of Jendouba, not far from the Algerian border, which has been the scene of previous confrontations with militants.
While Tunisia has been moving forward with its transition to democracy after overthrowing its secular dictator in 2011, there have been repeated clashes with armed militants affiliated with radical Islam.
Full report at:
http://www.arabnews.com/news/541571
---------------
Europe
French Muslims Protest Islamophobic Laws
17 Mar 2014
"All political parties contribute to the current climate of Islamophophia, but so does the media," Jamel El Hamri, Muslim activist, told Press TV during the protest held on Saturday, March 15.
They all create a false reality which creates real problems.
Saturday's protest was organized by the Campaign of Elimination of Islamophopic Laws which urged French Muslims and rights activists to take part in the anniversary march in Paris.
Campaigners aimed to overturn Islamophopic status in France by highlighting Muslim rights to freedom of expression and religious practices.
Citing anti-Islam campaigns led by difference factions of French politicians, Muslim activists expressed concerns that with a broad political backing of anti-Islam laws, it's not easy to counter what they dubbed as 'discriminatory laws'.
These political groups include the far-right National front, the conservative UMP and even the ruling Socialists.
"And these Islamophopic divisions permit them to avoid addressing economic and social questions," El Hamri.
Full report at:
http://www.sahilonline.org/english/newsDetails.php?cid=6&nid=22928
---------------
Britain hands over bases to Afghan forces
March 17, 2014
LONDON : Britain has handed over all but two of its remaining bases in Afghanistan's Helmand Province to local forces as part of its planned full withdrawal by the end of 2014, the MoD announced. In an operation lasting more than a month, the Lashkar Gah and Patrol Base Lashkar Gah Durai have been handed over to Afghan control. A third base, MOB Price, has also been closed, the ministry revealed. UK has two bases in Helmand: Camp Bastion, which serves as the main base for UK personnel, and Observation Post Sterga 2. At the height of the war, Britain had 137 bases in the area. "The handover of our bases underlines the progress UK Forces have made to increase security across the province but also to build up the capability of the Afghan forces who will carry that work forward," said Defence Secretary.
Full report at:
http://www.nation.com.pk/international/17-Mar-2014/britain-hands-over-bases-to-afghan-forces
---------------
Crimea votes to join Russia amid Western outrage
2014-03-17
SIMFEROPOL: Crimeans voted overwhelmingly Sunday in favour of joining former political master Russia as tensions soared in the east of the splintered ex-Soviet nation amid the worst East-West crisis since the Cold War.
Exit polls cited by local officials showed 93 per cent of the voters in favour of leaving Ukraine and joining Russia in the most serious redrawing of the map of Europe since Kosovo's 2008 declaration of independence from Serbia.
"I am happy. Honestly, I'm 60 and I never thought I would live to see this happy day," said Alexander Sorokin as he strolled the waterfront of Sevastopol, home of tsarist and Kremlin navies since the 18th century and a city that like most of the peninsula is heavily Russified.
Ukraine's new pro-European leaders and the West have branded the vote as "illegal" because the strategic Black Sea peninsula has been under de facto control of Russian forces since the start of the month.
The options facing voters were either to join Russia or go back to a 1992 constitution that effectively made Crimea into an independent state within Ukraine. Retaining good relations with Kiev was not an alternative.
International condemnation of the referendum began pouring in from world capitals even before the polls had closed.
US Secretary of State John Kerry demanded that Moscow pull back its forces to their bases in Crimea in return for constitutional reforms in Ukraine to protect minority rights.
A US State Department official said Kerry told Russian Foreign Minister Sergei Lavrov in a phone call that "as Ukrainians take the necessary political measures going forward, Russia must reciprocate by pulling forces back to base."
The European Union said it would be deciding on sanctions against Russia on Monday that include the possible seizure of the foreign assets of top Kremlin officials and travel bans for senior ministers.
Full report at:
http://www.dawn.com/news/1093540/crimea-votes-to-join-russia-amid-western-outrage
---------------
British PM sets out priorities for EU reform
March 17, 2014
LONDON : Prime Minister David Cameron on Sunday outlined the EU reforms he thinks are needed to stop Britain being "sucked into a United States of Europe", ahead of a planned referendum on membership in 2017.
The Conservative leader said he would campaign for Britain to stay in the European Union so long as he can secure changes to reduce the bloc's influence in British affairs.
In an article in the Sunday Telegraph newspaper, Cameron outlined for the first time his seven priorities, ranging from cutting back red tape to limiting the rights of new EU citizens to work in Britain.
He warned the changes would require "time and patience", an appeal to eurosceptic members of his party who are demanding an even tougher approach to Europe.
"This is an ambitious agenda for a new European Union. Delivering it will take time and patience, as well as strong relationships with our key allies and goodwill - not shouting from the sidelines," the prime minister wrote.
"It will require a negotiation with our European partners. Some changes will best be achieved by alterations to the European treaties. Others can be achieved by different means."
He stressed the reforms were achievable, despite the apparent lack of enthusiasm from Britain's EU allies to renegotiating the 28-nation bloc's complex treaties.
During recent visits to London, German Chancellor Angela Merkel was cool on Cameron's reform agenda and French President Francois Hollande said outright that treaty change was "not a priority".
Full report at:
http://www.nation.com.pk/international/17-Mar-2014/british-pm-sets-out-priorities-for-eu-reform
---------------
South Asia
Bangladesh opposition leader sent to jail as protests loom
2014-03-17
DHAKA: A Bangladesh court sent the country's second most senior opposition leader to jail on Sunday, a prosecutor said, a move set to trigger renewed protests in the politically volatile nation.
The court in Dhaka denied bail to Fakhrul Islam Alamgir, secretary-general of the Bangladesh Nationalist Party (BNP), who is charged with murder during violence in the run-up to a controversial general election in January.
"The metropolitan magistrate rejected bail for Alamgir and two other BNP officials and sent them to jail," prosecutor Abdullah Abu told AFP.
The detention comes amid a government crackdown on the BNP and its 18 smaller allies, all of whom boycotted the violence-plagued election and allowed the ruling Awami League to win an absolute majority.
Full report at:
http://www.dawn.com/news/1093721/bangladesh-opposition-leader-sent-to-jail-as-protests-loom
---------------
Afghan election field down to nine as ex-minister drops out
March 17, 2014
KABUL - Former defence minister Abdul Rahim Wardak withdrew from the Afghan presidential election on Sunday in the latest sign of deal-making in the race to lead the country as Nato troops prepare to exit.
Wardak, a veteran military and political operator, has been a senior advisor to President Hamid Karzai, but he failed to make any impact in the election campaign ahead of voting on April 5. Nine candidates now remain in the race to succeed Karzai, who has ruled Afghanistan since 2001 and is constitutionally banned from running again.
The three leading names are former foreign minister Zalmai Rassoul, Abdullah Abdullah, who came second in 2009, and former World Bank economist Ashraf Ghani. On Sunday Wardak declined to publicly endorse another candidate, though analysts say he could back Rassoul, who is increasingly seen as having the implicit support of the outgoing president. 'Our campaign was not vigorous from the very beginning,' Wardak, 68, told a press conference in Kabul. 'Today I announce that, without joining any other teams, I withdraw from the presidential election candidacy. 'Reaching power has never been my target and I will always remain at my nation's service.' Wardak, from the Pashtun ethnic group like Karzai and Rassoul, was a guerrilla commander in the war against the Soviet occupation of Afghanistan in the 1980s.
Full report at:
http://www.nation.com.pk/international/17-Mar-2014/afghan-election-field-down-to-nine-as-ex-minister-drops-out
---------------
Maldives to shut down Dhaka mission from April 1
March 17, 2014
The Maldives is going to shut down its high commission in Dhaka, which opened in 2008, from April 1 for, Maldivian officials say, a 40 percent budgetary cut their foreign ministry faced.
Maldives Acting High Commissioner Ahmed Adil informed The Daily Star of the decision.
Dhaka, which opened its mission in Male on August 8, 1998, had offered to host the mission considering historical relations, established on September 22, 1978, but were politely refused, diplomatic sources said. Dhaka has yet not taken any reciprocal decision.
Official sources said the decision was taken a couple of years after the mission opened but hectic efforts by the then Bangladesh High Commissioner in Male Selina Mohsin during Maldives President Mohamed Nasheed's time had stalled it.
Full report at:
http://www.thedailystar.net/city/maldives-to-shut-down-dhaka-mission-from-april-1-15981
---------------
North America
Annual American Muslim Union brunch an opportunity for dialogue, bridge building
MARCH 16, 2014
TEANECK — As part of an ongoing outreach program, a few weeks ago New Jersey State Attorney General John Hoffman met with local Muslim leaders and discussed a controversial court ruling that angered many members of that community.
A federal district court judge in February had dismissed a civil rights lawsuit brought by eight Muslims over the New York Police Department's secret surveillance of mosques and members of Islam in North Jersey, a case known as Hassan vs. City of New York.
Hoffman described some of the back and forth at the meeting on the court's ruling when he addressed the American Muslim Union's 17th Annual Brunch Sunday at Glenpointe Marriott in Teaneck.
"It was a very difficult discussion, a very emotional discussion, and a very charged discussion," Hoffman said. "There were a lot of people angry over the decision."
Nonetheless, the Attorney General's Office – and its Muslim Outreach Committee — and New Jersey Islamic leaders weren't sidestepping the tough issues, Hoffman said. They were having a direct dialog, were communicating and were building trust, Hoffman told the 400 attendees at the AMU event.
This year top federal, state, county and local law enforcement officials once again turned out in force for the brunch held by the AMU, a Paterson-based grass-roots organization led by President Mohamed Younes. Part of the AMU's mission is to educate the public about the Islam faith and build bridges with government agencies and elected officials. Trust between law enforcement and Muslim Americans has been sorely tested since 9/11, with Islam groups objecting to what they consider illegal racial profiling. U.S. Sen. Cory Booker also addressed the gathering, whose goal during the past few years has been to encourage North Jersey Muslims to vote and get involved in politics, to put up and elect candidates that will represent their community.
Full report at:
http://www.northjersey.com/news/annual-american-muslim-union-brunch-an-opportunity-for-dialogue-bridge-building-1.743965
---------------
Crimean Tatars in Ukraine: Deep-Seated Fears
Mar 16, 2014
By Luise Sammann
"Keep calm!" – That's the order of the day in Crimea, where these days, one wrong word, one wrong move can have grave consequences. "Keep calm!" is also what people are being told in Ankara, 1,000 kilometres away, because what happens in Crimea will sooner or later also affect Turkey, which is home to millions of Crimean Tatars.
Foreign forces may be keen to turn the Crimean crisis into a crisis between the Tatars and Russia, or ultimately a crisis between Turkey and Russia, warned Turkish Foreign Minister Ahmet Davutoglu on his visit to Kiev a few days ago. "We will not allow that to happen!" he emphasised, adding: "Territorial integrity, peace and stability in Ukraine are extremely important to Turkey. Crimea in particular is a key concern for us as the gateway to Ukraine, but also because of the Crimean Tatars who live there and the region's Turkish heritage."
Celal Icten is grateful for the words of his foreign minister, as diplomatic and indefinite as they may be. "Turkey can and must play an active role in this conflict," says the chairman of the Istanbul Association of Crimean Tatars. After all, his ethnic group are a Turkish people and are considered a little brother to the Turks. And now they are in danger!
Persecuted and forgotten
Since the beginning of the Crimean crisis, Celal Icten and other representatives of the Turkish Crimean Tatars have been asking the government in Ankara for help. As far as they are concerned, the situation is clear: the more power the Russians gain over the peninsula that became part of Ukraine in 1954, the greater the threat to the Crimean Tatar minority living there. "We fear for the lives of our relatives there," says Icten.
Up to seven million Crimean Tatars live in Turkey today, says the 59-year-old. Even though the last count was taken in 1927, it is obvious that there are many more here than in Crimea itself. Some 45 clubs and associations uphold their heritage in Turkey, organise student exchanges between the old and new homelands, host evenings of culture or readings, and see themselves as nothing less than protectors of their relatives in Crimea and as representatives of their interests.
Full report at:
http://theamericanmuslim.org/tam.php/features/articles/crimean-tatars-in-ukraine-deep-seated-fears/0020149
---------------
US Seals take control of rogue Libya oil ship: Pentagon
2014-03-17
WASHINGTON: US Navy Seals boarded and took control of a North Korea-flagged tanker that had loaded crude oil at a port held by rebels in eastern Libya, the Pentagon said Monday.
No one was hurt "when US forces, at the request of both the Libyan and Cypriot governments, boarded and took control of the commercial tanker Morning Glory, a stateless vessel seized earlier this month by three armed Libyans," Pentagon Press Secretary Rear Admiral John Kirby said in a statement.
The operation was approved by President Barack Obama and was conducted just after 0200 GMT Monday "in international waters southeast of Cyprus".
The Morning Glory "is carrying a cargo of oil owned by the Libyan government's National Oil Company. The ship and its cargo were illicitly obtained from the Libyan port of As-Sidra," the statement read.
The tanker will be "underway soon to a port in Libya" with a team of US sailors aboard.
The Morning Glory, which departed from the eastern Libyan port of Al-Sidra — controlled by rebels seeking autonomy from the authorities in Tripoli — is reported to have loaded at least 234,000 barrels of crude.
Full report at:
http://www.dawn.com/news/1093740/us-seals-take-control-of-rogue-libya-oil-ship-pentagon
---------------
URL: https://www.newageislam.com/islamic-world-news/new-age-islam-news-bureau/saudi-arabia-bans-threatening-books-at-fair-in-wide-ranging-crackdown/d/56164