New Age Islam News Bureau
11 December 2021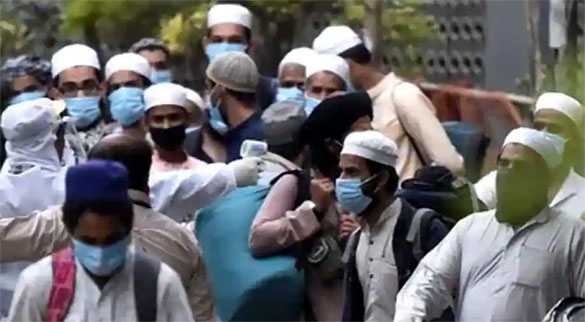 In India, Tablighi Jamaat was severely criticised by India's Rwandan media for organising an international conference in Delhi's Nizamuddin area during the first wave of Covid pandemic for violating lockdown rules, though the conference had been held a week before these rules were formulated and lockdown imposed. Courts have severely criticised the police for arresting foreign Tablighis for gathering, even though Lockdown had not been imposed then. Photograph : (WION Web Team)
-----
• Malayalam Film Director Ali Akbar and His Wife Renounces Islam to Protest against Those 'Rejoicing' Over Gen Rawat's Death
• Tehreek-e-Taliban Pakistan Chief, Mufti Noor Wali Mahsud, Asks His Fighters to Resume Attacks against the Pakistani Security Forces
• All Ceylon Jamiyyathul Ulema Of Sri Lanka Thank Pak Religious Scholars
• Uighur Genocide Report 'Deeply Disturbing', Says UN
Arab World
• Six Years Later, Ex-Islamic State Stronghold in Iraq Feels Left Behind
• ISIS Propagandist, A Canadian Citizen, Pleads Guilty To Aiding Terrorist Group
• Egypt jails 43 'Muslim Brotherhood members'
• Around a dozen people injured in explosion at south Lebanon Palestinian camp
--------
India
• Haryana Chief Minister Says Prayers by Muslims in Open Spaces "Will Not Be Tolerated"
• Namaz Disrupted Again As Protesters Hold Event To 'Mourn Chopper Crash Victims'
• India's Iconic Jama Masjid Needs Urgent Repairs, Says Management
--------
Pakistan
• FATF needs to open Pakistan's Pandora Papers leaks to stop terror finance networks
• Sikh Girl Embracing Islam to Marry Her Muslim Boyfriend of Nankana Sahib, Pakistan
• Waziristan families begin returning from Afghanistan
--------
South Asia
• Afghan Taliban Reject TTP Claim of Being a 'Branch of Islamic Emirate of Afghanistan'
• Indian Sisters Pay Rs 1.5 Crore To Help 92 People, Pets Flee Afghanistan
• 15 EU nations to resettle Afghan refugees to prevent irregular immigration
• World Bank confirms delivering $280 M to Afghanistan
• Canada may resume political mission in Kabul
• Donors back $280 mln transfer from trust fund to WFP for Afghan food, health needs
• Bus bomb kills two in Afghan capital: Taliban
--------
Europe
• Former BBC chairman tells broadcaster: 'Prove anti-Muslim slur claim or apologise'
• Germany promises to take in 25,000 Afghans: EU document
• France to declassify Algerian war archives
-------
Mideast
• Mountains Have Deeply Spiritual, Political Symbol For Palestinians: Historical Researcher
• Erdogan Reacts to Publication of Insulting Book to Prophet for Syrian Kids
• Iran prioritizes ties with Muslim and neighbouring nations including Turkey: Qalibaf
• Iran's Chief Negotiator Slams EU's Lack of Seriousness in Vienna Talks
• Spokesman Blasts UK Parliament for Unconstructive Move to Ban Iranians
• Palestinian rejects 'tempting offers' to vacate house in East Jerusalem
• Israeli army kills Palestinian in northern West Bank
--------
Africa
• Gunmen Attack Mosque in Nigeria's North, Killing 16
• Algerian President receives rector of Great Mosque of Paris
• Morocco economy rebounds with strong growth: IMF
-------
North America
• Arizona State University Police Arrest an Individual Related To Tearng, Burning Holy Quran
• US sanctions China, Myanmar, Bangladesh, others over human rights issues
• Al-Qaida has grown in Afghanistan after US withdrawal: McKenzie
--------
Southeast Asia
• Indonesian Muslims Gather For Holy Friday Prayers Near Deadly Volcano
• President upbeat about Indonesian sharia economy's prospects
• Jokowi Assures ITE Law Won't Limit Freedom of Expression
• I need your continued support as PM, Ismail tells Umno
Compiled by New Age Islam News Bureau
URL: https://www.newageislam.com/islamic-world-news/saudi-arabia-bans-tablighi-jamaat-sunni-islamic-movement/d/125942
--------
Saudi Arabia Bans Tablighi Jamaat, a Sunni Islamic Movement, Calls It 'One of The Gates Of Terrorism'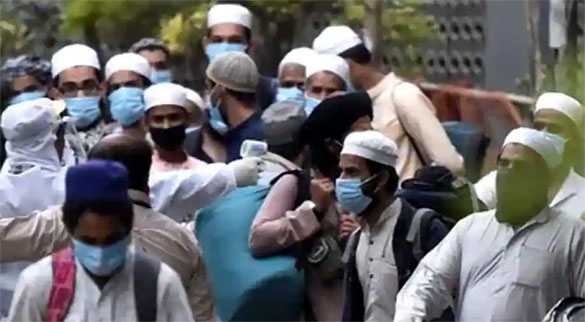 In India, Tablighi Jamaat was severely criticised by India's Rwandan media for organising an international conference in Delhi's Nizamuddin area during the first wave of Covid pandemic for violating lockdown rules, though the conference had been held a week before these rules were formulated and lockdown imposed. Courts have severely criticised the police for arresting foreign Tablighis for gathering, even though Lockdown had not been imposed then. Photograph : (WION Web Team)
-----
Dec 10, 2021
The Saudi government has banned Tablighi Jamaat, a Sunni Islamic movement, calling it "one of the gates of terrorism".
The Saudi Ministry of Islamic affairs said in a tweet that the preachers in the mosque have been directed to allocate the next Friday sermon to warn people about the Tablighi Jamaat.
"Declaration of the misguidance, deviation and danger of this group, and that it is one of the gates of terrorism, even if they claim otherwise; Mention their most prominent mistakes," it said.
"Mention their danger to society; Statement that affiliation with partisan groups, including (the Tablighi and Da'wah Group) is prohibited in the Kingdom of Saudi Arabia," the ministry added.
Originated in India in 1926, Tablighi Jamaat (Society for Spreading Faith) is a Sunni Islamic missionary movement that urges Muslims to return to a pure form of Sunni Islam and be religiously observant, especially with respect to dressing, personal behaviour, and rituals.
It is estimated to have somewhere between 350 to 400 million members across the globe. They collectively claim that their focus is only on religion and strictly avoid political activities and debates.
United States Institute of Peace has described Tablighi Jamaat as an "Islamic revivalist organization" noting that the group "has appeared on the fringes of several terrorism investigations, leading some to speculate that its apolitical stance simply masks 'fertile ground for breeding terrorism' in nations such as UK, France and America.
In India, the group the severely criticised for organisation a mass gathering in Delhi's Nizamuddin area during the first wave of Covid pandemic for violating lockdown rules last year.
According to Pew Research Centre, Tablighi Jamaat operates roughly in 150 countries around the world, including Western Europe, Africa, and South Asia.
In South Asia, the Tablighi Jamaat has a great following, especially in Indonesia, Malaysia, Bangladesh, Pakistan, and Thailand.
Source: WIO News
Please click the following URL to read the text of the original story:
https://www.wionews.com/world/saudi-arabia-bans-tablighi-jamaat-calls-it-one-of-the-gates-of-terrorism-435908
--------
Malayalam Film Director Ali Akbar and His Wife Renounces Islam to Protest against Those 'Rejoicing' Over Gen Rawat's Death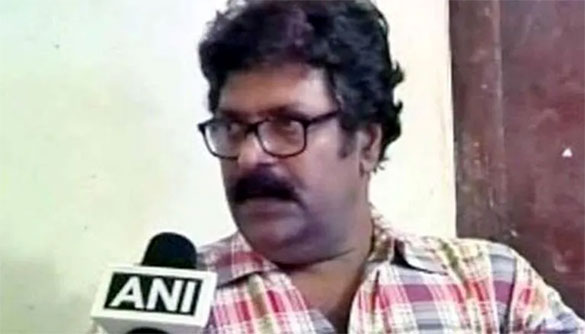 Ali Akbar/Republic World .com
----
Dec 11, 2021
Malayalam film director Ali Akbar has announced that he and his wife were giving up Islam in protest against a section of social media users allegedly indulging in jubilation over the tragic death of CDS Bipin Rawat and his wife in a helicopter crash.
He made the announcement in a video posted on social media on Friday.
"I am not a Muslim from today onwards. I am an Indian," the film-maker said.
In the clip, he slammed those who had put smiley emoticons below the news reports related to the death of Gen Rawat, saying he could not stand with the "anti-nationals" anymore.
Akbar's decision comes in the wake of a section of members of a minority community reportedly rejoicing over Rawat's death.
In October, the film director-turned-politician had resigned from all responsibilities in the BJP, including as its state committee member, as he was "pained" by the Kerala unit's organisational-level action against BJP state secretary AK Nazeer.
Akbar, however, had said that he would continue as a member of the BJP.
In an emotional Facebook post, he had said that it was very difficult for the common man to understand the kind of humiliations and abuses being faced by a Muslim, from his own family and community, while working for the BJP.
The filmmaker is currently working on a film based on Malabar rebellion also called as Moplah riot that took place in north Kerala in 1921. PTI
Source: Tribune India
Please click the following URL to read the text of the original story:
https://www.tribuneindia.com/news/nation/kerala-filmmaker-ali-akbar-renounces-islam-to-protest-against-those-rejoicing-over-gen-rawats-death-349126
--------
Tehreek-e-Taliban Pakistan Chief, Mufti Noor Wali Mahsud, Asks His Fighters to Resume Attacks against the Pakistani Security Forces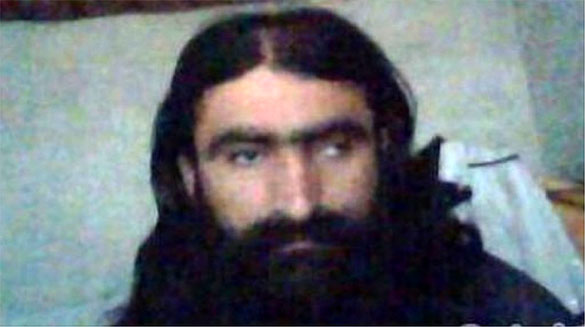 Tehrik-e Taliban Pakistan's Chief, Mufti Noor Wali Mehsud/ Sayhoon News
-----
Dec 11, 2021
ISLAMABAD: With the Tehreek-e-Taliban Pakistan unilaterally announcing an end to a month-long ceasefire on Thursday night, the terror group's chief, Mufti Noor Wali Mahsud, has asked his fighters to resume attacks against the Pakistani security forces. In an audio message, Mufti Noor said that his fighters reserve the right to resume attacks wherever they are after Thursday midnight since the TTP has not heard back from the mediators or the Pakistani government. The month-long ceasefire had come into effect on November 9.
Announcing an end to the ceasefire on Thursday night, the TTP in a statement blamed the Pakistan government for reneging on its promises made to the terror group in the initial stages of consultations in Afghanistan. It said the Pakistani authorities had not released their 102 prisoners. According to the statement, the initial agreement had guaranteed that the released prisoners would be handed over to the TTP through the Islamic Emirate of Afghanistan on November 1.
The TTP further stated that both sides had agreed to initiate formal talks and will finalise five names of negotiators from each side. While the TTP said it had formed a five-member committee, the Pakistani government had not appointed a negotiating team to conduct talks. The group also said that security forces had carried out raids in many parts of the northwestern Khyber Pakhtunkhwa province, killing and detaining a number of militants while the ceasefire was in place.
"Under these circumstances, it is not possible to extend the ceasefire," the TTP statement said.
Pakistan's talks with the TTP were deemed to fail since some of the demands of the outfit, like implementation of Shariah and the demerger of the volatile tribal districts, were not possible for Islamabad to meet. The tribal districts were merged into Khyber Pakhtunkhwa through a constitutional amendment in May 2018.
Since 2007, the TTP has carried out some of the deadliest attacks on Pakistani soil, targeting political leaders, civilians and security forces in suicide bombings, IED attacks and targeted killings.
In 2014, the group claimed responsibility for attack on Army Public School in Peshawar, killing about 150 people, including 132 schoolchildren. The number of TTP attacks had significantly dropped after Pakistan launched a military operation in 2014, pushing the group out of its erstwhile stronghold of the North Waziristan tribal district. Sporadic attacks, however, continued to take place.
After the Afghan Taliban took over control of Afghanistan in mid-August, the TTP had intensified their attacks, targeting civilians and security forces, prompting the authorities in Islamabad to demand from Kabul not to allow its soil for terrorist attacks on Pakistan.
Source: Times of India
Please click the following URL to read the text of the original story:
https://timesofindia.indiatimes.com/world/pakistan/ttp-chief-asks-his-fighters-to-resume-attacks/articleshow/88214601.cms
--------
All Ceylon Jamiyyathul Ulema Of Sri Lanka Thank Pak Religious Scholars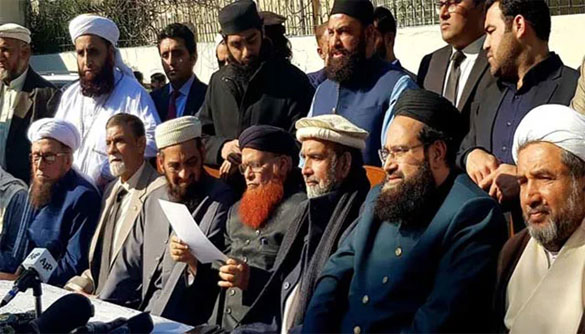 All Ceylon Jamiyyathul Ulema of Sri Lanka / The International News
-----
By Asim Yasin
December 11, 2021
ISLAMABAD: The All Ceylon Jamiyyathul Ulema of Sri Lanka in an appreciation letter to Chairman Pakistan Ulema Council, Special Aide to Prime Minister on Religious Harmony and Middle East Hafiz Muhammad Tahir Mehmood Ashrafi thanked him and all ulema of Pakistan for condemning the inhuman murder of Sri Lankan PriyanthaKumara in Sialkot and coming forward to establish peace and justice.
"We All Ceylon Jamiyyathul Ulema of Sri Lanka (Council of Islamic Religious scholars in Sri Lanka) appreciate your good self, the ulema and all religious scholars of Pakistan for condemning the inhuman murder of our fellow Sri Lankan manager PriyanthaKumara in Sialkot," the letter said.
The letter stated that Sri Lankan ulema learnt about the joint meeting of leaders of all religions and religious schools of thought of Pakistan last Sunday under his leadership and termed the Sialkot incident barbaric, fatal and brutal. "Further we appreciate Islamic religious scholars of Pakistan expressing their solidarity with Sri Lanka clarifying that this act is against the teachings of Islam," the letter stated.
Source: The News Pakistan
Please click the following URL to read the text of the original story:
https://www.thenews.com.pk/print/915857-sri-lankan-clerics-thank-pak-religious-scholars
--------
Uighur Genocide Report 'Deeply Disturbing', Says UN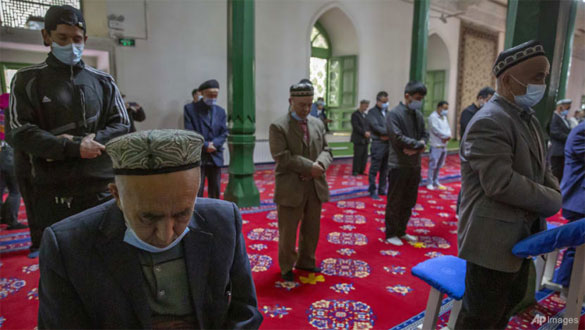 Uyghurs and other members of the faithful pray during services at the Id Kah Mosque in Kashgar in far west China's Xinjiang region, Apr 19, 2021. (Photo: AP/Mark Schiefelbein)
------
December 10, 2021
GENEVA: The UN on Friday labelled as "deeply disturbing" a report by a London panel of lawyers and rights experts accusing China of genocide against its Uighur minority.
UN rights office spokesman Rupert Colville said the agency had not verified the findings presented in Britain on Thursday and did not comment on the conclusion that China had committed genocide through population control measures.
But he told reporters in Geneva that the informal panel, set up at the request of exile group the World Uighur Congress, had "brought to light more information that is deeply disturbing in relation to the treatment of Uighurs and other Muslim and ethnic minorities in Xinjiang".
He said credit was due to the "many victims or witnesses who took great risk in coming forward", stressing that it was "extremely important therefore to give them full protection from any reprisals".
Nine lawyers and human rights experts were involved in the London panel and heard allegations of torture, rape and inhumane treatment at two evidence sessions this year.
The tribunal, which has no powers of sanction or enforcement, concluded that China's rulers "intended to destroy a significant part" of the Muslim Uighur minority through population control measures and as such had "committed genocide".
Beijing dismissed its findings, and said the World Uighur Congress had "paid for liars, bought rumours and gave false testimony in an attempt to concoct a political tool to smear China".
Colville said the UN rights office investigators had "similarly identified patterns of arbitrary detention and ill-treatment in institutions, coercive labour practices and an erosion of social and cultural rights in general".
He stressed the need for "an independent and comprehensive assessment" of rights abuse allegations in Xinjiang.
The UN rights office was finalising its own assessment, he said, and its conclusions were likely to be published in the coming weeks.
UN rights chief Michelle Bachelet has for years been asking Beijing to provide her and other independent observers with "meaningful and unfettered access" to the region, but Colville said so far no such visit had been made possible.'
Source: Free Malaysia Today
Please click the following URL to read the text of the original story:
https://www.freemalaysiatoday.com/category/world/2021/12/10/uighur-genocide-report-deeply-disturbing-says-un/
--------
Arab World
Six years later, ex-Islamic State stronghold in Iraq feels left behind
December 10, 2021
Six years after a Dutch air raid as part of the coalition against the Islamic State, the scars of the disaster are still everywhere in the Iraqi city of Hawija. The target was an explosives factory, but at least two tankers outside the factory were full of explosives, and tons of chemicals used to make bombs were stored nearby. At least 70 people were killed and hundreds wounded. Part of the industrial area where the factory stood is still just ruins.
The inhabitants of Hawija knew that Dutch planes were responsible for the disaster that befell their city in June 2015 long before it was revealed in the Dutch media. "We knew right after it happened, from leaks from the operation", mayor Sabhan Khalaf Ali al-Jubouri explained. "Why is the Dutch government saying it did not know? Someone is trying to escape responsibility."
Al-Jubouri is on a trip to The Hague to make these complaints in person. Last year, the Dutch Ministry of Defense finally earmarked 4 million euros for Hawija, years after the former minister Jeanine Hennis Plasschaert (now head of the UN mission in Iraq, Unami) was forced to step down for misleading Parliament. It has recently become clear that officials knew at the time of the bombing that the collateral damage could be serious. Al-Jabouri has called on the Dutch both to issue an official apology and to provide immediate assistance in Hawija. "My people expect me to return with compensation money," he said.
"We had a supermarket, which was totally flattened," said Hani al-Obaidi, a soldier at a military base just outside the town. "Daesh offered us $200 in compensation, which I refused. The Iraqi government has not compensated me." He squarely blames the Dutch for his loss, as does the owner of a small shop selling motor oil in the industrial area, who only managed to rebuild with the help of his supplier. They are both angry that no compensation has been paid as yet by the Dutch government.
People in Hawija point out that France has rebuilt the technical institute its air raids destroyed during the IS occupation. And that the eastern province of Ramadi, which suffered enormous destruction, has already been largely rebuilt with help from coalition countries.
"We have not seen any money from Holland," says Sheikh Wasfi al-Assi angrily. "None of the victims has received any compensation. Are the Dutch not interested at all in their fate?"
The sheikh receives his guests at an army base right outside the town—one of many, to counter the IS cells that still are active in the area. Shiites are the majority in Iraq and control the government as well as the army and security forces. They are not willing to forget Hawija's role as an IS stronghold, and distrust its people still.
Hawija's sheikhs and leaders try to explain to politicians in Baghdad that they lost 5 000 of their own people to the terror group. And civilians generally had little choice but to stay, they say. "If we tried to leave, IS killed us. If we stayed, the coalition bombed us," people say. After the 2015 disaster, there were problems with the water and electricity supply, but IS was not engaged in any rebuilding. Hawija's civilians were mostly peaceful, says Sheikh Al-Wasfi. "Everybody waited until Daesh had gone, as Daesh was stronger than they were."
Yet many in Iraq still consider Hawija to be dangerous, and the recurring attacks on the checkpoints and bases manned by Shiite militias and army around the town only feed the perception. Every road into this conservative Sunni town is guarded by militias of the Shiite Hashed, and colorful Shiite flags fly at every base and checkpoint.
Since the liberation in 2017, security forces ask civilians in Hawija to report any suspicious conversation or movement — something that doesn't happen in Mosul, which was considered the capital of IS's so-called Caliphate. For this reason, many people in Hawija admit to feeling punished twice over, first by IS and the air raids, and now by the distrust and neglect of the outside world.
Baghdad has mainly excluded the town from its own compensation payments, which is why civilians are looking to the Dutch for the money. The fact that nothing has reached them feeds into conspiracy theories: "The money goes to officials in Kirkuk," says the sheikh. "And even there, they only give it to the people they have a relationship with."
On every level in Hawija, people are convinced that even if money is on the way, a lot won't make it to them. Sabria Salah lost her husband to IS and a son to the explosion. Her house was flattened, and she now rents another, while hers is slowly rebuilt with money loaned by her family. "The NGOs don't come to the right people," she says. "We heard there were lists, and that mattresses and blankets were distributed, but we got nothing."
Her brother-in-law, Harif Shabib, says the NGOs only help people they have a relationship with. "We know of a village school that has been renovated six times over, while schools in other villages are still in ruins." He points out that his sister-in-law should at least receive his husband's state pension. But as he is missing and has not officially been declared dead, she does not.
The Al-Ghad League for Woman and Child Care, the major local NGO in Hawija, indicates that psychological problems have snowballed due to the violence of the occupation, the explosion and its aftermath, with hopelessness leading to a recent increase in suicides. Tofan Abdulwahhab Awad of Al-Ghad said, "We call on the countries that helped us to get rid of Daesh to continue helping us now. Daesh was a terror group, but you are countries with values to uphold."
Source: Al Monitor
Please click the following URL to read the full text of the original story:
https://www.al-monitor.com/originals/2021/12/six-years-later-ex-islamic-state-stronghold-iraq-feels-left-behind
-------
ISIS Propagandist, A Canadian Citizen, Pleads Guilty To Aiding Terrorist Group
11 December ,2021
A Canadian citizen who traveled to Syria to join ISIS nearly a decade ago pleaded guilty Friday to serving as one of the organization's more prominent English-language propagandists.
For the latest headlines, follow our Google News channel online or via the app.
Mohammed Khalifa, 38, pleaded guilty to conspiring to provide material support to a designated foreign terrorist organization, resulting in death, at a hearing in US District Court in Alexandria. US District Judge T.S. Ellis III accepted the plea.
According to court records, Khalifa left Canada for Syria in 2013 after being inspired by the lectures of Anwar al-Awlaki, a US cleric who later became a leading figure in al-Qaeda.
Prosecutors said Khalifa narrated two notorious ISIS propaganda videos — "Flames of War" in 2014 and "Flames of War II" in 2017 — designed to recruit Westerners to join ISIS to kill Westerners as part of an international holy war campaign.
Khalifa also fought on the battlefield, according to prosecutors. He was captured by Syrian Defense Forces in 2019 and held overseas until he was brought to Virginia earlier this year to face charges.
According to an FBI affidavit, Khalifa told FBI agents he expected to be sent to an ISIS training camp when he joined the organization in late 2013. Instead, he was recruited to join the organization's media department because of his English language skills and spent nearly five years as a leader in their English-language propaganda unit, it said.
The affidavit said Khalifa narrated numerous videos besides "Flames of War" and its sequel, which show prisoners being executed and decapitated. In another video, titled "Inside the Khilafah," Khalifa urges listeners, if they aren't able to travel to Syria to join ISIS to instead "terrorize the disbelievers with your jihad outside the khilafah by targeting them and shedding their blood."
Source: Al Arabiya
Please click the following URL to read the full text of the original story:
https://english.alarabiya.net/News/middle-east/2021/12/11/ISIS-propagandist-pleads-guilty-to-aiding-terrorist-group
-------
Egypt jails 43 'Muslim Brotherhood members'
December 10, 2021
An Egyptian court yesterday issued prison sentences against 43 people accused of being leaders and members of the Muslim Brotherhood.
Of those jailed, 23 were handed life terms while four were acquitted. They were found guilty of "joining a terrorist group and forging official documents."
Yahya Moussa and Alaa Al-Samahi were sentenced in absentia as they are both living in exile in Turkey.
The court sentenced 18 defendants to 15 years, including Hossam Ahmed, Jamal Sultan, Karim Sayed, Ahmed Galal, Youssef Mohamed, Ahmed Ali Awad, Hisham Al-Sayed, Ayman Tariq, Ahmed El-Sayed, Mohamed El-Sayed, Mohamed Mahmoud Abdel-Aal, Sami Mahmoud, Khaled Mohamed Shaaban, Mohamed El-Sayed Khamis, Saleh Abdel Rahim, Mohamed Mahmoud, Hani Mahrous and Amr Fadl.
The court acquitted Hadi Mohamed, Rajaa El-Sayed, Mohamed Mustafa and Raya Abdullah of charges relating to mediation to pay a bribery. It also ruled that lawsuits against Ahmed Abdel Nabi and Khamis Abdel-Aal could be dropped as they have both died.
Source: Middle East Monitor
Please click the following URL to read the full text of the original story:
https://www.middleeastmonitor.com/20211210-egypt-jails-43-muslim-brotherhood-members/
-------
Around a dozen people injured in explosion at south Lebanon Palestinian camp
10 December ,2021
A large explosion rocked a Palestinian camp in the southern Lebanese port city of Tyre on Friday night, injuring about a dozen people, according to rescue workers on scene and a Palestinian source inside the camp.
For all the latest headlines, follow our Google News channel online or via the app.
The state-run National News Agency (NNA) reported an unspecified number of deaths, but local media and civil defense workers on scene said there had been no fatalities. A security source also said fatalities had not been recorded.
The NNA reported that the blast emanated from a Hamas weapons depot in the Burj al-Shemali camp and a judge had ordered security forces to launch an investigation.
A number of armed Palestinian factions, including Hamas and the Fatah Movement, hold effective control over roughly a dozen Palestinian camps in the country, which Lebanese authorities by custom do not enter.
Shehab News Agency, seen as close to Hamas, quoted a Palestinian source as saying the explosion was caused by the ignition of oxygen canisters stored for use in fighting the COVID-19 pandemic.
Source: Al Arabiya
Please click the following URL to read the full text of the original story:
https://english.alarabiya.net/News/middle-east/2021/12/10/Explosion-at-Hamas-weapons-depot-in-Palestinian-camp-in-Lebanon
-------
India
Haryana Chief Minister Says Prayers by Muslims in Open Spaces "Will Not Be Tolerated"
Pheroze L. Vincent
11.12.21
Haryana chief minister Manohar Lal Khattar on Friday said that prayers by Muslims in open spaces "will not be tolerated" and withdrew consent to Friday namaz at designated open-air sites in Gurgaon.
His announcement came after serial disruptions, by Hindutva groups and residents, of open-air Jumma namaz since September.
"Such (religious) programmes should not happen in the open," Khattar told reporters.
"Namaz in open spaces, which has happened here, will not be tolerated at all. An amicable solution will be found by sitting together."
Police have been protecting open-air Friday prayers in the face of disruptions by Hindutva activists who use loudspeakers and play Hindu devotional songs during namaz, or perform puja at these spots at the time of namaz.
Last month, the district administration withdrew consent to eight of the 37 designated sites where Muslims offered Friday prayers in the absence of enough mosques.
These 37 sites, which included three Muslim institutions, had been earmarked by the administration in 2018 after protests by Hindutva groups.
Before this, Friday and Id prayers were offered at 106 open spaces in addition to mosques, almost all of which are in older parts of the city.
On December 11, Friday prayers were reportedly offered at only 14 open spaces.
"There is some property that is their (Muslims') own or is of the waqf (board) that have been encroached on and which can be made available to them for prayers," the BJP chief minister said.
"(Owing to) prayers in the open, there should not be confrontation under any circumstance. By sitting together, a decision was made on this but we have withdrawn that decision to reserve some places (for prayers). With fresh talks, let everyone get facilities, and let no one interfere in anyone else's rights. No one will be allowed to do this by force."
Gurgaon is home to 26 Muslim institutions where namaz is offered but only two of them are in the newer parts of the city, where most jobs exist. These two mosques are mired in litigation, preventing further construction on them to accommodate more worshippers.
Altaf Ahmad of the Gurugram Muslim Council said: "Muslims of Gurgaon are forced to offer the Jumma namaz in the open as the Haryana Shehri Vikas Pradhikaran has not allocated land to us. All our applications get rejected and earnest money refunded, including our latest application submitted in October 2021.
"The waqf board and the (district) administration have been unable to get waqf properties back from encroachers for a very long time. Now, as the chief minister has said that the approved open-air sites need to be reworked between the administration and the Muslim community, we request him to instruct the HSVP to allocate us land in multiple sectors to build multi-storey mosques. That shall be the end of the Jumma namaz row."
During the disruptions, the council had lodged complaints against three Hindutva leaders for inflammatory statements, but no FIR has been registered although the police took one of them into preventive detention.
The council said: "(The) town planning (department) has allocated 42 or more temples and 18 or more gurdwaras; however only one piece of land in Sector 57 was given by the state government to build a masjid."
Source: Telegraph India
Please click the following URL to read the full text of the original story:
https://www.telegraphindia.com/india/prayers-by-muslims-in-open-spaces-will-not-be-tolerated-manohar-lal-khattar/cid/1842831
--------
Namaz disrupted again as protesters hold event to 'mourn chopper crash victims'
by Pavneet Singh Chadha
December 11, 2021
Some residents of Khandsa, Mohammadpur Jharsa, Begumpur Khatola villages and members of right-wing groups occupied a designated namaz site outside Gurgaon's Sector 37 police station on Friday and conducted a "condolence meeting" to pay tribute to CDS Bipin Rawat and others killed in Wednesday's helicopter crash. The group did not allow members of the Muslim community to offer Friday prayers, which were also disrupted at Sector 44 and Sector 29.
At 12.15 pm, Avaneesh Raghav, a businessman from Khandsa, gave directions to men from nearby villages to park their trucks and cars on the periphery and middle of the open ground at Sector 37.
Raghav, who also organised a "havan" at the site a fortnight ago "in memory of the 26/11 terror attack martyrs", said: "Every week, we are going to hold some event here. Our earlier plan was to have a bhandara (community meal) here, but an elderly person from our village died yesterday, so we did not deem it appropriate. This is the only open space available in the village for community events. We have made it clear in recent weeks that we shall not allow namaz here in the open."
Some of the protesters carried a poster with photos of those who died in the chopper crash.
Pramod Singh Raghav, secretary, Rashtrawadi Janlok Party, said, "We are marking our protest against the unauthorised way in which namaz is being held."
At 1.15 pm, as a group of Muslims arrived to offer prayers, they were coerced into leaving by the protesters after arguments, amid police deployment.
At Sector 44, in a public park, a group, including many affiliated with the Sanyukt Hindu Sangharsh Samiti, did not allow Friday prayers.
Arish, who works with an insurance company, said, "As we were about to pray, a group of men asked us to leave. Namaz has been offered here since 2008. If people have issues, they should go to the administration. How can they go from place to place and disrupt prayers? The Constitution gives us the right to practice our religion."
Sohail Khan, who had come to pray at Sector 44, said, "It is our fundamental right to pray. I have been praying here for three years; it was never an issue."
Amit Hindu, who was among 26 people arrested on October 29 for attempting to disrupt namaz, said, "At Sector 29 also, a group of people were offering namaz. We went to the park and politely asked them to leave."
Source: Indian Express
Please click the following URL to read the full text of the original story:
https://indianexpress.com/article/cities/delhi/namaz-disrupted-again-as-protesters-hold-event-to-mourn-chopper-crash-victims-7666893/
--------
India's Iconic Jama Masjid Needs Urgent Repairs, Says Management
Ahmad Adil
10.12.2021
NEW DELHI
India's iconic Jama Masjid or main mosque of the national capital New Delhi is awaiting repairs as its domes and other structures have dilapidated, according to the management and Muslim groups.
Speaking to Anadolu Agency Mohammed Ansar ul Haq, a member of the mosque's management committee said the government was not paying attention to the decrepit condition of the historic mosque, built by the Mughal Emperor Shah Jahan in the 17th century, and regarded as the symbol of Muslim rule in India.
Early this year the mosque suffered damages in two dust storms within a week that damaged its southern minaret with a big block of red sandstone falling off.
Recently heritage activists raised alarm after finding patches of cement on the northern dome of the mosque.
The management said that in absence of any support they were forced to use cement to prevent heavy rains from seeping into the mosque.
"It is not one to two repairs. Almost all the area of the mosque needs restoration work," said Ansar ul Haq.
He said that the domes of the mosque need early restoration.
"The bricks of the floors have started to come out. Whatever we could do, we have done. But it needs people with expertise to carry the work scientifically," he added.
The chief cleric known as Shahi Imam of the mosque, Syed Ahmed Bukhari, has sought Indian Prime Minister Narendra Modi's intervention, pleading to repair the mosque especially its iconic minarets.
In a letter to the prime minister, Bukhari said due to the falling of these stones, the support of the other stones around them has gone weak and it warrants immediate repairs to avoid any grave mishap.
"I shall be grateful if you instruct the Archaeological Survey of India (ASI) to inspect the monument and commence its necessary repairs, and particularly to inspect the two minarets to ascertain their condition," he wrote.
ASI is a government body responsible for archaeological research and the conservation and preservation of cultural monuments.
- Delay will aggravate damages
All India Muslim Majlis-e-Mushawarat (AIMMM) – an umbrella group of various Muslim organizations – has also asked the prime minister to direct officials to attend to the mosque as it was not only a national heritage but an internationally acclaimed place of worship, often visited by foreign dignitaries.
Naveed Hamid, the president of AIMMM said the minarets, domes, parts of the ceiling are falling apart, and rainwater speeds in domes are expediting the quantum of damage to the structure.
Fearing that any further delay will aggravate the damages, he said the magnificent building needs immediate renovation.
He said since a large number of people including foreign tourists visit the mosque every day, there is a lurking danger of any part falling on people causing fatalities.
According to the ASI, the mosque does not figure in their list of protected monuments.
Manu Sharma, spokesman of the ASI said: "The Jama Masjid is not a protected monument under ASI, and the restoration or any work is not usually done by us. We do work only in special cases when we receive requests from them on Government's directions."
Speaking to Anadolu Agency Mehfooz Mohammad, an official of the Delhi Waqf Board said that they have now ordered a technical survey of the building and will start work, once it is completed.
Source: Anadolu Agency
Please click the following URL to read the full text of the original story:
https://www.aa.com.tr/en/asia-pacific/indias-iconic-mosque-needs-urgent-repairs-says-management/2443744
--------
Pakistan
FATF needs to open Pakistan's Pandora Papers leaks to stop terror finance networks
Dec 11, 2021
ISLAMABAD: The global anti-terror watchdog - Financial Action Task Force (FATF) will open Pakistan's Pandora Papers leaks to reveal the nexus of the financial shenanigans, the money laundering operations and the covering up of terror finance networks being run by the Pakistan Army using shady businessmen and dodgy politicians.
Federico Giuliani, writing in Inside over said that it is nothing short of a travesty that the Pandora Papers Leaks did not open a Pandora's Box in Pakistan.
It may be recalled that it is precisely these AML/CFT networks that prompted the Financial Action Task Force (FATF) to place Pakistan under 'increased monitoring' or the "Grey List" in 2018.
After Pakistan was put on the grey list, it has purportedly taken a slew of measures to fulfil the "high-level political commitment to work with the FATF and APG to strengthen its AML/CFT regime and address its strategic counter-terrorist financing-related deficiencies".
But most of these measures, especially the ones that involve curbing financial networks of terror groups closely linked to or working for the Pakistani state have been largely untouched.
For throwing dust into the eyes of the FATF, Pakistan even instituted cases against UN-designated terrorists like Lashkar-e-Taiba (LeT) chief Hafiz Saeed and some of his close associates.
In very hasty trials -necessitated by the FATF calendar - the lower courts even convicted Saeed and his associates for various jail terms. That the trial courts convicted these terrorists in a matter of days should have set alarm bells ringing in the FATF in Paris, said Giuliani.
Nothing proves this more than the Pandora Paper leaks. If the action items related to money laundering and tightening of the financial system had indeed been completed, then either there would have been no Pandora Papers leaks, or the state would have moved into action to question the people whose names figured in these leaks, reported Inside over.
"That has not happened. The reason as said earlier, there are half a dozen top armed forces officers whose names figure in the list and around a dozen people who are either part of the Imran Khan regime or are closely related to people who are in the Imran Khan government," Giuliani wrote.
Clearly, it is the same "see nothing, say nothing, do nothing" attitude that is adopted when it comes to other AML/CFT networks that are linked to the Pakistani State and 'deep state', he added.
Source: Times of India
Please click the following URL to read the full text of the original story:
https://timesofindia.indiatimes.com/world/pakistan/fatf-needs-to-open-pakistans-pandora-papers-leaks-to-stop-terror-finance-networks/articleshow/88217674.cms
--------
Sikh Girl Embracing Islam to Marry Her Muslim Boyfriend of Nankana Sahib, Pakistan
Dec 11, 2021
Amritsar: A teenaged Sikh girl Rajmeet Kaur embracing Islam to become Zannat Bibi and marrying her Muslim boyfriend Zunaid has led to tension between Sikhs and Muslims of Nankana Sahib, Pakistan.
Sources said Rajmeet, 18, married Zunaid, 18, on December 7 in a mosque at Jaranwala city in Faislabad district of Pakistan, about 25 km from Nankana Sahib. She also filed a petition in the local court, claiming threat to life and seeking security. Her father Ranjit Singh, an hakim by profession, has sought the help of community to bring back the girl to the family.
As the issue escalated, the local administration intervened and brought both Rajmeet and Zunaid to police station, where their parents were also called for a compromise. However, the attempt failed and police decided to send the girl to Darul Uloom in Lahore, but her kin insisted that she be handed over to them.
"Rajmeet has outrightly refused to go to her parents and agreed to go to Darul Uloom or be sent with Zunaid, which has led to some tension between two communities," said a local Sikh leader. He also accused some Sikh politicians of fanning the fire for their political gains.
Sources said Rajmeet had eloped with Zunaid in April but was brought back home after the intervention of relatives.
Pakistan Sikh Gurdwara Parbandhak Committee president Ameer Singh did not take the phone while former president Bishan Singh denied any knowledge of the incident.
Source: Times of India
Please click the following URL to read the full text of the original story:
https://timesofindia.indiatimes.com/city/amritsar/sikh-girl-converts-to-marry-muslim-boyfriend/articleshow/88215637.cms
--------
Waziristan families begin returning from Afghanistan
Pazir Gul
December 11, 2021
NORTH WAZIRISTAN: A batch of displaced families reached North Waziristan tribal district from Afghanistan via the Ghulam Khan border crossing on Friday seven years after the completion of the Zarb-i-Azb military operation against militants.
Relief and rehabilitation minister Iqbal Khan Wazir, deputy commissioner Shahid Ali Khan and relevant officials received the returnees.
Officials told reporters that 30 displaced families arrived in North Waziristan during the first phase of the return.
According to official estimates, around 5,500 displaced families currently live in Khost province of Afghanistan.
Khost province has around 5,500 families, which left Pakistan in 2014
The officials said the registration desk had been set up at Ghulam Khan, where a team of National Database Registration Authority would conduct verification and registration of all individuals.
They said a team of the health department had been deployed at the registration desk.
DC Shahid Ali Khan said all displaced families would be brought back to their homes in North Waziristan.
He said after scrutiny and verification process, the returnees were being transported to Dera Ismail, Bannu and Lakki Marwat and that they could go to their native areas in North Waziristan, which had been cleared from miscreants.
The DC said the returnees would be fully facilitated and would receive food ration and other basic necessary items.
More than 10,000 families from North Waziristan had sought shelter Afghanistan in 2014 when the Pakistan Army had launched an operation against militants in the tribal district. The operation displaced close to one million people, most of them finding refuge in Bannu and DI Khan districts and elsewhere.
Some families living in villages close to the border crossed into Afghanistan, where the Afghan government, in collaboration with the UN agencies, provided them with shelter and assistance.
Officials said the Provincial Disaster Management Authority (PDMA) was making accommodation arrangements for 300 families at Bakakhel Camp in Bannu subdivision after their repatriation from Afghanistan.
Source: Dawn
Please click the following URL to read the full text of the original story:
https://www.dawn.com/news/1663071/waziristan-families-begin-returning-from-afghanistan
--------
South Asia
Afghan Taliban Reject TTP Claim of Being a 'Branch of Islamic Emirate of Afghanistan'
December 11, 2021
The Afghan Taliban have distanced themselves from the banned Tehreek-i-Taliban Pakistan (TTP) after the latter recently claimed it was a "branch" of the Islamic Emirate of Afghanistan (IEA) — the regime in charge in Kabul.
TTP chief Mufti Noor Wali Mahsud, in a video available on social media and purportedly shot during his visit to Pakistan's northern areas, had declared that his outfit came under the larger "umbrella" of the IEA.
"Tehreek-i-Taliban Pakistan is a branch of Islamic Emirate of Afghanistan, [and] is a part of that umbrella on this land," Mahsud, flanked by armed TTP fighters, can be seen saying in the video as he addressed a group of men.
Afghan Taliban spokesperson Zabihullah Mujahid, in an interview with Arab News on Friday, rejected Mahsud's claim of affiliation with the IEA.
"They are not, as an organisation, part of IEA and we don't share the same objectives," Mujahid is quoted as saying by the publication.
"We advise TTP to focus on peace and stability in their country. This is very important so they can prevent any chance for enemies to interfere in the region and in Pakistan. And we request Pakistan to look into their demands for the better of the region and Pakistan."
Mujahid said the TTP was Pakistan's internal matter, adding: "The IEA stance is that we do not interfere in other countries' affairs. We do not interfere in Pakistan's affairs."
Ceasefire — beginning and end
The Afghan Taliban spokesperson's remarks come roughly a month after Afghanistan's acting Foreign Minister Amir Khan Muttaqi acknowledged that the Afghan Taliban were mediating between Pakistan and the TTP on the desire of both the parties.
The Afghan Taliban's facilitation of talks had led to a month-long ceasefire during November, which the TTP declined to extend any further, accusing the government of failing to honour the decisions reached earlier.
A statement issued by the TTP on Thursday gave out details of the six-point agreement that it said it had reached with the government under the aegis of the "Islamic Emirate of Afghanistan" (IEA) on Oct 25, 2021.
The two sides, according to the agreement, had accepted that the IEA would play the role of a mediator and that both sides would form five-member committees each which, under the supervision of the mediator, would discuss the next course of action and demands of each sides.
Source: Dawn
Please click the following URL to read the full text of the original story:
https://www.dawn.com/news/1663185/afghan-taliban-reject-ttp-claim-of-being-a-branch-of-iea
--------
Indian Sisters Pay Rs 1.5 Crore To Help 92 People, Pets Flee Afghanistan
Dec 11, 2021
LONDON: Two Indian sisters have paid a significant sum of money to help evacuate 92 people, five dogs and one cat from Afghanistan. The evacuees are now in secure accommodation in Islamabad waiting to be resettled in a third country.
The sisters, one of whom lives in Gibraltar and the other in India, felt a deep connection with the plight of the Afghan refugees as their late mother had fled Pakistan for India during Partition.
They paid more than half of the £300,000 (Rs 3 crore) to help evacuate the group to honour her. Funds for the mission also came from other private individuals.
In an evacuation dubbed "Operation Magic Carpet", the 92 evacuees — including 30 women, 32 children and six pets — were transported across land from Kabul to Islamabad using the services of American-Israeli rescue specialist Moti Kahana. They stayed in safe houses for different periods of time until it was safe to cross the border at different times and places before being met by Kahana's team in Pakistan.
"We are lobbying a number of countries to see who can take them," said British animal welfare campaigner Dominic Dyer, who played a leading role in the operation.
Thirteen of the evacuees are vets who had been working for animal welfare charity Mayhew in Kabul, of which Meghan Markle is the patron. In addition to 60 former Mayhew staff and dependants, the group involved 32 business executives, former security specialists and their families.
A 90-year-old woman was part of the group and a baby girl was born during the evacuation.
"The pets are all alive and well and provided unconditional support to the families throughout the ordeal," Dyer said.
Source: Times of India
Please click the following URL to read the full text of the original story:
https://timesofindia.indiatimes.com/world/south-asia/indian-sisters-pay-rs-1-5crore-to-help-92-people-pets-flee-afghanistan/articleshow/88215632.cms
--------
15 EU nations to resettle Afghan refugees to prevent irregular immigration
December 11, 2021
Fifteen European Union (EU) countries on Thursday decided to resettle 40,000 Afghan refugees in order to prevent irregular immigration of these people.
Commissioner of home affairs of the EU Ylva Johansson said that 15 member countries of the union have decided to resettle 40,000 Afghan refugees, reported Khaama Press.
Johansson after meeting interior ministers of the countries said that this is impressive solidarity and the more controlled way of resettling Afghans will prevent irregular immigration of these people.
As per statistics, Germany will host 25,000 Afghans, the Netherlands 3,159, Spain and France 2,500 each, and the rest of the countries in the lower number, reported Khaama Press.'
It comes after tens of thousands of Afghans mostly youths are taking dangerous ways to get to Europe through Iran and Turkey that often leading to the deaths of these asylum seekers.
There are now an estimated 85,000 Afghans who have gotten closer to the European borders and approximately the same number are waiting to find a way to get out of the country after the Taliban's takeover on 15 August, reported Khaama Press.
Source: Business Standard
Please click the following URL to read the full text of the original story:
https://www.business-standard.com/article/international/15-eu-nations-to-resettle-afghan-refugees-to-prevent-irregular-immigration-121121100075_1.html
--------
World Bank confirms delivering $280 M to Afghanistan
11 Dec 2021
The World Bank confirmed on Friday, December 10 that they will deliver $280 million from Afghanistan Reconstruction Trust Fund (ARTF) World Health Organization, World Food Program, and United Nations International Children Emergency Fund.
The amount of money is part of the assets of Afghanistan now frozen in western banks.
The World Bank in its statement said that $180 million will be given to World Food Program (WFP) and $100 million will be provided to UNICEF to carry out health services in Afghanistan.
"With the money allocated by ARTF, UNICEF will provide basic health facilities to 12.5 million people and WFP will be able to give food to 2.7 million people while 840 thousand women and children will be provided with nutrition." Reads the statement.
Earlier, rumors had it that the transfer of the money will be a big issue as financial institutions will be afraid of US sanctions.
The US has frozen over $9.5 billion of Afghanistan's preserves after the Taliban's takeover that has plunged Afghanistan into potentially the world's biggest humanitarian crisis and disaster.
Source: Khaama Press
Please click the following URL to read the full text of the original story:
https://www.khaama.com/world-bank-confirms-delivering-280-m-to-afghanistan-346346/
--------
Canada may resume political mission in Kabul
11 Dec 2021
Canada plans to dispatch a number of its diplomats to Kabul and resume its consular operations in Kabul, Global News reported.
Canadian authorities have told Global News that the country's Special Forces (JTF2) will be responsible for assuring the security of the diplomats.
It comes more than a week after Saudi Arabia, Indonesia and Indian announced to resume their consular services in Afghanistan after nearly all foreign embassies shut on August 15.
France has also pledged to restart their diplomatic operations in Afghanistan.
The Canadian government is yet to release a statement regarding the resumption of their diplomatic mission in Kabul.
Sources have also told the Global News that other countries are also willing to resume their diplomatic mission in Kabul deploying their own forces to man the security.
The apparently informal engagement of these Asian and European countries is at a time when the Taliban's interim government is not recognized yet.
Source: Khaama Press
Please click the following URL to read the full text of the original story:
https://www.khaama.com/canada-may-resume-political-mission-in-kabul-765765/
--------
Donors back $280 mln transfer from trust fund to WFP for Afghan food, health needs
11 December ,2021
Donors agreed on Friday to transfer $280 million from a frozen, trust fund to the World Food Program (WFP) and UNICEF to support nutrition and health in Afghanistan, the World Bank said as it seeks to help a country facing famine and economic freefall.
The World Bank-administered Afghan Reconstruction Trust Fund will this year give $180 million to WFP to scale up food security and nutrition operations and $100 million to UNICEF to provide essential health services, the bank said in a statement.
For the latest headlines, follow our Google News channel online or via the app.
The money would aim to support food security and health programs in Afghanistan as it sinks into a severe economic and humanitarian crisis that accelerated in August when the Taliban overran the country as the Western-backed government collapsed and the last US troops withdrew.
The United States and other donors cut off financial aid on which Afghanistan became dependent during 20 years of war and more than $9 billion of the country's hard currency assets were frozen.
The United Nations is warning that nearly 23 million people –- about 55 percent of the population –- are facing extreme levels of hunger, with nearly 9 million at risk of famine as winter takes hold in the impoverished, landlocked country.
Using reconstruction trust fund money and channeling it through the WFP and UNICEF, both part of the UN family, appears to be a way to get funding into the country for basic needs in a manner that does not necessarily implicate US sanctions against the Taliban.
"This decision is the first step to repurpose funds in the ARTF portfolio to provide humanitarian assistance to the people of Afghanistan at this critical time," the bank said, saying the agencies had presence on the ground to deliver services directly to Afghans in line "with their own policies and procedures."
"These ARTF funds will enable UNICEF to provide 12.5 million people with basic and essential health services and vaccinate 1 million people, while WFP will be able to provide 2.7 million people with food assistance and nearly 840,000 mothers and children with nutrition assistance," it added.
Earlier on Friday, Reuters reported exclusively that the donors were expected to approve the $280 million transfer. On Dec. 1, Reuters reported
that the World Bank board had backed transferring the ARTF funds to the two agencies.
In its statement, the bank said it would "continue to work with ARTF donors to unlock additional ARTF funds to support the Afghan people."
Laurel Miller, a former acting US special representative for Afghanistan and Pakistan, criticized the decision to tap the ARTF for strictly humanitarian aid, saying money should come from other sources and the $1.5 billion fund should be used for a major initiative to halt the collapse of state institutions whose workers have not been paid for months.
Source: Al Arabiya
Please click the following URL to read the full text of the original story:
https://english.alarabiya.net/News/world/2021/12/11/Donors-back-280-mln-transfer-from-trust-fund-to-WFP-for-Afghan-food-health-needs
--------
Bus bomb kills two in Afghan capital: Taliban
10 December ,2021
Two people were killed and four wounded in separate bomb explosions in the west of Afghanistan's capital Kabul on Friday, the Taliban said.
"Two civilians have been killed and three others were wounded" when a bomb exploded on a minibus in the Dasht-e-Barchi district of Kabul, the Taliban's interior ministry spokesman Sayed Khosti told reporters.
"In another explosion in the same area, one woman was wounded," he added, specifying that the second blast was also a bomb.
There was no immediate claim of responsibility for the attacks.
Dasht-e-Barchi is largely populated by the mostly Shiite Hazara community, who for years have been the target of violence by the Islamic State-Khorasan (ISIS-K) group.
In November, a similar bomb attack on a minibus in Dasht-e-Barch killed two people and wounded five others. That attack was claimed by ISIS-K.
ISIS-K claimed responsibility for an October 15 suicide bomb attack on a Shiite mosque in Kandahar that killed at least 60 people and injured scores more.
That attack came a week after another deadly mosque blast claimed by the group in northern Kunduz province killed over 60 people.
The Taliban has vowed to crush this rival Sunni extremist group, launching crackdowns against hideouts used by the jihadists, especially in the country's south and east.
Friday's bus bomb is the first fatal attack reported by the Taliban for several weeks.
But Kabul has been hit by repeated blasts lately that the Taliban say have been non-fatal.
Source: Al Arabiya
Please click the following URL to read the full text of the original story:
https://english.alarabiya.net/News/world/2021/12/10/Bus-bomb-kills-two-in-Afghan-capital-Taliban
--------
Europe
Former BBC chairman tells broadcaster: 'Prove anti-Muslim slur claim or apologise'
By RICHARD FERRER
December 10, 2021
Former BBC chairman Lord Michael Grade has urged the corporation to finally prove its claim that Jewish victims of an antisemitic attack on Oxford Street used an Muslim slur or apologise.
The Conservative peer's dramatic intervention heaps further pressure on the broadcaster after a week of unbridled anger over its reporting of a sickening attack on a busload of Charedi youngsters celebrating Chanukah in central London.
The BBC's report appeared to blame the Jewish teenagers on the bus for "anti-Muslim slurs" – while describing the shouting, spitting and Nazi salutes from outside the bus as "alleged" antisemitism.
In the audio someone is heard saying in Hebrew: "Tikra lemishehu, ze dachuf" – "Call someone, it's urgent". It is believed the BBC took this be someone shouting in English: "Dirty Muslims".
The teenagers on the bus categorically denied they uttered any abuse and Jewish News learned that the claim of anti-Muslim slurs was added after the reporter filed his story, apparently by senior BBC staff.
On Tuesday the Board of Deputies sent a formal complaint from to BBC director-general Tim Davie, chairman Richard Sharp and head of news Fran Unsworth. Three days later the BBC is yet to respond.
On Friday, Lord Grade weighed into the bitter row, telling Jewish News: "Given the available evidence, or rather lack of it, it is worrying that the BBC has so far defended its report that there were 'clearly' anti-Muslim shouts from the bus, while the antisemitic gestures were only 'alleged'. They need to provide the evidence to support their defence or rethink and issue an urgent correction and apology."
Source: Jewish News
Please click the following URL to read the full text of the original story:
https://jewishnews.timesofisrael.com/former-bbc-chairman-urges-broadcaster-prove-anti-muslim-claim-or-apologise/
-------
Germany promises to take in 25,000 Afghans: EU document
10 December ,2021
Germany has pledged to admit 25,000 Afghans deemed most at risk following the Taliban takeover in Kabul from about 40,000 such people that European Union states are to accept, according to a letter by a senior EU official.
Germany had a record number of almost 900,000 people seeking refuge on its soil in 2015, most of them coming from Syria, Afghanistan and Iraq.
For the latest headlines, follow our Google News channel online or via the app.
In a letter dated Dec. 9 and seen by Reuters on Friday, EU Home Affairs Commissioner Ylva Johansson called on member states to make good on all their resettlement promises by the end of 2022.
"Vulnerable people and refugees at risk are awaiting their departure to start a new life in safety and dignity," she said.
As well as the 25,000 refugees that Germany will take in, the Netherlands agreed to admit more than 3,100 Afghans whose life and safety is now seen most at risk. France and Spain will take in 2,500 people, followed by 2,000 who will head to Sweden, according to the document.
Western countries evacuated more than 120,000 Afghans in a hastily arranged airlift in August as the Taliban took over Kabul, bringing a two-decades long U.S.-led military mission to the country to a chaotic end.
Source: Al Arabiya
Please click the following URL to read the full text of the original story:
https://english.alarabiya.net/News/world/2021/12/10/Germany-promises-to-take-in-25-000-Afghans-EU-document
-------
France to declassify Algerian war archives
Shweta Desai
10.12.2021
PARIS
France will open up judicial archives on the Algerian war 15 years ahead of the stipulated declassification, the government announced on Friday, a move which could confirm the long-held allegations of torture by the French police and the gendarmerie against Algerian and French nationals.
French law provides for declassification of government documents labelled "confidential," "secret" or "very secret" after a period of 50 years.
Culture Minister Roselyne Bachelot in an interview with BFMTV news broadcaster said she wants to open up access to the archives on the judicial investigations of the gendarmerie and the police in order for the French people to face the truth about the "disturbing questions" of the Algerian war.
"I want that on this question, which is disturbing, irritating and where there are falsifiers of history at work ... I want us to be able to look it in the face" she said.
Questions pertaining to torture techniques employed by the French army and the police, leading to horrific killings and disappearances of thousands of civilians part of the resistance movement, have been a subject of taboo.
Bachelot said it was "in the country's interest to recognize it (torture)."
These include the cases of mathematician and Algerian Communist Party member Maurice Audin, who was tortured and executed by the French army, and the events of 1961 when Paris police drowned hundreds of protesting Algerians in the Seine river with their hands tied behind their backs, or strangulated or wounded with bullets.
Audin's family has long campaigned for the opening of the archives. In 2018, President Emmanuel Macron acknowledged the torture and disappearance of Audin's body and assured access to the archives. In October, he also condemned the Paris massacre and crimes by the French police as "inexcusable."
The archives will also help establish the truth since "falsification of facts was leading to all the troubles and hatred," the minister said, adding it will help in "rebuilding and reconciling" relations with Algeria.
France's relations with Algeria are defined by the 132-year-long colonial occupation that ended with a brutal war of independence in 1962.
The already fractious relations deteriorated further recently after Paris reduced visa quotas for the former colonies in North Africa, and Macron accused the Algerian government of rewriting history and fomenting anti-French hatred.
The remarks sparked controversy with Algeria recalling its Paris envoy, and suspending the use of its airspace by French military planes to carry out operations in West Africa.
The announcement of declassification of the archives is also part of the memorial reconciliation project initiated by the Macron government to honor the lives of Algerians who fought in the war.
Source: Anadolu Agency
Please click the following URL to read the full text of the original story:
https://www.aa.com.tr/en/europe/france-to-declassify-algerian-war-archives/2444437
-------
Mideast
Mountains have deeply spiritual, political symbol for Palestinians: Historical researcher
Salam AbuSharar
11.12.2021
NABLUS, Palestine
Every Friday, in the early morning, Hamza Aqrabawi prepares his traditional breakfast for a hike in the Palestinian mountains with his sons or friends.
Aqrabawi is a historical researcher and a farmer from Aqraba in southeastern Nablus, located in the middle mountains of Palestine that overlook the coastal plain of the Mediterranean Sea from the West and the plains of the Jordan valley from the East.
He said the mountains in his childhood give rise to his curiosity to discover what is behind the huge peaks.
Villagers in Palestine consider mountains a symbol of charity and bidding because of their olive fields -- the most important harvesting season for Palestinians, according to Aqrabawi.
"There is a continuous nostalgia in the collective memory of the mountains that affect our social identity in a unique and different way than the people of the plains, for example," he said. "The high places have a spiritual symbol in the traditional culture for the Palestinians."
During his frequent hikes, Aqrabawi visits the mountains in the West Bank and documents stories, proverbs, and folk songs that relate to the mountains from people who tell him tales about the religious and political history of the area.
"In every mountain near the villages, there is at least one holy place for a righteous man as the people believe. There is a traditional belief transmitted through the civilizations that the tops of the mountains are the nearest point to the sky and God," he said.
Aqrabawi has documented stories of archaeological places that were built for religious or political reasons depending on the time they were constructed.
Historical research and archived documents show there are many military points in the tops of mountains that were used during the time of Ottoman rule and prior.
In Palestinian popular culture, people describe brave, hard, and heroic people using "the mountain" to inspire strength, height, and persistence. Particularly, those who are resisting Israeli occupation.
During the continuous Palestinian struggle against the British mandate and Israeli occupation, the mountains were a safe place for fighters.
"The middle mountains are full of caves that were a shelter for the fighters wanted by the occupation because of their resistance activity in different periods of time. They usually choose the mountains for military and logistic reasons. The mountains overlook the areas very well and many of them contain geysers and have a connection with the villages which are a logistic supporter for the fighters," said Aqrabawi.
Palestinian documents or oral histories archives show many Palestinian fighters were killed in caves and some are still listed as unaccounted for until today.
Ali Amro from Hebron, who was a participant in the military resistance, has been unaccounted for since 1971.
Since the occupation of the West Bank in 1967, the settlement movement in Israel is still targeting the top of the mountains, either to build military observation points or outposts for radical settlers which can be seen clearly from the south to the north West Bank.
Source: Anadolu Agency
Please click the following URL to read the full text of the original story:
https://www.aa.com.tr/en/middle-east/mountains-have-deeply-spiritual-political-symbol-for-palestinians-historical-researcher/2444660
-------
Erdogan reacts to publication of insulting book to Prophet for Syrian kids
December 11, 2021
Turkish President Recep Tayyip Erdogan has regretted the publication of books that insult Prophet Muhammad (PBUH), describing the move as a "disgrace".
"Even though I don't have direct knowledge of what happened, I am sad that it occurred under an administration I am responsible for," he said on Thursday in a meeting with a group of Turkish muftis, "Aksalser.com" reported.
No excuses are acceptable, he said, urging officials to start an investigation to identify those behind the insult.
Religious textbooks for first graders were distributed by Turkey's education ministry among some towns in northern Syria.
The textbook contained a picture of the Prophet (PBUH) despite the fact that Muslims consider any sort of depiction as a form of blasphemy.
Residents of Jarablus in response torched the book in a sign of protest to the blasphemy.
Meanwhile, the people of Al-Bab took to streets with banners that lauded Prophet Muhammad (PBUH).
Source: ABNA24
Please click the following URL to read the full text of the original story:
https://en.abna24.com/news//erdogan-reacts-to-publication-of-insulting-book-to-prophet-for-syrian-kids_1207292.html
-------
Iran prioritizes ties with Muslim and neighbouring nations including Turkey: Qalibaf
December 10, 2021
At the beginning of the meeting, the CEOs expressed their views, problems and suggestions for boosting investment.
Later, the speaker stated that the problems raised in the meeting can be solved, saying, "In the government and the parliament, we have given priority to the development of relations with neighbors and Islamic countries, and this is a serious and strong will [of Iran]. We are determined to prioritize bilateral trade."
He stressed that bilateral trade should not be limited to the time that sanctions are lifted, suggesting that for a variety of reasons plans should be made in a manner that even if sanctions are lifted, bilateral trade will continue to thrive.
The senior parliamentarian added that there are now better grounds for the development of trade and economic relations, especially amendments that will be made to the Seventh Development Plan in this regard.
Referring to the issues raised by Turkish investors and entrepreneurs, Qalibaf added, "The issues and problems that were raised should be followed up and resolved by the parliamentary friendship groups of the two countries."
He pointed out that studies show that there is a gap between the logistics hub and the financial hub in the trade relations between the two great neighbors, and this has caused problems.
Source: Tehran Times
Please click the following URL to read the full text of the original story:
https://www.tehrantimes.com/news/467935/Iran-prioritizes-ties-with-Muslim-and-neighboring-nations-including
-------
Iran's Chief Negotiator Slams EU's Lack of Seriousness in Vienna Talks
2021-December-10
"We had cancelled other appointments and meetings to take part in Vienna talks and this was indicative of Iran's determination in the talks," Baqeri Kani told reporters on Friday.
"Look who has cancelled other meetings and has stayed here [in Vienna] and who has preferred other meetings and left," Iran's top negotiator said.
He, meantime, pointed out that discussion on Iran's proposed drafts has begun since last night.
In relevant remarks on Thursday, Baqeri Kani said that the Iranian negotiating team is definitely determined to hold serious talks in Vienna on removal of the US sanctions.
"The meeting of the Joint Commission of the Joint Comprehensive Plan of Action (JCPOA) was held and different sides stated their views about the future process of talks," Baqeri Kani told reporters after the meeting in Vienna.
"The Islamic Republic of Iran emphasized in the meeting that it will continue the path of talks seriously based on its positions and views stated before and has a serious determination to enter serious talks and reach an agreement. Iran certainly does not see any obstacles (to an agreement), if the necessary grounds are provided," he added.
Asked if Iran has received the documented and logical response which expected from the other side in today's meeting, he said, "This should be stated in the workgroups meeting."
"That the two sides have a serious determination to continue the talks indicates that they want to make their positions close to each other," Baqeri Kani said.
The meeting of the Joint Commission of the JCPOA on the removal of anti-Iran sanctions was held in Coburg Hotel in Vienna on Thursday.
"The meeting of the Joint Commission is over. It was rather short and constructive," Russia's permanent representative to international organizations in Vienna just tweeted.
"The participants observed a number of important commonalities in there positions, including with regard to the need to finalize the Vienna Talks on restoration of JCPOA successfully and swiftly," Mikhail Ulyanov added.
Baqeri Kani said that the country is attending the Vienna talks aimed at removal of sanctions with serious determination to secure rights of the nation.
"Started my working day by hosting a useful and constructive meeting with top negotiators of Russia and China," Baqeri Kani wrote on his twitter page.
"Also met with EU's Mora ahead of Joint Commission. Iran will continue to engage seriously and is determined to reach a good deal that secures our nation's rights and interests," he added.
Former US president Donald Trump unilaterally left the 2015 nuclear deal, officially known as the Joint Comprehensive Plan of Action (JCPOA), in May 2018 and re-imposed the anti-Iran sanctions that the deal had lifted. He also placed additional sanctions on Iran under other pretexts not related to the nuclear case as part of his "maximum pressure" campaign.
Baqeri Kani announced on Tuesday that Iran and the five other parties to the 2015 nuclear deal are set to start a new round of negotiations on December 9.
Baqeri Kani, who also serves as Iran's deputy foreign minister for political affairs, stressed that Tehran's two proposed drafts in the seventh round of talks last week can seriously advance the negotiation process.
The senior Iranian diplomat said the two proposed drafts were nothing new and were in compliance with the texts that had earlier been agreed upon by both sides during the previous six rounds of the talks, but with some amendments and additions meant to make up for the shortcomings.
Following a year of strategic patience, Iran decided to let go of some of the restrictions on its nuclear energy program, resorting to its legal rights under the JCPOA, which grants a party the right to suspend its contractual commitments in case of a non-performance by the other side.
The administration of US President Joe Biden had voiced willingness to compensate for Trump's mistake and rejoin the deal, but it has retained the sanctions as leverage.
Source: Fars News Agency
Please click the following URL to read the full text of the original story:
https://www.farsnews.ir/en/news/14000919000430/Iran's-Chief-Negiar-Slams-EU's-Lack-f-Serisness-in-Vienna-Talks
-------
Spokesman Blasts UK Parliament for Unconstructive Move to Ban Iranians
2021-December-10
Khatibzadeh's remarks came on Friday in reaction to a move by British parliamentarians to read out the names of three Iranians who they believe should be added to the sanctions list over "human rights" accusations.
He said Iran is informed about British parliamentarians' push to ban three Iranian citizens, adding, "We strongly reject the baseless and unfounded accusations leveled against our compatriots."
Khatibzadeh emphasized that the British government is certainly aware that any unconstructive measure in this case and similar ones will "directly complicate the circumstances".
During the Wednesday session of Britain's House of Commons, Labour MP Chris Bryant, who co-chairs the UK's All Party Parliamentary Group (APPG) on Magnitsky Sanctions, read a list of Iranian individuals, including Ali Rezvani, a reporter and producer working for Iran's official Islamic Republic of Iran Broadcasting (IRIB).
The British government accused Rezvani, who is an Iranian state-media journalist for the popular and highly-watched '20:30 News' program, of being involved in the "interrogation of detainees", and broadcasting their "forced confessions", as well as spreading "misinformation regarding political prisoners, dissidents and hostages".
The Iranian reporter was also accused of working with intelligence agencies and "peddling propaganda" on detained dual and foreign nationals.
Source: Fars News Agency
Please click the following URL to read the full text of the original story:
https://www.farsnews.ir/en/news/14000919000537/Spkesman-Blass-UK-Parliamen-fr-Uncnsrcive-Mve-Ban-Iranians
-------
Palestinian rejects 'tempting offers' to vacate house in East Jerusalem
Abdel Raouf Arnaout
11.12.2021
JERUSALEM
Palestinian Abdel Fattah Eskafi remains steadfast in fending off 'tempting offers' for his house despite being handed lucrative proposals by Israeli settlers to leave his home in occupied the Sheikh Jarrah neighborhood of East Jerusalem.
The "temptations," Eskafi told Anadolu Agency, include a $5 million cash offer, as dozens of Palestinians in Sheikh Jarrah continue to suffer harassment from Israeli authorities and illegal settlers to have all Palestinians leave their homes amid an ongoing court battle.
An Israeli court ruling in January to evict seven Palestinian families from their homes in Sheikh Jarrah sparked fierce clashes between Palestinians and Israelis in Palestinian territories in May.
The dispute stems from the events of 1948 when hundreds of thousands of Palestinians were forcefully evicted from their homes and lands -- a tragedy Palestinians refer to as the Nakba, or Catastrophe.
Eskafi's family was among 28 families that settled in Sheikh Jarrah in 1956 under an agreement with the Jordanian government, which ruled the West Bank, including East Jerusalem, before its occupation in 1967, and the UN Relief and Works Agency for Palestine Refugees.
Israeli settlement associations, however, claim the homes were built on land that was owned by Jews before 1948 -- a claim that is vehemently rejected by Palestinians.
In October, the Israeli Supreme Court offered Palestinians to remain as "tenants" in their homes for 15 years.
According to the proposal submitted to Palestinian families and a settlement association, they will be recognized as "protected tenants" for 15 years or until another arrangement is reached.
During that period, those residing in homes who are threatened with expulsion will pay rent to the Nahalat Shimon settler organization, which claims ownership of the land where the homes were built.
Unsurprisingly, Palestinian families rejected the offer, arguing it implied acknowledging settlers' ownership of the homes.
Constant fear
Eskafi is worried that his family will be displaced for a second time since the Nakba.
"My family has been displaced since 1948. We used to live in Baqa'a (on the outskirts of West Jerusalem) and we came to East Jerusalem," he told Anadolu Agency.
Eskafi said his 130-square-meter (1,399-square-foot) house is home to 14 people, including his children and grandchildren.
"Our house is still there and is inhabited by Jews, but if you go there, they will bring you the police," he said.
The actual eviction of families from their homes began in 2008 when the al-Kurd family was expelled in a procedure repeated in 2009 with the al-Ghawi and Hanun families.
Since then, Eskafi's family and other Palestinian families have been in constant fear that a similar fate will befall them.
According to Eskafi, the problem started in 1972 when Jewish groups alleged ownership of the lands of the 28 families.
In 1972, the Sephardic Committee, an Israeli settler association, and the Knesset Committee of Israel claimed they owned land and houses since 1885. They said they had procured documents of ownership from Ottoman officials when they were ruling Palestine.
But Eskafi said Palestinian families' lawyers found the documents were forged.
"There is a Turkish document that denies the Jews' ownership of this land, and there is a Koshan (proof of ownership document) in the name of Suleiman Darwish Hijazi, which indicates that this land belongs to the Hijazi family," he noted but said Israeli courts have rejected documents submitted by Palestinian families.
"The harassment continues. We were living a happy life, but at the time we lost three buildings in 2008 and 2009 and settlers settled in them, problems and suffering began, as they used all kinds of dirty and non-dirty harassment against us, including disturbances and attempts to displace and beat children and youth," said Eskafi.
Next to his house is one that was taken over by settlers.
But he said neighborly relations do not exist between the two families as they fear each other.
Tempting offers
Eskafi said offers for his house continue.
"Offers have been going on since the 1970s, and they are still offering. They tell us they want our house and warn us that they will have it in the end," he said. "They offered us a plot of either land in another area of the city or two apartments, or 4 to 5 million US dollars, and even more.
Source: Anadolu Agency
Please click the following URL to read the full text of the original story:
https://www.aa.com.tr/en/middle-east/palestinian-rejects-tempting-offers-to-vacate-house-in-east-jerusalem/2444616
-------
Israeli army kills Palestinian in northern West Bank
Mohammed Ghefari
11.12.2021
RAMALLAH, Palestine
A Palestinian man died Friday of injuries sustained by Israeli forces while he was participating in an anti-settlement rally in the northern occupied West Bank.
The Palestinian Health Ministry said the man was shot in the head by Israeli live bullets in Beita village in southern Nablus.
Local sources identified the victim as Jamil Abu Ayyash, 31, who was transferred to a hospital but was later pronounced dead.
The director of the Palestinian Red Crescent society Ahmed Jebril told Anadolu Agency that medical teams had to deal with four injuries from Israeli rubber-coated bullets, 52 suffocations from Israeli teargas canisters and 11 injuries as people fell during clashes with the Israeli forces.
In the village of Kafr Qaddum, east of Qalqilya, the coordinator of the Popular Resistance Committees in the village, Murad Eshteiwi, told Anadolu Agency that the Israeli army fired live bullets, rubber-coated metal bullets and tear gas canisters after Friday prayers to disperse an anti-settlement rally.
Six Palestinians were injured by rubber-coated bullets and dozens suffered inhalation of teargas, he added.
Source: Anadolu Agency
Please click the following URL to read the full text of the original story:
https://www.aa.com.tr/en/middle-east/israeli-army-kills-palestinian-in-northern-west-bank/2444614
--------
Africa
Gunmen attack mosque in Nigeria's north, killing 16
December 11, 2021
Gunmen attacked a rural village in northern Nigeria, killing 16 worshippers at a mosque and kidnapping others, said a local official.
The assault on Ba'are village in the Mashegu area of Niger state lasted for hours on Thursday, local government chairman Alhassan Isah Mazakuka said.
Dozens of the assailants arrived on motorcycles and rampaged through the village, killing people praying at the mosque and looting, he said.
Source: Pak Observer
Please click the following URL to read the full text of the original story:
https://pakobserver.net/gunmen-attack-mosque-in-nigerias-north-killing-16/
-------
Algerian President receives rector of Great Mosque of Paris
December 10, 2021
Algerian President, Abdelmadjid Tebboune, met the rector of the Great Mosque of Paris, Chems Eddine Hafiz, in the capital city of Algiers.
During their meeting, Tebboune called on Hafiz "to pursue moderation and fight extremism.
"President Tebboune assured Hafiz his full support in the management of this historic spiritual building, giving him guidance to continue efforts and step up the performance of the institution, through the adoption of the middle way and the fight against radicalism and extremism," the Algerian Presidency said on Facebook.
The meeting was reported to have been attended by the Algerian Presidency Chief of Staff, Abdelaziz Khellaf, and the Religious Affairs Minister, Youcef Belmehdi.
Source: Middle East Monitor
Please click the following URL to read the full text of the original story:
https://www.middleeastmonitor.com/20211210-algerian-president-receives-rector-of-great-mosque-of-paris/
-------
Morocco economy rebounds with strong growth: IMF
11 December ,2021
Morocco's economy has rebounded with GDP in 2021 projected to grow 6.3 percent on the back of a rapid response to the coronavirus pandemic, the International Monetary Fund said Friday.
"Thanks to a very successful vaccination campaign and the prompt response of the authorities, the health crisis has been placed under control and the Moroccan economy is rebounding," said Roberto Cardarelli, head of an IMF mission at the end of virtual talks with Rabat since November 30.
"Economic activity has recovered most of the ground lost during the severe global recession of 2020, which hasn't spared Morocco," he said in a statement.
"This performance owes to continued fiscal and monetary stimulus, the rebound of exports, buoyant remittances and the exceptional harvest after two years of drought," he said.
"After shrinking 6.3 percent in 2020, GDP is forecast to grow by 6.3 percent in 2021," among the highest in the Middle East and North Africa, Cardarelli said.
The economic recovery is expected to continue, "although the pandemic will leave some scars", he said, projecting growth of about three percent in 2022 "as agriculture output returns to average levels and non-agricultural activity continues to recover".
The IMF called for "a fast and effective implementation of structural reforms".
Source: Al Arabiya
Please click the following URL to read the full text of the original story:
https://english.alarabiya.net/News/north-africa/2021/12/11/Morocco-economy-rebounds-with-strong-growth-IMF
-------
North America
Arizona State University Police Arrest an Individual Related To Tearng, Burning Holy Quran
December 11, 2021
Arizona State University police said they arrested an individual related to a destroyed Quran and other damage in the Hayden Library on the Tempe campus.
Wesley Waggoner, 37, was arrested and charged with criminal damage "for causing significant damage to library property, including a Quran from the interfaith reflection area," according to a Friday morning police statement.
"Laborious police work, thorough investigating and cognizance from the library staff is what brought this incident to a quick resolution," ASU Police Chief Michael Thompson said in a statement.
The Muslim Students Association of ASU had publicized the incident on social media Wednesday evening, calling it a hate crime and urging ASU to investigate and hold whoever is responsible to account.
Photos posted to the group's Instagram page show what appear to be burned and torn up Quran and Islamic literature pages, as well as a damaged wall. The room is one where many Muslim students go to pray, according to the student group.
"There should be zero tolerance for any actions of hatred on campus," the Muslim Students Association's statement said. "The safety concerns of the Muslim students on campus cannot go unheard or unattended."
Sasha Uddin, education director for the Muslim Students Association, said her group is grateful to ASU police for making the investigation a priority, with an arrest made the day after the incident was reported.
"We want to move forward with peace and also making sure we do ensure security for anyone who decides they'd like to go into the Interfaith Reflection Room," she said.
The ASU Police Department confirmed Thursday that it was investigating reported criminal damage in the library's Interfaith Reflection Room after being notified of property and facilities damage.
Waggoner was arrested at around 8 p.m. Thursday after Hayden Library staff reported further damage to library property, according to police. Police officers linked Waggoner to Wednesday's incident using surveillance footage.
Thompson, the police chief, said in a statement that police were still investigating the "circumstances and reasoning" around the destructive actions.
"There is no room or tolerance at ASU for this type of damaging behavior," he said.
In addition to criminal damage, Waggoner was charged with possession of drug paraphernalia, and police said he had methamphetamine on him. He also had two confirmed warrants, according to ASU police.
Source: ABNA24
Please click the following URL to read the full text of the original story:
https://en.abna24.com/news//arizona-state-university-police-arrest-an-individual-related-to-torning-burning-holy-quran_1207302.html
-------
US sanctions China, Myanmar, Bangladesh, others over human rights issues
December 11, 2021
PRI GEN INT .WASHINGTON FGN58 US-SANCTIONS-CHINA-MYANMAR US sanctions hit China, Myanmar, others over human rights Washington, Dec 10 The U.S. government announced financial sanctions and other restrictions Friday on 15 people and 10 entities in China, Myanmar, North Korea and Bangladesh to coincide with International Human Rights Day. The actions announced by the Treasury Department also included investment restrictions on a Chinese company connected to the mass government surveillance operations in China. The sanctions are intended to freeze the targeted people and entities out of the global financial system. On International Human Rights Day, Treasury is using its tools to expose and hold accountable perpetrators of serious human rights abuse, Deputy Secretary of the Treasury Wally Adeyemo said in announcing the measures. The measures include a ban on travel to the U.S. for two Chinese government officials who have been involved with the repression of Uyghurs and other minorities in the far western Xinjiang region of their country. Shohrat Zakir, the chairman of the region from 2018-2021, and Erken Tuniyaz, who holds the position now and was previously vice chairman, presided over a repressive campaign of forced assimilation that has imprisoned more than 1 million people under brutal conditions and forced labor. Treasury imposed investment restrictions on Chinese firm SenseTime Group Ltd., which is involved with the development of facial recognition programs that can determine a person's ethnicity and has been used as part of the surveillance campaign against Uyghurs and other predominantly Muslim minorities. This latest batch of sanctions also includes actions on officials in Bangladesh who are involved with the country's anti-drug Rapid Action Battalion, a task force founded in 2004 that has been implicated in more than 600 disappearances and nearly 600 extrajudicial killings, with evidence suggesting they have targeted opposition party members, journalists and human rights activists, Treasury said. The sanctions also include measures against officials and entities in Russia and North Korea who participate in the use of North Korean workers overseas, often in abusive conditions, to generate hard currency for the repressive government. Actions against four officials in Myanmar and several entities are the latest in a series of U.S. sanctions since the military overthrew the democratically elected government on Feb. 1, followed by a violent crackdown on opposition in the months since.
Source: Business Standard
Please click the following URL to read the full text of the original story:
https://www.business-standard.com/article/international/us-sanctions-china-myanmar-n-korea-bangladesh-over-human-rights-issues-121121100017_1.html
--------
Al-Qaida has grown in Afghanistan after US withdrawal: McKenzie
11 Dec 2021
US CENTCOM commander General Frank Kent McKenzie in his recent interview with AP said that terror groups like Al-Qaida have grown in Afghanistan after the US troops withdrew from Afghanistan on August 30.
The US general though warned of terror groups growing in the war-torn country, added that their speed is slow.
McKenzie said the US has less and only two percent intelligence and surveillance ability compared with the ability they used to have in Afghanistan.
He added that the surveillance of terror groups in Afghanistan has become difficult.
"Al-Qaida is striving to strengthen and widen their presence in Afghanistan. The terrorists are regularly entering Afghanistan through its borders." Said McKenzie.
General McKenzie has also questioned the Taliban's ability in containing the terror groups and added that they will know in the upcoming two months about the nature of the Taliban's fight against Al-Qaida as they are busy doing intra-Taliban negotiations.
The US's doubt over the Taliban in fighting the terror groups comes as the Islamic Emirate of Afghanistan has previously said ISIS-K is not a threat in Afghanistan and the terror group has been dismantled in Kabul in Nangarhar province.
Source: Khaama Press
Please click the following URL to read the full text of the original story:
https://www.khaama.com/al-qaida-has-grown-in-afghanistan-after-us-withdrawal-mckenzie-65856858/
--------
Southeast Asia
Indonesian Muslims gather for holy Friday prayers near deadly volcano
Dec 11, 2021
Indonesian Muslims gathered for Friday prayers in an evacuation centre on the slopes of Mount Semeru, where thousands of people remain in limbo after a series of eruptions in the past week by the volcano left thousands homeless.
The 3,676-metre (12,060 foot) volcano erupted spectacularly on Saturday, sending a towering cloud of ash into the sky and dangerous pyroclastic flows into villages below.
In the Penanggal evacuation centre, Abdul Ghofar joined several hundred others displaced by the disaster for Friday prayers in a makeshift mosque set up using a tent in a field.
"I usually pray at my village ... I can't believe this is what has happened to me," said Ghofar, 47, who recounted hearing a loud boom on the day of the eruption before a black cloud of ash turned everything dark in his village of Curah Kobokan.
Ghofar, who was working as a food vendor, thought he and his mother might die, but then some light appeared in the sky and they managed to flee without any possessions.
He said his cousin, who worked as a sand miner near the volcano, was still missing and he was now waiting to be relocated.
At least 45 people were killed and hundreds injured. More than 6,500 were evacuated, many of them uncertain whether they will ever be able to live in the area again.
In a field kitchen set up at the evacuation centre, volunteers chopped vegetables and cooked rice and eggs, to place in around 2,000 food parcels a day for the people sheltering in the area.
Sukur, 70, who uses one name, was among a number of the displaced sheltering in a tent at the centre this week.
Source: The New Arab
Please click the following URL to read the full text of the original story:
https://english.alaraby.co.uk/news/indonesian-muslims-gather-prayer-near-deadly-volcano
--------
President upbeat about Indonesian sharia economy's prospects
Dec 11, 2021
Jakarta (ANTARA) - President Joko Widodo has said he is optimistic about the prospects of the Indonesian sharia economy.
"Our sharia economy, which was ranked ninth in 2014, has grown to the fourth largest in the world in 2020-2021," he noted while opening the second Muslim Economic Congress in Jakarta on Friday.
More than 1,300 participants joined the opening ceremony of the congress, with 250 participating in person and 1,250 others online. Deputy chairman of the Indonesian Ulema Council (MUI), Anwar Abbas, also attended the opening ceremony.
"According to my forecast, Insya Allah (God Willing), in the next three to four years, it will be the second or largest (in the world) if it grows as we look at it now," he said.
The President said he is optimistic about the Indonesian sharia economy increasingly expanding in the next six to seven years thanks to the nation's large Muslim population.
"With the world's largest Muslim population reaching 87 percent or 207 million of the total population, we have committed ourselves to becoming a hub for sharia economy in 2024, and we will try hard to achieve it," he remarked.
In addition to the sharia financial industry, the President also touched upon halal industry development.
"We will encourage the development of the sharia financial sector, the development of the sharia social financial sector, and the development of sharia entrepreneurship since we are a country with the largest Muslim population in the world," he said.
In this regard, Bank Syariah Indonesia (BSI) will serve not only large customers but also small customers, he added.
"The large, the small, the medium to become large, BSI will serve all of them. BSI is now one of the eight large banks with stronger capital. We hope the large banks will serve the halal industry, halal tourism, and halal products which have a very large market share," Widodo said.
Moreover, since December 1, 2021, Indonesia has assumed the Presidency of the G20, he added.
"This means that we are the chair of large countries, developed countries, which are in the top twenty list (in terms) of gross domestic product (GDP). We are now ranked 16th. But as Buya has stated, Insya Allah (God willing), we will be one of the four largest (economies), according to the calculations of McKinsey, the World Bank, and IMF," he said.
Though Indonesia is predicted to become the world's fourth-largest economy, the challenge will not be easy, he added.
Source: Antara News
Please click the following URL to read the full text of the original story:
https://en.antaranews.com/news/203993/president-upbeat-about-indonesian-sharia-economys-prospects
--------
Jokowi Assures ITE Law Won't Limit Freedom of Expression
10 December 2021
TEMPO.CO, Jakarta - President Joko Jokowi Widodo acknowledged public concerns about the limitation of the freedom of expression following the presence of the Electronic Information and Transactions Law or ITE Law. He guaranteed that the law would not curb the rights of people to freely express their opinions.
"The National Police Chief has followed up on my instructions to prioritize education and persuasive measures in dealing with ITE cases. There should be no criminalization of the freedom of expression," said the President in his speech at the commemoration event of the World Human Rights Day 2021 held at the Jakarta State Palace, Friday, December 10.
He said the government's commitment to this matter was evident from the amnesty for Baiq Nuril and Saiful Mahdi who were convicted of violating the ITE Law.
"But I'd like to remind all that the freedom of expression must be exercised in a responsible manner to the wider interests of the community," he added.
The head of state also acknowledged that the industry 4.0 development had prompted the government to anticipate a number of human rights issues, as well as issues on personal data protection.
Source: TEMPO.CO
Please click the following URL to read the full text of the original story:
https://en.tempo.co/read/1537928/jokowi-assures-ite-law-wont-limit-freedom-of-expression
--------
I need your continued support as PM, Ismail tells Umno
December 11, 2021
BERA: Umno vice-president Ismail Sabri Yaakob wants the party to continue to support him as prime minister to enable him to focus on resolving the economic and health issues facing the people.
The prime minister said although the number of Covid-19 cases had dropped and the country's economy was also seen to be recovering, the task was not completed yet.
"I need support from the party for the strength to fight on. The biggest challenge is the issues facing the people and not the endless politicking.
"The number of cases is dropping, but it is still hovering around 4,000 daily.
"Don't think that we are now completely free from Covid-19, and I still have a huge responsibility to deal with it ," he said when opening the Bera Umno Wanita, Youth and Puteri delegates meeting here today.
Meanwhile, Ismail also called on Umno to return to the basics of the party's struggle in uniting the Malay and Muslim communities to ensure the party's victory in the next general election (GE15).
He said its defeat in the last general election should serve as a reminder to members on the importance of unity in the party.
"We formed the government today not because we won the general election but because we worked with other parties.
"We seem to have forgotten that.
"The original purpose of Umno's establishment was to unite the Muslims and Malays, but the opposite is happening now, with several camps and rifts in the party," he said.
He also reminded Umno members not to be arrogant over the party's landslide victory in the recent Melaka state elections.
"We can congratulate ourselves for our victory in Melaka, but we have not yet won fully as the increase in our popular vote was only by one percent," he added.
Meanwhile, Ismail said the Umno Youth and Puteri members should continue to reach out to the young people who will determine the party's fate in the next GE15 when the implementation of Undi-18 and automatic voter registration takes effect on Dec 15.
"You have to engage with the young voters to get them to support our party. This should be our commitment," he added.
Ismail, who is Bera MP, said there were some quarters attempting to prevent young people from voting by proposing that GE15 be held as soon as possible.
"If we do that, it is as if we are not confident in the ability of the young people to make the right choices. It would seem like we are preventing them from exercising their rights. If we do so, we will be punished by this group," he added.
Source: Free Malaysia Today
Please click the following URL to read the full text of the original story:
https://www.freemalaysiatoday.com/category/nation/2021/12/11/i-need-your-continued-support-as-pm-ismail-tells-umno/?__cf_chl_jschl_tk__=TBcHRs.rLc4tAIwxKqLKxWXaSQXqYcXhy_KrPCaNgKI-1639209605-0-gaNycGzNDdE
--------
URL: https://www.newageislam.com/islamic-world-news/saudi-arabia-bans-tablighi-jamaat-sunni-islamic-movement/d/125942
New Age Islam, Islam Online, Islamic Website, African Muslim News, Arab World News, South Asia News, Indian Muslim News, World Muslim News, Women in Islam, Islamic Feminism, Arab Women, Women In Arab, Islamophobia in America, Muslim Women in West, Islam Women and Feminism