New Age Islam News Bureau
16 Jan 2014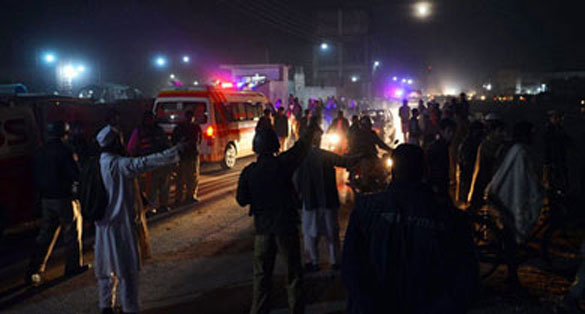 Police and army troopers block a street leading to the cabinet's headquarters, during a demonstration demanding for the government to be dismissed, in Sanaa January 14, 2014. (Reuters)
----------
India
• 'Samaj' Daily published Prophet's (PBUH) photo- Press Set ablaze
• Absurdities and un-Islamic acts by youth on Milad-un-Nabi unfortunate
• India, Pakistan working to allow 3 banks in each others' country
• Taliban could be a threat in 2014, need more caution: Army
• Indian soldiers come under fire in South Sudan
Arab World
• Assad: Wahhabi Ideology Threatening Entire World
• Over 1000 Militants Killed in Syria Infighting
• 3 killed, 25 hurt in Lebanon Hezbollah bastion bombing
• Egypt's Christian Minority Rally behind Charter
• Unfreezing US aid to Egypt will be a positive step: Army spokesman
Mideast
• Hamas Trains Kids for Future War with Israel
• Al-Qaida militants kill 10 soldiers in Yemen: Army
• Iran's Judiciary Chief Warns against Takfiri Groups' Penetration into Iran
• Basij Commander Warns of Enemies' Plots to Create Rift between Shiite, Sunni Muslims
• West Bank mosque attack hallmark of 'Price Tag' extremists
Southeast Asia
• Expert warns of Indonesian jihadists fighting in Syria
• Non-Muslim group welcomes Anwar's call to return seized Bibles
• Toothless MCA can also help resolve 'Allah' issue, says DAP
• Pluralist icon turned into political gimmick in Indonesia
North America
• Muslim scholar purged from US no-fly list in landmark court case
• US probes images of marines 'burning dead Iraqis'
• US sets benchmarks for Pakistan: Release Afridi or forego $33 million
• US Senate committee says Benghazi attack was preventable
• Afghan drugs production on the rise despite US army presence – watchdog
• US archaeologists unearth tomb of previously unknown pharaoh in Egypt
Pakistan
• PM lauds people of Swat for sacrifices against terrorism
• Karachi operation to continue at all costs, says PM Nawaz
• Karachi violence: Two policemen shot dead, two injured
• Islamic banking growing at 30pc
• Jamiat Ulema-e-Islam-Fazl finally decides to join federal government
Europe
• Iran, Saudi Arabia should by all means take part in Geneva-2 conference - Lavrov
• U.N. warns of risk of genocide in C. African Republic
• Masraf Al Rayan takes over Islamic Bank of Britain
• UNHRC condemns mass executions by Syrian rebels
• Bosnia opens library housing ancient Islamic manuscripts
• Spain's hunted Afghan interpreters
South Asia
• Japan court allows police to spy on Muslims
• Afghan president accuses US of killing 7 children in airstrike
• Youth empowerment key for poverty eradication in Afghanistan
• Nasheed warns of PPM, Supreme Court collusion to subvert elections
• President Yameen vetoes sexual offences bill
• China backs Hasina government
Africa
• Peacekeepers ask CAR's Christian militia to disarm
• Ugandan troops join S. Sudan military to fight rebellion
• France 'underestimated' Central African Republic hatred
• Anti-Gay Law Takes Effect in Africa's Most Populous Country
Compiled by New Age Islam News Bureau
URL: https://www.newageislam.com/islamic-world-news/new-age-islam-news-bureau/'samaj'-daily-published-prophet's-(pbuh)-photo--press-set-ablaze/d/35305
-----------
India
'Samaj' Daily published Prophet's (PBUH) photo- Press Set ablaze
Jan 16, 2014
Noted Daily Newspaper of Cuttack (Odisha), Samaj Published the photo of Prophet Mohammed (PBUH) on the occasion of Milad-un-Nabi
The local residents recorded their protest and set ablaze the printing press in Cuttack. The Joint Editor of Samaj has been arrested. The General Manager, Mr. Suresh Mantri clarified that it was not an intension to hurt the sentiments of the people. He apologized unconditionally.
http://www.siasat.com/english/news/%E2%80%9Csamaj%E2%80%9D-daily-published-prophet%E2%80%99spbuh-photo-press-set-ablaze
-----------
Absurdities and un-Islamic acts by youth on Milad-un-Nabi unfortunate
16 January 2014
Hyderabad, January 16:Indulgence of youth in absurdities and un-Islamic acts on the auspicious occasion of Milad-un-Nabi is unfortunate. Maulana Syed Ghulam Samdani Ali Quadri told this while addressing Milad Dinner and Award Function organized by Seerat-un-Nabi Academy. He told that celebrating Milad-un-Nabi aims at propagating the message of Mohsin-e-Insaniyat (s) and Seerat-un-Nabi academy is engaged in this for the past 30 years.
Maulana Ali Quadri told that the society founded by his father continued its mission of preserving the faith of youth. Addressing the function Maulana Fasihuddin Nizami, Maulana Waheeduddin Hyder Jaffery told that organizing jashn-e-viladat-e-Mustafa serves as a spiritual food. They said celebrating Milad-un-nabi is a cause of blessing.
Seerat-un-Nabi Awards were distributed among the people belonging to different walks of life. Mr. Syed Bilal staff reporter Siasat was presented the award for his journalistic services.
The awards were given away by Mr. E Ismail former member Human Rights Commission, Mr. S A Shukoor and others.
http://www.siasat.com/english/news/absurdities-and-un-islamic-acts-youth-milad-un-nabi-unfortunate
-----------
India, Pakistan working to allow 3 banks in each others' country
Jan 16, 2014
New Delhi, January 16:In August 2012, it was announced that both sides have agreed to issue a full banking licence to two banks from each country.
India and Pakistan are working on allowing three banks to set up branches on each others' soil to help improve trade relations.
In August 2012, it was announced that both sides have agreed to issue a full banking licence to two banks from each country.
The two Indian banks that were allowed to operate in Pakistan were State Bank of India and Bank of India.
On the other hand, quasi-state owned National Bank of Pakistan and privately-owned United Bank Ltd were selected for running full-banking operations in India, once licensed by the country.
However, there was not much forward movement on that.
Pakistan Commerce Minister Khurram Dastagir Khan told PTI here that the issue was raised with his Indian counterpart Anand Sharma in New Delhi during a visit by Pakistan's Punjab Chief Minister Shahbaz Sharif.
"We were told there that Reserve Bank of India had since, I would say lessened its restrictions, it is no longer two banks. Any bank that fulfils the requirement can apply. For the time being, we are working on three banks each," he said.
The Minister, who today left for India, said "The State Bank of Pakistan has just written to the RBI that three banks would like to open their branches in India. I don't know when but it will happen. Some movement has taken place," he said.
The Minister argued that the biggest hurdle in having normal trade ties is the "very restrictive visa regime".
"People cannot travel to other country. Visa is not something that appears on trading figures but is very substantial. If businessmen from one country cannot travel to another country and see firsthand and analyse the economic opportunities that are there, then trade is severely hampered," Khan said.
"Visa restriction is what we call a non-tariff barrier," he added.
Khan pointed out that another part that does not appear in trade figures was the lack of bilateral banking relations.
"That is also not a trading issue but is a necessary facility required for trading. So banking relationship has to be there. Another issue that we will talk about, may be not in this trip is to allow communication network. Allow roaming," he said.
"And here I am quite definite that obtaining a SIM in Pakistan is miles easier than it is in India. So if people can't communicate and use the banking channel, and if they can't travel, it is a hurdle to trade," he said.
http://www.siasat.com/english/news/india-pakistan-working-allow-3-banks-each-others-country
-----------
Taliban could be a threat in 2014, need more caution: Army
16 January 2014
General Officer Commanding-in-Chief (GOC-in-C) of the Northern Command, Lt General Sanjiv Chachra, Wednesday during the Northern Command's investiture ceremony at Akhnoor said the Army will have to be more prepared, prudent and more aware and take precautionary measures accordingly this year as some Taliban elements might come over to Jammu and Kashmir after the US troops pull out in Afghanistan, besides the disturbance in neighbouring Pakistan which will have some impact on this side of the Line of Control.
"Though there had been a perceived peace in the state during 2013, the terrorist infrastructure including training camps and the intent to create disturbance remain," Gen Chachra said. As such, the current year is a period to consolidate and reach out to ensure that peace prevails, he said. To achieve this, troops along the LoC have been directed to remain alert against nefarious designs of the adversary.
To a question about terrorists' plan to disrupt the coming Lok Sabha elections in the state, he said they will try to scuttle democratic process as terror infrastructure is present in the state as well as across the border. The troops, apart from ensuring zero infiltration from across the LoC, are also going after terrorist leaders within the state, he added.
http://indianexpress.com/article/india/india-others/taliban-could-be-a-threat-in-2014-need-more-caution-army/#.UuWxWtJDsqM
-----------
Indian soldiers come under fire in South Sudan
16 January 2014
An Indian peacekeeping contingent in South Sudan came under fire as fighting erupted between local groups near a U.N. base in Malakal, requiring the soldiers to fire multiple rounds in order to protect civilians.
The U.N. Mission in South Sudan (UNMISS) said a young teenager seeking shelter at the Malakal base was killed by the bullets after gunfire entered the U.N. base there on January 14.
The mission said dozens of civilians and a U.N. military officer suffered gunshot wounds inside the base and received medical attention at the mission's hospital.
There were no immediate details of the names of those killed and injured.
U.N. Secretary General Ban Ki-moon's spokesperson Martin Nesirky told reporters at his briefing on Wednesday that this was not an attack on the U.N. compound but after fighting erupted between different groups nearby, live rounds and gunfire was coming into the compound.
Full report at:
http://www.thehindu.com/news/international/world/indian-soldiers-come-under-fire-in-south-sudan/article5581564.ece
----------
Arab World
Assad: Wahhabi Ideology Threatening Entire World
Jan 16, 2014
TEHRAN (FNA)- Syrian President Bashar al-Assad warned that Saudi Arabia's political and religious ideology is "a threat to the world," state television reported.
Speaking at a meeting in Damascus with Iran's Foreign Minister Mohammad Javad Zarif, President Assad said Wahhabism, an ultra-conservative takfiri tradition predominant in Saudi Arabia, is a key backer of armed opposition groups supporting them with smuggled weapons and foreign mercenaries.
President Assad warns during his meeting with Iran's Foreign Minister Mohammad Javad Zarif of the threat posed by Wahhabi thinking to all the world, not just to the region.
"The Syrian people and some peoples in the region know how serious the threat posed by Wahhabism is, and everyone must contribute to the confrontation against it and to eradicating it from the root," said Assad.
Assad's meeting with Zarif comes less than a week before the so-called Geneva-II peace conference, which is aimed at ending the conflict in Syria that has killed 130,000 people in nearly three years.
Zarif, on a regional tour that has included Jordan and Lebanon, said he would "work to coordinate a position... that would restore calm and security to Syria".
http://english.farsnews.com/newstext.aspx?nn=13921026000253
-----------
Over 1000 Militants Killed in Syria Infighting
Jan 16, 2014
TEHRAN (FNA)- Fierce clashes among Takfiri groups in Syria have left more than 1,000 foreign-backed militants dead over the past days, media reports said.
Clashes have been mainly taking place between militants from the so-called Islamic State of Iraq and the Levant (ISIL) and their rival militants over the past 10 days, Al-Alam reported.
The latest battles have occurred in the Northern parts of Syria. The so-called Syrian Observatory for Human Rights, which relies heavily on a network of spies working for the foreign-sponsored opposition, said on Tuesday that militants from the ISIL seized the Northern Syrian city of Raqqah following days of clashes with rival Takfiri groups.
Full report at:
http://english.farsnews.com/newstext.aspx?nn=13921025001349
-----------
3 killed, 25 hurt in Lebanon Hezbollah bastion bombing
16 January 2014
A car bomb explosion, likely a suicide attack, killed at least three people on Thursday in downtown Hermel, a stronghold of Lebanon's Hezbollah near the border with Syria, officials said.
The blast, which went off in front of the main government administration building in Hermel, was the first to hit the Lebanese town since the conflict in Syria erupted in March 2011, a security official told AFP.
A medical official said at least three people were killed and 25 wounded in the town located only about 10 kilometres (six miles) from the Syrian border.
The bombing came amid tensions in Lebanon mainly over the war in neighbouring Syria, where the powerful Shiite movement Hezbollah has been involved in fighting alongside President Bashar al-Assad's forces.
Full report at:
http://english.ahram.org.eg/NewsContent/2/8/91701/World/Region/-killed,--hurt-in-Lebanon-Hezbollah-bastion-bombin.aspx
-----------
Egypt's Christian Minority Rally Behind Charter
16 January 2014
(AZIYAH, Egypt) — Hymns echoing from the new church in this village in Egypt's southern heartland could be heard well after sundown Wednesday, a reminder of the jubilant mood as Aziyah's Christian residents vote on a new constitution.
Outside in the dusty streets, volunteers hurriedly arranged for buses to transport voters to polling stations before they closed. In past elections, Islamists used fear or intimidation to stop Christians from voting against them.
This time around, Aziyah's Christians faced no obstacles on their way to the ballot box.
"I cast my ballot as I pleased. I am not afraid of anybody," said Heba Girgis, a Christian resident of the nearby village of Sanabu, who said she was harassed and prevented from casting a vote against the 2012 Islamist-backed constitution. "Last time I wanted to say no. I waited in line for two hours before the judge closed the station."
Full report at:
http://world.time.com/2014/01/15/egypts-christian-minority-rally-behind-charter/#ixzz2rXu23azb
-----------
Unfreezing US aid to Egypt will be a positive step: Army spokesman
16 January 2014
Military spokesman Ahmed Ali expressed his content with a soon to be implemented decision by the United to States to resume economic aid to Egypt.
In a phone interview with private-owned TV channel Al-Hayez, Ali said that "unfreezing the aid is a positive step."
"It reflects more understanding as to what's happening in Egypt and also a respect to the army's role in protecting the will of the people," he said.
He added that the relationship between the Egyptian and American army is a historic one that will not "fade away because of a dispute."
According to media reports, the US Congress' new spending bill would restore more than $1.5 billion in military and economic aid to Egypt, which had been largely cut off amid concerns over Egypt's democratic transition and mounting violence following the ouster of Islamist leader Mohamed Morsi.
Full report at:
http://english.ahram.org.eg/NewsContent/1/64/91696/Egypt/Politics-/Unfreezing-US-aid-to-Egypt-will-be-a-positive-step.aspx
-----------
Mideast
Hamas Trains Kids for Future War with Israel
16 January 2014
Dozens of high school students scrambled among the sand dunes here in recent days, learning how to shoot AK-47 rifles, crawl under barbed wire and jump over burning tires. Their bearded commanders barked at those who were too slow in hoisting iron bars overhead or those who hesitated around the thick flames.
Having seen two major Israeli military operations in Gaza in their short lives, many of the teenagers came to this boot camp, which is run by Hamas, the Islamic militant group that has led Gaza since 2007, to prepare for what they see as the inevitable next round.
"By then, I should be ready and know how to deal with the Israeli soldier's gun when I pick it up from the ground," said Mohammed Ghanem, 15. If the Israelis do not make another incursion into Gaza, he said, "We will go to fight them on the border".
The six-day programme, Futuwwa, enrolled about 13,000 boys at nearly a dozen sites across the Gaza Strip over the past week, with trainers from the Izzedine al-Qassam Brigades, the military wing of Hamas.
Full report at:
http://indianexpress.com/article/world/middle-east-and-africa/hamas-trains-kids-for-future-war-with-israel/#.UuWAU9JDsqM
-----------
Al-Qaida militants kill 10 soldiers in Yemen: Army
AFP | Jan 16, 2014
SANAA: Al-Qaida militants killed 10 Yemeni soldiers in three simultaneous attacks on Thursday on army positions in the central Bayda province, a military official said.
"Al-Qaida assailants carried out simultaneous attacks against three military positions in Rada" in Bayda, an extremist stronghold, the source said.
Ten soldiers were killed and others wounded, while several attackers were also killed, the source added.
http://timesofindia.indiatimes.com/world/rest-of-world/Al-Qaida-militants-kill-10-soldiers-in-Yemen-Army/articleshow/28891499.cms
-----------
Iran's Judiciary Chief Warns against Takfiri Groups' Penetration into Iran
Jan 16, 2014
TEHRAN (FNA) - Iranian Judiciary Chief Sadeq Amoli Larijani warned the country's security and intelligence forces to safeguard the country's borders against the possible penetration attempts by Takfiri groups.
"The Takfiri and Salafi streams are not at all related to Islam or our Sunni brothers' beliefs, but they are a cult which has been created by the West to weaken the Islamic societies," Larijani said, addressing a number of Judiciary officials in Tehran on Wednesday.
"We ask the intelligence ministry and the Islamic Revolution Guards Corps (IRGC) to keep vigilant against the danger of the infiltration of Takfiri streams into the country and never think that the Takfiri viewpoints are related to the different thinking of Islamic sects; rather they should encounter them in a manner appropriate to the anti-security nature of the streams," he added.
Full report at:
http://english.farsnews.com/newstext.aspx?nn=13921025001192
-----------
Basij Commander Warns of Enemies' Plots to Create Rift between Shiite, Sunni Muslims
Jan 16, 2014
TEHRAN (FNA)- Commander of Iran's Basij (volunteer) Force Brigadier General Mohammad Reza Naqdi rapped enemies' attempts to sow discord among Muslims, and called on Shiites and Sunnis to keep vigilant and united.
"Destroying unity and solidarity (among Muslims) is one of the schemes of the enemies and they use special tricks to this end," Naqdi warned on Wednesday.
He called on the Shiite and Sunni Muslims to stand united and keep vigilant against the plots hatched by the enemies.
Full report at:
http://english.farsnews.com/newstext.aspx?nn=13921025001144
-----------
West Bank mosque attack hallmark of 'Price Tag' extremists
World Bulletin / News Desk
16 January 2014
An attack on a mosque in the West Bank on Tuesday by a group of extremist Jewish settlers has been condemned by the international community.
A part of the mosque was burned down while Hebrew graffiti was written on the walls of the mosque in a growing trend of so called 'Price Tag' attacks against Palestinians in the West Bank.
The term 'Price Tag' refers to a group of Jewish right-wing extremists who have been attacking Palestinian mosques, churches, crops and farmers in recent years. The number of incidences has quadrupled in the past eight years, according to UN statistics released on Wednesday.
Full report at:
http://www.worldbulletin.net/?aType=haber&ArticleID=127009
-----------
Southeast Asia
Expert warns of Indonesian jihadists fighting in Syria
16 January 2014
Authorities should keep an eye on around 50 Indonesians fighting in the civil war in Syria, considering the possibility these individuals may involve themselves in terrorism after returning to Indonesia, terrorism expert Sidney Jones said on Wednesday.
"If these people return to Indonesia, they've got instant credentials and legitimacy as people who took part in the most important jihadi conflict in the world today. They will have combat experience and military skills," said Jones, director of the Institute for Policy Analysis of Conflict (IPAC), during a visit to The Jakarta Post.
The National Counterterrorism Agency (BNPT) previously stated that most of the militants were Indonesian students who studied at universities at the Middle East.
The agency's international cooperation deputy, Hari Purwanto, said the BNPT was only allowed to place the militants under surveillance upon their arrival in the country.
Jones was concerned that the possible influx of the Indonesian militants would take the terrorism threat inside Indonesia to another level.
Full report at:
http://www.thejakartapost.com/news/2014/01/16/expert-warns-indonesian-jihadists-fighting-syria.html
----------
Non-Muslim group welcomes Anwar's call to return seized Bibles
16 January 2014
A non-Muslim religious group hopes the Selangor Islamic Religious Department (Jais) will heed Datuk Seri Anwar Ibrahim's call to return the Bibles seized from the Bible Society of Malaysia premises two weeks ago.
President of the Malaysian Consultative Council of Buddhism, Christianity, Hinduism, Sikhism and Taoism (MCCBCHST) Jagir Singh (pic) said the opposition leader's stand should calm down the situation, especially when the Christians' holy books were still in the custody of Jais.
"I hope Jais will return them immediately as MCCBCHST's stand is that the raid and seizure 14 days ago was unlawful," he said in response to Anwar's statement that he did not approve of the "high-handed" manner in which Jais raided the BSM premises and confiscated some 300 Malay and Iban Bibles.
Full report at:
http://www.themalaysianinsider.com/malaysia/article/non-muslim-group-welcomes-anwars-call-to-return-seized-bibles
-----------
Toothless MCA can also help resolve 'Allah' issue, says DAP
16 January 2014
If MCA appears powerless to do anything about the ongoing "Allah" issue, then the very least it could do is to stop Selangor Umno from inciting Muslims against Christians, said an opposition lawmaker.
DAP national publicity chief Tony Pua (pic) said MCA president Datuk Seri Liow Tiong Lai should step up to the plate and censure Selangor Umno from organising roadshows in Selangor to "educate" Muslims.
"Liow is the Selangor MCA Liaison committee chairman, he should demand that his Selangor Umno counterpart Datuk Noh Omar cease and desist from riling Muslims," Pua said.
Noh has lined up 30 roadshows to "educate" Muslims on the Selangor Non-Islamic Religions (Control of Propagation Among Muslims) Enactment 1988 in view of the 'Allah' debate.
"The objectives of these roadshows are clearly to incite Muslims against Christians, who are merely defending their right to practice their religion in their mother tongue," Pua said.
Pua said MCA should take note that none of the Pakatan Rakyat parties – PAS, DAP, PKR – are going to take to the streets to inflame religious tension, unlike Umno.
Full report at:
http://www.themalaysianinsider.com/malaysia/article/toothless-mca-can-also-help-resolve-allah-issue-says-dap
-----------
Pluralist icon turned into political gimmick in Indonesia
16 January 2014
The surprise move by businessman Rusdi Kirana to join the National Awakening Party (PKB) has fueled an already heated political debate over which party has the right to display the image of former president Abdurrahman "Gus Dur" Wahid to attract the supporters of the iconic Muslim cleric and pluralist.
Gus Dur's family has criticized Rusdi, president director of the Lion Air Group, for claiming that he had joined the PKB because he admired the former leader of Indonesia's largest Muslim organization Nahdlat ul Ulema (NU), which is believed to have 40 million members.
The family had severed ties with the PKB under the leadership of Muhaimin Iskandar, whom they believed had betrayed Gus Dur, his own uncle.
Inayah Wahid, one of Gus Dur's daughters, said the PKB could not use any pictures of her father in its campaigns. "That is in line with his personal request. He said every party could use his picture except the PKB under Muhaimin."
Full report at:
http://www.thejakartapost.com/news/2014/01/16/pluralist-icon-turned-political-gimmick.html
-----------
North America
Muslim scholar purged from US no-fly list in landmark court case
16 January 2014
A federal judge in the United States sided with a Malaysian woman this week who for nine years fought the US Department of Homeland Security after inexplicably ending up on a government-maintained "no fly" list.
Rahinah Ibrahim, a former doctorate student at Stanford University who once called the US a "second home," must be assured that she is no longer barred from traveling into and around the country, District Judge William Alsup ruled on Tuesday.
Ibrahim was attempting to board a flight from San Francisco to Hawaii in 2005 with her teenage daughter when she was detained by authorities, interrogated for two hours and told she appeared on a federal "no fly" list. She was ultimately cleared for air travel, but two months later was instructed that her visa had been revoked due to a US terrorism law.
Federal Bureau of Investigation officers had previously visited Ibrahim at home to question her about any ties to a Malaysian terror group, she admitted during legal proceedings, but government officials were never able to prove any alliance. Later she settled a separate legal case pending from her detainment at the airport and received $225,000 as a result.
Full report at:
http://rt.com/usa/rahinah-ibrahim-no-fly-664/
-----------
US probes images of marines 'burning dead Iraqis'
16 January 2014
The US Marine Corps says it is trying to determine the authenticity of images published by a celebrity gossip website that appear to show marines burning the bodies of dead Iraqi insurgents.
The website TMZ has published eight photographs and says it has a further 33 that are too graphic to show.
TMZ said it was told the photographs were taken in Falluja in 2004.
A Pentagon spokesman said the actions depicted in the photos "are not what we expect from our service members".
"We are currently investigation the veracity of these photos, circumstances involved, and if possible, the identities of the service members involved," Marine Capt Richard Ulsh said in a statement.
Full report at:
http://www.bbc.co.uk/news/world-middle-east-25759004
----------
US sets benchmarks for Pakistan: Release Afridi or forego $33 million
2014-01-16
WASHINGTON: A bill to fund the United States government also requires Pakistan to release Dr Shakil Afridi or forego $33 million from the annual assistance it receives from the US.
The bill binds the US administration to withhold $33 million from the funds meant for Pakistan "until the Secretary of State reports to Congress that Dr Shakil Afridi has been released from prison and cleared of all charges relating to the assistance provided to the United States in locating Osama bin Laden."
In this bill, Congress also set aside clear benchmarks for Pakistan to fight terrorism, with a warning that the failure to do so could lead to the suspension of US assistance.
The suggested measures are included in a trillion-dollar spending bill Congress approved on Tuesday to fund the government for the remainder of the current fiscal year.
Full report at:
http://www.dawn.com/news/1080703/us-sets-benchmarks-release-afridi-or-forego-33-million
-----------
US Senate committee says Benghazi attack was preventable
AP | Jan 16, 2014
WASHINGTON: The US Senate Intelligence Committee on Wednesday released a report on the deadly 2012 assault on the diplomatic compound in Benghazi, Libya, blaming the state department, the intelligence community and even the late ambassador Chris Stevens for failing to communicate and heed warnings of terrorist activity in the area.
The highly critical report says the US military was not positioned to help the Americans in need, though the head of Africa Command had offered military security teams that Stevens _ who was killed _ had rejected weeks before the attack.
Republicans have criticized the Obama administration over the Benghazi assault, in part because then-UN ambassador Susan Rice initially blamed the violence on mob protests over an anti-Islamic film.
Full report at:
http://timesofindia.indiatimes.com/world/us/US-Senate-committee-says-Benghazi-attack-was-preventable/articleshow/28854225.cms
-----------
Afghan drugs production on the rise despite US army presence – watchdog
16 January 2014
Farmers in Afghanistan are producing more opium than ever, despite more than a decade of American forces in the country, according to a government watchdog. John Sopko, the US Special Inspector General for Afghanistan Reconstruction, told the Senate Drug Caucus on Wednesday that the rise in opium production is expected to continue – and threaten the stability of the Afghan government.
If there's any lingering hope that Afghanistan will be able to kick its ballooning opium problem anytime soon, remarks today from US and Afghan counternarctoics officials should put to bed any notion that poppy production in Afghanistan, the world's largest opium supplier, will be trimmed this year.
Full report at:
http://voiceofrussia.com/news/2014_01_16/photo-Afghan-drugs-production-on-the-rise-despite-US-army-presence-watchdog-9516/
-----------
US archaeologists unearth tomb of previously unknown pharaoh in Egypt
16 January 2014
US archaeologists have uncovered the tomb in southern Egypt of a previously unknown pharaoh who ruled 3,700 years ago, antiquities officials said on Wednesday. The discovery by a team from the University of Pennsylvania provides new evidence that at least part of Egypt may have escaped the rule of the Hyksos, invaders from what is now Syria who dominated the Nile Delta between the 18th and 15th centuries BC, the officials said.
A royal cartouche bearing the full name of pharaoh Senebkay was found on the sarcophagus and on a wall of the tomb unearthed in the ancient city of Abydos, the head of the antiquities ministry's pharaonic department, Ali El-Asfar, said.
Full report at:
http://voiceofrussia.com/news/2014_01_16/US-archaeologists-unearth-tomb-of-previously-unknown-pharaoh-in-Egypt-8961/
-----------
Pakistan
PM lauds people of Swat for sacrifices against terrorism
16 January 2014
Prime Minister Nawaz Sharif has lauded sacrifices of the people of Swat against terrorism.He stated this while addressing a function in connection with the youth loans scheme here on Wednesday.Paying tributes to the people of Swat for rendering matchless sacrifices for the revival of peace in the area' the Prime Minister said the people of Khyber Pakhtunkhwa and tribal areas need this scheme the most to rebuild their lives. The prime minister said the people and law enforcement agencies did a wonderful job for the restoration of peace in the area.Prime Minister called upon the youth to take full advantage of Youth Business Loans to stand on their own feet and gear up the speed of development in the country.PM assured that loans under the scheme will be given on merit regardless of political affiliations.
Full report at:
http://www.nation.com.pk/national/15-Jan-2014/pm-lauds-people-of-swat-for-sacrifices-against-terrorism
----------
Karachi operation to continue at all costs, says PM Nawaz
2014-01-16
ISLAMABAD: Prime Minister Nawaz Sharif expressed satisfaction Thursday over the ongoing targeted operation against criminal elements and outlaws in Karachi and said it should be continued at all costs.
The premier made the statement in a meeting with Interior Minister Chaudhry Nisar Ali Khan in the federal capital during which he was briefed over the targeted operation in the country's economic capital against criminals.
The interior minister apprised the premier of the arrests and the successful operations carried out by law enforcement agencies against criminals in order to rid the city of the menace of lawlessness and ensure enduring peace.
Full report at:
http://www.dawn.com/news/1080722/karachi-operation-to-continue-at-all-costs-says-pm-nawaz
-----------
Karachi violence: Two policemen shot dead, two injured
2014-01-16
KARACHI: Three people, including two policemen, were killed in separate incidents of firing in Karachi in the early hours of Thursday, DawnNews reported.
In Karachi's Shafiq Mor area, unknown armed men opened fire on a police mobile patrolling near the Taimuria police station.
As a result, two policemen — Javed and Asif — lost their lives and two others were injured.
According to Senior Superintendent of Police (SSP-Central) Amir Farooqi, banned organisations were involved in the attacks targeting the police.
Full report at:
http://www.dawn.com/news/1080705/karachi-violence-two-policemen-shot-dead-two-injured
-----------
Islamic banking growing at 30pc
2014-01-16
KARACHI: Islamic banking has been growing at an annual rate of 30 per cent and may double its share by 2020, said the State Bank Governor Yaseen Anwar.
He was speaking on Wednesday at the Round Table Conference on Islamic Banking Potential of Pakistan.
"Islamic financial institutions are presently catering to most of the financial services needs of various sectors of the economy," he added.
Mr. Anwar said that "there are dedicated regulatory, legal and academic institutions at the international level working and providing support for maintaining the high pace growth of the Islamic finance industry."
He said that Pakistan, with more than 95pc Muslim population, and a constitutional obligation of ensuring a Riba-free economic system, has had a favorable response to Islamic finance.
Full report at:
http://www.dawn.com/news/1080554/islamic-banking-growing-at-30pc
-----------
Jamiat Ulema-e-Islam-Fazl finally decides to join federal government
January 15, 2014
Jamiat Ulema-e-Islam-Fazl (JUI-F) has decided to join the federal government, seven months after elections in May, Express News reported on Wednesday.
At least two JUI-F members, Abbas Afridi and Akram Durrani will be taking oath as federal ministers at the Aiwan-e-Saddar on Thursday.
Express News correspondent Khalid Mehmood reported that JUI-F had been in negotiations with the government in centre ever since the elections last May.
Akram Khan Durrani had been nominated once as a federal minister but an official notification for his appointment was never issued.
Following further negotiations, it is expected that now been decided that Durrani will be appointed as a Federal Minister while Maulana Ghafoor Haideri (who hails from Balochistan) is expected to assume charge as a Minister of State. There was no announcement of the portfolios they will be accorded.
Full report at:
http://tribune.com.pk/story/659279/jui-f-finally-decides-to-join-federal-government/
-----------
Europe
Iran, Saudi Arabia should by all means take part in Geneva-2 conference – Lavrov
16 January 2014
Iran and Saudi Arabia should by all means participate in the Geneva-2 conference on the Syrian conflict settlement, Russian Foreign Minister Sergei Lavrov said after talks with his Iranian counterpart on Thursday, the Voice of Russia correspondent Ksenya Melnikova reports.
"I hope that the invitations will be timely extended and all the participants will get such an opportunity (to take part in the conference)," Lavrov said.
Russia is concerned about the attempts to narrow membership of the Geneva-2 Peace Conference, Russian Foreign Minister Sergei Lavrov said after talks with Iranian counterpart Javad Zarif on Thursday, the Voice of Russia correspodent Ksenya Melnikova reports.
"Under the agreement reached by Russia and the United States as initiators of the Geneva-2 Conference, it's the UN Secretary General who sends invitations to the forum. No need anyone will put pressure on him. He is a responsible politician and we'll trust him," Lavrov said.
Full report at:
http://voiceofrussia.com/news/2014_01_16/Iran-Saudi-Arabia-should-by-all-means-take-part-in-Geneva-2-conference-Lavrov-5112/
-----------
U.N. warns of risk of genocide in C. African Republic
World Bulletin/News Desk
Jan 16, 2014
A senior U.N. humanitarian official warned on Thursday of the risk of genocide in Central African Republic without a massive scaling up in the international response to the crisis.
"It has all the elements that we have seen elsewhere, in places like Rwanda and Bosnia. The elements are there, the seeds are there, for a genocide. There's no question about that," John Ging, director of operations for the U.N. Office for Coordination of Humanitarian Affairs, told a news conference in Geneva.
http://www.worldbulletin.net/?aType=haber&ArticleID=127015
-----------
Masraf Al Rayan takes over Islamic Bank of Britain
World Bulletin / News Desk
16 January 2014
Qatar's largest non-interest based bank, Masraf Al Rayan, announced on Thursday that it had completed its take over of the Islamic Bank of Britain (IBB) from the Qatar International Islamic Bank.
Without disclosing the terms of the acquisition, Masraf Al Rayan said that 95% of IBB's share capital investors had approved of the sale, along with the British regulator.
The Qatar International Islamic Bank had been in talks with Masraf Al Rayan over the deal since mid-2012.
http://www.worldbulletin.net/?aType=haber&ArticleID=127003
-----------
UNHRC condemns mass executions by Syrian rebels
16 January 2014
The UN High Commissioner for Human Rights, Navi Pillay, has warned the armed Syrian rebels that murder and execution are war crimes.
According to a communiqué, received by the ITAR-TASS news agency, the Human Rights Commissioner points out that quite a few mass executions of civilians and the military who are no longer involved in combat operations by Syria's radical opposition groups, including the Islamic State of Iraq and the Levant, have been reported from Aleppo, Idlib and Raqqa over the past two weeks.
"While exact numbers are difficult to verify, reliable eyewitness testimony that we have gathered suggests that many civilians and fighters in the custody of extremist armed opposition groups have been executed since the beginning of this year," she said in a statement.
Full report at:
http://voiceofrussia.com/news/2014_01_16/UN-Human-Rights-Commissioner-condemns-mass-executions-by-Syrian-rebels-3803/
-----------
Bosnia opens library housing ancient Islamic manuscripts
16 January 2014
Bosnia opened Wednesday a new library to house its ancient Islamic manuscripts, which were saved from destruction during the 1992-1995 war by residents who hid them in eight different locations.
The Gazi Husrev-beg library houses more than 100,000 items, the oldest being an Arabic-language handwritten manuscript dating to 1106.
During the 1990s inter-ethnic war in Bosnia and siege of Sarajevo, the collection had been hidden, with 500 of the most valuable manuscripts and books locked up in a bank vault.
To eliminate the threat that the items could one day be lost, "all manuscripts are digitized and copies are saved at three different places around the world," said Ahmed Alibasic, who chairs the library's management board.
Full report at:
http://english.alarabiya.net/en/variety/2014/01/16/Bosnia-opens-library-housing-ancient-Islamic-manuscripts.html
-----------
Spain's hunted Afghan interpreters
16 January 2014
Madrid, Spain - Gulam wore the uniform of the Spanish Army as a translator for more than three years. But since Spanish troops pulled out of Afghanistan in 2013, this 23-year-old remains in hiding for sheer survival.
Such is seemingly the fate of 40 young Afghan interpreters who also worked with Spanish forces.
"We are terrified due to the constant threats from the Taliban. They say they'll kill us all for collaborating with the invaders," Gulam, who has a degree in Spanish language and literature from Kabul University, told Al Jazeera. He and his colleagues preferred not to disclose their full names for security reasons.
Full report at:
http://www.aljazeera.com/indepth/features/2014/01/spain-hunted-afghan-interpreters-201411311214818244.html
----------
South Asia
Japan court allows police to spy on Muslims
World Bulletin / News Desk
16 January 2014
Police in Japan are able to collect data and information on individuals just because they are Muslim, despite a court ruling in favor of 17 individuals who sought compensation for having their personal details leaked.
The lawyer who successfully won the case at the Tokyo District Court on Wednesday, Toshiro Ueyanagi, said "there was a total lack of consideration for human rights," regarding the prying into the personal lives of his plaintiffs just because they were Muslims.
The nationalities, portraits, place of employment, family composition and places frequently visited by the plaintiffs were leaked into a 114 page document about terrorism, which was posted on the internet in 2010.
Iran, Saudi Arabia http://www.worldbulletin.net/?aType=haber&ArticleID=127017
-----------
Afghan president accuses US of killing 7 children in airstrike
January 16, 2014
KABUL: Afghan President Hamid Karzai accused the United States of killing seven children and a woman in an airstrike in central Afghanistan – an incident set to further damage frayed ties between the two allies.
Relations between Washington and Kabul have been rocky for years, and negotiations over an agreement that would allow some US troops to remain in the country after this year have broken down into a long-running public dispute.
"As a result of bombardment by American forces last night… in Siahgird district of Parwan province, one woman and seven children were martyred and one civilian injured," a statement from Karzai's office said.
"The Afghan government has been asking for a complete end to operations in Afghan villages for years, but American forces acting against all mutual agreements… have once again bombarded a residential area and killed civilians."
Full report at:
http://tribune.com.pk/story/659383/afghan-president-accuses-us-of-killing-7-children-in-airstrike/
-----------
Youth empowerment key for poverty eradication in Afghanistan
16 January 2014
The unemployment and poverty levels have remained significantly high in Afghanistan where USD641.7 billion has been spent in military, reconstruction and civilian aid in the past 10 years. The results of a survey by the Asia Foundation, in late 2013, indicated that 25 percent of Afghans at a national and 27 percent at a local level identified unemployment as one of the biggest problems in Afghanistan.
The unemployment problem has been exacerbated by the entrance of 400,000 young people, every year, to the Afghan labour market. The Afghan labour market does not have the capacity to absorb the unemployed young workers and it forces the young Afghans either to leave the country in search of work in neighbouring countries or to the streets where they often get involved in crimes.
Full report at:
http://www.khaama.com/youth-empowerment-key-for-poverty-eradication-in-afghanistan-2699
-----------
Nasheed warns of PPM, Supreme Court collusion to subvert elections
By Zaheena Rasheed | January 15th, 2014
Former President Mohamed Nasheed has warned of collusion between the ruling Progressive Party of the Maldives (PPM) and the Supreme Court to subvert local council elections scheduled for January 18.
"We clearly know political party leaders are bribing judges," said Nasheed, stating that the Supreme Court's attempt to "destroy the Maldives" will be written in history.
The PPM and 295 independent candidates have failed to approve the voter registry, casting doubt on the possibility of elections being held on Saturday.
In October 2013, the Maldives Police Service obstructed presidential polls at the eleventh hour after the PPM and its coalition partner Jumhooree Party (JP) refused to sign voter lists.
Speaking to supporters at a rally held in Malé on Monday night, Nasheed said the PPM intended to delay elections until the party was able to change the names on the voter registry.
Full report at:
http://minivannews.com/politics/nasheed-warns-of-ppm-supreme-court-collusion-to-subvert-elections-75214
-----------
President Yameen vetoes sexual offences bill
By Ahmed Naish | January 15th, 2014
President Abdulla Yameen has returned the sexual offences bill passed by parliament last month for reconsideration.
According to the President's Office, in a letter to the speaker of parliament, President Yameen provided details of issues noted by the Attorney General after reviewing the legislation (Dhivehi).
"The bill containing some provisions that are contrary to Islamic Shariah and Islamic principles was among the reasons considered for returning the bill," the President's Office stated.
Under article 91 of the constitution, within 15 days of receipt the president could either assent to a bill or "return the bill for reconsideration of the bill or of any amendment proposed by the president."
Full report at:
http://minivannews.com/politics/president-yameen-vetoes-sexual-offences-bill-75176
-----------
China backs Hasina government
HAROON HABIB
16 January 2014
Prime Minister Li offers to take bilateral relations to a new height
After India and Russia, China has extended its crucial support to the new government led by Sheikh Hasina. Chinese Prime Minister Li Keqiang said Beijing would like to join hands with the Sheikh Hasina-led government to take "comprehensive and cooperative partnership to a new height."
Full report at:
http://www.thehindu.com/news/international/south-asia/china-backs-hasina-government/article5579139.ece
-----------
Africa
Peacekeepers ask CAR's Christian militia to disarm
World Bulletin / News Desk
16 January 2014
Leaders of the African peacekeeping force in the Central African Republic (CAR), known as MISCA, met on Wednesday with leaders of the anti-balaka Christian militia group in the troubled capital Bangui to discuss disarmament.
"Our commanders today went to the anti-balaka headquarters and told their leaders to tell their men to disarm," spokesman Sandou Jean-Pierre told Anadolu Agency.
He said the anti-balaka leaders told MISCA commanders that they will talk to their soldiers and give the peacekeepers a date for disarmament.
"If they don't cooperate we shall use force like we have been doing with the ex-seleka," Jean-Pierre said.
The self-styled Christian militia was initially formed to defend Christian communities against attacks by the former seleka rebels.
Full report at:
http://www.worldbulletin.net/?aType=haber&ArticleID=126984
-----------
Ugandan troops join S. Sudan military to fight rebellion
Jan 16, 2014
Uganda's troops have joined forces with the South Sudanese military in the war against a rebellion in the world's newest country, AP reported. Ugandan forces were helping loyalist forces flush rebels out of Bor, the strategic town near the capital of Juba, military spokesman Lt. Col. Paddy Ankunda said Thursday. Violence between South Sudanese broke out in South Sudan in mid-December.
http://rt.com/news/line/2014-01-16/#54017
-----------
France 'underestimated' Central African Republic hatred
16 January 2014
France underestimated the level of hatred between Christian and Muslim communities in the conflict-raven Central African Republic, its ambassador to the UN has said.
Gerard Araud told a UN meeting on Wednesday that African Union and French forces were confronting a "nearly impossible" situation.
They were between "two communities who want to kill each other", he said.
Mr Araud said that calls to end the fighting were being ignored.
France, the former colonial power, has deployed 1,600 troops to try to restore peace, along with an African Union force of some 5,000.
"We have to think in terms of tactics: What to do, in very practical terms, to be effective to prevent people from killing each other when they desperately want to kill each other," Mr Araud told an event organised to mark the 20th anniversary of the Rwandan genocide.
"We knew that there was some inter-sectarian violence, but we didn't forecast such deep ingrained hatred.
Full report at:
http://www.bbc.co.uk/news/world-africa-25755073
-----------
Anti-Gay Law Takes Effect in Africa's Most Populous Country
16 January 2014
One day after Nigerian President Goodluck Jonathan signed legislation criminalizing homosexuality, police reportedly began rounding up gay men in Africa's most populous country.
On Monday, Jonathan signed the bill, which was passed by the national assembly in May, and contains harsh penalties for homosexual activity and membership in gay rights groups. "Persons who enter into a same-sex marriage contract or civil union commit an offence and are each liable on conviction to a term of 14 years in prison," the law says. "Any person who registers, operates or participates in gay clubs, societies and organizations or directly or indirectly makes public show of same-sex amorous relationship in Nigeria commits an offence and shall each be liable on conviction to a term of 10 years in prison."
Full report at:
http://world.time.com/2014/01/15/nigeria-anti-gay-law/#ixzz2rXsjfc4L
-----------
URL: https://www.newageislam.com/islamic-world-news/new-age-islam-news-bureau/'samaj'-daily-published-prophet's-(pbuh)-photo--press-set-ablaze/d/35305