New Age Islam News Bureau
25 Jan 2014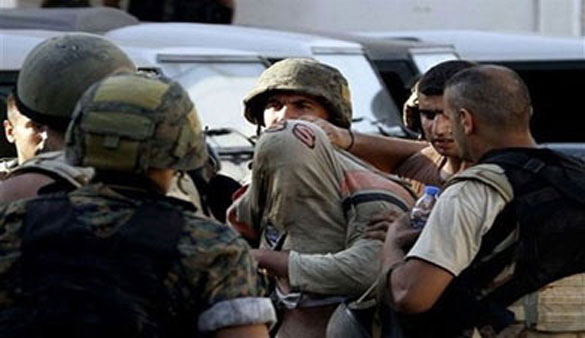 The Lebanese army intelligence announces arrest of key al-Qaeda-linked terrorist Omar Ibrahim al-Atrash
---------
Europe
• Russian Expert: Salafis Coaxing Central Asian Youths into Fighting in Syria
• Syrian government and opposition meet for first time in presence of mediator: UN
• Rohingya Muslims fleeing Myanmar become "merchandise" in Thailand – HRW
• Middle East: Russia takes lead in wise policies, US becomes dishonest peace broker - expert
Africa
• CAR: More Than 50 Muslims Killed in Two Attacks
• 17 feared killed in Nigeria's Borno
• Somali Islamists vow to boost attacks as Ethiopia join AU force
• Hundreds of Islamists rally against new Tunisia charter
• 5 Egyptian diplomats, employees abducted in Libya
• Islamic teachers attend workshop on peace-building
• Morocco uncovers new 'jihadist cell'
Arab World
• Lebanese Army Arrests Recruiter of Suicide Bombers, Terrorist Omar Atrash
• Mortar attack kills six in Iraqi Shia village
• Iraq violence kills 14 as January toll tops 800
• Official: ISIL Plotting to Create New Country on Syria, Iraq Territories
• New media technology reshapes Saudi political culture
• Why Marriage is a distant notion for Saudi bachelors
• Egypt bombing damages Islamic art museum
• Syrian refugees looking for a life in Lebanon
• Police disperse separate Way of Revolution Front, Muslim Brotherhood marches
• Egypt uprising anniversary clouded by bombings
• Pessimism Stalks Peace Conference on Syria's Civil War
South Asia
• 6 died in 'terrorist' attack, 6 shot dead by police in China's western region
• Coordinated suicide attack foiled on NATO base in Logar
• PM Sheikh Hasina terms BNP, Jamaat's politics 'militancy'
• BNP lambasts Hasina for calling Khaleda 'chief of Jamaat'
• Five Afghan volleyball players shot dead: officials
• Afghan-US deal falters as Karzai demands Taliban talks
• Massive Islamic congregation begins in Bangladesh
Pakistan
• Civil society demands decisive action against terrorism
• Pakistan's Shia pilgrimage route to Iran suspended
• Two killed in Karachi violence; 22 suspects arrested in operation
• Residents flee as firing in Nowshera leaves 3 dead
• Three killed in security forces action in Panjgur
• ICG urges Pakistan to withdraw talks offer to militants
• No peace talks amid operation threats: TTP
• Dialogue must for Pak-India peace: Shahbaz
India
• US Muslims say Muzaffarnagar victims in fear
• CB-CID Triggers Row, Equates Jihad with Unlawful Activities
Mideast
• Israeli minister calls for 'Third Temple' in Al-Aqusa compound
• Yemen: US drone strike kills 3 suspected militants
• Senior Lawmaker Warns of Iran's Crushing Response If Attacked by US
• Israel considering Assad alliance
Southeast Asia
• Malaysia Appointed To Islamic World Heritage Committee
• Putrajaya not living up to its promises, says Council of Churches
• Sabah Christians want Najib to rein in 'political Islam'
• We did not coerce or trick natives into converting, say Sabah Islamic authorities
• Philippines, Muslim rebels clinch peace deal
North America
• 'Religious Freedom' Rep Says No to Muslims' Rights in Military
• U.S. to sell $600 million arms to Libya
• Kerry-Aziz meet to produce blue print of US-Pak relationship
• Gen. Dunford to ask Obama to keep US 10,000 troops in Afghanistan
• US approves $352 million for Pakistan under Coalition Support Fund
Compiled by New Age Islam News Bureau
URL: https://newageislam.com/islamic-world-news/russian-expert-salafis-coaxing-central/d/35447
----------
Europe
Russian Expert: Salafis Coaxing Central Asian Youths into Fighting in Syria
Jan 25, 2014
TEHRAN (FNA)- A prominent Russian expert warned of the different brain-washing methods used by Salafi groups to persuade the young people in the Central Asian states to fight in Syria.
"The nationals of Russia and the Central Asia are attracted by baits like religious training and then are brain-washed and sent to Syria," Alexander Kniazev, a famous political expert and director of the regional office of the Russia CIS Institute, told FNA on Saturday.
He said some members of the militant groups in the Central Asia even receive their basic military trainings and become prepared psychologically for battles in the target countries (like Syria) in their homelands.
Kniazev described Turkey and the UAE as two main routes used by the militant groups to dispatch fresh forces to Syria.
The conflict in Syria started in March 2011, when sporadic pro-reform protests turned into a massive insurgency following the intervention of western and regional states.
The unrest, which took in terrorist groups from across Europe, the Middle-East, Central Asia and North Africa, has transpired as one of the bloodiest conflicts in recent history.
As the foreign-backed insurgency in Syria continues without an end in sight, the US government has boosted its political and military support to Takfiri and Salafi extremists.
Washington has remained indifferent to warnings by Russia and other world powers about the consequences of arming militant groups.
http://english.farsnews.com/newstext.aspx?nn=13921105000619
----------
Syrian government and opposition meet for first time in presence of mediator: UN
Reuters | Jan 25, 2014
GENEVA: Syria's warring sides met briefly together in the same room on Saturday for the first time since peace talks started in Geneva, the UN said.
UN mediator Lakhdar Brahimi's spokeswoman confirmed on Saturday morning that he and the two sides were meeting in the same room.
The meeting, during which Brahimi spoke while the two delegations had listened, wrapped up in under half an hour, a source inside the room told AFP.
The delegations had been due to sit down early Friday at UN headquarters in Geneva for their first direct talks, but Brahimi was unable to get them into the same room after the opposition insisted the regime must be prepared to discuss Assad leaving power.
Following the brief meeting Saturday morning, the two sides were believed to have moved to separate offices, with Brahimi shuttling between them.
The UN mediator was expected to try to coax the two parties back into the same room for an afternoon session seen focusing on humanitarian issues, especially the situation in the besieged central city of Homs.
With neither side appearing ready for serious concessions, mediators will be focusing on short-term deals to keep the process moving forward, including on localised ceasefires, freer humanitarian access and prisoner exchanges.
Opposition Coalition official Ahmad Ramadan told AFP weekend talks would focus on Homs, where hundreds of families are living under siege with near-daily shelling and the barest of supplies.
"We will talk exclusively about... how to put an end to the siege of Homs, ensuring humanitarian corridors to besieged areas and stopping the regime's bombing and killing," Ramadan said Friday.
Syrian Deputy Foreign Minister Faisal Muqdad denied that the talks would focus on Homs.
http://timesofindia.indiatimes.com/world/middle-east/Syrian-government-and-opposition-meet-for-first-time-in-presence-of-mediator-UN/articleshow/29354194.cms
----------
Rohingya Muslims fleeing Myanmar become "merchandise" in Thailand - HRW
Jan 25, 2014
BANGKOK (Thomson Reuters Foundation) – Rohingya Muslims fleeing by boat to escape violence in Myanmar's western Rakhine state have become "lucrative merchandise" for authorities and traffickers in Thailand, Human Rights Watch (HRW) said, as a fresh bout of bloodletting in the volatile state prompted demands for an investigation.
The U.S. and U.N. have urged Myanmar to investigate reports that security forces and Buddhist mobs attacked Rohingya in Rakhine state's Maungdaw township earlier this month. The government has denied there has been any mass killing.
The number of dead has not been confirmed, but advocacy group Arakan Project put the death toll between 10 and 60, while a statement from U.N. High Commissioner for Human Rights Navi Pillay put the figure at more than 40.
Pillay's statement said the U.N. has received "credible information" about the violence in Du Chee Yar Tan village, which began on Jan. 9, when local Rakhine villagers attacked and killed eight Rohingya Muslim men. On Jan. 13, Rohingya villagers captured and killed a police sergeant, while later that evening, police and local Rakhine killed at least 40 Rohingya Muslim men, women and children, it said.
Medical charity Medecins Sans Frontieres said on Friday it had treated 22 people who had apparently been wounded last week around the time of the reported massacre.
HRW said on Friday that it had received reports that police have "orally issued a blanket order permitting the arrest of all Rohingya men and boys over the age of 10 in the area."
The incidents could not immediately be independently verified because the areas are off limits to journalists and the government strictly controls access by international aid groups.
Any deaths this week would add to the tally of at least 237 people killed in religious violence across Myanmar since June 2012, which has also displaced more than 140,000 people. Thousands of Rohingya have fled Myanmar aboard rickety boats, making perilous voyages across the Indian Ocean in the hope of reaching safety as refugees.
The exodus of Rohingya by sea has created a profitable enterprise for authorities and traffickers in neighbouring Thailand, HRW's Thailand researcher Sunai Phasuk told a news conference in Bangkok.
He said Rohingya boats were intercepted, the migrants put in custody and deported "unofficially right into the hands of traffickers."
"Throughout this process, there is a profit to be made by any agency involved. Rohingya have become lucrative merchandise for Thai officials guarding the border by sea and by land, and those in charge of enforcing immigration law all have benefited from the plight of the Rohingya," Sunai said.
In-depth reports by Reuters and Thomson Reuters Foundation have detailed the apartheid tactics being used against the Rohingya, the resulting mass exodus by boat, as well as their falling prey to human traffickers in Thailand.
Human Rights Watch warned that sectarian violence in Rakhine had "metastasised" around Myanmar. "In previously fairly stable areas, where Buddhist and Muslims coexisted for a very long time, you really saw organised but also spontaneous and organic anti-Islamic feeling," Myanmar-based researcher David Mathieson said at the news conference in Bangkok.
http://www.trust.org/item/20140124152249-u874m/
----------
Middle East: Russia takes lead in wise policies, US becomes dishonest peace broker - expert
Jan 25, 2014
Russian President Vladimir Putin met his Palestinian counterpart Mahmoud Abbas outside Moscow on Thursday. Pointing out Russia's assertiveness on the global stage, Abbas expressed hope that Russia will further play the leading role in maintaining peace in the Middle East. Ken O'Keefe, Peace activist and director of Aloha Palestine, talked with the Voice of Russia abut the Abbas's statement and his thoughts on Russian-Palestinian cooperation.
Can you comment on Abbas statement about Russia's leading role in maintaining peace in the Middle East?
I have to agree if there is someone to partner with in the Middle East, Russia stands out as being something that you can actually deal with that has some sort of honorable and intelligent rational decision-making policies. The US as we all know has not been an honest broker in peace. It is said Israel continues to claim more and more Palestinian land illegally and axing land through more and more settlements. And all the while the US has been sitting there holding the hand of Israel and basically given a cover while it did all of this. So, we really do need more influence from other nations away from Britain and France, the US. And it looks clear that Russia is actually taking the lead in having some sense and intelligent policies that can prevent us from having more and more war.
What are your thoughts on prospects for Russian-Palestinian cooperation?
I think the Palestinian leadership itself is really not that of demand of the people. I mean we haven't had a democratically elected leadership in Palestine and that needs to happen one way or the other. I don't think Abbas can represent the will of the Palestinian people. There are a lot of Palestinians who are against these continuing talks which are basically just giving more room for Israel to steel more land. But I definitely see that whatever the Palestinian leadership is, they would be wise to partner with Russia more and more, and certainly they should recognize the US is not an honest broker in any kind of just peace.
What about Israel? Should we expect the expansion of Russian-Israeli relations in the future?
If we really understand what is going on in the Middle East, we look at how Israel is instrumental in destabilizing the surrounding region, if we look at the Oded Yinon Plan which basically called for the balkanization of all the Arab states, destroy any kind of Arab nationalism, to sole the seeds in sectarian hatred, then I think Russia has to go into any relationship with Israel with that understanding of course. And when Israel says it wants peace, what it really means is that it wants war. It wants ongoing conflict to justify its insane policy. I don't really know how you deal with that from the political standpoint in any kind of meaningful, honorable way but I am sure the Russian government will do their best to make that so.
UN Secretary General Ban Ki-Moon has said this week during a Security Council Meeting once again underlying the Israeli settlement program is illegal. Why do you think Israel is not really doing anything about that?
If you know who has really got control of the world right now, you need to understand who controls finance and banking. So, when we look at Israel and the fact that it gets away with virtually everything, it gets away with anything and everything, it can execute humanitarian aid workers and international waters, they can drop white phosphorus on innocent captive population in Gaza, they can torture minors, they can imprison people and definitely they can get away with all of that. Basically they own the most of the governments, they own the judicial branches of government in many places, they own the mainstream media so that they can get away with this and until that system changes Israel will continue to get away with bloody murder.
http://voiceofrussia.com/2014_01_24/Middle-East-Russia-takes-lead-in-wise-policies-US-becomes-dishonest-peace-broker-expert-9605/
----------
Africa
CAR: More Than 50 Muslims Killed in Two Attacks
Jan 25, 2014
New evidence of the slaughter of women, children and the elderly gathered by Amnesty International underscores the extreme dangers faced by the Muslim minority in the Central African Republic. The organization is calling for a more robust peacekeeping effort to protect civilians outside of the capital.
More than 50 Muslims were killed in two attacks investigated by Amnesty International in villages north-west of the capital, Bangui. The victims include at least six children, five women, and three old men. Two girls, aged seven and 18 months, were the youngest victims; the oldest was 70.
"International peacekeeping forces are failing the Muslim community," said Joanne Mariner, Amnesty International's senior crisis advisor in Bangui. "Scores of people were left unprotected from vicious anti-balaka reprisals at a time when such attacks were entirely predictable."
Full report at:
http://allafrica.com/stories/201401250130.html?viewall=1
----------
17 feared killed in Nigeria's Borno
World Bulletin / News Desk
Jan 25, 2014
At least 17 people have reportedly been killed and others injured in attacks last week by alleged Boko Haram insurgents on three villages in Nigeria's northeastern Borno hinterlands.
"The attackers came around 11pm when we were about to go to bed," Wakil Dogo, a resident of Njaba village, told Anadolu Agency on Friday about a Tuesday attack.
"Up to 10 people were killed and many sustained various injuries," he added.
Speaking in a creole of local Kanuri and Hausa language, Dogo said he had escaped to Maiduguri, capital city of Borno, along with two daughters after the attack.
He said those who sustained serious injuries are being treated at the University of Maiduguri Teaching Hospital and other nearby hospitals in the capital.
Full report at:
http://www.worldbulletin.net/?aType=haber&ArticleID=127603
----------
Somali Islamists vow to boost attacks as Ethiopia join AU force
Jan 25, 2014
Somalia's Shebab insurgents called Saturday for renewed attacks against foreign forces, after arch-enemy Ethiopia joined the African Union force battling the extremists.
Top commanders of the Al-Qaeda-linked group, including insurgent supremo Ahmed Abdi Godane, met this week after Ethiopia formally joined the UN-backed mission known as AMISOM, Shebab spokesman Ali Mohamud Rage told AFP.
"They have declared that the Somali people must intensify their war against AMISOM," Rage said.
"We defeated Ethiopia before and we know how to battle them now," he added.
Ethiopian troops moved into Somalia in 2006 in a US-backed invasion, but pulled out three years later in the face of stiff opposition. They formally crossed back into Somalia in November 2011, where units have remained ever since.
Full report at:
http://english.ahram.org.eg/NewsContent/2/9/92471/World/International/Somali-Islamists-vow-to-boost-attacks-as-Ethiopia-.aspx
-----------
Hundreds of Islamists rally against new Tunisia charter
AFP | Jan 25, 2014
TUNIS: Hundreds of Islamists with the radical Tunisian group Hizb ut-Tahrir, which advocates establishing an Islamic "caliphate", gathered in Tunis on Friday to protest against the "secular" new constitution.
The protesters waved the black and white Islamist flag, and shouted slogans, including "Down with the secular constitution!" and "Establishing Islam is obligatory, sovereignty is for the Koran and sharia (Islamic law)."
"We are announcing our rejection of this constitution which serves foreign intelligence services... We have one master, our Prophet Mohammed," one of the speakers shouted to the crowd, to the cries of "Allahu akbar! (God is greatest)".
Full report at:
http://timesofindia.indiatimes.com/world/middle-east/Hundreds-of-Islamists-rally-against-new-Tunisia-charter/articleshow/29324348.cms
----------
5 Egyptian diplomats, employees abducted in Libya
Jan 25, 2014
A spokesman for Libya's Foreign Ministry says that unidentified gunmen have seized five Egyptian diplomats and embassy employees overnight in Tripoli.
Egypt had earlier reported that its administrative attachés had been kidnapped.
Mohammed al—Asswad says the abductions, which also included the cultural attachés, took place on Friday and early Saturday in two separate incidents.
The abduction came hours after Libya's state news agency reported the arrest of a militia commander, Shaaban Hadiya, in Egypt.
Full report at:
http://www.thehindu.com/news/international/world/5-egyptian-diplomats-employees-abducted-in-libya/article5617563.ece
----------
Islamic teachers attend workshop on peace-building
Jan 25, 2014
One hundred lslamic teachers are attending a seven-day workshop on peace-building, social cohesion and development in Accra.
The teachers of Islamic culture and language have been selected from 50 Islamic schools in Accra.
Topics being treated at the workshop include 'Peace among Religious Faiths', 'Understanding Current issues' and 'Community Development'.
Organised by the Islamic Council for Development and Humanitarian Services (ICODEHS), the workshop is being held on the theme: "Peace Among Religions in Ghana".
Full report at:
http://www.ghanaweb.com/GhanaHomePage/regional/artikel.php?ID=298627
-----------
Morocco uncovers new 'jihadist cell'
Jan 25, 2014
Moroccan has uncovered a jihadist cell led by a Spanish army veteran who later fought in Afghanistan with Al-Qaeda, the interior ministry said on Saturday.
The cell was active in the north of Morocco, where Spain retains two sovereign enclaves, and around Marrakesh in the south, the ministry said in statement carried by the MAP national news agency.
The ministry did not identify the alleged leader of the cell nor specify how many arrests had been made. It said the suspects would be brought to trial after the investigation had been completed.
Full report at:
http://english.ahram.org.eg/NewsContent/2/8/92506/World/Region/Morocco-uncovers-new-jihadist-cell.aspx
-----------
Arab World
Lebanese Army Arrests Recruiter of Suicide Bombers, Terrorist Omar Atrash
Jan 25, 2014
TEHRAN (FNA)- The Lebanese army intelligence arrested terrorist Omar Ibrahim al-Atrash for his role in recruiting suicide bombers and in planning the terrorist attacks that have recently rocked the Southern suburb of Beirut and Hermel.
Al-Atrash, who hails from Arsal, contacts the gangs that fetch him the stolen cars and forges the documents as well as plates to provide those cars with, Al-Manar reported.
The Lebanese army confiscated some of these documents when it arrested al-Atrash.
The terrorist exploited his religious appearance to move stealthily between Shtoura and Beirut.
Full report at:
http://english.farsnews.com/newstext.aspx?nn=13921105000547
----------
Mortar attack kills six in Iraqi Shia village
Jan 25, 2014
At least six people were killed on Saturday when three mortar bombs hit a Shia Muslim village near the Iraqi city of Baquba, 65 km (40 miles) northeast of Baghdad, police said.
A woman and a child were among the victims, five of whom belonged to the same family, the police said, adding that the assailants might have been aiming at a nearby police station.
Sunni Muslim insurgents often target the security forces, as well as Shia civilians and Sunni tribal militiamen paid by the Shiite-led government to combat al Qaeda-linked groups.
Violence in Iraq climbed back to its highest level in five years in 2013, when nearly 9,000 people were killed, most of them civilians, according to the United Nations.
http://english.ahram.org.eg/NewsContent/2/8/92485/World/Region/Mortar-attack-kills-six-in-Iraqi-Shia-village.aspx
----------
Iraq violence kills 14 as January toll tops 800
Jan 25, 2014
Shelling west and north of Baghdad killed 14 people Saturday as militants bombed a key bridge linking the capital to north Iraq, the latest in a surge of nationwide violence.
The latest bloodshed, which pushed the death toll for January to more than 800, comes just months ahead of parliamentary elections slated to take place on April 30, and has stoked fears Iraq is slipping back into all-out conflict.
Faced with a weeks-long standoff in Anbar province west of Baghdad and Iraq's worst protracted unrest since 2008, authorities have been urged by foreign leaders to pursue political reconciliation in a bid to undercut support for militants.
Full report at:
http://english.ahram.org.eg/NewsContent/2/8/92494/World/Region/Iraq-violence-kills--as-January-toll-tops-.aspx
----------
Official: ISIL Plotting to Create New Country on Syria, Iraq Territories
Jan 25, 2014
TEHRAN (FNA)- The Islamic State of Iraq and the Levant (ISIL), a main offshoot of the terrorist Al-Qaeda Organization fighting in Syria and Iraq, is plotting to declare establishment of a new world state which will comprise of two Iraqi and two Syrian provinces, an Al-Anbar provincial official said.
"The ISIL plans to establish a small country comprising four provinces, including two provinces from Iraq and two others from Syria," Anbar Councilor Eid Ammash told Al-Youm Al-Samen news website.
Full report at:
http://english.farsnews.com/newstext.aspx?nn=13921105000761
----------
New media technology reshapes Saudi political culture
Jan 25, 2014
Due to its opacity, the continuing existence of traditional institutions and the generally conservative outlook of its citizens, casual observers tend to see Saudi Arabia as a relic of a bygone age where time has stood still.
However, those of us who have followed developments there over an extended period — decades as opposed to years — are likely to have a different perception. While the pace of change is slow — with Saudis favoring incremental reform to their social, political and economic institutions instead of wholesale changes implemented overnight — the political culture of the country has changed markedly. This slow evolution, however, is only observable over an extended time frame. This pace helps explain why an Arab Spring-inspired revolution has not taken place in Saudi Arabia and is not likely to happen any time soon. One can, however, be observed through the changing media environment.
Full report at:
http://www.al-monitor.com/pulse/originals/2014/01/saudi-twitter-digital-evolution-media-politics.html#ixzz2rMMbgo8u
----------
Why Marriage is a distant notion for Saudi bachelors
Jan 25, 2014
A large number of young men in Makkah blamed the scarcity of jobs, customs and traditions and high cost of living as the main deterrent to marriage. Okaz/Saudi Gazette interviewed a number of young men in the city and they talked about their dreams and problems. Most acknowledged that they are waiting to get the right job that will help them realize their ambitions, as they do not want to remain dependent on their families. Some were stuck in thankless jobs with no future, while many even said they felt ashamed taking money from their parents.
Full report at:
http://www.saudigazette.com.sa/index.cfm?method=home.regcon&contentid=20140125193645
----------
Egypt bombing damages Islamic art museum
Jan 25, 2014
CAIRO (AP) — Centuries-old glass and porcelain pieces were smashed to powder, a priceless wooden prayer niche was destroyed and manuscripts were soaked by water spewing from broken pipes when a car bombing wreaked havoc on Cairo's renowned Islamic Art Museum.
Experts scrambled to try to save thousands of priceless treasures as ceilings crumbled in the 19th-century building, which had just undergone a multi-million-dollar renovation.
The explosions, which targeted police and the main security headquarters, shook the museum located in the nearby old Cairo district of Bab el-Khalq, propelling steal and ceiling plaster onto its glass cases and wooden artifacts.
Full report at:
http://www.lasvegassun.com/news/2014/jan/24/egypt-bombing-damages-islamic-art-museum/
----------
Syrian refugees looking for a life in Lebanon
Jan 25, 2014
The number of Syrian refugees in Lebanon has now passed one million, according to a recent government estimate. Many have nowhere to go, few possessions and are struggling to survive. In some villages, near the border, the refugees now outnumber the Lebanese residents.
In December, photographer Ed Thompson travelled to Lebanon to photograph some of those displaced from their homes by the Syrian conflict.
The project began by chance a month earlier while he was being interviewed by a young Lebanese student, Sammy Hamze, of the London College of Communication, who mentioned that in his home town, families were taking the refugees into their homes. Within three weeks, the two of them were there working on the project together.
Full report at:
http://www.bbc.co.uk/news/in-pictures-25858265
--------------
Police disperse separate Way of Revolution Front, Muslim Brotherhood marches
Jan 25, 2014
Police fired tear gas and birdshot to disperse two separate marches heading from Mostafa Mahmoud Mosque to Tahrir Square, according to an Ahram Online reporter on the scene.
A pro-Muslim Brotherhood march and a distinct Way of the Revolution Front march gathered separately in front of the mosque in preparations for marches to Tahrir Square.
The Way of the Revolution Front, which opposes both the Brotherhood and the military, called for a march from outside the mosque in the Mohandiseen district and another one from outside the Journalists' Syndicate in downtown Cairo.
Full report at:
http://english.ahram.org.eg/NewsContent/1/64/92499/Egypt/Politics-/Police-disperse-separate-Way-of-Revolution-Front,-.aspx
----------
Egypt uprising anniversary clouded by bombings
AFP | Jan 25, 2014
CAIRO: A spate of deadly bombings put Egyptian police on edge Saturday as supporters and opponents of the military-installed government prepared rival rallies for the anniversary of the 2011 Arab Spring uprising.
Hours before the rallies were due to start, residents of a north Cairo neighbourhood woke up to a small explosion outside a police training centre, a day after four blasts, including a car bombing outside police headquarters, killed six people.
An al-Qaida inspired group - Ansar Beit al-Maqdis, or Partisans of Jerusalem - claimed responsibility for the bombings, all of them targeting police, and urged ordinary Egyptian "Muslims" to stay away from police buildings.
Full report at:
http://timesofindia.indiatimes.com/world/middle-east/Egypt-uprising-anniversary-clouded-by-bombings/articleshow/29351922.cms
----------
Pessimism Stalks Peace Conference on Syria's Civil War
Jan 25, 2014
U.N. sponsored peace talks on Syria's civil war are about to begin today in Montreux, Switzerland then move to U.N. headquarters in Geneva on Friday.
Some 40 nations will take part including representatives from Syria's Bashar Assad's government as well as those from the Syrian opposition that have been seeking to topple the Assad regime.
Conspicuously absent from the talks will be Iran, first invited to participate by U.N. Secretary General Ban Ki-moon then quickly rescinded over intense pressure coming from the U.S. The reason given; Iran refused to sign onto the pre-condition that Assad must step down and a transitional government be installed to take his place.
Full report at:
http://www.opednews.com/articles/Pessimism-Stalks-Peace-Con-by-Dave-Lefcourt-Assad_Civil-War_Conference_Iran-140122-597.html
----------
South Asia
6 died in 'terrorist' attack, 6 shot dead by police in China's western region
Jan 25, 2014
Six people died in three explosions during a "terrorist" attack while the six assailants were shot dead by police on Friday in the far west region of Xinjiang, China, the official Xinhua news agency said on Saturday. The assailants threw explosives that hit a hair salon, a produce market and a vehicle in Xinhe county. The police captured five more suspects and the case is under investigation. The region, home to the ethnic minority Uighurs, is predominantly Sunni Muslim. The violence is part of the insurgency by the Uighurs against what they see as discrimination and religious suppression by China's majority.
http://rt.com/news/line/2014-01-25/#54246
---------
Coordinated suicide attack foiled on NATO base in Logar
Jan 25 2014
The Afghan intelligence operatives foiled a coordinated suicide attack on a NATO base in eastern Logar province of Afghanistan.
Afghan Intelligence – National Directorate of Security (NDS) following a statement on Saturday said, at least two Haqqani Network militants were arrested in connection to suicide attack plot on a NATO base in Logar province.
The statement further added that the two militants were sent by Haji Khalil Haqqani to carry out coordinated suicide attack on the NATO base.
NDS in its statement also added that the detained insurgents, Hazrat Mosa and Sharifullah were looking to attack the NATO base in Padkhwab Shana area of Logar province, using a truck laden with explosives.
Full report at:
http://www.khaama.com/coordinated-suicide-attack-foiled-on-nato-base-in-logar-3341
----------
PM Sheikh Hasina terms BNP, Jamaat's politics 'militancy'
Jan 25, 2014
Prime Minister Sheikh Hasina today termed politics of BNP, Jamaat-e-Islami and its student wing, Islami Chhatra Shibir as militant activities and said that it will have to be stopped otherwise stern action would be taken against them.
"It is not politics, but militant activities. It must be stopped, otherwise stern action would be taken against those involved in the terrorist and militant acts," she said.
We won't let Bangladesh to become a terrorist and militant country again, Sheikh Hasina added.
The prime minister said this while handing over cheques among the family members of those killed and injured by the terrorists of BNP and Jamaat-Shibir in recent times in Gaibandha at local Circuit House this afternoon.
Full report at:
http://www.thedailystar.net/pm-terms-bnp-jamaats-politics-militancy-8400
----------
BNP lambasts Hasina for calling Khaleda 'chief of Jamaat'
Jan 25, 2014
The BNP yesterday lambasted Prime Minister Sheikh Hasina for her remark that BNP Chairperson Khaleda Zia has become the Jamaat-e-Islami's chief, and said the comment crossed the line of political decency.
"The BNP has ties with Jamaat only for election purposes. Both the parties have their own identities and ideologies. There is a big difference between the two parties' ideologies and both the parties have separate working plans," claimed BNP's International Affairs Secretary Assaduzzaman Ripon, on behalf of the party, at a press briefing at the party's Nayapaltan headquarters in the capital.
Full report at:
http://www.thedailystar.net/city/bnp-lambasts-hasina-for-calling-khaleda-chief-of-jamaat-8336
----------
Five Afghan volleyball players shot dead: officials
2014-01-24
MIHTARLAM: Gunmen shot dead five young Afghan men playing volleyball, officials said Friday, but Taliban insurgents responsible for much of Afghanistan's unrest denied any involvement in the killings.
Former warlord Ismail Khan, a vice-presidential candidate in the forthcoming April election, also escaped an apparent assassination attempt when a suicide bomber detonated himself outside a mosque after Friday prayers.
The volleyball players were gunned down in the eastern province of Laghman by attackers riding on a motorbike.
Full report at:
http://www.dawn.com/news/1082404/five-afghan-volleyball-players-shot-dead-officials
----------
Afghan-US deal falters as Karzai demands Taliban talks
2014-01-25
KABUL: President Hamid Karzai on Saturday signalled that a deal to allow US troops to stay in Afghanistan was close to collapse as the Nato combat mission withdraws after a decade of fighting the Taliban.
Late last year, Karzai made a surprise decision not to promptly sign the bilateral security agreement (BSA) with the US, despite a "loya jirga" national assembly voting for him to do so.
Washington has become increasingly frustrated by Karzai's manoeuvreing over the deal, stressing that negotiations were completed in November and that it is ready to sign the mutually agreed text.
Full report at:
http://www.dawn.com/news/1082619/afghan-us-deal-falters-as-karzai-demands-taliban-talks
----------
Massive Islamic congregation begins in Bangladesh
2014-01-25
DHAKA: Vast crowds of Muslims prayed near the Bangladeshi capital as the second largest annual Islamic congregation after the Haj began on Friday under tight security.
Over a million devotees flocked to the River Turag at Tongi, 40 kilometres north of Dhaka, as a scholar from Pakistan led the opening sermons of the Biswa Ijtema, or World Muslim Congregation.
The massive gathering, which also draws 25,000 foreign devotees from 130 countries, is being hosted after the South Asian country was plagued by election violence early this month.
At least 26 people were killed during the poll on Jan 5, making it the bloodiest vote in Bangladesh's history, while hundreds of opposition supporters torched or trashed polling stations.
Full report at:
http://www.dawn.com/news/1082533/massive-islamic-congregation-begins-in-bd
----------
Pakistan
Civil society demands decisive action against terrorism
January 25, 2014
KARACHI: Key members of the civil society of Pakistan, including human, women's rights and social activists, academicians, journalists, writers and intellectuals, have expressed their serious concern over the surge in the acts of terrorism in different parts of the country in the course of the last few days.
They demanded the government take stern action against the terrorists. In a joint statement issued on Friday, the civil society activists expressed their serious concern over the surge in the acts of terrorism in different parts of the country in the course of the last few days. "In the last one month alone, terrorist elements have attacked polio workers, targeted, yet again, the believers of a specific sect in Balochistan, sent suicide bombers to kill schoolchildren, attacked media workers and even brutally killed military personnel, law enforcers and police," the statement said.
Full report at:
http://www.dailytimes.com.pk/national/25-Jan-2014/civil-society-demands-decisive-action-against-terrorism
----------
Pakistan's Shia pilgrimage route to Iran suspended
2014-01-25
QUETTA: Pakistan has suspended buses carrying Shia Muslim pilgrims from travelling through its volatile Balochistan province to neighbouring Iran due to security concerns after a suicide attack killed 30 pilgrims this week, officials said on Friday.
A 700 km highway connecting the Pakistani city of Quetta and Iran, home to many Shia pilgrimage sites, has seen dozens of suicide and roadside bomb attacks claimed by radical Islamist groups.
"We have temporarily suspended the movement of buses on the highway until the security situation improves," a senior official of the provincial government told Reuters.
Sectarian attacks are on the rise in Pakistan, where minority Shias make up about 20 per cent of the 180 million people.
Full report at:
http://www.dawn.com/news/1082419/pakistans-shia-pilgrimage-route-to-iran-suspended
----------
Two killed in Karachi violence; 22 suspects arrested in operation
2014-01-25
KARACHI: Two bodies were recovered from Karachi's Lasbela Pull on Saturday whereas 22 suspects were arrested during a targeted operation conducted by Rangers personnel, DawnNews reported.
Two bodies were discovered near Lasbela Pull. The victims had been abducted and subjected to torture before being shot dead.
Meanwhile, over 600 Rangers' personnel sealed the entry and exit points of SITE Metroville and conducted an operation. At least 22 suspects, including members of banned organisations, were arrested.
Full report at:
http://www.dawn.com/news/1082607/two-killed-in-karachi-violence-22-suspects-arrested-in-operation
----------
Residents flee as firing in Nowshera leaves 3 dead
January 25, 2014
NOWSHERA: A clash between two groups in Nowshera left three people dead and another injured on Saturday, Express News reported.
Two groups were engaged in a conflict which then led to firing. Four people were injured of whom three died on the spot.
The injured and bodies of the dead were taken to District Headquarters Hospital Nowshera.
Residents fled the area and shopkeepers closed their shops after the incident occurred.
Police are on their way to the scene.
http://tribune.com.pk/story/663237/residents-flee-as-firing-in-nowshera-leaves-3-dead/
---------
Three killed in security forces action in Panjgur
2014-01-25
QUETTA: Three people were killed in an exchange of fire with security forces in Balochistan province's Panjgur area, DawnNews quoted sources as saying.
Sources said the action was ongoing since Friday, adding that during the search conducted in the area, security forces surrounded a compound from where armed men started shooting.
The exchange of fire lasted for several hours during which the armed men also attempted to escape.
Full report at:
http://www.dawn.com/news/1082599/three-killed-in-security-forces-action-in-panjgur
----------
ICG urges Pakistan to withdraw talks offer to militants
2014-01-25
ISLAMABAD: The International Crisis Group (ICG) has urged the Pakistani government to withdraw the offer of talks with militants and instead develop a coherent policy framework rooted in strengthening of civilian law-enforcement institutions to tackle militancy.
"The state must adopt a policy of 'zero tolerance' towards all forms of militancy, and negotiations with [the banned] Tehreek-i-Taliban Pakistan without preconditions or a roadmap are unwise," the Brussels-based Crisis Group said in a report released on Thursday.
"Such a strategy is bound to fail, as have successive military-devised peace deals with tribal militants in recent years that only expanded the space for Jihadi networks in Fata, Khyber Pakhtunkhwa and countrywide," the report said.
Full report at:
http://www.dawn.com/news/1082589/icg-urges-pakistan-to-withdraw-talks-offer-to-militants
----------
No peace talks amid operation threats: TTP
January 25, 2014
KARACHI - If the government is sincere in holding negotiations, it should not hurl threats of operations on Taliban and avoid creating fear, said the central spokesperson for the outlawed Tehreek-e-Taliban Pakistan (TTP), Shahidullah Shahid, on Friday evening.
Shahidullah said just after a few attacks by the TTP, the government declared that Taliban are not sincere in negotiations. He said the attacks were in retaliation of the assassination of TTP Chief Hakimullah Mehsud and drone attacks on the tribesmen, mosques and other places. Since the day, the government has been raising voice for peace talks while some 60 missing TTP operatives were killed and those trying to initiate negotiations disgraced in the media. Full report at:
http://www.nation.com.pk/karachi/25-Jan-2014/no-peace-talks-amid-operation-threats-ttp
----------
Dialogue must for Pak-India peace: Shahbaz
January 25, 2014
LAHORE - Punjab Chief Minister Mian Muhammad Shahbaz Sharif has said that the present age is that of dialogue, understanding and communication and all countries of the world should use these mediums in the effort to promote international peace. He said that there is a greater responsibility on the bigger countries in this regard.
He said that besides relations at government level, promotion of public contacts is also essential as interaction at the level of the people provides opportunities to learn from one another's experiences.
Full report at:
http://www.nation.com.pk/lahore/25-Jan-2014/dialogue-must-for-pak-india-peace-shahbaz
----------
India
US Muslims say Muzaffarnagar victims in fear
Pervez Iqbal Siddiqui,TNN | Jan 25, 2014
LUCKNOW: Members of a delegation of US-based Indian Muslims who visited Muzaffarnagar relief camps have said that riot survivors are scared of returning to their homes after being allegedly warned by villagers from the majority community that they won't be allowed to practice their faith.
The eight-member delegation of American Federation of Muslims of Indian Origin comprising doctors, social workers and academics had visited Muzaffarnagar on December 31. In a report released on January 21, the delegation said, "A number of refugees told us that they've been told by Jats to not grow beard, give the call for 'azaan', or perform the namaaz."
The report said the state government, too, had failed to in taking confidence building measure to bridge the communal divide. Data provided by local workers showed that at least 30,000 people were living as refugees in camps till December 31, whereas the state government claims that less than 3,000 survivors are living in relief camps.
Full report at:
http://timesofindia.indiatimes.com/india/US-Muslims-say-Muzaffarnagar-victims-in-fear/articleshow/29328792.cms
----------
CB-CID Triggers Row, Equates Jihad with Unlawful Activities
Jan 25, 2014
The CB-CID, which won kudos last October for nabbing two terror suspects hiding in Puttur, has now kicked up a controversy by implicitly equating the Islamic word 'Jihad' with 'unlawful activities'. A press note released by the CB-CID on Friday after filing of the chargesheet in an explosive seizure case, said the explosives were procured and transported by the accused "to be used for the purpose of Jihad".
The press note further said the money seized from the accused was funds that were used "for Jihad and allied unlawful activities by Kichan Buhari of Melapalayam". The case relates to the seizure of a huge quantity of explosive substances last July from Melapalayam in Tirunelveli and Coimbatore. While the CB-CID, which included 19 persons as accused, believes that the explosives were meant to disturb peace, the press note unwittingly implied that the explosives were procured "for the purposes of Jihad".
Full report at:
http://www.newindianexpress.com/cities/chennai/CB-CID-Triggers-Row-Equates-Jihad-with-Unlawful-Activities/2014/01/25/article2018771.ece
------------
Mideast
Israeli minister calls for 'Third Temple' in Al-Aqsa compound
World Bulletin / News Desk
Jan 25, 2014
The Israel Minister of Housing and Construction Uri Ariel on Friday expressed his wish to see the construction of a "Third Temple" in the Al-Aqsa Mosque compound in occupied Al-Quds (East Jerusalem).
According to the Alray Palestinian News Agency, Uri Ariel said "The first Temple was destroyed in 586 BCE, the second Temple in 70 CE, and ever since the Jews have been mourning its loss."
He then went on to say "Al-Aqsa Mosque is currently in place of the temple, despite the temple being much holier than it. Al-Aqsa Mosque is only the third most holy mosque in Islam."
Full report at:
http://www.worldbulletin.net/?aType=haber&ArticleID=127633
-----------
Yemen: US drone strike kills 3 suspected militants
AP | Jan 25, 2014
SANAA, Yemen: Security officials in Yemen say a US drone strike has killed three suspected al-Qaida militants.
The officials say the strike targeted the suspected militants as they drove along the road in Wadi Adida in Marib province on Thursday.
Officials say explosions rocked the area after the strike, suggesting the vehicle carried weapons or ammunition.
The officials spoke on condition of anonymity because they were not authorized to speak to journalists.
Full report at:
http://timesofindia.indiatimes.com/world/middle-east/Yemen-US-drone-strike-kills-3-suspected-militants/articleshow/29337379.cms
-----------
Senior Lawmaker Warns of Iran's Crushing Response If Attacked by US
Jan 25, 2014
TEHRAN (FNA)- Senior parliamentary officials in Tehran slammed US Secretary of State John Kerry for beating on the drums of war against Iran again, and said Tehran would target all the 32 US military bases in the region and turn them into a graveyard for American soldiers, if it comes under attack.
"(The US president) Obama knows better than anyone that the US is not in such a condition that it can launch a military attack against any country," member of the parliament's National Security and Foreign Policy Commission Mohammad Esmayeel Kosari told FNA on Saturday.
Full report at:
http://english.farsnews.com/newstext.aspx?nn=13921105000973
-----------
Israel considering Assad alliance
World Bulletin / News Desk
Jan 25, 2014
Israel has said that it is now prepared to take sides in the Syrian civil conflict, stating the threat of Al-Qaeda fighters in the country as a game-changer.
An Israel official stated that two years ago the number of Al-Qaeda linked fighters in Syria was a mere 2,000, but today that figure stands at around 30,000.
Fearing that once they are rid of Bashar al-Assad they may turn their guns on Israel, the official said that for this reason Israel may reconsider its 'take no sides' policy.
"After Assad and after establishing or strengthening their foothold in Syria they are going to move and deflect their effort and attack Israel," he told The Associated Press.
Full report at:
http://www.worldbulletin.net/?aType=haber&ArticleID=127635
-----------
Southeast Asia
Malaysia Appointed To Islamic World Heritage Committee
Jan 25, 2014
Malaysia has been appointed a member of the Islamic World Heritage Committee.
The appointment was made early this week at the 8th Conference of the Islamic Culture Ministers in the Holy City of Madinah.
Besides Malaysia, Tajikistan and Kazakhstan were also appointed to represent Asia on the committee. Jordan, Yemen and Sudan were appointed to represent the Arab region and Guinea, Mali and Comoros to represent Africa.
Full report at:
http://www.bernama.com.my/bernama/v7/ge/newsgeneral.php?id=1009610
----------
Putrajaya not living up to its promises, says Council of Churches
Jan 25, 2014
Local churches have accused Putrajaya of being inconsistent in keeping its promises, saying that it was pointless coming up with a policy when the states could overrule it.
In a reference to the prime minister's statement yesterday that it was up to the states whether the word Allah could be used by non-Muslims, the Council of Churches of Malaysia stressed that no state laws should contravene the policies derived from the 10-point solution.
"Christians in Malaysia are beginning to see Putrajaya's inconsistencies in living up to the promises made to the community," CCM general-secretary Dr Hermen Shastri told The Malaysian Insider today.
Full report at:
http://www.themalaysianinsider.com/malaysia/article/putrajaya-not-living-up-to-its-promises-says-council-of-churches
----------
Sabah Christians want Najib to rein in 'political Islam'
Jan 25, 2014
Christians in Sabah today urged the prime minister to be a leader for all Malaysians and not only Muslims, and to act against efforts to rob them of their religion as well as their ethnicity.
Calling on Datuk Seri Najib Razak to act against "political Islam", the Christians, from the indigenous non-governmental organisation Perpaduan Anak Negeri (PAN) Sabah, said the threat to them comes from conversion efforts by "extremists from the peninsula and misguided elements in Putrajaya".
PAN said that due to the threat of political Islam, there has been an alarming increase in conversions of "anak negeri", many of whom are Bumiputera Christians. It claimed that the conversions were carried out through intimidation, threat, deception and inducements.
It also said that in some instances, even land was promised.
Full report at:
http://www.themalaysianinsider.com/malaysia/article/sabah-christians-want-najib-to-rein-in-political-islam
----------
We did not coerce or trick natives into converting, say Sabah Islamic authorities
Jan 25, 2014
Sabah Islamic authorities have washed their hands off the conversion controversy in the state, maintaining that they merely carried out their religious duties and the paper work which followed, but did not trick, coerce or persuade any Christian native to convert.
A source from the state Islamic Affairs Department said all the arrangements were handled by Muslim groups which had approached the department with a list of names from three villages in Pitas – Kampung Layung Maliau, Dowokon and Sosop – who were said to be interested in converting to Islam.
Full report at:
http://www.themalaysianinsider.com/malaysia/article/we-did-not-coerce-or-trick-natives-into-converting-say-sabah-islamic-author
----------
Philippines, Muslim rebels clinch peace deal
2014-01-25
KUALA LUMPUR: The Philippine government and the country's largest Muslim rebel group completed talks Saturday on a deal to end four decades of fighting that has killed tens of thousands of people and helped foster religioud extremism in Southeast Asia.
The accord between Filipino negotiators and the rebel Moro Islamic Liberation Front calls for Muslim self-rule in parts of the southern Philippines in exchange for the deactivation of the rebel force. Military presence in the proposed autonomous region would be restricted.
Much now will depend on how the accord is enforced, in particular whether the 11,000-strong rebel forces are able to maintain security in areas that would come under their control.
At least four other smaller Muslim rebel groups are still fighting Manila's rule in the southern Mindanao region, and could act as spoilers.
Full report at:
http://www.dawn.com/news/1082624/philippines-muslim-rebels-clinch-peace-deal
----------
North America
'Religious Freedom' Rep Says No to Muslims' Rights in Military
Jan 25, 2014
WASHINGTON, D.C., 1/24/14) -- The Council on American-Islamic Relations (CAIR), the nation's largest Muslim civil rights and advocacy organization, today called on the United States Commission on International Religious Freedom (USCIRF) to investigate one of its own members for seeking to deny religious rights to Muslim military personnel.
USCIRF Vice Chair Zuhdi Jasser appeared on Fox News to speak out against the Pentagon's recent broadening of religious rights for minority faiths. While supporting those broadened rights for Sikhs and Jews, Jasser decried the expanded rights as they applied to American Muslims. He claimed the Obama administration is "bending over backwards for political correctness," which will lead to what he called "litigation jihad."
Full report at:
http://www.cair.com/press-center/press-releases/12342-religious-freedom-rep-says-no-to-muslims-rights-in-military.html
----------
U.S. to sell $600 million arms to Libya
Jan 25, 2014
The U.S. Defense Security Cooperation Agency notified Congress Wednesday of plans to sell the Government of Libya a package of "General Purpose Force Training" services worth $600 million.
Six thousand to 8,000 Libyan troops will be trained during a term of up to eight years as part of this package, in addition the U.S. will supply Libya with 637 M4A4 carbines and ammunition for same, plus uniforms, other equipment, parts, and logistical support necessary for the training.
Full report at:
http://www.worldbulletin.net/?aType=haber&ArticleID=127611
------------
Kerry-Aziz meet to produce blue print of US-Pak relationship
Jan 25, 2014
US Secretary of State John Kerry and Pakistan Prime Minister's Adviser on Foreign Affairs Sartaj Aziz would meet here next week and expected to come up with a "blueprint" on the future of the bilateral ties.
"There won't be specific announcements, but there will be a blueprint produced in terms of where we continue to take this relationship and how we continue to advance it," a senior State Department official said yesterday.
The much anticipated Strategic Dialogue between the two sides is scheduled to be held in Washington on Monday. This is the first high-level meeting between top officials of the two countries after the October meeting of President Barack Obama with Pakistan Prime Minister Nawaz Sharif at the White House.
Full report at:
http://indianexpress.com/article/world/neighbours/kerry-aziz-meet-to-produce-blue-print-of-us-pak-relationship/2/
----------
Gen. Dunford to ask Obama to keep US 10,000 troops in Afghanistan
Jan 25 2014
The top US commander in Afghanistan, Gen. Joseph Dunford who also commands the International Security Assistance Force (ISAF) forces in Afhganistan, is expected to urge Obama for keeping about 10,000 troops in Afghanistan beyond 2014.
Gen. Joseph Dunford is planning to present his recommendations to president Barack Obama during his visit to White House on Monday, the Los Angeles Times reported.
US officials familier with the report have confirmed that Gen. Dunford will suggest that the 10,000 troops should be pulled out by 2017, in a bid to make the deployment attractive to a skeptical White House.
Full report at:
http://www.khaama.com/gen-dunford-to-ask-obama-to-keep-us-10000-troops-in-afghanistan-3339
----------
US approves $352 million for Pakistan under Coalition Support Fund
January 24, 2014
ISLAMABAD: US Secretary of Defence has signed an authorisation for the payment of $352 million to Pakistan under Coalition Support Fund, reported Radio Pakistan.
US Ambassador to Pakistan Richard Olson' during his meeting with Finance Minister Ishaq Dar in Islamabad' said the Congress has been notified and the amount is expected to be released to Pakistan by February 6.
Full report at:
http://tribune.com.pk/story/662921/us-approves-352-million-for-pakistan-under-coalition-support-fund/
----------
URL: https://newageislam.com/islamic-world-news/russian-expert-salafis-coaxing-central/d/35447