New Age Islam News Bureau
27 Apr 2020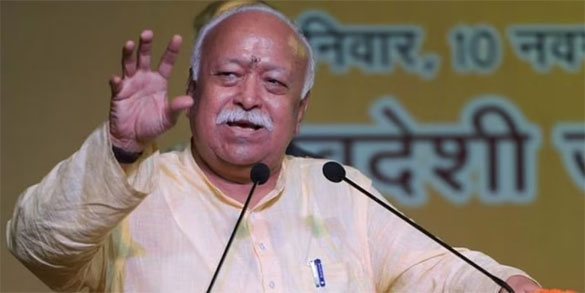 RSS chief Mohan Bhagwat (File Photo | PTI)
----
• RSS Chief Mohan Bhagwat: Asked People Not to Harbour Ill-Will Against Muslims For the Mistakes Committed by Tablighi Jamaat
• Disabled Muslim Man Hounded for Accidentally Dropping Currency, Accused Of Spreading Coronavirus
• Mosques Becoming Major Source of Covid-19 Transmission In Pakistan, Warns Pakistan's Top Islamic Medical Body
• Coronavirus: Iran Plans to Reopen Mosques In Areas Free Of Covid-19, Says President Hassan Rouhani
• Birmingham Mosque's Makeshift Morgue Shows Virus Toll on UK Minorities
• South Africa: Apology Issued Over Anti-Muslim Remarks
• Ramadan's Message of Hope in The Time of Coronavirus
• US Muslim Brotherhood Op Gives President Trump 'Kill List' of World Leaders
• Interests of Kabul Administration Lies with Continuation of War: Taliban
• Teenagers Besiege House of Jakartan Who Reported Mosque For Holding Congregational Prayer
---------
India
• RSS Chief Mohan Bhagwat: Asked People Not to Harbour Ill-Will Against Muslims For the Mistakes Committed by Tablighi Jamaat
• Disabled Muslim Man Hounded for Accidentally Dropping Currency, Accused Of Spreading Coronavirus
• Minority Panel Asks Delhi Health Minister to Let the Tabligh People Go After Completion Of • Twice The Mandated Quarantine Period
• Fasting Under Lockdowns: Muslims In India Turn To Prayer And Online Celebrations
• Mumbai: No Worshippers at Mosques, No Streetside Feasting This Ramzan
• Covid-19: Burial free in Mumbai's Mahim Muslim cemetery
• Special Diet Plan for COVID Patients Undertaking Fasting for Ramzan In Chennai
-----
Pakistan
• Mosques Becoming Major Source of Covid-19 Transmission In Pakistan, Warns Pakistan's Top Islamic Medical Body
• Whopping Rise in Pakistan's Coronavirus Cases Reported on Second Day Of Ramadan
• President ArifAlvi pays surprise visit to mosques in Rawalpindi
• President reviews precautionary arrangements at Bara Kahu mosques
• President again directs mosques' administration to ensure implementation of all necessary precautionary measures
------
Mideast
• Coronavirus: Iran Plans to Reopen Mosques In Areas Free Of Covid-19, Says President Hassan Rouhani
• Gaza to reopen restaurants for Ramadan
• Bennett to Israeli Arabs: Look after yourselves during Ramadan
• Iranian foreign minister calls for Muslim unity
-----
Europe
• Birmingham Mosque's Makeshift Morgue Shows Virus Toll on UK Minorities
• Italy Imams Stream Prayers During Covid-Disrupted Ramadan
• Islamic State Cell Planned to Murder Critic of Islam In Germany
• Coronavirus: UK Records 413 More Hospital Deaths in Lowest Daily Toll Since March
-----
Africa
• South Africa: Apology Issued Over Anti-Muslim Remarks
• Haftar's forces target mosque and Mitiga Airport in Tripoli
• Katsina lawmakers shower Muslims with food, cash, others
• MTN to continue supporting Muslims during Ramadan
• Gunmen kidnap popular Muslim cleric's two-year-old twins in Ibadan
• Coronavirus Lockdown: Imam, 287 others arrested in Lagos
--------
Arab world
• Ramadan's Message of Hope in The Time of Coronavirus
• Ramadan 2020: How A Dubai Restaurant Now Serves 400 Free Meals A Day
• ENOC and Emirates Red Crescent Launch Digital Donation Platform During the Month of Ramadan
• Al Shamal Municipality reveals Ramadan action plan
• AAB, QCA welcome Ramadan with online chess marathon
------
North America
• US Muslim Brotherhood Op Gives President Trump 'Kill List' of World Leaders
• Coronavirus: Spared by The Pandemic, Yemenis Enjoy an Unexpectedly Normal Ramadan
• Islamic Society of Baltimore Distributes 'Blessing Boxes' to Help Families Affected By COVID-19 During Ramadan
• Coronavirus: West Coast Islamic Centrein Orange County Holds Food Drive To Help Community In Need
-----
South Asia
• Interests of Kabul Administration Lies with Continuation of War: Taliban
• ARG Palace reacts as Taliban rejects repeated calls for ceasefire, reduction in violence
• Militants destroy transmission tower in Kabul, disrupting electricity supply to Kabul
• Bangladesh Imam Tests Positive After Leading Taraweeh Prayers at Mosque
• Afghanistan reports 172 new COVID-19 cases; single-largest day yet for new infections
• Photos of Afghan child with unique eye colours go viral
-----
Southeast Asia
• Teenagers Besiege House of Jakartan Who Reported Mosque For Holding Congregational Prayer
• Indomie Airs Daytime Ads With Empty Plates During Ramadan, Amusing Viewers
• MCO food delivery: Tuck into Ramadan eats from Pietro in Damansara Heights
• Fasting under lockdowns: Quieter Ramadan in Indonesia but some keep traditions alive
• BARMM changes work hours for Ramadan
• Benhil Market empty of Ramadan snack sellers amid COVID-19 pandemic
Compiled by New Age Islam News Bureau
URL; https://www.newageislam.com/islamic-world-news/rss-chief-mohan-bhagwat-asked/d/121685
------
RSS Chief Mohan Bhagwat: Asked People Not to Harbour Ill-Will Against Muslims For the Mistakes Committed by Tablighi Jamaat
27th April 2020
MUMBAI: Alluding to the Tablighi Jamaat congregation in Delhi last month, which became India's super spreader of the deadly coronavirus, Rashtriya Swayamsevak Sangh (RSS) chief Mohan Bhagwat on Sunday asked people not to harbour ill-will against an entire community for the mistakes committed by a few individuals. He urged all people to help the affected persons without any discrimination.
In his online address from Nagpur during the ongoing lockdown to mark Akshay Tritiya, he said: "All 130 crore Indians are our family. We are one.
"Without naming the Tablighi Jamaat, Bhagwat said, "We should not blame the entire community for the mistakes of a few individuals. People who are more mature in both communities should come forward and start a dialogue to remove prejudices among people's minds."
Commenting on the Palghar incident in Maharashtra earlier this month, the RSS chief indirectly blamed the police and the attackers for the lynching of two saints.
"The villagers should not have taken the law into their own hands. Both saints were innocent. Let us keep aside statements by different sides and think whether it is right to kill innocent people," he said.
Pointing out that there were some people who always incite violence, he said: "We should keep distance from these violence-inciting people. They are experts at doing so. It is their strategy to divide society and ignite violence. We as alert and matured citizens should maintain distance from such elements."
Bhagwat urged people to follow all public health restrictions to contain the spread of the coronavirus. He also had words of praise for the government, saying that India's timely action had kept the spread of the virus under check as compared to other countries.
"The RSS itself is involved in a massive countrywide effort to help people tide over the problems. More than three lakh dedicated volunteers are working at more than 55,000 locations across the country. The RSS, through its network, distributed over 33 lakh ration kits and two crore food packets till April 24. We have to work for others without taking any credit," he said. Bhagwat also advocated the Swadeshi model of economics for the post-coronavirus phase to make the country self-reliant.
https://www.newindianexpress.com/nation/2020/apr/27/dont-blame-muslims-for-corona-rss-chief-mohan-bhagwat-2135745.html
------
Disabled Muslim Man Hounded For Accidentally Dropping Currency, Accused Of Spreading Coronavirus
27th April 2020
Mohammed Zubair
A CCTV footage showing a Muslim man in a petrol pump reaching for his pocket to make a payment and dropping something on the ground is massively viral on social media. Certain users have speculated that the man intentionally dropped currency notes to spread coronavirus infection. ABP News anchor Vikas Bhadauria tweeted the video saying, "Did he purposely drop the note or it fell by mistake? What could be his intentions?" As of this writing, his tweet drew close to 2.5 lakh views and 6,000 retweets.
https://www.altnews.in/disabled-muslim-man-hounded-for-accidentally-dropping-currency-accused-of-spreading-coronavirus/
------
Mosques Becoming Major Source Of Covid-19 Transmission In Pakistan, Warns Pakistan's Top Islamic Medical Body
April 26, 2020
Pakistan's top Islamic medical body has warned that mosques are becoming a major source of transmission for the novel coronavirus and urged people to pray at home during Ramzan, as the COVID-19 cases in the country rose to 13,105 on Sunday.
"Mosques are becoming a major source of virus transmission," Pakistan Islamic Medical Association (PIMA) President Dr Iftikhar Burney said on Saturday.
"Around 6,000 cases for coronavirus surfaced in a month. But the same has doubled in the last six days," he said, warning that the infection would further go up in the coming months of May and June.
He said the number of patients in the intensive care units (ICUs) of the public hospitals is increasing at a shocking rate. "Most of the hospitals in the country are housing more coronavirus patients that those suffering from other diseases," he told reporters.
His remarks comes days after Pakistan's top doctors warned of "significant mayhem" and "fatal outcomes" if mosques continue to remain open and urged the government to review its decision to allow congregational prayers during the month of Ramzan amid the deadly coronavirus outbreak.
The Pakistan government early this month succumbed to pressure from the hardline clerics and allowed conditional congregational prayers in mosques during Ramzan.
However, the 20-point agreement signed by the leading clerics with President ArifAlvi on restricting access to mosques during Ramzan was not being followed completely.
Alvi has written a letter to the Imams of mosques urging them to ask worshippers above the age of 50 to pray at home. He pointed out that the point number six of the standard operating procedures (SOPs) set in the agreement said that persons over the age of 50 should avoid offering prayers at the mosque.
Alvi also visited mosques in Rawalpindi to review arrangements made by the administration of mosques to contain the spread of the virus, he wrote in a tweet.
He shared a picture of Jama Masjid Ghousia and said the administration had arranged for Taraweeh (special prayers offered at night during Ramzan), keeping in mind necessary preventative measures to curb the spread. However, the face masks were lacking.
Several countries including the UAE, Saudi Arabia, Iran, Algeria, Jordan, Kuwait, Turkey, Syria, Lebanon and Egypt have stopped congregational prayers in mosques.
In several Arab countries, the 'azaan' (call for prayer) has been amended and now it urges people to pray in their homes.
Advisor on Health Dr Zafar Mirza also took to Twitter and again urged the "citizens to demonstrate responsibility & avoid congregations during Ramzan to protect themselves from COVID-19."
https://www.indiatoday.in/world/story/mosques-becoming-major-source-of-covid-19-transmission-in-pakistan-warns-pima-1671397-2020-04-26
-----
Coronavirus: Iran plans to reopen mosques in areas free of Covid-19, says President Hassan Rouhani
April 27, 2020
Iran plans to reopen mosques in parts of the country that have been consistently free of the novel coronavirus outbreak as restrictions on Iranians gradually ease, President Hassan Rouhani said on Sunday.
Iran, one of the Middle Eastern countries hardest hit by the pandemic, will be divided up into white, yellow and red regions based on the number of infections and deaths, Hassan Rouhani said, according to the presidency's website.
Activities in each region will be restricted accordingly, so an area that has been consistently free of infections or deaths will be labelled white and mosques could be reopened and Friday prayers resumed, Hassan Rouhani said.
Hassan Rouhani said the label given to any region in the Islamic Republic could change and he did not specify when the colour-coding programme would come into force.
Deputy Health Minister IrajHarirchi said in an interview with state TV on Sunday that 116 counties in the country could be considered white at the moment and 134 yellow.
Iranians have returned to shops, bazaars and parks over the past week as the country eases coronavirus restrictions, with the daily increase in the death toll below 100 since April 14.
The toll rose by 60 over the past 24 hours to 5,710, with 90,481 confirmed cases, Health Ministry spokesman KianushJahanpur told state TV on Sunday.
Seeking a balance between protecting public health and shielding an economy already battered by sanctions, the government has refrained from imposing the kind of wholesale lockdowns on cities seen in many other countries.
Iranian Foreign Minister Mohammad Javad Zarif had a phone call with United Arab Emirates Foreign Minister Abdullah bin Zayed Al Nahyan on Sunday and discussed the battle against the spread of the coronavirus and regional developments along with passing on a congratulatory message for the beginning of the holy month of Ramzan.
https://www.indiatoday.in/world/story/coronavirus-pandemic-iran-plans-reopen-mosques-areas-free-of-covid-19-president-hassan-rouhani-1671479-2020-04-27
-----
Birmingham Mosque's Makeshift Morgue Shows Virus Toll on UK Minorities
27 April 2020
BIRMINGHAM, England (AP) - The holy month of Ramadan is underway, and the Central Jamia Mosque Ghamkol Sharif in Birmingham should be full of worshippers. But this year, the main arrivals are the dead.
While the mosque in the central England city has been closed in response to the coronavirus pandemic, its parking lot has been transformed into a temporary morgue with room for 150 bodies.
The volunteer-run mortuary, with its white tents, industrial refrigerators and neat stacks of coffins, is evidence of the toll the virus is taking on Britain´s Muslim and ethnic-minority communities. The two most diverse regions of the U.K. - London and the Midlands area cantered in Birmingham - have seen the largest number of deaths in the outbreak.
Mohammed Zahid, a mosque trustee who helped set up the mortuary with a firm of Muslim funeral directors, said the mosque in Birmingham´s predominantly South Asian Small Heath district normally holds one or two funerals a week.
"You can see how the families were grieving," said 44-year-old Zahid, who wears a mask, coveralls and gloves as he moves among the coffins.
"Especially when they can´t get their own cousins and brothers and sisters around them - it´s made it really hard for the people who´ve lost their loved ones," said Zahid, who has lost two aunts to COVID-19. "What do you say to a family who´s got five sons or daughters, and some of them have to stay home?"
It´s a similar story at the nearby Green Lane Mosque, where coffins lie stacked up inside the prayer hall. Usually the mosque holds about 25 funerals a year. For the past three weeks it has seen five a day.
"Everybody´s worrying about whether it will be their family members next, their loved ones," said Saleem Ahmed, the mosque´s head of welfare and services.
Britain has recorded more than 20,700 hospital deaths of people with coronavirus. Thousands more are likely to have died in nursing homes.
The virus has hit people of all ages and backgrounds, including Prime Minister Boris Johnson, who spent three nights in intensive care. But evidence suggests that ethnic-minority Britons are feeling a disproportionate impact.
Statistics show that 16% of those who died in Britain with the coronavirus up to April 17 were from black, Asian or minority ethnic (BAME) backgrounds. About 14% of the U.K. population comes from those backgrounds.
Even more starkly, data from Intensive Care National Audit and Research shows that a third of people in intensive care with COVID-19 in the U.K. are non-white. And many of the over 100 health care workers who have died in the outbreak were from BAME backgrounds.
A similar trend has been seen in countries including the United States, where an Associated Press analysis found that about 42% of Americans who have died from COVID-19 were black, while African Americans account for roughly 21% of the population in the areas analyzed.
In France, the poor and largely immigrant neighborhoods on the fringes of Paris have seen some of the highest increases in mortality since the outbreak began.
Kamlesh Khunti, a professor of primary care, diabetes and vascular medicine at the University of Leicester, said complex factors may be involved. While black Americans often have worse access to medical care than white Americans, " in the U.K. we have a free health care service, so we can´t put it down to just inequalities in care," he said.
Khunti said ethnic-minority Britons are more likely to live in large, multi-generational families and cramped housing. Many hold jobs with a high risk of infection: doctors, nurses, taxi drivers and transit workers.
Black and South Asian people, in Britain and elsewhere, also have higher rates of cardiovascular disease, diabetes and hypertension, conditions that have been be linked to more severe COVID-19 symptoms.
Others argue that racism is a factor. Gurch Randhawa, professor of diversity in public health at the University of Bedfordshire, said extensive research shows that minority nurses and health care assistants "often receive poorer treatment than their colleagues."
"In the context of the present crisis, this means they may have worse access to (personal protective equipment), more trying shift patterns and greater exposure to COVID-19 patients," he said.
In Birmingham´s Muslim community, everyone seems to know someone who has died. HalyBano lost her uncle, a taxi driver who likely caught the virus from a customer.
"It is really hard for mum, because she can´t go to pay respects to the family or anything," she said. "So we just called on the phone and FaceTimed and that´s all we could do."
Picking up meat for a Ramadan meal in the predominantly South Asian Sparkbrook neighborhood, Bano said she was shocked at the number of people thronging the supermarkets and butcher shops. Some wore masks but few were following government instructions to remain two meters (over 6 feet) apart.
At the Ghamkol Sharif mosque, Zahid is thankful that the temporary morgue hasn't reached its capacity. It was set up amid fears that without sufficient refrigerated storage, bodies would have to be cremated, counter to Muslim custom. But everyone who has been brought here has had a proper burial.
https://www.dailymail.co.uk/wires/ap/article-8260155/Mosque-s-makeshift-morgue-shows-virus-toll-UK-minorities.html
-----
South Africa: Apology issued over anti-Muslim remarks
Hassan Isilow
27.04.2020
South Africa's Police Minister Bheki Cele apologized to the Muslim community Sunday for blasphemous remarks made by a police officer while arresting worshippers for breaching coronavirus lockdown rules.
Cele's apology came hours after a video clip circulated on social media showing police officers arresting 24 worshipers in Mpumalanga province Saturday.
At the end of the clip, one officer is heard asking the worshippers: "Are you bigger than the president? Is Muhammad bigger than the president?"
South Africans are currently observing a lockdown due to the novel coronavirus which was announced by President Cyril Ramaphosa on March 27.
Police said the arrested worshippers contravened the COVID-19 Disaster Management Lockdown Regulations in relation to the prohibition of gatherings and will be charged or fined.
National Police spokesman Brigadier Vishnu Naidoo said in a statement that the comments made by the officer are "rather unfortunate, and it is unacceptable that someone could make such an utterance.''
He said the police management has directed that the matter be investigated and the person or persons who made the comment be identified and punished.
Muslims make up about 3.5% of the country's population of 57 million. Despite their numbers, they actively participate in various sectors of the country's economy, including business, academia, civil service and politics.
https://www.aa.com.tr/en/africa/south-africa-apology-issued-over-anti-muslim-remarks/1819502
-----
Ramadan's message of hope in the time of coronavirus
By Hend Al Otaiba
27 April 2020
For Muslims around the world, Ramadan represents a call for self-sacrifice and introspection, a time of giving and appreciation, a time to practice empathy and self-control, and a time to look out for others. This year, millions of people who are not Muslim can relate directly to the spirit of Ramadan, even if they are unfamiliar with it. For whether under COVID-19-induced lockdown or not, they have had to face their own tests of character and struggle with fears and vulnerabilities, physical and mental. Many have used their time in isolation to build inner strength, connect with others (virtually), practice self-improvement and extend a hand to those less fortunate.
The United Arab Emirates sits in the middle of a region of significant resources, but also political and economic volatility. After gaining independence in 1971, our founders worked hard to diversify the state beyond oil and build a society where the common language was one of modernity and tolerance. It was clear to us that openness and innovation were key to success on a greater scale and that there could be no place for ideologies that promote fear and chaos. In a way, what we have tried to do is to actualize the principles of Ramadan and build them into the fabric of a modern, progressive society.
It is because we realize that thriving neighbors and partners are essential to our own success that the UAE has sought, since its inception, to make high-impact humanitarian assistance a pillar of its foreign policy. This is why the UAE regularly ranks at the top of countries in terms of per capita foreign aid and in the top ten countries in the world in terms of the absolute amount of foreign assistance. Our approach to the COVID-19 crisis is no different.
Since the start of the COVID-19 crisis, the UAE has provided 270 metric tons of emergency assistance to more than 270,000 front-line health workers in 26 countries. We have helped bring over 2,200 Emiratis back home and reunited nearly 23,000 foreigners with their families abroad through 127 repatriation operations.
The UAE also championed the "UAE Homeland of Humanity Initiative," wherein the UAE evacuated 215 people of different nationalities from China's Hubei Province to the Emirates Humanitarian City in Abu Dhabi, where they received the necessary medical evaluation and care before flying back to their home countries. The UAE also evacuated 80 South Korean nationals and their families from Iran at the request of the South Korean Government in recognition that multilateral cooperation is central to efforts to return people home safely during these challenging times.
We have also looked for ways to deploy our assets abroad to help ease suffering, as we did in the UK by turning a UAE-owned conference venue into a 4,000-bed field hospital, provided free of charge. While of course many factors inform our choices, we have sought to focus on people over politics. This is why we sent early aid shipments to dozens of countries, including China, Italy, Sudan, South Africa, Pakistan, Iran, and farther-away places like Brazil, Colombia, and South Korea. Truthfully, the COVID-19 crisis presents a far more immediate threat to human life and stability than any other factor.
In difficult times, it is easy to give in to the temptation to ask 'why us' or 'why me.' But we must take comfort from the fact that we are not unique, and we are not alone in our faiths and cultures. Religious occasions like Ramadan, Easter and Passover, among others, are reminders that previous generations faced similar trials and persevered. The COVID-19 pandemic will pass. And while this hardship is fresh in our minds, we must pledge to do better. We must resolve to treat our fellow human beings with dignity, to do what we can to mitigate pain and conflict, to put aside rumors and replace them with optimism and action. We must care for the environment that sustains and nourishes us. What we do in difficult times is a measure of who we are now and what we will be in the future.
https://english.alarabiya.net/en/views/news/middle-east/2020/04/27/Ramadan-s-message-of-hope-in-the-time-of-coronavirus.html
-----
US Muslim Brotherhood Op Gives President Trump 'Kill List' of World Leaders
Apr 27, 2020
Joe Kaufman
Since Muslim Brotherhood operative and Chairman of The March for Justice NidalSakr arrived at the US border, in March 2014, after fleeing his home in Egypt, he has been obsessed with President Donald Trump, at one point calling for President Trump's execution. This past January, he once again spewed his venom at Trump, saying that the President along with certain other world leaders "deserve much worse than death" and telling the President to "kill 'em all." At what point do federal authorities consider the unhinged Sakr a threat and send him off to face justice?
Nidal Mohamed Sakr's entire life has been built around radical Islam, beginning with his childhood, growing up with a mother who carried weapons and ammunition for the Muslim Brotherhood. Around 1970, Sakr joined a Brotherhood terrorist cell in Jordan that was conducting paramilitary operations against Israel. He was recruited into the cell by Abdullah Azzam, the future mentor of Osama bin Laden and co-founder of al-Qaeda. Sakr has said that he personally knew bin Laden. Four decades later, Sakr would find himself organizing Brotherhood rallies in Egypt and advising Brotherhood leaders, during the Arab Spring.
When Abdel Fattah el-Sisi came to power, Sakr fled Egypt, and days after being detained and handcuffed at America's border, Sakr was sentenced to death in Egypt for the murder of an Egyptian police officer. Sakr, who was born in Providence, Rhode Island, has since stayed in the US, moving between Miami, Florida and Huntington Beach, California, where his The March for Justice organization, which uses a Brotherhood Rabia sign for its Twitter profile photo, is now incorporated (It was previously in Miami). While in America, Sakr has obsessively targeted President Trump, whom he has referred to as an "enemy of God."
In February 2017, Sakr warned President Trump on Facebook, "U come to ISLAM Or ISLAM WILL COME TO YOU." In September 2017, Sakr wrote on Facebook: "FACTS ARE FACTS. Patriotic Americans Will Keep After SOB Donald Trump Until We Nail His ass. YOU WATCH!!" And on October 30, 2017, Sakr tweeted, "EXECUTE SOB TRAITOR Donald Trump" and "Donald Trump, You Are TOAST… I GUARANTEE IT."
Sakr then targeted the US, herself, which he has referred to as "evil America" and the "largest Global Terrorist." In August 2018, he wrote, "LET ME BE CLEAR. Like it or Not, America MUST/WILL PAY 4 War Crimes/Crimes Against Humanity/Support of Dictators/Terror Creation." In November 2018, he tweeted (in Arabic), "Jihad will topple all American dogs." And in December 2018, he tweeted "Down with America!!!"
It is now 2020, and Sakr began the year with a new round of vile messages for President Trump. Following the January 3rd US assassination of Iran Quds Force Commander Qassem Soleimani, who had been responsible for the deaths of hundreds of American troops, Sakrtweeted, "Dear Donald Trump… With all due respect… YOU'RE FU&#@ED... BIG TIME!!!!!!" Days later, he used the Soleimani killing to target Trump and a number of world leaders, providing the President with a 'kill list' for them.
On January 7, 2020, Sakr tweeted, "Solaimani is no more criminal than Trump, [Israeli Prime Minister Benjamin] Netanyahu, [Russian President Vladimir] Putin, [Syrian President Bashar] Assad, [Saudi Arabian Crown Prince Mohammad Bin Salman] MBS, [UAE Crown Prince Mohammed bin Zayed] MBZ, [Egyptian President Abdel Fattah] Sisi, [Libyan National Army Commander Khalifa] Haftar, [Indian Prime Minister Narendra] Modi, [Chinese President] Xi Jinping… All deserve much worse than death by @realDonaldTrump. #KillemALL."
It wasn't the first time Sakr had wished death upon foreign heads of state. Indeed, he had previously posted photos on his social media of President Sisi's head in a noose and Prime Minister Netanyahu being beheaded. As well, he regularly has called for violence against any Arab leader, whom he considers to be against the Palestinian and/or Egyptian Muslim Brotherhood cause.
And though it may seem strange to see someone offer a 'kill list' to someone else, while including that someone else's name on the list – in this case, President Trump – with regard to NidalSakr, it is not strange at all. When discussing Sakr, we are talking about an extremely pathological individual, whose thoughts at times are unhinged and uncontrollable.
Sakr also spent the beginning of 2020 promoting terrorists. On February 1st, he tweeted praise for Leila Khaled, a member of the Popular Front for the Liberation of Palestine (PFLP), best known for her role in the 1969 hijacking of TWA Flight 840. He posted (in Arabic), "[M]ore than 40 years ago, a Palestinian woman hijacked a plane and commanded operations… and you still want to sell Palestine. When your men become like our women, we will try to hear your point."
On February 2nd, Sakr tweeted a video from the Palestine Information Center, the Hamas-affiliated media group, showing all of Israel's cities being deleted in favor of a singular Dome of the Rock with the caption (in Arabic), "Palestine will remain Arab and Islamic and the [Trump] Deal of the Century will fall." In March, he as well posted material from the Hamas-affiliated Shehab News Agency, and on March 29th, Sakr retweeted a post vilifying Israel made by Senior Hamas official Bassem Naim. In April 2018, Sakr, himself, wrote, "So called 'israeli CANCER' MUST BE OBLITERATED AND IT WILL BE."
An individual, 1. who was recruited into a terrorist cell by the future co-founder of al-Qaeda, 2. who knew Osama bin Laden personally, 3. who is wanted for murder in Egypt, 4. who calls for a US President's execution, which is a jailable offense, 5. who tweets, "Down with America!" 6. who sends a 'kill list' to the President containing the names of numerous world leaders, and 7. who posts praise for a terrorist plane hijacker and states that Israel will be "obliterated," must be considered a credible threat. To think otherwise and downplay the threat would be criminally negligent and inconceivable.
It has been six years since Sakr was allowed to enter the US, after fleeing his ancestral home in Egypt (His mother was Egyptian). Had he not been born in the US, his terrorist interactions would have been enough grounds to deny him entry. Now that he is here, he must be recognized for the threat that he is. It is only a matter of time before he (or someone else) acts on his incitement. Why is he allowed to move about the United States freely? Why is he not behind bars or been extradited to Egypt to serve out his murder sentence? Demanding he account for his threats against the President would be a start.
http://www.frontpagemag.com/fpm/2020/04/us-muslim-brotherhood-op-presents-president-trump-joe-kaufman/
----
Interests of Kabul administration lies with continuation of war: Taliban
27 Apr 2020
The Taliban group has claimed that the interests of the Kabul administration, Afghan government, lies with the continuation of war.
"A number of organizations, sides and Kabul administration officials have in recent days repeatedly called upon the Islamic Emirate to either declare a ceasefire or a reduction in violence," the group said in a statement.
The group further added that "The Islamic Emirate would like to make clear to both our compatriots and the world that we have executed our responsibilities regarding peace and end of hostilities. All are witnesses that the agreement signed by the Islamic Emirate with the United States was to lay a roadmap to finding a peaceful resolution to the nineteen-year conflict."
"The US-Islamic Emirate agreement that has also been endorsed by the Security Council and the international community at large clearly states that following the signing ceremony, six thousand prisoners from both sides must be released within a ten-day period and a pathway for intra-Afghan negotiations opened," Taliban said, adding that Intra-Afghan negotiations itself would have laid the groundwork for peace, security and end of hostilities and perhaps we would have made major progress on it till now.
However, the statement added "But as the interests of the Kabul administration lie in the continuation of war hence it began creating hurdles for agreement implementation from the very first day, has delayed the prisoner exchange process till this day and has failed at announcing an inclusive team and resolving its internal disagreements."
"Moreover, America, NATO and their supporters have also failed in executing their responsibilities vis-à-vis implementation of articles of the agreement," the group said, adding that Contrarily, NATO provided millions of rounds of ammunition to the Kabul administration with the aim of intensifying and continuing the war which itself is a provocative step.
The Taliban group emphasized that "Demanding a ceasefire and reduction in violence at a time when the opposite side is not executing its own obligations is both illogical and opportunistic."
This comes as efforts are underway to find a negotiated political settlement to end the ongoing conflict in Afghanistan.
The authorities reported a steep rise in violence across the country despite ongoing efforts and the calls to reduce violence in a bid to give the peace process a chance.
https://www.khaama.com/interests-of-kabul-administration-lies-with-continuation-of-war-taliban-04726/
-----
Teenagers besiege house of Jakartan who reported mosque for holding congregational prayer
By Coconuts Jakarta
Apr 27, 2020
A group of teenagers in Pulogadung, East Jakarta besieged the house of a resident who reported a neighborhood mosque for holding the Taraweeh congregational prayer on Saturday evening, thus violating the city's Large-Scale Social Restrictions (PSBB) protocol enforced to curb the spread of the coronavirus.
Di satusudutkotajakartamengamukkarena salah seorangwargamemberikan saran agar tidakmelakukan tarawih di masjid.. Memangbini saran ygsangatmenyedihkantapipahamilah…. Hanyaituygbisakitaperbuat.. pic.twitter.com/RjwMJYLxw0
Pulogadung sub-district Head Bambang Pangestu confirmed the incident, saying some teenagers in the neighborhood were angered after having learned that the owner of the house, which is located right next to the mosque, reported the house of worship for still holding the Taraweeh prayer.
"On Thursday, the homeowner took photos and videos of the Taraweeh prayer [at the mosque]. He then reported it to Governor AniesBaswedan via Twitter," Bambang said, as quoted by Kompas.
Taraweeh is an evening prayer that can only be performed during the holy month of Ramadan. Though it's not obligatory, it is advisable to perform the prayer in a congregation at the mosque. However, with PSBB regulating that houses of worship must close amid the COVID-19 pandemic, Islamic leaders have urged Muslims to instead perform the Taraweeh prayer at home.
Bambang said that, after the events in the video, local authorities mediated the teenagers and the homeowner, after which they came to an understanding.
"The neighborhood official promised not to let [the mosque hold Taraweeh prayer] again. If it happens again, then officers will act in accordance with the law," he said.
https://coconuts.co/jakarta/news/teenagers-besiege-house-of-jakartan-who-reported-mosque-for-holding-congregational-prayer-video/
-----
India
Minority panel asks Delhi Health Minister to let the Tabligh people go after completion of twice the mandated quarantine period
Apr 26, 2020
New Delhi: Delhi Minorities Commission has written to Delhi Health Minister Satyendar Jain saying that the people brought to quarantine camps from Tabligh Markaz in Hazrat Nizamuddin will be completing 28 days tomorrow, Monday, 27 April 2020, which is twice the mandatory period for Covid19 suspects' quarantine as per US and WHO guidelines. This means that these people are being unnecessarily kept in detention when 14 days is the longest period for the appearance of Coronavirus symptoms in an infected person. People in other quarantine centres have been allowed to go home after 14 days if they tested negative.
The Commission said in its letter signed by Chairman Dr.Zafarul-Islam Khan and Member Kartar Singh Kochhar that "it will in the fitness of things that all such people who have spent 28 days in these camps and did not test positive should be allowed to go home or at least allowed to live somewhere else in Delhi while the lockdown continues."
The Commission further said in its letter that there are thousands of inmates at present in Covid19 quarantine camps across Delhi like Sultanpuri, Wazirabad, Narela and Dwarka etc. Supply of food and medical care is not satisfactory in these camps.
The Commission further said that these quarantined people include elderly as well as people with health issues like diabetes and heart problems. Two of them, who were diabetic, died in recent days in Sultanpuri camp due to denial of adequate medical care and failure to supply medicines and food in time.
The Commission added in its letter that this is the month of fasting, Ramzan, and most of the Muslim inmates in these camps are fasting. Under the conditions prevailing in the quarantine centres, they are finding it hard to cope with the harsh life in these camps.
The Commission said that keeping these people in detention more than twice the mandatory quarantine period is creating ill-will in the Muslim community and may lead to court cases.
In a related development, Delhi Minorities Commission came to know that the situation in the quarantine camp at the Police Training School at Wazirabad is even worse. This camp is supervised by District Magistrate North who seemingly is oblivious of the conditions of the inmates in this camp where fans and even mugs and buckets are not provided and inmates are not allowed to buy anything from outside.
Saturday was the first day of the fasting month of Ramzan but the inmates at Wazirabad kept fast on empty stomachs because pre-dawn food was not supplied. Then for breaking their fast at sunset yesterday, they were provided each with just two bananas and three dates while again no predawn meal was provided. This is here that Jamiat Ulama stepped in and provided them predawn food, which is a matter of shame for the administrators of the camp.
The Commission issued a notice yesterday to the District Magistrate North in this respect. On knowing that the situation did not improve in the Wazirabad camp even today, Sunday, the Commission has sent a second notice to District Magistrate North directing the DM to personally supervise the supply of the essentials, especially in-time provision of adequate food to the inmates.
http://www.milligazette.com/news/16905-minority-panel-asks-delhi-health-minister-to-let-the-tabligh-people-go-after-completion-of-twice-the-mandated-quarantine-period
----
Fasting Under Lockdowns: Muslims In India Turn To Prayer And Online Celebrations
11 HOURS AGO
With the Islamic fasting month of Ramadan into its fourth day today, Muslims are adapting to the new normal as many countries have restricted movements to curb the spread of the deadly coronavirus. The Straits Times looks at how those in Indonesia, India and Pakistan - nations with the world's largest numbers of Muslims - are adapting. In Malaysia and other parts of Asean, too, the month of worship and eating out with close friends has changed.
The 34-year-old buys mutton, chicken, buttery sweet and salty biscuits called Nankhatai, rose sherbet, milk vermicelli or vermicelli pudding and other ingredients for those meals.
But with Ramadan falling in the midst of a strict lockdown in India, which will last until Sunday, the Mumbai housewife has not been able to get many of the ingredients or food items for sehri, the pre-dawn meal, or for iftar, the ending of the fast at dusk.
Mutton, a staple food, is off Ms Shaikh's menu after market prices doubled to over 400 rupees (S$7.50) per kilo. And there is no question of buying food from restaurants or food stalls, which have been shut.
"We usually prepare so many things and get food from outside. It's harder to get things now. But it's okay. The main thing is prayer and reciting the Quran. This thing is with us," she said, adding that her husband, who is working in a hotel, is also facing salary disruptions. Her two children, aged eight and 10, are also observing the fast.
"Because of the lockdown, we cannot recite namaz (prayers) in mosques. It's disheartening for Muslims. But what can we do? For our family and for the good of the people we can't go out.
Some top Muslim scholars and religious leaders have also jointly issued guidelines for how the community should navigate this Ramadan, which has upended centuries of tradition.
They have appealed to Muslims to focus on understanding the Quran, pray at home and avoid gatherings for sehri and iftar, iftar parties, marketplaces and pre-iftar shopping.
"People are coping well. They understand restrictions are for their own good and the community's. Nobody is complaining," said Dr Zafarul-Islam Khan, chairman of the Delhi Minorities Commission, one of the leaders behind this appeal.
"Of course the celebratory mood, which is seen at night after the fast is broken, (is affected). Markets in Muslims areas would be bursting past midnight. There would be no place to walk. All this has changed."
"Certainly, the communication medium has become online in this moment of crisis. At least you can see pictures and videos of friends and family, since there is no opportunity to sit together. Video call and chat will be the only opportunity for most of us," said Dr Aftab Alam, associate professor at Aligarh Muslim University in Uttar Pradesh.
India has confirmed 26,283 Covid-19 cases and 779 fatalities as of last Saturday. Still, this Ramadan, the Muslim community is also feeling the additional pressure of sticking to the rules.
Ramadan has also seen religious fault lines widen after a meeting of the Tablighi Jamaat, a Muslim missionary movement, at its Delhi headquarters became a super spreader event.
Some 30 per cent of all coronavirus cases in India have been linked to the Jamaat, giving Hindu religious hardliners an opportunity to target the entire Muslim community and accuse them of spreading the virus. A video clip of a vendor being asked to go home after revealing his Muslim identity went viral earlier this month. Such incidents have led to a sense of discomfort in the community.
"We are taking it in our stride. A 200-million Muslim community cannot be cowed. Even non-Muslims have stood up and said this is bad for democracy and secularism. Those who think they can put us down (should know) it's not possible," he added.
https://www.straitstimes.com/asia/south-asia/muslims-in-india-turn-to-prayer-and-online-celebrations
-------
Mumbai: No worshippers at mosques, no streetside feasting this Ramzan
Apr 27, 2020
MUMBAI: The muezzin's azaan on loudspeakers at Minara Masjid near Mohammed Ali Road cuts through the eerie silence in the area. There are no worshippers making way for the evening namaz, which also announces breaking of the dawn-to-dusk roza or fast. Nobody is in a hurry to be home to savour iftar delicacies either.
As the holy month entered the second day on Sunday, community leaders, clerics and food lovers cutting across communities who flocked to areas like Mohammed Ali Road to feast on the delicacies, said it's a Ramzan unlike any other.
"In earlier years, there wasn't a single day through the month when I didn't have guests joining me for iftar at home. This time, I can neither invite friends nor go to anyone's place to break the fast," said former MLA and Islam Gymkhana president, advocate Yusuf Abrahni.
The endless street feasts that characterized Ramzan nights when people thronged roadside eateries to gorge on haleem, kebabs, payas and parathas or desserts like malpuas and aromatic firnis are only a nostalgia-inducing memory this year. "Every year, this month spelt boom time for business. Most of my clients were non-Muslims who waited for Ramzan. But due to the lockdown, we are only catering to some online orders and takeaways," said Khaled Hakeem, who owns Noor Mohammedi Hotel near Bhendi Bazaar.
At the nearby Shalimaar, its owner, Omair Shaikh, said a huge chunk of business during Ramzan came through catering orders for iftar and sehri parties. "Our parcel service with maintenance of social distancing is open, but business it nowhere near previous Ramzans."
https://timesofindia.indiatimes.com/city/mumbai/mumbai-no-worshippers-at-mosques-no-streetside-feasting-this-ramzan/articleshowprint/75397523.cms
-----
Covid-19: Burial free in Mumbai's Mahim Muslim cemetery
Apr 26, 2020
MUMBAI: The Mahim Kabrastan Trust in Mumbai on Sunday said burial of Covid-19 victims will be free of cost at their cemetery.
It is one of the cemeteries mandated by Brihnamumbai Municipal Corporation to bury community members who die due to the coronavirus infection.
"During such distressing times, serving mankind is the most important aspect. We have decided to waive off all burial expenses. Burial of Covid-19 victims in Mahim Sunni Muslim Kabrastan is free of cost," Mahim Sunni Muslim Kabrastan Trust chairperson Suhail Khandvani said.
He said the burial is being done as per protocol to ensure there is zero risk of transmission of the virus to those in attendance.
"Special coffin boxes have been organized, and the burial takes place with zero manual intervention. Sanitation is done before and after the burial," he added.
https://timesofindia.indiatimes.com/city/mumbai/covid-19-burial-free-in-mumbais-mahim-muslim-cemetery/articleshowprint/75394949.cms
----
Special diet plan for COVID patients undertaking fasting for Ramzan in Chennai
26th April 2020
CHENNAI: Patients who are under isolation after testing positive for COVID-19 are to be offered a specific diet plan if they want to undertake fasting for the month of Ramzan.
According to the diet plan released by the city corporation on Sunday, patients who choose to fast will be provided with roti and biscuits at 4 am followed by 'Kabasurakudineer', said to boost immunity, at 4:30
am. They may then have milk and bananas at 7 pm and rice with sambar, rasam, vegetables and an egg for dinner at 9:30 pm. At 10 pm, they are given milk infused with small amounts of garlic.
The diet plan for other patients include coffee and biscuits at 7 am, Idli with sambar at 8:30 am, Kabasurakudineer at 10 am. They will be offered boiled chickpea or peanuts and lemon juice at 11 am. For lunch, rice with sambar, rasam, curd, vegetables and an egg will be given followed by coffee and biscuits at 4 pm, bananas at 7:30 pm. For dinner, they would be given rice with sambar, rasam and vegetables and at 10 pm, milk infused with garlic, said the release.
https://www.newindianexpress.com/cities/chennai/2020/apr/26/special-diet-plan-for-covid-patients-undertaking-fasting-for-ramzan-in-chennai-2135626.html
-----
Pakistan
Whopping Rise In Pakistan's Coronavirus Cases Reported On Second Day Of Ramadan
Sunday Apr 26 2020
Nearly 700 new cases of the novel coronavirus and a dozen virus-related deaths were reported in Pakistan on Sunday as the country continued to grapple with the pandemic amid new concerns of spread during Ramadan.
KP recorded 71 new cases, bumping up from 1,793 to 1,864, Balochistan had 60 new cases, increasing from 721 to 781, Islamabad had 12 new ones, inflating from 223 to 235, Gilgit-Baltistan had 10 new ones, expanding from 308 to 318, and Azad Jammu and Kashmir recorded four new cases, growing from 55 to 59.
The total number of deaths, at the time of this report, had risen from 265 a day prior to 277. Of these, five were from KP, three each in Punjab and Sindh, one in Balochistan, and none in GB, AJK or Islamabad.
The death tolls in KP, Punjab, Sindh, Balochistan, GB, and Islamabad now stand at 93, 81, 81, 11, three, and three, respectively.
With an increase of 120 cases, Punjab's total cases have now reached 5,446. Among the province's common citizens, 119 new cases emerged over the past 24 hours, while one more participant of the Tableeghi Jamaat from Rajanpur tested positive.
Half of Punjab's new cases were from Lahore, 22 from Gujranwala, 11 from Rawalpindi, 10 from Gujrat, five from Bhakkar, three each from Faisalabad, Mandi Bahauddin, and Rahim Yar Khan, and one each from Bahawalnagar and Pakpattan.
The pandemic turned from "bad to worse" in Sindh as 383 new positive cases were recorded over the past 24 hours, making it the highest surge in the daily tally since the past two months.
Chief Minister Murad Ali Shah said Karachi was Sindh's worst-affected division, with 301 new cases. He added that 3,028 tests were conducted, of which 383 patients were diagnosed as positive.
Of the new cases, those in Karachi constituted 12% of the tests, he said, mentioning that in total, 3,077 of Sindh's 4,615 cases were in the city.
The South district had 895 cases, of which 80 were new ones. Another 66, 99, 20, 26, and 10 new cases were recorded in the East, Central, West, Korangi, and Malir districts, bringing their respective totals to 676, 594, 322, 318, and 272.
Across the province, 41,216 tests had been carried out so far, translating into an 11.2% rate of testing positive. Three people died, bumping up the death toll to 81 — or 1.8% of the total patients.
At present, 2,432 (66%) of the 3,662 patients under treatment were in self-isolation, 767 (21%) at designated isolation centers, and 463 (13%) in various hospitals. Of the total patients, 41 were in critical condition and 12 on ventilators.
71 new cases (2 from Torkham quarantine centre) were confirmed in the last 24 hours taking total tally to 1,864. 5 new deaths were reported taking tally to 98. 30 new patients have recovered taking the total tally to 515 in KP.
Highest concentration of cases was in and around Peshawar, Mardan, and Swat, with more than 100 cases in each city and over 35 in those surrounding them, as well as Mansehra and Abbottabad.
There were 24 new cases in Peshawar, 21 in Swat, six in Lower Dir, five in Bajaur, four each in Malakand and Abbottabad, two in Buner, and one each in Charsadda, Nowshera, and Kurram.
https://www.geo.tv/latest/285094-whopping-rise-in-coronavirus-cases-in-pakistan-on-second-day-of-ramazan
------
President ArifAlvi pays surprise visit to mosques in Rawalpindi
APRIL 27, 2020
President Dr ArifAlvi paid a surprise visit to multiple mosques in Rawalpindi Saturday night to look over preparations for taraweeh prayers in the city. He visited the Jamia Mosque on Murree Road, Jamia Mosque Ghousia Saddar, Mosti Mosque on Liaquat Road and Jamia Mosque Gulshan Dad Khan.
He checked whether SOPs issued by the government for precautions against the coronavirus were followed. President Alvi expressed his satisfaction after seeing social distancing being practiced during prayers.
Amid the deadly pandemic, we have to ensure all safety measures are being strictly implemented, the president stressed.
https://dailytimes.com.pk/602664/president-arif-alvi-pays-surprise-visit-to-mosques-in-rawalpindi/
----
President reviews precautionary arrangements at Bara Kahu mosques
April 26, 2020
ISLAMABAD, Apr 26 (APP):President Dr ArifAlvi Sunday visited a number of mosques in Bara Kahu area and reviewed the precautionary measures during prayers and Taraweeh.
The president along with Minister for Religious Affairs Pir Noor ul HaqQadri and Special Assistant to the Prime Minister on CDA Affairs Ali Nawaz Awan, visited Masjid Anwar -e- Madina Ahmed town, Jamia masjid GhousiaSimly Dam road, Begum Masjid Bara Kahu and Jamia Masjid Shama -e -Risalat, a press release said.
On the occasion, the president stressed upon the administrations of mosques to ensure implementation of preventive measures, contained in 20-point guidelines, which were must to control spread of coronavirus infection.
https://www.app.com.pk/president-reviews-precautionary-arrangements-at-bara-kahu-mosques/
----
President again directs mosques' administration to ensure implementation of all necessary precautionary measures
April 27, 2020
President Dr.ArifAlvi has again directed the mosques' administration to ensure implementation of all necessary precautionary measures to mitigate adverse impacts of Coronavirus.
During his visit to various mosques in Barakahu tonight, he said Covid-19 challenge can only be addressed through effectively pursuing precautionary measures.
The mosques, which the President visited, included Jamia Mosque AnwaarMadina in Ahmed Town, Jamia Mosque Ghausia on Simly Dam Road, Begum Mosque Barakahu, and Jamia Mosque Shamma-e-Risalat.
The president inspected precautionary measures being adopted by mosques administration during prayers and Namaz-e-Taraweeh in Ramazan.
Minister for Religious Affairs Pir Noor-ul-HaqQadri and Special Assistant to Prime Minister on Capital Development Authority Affairs Ali Nawaz Awan were accompanied the President.
https://www.radio.gov.pk/26-04-2020/president-again-directs-mosques-administration-to-ensure-implementation-of-all-necessary-precautionary-measures
-----
Mideast
Gaza to reopen restaurants for Ramadan
EladBenari
27/04/20
Restaurants in Gaza will reopen during the month of Ramadan, while precautionary measures will be taken to protect people from the coronavirus pandemic, said Gaza authorities on Sunday, according to the Xinhua news agency.
The restaurants and cafes will open as of Monday under certain precautionary measures that workers and customers must abide by, the Hamas-run "economy ministry" said.
The measures include sterilization, high level of hygiene and not allowing the usage of personal belongings by others, such as mobile phones or other devices, it said.
The number of confirmed cases of coronavirus in the Gaza Strip stood at 17 since April 21. Of those, 10 have recovered, according to Gaza's health authorities.
The first cases of COVID-19 in Gaza were reported in late March. Before that, local authorities declared a new set of precautionary measures amid concerns about the spread of the novel coronavirus in the coastal enclave.
Hamas had previously closed schools, mosques and wedding halls and banned large street gatherings to halt the spread of the virus, but did not impose a lockdown on Gaza's two million residents, saying one was not yet necessary.
http://www.israelnationalnews.com/News/News.aspx/279236
-----
Bennett to Israeli Arabs: Look after yourselves during Ramadan
27/04/20
Defense Minister Naftali Bennett on Sunday published a greeting to the Arab citizens of Israel on the occasion of the month of Ramadan.
"This year, all of us - Jews, Muslims and Christians - are celebrating our holidays differently, in the shadow of the coronavirus that changed our daily routine," Bennett said.
He noted, "It is important to continue to keep the rules over the next few days as well. Do not take your foot off the gas and do not think that the pandemic is behind us - because it is not. Any wrong behavior on our part may reinvigorate the pandemic."
"During the month of Ramadan, you must mark the holiday in a different format - within the nuclear family only. Mass prayers will not be allowed in mosques. Public prayers have also been halted in Jewish society, even though it is very difficult," continued Bennett.
"Most importantly – protect your grandparents but from a distance. We need to protect those who raised us. We must not hug them or touch them, enter their room or apartment. I want to wish you and us that we will return to normal soon," he concluded.
http://www.israelnationalnews.com/News/News.aspx/279234
-----
Iranian foreign minister calls for Muslim unity
27-04-2020
Tehran, Apr 26 (Prensa Latina) Iranian Foreign Minister Mohammad Javad Zarif called for Muslim unity on the occasion of the beginning of the holy month of Ramadan, in a social message quoted in local media on Sunday.
Along with congratulations on the arrival of the ninth month of the Islamic lunar calendar, Zarif invoked God's help to overcome the current crisis and restore the unity of the Muslim world.
'...join the followers of this faith and security, peace, justice and equality will be achieved on the planet,' the diplomat posted.
Previously, the head of Iranian diplomacy called for unity of Muslims and all in the difficult times humanity is experiencing with the spread of the novel SARS-CoV-2 coronavirus.
'...Ramadan is a special time for prayer and reflection and in the current year, the coronavirus pandemic proves the need to think more about how the human community travels together on the same boat,' he said.
https://www.plenglish.com/index.php?o=rn&id=54997&SEO=iranian-foreign-minister-calls-for-muslim-unity
------
Europe
Italy imams stream prayers during Covid-disrupted Ramadan
26/04/2020
Technology has come to the rescue for Muslims in Italy during the holy month of Ramadan. As the country begins to ease coronavirus restrictions, Friday prayers are being streamed on Facebook and moments of collective reflection are also being broadcast online. Islamic leaders have called this Ramadan a time to reflect and re-discover the family.
In Florence, imam IzzedinElzir, former president of the Union of Islamic Communities and Organisations in Italy, UCOII, says this year's Ramadan festivities will be as big as ever – except the celebrations will take place in people's homes, with the call to prayer to be live streamed on social media
"The Friday prayer sermon during Ramadan will be streamed on Facebook in order to reach all the faithful in their homes," Elzir said. "And lessons and moments of collective reflection will also be broadcast online."
BouchaibTanji, spokesman for the Islamic Cultural Association, asked regional television channels to provide them with a few minutes for the call to prayer with a short reading from the Quran.
Muslims in the country are estimated to account for five percent of the population, around 3 million, and have had to adapt to these difficult times of pandemic.
Just like churches across the deeply Catholic country, hundreds of mosques will remain empty at least until May 4, when the nationwide lockdown officially ends.
The annual Ramadan event in Italy called "Open Mosques", which welcomes the wider community to Islamic places of worship, has been called off across the country.
Religious leaders at the Great Mosque in Rome, the largest in Europe with its capacity of 12,000 people, have said that community prayers and the breaking of fasting cannot be carried out as customary in the current circumstances.
They have told Muslim faithful they are called to a further test and greater effort to profess their faith as they live their fasting in isolation at home.
The Islamic Centre has recommended that all Muslim continue to respect and observe the Italian government's rules aimed at limiting the spread of coronavirus infections.
In early March, mosques and other places of Muslim prayer were ordered to close allowing only funerals to continue to take place – but only under strict social distancing rules, behind closed doors and just among close family members.
Imams and Islamic leaders have been telling the faithful that they should turn this unprecedented Ramadan into "a precious opportunity to rediscover family relationships and reflect".
"While this holy month will be spent differently to the ones in past years, relegated to our homes, we must not be discouraged nor lose hope, but keep our faith and the spirit of brotherhood strong at this time," said Yassine Lafram, president of the UCOII in Italy, at the start of the fasting month on Friday.
"The Islamic community calls on Allah to eradicate this ill which is afflicting us and to preserve our country. We renew our condolences to the families of the dead and we wish those who are sick that they will soon get better."
The Covid-19 crisis has caused an emergency in the Islamic community as it seeks burial places for the dead. While waiting for the lockdown restrictions to be lifted, Islamic leaders have for the time being decided to suspend the option to repatriate bodies to their countries of origin.
http://www.rfi.fr/en/europe/20200426-italy-imam-s-to-stream-prayers-in-covid-disrupted-ramadan-coronavirus-lockdown
-----
Islamic State cell planned to murder critic of Islam in Germany
By BENJAMIN WEINTHAL
APRIL 26, 2020
A cell of Tajiki members of the Islamic State terrorist organization planned to execute a critic of Islam in Germany.
The German paper Kölner Stadt-Anzeiger reported in mid-April that the now-arrested Islamic State cell "planned to assassinate the Islam critic Amir Masoud Arabpour M. from Neuss. The ex-Muslim, who converted to Christianity, repeatedly questioned the teaching of the Koran in YouTube clips. M. has been a considered an enemy of the radical Islamic Salafist scene since the beginning of 2019."
The paper added that "On March 14, 2019, a member of the cell evaluated the surroundings of the targeted victim. According to the federal prosecutor, the goal was to shoot the Islam critic."
The Iranian-born Amir Masoud Arabpour lives in the city Neuss near the major city of Düsseldorf in the state of North Rhine-Westphalia,
According to the prosecutor, the Islamic State cell "planned a murder attempt on a person who, from the perspective of the accused, had made public statements that were critical of the Islam. Against this background, the targeted murder victim has already been spied on by the accused Farhodshoh K. US Air Force bases in Germany were also scouted."
The German authorities arrested a total of five Islamic State members involved in the plots to carry out attacks against US forces in Germany, Amir Masoud Arabpour M, and an assassination in Albania.
https://www.jpost.com/middle-east/islamic-state-cell-planned-to-murder-critic-of-islam-in-germany-625992
-----
Coronavirus: UK Records 413 More Hospital Deaths in Lowest Daily Toll Since March
Apr 27, 2020
The government said deaths registered in the 24 hours up to 9am on Saturday took the country's hospital death toll to 20,732, Independent reported.
But there are fears that many more people have also died in care homes, hospices and in the community, and experts cautioned "we should not draw the wrong lesson from these figures".
Prof James Naismith, director of the Rosalind Franklin Institute and professor at the University of Oxford, said, "Any decrease in announced deaths is welcome; it seems likely the normal problem with weekends will explain the unusually lower number today."
"The number of new infections remains in the thousands, but social-distancing is working. The R value has not gone to zero, when below 1 the virus spreads but with new infections decreasing each day," he said.
"As testing capability improves, we should do better at getting a true measure of the number of infected people," Naismith added.
"The thousands of new infections identified today do not suggest the virus is still spreading rapidly – rather, they suggest that we had a much larger number of infections than we identified before the lockdown," he said.
"Such large numbers of viral infections will take time to burn out. Unfortunately, the virus takes us in an express elevator to the top of the peak but we have to find our way back down by the stairs," Naismith added.
Foreign secretary Dominic Raab on Sunday dismissed renewed calls from business chiefs for an early easing of the UK's lockdown, saying the outbreak was still at a "delicate and dangerous" stage.
He said officials were also looking at possible sea and airport checks, with passengers arriving in the UK required to quarantine themselves for 14 days.
England has suffered 18,419 deaths in total from coronavirus, government figures show; Scotland 1,231; Wales 788 and Northern Ireland 294.
https://en.farsnews.ir/newstext.aspx?nn=13990208000197
-----
Africa
Haftar's forces target mosque and Mitiga Airport in Tripoli
26 Apr 2020
Forces loyal to Khalifa Haftar targeted with several rockets a mosque in south of Tripoli, the UN-recognized Government of National Accord (GNA) said Sunday.
The mosque in Ain Zara in southern Tripoli was seriously damaged after being hit by mortar shells, the GNA said in a statement.
Sources from the GNA said Haftar's forces also fired rockets at Tripoli's Mitiga Airport and its surrounding residential areas.
GNA forces have been under attack by Haftar's forces since last April, and international efforts to enforce a ceasefire have proven unsuccessful.
The GNA, which launched Operation Peace Storm last month to counter the attacks, announced on April 13 that its forces removed Haftar forces from at least eight provinces, clearing a 3,000-square-kilometer area on the coastline.
https://www.libyanexpress.com/haftars-forces-target-mosque-and-mitiga-airport-in-tripoli/
----
Katsina lawmakers shower Muslims with food, cash, others
By Danjuma Michael
27 April 2020
National Assembly members from Katsina State have food, cash and other items to help Muslims cope with the lockdown during the Ramadan period.
Senator Bello Mandiya (Katsina South), JamiluSadauki (Dutsinma/Kurfi federal constituency), Sada Soli (Kaita/Jibia) and Fahutu Muhammed (Daura/Sandamu/Maiadua) made the donations.
Mandiya, a former Chief of Staff to Governor Aminu Masari, donated N30 million to the less privileged and members of the ruling party in his constituency.
Sadauki donated food items to more than 1,500 households in Dutsinma, Kurfi and neigbouring councils, while Soli donated N2 million to Kaita and Jibia councils, along with 300 generating sets to boost small business owners.
Mohammed distributed N8.2 million to 1,650 vulnerable households in Daura, which has been under lockdown for over two weeks after several persons tested positive for the disease.
Other donations made at the weekend include 100 bags of millet and sugar each, to less privileged persons in Musawa council area by the state Accountant General, Malik Anas.
https://guardian.ng/news/katsina-lawmakers-shower-muslims-with-food-cash-others/
------
MTN to continue supporting Muslims during Ramadan
27th April 2020
MTN Uganda has continued its long-standing relationship with the Muslim community in Uganda by joining them again this year to commemorate the holy month of Ramadan.
This year, the holy month starts at a challenging time when the whole world is grappling with the COVID-19 pandemic which has affected the livelihoods of many.
MTN will continue supporting the national effort by supporting the Muslim community with food items and alms worth sh100m throughout the fasting period.
These alms will be delivered daily under the guidance of the National Task Force Against COVID to various communities that need this relief, more so during this fasting period.
The food items/alms that include sugar, rice, posho, cooking oil, beans, bar soap for handwashing and wheat flour will be distributed to the vulnerable communities especially in the areas of Kampala, Wakiso and Mukono district.
Alongside the food and alms, MTN has also launched a promotional offer which will automatically give customers 60 minutes of talk every night, when they load airtime or buy a voice/data bundle (using MTN MoMo or through an agent) worth sh500 or more during the day. The 60 minutes are however free. This promotional offer will end with the holy month of Ramadhan and is also open to all MTN customers.
"First of all, we would like to congratulate the Muslim community upon reaching this fasting season. We have always joined them in celebrating the fasting period. This time around, it falls at a very difficult time due to COVID-19, giving us even more reason to stand with them," said Wim Vanhelleputte, MTN Uganda CEO.
"During this period, we know that our Muslim brothers and sisters would like to stay in touch as they conduct prayers but cannot congregate. We are therefore launching the MTNite Calls promotional offer that will allow them to share in prayer particularly at night during Ramadhan," Vanhelleputte said.
"Alongside that, we shall also provide food and other alms to help during the fasting season. This year, our motivation to support those fasting, but in need, has been further increased because of the effects of the COVID pandemic on livelihoods. We wish them a peaceful Ramadan season," concluded Wim.
https://www.newvision.co.ug/new_vision/news/1518291/mtn-continue-supporting-muslims-ramadan
-----
Gunmen kidnap popular Muslim cleric's two-year-old twins in Ibadan
By Rotimi Agboluaje
27 April 2020
Gunmen at the weekend kidnapped the children of an Ibadan-based popular Muslim cleric, Alh. TaofeekAkewugbagold. According to Akewugbagold, his two-year-old twin kids were kidnapped at gunpoint from his house at about 8:30 p.m. in Ojoo area of the city.
"What a country! My twins children were kidnapped at gunpoint at my Ojoo residence Ibadan 10 minutes after I left my home to record a lecture in a studio," he said while calling on people to assist him in prayers and beg the abductors for mercy, lamenting that his wife gave birth to the twins after 12 years of barrenness.
With teary voice, he besought the abductors to have pity on him and his wife who only gave birth to the twins through In Vitro Fertilisation (IVF). For more than 24 hours, Akeugbagold's eyes have seen no sleep while he has fixed his gaze on his phone with the hope that the abductors will call to make known their request.
Akeugbagold said he left home about 7:30 p.m. to record Islamic lecture to be relayed on radio and television. Before he could rush home, having received a call from his wife that armed robbers were in the house, the abductors had overpowered the gatekeeper, got into the house and kidnapped the kids.
"Immediately, I left home, my wife just called me, saying that she was calling from a corner and that armed robbers were already in the house. Immediately I got the call, I turned back but before I got home, they were gone. All I heard was that they overpowered the gateman, pointed a gun at him and he surrendered. Even they pointed the gun at children of two years (sobs).
"I am appealing to the abductors to please pity my condition. I have not slept since yesterday expecting that the abductors will call. My wife was barren for 12 years; that is the only children she had through IVF. They should please call me. All I need is the safety of my children."
The Police Public Relations Officer (PPRO) in the state, Gbenga Fadeyi, who confirmed the incident, disclosed that four persons have been arrested in connection with the kidnap, and were assisting the police in their investigations.
Akewugbagold, who hails from Oyo West Local Government, was a former chairman of the Oyo State Pilgrims Welfare Board (Muslim Wing) during the two-term tenure of the immediate-past governor, Abiola Ajimobi.
https://guardian.ng/news/gunmen-kidnap-popular-muslim-clerics-two-year-old-twins-in-ibadan/
----
Coronavirus Lockdown: Imam, 287 others arrested in Lagos
April 26, 2020
By NsikakNseyen
The Lagos State Police Command has arrested an Imam of the Sheik Central Mosque in Mile 12 area of Ketu and 287 others for violating the lockdown directive by the Federal Government.
DSP BalaElkana, The Command's Spokesman, who confirmed this on Sunday said that the majority of the violators were held for disobeying the social distancing directive.
According to NAN, he also warned against the spread of fake news and the recycling of old videos on social media with new captions that suggests the incident happened during the lockdown.
Elkana said that such fake reports were perpetrated to create panic among the residents adding that the command was investigating the sources of such mischievous messages.
"Stop the spread of fake news and keep safe. Together we can stop the spread of COVID-19," Elkana added.
https://dailypost.ng/2020/04/26/coronavirus-lockdown-imam-287-others-arrested-in-lagos/
-----
Arab world
Ramadan 2020: how a Dubai restaurant now serves 400 free meals a day
Anna Zacharias
April 27, 2020
One stirs chillies and onions as they fry gently in a pan. Another chops and prepares fresh vegetables as a pot of rice simmers.
"Every single morning I wake up at 9am with some new numbers on my phone with messages saying 'I have lost my job' or 'I came here on a visitor visa looking for a job, I don't have money'," co-owner Sohaib Ali Khan, 30, told The National.
The shift in business for Des Padres began by accident. In late March, the Dubai government ordered the closure of dine-in restaurants to stem the spread of Covid-19.
The restaurant immediately lost 80 per cent of its customer base and to do a good deed Mr Khan began offering leftovers to the needy.
And it is not just volunteers making it happen. Mr Khan receives private donations that also enable him to feed as many people as possible.
Such charity has precedent. During Ramadan, it is customary in the Gulf for people to make large, anonymous donations to neighbourhood restaurants for mass deliveries at local mosques for iftar.
In these difficult times, restaurants like Des Pardes are a lifeline for those who call the Gulf home, irrespective of their passport.
Breaking down the cost of each meal, he said he needed Dh4.95 to prepare a vegetarian meal of dal and Dh7 for chicken biryani, served with bread, laban and water.
"Thanks to God people have joined in and people have wanted to contribute," said Mr Khan. "Me personally, I cannot give to each and every household."
After his office job was suspended, Mr Taha dedicated himself full-time to his neighbourhood, making deliveries and working late into the night to find out who needed what.
"In my surroundings, we have so many poor people and my neighbours are my responsibility," said Mr Taha, who is from Karachi, Pakistan.
Al Bustan is Ajman's old town and its lanes, alleys and villas are more crowded than usual as its residents, many of whom are now unemployed, stay at home.
https://www.thenational.ae/uae/ramadan-2020-how-a-dubai-restaurant-now-serves-400-free-meals-a-day-1.1011423
---
ENOC and Emirates Red Crescent Launch Digital Donation Platform During the Month of Ramadan
April 27th, 2020
ENOC Group has partnered with Emirates Red Crescent to launch a campaign that will allow UAE citizens and residents to make charitable donations for Meer Boxes, Zakat Al Fitr and Eid Al Fitr clothing during the Holy Month of Ramadan.
The initiative is aligned with the UAE's mandate to encourage members of the community to maintain social distancing in light of the COVID-19 pandemic.
During the Holy month, customers will be able to donate to the Emirates Red Crescent via a digital link or an individual SMS code for their preferred choice of donation, or via Emirates Red Crescent's application.
H.E. Saif Humaid Al Falasi, Group CEO of ENOC said: "Every year, we work with our partners on initiatives that demonstrate the true values of this Holy Month. As we all stand together in solidarity through these unprecedented times, we are encouraging people to take a part in making a considerable difference. Through our partnership with Emirates Red Crescent, we hope to have introduced a new way for us to reach out to others in need and contribute to this great nation."
Details of the digital platform and methods of donation will also be amplified across all ENOC and EPPCO service stations and through social media platforms.
Dr. Mohammed Ateeq Al Falahi, ERC Secretary-General, said: "ENOC's initiative to launch a digital platform in partnership with Emirates Red Crescent to drive the collection of charitable donations from UAE citizens and residents will support families in need during the Holy Month of Ramadan, which comes amidst the COVID-19 pandemic."
"The digital platform aims to encourage members of the community and supporters of ERC to contribute during the Holy Month of Ramadan. We thank ENOC for its contribution towards the community and its commitment to corporate social responsibility." Added Al Falahi.
https://www.albawaba.com/business/pr/enoc-and-emirates-red-crescent-launch-digital-donation-platform-during-month-ramadan
-----
Al Shamal Municipality reveals Ramadan action plan
27 Apr 2020
Doha: Al Shamal Municipality has disclosed action plan for its general monitoring and services sections during the holy month of Ramadan.
As per the plan, veterinary doctors will be assigned at Al Shamal slaughterhouse from 5am to 5pm daily to check slaughtered animals, said the Ministry of Municipality and Environment in a press release.
The municipal inspectors will visit fish markets in two shifts — morning and evening, to ensure that the fish for trade is fit for human consumption.
Inspection campaigns will be intensified on meat and chicken shops. Municipal inspectors will make inspection visits to food outlets in the morning and evening to ensure the compliance of health rules related to the health and safety of food items.
The storage facilities of commercial outlets will also be checked. The food handlers should wear face mask, gloves and head covers. They should follow the health conditions required.
The restaurants are also required to comply the health rules and preventive measures restricting their operation only to delivery services.
A team of municipality inspectors accompanied by veterinary doctors will conduct inspection visits to eateries frequently and in response to the complaints of customers.
The Services Section of Al Shamal Municipality will receive requests for pruning trees through the website of the Ministry and response to the requests from 5am to 10am.
The disinfection campaigns will be conducted from 8pm to 12 midnight throughout Al Shamal Municipality to curb the spread of COVID-19.
The unit for drainage service will work from 9am to 1pm and 8pm to 12midnight. The requests will be received through the website of the Ministry and its Oun app.
The General Cleanliness Section at Al Shamal Municipality is conducting disinfection campaign daily. A number of streets, restaurants, commercial outlets have been disinfected at Al Shamal city, Abu Zuluf and Al Ruwais.
Fish market, slaughterhouse, Al Ruwais Health Center, Al Shamal Police Station, Passport Office and Civil Defense of Al Shamal are also disinfected.
https://thepeninsulaqatar.com/article/27/04/2020/Al-Shamal-Municipality-reveals-Ramadan-action-plan
-----
AAB, QCA welcome Ramadan with online chess marathon
27 Apr 2020
Doha: Abdullah Abdulghani & Bros. Co. (AAB), the exclusive distributor of Toyota and Lexus in Qatar, collaborates with Qatar Chess Association (QCA) in organizing the We Are Good Together Online Chess Marathon in conjunction with the advent of Ramadan.
We Are Good Together is a four hour- Blitz Chess Marathon played on Lichess – an open source Internet Chess server. Participants were allowed to play at their own leisure during the time frame. Players who got the most points were ranked accordingly and declared as winners.
"We Are Good Together" makes a difference as it encourages the participants to play for a Cause and give back to their respective communities. In the spirit of giving, 10 percent of the Winner's Prize money goes to Qatar Charity to support its COVID-19 programme or any of its global relief campaigns. Likewise, participants are given the opportunity to voluntarily contribute to their preferred Cause which can be seen on the Qatar Charity website.
More than 2,800 chess enthusiasts with 88 Grand Masters and a number of renowned Chess players around the world participated which proved the event to be a very strong Chess Marathon. Vladimir Fedoseev won the first place in the tournament, Valery Sviridov came second, while Haik Martirosyan secured third place. Jose Martinez Alcantara secured fourth place, Narayanan S.L. came fifth, SaveliyGolubov secured sixth place, while Rauf Mamedov came seventh. EltajSafarli, AndriasianZaven and Boris Grachev secured eighth, ninth and 10th place, respectively. Petra Papp won Best Female 1st prize, Zahedifar Anahita won Best Female 2nd prize and Aleksandra Maltsevskaya won Best Female 3rd prize.
Meanwhile, aside from the over-all winners, top three resident players were also recognized. Hicham Hamdouchi won Best Resident 1st prize, Hameed Al Kadhi won Best Resident 2nd prize and Victor Bologan won Best Resident 3rd prize. Mohammed Al Sayed won Best Qatari – Male prize, Kholoud Al Khulaifi won Best Qatari – Female prize, Ali Al Saadi won Best Qatari U20 prize, Abdullah Al Homaid won Best Qatari U14 prize and Layan Al Qassabi won Best Qatari U12 prize.
We Are Good Together Online Chess Marathon is a reminder that with our concerted efforts in observing and maintaining social distancing, we can still be creative and stay safe. More importantly, the We Are Good Together marathon promotes and encourages helping one another and being together though apart in supporting the government's efforts in the fight against COVID-19. It also creates an opportunity for everyone to contribute where they can to support the less fortunate during this challenging period. With its global reach, this message is also put across to different countries.
The event is made possible due to the strong partnership with QCA which forms part of AAB's CSR initiatives and commitment to build and support a community of strategic thinkers through sports while at the same time contributing to the development of a just and caring society.
https://thepeninsulaqatar.com/article/27/04/2020/AAB,-QCA-welcome-Ramadan-with-online-chess-marathon
-----
North America
Coronavirus: Spared by the pandemic, Yemenis enjoy an unexpectedly normal Ramadan
26 April 2020
Across the world, Muslims this year find themselves unable to celebrate the holy month of Ramadan as usual, as mosques have been closed in most countries amid the threat of the Covid-19 pandemic.
As states have largely implemented social distancing and confinement orders to slow the spread of the virus, public spaces, including places of worship, have been closed.
In Yemen, authorities reported one confirmed case of coronavirus in Hadhramout on 10 April - but the patient has reportedly since recovered, officially leaving Yemen coronavirus-free for the time being.
As a result, Yemen has become somewhat of a rarity during the pandemic, as many people in the country have marked the first few days of Ramadan - which began on Friday - as usual.
"During the last five years, Yemen has suffered and the whole world was watching our suffering on television," Dhafer Murad, a shopkeeper in his 50s in the capital Sanaa, told Middle East Eye.
Murad said residents of the capital have gone shopping in overcrowded markets and prayed in mosques as always during the first few days of Ramadan.
"I go to the markets to buy items and almost all markets are overcrowded, I go to pray in the mosque and many people are there and as usual we have our Iftar in groups in the mosque," Murad added, referring to the meal marking the end of each daily fast.
Yemenis have always held communal Iftars in mosques, providing meals for free for those in need, as charitable giving is a central part of Ramadan.
"Praise God, while life has changed for the worst in the whole world and they can't enjoy Ramadan, we are practicing our normal life," Murad added. "Even the income for my shop is better than in previous years."
Walid Abdulhameed, 35, told MEE that he spent the first night of Ramadan in the street celebrating, then went to a friend's house to play cards - an evening of simple pleasures now unthinkable for many.
"On the first night I celebrated Ramadan with my children and friends in the street, and during the day I took my children and went to buy Ramadan sweets and food from the market," he said.
"All people, not just children, are happy to celebrate Ramadan as this holy month makes us forget our suffering and enjoy good days."
Abdulhameed stated that authorities had lifted the restrictions on the southwestern city of Taiz, as there have been no other confirmed coronavirus cases in Yemen besides the one in Hadhramout.
"There were some precautionary measures against the coronavirus taken by the authorities, including closing mosques on Fridays, but then that was lifted and we resumed our regular life," he told MEE.
"No one enters Yemen nowadays and there are no cases in Yemen, so I think there is no need for authorities to impose any restrictions," he added. "As soon as there are cases, immediately people will take precautionary measures themselves."
For Abdulhameed, this year's Ramadan is the best in Taiz since a Saudi-led coalition began a military offensive against Houthi rebels in 2015.
"During the last five years, there have been battles during Ramadan and we did not enjoy (the holiday) to the maximum but this year there are no ongoing battles and we are celebrating it as much as we can."
Abdulhameed, who is an employee in a private company, has tried to flee Yemen and the war, but the cost of travel has been far too expensive to be able to escape.
"I tried to enter Saudi Arabia but I could not pay for a visa and I dare not to enter with smugglers, so I did not leave Yemen," he explained. "I was unhappy to be staying in Yemen… but today I'm happy to spend Ramadan with my family as friends (who emigrated to) Saudi Arabia are confined at home."
Ahmed*, 38, fled Yemen for Saudi Arabia in 2016. The Yemeni national told MEE he used to enjoy Ramadan in the kingdom, but this year everything has changed.
"Ramadan used to be good in Saudi Arabia, and each year I would go to Mecca or Medina to visit the grave of our Prophet Muhammad," he said.
The worst problem for Ahmed is that he lost his job as a daily labourer and cannot send any more remittances to his family in Yemen. Instead, he finds himself in the unexpected position of possibly having to ask his relatives back home to send him some money.
"This is the worst Ramadan in my life and I rue the day that I decided to enter Saudi Arabia," he said. "I hope to return to Yemen these days, but it is out of my hands."
The World Health Organisation (WHO) declared Covid-19 a global pandemic on 11 March. With many countries across the globe struggling to contain the virus, an outbreak in a war-torn country like Yemen would be devastating.
The WHO and other international humanitarian organisations have been raising awareness of Covid-19 in Yemen, asking people to avoid overcrowded places and to maintain enough distance between people not residing in the same household.
"Even those who adhered to the advice of the organisations and the health ministry have stopped taking precautionary measures as WHO did not record Covid-19 cases in Yemen," Riyadh al-Hammadi, a doctor in Taiz, told MEE.
Hammadi warned that if the disease hit Yemen suddenly, it would spread in a dramatic way, as the country's health system is deeply strained after years of war.
"Covid-19 can hit other provinces at any time, so people should take precautions into consideration," he said. "We can enjoy Ramadan in our homes, but unfortunately most Yemenis are not aware of the danger of Covid-19."
Murad, the shopkeeper in Sanaa, believes there is little to no chance of the virus entering Yemen precisely because of the conflict.
"Yemen has been under Saudi siege since 2016 and the Sanaa airport has been closed since then, so how can the coronavirus arrive in Yemen?" he asked. "It is not easy to enter or leave Yemen so I believe that helps protect it from the coronavirus
https://www.middleeasteye.net/news/coronavirus-yemen-spared-pandemic-unexpectedly-normal-ramadan
-----
Islamic Society of Baltimore Distributes 'Blessing Boxes' To Help Families Affected By COVID-19 During Ramadan
April 26, 2020
BALTIMORE (WJZ) — The Islamic Society of Baltimore sent out free "blessing boxes" on Sunday to Muslim families around the city.
The boxes are being sent out to help families affected by COVID-19 break their fast during the Muslim holiday, Ramadan.
https://baltimore.cbslocal.com/2020/04/26/islamic-society-of-baltimore-distributes-blessing-boxes-to-help-families-affected-by-covid-19-during-ramadan/
----
Coronavirus: West Coast Islamic Centre In Orange County Holds Food Drive To Help Community In Need
April 27, 2020
ANAHEIM, Calif. (KABC) -- In Orange County, there was another example on Sunday of how neighbors are helping neighbors during the COVID-19 pandemic.
Members of the West Coast Islamic Center in Anaheim held a food drive on Sunday.
Each care package contained eggs, rice, fruits and other ingredients that are in high demand these days.
Volunteers worked all night to fill up the bags and then handed them out to people in need.
https://abc7.com/society/west-coast-islamic-center-in-orange-county-holds-food-drive/6131321/
-----
South Asia
ARG Palace reacts as Taliban rejects repeated calls for ceasefire, reduction in violence
27 Apr 2020
The ARG Presidential Palace lambasted Taliban group for persistently rejecting the repeated calls for ceasefire and reduction of violence.
Presidential Palace spokesperson SediqSediqqi said the Afghan government positively responded to recommendations for reduction in violence and start of peace talks with Taliban by taking necessary measures including formation of negotiating team for the launch of direct talks and issuance of decree for the release of certain Taliban prisoners.
However, Sediqqi said the recent attacks by Taliban indicate that the group is not only committed to reduce violence but continue their violence against the Afghan people.
He also added that the Taliban group insists on continued war agaisnt the Afghan people despite repeated calls by the Afghan government, Ulemas (religious scholars), Organization of the Islamic Council, the United States, NATO and European Union to declare a ceasefire during the holy month of Ramadan.
The Taliban group had earlier claimed that the interests of the Kabul administration, Afghan government, lies with the continuation of war.
"A number of organizations, sides and Kabul administration officials have in recent days repeatedly called upon the Islamic Emirate to either declare a ceasefire or a reduction in violence," the group said in a statement.
Taliban went on to claim that they have executed all their responsibilities regarding peace and end of hostilities, blaming the Afghan government for creating hurdles for the implementation of the peace agreement by delaying the prisoner exchange process.
The group also criticized NATO and its supporters for failing to execute their responsibilities, emphasizing that "Demanding a ceasefire and reduction in violence at a time when the opposite side is not executing its own obligations is both illogical and opportunistic."
https://www.khaama.com/arg-palace-reacts-as-taliban-rejects-repeated-calls-for-ceasefire-reduction-in-violence-04728/
-----
Militants destroy transmission tower in Kabul, disrupting electricity supply to Kabul
27 Apr 2020
The anti-government armed militants destroyed a transmission tower in capital Kabul and disrupted the supply of electricity to the capital.
Da Afghanistan Breshna Sherkat, the state utility firm, in a statement said the militants destroyed the transmission line in Mir Bacha Kot area at around 8:45 pm local time.
The statement further added that the militants destroyed the transmission tower which was used to supply 220kV of electricity to Kabul.
This comes as the anti-government armed militants had earlier destroyed a transmission tower in northern Baghlan province few days ago which halted the supply of electricity to Kabul and some other provinces.
https://www.khaama.com/militants-destroy-transmission-tower-in-kabul-disrupting-electricity-supply-to-kabul-04727/
----
Bangladesh Imam tests positive after leading Taraweeh prayers at mosque
26 Apr 2020
He led the prayers on Saturday evening and was diagnosed with the infection caused by the new coronavirus on Sunday morning, ShalikhaUpazila chief executive or UNO Md Tanveer Rahman.
The imam's home is in Jashore'sBagharparaUpazila'sPashchima village while the mosque is located one and a half kilometres away at Shalikha'sAdadanga village.
The people who offered prayers in that mosque and the health workers who collected their samples will all undergo tests, the UNO said, adding that the Upazila administration is making a list of around 20-25 people who prayed at the mosque that evening.
The UNO continued Adadanga village, further one and a half kilometres away from Shalikha- Bagha road and Jashore'sBagharparaPashchima village has been locked down following the discovery, Tanveer Rahman said.
https://bdnews24.com/bangladesh/2020/04/26/bangladesh-imam-tests-positive-after-leading-taraweeh-prayers-at-mosque
-----
Afghanistan reports 172 new COVID-19 cases; single-largest day yet for new infections
27 Apr 2020
The Ministry of Public Health (MoPH) reported 172 new cases of the novel coronavirus (COVID-19) Monday — Afghanistan's highest day-to-day increase during the pandemic so far.
Afghanistan now has a total of 1,703 positive cases of the novel coronavirus (COVID-19) across the country.
Dr.WaheedullahMayar, a spokesperson for the Ministry of Public Health (MoPH), on Monday confirmed that the authorities recorded 172 new positive cases of the coronavirus across the country in the past 24 hours.
As of Sunday, the Ministry of Public Health, reported that the health authorities have recorded 1,531 positive cases of coronavirus in various provinces of Afghanistan.
Dr.Mayar on Sunday told reporters that the new cases were recorded in Balkh, Kabul, Badghis, Herat, Nangarhar, Laghman and Khost provinces.
He also added that the disease has so far killed at least 50 people while 207 other infected individuals have recovered.
https://www.khaama.com/afghanistan-reports-172-new-covid-19-cases-single-largest-day-yet-for-new-infections-04730/
-----
Photos of Afghan child with unique eye colors go viral
27 Apr 2020
The photos of an Afghan child having unique eye colors, apparently due to an health condition, have gone viral, leaving the social media users astounded.
The Radio Television Afghanistan (RTA), the state-run radio and television, first broadcast the photos of the child, which immediately went viral on social media.
Waardenburg syndrome is a rare genetic disorder that may be evident at birth (congenital), according to National Organization for Rare Disorders (NORD), an American non-profit organization aiming to provide support for individuals with rare diseases. The range and severity of associated symptoms and findings may vary greatly from case to case.
However, primary features often include distinctive facial abnormalities; unusually diminished coloration (pigmentation) of the hair, the skin, and/or the iris of both eyes (irides); and/or congenital deafness.
https://www.khaama.com/photos-of-afghan-child-with-unique-eye-colors-go-viral-04729/
----
Southeast Asia
Indomie airs daytime ads with empty plates during Ramadan, amusing viewers
27 Apr 2020
PETALING JAYA, April 27 — Popular instant noodle brand, Indomie, has amused social media users by airing daytime advertisements in Indonesia with empty plates for the month of Ramadan.
In the clip, an actor is seen mimicking the actions of cooking up the popular instant noodles.
"Your stomach may be empty, but we can still practise good deeds from home," said the actor, referencing the partial lockdown in the country due to Covid-19.
Indomie also has a separate version of the advertisement that's aired after the breaking of fast in which the noodles finally get some airtime.
"Imagine having a food brand so powerful that you don't need to show your food and people will still buy your products," wrote @snowlattes.
Indomie even went a step further with their marketing campaign by removing all images of noodles on their packaging in conjunction with the fasting month.
https://www.malaymail.com/news/life/2020/04/27/indomie-airs-daytime-ads-with-empty-plates-during-ramadan-amusing-viewers-v/1860621
-----
MCO food delivery: Tuck into Ramadan eats from Pietro in Damansara Heights
27 Apr 2020
By Lee Khang Yi
KUALA LUMPUR, April 27 — I've driven past Pietro many times on the way to pick up cake from a home baker who lives nearby. However, I always thought it was just an Italian restaurant so I was surprised to discover from a friend that they also serve an array of Malaysian dishes which piqued my interest.
Such an interesting contrast. There's pasta, risotto and paella standing side by side with their signature dishes like fish head curry, beef rendang, chilli crabs, grilled squid and assam fish.
The versatility lies with their chef Juwahir Mustafa, better known as chef Ell. He may have trained under Italian chef FredericoMichieletto but his skills are still rooted in local fare.
For Ramadan, Pietro's bukapuasa menu is an extensive one. There's something for everyone whether you like murtabak, mee rebus, kambingmasakkerutuk or even ayammasakmerah.
They also serve desserts like buburpuluthitam and buburkacanghijau to satisfy any sweet cravings. Their signature items like the fish head curry and chilli crabs do need pre-ordering so a little planning is needed.
The ultimate must-eat has to be their fish head curry for RM180. It's a whopping 1.8 kilograms of grouper fish head cooked in an addictive curry.
I'm actually not a fan of crazily spicy food so I liked that the curry wasn't overly hot but still packed with flavour. I couldn't finish it so I shared it with a friend who is a curry addict.
My friends have been talking about crabs so I was happy to see they make two types of crabs on their pre-order menu. There's the chilli crabs and a salt baked version.
You can slowly savour eating the crabs as you dip your fried, fluffy mantous into that thick sauce. It's an interesting balance of sweet and salty with a hint of chillies to spice things up.
When I got my order, I was a little worried as I didn't have any utensils to crack the crab shells with but it was easy to extract the sweet flesh.
One of the things I miss during the Movement Control Order (MCO) is going out to the satay stall so I was happy they served beef and chicken satay.
But Pietro's version is good and incredibly enjoyable as the meat is tender and juicy. You can pair it with a thick peanut sauce, ketupat, cucumbers and onions.
You can order the mixed satay for RM60 which will give you 15 sticks of chicken satay and 16 sticks of beef satay for variety. They also serve chicken satay and beef satay on its own too.
A classic Ramadan dish is ayampercik. Pietro's version is percik spring chicken (RM35). While it's not the Kelantan version slicked with the creamy white sauce or even the KL version dribbled with a sweetish red sauce, this version was really tasty with the spices used. They had butterflied the spring chicken and grilled it, giving it a nice smokiness.
Of course, biryani is also another must-eat during Ramadan and there's chicken, lamb shank and even plain biryani on their menu.
The lamb shank biryani (RM48) came with fluffy, aromatic rice. I reckon I will be happy just eating the rice on its own... it's that good.
https://www.malaymail.com/news/eat-drink/2020/04/27/mco-food-delivery-tuck-into-ramadan-eats-from-pietro-in-damansara-heights/1860514
-----
Fasting under lockdowns: Quieter Ramadan in Indonesia but some keep traditions alive
11 HOURS AGO
With the Islamic fasting month of Ramadan into its fourth day today, Muslims are adapting to the new normal as many countries have restricted movements to curb the spread of the deadly coronavirus. The Straits Times looks at how those in Indonesia, India and Pakistan - nations with the world's largest numbers of Muslims - are adapting. In Malaysia and other parts of Asean, too, the month of worship and eating out with close friends has changed.
In the wee hours last Friday, the first day of Ramadan, a group of youth ambled through their village in Sukabumi, West Java, to wake their neighbours for sahur, the last morning meal before their fast from dawn to dusk.
The tradition remains during the Muslim fasting month in many parts of Indonesia, despite the coronavirus pandemic which has killed over 700 people and is spreading rapidly across the country.
"This tradition must be preserved as it is the legacy of our ancestors," said groupleader Ari Hamdani, 23, in a video on Tribunnews.com website. "Yes, we are scared of the coronavirus, but we shouldn't get too hung up on fear. Instead, we should bring warmth to our village. After all, waking people up is also part of worship," he added.
In the world's most populous Muslim-majority country where over 90 per cent of its 270 million people are of the faith, Ramadan is as much about socialising as it is about worship. Indonesians typically participate in congregational nightly prayers, known as terawih, at mosques, breaking-of-fast gatherings or bukber or bukabersama, and giving free predawn meals to the poor and homeless, known as sahur on the road.
Children blast firecrackers into the night, while adults hunt for the best snacks and desserts, known as tajil, to serve at the dinner table.
And as the end of Ramadan nears, millions living abroad and in the Indonesian capital, Jakarta, will make the annual return to their home towns, known as mudik, to celebrate Hari Raya Aidilfitri. More partying ensues - from home-cooked feasts to visits to the homes of friends and relatives.
But the fear of spreading the virus to larger communities has led the government and Muslim groups to launch appeals to do away with the rituals and keep most activities indoors. The mudik has been banned, with all commercial international and domestic flights and sea travel halted until early June.
Indonesia has not opted for a national lockdown. Instead, regional administrations can apply for a permit from the health minister to implement strict social distancing measures in their localities. So far, two provinces and 22 cities or districts have received the green light, with Jakarta being the first.
In Jakarta, the epicentre of the virus outbreak in the country, bank operations manager Ferry Husni, 49, said he has not visited his parents for fear of potentially infecting them with the virus. "We always visit our parents at the start of the fasting month, and this is the first time we are not doing so. We are still thinking about whether we should visit them on Hari Raya," he told The Straits Times.
"The mood is very different. There are no crowds anywhere any more. We can't meet people, the malls are closed. We all just try to enjoy ourselves at home," he added.
In Klaten regency, in Central Java, Mr Tri Wicaksono, 28, said he and his neighbours have decided to do away with their annual spring-cleaning of the nearby mosque as a precautionary measure.
"There's something missing. It's like a cook lacking salt," he told ST, adding that he still performed the terawih prayer at the mosque.
But the session was shortened to 40 minutes, instead of the usual one hour, and attended by only 100 worshippers, a quarter of the usual crowd. Worshippers stood a metre apart and did not shake hands.
Mr Tri said he, his wife and four-month-old baby will not attend the carnival-like street parade on the eve of Hari Raya in nearby Yogyakarta: "We will likely just stay here. Yogyakarta is a red zone now."
With a circular issued by the Religious Ministry barring various activities including takbir keliling, a traditional parade where Muslims shout praises to Allah on Hari Raya Eve, it remains unclear if the Yogyakarta city administration will scrap the parade this year.
In contrast, in Aceh, the deeply religious western-most province dubbed Indonesia's Verandah of Mecca - as it was where Islam first spread to the region and where Indonesians boarded ships bound for the holy city - several thousand worshippers thronged the biggest mosque in the provincial capital Banda Aceh for terawih.
Property businessman DudyKoestoro said he could now enjoy breaking fast with his family again, without other social distractions.
"My daughter, who studies in Bandung (capital of West Java), is always at home now. This coronavirus makes us stick together more as people break their fast at home," he said.
There is also a hive of activity on social media as Indonesians change their rituals including waking up their family for sahur online.
In a Tiktok video posted by user kukubima_8101, a girl in a grey Muslim headscarf enthusiastically beats the tabla as she belts out a melodious rendition of the all-too-familiar Sahur! Sahur!
https://www.straitstimes.com/asia/se-asia/quieter-ramadan-in-indonesia-but-some-keep-traditions-alive
-----
BARMM changes work hours for Ramadan
By Asangan T. Madale
April 27, 2020
MARAWI CITY, Lanao del Sur: Muslim workers in the Bangsamoro Autunomous Region in Muslim Mindanao (BARMM) are advised to change work skeletal schedules during Ramadan. Memorandum Order 258 from the office of the Chief Minister Ahod Al Haj Murad Balawag Ibrahim allows flexible working hours from 7:30 a.m. to 3:30 p.m. so personnel can prepare food for the breaking of the fast. BARMM has 14 ministry offices, namely Agriculture, Fisheries and Agrarian Reform, Basic Higher and Technical Education, Environment Natural Resources and Energy, Finance and Budget Management, Human Settlements and Development, Indigenous Peoples Affairs, Labor and Employment, Interior and Local Government, Public Order and Safety, Public Works, Science and Technology, Social Services and Development, Trade Investment and Tourism, and Transportation and Communication. The BARMM is composed of five provinces — Basilan (Lamitan City) except Isabela City, Lanao del Sur, (Marawi City), Maguindanao, Sulu and Tawi-Tawi.
https://www.manilatimes.net/2020/04/27/news/regions/at-a-glance-regions/barmm-changes-work-hours-for-ramadan/719462/
------
Benhil Market empty of Ramadan snack sellers amid COVID-19 pandemic
April 25, 2020
BendunganHilir (Benhil) Market in Central Jakarta, which is typically abuzz with activity during Ramadan, was quiet on Friday afternoon, the first day of the holy month, as food vendors and customers stayed away amid the COVID-19 outbreak.
"Only this year has there been no [activity]," BendunganHilir subdistrict head RidaMufrida told tempo.co on Friday.
Outside Ramadan, the area is popular for its many dining spots. During the holy month, the market attracts even greater crowds, with customers coming to buy takjil (breaking-of-the-fast snacks) and various other types of foods from its many vendors.
"It was the decision of the takjil market management to scrap [the annual activities at Benhil Market]. They are probably worried they won't be able to manage the crowds," said Rida.
According to Rida, many takjil sellers typically traveled to the market from other areas of the city to do business. "They are probably operating in their own areas now."
In response to the COVID-19 outbreak in the capital city, Jakarta Governor AniesBaswedan has implemented large-scale social restrictions (PSBB) that will remain in place until May 22. Under the restrictions, restaurants and food sellers may only offer take-away services and must ensure patrons maintain a distance of at least 1 meter while queuing. They are also required to implement food hygiene and sanitation measures, such as providing hand washing facilities.
Although Benhil Market was empty, a number of vendors could still be seen selling takjil along Jl. BendunganHilir. "They are locals," said Rida, adding that all sellers were required to only sell take-away food, wear face masks and provide hand sanitizer.
During Ramadan, which will end on May 24, the governor has urged Muslims to conduct religious rituals, such as tarawih (evening Ramadan prayers), at home with their families, not in congregations. Jakartans have also been urged not to participate in the IdulFitri mudik (exodus) in compliance with the government's recent ban. (kes)
thejakartapost.com/travel/2020/04/25/benhil-market-empty-of-ramadan-snack-sellers-amid-covid-19-pandemic.html
-------
URL: https://www.newageislam.com/islamic-world-news/rss-chief-mohan-bhagwat-asked/d/121685
New Age Islam, Islam Online, Islamic Website, African Muslim News, Arab World News, South Asia News, Indian Muslim News, World Muslim News, Women in Islam, Islamic Feminism, Arab Women, Women In Arab, Islamophobia in America, Muslim Women in West, Islam Women and Feminism