New Age Islam News Bureau
20 Jan 2019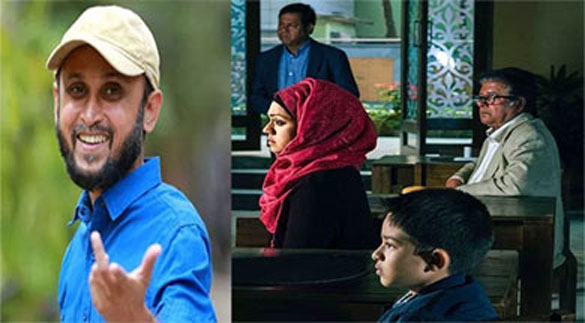 Bangladesh Film Censor Board (BFCB) has banned screening of a controversial short film titled 'Shonibaar Bikel' [Saturday Afternoon] in Bangladesh and abroad.
------
• Rights Organization Reveals Torture of Yemeni People in Secret Saudi Prison in Hadhramout
• Bangladeshi Film Director May Face Legal Consequences for Making a Film against Radical Islam
• Arab League Chief under Fire after Saying Palestine Less Important
• Philippines: Christians Favour Law for Muslim Autonomy
• US Ties with Saudi Cannot Continue Unless Bin Salman Is 'Dealt With': Sen. Graham
• PM Sister Aleema's New Jersey Property Bought with Zakat Money, Alleges PML-N
• 'I Am a Muslim and I Love India', Says Farooq at United Opposition's Rally
• 117 Refugees Feared Dead After Dinghy Sinks Off Libyan Coast
Arab World
• Rights Organization Reveals Torture of Yemeni People in Secret Saudi Prison in Hadhramout
• Critics Debate 'Airing Of Dirty Laundry' After Al Arabiya's Coverage Of Rahaf
• Muslim World League International Forum Calls For Positive Coexistence
• Preserving national identity a challenge: Saudi Arabia's Islamic affairs minister
• Over 30 ISIL Terrorists, Commanders Killed in Hashd al-Sha'abi Operations in Syria
• Kurdish Politician Rejects Deployment of Turkish Army in Safe Zone in Northern Syria
• Syrian opposition sees window for political solution in Syria
• 5,000 prisoners of conscience in Bahraini regime's detention, says rights group
• Iraqi Hashd al-Sha'abi forces kill, injure dozens of Daesh terrorists in Syria
• Air strike on Daesh-held area in eastern Syria kills 20
• Idlib: Several Terrorists Killed in Massive Explosion in Tahrir Al-Sham's Headquarters
--------
South Asia
• Bangladeshi Film Director May Face Legal Consequences for Making a Film against Radical Islam
• More than 60 militants killed in Badghis, Baghlan and Nangarhar provinces
• Gulbuddin Hekmatyar to run for president in July elections
• ISIS funder sacked army officer and family protected by Britain
• Taliban won't meet Afghan officials, talks with US on hold
• Vehicles convoy of Logar targeted in a suicide attack
• U.S. ready to address legitimate concerns of all Afghan sides to achieve peace: Khalilzad
--------
Mideast
• Arab League Chief under Fire after Saying Palestine Less Important
• Hamas Slams US Aid Cut To Palestinians As 'Political Blackmail'
• Yemeni snipers kill 14 Saudi troops in retaliatory attack
• Coalition launches air strikes targeting Houthi drone capabilities in Sanaa
• UN experts: Fuel from Iran is financing Yemen's Houthis
• Iran unveils domestically-built radar near Pakistan border
• 1000s join rally in Turkey in solidarity with detained Kurdish lawmaker
--------
Southeast Asia
• Philippines: Christians Favour Law for Muslim Autonomy
• Surakarta to cover cross-shaped road mosaic with paint after complaints from Muslim groups
• Lawyers' group propose breach of ethics tribunal after Kota Kinabalu 'twist'
• Radical cleric behind Bali bombing to be freed from prison
• Lawyer says Ba'asyir's release not 'gift' from Jokowi
--------
North America
• US Ties with Saudi Cannot Continue Unless Bin Salman Is 'Dealt With': Sen. Graham
• US used weakness in Polish politics to host anti-Iran summit: Analyst
• US treatment of Press TV anchor against law: Commentator
• Iran supports Venezuelan government amid US meddling: Qassemi
• US has legitimate reasons for leaving Syria: Ex-general
--------
Pakistan
• PM Sister Aleema's New Jersey Property Bought with Zakat Money, Alleges PML-N
• Pak Extend Invitation to Sikh Businessmen from Across the Globe to Invest In Religious Tourism
• Taliban reject Pakistan's offer to host Afghan talks in Islamabad
• Counter-terror cops kill four in 'cold blood' near Sahiwal
• PML-Q to take up issues with Imran as differences deepen
• PM Khan promises 'swift action' after JIT report on Sahiwal 'encounter'
• PM continues to attack opposition on Twitter
• TTP 'commander', two aides killed in Hangu shootout
• Pakistan will need 81,200 more schools in next 20 years
--------
India
• 'I Am a Muslim and I Love India', Says Farooq at United Opposition's Rally
• How a Muslim aristocrat's art collection became a national treasure
• 'Telangana Government to Press for Hike in Muslim, ST Quota'
• No Indo-Pak dialogue but diplomatic engagement still on
• BSF denies allegation of pushing Rohingyas into Bangladesh
--------
Africa
• 117 Refugees Feared Dead After Dinghy Sinks Off Libyan Coast
• US airstrike in Somalia kills 52 Al-Shabab extremists
• Ethiopia announces 'massive offensive' against Al Shabab in Somalia
• Tunisian union calls new nationwide strike to press wage demands
• Kenyan authorities investigate local role in Nairobi attack
• Ethiopia readies 'massive offensive' on al-Shabaab in Somalia
• 13 killed, dozens hurt in latest bout of Tripoli fighting, says Libyan ministry
--------
Europe
• Muslim group's assets in Greece being sold illegally
• Europe's patience with Iran wears thin, tiptoes toward Trump
• Yemeni government questions exclusion from meeting in Germany
• Iran denies allegations of spying on German army
• Six charged in Bulgaria with financing 'terrorist' groups
Compiled by New Age Islam News Bureau
URL: https://www.newageislam.com/islamic-world-news/rights-organization-reveals-torture-yemeni/d/117511
--------
Rights Organization Reveals Torture of Yemeni People in Secret Saudi Prison in Hadhramout
Jan 19, 2019
"The fate of tens of detainees who have gone through forced disappearance is unknown, while others have seen extended detention without trial and were denied proper treatment and family visits," SAM said.
SAM has received information that the detainees are kept in the so-called "Atteen prison" which is an old abandoned prison since 2006 at Murima area in Seyun in Hadhramout about 500 feet far from the new prison. The detainees are interrogated for hours by Saudi interrogators supervised by Abu Salem and Al-Khaledi in addition to the commander of the first military zone
SAM indicated in the press release that most of the detainees who reported to SAM were detained by the first military zone without any judicial warrants or legal grounds and were detained from public streets or markets and made to disappear for about a year.
SAM received a complaint from one detainee who claimed that they've been treated like goats with no dignity. "We are insulted, beaten, and kept in solitary confinement, shocked by electricity, and sprayed with cold water in the winter," he said, according to SAM.
One relative of a detainee who visited his detained relative said "when I visited him I found him in psychological trauma, with thin face and handcuffed since his detention date".
SAM revealed that even children were detained and tortured in the first military zone prison, where Sami Faraj Al-Zabedi, 15, was detained, according to his father statement, and was beaten with iron cords and sticks, kept in cold water and was humiliated and abused.
In March 2015, two children Ghaleb Omar Ali,16, and Abdullah Wael Omar, 17, were also detained.
Relative of the children told SAM that they were in a bad psychological condition with skinny faces, handcuffed and were beaten severely and shocked by electricity.
SAM also received reports from the detainee's relatives that they were not allowed to visit them, only after great suffer and follow-up at the first military zone commander, and the security commander.
One of the relatives told SAM that he was allowed to visit his son for half an hour during three years of detention.
SAM confirms that the detainee's detention conditions is very bad, where some suffer diseases and tumors and never receive proper medication by the prison authorities, while their relatives are unaware of their condition due to denial of visits.
SAM revealed that the detainees went on a hunger strike twice, due to the bad conditions, demanding the Saudi-UAE coalition and the first military zone commander to refer them to the court, to remove the iron legs cuffs, allow family visits, and contact their families and provide needed medical care and improve food.
The detainees are exposed to torture, according to testimony SAM received from an ex detainee, who said that one day they protested one day, demanding the presence of the Saudi-led Coalition officer, but they were tortured by the military police force led by officers Mustafa Al-Muhya, and Abdullah Al-Ashwal instead.
Saudi Arabia and its allies, including the United Arab Emirates, Morocco, and Sudan, launched a brutal war against Yemen in March 2015 in an attempt to reinstall Yemen's former president Abd Rabbuh Mansur Hadi.
The aggression initially consisted of a bombing campaign but was later coupled with a naval blockade and the deployment of ground forces to Yemen. Around 20,000 people have died since the war began, says Yemen's Health Ministry.
The Saudi-led war has also taken a heavy toll on the country's infrastructure, destroying hospitals, schools, and factories. The United Nations (UN) has said that a record 22.2 million Yemenis are in dire need of food, including 8.4 million threatened by severe hunger.
Despite Riyadh's claims that it is bombing the positions of the Ansarullah fighters, Saudi bombers are flattening residential areas and civilian infrastructures.
According to several reports, the Saudi-led air campaign against Yemen has driven the impoverished country towards humanitarian disaster, as Saudi Arabia's deadly campaign prevented the patients from travelling abroad for treatment and blocked the entry of medicine into the war-torn country.
http://en.farsnews.com/newstext.aspx?nn=13971029000484
--------
Bangladeshi film director may face legal consequences for making a film against radical Islam
January 19, 2019
Bangladesh Film Censor Board (BFCB) has banned screening of a controversial short film titled 'Shonibaar Bikel' [Saturday Afternoon] in Bangladesh and abroad.
The title of the film translates to "Saturday Afternoon" and dramatises the July 2016 attack on an upmarket cafe by militants who killed 22 of their hostages, including 18 foreigners. Bangladesh's censor board said the film – a Bangladesh-German co-production – could incite religious fervor in the Muslim-majority nation of 165 million.
Bangladesh has suffered from homegrown extremism for decades, but the Holey Artisan Cafe attack was the worst in years and seen as a major blow to the country's image as a moderate Muslim nation.
The government has always denied the five young men who seized the cafe for hours before killing many hostages and dying themselves were linked to the Islamic State (ISIS) jihadist outfit although ISIS had uploaded photographs and video of the attack claiming responsibility.
Commenting on the decision of the BFCB, internationally acclaimed anti-militancy journalist, counterterrorism expert and editor of Blitz, Salah Uddin Shoaib Choudhury said, "Although Mostofa Sarwar Farooki is no new name in the film circle, he definitely does not have adequate knowledge on such extremely sensitive issues like radical Islamic militancy and jihadist outfits. He should have consulted with individuals have knowledge in this field before finalizing the script of this film. Any wrong interpretation in a film would greatly damage the image of Bangladesh internationally especially when it is connected to notorious militancy outfits like ISIS."
He said, "Governments in Bangladesh always are sensitive to issues like militancy. This was even worst during the rule of BNP-Jamaat government during 2001-2006, when they falsely charged me with sedition, treason and blasphemy for my investigative reports on Qawmi madrassas being the breeding grounds of jihadist. Though I do not have any know details about the script of Mostofa Sarwar Farooki's 'Shonibaar Bikel', what I believe, members of BFCB must have identified some specific points in it which they felt would be damaging to the image of the country."
Asked if the film really is based on the story related to jihadist attack in Dhaka, Mr. Choudhury said, "I am not sure. May be this is just a publicity stunt of the director. Even I don't know if Mostofa Sarwar Farooki has adequate knowledge on radical Islam and jihad."
Critics of Mostofa Sarwar Farooki believe, the director is extremely inclined in inviting criticism as he has done in the past with the goal of getting media exposure. His previous film starring Irrfan Khan in 'Doob' had also been made controversial although on release the film embraced flop.
"It's just another publicity stunt of Mostofa Sarwar Farooki", commented a senior film director when asked about the ban on Farooki's latest film.
Following the ban on the film, releasing posters photosets and trailers of Shonibaar Bikel would be considered as illegal and authorities may bring charges against Mostofa Sarwar Farooki and the producer of the film, in case they circulate any such material. Defying the decision of BFCB, publicity materials of this film have already been circulated on the YouTube and social media.
Shonibaar Bikel, a work of fiction, is loosely inspired from the Holy Artisan attack in Dhaka. Starring Parambrata Chatterjee, Zahid Hasan and Nusrat Imrose Tisha among others, the film is produced by Jaaz Multimedia and Chabial. Anna Katchko of Tandem Productions (Germany) serves as the co-producer.
Members of the censor board have watched the film twice. Even though they praised the film upon the first viewing, certain concerns were brought to light when they watched it for the second time. "We think that the running time of the film, which is an hour and twenty minutes, is more suitable for film festivals than a theatrical release," informs censor board member Nassiruddin Dilu. He added that the film will damage the country's reputation. Furthermore, Iftekhar Uddin Naushad, another member of the censor board, claimed that this decision was made because the film will be unfavorable to the global image of Bangladesh.
Many online groups on social media are criticizing the film, citing that the first look gives out a wrong picture of religion.
https://www.weeklyblitz.net/entertainment/bangladeshi-film-director-may-face-legal-consequences-for-making-a-film-against-radical-islam/
--------
Arab League chief under fire after saying Palestine less important
Jan 19, 2019
The Arab League chief has got himself in hot water after saying the importance of the Palestinian cause has "reduced" even as Israel is stepping up its coercive measures in the occupied territories.
"There are more pressing matters we (Arab countries) must contend with, since the Arab world has dramatically changed," Ahmed Aboul Gheit said in a recent televised interview with a local Egyptian channel.
He also stressed that the Arab region is currently going through tougher times compared to 2010.
"Arab nations have recently seen the hardest of times," Aboul Gheit noted, citing the crises gripping Yemen, Syria and Libya.
"We must not forget the mistakes made by Arab rulers, inflicting tragedies upon the region," he said.
Several political analysts condemned Aboul Gheit's remarks as a step towards the normalization of relations between Arab countries and the Tel Aviv regime.
Israel has full diplomatic relations with only two Arab states, Egypt and Jordan, but latest reports suggest the regime is working behind the scenes to establish formal contact with Saudi Arabia and its allies.
An Egyptian political analyst, identified as Mahmoud, told The Media Line that the Arab League chief's "statements are a clear attempt to prepare the ground for the normalization of relations with the Zionist entity."
"He (Aboul Gheit) is not very smart because the Arab street would never accept this entity in any way," he said, emphasizing that Arab citizens have turned away from their governments on the issue.
"The majority of Arabs see Israel as a foreign body, and feel threatened by it. While politicians have their own agendas and interests with the Zionist entity, the wider Arab nation does not and rejects it," Mahmoud pointed out.
Jordanian political commentator Moeen al-Taher said Aboul Gheit's comments implied that he is seeking to establish formal ties with Israel and soften the Arab public opinion on the matter.
Lebanese political analyst Qasem Qaseer described the Zionist entity as "the region's core problem" and accused the Arab League of "trying to de-prioritize" the Israeli-Palestinian conflict.
"He (Aboul Gheit) said he is not trying to prioritize other issues. Nevertheless, the Zionist entity is the main issue and the reason for all other problems in the region," he said.
Qaseer referred to the Arab world's outrage over US President Donald Trump's controversial recognition of Jerusalem al-Quds as the Israeli "capital" in December 2017.
"When the US recognized Jerusalem as Israel's capital, citizens throughout the Arab world took to the streets and loudly protested against it, which shows that the ongoing conflict between the Zionist entity and the Palestinians is the most pressing issue on the agenda," he said.
Earlier this week, it was reported that UAE Foreign Minister Abdullah bin Zayed Al Nahyan and National Security Adviser Tahnoun bin Zayed had paid a not-so-secret visit to Israel with a direct flight from Abu Dhabi to Tel Aviv.
https://www.presstv.com/Detail/2019/01/19/586198/Arab-League-Palestine-Israel
--------
Philippines: Christians favour law for Muslim autonomy
19.01.2019
Among the supporters of a new law to give greater autonomy to a Muslim-majority region of the Philippines are local evangelical Christians.
"We will support the law," Aldrin Penamora, an evangelical Christian, told Anadolu Agency. "The law will make many contributions to the region. I believe that the law will bring economic development and security to the region where Christians, Muslims, [indigenous] Lumads, and other local peoples live."
The Bangsamoro Organic Law (BOL) will eliminate injustice against Muslims, he added, saying: "The centuries-long wounds of the historic injustice against the Moro people will heal."
A referendum starting on Monday is set to grant the Bangsamoros or Moro -- a collective term for Filipino Muslims living on an island in the southern Philippines -- autonomy after a nearly 50-year process.
"The BOL law's outcome is so important for our region," said Anzarrih Mastura Matalam, a local Muslim leader.
"We see the law as the future of the region and as a source of hope for our children. I believe It will give the Moro more development, prosperity, and peace."
2-round referendum
Speaking at a rally for BOL ratification on Friday in Cotabato City, Philippines President Rodrigo Duterte urged approval of the law in the referendum starting on Monday.
The referendum is set to begin on Monday, Jan. 21 in two cities, with a second round to be held on Feb. 6 in other areas in nearby regions.
Once the bill is ratified, the Bangsamoro Autonomous Region in Muslim Mindanao (ARMM) will be created.
Freedom for Muslims in the region was taken away by Americans in 1898 when the Spanish, who had occupied the Philippines in the 16th century, left the country to the U.S.
The Bangsamoro people, who were already deprived of freedom during the U.S. occupation, also faced dire straits due to the Christian settlement policy of the Manila government, when Americans left the region to Philippine Christians after managing it until 1946.
Autonomy agreement
The BOL is set to increase legal and economic gains for Muslims in the region.
With the establishment of the Bangsamoro government, courts of Islamic law will be opened in the region.
Regional authority will be handed over from the capital Manila to the Bangsamoro government.
When the BOL is ratified, the Moro Islamic Liberation Front (MILF) group is also set to decommission 40,000 combatants of its Bangsamoro Islamic Armed Forces (BIAFF).
https://www.aa.com.tr/en/asia-pacific/philippines-christians-favor-law-for-muslim-autonomy/1369267
--------
US ties with Saudi cannot continue unless bin Salman is 'dealt with': Sen. Graham
Jan 19, 2019
Relations between the United States and Saudi Arabia cannot move forward unless Saudi Crown Prince Mohammed bin Salman is "dealt with," says Republican Senator Lindsey Graham, a close ally of President Donald Trump.
"The relationship between the US and Saudi Arabia cannot move forward until Crown Prince Mohammed bin Salman is dealt with," Graham told reporters in Ankara on Saturday, a day after discussing issues related to Saudi Arabia with Turkish President Recep Tayyip Erdogan.
The senator also said he will push for more US sanctions against those involved in the killing in October of dissident Saudi journalist Jamal Khashoggi inside Riyadh's consulate in Istanbul.
The US Treasury Department has imposed economic sanctions on 17 Saudis involved in the murder. Trump. however, has been reluctant to go after bin Salman, who is widely believed to have ordered the hit job.
"What has transpired over the last couple of years has been unnerving to say the least," he said. "The leadership coming from MbS is not what I have envisioned."
Turkish and American intelligence reports state that the body of Khashoggi – an outspoken critic of bin Salman— was dismembered shortly after his murder inside the Saudi diplomatic mission. There are also reports of sound recordings and phone calls that directly tie bin Salman to the murder.
Graham said that by ordering the brutal murder, MbS violated "every norm of international behavior."
According to the findings of a Turkish probe, a 15-member "hit squad" had been sent to kill the ill-fated journalist in a "premeditated murder" operation.
The gruesome murder of the journalist, which according to a CIA assessment was ordered by the crown prince, sparked international outrage against the kingdom, the prince as well as US President Donald Trump, who has since been running interference for Riyadh and bin Salman, also known as MBS.
Back in October, Graham said that he felt "completely betrayed" by Riyadh over its handling of the Khashoggi case. Graham said that "the relationship is important, but our values are more important."
After trying to deflect international criticism by providing several contradicting accounts, the Saudis finally admitted to the murder, claiming that Khashoggi was killed after "discussions" to convince him return to his homeland turned into "a brawl and a fist fight" inside the consulate.
Graham said at the time that he believes "the answer is unequivocally yes" that the crown prince was involved in the murder.
The senator, who is a key ally of Trump, has taken a vocal approach as of late against some of the president's decisions, including his attempts to shielding those responsible for the murder of the Washington Post journalist in Istanbul.
https://www.presstv.com/Detail/2019/01/19/586203/Lindsey-Graham-Turkey-Saudi-bin-Salman
--------
PM Sister Aleema's New Jersey Property Bought with Zakat Money, Alleges PML-N
Jan 20, 2019
Pakistan Muslim League-Nawaz (PML-N) Abid Sher Ali on Saturday alleged that Prime Minister Imran Khan's sister Aleema Khan had acquired property in United States with Zakat money.
In a video message, Abid Sher Ali showed an apartment in New Jersey and claimed that it belonged to Aleema Khan. He alleged that both Imran and his sister Aleema had looted public money in the name of Shaukat Khanum Hospital.
Aleema Khan is the benamidar of Imran Khan, he claimed.
The former state minister also demanded the Supreme Court (SC) form a joint investigation team to probe this matter.
https://www.pakistantoday.com.pk/2019/01/19/aleema-built-apartment-in-new-jersey-with-zakat-money-alleges-abid-sher/
--------
'I am a Muslim and I love India', says Farooq at united opposition's rally
January 19, 2019
Kolkata: National Conference leader Farooq Abdullah Saturday called the EVM the "chor machine" and demanded that the ballot paper system be brought back for the sake of transparency.
Speaking at the united opposition rally organised by TMC supremo Mamata Banerjee, he said, "It is not the question of ousting any single person (Prime Minister Narendra Modi) but of saving the country and honouring the sacrifices of those who fought for its freedom."
"The EVM is chor machine. Honestly speaking, it is so. Its use must be put to an end. Nowhere in the world is the machine used. The opposition parties should approach the Election Commission and the President of India to stop the use of the EVM and bring back the old ballot papers for the sake of transparency," he said.
He blamed the BJP for the situation in Jammu and Kashmir and said people are being divided on religious lines. "People are being branded as Pakistanis. But all people right from Ladakh to elsewhere want to continue in India.
"I am a Muslim and I love India, my country," he said.
Continuing his tirade against the BJP, he said it stood for the Triple Talaq Bill in Parliament but did not pass the Women's Reservation Bill.
Urging for a united fight by opposition parties in the coming Lok Sabha election, he said the prime minister can be decided after the poll results.
"We have to fight and oust BJP. We have to come together to put up a one-to-one fight against it. We should fight together to strengthen our country," he said and hoped the new government will take the country forward. PTI
https://kashmirreader.com/2019/01/19/i-am-a-muslim-and-i-love-india-says-farooq-at-united-oppositions-rally/
--------
117 refugees feared dead after dinghy sinks off Libyan coast
Jan 19, 2019
More than a hundred asylum seekers headed to Europe are feared dead after their vessel sank off the coast of Libya.
The International Organization for Migration (IOM) said on Saturday that some 117 asylum seekers, who had departed from the northwest of the country in a rubber dinghy two days earlier, were feared to be dead.
Three people, rescued in the Mediterranean Sea, reported that the dinghy had sank.
"The three survivors told us they were 120 when they left Garabulli, in Libya, on Thursday night. After 10 to 11 hours at sea ... (the dinghy) started sinking and people started drowning," IOM spokesman Flavio Di Giacomo said on Saturday.
The IOM spokesman added that ten women, including one pregnant woman, and two children, one of whom only two months old, were among the asylum seekers on board the ship who were unaccounted for.
He added that the asylum seekers aboard the dinghy were mostly from West Africa.
The sinking dinghy was first sighted by an Italian military plane. Later, a navy helicopter was dispatched to the area and rescued the three asylum seekers, who were suffering from severe hypothermia and were taken to a hospital on the island of Lampedusa.
An Italian commander told a local news station that during the rescue operation, the personnel aboard the helicopter had spotted at least three bodies of people who appeared to be dead in the water.
The Italian navy said it had alerted Libyan authorities who then coordinated a rescue operation, ordering a merchant ship to go to the site of the sinking vessel, though rescue efforts had ceased after the search for the dinghy had proved fruitless.
According to the IOM, 2,297 people trying to cross the Mediterranean Sea from Africa to Europe died or went missing in 2018.
https://www.presstv.com/Detail/2019/01/19/586240/IOM-Libya-Refugees
--------
Arab World
Critics debate 'airing of dirty laundry' after Al Arabiya's coverage of Rahaf
19 January 2019
The case of Rahaf al-Qunun, a Saudi teen who sought asylum abroad, has been widely covered by international media outlets and regional Arab ones alike.
After landing in Canada as a refugee, al-Qunun gave ABC News Australia an exclusive one-on-one interview. Al Arabiya aired the entire footage unedited, in addition to having covered the story from the beginning when it first started in Bangkok, Thailand.
But critics called out the media coverage of Al Arabiya and local Saudi television channels by saying that the story of a local family dispute did not warrant such intense global media attention.
Dr. Maha Al Muneef, Executive Director of Saudi Arabia's National Family Safety Program, said: "The case of Rahaf is a family issue. It involves a minor who is young and confused. It must be resolved between a father and his daughter by the means possible. We should not turn it into a state issue."
Sarah Dundarawy, a Saudi national and the current host of 'Tafa'olkum', a show on Al Arabiya that focuses on trending social media topics, said there was no doubt there was a need to cover al-Qunun's case.
"At our show, we talk about whatever people are talking, including all the issues they are discussing and what is trending online. We wanted people to hear Rahaf's point of view and the other point of view as well," Dundarawy told Al Arabiya English. "That's why for example we aired the entire interview in full, unedited, and translated the presenter's questions and included the tweets explaining why she allegedly faced violence."
The online debate went further when Al Arabiya also covered a similar case from Kuwait after a former law professor, Dr. Fatima al-Matar, said she fled the country with her daughter to the United States seeking asylum after one of her tweets was deemed blasphemous.
Al Arabiya's 'Tafa'olkum' covered the story as it drew parallels to al-Qunun and brought in a Kuwaiti lawyer to debate the case's merits.
"I personally think this woman only sent out that tweet in order to seek political asylum. She has a prior record of insulting His Highness the Emir but was still pardoned and faced no jail time. This all points to her simply seeking political asylum and fame at the same time," the lawyer Fahad al-Haddad told Al Arabiya.
"I disagree with media channels who are covering the cases of Rahaf al-Qunun and Fatima al-Matar. These women just want the attention unfortunately," he added.
Setting a 'dangerous precedent'
With al-Qunun now settling in Toronto as a refugee, one of Canada's own diplomats said Ottawa's "privileging of Qunun's case could set a dangerous precedent."
"What happens the next time a teenage girl or adult woman from Saudi Arabia flees her family and declares herself to no longer be a Muslim, does that mean automatic sanctuary?" David Chatterson, Canada's ambassador to Saudi Arabia from 2009-2011, told CBC News.
Saudi Arabia froze further trade deals with Canada in August last year and expelled the Canadian ambassador following a public call by Ottawa's embassy in Riyadh to release Saudi nationals. The kingdom also announced it was ending state-backed educational and medical programs in Canada.
Dennis Horak, who was Canada's ambassador to Saudi Arabia until last year, told CBC News that he "would hate to see us use this to keep trotting her [Rahaf al-Qunun] out and have meetings with the Prime Minister... various photo-ops [and] things like that become the mallet with which we bash Saudi Arabia."
The controversy regarding Canada granting asylum came under further scrutiny by observers, with some calling out the "double-standards" on the speed of their offer and the Western media's focusing on al-Qunun, instead of other refugees fleeing real conflicts and wars.
"The messaging that this sends out to refugees internationally is not a good one. The way that this has been covered since implies that some refugees are more deserving than others," H. A. Hellyer, a nonresident senior fellow at The Atlantic Council, tweeted.
To air or not to air?
Arab and Saudi critics are still debating online whether it is appropriate for media channels to "air their dirty laundry" and asked whether social issues like family disputes deserve so much air time.
"The subject is trivial. Airing the interview is not keeping pace with the global media. The story is that of a teenager who has been duped and there was no need to air her interview and hurt her family's feelings. Al Arabiya, you have wronged," one Twitter user said.
Al Arabiya's Dundarawy said that as a Saudi woman, she has been following foreign media coverage of al-Qunun's story and found that she disagreed with many points.
"There is a lot of misconceptions and stories about how we Saudi women are treated. Stories like Rahaf's are being treated like they are the norm when there are many other stories which are positive and women are living normally," Dundarawy said.
The Saudi presenter then argued that her show on Al Arabiya was necessary to cover social issues in a broader, more accurate light.
"Of course, we should cover the story since people are already talking about it. Why should we pretend that it's not happening? People are interested and honestly this is reflected in the views in terms of the replies and tweets, so that's why we took an interest," she said.
Muna AbuSulayman, a prominent Saudi talk show host, agreed but went further in saying that cases such as al-Qunun open up discussions among Saudi society about the age of majority, and raising questions regarding the specific age a woman should be treated as an adult.
"These are questions that can only be asked by society, the answers cannot come from outside," she told Al Arabiya English.
https://english.alarabiya.net/en/features/2019/01/19/Critics-debate-airing-of-dirty-laundry-after-Al-Arabiya-s-coverage-of-Rahaf.html
--------
Muslim World League International forum calls for positive coexistence
January 19, 2019
JEDDAH: The first vice president of Burundi, Gaston Sindimwo, has praised his country for overcoming its turbulent past, citing how religious organizations have promoted peace and tolerance, at the Muslim World League (MWL) forum in the Burundian city of Bujumbura.
Sindimwo stressed the importance of peaceful coexistence between people of different faiths, praising the MWL for helping to strengthen ties between groups both in Burundi and the rest of the world.
"Muslims in Burundi, along with Islamic foundations, have worked for peace and security following the civil war. This forum will be an opportunity to enhance security, and prevent clashes and war," he said in his opening address.
The MWL's secretary-general, Mohammed Al-Issa, underscored his eagerness to build bridges with all countries, so as to achieve better global cooperation and communication.
"We disagree but we talk and understand each other, love one another and respect each other. When we disagree, then, we must compromise, cooperate, and coexist," he said.
The forum, called "Religious and Ethnic Pluralism and Positive Coexistence," attracted a wide cross-section of senior clerics, politicians, businessmen and public figures, from all corners of the Islamic world and wider Africa.
During the summit, delegates called upon the MWL to cooperate more with public and private bodies in Africa, to support and accelerate development and prosperity, and to pressure various social media platforms to promote positive convergence between cultures.
Full report at:
http://www.arabnews.com/node/1438406/saudi-arabia
--------
Preserving national identity a challenge: Saudi Arabia's Islamic affairs minister
January 20, 2019
JEDDAH: Saudi Arabia faces "great challenges" in preserving its national identity as it keeps up with modern society, the minister of Islamic affairs said Saturday.
Dr. Abdullatif bin Abdul Aziz Al-Asheikh told delegates at a conference in Cairo that it was a shared duty to preserve religious constants and national identity.
"This is especially significant as we face great challenges of building the national character that combines preserving authentic national identity and keeping pace with contemporary civil society," he said.
He was speaking at the 29th International Conference of the Supreme Council for Islamic Affairs, which was organized by the Egyptian Ministry of Awqaf (religious endowments) under the patronage of Egyptian President Abdel Fattah El-Sisi.
More than 150 people — including ministers, scientists, intellectuals and professors — took part in the conference.
The Saudi minister stressed it was important for people to actively participate in developing their nation and contributing to its progress and prosperity.
He explained that the process was hard on a practical level as it demanded loyalty and perseverance, "especially amid the unprecedented openness" of traditional and new forms of media and communication.
Al-Asheikh said that Saudi citizens were proud of their identity and protected their nation against any danger because they loved and respected their country and leaders.
Full report at:
http://www.arabnews.com/node/1438316/saudi-arabia
--------
Over 30 ISIL Terrorists, Commanders Killed in Hashd al-Sha'abi Operations in Syria
Jan 19, 2019
"The Hashd al-Sha'abi's artillery units, in a preemptive operation, targeted the ISIL terrorists who were preparing to attack Hashd al-Sha'abi forces in al-Souseh region in Southeastern Deir Ezzur," Commander of Hashd al-Sha'abi in al-Anbar Province Qassim Muslih said.
He noted that two ISIL commanders, namely Abu Vazah and Abu Hamzeh, were among the 35 terrorists killed in Hashd al-Sha'abi's operation.
Muslih reiterated that the Iraqi popular forces are in control of ISIL's movements in Syria behind the borders with Iraq.
In a relevant development earlier this week, an Arab media report said that over 30,000 Iraqi Army troops backed by the Russian Air Force had lined up for launching joint military operations with the Syrian Army against the remnants of the ISIL terrorist group in Eastern Syria.
The Iraqi Army troops are standing orders to join the Syrian Army for an imminent battle against the ISIL along Iraq-Syria borders, Al-Etejah Press quoted an Iraqi military source as saying.
The source said over 30,000 Iraqi soldiers are now behind the borderline in order to enter Syria's Eastern deserts (Badiyeh) and engage in battle with remaining ISIL terrorists along the border.
The source noted that Iraq's Hashd al-Sha'abi (Iraqi popular forces) plan to actively take part in the anti-ISIL operations.
He noted that the military operations will soon start, and said the Syrian and Iraqi governments have done the needed coordination to launch the joint assault on ISIL in cooperation with the Russian Air Fore.
In relevant remarks last Tuesday, Muslih underlined that his forces have prevented the US Army's spying on security units along borders with Syria.
"The US troops are trying to obtain precise and sensitive intelligence from Iraq's security forces along borders with Syria," the Arabic-language Al-Maloumeh news website quoted Muslih as saying.
He reiterated that Hashd al-Sha'abi operations command has stopped US spying operations by preventing the US troops from getting close to Hashd al-Sha'abi units and forcing them to return to Ba'er al-Morasemeh base.
Muslih pointed to the US forces' reconnaissance operations along Iraq-Syria borders and questions from border police and Iraqi army about the battle zones off the border regions, the amount of ammunition, type of weapons and the number of troops of each region, and explained that secret intelligence related to the forces stationed along the border regions helps them to easily target any region.
Full report at:
http://en.farsnews.com/newstext.aspx?nn=13971029000624
--------
Kurdish Politician Rejects Deployment of Turkish Army in Safe Zone in Northern Syria
Jan 19, 2019
"Any safe zone should be formed away from the presence of Turkey and Ankara-backed militant groups like the Free Syrian Army (FSA) and it should be monitored by the international bodies so that security and stability will be protected for residents of these regions against Turkey's attacks," Aminah Omar said, addressing a ceremony in the town of Qamishli on Saturday.
She stressed that Turkey should no more be allowed to continue occupation of Syrian territories.
In relevant remarks earlier this week, a senior official of the People's Protection Units (YPG) underlined that the Kurds were opposed to the establishment of a safe zone in Northern Syria to be controlled by Turkey.
"It should first be clear who is a threat and the security of which side should be protected to create a safe zone," Aldar Khalil, the head of YPG's diplomatic relations committee, told the Kurdish-language Hawar news on Wednesday.
He added that if the safe zone was meant to establish security in Northern Syria and protect the region against Turkish threats, it was a good policy.
"Entrusting Turkey with controlling the safe zone in Northern Syria is a source of deep concerns because it has threatened of occupation of all regions in Northern Syria," Khalil said.
"We are opposed to the creation of a safe zone under the control and supervision of Turkey in Northern and Northeastern Syria," he underlined.
US President Donald Trump and his Turkish counterpart Recep Tayyip Erdogan have both floated the idea of a safe zone in Northern Syria as a solution to prevent a Turkish military offensive against Kurdish forces in the area. Ankara says that the YPG are a terror organization and a threat to Turkey. The YPG denies the charge and says Turkey is the aggressor.
Trump and Erdogan discussed the proposal in a phone call last Monday, after Trump tweeted about it.
Full report at:
http://en.farsnews.com/newstext.aspx?nn=13971029000351
--------
Syrian opposition sees window for political solution in Syria
19 January 2019
Syria now has a good opportunity to reach a political solution to its devastating eight-year war as ceasefires have brought calm to many areas of the country, Syria's chief opposition negotiator said on Saturday.
"I think now that we have an opportunity, because nearly in Syria we have a ceasefire now, in the northeast of Syria and the north of Syria, and the efforts of fighting terrorism has achieved good results," Nasr Hariri told Reuters in an interview in the Saudi Arabian capital Riyadh, where he is based.
Hariri, the opposition's chief negotiator in UN peace talks, met with the newly appointed United Nations Special Envoy to Syria Geir Pedersen on Friday.
"Now it is time to invest all of these developments: the ceasefire, fighting terrorism, the belief of the majority of the Syrian people that the only solution to the Syrian crisis is the political solution," Hariri added.
In December, Russia, Iran and Turkey - supporters of the main sides in Syria's complex civil war - failed to agree on the makeup of a UN-sponsored Syrian Constitutional Committee but called for it to convene early next year to kick off a viable peace process.
Full report at:
https://english.alarabiya.net/en/News/middle-east/2019/01/19/Syrian-opposition-sees-window-for-political-solution-in-Syria.html
--------
5,000 prisoners of conscience in Bahraini regime's detention, says rights group
Jan 19, 2019
An independent human rights group says it has documented the arrest of more than 5,000 prisoners of conscience in addition to 200 victims of excessive use of force, murder and torture in the tiny Persian Gulf kingdom, as the ruling Al Khalifah regime presses ahead with its heavy clampdown on political dissidents and pro-democracy activists.
The head of the Bahrain Center for Dialogue and Tolerance, Sheikh Maytham al-Salman, said in a statement during a conference held in Lebanese capital Beirut that "human rights as well as civil and political situation in Bahrain have deteriorated."
Continued deterioration of the human rights situation in Bahrain is taking place amid silence from the international community, including the United Kingdom and the United States of America," Salman added.
Salman then called on international diplomatic missions to investigate the trials of political and human rights activists in Bahrain, record the violence they face in prisons, and use diplomatic visits to examine the status of detainees.
Thousands of anti-regime protesters have held demonstrations in Bahrain on an almost daily basis ever since a popular uprising began in the country in mid-February 2011.
They are demanding that the Al Khalifah regime relinquish power and allow a just system representing all Bahrainis to be established.
Manama has gone to great lengths to clamp down on any sign of dissent. On March 14, 2011, troops from Saudi Arabia and the United Arab Emirates were deployed to assist Bahrain in its crackdown.
Scores of people have lost their lives and hundreds of others sustained injuries or got arrested as a result of the Al Khalifah regime's crackdown.
On March 5, 2017, Bahrain's parliament approved the trial of civilians at military tribunals in a measure blasted by human rights campaigners as being tantamount to imposition of an undeclared martial law countrywide.
Full report at:
https://www.presstv.com/Detail/2019/01/19/586230/5000-prisoners-of-conscience-in-Bahraini-regimes-detention-group-says
--------
Iraqi Hashd al-Sha'abi forces kill, injure dozens of Daesh terrorists in Syria
Jan 19, 2019
Iraqi pro-government fighters from the Popular Mobilization Units (PMU) have carried out a counter-terrorism operation in Syria's eastern province of Dayr al-Zawr, killing and injuring dozens of terrorists from the Daesh Takfiri group in the process.
The commander of the volunteer forces – better known by the Arabic name Hashd al-Sha'abi – in western Anbar, Qassim Mosleh, said 35 Daesh extremists were eliminated or sustained injuries as Iraqi forces pounded their positions in the village of al- Susah. Mosleh went on to say that three militant commanders, identified by the noms de guerre Abu Wadah, Abu Hamza and Abu Fatoum, were killed in the offensive.
On December 31, 2018, Iraqi military aircraft pounded a strategic position of Daesh terrorists in Syria's Dayr al-Zawr, after Syrians President Bashar al-Assad allowed Iraqi fighter jets to conduct airstrikes against the extremists in Syria.
The media bureau of Iraq's Joint Operations Command announced in a statement that Iraqi F-16 fighter jets had bombed and destroyed a two-story building on the outskirts of the village of Susah and killed 30 Daesh commanders as they were holding a meeting. The statement added that the aerial assault was carried out following close surveillance by the Iraqi Intelligence Service.
The development came a day after a high-ranking Iraqi official, speaking on condition of anonymity, told Russia's RT Arabic television news network that Iraqi warplanes would be able to enter the Syrian airspace and bombard Daesh sites under Assad's directives.
The Iraqi official, however, highlighted that the Syrian president had demanded that the Baghdad government inform Syrian authorities before launching any aerial raid.
Former Iraqi prime minister Haider al-Abadi declared the end of military operations against Daesh in the Arab country on December 9, 2017.
On July 10 that year, he had formally declared victory over Daesh in Mosul, which served as the terrorists' main urban stronghold in Iraq.
In the run-up to Mosul's liberation, Iraqi army soldiers and Hashd al-Sha'abi fighters had made sweeping gains against Daesh.
Iraqi forces took control of eastern Mosul in January 2017 after 100 days of fighting, and launched the battle in the west on February 19 that year.
Full report at:
https://www.presstv.com/Detail/2019/01/19/586221/Iraqi-Hashd-alShaabi-forces-kill-injure-dozens-of-Daesh-terrorists-in-Syria
--------
Air strike on Daesh-held area in eastern Syria kills 20
January 19, 2019
BEIRUT: An air strike hit militants and civilians trying to flee the last area controlled by the Daesh group in eastern Syria on Friday, killing at least 20, the country's state media and opposition activists reported.
The air strike on the Daesh-held village of Baghouz comes as the offensive against the extremists by US-backed fighters of the Kurdish-led Syrian Democratic Forces has intensified over the past few weeks. It also comes as the United States' begins the process of withdrawal from Syria.
Thousands of civilians have fled from the area near the Iraqi border recently as Daesh has steadily lost ground.
State news agency SANA said 20 people were killed in the air strike on Baghouz, while the Britain-based Syrian Observatory for Human Rights said 23 people were killed. It said 10 Daesh members were among the dead.
Both blamed the US-led coalition that has been providing air cover to the SDF in their months long offensive to capture the area from the extremists.
Full report at:
http://www.arabnews.com/node/1438161/middle-east
--------
Idlib: Several Terrorists Killed in Massive Explosion in Tahrir Al-Sham's Headquarters
Jan 19, 2019
A bomb-laden vehicle exploded at a Tahrir al-Sham center on Ariha Road in the Southern part of Idlib City, battlefield sources in Northern Syria said.
The sources reiterated that at least 12 terrorists were killed and over 20 others were also wounded.
In Northern Idlib, Tahrir al-Sham commander Abdul Javad, nom du guerre Abu Fahd Turki, was gunned down by unknown assailants near the town of Ma'arat Masrin.
Meantime, three other Tahrir al-Sham terrorists were killed by unknown gunmen near the town of Sarmada in Northern Idlib.
In a relevant development earlier this week, a source was quoted a saying that the terrorists of Tahrir al-Sham al-Hay'at "are pursuing the new scenario to establish a new integrated military organization in Idlib after the terrorist group extended its presence in the province in cooperation" with Turkey.
"The terrorists of the National Liberation Front (NFL) affiliated to the Turkish Army will soon be dissolved in Tahrir al-Sham as the militant groups have agreed to form an integrated military structure," the Arabic-language Anab Baladi affiliated to militants quoted a source close to Ankara-backed Free Syrian Army (FSA) as saying.
The source noted that the scenario started after Tahrir al-Sham's dominance over most of Idlib's regions.
He said that according to the plan, Idlib province will be divided into two sections in political and military terms; the Ankara-backed Faylaq al-Sham terrorists will take charge of the political affairs and Tahrir al-Sham will represent the military wing.
Tahrir al-Sham leader Abu Mohammad al-Jolani had previously called for setting up integrated military formation in Idlib province with the partnership of all terrorist groups once again, after he voiced full support for Turkey's assault on Kurdish militants.
Full report at:
http://en.farsnews.com/newstext.aspx?nn=13971029000761
--------
South Asia
More than 60 militants killed in Badghis, Baghlan and Nangarhar provinces
19 Jan 2019
More than sixty militants were killed during separate operations conducted in northwestern Badghis, northern Baghlan, and eastern Nangarhar provinces.
According to the informed military sources, the Afghan Special Forces conducted a clearance operation of known Taliban staging locations in Qal'ah-e Now district of Badghis province killing 48 Taliban and destroying 9 IEDs.
The sources further added that the Afghan Special Forces conducted a clearance operation of Pul-E Khumri district of Baghalan province in order to prevent attacks along Highway 1, leaving at least six Taliban militants dead.
A Taliban commander, Gul Mohammad, was killed along with 10 Taliban fighters in Hisarak district of Nangarhar province on January 17, the sources said, adding that Gul Mohammad was responsible for planning and directing attacks against Afghan security forces and civilians.
https://www.khaama.com/more-than-60-militants-killed-in-badghis-baghlan-and-nangarhar-provinces-03148/
--------
Gulbuddin Hekmatyar to run for president in July elections
19 Jan 2019
The leader of Hezb-e-Islami Gulbuddin Hekmatyar will run for president during the July 20th presidential elections.
Hekmatyar registered his name for the elections in the Independent Election Commission of Afghanistan (IEC) along with Fazal Hadi Wazin and Qazi Hafiz Ur Rehman Naqi who are going to run for First and Second Vice President in the elections.
Speaking to reporters after registering his name as presidential runner, Hekmatyar said he will run for president from an independent address emphasizing that he is not favoring to form alliances with the other parties.
He also rejected the establishment of a federal government as well as a semi-presidential system.
In other parts of his speech, Hekmatyar slammed the government regarding the existing situation in the country and claimed that the government leadership was to blame for the ongoing violence.
Full report at:
https://www.khaama.com/gulbuddin-hekmatyar-to-run-for-president-in-july-elections-03146/
--------
ISIS funder sacked army officer and family protected by Britain
January 20, 2019
Following a tipoff, Counter Terrorism and Transnational Crime (CTTC) unit of Bangladesh Police on Thursday, January 18, 2019 raided the Dhaka residence of a sacked army officer named Shahid Uddin Khan and recovered huge volume of arms, explosives, detonator, counterfeit Bangladesh currency and propaganda materials of Islamic State (ISIS). Three separate cases have been already lodged with Cantonment Police Station in this regard.
For years, the second floor of House No. 184, Road No. 2, Baridhara DOHS in Dhaka was being used as an warehouse of storing explosives, weapons and propaganda materials of ISIS by its owner Shahid Uddin Khan. It also said, Khan is one of the top funders of ISIS, who fled Bangladesh few months back along with his wife Farjana Anjum and three daughters.
Lt Col Shahid Uddin Khan was sacked from the army 15 years back on specific allegation of corruption and money laundering.
Until busting of this huge ISIS warehouse in Bangladesh Lt Col (sacked) Shahid Uddin Khan was known as a fraud who had cheated lots of people in the country by selling properties with false documents and had smuggled-out millions of dollars to the United Kingdom and to his hidden offshore bank accounts in some other countries.
There are ongoing investigations by the Anti Corruption Commission (ACC) as well as other intelligence agencies about series of financial crimes as well as criminal activities of Lt Col (sacked) Shahid Uddin Khan, his wife Farjana Anjum, and a loyal cohort of this notorious couple – Sajjad Hussain, a self-proclaimed agent of Pakistani spy agency Inter Service Intelligence (ISI). According to report published in The Eastern Herald, Sajjad is currently living in Houston, Texas in United States along with his wife and son. Sajjad has been an active agent of Pakistani spy agency Inter Service Intelligence (ISI) and also was one of the key accomplices of Lt Col (sacked) Shahid Uddin Khan in coordinating with local and international network of Islamic State.
Few weeks back, based on information obtained from several credible sources, Blitz published an exclusive report titled – 'Bangladeshi ex colonel plotting terrorist attacks' exposing a secret conspiracy of terrorist attacks. Lt Col (sacked) Shahid Uddin Khan was the key planner and funder of this notoriety.
Earlier, another report also was published in Blitz about this sacked army officer.
Shahid's wife Farjana Anjum:
According to information, Lt Col (sacked) Shahid Uddin Khan's wife Farjana Anjum also is affiliated with ISIS. Sitting in Britain, this couple now is now only funding ISIS but also is recruiting members for this jihadist outfit.
Shahid's top accomplice in United States:
In Bangladesh, Shahid Uddin Khan's top accomplice of his fraudulent activities is an Income Tax Practitioner (ITP) named Nazrul. But the key associate of Shahid Uddin Khan is Pakistani ISI agent Sajjad Hussain. According to information, Sajjad has been regularly shuttling in between Bangladesh and United States.
Indian newspaper The Eastern Herald on January 15, 2019 published an exclusive report exposing activities of Sajjad Hussain. The newspaper said, "In Bangladesh, Sajjad Hossain was living a posh life although he does not have any valid source of earnings. His son, Asif Sajjad was a student of North South University, where he also was affiliated with militancy outfit named Hizb-Ut-Tahrir. Sajjad Hossain never hesitated in telling few of his friends in Dhaka of his connections with Pakistani espionage agency Inter-Service Intelligence (ISI)."
It further said, "Although he resides in Houston, Texas and still is living a posh life, this ISI handler does not have any valid source of earnings. His wife, Nahid Parveen Neeru works as a deep-covered operative of ISI under her husband's command. It is learnt from credible sources, Nahid Parveen Neeru connects with various targets in the United States, mostly Christians, Jews and Hindus under the disguise of a sex worker and extracts information as per instruction of ISI. To the locals, this couple is seen as dubious, while many even believe Sajjad's main source of income is from his wife profession as a sex worker."
But, The Eastern Herald could not expose Sajjad Hussain's connection with Islamic State.
In Bangladesh, Shahid Uddin Khan maintains a huge gang of forgers which also include several lawyers who play key role in preparing forged documents of various properties and land thus helping this notorious man in giving legal aid to several militants as well as in cheating locals by selling these properties with forged documents. Income Tax Practitioner (ITP) Nazrul Islam (mobile number 01798501227) is one of the members of this racket.
Hunt for accomplices of Shahid Uddin Khan:
Since the January 19 raid, CTTC and other intelligence agencies in Bangladesh already are looking for accomplices of Shahid Uddin Khan. Photographs of this man and his wife will be put into websites of Bangladesh Police, CTTC and Rapid Action Battalion (RAB) as the couple already is amongst the 'Most Wanted' criminals. Bangladesh may also send requests to United Kingdom and Interpol in this regard.
Shahid-Sajjad contacting several people in Bangladesh:
Hearing the news about raid at Lt Col (sacked) Shahid Uddin Khan's house in Dhaka, Shahid and his top accomplice Sajjad Hussain are contacting several people, including some senior army and police officials.
Who is Brig Gen ASM Bhuiyan?
According to investigation, a dubious write up by Brig Gen ASM Bhuiyan was found by the team of this newspaper. This write up on a blogpost was posted on March 9, 2014. In this write up, extreme derogatory remarks have been made against some patriotic and brilliant officers of the Bangladesh Armed Forces. After reading the entire text, it is clearly understood; this content might even have been created and uploaded by Shahid Uddin Khan himself. In this post, Brig Gen ASM Bhuiyan has made extremely derogatory comments about a number of senior officials of the Bangladesh Armed Forces.
Tactic of deception:
In the UK, Shahid Uddin Khan is running several businesses which were established with the dirty money he had smuggled out from Bangladesh. But this ISIS funder is trying to hide his real face from the Britons by maintaining several blogs as well as posting his self-made profile in a number of websites. One of such profiles was detected at online.anyflip.com site, where Shahid Uddin Khan proclaims himself to be an "honest" individual.
Commenting on this above site, a source inside ACC said, "We have already got lots of evidences of forgery and fraud by this ex Colonel. But, few months back, he fled Bangladesh and possibly now hiding in the UK. Investigations against him, his wife and other members of this fraud racket are underway."
Lt Col (sacked) Shahid Uddin Khan smuggled out millions of dollars from Bangladesh to various countries including United Kingdom. In 2009, he invested one million Pounds in the United Kingdom in exchange of obtaining immigrant status under visa Tier 1, vide VAF No. 511702. The investment was made in the name of Shahid's wife Farjana Anjum.
When inquired, sources in the foreign exchange control department of the Bangladesh Bank told Blitz that Lt Col (sacked) Shahid Uddin Khan or his wife Farjana Anjum did not take any permission from the central bank for the above mentioned transfer of UK Pound one million. It said, such illegal transfer of significant amount of money is a punishable crime under the Money Laundering Act.
It further said, "The British authorities should have checked the legality of this huge transfer of fund before granting immigration status to Shahid Uddin Khan and his family members."
It said, "They [British authorities] always express concern about suspicious transactions through banking channels in most of the nations, while they themselves welcomed such un-declared illegal money into their own country. This is just double standard. British authorities must immediately investigate Shahid Uddin Khan, Farjana Anjum and children of this couple and remove their immigration status and send them back to Bangladesh."
ISIS funder Shahid gets shelter in Britain:
Full report at:
https://www.weeklyblitz.net/news/isis-funder-sacked-army-officer-and-family-protected-by-britain/
--------
Taliban won't meet Afghan officials, talks with US on hold
Jan 19, 2019
ISLAMABAD: The Afghan Taliban have denied media reports that they would hold talks with the US Special Representative for Afghan Reconciliation in Islamabad and reiterated their refusal to meet officials of the Afghan government.
"We want to clarify that we will not hold any meeting with Zalmay Khalilzad (the US representative) in Islamabad," Taliban spokesman Zabihullah Mujahid said in a brief statement.
Following Khalilzad's meeting with Pakistani officials, the local media reported on Friday that militants have agreed to meet Khalilzad-led US officials in Islamabad and that they would send their 12-member delegation to Pakistan.
According to senior Taliban leaders, Islamabad had indeed asked them to meet Khalilzad and also include Afghan government officials in talks in Islamabad. "We have rejected Pakistan's approach and suggestion. We are clear that Kabul's puppet regime is not in position to fulfill our demands," said a senior Taliban representative, requesting anonymity.
Khalilzad and senior US officials have been in Pakistan for the past three days. They want the Pakistani authorities to arrange a meeting with the Afghan Taliban in Islamabad. Ambassador Khalilzad reached Islamabad on Thursday and met Pakistan prime minister Imran Khan, foreign minister Shah Mehmood Qureshi, foreign secretary Tehmina Janjua and army chief Gen Qamar Javed Bajwa.
Visit of the US special envoy is taking place in the background of a deadlock in talks between the US and the Taliban over the start of a reconciliation process. The stalemate has been caused by the Taliban's refusal to talk to the Afghan government. The Taliban representatives claimed that they had initiated peace talks with Washington to discuss and resolve some of the basic issues before moving forward. The US, according to the Taliban, had asked them in the last meeting -- in Abu Dhabi in December 2018 -- to announce a two-month ceasefire and also include the Afghan government in peace talks.
However, according to Taliban sources, during the Abu Dhabi talks it was decided to hold another meeting in the second week of January 2019 in Riyadh. The Taliban claimed that they had chosen their representatives for meeting in Saudi Arabia but then, all of a sudden, Saudi Arabia demanded that the Taliban leadership announce a two-month ceasefire ahead of talks in Riyadh.
"We rejected Saudi's demand and announced our boycott of peace talks," Taliban sources confided.
Full report at:
https://timesofindia.indiatimes.com/india/taliban-wont-meet-afghan-officials-talks-with-us-on-hold/articleshow/67605662.cms
--------
Vehicles convoy of Logar targeted in a suicide attack
20 Jan 2019
A suicide attack has taken place in the vicinity of central Logar province of Afghanistan amid reports a convoy of vehicles carrying the provincial governor and other senior officials was targeted.
The local officials confirmed that the incident has taken place in Kabul-Logar highway in Mohammad Agha district.
A local security official confirmed that the governor has escaped unhurt from the attack but eight security personnel have lost their lives and ten others have sustained injuries.
A member of the provincial council said the provincial director of the intelligence was also travelling in the convoy but he has also escaped the attack unhurt.
The Taliban militants group has claimed that an attack has been carried out against a convoy of the Special Forces in Logar province.
Full report at:
https://www.khaama.com/suicide-attack-reported-on-a-convoy-carrying-logar-governor-03151/
--------
U.S. ready to address legitimate concerns of all Afghan sides to achieve peace: Khalilzad
20 Jan 2019
The U.S. Special Representative for Afghanistan Reconciliation Ambassador Khalilzad has said the United States is ready to address legitimate concerns of all Afghan sides in a bid to achieve peace.
"I see that many are concerned that the United States is willing to both talk and fight. Let me be clear: the US wants peace," Ambassador Khalilzad said in an online statement posted in his Twitter account.
He said "To achieve peace, we are ready to address legitimate concerns of all Afghan sides in a process that ensures Afghan independence and sovereignty, and accounts for legitimate interests of regional states. Urgent that fighting end. But pursuing peace still means we fight as needed."
Full report at:
https://www.khaama.com/u-s-ready-to-address-legitimate-concerns-of-all-afghan-sides-to-achieve-peace-khalilzad-03149/
--------
Mideast
Hamas slams US aid cut to Palestinians as 'political blackmail'
Jan 20, 2019
The Hamas resistance movement has condemned the US decision to cut humanitarian aid to the Palestinian people as "political blackmail," urging international efforts to end Washington's anti-Palestine pressure campaign and pro-Tel Aviv bias.
Hamas spokesman Fawzi Barhoum said in a statement on Saturday that the decision by the administration of US President Donald Trump to stop aid to the Palestinians "is in line with the 'deal of the century' that is aimed to liquidate the Palestinian issue."
He was referring Washington's yet-to-be unveiled proposal aimed at resolving the decades-long Israeli-Palestinian conflict. The Palestinians have already rejected Trump's plan, which is said to be hugely biased towards the Israeli regime.
The statement came days after the US Agency for International Development (USAID) said it would end all its projects in the occupied West Bank and the besieged Gaza Strip on January 31 following the US administration's decision to cut funding to the Palestinians.
"The Trump administration's decision to cut humanitarian aid provided to the Palestinian people is political blackmail reflecting the US immoral demeanor towards the Palestinians and their just cause," Barhoum said.
He also urged international institutions to stand by the Palestinians and support them in the face of "the discriminatory behavior of the US administration that is biased" in favor of the Israeli occupation.
"Hamas calls on all international, humanitarian, and legal organizations to condemn the US policies aimed at pressuring the Palestinian people to accept its schemes in the region. Such organizations should shoulder the responsibility of mobilizing support for and siding with the impoverished Palestinians," he added.
Last year, the Trump administration ended all funding for UNRWA, the United Nations agency that provides humanitarian aid to over 5 million Palestinian refugees.
The controversial move came after President Mahmoud Abbas said the Palestinian Authority (PA) would no longer recognize Washington as a mediator of Israeli-Palestinian talks amid anger over Trump's decision in late 2017 to recognize occupied Jeusalem al-Quds as Israel's "capital" in defiance of international objections.
Analysts said the aid cut is meant to eliminate the Palestinians' demand for the right to return, warning that it would cause more hardship for those living in the Gaza Strip and the West Bank.
On Thursday, Dave Harden, former USAID mission director and managing director of the Georgetown Strategy Group, said the US administration's decision to cut aid to Palestinians "demonstrates again a lack of nuance, sophistication, and appreciation for the complexity of the situation."
USAID has been operating in the Palestinian territories since 1994, investing in infrastructure, medical services, and education.
https://www.presstv.com/Detail/2019/01/20/586278/Hamas-Palestine-aid
--------
Yemeni snipers kill 14 Saudi troops in retaliatory attack
Jan 19, 2019
Yemeni army snipers have killed 14 Saudi troops and injured two others in retaliatory operations in the kingdom's southwestern border region of Jizan.
Video footage released on Saturday by the military media of the Yemeni army showed the moment when the Saudi-backed militants were killed and injured in the attacks that targeted several sites of the southern border front of Jizan.
The army's sniper unit, supported by fighters from allied Popular Committees, have over the past few days inflicted heavy losses on the Saudis in the Jizan front, where four Saudi soldiers were killed on Tuesday in a sniper attack.
Saudi Arabia has been incessantly pounding Yemen since March 2015 in an attempt to crush the popular Houthi Ansarullah movement and reinstate former President Abd Rabbuh Mansur Hadi, who is a staunch ally of the Riyadh regime.
According to a new report by the Armed Conflict Location and Event Data Project (ACLED), a nonprofit conflict-research organization, the Saudi-led war has so far claimed the lives of about 56,000 Yemenis.
The Saudi-led war has also taken a heavy toll on the country's infrastructure, destroying hospitals, schools, and factories. The UN has already said that a record 22.2 million Yemenis are in dire need of food, including 8.4 million threatened by severe hunger. According to the world body, Yemen is suffering from the most severe famine in more than 100 years.
Full report at:
https://www.presstv.com/Detail/2019/01/19/586245/Yemeni-Army-snipers-Saudi-troops-Jizan
--------
Coalition launches air strikes targeting Houthi drone capabilities in Sanaa
20 January 2019
Arab coalition planes launched air strikes on Houthi-held bases in order to target the militants' drone capabilities during an operation in northwest Sanaa, Al Arabiya sources have confirmed.
Specifically, sources said the operation late on Saturday targeted several Houthi-held camps including one which was formally called the First Armored Division camp when it was held by the Yemeni army before the Houthis took over.
The al-Siyana, al-Hifa'a and the al-Nahdain military compounds as well as the al-Dailami air base were also targeted.
A coalition aircraft also launched two rockets towards the al-Hasba area north of the Yemeni capital.
Full report at:
https://english.alarabiya.net/en/News/gulf/2019/01/20/Arab-coalition-launches-air-strikes-targeting-Houthis-drone-capabilities.html
--------
UN experts: Fuel from Iran is financing Yemen's Houthis
19 January 2019
Fuel is being shipped illegally from Iran to Houthi militias in Yemen to finance their war against the government, according to a report by a UN panel of experts seen by AFP.
The findings are expected to again raise questions about Iran's support for the Houthis in the war.
In its final report for 2018, the panel said it had "identified a small number of companies, both within Yemen and outside, which operated as front companies," using fake documents to conceal fuel donations.
The fuel was "for the benefit of a listed individual" who is on a UN sanctions blacklist, it added.
"The revenue from the sale of this fuel was used to finance the Houthi war effort," said the 85-page report sent to the Security Council.
The panel found that the "fuel was loaded from ports in the Islamic Republic of Iran under false documentation" to avoid UN inspections of the cargo, it added.
The experts have in past reports pointed to a possible Iranian link to missiles fired by Houthi rebels at Saudi Arabia, after they traveled to Riyadh to examine weapons debris.
In a previous report, the experts said they were investigating monthly fuel donations from Iran valued at $30 million.
Iran has repeatedly denied that it is providing military support to the Houthis.
The experts also said the Arab Coalition backing Yemen's government made "significant progress" against the Houthis in 2018.
Full report at:
https://english.alarabiya.net/en/News/gulf/2019/01/19/UN-experts-Fuel-from-Iran-is-financing-Yemen-s-Houthis.html
--------
Iran unveils domestically-built radar near Pakistan border
Jan 19, 2019
Iran has unveiled a domestically-built radar in the city of Zahedan near the border with Pakistan.
The inauguration ceremony was held in the capital of Sistan and Baluchestan Province by Brigadier General Alireza Sabahi-Fard, the commander of the Iranian Army's Khatam al-Anbiya Air Defense Base, Fars News Agency reported on Saturday.
The radar, manufactured by Khatam al-Anbiya's experts, was rendered operational at Vahdat-e-Birak radar site in the city of Zahedan.
The inauguration came ahead of the fortieth anniversary of the victory of the 1979 Islamic revolution.
Sabahi-Fard, who was conducting an inspection of the missile and radar units based in the country's east, praised the sensitive electronic surveillance site as well as the level of their operational readiness against enemies' threats.
Recently, the Khatam al-Anbiya Air Defense Base's deputy commander, Brigadier General Alireza Elhami told IRNA said the Islamic Republic was enhancing the range and altitude covered by its radars as well as the precision of the equipment's performance. He said the country will soon unveil its achievements in the area.
The commander has also said the country's experts were developing radars that will be capable of tracking satellites travelling in the orbits close to the Earth's surface.
The border with Pakistan has witnessed many security incidents over the past two years that have claimed the lives of the countries' border guards on several occasions.
Last October, 12 Iranian border guards were kidnapped by members of the Jaish ul-Adl terrorist group, which were based on the Pakistani soil. Five of them have been released so far.
In April 2017, 11 of the border guards were killed in an ambush claimed by Jaish ul-Adl near the town of Mirjaveh in Sistan and Baluchestan. The assailants escaped into Pakistan immediately after the attack.
Full report at:
https://www.presstv.com/Detail/2019/01/19/586218/Iran-radar-border-Pakistan-Zahedan
--------
1000s join rally in Turkey in solidarity with detained Kurdish lawmaker
Jan 19, 2019
Thousands of people have taken part in a rally in the main Kurdish city of Diyarbakir in southeastern Turkey to express solidarity with a detained lawmaker from a pro-Kurdish party who launched a hunger strike in November.
Leyla Guven, a member of the pro-Kurdish People's Democratic Party (HDP), is protesting against the prison conditions of Abdullah Ocalan, the head of the outlawed Kurdistan Workers' Party (PKK).
Guven, 55, launched a hunger strike on November 8 to pressure the Turkish government into allowing lawyers and family members to visit Ocalan.
Waving flags of the HDP, the demonstrators on Saturday flashed victory signs in support of Guven, whose condition her party describes as "life threatening" as her hunger strike entered its 66th day.
"It is our duty to add our voices to that of Leyla's," HDP's co-president Pervin Buldan told the crowd.
Guven's action was supported by more than 150 prisoners across Turkey in a show of solidarity.
She was arrested in January 2018 for her opposition to Turkey's military operation against Syrian Kurdish militants of the People's Protection Units (YPG) that are considered by Ankara an offshoot of the PKK.
Ocalan has been serving a life sentence for treason in an island prison near Istanbul since his capture in 1999.
Turkey, along with the European Union and the United States, has declared the PKK a terrorist group and banned it. The militant group has been seeking an autonomous Kurdish region since 1984.
A shaky ceasefire between the PKK and the Turkish government collapsed in July 2015. Attacks on Turkish security forces have soared ever since.
Over the past few months, Turkish ground and air forces have been carrying out operations against PKK positions in the country as well as in northern Iraq and neighboring Syria.
Full report at:
https://www.presstv.com/Detail/2019/01/19/586259/Turkey-rally-Diyarbakir-Leyla-Guven-Ocalan
--------
Southeast Asia
Surakarta to cover cross-shaped road mosaic with paint after complaints from Muslim groups
Ganug Nugroho Adi
January 19, 2019
The Surakarta administration in Central Java has finally decided to cover a cross-shaped road mosaic in front of the City Hall with paint following complaints from conservative Muslim groups.
"The administration has met with several religious leaders and came up with a number of solutions. But to prevent the polemic from dragging on, we decided to cover the mosaic with paint," Surakarta deputy mayor Achmad Purnomo said on Saturday.
Previously, the Surakarta's Muslim Troops (LUIS) and the Surakarta Syariah Council (DSKS) questioned the design of the mosaic and demanded that the city administration review it.
"We have asked the Surakarta administration to evaluate and replace the cross-like mosaic with other motifs so as not to cause controversy and sectarian disputes," LUIS spokesperson Endro Sudarsono said.
An aerial photo of the mosaic on Jl. Sudirman also went viral and caused controversy among internet users.
In response to the controversy, Surakarta Mayor FX Hadi Rudyatmo, who is a Catholic, said his administration never planned to have a cross-shaped road mosaic in front of his office.
"If I [had planned] a cross on a road, I would have blasphemed my own religion. A cross is very much respected by Christians. No cross is placed down below. All are placed up above."
Achmad said that the mosaic was actually inspired by keraton (royalty) symbols of the Surakarta Sultanate and that its designer was also a Muslim. The art project was not finished yet, he added.
The administration, he said, decided to paint over it rather than change the mosaic by adding more andesite tiles.
Meanwhile, DSKS spokesman Endro Sudarsono said that the road mosaic could only be perceived as a picture of a cross. "We give the the Surakarta administration the discretion to choose how to change the cross. This is to avoid an incorrect interpretation and to make Surakarta conducive."
It is the second incident in which Muslims have objected to the display of the Christian symbol in the past few months.
In December, villagers of Purbayan in Kotagede, Yogyakarta, cut off a wooden cross on a Christian's grave, arguing that the religious symbol was not welcome in the village's cemetery.
https://www.thejakartapost.com/news/2019/01/19/surakarta-to-cover-cross-shaped-road-mosaic-with-paint-after-complaints-from-muslim-groups.html
--------
Lawyers' group propose breach of ethics tribunal after Kota Kinabalu 'twist'
20 January 2019
By Ida Nadirah Ibrahim
KUALA LUMPUR, Jan 20 — The Muslim Lawyers Association of Malaysia (PPMM) today said the Yang di-Pertuan Agong can set up a tribunal to take action against members of the judiciary if ethics were breached when they danced at an event in Kota Kinabalu.
Its president Datuk Zainul Rijal Abu Bakar said according to Article 125 of the Federal Constitution, a complaint about breach of ethics should be lodged with the prime minister who will present it to the King for action to be taken by the chief justice.
"However, (in this case) the chief justice himself cannot adjudicate the complaint as he himself was present at the event," he said in a statement in reference to Tan Sri Richard Malanjum, who had attended the Opening of the Legal Year Gala Dinner 2019 on Friday.
"The Yang Di Pertuan Agong can set up a tribunal if a representation is made by the prime minister for a judge to be sacked for breach of ethics or for other action to be taken under the law if termination is not applicable."
https://www.malaymail.com/news/malaysia/2019/01/20/lawyers-group-propose-breach-of-ethics-tribunal-after-kota-kinabalu-twist/1714601
--------
Radical cleric behind Bali bombing to be freed from prison
18 January 2019
JAKARTA, Jan 18 — A radical cleric thought to be the spiritual leader of the Bali bombers will be released from prison on medical grounds, Indonesia's president said today.
Abu Bakar Bashir, 80, is believed to have been a key figure in terror network Jemaah Islamiyah (JI), which was blamed for the 2002 bombings on the holiday island which killed more than 200 people, mostly foreign tourists.
It was Indonesia's deadliest militant attack and prompted Jakarta to beef up anti-terror cooperation with the US and Australia, which has previously opposed clemency for Bashir.
Indonesian leader Joko Widodo said today that he had agreed to order the ailing preacher's release from a prison on the outskirts of the capital.
"The first reason is humanitarian," Widodo told reporters.
"He is old... and his health condition was also part of the consideration."
In 2011, the firebrand preacher — once synonymous with militant Islam in Indonesia — was sentenced to 15 years in jail for helping fund a paramilitary group training in the conservative Islamic province of Aceh.
Bashir, the co-founder of an infamous Islamic boarding school known for producing militants, was jailed after authorities in the world's biggest Muslim majority country broke up the camp.
Several militants convicted over their involvement in the Bali bombings have been executed while two others, including Malaysian Noordin Mohammed Top, were killed in police raids in 2009 and 2010.
Bashir, who has repeatedly denied involvement in terror attacks, was also previously jailed over the Bali bombings but that conviction was quashed on appeal.
Al-Qaeda-linked JI was founded by a handful of exiled Indonesian militants in Malaysia in the 1980s, and grew to include cells across Southeast Asia.
As well as the 2002 Bali bombings, the radical group was blamed for a deadly 2003 car bomb at the JW Marriott hotel in Jakarta and a suicide car bomb the following year outside the Australian embassy.
An anti-terror crackdown weakened some of Indonesia's most dangerous networks, including Jemaah Islamiyah.
The Islamic State (IS) group proved to be a potent rallying cry for Indonesia's radicals, with hundreds travelling to the Middle East to join the jihadists.
Last year, a wave of deadly suicide bombings at churches and a police post rocked Indonesia's second biggest city Surabaya.
Full report at:
https://www.malaymail.com/news/world/2019/01/18/radical-cleric-behind-bali-bombing-to-be-freed-from-prison/1714105
--------
Lawyer says Ba'asyir's release not 'gift' from Jokowi
January 19, 2019
The legal team representing firebrand Muslim cleric and terrorism convict Abu Bakar Ba'asyir rejected on Saturday claims that the unconditional release of the cleric was "a gift" from President Joko "Jokowi" Widodo, saying that the release was part of a regular judicial procedure.
One of the lawyers, Muhammad Mahendradatta, said the decision was purely based on humanitarian reasons and was provided for in Indonesian law
"This plan is free from political interest and is not unusual in our legal mechanism. The public don't need to credit the government for this, or praise [Jokowi's administration] for releasing a member of the ulema, for the sake of devotion to the ulema. It's not that," he said.
Mahendradatta explained that the legal basis of the plan was in the Law No. 12/1995 on Prison, which is separate from the Criminal Code (KUHP). In the Prison Law, he said, prison terms could be reduced if the prisoner faced declining health or advanced age.
"This means less time in prison, we call it remission […] it's already Ba'asyir's right by law," he said.
He added that Jokowi did not suddenly came up with the decision, because the legal team had sent a letter to Defense Minister Ryamizard Ryacudu seeking Ba'asyir's release and it had government support since then, following discussion with legal experts, including those from the Presidential Palace.
"This might be the result of that process," Mahendradatta said, adding that the release had nothing to do with Jokowi as any president might have done the same.
The President's lawyer, Yusril Ihza Mahendra, who is also an adviser to the Jokowi-Ma'ruf Amin presidential-election campaign team, concurred that the 80-year-old cleric's release was free from any political motive, but acknowledged that it was carried out as a special measure.
Ba'asyir, who is eligible to be released on parole on Dec. 13, insists on defying a general condition of parole that requires him to express loyalty to the national ideology Pancasila, which is stipulated in Government Regulation No. 99/2012 on sentence reduction for inmates, including those convicted of terrorism.
Yusril said that Ba'asyir would continue to insist that he "would only obey God."
"I spoke to Jokowi about this. We have been running back and forth on Pancasila. While [Ba'asyir's] condition is getting worse. And [the President] understood, therefore, he would simplify the mechanism," he said.
Jokowi agreed that Ba'asyir's parole would not require him to express a commitment to Pancasila.
"So [Ba'asyir] will be released unconditionally. His house will not be guarded by police. He can opine that democracy is a transgression [of Islam]. We will let him," said Yusril.
Full report at:
https://www.thejakartapost.com/news/2019/01/19/lawyer-says-baasyirs-release-not-gift-from-jokowi.html
--------
North America
US used weakness in Polish politics to host anti-Iran summit: Analyst
Jan 19, 2019
The United States was able to persuade Poland to jointly host an anti-Iran summit next month due to vulnerabilities in Polish politics, says an American writer and former professor.
The poles were being "led to a trap by the nose," said E Michael Jones, the current editor of Culture Wars magazine.
The summit, due to take place in Warsaw on February 13-14, was announced earlier this month by US Secretary of State Mike Pompeo.
The top US diplomat said the meeting would "focus on Middle East stability and peace, freedom and security here in this region, and that includes an important element of making sure that Iran is not a destabilizing influence."
"The Polish people are imminently unaware of this upcoming anniversary (summit); they had been lured into this because of the Achilles heel in Polish politics," Jones said.
"Unfortunately the Polish people don't understand that … they are being led to a trap by the nose by people like Pompeo," he added.
Iran has expressed its strong protest at the planned summit, with Foreign Minister Mohammad Javad Zarif denouncing it as a "desperate anti-Iran circus."
Poland, led by a right-wing government, is a US ally that has better relations with President Donald Trump than key European powers Germany and France.
However, US efforts to build pressure against Iran is facing a setback after ministers from several European Union members opted out of the summit.
EU foreign policy chief Federica Mogherini said she will not take part in what her officials describe as an anti-Iran conference, according to Iranian and US media reports.
France is also unlikely to send its foreign minister, according to European diplomats. The UK and Germany haven't decided who will represent them. Luxembourg's foreign minister said he would miss the event because of a prior arrangement.
The EU is at loggerheads with the Trump administration over the 2015 Iran nuclear deal as it seeks to retain economic ties with Tehran despite renewed US sanctions.
https://www.presstv.com/Detail/2019/01/19/586236/US-Iran-Poland-E-Michael-Jones
--------
US treatment of Press TV anchor against law: Commentator
Jan 19, 2019
The United States labels any media that is not in line with its own ideas as a propaganda outlet, says a commentator, adding that Washington's treatment of Press TV anchor Marzieh Hashemi in order to pressure Iran is against the law.
"The United States administration, they always, every journalist or every news agency or media or TV channel that does not speak in their language and does not talk what they want, they call it propaganda. If it is the Iranian media or it is the Syrian media or any other media in the world that does not go with what they want, they call it propaganda but the number one propaganda is their media and their news agencies," Steven Sahiounie told Press TV in an interview on Saturday.
"What the United States is trying to do by arresting Ms. Hashemi, that is against the law for arresting without giving charges or even arresting a person who is just a witness. So what the United States is doing is a political message to Iran, it is just trying to [put] pressure on Iran … so they can sit [at] the negotiating table as the rules of the United States. That is not going to happen because Iran has been through much more pressure and went out of it victorious," he added.
Hashemi, a 59-year-old US citizen who has been living in Iran for years, was detained last week while she was in the United States to visit her ill brother and other family members.
After days of silence, the US government confirmed Friday that it has been holding Hashemi in jail since Sunday as a "material witness" and that she will be released after she testifies before a grand jury.
Her elder son Hossein, however, said she was unlikely to be freed soon. So far, the Press TV news presenter has appeared twice before a US district judge in Washington.
American authorities are now turning their focus on Press TV, Iran's English-language news network.
A US government source told Reuters that the grand jury in Hashemi's case is to examine on Wednesday whether Press TV is a propaganda outlet that failed to register with the Justice Department as a "foreign agent."
Her children - Hossein, Sarah and Reza - are also due to appear before the grand jury on the same day, after a Friday session was postponed.
US-based analysts appearing regularly on Press TV believe either US Secretary of State Mike Pompeo or hawkish National Security Advisor John Bolton has ordered the arrest and other possible action against the broadcaster.
Full report at:
https://www.presstv.com/Detail/2019/01/19/586226/Iran-US-Marzieh-Hashemi-Press-TV-media-propaganda-grand-jury
--------
Iran supports Venezuelan government amid US meddling: Qassemi
Jan 19, 2019
Iran's Foreign Ministry has lashed out at US Secretary of State Mike Pompeo for making meddlesome remarks against Venezuela, saying the Islamic Republic supports the "legal" government of the Latin American country.
"The Islamic Republic of Iran supports Venezuela's legal government as well as its nation in the face of Washington's illegal interference," Iranian Foreign Ministry Spokesman Bahram Qassemi said on Saturday.
Speaking to reporters in Abu Dhabi, the United Arab Emirates, on January 12, Pompeo described Venezuela's government under President Nicolas Maduro as illegitimate and said the United States would work with like-minded countries in Latin America to restore democracy there.
"The Maduro regime is illegitimate and the United States will work diligently to restore a real democracy to that country," Pompeo said.
In reaction to the claims, Qassemi warned that any foreign intervention in Venezuela's domestic affairs would be "unconstructive" and would merely further complicate the situation in the country.
Tehran believes that the solution to Venezuela's domestic problems is dialog among the country's political officials within legal frameworks, the Iranian spokesperson pointed out.
Venezuela, which sits atop the world's largest oil reserves, has been struggling with a worsening economic situation over the past years, which has caused people to cross border into Colombia to purchase basic commodities and foodstuff.
Maduro has accused the US of being behind Venezuela's economic crisis, saying Washington is orchestrating attempts to topple him as part of a wider offensive against Latin American leaders defying US hegemony.
In 2017, US President Donald Trump said he would not "rule out" a military option for Venezuela to solve the ongoing crisis in the country.
On January 10, Maduro was sworn in for a second term in office amid regional and international criticism that his presidency is "illegitimate" due to last year's disputed presidential vote, which faced irregularities claims as well as an opposition boycott.
Full report at:
https://www.presstv.com/Detail/2019/01/19/586229/Qassemi-Pompeo-Venezuela-Abu-Dhabi
--------
US has legitimate reasons for leaving Syria: Ex-general
19.01.2019
By Umar Farooq
WASHINGTON
The U.S. has legitimate reasons for deciding to withdraw its troops from Syria, a former brigadier general said Friday.
Mark Kimmitt, who also served as a top defense official under former President George W. Bush, spoke at a panel discussion hosted by the Foundation for Political, Economic and Social Research (SETA), a think tank based in Washington, D.C.
"There remain legitimate reasons, and overwhelmingly positive reasons, for the U.S. to be getting out of Syria rather than staying in it," said Kimmitt.
Last month, U.S. President Donald Trump surprised many, including his own cabinet, when he announced plans to withdraw all American forces from Syria.
The decision came during a phone call with Turkish President Recep Tayyip Erdogan in which the two leaders agreed on the need for more effective coordination over the civil war-torn country.
Kimmitt laid out the reasons for defending the decision, saying that for one thing, the Daesh terrorist group is no longer a threat to the U.S.
"ISIS may not be defeated. [But] it is certainly degraded. The caliphate is gone," said Kimmitt, using another name for the Daesh. "They are not an existential threat to the United States."
Echoing comments by U.S. Special Representative to Syria James Jeffrey, the former defense official also noted that the nature of the U.S. alliance with the YPG/PKK terrorist group was "temporary, transactional, and tactical".
"This notion that somehow the YPG are brave, democratic-seeking allies of the United States, I think, needs to be questioned," he added.
In its more than 30-year terror campaign against Turkey, the PKK -- listed as a terrorist organization by Turkey, the U.S. and the European Union -- has been responsible for the deaths of some 40,000 people. The YPG is the group's Syrian branch.
Kimmitt also said the U.S. did not want to get into a confrontation with Turkey, a NATO ally.
Full report at:
https://www.aa.com.tr/en/americas/us-has-legitimate-reasons-for-leaving-syria-ex-general/1368808
--------
Pakistan
Pak Extend Invitation to Sikh Businessmen from Across the Globe to Invest In Religious Tourism
Jan 19, 2019
AMRITSAR: Pakistan government has reportedly invited Sikh businessmen from across the globe for the development of Sikh religious tourism in the country especially at Kartarpur Sahib and Nankana Sahib.
According to sources US-based Sikh businessmen Jasdeep Singh Jassi visited Nanakana Sahib on Saturday and expressed keen interest in the development of religious tourism in Pakistan. Singh also held a meeting with Pakistan Prime Minister Imran Khan.
In a video, Jassi is heard as saying that Imran Khan had informed him about the ongoing preparations for the 550 birth anniversary of Sikh's first master Guru Nanak Dev and how it was being celebrated at with religious fervour. He also talked about Imran informing him that construction work at Kartarpur Corridor had been completed over thirty per cent. Jassi also asked the Indian government to make the matching arrangements for construction of corridor.
Notably, post announcement of Kartarpur Corridor, a large number of foreign-based Sikhs has shown expression of interest to built infrastructure at Kartarpur Sahib and Nankana Sahib following which Pakistan government had extended an open invitation to them to visit the Sikh religious places in Pakistan and invest in tourism infrastructure development.
Jassi's parents hailed from Gujjarkhan, Rawalpindi in Pakistan and had migrated to India during Indo-Pak partition in 1947.
In the video, Jassi has expressed gratitude towards Pakistan government for preserving Gurdwaras in Pakistan. "We are in a bid to begin religious tourism for Sikhs in near future. Sikh's from all over the world could visit their sacred places in Pakistan and could get on arrival visa, they could build hotels and invest in local businesses that would also improve the economy of the area" says Jassi in the video.
Another Sikh hotelier form Bangkok Charanjit Singh who is currently on a visit to India said his team had visited Pakistan last month to explore possibilities of the opening of the hotel at Kartarpur Sahib and Nanakana Sahib. "We are encouraged with Pak government as well as local residents support and enthusiasm to have investment coming in, after all, we will also be providing a lot of jobs to locals," he said adding that another delegation of Sikh businessmen from Bangkok would be visiting Pakistan in March.
https://timesofindia.indiatimes.com/india/pak-extend-invitation-to-sikh-businessmen-to-invest-in-religious-tourism/articleshow/67603147.cms
--------
Taliban reject Pakistan's offer to host Afghan talks in Islamabad
Jan 20, 2019
The Afghan Taliban on Saturday rejected media reports that they were prepared to resume meetings with US special envoy Zalmay Khalilzad in Islamabad and repeated their refusal to deal directly with the Afghan government, as the US diplomat extended his stay in Pakistan in wake of the development.
Media reports suggested that a meeting in Islamabad was on the cards following discussions between Khalilzad and Pakistani officials, including Prime Minister Imran Khan and Chief of Army Staff General Qamar Javed Bajwa.
Senior Taliban leaders said that regional powers, including Pakistan, had approached them and wanted them to meet the US delegation in Islamabad and also include the Afghan government in the peace process but that the approaches had been rejected.
"We want to make it clear that we will not hold any meeting with Zalmay Khalilzad in Islamabad," Taliban spokesman Zabiullah Mujahid said in a statement.
Talks between the two sides have stalled after the Taliban accused Khalilzad of straying from the agreed agenda and there is no clarity on when they may resume.
"We have made it clear again and again that we would never hold any meeting with the Afghan government as we know that they are not capable of addressing our demands," said a senior Taliban leader, who spoke on condition of anonymity.
According to the US, any settlement in Afghanistan must be between the internationally recognised Afghan government and the Taliban, who have so far refused to talk to an administration they describe as an illegitimate puppet regime.
The Taliban leader said peace talks with the US delegation could resume if they were assured that only three issues would be discussed – a US withdrawal from Afghanistan, an exchange of prisoners and lifting a ban on the movement of Taliban leaders.
Khalilzad arrived in Islamabad on Thursday and met PM Imran as well as Foreign Minister Shah Mahmood Qureshi and other officials.
On Saturday, diplomatic sources said that Khalilzad, who was scheduled to depart from Pakistan on Saturday, had extended his stay in Islamabad and that the date for his return has not been finalised yet.
"The two sides reviewed developments post Abu Dhabi, in order to take the Afghan peace process forward," a Foreign Office statement had said after a meeting between Foreign Minister Qureshi and Khalilzad. An Afghan Taliban delegation had a round of talks last month with US officials in Abu Dhabi.
The statement didn't give any further details on the talks, but media reports said that Pakistan agreed to host the next round of talks between the Afghan Taliban and the United States in Islamabad.
According to reports, during the meeting, the US envoy informed the foreign minister that the Afghan Taliban did not want to sit with the Afghan government nor were they agreeing to a ceasefire. The envoy requested Pakistan's assistance in this matter. Reportedly, the foreign minister agreed to invite the Afghan Taliban to hold talks with the US in Islamabad. Saudi Arabia, UAE and Qatar were also likely to be part of the talks.
Full report at:
https://www.pakistantoday.com.pk/2019/01/19/us-envoy-khalilzad-extends-stay-in-pakistan/
--------
Counter-terror cops kill four in 'cold blood' near Sahiwal
Jan 20, 2019
SAHIWAL: Punjab Counter Terrorism Department (CTD) officials have killed four people, including a couple and their teenage daughter, and injured a teenage boy in a suspicious 'encounter' on GT Road near Sahiwal on Saturday, triggering a national outcry that prompted the government to take the security officials into custody and order an investigation into the incident.
The counter-terrorism officials claimed that the operation was conducted to capture an 'Islamic State (IS) commander' on a tip off by an intelligence agency.
After the uproar on mainstream and social media, Prime Minister Imran Khan took notice of the incident and ordered Punjab Chief Minister Usman Buzdar to probe the matter and submit a report in this regard.
In a statement issued after the 'encounter', the CTD claimed that the raid was carried out on the information of a "sensitive organisation"– though it did not specify the particular agency.
"The [alleged] terrorists retaliated by firing at the CTD officials following which a shootout ensued. Once the firing stopped, four people were found dead, reportedly as a result of firing by their own accomplices, while three terrorists had fled the scene," the CTD said in a statement.
As per the CTD statement, suspects identified as Shahid Jabbar and Abdul Rehman were travelling towards Sahiwal and were reportedly in possession of arms and explosives.
"They used to travel with families to avoid police checking. Today, they were warned to surrender but they resorted to firing," read the statement, adding that Shahid Jabbar, Abdul Rehman and another unidentified suspect fled from the scene on a motorcycle.
"Recoveries include suicide jackets, hand grenades, rifles, etc," it claimed.
'PARENTS, SISTER KILLED IN COLD BLOOD':
An injured child Umair Khalil, who was present in the vehicle at the time of the incident, told reporters that he was travelling to Burewala for his uncle's wedding with his father (Khaleel), mother (Nabeela), elder sister (Areeba), father's friend (Zeeshan) and two younger sisters when their vehicle was stopped by police officials.
"My father begged the policemen to take money and let us leave but they opened fire without any reason," the boy claimed, adding that his father, mother, elder sister and father's friend were killed in the firing and kept back in the vehicle. "The police left us [Umair, younger sisters] at a petrol pump and we were later taken to a hospital," he added.
In a video, a man who identified himself as an uncle of the children, said that several family members were going from Lahore to a village near Burewala in four vehicles to attend a wedding. He said he was travelling in another vehicle and lost contact with the deceased as their mobile phones were off.
He alleged that the CTD personnel tried to rob the victims as they were carrying cash, jewellery and other valuables, and then killed them.
In another video, doing rounds on the social media, eyewitnesses and people present at the hospital can be seen suggesting that police shot the family members in cold blood and following the incident, the CTD personnel initially abandoned the wounded children at the crime scene and left.
They alleged that it was only after some time that they returned to the crime scene and shifted the three injured children to a government-run hospital nearby.
They added that the car's passengers, who were coming from Lahore, did not have any weapons and that the CTD officials had opened fire without any provocation.
PM SEEKS REPORT:
The encounter sparked protests on the outskirts of Lahore, leading to traffic jams on Ferozpur Road. Consequently, Chief Minister Buzdar ordered the formation of a JIT headed by a senior police official and comprising representatives of intelligence agencies to probe the matter and submit its report within three days.
Moreover, the police have arrested the CTD officials on the orders of the chief minister.
Buzdar, who left for Sahiwal himself, also directed Punjab Law Minister Raja Basharat to remain in contact with Sahiwal's deputy commissioner and ensure the provision of best-possible treatment to the injured children at the DHQ hospital.
Visiting the hospital later in the day, the Punjab chief minister inquired after the health of the injured and condoled to the bereaved family. "Justice will be served at all costs," he said.
Punjab Minister for Information and Culture Fayazul Hassan Chohan said there will be clarity about what happened within an hour for it seems that CTD officials abused their authority by initiating the encounter. The CTD officials took action against the suspects on a tip-off from an alleged terrorist, who had been arrested by the intelligence agencies in Karachi, he said.
Information Minister Fawad Chaudhry said the Punjab government would soon provide a detailed account of the incident. "The CTD officials say that the people killed in the incident were suspected terrorists," Chaudhry said.
Full report at:
https://www.pakistantoday.com.pk/2019/01/19/ctd-encounter-claims-four-lives-in-sahiwal/
--------
PML-Q to take up issues with Imran as differences deepen
Zulqernain Tahir
January 20, 2019
LAHORE: The Pakistan Muslim League-Quaid (PML-Q) has decided to take up a host of issues with Prime Minister Imran Khan after Chief Minister Usman Buzdar failed to placate the Chaudhrys of Gujrat.
"There is a host of issues the PML-Q is having with the Pakistan Tehreek-i-Insaf (PTI), particularly in Punjab. Our differences with the PTI have deepened as our party is being kept out of the consultative process. Now the time has come to take up the matter with PM Imran Khan to decide the future of the coalition," PML-Q information secretary Kamil Ali Agha told Dawn on Saturday.
Chief Minister Buzdar on Friday night visited the residence of PML-Q leader and Punjab Assembly Speaker Chaudhry Pervaiz Elahi after the lone minister of the party, Hafiz Ammar Yasir, in the Punjab cabinet handed over his resignation to the PML-Q leadership citing "undue interference" in his mines and mineral ministry by the PTI.
Mr Buzadr's effort to resolve the resignation issue could not succeed as he failed to convince Mr Elahi to ask Mr Yasir to withdraw his resignation.
"We joined the coalition in the best interest of the country, but we are not being taken into confidence in decision making. Our lawmakers are facing problems in solution of problems of the people of their constituencies. Besides, the PTI had promised us two ministries each in Punjab and the Centre, but it has yet to honour its commitment," Mr Agha said.
In the coalition "no importance" was being given to the PML-Q, he said. "We have remained in coalitions in the past but have never faced such discrimination," he said.
The PML-Q leader also complained about CM Buzdar's "callous attitude" towards the issues raised by PML-Q lawmakers. "Despite problems of PML-Q MPAs being brought to the knowledge of the chief minister, no remedial measures have been taken to address them during the last two months," he said.
"Instead of pushing the PML-Q against the wall, the PTI leadership should come forward and resolve the matter before it's too late," Mr Agha said.
In his resignation note, PML-Q minister Yasir had pointed out "unwarranted interference, undue pressure and hurdles" in his ministry since he assumed the portfolio over four months ago. "Owing to undue pressure and hurdles, I can no longer perform my duty, therefore, I resign," the minister had stated.
Cracks within the ruling coalition started appearing this week after Federal Information Minister Fawad Chaudhry's remarks about creating a forward bloc in the PML-Q that prompted a strong reaction from the party compelling him to apologise (to the Chaudhrys).
Both in Punjab and at the Centre, the PML-Q is an important ally with 10 MPAs and five MNAs, respectively. As the PTI is ruling, particularly in Punjab, with a thin majority, it may not afford to lose PML-Q support.
Earlier in the elections for the office of Punjab chief minister and president as well as Senate polls, the PML-Q leadership had reportedly made inroads in the opposition, particularly PML-Nawaz, and secured votes for the coalition candidates.
When contacted, the prime minister's spokesman Nadeem Afzal Chan said that differences among the coalition partners were not unusual. "We [the PTI and PML-Q] will sit together and resolve the issues amicably," he said, adding that there was no serious threat to the coalition.
Full report at:
https://www.dawn.com/news/1458674/pml-q-to-take-up-issues-with-imran-as-differences-deepen
--------
PM continues to attack opposition on Twitter
Amir Wasim
January 20, 2019
ISLAMABAD: Impervious to the opposition's criticism over his long absence from the parliament and "running the affairs through social media," Prime Minister Imran Khan on Saturday launched yet another attack on the opposition parties through his official account on Twitter over the issue of the Exit Control List (ECL).
"The majestic beauty and diversity of our land is unparalleled. Sadly, this beauty is not appreciated by our ruling elite which is why ECL is such a calamity for them," he said in a series of tweets.
"The captivating grandeur of our land is why I would be happy just remaining confined here working for our people," Mr Khan tweeted two days after he incurred the wrath of the opposition parties, particularly Pakistan Peoples Party (PPP) chairman Bilawal Bhutto-Zardari, over a similar tweet.
The prime minister also posted video clips of the snow-capped mountains and wildlife in the northern part of the country with his tweets. The video clips have been taken from some foreign documentaries about Baltoro glacier, the world's biggest mountain glacier located in the Karakoram Range of Gilgit-Baltistan. The clips show rare wildlife like Markhor and snow leopard and a number of peaks, including the world's second highest mountain K-2.
In a similar tweet, Mr Khan had indirectly criticised the PPP leaders on Thursday, the day the federal cabinet decided to remove the names of Mr Bhutto-Zardari and Sindh Chief Minister Syed Murad Ali Shah from the ECL.
"Why are some of our lawmakers so scared of ECL? Why are they so keen to go abroad? There is so much work to be done by politicians in and
for Pakistan — the land they claim to love but some cannot wait to take frequent trips abroad and lawmakers have Iqamas of residencies abroad," he had tweeted.
In another tweet, the prime minister had said: "Can anyone explain this strange phenomenon to those of us who would be quite happy to remain in and work for Pakistan because we actually love Pakistan."
And hours after these tweets, Mr Bhutto-Zardari while speaking on the floor of the National Assembly had responded that he wanted to reply the prime minister on his face but "perhaps, he has no courage (to come to the parliament)".
The young PPP chairman said he did not care if his name remained on the ECL or not, freedom of movement "is not a favour, but a fundamental right."
"Democratic governments should protect the fundamental rights of the people," he said.
Later, a number of other opposition leaders, including PPP stalwart Syed Khursheed Shah, also severely criticised the prime minister for constantly ignoring the parliament and for, what they said, "trying to run the parliament and the country through Twitter and Facebook while sitting at his Banigala residence."
Full report at:
https://www.dawn.com/news/1458673/pm-continues-to-attack-opposition-on-twitter
--------
TTP 'commander', two aides killed in Hangu shootout
January 20, 2019
KOHAT: A leader of the banned Tehreek-i-Taliban Pakistan (TTP), who was said to be involved in the Kalaya market blast, and two of his accomplices have been killed in a shootout with security forces near the Hangu prison, officials said.
District police officer Shahab Ali Shah told Dawn on Saturday that the army intelligence agency had been chasing the 'militants' for sometime after the blast in the Kalaya area of Orakzai district.
During the exchange of fire near the Hangu jail, TTP 'commander' Islam and two would-be suicide bombers — who had been planning more attacks — were killed, sources said.
All three members of the TTP belonged to the Orakzai district and their mission was to disrupt sectarian peace in the region.
The counterterrorism department of Kohat after registration of a case was investigating the case.
Full report at:
https://www.dawn.com/news/1458630/ttp-commander-two-aides-killed-in-hangu-shootout
--------
Pakistan will need 81,200 more schools in next 20 years
Jan 20, 2019
Pakistan will require at least 81,000 new schools in the next 20 years in the wake of rising population and dismal condition of educational institutes in the country, according to the United Nations Population Fund (UNPF).
In a report, the UN highlighted the dismal condition of schools in different parts of the country and growing illiteracy.
The report relays that the province of Punjab will require 35,000 schools in the next 20 years whereas Sindh will need 25,000, Khyber Pakhtunkhwa 14,000 and Balochistan 7,200.
It also adds that one out of four children between the age of 5 to 16 is out of school. The percentage breakdown depicts that 22% boys and 31% girls are not enrolled in Punjab.
Similarly, 46% girls are out of school in Sindh and 40% in Khyber Pakhtunkhwa. The report further states that more than half of the overall female population in Balochistan has no access to schools.
A Human Rights Watch report last year in November had stated that Pakistan's school system was in a crisis, with a lack of government facilities creating "education deserts" for poor children, especially girls.
It said one-third of girls across the country were not attending primary school, compared with 21% of boys. "By the ninth grade, just 13% of girls are still in school."
Full report at:
https://www.pakistantoday.com.pk/2019/01/19/pakistan-will-need-81200-more-schools-in-next-20-years/
--------
India
How a Muslim aristocrat's art collection became a national treasure
20 JANUARY 2019
Hyderabad, Jan 20 In this city of Charminar and Golconda Fort, of pearls and palaces, Salar Jung Museum stands tall as it boasts of the largest one-man collection of antiques and art treasures in the world.
Located on the banks of Musi River, Salar Jung Museum welcomes you as you enter the old city, popular for historical monuments, opulent palaces, mouth-watering cuisine and a distinct culture.
As one walks through 40 galleries of this spectacular museum, it takes a visitor through an amazing journey to a bygone era rich in aristocratic history and culture. The artefacts on display at India's third largest museum are unique and range through varied periods of time and places in the world.
Though popular as the world's largest one-man collection of antiques, it is actually the collection by three generations of a family of nobles who served as prime ministers of Nizams, as the rulers of princely State of Hyderabad were known. The family, with the title Salar Jung, was famous for its zeal for acquiring art objects from around the world. The tradition started with Nawab Mir Turab Ali Khan, Salar Jung I. His prized possessions included the 'Veiled Rebecca', an enchanting marble statue acquired by him from Rome in 1876.
Mir Laiq Ali Khan, Salar Jung II, died at the young age of 26. The majority of nearly 50,000 artefacts were collected by Nawab Mir Yousuf Ali Khan, Salar Jung III. An art connoisseur, he resigned as prime minister of the Nizam in 1914 and devoted his life to collecting artefacts from various parts of the world.
The precious and rare art objects collected by him for about 40 years find place in the portals of the Salar Jung Museum, which spellbinds history lovers, art aficionados and heritage students.
Yousuf Ali Khan visited Europe and other parts of the world to collect art objects. Later, traders from various countries used to come to Hyderabad to sell their artefacts to him.
"He never spent his money on extravagant spending and never opted for big parties and singing sessions. He invested his money in purchasing rare pieces of art because of which over a period of time thousands of articles were stored in his palace Diwan Deodi. He had this frenzy for collecting more and more and a time came when he realized that there was no more space in his palace and he planned to shift them to another palace but passed away before he could execute his plans," Nawab Ahteram Ali Khan, a direct descendant of the Salar Jung family and a member of Salar Jung Museum Board, told .
As Yousuf Ali Khan died a bachelor in 1949, the vast collection of precious art objects and library were arranged in a museum in Diwan Deodi to perpetuate the name of Salar Jung as a world renowned art connoisseur. It was opened to the public by then Prime Minister Jawaharlal Nehru, on December 16, 1951. Thus the Salar Jung Museum came into existence. The museum was administered by Salar Jung Estate Committee till 1958, when the Salar Jung family donated the entire collection to the Government of India.
"If the collection was distributed among shareholders, one day or the other it would have been sold off or may have even gone out of the country. The most important thing was to see that it remained in India and in a museum where it could be displayed," said Ahteram Ali Khan, whose grandfather Nawab Mir Turab Yar Jung was the first cousin of Salar Jung III.
Turab Yar Jung was of the view that by donating it to the nation they were not doing any favour but were only saving their own articles as it was felt that preservation and restoration would incur lot of expenses and only an institution like the Government of India could take care of them.
The priceless collection was donated unconditionally. "Nobody else has done this anywhere in the world. This family should be kept up in a high esteem but it is most unfortunate that by just providing board membership to one member of the family they think they are doing a great favour. What is important is gratitude," feels Ahteram Ali Khan.
In 1961 by an Act of Parliament Salar Jung Museum was declared an institute of national importance and from 1961 its affairs were managed by the board headed by the state's governor. In 1968, the collection was shifted to a new building constructed on the banks of the Musi river. Mir Turab Ali Khan Bhavan (Western Block) and Mir Laiq Ali Khan Bhavan (Eastern Block) came up in 2000.
Spread over 10 acres of land, the museum has 9,000 manuscripts, 43,000 art objects and 47,000 printed books. Galleries exhibit artefacts including the ones that date back to the 4th century. It has Indian Art, Far Eastern Art, Children Art, European Art, Middle Eastern Art and Founders' Gallery.
The biggest attraction at the museum is the 19th century British Musical Clock. Visitors assemble in the clock hall every hour to watch tiny mechanized figures emerge through a door to strike the toy bell.
The other prized possession of SJM includes veiled marble statue of Rebecca created by Italian sculptor G. B. Benzoni. There is a set of ivory chairs presented by Louis XVI of France to Tipu Sultan of Mysore.
Ahteram Ali Khan believes the museum has art pieces in every category one can think of as a treasure of art and history. He feels SJM can boasts of articles which sometimes put even Europeans to shame. Veiled Rebecca, he points out, is one of the four fabulous sculptures, Benzoni spent all his life on. The other three are in France, UK and Italy.
"If you walk into Salar Jung Museum, you see life everywhere. Even the best of European collections are without life. There is dent in French collection. We have dressing table of Marie Antoinette (the last Queen of France before French Revolution) Can you imagine. They would die to keep something like this in their country."
The collections on display include Indian Textiles, Arms and Armour, Indian Miniature Paintings, Bidri Art, Arabic, Persian Manuscripts, Chinese collection, European Clocks and Furniture, European Marble Statue, Egyptian and Syrian Art, Far Eastern Statuary.
"The collection comprises more foreign than Indian artefacts and most of the art objects are decorative pieces. We have collections from almost 33 countries," said A. Nagender Reddy, Director, Salar Jung Museum.
Every day 3,000 to 4, 000 people visit the museum and on weekends and holidays the numbers go up to 6,000. Sometimes 12,000 to 13,000 people visit the museum on a day.
(The weekly feature series is part of a positive-journalism project of and the Frank Islam Foundation. Mohammed Shafeeq can be contacted at m.shafeeq@ians.in)
https://www.outlookindia.com/newsscroll/how-a-muslim-aristocrats-art-collection-became-a-national-treasure-ians-special-series/1461700
--------
'Telangana government to press for hike in Muslim, ST quota'
Jan 20, 2019
HYDERABAD: The Telangana government will continue its fight to get the central government's nod on increasing reservations for Muslims and STs, governor ESL Narasimhan said on Saturday. The government had proposed enhancement of reservation from four to 12% for Muslims (BC-E category) and six to 10% for STs and forwarded the assembly resolutions to the Centre almost two years ago.
"The government will implement the report of the committee appointed for drafting schemes for integrated development of SCs and STs. It will continue to press for implementation of 33% reservation to BCs and 33% reservation to women in legislatures. The SC categorisation resolution of the assembly was also forwarded to the Centre," Narasimhan said while addressing the joint session of the assembly and council on Saturday.
He said that the state government would initiate and implement new plans and schemes as per the aspirations of the people in the next few years. In the last four and half years, it had implemented several schemes that were not mentioned in the manifesto. It was committed to make the state Bangaru Telangana, he said.
Narasimhan said priority was given to agriculture, power, irrigation, rejuvenation of rural economy, promotion of industrial and IT sector and health sectors.
Telangana registered the highest growth rate in India, he said, adding that, "From 2014-2018, the state had achieved 17.17% compound annual revenue growth rate and during the current 2018-19 financial year, the growth rate stands at 29.93%. Even in GST collections, Telangana stands first among states."
The governor mentioned about Mission Bhagiratha, Rythu Bandhu and Kanti Velugu, among other schemes, during his speech.
Full report at:
https://timesofindia.indiatimes.com/city/hyderabad/telangana-government-to-press-for-hike-in-muslim-st-quota/articleshow/67607725.cms
--------
No Indo-Pak dialogue but diplomatic engagement still on
Jan 19, 2019
NEW DELHI: There may not be any substantive dialogue between India and Pakistan at the moment but both governments are working to ensure there isn't a complete breakdown of diplomatic engagement between them. This past week saw Indian high commissioner to Pakistan Ajay Bisaria calling on Pakistan foreign secretary Tehmina Janjua and Bisaria's counterpart here Sohail Mahmood having a rare meeting with Indian foreign secretary Vijay Gokhale.
Both meetings, according to multiple sources, focused on strengthening engagement over humanitarian issues, including the need to expedite release of prisoners by both sides, apart from touching upon issues related to the proposed opening of the Kartarpur corridor later this year.
While maintaining that there is no question of any formal dialogue with Islamabad, India has sought to focus, as suggested by foreign minister Sushma Swaraj in October 2017, on resolving humanitarian issues related to elderly, women and mentally unsound prisoners in each other's custody and their early release and repatriation.
The government has proposed to revive the mechanism of Joint Judicial Committee and also requested that a team of Indian medical experts be allowed to visit the mentally unsound prisoners to facilitate their nationality verification and repatriation.
According to official sources, the government sought to know from Pakistan why it has not been providing consular access to Indian prisoners since July 1, 2018. According to Indian estimates, there are 49 Indian civilian prisoners and 482 fishermen lodged in Pakistan jails. The nationality of 370 of these fishermen, according to Indian authorities, has been verified.
Diplomatic sources said such high-level meetings could also help take the sting away from cases of harassment of diplomats which are being reported now almost on a weekly basis. The meetings happened in the middle of a diplomatic tiff which saw Pakistan accusing India of violating the Vienna Convention on Diplomatic Relations by detaining a Pakistan high commission official. India recalled how its own diplomats in Islamabad were having to put up with aggressive surveillance and attempts to hack their emails and social media accounts.
While officials here confirmed that the 2 meetings took place this week and around the same time, they were quick to add that for any formal dialogue between the 2 countries Pakistan needed to take tangible action against terror groups targeting India.
Full report at:
https://timesofindia.indiatimes.com/india/no-indo-pak-dialogue-but-diplomatic-engagement-still-on/articleshow/67605006.cms
--------
BSF denies allegation of pushing Rohingyas into Bangladesh
Jan 19, 2019
AGARTALA: The BSF on Saturday rebuffed claims made by the Border Guards Bangladesh (BGB) that it was deliberately pushing Rohingyas into their territory.
A Bangladesh-based newspaper had on Friday reported that the Border Security Force (BSF) was trying to force 31 Rohingyas into their country from the Kasba Upazilas Kajiatali border area in Brahmanbaria.
The area falls in Tripura's Kamalasagar in Sipahijala district, about 32 km from here.
Terming the allegations as false and baseless, the BSF Tripura Frontier in a statement said that on January 18, at about 8.30 pm, Lt Col Gomal Kabir, Commanding Officer of BGB called BSF Commandant Ratnesh Kumar and informed him that they had detained 31 Rohingya Muslims at the International Border.
"Commanding Officer 25 BGB insisted the BSF Commandant to take over those Rohingyas inside the Indo-Bangladesh Border (IBB) fencing. Commanding Officer BGB also alleged that BSF have been pushing Rohingyas into Bangladesh territory," the statement said.
"BSF strictly denies any such attempt and refutes the allegation as published in Bangladesh media," the statement added.
The BSF further said that during search and spot verification, no tell-tale signs of any such type of illegal crossing of Rohingyas from Indian territory to Bangladesh side were found.
BSF said that it has learnt from reliable sources that the BGB have brought a group of Rohingyas from the interior of Kasba Upazila and falsely shown them to have been detained near the border pillar "under a specific strategic plan".
When contacted, a BSF Public Relation Officer on condition of anonymity said, "The allegation is completely false and baseless and BSF has no such plan or never had any such plan earlier".
He said in 2017, 12 Rohingyas were apprehended and in the following year another 62 were held from different parts of Tripura, but not a single one of them was pushed to Bangladesh.
The Bangladesh newspaper had reported that BGB had confirmed the presence of Rohingyas in no man's land on the Indian side.
Full report at:
https://timesofindia.indiatimes.com/india/bsf-denies-allegation-of-pushing-rohingyas-into-bangladesh/articleshow/67603093.cms
--------
Africa
US airstrike in Somalia kills 52 Al-Shabab extremists
January 19, 2019
JOHANNESBURG: The US military on Saturday said it had carried out its deadliest airstrike in Somalia in months, killing 52 Al-Shabab extremists after a "large group" mounted an attack on Somali forces.
The US Africa Command said the airstrike occurred near Jilib in Middle Juba region. There were no reports of Americans killed or wounded.
The US statement did not say whether any Somali forces were killed or wounded by the Al-Qaeda-linked extremists. Al-Shabab via its Shahada news agency asserted that its attack on two Somali army bases killed at least 41 soldiers. It described the location as the Bar Sanjuni area near the port city of Kismayo.
There was no immediate comment from Somalia's government.
In neighboring Ethiopia, state television cited the defense ministry as saying more than 60 Al-Shabab fighters had been killed and that four vehicles loaded with explosives had been "destroyed." Ethiopia contributes troops to a multinational African Union peacekeeping mission in Somalia and has troops there independently under Ethiopian army command.
Al-Shabab controls large parts of rural southern and central Somalia and continues to carry out high-profile suicide bombings and other attacks in the capital, Mogadishu, and elsewhere.
The Islamic extremist group claimed responsibility for the deadly attack on a luxury hotel complex in the capital of neighboring Kenya on Tuesday, the latest high-toll assault inside that county in retaliation for Kenya sending troops to Somalia to fight Al-Shabab.
The United States has dramatically stepped up airstrikes against Al-Shabab in Somalia since President Donald Trump took office, carrying out at least 47 such strikes last year. Some have targeted top Al-Shabab leaders or key financial officials; the extremist group funds its attacks with an extensive network of "taxation" and extortion.
In October, the US said an airstrike killed about 60 fighters near the Al-Shabab-controlled community of Harardere in Mudug province in the central part of the country.
The airstrikes hamper the extremist group but have not "seriously degraded Al-Shabab's capability to mount strikes either inside or outside Somalia," Matt Bryden of Sahan Research, an expert on the extremists, told The Associated Press after the Nairobi hotel attack.
Airstrikes alone cannot defeat the extremists, Bryden said, and must be combined with more ground-based attacks as well as a non-military campaign to win over residents of extremist-held areas.
The US on Saturday said it is committed to "preventing Al-Shabab from taking advantage of safe havens from which they can build capacity and attack the people of Somalia."
http://www.arabnews.com/node/1438336/world
--------
Ethiopia announces 'massive offensive' against Al Shabab in Somalia
January 19, 2019
Ethiopian forces are preparing a "massive offensive" against Al Shabab in Somalia following a militant ambush on an Ethiopian peacekeeping convoy and last week's Nairobi hotel attack.
The Ethiopian National Defence Force confirmed on Saturday that the Al Qaeda-linked militants had attacked its troops in Somalia but denied that Ethiopian troops were killed.
An Ethiopian convoy was traveling from Burhakaba to Baidoa in Somalia's southwest when it was attacked, the statement said. No further details on when the ambush occurred or whether there were casualties were given.
Ethiopia contributes troops alongside Kenya and other African nations to the African Union mission in Somalia. Alongside US airstrikes, the African Union force has reduced the ability of Al Shabab to operate but the group still carries out spectacular trans-boundary attacks.
It has never orchestrated a major attack inside Ethiopia but in October the group claimed it has killed 30 Ethiopian troops inside Somalia. Weeks earlier, Ethiopian state meda had reported that the Ethiopian Air Force had killed 70 Al Shabab militants who had tried to attack Ethiopian forces.
The group claimed responsibility for last week's deadly hotel attack in Nairobi, in which at least 21 people were killed.
The attackers stormed the hotel complex opened fire and set off grenades, sending panicked people running for cover as security forces converged. Security camera footage released later showed a suicide bomber blowing himself up in a grassy area. Authorities identified him as 25-year-old Mahir Khalid Riziki, who was born in the Kenyan port city of Mombasa and was sought several years ago by police for alleged extremist activities. All four other gunmen died in the attack.
The response to the attack, which was motivated by the presence of Kenyan peacekeeping troops in Somalia, showed that Kenyan security forces had learned lessons since the chaotic response to Al Shabab's 2013 Westgate mall attack, in which 67 people were killed.
Some 700 people were rescued in last week's attack thanks to a swift response under a single chain of command, which saw the area rapidly cordoned off and procedures in place to take care of survivors, analysts said.
"It was much more efficient, and it seems to have been better co-ordinated and the tactics they employed were better practised, they had better equipment so all in all, a much better performance," Matt Bryden, director of the Sahan think-tank in Nairobi, told AFP.
Following the attack, the Kenyan government announced plans to allow more private security guards in the country to carry firearms. Currently few private guards are licensed to carry firearms.
Two employees of a private security company were reported killed in Tuesday's attack.
Kenya's Private Security Regulatory Authority said on Friday it would implement a vetting process to prevent suspected criminals within security companies gaining access to firearms.
Meanwhile, a Canadian national and five other people accused of helping the gunmen who staged the attack appeared in court on Friday to face investigation for terrorism offenses.
A judge ordered five of the suspects to be held for 30 days while authorities investigated the hotel attack.
Suspects who appeared in court were identified as Joel Nganga Wainaina, Oliver Kanyango Muthee, Gladys Kaari Justus, Guleid Abdihakim and Osman Ibrahim. Mr Abdihakim is a Canadian national, according to prosecutors.
Hussein Mohammed, another suspect who was arrested in Mandera county along the border with Somalia, was brought to court separately, prosecutors said.
Prosecutors suspect the alleged accomplices, including two taxi drivers and an agent for a mobile phone-based money service, of "aiding and abetting" the attackers, according to a court document.
Full report at:
https://www.thenational.ae/world/africa/ethiopia-announces-massive-offensive-against-al-shabab-in-somalia-1.815320
--------
Tunisian union calls new nationwide strike to press wage demands
19 January 2019
Tunisia's powerful UGTT union called on Saturday for another national strike for two days next month to press its demand for higher wages for 670,000 public servants, the UGTT chief said.
Rail, bus and air traffic and all services stopped in Tunisia and street protests drew thousands on Thursday in a one-day nationwide strike to challenge the government's refusal to raise salaries.
"As negotiations with the government failed and the purchasing power has deteriorated significantly, UGTT decided to approve a nationwide strike on Feb. 20 and 21," UGTT chief Nourredine Taboubi told reporters.
The decision will raise the pressure on the government which is struggling to revive the faltering economy.
The government is also under pressure from the International Monetary Fund to freeze public sector wages, the bill for which doubled to about 16 billion dinars ($5.5 billion) in 2018 from 7.6 billion in 2010, as part of measures to reduce its budget deficit.
But the UGTT says the monthly average wage of about $250 is one of the lowest in the world, while the state Institute of Strategic Studies says real purchasing power has fallen by 40 percent since 2014.
The government had said it does not have the money to pay for the increases strikers want, worth about $850 million in total.
Government spokesman Iyad Dahmani said that increase would lift annual inflation to 10 percent from 7.4 percent.
Full report at:
https://english.alarabiya.net/en/News/north-africa/2019/01/19/Tunisian-union-calls-new-nationwide-strike-to-press-wage-demands.html
--------
Kenyan authorities investigate local role in Nairobi attack
20 January 2019
Investigators in Kenya are exploring the possibility that some of the militants who attacked a Nairobi hotel and office complex may not have been ethnic Somalis, stoking fears that militants are deepening their pools of recruitment in the region.
Officials have released few details about the five-man assault team that carried out Tuesday's siege at the dusitD2 hotel complex, an attack that killed 21 people and was claimed by al-Shabaab, a Somalia-based al Qaeda affiliate.
But police, private security sources and local media reports have highlighted the involvement of a 26-year-old suspect identified in court documents as Ali Salim Gichunge, who was born and raised in central Kenya, as evidence of the group's lure to some people outside its traditional strongholds.
"The government needs to look at (Gichunge's) profile. How did he get to where he is?" said a private security official in Kenya, who asked not to be identified for operational reasons.
"If al-Shabaab can replicate this model, then there is a fundamental problem."
All five assailants were killed in Tuesday's attack, the country's president said in a televised address the next morning. Police said on Friday they had detained nine other suspects in connection with the incident.
Five of the suspects, one of them listed as a Canadian citizen, were taken to a magistrate's court and ordered detained for 30 days. Two were taxi drivers and one was a mobile phone financial services agent, court documents said.
Full report at:
https://english.alarabiya.net/en/News/world/2019/01/20/Kenyan-authorities-investigate-local-role-in-Nairobi-attack.html
--------
Ethiopia readies 'massive offensive' on al-Shabaab in Somalia
19 January 2019
The Ethiopian National Defense Force is confirming an ambush by al-Shabaab extremists on an Ethiopian peacekeeping convoy in neighboring Somalia and says Ethiopian forces are preparing a "massive offensive" in response.
A statement on Saturday rejects reports and an al-Shabab claim that several Ethiopian troops were killed. It does not give further details on casualties.
The ambush was reported as the al-Qaeda-linked al-Shabaab claimed responsibility for the deadly hotel assault in Nairobi and deadly attacks on forces inside Somalia. The statement does not say exactly when the ambush occurred.
Ethiopia contributes troops to a multinational African Union peacekeeping mission.
Full report at:
https://english.alarabiya.net/en/News/world/2019/01/19/Ethiopia-readies-massive-offensive-on-al-Shabab-in-Somalia.html
--------
13 killed, dozens hurt in latest bout of Tripoli fighting, says Libyan ministry
January 20, 2019
BENGHAZI: Libya's Health Ministry said fighting in the capital Tripoli between rival militias has left 13 people dead.
The ministry said late Friday that 52 people were injured in the fighting which flared up Wednesday, shattering a UN-brokered cease-fire reached in September that ended hostilities in the city.
The earlier bout of violence killed nearly 100 people.
In a statement, the ministry appealed to rival militiamen not to target ambulances and medics.
The fighting between militias allied to the UN-backed government in Tripoli and an armed group from a nearby town underscores Libya's lingering lawlessness since the 2011 uprising that toppled and killed Muammar Qaddafi.
Al-Qaeda and Daesh have been using southern Libya as a base for attacks in Libya and neighboring countries, exploiting a security vacuum since 2011.
Meanwhile, Eastern Libyan forces have said they had killed a senior Al-Qaeda figure in southern Libya, during an operation to secure oil and gas assets and fight militants in the lawless south.
The Libyan National Army (LNA) faction said it killed Abu Talha Al-Libi, a commander in Al-Qaeda in the Islamic Maghreb (AQIM), and two other militants near the city of Sabha, LNA spokesman Ahmed Mismari said.
Full report at:
http://www.arabnews.com/node/1438436/middle-east
--------
Europe
Muslim group's assets in Greece being sold illegally
20.01.2019
The assets owned by a Muslim Turkish foundation on the Greek island of Kos are being sold off "illegally," the head of an NGO told Anadolu Agency.
According to an official announcement seen by Anadolu Agency, a plot of land spanning over 34,000 square meters (some 366,000 square feet) belonging to the foundation is set to be sold off in an auction later this month.
In an exclusive interview with Anadolu Agency, Mustafa Kaymakci, head of the Culture and Solidarity Association of the Turks of Rhodes, Kos, and the Dodecanese, said there are around 9,000 Turks living on Rhodes and Kos, two Greek islands within sight of the Turkish coast.
The group is a non-governmental organization founded by Turks who emigrated to Turkey from the islands, which belong to the Dodecanese group of islands in the southeastern Aegean near the Turkish shore.
The Nov. 27 announcement by the Kos Muslim Foundation Asset Administration -- a group appointed by the Greek government -- says the plot of land on Kos will be sold in an auction on Jan. 31.
"On Kos, the foundation's assets are being sold illegally," Kaymakci said.
He said there are international principles regarding foundations which are recognized by the UN.
"According to these principles, foundations' assets definitely cannot be transferred or sold. But Greece isn't abiding by this," Kaymakci said.
He added that under the Greek Constitution, religious foundations are supposed to be exempt from property tax.
Because of this, he said, Christian groups in Greece pay no property tax, yet Turkish-Islamic foundations are still unfairly required to pay tax.
"Here's what we're saying to Greece," said Kaymakci.
"Firstly, foundation assets cannot be sold or transferred.
"Second, whatever [policies] are applied to other religious foundations, the same must apply to our [Turkish-Islamic] foundations. That is to say, we must be exempt from property tax."
Rhodes and Kos' historic mosques in ruins
Kaymakci said Rhodes and Kos -- both islands former holdings of the Ottoman Empire -- boast "very impressive" specimens of Ottoman architectural heritage.
This rich heritage includes mosques, fountains, almshouses, and a library, but over the years these buildings were left neglected and fell into disrepair, he said.
The mosques on Rhodes and Kos have deteriorated to near the point of collapse, he said.
Although Turkey wants to restore this invaluable heritage, Greece forbids it, he said.
Kaymakci said the Turkish Cooperation and Coordination Agency (TIKA) -- the state-run development aid agency -- has carried out many projects restoring Ottoman architecture in the Balkans, with full consent of the local governments, but Greece has blocked TIKA from doing the same in Greece.
"Greece wants to see the mosques and almshouses collapse. That is to say, it wants the traces of Turks and Muslims to disappear," he said.
Kaymakci said the Turks currently living on Rhodes and Kos also face a number of problems maintaining their traditional culture, dating back many centuries.
"The primary problem is that they lack the right to learn their mother tongue," he said.
In 1972, bilingual schools teaching both Greek and Turkish were closed down, Kaymakci said.
He said since that time, Turkish children in Rhodes and Kos have been hindered from learning their mother tongue, and a rapid assimilation process had begun.
"One of the most basic human rights is the right to learn your own mother tongue," he stressed, but on the Greek islands, that fundamental right is being deprived.
https://www.aa.com.tr/en/europe/muslim-groups-assets-in-greece-being-sold-illegally/1369423
--------
Europe's patience with Iran wears thin, tiptoes toward Trump
January 19, 2019
BRUSSELS/PARIS: In Tehran on Jan. 8 during a meeting with European envoys, Iranian officials abruptly stood up, walked out and slammed the door in an extraordinary break with protocol.
The French, British, German, Danish, Dutch, and Belgian diplomats in the Iranian Foreign Ministry room had incensed the officials with a message that Europe could no longer tolerate ballistic missile tests in Iran and assassination plots on European soil, according to four EU diplomats.
"There was a lot of drama, they didn't like it, but we felt we had to convey our serious concerns," one of the diplomats said. "It shows the relationship is becoming more tense," a second said.
An Iranian official declined to comment on the meeting.
The next day, the EU imposed its first sanctions on Iran since world powers agreed the 2015 Vienna nuclear arms control deal with Tehran.
The sanctions were largely symbolic but the stormy meeting encapsulated the unexpected shift in European diplomacy since the end of last year. Smaller, more dovish EU countries have joined France and Britain in a harder stance on Tehran, including considering new economic sanctions, diplomats say.
Those could include asset freezes and travel bans on Iran's Revolutionary Guards and Iranians developing the Islamic Republic's ballistic missile program, three diplomats said.
The new approach moves Europe closer to US President Donald Trump's policy of isolating Iran with tough sanctions even though European governments still support the 2015 Vienna deal from, which he withdrew in May.
Although there are diverging views in Europe, the shift could have consequences for President Hassan Rouhani's government as it looks to European capitals to salvage that deal.
It could also strengthen anti-Western sentiment in Iran and lead to more aggressive Iranian moves around the Middle East, where the Islamic Republic is involved in proxy wars with its main regional rival Saudi Arabia.
Iran's firing of short-range ballistic missiles into Syria on Sept. 30, missile tests and a satellite launch this month have niggled Western powers.
For Europe, alleged assassination plots by Iran on French and Danish soil in 2018 were the last straw, diplomats say.
Tehran denies the plots and says the missile tests are purely defensive. "The accusations against Iran over the past few months have awoken a few countries in Europe that were against a tougher line on Iran," a European-based Middle East diplomat said.
The same day as the meeting, the Netherlands publicly blamed Iran for killings on its soil in 2015 and 2017. Tehran denies any involvement. Then on Jan. 9, the EU designated a unit of Iran's Intelligence Ministry a terrorist organization, froze its assets and those of two men.
"Take the Dutch for example. They had kept very quiet until the Danish attack and now they are more hawkish than the French," said the diplomat.
Alarmed by Trump's "America First" policy, Europe considered his May 8 decision to pull out of the Iran accord a severe setback but Iran's international ambitions appear to offer Brussels and Washington a chance to work more closely.
A US State Department official said there was now "a growing international consensus" on the range of Iranian threats.
"The US welcomes Europe's efforts to counter Iranian terrorism on European soil, its missile launches, human rights abuses, and other threats," the official said.
Dialogue falters
As the Trump administration accused Iran last year of harboring nuclear ambitions and fomenting instability in the Middle East through its support for militant groups in Syria, Iraq, Lebanon, and Yemen, the EU sought dialogue with Tehran.
At meetings between European and Iranian diplomats last year, Britain, France, Germany and Italy, pressed for gestures on Iran's role in Syria's war and for help to end the conflict in Yemen.
But multiple bilateral talks on the ballistic missile program have yielded no results.
The EU tried to show Iran that compliance with the nuclear accord would still mean economic benefits despite Trump's decision to reimpose US sanctions and choke off Iranian oil exports by pressuring US allies.
The EU is set to officially launch a mechanism, the special purpose vehicle (SPV) to trade with Iran later this month but it will not be operational for several months.
It will be registered in France, run by a German and likely to include Britain as a shareholder.
"There's a feeling of frustration among Britain, France and Germany, and others, after the first phase of diplomacy with Iran," another senior EU diplomat said. "We thought we could get some effort from the Iranians in several areas."
Iran says Europe may not be able to safeguard the nuclear deal anyway and accused European officials of dragging their feet.
Iranian Deputy Foreign Minister and senior nuclear negotiator Abbas Araqchi said last week "operational steps" were needed from Europe as political support not enough.
Ayatollah Ahmad Jannati, head of Iran's powerful Assembly of Experts said on Thursday Europe "would do nothing in our interest."
"The Europeans are worse than the Americans. If not, they are not any better," he said, state TV reported.
EU disagreements
Last March, as part of efforts to convince Trump to stick to the nuclear deal, France, Britain and Germany proposed asset freezes and travel bans on the IRGC and Iranian companies and groups developing the missile program, according to a document seen by Reuters.
Now, a similar set of measures is being prepared, three diplomats say.
"We'd prefer not to take these measures, but they need to stop trying to kill people on our territory and over the last three years they have beefed up their ballistic program," said one senior European diplomat.
The diplomats say getting all 28 EU members to agree will take time.
The EU's top diplomat Federica Mogherini, who helped seal the 2015 deal, is wary of moving too fast for fear of provoking a complete collapse of the accord, four diplomats said.
EU foreign ministers planned to issue a rare joint statement on Jan. 21 about what they say is Iran's interference in the region and calling for an end to missile tests. Diplomats said Mogherini wants to see the SPV established first.
An EU official denied any split in policy between Mogherini and EU governments, saying the statement will be published as soon as the SPV is launched.
EU diplomats said eastern European governments could also go too far against Iran to please Trump in return for security guarantees against Russia.
EU diplomats said there was a risk that a two-day conference in Poland in February focused on the Middle East, particularly Iran, convened by US Secretary of State Mike Pompeo, could divide eastern and western Europe.
Mogherini is unable to attend due to another official engagement, an EU official said, and it is not clear at what level France, Britain and Germany will be represented.
Full report at:
http://www.arabnews.com/node/1438381/middle-east
--------
Yemeni government questions exclusion from meeting in Germany
January 19, 2019
LONDON: Yemen's internationally recognized government expressed reservations about Germany's decision to hold an international conference on Yemen without consulting or coordinating with it.
Wednesday's conference, hosted by Germany's Foreign Ministry, brought together senior officials from 17 countries, including key actors and major donors.
Attendees included the UN special envoy for Yemen, Martin Griffiths, and the UN humanitarian coordinator for the country, Lise Grande.
Yemen's foreign minister told Asharq Al-Awsat newspaper: "The launching of any programs, plans or mechanisms by the UN or the international community to assist states requires consultation and coordination with the beneficiary state … in accordance with the principles of the UN."
Khaled Al-Yamani added: "UN Security Council resolutions… stipulated that the Yemeni government is the legitimate representative of Yemen."
He said: "The government of Yemen is currently in need of the international community's support and cooperation to enhance its ability to perform its functions in the service of all Yemeni people."
The Trump administration has thwarted "attempts to impose a solution that would give the Houthi militias and Iran a permanent foothold in Yemen to threaten regional and international security and stability," Al-Yamani added.
The reimposition of US sanctions on Iran is contributing to "cutting off its (Tehran's) expansionist arms in the region, including the Houthi militias in Yemen," the foreign minister said.
Yemen's government is "exerting great efforts … to explain the dimensions and risks of the Houthi coup in Yemen, the dangers of the control of Iran-backed terrorist militias in the region, and the importance of supporting Yemen-led efforts to restore the state in accordance with UN resolutions, the Gulf (Cooperation Council) initiative, and the outputs of the comprehensive National Dialogue (Conference)," he added.
The Yemeni government is in "constant coordination" diplomatically with member states of the Arab coalition supporting it, particularly Saudi Arabia and the UAE, Al-Yamani said.
As part of his commitment to review the performance of Yemeni diplomatic missions abroad, he said the Foreign Ministry has adopted a plan to improve their performance.
Full report at:
http://www.arabnews.com/node/1438386/middle-east
--------
Iran denies allegations of spying on German army
January 20, 2019
TEHRAN: Iran has dismissed allegations by German prosecutors that an army employee was spying for Tehran.
The semi-official ISNA news agency quoted Foreign Ministry spokesman Bahram Ghasemi as saying that "enemies" were aiming to "sour relations" between Iran and Europe.
He appeared to be referring to the United States and Israel, which have pressed European nations to withdraw from Iran's 2015 nuclear deal with world powers.
Germany's federal prosecutor's office said last week that a 50-year-old German-Afghan dual citizen was detained in the western Rhineland region. The German Defense Ministry confirmed the allegations but declined to give any further details.
Full report at:
http://www.arabnews.com/node/1438566/middle-east
--------
Six charged in Bulgaria with financing 'terrorist' groups
January 19, 2019
SOFIA: Five Syrians and a Bulgarian have been charged with financing terrorist groups in the Middle East with 25 million euros ($28.4 million), Bulgaria's attorney general said Saturday.
"The group transferred at least 25 million euros to terrorist organizations over four years," Rumiana Arnaudova, a spokeswoman for the attorney general said.
They were also charged with "preparing terrorist acts in another country," she said.
The money was moved about by the "hawala" system, an informal method of payment based on trust that is far more difficult to trace than bank transfers.
Deputy Attorney General Ivan Guechev said such a network was "without precedent in the European Union."
The money transferring network operates in many European countries and has facilitated the movement of 100-300 million euros per year, according to sources close to the enquiry cited in the Bulgarian 24 Chasa newspaper.
The six charged make up part of a haul of 43 people arrested in seven Bulgarian cities and towns on Friday.
Full report at:
http://www.arabnews.com/node/1438371/world
--------
URL: https://www.newageislam.com/islamic-world-news/rights-organization-reveals-torture-yemeni/d/117511
New Age Islam, Islam Online, Islamic Website, African Muslim News, Arab World News, South Asia News, Indian Muslim News, World Muslim News, Women in Islam, Islamic Feminism, Arab Women, Women In Arab, Islamophobia in America, Muslim Women in West, Islam Women and Feminism