New Age Islam News Bureau
06 August 2022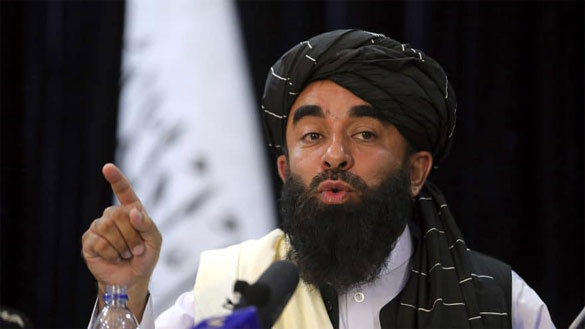 In front of a Taliban flag, Taliban spokesman Zabihullah Mujahid speaks at at his first news conference, in Kabul, Afghanistan, Tuesday, Aug. 17, 2021. (AP Photo/Rahmat Gul)
-----
• France: MPs Sign Draft Resolution Condemning Israeli Apartheid against Palestinians
• White House Calls for Calm As Violence Flares Between Gaza, Israel
• Understanding Other Faiths: For Basith M. and Jabir P.K., Muslim Students, Winning the Ramayana Quiz Is Part of the Learning Process
• No Question of Use of Pakistani Soil in Zawahiri's killing: DG ISPR
South Asia
• At Least 8 Killed, 18 Injured In Blast At Shia Gathering In Kabul, Afghanistan
• Terrorist's Afghan hideout chills US bid to free $3.5 billion
• WION's Pak Journalist Abducted By Taliban in Kabul, Now Safe: Report
• Iran vehemently condemns terrorist attack in Kabul, urges Taliban to ensure mourners' security
--------
Europe
• Europeans urge Iran 'not to make unrealistic demands' in nuclear talks: Official
• Azerbaijan's embassy in London attacked by radical religious group
• French Court Suspends Imam's Deportation; Imam Hassan Iquioussen Is Accused of Disseminating Anti-Semitic and Anti-Gender Equality Messages
• Russia's aerospace force wipes out US-trained militants in Syria: Moscow
• Kremlin calls on Turkey to keep it calm in northern Syria ahead of Putin-Erdogan summit
--------
North America
• 3 Muslim men in Albuquerque were murdered. Police are investigating possible ties to same killer
• Top US diplomat urges 'direct dialogue' in calls with Azerbaijani, Armenian leaders
--------
India
• 67 Riots, '12 Killings in 8 Yrs' — How This Karnataka, Dakshina Kannada, Became Hotbed Of Hindu-Muslim Hate
• Denied Honorarium As Watchman of A Graveyard And Mosque, Due To Participation In Kanwar Yatra, Says Muslim Labourer
• Masjid-e-Khaja Mahmood Demolition: Telangana Congress, MBT Leaders under House Arrest
• NIA: Accused duo went for biryani dinner after Amravati killing
• Karnataka: 19-year-old Muslim youth murdered over trivial issue
• Gujarat: Man booked for giving triple talaq
--------
Pakistan
• Balochistan's Child Marriage Bill in Limbo for Eight Years
• 'Bad days ahead, no country can grow, be stable with current account deficit', warns Pakistan's finance minister
• 'Love jihad' hits Greece as Pakistan man kills teen girlfriend, runs away
• One killed, 14 injured in grenade blast in Pakistan's restive Balochistan province
• UAE to Invest $1bn in Pakistani Companies: State News Agency
• By-poll in NA-157: PTI workers protest candidature of Shah Mahmood Qureshi's daughter
• Military slams 'regretful campaign' in wake of chopper crash
--------
Southeast Asia
• Criticism from Rights Groups: Hijab Rules Are Raising Rights Concerns in Indonesia
• Eyeing a comeback, Mahathir Mohamad to use Malay nationalism to woo voters
• The 'real war' in GE15 will be in Malay strongholds, says Pejuang man
• Airbnb lobbies Penang to ease up on homestay restrictions
--------
Arab World
• Iraqi Shia Cleric Muqtada Al-Sadr Prepares For New Show of Force
• Iraq's Main Shia Coalition Gives Conditional Backing to Rival Al-Sadr's Snap Elections Call
• Saudi exhibition on Hijrah highlights universal message of Prophet Muhammad's journey 1,400 years ago
• Russia calls on Turkey not to 'destabilize' Syria
• Russia says it killed US-trained fighters in Syria
• Saudi Arabia's PIF sets up company to invest in Egypt
• UAE police arrest five men over knifepoint robberies, fake massage parlours
--------
Mideast
• Israeli Aggression on Gaza 'Flagrant Defiance of International Law': Arab Parliament
• Israel Defence Forces continues Operation Breaking Dawn against Islamic Jihad in Gaza
• Iran says Palestinian people, groups reserve right to respond to Israel's terrorist moves
• 19 members of Palestine's Islamic Jihad movement arrested in West Bank: Army
• More than 100 rockets fired at Israel: Islamic Jihad
• Death toll in Israel air strikes on Gaza rises to 10, including child
• Palestinian Islamic Jihad commander killed in Israeli strikes on Gaza: Official
--------
Africa
• Jordan Demands Israel 'Immediately Stop' it's Aggression against Gaza
• Libyan armed groups clash in Tripoli: reports
• Chad leader in Qatar amid late haggling over peace deal
• 18 Sudanese killed by Chadian militia along border: Ruling council
• FAO appeals for over $130M to assist 882,000 people across drought-hit Somalia
Compiled by New Age Islam News Bureau
URL: https://newageislam.com/islamic-world-news/drone-strike-kabul-america-islamic-emirate/d/127659
--------
Repeated Drone Strike in Kabul will Have Consequences on America: Islamic Emirate of Afghanistan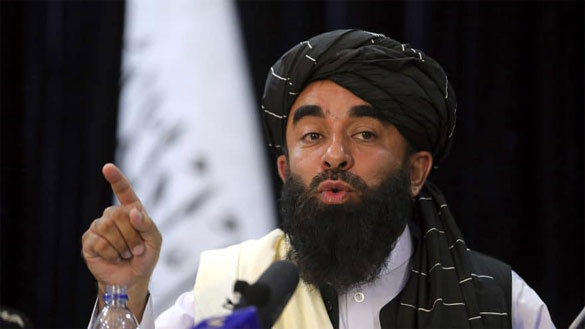 In front of a Taliban flag, Taliban spokesman Zabihullah Mujahid speaks at at his first news conference, in Kabul, Afghanistan, Tuesday, Aug. 17, 2021. (AP Photo/Rahmat Gul)
-----
By Arif Ahmadi
05 Aug 2022
KABUL, Afghanistan – Condemning the recent drone strike by the United States in Kabul, the Islamic Emirate spokesman Zabiullah Mujahid issued a statement Thursday evening, saying the America will face consequences if they repeated similar military acts on Afghan soil in the future.
This came days after the United States President Joe Biden announced an American drone strike killed Al-Qaeda leader Ayman al-Zawahri at an urban safe house in Afghanistan.
"The fact that America invaded our territory and violated all international principles, we strongly condemn the action once again," the statement warned. "If such action is repeated, the responsibility of any consequences will be on the United States of America."
While the US accuses the Taliban leadership of breaking Doha agreement by proving a sanctuary to the terrorist groups in Afghanistan, the Islamic Emirate refused involved, saying they did not have knowledge about the Al-Qaeda leader's whereabouts in Kabul.
"…US President Joe Biden claimed that US troops had targeted Al-Qaeda leader Dr. Ayman al-Zawahiri in this attack, the Islamic Emirate of Afghanistan has no information about Ayman al-Zawahiri's arrival and stay in Kabul," the statement read.
The group's leadership has order a thorough investigation onto the case to determine whether Biden's claim of killing al-Zawahri in Kabul is true.
"The leadership of the Islamic Emirate of Afghanistan has instructed the investigative and intelligence agencies to conduct a comprehensive and serious investigation into the various aspects of the incident," the statement added.
United States, including international community, constantly reminded the Taliban leadership to assure Afghan soil will not be used as a threat against neighboring countries, the recent announcement on al-Zawahri has escalated concern even further.
"There is no threat to any country, including America, from the soil of Afghanistan, the Islamic Emirate wants to implement the Doha pact and the violation of the pact must end," Taliban spokesman said on the released statement.
Ayman Mohammed Rabie al-Zawahirim, a key plotter of the 9/11 terrorist attacks who took over as the leader of Al-Qaeda after Osama bin Laden's death, was an Egyptian-born terrorist and physician. He served as the second emir of the group since June 16, 2011.
Earlier, Abdul Salam Hanafi, the second Deputy Prime Minister of the Islamic Emirate, said the United States drone strike in Kabul violates both national sovereignty and the Doha Agreement.
"These issues are still unclear to us, the only thing we know for sure is that a drone attack has taken place, which is against international law and the Doha Agreement," Hanafi said, as TOLOnews quoted.
American intelligence agencies tracked down al-Zawahri in Kabul earlier this year and then spent months determining if it really was him hiding out in a crowded neighborhood of the Afghan capital, which drew questions whether the Taliban provides sanctuary to terrorist groups like Al-Qaeda in Afghanistan.
But the Islamic Emirate defied the criticism, saying Afghanistan soil is not used for any thread against other countries, including the United States.
"The Islamic Emirate's policy, which has been repeatedly stated to the people, is that our soil is not used against our neighbors," Hanafi said.
The Islamic Emirate spokesman Zabiullah Mujahid in a statement confirmed that a strike took place and strongly condemned it, calling it a violation of "international principles."
Source: Khaama Press
Please click the following URL to read the text of the original story:
https://www.khaama.com/repeated-drone-strike-in-kabul-will-have-consequences-on-america-taliban/
--------
France: MPs Sign Draft Resolution Condemning Israeli Apartheid Against Palestinians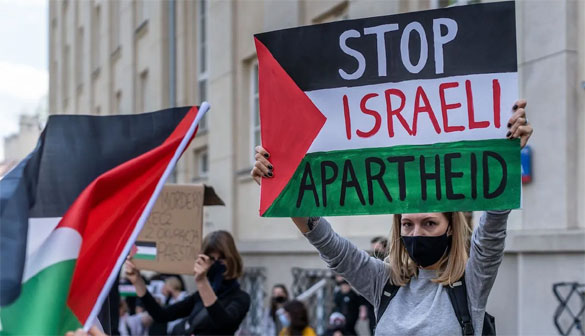 A participant holds up a sign reading 'Stop Israeli Apartheid' during a protest in solidarity with the Palestinians on 15 May 2021 [WOJTEK RADWANSKI/AFP/Getty Images]
-----
05 August 2022
A proposed resolution by dozens of members of the French parliament from left-wing parties has condemned the Israeli regime for "practicing apartheid and committing war crimes against Palestinians," causing an uproar among political circles and the Jewish community in the Western European country.
The proposal condemns the Tel Aviv regime for creating a "systematic system of oppression and discrimination with the intention of maintaining the control of one ethnic-national-racial group over another."
According to the draft resolution, Israel, ever since its creation in 1948, "has pursued a policy aimed at establishing and maintaining a Jewish demographic hegemony and expanding its control over the territory for the benefit of Israeli Jews."
The motion adds that "Israel has extended this policy" since the 1967 occupation of the Palestinian territories of the West Bank and East al-Quds.
It also calls for the legalization of the Boycott, Divestment and Sanctions (BDS) campaign and the "imposition of a strict arms embargo" on Israel.
The motion called for a French-sponsored resolution to the United Nations Security Council that would impose "targeted sanctions, such as the freezing of assets, on Israeli officials most implicated in the crime of apartheid."
It also calls on the French government to "recognize the State of Palestine."
The draft resolution was originally submitted on July 13 by member of the French Communist Party (PCF) Jean-Paul Lecocq.
Among its signatories are former candidate in the 2022 presidential election Fabien Roussel, legislators from the "France Proud" Party such as Adrien Katniss, socialist lawmaker Christine Pierce-Bonn, and Green Party parliamentarians Aurelian Tashi and Sabrina Sabaihi.
Moshe Lewin, a senior advisor to France's Chief Rabbi and Vice President of the Conference of European Rabbis, attacked the draft resolution, asserting that "the dangerous obsession" of the leftist parties against Israel broke new records.
"Member of Parliament Jean-Luc Mélenchon feels an inexplicable phobia towards Israel," Lewin said about the leader of the left-wing France Unbowed Party.
He further claimed that the proposal could increase the manifestations of hatred and anti-Semitism toward the Jewish community throughout France.
Jérôme Guedj, a lawmaker from the New Ecological and Social People's Union (NUPES) political alliance, also criticized the anti-Israel draft resolution.
Earlier this year, the former Israeli attorney general said Tel Aviv was an "apartheid regime," calling on the international community to hold Israel accountable for its discriminatory treatment of the Palestinians.
In an article published in the Irish newspaper The Journal, Michael Ben-Yair stressed that he agreed with a report by an international rights group, which said Israel is committing the crime of apartheid against the Palestinians in the occupied territories.
Ben-Yair, who was also an acting Supreme Court of Israel judge, said he had spent much of his career analyzing the legal questions concerning Israel's occupation of the Palestinian lands.
Israeli courts, he added, uphold "discriminatory laws" to expel Palestinians from the occupied West Bank and East al-Quds, which contributes to the "ongoing domination over these territories."
"It is the Israeli ministerial cabinet for settlements that approves every illegal settlement in the occupied territories. It was me, in my role as the attorney general who approved the expropriation of private Palestinian land in order to build infrastructure such as roads that have entrenched settlement expansion," he said.
Last year, Israel's leading human rights group, B'Tselem, said in a report that Israel is not a democracy but an "apartheid regime" that systematically oppresses the Palestinians via military occupation and racist laws.
The Tel Aviv regime, it asserted, is using "laws, practices and organized violence to cement the supremacy of one group over another."
Israel occupied the West Bank and East al-Quds during the Six-Day War in 1967. It later annexed East al-Quds in a move not recognized by the international community.
Palestinians want the West Bank as part of a future independent Palestinian state with East al-Quds as its capital.
Source: Press TV
Please click the following URL to read the text of the original story:
https://www.presstv.ir/Detail/2022/08/05/686819/French-legislators-sign-draft-resolution-condemning-Israeli-apartheid
--------
White House Calls for Calm As Violence Flares Between Gaza, Israel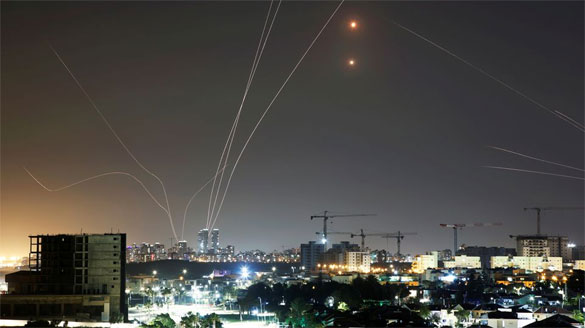 Streaks of light are seen as Israel's Iron Dome anti-missile system intercepts rockets launched from the Gaza Strip towards Israel, as seen from Ashkelon, Israel May 11, 2021. REUTERS/Amir Cohen
-----
05 August, 2022
The White House Friday called on Israelis and Palestinians to avoid further escalation as the conflict in Gaza threatened to spiral out of control after a senior militant was killed during Israeli air strikes.
"We're actively engaged with Israelis and Palestinians and regional partners to work towards achieving a calm in the wake of the strikes, and we certainly urge all sides to avoid further escalation," National Security Council spokesman John Kirby said.
Speaking to reporters, Kirby said the US stood by Israel and remained "unwavering" in its commitment to Israel's security. "We absolutely fully support Israel's right to defend itself against terrorist groups that have taken the lives of innocent civilians in Israel," he added.
Israel carried out air strikes in Gaza on Friday, which resulted in the killing of a senior commander in the Palestinian Islamic Jihad (PIJ), Tayseer al-Jabari.
The PIJ vowed to respond and threatened an all-out war, promising to send rockets into Tel Aviv.
The latest violence risks sparking another war in Gaza, ruled by the militant group Hamas. Gaza witnessed the biggest outbreak of violence since 2014 between Palestinian factions and Israel last year, forcing US President Joe Biden to engage and put other priorities aside quickly.
Source: Al Arabiya
Please click the following URL to read the text of the original story:
https://english.alarabiya.net/News/middle-east/2022/08/05/White-House-calls-for-calm-as-violence-flares-between-Gaza-Israel
--------
Understanding Other Faiths: For Basith M. and Jabir P.K., Muslim Students, Winning the Ramayana Quiz Is Part of the Learning Process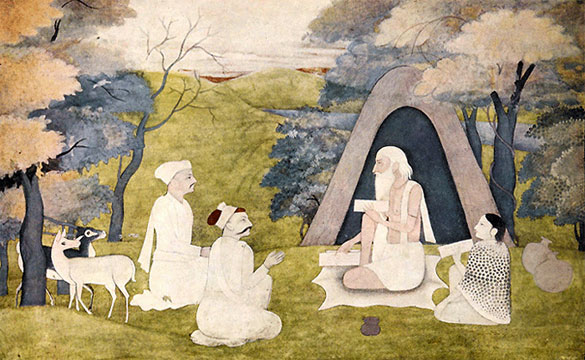 A painting of poet Valmiki teaching the 'Ramayana' to Luv and Kush. Credit: Wikimedia Commons
------
August 05, 2022
Malappuram (Kerala): If you ask Mohammed Basith M. about his favourite Shlokas in the epic Ramayana, this Muslim youth, without any second thought, would recite the verses from "Ayodhya Kanda" which describes Lakshmana's anger and Lord Rama's consolation to his brother explaining the worthlessness of kingdom and power.
He would not only render the verses of Adhyatma Ramayanam, the Malayalam version of the epic written by Thunchathu Ramanujan Ezhuthachan, fluently and mellifluously but would also explain in detail the meaning and message of the sacred lines.
This in-depth knowledge in the great epic has helped Basith and his college mate-friend Mohammed Jabir P.K. to emerge as winners in a recent Ramayana quiz competition conducted online by publishing major DC Books.
Basith and Jabir, fifth and final year students, respectively, of the Wafy programme, an eight year-course at the KKSM Islamic and Arts College at Valanchery in this north Kerala district, were among the five winners of the quiz conducted last month to mark the ongoing 'Ramayana Month'.
The win by the Islamic college students in the Ramayana quiz caught wide media attention following which people from various walks of life began congratulating the duo.
The students said though they knew about the epic since their childhood, they started reading and learning about Ramayana and Hinduism in depth after joining the Wafy course, the syllabus of which has the teachings of all major religions.
Also Read: AMU to Offer Degree in Comparative Religion, Include Sanatan Dharma Texts
The vast college library, which has a huge collection of books on other religions, has helped them read and understand the epics.
"All Indians must read and learn the epics Ramayana and Mahabharata as they are part of the country's culture, tradition and history. I believe that it is our responsibility to learn and understand these texts," Jabir told PTI.
Pointing out that Lord Rama is an embodiment of righteousness, forbearance and serenity, the Wafy student said such noble virtues should be part of every human being.
"Rama had to sacrifice even his kingdom to fulfill the promise to his beloved father Dasaratha. While living in a period of endless struggles for power, we should draw inspiration from characters like Rama and the message of epics like Ramayana," the 22-year-old student explained.
Basith felt that extensive reading would help to understand other faiths and the people belonging to those communities more.
No religion promotes hatred but only propagates peace and harmony, he said adding that the winning of the quiz gives him further motivation to learn the epic more deeply.
The eight-year-long Wafy course is offered in 97 campuses under the Coordination of Islamic Colleges (CIC) combining religious and temporal education for students after passing the LC examination.
Source: The Wire
Please click the following URL to read the text of the original story:
https://thewire.in/education/for-these-two-muslim-students-winning-the-ramayana-quiz-is-part-of-the-learning-process
--------
No Question of Use of Pakistani Soil in Zawahiri's killing: DG ISPR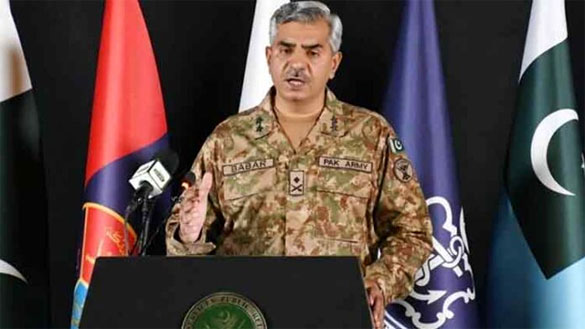 Director-General of Inter-Services Public Relations Major General Babar Iftikhar/ Photo: Pakistan Today
------
August 5, 2022
ISLAMABAD: Director-General of Inter-Services Public Relations Major General Babar Iftikhar Friday commented on rumours concerning the use of Pakistan's air space in the drone strike that killed al-Qaeda leader Ayman Al-Zawahiri and said that there was "no question on the use of the Pakistani soil in Zawahiri's killing.
"The Foreign Ministry has issued a clear statement regarding Ayman Al-Zawahiri. It is impossible that Pakistan's soil has been used for this," he said, adding that irrelevant comments are made without any evidence.
Condemning the negative propaganda on social media which took off after the helicopter crash, the director-general said: "We have been distressed since the accident on August 1. The propaganda has caused immense pain, particularly to the families of the martyrs."
Emphasising that this should not happen, General Babar said that elements spreading negative propaganda and rumours should be rejected.
"Insensitive behaviour is unacceptable and should be condemned on every platform," he asserted, adding that the Pakistan Army is grateful for the nation which stands by them and the martyrs.
Commenting on three years since India's abrogated Article 370 ending Illegally Occupied Jammu & Kashmir's special autonomous status, the DG ISPR said, Pakistan Army stands with the people of Kashmir.
"The issue of Kashmir must be resolved and we will work toward it at every platform," he maintained.
Source: Pakistan Today
Please click the following URL to read the text of the original story:
https://www.pakistantoday.com.pk/2022/08/05/no-question-on-use-of-pakistani-soil-in-zawahiris-killing-dg-ispr/
--------
South Asia
At Least 8 Killed, 18 Injured In Blast At Shia Gathering In Kabul, Afghanistan
Bilal Guler
05.08.2022
ANKARA, KABUL / Afghanistan
At least eight people were killed and 18 others were injured in an explosion during a Shia community mourning gathering in Kabul, Afghanistan's capital, on Friday afternoon.
Khalid Zadran, a spokesman for the Kabul Police, told Anadolu Agency that at least eight people were killed and 18 others were injured, some of them in critical condition, when a bomb exploded at a house in the Sar-e-Karez neighborhood in Kabul. The injured were shifted to local hospitals for treatment.
Local sources said women had gathered at the house to mourn the martyrdom of Hazrat Imam Hussain, the grandson of Prophet Mohammad, which is being mourned by Shia Muslims around the world during the first 10 days of the Islamic calendar month of Moharram.
Khalid Zadran did not provide any other information regarding the incident, but according to local sources, those killed and injured are all women and children.
Later on Friday, ISIS/Daesh terror group claimed responsibility for the bomb attack in Kabul via its social media accounts.
On Thursday, Zabihullah Mujahid, spokesman for Afghanistan's interim administration, said security forces killed four ISIS/Daesh terrorists in Kabul's Karte Sakhi neighborhood, while one was apprehended.
Source: Anadolu Agency
Please click the following URL to read the full text of the original story:
https://www.aa.com.tr/en/asia-pacific/at-least-8-killed-18-injured-in-blast-at-shia-gathering-in-afghanistan/2654802
--------
Terrorist's Afghan hideout chills US bid to free $3.5 billion
Aug 5, 2022
The Taliban's apparent sheltering of al-Qaida leader Ayman al-Zawahiri, who was killed last weekend in a US drone strike in Kabul, dealt a blow to an already politically fraught attempt to free up $3.5 billion in frozen bank funds to alleviate poverty and famine in Afghanistan.
A year after the US withdrew its forces from Afghanistan and the Taliban seized control, the South Asian country faces dire circumstances. Before President Joe Biden said this week that the Taliban had let Zawahari live quietly in the heart of Afghanistan's capital, US officials were working on a complicated plan to distribute half of almost $7 billion in frozen Afghan central bank assets for humanitarian aid.
"Placing UN, EU, and US-designated terrorists in senior positions at the Afghan central bank and harboring al-Qaida leaders in downtown Kabul demonstrates the Taliban's profound inability to be a responsible international stakeholder," said Alex Zerden, a former US Treasury official who led its office in Kabul during the Trump administration.
The most recent efforts to free up aid included a meeting last month among US State and Treasury Department officials, senior representatives of the Taliban and what the US described as "technocratic professionals" in Tashkent, Uzbekistan. At the center of the discussions was a thorny issue: How to get the money to the people of Afghanistan without it falling into the hands of the Taliban.
At the conclusion of the meeting, which involved Special Representative for Afghanistan Thomas West and Under Secretary of the Treasury for Terrorism and Financial Intelligence Brian Nelson, the US issued a terse statement citing "the need to address the urgent humanitarian situation in Afghanistan" and do it quickly.
"The two sides discussed ongoing efforts to enable the $3.5 billion in licensed Afghan central bank reserves to be used for the benefit of the Afghan people," the State Department said. "The United States underscored the need to accelerate the work on these efforts."
Anthony Cordesman, emeritus chair in strategy at the Center for Strategic and International Studies in Washington, warned against focusing on the killing of Zawahiri to the exclusion of the "much more serious problems" of widespread poverty and hunger facing Afghanistan.
Frozen funds
The Afghan money was frozen after the US withdrew from Afghanistan, precipitating a takeover of the country by the Taliban following a 20-year effort that fell short of goals that included maintaining a more Western-friendly government.
The US was forced to negotiate with the Taliban in order to evacuate its military, citizens and permanent residents as well as some of the many Afghan nationals who had worked for American officials and agencies. During the frenzied operation, 13 US service members were killed in an attack claimed by ISIS-K, an offshoot of Islamic State based in Afghanistan and Pakistan.
As part of the withdrawal, the US froze almost $9.5 billion in assets belonging to Da Afghan Bank, the nation's central bank. The bulk of the funds are in accounts with the New York Federal Reserve and US-based financial institutions.
In February, Biden issued an executive order consolidating the $7 billion held by US institutions and dividing it into two sections, the ultimate fate of both to be determined by a US federal judge overseeing the assets. Half of the money is attached to a case involving the families of victims of the 9/11 attacks and half is set aside for "the benefit of the Afghan people."
Biden's executive order is "designed to provide a path for the funds to reach the people of Afghanistan, while keeping them out of the hands of the Taliban and malicious actors," according to the order.
But trying to funnel funds through independent or multilateral organizations is no guarantee of success, Cordesman said in an interview. "We had outside international bodies all through the existence of the previous Afghan government," he said. "And none of them prevented that from being one of the most incompetent and corrupt governments in the world."
Source: Times Of India
Please click the following URL to read the full text of the original story:
https://timesofindia.indiatimes.com/world/south-asia/terrorists-afghan-hideout-chills-us-bid-to-free-3-5-billion/articleshow/93368404.cms
--------
WION's Pak Journalist Abducted By Taliban In Kabul, Now Safe: Report
August 06, 2022
Kabul: Pakistani journalist Anas Mallick, who was in Afghanistan to cover the first anniversary of the Taliban's takeover of the country, was abducted and physically assaulted by the Taliban. However, later Pakistan's ambassador to the neighbouring country Mansoor Ahmad Khan on Friday confirmed that he is safe.
Mallick, who works for India's WION News Channel, landed in Afghanistan on Wednesday to cover the Taliban's takeover and the recent assassination of al-Qaeda chief Ayman al-Zawahiri in a US drone strike.
Reports of Anas Mallick going missing began circulating Thursday night, a day after he had reached Afghanistan.
His fellow journalist was one of the first persons to share the news of Anas Mallick's disappearance Thursday night, in a tweet.
She shared that his phones were not reachable and no information about him was available with the Pakistan embassy in Kabul, which had begun conducting preliminary inquiries with the Taliban government.
Later, Pakistan's ambassador to the Afghanistan Mansoor Ahmad Khan confirmed Friday that Mallick has now been located in Kabul and is safe.
"Regarding reports about Pakistani journalist Anas Malik, I have just talked to him on phone briefly. He is in Kabul and safe. Embassy will remain in touch with him," the envoy tweeted.
Pakistan's Foreign Minister Bilawal Bhutto had also shared the information via Twitter. Mallick also took to Twitter to inform about his safety, saying, "I am back".
He was reported missing the next day after filing a story about the safehouse where the al-Qaeda chief was killed in a drone strike. Anas Mallick had recently interviewed Pakistan Foreign Minister Bhutto on the sidelines of the Shanghai Cooperation Council(SCO) meeting in Tashkent.
Anas Mallick's younger brother Hassan Mallick in a tweet had wrote, "My elder brother and journalist Anas Mallick has been missing in Kabul from past more than 12 hours. Authorities are requested to please pursue the case and ensure his swift and safe recovery. Prayers requested too."
Narrating the account of what transpired Mallick said, "We were handcuffed, blindfolded, and faced the wildest accusations and after that were questioned thoroughly on our journalistic credentials as well. Personal questions were also hurled at us. Late in the evening yesterday, at around 9:30 (local time), I was moved into a room where I was told I will be allowed to walk free once the translator shows up."
He also revealed his traumatic experience by showing his torn clothes and injuries.
This wasn't Mallick's first visit to the region. He had extensively covered the Taliban's takeover following the United States' withdrawal last year. Importantly, the local producer and his driver are still being held by the Taliban. Although they said that they will be releasing them soon, but there has been no update.
While covering the clashes between Afghan security forces and the Taliban on July 16, 2021, the Pulitzer-winning Indian photojournalist Danish Siddiqui was illegally detained, tortured, and killed by the Taliban, and his body was mutilated. This was not an isolated incident as there are many incidents relating to the attacking of civilians, including journalists.
38-year-old Siddiqui, who was the Chief Photographer for Reuters in India, was killed in Kandahar province's Spin Boldak district while covering the violence in Afghanistan.
"Danish, our loving son, was murdered by the Taliban for simply carrying out his journalistic duties," said Danish Siddiqui's mother, Shahida Akhtar. "He was subjected to barbaric levels of torture and mutilation while in their custody. Danish always stood for honesty and integrity in his work. He always showcased the pain and suffering of the people. He was brave and courageous all along." Siddiqui, a native of New Delhi, is survived by his wife Rike and two children.
Source: ND TV
Please click the following URL to read the full text of the original story:
https://www.ndtv.com/world-news/wion-pakistan-journalist-anas-mallick-abducted-by-taliban-in-kabul-now-safe-report-3229842
--------
Iran vehemently condemns terrorist attack in Kabul, urges Taliban to ensure mourners' security
06 August 2022
Iran has strongly condemned the deadly terrorist attack in the Afghan capital Kabul and called on the caretaker Taliban government in the country to provide the mourners with heightened security.
"It is expected that caretaker Taliban government officials strengthen security measures for mourners at gatherings and mosques," Foreign Ministry spokesman, Nasser Kanaani, said late on Friday, expressing deep sorrow for the victims of the bloody blast.
At least eight people were killed and 18 others injured in the blast during a community mourning gathering in a Shia residential area in Kabul on Friday afternoon.
According to Khalid Zadran, a police spokesman, the explosion happened in a crowded area.
Initial investigations revealed that explosives were placed in a vegetable cart, with the blast resulting in the killing and wounding of dozens of people, including women and children, Reuters reported citing a senior Taliban security official, who declined to be named.
"There is a possibility that the death toll will increase because most of the wounded people had critical wounds," he said.
Later on Friday, the Daesh terror group claimed responsibility for the attack via its social media accounts.
Daesh is seen as Afghanistan's most serious security challenge. It has a foothold in eastern and northern Afghanistan, particularly in Nangarhar, which is regarded as its base in the war-torn country. It has recently claimed several attacks across Afghanistan.
Afghans, prominently the minority Shia community, have been targeted in several large-scale kidnappings and killings across the country.
In May last year at least 85 people -- mainly girl students -- were killed and about 300 wounded when three bombs exploded near their school in the Shia-dominated Dasht-e-Barchi neighborhood of Kabul.
In October 2020, Daesh admitted attacking an educational center in the same area that killed 24 people, including students.
In May 2020, the terrorist group was blamed for a bloody attack on a hospital's maternity ward in the same neighborhood that killed 25 people, including mothers.
Security in Afghanistan has vastly improved since the Taliban's takeover of the country. However, several attacks are reported throughout the country from time to time.
The Taliban, who had previously ruled Afghanistan from 1996 to 2001, took power again on August 15 last year as the US was in the middle of a chaotic troop withdrawal. The group announced the formation of a caretaker government on September 7.
Afghan mourning gatherings during the Islamic calendar month of Muharram have been targeted in recent years.
Source: Press TV
Please click the following URL to read the full text of the original story:
https://www.presstv.ir/Detail/2022/08/06/686859/Iran-condemns-Kabul-terrorist-attack-urges-Taliban-to-ensure-mourners-security
--------
Europe
Europeans urge Iran 'not to make unrealistic demands' in nuclear talks: Official
05 August, 2022
Britain, France and Germany urged Iran on Friday "not to make unrealistic demands" in the talks to salvage a 2015 deal aimed at reining in Tehran's nuclear ambitions.
Officials from world powers and Iran were meeting in the Austrian capital for the first time since March, when negotiations -- which began in 2021 to reintegrate the United States into the agreement -- stalled.
"Today's talks in Vienna do not mark a new round of negotiations. These are technical discussions," the three countries -- known as the E3 group -- said in a statement.
"The text is on the table. There will be no re-opening of negotiations. Iran must now decide to conclude the deal while this is still possible. We urge Iran not to make unrealistic demands outside the scope of the JCPOA," or Joint Comprehensive Plan of Action, the statement said.
Britain, China, France, Germany, Iran, Russia and the United States signed the JCPOA in July 2015.
But following the unilateral withdrawal of the United States in 2018 under former president Donald Trump and the re-imposition of US sanctions, Tehran has backtracked on its obligations to curtail its atomic activities, such as uranium enrichment.
The UN's nuclear watchdog, the International Atomic Energy Agency, has found that Iran subsequently exceeded the agreed enrichment rate of 3.67 percent, rising to 20 percent in early 2021.
It then crossed an unprecedented 60-percent threshold, getting closer to the 90 percent needed to make a bomb.
IAEA chief Rafael Grossi on Tuesday warned Iran's program was "moving ahead very, very fast" and "growing in ambition and capacity."
But Tehran argues that the issues "are political in nature and should not be used as a pretext for abuse against Iran in the future."
Source: Al Arabiya
Please click the following URL to read the full text of the original story:
https://english.alarabiya.net/News/middle-east/2022/08/05/Europeans-urge-Iran-not-to-make-unrealistic-demands-in-nuclear-talks-Official
--------
Azerbaijan's embassy in London attacked by radical religious group
Vakkas Dogantekin
05.08.2022
Azerbaijan's Ministry of Foreign Affairs said Thursday that its embassy building in London was attacked by a radical religious group.
Photos and video footage shared by some Azerbaijani accounts on social media showed several people storming the building.
"Entering the building of the embassy, the members of the vandalism group raised religious flags and shouted radical religious slogans on the balcony of the building. After the intervention of the local police, the group members were taken out of the building and detained," said the Foreign Ministry statement.
It added that embassy employees were not injured and the incident is being investigated by law enforcement agencies.
"In accordance with the Vienna Convention, a warning regarding the security of diplomats and diplomatic premises has been brought to the attention of UK authorities through diplomatic channels," it stressed.
Turkish Foreign Minister Mevlut Cavusoglu lost no time in conveying his sympathies to his Azerbaijani counterpart Ceyhun Bayramov over the attack.
Source: Anadolu Agency
Please click the following URL to read the full text of the original story:
https://www.aa.com.tr/en/europe/azerbaijans-embassy-in-london-attacked-by-radical-religious-group/2653811
--------
French Court Suspends Imam's Deportation; Imam Hassan Iquioussen Is Accused of Disseminating Anti-Semitic and Anti-Gender Equality Messages
Shweta Desai
05.08.2022
PARIS
A French court on Friday suspended the expulsion of an imam accused by the Interior Ministry of disseminating anti-Semitic and anti-gender equality messages.
In its decision, the administrative court of Paris said the expulsion of Imam Hassan Iquioussen, a Moroccan national born in France, would constitute a "disproportionate attack" on his "private and family life," his lawyer Lucie Simon shared on Twitter.
The 57-year-old imam was born in France and lives there with his family.
"The mere reason based on the existence of acts of explicit and deliberate incitement to discrimination against women (cannot) justify the expulsion measure without seriously and manifestly disproportionate interference with his right to carry out a normal private and family life," the court said, according to a report by BFMTV news.
Interior Minister Gerald Darmanin who had ordered Iquioussen's deportation to Morocco announced on Twitter that he would appeal against the court's decision. He said he is "determined to fight against those who hold and disseminate anti-Semitic remarks that are contrary to equality between women and men."
Last week, the ministry announced to remove Iquioussen from the mainland territory, and cancel his residence permit, for making anti-Semitic and "anti-women" remarks during sermons or conferences, which Iquioussen says are "baseless accusations."
Last week, the Council of Mosques of the Rhone (CMR) and Theological Council of Imams of the Rhone (CTIR) issued a joint statement and criticized the interior minister's move.
Source: Anadolu Agency
Please click the following URL to read the full text of the original story:
https://www.aa.com.tr/en/europe/french-court-suspends-prominent-imam-s-deportation/2654554
--------
Russia's aerospace force wipes out US-trained militants in Syria: Moscow
05 August 2022
The Russian Defense Ministry says it has eliminated a group of US-backed militants in Syria as they were hiding in shelters in the country's Badia deserts near the Iraqi border, from where they carried out sabotage attacks against the civilian population and civilian infrastructure in the Arab country.
"On the 4th of August, after investigation operations, the Russian fighters eliminated a terrorist group of the so-called Shuhada' al-Qaryatayn Brigade that were hiding in prepared dens in the Syrian al-Badia desert," the Ministry said in a statement quoted by Syria's official news agency SANA on Friday.
The Ministry added that the terrorist group was positioned in al-Tanf area, which is occupied by the US occupation forces, and they were trained there by the occupation forces which supplied them with weapons.
The Russian Defense Ministry stressed that the terror outfit committed terrorist killings in the Badia region against the civilians.
Syria has been gripped by foreign-backed militancy since March 2011. The Syrian government says the United States, the Israeli regime, and their Western and regional allies are aiding Takfiri terrorist groups that are spreading insecurity in the country.
The US military has stationed forces and equipment in eastern and northeastern Syria, with the Pentagon claiming that the deployment is aimed at preventing the oilfields in the area from falling into the hands of Daesh terrorists.
Damascus, however, says the unlawful deployment is meant to plunder the country's resources.
Former US president Donald Trump admitted on several occasions that American forces were in Syria for its oil.
After failing to oust the Syrian government with the help of its proxies and direct involvement in the conflict, the US government has now stepped up its economic war on the Arab country.
Late last month, a US military base in Syria's northeastern province of Hasakah was hit by a series of heavy explosions.
Russia's state-run Sputnik news agency, citing local sources, reported on July 27 that sounds of several loud blasts had been heard in the northern and western suburbs of the oil-rich town of al-Shaddadi, where one of the largest American bases in Hasakah Province is located.
Helicopters belonging to American forces flew over the skies of the area as the explosions took place, while US troops fired a flare gun into the air, Sputnik said.
Source: Press TV
Please click the following URL to read the full text of the original story:
https://www.presstv.ir/Detail/2022/08/05/686841/Russian-Defense-Ministry-militants-Syria-White-Desert
--------
Kremlin calls on Turkey to keep it calm in northern Syria ahead of Putin-Erdogan summit
05 August 2022
The Kremlin's spokesman has called on Turkey not to carry out a military offensive in northern Syrian regions, saying such an action will be destabilizing.
Dmitry Peskov's remarks came ahead of a Friday summit between President Vladimir Putin and his Turkish counterpart Recep Tayyip Erdogan.
"Turkey has legitimate concerns for security reasons, which we, of course, take into account," Peskov told reporters.
Peskov said it was imperative not to take any "action that could lead to destabilization of the situation in Syria." The Russian spokesman said in case of a military offensive in the region, "the territorial and political integrity of Syria" will be in danger.
He said Syria is one of the issues on the agenda of the summit, set to be held later on Friday in Sochi.
Turkey has for several months threatened to launch a fresh military operation against Kurdish fighters in northern Syria. Ankara's intention has been met with opposition from Tehran and Moscow.
On the sidelines of a summit in Tehran last month, Leader of Islamic Revolution Ayatollah Seyyed Ali Khamenei received Erdogan, telling him any Turkish offensive in Syria would be "detrimental" to the Arab country, Turkey itself, and the entire region. The Leader urged dialog between Ankara, Damascus, Moscow, and Tehran.
Earlier in July, Erdogan said Ankara's plan for a new military offensive in northeast Syria against members of the YPG will remain on the agenda until security concerns are addressed.
On May 23, the Turkish leader signaled a new cross-border operation in northern Syria with the declared aim of creating a 30-kilometer (18.6-mile) wide safe zone along Turkey's border with Syria. He did not provide further details but said the operation would be launched as soon as military, intelligence, and security forces have completed preparations.
Turkey has deployed forces in Syria in violation of the Arab country's sovereignty and territorial integrity.
Ankara-backed militants were deployed to northeastern Syria in October 2019 after Turkish military forces launched a long-threatened cross-border invasion in a declared attempt to push YPG fighters away from border areas.
Source: Press TV
Please click the following URL to read the full text of the original story:
https://www.presstv.ir/Detail/2022/08/05/686825/Moscow-advises-Turkey-against-any-operation-in-N-Syria-ahead-of-Putin-Erdogan-meeting
--------
North America
3 Muslim men in Albuquerque were murdered. Police are investigating possible ties to same killer
August 5, 2022
Albuquerque police and the FBI are investigating three recent murders of Muslim men for "possible ties to the same offender," according to Albuquerque police.
Two members of the same mosque, Muhammed Afzaal Hussain, 27, and Aftab Hussein, 41, both from Pakistan, were murdered in southeast Albuquerque in the past week, police said in a news release. Detectives are now trying to determine whether any connections exist between those killings and the November 2021 murder of another Muslim man, Mohammad Ahmadi, who was of South Asian descent.
"While we are still sifting through all the evidence to look for more connections, it is deeply troubling that these three men were Muslim and of similar descent," said Kyle Hartsock, deputy commander of the police department's Criminal Investigations Division.
Hartsock asked for the public's help in identifying "the shooter or shooters," saying the victims in all three cases were "ambushed with no warning, fired on and killed."
Investigators met with leaders of the Islamic Center of New Mexico on Thursday morning.
"I want to reassure our friends in the Muslim community that we are making these crimes a top priority for the department," APD Chief Harold Medina said.
CNN has reached out to the Islamic Center of New Mexico for comment.
FBI Special Agent in Charge Raul Bujanda also pledged the FBI's help in locating the "person or persons" responsible.
"We offer our condolences to the relatives of the victims and we will not rest until justice is done," he said.
The Council on American-Islamic Relations (CAIR) on Friday announced a $5,000 reward for information leading to the arrest and conviction of the person or persons responsible for the deaths of the three men, according to a release from CAIR.
Source: CNN
Please click the following URL to read the full text of the original story:
https://us.cnn.com/2022/08/05/us/albuquerque-muslim-murders/index.html
--------
Top US diplomat urges 'direct dialogue' in calls with Azerbaijani, Armenian leaders
Michael Hernandez
05.08.2022
WASHINGTON
US Secretary of State Antony Blinken on Friday called for Armenia and Azerbaijan to engage in "direct dialogue" as he spoke with the Caucasus nations' leaders amid heightened tensions.
Speaking with Azerbaijani President Ilham Aliyev by phone, Blinken "called for de-escalation" and repeated the appeal for "direct dialogue" to resolve issues related to the Karabakh region, State Department spokesman Ned Price said in a statement, referring to a region largely liberated in fall 2020 from nearly 30 years of Armenian occupation.
Blinken also assured Armenian Prime Minister Nikol Pashinyan "that the United States is watching the situation in and around Nagorno-Karabakh closely," said Price in a separate readout of the call.
"He urged direct dialogue between Armenia and Azerbaijan to resolve issues related to, or resulting from," the Karabakh conflict, Price added.
Azerbaijan said it launched a retaliatory operation on Wednesday against Armenian forces in the Karabakh region after Armenia opened fire and killed an Azerbaijani soldier, according to its Defense Ministry.
Armenia has accused Azerbaijan of violating the fall 2020 agreement that ended the 44-day Karabakh War, with Azerbaijan dismissing the charge as "nothing but mere hypocrisy."
Azerbaijan has decried Armenia's failure to fulfill the provisions of the agreement, particularly how Armenian armed forces have not yet fully pulled out of Azerbaijani territories.
Relations between the former Soviet republics have been tense since 1991 when the Armenian military occupied Nagorno-Karabakh (Upper Karabakh), a territory internationally recognized as part of Azerbaijan, and seven adjacent regions.
Source: Anadolu Agency
Please click the following URL to read the full text of the original story:
https://www.aa.com.tr/en/americas/top-us-diplomat-urges-direct-dialogue-in-calls-with-azerbaijani-armenian-leaders/2654829
--------
India
67 Riots, '12 Killings in 8 Yrs' — How This Karnataka, Dakshina Kannada, Became Hotbed Of Hindu-Muslim Hate
Madhuparna Das
6 August, 2022
Moodabidri/Bellare/Mangaluru: There was a ban on male pillion riders in coastal Karnataka's Dakshina Kannada district earlier this week. The idea, perhaps, was that it would leave fewer hands free to kill someone on the streets and make a quick escape. The pillion ban was lifted within hours, but there are still night restrictions in place, and a sense that anything could go wrong at any moment, and that anybody could be a victim, Muslim or Hindu.
Located about 300km west of cosmopolitan Bengaluru, and home to the beach town of Mangaluru, Dakshina Kannada has been wrenched by a spate of communal clashes and a cycle of apparent vengeance killings.
The latest rash of murders — three within eight days — started on 21 July in Bellare town, 80km from Mangaluru, with the death of a Muslim labourer in what police called a 'freak' roadside clash. That's when a cycle of "retaliation" started, according to police.
On the night of 26 July, bike-borne assailants "hacked" BJP youth wing worker Praveen Nettaru to death. Within 48 hours, an oil refinery worker called Mahammad Fazil met a similar end.
There is a growing sense of anger, across the religious divide, and even within the Sangh Parivar.
In the 2018 assembly elections, the BJP won 17 out of 19 seats in coastal Karnataka (which includes Dakshina Kannada, Udupi, and Uttara Kannada), but the killings of Hindus — including over the past few years — have caused tempers to fly high against the ruling party and its cadres.
Last week, protesters surrounded the car of Dakshina Kannada MP Nalin Kumar Kateel and heckled him for not taking more "proactive" action against Muslim "fundamentalists".
Meanwhile, the Islamic organisation Popular Front of India (PFI) — which has also grown in influence — has cried foul that the BJP government in the state gave "excessive attention" to the murder of the Hindu victim, while ignoring that "two innocent Muslim men" also died.
The build-up to this volatile state of affairs has been a long time in the making, with a pattern of alleged retaliatory crimes becoming far from unusual in Dakshina Kannada.
In January 2018, for instance, an RSS worker called Deepak Rao was knifed to death a few days after a communal clash in Mangaluru. Hours later, in an alleged revenge attack, Basheer, a Muslim trader, was ambushed and killed as he returned from work.
The Karnataka Police state crime record, last published in 2020, states that Dakshina Kannada district saw 67 incidents of rioting that year. Separately, the Mangaluru commissionerate recorded 23 clashes. The official records to not mention the nature of these incidents, but Karnataka Police sources claim that most were communal in nature.
A senior Karnataka Police officer told ThePrint that, over the past seven years or so, over a dozen people have been killed due to "religious hatred" in the region, which has seen a serious of communal flare-ups recently, including a massive controversy over the wearing of the hijab in educational institutes and a campaign to boycott halal meat this year.
According to experts, the violence in the region is watered by communal politics of different hues, but has its roots in socioeconomic tensions dating back decades.
"The spurt of violence that you are seeing now is an example of competitive communalism," said Muzaffar H. Assadi, professor and chairman of the University of Mysore and a native of Dakshina Kannada. "But the foundation for such hatred and tension dates back to the 1980s."
But now, more than ever, the rise of Hindutva and Islamist forces, and the political patronage allegedly afforded to them, has resulted in ordinary people — soft targets — getting caught in the crossfire and losing their lives.
When The Print travelled through the district, the religious fault-lines were visible. Even in small forested villages, the demarcations were clear, with flags signalling whether an area was predominantly Muslim or Hindu by their colour — saffron or green.
'Soft targets'
Moodabidri is a sleepy, serene little town, sometimes referred to as the 'Jain Kashi' because of its collection of 18 Jain basadis or temples.
Here, inside the Poojary family's cheerful-looking pink-walled house with wood-carved doors, the mood is sombre.
In August 2015, the family's son, a 28-year-old flower seller and Bajrang Dal volunteer called Prashanth Poojary, was brutally stabbed to death by six men in the town's main chowk. Onlookers, including his father (now deceased), could do nothing to save him.
Today, Prashanth's mother Yashoda is still waiting for justice, she said. Her son's murderers, who were allegedly members of the PFI, were granted bail two years after their 2015 arrest. "It's been seven years and they are still roaming free," she said.
Witnesses in the case claimed to ThePrint that they regularly received threats, warning them not to appear in court.
One of them, a businessman named Deviprasad Shetty, alleged: "I received threat calls from UAE numbers, mostly before the hearing dates. I reported it to the police and mentioned it before the judge."
Prashant's murder is one of the estimated dozen killings that have taken place in the district since 2014, said a police officer who maintains the official data for "communal killings".
At least seven of the victims were members of Hindu groups, he added. There has been no conviction in any of the cases, and all are in the trial phase.
According to some observers, however, the families of Hindu victims of communal crimes are treated better than their Muslim counterparts.
Vidya Dinker, a political analyst based out of Mangaluru, told ThePrint: "The chief minister visited Praveen Nettaru's house and handed over a cheque for Rs 25 lakh cheque to his family as compensation. He did not do the same for Masood or Fazil, who are also part of the cycle of hate crime."
A rift in the Parivar?
The blamegame in the wake of communal killings usually has the BJP (and members of the Sangh Parivar) and Islamic outfits both pointing fingers at each other.
What is different this time, however, is that last month's killings seem to have created a rift within the Sangh Parivar and BJP as well.
Bharatiya Janata Yuva Morcha (BJYM) member Praveen Nettaru's killing triggered serious resentment among local BJP workers, who have called their senior leaders' reaction to the incident "insensitive". Chief Minister Basavaraj Bommai, who is not from RSS, appears to have irked the Sangh Parivar with his style of handling such communal incidents.
Speaking to The Print, Suraj Kumar, the RSS media and publicity in-charge for Mangaluru, said that the Prashanth Poojary (Congress was in office at the time of his killing) and Praveen Nettaru murders reflected "an intelligence failure on the part of the police, and a failure on the part of the present government".
"There are forces that want to create unrest before elections. Young cadres like Prashanth Poojary or Praveen Nettaru were killed because they were defenceless… We expected the government to be more proactive," he added.
BJP district chief Sudarshan Moodbidri, however, said that while the government cannot provide security to everyone, it is trying to crack down on "jihadi" outfits.
"The fundamentalist jihadi organisations like the PFI are hatching conspiracies against the Hindus. We have to protect ourselves. Chief Minister Bommai has already recommended Praveen's murder to the NIA [National Investigation Agency]. Once the NIA comes in, we are sure that it would unearth the whole communal and anti-Hindu nexus of the PFI."
However, opposition parties allege that these incidents are part of the pre-election political planning of the BJP.
'A conspiracy before elections'
Incendiary politics has always been cited as a factor in alleged retaliation killings, with some claiming that communal sentiments were usually stoked near elections, which are due to take place in Karnataka next year.
"Before the 2018 assembly election, the BJP said there had been 23 killings of Hindus in the region between 2013 and 2018," said Ramalinga Reddy, working president of the Karnataka Pradesh Congress Committee (KPCC) and the state's former home minister.
"We investigated every case and found that only eight cases were political-communal in nature, while other cases were the results of personal rivalries and issues. We published the police reports too. The BJP, however, did not mention that there were 16 cases of Muslim killings too. In Dakshina Kannada-Mangalore, there were at least 15 to 16 killings between 2014 and 2018, and around seven of them were Muslims," he added.
K. Ashraf, senior Congress leader and the president of the Dakshina Kannada United Muslim Organisation, said that the Bommai government has alienated Muslims in the region. Like Dinker, he, too, pointed out that government compensation had been announced only for Nettaru and not the Muslim victims.
"Every time before the assembly elections, they (BJP-RSS) hatch some conspiracy and a few innocent people die, irrespective of whether they are Hindu and Muslim," Ashraf, who is also the former mayor of Mangaluru city, added.
Elyas Muhammad Thumbe, national general secretary of the Social Democratic Party of India (SDPI), the political arm of the PFI, also blamed the government and the "failed" law-and-order system.
"Dozens of young Muslims were killed in the district in retaliation. So many senior Muslim leaders of Congress, who held positions in panchayat or civic bodies were killed inside their offices during the 1990s here. The retaliation from the Muslim side started after they did not get any redressal," he alleged.
"The police and administration never reach out to us. The Congress also never openly supported Muslims as they knew they would lose votes in the region. And eventually, they lost too. So, what would Muslims do?" he said
About the calls to ban the SDPI, Thumbe said that the party had done nothing to warrant such a step. "[The BJP] did not ban us because they cannot ban us. They cannot prove anything. We believe in the judiciary."
Why is Dakshina Kannada such a powder keg?
With a population comprising 66 per cent Hindus, 22 per cent Muslims, and around 9 per cent Christians, Dakshina Kannada has been a hotspot of communal tensions for decades.
Professor Muzaffar H. Assadi, who specialises in political sociology, said he believes the conflict between Hindus and Muslims is based in a period of upheaval dating back to the 1980s, when land reforms led to more OBCs getting land ownership. As the socioeconomic demographics changed, hostilities between the communities grew over time, he said.
"[The Hindu OBCs] got their land rights, but were still fighting for their social identities. With some money, they started trading in the fish, meat and other food-related markets, which used to be dominated by Muslims. Over a period, both communities started getting money from Gulf countries and a battle line was drawn. With political patronage, and rise of Hindutva and Islamist forces, the exhibitionary killings started to show strength," he added.
Sandeep Shastri, political scientist and national coordinator for Lokniti (Centre for the Study of Developing Societies), said that communal killings are not new in the region.
"In 1983, when the BJP got 18 seats in Karnataka within three years of its inception, a bulk number of seats came from Dakshina Kannada. The saffron forces have always been strong here, and as a reaction to that the Islamic organisations also started building up. This region has a history of such communal killings and that started in the 1980s," said Shastri, who has worked in the region and written several books on Karnataka politics.
According to him, the region's "demographic divide" is significantly different from other places in Karnataka. "It has Hindus as majority but Muslims and Christians have a substantial population," he said.
Source: The Print
Please click the following URL to read the full text of the original story:
https://theprint.in/india/67-riots-12-killings-in-8-yrs-how-this-karnataka-district-became-hotbed-of-hindu-muslim-hate/1071286/
--------
Denied Honorarium As Watchman of A Graveyard And Mosque, Due To Participation In Kanwar Yatra, Says Muslim Labourer
Aug 05, 2022
MEERUT Babu Khan, 52, a Muslim labourer and a devotee of Lord Shiva in Ranchad village of Baghpat district, has been participating in the Kanwar Yatra since 2018. He brings the Kanwar from Haridwar's Har ki Pauri to his village, and this year too, he completed the ritual.
But Khan alleged that due to his participation in the Kanwar Yatra he has been deprived of honorarium for three years against his services as watchman for a graveyard and mosque in his village.
Babu Khan said he embraces Islam, but respects all religions. "I had a desire to bring Kanwar and I did that," he said.
On Friday, he approached the office of SDM (Baraut) with his complaint and alleged that many people, including his family members, are annoyed over his inclination towards kanwar yatra.
Speaking to HT over phone, Subhash Singh, SDM, said he has not received the complaint yet but would look into the matter and resolve it as per the provisions of law.
It is said that Babu Khan was also attacked by his family members in 2019 when he expressed his desire to bring kanwar.
Source: Hindustan Times
Please click the following URL to read the full text of the original story:
https://www.hindustantimes.com/cities/lucknow-news/denied-honorarium-due-to-participation-in-kanwar-yatra-says-muslim-labourer-101659712366383.html
--------
Masjid-e-Khaja Mahmood Demolition: Telangana Congress, MBT Leaders Under House Arrest
Mir Alamgir
5th August 2022
Hyderabad: Leaders from the Congress, Majlis Bachao Tehreek (MBT), Tehreek Muslimeem Shabban and other groups were unofficially kept under house arrest by the Hyderabad police as they planned to hold prayers at the site where the Masjid-e-Khaja Mahmood stood before it was demolished.
The mosque at Shamshabad was bulldozed earlier this week by the local Shamshabad Municipal Corporation amidst heavy police presence. The house arrest of political leaders comes a day after the All India Majlis–e-Ittehadul Muslimeen (AIMIM) MLA Kauser Mohiuddin on Thursday demanded the Telangana government to initiate action against officials who demolished the Masjid-e Khaja Mahmood.
Mohiuddin had also said that AIMIM leaders and the public will attend the 'Namaz-e-Juma' at the very place where Masjid-e-Khaja existed before demolition by the Shamshabad municipal authorities.
Fearing a clash between AIMIM party and others, the Cyberabad police sought help of their Hyderabad counterparts and put under Congress leaders Abdullah Sohail and Rasheed Khan, MBT spokesperson Amjedullah Khan, Tahreek Muslim Shabban (TMS) president Mohd Mustaq Malik under unofficial house arrest.
Congress leaders, MBT and TMS staged a protest on August 2 earlier this week after demolition of the Masjid-e-Khaja. A massive rally was taken out in Shamshabad on Wednesday. AIMIM also held a protest at the Shamshabad Municipal office and the Ranga Reddy district collector office at Lakdikapul as well.
Source: Siasat Daily
Please click the following URL to read the full text of the original story:
https://www.siasat.com/masjid-e-khaja-demolition-congress-mbt-leaders-under-house-arrest-2383728/
--------
NIA: Accused duo went for biryani dinner after Amravati killing
Aug 6, 2022
MUMBAI: A special court on Friday remanded Abdul Arbaz and Maulavi Mushfique Ahmed, both Amravati residents, arrested in connection with the killing of Amravati chemist Umesh Kolhe, to NIA custody till August 12. So far, a total of nine accused have been arrested. Seeking 15 days custody, the NIA claimed that they were harbouring the absconding accused. The NIA said that under the UAPA Act they were charged with the offence related to harbouring terrorists.
It was further submitted that one of the arrested, Irfan Shaikh, had called Mushfique after the murder, hence, conspiracy was established. It was also submitted that after the murder the accused even went for biryani dinner and this showed their conduct.
Source: Times Of India
Please click the following URL to read the full text of the original story:
https://timesofindia.indiatimes.com/india/nia-accused-duo-went-for-biryani-dinner-after-amravati-killing/articleshow/93381842.cms
--------
Karnataka: 19-year-old Muslim youth murdered over trivial issue
Sameer Khan
5th August 2022
Masood, a 19-year-old, one of four children in a family from Bellare of Sullia Taluk in Dakshina Kannada district, was brutally assaulted and killed in Bellare town, 80 km from Mangaluru, on 21 July.
He lost his father who was from Kasargod in Kerala at the age of 12. After the death, the family moved into their grandmother's house in Bellare – where Masood had to start working at the age of 16 to support the family.
His mother Saramma says she wanted to provide her son good education and so she put him in a school with a hostel. The death of her husband however forced her to pull him out of school in class nine because the family had no breadwinners and Masood and his elder brother Mirshad had to go out to work.
Masood has a younger brother and a sister. He and his older brother were working as laborers and painters to make ends meet.
Before the fateful day when Masood was grievously attacked, a small fight over touching of shoulders had taken place between him and a Bellare local Sudhir. On July 19, the duo had an altercation and Masood returned home. Later, Sudhir and others asked Ibrahim Shanif, a friend of Masood, to bring Masood for a compromise meeting before a temple. Shanif who trusted Sudhir and his team took Masood to the temple but eight gang members assaulted Masood and hit him with a bottle. He died two days later in a hospital.
Masood wanted to build a house and also wanted to educate his younger siblings but it all vanished in thin air, a relative Shoukhat Ali said. The brothers earned about Rs 15,000- Rs 20,000 to help the family live a hand-to-mouth existence.
"He was not even very aware of society. He lacked maturity when it came to things happening in society because the focus was always to earn a living. He even did not know about the political parties and their activism here. He usually never stayed at home but was traveling to places where there was work and he has been doing it since the age of 16," said Masood's mother Saramma.
Chief Minister Basavaraj Bommai, local MLA S Angara, DK MP Nalin Kumar Kateel and other ministers from state cabinet visited the house of Praveen Nettaru, the BJP Youth leader who was killed on July 26, and compensated the family with Rs. 30 lakh. The CM and other leaders conveniently ignored meeting the kin and family of Masood.
The Muslim Central Committee of Dakshina Kannada and Udupi districts, which has control over 1,000 mosques, boycotted the district peace committee meeting held at the deputy commissioner's office. The Muslim Central Committee, said they did so because Basavaraj Bommai, who had visited Nettaru's house, did not meet the families of Masood and Fazil.
"Why is one youth being treated differently to the other two? Also, only one case has been handed over to the NIA (National Investigation Agency)," the committee said.
The committee has announced a compensation of Rs. 30 lakh each to the kin of Masood and Fazil. Former Karnataka CM HD Kumaraswamy also visited the kin of Masood on August 1, and handed Rs. five lakh to the family.
Source: Siasat Daily
Please click the following URL to read the full text of the original story:
https://www.siasat.com/karnataka-19-year-old-muslim-youth-murdered-over-trivial-issue-2383769/
--------
Gujarat: Man booked for giving triple talaq
Aug 6, 2022
RAJKOT: A 24-year-old woman from Bhavnagar lodged a complaint against her husband alleging that he gave her an instant divorce by uttering 'talaq' thrice.
Police have booked Shehzad Latiwala, his father Arif and his mother Hafiza following a complaint lodged by Rukhsar Latilwala. They were booked under the Muslim Women (Protection of Rights on Marriage) Act, 2019.
Rukhsar got married to Shehzad, a native of Bharuch, on October 25, 2020. She alleged that her in-laws and husbands started torturing her mentally over petty issues. About eight months ago, she even came back to her parent's house in Bhavnagar after a fight with Shehzad.
Source: Times Of India
Please click the following URL to read the full text of the original story:
https://timesofindia.indiatimes.com/city/rajkot/gujarat-man-booked-for-giving-triple-talaq/articleshow/93384561.cms
--------
Pakistan
Balochistan's child marriage bill in limbo for eight years
August 6, 2022
QUETTA: Despite being submitted to the cabinet for approval, the draft of the child marriage bill has been pending before the Balochistan Assembly for the last eight years, a legislator told a consultation meeting on the issue of child marriage.
Dr Shama Ishaq, a politician from the National Party, said that this was due to hurdles created by certain quarters.
The consultation, held in collaboration with the Education Youth Empowerment Society, Blue Veins, and Girls Not Brides, decided that a committee comprising all stakeholders would be formed to initiate dialogue with the heads of political parties on the issue of child marriage and reach consensus on the age limit.
The session was presided over by Balochistan's Parliamentary Secretary on Law and Parliamentary Affairs, Science & Technology Dr Rubaba Khan Buledi.
Stakeholders resolve to form committee for consensus on age limit for marriage
The participants expressed serious concern over the negative attitude of religious parties and some other quarters regarding the child marriage bill.
Female legislators said that while women MPAs made all possible efforts to reach consensus on the age limit and persuaded the male MPAs to support the child marriage bill, they faced strong opposition from the religious parties' legislators on the issue of the age limit.
Dr Buledi and Parliamentary Secretary on Women's Development Mahjabeen Sheeran informed the meeting that the bill was sent to the Council of Islamic Ideology (CII) twice for its opinion on the age limit issue. The CII chairman had sent his recommendations, but once again these were sent to the council for review.
Source: Dawn
Please click the following URL to read the full text of the original story:
https://www.dawn.com/news/1703492/balochistans-child-marriage-bill-in-limbo-for-eight-years
--------
'Bad days ahead, no country can grow, be stable with current account deficit', warns Pakistan's finance minister
05th August 2022
KARACHI: Pakistan's Finance Minister Miftah Ismail on Friday said the government would continue to curb imports for the next three months, as he warned of "bad days" ahead for the cash-strapped country.
Addressing a ceremony at the Pakistan Stock Exchange here, the minister said that the government headed by Prime Minister Shehbaz Sharif was suffering because of the economic policies taken by the erstwhile Pakistan Tehreek-e-Insaf (PTI) regime led by ousted prime minister Imran Khan.
"During the previous Pakistan Muslim League-Nawaz (PML-N) government, the country's budget deficit was USD 1,600 billion, and in the last four years under the Pakistan Tehreek-e-Insaf (PTI) regime, that figure ballooned to USD 3,500," Geo TV quoted Ismail as saying.
"No country can grow and be stable with this kind of current account deficit," he asserted.
"When you raise the budget deficit and also increase the loans by 80 per cent, it has an adverse impact on the economy," he explained.
"I will not allow imports to increase for three months and, in the meantime, we will come up with a policy. I understand that growth will be reduced for a bit but I have no other choice," the Dawn newspaper quoted the finance minister as saying.
Pakistan's import bill for the previous fiscal year stood at USD 80 billion, while exports amounted to USD 31 billion. He noted that the current government had to save the country from a possible default and had to take immediate and short-term measures.
"Maybe it was unwise in the long-term," he lamented.
"We are on the right track, but obviously we might see bad days. If we control our imports for three months, we can boost our exports through various means," he asserted.
Talking about the exchange rate, Ismail noted that dollar outflows had been surpassing inflows, which is why the rupee had fallen sharply against the greenback over the last month.
The Pakistani rupee appreciated 2.15 against the US dollar for the sixth consecutive session during intra-day trade in the interbank market, to touch 224 against the greenback on Friday.
Since Khan's ouster in April, Pakistan's currency has plummeted to an all-time low of 240, amid uncertainty about IMF assistance.
Last week, New York-based rating agency S&P Global revised Pakistan's long-term ratings from 'stable' to 'negative' due to spiralling inflation and tighter global financial conditions.
Pakistan reached a staff-level agreement with the IMF last month followed by months of deeply unpopular belt-tightening by the government, which took power in April and has effectively eliminated fuel and power subsidies and introduced new measures to broaden the tax base.
The new government has slashed a raft of subsidies to meet the demands of global financial institutions but risks the wrath of an electorate already struggling under the weight of double-digit inflation.
Pakistan had hoped for a quick revival of the bailout, but the IMF has so far not released the much-needed instalment.
IMF's Resident Representative for Pakistan Esther Perez Ruiz, following the staff-level agreement, earlier this week said the country had completed the last precondition - increasing the petroleum development levy - for the combined seventh and eighth reviews.
An original USD 6 billion bailout package was signed by former prime minister Imran Khan in 2019, but repeatedly stalled when his government reneged on subsidy agreements and failed to significantly improve tax collection.
Pakistan desperately needs the IMF loan.
In July, the fund said it would raise the value of the bailout from USD 6 billion to USD 7 billion if approved by its executive board, usually considered a formality.
Source: New Indian Express
Please click the following URL to read the full text of the original story:
https://www.newindianexpress.com/world/2022/aug/05/bad-days-ahead-no-country-can-grow-be-stable-with-current-account-deficitwarns-pakistans-fina-2484420.html
--------
'Love jihad' hits Greece as Pakistan man kills teen girlfriend, runs away
August 05, 2022
New Delhi: The word 'love jihad' has now reached the European country of Greece where a Pakistani Muslim boy recently killed his teenage girlfriend.
The incident has sparked outrage across Greece. Meanwhile, the Greek media is calling it a case of 'love jihad'.
The 30-year-old Pakistani boy who is accused in the case is absconding.
A report in Media Directus of Greece read, "In the name of love in India, Muslim boys, by changing their names, lure Hindu girls into their trap and then ask them to change religion, if they do not change religion, they are tortured, sometimes they even die. Is Greece now facing love jihad from the Pakistani side?"
The report also accused Pakistani boys of naively implicating Greek girls in the name of love.
According to reports, Nicoletta's body was found in her room. Her Pakistani boyfriend had been living in the same
apartment along with her mother and her sister.
Source: Firstpost
Please click the following URL to read the full text of the original story:
https://www.firstpost.com/world/pakistani-man-absconding-after-killing-teenage-girlfriend-in-athens-greek-media-calls-it-love-jihad-11016021.html
--------
One killed, 14 injured in grenade blast in Pakistan's restive Balochistan province
Aug 5, 2022
KARACHI: At least one person was killed and 14 others, including two children, were injured when unidentified miscreants threw a hand grenade at a roadside stall selling Pakistani national flags in the country's restive Balochistan province, a media report said on Friday.
The incident happened on Thursday night in Quetta's Joint road area when unknown motorcyclists hurled the grenade at the stalls selling national flags and other decoration items ahead of the Independence Day on August 14, The Express Tribune newspaper reported.
Police said one person was killed in the attack.
"There are at least 14 others injured, including two children, and they were all taken to the hospital. Doctors say the condition of those injured is stable," the report said.
So far no militant group has claimed responsibility for the attack.
Resource-rich Balochistan, bordering Iran and Afghanistan, is home to a long-running violent insurgency.
Source: Times Of India
Please click the following URL to read the full text of the original story:
https://timesofindia.indiatimes.com/world/pakistan/one-killed-14-injured-in-grenade-blast-in-pakistans-restive-balochistan-province/articleshow/93369319.cms
--------
UAE to invest $1bn in Pakistani companies: state news agency
August 5, 2022
The United Arab Emirates intends to invest $1 billion in Pakistani companies across various sectors, state news agency (WAM) reported citing an official source in Abu Dhabi.
The UAE is keen to continue cooperation with Pakistan "in various fields, which include gas, energy infrastructure, renewable energy, health care," the agency added.
The move will likely help revive investor sentiment in the country, which has been beset by dwindling foreign exchange reserves as well as a depreciating rupee. However, as an IMF bailout programme becomes clearer, sentiment has improved and the stock market on Friday rallied by some 670 points.
The IMF is likely to start the process for releasing the seventh and eighth tranches of a loan programme for Pakistan later this week, IMF and diplomatic sources told Dawn.
The IMF's summer recess ends on Aug 12. "So, technically the IMF Executive Board's meeting could take place before Aug 20, if recommendations are sent to the board by Aug 6," one of the sources said.
Pakistan and the IMF signed the $6bn bailout accord — Extended Fund Facility (EFF) — in 2019. But the release of a $1.17 billion (seventh and eighth) tranche has been on hold since earlier this year, when the IMF expressed concern about Pakistan's compliance with the deal.
The last executive board consultation was held on February 2 this year. On July 13, the IMF reached a staff-level agreement on the combined seventh and eighth reviews for the EFF, which has to be approved by the board before it is disbursed.
The sources said Pakistan tried to get the board's approval before the summer recess (Aug 1 to 12) and sent several officials to Washing­ton to persuade the Fund to do so. Earlier this week, Army Chief Qamar Bajwa telephoned US Deputy Secr­etary of State Wendy Sher­man to seek Washing­ton's support for the package. "But the Pakistanis were informed that it's not possible to hold a board meeting before the recess as a number of members are already on leave," one of the sources said.
Another source said the IMF was "keen to help Pakistan out" and that "there has been no delay on their behalf", but it was "not possible to expedite the process".
The sources said the IMF had asked Pakistan to get assurances from Saudi Arabia and the UAE that they would give an expected $4bn loan to the country after the IMF releases its tranche.
"The Pakistanis received, and conveyed, the assurance from the two friendly countries," a senior diplomatic source said. "So, we see no problem in the board's approval."
But other sources said Pakistan had been warned "not to allow the political situation to go out of hand". The government had further been told that "street violence and protests by the opposition or a government crackdown on PTI leaders can have a negative impact on the deal".
The US media, while commenting on Gen. Bajwa's calls to US diplomatic and military officials three days ago, pointed out that "Pakistan's military, which has directly ruled the country for more than half of its 75-year history, has closely worked with the US and is an official ally in the war on terror against Al Qaeda".
"And the calls have helped, but even the Americans cannot persuade the IMF to circumvent its procedure," a diplomatic source said.
"Pakistan desperately needs the IMF loan. In July, the fund said it would raise the value of the bailout from $6 billion to $7 billion, if approved by its executive board, usually considered a formality," one of the reports said.
Another report noted that "the revival of IMF's bailout package will help Pakistan and encourage other international financial institutions to engage with the country".
The report pointed out that since Imran Khan's ouster, "Pakistan's currency has plummeted to an all-time low amid uncertainty about IMF assistance".
Source: Dawn
Please click the following URL to read the full text of the original story:
https://www.dawn.com/news/1703398/uae-to-invest-1bn-in-pakistani-companies-state-news-agency
--------
By-poll in NA-157: PTI workers protest candidature of Shah Mahmood Qureshi's daughter
Imran Gabol
August 6, 2022
LAHORE: The Pakistan Tehreek-i-Insaf (PTI) workers held a protest demonstration in Multan on Friday against the party's vice chairman Shah Mehmood Qureshi for giving a party ticket to his daughter Meher Bano Qureshi as a candidate for the by-election in NA-157.
The constituency was vacated by his son, Zain Qureshi, who contested in Punjab Assembly's PP-217 as MPA and defeated the PML-N's candidate Salman Naeem in the recently held by-election.
The Election Commission of Pakistan (ECP) has released the schedule for the by-poll in NA-157 Multan, PP-139 Sheikhupura and PP-241 Bahawalnagar to be held on Sept 11 while Aug 5 was announced as the last date for submitting the nomination forms.
More than 18 candidates, including Meher Bano Qureshi, former prime minister and Senator Yusuf Raza Gilani's son Syed Ali Musa Gilani, Engineer Waseem Abbas and Saifur Rahman Qureshi, have submitted their nomination papers for the by-poll in the NA 157.
The constituency is considered a stronghold and home seat of Shah Mahmood Qureshi. Musa Gilani also won the seat in the 2012 by-election.
A large number of PTI workers led by the party's local leader Engineer Waseem Abbas lodged a protest outside the ECP office in Multan against Mr Qureshi and his family for promoting dynastic politics in the party. The workers were chanting slogans and carrying banners and placards inscribed with slogans against Mr Qureshi and his family. They said Shah Mehmood Qureshi had fielded his son Zain in PP-217 Multan and now he had given the ticket to his daughter.
"Did Mr Qureshi not see any other candidate to contest the by-election," they questioned.
PTI local leader Waseem Abbas said the PTI was launched under a slogan to challenge dynastic politics and the workers would not allow turning the party into a conventional and dynastic party.
He said he had requested the party chairman Imran Khan to give him a ticket to contest the by-election for NA-157.
"I will contest the election as an independent candidate if I don't get a party ticket," he declared.
About her candidature, Meher Bano Qureshi tweeted on Friday, "Since announcing my candidacy for by-election in #NA157, I have come across so many spreading fake news, doctored images and posters and attributing false statements to me. I wonder if it would have been different had I been a man. Anyhow, happy to work hard and prove myself".
In an audio statement, shared on her twitter account, she argued that "the PTI and my father selected me (for the by-election), against the traditions of my family, to keep the narrative of Imran Khan alive. I am not just a voter of the Pakistan Tehreek-i-Insaf but I have remained connected with the party and worked along its social media team since 2018".
A twitter user, criticising her candidature, said, "As a staunch PTI supporter, I really respect and admire your dad SMQ. But I am totally against dynastic politics."
Ms Qureshi replying to the user said "I respect your opinion but I was selected by my halqa (constituency) to fight this election. I wasn't given a party position or leadership. This isn't a reserved seat. I have to fight for it. This is a very tough election but I will fight to keep my Kaptaan's vision alive".
Pro-PTI analysts and party supporters criticised Imran Khan's decision of allotting a ticket to Meher Bano and called it hypocrisy. Some of them tweeted that they were clueless as to why Mr Khan, who has been raising a voice against dynastic politics in Pakistan, would give a ticket to Shah Mehmood Qureshi's daughter. They also criticised Meher Bano Qureshi for taking advantage of her father's position in the party.
"Workers are only for Zindabad Murdabad. Tickets are for baap, baita and baiti (father, son and daughter)," a twitter user commented. Others wondered why three seats in an area (Multan) would be occupied by the members of the same family.
On Thursday night, Shah Mehmood Qureshi, addressing a press conference to introduce his daughter's candidature, said the PTI had decided to field Meher Bano Qureshi for the NA-157 by-poll.
"There are rules for all political parties to field 5pc women." When asked if he was promoting dynastic politics, he claimed the party had sought opinion from the party workers in NA-157 who supported her.
Source: Dawn
Please click the following URL to read the full text of the original story:
https://www.dawn.com/news/1703448/by-poll-in-na-157-pti-workers-protest-candidature-of-shah-mahmood-qureshis-daughter
--------
Military slams 'regretful campaign' in wake of chopper crash
Syed Irfan Raza
August 6, 2022
ISLAMABAD: The country's armed forces and the families of martyred security personnel have expressed "deep anguish" over what the military spokesperson called a "regretful social media campaign" after the recent helicopter crash in which six army officials, including a lieutenant general, embraced martyrdom.
Also, President Arif Alvi in a series of tweets on late Friday night wrote: "There is unnecessary controversy on why I did not attend Janaza of the Shaheeds recently. This gives me an opportunity to condemn in unequivocal terms the despicable tweets by those who are neither aware of our culture or our religion."
He said he called "hundreds of families", attended funerals and visited them to offer condolences.
According to the Inter-Services Public Relations (ISPR), "certain insensitive quarters" resorted to hurtful and derogatory comments on social media, which was "unacceptable".
"The regretful social media campaign after the unfortunate helicopter crash on Aug 1 has caused deep anguish and distress among shuhada (martyrs') families and rank and file of the armed forces," the ISPR stated in a press release issued on Friday.
"While the whole nation stood with the institution in this difficult time, certain insensitive quarters resorted to hurtful and derogatory comments on social media, which was unacceptable and highly condemnable," it added.
ISPR Director General Maj Gen Babar Iftikhar later told Geo News that the way "this happens on social media, we have to look into this and reject such elements involved in it". He said: "We can do this collectively. That was why we issued a press release, as it was important to highlight this matter. This has to be condemned at every level."
The wreckage of the army helicopter, which went missing during relief operations in flood-hit areas of Balochistan on the night of Aug 1, was found near in Lasbela district the following day. Corps Commander Lt Gen Sarfaraz Ali, Brig Amjad Hanif, Brig Mohammad Khalid, Major Saeed Ahmed, Major M. Talha Manan and Naik Mudassar Fayyaz were on board the Mi-17 helicopter of Army Aviation.
Over the past few months, Chief of the Army Staff (COAS) Gen Qamar Javed Bajwa has also been targeted on social media.
It was claimed on social media that Lt Gen Ali's family had Pakistan Tehreek-i-Insaf (PTI) chairman Imran Khan from attending his funeral. Strongly condemning the social media campaign to spread misinformation about the helicopter crash, PTI leader Fawad Chaudhry told a presser that Mr Khan had visited Lt Gen Ali's residence to condole his death.
Whoever was involved in the campaign over this tragedy must be condemned, a PTI spokesperson said.
'Pakistani soil not used for Zawahiri killing'
Mr Chaudhry also demanded to know whether Pakistan's air space had been used by the US for a recent drone strike that killed Al Qaeda chief Ayman al Zawahiri. "The nation wants to know whether we are again going to become a tool of the United States against Al Qaeda," he questioned.
However, the military spokesperson ruled out the possibility, saying there was no question of Pakistan soil being used for "such a purpose".
"The Foreign Office has clarified it in detail. They are all rumours, as anybody can write anything on social media. We should avoid this. Our enemy, in particular, feeds such information and they (people) get exploited," the DG ISPR told the TV channel.
'Dissolve assemblies in a month'
At the presser, Mr Chaudhry warned the government that his party was launching a campaign against the government within 48 hours to pressure the ruling coalition to hold the next general election without any delay. "Our next line of action will start in 48 hours," he added.
"We are staging a big public gathering in Islamabad after two days where the party will give a deadline to the government for the announcement of general election," he said, adding that it would be disastrous for the country and its economy if the "imported government" was given more time. He also asked the government to dissolve the assemblies within a month.
Mr Chaudhry criticised the Election Commission of Pakistan for "fulfilling the wishes" of the ruling PML-N and its ally PPP.
Source: Dawn
Please click the following URL to read the full text of the original story:
https://www.dawn.com/news/1703505/military-slams-regretful-campaign-in-wake-of-chopper-crash
--------
Southeast Asia
Criticism from Rights Groups: Hijab Rules Are Raising Rights Concerns in Indonesia
August 05, 2022
A recent case of forcing a student to wear a hijab at a state school has renewed concerns about a "rights violation" in Indonesia, which also targets religious minorities, according to rights activists.
The Muslim-majority country was shocked last week by the case of a Muslim student at a senior high school in Banguntapan, Bantul district, Yogyakarta special region who claimed to be intimidated by teachers into wearing a headscarf.
As a result, the 16-year-old student was reported to have confined herself for an hour in a school toilet.
The school later denied any coercion, but the "traumatized" girl reportedly moved to another school.
The case sparked criticism from rights groups against the practice of coercion, which has also been experienced by religious minorities across the country.
Andreas Harsono, the Indonesia researcher for New York-based Human Rights Watch (HRW), said cases of forced wearing of the hijab will continue because there are still regulations that require the hijab, although efforts have already begun to change it.
"There are still at least 60 regulations in the regions, from the districts, cities and provincial levels to national ones, complete with sanctions," he told UCA News on Aug. 2.
He said the regulations were generally coercive.
"Because there is a system of coercion mixed with reasons for religious beliefs, there is a practice of supervising each other, becoming a kind of police force for others who don't obey it," he said.
He said recent HRW research found that such regulations, which were introduced in 2001 in a number of Muslim-majority provinces such as West Java, Aceh and West Sumatra, had an impact such as widespread bullying of girls and women to force them to wear the hijab, as well as the deep psychological distress the bullying can cause.
The victims, he said, included non-Muslims.
"We found coercion against non-Muslims in 24 provinces to varying degrees, from Christianity, Buddhism, Confucianism, as well as from other religions," he said.
He said victims who did not comply were forced to leave school or withdrew under pressure, while some female civil servants, including teachers, doctors, school principals and university lecturers, lost their jobs or felt compelled to resign.
He said the government had taken steps to end this practice, citing a move by Education and Culture Minister Nadiem Makarim and two other ministers in February 2021 who amended the 2014 regulation to specify that schoolgirls are free to choose whether to wear the hijab.
However, he said, in May 2021, the Supreme Court struck down that amendment to the regulation, effectively ruling that girls under 18 have no right to choose their own clothes.
The court said the amendment contravened existing laws on the jurisdiction of local governments, child protection and the national education system.
"The ruling ended government efforts to give Muslim girls and teachers the freedom to choose what they wear," he said.
"As long as there is no attempt to correct the existing regulations, we can be sure that in the future, coercive efforts will reappear," he said.
Meanwhile, Halili Hasan, a researcher from the Setara Institute for Democracy and Peace, said forcing the wearing of the hijab, including in schools "is contrary to the diversity of Indonesia, which we must uphold, maintain and strengthen."
He said stakeholders in schools "should be key actors for educational and civilizing processes in schools that are principally oriented to the interests of students, non-violence (from symbolic, verbal to open acts of violence), and a culture of peace."
Source: UCA News
Please click the following URL to read the full text of the original story:
https://www.ucanews.com/news/hijab-rules-are-raising-rights-concerns-in-indonesia/98255
--------
Eyeing a comeback, Mahathir Mohamad to use Malay nationalism to woo voters
Aug 05, 2022
Mahathir Mohamad, the controversial former Malaysian Prime Minister is looking to stage a comeback into the top political echelons of the Southeast Asian country. Reportedly, 97-year-old Mahathir, eyeing the Prime Minister's seat for the third time has launched a new Malay movement which attempts to use the plank of nationalism to drive the votes.
According to local media reports, the movement named Gerakan Tanah Air (GTA), also called the motherland movement, aims to challenge the United Malays National Organisation (UMNO), which currently leads the ruling Barisan Nasional coalition in Malaysia.
The coalition consists of four major political parties of Malaysia viz. Parti Bumiputera Perkasa Malaysia (Putra), Parti Pejuang Tanah Air (Pejuang), Parti Barisan Jemaah Islamiah Se-Malaysia (Berjasa) and National Indian Muslim Alliance Party (Iman).
The coalition is expected to fight on 120 seats, of which the majority will be Malay-dominated seats.
Stating that majority of the poor populace in Malaysia was Malays, Mahathir added, "This movement aims to solve the problems faced by the Malays. It is not about taking away anything from the non-Malays but rather to help Malays get their share."
Mahathir's rise in 2018 and eventual fall two years later
It is pertinent to note that the current ruling coalition was beaten by Mahathir's Pakatan Harapan (Pact of Hope) coalition in 2018, thus several experts have opined that ruling Mahathir out can be a dangerous gamble.
However, it is also imperative to note that the next two years after Mahathir was elected, were as chaotic as they come. Embroiled in numerous scandals, scams and infighting, in addition to antagonising countries like India with rancid speeches and openly endorsing radical views, Mahathir was dumped by his own party in 2020.
Source: WIO News
Please click the following URL to read the full text of the original story:
https://www.wionews.com/world/eyeing-a-comeback-mahathir-mohamad-to-use-malay-nationalism-to-woo-the-voters-504017
--------
The 'real war' in GE15 will be in Malay strongholds, says Pejuang man
August 6, 2022
PETALING JAYA: The newly-formed Gerakan Tanah Air (GTA) coalition led by Dr Mahathir Mohamad is aiming to get a foothold in rural Malay-majority areas, says a Pejuang leader.
Rafique Rashid Ali, deputy chief of the party's federal territory division, said the "real war" during the general election will be in areas such as Felda estates, villages and rural constituencies that are known to be Malay strongholds.
"PKR, DAP and Amanah are now unable to make inroads into these areas. Pakatan Harapan had relied on Mahathir to achieve this in the last general election (GE14)," he said in a statement.
The formation of GTA as a Malay-only coalition has come under criticism from several quarters, including opposition leader Anwar Ibrahim, who said a more multiracial approach is needed to resolve the country's woes.
Rafique said the criticism was borne out of envy towards the new coalition. He then questioned why the opposition was afraid of GTA when they were fighting to achieve the same goals.
He said the coalition's willingness to challenge Umno should garner support from the people, as other Malay-based parties such as Bersatu and PAS have lost their direction in fighting for the Malay cause after being swayed by power.
"GTA wishes to fight against corruption by upholding principles of integrity and trust, and to consolidate the socio-economic strength of Malays."
Although the coalition is Malay-based, Rafique stressed that GTA is open to anyone who desires a "clean, efficient and trustworthy" government built on dignity and principles.
"GTA is a people's movement," he said. "It's not racist."
On Thursday, Mahathir unveiled GTA, which comprises Pejuang, Parti Barisan Jemaah Islamiah Se-Malaysia (Berjasa), Parti Bumiputera Perkasa Malaysia (Putra) and the National Indian Muslim Alliance Party (Iman).
Source: Free Malaysia Today
Please click the following URL to read the full text of the original story:
https://www.freemalaysiatoday.com/category/nation/2022/08/06/the-real-war-in-ge15-will-be-in-malay-strongholds-says-pejuang-man/
--------
Airbnb lobbies Penang to ease up on homestay restrictions
August 5, 2022
GEORGE TOWN: Global hospitality company Airbnb has urged the Penang state government to reconsider the proposed limits on homestays (or short-term rental accommodation) in high-rise buildings.
A company official, Mich Goh, said the new rules could affect the recovery of the tourism industry and the state's economy and make it difficult for Malaysians to generate income.
She said Airbnb and its local members had given their feedback on the proposed new guidelines at a public dialogue with executive councillor Jagdeep Singh Deo on July 28,
Jagdeep had proposed that joint management bodies of flats and apartment buildings impose a strict limit on homestays of up to three nights a week and 180 nights a year.
Homestays in commercial strata buildings would be prohibited unless 75% of owners are present at a general meeting to vote to allow homestays in their buildings.
The state government's proposal came in the wake of protests that many apartment building management boards had banned all homestays in their buildings.
Goh said Airbnb and its members had asked for short-stay activities to be allowed to continue in commercial strata buildings, while joint management boards and property owners can introduce relevant rules on homestays in their buildings.
Source: Free Malaysia Today
Please click the following URL to read the full text of the original story:
https://www.freemalaysiatoday.com/category/nation/2022/08/05/airbnb-lobbies-penang-to-ease-up-on-homestay-restrictions/
--------
Arab World
Iraqi Shia cleric Muqtada al-Sadr prepares for new show of force
05 August, 2022
In a new power play, Iraqi Shia cleric Muqtada al-Sadr called for traditional Friday prayers to take place on a vast square inside the Green Zone where his followers have occupied parliament for seven days.
A similar call from al-Sadr in mid-July drew hundreds of thousands of Muslim worshippers to Sadr City, a Baghdad district named after his assassinated father, amid tensions between his political bloc and a rival Shia faction that is backed by Iran.
The latest mass-prayer call by al-Sadr, a longtime political and religious force in the war-scarred country, follows his demand for early elections -- a possibility that the rival bloc says it is conditionally open to, despite the last national polls only taking place less than 10 months ago.
Months of post-election negotiations between al-Sadr's bloc -- the largest in parliament -- and other factions failed to lead to agreement on a new government, prime minister and president.
Al-Sadr's bloc emerged from the October polls as the biggest parliamentary faction, but still far short of a majority.
In June, his 73 lawmakers quit in a bid to break the logjam. That led to a rival Shia bloc, the pro-Iran Coordination Framework, becoming the largest in parliament.
The Coordination Framework's nomination of former cabinet minister Mohammed Shia al-Sudani as prime minister angered the Sadrists and triggered their occupation of the legislature.
On Wednesday al-Sadr called for new polls, and his adversaries in the Coordination Framework on Thursday night said they were conditionally open to that idea.
In a brief statement, the Coordination Framework said it "affirms its support to any constitutional way to resolve the political crises and realize the interests of the people, including early elections."
But "a national consensus on the question and providing a safe environment" were pre-requisites for such polls, it said.
Above all, it stressed the importance of "not disrupting the functioning" of constitutional institutions -- a clear reference to the occupation of parliament by al-Sadr's followers.
The Coordination Framework includes lawmakers from the party of former prime minister Nuri al-Maliki, a longtime foe of al-Sadr, and the Hashed al-Shaabi, a pro-Iran ex-paramilitary network now integrated into the security forces.
Source: Al Arabiya
Please click the following URL to read the full text of the original story:
https://english.alarabiya.net/News/middle-east/2022/08/05/Iraq-Sadr-prepares-for-new-show-of-force
--------
Iraq's main Shia coalition gives conditional backing to rival al-Sadr's snap elections call
05.08.2022
BAGHDAD
Following rival Shia cleric Moqtada al-Sadr's call, the Coordination Framework coalition has voiced support for any constitutional path to address Iraq's political crisis, including early elections.
However, the coalition wants a government to first be formed under Mohammed Shia al-Sudani, its nominee for the post of prime minister, which will make the necessary preparations for early polls, Iraq's Shafaq News agency reported.
The coalition, a collection of Iran-back groups, held an emergency meeting on Thursday, a day after al-Sadr called for the dissolution of parliament and early elections, demands that could prolong a deadlock that has left Iraq without an elected government since last October.
Al-Sadr has previously rejected the coalition's proposal for al-Sudani to replace Mustafa al-Kadhimi as the prime minister.
His supporters stormed Baghdad's government zone and broke into parliament twice last week, sparking calls from various political blocs for al-Sadr and the Coordination Framework to defuse escalating tensions.
Source: Anadolu Agency
Please click the following URL to read the full text of the original story:
https://www.aa.com.tr/en/middle-east/iraqs-main-shia-coalition-gives-conditional-backing-to-rival-al-sadrs-snap-elections-call/2654180
--------
Saudi exhibition on Hijrah highlights universal message of Prophet Muhammad's journey 1,400 years ago
August 05, 2022
DHAHRAN: The route from Makkah to Madinah passing through Saudi Arabia's rocky Hijaz mountains is not a well-trodden one today. But 1,400 years ago, the Prophet Muhammad, Islam's founder, was forced to take it when he had to leave Makkah to escape persecution for his religious teachings.
He and his followers set off overland for Madinah, some 450 kilometers to the north, on a journey that became known as the Hijrah.
To mark the anniversary of the defining moment in the history of Islam, the journey undertaken in 622 has been told through a comprehensive exhibition in Dhahran, in the Kingdom's Eastern Province. The display aims to share the impact and relevance of the Hijrah through its themes of love, peace, freedom, tolerance, perseverance, courage, and companionship.
Ashraf Ehsan Fagih, head of programs at the King Abdulaziz Center for World Culture (Ithra) where the exhibition is currently taking place, told Arab News: "We are targeting a global audience, not Arabs or Muslims per se, with this exhibition. We are targeting everyone who wants to be enlightened by the universal messages of Hijrah."
Ithra is one of the Kingdom's foremost cultural institutions, built by Saudi Aramco and inaugurated by King Salman in December 2016.
The team at Ithra spent three years preparing the exhibition, titled "Hijrah: In the footsteps of the Prophet," which will run for five years. Following its initial nine months at Ithra, the exhibition will move to Riyadh and Jeddah before heading overseas.
It was curated by Ithra's in-house team of experts in collaboration with Dr. Abdullah Hussein Alkadi, who is considered the world's leading authority on the Hijrah and one of the greatest living biographers of the Prophet Muhammad.
The first-of-its-kind exhibition charts the sequence of events which led to the Prophet Muhammad's decision to leave Makkah for the city of Yathrib, the pre-Islamic name of Madinah, and the struggles he faced along the way.
Following threats and persecution by the Makkans, culminating in an attempt on his life, the Prophet Muhammad and his father-in-law, friend and companion, Abu Bakr, and his small band of followers set off for Yathrib, where he was warmly welcomed by the Ansar, or helpers — members of the region's Al-Khazraj and Al-Aws tribes.
In recognition of their generosity, the city was later renamed Al-Madinah Al-Munawwarah, meaning The Enlightened City.
"The Hijrah journey marks the passage of time and the beginning of the Islamic calendar and for over 1 billion Muslims all over the world Hijrah is considered the mother of all journeys," Idries Trevathan, Ithra's in-house curator of Islamic art and culture, told Arab News.
"It marks when the Prophet Muhammad and his followers went from being a persecuted minority to being a community in world civilization. It was the most important event of his life, and it changed the course of history."
To curate the exhibition, the team extracted the story from old manuscripts written during the first century of Islam, before, as Fagih described, they "walked the walk." The team spent around a month trekking from Makkah to Madinah, following in the footsteps of the Prophet Muhammad.
Kumail Almusaly, Ithra's in-house curator of traveling exhibitions, told Arab News: "You reach a different level of consciousness during the journey.
"We spent days climbing to the tops of various caves, experiencing muscle soreness, and also admiring the beauty of the landscape. We experienced the perseverance the Prophet Muhammad needed for the journey."
A documentary about Trevathan and Almusaly's journey in the Prophet Muhammad's footsteps is currently in production and due for public screening at the end of this year.
Trevathan recalled that the journey was strenuous but deeply rewarding.
"When you walk the route, it is a spiritual experience. It is difficult, and most of the route is still inaccessible by car. You must walk it," he said. "It was an enormous privilege to walk that route myself and to have a connection with the Prophet Muhammad through the landscape.
"What we wanted to draw upon in the exhibition were these incredible traditions in pre-Islamic culture but also in what is known as wuquf 'ala al-atlal, or stopping by the ruins, to contemplate what happened there."
The exhibition was established in collaboration with the Prince of Wales' Turquoise Mountain, a charity supporting arts and heritage in the Middle East, the National Museum of Saudi Arabia in Riyadh, the House of Islamic Arts in Jeddah, and the King Abdulaziz Complex for Endowment Libraries in Madinah, all of which contributed pieces to the display.
It includes Islamic artifacts, specially commissioned contemporary artworks by Saudi and Arab artists, as well as interactive installations, photography, and videos, which recreate the experience of the Prophet Muhammad's arduous journey.
"We wanted to create something exceptional and different to commemorate Hijrah. When the Prophet Muhammad left his tribe 1,400 years ago, it was unheard of, because back then you were defined by your tribe," Fagih said.
"What happened was miraculous in all aspects. He abandoned his tribe, he was accepted by other tribes in a different town, and they accepted him as a leader of society."
In sum, Fagih said: "The Hijrah story is full of miracles and struggles, which everyone around the world can relate to. Being lonely is one of them. The Prophet Muhammad was 53 years old at the time of Hijrah. He was given another chance and he succeeded. He lived only another 10 years."
The story is also one of humility, hardship, and beauty, whereby the past and present intertwine in a fully immersive recollection of the journey.
"When the Ansar took in these migrants from Makkah and the preparation of the constitution of Madinah set down how migrant communities are treated, this was setting up a precedent for later generations," Trevathan said.
"Despite his persecution in Makkah, when the Prophet Muhammad arrived in Madinah, he prepared this constitution, which protected the rights of all religions and communities in Madinah."
According to Trevathan, in contrast with acts of persecution often seen in the news today, "some of the oldest religions you find are in the Middle East because they were preserved by Muslim civilization, which goes back to Prophet Muhammad's constitution."
The theme of brotherhood is also emphasized throughout the show. Indeed, the Prophet Muhammad and his followers were accepted as muhajirun, or immigrants, by the feuding Al-Khazraj and Al-Aws tribes, who overcame their differences to serve a greater common cause.
This is viewed as one of the miracles of Hijrah and a lesson about tolerance, which the organizers hope will resonate with global audiences.
The inclusion of many contemporary artworks from throughout the Islamic world is also viewed as a potential draw that couches the values and ongoing significance of Hijrah in a modern context.
"The balance between Islamic and contemporary art throughout this exhibition is important to show the evolution and progression of the narrative of this exhibition in our modern day," Farah Abushullaih, head of Ithra Museum, told Arab News.
"By providing content that speaks to both types of work throughout the journey of the Prophet Muhammad, we take an abstract concept and try to bridge the gap of stories from a collective narrative to a more tangible contemporary perspective."
For example, the idea of brotherhood is poignantly expressed in a contemporary art installation by Saudi artist Zahrah Al-Ghamdi, one of the Kingdom's most recognized female artists, whose work has been shown at the Venice Biennale, The British Museum, and Desert X Coachella in California.
Al-Ghamdi's installation, aptly titled "Brotherhood," features knots made out of fabric and clay, depicting how the Ansar, "selflessly welcomed the muhajireen into their home, supporting them by sharing everything they owned."
In a statement ahead of the exhibition, she said: "I wanted to create an artwork that highlights this bond and the strength of their roots in creating a fruitful relationship. The knots signify close relationships rich in love between the muhajireen and the Ansar."
Also among the contemporary works is Moroccan Younes Rahmoun's painted copper object titled "House-Boat," which reflects on the Hijrah theme of migration.
"I used the shape of the boat to embody a person in a humble sitting position for remembrance and meditation, while I borrowed the shape of the house to embody the home," Rahmoun said in a statement.
Nuria Garcia Masip, a Spanish master calligrapher, created "Umm Ma'Bad Hilye," a calligraphic work about Umm Mabad, an elderly woman from the tribe of Khuza'ah, who the Prophet Muhammad met during the Hijrah and who later moved to Madinah to embrace Islam.
The Hilye, or calligraphic panel, created by Masip presents the encounter in exquisite 22-carat gold and gouache pigments on paper.
"I found it remarkable that the words of this Bedouin woman describing the Prophet Muhammad have been transmitted and preserved over time so beautifully," Masip told Arab News.
"As a female artist, I was doubly inspired and honored to be able to write and compose her words into a hilye, which is, in essence, a calligraphic icon of the prophet."
Also commissioned specially for the exhibition were several works by master craftsmen from Afghanistan, India, Saudi Arabia, and Syria. Their work, using age-old techniques, pays homage not only to the story of Hijrah but to Islamic heritage and its preservation.
Source: Arab News
Please click the following URL to read the full text of the original story:
https://www.arabnews.com/node/2136961/saudi-arabia
--------
Russia calls on Turkey not to 'destabilize' Syria
05 August, 2022
The Kremlin on Friday called on Turkey not to "destabilize" Syria with a military offensive ahead of a meeting between Russian President Vladimir Putin and his Turkish counterpart Recep Tayyip Erdogan.
"Turkey has legitimate concerns for security reasons, which we, of course, take into account," Kremlin spokesman Dmitry Peskov told reporters.
"It is very important not to allow any action that could lead to destabilization of the situation in Syria, or that could jeopardize the territorial and political integrity of Syria," he added.
Putin and Erdogan are due to hold talks later on Friday in Russia's Black Sea resort city of Sochi. Peskov said that Syria will be on the agenda.
The Turkish president has for several months threatened to launch an operation against Kurdish fighters in northern Syria.
At a summit in Teheran last month, Putin expressed Russia's opposition to Erdogan's planned offensive.
Russia and Turkey are two major international players in Syria, a country torn apart by war since 2011, in which Moscow backed Damascus and Ankara the other groups.
During their meeting on Friday, the two leaders will also discuss Ukraine, where Moscow has been conducting what it calls a special military operation since February.
Source: Al Arabiya
Please click the following URL to read the full text of the original story:
https://english.alarabiya.net/News/middle-east/2022/08/05/Russia-calls-on-Turkey-not-to-destabilize-Syria-
--------
Russia says it killed US-trained fighters in Syria
05 August, 2022
Russia's defense ministry said on Friday that its air force had "destroyed" a group of US-trained fighters in Syria on August 4.
Russian forces have helped Moscow's ally, Syrian President Bashar al-Assad, to turn the tide against anti-government fighters, some of them backed by the United States or Turkey, in a civil war that has lasted over a decade.
Source: Al Arabiya
Please click the following URL to read the full text of the original story:
https://english.alarabiya.net/News/middle-east/2022/08/05/Russian-air-forces-destroy-group-of-fighters-in-Syria-Report
--------
Saudi Arabia's PIF sets up company to invest in Egypt
05 August, 2022
Saudi Arabia's Public Investment Fund (PIF) has set up a company to invest in promising Egyptian sectors, extending a policy of pumping money into the Egyptian economy.
The $620 billion sovereign wealth fund said on Friday sectors in Egypt it would target through its new Saudi Egyptian Investment Co (SEIC) included infrastructure, real estate, health care, financial services, food and agriculture, manufacturing and pharmaceuticals.
Gulf countries have repeatedly come to Egypt's aid in the past decade with billions of dollars in grants, cash deposits and fuel shipments.
Saudi Arabia said in June it intended to lead $30 billion worth of investments in Egypt following a visit to Cairo by Saudi Arabia's Crown Prince Mohammed bin Salman.
In March, Saudi Arabia deposited $5 billion with Egypt's central bank as Egypt's economy became strained by the repercussions of the Russian invasion of Ukraine and surging inflation, which led to outflows from government securities and a devaluation of its currency.
Source: Al Arabiya
Please click the following URL to read the full text of the original story:
https://english.alarabiya.net/News/gulf/2022/08/05/Saudi-Arabia-s-PIF-sets-up-company-to-invest-in-Egypt
--------
UAE police arrest five men over knifepoint robberies, fake massage parlours
05 August, 2022
Police in the Sharjah emirate of the UAE have arrested a gang of five Asians who allegedly ran a fake massage parlor to lure unwitting customers and rob them at knifepoint.
Officers said the Asian gang advertised the salon as a spa for massages and natural therapy sessions.
After arriving at the location disclosed on massage cards that were distributed across the city, the alleged victims say they were then forced to hand over cash at knifepoint by the gang of men.
Colonel Omar Al Zoud, director of Criminal Investigation at Sharjah Police, said officers had been tipped off about an Asian man distributing massage cards in the Rolla area.
Officers headed to the scene and arrested the suspect before raiding his accommodation where they found boxes of massage cards and multiple types of knives.
The rest of the gang were arrested and admitted to threatening and robbing victims, police said, as they released an image of the suspects standing in front of boxes filled with fake massage cards.
Source: Al Arabiya
Please click the following URL to read the full text of the original story:
https://english.alarabiya.net/News/gulf/2022/08/05/UAE-police-arrest-five-men-over-knifepoint-robberies-fake-massage-parlors
--------
Mideast
Israeli aggression on Gaza 'flagrant defiance of international law': Arab Parliament
06 August, 2022
The Arab Parliament, the legislative body of the Arab League, has condemned the Israeli aggression against the Palestinian people in the Gaza Strip, in a statement published on Saturday.
They said the Israeli airstrikes, which killed at least 10 people, including a five-year-old child, and wounded at least another 55 wounded, targeted defenseless civilians, the official Saudi Press Agency reported.
In their statement they blamed the occupation authorities for the consequences of "dangerous escalation against the Palestinian people", and their bombing of civilian targets in the Gaza Strip with aircraft, in "flagrant defiance of international law and a violation of the Charter of the United Nations, conventions, treaties and international principles, and a violation of all resolutions of international legitimacy and human rights principles."
It called on the international community to intervene urgently to stop further escalation and aggression against the Palestinian people, children and women, and to provide them with civil protection.
Rocket sirens sounded in southern and central Israel on Friday as Palestinian militants in Gaza responded to Israeli airstrikes.
As darkness fell, Israeli authorities said sirens had been sounded in southern and central areas, while images broadcast by Israeli television stations appeared to show a number of missiles being shot down by air defense systems.
Islamic Jihad, a militant group with a similar ideology as Hamas, the extemist movement in charge of Gaza, said it had fired more than 100 rockets on Friday into Israeli cities, including Tel Aviv. Israel's ambulance service said there were no reports of casualties.
Source: Al Arabiya
Please click the following URL to read the full text of the original story:
https://english.alarabiya.net/News/middle-east/2022/08/06/Israeli-aggression-on-Gaza-flagrant-defiance-of-international-law-Arab-Parliament
--------
Israel Defence Forces continues Operation Breaking Dawn against Islamic Jihad in Gaza
AUGUST 6, 2022
The IDF is continuing Operation Breaking Dawn Friday against Palestinian Islamic Jihad in the Gaza Strip, striking dozens of targets belonging to the group, killing dozens of operatives including the head of the group in the northern part of the enclave.
Rocket launches began shortly before 9 PM, with sirens blaring in southern Israeli communities near the border as well as Sderot, Ashkelon, Ashdod, and Yavne. Sirens were also activated in the central Israeli cities of Rishon Letzion, Holon and Bat Yam.
By Saturday morning, over 160 rockets were launched by the terror group toward Israel with 130 crossing into Israel, most intercepted by the Iron Dome missile defence system. Others fell in open areas, the sea and 30 fell within the Strip.
Israeli strikes in Gaza
The IDF said that Israeli Air Force jets, armed drones, helicopters and tanks carried out over 40 strikes it hit dozens of targets Gaza belonging to the group, including military bases, weapon production sites and storehouses, rocket launching sites, buildings used by operatives, observation posts and more.
In addition two cells that had been given orders to carry out anti-tank missile attacks, killing at least 12 Palestinian Islamic Jihad operatives. According to reports in Gaza, several civilians were killed including a 5-year-old girl and at least 80 more were injured.
"We are continuing, are aren't finished yet. We will continue to act, professionally and send a message that we have strong intelligence and deterrence. This message will be passed not only to Islamic Jihad but all terror groups," said IDF Spokesperson Brig.-Gen. Ran Kohav.
Restrictions in the Gaza envelope
Due to the violence, the Home Front Command published restrictions for the residents of the Gaza envelope, with schools being cancelled and no more than 10 people allowed to gather outdoors and 50 indoors. In the Lachish region, no more than 10 people are allowed to gather outdoors and 100 indoors.
The National Emergency Authority in the Defense Ministry said that it has activated a plan dubbed "civilian safe distance" which allows any regional authority to help residents of the area evacuate their homes to accommodation facilities, should any wish to do so.
The IDF has also declared a "special situation" for the home front up to 80km from the Gaza Strip, including Tel Aviv, that there could be a risk of rocket fire. Several cities opened up their public bomb shelters, including Rishon Letzion, Herzilya and Netanya. While there were no restrictions placed by the Home Front Command, the population was asked to remain close to shelters.
"The IDF continues to operate against the Palestinian Islamic Jihad terrorist organization with the aim of restoring security to the civilians in the State of Israel," the IDF said in a statement.
On Friday evening Defence Minister Benny Gantz approved a draft order of up to 25,000 soldiers in reserve duty for operational purposes and the IDF began calling up reservists in the Southern Command, Air Defence Array, Home Front Command and combat troops and officers.
He later spoke to US Secretary of Defence Lloyd Austin about the escalation. In a readout provided by the US, Austin "underscored Israel's right to self-defence and the enduring US commitment to Israel's security," and urged steps to de-escalate the situation. He also expressed concern regarding reports of civilian deaths and called for a timely and through investigation into any civilian casualties."
Prime Minister Yair Lapid said that "the goal of this operation is the elimination of a concrete threat against the citizens of Israel and the civilians living adjacent to the Gaza Strip."
Tayseer al-Jabari
The IDF launched the operation on Friday afternoon, taking out the head of the group's northern command Tayseer al-Jabari and the head of the group's anti-tank guided missile section, Abdullah Kadoum in simultaneous strikes.
Jabari replaced Baha abu al-Ata who was killed in an IAF strike in 2019. Jabari, who was also responsible for coordination between the group and Hamas, was killed at 4.16 PM in his apartment in Shuja'iyya. According to the IDF, he commanded over the launching of hundreds of rockets during Operation Guardian of the Walls last year, including anti-tank-guided missile attacks.
The IDF said that they had received a specific warning that he was planning an attack against Israeli targets before the arrest of Bassem Saadi earlier in the week in an arrest raid in the West Bank.
"The enemy has begun a war against our people and against us and we will defend ourselves and our people," Islamic Jihad said in a statement.
The group's leader Ziad Nahalka, who is based in Damascus, said that "the enemy should expect fighting. Our military wing will stand abreast of all other resistance factions in our struggle against Israeli aggression. This campaign is no holds barred and Tel Aviv will also taste the wrath of the rockets of the resistance."
A senior IDF official said that the military is targeting Islamic Jihad and is trying to avoid civilian casualties and damage, but that the IDF is ready for the situation to escalate and stressed that that Israeli civilians must listen to all instructions from the Home Front Command.
"We couldn't allow Islamic Jihad to carry out an attack, it backfired on them," he said, adding that "there will be [rocket] barrages, there may also be casualties, all this is clear and this should also be told to the public."
Following the targeted killings, which were carried out by jets and armed drones, the IDF warned that the group would likely respond with rocket fire toward the Israeli home front. The military has placed Iron Dome batteries in the area of Jerusalem, Beersheba and others in order to intercept any projectile fired by the group.
"We are in an operation that won't take several hours, rather it will take time. We have not said our last word, we have more to do," the senior officer said.
The IDF said it hopes Hamas will stay out of the fighting, and that the terror group ruling the Strip is currently sitting on the fence over whether to join in any fighting that may break out.
Earlier on Friday afternoon, it allowed fuel into Gaza to prevent a total shutdown of the sole power plant in the Strip, which already operates on a limited capacity. Without the plant, Gaza would be dependent on external power largely from Israel which provides 120 megawatts daily.
Earlier in the day, Lapid said that Israel 'won't allow terrorist organizations to set the agenda in the Gaza Strip and threaten the citizens of the State of Israel. Anyone who wants to harm Israel must know that we will get to them. Security forces will act against the Islamic Jihad terrorists to remove the threat from the citizens of Israel."
Gantz said that the goal is to protect Israeli communities and citizens. "We will not allow anyone to threaten or harm the citizens of Israel. Whoever tries - will be hurt."
Earlier in the day, he warned that the threat posed by the group would be dealt with during a visit to the IDF's Southern Command.
"To our enemies, and specifically to the leadership of Hamas and the Islamic Jihad, I would like to emphasize: your time is up. The threat [on this region] will be removed one way or another," the defense minister said.
During his visit, he held a situational assessment with IDF Chief of Staff Lt.-Gen. Aviv Kohavi, head of the southern Command Maj.-Gen. Eliezer Toledano, Commander of the Gaza Division Brig.-Gen. Nimrod Aloni and the head of the Shin Bet Ronen Bar.
"The situation in which several terrorists (some of which are not even located in this area), hold the Gazan people hostage - will backfire," Gantz warned.
Israel closed the Erez crossing on Tuesday, blocking 14,000 Gazans who have permits to enter Israel to work.
"Those who harm the ability of 14,000 workers to make a living, who cause produce to sit and spoil at crossing points, and who lead to electricity and food shortages - hurt the people of Gaza first and foremost, and will have to take responsibility [for this suffering],"he said.
The leader of Islamic Jihad, Ziad Nahalka was in Tehran on Thursday and met with Iran's President Ibrahim Raisi. Tehran funds and equips the Gaza-based terror group.
Gantz said Friday morning that security forces are preparing for all scenarios, on all fronts including in the north and the center of the country and that the IDF will continue its operational activity in all sectors as needed.
"We do not seek conflict, yet we will not hesitate to defend our citizens if required," he said, adding that "the State of Israel and the IDF will continue its operations, knowing the responsibility we bear on our shoulders - to defend the communities and citizens of Israel's south. And to defend the citizens of the entire State of Israel."
During his visit to the south, Gantz also met with the heads of regional authorities, several of whom have criticized the restrictions imposed on the area by the IDF.
Stating that the resilience of the residents of the Gaza envelope have shown throughout the years "deserves our appreciation," Gantz said that the defense establishment's mission is to ensure that the tension ends and life returns to normal.
"I say to the residents of the area - we stand with you and we will take all the measures required in order to defend you, in a manner that is both decisive and responsible, and that meets the operational considerations set to bring about the desired results," the defense minister said.
Road restrictions in southern Israel remained in place after Israeli security forces arrested Bassem Saadi, a senior leader of the group in the West Bank overnight on Monday.
He was seen being dragged by forces and was slightly bitten by a military dog during his arrest. According to the Palestinian Quds news site, Saadi's family said he received a blow to the back of his head that is causing him severe headaches, and "despite his old age, he was not brought to the hospital."
The IDF closed roads near the Strip on Tuesday. On Wednesday, it called up 100 reservists to bolster the Gaza Division to assist in securing the area and keep civilians out of areas that could be targeted by Islamc Jihad.
The terrorist group has in the past fired anti-tank guided missiles toward Israeli vehicles, both civilian and military.
Source: J Post
Please click the following URL to read the full text of the original story:
https://www.jpost.com/israel-news/article-714056
--------
Iran says Palestinian people, groups reserve right to respond to Israel's terrorist moves
05 August 2022
Iran has strongly condemned the brutal attack of the "apartheid Israeli regime" on Gaza and the killing of defenseless people and a senior commander of the Islamic Jihad movement, saying the Palestinian people and groups have the right to respond to Tel Aviv's terrorist moves.
"It is the legal right of the Palestinian people and resistance groups to act and defend themselves in the face of the aggression and terrorist moves of the Zionist regime," Iranian Foreign Ministry spokesman Nasser Kan'ani said on Friday.
He added that the Israeli regime's new wave of air strikes across the besieged Palestinian enclave was a "criminal, adventurous and provocative" move.
The Iranian Foreign Ministry spokesperson emphasized that the "apartheid regime of Israel" shoulders full responsibility for the "crime" and the consequences of its aggression on Palestine and the Gaza Strip.
Kan'ani urged all countries and international organizations to fulfill their legal, moral and human responsibility to defend the oppressed Palestinian people and condemn the Israeli regime's terrorist moves.
They should also take measures to stop the continuation of such crimes by the Tel Aviv regime, which is the main factor behind instability and insecurity in the region, he said.
Twelve people, including Tayseer al-Jabari, a senior commander of the Islamic Jihad movement, and a five-year-old child, were killed in an airstrike by Israel on a center affiliated with the resistance movement in a residential area in the besieged Gaza Strip on Friday, only days after the regime arrested a senior figure of the group.
Source: Press TV
Please click the following URL to read the full text of the original story:
https://www.presstv.ir/Detail/2022/08/05/686845/Iran-Israel-Palestine-Kan-ani-Gaza-attack-crime-Islamic-Jihad-commander-Rafah
--------
19 members of Palestine's Islamic Jihad movement arrested in West Bank: Army
06 August, 2022
Israeli forces broadened their offensive against Islamic Jihad on Saturday, announcing the arrest of 19 of the group's members in the West Bank, while launching further strikes against militant targets in Gaza.
An army statement said soldiers and agents from the Shin Bet internal security agency had operated at several West Bank locations, "in order to apprehend Islamic Jihad terrorist operatives."
Out of 20 people detained in the latest sweep, "19 of them are Islamic Jihad," the army said.
The latest deadly escalation in Gaza was sparked by Israel's arrest earlier this week in the West Bank of Bassem al-Saadi, a key Islamic Jihad member Israel blamed for orchestrating a spate of attacks.
Islamic Jihad, an Iran-backed Islamist group, has a strong presence in Gaza and the West Bank, a Palestinian territory occupied by Israel since 1967.
Source: Al Arabiya
Please click the following URL to read the full text of the original story:
https://english.alarabiya.net/News/world/2022/08/06/19-members-of-Palestine-s-Islamic-Jihad-movement-arrested-in-West-Bank-Army-
--------
More than 100 rockets fired at Israel: Islamic Jihad
Nour Abu Eisha
05.08.2022
GAZA CITY, Palestine
Palestine's Islamic Jihad on Friday announced that it had fired more than 100 rockets from the Gaza Strip at Israeli cities in response to Israel's assassination of one of its top leaders.
"In response to the crime of assassinating Al-Jabari and his comrades, Saraya al-Quds bombed Tel Aviv and other cities with more than 100 missiles," said the group's armed wing.
The Israeli army said in a statement that warning sirens were sounded in several areas in southern Israel while local media said sirens were heard in several cities near Tel Aviv, central Israel, due to the firing of rockets from the Gaza Strip.
An Anadolu Agency correspondent in Gaza reported that dozens of rockets were seen launching from the strip towards Israeli areas.
Earlier Friday, the Israeli army said it had begun launching airstrikes on Islamic Jihad targets in the Gaza Strip.
According to the Gaza-based Health Ministry, the Israeli raids killed 10 Palestinians, including a 5-year-old girl.
The current tension began last Monday after Israel arrested Bassam al-Saadi, leader of the Islamic Jihad movement, in the Jenin refugee camp in the northern West Bank.
Source: Anadolu Agency
Please click the following URL to read the full text of the original story:
https://www.aa.com.tr/en/middle-east/more-than-100-rockets-fired-at-israel-islamic-jihad/2654823
--------
Death toll in Israel air strikes on Gaza rises to 10, including child
05 August, 2022
Israel unleashed a wave of airstrikes in Gaza on Friday, killing at least 10 people, including a senior militant, according to Palestinian officials.
The Palestinian Health Ministry said seven people were killed, including a five-year-old girl, and at least 40 wounded. The Islamic Jihad movement said a Gaza commander, Tayseer al-Jabari, was among those killed.
The Israeli military said it was targeting the Palestinian Islamic Jihad in an operation named "Breaking Dawn."
It also announced a "special situation" on the home front, with schools closed and limits placed on other activities in communities within 80 kilometers (50 miles) of the border.
The strike amid days of heightened tensions following the arrest of a senior militant in the occupied West Bank earlier this week.
The strikes risk igniting yet another war in the territory, which is ruled by the Islamic militant group Hamas and is home to about two million Palestinians.
The assassination of a senior militant would likely be met by rocket fire from Gaza, pushing the region closer to all-out war.
Source: Al Arabiya
Please click the following URL to read the full text of the original story:
https://english.alarabiya.net/News/middle-east/2022/08/05/Death-toll-in-Israel-air-strikes-on-Gaza-rises-to-four
--------
Palestinian Islamic Jihad commander killed in Israeli strikes on Gaza: Official
05 August, 2022
A senior commander of Islamic Jihad was killed in an Israeli air strike on Gaza Friday, the Palestinian militant group said.
"The Islamic Jihad movement in Palestine and its military wing the al-Quds Brigade mourn the great jihadist commander Tayseer al-Jabari 'Abu Mahmud', who was killed in a Zionist assassination in Gaza City," a statement said.
Israel said it struck Gaza on Friday and declared a "special situation" on the home front, after days of tensions following the arrest of a senior Palestinian militant in the occupied West Bank.
A blast could be heard in Gaza City, where smoke poured out of the seventh floor of a tall building. In addition to the senior militant, at least three other people were killed, including a five-year-old child.
Israel had closed roads around Gaza earlier this week and sent reinforcements to the border as it braced for a revenge attack after the arrest of a senior member of the militant group in the occupied West Bank on Monday.
It was not immediately clear what Israel was targeting or how much the situation would escalate. Israel and Hamas have fought four wars and several smaller skirmishes in the 15 years since it seized power from rival Palestinian forces.
Israeli Defense Minister Benny Gantz visited communities near Gaza on Friday, saying authorities were preparing "actions that will remove the threat from this region," without elaborating.
"We will operate with internal resilience and external strength in order to restore routine life in Israel's south," he said, "We do not seek conflict, yet we will not hesitate to defend our citizens, if required."
The latest escalation began when Israeli forces arrested a senior member of Hamas in the West Bank town of Jenin late Monday. A teenage member of the group was killed in a gunbattle between the Israeli troops and Palestinian militants.
Ahmed Mudalal, an Islamic Jihad official in Gaza, said the group had made demands of Israel through Egyptian mediators, including the release of the detained militant and another prisoner, a halt to West Bank raids and the lifting of the Gaza blockade. He said they have not yet received a response.
Earlier Friday, a couple of hundred Israelis protested near the Gaza Strip on Friday to demand the return of a captive and the remains of two Israeli soldiers held by Hamas.
The protesters were led by the family of Hadar Goldin, who along with Oron Shaul was killed in the 2014 Gaza war. Hamas is still holding their remains, as well as two Israeli civilians who strayed into Gaza and are believed to be mentally ill, hoping to exchange them for some of the thousands of Palestinian prisoners held by Israel.
The protesters pushed through two police checkpoints on a road near the heavily-guarded Gaza frontier before stopping at a third.
They held a large sign demanding the return of the soldiers' remains as well as Avraham Mengistu, an Israeli of Ethiopian descent in his late 20s or early 30s. Mengistu's family took part in the protest.
In June, Hamas released a rare video showing another captive, Hisham al-Sayid, an Arab citizen of Israel, in a hospital bed with an oxygen mask and an IV drip. It said his health has recently deteriorated. Reporters covering the protest did not hear any mention of al-Sayid.
Israel and Hamas are bitter enemies that have fought four wars and dozens of smaller skirmishes since Hamas seized control of Gaza 15 years ago.
Israel and Egypt have maintained a tight blockade over the territory throughout that time. Israel says the closure is needed to prevent Hamas from building up its military capabilities, while critics say the policy amounts to collective punishment of Gaza's 2 million Palestinian residents.
Source: Al Arabiya
Please click the following URL to read the full text of the original story:
https://english.alarabiya.net/News/middle-east/2022/08/05/Israeli-military-launches-air-strikes-on-Gaza
--------
Africa
Jordan Demands Israel 'Immediately Stop' it's Aggression against Gaza
06.08.2022
AMMAN
Jordan demanded Friday that Israel "immediately stop" its aggression on the Gaza Strip.
The Foreign Ministry urged the international community to take "urgent and effective" action to stop the escalation and provide protection to the Palestinian people.
Spokesman Haitham Abu Al-Ful warned of "dangerous" consequences for the Israeli escalation and terrorizing civilians, which "will only increase tension and violence and deepen the environment of despair."
He said: "The solution to the problem of the Gaza Strip and preventing the escalation of violence lies in finding a real political horizon by returning to the negotiating table to achieve a just peace on the basis of the two-state solution."
Al-Ful also said what would solve the problem would also be "lifting the unjust siege on the Gaza Strip, promptly addressing the humanitarian needs in it, and respecting the rules of international law and resolutions of international legitimacy."
Earlier Friday, the Israeli army said it began launching raids on targets of the "Islamic Jihad" movement in the Gaza Strip.
The Gaza Health Ministry said the raids resulted in the deaths of 10 Palestinians, including a girl and a woman.
Islamic Jihad spokesman Daoud Shehab announced that Israel assassinated Tayseer al-Jabari, a prominent leader in Saraya al-Quds, the armed wing of the movement.
Source: Anadolu Agency
Please click the following URL to read the full text of the original story:
https://www.aa.com.tr/en/middle-east/jordan-demands-israel-immediately-stop-its-aggression-against-gaza/2654873
--------
Libyan armed groups clash in Tripoli: reports
August 06, 2022
TRIPOLI: Clashes between armed groups erupted overnight in Tripoli, according to local media reports, the latest violence to hit the Libyan capital.
Gunfire and explosions were overhead around 1 a.m. Saturday (2300 GMT) in the city.
The fighting, with light and heavy weapons, occurred in the El Jebs district in the city's south, media reports said.
Tensions have been rising for months in Libya as two prime ministers vie for power, raising fears of renewed conflict two years after a landmark truce ended a ruinous attempt by eastern military chief Khalifa Haftar to seize Tripoli by force.
Saturday's clashes were between armed groups loyal to Prime Minister Abdulhamid Dbeibah, head of the unity government based in Tripoli, and others following his rival Fathi Bashagha, named in February as prime minister by a parliament based in Libya's east after he made a pact with Haftar.
The fighting ended when another group called the 444 Brigade intervened to mediate, according to Libyan media. There were no immediate reports of casualties.
Bashagha has failed in his attempts to oust Dbeibah, who has repeatedly asserted he will only hand over power to an elected government.
Tensions between armed groups loyal to the rival leaders have increased in recent months in Tripoli. On July 22, fighting in the heart of the city left 16 dead and about 50 wounded.
Dbeibah's Government of National Unity was appointed as part of a United Nations-backed peace process to end more than a decade of violence in the North African country.
The transitional government had a mandate to lead the country to elections last December, but they never took place due to divisions over the rules and the presence of controversial candidates.
Source: Arab News
Please click the following URL to read the full text of the original story:
https://www.arabnews.com/node/2137131/middle-east
--------
Chad leader in Qatar amid late haggling over peace deal
August 05, 2022
DOHA: Chad's military leader arrived in Qatar on Friday as his negotiators sought last-minute changes to a landmark deal with opposition rebels that could delay signing the accord, diplomats said.
Mahamat Idriss Deby Itno, who seized power in the Central African nation after his father was killed battling rebels last year, is in Qatar to formally agree an accord to launch a national peace dialogue in Ndjamena on August 20.
The dialogue would aim to hold the country's most important elections since its independence in 1960.
And the process is being closely watched as Chad is seen as key to international efforts to counter jihadist insurgents in several Central and West African countries.
Qatar, which has hosted nearly six months of mediation, had hoped the accord would be signed on Monday. But diplomats said late obstacles had created doubts.
"There are some recent barriers to overcome before the signing of the peace agreement," said a diplomatic source monitoring the talks.
"There is a branch within the Chadian government that does not fully support the direction of the negotiations and is trying to obstruct the signing of the peace agreement in its current form," said a second diplomatic source.
"The Chadian government delegation, headed by the foreign minister, made a last-minute demand to amend the wording of the agreement after it had been accepted by all parties. This may cause delays to the signing of the agreement."
Deby is scheduled to hold talks with Qatari officials on Saturday amid efforts to keep the signing on track.
With Qatar having to mediate between dozens of disparate opposition groups and the military government, the start of the national dialogue has been delayed several times since February amid frayed negotiations.
The main armed opposition Front for Change and Concord in Chad (FACT) has still not announced whether it will sign the accord.
FACT fighters were among rebels battling the country's long-time president Idriss Deby Itno when he was killed in April last yar.
His son seized power but promised to hold elections within 18 months. The military government has given itself the power to extend the transition but it faces pressure from France, the European Union and African Union to stick to the October deadline for elections.
"Even without FACT, there is a majority in favor of starting the talks in N'Djamena on August 20," said a negotiator for one group.
Under the provisional accord, the military council and rebel groups are to agree a cease-fire while authorities will guarantee security for rebel leaders who attend the national dialogue.
Source: Arab News
Please click the following URL to read the full text of the original story:
https://www.arabnews.com/node/2137031/world
--------
18 Sudanese killed by Chadian militia along border: Ruling council
Mohammed Amin
05.08.2022
KHARTOUM, Sudan
Eighteen Sudanese civilians were killed by unidentified Chadian militiamen on the border with Chad, Sudan's ruling sovereign council said on Friday.
The attack took place in the village of Beer Saliba in Surba, along the border between the two countries, said a statement by the council, adding that others were injured in the Thursday night "ambush."
The Sudanese army said that the Sudanese Defense and Security Council has begun an urgent meeting to address and investigate the incident.
The army added that it will devote more resources to protecting Sudanese civilians.
The incident comes on the same day of a visit to Chad by Mohamed Hamdan Daglo, the council's duty chair and the REID Support Forces leader.
Source: Anadolu Agency
Please click the following URL to read the full text of the original story:
https://www.aa.com.tr/en/africa/18-sudanese-killed-by-chadian-militia-along-border-ruling-council/2654673
--------
FAO appeals for over $130M to assist 882,000 people across drought-hit Somalia
Mohammed Dhaysane
05.08.2022
MOGADISHU, Somalia
The UN Food and Agriculture Organization's (FAO) office in Somalia said on Friday that it urgently required $131.4 million to assist 882,000 people across the Horn of Africa country.
"Funding levels remain low across sectors," the UN agency said in a statement, adding that its famine prevention efforts covering 55 of Somalia's 90 districts were only 46% funded.
Voicing concern on the drought situation in Somalia, it underlined the vulnerability of the households that have been affected by it.
"We cannot wait for famine to be declared; we must act now to safeguard livelihoods and lives," FOA said
With agriculture accounting for up to 60% of Somalia's national income, 80% of its employment, and 90% of its exports, it is vital that efforts related to the sector are seen as part of a frontline humanitarian response.
More than 900,000 people in Somalia, mostly living in rural areas, have moved to internally displaced persons camps since January 2021 due to the drought and lack of livelihood support.
According to UN Children Fund, more than 500 children died in Somalia since January due to drought-related malnutrition.
Source: Anadolu Agency
Please click the following URL to read the full text of the original story:
https://www.aa.com.tr/en/africa/fao-appeals-for-over-130m-to-assist-882-000-people-across-drought-hit-somalia/2654669
--------
URL: https://newageislam.com/islamic-world-news/drone-strike-kabul-america-islamic-emirate/d/127659
New Age Islam, Islam Online, Islamic Website, African Muslim News, Arab World News, South Asia News, Indian Muslim News, World Muslim News, Women in Islam, Islamic Feminism, Arab Women, Women In Arab, Islamophobia in America, Muslim Women in West, Islam Women and Feminism