New Age Islam News Bureau
22 Nov 2015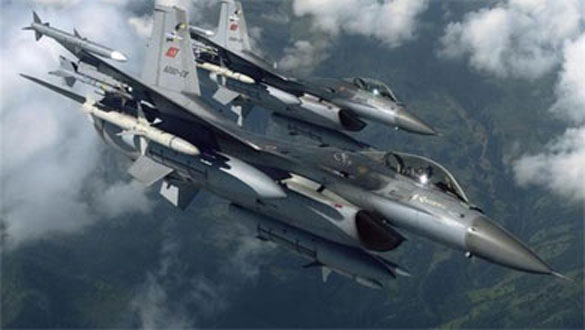 Turkish military jets have struck the outlawed Kurdistan Workers Party (PKK) targets in northern Iraq and the country's southeast, the military said in a written statement on Nov. 21.
-----------
Pakistan
• Religious Scholars Vow To Resist 'Liberalisation of Pakistan'
• Pakistan Deeply Disturbed By Bangladesh Executions: FO
• Denial of Asylum to Muslim Refugees Unjustified: Maleeha Lodhi
• Soldier Killed As Remote-Controlled Bomb Hits SWA Security Forces' Convoy
• Terror case registered against 'architects' of Sundar factory tragedy
• Pakistan, US agree on early resumption of Afghan peace process
------
South Asia
• ISIS Loyalists 'Wilayat Khurasan' Start Destruction of Graves to Match Atrocities in Iraq and Syria
• Bangladesh Executes 2 Opposition Leaders despite Concerns
• Two Foreigners among Three Killed By Own Bomb in Nangarhar
• Taliban shadow governor for Kabul's Deh Sabz District among five killed
• Zabul police chief says Taliban behind recent abduction
• NDS detains bomb supplier of Haqqani network in Paktia
• War with ISIS: To Defeat the Jihadists the West Needs A Local Ally
• Efforts underway to locate and release hostages in Zabul
• Kunduz city fell to Taliban due to failure in govt leadership: Saleh
• Taliban turning into a matter for South Asia
-------
Arab World
• Senior Religious Leader of Militants in Hama Killed in Clash with Syrian Army
• Jihadist Networks: Western Countries Where ISIL Recruits Fighters
• Saudi Airstrikes Kill 8 Fishermen in Yemen
• ISIL Terrorists Killed in Palmyra
• Syrian Fighter Jets Hit Militant Centres Hard in Damascus' Douma
• Syrian Air Force Strikes ISIL Sites in Oil-Rich Region in Deir Ezzur
• Syrian Army, Hezbollah Hit Militants Hard in Qalamoun
• Named After Goddess? 'Isis' Still Spells Trouble
------
Africa
• Mali Hotel Attackers Are Tied to an Algerian Qaeda Leader
• Hotel Attack in Mali Reverses Gains in Fight against Extremism
------
India
• Terrorism's Long Shadow Stretches across World, PM Modi Says At ASEAN
• Indian Muslims Free To Go To Pakistan, Says Assam Governor
• India Hits Out At Kerry for Terming It A 'Challenge' At Paris Meet
-------
Mideast
• Military Launches Air Strikes On PKK in Iraq and Southeast Turkey
• Davutoğlu Convenes Security Meeting On Syria
• Turkish Airlines flight diverts to Canada after bomb threat
------
Europe
• Putin's Enormous Multibillion-Dollar War Room Revealed
• Paris Attacks: Man Who Escaped Killings at Bataclan Had Survived 9/11
• Paris attacks suspect Salah Abdeslam could be in Brussels 'ready to blow himself up', says friend
------
Southeast Asia
• Jakim Should Get More Than Rm1b to Fight IS, Liberalism, LGBT
• Civil society, free press important for country to thrive, Obama tells Najib
--------
North America
• Obama Says Will Not Relent In Fight Against Islamic State, Urges Russia Help
• Canada to fly in 900 Syrian refugees a day
• Kerry to call for calm in Israel and West Bank
-------
Compiled by New Age Islam News Bureau
URL: https://www.newageislam.com/islamic-world-news/new-age-islam-news-bureau/religious-scholars-vow-to-resist-'liberalisation-of-pakistan'/d/105373
-------
Pakistan
Religious Scholars Vow To Resist 'Liberalisation of Pakistan'
Kalbe Ali — November 22nd, 2015
ISLAMABAD: The Milli Yakjehti Council (MYC), an umbrella organisation of religious parties from different schools of thought, has announced that it would oppose all measures taken to 'liberalise' the country.
Promising to launch a drive for the protection of the Islamic ideology of Pakistan and threatening to initiate a million-man march across the country if their demands were not met, the council termed the Supreme Court's recent decision in the Mumtaz Qadri case 'un-Islamic'.
The conference, chaired by Sahibzada Dr Abul Khair Muhammad Zubair – who heads one faction of the Jamiat Ulema-i-Pakistan — also vowed to resist all efforts to make Pakistan a secular country.
Members of religious parties and other right-wing groups took serious notice of a statement made by the prime minister at an event held to celebrate the Hindu festival of Diwali on Nov 11 in Karachi.
The declaration also condemned the death sentences awarded to Jamaat-i-Islami leaders in Bangladesh.
"The sentences [for] Salahuddin Chaudhary and Ali Ahsan Mujahid are a violation of the 1971 Indo-Pak treaty," Jamaat chief Sirajul Haq said, adding, "The silence of the government in this regard is a crime and the same applies to silence over the persecution of Palestinians at the hands of Israel."
He narrated an account of a meeting with Mian Muhammad Nawaz Sharif, during the time when the PM was in exile in Saudi Arabia.
"Mian Sahib had vowed in front of me at the Masjid-i-Nabvi that if the Almighty gave him another chance, then he would eradicate interest-based economy from the country and implement Sharia law in Pakistan."
The meeting commenced with a debate over issues including the eradication of the interest-based economy — but representatives of religious groups failed to present any solution to the problems being discussed. Other agenda items included the condemnation of what it called obscenity in the country and countering conspiracies being hatched to amend the blasphemy law.
The conference also decried the lack of appropriate government response to the atrocities being committed against Muslims the world over, with specific reference to India.
Jamaatud Dawa chief Hafiz Mohammad Saeed lambasted Prime Minister Nawaz Sharif for talking about liberalising the ideology of country.
"It is strange to see that a man who introduced the Shariat Bill in the country is now talking about secularism," he said, adding, "It is time that all ideological parties united to protect the sanctity of the kalma."
The conference also mentioned a longtime demand of all religious groups – that obscenity on the media be stopped.
"The definition of obscenity should be defined in the light of the Holy Quran and Sunnah and a decision needs to be forwarded to Pemra (Pakistan Electronic Media Regulatory Authority) for implementation," the declaration said.
The MYC also demanded that the government lift the ban on coverage of the JuD and the Falah-i-Insaniat Foundation.
http://www.dawn.com/news/1221461/religious-scholars-vow-to-resist-liberalisation-of-pakistan
-----
Pakistan deeply disturbed by Bangladesh executions: FO
Mateen Haider — November 22nd, 2015
ISLAMABAD: Pakistan is deeply disturbed by the executions this morning of the Bangladesh Nationalist Party leader and Jamaat-e-Islami secretary general who were both charged with 1971 war crimes, the Foreign Office said.
Bangladesh Nationalist Party leader Salahuddin Quader Chowdhury and Jamaat-e-Islami secretary general Ali Ahsan Mohammad Mujahid were "hanged together, at the same time" at 12:55 am (local time) at Dhaka Central Jail in the nation's capital, Senior Jail Superintendent Mohammad Jahangir Kabir told The Associated Press.
Chowdhury had been convicted on of charges of torture, rape and genocide during the country's independence war, while Mujahid was found guilty on charges of genocide, conspiracy in killing intellectuals, torture and abduction.
"We have noted with deep concern and anguish the unfortunate executions of the Bangladesh National Party Leader, Mr. Salahuddin Quader Chowdhury and Mr Ali Ahsan Mujahid," Foreign Office Spokesman Qazi Khalilullah said in a statement.
The spokesman said Pakistan also took notice of the international community's reaction to the flawed trials in Bangladesh related to the events of 1971.
Jamaat-e-Islami and the Bangladesh Nationalist Party say the trials were politically motivated. Bangaldeshi Prime Minister Sheikh Hasina has denied the allegations, but acknowledged that she faced international pressure for trying opposition figures for war crimes,
Human Rights Watch said the tribunal allowed the prosecution to call 41 witnesses, while Chowdhury's defense was limited to four witnesses. The New York-based group said Mujahid was sentenced to death for instigating his subordinates to commit abuses, although no subordinates testified or were identified.
Khalilullah said there is a need for reconciliation in Bangladesh in accordance with the spirit of the Bangladesh, India, Pakistan Agreement of April 9, 1974, which he said calls for a forward-looking approach in matters relating to 1971.
The spokesman addressed hope that such an action would foster goodwill and harmony.
http://www.dawn.com/news/1221498/pakistan-deeply-disturbed-by-bangladesh-executions-fo
-----------
Denial of asylum to Muslim refugees unjustified: Maleeha Lodhi
Mateen Haider — November 22nd, 2015
ISLAMABAD: Pakistan's Ambassador to the United Nations (UN) Maleeha Lodhi warned the international community at the UN that denial of asylum to Muslim refugees by some countries was legally, politically and morally unjustified.
"The moral compass of those who refuse refugees of any faith must be questioned," she said according to an official statement released by Pakistan mission to the UN in New York City.
Speaking in a debate at the UN General Assembly on the global refugee crises, the envoy said that fear was being fanned by some to accentuate discrimination, blunt humanitarianism, and spread hate and Islamophobia.
She described the refugee crisis "as one of the defining humanitarian and political issues of our times", adding that how the issue is addressed will influence political and social trends for decades to come – either bridging or dividing cultures and civilisations.
The ambassador said it was time to acknowledge that the interlocking crises and conflicts raging across the Middle East and Africa have been precipitated by "misguided military interventions in the internal affairs of several regional states".
Lodhi stressed that "history and current events attest that foreign intervention begets more chaos and violence, breaking down established structures of stability, destroying states and displacing people".
Pakistan's envoy urged addressing the root causes of the flow of refugees today to Europe. Conditions, she said, will have to be created to enable the refugees to return to their homes in dignity and peace.
She also called for political solutions to be promoted to halt the conflicts in Syria, Iraq, Afghanistan and elsewhere. Compromises, she added, may be difficult but are essential.
Ambassador Lodhi said that "fixed preconditions for peace and negotiations are a recipe for continuing conflict and chaos. The rights of majorities and minorities will have to be respected. Nor can the political hegemony of any power or combination of powers form the basis for durable peace in the region."
Highlighting the need to urgently resolve the refugee crises, the envoy expressed hope that the UN debate would yield recommendations for a clear, resolute and unified response to this crisis – "A response that is timely, coherent and comprehensive, and, above all, based on the principles of humanitarianism, human rights and national and global responsibility."
Calling for refugees to be treated with compassion, Ambassador Lodhi said that it was essential that the flow of humanity to European shores must be met with humanity and, she added, that compassion has no religion.
Ambassador Lodhi criticised those countries, which were fixing ceilings on accepting people who were in need of urgent protection, calling this "unacceptable ─ legally and morally".
Every refugee and asylum seeker, she said, was entitled to protection and humane treatment. "There is no room for discrimination on the basis of caste, colour or creed, or any other consideration in international law," she added.
She underscored the need for massive and urgent assistance to care for the millions of refugees who were crowded in neighbouring countries – in Turkey, Jordan, Lebanon and elsewhere to stem the tide of the refugees to Europe.
Referring to the 3 million registered and unregistered Afghan refugees who still live in Pakistan, she said that unfortunately, international assistance to these refugees and the response to UN appeals for resources to sustain them has been partial and ungenerous.
She concluded by appealing to the world community to "join our strengths and combine our energies" to overcome this humanitarian catastrophe. She said,
"When history judges us collectively, let us make sure that we do not fail for lack of humanity."
http://www.dawn.com/news/1221496/denial-of-asylum-to-muslim-refugees-unjustified-maleeha-lodhi
------
Soldier killed as remote-controlled bomb hits SWA security forces' convoy
Ali Akbar —Nov 22, 2015
PESHAWAR: One soldier was killed and two others injured in a bomb blast in South Waziristan's Sarokai area.
A convoy of the security forces on routine patrol in the area was hit by a remote-controlled bomb, a securiy official said, killing one soldier and injuring two.
Pakistan has been battling an insurgency since 2004, following the United States-led invasion of neighbouring Afghanistan in 2001 and the subsequent spillover of militants across the border.
The semi-autonomous tribal areas on the Afghan border have for years been a hideout for militants of all stripes, including Al Qaeda and the Tehreek-i-Taliban Pakistan (TTP), as well as foreign fighters such as Uzbeks and Uighurs.
South Waziristan was the main sanctuary for the TTP before the military launched a large ground offensive in October 2009. But attacks against security forces continued in the area.
In June 2014, Operation Zarb-i-Azb was launched to clear insurgent bases from North Waziristan after a bloody TTP attack on Karachi's Jinnah International Airport.
Air strikes, artillery, mortars and ground troops have all been used to take back territory.
Officials say more than 3,500 militants have been killed since the launch of the latest offensive.
http://www.dawn.com/news/1221493/soldier-killed-as-remote-controlled-bomb-hits-swa-security-forces-convoy
-----------
Terror case registered against 'architects' of Sundar factory tragedy
November 22nd, 2015
LAHORE: The Sundar police on Saturday registered a case against two architects, chief engineer and the owner of the ill-fated factory under Section 7 of the Anti-Terrorism Act (ATA) and murder attempt charges.
At least 46 workers were killed and more than 103 injured when the roof of the four-storey Rajput Polyester Factory collapsed on Nov 4.
Raiwind City ASP Muhammad Abdullah told Dawn that the case had been registered against architects Tahir and Munir, Engineer Hussain Ahmed Riaz and owner the late Ashraf on the complaint of District Officer Muhammad Azhar. He said action against the factory owner could not be initiated as he and his son were among the 46 victims of the building collapse.
A high-level team probing the factory collapse in the Sundar Industrial Estate has held the Punjab Industrial Estates Development and Management Company (PIEDMC) chief executive officer, construction contractor, resident engineer, architect, chief engineer, factory owner and two others responsible for the incident, recommending legal action against them.
The report was submitted to Chief Minister Shahbaz Sharif a couple of days ago by the Industries Department secretary, who was entrusted with the task of investigating the incident, fixing responsibility and recommending action and remedial measures to avert such incidents in future.
Besides declaring eight people directly responsible, the report also mentions a severe lack of supervision by the PIEDMC particularly at the time of construction and enforcing industrial building regulations.
Rescue and army teams had conducted an extended operation to clear debris and recover bodies and it lasted for 131 hours. Some 2,079 rescue personnel participated in the operation and heavy machinery with 309 vehicles were utilised for rubble clearance.
http://www.dawn.com/news/1221408/terror-case-registered-against-architects-of-sundar-factory-tragedy
-----------
Pakistan, US agree on early resumption of Afghan peace process
Baqir Sajjad Syed —November 22nd, 2015
ISLAMABAD: Pakistan and the United States have agreed to work together for an early resumption of the stalled Afghan reconciliation process.
The understanding was reached during the recently concluded visit of Army Chief Gen Raheel Sharif to the United States where he held extensive discussions with key figures of the Obama administration, including Vice President Joe Biden.
"There is a sort of agreement that there is a need to move on the Afghan reconciliation thing very quickly depending on the conditions," a senior diplomatic source, who had been briefed on the trip, told Dawn in a background briefing on Saturday.
Afghanistan was the focus of Gen Sharif's visit, during which he also discussed Pakistan's strained ties with India, military cooperation, strategic (nuclear) issues and other regional matters.
"The general quite candidly conveyed his views on the issue, both the political and the strategic perspective, to his interlocutors," the source said.
Gen Sharif is believed to have communicated Pakistan's fears in accepting the facilitation role that it is expected to play for reviving the process. The Pakistani side is primarily concerned about the Afghan security establishment thwarting a renewed process.
Military spokesman Lt Gen Asim Bajwa, too, had in one of his tweets on the army chief's visit said that "requirement of conducive environment for re-initiating Afghan peace process" was emphasised.
At least three major initiatives – the first attempt in February to kick-start the reconciliation process, the ISI-NDS (the Afghan intelligence agency) cooperation agreement in May, and the reconciliation process itself –, Pakistanis believe, failed because of conspiracies hatched by elements in Afghanistan, who are opposed to a political settlement with the Taliban.
The two sides (Pakistan and US), however, have not set any timeframe for getting back on track the talks process, which was disrupted after the Afghan intelligence leaked the news about the death of Mullah Omar days before Islamabad was set to host the second round of reconciliation dialogue.
Bilateral relations between Pakistan and Afghanistan also got strained because of the suspension of the peace dialogue and the accompanying increase in violence. Resultantly the relationship, which had undergone a major transformation earlier in the year, once again slipped back into compulsive mistrust of each other.
"It would have been imprudent to set the timeframe without getting the Afghan government and China on board," the source explained. China, it should be recalled, has been lately playing a proactive role in Afghanistan and participated in the first round of talks on July 7 as an observer along with the US.
However, the source said it was expected that a "lot of ground would be covered during the Heart of Asia Conference", which Pakistan is co-hosting with Afghanistan on Dec 7-8. It is speculated that President Ashraf Ghani would visit Islamabad on this occasion.
Chinese Special Envoy on Afghanistan Ambassador Deng Xijun, who visited Pakistan last week, too had offered to facilitate the Afghan dialogue, provided other stakeholders agreed to the proposal.
A concerted diplomatic push for resumption of reconciliation process is clearly afoot.
While President Obama is too eager for a settlement of the Afghan imbroglio so that a violence-wrecked Afghanistan does not eclipse his legacy in office, Gen Sharif told the Americans that for him reconciliation process was essential for maximising the benefits of Zarb-i-Azb Operation.
The operation is flaunted by the military as a major success for having reduced incidents of terrorism in the country and to a great extent cleared North Waziristan, which till last year served as the operational headquarters of a number of terrorist groups, including the Haqqani network.
Although the military and the government have been domestically saying that the operation has cleared 89 per cent of North Waziristan, Gen Sharif told the Americans that about 20 per cent of the job was still left behind and that the army would move to complete it after the winter.
He acknowledged the US support for the operation in terms of military hardware and ammunition, the source noted.
CORRECTING THE NARRATIVE: The agreement for collaboration on the Afghan peace process may dominate the headlines, but, the source said, a bigger achievement of Gen Sharif's visit was his successful attempt at addressing scepticism in Washington about Pakistan's role in the fight against terror, particularly peace in Afghanistan.
The army chief's meetings with Congressional committees are being attached a lot of importance because it is rather unprecedented for a military commander to interact with the Congress, which has largely been wary about Pakistan. Previous engagements by Pakistan military had mostly been with the executive branch.
"This interaction would positively help in projecting Pakistan as being serious in fighting extremism and terrorism; a serious partner in Afghanistan; and a responsible regional power trying to protect its national interest," the source said, stressing that an acceptable and positive narrative of Pakistan in Washington was key for defence cooperation to move forward without a hitch.
Responding to a question about any defence agreements reached during the visit, the source explained that it was wrong to look at the trip from that aspect. The defence assistance, he underscored, was a continuing process.
Only over the past few months a military aid of about $1.3 billion had been delivered to Pakistan, he added.
Besides, Gen Sharif in his meetings with Congressional committees presented himself as a commander, who wanted to uphold civilian supremacy and strengthen democracy in the country.
"It was indeed a very smart thing on his part to tell the people in Congress," the source commented.
http://www.dawn.com/news/1221445/pakistan-us-agree-on-early-resumption-of-afghan-peace-process
------
South Asia
ISIS Loyalists 'Wilayat Khurasan' Start Destruction of Graves to Match Atrocities in Iraq and Syria
By Khaama Press - Sat Nov 21 2015
New shocking images have emerged which purportedly shows the loyalists of the Islamic State of Iraq and Syria (ISIS) terrorist group destroying raised graves.
The ISIS loyalists operating under the brand of 'Wilayat Khurasan' which covers swaths of Afghanistan and Pakistan, are apparently committing the latest fanatic acts in a bid to match the atrocities committed by the terror group in Iraq and Syria.
The group which is reportedly led by the former Pakistani Taliban commander Hafiz Saeed Khan.
This comes as the terror group earlier this year released photographs of its militants destroying Christian graves with sledgehammers and carving out crosses in the Iraqi city of Mosul.
The images were posted on social media, including the Shomoukh Al-Islam jihadi forum, under the title Leveling Graves And Erasing Pagan Symbols.
Three pictures also emerged out of a montage from Syria in August this year which purportedly shows graves being smashed along with other images such as the discovery of smuggled cigarettes hidden inside a spare tire.
ISIS destroy graves in Iraq
Only the most ornate gravestones in the graveyard appear to be targeted, with the pictures showing they are destroyed using a sledgehammer. The caption states that the men are "removing the manifestation of polytheism."
The latest distressing pictures are released shortly after a shocking documentary was released last week which purportedly shows the loyalists of the terror group are expanding their activities in Afghanistan by establishing jihadi schools where children as young as 3-year-old are being trained on how to carry out terrorist activities.
It is estimated that 3,500 militants loyal to the terror group are operating in Afghanistan which includes militants both from Afghanistan and other countries.
The United Nations also released a report late in the month of September this year, warning that the terror group is making inroads in Afghanistan with the number of sympathizers and followers growing across the country.
According to the report around 70 militants of the terror group are busy in forming the core of the group's branch in Afghanistan.
The report further added that the group is recruiting followers in at least 25 provinces of Afghanistan with 10 percent of the sympathizers belonging to the Taliban group.
http://www.khaama.com/isis-loyalists-start-destruction-of-graves-to-match-atrocities-in-iraq-and-syria-1711
-----------
Bangladesh executes 2 opposition leaders despite concerns
AP | Nov 22, 2015
DHAKA: Bangladesh executed two influential opposition leaders on charges of war crimes during the country's 1971 independence war, a senior jail official said Sunday, despite concerns that the legal proceedings against them were flawed and threats of violence by their supporters.
Bangladesh Nationalist Party leader Salahuddin Quader Chowdhury and Ali Ahsan Mohammad Mujahid, secretary general of the main Islamist party Jamaat-e-Islami, were "hanged together, at the same time" at 12:55 am at Dhaka Central Jail in the nation's capital, Senior Jail Superintendent Mohammad Jahangir Kabir told The Associated Press.
Security was strengthened near the jail and elsewhere to avoid any violence. A few hours after the execution, a security detail escorted ambulances carrying the men's bodies to their ancestral homes where their families were to perform burial rituals.
The Jamaat-e-Islami party, whose two other senior leaders already have been executed on war crimes charges, issued a statement calling for a nationwide general strike on Monday.
Chowdhury was convicted on of charges of torture, rape and genocide during the country's independence war against Pakistan, while Mujahid was found guilty on charges of genocide, conspiracy in killing intellectuals, torture and abduction.
On Wednesday, Bangladesh's Supreme Court upheld their death sentences, and on Saturday, President Mohammad Abdul Hamid rejected a clemency appeal, clearing the way for the executions. The families of Chowdhury and Mujahid met them for the last time inside Dhaka Central Jail on Saturday evening, authorities said.
Jamaat-e-Islami and the Bangladesh Nationalist Party say the trials were politically motivated. Prime Minister Sheikh Hasina has denied the allegations. She has acknowledged that she faced international pressure for trying opposition figures for war crimes, but vowed to continue the trials "to ensure justice for the families of the slain people" from the 1971 war.
More than 15 people, mostly leaders of Jamaat-e-Islami, have been convicted of war crimes.
The party had campaigned openly against independence for Bangladesh, which was part of Pakistan until the 1971 war. The Bangladesh government says that Pakistani soldiers, aided by local collaborators, killed 3 million people and raped 200,000 women during the war.
Mujahid, 67, was the head of Islami Chhatra Sangha, then the student wing of Jamaat-e-Islami . He was accused of being the mastermind behind the killing of intellectuals, including teachers and journalists, days before the Pakistani military surrendered to a joint force of freedom fighters and Indian army units on Dec. 16, 1971, after a bloody nine-month war.
Chowdhury, 66, whose father was the speaker of Pakistan's National Assembly and at times, the acting president of Pakistan, also actively opposed Bangladeshi independence. He was accused of carrying out war crimes, including killing more than 200 civilians, mostly minority Hindus, during the independence war, according to evidence presented at the tribunal.
U.S. lawmakers overseeing foreign policy described the war crimes tribunal, set up in 2013, as ``very flawed'' and a means of political retribution. The State Department said Friday that executions should not take place until it's clear the trial process meets international standards.
Stephen Rapp, who until August served as President Barack Obama's ambassador for war crimes, said it was ``disturbing'' that Chowdhury was denied the right to call alibi witnesses, including a former U.S. ambassador, to provide testimony that he was not present in Bangladesh at the time the alleged crimes were committed.
Human Rights Watch said the tribunal allowed the prosecution to call 41 witnesses, while Chowdhury's defense was limited to four witnesses. The New York-based group said Mujahid was sentenced to death for instigating his subordinates to commit abuses, although no subordinates testified or were identified.
Leaders of the House Foreign Affairs Committee, in a letter sent Tuesday to the top US diplomat for South Asia, voiced concern that "democratic space is shrinking" in Bangladesh amid ``a growing climate of violence, fear and self-censorship."
Since February, four secular bloggers, a publisher, and two foreigners — an Italian aid worker and a Japanese agriculture researcher — have been killed in attacks linked to Islamic militants.
The Islamic State claimed responsibility for some of the attacks, but authorities say the Sunni extremist group has no presence in the country. Instead, Hasina has blamed the attacks on the Bangladesh Nationalist Party and Jamaat-e-Islami, accusing them of trying to destabilize the country and halt the war crimes trials. Both opposition parties denied the allegation.
Such extremist violence was once rare in Bangladesh, which is mostly Muslim but has a strong secular tradition.
http://timesofindia.indiatimes.com/world/south-asia/Bangladesh-executes-2-opposition-leaders-despite-concerns/articleshow/49878272.cms
------
Two foreigners among three killed by own bomb in Nangarhar
By Khaama Press - Sun Nov 22 2015
Three militants have been killed and another wounded by own bomb in Kot District of eastern Nangarhar province.
Spokesman for Nangarhar police says four militants were carrying a landmine to place it on roadside between Janjal Ghondi and Sayed Ahmadkhil area that exploded on them killing three and wounding the fourth one last night.
Colonel Hazrat Hussain Mashriqiwal adds that two of those killed were foreign nationals.
Although, Col. Mashriqiwl did specify what country the foreigners belong to but when officials say foreigners in security incidents they usually refers to Pakistanis.
This comes days after 22 dead bodies of Pakistani militants who were killed in Afghanistan returned to Pakistan.
A local official Alam Zib said the killed insurgents belonged to al-Badar Mujahideen and Jamat-ud-Dawah armed groups.
The dead bodies were buried in their ancestral grave yard in Lower Dir area of Pakistan's Khyber Pakhtunkhwa Province on Friday.
Afghan government has been asking Pakistan to stop training terrorists and sending them to Afghanistan for its "undeclared war" but Pakistan turns them as allegations.
http://www.khaama.com/two-foreigners-among-three-killed-by-own-bomb-in-nangarhar-4246
------
Taliban shadow governor for Kabul's Deh Sabz District among five killed
By KHAAMA PRESS - Sun Nov 22 2015
The National Directorate of Security (NDS) – Afghanistan's intelligence agency says the so-called district governor of Taliban for Deh Sabz District of Kabul province has been killed.
According to a statement released by NDS on Sunday, Qari Muzamil alias Hakimullah was killed along with four of his men in Behsood District of eastern Nangarhar province.
The statement does not specify whether the militants were killed in security operations or drone strike.
http://www.khaama.com/breaking-news-taliban-shadow-governor-for-kabuls-deh-sabz-district-among-five-killed-4350
-----
Zabul police chief says Taliban behind recent abduction
By KHAAMA PRESS - Sun Nov 22 2015
Police chief of southern Zabul province where a group of civilians were kidnapped on Saturday says it was the work of a local Taliban commander.
General Mirwais Noorzai said police investigation reveals that Mullah Taqwa, a Taliban commander, is currently holding the hostages kidnapped between Shah Joy District and Qalat, the provincial capital of Zabul, yesterday.
According to Gen. Noorzai, Mullah Taqwa claims that residents of Jaghori District of Ghazni province who are ethnic Hazaras have kidnapped flock of sheep of Taliban.
Mullah Taqwa threatens of not letting the hostages go until their flock of sheep returns, Gen. Noorzai added.
Earlier reports put the number of hostages between 14 to 30 but Gen. Noorzai said kidnappers are currently holding eight hostages.
Taliban have not yet accepted responsibility of the kidnapping.
http://www.khaama.com/zabul-police-chief-says-taliban-behind-recent-abduction-4351
-----
NDS detains bomb supplier of Haqqani network in Paktia
By KHAAMA PRESS - Sun Nov 22 2015
The National Directorate of Security (NDS) has detained three important members of Haqqani terrorist network in Gardiz city, the capital of Pakitia province.
A statement released by NDS states that one of the three terrorists was supplying bombs and another was providing information about government employees.
They are identified as Mustafa S/O Niaz Mohammad the bomb supplier who had also taken part in planting landmines in Gardiz city and Zurmat District, Zikria nickname Amirullah S/O Rana Gul who was providing information about government employees and Din Mohammad nickname Mohammadi S/O Lal Mohammad.
Several home-made and anti-tank landmines were recovered from the possession of the terrorists.
A footage released by NDs with the statement on Saturday shows the three suspects confessing to their crimes.
http://www.khaama.com/nds-detains-bomb-supplier-of-haqqani-network-in-paktia-4245
-----
War with ISIS: To defeat the jihadists the West needs a local ally
Patrick Cockburn | The Independent | Nov 22, 2015
The aftermath of terrorist attacks such as the massacre in Paris are a bad time to produce new policies, but they provide ideal political conditions for a government to take radical, if ill-thought-out, initiatives. Leaders are carried away by a heady sense of empowerment as a worried or frightened public demands that something be done in response to calamity and to prevent it happening again. The moment of greatest risk is not when the bombs explode or the guns fire, but when governments react to these atrocities.
Terrorism is, in the first instance, aimed at showing defiance, exacting revenge and demonstrating strength. But, to be truly successful, it needs to provoke a poorly considered overreaction by those targeted. This has always been true. The greatest success of the 9/11 hijackers was not destroying the World Trade Center, but tempting the US government into launching wars in Afghanistan and Iraq in which it failed to achieve its ends and which are still going on.
Britain blundered into the Afghan and Iraq wars behind the Americans and blundered out again without much idea of what it was doing there, aside from showing solidarity with its ally. Debate in Britain over military intervention in Syria against Isis is a bit better informed than it was over Iraq or Afghanistan, but there is almost the same ignorance about the battlefield we are about to enter. Of course, Britain's proposed military contribution in Syria would be minimal, but putting one toe in a snake pit could be as dangerous as jumping into the middle of it.
One commentator described the conflict in Syria as being like three-dimensional chess played by nine players and with no known rules. He might have added that Iraq is even worse. But, at one level, it is not difficult to understand the dilemma facing the US, Britain, France and other Western powers launching air strikes to degrade and eliminate Isis. They know that more than 8,000 air strikes by the US-led coalition against the self-declared caliphate since last year have failed to contain it, as has been horribly demonstrated in Ankara, Beirut, Baghdad, Sinai and Paris. They know that there are limitations on what air power alone can achieve unless it is in partnership with an effective military force on the ground.
Those who seriously propose "boots on the ground", the horrible cliche that suggests the introduction of American, British or French ground troops, have evidently not been reading the news for the past 15 years or noticed what happened in Iraq and Afghanistan. In any case, public opinion in the US and Britain is unlikely to let their leaders send any more expeditionary forces to the Middle East. More likely is the use of drones and special forces to assassinate Isis leaders, whose demise, going by past experience, will do nothing to weaken the movement as a whole. The main purpose of these killings and tales of derring-do is to add substance to the pretence that something effective is being done.
If the Western powers are not going to provide ground troops and air strikes alone are not working, there is obviously a necessity for a local ally. But here there is a political problem. The largest military force fighting IS in Syria is the Syrian army, as the former British chief of general staff Baron Richards pointed out last week. It is overstretched, but it has at least four effective combat divisions. It has always been a myth that it has not been fighting Isis as is proven by the horror films posted by the jihadists on YouTube, showing captive Syrian soldiers having their heads cut off. But the US has studiously avoided attacking Isis from the air if it is fighting the Syrian army because it is frightened of being accused of helping President Bashar al-Assad to stay in power.
The beginning of the Russian air campaign in support of the Syrian army on 30 September has tipped the military balance against Isis, al-Nusra and Ahrar al-Sham, the three al-Qaeda-type groups dominating the armed resistance. But it is still too early to say how far it has tipped it. The Syrian army has suffered 47,000 killed in action and its paramilitary forces lost a further 31,000 over the past four years, leaving it exhausted and fought out.
Russian support has raised morale but its previous weaknesses remain, so it is unclear if it could win a major victory such as capturing the opposition-held half of Aleppo. The Syrian Kurds have been the US air forces' favourite ally, but there are limits to what they can do outside Kurdish-majority territory.
In Iraq, Isis's position may be stronger and its enemies weaker than they look. The Iraqi-Kurdish victory at Sinjar took advantage of a heavy bombardment by US aircraft on a small city that Isis did not try to defend with a large force. The Iraqi army has never recovered from last year's defeats and is less attractive for recruits than the three big Shia militias: Badr Organisation, Asaib Ahl al-Haq and Kataib Hezbollah. These paramilitaries are highly esteemed by the Shia majority, but they have failed to dislodge Isis from Fallujah, 40 miles west of Baghdad. Overall, authority is still draining away from Prime Minister Haider al-Abadi and his dysfunctional government.
Nevertheless, the self-styled Islamic State is somewhat weaker than it was. Though air forces commonly exaggerate what they can achieve by bombing alone, this does not mean that it does not have an impact. Veteran soldiers may be able to sustain themselves against the material damage and prolonged psychological strain, but it will erode the level of popular support for Isis in areas it controls. Of course, for such a ruthless well-organised movement that has no plans to run for election, this may not matter. A less tangible but significant loss for Isis is that the Sunni states of Saudi Arabia, Turkey and the Gulf monarchies, who may not have liked Isis but once saw it as a potent weapon against the Shia, are now much more cautious. Turkey is more active against Isis cells and the Syrian Kurds have closed half the Syrian-Turkish border to Isis volunteers. The progressive removal of old sanctuaries in Turkey is a serious loss for the jihadis.
There may also be a sense that Isis and al-Qaeda-type groups, whom Sunni rulers and their peoples may once have esteemed as victorious military vanguards of their communities, are proving a disaster for the Sunni in Iraq and Syria. The majority of the 3.2 million displaced people in Iraq are Sunni and so, too, are the four million Syrian refugees. Most come from opposition areas devastated by the Syrian government's artillery and air force. The Sunni in Baghdad were driven into a few enclaves, mostly in the west of the city, in 2006-7. There is now no truly safe place for an Iraqi Sunni to escape to inside the country.
Isis is under pressure and the wave of terrorist attacks over the past few months are one sign of this, but it is by no means close to collapse. This will happen only when its many enemies are more united.
------
Efforts underway to locate and release hostages in Zabul
By Khaama Press - Sun Nov 22 2015
Officials and local community elders of southern Zabul province have been trying to locate and release the group of civilians kidnapped by unidentified gunmen on Saturday.
Mohammad Anwar Ishaqzai, governor of Zabul province says security forces ransacked some suspected areas but did not find the hostages.
Ishaqzai added that security agencies have been strictly working on the issue.
Conflicting reports have been published about number of the hostages, some state they were 30, some suggest 20 and some other then put it at 14 but Ishaqzai said that its specific number is still unknown.
They were driving in different vehicle when armed men stopped their vehicles on gun point in Nawrak area of Qalat, the provincial capital of Zabul, and kidnapped them.
No group has claimed responsibility for the abduction but the previous mass abduction was reportedly the work of Uzbek militants who have announced allegiance to Daesh.
The 31 passengers were abducted from Shah Joy District in February.
Later, at least five of them were killed and 25 to 26 of released, including some freed nearly nine months after.
19 of them were released in exchange for some prisoners.
http://www.khaama.com/efforts-underway-to-locate-and-release-hostages-in-zabul-4249
------
Kunduz city fell to Taliban due to failure in govt leadership: Saleh
By Khaama Press - Sat Nov 21 2015
fall of Kunduz cityThe control of the strategic Kunduz city in northern Afghanistan fell to Taliban control due to government's failure in leadership and structural complexity.
The former Afghan intelligence chief Amrullah Saleh who was leading a delegation to investigate the fall of Kunduz city said Saturday that over 2,000 documents related to the fall of Kunduz were reviewed besides interviewing several people including government officials and ordinary citizens.
Saleh further added that the main question in their investigation was "Whether Kunduz city fell due to a conspiracy or a failure or whether both factors were involved?"
He said the delegation did not find any evidences regarding the involvement of any conspiracy in the fall of the city.
According to Saleh, the delegation concentrated on three main subjects, including strategic leadership, condition of institutions structure and condition of access to facilities.
Saleh said one of the main strategic errors of the government ahead of fall of the city was ignorance of the fall of other districts of Kunduz province including Dasht-e-Archi and Chahar Dara.
He also added that the Taliban militants continued to weaken the Afghan Local Police by taking control of Aqtash and Khanabad district.
According to Saleh, the Taliban militants entered to Kunduz city after weakening the Afghan Local Police and in the meantime starting war in the other parts of the north including Badakhshan, forcing the Afghan National Army troops to disperse.
He said there was a vacuum in the leadership as the Taliban launched coordinated attack on Kunduz city on 28th September and called US air support as the turning point in Kunduz war as the Taliban militants were close to take control of the airport.
Saleh said the delegation has exposed vacuums available in the operational method of the National Security Council led by President Mohammad Ashraf Ghani in their report, calling it a main factor which led to the fall of Kunduz city.
He also added that all the institutions and government officials who are to be blamed for the fall of the city, mainly due to negligence have bee exposed in their report.
http://www.khaama.com/kunduz-city-fell-to-taliban-due-to-weakness-in-govt-leadership-saleh-1712
-----------
Taliban turning into a matter for South Asia
By Zabihullah Moosakhail - Sat Nov 21 2015
President Ghani 4President Mohammad Ashraf Ghani has said that Taliban group is a phenomenon produced in Afghanistan and Pakistan but it is now turning into a matter for South Asia and its activities are expanding to Bangladesh and other countries, Azadi Radio reports.
While talking to Afghan students studying in Astana, capital of Kazakhstan, President Ghani said Chinese, Russian, Uzbek, Saudi, Kazakh, African and Pakistani militants are fighting in Afghanistan, adding that Afghanistan is sacrificing in the fight against terrorism but it is not the internal matter of Afghans.
Asking a question as How many supporters do the Taliban have? The President said "Let them 'Taliban' take part in elections and people to decide, if people of Afghanistan vote for them, I would gladly leave the office to them. But looking into their latest activities in Kundoz province, unfortunately, there violence reached to a peak that no group dreaming to become part of the government would do such things."
He said the ongoing fight against terrorism and extremism has made him to pay more attention to security than applying his programs.
The President said that 31 countries have promised the continuation of their military assistance with Afghanistan and by the end of this year the number will increase to 40.
www.khaam.com/taliban-turning-into-a-matter-for-south-asia-4245
-------
Arab World
Senior Religious Leader of Militants in Hama Killed in Clash with Syrian Army
November 22nd, 2015
TEHRAN (FNA)- A large number of the militants, including their Mufti (religious leader), were killed in heavy clashes with the Syrian army in Hama province on Sunday.
Bassam al-Qabalan and many more militants were killed in the army operation against their strongholds in Kafr Zita town.
On Friday, the Syrian army's operation against Jund al-Aqsa militants in the Northern part of Hama province left nearly 23 terrorists dead.
The sources confirmed that nearly 23 terrorists were killed in the Syrian army's operation against the gatherings of "Jund al-Aqsa" to the North of Suran.
http://en.farsnews.com/newstext.aspx?nn=13940901000722
--------
Jihadist Networks: Western Countries Where ISIL Recruits Fighters
November 22nd, 2015
TEHRAN (FNA)- There are many more Europeans than Americans joining the ranks of the Islamic State of Iraq and the Levant (ISIL also known as ISIS) terrorist group, as revealed by an analytical study just released in Washington.
The authors of the report, titled "ISIS in the West: The New Faces of Extremism" which has just been released by the New America public policy institute in Washington, estimated 4,500 Westerners had been drawn to Jihadist groups, Sputnik News reported.
New America has collected information about 475 individuals from 25 Western countries who have reportedly left their home countries to join ISIL or other Wahhabi-Takfiri jihadist groups in Syria or Iraq.
According to the report, an unprecedented number of the Western militant recruits are female, young (with an average age of 24), and active in online jihadist circles.
This is quite different from Western militants who fought in Afghanistan in the 1980s or Bosnia in the 1990s.
One-third of Western fighters have a familial connection to jihad, whether through relatives currently fighting in Syria or Iraq, marriage, or some other link to jihadists from prior conflicts or terrorist attacks.
The wars in Syria and Iraq have proven deadly for Western militants.
Almost two-fifths of Western fighters in New America's dataset have been reported as dead in Syria or Iraq. Almost half of the male foreign fighters and six percent of female militants have been killed.
The majority of Western fighters have joined ISIL. Only one-tenth have joined Jabhat al-Nusra, al-Qaeda's Syrian affiliate, and only 6 percent have joined other smaller groups, the report said.
The most popular route to Syria is through Turkey. Forty-two percent of the Western foreign fighters made their way to Syria or Iraq via Turkey.
Western European countries face a greater threat than the United States because militants can draw upon more established jihadist networks that can give rise to more sophisticated and deadly attacks, the authors wrote.
The likeliest threat to the US comes from ISIL-inspired violence, the authors warned.
ISIL recruiters have been most successful in Belgium, France, and Britain.
In France, Muslims account for just eight percent of the population and a hefty seventy percent of the country's jail inmates.
"Moslems are socially deprived, most of them living in ghettos, which explains the high level of criminality among them," the report warns.
Americans account for a mere six percent of the 4,500 Westerners believed to be fighting alongside Islamist extremists in Syria and Iraq.
The authors of the report explain this low percentage by the Muslims' better integration into America's mainstream society.
The findings of the report are under a big question mark as the input data is much different and extremely incompatible with other studies.
Earlier studies have shown that at least 9,000 people from European countries and America have joined terrorist groups in Iraq and Syria.
http://en.farsnews.com/newstext.aspx?nn=13940830001671
-----------
Saudi Airstrikes Kill 8 Fishermen in Yemen
Nov 22, 2015
TEHRAN (FNA)- Saudi warplanes pounded Yemeni fishermen's boats in the Red Sea, killing at least eight fishermen.
The fishermen were killed near Hanish Island in the Yemeni province of Hudaydah on Saturday.
On Thursday, Saudi air raids hit several boats off the coast of Zaqar Island, killing 20 fishermen and injuring several others.
Meanwhile, Saudi warplanes targeted a residential area in Sa'ada province. The airborne assault left a Yemeni woman and her son dead and several others wounded.
Saudi Arabia has been striking Yemen for 242 days now to restore power to fugitive president Mansour Hadi, a close ally of Riyadh. The Saudi-led aggression has so far killed at least 6,969 Yemenis, including hundreds of women and children.
Hadi stepped down in January and refused to reconsider the decision despite calls by Ansarullah revolutionaries of the Houthi movement.
Despite Riyadh's claims that it is bombing the positions of the Ansarullah fighters, Saudi warplanes are flattening residential areas and civilian infrastructures.
http://en.farsnews.com/newstext.aspx?nn=13940901000691
-------
ISIL Terrorists Killed in Palmyra
November 22nd, 2015
TEHRAN (FNA)- The Syrian army intensified its military operations against the ISIL Takfiri militants in the Western countryside of Palmyra in Homs province, killing a large group of the terrorists.
A large number of the ISIL Takfiri terrorists were killed in the Syrian army's operations against the terrorists' positions in al-Dwa and al-Shaer oil field in the Western countryside of Palmyra on Saturday.
Earlier, the Syrian army, National Defense Forces and Hezbollah fighters killed 11 terrorists in positions near Palmyra (Tadmur) as they have gathered pace once again in their move towards the ISIL-held ancient city.
The Syrian army and its allies advanced at Jabal Hayyan and its surrounding plains towards Palmyra, and killed at least 11 Takfiri terrorists, field sources said Saturday.
http://en.farsnews.com/newstext.aspx?nn=13940901000399
-------
Syrian Fighter Jets Hit Militant Centres Hard in Damascus' Douma
November 22nd, 2015
TEHRAN (FNA) - The Syrian warplanes, in a series of sorties over the militant groups' positions near Douma on Sunday, targeted the so-called Jeish al-Islam terrorists' sites.
The terrorist group's military sites in A'aliya and Karm al-Rasas farms in the Northern outskirts of Douma came under bombs and missiles of the Syrian jets, which ended in destruction of the militants' military equipment, including several machinegun-equipped vehicles.
Sources said earlier today that the Syrian army troops clashed with the militant groups in Eastern Ghouta near Damascus, leaving nearly 26 terrorists dead and many more wounded.
The militant groups sustained heavy casualties after the army soldiers stormed their positions.
Meantime, a number of the militants' military vehicles were destroyed in the army attack.
http://en.farsnews.com/newstext.aspx?nn=13940901000817
-----------
Syrian Air Force Strikes ISIL Sites in Oil-Rich Region in Deir Ezzur
November 22nd, 2015
TEHRAN (FNA)- Syrian warplanes targeted ISIL's fortified sites in Wadi al-Taym oilfield in the Eastern province of Deir Ezzur on Sunday.
Al least 38 ISIL terrorists were killed in the Syrian fighter jets' attack on their positions in the abovementioned oil-rich region.
On Saturday, the Syrian Army troops engaged in heavy clashes with the ISIL militants in the Eastern province of Deir Ezzur, and hit their positions hard with light and heavy weapons.
The Army stormed the ISIL defense line in al-Ummal neighborhood of Deir Ezzur city and destroyed their military equipment with heavy firing.
In the meantime, the ISIL concentration center in al-Hweiqeh in Deir Ezzur province came under offensive of the Syrian soldiers, who killed or wounded dozens of the terrorists.
http://en.farsnews.com/newstext.aspx?nn=13940901000611
------
Syrian Army, Hezbollah Hit Militants Hard in Qalamoun
November 22nd, 2015
TEHRAN (FNA)- The Syrian army troops and the Lebanese Hezbollah fighters targeted ISIL positions in Western Qalamoun, inflicting heavy losses on the Takfiri terrorists.
Informed sources said on Saturday that the Syrian army and Hezbollah fighters targeted ISIL positions in the barrens of Jarajir and Qarra in Western Qalamoun, left a group of the terrorists dead.
There were no immediate reports of the exact number of the dead terrorists.
On November 16, the Syrian warplanes targeted the ISIL terrorists' concentration centers in Al-Qalamoun mountainous region in the Southern parts of Syria near the Lebanese border in massive airstrikes.
The ISIL militants' military grid sustained serious damage from 50 up to 100 percent in the Syrian air fleet's attack on their positions.
The air attacks also left tens of ISIL terrorists dead or wounded.
http://en.farsnews.com/newstext.aspx?nn=13940901000641
-----------
Named after goddess? 'Isis' still spells trouble
Karen Workman | NYT News Service | Nov 22, 2015
A woman's Facebook account was disabled. A bookstore was vandalized. And one company, moved by the attacks on Paris, just doesn't want the association anymore. While the name `Isis' has become synonymous with aterrorist organization, the Islamic State (of Iraq and Syria), it is also the name of a wellknown Egyptian goddess. Many women are named Isis, including 396 babies born in the United States last year.
For the world's many Isises, each act of horror carried out by the Islamic State has been accompanied by the unsettling and repeated use of their name in news reports. An online petitioner has even gathered almost 57,000 supporters to call on the media to stop using the acronym.
"I named my daughter Isis because it's strong and meaningful," wrote one commenter on the petition, Shani Allman of Florida. "To have it degraded and have her jeopardised by the media's insensitivity is completely disturbing."
A woman in Britain wrote that her 7-year-old daughter, who was named after the goddess, went to bed crying "because people were being horrible to her about her name." Companies called Isis have been forced to confront how attached they are to the name. Isis was once the name of a mobile payment technology and a new condo building in Florida. They both changed their names last year. Isis Pharmaceu ticals, a California biotech company, told CNN it is now discussing the same move.
Part of the River Thames in Britain remains known by the name, as does a feminis club at Fordham University and the Labrador in `Downton Abbey.' The dog has been kil led off from the show - though not because of its name (Fans of comics and 1970s tele vision may recall it as the na me of a superhero.) On Tues day, Isis Books & Gifts, a Colo rado store that was vandalized this week, pleaded in a Facebo ok post: "Please help us educa te the media and your family and friends to call the terro rists by a more correct name -Daesh -not Islamic State, no ISIS, not ISIL." The term Daesh -also sometimes referred to as Da'ish -has been used by officials in France since last year. It's an acronym of the group's Arabic name, but it's also favored by many because it sounds like another Arabic word, daes, which is used as an insult.
The White House most often uses 'ISIL' to refer to the militants. It stands for Islamic State in Iraq and the Levant. Both ISIS and ISIL are often shortened to just the Islamic State, and all of those names anger many Muslims who disapprove of the word Islam being in the name, and because it implies the group is a state. But it's the ISIS acronym that seems to be causing the most problems for like-named people and organisations.
http://timesofindia.indiatimes.com/world/middle-east/Named-after-goddess-Isis-still-spells-trouble/articleshow/49877078.cms
------
Africa
Mali Hotel Attackers Are Tied to an Algerian Qaeda Leader
By RUKMINI CALLIMACHI and NABIH BULOS
NOV. 21, 2015
A member of Al Qaeda in Africa confirmed Saturday that the attack Friday on a hotel in Bamako, Mali, had been carried out by a jihadist group loyal to Mokhtar Belmokhtar, an Algerian operative for Al Qaeda.
The Qaeda member, who refused to be identified for his protection, said that Mr. Belmokhtar's men had collaborated with the Saharan Emirate of Al Qaeda in the Islamic Maghreb, a unit that is active in the Sahara, in and around the desert outpost of Timbuktu, Mali. The cell is led by Yahya Abu Hammam, a long-time member of A.Q.I.M. who has been responsible for numerous kidnappings of Western citizens in Mali and neighboring countries.
Mr. Belmokhtar has been reported killed at least twice in the past year, but American officials acknowledge that he is probably still at large.
In the audio recording, the group, known as Al Mourabitoun, says it carried out the operation in conjunction with Al Qaeda's branch in the Islamic Maghreb. The attack on the Radisson Blu hotel in Bamako, Mali's capital, left at least 19 people and two attackers dead. Among the dead were six Russians who worked for an air cargo company, three senior executives of a Chinese state-owned rail construction company and an American public health worker.
The recording was released to the Al Jazeera network and simultaneously to Al Akhbar, a website in Mauritania that has frequently been used by jihadist groups active in northern Africa.
The recording states: "We, in the group of the Mourabitoun, in cooperation with our brothers in Al Qaeda in Islamic Maghreb, the great desert area, claim responsibility for the hostage-taking operation in the Radisson hotel in Bamako."
The messages went on to state that a cease-fire and release of the hostages were "predicated on the release of the all the imprisoned mujahedeen in the prisons of Mali and the cessation of the aggression against our people in the north and center of Mali."
The recent terrorist attacks have reignited a debate on the balance between civil liberties and national security. We would like to hear from you.
There was no such cease-fire: Malian forces, backed by French special operations soldiers, stormed the hotel to end the siege.
The Malian government, at the insistence of France, has in the past agreed to release members of Al Qaeda held in Malian prisons, in return for the release of Western hostages held by the terrorist group. A French hostage, Serge Lazarevic, was freed last December after the release of several Al Qaeda in the Islamic Maghreb prisoners in Mali, according to a statement by Mali's justice minister. Mr. Lazarevic was kidnapped in 2011 while doing a feasibility study for a possible factory in northern Mali.
Dozens of hostages were released during the standoff at the hotel in Bamako. It remains unclear whether the terrorist group authorized the release or if the hostages escaped.
The attack in Bamako came at a moment when Al Qaeda is competing with the Islamic State, a younger upstart, for recruits in Africa and for supremacy among jihadists on the global stage.
In recent months, Boko Haram, whose leaders had received training from Al Qaeda in the Islamic Maghreb, cut ties with Al Qaeda and pledged allegiance to the Islamic State. And in recent weeks, the Islamic State has made inroads into the Shabab, Al Qaeda's affiliate in East Africa, luring a senior leader and several groups of fighters.
Supporters of Al Qaeda loudly celebrated the Mali attack, and used it to point out how Al Qaeda's tactics differed from those of the Islamic State. Since the release several years ago of "Guidelines for Jihad" by Al Qaeda's leader, Ayman al-Zawahri, the group's operatives have been under orders to minimize Muslim civilian casualties. At the hotel in Bamako, witnesses reported that hostages were quizzed on religious topics, and asked to recite verses from the Quran. Those who passed were let go.
Similar interrogations were reported by survivors of an attack on a Kenyan university in April as well as those who survived assaults on the Westgate shopping mall in Kenya and a gas plant in Algeria, both in 2013. All three were carried out by affiliates or offshoots of Al Qaeda, and although Muslims were accidentally killed in those attacks, the attempt to spare them is a tactic that is meant to appeal to the Muslim masses and reinforce the notion that Al Qaeda is at war with the West.
On Twitter, sympathizers of Al Qaeda described the Bamako attack as an exemplary operation. One person who said he was in Somalia and posts messages under the name Ibnu Abu Zubayr praised the "lions" who carried it out, citing the reports that they let hostages who were able to recite Quranic verses go free. He wrote that they did it "to protect the inviolable blood of Muslims."
A Qaeda supporter who said he was in the Syrian province of Latakia, agreed. "This is how Muslims SHOULD act," he wrote in a Twitter post. The Islamic State, he said, "should learn a thing or two and drop their crooked creed and methodology."
On Saturday, Hillary Rodham Clinton, the Democratic presidential candidate, called the American health worker who was killed, Anita Ashok Datar, "a bright light who gave help and hope to people in need around the world."
She said the killing should strengthen the resolve of the United States to "wage and win an immediate battle" against terrorist networks, as well as a "generational struggle against radical jihadism."
http://www.nytimes.com/2015/11/22/world/africa/mali-hotel-attackers-are-tied-to-an-algerian-qaeda-leader.html
-----
Hotel Attack in Mali Reverses Gains in Fight Against Extremism
By DIONNE SEARCEY, ADAM NOSSITER, CARLOTTA GALL and SOMINI SENGUPTA
NOV. 21, 2015
BAMAKO, Mali — The terrorists chose carefully: There are nearly always French, Russian and even a few American visitors to be found in the hotel restaurant, around the pool, in the health club or on the thin black-leather sofas of the glass-fronted lobby, now shattered by gunfire.
With its marble floors, open atrium and lipstick-red lounge, the Radisson Blu Hotel served as a lifeline to the world, a gathering place where diplomats, contractors and others doing business in Mali, one of the poorest countries on earth, could all be found.
Now, bullet holes pockmark the walls and blood is pooled on stairs. The hotel, once a symbol of the international presence in a country trying to emerge from years of upheaval, is the site of a massacre in which terrorists killed 19 people, storming in at breakfast on Friday as terrified diners sprinted into an elevator whose doors did not close in time to save them.
Malian troops outside the Radisson Blu hotel in Bamako, the capital, on Friday.What We Know and Don't Know About the Terrorist Attack in MaliNOV. 20, 2015
A Mali soldier, left, helped a man away from the Radisson Blu hotel in Bamako, Mali, on Friday after gunmen stormed it.Deadly Siege Ends After Assault on Hotel in MaliNOV. 20, 2015
"For those people who did this, they have no sense of the value of life," President Ibrahim Boubacar Keïta said at the foot of the ransacked hotel on Saturday afternoon.
A room at the hotel on Saturday. A chef said that foreigners and Malians were both targeted. Credit Habibou Kouyate/Agence France-Presse — Getty Images
The brutal attacks in Paris this month were a strike against France's joie de vivre. The siege of Kenya's gleaming Westgate mall two years ago was an assault on that country's rising prosperity, modernity and stability. The terrifying attack on the Radisson Blu here in Mali's capital was a strike on this nation's fragile efforts to restore peace after years of fighting.
But in all of these places, the same fundamental question applies: How does a democratic society protect itself from a few determined extremists who can upend an entire nation with a single devastating strike?
"Nobody has found the way to really kick-start a multidimensional approach to countering radicalism," said Jean-Herve Jezequel, an analyst with the International Crisis Group.
Even in Iraq and Afghanistan, where thousands of lives and billions of dollars have been spent trying to wrest those countries from chaos, extremist forces are flourishing.
It is a lesson that Mali knows only too well.
Before the Islamic State, also known as ISIS or ISIL, swept across wide stretches of Syria and Iraq, establishing a self-proclaimed caliphate, black flags flew in Mali.
After a rebellion and military coup plunged the country into disarray, jihadists from across the Sahel charged through northern Mali. They abducted girls and raped them, imposed their harsh version of Islam on the towns they took over, carried out summary executions and destroyed ancient Sufi shrines. They drove out tens of thousands of Malians from their homes, and ruled the northern half of the country for months in 2012 while the rest of the country could do little more than watch.
Unlike in Syria, the West did not sit on the sidelines while the country disintegrated. France, the former colonial power, put hundreds of boots on the ground, chasing out the extremists from the towns they controlled, scattering them to the desert and killing some of their top leaders, while the United Nations took on the job of working out a peace deal between the government and the rebels.
There are close to 10,000 peacekeepers still in Mali, along with drones that hover over the region. And yet, even after elections and a peace deal to set the country on a new course, extremists have carried out multiple terrorist attacks this year against civilian targets like a restaurant and another hotel, shaking the nation's faith.
"It means that we're not over it yet," said Karim Keïta, the president's son and the head of Mali's commission of national defense. "We had a terrorist past, but we're not over it."
Witnesses described how easy it was for the gunmen to carry out the attack on the Radisson Blu on Friday, for which militants linked with Al Qaeda claimed responsibility.
Across the street from the hotel, Ibrahim Maiga was in his apartment over his small corner store when he noticed something odd outside his window: a man fishing a few things out of a suitcase that he had opened on the ground.
The man pulled out a grenade, a gun and some other items that Mr. Maiga could not make out. The man then picked up the gun and fired it into the air before walking toward two security guards outside the hotel. He shot one, crossed the road, then shot the other. Both of the men collapsed, Mr. Maiga said. One of them, a friend of Mr. Maiga's, later died.
Hotel guests were at breakfast around 7 a.m. on the mezzanine level of the hotel when the shots first rang out.
They targeted foreigners and Malians equally, Mr. Yazbeck said, and did not hesitate to open fire on fellow Muslims (a statement that was at odds with other accounts). "When he saw me, he just fired," he said. Three of the five hotel staff members on breakfast duty were killed, he said.
During coups and countercoups, violent demonstrations and rebel incursions in the north, the Radisson Blu continued to operate, even when the guest count dwindled to a few rooms.
The tally of those who died hereon Friday is a testament to the global hub the hotel had become: Among them were one American, two Belgians, six Russians and three Chinese. They included a development specialist, railroad construction executives, air cargo employees bringing in machinery, and a foreign government worker in the country for a conference on training Mali's civil servants.
Still, even with hundreds of millions of dollars in aid and continued international engagement — Mr. Keïta, Mali's president, was recently received with great pomp in Paris by the French president, with Malian flags adorning the Champs-Élysées — Mali is as troubled as ever, according to analysts.
A political solution for the fractured nation remains elusive, with jihadists rejecting it outright. "Large swaths of territory" remain "devoid of state authority," leaving armed groups free to commit "abuses with impunity," Human Rights Watch warned this year.
"There are a lot of actors who continue to threaten," said Pierre Englebert, an expert on African politics at Pomona College. "We are not far from where we were in 2012 in terms of state weakness."
For some, the attacks show the limitations of a military-driven approach to fighting terrorism, and how hard it is to find a solution that actually works.
"It's been 3 years that French are eliminating some extremist leaders, with some success by the way," said Mr. Jezequel of the crisis group. "But it does not solve the problem."
nytimes.com/2015/11/22/world/africa/assault-in-mali-hotel-sets-back-fight-on-extremism.htm
-----
India
Terrorism's Long Shadow Stretches across World, PM Modi Says At ASEAN Summit
PTI | Nov 22, 2015, 11.01 AM IST
KUALA LUMPUR: Voicing concern over a spate of recent terror attacks in several countries, Prime Minister Narendra Modi on Sunday said terrorism is no longer a "peripheral problem" for the region as its long shadow stretches across the world and called for new strategies to combat the menace.
"We often thought of terrorism as a peripheral problem for this region. The barbaric terrorist strikes in Paris, Ankara, Beirut, Mali and on the Russian aircraft is a stark reminder that its shadow stretches across our societies and our world, both in recruitment and choice of targets," Modi said in his remarks at the East Asia Summit here.
He called for a new global resolve and new strategies to combat terrorism, without balancing it against political considerations and said no country should use or support terrorism.
"There is no distinction between groups. There are no sanctuaries. There are no funds. There is no access to arms. But, we also have to work within our societies and with our youth," he added.
The Prime Minister welcomed the commitment to delink religion from terrorism and the efforts to promote human values that define every faith.
Noting that the East Asia Summit is the key forum to shape the region's collective future, Modi told the leaders of the 18-member grouping that the world still looks to the region to address global challenges and uncertainties.
He said that since his government assumed office 18 months ago, no region has seen greater engagement from India than the Asia Pacific and the Indian Ocean Region.
PM @narendramodi begins intervention at East Asia Summit, thanks PM Najib & people of Malaysia for their hospitality pic.twitter.com/ufnfSUqQ42
— Vikas Swarup (@MEAIndia) November 22, 2015
"This reflects a long standing national consensus in India on the importance of this region for India and the world," Modi said.
On upcoming Paris climate talks, the Prime Minister said, "There, we must not only come together to craft a balanced and concrete outcome on climate change. But we must also stand together to send a clear message that we will not retreat in the face of terror."
Modi reaffirmed India's active participation in the ASEANled security dialogue and cooperation forums and said the East Asia Summit must continue to support the evolution of an inclusive, balanced, transparent and open regional architecture for security and cooperation.
"We must deepen our collective commitment to strengthen and abide by international rules and norms," he said.
Building the Asian century. Leaders of 18 nations pose for a group photo as the 10th East Asia Summit gets underway pic.twitter.com/7fGvA45TCd
— Vikas Swarup (@MEAIndia) November 22, 2015
Noting that oceans remained the pathway to prosperity and security, Modi said India shared with ASEANa commitment to freedom of navigation, over flight and unimpeded commerce, in accordance with accepted principles of international law, including the 1982 UN Convention on the Law of the Sea.
Noting that India and Bangladesh had recently settled their maritime boundary using the mechanism of UNCLOS, he said territorial disputes must be settled through peaceful means.
"India hopes that all parties to the disputes in the South China Sea will abide by the Declaration on the Conduct on South China Sea and the guidelines on the implementation. Parties must also redouble efforts for early adoption of a Code of Conduct on the basis of consensus," Modi said, without naming any country.
China claims sovereignty on almost all of the South China Sea which is firmly opposed by Vietnam, the Philippines, Malaysia, Brunei and Taiwan.
The Prime Minister also called for stronger commitment and closer cooperation on cyber security. He listed out outer space as emerging a major area of security concern.
"We must also continue to strengthen cooperation on non-proliferation," he said.
India, which shares both land and maritime boundaries with ASEAN, said it will continue to deepen bilateral security partnerships in ASEANand with other EAS partners.
"We will remain active participants in the ASEAN-led security dialogue and cooperation forums," he added.
Modi also spoke about early conclusion of a balanced and broad-based Regional Comprehensive Economic Partnership.
"Trans Pacific Partnership is also a major development. These, I hope, will eventually not become competing regimes, but the foundations of an integrated economic community in the region," he said.
Modi said development cooperation was at the heart of the East Asia Summit. "India will continue to support the efforts of our partner countries".
He said India was taking the lead in establishing EAS Virtual Knowledge Portals on Disaster Management and Trauma Care & Nursing.
The Nalanda University is shaping up as a world class centre of knowledge and learning, he added.
http://timesofindia.indiatimes.com/india/Terrorisms-long-shadow-stretches-across-world-PM-Modi-says-at-Asean-summit/articleshow/49878616.cms
------
Indian Muslims Free To Go To Pakistan, Says Assam Governor
Agencies, Guwahati
Nov 22, 2015 15:43 IST
Assam governor PB Acharya sparked off a fresh controversy on Sunday, stating that Indian Muslims who feel persecuted in the country are 'free to go' to Pakistan.
"Indian Muslims are free to go anywhere... Many of them have gone to Pakistan. If one wants to go Pakistan or Bangladesh, he is free to go. If he is persecuted like Tasleema Nasreen..." Acharya was quoted as saying by ANI.
Acharya said all Indian-origin people, including Muslims, persecuted in any foreign lands were welcome in the country.
"Any Indian-origin people persecuted in Bangladesh and in any foreign land have the legitimate right to come to India and it is our duty to receive them... People of all religions, including Muslims, have the right to come to India," Acharya was quoted as saying by PTI.
"India has a big heart. India is the most tolerant country in the world," Acharya said.
He, however, said that Hindus originating in other countries had no right to come to India.
"American Hindus or British Hindus or Hindus in other nations...they can go to their own countries. I am talking about those people who were originally from India," he added.
Asked about any plan to settle the refugees across different states in the country by not giving the entire load to one particular state, Acharya said it was the duty of the government, both state and Centre, to formulate a mechanism for settlement.
Acharya on Saturday had said 'Hindustan is for Hindus' during a book launch, while replying to a question on updating the National Register for Citizens list and on the controversy surrounding the Centre's notification of allowing religious minorities from Pakistan and Bangladesh fleeing persecution to seek shelter in India.
In an attempt to clarify his comment, Acharya said, "I didn't mean Hindustan is for Hindus only, persecuted Hindus anywhere have a right to seek shelter here."
On the National Register of Citizens
Acharya said "a few elements" with "international agenda" were trying to derail the development of the National Register of Citizens (NRC) in the state.
"There may be a few elements with international agenda who are trying to derail the entire process. Some important lobby people are interested that North-East always remains in troubled state," Acharya told reporters here.
He declined to name the forces inimical to the interest of Assam.
"These elements should not be entertained at all," the Governor said.
"Despite extra time allotted, reports suggest that the work will not be completed within time. Considering its importance and urgent need, the completion of the work be expedited," he added.
The updated NRC should not have a single foreigner and all legitimate Indians should be included in the list so that the Assembly election in 2016 could be held with an updated Register, Acharya said.
"It is not a question of religion. It is a question of nationalism and security. Inclusion of foreigners and omission of Indians will be detrimental to the security of India. Proper NRC is the beginning of vibrant and strong Assam and North East," he said.
Acharya said he had called the State Coordinator of NRC Prateek Hajela and asked him to expedite the process.
(With inputs from ANI and PTI)
http://www.hindustantimes.com/india/indian-muslims-free-to-go-to-pakistan-says-assam-governor/story-XDaLR5FCZVyc5LR7thqgaL.html
-----
India hits out at Kerry for terming it a 'challenge' at Paris meet
By: PTI | New Delhi
November 22, 2015
John Kerry, Prakash Javedekar, Environment Minister, climate change, climate, paris meet, Paris Climate Conference Union Environment and Forest Minister Prakash Javadeker
India on Sunday hit out at US Secretary of State John Kerry for his remarks that India will be a "challenge" at the upcoming crucial Paris climate meet, saying they were "unwarranted" and made it clear that it is "not in the habit of taking any pressure from anybody".
Terming Kerry's comments as "unwarranted and unfair", India also blamed the "attitude" of some of the developed countries for the problem of climate change.
Hinting that there was no question of either compromising or making adjustments on any of the issues which the country has taken up, Environment Minister Prakash Javedekar said that it has always been on the side of consensus and is trying to "proactively" bring consensus among nations.
"It is in a way unfair to say that India will be a challenge. It is actually not doing justice with India. The US is our great friend and strategic partner. His (Kerry's) comment are unwarranted and unfair. The attitude of some of the developed countries is the challenge for the Paris conclusion," he said.
Kerry in an interview with a leading international business daily had recently warned that India could be a "challenge" at upcoming climate change talks in Paris, with its government reluctant to accept more of a role in addressing global warming.
"We've got a lot of focus on India right now to try to bring them along. India has been more cautious, a little more restrained in its embrace of this new paradigm, and it's a challenge," he was quoted as saying.
Javadekar said while "there is no pressure from the developed world on India, the country is also not in the habit of taking any pressure from anybody."
The Paris Climate Conference scheduled to take place from November 30 to December 11 aims to achieve a legally binding and universal agreement on climate, with the aim of keeping global warming below 2°C.
"When you are doing a global arrangement, every country will put forth its issue. We have to take consensus along. India is always is on the side of consensus. We are proactively helping to bring consensus. We are not nay sayers but helping bring consensus. It is not about compromising," Javadekar said.
http://indianexpress.com/article/india/india-news-india/india-hits-out-at-kerry-for-terming-it-a-challenge-at-paris-meet/99/print/
----
Mideast
Military Launches Air Strikes On PKK in Iraq And Southeast Turkey
November 21, 2015, REUTERS WITH TODAYSZAMAN.COM /
ANKARA: Turkish warplanes struck Kurdistan Workers Party (PKK) targets in Northern Iraq and southeast Turkey on Friday night, the latest raids in a military campaign against the terrorist group.
The Turkish army said it hit 23 PKK targets, including shelters and supply points, in Zap, Avasin-Baysan, Hakurk and Kandil areas in northern Iraq with 22 fighter jets.
The air strikes were carried out between the hours of 11 p.m. and 2 a.m., the army said.
It also said it hit PKK locations in Şırnak province in Turkey's southeast, including shelters and gun points.
Violence erupted anew in July, with Turkey launching air strikes on the PKK camps in response to attacks on its security forces, ending a March 2013 ceasefire. Hundreds have been killed in the latest fighting.
http://www.todayszaman.com/national_military-launches-air-strikes-on-pkk-in-iraq-and-southeast-turkey_404931.html
------
Davutoğlu convenes security meeting on Syria
November 22, 2015
TODAYSZAMAN.COM / ISTANBUL: Turkish Prime Minister Ahmet Davutoğlu is chairing a security meeting focused on developments in Syria.
The meeting is attended by interior and foreign ministers as well as the head of the National Intelligence Organization (MİT), private broadcaster CNN Türk said.
The meeting comes amid a military offensive by the Syrian army forces loyal to President Bashar al-Assad in an area in northern Syria with a Turkmen population.
Davutoğlu said last week that Russian ambassador in Ankara has been summoned to the Foreign Ministry in protest of the Russian military support for the offensive.
Governor of the border province of Hatay said on Saturday that nearly 1,500 Turkmens have already fled to the Turkish border amid clashes and that the area was home to up to 35,000 civilians, including 15,000 Turkmens.
http://www.todayszaman.com/diplomacy_davutoglu-convenes-security-meeting-on-syria_404942.html
-----
Turkish Airlines flight diverts to Canada after bomb threat
Nov 22, 2015
HALIFAX: The Royal Canadian Mounted Police says it is investigating a bomb threat that caused a Turkish Airlines flight from New York City to Turkey to divert and land in Canada.
Halifax Stanfield International Airport said on its Twitter feed early Sunday that Flight 2 had landed safely and that police were at the scene.
The airport's tweet says 256 people were on board.
The RCMP said on its Twitter feed that it would not comment on the details of the bomb threat and was looking to identify the person or persons responsible.
It added that police will be "searching the Turkish Airlines plane using police dogs trained in explosives".
The RCMP said the bomb threat was received at 10:50pm local time. Flight tracking sites show the flight had already taken off from John F. Kennedy International Airport in New York by then.
Last Tuesday night, Air France Flight 55 from Dulles International Airport outside Washington was diverted to Halifax after an anonymous bomb threat was phoned in after the plane had taken off.
A Federal Bureau of Investigation statement late Tuesday said authorities had investigated and found no credible threat, and the RCMP said investigators found no evidence of an explosive device.
That threat came after the Nov. 13 attacks in Paris that killed 130 people and heightened security concerns worldwide.
http://www.dawn.com/news/1221490/turkish-airlines-flight-diverts-to-canada-after-bomb-threat
-----
Europe
Putin's Enormous Multibillion-Dollar War Room Revealed
By KHAAMA PRESS - Sun Nov 22 2015
As Moscow is expanding its counter-terrorism operations in Syria following a deadly terrorist attack on the country's passenger jet last month, the Russian defense ministry's new three-tiered, multi-billion-rouble National Control Defence Centre was the star of the show of a press briefing in Moscow earlier this week.
Putin went straight to the Centre after the Russian officials confirmed on 17th November that the charter jet crashed due to an act of terrorism.
With a capability to coordinate action by the Russian military around the world, including launches of ballistic missiles and the deployment of nuclear weapons, the long-range strategic bombers were shown in cinema sized screens taking off from the Russian air bases to fly missions to Syria.
As Russia seeks a central role in a proposed anti-terrorist coalition, Putin instructed commanders in Syria to "make contact with the French and work with them as allies".
According to reports, the fortified center is sitting on top a maze of underground tunnels, on the Frunze Naberezhnaya on the left bank of the Moscow river, a little over two miles from Red Square.
The multi-billion dollars center is part of a massive, decade-long modernization of Russia's army which was completed in 2014.
In a breathless headline this week, a Russian news agency noted "Russian Defense Data Center Outperforms US Facility Threefold: Official."
The building is roughly the equivalent of the U.S. National Military Command Centre used by the Pentagon, the center also includes a helicopter pad that was deployed on the Moscow River late last year and can accommodate Russia's Mi-8 transport helicopter.
The Centre would serve as the Russia's premier communications center with the country's Minister of Defence Sergei Shoigu saying the Centre represents a step toward "forming a single information space for solving tasks in the interests of the country's defense".
http://www.khaama.com/putins-enormous-multibillion-dollar-war-room-revealed-1713
-----
Paris Attacks: Man Who Escaped Killings at Bataclan Had Survived 9/11
Alexander Sehmer | The Independent | Nov 22, 2015
PARIS: An American who escaped from terrorists at the Eagles of Death Metal gig in the Bataclan the night of the Paris attacks had also survived the 9/11 attacks in New York.
The 36-year-old named Matthew was shot in the leg by attackers in the Bataclan, but pretended to be dead and dragged himself to safety as the killers reloaded their weapons.
"I inched forward centimetre by centimetre. At one point, I saw the ledge of the exit at arm's reach," he told French newspaper Le Monde.
"I was able to grip it with one finger, then the other."
Outside he was found by Daniel Psenny, a Le Monde journalist, and another man.
"I was playing dead," Matthew said. "When I felt someone dragging me by the arms, I didn't even look up. I said, or at least in my head - 'I love you, my angel.'"
Psenny, who had been in his apartment filming concert goers as they rushed from the scene, was able to drag him to safety, but was shot and injured by one of the gunmen as he did so.
Psenny said that he had acted "instinctively".
"I had the human reflex not to let someone die in front of me, but it was the circumstances that allowed it," he said.
"If I had been under machine gun fire, I no doubt wouldn't have come to get Matthew."
The two remained in the Psenny's flat for hours before police allowed local residents to leave the building and the injured pair were taken by ambulance to George Pompidou hospital.
Matthew's wife had been supposed to go with him to the concert, but remained at home as they could not find a babysitter that night.
It also emerged that Matthew's lucky escape was his second - he had been in the street below the World Trade Centre in New York during the September 11 attacks in 2001.
He had been heading to a work meeting when a United Airlines plane struck one of the twin towers.
"I sprinted across half of Manhattan," he said. "But what I went through in the Bataclan was 1,000 times worse," he said.
Matthew and Psenny have promised to share a glass "or probably the entire bottle" when they have fully recovered from their ordeal.
http://timesofindia.indiatimes.com/world/europe/Paris-attacks-Man-who-escaped-killings-at-Bataclan-had-survived-9/11/articleshow/49879506.cms
-----------
Paris attacks suspect Salah Abdeslam could be in Brussels 'ready to blow himself up', says friend
Leo Cendrowicz | The Independent | Nov 22, 2015
BRUSSELS: Brussels faces a second day in security lockdown after the Belgian government raised the terror threat for the city to its highest level, warning that the risk of an attack is "serious and imminent".
Armed police and soldiers patrolled the streets of the Belgian capital, while the city's underground metro services were closed, along with cinemas, shopping malls, museums and underground car parks. Local football matches and concerts were cancelled.
The Belgian Prime Minister, Charles Michel, said the decision to raise the threat alert to four in the four-point scale was "based on quite precise information about the risk of an attack along the lines of what took place in Paris". He spoke after chairing an emergency security meeting of his cabinet this morning. The Paris attacks left 130 people dead.
"We are talking about the threat that several individuals with arms and explosives would launch an attack, perhaps in several locations at the same time," Mr Michel said, adding people should be alert but not panic. He declined to elaborate, but said the government would review the situation this afternoon.
Didier Reynders, the foreign minister, said that 1,000 troops were now available for patrols, double the level of a week earlier.
The move to raise the threat level came as a weapons hoard was discovered in the Brussels district of Molenbeek during the search of the home of one of three people arrested in connection with the Paris attacks. All three are now facing terror charges. The search came after EU interior and justice ministers agreed on Friday to a series of new measures on surveillance, border checks and gun control.
The Belgian interior minister, Jan Jambon, said he wanted a register of everyone living in Molenbeek because it was not clear at present who was at each address, a process that local officials had already started.
Meanwhile, one of the friends of Salah Abdeslam, suspected of being one of the Paris attackers, reportedly said that he might be equipped with a suicide belt. Hamza Attou, one of two suspects charged this week by the Belgian authorities for allegedly helping Abdeslam return to the country after the Paris attacks, made the suggestion through his lawyer, Carine Couquelet.
"According to my client, Salah was extremely agitated and may be ready to blow himself up," Mrs Couquelet said in an interview with Belgian TV, adding that the three passengers barely talked on the journey back. "My client was very scared. He hasn't told me about any weapons, but of a big jacket, possibly a suicide belt."
The Belgian police issued a special telephone hotline for any information about Abdeslam - with officials believing that he could be in the Brussels area, a scenario that could have sparked the raising of the terror alert level.
Numerous conflicting reports have emerged in recent days over his whereabouts. Two local Belgian newspapers said he had been seen in the Brussels neighbourhood of Anderlecht on Thursday. Another report said he was in the Saint-Denis apartment where the suspected Paris ringleader Abdelhamid Abaaoud was, but that he left just before the police raid on the premises on Wednesday morning that killed Abaaoud. French police have released seven of the eight people arrested when they raided the flat.
A statement by the Belgian government's crisis centre said its analysis showed "a serious and imminent threat that requires specific security measures as well as specific recommendations for the population".
The government recommended that people avoid crowded places in the Brussels region, while the authorities urged people to "facilitate and respect security checks", to avoid spreading rumours and to follow only the official information from the Belgian authorities.
While metro stations were closed, buses continued to operate, although some tram routes were affected. The metro will remain closed until this afternoon at least, the STIB/MIVB public transport authority said.
All football matches in the capital were cancelled, including the Belgian first division game by Brussels club Anderlecht at Lokeren, in west Flanders. Although the crisis centre urged all first and second division football games to be cancelled, the Belgian Football Association only called off those involving Brussels. Other major sporting events, including hockey and handball matches, were also cancelled, while many swimming pools were closed.
The mayor of Brussels asked cafes and restaurants in the city centre to close by 6pm tonight. Concerts were also cancelled, including one by French rocker Johnny Hallyday, as well as an English comedy night featuring Chester-born Bob Mills and Canadian Pete Johansson.
On the streets, tour guide Stephane Bruno was planning to take a group of Americans around the city, but they cancelled on advice from the US embassy. Similar advice was given by the Foreign and Commonwealth office to Britons in the city.
Elsewhere, the Turkish authorities reportedly arrested Ahmed Dahmani, a 26-year-old Belgian suspected of ties with Mr Abdeslam. Mr Dahmani is suspected of having explored areas in Paris that were targeted in the attacks.
He was detained in the Turkish coastal city of Antalya along with two other suspected Isis militants; all three were preparing to cross into Syria. Mr Dahmani was believed to have been in contact with the Paris attackers, and arrived in Turkey last Saturday from Amsterdam.
http://timesofindia.indiatimes.com/world/europe/Paris-attacks-suspect-Salah-Abdeslam-could-be-in-Brussels-ready-to-blow-himself-up-says-friend/articleshow/49877562.cms
-------
Southeast Asia
Jakim Should Get More Than RM1b to Fight IS, Liberalism, LGBT
Sunday November 22, 2015
KUALA LUMPUR, Nov 22 — Malaysia's federal Islamic authority should get more than RM1 billion for its 2016 Budget if it is to better combat "extremist" ideologies like the Islamic State (IS), and even liberalism, pluralism and the lesbian, gay, bisexual and transgender (LGBT) community, a senator said today.
Datuk Dr Asyraf Wajdi Dusuki who is also deputy minister in charge of Islamic affairs said the RM724.6 million set aside for the Department of Islamic Development (Jakim) next year was not sufficient.
He pointed out that Jakim manages the allowances of more than 30,000 religious teachers and almost 15,000 imams in the country.
"Therefore, we thank those who raised this issue that will hopefully open up the government's eyes so that they will increase Jakim's allocation next year to address increasingly critical needs, especially in countering groups who try to deny Islam's status as the religion of the federation," Asyraf Wajdi said in a statement on his Facebook page.
"It's time for the allowances of imams, religious teachers and staff throughout Malaysia to be reviewed for an increase (this year alone, the allocation of allowances for imams and religious teachers amounted close to RM500 million), seeing that their responsibility in safeguarding Islam is even more challenging today with plenty of extremist ideologies that are starting to take root, such as IS, the liberalism ideology and pluralism, including the LGBTs who loosen and degrade religion," he added.
The deputy minister was responding to a report by news portal The Malaysian Insider today that detailed how Jakim spent its RM819 million allocation this year, based on information from the Treasury's website.
Jakim's public relations officer told The Malaysian Insider that Jakim's financial history and audited accounts were not publicly available.
The religious authorities in Malaysia have long demonised the LGBT community and viewpoints that challenge their conservative interpretations of Islam.
Jakim has been put under the spotlight after Tawfik Ismail, member of G25, a pro-moderation group comprising retired high-ranking civil servants, recently suggested the abolition of the federal agency.
He told The Malaysian Insider that Jakim served no actual purpose beyond interfering in the lives of Muslims.
http://www.themalaymailonline.com/malaysia/article/deputy-minister-jakim-should-get-more-than-rm1b-to-fight-is-liberalism-lgbt#sthash.T9yu4GwX.dpuf
-----
Civil society, free press important for country to thrive, Obama tells Najib
BY KAMLES KUMAR Sunday November 22, 2015
KUALA LUMPUR, Nov 22 — A developed civil society and free press are important markers that reflect the development of a country, US President Barack Obama said today.
The world leader said he has emphasised the importance of civil society and press to Prime Minister Datuk Seri Najib Razak, after a rare meeting here yesterday with some of Malaysia's civil society leaders and voiced the US government's support for their work.
US President Barack Obama (right) talks with Queen Saleha, the wife of Brunei's Sultan Hassanal Bolkiah, at the gala dinner of the 27th Association of Southeast Asian Nations (Asean) summit in Kuala Lumpur, November 21, 2015. — Reuters pic
"I also emphasised to PM Najib the importance of civil society and free press," he told a news conference during the Asean Summit here.
He added that while the US does not expect every country to follow its standards, a certain basic level should be met.
"Every country here has different levels and stages of development both socially and economically.
"We don't expect that everybody follows the same pattern the US does, but there are some basic principles that are important for us to uphold, as friends and partners to the countries that we are talking to," he said.
Obama has described Malaysia as a country with diverse faiths and cultures that will benefit from allowing a multitude of voices to be heard, after meeting several prominent civil society activists, including National Human Rights Society president Datuk Ambiga Sreenevasan, electoral reforms watchdog chief Maria Chin Abdullah, anti-graft group C4 director Cynthia Gabriel, and Nisha Ayub from the Justice for Sisters group.
"Many of you civil society groups are concerned about any constrictions on civil liberties and civil rights, and also in expanding the boundaries of civil society so that people here in Malaysia and around the region are able to have their voices heard.
"We very much appreciate the work that they do. One of the reasons I want to meet with them is to send a clear message that the US stands behind the important work that they are doing on a day-to-day basis," he said in opening statements at the meeting yesterday.
http://www.themalaymailonline.com/malaysia/article/civil-society-free-press-important-for-country-to-thrive-obama-tells-najib#sthash.atOwZKsm.dpuf
-----
North America
Obama Says Will Not Relent In Fight against Islamic State, Urges Russia Help
AP | Nov 22, 2015
KUALA LUMPUR: President Barack Obama vowed Sunday that the United States and its international partners "will not relent" in the fight against the Islamic State, insisting the world would not accept the extremists' attacks on civilians in Paris and elsewhere as the "new normal."
Wrapping up a nine-day trip to Turkey and Asia, Obama also pressed Russian President Vladimir Putin to align himself with the US-led coalition, noting that the Islamic State has been accused of bringing down a Russian passenger jet last month, killing 224 people.
"He needs to go after the people who killed Russia's citizens," Obama said of Putin.
The president spoke in Malaysia shortly before departing for Washington. The trip also took him to the Philippines and Turkey, where he met with Putin on the sidelines of an international summit.
While Russia has stepped up its air campaign in Syria, Obama said Moscow has focused its attention on moderate rebels fighting Syrian President Bashar Assad, a Russian ally. He called on Russia to make a "strategic adjustment" and drop its support for Assad, insisting the violence in Syria cannot be stopped as long as Assad is in office.
"It will not work to keep him in power," Obama said. "We can't stop the fighting."
Nearly five years of fighting between the Assad government and rebels has created a vacuum that allowed the Islamic State to thrive in both Syria and Iraq. The militant group is now setting its sights on targets outside its stronghold, including the attacks in Paris that killed 130 people and wounded hundreds more.
French President Francois Hollande is due to meet with Obama at the White House on Tuesday to discuss ways to bolster the international coalition fighting the Islamic State. Hollande then heads to Russia for talks with Putin.
The Paris attacks have heightened fears of terrorism in the West and also sparked a debate in the US about accepting refugees from Syria. It's unclear whether any of the terrorists in the Paris attacks exploited the refugee system to enter Europe, though Obama has insisted that's not a legitimate security threat in the United States.
Still, the House passed legislation last week essentially blocking Syrian and Iraqi refugees from the US Democrats in large numbers abandoned the president, with 47 voting for the legislation. Having secured a veto-proof majority in the House, supporters are now hoping for a repeat in the Senate, while Obama works to shift the conversation to milder visa waiver changes that wouldn't affect Syrian refugees.
Obama has focused his ire on Republicans throughout the trip, harshly criticizing GOP lawmakers and presidential candidates for acting contrary to American values. He took a softer tone Sunday, saying he understands Americans' concerns but urging them not to give into fear.
He said the Islamic State "can't beat us on the battlefield so they try to terrorize us into being afraid."
http://timesofindia.indiatimes.com/world/us/Obama-says-will-not-relent-in-fight-against-Islamic-State-urges-Russia-help/articleshow/49879831.cms
------
Canada to fly in 900 Syrian refugees a day
AFP | Nov 22, 2015
OTTAWA: Canada plans to fly in 900 Syrian refugees a day as of next month, according to media reports, as the defense minister said showing compassion for these people sends a message to Islamic State extremists.
Canadian officials said details of a plan to take in 25,000 Syrian refugees by year's end would be announced Tuesday.
The Canadian media reports come amid fears that IS jihadists could slip into the country posing as refugees, in the wake of last week's attacks in Paris that killed at least 130 people.
Citing a leaked document, local media said the government was planning to fly in 900 Syrian refugees daily from Jordan to Montreal and Toronto, starting December 1.
From there, they would be transported to two military bases in Ontario and Quebec, where they would be temporarily housed, according to the reports. They pegged the cost of the ongoing operation at Can$1.2 billion over six years.
The cost and other details will be revealed on Tuesday, Immigration Minister John McCallum told reporters in Ottawa.
Health Minister Jane Philpott, however, said the leaked information was "outdated and not expected to be accurate."
At a security forum in the Atlantic port city of Halifax, Defense Minister Harjit Sajjan said by welcoming Syrian refugees, Ottawa was also striking at IS.
"This crisis is not just about a humanitarian project," he said in his opening remarks to military commanders and defense ministers from around the world.
"This also sends a great message to ISIS that you might create this environment for us, but we will not let you take advantage of this," he said, using an alternate acronym for the IS group.
"By doing our part for this, we are actually hitting ISIS in a different way as well."
Sajjan also sought to allay security concerns raised since the Paris attacks, saying Canada is looking to bring over the most vulnerable and families with skills that could ultimately benefit Canada, and that they pose no threat to national security.
"They're not fleeing poverty; they're fleeing war," he said. "People who are settling are going to be contributing to our economy."
http://timesofindia.indiatimes.com/world/rest-of-world/Canada-to-fly-in-900-Syrian-refugees-a-day/articleshow/49876936.cms
-------
Kerry to call for calm in Israel and West Bank
AFP | Nov 22, 2015
WASHINGTON: US secretary of state John Kerry will visit Israel and the Palestinian territory next week for the first time in more than a year to push for an end to a spate of violence.
Since the start of October, at least 15 Israelis have been killed in stabbing and gun attacks on civilians, while more than 80 Palestinians have died, many of them attackers.
Four more Israelis were stabbed and wounded in the southern city of Kiryat Gat today, and an American was among five civilians killed on Thursday in Palestinian attacks.
The United States has called for both sides to take "concrete steps" to reduce tension, end provocative rhetoric and ensure access to Jerusalem holy sites.
US officials said Kerry would travel to Tel Aviv, Jerusalem and Ramallah on Tuesday for talks with Prime Minister Benjamin Netanyahu and Palestinian president Mahmud Abbas.
But they admitted they were not expecting to strike any new agreement on a return to peace talks and would simply try to walk the parties back from the immediate conflict.
Until two years ago the United States was the leading mediator in peace negotiations designed to leave Israel and Palestinian living side-by-side as two independent states.
That process collapsed. US officials stressed that they have no plans to revive it, and are simply trying to cool tempers and tamp down the current outbreak of violence.
"There's no agreement to be reached between the parties right now," a senior US official said.
"We're trying to encourage both of them to do the kind of things we think will be helpful and in their interests.
Kerry met Netanyahu in Washington earlier this month and urged him to "improve conditions for the Palestinians and try to get things moving in a more positive direction."
"Nothing concrete has come out of that yet," the US official admitted, adding only that a "variety of ideas were talked about" without getting into specifics.
The situation with the Palestinian leadership is even less promising, and Kerry's talks with Abbas will focus on how "to prevent the Palestinian authority from collapsing."
The Americans have been pushing Abbas and the Palestinian leadership to tone down their angry rhetoric, arguing that this fuels the unrest and inspires lone wolf attackers.
"The secretary has talked about incitement before and we'll obviously stress that," the official said, in an anonymous briefing to reporters before the trip.
Last month, Kerry met Jordan's King Hussein in Amman and endorsed a plan to install security cameras around the Al-Aqsa mosque on Jerusalem's Haram al-Sharif Temple Mount.
http://timesofindia.indiatimes.com/world/us/Kerry-to-call-for-calm-in-Israel-and-West-Bank/articleshow/49876754.cms
-------
URL: https://www.newageislam.com/islamic-world-news/new-age-islam-news-bureau/religious-scholars-vow-to-resist-'liberalisation-of-pakistan'/d/105373