New Age Islam News Bureau
18 Feb 2020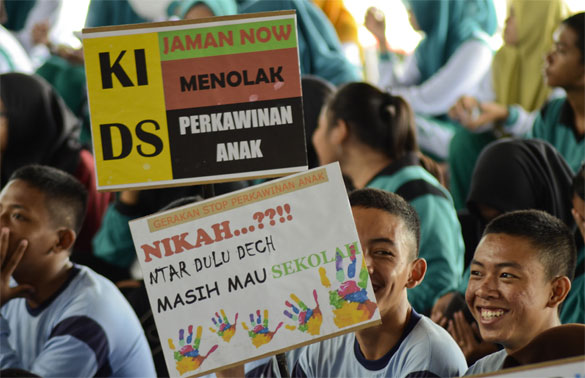 Students hold up anti-child marriage posters during a rally in Mataram, West Nusa Tenggara, in December 2017. (Antara Photo/Ahmad Subaidi)
----------
• 'Infected': Data Shows How China Criminalised Muslim Faith
• UAE Issues License for Arab World's First Nuclear Power Plant
• Bangladesh's Islamic Finance Industry Keeps Booming with No Slowdown in Sight
• SC Sends Mediators, Sanjay Hegde, Sadhana Ramachandran and Wajahat Habibullah to Shaheen Bagh: People Have Right To Protest
• US Delegation Lauds Muslim World League's Peace Initiatives
• Billboards in Tel Aviv Incite Reprisal against Palestinians over Rejection of Trump Deal
• Pakistan No Longer a Terrorist Safe Haven: PM Imran Khan
• Sudan Could Send Ousted President Omar Al Bashir to The Hague
• Germany's Muslims Call For Protection After 'Far-Right Terror Plot' Arrests
Southeast Asia
• Religious Messaging the Right Approach in Indonesia to Prevent Child Marriage: NU
• 'Infected': Data Shows How China Criminalised Muslim Faith
• Omnibus bill on job creation weakens ulema's role in certification: Indonesia Halal Watch
• After book ban overturned, rights group urges govt to repeal repressive PPPA
• Indonesia military to blame for 2014 Papua killings says commission
• Pastor among 24 gunned down in brutal attack during Sunday mass
• Indonesia Uses CIA Data to Identify Ex-IS Fighters
--------
Arab World
• UAE Issues License for Arab World's First Nuclear Power Plant
• Raqqa seeks to repair what IS ruined
• Lebanese memes, posts mock Nasrallah's call to boycott US goods in Lebanon
• Syria's return to Arab League to happen soon: Former chief
• Syria's al-Assad says gains against opposition not yet the end of conflict
• Syria will reopen Aleppo airport to civilian flights
• Danish troops will return to Al-Assad air base hit by Iran in Iraq: Minister
• Syrian forces take full control of Aleppo, air strikes under way
• Syrian army finds mass grave near Damascus: State media
• Saudi Ambassador To US: Good Relations With Both Democrats, Republicans In Power
• Syrian refugees in Lebanon struggle under hostile government, brutal weather
• Liberation of Aleppo not end of Syrian army's anti-terror campaign: Assad
• Syria recaptures most of Aleppo ahead of Russo-Turkish talks
• Assad's forces take over Aleppo amid fears of 'catastrophe'
--------
South Asia
• Bangladesh's Islamic Finance Industry Keeps Booming with No Slowdown in Sight
• Taliban says unless it's Leadership Shifts Policy, Afghan Govt., Foreign Forces Will Be Targeted
• Airstrikes, Special Forces raid kill 6 ISIS militants in East of Afghanistan
• Why Afghanistan Must Confront HIV-Related Stigma
• Uncertainties at Home Put Repatriation on Hold for Rohingya Refugees: Myanmar Ambassador
• Five Afghan troops killed in Taliban attack on military base in Kunduz
--------
India
• SC Sends Mediators, Sanjay Hegde, Sadhana Ramachandran and Wajahat Habibullah to Shaheen Bagh: People Have Right To Protest
• Muslim cleric booked for objectionable statement against PM Modi, Amit Shah
• Ram Temple Construction on Muslim Graves Violation of 'Dharma': Lawyer To Temple Trust
• India issues demarche to Turkey, says President Erdogan's remarks on Kashmir 'distort events of past'
• CAA protests: Chargesheet filed against 15 in Sambhal
• Karnataka: Three Kashmiri students arrested for raising 'pro-Pakistan slogans' sent to judicial custody
--------
North America
• US Delegation Lauds Muslim World League's Peace Initiatives
• US Has Meddled In Election Of 80 Nations Since World War Ll: Analyst
• US Democrats secretly met Iranian top diplomat: Report
• US 'peace' plan favors Israel: Russian foreign minister
• US, Taliban expected to sign peace deal by February-end
• Trump thanks Erdogan for averting catastrophe in Idlib
• Syrian forces gaining ground in Idlib as President Trump urges end to "atrocities"
--------
Mideast
• Billboards in Tel Aviv Incite Reprisal against Palestinians over Rejection of Trump Deal
• Fatah and Hamas Blame Each Other For Reconciliation Failure
• Turkey to arrest 228 for links to cleric in probe of military, justice ministry
• Under 25 Percent Of People In Tehran Plan To Vote In Iran's Elections: Poll
• Lebanese President Aoun meets with Iran Parliament Speaker Larijani
• Iran speaker Larijani: Iranian businessmen will reconstruct Syria
• New York Times visits anti-Iran terrorist group's lair, observes cult-like modus operandi
• Resistance, referendum only viable solution to Palestine issue: Iran's FM Zarif
--------
Pakistan
• Pakistan No Longer a Terrorist Safe Haven: PM Imran Khan
• Pakistan Mission Issues Visas to Hindu Pilgrims to Visit Katas Raj Temples
• Lal Masjid Standoff Continues As Ulema Fail To Meet Interior Minister
• Guterres lauds Pakistan's anti-terrorism efforts
• World failed Pakistan, Afghan refugees, UN chief says
• Deadly Suicide Attack Leaves Over 40 Dead, Wounded In Pakistan
• Jewish lawyer's fight in defence of a British Pakistani Muslim
• Imran Khan warns of new refugee crisis in Pakistan due to Indian govt's policies
• Pakistan confirms escape of Taliban leader who justified Malala shooting
• PML-N to seek PPP, JUI-F's support for drive against inflation
• Pakistan will not be blacklisted, say scholars
• 1 policeman martyred, 2 injured in IED blast near police van in DI Khan
• Khalilzad calls for better Pak-Afghan ties to achieve peace
--------
Africa
• Sudan Could Send Ousted President Omar Al Bashir to The Hague
• Mali: Death toll from armed attack rises to 31
• Tunisia's Saied says he will call for early elections if new govt not approved
• EU struggles to keep arms embargo on Libya as Austria opposes patrols
• Twenty-four killed in Burkina Faso church attack: Governor
• Libya: Mitiga airport closed due to Haftar attack
• Niger: 23 died in stampede at Nigerian refugee camp
• 13 al-Shabaab militants killed in Somalia
• Dozens killed in Cameroon's NW Region
--------
Europe
• Germany's Muslims Call For Protection After 'Far-Right Terror Plot' Arrests
• UN Chief, UNHCR Praise Iran For Hosting Afghan Refugees
• ISIS bride Shamima Begum says her world 'fell apart' after losing UK citizenship
• India bars entry to British MP Debbie Abrahams for criticizing Kashmir policy
• Norway mosque shooter charged with murder, terrorism
• Turkey's Syrian mercenaries in Libya: 'We did it for the money'
• UN envoy condemns use rifles loaded with birdshot against Iraqi protesters
• UN: Northwest Syria crisis reaches horrifying new level, 900,000 displaced
Compiled By New Age Islam News Bureau
URL: https://www.newageislam.com/islamic-world-news/religious-messaging-right-approach-indonesia/d/121094
--------
Religious Messaging the Right Approach in Indonesia to Prevent Child Marriage: NU
BY DIANA MARISKA
FEBRUARY 15, 2020
Jakarta. Anti-child marriage campaigns should employ religious messaging and narratives to deliver their message in a deeply religious country like Indonesia, a woman leader from Indonesia's largest Muslim organization, the Nahdlatul Ulama, has said.
The head of NU's foreign affairs division, Yenny Wahid, said Indonesians prefer to be emotionally moved than just presented with the facts when discussing a social issue. This is why she thinks religious messaging ("bahasa agama") should play a key role in child marriage prevention in Indonesia.
"You can't just bombard people with facts if you want them to engage with an issue, they have to be moved emotionally, too. We need a language that can create that emotional effect. I think religious messaging is the way to trigger behavior changes in our society," Yenny, the daughter of the late former Indonesian president Abdurrahman Wahid, who was a stalwart of moderate Islam, said in Jakarta on Saturday.
Last year, Indonesia ranked 77th among countries with the highest absolute numbers of child marriage, with around one in nine girls married before they turn 18.
The women's wing of NU, Muslimat NU, collaborated with the United Nations Children's Fund (Unicef) to organize a three-day discussion on "Child Marriage Prevention" in Jakarta on Feb. 14-16.
"The majority of Indonesians are devoted Muslims, religious messaging is the most effective way of communicating with them," Yenny said at the event.
She also said Muslimat NU, a group with a wide network across Indonesia and a strong commitment to stop the practice of child marriage, is the perfect organization for such a campaign.
Women Empowerment and Child Protection Minister I Gusti Ayu Bintang, who attended the second day of the event, said she appreciated the initiative by NU and Unicef to help reduce child marriage prevalence in Indonesia.
She said President Joko "Jokowi" Widodo had tasked the ministry with lowering the child marriage rate in the country from 11.21 percent in 2018 to 8.74 percent by 2024.
"I'm optimistic the target can be achieved. We expect local governments [to contribute to the effort]. We've talked with the Home Affairs Minister [Tito Karnavian]. He has the authority to talk to the governors, mayors, etc.," Bintang said.
According to a 2018 Unicef report, one in nine girls in Indonesia on average were married before they turned 18.
The report also detailed the impacts of early marriage, such as complications during and after pregnancy and vulnerability to domestic violence.
https://jakartaglobe.id/news/religious-messaging-the-right-approach-in-indonesia-to-prevent-child-marriage-nu
--------
'Infected': Data shows how China criminalised Muslim faith
Feb 18, 2020
BEIJING: For decades, the Uighur imam was a bedrock of his farming community in China's far west. On Fridays, he preached Islam as a religion of peace. On Sundays, he treated the sick with free herbal medicine. In the winter, he bought coal for the poor.
But as a Chinese government mass detention campaign engulfed Memtimin Emer's native Xinjiang region three years ago, the elderly imam was swept up and locked away, along with all three of his sons living in China.
Now, a newly revealed database exposes in extraordinary detail the main reasons for the detentions of Emer, his three sons, and hundreds of others in Karakax County: their religion and their family ties.
The database obtained by The Associated Press profiles the internment of 311 individuals with relatives abroad and lists information on more than 2,000 of their relatives, neighbors and friends. Each entry includes the detainee's name, address, national identity number, detention date and location, along with a detailed dossier on their family, religious and neighborhood background, the reason for detention, and a decision on whether or not to release them. Issued within the past year, the documents do not indicate which government department compiled them or for whom.
Taken as a whole, the information offers the fullest and most personal view yet into how Chinese officials decided who to put into and let out of detention camps, as part of a massive crackdown that has locked away more than a million ethnic minorities, most of them Muslims.
The database emphasizes that the Chinese government focused on religion as a reason for detention — not just political extremism, as authorities claim, but ordinary activities such as praying, attending a mosque, or even growing a long beard. It also shows the role of family: People with detained relatives are far more likely to end up in a camp themselves, uprooting and criminalising entire families like Emer's in the process.
Similarly, family background and attitude is a bigger factor than detainee behavior in whether they are released.
"It's very clear that religious practice is being targeted,'' said Darren Byler, a University of Colorado researcher studying the use of surveillance technology in Xinjiang. "They want to fragment society, to pull the families apart and make them much more vulnerable to retraining and reeducation."
The Xinjiang regional government did not respond to faxes requesting comment. Asked whether Xinjiang is targeting religious people and their families, foreign ministry spokesman Geng Shuang said "this kind of nonsense is not worth commenting on."
Beijing has said before that the detention centers are for voluntary job training, and that it does not discriminate based on religion.
China has struggled for decades to control Xinjiang, where the native Uighurs have long resented Beijing's heavy-handed rule. With the 9/11 attacks in the United States, officials began using the specter of terrorism to justify harsher religious restrictions, saying young Uighurs were susceptible to Islamic extremism.
After militants set off bombs at a train station in Xinjiang's capital in 2014, President Xi Jinping launched a so-called "People's War on Terror", transforming Xinjiang into a digital police state.
The leak of the database from sources in the Uighur exile community follows the release in November of a classified blueprint on how the mass detention system really works. The blueprint obtained by the International Consortium of Investigative Journalists, which includes the AP, showed that the centers are in fact forced ideological and behavioral re-education camps run in secret. Another set of documents leaked to the New York Times revealed the historical lead-up to the mass detention.
The latest set of documents came from sources in the Uighur exile community, and the most recent date in them is March 2019. The detainees listed come from Karakax County, a traditional settlement of about 650,000 on the edge of Xinjiang's Taklamakan desert where more than 97 percent of residents are Uighur. The list was corroborated through interviews with former Karakax residents, Chinese identity verification tools, and other lists and documents seen by the AP.
Detainees and their families are tracked and classified by rigid, well-defined categories. Households are designated as "trustworthy" or "not trustworthy," and their attitudes are graded as "ordinary" or "good." Families have "light" or "heavy" religious atmospheres, and the database keeps count of how many relatives of each detainee are locked in prison or sent to a "training center."
Officials used these categories to determine how suspicious a person was — even if they hadn't committed any crimes.
"It underscores the witch-hunt mindset of the government, and how the government criminalises everything," said Adrian Zenz, an expert on the detention centers and senior fellow at the Victims of Communism Memorial Foundation in Washington, D.C.
Reasons listed for internment include "minor religious infection," "disturbs other persons by visiting them without reasons," "relatives abroad," "thinking is hard to grasp" and "untrustworthy person born in a certain decade." The last seems to refer to younger men; about 31 percent of people considered "untrustworthy" were in the age bracket of 25 to 29 years, according to an analysis of the data by Zenz.
When former student Abdullah Muhammad spotted Emer's name on the list of the detained, he was distraught.
"He didn't deserve this," Muhammad said. "Everyone liked and respected him. He was the kind of person who couldn't stay silent against injustice."
Even in Karakax county, famed for its intellectuals and scholars, Emer stood out as one of the most renowned teachers in the region. Muhammad studied the Quran under Emer for six years as a kid, following him from house to house in an effort to dodge the authorities. Muhammad said Emer was so respected that the police would phone him with warnings ahead of time before raiding classes at his modest, single-story home of brick and mud.
Though Emer gave Party-approved sermons, he refused to preach Communist propaganda, Muhammad said, eventually running into trouble with the authorities. He was stripped of his position as an imam and barred from teaching in 1997, amid unrest roiling the region.
When Muhammad left China for Saudi Arabia and Turkey in 2009, Emer was making his living as a doctor of traditional medicine. Emer was growing old, and under heavy surveillance, he had stopped attending religious gatherings.
That didn't stop authorities from detaining the imam, who is in his eighties, and sentencing him on various charges for up to 12 years in prison over 2017 and 2018. The database cites four charges in various entries: "stirring up terrorism," acting as an unauthorized "wild" imam, following the strict Saudi Wahhabi sect and conducting illegal religious teachings.
Muhammad called the charges false. Emer had stopped his preaching, practiced a moderate Central Asian sect of Islam rather than Wahhabism and never dreamed of hurting others, let alone stirring up "terrorism," Muhammad said.
"He used to always preach against violence," Muhammad said. "Anyone who knew him can testify that he wasn't a religious extremist."
None of Emer's three sons had been convicted of a crime. But the database shows that over the course of 2017, all were thrown into the detention camps for having too many children, trying to travel abroad, being "untrustworthy" or "infected with religious extremism,"or going on the Hajj, the Muslim pilgrimage to the holy city of Mecca. It also shows that their relation to Emer and their religious background was enough to convince officials they were too dangerous to let out from the detention camps.
"His father taught him how to pray," notes one entry for his eldest, Ablikim Memtimin.
"His family's religious atmosphere is thick. We recommend he (Emer) continue training," says another entry for his youngest son, Emer Memtimin.
Even a neighbor was tainted by living near him, with Emer's alleged crimes and prison sentence recorded in the neighbor's dossier.
The database indicates much of this information is collected by teams of cadres stationed at mosques, sent to visit homes and posted in communities. This information is then compiled in a dossier called the "three circles", encompassing their relatives, community, and religious background.
It wasn't just the religious who were detained. The database shows that Karakax officials also explicitly targeted people for activities that included going abroad, getting a passport or installing foreign software.
Pharmacist Tohti Himit was detained in a camp for having gone multiple times to one of 26 "key" countries, mostly Muslim, according to the database. Former employee Habibullah, who is now in Turkey, recalled Himit as a secular, kind and wealthy man who kept his face free of a beard.
"He wasn't very pious, he didn't go to the mosque," said Habibullah, who declined to give his first name out of fear of retribution against family still in China. "I was shocked by how absurd the reasons for detention were."
The database says cadres found Himit had attended his grandfather's funeral at a local mosque on March 10, 2008. Later that year, the cadres found, he had gone to the same mosque again, once to worship and once to celebrate a festival. In 2014 he had gone to Anhui province, in inner China, to get a passport and go abroad.
That, the government concluded, was enough to show that Himit was "certainly dangerous." They ordered Himit to stay in the center and "continue training."
Emer is now under house arrest due to health issues, his former student, Muhammad, has heard. It's unclear where Emer's sons are.
It was the imam's courage and stubbornness that did him in, Muhammad said. Though deprived of his mosque and his right to teach, Emer quietly defied the authorities for two decades by staying true to his faith.
"Unlike some other scholars, he never cared about money or anything else the Communist Party could give him," Muhammad said. "He never bowed down to them — and that's why they wanted to eliminate him."
https://timesofindia.indiatimes.com/world/china/infected-data-shows-how-china-criminalised-muslim-faith/articleshow/74184990.cms
--------
UAE issues license for Arab world's first nuclear power plant
18 February 2020
The United Arab Emirates has issued an operating license for a reactor, developed by foreign experts, at its Barakah nuclear power plant, the first in the Arab world.
The Barakah plant, located on the Persian Gulf coast west of the capital, had been due to come online in late 2017 but faced a number of delays that officials attributed to safety and regulatory requirements.
The national nuclear regulator has now given the green light to the first of four reactors at the plant, Hamad al-Kaabi, the UAE representative to the International Atomic Energy Agency (IAEA), told a press conference.
Emirati officials said in January that the plant would start operating within a few months. No new date was given on Monday but Kaabi indicated it would happen soon.
"The full operation of Barakah plant in the near future will contribute to the UAE's efforts for development and sustainability," he said, adding that the operator would "undertake a period of commissioning to prepare for commercial operation."
Abu Dhabi Crown Prince Mohammed bin Zayed Al-Nahyan also tweeted that "today marks a new chapter in our journey for the development of peaceful nuclear energy with the issuing of the operating license for the first Barakah plant."
"As we prepare for the next 50 years to safeguard our needs, our biggest strength is national talent," he added.
The UAE plant is being built by a consortium led by the Korea Electric Power Corporation at a cost of some $24.4 billion.
Mark Hibbs, a senior fellow at the Carnegie Endowment for International Peace's Nuclear Policy Program, says the UAE "has to build up a domestic pool of experts in many areas to keep these plants running smoothly and efficiently", as all of the expertise for developing the facility has been "imported from outside".
When fully operational, the four reactors have the capacity to generate 5,600 megawatts of electricity, around 25 percent of the nation's needs. The remaining three reactors are almost ready.
The plant is the Arab world's first. Saudi Arabia has said it plans to build up to 16 nuclear reactors, but the project has yet to materialize.
In September, Saudi Arabia announced plans to produce and enrich uranium in the future for its nuclear power program set to enter into an operational phase with two atomic reactors.
Prince Abdulaziz bin Salman, the kingdom's energy minister, said that Riyadh intends to diversify its energy mix and go ahead with the full cycle of its nuclear program, including the production and enrichment of uranium for atomic fuel.
"We are proceeding with it cautiously... we are experimenting with two nuclear reactors," Abdulaziz said at an energy conference in Abu Dhabi.
Companies from the US, China, Russia, South Korea and France are speculated to be involved in preliminary talks about the project estimated to be worth billions of dollars.
Saudi Arabia claims that it wants to tap nuclear technology for peaceful purposes but enrichment of uranium is a sensitive step in the nuclear fuel cycle as it can open up the possibility of military uses of the material.
Concern over Saudi nuclear ambitions has mounted both because of the regime's dark record of violating human rights, particularly for detention of women's rights activists and the cruel murder of Saudi journalist Jamal Khashoggi in Turkey, as well as its brutal war on Yemen.
https://www.presstv.com/Detail/2020/02/18/618919/UAE-nuclear-power-plant
--------
Bangladesh's Islamic finance industry keeps booming with no slowdown in sight
February 17 2020
Recent news that Bangladesh's central bank approved the conversion of two more local banks to fully-fledged Islamic banks warrants taking a closer look at the Shariah-compliant banking and finance industry in the world's fourth-most populous Muslim country.
According to reports in Dhaka Tribune, The Daily Star and The Financial Express last week, the central bank of Bangladesh approved applications from two domestic banks, Standard Bank and NRB Global Bank, to become fully Islamic banks. The two privately-held commercial banks so far only operated Islamic windows but sought to convert to fully-fledged Shariah-compliant banks to enlarge their scope of product offerings amid growing popularity of Islamic banking in the country and tougher competition on the conventional banking market. NRB Global Bank said it plans to change its name to Global Islami Bank to underscore its new role.
The move brings the number of fully-fledged Islamic banks in Bangladesh to ten, with the others being Al-Arafah Islami Bank, Islami Bank Bangladesh, Exim Bank, Social Islami Bank, Shahjalal Islami Bank, Union Bank, First Security Islami Bank and ICB Islamic Bank. In addition, 19 Islamic banking branches of nine conventional commercial banks and 41 Islamic banking windows of seven conventional commercial banks are currently providing Islamic financial services in the country.
Bangladesh is one of the Muslim nations whose impressive growth in Islamic finance has somehow been overlooked in the past. The country with a population of 165mn, of which 91% are Muslim – which translates into 8% of the global Muslim population –, has experienced strong public demand from the public and from businesses for Islamic banking and finance services basically since the industry's inception in 1983. According to latest available central bank data, at the end of the July-September 2019 quarter, total Shariah-compliant deposits at Bangladesh's banks reached $30.8bn, a 15% increase over the same quarter of the previous year. This is in line with the 15 to 20% annual growth of the industry over the past decades and brings the share of Islamic banking deposits close to 24% of the entire deposit volume of the country's banking market, while the share of loans and financing is even higher at close to 25%. The number of branches of the Islamic banking sector including Islamic branches and windows of conventional commercial banks reached 1,301 at the end of the quarter, up from 1,200 in the same quarter of the previous year. Islamic banking now employs more than 36,000 people in Bangladesh, the central bank said.
"Bangladesh's Islamic banking sector has experienced robust growth due to policy supports and strong public demand," the central bank noted in its quarterly report. "Recent issuance of sukuk rules by the Bangladesh Securities and Exchange Commission will promote Islamic capital markets badly needed for financing infrastructure and industrial projects towards achieving higher inclusive GDP growth and other sustainable development goals," it added.
Analysts note that the industry has still high potential for further expansion as Bangladesh enjoys a vibrant economy with GDP per capita having more than tripled over the past decade to close to $1,800 with an average (nominal) GDP growth of 6% annually to $288.4bn in 2018. Last year, Bangladesh's economy posted record high growth of 8.1% and is now close to achieving double-digit GDP growth. Since 2009, the country's economy has grown by 188% in size, and the per-capita income as per purchasing power parity has surpassed $4,000, up from $2,400 ten years ago.
These are very positive preconditions for the Islamic banking and finance market since foreign investors beyond Indian companies, namely Muslim investors, are beginning to look at the "Bangladesh boom" and seek to identify business opportunities. It is also expected that the Islamic capital market and the Islamic insurance and microfinance sector will expand in tandem as supportive policies are adopted and implemented. Bangladesh's Islamic finance industry with the help of its many IT entrepreneurs is now also adopting Shariah-compliant fintech to carry out financial transactions and processes more efficiently through technological innovations.
https://www.gulf-times.com/story/656185/Bangladesh-s-Islamic-finance-industry-keeps-boomin
--------
SC Sends Mediators, Sanjay Hegde, Sadhana Ramachandran and Wajahat Habibullah to Shaheen Bagh: People Have Right To Protest
by Ananthakrishnan G
February 18, 2020
Acknowledging that people have a fundamental right to protest, the Supreme Court Monday appointed two advocates as interlocutors with the mandate to persuade anti-CAA protesters at Shaheen Bagh in Delhi to end their blockade of a public road. The court will hear the matter next on February 24.
The bench of Justices S K Kaul and K M Joseph said one set of people taking to public roads to air their grievance can inspire others to follow suit and this will ultimately lead to chaos. Democracy, the judges said, is about expression of views but "there are lines and boundaries" for it.
"Certain section of society is aggrieved by a legislation which is being tested in this court. We are not saying that despite pendency of matter, people will not have the right to air their grievance or protest. Question arising is where to protest… Whether traffic can be managed better here or there is not the question. It cannot be a place like this. If today some people, tomorrow some other people may do it. Different portions of city can be blocked by people who may have their grievance…. If everyone starts coming on road, you know Delhi…It will lead to chaos," Justice Kaul said.
Hearing two PILs — one by Advocate Amit Sahni and another by Delhi BJP leader Nand Kishore Garg — which highlighted difficulties on account of protesters occupying a road in Shaheen Bagh, the bench said the way out could be for someone to try and convince the agitators to move out, may be to an identified location. It asked Delhi Police to suggest alternatives.
The court deputed senior advocate Sanjay Hedge and advocate Sadhana Ramachandran to talk to the Shaheen Bagh protesters and convince them to shift. Appearing for Delhi Police, Solicitor General Tushar Mehta said the message should not go out that all institutions are on their knees and are requesting the protesters to move.
The bench said if nothing works out, "we will leave it to authorities. We are hopeful that some reason will prevail".
A lawyer appearing for Bhim Army chief Chandrashekhar Azad and former Chief Information Commissioner Wajahat Habibullah who wanted to intervene in the matter said there is more to the matter than meets the eye. She said the traffic congestion is because police had closed a parallel road.
At this, Justice Kaul said "my concern is not a better traffic route. If everybody starts blocking roads and entering public spaces, may be for genuine causes, where does it end?… You have made your point of view. We are not saying you stop making your point of view, But this kind of protest happening on a public street?"
"Democracy works on expressing views but there are lines and boundaries for it," Justice Kaul said, adding there must be a balancing factor or it can get chaotic. "Someone may get ideas. Somebody who is not on the same page today," Justice Kaul said.
One of the petitioners then said there were plans to replicate Shaheen Bagh in 5,000 areas across the country. "We are not concerned whether 1,000 sites are created as long as long as public roads are not blocked," Justice Kaul said.
The petitioners alleged that the Delhi Police had not done anything to remove the blockade. The bench then put the query to Mehta on why no action was taken in the last two months. "You don't need our certificate," said Justice Kaul said. "It is needed," replied Mehta, adding that all kinds of allegations were being made against police. The court then asked what, according to police, was the solution. Mehta said the "solution is only remove". He said "children and women are being used as shield". The petitioners then sought interim directions.
Justice Joseph said, "We have decided to examine. Let us give them some time." He said people had a fundamental right to protest and it was necessary to allow people to protest. Intervening, Mehta urged Justice Joseph not to say that protests were better than judicial review. Justice Kaul said there was no absolute licence in the name of protests. "We have a duty to perform. We will do it. Some may like it, some not. But we will not play to any agenda this side or that side," Justice Kaul said.
https://indianexpress.com/article/india/supreme-court-shaheen-bagh-right-to-protest-6273092/
--------
US delegation lauds Muslim World League's peace initiatives
February 17, 2020
RIYADH: Muslim World League (MWL) Secretary-General Dr. Mohammed bin Abdulkarim Al-Issa met with a delegation of the US Congress on Monday.
The delegates appreciated MWL's global efforts to fight extremism, violence and terrorism and the initiatives the organization has taken to promote dialogue between people of different cultures and to ensure intercultural harmony for the benefit of all mankind.
They also commended MWL's efforts to promote interreligious and intercultural civilized communication.
Welcoming the delegation, Al-Issa stressed "MWL's commitment to fruitful communications with the US in the name of the Islamic Ummah's scholars and intellectuals in order to achieve common goals."
"Everybody is counting on the relevant religious, intellectual and civil society institutions to contribute to a positive rapprochement between different religions and cultures" to help build an environment of love, cooperation, mutual respect and that rejects rejects all forms of religious and cultural conflicts.
The meeting also discussed issues of common interest in details.
https://www.arabnews.com/node/1629301/saudi-arabia
--------
Billboards in Tel Aviv incite reprisal against Palestinians over rejection of Trump deal
17 February 2020
Billboards have appeared on highways in Tel Aviv with hateful messages against Palestinians, in apparent reprisal for their refusal to accept US President Donald Trump's plan for the Middle East, which heavily favors the Israeli regime.
The billboards read "Peace is made ONLY with vanquished enemies" and show photoshopped images of Palestinian President Mahmoud Abbas and Hamas leader and former prime minister Ismail Haniyeh blindfolded and kneeling in supplication in a war-zone, with buildings behind them reduced to rubble and helicopters hovering.
Former Knesset member of the Meretz Party Issawi Freig slammed the billboards as "disgusting" and urged the mayor of Tel Aviv to remove them. "This disgust must go down now. [Mayor] Ron Huldai, for your care," he said in a tweet.
It was not immediately clear who sponsored the billboards or if the campaign aimed to help rightist parties in the upcoming general elections scheduled for March 2.
Huldai, the mayor, said in a statement that the billboards would be taken down, acknowledging that they "incite violence and recall the actions" of Daesh terrorists and the Nazis.
"Even in election season, there are red lines," he said.
Trump unveiled his plan alongside Israeli Prime Minister Benjamin Netanyahu at the White House on January 28. The so-called deal would have, among other contentious things, recognized Jerusalem al-Quds as "Israel's undivided capital" and allowed the regime to annex settlements in the occupied West Bank and the Jordan Valley.
All Palestinian groups unanimously rejected the plan. So did many countries, including the European Union (EU).
EU states pushing for recognition of State of Palestine
Meanwhile, a group of EU member states led by Luxembourg is planning to put forward an initiative at a meeting of the bloc's foreign ministers on Monday to approve a joint EU recognition of a Palestinian state.
Luxembourg's Foreign Minister Jean Asselborn has already discussed the issue with the foreign ministers of Ireland, France, Belgium, Spain, Portugal, Finland, Sweden, Malta, and Slovenia.
Several EU member states already recognize Palestine as a state, but the bloc as a whole does not.
Trump's plan to be buried: Palestinian PM
In fresh remarks, Palestinian Prime Minister Mohammad Shtayyeh denounced Trump's plan — which would have seen a future Palestinian state fragmented and with "no sovereignty" — and said the proposal would be "buried very soon."
Speaking at the Munich Security Conference on Sunday, Prime Minister Shtayyeh said the US plan was "no more than a memo of understanding between [Israeli Prime Minister Benjamin] Netanyahu and Trump."
He also called on other countries to reject the plan, stressing that Palestinians "are open to serious negotiations."
US plan threatens regional peace: Erdogan
Turkish President Recep Tayyip Erdogan, who has rejected Trump's plan before, reiterated his opposition on Saturday.
"I would like to state once again that this so-called peace plan is nothing but a dream that threatens the regional peace and tranquility," President Erdogan said.
He stressed that Ankara would never allow the "legitimization of invasion, annexation, and destruction."
https://www.presstv.com/Detail/2020/02/17/618854/Tel-Aviv-billboard-incite-hatred-Trump-deal
--------
Pakistan no longer a terrorist safe haven: PM Imran Khan
Feb 17, 2020
ISLAMABAD: Pakistani Prime Minister Imran Khan insisted Monday that his country is no longer a terrorist safe haven, and said his administration fully supports the Afghan peace process.
Khan's comments come as the US and the Taliban appear on the brink of a deal that would see US forces begin to pull out of Afghanistan.
In return, the Taliban would enter talks with the Afghan government, stick to various security guarantees and work toward an eventual, comprehensive ceasefire.
Pakistan, which has long been accused of supporting the Taliban and other extremist groups along its border with Afghanistan, is seen as key to helping secure and implement any deal.
"I can tell you that there are no safe havens here," Khan said at a conference in the capital Islamabad.
"Whatever the situation might have been in the past, right now, I can tell you... there is one thing we want: peace in Afghanistan."
Khan's comments came after Sarwar Danish, Afghanistan's second vice president, accused Pakistan of allowing the Taliban to recruit new fighters from Afghan refugee camps in Pakistan.
Khan was addressing a conference marking 40 years of hosting Afghan refugees in his country.
While Pakistan cannot "completely guarantee" that no Taliban are hiding among the estimated 2.7 million Afghans living in Pakistan, Khan said his government had done all it can to prevent attacks in Afghanistan, including by building a border fence.
US peace envoy Zalmay Khalilzad, who has for more than a year led talks between the Taliban and Washington, also attended the conference. He said he was "cautiously optimistic" about progress toward an eventual deal.
The US has "commitments from the Talibs on security issues," he said.
The Taliban, Afghanistan's security forces and the US are supposed to be launching a seven-day "reduction in violence", officials announced last week. The move is part of a confidence-building measure ahead of the announcement of a fuller deal.
But bloodshed continued over the weekend, including a Taliban attack in Kunduz province.
Refugees began flowing into Pakistan after the 1979 Soviet invasion of Afghanistan, and continued to come during the Taliban regime.
UN Secretary General Antonio Guterres, who is on a three-day visit to Pakistan, credited the nation for supporting Afghan refugees.
"For 40 years, the people of Afghanistan have faced successive crises, for 40 years, the people of Pakistan have responded with solidarity," Guterres said, while calling on the international community to do more.
"As we look to the challenges ahead, the global community must step up," he said.
https://timesofindia.indiatimes.com/world/pakistan/pakistan-no-longer-a-militant-safe-haven-pm-imran-khan/articleshow/74173073.cms
--------
Sudan could send ousted president Omar Al Bashir to The Hague
Feb 18, 2020
Sudan could send former leader Omar Al Bashir and other suspects to The Hague for trial before the International Criminal Court, but any decision would need approval from military and civilian rulers, the information minister said on Monday.
Sudanese authorities said last week that they had agreed for Mr Al Bashir and three other suspects to appear before the ICC, without giving details of how this could happen.
"One possibility is that the ICC will come here so they will be appearing before the ICC in Khartoum, or there will be a hybrid court maybe, or maybe they are going to transfer them to The Hague … That will be discussed with the ICC," Information Minister Faisal Salih told Reuters.
Sudan's offer to co-operate with the ICC marks an important step in rebuilding relations with the international community after three decades during which the country was isolated and sanctioned for its links with Islamist militants and the violence in Darfur.
Mr Al Bashir, who has been jailed in Khartoum since he was toppled after mass protests last year, is wanted by the ICC for alleged war crimes, genocide and crimes against humanity in Sudan's troubled Darfur region.
Mr Al Bashir's lawyer has said the ex-president refused any dealings with the ICC because it was a "political court".
The different options for the ICC proceedings would be discussed with an ICC delegation that was expected to visit Khartoum, Mr Salih said.
He said he thought any decision would need approval by Sudan's High Peace Council, which includes the military-led Sovereign Council, senior cabinet members, and representatives of political groups that opposed Mr Al Bashir.
The High Peace Council had agreed to the appearance of the suspects before the ICC before its decision was announced last week at peace talks in Juba, South Sudan, Mr Salih said.
The transitional government is also trying to get Sudan removed from a list of countries the United States considers state sponsors of terrorism. Sudan was placed on the list in 1993.
Though US sanctions on Sudan were lifted in 2017, the listing has hampered commercial transactions and international payments and prevents Sudan from negotiating a settlement over its debt and thereby accessing sorely needed funds from international financial institutions.
One of the conditions for removing Sudan from the list was offering compensation for the victims of the October 2000 bombing of the USS Cole warship. Sudan said last week it had agreed to do that.
Another condition is paying compensation to the families of victims killed in attacks on the US embassies in Kenya and Tanzania in 1998.
"The minister of justice thinks that in a very short time we are going to have an agreement with those families," Mr Salih said.
Other outstanding issues being discussed with the United States include reform of the security sector, making progress in the peace process in Juba with rebel factions from Darfur and other regions, and Sudan's relationship with North Korea.
"There is some progress being made on this, but we are still waiting for a positive response from the Americans," Mr Salih said.
https://www.thenational.ae/world/africa/sudan-could-send-ousted-president-omar-al-bashir-to-the-hague-1.980671
--------
Germany's Muslims Call For Protection After 'Far-Right Terror Plot' Arrests
Kate Connolly
17 Feb 2020
Muslim communities in Germany have called for more police protection after the arrest of members of a rightwing extremist group that is believed to have been plotting large-scale attacks on mosques around the country.
Twelve men who were arrested following police raids on Friday had been planning attacks using semi-automatic weapons on worshippers during prayers in 10 German states, said to have been inspired by those carried out in New Zealand last year, according to a government spokesman.
Investigators had been following the men for months, monitoring their conversations and online activity, after suspecting them of having formed a terror group.
They eavesdropped on a meeting in North Rhine-Westphalia earlier this month in which the alleged ringleader, 53-year-old Werner S, outlined the group's concrete plans for "commandos" to attack Muslims in small communities across the country. Two of the men were elected to acquire weapons, and all members were expected to contribute towards a €50,000 (£42,000) fund to finance the operation.
German prosecutors spoke of the planned attacks as "mosque massacres" inspired by the attacks on two mosques in Christchurch, New Zealand, in spring 2019, in which 51 people were killed by a gunman.
According to the men's discussions, the attacks were intended to provoke revenge attacks and to evolve into a civil war, authorities said. Four of the arrested men are being treated as suspected terrorists, eight as accomplices, including an administrative police clerk.
The plot came to light after a police informer managed to infiltrate the group.
Björn Grünewälder, the interior ministry spokesman, said while there was relief that the plot had been foiled, he was alarmed by the speed in which the group had formed. "It's shocking what has come to light here, and that there are cells which appear to have become radicalised in a very short length of time," he said.
Angela Merkel's spokesman, Steffen Seibert, insisted the government was committed to protecting religious groups. "It is the task of the state and naturally of this government, to protect the free practice of religion in this country, regardless of what religion that might be," he said.
"Anyone practising their religion in Germany within our legal framework should be able to do so without being endangered or threatened," Seibert added.
Police had raided homes of the would-be attackers early on Friday morning, aware that they might already have acquired weapons.
An attack last June on Walter Lübcke, a conservative local politician who had spoken out in defence of refugees, and the October attack on a synagogue in the eastern city of Halle have made German authorities increasingly aware of the threat of rightwing extremist crime.
Police are watching the activities of 53 men and women associated with the extreme right, who they say are capable of carrying out violence. In 2016, it was 22.
Der Spiegel reported that the group had formed last autumn, the majority of them meeting at an old saw mill in Baden-Württemberg, where the discussion focused on weaponry and how to obtain it. Werner S, who was nicknamed Teutonico by the group, tried to recruit like-minded men who he said had to be "intelligent, hard, brutal and fast".
He talked about wanting to build an underground army, modelled on the so-called Freikorps or free corps – the irregular German military volunteer units, which existed from the 18th century but were at their most powerful in the early 1900s fighting on behalf of the government against Soviet-backed German communists during the Weimar Republic.
Police investigators said to what extent the men just talked, and to what extent their intentions might have been realised, would be revealed during their investigation.
Among the finds during the raids was a 9mm pistol and ammunition at Werner S's house. At other properties they seized homemade egg-shaped hand grenades, axes, crossbows, spiked maces and several knives. The group had intended to acquire "slam guns" as used by the antisemitic attacker in Halle. In their discussions, according to Spiegel, the men had used the codeword "electro-scooters" to describe the weapons, and referred to the accompanying munition as "batteries".
The chairman of the Central Council of Muslims in Germany, Aiman Mazyek, said the planned attacks were "very alarming" and called for more security at the country's mosques. He told the Berlin daily Taz: "Without state protection, the situation is getting ever more dangerous. What are the security authorities waiting for?"
Mohammad Dawood Majoka, a spokesman for the Ahmadiyya Muslim community, called for an "increased attentiveness by the police". Zekeriya Altuğ, a spokesman for Ditib, the umbrella organisation for a large number of mosques in Germany, said the arrests highlighted "the seriousness of the situation … the point of no return is getting ever closer," he said.
Taz said investigators had allegedly made links between Werner S and the hard-right populist Alternative für Deutschland party, after finding his email address on an AfD contact list.
But an AfD spokesman told the paper it had "never at any point in time" been in contact with Werner S, and had no connection to him. He was also friends on Facebook with an AfD functionary from Saxony-Anhalt.
https://www.theguardian.com/world/2020/feb/17/germanys-muslims-call-for-protection-after-far-right-terror-plot-arrests
--------
Southeast Asia
Raqqa seeks to repair what IS ruined
Rana al-Ahmde
February 17, 2020
RAQQA, Syria — Since the city of Raqqa was freed from the Islamic State (IS) in October 2017, the Religious Affairs Foundation in Raqqa held its first Islamic forum in the city. The conference — titled, "The eternal message of Islam: concepts and challenges" — attracted 140 representatives of religious institutions from the various northern and eastern parts of Syria, members of the Raqqa Civil Council, Raqqa tribal elders, representatives of the Syrian Democratic Forces and officials at the Autonomous Administration of North and East Syria (Rojava).
On the first day of the event, on Feb. 1, Sheikh Anas al-Hamad, a member of the Religious Affairs Foundation, said that the forum's goal is to rectify the religious path of Islam that IS in Raqqa misinterpreted, to counter IS extremist ideas that mushroomed among some of the youth segments that were influenced by IS ideology, to turn the mosques into places to disseminate peace and charity, and grant the rights that IS denied to women and advance their status.
Commenting on the forum's axes, Sheikh Hassan Ziad, also a member of the foundation, told Al-Monitor, "Our discussions focused, among other things, on the role of religious scholars in spreading the true [teaching] of Islam and shedding light on [the Islamic teachings] that IS misinterpreted, especially when it comes to demonstrating respect for the rights of other religious communities in the region."
He added, "IS perceived [these communities] as infidel, executed Raqqa's Christians, and captivated and enslaved Christian women. The forum called to renounce violence and grant women their rights in accordance with Sharia."
Aram Zaven, an Armenian from Raqqa, told Al-Monitor that IS killed his father because he refused to convert to Islam while the group was controlling the city. "Islam stipulates that there is no compulsion in religion. IS, however, forced the adherents of the other religious communities to abandon their religion and convert to Islam." Zaven, who currently resides in the city of Hasakah, added, "IS killed those who refused to convert, including my father five years ago," he said.
Aziza Khanafer, co-chair of the Religions and Beliefs Office at the Autonomous Administration of North and East Syria, told Al-Monitor that while women are dignified in Islam, IS violated their rights. "IS leaders would force women into five, six or seven marriages and divorces on the same day, disregarding the Iddah rule [waiting period] for divorced women and the Quran. This is based on published reports on IS radical teaching and as testified by the residents of Raqqa and Deir ez-zor who lived under IS occupation," she said.
Ghaida Salem, a clothing vendor in Raqqa, told Al-Monitor that women were forced into marriages with IS fighters, saying that the husband of her sister, 20-year-old Reem, joined IS ranks and was killed in the battles against the Kurds in al-Tabqah. She said, "Two days after he was killed, the IS religious female police — known as the hesba — forced my sister to move to a madafa [a guesthouse for IS widows and non-Syrian women who joined IS], which are numerous in the city. The following week, [the hesba] forced her into marriage with another IS fighter without taking into account the Iddah rule that Muslim widows are required to abide by."
Haifa Naeimi, a mother of three girls, told Al-Monitor that IS accused her cousin Noura of apostasy and forced her into marriage with six of its gunmen on the same day. Naeimi who resides in Raqqa said, "Every time she would get divorced by an IS judge who would then get her married to another [fighter] — contrary to Sharia law. Noura committed suicide five months before the city was liberated."
Head of the Religious Affairs Foundation Ali Nayef al-Shuaib told Al-Monitor that the two-day conference concluded its work with outputs to be applied in the lectures and forums involving the various social segments in Raqqa. He said that the committee established following the conference will organize these lectures and forums in the near future, with the goal of bridging the gap IS created among the people of Raqqa. "IS managed to distort the image of Islam. In turn, as clerics we will seek to repractice the principles of true Islam and close the gap that IS created with the other religious communities in Syria."
In his closing statement on the last day of the conference, on Feb. 2, Shuaib called for respecting religious symbols and venerated figures of the various Syrian components, as well as their religious values. He also called for upholding the unity of the Syrian community; promoting the values of charity, equality and peace among fellow countrymen; and renouncing and fighting against extremist ideas.
https://www.al-monitor.com/pulse/originals/2020/02/raqqa-holds-first-islamic-forum-bridge-gap-extremism-created.html
--------
Lebanese memes, posts mock Nasrallah's call to boycott US goods in Lebanon
18 February 2020
Hezbollah leader Hassan Nasrallah is being mocked by Lebanese people online for calling for a boycott of American goods and products despite members of his organization owning American clothes and products.
Nasrallah, who has led Hezbollah since 1992 and has close ties with Iran, called for the boycott during a speech on Sunday as "part of the battle" against US President Donald Trump's Middle East plan. In response, Lebanese people took to social media to share sarcastic memes and posts.
Sheikh Mohammed Elhajj Hasan, a Free Shia Movement cleric, shared a photo of Nasrallah's son Jawad wearing a sweatshirt with "Timberland USA.73" written on it. Hasan wrote "before suggesting to your audience boycotting the US, please remove your son's sweatshirt and dress him in Iranian [clothing]."
He pointed out Nasrallah's son is the man in the center of the photo. Others shared the photo as well with similar criticism.
Dalia Tarabay
@DaliaTarabay
Hassan Nasrallah: "I call on the Lebanese to boycott American products."
His son, Jawad Nasrallah: I'm not taking off my Timberland USA hoodie, dad. 🙄👇#لبنان_ينتفض
7:44 AM - Feb 17, 2020
See Dalia Tarabay's other Tweets
Dima Sadek, a Shia Lebanese journalist, shared a meme depicting cartoon character Tom from "Tom and Jerry" as a neighborhood spy speaking in a dialect from southern Lebanon, an area that is predominately Shia. He's talking about someone named Abbas, a common Shia name. He says, "Peace be upon you Hajj, Abbas is smoking Marlboro."
Dima
✔
@DimaSadek
View image on Twitter
1,516
2:26 PM - Feb 17, 2020 • Lebanon
Twitter Ads info and privacy
381 people are talking about this
Twitter user Ma3lick's Wrist responded to the call for boycott with several questions. "What about all the payment in US dollar? Is that halal? Why don't they use the Iranian currency?"
Cynthia Karam, Lebanese Twitter user, sarcastically wrote in Arabic "If I see any Hezbollah member carrying an iPhone, I will complain about him to Nasrallah."
Cynthia karam 🇱🇧
@Cynthiakaram10
اذا بشوف حدا من جماعة حزب الله حامل ايفون بدي اشتكي عليه لنصرالله 😤#صباح_الخير
121
12:04 PM - Feb 17, 2020
Twitter Ads info and privacy
See Cynthia karam 🇱🇧's other Tweets
Lebanese people have frequently responded to political situations in entertaining ways using sarcasm and jokes.
Viral videos of demonstrators singing and dancing in the streets were widely shared over the past few months. One of the most popular videos was of protesters surrounding a car with a toddler in it while they sang and danced to "Baby Shark."
Rachel R.
@RachelleRashid
Protesters were blocking the road a mum told them she wanted to pass because her baby was afraid.
This is what they did 😂
Our people are the best!#Lebanon #ThatsHowWeProtest
Embedded video
2,268
1:05 AM - Oct 20, 2019
Twitter Ads info and privacy
949 people are talking about this
Anti-government protests have been ongoing since October last year driven by the slogan "all of them [politicians] means all of them." Lebanese people across the country are continuing to denounce years of government corruption, and demand solutions to the country's political and economic crisis.
https://english.alarabiya.net/en/News/middle-east/2020/02/18/Lebanese-memes-posts-mock-Nasrallah-s-call-to-boycott-US-goods-in-Lebanon.html
--------
Syria's return to Arab League to happen soon: Former chief
17 February 2020
Former Secretary General of the Arab League Amr Moussa says restoration of Syria's membership in the 22-member regional organization is not far away, amid signs that many Arab countries are ready to re-establish ties with Damascus as the Syrian government is taking final steps to reclaim full control over the country.
"Syria is an Arab country, and will return to its seat in the Arab League in the near future," Moussa told the Arabic service of Russia's Sputnik news agency on Monday on the sidelines of the 9th Valdai Discussion Club's Middle East Conference in the Russian capital city of Moscow.
He added, "The role of the League is still very important. Even though we are talking about a new Arab and regional system, we cannot turn our back on the existing forum as long as such an ideal has not been achieved. The Arab League is still the only forum that brings together Arab states."
The former Egyptian foreign minister highlighted that the Arab League can handle the problems that the Arab world is facing, and settle disputes among Arab countries.
"The Arab League can play a major role in resolving Arab crises, whether through mediation or joining other international powers dealing with such conflicts," Moussa said.
Back in February 2019, Syrian Deputy Foreign Minister Faisal al-Mekdad said his country will eventually return to the Arab League, stressing that the Damascus government will never surrender to blackmail or accept conditions for the restoration of its membership to the regional organization.
"Those who are trying to ignore Syria or to impose conditions for its return to the Arab League will not succeed, since Syria will not surrender to blackmail and is not primarily concerned with anything other than its domestic problems," Mekdad said.
The Arab League suspended Syria's membership in November 2011, citing alleged crackdown by Damascus on opposition protests. Syria denounced the move as "illegal and a violation of the organization's charter."
In January 2019, Tunisian Foreign Minister Khemaies Jhinaoui called on the Arab League to restore Syria's membership, saying the "natural place" of the country is within the organization.
The issue of possible restoration of Syria's membership to the Arab League comes as Syria's General Command of the Army and Armed Forces announced in a statement on Monday that government forces had established full control over tens of villages and towns in the western and northwestern countryside of the country's embattled northwestern province of Aleppo.
The statement listed some of the liberated towns and villages as Sheikh Ali, Urum al-Kubrah, Urum al-Sughra, Kafr Naya, Kfar Dael, Kafr Hamrah, Babis, A'wejel, Haritan, Hayyan, Anadan and Bayanoun.
Last month, Syria's Ministry of Foreign Affairs and Expatriates wrote to the United Nations, stressing that the operation in Idlib and Aleppo against Takfiri elements "will not stop until the elimination of those terrorists, who threaten safety and security of Syrian civilians."
Full report at:
https://www.presstv.com/Detail/2020/02/17/618894/Syria%E2%80%99s-return-to-Arab-League-going-to-happen-soon:-Former-chief
--------
Syria's al-Assad says gains against opposition not yet the end of conflict
17 February 2020
Syrian President Bashar al Assad said on Monday his forces' rapid recent gains in their Russian-backed military offensive presaged the eventual defeat of the nine-year insurgency that sought to oust him from power.
But Assad, in an appearance televised by state media, also cautioned that the conflict was not yet over.
"We know this liberation does not mean the end of the war or the crushing of all plots or the end of terror or the surrender of the enemy but it definitely rubs their noses in the dirt," Assad said.
"This is a prelude to their (opposition forces') final defeat, sooner or later," he added.
The renewed Russian-backed offensive, aided by pro-Iranian militias, to regain the last opposition bastion in the northwest of Syria has allowed Assad's forces to seize control of much of the countryside near Aleppo and to push deeper into the opposition-held and densely populated province of Idlib.
"The battle to liberate Aleppo and Idlib will continue as will the battle to liberate all of Syrian soil," Assad said.
Full report at:
https://english.alarabiya.net/en/News/middle-east/2020/02/17/Syrian-president-al-Assad-says-gains-against-opposition-not-yet-the-end-of-conflict.html
--------
Syria will reopen Aleppo airport to civilian flights
17 February 2020
The airport in Syria's northern hub of Aleppo is to reopen to civilian flights this week for the first time since the war forced its closure in 2012, state media said Monday.
The SANA agency quoted Transport Minister Ali Hammoud as saying that "Aleppo International Airport has resumed operations."
The first flight -- from Damascus to Aleppo -- is scheduled for Wednesday, with more flights to Cairo and Damascus lined up in following days, it said.
Read: Syrian forces take full control of Aleppo, air strikes under way
The announcement comes days after Damascus secured the perimeter around Aleppo during a broad offensive against rebels in the north of the country.
The offensive against the last rebel bastion in Syria has also seen government troops and allied forces retake significant ground in neighboring Idlib province.
The assault, which has displaced more than 800,000 people in less than three months, allowed the government to secure the M5 highway connecting Aleppo to Damascus.
Read: Syrian President al-Assad vows to defeat opposition, as forces gain new ground
Civilian flights had stopped completely at Aleppo airport when rebels fighting to topple President Bashar al-Assad seized control of large parts of the city in 2012.
Trial flights took off from Aleppo in 2017, days after the end of a devastating siege that ended rebel groups' hopes to taking over Syria's second city.
With its troops engaged on several fronts, the government took time to secure areas around Aleppo and to reopen trade routes from the city.
Full report at:
https://english.alarabiya.net/en/News/middle-east/2020/02/17/Syria-will-reopen-Aleppo-airport-to-civilian-flights.html
--------
Danish troops will return to Al-Assad air base hit by Iran in Iraq: Minister
17 February 2020
Denmark will send its military personnel back to the Iraqi al-Assad base on March 1, after last month temporarily moving some of them to Kuwait due to security concerns, the Danish Defense Minister Trine Bramsen said on Monday.
Denmark had around 130 personnel stationed at the al-Assad base as part of the international coalition fighting ISIS.
https://english.alarabiya.net/en/News/middle-east/2020/02/17/Danish-troops-will-return-to-Al-Assad-air-base-hit-by-Iran-in-Iraq-Minister.html
--------
Syrian forces take full control of Aleppo, air strikes under way
17 February 2020
The Syrian army said on Monday it had taken full control of dozens of towns in Aleppo's northwestern countryside and it would press on with its campaign to wipe out militant groups "wherever they are found".
The advances were made after President Bashar al-Assad's forces drove insurgents from the M5 highway linking Aleppo to Damascus, reopening the fastest route between Syria's two biggest cities for the first time in years in a big strategic gain for Assad.
Backed by heavy Russian air strikes, the government forces have been fighting since the start of the year to recapture the Aleppo countryside and parts of neighboring Idlib province where anti-Assad insurgents hold their last strongholds.
Government air strikes on Monday hit Darat Izza, near the Turkish border about 30 km (20 miles) north of Aleppo city, wounding several civilians and forcing two hospitals to close, according to hospital staff.
Witnesses also reported air strikes in southern areas of Idlib province.
Full report at:
https://english.alarabiya.net/en/News/middle-east/2020/02/17/Syrian-forces-take-full-control-of-Aleppo-air-strikes-under-way.html
--------
Syrian army finds mass grave near Damascus: State media
17 February 2020
The Syrian army has discovered a mass grave containing around 70 bodies in a former rebel bastion near Damascus, the state news agency reported Monday.
SANA said the victims found in the Eastern Ghouta region were "civilians and security personnel who were executed by terrorist groups."
The densely populated semi-urban area just east of Damascus was controlled by rebel and terrorist factions for around six years until government forces retook it in 2018 after a long and bloody siege.
The state news agency quoted a senior police officer as saying that the killings were believed to have taken place between 2012 and 2014.
The mass grave, near Eastern Ghouta's main town of Douma, is in an area formerly controlled by rebel group Jaish al-Islam.
The siege of Eastern Ghouta ended with a devastating regime offensive that saw at least 1,700 civilians killed before a deal was struck that saw fighters and civilians evacuated to northern Syria.
According to the officials quoted by SANA, many of the victims, among them a women, had been bound and executed with a gunshot to the head.
AFP was not immediately able to verify the information provided by the state news agency.
Swathes of Eastern Ghouta were completely levelled during the siege and the regime offensive, but some residents have returned despite the lack of reconstruction.
Many mass graves have been found in Syria in recent years, mainly in areas formerly controlled by the Islamic State jihadist group.
According to the Syrian Observatory for Human Rights, more than 380,000 people have been killed since the start of the war in 2011.
Full report at:
https://english.alarabiya.net/en/News/middle-east/2020/02/17/Syrian-army-finds-mass-grave-near-Damascus-State-media.html
--------
Saudi Ambassador to US: Good relations with both Democrats, Republicans in power
17 February 2020
The bilateral relationships between Washington and Riyadh are "institutional and well-established" and are not affected by the succession of different departments of the two political parties, said the Saudi Ambassador to the United States Princess Reema bint Bandar Al-Saud.
"The relationship started during the reign of President Roosevelt, who is a Democratic president, and has continued… through many Republican and Democratic administrations, until President [Donald] Trump, during which [the bilateral] relationship witnessed great cooperation," Princess Reema said on Monday in an interview with Asharq Al-Awsat newspaper.
Read: United States sending troops to bolster Saudi defenses after attack
"Despite changes in the international order, historical facts have proven that the Kingdom is the closest partner to the United States in the region," she added.
When asked about the biggest challenge ahead, Princess Reema said: "Unfortunately, the biggest challenge facing the Kingdom today in the United States is, unfortunately, the prevailing stereotype and prejudices against it."
Full report at:
https://english.alarabiya.net/en/News/gulf/2020/02/17/Saudi-Amb-to-US-Relations-strong-regardless-of-president-s-political-party.html
--------
Syrian refugees in Lebanon struggle under hostile government, brutal weather
17 February 2020
After the Lebanese government forced Syrian refugees to demolish houses they had built and replace them with tents, the winter storm that blew through the Arsal camp this month added biting cold to the list of sufferings of its inhabitants.
In Arsal, a remote outpost on Lebanon's eastern border with Syria, nearly 50,000 refugees live in informal settlements, a small fraction of the total population of Syrian refugees in Lebanon, estimated by some sources as high as 1.5 million, or a quarter of the Lebanese population.
They have been on the receiving end of harsh treatment ever since they started arriving in large numbers eight years ago: the government restricted their job opportunities and, in some cases, forcibly deported those without legal residency status. Last April the Higher Defense Council issued an order calling for the dismantling of all "semi-permanent" structures, so many families in the sprawling Arsal community froze.
"Even the water tanks outside froze. We stayed two days without water – we would bring snow from outside and put it on the sobia [a diesel-burning heater] to melt it and use it to cook or drink tea," said Hassan Ali Ayfir, a community leader of a small camp on the outskirts of Arsal.
"There was a lot of moisture, and it was very cold," Ayfir told Al Arabiya English. "It's just tarps on the roof, and the snow on top was 50 centimeters or 20 centimeters. The children got sick – everyone in Arsal got sick. There was a wave of the flu."
Humanitarian and human rights groups, which had decried the demolitions at the time, said the recent storm confirmed their fears.
The new structures are far less resistant to wind and moisture, and this year's winter storm was especially painful.
Storm Karim brought temperatures below minus 10 degrees Celsius and snow drifts blocked the roads in and out of many of the camps in Arsal, meaning that many residents were cut off from supplies like heating fuel, drinking water and food for several days. Forced demolitions
While the concrete houses were in violation of building codes, refugees in Arsal said that when they arrived and began to set up camps – most of them on vacant agricultural land that they rented from landowners – no one had told them that building with concrete was an issue.
Last June, thousands of refugees living in homes with concrete walls and roofs were required to demolish the structures and replace them with tents made of wood and tarp. They were allowed to leave concrete walls up to one meter high.
When the demolition order came, NGOs helped with the dismantling of the old houses and with hauling away the debris, but were not able to provide all the needed supplies for building new wooden ones.
Some incurred debt when they were forced to rebuild. When he fled from Syria's Qalamoun to Arsal four years ago, Omar Rahal said his family borrowed money to build the house in Arsal and had been paying it back in installments ever since.
"We had made the last payment from building with the concrete a month before the demolition," he said.
Rahal said he had incurred about $800 in debt to rebuild his home. Before the demolition order, Rahal and his wife and two-year-old daughter shared a two-story concrete building with extended family members.
In the old house, Rahal said, "Water didn't come down on us inside, and the cold was less severe. And the wind is very strong here. Before, we didn't feel it. Now when a gust of wind comes, we feel that the house is going to fly out of its place."
The demolition order came in tandem with an increased push by Lebanese authorities for the refugees to return to Syria, including a separate order by the Higher Defense Council authorizing forcible deportation of any Syrians who entered Lebanon illegally after April 24, 2019. Government officials, in defending the decision, maintained that most of Syria is now safe for returns.
Children at risk
Save the Children's Country Director in Lebanon Allison Zelkowitz said in a statement that the group "had warned that [the government's] measures would put up to 9,000 children at risk as their shelters become more prone to harsh weather. Now with the heavy snow, many tents have caved in under blankets of snow."
"Arsal is a stark reminder of how the humanitarian situation can deteriorate quickly," Zelkowitz said. "Unfortunately, vulnerable children and their families are always the most impacted."
The camp that Ayfir oversees in Arsal was set up to be a haven for widows and is inhabited mainly by women and children. Of 15 families living there only two are headed by men, Ayfir said.
Videos posted on social media from various camps in Arsal showed icicles hanging from roofs of tents and camp residents desperately trying to shovel walkways in the snow.
Joyce Karam
✔
@Joyce_Karam
"We need bread ...we need bread" Syrian refugees pleading for help as sub zero temperatures hit Arsal camp in Lebanon.
Tents made of aluminum sheets can barely store heat. -10c/ 14F today:
Embedded video
587
8:19 PM - Feb 8, 2020
Twitter Ads info and privacy
705 people are talking about this
Because of the mountainous terrain, harsh weather is an annual fact of life in Arsal. Every year, residents struggle with the expense of buying heating fuel, said Nabil Khalouf, head of operations in Arsal for the NGO Edinburgh Direct Aid, who is also a refugee from Syria.
Refugees noted that the cost of fuel is particularly burdensome amid the current economic crisis in Lebanon, with inflation driving up prices while work is scarce.
Full report at:
https://english.alarabiya.net/en/features/2020/02/17/DON-T-PUBLISH-Lebanon-refugees-.html
--------
Liberation of Aleppo not end of Syrian army's anti-terror campaign: Assad
17 February 2020
President Bashar al-Assad has congratulated the Syrian nation and government forces over major territorial gains made in the country's embattled northwestern province of Aleppo following intense battles with foreign-sponsored Takfiri militants, emphasizing the achievements do not mark the end of the campaign against terrorism that has plagued the country.
"When the city of Aleppo was fully liberated back in [December] 2016, I highlighted that the status quo will not be ... the same as it used to be. I well knew that Syrian Arab Army soldiers are fighting wholeheartedly, and the patriotism of Aleppo residents together with their sense of affiliation to their ethnic homeland and army will alter the calculations of the enemies," Assad said in a televised speech broadcast live from the capital Damascus on Monday evening.
He added, "Years of violent and barbaric [militant] shelling of most Aleppo neighborhoods left tens of thousands of people dead, injured, orphaned and widowed. Years of siege without running water, electricity or other basic necessities were meant to bring the people of Aleppo to their knees.
"With any shell that fell on Aleppo, the enemies would entertain the hope that the city's identity would change to what it never used to be. They dreamed of creating an Aleppo that would not be in harmony with Damascus at all, and whose people would capitulate to them for a few dollars and much disgrace."
"The enemies were daydreaming as the willpower to confront them grew following any shell that struck Aleppo. Patriotism sharpened and faith in the homeland became stronger as people lost lives. In reality, Aleppo remained a city steeped in history, nobility and authenticity," Assad pointed out.
The Syrian president further noted that Aleppo will certainly rise from the ashes of war, and will retain its economic and commercial weight in Syria's economy.
"We are fully aware that the recent liberation does not mean the end of the war, the failure of schemes, the complete purge of terrorism or the surrender of enemies. Nevertheless, it means that enemies have been taken down a peg as a prelude for their total defeat, sooner or later," Assad said.
"It also means that we must not rest assured, and must prepare for the coming battles. Therefore, the battle to liberate the entire Aleppo and Idlib will continue irrespective of some hollow threats just as the campaign to retake all Syrian territories, to crush terrorism, and to restore stability will also continue," he commented.
Assad underlined that Syrian army soldiers will not hesitate to carry out their national duties as regards defending the country and its nation.
The remarks came as Syria's General Command of the Army and Armed Forces announced in a statement earlier in the day that government forces had established full control over tens of villages and towns in the western and northwestern countryside of Aleppo. The statement listed some of the liberated towns and villages as Sheikh Ali, Urum al-Kubrah, Urum al-Sughra, Kafr Naya, Kfar Dael, Kafr Hamrah, Babis, A'wejel, Haritan, Hayyan, Anadan and Bayanoun.
Last month, Syria's Ministry of Foreign Affairs and Expatriates wrote to the United Nations, stressing that the operation in Idlib and Aleppo against Takfiri elements "will not stop until the elimination of those terrorists, who threaten safety and security of Syrian civilians."
Full report at:
https://www.presstv.com/Detail/2020/02/17/618908/Liberation-of-Aleppo-not-end-of-Syrian-army%E2%80%99s-anti-terror-campaign:-President-Assad
--------
Syria recaptures most of Aleppo ahead of Russo-Turkish talks
17 February 2020
Backed by Russian air power, the Syrian army has made unprecedented advances in the northwestern Aleppo Province, which borders Turkey, as Ankara is about to take up its grievances about Damascus' breakthroughs with Moscow.
The Syrian military has brought back most of the province under sovereign control. Russian aircraft targeted terrorist positions there in advance to facilitate government movement on the ground.
Reuters referred to the towns of Anadan and Haritan as some of the places liberated in the joint counterterrorism push.
"There is very rapid advance by the [Syrian] regime in this area," a London-based war monitor said.
The official Syrian Arab News Agency (SANA) also said Syrian soldiers had established full control over all areas surrounding Aleppo's provincial capital of the same name for the first time since 2012. The conquests drove away members of the notorious Takfiri terrorist group of Hayat Tahrir al-Sham, formerly known as al-Nusra Front or al-Qaeda's Syria offshoot.
In all, the army liberated 23 villages to the west and north of Aleppo, from where terrorists shelled Aleppo, the country's second-largest city.
Aleppo's residents took to the streets afterwards in celebration, waving the national flag and honking the horns of their cars.
Prior to the headway, the Syrian military had liberated the M5 Highway between Aleppo and Damascus, the fastest route linking the two cities.
The gains have coincided with similar advances in the neighboring province of Idlib. The province hosts the largest remaining concentration of militants and Takfiri terrorists in the Arab country since foreign-backed militancy began in Syria in 2011.
Turkey, however, has been uneasy with Syria's progress in Idlib, claiming that the Syrian offensive there killed 13 of its troops this month. It has threatened to attack the Syrian military unless government forces abandoned the liberated areas, and asked Moscow to "stop" Damascus. Ankara has also made unverified claims that it has killed dozens of Syrian soldiers in one alleged retaliatory strike.
At one point, Turkish President Recep Tayyip Erdogan even threatened to end its involvement in a peace process for Syria.
Turkey has 12 observation posts in Idlib, set up as part of an Iran-brokered agreement with Russia to de-escalate the situation near the Turkish border. Some of the posts, however, now lie in the territory that has been recaptured in joint Russo-Syrian efforts.
President Bashar al-Assad has said his country is determined to liberate all Syrian land.
Meanwhile, Turkish Foreign Minister Mevlut Cavusoglu said during a briefing at the Munich Security Conference that Turkish and Russian officials would discuss Ankara's complaints about the Syrian advances in Moscow on Monday. Cavusoglu also said he had met with some US lawmakers at the Munich conference and called for Washington's support.
Also on Sunday, the White House said US President Donald Trump had called Erdogan, conveying Washington's "desire to see an end to Russia's support" for Syria.
Turkey has so far sent thousands of troops and many convoys of military equipment to reinforce its presence in northwestern Syria.
Full report at:
https://www.presstv.com/Detail/2020/02/17/618853/Syria-Aleppo-gains-Russia-Turkey-Idlib
--------
Assad's forces take over Aleppo amid fears of 'catastrophe'
February 17, 2020
ANKARA: Syria's Bashar Assad on Monday made a TV pledge to press on with his military campaign to take full control of Aleppo as the UN called for an immediate cease-fire to prevent "the biggest humanitarian horror story of the 21st century."
Assad's forces claimed to have taken complete control of dozens of towns in Aleppo's northwestern countryside following advances that have resulted in the displacement of 900,000 people.
In a rare televised address, Assad said that the one-time economic hub of Aleppo would "return stronger than it was before," and vowed complete victory "sooner or later."
The ongoing campaign has sparked a humanitarian catastrophe, which the UN's head of humanitarian affairs, Mark Lowcock, warned had "reached a horrifying level."
In a statement, he said the UN believed 900,000 civilians had been displaced since Dec. 1, most of them women and children.
In the past few weeks, regime troops backed by Russian air power have captured more than 1,500 sq. km. of ground in the northwest of the country.
Lowcock described the violence taking place in northwest Syria as "indiscriminate" and stressed that "the only option is a cease-fire."
He warned that "the biggest humanitarian horror story of the 21st century will only be avoided if (UN) Security Council members, and those with influence, overcome individual interests and put a collective stake in humanity first."
He did not identify any countries, but the message appeared directed first and foremost at Russia.
The regime also announced the reopening of Aleppo international airport. Regime forces have also opened the international roadway from northern Aleppo to the towns of Zahraa and Nubl toward the Turkish border. Their rapid advances have sparked rare clashes between Syria and Turkey.
Turkish President Recep Tayyip Erdogan has urged Assad to halt the advance, which also risks shattering an alliance forged between Turkey and Russia. A Turkish delegation was in Moscow on Monday to discuss the crisis, and Turkey's Foreign Ministry said the delegations would continue talking on Tuesday.
During Monday's session, the Turkish delegation "stressed the need to quickly reduce tensions on the field and to prevent the further deterioration of the humanitarian situation," the ministry said.
Yoruk Isik, an Istanbul-based expert on Turkey-Russia relations, predicted a period of de-escalation in Idlib in the coming few months after the conclusion of consultations between the parties.
He told Arab News that Russian President Vladimir Putin had deliberately stayed away from such negotiations to push Ankara into direct talks with the Assad regime. Isik expected Turkey to withdraw from five observation points in Idlib.
Full report at:
https://www.arabnews.com/node/1629191/middle-east
--------
South Asia
Taliban says unless it's Leadership Shifts Policy, Afghan Govt., Foreign Forces Will Be Targeted
17 February 2020
Taliban will not stop attacking Afghan government targets and foreign forces unless its 'leadership' gives instructions otherwise, a militant commander in Helmand says, amid uncertainties over a potential deal with the United States to curb violence.
"Our leadership hasn't conveyed any message about a ceasefire to us," media outlets quoted the chief as saying on Monday, without mentioning his name.
Helmand and other southern provinces have seen bouts of fierce fighting in recent years.
Commanders in Paktika and Nangarhar, two other provinces located in the eastern part of Afghanistan and regarded as strongholds for the Taliban, were also of the same view.
Most recently, Taliban attacked Afghan government forces at a checkpoint in the northern province of Kunduz on Sunday night.
Taliban spokesperson Zabiullah Mujahid claimed in a statement that 19 security personnel had been killed.
The Afghan Defense Ministry confirmed the assault but put the death toll at five. It also said airstrikes were conducted in retaliation.
Also on Monday, Taliban said an Afghan military helicopter had been shot down in Nimroz province. But an official there said the aircraft had made an emergency landing and was not attacked.
Washington has for weeks been calling on the militants to hold attacks on US forces. US negotiators see this as a condition for resuming formal talks on an agreement that would see US troops leave the country after a near two-decade war.
Last week, US Secretary of Defense Mark Esper said the United States and the Taliban had negotiated a proposal for a seven-day reduction in violence, which could lead to an eventual withdrawal of US troops.
The two sides had been negotiating the deal for a year and were on the brink of an announcement in September 2019, when President Donald Trump abruptly declared the process "dead."
Talks restarted in Qatar later in December last year, but were suspended again following an attack near the Bagram military base, which is run by the US.
Despite the violence on the ground, Mawlavi Abdul Salam Hanafi, deputy chief of the Taliban's Doha office, confirmed a deal with the United States is set to be signed by the end of February in a "signing ceremony" in the Qatari capital.
"Soon after signing the peace accord, the United States will release 5,000 of our prisoners and we will free 1,000 of theirs," Hanafi said.
There are currently about 13,000 US troops in Afghanistan.
https://www.presstv.com/Detail/2020/02/17/618887/Taliban-US-Doha-Afghanistan-Helmand-Paktika--Nangarhar
--------
Airstrikes, Special Forces raid kill 6 ISIS militants in East of Afghanistan
18 Feb 2020
A series of airstrikes and raid by Afghan Special Forces left six ISIS Khurasan militants dead in eastern Kunar province of Afghanistan.
The Ministry of Defense in a statement said an airstrike killed four ISIS Khurasan militants in Suki district of Kunar province.
The statement further added that the Afghan Special Forces killed an ISIS Khurasan militant and destroyed a weapons cache during a raid in Tarang district of the Kunar.
Another airstrike in Tarang district killed an ISIS Khurasan militant, the Ministry of Defense added in its statement.
Full report at:
https://www.khaama.com/airstrikes-special-forces-raid-kill-6-isis-militants-in-east-of-afghanistan-04462/
--------
Why Afghanistan Must Confront HIV-Related Stigma
18 Feb 2020
Throughout the course of human history, there have been few health conditions more mired in socializing stigma than HIV/AIDS. Despite transformative advances in medicine that have given renewed hope to millions of HIV/AIDS patients around the world, deep-seated public perceptions and stigma associated with the condition have been slower to evolve. As it were, Afghanistan is no stranger to the adverse effects of public stigma surrounding HIV/AIDS. So long as comprehensive, education-based approaches for stigma reduction are not systematically implemented nationwide, present efforts to combat the spread of the virus will see diminished effectiveness and sustainability.
Globally, much of the contemporary HIV-related stigma is rooted in the misinformation perpetuated across the decades since the origins of the epidemic. Initially, public hysteria in the face of sparse and unverified information about the spread of the virus bred discrimination-laden public practices and policies. While these practices largely masqueraded as precautionary attempts to curtail infection rates, their continuing legacy has been an ingrained set of biases and stigmatizing attitudes regarding HIV, HIV modes of transmission, and HIV patients. The tangible impact of this stigmatization was most aptly summarized by a patient living with HIV whom I once spoke with, who poignantly noted, "When you tell people that you have HIV, they feel like they can automatically assume something about you and your history."
The harm of HIV-related stigma extends beyond interpersonal injury. When individuals are shamed out of initiating conversations with healthcare providers or shamed into withholding critical behavioral and health information from healthcare providers, they are likely to miss out on learning about options for HIV/STD testing. Without knowing their HIV status, afflicted individuals will lose valuable time to pursue a treatment course, the ultimate effects of which put a strain on the entire health system. Even the Joint United Nations Programme on HIV and AIDS highlighted this problem when the body issued a report describing stigma reduction as an indispensable component of the global fight against AIDS ("Confronting discrimination: overcoming HIV-related stigma and discrimination in health-care settings and beyond," 2017).
Another key effect of HIV-related stigma is its implications for hindering accurate data collection on HIV infection rates. In Afghanistan, the size of the population of HIV-positive patients has been debated, with notable differences in the incidence rates provided by Afghanistan's Ministry of Public Health and the World Health Organization. What is clearer is that the figures probably represent an underreporting of the issue, since afflicted individuals may be less likely to actively seek out treatment for fear of being subject to harassment and discrimination based on their status. This deleterious silencing effect is pronounced for the most vulnerable populations, including women and children, for whom rates of infection have risen in tandem with spikes in drug usage and needle sharing.
Full report at:
https://www.khaama.com/why-afghanistan-must-confront-hiv-related-stigma-768776/
--------
Uncertainties at Home Put Repatriation on Hold for Rohingya Refugees: Myanmar Ambassador
BY DIANA MARISKA
FEBRUARY 14, 2020
Jakarta. The plan to repatriate hundreds of Rohingya refugees from Myanmar's Rakhine State who have been stranded in Indonesia since 2017 has stalled due to continued uncertain circumstances at home, Myanmar Ambassador to Indonesia Ei Ei Khin Aye said after meeting the Coordinating Minister for Political, Legal and Security Affairs Mahfud M.D. on Thursday.
"The minister asked me about the current situation in the Rakhine State and how the repatriation is going to be organized," Aye said after the meeting in Jakarta.
Hundreds of Rohingya people from the Muslim-majority region in Myanmar have fled to Indonesia since 2017 when violent clashes broke out between the Rohingyas, the Myanmar military and the local Hindu and Buddhist populations.
Aye said the repatriation of the Rohingya refugees had been put on hold due to the still-uncertain conditions they would be likely to face on their return.
"They still haven't been repatriated because the conditions back at home are still uncertain," Aye said.
She said the Myanmar government is continuing efforts to start the repatriation process immediately, with a main focus to create a "conducive environment" for the displaced Rohingyas.
"The Myanmar government will continue to talk to our displaced people in Cox's Bazar [a port city in Bangladesh where many Rohingya refugees have fled to]. We've explained to them that we want to create a conducive environment for when they come back," Aye said, adding she was optimistic the repatriation would eventually take place.
The ambassador also discussed with Indonesia's chief security minister other options to solve the repatriation problem.
Mahfud said other Southeast Asian countries have also expressed concerns with the continuing Rohingya refugee crisis.
"Almost all the Asean member countries at the Asean Summit [in Bangkok in November] raised questions and expressed concerns about the fate of the Rohingyas. I asked the ambassador what the real situation is like on the ground, and what she told me matched the statements she had already given to the media," Mahfud said.
Rohingya Refugees
According to the United Nations Refugee Agency (UNHCR), the exodus of Rohingya refugees from Myanmar started in the 1990s. Their numbers jumped significantly in 2017 after a military crackdown in the Rakhine State in August.
More than 900,000 Rohingyas have fled to Bangladesh, over 742,000 arriving after 2017. Most of them are now based in Cox's Bazar.
The Rohingya refugees have also fled to Pakistan, Thailand, Malaysia, India, the United States and Indonesia.
According to data from UNHCR Indonesia, there are 682 registered Rohingya refugees in the country.
The Indonesian government has made several attempts to help the Rohingya refugees and continued to push for their repatriation.
In December, Indonesia completed the construction of a hospital in the Mrauk U district in Rakhine State and handed it over to the Myanmar government.
Later that month, Indonesia also provided Rp 7.5 billion ($536,000) in funding through Asean to help repatriating the Rohingyas to Myanmar.
Internet Restrictions
Only recently, 29 national and international organizations, including Amnesty International and Human Rights Watch, released a joint statement calling for the Myanmar government to lift "restrictions on mobile internet communications in eight townships in Rakhine State and one township in Chin State."
Myanmar's Transport and Communications Ministry ordered a reinstatement of the restrictions on Feb. 3 after it was lifted on Jun. 21 last year.
A report from a local telecommunications provider said the ministry had referred to "security requirement and public interest" as the reason for their decision.
Cooperation in Counterterrorism
Aye and Mahfud also discussed a plan for a cooperation in counterterrorism in their meeting on Thursday. Aye said knowledge-sharing and technology transfer will form a major part of the partnership.
"We've already talked about sharing our expertise and joint training, [and about receiving] technological assistance from Indonesia. It hasn't happened yet, but the plan is there already," Aye said.
Full report at:
https://jakartaglobe.id/news/uncertainties-at-home-put-repatriation-on-hold-for-rohingya-refugees-myanmar-ambassador
--------
Five Afghan troops killed in Taliban attack on military base in Kunduz
17 February 2020
The Taliban militants have stormed a military base in northern Afghanistan, killing at least five soldiers, according to officials.
The attack occurred in Shora Khak area of Kunduz Province on Sunday, the Afghan Defense Ministry said in a statement on Monday.
"Unfortunately, five army soldiers were martyred and three wounded," said the statement.
In a post on Twitter, Taliban spokesman Zabihullah Mujahid, put the number of fatalities among the Afghan soldiers at 19.
According to Kunduz police, a fighting had been underway for several hours in the area.
A police spokesman, Enhamuddin Rahmani, said the militants also suffered casualties.
The attack came as the country is expecting a reduction in violence as negotiated between the US and the Taliban.
US Defense Secretary Mark Esper said on Saturday that Washington and the Taliban had agreed on a seven-day reduction in violence that could result in the exit of US troops from Afghanistan.
Esper, however, said the US has not yet fully set a date for when it will begin a period of reduction in violence negotiated with the Taliban.
A US official said on Friday that it would begin "really soon," while the a Taliban official said it was imminent.
The two sides have been negotiating a peace deal on and off for a year in Qatar's capital Doha.
Talks restarted in Qatar last December, but were suspended again following an attack near the Bagram military base in Afghanistan, which is run by the US.
Violent assaults in Afghanistan have meanwhile been raging, with the number of clashes jumping to record levels in the last quarter of last year.
But in recent weeks, US special representative for Afghanistan Zalmay Khalilzad, who is leading negotiations with the Taliban, had launched a new round of shuttle diplomacy by traveling to Pakistan and Afghanistan to brief officials on the status of the talks.
A member of Taliban delegation in Doha told a local news agency on Monday that the talks had ended "successfully" with an agreement to be released before the end of the month.
The US invaded Afghanistan after the September 11, 2001 attacks. The invasion deposed the Taliban, but the group has never ceased its operations across Afghanistan, and has vowed to keep up its attacks until the withdrawal of all US forces.
Full report at:
https://www.presstv.com/Detail/2020/02/17/618865/Afghanistan-conflict-Taliban
--------
India
Muslim cleric booked for objectionable statement against PM Modi, Amit Shah
Nelanshu Shukla
February 17, 2020
A Muslim cleric has been booked by Sambhal police for making objectionable comments against Prime Minister Narendra Modi and Home Minister Amit Shah while addressing women protesting against the Citizenship Amendment Act (CAA).
According to the information given by the local police, the controversial remarks against the top BJP leaders were made by cleric Maulana Tauqeer Raza on Sunday night.
He reportedly called PM Modi and Amit Shah 'terrorists' and said that if the Muslims follow Nathuram Godse's path then there will be a completely different scenario in the country.
Raza also targeted UP CM Yogi Adityanath and called him an imposter.
Speaking to media, Superintendent of Police (SP) Sambhal said, "Tauqeer Raza has been booked under section 504 (intentional use of abusive language amounting to insult), 505 (statements creating or promoting enmity, hatred between classes) and 153 (provocation to any person intending or knowing it to be likely that such provocation will cause the offence of rioting to be committed) of the Indian Penal Code (IPC)."
https://www.indiatoday.in/movies/bollywood/story/love-aaj-kal-box-office-collection-day-4-1647477-2020-02-18?utm_source=recengine&utm_medium=web&referral=yes&utm_content=footerstrip-1
--------
Ram temple construction on Muslim graves violation of 'dharma': Lawyer to temple trust
FATIMA KHAN
17 February, 2020
New Delhi: The construction of the Ram temple on the graves of Muslims will be a violation of 'Sanatan Dharma', said advocate M.R. Shamshad, who represented the Muslim side in the Ayodhya title dispute case, in a letter to the temple trust.
The letter, which was sent on 15 February, said a graveyard exists around the demolished Babri Masjid and that Muslims, who lost their lives in the 1885 riots in Ayodhya, were buried there.
"As per recorded facts, 75 Muslims were killed in the riots of 1885 and they were buried in an existing graveyard around the mosque. Even thereafter, this land was used as a graveyard," the letter stated.
Talking to ThePrint, Shamshad asked what will happen to the graveyard if the temple is constructed over it. "The fact is that about 5 acre of this 67-acre land is a graveyard."
"When the acquisition had taken place (in 1993), the plan was to build a temple, mosque, library — everything within this 67 acre. Not to simply oust the mosque," he added.
Govt completely ousted claim of Muslims in 67-acre land
Shamshad, who was representing Iqbal Ansari, one of the Muslim litigants in the title dispute case, wrote the letter on behalf of multiple Ayodhya residents.
"The central government has not considered the issue (of) not using the graveyard of Muslims for constructing the grand temple of lord Ram. It has violated 'dharma'," the letter stated.
On 5 February, Prime Minister Narendra Modi had announced the formation of a temple trust to oversee the construction of the Ram temple. The PM had said the entire 67-acre Ramjanmbhoomi complex will be given to the trust for the construction of the Ram temple.
"While deciding the 1,480 sq yard dispute in November 2019, the Supreme Court left the central government with all the powers to dispose the said land the way it wanted," the letter said.
"By exercise of that discretionary power, as expected, the central government has completely ousted the claim of Muslims in the 67 acres of land," it added.
The SC, in its Ayodhya verdict, had said that either the central government allots five acres in the 67-acre complex or the state government locate an alternate site at a "suitable prominent place" for the construction of the mosque.
Many Muslim leaders were unhappy with the government deciding to use the entire 67-acre for the temple, and allotting an alternative land elsewhere for the mosque.
What else the letter said
Addressed to senior SC lawyer K. Parasaran, who is heading the trust, as well as the other trustees, the letter asked them to consider whether it is acceptable to have a Ram temple over the graves of Muslims.
"Now you all trustees are persons of eminence in contemporary India and have the best knowledge and experience in the field of Hindu/Sanatan religion and practice. In view of religious scriptures of Sanatan Dharma you need to consider whether the temple of Lord Ram Janmsthan can have foundation on the graves of Muslims? This is a decision that the management of the Trust has to take, " the letter said.
"With all humility and respect to Lord Ram, I request you not to use the land of about 4-5 acres in which the graves of Muslims are there around the demolished mosque. The graves may not be visible today considering the fact that the entire area has been differently treated with since 1948 when forcibly an idol of lord Ram was placed inside the mosque and when in 1992 the mosque was demolished," it added.
Letter referred to previous SC verdict
The letter also refers to the Ismail Faruqui verdict of 1994, which had said that the "disputed structure was surrounded by a graveyard on three sides".
Referring to the judgement, the letter said, "After the 1994 judgement of the SC in the Ismail Faruqui case, the dispute between masjid and Ram temple remained confined to 1,480 sq yards".
The letter also referred to the Acquisition of Certain Area at Ayodhya Act (1993), saying that the exclusion of mosque from the land is "uncalled for".
Full report at:
https://theprint.in/india/ram-temple-construction-on-muslim-graves-violation-of-dharma-lawyer-to-temple-trust/366749/
--------
India issues demarche to Turkey, says President Erdogan's remarks on Kashmir 'distort events of past'
February 17, 2020
India Monday issued a strong demarche to Turkey on the remarks made by Turkish President Recep Tayyip Erdogan on Jammu and Kashmir during his Pakistan visit. MEA Spokesperson Raveesh Kumar said Erdogan's remarks reflect neither an understanding of history nor of the conduct of diplomacy. He also added that the remarks distort events of the past to advance a narrow minded view of the present. The demarche was sent by Secretary (West) in the MEA to the Ambassador of Turkey in New Delhi today.
Adding that India finds Erdogan's remarks "completely unacceptable," Raveesh Kumar said the episode is "but one more example of a pattern of Turkey interfering in the internal affairs of other countries. We particularly reject the repeated attempts by Turkey to justify the cross border terrorism practiced so blatantly by Pakistan."
Addressing a joint session of Pakistan's Parliament on Friday, Turkey's President Recep Tayyip Erdogan expressed his country's deep love and affection for Pakistan, and strongly backed its position on Kashmir.
"In order for the Kashmiri people to look at a safe future together with their Pakistani and Indian neighbours, it is imperative to solve the problem through dialogue and on the basis of justice and equity, but not through collision," he said, as reported by The Dawn. "Despite the resolutions adopted by the UNSC, Kashmir is still besieged and eight million people are stuck in Kashmir. They cannot get out," he added.
Full report at:
https://indianexpress.com/article/india/india-issues-demarche-to-turkey-says-president-erdogans-remarks-on-kashmir-distort-events-of-the-past-6272398/
--------
CAA protests: Chargesheet filed against 15 in Sambhal
by Manish Sahu
February 18, 2020
Sambhal police on Monday filed a chargesheet against 15 people for alleged arson, damage to public property and attack on police during a protest against the Citizenship Amendment Act (CAA) and the proposed National Register of Citizens held at Chaudhary Sarai Crossing in the district on December 19 last year.
This is the first chargesheet filed in connection with anti-CAA protests that broke out in the state since December 15.
Of the 15 arrested people, a few of them were recently granted bail.
Several people, including three policemen, were injured in the alleged violence. According to police, several private and government vehicles were also torched and damaged.
Police are still probing the role of local Samajwadi Party MP Shafiq-ur-Rahman Barq and party's former district president Feroz Khan. They have been named in the FIR lodged at City Kotwali police station in Sambhal on December 19.
"The chargesheet has been filed in a local court of Sambhal against 15 persons — who were arrested in the case — and investigation against other accused, including MP Shafiq-ur-Rahman Barq is still on," said Additional Superintendent of Police, Sambhal, Alok Kumar Jayswal, who is heading the Special Investigation Team formed to investigate such cases.
"The role of 15 people came to light during investigation after which they were arrested. Among them, a few were named in the FIR, while others' roles came up during probe," said SHO (Kotwali) Amit Kumar, adding that a few of the accused were granted bail.
According to police, protesters reached Chaudhary Sarai Crossing and raised slogans against the CAA and NRC on December 19. Protesters hurled stones at a police team, and damaged and torched government and private vehicles, said police. The situation was brought under control when police resorted to lathi charge and fired teargas shells on protestors. Three policemen, including a sub-inspector rank officer, were injured. Following this, an FIR was lodged against 17 people, including Barq and Khan.
The chargesheet has been filed under IPC sections 147 (rioting), 149 (every member of unlawful assembly guilty of offence committed in prosecution of common object), 436 (mischief by fire or explosive substance with intent to destroy house, etc.), 188 (disobedience to order duly promulgated by public servant), 332 (voluntarily causing hurt to deter public servant from his duty), 336 (act endangering life or personal safety of others) and 427 (mischief causing damage to the amount of fifty rupees). Police also invoked the Prevention of Damage to Public Property Act against the accused.
Full report at:
https://indianexpress.com/article/india/caa-protests-chargesheet-filed-against-15-in-sambhal-6273050/
--------
Karnataka: Three Kashmiri students arrested for raising 'pro-Pakistan slogans' sent to judicial custody
by Ralph Alex Arakal
February 17, 2020
Two days after three Kashmiri students were charged with sedition for allegedly raising pro-Pakistan slogans in Karnataka, the students on Monday were sent to judicial custody till March 2.
A J&K Students Association spokesperson on Monday claimed that the students were roughed up by a group of right-wing activists inside court premises while they were being taken to a police van parked outside.
"This led to a tense situation outside the court for some time," he added.
The association also claimed that the Hubbali Advocates Association has passed a resolution asking its members to not provide legal aid to those arrested.
"After the Hubballi advocates association refrained from providing legal aid to the arrested Kashmiri students, based on a resolution they passed today, we have reached out to many other advocates. Two of them have agreed to fight the case for the students," J&K Students Association spokesperson Nasir Khuehami told indianexpess.com.
Meanwhile, activist Kavita Krishnan tweeted, "There are many in Karnataka – lawyers, concerned people – who are reaching out to help".
The arrests, according to the police, were made on Saturday based on a complaint filed by the college authorities over a video uploaded on social media in which "Pakistan Zindabad" was purportedly heard in the background.
The trio, all students of KLE Institute of Technology in Hubbali region, were booked under IPC sections of 124 (Sedition), 153(a), and 153(b) for disturbing communal harmony.
Kavita Krishnan
✔
@kavita_krishnan
Mob violence against three Kashmiri students in Hubli, Bar Assoc & lawyers gang up to deny representation. I hope the 3 are safe. There are many in Karnataka - lawyers, concerned people - who are reaching out to help. https://twitter.com/ZafarAafaq/status/1229295556620537856 …
Zafar Aafaq
@ZafarAafaq
The three Kashmiri students arrested in Karanataka on sedition charges were mobbed and roughed up by ppl in court premises on monday after hearing in Hubballi district 0of Karanataka. #Kashmir via Amit Upadhya of TNIE
View image on Twitter
1,389
12:35 PM - Feb 17, 2020
Twitter Ads info and privacy
758 people are talking about this
After the case was first filed at Gokul Road police station, the students were released under the provisions of Section 169 of Criminal Procedure Code (CrPC) (release of accused when evidence deficient).
"However, on finding incriminating evidence against the accused, they were arrested and produced before the local Judicial Magistrate First Class (JMFC) court on Monday which directed them to judicial custody till March 2," Hubballi police commissioner R Dileep said.
Later, in a statement released on Monday, the J&K Students Association condemned the action of the students. "We condemn what they did in the harshest of words. We urge Kashmiri students to focus on their education. We appeal to all students not to write provocative things on social media to add fuel to the fire," the statement read.
The Students Association also claimed that they have written to Union Home Minister Amit Shah and Karnataka Chief Minister B S Yediyurappa to intervene to withdraw the cases charged against students and to recommend the University authorities to revoke their suspension.
Full report at:
https://indianexpress.com/article/india/karnataka-hubbali-sedition-case-kashmiri-students-judicial-custody-6272489/
--------
North America
US has meddled in election of 80 nations since World War ll: Analyst
17 February 2020
Despite US accusations that Russia meddled in America's 2016 presidential election, US intelligence agencies attempted to influence the elections of 80 nations since the end of World War ll in 1945, says an author and political commentator in Chicago.
The CIA and the NSA [National Security Agency] have meddled in elections both in the US and abroad," Stephen Lendman told Press TV on Monday.
"It may do it together with Israel, but it certainly does it on its own," Lendman said.
"As far as Russia is concerned, there isn't any evidence whatever that Russia had ever meddled in US elections," he added.
As the US heads into the 2020 presidential election, about six in 10 Americans are not confident in the honesty of US elections, one of the worst ratings across the world's wealthiest democracies, a bew Gallup poll released on Thursday found.
Nearly 60 percent of Americans say they lack faith in the honesty of American elections, while 40 percent say they have faith, according to the poll.
Of 32 countries included in the Gallup poll, the US ranked 29 when it comes to distrust in elections. Only the citizens of Chile and Mexico had less confidence.
US intelligence agencies have claimed Russia meddled in the 2016 election with a campaign of email hacking and online propaganda aimed at sowing discord in the United States and helping Donald Trump win the US presidential election.
A former American counter-terrorism specialist and military intelligence officer of the CIA says Israel has for long been interfering in American politics and elections, but US officials prefer to remain silent and incriminate Russia.
Philip Giraldi made the remarks in a recent article, headlined Is Pete Buttigieg the Israel Lobby Choice?, where he looked into an allegedly cyber warfare that recently hit Iowa and delayed the voting results of the primary caucus in the Midwestern state. The results were published nearly 21 hours after Iowans cast their ballots, with officials blaming inconsistencies related to a new mobile app used for vote counting.
Full report at:
https://www.presstv.com/Detail/2020/02/17/618911/US-election-Cia-interference-Stephen-Lendman
--------
US Democrats secretly met Iranian top diplomat: Report
Vakkas Dogantekin
17.02.2020
A group of Democratic senators led by Sen. Chris Murphy of Connecticut secretly met Iranian Foreign Minister Javad Zarif in Germany during the Munich Security Conference over the weekend, according to U.S.-based news outlet The Federalist.
Penned on Monday by senior editor Mollie Hemingway, whose tweets are occasionally retweeted by U.S. President Donald Trump, the report cited a high-level source briefed by a French delegation to the event.
"Chris Murphy and other Democratic Senators held a secret meeting with Iranian Foreign Minister Zarif last week, a high-level source reports. FWIW [for what it's worth], his office is not responding to repeated requests for comment," tweeted Hemingway.
In her report, she said: "A State Department official who spoke on background said that the State Department was not aware of any side meetings with Iranian officials that Murphy was engaged in."
"Such a meeting would mean Murphy had done the type of secret coordination with foreign leaders to potentially undermine the U.S. government that he accused Trump officials of doing as they prepared for Trump's administration," Hemingway said.
Senators Robert Menendez of New Jersey and Chris Van Hollen of Maryland, as well as former Sen. John Kerry of Massachusetts also attended the event.
During the event on Saturday, both Murphy and Zarif publicly discussed and grilled U.S. policies on Middle East at a two-hour-session.
Zarif accused the Trump administration of seeking a regime change in his country, lowering expectations for direct talks between Washington and Tehran.
Trump and the State Department has long denied Iran's allegations of regime change.
Full report at:
https://www.aa.com.tr/en/americas/us-democrats-secretly-met-iranian-top-diplomat-report/1736588
--------
US 'peace' plan favors Israel: Russian foreign minister
Elena Teslova
17.02.2020
MOSCOW
The U.S. plan "peace plan" for the Middle East suggests unilateral concessions in favor of Israel and violates international law, according to Russia's foreign minister.
Such an approach does not help efforts for a just solution to the issue, Sergey Lavrov told Italian daily La Stampa in an interview published on Monday.
"The U.S., in its usual style, suggested solving one of the most long-standing conflicts of our time in one fell swoop. In addition, Washington inherently ignored the generally recognized international legal framework for the Middle East settlement, which includes UN Security Council and UN General Assembly resolutions, and the Arab Peace Initiative," he said.
"The American draft suggests solving all the key problems of the 'final status' of the Palestinian territories – borders, settlements, East Jerusalem, and refugees – by making unilateral concessions in favor of Israel. It is unlikely this approach will help improve the situation. This is also indicated by the fact that the so-called 'Deal of the Century' has been categorically rejected by Palestinians."
Lavrov said a just two-state solution requires "genuine" efforts from both sides of the conflict, while the international community has to provide impartial support for any Palestinian-Israeli dialogue.
He suggested that the Middle East Quartet – the U.S., UN, EU, and Russia – could act as a mediator.
"In this context, we support the position … of Arab League member states on the need for multilateral negotiations on the Middle East settlement under international auspices.
"We believe this role can be assumed by the quartet of international mediators, which is the only mechanism authorized by the UN Security Council to support the Middle East peace process," said Lavrov.
Russia, as a member of the quartet, is ready to help reach a lasting solution, he added.
On Jan. 28, U.S. President Donald Trump unveiled the so-called "Deal of the Century" to end one of the longest-running disputes in the Middle East.
In the plan, Trump proposes a patchwork Palestinian state, boxed in by illegal Israeli settlements, as well as recognition of Israeli sovereignty over the West Bank and Jerusalem as Israel's "undivided capital."
The so-called peace plan unilaterally annuls previous UN resolutions on the Palestinian issue and suggests giving Israel almost everything it demanded.
Turkey has slammed it as an effort to "justify Israeli occupation and annexation of Jerusalem and the West Bank."
Libya after Berlin summit
Lavrov also said some "positive developments" were seen in Libya after last month's summit on the issue in Berlin.
"There are positive developments. The Joint Military Committee 5+5 has started its work, and practical preparations have commenced to launch the mechanism of the forum for political dialogue. Inter-Libyan consultations on economic issues are also being initiated," he said.
"These gains must be consolidated and progress must be made simultaneously on all tracks of settlement."
Last month, Germany hosted a summit seeking international unity on efforts for a political solution and cease-fire in the north African country.
It was attended by representatives of the U.S., Turkey, Russia, the U.K., UN, Algeria, China, Egypt, France, Germany, Italy, the Republic of the Congo, United Arab Emirates, the African Union, the European Union, and the League of Arab States.
The conference ended with pledges to support a cease-fire and arms embargo, and heads of states and governments agreed to set up a follow-up committee to discuss the implementation of the conclusions.
Since the ouster of late ruler Muammar Gaddafi in 2011, two seats of power have emerged in Libya: warlord Khalifa Haftar in eastern Libya supported mainly by Egypt and the UAE, and the Government of National Accord (GNA) in Tripoli, which enjoys the UN and international recognition.
Full report at:
https://www.aa.com.tr/en/americas/us-peace-plan-favors-israel-russian-foreign-minister/1736326
--------
US, Taliban expected to sign peace deal by February-end
Islamuddin Sajid
17.02.2020
ISLAMABAD, Pakistan
Peace talks with the U.S. have been completed and an agreement is expected to be signed at the end of February, a Taliban leader told local media.
Maulvi Abdul Salam Hanafi, a senior Taliban leader and member of the negotiation team, told the Afghanistan-based Nunn.asia website Monday that the two sides have completed peace talks in Doha.
"The agreement will be signed in Doha at the end of this month in the presence of the United Nations, the Organization of Islamic Cooperation, the European Union and representatives of Afghanistan's neighboring countries," said Hanafi.
Before the agreement is signed, there will be a reduction in violence to create a proper atmosphere for the signing ceremony, he added.
On Friday, U.S. media reported that Washington and the Taliban had reached an agreement to reduce hostilities for seven days which will begin on Feb. 22.
"After signing the agreement, the U.S. and the Afghan government will release 5,000 Taliban prisoners while we will free 1,000 prisoners who are in our captivity," Hanafi explained
The intra Afghan dialogue will begin after completion of the prisoners-related process, he added.
However, Hanafi did not share more details about the proposed deal and the agreed timeframe for withdrawal of U.S. forces from Afghanistan.
On Sunday, U.S. top envoy for peace in Afghanistan Zalmay Khalilzad also termed his Doha's talks fruitful and said he arrived in Munich to meet the partners.
"After a prolonged & fruitful trip to #Doha, I've been at #MunichSecurityConf for the last two days. Good to see many familiar faces and to have an opportunity to update partners. We also discussed next steps & committed to work together on the difficult & complicated road ahead," Khalilzad tweeted.
Khalilzad also met with Afghan President Ashraf Ghani and briefed him over the latest updates of peace agreement with Taliban.
"Good to meet with Pres @AshrafGhani again today in #Munich. We spoke about the opportunity of this reduction in violence & the imperative of preparing for an inclusive #AfghanPeaceProcess. We urge all Afghans to seize the moment & end the misery of more than four decades of war," Khalilzad said.
Last week, U.S. Secretary of State Mike Pompeo had spoke with the Afghan president and informed him by phone about the progress in peace talks with Taliban
"This is a welcoming development, and I am pleased that our principal position on peace thus far has begun to yield fruitful results. Our primary objective is to end the senseless bloodshed," Ghani tweeted after Pompeo's phone call.
The agreement between the U.S. and Taliban, that was nearly signed in September last year, sets the timetable for the U.S. exit from Afghanistan in exchange for the Taliban safeguards that the country does not become a hotbed for terrorist groups and beginning talks with Ghani's government.
Full report at:
https://www.aa.com.tr/en/americas/us-taliban-expected-to-sign-peace-deal-by-february-end/1736311
--------
Trump thanks Erdogan for averting catastrophe in Idlib
Faruk Zorlu
17.02.2020
U.S. President Donald Trump thanked Turkish President Recep Tayyip Erdogan by phone for preventing a "humanitarian catastrophe" in northwestern Syria's Idlib province, the White House said Sunday.
"Trump expressed concern [yesterday] over the violence in Idlib, Syria and thanked Erdogan for Turkey's efforts to prevent a humanitarian catastrophe," deputy press secretary Judd Deere said in a statement.
"President Trump conveyed the United States' desire to see an end to Russia's support for the [Bashar al-Assad] regime's atrocities and for a political resolution to the Syrian conflict," he added.
The two leaders also discussed the need to eliminate foreign interference in Libya, Deere said.
"President Trump also reiterated that continued foreign interference in Libya would only serve to worsen the situation," he added.
Turkish troops are in Idlib as part of an anti-terror and peace mission.
In September 2018, Turkey and Russia agreed to turn Idlib into a de-escalation zone in which acts of aggression are expressly prohibited.
But more than 1,800 civilians have been killed in attacks by regime and Russian forces since, flouting a 2018 ceasefire and a new one that began on Jan. 12.
Libya's legitimate government has been under attack by renegade military commander Khalifa Haftar since last April, claiming the lives of more than 1,000 people.
Full report at:
https://www.aa.com.tr/en/americas/trump-thanks-erdogan-for-averting-catastrophe-in-idlib/1736037
--------
Syrian forces gaining ground in Idlib as President Trump urges end to "atrocities"
Feb 17, 2020
President Donald Trump has called for Russia to end its support for the Syrian regime's violence in the Idlib region, the White House said on Sunday.
Backed by Russian air power, Syrian President Bashar Al Assad made significant gains on Sunday as he intensified his assault on the last rebel-held enclaves in the northwestern province of Idlib.
In a call with Turkish President Recep Tayyip Erdogan, Mr Trump "expressed concern over the violence in Idlib, Syria and ... conveyed the United States' desire to see an end to Russia's support for the Assad regime's atrocities."
Russia, along with Iran, have heavily backed Mr Al Assad in the civil war.
A Turkish delegation headed to Russia on Monday to discuss the military escalation in Syria's Idlib region, where government forces killed more than a dozen Turkish soldiers in two attacks this month.
Turkey's foreign minister also pressed his Russian counterpart over the attacks by Damascus on the last rebel-held bastion in the country.
Turkey has 12 observation posts in Idlib as part of a 2018 deal reached between Ankara and Moscow to prevent a regime offensive, but Syrian regime forces have pressed ahead regardless.
Four of the Turkish posts are believed to be encircled by Syrian forces, and Ankara has threatened to attack Damascus if they do not retreat by the end of February.
"I stressed that the attacks in Idlib must stop and it was necessary to establish a lasting ceasefire that would not be violated," Turkish Foreign Minister Mevlut Cavusoglu told journalists at the Munich Security Conference, after he met with Russian Foreign Minister Sergey Lavrov.
The Syrian government advance also appeared to put the provincial capital of Aleppo out of the firing range of opposition groups for the first time in years.
Thirty villages and towns around the city in the western Aleppo countryside were captured by Syrian forces on Sunday, consolidating the government's hold over Aleppo province the state news agency Sana reported.
The armed opposition is now squeezed into a shrinking area of nearby Idlib province.
War monitor the Syrian Observatory for Human Rights on Sunday said regime forces "were in control of all the villages and small towns around Aleppo for the first time since 2012."
The fighting in the Aleppo and nearby Idlib province has started a humanitarian crisis
More than 800,000 civilians of nearly 4 million have been displaced, living in open fields and temporary shelters in harsh winter conditions.
Regime forces have for weeks been making gains in northwestern Syria and chipping away at territory held by jihadists and allied rebels, focusing their latest operations on the West of Aleppo province.
Turkey has sent thousands of troops and equipment into the opposition enclave to try to stall the government advance.
Turkey, which backs the opposition, has called for an end to the Syrian government offensive. It also fears that the thousands of people displaced by the fighting may overwhelm its borders.
On Sunday, the Turkish Defence Ministry said that a car-bomb attack by the Kurdish YPG militia had killed two people and wounded five in the north-eastern Syrian town of Tel Abyad, near the Turkish border.
Full report at:
https://www.thenational.ae/world/the-americas/syrian-forces-gaining-ground-in-idlib-as-president-trump-urges-end-to-atrocities-1.980004
--------
Mideast
Fatah and Hamas blame each other for reconciliation failure
February 18, 2020
GAZA CITY: Fatah and Hamas have blamed each other for their lack of reconciliation following the release of US President Donald Trump's Middle East peace plan.
The Trump peace plan, supported by Israeli Prime Minister Benjamin Netanyahu, calls for the creation of a demilitarized Palestinian state that excludes Jewish settlements built in occupied territory and is under near-total Israeli security control.
It also proposes US recognition of Israeli settlements on occupied West Bank land and of Jerusalem as Israel's indivisible capital, along with Israeli annexation of the Jordan valley.
It has been trashed by the Arab League and the Organization of Islamic Cooperation as well as the Palestinian Authority.
Palestinian Authority President Mahmoud Abbas called on all factions to unite and develop a common strategy to counter the peace deal and there were hopes he would send a PLO team to Gaza to reconcile with his political rivals at Hamas, ending 13 years of internal division. But the meeting has yet to materialize, with each side accusing the other of obstruction and exclusion.
Hamas seized control of the Gaza Strip by force from the Fatah-led Palestinian Authority in 2007, with the takeover leaving Palestinians divided between two governments. Hamas controls Gaza and the internationally recognized Palestinian Authority governs autonomous areas of the Israeli-occupied West Bank. The two sides remain bitter enemies.
The PLO's Saeb Erekat, who is executive committee secretary, said the organization's factions were ready to go to the Gaza Strip. "It is Hamas that is delaying the visit, by refusing to invite the factions to hold a meeting that includes all the factions in Gaza," he told Arab News. "We do not see any reason for Hamas to delay issuing invitations to the Palestinian factions to respond to what was agreed upon in holding a factional meeting in Gaza, until a reconciliation agreement is reached and ending the division."
Azzam Al-Ahmad, a member of the Fatah central committee, said the group was not waiting for the approval of any party to go. It was waiting for an official date from Hamas in order to hold the factional meeting in Gaza.
In 2017 Hamas and Fatah signed a reconciliation agreement after Hamas agreed to hand over administrative control of Gaza, including the key Rafah border crossing.
The deal was brokered by Egypt and helped bridge the gulf between the two Palestinian parties — the Western-backed Fatah and Hamas, which is viewed as a terrorist organization by several countries including the US.
Hamas leader Ismail Radwan said there was no need for hiding or "evasion" as the group's stance was clear about representation and delegations. "It (Hamas) has repeatedly welcomed the visit of the delegation to achieve reconciliation, the brothers in Islamic Jihad and the popular and democratic fronts approved that," he told Arab News. Fatah, he said, opposed the inclusion of "resistance forces."
"The problem lies in the political thought of Abbas and his team, who do not believe in real partnership on the ground, and they like to exclude the resistance factions that have presented hundreds of martyrs," he added.
Sources said Fatah wanted to exclude three factions — the Liberation Movement, the Mujahideen Movement and the Popular Resistance Committees — whereas Hamas wanted them to participate because of their loyalty.
A Fatah delegation visited Gaza last week without meeting Hamas. Radwan said there was no meeting because the delegation insisted on holding a "bilateral meeting" with Hamas only.
"We welcomed the arrival of the delegation of the Palestinian Authority in the hope that it would be a prelude to a meeting at the level of general secretaries or a scheduled national meeting, but unfortunately Fatah started with obstacles, the first of which was the refusal of the national and factional presence at this meeting," he said.
Ibrahim Abrash, a political science professor at Al-Azhar University in Gaza, said there was no reconciliation agreement in sight. "What happened after the announcement of the deal of the century is an emotional state without real intentions on both sides of the division," he told Arab News. Mutual accusations and the justifications for the visit's failure were "trivial," he added.
https://www.arabnews.com/node/1629411/middle-east
--------
Turkey to arrest 228 for links to cleric in probe of military, justice ministry
February 18, 2020
ISTANBUL: Turkish prosecutors investigating the military and justice ministry on Tuesday ordered the arrest of 228 people over suspected links to the network that Ankara says was behind a 2016 coup attempt, state-owned Anadolu news agency reported.
There has been a sustained crackdown on alleged followers of US-based Muslim cleric Fethullah Gulen since the failed putsch in July 2016, in which some 250 people were killed. Police still routinely carry out raids targeting suspects.
In the latest moves, prosecutors ordered the arrest of 157 people, including 101 serving officers, in an investigation of the Turkish Armed Forces, Anadolu said. It said the operation was based in the western province of Izmir and stretched across 43 provinces.
Separately, prosecutors in the capital Ankara ordered the detention of 71 people in an investigation targeting alleged Gulen supporters in the justice ministry, 33 of them currently working in the ministry, Anadolu said.
Since the attempted coup, around 80,000 people have been jailed pending trial and some 150,000 civil servants, military personnel and others sacked or suspended from their jobs.
Turkey's Western allies and rights groups have criticized the scale of the crackdown, while Ankara has defended the measures as a necessary response to the security threat.
Full report at:
https://www.arabnews.com/node/1629461/middle-east
--------
Under 25 percent of people in Tehran plan to vote in Iran's elections: Poll
17 February 2020
Over 75 percent of Tehran's population will not vote in the parliamentary elections scheduled for later this week, according to a poll conducted by the University of Tehran.
Only 24.2 percent of the Iranian capital's population will vote in the parliamentary elections on Friday based on the poll, the head of the University of Tehran's Social Studies and Research Institute Ahmad Naderi said.
Of those surveyed, 93 percent said they are unhappy with the state of things and the government's performance, the semi-official Fars news agency cited Naderi as saying.
Iran News Wire
@IranNW
Replying to @IranNW
Feb 17 - Tehran, #Iran
More images of today's rally by Science and Technology University students. Students are holding pictures of political prisoner Bahareh Hedayat and signs that call for the boycott of upcoming Feb 21 Majlis elections. #IranProtests
View image on TwitterView image on TwitterView image on Twitter
17
7:20 PM - Feb 17, 2020
Twitter Ads info and privacy
16 people are talking about this
The Islamic Republic fears a low turnout in the upcoming elections given the widespread anti-government protests last November as well as the protests that broke out following Iran's admission to downing the Ukrainian airliner last month.
Opposition groups and activities in and out of Iran have urged Iranians to boycott the elections.
57.9 million Iranians are eligible to vote in Friday's elections, according to Iran's Ministry of Interior.
Heshmat Alavi
@HeshmatAlavi
Saqqez, #Iran
Locals are torching posters of candidates participating in the regime's upcoming Majlis (parliament) elections farce scheduled for Friday, February 21.
Iranians are calling for a national boycott.#BoycottIranShamElections #MyVoteRegimeChange
Embedded video
147
2:03 PM - Feb 17, 2020
Twitter Ads info and privacy
96 people are talking about this
https://english.alarabiya.net/en/News/middle-east/2020/02/17/Less-than-1-in-4-people-in-Tehran-plans-to-vote-in-Iran-s-elections-Poll.html
--------
Lebanese President Aoun meets with Iran Parliament Speaker Larijani
17 February 2020
Lebanese President Michel Aoun is meeting with the Iranian Parliament Speaker Ali Larijani, who heads a delegation that includes a number of parliamentary and political figures, according to a post on the Lebanese Presidency official Twitter account.
Larijani's visit to Lebanon comes after new Prime Minister Hassan Diab formed a government last month. Diab's government is supported by Hezbollah, which has close links to Iran and is fighting alongside Iranian troops in Syria.
He reportedly wished the new government success and said Iran is ready to help improve Lebanon's economic situation, according to a tweet from the Lebanese Presidency Twitter account.
Earlier, Larijani visited Damascus, where he said that Iranian businessmen would help rebuild Syria. Much of the country has been damaged as the Iran-backed Syrian regime extends its control over largest swaths of the country.
https://english.alarabiya.net/en/News/middle-east/2020/02/17/Lebanese-President-Aoun-meets-with-Iran-Parliament-Speaker-Larijani.html
--------
Iran speaker Larijani: Iranian businessmen will reconstruct Syria
17 February 2020
Iranian businessmen are willing to be involved in reconstructing Syria, said Iranian Parliament Speaker Ali Larijani, speaking alongside his Syrian counterpart in Damascus on Monday according to Iran's official IRNA news agency.
Iran has played a key role in supporting the regime of President Bashar al-Assad in the war in Syria since 2011, with slain Iranian commander Qassem Soleimani involved in coordinating military campaigns against opposition forces and civilians that left much of the country in ruins.
Larijani described Syria as an "important pivot of Resistance" and praised Syrian-Iranian relations.
Full report at:
https://english.alarabiya.net/en/News/middle-east/2020/02/17/Iran-speaker-Larijani-Iranian-businessmen-will-reconstruct-Syria.html
--------
New York Times visits anti-Iran terrorist group's lair, observes cult-like modus operandi
17 February 2020
The New York Times has been given access to inside a secretive facility housing anti-Iran Mujahedin-e-Khalq Organization (MKO) terrorists in the Albanian capital, Tirana, noticing and recounting the cult-like nature of the group.
The Times' Patrick Kingsley described his observations from a recent visit as well as discrepancies between what he was told by a few members at the camp and confessions of former members living independently in Albania in an article on Sunday.
'Odd, telling moments'
"[M]ost residents were off limits," and interviews were allowed only "with several members," Kingsley wrote.
The correspondent cited "several odd and telling moments when secrets were tightly held."
The members would turn coy when asked about where their nominal ringleader, Massoud Rajavi, who disappeared in 2003, was. Senior MKO figures "stumbled" after being faced with the question.
Rajavi's wife, Maryam, now runs the terrorist organization. The duo's radical ideology is considered to have informed its activities since the 1980s, when the group developed what has been essentially a cult of personality.
'Oddly empty'
Kingsley described the Tirana facility as "oddly empty," despite the group's claim that it houses around 2,500 members.
"We saw no more than 200," he wrote, adding, "The others seemed to have been sequestered away — or to have left the group altogether."
He also recounted details from interviews with 10 former members who lived outside the camp in Albania. They unanimously confessed to "being brainwashed into a life of celibacy," Kingsley wrote.
"Inside the group, they (the former members) said romantic relationships and sexual thoughts were banned, contact with family highly restricted, and friendships discouraged," the correspondent reported. "All recounted being forced to participate in self-criticism rituals, whereby members would confess to their commanders any sexual or disloyal thoughts they had."
"Little by little, you are broken," said Abdulrahman Mohammadian, a former member.
The MKO has conducted many assassinations and bombings against Iranian officials and civilians since the 1979 Islamic Revolution. It notoriously sided with former Iraqi dictator Saddam Hussein during the 1980-88 war on Iran.
Out of the nearly 17,000 Iranians killed in terrorist assaults since the Islamic Revolution, about 12,000 died in MKO's acts of terror.
The terrorist outfit was on the US's list of terrorist organizations until 2012.
The Times said crossing out its name took "intensive lobbying by a bipartisan group of lawmakers." It also quoted Ditmir Bushati, a former Albanian foreign minister, as saying that Tirana offered it a safe haven in an attempt o "curry favor with" Washington.
MKO throws lavish conferences every year in the French capital, with certain American, Western, and Saudi Arabian officials attending as guests of honor. These include former US national security advisor John Bolton, US President Donald Trump's personal lawyer Rudy Giuliani, former Canadian prime minister Stephen Harper, and former Saudi Arabian spy chief Prince Turki al-Faisal.
'Troll farm'
Kingsley said the group's members operated computer suites inside the camp — a "troll farm" — attempting to tarnish the image of the Islamic Republic.
The former members described the troll farm as a place where "junior members use multiple accounts on Facebook and Twitter, typing messages that criticize the Iranian government, lionize the MKO leadership, and promote its paid lobbyists."
Mohammadian said when Giuliani and Bolton made public speeches in recent years, members were ordered "to take a particular line and tweet it 10 times from different accounts."
Kingsley also recounted visiting "a recording studio" during the tour, where musicians composed anti-Iran songs and music videos for release on social media.
Full report at:
https://www.presstv.com/Detail/2020/02/17/618870/Iran-MKO-New-York-Times-visit
--------
Resistance, referendum only viable solution to Palestine issue: Iran's FM Zarif
18 February 2020
Iran's Foreign Minister Mohammad Javad Zarif says the only viable solution to the decades-long Israeli-Palestinian conflict lies in taking the path of resistance and a popular vote, rather than the US-devised Middle East proposal that seeks to bolster Israeli hold on occupied land at the expense of Palestinian rights.
Zarif made the remarks in an interview with khamenei.ir, the official website of Leader of Iran's Islamic Revolution Ayatollah Seyyed Ali Khamenei, published on Monday.
He stressed that the Palestine dispute cannot be resolved through a scheme that seeks to violate the Palestinian rights and expand unlawful settlements on occupied territory.
"As for Palestine, instead of giving in to the humiliation and the increasing and infinite pressures exerted by the US and the Zionist regime, there are two solutions that should be pursued simultaneously, not separately from one another. One is resistance and another is democracy and popular vote. If they put these two solutions in practice, the question of Palestine will be resolved," he said.
Last year, the Islamic Republic submitted to the United Nations its proposal for the holding of a referendum on the issue of Palestine issue, as put forth by Ayatollah Khamenei, he noted.
"The solution for the issue of Palestine turns around the two pivots of democracy and resistance. The purpose of resistance is clear and the Palestinians are in fact resisting, but today all Palestinians should express their unanimous opposition to the "deal of the century." The unity inside Palestine on the basis of resistance can help foil Zionist policies," he said.
Zarif highlighted the role of democracy as another game changer in the issue of Palestine, saying the proponents of a fake democracy who consider the Zionist regime to be "the only democracy in the region" need to be prepared to embrace true democracy.
"What does true democracy mean? It means that all those who live in Palestine, who are the real owners of Palestine, but who have been displaced around the world should be able to determine and make decisions for their own future," he pointed out.
US President Donald Trump released his self-proclaimed "deal of the century" during an event at the White House alongside Israeli Prime Minister Benjamin Netanyahu in Washington on January 28.
The so-called 'Vision for Peace' bars Palestinian refugees from returning to their homeland, regards Jerusalem al-Quds as "Israel's undivided capital" and allows the regime to annex West Bank settlements and the Jordan Valley.
Elsewhere in his comments, Zarif described the US initiative as the continuation of Washington's interventionist policies regarding the question of occupied Palestine.
"One of the mistakes made in the past 30 years was that they [some Palestinian organizations] thought they would be able to revive the rights of the Palestinians through cooperating with the occupiers," he said, adding that all Palestinian parties have realized the fallacy of this notion.
"We have always stressed that it is the Palestinians who have the right to choose and the Islamic Republic will accept whichever path the people of Palestine opt for. In other words, we accept that the Palestinians should make the final decision and their final decision should be respected by everyone."
The top Iranian diplomat further emphasized that even the former Pahlavi regime had proposed a democratic solution for the Palestine issue and rejected the 1947 UN Palestine Partition Plan.
He also complained about the "passivity and degradation" of the Arabs in the face of the Americans and the Zionists.
In recent years, the Arab world has not only adopted "a passive outlook" towards Tel Aviv and Washington, but also allied with the pair against Palestine, Zarif said, noting that such an approach has led the Americans to the conclusion that they can unveil their plan for the Middle East.
Zarif pointed out that the Arab world has stooped to such a level of disgrace that the Americans think they can portray such a despicable plan as a means of upholding the rights of Palestinian people, whereas "on the basis of what Trump and [his son-in-law and adviser Jared] Kushner think and say, they are not at all concerned about anyone's rights and they view this plan as a [real estate] project."
"The Arab world is still insisting to purchase security from the US and the Zionist regime... instead of relying on themselves, their people and their Muslim neighbors. As for the Americans, they obviously welcome it due to the fact that they sell weapons to Saudi Arabia worth 67 billion dollars, and at the same time they purchase the dignity of Saudi Arabia."
Full report at:
https://www.presstv.com/Detail/2020/02/18/618929/Iran-Mohammad-Javad-Zarif-Palestine-Israel-resistance-democracy
--------
Pakistan
Pakistan mission issues visas to Hindu pilgrims to visit Katas Raj temples
Feb 17, 2020
NEW DELHI: The Pakistan High Commission here on Monday said it has issued visas to a group of Hindu pilgrims to visit Shree Katas Raj temples in Punjab province's Chakwal district.
The group is planning to visit Shree Katas Raj temples, also known as Qila Katas or complex of Katas temples, from February 19 to 25, the Pakistan High Commission said in a statement.
Katas Raj temples surround a pond which is considered sacred by the Hindus, it said.
A group of 88 Indian Hindu devotees had also visited Shree Katas Raj temples last year from December 13 to 19.
Both these visits are covered under the Pakistan-India Protocol on Visits to Religious Shrines, 1974.
The issuing of visas to Sikh and Hindu pilgrims is in line with the Pakistan government's efforts to facilitate visits to religious shrines, the statement said.
https://timesofindia.indiatimes.com/world/pakistan/pakistan-mission-issues-visas-to-hindu-pilgrims-to-visit-katas-raj-temples/articleshow/74178650.cms
--------
Lal Masjid standoff continues as ulema fail to meet interior minister
Bakhtawar Mian | Munawer Azeem
February 18, 2020
ISLAMABAD: Daylong efforts made by a 12-member committee of religious scholars to meet Interior Minister Ejaz Shah for resolving the standoff at Lal Masjid remained unsuccessful on Monday.
The ulema had volunteered themselves for arranging negotiations between the capital administration and former khateeb of Lal Masjid Maulana Abdul Aziz.
Coordinator of the committee Hafiz Nazeer from Ahle Sunnat Wal Jamaat told Dawn that the committee had tried to contact the interior minister for a meeting "but every time we were told that he was not available due to his other engagements."
Another effort will be made tomorrow (Tuesday) morning," he said.
"After a long time, security situation in the country has normalised and we do not want another issue," Hafiz Nazeer said.
The district administration had lifted the cordon outside Lal Masjid after the committee met Maulana Aziz and persuaded him to restart the stalled negotiations with the administration on Saturday.
"But all of a sudden, the mosque was cordoned again on Saturday night." The committee then contacted Deputy Commissioner Hamza Shafqaat and complained about the administration's move to back out of its commitment. "The DC replied that the order had come from the high level," he added.
The demands of Maulana Aziz included a compensation of Rs30 million which he claimed to have spent on the construction of Jamia Hafsa at H-11. Later, the allotment of the land on which the madressah was built was canceled.
When contacted, an officer of the capital administration told Dawn on condition of anonymity that the mosque was cordoned again on Saturday as a part of security for the visiting secretary general of the United Nations (UN).
"We are willing to negotiate with Maulana Aziz and resolve the issue peacefully but for this he has to vacate Lal Masjid first," he said.
The officer said the cleric had been asked to vacate the mosque along with his students and shift to Jamia Hafsa at G-7 for talks but he refused.
"It is a government mosque and will be managed by officials, not individuals," he said.
Harood Rasheed, a nephew of Maulana Aziz, told Dawn that the cordon around Lal Masjid was lifted on Saturday in a bid to resume the stalled talks but the area was again blocked after a few hours.
He said the demands included appointment of Maulana Aziz as the khateeb of Lal Masjid and permission to him and his family to stay in houses inside the mosque.
Residents face problems
People living in the vicinity of Lal Masjid are facing problems due to the closure of the area, including roads between Aabpara and Melody.
The surroundings of the mosque were cordoned and the roads blocked two weeks ago.
Lal Masjid is the central and one of the biggest mosques of the federal capital and residents of not only the surrounding areas but of G-6 and G-7 also come here to offer prayers daily.
The local residents especially elderly and children have been facing problems because they cannot go to other mosques located at a distance for prayers.
"So many days have passed and the whole area has been cordoned off. It is surprising people are denied entry into the place of worship after encircling it with barbed wires and heavily guarded police. I have no other option but to offer prayers at home because I can't go to far-off mosques nor can my children," said Abdul Ghafoor, who lives in a street at G-6/2.
The residents sometimes are seen offering prayers on the main road.
The two-way road in front of the mosque connecting sectors G-6/4 and G-6/2 and a portion of the main road between Aabpara and Melody has been closed for all kinds of traffic.
As a result, there is always traffic jams on the adjacent alternative roads, especially during working hours. This is not the first time the area has been cordoned. It has become sort of a chronic issue which emerges often.
Full report at:
https://www.dawn.com/news/1535114/lal-masjid-standoff-continues-as-ulema-fail-to-meet-interior-minister
--------
Guterres lauds Pakistan's anti-terrorism efforts
February 18, 2020
ISLAMABAD: United Nations (UN) Secretary General Antonio Guterres on Monday lauded Pakistan's efforts against terrorism and said that it was remarkable that Pakistan had now turned into a tourist destination.
While responding to a question regarding "Pakistan's journey from terrorism to tourism" after a seminar at Islamabad's National University of Sciences and Technology (NUST), the UN chief said that Islamabad, which looked like a "fortress" a few years back had now become a family station for the world body's staff.
"We are witnessing the state becoming present, both from the point of view of security [… and] basic service, development in an absolutely remarkable transformation," he said.
"I can see how Pakistan not only opened its borders, in a world where so many borders are closed, but Pakistani people open their houses and their hearts in [an] enormous demonstration of generosity," he said while referring to the influx of Afghan refugees in Pakistan.
"At the same time, I have seen the commitment of Pakistan to peace, namely to support peace in Afghanistan," he added.
The UN chief also appreciated the contributions of Pakistani troops to UN peacekeeping missions. "Pakistan has been lever in making peacekeeping more effective, more accountable and with a stronger capacity to protect civilians and to make the blue helmets an essential force for peace," he said.
"I want to pay tribute to the very strong commitment of Pakistan to multilateralism and to United Nations," he added.
Earlier, while addressing the seminar, he paid tribute to Pakistani peacekeeping troops and hailed their "professionalism [and] commitment". He commended the peacekeeping troops for their efforts to bring peace in countries struck by war and violence.
Guterres also urged the international community to come forward and recognise Pakistan's efforts for regional peace and stability.
In his address, Military Operations Director General Major General Nauman Zakaria said that Pakistan has sent over 200,000 troops for 46 missions in 28 different countries during the last 60 years.
He said that UN peacekeeping missions have added value to Pakistani troops and built their strong image abroad.
The DG said that Pakistani soldiers are the most battle-hardened army in the world and it is due to the highest standard of physical fitness, professionalism and motivation of Pakistan Army troops.
He said over that 400 Pakistani women are playing their role in global peacekeeping missions in the world.
Later on, the UN secretary general also inaugurated a photo exhibition at the Center for International Peace and Stability in NUST.
Full report at:
https://www.pakistantoday.com.pk/2020/02/17/guterres-lauds-pakistans-anti-terrorism-efforts/
--------
World failed Pakistan, Afghan refugees, UN chief says
February 18, 2020
ISLAMABAD: United Nations (UN) Secretary General Antonio Guterres on Monday said that the world "must recognise that international support for Pakistan has been minimal compared to [its own] national efforts" for Afghan refugees.
While addressing a conference — jointly organised by the Pakistan government and UN High Commissioner for Refugees — titled "40 years of Afghan Refugees Presence in Pakistan: A New Partnership for Solidarity" in Islamabad, Guterres said, "We have come together to recognise a remarkable story of solidarity and compassion. It is important to do so because it is a story that spans over decades."
The event was attended by Prime Minister Imran Khan, Foreign Minister Shah Mahmood Qureshi, UN High Commissioner for Refugees Filippo Grandi, US Special Envoy for Afghan Reconciliation Ambassador Zalmay Khalilzad, Afghanistan Vice President Yunus Qanuni, as well as other ministers and senior officials from around twenty countries were present on the occasion.
"The story of Pakistan and Afghan refugees is a story of compassion to be celebrated for many reasons, one of which is that such compassion is missing from much of the world," said the UN chief.
"For 40 years, the people of Afghanistan have faced many crises, for 40 years the people of Pakistan have responded with solidarity. This generosity now spans across decades and generations and this is the world's largest protracted refugee situation in recorded history," he said.
"This is also a story close to my heart. In my previous life, as the UN human rights commissioner, Pakistan was a familiar destination. During most of my time at the post, Pakistan was the number one refugee-hosting nation in the world," he added.
"For more than three out of every four years since 1979, either Pakistan or Iran have ranked as the top refugee-hosting country. And even though major conflicts have since erupted in other parts of the world and the refugee population has soared, Pakistan is still today the world's second-largest refugee-hosting country in the world," the UN chief said.
"On every visit here, I have been struck by their resilience, exceptional generosity and compassion. I not only saw compassion in words but in deeds," he said.
"The generous spirit is fully in line with what I regard as the best description for refugee protection is found in Surah Al-Tawbah of the Holy Quran and I quote: "And if anyone seeks your protection then grant him protection so therein he can hear the words of God. Then escort him where he can be secure," he added.
"This protection should be accorded to believers and non-believers alike — in a remarkable example of tolerance, [written] many centuries before the 1951 convention that defines in a modern concept refugees and the protection they deserve," he further said.
"I saw that compassion play out in real-time in Pakistan and it was grounded in vision. We have seen many innovative policies introduced here: bio-metric registration, access to the national education system, healthcare and inclusion in the economy. And in spite of the many challenges that Pakistan faced, the commencement of these initiatives has made a big difference. Indeed many [of these practices] have been recognised as a global model of good practices," he added.
"Some of these policies have inspired elements of the global impact on refugees. We have been proud to work with you to support Pakistan host communities of Afghan refugees. However, we must recognise that international support for Pakistan has been minimal compared to your own national efforts," Guterres said.
"As we look to the challenges ahead, the global community should step up. As we have marked 40 unbroken years of solidarity, but we also despair at the 40 broken years of hostility," he said.
"The Afghan conflict drags on and on and we see the deep impact of the protracted nature of conflict, poverty and forced displacement. We know the solution lies in Afghanistan and I hope the signals of a possible passageway of peace will lead to a better future for the people of Afghanistan," he added.
"I see with us Ambassador Khalilzad and I want to strongly encourage to pursue the way for peace. The Afghan people can count on the UN s to support the efforts for peace. We don't seek protagonism, we are here only to serve. The Afghan people need and deserve peace and prosperity and full respect for their human rights," Guterres said.
PM SAYS NO MILITANT SAFE HAVENS IN PAKISTAN:
Addressing the conference, PM Imran said that Pakistan is "celebrating" 40 years hosting Afghan refugees. "I say celebrating because there are not many instances in the world where refugees have conducted themselves with such honor and the hosts — in spite of economic challenges especially in the last 20 years — have wonderfully kept their relation with Afghan refugees."
"Let me just point out a pleasant side effect of the situation is that — after watching cricket in Pakistan for so many years — Afghanistan now has an international cricket team," the prime minister, a former World Cup-winning cricket captain, said.
"Generosity has nothing to do with the bank balance," the prime minister said while linking Pakistan's hosting of the Afghan refugees with the Muslims of Makkah seeking refuge in Madinah. He said that a lesson Islam teaches us is about brotherhood and uniting human beings.
Responding to an earlier speech by Afghan Vice President Younus Qanuni, Prime Minister Imran said that there are no militant safe havens in Pakistan. "That may have been true after 9/11. However, Pakistan does not have any militant sanctuaries now," he said.
The prime minister said that Islamophobia became prevalent after 9/11 because terrorism and Islam were equated with each other. "This led to the sufferings of Muslim refugees across the world," he added.
Bringing the UN chief's attention to India and the situation in Indian-occupied Kashmir, PM Imran said: "Nationalist parties all over the world are now gaining traction by blaming another human community for their problems. And in India, two legislation actually targeting Muslims have been introduced — which will have future problems for our country, because it could have a huge refugee problem," he further said.
'AFGHAN REFUGEES SEEKING GLOBAL COMMITMENT TO PEACE PROCESS':
Earlier, FM Qureshi said that Afghan refugees are seeking a greater global commitment to the Afghan peace process.
"Even today we continue to host three million registered and unregistered Afghan refugees," Qureshi said while adding that these efforts are based on the Islamic principles of hospitality for compassionate crowds.
"Today, Afghan refugees worldwide are looking for sustainable reintegration in Afghanistan," he added.
Full report at:
https://www.pakistantoday.com.pk/2020/02/17/un-chief-calls-for-intl-recognition-of-pakistans-efforts-for-afghan-refugees/
--------
Deadly suicide attack leaves over 40 dead, wounded in Pakistan
18 Feb 2020
A deadly explosion killed or wounded over 40 people in Quetta city, the provincial capital of Balochistan province of Pakistan.
Deputy Inspector Gen. Abdul Razzaq Cheema confirmed to local media outlets that the explosion killed 7 people including two policemen.
Gen. Cheema further added that the explosion wounded at least 21 others.
The explosion took place close to Quetta Press Club as a demonstration was underway which also damaged several vehicles parked in the area.
Meanwhile, a hospital source told Reuters that they have received the dead bodies of 10 people from the site of the incident.
The official further added that the rescue workers also shifted at least 35 wounded people from the explosion site.
Full report at:
https://www.khaama.com/deadly-suicide-attack-leaves-over-40-dead-wounded-in-pakistan-04461/
--------
Jewish lawyer's fight in defence of a British Pakistani Muslim
Saeed Niazi & Murtaza Ali Shah
February 18, 2020
LONDON: The Jewish lawyer of a British Pakistani man who won £1.2 million case against Mail on Sunday and David Rose has said that he decided to take up the case of Pakistani man because as a Jew he could feel what it's like to be discriminated against and maligned.
Defamation law specialist Mark Lewis, who is based both in London and Southern Isarel, told in an interview that as soon as he saw article in Mail on Sunday (MoS) by David Rose targeting Pakistani man Wajed Iqbal, linking him with paedophiles and sex crimes, he could tell that the Pakistani Muslim has been stitched up to create a story.
Three weeks ago the Associated Newspaper Limited (ANL) – the publishers of the Daily Mail, Mail Online and the Mail on Sunday – settled £1.2 million case with Wajed Iqbal after accepting that the allegations made against him in an article published in MoS in August 2017 were false and had no basis in truth. Wajed Iqbal, speaking to The News and Geo, said he had no doubt that David Rose and MoS had picked on him because he was a Pakistani and Muslim.
Mark Lewis, a leading lawyer fighting anti-semitism and prejudice, said: "The whole thing about Jewish people is that they know what bigotry is like as a Pakistani Muslims in the UK do. I grew up in northern England, like Wajed Iqbal, where my Jewish cousin who has no Pakistani background was hurled the slur of 'Paki' by people when we were teenagers and mistook his looks Pakistani youth. Coming from a Jewish background, I know when there is discrimination against a particular community. I choose to stand up for the victims of prejudice."
Lewis said: "It shows that the poison that exists is due to a hatred of people who are different. They don't need any rationality of logic." Mark Lewis said racism and Islamophobia were the main factors why Wajed Iqbal was targeted by Mail on Sunday in its story. He explained: "My client was a low ranking officer in the local authority who was involved in the licensing of taxis. He was picked on as being the person in charge of licensing taxis because if you get a Pakistani Muslim involved in taxi licensing in England, you invite prejudice. A huge scandal was orchestrated which shook the Pakistani community. The building blocks of the controversy were Pakistani, Muslim and taxi. Put them all together and you find a scandal. The only thing is that it wasn't true. If anyone did any research that conclusion would've been reached."
Mark Lewis added: "It seems very obvious to me that he was targeted because he was a Muslim with a Pakistani background. Some people weren't Pakistani Muslims who were more senior and more involved in taxi licensing in the same department as Wajed Iqbal but they were ignored but my client was targeted because of his background." He said the MoS received documents from the local authority showing that there wasn't any truth to these allegations.
Mark Lewis said: "Whether its anti-Muslim bigotry or not, the story focused on a Muslim only because he was a Pakistani Muslim. That was the entire story. The test is not what David Rose thought but what the readers thought. David Rose said 'there is a Pakistani Muslim taxi driver who is involved in something wrong'. It was biased. The timing was also suspicious as that time a BBC programme focused on the Rotherham scandal to mislead the public and created an unnecessary connection."
Mark Lewis said that the MoS was expecting a non-party disclosure, hoping that the documents from the local authority would show that Wajed Iqbal was guilty however the documents showed quite the opposite. "They showed my client hadn't done anything he was accused of. Wajed Iqbal took every step to ensure that those who would have committed any wrongdoing were brought to the attention of the local authority. When the Mail on Sunday found this, their initial reaction was to wait for more information from the local authority which exonerated their victim. When he was exonerated, the Mail on Sunday knew they had no other choice but to negotiate with my client."
Mr Iqbal had been wrongfully accused of acting as a "fixer" for paedophile taxi drivers in the May 2017 article. Wajed Iqbal, 44, had sued Mail on Sunday stating that his life had been ruined by the defamatory article, leaving him reliant on anti-depressants, jobless, and prevented from seeing his children. He had told the court that the Mail on Sunday picked on him because of his Pakistani heritage, his racial background - linking him with a disgusting scandal to create a false story.
Full report at:
https://www.thenews.com.pk/print/615847-jewish-lawyer-s-fight-in-defence-of-a-british-pakistani-muslim
--------
Imran Khan warns of new refugee crisis in Pakistan due to Indian govt's policies
February 17, 2020
Islamabad, Feb 17 (PTI) Prime Minister Imran Khan on Monday warned that Pakistan may face another refugee crisis if the international community failed to take notice of the current situation in India.
Speaking at the two-day refugee summit in Islamabad on 40 years of hosting Afghan refugees in Pakistan, he said India's "ultranationalist ideology going unchecked could lead to destruction and the region could become a flashpoint", The Express Tribune quoted him as saying.
He said said that Prime Minister Narendra Modi's statement that India can destroy Pakistan in 11 days is not a responsible statement by a premier of a nuclear state with a huge population, the paper reported.
Khan made the statement in the presence of visiting UN Secretary General Antonio Guterres, who was also attending the summit.
He said because of the "Hindutva" ideology, Kashmiris have been lockdown for over 200 days. He alleged under the same ideology, the BJP-led government passed two discriminatory nationalistic legislations, targeting 200 million Muslims in India.
Khan was referring to India's Citizenship Amendment Act and the revocation of the special status to Jammu and Kashmir.
The new citizenship law passed by the Indian Parliament in December 2019 offers citizenship to non-Muslim persecuted religious minorities from Pakistan, Bangladesh and Afghanistan.
The Indian government has maintained that the CAA is an internal matter of the country and stressed that the goal is to protect the oppressed minorities of neighbouring countries.
India revoked Jammu and Kashmir's special status on August 5. Reacting to India's move, Pakistan downgraded diplomatic ties with New Delhi and expelled the Indian High Commissioner.
India has always maintained that Jammu and Kashmir is its integral part and ruled out any third party mediation, including either from the UN or the US, saying it is a bilateral issue with Pakistan.
Khan said if the international community does not take notice of this situation, it will create another refugee crisis for Pakistan as Muslims of India will move to Pakistan.
Full report at:
https://www.theweek.in/wire-updates/international/2020/02/17/fgn21-pak-imran-india.html
--------
Pakistan confirms escape of Taliban leader who justified Malala shooting
17 Feb 2020
ISLAMABAD: A high-profile local Taliban figure who announced and justified the 2012 attack on teenage Nobel laureate Malala Yousafzai has escaped detention, Pakistan's interior minister confirmed a few days after the militant announced his breakout on social media.
Former Pakistani Taliban spokesman Ehsanullah Ehsan, who claimed responsibility on behalf of his group for scores of Taliban attacks, proclaimed his escape on Twitter and then in an audio message sent to Pakistani media earlier this month.
The Pakistani military, which had kept Ehsan in detention for three years, has declined to comment but, asked by reporters about the report, Interior Minister Ijaz Shah, said: "That is correct, that is correct."
Shah, a retired brigadier general, added that "you will hear good news" in response to questions about whether there had been progress in hunting down Ehsan.
Ehsan later told a Reuters reporter by telephone that he had already left Pakistan and arrived in Turkey together with his wife and children. He said he had surrendered to the army under a deal, and escaped only after the agreement was not honoured.
He said he escaped on Jan 11 but did not clarify how he had broken out of a maximum-security military prison and made his way to another country.
Pakistani analysts and experts on militant Islam have voiced doubt about Ehsan's claim to have escaped. They have speculated that he may have been converted into an asset by the state and that reports he was on the run could be a ruse to plant him back in the Islamist militant scene for use as an informant.
After Ehsan's surrender in 2017, local Geo News TV aired an interview he gave in custody in which he asserted that the intelligence services of Pakistan's arch-rival, India, had been funding and arming Pakistani Taliban fighters.
The Pakistan army pledged to put Ehsan on trial but has not done so.
Full report at:
https://www.channelnewsasia.com/news/asia/pakistan-confirms-escape-of-taliban-leader-who-justified-malala-shooting-12444170
--------
PML-N to seek PPP, JUI-F's support for drive against inflation
February 17, 2020
LAHORE: The Pakistan Muslim League-Nawaz (PML-N) has said it will evolve a joint strategy with the Pakistan Peoples Party and the Jamiat Ulema-i-Islam (Fazl) to launch protest against unprecedented price hike and unemployment in the country.
"The PML-N will take [other] opposition parties on board in Rehbar Committee [meetings] and a multi-party conference on price hike and joblessness and they will evolve a joint strategy to take to the streets," PML-N Punjab president Rana Sanaullah told a press conference here on Sunday.
He said the PML-N would lead this protest and its president Shahbaz Sharif would play his role in this respect.
Mr Sanaullah said the unprecedented price hike showed that the incumbent government was corrupt. He said (Prime Minister) Imran Khan had admitted that his government had failed to control the prices of sugar and wheat flour. "We dare him to name the people behind this crisis and tell whether they will be given any punishment," he added.
The PML-N leader said Rs100 ­billion to Rs150bn had been earned from the sugar and flour crises. Since Mr Khan had given clean chit to Jahangir Tareen and Khusro Bakhtiar, who would dare conduct a probe into their alleged role in it, he said, adding that earlier those involved in dollar's artificial shortage had been left off the hook.
Rana Sana believes price hike shows govt is corrupt
The former Punjab law minister said the PTI government had increased gas tariff by 300 per cent and withdrawn subsidies on agriculture sector and public hospitals, making the life of the common man miserable.
Mr Sanaullah, who has been on bail in a narcotics case, challenged the PTI government to prove that the PML-N leadership had indulged in corruption otherwise stop levelling baseless allegations against it.
He advised PTI leader Firdous Ashiq Awan to use "decent language" about the political opponents, especially the Sharif brothers.
The outspoken PML-N leader also asked PTI leaders to stop doing politics over the health of former premier Nawaz Sharif.
"Earlier, politics was done on the health of Begum Kulsoom Nawaz. Now, the government is stopping Maryam Nawaz from going abroad to look after her ailing father. Those who never care about relations have no idea that every daughter or mother wishes to be with her ailing loved one," he said and asked that since the sentence awarded to Maryam Nawaz had been suspended why she was not being allowed to be with her father during his treatment in London.
Mr Sanaullah said the country would eventually head towards mid-term polls as Imran Khan was the person who respected no one. He said the PTI government could not launch a single project of its own in 18 months and instead was "re-launching PML-N projects".
He said the government had changed the name of the Pakistan Health Card launched by the previous PML-N ­government and similarly it was boasting about Shahbaz Sharif's "Safe City" project.
Full report at:
https://www.dawn.com/news/1534967/pml-n-to-seek-ppp-jui-fs-support-for-drive-against-inflation
--------
Pakistan will not be blacklisted, say scholars
Anwar Iqbal
February 18, 2020
WASHINGTON: The Financial Action Task Force (FATF) is unlikely to blacklist Pakistan during its annual meetings in Paris but may keep it on its watch list, says a US scholar of South Asian studies.
The meetings began on Monday but the plenary session, which will decide whether to keep Pakistan on its watch list, also known as the grey list, begins on Feb 19.
"It's too early for Pakistan to be removed from the grey list — that will be decided at a meeting later in the year," says Michael Kugelman, a scholar of South Asian affairs at the Woodrow Wilson Center, Washington.
"What is clear to me is that Pakistan will not be blacklisted."
But Uzair Younus, a non-resident fellow at the Atlantic Council, Washington, says "indications are that Pakistan will probably be off the grey list in the coming months, if not weeks". This, he argues, "will allow financial capital flows to grow further, which is good for the economy, at least in the short term", said the scholar at a recent seminar on Pakistan at the US Institute of Peace, Washington.
"US officials believe Pakistan has made enough progress with its FATF action plan, and the conviction of Hafiz Saeed on terror financing charges will be an encouraging sign for FATF members too," says Mr Kugelman.
"The question of the grey list is more complicated. Washington is still looking for wholesale and irreversible steps, and the revelation that Masood Azhar is 'missing' won't go down well. This suggests that unless things change in the coming weeks, Pakistan may have trouble convincing FATF to be removed from the grey list."
Madiha Afzal of Brookings Institution, Washington, says in a tweet that militant leader Hafiz Saeed's conviction is "significant" but it's important to see how his appeal is dealt with.
She raises the question being asked by some in Washington: Will Hafiz Saeed's "conviction eventually be overturned, especially if Pakistan comes off the FATF grey list?"
Some are also raising the concern expressed when Pakistan was first put on the grey list in 2018, the "listing can push Pakistan further into China's orbit."
Pakistan was previously placed on the grey list in 2012-2015 but was removed in 2016 after legislating drastic reforms to its anti-money laundering and counter-terrorist financing regulations. Pakistani officials pleading the country's case in Paris believe that if they convince a few Western nations that the actions they have taken since the last FATF meeting in October 2019 would eradicate terrorist financing, Islamabad could be out of the grey list.
Recently, China, which now chairs the FATF, issued a list of priorities for its presidency, which includes "closely monitoring and reporting on the financing of ISIL, AQ and Affiliates".
It also highlights the need to "work on confiscation and asset recovery; best practices to improve the transparency of beneficial ownership".
The priorities also talk about "mutual evaluations of Russia, Turkey, United Arab Emirates, Korea, Japan and South Africa; and the first 5th year follow-up assessments of effectiveness for Norway, Spain, Australia, Belgium and Malaysia".
But it does not mention Pakistan. In a statement issued after FATF's October 2019 meeting in Beijing, China warned against targeting Pakistan to please others (India) and hailed Islamabad's effort to fight terrorist financing and money laundering.
Another key FATF member, Turkey, also strongly supports Pakistan. On Saturday, Turkish President Recep Tayyip Erdogan had told Pakistan's parliament: "We will be supporting Pakistan at the Financial Action Task Force meetings, where Pakistan is subject to political pressure."
Malaysia also supports Pakistan's efforts to get off the grey list. And the support of these three countries is enough to block India's moves to blacklist Pakistan.
Full report at:
https://www.dawn.com/news/1535189/pakistan-will-not-be-blacklisted-say-scholars
--------
1 policeman martyred, 2 injured in IED blast near police van in DI Khan
Zahid Imdad | Ali Akbar
February 18, 2020
At least one policeman was martyred while two others were injured on Tuesday when an improvised explosive device (IED) went off near a police mobile in Kulachi area of Dera Ismail Khan.
District Police Officer Wahid Mahmood confirmed the causality, adding that the police mobile was deployed for the security of polio workers canvasing the area. The injured have been shifted to the District Headquarters Hospital, where their condition is said to be stable.
He said that the area has been cordoned off, while a search operation is underway.
Mahmood said that the police mobile was targeted while policemen were being deployed to provide security to polio workers.
Chief Minister of Khyber Pakhtunkhawa Mahmood Khan condemned the blast and said that the death of a policeman is extremely sad. "We stand with the family of the martyred," he said.
He also directed that the two injured men be given the best possible treatment.
This year's first nationwide polio vaccination drive began on Monday, aiming to vaccinate approximately 39.6 million children. The campaign involves nearly 265,000 polio workers going door-to-door to inoculate children under the age of five.
Just a few days ago, the National Institute of Health confirmed five more polio cases from Khyber Pakhtunkhwa and Balochistan, bringing the tally for the current year so far to 17. Last year, 144 cases were reported nationwide, 12 in 2018 and eight cases in 2017.
Full report at:
https://www.dawn.com/news/1535223/1-policeman-martyred-2-injured-in-ied-blast-near-police-van-in-di-khan
--------
Khalilzad calls for better Pak-Afghan ties to achieve peace
February 18, 2020
ISLAMABAD: United States Special Envoy for Afghanistan Zalmay Khalilzad on Monday emphasised on better ties between Islamabad and Kabul to achieve regional peace.
The US diplomat made the comments at an interactive session during the Refugees Summit in Islamabad co-sponsored by the United Nations High Commissioner for Refugees (UNHCR) and the Government of Pakistan to mark 40 years of hosting Afghan refugees in the country.
Expressing his hope of a successful Afghan peace process, Khalilzad said reconciliation and modern thinking will pave way for the war-torn country.
"Afghanistan has been faced conflict for 40 years – dangerous one that continues to this day," he reflected. He said the US was looking towards reducing violence, negotiations with the Afghan Taliban and internal reconciliation.
Khalilzad underscored moving away from "blame game", adding that the situation at hand offered both challenges and opportunities. He said the peace talks between US and Afghan Taliban will pave way for reconciliation in the country.
The US representative stressed over improved ties between Islamabad and Kabul to ensure peace in the region. He pushed for better economic and trade ties between the two neighbours.
"Pakistan and Afghanistan cooperation will pave way for enhanced regional economic and trade."
The United States and the Afghan Taliban are on the cusp of signing a peace deal, with observers expressing optimism that the development would not only end the over 18-year-long conflict but also lead to stability in the war-ravaged country.
The imminent peace deal was the result of a 14-month long painstaking negotiation process — brokered and facilitated by Pakistan — between the US and the Taliban.
Ahead of the formal signing of the agreement — possibly on February 29 — the Afghan Taliban would observe a seven-day ceasefire in a move that aims at gauging the authority the Taliban representatives holding talks with the US wields on battlefield commanders as well as to create an enabling environment for an intra-Afghan dialogue.
In September, the two sides were almost close to signing a deal but President Donald Trump called off talks at the last minute, citing the Taliban's continued attacks targeting the American forces.
But the real reason for Trump's U-turn was the criticism he faced from within his administration that the proposed deal was nothing but a document of surrender since the Taliban were not ready to agree on a ceasefire.
But a few weeks later, US chief negotiator Zalmay Khalilzad resumed talks with the Taliban. He met a Taliban delegation led by Mullah Abdul Ghani Baradar in Islamabad in October last year.
Full report at:
https://www.pakistantoday.com.pk/2020/02/17/khalilzad-calls-for-better-pak-afghan-ties-to-achieve-peace/
--------
Africa
Mali: Death toll from armed attack rises to 31
Alaattin Dogru
18.02.2020
DAKAR, Senegal
At least 31 civilians were killed last week in an attack on a Fulani village in central Mali, the prime minister's office said Tuesday.
The attack took place in Ogossagou village in the Mopti region, authorities said on social media.
An operation by Malian armed forces continues in the region, the statement said.
According to local media, at least 48 people including five pregnant women were killed in the village.
Since 2015, there has been inter-communal violence in central Mali between the Fulani --traditionally herders -- and the Bambara and Dogon ethnic groups, who are mainly farmers.
In March 2019, some 160 Fulani were killed in the village of Ogossagou near the border with Burkina Faso.
Last June, 35 members of the Dogon ethnic group were killed in the village of Sobane Da and around 40 in the villages of Gangafani and Yoro.
But the area had witnessed a lull in the past six months following the signing in August of "cessation of hostilities" agreements by the different groups.
https://www.aa.com.tr/en/africa/mali-death-toll-from-armed-attack-rises-to-31/1736929
--------
Tunisia's Saied says he will call for early elections if new govt not approved
17 February 2020
Tunisian President Kais Saied said he would dissolve parliament and call for early elections if the proposed new government fails to win confidence in parliament.
The country's Prime Minister Elyes Fakhfakh on Saturday formed a new government but it immediately hit major hurdles after members of the key Islamist-inspired Ennahdha party pulled out of the lineup.
Fakhfakh, a former finance minister, was tasked by Tunisia's president with forming a government after a previous list proposed under the leadership of Ennahdha was rejected by parliament following October legislative elections.
https://english.alarabiya.net/en/News/north-africa/2020/02/17/Tunisia-s-Saied-says-he-will-call-for-early-elections-if-new-govt-not-approved.html
--------
EU struggles to keep arms embargo on Libya as Austria opposes patrols
17 February 2020
EU plans to resume maritime patrols in the Mediterranean faced more delays on Monday as foreign ministers struggled to convince Austria to lift its objections in a blow to efforts to uphold a UN arms embargo on Libya.
The EU's foreign affairs chief Josep Borrell hoped that Monday's meeting of foreign ministers would agree to revive the EU's military mission, which stopped deploying ships last March after Italy said it would no longer take in migrants rescued at sea.
"I do not think today we are going to be able to [reach a final decision]," Borrell told reporters.
Italy is ready to restart the sea patrols, its vice foreign minister said last week, but diplomats said Austria was still blocking, based on its position that people rescued on the high seas should not be taken to Europe.
German Foreign Minister Heiko Maas urged the EU to agree on a mission, a day after a senior UN official warned that the arms embargo aimed at curbing fighting in Libya was meaningless because there is no one to enforce it.
"It's about the security of Europe," Maas said.
On Sunday, Borrell criticised Vienna, although he did not mention Austria by name, saying it was unacceptable that a country with no navy could hold up an EU sea mission.
Borrell needs the backing of all 27 governments to proceed, provoking frustration among ministers.
"I cannot understand that a country like Austria at the end of the day says 'no'. We have a European responsibility," Luxembourg's Jean Asselborn said.
Austria's foreign minister did not brief the media but Chancellor Sebastian Kurz has said Austria is a "target country" for migrants seeking a better life and is opposed to the sea patrols, arguing that rescuing people encourages more to come.
"I am not convinced," Borrell said.
Following a summit of world leaders last month in Berlin to seek a ceasefire among Libya's two rival governments, the EU is still seeking ways to help, possibly including a peacekeeping mission if a fragile truce becomes a ceasefire.
Full report at:
https://english.alarabiya.net/en/News/north-africa/2020/02/17/EU-struggles-to-keep-arms-embargo-on-Libya-as-Austria-opposes.html
--------
Twenty-four killed in Burkina Faso church attack: Governor
17 February 2020
Gunmen have killed 24 people and wounded 18 in an assault on a village church in northern Burkina Faso, the regional governor said Monday, with a provisional toll indicating the local pastor was targeted.
A group of "armed terrorists" burst into the village of Pansi, in Yagha, a volatile province near the Niger border, "and attacked the peaceful local population after having identified them and separated them from non-residents," Colonel Salfo Kabore said in a statement sent to AFP.
https://english.alarabiya.net/en/News/world/2020/02/17/Twenty-four-killed-in-Burkina-Faso-church-attack-Governor.html
--------
Libya: Mitiga airport closed due to Haftar attack
Halime Afra Aksoy
18.02.2020
TRIPOLI, Libya
Flights to Libya's only civil airport were halted amid attacks by militias loyal to renegade Libyan general Khalifa Haftar on Monday.
In a statement, management of the Mitiga Airport in the Libyan capital Tripoli said the airport was targeted during a Libyan Airlines' plane's take off.
According to Libya's UN-recognized Government of National Accord (GNA), Haftar militants were responsible for the attack.
The Mitiga Airport has been targeted various times by the Haftar militants.
A military source said the attack aimed at sabotaging celebrations to mark the 9th anniversary of Libyans' Feb. 17 Revolution, which ousted former ruler Muammar Gaddafi.
On Monday, thousands of people attended the celebrations at the Martyrs' Square in Tripoli.
Meanwhile, Fayez al-Sarraj, the head of the GNA, released a video message on the anniversary of ousting Gaddafi.
Al-Sarraj said that they are the advocates of peace trying to ensure "stability" in Libya as well as making every effort to achieve a compromise.
Since early April, forces loyal to Haftar have been launching a campaign to capture Tripoli from the GNA forces.
Clashes between the two sides since then have left more than 1,000 people dead and about 5,500 wounded, according to the World Health Organization (WHO).
Libya has remained beset by turmoil since 2011, when long-time ruler Muammar Gaddafi was ousted and killed in a bloody NATO-backed uprising after four decades in power.
Full report at:
https://www.aa.com.tr/en/africa/libya-mitiga-airport-closed-due-to-haftar-attack/1736882
--------
Niger: 23 died in stampede at Nigerian refugee camp
Olarewaju Kola
17.02.2020
MAIDUGURI, Nigeria
At least 23 people were killed on Monday in a stampede at a Nigerian refugees camp in Niger Republic during distribution of aids.
Officials of Nigerian northeast Borno State, heartland of Boko Haram violence, were distributing aids including foods to about 120,000 Nigerian refugees at Diffa, a southeastern city in Niger, when the incident occurred, two state officials told Anadolu Agency, on condition of anonymity.
"The stampede happened as refugees and some Nigerian rushed to collect aids from our officials," a senior government official in Borno said.
About 120,000 Nigerians fled their homes to the neighboring country of Niger in the wake of Boko Haram terror attacks in the northeast region.
Borno State Governor Babagana Zulum flagged off the aids distribution at a local stadium in Diffa on Sunday morning.
Full report at:
https://www.aa.com.tr/en/africa/niger-23-died-in-stampede-at-nigerian-refugee-camp/1736860
--------
13 al-Shabaab militants killed in Somalia
Mohammed Dhaysane
17.02.2020
MOGADISHU, Somalia
At least 13 militants of Somali-based al-Qaeda affiliated group al-Shabaab were killed, and several others wounded in a military operation against the group in lower Shabelle region on Monday, an official said.
Somalia's specially-trained forces known as Danab conducted a military operation at al-Shabaab facilities near the town of Leego, located in the northwest of the capital Mogadishu, according to Somali military radio.
Ismail Abdimalik Malin, a senior military commander in the region said, "Our specially-trained units from Danab had conducted an operation against terrorist group al-Shabaab that killed 13 militants and wounded several others."
Our aim was to target the militants and kill its commanders and at this time the operation was quick and devastating, he added.
The operation came days after some special forces units which were trained in Turkey returned to the country.
Full report at:
https://www.aa.com.tr/en/africa/13-al-shabaab-militants-killed-in-somalia/1736843
--------
Dozens killed in Cameroon's NW Region
17.02.2020
Dozens of civilians have been killed in Cameroon's North West Region, several sources said, blaming the army.
"The death toll from the massacre in Ngarbuh-Ntubaw in Cameroon has risen to 32 with some children and pregnant women still missing.
"Those responsible for these heinous crimes must be brought to justice. These culture of impunity must stop. #No to Impunity and Yes to Accountability#,'' Felix Agbor Balla, director of the Centre for Human Rights and Democracy in Africa, said in a tweet on Monday.
The incident occurred last Friday in Ngarbuh village in the Donga Mantung department, he added.
Cameroon has been marred by protests since 2016, with residents in English-speaking regions saying they have been marginalized for decades by the central government and the French-speaking majority.
Unverified reports claim that thousands have been killed and displaced since clashes erupted over three years ago.
"Ngar village, Donga Mantung - Suffering, death and killing are now the new normal. How did we get here where human life no longer has any value? We must all, now, genuinely seek for #peace before this country loses its soul.
''I pray for all those innocent victims. #Cameroon," Akere Muna, chairman of the International Anti-Corruption Conference Council tweeted on Sunday.
''The Minister Delegate at the Presidency in charge of defence formally refutes these preposterous allegations and specifies, in light of the methodically and professionally cross-check information, that it is simply an unfortunate set-up on security operations underway in the region,'' according to a statement signed by Beti Assoma Joseph Minister Delegate at the Presidency in charge of Defence.
Protesters in the Central African nation are calling for a return to federalism or independence of English-speaking Cameroon.
As of December 2019, there were 679,000 displaced persons in Cameroon and 52,000 refugees in Nigeria who fled from the Anglophone regions, according to humanitarian organizations.
However, Cameroon's Minister of Territorial Administration Paul Atanga Nji denied the existence of a crisis and said in December 2019 that only 152,000 persons were displaced from the Anglophone regions, Amnesty International said in a report.
Full report at:
https://www.aa.com.tr/en/africa/dozens-killed-in-cameroons-nw-region/1736186
--------
Europe
UN chief, UNHCR praise Iran for hosting Afghan refugees
17 February 2020
UN Secretary General Antonio Guterres and UN High Commissioner for Refugees Filippo Grandi have praised Iran and Pakistan for hosting millions of Afghan refugees despite receiving minimal support from the international community.
Guterres and Grandi made the remarks on Monday, addressing a two-day Refugee Summit in Islamabad, entitled "40 Years of Hosting Afghan Refugees".
They commended the Islamic Republic of Iran for taking various initiatives to boost the quality of life for Afghan refugees with its own resources despite economic pressures.
"Afghans now constitute the largest group of arrivals in Europe, exceeding for the first time the arrivals from Syria," Guterres said, expressing regret that returns to Afghanistan have hit a historical low.
"Afghanistan and its people cannot be abandoned. Now is the time for the international community to act and to deliver," he said.
Grandi also praised the hospitality of Iran and Pakistan, saying "This is what we are here to mark today: the compassion, the hospitality, the solidarity of the people of the host countries."
Iran spends $8 billion on Afghan migrants every year in various sectors, and has repeatedly complained that the countries which caused the displacement of Afghans must accept responsibility and help cover the costs.
Last year, Iranian President Hassan Rouhani said Tehran cannot afford the heavy costs of addressing the problem of refugees, saying the US sanctions have disabled Iran from paying billions of dollars in expenses necessary for such plans.
The president threatened parties to the Joint Comprehensive Plan of Action (JCPOA) that Iran will have to halt cooperation in preventing the influx of refugees if the other parties stand idle and only seek to benefit from the nuclear agreement.
According to officials, some 500,000 foreign students enrolled in around 28,000 schools across the country last school year, most of whom are Afghan immigrants.
Four decades of war and conflict have produced more than 2.6 million Afghan registered refugees, with 1.4 million living in Pakistan, and over 950,000 living in Iran as of 2016, according to the United Nations High Commissioner for Refugees.
https://www.presstv.com/Detail/2020/02/17/618916/UN-guterres-iran-pakistan-host-afghanistan-refugees
--------
ISIS bride Shamima Begum says her world 'fell apart' after losing UK citizenship
18 February 2020
Shamima Begum, a woman who married an ISIS fighter as a teen, said she felt her world "fell apart" when she found out she had been stripped of her British citizenship.
Begum spoke to ABC News' James Longman for an interview set to air this Thursday from inside her tent in the Syrian Democratic Forces-run al-Roj camp in northeast Syria.
"When my citizenship got rejected, I felt like my whole world fell apart right in front of me. You know, especially the way I was told. I wasn't even told by a government official. I had to be told by journalists," she told ABC News.
"I kind of saw it coming because I did do my research just before I came out. I thought I would be a bit different because I had not done anything wrong before I came to ISIS," the ISIS bride added.
James Longman
✔
@JamesAALongman
• Feb 17, 2020
Replying to @JamesAALongman
I suggest to the women that there is little sympathy for them at home. That these tents are nicer than any refugee tent I've ever seen, and that perhaps being left to rot in these camps is the punishment they deserve.
13/23
James Longman
✔
@JamesAALongman
Polman: "I hope that people will look at this in a balanced way. And do what I know to be the right thing - to take the children back, take the women back, take the men back, judge them normally and deal with the problems instead of shoving them under the rug..."
14/23
View image on Twitter
14
12:41 AM - Feb 17, 2020
Twitter Ads info and privacy
25 people are talking about this
Nearly a year ago, Begum, a teenager who left London when she was 15 years old to join ISIS in Syria, had her British citizenship revoked. She had been discovered in a refugee camp in Syria by a London Times journalist.
During the upcoming interview – parts of which ABC News' Longman shared on his Twitter feed – Begum said that when ISIS leader Abu Bakr al-Baghdadi was killed, several women in her current refugee camp holding ISIS families celebrated.
"When Baghdadi died, Begum says, some women celebrated because for them, he wasn't radical enough," Longman wrote in one tweet.
Following the rejection of her appeal against the stripping of her citizenship, Begum's family has sought to acquire her a passport from Bangladesh.
Bangladesh's foreign minister, however, confirmed on Saturday that the country would not provide her with citizenship nor accept her into the country.
"Bangladesh will not accept British citizen and ISIS member Shamima Begum. She has no relation with Bangladesh," FM AK Abdul Momen was quoted as saying by the Bangladesh Sangbad Sangstha (BSS) news agency.
https://english.alarabiya.net/en/features/2020/02/18/ISIS-bride-Shamima-Begum-says-her-world-fell-apart-after-losing-UK-citizenship.html
--------
India bars entry to British MP Debbie Abrahams for criticizing Kashmir policy
17 February 2020
A British lawmaker, who chairs an all-party group on Kashmir, has been denied entry to India after she criticized the government's decision to strip the disputed Himalayan region of its constitutional autonomy.
Debbie Abrahams, a member of parliament for the opposition Labour party, landed at New Delhi's international airport on Monday but claims she was unable to clear customs after her Indian visa was rejected.
Abrahams said she had no plans to visit Kashmir during what she called a "private visit" to India to see relatives, although she had been planning to journey on to the Pakistani capital Islamabad to discuss the issue.
She has been critical of the Indian government for revoking Kashmir's special status last August, which allowed the region to make its own laws, in an attempt to integrate the country's only Muslim-majority region more fully.
Abrahams said she was "treated like a criminal" and told to leave India before being marched on to a plane bound for Dubai.
"The immigration officer looked at his screen and started shaking his head and saying 'no, no, no'," she told Sky News.
"Then he said the visa had been rejected, took my passport, went off to consult with others, kept us waiting for about ten minutes and then said: 'No, you are being denied entry'."
There was no immediate comment from the Indian government.
Kashmir is claimed by India and arch-rival Pakistan and has been in turmoil since New Delhi removed its autonomy and enforced the changes by deploying thousands of additional troops and imposing a communication blackout.
India has since restored limited internet connectivity, ending one of the world's longest such shutdowns in a democracy.
But many political leaders, including three former chief ministers of Jammu & Kashmir state, are still in detention without charge six months after the crackdown, and foreign journalists have been denied permission to visit the region.
Full report at:
https://english.alarabiya.net/en/News/world/2020/02/17/India-refuses-entry-to-British-lawmaker-critical-of-Kashmir-policy.html
--------
Norway mosque shooter charged with murder, terrorism
February 17, 2020
OSLO: A 22-year-old Norwegian man accused of killing his step-sister before opening fire in a mosque near Oslo in August was charged with murder and terrorism on Monday, prosecutors said.
Philip Manshaus was arrested after opening fire in the Al-Noor mosque in the affluent Oslo suburb of Baerum on August 10 last year before he was overpowered by a 65-year-old man.
Just three worshippers were in the mosque at the time, and there were no serious injuries.
The body of his 17-year-old step-sister was later found in their home.
Adopted by his father's girlfriend, Johanne Zhangjia Ihle-Hansen was killed by four bullets, police said.
Police have previously said they believed the motive for the murder to be racist, saying he killed her because she was of Asian origin.
The charge sheet filed with the Asker and Baerum district court on Monday contained two charges.
One charge of murder for having killed his stepsister, and one charge of a "terrorist act" by attempting to kill with the "intention of creating severe fear in a population."
The trial is expected to begin on May 7.
Manshaus has previously admitted to the actions but has rejected the charges of murder and terrorism, claiming that it was a "kind of self-defence."
On September 9, at a court hearing to extend his detention in custody, Manshaus raised his arm in a Nazi salute to the assembled media.
Full report at:
"We are going to take a closer look at this and work towards the trial," Fried said.
https://www.arabnews.com/node/1629196/world
--------
Turkey's Syrian mercenaries in Libya: 'We did it for the money'
Feb 18, 2020
A voice message arrived in late January on the phone of Mansur, a Syrian refugee living in downtown Gaziantep, southern Turkey, 30 kilometres away from the Syrian border. "Gather as many guys as you can!" it said.
This 38-year-old, who has a long beard and wears black trousers and a leather jacket, is a veteran of the Al Hamza division, a rebel group that has been fighting alongside the Turkish army in Syria since 2016. He currently works as a recruiter and has three phones that ring constantly.
"We need strong and trustworthy guys. We need their first, middle and last name, we need to send them to fight in Libya next week," his commander told him from the occupied Syrian city of Ras Al Ain.
The Turkish intelligence agency MIT, who the fighters say oversees the recruitment, had called for more reinforcements and Mansur spread the word.
"There are not many fights at the moment. You sign up for nine months and get US$2,000 a month", he told his contacts and in just a few hours had gathered the names of ten volunteers, from Istanbul and the Syrian border area.
Turkey decided in January on a resolution to send troops on Libya to support the Government of National Accord, led by Fayez Al Sarraj, in its fight against Field Marshal Haftar's Libyan National Army. Since then, they have sent between 3,000 and 4,000 Syrian proxies to Tripoli and every week more flights carrying fighters take off from Gaziantep.
Adnan, 40, an officer from Al Hamza brigade, left Turkey on January 10 with 30 of his men. He says fifty others joined him later and Mansur also continues to send reinforcements.
"We were brought to Turkey one evening via the Kilis border crossing," said Adnan, who is from Homs. Turkish military buses took us to Gaziantep and from there we boarded a commercial flight. There were even flight attendants and meal trays," he says.
There were international calls for a ceasefire in Libya at the Berlin conference last month, which was called to salvage the political peace process, and negotiations opened in Geneva on February 4. Yet according to the United Nation's special envoy to the country, Ghassan Salame, a UN arms embargo imposed in 2011 continues to be "violated by both sides".
According to French military officials, Turkey escorted a cargo of armoured vehicles to the port of Tripoli on January 29. Syrian fighters said that weapons have also been delivered to them.
"We are equipped with 14mm and 25mm anti-aircraft gun, M16 automatic rifles and long-range rifles," says Adnan.
Since arriving in Tripoli, the proxy soldiers have been trained and housed in camps near the Libyan capital.
"We received new clothes that look like the uniforms of Turkish gendarmes and weapons," he said. But for the moment, he regrets, there are "fewer shots fired on the Libyan front line than at weddings in Syria". The clashes are sporadic, but his men are impatient to fight.
The pro-Turkish Syrian factions that took part in last year's operation Peace Spring, which sought to push Kurds back from the Turkish border, are known collectively as the Syrian National Army. Alongside the Al Hamza brigade members in Libya are those from Suqur Al Sham, Liwa Al Mutasim and Jaysh Al Islam.
The first to reach Libya were from the Sultan Murad division, mostly composed of Turkmens and known for their close relationship with MIT. A "recognition committee" made up of three of its officers, Fahim Issa, Muhammad Shaikhli, and Ali Yarmouk, made the first trip and assessed human and material needs in early December.
The leaders of the armed groups have been invited to Gaziantep by the Turkish authorities. Mohammed, 38, who did not want to use his real name due to safety concerns, is from Jaysh Al Islam executive. He was planning to attend a routine meeting to discuss the situation in Syria when Turkey requested they divert course to Libya.
"I live like a dog here. I have to go and fight, this the only way I can survive. I feel ashamed but I don't care about my pride, I need the money," he said.
When the call came, he threw some clothes in a sports bag: a jacket, his red and white kaffiyeh and a photo of his mother. Mansur told him not to take anything else.
"We will give you everything, even underwear," he said.
The next morning at dawn, with four other young Syrians already inside, a car collected Salim from his front door. On January 26, at around 4:30am, a commercial flight took off from Gaziantep airport with Salim and more than 200 Syrian mercenaries on board.
Full report at:
https://www.thenational.ae/world/mena/turkey-s-syrian-mercenaries-in-libya-we-did-it-for-the-money-1.980257
--------
UN envoy condemns use rifles loaded with birdshot against Iraqi protesters
18 February 2020
The top United Nations envoy to Iraq condemned on Monday the use of hunting rifles loaded with birdshot against peaceful protesters in Baghdad and urged the government to ensure those demonstrating are not harmed.
The UN Assistance Mission for Iraq said it had received credible allegations of protesters being targeted with hunting rifles, stones and firebombs on the nights of February 14-16, leading to at least 50 injuries.
At least 150 people were injured in the Shia Muslim holy city of Karbala in January alone due to similar tactics, UNAMI said in a statement.
"The continued pattern of the use of excessive force, with ambiguously identified armed groups and unclear loyalties, is a grave security concern that must be tackled urgently and decisively. Peaceful protesters should be protected at all times," said Jeanine Hennis-Plasschaert, Special Representative of the United Nations Secretary-General for Iraq.
There was no immediate comment from Iraqi authorities.
Iraq is facing an extraordinary domestic crisis as nearly 500 people have been killed since October in protests demanding the ouster of what demonstrators see as a corrupt ruling elite and an end to foreign interference mainly by Iran and the United States.
At least nine people were wounded on Monday in Baghdad during renewed clashes between protesters and security forces, police sources said. Two were wounded because of birdshot and the rest suffered teargas-related injures.
Prime Minister-designate Mohammed Tawfiq Allawi said on Saturday a new government would be formed in the coming week.
Full report at:
https://english.alarabiya.net/en/News/middle-east/2020/02/18/UN-envoy-condemns-use-rifles-loaded-with-birdshot-against-Iraqi-protesters.html
--------
UN: Northwest Syria crisis reaches horrifying new level, 900,000 displaced
17 February 2020
A Russian-backed regime offensive in northwest Syria has displaced 900,000 people since the start of December, and babies are dying of cold because aid camps are full, the UN said Monday.
That figure is 100,000 more than the United Nations had previously recorded.
"The crisis in northwest Syria has reached a horrifying new level," said Mark Lowcock, the UN head of humanitarian affairs and emergency relief.
He said the displaced were overwhelmingly women and children who are "traumatized and forced to sleep outside in freezing temperatures because camps are full. Mothers burn plastic to keep children warm. Babies and small children are dying because of the cold."
The Idlib region, including parts of neighboring Aleppo province, is home to some three million people, half of them already displaced from other parts of the country.
The offensive that began late last year has caused the biggest single displacement of people since the conflict began in 2011. The war has killed more than 380,000 people since it erupted almost nine years ago, following the brutal repression of popular demonstrations demanding regime change.
Lowcock warned Monday that the violence in the northwest was "indiscriminate."
"Health facilities, schools, residential areas, mosques, and markets have been hit. Schools are suspended, many health facilities have closed. There is a serious risk of disease outbreaks. Basic infrastructure is falling apart," he said in a statement.
"We are now receiving reports that settlements for displaced people are being hit, resulting in deaths, injuries and further displacement."
He said that a massive relief operation underway from the Turkish border is has been "overwhelmed. The equipment and facilities being used by aid workers are being damaged. Humanitarian workers themselves are being displaced and killed."
Full report at:
https://english.alarabiya.net/en/News/middle-east/2020/02/17/UN-Northwest-Syria-crisis-reaches-horrifying-new-level-900-000-displaced.html
--------
URL: https://www.newageislam.com/islamic-world-news/religious-messaging-right-approach-indonesia/d/121094
New Age Islam, Islam Online, Islamic Website, African Muslim News, Arab World News, South Asia News, Indian Muslim News, World Muslim News, Women in Islam, Islamic Feminism, Arab Women, Women In Arab, Islamophobia in America, Muslim Women in West, Islam Women and Feminism