New Age Islam News Bureau
17 Oct 2018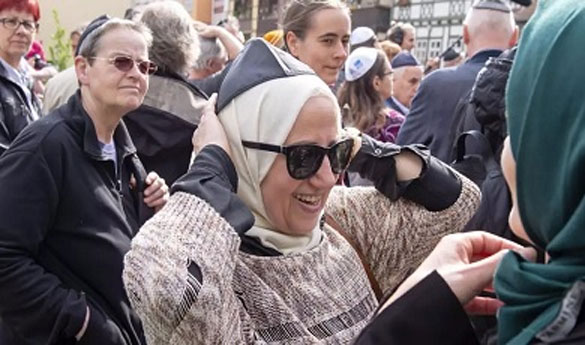 Photo: A Muslim woman wears the Kippah during a demonstration against antisemitism ( AP )
----------
• Three Muslim men accuses Taj Group hotel of 'religious profiling'
• Bangladesh officials learn countering violent extremism in Australia
• Unity must to ensure peace and stability: AJK speaker
Europe
• Religious hate crime has risen by 40 per cent in the last year – and Muslims like me can help to stop it
• Muslim-led arts initiatives tackling Islamophobia, promoting interfaith harmony among UK children
• Religious Hate Crimes In England And Wales Mostly Target People Thought To Be Muslim
• UK home secretary attacked for being a Muslim
• Was sent 'Punish a Muslim Day' letter: British home secretary
• Pope Francis receives the Grand Imam of Al-Azhar
• Grand Mufti challenges gay teachers' rights to work in Islamic schools
• Britain secretly training Saudi air force: Report
• Senior Russian officials meet bin Salman to discuss Syria
• Security fears as UK extremist leader Anjem Choudary set for freedom
• More money for British mosques amid rise in hate crime
--------
India
• Three Muslim men accuses Taj Group hotel of 'religious profiling'
• Kashmiri students demand withdrawal of sedition charges
• Church schools in India among those that 'should not exist'
• A votary of Hindu-Muslim unity
• 3 militants killed in Srinagar encounter, policeman martyred
• Militants' funeral: AMU revokes suspension of two Kashmiri students
• AMU revokes suspension of Kashmiri students charged with sedition
--------
South Asia
• Bangladesh officials learn countering violent extremism in Australia
• Over 30 Afghan policemen killed in Taliban attack
• Raid on militants' hideout in Bangladesh kills 2
• Taliban warn teachers, students to avoid Afghan polls
• Bangladesh to sign MoU with Saudi Arabia on military cooperation during Hasina's visit
• UN Security Council asked to hear from UN mission on Myanmar atrocities
• 4 suicide bombers among 30 dead, wounded in U.S. airstrikes
--------
Pakistan
• Unity must to ensure peace and stability: AJK speaker
• S. Arabia agreed to end Umrah tax on Pakistanis, Senate panel told
• Former Pakistani diplomat Haqqani slams China's deputy envoy in Islamabad for 'undignified' trolling
• Interim bail of ex-president Zardari, others extended for third time
• ISI given another month to complete 'minor work' to clear Khayaban-i-Suharwardy
• Pakistan elected as OIC Water Council member for two-year tenure
• 14 Iranian security personnel 'kidnapped' near Pakistan border
• US must stay in Afghanistan until peace is achieved: army
• UK MPs briefed on Pak anti-terror role
--------
North America
• Saudi Arabia is the centerpiece of US Empire's Mideast foreign policy: Analyst
• US, Saudi trying to 'whitewash' Khashoggi murder: Fmr. US diplomat
• America's Dilemma: Censuring M.B.S. and Not Halting Saudi Reforms
• Guilty until proven innocent: Trump defends Saudi Arabia
• Pompeo meets King Salman, son over Khashoggi, thanks them for 'strong partnership'
--------
Mideast
• Iranian President Asks for Europe's Serious Action against Terrorists
• Israeli policewoman shoots, seriously injures Palestinian for 'fun'
• UN to allow Palestinians to have more of a full member capacity in 2019
• Israeli defense minister: Now's the time to strike Hamas
• Istanbul conference on Muslim Ummah concludes
• Terrorists Trading Idlib Civilians' Body Organs in Turkey
• Israel strikes Gaza, closes both border crossings after rocket attack
• Yemen minister: Houthis forcing female teachers to take part in armed protests
• Mastermind behind Ahvaz terrorist attack killed in Iraq's Diyala, IRGC says
• Israeli warplanes conduct deadly airstrikes on blockaded Gaza Strip
--------
Southeast Asia
• China Breaks Silence on Muslim Detention Camps, Calling Them 'Humane'
• Buddhist dad wins bid to annul kids' conversion to Islam
• 'United' Muslim, Christians mark Marawi's liberation
• The mosques that survived Palu's tsunami and what that means
• China rolls out PR push on Muslim internments
• Amid global outcry, China defends internment camps of minorities in Xinjiang
• No sabotage in French terror suspect's death, says IGP
• House approves religious schools draft bill
--------
Arab World
• Muslims defied the Islamic State to save two ancient Christian manuscripts in Mosul
• 450 jihadists killed in Egypt Sinai offensive: army
• US-Backed Militants Blackmailing Civilians to Allow Exit from Al-Tanf Region
• Are ex-ISIS fighters joining Popular Mobilization Unit militias in Iraq?
• Saudi-led military aggression left over 15,000 civilians dead: Rights group
• Turkish Army Dispatches New Military Convoy to Northern Syria
• US Army Retreats towards Deir Ezzur Energy-Rich Fields after ISIL Kidnaps American Soldiers
• Iran says it has carried out 700 drone attacks in Syria
• Arab Coalition refers Yemen's Jabal Ras incident to assessment team
• Russia: Deal on Syria's Idlib going ahead despite missed deadline
--------
Africa
• US airstrike in Somalia kills around 60 al-Shabab fighters
• Two million dual nationality Algerians are well integrated in France
• Boko Haram kills second kidnapped aid worker in Nigeria: Red Cross
Compiled by New Age Islam News Bureau
URL: https://www.newageislam.com/islamic-world-news/religious-hate-crime-risen-40/d/116651
--------
Religious hate crime has risen by 40 per cent in the last year – and Muslims like me can help to stop it
Oct 17, 2018
Last week a Labour councillor in Tower Hamlets, Mohammed Pappu, was forced to resign from the local Labour Party after admitting that he was responsible for a series of antisemitic remarks which appeared on his Facebook page. Although this is unacceptable behaviour by anyone using social media, and especially from an elected representative (he remains an independent councillor), the row over the remarks was exacerbated by the fact that, as a youth worker in the local area, Pappu was using his Facebook account as an information point for children from disadvantaged backgrounds, and more specifically, for updates on events organised by the charity Soul, of which he is a trustee and former chairman.
Sadly, this instance is not unique. New figures published today by the Crime Survey for England and Wales show that religious hate crime rose by 40 per cent between 2016-17 and 2017-18. Could this partly be attributed to the conduct of those in positions of authority, who influence our young people, when just a few words can trigger a powerful reaction?
Pappu's conduct demonstrates exactly why education in religious tolerance should be a fundamental requirement for everyone in a position of trust working with young adults. It is the only way to reduce racial bias and improve acceptance of all faiths, regardless of one's own personal religious views.
It is also a stark reminder that hate crime is not only suffered by religious minorities but can be perpetrated by them as well.
Earlier this year, Fiyaz Mughal, director of Faith Matters, said: "We Muslims need to talk about Muslim antisemitism." In demonstrating how crucial it is to educate our young people, he went on to say that in the "mind of the perpetrators of such hate, the world is bipolar, with Muslims and Jews at opposite ends; and it is people like this who are winning the hearts and minds of many young, disaffected people in the UK".
It is not always easy for young people exploring their personal identities to know what it is and isn't acceptable to say about religion in modern Britain, and the language they can use to express themselves. Some expressions that have been used for decades − and with absolutely no racist meaning intended at all − are now no longer permitted.
In Tower Hamlets, Pappu shared an image which accused Britain of attacking Syria "to install a Rothschild bank". How can it be that none of his friends – on Facebook or in real life – pointed out to him the offensive nature of this baseless allegation?
As a Muslim, I have often been told that soon all UK banks will be controlled by Sharia law. Remarks like these are just as offensive to me as the comments about a "Rothschild bank" are to a member of the Jewish faith. There is no difference in the hurt caused or the hatred spread.
As Muslims, we have a collective responsibility to recognise this equality of hate. Young Muslims in particular should be educated in antisemitism and learn how to address it in their own community.
In 2013, when the English Defence League attempted to march through Tower Hamlets, my friend, Leon Silver, the president and senior warden of East London Central Synagogue, stood together with our local Muslim community to condemn Islamophobia. He spoke passionately, standing up for his Muslim brothers and sisters: we must do the same when Jewish people are attacked and feel persecuted.
It may not be possible to change the views of some older adults, but it is possible to educate children at the most impressionable time of their lives.
https://www.independent.co.uk/voices/religious-hate-crime-anti-semitic-islamophobic-jews-muslims-uk-brexit-stop-a8586396.html
--------
Three Muslim men accuses Taj Group hotel of 'religious profiling'
Oct 16, 2018
GUWAHATI: Three Muslim men, including a member of the Army Medical Corps in Guwahati, were allegedly subjected racial profiling and harassment by the management of Taj Vivanta hotel during their stay there.
The three men identified as Sahab Uddin, Zahid Islam Barbhuiyan and Dr Imran Hussain Laskar. Sahab and Zahid are educationists and social activists whereas Dr Imran worked as a dental hygienist in the Army Medical Corps (AMC) in Imphal.
The trio was from Barak Valley in southern Assam had checked in to the four-star Taj Vivanta hotel on Friday after they missed their Delhi-bound flight.
The trio checked in at 2:00 pm and paid Rs 2,000 for the additional bed and went out. When they returned at 4 pm, they find the hotel "full of security personnel" watching their movements.
A foul language with indecent words was used by hotel staffs who also allegedly misbehaved with them.
Speaking to News18, Laskar said, "They put us through the security check, luggage check and there were some people constantly following us everywhere. Is this right; what they have done to me? Is this how they treat a soldier?"
"They confined us in a room and cornered us with a volley of questions. There were a number of security personnel who surrounded us and we were mentally tortured," said Zahid, a teacher by profession, also an activist and columnist.
"They checked his (Laskar's) mobile and found an old video of (AIMIM MP) Asaduddin Owaisi and surmised he was a radical. They confiscated Laskar's identity card, detained him and sent us to our room," The Hindu quoted Zahid as saying.
"'You keep AIMIM videos in your phone? Do you listen to (Asaduddin) Owaisi? Why do you have triple talaq debates?' General Manager Ashwani Anand questioned asked upon seeing the videos in Laskar's gallery and gave me dirty looks," Laskar alleged.
The police after keeping them under scrutiny for about six hours, thanks to the three hapless colleagues for their cooperation and left around midnight after they realised that were not extremists.
Social media users reacted angrily to the alleged treatment and have been tagging Ratan Tata on Twitter urging him to intervene.
One user wrote, "Ratan Tata sir it's your esteemed organisation n we can't expect such act from your organisation. Will you please come forward to assure us what happened will not be repeated." Another user asked, "Whats wrong with #tajhotel?U may disagree with owaisi but FYI he is an MP. How can u discriminate if someone just watching oswaisi's video?"
Another user, Sajid, wrote, "Muslims should avoid visiting such hellish Hotels and I believe anyone who really cares about humanity and believes in secularism should boycott Taj Group Hotels untill those mentally retards working in Vivanta by Taj -Guwahati are Kicked out."
In the Facebook post, the victims of the incident can be seen speaking about the agony and pain they went through.
https://www.siasat.com/news/three-muslim-men-accuses-taj-group-hotel-religious-profiling-1420992/
--------
Bangladesh officials learn countering violent extremism in Australia
2018-10-17
Australian High Commissioner Julia Niblett has hosted a networking event to celebrate the achievements of nearly 80 alumni who have completed courses on Countering Violent Extremism under the Australian government's 'Australia Awards' programme.
The government officials, from a range of agencies including police, and home, law, and finance ministries, completed the course at the University of Queensland.
The course provided practical skills and knowledge to deal with cyber threats, to detect, investigate and disrupt the financing of terrorism.
It also enabled scholars to analyse international legal frameworks and compliance mechanisms, according to the Australian officials.
Over the last five years, Australia has supported more than 200 officials from Bangladesh to strengthen their skills and knowledge to counter violent extremism and to connect them with the relevant institutions in Australia.
The high commissioner said violent extremism is a global and "a shared challenge that affects us all."
"Australia is pleased to provide capacity building through this course as an important element of our contribution to countering violent extremism in Bangladesh," Niblett said.
Additional Commissioner of Police and Chief of the Counter Terrorism and Transnational Crime Unit Monirul Islam represented the Bangladesh delegation.
He thanked the Australian government for its support to build capacity of individuals and intuitions to counter violent extremism in Bangladesh.
The Australia Awards are international scholarships funded by the Australian government.
Australia has been offering university scholarships to Bangladesh since 1972.
In addition to the long-term scholarships, since 2015 Australia has been offering targeted scholarships for mid-senior level professionals to participate in short-term study courses to enhance professional skills.
In 2018-19 Australia will provide approximately 100 short-term scholarships to Bangladeshi nationals.
https://bdnews24.com/bangladesh/2018/10/17/bangladesh-officials-learn-countering-violent-extremism-in-australia
--------
Unity must to ensure peace and stability: AJK speaker
October 17, 2018
MUZAFFARABAD: Azad Jammu and Kashmir Legislative Assembly Speaker Shah Ghulam Qadir has stressed the need for forging unity in order to thwart nefarious designs of the enemy and establish peace and ensure stability in the country.
"Pakistan is a great gift by Allah Almighty for us and we all are obliged to protect it against all odds," he told the inaugural ceremony of a workshop titled 'Reconstruction of Inclusive Islamic Society in Pakistan' held at the Azad Jammu and Kashmir University, Muzaffarabad.
The event organized in collaboration with the Islamic Research Institute, Islamic International University Islamabad, was attended by a huge number of faculty members, ulema, scholars, civil society activists and students.
Addressing the ceremony, organized as part of the Paigham-e-Pakistan initiative of the Government of Pakistan, the AJK speaker said religious groups have a big role to play in the society. "The joint decree issued by ulema belonging to all schools of thought under the Paigham-e-Pakistan initiative is a guarantee to peace and stability in the country," he said. "The institution of mosque should be strengthened. Mosque should act as centre of training for the youth," he said, adding that those criticising the religious seminaries are oblivious of the fact that these madaris are providing shelter, food and education to hundreds of thousands of poor children. "Providing jobs to youth graduating from these madaris is the responsibility of the State," he said. "State can't discriminate between those graduating from universities and the ones getting education from madaris," he said.
The AJK speaker said sacrifices of security forces in the ongoing war against terrorism are matchless. "But, it is unfortunate that we expect army to fulfill each and every responsibility that a State needs to do instead," he said, adding the resolution of Kashmir issue is guarantee to peace in the country as well as the whole region.
The AJK speaker also called upon religious scholars to forge unity among their ranks. "Ulema and masses got united in Bangladesh for the sake of development of their country, which resulted in growth and progress there," he said, adding that extremism can bring no good to anyone. Islamic Research Institute Director General Dr Zia ul Haq said a nation decays when its leadership is not able to take right decisions at the right time. "Paigham-e-Pakistan is a document wherein religious scholars belonging to all schools of thought have rejected extremism and terrorism in all its forms. Suicide bombings have been declared forbidden in it," he said, adding that minorities are free to spend their lives according to their will and practice their religion. "Islam makes it obligatory for the men to respect women and giving them due rights," he added.
Convener of the workshop Prof Nisar Hamdani said, "We must protect our values to rid the country of injustice, fear and crisis. Prejudices give birth to sectarianism and ethnic divisions. Everyone wishes justice and prosperity in the society and the State is responsible to ensure it."
The two-day workshop will be followed by National Youth Conference, a workshop on 'Role of Youth in Reconstruction of National Culture', a session on 'Role of Youth as Ambassadors of Peace' and a discussion on 'Environmental Challenges: Water Crises, Clean and Green Pakistan'.
https://www.thenews.com.pk/print/381709-unity-must-to-ensure-peace-and-stability-ajk-speaker
--------
Europe
Muslim-led arts initiatives tackling Islamophobia, promoting interfaith harmony among UK children
30 September, 2018
A record number of anti-Muslim attacks and incidents of abuse were reported in the United Kingdom last year, according to monitoring group Tell Mama in its annual report released in July.
Many were triggered by four incidents between March and June 2017, which a police review said "were the most deadly terrorist attacks on British soil since the 7/7 London tube and bus bombings of July 2005." Three attacks targeting public places in London and Manchester were perpetrated by Muslims who were mostly British, and the fourth was carried out by a non-Muslim Briton on a London mosque.
A year later in April, a three-day festival of culture and ideas dedicated to Muslim communities was held at the British Library in London. In November, a ten-day event will open in Manchester. Both aim to bridge cultures and tackle Islamophobia.
REACHING COMMUNITIES, YOUNG PEOPLE
MFest in London and the Muslim Art and Cultural Festival (MACFest) in Manchester are big multi-day, multi-arts events in the two cities directly affected by last year's four terrorist attacks. Where MFest was held at central London institution The British Library and targeted the general public, the much bigger MACFest will be more widely distributed and also involve museums, galleries, universities and schools.
"The reason why I wanted to [have some events] in schools is because with the rise of extremism, there's been a lot of negative backlash and children suffer in schools if they are Muslims because they get bullied," critically-acclaimed novelist Qaisra Shahraz, who is founder and curator of MACFest, told Salaam Gateway.
The rationale behind this aspect of Shahraz's MACFest programming is backed by data. Tell Mama's report found that 72 percent of the perpetrators of reported anti-Muslim incidents last year were white men, with younger men, including teenagers, being some of the main perpetrators. There's clearly a need to reach young people with issues related to Islam and Muslims.
"I want these [Muslim] children to feel proud of who they are. And for the children who bully them to learn that those are the actions of extremists – the rest of us are normal peace-loving people," said Shahraz, whose community involvement includes being a trustee of Manchester Multi Faith Centre, Vice Chair of Faith Network 4 Manchester and Executive Member of the Muslim Jewish Forum of Greater Manchester.
MFest and MACFest are not by any means the first focusing on Islam and Muslims in the UK. Shemiza Rashid, a social and cultural entrepreneur working in the interfaith, Asian, and Islam and Muslim creative industries, pointed out smaller community arts and cultural events that have been organised in recent years.
"A lot of Muslim arts organisations across the country are reaching out and working alongside non-Muslim galleries to help make Islam more accessible," said Rashid, who hosts a faith-inspired creative arts and lifestyle show for a community radio station based in Luton, a town just northwest of London.
"Events like the Kinara Festival [in July 2016] by the Love & Etiquette Foundation and Milton Keynes Eid in the Park hosted by Milton Keynes Islamic Arts, Heritage and Culture (MKIAC) have successfully reached out to communities around them to share and bridge an understanding. More festivals are emerging with a similar theme," said Rashid. Kinara Festival was based in East Lancashire in the northwest of England and Milton Keynes is around 70 kilometres north of London.
The impact of such initiatives is tremendous, said Rashid, not only for Muslim children but also for non-Muslims and adults. However, more needs to be done to truly bring Islamic art and literature to a mass audience - more investment and mainstream partners, she said.
"It is vital that creativity in Islam is nurtured to regenerate and recharge the values, and to adapt to new eras and landscapes. Islam is pure in its essence; it's people who change with the times. So it's about making sure we keep that connection thriving," said Rashid.
MAKING CONNECTIONS
One book recently made those connections and caused a ripple effect in bridging cultures and promoting interfaith harmony among children.
Hats of Faith started out as an illustrated children's book that looks at nine different head coverings, including a turban, hijab, a Rastafarian hat, and an African head wrap.
The book has spurred a series of school workshops since its release in August 2017.
"We've teamed up with international charity Penny Appeal to develop a UK-wide school workshop tour," the book's publisher Hajera Memon of Shade 7 Publishing told Salaam Gateway.
"We're hitting the road [with Penny Appeal on a bus] to deliver our hour-long, interactive sessions to curious minds in nurseries, kindergartens and primary schools across the country," she said.
"So far, we've delivered workshops in Scotland, London, Luton, Sheffield, Norwich, Yorkshire and Leeds to name a few, and have more due to take place in the new school year across Manchester, Kent, Birmingham and others."
The educational workshops involve book readings and discussions, as well as an opportunity for children to try on the head coverings. They are developed by Hats of Faith author Medeia Cohan and children's literacy specialist Emily Guille-Marrett.
According to Cohan, it took over a year to determine which head coverings to include and to ensure the factuality of the book's contents. The research led her and Memon to places of worship around the world, from a local Sikh gurdwara, to the Church of Haile Selassie to discuss everything about Rastafarian hats.
"Feedback has been incredible, with children learning lessons of respect and acceptance, and teachers using our materials in their classrooms and integrating them into their lesson plans well beyond the workshops. We've had many schools inviting us back to deliver the same workshop next year," said Memon.
MUSLIM, BRITISH IDENTITY
Recent initiatives like Hats of Faith are creating a ripple effect as participants get to experience a taster of Islam from a non-invasive distance, according to Rashid.
"It's helping build and heal communities. We can walk and live together. It's so important to build a lasting confidence in such testing times for our children to take pride in their identity– to be able to fuse their British Muslim identity comfortably with British values and answer any question that is posed to them," she said.
Many other British Muslims are finding ways to engage children. For example, author Zainab Mian uses Islamic themes in her mainstream children's books, while Chickpea Press uses the 99 names of Allah to connect with young readers. Tiny Mu'mins uses puppetry and song to explore the stories of the prophets, and nasheed artist Khaleel Muhammad breaks down religious stereotypes through his children's book Muslim All-Stars: Helping the Polonskys.
"[W]e are now able to find innovative ways to introduce Islam into our children's lives. We, alongside our children, are learning together. So much knowledge is yet to be sought," said Rashid, who is a mother of six children aged under 15.
'SHARED LAUGHTER'
Other initiatives have been around for much longer. Khayaal Theatre, a two-decade-old Luton-based arts company, promotes interfaith awareness by adapting works of Muslim and non-Muslim literature.
Luqman Ali, Khayaal's artistic director and co-founder, told Salaam Gateway the company's approach to promoting interfaith harmony is twofold. Firstly, it showcases stories of wonder, wisdom and humour from Muslim heritage literature through live performances and workshops in schools, museums and communities. Secondly, it also highlights stories from other faiths, currently Hinduism, Judaism and Christianity, as a way of demonstrating shared heritage or values.
The use of humour is essential in Khayaal's storytelling as it helps bring together people who initially believed they had nothing in common.
"Shared laughter is the lubricant which melts away our fear-based resistances to allow for a fun and enriching encounter. We're finding that our book of Joha stories serves this purpose with children especially, to the extent that it has brought together two school boys, one of whom used to bully the other," Ali told Salaam Gateway.
13th century storyteller Mullah Nasruddin is known as Joha in the Arab world. Khayaal recently contributed to a collection of tales, entitled Riding a Donkey Backwards, about the iconic comic figure variously known as Joha, Afandi and Hodja across a range of Muslim cultures.
This year, the company performed its Joha stories as part of MFest and the Edinburgh International Book Festival. It has also been touring primary schools in the counties of Bedfordshire and Hertfordshire for the second year with a workshop exploring wisdom tales from Hinduism, Judaism, Christianity and Islam.
In late October, Khayaal will be staging performances of tales from Muslim cultures during the opening of the British Museum's newest permanent gallery, Albukhary Foundation Gallery of the Islamic world.
"We believe the flip-side of the negative stereotypes and portrayals of Muslims that are standard fare in Western media, is a sustained and burgeoning interest in alternative perspectives on Islam and Muslims, especially those coming from Muslims themselves," said Ali.
"So alongside the challenges of hostility, suspicion and reservation generated by lurid headlines, there are huge opportunities that we strive to seize in order to balance the equation."
https://www.salaamgateway.com/en/story/muslimled_arts_initiatives_tackling_islamophobia_promoting_interfaith_harmony_among_uk_children-SALAAM30092018112544/
--------
Religious Hate Crimes In England And Wales Mostly Target People Thought To Be Muslim
Oct 17, 2018
Religious hate crimes have spiked dramatically in England and Wales over the past year, according to newly released data from the U.K.'s Home Office.
Police in England and Wales recorded 8,336 hate incidents that appeared to be motivated by the victim's religion between April 2017 and March 2018 ― a 40 percent rise from the previous fiscal year, the BBC reports.
More than half of those religion-based hate crimes (52 percent) were directed at people who were perceived to be Muslims.
This is the first time that the annual U.K. government study, published on Tuesday, has included data about the perceived religion of hate crime targets. The Home Office started requiring police officers to collect this information in 2017, realizing that a victim's perceived and actual religion may not always be the same.
Harun Khan, secretary general of the umbrella group Muslim Council of Britain, said that the new figures should prompt the government to take meaningful action against Islamophobic attacks. "No longer can the Government sit back and watch as the far-right rises, Islamophobia is mainstreamed and vulnerable Muslim communities are attacked," Khan said in a statement.
The Home Office report suggested that the surge in reported hate crimes was driven by improvements in the way these crimes are identified and recorded by police. But the study also noted that, based on monthly data, hate crimes appeared to spike following the terrorist attacks in London and Manchester in 2017 and the U.K.'s decision to leave the European Union in 2016.
Those spikes seem to support advocacy groups' claims that attacks on minorities increase after national news events that stimulate public discourse on immigration.
After Muslims, Jews were the next most commonly targeted religious group in England and Wales. Twelve percent of the religiously motivated hate crimes were aimed at people perceived to be Jewish, according to the report.
Both of those groups are the victims of much greater percentages of religious hate crimes than their actual shares of the population in England and Wales. Only about 5 percent of people in those countries identify as Muslim, and a mere 0.5 percent identify as Jewish.
While the rise in hate crimes motivated by religion was the most dramatic, the Home Office also recorded significant upticks in crimes motivated by bias involving gender identity, disability and sexual orientation.
Overall, police recorded 94,098 hate crimes in England and Wales, an increase of 17 percent compared to the previous fiscal year. Religious hate crimes accounted for 9 percent of the total. The overwhelming majority of the hate crimes (76 percent) were motivated by race, the report found.
The government noted that it's possible for a hate crime to have more than one motivating factor and a single hate crime could be filed under multiple categories.
Also on Tuesday, the Home Office released a separate study called the Crime Survey for England and Wales. It was based on face-to-face interviews with victims and meant to give a broad overview of crime in that region. The report suggested that hate crime incidents had dropped 40 percent over the past decade, as crime overall fell 39 percent. The survey did not look at crimes against children under 16, businesses and certain households.
The Home Office announced Monday that it plans to review its definition of a hate crime. The review will help determine if crimes motivated by ageism, bias against punk and goth subcultures, misogyny and misandry (prejudice against men) should be classified as hate crimes.
Khan said that more needs to be done.
"There has been little action against bullying of Muslim children, minimal funding for security for Muslim institutions (and only during specific periods) and no support to Muslim communities to encourage reporting of hate crime," he said. "And the list of inaction continues."
FBI statistics published last November indicate that hate crime reports have also been rising across the pond. Based on data voluntarily submitted by about 15,000 law enforcement agencies in the U.S., the FBI documented 6,121 hate crime incidents in 2016, up 5 percent from the previous year. About 21 percent were prompted solely by religious bias, most of it targeted toward Jews and Muslims.
Full report at:
https://www.huffingtonpost.in/entry/religious-hate-crimes-muslim-england-wales_us_5bc61a9ce4b0a8f17ee6907e
--------
UK home secretary attacked for being a Muslim
October 17, 2018
LONDON: Home Secretary Sajid Javid has told of being a victim of hate crime as he vowed to tackle intolerant behaviour, international media reported. The UK politician said he had been called names such as "a coconut, Uncle Tom and much worse" since taking on his Cabinet post earlier this year. His revelations come as ministers prepare to publish a new blueprint aimed at improving the response to and raising awareness of offences that target a victim because of personal characteristics such as race, religion or sexual orientation. Writing in the Daily Telegraph, Javid said he had also been sent a "Punish a Muslim Day" letter. "No matter who you are, these attacks have a personal effect," he said. "Sadly, we still hear incidents of intolerance, whether it's a migrant being told they don't belong, a disabled child being verbally abused, a Muslim woman having her veil torn off or anonymous keyboard cowards infecting the internet with hatred." Promising his commitment to "stamping out this sickening behaviour", the MP added: "It is the responsibility of us all to tackle intolerance so that we can live our lives in this great, vibrant country." The new government clampdown will see taxi drivers and door staff given guidance on spotting hate crime, while the Law Commission will carry out a review to explore how to make current legislation more effective.
Spikes in reports of hate offences have been registered following events such as the Brexit vote in June 2016 and the Westminster terror attack last year.
Full report at:
https://www.thenews.com.pk/print/381898-uk-home-secretary-attacked-for-being-a-muslim
--------
Was sent 'Punish a Muslim Day' letter: British home secretary
Oct 16 2018
LONDON: British Home Secretary Sajid Javid recently disclosed that he has been a victim of hate crime.
Writing in the Daily Telegraph, Javid said he had also been sent a "Punish a Muslim Day" letter. He further remarked that hate crime leaves a personal effect 'no matter who you are.'
The politician further stated that it was regrettable to hear reports of hate crime in this day and age. "Incidents of making fun of a differently-abled child or forcefully removing the veil of a Muslim woman are often reported," he said.
Javid said he had been called names such as "a coconut, Uncle Tom and much worse" after he assumed office earlier this year.
"It is the responsibility of us all to tackle intolerance so that we can live our lives in this great, vibrant country," he said.
Full report at:
https://www.geo.tv/latest/214984-was-sent-punish-a-muslim-day-letter-british-home-secretary
--------
Pope Francis receives the Grand Imam of Al-Azhar
Oct 17, 2018
VATICAN CITY: Pope Francis received the Grand Imam of the prestigious Muslim al-Azhar Mosque of Egypt, Prof. Ahmad Muhammad Al-Tayyib, in a private visit, Tuesday afternoon, at the Casa Santa Marta in the Vatican, the Holy See's Press Office said in a brief note.
The two spiritual leaders have met a few times before, most importantly when the Pope visited Egypt, 28-29 April, 2017, on the invitation of the Grand Imam.
During that visit, Pope Francis and the Grand Imam spoke at the closing of an international peace conference organized by the Al-Azhar University.--Vatican News
http://www.heraldmalaysia.com/news/pope-francis-receives-the-grand-imam-of-al-azhar/44689/4
--------
Grand Mufti challenges gay teachers' rights to work in Islamic schools
OCTOBER 15, 2018
Australia's Grand Mufti has signalled open hostility to gay teachers in Islamic schools in defiance of Bill Shorten's proposed changes to discrimination laws, saying they engage in "abnormal practices that contradict nature" and suffer from "mental illness".
The intervention from Sheik Taj El-Din Hilaly, whose standing as Grand Mufti is disputed by the Australian National Imams Council, comes amid splits in the Coalition over how religious freedom protections should apply to teachers.
In the wake of the leaking of the Ruddock review into religious freedoms last week, the Opposition Leader has demanded the removal of legal exemptions allowing faith-based schools to discriminate against teachers on the basis of sexual orientation
The push from Mr Shorten comes ahead of the crucial weekend by-election in Wentworth, which is home to one of the largest LGBTI communities in Australia.
Labor's proposal would require Scott Morrison to expand his pledge to shut down laws, introduced by Labor in 2013, allowing students to be expelled from ­religious schools for being gay.
Mr Shorten's proposal faces the prospect of opposition from some Islamic leaders, with nine of the 12 Sydney seats that voted against same-sex marriage being held by Labor MPs, including the electorates of Labor frontbenchers Chris Bowen, Tony Burke and Jason Clare.
Sheik Hilaly yesterday told The Australian that homosexual teachers should "not impose their lifestyle on the rest of society, especially schools which are supposed to provide an environment of learning and culture and not a club for those seeking to satisfy their desires".
While Christian leaders have also defended the right of faith- based schools to hire staff who uphold their religious teachings and values, Sheik Hilaly yesterday demonstrated a stronger reluctance towards having gay teachers in Islamic schools.
Sheik Hilaly, whose reappointment as Grand Mufti of Australia last month by Imam Abdul Taub Raza at Logan Mosque in Queensland has been challenged, yesterday said gay people suffered from a "mental illness".
Speaking through a translator, he told The Australian: "We are a free democratic society that believes in diversity and human rights and we reject constrictions on the rights of others even if they are afflicted with abnormal practices that contradict nature.
"In such cases, we must respect their humanity and deal with the issue as a mental illness that requires care and treatment."
Josh Frydenberg, a prominent Jewish politician, yesterday suggested the government was open to accepting the push by Labor to introduce extra protections for gay teachers, a position the Prime Minister would not endorse when grilled in question time by Mr Shorten. "I don't think there's any room for discrimination, be it a student or against a teacher," the Treasurer told ABC radio. "But that being said, we need to work through this process with the Labor Party and ensure that we provide front to the country."
The Australian understands Mr Morrison will not move to extend additional protections to gay teachers, but will focus on closing the exemption for students. The treatment of teachers will instead be unveiled when the government delivers its considered response to the review of religious freedoms led by former Liberal attorney-general Philip Ruddock.
Addressing Labor in parliament yesterday, Mr Morrison said the government did not "take kindly to being lectured on these issues when you created the laws which created the discrimination".
Nationals MP Andrew Broad, in a sentiment shared by other conservative Coalition MPs, also argued in favour of the ability of non-government schools to discriminate against gay teachers if they did not uphold the key values of the school.
"If a parent sends their child to a school and they are paying for that school, then they expect that school in their leadership, in their teaching faculty, to uphold the values that they believe in," he said.
"The school needs to be able to employ people that hold the values the parents expect."
Mr Shorten said he was "pleased both sides of ­politics are now united in the view­ that exemptions allowing ­religious schools to discriminate against children should be removed".
"I believe we can use this goodwill to go further and remove the exemption that would allow a teacher or school staff member to be sacked or refused employment because of their sexual orientation," he said.
Labor MPs also spoke out yesterday, defending the ability of faith-based schools to hire staff who supported the key tenets of their religion.
NSW MP Chris Hayes, who holds the western Sydney seat of Fowler, which recorded a 63.7 per cent no vote against same-sex marriage, said: "Having a close association with religious schools, I know that there's some teachers who are in same sex relationships."
"I don't think that's the issue. I think a good teacher is a good teacher. I think the issue may be if someone decided to go out and expand upon or promote their relationship. That might be seen to be acting against the principles of the (school's) faith. That could be seen as a different thing."
Victorian Labor senator Kimberley Kitching said religious schools should be able to fire teachers if they did not teach the "ethos" of the school, including on same-sex marriage.
"That is different from the removing of the discrimination of the sexual orientation of the teacher," she told Sky News.
Labor frontbencher Michelle Rowland, whose northwest Sydney seat, Greenway, voted against same-sex marriage, said the issue of allowing religious schools to ban gay teachers was "vexed".
Full report at:
https://www.theaustralian.com.au/national-affairs/education/grand-mufti-challenges-gay-teachers-rights-to-work-in-islamic-schools/news-story/106fa1e353f71557b678fc7726c5a6a7
--------
Britain secretly training Saudi air force: Report
Oct 17, 2018
Britain's Royal Air Force (RAF) has been training Saudi Arabian air force crew over the past four years as part of a secret deal, a report says.
The Daily Mail can disclose that 111 RAF personnel have been seconded to BAE Systems to train Royal Saudi Air Force aircrew and provide engineering support, including 21 sent during the first five months of this year.
In 2015, 34 RAF personnel were sent there, with 30 the following year and 26 in 2017, the report added.
"These personnel were all seconded to BAE Systems to provide training support to Royal Saudi Air Force aircrew and routine aircraft engineering support," British defense minister Guto Bebb said in a written statement.
In addition, high-ranking British military advisers are in their control rooms to assist the Saudi-led coalition, which has been bombing Yemen since 2015, killing thousands of civilians.
BAE sources, however, have denied any involvement in military operations.
Some UK officers have also been sharing targeting techniques for several years and, according to Riyadh, they have access to the "target list."
According to a spokesman for the Ministry of Defense, "All UK military personnel in Saudi Arabia are under UK command and control.
"We have an ongoing and wide- ranging defense engagement relationship with Saudi Arabia, which has included the provision of training courses and advice and guidance."
In March this year Britain and Saudi Arabia signed a controversial aid agreement worth £100 million.
London is already the target of strong criticism from rights groups for its multibillion-pound arms sales to Saudi Arabia, during the kingdom's deadly war on Yemen.
The new revelation comes amid international condemnation over the alleged murder of Saudi journalist Jamal Khashoggi inside the country's consulate in Istanbul, Turkey earlier this month.
Khashoggi, a prominent critic of Saudi Crown Prince Mohammad bin Salman and a US resident, disappeared on October 2 after visiting the consulate. Turkish authorities believe he was tortured and killed inside the building by a team of Saudi operatives who removed his dismembered body.
On Tuesday, Tory MP Crispin Blunt said the UK Government should reconsider its relations with the Saudis following the disappearance of Khashoggi.
Full report at:
https://www.presstv.com/Detail/2018/10/17/577220/UK-Royal-Air-Force-Saudi-Arabia
--------
Senior Russian officials meet bin Salman to discuss Syria
Oct 16, 2018
A high-level Russian delegation has traveled to Saudi Arabia and met with Crown Prince Mohammed bin Salman to discuss the crisis in Syria.
The Russian Foreign Ministry said on Tuesday that the delegation, including senior foreign and defense ministries officials, had been in Saudi Arabia on October 14 and 15.
The Russian team also held talks with Saudi Foreign Minister Adel bin Ahmed al-Jubeir.
"There was a detailed exchange of views on the situation in the region of the Middle East and North Africa with an emphasis on the development of events in Syria," the ministry said.
"A common understanding was expressed of the need to finally eliminate the hotbeds of terrorism in this country, the importance of speeding up a reliable and long-term political settlement of the Syrian crisis," it said.
Russia, along with Iran, has been helping the Syrian government its efforts to liberate the country of the terror groups.
The foreign-backed militancy in Syria seems to be nearing an end as Syria and its allies are preparing to liberate Idlib Province, the last terrorist bastion in the country.
Damascus and its allies are now involved in diplomatic efforts with Turkey to retake the city from militants without any military operations.
Many of the terrorists in Syria are either supported by Riyadh or inspired by Wahhabism, a Takfiri ideology dominating Saudi Arabia and freely preached by its clerics.
Full report at:
https://www.presstv.com/Detail/2018/10/16/577157/Russia-Syria-Saudi-Arabia-bin-Salman
--------
Security fears as UK extremist leader Anjem Choudary set for freedom
October 16, 2018
Britain's most notorious hate preacher is set for imminent release from prison, giving the authorities a major security headache as they try to curb extremist violence.
Officials will impose crippling conditions on Anjem Choudary's release to stop him returning to lead the extremist organisation Al Muhajiroun that was left rudderless after he and his deputy were arrested for promoting ISIS in 2015. Sources say Choudary is unrepentant about his extremism and is planning to write a book.
Choudary's speeches inspired some of the UK's most dangerous terrorists. Nearly 70 followers of his group were convicted of terrorist-related offences between 1998 and 2015, according to research by the Henry Jackson Society think tank.
Followers of his group were linked to:
The 2005 suicide attack on London's transport network that killed 52 people
The murder of British soldier Lee Rigby who was run over and stabbed by two men
ISIS executions in Syria of "spies" for Britain
The 2017 London Bridge attack when extremists killed eight people after mowing down pedestrians with a van
Choudary is expected to be released this week. It is understood he will be forced to live in a probation hostel in London but away from his former stronghold in the east of the capital.
He was once a rallying point at protests and rallies for disaffected young men who flocked to events he hosted with Al Muhajiroun's spiritual leader and co-founder Omar Bakri Mohammed, a former Hizb ut-Tahrir activist deported from Saudi Arabia in 1985. He is said to have inspired dozens to travel to Syria to join ISIS.
But documents seen by The National suggest Choudary, 51, will face more than 20 restrictions for the next two-and-a-half years. These are likely to limit his contacts with like-minded extremists. The restrictions could include curfews, bans on attending some mosques, a ban on most telephone and internet communication and a bar on leaving the UK.
Police will also have to protect Mr Choudary from far-right activists trying to hunt down the most recognisable figure in British extremism.
"They face a balancing act to ensure that he doesn't pose a threat with his hate preaching, while keeping him and his family safe from people who want revenge for everything he's said," said Harry Fletcher, an expert in criminal justice and victims' rights. "If they turn up at his door, they'll be moved straight away."
Choudary, a former lawyer, was Al Muhajiroun's main leader from 2005 when Bakri fled to Lebanon and was barred from returning. His inflammatory sermons – combined with his legal knowledge of how to stay on the right side of the law – ensured his pre-eminent status.
Under his leadership, the group built a network across Europe, the Middle East, Asia and the Americas. Affiliated fighters travelled to Syria, Indonesia, Somalia, Yemen and Afghanistan, according to researchers.
Once considered a figure of fun at the head of a rag-bag organisation of misfits, Al Muhajiroun and its successors became a fertile seedbed for terrorism after the September 11, 2001, attacks on the United States.
"The lesson learned from Anjem Choudary is that extremism cannot be given any space," said Fiyaz Mughal, the founder of Faith Works which charts anti-Muslim violence. "It must be disrupted, challenged and pushed out of the public space at every point."
Al Muhajiroun was not proscribed until 2006, two years after Bakri publicly disbanded the group in an attempt to stave off a government ban. It re-emerged under a series of names such as Islam4UK, Al Ghurabaa and The Saved Sect.
Choudary's release after serving half of his five-and-a-half-year jail term coincides with his number two, Mizanur Rahman, also being freed. A dozen former members who have served time for terrorist offences are also likely to be out in the coming months. Another senior member, named in court documents only as LF, had strict conditions on his freedom removed last week, leading to concerns that the group could become a renewed force under Choudary's leadership after 2014's crackdown.
The crackdown followed a series of high-profile stunts by the group including a rally in London to call for Queen Elizabeth II to convert to Islam and plans for a conference a year after the September 11 attacks to celebrate the "Magnificent 19" who carried out the plot.
Choudary led the group in protests against returning British soldiers from wars in Iraq and Afghanistan. His activists burned poppies – the symbol of the war dead – during annual Remembrance Day commemorations.
The protests triggered a response from a resurgent far-right.
Prisons minster Rory Stewart said security officials would be watching Choudary "very, very carefully" on his release.
Full report at:
https://www.thenational.ae/world/europe/security-fears-as-uk-extremist-leader-anjem-choudary-set-for-freedom-1.781176
--------
More money for British mosques amid rise in hate crime
October 16, 2018
Britain will spend almost £1 million (Dh4.85m) to protect dozens of places of worship to tackle a continued rise in hate crime.
Sites including nine churches, 22 mosques and 12 Sikh gurdwaras will receive £800,000, while a programme to take on hate crime will provide £1.5m to groups that challenge prejudice.
A review launched on Monday by the law commission will also consider widening the offence to include ageism, misogyny and misandry, or hatred towards men.
The UK reported a 17 per cent increase in hate crimes over the past year, with 94,098 incidents recorded by police, up from about 40,000 reported in 2012.
The increase is in part due to "certain events such as the EU referendum and the terrorist attacks" last year, the report said.
Some really interesting detail on the nature of hate crime coming out of today's big report from the Home Office. This chart neatly confirms the point that hate crimes spike in relation to moments of national tension or international crisis: pic.twitter.com/C7SFthpDlD
— Dominic Casciani (@BBCDomC) October 16, 2018
The government said Muslims were disproportionately the focus of hate crimes, with about 52 per cent of incidents aimed at the community.
"Hate crime goes directly against the long-standing British values of unity, tolerance and mutual respect – and I am committed to stamping this sickening behaviour out," said Sajid Javid, the Home Secretary. "Our refreshed action plan sets out how we will tackle the root causes of prejudice and racism, support hate crime victims and ensure offenders face the full force of the law."
Mr Javid said he had been the victim of hate crimes, even after taking office.
"I have been called a coconut, an Uncle Tom and much worse," he wrote in a newspaper article.
"I was sent a 'Punish a Muslim Day' letter. No matter who you are, these attacks have a personal effect."
Days earlier, a man pleaded guilty to sending such letters to mosques and Muslim public figures, including MPs, over summer.
It is hoped the plan will encourage those more likely to be the targets of such crimes to recognise and report them, especially taxi drivers and door staff.
There are five types of hate crime under British law – race, religion, sexual orientation, transgender identity and disability.
The minister for communities, James Brokenshire, said the funding was aimed at solving underlying causes of prejudice.
Labour MP David Lammy tied the rise to political rhetoric, citing former foreign secretary Boris Johnson's recent comments over the burqa.
"The extent to which hate crimes have risen in recent years is shameful. It comes from the very top. Divisive, xenophobic rhetoric from politicians and leaders trickles down into abuse and violence on our streets," he said.
Full report at:
https://www.thenational.ae/world/europe/more-money-for-british-mosques-amid-rise-in-hate-crime-1.781171
--------
India
Kashmiri students demand withdrawal of sedition charges
October 16, 2018
New Delhi: Hundreds of students at Aligarh Muslim University (AMU) on Tuesday held a protest march demanding the withdrawal of suspension and sedition charges against three Kashmiri students who held a prayer meeting for slain militant Mannan Wani.
The students marched outside AMU campus carrying placards, which read: "Being a Kashmiri is not a crime."
Aligarh's Senior Superintendent of Police (SSP) Ajai Sahni said police booked the three students after a video surfaced showing them offering 'namaz' and raising anti-India slogans after the killing of Hizbul Mujahideen (HM) militant Wani last week.
"The students were booked for raising anti-India slogans and trying to hold a prayer meeting for Hizbul Mujahideen commander Manan Bashir Wani on October 12. We have filed an FIR against Wasim Malik, Abdul Mir and one unnamed person. They have been identified on the basis of a video recording," Sahni said.
AMU spokesman Shafay Kidwai, however, denied the charges of harassment made by Kashmiri students on Tuesday.
"We are not against students. No innocent would be framed. But the students should be mindful of the fact that there is zero tolerance for any anti-national activity on AMU campus," Kidwai said.
Wani, 27, was pursing a PhD course in Allied Geology at AMU. In January this year, he quit the university and joined HM. He was killed last week in an encounter in Handwara, Kashmir.
The All India Muslim Personal Law Board (AIMPLB) slammed the ruling Bharatiya Janata Party (BJP) for targeting "innocent Kashmiri youth."
"The Kashmiri students should not be seen as anti-national for holding 'Namaz-e-Janaja' for their friend Manan Wani. When it comes to Aligarh Muslim University, BJP makes a mountain out of a molehill. Students should be seen as students. If they make a mistake, it should be viewed as a mistake by a student," AIMPLB leader Zafaryab Jilani said.
Kashmiri students have threatened to abandon studies at AMU if charges against the students were not dropped.
"If this vilification does not stop, more than 1,200 Kashmiri students will leave for their homes in Kashmir Valley on October 17. The sedition charges against Kashmiri students are nothing but a vendetta. It is very unfortunate and highly deplorable that universities are now being turned into war zones," former vice president of AMU students' union Sajjad Rathar wrote in a letter to University Vice Chancellor.
He said the option of holding 'Namaaz-e-Janaza' in absentia was dropped after AMU authorities did not give the permission.
"If no prayer meeting was held as confirmed by all official agencies, the slapping a case of sedition against Kashmiri students is simply harassment and denial of justice," Rathar added.
https://gulfnews.com/news/asia/india/kashmiri-students-demand-withdrawal-of-sedition-charges-1.2290580
--------
Church schools in India among those that 'should not exist'
October 16, 2018
Muslim and Christian leaders in India see danger in a pro-Hindu group's demand that the government revoke a policy allowing minority groups to own and manage educational institutions in the country.
A report released Oct. 10 by the Centre for Policy Analysis, a think tank of hard-line Hindu group Rashtriya Swayamsevak Sangh, stated that allowing religious minority groups to have institutions for their own people was tantamount to "compartmentalization" that works against the unity of India.
"There is no rationale for the existence of a separate wing for education of minorities such as [the] National Commission for Minority Educational Institutions in the Ministry of Human Resource Development. Aren't such types of national level regulating bodies compartmentalizing education on religious lines and weakening the national mainstream?" asked the report.
The Centre for Policy Analysis wants the government to discontinue the National Commission for Minority Educational Institutions, a legal body that advises the federal and state government on issues related to minority institutions.
Archbishop Thomas D'Souza of Calcutta, who chairs the Indian bishops' office for education, said the demand goes against the provisions of the Indian constitution that allows religious minorities to establish and administer educational institutions of their choice to help advancement of their community members.
"In effect, they are asking to change the Indian constitution," the archbishop told ucanews.com.
Technically, the Hindu group has only asked to close down the National Commission for Minority Educational Institutions. But by de facto the demand is to remove the provision to have minority institutions as the commission is the authority to grant minority status to an educational institution.
Established in 2004, the commission functions under the Ministry of Minority Affairs which this year has allocated 2.4 billion rupees (US$ 337 million) for educational reforms, including special grants and scholarships.
"All Indians, particularly religious minorities, should be afraid about such demands," Archbishop D'Souza said.
Some 220 million people or 18.4 percent of 1.2 billion Indians are officially considered part of a religious minority. Some 140 million Muslims, the largest minority, constitute 13.4 percent of the population, while 27 million Christians (2.3 percent) are the second largest minority group. Other religious minorities are Sikhs (1.9 percent) Buddhists (0.8 percent) and Parsis (0.07 percent) of the country's total population.
Molvi Javaid Ahmad, a Muslim cleric who runs a Madrassa in India's northern state of Jammu and Kashmir, said educating and empowering people "isn't an act of charity. It's a governmental duty to ensure that communities are uplifted and allowed to prosper."
Ahmad said official censuses have shown that Indian religious minorities are educationally poor. "In order to make India a developed nation, it has to facilitate the education of these disadvantaged communities," he said.
The 2011 national census report showed that only 53 percent of Indian Muslims are literate, against the national average of 74 percent. The literacy rate is 68 percent among Sikhs, 72 among for Buddhists and 74 percent for Christians.
Christian leader Joseph Dias based in western Mumbai city told ucanews.com the think tank's report is aimed at "polarizing people" on religious lines ahead of the national elections due in next May.
"Catholic institutions keep a high standard … And, a huge majority of students in them are non-Christians. So doing away with such institutions will hit the majority community more than minorities," Dais said.
The country needs such skilled and professional educational institutions, he said. "Unless there is any parallel infrastructure of that level, it is futile to even discuss anything like this," Dais added.
Full report at:
https://www.ucanews.com/news/church-schools-in-india-among-those-that-should-not-exist/83634
--------
3 militants killed in Srinagar encounter, policeman martyred
October 17, 2018
Three militants were killed Wednesday in an encounter in Srinagar. A policeman was martyred.
The encounter took place in Fateh Kadal, where two National Conference workers were killed earlier this month.
Over 160 militants have been killed in Kashmir since January. A total of 213 were killed last year.
Last Thursday, two militants, including a former scholar at the Aligarh Muslim University (AMU) in Uttar Pradesh, were killed.
Two AMU research scholars were suspended for allegedly participating in an aborted prayer meeting for the scholar-turned-militant -- Manan Bashir Wani. Their suspension was revoked Tuesday.
Full report at:
https://www.indiatoday.in/india/story/srinagar-encounter-jammu-and-kashmir-1369566-2018-10-17
--------
Militants' funeral: AMU revokes suspension of two Kashmiri students
by Manish Sahu
October 17, 2018
The Aligarh Muslim University (AMU) Tuesday revoked the suspension of two Kashmiri students who allegedly attempted to offer funeral prayers for a former student-turned-militant killed by security forces in north Kashmir last week. The police investigation into the case is still on.
The decision to revoke the suspension of Waseem Ayub Malik and Abdul Haseeb Mir came after a three-member committee looked into the matter.
"The suspension of both students have been revoked after committee submitted its report today stating that they did not find any reason to continue their suspension. The committee based its decision on facts available," said AMU Registrar Abdul Hamid.
Also Read | Scholar-turned-militant among two killed in J&K encounter
The committee comprised Deputy Proctors Prof Mahmood S Khan and Prof Rashid Umar, and Assistant Proctor Dr Mohsin.
In connection with Thursday's incident on campus, AMU had also issued showcause notices to seven persons alleged to have participated in incident. While studying their responses, the committee found that three of them were former students.
"The committee is studying their reply and will decide accordingly," said M Shafey Kidwai, AMU's public relation in-charge.
Police, meanwhile, said the AMU decision will not affect their investigation into an FIR that names Malik and Mir and which includes charges of sedition.
Full report at:
https://indianexpress.com/article/india/militants-funeral-amu-revokes-suspension-of-two-kashmiri-students-5405413/
--------
AMU revokes suspension of Kashmiri students charged with sedition
October 16, 2018
The Aligarh Muslim University (AMU) administration on Tuesday revoked the suspension of the two Kashmiri students, who were earlier charged with sedition along with another student, ANI reported. The three students were booked on Friday for allegedly raising "anti-India" slogans and trying to hold 'namaz-e-janaza' (prayer meeting) for Hizbul Mujahideen commander Manan Bashir Wani who was killed in a gun battle with security forces in north Kashmir's Handwara district.
"A three-member committee had been constituted to look into the matter, which concluded that the 'suspension will be harsh for their act and conduct'. Based on the evidence found by the committee it was decided that the suspension order be revoked," Aligarh Muslim University PRO Omar Peerzada told ANI.
On Monday, former Jammu and Kashmir chief minister Mehbooba Mufti had demanded the withdrawal of sedition charges against the three students while also asking the Centre to intervene in the matter. The AMU students also staged a protest in the campus, with over 1,200 Kashmiri students threatening to leave for their homes on October 17, if the sedition charges against the three were not dropped.
The students also handed over a letter to the Proctor of AMU, stating that "no prayers or any relevant activity was observed" and they strongly condemn the "fabricated allegations and a systematic vilification campaign" against the students and the university.
The students also said that the cases laid against them threaten to jeoperdize their career and that they are law abiding people and did not breach the guaranteed freedom of speech, or act.
Full report at:
https://indianexpress.com/article/india/amu-aligarh-muslim-university-revokes-suspension-of-kashmiri-students-charged-with-sedition-manan-wani-5405213/
--------
South Asia
Over 30 Afghan policemen killed in Taliban attack
October 17, 2018
MOSCOW/Kabul - Over 30 Afghan police officers have been killed in a Taliban attack in the north of Afghanistan, Afghan media reported on Tuesday, citing a local source.
The militants attacked security checkpoints located in the province of Samangan, namely its Dara-i-Sauf Payeen district, at 11 p.m. local, according to the Pajhwok news agency.
Taliban members reportedly killed the deputy police chief of Samangan, among others, and seized eight police pickups, two trucks, weapons and ammunition.
Afghanistan has been suffering from an unstable political and social situation for years, with the government forces engaged in fight against the Taliban radical movement and various terrorist organizations, including the Islamic State (banned in Russia), which are attempting to gain control over the country.
16 security personnel killed in other offensives
About 16 Afghan security personnel were killed and 17 others wounded in separate militants' attacks in two provinces, officials said Tuesday.
In one incident, eight national army troops, three policemen and two local uprising personnel were killed and 13 others wounded after Taliban militants, equipped with guns and heavy weapons attacked security posts in Kijran district of central Daykundi province on Monday evening, Ali Akbar Nateqi, the provincial government spokesman, told Xinhua.
He said the militants have also seized some government forces' equipment and destroyed the remaining, after they took control of several security checkpoints in the district.
Elsewhere in the western Farah province, three national army troops were killed and four others wounded in areas close to the provincial capital Farah city, spokesman of 207-Zafar Corps, Nurul Haq Khaleqi confirmed, adding that seven militants were also killed and 11 others wounded in the clashes.
The violence has been on the rise as Afghan security forces struggle against a surge in attacks by militants when the country is preparing for parliamentary elections scheduled for Saturday.
During the upcoming polls, nearly 9 million registered voters, including 3 million women, will cast their ballots to elect members of the 249-seat lower house of parliament for a five-year term.
Election officials recently cancelled district councils election which was expected to be held together with the parliamentary polls.
Meanwhile, at least seven militants have been confirmed dead and six others injured as government forces stormed Taliban positions outside Kunduz city, the capital of northern Kunduz province, an army spokesman said Tuesday.
The government forces, backed by fighting aircraft, targeted Taliban hideouts in Zarkharid and Taluka neighborhoods outside Kunduz city Monday night, killing seven insurgents on the spot and wounding four others.
Blast wounds 5 children
Five people were injured in a blast that rocked Faizabad district in Afghanistan's northern Jawzjan province on Tuesday, a police official Kamaludin Yawar said.
"Five innocent children were passing a street in Faizabad district this morning when a mine planted by militants went off and injured the innocent children," Yawar told Xinhua. Without providing more details, the official said that an investigation was underway. Taliban militants who are active in the area and are largely relying on the suicide and roadside bombings haven't commented on the incident.
7 police officers killed in clashes
At least seven Afghan police officers were killed following clashes with Taliban militants in northern province of Samangan overnight, local police said Tuesday.
"Deputy provincial police Chief Khawani Tahari and six police officers were killed following a Taliban ambush attack in Dara-i-Suf Payyan district Monday night," provincial police spokesman Munir Rahimi told Xinhua.
The police unit was travelling to provincial capital Aybak city after inspecting security checkpoints in Dara-i-Suf Payyan but the clashes took place after the unit came in contact with the militants in Zarakai locality of the district, the spokesman said, adding that three policemen were also injured in the gunfight.
More than 30 Taliban militants were also killed and injured after the fighting, he added.
Moreover, three civilians were killed as a bomb blast rocked Pul-e-Khumri city, the capital of Afghanistan's northern Baghlan province on Tuesday, provincial police spokesman Zabihullah Shija said.
"The blast orchestrated by the anti-government rebels in Kartai Itefaq neighborhood of Pul-e-Khumri city claimed three lives, including former anti-Taliban commander Faizullah today," Shija told Xinhua. All the victims were civilians, the official said. Taliban militants are yet to make comment on the attack.
https://nation.com.pk/17-Oct-2018/over-30-afghan-policemen-killed-in-taliban-attack
--------
Raid on militants' hideout in Bangladesh kills 2
October 16, 2018
Two bodies suspected to be of militants were found on Tuesday after Bangladeshi security forces stormed a hideout of the Jamaatul Mujahideen Bangladesh (JMB) members in the country's Narsingdi district, the police said.
Monirul Islam, counter-terrorism unit chief of the Bangladesh police, told the media that the security forces surrounded two houses in two separate places in the district since Monday night, Xinhua news agency reported.
After the first operation on Tuesday, "two bodies were found scattered at the first militant den", Islam said, adding that one of the dead was a woman.
No further details were available.
Security has been tightened in Bangladesh since militants attacked a Spanish cafe in Dhaka's affluent neighbourhood of Gulshan on July 1, 2016, killing 22 people, mostly foreigners.
Full report at:
https://www.business-standard.com/article/news-ians/raid-on-militants-hideout-in-bangladesh-kills-2-118101601001_1.html
--------
Taliban warn teachers, students to avoid Afghan polls
October 17, 2018
KABUL, Afghanistan: The Taliban have warned teachers and students not to participate in Afghanistan's upcoming parliamentary elections and not to allow schools to be used as polling centers.
The insurgents said in a statement Wednesday that they will target the Oct. 20 elections, which they view as illegitimate, but that they do not want to harm civilians.
The Taliban are opposed to democratic elections, viewing them as an imposition by foreign powers. The group has been fighting Afghan and NATO forces for more than 17 years in hopes of restoring its brand of harsh Islamic rule.
Full report at:
http://www.arabnews.com/node/1389251/world
--------
Bangladesh to sign MoU with Saudi Arabia on military cooperation during Hasina's visit
October 17, 2018
DHAKA: Bangladesh is set to sign a deal to enhance military cooperation with Saudi Arabia during Prime Minister Sheikh Hasina's four-day visit to the Kingdom, Bangladesh's Foreign Minister A. H. Mahmood Ali said on Monday.
Hasina, along with her entourage, left Dhaka on Tuesday on a special Biman Bangladesh flight. The premier is visiting the Kingdom on the invitation of King Salman.
The memorandum of understanding on defense cooperation between the two countries is scheduled to be signed during the meeting of Sheikh Hasina and the Saudi king on Wednesday in Riyadh.
The foreign minister did not give further details of the deal.
Security analysts in Dhaka expressed their high expectations and welcomed any military cooperation with the Kingdom.
Maj. Gen. (retired) Abdur Rashid, a renowned Bangladesh security analyst, told Arab News that any deal with Saudi Arabia will bring Bangladesh closer to the Organization of Islamic Cooperation (OIC) nations and during any emergency it will enable the country to seek military assistance from friendly countries, including Saudi Arabia.
"On the Rohingya issue, Bangladesh is receiving direct support from the OIC countries on different regional and international platforms. So this kind of military agreement with Riyadh will definitely help Bangladesh to gain more support from the Saudi-bloc countries in the Middle East to resolve the crisis," Rashid added.
He said Saudi Arabia had been building a military alliance with Muslim countries in recent years and, especially after the Yemen crisis, this demand is now felt even more than before.
"Any military cooperation deal should be based on a win-win situation, and if Bangladesh signs the agreement with Saudi Arabia, it will increase the capacity of the military alliance led by Saudi Arabia, since Bangladesh is one of the largest Muslim nations in the world," Rashid added.
Saudi Arabia holds a very strong military might among the Middle Eastern countries, and when the country goes for any up-gradation in its military power, it may share the military logistics with Bangladesh, which will eventually strengthen the latter's military capacity. Rashid considers that this military deal will give Bangladesh a "strategic advantage" in the defense arena.
As an expression of brotherhood, Bangladesh has stood beside the Kingdom on several occasions at different forums. This year, it participated in a 23-nation joint military exercise led by Saudi Arabia.
Hasina visited the Kingdom in April to witness the final march of the joint military forces.
During her visit, the Bangladesh; premier will also sign another deal on cooperation in the information and communications technology sector. She is also scheduled to attend a business seminar in Riyadh organized by the Council of Saudi Chambers.
Golam Moshi, Bangladesh's ambassador to Saudi Arabia, said: "The Bangladesh PM will focus on increasing the labor migration in Saudi Arabia. She will also ask for more investments from Saudi Arabia in solar power, cement, special economic zones, and the oil-refining sector of Bangladesh."
Hasina will inaugurate the newly built permanent Chancery building of the Bangladesh Embassy in Riyadh on Wednesday.
She will also lay the foundation stone of the Bangladesh Consulate in Jeddah on land Bangladesh bought recently. Hasina will perform the Umrah in Makkah on Thursday and is scheduled to return home the next day.
Full report at:
http://www.arabnews.com/node/1389016/saudi-arabia
--------
UN Security Council asked to hear from UN mission on Myanmar atrocities
17 Oct 2018
NEW YORK: The United States and eight other countries on Tuesday requested a United Nations Security Council meeting on Myanmar to hear from a UN fact-finding mission that has accused the country's military of atrocities against Muslim Rohingyas.
The request is likely to run into opposition from China, which has friendly ties with Myanmar's military and has sought to shield Myanmar from action by the Security Council.
In a joint letter seen by AFP, the nine countries said the mission's chairperson should brief the council to allow it to "receive further information on this situation and its implications for international peace and security."
The UN fact-finding mission released an explosive report last month that called on the council to refer the Myanmar situation to the International Criminal Court in The Hague, or to create an ad hoc international criminal tribunal, as was done with the former Yugoslavia.
The fact-finding mission said that Myanmar's top generals, including Commander-in-Chief Min Aung Hlaing must be investigated and prosecuted for genocide in Rakhine State.
Myanmar has rejected accusations that its military committed atrocities in the crackdown last year that forced more than 700,000 Rohingya to flee over the border to Bangladesh.
MYANMAR OBJECTS
In a separate letter to the council, Myanmar's Ambassador Hau Do Suan said his government "strongly objects" to the request to hear the fact-finding mission.
The ambassador repeated Myanmar's complaints that the report was "one-sided", based on "narratives and not on hard evidence".
"Putting accountability above all else without regard to other positive developments is a dangerous attempt that will face utter failure," he warned in the letter obtained by AFP.
Britain, France, Peru, Sweden, Ivory Coast, the Netherlands, Poland and Kuwait jointed the United States in requesting the meeting to be held during the month of October.
Support from the nine countries for the request means that China would likely fail to block a meeting through a procedural vote. Nine votes are required at the 15-member council to approve an agenda item and vetoes do not apply.
Myanmar maintains that the violence in Rakhine was triggered by Rohingya extremists who attacked border posts in August 2017.
But the fact-finding mission said there were reasonable grounds to believe that the atrocities were committed with the intention of destroying the Rohingya, warranting the charges of "genocide."
Full report at:
https://www.channelnewsasia.com/news/world/un-security-council-rohingya-myanmar-10835078
--------
4 suicide bombers among 30 dead, wounded in U.S. airstrikes
Oct 17 2018
At least 30 militants including 4 suicide bombers were killed or wounded in separate airstrikes carried out by the U.S. forces in southeastern Ghazni province of Afghanistan.
The 203rd Thunder Corps of the Afghan Military in the Southeast in a statement said the coalition forces carried out an airstrike targeting a mini-van of the militants in Qurban area of Qarabagh district, leaving four suicide bombers dead.
The statement further added that the coalition forces also carried out airstrikes against the Taliban targets in Chori Kali area of Aab Band district, leaving at least 19 militants dead and 7 others wounded.
According to 203rd Thunder Corps, the militants killed or wounded during the airstrikes belong to Zarif Kochi group of Taliban.
Full report at:
https://www.khaama.com/4-suicide-bombers-among-30-dead-wounded-in-u-s-airstrikes-06168/
--------
Pakistan
S. Arabia agreed to end Umrah tax on Pakistanis, Senate panel told
October 17, 2018
ISLAMABAD: The Senate Standing Committee on Religious Affairs was informed on Tuesday that Prime Minister Imran Khan had requested Saudi Crown Prince Mohammad bin Salman Al Saud to waive 2,000 riyals tax imposed by the Saudi government on Pakistanis performing Umrah every year.
The committee, presided over by Senator Maulana Abdul Ghafoor Haideri, was briefed about the problems faced by Pakistanis while performing Haj and Umrah.
The chairman of the committee said he had received several complaints about the Saudi government imposing a tax of 2,000 riyals on pilgrims performing more than one Umrah within two years.
"I have been informed that this was some kind of a discriminatory tax on Pakistanis and the government should do something about it," Senator Haideri said.
Secretary of Religious Affairs Muhammad Mushtaq said that the rationale behind the Saudi move was to discourage repeated Umrah by a few people only and the tax had not been levied on Pakistanis only but it had recently been imposed on anyone coming from any country of the world.
"However this new tax of 2,000 riyals on people performing more than one Umrah within two years has been abolished for the people of Egypt and Turkey after requests were made by governments of these countries to the Saudi government," Mr Mushtaq said.
He said that the matter had been taken up with the Saudi authorities in Islamabad and it was suggested that Prime Minister Imran Khan should make the request to the Saudi crown prince for the tax waiver.
"The prime minister during his visit to Saudi kingdom took up the matter with the Saudi crown prince and he has agreed to abolish the tax," the secretary said, adding that it was a matter of time and the Saudi government would notify the waiver soon.
Some senators, however, criticised the prime minister's move saying it would benefit only a few rich people who wanted to perform Umrah every year.
The committee was informed about Haj operations 2018 and was told that the ministry of religious affairs would start preparations for Haj operations 2019 in January.
Senator Sajid Mir demanded that the draft of Haj Policy 2019 should be presented to the committee first, but Minister for Religious Affairs Minister Noorul Haq Qadri said that the committee could only forward its suggestions to the government as amendments to the Haj Policy of 2018.
Several senators criticised arrangements made by the government for Haj pilgrims last year.
The chairman of the committee, Senator Haideri, told the meeting that he had performed Haj almost every year on a special quota granted by the Saudi ambassador.
"I have seen more mismanagement only on Pakistan's side than any other country," he said.
He also asked the religious ministry to explain the reason why only army men were required for medical care of Haj pilgrims during Haj.
He suggested the religious ministry to seek applications for the medical mission from provinces and the federal government also.
https://www.dawn.com/news/1439531/s-arabia-agreed-to-end-umrah-tax-on-pakistanis-senate-panel-told
--------
Former Pakistani diplomat Haqqani slams China's deputy envoy in Islamabad for 'undignified' trolling
Oct 16, 2018
WASHINGTON: Pakistan's former top diplomat to the US Husain Haqqani has slammed China's deputy ambassador in Islamabad Lijian Zhao for his "undignified" trolling after the ex-envoy shared a story about the Chinese government's treatment of minority Uyghur Muslims.
Over the past few days, Haqqani has been involved in a public spat with Lijian which started over a tweet.
Haqqani, 62, tweeted a London Times article which said that "China demands the Uighur Muslims eat pork".
Lijian, instead of responding to the shared article, criticized Haqqani for the tweet.
"Joke of the day. A person without soul and nationality is joining a groundless attack against China. What a pity!" he said.
Responding to the criticism, Haqqani said diplomatic courtesy usually required diplomats not to attack people of the country where they are serving and certainly not by attacking their patriotism towards their own country.
"I respect Lijian Zhao's rights to defend China and China's policies, but for him to act as a troll on behalf of those in Pakistan who called me names was very undignified," Haqqani told PTI on Monday.
Haqqani, who is critical of the Pakistani Army and the fundamentalist groups, has a considerable following in Pakistan.
The former envoy said Monday that he will continue to write, tweet and say what he believes.
"I am not somebody who is going to toe the line of either the Pakistani establishment, the civilian Pakistani government or Mr Lijian Zhao, who until a few months ago was known as Muhammad Lijian Zhao," he said, adding that he had never met the Chinese diplomat.
Earlier, after Lijian questioned Haqqani's nationality, the ex-envoy responded saying, "Pitiful act of the day: a Chinese diplomat who dropped 'Muhammad' from his name attacks me for tweeting an article rather than denying the article from the Times".
"How much are they paying you? You're lying like this and attacking China. I respected you as a former Ambassador, but no more from now on," Lijian had hit back.
"I just tweeted an article from the London Times with a question mark. And the article said that Uighurs in a re-education camps in China were being forced to eat pork. It was a news story that has appeared in many other newspapers. He decided to attack me for tweeting it and by calling me a person without a nationality and a soul," Haqqani said on Monday.
"Firstly, I do have a nationality and secondly, as far as having soul is concerned, I thought atheist didn't believe in the notion of soul," said Haqqani who is now associated with the Hudson Institute, a top American think-tank.
Over the past few days, the Chinese diplomat has been slammed on twitter for attacking Haqqani and not responding to the news story on Uighurs.
"He's a Pakistani national, which is a sovereign country. What kind of a diplomat gives out statements against the citizens of a host country? Kindly respond to the queries raised on your country's policies without insulting Pakistani citizens. We are a nation with diverse views," tweeted a user Marvi Sirmed.
"PRC ambassador to Pakistan attacking senior Hudson Institute researcher/former Pakistan ambassador to the US for retweeting story about PRC forcing Uighurs to eat pork," tweeted another follower Matt Schrader.
Around one million minority Uighur Muslims have reportedly been sent into detention and indoctrination centres in Xinjing region during a surveillance and security campaign run by the Chinese government.
Full report at:
https://timesofindia.indiatimes.com/world/pakistan/former-pakistani-diplomat-haqqani-slams-chinas-deputy-envoy-in-islamabad-for-undignified-trolling/articleshow/66232499.cms
--------
Interim bail of ex-president Zardari, others extended for third time
October 17, 2018
KARACHI: A banking court extended for a third time the interim pre-arrest bail of former president and Pakistan Peoples Party co-chairman Asif Zardari and his sister Faryal Talpur in a money laundering case on Tuesday.
The bail of 11 other suspects was also extended till Nov 13.
Both Mr Zardari and Ms Talpur appeared before the banking court. Former Pakistan Stock Exchange chairman Hussain Lawai was also produced from prison.
The Federal Investigation Agency booked them along with several bankers and businessmen in a case pertaining to money laundering of Rs4.14 billion through 'fake' bank accounts in the Summit Bank, Sindh Bank and United Bank Limited.
The link judge while adjourning the matter extended the interim bail granted to Mr Zardari, Ms Talpur and around 11 others, including Zain Malik, the son-in-law of real estate tycoon Malik Riaz and three sons of Anwar Majeed, till Nov 13.
The court also reissued non-bailable warrants for the arrest of five absconding suspects, including UAE national Nasser Abdulla Hussain Lootah, directing the investigating officer to arrest and produce them on the next date of hearing.
Earlier, the PPP co-chairman and his sister reached the court amid tight security. Other party leaders including Imtiaz Shaikh, Nasir Shah, Nadia Gabol and others were also present.
The jail superintendent informed the court that another detained banker, Taha Raza, could not be produced since he had got his right knee fractured as he slipped in the prison on Oct 12.
He further informed the court that detained businessman Anwar Majeed, who is widely believed to be a close friend of Mr Zardari, could also not be produced since he had been shifted from jail to a hospital because of his ailment.
Defence counsel Shaukat Hayat complained that suspect Raza had been examined by a team of orthopaedic surgeons of the Civil Hospital Karachi, who had suggested his immediate surgery, but the prison authorities were not shifting him to the hospital outside the jail due to which his condition was deteriorating.
Initially, the FIA detained Lawai and Raza in July for allegedly facilitating opening of 29 'fake' bank accounts in three private banks. One such bank account maintained in Summit Bank was used for suspicious transactions to several business entities, including M/s Zardari Group, M/s Omni Group and others.
Full report at:
https://www.dawn.com/news/1439458/interim-bail-of-ex-president-zardari-others-extended-for-third-time
--------
ISI given another month to complete 'minor work' to clear Khayaban-i-Suharwardy
Nasir Iqbal
October 17, 2018
ISLAMABAD: Inter-Services Intelligence (ISI) has been given another four weeks to clear a blocked portion of Khayaban-i-Suharwardy in front of its headquarters.
The direction was issued by a three-member Supreme Court bench led by Chief Justice Man Saqib Nisar, after Director Legal Defence Brig Falak Naz sought time, saying that while the major work of removing infrastructure and sensitive devices had been completed, minor work still required more time.
On July 6, the SC granted two months to open the road at the Aabpara junction. The ISI had closed off the road in 2008 after terrorist attacks on several important government buildings.
The chief justice recalled that ISI Counter Intelligence Director General Gen Faiz Hameed had appeared in person and assured the court that the encroachments would be cleared in two months. He observed that the ISI was an organised institution and should have cleared the road by now.
Justice Nisar also cited an example of a statue of Gandhi that was erected at such a place that it obstructed traffic. The Indian Supreme Court had intervened and ordered the removal of the statue to clear the road.
"Such is the sanctity of the right to movement," he observed, adding that he needed to see the road restored.
He also asked Mr Naz to establish a bombproof edifice around the ISI headquarters, or move them elsewhere. He recalled an earlier SC direction to remove encroachments from all the roads in the capital, and observed that the court would ensure the supremacy of the law at all costs.
In response to Mr Naz' statement that the majority of the work had been carried out and time was needed for minor things, the chief justice asked what good an empty road served if it could not be used.
In its order, the SC recalled that the counter intelligence director general appeared before the court and undertook to remove the encroachments in eight weeks, and stated that Mr Naz had assured the court that substantial progress had been made including the removal of security walls. The court then granted a month for removal.
Banigala
The same bench also said on Tuesday that Prime Minister Imran Khan would be the first to pay the penalty when his Banigala residence is regularised, and called him a whistle-blower who highlighted unchecked construction in the area.
The chief justice also ordered the constitution of a high-powered committee consisting of Capital Development Authority Chairman Latif Akbar, the housing, environment, interior, local government and climate change secretaries and the Environment Protection Agency director general to devise a solution to regularise unchecked construction in Banigala.
Justice Nisar observed that almost 50 days have passed since the new government was formed, and the regularisation of the area should have been carried out on a war footing since Mr Khan, being the head of the executive, was in charge.
He said it was not the courts' task to intervene in every matter, and regretted the lack of town planning that has resulted in unchecked housing societies discharging effluents and sewage into Rawal Lake and nearby nullahs.
For illegal construction on the bed of Korang Nullah, the SC ordered the regularisation of compoundable infrastructure, but not that which was constructed on the riverbed in violation of the law.
Additional Attorney General Nayyar Abbas Rizvi told the court that a 12 kilometre wall will be constructed around Banigala, 4km of which has already been built. It will be expanded by another 4km by November, and 100,000 saplings have also been planted, he said.
Funds to complete the wall have not been released, Mr Rizvi said, adding that five companies were responsible for encroachment in the area.
The Banigala case was taken up on a letter written by Imran Khan inviting the court's attention towards unchecked and unplanned construction in the area, massive denuding due to large-scale tree felling and pollution of Rawal Lake by sewage.
Mr Khan had said that in the 15 years he had lived in Banigala, the botanical gardens from the Korang Road side had been nearly halved because of unchecked encroachment and the rapid depletion of greenery, as well as a number of multi-storey commercial buildings.
Full report at:
https://www.dawn.com/news/1439478/isi-given-another-month-to-complete-minor-work-to-clear-khayaban-i-suharwardy
--------
Pakistan elected as OIC Water Council member for two-year tenure
Oct 17, 2018
SLAMABAD: The Conference of the Organisation of the Islamic Conference (OIC) Ministers for Water during its fourth session held at Cairo on Tuesday elected Pakistan as a member to the OIC Water Council for the years 2019 and 2020.
Pakistan was also elected as vice chairman to the Islamic Conference of Ministers Responsible for Water (ICMW) Bureau, a message received here from Cairo on Tuesday said.
In his statement to the plenary session, Ambassador of Pakistan to Egypt, Mushtaq Ali Shah highlighted the importance that the government of Prime Minister (PM) Imran Khan attached to sustainable water management and conservation and reaffirmed the country's desire to share its expertise and experience with brotherly Islamic countries.
The conference called upon member states and their research institutions to share their respective experiences in the field of water resource management and also encouraged other OIC organs such as the IDB to promote cooperation with member states.
The participating delegates pointed out the various challenges facing their countries and the measures taken to address those challenges as well as, their expectations from effective and expeditious implementation of the OIC Water Vision.
Full report at:
https://www.pakistantoday.com.pk/2018/10/16/pakistan-elected-as-oic-water-council-member-for-two-year-tenure/
--------
14 Iranian security personnel 'kidnapped' near Pakistan border
Oct 17, 2018
TEHRAN: Fourteen Iranian security personnel, including Revolutionary Guards intelligence officers, were allegedly abducted near the Pak-Iran border on Tuesday, as Pakistan's Foreign Office said that Pakistan Army was working with Iranian forces to recover the abductees.
The border guards were "abducted between 4am and 5am in the Lulakdan area of the border by a terrorist group", the official IRNA news agency reported.
Lulakdan is a small village 150 kilometre southeast of Zahedan, capital of the province of Sistan-Balochistan.
Of the 14, two were members of the elite Revolutionary Guards intelligence unit, and seven were volunteers in the Basij militia involved in "a security operation".
The rest were regular border guards, according to the Young Journalists' Club, a state-owned news website.
The reports did not name a specific group as a suspect in the abduction.
Expressing concern over the abduction, Pakistan's Foreign Office in a press release said Pakistan will spare no effort in assisting Iran to recover the guards.
"Pakistan has noted with concern the reports of abduction of 12 Iranian border guards from Iran. Both militaries, under a joint mechanism established since last year, are working to ascertain the whereabouts of Iranian guards," the press release stated.
Full report at:
https://www.pakistantoday.com.pk/2018/10/16/14-iran-security-personnel-kidnapped-near-border-reports/
--------
US must stay in Afghanistan until peace is achieved: army
OCTOBER 17, 2018
Inter-Services Public Relations (ISPR) Director General Major General Asif Ghafoor Tuesday said Pakistan wants US forces to stay in Afghanistan until complete peace is achieved in the war-torn country.
"Peace in Afghanistan is imperative for lasting peace in Pakistan and the whole region," the ISPR chief, who arrived in United Kingdom last week as part of a military delegation headed by Chief of Army Staff General Qamar Javed Bajwa, said in his address at the University of Warwick here. The world would not have been able to defeat al Qaeda without Pakistan's support, he said, adding that the international community must thank Pakistan for elimination of terrorism.
Full report at:
https://dailytimes.com.pk/311266/us-must-stay-in-afghanistan-until-peace-is-achieved-army/
--------
UK MPs briefed on Pak anti-terror role
October 17, 2018
LONDON – Inter Services Public Relations Director General Major-General Asif Ghafoor here on Tuesday visited British Parliament and briefed the parliamentarians about the Pakistan Army's role in war against terrorism. He visited the British Parliament at the invitation of the parliamentarians of House of Commons and House of Lords, a statement of Pakistan
High Commission said.
The parliamentarians highly appreciated the role of Pakistan in war against terrorism. Lord Nazir Ahmed and Baroness Syeeda Warsi were also present on the occasion.
Earlier addressing at the Warwick University here, ISPR DG said there was a significant decrease in terrorist activities due to effective operation of Pakistan Army.
He said it was the desire of Pakistan that United States should stay in Afghanistan till restoration of complete peace there.
He said Malala Yousufzai, a children education activist and the Nobel Peace Prize winner, was attacked in Swat by terrorists who were against the education of girls.
He said world would have not defeated the Al-Qaeda without the help of Pakistan.
The ISPR DG said world should be thankful to Pakistan for eliminating terrorism, reminding that his country had rendered unmatched sacrifices for achieving peace in the region.
Asif Ghafoor stressed that stability in Afghanistan was imperative for durable peace in Pakistan and the region.
Monitoring Desk adds: Asif Ghafoor said that without Pakistan peace cannot be established in the region or the world.
Full report at:
https://nation.com.pk/17-Oct-2018/uk-mps-briefed-on-pak-anti-terror-role
--------
North America
Saudi Arabia is the centerpiece of US Empire's Mideast foreign policy: Analyst
Oct 16, 2018
Saudi Arabia has been the centerpiece of the American Empire's foreign policy in the Middle East region for ever, according to Daniel Patrick Welch, an American writer and political analyst.
On Sunday, Saudi Arabia warned against threats to punish it over the October 2 assassination of dissident journalist Jamal Khashoggi in the Istanbul consulate, saying oil could hit $200 "or even double that figure."
On Monday, US President Donald Trump, who had threatened "severe punishment" if it turned out Khashoggi was killed in the consulate, backtracked on his statement, suggesting the kingdom might not be responsible for the fate of Khashoggi.
Trump told reporters at the White House that "rogue killers," and not Saudi officials, may have gotten to Khashoggi.
"Of course, this would be laughable if it wasn't so predictable and cynical. I mean the kingdom of Saudi Arabia says that they're going to retaliate and oil can go to $200 a barrel and immediately Trump says, 'Oh they must be some rouge killers. It couldn't been our dear friends, the Saudis,'" Welch said.
"But, it shows the fight for what it is. You have either opposition, so-called opposition of politicians in Washington, any sort of cry from the human rights crowd trying to say, 'Oh, well we have to do something. This is outrageous. All this stuff,'" he added.
"What did they think was going to happen? KSA has been the centerpiece of the Empire's foreign policy in the region forever. This is their forward base since Carter sold AWACs, or Reagan, I don't know," the analyst said, referring to the sale of AWACS (Airborne Warning and Control System) surveillance planes (pictured below) to Saudi Arabia by the administration of President Ronald Reagan in the 1980s.
"I don't remember it anymore because it never changes," Welch added.
"The people who thought that either Trump, the new regime you know, was going to present some sort of anti-imperialist or anti-war sentiment was just totally wishful thinking. He's constantly saber rattling against Iran, against China," the commentator said.
"On the other hand anyone who thinks that resistance to this is voting for the war-mongering Democrats who all voted for this war budget – the $600-700 billion war budget which doesn't count the interest on the military debt and all that," he said.
"I mean this is strangling, or keeping afloat -- depending on your perspective – the US economy. It is the absolute driver of everything that makes any difference in Washington which therefore is around the world the world. This is the US's never-ending war policy," he added.
'US has had the same president for 40 years'
"So there really is no escape from this duopoly that doesn't involve countering the system itself -- the system of imperialism, the system of constant war, and the economic basis on which it depends," he noted.
"The House of Saud has been linked at the hip with the president going back to Bushes and before. So the real problem is that the US has had the same president for 40 years. Not that this one president is worse than any other, of course," he observed.
"Successively, I'd say that every president is worse than the previous one because we're watching this in end stage capitalist crisis, and the horrific choices that the US is going to make to sustain its domination around the world. And those are dangerous no matter who is in power. But of course the focus now is on the Trump regime, and it's just a sickening show to watch," the commentator concluded.
https://www.presstv.com/Detail/2018/10/16/577179/Saudi-Arabia-is-the-centerpiece-of-US-Empires-Mideast-foreign-policy
--------
US, Saudi trying to 'whitewash' Khashoggi murder: Fmr. US diplomat
Oct 16, 2018
The administration of US President Donald Trump is trying to "whitewash" Saudi Arabia's murder of missing journalist Jamal Khashoggi, a former American diplomat says.
Speaking to Press TV on Tuesday, Michael Springmann, a former US diplomat in Jeddah, said US Secretary of State Mike Pompeo's recent trip to Saudi Arabia was an attempt by President Donald Trump to gloss over Saudi Arabia's deeds.
"This is absolutely astonishing, astounding, outrageous… you name the superlative," Springmann said. "The Americans are obviously working to keep the Saudis close to them and the Saudis are working to keep the Americans close to them."
"It is scarcely conceivable that the president of the United States would send his secretary of state over to Saudi Arabia and not talk tough with them," he said.
Khashoggi went missing after entering the Saudi consulate in Turkey's Istanbul on October 2. Turkish and American intelligence communities agree that he was murdered there and his dismembered body was sent back to Saudi Arabia.
Having promised to "punish" the perpetrators while saving ties with Saudi Arabia, Trump sent Secretary of State Mike Pompeo to Riyadh in an attempt to put off international pressure over his lackluster reaction to Khashoggi's disappearance.
After arriving in Riyadh earlier in the day, Pompeo met with Saudi King Salman and MBS, where he hailed strong ties between the sides.
Pompeo's complimentary tone with the Saudi king further confirms the Trump administration's lack of enthusiasm to get to the bottom of issue.
Trump has pledged to "punish" Saudi Arabia if it turns out that Khashoggi was indeed murdered at the consulate. But there is a catch.
The American head of state has also made it clear that whatever those punishments are, they would not endanger ties with Riyadh, particularly the $110 billion weapons deal that he signed with the kingdom during his maiden foreign visit last year.
The reason, according to Springmann, was that neither the White House nor American and Saudi "weapons merchants" wanted the profitable military ties between the two sides to be jeopardized.
Springmann said Khashoggi was not the first dissident to be taken out by the Saudi regime.
"He supported the Saudi government until he picked the wrong prince," he said. "He is not the first of the people to disappear the Saudis have a long history of executing people, diverting people and hiding them in prisons."
Since rising to power last year, bin Salman has been going after billionaire Saudi princes as well as dissident scholars and activists in an attempt to cement his standing.
The Riyadh regime has bagged over $100 billion by forcing some princes to buy their freedom. It has also issued numerous death sentences for dissident activists.
Full report at:
https://www.presstv.com/Detail/2018/10/16/577207/US-Saudi-Khashoggi-murder-whitewash-Pompeo-Trump-bin-Salman
--------
America's Dilemma: Censuring M.B.S. and Not Halting Saudi Reforms
By Thomas L. Friedman
Oct. 16, 2018
I have three thoughts on the Jamal Khashoggi saga.
First, I can't shake the image of this big teddy bear of a man, who only wanted to see his government reform in a more inclusive, transparent way, being killed in some dark corner of the Saudi Consulate in Istanbul by a 15-man Saudi hit team reportedly armed with a bone saw. The depravity and cowardice of that is just disgusting.
Second, I do not believe for a second that it was a rogue operation and that Saudi Arabia's effective ruler, Crown Prince Mohammed bin Salman, who is very hand's on, had no prior knowledge, if not more. And therefore, not as a journalist but as an American citizen, I am sickened to watch my own president and his secretary of state partnering with Saudi officials to concoct a cover story. The long-term ramifications of that for every journalist — or political critic in exile anywhere — are chilling. By the way, I don't think they will get away with it.
This leads to my third point: How should America think about balancing our values and our interests going forward? The best way to answer that, for me, is to go back to the basics. I always knew that M.B.S.'s reform agenda was a long shot to succeed, but I was rooting for its success — while urging the Trump administration to draw redlines around his dark side — for a very specific reason. It had nothing to do with M.B.S. personally. Personally, I don't care if Saudi Arabia is ruled by M.B.S., S.O.S. or K.F.C.
It had to do with how I defined our most important national interest in Saudi Arabia since 9/11. And it is not oil, it's not arms sales, it's not standing up to Iran. It's Islamic religious reform, which can come only from Saudi Arabia, the home of Islam's holiest cities, Mecca and Medina.
By pure coincidence my first job as a foreign correspondent was in Beirut in 1979. The first two big stories I covered were the Iranian revolution and the takeover of the Grand Mosque in Mecca by an ultra-fundamentalist Saudi extremist preacher who claimed that the al-Saud family members were corrupt, womanizers and Westernizers.
That Mecca takeover terrified the Saudi ruling family. So, to shore up its religious credentials and protect itself, it made a sharp religious right turn in 1979, letting clerics impose much tighter religious controls on the society and expand exports of their puritanical Salafi Sunni brand of Islam abroad — building mosques and schools from London to Indonesia and from Morocco to Kabul, funded by higher oil prices.
This had a hugely negative effect on education and women's rights and political freedom throughout the Arab-Muslim world — and the most extreme version of this fundamentalism, Salafi jihadism, also inspired the hijackers of 9/11 and ISIS.
I believe 9/11 was the worst thing to happen to America in my lifetime.
We can debate what was the right response to the attacks — Afghanistan, Iraq, the global war on terrorism, the Department of Homeland Security, or metal detectors everywhere. But we cannot debate the costs.
We have spent thousands of lives and some $2 trillion trying to defuse the threat of Muslim extremists — from Al Qaeda to ISIS — dollars that could have gone to so many other needs in our society.
And I believe that the roots of 9/11 came from two terrible bargains. One was that bargain between the Saudi ruling family and the kingdom's religious establishment, where each blessed the other. The other was America's cynical bargain with the Saudis, which went like this: "Guys, just keep your oil pumps open, your prices low and don't bother the Israelis too much, and you can do whatever you want out back — preach whatever hate you want in your mosques, print whatever conspiracy theories you want in your papers and treat your women however you want."
On 9/11 we got hit with the distilled essence of everything that was going on out back. Which is why this column, since 9/11, had been highly critical of Saudi leaders for not reforming their version of Islam, something that would require economic and social modernization as well. They would arrest religious extremists, but Saudi leaders almost never engaged them in a public war of ideas.
And so what most caught my eye about M.B.S. and made me most hopeful was his tentative willingness to engage in a war of ideas with his religious hard-liners, declaring publicly: "Do not write that we are 'reinterpreting' Islam — we are 'restoring' Islam to its origins." He argued publicly that Islam in its origins was tolerant of others faiths and empowering of women and open to new ideas.
He seemed to be aiming to replace Saudi fundamentalist Islam, and its clerics, as the primary source of his regime's legitimacy with a more secular Saudi nationalism — one, to be sure, that had a strong anti-Iran and anti-Qatar tenor.
Hey, maybe it was all just a fake to cover for a power grab and win Western support. But a lot of young Saudis I spoke to thought it was real and wanted more of it. On this question of Saudi Arabia's most toxic export that had affected America and the whole world — jihadi Islamism — M.B.S. was doing and saying stuff that had real promise.
As veteran U.S. Middle East negotiator Dennis Ross recently pointed out in an essay in The Washington Post: "M.B.S.'s appointment of Muhammad al-Issa as the head of the World Muslim League has sent a powerful new message of tolerance and rejection of radical Islamist teachings. His visit to the U.S. Holocaust Museum, his commitment to interfaith dialogue and his calls for peace mark a significant departure from his predecessors."
But now M.B.S.'s government also has Jamal's blood on its hands. Should we all overlook that as President Trump is doing? We must not, and, in fact, we cannot.
For starters, I believe that the promise of M.B.S., however much you did or did not think he could bring social, economic and religious reform, is finished. He's made himself radioactive — absent a credible, independent exoneration for Jamal's disappearance and apparent murder. M.B.S. may be able to hold onto power in Saudi Arabia, but his whole reform program required direct foreign investment — and money has been flowing out of Saudi Arabia for months, not in. Now it will get worse.
Yes, I covered the aftermath of the Tiananmen Square massacre. I know that money has a short memory. But Saudi Arabia is not China. There has been just way too much craziness coming out of the M.B.S. government for many investors to want to make long-term bets there today, which is too bad. It will weaken any hopes of future reform.
And here's one more complication. Even if M.B.S. were pushed aside, if you think there are a 100 Saudi royals with the steel, cunning and ruthlessness he had to push through women driving, removing the Islamic police from the streets and reopening cinemas, you are wrong. There are not. All of these reforms had intense conservative opponents. This is not Denmark, and yet, without sweeping social, economic and religious reforms, Saudi Arabia could well become a huge failed state. Remember, one of ISIS' biggest sources of young recruits was Saudi Arabia.
And by the way, if you think M.B.S. had a dark side, you ought to look under some rocks in the kingdom. You will find some people there with long beards who don't speak English who believe the most crazy stuff about Shiites, Jews, Christians, Hindus, America and the West. And right now, trust me, they are applauding Jamal's assumed murder.
So, once again, what do we do? I don't have a simple answer. It's a mess. All I know is that we have to find some way to censure M.B.S. for this — without seeming to attack the whole Saudi people and destabilize the country. And we have to make sure that the social/religious reform process in Saudi Arabia proceeds — whoever is in charge there. Because that is a vital U.S. interest.
Full report at:
https://www.nytimes.com/2018/10/16/opinion/jamal-khashoggi-saudi-mohammed-bin-salman.html
--------
Guilty until proven innocent: Trump defends Saudi Arabia
Oct 17, 2018
US President Donald Trump has once again risen to the defense of the Saudi government over the mysterious disappearance of dissident journalist Jamal Khashoggi, saying that pinning the blame on Riyadh before knowing all the facts is yet another case of "guilty until proven innocent."
Trump Tuesday criticized people blaming Saudi Arabia for the disappearance of the US-based journalist and accused them of prejudging the case.
"Here we go again with, you know, you're guilty until proven innocent. I don't like that," Trump said during an interview with The Associated Press.
The US president likened the global outcry against the Saudi government to the controversy surrounding Supreme Court Justice Brett Kavanaugh, who was implicated sexual assault during his confirmation process.
"We just went through that with Justice Kavanaugh and he was innocent all the way as far as I'm concerned," Trump said. "So we have to find out what happened."
Khashoggi, a prominent critic of Saudi Crown Prince Mohammad bin Salman and a US resident, disappeared on October 2 after visiting the Saudi consulate in Istanbul. Turkish authorities believe he was tortured and killed inside the building by a team of Saudi operatives who removed his dismembered body.
'Answers will be forthcoming shortly'
Earlier in the day, Trump wrote in tweets that he had spoken to the Saudi crown prince on the phone and that bin Salman had "denied any knowledge" of the fate of the missing Washington Post columnist.
The American head of state said bin Salman had agreed to "expand" an investigation into Khashoggi's disappearance and that "answers will be forthcoming shortly."
Trump told AP that he hopes the Saudi investigation concludes in "less than a week."
The tweets came as US Secretary of State Mike Pompeo was meeting with Saudi Arabia's King Salman, Crown Prince Mohammed bin Salman and senior Saudi officials in Riyadh. The US State Department said Pompeo had called for a "thorough, transparent and timely" investigation during the discussions.
The comments mark the second time in two days Trump has vouched for Saudi Arabia's denials of knowledge about the fate of Khashoggi.
Speaking to reporters following a phone call with King Salman on Monday, Trump suggested that "rogue killers" may be responsible for whatever happened to the missing Washington Post columnist.
But in an interview aired late on Tuesday on Fox Business channel, Trump said it would not bode well Saudi leadership if it is found they were involved in Khashoggi's case.
"It depends on if the king or the crown prince knew about it in my opinion," he said. "If they knew about it, that would be bad."
Since Khashoggi's disappearance, many members of the US Congress have issued strong criticism of the kingdom and pressured Trump to punish Riyadh, which is one of the United States' closest allies in the Middle East.
Senator Lindsey Graham vowed to "sanction the hell out of Saudi Arabia" while blaming the crown prince for Khashoggi's disappearance.
"Nothing happens in Saudi Arabia without MbS knowing it," he said in an interview with Fox News, abbreviating the crown prince's name.
"I've been their biggest defender on the floor of the United States Senate," said Graham. "This guy is a wrecking ball. He had this guy murdered in a consulate in Turkey and to expect me to ignore it. I feel used and abused. The MbS figure is to me toxic. He can never be a world leader on the world stage."
Intelligence intercepts show that Khashoggi, who was last seen entering the Saudi mission in Istanbul two weeks ago, was murdered on bin Salman's direct order.
Turkish officials have also obtained recordings that prove he was indeed murdered at the hands of Saudi killing squads. There are also reports that bin Salman's personal guard carried out the murder and took Khashoggi's dismembered body back to Saudi Arabia.
Riyadh, however, has firmly denied any knowledge of the journalist's fate.
Those responsible will be 'held to account'
US Vice President Mike Pence said the Trump administration has also demanded answers in the disappearance of the Virginia-based journalist, pledging that those responsible for what happened to the Saudi dissident would be "held to account."
"We're going to get to the bottom of it. It's important that the world know the truth," Pence said.
"If in fact Mr. Khashoggi was murdered, we need to know who was responsible ... and it's even more important that he was a member of a free and independent press," Pence added. "Any loss of life is grievous. Any act of violence that claims a life is to be condemned, but this was also an assault on a free and independent press. So, we're going to demand answers. The world deserves answers."
Full report at:
https://www.presstv.com/Detail/2018/10/17/577217/Donald-Trump-Saudi-government-Jamal-Khashoggi-guilty
--------
Pompeo meets King Salman, son over Khashoggi, thanks them for 'strong partnership'
Oct 16, 2018
US State Secretary Mike Pompeo has met with Saudi Arabia's King Salman to discuss the mysterious disappearance of dissident Saudi journalist Jamal Khashoggi, as both sides face international pressure over the fate of the US-based commentator who is believed to have been murdered at the Saudi consulate in the Turkish city of Istanbul.
Pompeo arrived in Riyadh on Tuesday and sat down with the king for a short talk before attending a dinner meeting with his son, Crown Prince Mohammad bin Salman.
"Thank you for accepting my visit on behalf of President [Donald] Trump," Pompeo said upon meeting the king. The details of the meeting were not available immediately.
US State Department spokeswoman Heather Nauert said Pompeo "thanked the King for his commitment to supporting a thorough, transparent, and timely investigation."
The top diplomat also thanked the monarch "for Saudi Arabia's strong partnership with the United States," Nauert added.
Crown Prince hails US ties
Upon welcoming Pompeo, bin Slaman, the kingdom's putative king, hailed "strong" ties with Washington.
"We are strong and old allies so we face our challenges together," he said.
"Absolutely," responded Pompeo.
Saudi Arabia and Turkey are jointly investigating the issue but Turkish officials have complained about reluctance on Riyadh's side.
Turkish investigators were finally allowed into the consulate on Monday, roughly two weeks after Khashoggi was last seen entering the complex on October 2.
Pompeo's complimentary tone with the Saudi king further confirms the Trump administration's lack of enthusiasm to get to the bottom of issue.
Many American lawmakers have so far called on the White House to use its economic and political means to pressure Riyadh over the issue.
In response, Trump has pledged to "punish" Saudi Arabia if it turns out that Khashoggi was indeed murdered at the consulate. But there is a catch.
The American head of state has also made it clear that whatever those punishments are, they would not endanger ties with Riyadh, particularly the $110 billion weapons deal that he signed with the kingdom during his maiden foreign visit last year.
Pompeo's visit came at Trump's request, who talked to King Salman over the phone on Monday. Trump said Salman had "firmly denied any knowledge of" Khashoggi's fate.
The Washington Post, to which Khashoggi was a contributor, revealed days ago that according to US intelligence intercepts bin Salman had personally ordered an "operation" on him.
Khashoggi was a close friend to the young prince before turning against him.
UN demands 'transparent' probe
Earlier on Tuesday, the office of Michelle Bachelet, the United Nation's High Commissioner for Human Rights, said in a statement that she wanted Saudi officials to "reveal everything they know" about the incident.
"Under international law, both a forced disappearance and an extra-judicial killing are very serious crimes, and immunity should not be used to impede investigations into what happened and who is responsible," Bachelet said.
"Two weeks is a very long time for the probable scene of a crime not to have been subjected to a full forensic investigation," she added.
Noting there was clear evidence proving that Khashoggi had entered the Saudi mission, she said, "the onus is on the Saudi authorities to reveal what happened to him from that point onwards."
Full report at:
https://www.presstv.com/Detail/2018/10/16/577187/US-Saudi-Arabia-Pompeo-King-Salman-Khashoggi-Riyadh-meeting
--------
Mideast
Iranian President Asks for Europe's Serious Action against Terrorists
Oct 16, 2018
"Unfortunately, a number of individuals who have admitted responsibility for the terrorist attack (in Ahwaz) are living in Europe and we hope that the European countries adopt the necessary measures in this regard and undoubtedly, such a move will be highly effective in mutual confidence-building and more intimacy between the two sides," President Rouhani said during the meeting in Tehran on Tuesday.
He underlined the necessity for all-out campaign against terrorism, and said, "Today, terrorism is not only a big problem for the region but also a problem for the world and therefore, all states are necessitated to make serious efforts against it after understanding the dangers of this big problem."
Werner, for his part, submitted his credentials to President Rouhani, and said, "The Dutch government fully supports implementation of the 2015 nuclear deal and is determined to enhance banking ties with Iran, along with strengthening the EU's financial institutes, and does not allow the sanctions to leave negative impacts on economic relations between the two countries."
He said that the Dutch government strongly condemns the terrorist attack in Southwestern Iran, and added, "We, in Europe, will also take action to chase the culprits behind the terrorist act."
26 people were killed and 69 others were wounded in an attack by al-Ahwaziya terrorist group, whose leaders live in a number of European states, during the nationwide military parades in the Southwestern city of Ahwaz on September 22.
The terrorists attacked the bystanders watching the annual Armed Forces' parades, marking the start of the Sacred Defense Week, commemorating Iranians' sacrifices during the 8 years of the Iraqi imposed war on Iran in 1980s, in disguise of the IRGC and Basij (volunteer) forces, killing and wounding several people, including innocent women and children.
In response, the IRGC fired 6 ballistic ground-to-ground missiles and launched drone attacks on terrorists' positions in Eastern Euphrates region in Eastern Syria.
During the operations codenamed Zarbat-e Moharram (Blow of Moharram) carried out at 2:00 AM (local time) October 1 against the headquarters of Takfiri terrorists near Albu Kamal region in Eastern Euphrates was attacked from Kermanshah province in Western Iran, 570km away from the targets.
General Hajizadeh announced later that the missile and drone strikes against the terrorist targets in Syria killed 40 ISIL commanders and smashed all targets.
Later reports said that the IRGC had used the home-made drone, Saeqeh (Thunderbolt), for pounding the command center of the terrorists in Eastern Syria.
http://en.farsnews.com/newstext.aspx?nn=13970724000844
--------
Israeli policewoman shoots, seriously injures Palestinian for 'fun'
Oct 16, 2018
An Israeli policewoman has been arrested on suspicion of opening fire at a Palestinian man in the occupied West Bank, and critically wounding him as a "dubious form of entertainment."
The judge at a hearing in the Jerusalem al-Quds Magistrate's Court said on Tuesday that the unnamed suspect, who is said to be in her 20s, fired a sponge-tipped bullet at the back of the Palestinian man, without any apparent operational reason, near the al-Za'im checkpoint in East Jerusalem in May.
The policewoman is also suspected of obstructing justice, since she allegedly told her friend—an Israeli soldier who knew about the investigation and was summoned by the Police Investigation Unit to testify—she did not know anything about the incident.
Itzik Cohen, the Israeli policewoman's defense attorney, denied the charges against his client, asserting she is innocent.
"The policewoman categorically denies that she fired a sponge-tipped bullet at the Palestinian man. Needless to say that the defendant's face does not appear in the video obtained by the Police Investigation Unit, and nor does her voice," Cohen said.
"The real reason for the defendant's arrest is an attempt by the Police Investigation Unit to break her spirit and make her confess to an act she did not commit, apparently because she was unwilling to implicate others to save herself," he added.
Tensions continue in the occupied Palestinian territories in the wake of US President Donald Trump's recognition of Jerusalem al-Quds as Israel's capital.
The dramatic shift in Washington's policy vis-à-vis Jerusalem al-Quds on December 6 last year has triggered demonstrations in the occupied Palestinian territories, Iran, Turkey, Egypt, Jordan, Tunisia, Algeria, Iraq, Morocco and other Muslim countries.
On December 21 last year, the United Nations General Assembly overwhelmingly voted in favor of a resolution that calls on the US to withdraw its controversial recognition of Jerusalem al-Quds as Israeli "capital."
In an attempt to prevent the passing of the resolution, Trump threatened reprisals against countries that backed the measure, which had earlier faced a US veto at the UN Security Council.
On June 13, the United Nations General Assembly adopted a resolution, sponsored by Turkey and Algeria, condemning Israel for Palestinian civilian deaths in the Gaza Strip.
The resolution, which had been put forward on behalf of Arab and Muslim countries, garnered a strong majority of 120 votes in the 193-member assembly, with eight votes against and 45 abstentions.
The resolution called on UN Secretary General Antonio Guterres to make proposals within 60 days "on ways and means for ensuring the safety, protection, and well-being of the Palestinian civilian population under Israeli occupation," including "recommendations regarding an international protection mechanism."
Full report at:
https://www.presstv.com/Detail/2018/10/16/577172/Israeli-policewoman-shoot-seriously-injures-Palestinian-for-fun
--------
UN to allow Palestinians to have more of a full member capacity in 2019
17 October 2018
The 193-member United Nations General Assembly on Tuesday allowed the Palestinians to act more like a full UN member state during meetings in 2019 when they will chair the group of 77 developing nations.
The United States, Israel and Australia voted against the move, which won 146 votes in favor. There were 15 abstentions and 29 countries didn't vote.
"We cannot support efforts by the Palestinians to enhance their status outside of direct negotiations. The United States does not recognize that there is a Palestinian state," US Deputy UN Ambassador Jonathan Cohen told the General Assembly.
The Palestinians want to establish a state in the West Bank and the Gaza Strip and East Jerusalem. Israel captured those territories in the 1967 Middle East war and annexed East Jerusalem in a move not recognized internationally.
"We strongly oppose the Palestinians' election as chair of the G77 as well as this so-called enabling resolution," he said. "Only UN member states should be entitled to speak and act on behalf of major groups of states at the United Nations."
In 2012, the UN General Assembly overwhelmingly approved the de facto recognition of the sovereign state of Palestine when it upgraded the Palestinian Authority's UN observer status to non-member state - like the Vatican - from entity.
The status upgrade has allowed them to participate in some General Assembly votes and join some international bodies. However, as a non-member state the Palestinians cannot speak in meetings until after member states, diplomats said.
Full report at:
https://english.alarabiya.net/en/News/middle-east/2018/10/17/UN-to-allow-Palestinians-to-have-more-of-a-full-member-capacity-in-2019-.html
--------
Israeli defense minister: Now's the time to strike Hamas
16 October 2018
Israel's defense minister says the time has come to deliver a "heavy blow" to Gaza's militant Hamas leaders, after weeks of border violence.
Avigdor Lieberman says he'll recommend doing so when Israel's security Cabinet meets the following day. The minister spoke on Tuesday during a visit to a military base near the border.
He says it's "the only way to lower the level of violence to zero or close to zero."
Since March, 155 Palestinians were killed during the protests. Israel says it's defending its border.
https://english.alarabiya.net/en/News/middle-east/2018/10/16/Israeli-defense-minister-Now-s-the-time-to-strike-Hamas.html
--------
Istanbul conference on Muslim Ummah concludes
16.10.2018
ISTANBUL
A three-dy conference titled "The Muslim Ummah," using the Arabic word for community, concluded in Istanbul on Tuesday.
The conference organized by the Center for Islam and Global Affairs of Istanbul's Sabahattin Zaim University was themed "Fault lines and perils facing Muslim societies: The challenges of sectarianism, secularism, nationalism, and colonialism".
It brought together 20 international scholars.
The closing session titled "The future of Muslim societies in a Global World: Conversation with scholars" was moderated by Sami A. Al-Arian, the center's director.
He asked a question on Turkey's economy to Mehmet Bulut, the university's rector.
Bulut said: "Turkey has some aims for 2023, 2053, 2071, a millennial perfective."
He was referring to specific goals and targets set by Turkey that include major improvements in the economy, energy, healthcare and transportation for 2023, which marks the centenary of the Republic of Turkey, and 2053 that will mark the 600th anniversary of Istanbul's conquest and 2071 that marks the 1,000th anniversary of Malazgirt Battle.
The Battle of Malazgirt, also known as Battle of Manzikert, of Aug. 26, 1071 saw Seljuk Turks led by Sultan Alparslan defeat a Byzantine army and open up Anatolia for Turkish domination.
"Turkey for the first time maybe after 2002 has experienced a stable situation compared to the other Muslim countries," he said.
"It seems that this new presidential system will give some strong support to realize these aims for Turkey," he added.
Mujeeb R. Khan of University of California, Berkeley said: "What the U.S. is uncomfortable is the fact that Turkey [is] asserting a regional leadership role."
Full report at:
https://www.aa.com.tr/en/culture-and-art/istanbul-conference-on-muslim-ummah-concludes-/1283655
--------
Terrorists Trading Idlib Civilians' Body Organs in Turkey
Oct 16, 2018
Syria's Arabic-language al-Mahaver news website reported that body organ trading by terrorists has intensified in Idlib city and other militant-held regions in the Northwestern province.
It further said that the terrorists kidnap several civilians in the militant-held regions in Idlib each day to excise their organs in dreadful operations and send them to Turkey by certain groups that are running operations in both countries.
The civilians go under illegal surgery and their body organs are taken out and sold at high prices, the news website said, adding that people in the Northeastern city of Idlib have "called on the Syrian Army to enter their region and save them from the terrorist groups' brutalities".
Director-General of the Syria Coroner's Office Hossein Noufel disclosed in November 2016 that the body organs of thousands of Syrian civilians were sold in the international black markets over the past six years.
"We have accurate information that over 25,000 surgical operations have been conducted in the refugee camps of the neighboring countries and in the terrorist-controlled areas in Syria since 2011 to take out the body organs of 15,000 Syrians and sell them in the international black markets," Dr. Noufel said.
He pointed to the high prices of human body organs in the black markets, and said, "A kidney is sold $10,000 in Turkey while the same kidney is sold for $1,000 in Iraq, but in Lebanon and Syria the price of each kidney is $3,000."
Dr. Noufel said that other human body organs such as spleen and cornea are also sold in the black markets.
Full report at:
http://en.farsnews.com/newstext.aspx?nn=13970724001060
--------
Israel strikes Gaza, closes both border crossings after rocket attack
17 October 2018
Defence Minister Avigdor Lieberman ordered the closure of both of Israel's border crossings with Gaza on Wednesday after a Palestinian rocket attack hit a southern city prompting air strikes.
Lieberman ordered the closure of the Kerem Shalom goods crossing and the Erez crossing for people, and the reduction of the permitted fishing zone along the Gaza coast to three nautical miles, the defense ministry body responsible for Palestinian civil affairs, COGAT, said.
Israeli jets struck targets in the Gaza Strip early after a rocket fired by Palestinian militants enclave struck a house in the southern Israeli city of Beersheba, the Israeli military said.
A medical official told Israel Radio that three people were taken to hospital after the rocket struck the house. Residents in the Gaza Strip said jets had targeted eight locations. The military said another rocket had been launched from Gaza, falling into the sea.
Health ministry officials in Gaza said three people were wounded in an Israeli air strike against an armed training camp in Rafah, in the south of the coastal strip. There were no reports of serious injuries in Israel.
Tensions along the Israel-Gaza border have been simmering for months amid weekly border protests and the launching by Palestinian militants of incendiary balloons and kites across the border fence.
Israeli leaders have warned that they are prepared to escalate military action on Gaza to curb attacks and protests. Israel and Hamas, which controls Gaza, fought a war in 2014.
Around 200 Gazans have been killed by Israeli troops since the border protests began on March 30, according to Palestinian Health Ministry figures.
The Israeli military said the demonstrators last Friday hurled rocks, explosive devices, firebombs and grenades. Gaza health officials said seven Palestinians were killed when Israeli troops opened fire on a group that broke through the fence.
Israel has drawn international condemnation for its use of deadly force, but says it is protecting its borders and civilian population.
After the latest strikes, video footage from Beersheba, about 40 km (25 miles) from the Gaza Strip, showed extensive damage to a concrete and stone house in a residential street.
Still photos aired on Israeli Channel 2 showed large black plumes of smoke rising from various locations in the Gaza Strip
An Egyptian security delegation was visiting the Gaza Strip to try to restore calm.
Israel's military chief cut short a visit to the United States and was returning home, and schools were to be shut in Beersheba for the day, the reports said.
Israeli reports said Israel had closed the commercial and pedestrian crossing in and out of the Gaza Strip and had cut the fishing limit to three miles.
Full report at:
https://english.alarabiya.net/en/News/middle-east/2018/10/16/Iraqi-parliamentary-blocs-exerting-pressure-on-PM-designate-over-cabinet-formation.html
--------
Yemen minister: Houthis forcing female teachers to take part in armed protests
16 October 2018
Houthi militias have forced teachers from Ma'ain district of Sanaa to attend an armed protest on Tuesday, according to Yemen's information minister.
"The militia prepared a program for the armed protests, which included female participants, in districts and governorates under their control for one month. The female teachers were told to participate otherwise they would be dismissed from their jobs," Yemeni Information Minister Muammar al-Eryani said on Twitter.
"The practices of the Iranian-backed militia against the citizens in their areas of their control and the destructive policies of the educational process in detail reveal their true intentions toward Yemen and Yemenis," he added.
The Houthi militias' military recruitment of children has increased after many of their members have been killed and many others refuse to fight on their frontlines and on behalf of Iran.
Full report at:
https://english.alarabiya.net/en/News/gulf/2018/10/16/Yemen-minister-Houthis-forcing-female-teachers-to-take-part-in-armed-protests.html
--------
Mastermind behind Ahvaz terrorist attack killed in Iraq's Diyala, IRGC says
Oct 16, 2018
Iran's Islamic Revolution Guards Corps (IRGC) says a high-ranking commander of the Daesh Takfiri terrorist group, who apparently masterminded the recent deadly terror attack in the southwestern Iranian city of Ahvaz, has been killed in Iraq's eastern province of Diyala.
The IRGC public relations department announced in a statement released on Tuesday evening that the high-profile militant, better known by the nom de guerre Abu Dhoha, was killed along with four assistants in an ambush carried out by the Iraqi pro-government Popular Mobilization Units – commonly known by the Arabic word Hashd al-Sha'abi.
On October 1, the IRGC rained surface-to surface ballistic missiles on the positions of Daesh in eastern Syria, which along with the al-Ahwazia separatist group took responsibility for the September 22 terrorist attack in Ahvaz.
The IRGC announced in a statement that the missiles were launched at 2 am local time (2230 GMT September 31) from the western Iranian city of Kermanshah.
The statement added that drones bombarded Daesh positions after the missile strikes.
On September 22, four gunmen attacked a military parade in Ahvaz, killing at least 25 people and wounding 69 others. A four-year-old boy was among the fallen victims.
Leader of the Islamic Revolution Ayatollah Seyyed Ali Khamenei said the following day that the attack had been carried out by the same cowards funded by regimes in Saudi Arabia and the United Arab Emirates.
A number of countries denounced or offered condolences over the terrorist attack in Ahvaz.
"France deeply condemns Saturday terrorist attack in Ahvaz," the French Foreign Ministry said in a statement.
The statement also sympathized with victims of the attack, saying France is following up developments through its diplomatic mission in Tehran.
The Indonesian Foreign Ministry offered condolences over the deadly attack in a message of condolences.
"Indonesia expresses its deepest condolences and sympathy to the victims and their families.
"Indonesia condemns the terror attack in Ahvaz that resulted in deaths and injuries including children… the Indonesian Embassy in Tehran continues to closely follow the development," the message read.
The Palestinian Islamic Jihad resistance movement also denounced the attack in a statement.
Belarusian President Aleksandr Lukashenko in a message to his Iranian counterpart Hassan Rouhani condemned the terrorist act, and expressed condolences to the families of the victims.
Full report at:
https://www.presstv.com/Detail/2018/10/16/577208/Mastermind-behind-Ahvaz-terrorist-attack-killed-in-Iraqs-Diyala-IRGC-says
--------
Israeli warplanes conduct deadly airstrikes on blockaded Gaza Strip
Oct 17, 2018
Israeli warplanes have carried out fresh aerial assaults on Gaza in yet another act of aggression against the blockaded coastal enclave, killing at least two Palestinians.
Gaza residents said Israeli jets targeted three locations throughout the Gaza Strip on Wednesday.
Several Gazans were also wounded in the Israeli strikes, the Gazaalan news website reported.
Separately on Wednesday, Israel closed both border crossings with Gaza amid rising tensions.
The Israeli army claimed in a statement that its fresh air raids came "in response to the rockets fired from Gaza" onto occupied territories overnight.
The claim was, however, rejected in a joint statement by Gaza-based Palestinian resistance groups.
It further said that one of the Gaza rockets had hit the city of Beersheba in the Negev Desert and the second had landed in the sea.
Meanwhile, a medical official told Israel Radio that three people had been taken to hospital with injuries after the alleged rocket attacks from Gaza.
The Israeli military ordered schools to remain closed in Beersheba on Wednesday. Studies were also delayed until 10 a.m. local time in areas near the Gaza Strip.
The Tel Aviv regime carries out regular attacks on the blockaded coastal sliver under the pretext of hitting positions belonging to the resistance movement Hamas, which runs the Palestinian territory.
The coastal strip has been under a crippling Israeli siege since 2007 and witnessed three wars since 2008. It has also witnessed a fresh wave of tensions since March 30, which marked the start of "The Great March of Return" protests.
More than 200 Palestinians have been killed and some 21,500 others wounded in renewed Gaza clashes, according to the latest figures released by the Gaza Health Ministry.
Israel threatens Hamas
On Tuesday, the Israeli minister of military affairs said that the regime must now decide if it is headed toward another war against Gaza.
Speaking during a visit to the Israeli army's Gaza division headquarters, Avigdor Lieberman called on the so-called Israeli security cabinet to order a "strong blow" against Hamas "even at the price of moving to a wide-scale confrontation."
"We have exhausted all other options in Gaza," he said. "Now is the time to make decisions."
"My opinion is very clear. We must land a strong blow against Hamas. That's the only way to lower the level of violence to zero or close to zero," he added.
Full report at:
https://www.presstv.com/Detail/2018/10/17/577224/Israel-Gaza-Strip-Avigdor-Lieberman
--------
Southeast Asia
China Breaks Silence on Muslim Detention Camps, Calling Them 'Humane'
By Chris Buckley
Oct. 16, 2018
BEIJING — Under mounting international criticism, China has given its most extensive defense yet of its sweeping campaign to detain and indoctrinate Muslims, with a senior official on Tuesday describing its network of camps in the far west as humane job-training centers.
Rights groups, American lawmakers and a United Nations panel have assailed the "transformation through education" camps holding Uighurs and members of other Muslim minority groups in China's far northwestern Xinjiang region. Hundreds of thousands have been held in the camps — one estimate says a million — and former inmates who have fled abroad have described them as virtual prisons that engage in harsh brainwashing.
But the chairman of Xinjiang's government, Shohrat Zakir, himself an ethnic Uighur, called the camps a "humane" and lawful shield against terrorism in an interview published by China's official Xinhua news agency. He said the facilities gave Uighurs and other Muslims courses in the Chinese language and taught them to be law-abiding citizens. They also receive training in job skills such as making clothes, e-commerce, hairdressing and cosmetology, Mr. Zakir said.
Mr. Zakir said that "students" in the facilities were provided with free meals, air-conditioned dormitories, movie screenings and access to computer rooms.
"Xinjiang has launched a vocational education and training program according to the law," Mr. Zakir said. "Its purpose is to get rid of the environment and soil that breeds terrorism and religious extremism."
Mr. Zakir did not say how many Muslims had been sent to the camps, but he appeared to acknowledge for the first time that people were being held against their will in the facilities for months or years at a time.
He said the program dealt with people suspected of wrongdoing that fell short of requiring criminal convictions, and that they received "graduation certificates" only after signing agreements and meeting certain criteria. Some detainees, he said, were being prepared for release and assignment to jobs at the end of 2018.
Mr. Zakir suggested the campaign would continue for many years. The "deradicalization" program is showing results, he said, "but the duration, complexity and intensity remain acute, and we must maintain high vigilance."
Omurbek Eli, a businessman who has described his time held in a camp in 2017, scoffed at Mr. Zakir's description of the indoctrination centers as "colorful" places where students play basketball, watch movies and join in singing contests. His experience, he said, was far harsher, involving long days of marching, singing patriotic Chinese songs and memorizing Chinese laws.
"They're full of nonsense," Mr. Eli, who is originally from Xinjiang and obtained Kazakh citizenship, said by telephone. "They say that these camps are to eradicate terrorism, but inside I saw lawyers, doctors, intellectuals, even officials who had nothing to do with extremism," he said. "They call these vocational training centers, but it was really a prison."
The publication of the interview with Mr. Zakir confirmed a shift in China's public relations strategy over the camps, from silence to an unapologetic defense. Mr. Zakir even cited a United Nations resolution on fighting terrorism to justify them.
As criticism of the detentions grew throughout this year, the government first stayed silent. Then it gave sparing acknowledgments of the camps' existence. Appearing before a United Nations panel in Geneva in August, a senior official in the Chinese delegation defended the government's measures yet denied that they amounted to mass detention.
But Mr. Zakir's comments marked the first full-throated defense of the indoctrination program, which grew out of policies launched by Xi Jinping, China's president and Communist Party chief.
Last week, the Xinjiang government issued amended rules for its "deradicalization" program that for the first time gave clear public authorization for the indoctrination camps.
On Tuesday evening, China's main state television network, CCTV, broadcast a current affairs program in prime time that praised the camps and depicted them as caring, happy places. It showed a class of Uighur students reading out a Chinese lesson titled, "I am a law-abiding citizen."
"After a year plus of denial, the Communist Party has decided to get out in front of the story, and put forward its own view over the legality and the nature of these detention camps," James Leibold, an expert on Xinjiang at La Trobe University in Australia, said by email. "The party's central leadership now seems determined to 'standardize' and 'legalize' their approach."
Mr. Zakir's comments appeared to be part of China's preparations for an international meeting that could put the camps under further scrutiny. At a meeting of the United Nations Human Rights Council in early November, foreign governments will have a chance to question officials from Beijing about the detention program and other intrusive security measures affecting Muslim minorities.
"This meeting is a very important occasion to raise the camp issue," Dolkun Isa, the president of the World Uyghur Congress, an exile group based in Germany, said by telephone. (Uyghur is an alternative spelling of Uighur.) "China has denied the camps, but now it's something that they just cannot hide."
Western governments have indicated that Xinjiang will be a priority at the Human Rights Council meeting in Geneva.
"We are deeply concerned by credible reports pointing to a serious deterioration of the human rights situation" in Xinjiang, Federica Mogherini, the European Union's high representative for foreign affairs and security policy, told the European Parliament earlier this month.
Last week, a bipartisan panel in Washington issued a report condemning the indoctrination camps. Lawmakers on the panel, including Senator Marco Rubio, proposed legislation that would punish China for the detention program.
"In China, the government is engaged in the persecution of religious and ethnic minorities that is straight out of George Orwell," Nikki Haley, who recently announced that she was stepping down as the United States ambassador to the United Nations, said on Monday, according to Fox News. "It is the largest internment of civilians in the world today."
But Mr. Zakir's account indicated that China would maintain that the camps have strong backing in law. Up until 2014, China was beset by a string of violent attacks and riots involving discontented Uighurs.
"Now Xinjiang is not only beautiful," Mr. Zakir said, "it's also very safe and stable."
Still, Chinese officials have not given foreign diplomats or journalists access to the camps, nor have they said how many people they hold. Hu Xijin, a prominent editor of Global Times, a brashly nationalist Chinese newspaper, said on Monday that he knew the number, and denied it was a million.
Rights groups said the existence of the camps exemplified the Communist Party's use of legal justifications as a sweeping cloak for measures that betray China's own guarantees of rights and procedural protections, as well as international law.
"The Xinjiang authorities' clumsy justifications for these camps only serve to illustrate what 'the rule of law' in China means," said Maya Wang, a China researcher for Human Rights Watch. "The party bends it to its will and uses it as a weapon against perceived political enemies."
https://www.nytimes.com/2018/10/16/world/asia/china-muslim-camps-xinjiang-uighurs.html
--------
Buddhist dad wins bid to annul kids' conversion to Islam
Ho Kit Yen
October 16, 2018
KUALA LUMPUR: The High Court here today allowed a Buddhist father to quash the unilateral conversion of his children to Islam by their mother.
Justice Azizah Nawawi, in a brief judgment, said the court was bound to revoke the children's conversion to Islam based on the ruling on kindergarten teacher M Indira Gandhi earlier this year.
Indira had succeeded in her bid to annul the conversion of her three children to Islam by her former husband, a Muslim convert.
Azizah made no order to costs in the case today.
The court also dismissed a stay bid by Sulaiman Abdullah, the lawyer for the Federal Territories Islamic Religious Department's (Jawi) registrar for new converts, to halt the annulment of the children's conversion certificates.
"I'm sorry, there is no legal basis for a stay," Azizah said.
The father in question filed a legal challenge in 2016, seeking to quash the unilateral conversion of his two children to Islam.
He also sought a declaration that the children's certificates of conversion to Islam were null and void, and that they were unlawfully converted.
He claimed his former wife had converted the children to Islam with the intention of getting custody of them.
The woman converted to Islam in December 2015 while she and her former husband were in the midst of a divorce.
She converted the children at the Federal Territories Islamic Religious Department in May 2016.
The divorce proceedings were finalised in April this year.
The mother initially obtained custody of the children but was ordered to surrender them to their father last month by the Court of Appeal.
Speaking to reporters outside the court, lawyer Zulkifli Che Yong, who is appearing for the Jawi muallaf registrar, and the mother's lawyer, Rohani Ibrahim, said they would be appealing against the decision to revoke the children's conversion to Islam.
Rohani also said the mother had filed an application for leave to appeal to the Federal Court on losing her custody rights over the children.
Full report at:
https://www.freemalaysiatoday.com/category/nation/2018/10/16/buddhist-dad-wins-bid-to-annul-kids-conversion-to-islam/
--------
'United' Muslim, Christians mark Marawi's liberation
October 16, 2018
Last year's five-month conflict in the southern Philippine city of Marawi destroyed structures, but not relationships between Christians and Muslims.
This was the assurance Catholic and Muslim leaders gave the people of Marawi as they marked the first anniversary on Oct. 15 of the city's liberation from extremist gunmen.
"The conflict has actually strengthened the bond among the people," said Father Ramonito Torres, vicar-general of the Prelature of St. Mary's in Marawi.
The priest said the conflict brought Christians and Muslims "closer" because of the "mutual feeling of having gone through the same struggle."
The people, however, are appealing to the government to listen to the communities still displaced as a result of the fighting.
"Let our voices be heard," said Jalilah Hadji Sapiin, a community leader in the Autonomous Region in Muslim Mindanao.
"What do we want as people of Marawi? We want to go home," she said.
Sapiin decried what she described was the "lack of a solid framework" for the rehabilitation of the devastated city.
"[The government] doesn't have a concrete plan," she said. "I don't understand. It always asks us what we want ... but what we say is not heard," she said.
Almost half a million people were displaced by the conflict that erupted in the predominantly Muslim city last year after gunmen claiming to be members of the so-called Islamic State occupied the city.
Father Torres, meanwhile, said the Catholic prelature in Marawi was continuing a program to help both Muslims and Christians through the development of shelters, food aid, and other interventions.
"Even if the extremists try to 'clean' Marawi of Christians, Marawi will always have a Christian population," said the priest.
Bishop Edwin dela Pena of Marawi has issued instructions to take care of the needs of people before any plans to reconstruct structures are implemented.
St. Mary's Cathedral was one of the buildings severely damaged during the fighting.
An estimated 75 Christian families continue to live in temporary shelters around the city, said Father Torres. An estimated 35,900 Catholics reside in the prelature.
The government has announced that groundbreaking rites that will signal the start of the rehabilitation of ground zero in the war-torn city will be held on Oct. 17.
Eduardo Del Rosario, head of the body tasked with rehabilitating the city, said the groundbreaking will begin with the clearing of debris from the worst affected areas.
"After debris clearing, we will undertake road network construction with underground facilities," he said.
The construction of 320 classrooms, 24 village centers, a convention center, grand central market, parking areas, among others will then follow.
The government aims to complete the rehabilitation by the fourth quarter of 2021.
Full report at:
https://www.ucanews.com/news/united-muslim-christians-mark-marawis-liberation/83639
--------
The mosques that survived Palu's tsunami and what that means
October 16, 2018
(The Conversation is an independent and nonprofit source of news, analysis and commentary from academic experts.)
Jennifer Nourse, University of Richmond
(THE CONVERSATION) In the devastation that followed the earthquake and resulting tsunami in the Indonesian city of Palu in Central Sulawesi, many Muslim religious sites were destroyed.
Two mosques, however, survived, with little to no damage to their structure.
In a province where 85 percent of the 3 million residents are Muslims, the survival of these particular mosques and not others has started a discussion about the very nature of Islam.
Mosques of Palu
I came to know Palu well while doing fieldwork in Central Sulawesi in 1984 as part of my research on "traditional rituals." Palu is the administrative and cultural hub for the whole Sulawesi province.
Of the 24 mosques, 20 were severely damaged in the tsunami. The worst hit was the Baiturrahman Mosque, where 300 people were killed during evening prayers.
However, the Alkhairaat Mosque, and the Arkham Babu Rahman Mosque, known locally as the Floating Mosque survived. The Floating Mosque dominated the Palu Beach with its dramatic walkway from the shore to mosque. After the tsunami, the mosque's access from the shore has been cut off and it is now literally floating in Palu Bay.
Though it is partially submerged, its structure remains intact. Palu residents, commenting on Facebook in the first few days after the tsunami, noted how "it remained miraculously untouched."
At a time when people are trying to make sense of the death and destruction, the survival of Alkhairaat and Arkham Babu Rahman is seen to be a sign of saintly power and the mercy of Allah. Thousands have turned up to pray at Alkhairaat Mosque and walk reverently past the mosque floating in water.
The mosques that survived
The history of the Floating Mosque is dedicated to the 17th-century founder of Islam in Palu, Datuk Karama. Karama came from the western island of Sumatra and preached Islam to the people of Palu.
The Alkhairaat mosque was erected by a Yemeni merchant
Sayyid Idrus Al-Jufri in 1930. Al-Jufri also founded religious schools after discovering upon his arrival that many people did not have basic education. The first school eventually became the Alkhairaat University.
The tombs of Al-Jufri and Datuk Karama are located near their mosques, and people seek spiritual guidance from them. The street where Alkhairaat Mosque is located as well as the airport in Palu have been named after him.
What it means to Palu survivors
In private comments on Facebook's instant messenger, people have asserted that the Alkhairaat Mosque and the Floating Mosque
survived because of the mystical power of the saints who "guard" these mosques.
These comments have revealed tensions between what people refer to as "old Islam" and "reformist Islam." In Palu, reformist Islam includes beliefs of Salafis and Wahhabis, who want to go back to a purer form of Islam. They see the belief in saints as a "recent" addition to the original Islam that was revealed to Prophet Muhammad in the 7th century A.D.
In fact, during the early 2000s, some of the more radical Wahabi and Salafist sects used extreme, violent methods to convince Central Sulawesians to change their beliefs in the mystical power of saints or "old Islam."
The educational institutions led by the Alkhairaat Foundation have played a considerable role in fostering the old Islamic beliefs. The foundation runs 43 boarding schools, and 1,700 religious schools across Eastern Indonesia and a large university in Palu. All emphasize tolerance.
However, Saudi funding, starting in the 1990s has promoted Salafi and Wahabi schools. These schools argue that the tolerance taught by Alkhairaat was the "wrong kind of Islam.""
In 2000, Alkhairaat students at a school in Poso, a port town near the southern coast of Central Sulawesi were targeted by terrorists. The region's 14 percent minority Christians have also been under attack.
Since 2010 there has been no violence, but even as recently as 2016, the Indonesian government has been searching for terrorist cells in the mountain jungles of Central Sulawesi.
Palu's future
Despite the reformists' activity, Alkhairaat's influence in Palu remains strong. As a major philanthropic organization in Palu and beyond, with many graduates of Alkhairaat University serving in government and private sectors, Alkhairaat has helped counter hate rhetoric and actions.
Some of the comments on Facebook reveal survivors' loyalty to Alkhairaat values. Post-tsunami, however, Alkhairaat's resources are likely strained, as graduates say in private conversations on Facebook with me.
The question is will this tragedy bring outside funds that once again disturb the internal harmony among Muslims? If so, will Palu sustain its spirit of tolerance?
Full report at:
https://www.indiatvnews.com/ap/world-news-the-mosques-that-survived-palu-s-tsunami-and-what-that-means-472631
--------
China rolls out PR push on Muslim internments
Oct 16, 2018
BEIJING: China on Tuesday issued an ardent defence of the alleged mass internment of minorities in its far west Xinjiang region, with a regional official insisting that authorities are preventing terrorism through "vocational education" centres.
Beijing has sought to counter a global outcry against the facilities with a series of op-eds and interviews and a roll out of new regulations that retroactively codify the use of a system of extra-judicial "reeducation" camps in Xinjiang.
Up to one million ethnic Uighurs and other mostly Muslim Turkic minorities are believed to be held in such centres, according to estimates cited by a United Nations panel.
Former inmates have said they found themselves incarcerated for transgressions such as wearing long beards and face veils or sharing Islamic holiday greetings on social media, a process that echoes the decades of brutal thought reform under Mao Zedong.
The programme has come under increasing fire from the international community, receiving particular censure from the United States and the UN Committee on the Elimination of Racial Discrimination.
Chinese authorities initially denied the existence of the facilities. But they have changed their tune as satellite imagery and documents issued by their own government have made that position untenable.
In recent weeks the story has shifted from outright dismissal to acknowledgement that the camps exist, with the caveat that they are being used primarily for "vocational education" in a bid to halt separatist sentiments and religious extremism.
In a rare interview with China's official Xinhua news service published Tuesday, the chairman of Xinjiang's government, Shohrat Zakir, defended the use of the centres, saying that the region was now "safe and stable".
The official did not say how many people were being held in the centres.
"Through vocational training, most trainees have been able to reflect on their mistakes and see clearly the essence and harm of terrorism and religious extremism," he said.
Zakir said the facilities were intended to improve job skills and Mandarin abilities among minorities with "a limited command of the country's common language and a limited sense and knowledge of the law".
Those who struggled to find work as a result, he added, were "vulnerable to the instigation and coercion of terrorism and extremism."
He said that the "free" programmes were limited in duration, "trainees" signed a contract with the centres that laid out a clear plan of study and included a stipend.
Asked about the future of the programmes, Zakir said "some trainees" were "expected to complete their courses successfully by the end of this year.
The comments follow weeks of efforts by Chinese officials and state media to defend China's actions in Xinjiang, where riots and attacks led to hundreds of deaths in recent years.
Op-eds by Chinese diplomats have appeared in newspapers around the world, arguing that the programme is an effective means of eliminating the threat posed to the region by religious extremism.
An editorial in the nationalist tabloid the Global Times warned foreign governments on Tuesday not to meddle in Xinjiang's affairs.
"Obviously vocational education is a periodic and temporary plan aimed at eradicating extremism," it said, adding that criticism was "just messing up the whole thing and creating a narrative against China."
Taking to Twitter -- a social media platform that is blocked in China -- the paper's editor-in-chief Hu Xijin said officials had told him the official figures for the number of people in "vocational education" were "much fewer than the '1 million or so' speculated by the outside world."
"Chinese officials didn't reveal the true number to avoid falling into the stats trap, giving Western media another excuse to hype up the issue," he added.
The positive image of the centres portrayed in the PR drive is belied by testimonies from former detainees who describe harsh treatment in the facilities.
Large numbers of families outside of China say their relatives in Xinjiang were spirited away by police never to be heard from again.
Full report at:
https://timesofindia.indiatimes.com/world/china/china-rolls-out-pr-push-on-muslim-internments/articleshow/66234305.cms
--------
Amid global outcry, China defends internment camps of minorities in Xinjiang
October 16, 2018
China on Tuesday issued an ardent defence of its alleged mass internment of minorities in far west Xinjiang region amid a global outcry, with a regional official insisting that authorities are preventing terrorism through "vocational education" centres.
Beijing has sought to counter criticism with a series of op-eds and interviews and a rollout of new regulations that retroactively codify the use of the system of extra-judicial "re-education" camps in Xinjiang.
Up to 1 million ethnic Uighurs and other mostly Muslim Turkic minorities are believed to be held in such centres, according to estimates cited by a United Nations panel.
Former inmates have said they found themselves incarcerated for transgressions such as wearing long beards and face veils or sharing Islamic holiday greetings on social media, a process that echoes the decades of brutal thought reform under Mao Zedong.
The programme has come under increasingly heavy fire from the international community, with particularly heavy censure from the United States and the UN Committee on the Elimination of Racial Discrimination.
Chinese authorities initially denied the existence of the facilities.
But they have changed their tune as satellite imagery and documents issued by their own government have made it increasingly difficult to maintain that position.
In recent weeks the story has shifted from outright dismissal to acknowledgement that the camps exist, with the caveat that they are being used primarily for "vocational education" in a bid to halt separatist sentiments and religious extremism.
In a rare interview with China's official Xinhua news service published on Tuesday, the chairman of Xinjiang's government, Shohrat Zakir, defended the use of the centres, saying that the region was now "safe and stable".
The official did not say how many people were being held in the centres.
Zakir said the facilities were intended to improve job skills and Mandarin abilities among minorities with "a limited command of the country's common language and a limited sense and knowledge of the law".
"They often have difficulties in finding employment due to limited vocational skills. This has led to a low material-basis for residents to live and work there, making them vulnerable to the instigation and coercion of terrorism and extremism," he said.
He said that the programmes were limited in duration, "trainees" signed a contract with the centres that laid out a clear plan of study and included a stipend.
Asked about the future of the programmes, Zakir said he expected that "some trainees" were "expected to complete their courses successfully by the end of this year".
The comments follow weeks of efforts by Chinese officials and state media to defend China's actions in Xinjiang, where riots and terrorist attacks led to hundreds of deaths in recent years.
Op-eds by Chinese diplomats have appeared in newspapers around the world, arguing that the programme is an effective means of eliminating the threat posed to the region by religious extremism.
An editorial in the nationalist tabloid the Global Times warned foreign governments on Tuesday not to meddle in Xinjiang's affairs.
"Obviously vocational education is a periodic and temporary plan aimed at eradicating extremism," it said, adding that criticism was "just messing up the whole thing and creating a narrative against China".
Full report at:
https://nation.com.pk/16-Oct-2018/amid-global-outcry-china-defends-internment-camps-of-minorities-in-xinjiang
--------
No sabotage in French terror suspect's death, says IGP
16 October 2018
KUALA LUMPUR, Oct 16 — There are no elements of sabotage in the accident of a police van, which resulted in the death of a Frenchman, suspected to be involved in Salafi Jihadi ideology, at the Sungai Buloh Hospital on Sunday.
Inspector-General of Police Tan Sri Mohamad Fuzi Harun said the van in which Mickael Alain Louvier was travelling with several policemen went out of control when its tyre burst at KM428.3 of the North-South Expressway, Bukit Beruntung near here on Friday. "The accident caused the policemen and the suspect to be thrown out of the van and the suspect who was treated for his injuries could not be saved.
"Allegations that there was an element of sabotage are not true," Mohamad Fuzi said in a press conference held after witnessing the signing ceremony of a memorandum of understanding between Bank Muamalat Berhad and Yayasan Pengaman Malaysia here today.
Bank Muamalat Berhad was represented by its Chief Executive Officer Datuk Mohd Redza Shah Abdul Wahid while Yayasan Pengaman Malaysia was represented by its Deputy Chairman Tan Sri Hussin Ismail.
Commenting further, he said the suspect was being taken in the van by the police for further questioning.
"We needed him to conduct investigations to obtain evidence and a search and other things," he said, adding that police had solid proof that the suspect was involved in the spread of the Salafi Jihadi and Islamic State ideologies.
On September 24, the suspect was among eight men who were detained in an operations in Perlis on suspicion of taking action which jeopardised public order and safety by spreading the ideology.
Asked if the police had detected the spread of the Salafi Jihadi and Islamic State ideologies elsewhere besides Perlis, Mohamad Fuzi said further investigations were being conducted on this.
Full report at:
https://www.malaymail.com/s/1683586/no-sabotage-in-frenchmans-death-says-igp
--------
House approves religious schools draft bill
October 16, 2018
A House of Representatives plenary meeting approved on Tuesday the draft bill on boarding schools and religious education.
"The boarding schools and religious education bill has officially been established as a House initiated bill," House Deputy Speaker Utut Adianto said.
The bill, which was proposed by the Islam-based United Development Party (PPP) in 2013, comprises 10 chapters and 169 articles that regulate religious-based educational institutes across the country.
PPP lawmaker Achmad Baidowi, one of the drafters of the bill, said the bill would also stipulate the budget allocation for Islamic boarding schools and other religious institutes.
"The country should put more emphasis on the religious institutes, particularly regarding the budget allocation," Baidowi said.
To date, Islamic boarding schools are regulated in accordance with Religious Affairs Ministerial Regulation No. 13/2013, while other religious-based educational institutes are governed in accordance with Government Regulation No. 55/2007.
Baidowi said the new bill, if passed, would provide a stronger legal basis than existing regulations.
He went on to say that the House will soon set the timeline for the bill's deliberation.
Full report at:
http://www.thejakartapost.com/news/2018/10/16/house-approves-religious-schools-draft-bill.html
--------
Arab World
Muslims defied the Islamic State to save two ancient Christian manuscripts in Mosul
10/09/2018
Mosul (AsiaNews) – A Muslim family hid for three years two ancient Syriac Orthodox books in Mosul during the city's occupation by the Islamic State (IS) group to prevent their destruction at the latter's hands. They did so, putting their own lives at risk. Their courage and action show that Mosul and Iraq can be rebuilt and reborn on the basis of unity and coexistence of its various groups, above all Christians and Muslims.
Upon the city's liberation, the manuscripts' protectors handed them over to a representative of the Chaldean community in Erbil but asked that their identity be protected because "sleeper cells" still exist in the city, ready to exact vengeance.
Fr Paulos Thabit Mekko spoke to AsiaNews about this story. He is now the repository of the two precious manuscripts (pictured) until they can be returned to their rightful owners.
"Recently a Chaldean from Mosul contacted me saying that he had a Muslim neighbour from the time he lived in the city 20 years ago," said the priest. The family of the Muslim man, who can trace his ancestry back to ancient Mesopotamia, and his "have been friends for a long time" despite the distance and the violence by IS.
In 2015, when the city was under the latter's control, the Muslim man, who is the head of the family, went with a relative to an area near the Chaldean monastery of St Michael.
"One day the man saw a lorry dump some rubbish. He was in the area looking for some wood to cook and heat his home. Among the refuse, he found a couple of manuscripts in ancient Syriac script and thought they might be of some value."
Despite the danger, he took them and hid them in his home. "He was scared because he knew he could be killed if he were found out," said the Chaldean priest.
After the liberation of Mosul, he decided to visit his friend and former Christian neighbor in Erbil, Iraqi Kurdistan, where the latter had sought refuge to escape IS.
"He told him that he had some ancient Christian manuscripts at his home and if he knew a priest or a trusted man to whom he could hand them over. Someone who would not try to make money from them."
"I went to Mosul a few days ago where I met the two former neighbours, the Christian and the Muslim. The latter entrusted me with the two tomes. They contain the offices of the morning and evening prayers in Syriac Antiochene Orthodox rite."
Upon seeing them, Fr Paulos realised from where the manuscripts were stolen: the "the Syriac Orthodox Church of the Immaculate, which was completely bulldozed by the Jihadis." As soon as possible, "I want to go to the area to see if there are any other ancient texts in the rubble".
"As he said goodbye after giving me the manuscripts, the Muslim man wanted to give me a message: not all Muslims are with IS. Many consider Christians like brothers and are ready to put their lives at risk to save a Christian text. What great courage!"
For over four years, IS controlled Mosul, the largest city in northern Iraq. During its reign, it burnt building, books and more. It banned music, art and books other than the Qurʾān. In one case, it beheaded a 15-year-old boy for listening to Western pop music.
For this reason, the economic, social and cultural rebirth of the city requires the restoration of its the artistic and intellectual heritage, which some people, often at their own risk, managed to salvage during those years.
http://www.asianews.it/news-en/Muslims-defied-the-Islamic-State-to-save-two-ancient-Christian-manuscripts-in-Mosul-45163.html?fbclid=IwAR1Xk-x0fBpOYSrhbhnZfxIgEUMD2DlLEIud7mOn9rBX6vh6HCXlJALoHCE
--------
450 jihadists killed in Egypt Sinai offensive: army
October 17, 2018
CAIRO: The Egyptian army said Tuesday that 450 jihadists are estimated to have been killed in its eight-month offensive against the Islamic State group in the Sinai Peninsula.
The military launched a large-scale operation dubbed "Sinai 2018" in February to rid Sinai of IS jihadists after an attack on a mosque in the north of the peninsula that killed more than 300 people.
Since the start of the campaign, 450 jihadists were presumed to have been killed "in the north and the centre of Sinai by (soldiers) and police," army spokesman Tamer al-Rifai told AFP.
According to army figures, around 30 soldiers have been killed during the operation.
Jihadists began an insurgency in Egypt after the 2013 ouster of Islamist president Mohamed Morsi, who was forced out by the military in the face of mass protests against his rule and that of his Muslim Brotherhood.
The army on Tuesday rejected criticism from rights groups over the impact on civilians of its campaign in Sinai.
It says that people in the peninsula support its operation and receive humanitarian aid.
"All air strikes are carried out by the army outside residential areas," Rifai said on Tuesday.
Journalists are barred from going to areas targeted in the Sinai 2018 campaign, although the army organised a rare visit to the North Sinai capital El-Arish in July.
A countrywide state of emergency was imposed in April last year, following two suicide bombings at churches which were claimed by IS.
Full report at:
https://www.nst.com.my/world/2018/10/421873/450-jihadists-killed-egypt-sinai-offensive-army
--------
US-Backed Militants Blackmailing Civilians to Allow Exit from Al-Tanf Region
Oct 16, 2018
The Arabic-language website of Sputnik quoted the sources as reporting that tens of refugees in al-Rukban camp that is near the US-run al-Tanf base at the border with Iraq have fled towards their villages and towns in Eastern Homs.
It went on to say that the fleeing refugees have paid $2,000 to the US-backed militants to be allowed to leave the camp and move towards the army positions.
The report further said that the army has sent several vehicles to the point 55km away from the US base to relocate fleeing refugees of al-Rukban.
Almost 80,000 refugees in al-Rukban are living under very bad living situation and are actually hostage of the US forces and their allied militants.
The Arabic-language al-Watan, a state-run daily, quoted well-informed sources as reporting earlier today that the "US occupiers" in al-Tanf base at border with Iraq have started recruiting a large number of young men from al-Rukban refugee camp.
It went on to say that the US move is aimed at stretching a security belt around al-Tanf base and al-Rukban camp, adding that a sum of $600 monthly salary has been promised to the fresh forces.
The paper further said that the US forces will train the newly-recruited men who will later wear US military uniform.
Full report at:
http://en.farsnews.com/newstext.aspx?nn=13970724000937
--------
Are ex-ISIS fighters joining Popular Mobilization Unit militias in Iraq?
16 October 2018
A few ex-ISIS fighters joined the Popular Mobilization Unit militias (PMU) in Iraq, according to a report by Foreign Policy. As the first anniversary of the Iraqi forces victory against ISIS nears, the terrorist organization's remnants are trying to exploit security gaps in some areas that are not very far from the capital Baghdad.
ISIS fighters were welcomed back by PMU militias, whose factions, the Badr Organization and Asaib Ahl al-Haq, took in 30 and 40 ISIS fighters from the Jalawla town in the Diyala governorate, the American magazine reported.
Enemies in the past have joined forces now, with both parties seemingly benefiting, but according to Foreign Policy, the end result is likely to be bad for Iraq.
Shouldthese forces join, factions of the PMU militias get to expand into Sunni areas, while ISIS fighters get to re-enter Iraqi society.
Full report at:
https://english.alarabiya.net/en/features/2018/10/16/Iraq-Are-ex-ISIS-fighters-join-Popular-Mobilization-Forces-.html
--------
Saudi-led military aggression left over 15,000 civilians dead: Rights group
Oct 16, 2018
The Legal Center for Rights and Developments in Yemen says the ongoing Saudi-led military campaign against the impoverished and conflict-plagued Arab country has claimed the lives of more than 15,000 civilians.
The center, in a statement released on Monday, announced that the aggression has resulted in the death of 15,185 civilians, including 3,527 children and 2,277 women.
A total of 23,822 civilians, among them 3,526 children and 2,587 women, have also sustained injuries, and are currently suffering from the lack of medicine, medical supplies and poor treatment due to the crippling Saudi siege.
The center further noted that the Saudi military aggression has also caused the death of nearly 2,200 Yemenis from cholera.
It highlighted that aerial assaults being conducted by the Saudi-led alliance have resulted in the destruction of 15 airports and 14 ports, and damaged 2,559 roads and bridges in addition to 781 water storage facilities, 191 power stations and 426 telecommunications towers.
The statement went on to say that the incessant Saudi-led bombardment campaign has destroyed more than 421,911 houses, 930 mosques, 888 schools, 327 hospitals and health facilities plus 38 media organizations, halted the operation of 4,500 schools and left more than 4 million people internally displaced.
In addition, the Saudi-led coalition has targeted 1,818 government facilities, 749 food storehouses, 621 food trucks, 628 shops and commercial compounds, 362 fuel stations, 265 tankers, 339 factories, 310 poultry and livestock farms, 219 archaeological sites, 279 tourist facilities and 112 playgrounds and sports complexes.
The Legal Center for Rights and Developments in Yemen then called on the United Nations to shoulder its responsibilities concerning protection of human rights and the rules of international humanitarian law in Yemen.
It also called on the international community to take on its legal, moral and humanitarian responsibilities, stressing the need for urgent international and regional actions to end the Saudi-led aggression against Yemen.
The center finally asked the United Nations Human Rights Council (UNHRC) to conduct a professional and impartial investigation into the crimes being perpetrated against civilians in Yemen.
Full report at:
https://www.presstv.com/Detail/2018/10/16/577209/Saudiled-military-aggression-leaves-over-15000-civilians-dead-Rights-group
--------
Turkish Army Dispatches New Military Convoy to Northern Syria
Oct 16, 2018
The army sent a convoy of 10 military, armored and ordonnance vehicles to Northern Idlib via Bab al-Hawa border-crossing.
In the meantime, local sources reported that terrorists of Faylaq al-Sham were accompanying the Turkish convoy, adding that the convoy headed towards monitoring posts run by the Ankara forces.
The Turkish army's move to dispatch more troops to Syria came after the terrorist groups refrained from complying with the Sochi Agreement and leave the demilitarized zone in Northeastern Lattakia, Southern Idlib and Western Aleppo before the October 15 deadline.
A field commander claimed earlier today that the Syrian government troops are preparing for military operation against terrorists in Northern and Northwestern Syria after terrorists refused to comply with the Sochi Agreement.
Mohand Ali al-Haj Ali, a military commander and a member of the Syrian Parliament, told the Arabic-language website of Sputnik that based on reports from Idlib, only a part of heavy weapons of the terrorists and almost 1,000 militants have been withdrawn from the demilitarized zone, adding that tens of thousands of terrorists are still in the zone.
The news agency further reported that the Turkish side is showing off its compliance with the Sochi Agreement, adding that the Syrian Army has been preparing to kick off the liberation of occupied lands after the deadline.
Al-Haj Ali told Sputnik that the army is planning to launch its operation from Western Aleppo where the terrorists of Tahrir al-Sham Hay'at (the Levant Liberation Board or the Al-Nusra Front) have been conducting missile attacks on residential neighborhoods.
He further said that Idlib is a highly populated province, enabling the terrorists to use people as human shield, adding that the army will use new weapons and elite forces to counter the terrorists with the least number of human casualties.
Full report at:
http://en.farsnews.com/newstext.aspx?nn=13970724000988
--------
US Army Retreats towards Deir Ezzur Energy-Rich Fields after ISIL Kidnaps American Soldiers
Oct 16, 2018
The Arabic-language website of Sputnik quoted well-informed sources as reporting that the US army and other foreign forces, deployed in Eastern Deir Ezzur, have limited their presence in Konico and al-Umer oilfields.
It further said that the move came after ISIL ambushed the US forces and their allies near al-Umer and in an SDF attack in al-Bahrah region and managed to capture four US soldiers and a number of SDF militias.
The Arabic Sputnik further said that ISIL has recaptured the regions they lost to the SDF in Southeastern Deir Ezzur in the last few days.
Meantime, the state-run news agency reported on Monday that the US-led coalition fighter jets targeted the town of Hajin in Southeastern Deir Ezzur by internationally prohibited bombs in the last few days under the pretext of campaign on ISIL.
It further said that the fighter jets targeted a number of Hajin's neighborhoods, located 110 km East of Deir Ezzur city, by white phosphorous bombs that are international prohibited.
Full report at:
http://en.farsnews.com/newstext.aspx?nn=13970724000603
--------
Iran says it has carried out 700 drone attacks in Syria
16 October 2018
Iran's Revolutionary Guards have carried out 700 drone strikes against forces of ISIS in Syria, its aerospace chief told conservative news agency Fars on Tuesday.
"Our bomber drones have carried out 700 military operations using smart bombs against Daesh," said Brigadier General Amirali Hajizadeh, using the Arabic acronym for ISIS.
"They were used in eliminating tanks, personnel carriers, cars used for suicide attacks and 23- millimeter cannons -- these were targets prized by Daesh and we significantly turned the tide of battle," he added.
The guards most recently used military drones against ISIS targets in Syria on October 1, in retaliation for a deadly attack in September on a military parade in Iran's southwest claimed by the militant group.
Seven military drones as well as six ballistic missiles struck the "ISIS headquarters" in the eastern Syrian town of Hajin, about 24 kilometres (15 miles) north of Albu Kamal bordering Iraq, state TV reported.
Iranian media said published images indicated the drones were locally-produced "Saegheh" craft, reverse-engineered from a US RQ-170 Sentinel captured by Iran in 2011.
Iran's armed forces chief of staff, Major General Mohammad Bagheri, said at the time that the strikes were the first time the drones had "crossed multiple countries and reached their targets."
It was also the first time Iran had officially announced it was using combat drones outside of its borders, the conservative Tasnim news agency said.
Full report at:
https://english.alarabiya.net/en/News/middle-east/2018/10/16/Iran-says-it-has-carried-out-700-drone-attacks-in-Syria-.html
--------
Arab Coalition refers Yemen's Jabal Ras incident to assessment team
17 October 2018
The Jabal Ras incident that occurred in Yemen, which was aimed at a legitimate Houthi military target, will be referred to the Joint Incidents Assessment Team to consider the possibility of an accident happening and citizen casualties occurring because of it, Arab Coalition spokesman Colonel Turki al-Maliki said on Tuesday.
Maliki stressed the coalition's commitment to abide by rules of engagement and the manner in which use of force is implemented.
At the weekly press conference held in Riyadh, Maliki reviewed the coalition's efforts and the efforts of the King Salman Humanitarian Aid and Relief Center in Yemen's al-Mahrah governorate which was ravaged by floods due to a tropical storm that caused heavy rainfall on coastal cities since Sunday.
Maliki added that a crisis management unit was formed to manage the crisis, and aid is being brought to the areas inflicted by air.
Maliki also said that the Yemeni army was able to seize a large amount of weapons from the Iran-backed Houthi militias, adding that the coalition forces target a missile launch pad in Saada as well as militiamen in Hajjah who were launching an unmanned aircraft. A warehouse used to store weapons by the Houthis was also targeted in the Bajil district, as well as militiamen in Kitaf and Baqe'a.
"Saudi Arabia provided 90 security vehicles to local authorities in al-Mahrah, in addition to operations restoring hope which includes restoring stability in liberated governorates, and providing financial support, training and necessary weapons to security forces for the purpose of maintaining security and stability," Maliki said.
Maliki added that a medical center was established in the province of Hajjah stressing that this comes within the process of restoring stability, and that assistance will continue to be provided in all areas in Yemen whether it's under the control of the Houthis or the legitimate government.
Maliki stressed that the Houthi militias are preventing vessels carrying relief materials, petroleum derivatives from entering the country, even though these shipments were given permits by the coalition. He added that the Houthis thrive off of black markets and use the humanitarian situation as "a cover in front of the international community." He said that the total number of permits between 2015 to 2018 amount to 32,445.
Maliki also showed videos of Houthi militias violating international humanitarian laws by using mosques and schools to protect themselves from being targeted. He also showed how they plant mines on public roads and residential areas.
Full report at:
https://english.alarabiya.net/en/News/gulf/2018/10/17/Arab-Coalition-refers-Yemen-s-Jabal-Ras-incident-to-Joint-Incident-Assessment-Team.html
--------
Russia: Deal on Syria's Idlib going ahead despite missed deadline
Oct 16, 2018
The Kremlin says a deal brokered by Russia and Turkey, which aims to create a demilitarized zone in Syria's northwestern province of Idlib and has so far held off a government offensive on the last major terrorist stronghold in the country, was going ahead, despite foreign-sponsored militants failing to leave the zone the day before.
"According to the information we are receiving from our military, the memorandum is being implemented and the military are satisfied with the way the Turkish side is working," Kremlin Spokesman Dmitry Peskov said on Tuesday.
"Of course one cannot expect everything to go smoothly with absolutely no glitches, but the work is being carried out," he added.
Under a deal reached following a meeting between Turkish President Recep Tayyip Erdogan and his Russian counterpart Vladimir Putin in the Black Sea resort city of Sochi on September 17, all militants in the demilitarized zone, which surrounds Idlib and also parts of the adjacent provinces of Aleppo and Hama, must pull out heavy arms by Wednesday, and Takfiri groups must withdraw by October 15.
The National Front for the Liberation of Syria is the main Turkish-backed militant alliance in the Idlib region, but the Takfiri Hayat Tahrir al-Sham (HTS) terrorist group, which is a coalition of different factions of terror outfits, largely composed of the Jabhat Fateh al-Sham Takfiri terrorist group formerly known as al-Nusra Front, holds a large part of the province and the zone.
The HTS, which is said to be in control of some 60 percent of Idlib province, has yet to announce its stance on the buffer zone deal.
It is estimated that between 10,000 and 15,000 members of different factions of armed groups, which Syria, Russia and Turkey consider terrorists, are active in the volatile province, which is home to around three million inhabitants.
Russia believes that a buffer zone would help stop attacks from Idlib-based militants on Syrian army positions and Russia's military bases in the flashpoint region.
Full report at:
https://www.presstv.com/Detail/2018/10/16/577213/Russia-Deal-on-Syrias-Idlib-going-ahead-despite-missed-deadline
--------
Africa
US airstrike in Somalia kills around 60 al-Shabab fighters
16 October 2018
The US military on Tuesday announced its deadliest airstrike against the al-Shabab extremist group in Somalia in nearly a year, killing about 60 fighters.
The US Africa Command said Friday's airstrike occurred near the community of Harardere in Mudug province in the central part of the country. According to its assessment no civilians were injured or killed, the statement said.
It was the largest US airstrike since one on Nov. 21, 2017, killed about 100 al-Shabab fighters. The statement gave no further details about what was targeted in this latest strike and the US Africa Command did not immediately respond to questions.
The US military has carried out more than two dozen airstrikes, including drone strikes, this year against the al-Qaeda-linked al-Shabab, the deadliest extremist group in sub-Saharan Africa.
Somalia on Sunday marked the first anniversary of al-Shabab's deadliest attack, a truck bombing in Mogadishu that killed well over 500 people. It was one of the world's deadliest attacks since 9/11 and the worst extremist attack ever in Africa.
The United States, which also has targeted a small number of fighters linked to ISIS in northern Somalia, has increased its military presence in the long-chaotic Horn of Africa nation since early 2017 to about 500 personnel after President Donald Trump approved expanded military operations.
Al-Shabab, which seeks to establish an strict Islamic state in Somalia, continues to hold parts of the country's south and central regions after being chased out of Mogadishu several years ago. The group, estimated at several thousands of fighters, still carries out deadly attacks against high-profile targets such as hotels and checkpoints in the capital and other cities. It also remains a threat in parts of neighboring Kenya.
While some observers have questioned the effectiveness of airstrikes by the US and Kenya and raised concerns about civilians being killed, the US military maintains that they "reduce al-Shabab's ability to plot future attacks, disrupt its leadership networks and degrade its freedom of maneuver within the region."
Somali forces in the next few years are expected to take over responsibility for the country's security from an African Union peacekeeping force, which already has started withdrawing hundreds of personnel.
The US says it continues to support that transfer even as some US military officials have joined AU officials and others in expressing concern that Somalia's forces are not yet ready.
https://english.alarabiya.net/en/News/world/2018/10/16/US-airstrike-in-Somalia-kills-around-60-al-Shabab-fighters.html
--------
Two million dual nationality Algerians are well integrated in France
October 17, 2018
Former French Interior Minister Jean-Pierre Chevènement, current President of the Foundation for Islam in France, and Head of the France-Algeria Association said that the Algerian community in France is well integrated in France despite some difficulties it is facing. He pointed out that there are 2 million dual nationality Algerians in France, and stressed that Paris should give Algeria special position in its foreign dealings.
Jean-Pierre Chevènement also explained in an interview with Echorouk and a number of national media outlets in Paris that: "The Algerian community is the closest to the French people out of all communities, especially since it is well integrated despite some difficulties."
Chevènement considered that the Algerian community in France succeeded in proving itself and it is currently constituting a middle class where Algerians are educated, successful in their studies, and performing responsibilities and own companies and institutions.
Chevènement pointed out that Islam has not been a big problem for the Algerians in France, especially since Algeria adopts the Sunni Islam. However, the Salafist movement has affected Islam in France and even in other countries.
Chevènement believes that the failure of the French Council of the Muslim Faith (CFCM) in performing its tasks is firstly due to the very low budget that does not exceed 30 thousand Euros per year.
The second reason is what the interviewee called the conflict between Algeria and Morocco on this regard. Moroccans are considered to be more connected to Islam, for they apply traditional Islam and are influenced by the royal palace and the ruling party. Chevènement believes that the Algerian-Moroccan relationship is like the relationship between two brothers, but these two brothers are always in conflict.
Chevènement described the French-Algerian relationship as unique, and France should give Algeria a special position in its foreign dealings and relations.
Full report at:
https://www.middleeastmonitor.com/20181017-two-million-dual-nationality-algerians-are-well-integrated-in-france/
--------
Boko Haram kills second kidnapped aid worker in Nigeria: Red Cross
October 16, 2018
ABUJA: Daesh-allied Boko Haram militants have killed another kidnapped female Red Cross worker in northeast Nigeria in a "despicable act of cruelty," the agency said on Tuesday, a month after militants murdered one of her colleagues.
Three female health workers were kidnapped on March 1 during a Boko Haram raid on the remote town of Rann, in Borno state, that killed three other aid workers and eight Nigerian soldiers.
Two of the kidnapped women, Hauwa Liman and Saifura Khorsa, worked for the International Committee of the Red Cross (ICRC), while the third, Alice Loksha, worked for the UN children's agency, UNICEF.
The ICRC said on Tuesday it had received information Liman had been killed by her captors, without giving further details. The government had also earlier announced news of the second killing.
"The news of Hauwa's death has broken our hearts," ICRC's Regional Director for Africa, Patricia Danzi said in a statement.
"We appealed for mercy and an end to such senseless murders. How can it be that two female health care workers were killed back-to-back?"
There had been no news of the trio until last month when the ICRC said it had received footage of Khorsa's killing from a Boko Haram faction.
The faction then threatened to kill Liman and Loksha, as well as a 15-year-old Christian schoolgirl Leah Sharibu who was kidnapped from the town of Dapchi, in Yobe state, in February.
The ICRC last weekend appealed for their release underscoring that they were "doing nothing but helping communities" in the conflict-riven region.
But Nigeria's Information Minister Lai Mohammed earlier announced the latest death as a deadline expired and said the government was "shocked and saddened" at the killing, calling it "dastardly, inhuman and ungodly."
He did not initially identify the victim but later added in a tweet that he "commiserated with the family of Hauwa Liman."
"It is very unfortunate that it has come to this. Before and after the deadline issued by her abductors, the federal government did everything any responsible government should do to save the aid worker," he said.
"As we have been doing since these young women were abducted, we kept the line of negotiations open all through. In all the negotiations, we acted in the best interest of the women and the country as a whole."
He said officials continued to work to free the others from captivity.
More than 27,000 people have been killed in northeast Nigeria since the Boko Haram insurgency began in 2009, while nearly two million others remain homeless due to the conflict.
Nigeria's military and government maintain the extremist rebels are weakened to the point of defeat but fighters from the Daesh-backed faction have conducted repeated raids on military bases in recent months.
The faction split from the faction led by long-time Boko Haram leader Abubakar Shekau in August 2016 in protest at the latter's indiscriminate targeting of civilians in raids and suicide bombings.
Analysts say they believe the switch by militants from attacking "hard" government and military targets to killing hostages is the result of a hard-line takeover of the Daesh-backed faction.
Boko Haram has used kidnapping as a weapon of war during the conflict, abducting thousands of women and girls, and forcing young men and boys to fight in their ranks.
Full report at:
http://www.arabnews.com/node/1388986/world
--------
URL: https://www.newageislam.com/islamic-world-news/religious-hate-crime-risen-40/d/116651
New Age Islam, Islam Online, Islamic Website, African Muslim News, Arab World News, South Asia News, Indian Muslim News, World Muslim News, Women in Islam, Islamic Feminism, Arab Women, Women In Arab, Islamophobia in America, Muslim Women in West, Islam Women and Feminism