New Age Islam News Bureau
22 Jul 2017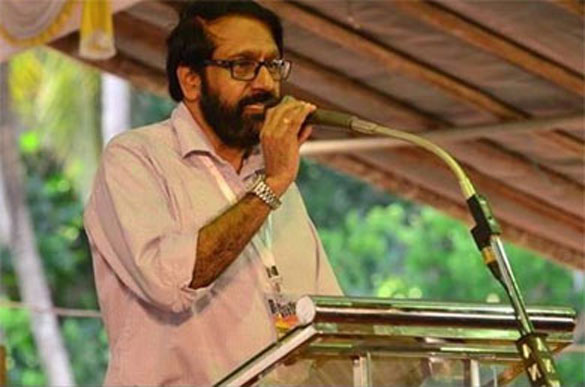 Ramanunni, who lives in Kozhikode, had written a six-part series in the edit page of the Madhyamam daily on the necessity of Hindu-Muslim harmony.
-----
• 'Refrain From Announcements, Fatwas Hurting People: WB Jamaat-e-Islami Hind
• Kerala Writer, Professor Get Threats for Backing Harmony, Husain Painting
• Afghan Taliban Chief, Maulvi Haibtullah's Son Carries out Suicide Attack
• Coup Attempt Was an Outrageous Scenario Constructed By Erdogan: Gulen
• MPs Concerned Over British Role in Saudi Executions
• Qur'an Submerged In Lard Mailed To Islamic Center in California
India
• 'Refrain From Announcements, Fatwas Hurting People: WB Jamaat-e-Islami Hind
• Kerala Writer, Professor Get Threats for Backing Harmony, Husain Painting
• India Protests US Reference to PoK as 'Azad Kashmir' In Terror Report
• Gujarat: 114 Pakistanis are Indian citizens now
• Pak envoy Abdul Basit wades into Doklam row, meets China and Bhutan ambassadors
• JKLF chief Yasin Malik detained after trying to march towards UNMOGIP office
• Badush prison in Iraq where 39 Indians were 'last seen' lies in ruins
--------
South Asia
• Afghan Taliban Chief, Maulvi Haibtullah's Son Carries out Suicide Attack
• Bangladesh, OIC Pledge to Fight Terror, Extremism
• Deadly clash erupts among ISIS militants and local residents in East of Afghanistan
• U.N. envoy complains of state surveillance, access restrictions in Myanmar
• Suicide attacks plan on gatherings and protesters foiled in Kabul city
• Ata Mohammad Noor hosts meeting regarding the new political coalition
--------
Mideast
• Coup Attempt Was an Outrageous Scenario Constructed By Erdogan: Gulen
• Al-Aqsa Crisis 'Unites All Palestinians' As Israelis Kill 3
• Mahmoud Abbas freezes Israel contact over al-Aqsa dispute
• Anti-Israel protest at Istanbul synagogue
• UN blames Saudi-led coalition for deadly Yemen strike
• 74 percent of Syrians in Turkey want Turkish citizenship: Poll
• EU admits 'challenges' amid 'consistent trend' of trade with Iran
• Iran reserves right to respond to US violation of JCPOA: Araqchi
• Iran Regime's Official "Proud" of Role in 1988 Massacre
• Iran: Two Prisoners Hanged in Public
• Heavy prison terms for a "priest" and another converted Christian" in Iran
• Heartfelt notes of a converted Christian, Amin Afshar Naderi during his hunger strike
--------
Europe
• MPs Concerned Over British Role in Saudi Executions
• Police Fire Teargas to Halt Morocco 'Million-Man March'
• UK Terror Threat Still High Despite Daesh Losses: Met Chief
• To Protect Refugees, We Must Confront Anxiety over Muslims in Europe
• Chechnya's Jewish community doesn't exist — but it's angry at Israel
--------
North America
• Qur'an Submerged In Lard Mailed To Islamic Center in California
• Al-Qaeda Suspect Linked To Cartoonist Plot Extradited To US
• Muslim lawyer vying for U.S. Senate presses on after racist attacks
• White House warns of 'serious consequences' unless Iran releases citizens
• 'US stops Pakistan military reimbursements over terror charges'
• An American Hostage Is Being Kept Under Wraps By Al-Qaeda In Africa
• Summer day camp aims to bridge the gap between Muslim and Canadian identities
--------
Arab World
• Qatar's Emir: Ready For Dialogue and Settlement of All Issues
• Egypt Kills 30 'Highly Dangerous' Militants in Sinai
• 3 wanted terrorists killed in Qatif shootout; remaining fugitives told to surrender
• Hezbollah, Syria liberate 9 border areas from terrorists in joint offensive
• Deir Ezzur: ISIL Suffering Lack of Fighters in Battle against Syrian Army
• Syria: Army Captures More Oil Wells in Southern Raqqa
• Syrian Soldiers Inch Closer to ISIL's Vital Bastion in Eastern Homs
• Russian Warplanes Bomb ISIL's Centers in Hama Heavily
• Syrian Army Wins back over 40 Energy-Rich Fields in Raqqa in One Month
• Egypt security forces kill two suspected militants, ministry says
• Hezbollah, Syria army launch offensive at border with Lebanon
• Syria demands reparation from US, allies for destroying Syria infrastructure
--------
Southeast Asia
• Indonesian Religious Ministry to Propose Tougher Blasphemy Laws
• PAS: Kit Siang's Quranic Exhortation Doesn't Mean Anything
• Will Muslims of other races be entitled to Bumi status? Perkasa asks
• Muslim population is Indonesia`s strength: President
• Asia's war against terrorism has only just begun
--------
Africa
• Libyan PM Decries Edict by Clerics Loyal To Rival Govt
• South Sudan's child solider returns from jaws of death
• Christian elders and the Islamisation claim...
--------
Pakistan
• Don't Let This Moment of Opportunity Slip Away, IMF Warns Pakistan
• Pentagon blocks $50m Coalition Support Fund payment to Pakistan
• JUI-F stresses end to political extremism
Compiled by New Age Islam News Bureau
URL: https://www.newageislam.com/islamic-world-news/refrain-announcements-fat-hurting-people/d/111928
--------
'Refrain From Announcements, Fatwas Hurting People: WB Jamaat-e-Islami Hind
July 22, 2017
Kolkata, April 21: Md. Nooruddin, President of the West Bengal unit of Jamaat-e-Islami Hind (JIH), on Friday said all communities should refrain from issuing "fatwas" or
"Announcements" that talk about hurting people or demeaning them socially.
"Giving fatwas about hurting people or defaming them is a form of intolerance. There should not be fatwas like this against political leaders or eminent personalities. Such fatwas should not be issued by any community," the JIH Bengal chief told IANS.
He was responding to questions about cleric Syed Sha Atef Ali Al Quaderi's recent announcement of a Rs 10 lakh bounty for anyone shaving Bollywood singer Sonu Nigam's head, as well as Shahi Imam of Tipu Sultan Mosque Maulana Noor-ur Rahman Barkati, who had in January issued a fatwa against Prime Minister Narendra Modi over "harassment" of people following demonetisation.
"He (Quaderi) has made a mistake by making those statements. If azaan is causing disturbance to someone, then it has to be seen why that is happening. Fatwas cannot be issued just like that on such issues. It is generally issued for bigger matters," Nooruddin said.
"Islam does not allow disturbing people in any way. On the other hand, no one should interfere with the religious rights of the Muslims… that are also equally incorrect," he added.
Quaderi had on April 18 announced a reward of Rs 10 lakh to anyone who shaves off the singer's head and garlands him with footwear after Nigam lashed out at "forced
Religiousness" in India after being woken up by the Azaan from a mosque near his home.
He later clarified that he was not against any religion.
A BJP youth leader had recently announced a bounty to behead West Bengal Chief Minister Mamata Banerjee.—IANS http://www.muslimmirror.com/eng/refrain-from-announcements-fatwas-hurting-people
--------
Kerala Writer, Professor Get Threats for Backing Harmony, Husain Painting
By Shaju Philip
July 22, 2017
A Malayalam writer who had written newspaper editorials on Hindu-Muslim unity has been threatened that he should either convert to Islam within six months or be ready to face the punishment meted out to infidels. In a different case, a woman college professor who had spoken favourably about M F Husain's Saraswati painting has been attacked on social media and threatened with acid attack. Police on Friday registered cases and began investigation.
K P Ramanunni, the Malayalam writer, said he received the threat in a letter that said: "Get converted to Islam. We are giving you six months' time. You cannot hide in the…granary at your house for long. Get ready to offer namaaz five times a day and observe fast. Otherwise, we would execute the punishment meant for infidels. Your articles would deviate the people from the path of faith."
Ramanunni, who lives in Kozhikode, had written a six-part series in the edit page of the Madhyamam daily on the necessity of Hindu-Muslim harmony. The daily is run by the Jamaat-e-Islami, a Muslim religious organisation in Kerala.
The articles had said Muslims should not view Hindus as their enemies. It said religious extremism was a product of colonial forces. The articles called for a concerted movement of Hindus and Muslims in the "age of a violent neo-liberalism".
Ramanunni said: "The articles were written with a genuine interest aimed at fostering religious harmony. The series, published last month during Ramzan, were widely appreciated."
The writer said he got the threat letter six days ago and handed it over to the Kozhikode city police. Ramanunni said the letter threatened that he would face consequences like professor T J Joseph, whose right hand was chopped off by a gang in 2010 for allegedly insulting the Prophet.
The threat of an attack like Joseph suffered was also made to Kerala Varma College professor Deepa Nisanth. She had spoken of supporting an SFI banner that had carried the Saraswati painting of M F Husain. Hindutva outfits feel that by painting Saraswati in the nude, Husain had insulted the religion.
Nisanth said morphed pictures of her were circulated on social media and one person commented that the professor might be the model for the painting. Nisanth said she got messages from various social media accounts threatening acid attack. "Some groups threatened I would be handled in the manner Prof T J Joseph was attacked."
Chief Minister Pinarayi Vijayan said the government would strongly deal with the threat to writers and cultural activists. On his Facebook page, Vijayan said the government would not tolerate attempts to threaten and defame those who take a progressive and divergent stand on various issues.
http://indianexpress.com/article/india/kerala-writer-professor-get-threats-for-backing-harmony-husain-painting-4761818/
--------
Afghan Taliban Chief, Maulvi Haibtullah's Son Carries out Suicide Attack
22-Jul-17
PESHAWAR/ISLAMABAD: The son of Afghan Taliban chief Maulvi Haibtullah, Abdul Rahman, has carried out a suicide attack in southern Helmand province, according to a Taliban leader and a website affiliated with the Afghan Taliban.
Abdul Rehman died in suicide bombing in Greshik district of Helmand, where Taliban are involved in heavy fighting with the Afghan security forces. He had registered himself as a potential suicide attacker before Sheikh Haibatullah became the head of the Taliban in Afghanistan and had been waiting for his turn to carry out the attack.
The website said that Taliban sources had confirmed the attack by Abdur Rahman while adding that a video of the attacker would be shared soon. Sheikh Haibatullah's son was said to be a Hafiz-e-Quran (one who memorises the Holy Quran by heart) and was known as Hafiz Khalid among his comrades. A Taliban official said Abdul Rehman used a vehicle in the suicide attack.
The Afghan Taliban had begun surprise fresh attacks from various sides on Grishak district of Helmand early on Thursday morning. The first attack in a series of coordinated hits was carried out using High Mobility Multipurpose Wheeled Vehicle (HMMWV) snatched from the Afghan security forces in battles elsewhere in Afghanistan.
Security sources in Helmand had said on Thursday that the Taliban were able to break the first line of defense with the use of suicide attackers.
http://dailytimes.com.pk/pakistan/22-Jul-17/afghan-taliban-chiefs-son-carries-out-suicide-attack
--------
Coup attempt was an outrageous scenario constructed by Erdogan: Gulen
July 22, 2017
Turkish Islamic scholar Fethullah Gulen, who has lived in self-imposed exile in Pennsylvania since 1999, has said a coup attempt in Turkey on July 15 was an "outrageous, heinous scenario constructed by Turkish President Recep Tayyip Erdogan and his accomplices," the Stockholm Center for Freedom (SCF) has reported.
Gulen, who has inspired the Hizmet movement, which was accused of masterminding the coup attempt by Erdogan, stated in an exclusive interview with SCF that "it was launched to an pursue unprecedented witch-hunt against the movement."
"He [Gulen] made it clear if anyone who was sympathetic to the Hizmet movement took part in this heinous act, they betrayed the very ideals of the movement," said SCF in a detailed report titled "July 15: Erdogan's Coup".
"Gulen reiterated his call for an international commission to thoroughly investigate the coup, an offer that [Erdogan] has failed to respond [to]," SCF noted.
"Last year's failed coup attempt in Turkey [was] nothing but a false flag orchestrated by Turkey's autocratic President Erdogan and his henchmen to create a pretext for [the] mass persecution of critics and opponents in a state of perpetual emergency," SCF concluded.
"Based on publicly available data, the coup indictments, [testimony in court], private interviews, reviews of military expert opinions and other evidence collected by researchers, SCF is fairly confident that this attempt did not even qualify [as] a coup bid in any sense of military mobilization, which was unusually limited in number, confined [to a] few cities, poorly managed [and] defied the established practices, tradition, rules of engagement and standard operating [procedure] in [the] Turkish military."
"This was a continuation of a series of false flags that were uncovered in the last couple of years under the authoritarian rule of [the] Erdogan regime, and it was certainly the bloodiest one," said Abdullah Bozkurt, the president of SCF.
"Erdogan appears to have tapped on widely circulated coup rumors in [the] Turkish capital and staged [his] own show to steal [the] wind and set up his opposition [for persecution]," he added.
Some of the findings from the detailed, 191-page SCF report are as follows:
"A huge gap has emerged between facts and the government's narrative on coup bid despite intense efforts by Erdogan regime's in the form of censorship, propaganda, pressure, threats and even torture and ill-treatment. The testimonials from defendants and the evidence that was uncovered so far has further bolstered the view that the coup attempt was nothing but a set-up.
"The conflicting public accounts by Erdogan regarding the chain of events on the day of the coup, his recollection that even differ from the indictments issued by judiciary that is tightly controlled by his regime, the anti-democratic measures taken in the aftermath of the July 15, the shuttering of thousands of institutions and the arrests of tens of thousands of civilians cast a long shadow on July 15 events.
"The fact that the head of Turkish intelligence service (M?T), Hakan Fidan, was tipped off about the coup in advance according to his own written statements sent to Parliament, but he neither informed the Prime Minister nor the President strengthened the claim that the coup bid was totally staged. There is no explanation for why the officials who are, first and foremost, responsible for discovering, thwarting, and halting the coup attempt against the elected government remained unreachable on the day of the coup and why they followed the daily routine even after they learned about the attempt.
"Against the background of intel chief Hakan Fidan's lack of testimony either as a suspect or witness in any judicial investigation into the coup attempt, his no-show at the Parliamentary Coup Investigation Commission for a testimony, and the very fact that he kept his job, Erdogan actually expects everybody to believe in his constructed narrative about the coup attempt without even questioning and investigating anything significant.
"The fact that intel head Hakan Fidan met with the top military officials for hours a day before the coup as well as on the coup day, his trip to the General Staff's headquarters despite alleged tip-off that he was going to be whisked away and detained by military, his leaving the military headquarters without a hassle, and the launch of the coup attempt right after his departure has not been explained and justified as of today.
"It is also important to note the Chief of General Staff Hulusi Akar made conflicting statements. Testimonials by witnesses and defendants do not confirm the account provided by Akar. The military experts that SCF has consulted in preparing this report clearly underlined that the coup bid, tipped-off in advance, could have stopped easily in its tracks and prevented by simple and quick measures. Yet, Akar's not resorting to such preventive measures fuels deep suspicions about July 15 events.
"It was highly unusual and odd for the top commanders of the military had gone on with their usual routine, even attending wedding ceremonies at hours when there was credible and alarming intelligence of a coup attempt was received. This is against the established traditions, practices and rules of the operating procedures in Turkish military.
"According to official account, 8,651 officers took part in the coup, corresponding to 1.5 percent of the total military personnel in the Turkish Army. Of those 1,761 were private conscripts, 1,214 were military students, and 5,761 were officers and non-commissioned officers. But even these numbers do not reflect the actual mobilization that was seen on the ground during the coup attempt. Given the fact that 168 generals and thousands of officers are now being tried on coup charges, the military experts find it odd that such an insignificant number of troops took part in the coup attempt. It is estimated that there are 200,00 troops under the command of these generals who are charged with the attempt.
"The strange events such as shutting down the Bosphorus bridge to the traffic one way, hitting targets that have not served to the goals of putschists at all, the sparing of politicians who should have been the primary target, killing civilians, trying to seize institutions by only a handful of troops were not explained. The limited mobilization of military assets was confined to few cities and the teams that are supposed to detain Erdogan came to his hotel hours after his departure. All these makes-no-sense events appear to be suggesting that they were staged to give an impression and supply footages and photos for the coup.
"Even after one full year, Turkish government has failed to present a convincing and solid evidence that proves the Hizmet movement (popularly known as Gulen movement) was behind the coup attempt either as a mastermind or a participant. The fabricated and forced testimonials apparently taken under heavy torture in custody were later refuted by defendants when they appeared in court for trial hearings.
"As various researches that were published or reported by international institutions have revealed, officers who are charged of attempting the coup comes from various ideologies and backgrounds. In most cases, the troops were mobilized over threats of impending terror threats or as part of the military drill, defendants' statements in the court has shown.
"Fethullah Gulen who has inspired the Hizmet movement that was accused of coup bid by Erdogan, stated in an exclusive interview with SCF that the coup bid was "outrageous heinous scenario constructed by Erdogan and his accomplices." He said it was launched to pursue unprecedented witch hunt against the Hizmet movement. He made it clear if anyone who was sympathetic to the Hizmet movement took part in this heinous act, they betrayed the very ideals of the movement. Gulen reiterated his call for an international commission to thoroughly investigate the coup, an offer that Edo?an has failed to respond.
"The uncertainty behind the ballistic investigations on the weapons used in the murder of civilian and troops still lingers on. The paramilitary groups that took part in clashes, and that later appeared in various videos taken on coup night were not identified and how they were organized and mobilized remains a mystery. There were also reports that Turkish police distributed high-caliber weapons to civilians on the night of the coup.
"Turkey is no longer a country governed by the rule of law and democratic principles. It is now a state ruled by the government decrees under constant state of emergency. The judiciary is under full control of the government, freedom of press and expression are under hold, the parliamentary is no longer functioning and opposition politicians are behind bars.
"More than 150,000 government employees were dismissed from their positions on the basis of their critical views without an effective judicial and administrative probes. The purges in the military, judiciary, foreign service and security apparatus have reached to alarming levels. 51,889 people were put behind bars, without an evidence, a trial and conviction, mostly housewives, teachers, students, doctors, merchants, journalists who were affiliated with the Hizmet movement."–Hizmet News
http://nation.com.pk/international/22-Jul-2017/coup-attempt-was-an-outrageous-scenario-constructed-by-erdogan-gulen
--------
MPs concerned over British role in Saudi executions
Jul 21, 2017
A group of senior British MPs has expressed concern that their country's police might have directly contributed to the arrest of 14 Saudi Arabian people facing imminent execution in the kingdom.
In a cross-party letter published on Friday, the MPs said they were "gravely concerned" that UK police training of Saudi agents in cyber forensics may have enabled the arrests and called on British Prime Minister Theresa May to "personally urge Saudi Arabia's King Salman and Crown Prince Bin Salman to halt the 14 upcoming executions."
The prime minister must "take urgent steps to confirm that UK assistance played no role in these individuals' conviction under Saudi Arabia's anti-cyber crime law," the lawmakers noted.
"If the UK has trained Saudi agents in gathering the kind of evidence which is being used to hand down death sentences, it would call into question the viability of UK training for Saudi Arabian criminal justice bodies," the letter wrote.
The letter, signed by Conservative Andrew Mitchell and Liberal Democrat Tom Brake, also demands a "full account to Parliament of any and all UK training for Saudi police and criminal justice institutions".
The two MPs had raised concerns about the situation of the 14 men in an urgent question to Parliament earlier this week and called for the UK to condemn the use of the death penalty.
In response, Foreign Office Minister Alistair Burt said the British government only had "sketchy" reports but was seeking further clarity in Riyadh and London.
"The UK government opposes the use of the death penalty in all circumstances and in every country including Saudi Arabia, especially for crimes other than the most serious and for juveniles," said Burt.
Additionally, Maya Foa, director of the leading London-based rights group Reprieve warned of the consequences if the UK government kept silence in the face of the upcoming atrocity.
"There are serious concerns that the UK government was complicit in their arrest and convictions based on false confessions obtained through torture," she said.
"By not speaking out against these abuses, the prime minister is condoning the beheadings and putting the UK's reputation as a defender of human rights at serious risk. Instead of giving British assistance to the Saudi executioners, the prime minister should offer her unequivocal support to those young men facing beheading," Foa noted.
"When 14 young men face imminent beheading for protest-related offenses, simply raising the cases in private doesn't cut it," she concluded.
Among those facing imminent execution are Munir al-Adam, who is half-deaf and partially-blind, and Mujtaba'a al-Sweikat, who was only 17 when he was sentenced to death, according to Reprieve.
Saudi Arabia has been facing protests since 2011, when a wave of uprisings and revolutions hit dictatorial Arab monarchies in the Middle East and North Africa.
Human rights organizations have repeatedly criticized Britain and the United States for giving the Saudi regime an easy pass on perpetrating human rights abuses on its own people.
Saudi Arabia executed a record 158 people in 2015 and another 153 people last year, according to Amnesty International.
A June report by Reprieve found that 41 percent of those executed in the oil-rich kingdom in 2017 were killed for non-violent acts such as attending political protests. UN experts have called for an end to executions for non-violent offenses.
http://www.presstv.ir/Detail/2017/07/21/529233/British-MPs-Saudi-Arabia-execution
--------
Qur'an Submerged In Lard Mailed To Islamic Center In California
Jul 22, 2017
An investigation has been launched into the mailing of a Qur'an, which was submerged in a tub of what appeared to be pork lard, to a Northern California Islamic center.
Although Sacramento police are investigating the case as a "hate activity," they will not file charges because they say the activity does not rise to a criminal level, according to Officer Linda Matthew.
"It's deplorable behavior by someone to do something like this, and it's very disrespectful to their religion. But yet there's no specific crime that's attached to it," Matthew said. "We're monitoring these types of instances and taking them very seriously."
The Sacramento chapter of the Council on American-Islamic Relations received the package in June delivered by a white woman from a shipping center in Houston, she said.
The incident is yet another type of hate crime incidents happening across the county, said Katelyn Costa, the programs and administrative coordinator at the CAIR Sacramento chapter.
"We're more disappointed that people aren't taking the time to learn and understand," she said.
In similar incidents, two local Islamic centers discovered destroyed remnants of Qur'ans outside of their mosques in June.
The incidents occurred outside the Masjid Annur Islamic Center in Sacramento and the Islamic Center of Davis.
A singed Qur'an filled with bacon was found handcuffed to a fence at the Masjid Annur Islamic Center. In a separate incident, someone, who was driving by in a car, threw pages torn out of a Qur'an into the Islamic Center of Davis during night prayers.
Also in January, a woman broke the windows of the mosque and left bacon strips on the entrance handles.
On May 9, CAIR said in a report that the number of anti-Muslim bias incidents in the US saw a 57% rise in 2016, attributing it, in part, to Donald Trump's rhetoric against Muslims and immigrants during his presidential campaign in 2016.
Before winning the election, Trump had promised to impose a "complete and total shutdown" on Muslims entering the US, framing it as an effort to prevent attacks in the country.
http://www.presstv.ir/Detail/2017/07/22/529255/US-California-Quran-hate-crime
--------
India
India protests US reference to PoK as 'Azad Kashmir' in terror report
Neeraj Chauhan
Jul 22, 2017
NEW DELHI: India has lodged a strong protest with the US over the state department's "Country Report on Terrorism 2016", released on Wednesday, referring to Pak-occupied Kashmir (PoK) as "Azad Jammu & Kashmir" even as it states that the area is being used by terrorist groups to target India.
The Indian government approached US authorities after the release of the report. An official spokesperson of the external affairs ministry told TOI, "The government has seen the mention of the term 'Azad Jammu & Kashmir' in the US state department's country report on terrorism for 2016. We have raised the matter with the US authorities and lodged our protest."
This is the first time the US has referred to PoK as "Azad Jammu & Kashmir" despite the fact that the region is closely controlled by the Pakistan military in the face of Indian protests. Till recently, the US has used the nomenclature "Pakistan-administered Kashmir". The report, however, praises India's efforts to combat terrorism.
On the other hand, India has reason to feel satisfied that the report refers to the Indian state as "Jammu & Kashmir" instead of its previous reference to it as "Indian-administered Kashmir".
The report, in the section on US government-designated foreign terrorist organisations, talks of Harkat-ul-Mujahideen (HUM) and says "the outfit conducts its operations primarily in the state of Jammu & Kashmir and Afghanistan". It adds: "HUM operates from Muzaffarabad in Azad Jammu & Kashmir, as well as several cities in Pakistan".
Similarly, while talking about Hafiz Saeed-led Lashkar-e-Taiba, responsible for several attacks in India including 26/11 Mumbai attacks, the state department report says "the precise size of LeT is unknown, but it has several thousand members in Azad Jammu &Kashmir and Pakistani Punjab; Khyber-Pakhtunkhwa and Punjab Provinces in Pakistan; and in the state of Jammu & Kashmir, India".
Muzaffarabad is the headquarters of LeT and other anti-India terror groups and PoK is used to launch terrorists into India and plan attacks on Indian military and civilian targets on the direction of the Pakistani army.
TOI's attempts to get a response from the US embassy remained unsuccessful. Some officials believe that even if PoK has been termed as Azad J&K' by US report, it doesn't diminish the indictment of Pakistan for providing support and shelter to terrorists and cross border terror.
However, officers associated with defence matters said the US should use more correct terminology. An officer said, "Azad J&K is often used by Pakistani government, its military and terrorist organisations like Hizbul Mujahideen, LeT, JeM, etc." The report has flayed Pakistan for not taking action against terror groups.
http://timesofindia.indiatimes.com/india/india-protests-us-reference-to-pok-as-azad-kashmir-in-terror-report/articleshow/59707950.cms
--------
Gujarat: 114 Pakistanis are Indian citizens now
Jul 21, 2017
Nandlal Meghani's, Dr Vishandas Mankani's and Kishanlal Andani's joy knows no bounds. They are among the 114 Pakistan citizens to have received Indian citizenship. The recipients will receive their citizenship certificates today.
High crime rate in Pakistan
Sharing his joy with Mirror, Nandlal Meghani, 50, a resident of Ghatlodia, said, "I along with my wife and daughter came to India 16 years ago from Sindh in Pakistan. We sold our home and business to make a new start here in India. We were impressed with the common man's life here as soon as we arrived and applied for the Indian citizenship. The main reason to opt for Indian citizenship was the high crime rate in Pakistan. Even our Muslim friends back in Pakistan encouraged us to shift to India, looking at widespread terrorism there." Meghani was engaged in auto parts business in Pakistan. In India, he started afresh by starting a home renovation firm. His sons are engaged in medical stores.
'Terrorism made life hell for us'
Kishanlal Andani, 59, said, "I had migrated to India in 2005 with my wife and four sons. My sons will arrive tomorrow and we plan to apply for Indian citizenship for our daughter-in-laws as well." Andani owned a general store in Tharpakar town of Sindh province in Pakistan. In India he has started a utensils shop along with his children. With tears welling up in his eyes, Andani said, "I often think about the place I left behind and my friends there. However, the menace of terrorism had made it difficult for us to survive. When we ventured out every day, we remained unsure whether we would return home in the evening. My Muslim friends there stood by me when riots broke out over the issue of a local temple and mosque. They offered me protection during the most critical time of our lives."
Appreciating the central government's move to grant collectorates power to decide upon applications, Dr Vishandas Mankani, 50, a resident of Sola Road who came to India in 2001 on visitor visa with four children, said, "I and my wife got citizenship in 2016. Now my children have also got it. We are impressed with development in India, which is absent in Pakistan. Safety is also something one can vouch for in India." Dr Mankani recently retired from medical practice while his sons run a mobile shop to earn livelihood.
Collectors empowered to process applications
Full report at:
http://timesofindia.indiatimes.com/articleshow/59695975.cms
--------
Pak envoy Abdul Basit wades into Doklam row, meets China and Bhutan ambassadors
by Shubhajit Roy
July 22, 2017
A month into the border standoff between India and China at the tri-junction with Bhutan, Pakistan's envoy Abdul Basit has waded into the Doklam row. The High Commissioner is learnt to have met the Chinese and Bhutanese envoys in New Delhi this week. While it is not unusual for the envoys to meet in New Delhi, the timing of these meetings has raised eyebrows in South Block.
The meeting between Basit, who is likely to leave for Islamabad soon, and Chinese ambassador Luo Zhaohui took place Wednesday, sources said. The meeting was at the request of Basit. A day later, on Thursday, the Pakistan High Commissioner met Bhutan's ambassador Major General Vetsop Namgyel. This meeting too was at Basit's request.
While all three are tightlipped on the meetings, one of them told The Indian Express Friday, "What (is the) issue? Diplomats meet routinely." Asked if the Doklam issue was discussed at the meeting, he said, "We discuss all issues."
These meetings have been noticed by South Block, which is keeping a close watch on the developments within the diplomatic circuit. South Block too witnessed a major change on its China desk. The new joint secretary, in charge of China, is Pranay Verma. He took charge Friday as head of the East Asia division Friday, and comes with a formidable reputation on China.
He was India's Chinese interpreter for Prime Minister Atal Bihari Vajpayee between 2000 and 2004 — since he was the best in his batch in Mandarin speech and writing. Verma, who replaced Pradeep Rawat, has served in the Indian mission in Hong Kong (1996-98), Beijing (2000-2004), and was Deputy Secretary in the MEA (looking after India's relations with China and East Asia). He is expected to lead India's diplomatic negotiations.
Full report at:
http://indianexpress.com/article/india/pakistans-envoy-abdul-basit-meets-china-and-bhutan-ambassadors-4761900/
--------
JKLF chief Yasin Malik detained after trying to march towards UNMOGIP office
July 21, 2017
Police today detained JKLF chairman Yasin Malik after he tried to lead a march towards the local office of United Nations here to protest the "killings in Kashmir". Malik was detained after he tried to lead a protest march to the office of the United Nations Military Observer Group in India and Pakistan (UNMOGIP) at Sonwar here after congregational prayers, a police official said.
He said Malik along with his supporters assembled in Dalgate area of the city here this afternoon and tried to take out a protest march to the UN office. Police swung into action and took him into custody, the official added.
Jammu Kashmir Liberation Front spokesman said Malik had gone into hiding as police had yesterday raided the outfit's office to arrest him. Police had imposed a stringent curfew, barricades and razor wire were placed on every road leading towards Lal Chowk and the UN office, the spokesman said.
But it failed to deter Malik and others to reach Buchwara Dalgate, he added.
The spokesman said Malik addressed people at the Jamia Masjid in Buchwara and later at the Buchwara Chowk as well. The JKLF chairman had gone into hiding as state has "choked" every space for peaceful programmes in Kashmir, he said. Today's protest strike and sit-in outside the UN office are actually a mark of protest against the "spree of innocent killings in Kashmir", Malik said before being detained by the police.
He said it is obligatory on the international community, especially the UN, to take cognisance of these "gross human rights violations". Earlier, the separatists had asked the people to march to Sonwar to participate in a sit-in outside the UN office.
Full report at:
http://indianexpress.com/article/india/jklf-chief-yasin-malik-detained-after-trying-to-march-towards-unmogip-office-4761470/
--------
Badush prison in Iraq where 39 Indians were 'last seen' lies in ruins
July 22, 2017
The prison near the Iraqi city of Mosul described by the Indian government as the last known location of 39 Indians kidnapped by the Islamic State three years ago is today a desolate and abandoned structure that has been unoccupied for weeks, if not months.
The roofless building, mostly turned into rubble, is located in an area riddled with landmines. Sleeper cells of the IS are still active in the region though fighting in Badush village ended a few months ago, says Brig Abdul Amin Al Kazraji of the Golden Division, the elite US-trained Iraqi counter-terror force that has been leading the fight against Abu Bakr al-Baghdadi's terror group.
"I have no information about the abducted Indians but there is nothing at the prison anymore," he said.
This correspondent travelled to the prison in Badush in a Humvee provided by Kazraji along with armed Iraqi soldiers. The vehicle made its way from Mosul, a city destroyed by the IS and air strikes by coalition forces, to Badush, a distance of about 25 km, via the Syria Road.
Near the prison, two armed soldiers walked ahead in the rough terrain in temperatures of more than 50 degrees Celsius, looking for mines.
They stopped near the fallen pillars of what was once the boundary of the prison. The rubble of the structure could be seen at a distance of about 200 metres and the soldiers said it wasn't safe to go any further because of landmines.
On July 16, external affairs minister Sushma Swaraj had said that information gathered by minister of state VK Singh during a recent visit to Iraq suggested the 39 Indians kidnapped in June 2014 were possibly being held in the Badush prison. She said she was hopeful of getting more information about the Indians when her Iraqi counterpart Ibrahim Al-Jaafari visits New Delhi on July 24.
"An official who quoted intelligence sources told Gen Singh that they (the Indians) were deployed for a hospital construction and then in a farm. From there, they were sent to a jail in Badush. There has been no information since then," Swaraj told reporters after meeting the families of the abducted men.
Full report at:
http://www.hindustantimes.com/india-news/badush-jail-in-iraq-where-39-indians-were-last-seen-lies-in-ruins/story-UpfTVeVVZLj0pqbIAkrocL.html
--------
South Asia
Bangladesh, OIC pledge to fight terror, extremism
22 July 2017
MOHAMMED RASOOLDEEN
RIYADH: The Organization of Islamic Cooperation (OIC) and Bangladesh pledged to fight terrorism and extremism during a meeting of key officials from both sides held in Jeddah on Tuesday.
At the meeting, which was held at the OIC headquarters in Jeddah, Grand Imam of Sholakia Eidgah Allama Farid Uddin Masoud and Secretary-General of the OIC Yousef Al-Othaimeen agreed to refute the false claims of extremists in the name of Islam.
Farid Uddin Masoud handed the secretary-general a 30-volume anti-militancy fatwa in light of authentic texts of Islam and signed by 110,000 religious scholars from Bangladesh.
The anti-terrorism and extremism initiative from the religious scholars has been praised all over the world.
He explained the procedure through which his institution, a non-political one, gathered such a large number of religious scholars to stand against violence and speak in unison for peace.
Al-Othaimeen commended the grand imam and reiterated the OIC's principled position against terrorism and extremism.
During the recently concluded Islamic Council of Foreign Ministers held in Abidjan, Cote d'Ivoire, it was decided to hold its 45th meeting in Dhaka next year. The Bangladesh ambassador and the country's permanent representative to the OIC, Golam Moshi, told Arab News said his country considers it a great honor to have the opportunity to host the next conference.
Such an event in Bangladesh will further strengthen the relations between his country and the OIC.
http://www.arabnews.com/node/1132976/saudi-arabia
--------
Deadly clash erupts among ISIS militants and local residents in East of Afghanistan
Jul 21 2017
A deadly clash erupted among the militants of ISIS terrorist group and local residents in eastern Nangarhar province of Afghanistan, leaving several people dead.
According to the local officials in Nangarhar, the incident took place on Thursday in the vicinity of Khogyani district of Nangarhar province.
The provincial government media office also confirmed the incident and said at least twenty four ISIS loyalists were killed during the clashes.
The statement further added that the clashes took place in Tangi, Anarkhel, and Sulaiman Khel areas of Khogyani.
The Taliban insurgents also intervened in the clash and arrested at least five ISIS militants and took place them to an unknown location, the statement added.
The anti-government armed militant groups have not commented regarding the reports so far.
Nangarhar is among the relatively calm provinces in eastern Afghanistan but the anti-government armed militant groups have recently increased their insurgency activities in some parts of the province during the recent years.
Both the Afghan and US forces conducted regular strikes against the loyalists of the terror group in this province.
Full report at:
http://www.khaama.com/deadly-clash-erupts-among-isis-militants-and-local-residents-in-east-of-afghanistan-03190
--------
U.N. envoy complains of state surveillance, access restrictions in Myanmar
July 22, 2017
YANGON (Reuters) - Activists and journalists in newly democratic Myanmar continue to be followed and questioned by state surveillance agents, a U.N. envoy said on Friday, at the conclusion of a visit she said was beset by official snooping and access restrictions.
Aung San Suu Kyi came to power last year after a landslide in the landmark 2015 elections.
She does not oversee the police or the military, which ruled the country for decades and retains its powerful position under a constitution drafted by the former junta.
Special Rapporteur Yanghee Lee told a news conference at the conclusion of her 12-day visit that she faced "increasing restrictions" on her access.
Lee said the government, citing security concerns, had prevented her from visiting parts of the northeast where the military is accused of abuses against civilians in its conflict with ethnic rebels.
She was also not allowed to visit three journalists detained last month by the army and charged with contacting a rebel group, despite the site of their detention being a popular tourist spot, the human rights envoy said.
Myanmar regularly blocks monitors and journalists from travelling to areas near the conflicts citing concerns over safety. Security officials say monitoring prominent people is a normal part of their work.
Lee said it was "unacceptable" that people meeting her were watched and even followed by agents she suspected to be from the police Special Branch that once stalked political opponents during almost half a century of dictatorship.
Birth Certificates
"I have to say I am disappointed to see the tactics applied by the previous government still being used," she said.
"In the previous times, human rights defenders, journalists and civilians were followed, monitored and surveyed and questioned. That's still going on," Lee added.
Suu Kyi's office did not directly address the issues of access or surveillance, but said it was "disappointed" with Lee's end of mission statement, which "contains many sweeping allegations and a number of factual errors".
"We had hoped that the Special Rapporteur's statement would reflect the difficulties of resolving the problems that are a legacy of decades of internal conflict, isolation and underdevelopment," it said in a statement released early on Saturday.
Myanmar is also refusing entry to a separate U.N. fact-finding mission appointed by the Human Rights Council in Geneva to look into allegations of abuses by the security forces.
The panel has a special focus on the western state of Rakhine, where the army led an operation late last year in response to attacks by militants caused an estimated 75,000 people Rohingya Muslims flee across the border to Bangladesh.
About 1.1 million Rohingya - who many in Myanmar view as illegal immigrants from Bangladesh - live are denied citizenship and face restrictions on their movements in Rakhine.
Lee visited the state and credited Myanmar for attempts to implement some recommendations made in March by a advisory panel led by former U.N. chief Kofi Annan, including the issuing of birth certificates to 20,000 children not previously registered.
Buddhist officials in Muslim-majority areas have in the past refused to draw up such documents for Rohingya newborns.
However, Lee said: "The general situation for the Rohingya has hardly improved since my last visit in January and has become further complicated in the north of Rakhine."
Full report at:
https://www.reuters.com/article/us-northkorea-usa-tours-idUSKBN1A60SE
--------
Suicide attacks plan on gatherings and protesters foiled in Kabul city
Jul 22 2017
The Afghan security forces thwarted militants plan to carry out attack suicide attacks on gatherings and protesters in Kabul city.
The Afghan Intelligence, National Directorate of Security (NDS), said two people who were planning the attacks were arrested by the intelligence operatives.
A statement by NDS said four suicide bombings vests were also confiscated from the detained militants during the operation.
According to NDS, the detained individuals have confessed that they were planning to target the rallies, demonstrations, and gatherings in the city.
The anti-government armed militant groups have not commented regarding the report so far.
This comes as the security institutions and foreign missions repeatedly warn regarding the terrorist attack plans in the city.
Several people were killed and dozens more were wounded after a gathering of the people, who had attended a funeral ceremony, were targeted in Kabul city last month.
Full report at:
http://www.khaama.com/suicide-attacks-plan-on-gatherings-and-protesters-foiled-in-kabul-city-03192
--------
Ata Mohammad Noor hosts meeting regarding the new political coalition
Jul 21 2017
The provincial governor of the northern Balkh province and chief executive of Jamiat-e-Islami hosted a meeting regarding the new political coalition amid a deadlock between the political figures, comprising the government and opposition leaders.
According to a statement issued by Noor's office, the meeting was hosted in the government compound by the provincial governor and was attended by the leaders of Junbish-e-Millie and Wahdat-e-Islami parties.
The statement further added that the negotiations focused on the formal announcement of the new coalition and their stance regarding the current situation.
The new political front was established around three weeks consisting key political figures, including the first vice president General Abdul Rashid Dostum, Balkh governor and Jamiat-e-Islami chief executive Ata Mohammad Noor, and deputy chief executive Haji Mohammad Mohaqiq.
The leaders of the parties informed regarding the formation of the coalition on Friday and said the political front has been established to rescue the country from the ongoing crisis.
The formation of the political front has attracted mixed reactions by the government and political parties and leaders.
The leader of Hezb-e-Islami Gulbuddin Hekmatyar in his latest remarks has said the new political coalitions or fronts are formed mainly to seek share in the power.
According to Hezb-e-Islami leader, the political coalitions should not be formed to counter each other and stand against each other but must have specific perspectives and slogans which should not reflect their personal interests.
Full report at:
http://www.khaama.com/ata-mohammad-noor-hosts-meeting-regarding-the-new-political-coalition-03189
--------
Mideast
Al-Aqsa crisis 'unites all Palestinians' as Israelis kill 3
22 July 2017
JERUSALEM: At least three Palestinians were killed and several hundred people wounded Friday as worshippers clashed with Israeli security forces outside the Al-Aqsa Mosque compound, in violence prompted by the installation of metal detectors at its entry point.
Tensions have risen since Israel installed the metal detectors in a move Palestinians and other Muslims perceive as a means for Israel to assert further control over the compound in East Jerusalem.
"Al-Aqsa united all Palestinians today," Hazem Kawasmi, head of the Jerusalem Society for Education and Culture, told Arab News. "We even saw our Christian brothers wearing their cross and joining us in prayers on Jerusalem's streets as a powerful sign of national unity."
Kawasmi said he was denied entry to the Old City. In anticipation of protests on Friday, Israeli police barred men under 50 from entering Jerusalem's Old City for prayers, while all women were allowed in.
Israeli lawyer Daniel Seidemann, who specializes in East Jerusalem issues, blamed Israeli Prime Minister Benjamin Netanyahu for the deteriorating situation in Jerusalem.
"This is all about Netanyahu saving face and never doing anything that can be perceived as ceding something to East Jerusalem Palestinians," he wrote on his Twitter account.
The Palestinian Health Ministry said Friday that Mohammed Sharaf, 17, and Mohammed Abu Ghanam, age unknown, died of gunshot wounds in two neighborhoods of East Jerusalem some distance from the epicenter of tension in the walled Old City. A third Palestinian fatality, 18-year-old Mohammed Lafi, was reported later.
In the West Bank, 194 injuries were recorded by the Palestinian Red Crescent Society.
Mahdi Abdul Hadi, founder and director of the Palestinian Academic Society for the Study of International Affairs, told Arab News that all Palestinians are united in opposing the Israeli electronic gate restrictions.
"Religious and national leaders are in total unity of purpose, no matter how long it takes," he said.
Hadi said that the breakdown of talks in Amman and New York meant that Palestinian Jerusalemites are alone in defending their holy places.
People came from all over Palestine with the aim of praying in Al-Aqsa Mosque or the nearest possible place to Islam's third-holiest site.
Palestinians who could not reach Jerusalem protested in the West Bank and Gaza and throughout the Arab and Islamic world.
The main weekly prayers on Fridays draw the largest number of worshippers — typically thousands — and speculation had been mounting that Netanyahu might order the metal detectors to be removed.
But the premier apparently sided with his right-wing minister of police and decided not to do so, ignoring the recommendations of his own army and intelligence chiefs.
Jerusalemites' sense of unity was also seen in the social support that protesters received, as shops that normally close on Fridays opened to distribute free food and water to protesters.
The Al-Aqsa Mosque case was raised during a call between Palestinian President Mahmoud Abbas and Jared Kushner, US President Donald Trump's senior adviser and son-in-law.
Abbas urged the US administration to immediately intervene, warning the situation was "extremely dangerous and might spiral out of control," the official Palestinian Wafa news agency reported.
Abbas said Friday he was freezing contacts with Israel over new security measures. He said in a speech that the freeze would stay in place until Israe l lifted the measures at the Haram Al-Sharif mosque compound.
http://www.arabnews.com/node/1133001/middle-east
--------
Mahmoud Abbas freezes Israel contact over al-Aqsa dispute
22 July 2017
Palestinian President Mahmoud Abbas said on Friday he was freezing contacts with Israel over new security measures at the al-Aqsa Mosque compound, after deadly clashes erupted earlier in the day.
Abbas said in a speech that the freeze would stay in place until Israel lifted the measures at the al-Aqsa Mosque compound.
"I, on behalf of the Palestinian leadership, announce... a freeze of all contacts with the occupation state on all levels until Israel commits to cancelling all the measures against our Palestinian people in general and Jerusalem and al-Aqsa mosque in particular," Abbas said to applause from Palestinian officials.
Abbas called the measures "falsely presented as a security measure to take control over al-Aqsa mosque".
Abbas's speech came after three Palestinians were killed and several hundred wounded Friday in clashes between protesters and Israeli forces over the new security measures at the holy site.
The unrest followed a decision by Israeli ministers not to order the removal of metal detectors erected at entrances to the compound, which includes the al-Aqsa mosque and the Dome of the Rock, following an attack nearby a week ago that killed two policemen.
Full report at:
https://english.alarabiya.net/en/News/middle-east/2017/07/22/Mahmoud-Abbas-freezes-Israel-contact-over-al-Aqsa-dispute.html
--------
Anti-Israel protest at Istanbul synagogue
21 July 2017
A group of Turkish ultra-nationalists on Thursday protested outside one of the most significant synagogues in Istanbul to denounce Israel's security measures at a sensitive holy site in annexed east Jerusalem, the Dogan news agency said.
The group from the Alperen Hearths, a far-right ultranationalist and Islamist youth group, said in a statement read outside the Neve Salom synagogue in central Istanbul that Israel was a "terror state" seeking to block freedom for worship to Muslims.
"If you prevent our freedom of worship there then we will prevent your freedom of worship here," said the statement, read by the group's local chairman Kursat Mican.
The Foundation of the Turkish Chief Rabbinate -- which looks after the country's small Jewish community mainly concentrated in Istanbul -- angrily criticized the protest.
"We condemn the provocative action outside the Neve Salom synagogue tonight. We expect that the relevant authorities will take the necessary measures," it said in a statement.
According to Dogan, some protesters kicked the doors of the synagogue and threw stones. They later dispersed.
The synagogue usually has a heavy police guard. It was targeted by deadly attacks in 1986 -- blamed on Palestinian militants -- and again in 2003, which was attributed to Islamists.
While nationalists protest occasionally outside Israel's diplomatic missions in Turkey, a demonstration outside a synagogue is unusual.
Muslim Palestinians have been refusing to enter the Haram al-Sharif compound in annexed east Jerusalem since Sunday, when Israel began installing metal detectors at entrances to the site following an attack that killed two police officers.
Full report at:
https://english.alarabiya.net/en/News/middle-east/2017/07/21/Anti-Israel-protest-at-Istanbul-synagogue.html
--------
UN blames Saudi-led coalition for deadly Yemen strike
July 22, 2017
GENEVA : The United Nations on Friday blamed a Saudi-led coalition for a deadly airstrike on civilians in Yemen this week, saying there were no military targets in the area hit.
The attack on Tuesday in the Mawza district of the southwestern province of Taez killed at least 20 people, including four children, according to residents.
The UN human rights office, which put the death toll at 18, said the strikes hit three families who were staying in a makeshift straw house after being displaced from their homes three months ago by fighting. The office said in a statement that the strike was carried out by "Arab Coalition Forces", referring to the Saudi-led alliance fighting Shia rebels in support of Yemen's internationally recognised government. "There do not appear to have been any military objectives anywhere in the immediate vicinity of the destroyed house," it added.
The Saudi-led coalition has faced repeated criticism over civilian casualties in Yemen. It accuses the Iran-backed rebels of using civilians as human shields.
The coalition has admitted responsibility for some strikes that killed non-combatants, including a raid on the rebel-held capital Sanaa in October 2016 that killed more than 140 people at a funeral ceremony.
The United Nations called for a "comprehensive and impartial investigation" into the latest incident.
The conflict in Yemen has escalated dramatically since March 2015, when the Saudi-led forces launched a military operation against the rebels.
Colville noted that persistent unrest was also hindering the UN's ability to respond to the the cholera crisis in Yemen, which is the world's largest outbreak of the bacterial infection.
The World Health Organization said Friday that the number of suspected cholera infections in Yemen had risen to nearly 370,000, as of July 19.
"Every day, 5,000 more Yemenis fall ill with symptoms of acute watery diarrhoea (or) cholera," the UN health agency said in a statement.
A full 1,828 people have died during the outbreak since it erupted in late April.
Full report at:
http://nation.com.pk/international/22-Jul-2017/un-blames-saudi-led-coalition-for-deadly-yemen-strike
--------
74 percent of Syrians in Turkey want Turkish citizenship: Poll
July/21/2017
Some 74 percent of Syrians who fled their war-torn country to seek a better life in Turkey have said they wanted to obtain Turkish citizenship, according to a poll carried out by the Humanitarian Development Foundation (İNGEV) and IPSOS.
Some 52 percent of the Syrian respondents said they were planning to build their future in Turkey, the poll showed.
The "Refugee Livelihood Monitor" survey aims to periodically track the living conditions of Syrian refugees living outside refugee camps, their general sentiments and their future plans in regards to living in Turkey, as well as their consumption and shopping behavior.
According to the poll, 74 percent of the respondents said they wanted to acquire Turkish citizenship, while the figure for respondents aged between 15 and 17 wanting to become Turkish passport holders was 80 percent.
Some 70 percent of the respondents did not know Turkish, according to the poll.
But 45 percent of the respondents said they had been subjected to discrimination, as 42 percent said they were seeking ways to move to European countries, they poll showed.
In terms of establishing a future for their children in Turkey, 52 percent of the respondents said they wanted to stay, while 44 percent of them said they never thought of leaving the country.
However, the poll indicated that the daily purchasing power of Syrians in Turkey was under two dollars.
The monthly household consumption expenditure of a Syrian family is 867 Turkish Liras, with 140 liras allocated on average for each person.
The percentage of registered and non-registered Syrian workers was 31 percent each. Seventy percent of the Syrian respondents said their working conditions were worse than locals' conditions.
The number of people living in a Syrian household was revealed to be twice more than the number living in a Turkish household.
The fieldwork for the survey was conducted between April 27 and May 20 in 10 cities hosting the largest Syrian population, with 79 percent of the refugees living in Istanbul, Şanlıurfa, Hatay, Gaziantep, Adana, Mersin, Kilis, Mardin, Bursa and İzmir. A total of 1,282 face-to-face interviews were carried out.
The founder and head of İNGEV, Vural Çakır, said 90 percent of Syrians living outside camps were registered, stating that 93 percent of them have temporary IDs in the eastern provinces of Turkey.
Ninety percent of Syrians in the southern provinces have temporary IDs, however the lowest number of temporary IDs were in western cities, according to Çakır.
The survey also showed that most Syrians in Turkey did not have personal bank accounts and less than 2 percent of them have credit cards.
"Approximately all Syrian refugees are excluded from the country's finance system. However, refugee entrepreneurship is an important issue. Temporary IDs are not enough to open a bank account for Syrian citizens; they should have a residency document, too. The financial exclusion of refugees needs to be resolved," Çakır said.
Meanwhile, nine out of 10 respondents said they did not receive any social aid.
Some 13 percent of Syrian refugees receive social aid at least once during their time in Turkey, while 6 percent of them are receiving regular social aid from the government, according to the poll.
Only 31 percent of Syrian refugees are actively taking part in the labor market, with 17 percent of them working under a Turkish employer.
Five percent of them are working with Syrian employers and 5 percent of the respondents said they were working on their own.
Full report at:
http://www.hurriyetdailynews.com/74-percent-of-syrians-in-turkey-want-turkish-citizenship-poll.aspx?pageID=238&nID=115799&NewsCatID=341
--------
EU admits 'challenges' amid 'consistent trend' of trade with Iran
Jul 22, 2017
The European Union (EU) says economic engagement with Iran has been ongoing since a multilateral nuclear deal with the country despite "existing challenges," an apparent acknowledgement of the United States' attempts to throw a wrench into the works.
The EU's deputy political director, Helga Schmid, made the remark in a statement on Friday after a session of the Joint Commission monitoring the implementation of the 2015 nuclear deal between Iran and six other countries, known as the Joint Comprehensive Plan of Action (JCPOA).
"Information was shared confirming that, despite existing challenges, there has been a consistent trend of economic engagement as reflected by the latest announcements of major trade and investment deals," she said.
Schmid released the statement in her capacity as the meeting's chair and the representative of the EU, which coordinated on behalf of Iran's interlocutors during the negotiations that led to the deal.
The JCPOA was finalized between the Islamic Republic on the one side and the US, the UK, France, Russia, China, and Germany on the other. It terminated all nuclear-related sanctions against Iran in return for certain measures by the Islamic Republic to limit its nuclear program.
Iran has recently complained that the US, as a party to the deal, has been violating both the text and the spirit of the accord. Specifically, Iran has pointed to US President Donald Trump's attempts during a summit of the G20 in Germany to urge European countries not to do business with Iran.
Such action was in violation of stipulations within the JCPOA, according to which the US and the EU must "refrain from any policy specifically intended to directly and adversely affect the normalisation of trade and economic relations with Iran."
The parties to the deal are also obligated to "agree on steps to ensure Iran's access in areas of trade, technology, finance and energy."
Washington has also prevented the deal from fully yielding intended results by refusing to offer international financial institutions the guarantees they need in order to restore transactions with Iran.
Schmid's reference to "existing challenges" seemed to be a tacit acknowledgement of such attempts by the US to impede trade relations with Iran.
Trump has been skeptical of the deal, which was negotiated and finalized under his predecessor, Barack Obama. Trump has previously threatened to rip up the agreement, but his administration has twice so far certified Iranian compliance with the deal, including most recently on Monday. Such certification, which is made to the US Congress, entails the continued withholding of certain nuclear-related sanctions against the Islamic Republic.
But there have been indications that Trump remains dissatisfied with the state of affairs and may unilaterally pull the US out of the deal. US media labeled his administration's recent certification of Iranian compliance as having been made "reluctantly" and "grudgingly." Reports said he agreed to the recertification after an hour-long, heated debate with his top aides and after he received "the consensus recommendation of his national security team."
Trump has also ordered a "review" to see whether continued sanctions relief is in the US's "national interest." His administration has also imposed other sanctions on Iran over its missile activities and other pretexts, and has adopted a "strategy" in what it says is meant to confront the "totality" of Iranian behavior.
Those moves are generally viewed as attempts to ratchet up pressure on Iran while Trump remains under pressure to stick to the deal for the time being. The EU and the other parties to the JCPOA have all been stressing commitment to the agreement. The EU, in particular, has issued strong statements to stress that the deal should stand and that no single country should act unilaterally.
Full report at:
http://www.presstv.ir/Detail/2017/07/22/529273/EU-Schmid-trade-with-Iran-JCPOA-US-sabotage
--------
Iran reserves right to respond to US violation of JCPOA: Araqchi
Jul 21, 2017
A senior Iranian nuclear negotiator says the Islamic Republic reserves the right to respond to any US violation of the landmark nuclear agreement signed between Tehran and the P5+1 group of countries.
Iranian Deputy Foreign Minister for Legal and International Affairs Abbas Araqchi made the comments in the Austrian capital of Vienna on Friday at the end of the eighth meeting of the Iran-P5+1 Joint Commission, overseeing the implementation of the agreement, known as the Joint Comprehensive Plan of Action (JCPOA).
"The joint commission conveyed to the world the strong message of support by all members for the implementation of the JCPOA," he said.
"All [members] emphasized that the JCPOA must be implemented completely with goodwill and any move undermining the successful implementation of the JCPOA must be prevented," Araqchi added.
At the end of the meeting, Iran announced that it had not been convinced of explanations given about Washington's failures to honor its obligations under the nuclear agreement, the Iranian diplomat said and added, "The US must be held accountable [for its violations of the JCPOA.]"
He noted that all the sides confirmed that Iran is sticking to its side of the pact and hailed the country's cooperation with the International Atomic Energy Agency (IAEA).
Araqchi further said that the participants discussed the issue of anti-Iran sanctions in details while the Iranian side spoke about the instances of US violations of the JCPOA or foot-dragging in fulfilling its commitments.
Iran and the five permanent members of the United Nations Security Council - the United States, Britain, France, China and Russia - plus Germany signed the JCPOA on July 14, 2015 and started implementing it on January 16, 2016.
Under the agreement, limits were put on Iran's nuclear activities in exchange for, among other things, the removal of all nuclear-related bans against the Islamic Republic.
The UN Security Council later unanimously endorsed a resolution that effectively turned the JCPOA into international law.
US President Donald Trump has been a virulent critic of the JCPOA signed under his predecessor Barack Obama, calling it "the worst deal ever."
Although Trump certified to Congress that Iran is in compliance with the agreement, his administration on Tuesday announced a fresh round of economic sanctions over Iran's ballistic missile program.
The US Departments of Treasury and State said they are targeting 18 Iranian individuals, groups and networks.
Later in the day, Iran's Foreign Ministry denounced the US move as "cheap and useless," saying Tehran would respond with its own sanctions against the Americans.
Full report at:
http://www.presstv.ir/Detail/2017/07/21/529246/Iran-P51-US-Vienna-Abbas-Araqchi-JCPOA-joint-commission-sanctions
--------
Iran Regime's Official "Proud" of Role in 1988 Massacre
14 July 2017
NCRI - Earlier this month, a senior judicial official in the Iranian regime has publicly tried to justify the state's execution of tens of thousands of political prisoners during the eighties.
In an interview with a state news agency affiliated with the Islamic Revolutionary Guards Corps (IRGC), the official - Judge Ali Razini, the head of Branch 41 of the Supreme Court – said that the execution of prisoners in 1988 in what has been named the 1988 massacre was "fair" and "lawful".
Judge Razini is the head of Branch 41 of the Supreme Court.
During the 1988 massacre, the so called "Death Committee" ordered the execution of political prisoners, many of whom were members or supporters of the PMOI, the banned opposition group. The prisoners' fate was decided based on their loyalty to the Islamic Republic.
The judge said he was "proud" to have had an important role during the eighties. He also framed many political dissidents so that they could not be released from prison.
He spoke about what he did: "Specifically I interviewed a thousand prisoners [in 1986] to make them confess to committing offenses inside prison so that we would have a logical reason to put them on trial and convict them again. They were sentenced to additional prison terms between three and five years."
He added: "Rulings by the top 20 judges and I ensured the country's security at that time and ever since. As a consequence, the MEK can never establish itself here. We nipped them in the bud. In Bojnourd, 80 to 90 percent of the high school and university students had ties with opposition groups. We began to prosecute and sentenced five of them to death. Three months later, the situation changed and their families took us seriously and chastised their children [to dissuade them from joining the groups]."
The issue of the 1988 massacre came up again during the recent presidential elections. One of the main candidates, Ebrahim Raisi, was a member of the famous "Death Committee". This re-opened wounds for the Iranian people and triggered a new wave of dissent across the country. They called on justice for those who died and urged the regime to denounce his actions.
Full report at:
http://www.ncr-iran.org/en/news/human-rights/23171-iran-regime-s-official-proud-of-role-in-1988-massacre
--------
Iran: Two Prisoners Hanged in Public
14 July 2017
Iran Human Rights (JULY 4 2017): Two prisoners were hanged in public on rape charges.
The hangings were carried out in the city of Torbat-e Heydarieh (Razavi Khorasan province) on the sidelines of a sports complex.
According to a report by the state-run news agency, Jam News, the public executions were carried out on Tuesday July 4 on Abshar Street. The report identifies the prisoners' ages as 26 and 30.
According to the local state-run news site, Taban Torbat, the executions were carried out by Judicial and security forces.
There are many cases in Iran of public executions carried out in sports stadiums. Human rights groups and sports federations have repeatedly objected to these executions. Photos from this execution have not been released to the public.
https://iranhr.net/en/articles/2947/
--------
Heavy prison terms for a "priest" and another converted Christian" in Iran
July 8, 2017
Heavy sentences for Christians is being haded out by Judge Ahmadzadeh the head of 26th Branch of Islamic Revolutionary Court.
As reported by the Christian News Agency in Iran," Mohabat News", "Victor Bat Tomerz", the former priest of the Assyrian Pentecostal Church in Tehran, and a converted Christian " Kavian Falah Mohammad" were sentenced to prison terms by Judge Ahmadzadeh of the 26th branch of Islamic Court on 11th of June 2017.
According to the sentences pronounced by this court, "priest Victor" and "Kavian Falah Mohammadi" were accused of violating the national security of the country by hosting "House Churches" and were punished with 10 years prison terms.
According to this sentence, after the prison term, they are banned from leaving the country for two years.
Priest Victor was one of the official Assyrian clerics and had served Pentecostal churches for more than 3 decades. He was also a famous pastor among the Persian-speaking Christians, while he was dismissed from his service with the interference of few government-related agents like "Yonatan Bat Celia", the parliamentary representative of the Assyrian minority in Islamic parliament, and under the pressure from security and information apparatus on 31st of March 2009. Accordingly, the Persian church services provided to the Persian-speaking converted Christians were also canceled.
Reverend Victor along with his wife and their child and 12 other converted Christians were identified and arrested on 26th of December 2014 in their house by the police while they were celebrating Christmas.
The information agents released all the individuals attending this celebration after their written interrogation and signing a promissory covenant. Apart from Reverend Victor, Amin Afshar Naderi and Kavian Falah Mohammadi were also among the arrested Christians who were sent to Evin prison.
Reverend Victor was temporarily released after 65 days imprisonment with heavy bail on 1st of March 2015. Despite his old age, he was mostly kept in solitary confinement which led to his severe health issues.
Kavian Falah Mohammadi was also temporarily released one week later with a bail worth 100 million Tomans ( $30,000). On the other hand, the status of Shamiran Isavi, Reverend Victor's wife, and his son Bat Ramyyl Tamraz, is still uncertain and their trial has not yet been.
The 26th branch of the Revolutionary Court in Tehran has pronounced heavy charges and sentences for the converts in the past few days.
Amin Afshar Naderi and Hadi Askari, two Converted Christians were also sentenced to 25 years prison terms in the same judiciary branch not to mention that three Christians from Azerbaijan and an Iranian convert were sentenced to 40 years prison terms altogether on 12th June 2017.
Full report at:
http://mohabatnews.com/en/?p=3593
--------
Heartfelt notes of a converted Christian, Amin Afshar Naderi during his hunger strike
July 11, 2017
I have learned from the bible to love my enemies and to pray for those who hate me; but what have you actually learned?
As reported by "Mohabat News" Amin Afshar Naderi, the converted Christian is on hunger strike at Evin prison in Iran objecting the court's decision in his case.
The imprisoned converted Christian, "Amin Afshar Naderi" was sentenced to 15 years prison terms ordered by Judge Ahmadzadeh in the 26th branch of Islamic Revolutionary Court. In his 5rd day of hunger strike, he wrote a letter addressing the officials of judiciary: "what have I done against you and our country that made you hate me this much? I have learned from the bible to love my enemies and to pray for those who hate me. But what have you actually learned?
This converted Christian continued: "I have learned not to speak in abusive language; what have YOU learned? You were using rude language during the interrogation, you made fun of my beliefs and attacked my monotheistic religion; I have never insulted you, not because I did not have the power to do so , but deep inside I have always prayed for your health.
You have written a report filled with lies, stating that I have insulted your religious beliefs! You even forced my prison inmates to accept and sign the confession! I just watched you and prayed for you".
It has been a year now that I have tolerated all the insults from my inmates, the prison guards and you all, while I have not done anything wrong and have been deprived of basic needs. However, I have always prayed for you to be fair and just. Not only did you not stick to any of your promises you gave in the court, in front of the pastor, my family, and all the people who were present, you hated me more and more every day and finally you hid my from the ambassadors of those selected countries you had in mind!
I have no words. Do whatever you want, like what you have done until now, but not according to justice, morality and law. There is one question in my mind, if we are actually what you say we are and we have insulted your religious beliefs and if your judicial process from the time of arrest to interrogation and court sessions were all lawful, then why are you hiding us from people? This is alright. I surrender to your cruel decision and I have decided to terminate my life slowly and that is why I am on hunger strike. I promise you not to cost any financial loss to you. I even deny to receive any medicine. I hope you feel little better by seeing my slow death and suffering."
In a part of his letter, Amin Afshar Naderi emphasized that he had been hidden from the audience in his court sessions. Not to mention that 50 ambassadors from different countries had traveled to Iran on 5th of July 2017 inspecting the judicial operations and hence they had a visit to the Evin Prison. While being escorted by the prison guards other guards and officials hid many prisoners to avoid any conversations between them and the foreign ambassadors.
Full report at:
http://mohabatnews.com/en/?p=3601
--------
Europe
Police fire teargas to halt Morocco 'million-man march'
July 22, 2017
AL-HOCEIMA : Police in the northern Moroccan city of Al-Hoceima on Thursday fired tear gas to disperse protesters and stop them marching in defiance of a government ban.
Organisers from the Al-Hirak al-Shaabi movement dubbed the demonstration the "million-man march" and said they would go ahead with it despite an injunction. Al-Hoceima, the main port in the Rif region, has been hit by unrest since a fishmonger was crushed to death in a rubbish truck last year as he tried to retrieve swordfish confiscated for being caught out of season. This year has seen waves of protests and bouts of violence in the Rif, where residents have long complained of neglect and marginalisation. Scores of police could be seen around Al-Hoceima since early morning, and by early afternoon they began sealing off access to all the main squares while shops were closed, an AFP journalist said.
Al-Hirak has won strong support among the region's diaspora and many former Rif residents living abroad had returned to the city to join the march.
By late afternoon hundreds of people began gathering in several meeting points across the city intent on marching as planned, but as they tried to advance the police charged and pushed them back.
In the Sidi Abed neighbourhood, police fired tear gas at demonstrators who were chanting "Long live the Rif" and "Long Live Zefzafi" - in reference to jailed Al-Hirak leader Nasser Zefzafi.
Witnesses said demonstrators hurled stones at the police as they charged and knocked some on the ground, and that security forces threw stones back at them.
Police arrested around 12 activists, including the head of a news website, Hamid El Mahdaoui, according to local journalists.
An AFP cameraman said he saw two people being taken away by the security forces.
Seventy-two police officers were wounded from stones being thrown and 11 of the protesters were injured from the tear gas, Morocco's MAP official news agency reported Al-Hoceima authorities as saying.
"All the injured have left hospital, with the exception of two officers who are in a serious condition," the agency reported, adding that two police vehicles were torched by protesters.
Following the death of the fishmonger in October, calls for justice snowballed into a wider social movement demanding jobs, development, and an end to corruption in the mainly Berber region.
After months of protests and frequent clashes between protesters and police, authorities cracked down, arresting more than 175 people including the movement's leader Nasser Zefzafi.
Tensions have eased in recent weeks and earlier this month security forces reduced their presence in Al-Hoceima and another northern city Imzouren, which had been on virtual lockdown.
Authorities have promised to do more to help the region and relaunched a 2015 programme to improve its infrastructure, health facilities and education services by 2019.
"We are in a country where there is no freedom of expression. We have asked for hospitals, job, public transport. What is wrong with that?," asked one of the protesters on Thursday.
The six parties in Morocco's governing coalition this week issued a joint appeal for residents to stay away from Thursday's march.
Ali, a political science researcher from Al-Hoceima living in Canada, said he had returned to the city to "show my support for the Hirak movement" and that he had expected "an impressive march".
Organisers said the march was to be "peaceful" and aimed also at protesting "against repression".
Moroccan newspapers on Thursday raised concerns of a fresh outbreak of unrest, with daily Akhbar Al Yaoum's headlining its front page with "Al-Hoceima... day of anger and fear".
http://nation.com.pk/international/22-Jul-2017/police-fire-teargas-to-halt-morocco-million-man-march
--------
UK terror threat still high despite Daesh losses: Met chief
Jul 22, 2017
The Daesh (ISIL) terror group's recent losses in Iraq and Syria are not likely to reduce the possibility of more terror threats in the UK, Britain most senior police officer has warned.
Speaking to delegates at the annual Lord Mayor's defense and security lecture on Friday, Cressida Dick, the Commissioner of the Metropolitan Police, listed the recent "ghastly" attacks that killed 36 people and hurt 200 in Westminster, Manchester, London Bridge and Finsbury Park.
"Since March this year, the tempo has changed," Dick said, noting that while security forces have been able to foil six terror plots, she expected the figure to rise.
"Progress on the ground in Syria and Iraq does not necessarily translate into a reduction in threat here," she added.
In addition to losing large swathes of its occupied lands in Syria, Daesh has also been pushed out of Mosul, Iraq's third largest city, from the hands of Daesh following a months-long military campaign.
British Prime Minister Theresa May commanded the victory in Iraq, but also conceded that the terror group's ideology could not be removed "through military intervention alone."
Noting that as many as 13 lethal terror attacks had been foiled from June 2013 to March this year, Dick said Friday that the scale of the challenge was not to be ignored.
"We must not deny the scale of this challenge," she warned, saying the MI5 and other British intelligence agencies had been monitoring 3,000 individuals across the UK who were assessed as posing the biggest threat.
"The bulk of this domestic threat seems to be from those who are inspired by overseas networks, though there have undoubtedly been some who have been more directly enabled by them and we should not assume that attempts by senior leaderships of overseas groups to direct UK attacks have gone away," she added.
The law enforcement official also noted that her colleagues had arrested 14 far-rights extremists with "lethal capability and intent."
May has been on many occasions criticized over her disproportionate attention to what she calls the threat from "Islamic extremism" while failing to notice the rise in the far-right terrorism threat.
While May has been busy blaming the recent wave of terror attacks in the UK over "evil" extremists influenced by a "perversion of Islamic teachings," UK Home Office figures showed last month that nearly one third of people being monitored under the Channel anti-terror program in 2016-17 leaned towards extreme right-wing ideologies and were vulnerable to radicalization.
Full report at:
http://www.presstv.ir/Detail/2017/07/22/529257/UK-terror-level-Metropolitan-police-Daesh
--------
To Protect Refugees, We Must Confront Anxiety Over Muslims in Europe
Jul. 21, 2017
PUBLIC ANXIETY ABOUT refugees and migrants in Europe and the global north has been increasingly shaped by a fear of Muslims and Islam.
Across Europe, the far right has succeeded in gaining support by evoking the image of a Muslim "invasion" through refugees and migrants. Images of cultural and political invasion parallel and reinforce images of an economic invasion – migrants and refugees flooding jobs markets and abusing the welfare system, which I discussed in an earlier article.
For many people grappling with economic malaise in Europe, the Muslim intruder embodies all that has gone wrong in society – destroying cultural homogeneity, weakening national security, stealing jobs and appropriating scarce public resources. This turns migration policy into a patriotic act of defending the nation against the enemy.
It is critical that Europe addresses these fears head on, and with clarity and honesty, to halt the shrinking political space for refugee protection.
Muslim Exceptionalism
Most discussion of Islam and refugees is dominated by two extremes. The far right expects Muslim refugees and migrants to be superhuman, demanding that they abandon all layers of their culture to assimilate into Europe.
Meanwhile, liberals have largely shied away from addressing Muslim or Islam-related issues in Europe, leaving the front open for misinformation, abuse of facts and manipulation by the far right. This enabled the far right to promote discriminatory laws that could widen social fissures between Muslims and non-Muslims in Europe.
Last summer's "burkini crisis" in France is one example. Amid national hysteria, some 30 municipalities banned women from appearing on beaches covered in full-body swimwear.
Wearing burkinis is far from common on French beaches. Many people around the world condemned the ban. However most French people backed the ban, according to a poll by conservative paper Le Figaro. Even Manuel Valls, the socialist prime minister at the time, expressed support for the ban, which was eventually overturned by French courts.
The burkini ban was a perfect opportunity for liberals to engage the right on issues of secularism, Muslim women's autonomy, cultural diversity and what is and is not "French." It was a chance for a clear-headed and honest conversation on acceptable norms and policy.
But French liberals failed tackle any of these subjects head on, leaving the far right once again at the helm of public discourse about Muslims in Europe.
Addressing Political Anxiety About 'Muslim Terrorists'
While research shows most jihadists in Europe today are young second-generation immigrants, most Europeans fear the arrival of new refugees will result in more acts of terrorism.
To help ease political anxiety over Muslim refugees, we need better policies to tackle radicalization and recruitment to jihadist causes.
The diversity and changing profile of jihadists make this a highly complex task. Yet recent research suggests around half of the jihadists involved in terrorism in France and Germany have a history of crime. In France, the journey of many jihadi terrorists starts with alienation and anger caused by joblessness and discrimination, followed by petty crime, incarceration, more crime and more prison.
We need alternatives to moving people in and out of prison to break this vicious cycle. Economic policies that create jobs are one way to provide economic security for those at risk.
We must also end geographic warehousing of Muslims in and around urban areas. For example, the ghettoization of Arab-speaking Muslims in the suburbs in France, or Muslims of Asian origin in some urban clusters in England, only increases alienation.
Jobs, economic security and geographic integration will not address all the causes of radicalization, but they could help remove some people from the deadly trajectory of a life on the margins.
Addressing Cultural Anxiety About 'Muslim Intruders'
Coupled with political anxiety over refugees is Europe's growing cultural anxiety about Muslims and their practices, amid fears of losing established traditions and social norms.
This anxiety hurts refugees – Muslims and non-Muslims – as well as larger society. It empowers the far right, hurts political will for refugee protection and can embolden conservative forces within the refugee and Muslim community.
Policy-makers cannot mandate a change in public feelings. They can enforce policies against hate speech of all kinds, discriminatory practices by private and public institutions and support efforts to build trust between communities.
Conversely, policy-makers who pander to cultural anxieties with wrongheaded policies can end up widening cultural and economic divides. The European obsession with the hijab is one example of such self-defeating policies.
For example in a recent ruling, the E.U. Court of Justice said that a workplace ban on wearing religious symbols, including the Islamic headscarf, need not constitute direct discrimination as long as ban is based on internal company rules requiring all employees to "dress neutrally." While supporters of the ruling claim it does not single out the hijab, in practice the ban will discriminate against women who cover their hair.
In France, where I am currently conducting research with Muslim refugees, wearing a headscarf is already banned in public schools and public service jobs. While narrow, the chance of finding gainful employment in the private sector was an important way out for Muslim women trapped in the whirlpool of France's large suburban ghettos. The ban could further marginalize headscarf-wearing Muslim women, forcing them into traditional gender roles at home, and further disempowering them in relation to male members of their households.
Removing these women from the workplace will increase their families' dependence on the welfare state. This could help fuel the political right's exploitation of economic anxieties over refugees, by allowing them to present Muslim families as a drain on badly needed public resources and social services.
Cultures evolve over time. Social practices change with sustained contact and understanding. The age of globalization has changed lifestyles, cultural practices and social norms across the world. The increase of Muslim cultural practices in Europe is just one aspect of this.
Full report at:
https://www.newsdeeply.com/refugees/community/2017/07/21/to-protect-refugees-we-must-confront-anxiety-over-muslims-in-europe
--------
Chechnya's Jewish community doesn't exist — but it's angry at Israel
July 21, 2017
While Russia's mainstream Jewish leaders in Moscow firmly backed Israel's actions in clashes this week with Palestinians at Jerusalem's Temple Mount, the small Jewish community of Chechnya broke ranks with them and boldly condemned the Jewish state's "provocations" against Muslims in the holy city.
At least that was the story reported in the national and local media, including the Echo of Moscow radio station and Chechnya Today – the most popular news site in the predominantly Muslim Russian republic.
There was just one problem with the news item: Chechnya apparently has no organized Jewish community, and according to some Jewish people who were born there, also next to no Jews.
The reports about where Chechen Jews stand on the issue of Jerusalem, where police and Palestinians clashed Thursday night and Friday over Israel's decision to place metal detectors near the entrance to the Al Aqsa mosque, relied on a video message published Tuesday by a man called Mosei Yunayev.
Claiming to speak for the Jewish community of Chechnya, he joined Chechen President Ramzan Kadyrov in condemning Israel's actions at the Temple Mount, where the mosque is situated. Chechen Jews, Yunayev said, "wholeheartedly support" the sharp-worded rebuke of Israel by Kadyrov.
"Nonsense, I doubt there are even any Jews left in Chechnya, let alone an organized Jewish community," Tamara Rafailova Kahlon, an Israeli who was born in the Chechen capital of Grozny, told JTA on Friday. Her father, Rafoi Rafailov, heads an association of Chechen Jews in the city of Pyatigorsk, situated 150 miles west of Grozny in the North Caucasian Federal District. "They all left, I don't know who this man speaks for," she said.
On July 15, Kadyrov called Israel's heightened security on the Temple Mount, where the previous day three Arab-Israeli terrorists killed two police officers before they were shot to death, "deliberate provocation to foment riots." He described as "violent" Israel's detention of the grand mufti of Jerusalem, who was called in for questioning after he urged worshippers to ignore a temporary closure of the compound immediately following the attack.
In response to the shooting, Israel for the first time placed metal detectors in gateways leading to the Haram al Sharif compound, which contains the Al-Aqsa mosque. Thousands of troops were deployed Friday following riots; two Palestinians were killed in the clashes.
Security checks are a "provocation that invites resistance" by Muslims, Kadyrov said.
Yunayev's support for the condemnation by Kadyrov received considerable exposure in the Chechen media and other Russian-language publications. But Russian-speaking Jews, including community leaders, journalists and immigrants from Chechnya, dismissed and ridiculed Yunayev's claim to represent a Jewish community that they said does not exist.
In an interview with Chechnya Today, Yunayev denied the assertions.
"Those who claim that there are no Jews in Chechnya are far from being Jewish," he said. And he presented his credentials: "I was sent to the Chechen Republic by the Council of Elders of the Jewish People to restore the Jewish community in the region. Only true believers know how right I am in my convictions."
JTA could not confirm the existence of an organization by that name; its only presence online originates in Yunayev's mention in the Chechnya Today article. At other times, Yunayev presented himself as a member of the equally untraceable Congress of Jews of the North Caucasus Federal District.
Rabbi Boruch Gorin, a senior figure within the Federation of Jewish Communities of Russia, told JTA he is aware neither of that group nor of any other organized Jewish community active in Chechnya.
"Chechnya is special in that there is no Jewish community, there are no Jews there," he told the news site Open Russia on Thursday. "Not in Grozny, not anywhere. Perhaps there are a few individuals, but there is no social community of ethnic Jews after the Chechen wars" of the 1990s and 2000s.
Thousands died in two wars that Moscow fought to quell a Muslim rebellion in Chechnya.
"Any statements from the Chechen Jewish community are made up," Gorin said.
Chechnya did have a Jewish population in the past. Grozny had a 19th-century Ashkenazi synagogue that was turned into a music school in 1937 and then destroyed during the first Chechen war of 1994-96.
But today, "Chechnya has no Jews," according to the website Gorskie, the official website of the Mountain Jews Community, who have lived for centuries in the Caucasus.
"After interviewing several dozen people connected with the Jewish community of Russia, as well as prominent representatives of the community of Mountain Jews, it became clear that there were no Jews left in Chechnya, and therefore there is no Chechen Jewish community," wrote the editors of Gorskie, which is affiliated with the umbrella group of Mountain Jews communities, STMEGI. Leaders of Russian Jewry and the Mountain Jews community were unfamiliar with "the man calling himself Yunayev," Gorskie reported.
Mountain Jews believe that "protests against the use of metal detectors have nothing to do with infringement of religious rights. Those who oppose this elementary security measure may well be recognized as collaborators of terrorists," Gorskie's editors also wrote.
While the existence of a Jewish community in Chechnya is questionable, there is little doubt about the presence there of the man claiming to speak for that community. Earlier this year, Yunayev established a presence on social media, where he appeared shaking hands and embracing various Chechen officials, including "our highly esteemed First Deputy Minister for North Caucasus Affairs," as he described the Chechen politician Baysultanov Hasaevich.
"The kindness of this man did not skip the Jewish community of the Chechen Republic," Yunayev wrote of the official. "We want to express our great gratitude on behalf of our community, for the help you have always provided and are ready to render to our community and to everyone in our beautiful District! God Almighty bless you and your family!"
Some prominent journalists in the Caucasus have been less skeptical of Yunayev's claims and title than his coreligionists. In March, the regional correspondent of the RIA news agency, Mukhtar Amirov, referred to Yunayev as "the president of the council of Jewish communities of the Chechen Republic," noting that both he and Yunayev are descended from the Chechen village of Dorgeli.
Full report at:
https://www.jta.org/2017/07/21/news-opinion/world/chechnyas-jewish-community-doesnt-exist-but-its-angry-at-israel
--------
North America
Al-Qaeda suspect linked to cartoonist plot extradited to US
22 July 2017
An al-Qaeda suspect linked to a plot to kill a Swedish cartoonist has been brought to Philadelphia from Spain to face terrorism charges in federal court, despite President Donald Trump's promises to send terror suspects to the military prison at Guantanamo Bay.
Ali Charaf Damache, 52, of Algeria, appeared in court Friday and will be arraigned next month on charges that he conspired with two American women and a high school honors student from Maryland, court officials said. A 2011 indictment accused him of aiding terrorism, including the plan to kill Swedish artist Lars Vilks, who depicted the prophet Muhammad as a dog. The plot never materialized.
The Trump administration's decision to bring him to the United States marks a break from Attorney General Jeff Sessions' oft-stated belief that Guantanamo Bay is the best place for "these kinds of dangerous criminals." During the presidential campaign, Trump said he not only wanted to keep the detention center in Cuba open after the Obama administration had long fought to close it, but promised to "load it up with some bad dudes."
Obama's Justice Department maintained the US civilian court system was the most legally sound forum in which to prosecute terror suspects captured in the US and overseas and cited hundreds of convictions in New York and other cities as proof.
Yet Sessions and other Republicans have often expressed concern that civilian courts afford legal protections to which suspected terrorists are not entitled. He has warned valuable intelligence can be lost if a detainee is advised of his or her right to remain silent and to have a lawyer.
The Justice Department did not say what led officials to send Damache to federal court or whether it signals a shift in Sessions' views. The attorney general made no mention of the case during a Friday speech in Philadelphia on sanctuary cities and fighting violent crime.
"The individual involved in this case was indicted in 2011 in federal district court," the department said in a statement. "The United States has consistently used the extradition process to obtain indicted fugitives who are overseas, so that they can stand trial in our federal courts."
Tough rhetoric
Former Attorney General Eric Holder, who long defended the prosecution of terrorism suspects in civilian court, said Friday that the Trump administration's tough rhetoric on Guantanamo was "political and counterproductive."
"It's good to see that the president and the Attorney General now seem to share my belief in the effectiveness of the world's greatest judicial system and its ability to keep the American people safe," he said. Damache married a Colorado woman the day she traveled to Ireland to meet him in 2009. Jamie Paulin-Ramirez eventually helped the FBI investigate the terror cell, which included a Pennsylvania woman who called herself "Jihad Jane" online.
Damache, known as "Black Flag" had been fighting extradition after his 2015 arrest in Spain. Lawyer Joseph Mancano, appointed Friday to represent him, said he did not have any immediate comment. Officials said that Damache joined co-defendants Mohammad Hassan Khalid, Colleen "Jihad Jane" LaRose and Paulin-Ramirez in forming a cell that recruited men online to wage jihad in South Asia and Europe, and to recruit women with western passports to travel through Europe in support of the cause.
LaRose is serving a 10-year prison term and Paulin-Ramirez eight years after pleading guilty to providing material aid to terrorism while Khalid, whose family had immigrated from Pakistan, was sentenced to five years.
Paulin-Ramirez took her 6-year-old son with her to Waterford, where he was taught to be a warrior and hate non-Muslims. The boy also endured physical abuse during the four-month stay, according to prosecutors who showed a video at her 2014 sentencing of him reciting inflammatory verses and thrusting a toy weapon as his mother laughed. She told the judge she hoped the boy would forget what she put him through.
A defense expert testified that she had a twisted view of the religion, culled from extremist postings. Damache's arraignment was scheduled for Aug. 28. It's unclear what the case could mean for future terror cases or for the future of Guantanamo Bay. Sessions, his deputy Rod Rosenstein and other administration officials visited the prison earlier this month to get a look at current operations.
Support for it now would represent a reversal of eight years of efforts to close the detention center, which opened on the base in January 2002 to hold and interrogate suspected enemy combatants. The Obama administration sent no new detainees there, and though it didn't fulfill a promise to shut it down, whittled the population from 242 to 41.
That includes seven currently facing charges by military commissions. All are in the pretrial stage, including the five men charged with planning and aiding in the Sept. 11, 2001, terrorist attack.
https://english.alarabiya.net/en/News/middle-east/2017/07/22/Al-Qaeda-suspect-linked-to-cartoonist-plot-extradited-to-US.html
--------
Muslim lawyer vying for U.S. Senate presses on after racist attacks
By ABIGAIL HAUSLOHNER
July 21, 2017
There weren't a ton of people commenting on U.S. Senate hopeful Deedra Abboud's campaign Facebook page before Tuesday.
Then Abboud, a little-known candidate in Arizona's 2018 Democratic primary, posted a short tribute to the Founding Fathers, religious freedom and the separation of church and state — and the flood gates opened.
"Sorry no room for Muslims in our government," wrote Chris Siemers.
"Towel headed piece of (expletive)," wrote Brian Zappa.
Abboud, a liberal 45-year-old attorney and first-time political candidate, might be a long shot in red-state Arizona. But the fact that Abboud, who converted to Islam in her 20s, also wears a visual marker of her faith — a head scarf — might also have just landed her unlikely campaign in the national spotlight.
"Now, I'm more on radar. More people know that I'm out there," Abboud said in an interview Wednesday, noting a silver lining to the larger "ugliness" that she said the online attacks had exposed.
Originally from Little Rock, Ark., Abboud moved to Arizona as a young adult in the late 1990s, and spent most of her career since then doing advocacy work, including as the founding director of the Council on American-Islamic Relations' (CAIR) Arizona chapter, before attending law school and working as an immigration and estate law attorney.
Her campaign's Facebook page is filled with posts on her policy positions in favour of environmental protection, LGBTQ rights, health-care access and a higher minimum wage. But it wasn't until this week, amid the onslaught of xenophobic and racist insults that other people started to respond to her policy prescriptions as well. (Many of the negative commenters assumed that Abboud is a Middle Eastern immigrant, which she is not.)
"I'd have to say I agree," Desiree Miller wrote in response to a post about raising the minimum wage.
"Do you really think that the corporation is going to willingly double their payroll without passing that cost on to the consumer?" wrote Aaron Kuhne.
Running for political office as a Muslim in 2017 — when non-profit watchdog groups are recording dramatic spikes in anti-Muslim rhetoric and harassment across the country — can seem fraught or exceedingly stressful.
President Donald Trump has painted Islam as a religion at odds with American values and Muslim immigrants as part of a potential "Trojan horse" plot aiming to attack or destroy the United States from within.
Such political rhetoric has fuelled noticeable spikes in hate crimes, as well as "hate incidents" — typically verbal attacks such as insults plastered on a Facebook page or hurled in the aisle of a grocery store that don't rise to the level of a crime — said Brian Levin, a criminologist and hate crimes expert at California State University at San Bernardino.
"When political leaders are perceived to make intolerant statements with respect to Islam or pursue political policies that may appear intolerant, we see a correlation in hate crimes over the short term," Levin said.
The uptick in harassment has created a "siege mentality" in some Muslim communities, and particularly among recent immigrants, said Wa'el Alzayat, a former Obama administration official who is now the chief executive of Emgage, an organization that works to foster political participation and representation for American Muslims.
But paradoxically, Alzayat added, the attacks appear also to have spurred an increase in Muslim political participation, including in the form of candidates like Abboud, who says on her campaign website that the "verbal attacks" born of the 2016 presidential campaign spurred her to quit practising law and return to advocacy work.
"There's an awakening here," said Alzayat, who has never met Abboud but says he will soon reach out to her. "With what happened in the last campaign and the anti-Muslim rhetoric, I think a lot of the Muslims are looking at America and they're thinking, 'OK mom and dad, I know you're worried about Iraq, but our own backyard is burning.' I think the community is under siege, and a lot of people are responding by getting engaged."
For Abboud, the first series of verbal attacks came in May, when a pair of right-wing militant groups, the Fraternal Order of Alt Knights and the Proud Boys, got word of a campaign event she had planned at a Phoenix restaurant and staged a protest outside. The armed demonstrators alarmed Abboud's campaign staffers and drew the attention of police.
Even after working for years as the director of two Muslim advocacy groups, Abboud appeared to bristle at the idea of having to spend time on the campaign trail defending Islam or her personal religious beliefs. And it's unclear how she plans to manage such challenges.
"If questions about my religion are relevant, then I will answer them," she said.
But the candidate said she also "expected" such attacks to continue, as she said she would for any minority candidate in today's America, and especially, perhaps for a Muslim woman like herself.
The silver lining, she suggested, is that the backlash might fuel some necessary reckoning.
"This is part of what needs to happen in this country," she said. "We need to have a conversation about what is an American and who gets to decide."
It was after midnight Tuesday when Abboud finally went to bed after the initial wave of Facebook comments, thrusting her for the first time into the national spotlight. And it was around 5 a.m. Wednesday when she was waked by her phone still pinging. By then, her campaign had gotten more attention than at any other point since she announced her candidacy in April.
Full report at:
https://www.thestar.com/news/world/2017/07/21/muslim-lawyer-vying-for-us-senate-presses-on-after-racist-attacks.html
--------
White House warns of 'serious consequences' unless Iran releases citizens
Jul 22, 2017
The White House has warned Iran of "serious consequences" if it does not release all American citizens imprisoned in the country.
"Iran is responsible for the care and well-being of every United States citizen in its custody," the White House said in a statement on Friday.
"President Trump urges Iran to return Robert Levinson home, who has been held for over 10 years, and demands Iran release Siamak and Baqer Namazi, who were taken during the Obama administration, along with all other American citizens unjustly detained by Iran," it added.
Levinson is a former FBI agent who reportedly went missing during a visit to Iran's southern Kish Island in 2007. Tehran has categorically denied any involvement in his disappearance and promised to help determine his fate.
Last year, the White House said it had "reason to believe" that Levinson was "no longer in Iran," and apparently had thought so for years.
The US government had insisted for years that Levinson was working as a private investigator. However, in December 2013, his family admitted that he was working for a rogue CIA operation as a freelance "spy." The US has a $5 million reward for information leading to his return.
The White House statement also mentioned Chinese-born US citizen Xiyue Wang, who was sentenced Monday to 10 years in prison for espionage under the cover of research. Iran's Judiciary said Wang was caught trying to smuggle 4,500 pages of confidential documents out of the country.
Siamak and Baqer Namazi also received ten-year prison terms for espionage last year. Iran's Foreign Minister Mohammad-Javad Zarif said on Wednesday that Baqer Namazi was not imprisoned, but was banned from leaving the country.
The Friday statement capped a week of rhetoric against Iran. On Tuesday, the Trump administration imposed new economic sanctions against the Islamic Republic over the country's missile program.
The move came only one day after the administration certified to Congress that Iran was in compliance with the 2015 nuclear agreement, which lifted nuclear-related sanctions imposed against Tehran.
The US claims Iran's missile program is in breach of United Nations Security Council Resolution 2231, which endorsed Tehran's nuclear deal with the P5+1 states in 2015.
Full report at:
http://www.presstv.ir/Detail/2017/07/22/529264/White-Hose-warns-Iran-over-detained-Americans
--------
'US stops Pakistan military reimbursements over terror charges'
Jul 21, 2017
The administration of US President Donald Trump has stopped making military reimbursements to Pakistan over what it calls Islamabad's lack of action in addressing threats posed by terror groups such as the Haqqani network.
The Pentagon revealed the decision on Friday, shortly after US Defense Secretary James Mattis informed Congress that he was not sure whether Pakistan was up to the job.
"The funds could not be released to the Government of Pakistan at this time because the secretary could not certify that Pakistan has taken sufficient action against the Haqqani Network per the requirement in the FY 2016 National Defense Authorization Act," Adam Stump, a Pentagon spokesman, told Reuters.
This means that the $350 million left of the Coalition Support Funds (CSF) has been moved to other accounts, according to Stump.
"Pakistan has been reimbursed $550 million of the $900 million the country was authorized in FY16 CSF. With the secretary's decision, there is no additional FY16 CSF available to Pakistan. The secretary decided to request reprogramming of the funds to retain the ability to use those funds for other requirements," he said.
Washington pays the CSF reimbursements to key allies that take part in its combat operations through logistical, military and other support. Pakistan is the largest recipient of such payments, having received more than $14 billion since 2002.
This is not the first time that Washington freezes reimbursements to Islamabad. Last year, the Pentagon withheld another $300 million in payments on similar grounds.
The move comes amid the Trump administration's review of US policies in Afghanistan. Washington has been pressuring Islamabad to crack down on militants that wreak havoc in the neighboring country.
The Pakistan-based Haqqani network is better known for a number of high-profile attacks against American and Western interests in war-torn Afghanistan.
Relations between the two allies have been frayed over the past decade, with the US officials constantly accusing Pakistan of what they term its unwillingness to act against terror groups.
Full report at:
http://www.presstv.ir/Detail/2017/07/21/529251/US-Pakistan-Pentagon-Haqqani-Afghanistan-Taliban-Stump
--------
An American Hostage Is Being Kept Under Wraps By Al-Qaeda In Africa
BY JACK MOORE
7/21/17
Al-Qaeda factions in Africa have been displaying at least six of their hostages on camera in recent propaganda videos, in what amounts to a bid to drum up ransom business. But an American man who is also being held has not yet appeared.
In October, militants allied to Al-Qaeda kidnapped Jeffery Woodke, a 56-year-old aid worker, from his residence in the town of Abalak, Niger. He had worked in the country for decades and was helping with drought relief and food shortages. The mayor of his town decried his kidnapping as a "devastating shock" to its residents.
Jihadis in West Africa operate across the lawless desert borders of the Sahel region, and Woodke is now believed to be held in neighboring Mali after armed men transported him there in a Toyota Hilux truck.
He has not been seen since, but the group has been parading others in its possession. Days after the group released Swedish hostage Johan Gustafsson after more than five years of captivity in Mali, Al-Qaeda's Mali affiliate, Nusrat al-Islam wal Muslimeen, released a proof-of-life video on July 1 that showed captive missionaries from Australia, Colombia, France, Romania, South Africa and Switzerland, including one held since 2011, according to U.S.-based jihadi monitoring group Site Intelligence.
It was a bid to show their lucrative assets to the captives' governments. While the U.S. and Britain do not engage in ransom payments for fear of inspiring further kidnappings, other countries do, and the sums can reach millions of dollars. Such lucrative bounties help fill the coffers of groups that derive their revenues from a range of illicit activities.
But the Al-Qaeda-linked group Malian investigators believe to be holding Woodke, the Movement for Oneness and Jihad in West Africa, has not shown him in any of its propaganda material. Analysts believe the video of the six missionaries came as French President Emmanuel Macron arrived in the country, delivering a message that extremist groups must be eradicated. In light of this, the omission of Woodke, who worked for Jeunesse en Mission Entraide et Developpement, a branch of the U.S.-based Youth With a Mission, becomes stranger.
The reasons for the radio silence on Woodke's whereabouts for nine months could vary, as The Daily Beast reports. Washington does not pay ransom, and entering into negotiations with the U.S. can lead to rescue attempts, such as that involving American photojournalist Luke Somers in Yemen in 2014, which resulted in his death and that of South African hostage Pierre Korkie.
The jihadis could provide the U.S. with increased intelligence about Woodke's whereabouts and status if they open negotiations, and they may be paranoid about raids by special operations forces or using him as a bargaining chip too soon.
President Donald Trump is only six months into his tenure at the Oval Office, and the American families of hostages killed by the Islamic State militant group (ISIS), such as journalists Steven Sotloff and James Foley, have said privately and publicly that they wish the government could have helped more with their cases.
The families also complained they were threatened with prosecution if they tried to pay ransom for their children. And they complained that while European countries were paying ransom to bring home their citizens from the grasp of Al-Qaeda and ISIS, the U.S., in their eyes, sat by and did nothing.
In light of this, President Barack Obama in June 2015 provided families with the ability to raise funds and pay ransom themselves without facing legal problems. In Woodke's case, he has been in Niger for 29 years, and it is unclear if he has family remaining in the U.S. who could help his case. American organizations still cannot put money toward ransom. The Al-Qaeda factions, therefore, may be waiting to see if Trump will go further on the policy.
Research into American hostages does not make for good reading. Since 2001, U.S. hostages have been the most likely to die in captivity or be murdered by their captors, compared with all other Western hostages taken alive around the world. Americans are often primary targets, but the U.S. ransom policy means that they are unlikely to come home.
Full report at:
http://www.newsweek.com/american-man-being-held-hostage-al-qaeda-africa-why-wont-they-show-him-640226
--------
Summer day camp aims to bridge the gap between Muslim and Canadian identities
Jul 21, 2017
A unique day camp in Calgary is designed to show youth that being Muslim and being Canadian are not mutually exclusive.
Organizers of the Iman Fortress Summer Camp hope that by reaching children at a young age, they'll set them up for success and potentially prevent extremism down the line.
Mohamed El-Rafih created the program after identifying a need in the community.
"We've seen a growing disparity between our youth — their Canadian identities, their country-of-origin identities," El-Rafih said.
At its core, the camp is designed to bridge that gap.
"To show youth that being Canadian, being Muslim are the same thing. They're not exclusive," El-Rafih said.
He said the program addresses several questions.
"What is the best way for us to rectify our identity in this society? How can we be engaged? How can we be volunteers? How can we be a meaningful part of the system?"
Defining identity
The camp, which runs for three weeks every summer at the Genesis Centre in northeast Calgary, caters to children between five and 12 years old.
The kids spend their days learning everything from popular Canadian sports, such as basketball and soccer, to the basic values of Islam.
"We give them this kind of ideal image of what it means to be a Canadian with Muslim values," El-Rafih said.
"And the hope is that this is a layer of resiliency, so that if it came to the case that they came upon some self-proclaimed Imam, who is preaching violence, they will have a baseline and a standard to contrast that narrative with."
Embracing faith
On the last day of camp, young children proudly sing the Arabic alphabet for their parents. They're eager to display their new knowledge and skills.
It's a proud moment for parents like Sara Tayab, whose five-year-old son and six-year-old daughter are both in the program.
"They love it," said Tayab, who came to Calgary from England before her children were born.
"I guess because we are Muslims and we follow Islam and I'd like them to be more knowledgeable about it.... I do feel like it just gives them awareness that there are people that are the same as them."
Other parents, such as Veena Seemab, believe the program gives their children the confidence and knowledge they need to explain their faith to their peers. Her six-year-old daughter is one of about 60 who attended this year.
"If some kid asks why you choose to dress like this, if my daughter knows why we wear hijab — why we are covering ourselves — then she, in positive manner, she can tell them," said Seemab.
Countering negative messages
The program is also designed to help older kids deal with the increasingly polarized and negative messages they may witness in mainstream and social media.
Full report at:
http://www.cbc.ca/news/canada/calgary/muslim-day-camp-canadian-identity-1.4215968
--------
Arab World
Qatar's Emir: Ready for dialogue and settlement of all issues
21 July 2017
Qatar's Emir Sheikh Tamim bin Hamad Al-Thani has given his first public speech since a diplomatic crisis with neighboring Gulf and Arab countries unfolded last month.
Al-Thani said that his country was "subjected to an unprecedented campaign of incitement and siege".
"Fabricating false reports are vile and heinous crimes and there were attempts to impose a guardianship system on us," he said in his first public address since the crisis with his country began last month.
The Qatari emir recognized during his speech that there were differences between Doha and the GCC on their foreign policies and that they "disagreed with others on the sources of terrorism".
He then spoke on the possibility of a solution to a path forward with boycotting countries but one "that should be based on respecting national sovereignty and not be dictated but jointly pledged".
"I do not underestimate the pain and suffering caused by the blockade on us. It is high time to stop the imposition on people the price of political differences between governments," Al-Thani said.
Qatar's Emir Tamim was supposed to give a speech on June 6, a few days after the crisis began, but delayed it at the time. Al-Thani was reportedly urged by the Kuwaiti ruler to exercise restraint and "not to take any measures that could escalate" the tensions in the region.
The Anti-Terror Quartet of Saudi Arabia, Bahrain, UAE and Egypt decided to impose a diplomatic and economic boycott of Qatar last month for the latter's history of supporting terrorism and extremist groups in the region.
https://english.alarabiya.net/en/News/gulf/2017/07/21/Qatar-s-Emir-Tamim-gives-first-speech-since-crisis-began.html
--------
Egypt kills 30 'highly dangerous' militants in Sinai
Jul 22, 2017
The Egyptian military says it has killed 30 militants over the course of four days in ground and air raids in the restive Sinai Peninsula.
The military said in a statement on Friday that 30 "highly dangerous" militants had been killed and five others arrested in the operations in the province of North Sinai.
The army, however, did not explain what group the militants belonged to.
Earlier this month, Egypt was hit by one of the worst attacks on its security forces in years. At least 23 soldiers were killed and 26 more wounded in two bombings, claimed by the Takfiri Daesh terrorist group, that targeted security checkpoints south of Rafah City in northern Sinai on July 7.
The Sinai Peninsula has been under a state of emergency since October 2014, after a deadly terrorist attack left 33 Egyptian soldiers dead.
Over the past years, militants have been carrying out anti-government activities and fatal attacks, taking advantage of the turmoil caused in Egypt after the democratically-elected president, Mohamed Morsi, was ousted in a military-led coup in July 2013.
Full report at:
http://www.presstv.ir/Detail/2017/07/22/529271/Egypt--highly-dangerous-militants-Sinai
--------
3 wanted terrorists killed in Qatif shootout; remaining fugitives told to surrender
22 July 2017
JEDDAH: Three terrorists have been killed in a shootout with security forces in Saihat district, Qatif governorate, the Interior Ministry said on Friday.
Maj. Gen. Mansour Al-Turki, security spokesman at the Interior Ministry, said that on July 15 that security personnel monitored three of the wanted terrorists in Al-Zhoor neighborhood in Sihat. They were driving a stolen Toyota Corolla with non-matching number plates.
Security personnel surrounded them and told them to surrender. But the suspects started shooting, forcing the and security personnel "to neutralize the danger to maintain the safety of pedestrians and themselves."
Al-Turki said the trio were involved in a number of crimes against citizens and security personnel, as well as private and public property.
The operation resulted in the confiscation of more than 10 kilograms of ammunition, some thermal and other explosives, three machine guns and a pistol.
Al-Turki said the dead terrorists were identified as Jaffar bin Hassan Makki Al-Mberik, a Saudi who was placed on the wanted list on Oct. 31, 2016; Hassan bin Mahmoud Ali Abu Abdullah, a Bahraini who was also placed on the wanted list on Oct. 31, 2016; and Sadeq Abdullah Mahdi Al-Darweesh, a Saudi.
All three were wanted by security authorities for their involvement in a number of criminal and terrorist activities, including shooting at security men, vehicles and security headquarters, which led to the killing of 10 security personnel over two and a half years.
They also participated in the armed robbery of a vehicle transferring money in Qatif; shot at, kidnapped and assaulted a number of citizens; and traded arms.
The ministry renewed its call for the remaining wanted terrorists to surrender.
UAE lauds Saudi counterterrorism efforts
The UAE lauded Saudi counterterrorism efforts, referring to the killing of three wanted suspects involved in terrorist operations in Qatif.
The UAE Ministry of Foreign Affairs and International Cooperation condemned the targeting by terrorist groups of the security and stability of the Kingdom.
The ministry reiterated the UAE's firm rejection of all forms of terrorism and violence against the security of states and communities, regardless of the motives or perpetrators.
Full report at:
http://www.arabnews.com/node/1132886/saudi-arabia
--------
Hezbollah, Syria liberate 9 border areas from terrorists in joint offensive
Jul 22, 2017
Fighters from Lebanon's Hezbollah resistance movement, backed by Syrian warplanes, have managed to liberate at least nine border areas between the two countries from the clutches of the Jabhat Fateh al-Sham Takfiri terrorist group, formerly known as al-Nusra Front, in an ongoing joint counter-terrorism operation.
Hezbollah fighters managed to liberate Sahl al-Raweh, Sahr al-Haweh, Wadi Dakik, Taftanaz and Wadi Zaarour Baren areas in the Juroud Arsal region on the outskirts of the Lebanese town of Arsal on Friday.
In the western Qalamoun mountains in Syria, Hezbollah fighters also recaptured al-Burkan hill and al-Koreh Awwal, Zalil al-Haj and Harf al-Sabah areas from terrorists, with the aid of heavy artillery fire.
The whole region straddles the border between the two countries and the joint operation to liberate its militant-areas began in the early hours of Friday. According to the Lebanese resistance movement and the Syrian army, the offensive will continue until the entire region in cleansed from the presence of Takfiri terrorists.
Lebanese army troops have not yet taken part in the offensive despite being deployed around Arsal town and some nearby areas. Lebanese Prime Minister Saad al-Hariri had earlier said the army would participate in the liberation operation.
The Arsal area was hardly hit by the spillover of the Syria crisis in 2014, when militants managed to overrun the town for a brief period. Around 45,000 Syrian refugees, registered with the UN, live in the town, but more are believed to be living in camps in the Juroud area, although their numbers have not been confirmed.
Lebanon has often seen the infiltration of Takfiri elements from neighboring Syria into its territory, where they target the civilian population or security forces with bombings.
Full report at:
http://www.presstv.ir/Detail/2017/07/22/529256/Lebanon-Hezbollah-Jabhat-Fateh-alSham-Arsal-Qalamoun-Daesh-offensive
--------
Deir Ezzur: ISIL Suffering Lack of Fighters in Battle against Syrian Army
Jul 21, 2017
"We have seen a big drop in Daesh (ISIL) attacks in Deir Ezzur. They used to attack on a daily basis before the battle in Raqqa. Now, they just conduct hit-and-run attacks," the source said.
The Syrian Special forces deployed in Southern Raqqa and the Army soldiers deployed in Eastern Homs have started a joint anti-ISIL operation to drive terrorists out of the strategic town of al-Sukhnah that is considered as the main gate to Deir Ezzur city.
Syrian special troops plan to expand Southward from the key town of al-Rasafeh in order to press ISIL's positions as far South as the town of al-Sukhnah in Eastern Homs.
As the Tiger Forces are pushing South to Homs province, it will allow their allies from the Desert Hawks Brigade to blitz the ISIL's positions in the Eastern parts of Hama province.
Meantime, the army forces continue massive operations from Western al-Sukhnah – the Eastern parts of the ancient city of Palmyra (Tadmur) – towards the last ISIL stronghold in Homs.
The Syrian army units and Hezbollah fighters also continued their operations to reach the strategic town of al-Sukhnah, the Takfiri terrorist group's last defense lines directly West of the city of Deir Ezzur, deploying their forces just a few kilometer away from the vital bastion.
A field source announced the troops' massive operation in Eastern Homs and Hama, saying that driving the ISIL out of Aqayrabat and al-Sukhnah means the end of the terrorist group's presence in Central Syria.
Another source said that the army has dispatched more heavy equipment to Arak region in Eastern Homs to intensify attacks on ISIL's defense lines in al-Sukhnah.
The source further added that following ISIL's defeats in Aleppo and Raqqa provinces, the fresh army operation that will cover Eastern Hama and Homs and the entire Deir Ezzur province is so important that the army would dispatch more forces and equipment to advance towards Deir Ezzur with the back up of the Russian Air Force.
Al-Sukhnah is the last bastion of ISIL fighters in Homs and the last strategic barrier which stands before pro-government forces can lift the siege of Deir Ezzur.
Also, according to a report, Damascus is on the verge of imposing full control over the central parts of the war-hit country after 3 and a half years as ISIL withdrew from Aleppo province and along with the Syrian Army troops' advances in Western Raqqa.
A source said that following the army's control over Aleppo and its forces' continued advances in Western Raqqa, and Eastern Homs and Hama, its now seems that the central parts of the country will soon be cleaned of terrorists after three and a half years of occupation.
The sources added that the army has stopped its anti-terrorism operation in Northern Hama to prepare the region as a platform for the liberation operations in the Eastern direction of al-Salamiyah city that has been a main bastion of ISIL and the town of Aqayrabat that is considered a gate to Eastern Homs.
In the meantime, the army men's operation in Homs is underway, while recapturing the town of al-Sukhnah in the Eastern direction of the ancient city of Palmyra will pave the way for entering Deir Ezzur province.
Another military source said that with the liberation of the regions East of al-Salamiyah and recapturing of the remaining regions in Northeastern Homs the army forces will be capable of imposing full control over the central part of the country.
Military experts said the recent advances of the Syrian Army troops at border with Iraq towards the ISIL-held town of Albu Kamal were of vital importance, showing that the pro-government forces will soon drive terrorists out of the war-hit country.
Amin Hatit pointed to the army's advances against terrorists from the country's border with Iraq towards North, and said that the army's control over the large region between Deir Ezzur city and the town of Albu Kamal will pave the ground for the restoration of complete tranquility and security to Palmyra, energy-rich regions and Badiyeh (desert).
He further said that the joint operation of the Syrian and Iraqi forces will benefit both countries, adding that the Raqqa triangle towards Palmyra that covers a large region up to Deir Ezzur and Albu Kamal is a strategic triangle that can be used for the overall liberation operation in Syria.
Hatit underscored the strategic importance of Deir Ezzur that is located between Iraq and Syria, saying the army expects two important objectives from the liberation operation of Deir Ezzur. "First foiling the US plan to access central parts of Syria and Iraq and the second, completing its anti-terrorism operation and liberating all Syrian territories."
Relevant reports said on Thursday that the army units launched heavy artillery and missile attacks on ISIL hideouts in the western parts of the regions near the Brigade 137, al-Jubaileh, al-Hawiqeh, areas near Panorama and Qeta al-Ta'mineh region, smashing one of the militants' command centers and several of their military vehicles.
A number of ISIL terrorists were also killed in the operation.
Meantime, the Syrian air force heavily pounded the ISIL moves and positions near Deir Ezzur airbase, al-Thardah region and the districts of al-Arafi, al-Arazi, al-Jabileh, al-Sina'ah and al-Hamidiyeh as well as the villages of al-Janineh and al-Jafrah and the regions near the cemetery, inflicting tens of casualties on the terrorists.
Full report at:
http://en.farsnews.com/newstext.aspx?nn=13960430000438
--------
Syria: Army Captures More Oil Wells in Southern Raqqa
Jul 21, 2017
The source said that the army troops stormed ISIL's defense lines in the depth of Badiyeh and won back seven more oil well.
The source further added that the ground forces' advances occurred following intensified air attacks of the Russian and Syrian fighter jets on ISIL's command centers and gatherings in the villages of Ma'adan, al-Rabiyeh, Rasm al-Qanem and al-Jableh.
Another military source said after capturing a dozen minor wells, the Tiger Forces brushed aside ISIL resistance on the two directions of the oil-rich region, advancing five kilometers towards Southeast and five kilometers towards Southwest.
As the Syrian army's Tiger Forces alongside other pro-government forces started special military operation to take back the strategic town of al-Sukhnah in Eastern Homs, pro-gov't forces managed to liberate half a dozen oil fields from the ISIL militants which resulted in another major loss for the Takfiri terrorist group.
Al-Sukhnah is the last bastion of ISIL fighters in Homs and the last strategic barrier which stands before the pro-government forces can lift the siege of Deir Ezzur.
Relevant reports said on Thursday that the army engaged in clashes with the terrorists in Southern Raqqa, and retook control of the town and dam of al-Ramilan as well as 15 oil and gas fields in the Eastern parts of Dabisan and the two 1 and 2 pumping stations.
Meantime, the Syrian fighter jets pounded the ISIL positions in the Southern parts of the village of al-Zamleh near al-Ma'adan city in Southern Raqqa.
Full report at:
http://en.farsnews.com/newstext.aspx?nn=13960430000342
--------
Syrian Soldiers Inch Closer to ISIL's Vital Bastion in Eastern Homs
Jul 21, 2017
The Syrian Army resumed its military operations in Eastern Homs province, hitting the ISIL positions near the town of Jubab Hamad.
After hours of bloody battle, the army soldiers took full control of Tal Al-Alam which overlooks Jubab Hamad, securing the town of Jubab Hamad in Eastern Homs.
The Syrian Army also took control of an important chain of hills in Eastern Homs, establishing fire control over the ISIL-held Manbal area, West of al-Sukhnah.
The army men killed some 30 militants and destroyed several military vehicles in the attacks.
Relevant reports said that the army soldiers regained control of the hills near al-Sukhnah-Tawinan road and imposed control over al-Mujbal region, 8km away from al-Sukhnah, after clashes with the ISIL in Eastern Homs.
A military source said that the Syrian army could win back control of several points near al-Heil energy field and establish security in the region after driving terrorists out of the energy field.
Full report at:
http://en.farsnews.com/newstext.aspx?nn=13960430000286
--------
Russian Warplanes Bomb ISIL's Centers in Hama Heavily
Jul 21, 2017
The fighter jets carried out several combat sorties over ISIL's positions and movements in Eastern Hama, killing and wounding a number of terrorists.
The warplanes destroyed ISIL's headquarters in the town of Jubb Al-Abyad, killing and wounding scores of militants.
In the meantime, a new convoy of the Syrian Army special forces has been dispatched to the Eastern direction of the town of al-Salamiyah to launch fresh anti-ISIL operation in Eastern Hama.
According to a report from Eastern Hama, the Syrian Army is expected to start a fresh round of military operation in the Eastern countryside Salamiyah in coming days to target ISIL's last positions between the Hama and Homs provinces.
The Syrian and Russian forces, backed by the two countries' warplanes, have started a new phase of military operations to expel the ISIL from Eastern Hama in bid to secure the town of al-Salamiyah.
Based on reports, the Russian Special Forces, backed by Moscow's Air Force, have also participated in the military operations in Eastern Hama.
Aqayrabat region includes tens of villages and towns that is ISIL's main base in the province and is used by the terrorists to attack the army positions in al-Salamiyah.
Media reports said on Wednesday that hundreds of families returned to their regions in Northern Hama following the clean up operation of the Syrian Army's engineering units in the region.
Hundreds of families that had fled their homes for fear of terrorists' threats have returned to the villages and towns of Souran, Taybat al-Imam, Ma'ardes, Kawkab and Ma'aden in Northern Homs.
Full report at:
http://en.farsnews.com/newstext.aspx?nn=13960430000298
--------
Syrian Army Wins back over 40 Energy-Rich Fields in Raqqa in One Month
Jul 21, 2017
Ali Ibrahim said that the army men have since early June freed over 40 fixed oil pumps that had been destroyed by the ISIL before started retreat in Raqqa province.
He further added that after defusing landmines planted by the ISIL and reconstruction of the damaged oil pumps, most of the oil wells will start working normally and oil extraction will start soon.
The army men, deployed in Western Raqqa, launched a fresh round of operation a couple of das ago to move towards the last stronghold of ISIL in Eastern Homs that resulted in the liberation of 40 oil wells.
The army troops' recent advances towards al-Sukhnah region have narrowed down the terrorist group's oil exports.
According to a source, as the Syrian army's Tiger Forces alongside other pro-government fighters started anti-terrorism operation to take back the strategic town of al-Sukhnah in Eastern Homs, the army soldiers managed to liberate half a dozen oil fields from ISIL militants which resulted in another major loss for the Takfiri terrorist group.
The sources announced that the pro-government forces have imposed full control over several oil and gas fields in Homs in the recent months, adding that the army is resolved to continue the advance to capture more oilfields in the near future.
Russia had earlier announced that Turkish President Recep Tayyip Erdogan and his family members are directly involved in illegal oil deliveries from ISIL oil fields in Syria.
Turkey's leadership, including President Erdogan and his family, was involved in illegal oil trade with ISIL militants, the Russian Defense Ministry said, adding that Turkey was the final destination for oil smuggled from Syria and Iraq.
Satellite and drone images had showed hundreds of oil trucks moving from the ISIL-held territories in Syria to Turkey to reach their destination at Turkish refineries and ports controlled by Turkish president's family.
Relevant reports said on Thursday that the army engaged in clashes with the terrorists in Southern Raqqa, and retook control of the town and dam of al-Ramilan as well as 15 oil and gas fields in the Eastern parts of Dabisan and the two 1 and 2 pumping stations.
Meantime, the Syrian fighter jets pounded the ISIL positions in the Southern parts of the village of al-Zamleh near al-Ma'adan city in Southern Raqqa.
Full report at:
http://en.farsnews.com/newstext.aspx?nn=13960430000212
--------
Egypt security forces kill two suspected militants, ministry says
21 July 2017
Egyptian security forces killed in a shootout two people suspected of being prominent members of the militant Hasm Movement, an Interior Ministry statement said on Friday.
Hasm, a group that emerged last year and has claimed several attacks on security forces, said on Friday it had carried out a shooting on Thursday in Fayoum, a province about 60 km south of Cairo, that killed one policemen and injured three others.
Egypt accuses Hasm of being a militant wing of the Muslim Brotherhood, an Islamist group it outlawed in 2013. The Muslim Brotherhood denies this.
Raid on hideout
The interior ministry statement said security forces raided a hideout in Fayoum being used by the group, leading to a firefight that killed two members responsible for carrying out recent attacks.
The statement did not say when the raid took place or whether the militants killed were responsible for Thursday's police shooting.
This month, Egypt saw one of the worst attacks on its security forces in years, when 23 soldiers were killed after two suicide car bombs were detonated in North Sinai.
https://english.alarabiya.net/en/News/middle-east/2017/07/21/Egypt-security-forces-kill-two-suspected-militants-ministry-says.html
--------
Hezbollah, Syria army launch offensive at border with Lebanon
21 July 2017
The Lebanese group Hezbollah and the Syrian army launched an offensive on Friday to clear militants from an area of the Syrian-Lebanese frontier, a commander in the military alliance fighting in support of President Bashar al-Assad told Reuters.
The operation is targeting insurgents from the Nusra Front group in the Juroud Arsal area on the outskirts of the Lebanese town of Arsal, and in areas of the western Qalamoun mountains in Syria, the commander said.
A meeting is set to be held between the Red Cross and the Lebanese Army to coordinate the entry of displaced persons to Arsal.
The barren Juroud Arsal area between Syria and Lebanon has also been a base of operations for Islamic State militants. Several thousand Syrian refugees are living in camps in Juroud Arsal. Hezbollah's al-Manar TV said Nusra militants were being targeting in Juroud Arsal and in areas near the Syrian town of Fleita.
Outskirts of Arsal
The Lebanese army has deployed reinforcements on the outskirts of Arsal town in anticipation of the operation, aiming to prevent militants from fleeing into Lebanon, a Lebanese security source said this week. The Nusra Front was al Qaeda's official affiliate in the Syrian civil war until last year when it formally severed ties to al Qaeda and renamed itself. The group now spearheads the Tahrir al-Sham alliance.
Lebanese Prime Minister Saad al-Hariri said on Tuesday the Lebanese army would carry out a carefully planned operation in the Juroud Arsal area, but there was no coordination between it and the Syrian army.
Full report at:
https://english.alarabiya.net/en/News/middle-east/2017/07/21/Hezbollah-Syria-army-launch-offensive-at-border-with-Lebanon.html
--------
Syria demands reparation from US, allies for destroying Syria infrastructure
Jul 22, 2017
In letters to the United Nations, Syria has demanded compensation from the US and its "illegitimate coalition" allies for bombing civilian targets and destroying the country's infrastructure, calling for an immediate halt to such strikes.
Syria's permanent mission at the United Nations made the comments in two letters addressed to the world body's secretary-general and the UN Security Council's president, RT reported on Friday.
The Damascus government "insists that these attacks must come to an end, and that the members of this illegitimate coalition must bear the political and legal responsibility for the destruction of infrastructure in the Syrian Arab Republic, including responsibility for compensation," said the letters.
The letters also underlined that the ongoing US-led airstrikes – purportedly aimed at destroying Daesh terrorists – "continue to claim the lives of hundreds of innocent Syrian civilians."
Such bombings have led to a "near-total destruction" of homes and vital infrastructure, including the "utter destruction" of oil and gas facilities, wrote the letters.
According to the report, in the letters – which were devised last week -- Damascus once again insisted on the illegitimacy of the US-led air campaign in Syria, emphasizing that it is being carried out in violation of international law as it lacks any form of authorization from the Syrian government.
Backing its assertions, Damascus further referred to two recent cases, where the coalition's war planes destroyed Syrian oil and gas facilities.
It pointed to the May 27 bombardment of Hasu Albu Awf village in Hasakah Province by the US-led jets, saying the assaults "completely" destroyed many homes and killed at least eight civilians, "most of them children."
Such attacks, along with US and EU-imposed economic restrictions on Syria, "are impeding the maintenance of those economic facilities and jeopardizing the prospects for development and reconstruction" in the nation, the letters added.
The development came as the US-led coalition announced on Friday that it destroyed a number of oil and gas facilities in various parts of Syria, claiming that they belonged to the Daesh terror group.
The so-called Operation Inherent Resolve confirmed a total of 603 civilian deaths by the coalition's air campaign in Syria and Iraq this month.
However, the figure is much lower than those provided by monitoring groups.
Full report at:
http://www.presstv.ir/Detail/2017/07/22/529272/Syria-USled-coalition-bombings-compensation-UN-letters-infrastructure
--------
Southeast Asia
Indonesian religious ministry to propose tougher blasphemy laws
21st July 2017
INDONESIA's Ministry of Religious Affairs is preparing revisions to the country's so-called Religious Rights Protection Bill that would significantly expand the definition of blasphemy and allow harsher punishments for the crime of insulting religion.
A major change to the law would be a broadened classification of the offence of blasphemy – which is currently "showing hostility, abuse, or desecration" towards a faith, its scriptures or institutions – to seven different kinds of blasphemy with varying periods of imprisonment from six months to five years.
Releasing an unofficial translation, Human Rights Watch (HRW) claims that the Religious Rights bill will simply further jeopardise minority rights in the world's largest Muslim-majority nation. The group says parliament is expected to be presented the bill before the end of 2017.
"The misnamed religious rights bill is nothing less than a repackaging of highly toxic regulations against religious minorities in Indonesia," said HRW's Indonesia researcher Andreas Harsono on Friday.
Dr Ken Setiawan, an expert in socio-legal studies and human rights at the Asia Institute, University of Melbourne also expressed concern, telling Asian Correspondent that "it's not about religious rights, it's about the curtailing of them."
'Religious harmony'
Indonesia is one of the most religious countries on the planet. A massive 95 percent of its population claimed religion is "very important" in a Pew Research poll from 2015, compared with 80 percent of Indians and 19 percent in South Korea.
The country's centuries-long tradition of largely peaceful religious co-existence, interfaith dialogue and syncretism has, however, increasingly come under attack since the fall of former dictator Suharto. Thousands of Indonesians have died in inter-religious violence in Maluku, Borneo and Java since 1998.
The political freedom granted to hardline Islamist groups during Indonesia's transition to democracy, coupled with the growing influence of fundamentalist Salafi schools of Islam, has spurred sectarian violence and the persecution of minority groups across the archipelago.
Indonesia's so-called "religious harmony laws" were introduced under former president Susilo Bambang Yudhoyono (SBY), whose son Agus ran unsuccessfully as a candidate in this year's Jakarta gubernatorial election against Ahok and the victorious Muslim candidate Anies Baswedan.
Ironically, the minister who oversaw the laws' implementation, Suryadharma Ali, was sentenced by the High Court to 10 years in imprison for corruption last year for embezzling almost US$7 million worth of taxpayer funds intended to support Indonesians to undertake hajj – the pilgrimage to Mecca.
Lamenting corruption and dysfunction within the religious affairs ministry, Jakarta Post columnist Julia Suryakusuma wrote in June last year: "Actually it should be called the Ministry of Islam, as it deals mainly with issues relating to Islam."
According to a statement from HRW, Indonesia's religious minorities "are vulnerable to discriminatory laws and official indifference to worsening intolerance by militant Islamists," and the new draft law "compounds rather than mitigates those threats."
Defining faith
Indonesian law recognises six official religions: Islam, Protestantism, Catholicism, Hinduism, Buddhism, and Confucianism.
The country's 2010 census showed that more than 85 percent of the Indonesian population is Sunni Muslim. Around 10 percent are Christians, 1.7 percent are predominantly-Balinese Hindus, and the remainder are Buddhists, Confucians and adherents of indigenous religions.
Islam is taken to mean Sunni Islam – in contrast to Shia, Ahmadi or other interpretations of the faith – leading to crackdowns against minority sects in recent years.
Under 1973 marriage laws, those belonging to Indonesia's tribal religions cannot marry while interreligious marriages require one partner to formally convert to one of the six recognised religious doctrines.
"The recognition of religions in Indonesia is directly tied to civil rights – getting a birth certificate, getting a marriage certificate," said Setiawan. "It's almost a cascade which prevents people from accessing their basic rights."
Insulting religion
Indonesia's strict blasphemy laws came to international attention in May, when Jakarta's former Christian governor Basuki "Ahok" Tjahaja Purnama was imprisoned for two years under the legislation, after a court found him to be guilty of insulting the Quran.
At the UN Human Rights Council in May, many countries expressed concern regarding freedom of religion in Indonesia given a sectarian-charged campaign against Ahok which culminated in his jailing. Several urged Indonesia to review and repeal its blasphemy laws.
"Laws that criminalise blasphemy when applied in a discriminatory manner can have a serious inhibiting effect on freedom of expression and on freedom of religion or belief," said a statement from the EU's Delegation in Indonesia.
The EU said the laws threaten Indonesia's "long-standing tradition of tolerance and pluralism."
Responding to the criticism, the country's Law and Human Rights Minister Yasonna Laoly then claimed a "thorough study" of the laws would be undertaken.
But this draft bill looks like an attempt to strengthen, rather than review or repeal the laws, said Setiawan in an interview with Asian Correspondent. "The blasphemy law might have been criticised by all sorts of human rights groups but Indonesia has no intention of abolishing the law," she said.
The draft bill would allow courts to jail people for exhibiting "writings or pictures that can be publicly seen or audio materials which can be publicly audible, with blasphemous content" for five years.
Anyone who "illegally burns, destroys or taints a holy book" can also be jailed for five years, those proselytising could face four years in prison, while being convicted for deliberately making noise near house of worship carries 6 months' imprisonment.
Burnt houses, shuttered mosques
In practice, SBY's "religious harmony" laws have had the effect of restricting the establishment of churches or temples in predominantly Muslim areas. Minority groups have had immense difficulty establishing houses of worship, and in some cases have been the victims of mob violence.
Catholics in Bekasi near Jakarta have faced hostile and at times violent opposition from certain local Muslim groups while trying to construct a church in 2017.
Just last month during Ramadan, authorities in Depok, West Java shuttered an Ahmadi mosque to prevent adherents from worshipping there.
Authorities in Jakarta and other parts of the country have similarly closed many houses of worship in recent years, often under the guise of guaranteeing a minority group's safety.
The religious ministry's new draft bill requires "real and serious necessity based on the proportion in which adherents of a particular religion exist relative to a subdistrict or village's total population."
It is highly prescriptive, requiring religious adherents to provide a list of names and identification cards for 90 people who will use the proposed house of worship, a list "demonstrating support" from local residents, approval from the religious affairs minister, and approval from the local inter-religious forum.
"These bodies with the power to decide on places of worship and so forth, they don't have a great reputation," said Setiawan.
In February 2016, the Al Fatah Islamic school for transgender Muslims in Yogyakarta, Central Java was forcibly shut down by authorities over alleged reports of noisy karaoke nights and alcohol consumption.
In a country where it is commonplace for mosques, schools or other institutions to block off entire streets for private events, the local government claimed Al Fatah was causing a public nuisance because of motorcycles blocking the street during events.
Religious rights as human rights
"It seems to me that this is part of a crackdown on civil liberties that we've seen under this administration," said Setiawan of President Joko "Jokowi" Widodo's government.
"If you look at Indonesia's national human rights action plan 2014-2019 period, there's a very strong emphasis on social and economic rights and not so much civil and political rights, within which freedom of religious falls."
Recent changes to the national law on civil society organisations, which allowed Jokowi to disband fundamentalist Muslim group Hizbut Tahrir Indonesia (HTI), have been criticised by hardline Islamic and human rights groups alike.
"The Indonesian government has an obligation to respect religious freedom and defend the rights of religious minorities rather than further entrench discrimination in a legal framework," Harsono said on Friday.
"The government should toss out this draft law and the discriminatory regulations that it seeks to enshrine."
https://asiancorrespondent.com/2017/07/indonesian-religious-ministry-propose-tougher-blasphemy-laws/#Fyaoycft1ji57DTQ.97
--------
PAS: Kit Siang's Quranic exhortation doesn't mean anything
Adam Abu Bakar
July 21, 2017
PETALING JAYA: A PAS leader today said Lim Kit Siang was able to invoke Quranic verses but questioned his opposition to the party's efforts to introduce laws based on the Muslim holy book.
"Many are able to recite the Quran, yet are against its teachings," said PAS Youth leader Muhammad Khalil Abdul Hadi, responding to the DAP leader's call on Attorney-General Mohamad Apandi Ali recently.
Lim had quoted two verses from a chapter in the Quran on speaking out the truth, in urging Apandi to take action against those responsible in the 1MDB affair.
This was after Apandi said he only feared God in discharging his duties, following a challenge by Pakatan Harapan chairman Dr Mahathir Mohamad that he take an oath in a mosque that Prime Minister Najib Razak was indeed innocent in the 1MDB affair.
Last year, Apandi cleared Najib of wrongdoing after some RM2.6 billion was transferred into the prime minister's personal bank account. Najib said the money was a gift for Umno's general election campaign.
Yesterday, Dr Mahathir praised Lim, describing it as the best form of "dakwah" (propagation) to Apandi.
But Khalil told FMT that Lim had yet to retract statements "that touched on Muslim sensitivities".
"Especially when it comes to implementing (Islamic) laws in Kelantan or in Malaysia," he added.
Full report at:
http://www.freemalaysiatoday.com/category/nation/2017/07/21/pas-kit-siangs-quranic-exhortation-doesnt-mean-anything/
--------
Will Muslims of other races be entitled to Bumi status? Perkasa asks
July 21, 2017
KUALA LUMPUR, July 21 ― Malay rights group Perkasa wants Putrajaya to be transparent on its considerations to the award of Bumiputera status to a community, amid clamour from the country's Indian Muslims for it.
Perkasa founder and president Datuk Ibrahim Ali pointed out that the Bumiputera label ― literally sons of the soil ― is currently accorded to the original people of the land "regardless of their religion", saying it was how the Sabah and Sarawak natives were also included as Bumiputera.
But he wanted to know the federal government's criteria for deciding who gets to become Bumiputera.
"Will the consideration of Bumiputera status for Indian Muslims be based on religion or other reasons? Will Muslims of other races have a right to obtain Bumiputera status?" he asked in a statement today.
He further questioned if those born in Malaysia or those born overseas and become Malaysian citizens will later be entitled to claim Bumiputera status as well.
"This is a sensitive issue that has many implications and matters connected to the status of a race in Malaysia must be scrutinised from all aspects, including their acceptance from existing Bumiputera," he said.
He urged the government not to be hasty in making a decision and said that Perkasa will support the government regardless of the outcome so long as the decision "is in line with the constitution, history and has everyone's support".
Last Wednesday, Prime Minister Datuk Seri Najib Razak said the government will study the Indian Muslim community's request to also be recognised as Bumiputera.
Full report at:
http://www.themalaymailonline.com/malaysia/article/will-muslims-of-other-races-be-entitled-to-bumi-status-perkasa-asks
--------
Muslim population is Indonesia`s strength: President
July 22, 2017
Serang, Banten (ANTARA News) - President Joko Widodo (Jokowi) stated that the Indonesian Muslim population, which reaches 220 million, serves as the countrys potential and strength.
"This is the potential and strength that other countries do not have. We have 220 Muslims out of our 250 million population," he said, while addressing the 124th anniversary of the death of Syekh Muhammad Nawawi Al-Bantani at An Nawawi Islamic boarding school in Serang district, Banten province, on Friday night.
He noted that he always promotes Indonesia as the worlds largest Muslim country at every meeting with leaders of other countries.
"When I met Syekh Tamim of Qatar, Syekh Muhammad of United Arab Emirates, and King Salman of Saudi Arabia, I always talk about this," he remarked.
The president stated that at every summit, he will touch on the matter.
"Indonesia is the worlds largest Muslim country. I will always speak of this everywhere," he asserted.
Full report at:
http://www.antaranews.com/en/news/111970/muslim-population-is-indonesias-strength-president
--------
Asia's war against terrorism has only just begun
BLAME GAME IN MARAWI
Macabangkit B. Lanto
Philippine Daily Inquirer
"But Mommy, I thought it would not last longer than three days."
That was the response of my daughter Paramanis-Api to the constant berating of my wife for leaving behind precious possessions like her jewellery box when they evacuated to Iligan on the night of May 23, when the siege of Marawi began.
I recall this because similar words were used by Defence Secretary Delfin Lorenzana, when he was asked about his thoughts upon learning of the attack on Marawi.
As it turned out, our house was ransacked and bombed; it is now in ruins.
Truth be told, the rumour mill in Marawi had been fuelled for months by the then impending attack; it went into an overdrive for weeks after the humiliating defeat of the Maute-Hapilon jihadists in the nearby town of Piagapo.
The residents talked about it, first in whispers in the coffee shops of Iligan and Cagayan de Oro, before escalating it into open discussion, even in sermons during Salatul Juma'ah, or Friday congregations.
But nobody took the rumours seriously.
Once, my sister Rocaya frantically called me to ask about the jihadists' open recruitment of young Maranaw people. But I told her to stop fussing over it - a remark reflective of the zeitgeist then.
Who would think that a ragtag band of dissidents from the rural town of Butig with less than 100 members could even think of attacking Marawi, the nerve centre of the cultural, social, financial and political life of the Maranaw?
Everyone thought that the publicised designation of Isnilon Hapilon as emir and his presence in Marawi were mere hot air to bolster the morale of the jihadists and inspire their recruitment campaign.
We thought: No way could they match the firepower and capability of our security forces.
Alas, we were wrong!
And who is to blame for the debacle?
The Philippines President put the blame on the Maranaw for allowing the jihadists to enter Marawi. That's misplaced defence logic for government incompetence. The raison d'etre of the government is primarily to protect its citizens.
The present impasse has proven beyond doubt the jihadists' military capability to withstand government might.
The ulama blame the Maranaw's deviation from the teachings of Islam. That's self-flagellation. I daresay that among the Muslim tribes, the Maranaw have shown more devotion to Islam.
Critics of the administration as well as armchair analysts accuse government security forces of failure of intelligence.
Wrong. They have been warning residents of the terrorists' design.
But then what preventive measure did the military take?
Residents were wrong and are now paying a very high price for their naivete.
Lesson learnt: Never underestimate your enemy, especially one "who looks into the barrel of your gun and sees paradise".
ISIS WILL STILL LURE THE MARGINALISED
Smith Alhaciar
The Jakarta Post
Finally, after fierce fighting for more than eight months, Iraqi Prime Minister Heidar al-Abadi on July 9 declared the great victory of Iraqi forces over the Islamic State in Iraq and Syria (ISIS) in Mosul.
Mosul, the country's second- biggest city after Baghdad, was the de facto capital of the terrorist group in Iraq.
Meanwhile, the so-called Syrian Democratic Forces (SDF) expelled ISIS from Manbij and Tabqa. The SDF is currently encircling Raqqa, the de facto capital of ISIS in Syria.
Considering its limited armament and personnel, and the huge enemy forces, like Iraq's Shi'ite militia (Hashid Shaabi), Iraq's Kurdish militia (Peshmerga), Iraq's Sunni militia, as well as Turkish, Syrian, Iranian and SDF forces - assisted by United States-led coalition airstrikes - ISIS cannot avoid defeat.
However, the fate of the terrorist group in Iraq and Syria will not be sealed very soon. From Iraq and Syria, it is capable of recruiting and driving its supporters to carry out terror attacks all over the world. The group's leader, Abu Bakr al-Baghdadi, who has reportedly been killed, had several months ago pushed his supporters throughout the world to develop autonomous forces in their respective counties to anticipate ISIS' destruction in Iraq and Syria.
For the South-east Asian region, he designated Mindanao in the southern Philippines as ISIS' base. In the beginning of the clash between the Philippine armed forces and the Maute-Abu Sayyaf group, seven Indonesians of the Maute group, who have since been killed in the conflict, sneaked into Mindanao between November 2016 and April 2017.
The war for Mosul started in October last year, while Al-Bab, Jarabulus and Tabqa fell between September last year and May this year. Raqqa's siege began after that.
This means that the entry of about 40 Indonesians into Mindanao was a consequence of the decline of ISIS in Iraq and Syria.
Mindanao was chosen because this region has become a stronghold of radical Muslims who resist Manila's control. The Philippine demographic policy, poverty and other social issues have also contributed to the rebellion.
Manila must mobilise all forces at its disposal to conquer ISIS-related groups unequivocally. Otherwise, it will be very difficult to tame them in future. Coordinated maritime patrols involving Indonesia, the Philippines and Malaysia are an appropriate measure.
It seems that the patrols focus more on efforts to prevent a spillover of the Marawi war to Indonesia and Malaysia. But it is also important to prevent the stream of Indonesian extremists into the Philippines. The fall of Mosul and the psychological victory gained by the Maute and Abu Sayyaf groups in the Philippines will change the course of the flow of South-east Asian terrorists, especially Indonesian ISIS supporters, from Iraq and Syria to Mindanao. The decline of ISIS in Iraq and Syria, as well as the Marawi war, poses a security threat to South-east Asia.
Full report at:
http://www.straitstimes.com/asia/se-asia/asias-war-against-terrorism-has-only-just-begun
--------
Africa
Libyan PM decries edict by clerics loyal to rival govt
2017-07-22
Benghazi - The prime minister of Libya's internationally-recognised government has decried a religious edict issued by clerics affiliated with a rival government that bans the Ibadi, a Muslim sect to which hundreds of thousands of Libya's Amazigh adhere. Fayez Serraj warned of "endangering social safety" and said on Friday that such edicts, or fatwas, could create discord.
A week ago, a religious committee under the government based in eastern Libya targeted Ibadi followers, describing them as a "misguided and aberrant group."
The Human Rights Watch criticised the fatwa.
Eric Goldstein, HRW's deputy director for Mideast and North Africa, said "religious authorities in Libya should stop pandering to extremists by castigating minorities in incendiary language."
Amazigh advocates say there're around 400 000 Ibadi Muslims in Libya, which has a population of 6 million.
http://www.news24.com/Africa/News/libyan-pm-decries-edict-by-clerics-loyal-to-rival-govt-20170722
--------
South Sudan's child solider returns from jaws of death
July 22, 2017
JUBA(South Sudan): She had no body to bury, so the grieving mother kneeled in the dirt outside her small hut, recited psalms and simply traced her finger over the uneven earth.
It was December 2015, a year after Nyayan Koang's boy was abducted by government soldiers at the age of just 14 to fight in South Sudan's army. Now Koang was told that her James was dead, from a gunshot to his leg. She was so broken, she could hardly move.
She invited just a few close friends, relatives and priests to the funeral. But people from across town poured in anyway to pay their respects to the mother of the fallen soldier, yet another casualty in a bitter civil war that has left more than 50,000 people dead.
"We were all crying," Koang said. "I didn't believe he was gone."
It would take almost two years for Koang to discover that she was right — her son was alive.
James was one of an estimated 18,000 children fighting in South Sudan, which has more child soldiers than any other country, according to the United Nations. The youth fight for either government or opposition forces in the world's newest nation, pawns in an ethnic war that the U.N. has warned could spiral into genocide.
About 1,500 children were victims of incidents such as abductions and attacks on schools in 2016 alone, according to UNICEF. Child soldiers can be seen standing stone-faced outside the buildings they guard, often with two or three Kalashnikovs slung around their small frames.
James is a shy boy with a piercing gaze and a tendency to retreat into himself, who can hardly walk except with a cane. He tells his story with the intensity of someone who relives it in his dreams, with one arm tightly hugging his stomach as if to protect himself from the memories. The AP is only using his first name, for fear he could be recruited again by government soldiers.
James' father died when he was young, leaving him to care for his disabled mother and five younger siblings. He looked after the cows, tended the farm and provided the family with daily fish in Koch County, one of the areas most affected by the conflict. Government soldiers would come to James' village to round up children, and he would hide in the bush.
One day in February 2014, as James set out for the river as usual, his mother warned him to be careful of the bad men. He told her not to worry, and that he'd be home later.
That was the last time she saw him.
James and 10 other boys were fishing in a pond about 25 minutes from his house when they saw dozens of men with rifles. The soldiers bound the boys' small arms behind their backs with their shirts, shouting, "We'll finish the opposition!" James realized he might be forced to kill his own people, because the opposition was his tribe, the Nuer.
The soldiers stripped the boys, aged 12 to 14, to their underwear. Then they crammed them into the cargo bed of a pickup truck.
After several hours in the truck, bound and petrified, the boys arrived at army headquarters. They were brought before the commander. As he thrashed each boy in turn with a rubber wire, the others could hear the screams.
James was given a choice: Join the army or die.
___
It's a choice thousands of children have faced in South Sudan, which has a history of civil war.
Until the recent conflict, the country had made significant strides in ending child recruitment. In 2008 it established the Child Act, which requires a minimum age of 18 for any conscription or voluntary recruitment into the army. However, when war broke out yet again in 2013, everything changed.
Publicly, South Sudan's army condemns the practice of using child soldiers.
"The best place for a child is in school, not the military," said Colonel Santo Domic Chol, the army's acting spokesman.
But children in military uniforms, like James, have been spotted throughout the country, according to the U.N.
After James was taken, Koang missed him terribly. She was disabled with polio, and worried that her children would have no one to care for them. Her younger daughter dropped out of school to try to fill the void.
James didn't fare any better. The soldiers didn't trust him. They scrutinized his every move, including trips to the bathroom. He began working as a cook in the barracks, but was forced to sleep locked up among the prisoners.
For eight months, the boy who had never held a gun before fought alongside other children, many younger than him. He saw plenty of them die.
Every time he fired, he was worried he would kill someone from his village. He says he never killed anyone intentionally, but admits that it's hard to know "who you're hitting when you pull the trigger."
During one battle, James attempted an escape. He slowly inched toward the end of the row of soldiers on the field and tried to fade into the trees. But he was caught and forced to return. He feared they might kill him if he tried again.
After a few months in the army, James became the personal assistant for a high-ranking officer. He'd wash and clean the commander's clothes, bring him food, carry his weapons and prepare his bed. He never saw his boss kill anyone, but heard him barking orders at soldiers to do so.
James says he felt guilty working for a man he loathed. But he was trapped.
Almost six months after James was captured, on Aug. 15, he was shot on the battlefield in his lower right leg and left for dead.
While a frenzy of gunfire flew overhead, he wriggled on his stomach in the mud-soaked field toward a grassy knoll, and used his arms to slither over a dying soldier. Terrified, in agony and unable to move, the child concealed himself on a dry patch of grass surrounded by swamp. The bullet had struck a vein, and although James tried to use his shirt to stem the flow, the bleeding continued.
For almost two days, Koang's son subsisted on okra leaves and what little water he could sip from the shallow marsh. Anxious, alone and slowly bleeding out, he thought he would die.
As dawn broke on the second day, James spotted two men approaching. He worried that they were from the opposition and had come to finish the job of killing him, but they were from his battalion.
James slowly waved his hand, motioning that he was conscious. One of the men tried to help him up, but James was too weak and slumped back to the ground.
It took both soldiers to carry him to the car, before rushing to a nearby hospital. He was then flown by the Red Cross to South Sudan's capital of Juba — hundreds of miles away from his family.
___
As the fighting intensified in Koch, Koang asked every soldier passing through if they'd heard of her son. A few people said he'd been shot and seriously injured. Finally, a soldier told her that he'd died due to a leg infection from the bullet. She was shattered.
After the funeral, Koang moved her family into a sprawling, filthy camp crammed with about 120,000 displaced people in Bentiu, roughly five hours from Koch. James was never coming home, and she no longer felt safe in her village.
In the meantime, James also relocated to another camp in the capital of Juba. He enrolled in school, focused on his studies and even took part in the debate club, where he advocated for girls' education.
But he wasn't happy.
He watched enviously as some kids kicked a soccer ball on the sandy court. He used to play. Now he couldn't even carry water to his hut for bathing and cooking.
Slumped in a chair, he said he couldn't stop thinking about "bad things" from his time as a child soldier. The dying man he climbed over haunts him in his sleep.
"He calls to me," said James, his hands tightly clenched between his legs. "He reaches out his arm and says, "Come here."
James yearned to go home, but had no way to contact his mother. For months, they were 600 miles apart, yet they were worlds away.
In March, a neighbor from back home recognized James in the camp. He rushed to Bentiu and told Koang that her son was alive. He lent Koang his phone.
As she brushed the phone against her ear, the voice crackled through on the other end -- one she hadn't heard since her son promised to return home from fishing three years earlier. It was James, sobbing.
"I was so happy," says Koang. "But I still couldn't believe that he was alive. I needed to see him."
Yet she didn't have the money to bring him home. So even after they spoke, James remained in Juba, alone and depressed.
___
A few months later, with the help of UNICEF and local community members, James boarded a plane for Bentiu, dressed in his only pair of ripped black pants, a handkerchief in one pocket and a bible bulging out of the other. When the plane landed, he limped off.
He didn't know where he was going. All he knew was that he was headed home to his mother. He was so nervous -- he knew he'd see her, but at the same time he couldn't believe it.
As James rounded the corner of his mother's compound, a local aid worker swept him off his feet and held him close. James burst into tears - uncontrollable, overpowering sobs. Relatives gathered around him, reaching out to brush their hands over his wet face, in a Nuer blessing for a long life.
Amid the frenzy of handshakes, singing and yelps, Koang emerged. Dressed for the occasion in a striking turquoise necklace and tailored dress, she shuffled out of her hut and lightly touched her son's leg by his wound.
Crouching to meet her gaze, James buried his head in his hands. They didn't speak. They didn't need to.
Koang broke into gleeful cries, chanting with relatives and proudly dancing at her son's feet. James shifted between hysterical fits of sobs and moments of silence, when he just stopped still and stared straight ahead, lost in thought.
Even amid the joy, he was concerned. He was disabled now, like Koang, and not sure he could support his family. Gazing at her son lovingly, Koang assured him that the best way to eventually support them was to stay in school.
Rubbing his hand over his baby sister's head, James cracked a smile.
Full report at:
http://nation.com.pk/international/21-Jul-2017/south-sudan-s-child-solider-returns-from-jaws-of-death
--------
Christian elders and the Islamisation claim...
Jul 22 2017
A lot of us were shocked when some Christian elders met and issued a statement that alleged plans to Islamise Nigeria by the Buhari government. Many people responded with arguments that put these so-called elders to shame. Among them is the writer of the piece below, whose response deserves to be read widely for maximum effect. Please read on.
As was rightly observed some other time, Nigerian Christian leaders are in crisis. They have followers who see little or nothing wrong in alcoholism, fornication/adultery, obscene Music and public nudity. Their crisis is further worsened by the fact that even within their ranks are renown sexual predators and voodoo priests claiming to be pastors, bishops and prophets.
In the Christian-dominated Southern part of the country, young girls in Junior and Senior Secondary School are compelled to wear tight and short uniforms that make bare their developed and developing bodies. Pornographic materials are sold in the open and majority of young girls become sexually active long before their thirteenth birthday.
Christian Elders and the Christian Association of Nigeria (CAN) have never for once released a statement to pressure the Government or policy makers to arrest this absurdities in our society. We have not read any communique from any Christian group condemning contents of approved text books and novels that are immoral and obscene.
CAN, Christian Elders and every other Christian body have never issued a statement demanding that the government explain why pornographic websites are accessible in the country. They have never queried the Government of any state for compelling schoolgirls to dress in tight and exposing uniforms.
We see media reports of pastors and so called men of God defiling young girls and engaging in extramarital affairs, but we have not heard of CAN and Christian leaders doing anything to stop this or even take responsibility for it. The only thing CAN and Christian Elders are concerned about are Muslims and Islam. Christian leaders and politicians in the 1960s invented the illusion of some Muslims plotting to forcefully Islamise the country to elicit British support and score political points. In fact, in 1966 prominent Muslim leaders and politicians were slaughtered by Christian military officers who accused them of planning to Islamise Nigeria. Up till today they are still blackmailing Muslims with the accusation of Islamisation while they have successfully Christianised the country.
These allegations will keep coming as long as it remains the only way Christian leaders in the country can galvanise their base in an attempt to remain relevant. The fact that they have turned churches into dance halls with young girls having excessive make-up and tight clothes roaming the halls, has not made the average Christian more committed to Christianity and the Christian establishment. The average Christian still loves and idolises misfits like Davido, WizKid, Dbanj and others that sing about their private parts, the breast and backside of women. The average Nigeria Christian still prefers beer parlours, gambling centres and night clubs to religious gatherings.
As Muslims, we know our community is not perfect. We still suffer from violent and nonviolent extremism within us, but we have acknowledged our challenges and we are striving to contain it. Muslim leaders do not pass irresponsible and wide accusations at Christians. Our brothers in the military had never taken up arms against their Christian colleagues or Christian leaders.
Muslims ruled this country for years as military and civilians, yet they never made any attempt to undermine the Christians of this country. When IBB registered Nigeria with the OIC, Christians protested and as a compromise, the colonial entity of Israel was given diplomatic recognition by the IBB government, to the dismay of Muslims and to please the country's Christian population who, for whatever reason, feel obligated to support the murderous and criminal entity of Israel.
This perceived fear of Islamisation is the only tool Christian leaders have with which to mobilise their base and it is the only thing that works for them. President Buhari is so hated today, not because of any thing wrong he did, but because he is a committed Muslim. They hate the fact that eighteen out of thirty six ministers are Muslims, leaving "just" eighteen to Christians. This is the only Government that has dared appointed an equal number of Muslims and Christians as Ministers. Barely over 30% of federal workers are Muslims and over 60% are Christians and the fear is that the government may take steps to regularise this irregularity. So they start whining, nagging and crying foul before hand, over what may likely never happen. Their hatred for Buhari has even extended to the Vice President who is a Pastor, an accomplished Senior Advocate and Professor of Law. These people have no morals, no code of conduct, no decency and no honour.
Muslims of this country have bent their backs to accommodate Christian demands because we acknowledge that the country belongs to all of us. Nigeria is already Christianised enough, as it is, yet we are not running to the market to shout like badly brought up children or jealous housewives making offensive claims and insinuations.
Full report at:
https://www.dailytrust.com.ng/news/another-dimension/christian-elders-and-the-islamisation-claim/206525.html
--------
Pakistan
Don't let this moment of opportunity slip away, IMF warns Pakistan
Khurram Husain
July 22, 2017
KARACHI: In a wide-ranging conversation with Dawn, the Resident Representative of the IMF to Pakistan followed up on the fund's warning that the macroeconomic stability earned through stabilisation in the past three years needs to be used to make these gains more permanent.
"The moment of opportunity earned through the stabilisation programme is a hard-earned opportunity to advance deeper structural transformation of the economy to ensure future stability," Tokhir Mirzoev said, cautioning that present trends could undermine macroeconomic stability "if the reforms do not continue".
Key trends he pointed towards were widening of the current account deficit and a still vulnerable fiscal framework. "Realising the budgeted revenue will require significant effort," he emphasised, while the decline in reserves and the growing current account deficit were sources of concern.
"Currently the economy is flying on one engine," he says, "and that engine is importing sectors, while the second engine —exports — is lagging. Greater exchange rate flexibility will help rectify this imbalance, but beyond that, the government will need to engage with the exporter community more proactively to develop the plans with which to revive exports."
"Adding more generation capacity to the system is crucial," he agreed when asked about the nature of the reforms that need to be undertaken, "but more generation without reforming a leaky distribution system could add to the circular debt and may compromise long-term sustainability of new energy projects. In this context, finding a permanent solution to power sector arrears will be critical in the period ahead."
Mr Mirzoev is currently on rounds meeting with business and opinion leaders around the country following the latest Article IV report released by the fund this week. "One important message of the report" he says, "is the need to rebalance the federal-provincial fiscal relations. There are important gaps in the devolution of resources and responsibilities to the provinces under the last NFC award". That accord has created a mismatch between provincial government incentives and responsibilities, he emphasised. "The provincial governments should be empowered, but the devolution of powers needs to be better aligned with the devolution of resources; and the interests of the provinces could be better aligned with those of the centre and the broader national objectives."
The outcome of this mismatch, he points out, is a fiscal system that is unbalanced, insufficiently flexible, and less prepared to absorb large shocks. In addition, provinces have a say in key national policy decisions, but often do not bear the equal obligation when it comes to funding such policies.
It is important to take appropriate steps to address the growing imbalances early on, he said, and not allow the economy to come back full circle to where it was before the "moment of opportunity" was attained. He refrained from speaking of or pointing towards a potential balance of payments crisis in the future, preferring to say that a "soft adjustment can be engineered given the right reforms". He declined to get specific about the implications such an adjustment could have on the growth rate.
"Reserves are still adequate for the foreseeable future, and there is still some debt carrying capacity, so the situation is not exactly dire. But its recent trend is worrisome and to reverse this will require some concerted effort."
https://www.dawn.com/news/1346748/dont-let-this-moment-of-opportunity-slip-away-imf-warns-pakistan
--------
Pentagon blocks $50m Coalition Support Fund payment to Pakistan
July 21, 2017
The US Defense Department withheld $50 million in Pakistan military payments after Pentagon chief Jim Mattis accused Islamabad of not doing enough to counter the Taliban-affiliated Haqqani network, an official said Friday.
"Secretary Mattis told congressional defense committees that he was not able to certify that Pakistan took sufficient actions against the Haqqani network to permit full reimbursement of the fiscal year 2016 Coalition Support Funds," Pentagon Spokesman Adam Stump said.
The United States had allotted $900m in military aid to Pakistan through the special fund. The country has already received $550m of that, but Mattis's decision means $50m will be withheld. The remaining $300m was rescinded by Congress as part of a broader appropriations act.
"This decision does not reduce the significance of the sacrifices that the Pakistani military has undertaken over previous years," Stump said. "Pakistan still has time to take action against the Haqqani network in order to influence the secretary's certification decision in FY17," he added.
Full report at:
https://www.dawn.com/news/1346732/pentagon-blocks-50m-coalition-support-fund-payment-to-pakistan
--------
JUI-F stresses end to political extremism
July 22, 2017
KAMALIA-A Jamiat Ulema-e-Islam-Samiul Haq (JUI-F) leader said that political extremism like military extremism has taken root in the country and termed political extremism a great threat to the national stability and public welfare.
Talking to the media, JUI-S Punjab Media Coordinator Yousuf Bukhari said that military or political extremism is not in the country's interest. "Some unscrupulous elements are creating an atmosphere of uncertainty and unrest in the country. The politicians and leaders of the country must use their senses for the sake of national interests," he said. At present, India is waging undeclared war on our borders and killing our soldiers while we are busy in our petty squabbles," he said.
He called upon all the politicians to refrain from passing meaningless comments till the Supreme Court makes the final verdict. He also called upon the national security agencies to be vigilant and careful about it and take immediate and concrete steps for extermination of all sorts. He iterated that JUI-S will continue to cooperate with the national security institutions for peace and stability in the country and to put an end to all kinds of extremism.
http://nation.com.pk/national/22-Jul-2017/jui-f-stresses-end-to-political-extremism
--------
URL: https://www.newageislam.com/islamic-world-news/refrain-announcements-fat-hurting-people/d/111928
New Age Islam, Islam Online, Islamic Website, African Muslim News, Arab World News, South Asia News, Indian Muslim News, World Muslim News, Women in Islam, Islamic Feminism, Arab Women, Women In Arab, Islamophobia in America, Muslim Women in West, Islam Women and Feminism