08 January 2023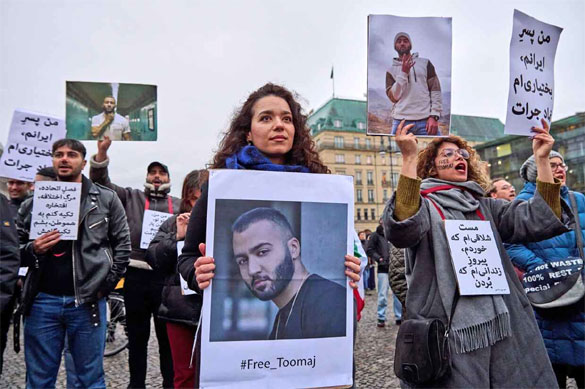 Demonstrators gather at the Brandenburg Gate in Berlin to protest the arrest of Iranian rapper Toomaj Salehi on Nov. 4, 2022.F Boillot / Shutterstock
-----
• Rapper, Toomaj Salehi, Who Became The Voice Of The Iranian Mahsa Amini Revolt Is In Danger Of Execution
• Without Women Employees, Humanitarian Aid to Afghanistan to be Halted: UN
• One Of Britain's Youngest Imams Speaks Out Against Islamophobia To O Raise Awareness For Islamophobia In The Media And In Society
• 'Love Jihad' Season In Maharashtra — Shinde-Fadnavis Govt Is Raking Up Interfaith Marriages
• Outlawed Tehreek-i-Taliban Pakistan 'Major Thorn' In Ties Between Islamabad, Kabul
Mideast
• Charlie Hebdo: Iran Urges Muslim Action against Western Sacrilegious Moves
• Iranian arrested in Germany on suspicion of Islamist chemical attack plot
• Palestinian Islamic Jihad: 'Our double agents foiled the assassination of a senior member'
• Iran condemns Zionist regime's unfounded accusations against Islamic Republic
• Scores of Israeli settlers break into Al-Asqa Mosque
-----
North America
• 'Biases Can Be Melted.' Muslim Mayor of New Jersey To Be Sworn In For Unprecedented 5th Term
• Hamilton mosque speaks out after bomb threat, calls incident 'disturbing and concerning'
• Mauritania Celebrates Nouakchott As Cultural Capital Of Islamic World
• US will suffer Soviet Union's fate, says Iran Islamic Revolutionary Guards Corps' Quds Force commander
-----
Europe
• Paris mosque drops complaint against French writer Michel Houellebecq
• German police detain Iranian suspected of planning 'Islamist-motivated' attack
• Pardoned Ivorian soldiers arrive home after months in Malian detention
-----
India
• West Bengal: Two suspected Islamic State-linked terrorists arrested in Howrah
-----
Pakistan
• Cop martyred in Bannu; four 'militants' dead in CTD operation
• PTI changes its mind on timing of Elahi's trust vote in PA
• 97pc applicants were successful in getting student visas: British envoy
• JI to launch protest against inflation today
-----
South Asia
• Taliban Calls On Ghor Imams To Help Track Down Former Soldiers
• Those Confused About Next Election Should Study Bangladesh's History, Foreign Minister Says
• Afghan national stranded abroad without visa for 2 years, family in India awaits his return for 'happily ever after'
• Taliban 'committed' to safety of Chinese in Afghanistan after Isis attack on Kabul hotel
• Bangladesh's economy 35th largest in the world: Visual Capitalist
-----
Southeast Asia
• Selangor Islamic Council Says Only Recognising Overseas Muslim Marriages Registered With Islamic Religious Department
• Slapping incident: Education Ministry awaits report of Integrity Unit, says Fadhlina
• Salahuddin: Pakatan still Opposition in Johor, but ties with BN good
• Anwar to sign eight MOUs during visit to Indonesia
-----
Arab world
• Shoura Council Speaker Heads Saudi Delegation To Asian Parliamentary Assembly Meetings
• 'Everyone Has A Story To Tell': Iraq Five Years After Islamic State
• Outdoor camping experience at Ithra mixes new, traditional
• Artist paints largest mural of King Abdulaziz
• Saudi family businesses on show at Bayt Al-Arab expo in Egypt
• Muslim World League, Makkah Clock Towers sign scientific and cultural cooperation agreement
• Saudi Arabia arrests 14,740 illegals in one week
• Saudi aid agency sends aid for kidney patients in Yemen
-----
Africa
• Muslim Students' Society of Nigeria Calls For Investment In Islamized Digitization, ICT Content For Muslims
• Nigerian Army Appoints New Commander For North-East Operation Against Boko Haram, ISWAP
• Bawumia mobbed in Tamale as he hands over refurbished Mosque
Compiled by New Age Islam News Bureau
URL: https://newageislam.com/islamic-world-news/rapper-toomaj-salehi-iranian-mahsa-execution/d/128827
-----
Rapper, Toomaj Salehi, Who Became The Voice Of The Iranian Mahsa Amini Revolt Is In Danger Of Execution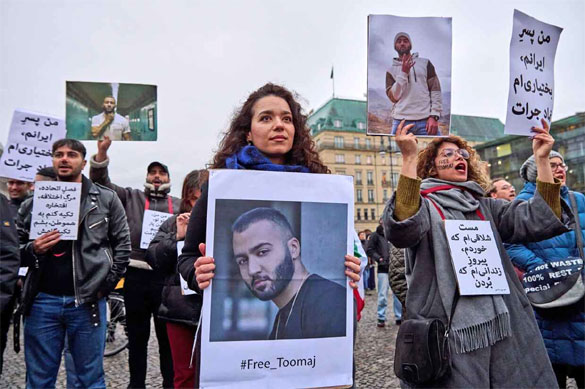 Demonstrators gather at the Brandenburg Gate in Berlin to protest the arrest of Iranian rapper Toomaj Salehi on Nov. 4, 2022.F Boillot / Shutterstock
-----
By Sanam Mahoozi
Jan. 7, 2023
Hip-hop artist Toomaj Salehi rapped with blistering conviction about the Islamic Revolution's "failure," filming himself at protests and inspiring demonstrators to "battle" the country's ruling clerical establishment.
Now the popular performer could be hanged in public after a court charged him with "corruption on earth" — a term that authorities use to point to a broad range of offenses that threaten social and political well-being and carries a possible death sentence.
Fear for his safety have also grown after Salehi's official Twitter account posted Friday that despite being in danger of losing his eyesight, he was being repeatedly beaten.
The rapper was among the thousands who attended demonstrations for Mahsa Amini, a 22-year-old Kurdish Iranian woman who was detained in September by the country's "morality police'' after allegedly breaking the country's strict dress codes. She died in a hospital three days later after falling into a coma.
The government has denied mistreating Amini, but the protests over her death only grew in the weeks that followed as more young people died and security forces brutally cracked down on demonstrators. Now, what started as an outburst of nationwide anger at the treatment of women and girls has morphed into a demand for deep and fundamental change.
"Unity is the secret to our victory, we are all Iran's family," he said in the caption to an Instagram post uploaded Sept. 22, six days after Amini's death. In the accompanying video, he stands on a darkened street and speaks directly to the camera while demonstrators around him chant.
In a music video titled "Fal" — meaning fortune-telling in Persian — uploaded to YouTube in late October, he raps about the "44 years" since the theocratic regime was installed after the Iranian Revolution deposed Shah Mohammad Reza Pahlavi in 1979.
He takes on the diverse group, from austere-looking clerics known as mullahs to those dressed in "suit and tie that they have embezzled," as well as "lobbies of the government abroad."
"Someone has lost their young children and someone has lost their youth. Someone's crime was having hair that flows free in the wind," Salehi sings. "Someone's crime was having a brave heart and a sharp tongue."
On Oct. 30, the state news agency ISNA reported that intelligence officers had arrested Salehi again as he was trying to flee the country. NBC News could not confirm the exact events that led to his arrest or check official accusations because independent reporting is tightly restricted in Iran.
"Music can produce violence," he said. "I have made mistakes, I do apologize. I apologize to you and the society for any violence that I have instigated."
The public execution of Majidreza Rahnavard on Dec. 12, 2022, in Mashhad, Iran, the second capital punishment linked to nearly three months of protests.Mizan News via AFP - Getty Images
Hadi Ghaemi, the executive director of the New York-based Center for Human Rights in Iran, said he felt no confidence that the country's courts would find justice for those swept up for demonstrating — including high-profile detainees like Salehi.
"These courtrooms are really not a place of justice since they don't involve any investigation, due process or the right of a defendant to defend himself and have independent counsel," the Iranian-born Ghaemi said.
Salehi is now waiting to see whether a death sentence passed in November will be upheld. After initially not being allowed legal representation of his own choosing, he was permitted to get access to personal lawyers, which was confirmed in a tweet by his counsel, Amir Raesian, on Dec. 29.
The U.S.-based Human Rights Activists News Agency, or HRANA, estimates the number of arrests related to the protests to be more than 18,000 people. Iran's judiciary spokesperson has announced the number to be more than 1,000, according to the official news agency IRNA.
Iran's Mizan news agency, under the country's judiciary, reported Saturday that two people, Mohammad Mehdi Karami and Seyed Mohammad Hosseini were executed early Saturday for allegedly killing a security official, making it four men known to have been executed since the demonstrations began.
In this Monday, Sept. 19, 2022, photo taken by an individual not employed by the Associated Press and obtained by the AP outside Iran, a police motorcycle and a trash bin are burning during a protest over the death of Mahsa Amini, a 22-year-old woman who had been detained by the nation's morality police, in downtown Tehran, Iran. Spontaneous mass gatherings to persistent scattered demonstrations have unfolded elsewhere in Iran, as nationwide protests over the death of a young woman in the custody of the morality police enter their fourth week.
The artist's charges that carry a death sentence were handed down "for making music, for rapping about freedom, human rights and injustice," she told NBC News via email in December
For weeks, European politicians have taken on the political sponsorships of prisoners in Iran, acting as advocates by talking to the media and writing to the European Union and the U.N. to put pressure on the Iranian government.
"He expressed the feelings that many of the people who are protesting on the streets of Iran have toward the regime of the Islamic Republic," said Rhie, who was elected to the Bundestag, Germany's federal parliament, in September 2021 and stays abreast of Salehi's case by keeping in touch with people in Iran. "By standing in solidarity with the revolution, and by going out on the streets himself, he made himself a target."
"This is Toomaj Salehi," he wrote, reposting a Salehi video supportive of the protesters. "Listen to Toomaj. His voice is louder than ever!"
Source: Nbc News
Please click the following URL to read the text of the original story:
https://www.nbcnews.com/news/world/iran-protests-mahsa-amini-rapper-toomaj-salehi-faces-death-penalty-rcna61636
-----
Without Women Employees, Humanitarian Aid to Afghanistan to be Halted: UN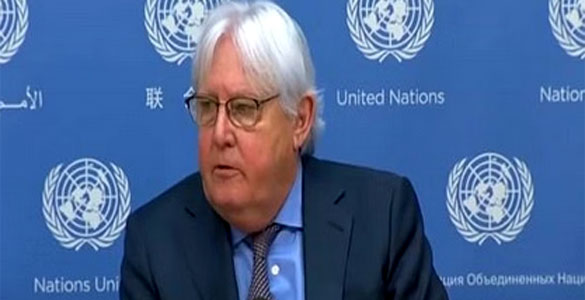 Martin Griffiths, Under Secretary-General of the United Nations for Humanitarian Affairs (File Photo)
-----
By Nizamuddin Rezahi
January 7, 2023
Martin Griffiths stated that humanitarian aid organizations operating under the umbrella of the United Nations definitely need the crucial support of women employees to continue delivering their life-saving services to the Afghan populace.
He emphasized that if the restrictions on female employees are not lifted, there is a high chance that the UN's aid programs will get halted, considering the challenging situation in Afghanistan, which will lead to another catastrophic humanitarian crisis in the country.
"Without the presence of women, we can't deliver our much-need humanitarian support to the most marginalized groups, including women and girls in the Afghan society," Martin Griffiths said.
He further added the United Nations and the International Community cannot rely on the promises of the Islamic Emirate of Afghanistan authorities for they have failed to fulfill their promises regarding the rights of women and girls.
In his remarks, he rejected the misuse of the aid programs by the Taliban officials and said the humanitarian aid was distributed to predetermined locations across the country.
Following the ban on women employees working for national and international non-governmental organizations, a considerable number of aid organizations have ceased their operations in Afghanistan.
Prior to this, aid organizations had warned about the interruption of the flow of humanitarian aid to Afghanistan – where 12 countries including the European Union and the UN called the Islamic Emirate authorities to lift the restrictions on women working with NGOs.
Source: khaama Press
Please click the following URL to read the text of the original story:
https://www.khaama.com/without-women-employees-humanitarian-aid-to-afghanistan-to-be-halted-un/
-----
One Of Britain's Youngest Imams Speaks Out Against Islamophobia To O Raise Awareness For Islamophobia In The Media And In Society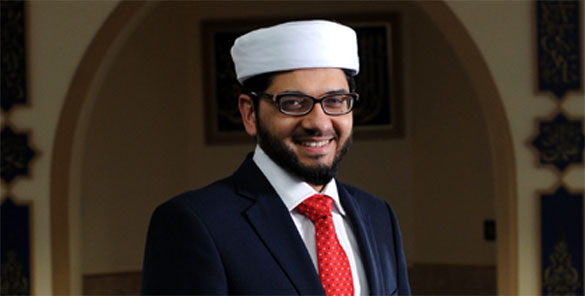 Imam Qari Asim MBE, Deputy Chair of the Anti-Muslim Hatred Working Group
-----
Elaine McCallig
08-01-2023
One of Britain's youngest imams has spoken out to raise awareness for Islamophobia in the media and in society.
Adeel Shah, 27, said that although the UK is generally an accepting, multicultural society, there is an unconscious bias prevalent in the media.
Adeel is one of an estimated 30,000 Ahmadi Muslims based in the UK, and he began studying to become an imam at 17. Adeel studied comparative religions for seven years before working in southwest London.
He said that there is a double standard in that there is a tendency to be quick to label a crime perpetrated by a "so-called Muslim" as "terrorism".
But if it's perpetrated by someone of another belief there is more of a focus on the individual's mental health, citing the Plymouth shooting as a tragic recent example.
"I say so-called Muslim because nothing in Islam accepts, motivates, or even allows terror or terrorism," he said. "The word Islam means peace. You can't have peace with terrorism.
"The precedent that the media sets is that when you think about terror or terrorism - automatically, intrinsically, subconsciously - people think about Muslims.
"There is a verse in the Quran which says there is no compulsion in religion, and there's another verse that says that if you kill a single soul it's as if you've killed all of humanity; whereas if you save a single soul, it's as if you saved all of humanity."
"The underlying main point is that every religion has people who misconstrue, misunderstand, and misrepresent the religion. If someone was to blame the KKK or the IRA or the Lord's Resistance Army on Christianity, I'd be the first one to stand up and say 'no that is totally wrong'."
According to Home Office statistics released last year, in the year ending March 2021 a little under half (45 per cent) of religious hate crime offences in England and Wales were targeted against Muslims, or those perceived to be Muslim, with 2,703 offences taking place. The year before, it was 50 per cent (3,089 offences).
After Conservative MP Sir David Amess was killed in October of last year, Adeel and his friend travelled to the late MP's constituency to pay their respects, show their solidarity with the community, and to meet with the reverend of the church Sir David attended.
But while in Leigh-on-Sea, Adeel and his friend were warned there could be a spike in hate crime, and to "watch their backs". At that point, the perpetrator hadn't been named.
"We're living in a multicultural society, we're living in a place which is accepting of different races, and backgrounds, and ethnicities.
"You don't want to be walking out where you need to be told 'oh, be mindful of your back' because you're a Muslim, because you fit the description of someone who apparently there's hate towards, and it really took me aback and that really made me upset."
Following the 2017 Westminster Bridge terror attack in London, Adeel along with 400 to 500 other Muslims visited the bridge wearing blue t-shirts that read: "I am a Muslim, ask me anything?".
Adeel said one interaction from the day sticks out in his mind. While holding a sign with the Ahmadiyya slogan, "love for all, hatred for none", he was approached by an older man who disapprovingly asked what he was doing there.
Thankfully, the man was open to having a conversation. Adeel spoke to him for ten minutes, and told him about the vast amount of charity and community work carried out by the Ahmadiyya Muslim community.
He said: "He was so impressed that he ended up giving me a hug. But the next thing he said was really heartbreaking. He said he had been living in London for eight or ten years, and this is the first time I've spoken to a Muslim."
Adeel recalls feeling shocked, and said it goes to show that there are people who will formulate their opinions based on the headlines.
Both locally and internationally, Ahmadi Muslims regularly carry out charity walks, tree planting sessions, blood drives, initiatives to feed the homeless, and build schools in developing countries.
During the pandemic, the community in the UK immediately sprung into action and were ready to run errands for neighbours, collect groceries, or even just make a friendly phone call.
In the UK alone during the first nine months of the pandemic, the community delivered food and medicine to over 21,000 households, delivered 673,000 pieces of PPE on behalf of the government, and sent over 10,000 food packages and 6,290 pieces of PPE to frontline workers.
Over 1,600 meals were donated to the homeless, 150 children were provided with daily healthy snacks for four weeks, and over 500 toys were donated to orphanages.
Each November, they help out with the British Royal Legion's poppy appeal and on New Year's Day, 900 Ahmadi Muslims woke up early to clean the streets because that's how they wanted to start 2022.
Adeel said: "However we can, we try to contribute and play our part in society because that is what Islam teaches us to do."
Source: Indy 100
Please click the following URL to read the text of the original story:
https://www.indy100.com/news/britain-youngest-imam-islamophobia
-----
'Love Jihad' Season In Maharashtra — Shinde-Fadnavis Govt Is Raking Up Interfaith Marriages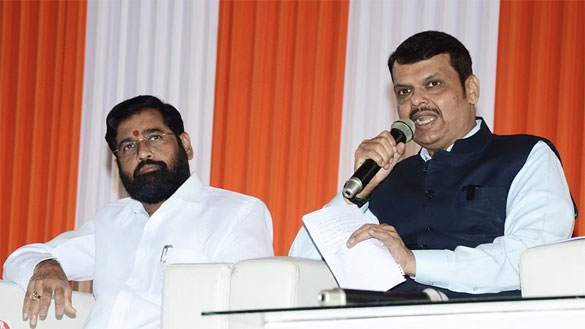 File photo of Maharashtra CM Eknath Shinde and Deputy CM Devendra Fadnavis | ANI
-----
Purva Chitnis
8 January, 2023
Mumbai: Vishal Vimal, a social activist from Pune working with the Maharashtra Andhashraddha Nirmoolan Samiti, has helped facilitate 18 interfaith marriages over the past six years.
Intercaste and interfaith couples approach the organisation seeking help. "Many of their parents are against their union," said Vimal.
"We check whether they are really in love or if it's just attraction. We offer some counselling and make sure they will be able to live independently," he added. The organisation then helps interfaith couples register their marriage under the Special Marriage Act.
Vimal himself has been married to a Muslim woman since 2016. However, in his case, the marriage was blessed by both sets of parents.
Maharashtra's focus on interfaith marriages and 'love jihad', following the deaths of Shraddha Walkar and actor Tunisha Sharma last year, though, have made Vimal anxious. "This is being done for polarisation of votes," he said.
On 25 December, Maharashtra cabinet minister Girish Mahajan, calling Tunisha Sharma's alleged suicide a case of 'love jihad', had said that the state is planning a law against it. The comment had followed the arrest of actor Sheezan Mohammed Khan on the charges of abetment to suicide.
Maharashtra Deputy Chief Minister Devendra Fadnavis, too, has stated multiple times in the past that the government is mulling a law against love jihad. "Other states have made stringent laws to curb such cases and hence Maharashtra is ready to enact the law on similar lines to ensure the protection of women," he said in the state assembly on 20 December.
According to political analyst Hemant Desai, previously only certain pockets of the state saw Hindu-Muslim tension, but with recent events, communal lines are being drawn across the state.
Earlier in December, the Shinde-Fadnavis government in the state set up a committee to gather information about intercaste and interfaith couples, and to enquire whether the families of the women involved are estranged. However, after facing backlash over the committee "promoting caste system", the government amended its scope to include only interfaith marriages.
On 14 December, Nationalist Congress Party (NCP) leader Jitendra Awhad had tweeted that setting up the committee is an "anti-constitutional" and "nauseating" step.
Ambadas Danve, leader of opposition in the Maharashtra Legislative Council and Shiv Sena (Uddhav Balasaheb Thackeray) member, told ThePrint that the teasing of a 'love jihad' law is a politically motivated move by the BJP.
"We will study the law once it is brought in. If the couple is going into these marriages consciously then why oppose it?" he asked, adding that forcible conversions must come with some conditions.
Congress spokesperson Sachin Sawant told ThePrint, "The state government has an utter disregard for the constitution. This law will be anti-woman as it takes away their right to choose. It is the anti-idea of India."
"The government got these two cases [Shraddha and Tunisha] on a platter for the BJP to pursue its agenda further. They are creating a narrative that divides the public on communal lines," said Pratap Asbe, political commentator.
Flavia Agnes, women's rights activist, and lawyer at Bombay High Court, called the interfaith marriage committee "absurd". "They claim to be safeguarding women against domestic violence but that's prevalent in all kinds of marriages, not only interfaith marriages," she said, adding that such laws will only harm Hindu women and their right to choose.
Some believe the BJP is using the two cases to paint the opposition as anti-Hindu, especially Shiv Sena (Uddhav Balasaheb Thackeray).
"BJP is also trying to paint Uddhav Thackeray as someone who is anti-Hindu and going closer to NCP and Congress," said Hemant Desai,
Asbe is of the opinion that while the BJP is trying to gain political mileage, the BMC elections will be fought on BMC issues and not on communal lines. "More than success rate, this is being done to keep the communal pot in Maharashtra simmering," he said.
Desai said that earlier there were only certain pockets in the state like Aurangabad, Malegaon, and Bhiwandi where Hindu-Muslim tensions prevailed, but using these cases, the government is trying to set a similar narrative across the state.
This was observed when Kolhapur, which has not been historically communal according to Desai, was the venue for a march Monday by Hindu organisations against 'love jihad', alleged illegal conversions and cow slaughter.
Source: The Print
Please click the following URL to read the text of the original story:
https://theprint.in/politics/love-jihad-season-in-maharashtra-why-shinde-fadnavis-govt-is-raking-up-interfaith-marriages/1299842/
-----
Outlawed Tehreek-i-Taliban Pakistan 'Major Thorn' In Ties Between Islamabad, Kabul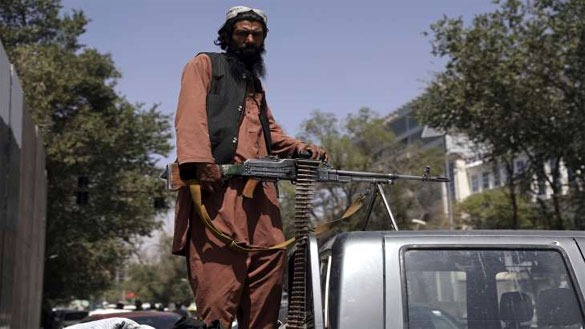 Tehreek-e-Taliban Pakistan Explained/ Image Source : PTI/FILE
------
Iftikhar A. Khan
January 8, 2023
ISLAMABAD: Noting that the outlawed Tehreek-i-Taliban Pakistan (TTP) was becoming a major irritant in Islamabad's relations with the Taliban government in Kabul, a leading think tank has called for reorienting Af­­ghan policy, civilianising Na­­t­ional Action Plan (NAP) and counterterrorism regime.
"Parliament is the centre of collective decision-making, and the parliament must take a lead role in counterterrorism efforts. It must build a clear stance on terrorism, and extremism. The subject must not be an exclusive domain of the security agencies," the Pakistan Institute for Peace Studies, an Islamabad-based policy research and advocacy think tank, said in a report released on Saturday.
The 'Pakistan Security Report 2022' noted the TTP, believed to be operating from the neighbouring Afghanistan, remained one of the major actors of violence in Pakistan in the year 2022, with the number of terrorist attacks in the country marking an increase of 27 per cent from the previous year.
The number of terrorist attacks in the country also continued to rise for a second consecutive year. A total of 262 terrorist attacks in Pak­istan in the year — including 14 suicide bombings — claimed in all 419 lives and injured another 734 people.
The security report noted that the Afghan Taliban's taking power in Kabul, and the Pakistani state's persistent ambition to engage in peace talks with the TTP had encouraged the group to regroup and escalate terrorist violence in the country.
It appears uncertain whe­ther "the Taliban will fulfil their promises on foreign mi­­litant groups such as Al-Qaeda, Islamic State Mo­­vement of Uzbekistan, ETIM (East Turkestan Islamic Move­ment) or TIP (Turkistan Islamic Party), and TTP," the report says, adding that so far, the Afghan Taliban had only acted against IS-K.
According to the report, the TTP, local Taliban groups such as Hafiz Gul Bahadur group, IS-K, and other similar religiously inspired groups perpetrated a combined total of 179 terrorist attacks in Pakistan in 2022 as compared to 128 in the previous year, which killed 250 people and injured 262 others.
Different Baloch and Sin­dhi nationalist insurgent groups carried out 79 attacks, as compared to 77 such atta­cks in 2021, which claimed 97 lives and wounded another 259 people.
As many 15 cross-border attacks took place in Pakistan during 2022. Out of total, 13 attacks happened from across the country's border with Afghanistan in KP and Balochistan. These attacks from Afghanistan killed 34 people, including 20 security officials, and injured 52 others.
The report underlines that Afghan border forces under the Taliban regime are invo­l­ved in many of such incidents contrary to the past practice when most of the cross-border attacks from Afghanistan were carried out by the TTP or other militant groups.
The report recommends that the government should come up with a proper mechanism to implement the National Security Policy as well as the revised NAP. There is a need to increase capacity and role of civilian law enforcement agencies that will prevent the terrorist threat to a significant extent, according to another recommendation.
"There should be a zero-tolerance policy towards the terrorist groups, and there should be no negotiations with those who are unwilling to quit violence."
The report suggests that a very high vigilance level is required to counter the ma­­j­or threat posed by the Baloch and Sindhi nationalist insurgents to foreign engagements and workers in Balochistan and parts of Sindh.
Source: Dawn
Please click the following URL to read the text of the original story:
https://www.dawn.com/news/1730526/ttp-major-thorn-in-ties-between-islamabad-kabul
-----
Mideast
Charlie Hebdo: Iran Urges Muslim Action against Western Sacrilegious Moves
January, 07, 2023
TEHRAN (Tasnim) – Denouncing French magazine Charlie Hebdo for insulting the religious authority of Iran, Iranian Foreign Minister Hossein Amirabdollahian called on Muslim countries to prevent Western states from promoting hate and committing acts of sacrilege in the name of freedom.
In a telephone conversation on Friday, Amirabdollahian and his Pakistani counterpart Bilawal Bhutto Zardari talked about the latest developments in bilateral ties and some regional and international issues.
Amirabdollahian said he was pleased with the growing trend of bilateral ties, especially the holding of the joint economic commission of the two countries in Pakistan. He also underlined the importance of implementing the agreements concluded at the commission.
He then pointed to the acts of the Zionist regime to promote Islamophobia and strongly condemned the fake regime's latest move to desecrate Al-Aqsa Mosque.
Source: Tasnim News
Please click the following URL to read the full text of the original story:
https://www.tasnimnews.com/en/news/2023/01/07/2832872/iran-urges-muslim-action-against-western-sacrilegious-moves
-----
Iranian arrested in Germany on suspicion of Islamist chemical attack plot
By AFP
08-01-2023
An Iranian man has been arrested in western Germany suspected of preparing an "Islamist attack" using cyanide and ricin, police and prosecutors said Sunday.
Munster police and the Dusseldorf prosecutors' office said in a press release that officers searched a residence in the town of Castrop-Rauxel for "toxic substances" intended to carry out an attack.
The 32-year-old Iranian was "suspected of having prepared a serious act of violence threatening the security of the state by obtaining cyanide and ricin with a view to committing an Islamist attack," said investigators.
Source: Times Of Israel
Please click the following URL to read the full text of the original story:
https://www.timesofisrael.com/iranian-arrested-in-germany-on-suspicion-of-islamist-chemical-attack-plot/
-----
Palestinian Islamic Jihad: 'Our double agents foiled the assassination of a senior member'
Jan 7, 2023
Akram Al-A'jouri, the military commander of the Al-Quds brigades, the military wing of the Palestinian Islamic Jihad, told Al-Jazeera that "The Hommesh operation was intended to capture and kill occupation soldiers since the prisoner issue is one of the most important issues."
"The Homesh operation" is a reference by Al-A'jouri to the shooting attack by Palestinian terrorists near the evacuated village of Homesh in northern Samaria, which killed Yehuda Dimentman and injured two additional students at the Har Shalom yeshiva.
A'jouri claimed that the Al-Quds brigades managed to stop infiltration by Israeli intelligence into their ranks by employing two double agents, one of them was able to trick an Israeli intelligence officer and return after carrying out his mission.
Source: Israel National News
Please click the following URL to read the full text of the original story:
https://www.israelnationalnews.com/news/365560
-----
Iran condemns Zionist regime's unfounded accusations against Islamic Republic
7 January 2023
Tehran (ISNA) - Ambassador and Permanent Representative of the Islamic Republic of Iran to the United Nations, Amir Saeid Iravani in a letter to the president of the Security Council condemned the Israeli envoy's baseless allegations against Iran.
I am writing to you in reference to the UN Security Council's emergency meeting on the situation in the Middle East, including the Palestinian question, which was held on 5 January 2023 (S/PV.9236). During the meeting, the Security Council was presented with unjustified references and unfounded accusations against the Islamic Republic of Iran levelled by a representative of the Israeli regime.
Since the format of the meeting prevented my delegation from making a statement in response to such fabrications, I would appreciate it if you could draw the Council members' attention to the following position of my delegation on the abovementioned unjustified allegations:
Source: En.Isna.Ir
Please click the following URL to read the full text of the original story:
https://en.isna.ir/news/1401101710912/Iran-condemns-Zionist-regime-s-unfounded-accusations-against
-----
Scores of Israeli settlers break into Al-Asqa Mosque
08/January/2023
JERUSALEM, Sunday, January 8, 2023 (WAFA) – Scores of Israeli settler fanatics guarded by police today broke into the Al-Aqsa Mosque compound in occupied Jerusalem, according to witnesses.
Local sources told WAFA that scores of Israeli settlers entered the compound through the Moroccan Gate in groups and performed rituals and Talmudic prayers there under the protection of Israeli police officers.
Since 2003, the Israeli occupation authorities have been allowing settlers into the compound almost on a daily basis, with the exclusion of Friday, the Muslim day of rest and worship.
Source: English.Wafa.Ps
Please click the following URL to read the full text of the original story:
https://english.wafa.ps/Pages/Details/132708
-----
North America
'Biases Can Be Melted.' Muslim Mayor of New Jersey To Be Sworn In For Unprecedented 5th Term
By Camille Furst
Jan. 07, 2023
The man who religious groups recognize as the longest serving Muslim public official in the state of New Jersey is being sworn in for his fifth term Saturday.
"(It shows that) assumed biases can be melted because people will see you for who you are rather than what could be stereotypical about you or your community," Khairullah told NJ Advance Media.
Born in Syria, he was first elected to the post in 2005, just four years after becoming a U.S. citizen. This November, he won his latest election 728-372 against Republican candidate Maria Emma Anderson.
Source: Www.Nj.Com
Please click the following URL to read the full text of the original story:
https://www.nj.com/news/2023/01/biases-can-be-melted-muslim-mayor-to-be-sworn-in-for-unprecedented-5th-term.html
-----
Hamilton mosque speaks out after bomb threat, calls incident 'disturbing and concerning'
Desmond Brown
Jan 07, 2023
Representatives from a mosque in downtown Hamilton are speaking out after they say a bomb threat was made against the mosque on Friday, calling the incident "disturbing and concerning."
"A bomb threat was made to the Ibrahim Jame Mosque in relation to a congregational prayer," said a statement posted on the mosque's Facebook page on Saturday.
According to Hashemi, it was Hamilton's police chief who asked him to "evacuate the building as soon as possible due to a bomb threat," and that he was told the threat came in through an anonymous police tip line.
Source: Www.Cbc.Ca
Please click the following URL to read the full text of the original story:
https://www.cbc.ca/news/canada/hamilton/hamilton-ibrahim-jame-mosque-bomb-threat-1.6707027
-----
Mauritania celebrates Nouakchott as cultural capital of Islamic world
January 7, 2023
Mauritania on Friday commenced the first events since Nouakchott was chosen as the capital of culture in the Islamic world for 2023.
Mauritanian President Mohamed Ould Ghazouani, ministers of culture from many Arab and Islamic countries and professionals from the fields of culture, literature and media attended the opening ceremony held at the Conference Palace in Nouakchott.
The opening ceremony, organised under the supervision of the Islamic World Educational, Scientific and Cultural Organisation (ICESCO) and the Mauritanian Ministry of Culture, included artistic performances and cultural exhibitions besides a pavilion devoted to manuscripts and another for sites registered on the Islamic Heritage List.
Source: Middleeast Monitor
Please click the following URL to read the full text of the original story:
https://www.middleeastmonitor.com/20230107-mauritania-celebrates-nouakchott-as-cultural-capital-of-islamic-world/
-----
US will suffer Soviet Union's fate, says Iran Islamic Revolutionary Guards Corps' Quds Force commander
07.01.2023
The commander of the Quds Force of the Islamic Revolutionary Guards Corps (IRGC) of Iran has said that the United States will shamefully leave the West Asia region and suffer the fate of the Soviet Union, Tehran Times reported.
General Ismail Qaani said think tanks have corroborated his assessment.
"The United States will be plagued with the fate of the Soviet Union and think tanks have confirmed this," the commander averred.
Source: News.Am
Please click the following URL to read the full text of the original story:
https://news.am/eng/news/738441.html
-----
Europe
Paris mosque drops complaint against French writer Michel Houellebecq
07/01/2023
The rector of the Grand Mosque of Paris has confirmed that he has decided to drop his complaint against award-winning French writer Michel Houellebecq over "violent comments" targeting Muslims made during a recent interview.
In a statement issued on Friday – the day after a meeting between the two men – the mosque's rector Chems-Eddine Hafiz said that "after having taken note of the modifications" of the remarks made by Michel Houellebecq and "of the regrets he expressed", the Grand Mosque of Paris has decided to drop legal proceedings against him.
Last week, Hafiz denounced "violent" and "extremely grave" remarks made by Houellebecq against Muslims published in the November edition of the "counter-culture" magazine Front populaire.
Source: Rfi.Fr
Please click the following URL to read the full text of the original story:
https://www.rfi.fr/en/france/20230107-paris-mosque-drops-complaint-against-french-writer-michel-houellebecq
-----
German police detain Iranian suspected of planning 'Islamist-motivated' attack
8 Jan 2023
German police have taken into custody a 32-year-old Iranian citizen suspected of having procured cyanide and ricin to commit an "Islamist-motivated" attack, authorities in western Germany said today.
The premises of the suspect in city of Castrop-Rauxel were searched as part of the investigation, according to a joint press release from the Duesseldorf public prosecutor's office and police in the cities of Recklinghausen and Muenster.
"The suspect is suspected of having prepared a serious act of violence endangering the state by allegedly procuring cyanide and ricin to commit an Islamist-motivated attack," the statement said.
Source: Rfi.Fr
Please click the following URL to read the full text of the original story:
https://www.rte.ie/news/2023/0108/1345462-germany/
-----
Pardoned Ivorian soldiers arrive home after months in Malian detention
08/01/2023
The troops, whose detention triggered a bitter diplomatic row between the countries, were arrested on July 10, 2022, after arriving in the Malian capital Bamako.
Mali accused them of being mercenaries, while Ivory Coast and the United Nations say they were flown in to provide routine backup security for the German contingent of the UN peacekeeping mission.
After their plane landed at 11:40 pm (23:40 GMT), the uniformed soldiers disembarked one by one, each brandishing a small Ivorian flag.
They were greeted by President Alassane Ouattara before entering the presidential pavilion at the airport where their families were waiting for them.
Source: France 24
Please click the following URL to read the full text of the original story:
https://www.france24.com/en/africa/20230108-pardoned-ivorian-soldiers-arrive-home-after-months-in-malian-detention
-----
India
West Bengal: Two suspected Islamic State-linked terrorists arrested in Howrah
Jan 07, 2023
Kolkata Police's special task force arrested two persons, suspected to be terrorists allied to the Islamic State, from Howrah's Tikiapara area, a senior police officer said on Saturday.
Acting on a tip-off from a central investigating agency, a team of Kolkata Police's Special Task Force (STF) picked up the two from their hideout in Tikiapara's Aftabuddin Munshi Lane on Friday night, he said.
"Both of them are involved in spreading tentacles of the terror group in Howrah. We are questioning them to understand more about their roles," the officer told PTI, adding that they were also involved in "brainwashing local youths towards anti-national activities."
Source: Dna India
Please click the following URL to read the full text of the original story:
https://www.dnaindia.com/india/report-west-bengal-two-suspected-islamic-state-linked-terrorists-arrested-in-howrah-kolkata-isis-3015495
-----
Pakistan
Cop martyred in Bannu; four 'militants' dead in CTD operation
Ghulam Mursalin Marwat
January 8, 2023
LAKKI MARWAT: A police constable was martyred and another suffered gunshot wounds when militants attacked a police patrol in Bannu, while villagers and police repulsed yet another attack on a police post in Lakki Marwat district on the night between Friday and Saturday, officials said.
Separately, the Counter Terrorism Department (CTD) of police claimed to have killed four alleged militants during an intelligence-based operation in Sarband area on the outskirts of Peshawar on Saturday.
Officials said that a police mobile van came under a gun and bomb attack in Domel area of Bannu. A team of Domel police station was on patrol duty when it spotted two suspected motorcyclists and signalled them to stop.
Source: Dawn
Please click the following URL to read the full text of the original story:
https://www.dawn.com/news/1730529/cop-martyred-in-bannu-four-militants-dead-in-ctd-operation
-----
PTI changes its mind on timing of Elahi's trust vote in PA
Mansoor Malik
January 8, 2023
LAHORE: Changing his mind, former prime minister Imran Khan has now agreed to put off the trust vote — to be taken by Chief Minister Parvez Elahi — until a court decision on the governor's order seeking a vote of confidence in the Punjab Assembly.
The decision taken by Mr Khan on Saturday came in contrast to his earlier claims, wherein he along with party stalwart Fawad Chaudhry insisted that a vote of confidence must be held before the Jan 11 hearing at the Lahore High Court.
In a bid to convince Mr Elahi, the PTI chairman had also sent a delegation to the chief minister's residence on Dec 24, but PML-Q leader and former federal minister Moonis Elahi had urged the PTI chief to wait for the court order.
Source: Dawn
Please click the following URL to read the full text of the original story:
https://www.dawn.com/news/1730531/pti-changes-its-mind-on-timing-of-elahis-trust-vote-in-pa
-----
97pc applicants were successful in getting student visas: British envoy
Jamal Shahid
January 8, 2023
ISLAMABAD: British High Commissioner Dr Christian Turner has said the issuance rate of British student visas from Pakistan is 97pc, which meant 97pc of the applicants get the visa.
Refuting the perception that British student visa was the hardest to get, Dr Turner said they had issued 23,500 student visas which doubled from the time he arrived in Pakistan three years ago.
Dr Turner, who arrived in December 2019, will cease to be the high commissioner to Pakistan this week. However, he told Prime Minister Shehbaz Sharif that he would now become "an ambassador for Pakistan".
Source: Dawn
Please click the following URL to read the full text of the original story:
https://www.dawn.com/news/1730425/97pc-applicants-were-successful-in-getting-student-visas-british-envoy
-----
JI to launch protest against inflation today
Staff Reporte
January 8, 2023
LAHORE: Jamaat-i-Islami emir Sirajul Haq has announced a countrywide protest campaign to be launched by his party on Sunday against the rising inflation in the country.
Addressing the party workers at Mansoora here on Saturday, Mr Haq said the government of the Pakistan Democratic Movement (PDM) and the PPP was a continuation of the PTI rule as the 'troika' failed to provide any relief to the masses.
He regretted that because of the bad economy, people had to stand in long queues to purchase wheat flour in every city of the country and the prices of essential commodities had gone beyond the common man's reach.
Source: Dawn
Please click the following URL to read the full text of the original story:
https://www.dawn.com/news/1730438/ji-to-launch-protest-against-inflation-today
-----
South Asia
Taliban Calls On Ghor Imams To Help Track Down Former Soldiers
By Amu TV
08-01-2023
A source familiar with the matter, said on a condition of anonymity: "Taliban forces have been visiting mosques in the city (Firuzkuh Ghor's capital) for more than a week and asking Mullah Imams to identify former military personnel and share their names, father's names, and their residential addresses with the Taliban."
"The Taliban security and intelligence personnel are looking for former military personnel to collect weapons and ammunition from them. On the other hand, some former soldiers who went to neighbouring countries like Iran due to recent developments (Taliban takeover) have returned and the Taliban want to identify them and take their weapons," he added.
Many former Afghan soldiers, meanwhile, raised their voices about the treatment by the Taliban security and intelligence entities, stating that the Taliban keep visiting their homes and demanding weapons and ammunition.
Source: Amu.Tv
Please click the following URL to read the full text of the original story:
-----
Those Confused About Next Election Should Study Bangladesh's History, Foreign Minister Says
UNB
January 8, 2023
Foreign Minister Dr AK Abdul Momen has said Bangladesh is a democratic country and urged those who have confusions about the next general election to study Bangladesh's history.
"Awami League has always formed governments through elections. We will surely welcome international observers. We have nothing to hide," he told reporters after the inauguration of the e-gates at Sylhet airport, apparently referring to the US, on Sunday.
Source: Dhaka Tribune
Please click the following URL to read the full text of the original story:
https://www.dhakatribune.com/bangladesh/2023/01/06/evening-brief-151
-----
Afghan national stranded abroad without visa for 2 years, family in India awaits his return for 'happily ever after'
08.01.23
We miss him a lot, we want him to join us soon -- a heartbreaking plea to the Indian government by a nine-year-old girl awaiting return of her father, an Afghan national and a post-doctoral fellow in the University of Kerala who is stranded abroad for over two years for want of visa, so that they can live "happily ever after".
Gulabmir Rahmany, a post-doctoral fellow in the Sociology department of the university, went to Afghanistan in 2020 to renew his visa and to collect data in connection with his post-doctoral research on that country.
Unfortunately for him, the United States troops stationed there since 2001 began their withdrawal in 2020 and the Taliban took over the country.
Source: Telegraph India
Please click the following URL to read the full text of the original story:
https://www.telegraphindia.com/india/afghan-national-stranded-abroad-without-visa-for-2-years-family-in-india-awaits-his-return-for-happily-ever-after/cid/1908566
-----
Taliban 'committed' to safety of Chinese in Afghanistan after Isis attack on Kabul hotel
Amy Chew
8 Jan, 2023
The Taliban has said it will guarantee the safety of Chinese nationals in Afghanistan, three weeks after an Islamic State affiliate attacked a Kabul hotel that caters to Chinese businessmen.
Taliban spokesman Suhail Shaheen told the Post on Wednesday that the regime had an "obligation" to maintain the safety of Chinese nationals.
"The current government reiterates its obligation to maintain the safety of Chinese nationals and all other nationals who are coming to Afghanistan either for investment, business or tourism," Shaheen said via WhatsApp.
Source: Scmp
Please click the following URL to read the full text of the original story:
https://www.scmp.com/news/china/diplomacy/article/3205966/taliban-committed-safety-chinese-afghanistan-after-isis-attack-kabul-hotel
-----
Bangladesh's economy 35th largest in the world: Visual Capitalist
UNB, Dhaka
Jan 7, 2023
According to Canada-based online publication 'Visual Capitalist', Bangladesh has emerged as the 35th largest economy in the world.
Earlier, the IMF revealed that Bangladesh and India were the only two South Asian countries considered to be part of the 50 largest economies.
Citing IMF statistics, Visual Capitalist published the report titled 'The Top Heavy Global Economy' on December 29, 2022. It has listed countries in terms of gross domestic product (GDP).
Source: The Daily Star
Please click the following URL to read the full text of the original story:
https://www.thedailystar.net/business/economy/news/bangladeshs-economy-35th-largest-the-world-visual-capitalist-3214901
-----
Southeast Asia
Selangor Islamic Council Says Only Recognising Overseas Muslim Marriages Registered With Islamic Religious Department
08 Jan 2023
SHAH ALAM, Jan 8 — The Selangor Islamic Religious Council (Mais) does not recognise any marriage of local couples conducted abroad if they are not registered with the state Islamic Religious Department (Jais).
Mais chairman, Tan Sri Abdul Aziz Mohd Yusof, said that, although the marriage is valid in Islam, if couples fail to register with Jais, their marriage is not recognised.
"For example, like dealing with their children who are getting married, it will be a difficult process if the parents' marriage is not registered and recognised in Selangor... the same goes for the division of inheritance.
Source: Malay Mail
Please click the following URL to read the full text of the original story:
https://www.malaymail.com/news/malaysia/2023/01/08/selangor-islamic-council-says-only-recognising-overseas-muslim-marriages-registered-with-jais/49055
-----
Slapping incident: Education Ministry awaits report of Integrity Unit, says Fadhlina
08 Jan 2023
NIBONG TEBAL, Jan 8 — The Ministry of Education (MoE) has completed an investigation into the recent incident of a volleyball coach slapping two young female players, said its Minister, Fadhlina Sidek.
"I want to emphasise that from the beginning we have stated that in this case, the process is very important. We have a space for justice for all parties, and even the coach can also make a representation. MoE does not compromise on violence," she told reporters, here today.
She said this after visiting the Bukit Panchor basketball court, here, which is the location of the Nibong Tebal parliamentary free market 2023.
Source: Malay Mail
Please click the following URL to read the full text of the original story:
https://www.malaymail.com/news/malaysia/2023/01/08/slapping-incident-education-ministry-awaits-report-of-integrity-unit-says-fadhlina/49069
-----
Salahuddin: Pakatan still Opposition in Johor, but ties with BN good
08 Jan 2023
JOHOR BARU, Jan 8 — Pakatan Harapan (PH) is still playing the role of the opposition in Johor as there was no discussion regarding the form of cooperation with Barisan Nasional (BN) in the state so far.
Johor PH chairman Datuk Seri Salahuddin Ayub, however, said the relationship between the two parties is very good in the spirit of unity.
"The last time when I was in the State Legislative Assembly (DUN) during the Mentri Besar's winding up of the 2023 Budget at the Johor State Assembly sitting (December last year), we were still seated in the opposition side.
Source: Malay Mail
Please click the following URL to read the full text of the original story:
https://www.malaymail.com/news/malaysia/2023/01/08/salahuddin-pakatan-still-opposition-in-johor-but-ties-with-bn-good/49037
-----
Anwar to sign eight MOUs during visit to Indonesia
By IYLIA MARSYA ISKANDAR
08 Jan 2023
SEPANG: Eight memorandums of understanding are expected to be signed between Malaysia and Indonesia during Datuk Seri Anwar Ibrahim's official visit to the neighbouring country, says Datuk Seri Zambry Abdul Kadir.
He said there would also be a ceremony to hand over 11 letters of interest by Malaysian companies to Bambang Susantono, who heads the Nusantara Capital City Authority, a special agency tasked with managing and governing Nusantara city, the future capital of Indonesia.
The Malaysian firms are registering their interest in working closely with Indonesia to develop the city located in Kalimantan, he added.
Source: The Star
Please click the following URL to read the full text of the original story:
https://www.thestar.com.my/news/nation/2023/01/08/anwar-to-sign-eight-mous-during-visit-to-indonesia
-----
Arab world
Shoura Council speaker heads Saudi delegation to Asian Parliamentary Assembly meetings
ARAB NEWS
January 07, 2023
RIYADH: The speaker of the Saudi Shoura Council is heading Saudi Arabia's delegation to the 13th executive council meeting and the general assembly of the Association of Asian Parliaments, to be hosted in the Turkish city of Antalya, the Saudi Press Agency reported on Saturday.
Sheikh Abdullah Al-Asheikh highlighted the importance of the Kingdom's participation in regional and international parliamentary meetings, in support of cooperation and joint action in all fields and at various levels.
Source: Arab News
Please click the following URL to read the full text of the original story:
https://www.arabnews.com/node/2228261/saudi-arabia
-----
'Everyone has a story to tell': Iraq five years after Islamic State
Marcus Ray
JANUARY 8, 2023
It is nearing midnight and the city has come alive. Along the riverbank men play backgammon and smoke shisha. Throngs of children entertain themselves in a nearby amusement park, enjoying precious hours of respite from the blistering summer heat.
The vitality and chaos that cascade down the streets resemble a balmy evening in Rio or Madrid. But this is Mosul in Iraq. And amid all the revelry, remnants of the ancient city's brutal and bloody history linger on.
This history exemplifies the staggering resilience of Iraqis in the face of great adversity. It shows how progress and hope have followed hardship and loss. But other problems now afflict the city's residents. They are sobering reminders of the destructive forces that continue to undermine Iraq's path to stability and prosperity.
Over five years have passed since Mosul, the second-largest city in Iraq, was liberated from Islamic State (IS). Government forces and jihadists had clashed street by street, house by house, wrestling for control over IS's de facto capital and most prized possession.
Source: Smh.Com.Au
Please click the following URL to read the full text of the original story:
https://www.smh.com.au/world/middle-east/everyone-has-a-story-to-tell-iraq-five-years-after-islamic-state-20221123-p5c0ln.html
-----
Outdoor camping experience at Ithra mixes new, traditional
JASMINE BAGER
January 07, 2023
DHAHRAN: Ithra has launched its own version of the "kashtah" experience, the quintessential Arabian tradition of desert residents unwinding under the winter night sky while wrapped up in cozy layers to chat and enjoy Arabic coffee.
Visitors can now rent elegant and cozy tents for a few hours in Dhahran. It's the perfect spot to take a step back, rejoice in the winter air, and sip a warm drink while chatting under the benevolent stars.
Visitors rent a semi-open space, with a view of the iconic Ithra building decorated in lights. The tent is covered from the top but open from the sides.
Source: Arab News
Please click the following URL to read the full text of the original story:
https://www.arabnews.com/node/2228306/saudi-arabia
-----
Artist paints largest mural of King Abdulaziz
TAREQ AL-THAQAFI
January 07, 2023
MAKKAH: Artist Mohammed Al-Ammar's mural of King Abdulaziz decorating a tower on the King Fahd Road in Riyadh has been registered with Guinness World Records, and the hope is for a winning entry.
Al-Ammar worked for about 50 days on the mural, using thermal gaseous paint sprays to make sure that the graffiti was not damaged by weather elements such as wind and rain.
Al-Ammar told Arab News that it was a different, rich, cultural and artistic experience, especially after receiving accolades from citizens, residents and foreigners in the city.
Source: Arab News
Please click the following URL to read the full text of the original story:
https://www.arabnews.com/node/2228296/saudi-arabia
-----
Saudi family businesses on show at Bayt Al-Arab expo in Egypt
ARAB NEWS
January 07, 2023
RIYADH: Saudi Arabia's Social Development Bank is representing the Kingdom at the first exhibition for Arab family businesses — Bayt Al-Arab — in Egypt.
The exhibition, which opened at Al-Qubba Palace in Cairo on Thursday and runs until Jan. 11, is supervised by the Egyptian Ministry of Social Solidarity and the Arab League, under the patronage of Egyptian President Abdel Fattah El-Sisi.
The head of the Saudi delegation, Saeed Al-Zahrani, noted that the Social Development Bank provides a suitable work environment for entrepreneurs through its production incubators, business accelerators, and community kitchens.
Source: Arab News
Please click the following URL to read the full text of the original story:
https://www.arabnews.com/node/2228271/saudi-arabia
-----
Muslim World League, Makkah Clock Towers sign scientific and cultural cooperation agreement
ARAB NEWS
January 07, 2023
RIYADH: The Muslim World League has signed a scientific and cultural cooperation agreement with the Makkah hotel complex The Clock Towers, involving the creation of exhibitions, museums, and publications in multiple languages, all related to Islamic civilization and the life of Prophet Muhammad.
The agreement was signed by MWL Undersecretary for Executive Affairs Nayef Al-Sharif and Clock Towers CEO Abdulaziz Almosa in the presence of Dr. Mohammed bin Abdulkarim Al-Issa, MWL secretary-general and chairman of the International Fair and Museum of the Prophet's Biography and Islamic Civilization.
Source: Arab News
Please click the following URL to read the full text of the original story:
https://www.arabnews.com/node/2228346/saudi-arabia
-----
Saudi Arabia arrests 14,740 illegals in one week
ARAB NEWS
January 08, 2023
RIYADH: Saudi authorities arrested 14,740 people in one week for breaching residency, work and border security regulations, according to an official report.
From Dec. 29 to Jan. 4, a total of 8,058 people were arrested for violations of residency rules, while 4,283 were held over illegal border crossing attempts, and a further 2,399 for labor-related issues.
Source: Arab News
Please click the following URL to read the full text of the original story:
https://www.arabnews.com/node/2228426/saudi-arabia
-----
Saudi aid agency sends aid for kidney patients in Yemen
ARAB NEWS
January 08, 2023
RIYADH: The King Salman Humanitarian Aid and Relief Center has sent four trucks carrying more than 36 tons of medical supplies related to kidney dialysis treatment to Yemen.
Dr. Abdullah Saleh Al-Moallem, director of KSrelief's health and environmental aid department, said there are 11 more such trucks scheduled to enter Yemen in the coming few days, meaning a total of more than 116 tons of medical assistance will be supplied to kidney dialysis centers in several Yemeni governorates by the convoy.
Source: Arab News
Please click the following URL to read the full text of the original story:
https://www.arabnews.com/node/2228421/saudi-arabia
-----
Africa
Muslim Students' Society of Nigeria Calls For Investment In Islamized Digitization, ICT Content For Muslims
7 JANUARY 2023
The Muslim Students' Society of Nigeria, MSSN, has called for urgent investment by Muslims in the area of Islamized digitization and ICT content.
MSSN made the call in a communique, jointly signed by Malam Muhammad Bin Isa, the National Chairman, and Malam Auwal Yunus, the Secretary, respectively, issued at the end of its 79th National Islamic Vacation Course (NIVC), held in Ilorin.
According to the communique, investment in Islamic digitization has become necessary, to preserve the future generation in the fast developing world of technology.
Source: Allafrica.Com
Please click the following URL to read the full text of the original story:
https://allafrica.com/stories/202301070015.html
-----
Nigerian Army Appoints New Commander For North-East Operation Against Boko Haram, ISWAP
January 7, 2023
The Nigerian Army has appointed Major General I.S. Ali as the new Theatre Commander of the Joint Task Force North-East operation against the Boko Haram and ISWAP terrorists, known as Operation Hadin Kai.
Ali, who was formerly with the 3 Division in Jos, Plateau State, was appointed on Saturday according to a release by the Director, Army Public Relations, Brig Gen Onyema Nwachukwu, and obtained by SaharaReporters.
"The Chief of Army Staff (COAS) Lieutenant General Faruk Yahaya, has approved the redeployment of Major Generals, and Brigadier Generals amongst several other senior officers across NA formations and units in the country," the statement said.
Source: Sahara Reporters
Please click the following URL to read the full text of the original story:
https://saharareporters.com/2023/01/07/breaking-nigerian-army-appoints-new-commander-north-east-operation-against-boko-haram
-----
Bawumia mobbed in Tamale as he hands over refurbished Mosque
EMMANUEL TORNYI
January 7, 2023
In September 2020, the regional Chief Imam Sheikh Abdul Salam Ahmed and Alhaji Opha appealed to the Vice President to help pay for the cost of the work done by a Kumasi contractor on the ground floor of the Tamale Central Mosque.
Later in November 2020, Dr. Bawumia after a jummah prayer in Tamale paid the cost and announced his decision to complete the remainder of the works of the over 50-year-old Mosque which included the second and third floors, the manarats, penthouse, lightening, painting, and other works.
Bawumia at the handing-over ceremony in Tamale after the completion of the renovation called for religious tolerance between the various religious groups in the country.
Source: Pulse.Com.Gh
Please click the following URL to read the full text of the original story:
https://www.pulse.com.gh/news/local/bawumia-mobbed-in-tamale-as-he-hands-over-refurbished-mosque/s2xr807
-----
URL: https://newageislam.com/islamic-world-news/rapper-toomaj-salehi-iranian-mahsa-execution/d/128827
New Age Islam, Islam Online, Islamic Website, African Muslim News, Arab World News, South Asia News, Indian Muslim News, World Muslim News, Women in Islam, Islamic Feminism, Arab Women, Women In Arab, Islamophobia in America, Muslim Women in West, Islam Women and Feminism