New Age Islam News Bureau
28 May 2018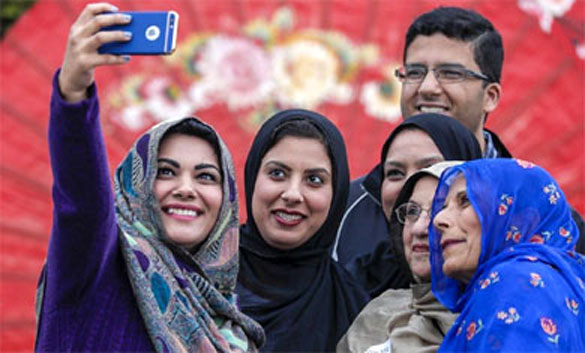 Sahrish Akram snaps a photo with her family after taking part in setup for an interfaith iftar — the meal that breaks the day's fast — hosted by Masjid Al-Fatiha in Azusa. (Irfan Khan / Los Angeles Times)
----
• Ramzan Spirit in Tihar Jail: 59 Hindu Prisoners Observe Fast with Muslim Inmates
• For Ramadan Worshipers, Thai Muslim Mosque in Azusa Offers Diverse Practice of Faith
• Paris Hero Dubbed 'Muslim Spiderman' After Saving Child Dangling From Balcony
• 30% Rise In Non-Muslim Voters in Pakistan; Hindus Top the List
• Taliban Assassinate Tribal Elder Who Had Crafted Bravery Medal For Trump
India
• Ramzan Spirit in Tihar Jail: 59 Hindu Prisoners Observe Fast with Muslim Inmates
• Despite Tragic History, Mosque and Gurudwara Stand Tall In Harmony
• Muslim Man Breaks Ramzan Fast By Donating Blood To Infant
• B-Town Lauds Sikh Cop Who Saved Muslim Man from Mob Attack
• India is incomplete without Muslims: Mani Shankar Aiyar
• Terrorists trigger IED blast in Shopian
• Rohingya camp gutted in Nuh, 57 families affected
• India summons Pakistan deputy envoy after Islamabad seize more authority in Gilgit-Baltistan region
--------
North America
• For Ramadan Worshipers, Thai Muslim Mosque in Azusa Offers Diverse Practice of Faith
• 'It's Brought Us Together': At Ramadan, American Muslims on Life in The Age Of Trump
• American Scholar: Mini Nukes Used to Blow apart Twin Towers on 9/11
• Pompeo says US will befriend Iran if they follow 12 demands
--------
Europe
• Paris Hero Dubbed 'Muslim Spiderman' After Saving Child Dangling From Balcony
• Austin Muslim Community, Leaders Break Fast At Citywide Iftar
• Islamic State 'kills four Russian soldiers in Syria'
• Libya's rival groups to hold fresh talks in France
• Europe, Islam and the Dynamic Agitating the Turbulent and Mighty Continent
--------
Pakistan
• 30% Rise In Non-Muslim Voters in Pakistan; Hindus Top the List
• Fata Merger Bill Exposes Differences between MMA Parties
• Six TTP men killed in clash with CTD team near Gujarat
• Pakistan is a sovereign nuclear state because of Nawaz: Shehbaz
• Islamic State relocating to Pak-Afghan border, Iran warns Pakistan
• Varsities of Muslim world urged to spread Islam's true message
• Historic nuclear tests: Pakistan celebrates Youm-e-Takbeer today
• Pakistan approves bill to merge tribal regions with country
• 2 policemen among four killed in Quetta firing
--------
South Asia
• Taliban Assassinate Tribal Elder Who Had Crafted Bravery Medal For Trump
• Afghan Forces-Led Airstrikes Kill 19 Militants
• 81pc Bangladeshi workers forced to migrate to Italy from Libya: report
• 'Our families would be killed': Rohingyas in Bangladesh brace for monsoon
• Taliban suffer heavy casualties in US airstrikes in Ghazni
• Back to back explosions heard in Jalabad city
--------
Arab World
• Dubai's Sikh Community Hosts Inter-Faith Iftar
• 26 Syria Regime, 9 Russia Fighters Killed In ISIS Attack: Report
• Russia forces among dozens dead in IS east Syria attacks
• Terrorists Exhume Graves in Yarmouk to Find Corpses of Israeli Soldiers
• Northern Syria: Bloody Clashes Resume between Turkey-Backed Militants, Al-Bab Residents
• Tens of People Killed, Wounded in Huge Blast in Terrorists' Base in Northwestern Syria
• Iraq's Supreme Court rejects appeal to cancel election results
• Four Russian soldiers killed in Syria's Deir Ezzor province
• Saudi crown prince shot, injured in last month's incident near palace: opposition activist
• Four Russian servicemen killed in militant shelling in eastern Syria
--------
Mideast
• Israeli Army to Demolish 20 Palestinian Homes in Occupied West Bank
• Three Palestinians Killed In Israeli Tank Fire
• Spokesman: US, Israel Resort to Terrorists to Foment Insecurity in Iran
• Activist: Iran Already Exonerated of Role in 9-11 Attacks, Docs Display Israel's Complicity
• Three Palestinians killed by Israeli tank fire in southern Gaza
• Top official: Iran to maintain role in Syria, support resistance
• Gazans plan to break through Israeli-imposed sea blockade
--------
Africa
• Kenyan Muslims, Christians Unite at Iftar Dinner
• Somalia: Alshabaab Besiege Mandera Mosque to "Preach"
• Muslim Public Servants Want Ambode Re-elected
• Nigeria told to end security 'slush funds'
• Libyan rivals set for crunch Paris talks to break political deadlock
• Boko Haram is ruining Nigeria's chance to benefit from the US-China trade tiff
• CSOs say Boko Haram cashing on humanitarian crisis
--------
Southeast Asia
• Non-Food Products Tap into Huge Muslim Market in Halal Boom
• 'Islamic Affairs Should Be Managed By Council Of Malay Rulers'
• MCA: Uphold non-Muslim retailers' right to sell alcohol
• Stop 'Islamist thuggery' Siti Kassim urges Muslim MPs, Ministers
• President wary of ISIS setting up cells in PH
• China to host Iranian President Rowhani amid nuclear deal doubt
Compiled by New Age Islam News Bureau
URL: https://www.newageislam.com/islamic-world-news/ramzan-spirit-tihar-jail-59/d/115377
--------
Ramzan Spirit in Tihar Jail: 59 Hindu Prisoners Observe Fast with Muslim Inmates
May 28, 2018
Lodged inside the country's most crowded prison, 59 Hindu prisoners have been observing fast in Ramzan along with their 2,299 co-prisoners of Muslim faith. They may follow a different faith, but each of them said they have their own reason to observe roza.
A 45-year-old woman told jail officers she is fasting for the welfare of her son outside. The woman was arrested for kidnapping. Her case is yet to be decided by a court.
Another prisoner reportedly told officials that he is observing roza in hopes of an early release.
A 21-year-old prisoner who came to jail a few months ago is also among those fasting. He told jail officials he is doing so because he observed his Muslim co-prisoners fasting and wanted to participate with them.
There are 97 women prisoners who are fasting. Spread across different jails, the central prison has around 15,000 inmates.
With temperatures outside soaring to record levels, jail officials say they have made special arrangements for prisoners observing roza. On Sunday the day temperature crossed 45 degrees Celsius in Delhi.
Every jail superintendent has been directed to participate in the Iftar —when the sun sets and those observing Roza have their first meal of the day.
The prison's director general, Ajay Kashyap said an inter jail co-ordination meeting was held before the month-long festival started earlier this month.
"Across all jails, officials have put up boards which display the sunset timings every day. We have ordered dates and Rooh Afza for all the fasting prisoners. There is also a special arrangement to make space available for them to observe Namaz in the morning hours. The jail timings have also been relaxed for prisoners who are fasting," Kashyap said.
Jail officers have also deputed one officer who will inform prisoners about the change in timings to break their fast every day. According to prison rules, prisoners are not supposed to wear watches.
On the Hindu prisoners fasting during Ramzan, a jail officer, who did not wish to be named, said, "Inside the prison the one thing that the prisoners have is time. Each of them is troubled in their own way. Many of these prisoners try to change their ways and seek the end of their trouble in religion. Inside the prison, we see many cases of prisoners either finding a newfound religious connection or, in some cases, losing whatever little faith they had."
https://www.hindustantimes.com/delhi-news/in-tihar-jail-59-hindu-prisoners-observe-ramzan-fast-with-muslims/story-60QURMBolphIuEECaZ0HCK.html
--------
For Ramadan worshipers, Thai Muslim mosque in Azusa offers diverse practice of faith
By MELISSA ETEHAD
MAY 27, 2018
It was near 5:30 p.m. on a recent Saturday, and Aranyani Phyakul had only a few hours before congregants started arriving for Ramadan prayers and iftar — the meal that breaks the day's fast.
Phyakul is in charge of daily operations at Masjid Al-Fatiha, a small Thai mosque in Azusa that was founded 20 years ago.
She scurried into her office and began to delegate tasks.
"Make sure you cut the cucumbers in a slant and put a few slices in each plate," Phyakul reminded a worshiper.
As Ramadan enters its second week, and Memorial Day is celebrated across Southern California, Muslims have gathered with family and close friends to observe the holy month meant to encourage self-reflection and piety.
As with many mosques across Southern California, congregants at Masjid Al-Fatiha extended the invitation to people of all faiths to join them one evening for prayer and to break the day's fast.
"What better way than sharing a meal with people and having them see our community?" Phyakul said.
It's a fitting objective for a mosque known within the Muslim community for embracing diversity and uniting Muslims from different ethnic backgrounds.
Phyakul's father, Rahmat, was raised as a Buddhist in Thailand until he met his wife, Sukatee, in the 1960s and converted to Islam.
The establishment of the Thai mosque underscores Southern California's diverse Muslim population, according to Jihad Turk, president of Bayan Claremont Islamic Graduate School.
"Every mosque has its own culture because in Islam there is no hierarchical structure," Turk said. "Some mosques tend to focus on the culture of the founders from back home, wherever that may be, or others are adjusted in the American context."
The Los Angeles chapter of the Council on American-Islamic Relations estimates there are around 500,000 Muslims in the region. In 2010, there were 59 mosques serving about 69,000 Muslims in Los Angeles County, according to USC's Center for Religion and Civic Culture.
Some of the most established mosques in Southern California still tend to reflect the country of origin of its founders, according to Brie Loskota, executive director of the USC center.
"Other people from that country know people at the mosque so they become worshipers there," Loskota said. "So that mosque becomes more known to the larger community and develops its own character."
Congregants at the Thai mosque are not only from Southeast Asia, but also first- and second-generation immigrants from Bangladesh, Niger, Pakistan, India and Morocco, as well as white and African American converts.
At first, community members were wary of the Thai mosque when it was built, Phayakul said.
"People didn't know what to make of us. They thought it was going to disrupt their life," she said. "You don't expect a Muslim to look like me."
The Thai mosque offers a space for worshipers who want to develop their faith but who don't necessarily want to adhere to strict rules imposed at more conservative mosques.
"Our parents decided to establish this Masjid for the future of their grandkids," Phyakul said. "The way we interact with people is out of love."
The mosque's subsequent popularity within the Muslim community suggests it is filling congregants' spiritual needs.
For Sahrish Akram, the mosque has given her a second chance at connecting with her faith.
"I don't get judged here," Akram said. "I always feel included no matter if I wear jeans, or if I don't wear a headscarf."
On a recent Saturday evening, more than 120 people from different faiths and ethnic backgrounds gathered at the mosque's parking lot before sunset.
Not far from sight, dozens of plates filled with dates and pastries lined tables.
The temptation to eat was strong.
Groups huddled near the food, some fixated on the sugary delights. Some hadn't had anything to drink or eat for over 15 hours. But worshipers resisted the urge.
Kaamilah Sha, 17, and her friend Rukan Saif, 16, stood at the entrance of the mosque, greeting worshipers as they arrived and encouraged guests to wear hijabs — a headscarf worn to show modesty.
The Arcadia High School students wrapped their arms around each other and posed for a picture under a sign that read "Ramadan Kareem," a common greeting during the holy month.
Rukan invited Kaamilah to the gathering last year, and the girls returned this year.
Kaamilah grew up in a diverse household in the San Gabriel Valley. Her parents are Chinese; her dad is Muslim, her mom Christian. It's that type of inclusion she craves but has a hard time finding at other mosques, she said.
"Other mosques can be too conservative," Kaamilah said. "This is the most diverse mosque I've been to."
Shortly before sunset, the guests filed inside the mosque for prayer.
It's customary in Islamic tradition, as in some other Abrahamic faiths, to separate the sexes during prayer.
Men sat in the front and women huddled in back; but unlike with other mosques, no walls or curtains separated them.
The room was packed as the Koran reciter, Abdonrosak Mahachal, began singing the call to prayer. His voice filled the renovated room with rhythmic passages from the Koran.
Mahachal is a hafiz — a person who has memorized the entire Koran — from the Songkhla province in southern Thailand. The 35-year-old is one of many Koran reciters invited to America during Ramadan.
By the time evening prayers finished, night had fallen.
Muslim congregants eager to break fast rushed toward tables filled with plates of appetizers. They bit into plump dates and washed it down with sweetened tea.
Nearby, Hadiara Diallo and her guest Carr Oduro began serving guests the main course: Thai food.
Diallo, a first-generation immigrant from Niger, moved to America 33 years ago and said the community of worshipers at the mosque make her feel comfortable for how she chooses to practice Islam.
"There's no politics here and no preaching," she said. "I can hug people if I want and nobody judges me. After prayer people actually talk."
It was the first time Oduro, a 46-year-old programmer, observed Ramadan.
Oduro, who is Christian, said she wanted to be at the interfaith gathering because as more Muslims and minorities face discrimination in the Trump era, she wants to get to know different communities.
"In this climate we have to get together and talk," Oduro said.
http://www.latimes.com/local/lanow/la-me-ln-ramadan-thai-muslim-mosque-20180527-story.html
--------
Paris hero dubbed 'Muslim Spiderman' after saving child dangling from balcony
28 May 2018
A recent immigrant from Mali to Paris is being hailed as a Muslim Spiderman after his heroic act of saving a four-year-old child dangling from a balcony by scaling the building's four floors.
Footage of the incident was caught on video and shared on social media with many calling the man, identified as Mamoudou Gassama, a hero.
Paris Mayor Anne Hidalgo called and thanked Gassama in added in a tweet that the immigrant had just arrived in Paris from Mali a few months ago.
"He explained to me that he arrived from Mali a few months ago while dreaming of building his life here. I replied that his heroic gesture is an example for all citizens and that the city of Paris will obviously be keen to support him in his efforts to settle in France," Hidalgo tweeted.
French media outlets reported that the police arrested the toddler's father after he allegedly left the child home alone while he went to get groceries.
https://english.alarabiya.net/en/variety/2018/05/28/Paris-hero-dubbed-Muslim-Spiderman-after-saving-child-dangling-from-balcony.html
--------
30% rise in non-Muslim voters in Pakistan; Hindus top the list
May 28, 2018
With Pakistan set to go for general elections on July 25, a study has revealed that a huge spike in the number of non-Muslim voters in the country. According to a report in Pakistan-based Dawn News, the number of non-Muslim voters has increased from 2.77 million in 2013 to 3.63 million this year, which is a rise of 30 per cent.
The report further said that among the non-Muslim voters, referred to as minorities, the highest number of voters are Hindus. However, in 2013 Hindus constituted half the number of non-Muslim voters in Pakistan, but it's not the same this time.
Total number of Hindu voters in 2013 was 1.40 million whereas it stands at 1.77 million in 2018. However, the rise in non-Hindu minority voters has been more.
Dawn report further said that the second largest group of non-Muslim voters were Christians. There are 1.64 million Christians who are entitled to vote in the upcoming general elections. The rise in the number of Christian voters has been significantly more than the Hindus.
The number of Parsi voters has also gone up in Pakistan, reported Dawn.
The Election Commission of Pakistan (ECP) in a formal letter last week had proposed the president to grant permission to hold the election between July 25 and 27, following which the date for the elections was declared.
According to the law, ECP proposes dates to the president to organize general elections, who is empowered to fix the final date.
The present government will complete the tenure on May 31 and the caretaker government will take over form June 1 and remain in office until a new government is set up through elections. It is the second consecutive elected government that is poised to complete the five-year tenure. It was elected in 2013.
http://zeenews.india.com/world/30-rise-in-non-muslim-voters-in-pakistan-hindus-top-the-list-2111766.html
--------
Taliban assassinate tribal elder who had crafted bravery medal for Trump
May 28 2018
The Taliban militants have assassinated a tribal elder in central Logar province of Afghanistan who had crafted a bravery medal out of gold for the US President Donald Trump.
The Taliban spokesman Zabiullah Mujahid claimed that the elder Gul Nabi was kille in a bomb explosion in Logar province.
Mujahid further added that Gul Nabi had crafted a medal for the US leader and had handed it over to the US Embassy in Kabul.
The handmade medal was prepared with a total cost of $645 with the contribution of the participants of an informal Jirga in which around 300 people had participated.
Syed Farhad Akbari, a community leader in the province, on January 14 told RFE/RL's Afghan Service that more than 300 people at an informal "jirga," or council, of concerned citizens agreed to award the medal to the U.S. president.
He said the handwritten message on the award states: "This Bravery Medal is from the Afghan people to Donald Trump, president of the United States of America."
Akbari said the cost of the medal was about 45,000 Afghanis ($645), considered a large sum for many in the region, about 60 kilometers outside of the capital, Kabul.
https://www.khaama.com/taliban-assassinate-tribal-elder-who-had-crafted-bravery-medal-for-trump-05252/
--------
India
Despite Tragic History, Mosque And Gurudwara Stand Tall In Harmony
May 27, 2018
Fatehgarh Sahib, Punjab: This town of sacred pilgrimage in Punjab has been witness to one of the most tragic, painful and violent chapters of Sikh-Mughal history going back three centuries. Despite that, a 350-year-old mosque not only stands in complete harmony with a recently completed Gurudwara but is looked after by the Sikh priest.
Chittian Masjidan (White Mosque), with its three whitewashed domes, can be seen from a distance amid the agricultural fields of Mahadian village. A few Mughal-era structures still dot the countryside here even as the area is dominated by Sikh shrines, the largest one being the main Fatehgarh Sahib gurdwara to which Sikh pilgrims come from all over the world.
What is unique about the mosque is that it stands just a kilometre away from the spot where the two young sons of the tenth Sikh master, Guru Gobind Singh — Fateh Singh (7) and Zorawar Singh (9), were buried alive in 1705 by the Mughal commander Wazir Khan, who was the Nawab of Sirhind, a town five km away, because they refused to convert to Islam as per the diktat of the Mughals under the reign of Emperor Aurangzeb.
The name of Fatehgarh Sahib comes from the name of the youngest son, Fateh, of the guru. The town, around 45km from Chandigarh, is a great draw especially during the annual Jor Mela fair to commemorate the martyrdom of the young 'sahibzadas' (sons of the guru).
The tragic and violent history, however, has not stopped Jeet Singh, a granthi (Sikh cleric) of the Mastgarh Sahib Chittian gurdwara from maintaining the mosque's ancient structure.
"I have been maintaining the (mosque) building for the past four years. It was in a very bad shape when I came here. I clean it from inside daily even though no Muslims (who live in nearby villages) come here for prayers," Jeet Singh told IANS, standing in front of the partially dilapidated structure.
Jeet Singh said that the mosque, which is believed to be over 350 years old, was abandoned for a number of years till a Sikh religious leader of the area, Arjun Singh Sodhi, got the Guru Granth Sahib, the holy book of the Sikhs, kept inside. For nearly a century, the mosque building was used as a gurdwara.
"The Sangat (Sikh community) then decided to build a new gurdwara in the same complex as this (mosque) building was getting old and cracks were appearing on its walls and domes. The gurdwara is now complete and Guru Granth Sahib has been kept there. With whatever means, we try to maintain the mosque building and keep it clean," Jeet Singh, 43, who shifted here four years back, said.
The mosque and gurdwara stand side by side in perfect communal harmony within the four walls of the complex. The mosque building gets a periodic whitewash and minor repairs, if required. There is nothing kept inside the structure.
"I have researched the history of this place, talking to old people (Muslims, Sikhs and others) of the area. The qazi (Muslim cleric) of this masjid (mosque) is said to have issued the fatwa (a religious edict) condemning the young sahibzadas to death. However, he is believed to have opposed the move initially saying that the children were too young for the ruthless punishment," said Jeet Singh, who is in charge of the complex along with Hakam Singh (senior in-charge).
He says that the Muslims of the nearby area of Bassi Pathana had objected when the mosque was initially used as a gurdwara in the beginning of the 20th century. However, the then Maharaja of Patiala came to the place and resolved the matter and the gurdwara continued in the old structure for a number of years.
"A number of Muslims live in nearby villages but they have their own mosques. No one comes here for prayers but we don't stop anyone. We have respect for all religions," Jeet Singh, a soft-spoken man who lives in the complex with his wife and two children, said with a smile.
Historians believe that the mosque dates back to the period of Mughal emperor Shah Jahan and was built between 1628 and 1658.
The mosque structure survived the fury of the Sikh-Mughal battles. Even though the Sikhs defeated Wazir Khan in 1710 and re-claimed the area, the mosque survived the onslaught and today stands as silent testimony to communal fraternity in troubled times.
https://gulfnews.com/news/asia/india/despite-tragic-history-mosque-and-gurdwara-stand-tall-in-harmony-1.2227743
--------
Muslim man breaks Ramzan fast by donating blood to infant
May 28, 2018
Darbhanga: A Muslim man from Bihar's Darbhanga city chose humanity over his religion when he broke his Ramzan fast and donated his blood to save the life of a two-year-old child.
The man, Mohammad Ashfaq, recently came across a Facebook post, where the infant's family had posted a message urging users to donate blood for the child.
On Friday, the wife of Sashastra Seema Bal (SSB) soldier Ramesh Kumar Singh, gave birth to a boy at a private nursing home in Darbhanga. After this, the condition of the child started to get worse day by day. The doctors, on checking the infant's condition said that they would require O negative blood to save him.
It is pertinent to know that people having O negative blood group are known as universal donors.
Singh then enquired various persons over the same but to no avail. He then wrote a post on Facebook, requesting people that those who are having O negative blood group can come forward and save his child by donating blood.
At this, Ashfaq read the post and immediately contacted the infant's family, giving them assurance that he would come and give his blood to save the child's life.
When Ashfaq reached the hospital and offered to donate his blood, the doctors initially, rejected his case and said that he was on a Ramzan fast.
Ashfaq told ANI, "I thought saving a life is more important and knowing that she is the daughter of a security personnel, this motivated me more to donate my blood."
The grandparents of the infant later said that Ashfaq did not feel perturbed in donating his blood to others despite being a Muslim. They added that he chose humanity over his religious duty and thanked him for saving the life of their granddaughter.
Full report at:
https://www.siasat.com/news/muslim-man-breaks-ramzan-fast-donating-blood-infant-1361539/
--------
B-Town lauds Sikh cop who saved Muslim man from mob attack
May 27, 2018
Mumbai : Popular Bollywood celebrities like Farhan Akhtar, Vidya Balan and Chetan Bhagat have heaped praise on Sikh police officer, who saved a Muslim man from allegedly being mob lynched.
A video of the cop, Gagandeep Singh is doing the rounds on social media, with people hailing his bravery.
While people on Twitter applauded Singh's act and his commitment towards his work, the Bollywood stars have called him the 'real hero.'
"We are quick to condemn those who take a life, but we must be quicker to commend those who save one. #hero #GagandeepSingh," Farhan tweeted.
Actress Vidya Balan called Gagandeep a "true Indian".
Author Chetan Bhagat wrote: "The Sikh police officer who saved the Muslim man. I don't care who's in power. That's the India I want and ever will want. Even if I am the only one left wanting it."
Talking to the micro-blogging site, actress Aditi Rao Hydari wrote: "So true… there is hope! #Hero #GagandeepSingh."
Actor Sidharth Malhotra tweeted: "Being a good example is the best form of service. #hero #Gagandeep."
Full report at:
https://www.siasat.com/news/b-town-lauds-sikh-cop-who-saved-muslim-man-mob-attack-1360950/
--------
India is incomplete without Muslims: Mani Shankar Aiyar
May 27, 2018
New Delhi: Muslims have inhabited India for years, they are part of its soil. There is such a large population of Muslims in the country that India couldn't be imagined without Muslims. Former union minister and MP Mani Shankar Aiyar told this during an iftar party hosted by Social Democratic Party of India.
He said joint culture is the identity of India and Muslims are also part of it. On the occasion, he lamented the changing political scenario and hate politics. He said some forces have come to power who want that the secular country becomes a Hindu Rashtra. He stressed the need for a united effort to stop them. He urged all secular forces to sink their differences and join hands to combat those anti-secular forces. He stressed the need for Dalit, tribal and Muslim unity to change the present scenario.
https://www.siasat.com/news/india-incomplete-without-muslims-mani-shankar-aiyar-1361021/
--------
Terrorists trigger IED blast in Shopian
May 28, 2018
SRINAGAR: Terrorists triggered an IED blast in Shopian district of Jammu and Kashmir, targeting an Army vehicle, officials said.
A Casper vehicle of the 44 Rashtriya Rifles was damaged in the IED blast triggered by terrorists in Zainapora area of Shopian district, an Army official said.
He said further details of the incident were awaited. PTI MIJ
https://timesofindia.indiatimes.com/india/terrorists-trigger-ied-blast-in-shopian/articleshow/64350080.cms
--------
Rohingya camp gutted in Nuh, 57 families affected
May 28, 2018
A Rohingya refugee camp in Haryana's Nuh district was gutted Sunday afternoon, after a major fire broke out in the area. Although no casualty was reported, over 50 families have been affected by the blaze.
Fire department officials said a call was received regarding the blaze in Chandeni around 3.25 pm, following which three fire tenders were rushed to the spot. "It took us three hours to douse the flames," said a fire officer. "Prima facie, the blaze appears to have been caused by a short circuit," he added.
Inspector Sanjay Kumar, SHO, Nuh police station, said, "No one was killed or injured, but the shanties were entirely gutted. Nobody has approached us to register a case so far." As many as 215 people lived in the shanties. "All our belongings are gone. All that is left are the clothes we are wearing," said a resident.
Full report at:
http://indianexpress.com/article/india/rohingya-camp-gutted-in-nuh-57-families-affected-5193784/
--------
India summons Pakistan deputy envoy after Islamabad seize more authority in Gilgit-Baltistan region
May 27, 2018
India on Sunday summoned Pakistan's Deputy High Commissioner Syed Haider Shah over Islamabad's so-called Gilgit-Baltistan order, and told him that any action to alter the status of any part of the territory under his country's forcible occupation has no legal basis.
In a statement, the Ministry of External Affairs said it conveyed to Shah that the entire state of Jammu and Kashmir, which also includes the so-called 'Gilgit-Baltistan' areas, is an integral part of India by virtue of its accession in 1947.
Through its order on Gilgit-Baltistan on May 21, Pakistan Prime Minister Shahid Khaqan Abbasi has seized more authority from the local council to deal with the affairs of the region.
Civil rights groups in Pakistan have criticised the order.
"Any action to alter the status of any part of the territory under forcible and illegal occupation of Pakistan has no legal basis whatsoever, and is completely unacceptable. Instead of seeking to alter the status of the occupied territories, Pakistan should immediately vacate all areas under its illegal occupation," the MEA said.
Full report at:
https://www.hindustantimes.com/india-news/india-summons-pakistan-deputy-envoy-after-islamabad-seize-more-authority-in-gilgit-baltistan-region/story-4RvoRLLIUSZg619CdEpRnL.html
--------
North America
'It's brought us together': at Ramadan, American Muslims on life in the age of Trump
28 May 2018
The call to prayer bounces off the walls of the Hamtramck Islamic centre, punctuated by the sipping of lemon juice and the chewing of dates. It's 8.53pm, the sun has set, and around 100 Yemeni-American men and boys sit cross-legged on the carpet, giving thanks and breaking fast for the seventh time this month.
"It's like gaining a new life," says Arif Huskic, a Bosnian-Muslim interfaith leader who has come to pray here. "In submitting to God we're testing ourselves."
A hundred meters down the road, in this small Michigan city's hottest new restaurant, an alert is sent to Tharia Begum's iPhone. Her Muslim Pro app informs her group of six Bengali-American girlfriends, all college students in their early 20s, that it's time to sip chai and demolish the plates of chicken sheesh and tabouli ready and waiting in front of them.
"The first day is hard," says 21-year-old Amina Ahmed. "But the second day, it's like a boulder's been dropped on you. It gets easier the deeper you go into the month."
In one of America's most rapidly evolving cities, purportedly the first in the country to elect a majority-Muslim city council, Ramadan is observed by an increasingly diverse population. But at a time of deep introspection for Muslims around the world, this year's month of fast in Hamtramck brings with it both a sense of foreboding and a deeper connection to community as residents grapple with a climate of heightened Islamophobia ushered in by the presidency of Donald Trump.
"Since Trump won, yes we've become more alert but it kind of brought our community together," says 21-year-old Shahria Islam, picking through the last scraps on her plate. "We look out for each other because we know we're targets."
At just two square miles, surrounded by the city of Detroit, Hamtramck was once a hub for Polish migrants drawn to the city by manufacturing jobs at the Dodge assembly plant that opened in the 1914. The factory's closure in 1980 led to a relative exodus of Eastern Europeans who once made up around 75% of the city's population of over 20,000 residents. An influx of Yemeni and Bangladeshi migrants now make up close to a majority of the population.
The brisk transformation is neatly underscored by the array of shop fronts and local businesses that line the city's main high street, which stretches for less than a mile. A halal supermarket stands opposite a Polish food store; a hipster cafe showcasing local art is a few doors down from a Bengali clothes shop selling decorative silks and bright hijabs that shimmer in the spring sun. The brick walls are lined with murals, one depicts two covered Muslim women, another an American eagle flexing its wings.
At one hipster cafe, among bookshelves lined with old first editions and neatly stacked art magazines, Saad Almasmari starts his day handing out business cards and pitching his vision for the city to anyone who will listen.
The 31-year-old, who arrived in the US from Yemen in 2009 without a word of English, was elected to the six person city council in 2015, marking the moment the non-partisan body became a Muslim majority. The news sparked uproar among conservative commentators who branded the city in a suite of Islamophobic slurs and suggested Hamtramck was now under Sharia law.
Almasmari, who had campaigned on guaranteeing better funding for public schools and promoting diversity, was taken aback. "I'm just a social person. I love politics and helping people through elected office," he says raising an eyebrow. "To see how people reacted, it was just sad."
The ambitious father of three, who runs a local ice cream business to keep his family afloat, is now running for state office, campaigning as he fasts.
"It's tough," he says. "You're knocking on people's door and they come out and drink coffee or water, while you're fasting and tired. But you have to smile at people, you have to act as the best person ever in front of the voters, even though you're not eating for 15 hours."
Resistance to the Trump administration's discrimination against Muslims has been fierce among Hamtramck's mostly liberal, multicultural populace. Thousands took to the streets here when Trump announced his first travel ban in January 2017, which targeted a group of Muslim majority countries. In April, ahead of a supreme court ruling on the ban, over 100 local business here shut down in protest.
But Trump's ban, which includes travellers from Yemen, has had direct impact on many here.
Muad Almogari, a 32-year-old science and maths teacher at the local middle school, struggles to talk about his older sister, Afriqiya, who is languishing in rebel controlled Ibb province in Yemen's west with her husband and children.
Her visa application has been held in limbo since Trump's ban came into force, and he worries every day she will be killed in crossfire. He works a second job at an after-school program to make enough money to send $500 a month to his sister, meaning he only just keeps up with bills for himself.
"It's always there in the back of my head," he says. "Whether she's still alive, and who I'd blame if something happened."
Almogari says he made the gut-wrenching decision to avoid mosque during Ramadan, his reasoning is a sobering reminder of the climate many of America's roughly 3.3 million Muslims continue to endure in the Trump era.
"I don't feel safe there," he says. "I feel like something is going to happen. We don't turnaround until the prayer is done. What if someone comes in shooting with a rifle like in Canada?"
The month of Ramadan sees a significant increase in outreach at the Muslim Family services centre, a not for profit organization helping Hamtramck's poorest Muslim families – many of whom are refugees – by distributing food donations and care packages. 49.7% of the city's residents live in poverty, according to US census data, a figure that soars almost four times above the national average.
"People are more generous at this time of the year," says Summi Akteer, the 33-year-old administrations director, adding the centre will deliver close to double the number of food packages, around 300, than they would throughout the rest of the year.
The task keeps Akteer so busy she has no time to visit mosque after work and so travels straight home to cook burgers and pasta for her two children before they break fast.
Although a recent study at Harvard University indicates that Muslim majority countries with longer fasting hours – those which undergo Ramadan in the summer – are likely to experience a minor negative economic impact, countries like the US with a relatively minor population of Muslims will face no tangible economic impact.
To the Hamtramck's south sits the 7,000 capacity Keyworth Stadium. John F Kennedy descended on the venue at the tail end of the 1960 presidential election campaign, addressing a majority Polish crowd and declaring Hamtramck to be the "strongest Democratic city in the United States".
Now the stadium hosts Detroit City FC, founded in 2012, who play in the National Premier Soccer League, America's fourth tier of professional football. The season is just getting started here and the club draws a supporter base from across the city's different ethnic groups.
Salah Hadwa, 28, is sometimes among the Northern Guard, the most vocal and loyal of Detroit City FC's fans who descend on matches in formation and let off smoke grenades in the stands. He often works matchdays as a food vendor, selling kebabs with local entrepreneur Moortadha Obeid.
During last year's Ramadan, in which the team played seven home games, the pair would arrive at the ground by 5am, set up their stall, and sleep in the stands before kickoff in a bid to preserve energy. This year they're thankful there will only be three games at home throughout the month, all starting much later in the day.
"Detroit City FC is part of Hamtramck, and Hamtramck is part of me," says Hadwa, as the call to afternoon prayer is heard in the distance. "I will always call this place home. It is my city."
The large US flag flying at the stadium has been lowered to half mast to mark the school shooting in Santa Fe, Texas. On the field the local high school's American football team practice on the astroturf as Hadwa looks on.
"Any change is always kind of hard for people," with reference to the city's evolving makeup. "But there's no change during Ramadan. The only change are the days it happens. You never let anything affect the fast. Especially not the negative things with Trump."
https://www.theguardian.com/us-news/2018/may/28/ramadan-american-muslims-hamtramck-michigan-trump
--------
American Scholar: Mini Nukes Used to Blow apart Twin Towers on 9/11
May 27, 2018
Fetzer, a retired professor at the University of Minnesota who currently resides in Madison, Wisconsin, made the remarks while commenting on the sixteenth anniversary of the September 11 attacks that killed three thousand people in New York, Islam Times reported.
In September 2017, US President Donald Trump presided over his first 9/11 commemoration in office. He and his wife, Melania, observed a solemn moment of silence at the White House and later at the Pentagon. Trump called the occasion "extraordinary."
"Our values will endure. Our people will thrive," Trump declared, speaking at the Pentagon.
"Our nation will prevail and the memory of our loved ones will never, ever die," continued Trump, who before becoming the president repeatedly questioned the official version of the 9/11 attacks.
US officials asserted that the attacks were carried out by 19 al-Qaeda terrorists but many experts raised questions about the official account.
They believed that rogue elements within the US government orchestrated the 9/11 attacks in order to accelerate the US war machine and advance the Zionist agenda.
"The terrorists who attacked us thought they could incite fear and weaken our spirit but America cannot be intimidated," Trump said, embracing the official version of 9/11.
"The terrorists who attacked us thought they could incite fear and weaken the spirit. Those who try will soon join the long list of vanquished enemies who dare to test our mettle," he continued.
Professor Fetzer said after hijackers crashed planes into New York's World Trade Center and the Pentagon, Trump became "the first personality in the world to contest the official version of the attacks of 9/11."
"On a local New York television that day, after having noted that the engineers who built the Twin Towers were now working for him, he declared on New York's Channel 9 that it was impossible that Boeings could have burst into the steel structure of the tower," he stated.
"He continued by stating that it was also impossible that the Boeings could have caused the towers to collapse. He concluded by affirming that there had to be other factors which we were as yet unaware of," the analyst said.
"But which we now know today included the use of a series of mini or macro nukes to blow apart the Twin Towers from the top-down where they were converted into millions of cubic yards of very fine dust, which is a classic indication of the use of nuclear weapons," he said.
"And when all was done there was nothing in their footprint, no massive piles of debris unlike Building 7, which was brought down by a classic controlled demolition. It was hit by no planes at all," the researcher said.
"The use of mini or macro nukes, by the way, has also been confirmed by US geological surveys studying samples from 35 locations in Manhattan where they discovered elements that in their quantity and correlation were indicative of the use of nuclear devices -- barium, and strontium, thorium, and uranium, lithium, lanthanum, nitrium, chromium, tridiam, some of which only exist in radioactive form," Professor Fetzer said.
Full report at:
http://en.farsnews.com/newstext.aspx?nn=13970306000248
--------
Pompeo says US will befriend Iran if they follow 12 demands
27 May 2018
The US Secretary of State Mike Pompeo says Americans will be welcoming towards Iran if they accept the 12 demands that he listed in his speech at the Heritage Foundation last week, and if they "behave like a normal nation".
In an exclusive interview with VOA's Persian service broadcast, Pompeo said that the main objective of the new Iran strategy that he spoke about in his speech is to set some conditions for Iran's rulers to act and behave like "normal leaders".
"If we can create conditions where [Iran's leaders] will stop that [behavior], the Iranian people will have great success, and we will have Americans visiting there, and we will have all the great things that we do when there are friends and allies," Pompeo tols VOA's interviewer.
He added that Iran should allow for the inspection of their military sites and research laboratories, which is just one of the 12 conditions he cited from the strategy speech.
He also mentions in the interview that chants like 'Death to Israel' and 'Death to America' should end and so should this public display of the chants.
Pompeo also assured Iran that the United States is not seeking a change in regime, and advised the same to exiled groups.
"We do not want them advocating for regime change," Pompeo said in the interview.
He also stated that any effort that would try and expose the corrupt government officials residing within the Iranian government will be met with support from the Trump administration.
"The Iranian people deserve the truth. You have senior leaders that are pocketing money, using businesses that are nominally fronts, and frankly, just stealing. To the extent we can prove that and demonstrate that, I would welcome the chance to expose it so the Iranian people can judge for themselves whether these are the individuals they want to lead their country," he said.
Full report at:
https://english.alarabiya.net/en/News/world/2018/05/27/Pompeo-says-US-will-befriend-Iran-if-they-follow-12-demands.html
--------
Europe
Austin Muslim community, leaders break fast at citywide iftar
By Ariana Garcia
May 27, 2018
Community leaders and members of Austin's Muslim community gathered Saturday evening to "break the fast" at the third annual Austin City Wide Iftar.
The event, hosted by the Austin Muslim Civic Ambassadors at the Asian American Resource Center, aims to "bridge the gap between local elected officials and Austin's Muslim community," organizers said in a news release.
During Ramadan, Muslims abstain from food and drink during the daylight hours. The meal that breaks the fast at sunset is called iftar.
Saturday's program began with a recitation from the Quran before guest speakers addressed the night's major theme: civic engagement.
AMCA President Kumail Hasan said Muslims can get involved by not only joining local boards or organizations, but by supporting the needs of other communities, whether protesting police brutality or laws affecting Dreamers.
"A major part of celebrating our diversity is building bridges with other groups and that requires us to actually be there when they need our support the most," he told guests.
Several members of Austin City Council were in attendance, including Mayor Steve Adler and council members Kathie Tovo, Ora Houston, Ann Kitchen and Leslie Pool.
Adler said the event is an expression of what it means for the community to get to know their neighbors better, adding that the recent bombings demonstrated why this is necessary.
"What we learned during this period of time is that we are most suspicious of what we don't see actively involved around us, of those things that don't intersect our lives on a daily basis and as a community we have to move past that," he said.
He said he hopes to see the citywide iftar grow to be as large as Houston's event — which more than 1,000 people attend each year — and invite more guests who are not Muslim.
"I pledge that for next iftar I will fight to match that same measure of devotion and commitment to something that is intended to be citywide," he said. "This iftar is our city at its best and I'm so honored to be a part of it."
Keynote speaker for the event was Dr. Alaa Murabit, a Canadian physician and United Nations commissioner who encouraged guests to vote and run for public office.
"Not so the community knows what we're about or better understands us, but because I genuinely believe that the people that we harm the most by not being involved is ourselves," she said. "And not from a standpoint that laws will be passed or legislation will happen, but rather communities who remain void of a larger conversation that impacts us daily."
Following speeches, guests broke their fast by eating a ripe date before splitting off into groups for an evening prayer and gathering afterward for the night's meal.
Over 250 people attended the event, said Hasan, adding that the number of guests has more than doubled since last year.
Austin resident Malikah Abdullah-Gil, who attended the event for the first time, said the event is important for understanding, especially in celebration with elected officials.
"It means my city is accepting, is tolerant and loving to all its citizens," she said, adding that is what Ramadan is all about.
"It's a time where we learn what it feels like to humble, learn what it's like to be compassionate and learn just to give more," she said. "It's about fellowship and love."
https://www.mystatesman.com/news/local/austin-muslim-community-leaders-break-fast-citywide-iftar/qPtgbEEY8qUoj33tsW3NvI/
--------
Islamic State 'kills four Russian soldiers in Syria'
27 May 2018
A clash with "terrorists" in eastern Syria resulted in the deaths of four Russian soldiers, Russia's defence ministry said on Sunday.
Russian and Syrian government troops and pro-government gunmen have been fighting members of the Islamic State group in the eastern province of Deir ez-Zor where the extremists resumed their attacks against government forces and their allies in recent weeks.
The Russian ministry said the dead were military advisers attached to a Syrian army unit in the Deir ez-Zor.
It said in a statement reported by Russian news agencies: "Two Russian military advisers, who controlled fire of the Syrian battery, died at the scene." Five others were wounded, two of whom died in a Russian military hospital, and 43 insurgents were killed in the nighttime battle.
The Russian statement came two days after Isis said its fighters launched a surprise attack on Wednesday from two axes on a joint Syrian/Russian convoy west of the town of al-Mayadeen, killing 15 Syrian and Russian soldiers. Isis claimed its militants destroyed five army trucks and armoured vehicles and damaged a rocket-launcher.
In the same area, Isis fighters stormed three Syrian army checkpoints, killing eight soldiers and capturing five others, the group said.
It was not immediately clear if Isis was speaking about the same area where the Russian advisers were killed.
The Britain-based Syrian Observatory for Human Rights, a war monitor, said Isis fighters launched two new attacks in Deir ez-Zor on Saturday near al-Mayadeen and the town of al-Boukamal near the Iraqi border.
The Observatory said 76 troops and pro-government gunmen, as well as 25 Isis fighters, died in five days of fighting in Deir ez-Zor.
Full report at:
https://www.theguardian.com/world/2018/may/27/isis-attack-kills-four-russian-soldiers-in-syria-says-moscow
--------
Libya's rival groups to hold fresh talks in France
May 27, 2018
Libya's main rival political groups are set to meet in the French capital, Paris, on Tuesday in an attempt to resolve disputes and sketch a road map to reunite the nation.
The 2011 ouster and killing of former dictator Muammar Gaddafi has left Libya in chaos. Rival political and militia groups have each been attempting to fill the vacuum since Gaddafi' ouster, which was backed by a NATO military intervention.
United Nations (UN) Special Representative Ghassan Salame has been appointed by the international body to re-unite the North African state.
Salame told the UN Security Council on May 21 that he had given up trying to amend a stalled 2015 peace deal and was instead focusing on a potential agreement to hold elections this year.
A French presidential adviser told reporters in a briefing, "Once we have this road map, we will have outlined the commitments from all sides and the next steps. The terms of Mr. Salame's mission will be clearer [then]."
Libyan Prime Minster Fayez al-Sarraj, eastern Libya commander Khalifa Haftar, Aguila Saleh, the president of the eastern House of Representatives, and Khaled al-Mishri, the president of the High Council of State, have all been invited to the Paris talks.
Parties to the talks will be encouraged to quickly adopt the necessary arrangements for the staging of elections this year, according to reports.
Some immediate points to be discussed include the unification of the central bank and a commitment to support the creation of a national army. The establishment of an inclusive political national conference within three months will also be discussed.
Almost a year ago, Serraj and Haftar agreed to a conditional ceasefire.
The conference will be attended by some 19 countries and four international organizations, including countries that have influence on the ground, such as Egypt, Italy, Qatar, Turkey, and the United Arab Emirates.
"If everyone agrees, then it will be a step forward. The idea is to put pressure on the four participants, knowing that if their backers tell them to accept this, they won't have a choice," said an unnamed European diplomat, as cited by Reuters. "That's partly true, but there is also an inter-Libyan dynamic to take into consideration."
Full report at:
http://www.presstv.com/Detail/2018/05/27/563056/Libya-rival-groups-Paris-talks
--------
Europe, Islam and the dynamic agitating the turbulent and mighty continent
May 27, 2018
By Akbar Ahmad
Greece was dying in the summer of 2013, and the drama around the event was as poignant as anything Sophocles has written. I was in Athens to deliver some lectures, but I was witnessing, if press reports were to be believed, what appeared to be the imminent downfall of the cradle of Western civilization and the disturbing inertia toward its plight displayed by the rest of the European family of nations. The pillars of a functioning state were shaking: inflation, unemployment, and the national debt were out of control, and law and order on the verge of collapse. The dying process was confirmed when one day state TV was abruptly and indefinitely suspended as employees could no longer receive their salaries.
The last straw was the steady trickle of desperate refugees arriving from North Africa, the Middle East, and South Asia swelling the ranks of those impoverished migrants already present. Squeezed by the economic crisis, the traditionally hospitable Greeks vented their frustrations at the unending numbers of refugees and immigrants as they sought aid and refuge; and the greater the economic woes, the greater the popularity of the Far Right parties and the more extreme their rhetoric of hate. Groups like the Golden Dawn, with their swastika-like emblem, were parading about dressed up as faux-Nazis, giving Nazi salutes, and even displaying pictures of Adolf Hitler. Their target this time around was the mainly Muslim refugee and immigrant community. Their message was simple and effective, and it was influencing how people thought about the subject: Muslims were not part of European identity, nor had they contributed anything to Western civilization. In short, Muslims had no right to be in Europe. Clearly, the cherished European ideals of humanism and multiculturalism that allowed for the accommodation and integration of immigrant communities were being challenged.
It was with this foreboding sense of being on the cusp of history that I found myself that hot summer in a crowded basement with members of the Muslim community. It was Friday, and I had been invited by the Muslim leaders of Athens to join the prayers and address the congregation after the formal sermon. Appreciating the downtrodden state of the community, I was determined to make an appearance, as I thought my visit would be a small gesture of support.
'We are living like dogs here'
As I collected my thoughts to address the congregation, some 400 in number, I was strangely unsettled to contemplate that in Athens, a major European capital that has a Muslim population of several hundred thousand, there was not a single actual mosque. The "mosque" I found myself in was a large, dark, and dank parking garage of a particularly sinister aspect. The low ceiling with ugly aluminum air ducts, the absence of any cooling facilities, and the sickly smell of the sweat and desperation of the worshippers packed tightly into its confined space created a claustrophobic atmosphere. I have never been a fan of underground parking lots, having seen too many scenes in movies of ravening, crazy, blood-thirsty men wielding machetes or chainsaws running amok there. And this was as menacing a basement as any good Hollywood director of a B movie could imagine. My instincts were not wrong. Members of the congregation described incidents in which neo-Nazi thugs had blocked the entrances to similar makeshift mosques in Athens; some had even been firebombed. The community lived in terror, as one young male Egyptian migrant confirmed: "The neo-Nazis placed notices outside of our mosque, threatening to slaughter us like chickens and burn down the mosque if we did not leave the country." With a shiver of anxiety, he added, "We are living like dogs here."
The congregants were mostly men from the Middle East and South Asia—Syrians, Iraqis, Afghans, and Pakistanis. I could see the beads of perspiration on the drawn and unshaven faces looking up at me. Their impoverishment hung over them like a dark cloud. I felt empathy for the immigrants whose only crime was their frantic need to seek refuge abroad for their families and themselves from the chaos and persecution at home. They had undertaken a hazardous journey to Europe in leaky boats and overcrowded vehicles, determined to find safety. The Syrians among them were escaping Bashar al-Assad's chemical and mustard-gas attacks, the use of cluster bombs, the destruction of their homes, and the real danger of the slaughter of their families. They had come to Europe hoping to salvage their lives. But here, it was a congregation of broken dreams.
My speech that day was one of the most difficult I have delivered in my life. But it was not the stifling heat, the audience, or the venue that made it so; it was the brutal realization of the plight of my community of Muslims—the ummah. Throughout their lives, Muslims evoke the two greatest names of God in Islam—the Compassionate and the Merciful—and dream of a world of peace and justice for which they must strive. Here, as I stood up to speak, I saw little evidence of these noble ideals. I could not help but wonder if the condition of this community was indeed a metaphor for the global ummah.
I felt a mild sense of unease at the free-floating anger and desperation that permeated the community and hinted at menace. These men had nothing to lose, and I could imagine the most desperate among them prepared to lash out in an unpredictable and even murderous manner. Their predicament needed to be handled with urgency, sympathy, and resolute common sense. This, I felt, was Europe's ticking time bomb.
In my sermon I could not just say that their lives would improve overnight in their present situation or that they would find peace if they were sent home; on the other hand, if I offered them empty words of optimism, they would sense the hollowness of my message. Yet if I did not give them some hope, I would be failing my fellow Muslims by not comforting them. It took all my optimism and faith, therefore, to deliver a message of hope. I asked them to take inspiration from the example of the Prophet of Islam, who had faced enormous challenges throughout his life, including assassination attempts, with patience, compassion, and courage. As for their mosque, I told them that a mosque is defined by the power and beauty of the faith in the hearts of its worshippers, not by the calligraphy and tiles of its building. This basement, I said, is as beautiful a mosque as any in the world.
Afterward we sat on the floor in a corner and the congregants gathered around me. They were bursting to tell their stories. Many told me of their ordeal as refugees and immigrants; they wanted to share the utter misery of their lives with me. Several of them remarked that they felt abandoned by their own communities and that I was, in fact, the first Muslim of any note who had bothered to visit them. They had never even seen an embassy official joining them. The young Pakistani men told us in hushed voices of being chased, kicked, and beaten by mobs while the public looked on or joined in. The police had stood by watching and in fact appeared to collude with the mobs. Some who had been in Greece longer than the more recent migrants spoke with sorrow of what once seemed a pleasant and welcoming land but had recently turned hostile against immigrants, especially Muslims. One of these early migrants, who said he had once belonged to the defense services in Pakistan, confessed that staying in Athens was too dangerous a risk. He was preparing to uproot himself after a successful two decades: his European dream had evaporated. They all noted the hostile role of the media in projecting an image of Muslims that conflated three words—Islam, terrorism, and migrants—and thereby created problems for them.
Muslims not learning lessons
But even here in Europe as destitute refugees who had lost everything, Muslims were not learning lessons. They had brought their sectarian and ethnic rivalries with them. As we sat down to talk, several Arabs said to me earnestly, as you are an Islamic scholar, could you tell us whether as Sunnis we should consider the Shia to be Muslims? If not, asked a Syrian man, were they then liable to be punished by death? They had clearly been wrestling with the question, and it could be understood only in the context of the savagery inflicted on them by Assad in Syria and his Iranian supporters. I replied by asking whether the Shia believed in the Quran and accepted the Sunna and the example of the Prophet. They replied, yes. Then, I said, they are Muslim, and we must respect that fact. In Islam, only God decides who is a good or bad Muslim, I reminded them. They slinked back in apparent acquiescence.
Present were some leaders of the community including Naim Elghandour, an Egyptian businessman and president of the Muslim Association of Greece, and his Greek wife, Anna Stamou, a convert to Islam and the first candidate who wore a hijab to stand for a seat in the European Parliament. We had met at a lecture I gave soon after my arrival in Athens to a high-level interfaith gathering and at a well-attended public talk hosted by the prestigious Onassis Cultural Center. Both events were moderated by the renowned Greek scholar Sotiris Roussos, a fellow alumnus of the School of Oriental and African Studies (SOAS) in London. Later Anna, who is active in the Muslim Association, kindly assisted me in arranging excellent contacts with the local Muslim population of Xanthi in northern Greece near the Bulgarian border.
The Muslim community quickly became aware that I had been warmly received not only by Professor Roussos but in their respective offices by Bishop Gabriel of Diavleia, the chief secretary of the Holy Synod of the Church of Greece and the second-highest-ranking member of the Greek Orthodox Church, and George Kalantzis, the Greek government's secretary general for religious affairs. Roussos called the failure to build the Athens mosque Greece's "shame." Bishop Gabriel, a prominent supporter of the mosque idea and of the Muslim community, described his work in the streets feeding migrants and said that he was "obliged to act as a true member of the Church" to see the migrants as people created in the image of God. The American ambassador received me at the U.S. embassy, and the British ambassador invited me to call on him at his residence, where, as an admirer of the Romantic Poets, I was delighted to read a letter by Lord Byron on display at the entrance. The Pakistan ambassador hosted a dinner in my honor. The leaders of the Muslim community were following my progress with a certain amount of pride and satisfaction. My arrival at the mosque thus had the effect of raising morale.
Present with me was Frankie Martin, my former student and a trusty assistant on all my major research projects for more than a decade, who was completing his master's degree in anthropology at Cambridge University. "Although I've worked with Professor Ahmed for many years and visited many mosques around the world, I was shocked and unprepared for what I encountered in Athens," he observed. "It was so saddening to think of the Syrians, Pakistanis, and others desperate to reach a better and safer life in Europe only to find a reality in Athens where they are stalked and brutalized simply because of who they are." Harrison Akins, my assistant at the time, had accompanied me from Washington, D.C., and described what he saw: "I couldn't help but be saddened by the fact that this claustrophobic space was where they went to find any measure of peace and solace from what I can only imagine to be an intolerable situation as immigrants in Athens." Also present was Ibrahim Khan Hoti, my teenage grandson, who had flown in from Islamabad, Pakistan, and was the advance guard for his mother, Amineh Hoti, who was to meet us later in London. He was astonished: "I was surprised and greatly disappointed to see that in one of the most famous and renowned cities in the world, one that has such a grand history and one that was the birthplace of democracy, a system that, ideally, should represent all walks of life, there was no legal mosque. It is still ironic when you see that Greece was once in the Ottoman Empire."
The refugees in that basement in Athens were like the first heavy drops of rain that precede the monsoons. The rains came shortly afterward and became a flood as hundreds of thousands of refugees arrived in Greece hoping to travel north to safety. Their arrival affected the way people saw Islam and their own national leaders. For a short while, Angela Merkel of Germany was elevated to cultural sainthood for her magnanimous response, and Viktor Orbán of Hungary was vilified in the media for his pusillanimous and hostile reception. Reputations were being made and destroyed and saints and villains were being created in the public mind by forces outside the political arena of Europe. Muslims had once again arrived on the continent and were directly affecting its internal balance and structure.
A third invasion
To some Europeans the presence of Muslim immigrants represented a third invasion—after the Arab and Ottoman invasions of centuries past. Yet the contrast between this latest Muslim invasion of Europe and the first one could not be greater. Islam first came to Europe when General Tariq ibn Ziyad, representing the Arab Umayyad dynasty in Damascus, landed in Spain in 711 and battled the Visigoths. His victory would eventually result in one of Europe's most celebrated civilizations—al-Andalus. There were moments in the turbulent sweep of Iberian history when different societies lived, worked, and prospered together. Muslims were then associated with art, architecture, literature, and philosophy. Their culture promoted libraries, colleges, and baths. They were also known for tolerance and acceptance of other cultures and religions. Their learning, confidence, prosperity, and power stand in stark contrast to the Muslims of Europe today. In another cruel contrast, the Muslims of al-Andalus reflected the glow of a powerful Arab superpower whose territory was larger than even the Roman Empire, whereas today they come from fragmented and violent societies in the throes of genocidal convulsions.
From this uprooted and broken Muslim community in Europe have emerged those who have repeatedly committed sickening acts of violence, killing themselves and others, regardless of religion, age, or gender, with the utmost heartlessness. After our visit to Athens, instances of Muslim terrorism exploded across Europe. Nothing was sacrosanct nor off limits—airports, editorial offices, cafés, nightclubs, sports stadiums, passenger trains, a promenade in a coastal city. The murder of an eighty-five-year-old priest in a church in Normandy by two Muslim teenagers in July 2016 prompted Pope Francis to declare, in an uncharacteristically somber mood, that "the world is at war"—while hastening to add that "it is not a war of religions." Pope Francis was not succumbing to the idea that the West and Islam were involved in a long-term "clash of civilizations," as propounded by scholars like Bernard Lewis and Samuel Huntington and publicly invoked and supported by prominent politicians like François Hollande and Manuel Valls.
One thing was abundantly clear: it was a matter of life and death to understand the European Muslims. From the presidents and prime ministers of Europe down to ordinary journalists, the question on people's minds was how to convert Jihadi John to Malleable Mustafa and Jihadi Jane to Loyal Leila . The problem was that this question could not be answered without proper understanding and knowledge of the Muslim community—its definition of its own identity, its leadership patterns, its religious and political players, the role of the imams, the position of mothers and women in the family, and relations with government and the broader public. While few people had the answers, these were precisely the questions that needed to be addressed.
The current dynamic agitating Europe is Islam; the long-drawn-out wars between Catholics and Protestants, the struggle against the Ottomans, the steady and large-scale migrations to America, the world wars, and the confrontation between the West and the Soviet Union are no longer center stage. On philosophic, political, and cultural levels, Islam is central to the discussion about Europe. Islam affects a wide range of people, from young Muslims unsure of what to make of their faith and its place in Europe to the leaders of the Far Right who project their political philosophy and strategy as a war against it.
Full report at:
https://www.americanbazaaronline.com/2018/05/27/europe-islam-dynamic-agitating-turbulent-continent-434754/
--------
Pakistan
Fata merger bill exposes differences between MMA parties
May 28, 2018
Amir Wasim
ISLAMABAD: Differ­ences between the Jamiat Ulema-i-Islam (JUI-F) and Jamaat-i-Islami (JI) over the merger of the Federally Administered Tribal Areas (Fata­) with Khyber Pakh­tunkhwa have exposed cracks in the recently revived Muttahida Majlis-i-Amal (MMA).
While JUI-F workers were clashing with the police outside the Khyber Pakhtunkhwa Assembly on Sunday to prevent provincial legislators from reaching the session, JI members were making their way to the assembly's main hall to vote for the Fata-KP merger bill, which had already been passed by the National Assembly and the Senate.
Read: Will reviving MMA have an impact on the 2018 elections?
According to the reporters who covered the KP Assembly proceedings, JI MPAs managed to reach the assembly, defying the JUI-F protesters.
However, when contacted, the leaders of both parties tried to downplay the issue and claimed that the differences over the Fata merger would not impact their alliance for the elections.
JI's official spokesman Ameerul Azim, when asked, admitted that the two parties had different viewpoints on several matters, including the Fata merger with KP.
The spokesman, however, claimed that their leaders had already decided that the parties would be allowed the leeway of maintaining their ideological positions — over issues that had arisen before the formation of the MMA in March — without damaging the alliance.
"From now onwards, all issues will be heard by the Supreme Council of the MMA and we will come up with a united stance," Mr Azeem said.
The JI leader claimed that although the two main partners of the MMA had conflicting views over the issue of the merger, the two parties would now have "a single viewpoint" about it. He expressed hope that the religious parties would be able to forge a consensus on national issues.
He said that he was confident that the two partners — even in matters, which they have opposing views on — would accept the decisions of the MMA's Supreme Council.
Mr Azeem clarified that the MMA was an electoral alliance and that it would be apparent to everyone, that all allies within it, would retain their identities.
Speaking with Dawn, JUI-F information secretary Hafiz Hussain Ahmed also claimed that the MMA would become functional in 'real' terms after the general elections.
"Our alliance is for the elections and to deal with the issues which will come up after the elections," the JUI-F leader said downplaying the differences between his party and the JI.
He said that he was hopeful that the partners in the MMA would manage to agree on various issues after four or five meetings between party elders.
Mr Ahmed admitted that the JUI-F and the JI had differences over the Fata merger, but said that it would not damage the unity of the alliance.
"You will see us on one page after the elections," he said.
Mr Ahmed said that in the first meeting after the elections, the MMA leadership will discuss what course of action to take in dealing with the Fata merger.
"Hopefully, we will find some middle ground," the JUI-F leader said, adding that there was still a long way to go in the implementation of the bill passed by both parliament and the KP Assembly.
The JUI-F leader clarified that his party was not against the idea of mainstreaming Fata, but that it only wanted the people of the area to be involved in the decision about their future. He also justified his party's protest outside the KP Assembly to stop legislators from casting their votes for the Fata merger bill.
https://www.dawn.com/news/1410431/fata-merger-bill-exposes-differences-between-mma-parties
--------
Six TTP men killed in clash with CTD team near Gujarat
Waseem Ashraf Butt
May 28, 2018
GUJRAT: At least six alleged terrorists belonging to the banned Tehreek-i-Taliban Pakistan (TTP) were killed in an intelligence-based operation conducted by a team of the Counter Terrorism Department (CTD) on Saturday night.
According to a CTD spokesman, the most wanted terrorist on Red Book, Muhammad Suhaib of Sargodha, was among the dead.
He said the CTD district officer of Gujrat got information that some eight to nine terrorists belonging to the TTP and Jamaatul Ahrar were present near the area of the Shadiwal Power Station and they were ready to attack a sensitive installation early in the morning.
He said that since the CTD had been chasing the network for quite some time, a team set up a picket on Upper Jhelum Canal bridge near Shadiwal Power Station.
He said that about 11pm, eight to nine people on three motorcycles appeared coming from Shadiwal and opened fire when the CTD personnel asked them to stop.
He said that the CTD personnel returned fire, killing six terrorists on the spot. Three others escaped.
The spokesman identified the dead as Muhammad Suhaib, Abdul Muqeem, Muhammad Faisal Nisar, Muhammad Usman of Sargodha, Abdul Azeem and Rauf Ahmad of Muzaffargarh.
He said that these terrorists were proclaimed offenders and were involved in several bomb blasts in Lahore, including Ferozepur Road and Bedian Road blasts of 2017 in which dozens of innocent citizens were killed.
He said that Suhaib was the mastermind of Brigadier Zahoor Qadri's murder in Sargodha.
This network was planning to carry out several more suicide attacks.
Full report at:
https://www.dawn.com/news/1410432/six-ttp-men-killed-in-clash-with-ctd-team-near-gujrat
--------
Pakistan is a sovereign nuclear state because of Nawaz: Shehbaz
MAY 28, 2018
LAHORE: Railways Minister Khawaja Saad Rafique called on Punjab Chief Minister Muhammad Shehbaz Sharif on Sunday.
While conversing at the occasion, CM said that the five-year' tenure of Pakistan Muslim League-Nawaz is enriched with development, prosperity and transparency.
"We have spent resources on the welfare of people honestly that is why the transparent policies of the PML-N government have been acknowledged internationally," he said.
He said that projects of China Pakistan Economic Corridor have laid firm foundation of Pakistan's progress and prosperity.
Punjab CM Shehbaz Sharif said that public service cannot be achieved through hollow slogans, but one has to work hard selflessly for it. He said that the elements that have hindered the journey of happiness and progress of public are now being isolated politically. Minister Khawaja Saad Rafique said that the development work of Shehbaz are self-exemplary and credit for savings of billion rupees in development projects goes to the astute and inspiring leadership of Shehbaz.
Members of Gujarat Assembly and Nawabzada family also called on Shehbaz on Sunday. Those who visited CM included Federal Minister for Defense Production Usman Ibrahim, Members of National Assembly Nawabzada Mazhar Ali Khan, Chaudhry Abid Raza, Adviser to CM Nawabzada Tahirul Mulk, MPA Nawabzada Haider Mehdi, former MNA Nawabzada Ghazanfar Ali Gul and Nawabzada Muzaffar Ali Khan.
MNA Hamza Shehbaz was also present on this occasion. Nawabzada Ghazanfar Ali Gul will be the candidate of the National Assembly of PML-N from Gujranwala. The Nawabzada family while conversing with CM said that they have full confidence in his leadership as the performance of Punjab under his leadership is an example for other provinces.
"People of Gujrat love you whole heartedly," they added. Talking on the occasion, Shehbaz said that PML-N is Pakistan's largest and most popular party.
"We are proud of our initiatives been taken for welfare of people in the last five years," Shehbaz said, adding people will vote on the basis of performance in the upcoming elections.
Shehbaz also on Sunday, congratulated the nation on the occasion of Youm-e-Takbeer. In his message on this occasion, Shehbaz said that May 28, held a significant position in Pakistan's political and defense history.
"On this day, Muhammad Nawaz Sharif engraved a new history by pushing aside all the pressure and making nuclear explosions possible," Shehbaz said.
He said that the credit of making Pakistan a nuclear power goes to the courageous leadership of former prime minister Muhammad Nawaz Sharif who rejected foreign aid and made defense of the country unconquerable.
Youm-e-Takbeer is the day of celebration for the Pakistani nation and Muslims around the world, because today, Pakistan emerged as the first Muslim nuclear power on the map of the world, he added. CM said that Pak Army and other law enforcement agencies have rendered enormous sacrifices in the war against terrorism and marked a new history of courage and valour.
Shehbaz on the occasion of this memorial and historic day paid tribute to those brave soldiers who have played a great role in making the defense of motherland supreme.
Full report at:
https://dailytimes.com.pk/245602/pakistan-is-a-sovereign-nuclear-state-because-of-nawaz-shehbaz/
--------
Islamic State relocating to Pak-Afghan border, Iran warns Pakistan
May 28, 2018
A Pakistani delegation in Iran has been warned by Iranian authorities of the presence of Islamic State (IS) in the border areas of Pakistan and Afghanistan, reported a local English daily.
According to reports, a senior Iranian official informed the delegation led by Attorney General of Pakistan (AGP) Ashtar Ausaf Ali that Iran has credible intelligence reports that the US has relocated Da'esh and its heads Abu Bakar Baghdadi to Afghanistan.
The official also informed that the US and Israel intend to turn Pakistan and Iran into another Syria, Iraq, Libya and Afghanistan.
A delegation led by Ashtar Ausaf Ali visited Iran on the invitation of Iranian AG Muhammad Jaffer Monatazeri two weeks ago to discuss various issues, especially related to the judiciary of both countries.
Full report at:
https://www.pakistantoday.com.pk/2018/05/27/islamic-state-relocating-to-pak-afghan-border-iran-warns-pakistan/
--------
Historic nuclear tests: Pakistan celebrates Youm-e-Takbeer today
May 28, 2018
ISLAMABAD – Youm-e-Takbeer is being observed today (May 28) to commemorate the historic nuclear tests Pakistan conducted on this day in 1998.
Pakistan became the first nuclear power in the Muslim world and seventh world power by demonstrating its nuclear capabilities regardless of international pressure in response to Indian aggression in the region.
Pakistan detonated seven nuclear devices at the hills of Chaghi in Balochistan, 17 days after India's five detonations of Pokhran-II in 1998.
The country owes this achievement to father of Pakistan's nuclear programme Dr Abdul Qadeer, other scientists and technical staff for making the country's defence invincible. The landmark decision was taken by then prime minister Nawaz Sharif.
PM Abbasi's Message
Prime Minister Shahid Khaqan Abbasi has said the marking the day provided an opportunity to the nation to renew its pledge for the defence and solidarity of Pakistan.
The historic day reminds us that the national interests should be given priority to make the country's impregnable.
In a message on the Youm -e- Takbeer, the prime minister said on this historic day, Pakistan emerged as the first atomic power in the Islamic world.
By conducting tests, India exposed its aggressive designs and caused imbalance in the South Asia region, he said, adding that the PML-N government, then, showed them that the country was not willing to back down in the face of aggression.
Special prayers will be offered for the progress and prosperity of the country, supremacy of the constitution, prosperity of the nation and eradication of terrorism.
Full report at:
https://en.dailypakistan.com.pk/pakistan/historic-nuclear-tests-pakistan-celebrates-youm-e-takbeer-today/
--------
Pakistan approves bill to merge tribal regions with country
27 May 2018
The assembly of northwestern Khyber Pakhtunkhwa province approved a bill Sunday to merge the tribal regions along the Afghan border with its territory, paving the way to granting equal rights to about 5 million people in the restive area.
The milestone step comes after both houses of parliament had earlier approved granting equal rights to the tribes that have been governed by discriminatory laws since British colonial rule. The bill now goes to President Mamnoon Hussain to be signed into law.
Haji Abdul Rehman, a tribal elder from the Mohmand tribal area and member of the Grand Tribal Jirga (Council), welcomed the step saying it will give the tribes rights other Pakistanis enjoy, in addition to bringing development and facilities to the region.
Likely fearing loss of political influence in the region, hardliner religious Jamiat Ulema-e-Islam party, however, opposed the process saying the region's population should have been consulted before any decision was taken. Outside the assembly hundreds of the party's charged supporters tried to block entry to the assembly; police used batons and tear gas to disperse them. Protesters threw stones injuring six policemen, damaging vehicles belonging to media outlets in the process, said police officer Kamal Hussein.
Maulana Lutfur Rehman of JUI said in the assembly that the tribes have a right to determine their fate.
The regions remain effectively lawless and in recent years have become a haven for militants.
Kabul's stance
Neighboring Afghanistan also expressed reservations over the process saying it should have involved a consensus among the region's residents.
The Afghan presidential palace said in a statement Saturday that the Afghan government has repeatedly shared its concerns through diplomatic channels with Pakistan and the international community regarding any unilateral moves along the Durand Line that separates the two countries.
"There is a military situation in the Federally Administered Tribal Areas. Any decision should have been made while the situation was clam where the real desire of its people could be reflected," said the statement, adding that "any military and political approach without bilateral consultation regarding the tribal regions will be seen as unilateral and against the 1921 pact between British India and Afghanistan."
Islamabad rejected Kabul's stance saying Parliament's decision reflects the will of the people.
Full report at:
https://english.alarabiya.net/en/News/world/2018/05/27/Pakistan-approves-bill-to-merge-tribal-regions-with-country.html
--------
2 policemen among four killed in Quetta firing
May 27, 2018
Two policemen and two alleged miscreants were killed in two subsequent firing incidents at Quetta's Sirki Road on Sunday evening, Quetta police said.
According to Deputy Inspector General (DIG) Abdul Razzaq Cheema, unknown miscreants opened fire on two police officers, identified as Abdul Rasheed and Bashir Shah, in Capri Cinema area of Sirki road.
The officers, who were on their way home, died on the spot, he said. In the meantime, a police party from a nearby post rushed to the crime scene and killed two alleged attackers. One of the attackers managed to escape in an injured state, he added.
Four passersby were also injured during the exchange of fire and were rushed to Quetta's Civil Hospital for treatment, where the condition of one of the victims was said to be critical.
A huge contingent of police and security personnel reached the spot as an investigation into the incident went underway.
Police officials believe the incident was a part of an ongoing targeted killing spree in the city.
3 Levies personnel killed in road accident
Three Levies personnel were killed and 12 others injured in a road accident in Awaran district of Balochistan on Sunday, officials said.
According to Awaran Deputy Commissioner, a bus carrying Levies personnel turned turtle near Jhao area. Two personnel died on the spot whereas another scummed to his injuries on the way to a hospital.
Full report at:
https://www.dawn.com/news/1410362/2-policemen-among-four-killed-in-quetta-firing
--------
South Asia
Afghan forces-led airstrikes kill 19 militants
May 28, 2018
KABUL:- At least 19 militants were killed in airstrikes in four Afghan provinces within the past 24 hours as Afghan and coalition forces continued with the mopping-up operations, the command of Afghan special forces said on Sunday. "The Afghan Special Operations Forces-led airstrikes killed seven militants in Ajristan district of Ghazni province, six in Chaparhar of Nangarhar, two in Sayyed Karam of Paktia and four others in Darzab of Jawzjan province," Operational Coordination Group Afghanistan said in a statement. The Afghan security forces, alongside US and NATO-led coalition troops, have increased ground and air offensives against militants in the past few months as the militants frequently attacked government interests across the country.–Xinhua
Taliban and the Islamic State group fighting the government have yet to make comments on the report.
https://nation.com.pk/28-May-2018/afghan-forces-led-airstrikes-kill-19-militants
--------
81pc Bangladeshi workers forced to migrate to Italy from Libya: report
May 28,2018
Around 81 per cent of Bangladeshi workers currently living in Italy were forced to migrate to the country from Libya through crossing the Mediterranean Sea after they had fallen victim to arms conflict and joblessness in the war torn country, according to a study.
While 16 per cent of the migrants had been deliberately recruited from Bangladesh for countries like Sudan, Egypt, and then sent to Italian maritime via Libyan Coast, said the study titled 'Gambling on life: the plight of Bangladeshi migrants crossing the Mediterranean' on launched on Sunday.
The Ovibashi Karmi Unnayan Programme with the support of British High Commission conducted the study on Bangladeshi emigrants in Italy and their families in Bangladesh.
It said rest 3 per cent of Bangladeshi migrants went to Italy from other EU countries, like Turkey and Greece, in an attempt to regularise their documents.
According to the study, more than 79.3 per cent of Bangladeshi migrants knew that they might have to embrace death in the sea but they boarded on the boats for Italy for the sake of their lives and family.
OKUP chairman Shakirul Islam, who presented the study findings, said a total of 279 Bangladeshi migrants in four provinces in Italy while some 92 families in three villages of Bhairab upazila in Kishoreganj were surveyed.
The survey was conducted between January 2013 to December 2017, said Shakirul.
Most the surveyed migrants, all of whom are male, did not cross the secondary education level, he mentioned.
In Italy, most of the migrants were from Madaripur, Shariatpur, Comilla and Noakhali, the OKUP chairman said in his presentation.
The average cost for migration to Italy was around $8,000, the study said.
British high commission representative Lesley Nikol attended the programme as the special guest at Spectra Convention Centre in Dhaka.
Speaking at the launching ceremony, IOM deputy chief of mission Abdusattor Esoev said it was necessary to create awareness about the dangers of trafficking. The skilled migration can be promoted to reduce risk of trafficking, he said.
The study recommended for reforming migration laws and ensuring effective implementation of the laws, allocating budgets for migrants' welfare and taking exemplary legal action against human traffickers and for sustainable reintegration programme for the migrant workers following their return from abroad.
Journalist Keramot Ullah Biplop said many young people were keen to migrate to the European countries with huge amount of money. They should be discouraged for illegal migration with high cost, he added.
Bangladeshi Ovhibashi Mohila Sramik Association director Sumaiya Islam said there were middleman involved in the trafficking in the migrant workers and so the middlemen should be brought under legal framework.
Full report at:
http://www.newagebd.net/article/42260/81pc-bangladeshi-workers-forced-to-migrate-to-italy-from-libya-report
--------
'Our families would be killed': Rohingyas in Bangladesh brace for monsoon
May 27, 2018
Marooned on a dusty slope in the world's largest refugee camp, Osiur Rahman looked to the hill where a Rohingya girl was buried in a landslide just days earlier and contemplated his chances should the earth give way beneath his feet.
"Our families would be killed. There are children everywhere around here. We constantly fear that rain could trigger a landslide," the 53-year-old told AFP on the steep embankment where he lives with nine family members in a bamboo shack.
For the 700,000 Rohingya Muslims who have fled to southeast Bangladesh in the past nine months, the approaching monsoon season poses the most serious threat since they were violently expelled from Myanmar.
Close to one million of the stateless Muslim minority live in the Cox's Bazar district but the new arrivals, stranded on unstable hills in bamboo and plastic shacks, are especially vulnerable.
A massive operation to shore up the camps against disaster is in overdrive, with bulldozers levelling hills and refugees bunkering down however they can. But as the rains approach, the young girl's death this month in a torrent of mud and rock has heightened fears of a much greater tragedy.
There is a dearth of safe land to relocate the estimated 200,000 refugees in direct danger of floods and landslides, and just 21,000 have been moved so far.
"We could literally have lives lost as people slide down hillsides and valleys are flooded with water," Kevin J. Allen, head of the UNHCR refugee agency's operations in Cox's Bazar, told AFP.
"They could face yet again another emergency, this time driven by mother nature." The camps' makeshift homes are predicted to receive more than 2.5 metres of rainfall over three months starting June -- roughly triple what Britain gets in a year.
Cox's Bazar has been battered by cyclones for three years running, having already suffered astonishing devastation in the past.
Cyclones have killed tens of thousands along the Bangladesh coast in recent decades and countless more have been swept to their deaths in floods and landslides.
This time, nature is on a collision course with refugees who have nowhere to run -- no higher ground and no cyclone shelters.
The first storms underscored the fragility of the camps: the brief rains turned roads into quagmires, crumbled hillsides and flooded low-lying areas.
The huge endeavour to prevent disaster has seen slopes vulnerable to collapse flattened and extensive canal systems carved throughout the camps. Toilets are being fortified with sandbags to prevent a major disease outbreak should floodwater meet overflowing latrines.
But there are limits to how much can be done.
Bangladesh has restricted the use of sturdier materials for shelters because it may suggest the Rohingya plan to stay, contrary to Dhaka's desire to return them to Myanmar.
The roof was blown clean off Noor Mohammad's shack in a recent squall. He had gathered chunks of wood and rocks to weigh it down but was "scared of what could pass" when Bangladesh's wild weather barrels through.
The Rohingya are no strangers to the monsoon, he said. But in Myanmar, villages were built to withstand its ferocity and trees provided a bulwark against the elements.
"Here, there is nothing to stop the wind," he said, gesturing to the deforested hills stretching for miles.
Bangladesh has freed up hundreds of hectares (acres) but most is hilly and was prone to landslides even before the Rohingya uprooted trees for shelters and firewood.
Mosques and community centres could shelter 150,000 people if needed, said Kazi Abdur Rahman, acting district administrator of Cox's Bazar.
"But if there is a big cyclone, and all these people need relocating, there is not a system for that yet. It is not possible to shift one million people," he told AFP.
The Rohingya, who have fled persecution time and again, fear being on the run once more.
"Everybody is afraid, wondering where we'll go if our houses are destroyed," Rohingya imam Muhammad Yusuf told AFP.
Aid groups say a cyclone or devastating storm could cut access to the camps for a week -- restricting food and supplies to a tent city with a population greater than San Francisco.
The World Food Programme's emergency coordinator Peter Guest said thousands of porters were being assembled to carry food on foot if access roads were cut.
Those left homeless or starving will have nowhere to run anyway: the Rohingya are encircled by military checkpoints and prohibited from leaving.
Full report at:
https://www.hindustantimes.com/world-news/our-families-would-be-killed-rohingya-in-bangladesh-brace-for-monsoon/story-gd1vkSRdzSMRzb7kRfHoUL.html
--------
Taliban suffer heavy casualties in US airstrikes in Ghazni
May 27 2018
Several Taliban militants were killed or wounded in a series of airstrikes carried out by the foreign forces in southeastern Ghazni province of Afghanistan.
The 203rd Thunder Corps of the Afghan Military in the Southeast said the airstrikes were carried out in Andar and Deh Yak districts of the province.
The source further added that the airstrikes left at least 16 militants dead while at least 28 others sustained injuries.
According to Thunder Corps, a Humvee armored vehicle, a pickup truck, and anti-aircraft heavy machine gun were also destroyed during the airstrikes.
The anti-government armed militant groups including Taliban insurgents have not commented regarding the report so far.
In the meatime, the Thunder Corps said at least eight militants were killed and five others were wounded during a clash with the security forces in Ajrisan district.
At least two Afghans soldiers also sustained injuries during the clashes with the militants, the Thunder Corps added.
Ghazni is among the relatively volatile provinces in Southeastern parts of the country where the Taliban insurgents are actively operating in some of its districts.
Full report at:
https://www.khaama.com/taliban-suffer-heavy-casualties-in-us-airstrikes-in-ghazni-02550/
--------
Back to back explosions heard in Jalabad city
May 27 2018
The sounds of two back to back explosions were heard in Jalalabad city the provincial capital of Nangarhar province.
Preliminary reports indicate the incident has taken place close to the Breshna Sherkat / State-owned Utility Directorate.
Provincial governor's spokesman Ataullah Khogyani confirmed that the incident has taken place in Nursery Farm area of the city and at least two explosions have taken place.
Khogyani further added that the two back to back explosions have not caused any casualties.
No individual or group has so far claimed responsibility behind the incident.
Full report at:
https://www.khaama.com/back-to-back-explosions-heard-in-jalabad-city-02549/
--------
Arab World
Dubai's Sikh community hosts inter-faith Iftar
May 22, 2018
People belonging to several different faiths got together at the Guru Nanak Darbar Sikh temple on Monday evening for an Iftar gathering.
A multi-cultural Iftar at the Guru Nanak Darbar Sikh temple in Dubai is the latest witness to the fact that Dubai is fully committed to embracing people of all faiths.
People belonging to several different faiths got together at the Guru Nanak Darbar Sikh temple in Dubai on Monday evening for an inter-faith Iftar gathering. Senior members of the Sikh, Christian, Baha'i and Hindu communities stood side-by-side of their Muslim brothers and sisters to end their fast in a truly ceremonial manner.
Organised by members of the Guru Nanak Darbar Sikh temple, the event was also graced by senior ministry officials and diplomats from various countries. Dr Thani bin Ahmed Al Zeyoudi, Minister of Environment and Climate Change; Dr Omar Al Muthanna, CEO, Licensing and Monitoring Sector, Community Development Authority (CDA); and Mirza Al Sayegh, director of office of Sheikh Hamdan bin Rashid Al Maktoum, Deputy Ruler of Dubai and Minister of Finance were among the government officials present at the gurudwara.
Paul Malik, Consul General of United States to Dubai; Vipul, Consul General of India to the UAE; Patrizio Fondi, head of mission, delegation of the European Union to the UAE; and several other heads of diplomatic missions broke fast during the gathering. Religious leaders of various faiths were also present at the Iftar.
Speaking about the Iftar, Dr Zeyoudi said: "I am very thankful to the gurudwara for arranging this wonderful and diverse Iftar. It is an honour to have such vibrant communities here in Dubai, especially an establishment that remembers the needs and requirements of all people. With events like this, we are truly celebrating the spirit of Ramadan, which is the month of working together as human beings and coming together as communities.
The gurudwara hosts over 2,000 worshippers every day and provides langar (free meals) to 1,500 people of all religious backgrounds. During the weekends over 10,000 meals are distributed, and 50,000 on special occasions. Iftar is an annual event, and the gurudwara has been hosting it for the six years since its inception.
Al Sayegh said: "This is what UAE stands for... As a nation, we are led by the wisdom of Sheikh Zayed and Sheikh Rashid. Their vision has given us the ability to worship all religions. Over 200 nationalities are living in peace and celebrating their festivals here in Dubai. This aspect of our culture is what makes us truly inclusive."
Vipul said: "This event here is in the true spirit of what Sheikh Zayed stood for and is also a reflection of Indian teachings."
Speaking about the iftar, founder and chairman of the Gurudwara Surender Singh Kandhari, said: "This year has been a huge event. Over 12 nationalities attended the event, and like the teachings of Guru Nanak, what we are trying to impart is for people to be good human beings."
Other special guests were Abdul Hadi of Al Manar Islamic Centre who spoke to those gathered about the religious and cultural significance of Ramadan. Father Mina Hanna of Coptic Church in Dubai was also present.
Rev Tim Heaney, parish priest at Christ Church Jebel Ali, said: "The amazing thing about the UAE is the inter-cultural harmony. And like the other big religious festivals, Ramadan is a great time to come together and share religious beliefs. People from all faiths are here and it is very beautiful that people are able to come together in this manner."
https://www.khaleejtimes.com/nation/dubai/dubais-sikh-community-hosts-inter-faith-iftar
--------
26 Syria regime, 9 Russia fighters killed in ISIS attack: Report
May 27, 2018
BEIRUT: At least 26 Syrian regime forces and nine Russian fighters were killed in an Islamic State group attack earlier this week in Syria's eastern desert, a monitor said on Sunday.
The Syrian Observatory for Human Rights said the jihadists had targeted a group of Syrian and allied Russian fighters near the town of Mayadeen in Deir Ezzor province on Wednesday.
"There were 35 pro-government forces killed, including at least nine Russians. Some of those Russian nationals were government troops, but not all of them," said Observatory head Rami Abdel Rahman.
The remaining 26 were all Syrian forces, he told AFP.
The Russian military is backing Syria's army with air strikes and troops, but there are also widespread reports of private Russian mercenaries on the ground.
The defence ministry in Moscow said Sunday four Russian servicemen had been killed in clashes with militants in Deir Ezzor.
It did not give a date or precise location, but the Observatory said it was the same incident as the IS attack near Mayadeen.
Two of the servicemen were "military advisors commanding the Syrian artillery" and were killed on the spot, the defence ministry said.
It said two more Russian soldiers died later in a Russian military hospital following the fighting. Three other troops were wounded.
Full report at:
https://timesofindia.indiatimes.com/world/middle-east/26-syria-regime-9-russia-fighters-killed-in-isis-attack-report/articleshow/64342143.cms
--------
Russia forces among dozens dead in IS east Syria attacks
May 28, 2018
BEIRUT - Russian fighters were among dozens of pro-government forces killed in eastern Syria this week in a deadly wave of attacks by Islamic State group militants, Moscow and a monitor said Sunday.
After the collapse of its so-called "caliphate" last year, IS now only holds tiny pockets of Syria, mainly in the vast desert stretching to its eastern border.
This week, the militants ramped up their hit-and-run attacks on regime positions there, according to the Syrian Observatory for Human Rights war monitor.
The deadliest was on Wednesday, when IS targeted a group of Syrian and allied Russian fighters near the town of Mayadeen in the eastern province of Deir Ezzor. "There were 35 pro-government forces killed, including at least nine Russians. Some of those Russian nationals were government troops, but not all of them," said Observatory head Rami Abdel Rahman.
The remaining 26 were all Syrian forces, he told AFP. A steadfast ally of President Bashar al-Assad, Moscow has helped his army recapture swathes of territory since 2015 by providing air strikes and ground troops.
There are also widespread reports of private Russian mercenaries on the ground. Moscow's defence ministry said Sunday four of its servicemen were killed in clashes in Deir Ezzor.
Two were military advisers supporting Syrian artillery operations and died immediately, and another two died of their wounds in a Russian-operated military hospital in Syria. Three others were wounded.
Russia did not specify when, where, or whether IS was involved, but it appeared to be the same incident as the IS attack reported near Mayadeen.
The militant group itself claimed it attacked regime forces in eastern Syria on Wednesday.
The assault was the largest in series of IS guerilla raids on regime positions this week.
On Tuesday, 26 regime forces were killed in a surprise IS attack in desert areas of the neighbouring province of Homs, according to the Observatory.
And a pair of IS assaults between Saturday night and Sunday morning killed at least 11 pro-regime forces in Deir Ezzor.
"The latest attack brings to 76 the number of Syrian troops and allied Iranian and Russian forces killed since the escalation," Abdel Rahman said Sunday.
He said the uptick came the day after the last IS fighters were bussed out of southern parts of Syria's capital Damascus, including the ravaged Palestinian camp of Yarmuk, in a negotiated withdrawal.
Many headed towards the Badiya, the stretch of Syrian desert extending from Homs province through Deir Ezzor to the eastern border with Iraq.
The Observatory said the evacuated fighters were actively involved in the recent attacks.
"IS is trying to take the initiative and show it can still threaten the regime and its allies despite the losses it suffered in other areas," said Abdel Rahman.
Government positions in the Badiya make for an easy target: they are few and far between, so reinforcements take a long time to arrive.
Russian-backed Syrian troops hold the western half of Deir Ezzor province, which is divided diagonally by the Euphrates River. US-backed fighters hold the east bank.
The river is meant to serve as a de-confliction line to prevent the two sides from clashing as they pursue separate assaults against IS.
A Syrian military source based in the east told AFP that Assad's troops had cleared large parts of territory from IS, which was now lashing out.
"Daesh wants to hinder the army's combing operations in the Badiya by waging these intermittent attacks," said the source, using the Arabic acronym for IS. It confirmed Russian military advisers were present during Wednesday's attack and were among those killed.
Russia's government officially acknowledges that 92 soldiers have been killed in Syria, although some estimate the number is even higher.
The highest casualties were in March, when a transport plane crashed at Hmeimim airbase where Moscow's airforce is based, killing all 39 people on board.
On Sunday, a local Russian newspaper in the Siberian city of Chita reported on the funerals of four soldiers it said were killed in Syria on May 23.
Full report at:
https://nation.com.pk/28-May-2018/russia-forces-among-dozens-dead-in-is-east-syria-attacks
--------
Terrorists Exhume Graves in Yarmouk to Find Corpses of Israeli Soldiers
May 27, 2018
The Arabic-language al-Mayadeen news channel quoted Vice Secretary-General of the Popular Front for the Liberation of Palestine (PFLP) Tallal al-Naji as saying on Sunday that the ISIL, al-Nusra Front (also known as Fatah al-Sham Front or the Levant Liberation Board) and the Free Syrian Army (FSA) terrorists had exhumed the graves in Yarmouk camp at Tel Aviv's order to find corpses of Israeli soldiers.
He added that the order was issued by the Israeli command center to transfer their corpses to Israel.
A number of Israeli soldiers were killed during the 1982 war in Sultan Yaqoub region in Lebanon whose corpses were transferred and buried in the old graveyard of Yarmouk camp.
The Israeli occupation of southern Lebanon took place after Israel invaded Lebanon during the 1982 Lebanon War.
Full report at:
http://en.farsnews.com/newstext.aspx?nn=13970306000906
--------
Northern Syria: Bloody Clashes Resume between Turkey-Backed Militants, Al-Bab Residents
May 27, 2018
A number of people in al-Bab exchanged fire with the FSA-affiliated Sultan Murat Group that left a number of casualties on both sides.
In the meantime, field sources reported that the reason behind the fresh clashes has not been specified so far.
The last case of infighting between al-Bab residents and Ankara forces broke out 20 days ago.
On Wednesday, Mahmoud Othman, one of the commanders of the Turkey-backed al-Ra'ei Police, was killed in a fresh round of clashes among the Ankara-backed militants in al-Bab region in Northern Aleppo.
Full report at:
http://en.farsnews.com/newstext.aspx?nn=13970306000865
--------
Tens of People Killed, Wounded in Huge Blast in Terrorists' Base in Northwestern Syria
May 27, 2018
The Arabic-language al-Mayadeen TV network said that a bomb-laden vehicle went off at a large base of non-Syrian terrorists on the 30th Street in Central Idlib, killing and wounding tens of militants and people.
In the meantime, militant-affiliated news websites reported that at least five people were killed and 46 others were wounded in the blast.
Meanwhile, a number of people were killed or wounded in a blast in Ma'ar Shamarin settlement East of the town of Ma'arat al-Nu'aman in Southern Idlib.
The security situation in Idlib has deteriorated in recent days.
Field sources reported on Saturday that Ankara was trying hard to force Tahrir al-Sham Hay'at (the Levant Liberation Board or the Al-Nusra Front) to dissolve the terrorist group, , adding that some sources believe that Turkey was behind the assassination operations against Tahrir in Idlib province.
The sources said that four members of Tahrir al-Sham were killed and several more were wounded in a suicide attack on Tahrir's base in the town of al-Dana.
Also, four more Tahrir members were killed by unknown raiders' gun fire at their vehicle on Idlib-Ma'arat Mesrin road.
In the meantime, a number of Tahrir terrorists were killed in a booby-trap bomb attack on a road in Darkoush region in Western Idlib.
A bomb, planted on a motorcycle, went off on a road connecting al-Dana to al-Tawameh region, killing two Tahrir militants.
Full report at:
http://en.farsnews.com/newstext.aspx?nn=13970306000428
--------
Iraq's Supreme Court rejects appeal to cancel election results
27 May 2018
Iraq's Federal Supreme Court has rejected a request to cancel the country's recent parliamentary election results over allegations of voting irregularities.
This comes after to an absence of a quorum led the Iraqi Council of Representatives to fail on Sunday for the third time to hold a scheduled meeting to pressure the Electoral Commission to reverse the results of the recent elections.
The current Iraqi parliament continues to press the Independent High Electoral Commission (IHEC) for a recount by manually counting the electronic votes after allegations of voting irregularities after a government committee proved that the voting apparatus used in the elections was not fail proof.
Even as only a few weeks are left for the current term of the Iraqi Parliament, controversy still surrounds Iraq's political outcome following the parliamentary vote.
On May 17, the United Nations special envoy to Iraq Jan Kubis issued a statement, calling on the IHEC to carry out an immediate and thorough investigation into all complaints concerning the election.
The Iraqi government commissioned an investigation team to probe the irregularities. However, some parties and candidates who believe that they have not received their fair share of votes, are criticizing the investigative procedure.
Certain parties and individuals are currently accused of rigging and manipulating the election results. The latest was the indictment of parliamentary candidates Jawad al-Bolani, Qais al-Khazali, as well as his militia Asaib Ahl al-Haq.
Accusations against Bolani were refuted by a spokesperson for the al-Fatah alliance, which includes the Hashd militia (Popular Mobilization Units) factions as well as factions from Asaib Ahl al-Haq.
One-hundred deputies, including the Head of Parliament, signed the complaint asking the UN to supervise and recount the votes manually.
Full report at:
https://english.alarabiya.net/en/News/middle-east/2018/05/27/Political-crises-loom-after-divided-Iraqi-vote.html
--------
Four Russian soldiers killed in Syria's Deir Ezzor province
27 May 2018
Four Russian soldiers have been killed by militants in Syria's eastern Deir Ezzor province, the defence ministry said on Sunday.
"Four Russian servicemen were killed by militant fire in the Syrian Arab Republic," a ministry statement said, indicating that another three soldiers were wounded in the incident which took place when "several mobile terrorist groups attacked Syrian government artillery at night".
Two of them, who were serving as "military advisors" to the Syrian army, were killed on the spot, while two more died shortly afterwards while being treated at a Russian military hospital, the statement said.
Some 43 militants were killed in the resulting clashes, which lasted for around an hour, the ministry said, without saying where the incident took place.
The statement did not say exactly when or where the fighting occurred, although several other reports suggested it may have taken place on May 23, with a monitor saying the Russian toll was believed to be twice as high.
Full report at:
https://english.alarabiya.net/en/News/middle-east/2018/05/27/Four-Russian-military-personnel-killed-in-Syria-s-Deir-al-Zor-.html
--------
Saudi crown prince shot, injured in last month's incident near palace: opposition activist
May 27, 2018
A Saudi activist has revealed that Crown Prince Mohammed bin Salman, who has not been seen in public over the past few weeks, was actually shot and injured in heavy gunfire reported from outside the royal palace in the capital Riyadh late last month.
Mohammed al-Mas'ari, the secretary-general of the Islamic Revival Party, citing reliable sources, said in a recent interview with Lebanon's al-Mayadeen TV that bin Salman was hit by bullets during the late April attack.
He said the news of bin Salman's injury was leaked by sources within the royal family before widely circulating on social networking websites such as Twitter.
Elsewhere in his remarks, al-Mas'ari said the crown prince now plans to appear before the media in order to deny reports of a coup.
A number of journalists in Riyadh reported heavy fire outside the palace compound on April 21. Although Saudi Arabia's state news agency claimed it was a shooting down of a toy drone that had gotten too close to the royal property, some wondered if the gunfire was in fact a coup led by royals against King Salman.
Saudi activists said the shooting had nothing to do with the drone, but it was an attack from vehicles carrying heavy machine guns and shooting randomly.
It was claimed that bin Salman had been evacuated to a nearby bunker at a military base for his safety.
The incident happened just after the young heir to the throne wrapped up a whirlwind global tour meant to advertise himself as the new power in the kingdom. Back home, the crown prince faced tension within the royal family.
No new photo or video of bin Salman were released by state media. Bin Salman was not even seen on camera when US Secretary of State Mike Popmeo paid his maiden visit to Riyadh in late April. The long disappearance had raised speculation about the fate of the crown prince.
Bin Salman's month-long disappearance from the media limelight contrasts his high-profile tour in the United States and Europe.
The attack on palace came after a self-promoting campaign at home, which saw hundreds of royals and businessmen detained and tortured. Most of them were later released after reaching financial settlement deals with the kingdom.
Perhaps the strangest thing about this uprising against the wealthy and the powerful, though, is that it is coming from above, from a 32-year-old who is rebelling against his own class in the hopes of ultimately being the last man standing.
Although there has always been competition from within the royal family, and criticism of its behavior from outside, the approximately 15,000 princes and princesses and their hangers-on were widely seen as untouchable.
In addition to internal power struggle within the royal family, Muhammad bin Nayef and Mutab Bin Abdullah, son of a late king, both were dissatisfied with the Saudi-led campaign against Yemen.
Analysts say bin Salman deeply desires power, but he has little experience, and that, some believe, is a potentially dangerous combination.
The Saudi crown prince's anti-Palestinian stance has in several occasions offended the Muslim world. Relations between Riyadh and the Tel Aviv regime have been warming up more rapidly since June 2017, when bin Salman became the crown prince. Saudi Arabia, under bin Salman, is believed to have been attempting to prepare the public opinion at home and elsewhere for the potential normalization of relations with Israel.
In March and during his three-week tour of the United States, bin Salman met with the leaders of a number of pro-Israel lobby groups, including the American Israel Public Affairs Committee (AIPAC).
Saudi Arabia's indirect intervention in Syria has failed amid the defeat of militant groups funded by Riyadh in their last urban strongholds in the conflict-hit country.
Riyadh's direct military intervention in Yemen has also been botched as Saudi Arabia failed to reinstate a former ally as president in the impoverished country.
The deadly Saudi campaign against Yemen has damaged bin Salman's image both internationally and regionally.
The House of Saud's designated successor has also been attempting to portray himself as a "reformer" and an advocate of women's rights.
On the economic front, analysts have cast doubt on bin Salman's so-called Vision 2030 project, which aims to wean the Saudi economy off petrodollars and make the country more like "a normal non-oil state."
Full report at:
http://www.presstv.com/Detail/2018/05/27/563095/Bin-Salman-Saudi-Arabia
--------
Four Russian servicemen killed in militant shelling in eastern Syria
May 27, 2018
The Russian Defense Ministry says four of its servicemen have lost their lives after foreign-sponsored Takfiri militants launched an attack against an artillery battery of the Syrian army in the country's eastern province of Dayr al-Zawr.
The ministry said in a statement on Sunday that two Russian military advisers, who directed the fire of the Syrian battery, were killed on the spot, while five more sustained injuries and were taken to a Russian military hospital to receive treatment.
Two servicemen succumbed to their grave injuries shortly afterwards.
The statement added that some 43 militants were killed in the ensuing clashes, which lasted for around an hour, without saying exactly when or where the fighting occurred.
The so-called Syrian Observatory for Human Rights later claimed that nine Russian soldiers alongside at least 26 Syrian army troopers had been killed in the Wednesday attack.
Observatory head Rami Abdel Rahman told AFP "several groups" of militants had attacked Syrian government forces near the town of Mayadin, located about 44 kilometers southeast of the provincial capital city of Dayr al-Zawr, and that some Russian nationals were with them at the time.
A group of Russian private military contractors, who were helping Syrian and Russian forces in the drive against Takfiri terrorists in Dayr al-Zawr, were killed in early February when they came under attack by US forces.
On October 3, 2017, Russia's Defense Ministry denied that two Russian soldiers had been captured by the Daesh Takfiri terrorists in Syria.
"There have been no incidents involving the capture or losses among military servicemen of Russia's armed forces in the province of Dayr al-Zawr or in other areas in Syria," Russia's Interfax news agency quoted a defense ministry official as saying at the time.
Captain Nikolay Afanasov was killed on July 12 last year by "sudden mortar fire on a Syrian government army camp" in Syria's western-central province of Hama.
He was part of a group of military instructors who were training Syrian soldiers.
Syria has been gripped by foreign-backed militancy since March 2011. The Syrian government says the Israeli regime and its Western and regional allies are aiding Takfiri terrorist groups that are wreaking havoc in the country.
Russia has been helping Syrian forces in an ongoing battle in the province of Dayr al-Zawr as Daesh struggles to keep its last positions in eastern Syria.
The Russian military assistance, which began in September 2015 at the official request of the Syrian government, has proved effective as Syrians continue to recapture key areas from Daesh and other terrorist groups across the country with the backing of Russian air cover.
On May 21, the General Command of the Syrian Army and Armed Forces announced in a statement that complete security was restored to Damascus and its countryside after al-Hajar al-Aswad district and al-Yarmouk camp had been totally purged of Daesh terrorists.
Full report at:
http://www.presstv.com/Detail/2018/05/27/563063/Four-Russian-servicemen-killed-in-militant-shelling-in-eastern-Syria
--------
Mideast
Israeli army to demolish 20 Palestinian homes in occupied West Bank
May 27, 2018
The Israeli army has threatened to demolish nearly two dozen Palestinian homes in the northeastern part of the West Bank as the Tel Aviv regime continues with its land expropriation policies in the occupied territories and violation of international law.
Sami Sadeq, mayor of al-Aqabah village, said notices have been handed to local citizens, informing that 20 homes, currently uninhabited, would be demolished within the next 60 days for lacking Israeli construction permits.
Sadeq added that the homes designated for demolition, nevertheless, have valid construction permits issued by the Construction and Organization Committee of the village.
Aqabah is located in the so-called Area C, which constitutes about 61 percent of the entire West Bank and it is directly controlled by the Coordinator of Government Activities in the Territories (COGAT).
The so-called COGAT is a unit in the Israeli military that engages in coordinating civilian issues between the Israeli regime, the Israeli military, international organizations, diplomats and the Palestinian Authority.
The COGAT demands permits for new building projects, however, according to the Norwegian Refugee Council (NRC) – an international organization that promotes and protects the rights of people affected by displacement – the majority of planning requests are firmly rejected, leaving international donors and Palestinians alike with no choice but to construct new buildings anyway.
Since 1967, the Israeli regime has been enforcing the draconian policy of demolishing the homes of those Palestinians who are deemed by Tel Aviv to be behind fatal attacks against Israeli settlers. The practice, however, was temporarily halted from 2005 to 2014, with the exception of 2009, when scores of homes were sealed and razed in East Jerusalem al-Quds.
Nevertheless, in 2014 Israeli Prime Minister Benjamin Netanyahu announced as a policy the resumption of demolitions in the occupied West Bank.
Tel Aviv has been occupying the West Bank, including East al-Quds, since taking the Palestinian territory by force in 1967. Ever since the occupation, it has been propping up settlements throughout the land, in a move condemned by the United Nations, and considered illegal under international law, which bans construction on occupied territory.
The occupied Palestinian territories have witnessed new tensions ever since US President Donald Trump announced his decision on December 6 last year to recognize Jerusalem al-Quds as Israel's capital and relocate the US embassy in Israel from Tel Aviv to the occupied city.
The dramatic shift in Washington's policy vis-à-vis the city triggered demonstrations in the occupied Palestinian territories, Iran, Turkey, Egypt, Jordan, Tunisia, Algeria, Iraq, Morocco and other Muslim countries.
On December 21, the United Nations General Assembly overwhelmingly voted in favor of a resolution that calls on the US to withdraw its controversial recognition of Jerusalem al-Quds as Israeli "capital."
In an attempt to avert the resolution, Trump had warned that "we're watching," threatening reprisals against countries that backed the measure, which had earlier faced a US veto at the UN Security Council.
Israel, however, rejected the world body's resolution while thanking Trump for his decision to move the US embassy from Tel Aviv to Jerusalem al-Quds.
On January 18, the United States reneged on a pledge to contribute $45 million to the United Nations Relief and Works Agency for Palestine Refugees in the Near East (UNRWA), which supports more than 5 million registered Palestinian refugees and their descendants.
The announcement to cut aid to Palestinian refugees came after the US president made a threat to cut off aid to the UN's Palestinian refugee agency.
In a series of tweets on January 2, Trump said that the US paid "the Palestinians hundreds of millions of dollars a year" and yet gets "no appreciation or respect."
"But with the Palestinians no longer willing to talk peace, why should we make any of these massive future payments to them?" he asked.
http://www.presstv.com/Detail/2018/05/27/563081/Israeli-army-to-demolish-20-Palestinian-homes-in-occupied-West-Bank
--------
Three Palestinians killed in Israeli tank fire
May 28, 2018
GAZA CITY - Israeli tank fire at an Islamic Jihad observation post killed three Palestinians in the southern Gaza Strip on Sunday, Palestinian officials said.
The incident happened east of the city of Rafah in the southern Gaza Strip, a spokesman for the health ministry in the Palestinian enclave said. The ministry identified those killed as Hussein al-Amour, 25, Abdul Haleem al-Naqa, 28, and Marwan al-Amour, 25.
A statement from the armed wing of Islamic Jihad, the Al-Quds Brigades, claimed two of them as members. It was not yet clear if Marwan al-Amour, who died from his wounds later in the day, was also a member.
Islamic Jihad is the second-most powerful armed group in the Gaza Strip after Hamas, which runs the blockaded Palestinian enclave.
Israel's military said in a statement that the tank fire came after soldiers detonated an explosive device that had been placed near the border fence, targeting its troops.
It said the device had been hidden inside a pair of fence cutters.
Separately on Saturday night, Israeli aircraft struck two targets belonging to Hamas, but there were no reports of casualties.
The military said the operation was in response to a brief incursion across the border earlier in the day by Palestinians who immediately fled back into Gaza.
It added that the strike was also in retaliation for repeated Palestinian attempts to damage the border fence and "security infrastructure" during ongoing border protests.
At least 119 Palestinians have been killed by Israeli fire in the Gaza Strip since mass protests and clashes broke out on March 30, according to figures from the Gazan health ministry.
No Israelis have been killed during that time.
Low-level demonstrations along the border have continued since protests peaked on May 14, when at least 61 Palestinians died as tens of thousands of Gazans protested and clashes erupted over the US moving its embassy from Tel Aviv to Jerusalem. Israel says its actions are necessary to defend the border and stop mass incursions into its territory.
Full report at:
https://nation.com.pk/28-May-2018/three-palestinians-killed-in-israeli-tank-fire
--------
Spokesman: US, Israel Resort to Terrorists to Foment Insecurity in Iran
May 27, 2018
"These days, the great Satan, the US, and certain American and Zionist statesmen threaten Iran and they have grown so desperate that they have resorted to the most hated people and the terrorists, whose hands are stained with the blood of over 17,000 Iranian people, to attain their goals," Mohseni Eje'i told reporters in a press conference in Tehran on Sunday.
He said that the Iranian nation and the security and police forces are vigilant enough and will confront any group which seeks to disrupt the country's security and tranquility of the people.
In relevant remarks in March, Secretary of Iran's Supreme National Security Council (SNSC) Ali Shamkhani lashed out at US President Donald Trump for appointing John Bolton, the main supporter of the MKO, as his national security advisor.
"It is shameful for a country which is apparently a superpower that its national security official takes salary from a terrorist cult with a record of killing 17,000 innocent Iranian citizens," Shamkhani said at the time.
He, meantime, underlined that the US officials have so far used different instruments, including military intervention (Iraqi-imposed war), economic sanctions, attempts to weaken defense power and creation of different political and security crises to stop Iran's progress but all of them in vain.
The MKO, founded in the 1960s, blended elements of Islamism and Stalinism and participated in the overthrow of the US-backed Shah of Iran in 1979. Ahead of the revolution, the MKO conducted attacks and assassinations against both Iranian and western targets.
The group started assassination of the citizens and officials after the revolution in a bid to take control of the newly-established Islamic Republic. It killed several of Iran's new leaders in the early years after the revolution, including the then President, Mohammad Ali Rajayee, Prime Minister, Mohammad Javad Bahonar and the Judiciary Chief, Mohammad Hossein Beheshti who were killed in bomb attacks by the MKO members in 1981.
The group fled to Iraq in 1986, where it was protected by Saddam Hussein and where it helped the Iraqi dictator suppress Shiite and Kurd uprisings in the country.
The terrorist group joined Saddam's army during the Iraqi imposed war on Iran (1980-1988) and helped Saddam and killed thousands of Iranian civilians and soldiers during the US-backed Iraqi imposed war on Iran.
Since the 2003 US invasion of Iraq, the group, which now adheres to a pro-free-market philosophy, has been strongly backed by neo-conservatives in the United States, who argued for the MKO to be taken off the US terror list.
The US formally removed the MKO from its list of terror organizations in September 2012, one week after Secretary of State Hillary Clinton sent the US Congress a classified communication about the move. The decision made by Clinton enabled the group to have its assets under the US jurisdiction unfrozen and do business with the American entities, the State Department said in a statement at the time.
In September 2012, the last groups of the MKO terrorists left Camp Ashraf, their main training center in Iraq's Diyala province. They have been transferred to Camp Liberty. Hundreds of the MKO terrorists have now been sent to Europe, where their names were taken off the blacklist even two years before the US.
The MKO has assassinated over 12,000 Iranians in the last 4 decades. The terrorist group had even killed large numbers of Americans and Europeans in several terror attacks before the 1979 Islamic Revolution.
Some 17,000 Iranians have lost their lives in terror attacks in the 35 years after the Revolution.
Rumors were confirmed in September 2016 about the death of MKO ringleader, Massoud Rajavi, as a former top Saudi intelligence official disclosed in a gaffe during an address to his followers.
Rajavi's death was revealed after Turki al-Faisal who was attending the MKO annual gathering in Paris made a gaffe and spoke of the terrorist group's ringleader as the "late Rajavi" twice.
Full report at:
http://en.farsnews.com/newstext.aspx?nn=13970306000958
--------
Activist: Iran Already Exonerated of Role in 9-11 Attacks, Docs Display Israel's Complicity
May 27, 2018
The Southern District Court's ruling "found the Islamic Republic of Iran, the Islamic Revolutionary Guard Corps, and The Central Bank of the Islamic Republic of Iran" liable for the deaths of more than 1,000 people as a result of the September 11 attacks. Judge George B Daniels of the Southern District Court of New York said that Iran is ordered to pay "$12,500,000 per spouse, $8,500,000 per parent, $8,500,000 per child, and $4,250,000 per sibling" to the families and estates of the deceased.
A default judgment is issued when a defendant does not contest the case in court.
Daniels issued other default judgments against Iran in 2011 and 2016 that ordered the Islamic Republic to pay victims and insurers billions of dollars for damages and deaths in the hijacker attacks.
Iran has rejected all cases, but it says it doesn't recognize the US courts for judging such cases.
Last week, thousands of American professors, politicians, experts and former members of the US Congress in a letter to the Iranian Ministries of Justice and Foreign Affairs called on the country to immediately appeal the Southern District Court of New York's ruling, and vowed to testify in support of the Islamic Republic in an appeals court after Tehran files for it.
Nader Talebzadeh, a prominent political expert and activist, referred to the letter, and stressed the need for Iran to end its tradition of not appealing the US courts' rulings and challenge the mainstream media's story about the 9-11 incident with the help of the US political activists at the court.
He told FNA on Saturday that "the September 11 fact-finding groups are ready to speak to the benefit of Iran in any court and testify that Iran has not been involved in the attack. They are ready to show presence in an official court and elaborate on the 9-11 incident. But the Iranian government is first required to appeal the ruling".
According to Talebzadeh, Iran has never appealed to the US courts' rulings and it has adopted the same approach in the recent case. "Now it has an opportunity only until next Tuesday to appeal the ruling."
He described the 9-11 as the US Achilles Heel which was used as a pretext for military intervention in Iraq and Afghanistan, stressing Israel's role in the deadly incident.
"There are documents to prove Israel's role and we should allow the Americans themselves to speak about it. Even the official commission which has investigated the 9-11 incident has clearly underlined that Iran has played no role. How a judge in New York, who has certainly received money from Saudi Arabia and has issued such a ruling for the second time, sentences Iran, and the country does not react?" Talebzadeh said.
He noted that investigations have proved that C4 explosive material was used during the 9-11 incident, adding, "The Americans fear reopening of the 9-11 case as all its details are secret and it is an opportunity for Iran on which it can maneuver."
The letter wrote by the American professors, politicians, experts and former members of the US Congress to the Iranian government to testify in support of the Islamic Republic in an appeals court is as follows:
"We (over 5000 US professors, experts and politicians) are willing and ready to provide court testimony in support of Iran's innocence; the extremely weak case against Iran is predicated on the 9/11 Commission's version of events, according to which 19 alleged hijackers (15 of whom were Saudis, and none of whom were Iranians) precipitated a series of miracles, including gross violations of the laws of physics. we can prove absolutely, beyond any reasonable doubt, that this version of events is false, thereby nullifying the case against Iran," the statement said.
The signatories of the statement underlined their firm belief that by strongly contesting this matter in a US court, Iran can win a major media victory over its enemies, and will likely win the legal case as well, adding, that for while the US courts can be corrupt, they follow procedural rules, and create legal records, that will in this case make it very difficult for the anti-Iran forces to achieve their objectives.
They said that the alternative—not contesting the judgment—hands the anti-Iran forces a victory that they do not deserve, adding that for although they have no valid evidence against Iran, if Iran fails to defend itself, it appears to be admitting guilt.
"We believe that the following organizations would likely be available to assist with Iran's defense, whether in the capacity of expert witnesses or as friends of the court; Architects and Engineers for 9/11 Truth (https://www.AE911Truth.org), Consensus 9/11 (http://www.consensus911.org), Scientists for 9/11 Truth (http://www.scientistsfor911truth.org)," the signatories of the statement said.
"We urge the government of Iran to contact Mr. Mick Harrison Esq. of the Lawyers Committee for 9/11 Inquiry" who, in his capacity as a private attorney, may be able to help the Islamic Republic of Iran take the initial steps toward assembling a legal team to appeal Judge Daniels' ruling in advance of the May 28 deadline:
Lawyers Committee for 9/11 Inquiry https://www.lawyerscommitteefor9-11inquiry.org (which on April 10 filed a 54-page petition for a grand jury investigation of 9/11 with the U.S. Attorney of the Southern District of New York).
The signatories include David Ray Griffin, Professor Emeritus, Claremont School of Theology; author of 13 books on 9/11, Richard Falk, Professor of International Law, Emeritus, Princeton University, Cynthia McKinney, Ph.D., six-term congresswoman (D-GA) and Green Party candidate for President of the United States (2008), Graeme MacQueen, Associate Professor of Religious Studies (retired), McMaster University; former Director of McMaster's Centre for Peace Studies and author of numerous articles on 9/11, Mark Crispin Miller, Professor of Culture and Communication, New York University, Piers Robinson, Professor of Politics, Society and Political Journalism, Niels Harrit, Ph.D., Associate Professor (retired), Dept. of Chemistry, University of Copenhagen, Denmark, Oliver Boyd-Barrett, Professor Emeritus of Journalism, Bowling Green State University, Anthony J. Hall, Ph.D., Professor of Globalization Studies, University of Lethbridge, Tony Szamboti, ME, former Lockheed Martin and BAE Systems mechanical design engineer, Ibrahim Soudy, PhD, PE, SE, PEng, Structural Engineer, Ian Henshall, author, 911 The New Evidence, Sander Hicks, Candidate, US Congress, www.hicksforcongress.com, Michael Santangelo, Co-Facilitator for Truth Action Project, New York City, Kevin Barrett, Muslim-Jewish-Christian Alliance for Truth; author, Questioning the War on Terror, www.scientistsfor911truth.org Scientists for 9/11 Truth Science professionals seeking new and independent investigations into the attacks of September 11, 2001, In early May, Southern District Court of New York issued a default judgment requiring Iran to pay more than $6bn to victims of the September 11, 2001 attacks that killed almost 3,000 people, court filings show.
The US court's ruling came despite the fact that official investigations found no evidence of Iranian involvement.
Though the lawsuit alleged Iran supported the hijackers with training and other assistance, no Iranian involvement in the attacks has ever been substantiated.
The 9/11 Commission, which was tasked with preparing a "full and complete account of the circumstances surrounding" the attacks, found no evidence of Iranian support.
Saudi Arabia remains the main target of US citizens looking for damages in relation to the attacks.
The judgment against Iran was issued in a court case consisting of more than 40 lawsuits that have been consolidated over the years.
Plaintiffs allege that Saudi Arabia provided material support to the 19 hijackers who crashed commercial airliners into the World Trade Center in New York and the Pentagon in Washington.
Full report at:
http://en.farsnews.com/newstext.aspx?nn=13970306000309
--------
Three Palestinians killed by Israeli tank fire in southern Gaza
27 May 2018
Israeli tank shelling killed three members of the Palestinian militant group Islamic Jihad in the Gaza Strip on Sunday, medical officials said, after weeks of border protests that have drawn lethal army fire.
Israel's military confirmed the strike, saying it targeted an observation post in response to a bomb that had been placed next to the border fence overnight. Video issued on the military's Twitter feed showed the bomb being detonated safely.
Islamic Jihad operates with a measure of independence from Hamas, the Islamist group that has controlled Gaza since 2007 and fought three wars against Israel.
Hostilities over the frontier have soared since Palestinians began mass-demonstrations on March 30, which Israel deems to be cover for attempts to breach the border fence.
At least 115 Palestinians have been killed and thousands hurt by army gunfire in the protests, drawing foreign censure.
Flotilla of boats
Organizers said they would ramp up demonstrations on Tuesday with a flotilla of boats that would set off from Gaza in an attempt to break Israel's maritime blockade of the enclave.
"Gaza has become a big, isolated prison, deprived of minimal rights, because of the unjust Israeli siege," they said in a statement, referring to clampdowns by Israel and neighbor Egypt.
Israel has blunted the military capabilities of Hama with a series of counter-measures: the Iron Dome air defence system against short-range rockets and a system for detecting and destroying cross-border guerrilla tunnels.
Maritime wall
In the latest move, Israel's Defence Ministry said on Sunday that work had started on a maritime wall that would block infiltration by seaborne Palestinian fighters from north Gaza.
The sea wall, due to be completed by the end of the year, entails three layers below and above the Mediterranean surface, and will employ fortified rock as well as barbed wire, the ministry said.
There have been no Israeli casualties along the Gaza frontier, but Israel has reported extensive damage to farmland on its side of the border from firebomb-bearing kites flown over by Palestinians.
To counter that threat, the Israeli military said it has mobilized private drone-racers as army reservists, who then try to ram into the kites with the remote-controlled aircraft.
"We'll deal with the kites, too," security cabinet minister Naftali Bennett told Israel Radio, when asked about the military's actions around Gaza.
Full report at:
https://english.alarabiya.net/en/News/middle-east/2018/05/27/Two-Palestinians-killed-by-Israeli-tank-fire-in-southern-Gaza-.html
--------
Top official: Iran to maintain role in Syria, support resistance
May 27, 2018
Iran's top security official says the country will maintain its advisory role in Syria and continue support for resistance groups after the US demanded that Tehran put a halt to those activities.
"As long as the threat of terrorism exists in Syria and the country's legitimate government persists in Iran's advisory presence, we will stay in Syria," Secretary of Iran's Supreme National Security Council Ali Shamkhani said on Saturday.
Shamkhani, in an interview with Doha-based Al Jazeera broadcaster, stressed that Iran's presence in Syria is solely aimed at fighting terrorism at the invitation of the country's "legitimate government."
US Secretary of State Mike Pompeo on Monday threatened Iran with the "strongest sanctions in history" if it did not comply with a list of steep demands, including the withdrawal of all forces under Iranian command in Syria.
Syria's Deputy Foreign Minister Faisal Mekdad responded by hailing Iran's assistance to his country, stressing that the pullout of the Iranian military advisers from the Arab country was not up for discussion.
Shamkhani also dismissed other US demands, including its call that Iran halt all uranium enrichment, stop its ballistic-missile program and give nuclear inspectors access to the entire country.
"Iran's missile program is completely indigenous and defensive. We will not seek permission from anyone to develop our defense power and will not hold negotiations on it," he said.
"There is no logical reason to negotiate with a country that does not abide by its commitments. By leaving the JCPOA, the US practically tore up the international agreement," Shamkhani said, referring to the Joint Comprehensive Plan of Action.
On May 8, US President Donald Trump announced Washington's withdrawal from the Iran nuclear deal, vowing to reinstate sanctions on Tehran and impose "the highest level" of economic bans on the Islamic Republic.
Shamkhani criticized the Europeans, saying they should have "acted more firmly and decisively in condemning and stopping preliminary US measures in violating the JCPOA."
"The Europeans kept silent in the lead-up to America's withdrawal from the JCPOA and this relayed somehow a message of following the United States."
Shamkhani said Trump's withdrawal has brought the nuclear deal to collapse and in order to revive it, the Europeans have to guarantee implementing all the obligations they have toward Iran under the JCPOA.
The senior official further dismissed the US call for a regional coalition to stop what it has called Iran's "malign" activities, which has been welcomed by Saudi Arabia's allies in the Persian Gulf Cooperation Council.
"This coalition has been designed on the basis of deceit and its goal is to milk" the wealthy Arab states in the region, Shamkhani said.
Iran, he said, has always sought to normalize relations with Saudi Arabia, albeit, "not from a position of weakness but from a position of dignity."
Shamkhani said Saudi Arabia is trying to impose its own will on the vassal rulers of the regional countries, the result of which has been the destructive war in Yemen and the diplomatic crisis with Qatar.
Iran's strategy in the Persian Gulf, he said, is defending its territorial waters and confronting any infiltration. "Our policy has not changed. The policy of defense and countering invasion is still on track."
No retreat from 'principled policies' on Palestine
Shamkhani also stressed that Iran will not abandon its "principled policies" on Palestine as well as Tehran's support for the regional resistance against the Israeli occupation and aggression.
"We consider defending Palestine as defending the Islamic dignity. Hamas is an organization approved by the Palestinian people," he said.
Full report at:
http://www.presstv.com/Detail/2018/05/27/563023/Iran-Ali-Shamkhani-Syria
--------
Gazans plan to break through Israeli-imposed sea blockade
May 27, 2018
People in the besieged Gaza Strip plan to break through the Israeli-imposed sea blockade on the impoverished sliver, while Tel Aviv tries to erect a sea barrier to bar desperate Gazans from breaching the decade-long siege.
A group of organizers in the enclave say they will try to help Gazans get through the blockade by boat this week following weeks of brutal massacre of unarmed Palestinian protesters by Israeli live fire along the border of the besieged sliver with the occupied territories.
The organizers, who have so far given few details of their plan, said on Sunday that their boat would sail on Tuesday at 11:00 a.m. local time (0800 GMT), on board of which would be patients needing medical care, students and job-seeking university graduates.
However, the exact location of departure and their intended destination were not announced.
The boat would also bring "dreams of our people and their aspirations for freedom", organizer Salah Abdul-Ati said in a press conference at Gaza City's port on the Mediterranean coast.
Gazan boats are generally allowed to go as far as six nautical miles offshore, and the Israeli navy regularly fires warning shots at Palestinians who breach it. Israeli military vessels will open live fire directly at the boats that try to violate the distance limit.
The organizers' plan comes four days ahead of the eighth anniversary of a deadly raid on Turkish-registered Mavi Marmara, part of a flotilla of six vessels, seeking to break Israel's blockade, enter the besieged sliver and give desperately-needed humanitarian aid and construction materials to the impoverished people.
Nine Turkish activists were killed in the operation, and another died in hospital in 2014. The whole cargo was confiscated by Israeli authorities.
The occupied territories have been the scene of new tensions ever since US President Donald Trump on December 6, 2017, declared Washington's recognition of Jerusalem al-Quds as Israel's "capital" and promised that the US would move its diplomatic mission to the city.
The highly provocative move caused outrage among Palestinians, who want the occupied West Bank as part of their future independent state with East Jerusalem al-Quds as its capital. Israel, on the other hand, lays claim to the whole city as its "capital."
In the hours leading up to the inauguration of the embassy in al-Quds on May 14, Israeli troops engaged in clashes with Palestinian protesters, killing over 60 unarmed demonstrators and wounding more than 2,700 others, either through direct shooting or firing tear gas canisters. The death toll is so far the highest in a single day since a series of Palestinian protests demanding the right to return to ancestral homes began on March 30.
The embassy inauguration also coincided with the climax of a six-week demonstration on May 15, the 70th anniversary of Nakba Day (Day of Catastrophe), when Israel was created and hundreds of thousands of Palestinians were forcibly evicted from their homeland by Israelis in 1948.
According to Gaza medical officials, more than 115 Palestinians have so far lost their lives by Israeli fire since the border rallies began in late March.
Additionally on Sunday, Israel announced that it had begun working on a "new and impenetrable" barrier, in the form of a fortified breakwater topped with barbed wire, off the Zikim beach, a few kilometers north of Gaza, to prevent the possibility of infiltrations by sea from the inhabitants of Gaza.
"This is a unique obstacle that will effectively prevent the possibility of penetrating Israel by sea," further said the minister of military affairs, Avigdor Lieberman, in a statement.
Gaza has been under an Israeli siege since June 2007, causing a decline in living standards as well as unprecedented unemployment and poverty there.
In addition, the Israeli regime has imposed increasing power cuts and shortages in fuel in the sliver, hugely disrupting water and sanitation services. Medicines and health equipment are also in dire short supply, straining an already fragile health system.
Full report at:
http://www.presstv.com/Detail/2018/05/27/563099/Gaza-sea-blockade
--------
Africa
Kenyan Muslims, Christians unite at iftar dinner
27 May 2018
Over 500 Muslims and Christians on Saturday attended an iftar dinner, organized by Turkish Cooperation and Coordination Agency (TIKA) at the Rahma Mosque in the capital Nairobi.
Women, children and men from all walks of life joined Turkish delegation, which included Turkish Ambassador to Kenya Ahmet Miroglu, to break the fast at 06.30 p.m. local time (1530GMT) before proceeding to prayers at the mosque.
Kenyans were served Turkish cuisines, including kebabs, pastries, rice and other dishes.
Speaking to Anadolu Agency, Sheikh Ibrahim Lethome, who represented the Supreme Council of Kenya Muslims (SUPKEM), said: "Ramadan is meant to be celebrated this way, with such acts of good faith like the Turkish people have shown us today. The message I got from this event is that we should fear God and respect and love our neighbors irrespective of their religion or race."
Emre Yuksek, TIKA's coordinator, said: "What makes this year special is that we brought together Kenyans from all faiths, all backgrounds, development partners from all embassies and people from different aid organizations in the same location. This is the first time that we are doing this in Kenya to signify Ramadan's message of peace, coherence and tolerance."
Yuksek added that a large section of the guests, who attended the iftar dinner, had never had an Iftar at a mosque before.
In the recent years through TIKA, Turkey has been a generous donor with humanitarian aid, revamping schools among other key projects and its proactive foreign policy in Kenya, becoming an active stakeholder in the East African region's stability.
http://www.worldbulletin.net/africa/202480/algerian-blogger-appeals-against-10-year-jail-sentence
--------
Somalia: Alshabaab Besiege Mandera Mosque to "Preach"
25 MAY 2018
Somalia militant group Alshabaab on Thursday night took siege a mosque in Kamor Elle, a village in Kenya's Mandera county, police and residents say.
A resident of Mandera told Radio Dalsan that the militants raided the village as the Ramadan Taraweh prayers were on going.
"We cannot leave the Kamor Elle. We are surrounded by Alshabaab. They have taken over the mosque" a resident told Radio Dalsan via phone interview on Thursday night.
Kamor Elle lies between Lafey and Mandera town a few kilometers from the Somalia border a a region that has seen intense militant activities in the past.
Kenya Police on Friday issued a statement to confirm the incident saying the militants took over a local mosque and preached for 5 hours.
http://allafrica.com/stories/201805280345.html
--------
Muslim Public Servants Want Ambode Re-elected
28 May 2018
Muslim public servants in Lagos State have called on all faithful to support the re-election bid of Governor Akinwunmi Ambode, for his numerous landmark achievements, that has significantly transformed that landscape of the state, bringing unprecedented development, rapid modernization, and unparalleled infrastructure growth to the state.
At the Jumat Service and special prayer organised by the Lagos Ministry of Home Affairs in commemoration of Democracy Day, the Muslim community in Alausa and Ikeja area, as well as Muslim Public Servants converged to pray for continuity of peace and religious harmony in the state.
The Chief Imam at the Lagos State Secretariat Mosque, Alausa, Alhaji Muhammed Abulbakri Raji, stated that Ambode does not discriminate, and that he "is passionate for Lagos and care for the citizens; he is very responsive to their wishes and desires.
These are sterling qualities that a Muslim should possess; although Ambode is a Christian, he has the qualities of a righteous Muslim; in the past three years of his administration, he has worked assiduously and his noble efforts have yielded tremendous outcomes never witnessed before in Nigeria. Ambode deserves a second term."
He said Ambode should be commended for sustaining the level of safety and security of the state, the sector he invested heavily and that be applauded for the prompt actions he took to stamp out Badoo Cults and kidnappers when they threaten the state with their devilish and dastardly acts; and that the governor should be supported for bringing development to the grassroots and impacting positively in the lives of the masses from all walks of lives and in all the wards And Local Government/Local Government Development Authorities of the state.
The Commissioner for Home Affairs, Dr. AbdulHakeem AbdulLateef said, Ambode would not relent in his efforts to transform Lagos to a SMART City that would be the pride of all Africans and would always implement programmes and projects to keep the state in the forefront of development.
Full report at:
http://guardian.ng/politics/muslim-public-servants-want-ambode-reelected/
--------
Nigeria told to end security 'slush funds'
May 28, 2018
Campaigners on Monday urged Nigeria to stop handing out millions of dollars to tackle unspecified security issues with no questions asked, arguing the practice fuels corruption and conflict.
Nigeria is facing widespread unrest, from Boko Haram 's Islamist insurgency in the northeast to a resurgence of violence in a long-running dispute over land and resources in central states.
At the same time troops have been deployed to curb rising crime from cattle rustling and kidnapping gangs in the north, as well as to stop attacks on oil and gas infrastructure in the south.
Nigeria's defence budget is estimated to be some $1.2 billion (1.03 billion euros) this year -- but Transparency International (TI) estimated more than $670 million extra is handed out annually without proper oversight.
Known as "security votes," the funds comprise cash payments made to designated federal, state and local government officials for discretionary spending.
They also dwarf recent and promised US and British security and counter-terrorism assistance, TI said in a report, "Camouflaged Cash: How 'Security Votes' Fuel Corruption in Nigeria".
"Nigeria would arguably not need such assistance if it curtailed the use of security votes and reprogrammed them into the country's formal defence and security budget," it said.
The group's head of defence and security, Katherine Dixon, called security votes "one of the most durable forms of corruption operating in Nigeria today".
Instead of helping to end conflict, they provided corrupt officials with "an easy-to-use and entirely hidden slush fund", she added.
"Corruption in the crucial sector of defence and security plays right into the hands of those who seek to sow the seeds of instability and terror," she said.
"It leaves armed forces under-resourced in the fight against Boko Haram and feeds groups who may destabilise the elections."
'Siphoned off'
President Muhammadu Buhari, a former military ruler, came to power in 2015 after promising to end the Boko Haram conflict and stamp out endemic graft and impunity in government.
He argued that corruption had left troops without adequate arms and ammunition to fight the jihadists, who in 2014 had run rampage across the northeast capturing swathes of territory.
One of his first acts as president was to order a probe into the opaque practices of defence procurement, which led to the arrest of former national security advisor Sambo Dasuki.
Dasuki is accused of using some $2 billion in defence funds earmarked for the fight against Boko Haram to help bankroll Goodluck Jonathan's re-election campaign against Buhari in 2015.
TI has previously said that Nigerian former military chiefs have siphoned off more than $15 billion from the country's defence sector.
Last December, the government announced the withdrawal of $1 billion from Nigeria's Excess Crude Account -- the country's rainy-day savings fund of profits from oil sales.
Vice-President Yemi Osinbajo said the money was not only meant to help end the Boko Haram conflict but also tackle other security challenges, without elaborating.
The main opposition Peoples Democratic Party accused the ruling All Progressives Congress of planning to use the money to fund Buhari's bid for re-election next year.
TI said that the use of security votes had increased from 30 in the federal budget in 2016 to more than 190 this year, despite Buhari's promise of open government and anti-corruption.
"With the approach of the 2019 election, this abrupt increase should ring alarm bells for those overseeing Nigerian public spending," the report said.
TI said Buhari should curtail his government's use of the practice to demonstrate his seriousness about tackling graft.
Full report at:
https://nation.com.pk/28-May-2018/nigeria-told-to-end-security-slush-funds
--------
Libyan rivals set for crunch Paris talks to break political deadlock
27 May 2018
Libyan rivals will meet on Tuesday in Paris to agree on a political roadmap that aims to resolve disputed issues to pave the way for U.N.-backed elections this year
U.N. Special Representative Ghassan Salame has been leading the latest push to unify and stabilize Libya, seven years after the uprising that toppled and then killed Muammar Gaddafi.
Salame told the U.N. Security Council on May 21 that he had given up trying to amend a stalled 2015 peace deal and was instead focusing on holding elections this year.
"Once we have this roadmap we will have outlined the commitments from all sides and the next steps," a French presidential advisor told reporters in a briefing.
"The terms of Mr Salame's mission will be clearer."
Prime Minster Fayez al-Sarraj, eastern Libya commander Khalifa Haftar, Aguila Saleh, president of the eastern House of representatives and Khaled Al-Mishri, president of the High Council of State, have all been invited.
Under President Emmanuel Macron, France has tried to play a bigger role in coaxing Libya's factions to end the turmoil, which has let Islamist militants gain a foothold and allowed migrant smugglers to flourish.
The meeting will encourage the parties to quickly adopt the necessary arrangements for the staging of elections this year.
A draft of the 13-point non-binding political roadmap seen by Reuters includes the call for the immediate unification of the central bank and a commitment to support the creation of a national army. It also agrees to an inclusive political national conference within three months.
Analysts were cautious on the initiative.
"Libya is a corrupt, fractured environment that offers many rewards to actors bent on evading political compromise and using brute force instead," said Jalel Harchaoui, associate at North Africa Risk Consulting, adding that some could be emboldened after being given international legitimacy.
"Others will feel excluded and tempted to conduct attacks and grab territory."
The draft threatens international sanctions on those that impede the accord or dispute the outcome of elections.
Past attempts at peace deals in Libya have often been scuttled by internal divisions among the country's competing armed groups and by the different countries backing the local actors.
The conference will be attended by some 19 countries and four international organisations, including countries that have influence on the ground such as Egypt, Italy, Qatar, Turkey, and the United Arab Emirates.
"If everyone agrees then it will be a step forward. The idea is to put pressure on the four participants knowing that if their backers tell them to accept this they won't have a choice," said a European diplomat. "That's partly true, but there is also an inter-Libyan dynamic to take into consideration," said a European diplomat.
The meeting comes almost a year after Serraj and Haftar committed to a conditional ceasefire and to working towards election in talks already chaired by Macron. He was criticised at the time for consulting neither the U.N. nor the partners.
Full report at:
https://english.alarabiya.net/en/News/north-africa/2018/05/27/Libyan-rivals-set-for-crunch-Paris-talks-to-break-political-deadlock.html
--------
Boko Haram is ruining Nigeria's chance to benefit from the US-China trade tiff
28 MAY 2018
Abuja — Chinese importers are seeking alternative sources of sorghum as risks of a trade spat with the US linger.
But they are finding Nigeria, the world's second-largest producer, unable to fill the gap as violence in producing regions leaves fields idle.
Sorghum is a drought-resistant grain used in the food and brewing industry as well as livestock feed, and a staple food in some parts of the world.
"The trade war opens up an opportunity for us to export to China," Muda Yusuf, head of the Lagos Chamber of Commerce and Industry, said in a phone interview from Nigeria's commercial capital.
"I don't think Nigeria is able to take it as our capacity is dwindling because of all the security problems we have in our agricultural belt."
Nigeria produced 6.5-million tonnes of sorghum in 2017, second only to the US, which had output of more than 8-million tonnes, according to the US Department of Agriculture.
Nigeria's Agriculture Ministry puts annual output at 11-million tonnes, which it says is not enough for local demand of 12.5-million tonnes, raising questions about the capacity to export.
Buyers from China began making inquiries from Nigerian suppliers even before retaliatory tariffs with the US set in.
China imposed a tariff of 179% on imports of US sorghum in April after starting an antidumping and antisubsidy investigation in February.
It recently announced it was suspending the measure as the two countries seek to resolve their trade dispute.
Herders and farmers
The area planted with sorghum in Nigeria will shrink by 3% in 2018 to 5.2-million hectares due to the resurgence of attacks by Boko Haram Islamist militants in major producing areas, according to the US Department of Agriculture.
Fighting has also intensified this year between herders and farmers over grazing land across much of central Nigeria, displacing hundreds of thousands of farmers, many of whom grow sorghum and other grains.
China is the world's largest sorghum market and the threats of a trade war with the US have given sorghum-producing countries the opportunity to gain from the dispute between the world's two biggest economies.
Full report at:
https://www.businesslive.co.za/bd/world/africa/2018-05-28-boko-haram-is-ruining-nigerias-chance-to-benefit-from-the-us-china-trade-tiff/
--------
CSOs say Boko Haram cashing on humanitarian crisis
28 May 2018
Coalition of civil society organisations (CSOs) on human rights and conflict resolution in Nigeria has debunked the recent report by the Amnesty International (AI) accusing the security forces of raping and starving internally displaced persons (IDPs) to death in the northern part of the country.
The global agency had at weekend in its report entitled They betrayed us, detailed how the military and the Civilian Joint Task Force (Civilian JTF) allegedly separated women from their husbands and confined them in remote satellite camps where they were reportedly being raped in exchange for food.
Reacting to the report it termed Tainted Spring, the coalition said it was evident that some 'political' Boko Haram people were taking advantage of the unrest in the North East.
The group's Executive Director, Maxwell Gowon, told newsmen yesterday in Abuja that the report was targeted at heating up the polity and rubbishing the security forces, especially the military, that were carrying out a "good job."
The coalition claimed that the document was sponsored by a 'political Boko Haram' bent on achieving a pre-determined result.
His words: "This particular one in question has been begging for legitimacy after it was exposed that Amnesty International and the UNICEF were paying journalists and NGOs to compile fictitious reports against the Nigerian military and other stakeholders fighting terrorism in Nigeria.
What these organisations stand to achieve is still what the coalition is yet to come to terms with.
"The military's compliance with the rules of engagement is significantly high, enough to conform with the globally accepted standards in conflict situations.
Full report at:
https://guardian.ng/news/csos-say-boko-haram-cashing-on-humanitarian-crisis/
--------
Southeast Asia
Non-food products tap into huge Muslim market in halal boom
May 28, 2018
Indonesia's growing Muslim consumer base has inspired companies to promote the halal label in their products, even if the brands sell non-food products.
Ahead of the fasting month of Ramadhan, Sharp Electronic Indonesia launched its halal-certified refrigerator, claiming the electronic product was the first halal fridge in Indonesia. Some consumers have been perplexed about the halal label being used on a product that can't be digested, however the company argued the fridge would store the foods to justify the label.
"What is the meaning of a halal fridge? Does it mean the raw material of the fridge is halal? I do not understand. Is it only a marketing gimmick?" Those were some of the questions that came to Ifad Maulidi's mind when he heard about the halal fridge for the first time.
The 23-year old banker always looks for the halal certification in food and beverage products and some cosmetics, but the halal certificate on an electronic product was new for him.
The Indonesia Ulema Council (MUI), the institution that issues halal certifications, has seen a rise in the use of the halal label for non-edible products besides cosmetics. In 2016, a hijab brand, Zoya, announced in an advertisement that its hijabs were the first to receive halal certification from MUI. The ad caused controversy because other hijab producers were offended. Later, Zoya's creative director, Sigit Endroyono, apologized during a press conference in Bandung, West Java, because their ad was perceived as accusing other hijab brands of being haram.
However, the controversy surrounding the "halal hijab" did not stop other companies from following suit. More and more brands have acquired halal certificates including Total Almeera halal detergent, Softex halal sanitary pads, Power Cat halal cat food and Medina halal plastic food containers.
Lukman Hakim, director of MUI's Institute for Food, Drugs and Cosmetic (LPPOM) said the institution had begun to receive more requests to assess non-food and beverage products. "I'd like to stress that MUI's position is to answer questions from clients regarding the halal status of their products. They ask and we answer by conducting an assessment," he said.
Lukman said a halal assessment request for a refrigerator was new for MUI as well. "But since they asked about the halal status of the refrigerator's raw materials, we have to answer it," he added.
For the refrigerator, MUI implemented the same assessment stages it conducts on other products. There were several criteria assessed, including the halal status of the raw material such as food liner, tray and the possibility of contamination during the manufacturing process.
When MUI decided to assess a product, Lukman added, it would only focus on the halal criteria. He said that MUI did not assess a brand's motives as to why it wanted its product to receive a halal certificate.
In Indonesia, the number of products with the halal label has increased every year. The number of halal certified products in 2017 was 127,286, rising from 32,890 in 2012.
Marketing expert Yuswohady said the boom in non-food and beverage brands introducing halal certified products was a strategy to win the hearts of the huge Muslim market in Indonesia, which is almost 90 percent of the estimated population of 260 million people.
The Muslim market had been bullish since 2010, when the religiosity of Indonesian Muslims began to spread to horizontally, not only vertically, or between humans and God, he said. Horizontal religiosity affects how Muslims in Indonesia express their lifestyle based on sharia, or Islamic values.
"Now, Muslims are more concerned with what they wear, how to dress, what they eat, how they manage financing, based on sharia. It is called sharia deepening," he said.
Yuswohady predicted that the trend of halal-certified products would continue to rise until next year, especially because Law No. 33/2014 on halal products mandated that all food and beverage, cosmetic and pharmaceutical products bear halal certificates by 2019.
However, halal certification for products other than the three sectors could be a doubled-edged sword for companies.
"What Sharp did in launching a halal refrigerator is considered a safe marketing strategy as a refrigerator is still related to food and beverages," he said.
However, Yuswohady warned brands to carefully implement halal marketing because it could backfire. Some customers could think such promotion is just a gimmick.
For example, Tiki, a South Jakarta resident who cares about halal labels in food and beverages and cosmetics, believed putting a halal label on certain products, like fabric softener, was confusing. "It might be a marketing strategy, but it could lead to confusion among customers," she said.
http://www.thejakartapost.com/news/2018/05/27/non-food-products-tap-into-huge-muslim-market-in-halal-boom-1527421126.html
--------
'Islamic affairs should be managed by Council of Malay Rulers'
May 27, 2018
KUALA LUMPUR: Federal level Islamic affairs should be managed by the Conference of Rulers to reinstate the dignity of the royal institution apart from empowering it.
Parti Amanah Negara (PAN) vice-president Datuk Dr Mujahid Yusof Rawa said the conference of Rulers should be the determinants of Islamic policies in the country, while the Islamic affairs agencies under the Federal Government act as executors.
This he said was to avoid agencies such as the Malaysian Islamic Development Department (Jakim) being misused for political purposes, and sidelining the rights of the conference of Rulers.
"We have seen political intervention in agencies like Jakim, during the previous government, for example during the RUU355 issue," Mujahid said, referring to PAS' private member's bill to amend the Syariah Courts (Criminal Jurisdiction) Act 1965.
"Supposedly the proposal should receive the consent from the royal institution before being brought to Parliament, but until now, I don't think the proposal received consent from the conference of Rulers," he said when contacted by NSTP today.
"Other institutions too were used to support certain political groups, without realising that those action went against the powers of the conference of Rulers," he added.
Elaborating further, Mujahid said the proposal to place Islamic agencies under the conference of Rulers did not mean that the institution would be directly involved in the daily affairs of the relevant agencies.
"Daily administration works, such as the management of the agencies and its finances, are carried out by the government, as long as it does not encroach or take over the powers of the Conference of Rulers."
Mujahid cited a previous allegation in which the Malaysian Islamic Economic Development Foundation (YaPeim), was accused of abusing its funds. YaPeim had said they would offer full cooperation to the Malaysian Anti-Corruption Commission (MACC) in their probe against the foundation.
"Things like this should not be allowed to happen anymore," Mujahid said.
Meanwhile International Islamic University Malaysia (IIUM) law lecturer Associate Prof Dr Shamrahayu Ab Aziz agreed to the suggestion as it would empower the king, in line with the Federal Constitution.
"Islam remains under the purview of the king and the conference of Rulers can play their part, but we still need the Federal Government to create a portfolio to retain one minister in charge of Islamic affairs.
"This is because the Federal Government has responsibilities in Islamic law," she said.
In related development, Shamrahayu opined that the call to abolish Jakim was not fair as its existence did not go against the Federal Constitution.
She explained that Jakim was originally a secretariat of the Islamic Affairs Council, created in 1968 with the consent of the conference of Rulers. It was later placed under the Prime Minister's Department.
Based on that, Shamrahayu said it was unfair to suggest that it be dissolved.
Sharing the same sentiment, Perak PKR chief Dr Muhammad Nor Manuty said the effort to depoliticise the handling of Islamic affairs and give more powers to the conference of Rulers was a good idea.
"As we know constitutionally, for each state, the ruler is the head of religion, it is mentioned in Pakatan Harapan's (PH) manifesto that we plan to reinstate the powers of the Sultan in a bid to strengthen Islam.
"Details must be further refined via a discussion between the government and the Council of Malay Rulers in order to ensure there are no misunderstandings between the the royal institution and the ministry in charge of religious affairs," he said.
PKR Youth Chief Nik Nazmi Nik Ahmad said the matter was in line with the government's aspirations.
Full report at:
https://www.nst.com.my/news/nation/2018/05/373914/islamic-affairs-should-be-managed-council-malay-rulers
--------
MCA: Uphold non-Muslim retailers' right to sell alcohol
27 May 2018
PETALING JAYA: MCA has called for the rights of non-Muslim retailers to sell alcohol to be protected after an NGO forced a convenience store in Perak to get rid of their alcohol stock.
Following the incident, Perak Mentri Besar Ahmad Faizal Azumu reminded the NGO not to act on their own and instead lodge a report to the authorities, a move MCA said was "timely".
However, MCA said Ahmad Faizal's next advice for retailers operating in Malay villages to be "more sensitive to the feeling of locals" was legally incorrect.
"There are no laws prohibiting sales of bottled or canned alcoholic drinks except for the restrictions under the Excise Act," said MCA publicity spokesman Datuk Seri Ti Lian Ker.
Ti highlighted a previous case debated in the Perak State Assembly where local council officials confiscated canned beers from a 7-11 convenience store on the basis that the premises was selling alcoholic drinks in a largely populated Malay area.
"The Exco in charge of Islamic Affairs then, Datuk Ahmad Munawar Abdul Jalil had also asserted in the state assembly that during Nabi Muhammad's time, only Muslims are prohibited to serve, sell or consume alcoholic drinks but the rights of the non-Muslims to do so have always been respected," he said.
"We cannot impose or restrict the rights and liberties of traders to trade canned or bottled drinks containing less than 2% alcohol," Ti said, adding that this right should not be restricted by imposing the demographic factor.
"There is no law that prohibits any such sales in a Malay-majority area. However, there are personal laws that forbid Muslims from purchasing these drinks," Ti said, adding that the enforcement should be against Muslim wrongdoers and not the retailers.
He called upon DAP lawyers in the Perak state exco and state assembly to uphold the law.
Full report at:
https://www.thestar.com.my/news/nation/2018/05/27/mca-uphold-non-muslim-retailers-right-to-sell-alcohol/
--------
Stop 'Islamist thuggery' Siti Kassim urges Muslim MPs, Ministers
May 27, 2018
PETALING JAYA: Activist lawyer Siti Kassim has urged all Malaysians to speak out against "ISIS behaviour" and the "Islamist thuggery" of a group of young Muslims who forced an all-night shop in Perak to empty out a liquor cabinet. She criticised Muslims MPs and ministers for remaining silent.
"This kind of Islamist extremism needs to be halted and nipped at the bud before it becomes a plague, a cancer throughout Malaysian society," she said in an online posting today.
"I am disappointed that we have not heard a single word against it from our elected Muslim representatives or Muslim Ministers especially. what are they scared of or waiting for? Or do they agree with this behaviour?" she said.
The young Muslims in Perak, from a group known as Jabat, had posted a video showing the group in action in a shop in Manjoi, and the shop worker emptying the cabinet.
Siti Kassim said their action was "the result of more than two decades of Islamist influence in our education system and civil administration".
She urged all right-thinking Malaysians, Muslims and non-Muslims alike, to speak out against such "Islamist thuggery" and asked the government to act decisively against it.
The group had lodged a police report, declaring their success in campaigning against the sale of alcoholic drinks.
One young man was shown saying that, "as long as there are alcoholic drinks in the shop, then we can't buy something else, can we?"
Full report at:
http://www.freemalaysiatoday.com/category/nation/2018/05/27/stop-islamist-thuggery-siti-kassim-urges-muslim-mps/
--------
President wary of ISIS setting up cells in PH
May 28, 2018
The notorious Islamic State (ISIS) might choose the Philippines as a "logical place" to set up camp and kill the infidels, President Duterte recently warned the public.
The President said the ISIS militants are unlikely to choose Indonesia and Malaysia as its next caliphate in the region since these countries are dominated by Muslims.
"They are being pushed out of the Middle East. Now they're planning to establish a caliphate here in Southeast Asia. What country would be the most ideal to set up a camp?" Duterte said during the launch of the Davao River Bridge project in Davao City last Thursday.
"Where would they set up camp? What's the logical place? Mindanao. Where would they find the infidels to kill? They are not found aplenty in Indonesia, Malaysia, or Brunei. It's right here," he added.
He acknowledged that the country could be the next "battleground" of ISIS after being driven out of the Middle East by western forces. He noted that these militants were looking for a country "where they can mix with the crowd."
"What country would be the most ideal to set up a camp? Indonesia? Indonesia is all Muslim… It could not be Malaysia, it's all Muslim," he said.
Duterte cautioned that the ISIS militants have an ideology dedicated to kill people and destroy places.
"Itong g****** ISIS na ito, they do not know anything except to kill and destroy. And sometimes in their crazy notion that they are the disciples of God, they say that they will kill all infidels and infidels is – are the non-Muslims," he said.
Faced with the imminent terror threat, Duterte said he has decided to keep his options open on whether to seek assistance from the United States anD China if hostilities erupt in Mindanao. He added that his decision to avoid war with China over a territorial dispute was part of a strategy to seek its aid against security threat.
Full report at:
https://news.mb.com.ph/2018/05/27/president-wary-of-isis-setting-up-cells-in-ph/
--------
China to host Iranian President Rowhani amid nuclear deal doubt
28 May 2018
China will host Iranian President Hassan Rouhani next month at a regional summit in a Chinese coastal city, the country's foreign ministry said on Monday, as major powers scramble to save Iran's nuclear deal after the United States pulled out.
Rouhani will pay a working visit to China and attend the summit of the China and Russia-led security bloc the Shanghai Cooperation Organization, the ministry said.
It did not give exact dates for his visit, but the summit is scheduled to be held on the second weekend of June in the northern Chinese city of Qingdao.
Iran is currently an observer member of the Shanghai Cooperation Organization, though it has long sought full membership.
Russia has previously argued that with Western sanctions against Tehran lifted, it could finally become a member of the bloc which also includes four ex-Soviet Central Asian republics, Pakistan and India.
The 2015 agreement between Iran and world powers lifted international sanctions on Tehran. In return, Iran agreed to restrictions on its nuclear activities, increasing the time it would need to produce an atom bomb if it chose to do so.
Since U.S. President Donald Trump withdrew the United States this month, calling the agreement deeply flawed, European states have been scrambling to ensure Iran gets enough economic benefits to persuade it to stay in the deal.
Full report at:
https://english.alarabiya.net/en/News/world/2018/05/28/China-to-host-Iranian-President-amid-nuclear-deal-doubt.html
--------
URL: https://www.newageislam.com/islamic-world-news/ramzan-spirit-tihar-jail-59/d/115377
New Age Islam, Islam Online, Islamic Website, African Muslim News, Arab World News, South Asia News, Indian Muslim News, World Muslim News, Women in Islam, Islamic Feminism, Arab Women, Women In Arab, Islamophobia in America, Muslim Women in West, Islam Women and Feminism