New Age Islam News Bureau
4 Jun 2018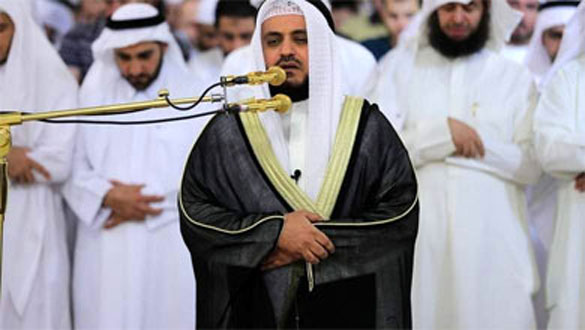 Up to 75 imams, known for their tuneful voices, are already leading the Taraweeh prayers in 18 grand mosques of Dubai.
(Supplied photo)
-----
• Ramadhan Foundation Chief Says Mosques Are 'Proud To Have Banned London Bridge Terrorist'
• Iran Calls On World to Stand Up To Trump, Save Nuclear Deal
• Popular Kuwaiti Imam Leads 12,000 Worshipers for Taraweeh Prayers
• TV Channel Pulled Up For Calling Delhi Residents 'Rohingya, Bangladeshis'
• In Pakistan, Philanthropy Hits a New Peak This Ramazan
Europe
• Ramadhan Foundation Chief Says Mosques Are 'Proud To Have Banned London Bridge Terrorist'
• No 10 Expected To Lift Visa Cap Preventing Doctors Entering UK
• Britain Says Militant Islamist Threat to Stay High and May Rise Further
--------
North America
• Iran Calls On World to Stand Up To Trump, Save Nuclear Deal
• WH Slams Group for Attacking Its Senior Official as An Islamophobe
• He was a teenage terrorist. Now he's fighting extremism
--------
Arab World
• Popular Kuwaiti Imam Leads 12,000 Worshipers for Taraweeh Prayers
• Syrian Army Discovers Saudi-Made Chemicals in Terrorists' Positions in Southern Damascus
• New Saudi Islamic affairs minister expert in jurisprudence with moderate social views
• Qatar rejects war on Iran as rift with Saudi widens
• Qatari media giant says targeted by 'sophisticated' UAE piracy
• Syria's Assad to meet Kim in North Korea
• US Military Setting Up New Base in Northern Iraq
• Turkish Forces Capture Hundreds of Civilians in Northern Syria in One Month
• Terrorists Fail to Break through Syrian Army Positions in Deir Ezzur
• Tribal Units Formed in Syria to Face Occupying Forces
• Popular Uprising against Turkish Forces Reported again in Northern Syria
• Philippines' Duterte apologizes to Kuwait for 'harsh' words
• Iraq issues arrest warrant for Kurdish secession leader
--------
India
• TV Channel Pulled Up For Calling Delhi Residents 'Rohingya, Bangladeshis'
• Confine Illegal Rohingya To Designated Camps: Centre To States
• Outside Muslims cornering livelihood opportunities in Uttarakhand: RSS leader Indresh
• Muslim Organisations Too Promoted Cause of Telangana
• Jammu and Kashmir: Latest militant recruit could be brother of IPS officer
• JK HC cancels bail granted to Asiya Andrabi, 4 others in terror-related case
--------
Pakistan
• In Pakistan, Philanthropy Hits a New Peak This Ramazan
• Prison Sentence Awaits Nawaz: PAT Leader Tahir Ul Qadri
• At least two PTM workers killed in South Waziristan 'militant attack'
• PML-N, PPP ridicule PTI's indecisiveness over caretaker CMs
• PTM announces support for sit-in against target killings in N Waziristan
• Six terrorists killed as Pakistan repulses cross border attacks
• At least 3 PTM supporters dead, 20 injured in 'Taliban' attack
--------
South Asia
• 9 Militants Killed As Airstrike Target ISIS-K Compound In Nangarhar
• Nearly half Afghan children out of school, number rising for first time in years
• Rohingya refugee crisis threatens biodiversity of Bangladesh's Cox's Bazar
--------
Southeast Asia
• Autonomy for Muslim Minority in Philippines Is One Step Closer
• Ahmadi Muslims hoping for major shift in Islamic administration
• Muslim lawyers: Agong swore to Allah, 'constitutionally obliged' to defend Islam
• Constitution does not require the AG to be Malay and Muslim
--------
Mideast
• Yemeni Gov't Rejects Rumours of Accepting UN Plan on Hudaydah Port
• Yemeni Army Liberate Hodeidah Tourist Resorts, Seize Houthi Ballistic Missiles
• Nine migrants, mostly children, dead after speedboat sinks off Turkish coast
• Hadi: The Persian project carries nothing but harm to the people of Yemen
• Houthi militias surrender as Yemeni Army makes gains on Nihm front
• Saudi aerial assault leaves nine civilians dead in northwestern Yemen
• 'Any third party' call on Israel, US for war with Iran dangerous: Qatar
• Israeli jets fly over Hudaydah amid Saudi push to seize city: Houthi chief
--------
Africa
• At Least 48 Migrants Dead after Boat Sinks Off Tunisian Coast
• One dead in IS attack on Libya police station
• Boko Haram: You want to rest, who will take over – Military replies tired soldiers
Compiled by New Age Islam News Bureau
URL: https://www.newageislam.com/islamic-world-news/ramadhan-foundation-chief-says-mosques/d/115445
--------
Ramadhan Foundation Chief Says Mosques Are 'Proud To Have Banned London Bridge Terrorist'
By John Shammas
3rd June 2018
A MUSLIM leader has told of his "pride" in how mosques had shunned and banned London Bridge terrorist and ringleader Khuram Butt before he carried out the atrocity one year ago today.
Mohammed Shafiq, the chief executive of the Ramadhan Foundation which works to encourage interfaith dialogue, came face to face with Butt in 2013.
The anti-extremism campaigner was at College Green in London the day after Lee Rigby was killed when they got involved into a heated exchange.
Speaking to The Sun Online, he said: "He was with Anjem Choudary, and once I saw Choudary and how he was trying to provoke the situation that day, I just lost it.
"I began shouting at him, telling him to leave, because this is a man who has done intense harm to the Muslim community and led young people to do horrific things.
"And Butt began shouting back, and I remember him so well because he was so angry and called me a 'murtad'. It's a word no Muslim should use, because it means you are a traitor to your people and your religion.
"Obviously at the time I had no idea who he was, but when the terror attack happened I recognised him right away."
Butt was later banned from his local mosque in East London but espousing extremist views and challenging imans.
However while Mr Shafiq says the muslim community is "proud" to have shunned Butt because it "shows how proactive we have become in tackling these people", he remains frustrated at how authorities did not do more to prevent Butt from carrying out the atrocity, given his known association with Choudary.
Butt was even featured in the Channel 4 documentary The Jihadis Next Door in 2016 before carrying out the rampage one year ago today alongside Rachid Redoune and Youssef Zaghba, when they killed eight innocent people and injured 48.
He added: "It makes me angry, and it makes me frustrated, that he could be out there associating with people like Choudary, and then he goes on to do what he did.
"I think elements of society in general, the government and the media were too tolerant of poisonous characters like him.
"It left me sad and heartbroken for those who died and their families, but I couldn't help but feel very angry too."
The campaigner also told how muslims have become fearful of "revenge" attacks from racists following terror attacks - and he too has been a victim.
"Because the Manchester attack was quickly followed by the London Bridge attack, there was a lot of concern about what revenge attacks could take place," he said.
"So what we saw was lots of mosques increasing their CCTV, and volunteers coming forward to be security guards.
"This procedure is needed too because of Finsbury Park. When an attack happens, the fear for Muslims of a reprisal attack is very real.
"Women do not feel safe walking down the road with headscarfs, the elderly too.
"After the Manchester attack I was spat at in the street and verbally abused. It's obviously not acceptable, but it could have been worse."
While Mr Shafiq says the battle to tackle extremism is always ongoing, he says that recent years have seen the community transform for the better.
He said: "After 9/11, I think around the country there would have been many leaders in mosques who would have advocated that kind of attack.
"Since then an incredible amount of work has been done to clean up the mosques, and to root these people out. The work has been tremendous to tackle extremism and in 2017 and 2018 we are in a good place."
https://www.thesun.co.uk/news/6433992/muslim-leader-says-mosques-are-proud-to-have-banned-london-bridge-terrorist-but-hes-angry-khuram-butt-was-not-stopped-by-authorities-before-atrocity/
--------
Iran calls on world to stand up to Trump, save nuclear deal
June 04, 2018
LONDON: The world should stand up to Washington's bullying behavior, Iran's foreign minister was quoted as saying on Sunday by state media in a letter to counterparts, as the top diplomat intensifies efforts to save a nuclear deal after a US exit.
US President Donald Trump pulled out last month from the 2015 accord between Iran and world powers that lifted sanctions on Tehran in exchange for curbs to its nuclear program.
The remaining signatories of the deal France, Germany, Britain, Russia and China still see the international accord as the best chance of stopping Tehran developing a nuclear weapon and are trying to salvage it.
In a letter from Iranian Foreign Minister Mohammad Javad Zarif to his counterparts last week, he asked "the remaining signatories and other trade partners" to "make up for Iran's losses" caused by the US exit, if they sought to save the deal.
"The JCPOA (nuclear deal) does not belong to its signatories, so one party can reject it based on domestic policies or political differences with a former ruling administration," Zarif was quoted as saying in the letter, parts of which were published by the state news agency IRNA on Sunday.
The nuclear deal was the result of "meticulous, sensitive and balanced multilateral talks", Zarif said, and could not be renegotiated as the United States has demanded.
He said US "illegal withdrawal" from the deal and its "bullying methods to bring other governments in line" with that decision have discredited the rule of law in international arena.
Iran's top leader Ayatollah Ali Khamenei has set out a series of conditions on for European powers if they want Tehran to stay in the nuclear deal , including steps to safeguard trade with Tehran and guarantee Iranian oil sales.
The remaining parties to the nuclear deal have warned the United States that its decision to withdraw from the pact jeopardizes efforts to limit Iran's ability to develop atomic weapons.
Trump abandoned the agreement on May 8, arguing that he wanted a bigger deal that not only limited Iran's atomic work but also reined in its support for proxies in Syria, Iraq, Yemen and Lebanon and that curbed its ballistic missile program.
https://nation.com.pk/04-Jun-2018/iran-calls-on-world-to-stand-up-to-trump-save-nuclear-deal
--------
Popular Kuwaiti imam leads 12,000 worshipers for Taraweeh Prayers
June 3, 2018
Up to 75 imams, known for their tuneful voices, are already leading the Taraweeh prayers in 18 grand mosques of Dubai in the holy month of Ramadan.
Popular Kuwaiti imam Sheikh Mishary Rashid Al Afasi leads 12,000 worshippers in the Taraweeh Prayers at the Rashidiya Grand Mosque and Sheikha Hind bint Maktoum bin Juma Al Maktoum over the last two days.
Crowds of people from different nationalities, men and women, old and young, Arabs and foreigners flocked the two mosques - one opposite the Dubai International Airport, and the second at Zabeel area to prayer after the eminent imam.
Dr Omar Al Khatib, executive director for mosques affairs with the department of Islamic affairs and charitable activities in Dubai, said the fans of Sheikh Afasi, widely known for his tuneful and inspiring recitation, thronged the two mosques as is the case every year.
"The Taraweeh prayer is led by a group of elite imams from different countries as part of the 'Rashid bin Mohammed Gathering'."
Up to 75 imams, known for their tuneful voices, are already leading the Taraweeh prayers in 18 grand mosques of Dubai in the holy month of Ramadan, he added.
"Other popular imams include Saad Al Ghamdi, Idrees Abkar, Adel Al Rayan, Amer Mehalhal, Ahmed Al Lahdan, along with students of Al Maktoum Quran centres, who are also leading the Taraweeh prayer as part of the Quraa Dubai 'Quran Reciters' programme."
The department is further all set with 111 massive Iftar tents across Dubai where free meals are to be provided to low-income people, said Dr Khatib. "As many as 2.5 million meals are to be distributed at these tents."
Jassim Al Khazraji, acting executive director for Islamic affairs sector, said thousands of worshippers, men and women, old and young, Emiratis and foreigners from all over the country usually flock to these mosques to enjoy the serenity and spiritually uplifting atmosphere where preaching and Quran recitation circles are held every day."
"The sixth edition of the interesting scheme was initiated five years back," he added. "It is annually held under the generous sponsorship of His Highness Sheikh Mohammed bin Rashid Al Maktoum, Vice-President and Prime Minister of the UAE and Ruler of Dubai."
https://www.khaleejtimes.com/ramadan/popular-kuwaiti-imam-leads-12000-worshipers-for-taraweeh-prayers
--------
TV Channel Pulled Up For Calling Delhi Residents 'Rohingya, Bangladeshis'
Jun 4, 2018
New Delhi: A TV channel has been served a notice by the Delhi Minorities Commission (DMC) for airing a report which allegedly referred to some locals of North Delhi's Bawana area as "Rohingya" and "Bangladeshis", the panel's head has said.
The channel had aired a programme on May 11 that "dubbed" residents of the area as "Bangladeshis" and "Rohingyas" although these Indian citizens had been officially settled there by government agencies after their relocation from various areas of Delhi over the decades, chairman of the body Zafarul Islam Khan said.
The managing director of the channel was directed to reply by June 12 with proof to show that the Bawana residents were "Bangladeshis" and "Rohingya", Khan said.
"If it fails, the channel has been directed to tender an unconditional written apology and inform the commission what action it has taken against the reporter and the staff who prepared and aired the fake report that spread disaffection against a section of Indian citizens," he said.
The DMC also ordered the channel to air the apology and submit an undertaking that it would not telecast such reports in future.
The commission has said in its notice that should the channel fail to positively reply to the notice, "appropriate action" would be taken against it.
A notice was also issued to the deputy commissioner of police of north district to file a report about the action taken against the said broadcast, and a person who was allegedly behind the rumours that the residents of the area were "Bangladeshis" and "Rohingyas", Khan added.
http://www.asianage.com/india/all-india/040618/tv-channel-pulled-up-for-calling-delhi-residents-rohingya-bangladeshis.html
--------
In Pakistan, Philanthropy Hits a New Peak This Ramazan
Afshan Subohi
June 04, 2018
AS the country enters the election cycle and fears of disruption in the democratic order recede, people heave a sigh of relief and focus on their religious and societal obligations in the holy month.
Living up to their reputation generous Pakistanis are donating liberally this Ramazan. The magnitude of charitable giving in Pakistan this year is expected to touch a new peak of around Rs173 billion. The estimate was worked out by hiking last year's charity spending of Rs158bn by 10 per cent. Many market watchers consider the projected estimate to be conservative.
This scale of giving is despite comparatively less aggressive donation collection drives by charities this year. "I don't think the need for donations or the focus on collection in Ramazan has weakened. The harsh summer could have discouraged door to door collection but promotional campaigns on television are noticeable.
"Besides, the recognition of the potential of social media to push causes might have tempted charities to adjust their marketing strategies. With less physical visibility on billboards and team activities in target localities, donation seekers might be using networking platforms to spread their message," commented a banker handling accounts of big charitable entities.
"In a country like Pakistan where philanthropy is said to be universal, a 10pc increase in the volume of charitable giving in Ramazan at over five per cent GDP growth is completely believable. For Muslims charity is not a choice. Islam ordains Muslim to pay Zakat on the value of accumulated wealth beyond a specified limit at the rate 2.5pc", said Mr Nasrullah Abid associated with the sector.
"I don't think a five per cent GDP growth rate can necessarily afford a 10pc increase in annual donations in Pakistan. Even if we assume that benefits of growth are equitably distributed and family incomes did increase over the year, it by no means implies that assets of an average family also mounted.
"People could be consuming the additional income with a zero affect on Zakat calculations since Zakat is based on wealth assessment and not income", a board member of a major charity institution in Karachi contested.
A study 'The state of individual philanthropy in Pakistan' released in 2016 by the Pakistan Centre for Philanthropy revealed that the total estimated magnitude of annual household giving in Pakistan was Rs239.7bn in 2014 a three-fold increase since 1998. It found that major share comprise of monetary donations but people also donate in kind and through time volunteerism. For valuation purposes all kinds of giving was monetised.
"If the volume of donations can double every five years, in a period of 16 years ending 2014 (posting a 20pc increase per annum), during a time when the mean GDP growth rate was lower than it is today; we can safely assume that the magnitude of donation may have multiplied faster during the past four years of economic revival," commented an expert on the subject.
The Stanford Social Innovation Review in March 2018 commented on the trend of philanthropy in Pakistan. It stated that charitable giving in the country is over one per cent of GDP. In this respect the country is said to be in the league of far wealthier nations such as United Kingdom (1.3pc) and Canada (1.2pc) and stands about twice at what India spends on giving in terms of percentage.
When reached over phone a senior team member of a charitable hospital was baffled by the figure reflecting the volume of charity.
"To me these numbers seem to be a figment of some fool's imagination. If a most prestigious institution in the health sector struggles for a budget the way we do, I am not sure about all this talk about generosity in this country. Yes, in Ramazan inflows are at their highest but for our project they're in millions, not billions of rupees," he told Dawn over phone.
"Pakistanis in general may be compassionate but in my experience the ultra rich here are worse than their equals elsewhere. It is hard to justify the statement in the absence of verifiable evidence at a national scale but anyone who doubts it can test it. People who spend hundreds of thousands on an evening count hundred rupee notes several times over when they make donations", added the gentleman.
A former official of a research group that explored the subject said that most social welfare practitioners review trends from a very narrow prism of their own experience.
"Philanthropy in Pakistan is not limited to Shaukat Khanum Hopital, Sindh Institute of Urology and Transplantation, Indus Hospital, Edhi, Chipa and Citizen Foundation. Most families reach out to the needy themselves. Communities such as Memons, Agha Khanis, Bohris, Dehli Saudagaran, etc run multiple philanthropic projects for their members.
"Outside big cities mosques serve as collection points for donations. There are mosques in areas where there is nothing else.
"If Indonesia is said to have 800,000 mosques, Pakistan must not be far behind. In dense localities you get to hear several prayer calls throughout the day, instead of the requisite five. Keep these dimensions in mind and charity numbers will start looking believable," another person associated with a charity, forbidden to go on record, told Dawn privately.
Despite the scale, public involvement in the practice and the indirect benefit it draws from the activity, the Government of Pakistan mostly watches from a distance.
It only intervened a few years back to criminalise the practice of financially supporting banned organisations and their welfare fronts through individual donations to curb terrorism.
Several high ranking officers confirmed to Dawn that the subject has never been discussed in any top forum at the federal or provincial level.
"It is a private activity but it provides relief to the neglected and the poor. It becomes all the more relevant in Pakistan as the state is too self indulgent to be able to meet the very basic obligation of providing social security to all citizens," commented an economist.
https://www.dawn.com/news/1411900/philanthropy-hits-a-new-peak-this-ramazan
--------
Europe
No 10 expected to lift visa cap preventing doctors entering UK
4 Jun 2018
Downing Street is poised to announce that it will lift the cap on visas for skilled migrants that has led to more than a thousand doctors being denied entry to the UK, after the home secretary, Sajid Javid, said he was "taking a fresh look" at the policy. Theresa May has been under intense pressure to loosen the restrictions, including from the health secretary, Jeremy Hunt, after quotas for so-called tier 2 visas began to bite in recent months.
And she was left with little choice after Javid used an interview on the BBC's The Andrew Marr Show to distance himself from key aspects of her immigration policy – including the tier 2 cap.
"A number of my colleagues have asked me to look at this and it's exactly what I'm doing," Javid said, when asked about reports of doctors' visa applications being turned down.
A No 10 source said the policy was kept under review, and the NHS was always a high priority in ensuring Britain's economy has the workers it needs.
Last week the BMJ reported that between December and March, more than 1,500 visa applications from doctors with job offers in the UK as a result of the cap on the number of tier 2 visas issued to workers from outside the European Economic Area.
Danny Mortimer, chief executive of NHS Employers, said: "We welcome a government review of the tier 2 visa system. Many of our employers could not again get certificates of sponsorship for doctors during May. It is now six months since we first started having problems, along with other sectors." He called for the home office to implement, "a speedy, effective solution".
Javid's predecessor, Amber Rudd, was criticised for failing to set out a distinctive approach to immigration after succeeding May in the post. But Javid hinted that he was willing to change course on several policies personally championed by the prime minister.
As well as loosening restrictions on high-skilled workers, he promised to review the Home Office's "hostile environment" for migrants, in light of the Windrush scandal.
The home secretary, who prefers the term "compliant environment", said the government would continue to clamp down on illegal immigrants but said he wanted to check whether it was being implemented well.
He told BBC One's The Andrew Marr show: "From the Windrush [scandal], there will be lessons to be learned about how all that compliant environment policy is actually implemented. Is it actually working the way it was intended? ... I am going to look at how it's being implemented, I want to review aspects of the policy, I've already made some changes, certainly I've suspended certain things, for example opening bank accounts and whether you can or cannot as an illegal immigrant."
In another departure from the prime minister's approach, Javid said he would "look again" at the inclusion of international students in net immigration figures, saying there was a "perception problem".
Critics, including several cabinet ministers, who want foreign students removed from immigration figures, have long argued that very few overstay their visas and so there is no reason for their inclusion.
Javid declined to back away from a Conservative pledge to reduce net immigration to tens of thousands, saying: "I'm committed to our manifesto."
The pledge was first made by David Cameron in 2010 and Theresa May retained it in last year's election manifesto despite repeated failures to get close to the figure.
Asked whether he was personally committed to it, Javid said: "I'll be working towards, rightly, reducing net migration and bringing it to lower, sustainable levels."
In an update on the 63 members of the Windrush generation believed to have been wrongfully deported or removed from the UK, he said the government had only managed to contact seven so far. Javid said he had no interest in contacting 32 of those 63 who were labelled foreign national offenders as "I don't want them back in our country".
He said the government was still trying to identify how many people from the Windrush generation had been wrongly detained, on top of those deported.
Javid succeeded Rudd after she was was forced to resign having repeatedly struggled to account for her role in the unjust treatment of Windrush generation migrants.
Asked by Marr about allegations of Islamophobia in the Conservative party, he replied: "Just look at who the home secretary is in this country." He claimed the Muslim Council of Britain (MCB), which has called for an inquiry into Islamophobic incidents in the party "does not represent Muslims".
However it emerged that more than 350 mosques and Muslim organisations from around the country have written to the Conservative party supporting the council's call for an inquiry into Islamophobia. A MCB spokesman said: "We very much welcome the many councils of mosques who have written in support of our call for an inquiry into this issue.
"It reflects the importance that this issue holds in Muslim communities across the UK and the breadth of support for the Muslim Council of Britain. Rather than attack the messenger, we urge the party to reconsider its approach and deal with the evidence." https://www.theguardian.com/uk-news/2018/jun/03/windrush-scandal-sajid-javid-review-hostile-environment-policy
--------
Britain says militant Islamist threat to stay high and may rise further
JUN 3, 2018
LONDON (REUTERS) - The threat posed by Islamist militants to Britain is expected to remain high for the next two years and could even rise, the Interior Ministry said on Sunday (June 3), on the first anniversary of an attack that killed eight people in central London.
The current threat level to Britain is assessed as severe, meaning an attack is highly likely.
The government said it had foiled 25 Islamist militant plots since June 2013 - 12 of those since March 2017 - and was currently handling over 500 live operations.
Britain will publish a revised counter-terrorism strategy on Monday designed to cope with what it said was a shift in the threats the country faces as militants of all ideologies adopt new tactics.
"In summary, we expect the threat from Islamist terrorism to remain at its current, heightened level for at least the next two years, and that it may increase further," the ministry said in a statement.
The threat level was raised to "critical", its highest, twice in 2017.
A review found existing counter-terrorism policy was well-organised and comprehensive, but suggested ways it could be improved.
"The threat from terrorism is constantly evolving. Globally, terrorist groups and networks of all ideologies continue to develop organically, exploiting social media, technology and science to further their aims and ambitions," the ministry said.
The statement said the threat from "extreme right-wing terrorism" was also growing and four plots had been disrupted since March last year.
Interior Minister Sajid Javid will speak at a memorial service for those killed in the London Bridge attack when three men drove a van into pedestrians and then stabbed passers-by in the popular nightlife area.
"The government is absolutely committed to doing everything possible to tackle the terrorist threat. It is my first priority every day in this job," he will say, according to the department.
Full report at:
https://www.straitstimes.com/world/europe/britain-says-militant-islamist-threat-to-stay-high-and-may-rise-further
--------
North America
WH slams group for attacking its senior official as an Islamophobe
June 4, 2018
By Lalit K Jha Washington, Jun 4 (PTI) The White House has come out strongly in support of recently appointed Chief of Staff of the National Security Advisor Fred Fleitz whose views on radical Islam have sparked controversy in the past.
Fleitz, National security adviser John Bolton's new chief of staff, has drawn scrutiny for his past work with the Center for Security Policy, a conservative think-tank, that has been accused of promoting anti-Muslim messages.
Fleitz, who joined the National Security Council this week, was an outspoken opponent of the Iran nuclear deal when he worked as the senior vice president for policy at the think tank led by Frank Gaffney, whose views on Islam and theories about the Muslim Brotherhood's influence have sparked controversy, CNN reported.
"The attacks on Fred Fleitz as an Islamophobe are another attempt by some to paint the Trump administration with a broad anti-Muslim brush," a spokesman of the National Security Council, White House, told PTI.
The spokesman was responding to allegations of groups like Anti-Defamation League, Council on American-Islamic Relations and Southern Policy Law Center, that Fleitz in the past has had advanced Islamophobic views and as such he should not serve in this position.
"Fred Fleitz supports the Presidents national security and foreign policies. He supervises a transparent, interagency process to present information and coordinate the presentation of policy options for the President and his National Security Council," the spokesman said.
"The implication that he is in a position to promote a personal agenda is uninformed and scurrilous. The suggestion that Ambassador Bolton is convening an anti-Muslim cabal is untrue and despicable," the spokesman said, responding to media reports in this regard.
The Center for Security Policy have raised concerns over Fleitz's appointment among a number of advocacy groups, including the Southern Poverty Law Center and the Anti-Defamation League, the report had said.
"Fleitz will now be in a position to do serious harm to our national security as he pushes an extreme anti-Muslim agenda," the Alabama-based Southern Poverty Law Center said in a statement.
The White House slammed the Southern Poverty Law Center, describing it as a group that has over the last few years put out press releases falsely lumping American conservatives with neo-nazis and white supremacists.
National Review wrote a strong piece on the SPLC in 2016 titled 'Everyone Who Disagrees with the SPLC Is Hitler', the official pointed out.
"Fleitz earned the SPLCs ire because he wrote two articles condemning it and drawing attention to its huge off-shore bank accounts," the spokesman said.
In an op-ed published by Fox News on August 29, 2017, Fleitz said: "The Southern Poverty Law Center is a left wing smear machine that tries to denigrate conservative individuals and organizations by lumping them together with white nationalists, KKK members and neo-Nazis on so-called hate lists".
Targeting conservatives as haters has been very profitable for the SPLC, he then alleged.
The NSC spokesman said the media should acknowledge the attacks on Fleitz for what they are, instead of giving voice to organisations with an ideological axe to grind and a history of making "inflammatory and bigoted statements against those who express ideas they dont agree with".
"Fleitz stands by his criticism of radical Islam as a global movement at war with modern society. He notes that radical Islam is a greater threat to the vast majority of the worlds Muslims who are peaceful, the official said.
According to the NSC spokesman, Fleitz is a strong supporter of Zuhdi Jasser, founder and president of the American Islamic Forum for Democracy. Jasser is a former Navy medic who wants to reform Islam to bring it into conformity with modernity.
He believes radical Islam is a war within the house of Islam. Fleitz agrees and has expressed his support for Jasser in articles and TV interviews," the official said. PTI LKJ UZM UZM
https://www.indiatoday.in/pti-feed/story/wh-slams-group-for-attacking-its-senior-official-as-an-islamophobe-1249662-2018-06-04
--------
He was a teenage terrorist. Now he's fighting extremism
3 Jun 2018
The moment he was slammed against a wall by an FBI agent on the doorstep of his parents' home and taken away in handcuffs, the distorted world Mohammed Khalid had constructed for himself came crashing down.
He was about to become notorious as the youngest person ever to be prosecuted for terrorism offences in the US and would be sentenced to five years in prison for his part in an online jihadist plot to kill an artist from Sweden who had drawn the head of the prophet Muhammad on the body of a dog.
He was only 15 years old when the criminal activity began, after a rapid descent into extremism. It started with him on the receiving end of high school bullying and led swiftly from watching YouTube videos about Islam, to becoming groomed, and drawn into an ill-formed conspiracy, hatched inside a jihadist chatroom.
Now, after almost six years in prison and immigration detention, Khalid is out, and beginning what he sees as a lifelong effort to make amends for what went wrong in his life as he tries to become "a wholesome person".
In his first interview since his release, he spoke of his desire to become an American citizen and to make a career in cyber security and counter-terrorism to help thwart extremists. "I think revenge is too strong of a term, but I had a little bit of a realisation that people who had misguided me would most likely misguide someone else," he said.
"I was the youngest person in this country to be charged and convicted of these crimes, but the next person could be someone who is even younger than me. How to stop that from happening, that's something important to me."
He had come to meet in Washington DC from the local college in Maryland where he has just completed the first year of a course in cybersecurity. He has ambitions to go to university, but understands that his past will put formidable obstacles in his way.
With the Quilliam Foundation counter-extremism organisation, he is publishing a long personal account of what made him an extremist and how the kindness of juvenile detention staff led him to be deradicalised behind bars, and sets out his hopes that in telling his own story he can help others resist what he describes as "the charismatic appeal of online extremists and terrorist groups".
'I felt isolated, lost, and alienated'
Khalid, now 24, is a serious young man, carrying a black briefcase, smartly dressed in red, white and blue checked shirt over a white T-shirt.
After his arrest in 2011, he was diagnosed with Asperger's syndrome. It was clearly a factor in his disappearance into an online world, where the extremists who groomed him let him talk about his problems without the intimacy of face-to-face contact.
He admits he struggles with social interactions but says he realises he must push himself out of his comfort zone. He says he writes more eloquently than he speaks, and it is true his long, rapid and complex sentences sometimes lose their thread.
But he is clearly smart and says his years in custody and detention helped him learn to start to enjoy connecting with people and finding out about them, including helping other inmates study for education diplomas.
High school was quite different for him. He writes of his struggle to settle, aged 13, after his family moved from Pakistan to the US, in 2007, to join his father in Maryland.
George W Bush's war on terror was at a high watermark and he was soon facing crude taunts from high school kids who branded him as a terrorist because he was called Mohammed. "I felt isolated, lost, and alienated," he wrote.
At first, he had gone online looking for knowledge about Islam and Muslims, but back then, he said, terrorist proclamations were readily found next to innocuous spiritual videos on YouTube.
He admits now he was ignorant about his faith and was soon groomed by extremists in the comments section below videos. "Through the misguidance of the YouTube extremists, I began to repost videos that glorified violence in the name of protecting the Muslim nation," he writes.
Soon, a woman in her 40s called Colleen LaRose, a white American convert to Islam who styled herself "Jihad Jane", invited him into password-protected extremist chatrooms where he gained trust and status by translating videos into English from Urdu in support of "the cause".
He was quickly lost. "I began to spend hours upon hours on the extremist forums talking to a handful of extremists all about my grievances and difficulties adjusting to the United States. I complained to them about my family and school problems. They lent me an ear where no one else had ... online extremists became my best and only friends."
The failed plot
The plot to kill artist Lars Vilks developed, allegedly driven by Irish-Algerian Ali Charaf Damache, a man in his 40s, who used the online alias "the blackflag". Damache was finally extradited to the US last year and is set to stand trial on terrorism charges.
It was LaRose who drew Khalid into the conspiracy by asking him to look after a stolen American passport and a rare coin collection which he posted on to her when she reached Ireland. She is still serving a 10-year sentence for her part in the plot which was foiled when the FBI arrested her in 2009.
Khalid acknowledges he worked to spread extremist videos, translating them from Urdu into English, and had become deeply involved in extremist ideology and cut off from everyone he knew. "Instead of seeing clearly and rationally as I normally would, I was lost beyond the point of no return," he writes. "My involvement in this half-baked plot would soon be accompanied by severe and lasting consequences."
Before his eventual arrest the FBI had contacted Khalid and had been treating him, aged 15, as an unindicted co-conspirator. But he was not co-operative and was himself arrested in that morning raid on his parents' home in July 2011.
He had just graduated high school and been accepted on a scholarship to go to the prestigious Johns Hopkins University in Baltimore, a chance lost to him in that moment.
.
He looks back at his first months in a detention facility in Pennsylvania and recalls how the simple efforts of juvenile correction counsellors to engage him in conversation shook him out of what he calls a "twisted empathy" where he felt compassion for Muslims suffering around the world, but was indifferent to others.
"They were counsellors, they would actively seek to learn more about what led a person into whatever they were doing. They did an extremely good job getting me out of my own little cave that I created for myself. Forcing me to speak about what I had done wrong in my life and then, most importantly, sharing about their lives.
"When they started telling their stories, that was the real beginning."
A second chance
As a teenager he shut himself away, but today he has mentors he can turn to, including former prison staff.
He sees a therapist, and has the regular support of Dr Muhammad Fraser-Rahim, a former US government counter-terrorism specialist who has recently begun to head the Quilliam Foundation in its first US expansion from its UK base where it has worked on counter extremism and sometimes attracted criticism for its ties to the UK government.
Khalid's family – parents, an older brother and two sisters – were tremendously supportive during his time in custody, and have welcomed him with open arms after his release, he said. They all got US citizenship while he was locked up. He could face deportation to Pakistan, but is currently appealing for citizenship and his removal has been deferred.
Sitting with Khalid in Washington DC last week, he admitted that it is still painful to think about losing his chance to go to Johns Hopkins University. "It is one of the most difficult disappointments that I have to deal with in my life, getting in there and realising how I had betrayed that promise upon which they had accepted me, those values of the university."
.
He knows that in telling his story he risks returning to prominence in a moment when Donald Trump is still fighting for his "Muslim ban" and has used hot rhetoric to heighten fears of terrorism and fuel Islamophobia.
He also knows he will face obstacles, but he said: "There are second chances in life. Believing in that is very important to me. I think the United States gives you that avenue, if you do make a mistake you have a chance to reinvent yourself."
And the question he will face, always, is has he truly been deradicalised? "Yes of course, my deradicalisation actually ended while I was behind bars," he said.
Full report at:
https://www.theguardian.com/us-news/2018/jun/03/mohammed-khalid-america-youngest-terrorist-interview
--------
Arab World
Syrian Army Discovers Saudi-Made Chemicals in Terrorists' Positions in Southern Damascus
Jun 03, 2018
The army men continued cleansing operation in Yalda, Bebeila and Beit Sahm and found a workshop in terrorists' former positions used for making explosive and poisonous materials.
A large volume of powerful explosives made by a Saudi company was found in the workshop, according to the army officers.
In the meantime, a-kilometer-long network of tunnels was discovered by the army in the region that was used by the terrorists to transfer arms and ammunition to different battlefields.
Also, a large number of landmines, bombs and chemical masks were found in the farms near Yalda, Bebeila and Beit Sahm.
A field commander confirmed in May that the Syrian army's engineering units found the weapons and ammunition during the clean-up operations in Eastern Qalamoun which recently were evacuated by Jeish al-Islam and al-Nusra.
He added that the Syrian army forces discovered several tanks and a large number of missiles, mortars, anti-tank missiles, different types of ammunition, weapons and bombs which had been hidden by the terrorists in their hideouts.
The sources said that the army units also found a large number of drugs as well as Nitrogen chemicals used by militants to make different types of bombs and mortars that all carried with Turkish and Saudi labels.
The commander said the "footprint of Saudi Arabia and Turkey can readily be traced in all the items found in the region".
http://en.farsnews.com/newstext.aspx?nn=13970313000915
--------
New Saudi Islamic affairs minister expert in jurisprudence with moderate social views
3 June 2018
A Saudi Royal Decree released on Saturday appointed Dr. Sheikh Abdullatif bin Abdulaziz bin Abdulrahman Al-Sheikh as the Minister of Islamic Affairs, Da'wah and Guidance.
Appointing Dr. Al-Sheikh was the culmination of his administrative experience and field skills acquired during his tenure in different government institutions.
Dr. Al-Sheikh is known for his expertise in Islamic jurisprudence and previously served in a number of governmental institutions, including holding important positions of Director-General of Investigations at the Saudi General Presidency, and Second Assistant Secretary General at the Saudi Council of Senior Scholars.
He received his PhD in Islamic Jurisprudence from the Imam Muhammad Bin Saud Islamic University, and previously established and ran a number of Islamic charities.
He also served as president of the Commission for the Promotion of Virtue and Prevention of Vice (CPVPV), before he was exempted.
During that period he made a number of regulations, first of which was to prevent the cooperators, control the pursuits and other managerial amendments that were rejected then. However, he continued his reforming plans which made the Al-Hasabh commission structured as per the mission aligned with Saudi society. He also played an intellectual role with a media presence creating awareness activities and also presence in warning about Political Islam groups.
Those amendments brought the CPVPV in line with Saudi Arabia's intention to provide hundreds of thousands of new jobs to Saudi women in stores catering to female customers, thereby reducing the rates of unemployment amongst Saudi women.
He also worked as a consultant to King Salman, who was then the prince of Riyadh and after his exemption he withdrew from the intellectual struggle and continued his Da'wah activities until he was appointed for Islamic affairs.
Women's issues
He is known to specialize in women's issues in Islam, including the issues of female employment and gender mixing. The Riyadh-born cleric is as an expert in Islamic Affairs, and is well-known for his moderate approach on this issue. He is also known as a strong proponent of the concept of Saudi women working in stores that cater to a female clientele.
In an interview with Asharq Al-Awsat published 2010, Sheikh Abdullatif Al-Sheikh called on the resolution to allow women to work in stores catering to a female clientele to be quickly adopted. He also encouraged Saudi Arabian women to begin work in this field.
Speaking to Al Arabiya, former head of the Holy City of Mecca's branch of CPVPV, said that the decision to appoint Al-Sheikh as Minister of Islamic Affairs comes from the Saudi methodology of moderation, upon which it was founded.
"Sheikh Abdullatif Al-Sheikh is one of the few who have distinguished themselves in confronting the extremist currents with courage and patriotism. He is a man who has distinguished and influential efforts, and continues his patriotism, sincerity and loyalty to the wise leadership," al-Ghamdi told Al Arabiya.
Views on gender mixing
In some interviews, Sheikh Abdullatif Al-Sheikh has stressed that gender mixing was permissible under certain conditions, as "Islamic sharia law did not completely ban gender mixing, but rather it placed this within the limits of vouchsafing freedom for men and women."
"Therefore, when [Islamic] scholars prohibit gender mixing…they are talking about gender mixing that does not include any controls or restrictions, or what is called unrespectable gender mixing," he stressed.
Although Al-Sheikh's position on these issues clashes with the hardline position taken by the more conservative religious clerics and scholars, and among them members of the CPVPV.
He is widely respected for his intellect and his dependence on previous Islamic Sharia law arguments and provisions, including citations of examples from the early Islamic era.
"The decision is wise to meet the need for the current phase in Saudi Arabia where moderate men have the courage to face the currents of radicalism and extremism, because Saudi Arabia is the heart of the Islamic world. There can be no alternative methodology for moderate Islam," Ghamdi said.
Full report at:
https://english.alarabiya.net/en/features/2018/06/03/New-Saudi-Islamic-affairs-minister-expert-in-jurisprudence-with-moderate-social-views.html
--------
Qatar rejects war on Iran as rift with Saudi widens
Jun 3, 2018
In a new turn of events, which has been construed as sign of a deepening rift between Doha and Riyadh, Qatar has flatly rejected the idea of taking part in a military conflict against Iran, with the Arab country's defense minister highlighting that Doha will not "fuel a war" in the Persian Gulf region.
Khalid bin Mohammad al-Attiyah, who also serves as the deputy prime minister, told an international security conference in Singapore on Sunday that Qatar would not be dragged into any conflict of that nature.
"Is it wise to call the United States and to call Israel to go and fight Iran? … Whether any third party is trying to push the region or some country in the region to start a war in Iran, this will be very dangerous," the Qatari minister stated.
"Everyone should keep holding on to this and advance with this. In my own judgment, I think the United States is wiser than to enter in a war with Iran."
The minister did not name any party but he could have been referring to Saudi Arabia, which has also led a blockade of Qatar with its Persian Gulf allies since June last year.
The assertion by Qatar's top defense official has been seen by analysts as the continuation of a crisis in Doha's relations with a Saudi-led group of regional Arab countries that cut off their diplomatic ties with Qatar on June 5, 2017, after officially accusing it of "sponsoring terrorism."
Another excuse used by Saudi Arabia, Egypt, Bahrain, and the United Arab Emirates for cutting the ties was Doha's close relations with Tehran.
Since that time, the Saudi-led group has been enforcing various restrictive measures, including economic sanctions, against Qatar while giving it a list of their demands to be met before the relations could be normalized.
Qatar has done none of these. Instead it has responded defiantly by dismissing the charges and courting new diplomatic and trading links.
The Qatar-based news network and TV channel al- Jazeera said in a report on Sunday that people living in Qatar were unlikely to forget the neighbors willing to lend a hand when they needed it most.
Iran was one of the countries which quickly stepped in to ensure the Qatari supermarket shelves remained well stocked, it added.
Iranian exporters say helping Qatar is not just about making money.
Last month, Qatar's Emir Sheikh Tamim bin Hamad Al Thani thanked Iran for its support during the crisis.
Senior Qatari authorities say Saudi Arabia has been sparking off crises across the Middle East and "bullying small countries into submission."
Qatar's Foreign Minister Sheikh Mohammed bin Abdulrahman Al Thani has said his country is willing to have constructive relations with Iran.
Political experts have warned that the year-old acrimonious dispute between Qatar and its neighbors has shattered old alliances and is pushing Qatar toward Turkey and Iran.
Qatar has also increasingly tied itself to Turkey, while straining relations between Riyadh and Ankara.
"I don't think it is too far-fetched to say that new power centers in the Middle East are emerging," AFP quoted David Roberts, assistant professor at King's College London, as saying.
Widely seen as a bid by Saudi Arabia and the United Arab Emirates to bring Qatar to its heels over its support for Egypt's Muslim Brotherhood and the Palestinian resistance movement Hamas, the gamble has not paid off.
The International Monetary Fund (IMF) has already said that the economic impacts of the blockade by the Saudi-led quartet of Arab states against Qatar are fading.
While their regional ambitions may have been overstretched, Riyadh and Abu Dhabi have indicated this is a power play for the long haul.
According to Le Monde newspaper, Saudi Arabia has written to French President Emmanuel Macron, warning of "military action" if Qatar goes ahead with its planned purchase of a Russian air defense missile system.
Qatar is already picking up the tab, as it absorbs the huge costs of regional isolation, despite its vast wealth in gas resources.
"As for winners and losers, there are clearly no winners thus far, and in many ways everyone has been a loser," said Christopher Davidson, a Middle East politics professor at Durham University.
Full report at:
http://www.presstv.com/Detail/2018/06/03/563800/Qatar-Iran-war-
--------
Qatari media giant says targeted by 'sophisticated' UAE piracy
Jun 3, 2018
Qatari media giant beIN says it is being targeted in a "sophisticated" piracy operation knocking its channels off air in the United Arab Emirates (UAE).
The campaign has seen the beIN channels' signals being pirated by a company named BeOutQ, the Middle East Eye news portal reported. BeOutQ broadcasts on Arabsat, whose largest shareholder is Saudi Arabia.
BeIN's output has a strong audience base in the UAE, where thousands of viewers have anxiously taken to social media to complain about the situation.
UAE digital television company Du, however, said that the Qatari company had itself decided to kill the channels.
"We regret to inform that our customers are temporarily unable to view beIN sports channels and packages as a result of a decision by the broadcaster of beIN sports," it said.
BeIN has called on FIFA, which has granted it the right to air the World Cup due to start in Russia later in the month, to sue those conducting the piracy operation.
Oman has so far rushed to the company's support by banning decoders that allow viewers to watch the tournament via stolen signals.
BeIN is a sister business to Qatari flagship international newscaster Al Jazeera.
The UAE is part of a group of Arab states including Saudi Arabia that have ostracized Qatar.
In June 2017, Saudi Arabia, the United Arab Emirates (UAE), Bahrain, and Egypt severed diplomatic relations with Qatar, in a scheme generally believed to have been orchestrated by Riyadh.
Full report at:
http://www.presstv.com/Detail/2018/06/03/563736/Qatar-UAE-Saudi-Arabia-beIN-Arabsat-Russia-World-Cup
--------
Syria's Assad to meet Kim in North Korea
June 04, 2018
SEOUL : Syrian President Bashar al-Assad said he plans to visit North Korea's leader Kim Jong Un, Pyongyang's state media reported Sunday, potentially becoming the first head of state to meet Kim inside the isolated country. "I am going to visit the DPRK and meet... Kim Jong Un," Assad said, the North's state-run KCNA news agency reported, using the abbreviated version of the country's official name. The announcement came as anticipation mounts for a historic nuclear summit between Kim and US President Donald Trump in Singapore on June 12, following a whirlwind round of diplomacy.
"The world welcomes the remarkable events in the Korean peninsula brought about recently by the outstanding political calibre and wise leadership of... Kim Jong Un," KCNA cited Assad as saying during a meeting with North Korean Ambassador Mun Jong Nam on Wednesday. The Syrian president's office refused to comment on the report when contacted by AFP.
Full report at:
https://nation.com.pk/04-Jun-2018/syrias-assad-to-meet-kim-in-north-korea
--------
US Military Setting Up New Base in Northern Iraq
Jun 03, 2018
The Arabic-language al-Yaqin news website quoted Jalal Khalou, deputy governor in Sinjar in Nineveh province, as reporting that the US forces are establishing a military base in Mount Sinjar Northwest of Mosul.
He further told the website that a sum of 15 American military vehicles have deployed to Mount Sinjar since Friday, adding that the forces plan to set up a military base in Mount Sinjar that is home to one of the most important points 125 km away from Mosul near the border with Syria.
In December 2017, Iraq's Foreign Minister Ibrahim al-Jafari underlined strong opposition to the establishment of any permanent base by the US-led coalition in his country.
"The international coalition has no intention to have permanent military bases in Iraq after the ISIL is defeated. The international coalition's military intervention in Iraq was meant to support the Iraqi government's war against the ISIL on the condition that it would not violate the country's sovereignty," Jafari was quoted as saying by the Arabic-language al-Watan newspaper.
He explained that the coalition would remain in Iraq until all ISIL affiliates were uprooted in Iraq.
His remarks came after Iraqi sources revealed in August 2017 that the US army started constructing its biggest military base in Iraq's Nineveh province in a bid to control the country's border with Syria.
"The US troops have kicked off the construction operations of the largest military base near the village of Kahriz in Zamar region West of the Tigris River in Nineveh province," Official Spokesman for Arab Tribes Group Mozahem al-Havit said.
Full report at:
http://en.farsnews.com/newstext.aspx?nn=13970313000949
--------
Turkish Forces Capture Hundreds of Civilians in Northern Syria in One Month
Jun 03, 2018
The Kurdish-language Hawar news reported that as sum of 3,295 civilians were captured by the Ankara forces in Afrin region in May amid growing unrests and spreading insecurity following occupation of Afrin region by the Turkish troops.
Hawar news went on to say that the Ankara forces have been blackmailing and torturing the captured people, adding that the Turkish troops and their allied militants turned a school in the village of Hikjeh in Shih region into a large detention center to jail the captured civilians.
Hawar news further said that the Turkish army accommodated over 1,200 terrorists of Southern Damascus and Northern Homs in Afrin.
The Ankara forces looted fruits and crops of over 50 hectares of farms in Afrin and cut over 500 olive trees.
Last week, gunmen of Sultan Murat Brigade, affiliated to Turkey-backed Free Syrian Army, forced villagers in the village of Naza in Shera region to leave their homes.
In the meantime, a field source said that the Ankara-backed militants settled 20 families of Eastern Ghouta terrorists in the village of Kafr Jenah, adding that most of the villagers' assets and properties were looted by the Turkey-backed militants.
The source further said that even electrical cables have been stolen and a school in the village has been damaged by the Ankara forces.
Full report at:
http://en.farsnews.com/newstext.aspx?nn=13970313000685
--------
Terrorists Fail to Break through Syrian Army Positions in Deir Ezzur
Jun 03, 2018
The army men engaged in fierce clashes with ISIL after the terrorists attacked the towns of al-Hasarat and al-Sha'afa on the Western bank of the Euphrates River and in Southeastern Deir Ezzur.
Also, the army's artillery and missile units opened heavy fire at the positions and movements of the terrorists in the region.
The army further inflicted major casualties on the terrorists and forced their remaining pockets to retreat.
In a similar development on Monday, the army forwarded more forces and military equipment, including several cannons, to its positions in Eastern Damascus, to launch a fresh round of large-scale attacks on ISIL that stormed the government forces' position in al-Mayadeen desert recently.
In the meantime, the army forces engaged in a tough battle with ISIL in Eastern Badiyeh (desert) between Western Deir Ezzur and Eastern Homs, killing or wounding a number of terrorists.
Full report at:
http://en.farsnews.com/newstext.aspx?nn=13970313000888
--------
Tribal Units Formed in Syria to Face Occupying Forces
Jun 03, 2018
The sources reported that a sum of seventy Syrian tribes, in a meeting against foreign occupiers in Deir Hafer region in Eastern Aleppo, announced in a statement that they form tribal units to expel American, Turkish and French occupiers from their country.
The statement further condemned foreign military deployment without prior coordination with the Damascus government, adding that the tribal units will confront the occupying forces using all their capabilities.
The statement underscored the country's integrity and opposed any move by Arab states, including Saudi Arabia to dispatch mercenaries to Syria to be replaced with the US forces, saying such moves are all meant to disintegrate Syria.
The Kurdish militias prevented the tribal delegation of Hasaka province from taking part in the meeting.
In a relevant development in March, the tribal Arab forces in Raqqa province formed a number of units to fight against the Kurds who have occupied the city and were supported by Washington.
The forces formed under the title of the Popular Resistance of Raqqa (PRoR) were recruiting forces to start fights against Kurdish militias.
A large number of civilians who were killed during the operations by the Kurds and the US-led anti-ISIL coalition in Raqqa were members of these tribes.
Full report at:
http://en.farsnews.com/newstext.aspx?nn=13970313000448
--------
Popular Uprising against Turkish Forces Reported again in Northern Syria
Jun 03, 2018
Tens of civilians in Afrin gathered in the Freedom Square and opposed occupation of their town by the Turkish troops and Ankara-backed militants.
The demonstrators further called for the release of Adam, a media activist, arrested by al-Hamzah Firqa militants affiliated to the Turkish troops.
In the meantime, the Kurdish-language Hawar news reported that the Turkish forces captured tens of Afrin residents and tortured them, adding that the Ankara forces called on family members of the captured-civilians in the village of Jaqmaqa in Rajou region to pay $7,000 for the release of their family members.
Also, the Arabic-language al-Watan daily reported that Ankara forces prevented tens of families from leaving Afrin for their homes in Eastern Ghouta, adding that the Eastern Ghouta families settled in Afrin had called for government amnesty and the Syrian Army had agreed to their return to Eastern Ghouta.
In a similar development last week, gunmen of al-Hamza group and Liwa al-Mo'atasem, both backed up by the Turkish troops, exchanged heavy fire near Kawa square in the town of Afrin over taking control of a residential unit.
The Turkish forces in their armored vehicles entered the region to end the infighting.
In the meantime, unknown assailants attacked the car of Abu Maryam al-Haskawi, a commanders of Liwa Moshta'al Tamou affiliated to the Free Syrian Army, as he was driving along a road connecting Afrin to Shera region, injuring him seriously.
Full report at:
http://en.farsnews.com/newstext.aspx?nn=13970313000354
--------
Philippines' Duterte apologizes to Kuwait for 'harsh' words
3 June 2018
Philippine President Rodrigo Duterte apologized to Kuwait on Sunday for his "harsh" words at the height of a months-long diplomatic row over the treatment of domestic workers.
The spat began in February when a murdered Filipina maid was found in her employer's freezer in the Gulf state, prompting Duterte to lash out at the "inhuman" treatment of migrant workers and ban workers from travelling to Kuwait.
"For the first time I would say that I was harsh in my language maybe because that was a result of an emotional outburst. But I'd like to apologize now," Duterte said, addressing Kuwait directly in a speech before expatriate Filipinos living in South Korea.
"I'm sorry for the language that I was using but I'm very satisfied with... how you responded to the problems of my country."
Authorities in Manila say around 262,000 Filipinos worked in Kuwait before February, with many employed as household maids.
They are among over two million Filipinos employed in the region, whose remittances are a lifeline to the Philippine economy.
At the height of the diplomatic flap, Duterte alleged Arab employers routinely rape Filipina workers, force them to work 21 hours a day and feed them scraps.
"Is there something wrong with your culture? Is there something wrong with your values?" the Philippine leader said then.
Kuwaiti authorities expelled Manila's envoy in April over footage showing embassy staff helping Filipino workers flee allegedly abusive bosses in Kuwait.
Tensions cooled last month after the two nations sealed an agreement on workplace safety guarantees for Filipinos working in Kuwait, prompting Duterte to lift the employment ban.
On Sunday, Duterte said he hoped to visit Kuwait to express his gratitude.
"I'd like to thank the Kuwaiti government for understanding us and keeping their faith (in) us and practically (giving in) to all of my demands," Duterte said.
Full report at:
https://english.alarabiya.net/en/News/gulf/2018/06/03/Philippines-Duterte-apologizes-to-Kuwait-for-harsh-words.html
--------
Iraq issues arrest warrant for Kurdish secession leader
Jun 4, 2018
Iraq has issued an arrest warrant against one of the key engineers of last year's secession referendum, which controversially sought to end the country's sovereignty over the semi-autonomous Kurdistan region.
The judicial authorities issued the warrant against Rebwar Talabani, the head of the Kirkuk Provincial Council, Agence France-Presse quoted a source within the council as saying on Sunday.
The source said Talabani was being pursued for "hoisting the Kurdish flag on official buildings of Kirkuk and organizing the referendum," referring to the oil-rich provincial capital of the same name which has a majority non-Kurdish population.
On Talabani's orders, Kirkuk councilors voted last August to take part in the referendum.
Talabani is currently in Arbil, the capital of Iraqi Kurdistan, where he fled to with Kurdish militants last October as Iraqi troops arrived to restore calm to Kirkuk.
Sectarian tensions in Kirkuk are still high between Kurdish, Arab and Turkmen populations. Last month, Iraqi authorities imposed a curfew after skirmishes broke out following the results of the May 12 national elections being announced.
The Iraqi Supreme Court ruled the vote illegal and deadly clashes broke out between Kurdish and Iraqi forces after an overwhelming majority of the participants voted for separation from the mainland.
The referendum sparked strong criticism from the central Iraqi government and Iraq's neighbors but Israel put its foot down to support it. The US and the Europeans also denounced it, even though after the plebiscite was held.
Israel has a longstanding relationship with the Kurds, whom it regards as one of the few non-Arab allies in the area.
A report published in the New Yorker magazine in 2004 said Israeli military and intelligence operatives were active in Kurdish areas and providing training for commando units.
According to the report, Israel has been expanding its presence in Kurdistan and encouraging Kurds, its allies in the region, to create an independent state.
Turkish President Recep Tayyip Erdogan said last September that Israel's Mossad spy agency played a role in the Kurdish secession vote.
Full report at:
http://www.presstv.com/Detail/2018/06/04/563830/Iraq-arrest-warrant-Kirkuk-Rebwar-Talabani-Kurdistan-Independence
--------
India
Confine illegal Rohingya to designated camps: Centre to states
Bharti Jain
Jun 4, 2018
NEW DELHI: The Centre has asked Jammu & Kashmir and other states to confine illegal Rohingya settlers to pre-identified locations within their respective jurisdictions, record their personal particulars, including biometric details, and not to issue them Aadhaar number or any other identity proof.
The meticulous preparation of their personal particulars has been sought so that these details can eventually be shared with Myanmar for likely repatriation, said a government source.
This indicates the government's intent to prevent a wider diffusion of Rohingya in India beyond the camps, and the Centre's concern over possible presence of radical elements among them and their involvement in crime.
In a letter to the chief secretary of J&K government on Saturday, the home ministry highlighted the " security risks posed by some of those Rohingya/foreigners who entered India illegally + and were involved in illegal activities such as fraudulent procurement and/or fabrication of Indian identity cards — PAN, voter IDs etc — money laundering, crimes and other anti-national activities", sources told TOI.
Some of the Rohingya refugees, it added, are also vulnerable to radicalisation.
A home ministry officer told TOI that similar letters had gone to other states as well. According to estimates put together by the intelligence agencies last year, there are around 40,000 Rohingya Muslims illegally settled across the country.
Of these, 7,096 are in J&K (Jammu), 3,059 in Hyderabad, 1,114 in Mewat (Haryana), 1,200 in western Uttar Pradesh, 1,061 in Delhi (Okhla) and 400 in Jaipur.
According to central agencies, a network of touts based in West Bengal and Assam have been arranging forged identity documents for the Rohingya soon after they enter the country illegally. In fact, some NGOs run by Muslim organisations in West Bengal are arranging logistics for their stay in camps.
"Of late, some attempts by Rohingyas to move to states like Kerala, Karnataka and Tamil Nadu have come to notice. There has also been new influx of immigrants into Jammu, Hyderabad, and Andaman & Nicobar Islands," said an intelligence officer.
The advisory seeking confinement and monitoring of Rohingyas follows up on a September 2017 advisory that had asked the states to detect Rohingyas and report them to the Centre for likely deportation. Interestingly, a question that has intrigued the home ministry is why, despite being Muslims, they have preferred to settle in Jammu rather than the Valley.
The September 2017 advisory has been challenged in court. The SC had in its observations made while hearing the challenge, sought a humane approach to the issue.
The communication dated June 2 reiterated the detailed steps, which had also been communicated earlier, to be taken by the J&K government. The first measure seeks to confine Rohingyas' stay to specific identified locations. Second, the state has been told to enrol and record their personal particulars, including biometrics of each immigrant along with their address in Myanmar. Third, the advisory asks the states not to issue Aadhaar or any other such document to illegal immigrants including Rohingyas that may help them later in claiming Indian identity.
It was mentioned by the home ministry in its letter that a detailed form for capturing personal particulars of the illegal immigrants was shared with the J&K government in October 2017 but the required information has not been received yet.
https://timesofindia.indiatimes.com/india/confine-illegal-rohingya-to-designated-camps-centre-to-states/articleshow/64441862.cms
--------
Outside Muslims cornering livelihood opportunities in Uttarakhand: RSS leader Indresh
Jun 03, 2018
Rashtriya Swayamsewak Sangh (RSS) leader Indresh Kumar alleged on Sunday that Muslims from neigbouring states settling in Uttarakhand are capturing livelihood opportunities meant for the locals, which has triggered forced migration from the mountain state.
"This kind of in migration is also affecting the distinct cultural identity of Dev Bhumi (Land of Gods) Uttarakahnd is known as," Kumar said on the sidelines of a seminar. "There are also incidents of Christians (migrating from neighbouring states) carrying out forced conversion (of Hindus) in the hill state."
Kumar said forced migration induced by outsiders must stop. "Such a process can only be stopped if the distinct culture of Dev Bhumi remains strong," said the RSS ideologue who is also margdarshak (guide) of the Rashtriya Muslim Manch (Muslim National Forum), a wing of the Sangh Parivar.
Dev Bhumi, he said, will remain strong provided the purity and virtuousness of its inherent culture remains intact. "More than the state government the people should play a role (to ensure that outsiders do not capture the livelihood opportunities meant for the locals)," Kumar said, suggesting that such a situation will only come when dignity of labour is realised and no job is considered menial.
"Such labour-intensive jobs should also be treated with as much respect as white collar jobs or businesses," he said.
"Mind your language…I am not objecting to that," Kumar retorted when asked how in a democratic country outsiders could be stopped from taking up jobs in Uttarakahand when the locals also travel to different states in search of employment. "I agree that people travel to different states and countries in search of employment," he said, clarifying that people should not spoil the culture of a place, state or country they visit to seek employment.
"The question you are asking me you will not ask those handful of Muslims who wave Pakistani flags and raise slogans hailing that country," Kumar said, adding that such incidents occur in states, such as Jammu & Kashmir, Uttar Pradesh and Uttarakhand. "I am raising the issue because I have the courage to raise it."
Kumar argued that there is no agency to show Muslims the right path. "There is no interaction or dialogue with them," he said, clarifying that his allegation was not against the Muslim community. "My allegation is against a few elements in that (Muslim) community," Kumar said. "If such elements are controlled, the country will be secure…so will the Muslims and other citizens."
He said Muslims and Christians are sometimes heard saying that they feel threatened in India. "Such an impression is wrong," Kumar said, adding Ramzan celebration in India remained incident free. Pakistan, he asserted, has proved that it is inimical to Islam so are the separatist elements in Kashmir who indulged in violence during Ramzan, pelting stones at army jawans.
"On the other hand, they (army) are bearing so much hardships and are making so many sacrifices…They have proved that if Muslims are safe they are safe in India only," Kumar said, adding they are not safe even in Muslim countries.
"They (Indian Muslims) must understand that their ancestors were Indians," he said. "So, they should be loyal to the country and its ancestors." Kumar added: "They (Indian Muslims) should see Lord Ram in Khuda (God) and Khuda in Lord Ram."
Include terrorism threat as a compulsory subject in schools: Top cop
Terrorism as a threat to internal security should be included as a subject in schools up to the higher secondary level to raise awareness among the people, said Ashok Kumar, additional director general of police (law & order).
"Terrorism and the threat it poses to the internal security is a very critical issue. All schools up to the secondary level should include that issue in their syllabi," he said at a seminar on 'National Security in Context of Uttarakhand' held here on Sunday.
The seminar was organsied by FANS (Forum for Awareness of National Security), an affiliate of the Rashtriya Swayamsewak Sangh.
The senior official suggested that the subject of the threat to internal security from terrorism should be taught as a compulsory subject in schools. "It should be as compulsory for students as the military service, which is mandatory for the youths in Israel, which is also a victim of terrorism like India," Kumar said. The official though attributed the problem of Pakistan-supported terrorism in India to the unresolved Kashmir issue.
Full report at:
https://www.hindustantimes.com/dehradun/outside-muslims-cornering-livelihood-opportunities-in-uttarakhand-rss-leader-indresh/story-zkpOAQf5qPRUjUnK1cxxIP.html
--------
Muslim Organisations Too Promoted Cause of Telangana
SYED MOHAMMED
JUNE 04, 2018
Many participated actively in the agitation for Statehood
At a time when the Telangana sentiment was at its peak, several Muslims and Muslim organisations jumped into the movement. Be it the 1969 agitation or, for that matter, more recently, in 2008 and 2009. And with the anniversary of the formation of the State on Saturday, some of those involved in the movement share their experiences.
Jamaat-e-Islami Hind Telangana and Odisha president Hamid Mohammed Khan says that it was in 2008 that the socio-religious organisation jumped in to the fray.
The Jamaat, he says, was aware of the region's backwardness and its causes which is why the decision was taken to join the movement.
"We formed an advisory committee to study these injustices. We analysed a lot of government released data, Planning Commission reports and the distribution of resources to Telangana region. We analysed government employment patterns too. In 2008 we decided to wholeheartedly support the movement," Mr. Khan says.
Organised garjanas
The Jamaat, he says, was a part of the Telangana Joint Action Committee, and its organs supported the cause. "We organised Telangana garjanas in all districts and used our established units to further the cause of Telangana," he says.
While the Jamaat formally took part movement in 2008, the All India Majlis-e-Tameer-e-Millat (AIMTM), another socio-religious organisation was active during the 1960s.
According to its vice-president Ziauddin Nayyar, it was in 1969 that the then general secretary Laiq Ali Khan was actively associated with the Telangana Praja Samithi, co-founded by the then chief minister of erstwhile Andhra Pradesh M. Chenna Reddy.
"Several of the Tameer-e-Millat's leaders were even jailed for being a part of the agitation. Our ties were so close with the movement. Another member, Tahir Osmani, was well known for his renditions of poetry and slogans for Telangana statehood," Mr. Nayyar recalled.
Observers said that with the passage of time and weakening of the organisation, the AIMTM could not be an active part of the later years of the Telangana movement.
Full report at:
http://www.thehindu.com/news/cities/Hyderabad/muslim-organisations-too-promoted-cause-of-telangana/article24074010.ece
--------
Jammu and Kashmir: Latest militant recruit could be brother of IPS officer
by Bashaarat Masood
June 4, 2018
Two months after seven militants were killed at their ancestral house in Shopian, the brother of an IPS officer from South Kashmir has gone missing, and is feared to have joined militant ranks.
Shams ul Haq Mengnoo, a student of Bachelor's in Unani Medicine and Surgery (BUMS), has been missing since May 26, and police sources say he may have joined the Hizbul Mujahideen. Shams is the younger brother of a 2012-batch IPS officer currently posted outside the state. The family has not filed any missing person complaint with police.
While the rest of the family members remain tightlipped on the matter, the IPS officer told The Indian Express he had no knowledge of it. "I don't know what you are saying," he said.
Deputy Inspector General (DIG) of Police, South Kashmir, Amit Kumar told The Indian Express, "We have not received any report from anybody so far. When nobody has said anything or filed a missing report, what would we investigate?"
Unlike other recent militant recruits, Shams has not uploaded any gun-wielding pictures on social networking sites. Police sources say that of late Hizb militants have desisted from posting pictures of new recruits, and this could be the reason his picture has not been posted.
Shams was a student of the Institute of Asian Medical Sciences, located at Zakura on the outskirts of Srinagar.
While the family belongs to Draggad village of South Kashmir's Shopian, they are now settled in Srinagar. On April 1, seven militants had been killed in a fierce encounter at the family's ancestral home in Draggad, including a cousin of Shams, Zabir Ahmad Turray. A former Tehreek-e-Hurriyat activist, Turray had been repeatedly booked under the Public Safety Act before joining militancy. In a video that emerged after the encounter, Turray had blamed police for his joining the Hizbul.
There were three other militants present at the Draggad house that day, who had escaped. Among them was top Hizbul commander Zeenat-ul-Islam. Sources say Zeenat is a childhood friend of the IPS officer, and the two families have close relations.
The same day, in another village in Shopian, Kachdora, five militants had been killed in an encounter. Since that day, at least 30 youths have left homes to join militancy in South Kashmir.
Full report at:
http://indianexpress.com/article/india/jammu-and-kashmir-latest-militant-recruit-shams-ul-haq-mengnoo-could-be-brother-of-ips-officer-5202750/
--------
JK HC cancels bail granted to Asiya Andrabi, 4 others in terror-related case
Jun 3, 2018
SRINAGAR: The Jammu and Kashmir High Court cancelled the bail granted to banned Dukhtaraan-e-Milat's chief Aasiya Andrabi and four others in a terror-related case, saying the trial court had exercised the discretion to grant bail in an "erroneous manner". Yesterday, the division bench comprising Acting Chief Justice Alok Aradhe and Justice M K Hanjura quashed the order of Aanantnag Additional Sessions Court, granting bail to Andrabi and four others last month.
They had been arrested by the Anantnag Police in April this year for allegedly planning to organise a large-scale demonstration and stone-pelting in South Kashmir.
The police did not release Andrabi despite being granted bail by the court and arrested her in a different case. In the meantime, they approached the Law Department to challenge the trail court's order.
Since Swayam Prakash Pani took over as the inspector general of police (Kashmir range), special emphasis was being laid on pursuing all cases against separatists and to ensure that justice was delivered at the earliest.
The high court cancelled the bail of Andrabi and others in the case after the police submitted its case diaries and the investigation carried out.
It included the analysis of Andrabi's phone that purportedly showed that she was in constant touch with militant leaders across the border.
"From further perusal of the report, it is also axiomatic that there are reasonable grounds for believing that the accusation against the respondents (Andrabi and four others) are prima facie true.
"It is also noteworthy that the investigation in the case is in progress and the respondents have to be interrogated for their involvement in the commission of offences," the 11-page order said.
"...the material available in the police report, in our considered opinion, the trial court has exercised the discretion to grant the bail in an erroneous manner" and "the impunged order granting bail to the respondents is hereby quashed", it said.
Full report at:
https://timesofindia.indiatimes.com/india/jk-hc-cancels-bail-granted-to-asiya-andrabi-4-others-in-terror-related-case/articleshow/64437255.cms
--------
Pakistan
Prison sentence awaits Nawaz: PAT leader Tahir ul Qadri
JUNE 3, 2018
LAHORE: Pakistan Awami Tehreek (PAT) leader Tahir-ul-Qadri claimed on Sunday that a prison sentence awaited Nawaz Sharif, and it was only a matter of time before the former Prime Minister would find himself behind bars.
The maverick PAT leader was speaking to the media at Lahore's airport after arriving from Canada, and claimed that Nawaz Sharif was making political statements in response to the questions the accountability court had asked him.
"Nawaz started making political speeches in reply to the questions of the accountability court," Qadri said.
Qadri also critcised Nawaz Sharif's new found slogan of 'respect the vote' and questioned why Nawaz had taken up this claim after the Supreme Court had disqualified him.
The PAT leader, however, added that Pakistan would not be able to solve its problems simply by arresting the Sharif family, and called for Shehbaz Sharif to be held accountable as well.
"A corrupt system developed to loot the country. Shahbaz Sharif and his accomplices should be held accountable," he said.
Qadri also said that Parliament's decision to change the nomination papers for the upcoming elections stemmed from legislators' dishonesty.
https://dailytimes.com.pk/248347/prison-sentence-awaits-nawaz-pat-leader-tahir-ul-qadri/
--------
At least two PTM workers killed in South Waziristan 'militant attack'
Ali Akbar
June 04, 2018
At least four people, including two activists of the Pashtun Tahafuz Movement (PTM), were killed and dozens of others injured in a militant attack in South Waziristan agency's headquarters of Wana on Sunday, sources said.
Sources told DawnNewsTV that the militants targeted a PTM rally that was organised to welcome one of the movement's leaders, Ali Wazir.
PTM leader Mohsin Dawar confirmed the incident, saying the militants opened indiscriminate fire at the rally, killing and injuring a number of PTM supporters.
While quoting reports received from Wana so far, he said four PTM supporters have been killed and dozens injured in the incident.
"Our workers are busy in shifting the injured to the hospital," Dawar said, adding that they are trying to obtain more information.
A local source told DawnNewsTV that two PTM workers and as many local residents were killed in the firing incident. He added that the number of deaths may rise as several of the injured are in a critical condition. The numbers could not be immediately verified by officials.
According to AFP, supporters of PTM, which is led by young activist Manzoor Pashteen, wanted to hold a rally to protest against growing corruption in the tribal regions.
"The clash erupted after supporters of Manzoor Pashteen were stopped from holding a protest rally by local militants belonging to Maulvi Nazir group," a senior local administration official told AFP on condition of anonymity.
The Pashtun activists torched two offices of the militants, which led to an exchange of fire, killing two people and wounding 25 others, the official said.
The local administration immediately imposed a curfew on the area to control the fast deteriorating situation, a local intelligence official, who confirmed the incident and casualties, told AFP.
Another official said efforts were underway to bring the situation under control, adding the local administration was holding talks with the "two parties".
PTM rose to prominence earlier this year after the killing of a young social media star, Waziristan native Naqeebullah Mehsud, in Karachi unleashed festering anger at extrajudicial murders.
Full report at:
https://www.dawn.com/news/1411810/at-least-two-ptm-workers-killed-in-south-waziristan-militant-attack
--------
PML-N, PPP ridicule PTI's indecisiveness over caretaker CMs
June 04, 2018
ISLAMABAD: The recent flip-flop by the Pakistan Tehreek-i-Insaf (PTI) over its choices of caretaker chief ministers in two provinces has not only put the party leaders on the back foot, it has also provided an opportunity to its rivals to cash in on the situation just ahead of the general elections.
The PTI's act of first nominating the caretaker chief ministers and then withdrawing their nominations within 24 hours in Khyber Pakhtunkhwa (KP) and Punjab has put the party at odds and it has been facing criticism in the form of jokes and illustrations on social media.
The Pakistan Muslim League-Nawaz (PML-N) and the Pakistan Peoples Party (PPP) are warning the nation that it can face such a situation on daily basis if the PTI manages to assume power after the July 25 general elections.
While the PPP believes that the PTI has been doing such things because of the leadership's "immaturity" and "lack of decision-making power", the PML-N sees a conspiracy behind it.
PML-N's information secretary Mushahidullah Khan said the PTI wanted to see a delay in the general elections after getting reports that the PML-N was still the country's "most popular party".
He said the PTI had the role in the nomination of caretaker chief ministers in two provinces and in both the provinces, it had adopted the same strategy in order to create "confusion and chaos" in the country.
"The PTI is not behaving like a political party. They are not interested in seeing democracy getting roots in the country," the PML-N leader said, adding that the PTI was no more interested in contesting the coming general elections after seeing the recent pre-poll surveys.
Mr Khan alleged that the PTI was bent upon "sabotaging" the democratic process and wanted to create chaos before the next elections to provide a justification for the poll delay.
Former information secretary of PPP Punjab Naveed Chaudhry said the PTI leadership was not capable of "foreseeing and assessing" the political situations and that's why they were showing "immaturity" in every matter.
"They don't know as to how a political consensus can be developed on any political issue," he said.
Mr Chaudhry said the PTI was already known as a party that existed only on the social media and "it seems that after coming to power, all its decisions will be social-media driven".
When contacted, PTI leader Shafqat Mehmood refuted the claims of the PML-N and the PPP that his party lacked decision-making power.
He said that the PTI knew that the caretaker chief ministers only had limited powers after the recent amendments to the Elections Act, but they wanted to see "clean persons" in these offices.
Full report at:
https://www.dawn.com/news/1411914/pml-n-ppp-ridicule-ptis-indecisiveness-over-caretaker-cms
--------
PTM announces support for sit-in against target killings in N Waziristan
BY SHAMIM SHAHID
Jun 04, 2018
PESHAWAR: The Pashtun Tahafuz Movement (PTM), while announcing its support to sit in protest against frequent target killing in Miranshah and Mirali of North Waziristan, warned of arranging a similar sit-in Wana and Barwand of South Waziristan from Monday.
Manzoor Pashteen, chief of PTM, on Saturday night announced support for sit-in started by tribesmen from different parts of North Waziristan against frequent acts of target killing in the area. In the latest violent act, political administration official Hamid Ullah Kabalkhel was killed and three personnel of Khasadar forces were injured when unknown militants attacked a vehicle in Kaam Saroobi area on Razmak Road.
Soon after the funeral of Hamid Ullah Kabal Khel on Saturday, tribesmen from all over Miranshah and Mirali decided to resume the six-day sit-in which was last called off on May 18. Within hours hundreds of tribesmen came out of homes and rushed to main Chawk in Mirali and Miranshah whereas they went on a sit. The PTM chief Manzoor Pashteen has directed supporters and workers to participate in the protest.
PTM leader Ali Khan Wazir has said they deputed a team of workers to go and extend every sort of support to protesters in North Waziristan. He said, "Beside frequent target killing, through one or other ways, the PTM workers are also teased and harassed in South Waziristan."
Wazir informed this scribe, "Yesterday, the government-loyal Taliban snatched caps from PTM workers in Wana, headquarter of South Waziristan, and terrorised them also. Target killing incidents are also taking place in Sarwaiki sub-divisions." On such grounds, he said they decided of going on a sit-in in both Wana and Barwand, headquarter of Sarwaiki sub-division from Monday.
He said that arrangements regarding sit-in protest in two different places of South Waziristan are in progress. He said that the purpose of the sit-in is to convince the government for realising its responsibilities of protecting lives and properties of people.
The protesting tribesmen in Miranshah and Mirali have demanded an end to target killing, calling for the permission for tribesmen to keep arms for their self-defence.
Meanwhile, personnel of traditional Khasadar forces from North Waziristan also decided to go on protest just to ensure their safety in the new system after the merger of Federally Administrative Tribal Areas (FATA) in Khyber Pakhtunkhwa.
Full report at:
https://www.pakistantoday.com.pk/2018/06/03/ptm-announces-support-for-sit-in-against-target-killing-in-n-waziristan/
--------
Six terrorists killed as Pakistan repulses cross border attacks
JUNE 4, 2018
Pakistan security forces repulsed terrorist attacks from across the Pak-Afghan border, killing six terrorists in two separates areas of Khyber Pakhtunkhwa and Balochistan, Inter-Services Public Relations (ISPR) said Sunday.
According to the ISPR, the military's media wing, four personnel of the Frontier Corps (FC) and one soldier of the Pakistan Air Force (PAF) were injured in the terrorist attacks.
"Terrorists from across the border carried fire raids and physical attacks on Pakistan's border posts and border fencing parties in Bajaur in KP and Qamar Din Qarez in Balochistan," said an ISPR statement.
"Taking advantage of ungoverned spaces and facilitation inside Afghanistan, terrorists are resorting to such attacks to prevent fencing and construction of border posts."
The forces launched retaliatory attack, killing six and injuring many other terrorists.
"Security Forces responded effectively and repulsed physical attack. 6 terrorists killed and many injured. 4 soldiers of FC and one soldier of PAF (Deployed at observation post) got injured," the army said.
"To consolidate the gains of successful kinetic operations against terrorism fencing of Pak-Afghan border and construction of border forts will continue irrespective of the challenges posed by inimical forces," the ISPR added.
According to reports, Pakistan's military has so far fenced off more than 43km of the frontier with Afghanistan. The military has also planned to recruit tens of thousands of new troops to man the border. It is not clear how long it will take to fence the entire boundary.
Authorities in Pakistan consider the fence mandatory for restriction of the movement of terrorists from across the country. However, the government in Kabul has been opposing the move.
The latest incident came just days after Pakistan and Afghanistan reported progress in their talks to sort out issues, including the border security through dialogue. Last week, a high-powered Afghan delegation led by its national security Adviser Hanif Atmar visited Islamabad for talks with the civil and military authorities.
Talks were part of the new mechanism recently agreed between the two countries. One of the understandings reached between the two neighbours was to avoid blame game.
The visit of Afghan delegation comes against the backdrop of an agreement reached between the two countries earlier this month to operationlise Afghanistan-Pakistan Action Plan for Peace and Solidarity (APAPPS).
APAPPS provides a framework to strengthen mutual trust and deepen interaction in all spheres of bilateral engagements. It is also a mechanism for finding solutions to bilateral areas of concern.
Full report at:
https://dailytimes.com.pk/248704/six-terrorists-killed-as-pakistan-repulses-cross-border-attacks/
--------
At least 3 PTM supporters dead, 20 injured in 'Taliban' attack
Rehmat Mehsud and Abdullah Malik
JUNE 4, 2018
ISLAMABAD: At least three supporters of the Pashtun Tahafuz Movement (PTM) were killed and 20 others suffered injuries on Sunday when armed members of a self-identified aman committee mounted an attack on a gathering in Wana, the headquarters of South Waziristan Agency.
Arif Wazir, a cousin of PTM leader Ali Wazir, and Noor Ali Wazir, a local journalist, were reported to be among the injured. Wazir was present on the occasion and was reported to be safe during the bloody clash. On Saturday, aman committee men had threatened him that his house in the area would be torched if he did not disassociate himself from the PTM.
Those with critical injuries were taken to Dera Ismail Khan, an adjacent district, for medical treatment.
A senior journalist hailing from North Waziristan, speaking on condition of anonymity, said his sources confirmed that the attack was orchestrated by Mullah Nazir group.
Witnesses told Daily Times on telephone that armed assailants arrived in double-cabin vehicles at the main bazaar of WANA where the gathering was underway. They started an argument with PTM supporters. Some of them torched a nearby stall of 'Pashteen' caps, so called because of their association with PTM leader Manzoor Pashteen. "This infuriated PTM workers and escalated the clash," said a tribesman who was present on the occasion.
Insisting that the aman committee was Taliban in disguise, he said the assailants opened fire at the gathering using heavy weaponry. PTM workers, meanwhile, pelted stones on them, leaving two men in the convoy injured, he said.
Soon after the clash, the security forces arrived to quell the situation. And latest reports suggested that a curfew was enforced in Wana.
Later in the day, PTM leader Manzoor Pashteen addressed his supporters on social media and claimed that 10 workers of the movement had died in the clash. By the time this report was filed, multiple protests were reported from across the country to condemn the attack.
Separately, a sit-in in Mir Ali, a small town in North Waziristan Agency, remained underway on the second consecutive day on Sunday to condemn the targeted killing of Hamidullah Wazir, a political moharir of local administration, by unidentified gunmen. Unidentified gunmen had on Friday night ambushed his vehicle and opened indiscriminate fire on it, killing Wazir and injuring his three guards. Wazir was on a patrol near Sarobi, a populated area where the security forces have also established their camp, Abdul Majeed Dawar, a resident of the area, told Daily Times.
Dawar said a grand jirga would be held after Eid to deliberate on the deteriorating state of security and to devise a plan for the purpose.
Full report at:
https://dailytimes.com.pk/248702/at-least-3-ptm-supporters-dead-20-injured-in-taliban-attack/
--------
South Asia
9 militants killed as airstrike target ISIS-K compound in Nangarhar
Jun 03 2018
At least nine militants were killed during an airstrike targeting a compound of the ISIS Khurasan in eastern Nangarhar province of Afghanistan. (Photo – US Air Forces Central Command)
The provincial government media office in a statement said the airstrike was carried out in the vicinity of Haska Mina district.
The statement further added that an airstrike targeted the compound of the terror group in Gorgori area of the district late on Saturday night.
According to the provincial government, at least nine ISIS Khurasan militants were killed and their compound was destroyed during the airstrike.
Several weapons and munitions belonging to the terror group were also destroyed during the airstrike, the statement added.
The latest airstrike targeting the ISIS Khurasan compound has been carried out amid ongoing operations to suppress the activities of the terror group in this province.
The provincial government said Saturday that 17 militants of the terror group were killed during the similar operations on Friday.
https://www.khaama.com/9-militants-killed-as-airstrike-target-isis-k-compound-in-nangarhar-05308/
--------
Nearly half Afghan children out of school, number rising for first time in years
June 03, 2018
Nearly half all children in Afghanistan are out of school due to conflict, poverty, child marriage and discrimination against girls, the number rising for the first time since 2002, humanitarian organizations said in a report on Sunday.
Spreading violence has forced many schools to close, undermining fragile gains in education for girls in a country where millions have never set foot in a class room.
Some 3.7 million children between the ages of seven and 17, or 44 percent, are out of school, 2.7 million of them girls, Education Minister Mirwais Balkhi told a seminar, explaining a study conducted by UNICEF, USAID and the independent Samuel Hall think-tank.
The Taliban, seeking to oust the U.S.-backed government and return the country to strict Islamic rule after their 2001 ouster, are adamantly opposed to education for girls and threats from Islamic State have forced the closure of dozens of schools.
Without mentioning the Taliban or Islamic State, Balkhi said there were "many reasons" for children not going to school.
"Education of children is the most important development in all human communities," he said. "It is the most important tool in fighting war, poverty and unemployment."
In the worst affected provinces, up to 85 percent of girls are not going to school, the aid groups said. They did not give specific time periods or comparisons.
In April this year, militants set ablaze two schools and widespread violence had led to closure of hundreds of private schools.
"Business as usual is not an option for Afghanistan if we are to fulfil the right to education for every child," said Adele Khodr of UNICEF in the report.
"When children are not in school, they are at increased danger of abuse, exploitation and recruitment."
One teenage girl, Ziwar, from central Daikundi, one of the safest provinces in the country, said she had been at school until she was 14.
"I can read and write. I can write a letter," she told seminar delegates. "I learn from books. I want to continue my studies. I want to become a doctor in the future."
Full report at:
https://nation.com.pk/03-Jun-2018/nearly-half-afghan-children-out-of-school-number-rising-for-first-time-in-years
--------
Rohingya refugee crisis threatens biodiversity of Bangladesh's Cox's Bazar
June 03, 2018
DHAKA: Some 2,000 hectares of forestland — equivalent to four football fields — around Cox's Bazar, Bangladesh, has disappeared due to Rohingya refugees cutting trees for firewood, according to a report by the Inter Sector Coordination Group (ISCG).
It added that 86 percent of drinking-water wells have been contaminated with the E.coli bacteria from fecal matter.
Due to the "extreme level" of deforestation, the area's biodiversity has been jeopardized, said Saiful Islam, assistant director of the environmental office in Cox's Bazar.
The government will implement a reforestation plan once 100,000 Rohingya are relocated to Bhashan Char island in the Bay of Bengal, he added. "This relocation process is supposed to start very soon," he said.
Hosting more than one million Rohingya refugees from Myanmar "has created extraordinary pressure on our resources, as the population of Cox's Bazar has more than doubled in a short span of time," Islam added.
Rakibul Amin, country manager for the International Union for Conservation of Nature (IUCN), told Arab News: "Due to deforestation, the biodiversity of Cox's Bazar is under severe threat."
He added: "It has destroyed a popular corridor for wild elephants, increasing the number of man-animal encounters." Some rare wildlife species are at risk due to the deforestation, he said.
Agricultural land near the refugee camps is facing siltation and contamination from fecal matter, according to the ISCG report.
Bishwajit Sen, an environmentalist in Cox's Bazar, said: "This deforestation has made this coastal district more vulnerable to climate change."
He added: "We should have done better and systematic management of the environment from the outset of the refugee crisis."
Full report at:
http://www.arabnews.com/node/1314851/world
--------
Southeast Asia
Autonomy for Muslim minority in Philippines is one step closer
June 04, 2018
MANILA: The two houses of Congress last week passed their versions of the proposed Bangsamoro Basic Law (BBL), moving a step closer to the realization of President Rodrigo Duterte's promise of wider autonomy for the country's Muslim minority.
However, while this can be considered the farthest reached in the peace process between the Philippine government and the Moro Islamic Liberation Front (MILF), no celebrations greeted the passage — either at the House of Congress or at the Senate — of their respective versions of what is supposed to be a landmark bill.
Instead, there is now more uncertainty than certainty about the acceptance by the Muslim community in the country of the proposed BBL due to be finalized and signed into law by the President next month. Some see it as the light at the end of the tunnel, but others have expressed fear that it will give a platform to radicals.
This is mainly because in the approved versions of the BBL in both houses of Congress important provisions of the original draft proposed by the Bangsamoro Transition Commission (BTC) had been deleted. If not restored, critics say "this will kill the essence of the Muslim minority's self-rule." The BBL, once signed into law and ratified in a plebiscite, is expected to bring forth an institution "capable of responding to the challenge of the times and to the aspirations of the Bangsamoro, unimpaired and free of the maladies that have afflicted the Autonomous Region in Muslim Mindanao (ARMM)."
However, observers note that the amendments made to the proposed BBL made the future Bangsamoro region lesser than the current ARMM.
Manila-based Imam Ebra Moxir, in an interview, said he remained hopeful that the bicameral committee that will meet before Duterte delivers his state-of-the-nation address on July 23 would make sure they come up with a final BBL version at least close to the draft submitted by the BTC, one that is true to the aspirations of the Bangsamoro people.
He admitted that there may have been some unconstitutional provisions in the BTC draft of the bill, and the lawmakers had to amend these to make sure it would not be problematic and will pass even if brought before the Supreme Court.
"That's from my perspective. In my view, our lawmakers were only making sure that the end result will not be questionable, that everything is constitutional. Otherwise, we will have a problem. Instead of moving onward, it will be backward," Moxir said.
Moxir added that he had seen posts on social media criticizing the BBL. Some of the critics, he believes, have their own agenda, "so we have to show that they have the wrong perspective and the lawmakers are right, that what they are doing is for the morale and welfare of the Bangsamoro."
"Let's give the BBL a chance because if it will not be passed and implemented, I think there will be more problems in Mindanao," Moxir continued.
On the other hand, Najib D., a Maguindanao resident, said a diluted BBL would surely not get support from the general Bangsamoro populace.
"Any 20 or 30 percent non-support will be significant. Our lawmakers might be thinking they will be able to resolve the problem with a diluted BBL, but no. You may solve some problems but you create more problems in the end. A third of the population is as significant as the two-thirds," he pointed out.
"They should have just considered the BTC-proposed BBL by voting yes or no instead of amending it. Their approved bills turned out to be less than the ARMM in terms of powers," he continued.
Asked what could be the consequences, Najib said: "First, those who are already old and are now tired of fighting, it's possible they will just agree to it. But with an unacceptable BBL, you also create another form of more radical, more determined younger generations of mujahideens.
"You will provide a platform for the radicals to advance their propaganda ... So, these people in Congress are not fully aware or have less understanding of the problem in Mindanao," he continued.
Najib further lamented that the problem with some people in government is that they see the other party in a peace process as an enemy. "So when an agreement comes to Congress, they reduce the concession that will be given to the Bangsamoro. In the end, you did not win anyway."
He believed that even if final BBL is not acceptable to the MILF, "they will not go back to war but they will not stop any factions from going in that direction. Because if you do not have an agreement, the best environment is a conflict environment.
"This is a time wherein Filipinos should come to their consciousness, either to choose to create a nation that includes Muslims or run the risk of disintegration of this country," he further stated.
Meanwhile, Dr. Potre Dirampatan-Diampuan of the United Religions Initiative said while the Congress versions of the BBL have been watered down, "we cannot be totally judgmental at the moment because there is still one step left" which is through the bicameral committee. "That will be the finality of it all.
"Right now many or some people think that there seems to be no difference between this BBL now, especially the Senate version, and the existing ARMM. In other words, if there will be no changes, why is there a need for a new law?"
On whether the BBL is the light at the end of the tunnel or will it provide a platform to the radicals, Diampuan said: "That's the powerful question ... It is more on the uncertainty than the certainty." Diampuan said that she is keeping her fingers crossed that the bicameral committee of Congress will come up with a good acceptable version for the people of Muslim Mindanao."
"That is where we are crossing our fingers. As we cross our fingers, we pray that something good emerges out of this conversion.
"I think the word there is trust. It is really, really trust," she continued, pointing out that people in Muslim Mindanao should be given the chance to govern themselves.
Asked what she thinks is the worst possible scenario, Diampuan replied: "As we say, peace is very elusive. But we will remain praying that peace may prevail in the country."
http://www.arabnews.com/node/1314996/world
--------
Ahmadi Muslims hoping for major shift in Islamic administration
Robin Augustin
June 4, 2018
PETALING JAYA: A local leader of the Ahmadi Muslim community, who follow a branch of Islam not recognised by mainstream Muslim scholars, hopes the new government in Putrajaya will initiate reforms in the religious administration, starting with an emphasis on the philosophical side of Islam rather than a literalist interpretation.
Indrawan Ahmad, a spokesman for the Ahmadiyya Muslim Jamat Malaysia, a group which brings together followers of the Ahmadiyya sect which is officially considered as outside the fold of Islam, said it was time to take Malaysia out of its "religious cocoon".
He said one problem with Malaysia's Islamic administration was the dominance of Muslim scholars who are influenced by Wahhabi doctrine.
"Wahhabism is harsh and forceful," he told FMT on the sidelines of a forum yesterday.
Wahhabism is a derogatory name given to Salafi Islam, which attempts to promote an austere version of Islam but with much resistance from traditional Islam.
Islamic authorities in Malaysia have declared Ahmadi Islam as a deviationist sect because its followers believe Mirza Ghulam Ahmad of Qadian, who died in 1908, is the promised Messiah.
Mainstream Muslims, on the other hand, believe the Messiah is Jesus the son of Mary, and that he will come back to earth in his second coming towards the end of time.
Indrawan said there was a need to check religious lectures which promote hatred and discourage inclusivity.
He cited the example of some preachers who prohibit Muslims from wishing Christians "Merry Christmas".
"There's something wrong with such thinking, or telling Muslims that all non-believers will go to hell.
"We have to fix this. The problem isn't with those who administer the country, but with religious enforcers who don't understand Prophet Muhammad's teachings."
Indrawan said another problem was when only one strand of Islamic thought is officially adopted.
"They only see the Shafi'i school of thought as being correct," he said, referring to the predominant Sunni branch of Islam in Malaysia.
He said there must be an emphasis on Islamic philosophy, as well as encouraging greater dialogue with non-Muslims and Muslims from different sects.
Full report at:
http://www.freemalaysiatoday.com/category/nation/2018/06/04/ahmadi-muslims-hoping-for-major-shift-in-islamic-administration/
--------
Muslim lawyers: Agong swore to Allah, 'constitutionally obliged' to defend Islam
04 June 2018
KUALA LUMPUR, June 4 — The Yang di-Pertuan Agong has sworn to defend Islam when he took his throne, the Malaysian Muslim Lawyers Association said today regarding the impasse in the appointment of the new Attorney General (AG).
The group insisted that the Agong must consider the interest of Islam in the country, suggesting that the new AG should be able to protect the religion.
"In the Fourth Schedule of the Federal Constitution, the Agong take the throne by swearing to Allah's name that among others he will protect Islam at all times. This gives the Agong a constitutional obligation to protect Islam at all times.
"Therefore, the Agong should elect someone who can protect Islam at all times. Even the appointment of the AG is at the pleasure of the Agong, therefore nobody can force the Agong to give his assent," its president Datuk Zainul Rijal Abu Bakar said in a statement.
The Fourth Schedule defines the Agong's oath, and states that the Agong should at all time, not only "protect the religion of Islam" but also "uphold the rules of law and order in the country".
The group also defined Articles 40(1) and (1A) of the Constitution as the Agong not being tied down by the prime minister's advice except in some cases where the Agong has full discretion.
"Therefore, the word 'advice' is not a resolution that ties down the Agong because its nature is more of a guidance and not a 'command', that the Agong would review using his prudence, wisdom and discretion."
Prime Minister Tun Dr Mahathir Mohamad reportedly said yesterday the government is set on having senior lawyer Tommy Thomas be the next AG and will not nominate anyone else.
Full report at:
https://www.malaymail.com/s/1638031/muslim-lawyers-agong-swore-to-allah-constitutionally-obliged-to-defend-isla
--------
Constitution does not require the AG to be Malay and Muslim
June 4, 2018
By Gerard Lourdesamy
There has been a great deal of speculation and comment on the appointment of the next Attorney General (AG) to replace the incumbent Mohamed Apandi Ali who has been placed on garden leave by the Pakatan Harapan (PH) federal government.
It is not necessary at this juncture to comment on the allegations made against the incumbent AG even if justified because the office of the AG is held at the pleasure of the King and as such the AG can be dismissed or removed by the King on the advice of the prime minister. This is provided for in Article 145 (5) of the Federal Constitution.
It does not matter that the current AG is on a contract. He can still be dismissed for cause or at the will of the government irrespective of the contract. The AG cannot sue the government on the contract and claim for damages arising from such a dismissal. This proposition was made amply clear by the Federal Court in Hj Ariffin v Government of Pahang [1969] 1 MLJ 6. In effect, the apex court held that there was no fetter on the power of the Ruler to dismiss at pleasure, statute or contract any public officer in the service of the State.
The appointment of the AG is a matter that is relatively straightforward provided that all parties adhere to and respect the very clear provisions in the Constitution and have an understanding of their role in the appointment process.
Article 145 (1) of the Constitution provides for the appointment of the AG by the King on the advice of the prime minister. The person to be appointed must be a person qualified to be appointed as a judge of the Federal Court.
The qualifications required for the appointment can be found in Article 123 namely: (a) he is a citizen; and (b) for the ten years preceding his appointment he has been an advocate of those courts or any of them or a member of the judicial and legal service of the Federation or of the legal service of a State, or sometimes one and sometimes another. Courts here means the Federal Court, the Court of Appeal and the High Court in Malaya or the High Court in Sabah and Sarawak.
In making the appointment the King must act on the advice of the prime minister. This is mentioned in Article 145 (1) itself. Acting on the advice is explained in Article 40 (1) and (1A) of the Constitution. It is very clear that the King has no discretion in the matter. He must accept the advice of the prime minister and act in accordance with such advice. Both the Federal Court and the Court of Appeal in the context of appointments to the judiciary and the cabinet have held that the actual appointing authority is the prime minister and that the King could not but follow the decision made by the prime minister. Legally, the prime minister can insist that the appointment be proceeded with even if the King disagrees, withholds or delays giving his consent with or without reasons. Refer to Datuk Seri Anwar Ibrahim v Public Prosecutor [2000] 2 CLJ 570 and Datuk Seri Anwar Ibrahim v Perdana Menteri Malaysia & Anor. [2007] 4 MLJ 422.
Under the Constitution the only matters in which the King retains a discretion in the exercise of his prerogative powers is provided for in Article 40 (2) namely (i) the appointment of the prime minister; (ii) the dissolution of Parliament; and (iii) to convene meetings of the Conference of Rulers.
There is also no requirement under Article 145 (1) of the Constitution for the King to seek the advice of the Conference of Rulers or to consult with them on the appointment of the AG. In any event, the Federal Court and the Court of Appeal have correctly held that consult does not mean consent in the context of the Conference of Rulers and the King is not bound by the advice of the other Rulers on such matters as for example the appointment of the judges of the superior courts.
It must be noted that the King is only required to consult with the Conference of Rulers when it comes to the appointment of the superior court judges under Article 122B; the appointment of the Election Commission under Article 114 (1) and the appointment of the Auditor-General under Article 105 (1) of the Constitution. Some federal laws may provide for such consultation.
Article 145 (1) of the Constitution does not require that the AG must be a Malay and Muslim. In fact, constitutionally speaking, even the prime minister need not be a Malay and Muslim, see Article 43 of the Constitution. If such a condition is imposed by the appointing authority in relation to the AG then it would be unconstitutional if not unlawful under Articles 8 (1) and 136 of the Constitution.
In fact, Article 136 expressly provides that there shall be no discrimination based on race in the service of the Federation. The AG is a public officer under the Constitution, see the Supreme Court in Tun Mohamed Salleh Abas v Abdul Hamid Omar & Ors. [1988] 3 MLJ 149. Therefore, the appointment of the AG cannot be clouded by considerations of race and religion.
In the past non-Malay and non-Muslim AGs have been appointed even after 1957. For example Thomas Vernor Alexander Brodie and Cecil M Sheridan. Both were British and Christians.
The Attorney-General's Chambers is dominated by senior Malay/Muslim heads of divisions and officers except for the Civil Law Division. The Solicitor-General Engku Nor Faizah Engku Atek is a Malay/Muslim. There is a Shariah Law Division within the chambers that is headed by a Malay/Muslim. These senior officers can advise the King on Syariah law matters if and when the Sovereign requires such advice.
In any event under the Constitution, the role of the King in Islamic matters is only limited to the Federal Territories of Kuala Lumpur, Putrajaya and Labuan, and the states of Melaka, Penang, Sabah and Sarawak. And, even then, the King could be advised by the respective Mufti and religious councils.
Lastly, the role of a constitutional monarch is not to govern but to ensure proper governance. There must be mutual trust and confidence between the Sovereign and his government. As Dicey, properly explained the Sovereign is the dignified part of the constitution while the government is the efficient part.
Full report at:
http://www.freemalaysiatoday.com/category/opinion/2018/06/04/constitution-does-not-require-the-ag-to-be-malay-and-muslim/
--------
Mideast
Yemeni Gov't Rejects Rumours of Accepting UN Plan on Hudaydah Port
Jun 03, 2018
"The Saudi media rumors that the Yemeni government has accepted the UN initiative to take control of Hudaydah port is a lie and they have released such claims to cover up their failures," Abdolsalam Jaber was quoted as saying by Yemen's official news agency on Sunday.
"Spreading such rumors is a clear sign for the disappointing situation that the enemy has in the frontline of war," he added.
Reports said on Thursday that the Saudi-backed militants in Yemen were reportedly preparing to lay a siege to Hudaydah despite UN warnings against any attempt to seize the key Red Sea port, which serves as the main conduit for humanitarian aid flow into the war-torn country.
Military sources said Wednesday that forces loyal to Yemen's former Saudi-backed President, Abd Rabbuh Mansur Hadi, were sending reinforcements ahead of a "new operation" to enter Hudaydah city and seize its port, a vital lifeline where millions of Yemenis get their food and medicine amid Saudi Arabia's all-out blockade of the country.
The city is controlled by Yemen's popular Ansarullah movement, which has been both running state affairs and defending the country in the face of the deadly Saudi-led military campaign.
Colonel Sadiq Duwaid, from the Saudi-led forces, who will be taking part in the operation, said it was "being bolstered by new forces... that will take part in retaking Hudaydah".
"First, we will cut off supply lines, especially between [the capital] Sana'a and Hudaydah, then we will place the Houthis under siege," he added.
Meanwhile, Ansarullah fighters and their allied forces have stepped up their counter-attacks against the Saudi-backed militants.
On Wednesday, they destroyed the military vehicles belonging to the Saudi mercenaries.
Yemeni media also say people from other provinces are rushing to Hudaydeh to help the locals and Ansarullah forces foil militant attempts to enter the city.
Clashes were reported between the militants and Ansarullah fighters East of the port city, while the Saudi-led coalition carried out numerous airstrikes on Ansarullah positions.
Fatalities were reported on both sides of the conflict.
Riyadh claims that Yemen's Ansarullah movement uses the port for weapons delivery.
UN Secretary-General's Spokesperson Stephane Dujarric on Tuesday voiced grave concern over militant attempts to attack the strategic city, saying "increased fighting would unleash even more internally displaced people".
Amnesty International also said intense fighting near the port of Hudaydah had displaced tens of thousands of people, warning against the spread of clashes to urban areas.
The US-backed coalition once sought to overrun the port last year, but backed off apparently amid international pressure, with the UN warning that the port's seizure would have a "catastrophic" impact.
Abdul Malik Badreddin al-Houthi, Ansarullah's leader, has warned Saudi Arabia and its allies against further escalation in the city.
"The decision of invading the Yemeni Western coast has been taken and adopted by the United States of America," he added, saying "those who bet on the support of foreign forces will never reach satisfied results".
Saudi Arabia has been striking Yemen since March 2015 to restore power to Mansour Hadi, a close ally of Riyadh. The Saudi-led aggression has so far killed at least 16,000 Yemenis, including hundreds of women and children.
Despite Riyadh's claims that it is bombing the positions of the Ansarullah fighters, Saudi bombers are flattening residential areas and civilian infrastructures.
According to several reports, the Saudi-led air campaign against Yemen has driven the impoverished country towards humanitarian disaster, as Saudi Arabia's deadly campaign prevented the patients from travelling abroad for treatment and blocked the entry of medicine into the war-torn country.
Yemen is the world's largest humanitarian crisis with more than 22 million people in need and is seeing a spike in needs, fuelled by ongoing conflict, a collapsing economy and diminished social services and livelihoods.
The United Nations aid chief has also expressed concern over the decline of food imports to Yemen amid restrictions put in place by the Saudi Arabia, warning that a further 10 million Yemenis could face starvation by year-end.
"I am particularly concerned about the recent decline of commercial food imports through the Red Sea ports," Mark Lowcock, the UN emergency relief coordinator, said.
Lowcock stated that commercial food and fuel imports remained "well short of pre-blockade averages", warning that "if conditions do not improve, a further 10 million people will fall into this category by the end of the year".
http://en.farsnews.com/newstext.aspx?nn=13970313000518
--------
Yemeni army liberate Hodeidah tourist resorts, seize Houthi ballistic missiles
3 June 2018
Yemen's joint forces liberated private resorts on the outskirts of Hodeidah on Saturday, which are located only 10 kilometers away from the city's airport.
A video showed Yemeni armed forces infiltrate the resorts, which the Houthi militia took up as military bases.
According to a local Yemeni newspaper, a storage area filled with ballistic missiles was seized inside one of the resorts, which the militia had left behind before escaping.
Meanwhile, local eyewitnesses said that the Arab Coalition carried out several air raids early on Sunday targeting Houthi gatherings at their headquarters in the fifth military zone near the Hodeidah airport, and other locations.
The eyewitnesses added that the Arab Coalition is continuing intensive air raid operations over Hodeidah.
Full report at:
https://english.alarabiya.net/en/News/gulf/2018/06/03/Houthis-suffer-defeat-on-Yemen-s-Hodeidah-border-ballistic-missiles-seized.html
--------
Nine migrants, mostly children, dead after speedboat sinks off Turkish coast
3 June 2018
Nine migrants, including six children, seeking to head to Europe in a speedboat drowned on Sunday when the vessel sank off Turkey's Mediterranean coast, state media reports said.
The boat hit trouble off the Demre district of Turkey's Mediterranean Antalya province, a popular holiday spot, the state-run Anadolu news agency said. Five were rescued while one person was still missing, it added.
Two unidentified adults, one woman and six children lost their lives, it said.
The Dogan news agency said that they were seeking to head illegally to Europe but their planned route was not immediately clear.
The nearest EU territory is the small Greek island of Kastellorizo to the west which lies off the Turkish resort of Kas.
The nationalities of those on board have yet to be made clear.
Over a million people, many fleeing the war in Syria, crossed to European Union member Greece from Turkey in 2015 after the onset of the bloc's worst migration crisis since World War II.
Turkey struck a deal with the EU in 2016 in an effort to stem the flow of migrants into Europe, and agreed to take back illegal migrants landing on Greek islands in exchange for incentives including financial aid.
The deal, chastised by rights groups, sharply curbed the number of migrants seeking to cross the Aegean and Mediterranean Seas from Turkey to Greece.
However, observers say that the numbers seeking to cross this route have been ticking up again in recent months.
According to the International Organization for Migration (IOM), 10,948 people crossed to Greece this year up to May 30, sharply more than in the same period in 2017. Thirty-five people lost their lives using this route so far this year, according to the IOM.
Full report at:
https://english.alarabiya.net/en/News/middle-east/2018/06/03/Nine-migrants-mostly-children-dead-after-speedboat-sinks-off-Turkish-coast.html
--------
Hadi: The Persian project carries nothing but harm to the people of Yemen
4 June 2018
Yemeni President Abdrabbuh Mansur Hadi said on Sunday that Saudi Arabia's hands were always helpful toward Yemen, which carries relief, development and generous support, while the Persian project "carries nothing but destruction, ruins and death".
Hadi said during a meeting with his advisors in the presence of his Deputy VP Ali Mohsen and Prime Minister Ahmed bin Dagher that a number of understandings and points resulted after meetings with Saudi King Salman and Crown Prince Mohammed bin Salman.
The president also spoke on the outcome of his meeting with UN envoy to Yemen, Martin Griffiths, stressing the position of the government in support of peace.
Full report at:
https://english.alarabiya.net/en/News/gulf/2018/06/04/Hadi-The-Persian-project-carries-nothing-but-harm-to-the-people-of-Yemen.html
--------
Houthi militias surrender as Yemeni Army makes gains on Nihm front
3 June 2018
Fierce clashes between the Yemeni Army and the Houthi militias took place on Sanaa's Eastern Nahm Front.
The clashes lead to the loss of many lives in addition to Houthi military equipment. The militias soon realized that it was to their fate to lose the battle, causing 10 members in the area of Baidaa to surrender themselves to the Yemeni army, according to the Al Anbaa Yemeni press agency.
Yemeni sources also stated that the clashes were most concentrated in the area of Al-Houl. And in Al- Jouf, the army liberated strategic positions in Bart Al-Anan by regaining control of a number of mountain ranges which the militias had been based.
Full report at:
https://english.alarabiya.net/en/News/gulf/2018/06/03/VIDEO-Houthi-militias-surrender-as-Yemeni-Army-makes-gains-on-Nihm-front.html
--------
Saudi aerial assault leaves nine civilians dead in northwestern Yemen
Jun 3, 2018
At least nine civilians have been killed when Saudi military aircraft carried out an airstrike against a residential area in Yemen's northwestern province of Sa'ada as the Riyadh regime presses ahead with its atrocious bombardment campaign against its southern neighbor.
Saudi fighter jets conducted an aerial assault against a house in the Baqim district of the province on Saturday afternoon, leaving nine people dead and several others injured, an unnamed local source told Yemen's Arabic-language al-Masirah television network.
The source added that there were women and children among the fallen victims.
Elsewhere in the al-Tuhayat district of Yemen's western coastal province of Hudaydah, Saudi warplanes launched at least 15 airstrikes. There were no immediate reports of casualties and the extent of damage inflicted.
An unidentified number of Saudi-backed militiamen loyal to Yemen's resigned president, Abd Rabbuh Mansur Hadi, also lost their lives and sustained injuries when an improvised explosive device went off in the Nihm district of Sana'a province.
Early on Saturday, Yemeni army soldiers, backed by allied fighters from the Popular Committees, fatally shot a Saudi trooper at al-Sadis military base in Saudi Arabia's southern border region of Najran.
The Yemeni Ministry of Human Rights announced in a statement on March 25 that the Saudi-led war had left 600,000 civilians dead and injured since March 2015.
The United Nations says a record 22.2 million Yemenis are in need of food aid, including 8.4 million threatened by severe hunger.
A high-ranking UN aid official recently warned against the "catastrophic" living conditions in Yemen, stating that there was a growing risk of famine and cholera there.
"People's lives have continued unraveling. Conflict has escalated since November driving an estimated 100,000 people from their homes," John Ging, UN director of aid operations, told the UN Security Council on February 27.
Full report at:
http://www.presstv.com/Detail/2018/06/03/563789/Saudi-aerial-assault-leaves-nine-civilians-dead-in-northwestern-Yemen
--------
'Any third party' call on Israel, US for war with Iran dangerous: Qatar
Jun 3, 2018
Qatar has warned that "any third party" call on the US and Israel to go to war with Iran is "dangerous," stressing that Doha would never be part of such a confrontation.
Qatari Deputy Prime Minister and Defense Minister Khalid bin Mohammad al-Attiyah told an international security conference in Singapore on Sunday that his country has "a lot of differences" with Iran, but it does not mean "we go and fuel a war."
"Is it wise to call the United States and to call Israel to go and fight Iran? ... Whether any third party is trying to push the region or some country in the region to start a war in Iran, this will be very dangerous," he said, apparently referring to Saudi Arabia.
Attiyah also urged dialogue with Iran to resolve issues, saying, "Iran is next door. We should call Iran, put all the files on the table and start to discuss to bring peace rather than war."
Asked about the possibility of Qatar's air bases being used in possible airstrikes on Iran, he noted that Doha was not a "fan of war" and rather supported engagement.
Qatar is home to a US military base with 11,000 American troops.
Elsewhere in his remarks, the Qatari defense minister called for the 2015 Iran nuclear agreement to be preserved after the US withdrawal from the deal.
"Everyone should keep holding on to this (accord) and advance with this. In my own judgment, I think the United States is wiser than to enter in a war with Iran," he said.
Last June, Saudi Arabia, Egypt, Bahrain, and the UAE imposed a land, naval and air blockade on import-dependent Qatar, accusing Doha of supporting terrorism, and having cozy relations with Iran.
The Saudi-led bloc presented Qatar with a list of demands, among them downgrading ties with Iran, and gave it an ultimatum to comply with them or face consequences.
Doha, however, refused to meet the demands and stressed that it would not abandon its independent foreign policy.
Full report at:
http://www.presstv.com/Detail/2018/06/03/563754/Qatar-Iran-Saudi-Arabia
--------
Israeli jets fly over Hudaydah amid Saudi push to seize city: Houthi chief
Jun 3, 2018
Leader of Yemen's Houthi Ansarullah movement Abdul-Malik Badreddin al-Houthi has revealed that Israeli warplanes have been detected flying over the key port city of Hudaydah.
Houthi said Israeli jets have been seen in Hudaydah's skies over the past few days amid a push by Saudi mercenaries to seize the city, Arabic-language al-Masirah television network reported.
"Yemen is actually fighting against a Saudi-Zionist coalition," he said, referring to a military campaign which Riyadh has been carrying out against Yemen since 2015.
Several Western countries, the US and the UK in particular, are widely known to be helping Saudi Arabia in the aggression, but this is the first time claims of Israeli complicity have been made.
Referring to close ties between Israel and terrorist groups in Syria, Houthi noted that the Takfiri elements in Yemen are also the "mercenaries and servants" of Tel Aviv and Washington.
Israel and Saudi Arabia have no diplomatic relations, but latest reports say the two regimes are working behind the scenes to establish formal contact.
A senior Israeli nuclear expert revealed recently that Tel Aviv was selling Saudi Arabia information that would allow the kingdom to develop nuclear weapons.
Ami Dor-On, a senior nuclear commentator with the Israeli military organization iHLS, said the cooperation has been made possible in the wake of widening ties between Saudi Crown Prince Mohammad bin Salman and Israeli Prime Minister Benjamin Netanyahu.
Hudyadah situation
Hudaydah, home to about 400,000 people, is a lifeline for aid to war-torn Yemen. Riyadh claims the Houthis are using the key port for weapons delivery, an allegation rejected by the fighters.
The city, which lies on Yemen's western Red Sea coast, has witnessed renewed tensions over the past few days. Saudi-backed forces have closed in on Hudaydah, sparking fears of an all-out assault.
The UN and humanitarian organizations have warned that a potential Saudi attack on Hudaydah could result in a disaster.
Jan Egeland, a former UN aid chief who now heads the Norwegian Refugee Council, told Doha-based Al Jazeera broadcaster on Saturday that a Saudi attack would make the situation "much worse."
"We must avoid war at all costs in Hudaydah, not only because of the hundreds of thousands of people who would get in the crossfire but also because the port and the lifeline will be destroyed," he said.
Egeland further demanded "a ceasefire and peace talks" to resolve the crisis in Yemen.
"What we asked for is that the United States, the United Kingdom and France who have influence over the Saudi-led coalition - they sell arms, they have close military relations, close diplomatic and intelligence cooperation - guarantee that attacks stop," he added.
Earlier this week, the UN voiced grave concerns about the situation around Hudaydah.
The International Committee of the Red Cross (ICRC) also warned that fighting in Hudaydah would make "an already catastrophic situation even worse."
"The ICRC is line with international humanitarian law urges all the parties to the conflict to respect civilian lives by taking every possible measure to protect civilians," the Geneva-based humanitarian institution said in a statement.
Yemenis conduct retaliatory attacks
Separately on Saturday, al-Masirah reported that Yemeni army soldiers and fighters from allied Popular Committees had destroyed seven Saudi armored vehicles in the kingdom's southern regions of Asir and Najran.
The Yemeni attacks came in retaliation for the Saudi-led military campaign on the impoverished state.
Yemeni forces further managed to prevent the advance of Saudi and Sudanese mercenaries in Asir and killed dozens of them, the report said.
Saudi Arabia and its allies launched a war on Yemen in March 2015 in support of Yemen's former Riyadh-friendly government and against the Houthis.
The military campaign has killed and injured over 600,000 civilians, according to the Yemeni Ministry of Human Rights.
Full report at:
http://www.presstv.com/Detail/2018/06/03/563733/Yemen-Israel-Hudaydah-Houthi
--------
Africa
At least 48 migrants dead after boat sinks off Tunisian coast
4 June 2018
At least 48 migrants were killed when their boat sank off Tunisia's coast and 67 others were rescued by the coast guard, officials said on Sunday, one of the worst migrant boat accidents in recent years.
The boat went down near the southern island of Kerkenna, a tourist spot, in the night to Sunday, the defense ministry said in a statement. The victims were Tunisians and other nationalities, it said, without giving details.
The rescue operation was suspended late on Sunday but will resume on Monday morning, officials said.
Human traffickers increasingly use Tunisia as a launch pad for migrants heading to Europe as Libya's coast guard, aided by armed groups, has tightened controls.
Security officials said the boat was packed with about 180 migrants, including 80 from other African countries.
A survivor said the captain had abandoned the boat after it started sinking to escape arrest by the coast guard.
"I survived by clinging to wood for nine hours," he said at a hospital in the southern city of Sfax where dozens of people gathered to look for survivors and identify dead relatives.
Unemployed Tunisians and other Africans often try to depart in makeshift boats from Tunisia to Sicily in Italy.
https://english.alarabiya.net/en/News/north-africa/2018/06/04/At-least-48-migrants-dead-after-boat-sinks-off-Tunisian-coast.html
--------
One dead in IS attack on Libya police station
June 04, 2018
TRIPOLI:- A woman was killed and five other civilians were wounded in an attack on a police station in eastern Libya that was claimed on Sunday by the Islamic State group. The attack occurred at dawn on Saturday while security forces were erecting a roadblock in Al-Qanan, 18 kilometres (11 miles) south of Ajdabiya, said the LANA news agency loyal to Libya's eastern administration. In a statement posted online, IS said its "caliphate soldiers" attacked the Al-Qanan police station and "violent clashes ended in the destruction of station elements". –AFP
https://nation.com.pk/04-Jun-2018/one-dead-in-is-attack-on-libya-police-station
--------
Boko Haram: You want to rest, who will take over – Military replies tired soldiers
June 3, 2018
By Wale Odunsi
The Nigerian military has told soldiers, in the fight against Boko Haram, complaining of fatigue to forget rest for now.
Director of Defence Information (DDI), Brig-Gen. John Agim, stated this in an interview with Thisday.
Agim said: "They (soldiers) want to rest, where would you get soldiers to take over from them now?
"We have soldiers that are involved in operations, all over the country. As they are finishing from this operation they are landing in another one. It is therefore, not as if they are keeping some soldiers somewhere."
The military is involved in internal security operations in about 34 of the 36 states of the federation.
It was gathered that soldiers in battle fields are supposed to be relieved, at least, every year or at most two years to prevent them from becoming fatigued and battle weary.
But currently, many of the soldiers are said to have served on the battle field for three years or more.
Oficers and soldiers complained to Thisday the lack of care and inability of the top military command to ease their burden of fighting Boko Haram.
One of the soldiers said, "We came to the theatre on the 17 October 2015 but they have never rotated since then, especially those of my colleagues in the 156 Task Force Battalion in Allagarno under the 29 Task Force Brigade."
"What I can tell you is that the Army has not been fair and ready to treat our soldiers who are wounded in battle. In some of the worst case scenario, we are the ones treating ourselves with our money".
Similarly, a soldier, who sustained gunshot wound sustained in the battle against Boko Haram, recalled that it took many days until he was transferred to the Tactical Headquarters at Benishiek, Borno State.
"Up till now I cannot stand well. At a point I had to spend money over my health because Army denied me adequate treatment. All they did was to just drop me at the 7 Division Hospital without proper treatment", he said.
Another soldier lamented: "They have kept changing other units but those of us from the Infantry under 3 Division have never been changed. The information I am getting is that they will not rotate us until we will complete three years. Can you imagine that?"
However, an officer wondered why fighting troops would be kept in the battlefield for over two years, with the dangers of fatigue and trauma.
Full report at:
http://dailypost.ng/2018/06/03/boko-haram-want-rest-will-take-military-replies-tired-soldiers/
--------
URL: https://www.newageislam.com/islamic-world-news/ramadhan-foundation-chief-says-mosques/d/115445
New Age Islam, Islam Online, Islamic Website, African Muslim News, Arab World News, South Asia News, Indian Muslim News, World Muslim News, Women in Islam, Islamic Feminism, Arab Women, Women In Arab, Islamophobia in America, Muslim Women in West, Islam Women and Feminism