New Age Islam News Bureau
19 Jul 2013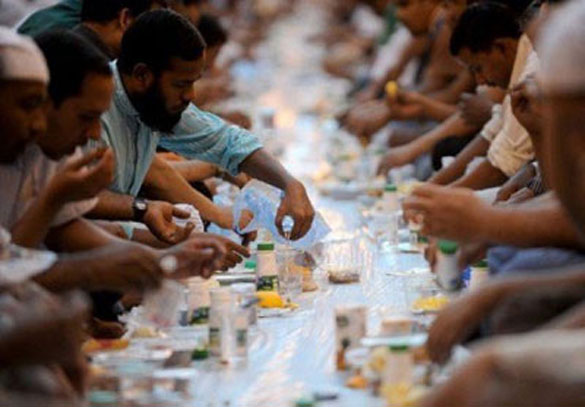 Grand Ayatollah Nasser Makarem Shirazi has ruled out "fasting and drinking at the same time". PHOTO: AFP
---------
Arab World
• Bomb in Iraq Sunni mosque kills 20: Police
• 12 pro-regime militiamen killed in Syria's Homs: NGO
• 'Fast For a Day' Initiative Launched In Dubai for Non-Muslims
• Egyptian liberals, don't let victory quash your humanity
• Saudi Crown Prince Salman calls for end to 'genocide' in Syria
• UAE: Warning over 'false Fatwas'
• Expect the call of Islamism to endure in Egypt
• Saudia rejects 'discrimination' allegation
• 10 militant jihadists killed in Sinai sweep
• Qur'an translations in 17 languages
• Egypt's interim leader vows 'battle for security to the end'
• Syria's Assad may cling on, Britain will not arm rebels: Sources
Mideast
• Muslims can quench thirst in Ramazan': Iranian cleric
• Kurd militants make "final warning" to Turkey on peace process
• Yemen conference passes law to criminalize US drone strikes
• Palestinians rebuff U.S. peace talks blueprint
• Israel must agree on borders: Palestinians
• Erdogan refuses to speak to Egypt's ElBaradei
Pakistan
• Pakistan's First Sect-Free Mosque Calls for End to Discrimination
• Army helicopters strike suspected militants hideouts in Khyber region
• Pakistan launches media campaign to boost Islamic finance
• Two cops among four killed in Karachi in targeted killing
• Blast kills two FC personnel in Khyber Agency
• I am not accountable to any law enforcement agency: Gilani
• JUI-F, ANP form alliance in Khyber-Pakhtunkhwa
North America
• US cannot defeat al-Qaida without Pakistan support, US general says
• US considering use of force in Syria, says top general
• Policeman releases manhunt photos of accused Boston bomber
• CAIR Seeks Hate Crime Charges for Threats to S. Calif. Mosque Worshippers
• Ex-CIA Milan chief held in Panama over cleric abduction
South Asia
• 6 charges pressed against Acting Secretary, Jamaat-e-Islami Bangladesh
• Bomb kills Afghan woman, five children at Taliban home
• 1,567 Jamaat-Shibir men sued in Satkhira, Bogra
• DQP quit President Waheed's coalition: "too much family, expatriate influence"
• Former President Nasheed submits candidacy for 2013 Presidential Elections
• Taliban office plot to break up Afghanistan: Karzai aide
• Afghan leaders jockey to replace Hamid Karzai
India
• Kashmir Muslim priests: Low-slung jeans 'interrupt prayers'
• India, Bangladesh discuss ways to extradite Chetia
• ISI calls Rashtrapati Bhavan, MoD to gather info
• Evidence against Modi valid: Zakia's counsel
• Don't get cheated by touts: Indian Embassy in Saudi Arabia
• After Liyaqat fiasco, J&K cops to get post on UP-Nepal border
• Back from Pak jail after 12 yrs, UP man can't find way home
Southeast Asia
• Muslims Demand Vatican Envoy Leave Malaysia
• 'Allah' word in spotlight again but for the wrong reasons - Bob Teoh
• Nazi-themed Indonesian cafe sparks controversy; owner to be questioned
• Malaysian Sex Bloggers Charged With Sedition for Ramadan 'Pork' Post
Europe
• Militant makes jihad calls in Kazakh language
• India-Pakistan ties crucial for Afghan peace: Cameron
• Suspect in brutal murder of British soldier 'attacked' in jail
• Uyghur Scholar Calls for Transparency Ahead of Fourth Anniversary of Urumchi Unrest
• British MP describes Israel as apartheid state
Africa
• Radicals Fail to Force Ramadan Changes in Tunisia
• Tunisia: Artists 'targeted for offending morals'
• Libyan Weapons Fuel Syria Bloodshed
• No shame in seeking Western help: Libyan PM
• Nigeria 'to withdraw some troops from Mali'
• Malawi Targets Two Million Males to Go for Circumcision By 2016
Compiled by New Age Islam News Bureau
URL: https://www.newageislam.com/islamic-world-news/new-age-islam-news-bureau/radicals-fail-to-force-ramadan-changes-in-tunisia/d/12673
------------
Radicals Fail to Force Ramadan Changes in Tunisia
BY MONA YAHIA
Jul 19, 2013
Tunis — Most Tunisians are maintaining their usual Ramadan habits, in defiance of religious extremists.
Salafist cleric Adel Almi on July 8th vowed that his "Moderate Association for Awareness and Reform" group would "photograph and stigmatise" anyone who failed to fast.
Almi has been accused of being too close to Ennahda. He also allegedly took part in the June 2012 Salafist attack on a La Marsa art show that sparked days of deadly violence across the country.
Despite the radical cleric's threat, Tunisians did not change their behaviours. Many cafés were open for those not fasting, though covered by dark curtains. Employees, workers and others sipped their morning coffees as usual.
"In Tunisia we are used to some people fasting and others not. We respect those who fast by being discreet, but everyone is free," said Noureddine Hamid, a bank executive in his forties.
Noura Shalaby, a 35-year-old cafe waitress, said that terrorising those who did not fast was useless.
"First there are the chronically ill and those unable to fast. Besides, closing all cafes means drying up the income of hundreds of families," she added. "Owners of cafes can then close their shops, and lay off half of their staff. Who will benefit in the end?"
Others, such as Murad Hattab, said they agreed with Almi that those who did not fast should stay at home.
The threat from Almi was seen as a challenge by bloggers and users of social networking sites. Some posted a map of cafes and restaurants open in Tunisia during Ramadan while others chose to take pictures of themselves eating during fasting hours.
One Facebook page specifically addressed to Almi has more than 11,000 fans, with Tunisians posting photos of their own non-observance, including images of eating, drinking and relaxing on the beach.
Tunisian presidential advisor Aziz Krichen also wrote an article on his Facebook page about the issue of public observance of Ramadan and the individual's right to choose.
"The call of the Minister of Religious Affairs Noureddine Khademi for Tunisians to close restaurants and cafes during the month of Ramadan is controversial," the advisor wrote.
"This is not a surprise if it stems from his position that Tunisia is a Muslim country, but Khademi should be aware that observant Muslims have the right to practice their faith during the month of Ramadan, yet there are a large number of non-observant Muslims and non-Muslims who reside in Tunisia," Krichen added.
Non-Muslim Tunisians and non-observant Muslims "have the right to go to restaurants unhindered", he said.
For his part, Religious Affairs Minister Khademi called on Tunisians to respect the sanctity of the month by fasting or being discreet when they are not observing Ramadan. He said on July 6th that "cafes and restaurants cannot be open during the month of Ramadan."
http://allafrica.com/stories/201307171275.html
------------
Arab World
Bomb in Iraq Sunni mosque kills 20: Police
19 July 2013
A bomb exploded in a crowded mosque north of Baghdad on Friday afternoon, killing at least 20 people and wounding 40, police said.
The blast hit Abu Bakr al-Sadiq Mosque in the town of Al-Wajihiyah, east of Baquba, the capital of Diyala province.
http://english.ahram.org.eg/NewsContent/2/8/76855/World/Region/Bomb-in-Iraq-Sunni-mosque-kills--Police.aspx
--------
12 pro-regime militiamen killed in Syria's Homs: NGO
19 July 2013
Twelve members of a Syrian pro-regime militia were killed in clashes with rebels overnight in the central city of Homs, the Syrian Observatory for Human Rights said on Friday.
The deaths came as regime forces pushed forward with an offensive intended to recapture several rebel-held districts of the city, the group said.
"Twelve members of the pro-regime People's Committees were killed... during fighting with rebel forces on the outskirts of the Khaldiyeh neighbourhood," the group said.
The rebel-held district is one of several that regime forces have laid siege to for more than a year.
The regime has increasingly used militia groups to bolster its regular forces in battles against rebel fighters seeking to overthrow Syrian President Bashar al-Assad.
The Observatory, which relies on a network of activists, doctors and lawyers on the ground, said regime troops were continuing to shell the neighbourhood on Friday.
At least 135 people were killed in violence across Syria on Thursday, the group said.
http://english.ahram.org.eg/NewsContent/2/8/76852/World/Region/-proregime-militiamen-killed-in-Syrias-Homs-NGO.aspx
--------
'Fast For A Day' Initiative Launched In Dubai For Non-Muslims
18 July 2013
The Dubai Festival and Retail Establishment has launched an initiative in which non-Muslims are invited to fast on July 28 during the holy month of Ramadan, Gulf News reported on Thursday.
The Iftar, when people break their fast, will be held at the Dubai World Trade Center. Admission is free and open to all.
"We want to educate non-Muslim expatriates on how fasting is much more than not eating," said Khadija Turki, senior manager in charge of the DFRE's public relations.
The aim of the event is not to encourage people to convert to Islam, but to raise awareness on fasting, Turki added.
"It would challenge you not just physically but also in many other ways, such as your tolerance level, your ability to maintain focus, etc. Once you undertake the fast, you would come to know how your behavior is impacted, how your mind and body react, and you would be able to understand the essence of it," she said.
Non-Muslims would also "become more sensitive about eating or drinking in front of a person who is fasting," Turki said.
Approximately 250 people are expected to take part in the event, she added.
http://english.alarabiya.net/en/variety/2013/07/18/-Fast-for-a-day-initiative-launched-in-Dubai-for-non-Muslims.html
------------
Egyptian liberals, don't let victory quash your humanity
19 July 2013
Bassem Youssef
Congratulations, everyone: we've finally got rid of the Muslim Brotherhood (MB) forever. What a burden off our shoulders!
Finally, we will have a Muslim Brotherhood-less Egypt and, God willing, there will be no more Salafists either. It's only a matter of days until the Muslim Brotherhood (MB) members are rounded up in jail once again, and Egypt's normal state is restored. That normal state, where people look good without beards or niqabs; those "good-looking people" we see on TV. Egypt will finally be a free, liberal country. Good riddance, Islamists.
Full report at:
http://english.alarabiya.net/en/views/news/middle-east/2013/07/19/Egyptian-liberals-don-t-let-victory-quash-your-humanity-.html
--------
Saudi Crown Prince Salman calls for end to 'genocide' in Syria
19 July 2013
Saudi Arabia's Crown Prince Salman bin Abdul Aziz called on Thursday for an end to "genocide" against the Syrian people, during a meeting in Jeddah with the head of the opposition Syrian National Coalition.
Ahmed Aowainan Al-Jarba briefed the crown prince on the sufferings of the Syrian people under ongoing Syrian regime crackdown, the state news agency SPA reported.
Full report at:
http://english.alarabiya.net/en/News/middle-east/2013/07/19/Saudi-Crown-Prince-Salman-calls-for-end-to-genocide-in-Syria.html
--------
UAE: Warning over 'false fatwas'
Jul 19, 2013
False Twitter fatwas - including one declaring that visiting Dubai was banned - are causing problems in the Arab world, it seems.
The spread of these unofficial religious rulings has increased with the arrival of the fasting month of Ramadan, leading the emirate's grand mufti to issue a warning that they must not be retweeted without proper research. "There is a difference between an opinion and a fatwa," the English language paper Gulf News quotes Dr Ahmad al-Haddad as saying. "Fatwas are considered to be the interpretations of God's judgment and so should only be made by credible sheikhs who have certain characteristics and knowledge."
Full report at:
http://www.bbc.co.uk/news/blogs-news-from-elsewhere-23362531
------------
Expect the call of Islamism to endure in Egypt
Jul 19, 2013
WASHINGTON – How will the Egyptian Army's coup against the elected Muslim Brotherhood government affect Islamism — intellectually and politically the most consequential Mideastern movement since the 1960s? Do the brethren see their fall as a rejection of their religious beliefs? Should they?
Historically, it's impossible to imagine Islamic militancy without the Brotherhood. Founded in 1928 against British imperialism and a rapidly Westernizing Egypt, the Brotherhood became the flagship for Sunni fundamentalism. Secretive but populist, contemptuous of state-paid clergy, intellectually syncretistic (socialism, fascism and European anti-Semitism blended into their "authentic" faith), the brethren became widely popular in Egypt as the army's experimentation with radical Arabism and crony capitalism failed.
Full report at:
http://www.japantimes.co.jp/opinion/2013/07/18/commentary/expect-the-call-of-islamism-to-endure-in-egypt/#.Uej2ttK-rXA
------------
Saudia rejects 'discrimination' allegation
19 July 2013
Khaled Al-Molhem, director general of Saudi Arabian Airlines, has rejected allegations that his airline discriminated against nationalities but emphasized that it would uphold the sovereign rights of countries.
"We don't discriminate against passengers on the basis of nationality and religion," Al-Watan Arabic daily quoted Al-Molhem as saying while commenting on US media reports that Saudia did not allow an Israeli to board its flight.
Full report at:
http://www.arabnews.com/news/458494
---------
10 militants jihadists killed in Sinai sweep
19 July 2013
CAIRO: Ten jihadists have been killed in Egypt's restive Sinai peninsula in the past two days during an army offensive against militants, the official MENA reported on Thursday.
"The security operation carried out by the armed forces in northern Sinai in the past 48 hours led to the deaths of 10 jihadists," a military source was quoted as saying.
The report comes hours after militants killed three Egyptian policemen in separate overnight attacks in the region, and as the army pressed an operation to curtail a surge in violence since the ouster by the army of President Muhammad Mursi on July 3.
Full report at:
http://www.arabnews.com/news/458471
----------
Qur'an translations in 17 languages
19 July 2013
MAKKAH — The Presidency of the Two Holy Mosques Affairs has made available nearly 1 million copies of the Holy Qur'an in the Grand Mosque in Makkah. The manager of Qur'an and books department, Mohammad Al-Silani, said that Qur'an copies are placed in 2,583 bookshelves distributed around the Grand Mosque. He said these include Qur'an copies with translations in 17 languages and 14 copies for the blind. He asked all worshipers to return Qur'an copies to the bookshelves after they had finished their recitation.
http://www.saudigazette.com.sa/index.cfm?method=home.regcon&contentid=20130719174059
----------
Egypt's interim leader vows 'battle for security to the end'
19 July 2013
Egypt's interim President Adly Mansour on Thursday vowed to protect the country from those who "want to drive Egypt to chaos," in reference to continuous protests by supporters of ousted president Mohammad Mursi.
In his first speech to the nation, Mansour said Egypt is going through a decisive stage in its history where some want to drag the country into the "unknown" and cause chaos.
"They want this period to be an introduction to violence and we want it to establish for the concept of protecting lives and reaffirming human rights," Mansour said.
Full report at:
http://english.alarabiya.net/en/News/middle-east/2013/07/18/Egypt-s-interim-leader-vows-battle-for-security-to-the-end-.html
--------
Syria's Assad may cling on, Britain will not arm rebels: Sources
19 July 2013
Britain has abandoned plans to arm Syrian rebels fighting to overthrow President Bashar al-Assad and believes he might survive in office for years, sources familiar with government thinking say.
The sources also told Reuters that a peace conference to try to end the conflict - now in its third year - might not happen until next year if at all.
"Britain is clearly not going to arm the rebels in any way, shape or form," said one source, pointing to a parliamentary motion passed last week urging prior consultation of lawmakers.
The reasons for the shift were that British public opinion was largely opposed, and there were fears that any weapons Britain supplied could fall into the hands of Islamist militants.
Full report at:
http://english.ahram.org.eg/NewsContent/2/8/76830/World/Region/Syrias-Assad-may-cling-on,-Britain-will-not-arm-re.aspx
--------
Mideast
Muslims can quench thirst in Ramazan': Iranian cleric
July 19, 2013
TEHRAN - A decree by a senior Iranian cleric that Muslims can quench 'extreme thirst' during the Ramazan fasting month has stirred debate in the Islamic republic's clergy, media reports said Thursday.
"Those who cannot bear extreme thirst can drink just enough water to quench it. This would not break their fast," said the fatwa by Grand Ayatollah Assadollah Bayat Zanjani, who is seen as close to reformers.
But his fatwa quickly came under fire from Grand Ayatollah Nasser Makarem Shirazi. He ruled out "fasting and drinking at the same time", and reiterated that any break in the fast must be compensated for by fasting on some other day in the year.
Media reports also referred to decrees by supreme leader Ali Khamenei and Grand Ayatollah Ali Sistani according to whom "a state of weakness or thirst does not merit a break in the fast".
But Zanjani, who is based in Qom, said Islam allows some breaks in fasting. He said this would depend on "certain climatic and geographical conditions", given that in countries such as Iran Ramazan fasting can last up to 16 hours in summer.
Those who "fall sick when fasting or if the fasting deteriorates an existing illness", or "workers who work hard for a long day" can drink if it means their survival, Zanjani said on his website. People in such cases also do not have to compensate by fasting on some other day, he added.
http://www.nation.com.pk/pakistan-news-newspaper-daily-english-online/national/19-Jul-2013/-muslims-can-quench-thirst-in-ramazan
------------
Kurd militants make "final warning" to Turkey on peace process
19 July 2013
Kurdish militants issued what they said was a "final warning" to Turkey on Friday to take concrete steps to advance a peace process aimed at ending a three-decade conflict, or be responsible for it grinding to a halt.
"As a movement we are warning the (ruling party) AKP government for the last time ... If concrete steps are not taken in the shortest time on the subjects set out by our people and the public, the process will not advance and the AKP government will be responsible," the Kurdistan Workers Party (PKK) said in a statement on one of its websites.
http://english.ahram.org.eg/NewsContent/2/8/76847/World/Region/Kurd-militants-make-final-warning-to-Turkey-on-pea.aspx
----------
Yemen conference passes law to criminalize US drone strikes
Jul 18, 2013
Sanaa - According to a report in the Iran-based Press TV, the Human Rights group Reprieve managed to pass a law in Yemen's National Dialogue Conference (NDC) that would criminalize US drone strikes in Yemen.
The only two reports on this issue I can find are both Iranian-based, however, it is possible that western media do not have much interest in the issue. Given the detail in the report, I think that it is probably accurate. The Press TV article quotes Baraa Shiban, a project coordinator for the London-based human rights organization Reprieve. Shiban is also a member of the NDC. The passage of the law may not have any actual effect since the government of president Hadi is firmly in support of the US drone strikes. Shiban said :"We managed to pass a law in the first phase of the outcome of the National Dialogue [Conference], criminalizing the killing outside of law, including drone strikes and targeted missiles." Shiban, also a member of the transitional justice team in the NDC, said he expected that the law would be adopted by the government after the National Dialogue ended.
Full report at:
http://www.digitaljournal.com/article/354681#ixzz2ZTeDK6Ot
--------
Palestinians rebuff U.S. peace talks blueprint
19 July 2013
U.S. Secretary of State John Kerry was Friday preparing to leave the Middle East as Palestinian leaders rejected his plan to resume the stalled peace talks.
The setback for the U.S. plan came from the governing Revolutionary Council of Palestinian President Mahmud Abbas's own Fatah movement, which demanded changes.
The broader Palestine Liberation Organization, which also includes leftwing factions less sympathetic towards a compromise, said it was also drawing up a formal response to Kerry's proposals.
Full report at:
http://english.alarabiya.net/en/News/middle-east/2013/07/19/Palestinians-rebuff-U-S-peace-talks-blueprint-.html
----------
Israel must agree on borders: Palestinians
AP | Jul 19, 2013
RAMALLAH, West Bank: A stormy, high-level meeting of senior Palestinian leaders called to discuss US Secretary of State John Kerry's latest peace proposal ended with a decision early Friday to demand guarantees that Israel agree on the general border of a future Palestinian state, officials said.
The demand casts a cloud of uncertainty over months of US mediation efforts because Israel is weary of agreeing to preconditions, arguing it has not led to successful peace talks in the past. Palestinian officials said they wanted guarantees to ensure peace talks would lead to fruition.
Full report at:
http://timesofindia.indiatimes.com/world/middle-east/Israel-must-agree-on-borders-Palestinians/articleshow/21159386.cms
------------
Erdogan refuses to speak to Egypt's ElBaradei
19 July 2013
Turkish Prime Minister Recep Tayyip Erdogan has refused to speak to Egypt's new Vice-President Mohamed ElBaradei, the latest broadside in a spat that erupted after the military coup in the Arab world's most populous country.
Erdogan infuriated Egypt's interim leaders after he voiced support for ousted Islamist president Mohamed Morsi.
"How could I speak to you? You were not elected, you were appointed by the orchestrators of a coup," he said on Wednesday, addressing ElBaradei in remarks carried on CNN-Turk's website.
Full report at:
http://english.ahram.org.eg/NewsContent/2/8/76801/World/Region/Erdogan-refuses-to-speak-to-Egypts-ElBaradei.aspx
----------
Pakistan
Pakistan's First Sect-Free Mosque Calls for End to Discrimination
MUBASHIR ZAIDI
Jul 19, 2013
ISLAMABAD: Darul Iman Jamia Masjid Qurtuba's story is as dramatic as the sectarian history of Pakistan. The newly-built mosque in Islamabad's Margalla foothills is calling upon its followers to stop discriminating along sectarian lines and to start praying together – in whichever way they like – under the same roof.
Zahid Iqbal is a local businessman who conceptualised the idea of a sect-free mosque in 2010. He bought the mosque plot in the E-11 sector. But the road to the realisation of his dream wasn't easy: At first, authorities refused to register it as a sect-free mosque. Under Capital Development Authority rules, every mosque has to declare its sect following, before being granted permission to build the mosque.
Full report at:
http://dawn.com/news/1030003/pakistans-first-sect-free-mosque-calls-for-end-to-discrimination
------------
Army helicopters strike suspected militants hideouts in Khyber region
ZAHIR SHAH SHERAZI
Jul 19 2013
PESHAWAR: At least five suspected militants were killed and six others were injured when the gunship helicopters of Pakistan's military attacked suspected militant hideouts in Khyber tribal region's Bara Akakhel area on Friday.
http://dawn.com/news/1030347/army-helicopters-strike-suspected-militants-hideouts-in-khyber-region
-----------
Pakistan launches media campaign to boost Islamic finance
Jul 19, 2013
ISLAMABAD: Pakistan's central bank has launched a mass media campaign to raise awareness and acceptance of Islamic finance among consumers in the world's second most populous Muslim country.
The campaign is part of an overhaul of Islamic finance activities in Pakistan, which also includes the establishment of a country-level Sharia board and new rules for Sharia-compliant financial products.
The central bank is rolling out a five-year plan for Pakistan's Islamic banking sector, which follows religious principles such as bans on interest and pure monetary speculation.
Full report at:
http://dawn.com/news/1030211/pakistan-launches-media-campaign-to-boost-islamic-finance
------------
Two cops among four killed in Karachi in targeted killing
Jul 19, 2013
KARACHI: Four people including two policemen were gunned down in separate incidents of targeted killing across the city while a body of a young man was also recovered here on Thursday.
Police constable Ghayasuddin was killed while his partner Saleem wounded when unidentified riders sprayed bullets at them near Furniture Market, Karimabad. Azizabad police informed that victims were critically injured when attackers opened fire at them. The injured cops were rushed to hospital where doctor pronounced the death of Ghayasuddin while admitted Saleem with critical wounds.
Full report at:
http://www.dailytimes.com.pk/default.asp?page=2013\07\19\story_19-7-2013_pg7_9
------------
Blast kills two FC personnel in Khyber Agency
DAWN.COM and ZAHIR SHAH SHERAZI
Jul 19, 2013
KHYBER AGENCY: At least two Frontier Corps (FC) personnel were killed on Friday in a roadside improvised explosive device (IED) blast in Bara Tehsil of Khyber tribal region.
FC officials confirmed the incident and said the patrolling party was hit by a roadside IED in the Akakhel area of Bara Tehsil.
Full report at:
http://dawn.com/news/1030213/blast-kills-two-fc-personnel-in-khyber-agency
------------
I am not accountable to any law enforcement agency: Gilani
Jul 19, 2013
LAHORE: Former Prime Minister Yousaf Raza Gilani has said that the constitution provides complete immunity to the prime minister and therefore he is not accountable to any law enforcement agency for what he did as the chief executive of the country. Gilani said he had performed his duties as the prime minister in good faith and had taken all decisions on summaries submitted by the ministries and divisions through the Establishment Division. According to press release issued from the Bilawal House on Thursday, the former premier asserted that only parliament could do or undo the immunity because it was the mother of all institutions in a parliamentary system of democracy.
Full report at:
http://www.dailytimes.com.pk/default.asp?page=2013\07\19\story_19-7-2013_pg7_2
------------
JUI-F, ANP form alliance in Khyber-Pakhtunkhwa
July 19, 2013
PESHAWAR: Jamiat Ulema-e-Islam-Fazl (JUI-F) and Awami National Party (ANP) have entered an alliance for the upcoming by-elections, Express News reported on Friday.
JIU-F will support ANP on two seats of the National Assembly and on one seat in the Khyber-Pakhtunkhwa provincial assembly.
On the other hand, ANP will support JUI-F on NA-13, NA-25, and NA-27 from the National Assembly and PK-70 from the provincial assembly.
By-elections will be held on five National Assembly and four provincial assembly seats in Khyber-Pakhtunkhwa on August 22, said a notification issued by the Election Commission of Pakistan (ECP) on June 28.
http://tribune.com.pk/story/579104/by-election-support-jui-f-anp-form-alliance-in-khyber-pakhtunkhwa/
------------
North America
US cannot defeat al-Qaida without Pakistan support, US general says
PTI | Jul 19, 2013
WASHINGTON: A top American general has said that the US cannot defeat al-Qaida without the support of Pakistan, as he underlined that Islamabad's cooperation on counterterrorism issues have not been on the expected lines.
"Our strategic and national security goals remain to disrupt, dismantle and defeat al-Qaida and to prevent the return of safe havens in Afghanistan and Pakistan. This would not be possible without Pakistani support," chairman of the joint chiefs of staff General Martin Dempsey said in a written reply to the questions by the Senate Armed Services Committee.
"We also have an interest in a stable Pakistan and the non-proliferation of nuclear weapons and technology. On the security front, we have a more limited relationship than in the past, but I believe it is a pragmatic and constructive approach," said Dempsey, who has been re-nominated by President Barack Obama for the same post.
Full report at:
http://timesofindia.indiatimes.com/world/us/US-cannot-defeat-al-Qaida-without-Pakistan-support-US-general-says/articleshow/21159455.cms
------------
US considering use of force in Syria, says top general
July 19, 2013
The top US military officer told a Senate panel on Thursday the Obama administration was deliberating whether to use military power in Syria, where a civil war entering its third year has killed almost 93,000 people.
Amid an increasing clamour among President Bashar al-Assad's opposition for active US involvement, Army Gen. Martin Dempsey said during congressional testimony that he had provided President Barack Obama with options for the use of force. But he declined to detail those choices, saying, "It would be inappropriate for me to try to influence the decision with me rendering an opinion in public about what kind of force we should use."
The remarks by the Joint Chiefs of Staff chairman came after Sen. John McCain, a leading Republican, asked him which approach in Syria would carry a greater risk: continued limited action on the part of Washington or more significant actions such as the establishment of a no-fly zone and arming the rebel forces with the weapons they need to stem the advance of Assad's forces.
Full report at:
http://www.hindustantimes.com/world-news/americas/US-considering-use-of-force-in-Syria-says-top-general/Article1-1094927.aspx
------------
Policeman releases manhunt photos of accused Boston bomber
July 19, 2013
BOSTON: A US policeman said he released photographs of accused Boston marathon bomber, Dzhokhar Tsarnaev, including one with a red dot of a sniper rifle's laser sight on his forehead, to counter a "fluffed and buffed" image of him on the cover of Rolling Stone magazine.
Massachusetts State Police Sgt Sean Murphy took the photographs during the manhunt for Tsarnaev, the younger of two brothers accused of killing three people and wounding more than 260 at the Boston Marathon on April 15 by detonating two pressure-cooker bombs. The elder brother was killed in the hunt.
Full report at:
http://tribune.com.pk/story/579097/policeman-releases-manhunt-photos-of-accused-boston-bomber/
------------
CAIR Seeks Hate Crime Charges for Threats to S. Calif. Mosque Worshippers
7/18/2013
(SAN DIEGO, CA, 7/18/2013) -- The San Diego chapter of the Council on American-Islamic Relations (CAIR-San Diego) today urged prosecutors to bring hate crime charges against a man who allegedly walked into a local mosque during early-morning prayers, called worshippers "terrorist rats" and shouted, "I'm going to kill all of you."
Larry Michael Rodgers, 52, was arrested on suspicion of making terrorist threats after allegedly threatening the congregation of the Islamic Center of San Diego in Clairemont Monday morning. Rodgers remained in jail Wednesday night on $50,000 bail.
Investigators say they are concerned that Rodgers may have been behind a series of bomb threats in May of this year targeting the Islamic School of San Diego, which is located next to the mosque. One threat left on the school's answering machine said, "I'm going to throw a bomb at your (expletive) school."
Full report at:
http://www.cair.com/press-center/press-releases/12017-cair-seeks-hate-crime-charges-for-threats-to-s-calif-mosque-worshippers.html
------------
Ex-CIA Milan chief held in Panama over cleric abduction
Jul 19, 2013
A former CIA station chief convicted by an Italian court of kidnapping a terror suspect has been detained in Panama, Italian officials say.
Robert Seldon Lady was sentenced to nine years in jail for his involvement in the abduction of the man, an Egyptian cleric, in Milan in 2003.
The cleric, known as Abu Omar, was allegedly flown to Egypt and tortured.
Lady was convicted in absentia with 22 other Americans for their role in his "extraordinary rendition".
Full report at:
http://www.bbc.co.uk/news/world-europe-23367401
--------
South Asia
6 charges pressed against Acting Secretary, Jamaat-e-Islami Bangladesh
Jul 19, 2013
The International Crimes Tribunal-1 will decide on July 24 whether it will take into cognisance the war crimes charges, which were brought against Jamaat-e-Islami Acting Secretary General ATM Azhar ul Islam yesterday.
The decision came after prosecutor Nurjahan Begum Mukta told the court that she submitted the charges to the tribunal registrar office. The prosecution pressed six charges against Azhar ul, which include mass murder, rape, torture and looting in 1971.
The 61-year-old Jamaat leader, now behind the bars, also faces charges of abduction, confinement and arson in the northern district of Rangpur during the Liberation War.
Prosecutor Mukta told the tribunal that she had already handed over a copy of the formal charges and other documents to the defence counsels.
Full report at:
http://www.thedailystar.net/beta2/news/6-charges-pressed-against-azharul/
------------
Bomb kills Afghan woman, five children at Taliban home
AFP | Jul 19, 2013
KABUL: A bomb killed five young children and a woman when it exploded after being made at the home of a Taliban commander in eastern Afghanistan, a government official said on Friday.
The device detonated on Thursday while children were playing with it after the Taliban commander, identified only as Abdullah, left the house, a spokesman for the local government in Paktika province said.
Full report at:
http://timesofindia.indiatimes.com/world/south-asia/Bomb-kills-Afghan-woman-five-children-at-Taliban-home/articleshow/21162719.cms
--------
1,567 Jamaat-Shibir men sued in Satkhira, Bogra
Jul 19, 2013
As many as 1,567 activists of Jamaat-e-Islami and its student wing Islami Chhatra Shibir have been sued for attacking law enforcers in Satkhira and Bogra on Tuesday and Wednesday.
In Satkhira, Sub-Inspector Sohrab Hossain filed a case with Kaliganj Police Station on Wednesday, accusing 1,500 Jamaat-Shibir men (26, identified and the rest unidentified) of attacking police in the upazila during Tuesday's countrywide hartal enforced by Jamaat, reports UNB.
Full report at:
http://www.thedailystar.net/beta2/news/1567-jamaat-shibir-men-sued-in-satkhira-bogra/
------------
DQP, Dr Hassan Saeed quit President Waheed's coalition: "too much family, expatriate influence"
By Mohamed Naahee | July 18th, 2013
DQP, Dr Hassan Saeed quit President Waheed's coalition: "too much family, expatriate influence" thumbnail
The government-aligned Dhivehi Qaumee Party (DQP) has announced that it has left President Dr Mohamed Waheed Hassan's 'forward with the nation' coalition, ending its support for his 2013 election bid.
The decision came shortly after the religious conservative Adhaalath Party left the coalition and joined resort tycoon Gasim Ibrahim's Jumhoree Party (JP).
Full report at:
http://minivannews.com/politics/dqp-dr-hassan-saeed-quit-president-waheed%E2%80%99s-coalition-%E2%80%9Ctoo-much-family-expatriate-influence%E2%80%9D-61253
------------
Former President Nasheed submits candidacy for 2013 Presidential Elections
By JJ Robinson | July 18th, 2013
Former President Nasheed has filed his candidacy papers with the Elections Commission to contest September's Presidential election.
"As mandated by the Election Commission, President Nasheed sought and received clearance from the country's judicial courts and other state institutions prior to submitting his candidature as the Maldivian Democratic Party's Presidential candidate," said the MDP in a statement.
Full report at:
http://minivannews.com/politics/former-president-nasheed-submits-candidacy-for-2013-presidential-elections-61227
------------
Taliban office plot to break up Afghanistan: Karzai aide
Jul 19, 2013
KABUL: The Taliban office in Doha was a plot to break up Afghanistan orchestrated by either Pakistan or the United States, a top aide to the Afghan president has said.
Hamid Karzai's chief of staff said Kabul was concerned about growing closeness between Pakistan and the United States, and that there was still a huge rift with Washington despite top-level efforts to patch up the disastrous fall-out over the office.
The remarks from someone so close to Karzai cast a spotlight on the depth of distrust between Kabul and Washington and between Kabul and Islamabad.
Full report at:
http://dawn.com/news/1029979/taliban-office-plot-to-break-up-afghanistan-karzai-aide
------------
Afghan leaders jockey to replace Hamid Karzai
July 19, 2013
For the devout, the Islamic holy month of Ramzan is a time of prayer and introspection, but this year, for Afghanistan's warlords and powerbrokers, it is time to decide on a successor to President Hamid Karzai.
Gunmen-escorted convoys of armoured cars race around Kabul toward the end of the day as politicians and other leaders gather for the ritual breaking of the fast at dusk - and also to set aside rivalries and form alliances which they hope can take them to power in the divided and war-torn nation.
Full report at:
http://www.hindustantimes.com/world-news/afghanistan/Afghan-leaders-jockey-to-replace-Hamid-Karzai/Article1-1094746.aspx
------------
India
Kashmir Muslim priests: Low-slung jeans 'interrupt prayers'
Jul 19, 2013
Wearing baggy jeans leaves worshippers' prayers "incomplete", religious authorities in Kashmir are said to have warned.
Muslim priests, or imams, are advising people on their dress after mosque-goers in Srinigar became annoyed by the fashion for low-slung denim, reports the Hindustan Times. It seems the issue has flared up since the fasting month of Ramadan began last week. The paper quotes a spokesman for the conservative Jamaat-e-Islami party as saying that to reveal one's back "goes against Islamic Tehzeeb", or culture.
The head of another group, the Carvan-e-Islami, points out: "The prayer remains incomplete in such clothes," while others reportedly warn that covering up from waist-to-ankles "is a must". Apparently, seminaries in the city - in Indian-administered Kashmir - have launched social media campaigns to stop the practice, while priests are "thinking of addressing the concern through sermons".
http://www.bbc.co.uk/news/blogs-news-from-elsewhere-23342706
------------
India, Bangladesh discuss ways to extradite Chetia
Vishwa Mohan, TNN | Jul 18, 2013
NEW DELHI: Five months after both the countries signed an extradition treaty agreeing to deport each other's wanted criminals, India and Bangladesh on Thursday discussed the modalities of deportation of the banned outfit ULFA's general secretary Anup Chetia who has been in a Dhaka jail since 1997.
The matter was discussed on the opening day of the home secretary-level talks when a joint working group of both the countries also took a call on handing over two Bangladeshi criminals — Subrata Bain and Sajjad Hossain — in exchange for Chetia.
It is learnt that Chetia may be handed over to India any day after conclusion of the home secretary-level talks on Friday. The ULFA general secretary is likely to be handed over to the Assam Police which has been probing a number of cases against him.
Full report at:
http://timesofindia.indiatimes.com/india/India-Bangladesh-discuss-ways-to-extradite-Chetia/articleshow/21149238.cms
------------
ISI calls Rashtrapati Bhavan, MoD to gather info
July 19, 2013
Pakistani spies have been calling up Rashtrapati Bhawan, the ministry of defence, the army headquarters and other highly sensitive offices using call spoofing software in an effort to get information, say intelligence sources.
Sources say in the past few months, agents of Pakistani spy agency ISI tried to gather information from Rashtrapati Bhawan and other highly sensitive offices and that there was a need to remain alert when officials in sensitive organisations spoke to unknown persons. The IB suspects in some instance information may have been passed on to the suspected agents.
Intelligence officials say ISI operatives are using call spoofing software to make the calls.
Full report at:
http://www.hindustantimes.com/India-news/newdelhi/ISI-calls-Rashtrapati-Bhavan-MoD-to-gather-info/Article1-1094719.aspx
------------
Evidence against Modi valid: Zakia's counsel
Jul 19, 2013
Many have stated presence of politicians during Modi's meeting
Zakia Jafri wife of Ahsan Jafri who was killed in the post-Godhra riots in 2002, on Thursday claimed there was evidence that Gujarat Chief Minister Narendra Modi asked the police administration, at a meeting on the night of February 27, 2002, to allow Hindu backlash to the Godhra train-burning incident.
According to her counsel Mihir Desai, this was testified by the statement of slain minister Haren Pandya before the Concerned Citizens Tribunal (May 2002), comprising Justice P. Sawant and Justice Hosbet Suresh as well as by his father Vithalbhai Pandya before a Special Investigation Team. The advocate said this was also testified by the statement of Sanjiv Bhatt, then DCP-Intelligence to SIT, and R.B. Sreekumar, then ADGP (SRP).
Full report at:
http://www.thehindu.com/news/national/evidence-against-modi-valid-zakias-counsel/article4929337.ece
------------
Don't get cheated by touts: Indian Embassy in Saudi Arabia
July 18, 2013
India on Thursday warned its citizens in Saudi Arabia against getting misled and exploited by illegal agents and touts who are promising exit permits at a price.
"It has come to the notice of the Embassy that touts and illegal agents are trying to mislead and exploit Indian nationals by offering them to get them exit from Tarheels (deportation centres).
"The authorities of Kingdom of Saudi Arabia have made it clear that there is no fee for obtaining EXIT and the services at the Tarheels are free during the grace period," a statement issued by the Indian Embassy said.
Full report at:
http://www.hindustantimes.com/world-news/restofasia/Don-t-get-cheated-by-touts-Indian-Embassy-in-Saudi-Arabia/Article1-1094533.aspx
--------
After Liyaqat fiasco, J&K cops to get post on UP-Nepal border
Jul 19 2013
Lucknow : The Criminal Investigation Department of the Jammu & Kashmir Police will set up a temporary outpost at Sanauli border in Uttar Pradesh's Maharajganj district to verify the background of Kashmiris returning from Pakistan via Nepal to surrender under the J&K government's rehabilitation policy for militants.
The outpost was suggested by the Union home ministry after the controversial arrest of alleged Hizbul Mujahideen militant Syed Liyaqat Ali Shah by the Delhi Police in March, sources said.
Full report at:
http://www.indianexpress.com/news/after-liyaqat-fiasco-j-k-cops-to-get-post-on-upnepal-border/1143782/
-----------
Back from Pak jail after 12 yrs, UP man can't find way home
Manish Sahu
Jul 19 2013
Lucknow : Mohammad Ahmed, 45, returned to India on February 16, 2012, after reportedly spending 12 years in a jail in Pakistan. But he is yet to meet his family. For over a year now, he has been staying at the Red Cross Bhawan in Amritsar because he cannot remember his address, and his family in Uttar Pradesh has not been traced.
"We are keeping him because there is no other option. We are sure he is from Uttar Pradesh," said Dr Randhir Thakur, additional secretary of the Red Cross Society in Amritsar.
He said the records provided by Pakistani officials identified Ahmed as the son of Aziz Ahmed, a resident of "Meerganj" area in Moradabad.
Full report at:
http://www.indianexpress.com/news/back-from-pak-jail-after-12-yrs--up-man-can-t-find-way-home/1143928/
-----------
Southeast Asia
Muslims Demand Vatican Envoy Leave Malaysia
Jul 19, 2013
Kuala Lumpur. Several Islamic groups on Friday demanded the recall of the Vatican's first envoy to Malaysia, describing him as an "enemy of the state" after he supported the use of the word "Allah" by non-Muslims.
Dozens of protesters gathered outside the Vatican's mission in Kuala Lumpur after prayers on Friday, urging the government to expel Archbishop Joseph Marino.
Marino, who arrived in Kuala Lumpur less than six months ago, recently elicited a rebuke from the government after he waded into a religious row over the right to translate "God" to "Allah" in Malay-language Bibles and other literature.
Full report at:
http://www.thejakartaglobe.com/international/muslims-demand-vatican-envoy-leave-malaysia/
------------
'Allah' word in spotlight again but for the wrong reasons - Bob Teoh
JULY 19, 2013
The Vatican's envoy to Malaysia, Archbishop Joseph Marino, was in the spotlight over the Allah controversy but for the wrong reasons.
Responding to a question in a meeting last week with a small group of reporters, the 60-year old diplomat, among other things, said he supported the arguments in a fact sheet put out by the Christian Federation of Malaysia (CFM) on why Christians should be allowed to use the word 'Allah' to refer to God.
Full report at:
http://www.themalaysianinsider.com/sideviews/article/allah-word-in-spotlight-again-but-for-the-wrong-reasons-bob-teoh
------------
Nazi-themed Indonesian cafe sparks controversy; owner to be questioned
July 19, 2013
Authorities in central Indonesia plan to ask a restaurant owner to explain his reasons for opening a Nazi-themed cafe that has sparked controversy among locals and tourists.
Soldatenkaffee includes a red wall of Nazi-related memorabilia, including a large flag with the swastika and a giant picture of Adolf Hitler. Its wait staff dresses in SS, or Schutzstaffel, military uniforms, and can be seen posing in front of the cafe on its Facebook page.
The cafe, located in the West Java provincial capital of Bandung, one of Indonesia's tourist destination cities, has been open since April 2011.
Full report at:
http://www.hindustantimes.com/world-news/restofasia/Nazi-themed-Indonesian-cafe-sparks-controversy-owner-to-be-questioned/Article1-1094793.aspx
------------
Malaysian Sex Bloggers Charged With Sedition for Ramadan 'Pork' Post
Jul 19, 2013
Kuala Lumpur. A Malaysian couple known for a sexually explicit blog were charged Thursday with sedition after they caused outrage by posting a Ramadan greeting on Facebook which showed them eating pork.
Alvin Tan, 25, and Vivian Lee, 24, pleaded not guilty to publishing or distributing a "seditious publication" and two other charges in a Kuala Lumpur district court in Muslim-majority Malaysia, a court official said.
Full report at:
http://www.thejakartaglobe.com/international/malaysian-sex-bloggers-charged-with-sedition-for-ramadan-pork-video/
------------
Europe
Militant makes jihad calls in Kazakh language
18 July 2013
Site Intel Group has uploaded a video showing a militant, allegedly Kazakhstan-born, calling for jihad in Syria. The video was shot by Iraq division Al-Qaeda knows as ISI (Islamic State of Iraq) or ISIL (Islamic State in Iraq and the Levant).
According to the website, French militant Abu Abul Rahman al-Firinsi speaks first on the video. He calls the Muslims of France to take part in the Syrian war. Then an Egyptian named Saifulla from Shariah4Sham group joins the call of the French militant.
A militant named Abu Mu'adh al-Muhajir speaks third. The website writes that he is from Kazakhstan. In the video he appeals to the Muslims of Kazakhstan and the whole world to go to jihad in Syria. The militant speaks the Kazakh language. "My brothers, if you are true Muslims, you should feel the pain of your brothers in Syria, Palestine and Lebanon. I am calling you to join the mujahidins and wake up from sleep," the fighter said. His real name is not unveiled. The name he gave is not a Kazakh name, but extremists often change their names to Arabic ones.
Full report at:
http://en.tengrinews.kz/religion/Militant-makes-jihad-calls-in-Kazakh-language-21117/
------------
India-Pakistan ties crucial for Afghan peace: Cameron
July 18, 2013
British Prime Minister David Cameron has said India and Pakistan can play a "crucial role" to bring peace to Afghanistan through their resumed bilateral dialogue process.
"India and Pakistan can play a crucial role in bringing peace back in Afghanistan," Cameron told British Asian newspaper "Asian Lite" during a visit to a factory in east England.
"Both countries should recognise the fact that a stable, prosperous and democratic Afghanistan is in their interests too," he said yesterday.
Full report at:
http://www.nation.com.pk/pakistan-news-newspaper-daily-english-online/international/18-Jul-2013/india-pakistan-ties-crucial-for-afghan-peace-cameron
------------
Suspect in brutal murder of British soldier 'attacked' in jail
July 19, 2013
British police are investigating claims that one of the two chief suspects in a brutal suspected Islamist attack, against a British soldier on a London street, was assaulted in prison. British media reported that Michael Adebolajo, 28, had his two front teeth knocked out during
Wednesday's alleged fracas.
"The police are investigating an incident that took place at HMP Belmarsh on 17 July," said a Prison Service spokesman.
Full report at:
http://www.hindustantimes.com/world-news/europe/Suspect-in-brutal-murder-of-British-soldier-attacked-in-jail/Article1-1094791.aspx
-------
Uyghur Scholar Calls for Transparency Ahead of Fourth Anniversary of Urumchi Unrest
18 JULY 2013
Eminent Beijing-based Uyghur scholar Ilham Tohti has released an impassioned letter on the eve of the fourth anniversary of the 5 July 2009 Urumchi unrest calling on the Chinese authorities to be transparent by divulging information on and investigating into cases of Uyghurs who were forcibly disappeared following the 5 July Urumchi unrest. Asserting that the move would help to "heal the wounds", professor Tohti emphasised that, "Concealing the whereabouts of those missing is not the long-term solution. Professor Tohti also revealed to Radio Free Asia (RFA) that he has been under complete surveillance without providing a reason, in what appears to have been an attempt to silence his legitimate criticisms. In another RFA article, it was revealed that Uyghurs have been forbidden to mourn the atrocities that happened in July 2009 in Urumchi, as some of the worst crackdowns have been put in place by the Chinese authorities since 4 years ago.
------------
British MP describes Israel as apartheid state
2013-07-19
LONDON, July 18: A British lawmaker who described Israel as an "apartheid state" whose future is in doubt after "inflicting atrocities on Palestinians" was suspended by his party on Thursday.
David Ward, a member of the Liberal Democrats, the smaller grouping in Britain's two-party coalition government, was reprimanded after making a series of remarks about Israel.
He refused to apologise after sending a message on Twitter on Saturday which read: "Am I wrong or are am I right? At long last the Zionists are losing the battle—how long can the apartheid State of Israel last?"
Earlier this year, the 60-year-old wrote on his website that he was "saddened that the Jews, who suffered unbelievable levels of persecution during the Holocaust, could within a few years of liberation from the death camps, be inflicting atrocities on Palestinians".—Reuters
http://dawn.com/news/1030145/british-mp-describes-israel-as-apartheid-state
------------
Africa
Tunisia: Artists 'targeted for offending morals'
Jul 19, 2013
Artists in Tunisia are increasingly finding themselves in the dock for "offending morals" as Islamist influence grows, it seems.
Street-performance troupe Fanni Raghma Anni (My Art in Spite of Myself) were the latest targets when Salafist extremists disrupted a play about the murder of left-wing activist Chokri Belaid. Titled They Killed Him, it follows the widely-held line that Islamists were to blame. But the hardliners were reportedly more angry at the actors being partially naked. After an exchange of blows in the town of Kef, the performers were arrested and 15 ordered to appear in court, the Tunisian Business News website reports.
Full report at:
http://www.bbc.co.uk/news/blogs-news-from-elsewhere-23271057
-------
Libyan Weapons Fuel Syria Bloodshed
BY JAMEL ARFAOUI, 18 JULY 2013
Tunis — Libyan weapons and foreign fighters are increasingly finding their way to the front lines of the Syrian conflict, where tens of thousands of civilians have died over three years of war.
A number of recent reports have highlighted the leading role played by Libyans in arming rebel fighters in Syria.
"News of the discovery of smuggled weapons from Libya to other countries has become routine for Libyans. It is sounding like the weather bulletin provided by our television stations every day," Tripoli resident Younes El-Borai said in response to the latest news on arms smuggling.
Full report at:
http://allafrica.com/stories/201307190454.html?viewall=1
------------
No shame in seeking Western help: Libyan PM
19 July 2013
TRIPOLI — Prime Minister Ali Zidan reacted forcefully to a question from the media about Libya using the West's help in its reconstruction and training.
Speaking at a press conference, Zidan asked why this double standard when it came to the West?
He continued: "We study, holiday, go for health treatment and buy the best cars from the West", he explained. "Why not get the best for Libya and Libyans?" he asked.
"Let's get rid of this complex put in place by a dictatorship," he added. "There is no shame in this (seeking help from the West), he concluded.
Exasperated by his government's inability to bring law and order to the country, Prime Minister Zidan said that his government may have to "use force".
Full report at:
http://www.saudigazette.com.sa/index.cfm?method=home.regcon&contentid=20130719174004
----------
Nigeria 'to withdraw some troops from Mali'
Jul 19, 2013
Nigeria is planning to withdraw some of its 1,200 soldiers from the UN peacekeeping force in Mali, Ivory Coast President Alassane Ouattara has said.
Mr Ouattara, head of the regional group Ecowas, said the troops were needed at home to tackle militant Islamists.
It is not yet clear how many Nigerian troops will stay in Mali, where an election is due to be held on 28 July.
The Nigerians are part of a force of 12,600 African troops who took over from a French-led mission on 1 July.
French and West African troops drove militant Islamists out of northern Mali in February.
The UN force - known by its French acronym Minusma - is now working with the Malian army to provide security for the election. It is due to grow to 11,200 troops, plus 1,400 police, by the end of the year.
Full report at:
http://www.bbc.co.uk/news/world-africa-23369865
----------
Malawi Targets Two Million Males to Go for Circumcision By 2016
BY SELLAH SINGINI, 18 JULY 2013
Mangochi — Over 42,000 males in Malawi have undergone Voluntary Medical Male Circumcision (VMMC) since the campaign started last year, Malawi News Agency has learnt.
Speaking to Mana on Tuesday after a stakeholders meeting in Mangochi, Spokesperson in the Ministry of Health, Henry Chimbali said Malawi is expecting to have 2.1 million males who will have undergone Voluntary Medical Male Circumcision (VMMC) by 2016 noting that currently 42,000 males have already gone through the knife.
Full report at:
http://allafrica.com/stories/201307190321.html?aa_source=sptlgt-grid?aa_source=sptlgt-grid
------------
URL: https://www.newageislam.com/islamic-world-news/new-age-islam-news-bureau/radicals-fail-to-force-ramadan-changes-in-tunisia/d/12673