New Age Islam News Bureau
3 May 2013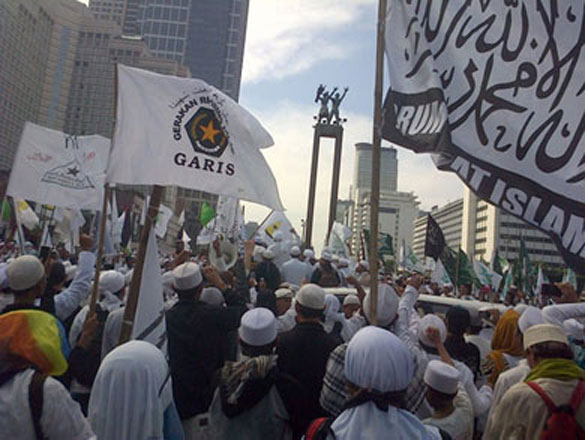 Hundreds of members of radical Islamic groups rally at Hotel Indonesia traffic circle to protest violence against Rohingya Muslims in Myanmar on Friday. (JG Photo/Bayu Marhaenjati)
------------
Southeast Asia
• Radical Rallies in Jakarta Call for Deadly Jihad in Myanmar
• Indonesian Government Tramples on Religious Freedom: US Agency
• Malaysia's Anwar Raises Voter Fraud Alarm Ahead of Election
• Indonesia says 2 arrested for Myanmar Embassy plot
• Two terror suspects arrested in Jakarta
• S. Korea, Indonesia urged to deepen defense cooperation
• GE13: Najib confident BN will retain power
------------
Arab world
• Syrian Rebels 'Desecrated and Exhumed' Grave of a Companion of the Prophet Mohammad (pbuh)
• Top Salafist preacher to be investigated for 'terrorising' Egypt state security
• Saudi compound in Virginia investigated for human trafficking
• Saudis enroll for Arabic, Islamic sciences at Moscow University
• SARS-like virus kills five Saudis
• Syrian forces tighten noose on rebels
• Saudi group to sue S. Korean firms for dumping products
• Debate to arm Syrian rebels gains favour: US officials
• Japan to sign nuclear treaty with UAE
• Five die of SARS-like virus in Saudi Arabia
• Egypt court orders Morsi's children attend US citizenship revocation hearing
• Egyptian lawsuits authority pushes to hand over ex-Gaddafi aide
------------
Africa
• Mali flies French Islamist's family to Paris
• NKorea provided Libya with nuclar material through A Q Khan ring
• Bomb destroys police station in Libya's Benghazi
• Gaddafi's son 'being looked after, could be tried fairly within Libya'
• 60 die in gold mine collapse in Darfur
• Tunisia forces clash with 50 armed rebels
• Tunisian forces hunting 2 armed groups near Algeria border
• Nigeria enters ranks of countries with dire journalistic impunity records
----------
South Asia
• Taliban told to distance itself from al-Qaida before it opens Qatar office
• Bangladesh war crime court indicts British Muslim leader
• Bangladesh factories reopen to meet Western clients' demands
• Afghan interpreters in legal bid for UK settlement
• Bangladesh building collapse death toll passes 500
• EU considers trade action to improve Bangladesh labour standards
------------
India
• India-Pakistan panel lays down guidelines for prisoners
• Pak takes up with India issue of attack on its national in Jammu jail
• Pakistan prosecutor handling Mumbai attack case shot dead
• Ishrat case: Court orders Gujarat IPS officer's arrest
• Gujarat Muslims make a beeline for the Haj
• Pak prisoner attacked in Jammu jail, condition serious
• Sarabjit returns in a coffin, PM calls him a 'brave son of India
• Pakistani prisoner attacked in Jammu jail, condition serious'
• Judge's transfer to delay proceedings on Zakia Jafri's plea
• Indian Speaker greets Shirin Sharmin
• Kashmir Separatist leader Yasin Malik denied permission to hold fast in Delhi
• Five of Indian origin family die in Malaysia car crash
------------
Pakistan
• Hundreds in Pakistan pay tribute to Osama bin Laden
• Pak Police Arrest Mush over Killing of Baloch Leader
• Another 'missing' Baloch activist turns up dead
• Pakistan protests against 'unprovoked' Afghan fire
• PTI govt to withdraw troops from FATA, Balochistan: Hashmi
• Imran vows to bring plunderers to book
• Balochistan teachrs agree to perform election duty
• Benazir's murder case prosecutor shot dead in Islamabad
• Musharraf shows distrust on Justice Khawaja
• FIA prosecutor Chaudhry Zulfiqar gunned down
• War on terror is our own war: Caretaker Interior Minister
• Altaf, Ashraf discuss prevailing situation
• Osama bin Laden report yet to be made public
• 1.3m children in Pakistan missed polio drops during last campaign
------------
North America
• Boston bombers planned attack on American Independence Day
• US has 'no current plans' to take Cuba off terror list
------------
Europe
• British jailed for 10 years for selling fake bomb detectors
• London conference awaits 'vision to take Somalia forward'
------------
Mideast
• Israel: Any peace deal to be subject to referendum
• Kenya: 2 Iranian Plotters Convicted
Compiled by New Age Islam News Bureau
URL: https://www.newageislam.com/islamic-world-news/new-age-islam-news-bureau/radical-rallies-in-jakarta-call-for-deadly-jihad-in-myanmar/d/11408
------------
Southeast Asia
Radical Rallies in Jakarta Call for Deadly Jihad in Myanmar
May 3, 2013
Hundreds of members of radical Islamic groups on Friday called for "jihad in Myanmar" during rallies in front of the Myanmar embassy in Menteng, Jakarta, to protest growing violence against Rohingya Muslims.
"It has been [going on for a] long [time], our brothers in Rohingya have been tortured by Myanmar military, Buddhist monks and Buddhist people in Myanmar. There is no other way for our Muslim brothers in Rohingya, we have to wage jihad," said Islamic Defender Front (FPI) chairman Rizieq Shihab during a protest at Hotel Indonesia traffic circle.
The FPI, along hundreds of members of the Islamic People Forum (FUI), Jamaah Ansharut Tauhid, Islamic Reformist Movement (Garis), Indonesian Committee for World Muslim Solidarity (Kisdi), Islamic Preaching Council (DDII), Indonesian Muslim Brotherhood Movement (GPMI) and Taruna Muslim (Muslim Youth), marched to the heavily guarded Myanmar embassy on Friday, brandishing banners that read "we want to kill Myanmar Buddhists" and "stop genocide in Myanmar."
Rizieq, shouting through a loudspeaker to whip up the crowd, called on all Indonesian people to wage jihad against violence in Rohingya.
"Let's pray for the crime there," Rizieq said. "We're obliged to help. Those who can pray, please pray, send them food, clothes, drink and medicines. Those who can give their lives, let's go there. We will do fund-raising to buy food, drink and weapon for our brothers there."
The incidents highlight the growing anger in Muslim-majority Indonesia over a string of religious clashes in largely-Buddhist Myanmar, that have left many minority Muslims dead and tens of thousands displaced.
"We will besiege Myanmar embassy for explanation, but no violence please," Rizieq said. "We agreed to take action based on Akhlak Kharimah [good moral], but consistent with the flaming spirit of jihad. Please do as told by the rally coordinator. If he says sit, please be seated. If he says attack, please attack."
At least one person was killed when mosques and homes were attacked in central Myanmar this week, the latest anti-Muslim unrest to cast a shadow over political reforms in the formerly junta-run country.
"Our Muslim brothers and sisters are being attacked in Myanmar — they are being raped and murdered," said Bambang, a 37-year-old street vendor. "I want jihad in Myanmar. Anyone mistreating Muslims should be killed."
Protest coordinator Bernard Abdul Jabbar requested the police to mediate a dialogue between the protesters and the Burmese ambassador.
"There are 10 representatives that want to meet [the ambassador], please facilitate us to meet him," Bernard said.
When the protesters reached Jalan Agus Salim on their march, Bernard asked the police to open the way so they could protest in front of the embassy.
"Incredible, we're guarded by hundreds of police officers. We're not planning a war, sir. We're staging peace rally. We're not terrorists. We, Islamic people, only want to question Myanmar's responsibility," he said.
Detik.com reported that the rallies caused traffic jams along Jalang Sudirman and Jalan Thamrin on Friday as protestors parked their motorcycles on the roads.
Jakarta Police spokesman Sr. Comr. Rikwanto told Vivanews that police had deployed 1,654 officers to the rally locations.
He said that they would beef up security around the Burmese embassy in Menteng, after police on Thursday arrested two people who were planning to bomb the embassy.
"Requested or not, it's our responsibility to secure embassy building," Rikwanto said.
Myanmar embassy spokesman Deddy R. Guritno told Vivanews that the embassy had sent most of its staff home. Only three diplomats were in the office on Friday, while Myanmar ambassador U Nyan Lyn attended an event elsewhere.
Clashes in Rakhine state last year between Rohingya and Buddhists left around 200 dead, and tens of thousands displaced. In March a flare-up in Buddhist-Muslim violence in central Myanmar left at least 43 people dead.
A man admitted in September to planning a suicide bomb attack against Buddhists in Jakarta in response to Myanmar's treatment of Muslim minorities, particularly Rohingya.
Indonesia has been a vocal supporter of Muslim minorities in Myanmar, and in January pledged $1 million in aid to Rakhine.
With additional reporting from Agence France-Presse
http://www.thejakartaglobe.com/news/jakarta/radical-rallies-in-jakarta-call-for-deadly-jihad-in-myanmar/
---------
Indonesian Government Tramples on Religious Freedom: US Agency
May 2, 2013
The Indonesian government has been accused by an American watchdog of violating its citizens' right to religious freedom, according to a recent report.
The US Commission on International Religious Freedom, an independent federal advisory body created by the International Religious Freedom Act to monitor religious freedom abuses abroad, in a report on Tuesday highlighted the status of religious freedom globally and identified the governments that are the most egregious violators.
"The state of international religious freedom is increasingly dire due to the presence of forces that fuel instability. These forces include the rise of violent religious extremism coupled with the actions and inactions of governments," Katrina Lantos Swett, USCIRF's chair, said in a USCIRF statement obtained in Jakarta on Thursday.
Lantos also said that extremists have been targeting religious minorities and dissenters from majority religious communities with violence, including physical assaults and even murder.
"Authoritarian governments also repress religious freedom through intricate webs of discriminatory rules, arbitrary requirements and draconian edicts," Lantos said.
The USCIRF included Indonesia, alongside Afghanistan, Azerbaijan, Cuba, India, Kazakhstan, Laos and Russia, in a list of countries where it had found that governments were engaging in or tolerating severe violations of religious rights.
The violations committed in those countries met at least one criterion of the IRFA's three-fold "systematic, ongoing, egregious" standard, the USCIRF said.
In Indonesia, the country's rich tradition of religious tolerance and pluralism has been seriously threatened by arrests of individuals the government considers religiously deviant and violence perpetrated by extremist groups, the USCIRF said. Federal and provincial officials, police, courts and religious leaders often tolerate and aid in the conduct of religious freedom abusers, the report added.
In Russia, religious freedom suffered major setbacks in the context of growing human rights abuses, the US advisory body said.
In the report, the USCIRF recommended that the American government re-designate Myanmar, China, Eritrea, Iran, North Korea, Saudi Arabia, Sudan and Uzbekistan as "countries of particular concern." Egypt, Iraq, Nigeria, Pakistan Tajikistan, Turkmenistan and Vietnam also fell into the USCIRF's suggestion for the CPC status.
The report said that it was ultimately about people and how their governments treat them. Violations affect members of diverse religious communities around the world.
"We recommend that the White House adopt a whole-of-government strategy to guide US religious freedom promotion and that Secretary of State [John] Kerry promptly designate CPCs, before currently designated actions expire later this year," said Lantos.
In Myanmar, ongoing political reforms have yet to significantly improve the situation for freedom of religion and belief. Sectarian violence and severe abuses of religious freedom and human dignity targeting ethnic minority Christians and Muslims continue to occur with impunity, the report said.
In Egypt, despite some progress during a turbulent political transition, the government has failed or been slow to protect from violence religious minorities, particularly Coptic Christians, the USCIRF said. It added that the government continues to prosecute, convict, and imprison individuals for "contempt" or "defamation" of religion, and the new constitution includes several problematic provisions relevant to religious freedom.
In both Pakistan and Nigeria, religious extremism and impunity have factored into unprecedented levels of violence that threaten the long-term viability of both nations, it said. Targeted violence against Shia Muslims in Pakistan is pervasive, while repeated Boko Haram attacks in Nigeria exacerbate sectarian tensions, the report stated.
"Many of these countries top the US foreign policy agenda, and religion is a core component in their makeup. Successful US foreign policy recognizes the critical role religious freedom plays in each of these nations and prioritizes accordingly. Religious freedom is both a pivotal human right under international law and a key factor that helps determine whether a nation experiences stability or chaos," said Lantos.
http://www.thejakartaglobe.com/news/indonesian-government-tramples-on-religious-freedom-us-agency/
------------
Malaysia's Anwar Raises Voter Fraud Alarm Ahead of Election
By Siva Sithraputhran
m May 2, 2013
Kuala Lumpur. Malaysian opposition leader Anwar Ibrahim said on Thursday that tens of thousands of "dubious" voters may have been flown in to key states to boost the government's chances in this weekend's election, an accusation denied by the ruling coalition.
Electoral fraud is a sensitive issue in Malaysia, where a civil society movement has sprung up to demand electoral reforms in increasingly large street protests. A narrow victory by the ruling coalition on Sunday could trigger allegations of cheating and calls for more street protests.
Anwar said the Prime Minister's Office had been involved in arranging charter flights for voters supplied by national carrier, Malaysian Airlines. He accused the government of flying at least 40,500 individuals since April 25 on chartered flights from the Borneo states of Sabah and Sarawak to mainland areas.
While Sabah and Sarawak are government strongholds, the mainland peninsula is home to several closely contested states, such as Selangor near Kuala Lumpur which fell to the opposition in 2008.
"The timing of this surge in arrivals and its sheer size naturally raise the question of whether they have been transported here surreptitiously to vote in favor of the National Front," Anwar said in an emailed statement.
A government spokesman denied the accusation. He said the flights were part of a normal "get out the vote" campaign and had been paid for by "friends" of the ruling Barisan Nasional (National Front) coalition.
The National Front faces a resurgent opposition led by Anwar, who was finance minister in the 1990s and later jailed for six years on corruption and sodomy charges he said were trumped up. It could be the closest election since the Southeast Asian country won independence from Britain in 1957.
Tengku Adnan Tengku Mansor, secretary general of the United Malays National Organization, which dominates the ruling coalition, said the flights were normal electoral practice.
"The flights in question were organized and paid for by friends of Barisan Nasional. They brought registered voters to their home districts so that they may vote in the upcoming election," he said in a statement.
Anwar released what he said were leaked e-mails from Malaysian Airlines officials showing the flag carrier had proposed a schedule to ferry voters and election workers in chartered planes from Sabah and Sarawak to mainland Malaysia.
Reuters has not been able to independently verify the authenticity of the documents. Malaysia Airlines declined to comment.
Anwar's alliance surged to its best-ever election result in 2008, gaining support from ethnic Chinese and Indians disillusioned with race-based policies favoring majority Malays and discontent over a lack of political and economic reform.
Sabah is a key entry point for foreigners from the Philippines and Indonesia, who have fueled a five-fold surge in Sabah's population since the early 1970s and turned it into a vote bank for the ruling coalition.
A Royal Commission of Inquiry is currently under way in Sabah to investigate allegations that immigrants were given identity cards in exchange for voting for the government under a secret plan approved by former prime minister Mahathir Mohamad in the 1980s.
http://www.thejakartaglobe.com/international/malaysias-anwar-raises-voter-fraud-alarm-ahead-of-election/
------------
Indonesia says 2 arrested for Myanmar Embassy plot
May 3, 2013
JAKARTA, Indonesia — Indonesia's elite anti-terror squad seized five homemade bombs and arrested two suspected militants who allegedly planned to attack the Myanmar Embassy to protest that country's treatment of Muslims, police said Friday.
The two men were arrested in central Jakarta on a motorbike just before midnight Thursday after authorities were tipped to their whereabouts, said National Police spokesman Brig. Gen. Boy Rafli Amar.
Their interrogation led to a rented house where explosive materials were found. A woman and her baby were also taken by police from the house.
He said the men, Zainal Abidin, 38, and Julisman, 28, who uses one name, were part of a cell allegedly involved in recent attacks against Indonesian police.
"They have a link with terrorism from evidence we have seized," Amar said, refusing to say when the embassy attack was supposed to take place. "We are still investigating and searching for other alleged group members."
Dozens of police have been deployed to secure the Myanmar Embassy in Jakarta and its ambassador's house. Truckloads of officers were also placed at nearby buildings and hotels.
Amar said the suspects told authorities they wanted to retaliate against Myanmar for recent attacks on Rohingya Muslims there.
Sectarian violence in the Buddhist-majority country has killed scores, and thousands of Muslims have been driven from their homes. The Rohingya ethnic group face severe discrimination and are considered illegal immigrants despite many living in Myanmar for generations.
Indonesia has been battling terrorists since the 2002 bombings on the resort island of Bali that killed 202 people, mostly foreign tourists.
Terrorist attacks aimed at foreigners in Indonesia have been largely replaced in recent years by smaller, less deadly strikes targeting the government, mainly police and anti-terrorism forces.
http://www.philstar.com/world/2013/05/03/937853/indonesia-says-2-arrested-myanmar-embassy-plot
------------
Two terror suspects arrested in Jakarta
May 03 2013
A police officer has said the police's special counterterrorism unit Densus 88 had arrested two alleged terrorists by the names of Ovie and JM alias Asep, a bomb-maker, in Central Jakarta.
"We arrested them on Jl. Jenderal Sudirman, near the Benhil [Bendungan Hilir] junction last night," National Police spokesman Brig. Gen. Boy Rafli Amar said on Friday as quoted by kompas.com.
He said a group of field officers were now searching for evidence at their boarding house, located on Jl. Bangka in Mampang, South Jakarta.
No information has been made available regarding the affiliation of these two terror suspects and whether they were on a mission. (dic)
http://www.thejakartapost.com/news/2013/05/03/two-terrorist-suspects-arrested.html
------------
S. Korea, Indonesia urged to deepen defense cooperation
May 03 2013
Analysts have called for enhanced defense cooperation between South Korea and Indonesia beyond military procurement, considering 40 years of dynamic relations between the two.
Boo Hyeong-wook, an analyst at the Korea Institute for Defense Analyses (KIDA) said that aside from maintaining robust defense trade, the two nations should enhance knowledge transfer and joint exercises in more security spectrums.
"In the future, we can work together in peacekeeping and disaster relief operations and also in combating cyber crime and piracy," Boo told the 2013 South Korea — Indonesia Security & Defense Seminar on Thursday.
He noted that the defense cooperation of both nations had focused on military procurement, with Indonesia becoming a major customer of South Korean defense products.
Indonesian Defense Ministry secretary-general Lt. Gen. Budiman expected that Indonesia should not be a mere buyer but called for closer industrial cooperation.
"Perhaps in the future some of the Korean defense firms could relocate to Indonesia," he told the seminar.
"By having a presence in Indonesia, Korea would have closer access to the ASEAN defense market, which is quite lucrative."
He also said a road map was needed to strengthen defense industrial cooperation between both countries.
Data from the Korean Defense Acquisition Program Administration shows that Korea Aerospace Industries (KAI) has delivered 17 KT-1 single turboprop basic trainers to Indonesia, worth US$91 million.
In May 2011, Indonesia signed a $400 million deal to procure 16 units of T-50 Golden Eagle advanced jet trainers from KAI.
Full report at:
http://www.thejakartapost.com/news/2013/05/03/s-korea-indonesia-urged-deepen-defense-cooperation.html
------------
GE13: Najib confident BN will retain power
May 3, 2013
PUTRAJAYA: Prime Minister and Barisan Nasional chairman Datuk Seri Najib Tun Razak has expressed confidence that the coalition will return to power in Putrajaya in the 13th general election on Sunday.
He said he found out during his recent visits all over the country that the people still accepted Barisan and were with the coalition.
"I can report to you that the people still accept Barisan. Come May 5, Barisan will return to power in Putrajaya," he said when addressing the people during a breakfast meeting at Dengkil Centre Point in Dengkil near here Friday.
During his speech, Najib received resounding applause from the thousands of people who had gathered there from early in the morning.
Also present were the Barisan candidate for the Sepang parliamentary seat, Datuk Seri Mohd Zin Mohamed; the Barisan candidate for the Dengkil state seat, Shahrum Mohd Shariff; the Barisan candidate for the Tanjung Sepat state seat Nisman Yusof and the Barisan candidate Full report at:
http://thestar.com.my/news/story.asp?file=/2013/5/3/nation/20130503143950&sec=nation&utm_source=TSOL_main&utm_medium=links&utm_campaign=GE13
------------
Arab world
Syrian rebels 'desecrated and exhumed' grave of a companion of the Prophet Mohammad (pbuh)
May 2, 2013
Dubai: Members of the rebel Free Syrian Army have allagedly desecrated and exhumed the 7th Century grave of a companion of the Prophet Mohammad (PBUH).
Pictures of the desecrated and emptied grave allegedly in a mosque north of Damascus were posted on the facebook page for the Adra unit of the Free Syrian Army. The mosque is located in the town of Adra, which the page alleges is controlled by the Free Syrian Army.
One of the pictures showed the tomb broken into, and another showed an apparently empty grave.
The caption under one of the pictures read: "This is one of the Shiite shrines in Adra which the heroes of the Free Syrian Army exhumed and reburied in an unknown location since it had become a centre of polytheism".
The pictures prompted angry responses on the facebook page, with the page account administrator responding to one critic by saying: "If you don't like it, comes fight in the place of the Free [Syrian] Army". In another response, the administrator for the facebook account said: "The Free [Syrian] Army does this out of the principle that no one but God should be worshipped. The Shiites worship graves, not God".
Full report at:
http://gulfnews.com/news/region/syria/syrian-rebels-exhume-grave-of-islamic-figure-1.1178665
------------
Top Salafist preacher to be investigated for 'terrorising' Egypt state security
2 May 2013
Influential Salafist preacher and former disqualified presidential candidate Hazem Salah Abu-Ismail is to be investigated by Egypt's State Security Prosecution for 'terrorising' police officers after calling for a protest against the National Security apparatus.
A Salafist group, calling itself the General Islamist Current, heeded Abu-Ismail's call and organised a rally on Thursday evening at the National Security headquarters in Cairo's Nasr City. The group's spokesman Hossam Abu El-Bokhary will also be investigated for the same accusations, which include allegations against Egypt's National Security without proof.
The State Security Prosecution will investigate accusations against Abu-Ismail and Abu El-Bukhary on Saturday.
Hundreds of Salafist protesters marched from the Rabaa El-Adawiya Mosque in Nasr City district to the National Security headquarters building nearby. The stated purpose of the protest is to expose the return of 'old practices' by Egypt's State Security (SS) against Islamists, the General Islamist Current - organisers of the protest - stated in a statement on its official Facebook page.
During ousted president Hosni Mubarak's rule, the SS was infamous for cracking down on political activity, as harrowing stories of mistreatment and torture of the regime's political opponents by SS officers were regularly reported. After Egypt's January 25 Revolution, the SS pledged reform and changed its name to National Security.
"As the National Security has returned to its criminal practices of summoning, investigating and threatening citizens against what the January 25 Revolution called for, it is the duty of every free Egyptian to stand against these practices," read the statement.
The statement also slammed alleged reports in the media on how the protesters were going to storm the National Security headquarters in Nasr City. "These rumours are intended to defame our peaceful movement."
Full report at:
http://english.ahram.org.eg/NewsContent/1/64/70597/Egypt/Politics-/Top-preacher-to-be-investigated-for-terrorising-Eg.aspx
------------
Saudi compound in Virginia investigated for human trafficking
By Cheryl K. Chumley
May 2, 2013
Federal authorities have launched an investigation into a Saudi Arabian compound in Northern Virginia over suspicions its residents may be engaging in human trafficking.
Federal and local police responded to a call from a house in the D.C. suburb of McLean and found "two potential victims of trafficking" who hailed from the Philippines, Raw Story reported. One of the women tried to run.
U.S. Immigration and Customs Enforcement said the investigation could move sluggishly because of complications from diplomatic immunity rules. Saudi Arabia already has moved to dismiss the allegations. Embassy officials denied any knowledge of human trafficking at the Full report at:
http://www.washingtontimes.com/news/2013/may/2/saudi-compound-virginia-investigated-human-traffic/
------------
Saudis enroll for Arabic, Islamic sciences at Moscow University
2 May 2013
More than 150 students have enrolled at the Prince Naif Department for Islamic Studies at Moscow University for the session 2012-2013, including 32 listed in Qur'anic sciences, 24 in ethics and 31 in Islamic cultural studies.
The Department offers four specialized subjects related to the Arabic language and Islamic studies within the College of Philosophy at the university.
The Arabic language degree has 64 students, with eight first-years, 12 second-year and 16 third-year students, while 16 have enrolled in Qur'anic interpretation and 12 in Islamic jurisprudence.
The department has also offered its programs to other institutes, including colleges teaching art, history, journalism, social sciences, foreign languages and translation.
Full report at:
http://www.arabnews.com/news/450166
------------
SARS-like virus kills five Saudis
May 03, 2013
RIYADH: Five Saudis have died of a new SARS-like virus during the past few days and two more are being treated in an intensive care unit, the health ministry said.
In a statement cited by the Saudi SPA agency late on Wednesday, the ministry said that all the deaths as well as the infections occurred in the Ahsaa province in the oil-rich eastern region of the kingdom.
Known as novel coronavirus or hCoV-EMC, the virus was first detected in mid-2012 and is a cousin of Severe Acute Respiratory Syndrome (SARS), which triggered a scare 10 years ago when it erupted in east Asia, leaping to humans from animal hosts.
CoV-EMC stands for human coronavirus-Erasmus Medical Centre, after the Dutch health institution that identified it.
Full report at:
http://www.nation.com.pk/pakistan-news-newspaper-daily-english-online/international/03-May-2013/sars-like-virus-kills-five-saudis
------------
Syrian forces tighten noose on rebels
May 03, 2013
Syrian forces were on Thursday tightening the noose on rebels holed up in a key area of the central city of Homs, the Observatory for Human rights watchdog said.
"The Syrian army, supported by back-up forces and expert officers from Iran and Hezbollah, has taken control of large parts of the Wadi al-Sayeh district" in the centre of Homs, the group said. The neighbourhood is half way between the Khaldiyeh district and the Old City, two rebel-held areas that have been under siege by the army for nearly a year.
"In the Old City 800 families have been under siege for nearly a year, and hundreds have been wounded. If (Sunni-majority) Old Homs is taken, sectarian revenge attacks could take place" by pro-regime forces, it said. Homs, the third largest city in the country, has been dubbed by the Opp Syrian National Council as the "beating heart of the revolution".
It was one of the first cities to join the revolt against President Bashar al-Assad's regime that began two years ago with peaceful protests but morphed into a bloody insurgency after a fierce crackdown on dissent.
Full report at:
http://www.nation.com.pk/pakistan-news-newspaper-daily-english-online/international/03-May-2013/syrian-forces-tighten-noose-on-rebels
------------
Saudi group to sue S. Korean firms for dumping products
3 May 2013
RIYADH: A group of Saudi private and government business entities plan to sue some South Korean firms for allegedly dumping products, notably in the energy and petrochemicals sector, on the Saudi market, according to Abdulrahman Al-Zamil, the head of the Saudi Export Development Center.
Al-Zamil, who also heads the local industries follow-up committee, accused the South Korean companies of deliberately exporting products to the Kingdom at prices 20 percent below cost.
He said the group would also file similar cases against certain government-owned companies that purchased these products. Al-Zamil said the group would send letters to the Ministry of Commerce and Industry and other departments concerned to look into the case.
He asked the Saudi companies, which he described as "mega" firms, to provide evidence that could refute charges that they bought these Korean products at the expense of local products.
Full report at:
http://www.arabnews.com/news/450263
------------
Debate to arm Syrian rebels gains favour: US officials
BRADLEY KLAPPER
2 May 2013
WASHINGTON: Discussions within the Obama administration in favor of providing arms to the Syrian rebels are gaining ground amid new indications that President Bashar Assad's regime may have launched additional chemical weapons attacks, US and other diplomatic officials say.
As the number of suspected attacks grows, US officials said intelligence agencies are seeing signs that Syrian opposition forces may be distancing themselves from the Al-Qaeda-linked group there — chipping away at one of the key arguments against giving lethal aid to the rebels. Yet, at the same time, the fighters associated with the extremist group are among the most effective against the regime. Assad displayed new confidence, going on the offensive in the hopes of taking advantage of ill will against the extremist group.
Officials insisted Wednesday that no decisions have been made but that arming the rebels is seen as more likely and preferable than any other military option. One US official described a new "reconsideration" within the administration of the military options. The officials, who all spoke on condition of anonymity because they weren't authorized to discuss publicly the options under consideration, said that most US leaders prefer that the Syrians determine their own fate, so arming the opposition is more palatable than direct US intervention.
The US has provided humanitarian aid to the Syrians and helped bolster the defenses along the borders in neighboring Turkey and Jordan but has preferred to let other nations send in more lethal assistance.
A key obstacle in the debate over providing weapons has been US concerns that any US weapons would end up in the hands of Al-Qaeda-linked groups helping the Syrian opposition or any of the other extremist groups in the region, such as Lebanon-based Hezbollah.
The administration announced last week that it believes Assad has used chemical weapons but said the intelligence wasn't clear enough to be certain that the regime has crossed President Barack Obama's announced "red line" of definite chemical weapons use that he said would have "enormous consequences" for Assad's government.
Some senior leaders, including Gen. Martin Dempsey, chairman of the Joint Chiefs of Staff, are skeptical about the wisdom of providing arms to such a broad and complex mix of opposition groups. But officials say there is a growing realization that, under increasing pressure from Congress and other allied nations, the US might soon have to do more for the Free Syrian Army.
Full report at:
http://www.arabnews.com/news/450176'
------------
Japan to sign nuclear treaty with UAE
May 03, 2013
ABU DHABI : Japanese Prime Minister Shinzo Abe said his country will sign a nuclear treaty with the UAE on Thursday as he stressedTokyo's cooperation with itsMiddle Eastpartners.
Abe, making his second visit to the Gulf country as prime minister, arrived late on Wednesday in theUnited Arab Emirates,Japan's eighth largest world economic partner, to take part in a Japan-UAE Business Forum. At the forum, he said his country will sign a nuclear treaty with the UAE, without elaborating. "This time,Japanand the UAE will sign a nuclear treaty," he said, according to a translation from Japanese. "Japancan contribute to UAE energy supplies by means of nuclear energy conservation and renewable energy."
Meanwhile, a Japanese-French consortium has won a $22 billion dollar contract to build a nuclear power plant onTurkey'sBlack Seacoast, a senior energy ministry official said on Thursday.
"An inter-governmental agreement is expected to be signed between the prime ministers of both countries (TurkeyandJapan) on Friday," the official told AFP on condition of anonymity.
Energy Minister Taner Yildiz also hinted that the Japanese company was awarded the tender, saying: "The announcement should better be left to the prime ministers."
In an interview published Thursday inJapan's Nikkei business daily, Turkish Prime Minister Recep Tayyip Erdogan, who is to host Japanese counterpart Shinzo Abe on Friday, said that Mitsubishi Heavy Industries and the French group Areva would lead the consortium chosen to build the nuclear plant.
The Nikkei report said thatTurkeyhad faith in the technological prowess ofJapan's nuclear industry and believed it had learned from the tsunami-triggered nuclear disaster atFukushimain 2011.
"Erdogan saidJapanhas experience and know-how in coping with earthquakes. He also said thatJapanhas learned from the Fukushima Daiichi disaster," the paper said. LikeJapan,Turkeylies in an earthquake-prone region of the world.
The Sinop plant could lead to more nuclear reactor construction inTurkeyfor Japanese firms, the prime minister added.
Full report at:
http://www.nation.com.pk/pakistan-news-newspaper-daily-english-online/international/03-May-2013/japan-to-sign-nuclear-treaty-with-uae
------------
Five die of SARS-like virus in Saudi Arabia
02 May 2013
Saudi Arabia's health ministry has said that five Saudis have died from a new SARS-like virus and that two more are being treated in an intensive care unit.
In a statement cited by the Saudi SPA agency late on Wednesday, the ministry said that all the deaths occurred in the Ahsaa province in the oil-rich eastern region of the kingdom, according to the AFP news agency.
Known as novel coronavirus or hCoV-EMC, the virus was first detected in mid-2012 and is a cousin of Severe Acute Respiratory Syndrome (SARS), which triggered a scare 10 years ago when it erupted in east Asia, leaping to humans from animal hosts.
The health ministry said it was taking "all precautionary measures for persons who have been in contact with the infected people ... and has taken samples from them to examine if they are infected".
However, the ministry gave no figures for how many people have been examined to see if they have the lethal disease.
Sixteen people have now died from 23 cases detected in Saudi Arabia, Jordan, Germany and Britain. Riyadh has accounted for most of the deaths, with 11 people, including the five new fatalities.
Full report at:
http://www.aljazeera.com/news/middleeast/2013/05/201352795849599.html
------------
Egypt court orders Morsi's children attend US citizenship revocation hearing
2 May 2013
Egypt's Supreme Administrative Court's State Commissioners Authority on Thursday ordered that President Mohamed Morsi's son and daughter attend the hearing on a lawsuit demanding the revocation of their US citizenship.
This comes as part of a lawsuit filed in 2012 by Attorney Mohamed Salem —following Morsi's presidential election—to force his two children to renounce their US citizenship, which they acquired at birth in the 1980's when Morsi was a professor.
The state commissioners postponed the hearing until 30 May and issued a LE400 fine to the head of Egypt's Ministry of Foreign Affairs judicial department for delaying the document coordination process with the US State Department.
Full report at:
http://english.ahram.org.eg/NewsContent/1/64/70592/Egypt/Politics-/Egypt-court-orders-Morsis-children-attend-US-citiz.aspx
------------
Egyptian lawsuits authority pushes to hand over ex-Gaddafi aide
2 May 2013
The Egyptian State Lawsuits Authority filed an appeal on Thursday that would lead to the extradition of Ahmed Gadhaf Al-Dam, a close aide and cousin of former Libyan ruler, Muammar Gaddafi.
The Lawsuits Authority, an Egyptian judicial institution which represents the interests of the government in a variety of issues domestically and internationally, appealed a ruling issued early April against the extradition of Gadhaf Al-Dam to Libya.
The case was brought by Gadhaf Al-Dam after the Libyan administration demanded he be extradited to Libya for alleged crimes under Muammar Gaddafi's rule.
On Sunday, Gadhaf Al-Dam was to be released after serving 30 days in provisional detention in accordance to a decision by the general prosecution, however, he was held on charges of possessing unlicensed weapons and illegal surveillance devices, resisting arrest and attempting to murder police officers. The former libyan strongman denied these charges.
Full report at:
http://english.ahram.org.eg/NewsContent/1/64/70588/Egypt/Politics-/Egyptian-lawsuits-authority-pushes-to-hand-over-ex.aspx
------------
Africa
Mali flies French Islamist's family to Paris
3 May 2013
The wife and children of a French Islamist arrested in northern Mali have been "evacuated" to Paris, Malian airport and security sources told AFP on Thursday.
Gilles Le Guen, 58, who goes by the name Abdel Jelil, was arrested by French forces near Timbuktu overnight Sunday and is being questioned in Mali's northeastern city of Gao.
"Shortly after the arrest of Gilles Le Guen, who was with his family, his wife and five children -- two girls and three boys -- were evacuated to Paris," the security source said.
Le Guen's wife, who is from the Maghreb region of northwest Africa, and the children boarded a plane to Paris from the Malian capital Bamako "in recent days", the source at the city's airport said.
"The trip was given the green light by French consular authorities," she told AFP.
Le Guen is to be transferred to Bamako on Thursday or Friday, the security source said.
The Frenchman is believed to have joined the North African militant organization Al-Qaeda in the Islamic Maghreb (AQIM) after moving to Mali with his family following previous stints living in Morocco and Mauritania.
Full report at:
http://english.alarabiya.net/en/News/world/2013/05/03/Mali-flies-French-Islamist-s-family-to-Paris-.html
------------
NKorea provided Libya with nuclar material through A Q Khan ring
May 3, 2013
WASHINGTON: North Korea used disgraced Pakistani nuclear scientist A Q Khan's notorious network to supply atomic materials to Libya and Syria, the Pentagon has said, as it warned against Pyongyang's proliferation efforts.
"One of our gravest concerns about North Korea's activities in the international arena is its demonstrated willingness to proliferate nuclear technology," defence secretary Chuck Hagel said in a report running into 20 pages.
"North Korea provided Libya with uranium hexafluoride, a compound used in the uranium enrichment process that produces fuel for nuclear reactors and nuclear weapons, via the proliferation network of Pakistani nuclear scientist A Q Khan," the defence secretary said.
North Korea also provided Syria with nuclear reactor technology until 2007, said the report titled 'Military and Security Developments Involving the Democratic People's Republic of Korea 2012'.
Hagel said North Korea uses a world-wide network to facilitate arms sales activities and maintains a core group of recipient countries including Myanmar, Iran and Syria.
He informed the US Congress about North Korea's pursuit of nuclear capabilities and development of long-range ballistic missile programmes, saying it makes Pyongyang one of the most critical US security challenges.
"North Korea has an ambitious ballistic missile development programme and has exported missile technology to other countries, including Iran and Pakistan. North Korea has produced its own version of the SCUD B, as well as the SCUD C, an extended-range version of the SCUD B," Hagel said.
"North Korea has exported conventional and ballistic missile-related equipment, components, materials and technical assistance to countries in Africa, Asia, and the Middle East.
Full report at:
http://timesofindia.indiatimes.com/world/us/NKorea-provided-Libya-with-nuclar-material-through-A-Q-Khan-ring/articleshow/19857946.cms
------------
Bomb destroys police station in Libya's Benghazi
MAY 03, 2013
TRIPOLI: A bomb destroyed a police station in the eastern Libyan city of Benghazi early on Thursday but caused no casualties, a security source told AFP, in a second attack targeting the building.
"An explosive device was thrown at Al-Baraka police station in Benghazi, destroying what remained of the building after the bomb attack that targeted it last weekend," the source said.
"The explosion caused no casualties," he added.
An AFP journalist at the scene confirmed that the blast destroyed the building at around 7:00 am (local time).
A wave of assassinations and bombings has swept Benghazi, the cradle of the 2011 uprising against Muammar Qadhafi, in recent months.
Thursday's attack came after several weeks of relative calm in the city, where the authorities have struggled to re-establish security.
Attacks in Benghazi have generally been attributed to radical militants, most notably last year's September 11 assault on the US consulate that killed four Americans including ambassador Chris Stevens.
Full report at:
http://dawn.com/2013/05/02/bomb-destroys-police-station-in-libyas-benghazi/
------------
Gaddafi's son 'being looked after, could be tried fairly within Libya'
3 May 2013
ZINTAN: Seif Al-Islam, a son of deposed Libyan leader Muammar Qaddafi, appeared in court yesterday in the town of Zintan, where he had been held since his capture by former rebels in November 2011.
Seif Al-Islam, at the center of a legal tussle between Libya and the International Criminal Court (ICC), smiled and told reporters he was in good health during his brief appearance.
The powerful armed group in Zintan, which spearheaded the capture of Tripoli from Qaddafi's forces in August 2011, has insisted on keeping Seif Al-Islam imprisoned in the town, about 140 km southwest of the Libyan capital.
Once Qaddafi's presumed heir, Seif Al-Islam is wanted by the ICC on war crimes charges, but the case to be heard in Zintan relates to charges that he gave information to an ICC lawyer last year that could endanger national security.
He was the only defendant of 13 people who were called to appear in court on those charges, confirming he was in the room when his name was called out and that his lawyers were present.
Full report at:
http://www.arabnews.com/news/450231
------------
60 die in gold mine collapse in Darfur
3 May 2013
KHARTOUM: More than 60 miners were killed this week in Sudan's Darfur region when the gold mine they were working in collapsed, a police spokesman said yesterday.
Ahmed Amr said fighting had broken out in January between two tribes over access to the mine in the Jebel Amir area of North Darfur, and authorities had closed it after several people were killed in the violence. It had since reopened.
A member of Parliament from the area said the mine collapsed on Monday, and word had only reached Khartoum yesterday. A witness told Reuters by phone that rescue efforts had failed.
Half a million artisan miners have joined a gold rush across Sudan, according to the government, which estimates it made $ 2.5 billion from gold exports last year.
Full report at:
http://www.arabnews.com/news/450227
------------
Tunisia forces clash with 50 armed rebels
2 May 2013
MOUNT CHAAMBI, Tunisia: Tunisian troops clashed yesterday with a group of around 50 armed militants in the remote Mount Chaambi border region, a security source at the scene said.
An AFP journalist nearby reported hearing an exchange of gunfire in the area, which is close to Tunisia's border with Algeria.
The group is commanded by an Algerian and two Tunisians originally from the regional capital Kasserine, the source said.
Tunisian forces have been conducting search operations in the mountainous region since Monday, targeting a group of "terrorists," the authorities have said, while refusing to give further details because the operations were ongoing.
The gunmen laid homemade land mines in parts of the Mount Chaambi region, which have already wounded around 10 soldiers and members of the national guard, some seriously, during the operation to flush them out. The group originally consisted of 11 fighters for whom the Tunisian security forces have been searching since December, when they attacked the border post at Bou Chebka and killed a member of the national guard.
"They then recruited some youths from Kasserine and men who had come from Mali," said the security source, without explaining how he got the information.
Full report at:
http://www.arabnews.com/news/450087
------------
Tunisian forces hunting 2 armed groups near Algeria border
2 May 2013
Tunisian security forces were Thursday hunting two armed jihadist groups near the Algerian border, one in the Mount Chaambi region and the other in Kef further north, the interior ministry said.
Full report at:
http://english.ahram.org.eg/NewsContent/2/8/70549/World/Region/Tunisian-forces-hunting--armed-groups-near-Algeria.aspx
------------
Nigeria enters ranks of countries with dire journalistic impunity records
2 May 2013
Nigeria is suffering from militant aggression in the north and politically inspired aggression nationwide. That is the background to the country becoming one of the worst nations in the world for deadly, unpunished violence against the press.
That sobering truth emerges in the updated "impunity index" produced by the New York-based press freedom watchdog, the Committee to Protect Journalists (CPJ).
The index, which calculates unsolved journalist murders as a percentage of each country's population, also found soaring impunity rates in Somalia, Pakistan and Brazil.
In those countries - plus Iraq, the Philippines, Sri Lanka, Mexico, Colombia, Afghanistan and Russia - journalists are murdered regularly and their killers go free.
"In countries where authorities fail to deliver justice in the killing of journalists, the result is more killings, while journalists try to survive by exercising self-censorship," said CPJ executive director Joel Simon.
"Nigeria's entry on the index suggests that violence is beginning to limit coverage of crucial issues, posing a grave threat to the country's democracy. The government must exert the necessary political will to solve these crimes."
Nigeria appears on the index — published to mark World Press Freedom Day tomorrow - for the first time. With five unsolved murders since 2009, Nigeria ranks 11th of the 12 worst countries for impunity.
It is one of two African countries on the list. The other is Somalia, where 12 journalists were murdered in 2012 despite relative calm in Mogadishu.
Deteriorating security, accompanied by a lack of justice, was also seen in Pakistan, where authorities have failed to prosecute a single suspect in the 23 journalist murders over the past decade.
In Brazil, where provincial reporters have proved especially vulnerable, the impunity rating has risen despite the government's stated commitment to justice.
Full report at:
http://www.guardian.co.uk/media/greenslade/2013/may/02/journalist-safety-press-freedom
------------
South Asia
Taliban told to distance itself from al-Qaida before it opens Qatar office
Julian Borger
2 May 2013
The Taliban has been told to issue a declaration distancing itself from al-Qaida and committing itself to peace talks before it can open a political office in Qatar, according to diplomatic sources.
The conditions have been laid down by the Qatari government with the backing of Kabul and the US. They would involve making an unambiguous public break with global jihadism and promising to use the office in the capital city of Doha as a base for negotiations with the US and the Afghan government, rather than as the seat of a government in exile or for fundraising.
At a three-way meeting outside Brussels last week – attended by Afghan president Hamid Karzai – the US secretary of state, John Kerry, asked Pakistan's army commander, General Ashfaq Kayani, to demonstrate his stated support for peace talks by putting pressure on the Pakistan-based Taliban to make the declaration.
David Cameron made the same appeal to Kayani at Chequers in February, hoping to build on the general's public statements that Pakistan saw the continuing insurgency not as a hedge against Indian influence, but as a direct threat to its own national interests.
But the Pakistani delegation told British officials that Islamabad's influence over the Taliban was far from absolute. The government is said to fear an outcome in which the Taliban fragments, with moderate elements returning to Afghanistan and extremists staying behind in Pakistan.
The Taliban sent representatives to Doha last year with the aim of pursuing talks with the US, but the peace process stalled over a failure to agree terms for the release of five Afghan insurgent commanders held at Guantánamo Bay.
President Barack Obama's restated commitment this week to close the prison camp has revived hopes that releases could be back on the table, but it is far from clear whether the Taliban would accept conditions it rejected last year, including the pledge that the prisoners released would stay in Doha, under Qatari supervision.
Michael Semple, a former EU envoy in Afghanistan with long experience of dialogue with the Taliban, said: "The consequence of Taliban grandstanding has been to leave their comrades in Guantánamo for another year. Ultimately, Taliban supporters will have to make a decision whether they are ready to engage in a political track or not."
Full report at:
http://www.guardian.co.uk/world/2013/may/02/taliban-al-qaida-qatar-office
------------
Bangladesh war crime court indicts British Muslim leader
May 03, 2013
DHAKA: Bangladesh's war crimes court Thursday indicted a Bangladesh-born British Muslim leader and aUScitizen for their alleged role in the murder of top intellectuals during the 1971 war.
Chowdhury Mueen-Uddin has held positions in a host of top Islamic organisations in his adopted homeland and was involved in the setting up of the Muslim Council of Britain.
The London-based former journalist, who denies any wrongdoing, was a newspaper reporter in the South Asian country. He is accused of being a leading member of the notorious Al-Badr militia and of the fundamentalist Jamaat-e-Islami political party. "The court has taken into cognisance the charges of war crimes against Chowdhury Mueen-Uddin and issued a warrant to arrest him," International Crimes Tribunal registrar Nasiruddin Mahmud told AFP.
Mueen-Uddin would face the death penalty if extradited and convicted.
State prosecutor Syed Haider Ali told AFP that Mueen-Uddin "has been indicted for crimes against humanity and genocide". "The charges include the killing of the country's top intellectuals during the 1971 war," he added.
Another prosecutor, Ziad Al Malum, told AFP Mueen-Uddin faces a total of 16 charges, which include accusations of kidnapping and torture and the murder of 18 top university teachers, journalists and writers.
Malum said he is alleged to have been party to the murder of Sirajuddin Hossain, the executive editor of what was then the country's largest Bengali daily Ittefaq; of top playwright andDhakaUniversityprofessor Muneer Chowdhury; and of popular novelist Shahidullah Kaiser.
The head of the tribunal's investigation agency Abdul Hannan told AFP Mueen-Uddin had fled the country after the war.
Full report at:
http://www.nation.com.pk/pakistan-news-newspaper-daily-english-online/international/03-May-2013/bd-war-crime-court-indicts-british-muslim-leader
------------
Bangladesh factories reopen to meet Western clients' demands
3 May 2013
DHAKA: Bangladesh's garment firms re-opened and rushed to complete delayed orders for their Western clients yesterday after an eight-day shutdown caused by the deaths of at least 433 people in a building collapse.
Millions of staff returned to production lines around the capital Dhaka that make clothing for retailers such as Walmart and H&M, which have come under huge pressure to review their contracts in the accident-prone
country.
"All factories have opened today and the workers have returned to work," said Shahidullah Azim, vice president of the Bangladesh Garments Manufacturers and Exporters Association.
"We don't have any reports of protests or violence," he told AFP.
Workers walked out en masse the day the eight-story Rana Plaza compound collapsed in the town of Savar outside Dhaka, the latest in a string of deadly disasters to hit the $ 20 billion
industry.
There has been a series of attacks on factories over the last week, and anger at the conditions of garment workers — many of whom earn less than $ 40 a month — was the main focus of May Day rallies on Wednesday.
Some three million people are employed in the country's 4,500 textile plants, which are a mainstay of the impoverished nation's economy. The shutdown is estimated to have cost the industry about $ 25 million a day, according to Azim.
Full report at:
http://www.arabnews.com/news/450238
------------
Afghan interpreters in legal bid for UK settlement
By Caroline Wyatt
Lawyers for three Afghan interpreters who worked for British forces are starting legal action to try to win them the right to settle in the UK.
They have issued a High Court claim for a judicial review of the government's decision not to treat them in the same way as interpreters in Iraq.
The Iraqis were given the right to resettle in the UK after the war.
Prime Minister David Cameron says officials are drawing up "generous" options for the Afghan interpreters.
Many of the 500 or so interpreters employed by the Ministry of Defence in Afghanistan say they have received serious threats to their lives, while some have already fled to the UK to claim asylum.
Several have told the BBC of their worries about what will happen once British troops leave.
On Wednesday, Mr Cameron told the BBC that he had asked officials to draw up an offer to encourage the interpreters to stay at home and rebuild their country.
This is despite Deputy Prime Minister Nick Clegg having argued that the UK should help the Afghan interpreters to move and be offered asylum if necessary.
In hiding
From the very start of the campaign in Helmand, interpreters have played an essential role in a rural areas where few speak English, not only to translate the language, but also to bridge the cultural divide.
Often, it is Afghan interpreters who realise first that a patrol is in danger, and almost all say that they have faced specific threats from the Taliban - and even, in some cases, from Afghan police or officials, some of whom regard them as "spies" for foreign forces.
Mohammed worked as an interpreter for British forces in Helmand from 2006 until he was injured by a Taliban bomb.
"I was receiving intimidation threats, by phone and in person, and it came to a point where I had to make a decision and flee my country," he said.
"It was not an easy thing, to leave my family behind," he said.
Mohammed admits that he still fears for his family, some of whom he says are now living in hiding in Afghanistan.
In June 2011, Mohammed fled to the UK to claim asylum.
After a legal battle highlighted in the Times newspaper, he was allowed to stay.
Immense bravery
He is now one of the three Afghan interpreters named in the legal action being brought by solicitors Leigh Day.
Full report at:
http://www.bbc.co.uk/news/uk-22393458
------------
Bangladesh building collapse death toll passes 500
3 May 2013
he death toll from the collapse of an eight-storey factory building near the Bangladeshi capital, Dhaka, has passed 500, officials say.
More bodies were pulled from the rubble of the Rana Plaza building in Savar overnight, bringing the total to 501, the army said.
The building contained five clothing factories and scores of workers are still unaccounted for.
Nine people, including the building's owner, have been arrested.
Excluding the terror attacks on the World Trade Center in New York, the deadliest industrial structural failure in modern times was the Sampoong department store collapse in Seoul, South Korea, in 1995, that cost the lives of 502 people.
Late on Thursday, Bangladeshi police arrested another engineer in connection with the disaster.
Full report at:
http://www.bbc.co.uk/news/world-asia-22394094
------------
EU considers trade action to improve Bangladesh labour standards
3 May 2013
The EU is considering trade action against Bangladesh, which has preferential access to EU markets for its garments, to pressure the country to improve safety standards after a building collapse killed more than 400 factory workers.
The death toll from the collapse last week of the illegally built Rana Plaza near Dhaka rose to 411 on Wednesday, and about 40 unidentified victims were buried. There were about 3,000 people inside the complex, which was built on a swamp, when it collapsed. About 2,500 people were rescued, many injured.
Duty-free access offered by western countries and low wages have helped turn Bangladesh's garment exports into a €14.4bn (£12.2bn) a year industry, with 60% of clothing going to Europe.
In Brussels, the EU reacted by urging stronger health and safety standards in overseas factories supplying European textile companies. "The EU calls upon the Bangladeshi authorities to act immediately to ensure that factories across the country comply with international labour standards," EU foreign policy chief Catherine Ashton and trade commissioner Karel de Gucht said.
"The EU is considering appropriate action, including through the generalised system of preferences, through which Bangladesh receives duty-free and quota-free access to the EU market," Ashton and De Gucht said. "The sheer scale of this disaster and the alleged criminality around the building's construction is finally becoming clear to the world."
Any action by the EU on Bangladesh's duty-free and quota-free access would require the agreement of all member states and could take more than a year to implement.
'Turning up the diplomatic heat'
Full report at:
http://www.guardian.co.uk/global-development/2013/may/03/eu-action-bangladesh-labour-standards
------------
India
India-Pakistan panel lays down guidelines for prisoners
May 3, 2013
NEW DELHI: Consular access should be granted within three months and prisoners repatriated within a month of their sentences being completed, an India-Pakistan judicial panel that visited three jails in Pakistan has recommended.
The panel, which met with Indian prisoners lodged in Pakistan, comprised Justice (Retd) A S Gill and Justice (Retd.) M A Khan from India and Justice (Retd.) Abdul Qadir Chaudhry, Justice (Retd.) Nasir Aslam Zahid and Justice (Retd.) Mian Muhammad Ajmal from Pakistan.
The team visited the District Jail Malir in Karachi, the Adiyala Jail in Rawalpindi and the Kot Lakhpat Jail in Lahore between April 26-May 1, 2013.
The panel, which concluded its visit just a day before Indian death row prisoner Sarabjit Singh died in Lahore after being attacked in Kot Lakhpat, recommended that the Consular Access Agreement of May 2008 between the two countries "be implemented in letter and spirit and consular access be provided within three months of the arrest".
Complete details of the charges and a copy of court's judgment of the sentence must be shared in each case, said a statement.
"The prisoners must be repatriated within one month of confirmation of national status and completion of sentences."
According to the panel, there were 29 Indian prisoners who had completed their sentence more than a month ago in the Karachi jail. It recommended that they be released and repatriated before May 17, 2013.
The panel found "there were 459 fishermen and 10 such civil prisoners in the three jails for whom consular access was not provided. The committee recommended providing consular access to all such prisoners and fishermen before May 17, and the Pakistani side agreed for the same".
The team suggested that consular access be provided to all prisoners/fishermen who are believed to be Indian in Pakistani jails and vice versa at least four times a year -- in the first week of February, first week of May, first week of August, and first week of November.
It said several names "had been dropped from the successive lists of prisoners, believed to be Indian, which were shared by Pakistan side twice every year".
It recommended that Pakistan "provide a formal verification to Indian side and vice versa if any names were left out from the previous list of prisoners, so that each side could follow up on each case...".
Full report at:
http://timesofindia.indiatimes.com/india/India-Pakistan-panel-lays-down-guidelines-for-prisoners/articleshow/19864678.cms
----------
Pak takes up with India issue of attack on its national in Jammu jail
May 3, 2013
NEW DELHI: Pakistan on Friday raised with India the incident in which one of its nationals lodged in a Jammu jail was attacked and sought immediate consular access to him.
"Pakistan high commission has shown serious concern. It has taken up with ministry of external affairs the attack on Pakistani prisoner Sanaullah in Kot Bhalwal Jail in Jammu," the press attache in the high commission here said.
He said apart from seeking immediate consular access, the high commission has also asked for detailed information about the incident and medical facilities for the victim and security of other Pakistani inmates.
It was not immediately known whether the attack on the 52-year-old convict with a sharp weapon was a backlash against the death of Indian prisoner Sarabjit Singh in a hospital in Pakistan yesterday after being comatose for nearly a week following a brutal assault by fellow inmates in a high-security Lahore jail, officials said.
Official sources said the Kot Balwal jail superintendent Rajni Sehgal has been suspended by the Jammu and Kashmir government which also ordered a probe.
The sources said Sanaullah, a resident of Pakistan, was admitted in Government Medical College hospital in an unconscious condition with serious injuries on his head after being hit by a fellow inmate this morning.
A case of assault was registered against Vinod Kumar, an ex-serviceman who is also serving a life term in the jail in the outskirts of Jammu. Kumar hails from Uttrakhand.
The sources said the health condition of Sanaullah was stated to be very critical as he was hit with a very sharp weapon. He may be shifted to Chandigarh's PGI for treatment as his Glasgow Coma Scale (GCS) was pretty low. GCS is a scale for measuring level of consciousness, especially after a head injury, in which scoring is determined by three factors: amount of eye opening, verbal responsiveness, and motor responsiveness.
Full report at:
http://timesofindia.indiatimes.com/india/Pak-takes-up-with-India-issue-of-attack-on-its-national-in-Jammu-jail/articleshow/19859264.cms
----------
Pakistan prosecutor handling Mumbai attack case shot dead
May 03, 2013
A senior prosecutor handling the 26/11 Mumbai attack case and Benazir Bhutto assassination case was shot and killed by unidentified gunmen in the Pakistani capital on Friday, police said.
Gunmen riding a motorcycle fired at the car of Federal Investigation Agency prosecutor
Chaudhry Zulfizar Ali in the busy commercial area of Karachi Company at 7.30am.
Ali, who was driving, was hit by several bullets and lost control of the car. The vehicle hit a woman crossing the road and she too died later in hospital.
His bodyguard, Frontier Corps trooper Farman Ali, was injured in the attack.
Ali was heading for an anti-terrorism court in the garrison city of Rawalpindi for a hearing of the Bhutto assassination case when he was attacked, his son Nisar told the media.
The prosecutor and his bodyguard were taken to the state-run Pakistan Institute of Medical Sciences.
Some doctors said Ali was killed instantly as several bullets had hit him in the face.
The gunmen escaped after the brazen shooting.
No group claimed responsibility for the attack.
Full report at:
http://www.hindustantimes.com/world-news/Pakistan/Pakistan-prosecutor-handling-Mumbai-attack-case-shot-dead/Article1-1054096.aspx
------------
Ishrat case: Court orders Gujarat IPS officer's arrest
May 3, 2013
AHMEDABAD: The CBI has finally obtained an arrest warrant against additional director general of police P P Pandey in the Ishrat Jahan fake encounter case.
The CBI had unsuccessfully petitioned the court last month for the arrest warrant. It then filed a review petition before the Sessions court. Special CBI judge Geeta Gopi on Thursday allowed the CBI plea and directed additional chief judicial magistrate H S Khutwad to issue the arrest warrant against Pandey who heads CID (crime). The court noticed that the magisterial court's order was "illegal and incorrect".
Full report at:
http://timesofindia.indiatimes.com/india/Ishrat-case-Court-orders-Gujarat-IPS-officers-arrest/articleshow/19849337.cms
------------
Gujarat Muslims make a beeline for the Haj
Mahesh Trivedi
3 May 2013
AHMEDABAD - As many as 40,984 Muslims in Gujarat applied for this year's Haj pilgrimage despite the state having a quota of only 4,813 seats.
The 36,171 excess applications were the highest among the Indian states, reflecting the prosperity of the minority community in the communally sensitive state what with the expenses for an adult's Haj pilgrimage coming to Rs 200,000.
Luckily, the Haj Committee of India was left with 17,261 surplus seats from the states which could not get a desired number of applications with the result that Gujarat was given 836 more seats. After filling the 119,000 available seats allotted by the Ministry of External Affairs, the panel had 179,000 extra applications.
According to a Gujarat Haj Committee official, Muslims from Bihar and West Bengal could not even exhaust the seats allotted to them for Haj pilgrimage.
"The surplus seats were transferred to other states like Gujarat", he told Khaleej Times.
The committee distributes seats to the state panels in proportion to the Muslim population according to the 2001 census. Uttar Pradesh had a maximum quota of 32,214 seats. For this, 35,082 applications were received, an excess of 2,868 applications.
West Bengal had the second highest quota of 17,430 seats but received only 10,111 applications. In Bihar, which had 11,817 seats, the third highest in the country, only 6,533 applications were received. In Assam, only 2,765 applications were received against 7,245 seats.
Full report at:
http://www.khaleejtimes.com/kt-article-display-1.asp?xfile=/data/international/2013/May/international_May86.xml&section=international']
------------
Pak prisoner attacked in Jammu jail, condition serious
May 3, 2013
A Pakistani prisoner Sanaullah, serving a life term, was attacked inside the high-security Kot Balwal jail here by a fellow inmate this morning and his condition is stated to be serious, official sources said.
It was not immediately known whether the attack on the 52-year-old convict with a sharp weapon was a backlash against the death of Indian prisoner Sarabjit Singh in a hospital in Pakistan yesterday, officials said.
Official sources said the Kot Balwal jail superintendent Rajni Sehgal has been suspended by the Jammu and Kashmir government, which also ordered a probe.
The sources said Sanaullah, a resident of Pakistan, was admitted in Government Medical College hospital in an unconscious condition with serious injuries on his head after being hit by a fellow inmate in the morning.
A case of assault was registered against Vinod Kumar, an ex-serviceman who is also serving a life term in the jail in the outskirts of Jammu. Kumar hails from Uttrakhand.
The sources said the health condition of Sanaullah was stated to be very critical as he was hit with a very sharp weapon. He may be shifted to Chandigarh's PGI for treatment as his Glasgow Coma Scale(GCS) was pretty low.
Full report at:
http://www.business-standard.com/article/pti-stories/pak-prisoner-attacked-in-jammu-jail-condition-serious-113050300215_1.html
------------
Sarabjit returns in a coffin, PM calls him a 'brave son of India
May 03 2013
Amidst grief and widespread outrage across the country, a special aircraft sent by New Delhi brought back the body of Sarabjit Singh from Pakistan on Thursday evening.
Two Indian diplomats accompanied the body, which was received at Amritsar airport by Minister of State for External Affairs Preneet Kaur and Punjab Deputy Chief Minister Sukhbir Singh Badal.
After an autopsy in Amritsar, Sarabjit will be cremated with full state honours in his village Bhikhiwind on Friday. Prime Minister Manmohan Singh called him a "brave son of India who bore his tribulations with valiant fortitude" and said it was "particularly regrettable" that Pakistan did not heed pleas to take a humanitarian view of his case.
"May his soul be granted the peace that he could not enjoy in life," Singh said.
Sarabjit, who was assaulted in Lahore's Kot Lakhpat jail by fellow inmates on April 26, died at 1.30 am India time on Thursday after a "cardiac arrest", according to doctors at Lahore's Jinnah Hospital. The death row prisoner was reported to be in a "non-reversible coma" and close to "brain death" on Wednesday.
The PM announced an ex-gratia of Rs 25 lakh for the family. Punjab announced financial assistance of Rs 1 crore and declared state mourning for three days. The state government has already announced government jobs for Sarabjit's daughters Swapandeep Kaur and Poonam.
Full report at:
http://www.indianexpress.com/news/sarabjit-returns-in-a-coffin-pm-calls-him-a-brave-son-of-india/1110928/
------------
Pakistani prisoner attacked in Jammu jail, condition serious'
May 3, 2013
JAMMU: A Pakistani prisoner Sanaullah serving a life term was attacked inside the high-security Kot Balwal jail by a fellow inmate this morning and his condition is stated to be serious, official sources said.
It was not immediately known whether the attack on the 52-year-old convict with a sharp weapon was a backlash against the death of Indian prisoner Sarabjit Singh in a hospital in Pakistan yesterday after being comatose for nearly a week following a brutal assault by fellow inmates in a high-security Lahore jail, officials said.
Official sources said the Kot Balwal jail superintendent Rajni Sehgal has been suspended by the Jammu and Kashmir government which also ordered a probe.
The sources said Sanaullah, a resident of Pakistan, was admitted in Government Medical College hospital in an unconscious condition with serious injuries on his head after being hit by a fellow inmate in the morning.
A case of assault was registered against Vinod Kumar, an ex-serviceman who is also serving a life term in the jail in the outskirts of Jammu. Kumar hails from Uttrakhand.
Meanwhile, Pak high commission in Delhi expressed serious concern over the attack on a Pakistani prisoner in the high security Kot Bhalwal jail in Jammu and sought immediate consular access to him.
The sources said the health condition of Sanaullah was stated to be very critical as he was hit with a very sharp weapon. He may be shifted to Chandigarh's PGI for treatment as his Glasgow Coma Scale (GCS) was pretty low. GCS is a scale for measuring level of consciousness, especially after a head injury, in which scoring is determined by three factors: amount of eye opening, verbal responsiveness, and motor responsiveness.
Full report at:
http://timesofindia.indiatimes.com/india/Pakistani-prisoner-attacked-in-Jammu-jail-condition-serious/articleshow/19856153.cms
------------
Judge's transfer to delay proceedings on Zakia Jafri's plea
May 3, 2013
AHMEDABAD: Court proceedings on ZakiaJafri's complaint - against chief minister NarendraModi and others with regard to the 2002 riots - will be delayed, as the metropolitan magistrate hearing the case, B J Ganatra, has been transferred to an Anand court.
Ganatra is one of over 100 officers of the lower judiciary transferred across the state.
The special investigation team (SIT) had already started arguments against Zakia's protest petition. The magistrate's transfer will stall proceedings for a while now. The further course will now be decided on May 15, which has been listed by the court for formal proceedings.
The name of the metropolitan magistrate to preside over Court No. 11 has not been finalized Full report at:
http://timesofindia.indiatimes.com/india/2002-riots-Judges-transfer-to-delay-proceedings-on-Zakia-Jafris-plea/articleshow/19849474.cms
------------
Indian Speaker greets Shirin Sharmin
MAY 03, 2013
Indian Lok Sabha Speaker Meira Kumar has congratulated the new Speaker of Bangladesh Jatiya Sangsad Shirin Sharmin Chaudhury.
"Your appointment to this august office reflects the spirit of empowerment of women in your beautiful country and epitomizes your ethics, values and ideals in supporting causes for the people of Bangladesh, in general, and upholding the rights of women and children, in particular," she said in a message.
Full report at:
http://www.thedailystar.net/beta2/news/indian-speaker-greets-shirin-sharmin/
------------
Kashmir Separatist leader Yasin Malik denied permission to hold fast in Delhi
May 03, 2013
New Delhi: Kashmiri separatist leader Yasin Malik reached Srinagar on Friday after he flown by Delhi Police, which took him into preventive custody after denying permission for his protest to press for his demands, including handing over the body of Parliament attack convict Afzal Guru. The Jammu Kashmir Liberation Front (JKLF) leader was to begin his 48-hour-long hunger strike on Friday but police had denied permission for the protest at Jantar Mantar.
As a preventive measure, Malik was taken into custody on Thursday night. "He was flown to Srinagar in a SpiceJet flight," sources said. Malik was apparently to go ahead with his 48-hour protest from today till Sunday.
Full report at:
http://ibnlive.in.com/news/yasin-malik-denied-permission-to-hold-fast-in-delhi-flown-to-srinagar/389332-37-64.html
------------
Five of Indian origin family die in Malaysia car crash
May 2, 2013
SINGAPORE: Five members of an Indian origin family were killed and one was seriously injured when the car they were travelling in rammed into the iron pillar of a signpost on the North-South Expressway in the Malaysian state of Johor.
Those killed have been identified as P. Pavai, 65, her daughters, R Selvarani, 46, and R Greetha, 42, and two grandsons, G Vikneswaran, 19, and A Akash, 7, media reported Thursday.
They were on their way from Skudai to Kulaijaya in Johor state Wednesday when the accident happened.
Fire and rescue department personnel took more than 30 minutes to extricate the bodies from the accident site at Km 17.9 of the highway.
The injured, G Vinitha, 16, has been admitted to the intensive care unit of the Johor Specialist Hospital.
Full report at:
http://timesofindia.indiatimes.com/nri/other-news/Five-of-Indian-origin-family-die-in-Malaysia-car-crash/articleshow/19843236.cms
------------
Pakistan
Hundreds in Pakistan pay tribute to Osama bin Laden
2 May 2013
Hundreds of Islamists rallied in Pakistan's southwestern city of Quetta Thursday to pay tribute to al-Qaeda chief Osama bin Laden on the second anniversary of his death.
Organised by a pro-Taliban faction of Jamiat Ulema-e-Islam (JUI), headed by Maulvi Ismatullah, some 450 participants at the rally chanted: "Long live Islamic jehad and long live Mulla Omar!" an AFP reporter at the scene said.
Many of them were also carrying portraits of bin Laden.
The JUI's central secretary for information, Maulana Abdul Sattar Chisti, paid tributes to bin Laden.
"We are observing death anniversary of an Islamic hero, who was killed by American and Pakistani agents," he said.
Full report at:
http://english.ahram.org.eg/NewsContent/2/9/70596/World/International/Hundreds-in-Pakistan-pay-tribute-to-Osama-bin-Lade.aspx
------------
PAK POLICE ARREST MUSH OVER KILLING OF BALOCH LEADER
03 May 2013
Pakistani police on Thursday arrested and interrogated beleaguered former President Pervez Musharraf over the killing of Baloch leader Akbar Bugti in a 2006 military operation, one of three high-profile cases that have dogged him since he returned to the country from self-exile.
A team of Balochistan Police arrested the former military ruler and grilled him for nearly four hours at his farmhouse on the outskirts of Islamabad, which was declared a "sub-jail" by authorities.
The five-member police team confirmed to reporters outside the sprawling farmhouse that Musharraf had been arrested over the killing of Bugti.
Musharraf, 69, was the Army Chief when the operation against Bugti was ordered.
Earlier in the day, Judge Chaudhry Habib-ur-Rehman of an anti-terrorism court in Rawalpindi accepted a request from Balochistan Police to include Musharraf in the probe into Bugti's death.
Shortly after the judge issued the order, the police team went to Musharraf's farmhouse to question him.
Musharraf is facing charges over the death of Bugti.
A court in Balochistan had issued a warrant for his arrest in 2011.
Since his return to Pakistan in March, Musharraf has also been arrested for detaining more than 60 judges during the 2007 emergency and over the assassination of former premier Benazir Bhutto.
Full report at:
http://www.dailypioneer.com/world/pak-police-arrest-mush-over-killing-of-baloch-leader.html
------------
Another 'missing' Baloch activist turns up dead
MAY 03, 2013
KARACHI: Another 'missing person' from Balochistan was found dead in a Surjani Town locality of the city near Manghopir on Thursday, bringing the number of people who had been missing and were found dead over the past two months in Karachi to over a dozen.
The latest incident has raised apprehensions among the rights groups about the situation in Balochistan.
The police said that they had received information about the presence of a body on the Northern Bypass near Manghopir in the morning.
The man was identified as Naseebullah Baloch, son of Haji Ibrahim, resident of Dashti Bazaar in Turbat.
Duty officer of the Surjani Town police station Khan Mohammed told Dawn that the body was identified from a chit found in his pocket, which perhaps his alleged killers had placed.
A post-mortem examination conducted at the Abbasi Shaheed Hospital showed that he had been hanged to death.
The Turbat police and the father of the victim, Ibrahim, told the Surjani Town police that Naseebullah had been missing from Turbat since April 28.
The police quoting the father said that his son with "three to four other persons" was taken away by unidentified men from Turbat at night.
The police said that over the past few months "over half a dozen people had gone missing" in Balochistan and were found dead in deserted areas of Surjani, linked with the border area of the province.
However, Abdul Qadeer Baloch of the Voice for Baloch Missing Persons said bodies of around "13 missing Baloch activists" had been found in Karachi from March to May 2 (Thursday).
He claimed that "intelligence agencies" took away Baloch activists and dumped their bodies in Karachi in their vain hope that they would not be blamed and such killings would be attributed to ongoing targeted killings in the metropolis.
Abdul Qadeer Baloch — whose son Jalil Reki was also a victim of enforced disappearance and was later killed — said that for the past 10 years such enforced disappearances and killings continued unabated in Balochistan.
Full report at:
http://dawn.com/2013/05/03/another-missing-baloch-activist-turns-up-dead/
------------
Pakistan protests against 'unprovoked' Afghan fire
May 03, 2013
ISLAMABAD: Pakistan summoned the most senior Afghan diplomat in the country on Thursday to protest against cross-border fire, which officials say wounded two Pakistani soldiers and killed an Afghan guard.
It was the latest clash to underline strained ties between the fractious neighbours, which have worsened in repeated months despite Western efforts to get them to work more closely on peace efforts in Afghanistan. The two nations accused each other of starting the firing on the border, which is a crucial battleground in the fight against Taliban militants who operate in both countries. The Afghan charge d'affaires was summoned to the Foreign Ministry to protest against "unprovoked firing", Islamabad said in a statement.
"This is not the first time that the heavy fire was initiated from the Afghan side, causing heavy injury and damage to the Pakistani structures," the Foreign Ministry said, adding that such incidents were creating "avoidable tension". An Afghan official who declined to be named said in Kabul that one Afghan police guard was killed in several hours of artillery exchanges. "Afghan border police posts came under fire at around 9:00 pm (1630 GMT) last night. Our border police returned fire," Interior Ministry spokesman Sediq Sediqqi told AFP.
Full report at:
http://www.dailytimes.com.pk/default.asp?page=2013\05\03\story_3-5-2013_pg7_3
------------
PTI govt to withdraw troops from Fata, Balochistan: Hashmi
May 03, 2013
Unveiling future strategy of Pakistan Tehrik-e-Insaf (PTI), party President Makhdoom Javed Hashmi Thursday said that PTI, if voted to power, would withdraw security forces from Federally Administered Tribal Areas (Fata) and Balochistan.
"We will recall troops currently operating in Fata. We will restore peace there by engaging the groups in table talks," Hashmi, candidate for NA-48, expressed these views while addressing public meetings at various places in the federal capital. He vowed that PTI government would address the prevailing deprivation and sense of security among the people of Balochistan and FATA and would leave no stone unturned to bring them into the mainstream.
Hashmi said that his party would take U-turn from ongoing war on terror that, according to him, caused a great damage to the country. "The corruption, loot and plunder of the previous federal and provincial governments are no more secret to the people of this country, therefore they will not vote those political parties and leaders into power in the coming elections rather such parties will face a punching defeat at the hands of the PTI," he added.
Hashmi claimed that May 11 would change the fate and destiny of the countrymen when the people from all walks of life would come out from their houses to vote for PTI, by throwing away the corrupt and tested political parties which are responsible for bringing the country on the verge of bankruptcy. "The PTI is the only political force having a clear programme and agenda and a team of visionary experts who can guide the country towards progress and prosperity by breaking the begging bowel," he maintained.
Full report at:
http://www.nation.com.pk/pakistan-news-newspaper-daily-english-online/islamabad/03-May-2013/pti-govt-to-withdraw-troops-from-fata-balochistan-hashmi
------------
Imran vows to bring plunderers to book
Mansoor Malik
MAY 03, 2013
LAHORE: Pakistan Tehreek-i-Insaf chief Imran Khan said on Thursday that after coming to power his party would bring "big plunderers" to book.
He said poor people were sent to jails for committing minor thefts but big plunderers held important posts and became members of the national and provincial assemblies.
Addressing public meetings in Lahore, Pasrur, Zafarwal and Shakargarh, the PTI chief said the PML-N had failed on all fronts but was now claiming that it had vast experience of running the government. "May God save Pakistan from the experience of the N-League."
Mr Khan said he felt pity for the "Lion" (PML-N's election symbol) because it was heading to a humiliating battering on May 11. "God himself has taken suo motu on Pakistan as its people have suffered a lot and has given them an opportunity to change their destiny on May 11."
He said the N-League had brought all top turncoats and corrupt politicians into its fold, including those involved in the ephedrine quota scandal.
Full report at:
http://dawn.com/2013/05/03/imran-vows-to-bring-plunderers-to-book/
------------
Balochistan teachrs agree to perform election duty
MAY 03, 2013
At the talks, Munir Ahmed Badani, secretary secondary education, led the government side and teachers' delegation was headed by GTA chief Noor Mohammad Jhattak.In a statement, GTA general secretary Mohammad Qasim said the government had accepted demands of the teachers' organisation. The government would provide full protection to the teachers performing duties at polling stations on May 11. Besides, teachers would be provided pick and drop facility to and from polling stations by the security forces.
Full report at:
http://dawn.com/2013/05/03/balochistan-teachers-agree-to-perform-election-duty/
------------
Benazir's murder case prosecutor shot dead in Islamabad
MAY 03, 2013
ISLAMABAD: Two unknown assailants on motorcycle killed The Federal Investigation Agency's (FIA) special prosecutor in the Benazir Bhutto murder case Chaudhry Zulfiqar Ali on Friday, DawnNews reported.
According to the police, unknown gunmen opened fire on Zulfiqar Ali's car in Islamabad's G-9 area leaving him severely injured. He was taken to the hospital where he succumbed to his injuries.
Moreover, the firing incident also killed a woman and injured Chaudhry Zulfiqar's guard Rehman Ali. The guard was reported as saying that the attacker's only intended target was Zulfiqar Ali who had been receiving threats since a while.
Later, his dead body was shifted to Pakistan Institute of Medical Sciences (PIMS) hospital in Islamabad.
Full report at:
http://dawn.com/2013/05/03/gunmen-kill-fias-special-prosecutor/
------------
Musharraf shows distrust on Justice Khawaja
May 03, 2013
By Hasnaat Malik
ISLAMABAD: Expressing mistrust of Justice Jawwad S Khawaja, former military ruler Gen (r) Pervez Musharraf on Thursday requested him to recuse himself from a three-judge bench of the Supreme Court which is hearing six identical petitions against him for subverting and holding the constitution in abeyance,
"My client apprehends elements of bias from the bench as long as it is headed by Justice Khawaja who has already spoken his mind about March 9 and November 3, 2007 incidents against Musharraf," said Advocate Malik Qamar Afzal who was representing Musharraf. He argued that a larger bench should hear the petitions. The lawyer informed the three-member bench of the apex court, headed by Justice Jawwad S Khawaja, that being a judge of the Lahore High Court Justice Khawaja resigned on March 19, 2007 after being disturbed over unseating of the chief justice of Pakistan.
Full report at:
http://www.dailytimes.com.pk/default.asp?page=2013\05\03\story_3-5-2013_pg7_11
------------
FIA prosecutor Chaudhry Zulfiqar gunned down
May 03, 2013
ISLAMABAD: Chaudhary Zulfiqar, prosecutor of Federal Investigation Agency (FIA) in Benazir Bhutto murder case, was shot dead by unidentified armed men here on Friday morning, Geo News reported.
State prosecutor Chaudhry Zulfiqar was shot multiple times by gunmen as he was driving to the next hearing in the murder case of the former prime minister, who was assassinated more than five years ago.
His bodyguard was also wounded in the attack and a woman killed when Zulfiqar lost control of his vehicle, police said.
"Chaudhry Zulfiqar was driving his car. He lost control and the car crushed a woman passer-by," Yousuf told.
"Zulfiqar was rushed to hospital where he succumbed to his injuries."
Police said the gunmen fled on a motorbike.
Full report at:
http://www.thenews.com.pk/article-99383-FIA-prosecutor-Chaudhry-Zulfiqar-shot-dead-in-Islamabad
------------
War on terror is our own war: Caretaker Interior Minister
May 03, 2013
ISLAMABAD: Caretaker Interior Minister Malik Habib has said that war on terror is our own war and the whole nation is united against it, Geo News reported.
In a policy statement during Senate session here Thursday, the minister said it is our own war and we have to fight against this menace.
Full report at:
http://www.thenews.com.pk/article-99369-Nation-united-against-war-on-terror:-Malik-Habib
------------
Altaf, Ashraf discuss prevailing situation
May 03, 2013
KARACHI: Muttahda Qaumi Movement (MQM) chief Altaf Hussain and former prime minister Raja Pavez Ashraf made a telephonic contact on Thursday evening and discussed prevailing political situation in the country, Geo News reported.
Altaf Hussain said attempts were being made keep liberal and pro-democratic parties out of election process through terrorist attacks, however, they would not surrender before terrorists.
Full report at:
http://www.thenews.com.pk/article-99368-Altaf,-Raja-Ashraf-make-telephonic-contact
------------
Osama bin Laden report yet to be made public
May 03, 2013
ISLAMABAD - Presented four months ago to the outgoing premier, a probe report drafted by a judicial commission into the events surrounding the killing of al Qaeda head Osama bin Laden in a US Navy SEALs swoop on May 2, 2011 in the garrison town of Abbottabad has not been released for public review yet.
It appears as if the findings of the five-member commission led by justice (retired) Javed Iqbal are still being kept from the public over certain reasons, as neither the outgoing PPP government nor the caretaker dispensation could make it public.
Although former prime minister Raja Pervaiz Ashraf did appreciate the detailed report of the commission that was constituted on June 21, 2011, he stepped short of giving a clear schedule for its release for a public review.
The raid on bin Laden's compound in Abbottabad, was stealthily launched from Afghanistan, and it was code-named Operation Neptune Spear.
After the raid, US forces took bin Laden's body to Afghanistan for identification, and then buried it at the sea within 24 hours of his death. Bin Laden death was confirmed by al Qaeda later on May 6.
To dispel doubts about the objectivity of the investigation process, retired judge Javed Iqbal had been put in charge of the inquiry commission.
The commission reportedly recorded statements of the heads of military and civil intelligence agencies, the Military Operations director general, Pakistan ambassador to Washington, present and former foreign ministers, secretaries and family members of Osama bin Laden.
Source said the commission had to wait a couple of months for the statements of (the then) former Prime Minister Yousuf Raza Gilani. Later, it dropped the idea of taking the statements of (new premier) Raja Pervaiz Ashraf in order to avoid further delays.
The probe commission however faced lots of problems and difficulties in detailing and compiling its report. Talking to this newspaper the head of the probe team, Javed Iqbal sharing the one of the reason of the delay had said one the member Abbas Khan was not in country and his signature was mandatory so it was delayed.
"We have officially communicated to the Law Ministry to finish the membership of Abbas Khan from Abbottabad inquiry commission because he is not available to sign the report which is mandatory," he had shared. Abbas Khan (former Punjab Police chief), was having treatment in the US and not available to sign the final draft of the report, "he added.
Full report at:
http://www.nation.com.pk/pakistan-news-newspaper-daily-english-online/national/03-May-2013/obl-report-yet-to-be-made-public
------------
1.3m children missed polio drops during last campaign
3 May 2013
PESHAWAR: Health experts on Thursday blamed the delicate law and order situation in Khyber Pakhtunkhwa and adjoining tribal areas for poor vaccination and said 1.385 million children missing polio drops in the two regions during the last immunisation campaign for lawlessness.
Of these children, more than 763,000 were from the province and around 622,000 from Fata, according to Pakistan Paediatric Association, Khyber Pakhtunkhwa member Dr Mohammad Tufail.
Dr Tufail told reporters at Peshawar Press Club that doctors were concerned about delay in vaccination campaigns in parts of Fata and demanded adequate steps for protection of vaccinators.
He said around 265,000 children under five missed vaccination in North and South Waziristan agencies during the last polio campaign.
The PPA member said Expanded Programme on Immunisation had carried out a weeklong vaccination campaign against seven fatal diseases, including tuberculosis, poliomyelitis, diphtheria, pertussis, measles, tetanus, hepatitis B, hemophilia influenza B and pneumococcal.
"Around 90 per cent missing children will be contacted for vaccination to help them fight fatal diseases," he said.
He, however, said during the campaign, only 30 per cent children were given vaccines against diseases and that there was a need for creation of public awareness of vaccination.
"We are fighting polio and will continue doing so until the crippling virus is eliminated from the country," he said.
Dr Tufail said parents were not cooperating with vaccinators and therefore, around 33,360 children missed vaccination in Khyber Pakhtunkhwa and Fata.
Full report at:
http://dawn.com/2013/05/03/1-3m-children-missed-polio-drops-during-last-campaign-2/
------------
North America
Boston bombers planned attack on American Independence Day - See more at: http://www.indianexpress.com/news/boston-bombers-planned-attack-on-american-independence-day/1111008/#sthash.FB3KZoSy.dpuf
May 03 2013
Chechen-born Boston bombers had planned to carry out a suicide attack on American Independence Day on July 4, but they decided to prepone the D-day as their home-made pressure cooker bombs were ready earlier than expected.
The crucial information was provided by the lone surviving suspect Dzhokhar Tsarnaev, 19, in his interrogation to the federal investigators, US media reports said today.
Dzhokhar, who was arrested from a Boston neighborhood on April 18, has been charged with using a weapon of mass destruction. If convicted he faces life imprisonment.
His elder brother Tamerlan Tsarnaev, 29, was shot dead by police on April 18, three days after the Boston Marathon blasts that killed three people and wounded over 200 others.
Tsarnaev and Dzhokhar initially planned to carry out a suicide-bomb attack on July 4, a US law enforcement official was quoted as saying by the CNN. The unnamed official said Dzhokhar told investigators their bombs were ready earlier than they expected and they decided to move up the date.
Full report at:
http://www.indianexpress.com/news/boston-bombers-planned-attack-on-american-independence-day/1111008/
------------
US has 'no current plans' to take Cuba off terror list
May 03, 2013
The United States does not foresee taking Cuba off its blacklist of countries accused of supporting terrorism, which also includes Syria, Iran and Sudan, an official has said. "There are no changes in our list of state sponsors of terrorism," State Department spokesman Patrick Ventrell said in an email. "The Department has no current plans to remove Cuba from the state sponsors of terrorism list."
The State Department had been expected to publish its annual report on terrorism, which includes the blacklist, on Tuesday. It could be released later this month. "We do not use the report to announce new designations or rescissions," Ventrell said. These can happen at any time.
Full report at:
http://www.nation.com.pk/pakistan-news-newspaper-daily-english-online/international/03-May-2013/us-has-no-current-plans-to-take-cuba-off-terror-list
------------
Europe
British jailed for 10 years for selling fake bomb detectors
3 May 2013
A British businessman was on Thursday sentenced to 10 years in jail for selling fake bomb detectors to the Iraqi government and other countries, by a judge who told him he had blood on his hands.
James McCormick made an estimated £50 million ($76 million, 59 million euros) from selling the devices, which prosecutors said were based on a novelty golf ball finder and did not work.
Last week, a jury at the Old Bailey court in London found the 57-year-old guilty of three counts of fraud.
Passing sentence at England's central criminal court on Thursday, judge Richard Hone said McCormick had perpetrated a "callous confidence trick" that likely cost lives -- an estimation shared by former British military officials in Iraq.
"I am wholly satisfied that your fraudulent conduct in selling so many useless devices for simply enormous profit promoted a false sense of security and in all probability materially contributed to causing death and injury to innocent individuals," Hone said.
He said McCormick had shown a "cavalier disregard of the potentially fatal consequences" of his actions.
"What you perpetrated was a callous confidence trick," the judge told the businessman.
"The device was useless, the profit outrageous and your culpability as a fraudster has to be placed in the highest category.
"Your profits were obscene. You have neither insight, shame or any sense of remorse."
The Advanced Selection Equipment devices were marketed to governments and security organizations in glossy brochures which claimed they could find explosives, drugs, ivory and even people.
McCormick, from Somerset in southwest England, is believed to have made around £37 million from sales to Iraq alone, where he sold 6,000 detectors.
The businessman told the court he had also sold detectors to the Egyptian army, Kenyan police, Hong Kong's prison service and Thai border control.
Other customers included Georgia, Niger, Belgium and United Nations peacekeepers in Lebanon.
McCormick said one of his devices had been used to check a hotel in Romania before the visit of a U.S. president in the 1990s, and insisted: "I never had any negative results from customers."
Full report at:
http://english.alarabiya.net/en/News/world/2013/05/03/British-jailed-for-10-years-for-selling-fake-bomb-detectors-.html
------------
London conference awaits 'vision to take Somalia forward'
Mark Tran
3 May 2013
On Tuesday next week, the UK hosts yet another big conference on Somalia, bringing together officials from 50 countries and organisations, including the UN, African Union and International Monetary Fund.
The most significant difference from last year's London event is that instead of a tottering and discredited transitional regime, Somalia now has a fully fledged government, led by Hassan Sheikh Mohamud. Elected last September, the 57-year-old professor and activist is the first leader chosen inside Somalia since the 1991 overthrow of president Siad Barre, which sowed the seeds for the country's descent into chaos.
Next week's gathering can be seen as a concerted attempt to bolster the Somali government's legitimacy as it seeks to rebuild the country after more than two decades of conflict. The conference will be co-chaired by Mohamud and David Cameron, the UK prime minister, and its main aim is to signal international support for Somalia as the new government sets out its vision. But in a setback to the UK, Somaliland, which broke away from Somalia in 1991, refused British entreaties to attend on the grounds that it would not have been treated as equal to the Somali government. Somali officials, however, are upbeat.
"We hope the international partners will support Somalia's implementation of its plans and priorities," Nuradin Dirie, a presidential adviser, speaking from Mogadishu, the Somali capital, says. "We will be presenting plans for rebuilding the military, the police, the justice and public financial management systems. It is a vision of a political process to take Somalia forward."
There may be some announcements of financial commitments, but those are expected to come at an EU-hosted conference in Brussels in September. Somalia will be very much on the international agenda this year. It will feature in meetings of the G8 group of industrialised countries, and the Tokyo international conference on African development, culminating in the Brussels meeting on the new deal for fragile states.
The new deal – strongly backed by countries recovering from conflict such as Timor Leste and Liberia – seeks to put poor countries in the driving seat on development strategy rather than donors. At its core are five peace- and state-building goals: legitimate and inclusive politics; security; justice; economic foundations (jobs); and revenues and services. The thinking is that unless aid focuses on peace, money will go to waste. Somalia has enthusiastically embraced the approach and now wants donors to back its plans.
Britain – which has pledged to spend £80m this year and next on aid – is on board. It has voiced support for the new deal, which seeks to align donor funds with the priorities of the recipient country, and has emerged as a strong cheerleader for the new Somali government. Last week, Britain reopened its embassy in Mogadishu, the first EU country to do so since Barre's overthrow. Turkey is committing diplomatic and financial resources.
Somalia needs all the international support it can get. Although security has improved since al-Shabaab militants were driven out of Mogadishu by Amisom peacekeepers, the group continues to kill.
Ban Ki-moon, the UN secretary general, this week expressed concern that the Islamist insurgents seem to be targeting Somalia's legal system, after the Somali deputy state attorney, Ahmed Malim Sheikh Nur, was killed by gunmen as he was leaving a mosque after Friday prayers. The threat posed by al-Shabaab explains the urgency behind the government's efforts to build a credible military and police to deal with hardcore elements who remain implacably opposed to reconciliation.
Full report at:
http://www.guardian.co.uk/global-development/2013/may/03/london-conference-vision-somalia-forward
------------
Mideast
Israel: Any peace deal to be subject to referendum
3 May 2013
JERUSALEM: Israel's prime minister said yesterday that any peace deal reached with the Palestinians on his watch would be subject to a national referendum, backing a contentious step that could hinder peace efforts.
Negotiations between Israel and the Palestinians have been frozen for more than four years, but the referendum issue re-emerged this week when two of Netanyahu's main coalition partners reportedly signaled support for the proposal.
The discussion comes as US Secretary of State John Kerry attempts to re-energize peace talks. This week, after some prodding by Kerry, Arab leaders sweetened a decade-old comprehensive peace plan in a gesture aimed at helping restart talks.
"If we get to a peace agreement with the Palestinians, I'd like to bring it to a referendum," Netanyahu said at the start of a meeting with the visiting Swiss Foreign Minister Didier Burkhalter.
Full report at:
http://www.arabnews.com/news/450230
------------
Kenya: 2 Iranian Plotters Convicted
May 2, 2013
Two Iranian citizens, whom officials accused of planning to attack Western targets inside Kenya, were found guilty on Thursday by a Kenyan court of terrorism-related charges. Officials in Kenya say the two suspects may have been planning attacks on Israeli, American, British or Saudi Arabian interests in Kenya. The two Iranians, Ahmad Abolfathi Mohammad and Sayed Mansour Mousavi, were arrested in June 2012 and led officials to a 33-pound stash of explosives.
Full report at:
http://www.nytimes.com/2013/05/03/world/africa/kenya-2-iranian-plotters-convicted.html?ref=africa
------------
URL: https://www.newageislam.com/islamic-world-news/new-age-islam-news-bureau/radical-rallies-in-jakarta-call-for-deadly-jihad-in-myanmar/d/11408