New Age Islam News Bureau
23 Jun 2018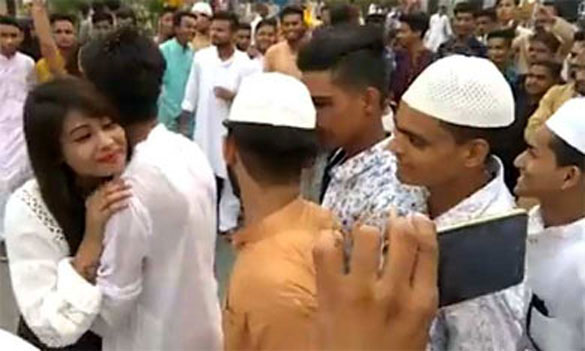 Hugging someone of opposite gender: Hugging someone of opposite gender forbidden in Islam: UP imam | Bareilly News - Times of India
-----
• Quebec Charter of Values a Factor in Radicalizing Foreign Fighters: Study
• Hugging Someone Of Opposite Gender Forbidden In Islam: UP Imam
• Rajasthan: Shrine Shared By Hindus, Muslims Boosts Harmony
• Pakistani Leaders Look to Implement Erdoğan's Model of Progress
• Indonesia Court Sentences Hardline Muslim Cleric to Death for Role in Terror Attacks
North America
• Quebec Charter of Values a Factor in Radicalizing Foreign Fighters: Study
• Canadian Government Welcomes Back Islamic State Jihadists
• New York truck attack suspect defends Islamic State in court appearance
• Pompeo: 'Criminal' Iranian regime suppressing its people, supporting terror
• Top GOPers ask Trump admin. to put Iran back on FATF blacklist
--------
India
• Hugging Someone Of Opposite Gender Forbidden In Islam: UP Imam
• Rajasthan: Shrine Shared By Hindus, Muslims Boosts Harmony
• LeT Launches Online Magazine, Says 2018 Will Be Tough For Security Forces
• ISJK chief Dawood among four militants killed in Kashmir, cop and civilian also dead
• After Gunning Down Islamic State J&K Chief, These Are The 20 Top Militants on Army's Radar
• 21 top terrorists on 'hit list' of security forces in Valley
• Adhere to human rights norms in National Register of Citizens: UN to Sushma
• Hizb militants join stone-pelters to attack security forces in Tral
• 'Dealing with terrorists who refuse to surrender is not muscular, but rule of law'
--------
Pakistan
• Pakistani Leaders Look to Implement Erdoğan's Model of Progress
• Senate Body Mulls Help Of Fatwa to Curb Power Theft
• Pervez Musharraf Resigns as All Pakistan Muslim League Chief
• Over 300 Sikh pilgrims visiting Lahore for Ranjit Singh's anniversary: Pakistan High Commission
• Bilawal has more stakes abroad than in Pakistan
• IHC directs ISI to remove blockades from road
• Fake Facebook post posing as Dawn.com attempts to mislead public
• Fresh blood likely to give hard time to MMA's Fazl in polls
• Christians unhappy as 'affluent' Hindus get major share in reserved seats
--------
Southeast Asia
• Indonesia Court Sentences Hardline Muslim Cleric to Death for Role in Terror Attacks
• Indonesian Police Clear Controversial Cleric in Sex Case
• SE Asian countries use fight against hoaxes to silence critics: Report
• Masjid India business owners want hawker stalls and petty traders removed
• 'Fake news is a signal of the end of times': PAS
--------
Europe
• Few Islamic State Group Fighters Return But Home-Grown Attacks Rise, Europol Says
• US, Allies Use Fake Evidence To Blame Chemical Attacks On Syria Govt.: Russia
• Prince William on first official royal visit to Occupied Territories and Israel
• UN chief says upsurge in Syria violence poses 'risks to regional security'
• UN coordination essential for refugee returns to Syria: Merkel
--------
South Asia
• Islami Andolon Bangladesh: Who Are They And What Do They Stand For?
• Taliban Kidnap 43 Afghans Including Road Construction Workers
• Extensive measures taken against extremism: FM
• International Criminal Court Says Myanmar to Respond on Rohingya Case by July 27
• Clash among the Taliban and ISIS militants in Laghman province
• Ghani, Pence speak over phone on ceasefire and Afghan peace efforts
--------
Arab World
• Iraqi Troops not withdrawing from Syrian Border after Alleged Israeli Attack
• Syrian Army Dispatches More Troops to Military Airport in Sweida
• Army troops dismantle Israeli spying devices in southern Lebanon
• Blame game: Who bombed Iraqi fighters in Syria?
• Syrian Army Shelled Heavily Terrorists' Positions in Northeastern Dara'a
• US Coalition Bombs Damascus Army Troops in Southern Syria
• US Sets up New Military Base near Syria's Manbij
• Lebanon's Hariri signals new government near
• Merkel in Beirut: Syria must be more secure before refugees return
• Syrian army drops barrel bombs in southwest assault
--------
Mideast
• Turkey Determined To Drain Terrorist PKK Swamp in Qandil Mountains
• Israeli Army to Demolish Over 50 Palestinian Homes In West Bank
• Ex-child soldier presents damning testimony of Houthi recruitment in Yemen
• Turkish air strikes kill 15 Kurdish militants in northern Iraq
• Coalition: Senior Houthi leader captured, Yemen civilians' safety top priority
• Yemen's Houthi Militia Detains Sanaa University Professors
• Nuclear deal in 'intensive care unit': Iranian official
• Americans act as spokesmen for Israeli occupation, seek to normalize apartheid: PLO
• Israeli forces fire tear gas at Gazans, wound over 200
• Army soldiers, allies kill Saudi troopers, mercenaries in western Yemen: Report
• Yemeni forces make further progress against Houthi militias in Saada province
--------
Africa
• Boko Haram: Buhari promises to rebuild devastated communities
• Tunisia arrests suspected smuggler behind deadly shipwreck
• Libya's National Army seizes control of oil ports, hopes for quick restart
Compiled by New Age Islam News Bureau
URL: https://www.newageislam.com/islamic-world-news/quebec-charter-values-factor-radicalizing/d/115624
--------
Quebec Charter of Values a Factor In Radicalizing Foreign Fighters: Study
June 22, 2018
Five months after Shayma Senouci left Quebec to join Islamic State fighters (ISIS) in Syria, she wrote a long email to her friends back home. She told them that she felt she didn't belong in the West and that she had an obligation to emigrate to a Muslim country.
"I left because I felt imprisoned in this country, I felt dirty and deadly, an accomplice for the killings and the humiliations of Muslims worldwide," the young woman wrote.
Senouci also shared that the debate surrounding the Quebec government's proposed Charter of Values, which sought to ban public sector employees from wearing religious symbols such as the hijab, solidified her feelings of being marginalized and being unwelcome in her own society.
And she wasn't the only one.
According to a four-year study of foreign fighters who travelled to Syria and Iraq to fight with various jihadist groups since Syria's slide into civil war following the Arab Spring in 2011, Senouci's story is far from unique. The young woman experienced similar identity struggles, ideological aspirations, and susceptibility to outside influence as the 29 other foreign fighters interviewed for the study.
The study was conducted by the Institute for Strategic Dialogue and led by Canadians Amarnath Amarasingam, a senior research fellow at the institute, and Lorne Dawson, a professor at the University of Waterloo. The researchers compiled data collected from open-ended interviews with 30 men and women who travelled abroad to fight. They also conducted interviews with 43 of their parents, siblings and friends.
Of the 30 interview subjects featured in the study, 11 are Canadian. Twenty-seven of the foreign fighters were men and three were women. More than half (57 per cent) were born to Muslim families while the other 43 per cent were converts to Islam.
The researchers say their study focused on two key issues - the motivations of thousands of foreign fighters who leave home to fight in Syria and Iraq, as well as the difficulties their families and friends experience as a result - seeking some insight to prevent future radicalizations.
"They [the families] should be seen by the police and authorities as a resource to get through to these people because they're still in communication with them," Dawson told CTVNews.ca on Friday.
Radicalization in Quebec
According to the researchers, approximately 100 men and women have travelled to Syria and Iraq from Canada to fight with jihadist groups. Of the 11 Canadians included in the study, approximately one-third departed from Quebec.
Although the study stops short of providing a clear reason for this occurrence, the authors note that the young Quebec Muslims they interviewed expressed a "deep sense of uneasiness" about belonging in the province.
"They were born and go to school there, but as visible Muslims they do not feel included in the fabric of the province, one that is often openly hostile to their religious identity," the report states.
Along with Senouci's story of radicalization, the report shares the case studies of two other young men who left Quebec for Syria after they felt disillusioned with their society at home.
One of those men, Mohamed Rifaat, 20, became a religious leader among his friends in high school. A friend of his told the researchers that he was a "self-proclaimed imam" whose religious views became more conservative and radical in late 2012 and 2013. It was around this time that Pauline Marois led the Parti Quebecois, the party that introduced the Quebec Charter of Values, to victory in the provincial election.
"Every community led by a female will eventually become unsuccessful," Rifaat wrote on his Facebook page at the time, according to his friend.
Rifaat's Facebook posts eventually became more radicalized, even calling on the death of Syrian President Bashar Al-Assad and his supporters.
Dawson said, although it's not the only contributing factor, the proposed Quebec Charter of Values bill and the debate it sparked made young Muslims question their place in society.
"It wasn't prominent, but it was definitely a contributing factor. I think anyone would be lying if they didn't admit that the social tensions in Quebec created by the Charter caused a certain amount of alienation to Muslim youth in Quebec that exceeded anything else being experienced in the rest of Canada," he said.
Impact on families
Interestingly, the study found that nearly three-quarters (73 per cent) of foreign fighters continued to communicate with their family and friends back home. The report notes that, while many parents initially argued with their children about the decision to leave, they later opted to drop the arguments rather than lose contact altogether.
The researchers point out that this ongoing communication between families and foreign fighters could provide important opportunities to encourage them to return home or at least move to a safer area.
"If the young people start to become disillusioned, the parents will have to play a key role in cajoling them to leave and come back and surrender," Dawson said.
Dawson stressed that the study highlights how difficult it is for parents and families to detect the process of radicalization. He said the majority of the subjects they interviewed were described as "good kids" who did well in school, weren't involved in drugs or other criminal activities, and their families weren't worried about them.
"It supports what we found and other people have found elsewhere that this stereotype of the troubled kid who then radicalizes, probably doesn't hold true in most cases," Dawson said.
The study identifies several common factors that contributed to the radicalization of their interview subjects.
They experience an acute emerging adult identity struggle
They have a moralistic problem-solving mindset
They are conditioned by an inordinate quest for significance (to make a difference in the world)
They believe in a religious ideology and participating in a fantasy (literally) of world change
They are susceptible to the psychological impact of intense small group dynamics and influence of charismatic leaders
They allow a fusion of their personal identity with a new group identity and cause
The report suggests that authorities need to provide more emotional and psychological support to the families of those foreign fighters who have left in order to learn more about these cases.
"The parents need more help," Dawson said. "They need to be not seen as part of the problem, but seen as part of the victims. They need to be given more education and help going into these situations."
The researchers said more public education for families on what they should look out for and what they should do if they suspect someone is becoming radicalized.
"Families are likely to be the first to detect something is happening to their child, yet the parents we interviewed, while being responsible and caring, had little sense of what they could do in the situation," the report states. "A significant opportunity is being missed to detect radicalizing youth sooner."
https://www.ctvnews.ca/world/quebec-charter-of-values-a-factor-in-radicalizing-foreign-fighters-study-1.3984836
--------
Hugging Someone Of Opposite Gender Forbidden In Islam: UP Imam
Nazar Abbas
Jun 23, 2018
MORADABAD: The district imam has pronounced as "illegal and un-Islamic" the act an unidentified girl hugging youths outside a shopping mall in Moradabad on the eve of Eid. A video of the girl hugging youths was widely shared on social networking sites. The girl hugged almost 50 youths who waited in a queue for their turn.
Traditionally, in Muslim society, women and girls are not permitted to hug or make any physical contact with male strangers, regardless of whether it is a festive occasion or not.
Read also: In departure from Eid tradition, girl hugs men at UP mall
After facing flak for her act, the girl who had uploaded the video on YouTube apologized through social media.
The cleric also criticized the youths who hugged the girl and said they too violated Sharia laws.
District imam Maualna Mufti Mohammed Ashrafi told TOI, "I have spoken with the girl and convinced her that hugging the boys is un-Islamic and against the Shariat. She had committed this act in innocence and the same law applies for the boys who committed this un-Islamic Act.
"She is like my daughter and I have told her that under the Islamic law, you can only hug people who are 'mahram' to you (category of people with whom marriage is not permissible for example father, brother etc) and your spouse of course," said Ashrafi.
The youth who hugged the girl should also perform repentance and never repeat it, said Ashrafi.
https://timesofindia.indiatimes.com/city/bareilly/hugging-someone-of-opposite-gender-forbidden-in-islam-dist-imam/articleshow/64703639.cms
--------
Rajasthan: Shrine Shared By Hindus, Muslims Boosts Harmony
Jun 23, 2018
Jaipur: A day before Id-ul-Fitr, an18th-century painting began trending on Twitter. A war of words followed between liberals and Hindu hardliners. In the painting, Krishna and Balram are shown gesturing towards the sky to a group of people. Those on the liberal side, hailed it as a symbol of cultural tolerance and inclusiveness interpreting that Krishna was pointing the Id moon to rozedars, while the Hindu hardliners came up with counter narratives and called it a fake.
That debate notwithstanding, Rajasthan actually boasts of religious shrines, deities and practices shared by Hindus and Muslims, leaving no scope for ambiguity about communal harmony existing between the two communities for centuries.
The best example of Hindu-Muslim syncretism is Ramdevra, 12 km from Pokhran in western Rajasthan. Both Hindus and Muslims throng the shrine in August every year. Hindus call the deity Ramdev Baba and believe he is incarnation of Krishna, while Muslims of the Meghwal community venerate him as Ramsa or Ramapir blessed by Pancha-Pir after being convinced of his miraculous powers.
People of the Meghwal community in border districts of Jaisalmer and Barmer came from Pakistan and keep rozas (fast) during the holy month of Ramzan. They are followers of Rajput saint Pir Pithora, whose shrine is in Multan. He himself was a follower of Baha-ud-Din Zakariya.
If that fails to surprise, consider this: The temple of goddess Durga in Bhopalgarh near Jodhpur has a Muslim priest for centuries.
Jamaludin Khan, the temple's octogenarian head priest, said, "My family has been serving as the head priest in this temple for the past 600 years. I am the 13th generation and for the past 50 years, I am the head priest here. People from all communities come here to offer prayers."
In the east, the shrine of Sayyed Darbar and Sankat Mochan Vir Hanuman Mandir atop Moti Doongri in Jaipur is the epitome of Hindu-Muslim unity. Here, not even a wall separates the two structures. It is hard to believe that these exist in Alwar — a place synonymous with dairy farmer owner Pehlu Khan's lynching by gau rakshaks in April 2017. Devotees enter through the temple gate with folded hands and as they proceed towards the dargah, they cover their heads and bend to kiss the grave.
Offerings at both places come from a common thali and same musical instruments and sound system are used for bhajans as well as qawwalis. The compound has flags in saffron and green furling together, with a 30-metre Tricolour installed in front of the hill.
Who can imagine that celebration of Krishna's birth is held in a sacred place for Muslims? A three-day Janmashtami festival is held at the Dargah of Narhar, near Chirawa, in Jhunjhunu district. "This festival is being held here for the past 300 to 400 years,"dargah secretary Usman Ali Pathan claimed.
In Jhunjhunu, Kayamkhani Muslims use Rajput surnames such as Rathore. The community members consider themselves to be descendants of Rajputs.
Similarly, Mehrat, Kathat and Cheeta communities follow mixed identities and customs. They take the pheras during weddings along with the nikaah and also follow Muslim practices.
But, even in this time of communal discord there are rare yet reassuring gestures of India's unique blend of social and communal harmony. Kota, the sangh's oldest lab of Hindutva witnessed the incredible moment when Muslims in Kolida village in Sikar district donated two2 bighas land from their abandoned graveyard to construct a temple of local goddess Surjal Mata two years ago.
http://www.asianage.com/india/all-india/230618/rajasthan-shrine-shared-by-hindus-muslims-boosts-harmony.html
--------
Pakistani leaders look to implement Erdoğan's model of progress
Jun 23, 2018
Major political parties in Pakistan have promised to introduce the policies of Turkish President Recep Tayyip Erdoğan to put the country on the path of progress should they win the forthcoming general elections.
Leaders of major political parties like Pakistan Muslim League (Nawaz) and the five-party religious alliance Muttehida Majlis-e-Amal (MMA) are vowing at public meetings to make the country an economic power by following in the footsteps of Erdoğan if they win the elections slated for July 25.
The PML (N) President Shehbaz Sharif, who has already been nominated as the party's candidate for prime minister, posted a tweet with pictures of him and Erdoğan.
Likewise, Siraj-ul-Haq, the vice president of MMA and chief of Jamat-e-Islami, one of the country's two mainstream conservative parties, has promised to bring about a "change" in the country in line with what Erdoğan has done in Turkey.
"Pakistan and Turkey are two great countries. Turkey has climbed the stairs of progress just because they have a leader like Erdoğan. If Pakistanis elect leaders like him, we can also make progress," Haq, who is also a senator, told an election gathering at his home district Dir, which borders neighboring Afghanistan.
Shehbaz, who is the younger brother of the three-time premier Nawaz Sharif observed that Turkey stands at the cusp of historic transition, which will determine its future and solidify the gains made so far.
"President Erdoğan, who is a revered brother and a dear friend to me, has presided over Turkey's transformation ever since the Justice and Development Party (AK Party) took office in 2003," Shehbaz told Anadolu Agency.
"His dynamic leadership has been instrumental in the massive strides Turkey has made over the years. Its solid progress on the path of economic development, democratization and empowerment of the people is owed to the vision of President Erdoğan and the single-minded focus on its translation into reality," he maintained.
Relations between Turkey and Pakistan, he noted, achieved unprecedented heights during Erdoğan's term in office. "He invested his personal energy and commitment to upgrading the bilateral ties," he added.
"President Erdoğan's slogan of social justice in all walks of life captures the spirit of times and lays the foundation of the people's welfare. I believe that post-June Turkey will be pivotal to shaping the regional and global dynamics," he went on to say.
Commending the Turkey's bold foreign policy, Shehbaz noted that Ankara's perpetual solidarity and support for the oppressed – particularly the people of Kashmir, Palestine and Rohingya – is "exemplary" to other nations.
"I wish President Erdoğan all the best in the June 24 elections and pray for his success," he added.
A prayer day was observed across Pakistan on Friday on the appeal of Mufti-i-Azam (Grand Mufti) Pakistan, Maulana Rafi Usmani and other religious scholars to express solidarity with President Erdoğan and his campaign for the presidential election.
Scholars during Friday sermons at Mosques in Islamabad, Karachi, Lahore, Peshawar, Quetta and other cities particularly praised Erdoğan's pro-refugees policies.
"The way he [Erdoğan] has voiced [for] and practically helped the Syrian and Rohingya refugees, is unmatchable. Not only Muslims, but the entire pro-humanity community commend him for that," Usmani said during a Friday sermon in Karachi.
"The entire world is looking to presidential elections in Turkey. Anti-Islam forces have united against Erdoğan, and he needs our prayers at this stage," he said.
"Erdoğan is a ray of hope for the oppressed people who stand alongside him. His re-election simply means the victory of the oppressed across the world," he added.
https://www.dailysabah.com/diplomacy/2018/06/22/pakistani-leaders-look-to-implement-erdogans-model-of-progress
--------
Indonesia court sentences hardline Muslim cleric to death for role in terror attacks
June 22, 2018
An Indonesian court on Friday sentenced a hardline Muslim cleric to death for his role in a series of terror attacks that were carried out in 2016 and 2017 killing more than a dozen people.
The prosecution had sought the death penalty for Oman Rochman, who they accused of planning a January 2016 attack -- killing four civilians and injuring more than 20 -- near a commercial centre in Jakarta, Efe news reported.
The court also found Rochman guilty of inciting other attacks, including the bombing of a bus station in Jakarta in 2017, in which three policemen and two suicide attackers had died, and in a church on Borneo island in 2016 where a two-year-old had died.
The court said that Rochman indoctrinated people by disseminating propaganda literature online as well as through audio sermons.
Rochman is considered one of the founders of the radical group Jamaah Ansharut Daulah (JAD), formed in 2015 by several radical groups linked to the Islamic State terror group.
In May, JAD members attacked several cities in the country leaving 30 dead and 50 wounded.
Rochman who is already serving sentences for several convictions for terrorist activities was guiding the group's activities from jail, according to the prosecution.
In January 2017, the US Department of State had classified JAD as a global terrorist organisation.
Indonesia, a Muslim-majority country, has been the victim of several terror attacks, including one in 2002 on the tourist island of Bali, which killed 202.
https://www.indiatvnews.com/news/world-indonesia-court-sentences-hardline-muslim-cleric-to-death-for-role-in-terror-attacks-448841
--------
North America
Canadian Government Welcomes Back Islamic State Jihadists
JUNE 20
Around 190 Canadians have left their country to fight for the Islamic State and other Islamic terrorist groups. And they might receive a warm welcome if they get homesick. According to documents obtained by Global News in May, the administration of Prime Minister Justin Trudeau believes these terrorists have a "right to return" to Canada.
A brief prepared for Canadian Public Safety Minister Ralph Goodale reveals that not only does the Trudeau administration believe these terrorists have a "right to return," but the government believes it must facilitate their re-assimilation into Canadian society. The brief asserts that while returnees may have broken laws by participating in international terrorism, they "may now be disillusioned with the cause" and no longer pose a threat to society. The document also maintains that because they may lack evidence to bring charges against defectors, the government must "mitigate the threat through efforts outside the justice system."
Enter the Orwellian-sounding "High Risk Returnee Interdepartmental Task Force."
This multidepartment bureaucratic behemoth partners with the Royal Canadian Mounted Police in an aggressive campaign to "support" and "open up dialogue" with returning terrorists and their families. Approximately 60 terrorists have already returned to Canada, in addition to the 190 still fighting abroad in places like Syria and Iraq.
Trudeau was criticized for his stance on the issue when he recently compared the return of Islamic State operatives to the settlement of Italian families in Montreal after World War ii. It was recently revealed that his government also altered intelligence documents that warned of the chemical weapons threat posed by returning Islamic State members.
Trudeau's administration believes it is important to devote significant time, money and political capital to coddle admittedly "high-risk" jihadists who have declared war on Western values (including liberalism), to compare them to post-war Italian families, to censor intelligence documents, to attract inevitable controversy, and to subject his fellow Canadians to whatever these Islamic extremists might choose to do to them—instead of just allowing the normal procedure of arresting, trying and punishing deadly international terrorists to proceed. This appears to be worth it for Trudeau to gain credibility as a progressive who will stop at almost nothing.
How would you describe 21st-century Canada? How would you describe a government so willing to tolerate, accommodate and welcome the worst, most dangerous and most violent of its residents? And how would you describe a population that elected and tolerates or embraces such a government?
Faint of heart. Canada's current government and its people are faint of heart: uncertain of their own purpose and cause, unwilling to stand up against evil, unable to promote anything but extreme "tolerance."
"Faint of heart" is how the Bible describes the moral condition of modern Canada and other nations that descended from ancient Israel. Leviticus 26 prophesies of the consequences Israel's descendants will face for failing to believe, obey and stand up for what is moral and right: God's law. God specifically warns that if the people indulge in rank immorality, terror will reign over them. God also promises to break the pride of their power. The Canadian nation—having lost its faith, its obedience, its purpose and its power—now finds itself seeking to cajole its enemies into loving it. This method will fail and the body count will rise, until they are fleeing even when no one pursues them (verse 17.)
But Leviticus 26 doesn't end with these prophesied curses, which are now coming to pass in Canada and elsewhere. God also promises that when the modern descendants of Israel accept their punishment and turn to Him in a spirit of humility, belief and obedience, He will respond with enormous blessings. To learn more about Canada's future, both immediate and long-term, read our free book The United States and Britain in Prophecy, by Herbert W. Armstrong.
https://www.thetrumpet.com/17390-canadian-government-welcomes-back-islamic-state-jihadists
--------
New York truck attack suspect defends Islamic State in court appearance
June 22, 2018
The man charged with murdering eight people on a New York City bike path and injuring many more spoke out in court Friday over a prosecutor's objection, invoking "Allah" and defending the Islamic State.
Sayfullo Saipov, 30, raised his hand to speak immediately after U.S. District Judge Vernon S. Broderick set an Oct. 7, 2019 date for the Uzbek immigrant's trial.
Earlier, he had pleaded not guilty through his lawyer to the latest indictment in the Oct. 31 truck attack near the World Trade Center. A prosecutor said the Justice Department will decide by the end of the summer whether to seek the death penalty against Saipov, who lived in Paterson, New Jersey, before the attack.
Speaking through an interpreter for about 10 minutes, Saipov said the decisions of a U.S. court were unimportant to him. He said he cared about "Allah" and the holy war being waged by the Islamic State.
At the prompting of Assistant U.S. Attorney Amanda Houle, Broderick interrupted Saipov to read him his rights, including that anything he said in court could be used against him.
"I understand you, but I'm not worried about that at all," Saipov said.
"So the Islamic State is not fighting for land, like some say, or like some say, for oil. They have one purpose, and they're fighting to impose Sharia (Islamic law) on earth," he said.
After Saipov spoke more, Assistant U.S. Attorney Andrew Beaty interrupted him to object that the judge was letting Saipov make the kind of statement publicly that special restrictions placed on him in prison would otherwise prevent, including discussing "terrorist propaganda."
The judge said he believed Saipov was nearing the end of his remarks and let him finish before warning him that he was unlikely to let him speak out in court again in a similar manner. Saipov, though, would be given a chance to testify if his case proceeds to trial and, if convicted, could speak at sentencing.
Saipov thanked the judge for letting him speak but added at one point: "I don't accept this as my judge."
Prosecutors had been seeking an April 2019 trial date. Houle said the families of the dead and the dozens who were injured deserve a "prompt and firm trial date."
"The victims here are anxious now when that trial is going to be," she said. "The public deserves a speedy trial, and the surviving victims deserve to know when that trial is going to be."
Defense lawyers have said the government should accept a guilty plea and a sentence of life in prison without parole to provide victims' families and the public with closure.
David Patton, a lawyer for Saipov, said he would need extra time to make legal challenges to the charges if death is sought. He also cited the difficulty of gathering information for the defense case overseas and in the United States.
Full report at:
https://globalnews.ca/news/4292764/sayfullo-saipov-us-court-islamic-state/
--------
Pompeo: 'Criminal' Iranian regime suppressing its people, supporting terror
22 June 2018
US Secretary of State Mike Pompeo on Friday attacked the Iranian regime, describing it as "criminal" who does not respect the people's rights.
In a series of tweets, Secretary Pompeo criticized the regime financial support for terrorist groups while the Iranian citizens are living in poverty.
In one of the tweets he pointed to the human rights situation in the Islamic Republic, saying thousands are thrown in jails during last January protests, while more than 30 females were imprisoned for protesting against wearing the hijab.
Full report at:
https://english.alarabiya.net/en/News/world/2018/06/22/Pompeo-Iranian-regime-a-criminal-suppressing-its-people-supporting-terror.html
--------
Top GOPers ask Trump admin. to put Iran back on FATF blacklist
Jun 22, 2018
A group of senior Republican lawmakers in US Congress have asked the administration of President Donald Trump to add Iran back on the Financial Action Task Force (FATF)'s blacklist and reverse one of the key agreements that paved the way for the 2015 nuclear deal between the Islamic Republic and major world powers.
Senator Rob Portman and Representative Ed Royce wrote a letter to Treasury Secretary Steven Mnuchin on Thursday, asking him to raise the issue during the Paris-based anti-money laundry and terror financing organization's upcoming session next week in the French capital.
In making their case, Portman and Royce-- chair of the Senate Permanent Subcommittee on Investigations and chair of the House Foreign Affairs Committee, respectively-- referred to a recent congressional report that claimed then-President Barack Obama tried "to give Iran access to the US financial system" to facilitate the deal, known as the Joint Comprehensive Plan of Action (JCPOA).
"This upcoming FATF session is particularly important following the recent release of the Senate Permanent Subcommittee on Investigations' report exposing new details about the previous administration's efforts to give Iran access to the US financial system, including through consideration of a general license for the 'conversion of two non-USD currencies through the limited use of the USD as an intermediate currency,'" the lawmakers wrote in the letter.
"In the push to save its deeply flawed nuclear deal, the Obama administration unwisely backed a wide range of economic relief for Iran—including through the FATF," the lawmakers further noted. "In June 2016, the administration supported the FATF's decision to suspend 'counter-measures' against Iran for one year, following Tehran's submission of an Action Plan to the FATF to address deficiencies in its anti-money laundering/counter-terrorist financing policies."
Despite Trump's withdrawal from the JCPOA in May and his pledge to punish foreign companies that do business with Iran, the FATF is continuing to lift restrictions on Iran every six months since the implementation of the nuclear deal in January 2016.
In its plenary session in February, however, the anti-money laundering group gave in to US pressure and decided to maintain Iran's status as a high-risk jurisdiction for money laundering.
The two lawmakers said the FATF needed to take further action against Iran because Tehran was providing financial support for Lebanese and Palestinian resistance movements, Hezbollah and Hamas, which are both regarded as terror groups by the US.
According to Portman and Royce, Iran did so by designating these groups as "legitimate popular resistance against colonial domination and foreign occupation."
"It's time to recognize that Iran has failed to take the necessary steps—despite its pledges two years ago—to be removed from the list of FATF's high-risk and non-cooperative jurisdictions," the letter read. "The United States should now utilize its influence within the FATF to reimpose countermeasures against Iran and protect the international financial system."
Iran's parliament has adopted new amendments proposed by the government to the country's Anti-Money Laundering (AML) law as part of efforts to improve connections to the international banking and trade system.
The upcoming FATF session is expected to issue a verdict on international transactions and business relationships involving Iran.
Leader of the Islamic Revolution Ayatollah Seyyed Ali Khamenei said on Wednesday that Iran would not submit to the conventions that undermine the nation's independence.
The Leader touched on global agreements purportedly aimed at fighting terrorism and money laundering, saying the signatories of those conventions have had no role in creating them.
"The global powers prepare these conventions based on their own interests and benefits and then their submissive and compliant allies enact them in their countries," Ayatollah Khamenei told a group of lawmakers in Tehran.
Full report at:
http://www.presstv.com/Detail/2018/06/22/565720/US-Iran-FATF-Portman-Royce-Hezbollah-Hamas
--------
India
Let Launches Online Magazine, Says 2018 Will Be Tough For Security Forces
Jun 23, 2018
Pakistan-based terror outfit Lashkar-e-Taiba (LeT), responsible for the 26/11 Mumbai attacks, has scaled up its propaganda in the Valley by launching its online magazine and stating that the year 2018 will be "tough for Indian army and other occupational forces in Kashmir".
The first issue of LeT's Kashmir-specific online magazine "Wyeth" carried an interview of terror outfit's spokesperson Dr Abdullah Ghaznawi and other propaganda material like a list of attacks in 2017 where its cadres were involved.
In the magazine, the terror outfit says that it was "helping the "common man's struggle" in Kashmir.
To a question on the LeT being a "proxy" of the Pakistan army, Ghaznawi says: "LeT is the common man's struggle. It represents true aspirations of J&K people ."
He goes on to state that "proxy" is an "obsolete" term when it comes to the Pakistan army and states that other countries with "less divine faith" and "high military numbers" use proxies, but the Pakistani army can deal with any issue which comes to them. He adds that Pakistan has "moral and legal" obligation to support the "struggle" in Kashmir, which is an "unfinished" agenda of partition.
On fringe terror groups (a possible reference to group led by former Hizbul commander Zakir Musa which has claimed affiliation with al Qaeda), he says: "We have been distributing literature based on Quran and Hadith to show these groups actually are misled (sic) people and helping the Indian cause."
Reacting to LeT's claims, an army officer deployed in the Valley says: "Dealing with this kind of online propaganda and building a counter-narrative is necessary to bring normalcy in the Valley" .
Arun Chaudhary, a retired IPS officer who served as former Intelligence Bureau special director and dealt with Kashmir issue while in service, says: "LeT has always been tech-savvy outfit. It is trying to rope more local boys into militancy and these prospective recruits are proficient in use of social media. Therefore, an online magazine is best way to reach out to them in the Valley".
https://www.hindustantimes.com/india-news/let-launches-online-magazine-says-2018-will-be-tough-for-security-forces/story-TbXeaW5jh15GYqsRNikjdL.html
--------
ISJK chief Dawood among four militants killed in Kashmir, cop and civilian also dead
22nd June 2018
SRINAGAR: The head of Islamic State Jammu and Kashmir (ISJK) along with three other militants and a policeman and a civilian were killed in a fierce gunfight in south Kashmir's Anantnag district of Jammu and Kashmir on Friday. Director General of Police (DGP) S P Vaid said security forces laid siege around village Nowshahar Khiram in Srigufwara in Anantnag district early this morning after receiving information that a group of four militants was hiding there.
As the army, police and CRPF men laid siege around the area and were conducting house to house searches, they came under fire from militants hiding in a two-storey house. The security personnel returned the fire, triggering an encounter.
In the ensuing encounter that continued till late afternoon, four militants, house owner Mohammad Yousuf Rather and a policeman Ashiq Hussain were killed. The house owner's wife and three security personnel were also injured in the gunfight and have been hospitalised.
A police official said the deceased militants belonged to ISJK and were involved in att police and security forces. The deceased militants were identified as Dawood Ahmad Sofi of HMT Srinagar, Majid Manzoor Dar of Talangam Pulwama, Aadil Rehman Bhat of Bijbehara, Anantnag and Mohammad Ashraf Itoo of Hatigam Srigufwara Anantnag.
The police official said 33-year-old Dawood was head of the ISJK. "Dawood was a stone pelter and joined militancy few years back. He was initially affiliated with Tehrek-ul-Mujahideen outfit but later he and other members of the outfit aligned with ISIS ideology and renamed the group ISJK," the official said.
He said all four militants killed in today's encounter were influenced by ISIS ideology. "They were involved in attacks on police and rifle snatching. After every attack, they used to claim it on IS website". Sources said NSG commandos also participated in the operation. "It was first participation in any anti-militancy operation in the Valley".
The police official said there is no organised infrastructure of ISIS in the State. He, however, said some have been influenced by the ISIS and pan-Islamic ideology. Besides recovery of arms and ammunition from the encounter site, some incriminating material was also seized, the official said.
The locals of the area took to roads while the encounter was going on and attempted to march towards the encounter site. However, the security personnel resorted to baton charge and fired pellets and bullets to disperse the mob, who pelted stones on them. About a dozen people sustained injuries in the security forces action. Meanwhile, clashes broke out in HMT area in outskirts of Srinagar after news spread that a militant of the area (Dawood) was trapped in the encounter in south Kashmir.
The youth of the area fought pitched battles with police and CRPF men throughout the day. Bodies of the militants were handed over to their family members in the evening by police after completion of medico-legal formalities.
Full report at:
http://www.newindianexpress.com/nation/2018/jun/22/isjk-chief-dawood-among-four-militants-killed-in-kashmir-cop-and-civilian-also-dead-1832014.html
--------
After Gunning Down Islamic State J&K Chief, These Are The 20 Top Militants on Army's Radar
June 22, 2018
New Delhi: Four militants reportedly affiliated to the Islamic State Jammu and Kashmir (ISJK) and a policeman were killed on Friday during an encounter between the terrorists and security forces in Anantnag district of Jammu and Kashmir.
Among those killed in the encounter was Dawood Sofi, resident of HMT, Srinagar. As per the army, Sofi, an A++ category militant, was the chief of ISJK and had joined militancy in August 2016. With one down, the list of top militants on Army radar has come down to 20. Here are the names and the organizations they work for:
Mohd Ashraf Khan or Ashraf Moulvi: A resident of Kokernag, Anantnag, Ashraf is an A+ category militant and had joined militancy in September 2016.
Altaf Ahmad Dar or Altaf Kachroo: Altaf, an A++ category militant, is a resident of Haoora, Kulgam. He rose through the outfit's ranks and is the divisional commander in South Kashmir. Altaf had joined militancy in 2006.
Mohd Abbas Sheikh: Sheikh, a resident of Kaimuh, Kulgam joined the militant organisation in March 2015. The army lists him as an A+ category miltant.
Umar Majeed Ganai: A resident of Such, Kulgam, Ganai joined in December 2015 and is listed as A++ militant.
Saifullah Mir: Mir is the district commander of the outfit in Pulwama. A resident of Malangpur, Pulwama, he is an A category militant who had joined in 2014.
Zeenat – ul – Islam: A resident of Sugan, Shopian, he is an A++ category militant who joined in 2015.
Riyaz Ahmad Naikoo: A resident of Tokun, Awantipur, Naikoo is the chief commander of the outfit in Kashmir who joined in 2012. He has been listed as an A++ category militant.
Latif Ahmad Dar or Haroon: A resident of Dogirpur, Awantipur, he is an A category militant who joined in October 2014.
Umar Fayaz Lone: A resident of Tral, Awantipur, Lone joined in 2016 and falls under A category.
Manan Wani: He is said to be an AMU research scholar. A resident of Kupwara, he is B category militant who joined militancy earlier this year in January.
Junaid Ashraf Sehrai: The son of Tehreek-e-Hurriyat Chairman Ashraf Sehrai, he is a category B militant who joined in March this year.
Lashkar-E-Taiba
Abu Muslim: He is a resident of Pakistan who operates in Hajan. He is said to have joined in January last year and is an A+ category foreign militant.
Abu Zargam or Mohd Bhai: A resident of Pakistan who, like Abu Muslim, operates in Hajan. A foreign terrorist in the A+ category, he joined in 2015.
Azad Ahmad Malik: Known as Dada, he is a resident of Malikpura, Bijbiara, Anantag and is an A category militant. He is said to have joined in December 2016 and is the outfit's district commander in Anantnag.
Shakoor Ahmad Dar: He is the outfit's district commander in Kulgam. A resident of Tengpora, Kulgam. He is A+ category militant who joined in September 2016.
Mohd Naveed Jad: A resident of Pakistan, he operates in Pulwama. A foreign terrorist in the A+ category, he is said to have joined militancy in 2012.
Riyaz Ahmad Dar: A resident of Sethargun, Pulwama, Dar is an A category militant who joined in July 2015.
Mustaq Ahmad Mir: A resident of Chak Cholan, Shopian, Mir is a category A++ militant who joined in June 2014.
Jaish-E-Mohammed
Zahid Ahmad Wani: A resident of Karimabad, Pulwama, he joined in June 2017.
Mudasir Ahmad Khan: A resident of Midur, Awantipur, he joined in January 2018.
Ansar Ghazwat ul-Hind
Full report at:
https://www.news18.com/news/india/after-gunning-down-islamic-state-jk-chief-these-are-the-20-top-militants-on-armys-radar-1787207.html
--------
21 top terrorists on 'hit list' of security forces in Valley
Jun 23, 2018
NEW DELHI: Twenty-one top terrorists are now on the "hit list" of security forces after Islamic State of Jammu and Kashmir (ISJK) chief Dawood Ahmed Salafi and three of his aides were gunned down + in a shootout at Nowshera village in south Kashmir on Friday.
The bodies of Dawood Ahmad Sofi (known also as Salafi and Burhan), the chief of ISIS in J&K and involved in several terror attacks on policemen, snatching of weapons, stone-pelting cases, and three others were retrieved from the site on Friday.
The encounter, considered as a major success by the security forces, was the first combat operation after the imposition of governor's rule in J&K.
Security establishment sources said major operations were now underway to target 21 "most wanted terrorists" -11 from Hizbul Mujahideen, seven from Lashkar-e-Taiba (LeT), two from Jaish-e-Muhammed (JeM) and one from Ansar Ghazwat ul-Hind (AGH).
"The focus of intelligence-gathering and counter-insurgency operations is mainly on these 21 terrorists, six of whom are placed in the highest category of 'A++' based on the number of people they have killed, their control over areas, their propaganda impact and longevity," said a source.
"If these 21 can be eliminated, matters will considerably cool down and throw the terrorists' ranks into disarray... it takes time for the next set of terror leadership to come up and establish itself. Once a terrorist is categorized as A++, carrying a reward of Rs 12 lakh, his days are generally numbered, the reverse count for his elimination begins," he added.
The six A++ terrorists in the list comprise four from Hizb - Riyaz Ahmad Naikoo (chief operational commander in the Kashmir Valley), Altaf Ahmad Dar (division commander in south Kashmir), Umar Majeed Ganai (a resident of Hawoora, Kulgam) and Zeenat-ul-Islam (Sugan, Shopian). The other two are Mustaq Ahmad Mir (Chak Cholan, Shopian) from LeT and AGH commander Zakir Rashid Bhat (Tral).
Three of the LeT terrorists on the hit list are from Pakistan - Abu Muslim, Abu Zargam and Mohammed Naveed Jad - all of them in the A+ category. While the first two operate in the Hajan area, the third is active in Pulwama.
Full report at:
https://timesofindia.indiatimes.com/india/21-top-terrorists-on-hit-list-of-security-forces-in-valley/articleshow/64704568.cms
--------
Adhere to human rights norms in National Register of Citizens: UN to Sushma
Jun 22, 2018
Prabin Kalita
GUWAHATI: As Centre is set to complete counting the Indian citizens living in Assam by June-end and list their names in the National Register of Citizens (NRC) and exclude illegal settlers from Bangladesh, five UN special rapporteurs have jointly have written to Union minister of external affairs Sushma Swaraj and reminded her of India's obligation to adhere to international human rights norms and standards against racial discrimination.
The rapporteurs on minority issues, contemporary forms of racism, promotion and protection of the right to freedom of opinion and on freedom of religion or belief in their letter stated, "There is no official policy outlining the implications for those who will be excluded from the final NRC. It is reported that they will be treated as foreigners and that their citizenship rights may be revoked in the absence of a prior trial. They may subsequently be asked to prove their citizenship before so-called Foreigners' Tribunals."
They stated that NRC update has generated increased anxiety and concerns among the Bengali Muslim minority in Assam, "who have long been discriminated against due to their perceived status as foreigners, despite possessing the necessary documents to prove their citizenship."
While acknowledging the fact that process of updating the NRC of 1951 is purely aimed at listing Indian citizens, the rapporteurs stated that local authorities in Assam are deemed to be particularly hostile towards Muslims and people of Bengali descent. They alleged that the local authorities "may manipulate the verification system in an attempt to exclude many genuine Indian citizens from the updated NRC."
They said that although the Bengali origin Muslims in Assam descend from peasant workers brought from the former Bengal and East Bengal starting in the 19th century under colonial rule, they have long been portrayed as irregular migrants and as a result, Bengali Muslims have historically been the target of various human rights violations, including forced displacement, arbitrary expulsions and killings.
They, however, stated later in the letter that they do not wish to prejudge the accuracy of these allegations, but at the same time expressed serious concern that members of the Bengali Muslim minority in Assam have experienced discrimination in access to and enjoyment of citizenship status on the basis of their ethnic and religious minority status.
Full report at:
https://timesofindia.indiatimes.com/india/adhere-to-human-rights-norms-in-national-register-of-citizens-un-to-sushma/articleshow/64703738.cms
--------

Hizb militants join stone-pelters to attack security forces in Tral
M Saleem Pandit
Jun 22, 2018
SRINAGAR: Terrorists in the guise of stone-pelters opened fire and hurled a hand grenade on security forces in Tral town on Friday afternoon. Nine security personnel, including four cops, were injured in the attack.
Soon, terror outfit Hizbul Mujahideen claimed responsibility for the attack. According to a local news agency, Hizb's operational spokesperson Burhanuddin said the attack was carried out on the forces "when they were on their way to suppress people".
Police spokesman SP Manoj Panditha said terrorists lobbed a hand grenade and followed it up by firing on security forces when they were busy with law-and-order duties on Tral Road, resulting in injuries to the nine security personnel. He said security forces exercised maximum restraint even after being attacked by the terrorists in order to prevent any civilian casualties.
Full report at:
https://timesofindia.indiatimes.com/india/hizb-militants-join-stone-pelters-to-attack-security-forces-in-tral/articleshow/64703552.cms
--------
'Dealing with terrorists who refuse to surrender is not muscular, but rule of law'
June 23, 2018
Days after pulling out of an alliance with the PDP in Jammu and Kashmir in "larger national interest", the BJP on Friday targeted the opposition Congress and junked the human rights argument from certain quarters against the government's "muscular policy" in Kashmir.
While Union minister Ravi Shankar Prasad targeted the Congress over remarks of party leaders on Kashmir, senior minister Arun Jaitley defended the government's policy in Kashmir, suggesting it was to "save the Human Rights of every Indian – be it a tribal or a Kashmiri" from terrorists.
"It is paramount to protect India's sovereignty and the right to life of its citizens. At times we get caught in the idioms that we create. One such phrase is 'muscular policy in Kashmir'. To deal with a killer is also a law and order issue. It can't wait a political solution… A terrorist who refuses to surrender and refuses a ceasefire offer has to be dealt with as anybody taking law in his own hand. This is not 'muscular'. It is the rule of law," Jaitley said in an article posted on the BJP website declaring that "our policy has to be 'Save the Human Rights of every Indian – be it a tribal or a Kashmiri' from terrorists".
The BJP leader went on to virtually suggest that rights champions cautioning against the muscular policy were the "over-ground face of the underground". "These human right organisations are an over-ground face of the underground. In the system that they believe in, there is no place for life, liberty, equality and free speech. In fact, there is no space for election or Parliamentary democracy," Jaitley said, lamenting that opposition parties like Congress, AAP and TMC were lending support to these groups.
"Even though the Congress Party historically and ideologically would have been opposed to these groups, they have earned a sympathy in Rahul Gandhi's heart. He had no qualms about joining those who raised subversive slogans at JNU and Hyderabad. With this initial success, the others amongst the so called federal front have forgotten the dangers of these groups to India and Indian democracy. The political adventurists in parties like AAP, TMC and the like only look for a political opportunity in these groups," Jaitley said, underlining the violence unleashed by militants in the Kashmir valley.
"For the past three years the terrorists up their activities in the months of April, May and June so that the economic lifeline of the valley suffers in the tourism season. They terrorise courts; they kill editors; they kill innocent citizens and they don't allow any alternate religion to be practised. Who is threatening the human rights of the citizens of Kashmir? It is obvious that it is the terrorists and the Jehadis who have done it," Jaitley wrote, slamming the human rights champions for not speaking out against this.
Jaitley also claimed that Maoists have "started coordinating with the Jehadis and separatists notwithstanding their ideological dissimilarity". "The only thing common between them was violence, overthrow of the constitutional order and secessionism i.e. the breakup of India. Recent evidence suggest that they are trying to rope in some misguided dalit activists into their fold. This became publically apparent after the 'Tukde Tukde' agitation in the Jawaharlal Nehru University and the events which followed in Hyderabad thereafter," Jaitley said.
The BJP also came down heavily on senior Congress leader Ghulam Nabi Azad for his remarks alleging that Army operations kill more civilians than terrorists in Kashmir. Addressing mediapersons at BJP headquarters, Prasad alleged that Azad's observations had been endorsed by organisations like Lashkar-e-Toiba. "These organisations and their patrons in Pakistan would be the happiest to hear such statements of Congress leaders," Prasad said, alleging that senior Congress leaders have gone to the extent of seeking to compromise the courage and respect for the Armed forces due to their pathological hatred of Prime Minister Narendra Modi and the BJP.
Terming Azad's remarks "irresponsible, shameful and regrettable", Prasad slammed him for dubbing the Defence Minister's and Army Chief's visits to meet the family of Aurangzeb a drama. "Is paying homage to an Army jawan who sacrificed his life for the country a drama? Has Congress declined to that low a level?" Prasad said.
Prasad claimed that the number of terrorists killed in Jammu and Kashmir was 72 in 2012, 67 in 2013 (both in UPA rule), 110 in 2014, 108 in 2015, 150 in 2016, 217 in 2017 and 75 till May this year. "This is the story of efforts made during UPA and NDA regimes to fight terrorism in J&K," Prasad said.
Full report at:
https://indianexpress.com/article/india/dealing-with-terrorists-who-refuse-to-surrender-is-not-muscular-but-rule-of-law-5229550/
--------
Pakistan
Senate body mulls help of fatwa to curb power theft
Jun 23, 2018
ISLAMABAD: Agitated over unrelenting power theft across the country, a parliamentary body has come up with a novel idea to get religious decrees (fatwas) issued against the menace so people could stop indulging in such practices.
The out of the blue proposal was mooted by a sub-committee of the Standing Committee on Power with Senator Nauman Wazir Khattak in the chair. The committee said it would be helpful to sensitise the people about power theft through fatwas with a warning of consequences of the crime in the life and the hereafter, according to the report.
During their briefing, the power division officials told the Senate sub-committee members that distribution companies, discos, were suffering line losses worth about 17 per cent due to the electricity theft.
They said the highest losses were incurred by Peshawar Electric Supply Company (PESCO) with 37.4pc, Sukkur Electric Supply Company (SEPCO) with 36.5pc and Hyderabad Electric Supply Company with 30.1pc.
It was also briefed during the meeting that power theft and technical cost the government Rs 56 billion between July 2017 and May 2018.
https://www.pakistantoday.com.pk/2018/06/22/senate-body-mulls-help-of-fatwa-to-curb-power-theft/
--------
Pervez Musharraf Resigns as All Pakistan Muslim League Chief
June 22, 2018
Islamabad, Jun 22: Former Pakistan President General (Retired) Pervez Musharraf has resigned as the chairman of the All Pakistan Muslim League (APML).
Party president Dr. Mohammad Amjad said Musharraf has sent his resignation letter to the Election Commission of Pakistan (ECP).
Dr. Amjad was quoted by the Dawn, as saying that Musharraf had resigned from APML on June 18 in the wake of the Peshawar High Court (PHC) disqualifying him from politics for life.
Musharraf, who has been out of Pakistan since March 2016 and now lives in Dubai, had filed a plea in the Pakistan Supreme Court in 2016 against the 2013 high court verdict.
Speaking to journalists via a video link in Dubai, Musharraf said, "The apex order barring the authorities from arresting me till my appearance before the august court has forced me to rethink my plans about my return. There will be no benefit of my return to the country if I am arrested just after my appearance before the court."
"The entire world knows that I am not a coward, but now, I will wait for an appropriate time to return," he added.
On Tuesday, the ECP rejected Musharraf's nomination papers for NA-1 Chitral seat, as the former president general failed to appear before the Pakistan Supreme Court. The apex court thereafter withdrew Musharraf's conditional approval to file the nomination papers for the July 25 general elections.
Chief Justice of Pakistan Justice Saqib Nisar had directed the former military ruler to return to Pakistan and appear before the court by afternoon on June 14, but he failed to turn up.
The APML's Central Executive Committee has elected Dr. Amjad as the new chief of the party, while Mehreen Malik Adam will serve as the secretary general of APML. Musharraf will continue to be the supreme leader of the party.
Musharraf founded APML in 2010. However, he was barred from contesting in the 2013 general elections due to several cases registered against him.
Full report at:
http://www.india.com/news/world/pervez-musharraf-resigns-as-all-pakistan-muslim-league-chief-3125078/
--------
Over 300 Sikh pilgrims visiting Lahore for Ranjit Singh's anniversary: Pakistan High Commission
Jun 22, 2018
NEW DELHI: Over 300 Sikh pilgrims from India have been granted visas and are visiting Pakistan to observe the death anniversary of Maharaja Ranjit Singh in Lahore, the Pakistan High Commission said here on Friday.
"A special train arranged by the Pakistan Railways carried the pilgrims from Attari to Pakistan on June 21," it said in a statement.
The visas issued by the High Commission are in addition to the ones issued to Sikh pilgrims participating in the event from other countries, it said.
"Within the framework of the Pakistan-India Protocol on Visits to Religious Shrines of 1974, a large number of Sikh yatrees from India visit Pakistan to observe various religious festivals and occasions every year.
"Accordingly, the High Commission of Pakistan in New Delhi has issued visas to over 300 Sikh pilgrims from India to observe the death anniversary of Maharaja Ranjit Singh at Gurdwara Dera Sahib, Lahore, from June 21-30," the High Commission said.
Maharaja Ranjit Singh was a Sikh leader of a kingdom, which ruled the northwest Indian subcontinent in the early half of the 19th century. He died in Lahore on June 27, 1839.
His memorial, designed combining Hindu, Islamic, and Sikh motifs, is located adjacent the Lahore Fort and Badshahi Mosque, as well the Gurdwara Dera Sahib.
Every year pilgrims flock to his memorial to pay respect.
"The issuance of pilgrimage visas is in line with the government of Pakistan's efforts for promoting visit to religious shrines and people-to-people interactions. It also reflects the commitment of the government of Pakistan to faithfully implement the bilateral Protocol on Visits to Religious Shrines," the statement said.
"The government of Pakistan remains committed to preserving sacred religious places and providing all possible facilitation for the visiting pilgrims of all faiths," it added.
Meanwhile, another batch of Sikh pilgrims from India returned from Pakistan after observing the martyrdom day of Guru Arjun Dev Ji from June 8-17, the High Commission said.
Full report at:
https://timesofindia.indiatimes.com/world/pakistan/over-300-sikh-pilgrims-visiting-lahore-for-ranjit-singhs-anniversary-pakistan-high-commission/articleshow/64702083.cms
--------
Bilawal has more stakes abroad than in Pakistan
Iftikhar A. Khan | Kalbe Ali
June 23, 2018
ISLAMABAD: Pakistan Peoples Party chairman Bilawal Bhutto-Zardari has more assets in the United Arab Emirates than in Pakistan and has extended over Rs1.24 billion loan to four companies from the money he inherited from his mother and former prime minister Benazir Bhutto after her assassination.
The total value of his shares in the four companies forms only a small fraction of the amount he has lent to them.
A perusal of his statement of assets submitted with his nomination papers shows that he has lent Rs777.75 million to Tempo Global Growth and has Rs87,513 shares of the company.
Another huge chunk of Rs273.63 million has been provided as loan to Tempo Global Gains — apparently a sister organisation of Tempo Global Growth. Mr Bhutto-Zardari owns 112 shares of Tempo Global Gains.
Likewise, Radiant Investment Services, where his investment in 68 shares has been mentioned as Rs2.77 million, has been given a loan of Rs125.58 million. Another company Royale Properties International has been given a Rs68.55 million loan. He holds 340 shares of the company valuing Rs87,514.
He also lent Rs47.67 million to Victory Enterprises, UK. He owns four company shares worth Rs526.
Besides, he has shares in two villas in Dubai — one of which is situated in Jumairah — but their value has not been mentioned in the statement.
According to his documents, he owns seven watches, 10 sets of jewellery and ornaments, nine sets of cufflinks, and two pet dogs gifted to him by his mother though he has not mentioned cost or value of the items.
Mr Bhutto-Zardari has declared in his nomination papers that he holds a resident visa of the UAE granted to him by the Ministry of Presidential Affairs, the UAE.
His paternal aunt Faryal Talpur and her spouse Mir Munawar Ali Talpur also have UAE Iqama, as she has Rs6.50 million business ventures in Sharjah and Mr Talpur has invested around Rs300,000 in Dubai.
In the documents submitted to the Election Commission of Pakistan, Mrs Talpur declared that her net assets were valued at Rs323.17 million including arms and ammunition worth Rs283,000.
She has a house in F-8 sector of Islamabad and two houses in Karachi. She also owns one plot each in Gwadar, Lahore and Rawalpindi, and more than 320 acres of agricultural land in Tando Allayar, Sanghar, Nawabshah and Mirpurkhas districts.
Mrs Talpur paid Rs3.83 million agricultural income tax in the financial year closing on June 30, 2017.
She has investments in two rice mills, Asif Apartments, Land Mark, Zardari Group and fuel stations with a total worth of Rs32.92 million. She has three vehicles valued at Rs11.61 million, while her cash holding is more than Rs147.30 million.
At the same time, she has given over Rs30.69 loan against her credit including a personal loan of Rs4.50 million obtained in Dubai.
The net worth of Mr Talpur, who is a candidate himself for the national assembly seat from Mirpurkhas, is Rs45.07 million — far less than that of his wife.
The statement of assets also shows that their daughter, Ayesha Talpur, has more cash and properties than her father. She has Rs128.28 million assets while her younger sister, Fatima Talpur, has cash and owns land worth Rs15.63 million.
Mr Talpur has one ancestral house in Kot Ghulam Mohammad and a plot in Lahore besides agricultural land holdings in Mirpurkhas and Hyderabad. He holds arms and ammunitions worth Rs1.24 million. His farm animals are valued at Rs980,000 and he has three vehicles worth Rs24.45 million.
He keeps around Rs2.15 million cash in hand whereas he has Rs1.89 million in his eight bank accounts besides prize bonds worth Rs4 million.
There is no loan or financial liability on Mr Talpur as per his documents.
The net assets of Dr Azra Fazal, who is wife of senior bureaucrat Dr Fazalullah Pechuho and elder sister of PPP chairman Asif Ali Zardari, has reached Rs99.10 million with an increase of Rs9 million in one year.
The documents Dr Azra submitted to the ECP show that she has no stakes outside Pakistan nor does she receive any remittance from abroad. She stated she's MBBS (MCPS), chancellor of SZABIST, an agriculturalist and a politician.
Dr Azra has significant land and residential plots in Karachi and Islamabad as well as cash holdings. She also owns a tractor valued at Rs1.65 million.
She has Rs14.77 millioncash in hand, prize bonds worth Rs8 million and Rs6.48 million in several banks including Rs4,609 in Sindh Bank.
Apart from furniture and other articles of personal use including a generator worth Rs2.18 million she has 40-tola gold jewellery.
Dr Azra has invested Rs3.56 million in apparently family businesses Asif Apartments and Land Mark. She has made Rs23.93 million capital investment in Sujawal Academy.
She has a house in DHA Karachi, an under-construction house in Islamabad, a plot in Gwadar, four-acre industrial plot in Nawabshah, while she has also made payments for two plots in DHA Karachi and one in Islamabad.
She has more than 263-acre agricultural land at seven different areas of Shaheed Benazirabad and Sanghar, giving her an income of Rs8.92 million.
She paid Rs1.30 million agricultural income tax in the fiscal year 2016-17. Her income from other sources was Rs15.70 million in the same year when she paid Rs480,905 income tax.
Dr Pechuho, too, has no interests in any other country. His net worth is Rs28.39 million, including four vehicles worth more than Rs90 million.
He has cash in hand, bank balance and prize bonds valued at around Rs7 million.
Full report at:
https://www.dawn.com/news/1415555/bilawal-has-more-stakes-abroad-than-in-pakistan
--------
IHC directs ISI to remove blockades from road
Malik Asad
June 23, 2018
ISLAMABAD: The Islamabad High Court (IHC) on Friday directed Inter Services Intelligence (ISI) to clear the portion of Khayaban-i-Suharwardy in front of its headquarters in a week.
Hearing a petition against the encroachment on public land, Justice Shaukat Aziz Siddiqui observed that "neither any resolution has been passed by the Capital Development Authority (CDA) Board nor any formal permission accorded" to allow the spy agency to block the main road for security purposes.
Senior Joint Secretary, Ministry of Defence, Mohammad Younus Khan conceded that due to security reasons the road as well as a 40 kanal greenbelt had been blocked.
The spy agency closed the road a few years ago when terrorists were targeting important security installations.
According to the defence ministry official, there were enormous threats to the headquarters of the spy agency.
Therefore, a small portion of Khayaban-i-Suharwardy was closed and traffic diverted to Kashmir Highway as a part of preventive measures.
Justice Siddiqui remarked that there was no reason to block the public passage that too against the master as well as sector plans.
"If some security measures are required to be taken, the intelligence agency may take within its own territorial boundaries and not on the public place belonging to citizens."
Even otherwise it is in the interest of the prestigious institution to remove the encroachment immediately, the court stated, adding the order should be executed "in a week till June 29, 2018, and in case order is executed by the enforcement directorate of CDA, same may infringe the reputation of the institution and bring a bad name to the country".
On March 14, the Supreme Court while taking notice of encroachments around two hotels had directed the CDA to submit a report on its anti-encroachment drives.
Main roads in the capital have been blocked by a number of institutions in the name of security. The Federal Investigation Agency (FIA) has blocked Mauve Area in G-9/4. Residents also face difficulty using one of the pedestrian bridges on 9th Avenue.
Justice Siddiqui also directed the CDA to ensure that other parts of the city that had been encroached by other departments or agencies were cleared.
The court also directed the CDA to ensure that all media houses operating in residential areas moved out and stopped non-conforming use of premises failing which action may be initiated against them in accordance with the CDA law and regulations which include sealing and cancellation of the leases.
The CDA informed the court that contrary to the regulations related to non-conforming use, ARY, Bol and some other television channels were operating in residential units.
The court also directed the Bol TV management to shift its Islamabad bureau from the residential unit to some commercial space.
Counsel for Bol Raja Rizwan Abbasi argued that since shifting of the TV station was a laborious job, reasonable time may be granted to the management.
But Justice Siddiqui observed: "This is well within the knowledge of administration of Bol channel that non-conforming use is not permissible and no media house or studio can be established in the residential area."
The order stated that the judgment passed by the court had already been upheld by the Supreme Court but the administration of TV channels had still failed to comply with it.
CDA legal adviser Kashif Ali Malik informed the court that notices had been served on the management of TV channels in 2015.
Justice Siddiqui ordered that in case the management of TV channels would not shift their operations from the residential areas, the "enforcement directorate of the CDA with the aid of the Islamabad Capital Territory administration and police shall execute the order passed by this court".
Full report at:
https://www.dawn.com/news/1415519/ihc-directs-isi-to-remove-blockades-from-road
--------
Fake Facebook post posing as Dawn.com attempts to mislead public
June 22, 2018
A fake Facebook post screenshot doctored to pose as Dawn.com surfaced on social media on Thursday.
The fake post attempts to mislead the public and stakeholders by suggesting that Afghanistan accepted the Durand Line as an official border. It presented an image of Afghan National Security Adviser Hanif Atmar and Chief of Army Staff Gen Qamar Javed Bajwa and falsely claims this was discussed in a meeting.
The doctored image, which copies elements of Dawn's social media and Facebook layout, led to the Afghan National Security Council (NSC) issuing a press release that mistakenly assumed the post was legitimate.
In order to ensure authorities and the public do not fall prey to such mischievous machinations in future, the following points detail how it can be identified that the Facebook post is fake.
1. Time stamp
A typical Facebook post has a time stamp and a privacy icon below the publisher's name.
The doctored image has "3 Std." written where the time stamp is located, while Facebook's standard format is 34 mins, 2 hrs, and Friday at 7:29pm for minutes, hours and days.
2. Position of the 'like' thumb icon
Facebook places the 'like' thumb icon below posts. In the fake post, the thumb icon is floating at the top right near the menu button. It is also not correctly aligned with the menu button.
3. Stylistical differences with Dawn
The Facebook caption of the fake post introduces General Bajwa as "Pakistan's Chief of Army Staff Gen Qamar Javed Bajwa". A Pakistani publication does not need to tell its readers that General Bajwa is Pakistan's army chief. Dawn, as shown in the lede of this very story, introduces General Bajwa as "Chief of Army Staff Gen Qamar Javed Bajwa". This may be verified in Dawn.com stories.
Dawn's contraction for Chief of Army Staff is COAS, and not CoAS — unlike how it's done in the fake post.
The caption also fails to capitalise the line in Durand Line which is not Dawn style.
The fake post ends with an exclamation mark, which as policy, Dawn does not use in hard news posts.
All of the above can be verified by browsing Dawn.com stories and Facebook page
This is not the first attempt to mislead the public by circulating fake news using Dawn.com platforms.
From January to April, 2017 Dawn.com came under multiple cyber attacks where attempts were made to hack and hijack its official social media accounts and the accounts of its staff. The attempts failed. The statement released at the time reads:
"Hate speech and content that is blasphemous, indecent, prohibited, illegal, or likely to arouse societal discord or disturb tranquility will not be tolerated," the statement said.
Hackers and malicious groups attempt to damage reputations and stir up virulent and negative campaigns to serve their agenda... Dawn had been a target of such online campaigns in the past, too.
Full report at:
https://www.dawn.com/news/1415411/fake-facebook-post-posing-as-dawncom-attempts-to-mislead-public
--------
Fresh blood likely to give hard time to MMA's Fazl in polls
Jun 23, 2018
DI KHAN: Muttahida Majlis-e-Amal (MMA) President and Jamiat Ulema-e-Islam-Fazl (JUI-F) chief Fazlur Rehman will face a tough challenge in Dera Ismail Khan's (DI Khan) NA-38 and NA-39 constituencies against Pakistan Tehreek-e-Insaf's (PTI) young leader Ali Amin Gandapur and Pakistan People's Party (PPP) Faisal Khan Kundi, while former Senator Waqar Ahmed Khan is also in the run.
A major contest for two National Assembly (NA) and five Peshawar Assembly seats from DI Khan is expected during the upcoming general elections among Fazlur Rehman, Faisal Karim Kundi, Ali Amin Gandapur and Waqar Ahmed Khan.
The papers of as many as 120 candidates from various political parties and independents have so far been accepted for NA-38 and NA-39, and five provincial seats from the district, the provincial election commissioner informed.
Born in 1953, Fazl is the son of Mufti Mahmud, the man who won an election against PPP leader Zulfiqar Ali Bhutto in 1970 from DI Khan.
Fazl used his reputation as a religious leader to get himself elected several times to the National Assembly from DI Khan between 1988 to 2018. He remained leader of the opposition in NA from 2004 to 2007. In 2008, Fazl lost the NA seat while contesting on MMA ticket from NA-24 DI Khan.
PPP leader Faisal Karim Kundi, who had served as deputy speaker of National Assembly from 2008 to 2013, was elected to NA in 2008 general polls.
He ran for the seat from NA-24 DI Khan as an independent candidate in 2013 but remained unsuccessful.
PTI's Ali Amin Gandapur, who was a member of the 10th Khyber Pakhtunkhwa Assembly, was contesting for NA seat for the first time in 2018 against strong candidates pitched by PPP and MMA.
Senator Waqar Ahmed Khan was mulling contesting the general elections from NA-38 and 39 DI Khan in the upcoming general elections as an independent candidate.
Full report at:
https://www.pakistantoday.com.pk/2018/06/22/fresh-blood-likely-to-give-hard-time-to-mmas-fazl-in-polls/
--------
Christians unhappy as 'affluent' Hindus get major share in reserved seats
Jun 23, 2018
LAHORE: Christians in Pakistan have expressed serious reservations over the 'surprising' decision of all mainstream political parties to put members of the Hindu community on top priority of their lists for reserved minority seats in the national and provincial legislatures despite the Hindus "being much lesser in number than Christians" in the country.
Expressing dismay over the 'shocking' development, community leaders said not a single Christian was nominated for general elections on any national or provincial assembly seats in Sindh, while three Hindus have been nominated for the provincial assembly. According to a report in a local English newspaper, a similar concern was expressed by 'Dalit' or Scheduled Caste Hindus for being "ignored" by the Pakistan People's Party (PPP) in Sindh despite the fact that the upper caste Hindus hardly make 20 per cent of the total Hindu population.
By June 11, all political parties submitted their priority lists for the reserved seats and the lists for the National Assembly show that priority was given to the upper caste Hindus.
The Pakistan Muslim League-Nawaz has nominated Dr Darshan Lal, Khel Das Kohistani and Isphanyar Bhandra. The Pakistan Tehreek-e-Insaaf (PTI) has nominated Lal Chand Malhi, Shunila Ruth and Dr Ramesh Kumar Venkwani, respectively.
The Grand Democratic Alliance has nominated Naresh Kumar, Oam Parkash Khatri and Rawantee Raj Kumar, respectively, while the Mustafa Kamal-led Pak Sarzameen Party (PSP) has nominated Dr Mohan Manjani, Rakesh Kumar and Suleman.
The PPP has nominated Ramesh Lal, Naveed Amir Jeeva and Imran Afaque Athwal on the first top three positions.
The Muttahida Majlis-e-Amal (MMA) is expected to get one seat. Interestingly, all top three candidates on the MMA priority list are Christians—James Iqbal, Parvaiz Masih and Asiya Nasir, respectively.
On June 19, KP Christians members of the PTI protested against their party's decision to nominate a Hindu on the top priority on a reserved seat despite the fact that Christians are the only sizable minority in the province.
Similarly, Muttahida Majlis-e-Amal (MMA) has also nominated Ranjeet Singh, Fareed Chand Singh and Askar Parvaiz, respectively, for KP.
The PPP's top priority for Punjab is a Hindu despite the fact that Christians are the main religious minority residing in the province.
This is exactly the same situation that pushed the Christians in West Pakistan in 1950's to demand the separate electorate system when Hindus, esp. the upper caste Hindus, were getting higher representation through the joint electorate system.
Last two terms of the National Assembly harboured the same reservations.
The National Assembly (2013-2018) that ended on this May 31 had six upper caste Hindus: Dr Darshan, Dr Ramesh Kumar Vankwani, Bhagwan Das, Ramesh Lal, Sanjay Parwani and Bhagwan Das. There were three Christians: Asiya Nasir, Tariq C Qaiser and Khalil George, and one Parsee Asphanyar Bhandra.
The second last National Assembly (2008-2013) had seven upper caste Hindus: Bhagwan Das, Darshan Lal, Kishan Chand Parwani, Lal Chand Malhi, Mahesh Kumar, Manwer Lal, and Ramesh Lal, one scheduled caste Khatu Mal Jeewan, and two Christians Akram Masih Gill and Nelson Azeem.
Based on sixth population census, the ten National Assembly seats were divided as four for Hindus, four for Christians, one for Parsees, Sikhs and other religious minorities and one was reserved for Ahmedis.
Sindh's former PML-N minority wing leader Nauman Tanveer from Karachi said that advocating equality without equitable distribution of resources means nothing. He said there were many Christians who disagree that their number was lesser than Hindus and they even did not agree with the census results.
Historically, the Jati or upper caste Hindus have been far less in number than Christians and scheduled castes in Pakistan.
Former Hyderabad Press Club president Jai Parkash Moorani said the scheduled castes were introduced by the British and it included two Muslim castes, so they have nothing to do with religion.
"The caste system should be seen as sects and not as different faiths. The Jati Hindus and scheduled castes belong to one religion and their population should be counted as one. In this way, Hindus are the biggest minority in the country."
Many minority members find this system with additional seats without merit. They believe performance, ability, political acumen are not to help make into the priority list but close contact with the party heads and financial strength of the candidate.
Former member of Balochistan Assembly William Jan Barkat told Pakistan Today, "Though Christians were loyal to their parties, the parties prefer the candidates who can finance their electoral campaigns when it comes to elections."
Veteran Christian politician Julius Salak said that in the current electoral system only those minority members were brought to fore who had connections with the party heads.
George Clement was an MP twice when there was separate electorate system in Pakistan. He had served the PTI hoping to be on one of the top three positions but he is on the seventh, which means he is not coming back to the assembly again. But a Hindu candidate, Dr Ramesh Kumar Vankawani, after staying for five years in PML-N's government, joined the PTI in April and got the third slot.
"All top positions were given to financially strong Hindus," he said.
Voice of Minorities Pakistan Chairman Aamir Bashir, based in Multan, said his party has boycotted the elections because the minority representation makes no sense. "We demand that all these seats reserved for minorities be abolished because they are not contributing anything good to the system."
Full report at:
https://www.pakistantoday.com.pk/2018/06/22/christians-unhappy-as-affluent-hindus-get-major-share-in-reserved-seats/
--------
Southeast Asia
Indonesian Police Clear Controversial Cleric in Sex Case
June 23, 2018
By: Ainur Rohmah
The Indonesian police have suspended investigations into two cases involving hardline Islamic group leader Rizieq Shihab, sparking speculation that political pressure was behind the decision. Rizieq announced earlier this week via the Internet from Saudi Arabia that he had been cleared through a letter of investigation termination warrant, known as an SP3 letter issued by the police.
The Islamic Defenders Front, known by its Indonesian acronym FPI, has long been believed to be close to top police figures and in fact is thought to have carried out below-the-radar enforcement activities for them, trashing nightclubs, attacking apostate religious figures and harassing scantily clad women. They have often been criticized as being little more than thugs. Many believe the FPI had grown so powerful that it had gone off the reservation until the fundamentalist cleric was caught up in a sex scandal involving a married woman.
Rizuiq fled for Saudi Arabia last year after a video went viral involving him with Firza Husein, a woman who is married to someone else. The suspension of the case against a powerful religious leader stands in marked contrast to a story in the June 22 Asia Sentinel that described mobs descending on unmarried couples caught cohabiting, stripping them naked, beating them and dousing them with garbage.
Accompanied by his wife and five daughters, Rizieq expressed his gratitude to his organization, his lawyers, and the Indonesian police.
"To the Government of the Republic of Indonesia, especially the Police of the Republic of Indonesia, we express our appreciation, where they have delivered an SP3 letter directly to our lawyers to be delivered directly to me in the holy city of Mecca," Rizieq said in a video uploaded on FPI's Youtube account.
Rizieq's sex scandal got its start in late January 2017, when screenshots of pornographic conversations and photos of the fundamentalist Muslim leader and Firza via WhatsApp spread on the Internet, leading to public questions over the moral standing of the firebrand cleric. The conversation was first disseminated by unknown individuals on a site called baladacintarizieq.com, (translated as "ballad of love rizieq").
A police investigation named the two as suspects. Rizieq ducked interrogations several times, then fled for Mecca under the pretext of wanting to worship and continue his education. He has not returned to Indonesia.
Rizieq has argued that he has been vilified and "criminalized" for being the main figure behind the defeat of Basuki Tjahaja "Ahok" Purnama, an ethnic Chinese Christian, in the 2016 Jakarta gubernatorial election, in which dubious accusations of blasphemy played a major role. Ahok is an ally of President Joko Widodo and his party, the Indonesian Democratic Party of Struggle (PDIP).
Rizieq and the FPI as well as several other Islamic organizations mobilized Muslims to follow the series of demonstrations that brought down Ahok, widely considered Jakarta's most able and honest governor in recent history. The Muslims demanded that the deposed governor be tried on charges of blasphemy against Islam. The biggest demonstration took place on 2 December 2016 – later known as the 212 movement – followed by hundreds of thousands of Muslims in the area around the National Monument. Ahok was ultimately sentenced to two years in prison.
In addition to the sex scandal, Rizieq has repeatedly been the subject of complaints to the police, mostly for harassing other religions and tribes. In mid-2017, Rizieq several times proposed "reconciliation" to the government and PDIP to stop the various cases that ensnared him, to no avail. On April 22, 11 clerics involved in the 212 movement met with Jokowi, as the president is known, in a closed-door meeting at the Bogor Palace, requesting that what they called "criminalization" of some religious figures including Rizieq be stopped.
Photos of the meeting leaked to the public. The government denied the scholars' requests because, it was said, they were not authorized to intervene in the legal process.
Besides the sex scandal, the police killed a second complaint against Rizieq involving an alleged insult to the state's official foundational philosophy, pancasila, and the country's founding president Soekarno in a speech in front of his supporters two years ago. But police said in May that the investigation had been killed because of lack of evidence.
The FPI and the Police
The Jakarta-based Institute for Policy Analysis of Conflict (IPAC) in a report titled "After Ahok: The Islamist Agenda in Indonesia," said that since its founding in August 1998 in the tumultuous months following the collapse of Suharto's 32-year rule, the FPI, led by Rizieq and some 20 like-minded Jakarta Muslim clerics, originally had close links to the security forces, with senior military and police officers in attendance at its founding ceremony.
The group quickly became part of the army-backed civilian militia known as Pam Swakarsa (Voluntary Security Guards), formed to counter pro-reform demonstrators in late 1998. Its early years were focused on raids on entertainment centers in close coordination with the police, from whom it got both logistical and financial support.
"FPI' leaders have called for the restoration of a constitutional clause that would oblige Indonesian Muslims to obey Islamic law, but it is generally more focused on alliances with politicians and members of security forces to achieve short-term goals and material reward," said IPAC in the report, published on April 6, 2018.
The FPI gradually became more independent but still was on call as needed to provide security for demonstrations, trials or police operations. Over time, as Islamist civil society organizations grew in political confidence, the FPI joined various local forums and fronts to mobilize demonstrators to demand government action on everything from removing statues deemed offensive to Islam to banning the Ahmadiyah sect, to closing "unauthorized" churches, to stopping a Lady Gaga concert.
"Until the 212 movement, the police saw FPI as more friend than foe, despite occasional clashes during demonstrations, and its services were particularly valued in the fight against terrorism," IPAC said.
The mass anti-Ahok rallies, however, changed the relationship. FPI was no longer a mere civilian auxiliary paid to keep a crowd in order. Together with its 212 allies, it was now setting the agenda – the arrest and prosecution of Ahok – and forcing the police to comply. That shift set the stage for the police to move against Rizieq.
"FPI leader Habib Rizieq Shihab used the anti-Ahok campaign to catapult himself into a position of unprecedented political prominence and seemed on the verge of becoming an important broker for the 2019 elections. But he also alienated his long-term allies in the police," according to the report.
Speculation of a Political Deal
Speculation has arisen that the decision to cease the prosecution of the cases against Rizieq is politically motivated ahead of presidential election in 2019. Moreover, the policy was taken almost simultaneously with the termination of a religious blasphemy case against Rachmawati Soekarnoputri, Sukarno's daughter, and the sister of PDIP leader Megawati Sukarno. That has sparked conjecture that the police killed the case over Rizieq's sex tapes in exchange for killing Rachmawati's blasphemy charges.
Criminal Law Expert from Trisakti University Abdul Fikar Hajar said he suspects the SP3 was issued to keep the political situation stable. Moreover, Indonesia will hold simultaneous regional elections in 2018 and presidential elections in 2019.
"A case can be stopped for the sake of law, also can be done in the public interest," said Fikar. "Because if a case is tried, it is feared that it would disturb the public interest.
Meanwhile, an Islamic political expert from the Center for Political Studies (Puskapol) University of Indonesia, Hurriyah, said it is possible that the SP3 issued is part of a win-win solution between clerics of 212 movement with the government.
"The cessation of the case is not abrupt, as far earlier, there have been a series of attempts by clerics of 212 movement to lobby the government to stop the case, from the meetings in Bogor Palace and letters sent to the coordinating ministers of politics, law and security (Wiranto), "said Hurriyah.
The termination of the case, she said, can also be seen as the government's efforts to gain sympathy and political support from the conservative groups that are the basis of Rizieq's supporters, given the growing opinion that Jokowi's government policies are unfriendly to certain Islamic groups.
"This perception is certainly expected to be detrimental for political support for Jokowi in the 2019 election," she added.
For Rizieq and his supporters, the decision to drop the case allows the cleric to return to Indonesia without worrying about the legal process, as well as conferring innocence on the cleric.
For Jokowi, the acquittal can improve the image of a government that had been regarded as hostile to Islamic groups, as well as gain sympathy from Rizieq's supporters.
"There is strong possibility that this decision could reduce the critical attitude and even hostility towards the government that has been vociferously voiced by Rizieq," she said.
But National Police spokesman Brigadier Pol Mohammad Iqbal said there was no intervention by police chief Tito Karnavian and the government in stopping the Rizieq case. The order was issued after the police held "a case expose" at the request of Rizieq's lawyer, he said. The investigators, he said, concluded that there was not enough evidence to continue the case because the uploader of the scandalous content has never been named.
"This is all on the authority of the investigator, but the case can be reopened if new evidence is found," Iqbal said this week.
President Jokowi also denied interfering with Rizieq's legal process. "There is no intervention," said Jokowi.
https://www.asiasentinel.com/politics/indonesia-police-clear-rizieq-shihab-sex-case/
--------
SE Asian countries use fight against hoaxes to silence critics: Report
June 22, 2018
Governments in Southeast Asian countries are using the fight against hoax and fake news to curb criticism and control official narratives, a new report by watchdog SAFEnet has said.
The definition of fake news is often tailored to advance a government's interests, the report finds.
Government strategies in dealing with hoax news could undermine harmony and political stability, particularly in multicultural societies such as Indonesia, Singapore and Malaysia.
Others are hunting down "fake news" that criticizes the government or in the case of Thailand, members of the royal family. In Myanmar, the spread of fake news has been blamed for fueling hatred toward the Rohingya.
Written by Southeast Asia Freedom of Expression Network (SAFEnet) volunteers Damar Juniarto and Alvin Nicola, the 10-page report described the situation in Southeast Asia as "unique" as there is "a framework where existing laws already inhibit freedom of expression".
SAFEnet cites that the definition of fake news in Indonesia is "hoaxes against Joko Widodo and the government." Since campaigning for the 2014 presidential election began, President Joko "Jokowi" Widodo has been battling hoax and fake news that accuses him of being a communist, anti-Islam and a puppet of China.
"The police's reasons for arrests mostly relate to anti-Jokowi comments," Damar said on Friday.
Nearing another election in 2019, Jokowi's administration has upped the ante of its antihoax campaign. Earlier this year, the Communications and Information Ministry deployed artificial intelligence to curb hoax and hate speech on social media. Members of two groups have been arrested for spreading hoax and hate speech online, namely Saracen and the Muslim Cyber Army.
In April, Malaysia under then-prime minister Najib Razak passed the Fake News Act, which activists said targeted critics before the historic 14th general election took place in May.
Then-opposition leader Mahathir Mohamad was investigated for a comment that was allegedly aimed at Najib. Under the act, offenders could be fined up to 500,000 ringgit (US$127,000) and face a maximum sentence of six years in prison.
Singapore, which consistently ranks low on the press freedom index, is aiming at tightening its control over the media with a new Fake News Law. The plan was met with concern from social media giants Twitter and Facebook as well as activists.
In the Philippines, President Rodrigo Duterte threatened to shut down news site Rappler, labeling it a "fake news outlet".
SAFEnet recommended Southeast Asian governments to uphold the principle of freedom of expression, where such freedom should be limited tothree areas: incitement of war, disrupting national security or damaging someone's reputation or dignity.
"We agree that the fight against hoax/fake news is important, but it should not undermine the right of free expression, press freedom and information," the report said.
Full report at:
http://www.thejakartapost.com/seasia/2018/06/22/se-asiancountries-use-fight-against-hoaxesto-silence-critics-report.html
--------
Masjid India business owners want hawker stalls and petty traders removed
22 June 2018
KUALA LUMPUR: Clear all hawker stalls and petty traders along Jalan Masjid India immediately, local business associations demanded today.
In a joint press conference, the Masjid India Business Association (MIBA), Muslim Consumer Association Malaysia and Wisma Yakin Traders have urged Kuala Lumpur City Hall to immediately resolve this 20-year-long problem, which had among others caused loss in revenue, congestion, damage in infrastructure as well as obstructions to business premises in the area.
MIBA chairman Datuk Ameer Ali Mydin said the hawker stalls and petty traders who set up their stalls have affected some 400 over businesses in this area and it is worst during the Hari Raya festive season when the Ramadhan Bazaar is set up.
"There should be no Ramadhan bazaar, no night markets or any stalls or structures along the street here.
"All these stalls, including the Ramadhan bazaar, should be moved out of Masjid India to a more suitable place like Jalan Raja Laut, opposite the City Hall, where the road is wider," he said.
The visibly frustrated group have said that numerous complaints have been made to both City Hall as well as Bukit Bintang MP Fong Kui Lun on the matter.
"The huge covered structure built outside the mosque here has also been an obstruction and eyesore.
"There have been times when petty traders block the passage into the mosque," Muslim Consumer Association advisor Hishamudin Ubaidulla said.
Slamming the former Barisan Nasional administration for not resolving this matter, he said there was no consultation with the business association or traders prior to putting up the covered structure for petty traders.
"We appeal to City Hall or any minister, who would be appointed, to control this and stop this. If you cannot control this place on a daily basis, then don't take charge of this area," Hishamudin said.
Coming out hard on Fong, Ameer demanded that he apologises to the business traders for the loss they faced.
"We deserve an apology from the MP. He messed up our Raya business," he said.
Hishamudin also said that this raises concerns about safety too, adding that there were two fire incidences where the fire rescue team were unable to access the area due to congestion.
Full report at:
http://www.thesundaily.my/news/2018/06/22/masjid-india-business-owners-want-hawker-stalls-and-petty-traders-removed
--------
'Fake news is a signal of the end of times': PAS
22 JUNE, 2018
KUALA LUMPUR — Uncontrolled fake news without boundaries in the media is a signal that we are nearing the end of times, said Parti Islam Se-Malaysia (PAS) president Datuk Seri Abdul Hadi Awang.
Mr Abdul Hadi in a statement said the dissemination of fake news was flourishing due to the fact that technology today could be accessible, verbally or written.
Referring to the era of Prophet Muhammad, fake news never existed, Mr Abdul Hadi said.
"Islam does not promote exposing other people's fault even though they are really at fault because Islam encourages the people to repent and seek forgiveness.
"Thus Islam brings the concept of those charged shall not be punished until proven by a fair and transparent judiciary," said Mr Abdul Hadi.
Mr Abdul Hadi also said if one was brought to court for trial, it was his obligation to disclose accurate information reasonably in order to execute a fair judgement.
"Reflect and think wisely based on the principles of faith and taqwa (God-consciousness) and not by following an unbelieving mind," he said.
He further urged the people not to be influenced by secular politics derived from the west.
Full report at:
https://www.todayonline.com/world/fake-news-signal-end-times-pas
--------
Europe
Few Islamic State group fighters return but home-grown attacks rise, Europol says
2018-06-21
Europeans who have fought on behalf of the Islamic State group have not flooded back in large numbers since losing strongholds in Syria and Iraq, Europe's police agency said on Wednesday but they've inspired a growing number of home-grown attacks.
Manuel Navarrete, head of Europol's Counter Terrorism Centre, told a press conference at its Hague headquarters that a big influx of returning fighters had not materialised.
"The main threat is coming from foreign terrorist fighters even though the numbers ... that are returning are quite low," he said, referring to outsiders who travelled to Syria and Iraq to fight alongside militants there.
>> French prime minister unveils new deradicalisation programme
The number of attacks in Europe, including foiled and failed plots, nearly doubled last year to 205, and led to the deaths of 62 people, according to Europol's 2018 Terrorism Situation and Trend report released Wednesday. The figure compared with 13 reported attacks in 2016, of which 10 were successful leading to 135 deaths.
The agency stated that the risk of more unsophisticated attacks by the so-called Islamic State group "remains acute" adding that "the increase in the number of jihadist terrorist attacks in 2017 ran parallel to a decrease in in sophistication in their preparation and execution".
This included the attack on London's Westminster Bridge on March 22 last year and a similar attack on London Bridge two months later, when attackers drove vehicles into pedestrians and stabbed bystanders with knives, killing 13 people in total and wounding some 98 others.
Islamic jihadists who carried out such attacks in the EU in 2017 were mainly home-grown, "meaning that they were radicalised in their country of residence without having travelled to join a terrorist group abroad," said Navarette.
He added that in many cases "it becomes a form of personal retaliation against the country that they failed to integrate with."
Tracking radicalised fighters
Keeping track of returning jihadist fighters remained the key concern of counterterrorism officials.
Of the more than 5,000 Europeans - most from Britain, France, Germany and Belgium - who joined the ranks of fighters in Syria and Iraq, some 1,500 have returned and 1,000 were killed, according to the EU intelligence-sharing body. There is only limited intelligence available about the fate of the rest.
Many fighters have been detained. Some travelled to Malaysia, the Philippines and Libya. Others are thought to be laying low or in third countries like Turkey, he said.
Tougher border controls, surveillance and prosecution in Europe have also dissuaded some from returning, with EU nations making more than 700 arrests linked to jihadi activity in 2017, he said.
The suicide bomber who killed 22 people at an Ariana Grande concert in the English city of Manchester in May 2017 had just returned from Libya. But most recent attacks have been carried out by home-grown jihadists who never went to conflict zones.
As the Islamic State was routed last year from Mosul in Iraq and Raqqa in Syria, it urged followers to carry out attacks at home, rather than travel to its self-declared caliphate.
"Now the message of the Islamic State has changed ... to being more negative and asking for retaliation," Navarrete said.
While lone actors often use tactics that result in fewer victims, they pose a threat that is difficult to prevent. In 2016, a man killed 86 people by driving a truck into a crowd in the Mediterranean city of Nice, France.
"You have to be very, very close to a person in order to take action on the police level to prevent this," Navarrete said. "And the closest you can be to a person right now is not going to the front door, it is going to Facebook, to Twitter."
The IS group is releasing far less new propaganda after years of relying upon it to draw thousands of Europeans to join its cause, but the group's prior online recruitment materials are being recycled or redistributed in other formats.
http://www.france24.com/en/20180621-few-islamic-state-fighters-return-but-home-grown-attacks-rise-europol-says
--------
US, allies use fake evidence to blame chemical attacks on Syria govt.: Russia
Jun 23, 2018
Russia says the United States and its allies have relied on fabricated evidence to accuse the Syrian government of conducting chemical attacks against civilians.
"The US, Britain, France and their allies have misled international community ... relying on fabrications to accuse Syria of violating the chemical weapons ban with Russian assistance," said Maj. Gen. Igor Kirillov, the chief of the Russian military's radiation, chemical and biological protection unit, at a briefing in the capital Moscow on Friday.
He also accused the Organization for the Prohibition of Chemical Weapons (OPCW) of violating the Chemical Weapons Convention, saying "the remote nature of investigations as well as the collection, analysis and use of the documents obtained without specialists' trips to the alleged sites of chemical weapons use is in direct contradiction to the convention's provisions."
Back in April, Russian Foreign Minister Sergei Lavrov also criticized the OPCW's previous investigations conducted from long distance on alleged chemical attacks in Syria.
In the course of the liberation operation in Eastern Ghouta, which began in February, Moscow has repeatedly warned that different factions of militant outfits in the region could stage gas attacks in a bid to frame the Syrian government.
The suspected chemical weapons attack, however, hit the town of Douma in the Eastern Ghouta region in the suburban area near Damascus on April 7, reportedly killing at least 60 people and wounding more than 1,000 others.
Western countries swiftly blamed the incident on the Syrian government. Damascus rejected the accusations as "chemical fabrications" made by the terrorists themselves in a bid to halt pro-government forces' advances.
The alleged use of chemical weapons in Douma, however, triggered a missile strike by the US, Britain and France that Russia has denounced as a violation of international law.
Elsewhere in his remarks, Kirillov said the so-called civil defense group White Helmets had doctored samples and used explosive devices to make craters that looked like those left by bombs.
He added that in the images presented by them, they worked at the site of the alleged use of sarin without protective gear, which would have been impossible if the nerve agent had indeed been used there.
Kirillov also lambasted the OPCW for turning a blind eye to the discovery of a militant-run lab and its stockpiles in Eastern Ghouta that contained over 40 metric tons of chlorine and other toxic chemicals.
Russian Foreign Ministry Spokeswoman Maria Zakharova, who spoke at the same briefing, said the chemical lab featured components made in Western Europe.
"We are ready to show evidence that the equipment was taken by terrorists and militants from Western Europe," she said.
The Syrian government surrendered its stockpiles of chemical weapons in 2014 to a joint mission led by the UN and the OPCW, which oversaw the destruction of the weaponry. However, Western governments and their allies have never stopped pointing the finger at Damascus whenever an apparent chemical attack has taken place.
Full report at:
http://www.presstv.com/Detail/2018/06/23/565784/Russia-Syria-US-chemical-attacks-OPCW-Douma
--------
Prince William on first official royal visit to Occupied Territories and Israel
June 23, 2018
LONDON: Prince William will embark on the first official visit to Israel and the Occupied Palestinian Territories by a member of the British royal family on Sunday.
But even with more than 120 Palestinians killed in protests in Gaza during recent weeks and controversy still surrounding the opening of the US embassy in Jerusalem, the second-in-line to the throne is not expected to talk politics.
Chris Doyle, director of the Council for Arab-British Understanding (CAABU), told Arab News that the four-day tour is likely to focus on making trade deals in preparation for Britain's departure from the EU next year, rather than on addressing the moribund Middle East peace process.
"There is a pretty naked desire to build relationships and Israel is a warm target for an increase in trade," he said.
The visit risks "normalizing" the abusive regime under which Palestinians live, he added.
"Of course Prince William has to go to both the Israeli and Palestinian sectors or there would have been outrage. But there is a risk of his visit making it appear more acceptable and normal to carry out abuses of international law like the blockade of Gaza," Doyle said.
William begins his Middle Eastern tour on Sunday in Jordan, a long-time ally of Britain. On Tuesday he will move on to Jerusalem, where he will visit Yad Vashem, the official memorial to Holocaust victims, meet Israeli Prime Minister Benjamin Netanyahu and later attend a football event with a mixed Arab and Jewish team.
On Wednesday he will meet young activists, both Arab and Jewish, who are involved in education and social programs, and also cross into the Occupied Palestinian Territories to meet Palestinian President Mahmoud Abbas in Ramallah before attending an event focusing on Palestinian refugees.
He is due to deliver a speech at a reception hosted by the American consul in Jerusalem. However, protocol prevents him from making any remarks that might be deemed partisan. Doyle told Arab News this was a pity in view of how William's mother, the late Princess Diana, championed justice for the oppressed.
"It is a pity that someone of his status, who clearly cares about his mother's legacy, cannot give voice to real major concerns about the treatment of the Palestinians and the human rights abuses that are daily issues for them under Israeli control but which will be airbrushed out," he said.
"Yes, he will see co-operative programs and Arabs and Jews playing football together, but the reality is that the Palestinian footballers can only travel to matches with Israeli permission."
William was a surprise choice for the visit. Many expected the task to fall to his father, Prince Charles, who has more experience of countries which are politically extremely sensitive. But it is thought he was chosen because his youth chimes better with young Israelis working in hi-tech fields who he is scheduled to meet. Among Palestinians, his presence will barely register, said Doyle.
Full report at:
http://www.arabnews.com/node/1326356/middle-east
--------
UN chief says upsurge in Syria violence poses 'risks to regional security'
23 June 2018
UN Secretary-General Antonio Guterres on Friday called for an immediate end to a military escalation in southwest Syria and a return to ceasefire arrangements agreed by Russia, the United States and Jordan.
US Ambassador Nikki Haley separately urged Russia to pressure its Syrian ally to uphold the truce.
Guterres is scheduled to hold talks Saturday in Washington with Secretary of State Mike Pompeo.
President Bashar al-Assad has set his sights on retaking rebel-controlled parts of southern Syria.
Over the past three days, areas in eastern Daraa have been bombarded, forcing thousands of civilians to flee, according to the British-based Syrian Observatory for Human Rights.
Guterres said he was "gravely concerned" by the recent upsurge in fighting from the Syrian government offensive, saying it posed "significant risks" to regional security.
He called for "an immediate end to the current military escalation" and urged all sides to uphold the ceasefire commitments "as a matter of priority."
Jordan, Russia and the United States agreed last year to set up a de-escalation zone for the region that includes Daraa, Quneitra and Sweida. The area borders Jordan and the Israeli-annexed Golan Heights.
Haley said in a statement earlier: "The Syrian regime's violations of the ceasefire in southwest Syria need to stop."
"We expect Russia to do its part to respect and enforce the ceasefire it helped establish, and to use the influence it has to stop the Syrian regime's violations and any further destabilizing actions in the southwest and throughout Syria."
More than 11,000 people have been displaced in the upsurge of violence that has included air strikes, artillery, barrel bombs and rocket attacks, according to the US statement.
Assad's forces have retaken large parts of Syria from opposition fighters since Russia intervened militarily on its side in 2015.
Full report at:
https://english.alarabiya.net/en/News/middle-east/2018/06/23/UN-chief-says-upsurge-in-Syria-violence-poses-risks-to-regional-security-.html
--------
UN coordination essential for refugee returns to Syria: Merkel
Jun 22, 2018
German Chancellor Angela Merkel has called for a political solution to the hot-button issue of Syrian refugees' return from Lebanon to their homeland, saying it can only take place in coordination with the United Nations.
"We want to contribute to reaching a political solution in Syria, that will allow refugees to return to Syria," Merkel told reporters in the Lebanese capital of Beirut on Friday following her meeting with Lebanon's Prime Minister Saad al-Hariri.
"I confirmed with officials that returns can only happen in agreement and talks with UN organizations," she added.
The small country of Lebanon has the world's highest number of refugees per capita. Nearly 1.5 million Syrian refugees have been living in Lebanon since 2011, making up a quarter of the country's population.
Lebanon's head of the General Security agency Major General Abbas Ibrahim said late in May that Lebanese and Syrian officials are working together to facilitate the return of thousands of refugees who want to return to Syria.
"There are contacts with the Syrian authorities about thousands of Syrians who want to return to Syria. The stay of Syrians in Lebanon will not go on for a long time. There is intensive work by the political authority," the Lebanese official added.
The German chancellor said it was "understandable" that the large refugee influx had caused tensions in Lebanon but expressed hope they could be settled.
Following coordination between Lebanese and Syrian authorities, around 500 refugees left southern Lebanon earlier this year for Syria and several thousand have gone back to their homeland from towns around the border in recent years.
The UN refugee agency (UNHCR) says it is not involved in the return process and believes that Syria is not yet safe enough for refugees to return.
However, Lebanese officials have been constantly calling for refugee returns with or without a political solution to the Syrian crisis after seven years.
Last October, Lebanese President Michel Aoun called for a gradual return of Syrian refugees to their country, saying Lebanon can no longer cope with the burden.
"My country cannot handle it anymore," Aoun said, calling on global powers to help start the process of return for the Syrian refugees.
During her two-day visit to Beirut, Merkel is also scheduled to hold talks with the Lebanese president. The German chancellor had met Jordan's King Abdullah II before her travel to Lebanon.
Jordan says it is hosting more than 1.4 million Syrian refugees, only 650,000 of them are registered as refugees by the UN.
According to the UNHCR, more than 5.6 million people have fled Syria since 2011 and another 6.6 million are currently internally displaced.
Earlier this month, the United Nations said more than 920,000 people have been displaced inside Syria during the first four months of 2018, the highest level since foreign-backed militancy began in the Arab country seven years ago.
Panos Moumtzis, the UN regional humanitarian coordinator for Syria, told reporters in the Swiss city of Geneva that SyrAdd Itemia continued to witness massive displacements of people over the past few months.
"We are seeing a massive displacement inside Syria... From January to April, there were over 920,000 newly displaced people," Moumtzis said, adding, "This was the highest displacement in that short period of time we have seen since the conflict started."
Syria has been gripped by militancy caused by multiple factions and groups since March 2011. The Syrian government says the Israeli regime and its Western and regional allies are aiding Takfiri terrorist groups that are wreaking havoc in the Arab country. In recent months, Takfiri militants have lost much of the territory they once held in Syria.
Full report at:
http://www.presstv.com/Detail/2018/06/22/565751/Merkel-Beirut-Syria-refugees-Hariri
--------
South Asia
Islami Andolon Bangladesh: Who are they and what do they stand for?
June 23rd, 2018
After coming in third place in both the Dhaka North and South elections in 2015 and winning 10 times as many votes as the Jatiya Party in the Khulna City elections this year, Islami Andolon Bangladesh has quietly made its mark in Bangladesh's politics. The Dhaka Tribune takes a closer look
Barisal-based pir, or spiritual leader, late Maolana Syed Muhammad Fazlul Karim, commonly known as Charmonair Pir, established the party Islami Shasontontro Andolon on March 13, 1987 with a view to establishing an Islamic law-based state.
The name however was changed to Islami Andolon Bangladesh after the Election Commission disagreed to allow registration under this name.
Founder Fazlul Karim wanted to build an issue-based common platform for Islamic movement, comprising all Islamic parties and religious-minded people of Bangladesh.
Karim, who was a believer in the Khelafat state system, tried to establish an Islamic country throughout his life till his death in 2006.
IAB has been making continuous progress in local polls over the past three years.
They came under the spotlight in election politics after their candidates earned the third largest number of votes in Dhaka north and south, Narayanganj and Khulna city polls. The most surprising part in their voting politics is that their candidate has bagged about 10 times as many votes than the candidate of parliamentary opposition Jatiya Party in the Khulna City Corporation election in May.
Who votes for them?
The IAB top leaders estimate they have around 20 million followers with a strong base in Bagerhat, Khulna and Barisal.
One of their key strengths is that the followers of Charmonair Pir from every part of the country support their activities and vote for them to set up Islamic rule.
Imtiaz Alam, president of Dhaka South city unit of Islami Andolon, said that party's top leaders Syed Rezaul Karim and Syed Faizul Karim are very optimistic about getting votes from each and every follower of Charmaoair Pir.
"We have plans to ensure one crore votes in the upcoming 11th parliamentary elections," he said.
The party leaders think they have a vote bank of about 30,000 from Khulna city alone, where it showed a strong performance beating the JaPa mayor candidate.
In the Khulna City Corporation election, held on May 15, 2018, IAB candidate bagged 14,363 votes, compared to a mere 1,500 votes received by the Jatiya Party candidate.
In 2015, Islami Andolan leader Sheikh Fazle Bari Masud won 18,050 votes, the third highest number in Dhaka North City Corporation. Meanwhile, in Dhaka South a leader of the same organization, Abdur Rahman, also bagged the thirrd highest vote count, reaching 14,784.
Islami Andolon also bagged a large number of votes in Narayanganj city, with their mayor candidate Masum Billah coming up third with 13,914 votes.
The poll results clearly show that the party, out of the 10 registered religion-based parties in Bangladesh, is in a leading position.
Their position as allies
Of all the Islamic parties, IAB, led by Syed Muhammad Rezaul Karim, has drawn the attention of Awami League and BNP as a potential ally because of their sharp rise in popularity among voters, as demonstrated in elections.
After Khulna city election, politicians have started giving the sudden rise of Islami Andolon more thought. Though the party is far from being a serious challenger for the two major parties, their popularity among voters is rising, say some analysts.
Islami Andolon leaders claimed that they will also get huge number of votes in the upcoming Gazipur city election.
Imtaiz Alam told the Dhaka Tribune that the Charmonair Pir has great influence among Gazipur voters and their candidate will get at least 50,000 votes in the upcoming Gazipur city corporation election.
In May 2016, IAB candidate Ala Uddin Alal won the Aditmari union parishad election in Kamlabari upazila of Lalmonirhat district, the first election victory for this party.
What is their strength and what do they want?
Talking to the Dhaka Tribune, Islami Andolon's Ameer and Charmonair Peer Mufti Syed Muhammad Rezaul Karim said the party wants to establish Islamic rule in Bangladesh.
"We want Islamic rule in Bangladesh. We are willing to form a coalition with parties who will accept our proposal for an Islamic country," said Karim.
He added that they have also a plan to form a coalition with like-minded parties.
Islami Andolon has organizational activities across the country. Its founder late Fazlul Karim was a popular and well-accepted figure. He set up organizational units in all 64 districts. Also Islami Andolon has a committee in every upazila of the country.
According to Islami Andolon leaders, their political activities are different from those of other Islamic parties. They are always active on the street with different programs such as protesting Israel's aggression against Palestine and others issues related with Islamic ideology.
Their presence in the streets, on almost every Friday, was common in 2017 with two demands - removal of all the idols in Bangladesh along with the statue of Lady Justice that was installed before the annex building of the Supreme Court, and the atrocities against Rohingya Muslims in Myanmar's Rakhine State.
Plan for next general polls
With the national polls scheduled for December approaching fast, the party is preparing to contest all 300 constituencies.
Islami Andolon has already selected 229 candidates for the next general election and the rest would be selected within a very short time, party sources said.
However, Islami Andolon leaders said their goal for now is to increase the number of voters rather than winning a seat.
Their role in major events
On April 16 2017, Islami Andolon demanded removal of Greek Idol from Supreme Court premises as well as resignation of the then Chief Justice Surendra Kumar Sinha.
In the 2001 national election, Islami Andolon contested as an ally of Jatiya Party. But in 2008, the party contested by itself in 167 constituencies where it got 1.05% of total votes.
In 1996, Islami Andolon and other Islamic parties formed a coalition and took part in the election after taking Islami Okiya Jote's 'Minar' symbol.
https://www.dhakatribune.com/bangladesh/politics/2018/06/23/islami-andolon-bangladesh-who-are-they-and-what-do-they-stand-for
--------
Taliban kidnap 43 Afghans including road construction workers
Jun 22, 2018
KANDAHAR: Taliban fighters kidnapped 43 people from a road construction camp during a raid in southern Afghanistan that also killed four security forces, an official said on Friday, in the latest fighting since the group's ceasefire ended.
Militants attacked the camp in Spin Boldak district in Kandahar province overnight, provincial governor spokesman Dawood Ahmadi told AFP.
Among the 43 kidnapped were technical workers, cooks and drivers. Four police were killed and another wounded after security forces sent to rescue the workers exchanged gunfire with the Taliban, Ahmadi added.
An employee of the Afghan road construction company also confirmed that 43 people had been kidnapped.
The Taliban claimed responsibility for the attack, but told AFP that the original target had been a police checkpoint. Police fled the checkpoint and went to the camp where the construction workers were sleeping.
The Taliban pursued the police but, unable to identify who was who, decided to kidnap "many" people, the group said.
In a separate incident in the western province of Badghis overnight, at least eight members of a pro-government militia were killed and another six wounded in a clash with the Taliban.
Provincial governor spokesman Naqibullah Amini said the fighting in Aab Kamari district lasted two hours and was quelled by security forces. Badghis provincial council head Abdul Aziz Beg put the death toll at 16 militia fighters. The Taliban returned to the battlefield on Monday after refusing a government request to extend their unprecedented three-day ceasefire over Eid. President Ashraf Ghani announced last weekend that the government's eight-day ceasefire, which had been scheduled to expire on Tuesday, would be prolonged for another 10 days.
Full report at:
https://timesofindia.indiatimes.com/world/south-asia/taliban-kidnap-43-afghans-including-road-construction-workers/articleshow/64701586.cms
--------
Extensive measures taken against extremism: FM
Jun 23,2018
Foreign minister AH Mahmood Ali on Friday said acts of terror and targeted killings have only strengthened the government's resolve to eradicate fanaticism and religious intolerance from society.
'After the terrorist attack in the Holey Artisan Bakery in 2016, the government of prime minister Sheikh has taken extensive counter and preventive measures against terrorism and violent extremism,' he said.
Minister Ali was addressing the opening ceremony of the workshop on 'Fostering peaceful and inclusive communities in Bangladesh: The role of religious leaders and actors' at a hotel in the capital as chief guest.
Special adviser of the UN secretary general for the prevention of genocide Adama Dieng and resident coordinator of the UN in Bangladesh Mia Seppo were also present.
Mahmood Ali said the government has undertaken massive awareness programmes to encourage the practice of tolerance, inclusiveness and cultural activism in society involving women, youths and community leaders.
He said prime minister Sheikh Hasina has particularly called the teachers and imams to play the lead role in preventing religious extremism.
'Recognising the role of women in peace building, we're currently in the process of developing national action plan on women, peace and security which will further consolidate women's role in preventing violence and building peaceful communities,' said the foreign minister.
Ali said Bangladesh too has seen; briefly though, the rise of extremism in its society.
'Primarily motivated by some anti-liberation political elements, those acts of terror and targeted killings have only strengthened our resolve to eradicate fanaticism and religious intolerance from our society,' he said.
The foreign minister said the people of Bangladesh typically use religious norms to guide their day-to-day action and as such religious leaders are highly respected and influential members of a community.
'Their unique positions of trust and respect enable them to provide feedback on any changes at the local level, and communicate local priorities to government officials and development professionals,' he said.
Recognising their role, minister Ali said, the government has long been promoting the engagement of religious leaders and actors in preventing violence.
'We've welcomed the Fatwa of Peace for Humanity published by the Bangladesh Jamaiatul Ulama and endorsed by hundred thousand Islamic jurists, scholars and clerics, which preach on the peaceful and non-violent nature of Islam.'
He mentioned that the government has also taken an initiative to build 560 mosque-based Islamic cultural centres at district and sub-district levels to promote Islamic values of peace and tolerance among the mass people.
Full report at:
http://www.newagebd.net/article/44259/extensive-measures-taken-against-extremism-fm
--------
International Criminal Court Says Myanmar to Respond on Rohingya Case by July 27
2018-06-22
The International Criminal Court on Thursday issued a deadline for Myanmar to submit a written response on whether the body should exercise jurisdiction over the country's mass deportation of Rohingya Muslims to Bangladesh, though a government spokesman said the Southeast Asian nation has nothing to report on the issue.
Judges at the international tribunal based in The Hague, the Netherlands, have set a deadline on July 27 for Myanmar to respond to a prosecutor's request made in April that the ICC should exercise jurisdiction over the matter.
Roughly 700,000 Rohingya fled their communities in western Myanmar's Rakhine state during a crackdown by security forces targeting the members of the stateless minority group, whom Myanmar views as illegal immigrants from Bangladesh. The refugees now live in squalid displacement camps in southeastern Bangladesh.
"Considering that the crime of deportation is alleged to have commenced on the territory of Myanmar, the chamber deems it appropriate to seek observations from the competent authorities of Myanmar on the prosecutor's request," the ICC's decision issued on Thursday said.
The United Nations and other parties have accused Myanmar of ethnic cleansing and possibly genocide, though the government has denied widespread reports and credible evidence, including multiple satellite images of burned-out villages, that its soldiers committed atrocities against the Rohingya.
Instead, the government has defended the crackdown as a counterinsurgency against a militant Muslim group of "terrorists" that carried out deadly attacks on border guard stations and police outposts in northern Rakhine state in 2016 and 2017.
Zaw Htay, director general of State Counselor Aung San Suu Kyi's office, repeated the government's previous assertion that the ICC cannot prosecute Myanmar because the country is not a member of the court.
"Because Myanmar is not an ICC member, the ICC can't do anything to Myanmar, so we have nothing to say about it," he told RFA's Myanmar Service on Friday, adding that the prosecutor has recognized uncertainty concerning the limits of the court's jurisdiction.
'The main problem'
In April, Gambian lawyer and ICC prosecutor Fatou Bensouda asked ICC judges to rule on whether the court could exercise jurisdiction over the "alleged deportation" of the Rohingya from Myanmar to Bangladesh.
At the time, Aung San Suu Kyi's office expressed "serious concern" with the prosecutor's statement, arguing that Bensouda's assertion of the extension of jurisdiction was not in line with the ICC charter and other international statutes to which Myanmar is not a party.
"What the prosecutor is attempting to do is to override the principle of national sovereignty and non-interference in the internal affairs of other states in contrary to the principle enshrined in the U.N. Charter and recalled in the ICC's Charter," said a statement the office issued on April 13.
Though Myanmar has agreed to take back Rohingya refugees who want to return to Rakhine state and whose prior residency in the region can be verified, pressure from the international community has continued to grow with the United Nations and rights groups pushing officials to guarantee safe conditions for the returnees.
"The main problem is that no refugees have come back from Bangladesh though Myanmar is ready to take them back," Zaw Htay said. "We have asked Bangladeshi authorities many times to send them back."
"When they arrive back home, we have to do things such as clearing terrorists out of the region and creating a good situation for them to live without any problems," he said, adding that Bangladesh must assist Myanmar in rooting out members of the Muslim militant group the Arakan Rohingya Salvation Army (ARSA).
"We have to find them, and Bangladesh has to work with us," he said.
Full report at:
https://www.rfa.org/english/news/myanmar/international-criminal-court-says-myanmar-to-respond-on-rohingya-case-06222018164823.html
--------
Clash among the Taliban and ISIS militants in Laghman province
Jun 23 2018
A clash has taken place between the Taliban and militants affiliated with the Islamic State of Iraq and Syria Khurasan (ISIS-K) in eastern Laghman province of Afghanistan.
The 201st Silab Corps of the Afghan Military in the East said the incident took place on Friday in the vicinity of Alingar district.
The source further added that Taliban and ISIS Khurasan militants exchanged fire with each other in Noorlam Sahib area, leaving at least four dead.
According to the Silab Corps, the militants killed during the clash belong to ISIS Khurasan terror group.
However, there are no reports available regarding the possible casualties of the ISIS militants during the clash.
The anti-government armed militant and terrorist groups including Taliban and ISIS militants have not commented regarding the report so far.
Laghman has been among the relatively calm provinces in East of Afghanistan since the fall of the Taliban regime in 2001.
However, the anti-government armed militants have been attempting to destabilize the province during the recent years.
Full report at:
https://www.khaama.com/clash-among-the-taliban-and-isis-militants-in-laghman-province-05409/
--------
Ghani, Pence speak over phone on ceasefire and Afghan peace efforts
Jun 22 2018
President Mohammad Ashraf Ghani and the US Vice President Mike Pence spoke over phone regarding the ceasefire initiative and ongoing efforts for peace and reconciliation.
The Office of the President, ARG Palace, said the leaders of the two countries spoke over the phone on Thursday evening to discuss the issues of mutual interest.
According to ARG Palace, the US Vice President expressed happiness regarding the initiative by President Ghani and the Afghan government for ceasefire.
Vice President Pence also reaffirmed the support of Washington to Afghan peace process and hailed the Afghan government for the recent efforts aimed at implementation of reforms.
He also reaffirmed Washington's support regarding the upcoming elections, ARG Palace said, adding that the leaders of the two countries also emphasized on the importance of joint efforts and fight against terrorism.
President Ghani thanked the United States for its support and cooperation with Afghanistan and said the Afghan nation is going through a critical moment where important decisions must be taken for peace and reconciliation.
Full report at:
https://www.khaama.com/ghani-pence-speak-over-phone-on-ceasefire-and-afghan-peace-efforts-05405/
--------
Arab World
Iraqi Troops not Withdrawing from Syrian Border after Alleged Israeli Attack
Jun 22, 2018
"The news circulated on withdrawal of Hashd Al-Sha'abi from their deployment regions near the Iraqi-Syrian borders after the troops were targeted in Syria are untrue," the source told Al-Maalomah, as quoted by Iraq News.
The source added that "the forces are deployed in the Western region of the province. No withdrawal took place there, despite the tension that resulted after Israeli fighter jets shelled the forces in Syria near borders with Iraq."
This is the first time any Iraqi source has stated Israel was behind the attack on the Syrian and Iraqi troops in Southeastern Syria earlier this week. Earlier reports blamed the US.
The alleged Israeli attack resulted in the death of 22 Hashd Al-Sha'abi members and over 30 Syrian army soldiers.
http://en.farsnews.com/newstext.aspx?nn=13970401000287
--------
Syrian Army Dispatches More Troops to Military Airport in Sweida
Jun 22, 2018
The source said that the army sent a long convoy, including elite force and tens of military vehicles to Khalkhala base in Northern Sweida.
The source further said that the airbase is located at contact line with terrorists' positions in Eastern Dara'a, including those in al-Lajah, adding that the army is possibly planning to use the airbase as its Command Center for military operations in Eastern Dara'a.
The source went on to say that the army has been forwarding a large number of soldiers and a large volume of military hardware to Western and Northwestern Sweida.
In a relevant development on Wednesday, the Syrian army troops stormed the remaining pockets of ISIL in the Eastern Badiyeh of Sweida and managed to make remarkable advance against terrorists in three flanks.
The army men engaged in fierce clashes with ISIL in Rasm al-Hatiti flank and captured Wadi Shatayeb Suleiman, Tal Lathawi, Souh al-Majidi, Arazi Joweis and Wadi al-Sahal regions.
Other units of the army soldiers stormed ISIL in a region between al-Shaqiyeh and Khirbet al-Ambashi and seized control over Tal Qabr Sayah, Rasm Abu Rour and Tal Zahaya.
The army men further advanced and drove ISIL out of Khirbet al-Ambashi.
Full report at:
http://en.farsnews.com/newstext.aspx?nn=13970401000255
--------
Army troops dismantle Israeli spying devices in southern Lebanon
Jun 22, 2018
Lebanese government forces have identified and dismantled a network of Israeli spying devices in the country's southern province of Nabatieh.
A security source, speaking on condition of anonymity, told English-language the Daily Star newspaper that the devices were discovered on the outskirts of Kfarchouba village, located 130 kilometers south of the capital Beirut, on Friday.
On January 10, Lebanese troops uncovered an Israeli spying device near Zawtar al-Gharbiyeh (Western Zawtar) town, which lies just north of the Litani River.
Lebanese security forces busted an espionage cell in the country, whose members were collecting sensitive information and passing it to the Israeli spy agency Mossad, on October 31, 2017,
Speaking in an exclusive interview with Lebanon-based Arabic-language al-Mayadeen television news network, General Director of the General Security Directorate Major General Abbas Ibrahim stated that the cell, run by a Syrian national identified as Paul George Khoury, was dismantled last July. Fighters from the Lebanese Hezbollah resistance movement found an Israeli spying device on the outskirts of Barouk village in the Chouf district of Mount Lebanon, located 52 kilometers southeast of Beirut, on August 13 last year.
The Israeli military then remotely detonated the spy device to prevent the de-codification and interpretation of its recorded data.
However, Hezbollah fighters could recover some parts of the exploded device, including its transmission receiver base and batteries.
The Lebanese army soldiers and Hezbollah fighters have on occasions dismantled Israeli surveillance devices planted near the country's border regions with the occupied territories.
Full report at:
http://www.presstv.com/Detail/2018/06/22/565738/Army-troops-find-Israeli-spying-network-in-southern-Lebanon
--------
Blame game: Who bombed Iraqi fighters in Syria?
Adnan Abu Zeed
June 22, 2018
An airstrike on pro-Damascus forces — including Iraqi fighters — in eastern Syria has spurred conflicting accusations about who was responsible for the attack.
The Syrian government and Iraqi militias blamed the US-led anti-Islamic State (IS) coalition for the June 17 strike on the town of al-Heri, a claim the Pentagon denied. An undisclosed US official speaking to CNN blamed Israel, while Israel still remains mum.
Syria's state news agency SANA did not give casualty figures, only reporting that "a number of martyrs" were killed. Meanwhile, Iraq's Popular Mobilization Units (PMU) issued a statement June 18 that said, "US planes fired two guided missiles at a fixed [PMU] position on the border with Syria, killing 22 fighters and wounding 12."
US Army Col. Sean Ryan, the spokesman for the Combined Joint Task Force fighting IS, denied June 18 that the United States was behind the strikes on PMU sites or on al-Heri, a strategic town on the Syrian border with Iraq. He warned against "misinformation."
Then whose aircraft delivered the strikes?
Hisham al-Hashimi, a security analyst at Al-Nahrain Center for Strategic Studies in Iraq, told Al-Monitor, "The joint Iraqi leadership isn't overly preoccupied with who launched the airstrikes on al-Heri village, but evidence indicates Israel is most likely the culprit."
Israeli Prime Minister Benjamin Netanyahu had said in a June 17 meeting with Russian President Vladimir Putin and US Secretary of State Mike Pompeo, "We will act and we are already acting against Iran and its allies' attempts to position themselves near the Israeli borders and within Syria."
Hashimi believes Israel carried out the air raid "to target supply lines to Iraqi and Iranian armed militias" that still control the road between western Anbar in Iraq and Al-Bukamal in eastern Syria.
The strike also "aimed at undermining the wings of non-Syrian factions that espouse Iran's ideology, to drain the infrastructure of [their] intelligence centers, the staff and the centers of command and control," he said. "The map of air raids confirms that Israel is taking its steps — with the knowledge of Russia and the US — to cut the Tehran-Beirut [connection] by isolating Baghdad and Damascus by land."
Iran wants to build a corridor through Iraq and Syria and on to Beirut on Lebanon's coast.
Military analyst Ahmad al-Sherifi of Baghdad also said Israel most likely launched the strike.
"A guided aircraft carried out the strike using advanced weapons of smart missiles in the framework of the dispute between Israel and Iran over areas of influence in Syria," he told Al-Monitor. "The forces that were targeted were 700 meters [765 yards] inside the Syrian territories, and they were in charge of securing the Iraqi borders and preventing Islamic State infiltration to Wadi Hauran [Hauran Valley]."
A US government official who spoke on condition of anonymity on June 19 told Al-Hurra channel, which is funded by the US government, "The Israeli air force launched the raid to block the road that Iranians want to open between Tehran and Beirut. This task proved difficult and logistically complicated, as the Israeli jet fighters had to fly a distance of 348 miles to carry out the strikes near Al-Bukamal."
Al-Monitor contacted the US Embassy in Baghdad for comment, but it refused to give any statements, possibly to avoid clashing with the Iraqi government, whose Ministry of Foreign Affairs condemned the incident.
Qais al-Khazali, the leader of Asaib Ahl al-Haq, an Iraqi paramilitary unit that is part of the PMU, condemned the incident. His group asserted that both the United States and Israel were behind it. He threatened to take deterrent measures, but PMU leader Karim al-Nouri told Al-Monitor, "The PMU is part of the [Iraqi] armed forces and will not respond unless the armed forces' chief of staff, who is also the prime minister, gives such orders."
Iskandar Watwat, a member of the Iraqi parliament's Security Committee, told Al-Monitor the "identity of the party that launched the raid has not officially and conclusively been determined." He added, "The Iraqi government is investigating the incident at the highest levels. The Security Committee is working on an official complaint from Iraq to the UN Security Council because the forces that were shelled are part of the Iraqi armed forces and their security institutions."
Iraqi Joint Operations Command spokesman Yehya Rasoul told Al-Monitor, "The command regrets this raid, which only serves terrorist groups." He said a statement released June 18 shows that the command denies any relations with Iraqi forces in Syria. It read: "Our security forces with all their formations, whether army, police or PMU, have not faced airstrikes or other raids. We are not in contact with the forces that were shelled at a distance of 1.5 kilometers from the Iraqi border in Syria. We have no coordination with them."
Hashimi said, "The policy of the general command of the Iraqi armed forces supports the international [goal] of isolating Baghdad [from] Damascus by land. The statement of the Iraqi command refused attributing the Iraqi forces to the Joint Iraqi Forces. It said Iraq has no knowledge of the duties of the targeted forces that are Iraqi. This statement sets the future horizons and the way Iraqi leaders are headed with their support for the international coalition and its allies in blocking the road between Tehran and Beirut."
Al-Monitor contacted Ofir Gendelman, the Arab-media spokesperson for Netanyahu, but he refused to give any statement about the incident. Israeli researcher on Iraqi affairs Ronen Zeidel told Al-Monitor, "The attack targeted Iranian balance-breaking weapons transferred into Syrian territories to hurt Israel."
Full report at:
https://www.al-monitor.com/pulse/originals/2018/06/iraq-syria-israel-shiite-militias.html
--------
Syrian Army Shelled Heavily Terrorists' Positions in Northeastern Dara'a
Jun 22, 2018
Using a variety of artillery shells and surface-to-surface missiles, the army unleashed a relentless assault last night that targeted the positions of Tahrir al-Sham Hay'at (the Levant Liberation Board or the Al-Nusra Front) in al-Lajah region.
The army could score several direct hits against the terrorists, resulting in a series of powerful explosions that could be heard from a long distance away.
According to a military source at the government stronghold of Izra'a, the army launched more than 30 missiles towards the terrorist-held towns of Busra Al-Sham, Busra Al-Harir, and Al-Karak.
In a relevant development on Wednesday, the Syrian army troops continued to advance in Northern Dara'a, seizing control over several points and inflicting major losses on the terrorists.
The army men engaged in fierce clashes with the terrorists in al-Lajah flank near the Masikeh and al-Dalafeh townships in Northeastern Dara'a, capturing several key points.
In the meantime, other units of the army stormed terrorists' positions in Basar al-Harir settlement in Western Sweida and managed to advance against them.
The army's artillery and missile units, meantime, pounded terrorists' positions in Basar al-Harir, al-Lajah in Northeastern Dara'a and near the small town of al-Harra and Kafr al-Shams region in Western Dara'a, inflicting major losses on the militants.
Full report at:
http://en.farsnews.com/newstext.aspx?nn=13970401000454
--------
US Coalition Bombs Damascus Army Troops in Southern Syria
Jun 22, 2018
According to the NDF report, the US Coalition bombed the Syrian Army's outpost in the village of Al-Halba 70km away from the historical city of Palmyra (Tadmur) in Homs province, the AMN reported.
In the meantime, a Syrian army commander told Sputnik News Agency that "the combat planes of the coalition led by the United States, attacked the army positions in Jabal Ghurab, some 150 kilometers East of Palmyra near the border with Iraq."
"One serviceman was killed and several others wounded," he added.
Full report at:
http://en.farsnews.com/newstext.aspx?nn=13970401000263
--------
US Sets up New Military Base Near Syria's Manbij
Jun 22, 2018
"The new American military base is at the entrance to the city in Medah district," Helil Bozi said, Sputnik reported.
"The Americans already have two military bases in Manbij, along the road leading to Aleppo, and in Ein Dedat close to the Sajir River," he added.
The commander refused to provide any information about the number of US troops deployed at the new base citing security concerns, saying only that the US forces maintain daily patrols around Manbij.
Full report at:
http://en.farsnews.com/newstext.aspx?nn=13970401000365
--------
Lebanon's Hariri signals new government near
22 June 2018
Lebanon's Prime Minister-designate Saad al-Hariri said on Friday he was very close to forming a new government and would hold more talks with the country's main parties.
Foreign donors have said Lebanon, which held a parliamentary election in May, needs to build a government quickly to maintain confidence and start working on reforms to help its ailing economy.
Finance Minister Ali Hassan Khalil had warned earlier this week that Lebanon was not forming its new cabinet fast enough and said he had not seen serious headway.
"We have come very close to the final equation...There are still some consultations," Hariri said after meeting President Michel Aoun. "The issue is the size of the parcel that each political (party) wants to get."
"God willing, we're getting there," the Western-backed Hariri said without giving a timeframe.
The Sunni Muslim leader has met with lawmakers over the make-up of the coalition, with some rivalries surfacing over cabinet portfolios. The new government, like the outgoing one, is expected to include all main parties within Lebanon's sectarian power-sharing system.
A caretaker government has been running the country since the May vote. In the election, Lebanon's Iran-backed, Shi'ite Hezbollah movement and its political allies emerged with greater sway.
Full report at:
https://english.alarabiya.net/en/News/middle-east/2018/06/22/Lebanon-s-Hariri-signals-new-government-near.html
--------
Merkel in Beirut: Syria must be more secure before refugees return
22 June 2018
German Chancellor Angela Merkel said on Friday on a visit to Lebanon that conditions in Syria are not yet right for refugees to return, an issue which has led to a dispute between Lebanon's foreign minister and the UN refugee agency.
The United Nations has registered about a million refugees in Lebanon - nearly a quarter of Lebanon's population.
The Lebanese government, which puts the figure at 1.5 million, says it wants them to start going back to territory where fighting has died down. The international view is that it would not be safe for them to return yet.
"We want to help find solutions in Syria so that a return of refugees can take place ... we need more secure conditions for a return to be possible," Merkel said in a news conference in Beirut with Lebanese Prime Minister-designate Saad al-Hariri.
Germany has taken in hundreds of thousands of Syrian refugees and Merkel is under pressure at home over migration policy, which is threatening to undermine her ruling coalition.
She is playing down expectations of a major breakthrough at hastily arranged talks between some EU leaders on Sunday on the migration dispute, which is dividing Europe.
Lebanese caretaker foreign minister Gebran Bassil has this month accused the U.N. refugee agency UNHCR and foreign countries of preventing Syrians returning home.
He ordered a freeze on applications by UNHCR for residency permits for its staff and threatened more measures against them.
UNHCR has denied trying to stop Syrians going home, saying it supports returns when it is safe.
After meeting Merkel on Friday, Lebanese President Michel Aoun said he asked for Germany to support calls "for the gradual return of displaced Syrians" from Lebanon. Aoun said on Twitter that he "stressed the need to separate between this return and a political solution for the Syrian crisis".
Lebanon is the world's third-most indebted nation with a debt-to-GDP ratio of more than 150 percent. It climbed from around 130 percent in 2011, before war in neighboring Syria, and the arrival of refugees, depressed growth and paralyzed government decision-making.
In a bid to boost growth and create jobs, donors in April pledged more than $11 billion of investment for Lebanon's crumbling infrastructure, but they want to see the government make long-overdue reforms in return to bring down debt and create a better investment environment.
A business delegation accompanied Merkel on her visit to explore how German business could participate in the infrastructure projects.
Full report at:
https://english.alarabiya.net/en/News/middle-east/2018/06/22/Gaza-officials-20-Palestinians-wounded-at-Israeli-border.html
--------
Syrian army drops barrel bombs in southwest assault
22 June 2018
A war monitor reported Syrian military helicopters dropped barrel bombs on rebel-held areas of the southwest on Friday for the first time in a year, escalating an assault that has so far included artillery but only limited use of air power.
The Syrian Observatory for Human Rights, a Britain-based war monitor, said Syrian government helicopters had dropped more than 12 barrel bombs on rebel-held territory northeast of Deraa, causing damage but no deaths.
President Bashar al-Assad has sworn to recapture the area bordering Jordan and the Israeli-occupied Golan Heights and the army began ramping up an assault there this week.
The attack has been concentrated on the towns of al-Harak and Busra al-Harir, which would bisect a finger of rebel ground jutting northwards into land held by the Syrian government.
A big offensive risks a wider escalation, as the United States has warned Damascus it will respond to breaches of a "de-escalation" brokered by Washington and Assad's Russian allies last year to contain the war in the southwest.
The region is also of strategic concern to Israel, which has struck Iran-backed militia allied to the army.
Those militia, including Lebanon's Hezbollah, have played an important role in Assad's seven-year war against the rebels, including since Russia entered the conflict in 2015.
The Russian ambassador to Lebanon was quoted on Friday in the pro-Hezbollah newspaper al-Akhbar as saying the Syrian military was recovering the southwest with help from Moscow.
"We say that the Syrian army now, with support from Russian forces, is recovering its land in the south and restoring the authority of the Syrian state," it quoted him as saying in an interview.
"Israel has no justification to carry out any action that obstructs the fight against terrorism," he added.
Full report at:
https://english.alarabiya.net/en/News/middle-east/2018/06/22/Monitor-Syrian-army-drops-barrel-bombs-in-southwest-assault.html
--------
Mideast
Turkey determined to drain terrorist PKK swamp in Qandil mountains
Jun 23, 2018
Turkey's objective to drain the PKK terror swamp in Qandil mountains in northern Iraq is being fulfilled Ankara says, despite the dazzling election agenda, indicating no steps will be taken from commitments in the fight against terrorism.
President Recep Tayyip Erdoğan said on Friday during his ruling Justice and Development Party's (AK Party) election rally in Maltepe, İstanbul that Turkey's "fight against terrorism will resolutely continue."
He added that the Turkish military killed 35 key members of the PKK terror group in an air operation on Qandil mountain.
Terror threats directed by PKK terrorists from the Qandil mountains, located roughly 40 kilometers southeast of the Turkish border in Iraq's Irbil province, prompted the operation of the Turkish Armed Forces (TSK) on March 10. The Qandil mountains are used as headquarters by the PKK and its Iranian affiliate, the Kurdistan Free Life Party (PJAK). The PKK is an internationally recognized terrorist organization, which is listed as a terrorist group by the U.S., Turkey and the European Union.
The government officials have underlined that Ankara will not step back until all the terrorists are eradicated and ensure that terrorists will not be able to use the region as a headquarters again.
Speaking in a televised interview on Friday, Foreign Minister Mevlüt Çavuşoğlu said: "We need to drain this swamp. If we want to live in peace in Turkey, we must achieve this."
The minister said that the Qandil operation has been successfully continuing and added that all targets have been effectively eliminated. He added that significant steps are also being taken against the terror group's high-level cadres.
Çavuşoğlu said that the PKK is a threat against other neighboring countries as well, including Iran. "As they are not attacking Iran today, it does not necessarily mean that they will not attack later. No one can say that they are not aiming to divide Iranian soil," he said, referring to the terror group. He added, "Therefore, we need to constantly cooperate with Iran."
Many cross-border infiltrations by PKK terrorists through the Turkish border take place in northern Iraq, in regions close to the Qandil mountains.
Since the launch of operations on Qandil, Turkish fighter jets have also intensified airstrikes in the region.
Turkish warplanes killed nine PKK terrorists as part of a counterterrorism operation in northern Iraq Thursday, the military said Friday. In a statement, the Turkish General Staff said the warplanes targeted the terror group in the Hakurk-Kani Rash region. Shelters, hideouts and weapon depots were also destroyed, the statement added.
National Defense Minister Nurettin Canikli said earlier this month that Turkey has been using its right to self-defense in northern Iraq and the TSK is paying utmost attention to avoid harming civilians as it did in the Afrin Operation and Operation Euphrates Shield. Canikli said that terrorists would not be able to show their presence in the region again.
Turkish security forces have so far crossed almost 30 kilometers into northern Iraq. Nearly 200 terrorists have been killed in recent airstrikes on PKK targets in northern Iraq.
Trust between Turkey-U.S. can be restored if Manbij deal implemented
Çavuşoğlu also said, "If we continue to implement the Manbij deal successfully, we can restore trust between the countries," referring to the recent deal between Ankara and Washington over the withdrawal of the PKK's Syrian affiliate from Manbij in northern Syria.
He said that the main objective of the deal is to ensure the retreat of People's Protection Units (YPG) terrorists first from Manbij and other region of Syria as well.
Erdoğan also said on Friday, "Turkish armored carriers entered Manbij" and added that the people of Manbij will soon return to their homes.
The Manbij road map was announced after a meeting in Washington earlier in June between Foreign Minister Çavuşoğlu and U.S. Secretary of State Mike Pompeo.
The process will involve a 10-day preparation period that started Tuesday June 5 before YPG militants start withdrawing. The YPG will withdraw as early as July 4 Çavuşoğlu said earlier in the week, after which Turkish forces will be deployed to pacify the region and train local forces to establish security.
The foreign minister said that the road map is essential to provide stability to Syria. He noted, "Following the YPG/PKK's retreat, there will be a vacuum that will be temporarily filled by the soldiers of Turkey and the U.S." He added that security measures would be taken in the region.
Meanwhile, the TSK on Friday completed their third round of patrolling in the northern Syrian city of Manbij as part of a deal with the U.S. to rid the area of the YPG terror group.
According to an Anadolu Agency (AA) correspondent on the ground, armored vehicles belonging to the Turkish military carried out patrols in the area that separates the Jarablus region, controlled by the Ankara-backed Free Syrian Army (FSA), from Manbij.
The first patrols by both Turkish and U.S. troops in the region began on June 18 and the second patrols were on June 20.
https://www.dailysabah.com/war-on-terror/2018/06/23/turkey-determined-to-drain-terrorist-pkk-swamp-in-qandil-mountains
--------
Israeli army to demolish over 50 Palestinian homes in West Bank
Jun 22, 2018
The Israeli military has threatened to demolish more than 50 Palestinian homes in the northern part of the West Bank as the Tel Aviv regime continues with its land expropriation policies in the occupied territories and violation of international law.
Local Palestinian media reports said that homes would be demolished by Israeli regime forces in Beit Dajan village, which is located east of Nablus for lacking Israeli construction permits.
Nasir Abu Jaish, mayor of the village confirmed that Israeli army handed notices to local citizens informing them that at least 51 homes would be demolished in 60 days for lacking Israeli construction permits.
The homes are located in the so-called area C of the West Bank, which constitutes about 61 percent of the territory and is under full Israeli military control.
Mohammed Abu Jaish, a local resident whose family has lived in the area for generations said, "We received a notice to demolish the house a few weeks ago, claiming that it was located on land allocated to military activities, although it is a private property."
He added that the same fate threatens his sisters and cousins.
Separately, Israeli authorities delivered evacuation notices to over 20 Palestinian families in the Jordan Valley area of the northern occupied West Bank late Thursday night, in order to make way for active military drills and training.
Palestinian residents of the Jordan Valley regularly face evacuations and interruption due to Israeli military exercises on their land.
In recent years, Israel has expanded the authority of its military to demolish Palestinian homes in the occupied territories. The Israeli army can now execute demolition orders in the so-called Area C of the West Bank just days after they are issued.
n recent months, the Israeli regime ordered the demolition of Palestinian homes as a punitive measure in response to a growing number of alleged attacks by Palestinians against Israeli settlers, who constantly waged attacks against Palestinian residents and their properties.
Residents say Israel is relentlessly destroying Palestinians' homes and livelihoods in order to make way for more illegal settlements.
International bodies and rights groups argue that Israel's sustained demolitions of Palestinian homes and structures in the occupied West Bank and East Jerusalem al-Quds are an attempt by the Tel Aviv regime to uproot Palestinians from their native territories, and confiscate more land for expansion of illegal settlements.
More than half a million Israelis live in over 230 illegal settlements built since the 1967 Israeli occupation of the Palestinian territories of the West Bank and East Jerusalem al-Quds.
The presence and continued expansion of Israeli settlements in occupied Palestinian lands have created a major obstacle for the efforts to establish peace in the Middle East.
Full report at:
http://www.presstv.com/Detail/2018/06/22/565753/Palestine-West-Bank-Beit-Dajan-Nablus-Israel
--------
Ex-child soldier presents damning testimony of Houthi recruitment in Yemen
June 22, 2018
JEDDAH: Children recruited as fighters by Iran-backed Houthi militias in Yemen are beaten into submission and face psychological abuse, as well as the risk of death, injury and disability, a former child soldier said on Friday.
Those who try to flee are recaptured and forced to continue fighting, he told the Yemeni Coalition to Monitor Human Rights Violations (YCMHRV).
The child's testimony is part of a documentary about the recruitment of children in Yemen, which was broadcast during the 38th session of the UN Human Rights Council in Geneva, the Saudi Press Agency (SPA) reported.
Legal expert Lisa Al-Badawi highlighted efforts to rehabilitate former child soldiers and children affected by the war in Yemen.
She said children make up a third of fighters in the Houthi militias, according to a field study by the Wethaq Foundation for Civil Orientation.
The study showed that 80 percent of child soldiers in Yemen begin fighting to earn much-needed money amid deteriorating economic conditions, while just 10 percent join Houthi ranks for "ideological reasons."
Al-Badawi revealed numerous human rights violations faced by the recruits, including the risk of death and injury, deprivation of education, and exposure to sexual and psychological abuse.
She also discussed the methods used to treat and rehabilitate these children, emphasizing the importance of promoting awareness among parents.
She presented statistics on the areas covered by the rehabilitation process, which is carried out with support from the King Salman Humanitarian Aid and Relief Center (KSRelief).
Dr. Hamdan Al-Shehri, a Saudi political analyst and international relations scholar, said he is not surprised by the Houthis' large-scale recruitment of children.
"By devious design, they push children onto the frontlines so that when the children become victims, the Houthis can cry foul and blame the legitimate Yemeni government for killing children," he told Arab News.
"These are terrorist militias, and like all terrorists, they have no qualms about playing with the lives of children."
It is easy for the militias to brainwash children, Al-Shehri said. "Grown people are difficult to convince, but children become easy prey," he added.
"In most cases, the Houthis don't even tell children that they're going to the frontlines. They lure them by saying they'll be helping their men."
Now that the Houthis have been cornered in Hodeidah, they will use children and the civilian population as human shields, Al-Shehri said, asking: "What can we expect from such terrorists?"
Meanwhile, the Houthis have indicated they would be willing to hand over management of Hodeidah port to the UN, according to sources quoted by Reuters. The port is a principal entry point for relief supplies for Yemen.
This week, UN envoy Martin Griffiths has been in the Houthi-controlled Yemeni capital Sanaa and Jeddah, Saudi Arabia, to try to negotiate a solution.
The source, quoted by Reuters, said the Houthis indicated that they would accept overall UN management and inspections of the port.
A Western diplomat said the UN would oversee income from the port and make sure it gets to Yemen's central bank. The understanding is that Yemeni state employees will work alongside the UN.
Griffiths on Thursday said he was "encouraged by the constructive engagement" of the Houthis, and will be holding meetings with Yemen's internationally backed President Abed Rabbo Mansour Hadi.
Speaking earlier at the UN, Saudi Ambassador Abdallah Al-Mouallimi reiterated the Saudi-led coalition's demand that the Houthis quit the city of Hodeidah entirely.
Full report at:
http://www.arabnews.com/node/1326296/middle-east
--------
Turkish air strikes kill 15 Kurdish militants in northern Iraq
22 June 2018
The Turkish military said it carried out air strikes in northern Iraq on Friday, killing 15 Kurdish militants.
The strikes were carried out on the Gara region, the military said on Twitter.
Turkey has recently stepped up strikes on Kurdistan Workers Party (PKK) bases in northern Iraq, especially its stronghold in the Qandil mountains.
Ankara has warned it might launch a ground offensive into Qandil, where high-ranking PKK members are believed to be based.
President Tayyip Erdogan, who faces tough elections on Sunday, has vowed to "drain the terror swamp" there.
Full report at:
https://english.alarabiya.net/en/News/middle-east/2018/06/22/Turkish-air-strikes-kill-15-Kurdish-militants-in-northern-Iraq.html
--------
Coalition: Senior Houthi leader captured, Yemen civilians' safety top priority
22 June 2018
The Yemeni Army announced Friday that it has captured a senior Houthi leader in Hodeidah port city south of Yemen.
The brief statement issued by al-Amalika brigade of the legitimate national army said that its forces have "captured the Houthi leader Abu Jalal al-Riyami".
It added that he was captured during a failed infiltration by the Houthi militias in the surroundings of Hodeidah airport, confirming that most of the infiltrators have been killed.
On another military development, local residents said Friday that the Houthi militias continue to fire Katyusha rockets and missiles towards the village of Manzar and in the direction of the airport's surroundings since it was liberated from the Houthi control.
The local citizens pointed out that some rockets hit civilian neighborhoods and it is not known yet if there are any casualties among civilians.
Sadaa operations
Meanwhile, the Arab coalition confirmed Friday that the military operations in Sadaa is going on very fast.
The Arab Coalition's spokesman, Turki al-Malki, speaking from Brussels in a press conference, said that the operations in Sadaa have made progress and achieved many gains on field.
Al-Maliki said that the political diplomatic solution is always the best choice for the Yemeni people, stressing that the coalition is working hard to restore legitimacy to Yemen.
He said: "We have many options in Hodeidah, among them a pre-emptive military operation, pointing out that that the safety of the Yemeni civilians is a top priority for the Arab coalition, and any concessions or suggestions from the Houthis have to go through the UN special envoy to Yemen Martin Griffiths.
The Arab Coalition's spokesman noted that the military operation by the coalition is ongoing in Hodeidah and the joint forces are clearing the area of landmines, adding that the liberation of Hodeidah would secure maritime activities in the international waters.
Al-Malki pointed out that the Houthis turned civilian homes in Hodeidah into military fortifications, and they continue to turn civilians in Hodeidah into human shields.
He said that the coalition is providing all facilities for the entry of medical and food aid to Hodeidah, stressing that the liberation of Hodeidah will benefit all Yemenis and will stop illegal collection of money by the Houthi militias.
"We are working to distribute aid to all Yemeni territories without any discrimination," he said, stressing that the Houthis impose restrictions on relief work and on UN staff.
Full report at:
https://english.alarabiya.net/en/News/gulf/2018/06/22/Coalition-A-senior-Houthi-captured-Yemen-civilians-safety-top-priority.html
--------
Yemen's Houthi militia detains Sanaa University professors
22 June 2018
The Houthi militia detained professors at the University of Sanaa at the Naqil Yaslah checkpoint while they were heading to Aden to receive their salaries on Tuesday.
According to the teaching union at the university, the Houthis detained all the professors and interrogated them for a long time, then decided to detain them all except for one female doctor and her daughter.
At least five of the university professors were thus detained.
The teaching union condemned these practices, which violate the constitution and the law and called on relevant authorities to carry out their duties to protect the professors at the University of Sanaa so they can perform their duties during Yemen's current circumstances.
It also called for the quick release of all those illegally detained and called on civil society institutions and human rights organizations to stand with them to free their colleagues.
The union also called on the university's presidency to make efforts to protect professors and employees at the university.
The union added that its statement is tantamount to a notification to the prosecutor and demanded punishment for those who illegally detain citizens.
Full report at:
https://english.alarabiya.net/en/News/gulf/2018/06/22/Yemen-s-Houthi-militia-detains-Sanaa-University-professors.html
--------
Nuclear deal in 'intensive care unit': Iranian official
Jun 22, 2018
Iran has warned of pulling out of the 2015 nuclear deal in the coming weeks, saying the landmark multinational agreement is now in the "intensive care unit."
"I told the conference today it is in the intensive care unit because it has lost its balance as a result of US withdrawal from the deal," Iran's Deputy Foreign Minister Abbas Araqchi told Euronews on Thursday.
"So, if Europeans and other remaining participants of the JCPOA are interested Iran remain in the deal, they should compensate the absence of the US and the reimposition of US sanctions," he said in Vienna where he was for talks about the fate of the deal.
President Donald Trump walked out of the deal, which was signed between Iran and the P5+1 group of nations -- the US, the UK, France, China, Russia and Germany.
Trump pledged to re-impose all anti-Iran sanctions lifted as part of the deal and institute "the highest level of economic" bans against the Islamic Republic.
The Europeans are scrambling to protect their businesses from new American sanctions, with Washington warning to punish all foreign companies that engage in trade with Iran after the end of a three-month period to leave the country.
Russia and China have reaffirmed their support for the deal, stressing that they would continue to do business with Iran.
The UK, France and Germany have, however, failed to make a decision that guarantees the deal's future and protects their financial interests in Iran.
"What matters for us is the dividends of the deal. So, we don't care how Europeans would protect their companies but we care that their companies work with us," Araqchi said.
He urged the Europeans to guarantee that Iran's oil will be completely sold after the sanctions and the banking channels to receive the money will remain in place.
"We care that Iran's crude oil should be sold and the money should come back, so there should be banking channels," he said.
"How they create them, it is up to the Europeans. Now that 'few weeks' are almost over or is going to be over very soon," Araqchi added.
Noting that the European countries didn't have much time, Araqchi said there was still hope for a solution to salvage the JCPOA.
Full report at:
http://www.presstv.com/Detail/2018/06/22/565732/Iran-Jcpoa-nuclear-deal-Araghchi-ICU-sanctions
--------
Americans act as spokesmen for Israeli occupation, seek to normalize apartheid: PLO
Jun 23, 2018
The Palestine Liberation Organization (PLO) says the so-called peace plan, which is expected to be unveiled by the United States, is aimed at normalizing the Israeli apartheid with the Americans serving as the spokesmen for the regime's occupation.
PLO Secretary General Saeb Erekat told the Middle East Eye news portal on Friday that Palestinian negotiators had yet to see an official draft of the US initiative purported to resolve the decades-long Israeli-Palestinian conflict.
The US plan is not actually a deal as it is already being implemented by Washington and its allies, he said, stressing that the Americans had become "nothing else than spokespeople for the Israeli occupation."
"If there's any plan, this is being implemented on the ground: with moving the US embassy to occupied Jerusalem [al-Quds], withdrawing support for the [so-called] two-state solution, cutting funds to UNRWA and, eventually, trying to normalize the Israeli apartheid in Palestine," Erekat said.
The remarks come as White House special adviser Jared Kushner and US Middle East envoy Jason Greenblatt are discussing the US plan with officials in the occupied territories, Saudi Arabia, Egypt, Jordan and Qatar.
On Sunday, Israel's Haaretz newspaper reported that the administration of US President Donald Trump is trying to persuade the Persian Gulf Arab monarchies to invest in Gaza economic projects in a bid to calm the situation in the Israeli-blocked territory before Washington unveils its so-called Middle East peace plan.
Haaretz quoted Israeli and Arab sources as saying that Washington hoped that it could raise between $500 million and $1 billion.
Earlier this week, Israeli Prime Minister Benjamin Netanyahu met with Jordan's King Abdullah II in Amman, fueling speculation about a possible backdoor agreement over the US initiative for the Middle East.
Asked about Jordan's role, Erekat hailed Palestine's ties with Amman as "very strong," saying, "King Abdullah has been clear in his statements calling for a free Palestine with its capital in East Jerusalem [al-Quds]."
The chief Palestinian negotiator was also asked about whether the Palestinians would walk away from what the Americans put on the table.
"There is no table to walk away from. It's not like we were negotiating and suddenly we decided to leave," he said. "If anyone walked away, it was the Trump emissaries whose plan has nothing to do with a just and lasting peace and a lot to do with normalizing the Israeli apartheid regime."
Erekat further emphasized that the Palestinians' position is based on international law and UN resolutions, saying, "We are not going to accept anything short of that, and nobody could impose anything upon us."
He also described Jerusalem al-Quds as the "eternal capital" of the Palestinians. "There will be no Palestinian state without al-Quds as its capital," he noted.
The US-Palestine ties deteriorated last December, when Washington recognized Jerusalem al-Quds as the "capital" of Israel and announced plans to transfer the US embassy from Tel Aviv to the occupied city.
The contentious move led President Mahmoud Abbas to formally declare that the Palestinians would no longer accept the US as a mediator to resolve their decades-long row with Israel because Washington was "completely biased" towards Tel Aviv.
The US embassy relocation took place on May 14, the eve of the 70th anniversary of the Nakba Day (the Day of Catastrophe), sparking deadly clashes in the Gaza Strip.
Full report at:
http://www.presstv.com/Detail/2018/06/23/565795/Israel-Palestine-PLO-Saeb-Erekat
--------
Israeli forces fire tear gas at Gazans, wound over 200
Jun 22, 2018
More than 200 unarmed Palestinian protesters have been wounded by Israeli troops in the besieged Gaza Strip along the border separating the impoverished enclave and the occupied territories.
According to a report by the Gaza Ministry of Health, 206 demonstrators, including at least eight minors, sustained injuries as a result of inhaling tear gas fired by Israeli soldiers in the blockaded sliver on Friday.
Reports said that Israeli forces fired large quantities of tear gas canisters and live bullets east of Gaza City to disperse some 7,000 protesters who were rallying for what had been officially designated as "Friday of the Wounded", paying tribute to those who have been wounded since the beginning of the Great March of Return demonstrations.
At least 133 Palestinians, including 14 children, have been killed by Israeli forces since the Return rallies began in the Gaza Strip on March 30. About 14,600 Palestinians also sustained injuries, of them 300 are currently in a critical condition. Of those wounded, at least 3,900 have been injured by live bullets and another 500 by rubber-coated steel bullets, while more than 6,500 suffered from excessive tear gas inhalation.
The Gaza clashes reached their peak on May 14, the eve of the 70th anniversary of Nakba Day (the Day of Catastrophe), when the Israeli regime forcibly drove more than 760,000 Palestinians - now estimated to number nearly five million with their descendants – out of their homes.
This year's anniversary coincided with the US embassy relocation from Tel Aviv to occupied Jerusalem al-Quds, a highly provocative move that infuriated Palestinians and intensified the protesting rallies.
"This is the Friday of the wounded, the Friday of loyalty, the Friday of return, the Friday of steadfastness, the Friday of confrontation and resistance," said Mohammad, one of the many protesters who attended the rally on crutches, adding, "We will persevere until we obtain our rights to our land - the land of life, of freedom and of return."
Since 1948, the Israeli regime has denied Palestinian refugees the right to return, despite United Nations resolutions and international law that upholds people's right to return to their homelands.
Israel has launched several wars on the Palestinian coastal sliver, the last of which began in early July 2014. The military aggression, which ended on August 26, 2014, killed nearly 2,200 Palestinians. Over 11,100 others were also wounded in the war.
The Gaza Strip has been under an Israeli siege since June 2007. The blockade has caused a decline in the standards of living as well as unprecedented levels of unemployment and unrelenting poverty.
Full report at:
http://www.presstv.com/Detail/2018/06/22/565775/Palestine-Israel-Gaza-Strip-wounded-protesters-tear-gas
--------
Army soldiers, allies kill Saudi troopers, mercenaries in western Yemen: Report
Jun 22, 2018
Yemeni army soldiers, backed by fighters from allied Popular Committees, have launched a major operation against Saudi troops and pro-Saudi militiamen loyal to resigned Yemeni president Abd Rabbuh Mansur Hadi in the country's western coastal province of Hudaydah, killing and injuring tens of them in the process.
An unnamed Yemeni military source told Arabic-language al-Masirah television network that Yemeni troopers and allied fighters launched separate attacks against Saudi soldiers and their mercenaries north of al-Majlis and al-Durayhimi districts on Friday, dealing stinging blows to them.
The source added that at least 11 armored vehicles were destroyed during the offensives as well.
He further stated that the operations were carried out following a series of surveillance and monitoring the movements of Saudi invaders and their agents.
The development came just a day after Yemen's air defense system had shot down an enemy spy drone in the northwestern Sa'ada province.
Separately, Yemeni sources said an Emirati reconnaissance plane was shot down near Saudi Arabia's southwestern Jizan region, killing the crew.
They added that the plane was returning to its base after carrying out an aerial operation in Yemen's western coast.
The media bureau of Yemen's Operations Command quoted Yemeni military sources as saying that the Emirati jet, which had two pilots, was brought down by the Yemeni air defense system.
The Yemeni Ministry of Human Rights announced in a statement on March 25 that the Saudi-led war had left 600,000 civilians dead and injured since March 2015.
The United Nations says a record 22.2 million Yemenis are in need of food aid, including 8.4 million threatened by severe hunger.
A high-ranking UN aid official recently warned against the "catastrophic" living conditions in Yemen, stating that there was a growing risk of famine and cholera there.
"People's lives have continued unraveling. Conflict has escalated since November driving an estimated 100,000 people from their homes," John Ging, UN director of aid operations, told the UN Security Council on February 27.
Full report at:
http://www.presstv.com/Detail/2018/06/22/565743/Saudi-Arabia-troops-Yemen
--------
Yemeni forces make further progress against Houthi militias in Saada province
June 22, 2018
LONDON: The commander of Yemen's special forces brigade, General Adel Al-Mosaabi, said that his troops took over control of the route connecting Maran and Al-Malahiz in the south-west of Saada province – the Houthi militias' key area of support.
Al-Mosaabi said, in a statement published on the Yemeni army's web page, that his units advanced to the road connecting the city of Saadah with the Al-Malahiz-Harad road junction.
The general declared that his forces succeeded, with air support from the Saudi-led Arab coalition, in cutting the Houthi militias' supply lines to Harad and Al-Malahiz after a battle that cost the Houthis at least 12 dead and the destruction of several of their armored vehicles.
In Hodeidah, on Friday, the 'Amalika' army brigade announced that it has repelled a Houthi counter attack on Hodeidah airport. The statement posted on the brigade's web page said that the Iran backed Houthi militia tried to infiltrate the Yemeni army's lines at Hodeidah airport. The attack was thwarted, and a senior Houthi militia commander was captured.
Earlier, the Saudi-led Arab coalition spokesperson said Friday that military operations in Saada are picking up momentum.
Col. Turki Al-Maliki was speaking at a press conference in Brussels, where he added that the pace of military operations in Saada- the Iran backed Houthi militia's stronghold, is moving rapidly, stressing that military operations in Saada have made progress and gained new territory from the Houthis.
Al-Maliki, who was in Belgium to hold talks with European officials on the situation in Yemen and aid delivery to the war-torn country, added that the coalition's operations in Yemen are "aimed at pressuring the Houthi militias to accept the political solution," and that "the safety of people in Yemen was the coalition's top priority."
Col. Turki Al-Maliki explained at the press conference that the Saudi-led coalition's control of Hodeidah will safeguard maritime navigation in the Bab Al-Mandab strait in the Red sea.
"The political diplomatic solution is always the best option for the Yemeni people," he added, stating that the coalition was continuing its efforts to restore the legitimately elected government of President Abed Rabbo Mansour Hadi in Yemen.
The Yemeni national army, backed by the Saudi-led Arab coalition, launched last week an operation to liberate Hodeidah and its strategic port from the Iran-backed Houthi militias.
Al-Maliki also accused the Houthis of using civilian residences as military fortifications. They have also imposed additional taxes on business owners to fund their war effort he said.
On the Humanitarian aid front, Col Al-Maliki said that the coalition has been using all possible ways to deliver medical and food aid to Hodeidah. "Aid is being delivered throughout Yemen without discrimination," he said.
On the other hand, Al-Maliki said that the Houthis have arrested several human rights groups workers. The United Nations Office for the Coordination of Humanitarian Affairs (OCHA) said in a statement Friday that civilians have been fleeing the combat zones in Hoddeidah province.
"More people are fleeing areas of conflict and seeking shelter in safer locations, including in the capital Sanaa," 150 kilometres (95 miles) to the northeast and also under Houthi control, the Humanitarian agency (OCHA) said in a statement.
Full report at:
http://www.arabnews.com/node/1326116/middle-east
--------
Africa
Boko Haram: Buhari promises to rebuild devastated communities
JUNE 22, 2018
President Muhammadu Buhari Friday assured internally displaced persons, IDPs, that his administration will leave no stone unturned in restoring their devastated communities for their immediate and safe return.
The President who made the promise while congratulating the 2,000 IDPs at the Kuchingoro Camp, in the Federal Capital Territory who are getting set to return to their communities in the Northeast, assured all Nigerians that his administration will not forget citizens in their time of distress and will continue to work for the betterment and security of the people. Speaking through his Senior Special Assistant on Media and Publicity, Malam Garba Shehu, who received the IDPs at the precincts of the Aso Rock Villa on his behalf, President Buhari also used the opportunity to thank members of the international community and Nigerians, including Aliko Dangote, General T.Y Danjuma and other philanthropists, for their sustained efforts towards the reconstruction and rehabilitation of destroyed communities in the Northeast. Read more at: https://www.vanguardngr.com/2018/06/boko-haram-buhari-promises-rebuild-devastated-communities/
Mrs. Maryam Nuhu, the leader of the IDPs, who were mainly women and children, thanked the Buhari Administration for the defeat of the Boko Haram terrorists and the ongoing reconstruction of their communities. She said, "Our towns and villages have been cleared of these terrorists. We can now confidently return home and pick up our lives from the points where we will meet them. Mr President, thanks for making this possible for us to be returning home. Our sad story took a turn for the better because of the calibre of military leaders you appointed."
https://www.vanguardngr.com/2018/06/boko-haram-buhari-promises-rebuild-devastated-communities/
--------
Tunisia arrests suspected smuggler behind deadly shipwreck
22 June 2018
Tunisia on Friday said it has arrested a suspected people smuggler who organized a doomed sea voyage in which 87 migrants were killed when their overloaded fishing vessel sank.
The boatload of illegal migrants had taken off on June 2 from Tunisia heading for Europe when the tragedy occurred.
Survivors said there were at least 180 people on board when the fishing vessel began to sink near Tunisia's Kekennah Islands off the southern coastal city of Sfax.
The interior ministry said that at least 87 people died in the tragedy -- 66 of them Tunisians, 20 from sub-Saharan Africa and one Libyan -- while 68 were rescued. Search operations are still underway.
Ministry spokesman Sofiene Zaag on Friday told AFP that the mastermind of the voyage had been arrested as he tried to flee Kerkennah in the boot of a car.
He said the suspect is a 32-year-old from Kerkennah.
Following the shipwreck, Tunisia's interior minister Lotfi Brahem and 10 security officials were sacked.
The June 2 shipwreck was one of the deadliest in the Mediterranean since February 2, when 90 people drowned off the coast of Libya, according to the International Organization for Migration.
The IOM said that at least 112 people had died when the fishing vessel sank.
Tunisians and other migrants regularly try to cross the Mediterranean to seek a better future in Europe.
Full report at:
https://english.alarabiya.net/en/News/north-africa/2018/06/22/Tunisia-arrests-suspected-smuggler-behind-deadly-shipwreck.html
--------
Libya's National Army seizes control of oil ports, hopes for quick restart
22 June 2018
The head of Libya's National Oil Corporation (NOC) confirmed on Friday that Khalifa Haftar's Libyan National Army (LNA) had regained control of the key oil ports of Ras Lanuf and Es Sider, saying he hoped operations would resume in the "next couple of days".
NOC Chairman Mustafa Sanalla said Libya had been losing 450,000 barrels per day (bpd) of production after clashes between the LNA and rival factions closed the two terminals.
A minor fire that broke out at a third storage tank in Ras Lanuf on Thursday had been extinguished and the situation was good, he told reporters ahead of an OPEC meeting in Vienna.
https://english.alarabiya.net/en/News/north-africa/2018/06/22/Libya-s-National-Army-seize-control-of-oil-ports-hopes-for-quick-restart.html
--------
URL: https://www.newageislam.com/islamic-world-news/quebec-charter-values-factor-radicalizing/d/115624
New Age Islam, Islam Online, Islamic Website, African Muslim News, Arab World News, South Asia News, Indian Muslim News, World Muslim News, Women in Islam, Islamic Feminism, Arab Women, Women In Arab, Islamophobia in America, Muslim Women in West, Islam Women and Feminism